When we realize our insignificance in this world,
it some how relieves the pressures from society to succeed -
Cindy Bonish 04/07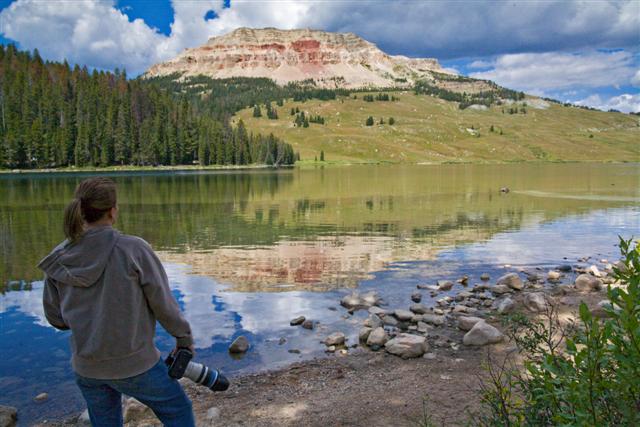 Pat's September 2009 Blog
If this is your first time here, you might want to start from the beginning of our fulltime RV Journey with our 2007 Blog's
January 2008 Blog February 2008 Blog March 2008 Blog
April 2008 Blog May 2008 Blog June 2008 Blog July 2008 Blog
Summer 2008 Blog Fall 2008 Blog Winter 2008 Blog
February 2009 Blog March 2009 Blog April 2009 Blog May 2009 Blog
June 2009 Blog July 2009 Blog August 2009 Blog
If You Don't Know Me Yet, Click Here to Read Pat's Bio
Photo Gear We Use - Solar Tips, Fact's and Trick's we've learned while on the road
Camper Check List - A list of things we do before leaving camp. Again, this isn't gospel, but its a good start for those who might not already have a list made up.
****
Tuesday September 1st 2009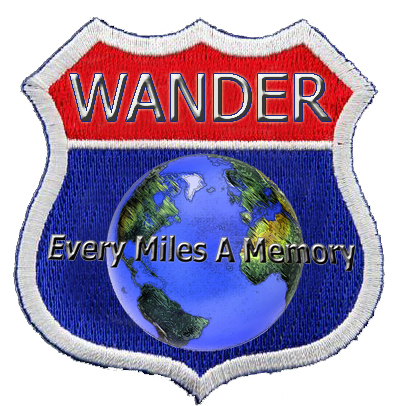 The last few days have been filled with me working during the day while Cindy has stayed home having some time to herself.
She told me she had a ton of stuff to do to keep her busy, and with only one of us having to work, I've actually enjoyed going into the bookstore, reading the trail guides, the history books and talking with park visitors while Cindy stays home and organizes our storage bins, cleans the camper from top to bottom and makes some amazing dishes for dinner.
Yesterday I had a friend that we've been in contact with off and on for the past few months come into the book store. Larry and his wife Michelle are visiting the park for Larry's birthday and had asked over emails if we wanted to share a hike or two and throw back a few drinks afterwards.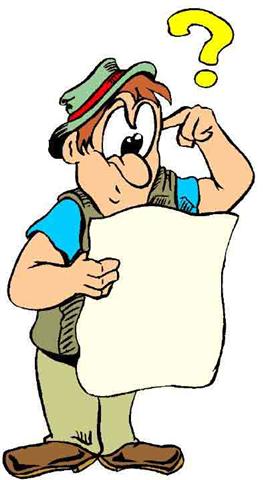 When they stopped in the store, they got to witness first hand some of the silly questions we get asked by park visitors.
We were all sitting around the counter when one woman kept asking me where the West Thumb Basin was on the map. I pointed it out to her on the big map of Yellowstone, but she said "I dont think you're understanding me! Where are we right now?"
I pointed to the West Thumb Basin on the map again, then picked up one of the maps we have on the counter that is a description of the basin itself. A pretty detailed map of each geyser with each name so you know what you're looking at.
The woman lets out a loud huff and says "So where is this geyser basin on this big map?!?"
Again, I point the two places out telling her that "On the big map, we're right here, then the little map is in more detail and you're actually right here in this building on this little map." The little map is so detailed, it actually shows the book store and the sidewalks, parking lots, picnic area and the bathrooms.
I started joking around saying "Look close, you can see yourself right there on the map!"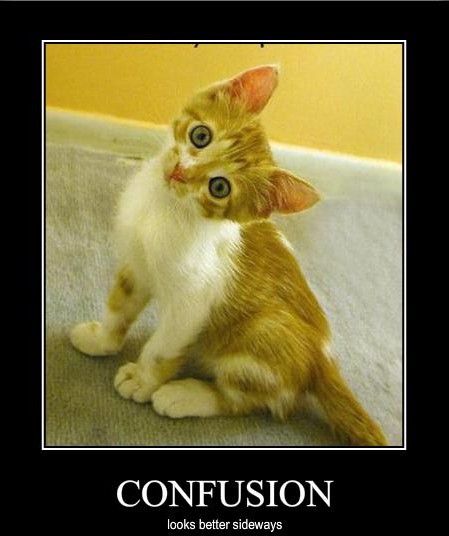 She didn't think this was funny and asked again where she was in the park! WTF is wrong with you lady?
Michelle stepped in and tried to point it all out to her hoping maybe woman to woman, the confused lady might not feel so dumb with me explaining it to her.
It did no good. The woman walked out shaking her head like we were speaking another language, and she wasn't even a foreigner.
Once she was out the door, we all looked at one another and busted out laughing.
We made plans to hook up after I got off of work and go for a hike together. Cindy and I have been wanting to check out the Natural Bridge Trail because its close to the book store, it says it's easy in the hiking books and this is probably one of the most asked questions we get each day from visiting families.
"Where can we take a hike with the kids that is easy and isn't too long?"
I hate recommending a trail or hike that we've never actually seen or experienced ourselves.
So when I got off of work, I rode the motorcycle, home, scarfed down some food and Larry and Michelle pulled up to meet us.
We showed them the camper, which doesn't take long at all. Basically you step inside the door, spin around and you've seen it all.
We then followed one another up to the trail head and parked the vehicles along the edge of the road.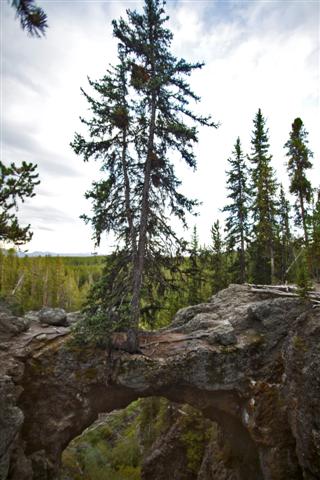 Natural Bridge Trail was a great trail to be on with new people with lots to talk about. It is easy enough that we could all carry on a good conversation without being winded or out of breath.
When Cindy and I hiked the Mt. Washburn Trail last week, there would have been no way we could have done a trail like that with another couple and all carried on a conversation the entire time. Its a great trail, just too steep to be talking the entire time.
Once at the Natural Bridge, you have the option to hike up to the top and get a view through the bridge with Yellowstone Lake behind it. Cindy for some reason didn't want to go up top (I later found out that she had eaten too many fiber bars during the daytime, and she needed some time by herself if you know what I mean), so she stayed at the bottom while Larry, Michelle and I hiked the short, steep switchbacks to the spectacular view.
If you ever hike this trail while in Yellowstone, and if you're planning on photographing the Natural Bridge, it would probably be better to take the hike early in the morning so the rocks would bathed in light.
Late in the afternoon, the sun is setting behind the Bridge and it makes it hard to photograph without the background being totally blown out.
While we were up top, Cindy kept yelling something about an Owl flying around, but this is a typical Cindy nonsense and I just told Larry and Michelle that this was her sense of humor.
After a few pictures from up top, we started to head down, and Cindy yelled "Right where you are right now is where the owl flew to."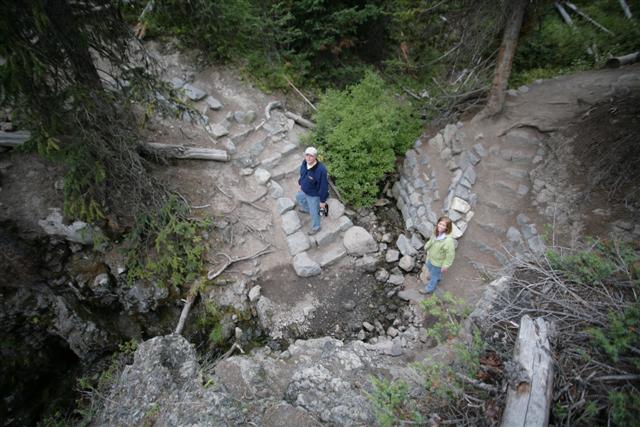 Larry & Michelle Hiking the Natural Bridge Trail
This is when I knew she was serious. We never saw the owl, but Cindy was able to get one shot before it flew off. None of us saw it which totally pissed me off, because it was a Great Gray Owl, which is really rare to see and something I've been trying to find most of our stay here in Yellowstone.
We all walked back to our vehicles enjoying some great conversation and finding out that today was actually Larry's birthday.
This meant drinks were in order, and we all headed to the Lake Lodge to sip on some cold beverages and watch the big moon rise up over the big lake.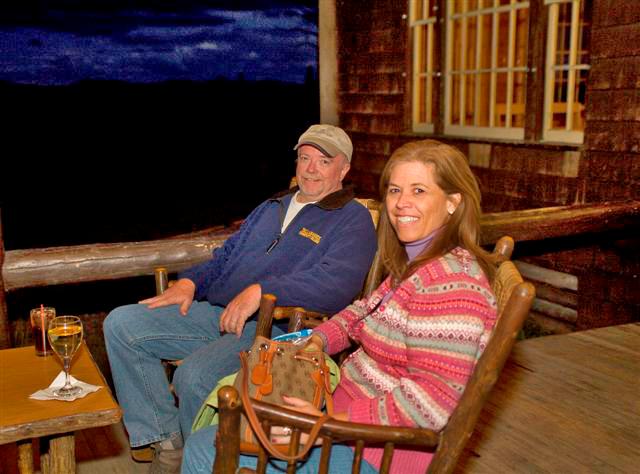 It was a good night with plenty of stories told and new friendships made. Larry and Michelle had some great stories and it was fun to sit and mingle with new people.
When we finally called it a night, Cindy and I were both joking with one another about driving home in the dark. We've only driven in the park a few times while it was dark, and its not something we enjoy. That one time we did drive after dark, we almost hit a Bison that was walking down the road in the same direction we were heading. No reflection off the eyes or any hints we were about to run into an animal the size of our truck was not a fun way to end the night.
Tonight wasn't too much different. We were driving home talking about our day when Cindy let out a yelp while I tugged on the steering wheel barely missing a slow moving porcupine that was waddling across the road.
As we were both cussing the fact that our headlights werent bright enough, even though I had the High Beams on, a coyote ran across the road bringing me to a screeching halt.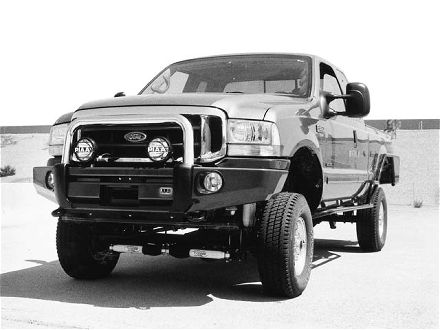 Now I've been telling Cindy for months that I want to get a few lights on the front end that will really light up the path, but she always says "Oh, that's stupid, we dont ever drive at night, why do we need those?"
When the coyote ran in front of us, she looked at me and said "Ok, I think you should order those lights you've been talking about."
Now that I got the 'OK' from the boss, I'm thinking of ordering some PIAA Lights to put on the front and really light up the night. I figure a few hundred dollars spent on lights is cheaper than a new front end on a Diesel.
This was all from yesterday, and today was pretty boring so I wont go into too much detail. I worked, then came home and caught up on some emails. I think we were both in bed by 9pm and sawing logs.
Wednesday September 2nd 2009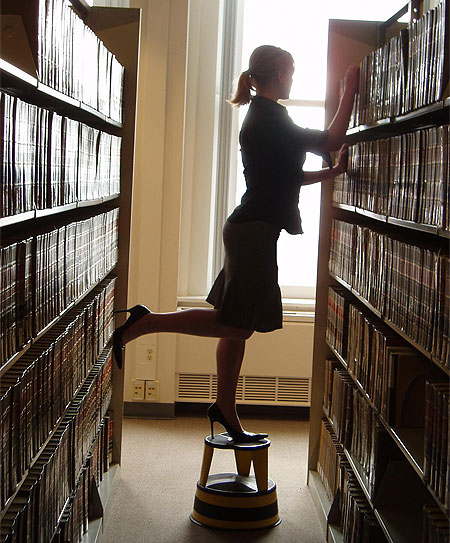 Even though today was supposed to be my day off, I went into work to keep Cindy company. I know, I'm a sucker for hanging out with good looking chicks!
Really the reason I went in was we get our order in on Wednesdays, and it normally takes a few hours to log it in and put all the books away on the shelves or back in the storage room.
We figured if we could have an extra person to help out, we could bust it out in no time.
I never clocked in, just hung out keeping Cindy company. When the order came in, it only took us 45 minutes to get it all in and put away. We then cut out and left the store to our co-worker who I think was a bit confused and surprised at our work ethics.
I mean who comes in and works for free in this day in age? All so we could go out and take more pictures my friend.......That's just what we do.
While browsing the Expedition Portal Forum a few days ago, I was talking with a member who had said he was headed up to Yellowstone and we should meet up to try and go out shooting photography.
I asked where he was camping and he said he hadn't made any reservations yet, they were just going to play it by ear.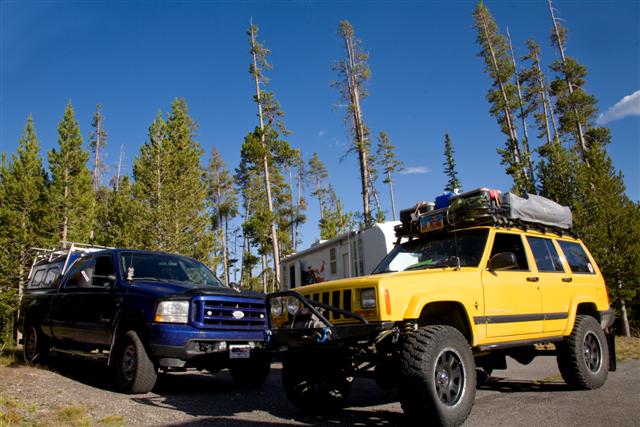 When we were staying in the campground down at Old Faithful, the campground itself was filled to capacity, and the camping spots were very tightly packed.
This campground we're in now is luxury compared to that one. Huge RV slots, tons of space and way more secluded and remote than the hustle and bustle of the Old Faithful area, which is the busiest section of the park.
So when Ryan told me they were just going to wing it, I offered up a campsite to him telling him we were allowed to have two vehicles per site.
He and his wife were camping in a Roof Top Tent that was on top of their custom Jeep, so they could fit in our camping spot no problem.
After we got off of work, Cindy and I came home, had some lunch and cleaned the place up waiting for Ryan and his wife to show up.
When they got here, we all sat inside the camper and got to know one another for an hour or two, till we decided to head up to the Hayden Valley to see what sort of Wildlife we could see tonight.
There are tons of rumors going around that the valley has been seeing Wolves, Grizzlies and big herds of Bison wandering through the open meadows surrounding the Yellowstone River.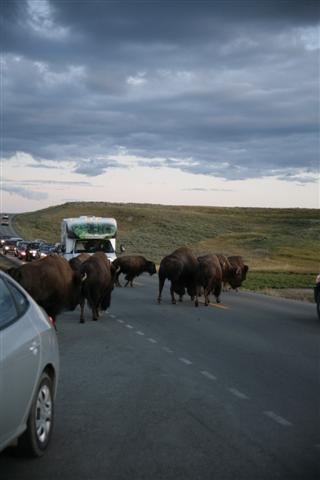 Once in the Hayden Valley, we immediately hit a Bison Jam while one large herd was crossing the roadway.
Big bulls were grunting and groaning as they chased each other around the fields trying to show the ladies how manly they were.
We pulled over at one pull off where some bulls were fighting and got out to snap some pictures. One girl who was parked behind us got out of her car to get some pictures, and it being her first time in the park, didn't realize you're never supposed to allow the bulls to get between you and something that can protect you.
Rather than keep the car between her and the bulls like we all were, she walked around to the passenger side to get a better picture of the big bison that were only a few feet away.
When one bull came walking right up to her while she was looking the opposite direction, it was literally only a foot from her small framed body, I was thinking we were going to see a goring up close and personal.
We all yelled for her to not move and just stand still to let the bull know she wasn't a threat.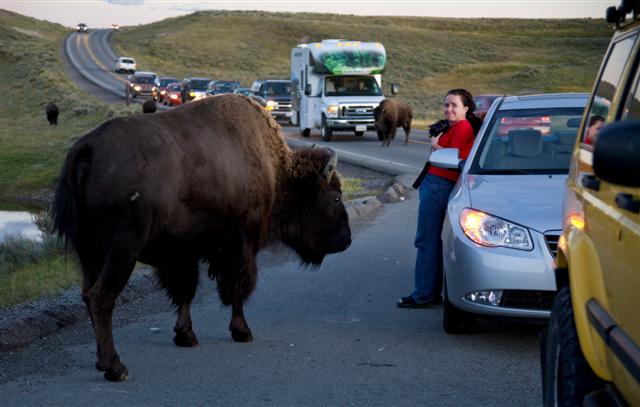 Way Too Close for Comfort!
Some guy behind us was yelling at her to climb in her open window, and I'm not joking I thought she was going to get killed when the bull sort of jump at her, but then just walked on past coming inches from this frightened girl.
Once the bull was gone, we all walked over to her and you could tell she was a bit shaken by the past few minutes of intense standoff.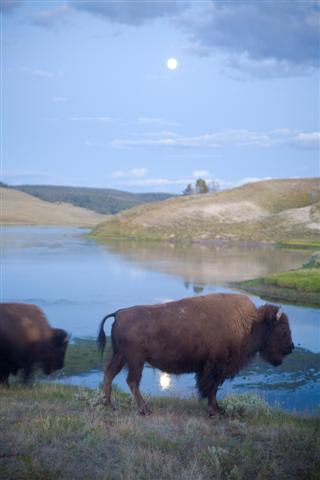 She said "OMG, I cant believe I walked around to this side of the car! What was I thinking?"
We joked with her and let her know that it wasn't too smart of a thing to do, and to try and keep something between her and the animals.
By this point it was getting pretty dark, so we all hung out talking about photography and about the bison being as close as they were to us, till we headed back home for the night.
Ryan and his wife followed us and we luckily missed any animals coming in front of us tonight. We did see a few elk on the side of the road, but nothing that we had to swerve from.
Once back at camp, we watched as Ryan set up the Roof Top Tent, which is one of the coolest things I've seen in awhile.
I've always thought these things would be small and cumbersome to set up, till I watched him have it set up in under 20 minutes and once I looked inside to see how big it was, I'm thinking this might have to be our next investment.
This would be so cool to have on the roof of the truck! It would give us the opportunity to take more side trips and not have to worry about what we're bringing or what the weather is.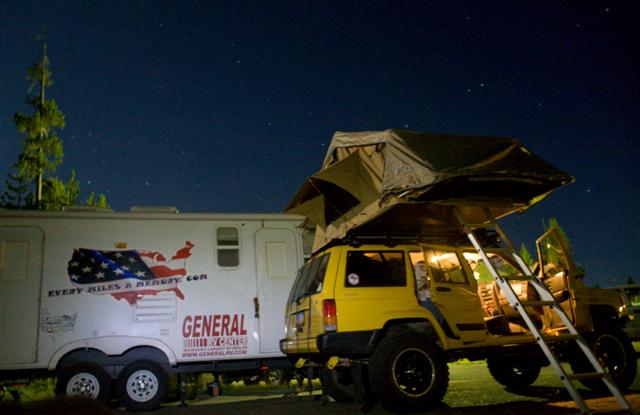 Ryan's Jeep with the Roof Top Tent Open
The inside is huge and tomorrow when its light out, I'll try and snap some pictures of the interior to show you how roomy it is.
Thursday September 3rd 2009 - Long Day of Exploring
Since Ryan and his Wife Nanette were wanting to see some wildlife, we had all made plans to be up before the crack of dawn to get out and roam the park.

Ryan's Jeep on Lake Yellowstone
I had also made plans with a co-worker of ours, who also happens to be a photographer to go out shooting today. So we had a little train of vehicles that was in single file line headed up the Grand Loop Road as that big yellow sun rose up over Yellowstone Lake.
Bill, our fellow Co-worker had just recently took possession of a new Canon Rebel T1i and some lenses and wanted to go out with Cindy and I to see if we could all compare notes.
As luck would have it, the morning would be a bust when it came to wildlife sightings, but we did see some beautiful scenery while driving up and over Dunraven Pass.
In the Hayden Valley, Larry and Michelle pulled up to us to say "Goodbye" as they were headed down to the Grand Teton's for the next few days before heading home to Florida.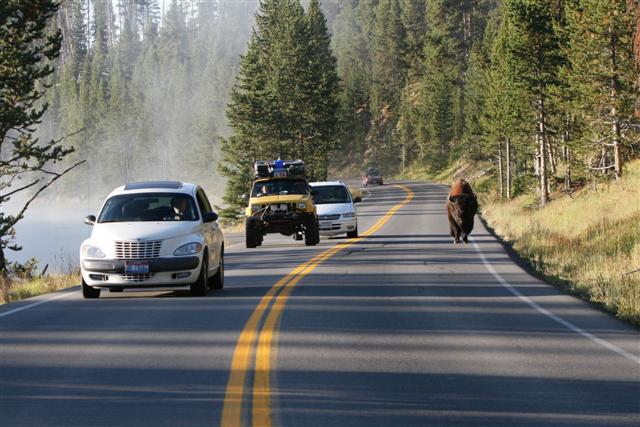 From Hayden Valley, our trio of photographers headed North and stopped at the Roosevelt Lodge for breakfast. Over warm coffee, piles of flapjacks and eggs, we all shared past adventures with one another and got to know each other better.
Isn't life grand! I love meeting new people and hearing new stories of travel and adventure.
After breakfast, Ryan and Nanette were going to head off to play tourist and see the park, since this was Nanette's first time in Yellowstone. Bill was going to head back down to the Old Faithful area, and Cindy and I had a day to ourselves to do what ever we wanted.
Since we were already this far up and it was only 10am, we decided to head out the Northeast Entrance and head up to Red Lodge Montana. The Beartooth Highway is supposed to be one of the most scenic drives in the West, and we've had so many people tell us about it, I feel stupid that we've been up in this area for most of the summer and have yet to see it first hand.
As usual, with a full belly and warm sun streaming through the windshield, I think Cindy had the seat reclined, her feet on the dashboard and was catching flies with her open mouth within a few minutes of leaving the Roosevelt Lodge and the others.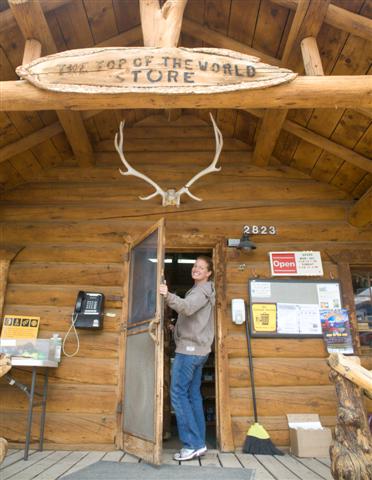 We've been up to Silver Gate and Cooke City a dozen times so far, but once you leave Cooke City, you start to climb, and climb and climb! Where the Chief Joseph Highway turns off to head down to Cody, the views were already demanding so much attention, I yelled for Cindy to wake her lazy butt up and check out the surrounding scenery.
We don't own a lens wide enough to capture the scenes that filled the horizons and I dont think photography does the views justice. This highway is amazing, and we were only in our first few miles of it. Looking up some statistics on this spaghetti noodle of a road, I found this paragraph about the highway.
The Beartooth All-American Road passes through The Beartooth Corridor. It is one of the highest and most rugged areas in the lower 48 states, with 20 peaks reaching over 12,000 feet in elevation. In the surrounding mountains, glaciers are found on the north flank of nearly every mountain peak over 11,500 feet high. The Road itself is the highest elevation highway in Wyoming (10,947 feet) and Montana (10,350 feet), and is the highest elevation highway in the Northern Rockies.
We pulled over so many times to just get out, look over the edge and take in the views, I was worried I was going to need to replace the starter on the diesel when we got into Cody.
Due to a major avalanche this area had last year, the road is under major construction and took much longer than planned, but we weren't too worried. When you're stuck in traffic at almost 11,000' in elevation, you just shut the truck off, sit with the wind whipping through your vehicle and enjoy the surrounding beauty.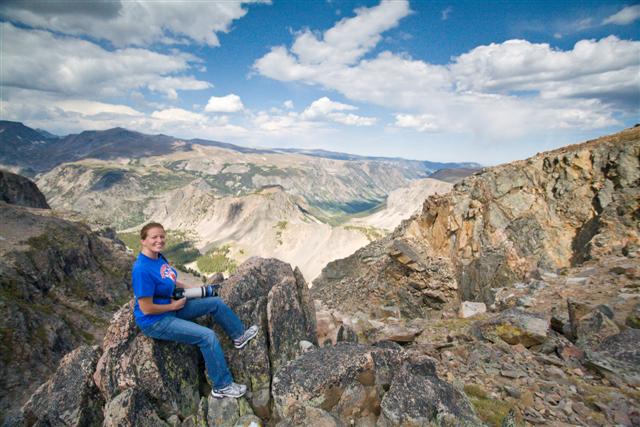 Cindy Sitting atop the World on the Beartooth HWY
I really couldn't think of a better place to be sitting in traffic, and who would ever believe you're in a traffic jam at this elevation...LOL
Once over the peak, we started the amazing decent down the other side into Red Lodge. The switchbacks are so tight, you'd have to bring the truck almost to a stop to make some of the turns.
We both made numerous comments about being glad we were just in the truck, and not towing the cabin on wheels behind us. We did see a few trucks laboring up the inclines with a line of cars behind them. I cant imagine how much fuel you'd be burning to make it up and over this mountain pass with a camper behind you, let alone the brakes you'd go through coming back down the other side.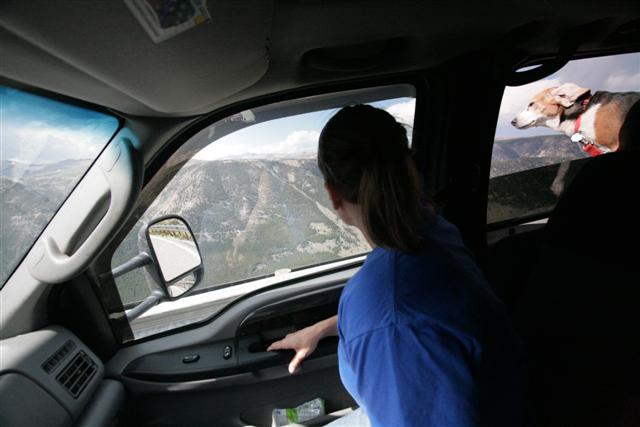 I cant imagine coming down this mountain without the Engine Brake on the Diesel. You basically kick it in, and it holds you at the speed you want while coming down the steep mountains. I'm amazed everyday that we've logged 80,000 miles, almost all towing and have the same set of brakes that we started this adventure with. All thanks to the engine brake.
Once down the mountain, we pulled through the little town of Red Lodge, which looks like a thriving mountain town with a bustling main street. Obviously a Wal-Mart or Big Box store hasn't hit this area yet which keeps the downtown corridor busy with local shoppers.
We stopped for a cup of coffee and got some fuel. Being outside of the park, fuel was .30¢ cheaper, so we topped the tank off and filled the spare cans in the bed of the truck too.
Heading out from Red Lodge, we drove across HWY 308 which brings us back over to HWY 72 which will drop us back down into Cody. These roads were nothing like the curvy ones we had been on for the last few hours, but still offered unique sights for the eyes.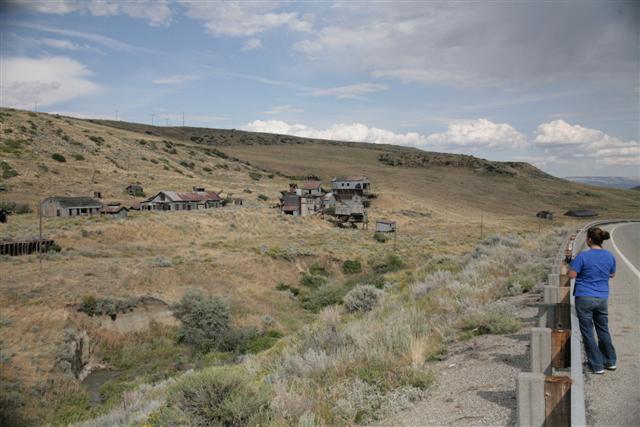 Just outside Red Lodge, we passed a few old homes that looked like they were forgotten decades ago. Then we spotted an entire mining town just sitting forgotten.
We pulled over snapping some pictures wondering what had happened or why it was left. Then we saw a sign on the side of the road and pulled up to see what it said.
The mining operation was the site of the Smith Mine, a mine that holds a reputation for the worst coal mine disaster in the state of Montana.
The placard read that on February 27th, 1943, there was an explosion in the mine that killed 74 miners. The nearest town of Bearcreek was the hardest hit with 6 of 8 High School Seniors losing their fathers that awful day.
It said after that tragedy, the mine never recovered and was soon shut down. Just a mile down the road was what was left of Bearcreek. A bunch of old foundations, a crumbling main street and tumble weeds rolling through the streets.
The town was platted back in 1905 and at one time held over 2000 residents. There were seven mercantiles, a bank, two hotels, two billiard halls, a brickyard and numerous saloons.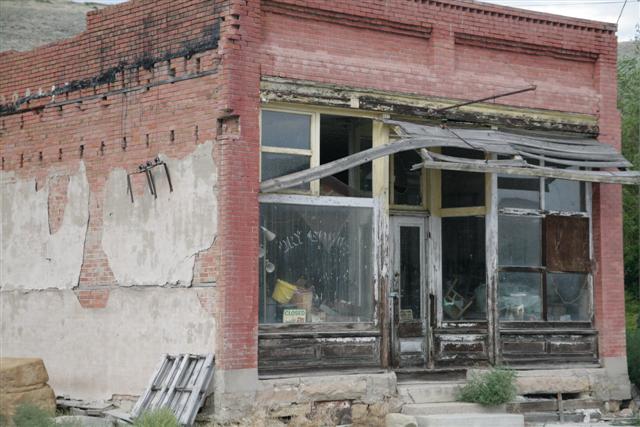 Now, just a few homes that looked pretty run down, one saloon that was advertising Nightly Pig Races and a bunch of buildings that looked like they would be amazing to rummage through their contents is all that's left. One of the mercantiles that looked like it had been closed since the 70's still had shelves filled with goods and except for replacing some broken windows, you could probably turn it into a antique store just by cleaning the isle ways up some and pricing the goods to current standards.
After looking around a bit, we bid farewell to Bearcreek like so many others had and headed South towards Cody.
This section of the drive is a very long and flat road with the Beartooth Mountain range on our western side with the sun setting behind it.
We talked about this and that, and I guess its about time to talk more about the next stage of our lives. I probably should apologize for mentioning this a few weeks back, and say a "Thank You" to everyone who has sent emails either asking or letting us know they're behind us in our decisions.
This is why I dont like to mention things like this till we know for sure, but we're both sort of thinking the plans have fell through.
We were told we would hear back from them after a few counter offers and that hasn't happened. So I guess we move on and figure out something else to do that will earn us an income to keep traveling.
Like Cindy said in her blog, we try and never question whether we should do something or try something different. If both of us want to do it, then we do it.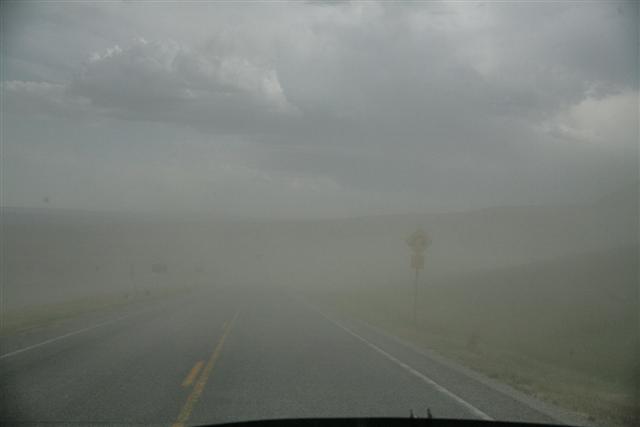 Dust Storm we passed through While Driving Home
When this opportunity arose, we made our offer and gave it our all and we both feel comfortable knowing that we tried. We wont look back saying "What If?"
I guess if it was meant to be, then it would have happened already.
This kept the drive upbeat with conversation about looking forward to our VW Bus trip up HWY 1 this fall, and seeing new things along the next stage of our adventure.
Once in Cody, we stopped and got some groceries at Wal-Mart since the Norcold was running low on supplies, and topped off the tank one last time. If headed into Yellowstone from the Cody Entrance, don't waste your money with fuel in Cody. Just past Wapiti, about 10 miles out of Cody on our way to the park, we passed another fuel station that had fuel for .10¢ less.
So unless you're empty, limp on through Cody and get fuel closer to the park.
The drive home was another White Knuckler with our lights not being bright enough for the curvy, dark roads. There must have been some hatching going on because our windshield was so covered in bugs it was hard to see through.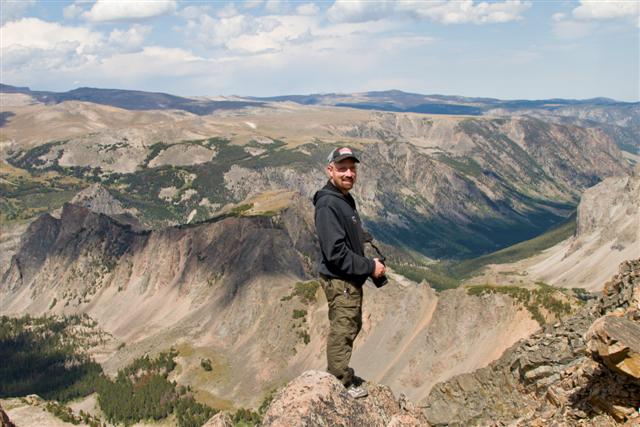 Me atop the Beartooth HWY
Trying to clean it with the windshield wipers only smeared the goop around making it harder to navigate through, and once in the park, we had to pull over at the Fishing Bridge Fuel Station to scrub the windshield clean.
I wish Cody would have had a Truck Accessory shop because I would have stopped to have some brighter lights installed while we were there. Its getting dark earlier and earlier now, so these are something we're going to have to have installed within the next few weeks for sure.
Once back at camp, Ryan and Nanette had just gotten home themselves and were getting their camp set up for the night. Ryan had his laptop out and was showing us some of their days photos from roaming around the park.
He had one shot in particular of a big bull elk walking through the Madison River. It was shot in the late afternoon light and was one I'd be proud to have in my portfolio.
We all sat up talking and comparing notes on our days travels till the cool night air crept in and ushered us all off to bed. Ryan and Nanette climbed into their Roof Top Tent and Cindy and I went off into the camper.
We fell asleep with the sounds of elk bugling off in the distance and a full moon bright enough that we had to cover the windows because it seemed like we were sleeping during the daytime.
What a great day it had been and although long, being as we had started around 5:30am, and it was now after midnight, it was well worth the sleep deprivation.
I forgot, but I mentioned I'd Post some photos of what Ryan and Nanette's ARB Roof Top Tent looked like during the day time. So here are a few shots I took the next morning before they packed it up.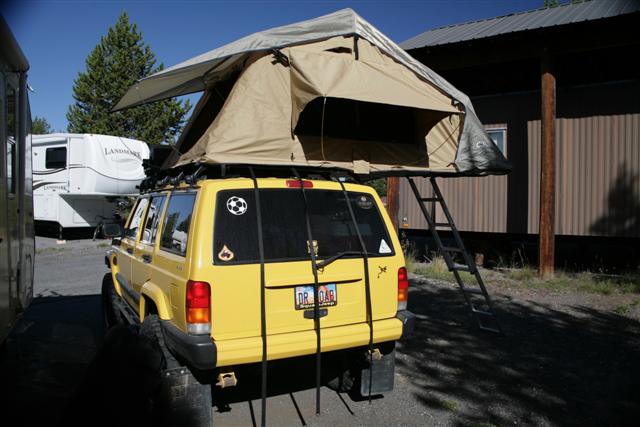 Back View with it Fully Set Up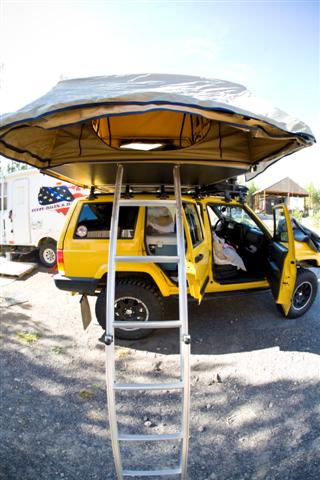 Looking Up the Ladder under the Vestibule

Cindy and I were both amazed at the roominess of the interior! This is what sold us on getting one for the top of our truck!
Tuesday September 8th 2009
I hope everyone had a great Labor Day weekend and survived the parties, BBQ's and fun times which tells us Summer is finally over and we're headed into the harvest season.
Cindy and I laid low this weekend since the park was so busy. After Ryan and Nanette left on Friday morning we just hung out around our quiet campground area and played with the dogs, worked on the computers and enjoyed some down time.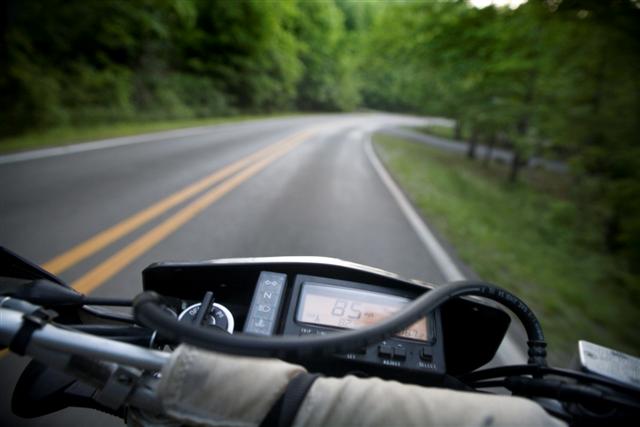 We were working on the computers on Saturday when by late afternoon and way too long in front of a monitor, I got too frustrated from the craziness bouncing around in my head and needed some time away from thinking so much.
When ever I get like this, I've found that a long ride on the motorcycle usually clears my head up.
There is something about riding on the bike with nothing but the sound of the wind rushing through your helmet that is good for the soul. I cant think too hard on anything other than the road in front of me and the trees rushing past the handlebars.
Cindy said she didn't feel like going out, so a solo ride is even better to clear the head. I logged around 100 miles on the bike just cruising the twisty roads of Yellowstone and came home energized and in a much better mood.
On Sunday when I went back into work, I was busy setting up the store when I felt a rumble and noticed everything hanging on the walls was moving.
At the exact moment I felt the rumble, there was a few large tour busses rolling through the parking lot of the West Thumb Basin, and not having ever experienced an Earthquake before, I just assumed the weight of the busses had shaken the ground.
I mean we are on a geyser basin which is pretty unstable and shifts almost constantly.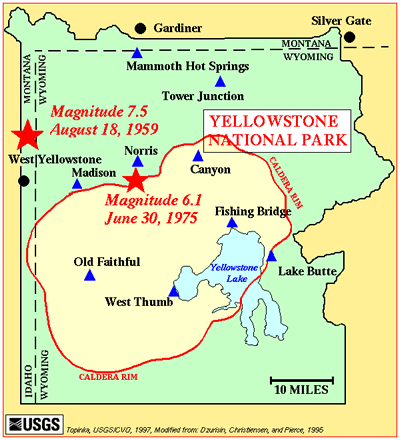 A few minutes later I got a call from the Seismic Center here in the park asking me if I had just felt the earthquake and wanted to know how long it lasted for and how strong I had felt it here in the book store.
When they told me it was our second one of the morning and both had originated from the West Thumb Basin, it got me a little excited.
I mean how cool is that to be in the epicenter of an earthquake while inside the largest Caldera on Earth. I probably get at least 5 people a day that ask me if I'm worried because I'm in the caldera.
Or they ask me if I know that I'm in the middle of it.....DUH! If anyone comes and visits Yellowstone and doesn't know that, let alone WORKS in Yellowstone and doesn't know that, then they have some serious issues with logic and common sense.
When I got home from work on Sunday afternoon, we both jumped on the motorcycle and rode over to the Old Faithful General store for some ice cream. It was a nice afternoon and it was cool to see all our old fellow employees back at the store.
After a long summer of work, the kids from foreign countries have improved on their English so much. It was amazing to hear them talk so clearly and use our slang in their everyday speech.
We heard about Obama's visit and found out he came into that actual store to get ice cream with his family. They said the security was crazy and just to get into the store it was like boarding a plane. You had to be wanded by the Secret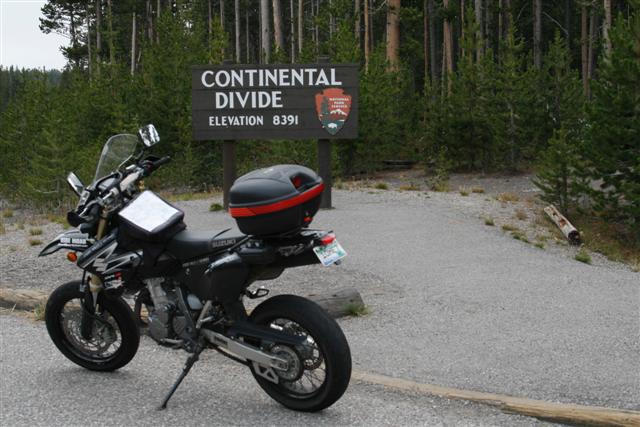 Service and all the entrances and exits were closed off except for one.
It was really cool to see all of them again, and if there is one thing I miss about working there, its the great people we worked with. If only they didn't have such goofy hours, that would have been a great summer job.
Cindy worked yesterday so I could work on a few things that have been itching away at me, but those things that I always put on the back burner and say I'll get to at a later date.
Years ago, I had built a Bonish Photography website and got it up and running. It wasn't too long afterwards that we started building the Every Miles A Memory website and if you cant tell, this site takes up a bit of my free time.
Since the Bonish Photography site was up, I sort of forgot about it and left it sitting there just sort of hap-hazardly working, but I never really liked it.
I get emails and comments about it all the time, but its one of those things that was always put on the back burner.
Then the other day I got an email asking about some prices and questions off that site and when I went to look at it, I was so embarrassed it was even on the internet.
So while Cindy worked at the book store, I spent about 12 hours completely overhauling that site. I'm not too worried if we even get business off of it, I just hate having anything of mine not being up to my standards, and that was way below them.
I look at other photographers sites daily and think to myself "This is a photography website, and you dont even have any photos on it?"
Then I look at my own site and I think "What am I talking about? I have a photography website that doesn't even have any photos on it!" I guess because of my Right-Brained way of thinking, I have to see visually to understand and like something.

You can tell me about it all you want, but for me to really understand it and like it, I have to see, feel or touch it to grasp it 100%.
Cindy had called me from work yesterday telling me that a couple had come in saying they follow along with our website and had been following us since we were down in Mexico.
I guess while we were staying in La Paz, they stayed in the same campground as us. They were going to come over and introduce themselves but thought it was too late at night. They said they were planning on coming over in the morning to talk, but by the time they had woken up, we had pulled out already.
Surprising to me because we're normally the last ones to leave any campground...LOL We've never been early risers especially while in Mexico when we were both so in love with the Cazadores Tequila.
But anyways....they got to talking and when Cindy asked where they were staying, they said they were just playing the trip by ear. She asked if they wanted to stay in our campground because we have a few open spots.
Chet and Mary pulled in this morning and set up across from us and as soon as Cindy gets home from work tonight, we're all planning on hanging out swapping lies about our past travels.
Wednesday September 9th
Waking up to a camper where I could see my breath wasn't all that fun this morning. The floor felt like an ice rink and when I went to turn on the water to fill the coffee pot, only a slow trickle came out.....OOPS!! The water had froze last night.
Cindy told me to turn on the hot water heater, which thawed the incoming water line pretty quick, and luckily we had water in our fresh water tank, so I was able to turn on the water pump and get enough water out for some coffee to warm us up.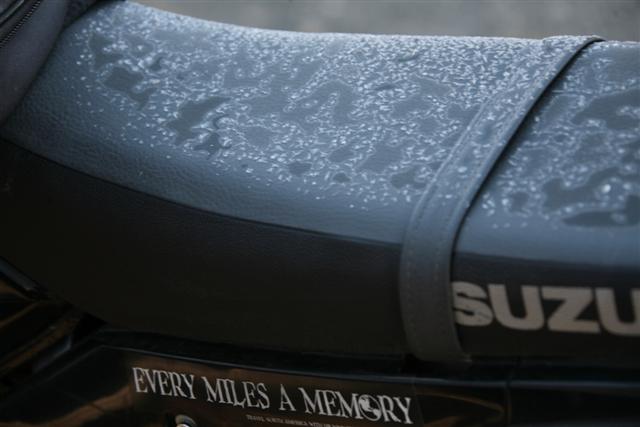 Riding into work on the motorcycle was another story. I rode 90% of the way standing up due to my seat having a thick layer of ice on it. When I did sit down to make a turn, I let out a yelp like a dog would when you step on its tail.
The family jewels dont like to sit on a block of ice to start the day off.
Work flew by today with Wednesday being our half day of work. Cindy came in to help put the book order away, and we were out of there in no time. Chet and Mary met us at the book store and we took a nice stroll around the West Thumb Geyser Basin.
This is their first visit to Yellowstone, so everything is new to them. I have to remind myself when we're with visitors who haven't seen the park features before to slow down.
By this point we've seen them so many times, I tend to just speed right past them without stopping like we did when we visited for the first time.
Last night, we all sat in their Class C's living room swapping stories over a few glasses of wine and having a grand ol' time. They are a great couple and have fabulous stories to share from years of traveling around North America.
I love to meet fellow travelers and especially people who understand why we do what we do. Sometimes its hard to talk to people who still live the daily grind because all they ever want to do is ask you questions about why you're doing what your doing and act like you're weird for throwing all those daily stresses away.
After our Geyser stroll, we all loaded into their vehicle and headed over to the Old Faithful Basin so they could visit the Old Faithful Lodge and see the parks main attraction.
We made perfect timing and had just enough time to grab a cup of coffee before we got to watch the namesake of this basin do its thing.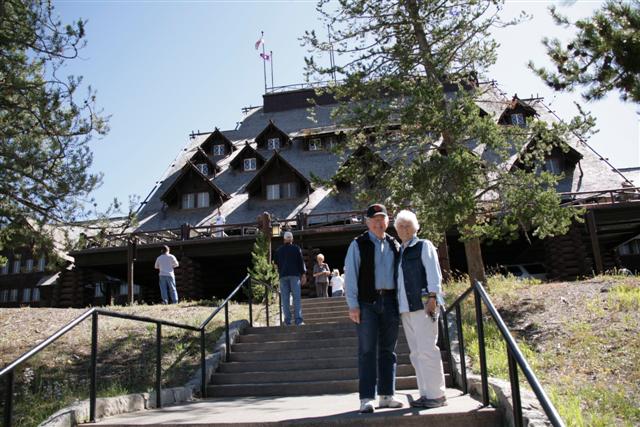 Even though the day had started out so cold, by this point it had warmed up to a picture perfect day with nice, comfortable temperatures that made it perfect for an afternoon walk.
We made our way down the boardwalk to the General Store Diner where we had some lunch and talked about our travels in Mexico. Chet and Mary have bought property in Baja and we all sat around talking about escaping to warm beaches and a slower way of life, but also talked about the recent hurricane and the trouble the peninsulas residents are in right now.
After lunch we made our way back to the campground and called it an early day.
I've forgotten to post the last few months fuel/camping reports, even though I've been moving the piece of paper off my keyboard for a few weeks now?? I know, I'm lazy!
I've also posted them at the bottom of their months blogs incase you want to go back and look them up for those that keep track of this kind of stuff, but I'll post them here too so you dont have to go clicking around the site getting yourself lost.
________________________________________________________
Total Miles Traveled for the month of June = 1703.2 All in Yellowstone and the Surrounding area!
Total Water Used in Coach = Hard to tell exactly because we were hooked up to a city water connection all month in the employee campground in Yellowstone?
Total Fuel Used in Truck = 65.18 Gallons @ a Cost of $177.22
Campground Costs - 30 Days total in a campground $195 total - This is because we were in the Employee Campground in Yellowstone all month and what our total came to for Fee's
No Propane Tanks Used this month, but then again, it was a warm month and we never had to turn on the heat. At the end of the month, neither bottles were showing empty.
Of the 30 days out of this month, all 30 were spent in the camper. 2 of those days were spent either Drycamping or Boondocking and 5 of them were spent in the Old Faithful Employee campground.
That brings us to 140 days so far this year spent in the camper and a total spent on campground fees at $313.
________________________________________________________
Total Miles Traveled for the month of July = 2266.10
Total Water Used in Coach = 160 Gallons
Total Fuel Used in Truck = 197.11 Gallons @ a Cost of $503.64
Campground Costs - 10 Days total in the employee campground in Yellowstone $110 total - These were the last few days we spent in Yellowstone before we quit and went back out on the road. Rest of the month was spent as usual, staying where ever we could find a free spot or drycamping in parking lots.
July 15th, topped both tanks off for a total of 9.45 gallons of Propane @ $3.15 per gallon = $29.76
Of the 31 days out of this month, all 31 were spent in the camper. 20 of those days were spent either Drycamping or Boondocking and 8 of them were spent in a campground.
That brings us to 171 days so far this year spent in the camper and a total spent on campground fees at $423.
________________________________________________________
Total Miles Traveled for the month of August = 2266.10
I did some totaling and sine we left Michigan back on February10th, as of the end of this month, we logged 13,263.9 miles with the truck and camper. I probably shouldn't say this, but that has all been on the same Synthetic Oil since we left Michigan as we had our oil changed right before we left.
The oil on the dip stick still looks good, so I've been holding off on changing it.
Total Water Used in Coach = Hard to tell exactly because we were hooked up to a city water connection for half the month in the employee campground in Yellowstone? But when we shower and use the hot water, we still use it like we would when we're dry camping because we only have a 6 gallon hot water tank, so far less than a normal household would.
Before we arrived back in Yellowstone, we had used 80 gallons of water in the 17 days we were drycamping
Total Fuel Used in Truck = 108.48 Gallons @ a Cost of $319.51
Campground Costs - 14 Days total in the employee campground in Yellowstone for a cost of $70 total - The first half of the month we were traveling, drycamping and had stayed in Jana's driveway in Spearfish for free. Thanks again Jana and Tom!!
August 17th, filled one propane tank with 7 gallons of Propane @ $2.80 per gallon = $19.60
Of the 31 days out of this month, all 31 were spent in the camper. 17 of those days were spent either Drycamping or Boondocking and 14 of them were spent in the employee campground in Yellowstone.
That brings us to 202 days so far this year spent in the camper and a total spent on campground fees at $493.
Thursday September 10th - Playing Tourist on Our Day Off
Since this is Chet and Mary's first time in Yellowstone, and Cindy and I had the day off today, we thought we'd give them a tour of the park, or at least point out some of our favorite sections.
We left the campground a little late in the afternoon, due to all of us working on various things that needed to be done before we could blow off the rest of the day; but once underway, things moved fast.

Artist Point - One of my Favorite Sections of the Park
Heading up the Grand Loop Road towards Canyon. We first stopped at Artist Point, because if you've never seen this attraction, then it would be a sin to visit Yellowstone and not see one of the sights that made Thomas Moran famous.
With the North Loop Drive being completed this year, there are plenty of viewing platforms to see the falls from, but my favorite is still Artist Point, 2nd would be the Brink of the Falls Overlook.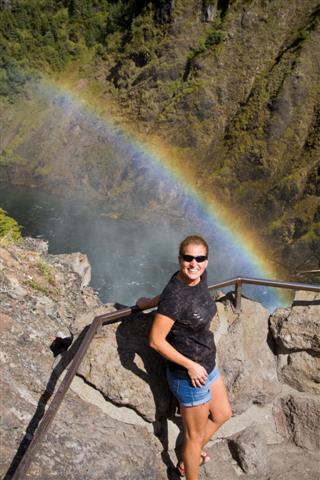 There is something about being that close to the rushing water that throws off your balance and I usually have to hold on to the railing when ever I'm at this section. Not that it scares me, but the water is moving so fast, that I sometimes feel like I'm going to fall over.
From Artist Point, we headed up and over Dunraven Pass, but failed to see anything other than a few random bison. This was probably our longest drive through the park without seeing anything.
Not that the wildlife matters all that much. I think if you could put me in a vehicle that constantly circled the park, I'd be content with just the views out the windshield. I honestly dont think I could ever get bored with the beauty of Yellowstone.
Once in Mammoth, we drove right into a large harem of elk with one giant bull guarding his women right in the Parade Grounds across from the Mammoth Hot Springs Inn.
We both found a parking spot and watched as the big bull would circle his ladies, sniffing the air the entire time and bugling his high pitched scream to get the ladies all worked up.
By this point, it was late in the afternoon, so Chet and Mary offered to treat Cindy and I to a nice lunch at the Mammoth Hot Springs Dining Room. We enjoyed some good food, great conversation and got to watch the elk chase each other around right in the streets in front of the restaurant.
From lunch/dinner, we all headed up to the Mammoth Hot Springs to walk off some of the food along the boardwalks around the limestone springs.
The Mammoth area is so unique and looks much different than any of the other attractions in the park. I love how each section is completely different than the next and its almost like you're visiting multiple National Parks when you travel through Yellowstone.
It was getting late and Chet and Mary were a bit worried about driving home in the dark. They said they would meet us back at the campground and said they wanted to try and beat the quickly setting sun and that scary darkness that ups the odds on hitting an animal on the road.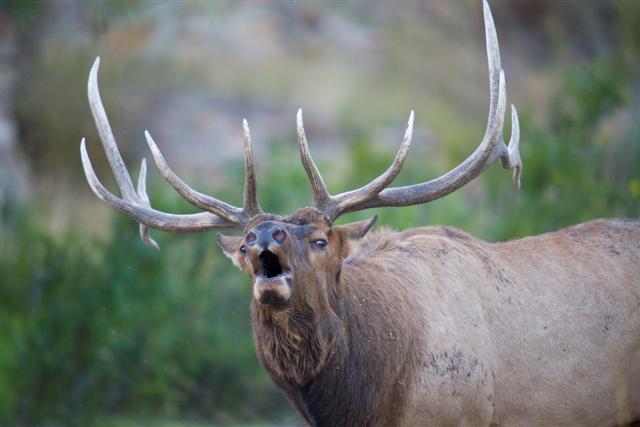 Bugling to all the Ladies - Elk in Mammoth Hot Springs Area
Cindy and I wanted to stick around to see all the elk that were chasing one another, so we thanked them for lunch and said we'd meet back up later for a glass of wine and some more conversation later this evening.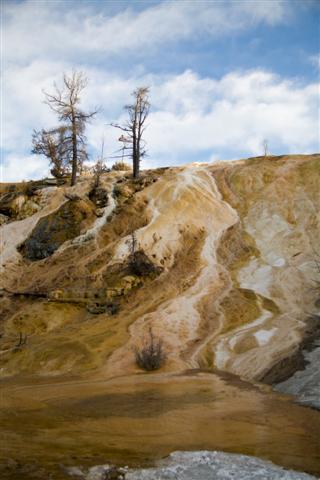 While we were walking around on the boardwalks around the Hot Springs, we could hear Elk bugling all around us, and both of us were excited to see these big animals during their rutting season.
I'd love to watch two of the males battle it out with their huge antlers exchanging blows to one another.
One of the Rangers who was keeping everyone at a safe distance was telling us that the bulls have been fighting back and forth this past week and around dusk each night, the show can get pretty intense.
We were headed back to the truck to go back down to the Parade Area when we realized a new harem of elk with another big bull was only about 50 yards from where we had parked.
We ran over and sat watching this worked up stud chase around the ladies and call out to try and bring some of the ladies from the rival harem over to his clan.
It was like clock work. One of the bulls would throw out a bugle and almost instantly you'd hear a reply from the opposing bull.
I'm not sure if the two bulls were comparing notes to see if one was getting more action than the other, or if they were yelling insults at one another across the valley.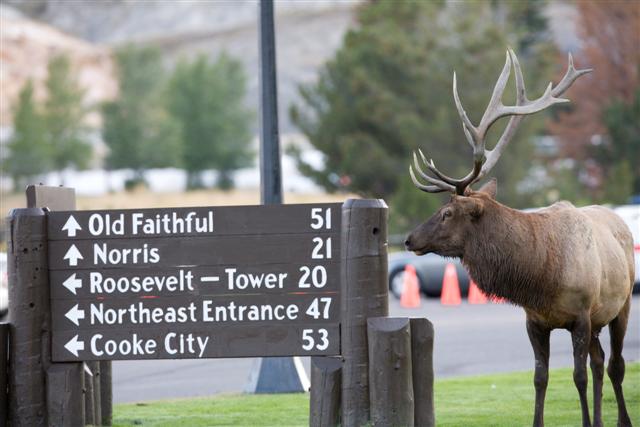 Welcome Wagon at the Mammoth Visitor Center
After awhile of watching this group, we headed back over to see what the other clan was doing.
We sat watching till it got dark, and if we would have had night vision goggles, I think we would have sat there all night long.
The drive home was just as interesting as our day had been. On numerous occasions would Cindy yell out because either an Elk, a herd of Mule deer or some bison were walking along the edge of the road.
On one turn, we came around the bend and both of us yelled out as I slammed on the brakes hard.
The buffalo that was standing in the middle of the road just sort of looked up at the headlights reflecting off his little eyes and slowly moved over to the edge of the road.
I could see headlights coming down the hill so I started flashing my high beams off and on to alert the oncoming driver that there were not one, but 3 bison in the middle of the road, and we watched as this little car came screeching to a halt only feet from the huge animals.
Remember those brighter lights I had talked about? Well I think I'm going one day next week to get them installed!
Luckily we made it home safely, but by the time we pulled into the campground, it was way late and Chet and Mary had long gone to bed.
I was dead tired from all the walking around, the excitement of watching the elk, and just another great day in the park. Tomorrow dawns another day, and hopefully more non-stop fun.
Friday September 11th - Exploring Montana's Most Visited Ghost Town
Ever since we've gotten to Yellowstone, we've heard people talk and have had them ask questions about Virginia City and Nevada City.
I hate having an attraction so close and not have first hand knowledge of it to either recommend the visit or keep them from wasting their time. I've asked others and have gotten mixed reviews. Some dont like history and others find it fascinating.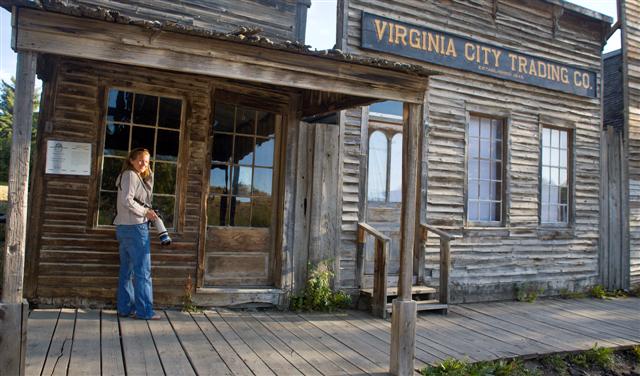 Cindy Looking in the Wavy Windows of Virginia City's Long Forgotten Buildings
For Cindy and I, we both love anything that has to do with history and especially the history of the West. There is just something about this age of exploration that we both find so captivating and can relate to it, even though I cant imagine the hardships these explorers went through.
Think of the people that had left their homeland, crossed the Atlantic on a boat and reinvented themselves in the New World of early America.
Once they became established in this young country, many of them left again to travel to parts of the world that no one had ever seen with hopes of striking it rich in the wealth of fabled gold mines, land grabs or yet again starting over.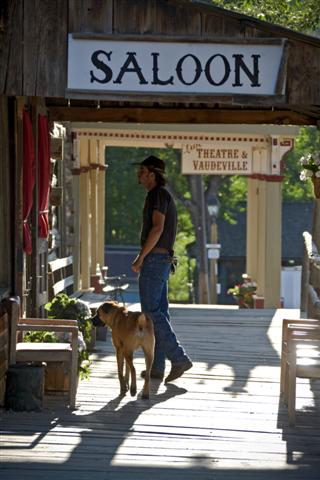 I've always found it so intriguing that someone could leave their home place, move to an area that was just emerging itself and become what ever they wanted to be.
Some might claim to be the town doctor, some might be the banker or some might just waste away their wealth looking for new money in the mountain sides.
This to me is what the West was all about. A starting over if you will and it has always fascinated me with its stories and lore that surrounds its history and the men and women who faced the harsh environment head on. To top it all off, the arid climate of the Western section of the United States preserves these towns, structures and mines to remind us of cities that tried and failed to make their name in the New World.
When Ryan and Nannette visited us last week, they left Yellowstone and stopped by Virginia City and Nevada City on their way back to Utah. Ryan had sent me a link to his photos and said the place was amazing.
Once we looked through his photos, we both agreed that we needed to visit these ghost towns before they shut down for the season.
We had asked Chet and Mary if they wanted to come along, but we knew it was a long drive, one way, just to get to this section of Montana, so we planned on spending the night to make it a two day excursion. They let us know that they wanted to explore more of Yellowstone and had planned on heading out tomorrow morning.
So we said our goodbyes before they headed out to see the park, and we loaded up the truck for a little overnight road trip.
We didn't even make it out of the park before we stopped along the Madison River when Cindy spotted a giant bull elk and his harem.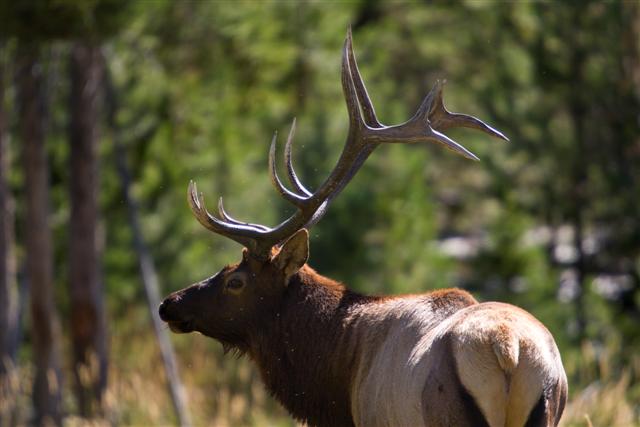 Bull Elk on the Madison River
We both jumped out with cameras in hand and proceeded to watch for the next hour as this bull tried his hardest to keep his ladies in a tight group.
There is something about an animal this size with a rack this large that demands respect. All he had to do was come out of the water in our direction and everyone lining the banks of the river would start walking backwards to keep their distance.
We were never closer than 100 yards to the herd, but all he had to do was start walking our way and everyone moved quickly back towards their vehicles.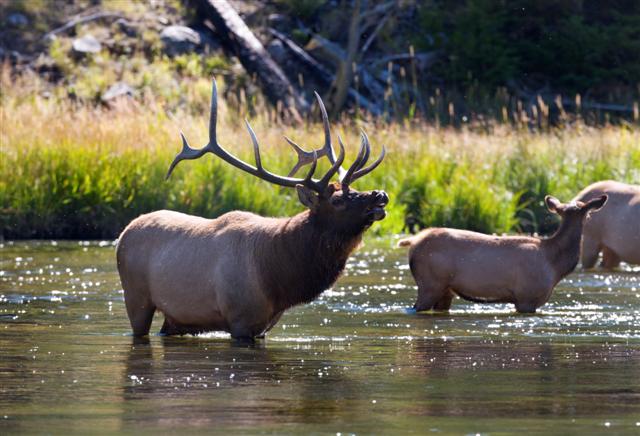 Bugling in the Water of the Madison River
When we both figured we had enough shots of this herd to film a documentary on elk, we headed back towards the truck and on our way towards Montana.
Once you leave the park and head West on HWY 287, you drive through the Quake Lake area and over the pass. Its amazing how you climb up and over a mountain and down through a valley that is as flat as a billiards table for as long as the eye can see.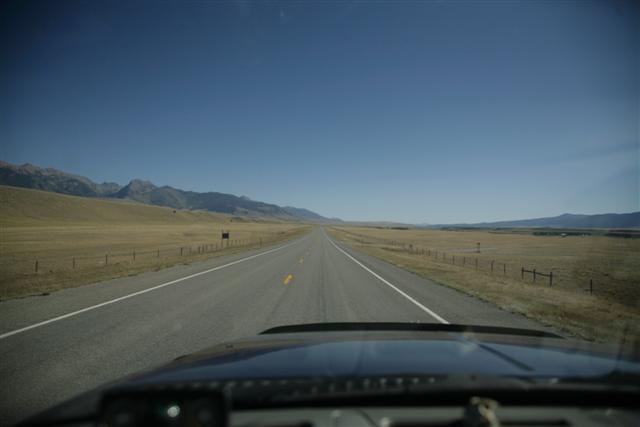 This section of the drive was somewhat boring, but it gave us time to top off the batteries on the cameras, clean the CF Cards from the elk back in Yellowstone and listen to some news on the radio....something we haven't done in weeks.
Amazing how out of touch you can become with the outside world when living in a small of place as the 2.2 million acres of Yellowstone.
I also love having our inverter hard wired in the truck. I always feel like I'm getting something for nothing when I can charge all our camera batteries, charge the batteries for the flash and recharge the Epson P-4000 Hard Drive while using the power from the truck battery while driving. Why dont more people do this while driving, or why cant we figure out a way to harness this power to use off site? Just something I think about while driving and stealing power from the trucks motor.
We passed through the small town of Ennis Montana, and over the pass into Virginia City. This town is straight out of the last Western Movie you watched, with the wooden boardwalks, clapboard siding and wavy glass in all the store front windows.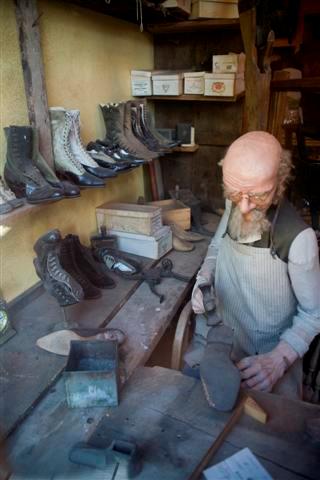 The town of Virginia City was once a thriving town during the gold rush days, but when the gold dried up, the people left faster than Cindy devours a bag of pork rinds.
By the time we pulled into this forgotten town, it was late in the afternoon and most of the businesses had closed up for the night. Not that it stopped us, we still wandered the city streets for a few hours looking in all the windows and talking about how cool it would be to relive these early days of Montana's birth.
The few businesses that were open happened to be the towns two saloons. We stopped in one of them and threw back a cold one, but the bartender wasn't all that knowledgeable about the history of the place and we actually told him a few things about what we had looked up on line before we came out this way.
How can you work in a town as historic as this and not know its history?
By this time of the evening the light was about perfect, so we went back out and fooled around more with the cameras and scenery that was offering itself up to us.
At the opposite end of town is the Pioneer Bar, which is pretty cool when it comes to architecture. Things dont look like they've changed too much in the last 100 years except for the ovens to cook the frozen pizza's, the neon lights and the jukebox belching out hits from the corner.
I was amazed to see another Brunswick-Balke-Collender Bar like the one we saw at the Cowboy Bar in Meeteetse Wyoming. This back bar was no where near as nice of the one we saw in Meeteetse, but it did have both the labels showing it was an original Brunswick-Balke-Collender Bar.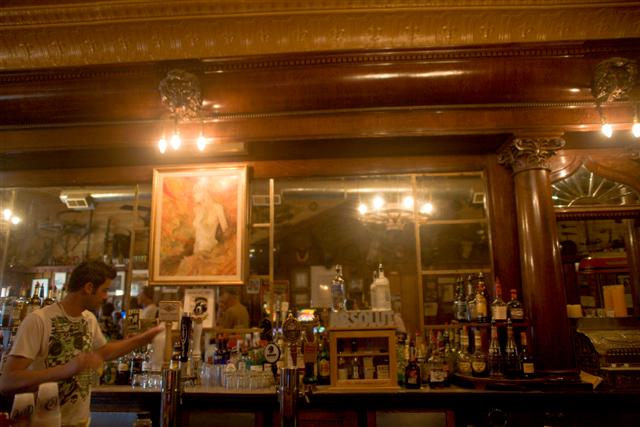 The Back Bar in the Pioneer Saloon in Virginia City
I remembered Jim Blake, the owner of the Cowboy Bar telling me that Virginia City had one of these original bars, but it never hit the gray matter till we were sitting in the bar and I noticed the labels glowing in the neon light.
Again, the bartender had no idea what he was pouring his liquors off of and when we asked him numerous questions about the back bar, we told him more info on it than he knew about his place of employment.
He did tell us he knew the bar had been purchased for something like $20 to get it out of a building it was forgotten in many years ago.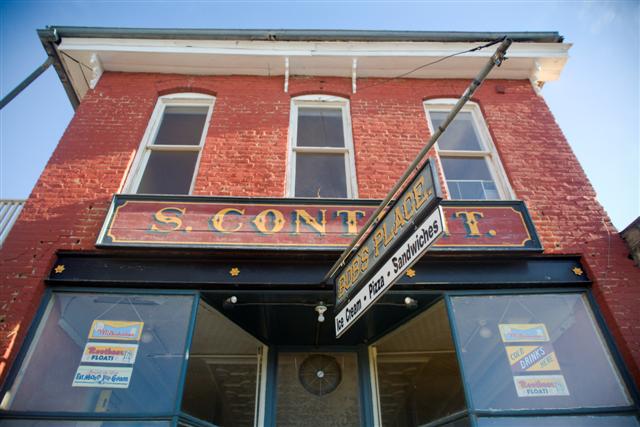 When I told him it was probably worth a hundred grand, his eyes lit up and he laughed saying "Yeah right, this old thing?"
I guess some people have no idea what they're surrounded by each day and would rather not learn about their surroundings. I guarantee if this guy could tell the story of the history of the back bar to the tourists that frequent this town, his tips would increase ten fold each night.
When it started to get dark outside, we headed back to the truck to see about finding a place to sleep tonight.
Of course Cindy had to bring the dogs, which meant we'd probably have to pay extra to stay in a motel, and campgrounds were few and far between out here.
We checked out a few of the local motels, but there was no way any of them were going to pry $100 out of Cindy's hands, so when she came out and said "Looks like we're sleeping in the truck tonight!" I found us a little roadside park to sleep in for free.
While I walked the dogs, Cindy set up the back seat with a bunch of blankets and sheets she had brought with us, probably knowing that we were never going to find a hotel within her limited budget. When I got back to the truck, I asked what she had planned for the night since we had no sort of games to play, no beer to drink and fires were out of the question due to the strong winds and cool mountain air we were being blasted with.
She shrugged her shoulders and asked "Cant we just go to bed right now?"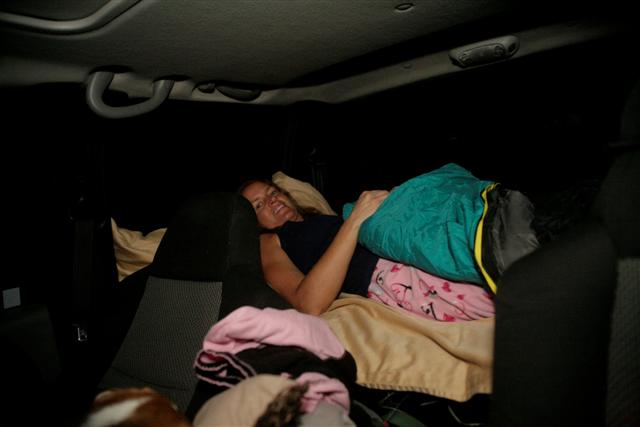 I informed her that it was only 8:30pm and it was still somewhat light out, but she just laughed and said "Well, lets give it a try and see what happens."
We put the dogs in the front seat, and the two of us adults slept atop the storage box that's in place of our backseat.
Granted with all the blankets, pillows and sheets she had brought, it was somewhat comfortable, even if it was only the size of a kids single mattress.
We sat talking and laughing about our days adventures and the cool buildings and town we had spent the afternoon exploring.
We watched as the sky grew darker and the stars came out lighting up the night with their soft glow.
Hours later I felt Cindy rustle around and I looked out the window to see what the night had in store for us. She asked what I was looking at and I pulled one of my favorite lines with a simple "Just wondering what that guy wants that is sitting at our picnic table with the axe in his hand."
She yelled out "Dont even start with that shit!" she then rolled over stealing 90% of my covers and went back to bed.
I sat chuckling to myself because there wasn't a soul in sight and if some guy was sitting at our picnic table, he'd have a good friend of mine I brought along from Germany, Mr. Glock, to answer to.
I went back to bed with dreams of ghost towns and wild west stories in my head and thanked the Lord that I have a wife crazy enough to sleep with me in the back seat of a truck with our two dogs in our front seats. Not something most women would ever think of.
Saturday September 12th - Full Day of Ghost Towns
We were up well before the sun crested the mountains and got ourselves ready for a fun filled day.
Surprisingly the back seat or top of the storage box, wasn't all that bad, and I was amazed we both slept through most of the night. I guess with the four of us breathing in the cab of the truck, it kept the air pretty warm and comfortable to sleep in.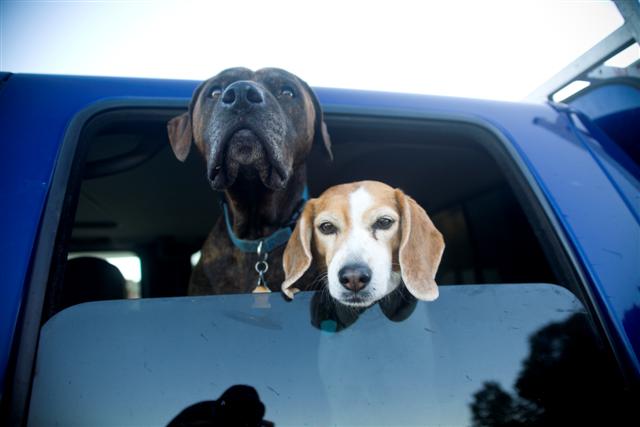 I got up and took the dogs for a long walk letting them run and play and wear themselves out since they'd be hanging out in the truck most of the day. Some might think this is cruel to leave the dogs in the vehicle, but we always find them a nice shady spot, roll the windows down so they have a cross breeze and open up the sunroof to let any heat escape through the top of the truck.
Most of the time, when we come back to the truck, they lift their heads to see who is opening the door and barely wake up from their sleep. They are quite the lazy pair of pups.
Cindy made us some breakfast and folded up the blankets and sleeping bag, and we let the diesel motor warm up for a few minutes while we fed the dogs their breakfast. It was pretty chilly, and we could see our breath outside in the cool morning air.
Pulling out of the roadside park, I noticed a small, rusted sign that said 'No Overnight Camping'....OOPS!! I guess we missed that one when we pulled in after dark last night.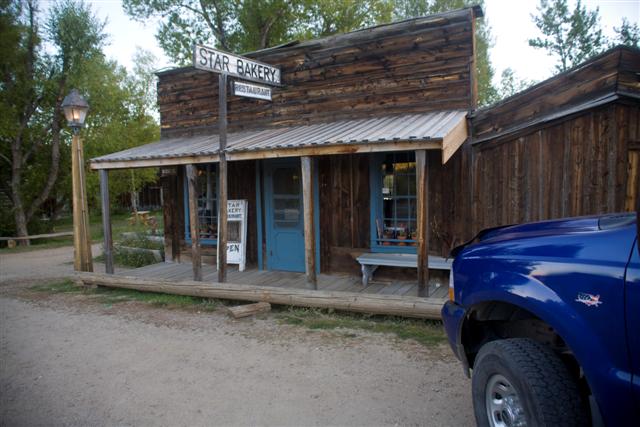 We drove down to Nevada City with its one blinking yellow light and parked the truck right along Main Street. There wasn't a soul moving around and except for the few cars parked in front of the motel, this place was empty.
I threw on my knit hat and an extra jacket, and grabbed the camera. Cindy has a nice pair of gloves that she can wear while shooting in the cold weather, but I had left mine in my riding jacket from the last time I rode the motorcycle to work, so I spent the morning with numb fingers.
The front entrance to the ghost town was open, and they normally charge an $8 per person entrance fee, but like I said no one was around, so we just wandered around the place peering in all the windows. We knew we were going to come back later when they had all the buildings open, so I planned on paying our entrance fee then.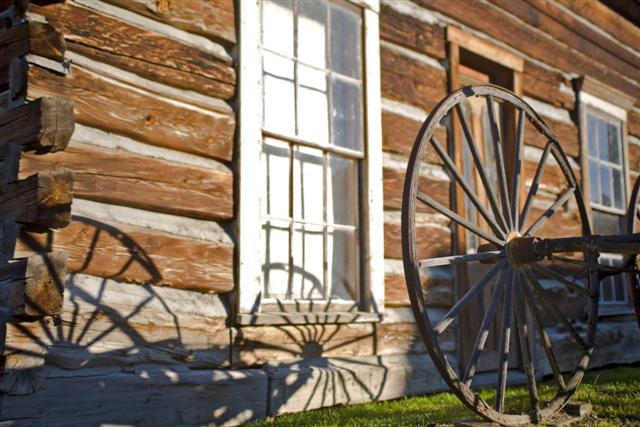 We just wanted to see if we could get any photos with the nice early morning light. After about an hour of wandering around and seeing all there was to see without any of the buildings being open, we headed back to the truck where we could warm up a bit and get some feeling back in our extremities.
We drove the mile back up to Virginia City and found a little cafe that was open and serving breakfast. Well, they served eggs with a few sides to go with them and coffee, but that was it.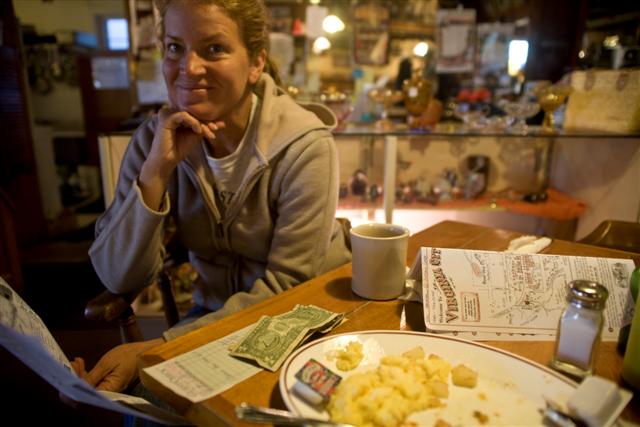 Our server at the Outlaw Cafe was Nan, she knew a bunch of history of the town and filled Cindy and I up with coffee, food and stories about some of the locals.
Once we were fed up, we headed out to explore a bit of Virginia City now that everything was open and the town was buzzing with activity. We found out that this was the last weekend for both Virginia City and Nevada City to be open, so we were glad we decided to make the road trip when we did.
Driving a few of the back streets of Virginia City, we found some great places with tons of architecture to drool over. One of my favorites was St. Paul's Episcopal Church, which was constructed between 1902-04 with funds from one woman in memory of her husband! That's a serious memorial!
The stained glass windows in the beautiful church have said to be from Tiffany Studios, but they are now believed to be a Munich-style from the Mayer-Zettler Studios. Who ever made them, they are breath takingly beautiful.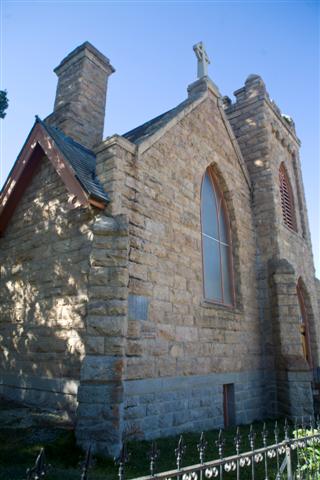 Some of the homes and buildings around the town are kept in great condition, others look like they have sat empty since the gold rush ended.
The Gilbert Brewery still stands just as it did when it brewed ales said to be some of the best in all the West. It has a giant beer garden outside that is more of a park with large shaded trees to imagine an area filled with locals sipping on frosty beers enjoying the cool mountain air.
The main street is the best part to explore. Many of the buildings have their shelves filled with goods that are from the time frame when the isle ways would have been lined with miners and their families coming into town to stock up on groceries.
You can take a tour on a horse drawn carriage, or sit in the back of an old fire truck while the tour guide explains all the local legends and tells you about the town from the comfort of his historic tour vehicle.
When we finally finished touring Virginia City, we headed back to Nevada City to see what the town looked like when the buildings were all open and you could go inside them. Plus it had warmed up quite a bit, so it was much more comfortable to wander around with feeling in your hands and feet.
We paid our entrance fee and got to checking out the historic buildings. I wont bore you with every detail of Nevada City, but I will say that if you're into historic buildings and history of the West, this should be at the top of your list of places to visit.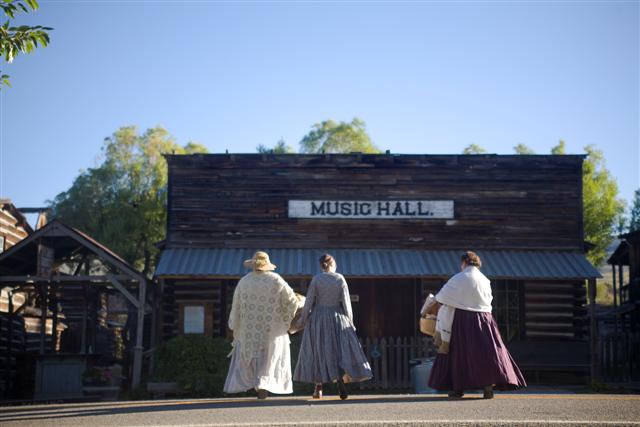 Ladies Heading to the Grocery Store in Nevada City
There is everything from a Blacksmith Shop to a Saloon, multiple homes furnished with period furniture in pristine condition, homes that are one room cabins to a multi-room house that is two stories and decorated with amazing artifacts. Trains and rail cars and an entire depot where you can ride a steam locomotive from Virginia City over to Nevada City during the season.
We were bummed because they had just stopped the train rides a few days earlier. But it gives us reason to come back for another visit.
There is one whole building, the Music Hall, that is filled with antique player organs, pianos and noise makers from around the world. Things I've never even seen like the Player Horn that is said to make some of the most obnoxious noises known to mankind.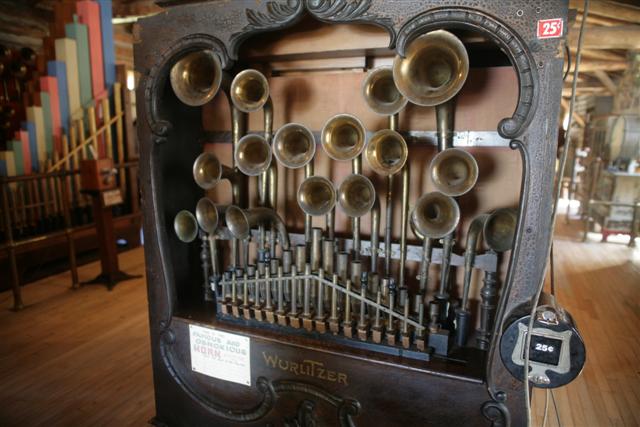 Wurlitzer Coin Operated Horn Machine in Nevada City
We did get to hear a few of the organs operate and they are loud and obnoxious, but boy are they fun to listen to.
Cindy and I spent the entire day wandering around, talking with the people who dress in character and tell you stories about their trip out here from the East.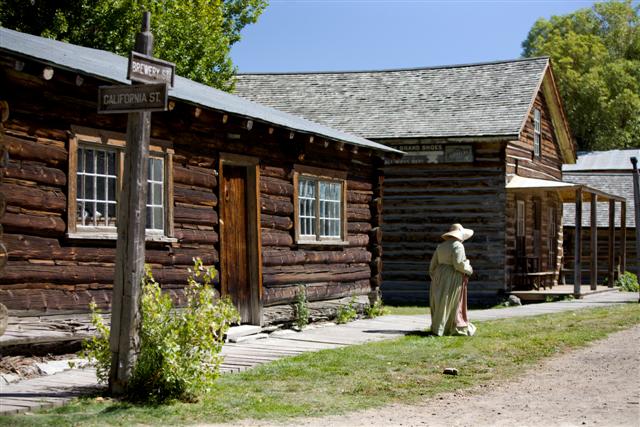 When the day finally came to an end, and both of us were fully whipped, we headed back to the truck where Cindy fixed up some lunch from the cooler she had packed.
The drive home seemed much faster than it did on the way there, but maybe it was because we had so much to talk about and compare notes on with what we both thought about the buildings and the two towns we visited.
When we were pulling back into the park, Cindy had commented that we didn't need to stop for any of the animals unless it was something out of the norm.
That was till she saw the big elk in the Madison River with the setting sun throwing a beautiful glow onto him and his harem of ladies.
We both jumped out of the truck and watched for at least an hour as he walked up and down the shallow river tending to his women.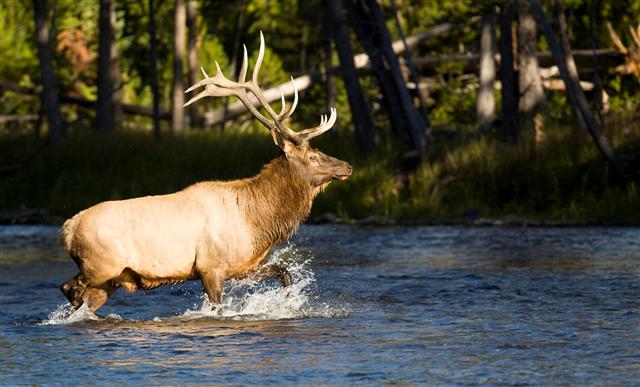 When he finally went chasing one off into the woods, we called it quits and headed for home. Make sure to check out the Virginia City Ghost Town Gallery and the Nevada City Ghost Town Gallery for loads of photos from our visit.
It was a great little road trip and one I wont forget anytime soon.
Thanks Ryan and Nannette for showing us your pictures and kicking out butts into gear to go check them out.
Wednesday September 16th - Looking Forward to Moving On
With the season here at Yellowstone drawing to a close, my mind has been racing with ideas and thoughts of where we're going next.
We have a good friend who lives in Moab Utah that we've kept saying we're going to go visit, yet something always comes up that pulls us in another direction.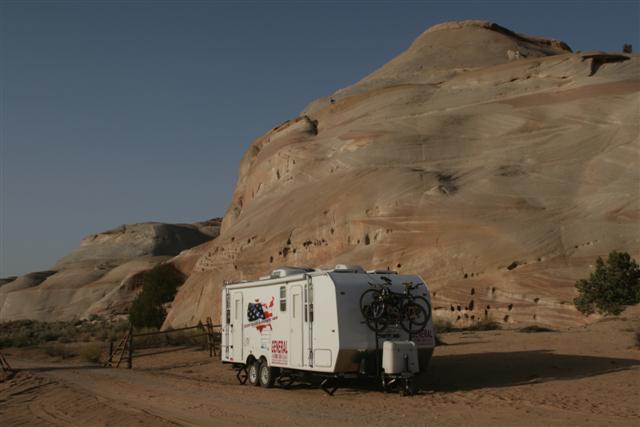 We're hoping that when we finish up here in Yellowstone, that will be our next destination. Southern Utah has some beautiful weather during the month of October and being as its a bit lower in elevation, when we leave here due to winter settling in, we'll head back to fall type weather in Utah.
One of the things I like best about living in a camper is when you dont like the weather, you hitch up and move to some place that has weather you like. I always go back to our friend Darrel who said it best with "See those little round black things under my coach? Those are why I live the way I do! If I dont like where I'm at, I move my house."
Truer words are hard to come by and I love the insight that man has on life.
Being as the Campground/Hotel thing has never panned out, I've put that out of my mind and have started working on moving ahead with our adventure seeking.
Back to the drawing board with the motorcycle and the sidecar, back to thinking about a flat bed on the back of our truck to haul it around. A Roof Top Tent to do more back country exploring and basically back to the gypsy lifestyle we've become so accustomed too.
We've come up with the dates for our VW Bus trip up California HWY 1, and I've asked on a few different forums I frequent if anyone could suggest various 'Off the Beaten Path' places we should check out along this coastal road.
I should probably do the same on here and ask that any readers who might know of cool places to stop along California's HWY 1 that aren't the typical tourist traps could send up some tips or suggestions.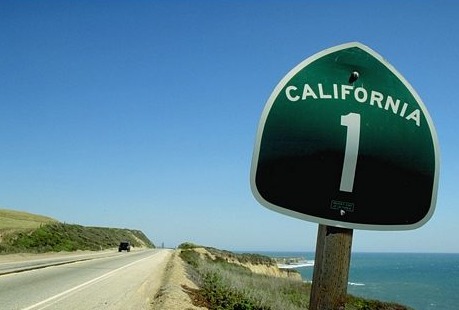 We're both really looking forward to this next part in our adventure and we've been jotting down all the tips people have been sending us and plan to sit down with a detailed map and highlight places along the route to visit.
This will be very interesting for the both of us because we're not going to have the full luxuries we're used to without having the full size Norcold refrigerator behind us, the flushable toilet, hot shower and everything else that goes with the comforts of our Glamping lifestyle we've become so accustomed to.
Traveling in a Vintage VW Bus will be more like the true gypsy and show us how spoiled we really are. But I love things like that and think it will help show us ways to even conserve more while we're in the camper.
The last few days I've been working at a different store to help cover some shifts for someone who had to go out of town. It means I have to ride the motorcycle some 30 odd miles up to Fishing Bridge and gives me some time to just meditate while I'm on the motorcycle alone.
I refer to my time spent in the saddle as Meditation because I tend to zone out, paying so much attention to the road around me and looking for wandering animals, that I really cant focus or think on too much of the non-sense that clutters my A.D.D. brain.
Working at this other bookstore, which is twice the size of our little cabin we normally work in, I've found a few new books that I've been reading.
I picked one up yesterday and by the time my shift was over, I had read the entire thing from cover to cover.
Its a trip journal from a woman who traveled from Battle Creek Michigan in 1929 with two of her girlfriends to Yellowstone National Park, or The Park, as she refers to it throughout the book which is called To Yellowstone Park and Back: A Journal July 20th-August12th 1929
Its an easy read, but the text isn't what I'm so fascinated with; its the photographs.
Reason being is Cindy and I have taken this exact route a few times already and I find it amazing to hear her describe the sights they see roughly 90 some odd years ago. Cindy and I have passed through this same country and much of it hasn't changed a bit in that time.
They show photos of their car parked right up beside some of the monuments that now have huge parking lots, barricades and railings all around them.
She talks of getting a flat tire, sometimes two almost every single day because 90% of the roads they traveled along were dirt and really rough back then. This is true adventure and Overland Travel in my mind. This is the type of travel I long for.
I'm getting bored with the completeness of paved roads. It's too easy! I need some real adventure, the lure of getting stuck or having to use some of the knowledge I've trained and taught myself all my life to get me through the day or out of the pickle I've gotten myself into.
I'm almost thinking Cindy is right along with me because when I'm talking about trips like this, she normal scoffs and lets me know right away "Dont think I'm going along for that ride!"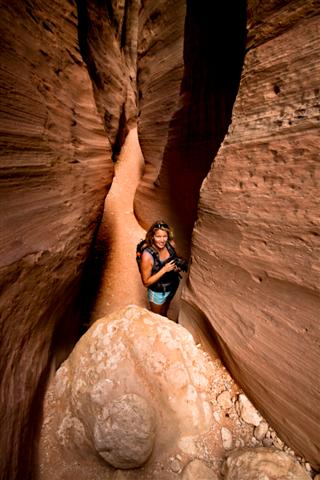 But the last few times I've mentioned side trips or multi-day back country excursions, she always brightens up and says "That sounds like fun!" This gets me more excited than you could imagine and makes my already beautiful wife all that much more hot in my eyes. I love a woman who isn't afraid to take on a daunting adventure or do something that might be considered risky.
Probably one reason Cindy and I have been so attracted to one another all our lives, because she's always been right beside me during most of the silly things I think up.
While I was working yesterday, I had a great thing happen when a gentleman walked up and said "Hello Pat, I never thought I'd get the chance to actually meet you, but I saw your motorcycle outside and just had to come shake your hand."
Harvey and his wife travel in an RV towing their 5th wheel and said they had found our website years ago when they owned a Sunline camper like we do.
He told me he's been following along for years and his wife said "Your website made us start keeping a trip journal so our friends and family could follow along with our own adventures."
You dont know how good things like this make Cindy and I feel knowing that our simple blogs and photos have moved people to either travel more, take more pictures or record their own adventures they take.
That's what this is all about and why we do what we do! Thanks for stopping in Harvey and it was great meeting you and your wife. Hopefully we'll meet up some where along the road and can sit around swapping stories.
I also had another guy come in today who said he had been sitting down at the West Thumb book store talking with Cindy and she had told him that I was working up at Fishing Bridge today.
Barry introduced himself and told me he's been following along with our blogs for awhile now and since he and his wife were in the park, he wanted to stop in and introduce himself.
We sat talking for at least an hour, and when he finally left, I felt like we were old friends who had known one another for ages. I tell ya, sitting still in a park that is this visited sure does have its benefits.
Barry and I talked about past travels, future plans and he recommended a few different places that we should check out after we leave Yellowstone.
Thanks for stopping in Barry, and I'm sure our plans will cross again.
Thursday September 17th
For some odd reason, Cindy woke up at 4am this morning and started telling me about her stresses and things that bother her? Why do I want to hear about this at 4am?
She then gets up, starts cleaning the refrigerator and acts like this is normal?
Of course I'm wide awake listening to the bugling elk, the cackling coyotes all around us and my wife mumbling cuss words in my direction.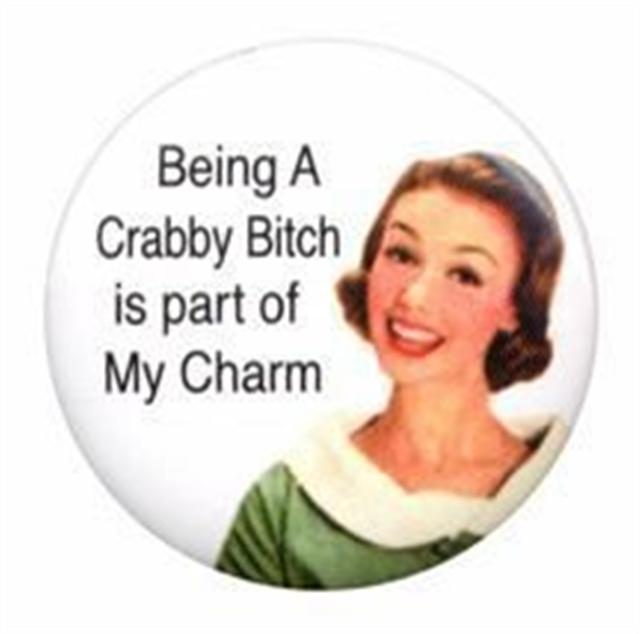 Apparently she's fed up with being dead broke and wants me to get a job so we aren't always worrying about money. I simply told her if she's so worried about money this bad, why doesn't she get a high paying job herself?
I hate arguing about money! For one, its a never ending battle for me, and for two, I just hate thinking about or worrying about money in the first place. Which is probably why Cindy stresses about it so much.
I got up, we shared a few cups of coffee while we waited for the sun to start to lighten things up a bit, and we both headed down to the West Thumb Geyser Basin to watch the sunrise.
Can anyone tell me why the last 20 minutes before the sun comes up, the temperature usually drops about 20°? When we left the camper, it wasn't all that bad outside, but as the sky got brighter and brighter, it was like any heat was being sucked towards the rising sun and we were both freezing.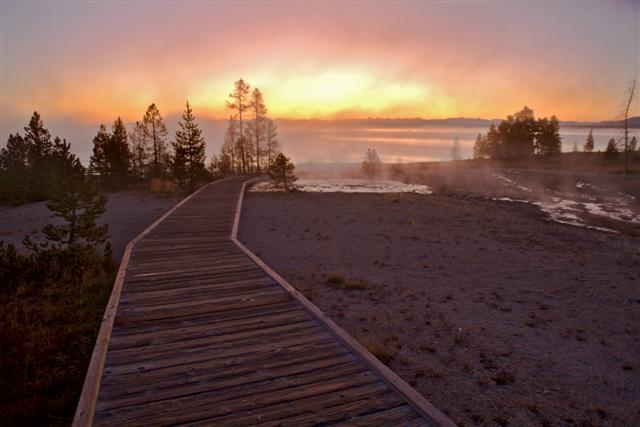 Walking down the Boardwalk towards Lake Yellowstone
While we were wandering around the boardwalk, my Canon 5D camera stopped working and I just assumed it was due to how cold it was. No big deal, it's froze up before, so I tucked it in my jacket and just enjoyed the morning with my wife.
On our way back home, we spotted a 5x5 Bull Elk along the side of the road and pulled over to watch him graze. Something about these muscular animals with their giant racks makes it ok to sit and just stare.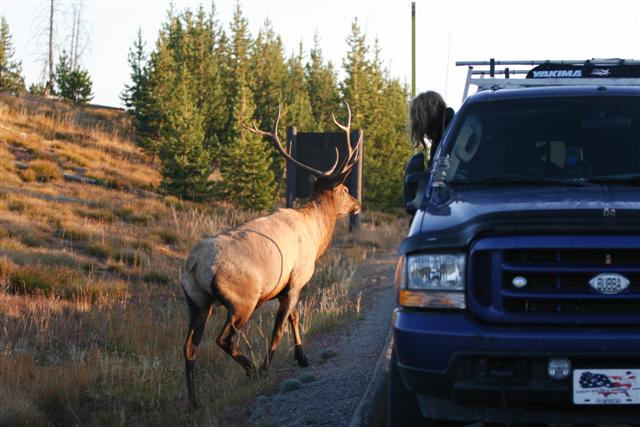 Cindy playing it safe and staying in the Truck while he Struts on bye
The 5x5 was right along the edge of the road, but a hundred yards off in the woods, we could hear a giant 6x6 bugling like he was trying out for a Broadway show.
He showed himself a few times, but he had a few ladies around him, so he was busy blowing off hot air and wasn't too worried about this other bull being so close to his harem.
As the morning grew later, I had thought my camera would start working again once I brought it in the camper and let it warm back up. NOPE! Still broken.
I called Canon and after the guy had me do a bunch of things I had already tried, he told me I was going to have to send it in to be repaired. Man, that sucks! We had just got Cindy's back from being sent into Canon, and it came back without everything being fixed.
I told the guy on the phone about this, and he told me I needed to send hers back in and they'd fix it again. There is just no way we can send both of them in at the same time, so I told him I'd call him back once I figured out what we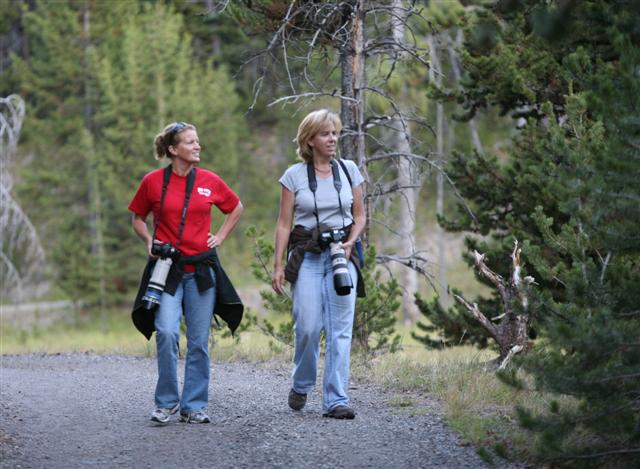 could do to remedy this situation.
We both had the day off today and Jana is coming over from South Dakota to visit for a few days, so we just hung out around the camper and waited for her arrival.
Once she got here, we visited for awhile before we loaded up the camera gear, the stuff that still works, and headed out to Natural Bridge to see if we couldn't spot that Great Gray Owl again.
The afternoon weather was unseasonably warm, so the easy hike was very enjoyable, but we never did see the owl. Figures!!
By the time we were done with the hike, the sun had long gone to bed, and we drove home in the dark. When we pulled back into our camp, the sky was completely clear and Jana had told us their was going to be no moon tonight or tomorrow, so she wanted to try and get some pictures of Star Trails.
The skies hear are so dark and filled with stars due to the fact that there is no real light falloff, that looking up towards the heavens really makes one ponder their existence.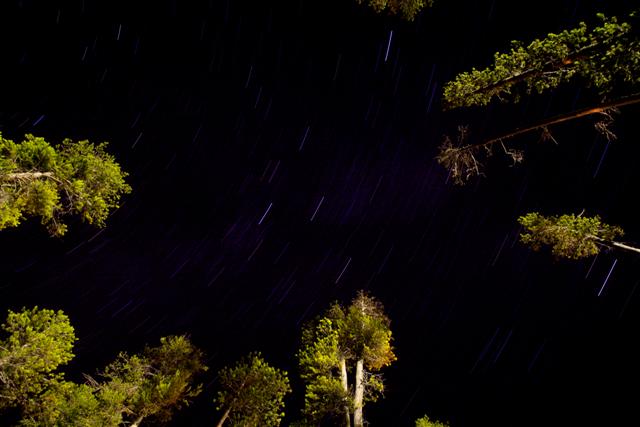 16 minute shot of the sky with the Stars moving around the pines in our campground
We all sat out watching the flickering little balls of light and saw a few shooting stars and a bunch of satellites zig-zagging across the sky.
We're planning on being up again tomorrow around 4am to get an early start as we're headed down towards the Bechler area of the park to do some hiking. So we were all in bed pretty early tonight.
Jana has her little tent set up beside the camper, and the elk are bugling us to sleep.
Friday September 18th - Biggest, Baddest & the Best Hike Yet!
Getting back to the truck in the cold, dark night air, with tree trunks for legs, concrete blocks hung on the bottom of those tree trunks, and a backpack that feels like its literally cutting into my shoulder blades, I dont think I've ever been so excited to see our truck.
I'm not sure if it has a halo around it or if its just because I'm so light headed and exhausted, but the three of us have just completed an 18 mile hike in 1 Day! The longest 1 day hike of my entire life.
Lets go back some 15 hours to when the alarm clock went off at 4am, getting the day started back in our Grant Village campground.
The campsite was a flurry of activity with Jana and I packing up camera bags in the brisk morning air as Cindy stuffed a backpack full of food. Little did we know we'd eat every morsel of this food and be begging for more by the end of the day.
I joked with Cindy asking if I should throw the headlamps into the backpack "Just incase we might get caught out after dark" I said.
Her reply was "We're leaving two hours before sunrise, do you honestly think we're still going to be hiking after the sun goes down? Leave them here!"
Note to Self - Always throw the headlamps in the backpack. Its not fun to hike in bear country after dark.
We drove South out of Yellowstone Park down to Flagg Ranch where we turned onto Grassy Lake Road. This is a very narrow, bumpy dirt road that leads from Flagg Ranch all the way to Ashton Idaho. We wouldn't be taking the road all the way into Idaho, but stopping a short distance East of the state line at our days hiking destination.
Hugging the bottom section of Yellowstone the entire drive, we drove through prime moose country for most of the way.
Marshy thickets, filled with stunted willows and tall grasses lined the road. We knew there were Moose in there watching us, but at this time of the morning, we still had an hour before the sun even started to give light to our narrow path of a road.
Cindy was lying atop the dog bed with her pillow and a 800 thread count sheet that she had brought to cover up the dog bedding. Some how she always gets the most comfortable spot in any leg of our adventure. She was also back to sleep despite the numerous cups of coffee she had drank up to this point.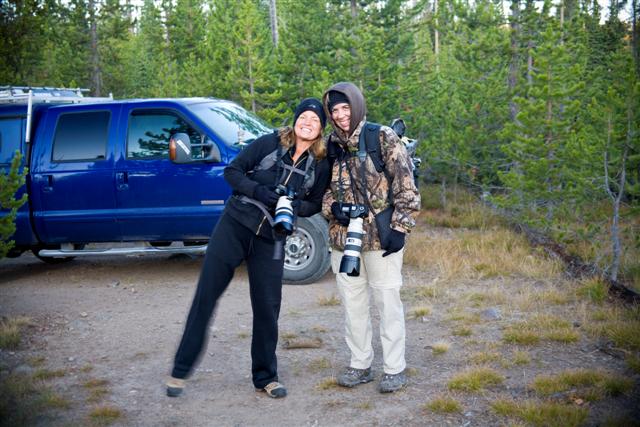 Jana and I kept one another awake in the front seat talking about past adventures and what today's hike might have in store for us. Talking back and forth over emails building up to Jana's visit, she had said she wanted to check out the Bechler area for its known Moose, Bear and the pack of Wolves that frequents this little visited area of the park.
I had been scouring the trail guides and had a full day planned out for us to visit Union Falls. One of the most beautiful Water Falls in the park, but also one of the least photographed ones due to its remote location.
When we finally pulled up to the Cascade Creek Trailhead, the sun was getting ready to peek over the mountain sides, but there was still that last bit of twilight before the full rays start to warm the earth.
We sat in the warmth of the truck enjoying the last bit of heat we'd have before jumping into the freezing morning air. The temperatures were hovering just above freezing and we were all bundled up so we'd be comfortable till the mid-day heat had us stripping off our many thermal layers.
If you would have told me a few short hours from now we'd all be half naked, swimming in a tropical hot spring, I would have told you that you had taken the wrong color acid, and needed to check yourself into a loony bin.
Not wanting to miss the morning light, I shut off the truck, woke Cindy up and we loaded our backpacks onto our now fresh bodies. We were ready for a hike of epic proportions, but I dont think any of us knew how hard it would really be.
Our reason for the confusion on the length of the hike was due to differences in the trail signs and the Yellowstone Map I had bought that lists all the backcountry trails in the park. Our map said this would be a 6 mile hike one way. We all figured ok, we can hike in 6 miles, take a few hour break and hike back out those same 6 miles not having to stop as much on the way out because we'll have already photographed much of the trail.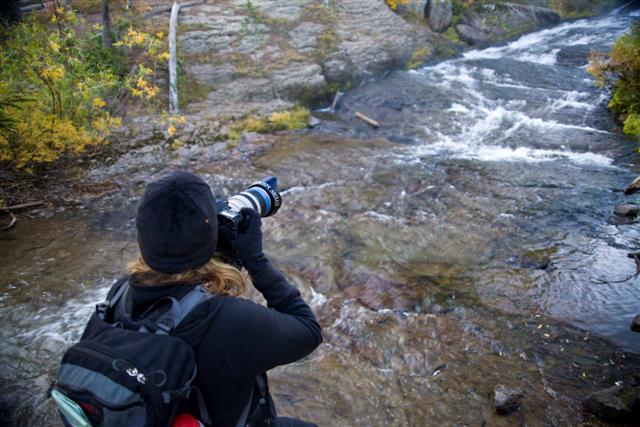 A few miles in, we hit our first trail marker placard that read 'Union Falls 7.5 miles away'? We had already been on the trail for over an hour!
Back to the truck and our first mile or so of hiking. We started on the trail head that was right beside the truck, which we would later find out wasn't the actual trail head, and followed it down Cascade Falls. This is a series of cascades that tumbles down the mountain side nestled between two steep, rocky banks.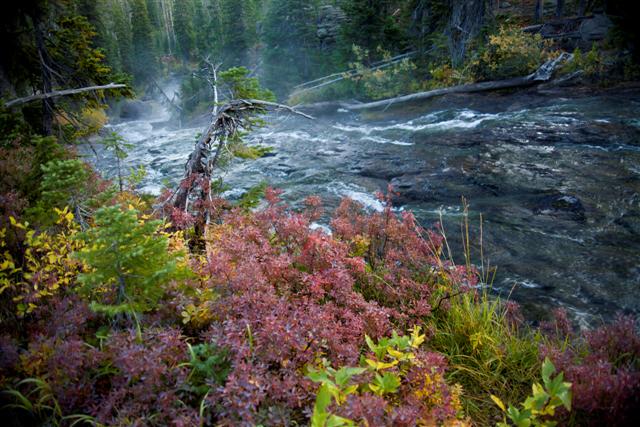 With the cool morning air (About 35°) steam was rising off the cascades and giving way to a beautiful backdrop for our first set of photos.
The ground cover has turned its various fall colors, so the stream was lined with a thick layer of reds, yellows and light greens and got our shutter fingers very excited and warmed up quickly.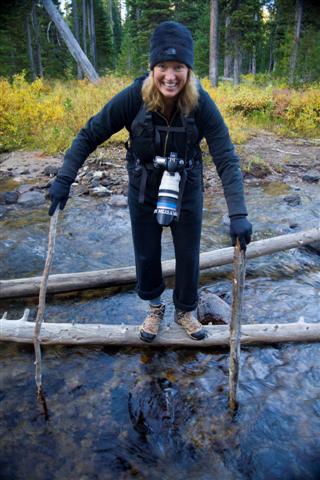 Once we reached the bottom of the stream, we knew we'd have to make our first of many crossings, and none of us was willing to take off our warm boots and socks to wade through this icy water.
Jana found a tangle of logs that she was able to cross atop of, and Cindy and I played hop-scotch across some exposed rocks and logs with dead sticks used for support.
All 3 of us made it across without falling in or getting our boots wet. This gave us some stamina to build off of as we now hit a road block in the trail.
The trail sort of petered out and just ended at the bank of a steep hill. We knew this was a designated trail, so we shouldn't have to be bushwhacking to find our way.
The girls got out the map and sat studying it to try and pinpoint our location while I went searching up and down the mountain side for any signs of the actual trail.
This went on for at least an hour and probably added a mile of post holing to our days hike. I'm way too short to be lifting my stubby legs up and over thousands of downed trees, and the girls dont have good enough balance with their heavy packs on to be tight roping it along the top of the downed logs like I was doing.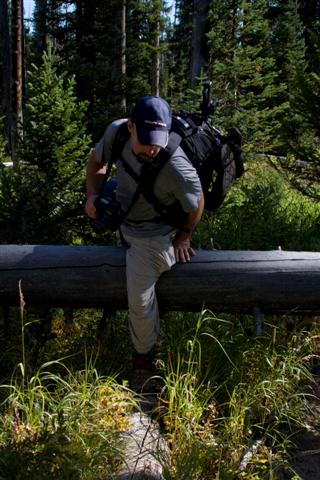 This made for some arguments as they were trying to follow right behind me despite me telling them I was probably walking a longer trail, but was following the tops of the logs rather than climbing over each and every one of them like they were.
I wont bore you with the arguments or the yelling back and forth at one another, but let it be known that the day started out with our blood keeping us warm due to the heated tempers.
When we finally hit the well worn, marked trail, we let out a unified cheer and tried to make up for lost time by picking up our pace.
We hit our first real stream crossing where we'd have to take off our hiking boots, put on some Sandals and roll up the pant legs to get across the swift moving water.
Jana went first and about half way across, I watched as the water hit her thighs when I said to Cindy "I'm way to short to make this stream crossing, if the water is up to Jana's thighs, it'll be at my waist!"
When Jana finally made it to the other side, she yelled back that she could now see a much shallower and shorter crossing and we needed to move down about 50' along the shoreline.
Cindy and I entered the ice cold water and by the midway point, I had lost all feeling in my legs from the knees down. By the time I reached the other side, maybe 200' across, my calf's were aching and my toes felt like they were in the hot coals of a roaring fire.
We all sat down in the sun along the shore and tried to rub some feeling back into our legs while we dried off and put back on our hiking boots.
Jana decided at this point that she'd rather just hike in her sandals even though both Cindy and I commented that this would probably not be a good idea carrying her 30lb backpack for the rest of the hike with the non-existent support a sandal offers.
She said she did this all the time, so she stashed her boots, her jackets and some of the heavier clothes she had been wearing along the banks of the shoreline.
Our next trail marker had us worried because it now said Union Falls was the same distance away even though we had hiked another mile in. Jana commented that she didn't think she'd be able to complete an 18 mile hike in one day, but would tag along as long as she could keep up.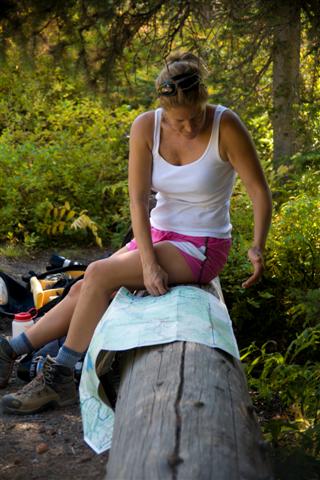 The trail itself was lined with tiny pieces of black obsidian rock and made it seem like you were hiking on shiny black glass. With the sun hitting the rock at the right angle, it made you feel as if the rocks were glowing and sparkling.
We hiked through various types of flora and fauna and almost every type of ground condition imaginable. We'd trudge through soft sand, hard packed rock, climb over boulders or downed trees, and feel the cool breezes swaying the neon colors of the grasses that brushed against our thighs.
This area of the park has never really been torched by the massive fires that have taken out so much of the old growth timber in other areas of Yellowstone. Its a real treat to see giant pines unlike you'd normally see in the young forest in other areas of the park.
The day had warmed up nicely by this point and the girls were both stripped down to shorts and t-shirts and I was down to just a t-shirt myself.
The packs had become quite a bit heavier with the jackets and extra clothes being carried in them rather than on our bodies.
We started down a long hill and kept joking that this climb back up was going to be one heck of a leg burner as the trail just kept descending and descending. It finally dumped us off at another stream crossing, but I didn't feel like unlacing my boots and going through that hassle again, so I found a log to cross on top of and tightroped across that.
Jana and Cindy both took off their footwear and walked across this narrow, shallow stream barefoot.
As always after you've come down a steep hill, one must climb back up the other side of the valley you just climbed down into. The next few miles were all up hill, but this climb was a gradual angle and not that bad. My legs never burned and Cindy and I could carry on a conversation with one another the entire time we were climbing.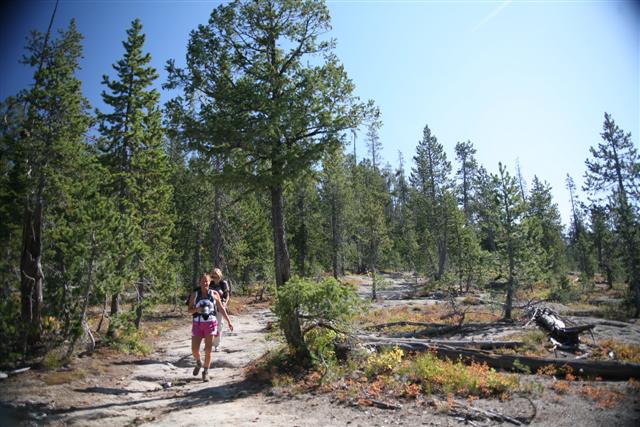 When we know we're pushing ourselves too hard is when we cant talk and walk at the same time due to being out of breath.
Jana was starting to lag behind us and we slowed our pace considerably to not wear her out too bad. We stopped a few times just to take a break and let her catch her breath, but by this point, she had told us "I've gone way too far to turn around. If I turn back now, I'll be mad at myself for not just toughing it out and going the entire way."
Cindy and I had said a few different times that we were going to go all the way to the falls no matter what, and at any point that she felt she couldn't make it, we'd give her our food and she could turn around and start heading back.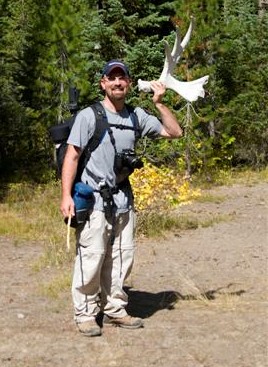 She was a trooper though and kept on keeping on a few paces behind the two of us.
I know I've said how I hate 'Out & Back' hikes and would much rather do a loop style of hike so you see different things the entire time. But this hike is different. It offers such beautiful views almost the entire time, that I could see it time and time again and not get bored with it.
I was a little worried because I could tell we were all getting a bit tired by this point in the hike. The day had heated up good and we were all sweating something awful. Without Jana's water filter she had brought along, I would have turned around a long time ago.
Cindy and I can normally make it through any hike we've ever done with our 32oz Nalgene bottles keeping us hydrated. This was not the case with this lengthy hike. I had finished my bottle long before we got to the falls and was feeling thirsty already, not a good sign while hiking.
I laughed when we stopped to take a break and heard Cindy say to no one in particular, "I smell of Body Odor mixed with a tinge of deodorant." Even at this elevation with its dry air content and the breeze blowing across the mountain side, my back was soaking wet from the sweat running down it.
When I heard Jana say to Cindy, "This had better be one spectacular waterfall for how hard we're working to see it!" I was a bit worried because I had only seen it on a few post cards in the Yellowstone Association Bookstore and in the guide books it said its one of Yellowstone's least seen waterfalls due to the grueling hike to get to it. That made me want to see it more if the guide book says its one of the least photographed waterfalls due to how hard it is to get to.
I mean we had been on the trail since sunrise and had only seen one other group of girls that hiked past us at the first river crossing.
I kept thinking to myself, "What if we get here and it's only a trickle of water flowing over a short rock face!?!" I knew I'd never live this one down and I was starting to worry that we might not make it out of here before dark.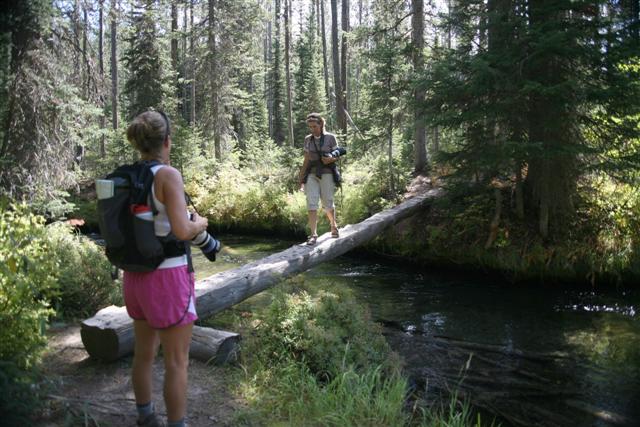 Cindy coaxing Jana Across one of the many Log Bridges
At our last break, Cindy and Jana had unloaded their packs from the extra clothes and Jana simply left her entire pack saying she couldn't carry it any longer. We marked the tree we hid everything behind with the GPS and with the girls now having a lightened load, we made the last push for Union Falls.
When we crossed our last stream crossing, I knew we were within the last two miles and I told the girls I'd just meet them at the falls. I couldn't hike any longer at this slow of a pace and I raced ahead to seal my fate at the waterfall.
The last mile is a steady climb up the side of the mountain and you hike through a long section of deep sugar sand. This had my legs burning and this was the first time I felt out of breath and could hear my heart thumping in my ears. My lungs were on fire as I pushed towards the top of the hill.
The sound of the roaring falls kept pulling me up the hill and even though it sounded like I was right beside the river, the thick layer of trees kept it hidden from my view the entire climb up.
As I walked around a wall of solid rock thinking I could hike no farther, I was hit by a wall of cool mist and a cold breeze the towering falls was blowing my direction. This was like a shot in the arm and I instantly forgot about the last 9 miles of hiking, stream crossings and nagging from the women behind me.
It was like walking up to the gates of a shining cathedral and I knew the girls wouldn't be disappointed when they finally caught up to see this for themselves.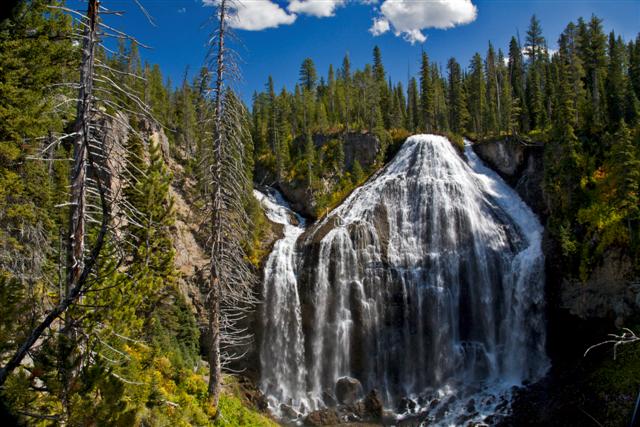 The Beautiful Union Falls in the Bechler Area of Yellowstone National Park
People travel for many different reasons, and I've decided that rather than travel the world seeking out man made shrines or magnificent structures, I've choose to seek those built by the forces of Mother Nature and Father Time.
Those are my God's I chose to bow down to and offer myself to their creations. I find myself closer to a higher power when out exploring nature than I ever have in any building, church or religious ceremony I've attended in my life.
Thank goodness we had gotten here late in the afternoon because the light on the falls was as perfect as one could ask for when taking pictures of this scene. The afternoon fluffy clouds that build up every day in Yellowstone acted as the perfect backdrop to accent the deep blue sky.
I dropped my lead filled backpack and just sat taking it all in while I had the overlook all to myself. I know why so many civilizations chose to hold their religious ceremonies on cliff tops and mountain sides when standing atop such a tall ledge. You get a feeling of closeness with nature and it envelopes you're entire being.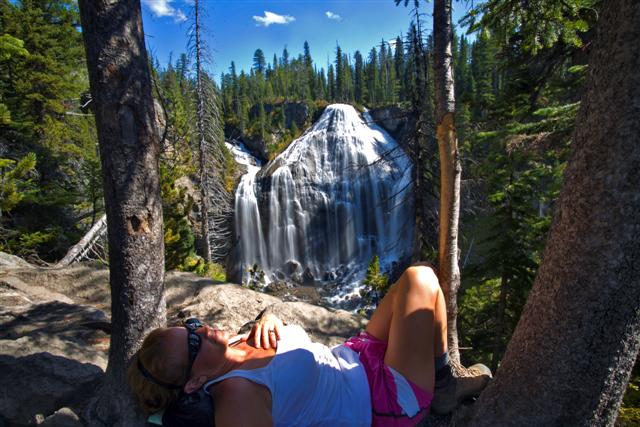 Cindy was the first one up and I think her first view of the falls was the same way I felt by the look on her face. I could see her eyes well up and goosebumps raise off her skin as the cool mist covered her sweaty body.
I dont think either of us spoke to one another at first, she just sat down beside me on the ledge and smiled a big, bright smile.
When Jana walked up, she dropped her pack and let out a loud "OH MY GOD! That is beautiful!" She then apologized and said "Ok, this was so worth that hike and you're forgiven Pat!"
We spent at least an hour on the overlook snapping pictures, eating more of the food Cindy had been lugging in her pack and getting refreshed in the cool, moist breeze blowing off the waterfall.
When we finally started down the mountain, Cindy and I were talking whether or not we were going to add another mile to the hike and take the little side trail for a soak in the Hot Springs.
I told her that I was going no matter what. Who knows if we're ever going to be back this way again, and with it only being a half mile away, I'd kick myself for not checking it out.
She asked what I planned on swimming in since neither of us brought bathing suits? She didn't think it would be a good idea to go swimming naked since Jana's married and her husband Tom isn't with us.
I told her I'd just go in my boxer shorts and take them off once we we're done swimming and put them in the backpack. The hike home would have to be done Commando.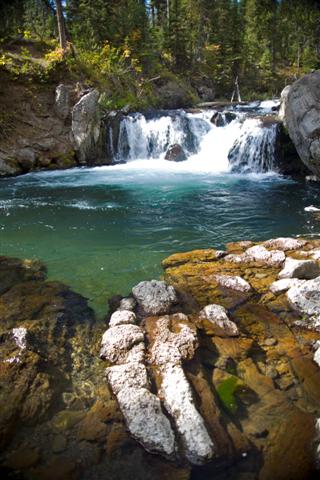 We joked that she could go in naked and I'm sure Tom wouldn't mind once he found that out, as long as he could see the photos.
Again, I went ahead and told the girls to just catch up. Cindy said she'd talk with Jana and see what she wanted to do. If she didn't want to hike the extra bit to the hot springs, she could go on ahead and we would catch up after a refreshing dip in the springs.
I'll say right now that if you ever take this hike, make it a point to go swimming in the hot springs. This setting rivals the San Antonio Hot Springs in New Mexico we bathed in back in 2007. Those springs are said to be some of the most picturesque springs in the country, and I'd be hard pressed to pick one over the other.
These hot springs are at the bottom of a 8' waterfall on the Mountain Ash River and are the perfect temperature for soaking in. The San Antonio Hot Springs were so hot, you had to ease yourself into them and they were just a shallow pool that was maybe a few feet deep at the most.
These springs are deep enough that I could dive into them and they were the color of tropical waters in the Caribbean.
I couldn't strip my clothes off fast enough and went diving in the second I had undressed.
These hot springs would be worth the hike just for them. So would the view of Union Falls, but to have both of them included in the same hike, well that just makes the length and miles of rugged trail all that much more rewarding. It was like having your cake and eating it too!
Cindy walked up, stripped down and was in the water immediately. We both sat swimming in the warm water just saying to one another "Is this for real? I mean this is something people travel around the world to find on a tropical island!"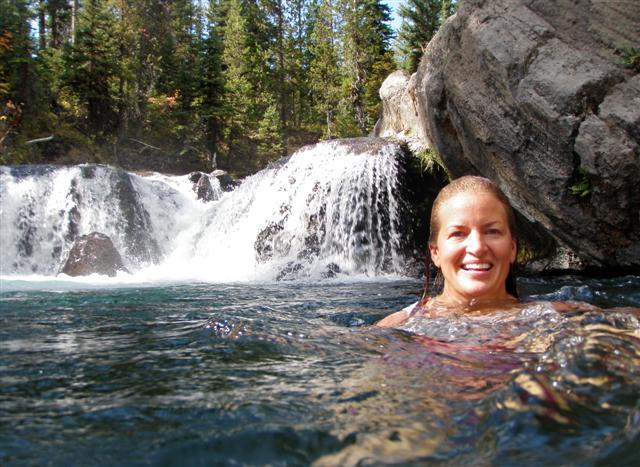 When Jana hiked up, she gave us some time alone in the water while she refilled her water bottle with her filter. She then disrobed and jumped in while we got out, dried off and refilled our Nalgene bottles using her filter.
This is something I'll have in my backpack the next time we head into the city. I cant believe how much easier it makes it rather than carrying extra water in the pack.
With all of us thoroughly refreshed and ready for the long hike back, we loaded up the packs and got underway.
Jana went ahead of us while Cindy was drying off and lacing up her boots. When we caught up to her, she was limping pretty bad and said hiking through the sugar sand was killing her arches.
There was no way around the sugar sand and there was nothing Cindy nor I could do to help her limp along.
This wasn't good because the afternoon light was fading fast and we had planned on picking up the pace considerably on the hike back.
Cindy and I would hike at the slowest pace possible and stop every mile to wait for Jana to catch up. Between the days hike in sandals and only having two bottles of water, I was thinking that her legs were starting to seize up due to dehydration.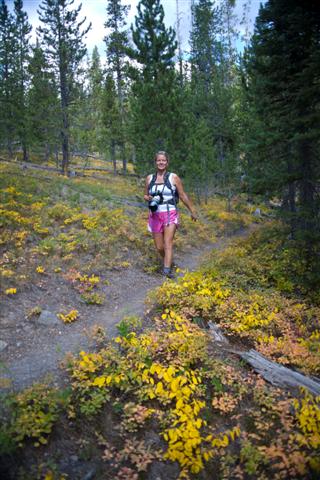 I grabbed her water filter and refilled all our water bottles again, telling her to drink the entire bottle right now to try and rehydrate some of her cramping muscles.
I always carry a bottle of Extra Strength Tylenol in my backpack, so she downed 4 of those with her water and we moved out like a pack of wounded turtles.
Cindy, always the worry-wart in the group was freaking out because we had one small flashlight, and she didn't want to be hiking in the dark. Remember my comment about packing the headlamps? This is where I had the upper hand by saying "Who told me not to pack those silly headlamps?"
We made it back to the stash of backpacks and waited for Jana to catch up. I loaded Cindy up with the clothing and took some of Jana's gear off her pack, shifting it to mine so her pack would be lighter.
We told her we'd meet her at the next stream crossing which was right at the bottom of the 2 mile hill we would have to climb back up, and I'd take her backpack from her and carry both mine and hers up the hill.
Cindy and I went ahead at our usual pace making sure Jana was within yelling distance of us the entire way.
For me, I can hike mile upon mile as long as we're moving non-stop. Sit me down or let me take a break and my legs start to cramp up and my body doesn't really want to move any longer. So hiking at that slow of a pace is just grueling for me. I felt bad leaving Jana to hike by her lonesome, but if her foot got any worse and one of us needed to go out for help quickly, I wanted to make sure I was capable of making it out.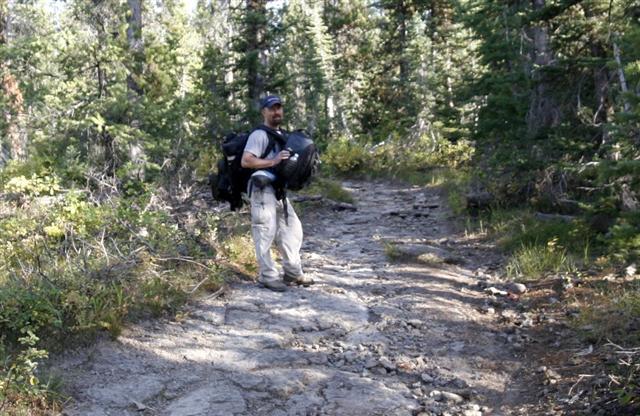 Cindy and I waited for her to catch up at the stream crossing as we downed our last bit of food. I took a long drink off my water bottle knowing this next 2 mile climb would take everything I had in me to make it to the top.
We told Jana that once we started climbing, we werent going to stop till we got to the very top. If her foot got any worse, we told her to whistle or yell for us and we'd turn around to come back down and help her up. Otherwise we'd wait for her at the top of the hill.
I threw on my 30lb backpack and put her 30lb pack on the front of my chest wearing it backwards like a chest pack. In all honesty, it sort of balanced the load of my pack and didn't feel all that bad.
Cindy and I headed up the hill and at a turtles pace, never stopped till we reached the top. I'll admit I was huffing and puffing like the Little Engine that Could by the time we reached the top, and my legs were burning something awful, but once at the peak, neither of us wanted to stop for fear of not being able to start going again.
We yelled to see if Jana was ok, and she yelled back that she was limping along and she'd make it to the top, it would just take her awhile.
We moved on walking through the cool air of the late afternoon.
When we heard Jana whistle and yell for us to wait up, we were really surprised to see her come trotting up without the usual limp. She was yelling for us to wait up and when she caught up, said she wanted her pack back which had her bottle of bear spray on it.
I asked if her foot was better, and she said "No it hurts like hell! But when you hear sticks breaking in the woods beside you and you're all alone without bear spray, your mind doesn't worry about a hurt foot, it just tells you to run!"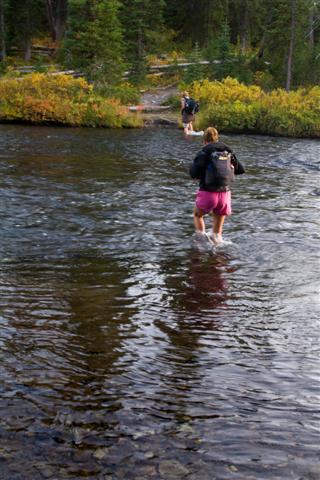 We took a break and she downed another handful of Tylenol before we moved on. The sun was setting fast and the girls were starting to put back on their various pieces of warm clothing they were carrying on their packs.
By the time we reached the last very long stream crossing, my feet were on fire and that water that was so cold this morning was now something I was looking forward to.
The girls went first and hiked across the stream in the last few minutes of twilight. I honestly took my time and rather than hurry across to get out of the numbing water, I just stood in the middle of the stream letting my legs and feet cool off and get refreshed.
Similar to professional athletes who ice down their limbs after a game, the icy mountain water was massaging the cramps in my shins and calf's and felt amazing.
By the time I got to the other side, Cindy and Jana had their boots back on (This is where Jana had left her hiking boots) and we were on our way to the truck. Mile and a half to go and we were all ready to get there in a bad way.
It was getting dark fast and the night air was dropping the temperature with each step. The trail marker said 0.8 miles to the trail head! Yeah!! We all let out a cheer.
When Cindy and I hit the next trail marker, our spirits were crushed when it said 1 mile to the parking lot. WTF!!! Cindy yelled back to Jana "We still have one mile to go!" I thought I was going to punch her in the head!
I yelled out "Dont f-ing yell that out to her! She's limping behind us dragging her body up this God forsaken mountain and you're crushing her morale even more with statements like that!"
She looked at me and said "Well its the truth?" I told her "I know its the damn truth, but let her find it out herself when she gets up here and sees the sign, dont go screaming it down the mountain side while she's climbing up!"
By this point, if Cindy hadn't yelled it out, she probably would have walked right past it and not even noticed the sign. It was so dark I was losing sight of Cindy if I was to get more than 10' away from her.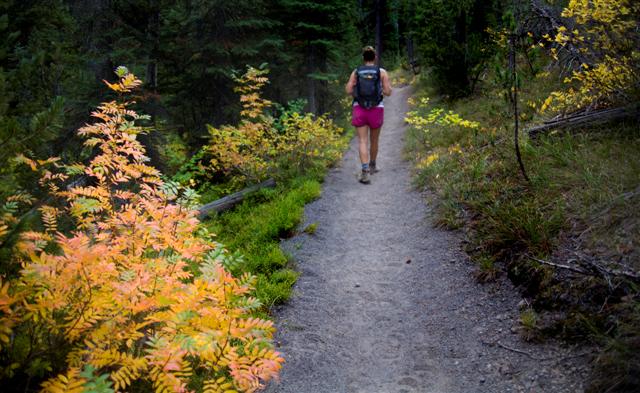 In the past hour the air had dropped a good 20° and the sweat that was soaking the back of my shirt was icy cold.
When we could see the stars shining off a piece of metal at the top of the hill, Cindy yelled out "We can see the truck!"
I thought she was going to have a heart attack as we got to the top and it wasn't our truck. She just stood there with a defeated look on her face asking "Where the hell is our truck and what do we do now?"
I just laughed and said "Its down the hill a ways, stop worrying, you're safe and the truck is right there!"
That put a smile back on her face as she ran around me and I thought she was going to kiss the grill of Big Bubba.
We dragged ourselves over to the truck that was glowing in the faint light of the stars and started the diesel up so we'd soon have heat to dry us off and warm us up.
Amazing how you can be exerting so much energy yet still be cold.
When Jana crawled into the truck, she asked what Cindy was doing as she was rummaging through the center console.
Cindy then came up with a hidden gem of a item that we keep in the truck for emergencies just like this.
Years ago I had bought her a leather flask that matched her purse perfectly. Its a small stainless steel bottle wrapped in black leather with white stitching. If her purse is looked into while we going into a concert or venue, it was always just looked over because it looks like something that should be in there or maybe a woman's perfume bottle or something like that.
One of Cindy's favorite drinks is Jägermeister and she always keeps this flask filled with the ancient German pain killer.
The lid of the flask holds 3 little stainless shots glasses and she filled them up and we all raised a toast to the toughest hike of our lives. None of us had ever tackled a climb this monumental in one day.
We were stupid and lucky for trying to do it all in one day and if we were to ever do it again, I'd camp in one of the backcountry sites right near the hot springs so we could have spent much more time enjoying that slice of heaven.
I think if Jana wouldn't have hurt her foot, we could have easily made it out before dark, or it would have only been Cindy and I and not another photographer who takes just as much time as the two of us do to capture each scene, we could have shaved a few hours off the total hiking time.
Its probably not a good idea to do a hike this long with 3 photographers who all have to set up tripods, take their time scouting out scenes and stopping every few feet to snap another photo.
Now we still had an hours drive to get back to our campsite in Grant Village and it was 8:15 at night. Pitch Black!!
I think Cindy was asleep atop the Dog Box before I even backed the truck out of the trail head parking lot.
Luckily Jana was too worried I was going to fall asleep at the wheel, which I would have if she wouldn't have kept me awake with conversation, so we made it home in one piece.
After an hour of sitting in the warm truck, my body didn't want to move when I tried to throw it out of the truck.
My legs hit the ground and my knees almost buckled. I heard Jana cry out when her feet hit the ground and Cindy just moaned and groaned as she made her way into the camper.
Cindy made me some warm soup as we waited for the hot water heater to warm up. She had to wake me up to eat and I think I just shoveled it into my mouth without even tasting it.
I almost fell over in the shower when I started to fall asleep standing up and when I finally crawled into bed, I dont think there was a muscle in my body that didn't ache.
We both looked at one another, gave each other a big juicy kiss and talked of how much fun we had today! It doesn't matter how sore that hike had left me, it is one I'll never forget!
Saturday September 19th
We had planned on being up first thing this morning to get back down to the Bechler Area and see if we couldn't find us some moose, but I'm thinking that our bodies needed a bit of rest.
We all milled around the camp while Cindy cooked up some breakfast and we talked over coffee.
We finally got a move on and made our way back down to the Flagg Ranch Area. The weather was a picture perfect day with a cool breeze keeping the temps about as perfect as one could ask for.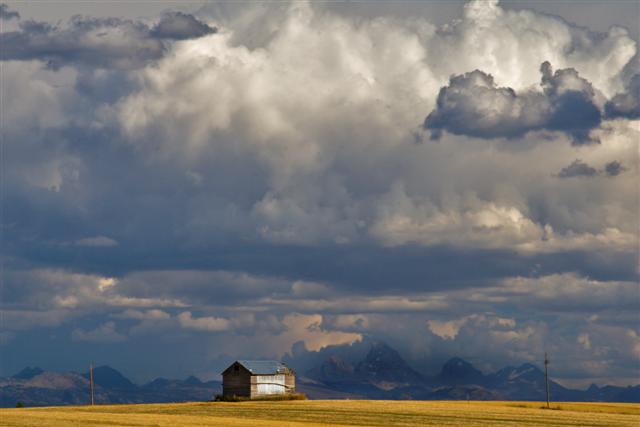 Lonely Barn - Ashton Idaho - That's the Teton Mountain Range on the Horizon
We took the Grassy Lake Road all the way into Idaho today, some 47 miles of bumpy, dusty, dirt road. We stopped at numerous lakes, pull-offs and side roads to scout for wildlife and just soak up the beauty this area has to offer.
We had lunch at Moose Lake, a spot we've been told is a haven for the moose that frequent the area. But as luck would have it, none were to be found.
A few miles down the road, right along the Wyoming/Idaho border, we spotted a bunch of them on the far banks of Indian Lake, but unless one was to have a boat to get around the lake, or was up for a very long hike around a soggy lake shore, binoculars was the only way to view this group of animals.
When we finally pulled into the Bechler Ranger area and Cave Falls, it was late in the afternoon and I dont think any of us was in the mood for a big hike.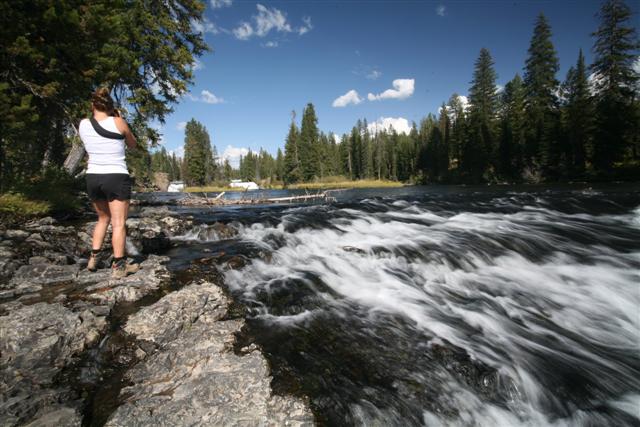 Cindy and I had received some terrible news today that a friend we've met through our website has been in a terrible accident and is in the hospital in critical condition.
It held the majority of our attention for most of the day while we talked back and forth over what we could do to help. For now, please say a few prayers for John and his recovery which will be a long one from the extent of his injuries.
In between conversations, we would get out from time to time to snap pictures, or scramble around on some rocks to get better views of the waterfalls or the surrounding landscape.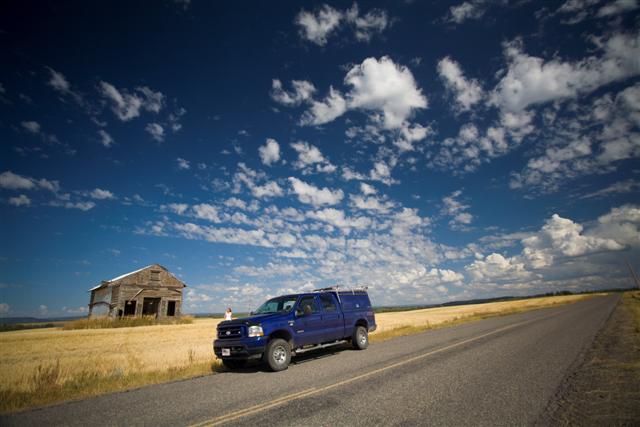 We think we've found a house we can afford
The ride home was a bumpy one and I wouldn't recommend this road unless you were specifically going to go on any of the hikes that leave from its border. It wouldn't be on any lists for a nice Sunday Drive if you know what I mean.
Late in the afternoon, after another long day of being foiled by the wildlife, we noticed a few cars pulled along the side of the road by the Snake River.
We couldn't see anything, but decided if there were cars pulled over, it might mean animals and at this point we were desperate. Jana went one way, and I decided to walk around the opposite side of where the people were standing to see if I could get a different angle.
Cindy followed me and we perched ourselves up on a downed log. We could see a female moose about 50' away from us, but to our surprise, a young bull moose lifted his head out of the brush only a short distance from our perch.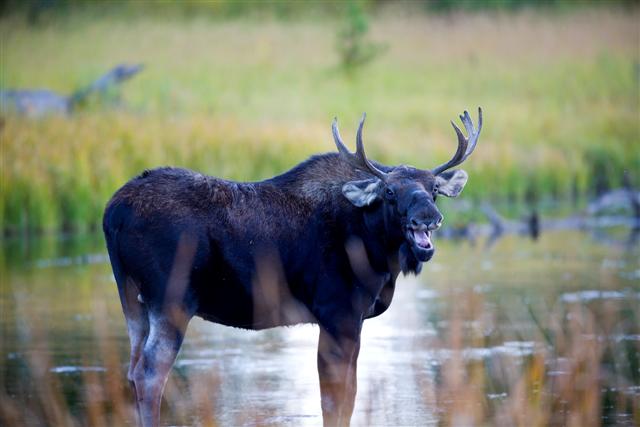 He thought my Jokes were pretty funny
I dont think he ever really noticed us, for this woman had his full attention. She would let out a deep moan that would do something to this young bulls manhood.
Every time she would moan, he would lift his ears, sniff into the air and start walking towards her. As he would get closer and start sniffing deeper, she would take off running from him in a game of cat and mouse.
This went on for at least an hour as we all sat watching.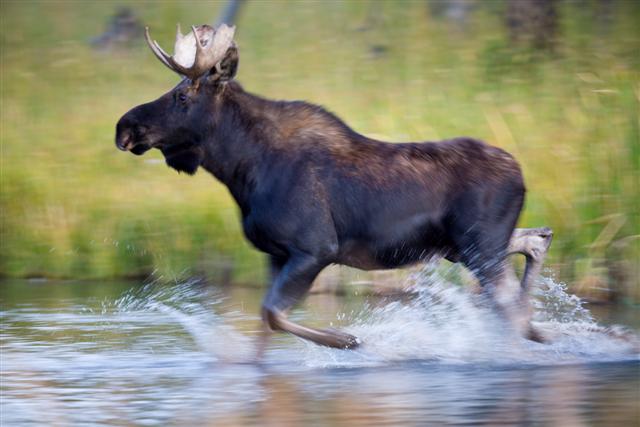 Chasing his lady through the water
A few times they would run right past us way too close for my comfort. One thing I dont want to be around is a moose in heat. Even though they acted like we were just part of the landscape, I didn't want to be taking any chances.
Cindy and I both had exit strategies if either of them were to come closer than a set distance we had established as safe. Lucky we never had to use this exit plans, but it did get the adrenaline pumping being that close.
It was a great way to end a long day, and our search for moose was finally over.
I also uploaded a new Yellowstone Gallery from this past week if you'd like to see some more of our photos.
Thursday September 24th - Touring Yellowstone with Mom & Dad
Sorry its been a few days since I've updated the blog. We're getting close to the end of the season here in Yellowstone, and our last week has seemed a bit crazy.
I've been working as a floater between numerous stores around the park, so I've been riding the motorcycle up to Fishing Bridge, farther up to Canyon and between our friend Jana visiting, another friend Nathaniel staying with us in the campground and now my parents coming in for their first visit to Yellowstone, the last week has been downright nutty.
Cindy and I both had today off, so we had Mom and Dad come over to the camper for breakfast (They're staying in one of the hotels in the park) before we loaded up their rental car with camera gear, bagged lunches and headed out to go tour the countryside.
Talk about some unseasonably warm weather! Our last few days have been in the mid to upper 60's and the nights have been cooling off down to the high 30's. Perfect fall weather and to think last year this time, they had 14" of snow on the ground.
Its cool to actually have my Mom and Dad visit us here, because they normally take their one or two standard vacations each year, visiting a time share they have in Virginia Beach, or maybe going somewhere with my older sister and the family. But neither of them have been 'Out West' and Cindy and I are excited to act as tour guides for their first visit to such a big and overwhelming park.
We planned on touring the entire park today, and except for the Lamar Valley, there wasn't too many places we didn't see.
We started yesterday off with me taking them around the West Thumb Geyser Basin before I had to head off to work. They had the rest of the day to themselves while Cindy and I both worked and attended our employee End of Season Part.
The parents explored the Old Faithful Geyser Basin by themselves, which is good because I'm sure they didn't want us holding them up taking so many photos of the springs, geysers and eruptions.
When it comes to Geysers, you either love them or you hate them, so its better to take them at your own pace and decide which one of those you are, a Lover or a Hater.
Today would be different, I knew if I would have pointed them in a direction, they probably would have driven past many of the attractions, but more than likely they wouldn't have stopped at them all.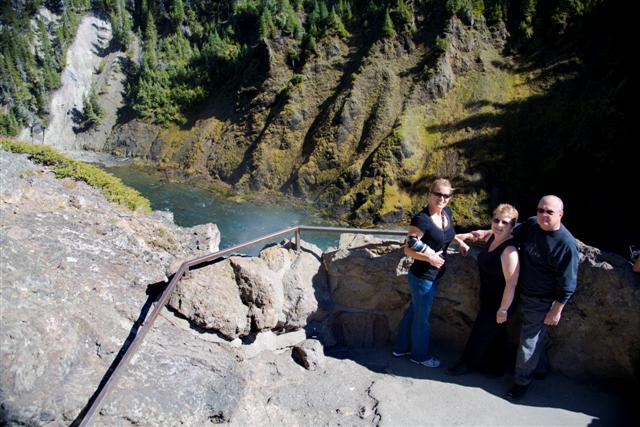 With me acting as tour guide, I stopped whether they wanted to or not. I figure they might not ever get back out here again, so I might as well make them see all there is to see.
I was excited to share the beautiful scenery Cindy and I have been able to enjoy all summer long with them and show them why we love to do what we do so much.
We had a great day and saw tons of cool stuff. We started out with winter coats on, and by mid-day, we were all sweating in the warm afternoon air.
As we drove up towards Canyon, we stopped to take some photos of the billowing smoke rising off a new fire that has started near the Bridge Bay area. we were told it was only a 10 acre fire that the Forest Service had under control, but as the day grew longer, the smoke got stronger and stronger and cloud now looked like an atom bomb had gone off.
While we were at Artist Point, a woman walked up to us who was with a big photography group and said "Hey, you're the couple from the travel website that posted those great pictures of the Rams on Mt. Washburn."
She told me "I recognized your wife Cindy right away, but I cant remember your name." Funny that the beautiful Cindy stands out in a crowd of 50 people, but little ol' Pappy just blends right in with all the other photographers...LOL
We talked with the other photographers for awhile swapping some tips on where we had been having some luck with finding wildlife, before we excused ourselves and went on our way.
We stopped in Mammoth Hot Springs for some Ice Cream, and we watched the movie they show in the visitor center. Funny because the movie looks like its from the 40's or 50's from the people and the clothes they're wearing.
On our way back from Mammoth Hot Springs, the smoke was really rising off the fire down at Bridge Bay and it looked like it had doubled in size in just the last few hours.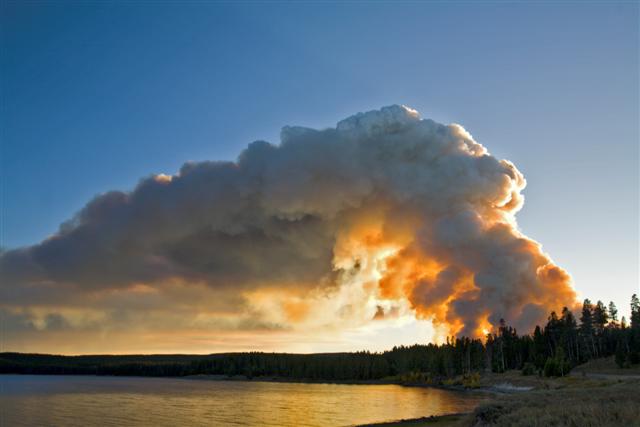 Bridge Bay Fire Billowing Smoke from a few miles behind the Marina Area
The late afternoon sun that was starting to set was really making the smoke look beautiful. Amazing how such massive destruction can look so beautiful.
We pulled over a few different times but when we reached the Lake Yellowstone area, we all got out of the car and just sat in awe of the beauty and destruction.

The Fire Sure Did Make for a Beautiful Sunset over Lake Yellowstone
I dont see how they can say this is only 10 acres, because the smoke clouds are massive. The flames can be seen for miles and the sky was changing from yellow to red to orange every few minutes.
It would be safe to say it was one of the most beautiful things I've ever seen in my life. Photos dont do it justice, but they are still pretty neat to look at and give you an idea of how amazing of a sight this was.
Cindy said with an evil look in her eye, "I can see why Pyromaniac's start fires! They are beautiful to watch and look at."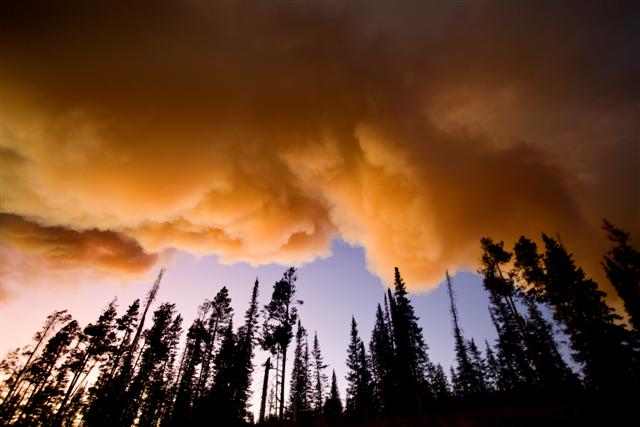 We were all commenting on the fact that if this was only 10 acres, imagine how wild it must have looked when the Fires of 88' burned over a 3rd of the park.
Cindy would say "Ok, lets go, we cant just sit here taking pictures of the same scene over and over!" But it seemed like every few minutes it would look totally different.
We'd all pile back in the car heading for home when we'd come around a turn and all let out a unanimous "OH WOW!! Look at that!" and we'd pull over again.
Between dodging Elk, filling hard drives with fire pictures and all amazed with each new mile, it was a good day in the park, and great to share it with family.
Tomorrow we're all heading down to the Tetons and Jackson Hole, so we should have more fun photos to share.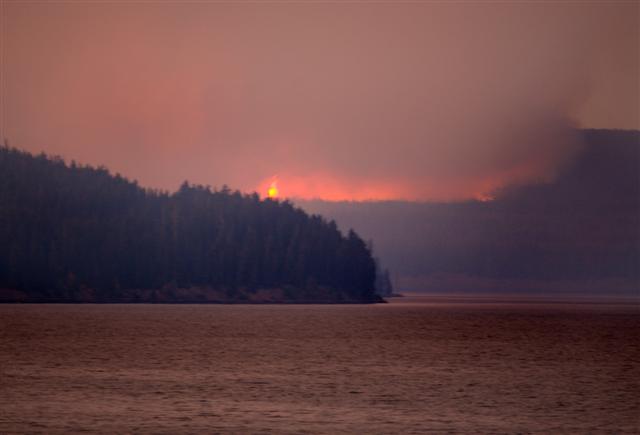 Flames Shooting up as the Night got Darker & the Winds Picked up
Couple of things that I wanted to mention. Showing my parents the park and how laid back this lifestyle is and how much fun everyone we work with is, they've both been talking about how fun it would be to spend a season in the park working like we are.
This is amazing to me and when they both commented that they'd like to rent an RV to see if they'd be able to handle traveling in one, I about fell off my seat. This is something Cindy and I have been trying to get them to do for years upon years now. Just to hear them talk about it is a huge step for both of them and got me very excited.
We also ordered our Roof Top Tent and we're having it shipped to Utah where we're going to meet up with my buddy Jim Ryan from Dual Sport Utah.
We ordered a Camping Lab model to test out and see if its what we want in a Roof Top Tent. After researching all the various models, we both like how many options the Camping Lab tents offered for their price.
We plan on doing some serious testing when we get to Utah in the back country and we're both looking forward to this next leg to our adventure.
I've also been talking with Jim about a big charity ride he has planned that he said he needed some help with. Not sure if the help is going to be in the way of a support driver or me riding on one of the motorcycles with the group, but either way, it looks like my kina fun.
Things should start looking pretty good once we leave Yellowstone. Not they've been bad here, its just a different kind of good.
Tuesday September 29th - Re-Cap of the Parents Visit
The last few days have been a great time had by all. How many people can say they visited Yellowstone during a major forest fire and got to stay in multiple lodges to keep from being evacuated?
Luckily my parents both have a Happy-Go-Lucky attitude and take everything with a smile as they were moved from one lodge to the next to keep avoiding the fires and its noxious smoke. I kept telling them, "Just think of the stories you're going to be able to tell your friends back home!"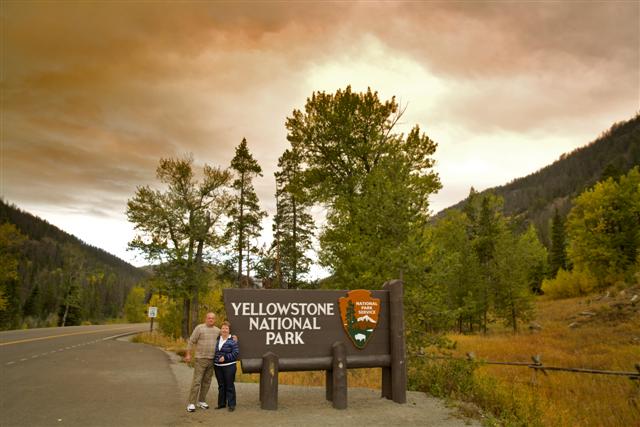 How's that for a Backdrop - Fire Clouds Above the Welcome Sign
I was a bit worried about the visit at first, only because of my fathers health. He had quintuple by-pass heart surgery a few years back, and ever since, his breathing isn't what it used to be. From being a life long smoker, at least a few packs a day, just walking up a flight of stairs can leave him winded. Luckily he's quit smoking since the surgery, and we all only hope that gave him a new lease on life.
The complicated breathing didn't hold him back one bit. Granted we werent doing any hikes or strenuous climbs, but I was even worried about the elevations and especially the forest fire and all the smoke its dumping into many of the camping areas they were staying.
He was eager to go on any walk we suggested, and never once copped out of doing anything. His words to my mother were "Judy, we're here, and who knows if we're going to ever come back, so I want to do everything Pat and Cindy want us to do."
I remember saying those same words to Cindy a week ago when we were hiking the Bechler Trail and both Cindy and I were very tired, but didn't want to miss the added miles it took to get to the hot springs. Who knows if we'll ever be back, so lets take advantage of it now while we can.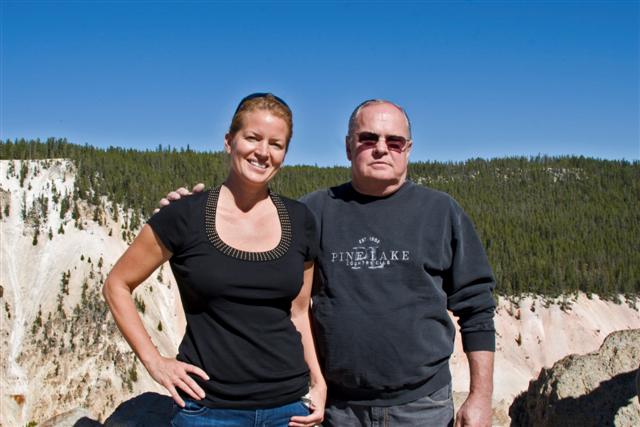 Spending time with family is always nice, but its so much better when we do it on the road and everyone gets to experience new things together. Going home means you have friends to see, places to go visit and it seems like the time isn't quality enough because you're trying to cram it all into a short visit.
When people come to visit us on the road, we can usually give them our undivided attention and really spend some good time creating some great memories for everyone involved. The photos we got of my parents with the fires and smoke clouds in the background are enough to make the rest of the family jealous no matter what stories go along with them.
To see my parents experience Yellowstone for the first time was very satisfying for me and I feel a major sense of accomplishment from their visit. They usually take a few small vacations each year, but they're usually to the same places....a time share somewhere or some friends up in northern Michigan.
My sister, my brother and I talk to them non-stop about traveling more and leaving that comfort zone of home that most retiree's fall into. You know, the one where you have your daily rituals, your nightly shows you watch and the every day things that keep your life hectic and keep you thinking there is no way you could break out of that routine.
To be with them as they experience such a big, wonderful place like Yellowstone, the surrounding countryside and get them out of their normal comfort zone, but show them it can all be so much fun and exciting was a major highlight along our adventure. Plus, Cindy and my parents get along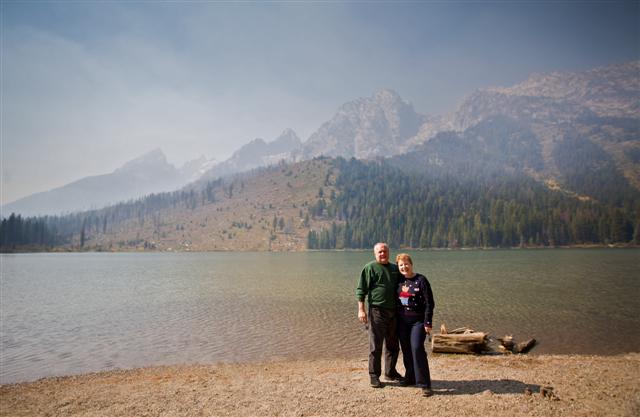 great. I mean I think both my mom and dad like Cindy more than they like me sometimes.
How many people can say that about their in-laws? Cindy and my mom are the best of friends and they spend hours talking with one another like women are known to do. Cindy and my dad get along great and she thinks his endless amount of goofy jokes are the funniest one-lines around.
We spent an entire day down in the Tetons, despite the Teton Range being socked in with smoke from a set of fires they have burning down in that area. We spent another day driving up and out the Northeast Entrance of the park and down the Chief Joseph Highway. We circled back in through the Cody Entrance and each night we ate like kings while recapping our days adventures.
One thing I've learned from my Dad is "Money is just something you can always earn more of." He always treated us kids like we were the most special things in his life. Weekly dinners out at local restaurants with him always saying "Order anything off the menu you want, I dont care how much it costs, I just want you kids to enjoy yourselves and have a good time."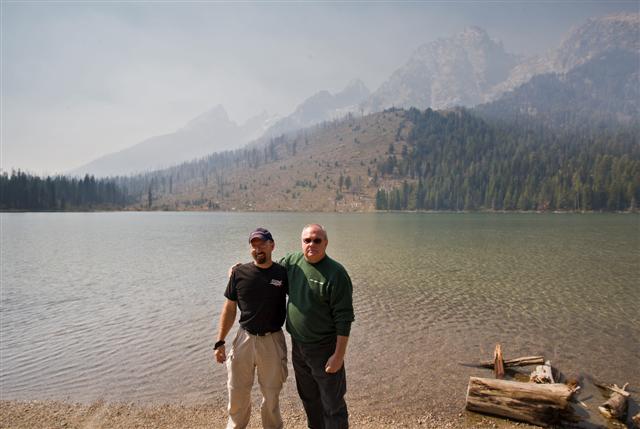 Me & My Dad & Jenny lake with the Smoke Covered Tetons Behind Us
Dont get me wrong, our family has never been what you might call rich, but both my mom and dad made sure us kids never went without, and he sometimes worked two or three jobs to make ends meet and to make sure us kids had everything and anything we wanted.
We were never spoiled as we all knew and respected how hard they both worked to provide for us, so none of us ever took advantage of it.....well maybe a few of my siblings did....and maybe I did once or twice, but you get my drift.
Its another reason I enjoy doing what Cindy and I do so much. I know its what both of my parents have always taught me....Do what makes you happy, no matter what that might be.
My dad grew up working as a photographer, not out of love for it like Cindy and I, but working for his father who owned a major photography studio in Detroit. My mom grew up taking as many photos as I do, but strictly out of the love of photography and recording memories to pass down to her kids and grand kids.
So they understood when Cindy and I would pull over every few miles to take more pictures, or sit and wait for the light to change for the better. Every time I asked them to get out and pose, which seemed like every time we pulled over, they both were happy to get out and put on their smiles for our cameras.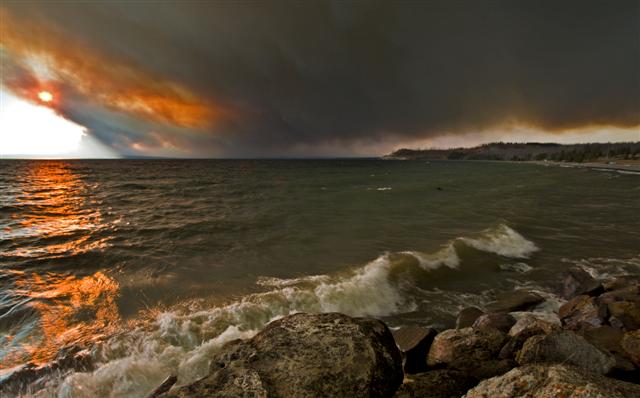 Sunset over Lake Yellowstone with the Arnica Fire Clouds Blocking out the Sun
I hope they both realize how lucky they were with this visit. Wyoming is experiencing some of its warmest temperatures they've had all year. The past week has been nicer and warmer than it was in July or August. This time last year the ground was blanketed with a thick layer of snow already.
They left today, and tonight the forecast is calling for rain and snow and the temperatures have plummeted.
Those warm temperatures didn't do us any favors for wildlife sightings, but we did see some Moose down in the Grand Tetons, tons of Elk up here in Yellowstone. We had to stop one time to let a Coyote cross the road right in front of us. We made it to the Northern end of the park to see the big Bison herds before they closed the road due to fire, and all in all had a great time.
The last few nights the sunsets have been some of the best I've ever seen in my life. The fire has now scorched over 9000 acres and we've been running on generators for the past few days. The smoke plumes the fire is giving off makes for some wild cloud formations!
At work, we are simply running the computer only off a little Honda EU2000 generator with no lights, no heat or any other comforts of daily life. I do feel bad for the visitors to Yellowstone right now.
So many people plan their yearly fall trips and with the roads being closed, the park is basically split into two halves. The only way to get to the upper half of the park is travel the 300 some-odd miles out the West Yellowstone entrance, up to Bozeman and down through Livingston into the Gardiner Entrance.
If you thought it was bad when the Norris to Madison section was closed for Bridge repair, think how bad it is now. Imagine planning your yearly vacation, or worse yet, that once in a lifetime vacation to Yellowstone and finding this out when you get here. It does suck, but oh well, life isn't always a box of chocolates. Make the best of it and enjoy which ever side you happen to be stuck on.
Yesterday, while I worked, Cindy started getting the camper ready to move. Thursday is our last day of work, and when I asked how long we had till we needed to leave, our boss told me "You can stay a few more days if you want to take your time, but remember that we're forecasted for a major snow storm on Wednesday, and if the fire keeps up the way it is, it could encroach on the West Thumb area very soon."
Between our water freezing the last few nights due to temperatures in the teens, and heavy snow forecasted, I'm thinking we'll be pulling out on Friday morning for Utah.
I'm pretty excited to get to Utah, going back to days of exploring and especially getting our new Roof Top Tent so we can ditch the camper and go off exploring the back country for days on end.
Our summer here in Yellowstone is one I'll never forget, but I'm really looking forward to the next leg of the adventure.
Thursday October 1st - Last Day of Work in Yellowstone
The last few days have been a very chilly experience here in Yellowstone. With last week being in the 70's every day, I was starting to forget about how cold it can get here in the fall an was really enjoying the Indian Summer.
Then on Tuesday night, the temperatures dropped out and we woke up Wednesday morning with a nice blanket of snow on everything. Winter had arrived in Yellowstone. Luckily I knew the temperatures were going to drop and unhooked the water hoses and filled the fresh water tank so we could draw off of that.
This allowed us to still have water as long as the tank heaters were on.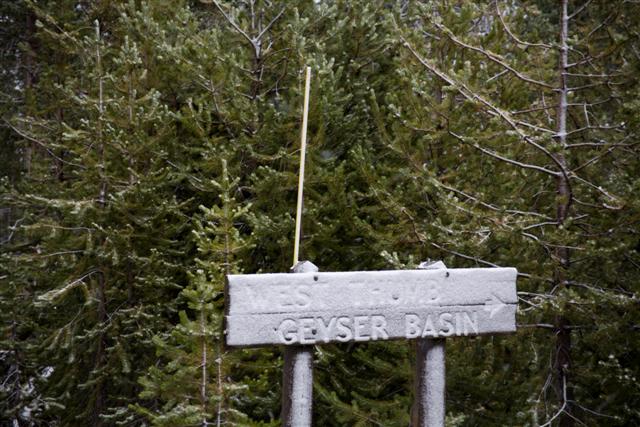 The fresh blanket of snow changed the green landscape into something reminiscent of a snow globe. It was as beautiful as one could expect and I wanted to call into work so I could go out and take pictures. But it was my last real day of work, so I felt obligated to go in.
Since we're out of power due to the fires, we're running the cash register off a little Honda Generator, and I was finally able to start a fire in the wood burner to keep the place warm.
At first, I was excited thinking this would be warm and cozy. Then I realized without a fan or anything to distribute the hot air, once you start a roaring fire in a few hundred square foot log cabin, it becomes quite hot.
I kept the front door open most of the day to try and regulate the heat and laughed when park visitors would come in all bundled up and just turn around saying "Wow, its way too hot in there for me!'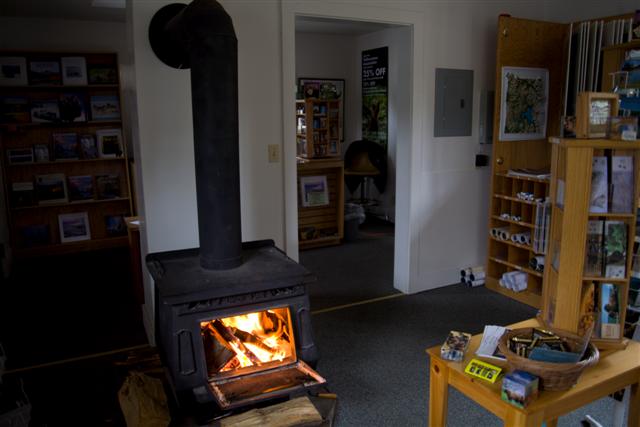 The Little Book Store with a Fire Roaring to keep us Warm
As soon as I got off from work, Cindy and I headed into the town of West Yellowstone to go to the 7th Annual Yellowstone Photo Show. This is a laid back show where a bunch of local photographers get together to show off their work from the previous season.
I love to see other photographers work as it gives me a way to judge my own photography, and it can usually give me a few ideas on new angles or a different approach to the same old subject that I might have shot a hundred times already.
I was happy when we left because Cindy was really nervous about showing her stuff, and when it was all said and done, of the 20 photographers who showed their work, Cindy's photos were some of the best. It was a really cool show and the place was standing room only, so it was fun to be able to narrate our photos and show them off to new people.
The drive home was different than the normal drive back from West. With snow coming down the whole way, the roads a very slick, dark path, and the park completely empty, it seemed like we were lost in Neverland.
Amazing what a cold snap and some snow will do to empty out the busiest park in the country.
_____________________________________________
Today Cindy and I went into work to do inventory, which only took a few hours. Once that was out of the way, we had lunch with our boss and talked about what our plans were for next season. They keep asking us to come back to work here in Yellowstone, but when we dont really know what we're doing next week, its really hard to plan for next summer.
Our boss was kind enough to give us a cast she had made from earlier in the year when she had tracked some wolves up in the Lamar Valley. She made a plaster cast of the wolf print and gave Cindy and I a copy. Its honestly the coolest thing I've seen in awhile, and I'm amazed at the size of it. Thanks Cherie, and I'll always look back on this present as one to remind us of our amazing time in Yellowstone!
Now that we're 100% done with work, we came home and Cindy started packing things up and getting the camper ready to roll. We got a package delivered today from Larry and Michele, the couple we had hiked with earlier in the month from Florida, and we both thought that was so nice of them to send us something.
Larry is a retired Fire Captain from Miramar Florida and he sent us a couple of t-shirts and a hat from his fire department. We'll have to get some pictures of us showing them off with a beautiful scenic background and post them on the site.
Thanks Larry and Michele!!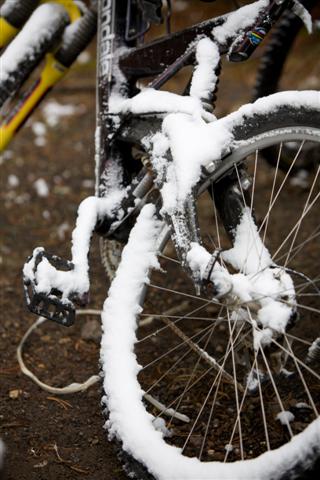 While Cindy got the inside ready, I loaded the mountain bikes on the rack, got a few things ready inside the truck and took the windshield off the motorcycle so it could be loaded. Why I didn't do this a few days ago when we were wearing t-shirts and shorts is beyond me, instead I chose to get frost bite on my finger tips and curse the fact that I could barely hold the allen wrench to unscrew the bolts.
Once the motorcycle was loaded up, I threw the Dirtbag Cover on it and except for pulling up the stabilizer jacks, we're ready to go as soon we hook the truck up. That was till Cindy said "I think the water tank is empty?"
I went to check and sure enough, we were almost out of fresh water.
I had unhooked the hoses and had put some water into the fresh tank a few days ago, but I didn't fill it up 100%. My Mistake!
The hoses that I had unhooked had been left outside in this freezing weather which wasn't a good thing. This rendered them useless as they were frozen solid with the water that was left inside the narrow cavity.
I brought the hoses, the water filters and everything else inside and put it in the shower in the camper to thaw out. We put the little ceramic heater in the bathroom with them to speed the thawing process up and hoped I'd be able to get the spigot running.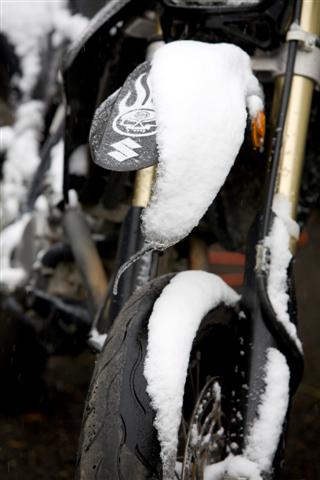 This too was frozen solid and if we wanted to leave, we'd have to fill our fresh water tank, flush the gray and black tank and have access to some fresh water.
I came inside and grabbed Cindy's hair dryer which started a huge argument. Apparently she thinks that if I run the hair dryer outside in the cold weather, it'll fry the heating element. I argued 'Bullshit', and took it outside agreeing with her that if I burnt it up, I'd buy her a new hairdryer.
It only took a few seconds for the spigot to thaw out and start flowing freely, but the levers that release the contents of the gray and black tanks were a different story.
These both required at least 20 minutes each of me lying on the frozen tundra with the hair dryer only inches away from the lever before they thawed out enough for me to pull them open.
By the time this was done, I was frozen to the bone, and had gloves that were soaking wet from working with the hose the entire time.
Luckily my wife is so awesome and she had a steaming cup of hot chocolate waiting inside for me, but holding it in my frozen hands stung like I was grabbing onto a scalding pot. It took awhile before I could feel anything with my ice blocks for hands.
Once I thawed myself out, I headed out into the park to see if I could get some photos of the wildlife in the snow. This was the main reason we wanted to come back to Yellowstone.
Cindy decided she wanted to stay back at the camper as she didn't think heading out into the storm was a good idea. So I bundled up and headed out by myself to see what I could find.
Just as I crossed the Continental Divide, I noticed a few cars stopped in the middle of the road. I slowed down to see a coyote hunting through the snow.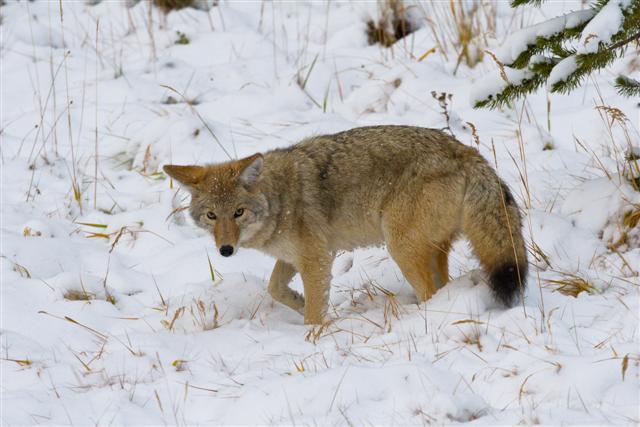 I couldn't believe the cars just drove on and left me there all by my lonesome. This is when you know its the Off Season. The first thing I noticed was how full the coat was on the coyote. I remembered when we first got here in June and the animals were just losing their thick winter coats. Now they're back with coats as thick as a down blanket and look so fluffy and warm even in this frigid weather.
I watched as the coyote stalked something moving under the snow that was invisible to me. I could see its body tense up before it leaped up into the air, landing with its face buried into the snow.
It came up with some sort of rodent in its mouth, flipped it up into the air, swallowed it whole and moved on like it was nothing.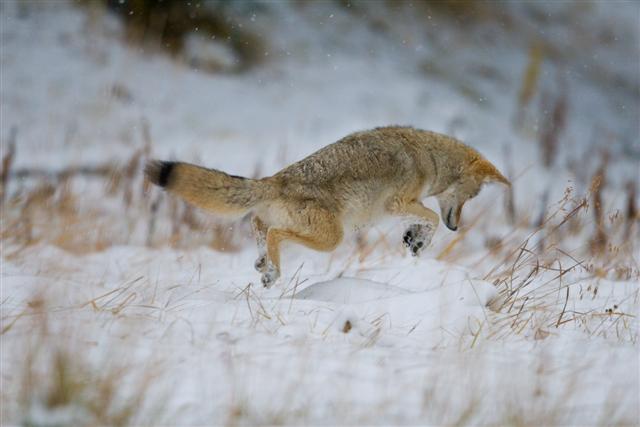 Coyote Leaping into the Air to Pounce on a Rodent
I watched as it did this a few more times and finally yelled a loud "Thank you for the show!" as it trotted off into the woods and out of reach of my camera.
I always say to Cindy that I want to come home each day with at least one shot I can be proud of. Some days I come home with multiple shots I'm happy with, and those are really good days, but they dont happen all that often. Other times I stay out from sun-up to sun-down and come home with nothing.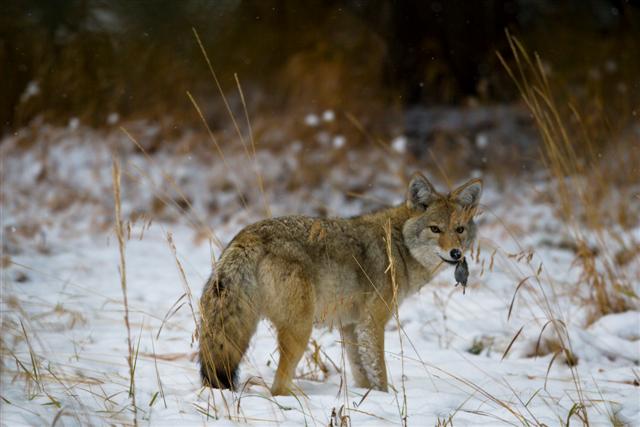 Coyote with a Fresh Kill
I knew as I sat in the truck reviewing what had just taken place, I had at least one shot I'd be happy with.
So.......I turned the truck around and headed for home.
We've decided since they're opening the road up to the northern end of the park for limited runs, that we're going to stay around one more day to see the park blanketed in snow, and Saturday we'll leave for Moab.
I spoke with Jim, the guy we're going to be staying with about our route. I got suggestions from both Ryan, our friend who stayed with us earlier in the month and from Wes, our friend from Casper and hopefully the drive from Yellowstone down to Moab should be a picture perfect route.
Thanks guys for all the suggestions! It really helps when you can talk with people who know the area and they can give first hand knowledge of which roads to take and what not to miss.
________________________________________________
Totals for Month of September
Total Miles Traveled for the month of September = 1701.20
I also logged close to 1000 miles this month on the motorcycle. I've been riving that as much as possible, but I forgot to record the exact mileage at the beginning of the month.
90% of these miles were logged in the park as we've spent this entire month working in Yellowstone for the Yellowstone Association.
Total Water Used in Coach = Hard to tell exactly because we were hooked up to a city water connection for the entire month in the employee campground in Grant Village? But when we shower and use the hot water, we still use it like we would when we're dry camping because we only have a 6 gallon hot water tank. So our total consumption is far less than a normal household would use. We only turn the hot water tank on a few minutes before we shower, and turn it off immediately after we're done
Total Fuel Used in Truck = 119.71 Gallons @ a Cost of $346.13
I haven't refilled either of the propane tanks this month, but I've been carrying around one of the empty tanks in the bed of the truck for the past few weeks. So once I get it filled, I'll add it to this months totals.
Campground Costs - 30 Days total in the employee campground in Yellowstone at a cost of $5 per day for a total cost of $150 for the month
Of the 30 days out of this month, all 30 were spent in the camper. Except for the one night we slept in the truck while we were stayed just outside the Nevada City Ghost Town in Montana
That brings us to 232 days so far for this year that we've spent in the camper and a total cost spent on campground fees at $643.
Return to Top of Page
Need Unlimited photo storage- FREE Trial of Smugmug