When we realize our insignificance in this world,
it some how relieves the pressures from society to succeed - Cindy Bonish 04/07
Camper Check List
For those folks who are new to the camping world, this list is a must have. For those who have been camping for years, it never hurts to have a simple checklist to look over before you leave the campsite. It can mean the difference of forgetting a valuable item that may not be easily replaced while on the road. We've also seen a few campers pulling out of the campground with their steps still down, the TV antenna still up, or a window open wide. A simple list like this can solve those costly mistakes.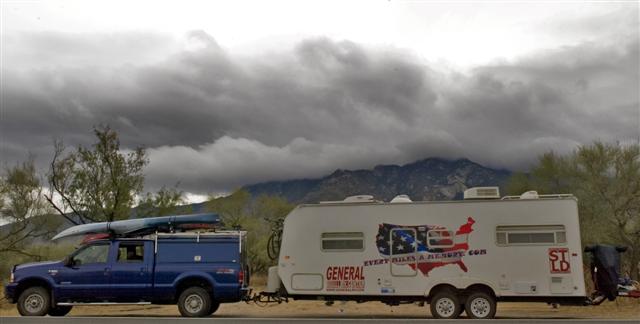 Feel free to copy this and ad anything that might be unique to your rig or campsite set-up.
By no means is this gospel, but it is what we use, we find it suits us fine and it is a good start for anyone who doesn't already have one made.
It might be a good idea to laminate it and cross them off after they are completed with a red dry-erase marker. Once you have done your routine, we switch places and Cindy goes over my list, and I go over her list.
Our rule is - She takes care of the inside and I take care of everything outside.
Before we even get to this list, we have usually made the bed, put away anything on the inside of the camper that we might have been using and have done some basic tidying up. Once we know we're ready to leave, that is when we say "Ok, lets get started"
We then yell at the top of our lungs "Wonder Twin Powers Activate" Just kidding, but I thought it was sort of funny.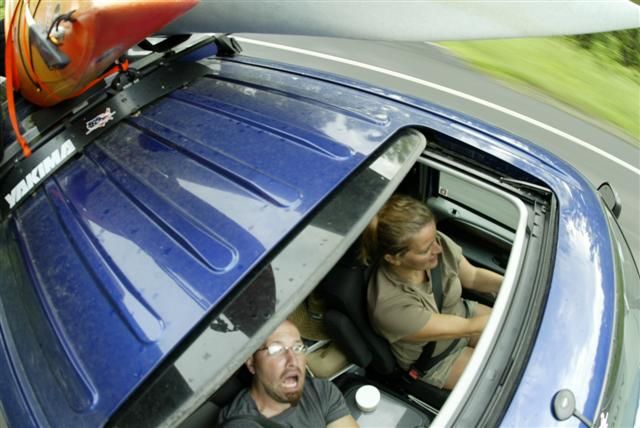 Check List Before Leaving Camp and getting on the Road
Usually the first thing I do is connect the truck to the camper with Cindy's guidance. Once this is hooked up, she heads inside to do her stuff, and I start on the outside. We have this down to about a 10-15 minute total time frame to finish everything on this list. We never try and race, it's just that easy once you get used to it.
Inside the Camper
1. Make sure all windows are shut and locked

2. Make sure all blinds are closed so inside remains cool - We have daylight shades which are two separate blinds, if it's winter, we just close the first ones to allow the sunlight to keep it warm inside. If it's summer, the light blocking shades do a good job of keeping the heat out

3. If it's warm outside, we open a few of the roof vents to exhaust any stale air while driving and if its hot outside, we leave an exhaust fan on (We have the MaxxAir Covers over all our vents so there is no worries about rain or debris coming in from leaving the vents open - Highly recommended for any and all RV's)

4. Position the rocking chair at the kitchen table so it wont bounce around. (We have a Velcro strap that keeps it against the wall)

5. Clear off counter tops and dining table and make sure everything is where it belongs

6. Clear off bathroom counter top

7. Lower the roof antenna

8. Stow items in refrigerator so nothing will leak or fall over and check that all lids are tight.

9. Check the refrigerator over and if you need some parts for it or other appliances onboard, click here

10. Lock the refrigerator door and if it's a bumpy road or we know we're headed anywhere rough, we put on the refrigerator straps that keep it locked through any and all road conditions

11. Make sure the sinks are empty, and glass coffee pot is in the plastic strainer

12. Close and secure all cupboards and drawers (We made Velcro straps to lock them all closed)

13. Put laptops away and secure them so they wont bounce off the chair

14. Empty the shower of anything that could fall or spill

15. Turn off Furnace or A/C depending on what season it is

16. Turn off Water Pump switch

17. Make sure tank heaters are off if we had them on while camping

18. Make sure Plasma TV's are secured - We have 2

19. Close Toilet lid

20. Make sure all appliances are off...i.e. Radio, Lights, Fan, Inverters

21. Switch refrigerator to LP if we are leaving a Full Hook-up campground

22. Switch Charge Controller from Shore Power to Dry Camp for the Solar Panels

23. Close bathroom door to prevent it from swinging around

24. Make sure the dog water bowl is empty - Learned from experience

25. Put any recyclables in the recycle bag in the back of the truck

26. Empty the garbage basket

27. Make sure toilet is flushed and doesn't have any dirty water in the bowl
Outside the Camper
1. Put the Tongue Jack Block (8x8 piece of wood) back in the storage bin

2. Fold up Camp Mat and secure on the rear rack

3. Close Awning, secure properly & make sure the tie-downs go in the storage bin

4. Put Camp Chairs on rear hanging rack & bungee strap them down

5. Retract scissor jacks & make sure 18volt drill is back in storage bin

6. Pull up wheel chocks once camper is attached to truck & put in storage bin

7. Check tire inflation on all tires - Truck and Camper

8. Make sure the motorcycle is strapped tightly & Dirt Bag Cover is latched

9. Check the mountain bikes & make sure the bolts are tight on the rack

10. Visually inspect to make sure Television roof antenna is down

11. Make sure solar panels are flat if we had them angled for better sun exposure

12. Make sure the Fresh Water Tank is full before tearing down filter assembly

13. Make sure all connections are disconnected...i.e. Fresh Water Hose, Cable, Electrical, Sewer Hose

14. Make sure Fresh Water hose is wrapped up & secured on the rear rack

15. Put floor mat inside the door of the camper - We keep one on the ground outside the door while camping

16. Put the dogs in the truck & attach them into their harnesses

17. Bring cameras into the truck from the camper

18. Put up the steps and lock the doors

19. Swing the grab handle against the door for added insurance

20. Pull up leveling boards once we pull away from site
At this point, we are ready to go. We both usually give the entire rig a walk around and visually inspect the hitch mechanism. I want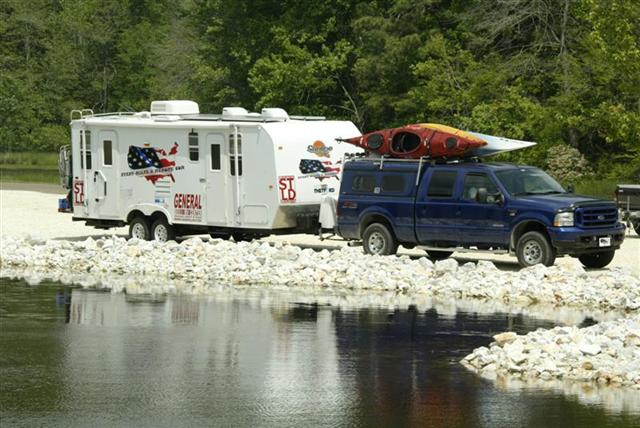 to double check to make sure I have everything hooked up right, and the scissor jacks are all up ever since I tore the rear jacks off in Jeff's driveway in San Diego because I was in a hurry.
From here we usually drive over to the dump station and run through that ritual. I wont go into detail because everyone has their own way they go about emptying the black & grey tanks. Luckily for us, we have a black tank sprayer on the side of the camper (Highly Recommended) so this isn't a two person process to clean out the black tank.
Before we get on the road, I usually switch on the lights in the truck to make sure the camper lights come on. I usually do this while the tanks are emptying and I can walk around the entire rig to make sure they are all on.
If we were staying somewhere that we weren't hooked up to city water and I'm going to be filling the fresh water tank at this time, I usually try and combine a bunch of the steps like checking tire pressure, locking all the storage bins...e.t.c. to this time frame. Just another way of multi-tasking
Weekly we try and do more detailed check-over of the truck and the camper.
I'll admit I don't do this as much as I should, but once a week I try and actually crawl under the camper looking for any loose wires or anything that might be out of the ordinary. These times are when I also check the oil and transmission fluid in the truck. We watch a lot of people in campgrounds who do this every single day, but I'm not that regimented.
If there is one bit of information I could recommend for people who are traveling, it would be to SLOW DOWN!! Don't rush yourself through these tasks and take your time to make sure they are all done.
Hurrying through your tear down process could result in a very costly mistake.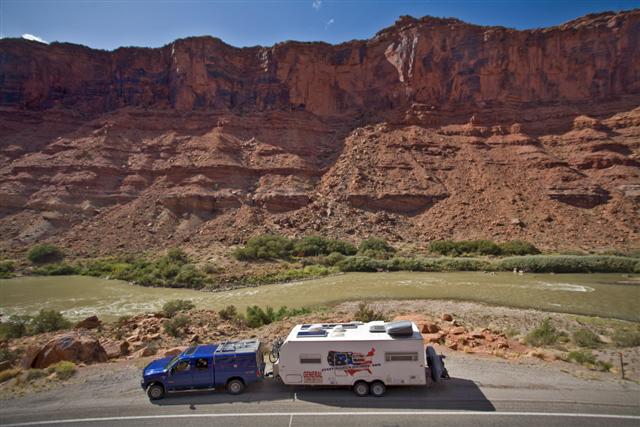 Tool Kit List - We've had a bunch of emails asking what tools and items first timers should bring, so I went ahead and made a list of what we bring with us. By no means is this gospel, but it's a good start. Feel free to copy it and add or delete anything you need.
Solar Tips, Fact's and Trick's we've learned while on the road. Fell free to send any tips or tricks of your own that might help us along.
Photo Gear We Use - List and description of our photo gear for those who enjoy our photos
Need Unlimited photo storage- FREE Trial of Smugmug