When we realize our insignificance in this world,
it some how relieves the pressures from society to succeed -
Cindy Bonish 04/07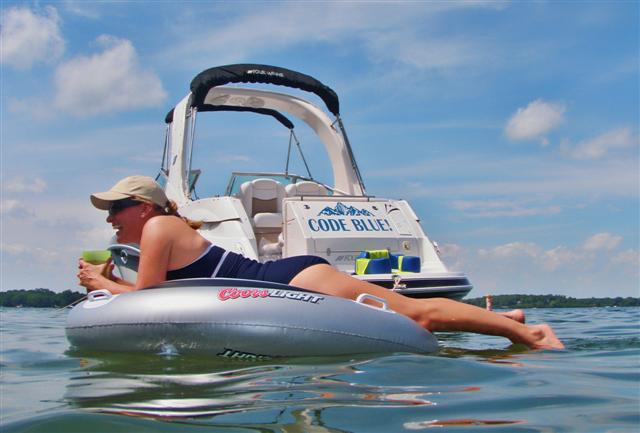 Cindy's August 2010 Blog
Every Miles A Memory
Feel Free to browse past blogs for plenty of travel ideas and many of the places we've been in our first few years on the road - Past Blog's
Solar Tips, Fact's and Trick's we've learned while on the road
Well-behaved women seldom make history
____________________________________________________________________
If you haven't read any of the earlier blogs, you might want to start there to catch up on how we got here.
Wednesday August 5th 2010 - A Much Needed Vacation
And here I thought this vacation would give me plenty of time to get back in the Blog Mode....NOT!
Between driving for 3 days straight to get to Minnesota to visit our best friends Derrick and Tish, to spending the next 3 days kicking back on their new boat and visiting with their neighbors and friends, it's been a busy week for us.
Their boat is nothing short of beautiful and I'm so happy for them. It's something they've always talked about getting and knowing they've moved up to what they want makes me happy.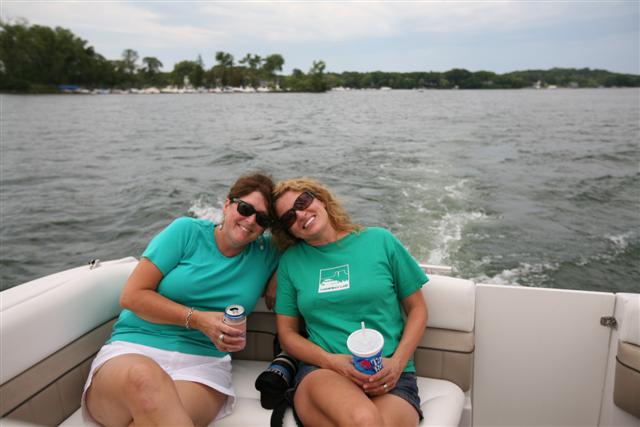 Relaxing and kicking back on the lake, enjoying the cool breezes off the water and talking endlessly with Tish, one of my favorite things to do, has been just the vacation I've been longing for.
We're now in Detroit Lakes Minnesota at the 2010 WE Fest. I slept half way here and still can't seem to get in the groove of things at this point. We have had an action packed past few days with not enough sleep, too much laughter and maybe a beer or two too many.
We pulled into the campground and found an area which is a stones throw from the stage marked LITE VIP. This is us, a group of 8-10 campers all lined up and ready to party. Most already had a frosty beverage in hand and the longer we were here, the people watching kept getting better.
Everyone knows how much I get into anything country - be it rodeo, country music concerts, or mud wrestling, I think it brings me back to my roots of Tennessee that I didn't really miss until I moved away from those Smokey Mountains and that culture.
Pat and I spoke to Bob, the head of media here and got our press passes for backstage access. I'm hoping that one if not both of us will be able to be shooting close up and personal to some of our favorite artists. If not, I will be the one who steps back and lets the real camera man do his work.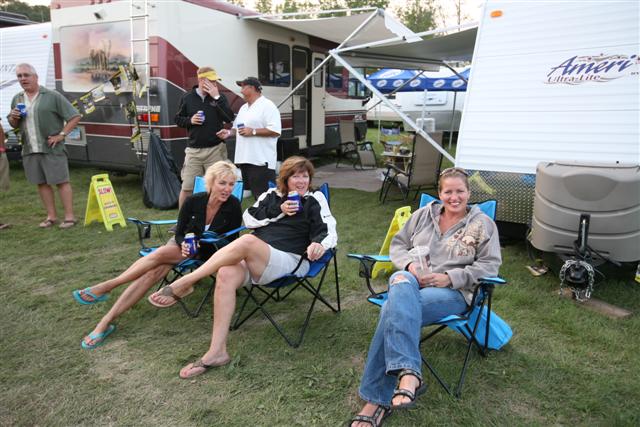 This will mean I have to hang with my buds instead of work, which is absolutely no problem for me. I have an awesome time with this group and they are nothing short of hysterical. Tish and I have always cracked each other up, but now her daughter Lauren is up there in age and she is just as funny as her Mom.
Riding in the truck the past few days has put a taste of the gypsy lifestyle back into my heart. As we rode up north to get to the WE FEST, I told Pat how much I missed our traveling days and how hard it is to be in one place now that we are moving again.
I guess we will see what the rest of the month brings, after this event we will head to the Upper Peninsula of Michigan for the U.P. Overland Adventure, then home to Pat's family and spend some time with them before heading south again, hoping that the heat has let up a bit.
Even though I miss traveling, I wouldn't give up our little place in Cedar Key for anything right now. This trip is giving me so many more ideas on how to make our home a nice get away for more people to want to visit.
I can say that I miss my pups being on the road with us, they are my buddies when I wake in the morning and keep me company while I work in the yard and clean the rooms during the day. They are in good hands though and I'm sure they have no idea we are even gone.
End of Month Report
The rest of the month was nothing short of a whirlwind of excitement. The U.P. Overland Adventure was some of the best fun I've had in a long time. I'm hoping that Pat and I can make this a yearly routine and escape the heat of Florida to come back to Northern Michigan and drench ourselves in it's beauty.
I can honestly say that I loved camping along the Lake Superior Coastline and we met some of the coolest people along that journey.
I was a little worried going into it because Pat and I are so accustomed to traveling with the camper that I was worried what it was going to be like with just the Truck and the Camping Lab Roof Top Tent.
We got into our groove fast enough and before you knew it, we were loving ever second of it. My only complaint was not having a bathroom, but if you consider the beauty of the camping sites we were staying in, it was worth the hike into the woods to relieve yourself.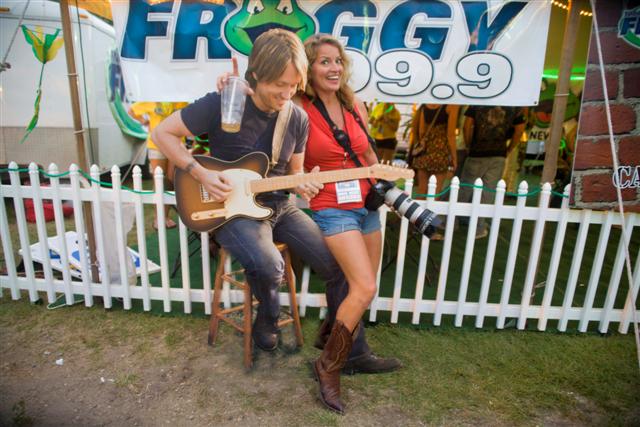 Me & Keith Urban hanging out backstage @ WeFest 2010
WE Fest was amazing and the whole V.I.P. Concert thing made us feel way more important that we deserve. Derrick and Tish are always good for great memories and good times and they outdid themselves this time. Thanks Guys!
Getting to see our family in Michigan and having my daughter and her Fiancée fly in for the party was great. I love to see our nieces and nephews and its the one thing I miss so much about Michigan more than anything else.
By the time we left to come home, I was longing for our little Hideaway and couldn't wait to see my pups.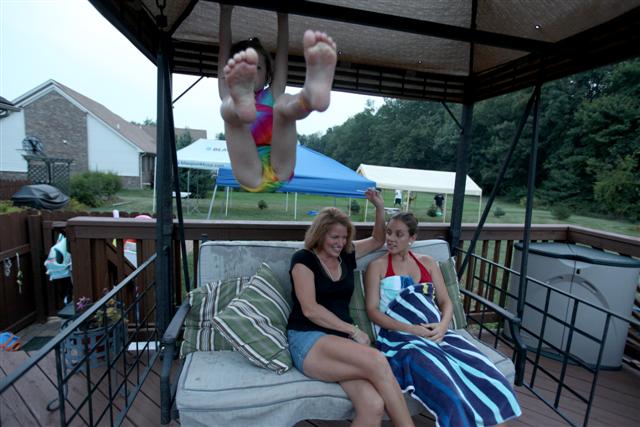 Hanging out with my daughter while one of the monkeys does their thing
I mean I haven't been without them for more than a day or two for over 4 years, so to go for an entire month without them and do it all cold turkey like this was just heart breaking for me.
On our drive home, I even told Pat I'd drive when he said he had to pull over because of being behind the wheel for so long. Anyone who has followed along with our adventures knows all too well that I NEVER drive unless I have to.
We pulled over at a small motel saying to one another that we'd not do one of those ordeals where we shop around for the best deal and make sure the room was up to our standards. I mean by this point, we were so ready to get home, if we could have found a spot to set up the Roof Top Tent along the side of the expressway, I'd have been fine with that.
The crappy little motel was only $50, and after opening the door to the room and getting hit with the wall of musty odors, I honestly think we overpaid.
No biggie, we cracked open a bottle of wine, opened the windows and sat outside for an hour to let the room air out.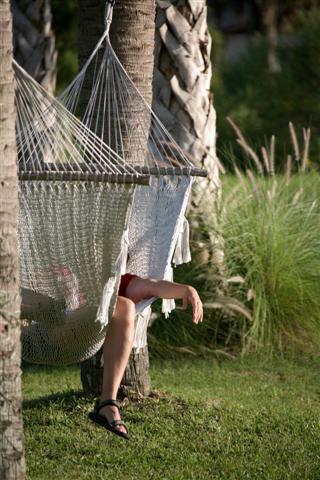 Seeing places like this really shows me how clean we keep our place and I can see why so many people leave comments on how much they like it.
I tell Pat that having the motel with the 5 rooms is the equivalent of hosting the big Christmas Family Party at your house. You know the one where you clean everything in the house from top to bottom like you've never done before.
You dust areas that normally dont get dusted and move every piece of furniture to vacuum behind incase the nosy Aunt is looking for something to complain about.
Well this is the way Pat and I clean our motel rooms. We get on our hands and knees and scrub every nook and cranny to make sure there is nothing left behind from guest to guest. I never want a guest leaving saying they felt it wasn't up to their standards because in reality, staying with us is like staying at our house.
Heck, I dont even keep my house as clean as I keep these motel rooms.
Once home, I had my long overdue reunion with the dogs. We hugged and kissed and went out for a long walk around the town. I've been taking them for long walks every morning to make up for lost time.
I'm also on a strict diet and exercise routine to get ready for my daughters wedding. Yep, while we were in Michigan, her and Allan made the big announcement that they're getting married in October.
So the exercise routine is so I will look good in all the wedding photos...LOL
My idiot of a husband said to me when I was trying on a dress the other day "Oh dont worry, I can just Photoshop that out." But the problem was I was showing him that I couldn't get the zipper all the way closed because of the size of the dress, or maybe because of the size of my body, but it's not like I can walk around all night long with the zipper half way down just saying "Dont worry, Pat will Photoshop that out later!" Duh, he's such a dork sometimes.
It feels so good to be home. I love this little town so much. I love our little motel and I really love my life right now. You know you're content with your surroundings when you never feel the need to leave.
Between the planning of the wedding, the motel and the daily commotion of running a fulltime business, my blog skills have been seriously lacking. I'm thinking that I'm going to step back from the blog for awhile unless something happens in my life that I feel is important enough to talk about on here.
Pat and I argue non-stop about my lack of blog updates, but I dont feel comfortable with updating my blog when it's only the day to day chores and nonsense I'm doing around here.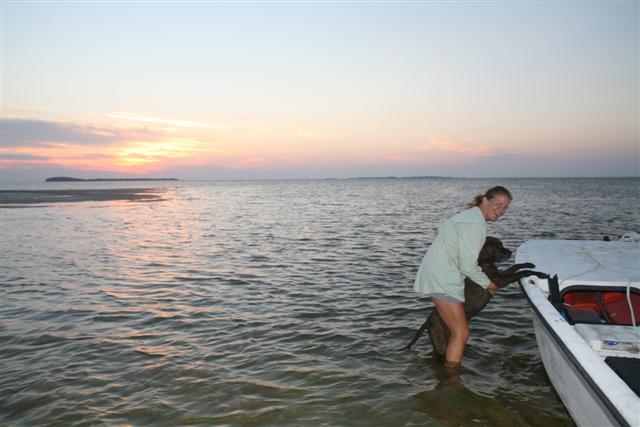 Taking Luca for a Boat Ride around the Cedar Keys
I dont really think anyone's interested in my day to day life especially if they've been used to our past updates when it was always something new and exciting. I mean I get bored with my day to day life right now, so I'm sure not too many other people are going to be excited to hear about it. Dont get me wrong, I'm completely content, but it's not all that exciting right now unless you're wanting to know what goes into decorating motel rooms, fixing up an old building and landscaping the grounds.
I'll leave the blog updates up to Pat, and hopefully he'll be able to keep you entertained till our lives take us back on the road.
Of course, he's always throwing crazy new ideas around and some of them get me excited, but I'm thinking we're going to need to stay still for awhile to restock the bank account before anything big is in store for us.
If you do want to talk or keep in touch, feel free to friend me on Facebook as I try and check that for updates on a weekly basis. It seems to be easier to sit down and jot down a few short tidbits of information on there than it is to sit down and write out a long post on here like I've been so used to.
So until next time I write, I hope everyone has a great journey and you enjoy your travels as much as I've enjoyed my last few years on the road. It's been amazing and I love hearing from all of you.
Return to Top of Page
Need Unlimited photo storage- FREE Trial of Smugmug