Campground Reviews East
EVERY MILES A MEMORY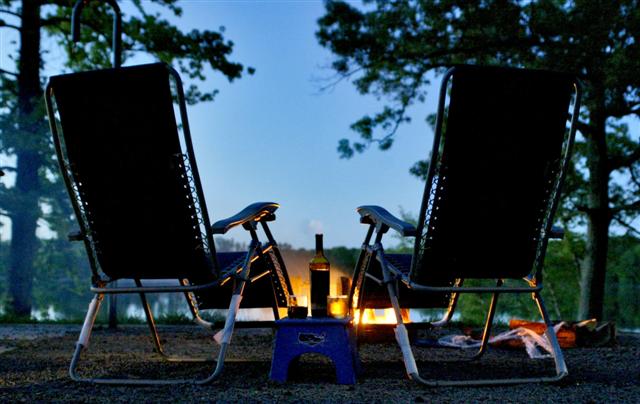 Nothing Better than a Warm Fire and a Glass of Red Wine with someone you love!
_____________________________________________________________________

On a side note, Cindy and I try and never stay at a campground that costs more then $25. There are times where a campground might be needed and if the rates are higher then that and on those occasions, we just have to suffer, but the magical number of $25 is our limit for just a normal nights stay.
With that in mind, we didn't put down the prices as to what we paid for the campgrounds we stayed in all the time. Most of the prices fluctuate due to tourist seasons and holidays, so if we do list the price, don't quote us on it.
If the campground has a website, we tried to provide you with a link. If it's available, then you should just be able to click on the campground name and their site will pop up.
______________________________________________________________________

Pennsylvania
Buttonwood Campground, Mexico, Pennsylvania
Time Visited: August, 2007 Overall Rating: 4 Friendliness: 5+ Cleanliness: 5
Facilities Available: Pool, Store, 30/50 amp hook-ups, Sewer/Water, cottages available, Art Gallery, Horse Shoe Pits, Play Ground, Shuffle Board Courts, Pavilions, Canoe Livery, Tent Sites, Restrooms, Showers, Laundry, WI-FI, Propane Refill, Volleyball & Game room
Comments: We Camped at this Campground for the Sunline Owners Group Meet & Greet. The owners went out of their way to make sure we were happy and we'd recommend this campground to anyone. With a full service campground, this is a great spot for children and those with large groups or big families.
The owner even brought us down into the old house where they live and showed us some unique features of this antique home from the early 1800's. With plenty of local attractions and the Juniata River across the street, this is a beautiful campground.
This site used to be a farm and the owners are trying to plant some trees, but for now, most sites are in full sun. If you don't like to be exposed, make sure to bring to bring sun protection. Make sure to check out the Hosta Garden located by the house.
Would We Return?: Most definitely, we've already made plans for a return Meet & Greet next year.
__________________________________________________________________________
Woodland Campground, Woodland, Pennsylvania
Time Visited: August, 2007 Overall Rating: 3 Friendliness: 5 Cleanliness: 3
Facilities Available: Restrooms, Showers, Laundry, Store, Game room, Fire Rings, 30/50 amp hook-ups, Sewer & Water, Propane and Cabins. Also has a stocked fishing pond, a bait shop, Hiking Trails, Horse Shoes, Volleyball, Basketball and boat rental
Comments: We only stayed one night on our way back to Michigan. This campground is only a few miles off I-80 and a good spot for the weary traveler. They have everything the RV'er needs and offer a host of activities for the family. The owners were very nice and friendly.
Would We Return?: Yes
__________________________________________________________________________
These Reviews are solely our thoughts on places we've stayed. We hope we don't offend anyone or mislead anyone by our comments and suggestions. We would recommend you call in advance to check on availability and prices as they fluctuate on seasons and holidays. If you see anything that is listed incorrectly, feel free to contact us so we can change it.
Thanks
Pat & Cindy Bonish
Every Miles A Memory
Return to Top of Page
Need Unlimited photo storage- FREE Trial of Smugmug