When we realize our insignificance in this world,
it some how relieves the pressures from society to succeed - Cindy Bonish 04/07
Cindy's Recipes Page
Cooking is probably one of my favorite things to do. While Pat sits and thinks of what his next picture is going to look like, I'm usually dreaming up our next meal. He jokes with me saying I'm like one of those cartoon characters who see's something, but really only imagines a piece of food.
I'll admit, there are many times that I have images of different meals floating around in my head, but no one that has tried any of my concoctions has ever complained.
The problem is I never use a cook book and I never write anything down when I make it for the first time. My kitchen is more of a laboratory where I mix different spices with certain seasonings until they taste just right. Almost
everything I do is by taste, and why it took so long for me to get to this page.
I had to wait till the next time I made that certain dish, then sit with a pen and paper and scribble the ingredients down as I made it. Since I never used measuring spoons or cups, I had to go out and buy a set just so I would know what to write down.
Now none of this stuff is from scratch. Our little kitchen in our camper is way too small to be kneading any dough. 90% of this food comes fresh with just a few items added together to make a mouth watering meal. I usually use what we have on hand which is another reason why the meals are almost never the same.
If Pat happens to be drinking a beer while I'm making dinner, I might pour some of it into the sauce pan for a little extra seasoning. Depending on what bottle of liquor we have in the cabinet that night, a shot or two usually gets added for a little extra flavor.
One of Pat's favorite dishes is Southern Comfort Chicken. This is where I let a few plump chicken breasts soak in Southern Comfort, fresh peaches with a touch of minced garlic and a dash of olive oil for the day, while we're driving along the road. Once we stop for the night, I use a few shots of the sweet orange liquor in the pan while they're sizzling up. Topped with a few fresh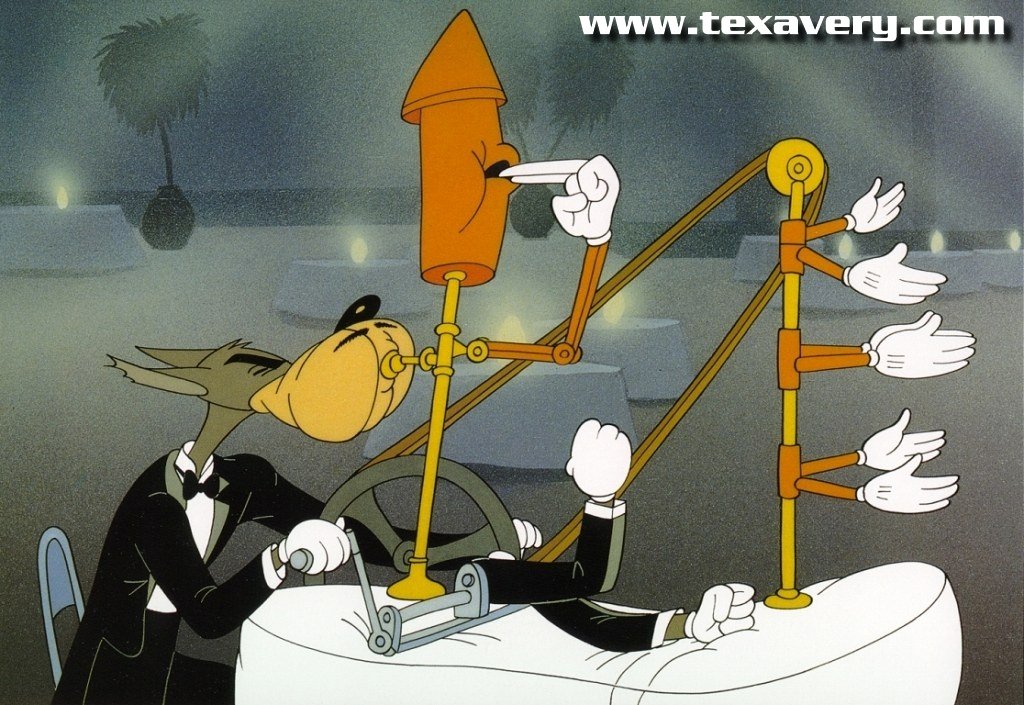 peaches, it's enough to put a smile on anyone's face who tries it.
This leads us to this page. Pat always says "You're the best cook ever!", and is always blowing his horn about how good my cooking is. Pat is also a HUGE Tex Avery fan, so we thought that picture would represent him perfect....LOL
Now that we're on the road fulltime, my cooking is the only food he eats. So I'm thinking that since he is a little biased, why not try some of the recipes yourself and feel free to let us know what you think of them.
I'm trying my hardest to find all the health and calorie information on each dish I make. As I find this information, I will come back and update each piece to make sure it has the best information I can find.
Most of the food I cook is Low Calorie or contains good for you fat with added vitamins in the ingredients. I try my hardest to buy organic foods when the prices aren't too high, if they're not organic, then I make sure I can pronounce all the ingredients so I know they're not highly processed.
My main source of Heart Healthy Fats are olive oil and also Organic Virgin Coconut Oil. In new studies, coconut oil has been proven to be heart healthy. It's good for your skin and nails and also helps fight infections.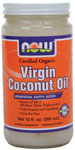 Coconut oil stimulates the immune system and has anti-oxidant actions. Research has shown that coconut oil increases thermogenesis, the rate of burning calories to produce heat and energy from food. For us non-scientists who are just concerned about keeping our families healthy, this means it speeds up the metabolism and helps with weight management.
One thing you have to make sure of is that the oil is VIRGIN COCONUT OIL. RBD (refined, bleached, deodorized) Coconut Oil has been heat filtered, therefore removing its natural qualities.
Recommended amounts of coconut oil is 3.5 tablespoons per day. Experts say you can use it on toast or simply eat it by the spoonful. This is very gross to me. Coconut oil hardens at any temperatures below 70 degrees, so it is way too thick for my taste to eat it raw.
I've come up with some recipes to sneak as much coconut oil into our diets as possible. If you want to read more about the benefits of virgin coconut oil, check out this link. That link provides more information than I have time to list. It's quite amazing how good this natural product is for us and is worth browsing through. On to the recipes.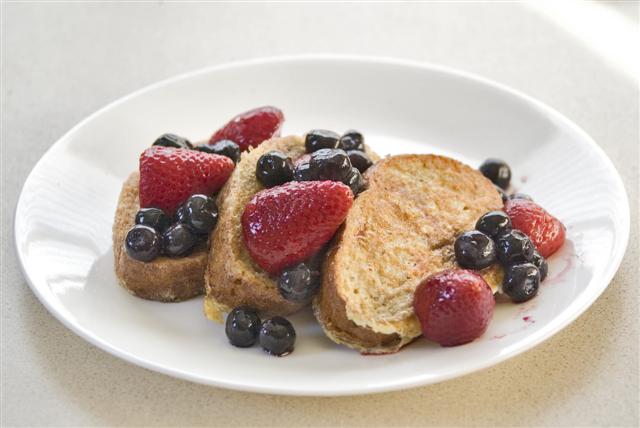 Heart Healthy French Toast - Serves Two Adults
* Start by cutting 6 thick slices of whole wheat bread
* 3 egg whites (I give the rest to the dogs in their food as it's good for their coat and skin)
* One whole egg
* 1-2 tablespoons Organic Virgin Coconut Oil
* A few shakes of cinnamon for taste
Beat the egg whites together with the whole egg and add the cinnamon. Dip the wheat bread in the mixture and place on the pan. The pan should be over medium to medium-high heat and glazed with the coconut oil. Turn the bread till it's golden brown on each side. Top with fruit and serve. Fresh blueberries are high in anti-oxidants and great to spruce up with any meal.
The coconut oil is very sweet, so you should be able to serve it without syrup or butter on it.
Heart Healthy Salad
* Mixed greens or spinach - NOT iceberg lettuce
*1/4 cup raw mushrooms
*1/4 cup chopped walnuts
*1/4 cup dried cranberries
*1/4 cup white cheese (Parmesan is the lowest in calories although I prefer Blue Cheese)
*1/4 cup cucumbers
*1/4 cup diced red peppers
*sliced red onion

Just to make the salad look nice I layer everything then top with cheese and sliced red onions last. If you are going to eat all of the salad, toss with dressing to make the flavors really come out.
Coconut Oil-Honey Mustard Dressing
*1 1/2 tbsp virgin coconut oil
*1 1/2 tbsp extra virgin olive oil
*1/4 cup honey
*1/4 cup spicy mustard
*1 tsp minced garlic
*1 tbsp seedless raspberry jam
In sauce pan mix oils together and blend on low to medium heat (If you want a thicker dressing add more coconut and less olive oil). Add garlic and sauté on medium for 30 seconds to a minute. Add remaining ingredients stirring continually until well blended. Remove from heat to let cool. Dressing is best when served a bit warm but not hot.
Old Fashioned Popcorn
*1 1/2 tbsp coconut oil
*1 1/2 tbsp extra virgin olive oil
*1/2 cup un-popped pop corn

I know that the microwave stuff is quick and easy but this is so much better tasting and no butter is needed. This is much better for your heart and your waist line. Try reading the side of a microwave popcorn box and tell me if anything looks familiar?
In heavy bottomed large sauce pan heat oil on med-high heat. Let heat until one kernel is thrown into the bottom and when it is popped the oil will be ready. Add popcorn and shake the heck out of the pot until corn is quit popping. Don't let it stay directly on the heat or it will burn fast.
I top mine with parmesan cheese and garlic salt and it is awesome.
Coconut Chicken
*2 boneless skinless chicken breasts
*1/4 cup unsweetened finely shredded coconut
*1 egg beaten
*2 tbsp virgin coconut oil
*1/4 cup flour
Rinse chicken and pat dry, cut into strips, set aside. Mix coconut and flour together on a dinner plate. Dip dry chicken into egg wash then role in coconut, flour mixture. Melt coconut oil in frying pan on medium heat, once hot place the coated chicken into pan and cook through, turning so all sides get brown.
These are great on a salad or on there own.
Easy Guacamole
* 4 ripe avocados
*1/4 tbsp minced garlic
* a few shakes of white pepper
*a few shakes of garlic salt
*1 tsp sea salt
* juice from one whole lime
Mash all of this stuff together and let stand for 30 minutes. This is great on sandwiches instead of mayo and it is heart healthy fats!
Gazpacho Soup
* 2 cans diced tomatoes with basil, garlic, and oregano (Del Monte)
* 2 seeded whole cucumbers peeled and chopped
* 1 whole diced avocado
* 1/4 cup red onion
* 1 green pepper chopped
* 1 red pepper chopped
* 1/4 tbsp minced garlic
* 1/4 tbsp garlic salt
* 1 tbsp extra virgin olive oil
* 2 cups V-8 juice
Mix all ingredients, let stand for at least 4 hours. Serve chilled. This gets better as left overs!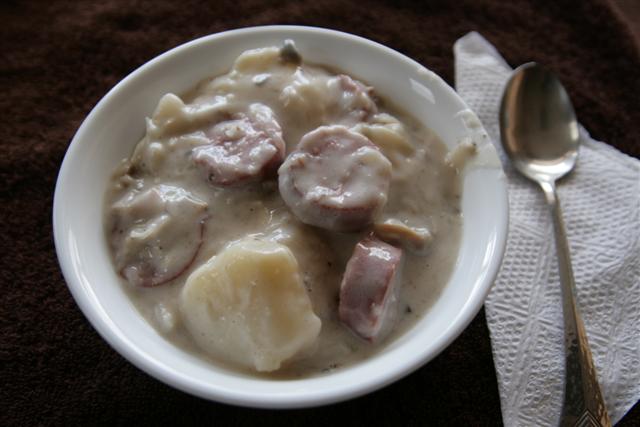 Sauerkraut and Kielbasa Soup
* 1 can cream of mushroom soup with 1 can milk
* 6 boiled Idaho potatoes, peeled and cut into 1 inch pieces
* 1 whole kielbasa sliced into 1/4 inch thick slices
* 1- 8oz can of sauerkraut
* 1/4 tbsp minced garlic
* 1/2 tablespoon soy sauce
* salt and pepper to taste
I know this sounds sort of gross but believe me when I served it in our restaurant, we sold out before lunch was over. My husband hates kraut and he loves this soup.
Peel and boil potatoes first and keep them firm and remove from water. Add all ingredients into soup pot, cover and simmer for 30 minutes to an hour. I use turkey kielbasa to save on fat and calories but real kielbasa has better flavor if you want to cheat!
Boondockin' Chili
* 1 can Bushes pinto beans w/chili seasoning
* 1 can black beans
* 1/2 cup hot chunky salsa
* 1/4 cup chopped onion
* 1/4 cup ground beef
I always keep unseasoned, browned ground beef in my freezer. I use the 93/7 beef which means that it has 7 grams of fat per serving. I can make quick dishes like this with out having to use the whole pound. It also makes for good single serving nachos or tacos with a bit of seasoning added.
Mix all ingredients together in sauce pan. Let simmer for 20-30 minutes then pour over rice, top with light sour cream and shredded cheese.
Penne Pasta with Chicken and Asparagus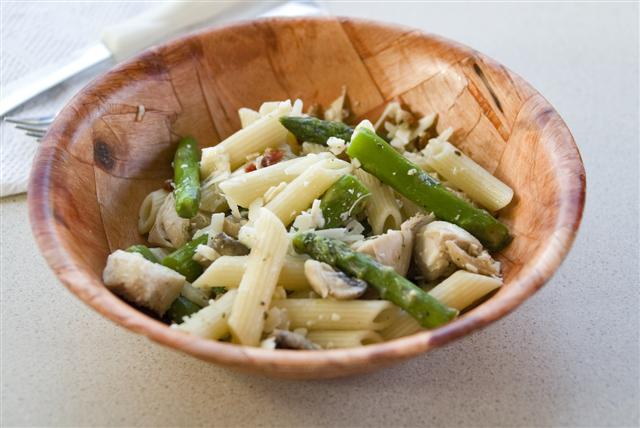 * 1lb. asparagus (broccoli is good too but Pat hates it)
* 8oz whole wheat penne pasta
* 2 tsp olive oil
* 1lb. skinless boneless chicken
* 2tsp minced garlic
* 1/3 cup chicken broth
* 1/4 cup chopped fresh basil or equal dried portion
* 1/3 cup grated parmesan cheese
* 1/2 cup sliced fresh mushrooms
Blanch asparagus for about 2-3 minutes and put into cold water when done. Prepare pasta in remaining water. In a non stick pan cook chicken thru then cup into bite size pieces. In heavy bottomed sauce pan add 2 tbsp of extra virgin olive oil and garlic, sauté over medium heat for 30 seconds to 1 minute. Add all ingredients to sauce pan except for cheese and pasta, heat thru.
In a large bowl toss entire pan with pasta and top with grated cheese. Serve hot.
Spicy Bean Tacos
*4 Fresh Corn Tortillas
*2 Morning Star Spicy Bean Burgers
*1 cup Boondockin' Chili
*Shredded Cheddar Cheese to taste (I like alot)
On a non-stick griddle or non stick frying pan coat one side of the corn tortilla with cooking spray or olive oil.
Let cook on each side until browned, top with cheese, place 1/2 cooked Morning Star Spicy Bean Burger onto the con shell spoon warmed Boondockin" chilli over top. Fold corn tortilla over to look like a taco, you may have to hold the shell in place for a minute for it to take shape. Let shell harden and place on a plate. Top with Spicy Cucumber Salad trying not to make it to messy. You might want to eat with a knife and fork if you get carried away.
Spicy Cucumber salad
*2 cups pared, seeded, and diced
*2 medium tomatoes, blanched, peeled, seeded and diced
*3/4 cup low fat sour cream
*1/2 cup scallions sliced
*1 medium pickled jalapeno pepper, drained, seeded and minced
*1/2 teaspoon juice from jalapeno (I prefer hot ones)
*1 teaspoon chopped cilantro (The stuff in the tube works great if you don't use fresh
Mix all ingredients together, cover and refrigerate for at least an hour to let the flavors combine. Can be served by itself or over any Mexican dish.
Every Miles A Memory
Return to Top of Page
Need Unlimited photo storage- FREE Trial of Smugmug