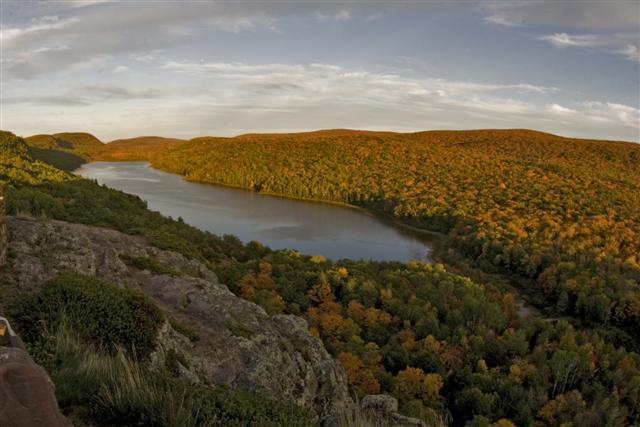 Campground Reviews North
Campgrounds are reviewed on a 1 to 5 Score rating (1 = Poor 5 = Excellent)
__________________________________________________________________________
On a side note, Cindy and I try and never stay at a campground that costs more then $25. There are times where a campground might be needed and if the rates are higher then that and on those occasions, we just have to suffer, but the magical number of $25 is our limit for just a normal nights stay.
With that in mind, we didn't put down the prices as to what we paid for the campgrounds we stayed in all the time. Most of the prices fluctuate due to tourist seasons and holidays, so if we do list the price, don't quote us on it.
If the campground has a website, we tried to provide you with a link. If it's available, then you should just be able to click on the campground name and their site will pop up.
__________________________________________________________________________
Michigan

Ludington State Park, Ludington Michigan
Year Visited: July 2007 Overall Rating: 5 Friendliness: 5
Cleanliness: This park was very clean with plenty of bathrooms and shower facilities for all the campers.
Facilities Available: Electric and Water hook-ups with a Big Dump Station at the entrance. There is also a boat launch, a full service store, and plenty of activities to keep the family busy. Sites aren't that level, but weren't bad. Pads are dirt and the ground is somewhat sandy, so a mat is needed to keep the sand from finding its way into the camper.
Comments: This is another Destination Park. Once you get here, you never need to leave. I'm not sure if I would recommend this place for those campers who don't travel with the family or with kids. This place was crawling with hundreds of families and even more kids everywhere you looked. It's absolutely huge and situated right on the waters of Lake Michigan, the scenery is beautiful
Would We Return?: If we were camping with the neices and nephews, this would be the place to camp.
__________________________________________________________________________
Timber Ridge Campground, Traverse City MI
Year Visited: November 2006 Overall Rating: 5 Friendliness: 5

Cleanliness: This is hard to judge as we were here for a Mountain Bike Race and the place had a few 1000 people jammed in. The day after the race there were dozens of people cleaning up and by the time we left it was already back in order, so I'm sure they keep it very, very clean.

Facilities Available: Everything! Full hook-ups, Full-Service store, Laundry, Heated Pool, Banquet Facility, Large Playground, Nature Trails, Cabins...etc This is a small city in itself.

Comments: This campground was our first place we ever took our Sunline. Our maiden trip was to the annual Iceman Cometh Mountain Bike race held every year in Northern Michigan which ends at this campground. Timber Ridge is huge and almost a city in itself. It would be ideal for anyone traveling with children as it's a small Disney World of activities. It has large trees throughout the entire campground and makes you feel like you're nestled in the woods. The owners were very nice and went out of their way to accommodate us despite how busy they were. They made our first stay in the camper feel like we were old pro's. The Campground is close to local attractions and a great spot to use as a base camp if staying in Northern Michigan.

Would We Return?: Yes for Sure, But we would bring nieces and nephews
__________________________________________________________________________
Bond Falls Campground, Bond Falls in Michigan's Upper Peninsula
Year Visited: September 2007 Overall Rating: 5 Friendliness: 0
Cleanliness: I'm not sure how to judge this campground in its cleanliness? It's not a typical RV Campground.
Facilities Available: I think it was more for tent campers because of the tight narrow dirt roads and small campsites. There is no dump station, no electricity and no fresh water available, but there are outhouses around each campground. We also saw no one while we stayed here for two nights. Not a campground host, a park ranger or anyone? There is also a boat launch to put your boat in on the big lake if you bring one along on your travels.
Comments: Getting to Bond Falls is a chore in itself, I don't even know what town to say it's in because of how far away from any other town it is. The best I can say is it's off of Route 28 in the Western side of the U.P. The Falls the campground is named for is one of the best in the Upper Peninsula if not the best! This campground is also more for tent campers, and has no facilities for the RV'er. The nearest town is a ways away to begin with. But the views and fact that we were all alone on the giant lake this campground sits on is worth the comforts most other campground provide.
Would We Return?: Yes, although it's a tight fit, this was one of our favorite places we've stayed for the seclusion and the beauty of the surrounding scenery.
__________________________________________________________________________
Two Hearted River Campground, Michigan's Upper Peninsula
Year Visited: September 2007 Overall Rating: 5 Friendliness: 0
Cleanliness: It is very clean, but remember, it has dirt roads, dirt sites and is very wooded. It's the type where you pay per night at a drop box, and is very rugged.
Facilities Available: This campground offers a fresh water spigot, outhouses and a boat launch for the Two Hearted River or Lake Superior. Sites are almost all very shaded.
Comments: This is one of our favorite campgrounds in the Upper Peninsula for its sheer beauty. Situated right on Lake Superior and the Two Hearted River, it's worth the fact that there are no amenities to speak of, just pure beauty. Much like the Bond Falls Campground on the Western side of the U.P. It's quite a chore to get to this campground, as you have to go down miles of dirt roads to find it, but once you're here, you wont want to leave. There is a lodge that has supplies and cabins near by, and will also rent canoes and shuttle you up the Two Hearted River.
Would We Return?: Yes, every time we come to the U.P. we try and visit this campground.
__________________________________________________________________________
Porcupine Mountains State Park Campground, Ontonagon Michigan
Year Visited: September 2007 Overall Rating: 3 Friendliness: 0
Cleanliness: This park looked very clean, but the sites are grass, somewhat uneven and it had just rained, so we had to put in 4-Wheel Drive to pull out in the morning so we wouldn't tear up the place.
Facilities Available: They have water and electric at each site and a dump station at the front of the entrance. There are also heated showers and bathrooms which were very nice. The campground is located right on Lake Superior and has a boat launch available also.
Comments: Although this park looked very pretty, we don't have much to say about it. We had hiked the Mirror Lake Trail in the Porcupine Mountains State Park all day and by the time we pulled in, it was dark and we were beat tired. We just pulled in, made dinner and went to bed. I don't think we even hooked up to the electrical box or put the scissor jacks down..LOL
Would We Return?: In a Heart Beat, this campground is the place to be when hiking or exploring the Porcupine Mountains.
__________________________________________________________________________
River Pines RV Park, Ontonagon Michigan
Year Visited: September 2007 Overall Rating: 4 Friendliness: 4
Cleanliness: Very clean and well kept. The campsites were level and some were shaded nestled in between mature pines while others were in full sun. Just depends what you want.
Facilities Available: Full service campground. They offer full hook-ups, 30/50 amp, sewer, cable, washer/dryers, heated bathrooms and showers and even have a small store. They can also refill propane onsite and are located right across from the Ontonagon River.
Comments: We only stayed here for one night as we were waiting for mail to come in for General Delivery at the Ontonagon Post Office. We dropped the camper off and went over to the Old Victoria Mining site which was very entertaining and a great way to spend a rainy afternoon.
Would We Return? For Sure!
__________________________________________________________________________
Minnesota
Devils Track Campground, Boundary Waters Minnesota
Year Visited: October 2007 Overall Rating: 5 Friendliness: 0
Cleanliness: Spotlessly clean, but they were closed for the season when we stayed
Facilities Available: Level campsites that are secluded from on another and each have a fire ring and picnic table. Pit Toilets and a potable water spigot are provided in various places around the campground, but no dump station electrical hook-ups are available.
Comments: We came up to the Boundary Waters area in late September, Early October, which is out of season for the area. Most of the Campgrounds were closed but still allowed you to camp fro free, there were just no facilities available. This campground is right on a big lake and has beautiful scenery everywhere you look. It's also right off the Gunflint Trail.
Would We Return?: Yes, if we ever come back to this area, this campground is beautiful!
__________________________________________________________________________
Burlington Bay Campground, Two Harbors Minnesota
Year Visited: September 2007 Overall Rating: 5 Friendliness: 3
Cleanliness: Very Clean, but they had dirt pads, and the sites were very muddy.
Facilities Available: They had both full hook-ups with Sewer, Water and Electric, and then just partial hook-ups with just Water and Electric. They also have a dump station and heated Showers and Bathrooms.
Comments: This park was nice and quiet and right on the waters of Lake Superior. We used it for the night while we were headed up to the Boundary Waters area. Only thing bad I could say was the place wasn't close to being full, and the lady at the front desk put us right beside another camper who wasn't too happy that we were intruding on their space?! Oh well, you cant win them all.
Would We Return?: Sure
___________________________________________________________________
Wisconsin
Town of Russell Campground, Apostle Islands Lakeshore, Wisconsin
Year Visited: September 2007 Overall Rating: 5 Friendliness: 5 Cleanliness: Very Clean
Facilities Available: The campground offers flushable toilets, showers, 30 amp hook ups, a water spigot close by. The park office is located right in front of the park which also has a baseball field.
Comments: Beautiful views of Lake Superior, huge boat launch and a great place to use as a home base for kayaking The Apostle Islands. Very quiet due to the desolate part of Wisconsin that we are in. Only a short trip to Bayfield which offers restaurants, shopping and much more to enjoy. At night we sat around the campfire listening to the winds blow off of Superior with the coyotes howling at the full moon in the surrounding woods.
Would we return? We would love to.
__________________________________________________________________________
These Reviews are solely our thoughts on places we've stayed. We hope we don't offend anyone or mislead anyone by our comments and suggestions. We would recommend you call in advance to check on availability and prices as they fluctuate on seasons and holidays. If you see anything that is listed incorrectly, feel free to contact us so we can change it.
Thanks
Pat & Cindy Bonish
Remember - Every Miles A Memory
Return to Top of Page
Earth First! We Can Mine The Other Planets Later