Four Wheels move the body, two wheels move the soul ~ Unknown


Our Motorcycle & Custom Made Carrier

Choosing the Right Motorcycle for our Adventure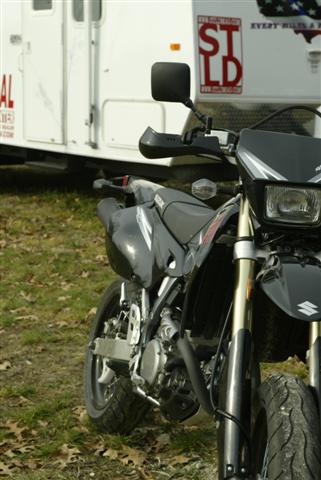 We knew before we left, that there would be plenty of spots we wouldn't be able to get into with the Truck and Camper. So we knew a Motorcycle would be mandatory on our adventure. I did a ton of research and had checked out all the available Scooters, and just wasn't happy with what I was getting for the price.
There were a few scooters that would give us legal highway speeds and even a few that would give us off-road travel capabilities, but most were too heavy and almost all were just plain UGLY!! With a childhood spent riding dirt bikes and four wheelers, I started looking towards the Dual Sport side of the motorcycle industry. With weight the major issue, I knew Harleys and any of the European Touring bikes were out of the question. What I really wanted was a BMW or the equivalent of the R1200 touring bike. These bikes are tried and true and have stood the rigors the real world can dish out to them. Basically they would handle anything we could give them on our travels.
This is what made me look towards the Japanese bikes. There are so many arguments about why to buy American and keep our money in the States, my only problem was, there was nothing any American company was making that fit the weight restrictions for our Custom Made Bike Rack. The reliability of the Japanese bikes is what sold us. We wanted something that would turn over at any time on the trip, and not give us any maintenance problems in the few years our adventure would last. If any thing was to happen to our bike while in transit, the low cost could be easily repairable or replaceable for under what the initial purchase of a Harley or BMW.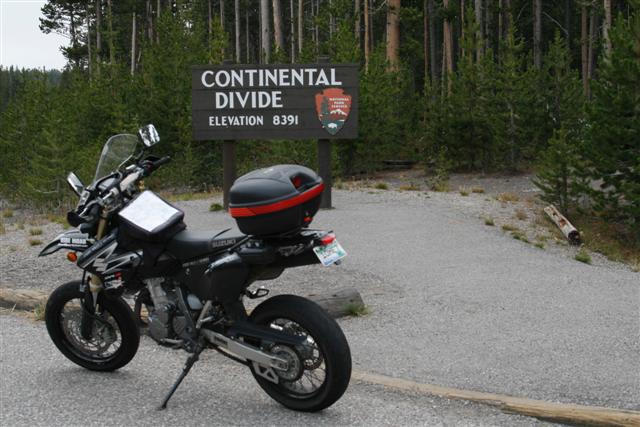 Attending multiple bike shows, I got to see plenty of different styles. A certain type of motorcycle caught my eye when a new race circuit began emerging on this side of the World; the bike fit our needs perfectly, let alone the fact that it looked so cool. Supermoto is a new sport that combines the wild jumps of Motocross Racing with the aggressive break neck speeds of Super Bikes. These bikes are built with tons of suspension travel for off road riding and jumping, yet with gearing and the lightweight needed for riding on the street. This new sport of Supermoto had answered our questions on what bike to buy.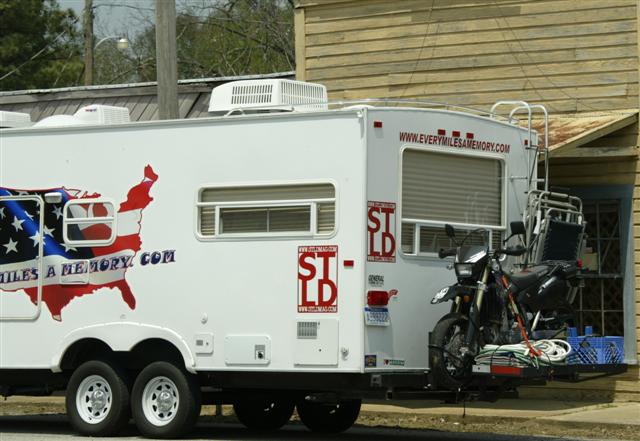 At the time we were looking for a bike, there were only two manufacturers selling these type of bikes in the States, Suzuki and KTM. I really wanted a KTM, but the few dealers I talked to that carried these bikes, said parts were hard to come by, and dealers were few and far-between. Not something I wanted to hear when we are thinking of being on the road for 5 years non-stop.
That and the fact that the KTM was a 950cc bike, and way more motor then we needed for just tooling around on some back roads. It also out weighed the Suzuki by a few hundred pounds which was the major factor in eliminating it from the running. So the search for the Suzuki started. I looked for a few months, and no local dealers had one in stock. Finally one day while stopping by a Harley Dealer to look at Buell's Dual Sport, the salesman was walking me into the back when I spotted a Black Suzuki Supermoto sitting amongst the chromed out V-Twins.
He said that a very tall gentleman had just traded in the Suzuki 400 DRZ-SM the previous day in exchange for the Buell, which is a much larger bike. I made them an offer on the spot and the rest is history. Now we tote around a Suzuki 400 DRZ-SM on the back of our Sunline. I'm also probably the only guy who bought a Jap bike from a Harley dealer...LOL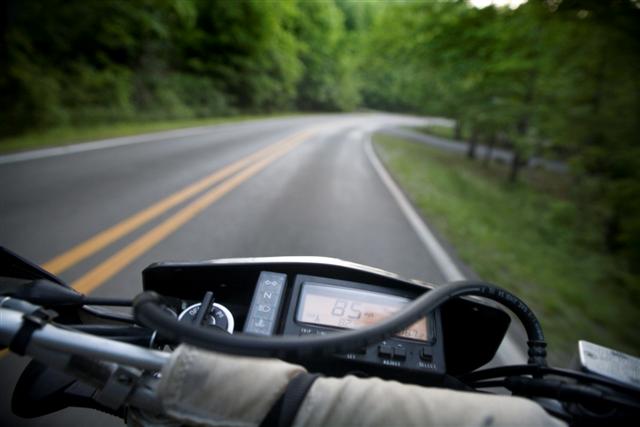 It might not be the most comfortable bike for the two of us on those long distance tours, but it sure does help on those short side trips. There have been plenty of times where we have spotted the motorcycle for the end of a day long paddle, and saved a bundle on fees that a normal canoe livery would charge.
There are also plenty of times where we might stay some where for a week, and never unhook the truck from the coach. The bike really helps on those short stays where unhooking the tow vehicle for just a nights stay, would be a pain in the rear. All in all, we're both really happy with our set-up, and would recommend a light dual sport for anyone traveling full time.
Our Custom Made Motorcycle Carrier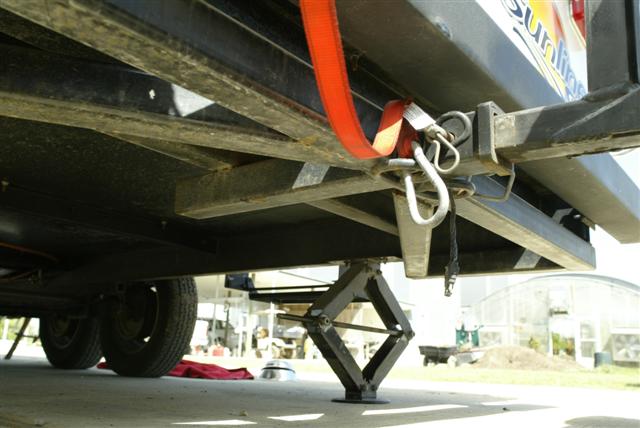 In order to carry the bike safely on the back of the Sunline, I started looking at ways to mount a bike rack on the back. Both Sunline and the guys at General RV said that nothing should be mounted to the rear bumper of the Travel Trailer. The back bumper is only rated at 100lbs, and even a bicycle rack shouldn't be mounted back there.
I found a few different bike racks that came ready to mount into a 2" receiver, but most were outrageously expensive. Then there was the fact that I didn't have a 2" receiver on the back of the coach to begin with. That part was solved pretty easily with some handy work from one of the fabricators at General RV. He was able to tie the hitch into the frame of the existing I-beams and I was able to have a full warranty that came with this aftermarket item. Sometimes a little bit more money spent out of the pocket is security enough to keep your mind at ease.
Sure I could have had some road side welding shop tack on some scrap metal for a nominal charge, but what would happen a year down the road if anything was to break? Cindy and I both agreed that having our dealership, who we trust and would give us a full warranty was the route to go. General RV gave us a warranty as long as we didn't exceed a 500lb limit on the receiver. Since our bike is only 260lbs, we should have plenty of weight to play with.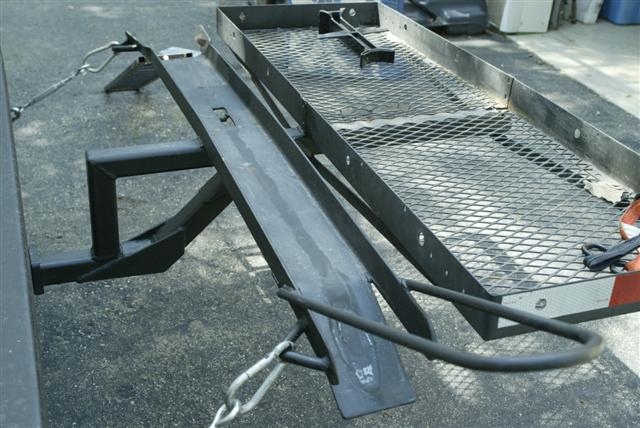 Once the receiver was welded on, our next piece we needed was the motorcycle rack itself. This was designed on multiple bar napkins with input from some of my good friends who all ride and transport various bikes behind their trucks.
I needed something that could be loaded and unloaded by myself if need be, and still strong enough to take years of abuse hanging off the back of our Sunline Travel Trailer.
My good friend John Kielian, who is a master fabricator, helped me put the multiple pieces of scrap metal together to form our custom bike rack. Johnny and I spent a few nights in his garage/shop grinding and torching various pieces of metal into something that I consider a work of art. I know it is the one thing that gets the most questions from people while we're stopped at any gas stations.
John took my original ideas and added items like the front tire hoop which grabs ahold of the front of the bike and keeps it from wobbling till I can get it tied down. He thought of the rear tire strap to pull the bike towards that hoop and add some security.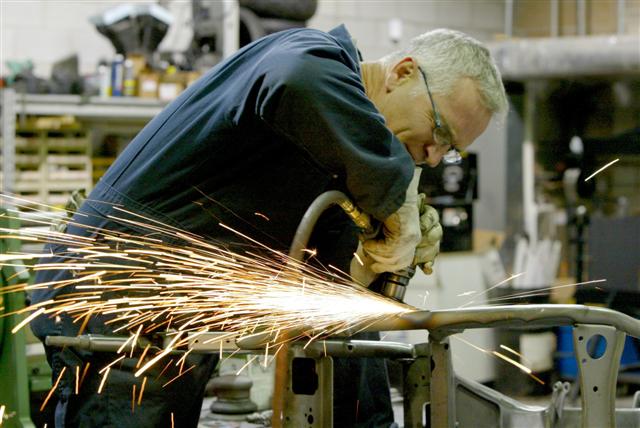 Johnny was also able to weld a Hitch-Haul basket to the rack so incase I needed to add a generator or anything else that might come into play on down the road, we would still have some room. Once the rack was done, we were still way under our Max Weight of 500lbs. So if down the road anything was needed, we can still ad it without worrying about the limit.
After John was done with the rack, I decided it was too low to the ground for my liking. We had the Sunline 2499 lifted 4" from the factory, and the last thing I wanted was the rack dragging on any inclines I'd be pulling into. With time running out, and our trip ready to start, I couldn't wait for John to fix it for me and called another friend of mine who is also an expert with the welding torch.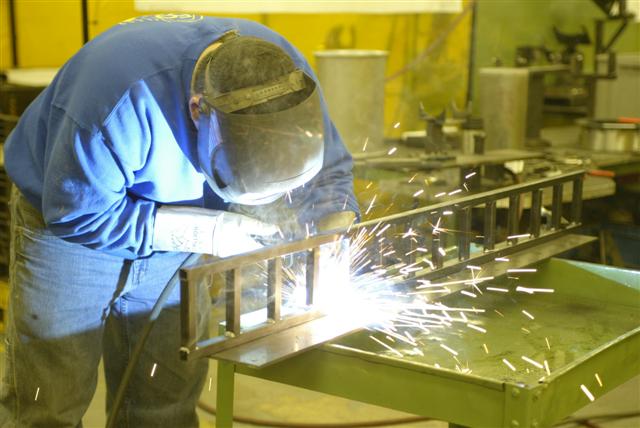 Brian Kimmel welds stainless steel exhaust systems for custom cars as his living. So a few pieces of scrap metal to give me a few feet of lift, was a joke for this master welder. In a few hours time, Brian had the rack lifted 12 inches from its original height, and even had enough time to make me a removable ramp so I could walk the bike up by myself.
Brian was finished in a few hours and we were ready to load the bike on and hit the road!
How it all comes together
How does the rack ride and haul the bike? Within the first few days of driving, we could tell we made a few mistakes. Our first big mistake was one that John had pointed out right off the get-go. He wanted to keep the weight of the bike as close to the back of the Sunline as possible. Originally the rear bumper held a spare tire and I wasn't bright enough to think to remove the tire?!? I had John go against his better judgment and but the bike on the back side of the basket?? That's what I get for not listening to a experienced fabricator.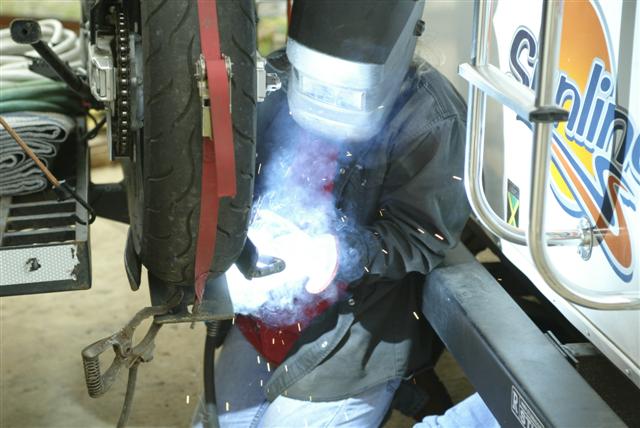 After a few thousand miles with the rack bouncing around like a rag doll, we pulled over in South Carolina and had a local welding shop move the basket to the outside, and the channel the bike sits on as close to the rear of the Coach as possible. This made a night and day difference right away. But it still was bouncing around back there?
While reading through some posts on RV-Net, I saw a guy that carried his motorcycle on the front of his truck on a custom made rack he had built himself. I sent him an email asking him how he kept it from bouncing around, and he told me he used a turn buckle at each side of the rack to hold the bike steady. A light bulb went off instantly and I kicked myself for not thinking of this from the start.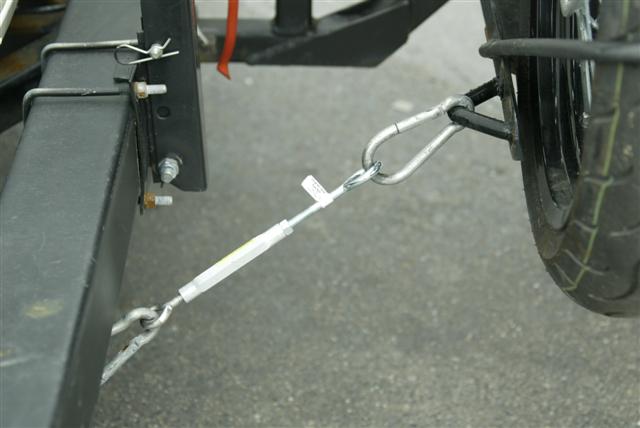 At the time we were in Glenwood Arkansas, and I looked up a local welding shop. When I pulled into Bakers Welding, I waited for the person welding a farm implement to notice me watching them. When she lifted up her welding helmet and asked if she could help me, I was taken aback that the owner was a woman.
Not that I'm sexist or anything, but it's not the norm for this manly profession. I explained that I needed a few tabs to hook some turn buckles to, and twenty minutes later and for only $20, we were back on the road. You gotta love it when you find road side gems like that!!
Since the bike has been moved to the inside of the rack, and the turnbuckles added, we have not had a bit of wobble, and the rack has worked flawlessly.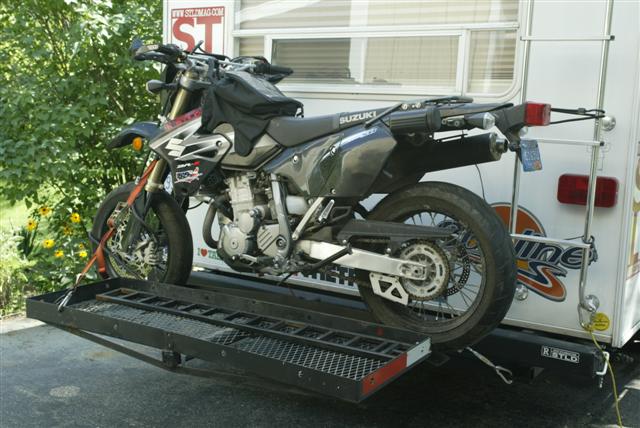 Here is the way the Bike looks when Fully Loaded
***UPDATE***
We've now been on the road for over 3 years and I've figured out a few things I would have done much different if I could rebuild my bike hauler from the start.
First and foremost, I would have built it all from aluminum to save in weight. Second, I would have used a dual or even a triple receiver mount to get rid of the turn buckles and add to the stability factor.
Of all the questions we get from readers and fellow RVer's. The motorcycle rack is up there at the top of the list. Each time someone asks me what I'd do differently, I tell them to make sure they add multiple receivers to stiffen it up.
Well one RVer, Bob from Texas, asked us a ton of questions as he wanted to haul his bike around too. I mean if you have a bike, you want it to come with you, right!
I gave Bob all the pointers I could think of and he added a few things of his own. What he came up with is one of the slickest Motorcycle carriers I've seen to date. Here are a few pictures that Bob sent me to show off his beautiful mount.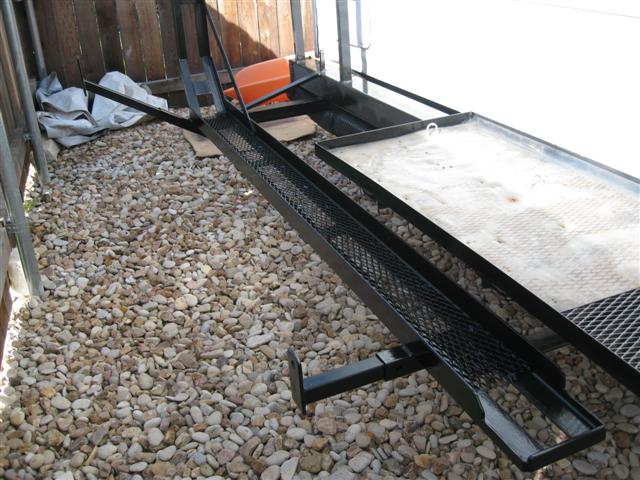 Bob's Rack with added support arms for tie downs front and back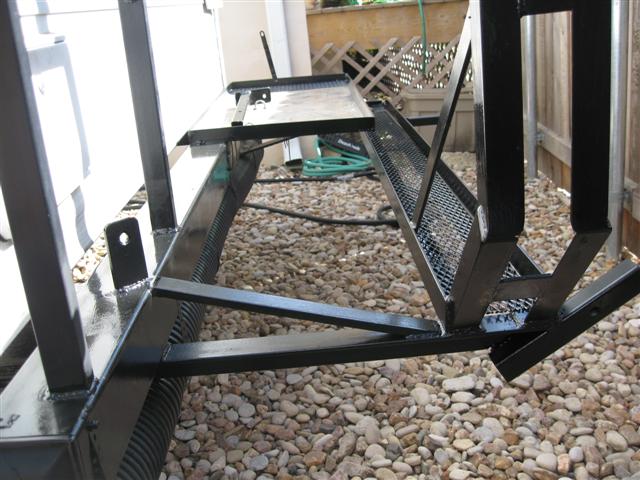 The Rack from straight on. Notice the front tire holder and the tray for his generator!
Bob even had his welder make him a custom mount between the frame rails under the camper that holds his spare tire and gets it off the back bumper. This not only keeps it protected from sun damage, but it uses up some major wasted space.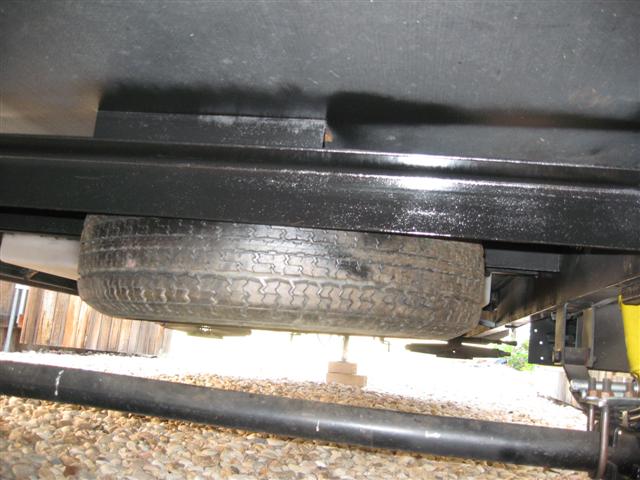 Way to go Bob, This has to be one of my favorite Mod's!
If I could rebuild our Motorcycle Hauler, this is the exact way I'd do it!
Adding a few Aftermarket Items
After many miles of traveling, we have added a few items to help in the set-up. First of all, we needed a cover for the motorcycle. With only a 1000 miles on the bike and under 6 months old, it was looking pretty beat up.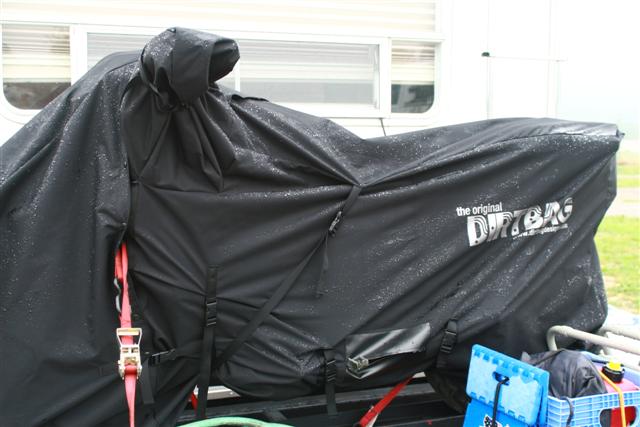 You gotta figure it sits outside on the back of the coach 24 hours a day, and under some pretty harsh conditions. With the constant road grime and sun beating down on it, the plastic was taking a looking pretty worn. Most of the covers that I found were just shower caps that would cover the bike and were made from some cheap material that looked like they might last for a week or two.
I needed something that would allow my straps to come out of the cover and still fit around the bike. That was when we found the Dirt Bag Designs Bike Cover. This beautiful bike blanket wraps the motorcycle in a waterproof material and still allows for the handlebar straps to come out of the cover. We happened to be in Michigan when we found this company, and the owner just so happened to live in the same town as my parents where we were staying at. How lucky could we get!?!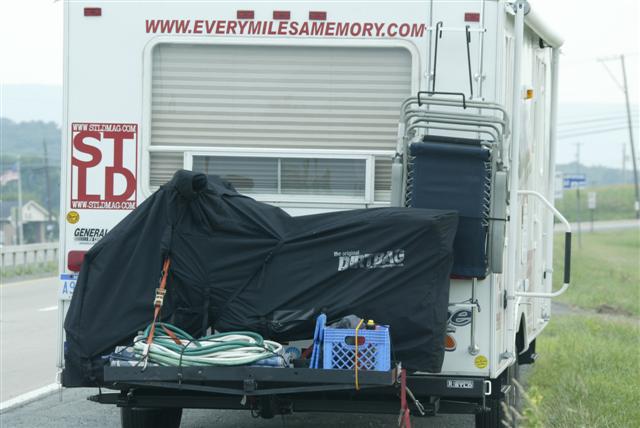 Brett came over and gave me a tutorial on how to install the Dirt Bag Cover, and within ten minutes, all my worries were resolved. We tested the cover on our first trip to Pennsylvania, and with a few days of straight driving, not a single strap come loose. A thousand miles and the bike stayed protected under the waterproof Dirt Bag Cover. I only wish I would have found this thing 12,000 miles ago!! The various straps hold the cover firmly around the bike and even have a spot for the foot pegs to protrude.
One of my worries was getting to the bike with the Dirt Bag Cover on. I tend to take the path of least resistance and figured if I had the cover on, I would just come up with a reason not to take it off and go through the hassle of removing it. That was till the first time I needed to get to the bike. I unsnapped a few of the buttons, unbuckled a few quick release buckles, and in under 2 minutes, I had the bike ready to unload. You just cant beat this cover!!
I cant wait to detail the bike now that I don't have to worry about it getting beat up on the rack. This way I only have to give it a really good cleaning once, and it'll stay spotless for miles down the road.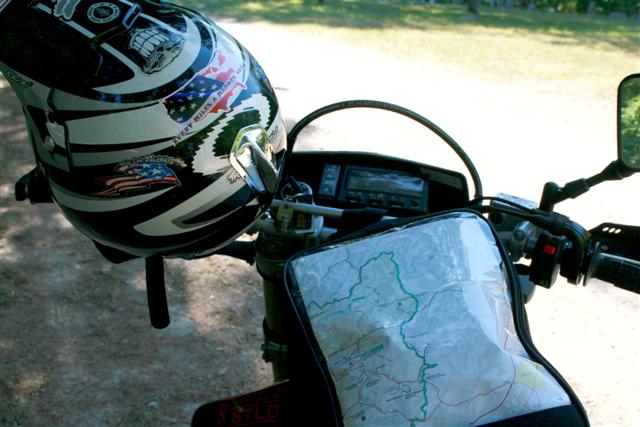 After many miles of traveling down some twisty roads, pulling over numerous times to pull out a map, I broke down and bought a tank bag with a map pocket. This bag not only keeps items that I might need close at hand, but has a clear pocket to hold a map so I can see where I'm going.
This way if we're just headed out for a short ride and we don't want to have to carry a back pack, we can throw a handful of items into the tank bag and travel very light.
This is just something that I thought I needed because I didn't like the way the bike looked while it was strapped down. You put the Fork Support between the tire and the bottom of the fender and it takes the tension off the Shocks while strapped down.
I thought the bike looked stupid with the forks compressed all the way down while loaded. I'm sure it isn't good for the seals, so for under $20, it cant hurt.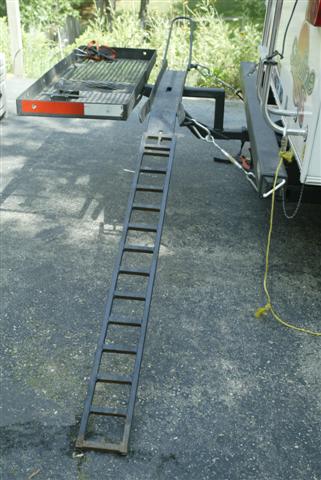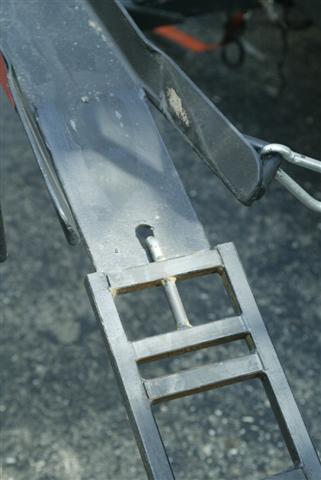 Ramp set up ready to load the bike & detailed shot of how the ramp locks into wheel tray
Return to Top of Page
Solar Tips, Fact's and Trick's we've learned while on the road
Need Unlimited photo storage- FREE Trial of Smugmug