"The camera doesn't make a bit of difference. All of them can record what you are seeing. But, you have to SEE." Minor White

Our Camera's and Digital Photo Gear
"In terms of locating subject matter and "working" it in the field, my best advice is to learn as much as you can about the natural world. I've said it before, but it still holds true: To be a better nature photographer, you must first become a better naturalist" - John Shaw
Most of this adventure is based on nature photography and documenting it with high quality photos to show our readers what we see. Sure we might do a few hikes or paddle some remote rivers without photography being the main subject, but we've found that without taking many pictures, we tend to forget the beauty all too quickly. Photography in general has been a way of life in our family and has been for generations.
As a child, I was always surrounded by photographs. My Grandfather owned a photo studio in Detroit which he had taken over from his father. 'Bonish Studio' was known all around the Detroit area and I was always in heaven being in this large studio as a small child. From my early years, I always had a camera with me where ever I went. I regret not taking classes at an earlier age or tapping into my Grand Fathers wealth of knowledge before the studio was shut down.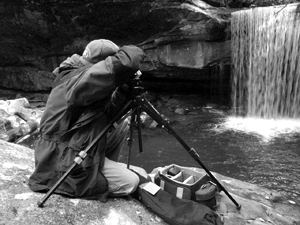 Once I graduated high school, I thought I had found my calling and tried my hardest to learn everything I could about developing quality photos. Cindy and I took a few classes and I even worked at a local Ritz Camera retail store so I could get discounts on what was becoming a very expensive hobby.
I tried to mentor under a professional photographer (Steven Caras) while living in South Florida and found it is one of the fastest ways to learn the trade. This also opened my eyes as to what a professional photographer goes through to get a name for themselves and earn a living from photography.
This was all done with 35mm cameras and before Digital was invented. I can remember taking dozens of pictures only to find out my settings were off, or the lighting was wrong. Learning to become a photographer in those days was a costly experience. I used to whine to Cindy saying "If I could only see what the image was going to look like right now to know if I have the settings correct, I would save so much film!" Digital was just emerging on the market, and the costs were outrageous for a measly 1 mega pixel camera. The critics used to say that Digital would never catch up to Film, and this type of photography would never become mainstream.
When we worked at our restaurant and only took a few trips a year, it was very easy to draw back on the beautiful scenes we surrounded ourselves in and bring them back to mind. Cindy and I would go on a few vacations and come back with 10 to15 rolls of film. After spending a small fortune on developing costs, only a handful would make their way into albums, or enlargements and most would be stored under a bed in a shoe box.
Now while traveling like we're doing these days, seeing so much beauty, it's hard to remember all we've done. Thank God for Digital Photography and it's ease of use.
I cant imagine traveling like we do and using 35mm film equipment and how it would slow us down. The hassle of snapping the pictures, storing the film cartridges and getting all the photos developed. It really makes you respect the travel photographers of the past, and how hard it must have been for them to bring home such amazing photos.
With the advent of digital capture, this has all been simplified, to some extent. We still need to be in good light, and know how to take the photos properly, but there is no time lag between snapping the photo, and being able to see if it is close to what you were trying to achieve. Once back in the Camper, I can instantly download the images onto one of our laptop computers and email them to friends and family or print them off if I want a hard copy.
This is pretty amazing considering we're doing all of this from a small camper that acts more as our rolling studio than it does our house. Especially since all the power we're using to run the computers, wireless cards and keep the camera batteries charged is being drawn from solar panels or our wind turbine, it shows how far we've come in the past few years.
In the past 5 years alone, we have gone through 8 digital cameras. It seems that every few years, new models come out that surpass the old and make them almost obsolete. Sure they still work, but why would you use multiple cameras to achieve one task, when you might be able to use one that has so many functions rolled into one unit?
We have a few professional DSLR bodies that we carry which are our main cameras. We also have a few digital Point & Shoots that might fill in when the larger framed models just wont work. For instance, why carry a heavy pro framed model while kayaking, when I can carry a small Point & Shoot in an underwater housing and not worry about dropping it or getting it wet. The image quality cant compare, but the smaller images aren't noticed on a website anyways.
Camera Models and Our Decision to Go Digital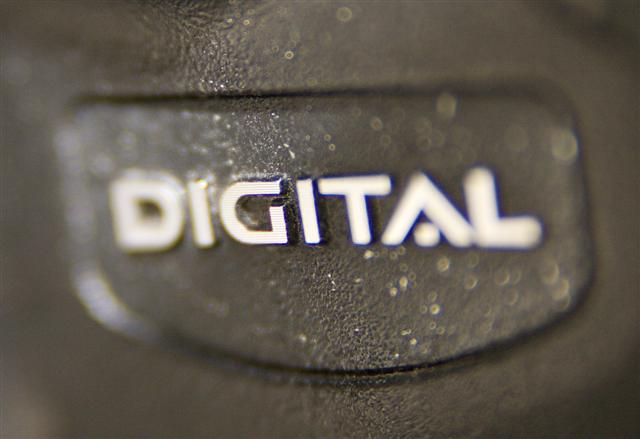 When I first started shooting, I started with a Canon Rebel that was 35mm format. This camera had everything that we needed, and allowed us to use manual controls or shoot fully automatic. For years we used this camera and ended up buying another one so we could carry Black & White film in one body, and Color Film in the other.
When we realized we needed to make the switch to Digital was when we returned from a two week vacation with 15 rolls of film. Digital cameras were just coming out on the market at the time, but we kept saying we couldn't afford one. After that vacation, we did some simple math and came up with this logic.
15 rolls of 36 exposure film @ $8.95 per roll = $134.25
15 rolls of 36 exposure film developed @ $10.95 per roll = $164.25
Total for film and development = $298.50
Now this might not seem like a lot of money; but when you think of those 540 pictures we took, only a hundred went into an album, and only a few were quality enough to get enlarged and framed. This was also only one vacation and we tried to take at least two vacations per year. So this cost added up quick and the switch to digital would end up saving us money in the long run.
Plus, if we had to send images to magazines, or folks wanted to purchase a copy for themselves, it was much harder to get this done with a negative than it is via the internet.
We could buy a Canon Digital Rebel and keep all our same lenses we had for our 35mm bodies. We made the leap and I think when we sold our 35mm bodies a year later, they still had a roll of film in them that we had forgotten about. It was the best decision we made and really made both of us better photographers.
With the ease of seeing our images instantly, we now don't waste so much film bracketing our shots, and when we think we have the shot we're looking for, we can move on and go find another scene.
We have since gotten rid of that Digital Rebel and have upgraded our Digital Bodies a few different times as the technology continues to improve. One thing that we found out the hard way was as you upgrade your cameras, you need to do the same with your computers and the software you're using to edit your images. Between computers, card readers, compact flash cards, hard drives and editing programs, the switch from digital isn't as easy as we thought it was going to be, but we're still not complaining.
This camera is old and now retired, but it never let us down!! We had bought this camera used, and never had to upgrade till I dumped it in the ocean when I tipped over in my Kayak in Baja Mexico with it outside of a dry bag.
This monster is a workhorse when it comes to taking pictures. If I could ever recommend a great camera to anyone looking to step into the pro field, this would be the one to start with. You can find these bodies used on some of the forums for dirt cheap.
It will do everything and anything you want, and with the ability of shooting 8 frames a second, it will keep up with any sport you want to try shooting. For the abuse we gave this camera, it should go in the record books as a survivor.
It now acts as a paperweight on my desk to remind me to always keep your gear stored in watertight cases (think Pelican) when on the water.
We bought this camera as a back up and for the constant arguing over who got to carry the 1D when hiking. This camera is a step up from the base model Canon Rebel and has a larger grip and a more comfortable feel since we were so used to the 1D.
We chose the 30D over the Rebel because of it's larger frame and stronger shutter lifecycle. We haven't had any problems with it and it's a joy to use.
With the 5 frames per second (fps) shooting capabilities, it's not as fast as the 1D, but it is much faster than the 5D Full Frame body that will only shoot at a slow 3fps.
This body also has a 1.6 crop factor on the image sensor, so any lens you put on it, you can extend it by 1.6 time's and not lose any f/stops.
Now we're arguing over who gets to use this body anytime we're trying to shoot wildlife because it reaches out farther than the Full Frame 5D Bodies.
We keep a vertical grip on the bottom of this body which holds an extra battery for longer shooting life, and it also provides a more comfortable way to hold the body while having heavy 'L' series lenses attached.
After the 1D went for a swim in Baja, we had to replace it with something new, and wanted to try the Full Frame option to see what it was like.
I can honestly say I don't think I'll ever be able to be without a full frame body in the camera bag. It makes the wide angle lenses so much more wider, and adds so much depth to the longer zooms with its humongous sensor.
There are a few things I dislike about this model, but I think it's more because I'm usually trying to push the limits on what the camera can handle.
It will only shoot 3fps which is gruelingly slow because I'm so used to the 8fps from the 1D. There have been many times where I'm shooting away at a concert or sporting event and the write buffer freezes up the camera.
Like I said, I know I'm pushing the camera, but it drives me nuts. I guess I'm still used to the speed of the 1D and have to remind myself that this is more for Landscape and studio work.
It produces some amazing work and I love the high ISO aspects of it compared to the 1D which was useless at anything over ISO600.
Canon 5D MarkII - Our New Favorite Camera
In the summer of 2010, we were up in Northern Michigan attending the U.P. Overland Event when our 5D took a dump.
We always carry two bodies, so we were still able to document the event, we were just limited to the 30D Body.
We had multiple photo shoots scheduled while visiting Michigan and I needed two bodies to keep up with the shooting we had planned. We went out and purchased the newly released Canon 5D MarkII and are so glad we did.
This camera is by far one of the best cameras to carry with you while traveling. It's huge 21 megapixel sensor is so rich and captures the colors and tonal ranges like nothing we've used in the past. Its capabilities in low light is astonishing.
Carrying this camera also allowed us to get rid of another piece of gear, the video camera. The Canon 5D MarkII is able to shoot in full HD Video if the need arises.
Canon A80 Point & Shoot Digital Camera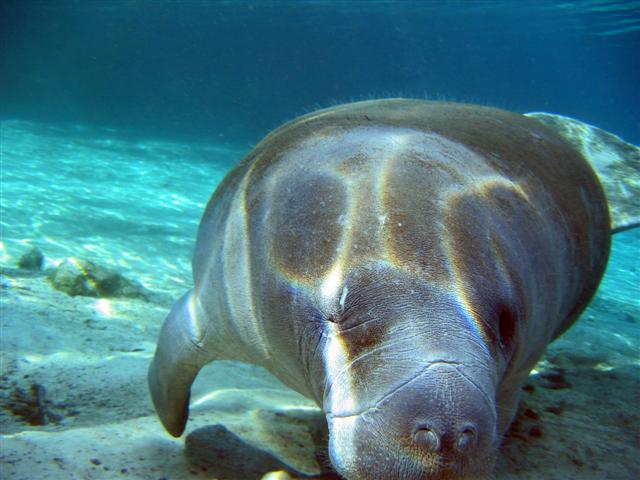 This little point and shoot is ideal for carrying around when a big professional camera is too large. It has a great zoom and has settings to go from fully automatic to fully manual. The main reason we keep this camera if for the underwater housing we have for it.
This camera has taken many images over the past few years and we only have one problem with it. The case tends to loosen and has to be sent back to Canon to be fixed. They have no problem fixing it, but it gets maddening after multiple times.
Actually right now the camera is broken again, now for the 3rd time, so I'm guessing I wouldn't feel right recommending this to anyone.
Waterproof Case WP-DC900 for Powershot A80
If you've ever priced out an underwater case for a full sized digital D-SLR, you could buy multiple point and shoots and multiple underwater housing before you would pay one off.
These are fantastic and we've used them for years without ever having a problem with one of the cameras we used them on.
'Take Nothing But Pictures Leave Nothing But Footprints'
Need Unlimited photo storage- FREE Trial of Smugmug
Lenses and Other Useful Accessories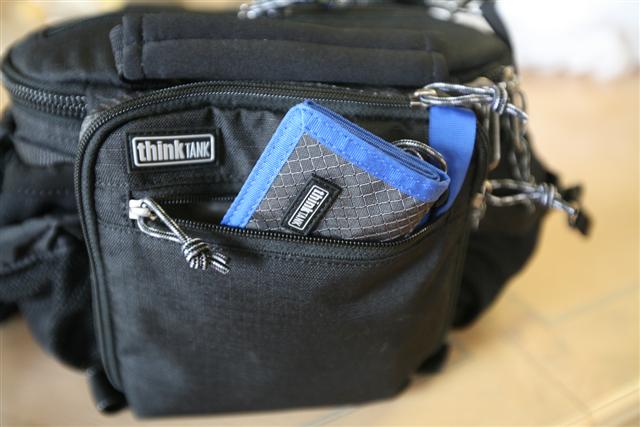 Of all the things I learned while working with a professional photographer, the most important one was the difference between consumer lenses and the pro models.
If you're shooting with a Canon set up, you've probably seen the big, white "L" Lenses. There is a reason they are so expensive. These lenses are night and day over the standard lenses you see at most photo shops.
Good bags and quality straps are also a must if you're doing a lot of traveling. Our cameras take a ton of abuse, and if there is one thing we've learned, it pays to use things that are comfortable. If you have a bag or strap that makes the camera more comfortable to carry, chances are you're more likely to carry it. We use ThinkTank Camera Bags and swear by their rugged build quality and user friendly features.
This was our first big lens we purchased, and it changed the way we thought about photography. Now I don't consider it too big, but I do consider it a staple and it's the lens usually on my camera when shooting ANY sporting event or concert.
The fast aperture and Image Stabilization of this lens allows us to get great shots hand held in very low light conditions. Something that was not accomplishable with our cheaper lenses we had prior to this purchase. We use this lens most when shooting concert footage or anywhere we need low light capabilities.
The Canon 70-200 f/2.8 is so friggin' tack sharp it's unbelievable! Show me a photographer that owns this lens and doesnt swear by it and I'll question their photography skills.
If you're into photography and wanting to up your image quality, this is the lens to buy. It is well worth the cost.
Canon 28-300 f/3.5-5.5L IS USM
For traveling, this is one of those lenses we seem to use the most. From it's wide angle capabilities on one end (28mm), to being able to zoom out to a whopping 300mm with just pushing it out, this is a 'Do It All" lens.
We tend to use this lens the most and argue over who gets to keep it on their camera body. It's not nearly as fast as the 70-200 f/2.8, so it's usually just used for outdoor photography in good lighting.
If Canon made this lens in a f/2.8 model, we would probably own two of them and not need anything else.
I feel the need to tell you that this lens is quite heavy and can become uncomfortable while carrying on a long hike. If you get this, make sure to have a comfortable heavy duty foam strap on your camera to save your shoulder and back.
Cindy calls it her 'arm workout' when she's carrying it while we're hiking.
Canon 400 f/2.8 IS USM - The Grand Daddy of Sports & Wildlife Lenses
I still pinch myself every time I see this lens in our camera bag.
This baby was a dream of ours for so long, that I never thought we'd actually own it. But around Christmas time, someone was selling it off for a price I couldn't refuse, and we became the proud owner of one of the most coveted lenses in the Canon line up.
It's as tack sharp as they come, it is faster than anything out there and about as heavy as a full camera backpack (11.8 lbs!)
This lens produces such outstanding images, that I think you could show me a dozen images all taken with different lenses, and I'd be able to pick out the images shot with this lens.
It's not for everyone, but if you need a fast lens with low light capabilities, this is the best of the best. My favorite thing about the Canon 400 f/2.8 is I can put on a 2x extender and be out at 800mm with an f/5.6 and still have that extra $5000 in my pocket.
Anyone who is looking to reach out and get close to your subject, especially in low light or with fast action, this is the lens to do it with.
Canon EF 28-105mm f/3.5-4.5 II USM Standard Zoom Lens
This is a great lens when you're hiking or want to travel light. It has plenty of wide angle capabilities and enough zoom to get you onto your subject for anything but those real long range objects. It's not the best for low light, but it does its job when trying to go light weight.
I've found it's a great lens to keep as a back up, or when you don't want to draw any attention to yourself which usually happens when you have any of the big white Professional lenses attached. You'd be surprised when that can actually work in ways it's not supposed to.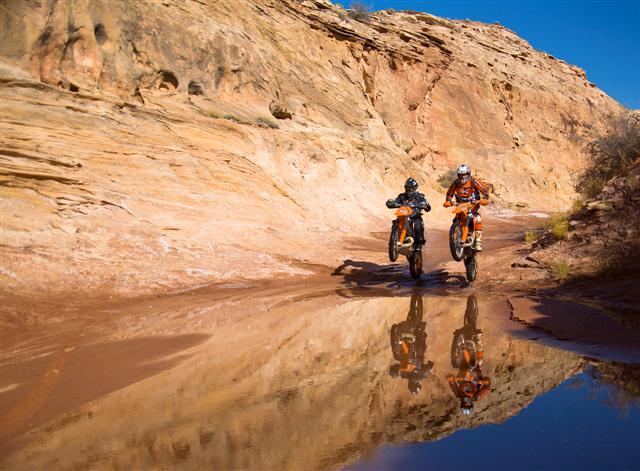 Riding with Dual Sport Utah in Moab
If I'm carrying a lens with me while riding motorcycles or mountain biking, this is the lens I hang around my neck. Don't think that a less expensive lens than one of the coveted 'L' lenses wont produce outstanding images. We've had many images published and sold while shot through this lens.
This isn't a lens we use all that often, but its good to keep as a back-up, so there is no use to get rid of it.
This model has been updated with the Canon EF 28-135mm f/3.5-5.6 IS USM
which gives you a little more zoom and ads Image Stabilization. If and when our 28-105 crashes, I'll probably upgrade it with the 28-135 IS model.
Canon EF 16-35 f/2.8 - Wide Angle Awesomeness
I used to carry a Sigma 17-35mm lens around for wide angle shots. It stopped working on my Canon 5D and I found this Canon 16-35 used at a really good price. I decided to upgrade and all I can say is "WOW!"
Pairing this lens with the Full Frame Canon 5D is an absolute award winning combination. It's fast, sharp and offers the best combination for landscape photography there is.
It's rarely taken off one of the 5D bodies and it's always my go to lens when we're out shooting landscapes.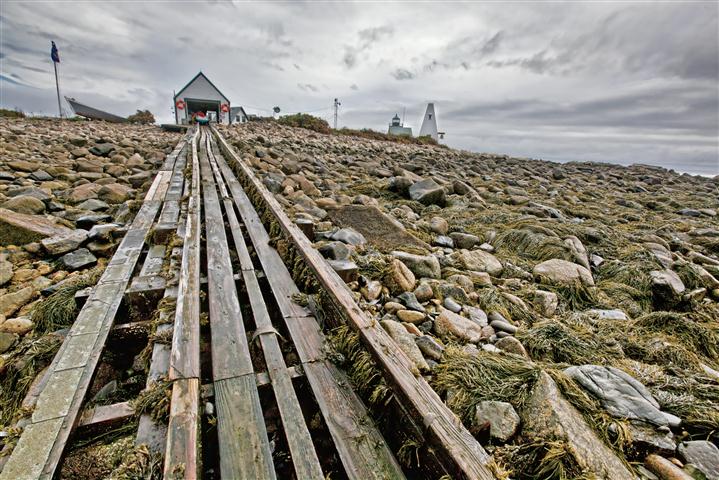 Looking Up the Boat Ramp on Goat Island Light Station - Maine
Sigma 24-70 f2.8 EX DG Macro
We'd love to be able to afford the Canon version of this lens because its known as one of Canon's most sharpest lenses they make, but the Sigma has performed fantastically for us for years now.
This is our Wide to Semi-Telephoto lens we use for all indoor work. It is great in low light and Macro work and has taken a beating over the past few years.
It did stop focusing for us at one point for no reason? We sent it back to Sigma and a week later had it back working flawlessly at no cost to us with no questions asked. Thanks Sigma!
This is really the staple when it comes to a wide angle zoom and a lens that everyone should have in their camera bag. The 24-70 f/2.8 paired with the 70-200 f/2.8 has to be the best combination on the market right now for event photography.
We get a lot of emails asking if we were only going to be carrying two lenses around with us, which ones would they be, and our answer is always the 24-70 f/2.8 and the 70-200 f/2.8.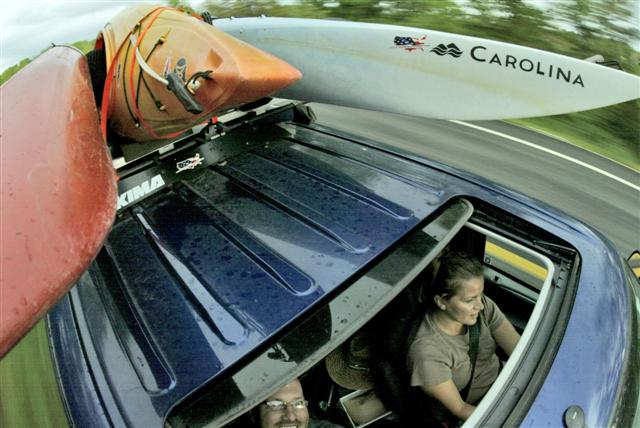 This small lens is one of our favorites when wanting a unique look. It will turn any ordinary picture into a really different shot.
It is the best for wide Panoramas, and with its low light capabilities, it can be used almost anywhere.
One thing you have to remember is how much it can distort the picture. This can be a fun lens with the kids or when trying to get a different look out of a normally boring picture.
This is a picture taken with the Fisheye lens held out the sunroof of the truck with it on the Canon 1D body. This lens on the full frame 5D is almost too wide, but its fun and was a staple in the camera bag
We've reviewed many of our Think Tank Camera Bags and other equipment we use in greater detail on THIS PAGE. We figured on some items, we really need to put more detail into why we made these purchases.
Bogen/Manfrotto 190XB Tripod
We bought this tripod after our older one, which we had for years, wouldn't hold up our newer, heavier lenses. The problem with the older one was it had an attached head that wasn't removable and wasn't made for larger cameras.
It was fine for the lighter camera bodies and smaller lenses, but with a pro body and large Canon "L" Lens, it just wasn't working.
With this new Manfrotto, we can add any size ball head we want, so if we upgrade to a larger camera or bigger zooms, we don't have to keep upgrading tripods.
When I went in to purchase this tripod, I originally wanted the model with the Carbon Fiber legs thinking it would save so much in weight. That was till I held each tripod side by side and could barely notice the 3lb difference. The Magfiber model was over $100 more and when every penny counts for our tight budget, we chose the heavier model.
We love how easy this tripod is to set up and lock into place due to its leg locks and quick release buckles. This tripod works fine for everything we shoot except for our Canon 400 f/2.8 lens. The limit on this tripod is right around the weight when the 400mm is mounted to the Wimberley attached to a body with a grip.
Bogen/Manfrotto 322RC2 Grip Action Ballhead
Once we got the new tripod, we chose this Grip Action Ballhead so we could use its fast action maneuverability to follow the scene we're trying to capture.
We like this ballhead very much as it allows for one handed operation and allows for the other hand to still be on the camera yet track a moving subject with relative ease.
When shooting with any of the larger zoom lenses, we always use the Wimberley WH-200 because it allows you to pan and hold the camera without any fuss.
Bogen/Manfrotto 685B NeoTec Monopod
This has to be the easiest monopod to use. Once you get the hang of this one handed operation, you wonder why anyone would use anything else.
The Manfrotto 685 monopod is also helpful for many places that don't allow you to use tripods. Many museums, galleries and concert halls don't allow photographers to use tripods, but you can walk right in with a monopod.
We've found that this monopod is also great for long hikes as it can double as a walking stick while hiking, and used as a camera support when needed. It's not as light as some of the carbon fiber models, but about the same weight as the comparable aluminum competitors.
ThinkTank Streetwalker HardDrive Backpack
Once we bought the Canon 400mm lens, we needed a bag big enough to be able to carry it around with us. The lens comes with its own aluminum case,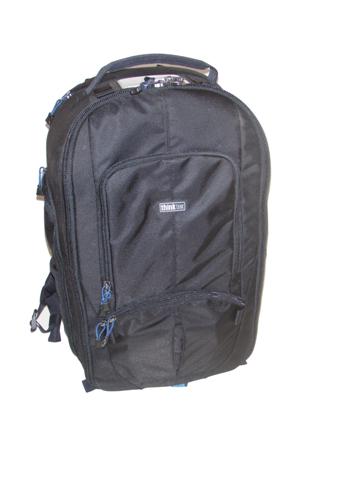 but carrying that into the field is just not going to happen.
The ThinkTank Streetwalker HardDrive backpack is big enough to hold the monster of a lens with a pro-sized body attached and still have enough room for a few other lenses or accessories.
It also has a slot for a laptop in the back and will come in very handy when we need to travel with this lens while flying because the entire setup is carry-on sized.
After getting this bag and testing its durability, I'm a firm believer that ThinkTank products are some of the best stuff on the market. Stay tuned because we're saving up to get one of their belt systems and I'll make sure to post a full review of it.
To read an extended review of the ThinkTank Streetwalker HardDrive and see it loaded with various camera gear, Click Here.
ThinkTank Modular Belt System
I wont go into too much detail for this ThinkTank product because I've already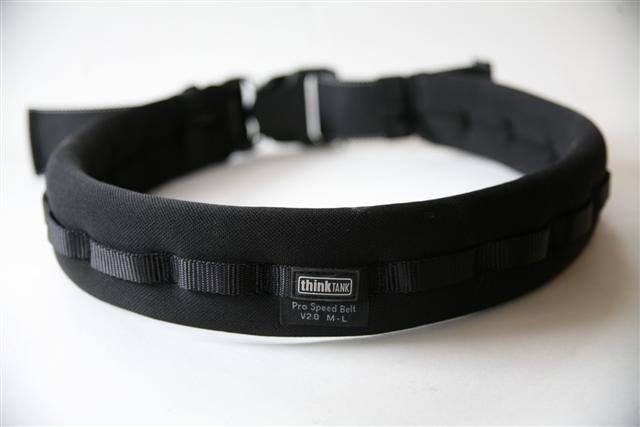 posted a full review on another page here on our site, but I will say that if you do any sort of event coverage, this should be a mandatory piece of equipment.
It's so versatile, it can be configured in so many different ways and added to or stripped down to suit just what you're shooting that day, that since we've gotten this piece of equipment, we've really stopped using any of our other bags.
Check out the full review and see what all we have to say about this product.
Canon Gadget Bag
We've had this camera bag for about 10 years now and it's seen more abuse then most would think possible.
We joke that we should test backpacks and gear bags for a living, but of all the bags we've bought and tried, we seem to keep coming back to this one for everyday use or just keep it around for a throw-it-all-in bag.
It's deep enough to hold the pro body of the 1D and a few extra accessories and still has a few pockets left for granola bars and those side items we bring along.
It's not waterproof, but has been through many rain storms and kept the gear relatively dry and safe.
Tamrac N-27 Boomerang Camera Straps
I cant imagine carrying the cameras with the stock straps they come with.
For the minimal cost of these straps, they make all the difference when carrying the cameras for long periods of time or while covering an event all day long.
Tamrac N-11 Backpack to Camera Straps
If you do any hiking or biking and try to carry a camera with you, these are the straps to have. They allow you to attach the camera to the much more comfortable shoulder straps of the backpack you're wearing. It keeps the camera right on your chest and within easy reach, and also is great for quick shots while biking.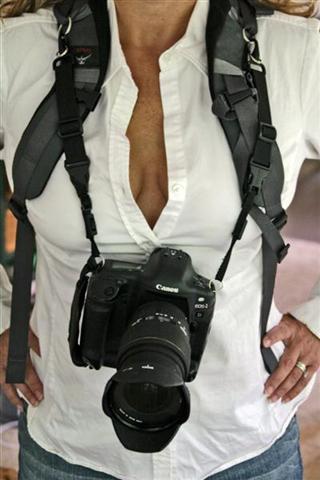 It is horrifying that we have to fight our own government to save our environment - Ansel Adams
Need Unlimited photo storage- FREE Trial of Smugmug
Some Books and Useful Resources on Photography
If there are any books that I would recommend for anyone who is getting into photography, it would be some of Scott Kelby's books.
The Digital Photography Book - By Scott Kelby
This is a must have for anyone who is familiar with photography and wants to move up to the next level. Scott has a great way of explaining things in a straight forward matter and making you understand the more technical side of this sometimes confusing field.
I think I have bought this book 5 times for friends who are getting into the field and I would recommend it to anyone.
I have read it myself a few dozen times and keep it handy to flip through on a daily basis.
Adobe Photoshop Lightroom Book for Digital Photographers
- By Scott Kelby
Adobe Lightroom is an amazing program that will improve your photography as soon as you figure out how to use the program. It's not that magic button that can turn bad photos into cover shots, but if you can take a decent photo with the correct exposure, Adobe Lightroom will make that shot pop out and be noticed.
Scott Kelby's book taught me how to use the program and understand the many different options. Like many of his other books I own, this is a must have if you really want to learn the ins and outs of the great program from Adobe.
Make Sure to Check out Scott Kelby's Website for tons of info
The Photoshop CS2 Book for Digital Photographers
- By Scott Kelby
In this age of digital photography, Photoshop is a must have program. It is well worth the money and once you learn the basics, this book is the next step to move you up to that next level where you start to learn the tricks the pros use.
I know that CS3 has already come out, but I haven't used Scott's book on that program to comment on it. I still use Photoshop CS2 and this book was a great help with teaching me many new tricks. Many of the photos you see on our site have been adjusted in Photoshop to bring out some shadows or punch up the colors.
You'd be amazed at how much you can do with this must have program. It's well worth the high cost if you're really into photography.
The Photoshop CS3 Book for Digital Photographers
- By Scott Kelby
Once I moved up to CS3, I got this book right away so I could learn the new tricks of the brand new program. CS3 is light years ahead of CS2 and the program is way worth the upgrade.
Once you upgrade, get this book right away! I also listed a few other books I own that have really helped with the computer workflow.
This site is the one stop shop for photo gear. Plenty of times you might find someone advertising cheaper prices, but 90% of the time, they don't have the item in stock or available. I've never been disappointed with B&H and they always have what I'm looking for.
This site is just amazing. From tutorials, to instruction to just damn fine photography. Be warned that once you find and bookmark this site, you'll spend hours on it just reading and learning.....All for free. People who host sites like this need to be recognized.
Return to Top of Page
Need Unlimited photo storage- FREE Trial of Smugmug