When we realize our insignificance in this world,
it some how relieves the pressures from society to succeed -
Cindy Bonish 04/07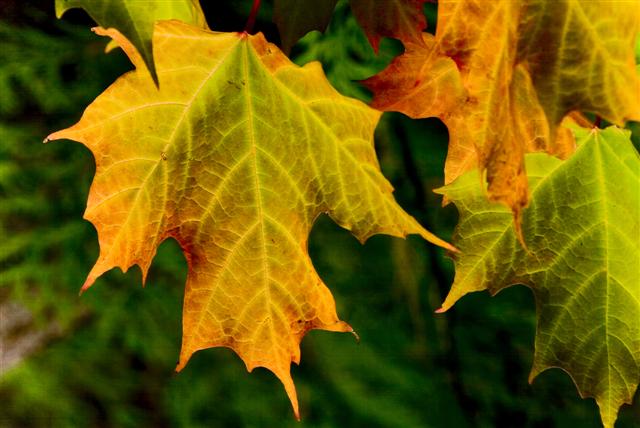 Pat's Fall 2008 Blog
IIf this is your first time here, you might want to start from the beginning of our fulltime RV Journey with our Past Blogs
Photo Gear We Use - Solar Tips, Fact's and Trick's we've learned while on the road
Camper Check List - A list of things we do before leaving camp. Again, this isn't gospel, but its a good start for those who might not already have a list made up.
****
What's Going on With Every Miles A Memory?
Well another summer under our belt and we've been sitting still for a few months now. Staying back in Michigan for the summer wasn't anything we had planned on, but then again I cant think of anyone who was predicting this economic crisis we're in right now.
What have Cindy and I done with our time home and why are we sitting still for so long? We thought we'd answer a few questions we've been getting from so many readers.
Well other than going back to work doing odd jobs here and there to generate some money for the fuel tank, we've been doing a whole lot of research on ways to help us make this adventure more Earth Friendly and Greener. With fuel at an all time high, I see no need in continuing down this path without finding ways to save some miles per gallon and ease the burdening cost at the pump.
I've been thinking that if we could find a way to up our fuel mileage on the tow vehicle, it would not only save money, but be kinder to Mother Nature not to mention our ever thinning wallet.
After our first few years on the road, we've learned so many ways to conserve, we know there has to be a way to do this and not burn so much fuel. What if we could find a Hybrid Vehicle that allowed us to use Regenerative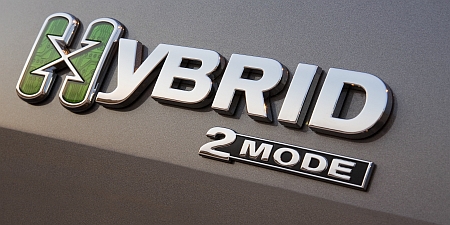 Braking to charge batteries in the motor, or use electric motors to pull us along without blowing out noxious gases, or just find a vehicle that gets phenomenal fuel mileage so we can roll down the road with fewer stops to refuel.
So far, everything I've found has been for very lightweight compact cars that could never pull more than a few passengers worth of weight, but a few different manufacturers are starting to work on some options for those of us that need to pull a load.
Freightliner has just come out with a diesel/hybrid that pairs an electric motor charged from regenerative braking with a big diesel motor, yet has enough horsepower to pull massive loads. Problem with this technology is it's only been released to the public a few weeks ago, and the company already has a backlog of orders from states around the country trying to find ways to power their work crew vehicles.
Florida Power & Light has been testing the vehicles for the past year and they've stood up to the test. I honestly think these would be the perfect chassis for a lightweight Class C RV, but finding all of this and getting one built would cost more than I think we'd save, and lets be honest, we just don't have that kind of money.
Then I found that Jeep is coming out with an EV (Electric Vehicle) that is going to use hybrid technology yet still stand true to the Jeep legend of Off-Road driving, but again, they wont be available to the public for a year. It looks like 2010 is going to be the year when all the automotive manufactures release their new EV vehicles, so we have a full year to do more research.
It doesn't mean we are going to sit around for a year just waiting around, but we are going to be traveling much less till we can find something.
In the mean time, with the housing market in Michigan literally hitting rock bottom, we decided to gamble with the foreclosure market and bought a condo that had been foreclosed on.
With most of the comparable condos in this area being sold anywhere from $50,000 to $80,000, Cindy was able to find one that needed some work and stole it for only $20,000!
We're planning on re-dry walling the 970 square foot two story condo, replacing the floors, and putting it right back on the market hoping to make a quick $20 to $30,000. There had been some water damage due to a whacked out renter who had left the water running in the bathtub which ruined the drywall on the ceiling of the 1st floor, the carpet (which they tore out) and bubbled up much of the drywall on the 2nd floor. Luckily the sub floor is still in good condition, so it's just a quick flip and hopefully could be done under a few months if everything goes smoothly.
We've already had it priced out as to how much it will cost to do the repairs and we're looking right around $10,000 to bring it up to new like standards. We're just waiting on the banks to figure out what they're doing as the mortgage owner was Fannie Mae. We've signed the paperwork, but we haven't finalized anything else so we're just sitting around waiting on them before we can start the remodel.
Hopefully this will allow us some cushion when we do get back on the road after the holidays.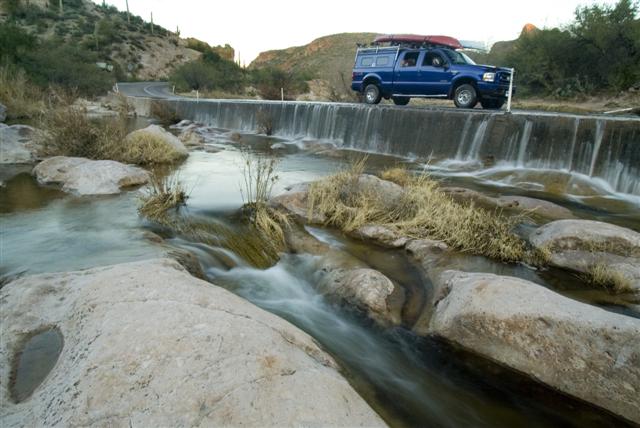 In the mean time, Cindy and I have shot a few weddings, done some advertising work and we're featured in MyFord Magazine on the inside back cover.
Back in the spring a reader of our blogs had emailed me saying that he thought some of our photos would look cool in this magazine. He told me that they had a contest running where you could send in photos of your Ford vehicle and if they chose your image, they'd pay you $100.
I was excited to find out that they liked one of our images of the truck crossing a flooded creek in Tortilla Flats, Arizona while we were traveling the Apache Trail.
That should catch us up on what we've been doing for the past few months. If anyone has any ideas on ways to continue to travel while saving money or fuel, we'd love to hear from you.
Once we get the Condo and can start working on it, I'll be sure to post some photos so you can follow along with the progress of the flip.
Until then, I'll try and post any new info I learn in the Electric Vehicles or Hybrid world. I've also been working on photos from past adventures and have just uploaded a new gallery from Yellowstone.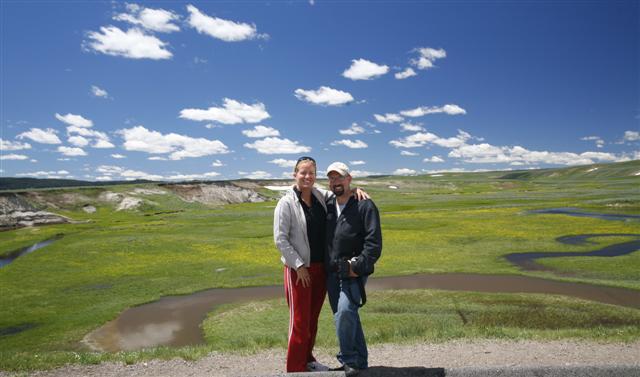 Monday October 27th Gearing up for Halloween
The past few weeks I've been working with a few friends of mine in the heavy construction field. While our daughter was in Junior High, I wanted to be home with her at night, so I stopped working in the bars and took on a Construction job for a few years. In that time I learned to operate many different pieces of heavy equipment and got pretty good in the field.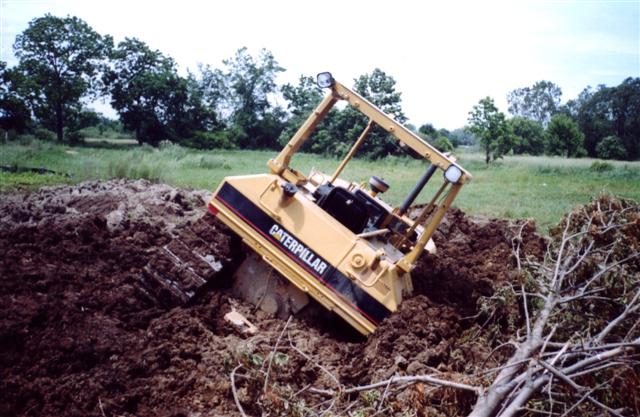 While Cindy and I worked in the bar, I would go back to work with different friends when ever they had a big job and they needed an operator who they could trust to show up and get the job done in time. I've never been one to fool around when it comes to work and like to pride myself with working from sun-up till sun-down if it means working with a deadline.
That shot is of a Caterpillar D5 High Track Bulldozer I buried in a field years ago. The tracks alone are taller than I am standing beside them, so you get a sense of scale for how deep it's buried. I questioned the hardness of the area but was told "Don't be ridiculous, you wont sink that machine! Just go level all that dirt."
So when a friend of mine who owns an excavating company called saying he had heard I was home and could use a good operator, I told him I'd be glad to help out. I should be thankful that in this economy, when so many people are out of work, here I am being called in for work.
What a wake up call that was for me. In the past two years, waking up to an alarm clock at 5am was something I thought I'd never have to do again. Working from before the sun comes up till well after it sets was enough to make me drag my butt home, shovel some dinner in my mouth and fall back into the bed just to go do it again the next day.
Now I know I'm only sitting on a machine working the controls all day, but for some reason I come home exhausted. I remember having a rip roaring argument with my young daughter one year when I told her I was too tired to watch a movie she was asking me to watch with her back when I was doing this type of work full time.
She snapped back in a way only 13 year old girls can do "Why are you so tired, all you do is sit in a machine all day...it's not like you actually work or anything."
Years later when she was spending her summer break between her Junior and Senior year trying to find a job, I had a buddy who was doing work in a gravel pit in our area. He had asked me to run the big excavator loading off-road dump trucks all day long. We owned the bar at the time, but how do you turn down $25 an hour cash money for a few weeks worth of work.
One day one of the drivers didn't show up and not having one of these huge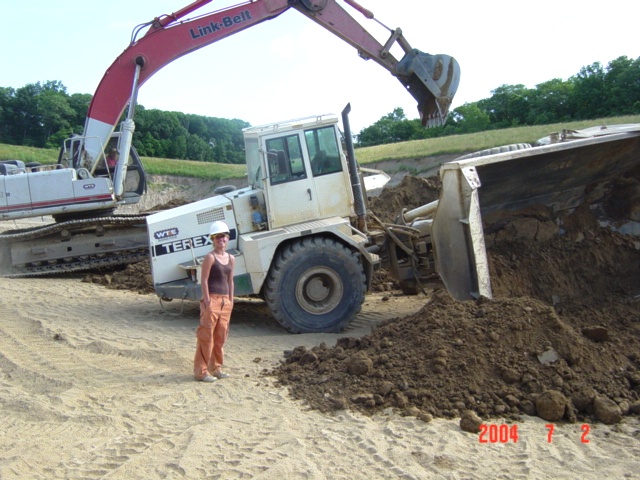 off-road trucks moving was costing him alot of money. I told him I could call in my 17 year old daughter who I knew I could show how to drive the truck in no time at all.
He told me "If you can get her here in the next half hour she has a summer job getting $15 an hour cash." That to her was more money than she had ever made and she was in her car on the way to the job site within seconds of the phone call.
Needless to say that within the first few days of work she was eating those words she had spoken to me a few years back. One day when we were all leaving the job site to go home where I would shower before heading into the bar for the rest of the night to work, I asked Donielle what her plans were for the evening?
She looked at me saying "Are you kidding, I'm going home to go to bed!" Granted this was a Friday night and we were leaving the jobsite around 6pm. I looked at her with a big smile finally getting to use her own words against her when I said "Why are you so tired? All you do is sit in a machine all day long. It's not like you work or anything."
She didn't think it was funny and if I remember correctly I was given one of those death looks she had learned from her mother before she went off to bed exhausted after a hard day of work.
Sitting in a machine all day long leaves you with nothing to do but think. Luckily for me I have many cool memories to look back on from the past few years of travels.
I think back to different areas we visited that I cant wait to get back to, or other areas we might have only skimmed through that I want to explore more in-depth the next time around.
I keep thinking how much stuff we brought that was just excess. How easy it would be to trim the fat off the whole rig to not only save on weight, but to streamline the whole operation.
I sit there thinking all day long on ways to do this type of traveling on the cheap. Maybe spend more time in certain areas and only use the motorcycle to explore.
Maybe find areas that we can spend a few months in and delve deep into the local culture and surroundings. We're pretty experienced now that we have our first few years under our belt, and I'm really looking forward to the next leg of the journey.
I think it's funny that this is the first week of some really cold temperatures and Cindy gave me that look the other day saying "I've got the bug real bad right now!"
I guess the last few months of spending time with family finally wore off once the weather went south and she was looking at past galleries I was working on. I just laughed saying "You have two more months before the holidays are over with and we can seriously look forward to heading back out."
Working on a machine isn't the only thing I've been doing to keep busy. Another couple of friends of mine own a Tree Trimming business and they needed some help for the fall trimming season. With me having a Class A CDL drivers license, it means I can help out numerous friends when they're in need. This time I was needed to drive one of the big trucks they have when another worker couldn't come into work.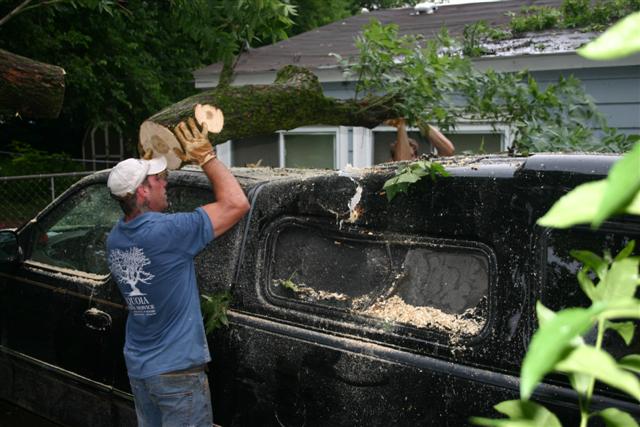 This is seriously hard work, but I'm not one to turn down fuel money. If it means I have to follow an elephant around with a shovel to earn enough to get us back on the road, I'd do it right about now.
Working with Shane and Jeff wore out muscles I didn't even know I have, and gave me new found respect for these guys and their climbing abilities. To watch them scurry up a giant tree, lace a few ropes up and drop the top of a towering oak with the precision of a surgeon makes for some very cool watching.
I'm sorry that I cant bring my camera along to show you how cool it is to watch. But I have to remind myself I'm there to work, not fool around. This is also very dangerous work and something where you have to be paying attention at all times. If you hear the chain saw stop, make sure you look up to be sure you're out of harms way while the fresh cut limb is falling to the ground.
That is a shot of them removing a huge limb that had come down in a big storm landing right on the roof of a truck!
Basically all of this is done to keep me busy till we can close on our Condo. Once we get into that, we'll have our work cut out for us for about a full month of non-stop work in order to get it back on the market as soon as possible.
At night, if I'm not sleeping right after dinner, I'm usually working on a few different photo galleries. It's amazing to me that I still have folders filled with pictures from our travels that we haven't even looked at yet.
I was looking for a few specific pictures last week when I thought to myself, "We have so many different subjects that we could catalog together, why not organize the images into different categories?"
This started a few weeks worth of scouring the numerous hard drives that accompanied our travels to put together two new galleries. One being Flowers & Plants we saw along the way, the other being Wildlife we've spotted around the country. These are only two of the few others I'm working on.
At first I thought these galleries wouldn't be too big, but after the first few days of flipping through the thousands of images we've collected, I realized that I'd have to actually start deleting some photos out of the galleries and only keep the best of the best.
If you've followed along right from the start, you might remember some of these shots from past blogs, but many have never been seen before and some were even new to me. Every now and then I'll find a folder filled with images that I've forgotten about. This is like opening presents on Christmas morning for me.
I'll open a folder and instantly be brought back to the day we visited the area, but before I found this lost folder, I might not have remembered any of it. Now remember I'm probably one of the most anal people you can imagine when it comes to cataloging my photos. But you also have to remember that many times we would be out shooting and hiking all day long.
When we would get back to the camper, I'd download the images, throw them in a folder on a hard drive and hit the sack. Cindy and I would wake up the next morning and do it all over again. This might go on for a week straight before we'd move to a new area.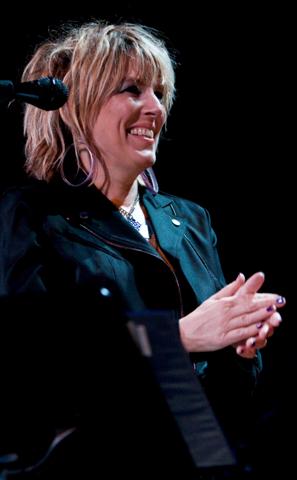 By the time we'd move to the new area and we would start experiencing something new, I'd usually keep promising myself I'd get back to editing those images later. Give it a week of doing it all over again and you see how some images can get completely forgotten about.
I still have a list about a page long of galleries that I have to put together of places we visited, yet haven't found the time to get to them. I know this is probably only for my own benefit, but it's what keeps me from going insane with not being able to travel right now.
Cindy and I got to go review a concert a few nights back that was pretty awesome. Lucinda Williams has been a favorite of ours for years. When we heard she was coming to a local Theatre to perform, we knew we had to go review the show.
Luckily for us we can request press passes through the Smalltown Lowdown magazine which saves us on the ticket costs. We got to sit right up front and the acoustics of this theatre in Ann Arbor was just amazing....probably some of the best I've ever heard. It was honestly like sitting in the studio while she was cutting her new album.
One thing I can say on this blog that I cant mention in the review I posted on our other website was even though the music was even better than I could have imagined, Lucinda has no rhythm when it comes to dancing.
Here you have this amazing artist who can sing everything...I mean her music is a mix of Blues, Country, Rock-N-Roll and Folk all rolled into one and sounds fantastic. But you have Cindy and I sitting in the front row giggling like a couple of little kids because of how awkward it looked to watch her dance to her own hits.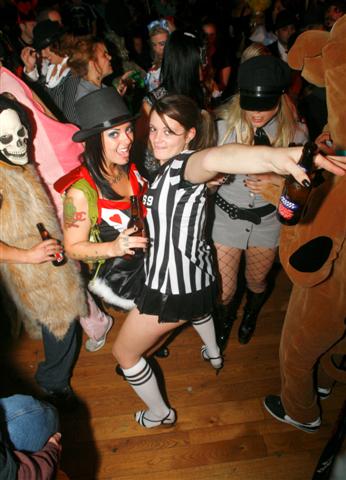 To stop from laughing, we both just closed our eyes and laid back in the big comfy opera seats listening to the music.
We have a few more concerts coming up we get to go review, and with Halloween coming up, we should be very busy covering all the local bars and their Halloween Costume Parties.
Halloween is one of my favorite holidays as it's the one time of the year where women can dress up in their nastiest outfits, usually ones they'd never admit to wearing any other time of the year. But for Halloween, women can dress like total sluts and get nothing but respect from other women. This is the only time of the year they can accomplish this amazing feat.
Just wait till this weekend when I can get pictures of Cindy in her Halloween outfit. She's only been in the gym every single day for the past month so she'll look as sexy as possible in it.
I'll make sure to post some pictures so you can see what I'm talking about.
Monday November 3rd 2008 Relaxing After A Long Halloween Weekend
With Halloween being on a Friday this year, the past weekend was one long Costume party after another. I think the two of us went to at least 6 costume parties between Thursday, Friday and Saturday nights.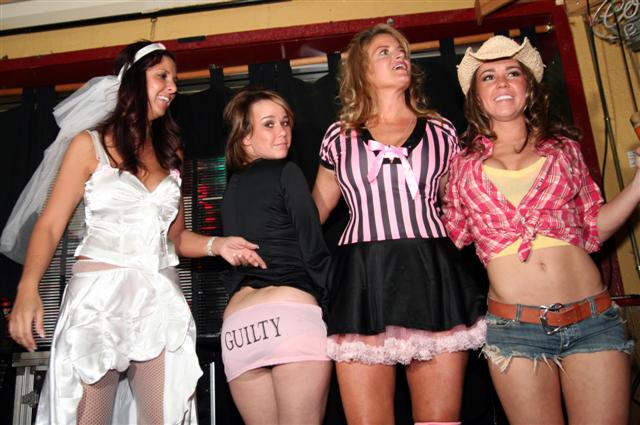 Cindy made it to the Final 4 for the Sexiest Costume at one of the Parties
Sunday I felt hung-over from all the costumes I had seen and all the Pirates, Guys dressed up like Julius Caesar or the cast of Batman which seemed to be a huge success this year.
Unless you like to see half naked women and wild outfits, don't look at the gallery we posted on The Lowdown's website. Crazy photos for sure!
We also closed on the condo finally so we were able to start tearing some of the damaged drywall out and tearing up the soggy carpet. Well I should say that Cindy was able to. She said she couldn't sleep last night because she wanted to get in there so bad, so she was gone by 5am this morning to get an early start.
1 day on the job and she's tore up all the carpet, tore down much of the damaged drywall and removed loads of other stuff that needed to come out. We're both really good at the demo stuff, but usually hire out most of the things that need to be inspected.
I've never felt the need to skimp on electrical or plumbing and do it right the first time by someone who is experienced and knows what they are doing. I have no problem working along with them as a laborer, but I'd rather have the ease of mind that I'm not going to get a call later on down the road from a shoddy piece of work failing and it's my fault.
We also went in to the Township offices and voted today. We might have to go do an interview with a band tomorrow, so we didn't want to worry about missing our chance to vote and this way we sort of snuck around the lines that I'm sure will be horrendous tomorrow.
I can not wait for all this election BS to be over with. Talk about some serious mudslinging!
Ok, enough of my rambling, just thought I'd make a few comments after out long weekend. I hope everyone had a fun and safe Halloween.
Wednesday November 5th 2008 Testing some new Toys
I have a good friend who works for Marshall Distributing which supplies motorcycle dealers with aftermarket products. On numerous occasions he'll bring by some cool products for us to play with at the offices of the Smalltown Lowdown.
A few days ago, he pulled up and asked us to come outside to check out his latest toy he had on the trailer.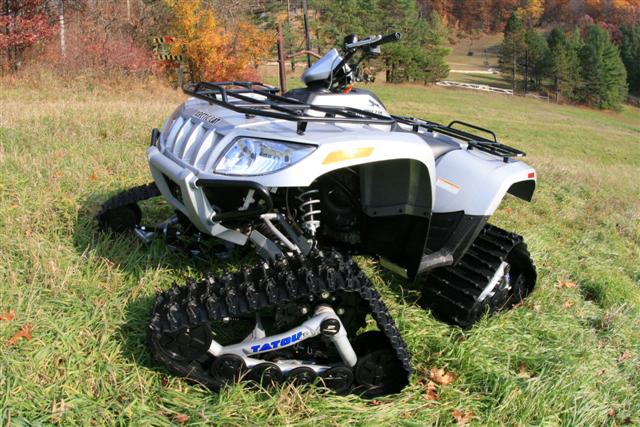 After a good hour of us guys drooling all over this new Articat 700 ATV which had a set of All Season Tracks on it, Pat, the sales friend asked if we would be interested in taking them out the following day for a test.
Almost unable to control my smile, we were stumbling over one another to ask where he wanted us to meet him.
The next morning he called saying he had contacted the local ski resort in our area where he knew the General Manager. They were going to allow us to fool around for the afternoon on the slopes to photograph and review the Track System for an upcoming issue. Sometimes I hate my job...LOL
Needless to say, these tracks allowed the ATV to climb almost anything at any incline we could stay on the machine. They extend the footprint of the ATV and at times when you're wanting to bail off the back of the ATV for fear of it flipping over, it stayed glued to the ground and just continued to climb.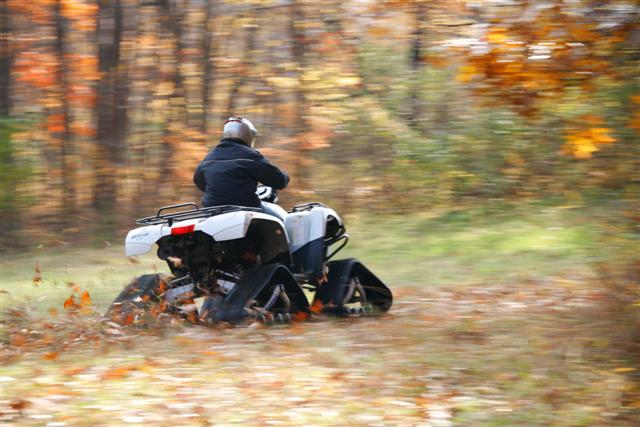 What they allow a stock ATV to do is float over almost any terrain you can think of to cross. The main reason he wanted us to test them now was to show that they aren't only for winter use. If you own an ATV, putting a set of these tracks on the machine would allow you to keep up with any Snowmobile and not have to purchase two machines.
I was thinking how fun they'd be to have in Baja when we kept seeing so many people stuck in the deep sugar sand along the beaches. A set of tracks like this would allow you to float right on top of the sand rather than sink to the frame rails and just spin the tires.
Ok, just wanted to post a few of these pictures as I was so excited from our day out on the slopes. I made a separate page under our Product Review Page for the Camoplast Tracks Review. A little more in-depth than just the brief description I gave here.
Thursday November 13th 2008 Updating some Galleries
I know I've been talking about this for awhile now, but I finally put the gears into motion and updated a few galleries I've been putting off for some time now.
One of the ones that surprised me the most was the Yosemite National Park Gallery. While we visited Yosemite, we were pretty upset with the fact that even though we had called in advance to ask about campgrounds, when we finally showed up, everything was booked solid and we were turned away.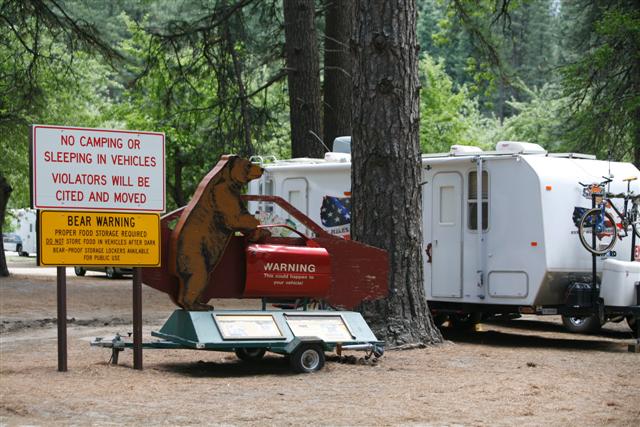 Apparently there had been a few major storms that kept a few of the non-reservation campgrounds closed, so the only ones available were ones that had cancellations made each morning. It was almost impossible to go out hiking when you had to show up at the Ranger Station at 8am to put your name on the list, then be back at 3pm to see if your name got called.
We didn't say anything while we were there, but 4 of the 7 nights we stayed in Yosemite, we just slept in the camper in one of the parking lots that was marked for day use. We just made sure to keep the shades drawn and only use our headlamps if we needed to do anything after dark.
But this wasn't too fun and it's hard to get a good nights sleep when you're constantly scared that you're going to get that knock on the door asking you to leave the park. We joked with each other that we're probably the only individuals that ever stayed in Yosemite for a week and actually saved money.
We had taken hundreds of pictures while we were there, but every time I looked at them, I only thought of the bad taste left in our minds from our stay. So the photos always made me mad when I looked at them.
After a few months of not thinking about it, when I went back to look through them, I was amazed at how many of the shots I really liked. Especially Cindy's photos she had taken. This was when she was really getting into her creative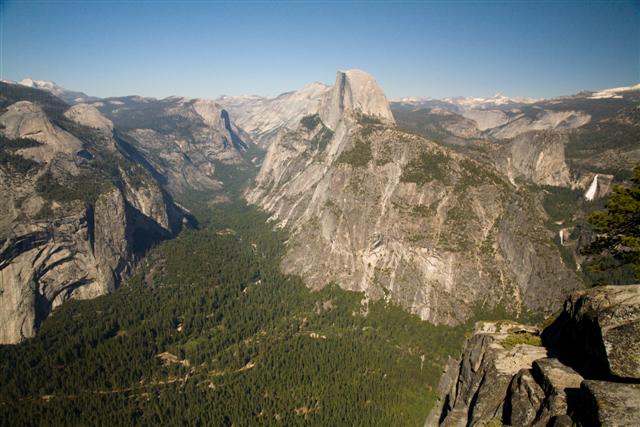 side and learning the technical aspects to her camera. After hours of scouring through all these shots, I've come to the conclusion that we really need to go back to Yosemite and give it a second try. WOW is it really beautiful!
I've also put together a gallery from our short stay in the Coyote Buttes area of Southern Utah and Northern Arizona. It's hard to say which state these unique land formations are in as they literally straddle the border and depending on which hill you're on, you might be in either of these two states or maybe both. From here I uploaded the Coyote Buttes Gallery and the Wire Pass Slot Canyon Gallery.
In the Coyote Buttes Gallery I even posted a few pictures of Cindy from when I had talked her into stripping down to her Sun Dress and posing for me on the unique sandstone formations the area is known for. We had talked about this for awhile, but the day we were hiking, some crazy cold front had moved in and the temperatures were actually in the low 40's!! So she was a trooper for bringing the sun dress in her backpack and throwing it one for me. Not what we had planned, but they turned out pretty cool.
This whole time frame was a blur for the two of us. There were a few weeks straight that we were going non-stop. We had just returned from Mexico and raced up to Monument Valley to meet with Steve & Bobby Bingham for the few days of one on one tutorial with these expert Photographers.
From Monument Valley, Cindy and I hung around the Praia Canyon area for a week trying to get access to the legendary Wave rock formation in the Vermillion Cliffs Wilderness. After a week of getting denied access, we raced over to Death Valley to do some mine exploring with our friends from California. For that weekend I made the Columbia Mine Gallery and the War Eagle Mine Gallery.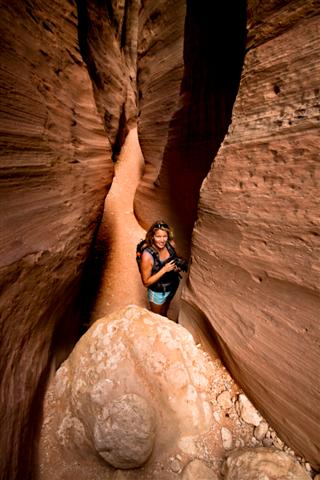 From Death Valley, we headed up to Bishop for the Mule Days festival before heading further north towards Bodie Ghost Town, Mono Lake and finally when the snow had melted enough, over the Tioga Pass and into Yosemite. So for a month straight, we were going non-stop with almost no rest to catch up on the editing of all the images we were collecting.
I cant stress how crazy I'm going seeing all these images again and just sitting still. Cindy and I have kept ourselves very busy this past week with the Condo demolition.
Cindy worked on it for a few days by herself while I was working with some of the Excavating guys and I came over a few times to help clean up all the stuff she had tore down.
We spent a full 10 hours there on Wednesday so the carpenters could come in today to replace the sub-floor, add a few headers and replace some wood that was damaged due to the flooding that had taken place before we bought it.
The electricians have come in and tore out all the old wiring, rewired a new 200amp electrical box and ran all new wiring. It goes against everything you're taught to plug anything into an outlet that looks like it has caught on fire, yet that was the way every outlet looked in the place.
I honestly cant believe it hadn't burned down! Thankfully now everything is brought up to snuff, and Cindy has a few different dry-wallers coming to bid on the next task tomorrow, and after that is finished, we throw down some carpet, some tile and it goes back on the market!
With the holidays approaching, I'm thinking before we know it, we'll be back on the road. Fuel prices are at the lowest they've been since our first few months on the adventure, so I'm really getting excited to get back out there.
Sunday November 16th 2008
Yesterday Cindy and I ventured down to Henry Ford Museum in Dearborn which is home to one of the greatest collection of early automobile history on earth.
This museum has a collection of automobiles, trains and early automation of the vehicles we take for granted that will 'WOW' anyone.
Our main reason for going, was to see the IMAX film Lewis & Clark at the museums IMAX Theater. Cindy and I are both fascinated with these two men and their Corps. of Discovery. We've read numerous books on the mother of all adventures and we refer to the book 'Undaunted Courage' by Stephen Ambrose almost weekly.
If you've never read this book, do yourself a favor and go get it today!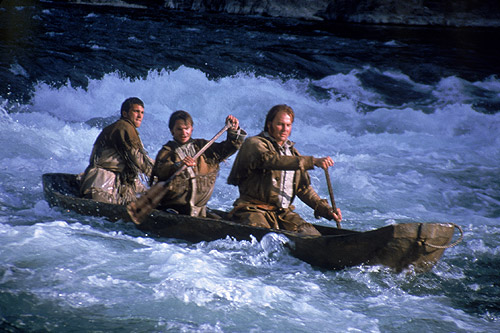 Seeing this movie was pretty cool, as the Cinemaphotography was out of this world. Numerous scenes brought tears to my eyes, the beauty was just that outstanding. About the only complaint was the length of the film. At only 45 minutes, it is basically a Cliff Notes of the real story. I guess it was made more for students who probably couldn't or wouldn't sit through a 4-5 hour movie, which is what it would take to touch the tip of the real journey.
Believe me, if anyone made a movie like that, one that told the entire story like the book 'Undaunted Courage' does, I'd own it and watch it weekly.
Anyway, if you have an IMAX Theater near you, and enjoy any part of our nations history, go see this movie.
I've also put up a few more galleries that were in the works, and one that used to be up, but somehow got lost in the shuffle. One gallery that sort of goes with the other two I had just uploaded was a Gallery for Crossing Death Valley. This one really surprised us because we had always thought Death Valley was just a flat, dry desert.
But to our surprise, it had some of the steepest, longest climbs of the journey. I also uploaded a gallery for the V Bar V Heritage Site we visited in the Beaver Creek area just below Sedona. Amazing little campground right on the water which was filled with big Trout. This is adjacent to one of the largest collections of Hopi Indian Petroglyphs in the Verde Valley area.
Then in the Shuffle of moving the galleries, I had lost the Savannah Georgia Galley. So I went back through and edited some more of these pictures and re-uploaded them.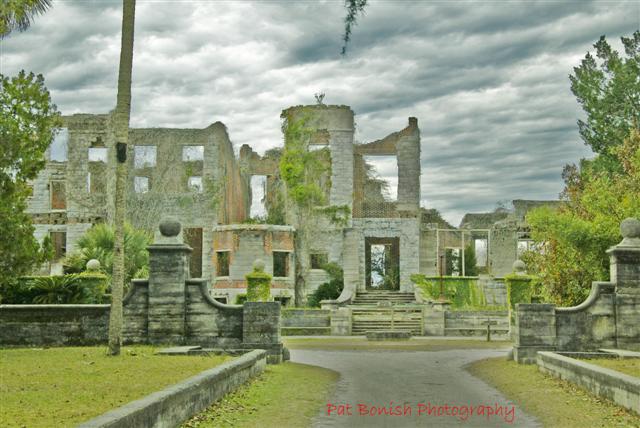 Looking back through these galleries of the Eastern section of the journey, Cindy and I are thinking that come January, we might just shove off, and head back down to Georgia's Cumberland Island for some exploring around the barrier islands of the Atlantic Ocean that we only had a few days to see on our first time through.
We had thought about going back down this fall, but looking around on the internet told us that summer and fall the Islands are plagued with biting insects that make hiking, camping and exploring a nightmare. Everything pointed towards January and February as the two prime months to avoid the insects.
The last time we had visited, it was late January, and except for a few ticks we had to pick off ourselves and the dogs, we were Mosquito free. Again, this is just an idea for right now, but after seeing that movie yesterday, even Cindy is chomping at the bit to get back on the road.
On the way home from the Museum, we had to stop at REI so Cindy could buy a winter coat. Yes, Michigan is in full swing with the winter season, and before we had left over two years ago, Cindy gave her winter coat away thinking we would never have to use it again.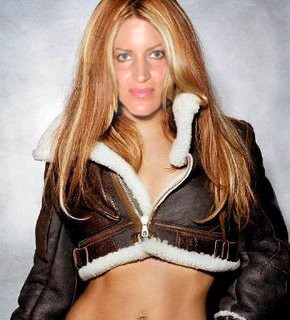 That past few weeks and their frigid temperatures have had her layered up like the little kid in A Christmas Story. I also had to buy a new winter hat. Being bald on top, any cold air hitting my head tends to suck any heat my body might be producing out of my core. I almost never leave the house without a hat on if the temperature is below 50°, and these past few weeks, it seems like I never take my hat off.
I have a collection of knit hats, but they are all a few years old, and almost all of them are stretched out, lost their shape and have been washed a million times. I wanted a new hat that was made of the softer, warmer Polartech material which is known for its warmth and lightweightness. One that wicks the sweat away from my head, and keeps me warm even if it's wet.
Hopefully now my head will stay nice and warm, and I wont always be so cold. Something tells me 2 full years of following 60-70° weather thinned our blood just a bit.
I guess it's all the more reason to get back on the road and follow the sun. I've always said the native American's were the smartest people I know. They were the only ones who followed the seasons like true nomads. They went where the temperatures were favorable for food, growing and comfort and always stayed on the move to never use up any one area of its resources.
That's the way I want to live my life!
Return to Top of Page
Need Unlimited photo storage- FREE Trial of Smugmug