When we realize our insignificance in this world,
it some how relieves the pressures from society to succeed -
Cindy Bonish 04/07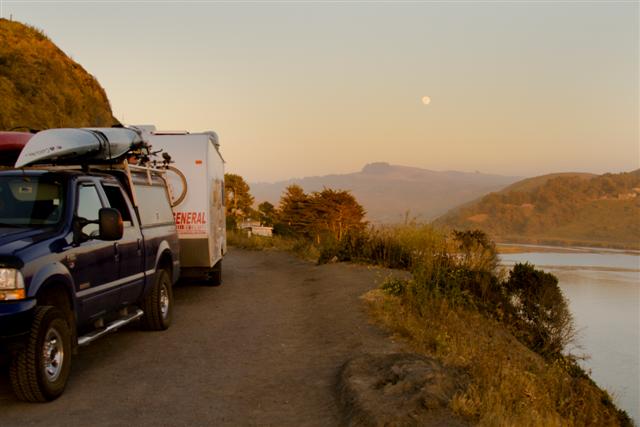 Pat's July 2008 Blog
If this is your first time here, you might want to start from the beginning of our fulltime RV Journey with our Past Blogs
Photo Gear We Use -
Solar Tips, Fact's and Trick's we've learned while on the road
Camper Check List - A list of things we do before leaving camp. Again, this isn't gospel, but its a good start for those who might not already have a list made up.

Tuesday July 1st 2008
By mid-afternoon, we were at Derrick and Tish's house in Victoria Minnesota. They greeted us in the front yard with icy cold Coors Lights and warm hugs all the way around.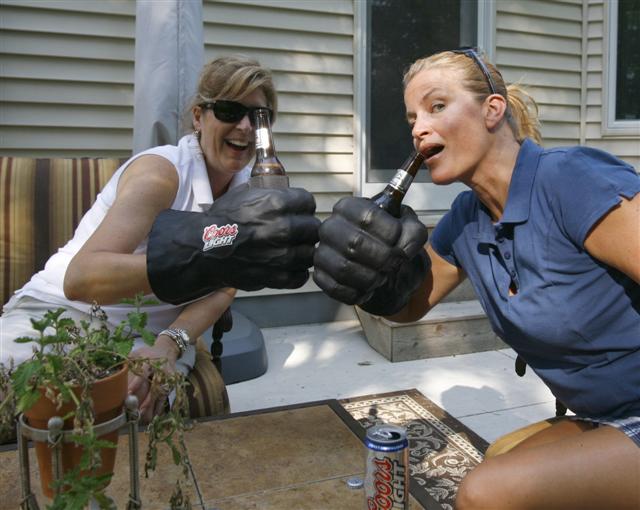 The rest of the night was spent on the backyard patio catching up on the past few months being apart from one another. Derrick and Tish are our best friends and a couple we have so much in common with. When ever we're together, it's like being around close family.
By the end of the night, my stomach hurt from laughing with these two and their hilarious neighbors Jim and Jackie. It was great to be around close friends for the holidays.
Thursday July 3rd Boating on Lake Minnetonka
Yesterday was a long day nursing a bad hangover. I'm way out of tune when it comes to drinking, and Tuesday night I had a few too many rocky mountain cold ones.
But today, I felt great and with perfect weather to be on the boat floating around Lake Minnetonka, I was in heaven. We spent the entire day on the water and had a riot as usual.
We met some of Derricks co-workers at one of the float-up restaurants we visited, had some great food and basically just had a good day on the water.
Saturday July 5th Another Day of Boating on the Big Lake
We spent most of yesterday on the water. Today, I woke up crispy from too much sun with Derrick and Tish and two new friends of theirs all eager to head back out for another day of partying.
Scott and Debbie had come over to spend the day with us for yet another glorious afternoon spent floating on one of Minnesota's amazing lakes. We found a spot where literally hundreds of boats anchor along a secluded stretch of island, and the shallow bay turns into a large party.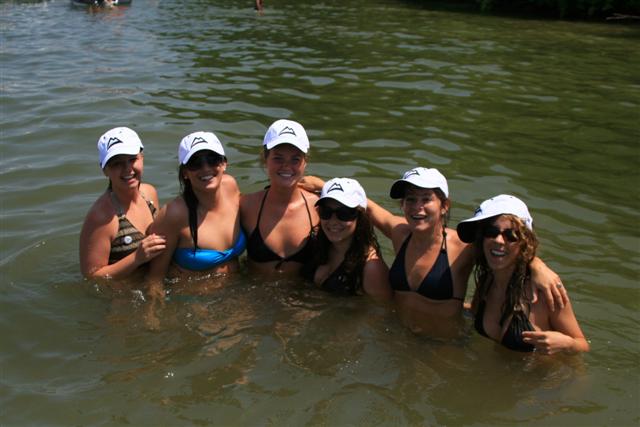 With people floating all around us, footballs being tossed over head, frisbee's skipping off the water in every direction, and floating Beer Pong Tables on each side of our boat, it was like a giant frat party on the water.
Lets just say I had to keep pinching myself from all the beautiful scenery floating around us, and couldn't have asked for a better group of friends to share it with.
I wont bore you with all the details, but I will elaborate on a little incident that happened to us on the boat ride back to the dock.
Derrick's neighbors Jim and Jackie were having a little BBQ party that we were invited to, so we needed to pull up anchor and head back around 4pm. I pulled up the anchor in the front of the boat, and the other two boys were in charge of the anchor that was out back.
When everyone was in the boat and ready to go, we said our goodbyes to all our new friends we had spent the day partying with. Derrick slowly eased his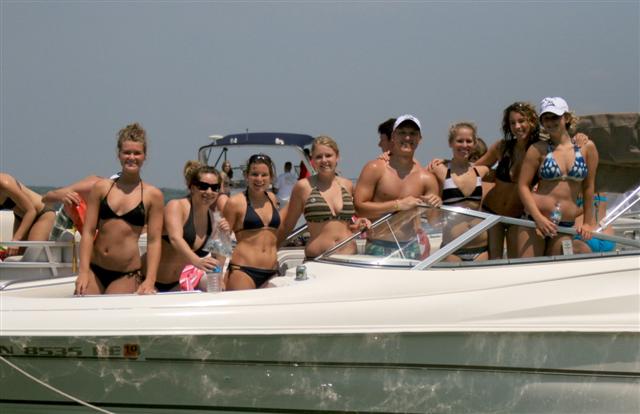 boat out of the mass traffic jam of floating party barges and dropped the throttles to get us back to the dock.
Everyone was talking casually while we skipped along the choppy water when all of a sudden, out of no where, a large object came flying overhead and slammed into the front of the boat.
Everyone screamed and went diving out of the way. There were a few boats driving beside us who all looked like they had seen a ghost. They were yelling at us and asking if everyone was alright, all with a look of disbelief on their faces.
It was at this time that we realized the anchor that had been pulled up from the back of the boat had been laid on the swim platform, but never brought into the boat.
While we were cruising along, it must have fallen in and due to the high rate of speed we were traveling, when the rope pulled taught, it came flying out of the water like a pendulum slamming itself into the front of the boat.
As we all sat there shocked at the rate of speed we had watched it come crashing down, we all realized just how lucky we were. If that big steel anchor would have landed on any one of us, it would have killed the unlucky person instantly.
The small hole it made in the fiberglass was proof of the speed it was traveling.
We were still in shock as we loaded up the boat all thanking the big man up above for looking over us today.
In case anyone missed the interview, it aired on N.P.R. on July 4th. If you did miss it and would like to hear it, Here is a link to it.
Sunday July 6th 2008 Driving Back to Michigan
After the past few days spent in Minnesota with Derrick and Tish, I felt so guilty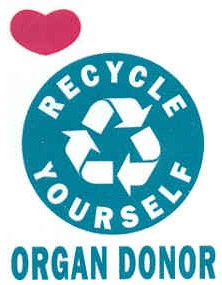 that I had the Organ Donor box checked on my drivers license, I un-checked it this morning.
There is no way someone would benefit from anything in my body right now if something was to happen to me, so having that box checked was just foolish and selfish.
I'll have to double up on my vitamins for the next few weeks, then I'll re-check the box. If you're in need of taking a step towards getting clean from alcohol, please click this link.
We were up early and said our goodbyes before getting on the road. We had planned on driving down through Indiana and Illinois, but after talking it over with Derrick, he told us that much of that route is spent traveling along Toll Roads, and with an extra two axles on the camper, the tolls can add up quick.
Heading up through the Upper Peninsula of Michigan is a few hundred miles longer, but a much nicer drive and you get to by-pass Chicago, which isn't too fun when towing a camper.
The beautiful temperatures we had been enjoying the last few days were gone, and a sticky mess of a storm was moving in. You could cut the humidity with a knife this morning and muggy weather like this was something Cindy and I hadn't experienced in quite some time.
I was eager to get into the cool A/C of the truck and wouldn't mind spending the whole day behind the wheel knowing that much of it would be driving through rain and humid weather.
By the time we were rolling across HWY 2, which crosses the lower section of Michigan's Upper Peninsula, the sun was setting behind us. It was at this point that I told Cindy to look up into the sky.
Most Michiganders know to avoid the U.P. like the plague for the last few weeks of June and the first few weeks of July. This is when the Black Flies, the Fish Flies and the Killer Mosquitoes hatch and swarm onto this area of the Great Lakes State in mass numbers.
Well tonight, it looked like the second coming of the Locust. The clouds of Fish Flies we were driving through was so thick, you almost couldn't see the sky.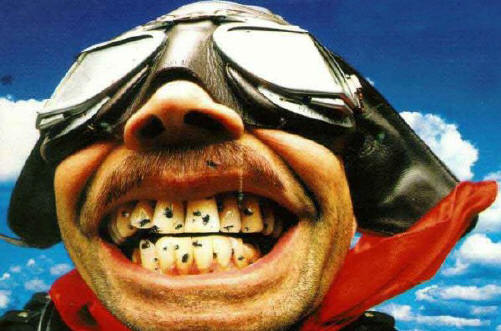 The windshield went from a clear pane of glass to a bloody, gooey mess within seconds.
It sounded like hail pounding off the windshield, but was actually the thick cloud of bugs bouncing off the glass. Swooping down on the clouds of bugs were hundreds of seagulls who looked like they were enjoying the free smorgasbord tremendously.
When we pulled up to the toll booth at the Mackinaw Bridge, I asked the guy about the thick swarms. He just laughed looking at the front of our camper. He said "Your kayaks must have acted like a wind deflector, usually the front of campers look like they've been painted brown and red from all the bug juice!"
A short distance past the bridge, safely into the Lower Peninsula, we pulled over for the night after seeing too many deer along the sides of the road. I can just imagine being within the last few hundred miles of home and getting into an accident at night.
Monday July 7th 2008 Those Last Few Miles Home
Knowing we were only about 100 miles from our home town, we were pretty anxious to get going today. We would have to pull over one more time in Saginaw at a Flying J to top off the water tanks, empty the holding tanks and I wanted to get the whole rig weighed on a CAT Scale so I would know what our loaded weights were at.
Once home, we plan on rearranging a bunch of stuff, and I really wanted to know where are weights have been for the last few months of the adventure. We had both Propane Tanks topped off, filled the fresh water in both the truck and the camper, and topped the fuel tank off. Flying J always is a few cents cheaper than the competitors when it comes to Diesel and Propane, so I wanted to take advantage as much as I could.
Plus we wont have access to a dump station while sitting at my parents house for the next few months, so we wanted to really clean the tanks good while we had a chance. I love the fact that almost all Flying J truck stops have dump stations. It just makes it so convenient. I wish more gas stations would have this courtesy available. If they were to realize how many RV'ers seek out these kind of stations, it would surely increase their business.
My parents were heading up to Northern Michigan today for a few days vacation to meet up with some friends and would be passing right by this truck stop. My mom and I had been talking on the phone a few times because they wanted to stop and have lunch with us.
What we had planned and what really happened were two different things. I guess the Zilwaulkee Bridge, a big bridge that spans the Saginaw River was closed down to North bound traffic. Cindy and I were able to cross it no problem coming South, but my parents were detoured around Saginaw and were now many miles away from us.
So we just said forget it rather then try to back track and told them we'd be home waiting for them when they finished up with their little vacation.
While we were at the Flying J fueling up, a nice Chevy pick-up truck pulled up to the tanks beside us pulling a big beautiful boat. The guy got out and said "Hey Pat & Cindy, what are you doing back in Michigan?"
I didn't know the guy, but he introduced himself as Fred and told me he had been following along with our blogs. We sat and talked for a few minutes while we both gave our donations to the Oil God's. Fred told me he had sent me an email awhile back talking about the Red Dog Saloon and remembered it was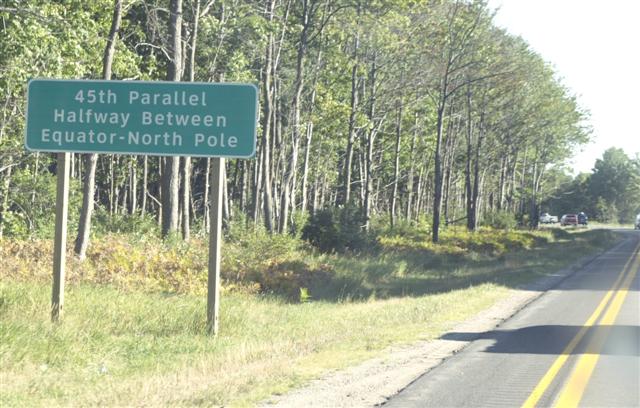 the only bar he's ever been cut-off from in his life which happened many years ago before we owned hometown saloon.
I told him to give me a call when we got back to Milford, that's where he lives, and we'd go out and have a drink together.
Yep, we knew we were getting close to home when you meet people at the gas station and are making plans to go have drinks in a few days. As we were both getting in our trucks, I looked over at Fred and said "Race ya' home!"
We all laughed and dropped the hammer on some awful Michigan Roads. Some things never change I guess.
Driving down I-75 South, the clouds were started to stack up and by the time we were pulling into the driveway of my parents house, it was raining. Some welcome home committee we have.
Not that we really minded, it had been months since we had seen a good rain storm. As we were unpacking some clothes so we could go inside and use the shower, a big lightening bolt cracked some where off in the distance which hurried us inside. I cant remember the last time we had heard a good thunderstorm.
Funny the little things like that you miss when you don't have them around for so long.
We had to get ready because my sister and her family were making dinner for us tonight and we couldn't wait to see everyone. Our nieces and nephews are such a riot to hang out with. I couldn't wait to see all of them.
After an exhausting night spent playing with 5 kids, Cindy and I came back home to go to bed. While driving home in the pouring rain, Cindy got the strangest phone call.
Apparently our daughter was driving home from her job in New Orleans and hit a 9 foot 10 inch Alligator! If that isn't wild enough, the giant scaly speed bump that launched her compact car into the air sent her flying off the road where she crashed through a Fruit Stand.
Once Cindy calmed her down and realized she wasn't hurt in any way, she started laughing hysterically. Donielle was saying "Mom, this isn't funny, my car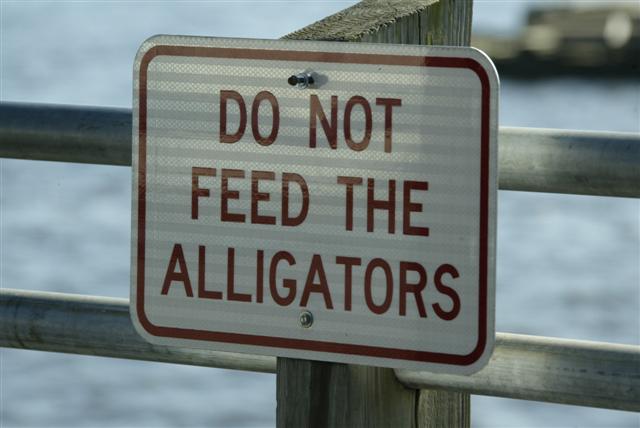 is totaled!" But Cindy just kept saying "Yes it is, do you realize how funny of a story that is!"
Here we have a young little girl from the Mid-West who's never killed anything in her life who just jumped a Toyota Corolla off a big alligator and landed in a fruit stand. I mean you cant make stuff up that funny.
She told Cindy that she was so freaked out because it happened right in front of a bar on the side of the road, and when the police showed up, everyone who had gathered around was laying dibs on who got to keep the gator because of how big it was.
She was saying "What is wrong with these people that they'd want to keep this giant thing?" Apparently she hasn't seen any alligator skinned bags or boots in her area yet.
Cindy told her to make sure she took pictures of it all, so hopefully when she emails them to us, we'll be able to post some on here. I'm just glad she's alright. I don't think she knows how great of a story she has to tell for the rest of her life.
Tuesday July 8th 2008 Unpacking all our Gear
In between rain showers, we spent the day emptying the camper and cleaning stuff out of all the nooks and crannies. One of the main things we plan on doing while we're home and have access to a full host of tools, is build a few new storage shelves in the Sunline.
Living in it for 17 months straight has taught us that you never have too many places to store stuff. If there is a flat surface anywhere, things are going to be set down on them. So we want to build a few new storage spots to keep the camera gear safe while traveling and easily accessible when stopped.
To do this, we figured we might as well empty everything out of the camper and catalog what we think will go back in when we leave to hit the road again. Believe it or not, there have been many things we've never even used while on the road.
One of them being a vacuum that Cindy made me build a whole storage compartment for. We've both found that the camper is so small, we sweep the entire floor, and can wipe down anything else with a damp towel when we're cleaning. So this small vac. is one of the many things that will get left here on the next leg of the adventure.
Another thing we both noticed was the cover on our motorcycle. We traveled for our first 6 months without this cover and kept noticing how nasty the bike was getting with so few miles.
It was killing me to have a brand new motorcycle hanging off the back of the camper just getting baked in the sun and covered in road grime with so few miles on it. It almost got to the point that we hated pulling it down off the rack because we would have the task of cleaning it before every ride. Then we found Dirt Bag Designs motorcycle cover when we were in Michigan last summer.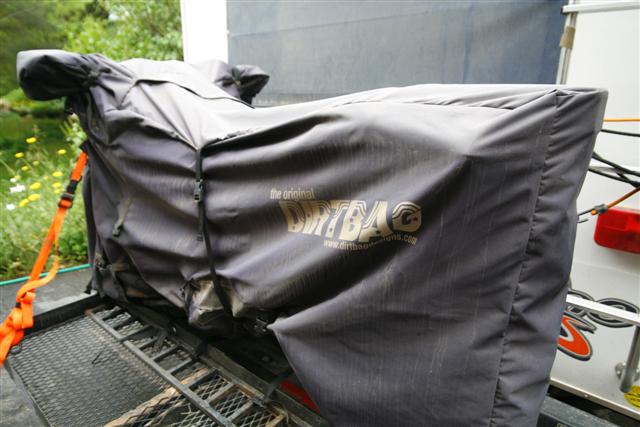 The cover fits pretty tightly over the bike, and in over 20 thousand miles, it's never come loose and we've never had any problems with it.
What we noticed the most was the fading in the cover. I completely understand and expect this as it basically sits outside 24-7, 365 days of the year. We both commented to each other that without this cover, our brand new motorcycle would look like an old beater. Luckily the cover saved the vinyl on the seat and the plastic on the fenders and panels from getting ruined.
I'd like to say a big "Thank you" to Brett over at Dirt Bag Designs for coming up with such a great idea and helping us out with our motorcycle cover.
Wednesday July 9th Cramming Numbers
After spending much of the day cleaning out the truck and some of the camper, I started organizing all our receipts that we keep in a big folder. This has been a huge argument between Cindy and I for quite some time now and today it came to an end.
Cindy has always been the numbers person in the relationship. I hate math and anything to do with it, and usually don't do anything with the money except spend it on camera gear...LOL
When we started our adventure, I wanted to keep track of all our expenses so we would know what we were spending money on and where we could try and cut some corners.
Well Cindy would always be telling me she didn't like the way I was doing it, and frankly I didn't like doing it to begin with. So I told her it was her job and she was in charge of organizing all the receipts (We keep all of them) and posting the results to the Expense Report Page.
Well Cindy isn't one to tackle a big job like this, so needless to say, it has never gotten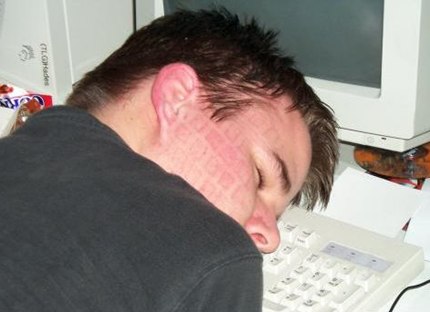 any farther than what I had originally posted. So today, I said "I'm gonna finish the expense report page if it takes me all night long.
I didn't think it was going to take me as long as it did. But as I type this, it's 5am and I've been working on it since about 6pm yesterday. I've completed everything up till this month.
After crunching all the numbers, I've come to the conclusion that we eat way too much. Our food costs are outrageous and I know it's because Cindy only buys the organic foods and things that are in season. I'm starting to think if we ate on the cheap, we could probably extend our adventure by a few years and maybe I could lose this tool shed I have growing over my belt.
One thing that I did change from 2007 Report to the 2008 one was to make a separate category for our alcohol usage. After last year, I had a long talk with one of my uncles who has been clean and sober for many years now. He told me he was reading through my blogs one day and thought Cindy and I partied way too much.
I tried to explain to him that it's just good times and a little drinking here and there, and it's something I've never had a problem with. Heck we owned a saloon for six years and had access to any type of alcohol you could want. Most of the time I never even drank, and always made it a habit to never mix alcohol with my work. I know that sounds funny, but I've never met a bar owner that isn't sipping on some cocktail from the time they get to work till the time they leave. Cindy and I were not normal bar owners.
So I wanted to see what our alcohol consumption was on a yearly basis. It's surprising how detailed you can get with the charts. I know neither Cindy nor I have any problems with it, but I just thought it would be good to see how much we spend.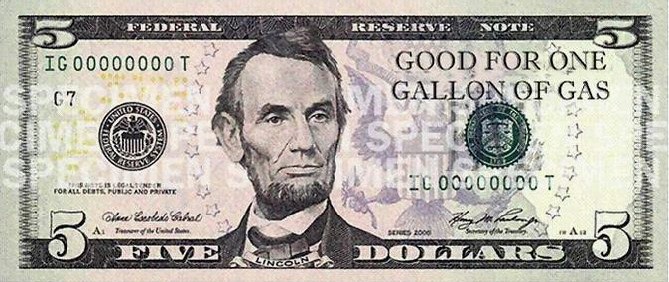 So with the sun starting to come up, I'm off to bed and I can finally sleep peacefully knowing I'm caught up on the Expense Reports. Now that I know how much we spend, I need to put in some applications when I wake up. Take a look at the difference between last years Fuel costs and this years. We're only to July, and the costs are about the same!
Oh and wait till Cindy posts the recipes she came up with today for home made Pizza. OMG was it good. She's going crazy now that she has counter space, a full size oven and access to my Mom's endless supply of cookware.
I'll see if I can talk her into posting the recipes tomorrow.
Friday July 11th 2008 Going a Little Stir Crazy
How do you go from living life like a gypsy, moving from place to place day in and day out, and just come to a screeching halt?
Our first few days home we kept ourselves occupied by emptying out the camper, cleaning everything out of the truck, making an inventory of what we used and what we didn't, and washing everything down.
Now the uneasiness of sitting still is starting to set in. While on the road, Cindy would always point out that our normal time frame to stay in one place was right around 4 days. After that short period of time, we would both start to look towards where we were going to go to next.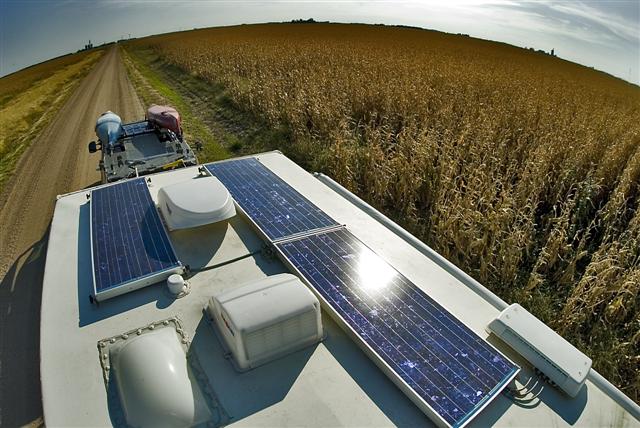 Sure we might stay in that one place for a little longer than 4 days, some spots you just couldn't see everything in that short amount of time. But while we'd be exploring everything in detail, we'd both be researching the next place we were going to venture towards. So you always had that outlook of the Next Place. The Next Place isnt going to happen for a few weeks, so we're going a big stir crazy.
There are also a few things that are really bothering me with living back in a stick frame house. I'm not sure if you noticed up to this point, but Cindy and I like to live life very GREEN.
We don't do it to be hip, or in fashion, and we've never done it because it's the IN thing to do, it's something we've always done just because we felt it was our duty to take responsibility for our own waste and what we use.
When we used to own a stick frame house, it was pretty small by today's standards at around 1000 square feet. Granted we had a huge yard where we spent 90% of our time, but we've never really felt the need or want to have a giant house filled with rooms we really don't use.
Living in a 25' camper, we don't use too much. Every once of room was squeezed out of that camper, and almost everything had 2 to 3 jobs. Every bit of our electricity usage came from our 3 solar panels. We averaged about 40 gallons of water every 10 days, and we produced about 1 small grocery bag of trash every other day. The only thing I ever felt guilty about was our diesel usage. But I traded it off as much greener than when I lived in a house that was burning all those fossil fuels yet I was still using diesel to drive the truck around.
When in the camper, if we left some electrical appliance on, we knew because of how small of a space we shared. Living in a normal stick house, its hard to pay attention to these things. I find myself doing many of the same habits I have from the camper. For instance I took a shower and did the usual of getting myself wet, turning off the water, lathering up, then turning the water back on to rinse off. I guess it's hard to break these habits, and that's not a bad thing.
But what bothers me is the amount of energy consumption we use in a normal house without even thinking of it. Our computers stay plugged in, sometimes even stay on when we get up to leave for a long period. This is something we'd never do in the camper. If I was going to leave anything on, I'd check the wattage on the batteries to see where their levels were at before doing such a simple thing as getting up to go do something else for a few minutes.
Maybe living in the camper is better for the environment, which is something I'd never have thought of before we left on this journey. The bedroom we're staying in right now is almost the same size as our camper. I sat lying in bed last night looking at all the space thinking "I used to think this was a small bedroom and I've just spent the last 17 months of my life living out of this same shell."
If there was a way we could resolve the diesel issue, living out of the camper would have to be one of the greenest ways to live. Being as we were always traveling, we always were buying our fruits and vegetables from the local growers and fruit stands. We never bought in bulk, and you couldn't buy anything that you didn't absolutely have to have.
Maybe I'm just going a little stir crazy sitting still, but I know I've already started planning our next trip. Stay tuned to see where the road will bring us next. I just know it will have to be soon, or I'm going to start pulling out my hair...Oh wait, I've already done that.
One other thing before I forget. I was forwarded an email from a friend about plastic bag usage. At first I didn't think much of it till I watched the short slide show. By the time that was over, I was so appalled with what I saw, I felt ashamed that we use these items.

I then forwarded it to everyone on my email list, which is what I would recommend you to do. It didn't take long for emails to start getting sent back with friends of mine all saying the same thing I did. "You've got to be kidding me!"
One good friend sent me a great link to a company that makes a great alternative to the plastic grocery bag. Make sure to check out the Cloth Bag Company and do us all a favor, order a few of these so we can stop our usage of Plastic Grocery Bags. I hate to preach, but if you watch that video and it doesn't disturb you, I'm thinking you need to get your feelings evaluated.
Thursday July 17th Busy, Busy Week!!
Nothing like jumping right back into the work schedule. After a few years of being away from what you call a traditional 9 to 5 job, this past week has reminded me of what that life is like.
If you haven't followed along with our story from the very start, I used to be a partner in an Entertainment Magazine that my brother and I publish in Michigan. When we lived in Michigan, the Smalltown Lowdown was well established and had a great reputation.
After Cindy and I left for our adventure, the magazine took a dive for the worse. I guess when the guys used to tell me I harped on them too much to meet deadlines and get things done, they didn't realize that all that harping and complaining was actually good for business.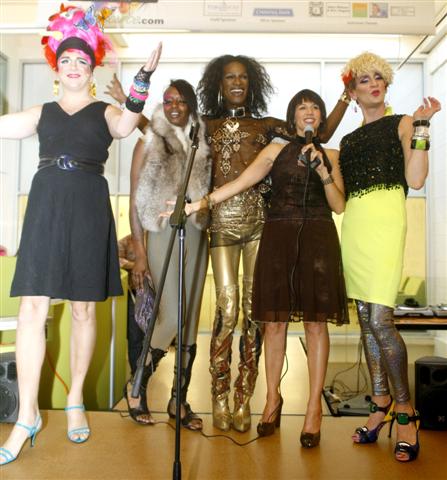 The magazine had gone as far as not putting out a few issues when the team morale hit rock bottom and everyone was arguing amongst themselves. In the past few months, they were able to restructure themselves and one of the conditions of Cindy and I coming home was we'd give it a go for the few months that we'd be home.
So in the past week, we've attended a Drag Queen show in Detroit, we've seen a few advanced screenings of some movies due to be released in the next few months, and have multiple concerts lined up that we need to photograph.
The last few days have been spent listening to new CD's that we receive each month to review for upcoming issues, and tomorrow I have to take pictures all day at the Vans Warped Tour in Detroit. This day long music festival which has more than 50 punk bands on multiple stages is sure to be a handful. Quite the opposite of the quietness and seclusion of Yellowstone only a few weeks ago.
For those that know me, they know I love mellow, sad country music, so spending the day photographing teenage kids jamming to punk music isn't usually my cup of tea. But hey, it's all for a good cause, and I have ear plugs!
Plus, every now and then we get to cover shows that we really enjoy. We both love 3 Doors Down, and we get to do an interview at their upcoming show that we have to go review. We also get to interview and photograph the beautiful sisters that make up the new country band Carter's Chord. Then the new country sensation Trailer Choir, and this weekend we get to go see Amos Lee perform at a small little theater in Royal Oak, Michigan.
So I cant complain about working too much. Another cool show we get to watch is the amazing story of Ewan McGregor and Charley Boorman in their new movie Long Way Down. This is the highly anticipated follow-up to Long Way Round, an epic journey the duo took in 2004 circumnavigating the world from London to New York, riding East, via Eurasia and North America. In their new film, they embark on the motorcycle adventure of a lifetime, riding 15,000 miles through 20 countries from Scotland to South Africa! I thought our little adventure around North America was fun!
These shows only have a few nights when they hit the big screens before they instantly go to DVD and television as a mini-series. Their first adventure was amazing to watch and I cant wait to see this sneak peak at the next leg of their journeys. It sort of keeps the traveling bugs Cindy and I feel crawling around our skin at bay, if you know what I mean.
Sorry this cant be more exciting for those who used our blogs as a travel fix, but we needed to make some greenbacks so we could feed the Oil Gods next winter.
Friday July 18th Covering the Vans Warped Tour
Not being that excited about today's job, I was up bright and early loading the cameras into the truck. Cindy had skated out of this job and scheduled a few meetings today, so I was bringing another photographer we have for the Smalltown Lowdown with me.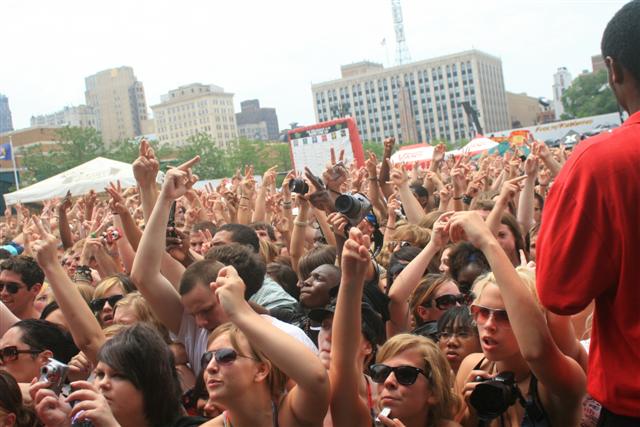 I made sure I had my ear plugs before we left after I remembered the headache I had after the last Warped Tour. The humidity was so thick you could cut it with a knife and it was only 9am. Something tells me I had a long hot day ahead of me.
I wont bore you with the details of the concert only because unless you're very into Punk music, then there isn't too much I can say about the day without turning you away from this site.
I will admit the energy you feel during the shows is quite exhilarating. Watching thousands of kids dance and slam into each other gets the adrenaline pumping pretty good, even when I'm safely behind metal barricades with security all around me.
I will say that this event had some of the best people watching I've ever been to. Only problem is Punk music tends to bring in alot of teenagers. Teenagers these days like to wear skimpy clothing and since the temperatures are pushing 100į, most of the kids here had next to nothing on.
Dave, the other photographer and I both kept commenting to one another that it was hard to look around in the crowds, and especially hard to take pictures of the crowds because most of the girls were probably underage. It creeped me out big time!
At one point I was sitting backstage talking to one of the sound technicians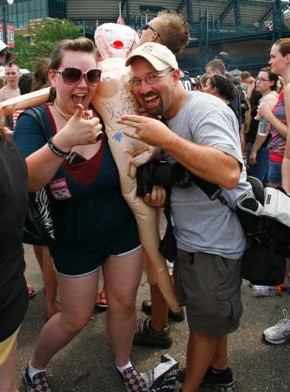 while we were waiting for the next band to come on, and he says to me "What's up with all the young girls half naked?"
I commented back to him that "it was creeping me out because I have a daughter older than most of these girls" and he laughed saying "Me too, I feel like the biggest pedophile ever!"
I guess there comes a time in ones life when you know you've reached that age where you are now looked at as "The Old Guy with the Ear Plugs Taking Pictures"....LOL
By the time the event ended, Dave and I had filled over 18gigs worth of compact flash cards and couldn't wait for the hour long drive home in the A/C. I probably drank 8 bottles of water and 3 16oz energy drinks and never went to the bathroom once today. That's how hot it was. Needless to say I was exhausted.
When I got home, I unloaded the camera gear, took a LONG cold shower and was asleep within minutes of drying off.
Cindy had gone out with some girlfriends for one of her friends birthdays, so I had a few hours to rest till she got home. I finally woke up after an hours nap and started the long task of cleaning the cards from the days photo extravaganza.
While I sat waiting for the pictures to transfer from the cards to our hard drive, I was checking my emails and received this amazing message. We always try to post our emails we get to the readers letters page, but this one was so nice, I thought I'd post it here. It's emails like this that give me chills up my back and put a huge smile on my face. When I know our blogs touch others like this, it makes it all so worth it!
__________________________________
Pat and Cindy, After many fruitless hours of toil and hard labor, (Several days of reading your blogs) I have come to the conclusion that I envy you! I read some of your posts on RV.NET and found your site quite by accident.
After reading the first few days of June of this year, I found that to get the whole truth, I had to start from the front and come back to the middle. Like a well written book, (I have found that I canít put it down for long) following your journey and antics along the way has become my favorite past time while working some rather dreary hours at work.
I have followed your good times and also the bad times along the way with the greatest of interest. To be able to be transported to places that I know I will probably never get to see the wonderful sites of, or hear the sounds that emanate from nature, or feel the grandeur that you have shared, or even smell the fragrant flowers or even the wet breath of the dogs. (LOL).
The photographs of far away places that arenít all that far away in real life, yet might as well be at the ends of the earth from me , have been such a great addition to your site.
To be able to read one blog of a month and then read the other side of the story from the other persons view, has been a real joy to read. Both of you have been in the same places, yet both see things differently as you travel around. It gives us an insight to what itís like to be able to live out our dreams and live life to its fullest.
I will try to continue to follow along and see whatís around the next bend, or over the next hill. If you ever get to come back to South East Tennessee, just remember that we have two great rivers to visit. The Hiawassee River, which is a calm float trip, or the more challenging Ocoee River with class three and four rapids, both within a short ride of each other.

I just want to THANK YOU! Thank you for taking the time to share your experience with those of us out here that are not able to do these things at this time in our livesí. Thank you for opening the doors of freedom to us and sharing. Keep up the great work, (and I know it has to be work), on the blogs and the pictures. Keep pressing on and enjoy it along the way.

Britt Chastain - Tennessee
____________________________________
I read emails like that and just want to go get in the truck and head out on some open road. I'm missing the new towns, the wonderful people we get to meet and the amazing memories we make with each new mile.
I cant wait to get back on the road!
Friday July 25th 2008
I feel pretty good today. Yesterday I spent the day with my nephew Austin. Not sure if you remember my stories of him from last summer, or the visit when Austin and his older sister Courtney came and stayed with us over the Christmas holiday in Arizona.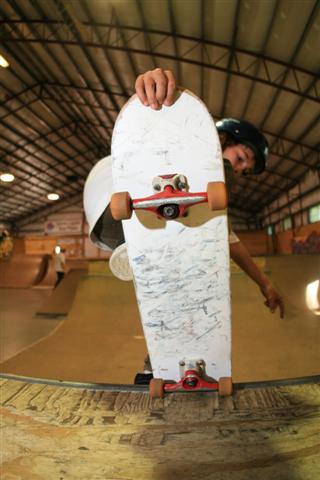 Austin is like a son to me yet also a great friend. The kid cracks me up as he is years smarter than his 11 year old age. We can carry on conversations that I'd normally have with adults, and he has to be one of the most polite kids I've ever met. His energy level reminds me of myself when I was that age, and I like the fact that he usually has me doing some sort of exercise to keep up with him.
We'll he had stayed the night with us a few days back where we spent the afternoon riding mountain bikes on the jumps in our back yard. We've also been talking about building a quarter pipe in the yard for us to ride bikes and skateboards on, but that will come later.
When I used to live in this town fulltime, along with another local resident, we spearheaded a group of people who tried to get a skate park started in this little village we call home. Growing up here, there isn't much to do unless you have a bike, a skateboard or a motorcycle.
Sure the town has a big central park with a $100,000 play structure, but for some reason they see no need to put in an area for the older kids that would keep them out of trouble. There are signs posted everywhere that says "No Skateboarding or Bike Riding" When I used to own the Red Dog, I'd tell them they were more than welcome to skate out behind our building and used to bring them sodas on the hot days.
After months of planning town meetings trying to get a Skate Park approved, I gave up when the village told us flat out, "we wont put one in!" They have it on their Master Plan of things to do in the next ten years, but right now wont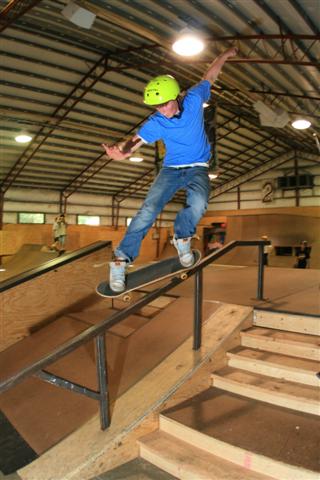 allow it to go up?? That frustrated me so bad, and would get my blood boiling when Cindy and I would be traveling along some little two lane road out in the middle of no-where and we would pass through a no stop light town that would have a skate park.
Austin told me there is a church out in Brighton, a few towns away from us, that has an indoor skate park. Thursdays is open skate day and only costs $5. So I told him I'd take him out there as I wanted to see how they have it set up and talk with the director to see if I could learn the hoops he had to jump through to get it going.
Not to bring religion into any of this, but what a great way to bring our youth into the church. I guess if you attend any of the church services, after mass you can sign up and they give you a number for a free pass to the skate park. So go to church, and you get a reward of getting in free to the skate park. Way better than all those years I sat through countless hours of church with nothing more than a promise of getting a ticket into those pearly gates.
By now you know that I don't go anywhere without my cameras. I like to take photos of almost anything, just to practice my skills and try new things out. Well when I brought in my gear to the NAZ Skate Park, the kids went crazy.
Not that my gear is all that amazing, but you have to remember the average age in here was between 10 and 15 years old. Most of these kids were taking pictures of each other trying to show off their skills, but when you're using mom's Point & Shoot camera, you don't tend to get too many good shots.
Plus, when kids see big cameras, they tend to pull out all the stops and go for huge air off the ramps and try things they normally might hold back on.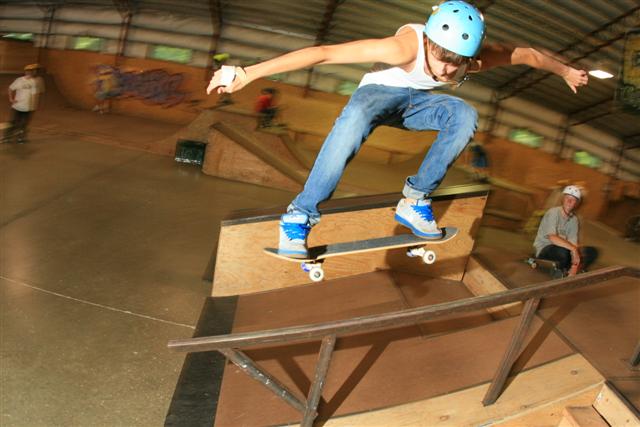 So my afternoon was spent in a very hot building (No A/C) snapping hundreds of photos of kids throwing themselves off of ramps and huge drop offs. When you see kids do this all afternoon, boy does it make you have some respect for the pro's you see on TV.
In order to be able to land those big jumps they're trying, you have to pay your dues and wipe out hundreds of times. After 4 hours of watching, I had exhausted the cameras, used up much of my memory in them, and almost overheated the motor drives. I felt sore just from watching the kids hit the ground so many times.
Austin had a bruise the size of a softball on his hip, and another one on the back of his leg. His friend Ian who we drove home has a bruised tailbone from landing on the concrete and bouncing about a foot in the air! A few other kids probably are more beat up than these two were, and I had lost about a 1lb or two from sweating so much.
I figure I'll make a CD for the Church so they can pass out pictures to all the kids who spent hours letting me practice my photography skills. Its the least I can do for them, and hopefully it'll make up for some things I'm going to have to answer to when I reach those pearly gates....LOL
Here are a few pictures I snapped from Yesterday.
Saturday July 26th 2008 Fun Filled Day of Red Neck Games
Today was as fun as you could imagine when it comes to being a Red Neck.
Cindy and I had to shoot a wedding to try and make some money for our empty bank account, and it turned out to be good down-home fun.
Some weddings are done in big ballrooms, some are done in churches and some are done outdoors. This one was outdoors and in the back yard of a beautiful piece of property just North from our town.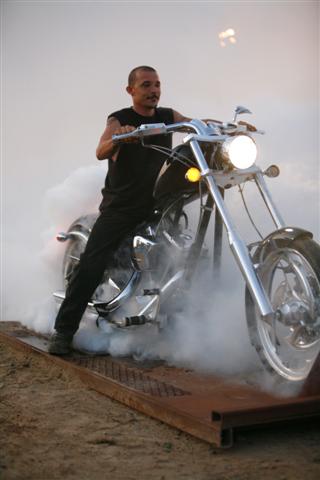 The property was a rolling piece with a beautiful pond that had a little island on it. This is where the bride and groom said their vows and where the ceremony took place.
The attendees sat around the edges of the water in the warm afternoon sun. Once the ceremony was over, the fun began. For most of the friends and family who attended, it's summer, it's hot and it's outdoors, so you dress appropriately, but for a few they thought they'd be much cooler with their shirt off at the outdoor reception.
I thought this was pretty funny as I'd never been to a wedding where guys were walking around at the reception with their shirts off. But hey, I guess as long as they were having fun, that's all that counts.
From the wedding, Cindy and I had to go cover an event that was taking place across town. This certain event is one that our magazine has covered for the last 4 years, and is usually home to some good red neck games.
The little town of Davisburg is one of those towns where you could pass through it and not even know you've been in a town. There is not stop light, and if we were towing the camper behind us, we'd stretch from one end of town to the other.
But the Davisburg Fairgrounds is home to Boomerama, which is an event a local bar called Boomer's hosts each year around this time. Even though we were late, we still made it just in time for the Figure 8 Race.
Now how can you go wrong with 7 cars racing around a arena on a figure 8 type track? You cant! That's the beauty of it all.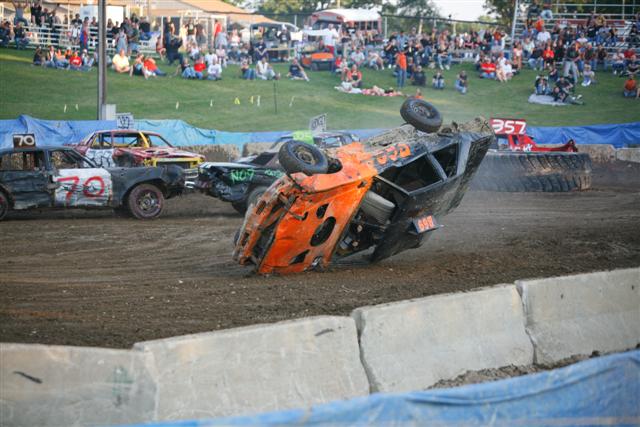 I'm not sure who had more fun, me or Cindy. We were both laughing so hard most of the time, it was hard to take pictures. Cindy finally said "I'm not taking pictures anymore, there is just too much action going on to be looking through this small viewfinder!"
During one of the heats, one of the lead cars t-boned another Outlaw Racer which sent the car rolling over and over. The crowd was cheering wildly as the EMS and Track officials raced onto the track to right the upside-down car.
It was only then that the driver pumped her fist out the windowless car and the announcer yelled "She's alright!" The crowd erupted with applause as the female driver was yelling for the track officials to try to get her car restarted.
If the carburetor wasn't flooded, she would have raced the rest of the race with the rest of the good ol' boys.
By the time the wild events were over, we had overheated one of the cameras, filled ever memory card we owned and were both dead tired. We ended the night laughing to one another who little it takes to entertain us.
Boomerama Gallery can be viewed HERE
Sunday July 27th 2008 My 35th Birthday
Even though today was my birthday, our deadline is due for the magazine on Tuesday. So most of us spent the entire day at the office trying to get last minute items done for the upcoming August issue.
Around 7pm, we called it a day and headed back to my parents where my sister and the rest of her family was waiting for a birthday dinner.
I have to tell this story, just because of how small of a world it proves we live in.
While I was riding bikes with Austin a few days back, we were talking about a new Mountain Bike Video that has recently come out on DVD. There is one DVD I already own called ROAM that the two of us have watched about 100 times.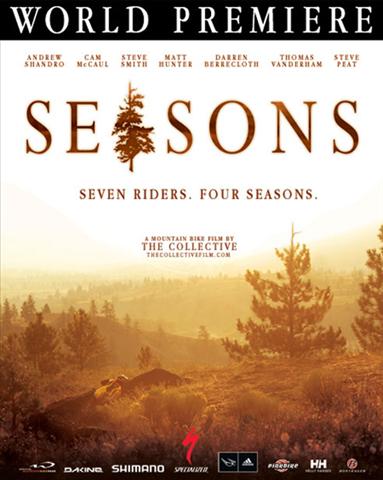 The Collective is the production company that puts these movies together and they are some of the best filmed documentaries out there. Well they just released a new DVD called Seasons. Austin and I have watched the trailer on YouTube a few dozen times already, but I haven't made it out to the bike shop to actually buy the movie yet.
Austin knew how bad I wanted this new DVD, so he talked his mom, my sister, into driving him out to Brighton to the Bike Shop we normally go to. This bike shop is about a half hour drive from our house and I've known the owner for a few years now. I love the fact that it's family owned, and the owner himself is usually the guy who is working on the bikes. He's about the same age as me and when ever I stop in, I usually spend about an hour catching up on riding stories with him.
Austin called to see if they had the DVD and the guy said "Yeah we have it, but we just closed." Not to be discouraged, Austin said "But you know my Uncle Pat, it's his birthday today and he really wants this movie!"
The guy says "Does your Uncle Pat happen to be Pat Bonish?" Austin says "Yeah, that's my Uncle and all he wanted for his birthday was this DVD" The guys tells Austin that "I can wait around for another half hour till you can make it out there so your Uncle Pat wont be disappointed on his birthday."
Now you know you live in a small community when you call 3 towns away, and all you say is "My Uncle Pat" and the guy on the phone knows who it is.
I know it made the DVD that much more enjoyable to watch after we all filled our bellies with awesome home cooked food. Thanks Chris for staying open, and thanks Austin for such a great birthday present!
August 2008 Watch What You Ask Us Retired People
Yesterday we were at Wal-Mart buying a large bag of Purina dog chow for my
loyal Pit Bull, Luca and was in the checkout line when the woman behind us asked if we had a dog.

What did she think we had, an elephant? So since I'm retired and have little to do, on impulse I told her that "No, I didn't have a dog, I was starting the Purina Diet again." Of course Cindy knew where this was headed and walked to the front of the line to start bagging our groceries.
I added that I probably shouldn't, because I ended up in the hospital last time, but that I'd lost 50 pounds before I awakened in an intensive care ward with tubes coming out of most of my orifices and IVs in both arms.

I told her that it was essentially a perfect diet and that the way it works is to load your pants pockets with Purina nuggets and simply eat one or two every time you feel hungry. The food is nutritionally complete so it works well and I was going to try it again (I have to mention that practically everyone in line was now enthralled with my story.)

Horrified, she asked if I ended up in intensive care because the dog food poisoned me. I told her "no; I stepped off a curb to sniff an Irish Setter's butt and a car hit us both."

I thought the guy behind her was going to have a heart attack he was laughing so hard and Cindy just rolled her eyes as usual. Now Wal-Mart won't let us shop there anymore because we caused such a ruckus.

Better watch what you ask us retired people. We have all the time in the
world to think of crazy things to say.
Return to Top of Page