When we realize our insignificance in this world,
it some how relieves the pressures from society to succeed -
Cindy Bonish 04/07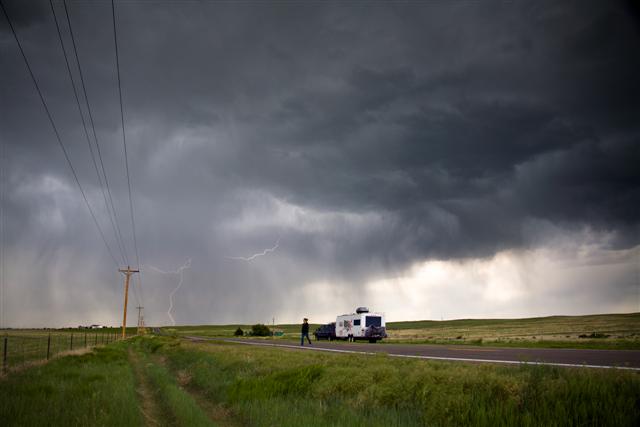 Pat's June 2009 Blog
If this is your first time here, you might want to start from the beginning of our fulltime RV Journey with our Past Blogs
If You Don't Know Me Yet, Click Here to Read Pat's Bio
Photo Gear We Use - Solar Tips, Fact's and Trick's we've learned while on the road
Camper Check List - A list of things we do before leaving camp. Again, this isn't gospel, but its a good start for those who might not already have a list made up.
****
Monday June 1st 2009 - Going Back in Time, Weather Wise
I commented to Cindy last night that we've already experienced a full spring which started to move into the summer season while being in Louisiana. After leaving Louisiana, we traveled North into Arkansas where we came back into cooler spring temperatures.
By the time we left Arkansas, it was hot and humid and we felt like we were back into summer again. Well Wyoming is still in the very early stages of Spring and we've had to break out the extra blankets and warm clothes.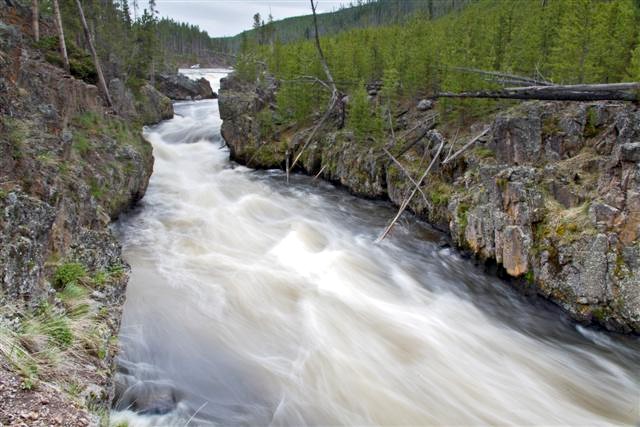 Last night we were arguing about turning on the heat because Cindy said she wanted it on, and I didn't want to waste the propane. The water in the campground here in Yellowstone was trickling when we pulled up, and when I asked why it was like that, they told me because they've been getting down into the low 30's the last few weeks at night and didn't want it to freeze up.
'Welcome back to early spring and winter like temperatures.' But then again, I guess you should expect weather like this when you're at these elevations. It only adds to the adventure and excites me that we've now experienced a full spring and we're back into a winter without going through a fall....LOL
Saturday and Sunday were spent in Jackson Hole visiting with our friend Luca and just taking in the beauty of the Teton's. I swear that I could just sit and stare at those mountains for hours and not need anything else to keep my attention. That's saying alot coming from someone who suffers with a serious A.D.D. problem.
The light is ever changing due to the clouds that these elevations keep around and the mountains themselves almost seem to breathe.
On Saturday, we wandered around downtown Jackson Hole browsing a few of the galleries that are stocked full with beautiful artwork. Work that makes ours look like it was taken with a throw-away camera.
I really enjoyed David Brookover's Gallery the most. I was so impressed with the fact that he was working the gallery himself and was happy to sit and chat with Cindy and I for over an hour about travel and photography in general.
When we told him we were working in Yellowstone for the summer, rather than turn up his nose and keep his expertise to himself; something we've run into with many professional photographers, David got excited and offered tons of useful tips on the best locations to shoot from along with the best times to take pictures to get the best light.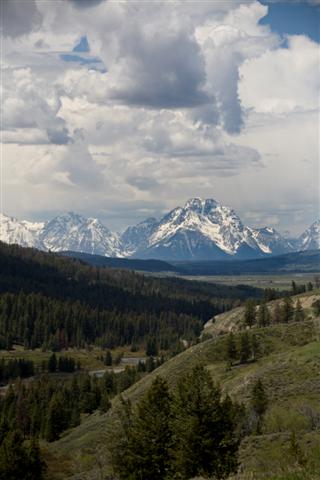 I love to look at other photographers work and get many ideas to use in our own images, but to sit and talk with such an esteemed artist and have him answer any question we asked, in detail, was a very cool experience.
If ever in Jackson Hole, make sure to visit The Brookover Gallery and see some of David's work. You wont be disappointed. He's one of the few artists I'd spend our hard earned money on to have his amazing images hung on our walls (If we owned a home that is).
After wandering around downtown Jackson, we met Luca at the Snake River Brewery for some great beer, good food and intriguing conversation. It's always cool to hang out with fellow photographers as the conversation is usually one where we're all on the same playing field.
Sunday we never left the side of the road where we were parked right beside the Elk Preserve. With breathtaking views, a nice cool breeze and a strong internet connection, we both worked on some computer related items and I uploaded a May Gallery. Check it out to see a compilation of some of our favorite images from this past month.
When everything was finally finished, we packed up the dogs and headed back into Jackson Hole to get some groceries before making our way up to Yellowstone.
It was late afternoon and the sun was just starting to set. This is the best time to be out to view wildlife, but also the scariest time to be pulling a camper. Our truck can stop somewhat fast if it's by itself, but hook an 8,000lb coach on the back and if anything happens to run in front of us, it's probably going to be hit.
This is also the best time to travel to miss the loads of tourists visiting the park. I think on our 2 hour ride up, we only passed a handful of vehicles and they were all headed out of the parks.
We finally pulled in just after dark and found a site for the night. In a few days we'd be set up and sitting still for the rest of the summer. But I'm excited as one could be to sit still in these beautiful surroundings. I also updated last months totals for consumption of fuel and water including our mileage if anyone is interested.
June 2nd Tuesday 2009 -
We have a day to kill before we go into our orientation, so we spent the day today just driving around the park looking for wildlife and cool spots to photograph.
We had to keep reminding one another that we're going to be here till October, so we dont need to go crazy taking pictures of everything we see.
I'm going to try and keep my camera lens on the lookout for the animals you're not used to seeing every single day. Grizzlies, Wolves, Foxes and other animals like that, rather than take up massive gigabytes worth of space with Bison and Elk photographs.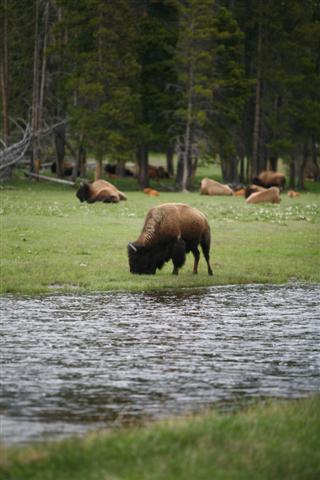 I'll save those for the fall when they're in Rut and getting a bit more aggressive. We'll see how well this works, because driving around we pulled over numerous times to snap some shots of the Buffalo.
I feel very lucky because we're camped right beside a fellow photographer who has been working here in the park for numerous years now. He also shoots Canon cameras and knows some of the best spots to see the wildlife we so want to see.
His pictures are the type that could be on any cover of any magazine you'd see on the newsstand, but he only shoots as a hobby, so he never posts anything online or submits anything to magazines.
When he told us he was planning on putting together a Photography Club, we jumped at the opportunity to be a part of it. Hopefully it will offer a chance for us to learn from one another as I think you can never stop learning when it comes to this field of work.
When we got home from the Photography Club meeting, Cindy was begging me to go plug us in so she could turn on the electric heater.
We had talked about trying to go all season long without having to plug in the camper, unless we experience a long spell of cloudy weather.
I explained that while she was cooking dinner, the heat from the oven would heat our little cabin up enough before we crawled into bed. Once in bed, we'd be fine and being a little cold only makes you sleep better.
She got down some extra blankets and put them on her side of the bed only, but we both slept just fine. Actually, let me tell you a little story that we both got a good chuckle out of last night.
I dont know what time it was, but it had to be around 3am and I got up to relieve some pressure that had built up in my bladder. While I was standing in front of the toilet, Cindy sat straight up and screamed at the top of her lungs "Oh My God, what is that sound!"
I looked at her a bit startled and laughed saying "It's only me going to the bathroom."
She laid back down and explained her panic. She went on to tell me "I was having a dream that I was talking to God and said to him 'Cant you just give me some kind of sign, or even a sound?' then I heard you going to the bathroom and it scared the crap out of me!"
I just crawled back into bed and told her "Well that should make you fell comfortable that when you asked God to give you a sign, it happened to be your husband taking a leak in the middle of the night!"
We both got a good chuckle out of that one and went back to bed.
Wednesday June 3rd 2009 -
Going Back To Work, That Awful 4 Letter Word
Cindy and I had big plans to try and go the entire season without having to plug into shore power and thought we would be able to live off our solar panels for our entire stay in Yellowstone. I mean we've gone for a few months now without having to plug in and have only had to run the generator once or twice to recharge the batteries after a few days of solid rain.
We pulled into our campsite in Yellowstone, one that they had set aside specifically for us which they thought would be the sunniest spot in the campground. This was after a day of being down in Jackson Hole where the rains had come down for hours at a time with the sun only peeking out from behind some thick storm clouds for a few minutes during the day, so our batteries were already a bit low.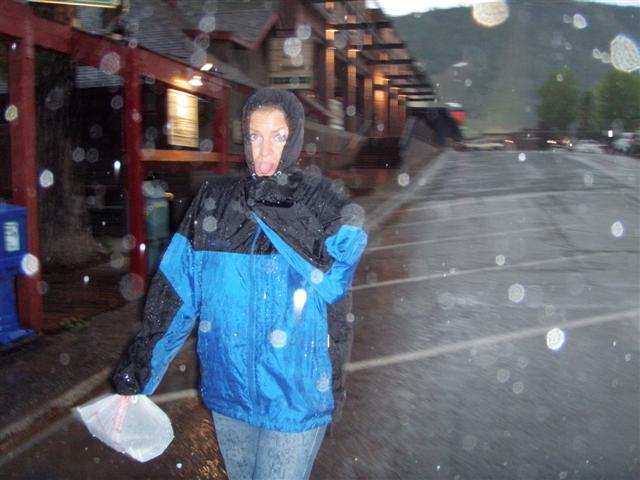 It has rained now for two days straight here in Yellowstone and the forecast calls for rain and thunderstorms for the rest of the week. So we had to pull out the 30amp cord and plug into the electrical box or risk draining our batteries to a dangerously low level. So much for going the entire season running strictly off our solar and it's only our second day here.
We figured today we'd be in our Orientation Classes all day, so we'd leave the camper plugged in for the entire day and allow our batteries to charge back up 100%. What I also did was run a 15amp extension cord into the camper that will strictly run our computers and photo hard drives.
This way, once the batteries are recharged, I can unhook the 30amp cord and use our batteries for lights, pumps and the day to day electrical needs. Our computers, which should be getting a ton of use from the hordes of photos we'll be taking, wont drain the batteries and hopefully this will keep our energy usage down to a bare minimum.
Going to Work...Sort Of
One thing I've always hated doing is working for anything corporate. Owning a small business in a small town for so long, Cindy and I were all about the private sector businesses and tried to keep our money spent in Mom & Pop's type of establishments.
But Delaware North, who will be our employers for the summer, are a different breed of Corporate Employer.
First and foremost, it takes the bigger companies to be able to afford to go 100% Green. Something that Yellowstone is really pushing and something that Delaware North makes all of us employees aware of.
There are recycling bins in the campgrounds, in all of our work stations and in every section of the parks visitor centers. The silverware you use is a new kind that is still very expensive, but made from Soybean Oil and will biodegrade very fast rather than take up dwindling Landfill Space like the plastic utensils most restaurants use.
We had looked at this type of disposable silverware when we owned our restaurant, but it was brand new and so expensive, we couldn't see the payoff in switching over to it no matter how badly we wanted to help the environment. I was happy to see that this is the type of utensils we give to people who visit Yellowstone National Park.
The cars the employees use to run errands or drive around the park are Toyota Prius's and in every aspect of going green you can think of, they strive to make it part of their work environment.
I guess if we have to work for corporate America, we might as well pick a Green Company to work for. Just so you know how much of Recycle Nerds Cindy and I are, I know I had mentioned before that we always keep bags in the bed of the truck with anything that can be recycled.

By the time we pulled into Jackson Hole, which has a big Recycle Center right in the Downtown area, we unloaded 13 bags of recyclable stuff. I'm sure the locals who watched this goofy looking bald guy make trip after trip to empty the bed of his truck must have thought we had just returned from a 3rd World Country.
We spent the day going through the usual orientation type videos that show you the background of the company, explain their core beliefs and fluff the egos of the CEO's and VP's who run this big company. You know, typical Corporate BS.
We were then given our uniforms and had our pictures taken for our ID Badges. Cindy commented that our shirts looks like Blue Picnic Tablecloths and the picture in my ID makes my bald head completely blend into the background. It's quite humorous to see and hopefully I wont have to show it to too many people. Knowing me, I'll have a few beers and bring it out to show it off like some battle wound....it looks that bad.
We had to drive up to West Yellowstone for our Orientation and had planned on heading into Bozeman Montana to get a few items we werent able to get in Jackson Hole.
Bozeman is the nearest major town that has everything one would need. But when we finished up with our mornings videos, we were told we had to come back down to the Old Faithful Clinic for our Drug Tests. We asked if they could move our Drug Tests to later in the day so we could make the trip to Bozeman, but the phones/internet and all communications in the park were down due to a rock slide that had occurred last night.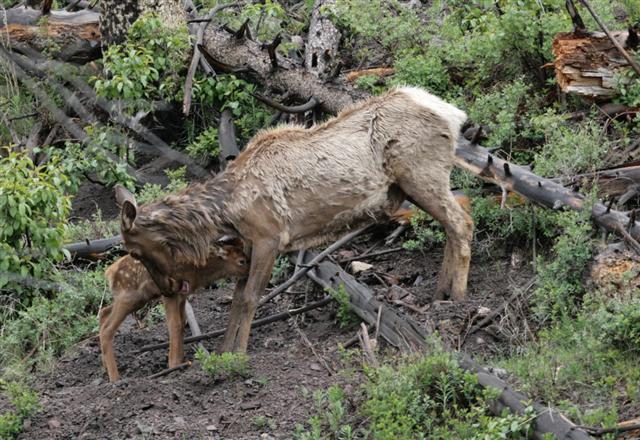 On our way back down the mountain, we pulled over when we saw a bunch of cars lined up along the sides of the road and watched a Female Elk drop a new born calf. In our short time in the park, we've figured out that you only pull over when you see long lenses or a large group of people with binoculars.
Too many times you see traffic jams that are just for a group of elk grazing or buffalo sitting along the side of the road. If you see a bunch of tripods with long lenses or spotting scopes, then you usually know it's something good.
After the short stop to watch the momma clean off the newborn, before it wobbled up the hill to follow its mother, we headed back towards the Old Faithful Basin.
We did get stopped a few more times with Buffalo Jams where the buffalo, who really run the park, would be walking right down the center of the road. When a full grown male weighs in around 2000lbs, you dont move them out of the way or even try to drive around them.
You calmly sit and wait for them to decide which side of the road they want to go graze on. We also watched as a Coyote came walking across a field and ran right in front of us to hunt on the opposite side of the road.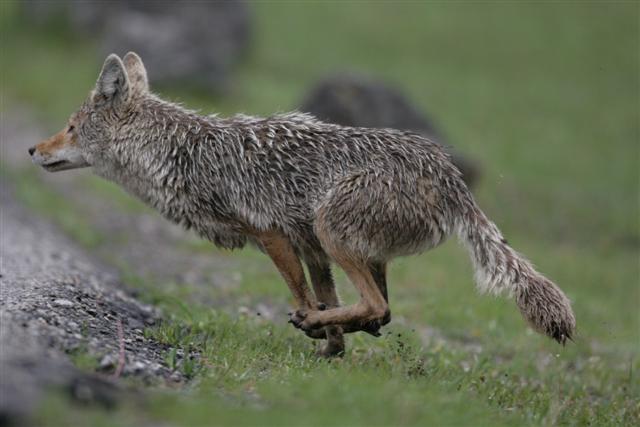 Coyote Crossing the Road within 10' of us!
Once we finished up with our drug tests we had to go to the General Store where we'd be introduced to our fellow workers and shown the ropes of our jobs.
We wanted to see how good of a drug screening they did, so I peed in Cindy's cup and she peed in mine. We'll see if they figure it out...LOL
After meeting all our fellow employees, I'm thinking that we'll fit right in once we start waiting tables, its just going to take a day or two to learn their style of ticket writing and their idiosyncrasies.
When we were free to go home, or back to camp, it was still light and we had a few hours of afternoon to kill. No sense in just going back and sitting in the camper, so we decided to drive the lower loop of the park and see what Wildlife we could spot.
I'm itching to see a Grizzly Bear and with Larry showing me pictures of the bears he's photographed already, I cant believe we haven't seen a few yet.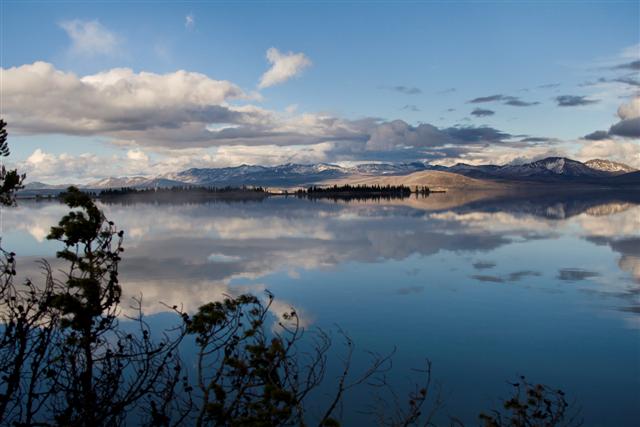 Cindy took this photo while driving around the Lower Loop tonight!!
3 hours later, we pulled back up to the coach just after dark. We had spotted a large Beaver, two Wolves, a Black Bear and lost track of the countless Buffalo and Elk we had watched roam the park.
Granted, we never got any good shots because of the distance, but just being able to see this animals in their natural habitat is amazing.
We went to bed with it raining and the cold mountain air biting at any bare skin that wasn't covered up with the thick stack of blankets we had on the bed.
Oh I forgot to mention that while I was registering our truck with the Forest Rangers, we got to talking about the phones and internet being down. I told him we had been up at West Yellowstone and theirs were all down too. He laughed and said "Boy, you need to remember you're about as close as you can get to a 3rd World Country and still be in the USA when in Yellowstone."
Thursday June 4th -
More Orientation today, but we're getting closer to being able to start actually start working. Today was a long day of more movies and talks with Jeanne, the HR person who explains the Do's and Don'ts involved with Delaware North.
One thing I find very cool with this company is the International Employee's they bring over to work in the United States. I mean it's one thing for a worker to come from around the United States to spend their summer at a new job in Yellowstone, I mean that's sort of a Paid Vacation if you ask me, but to come from Turkey, or Mongolia....that takes some balls.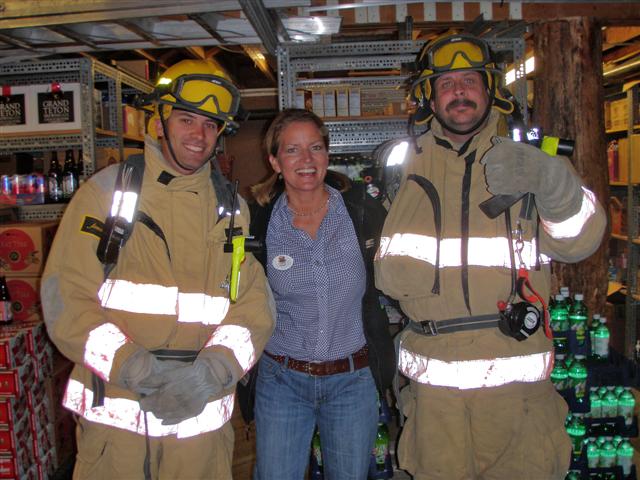 While sitting in one of the Dorm Rooms with the new arrivals for our Orientation, the Fire Alarm went off. At first we thought it must just be some sort of test, but when I pointed out that smoke was coming in the doorway, we all quickly exited the building.
The female International Employee from Mongolia was covering her ears looking at me asking "What going on? I never see anything like this before?"
I guess some maintenance workers were repairing a water line and while soldering the copper pipe, the smoke got too thick and set off the alarms. Being as the buildings are all from the turn of the century, the last century, 1899 to 1900 not 1999 to 2000 turn of the century, we all had to wait out in the parking lot until the fire department came and checked everything out.
It worked out perfect. The General Store is right across from the Geyser Basin and one of the geysers that had gone dormant for years, recently started erupting again. While we were all outside, it went off for our viewing pleasure.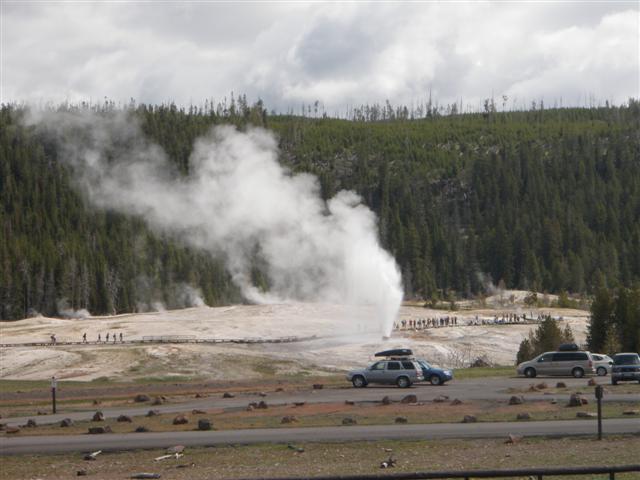 So not only did we get paid to watch it go off, but we got a nice break in the afternoon air. Oh, I forgot to mention that the rain clouds had moved off for awhile and big, white fluffy clouds were our afternoon backdrop.
Once we were finished with the orientation, we headed back home and while Cindy caught up on some laundry, I got the bikes down from the rack and got them all tuned up. I needed to change a tire that had dry rotted from sitting in the sun for the past few years.
The General Store is exactly one mile from the campground, so hopefully if the weather would ever clear up, we could ride our bikes back and forth and keep the truck parked for the summer.
It didn't take long for the rain to come back and just as I was finishing up with the bikes, the sky opened up and the rain came down in buckets. It didn't last for long, and we walked back over to the cafeteria for dinner. While eating, we overheard a couple who had just come back from West Yellowstone who was saying the rain we had gotten down here was big snow flakes up in the higher elevations.
They said they had driven through almost whiteout conditions while driving home, but once they got lower in elevation and below the dark clouds, it turned to the heavy rain we had seen.
So what did we learn today with our Orientation?
One thing they make clear is that they know 90% of the employees are coming from lucrative backgrounds where they earned very good money. Usually the reason they're retired in the first place. They know that most of us just want to be able to enjoy the park for the entire season and working here is just a way to keep us in the outdoors longer.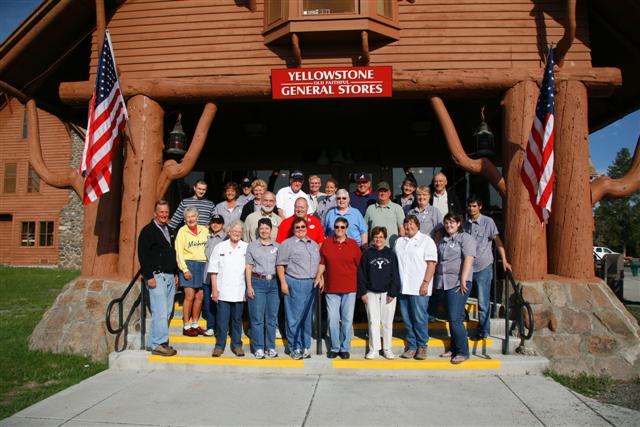 So they know that none of us want to deal with too much stress especially for minimum wage. It's the first job I've ever had that made sure you knew you werent supposed to work too hard. You were here to enjoy yourself and make sure the other guests in the park are enjoying themselves too.
I know it's still early in the season, but I'm thinking we're going to like it here. Everyone we've met so far has the same attitude we do, and most just look at the job as a way to either spend an enjoyable season hiking, fishing, photographing or just relaxing in the beautiful landscape Yellowstone has to offer.
Still haven't see a Grizzly, but I'll post some picture as soon as we do.
Sunday June 7th 2009 - What in the Hell Is This??
We've now been in Yellowstone for a little over a week. So far it's rained every single day which isn't all that bad. I mean the scenery is so beautiful, even a cold rain cant ruin it. Then this morning we woke up to a fresh few inches of snow! Remember it's the first week of June!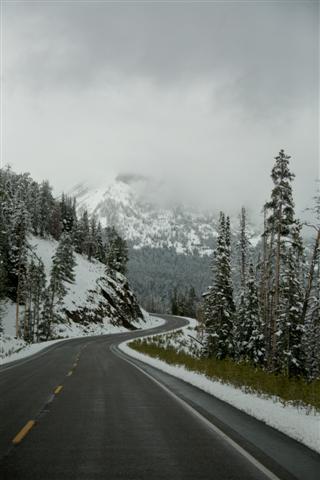 Working at the Fountain at the Old Faithful General Store has been a great introduction back into the world of waiting tables. Granted we've both waited tables our entire lives, but being out of the business for a few years, we've lost a few of the traits we had honed to perfection.
I'll say that it only took a few hours before we were back into the swing of things and by next week, we should be back 100%.
Waking up this morning was a bit strange since we opened the door to see a fresh 6" of snow on the ground.
While at work, we heard that all the passes out of the park were closed since the upper elevations were snowed in with over a foot of snow and the roads were impassable. This made for interesting conversations with the patrons and some great stories from those who were worried about getting out of the park to catch a plane or those who were on vacation and needed to get to the next destination.
One thing that is cool about waiting tables in Yellowstone is you get to meet some very interesting people. One young couple was visiting the park for the girls 23rd birthday and they had tent camped the night before. Imagine their surprise to wake up to a winter wonderland while sleeping under a thin nylon cover.
Another couple I talked with is in the process of riding the Trans-Continental trail by bicycle. This very fit looking couple who was probably in their mid-50's had left on May 9th from the Oregon coast and have ridden 1900 miles so far. They were telling me how they've ridden through 90° heat already this year and now they're snowed in, all within one month time.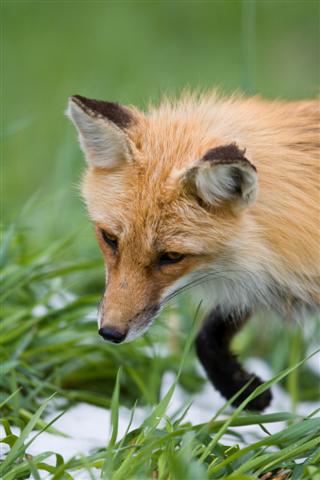 I asked them if they were doing this for a website or for some cause and they both just said "Nope, we just take a few months each year to ride around the country." They told me that last year they had ridden from Maine to Florida on their bikes and next year were going to ride the Continental Trail from Canada to Mexico.
Talking with all these people who are traveling around the park, we hear tons of info on where the best animal sightings are and this morning, Cindy had heard one family talk of coming in the East entrance and stopping at Pahaska Teepee, Buffalo Bill's original lodge, which is just outside the East Entrance of the park.
They said there was a Fox Den under the front porch of the lodge and they had sat watching the Kit's play around while the mother lounged on the porch.
We were able to get off work early since we were just training these first few days and thought we'd head over towards the East entrance to see if we might get some shots of the fox family.
Driving around the park with the fresh blanket of snow made for some beautiful scenery. By this point, it was later in the afternoon and the roads had been cleared, so the passes were back open.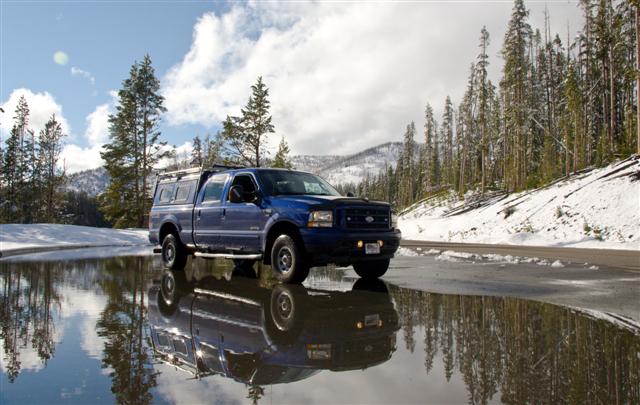 We pulled up to Pahaska Teepee which has a General Store, a filling station, a lodge, bar and some cabins in the back. While I was filling the truck up with fuel, Cindy went in to ask the attendant about the fox.
She walked out saying it was over towards the lodge and said she was going to go have a look. It didn't take but a few minutes before she was sprinting back to grab the camera.
I pulled over so I could park the truck and get out to see what we might find. We waited in the snow/sleet for about a half hour just talking and scoping out the mountain sides through our lenses and binoculars.
The slopes held plenty of Mule Deer, a few Elk and Cindy kept saying "I think I see something moving up on the top of that mountain, but I cant find it in my binoculars."
Then the mother fox came trotting back up with something in its mouth and scurried under the porch.
We got the cameras ready as she came out and went back to hunting. She never got more than a hundred yards out of our sight, and as we were sitting on the edge of a small hill, she came trotting right up towards us and sat looking in the tall grass at something our eyes couldn't see.
We were both snapping away as she came closer and closer. When she was about 5' from us, the big 400mm couldn't even focus anymore so I just set it down and watched as the fox walked right up, sniffed Cindy's pant leg like a cat or dog would do and walked on by.
As the fox walked past us like we werent even there, it continued to sniff around looking for some grub to feed her Kits.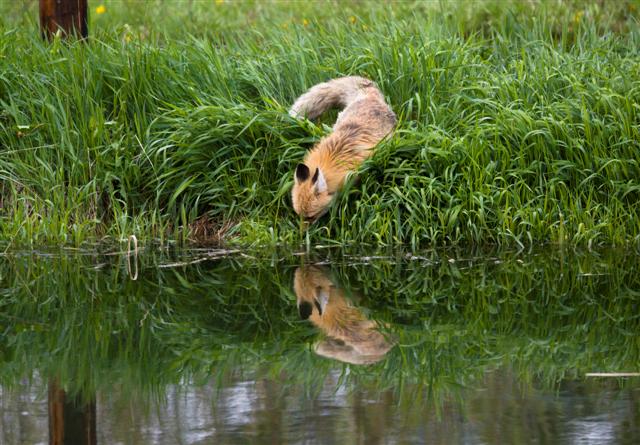 We watched as it walked past our truck, sniffed the bumpers of a few other trucks and laughed as some people were walking out of the General Store getting back into their vehicle and never even noticed the Fox sniffing their heels as they got into their car.
Since we had just snapped off about 40 pictures of the closest we'll probably ever get to a Fox, we put the cameras away and went to have a Silver Bullet in the Saloon. We figured the Kit's werent going to come out from their warm den in this nasty weather anyway, so we'll have to come back at a later time to see if we cant get some shots of them.
Sitting in front of the toasty fireplace in the tiny Saloon, we warmed ourselves up a bit and sat talking with a few local cowboys. While we were talking, one of them pointed towards the ridgeline and said "Y'all see that bear up there."
Cindy grabbed her binoculars and looked to where he was pointing and we got to see our first male Grizzly. Granted, we had to watch through binoculars, but we did get to see a nice size bear.
By this point, the snow was coming down pretty hard and we were worried they might close the passes again, so we said 'Goodbye' to the locals and headed back into the park.
Weird how the weather changes so fast up in these elevations. One second we'd be in near whiteout conditions only to drive out of a cloud, be above the storm and back in sunny blue skies.
I kept stopping so many times that Cindy finally got mad and said "Ok I'm driving!"
While I was out taking pictures of some random vista, she got in the drivers seat and said "We're supposed to meet everyone back at the Employee Pub by 8pm, and at the rate you're going, we'll never make it."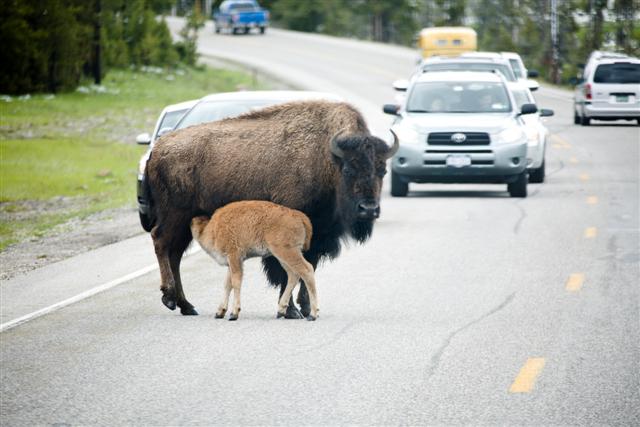 Remember, Cindy NEVER drives, so this was going to be interesting. It wasn't that bad because we still stopped so many times to get some shots of a huge elk with a giant rack that was still covered in velvet, a buffalo and her calf who were nursing in the middle of the road and a couple of blonde coyotes who were walking right along the edge of the road.
We had to stop because one of the coyotes who was sitting there sniffing the air finally walked into the middle of the road and left a steaming present for us. I was laughing so hard I missed the money shot, but caught him just as he was trotting away.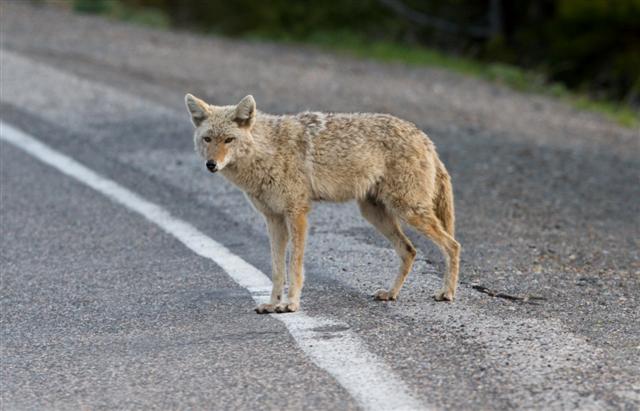 We finally pulled back into the employee campground right at 8pm and spent the rest of the night eating pizza, playing pool and throwing back some Coors Lights as we got to know our new work mates.
Since we're going to spend the next 5 months with these people, we might as well let them see our party side.
Thursday June 11th 2009
Have I Mentioned How Much I Love Yellowstone?
Wednesday was our first full day off of work since we've been here. Monday and Tuesday were spent working our usual shifts that we're still trying to get used to.
This week we're working the late shift which means we dont get to work till 11:45 in the morning. We only work till 3pm before we have a 2 hour break and return to work till the fountain closes at 8:30pm.
This means we have the morning to ourselves, but those first two days we just spent catching up on laundry and errands. Yesterday was one of those days you just wish could last forever.
We went into the employee dinning room at 7am to fill ourselves with some tasty home cooked food. The chefs we have preparing our meals do an amazing job of keeping the employees happy with their excellent recipes.
We'll be lucky if we can keep that weight we've lost off our belt line with the daily supply of deserts, ice cream and pastries available at our beck and call. Cindy and I have now started positioning ourselves with our backs to the dessert table while we eat to help curb the cravings from our salivating taste buds.
Once we were filled up from a hearty breakfast, we grabbed our lunches they had made for us (If you plan on being out all day, you can request a sack lunch and they'll make a meal for you to bring with you from a menu you get to pick from) and headed up towards North Yellowstone.
In the past week, every bear, wolf or moose sighting we've heard about has come from the Tower-Roosevelt area of the park. This area is in the Northern most section of the park and right on the Montana/Wyoming border.
Driving up there in the early morning hours, we felt like we had the park to ourselves. It was strange because we never had any other vehicles going North with us, but we passed at least 20 Forest Rangers and Police Vehicles all making their way to where we had just come from.
There must have been some sort of meeting with the park police today for there to be that many vehicles all traveling at the same time. I should also say that this park is one of the most well patrolled parks we've ever been in. We've yet to get to an area where we dont see a forest ranger vehicle already present and if we come up to a Buffalo Jam, it usually only takes a few minutes before a ranger pulls up to help direct traffic and keep the people a safe distance from the animals.
You'd think people would know these are wild animals and Yellowstone is NOT a petting zoo, but in almost every instance we've seen something good to photograph, you have some idiot trying to walk closer to the wild animal to get a better, more closer picture. If I had it my way, every time a ranger saw this, that person should be ticketed. Especially when it's a parent telling their child to get closer so they can get both them and the animal in the frame of their picture. The park rules state you have to remain a minimum of 100 yards from bears and 25 yards from the other animals that aren't as dangerous.
Another thing you want to make sure you watch while traveling through Yellowstone National Park is your speed. The fastest you can travel is 45mph and if caught speeding, the fine is a whopping $180! One of our fellow employees got caught coming back from West Yellowstone last week doing 55mph and received one of these tickets. Not something I'd want to have to pay.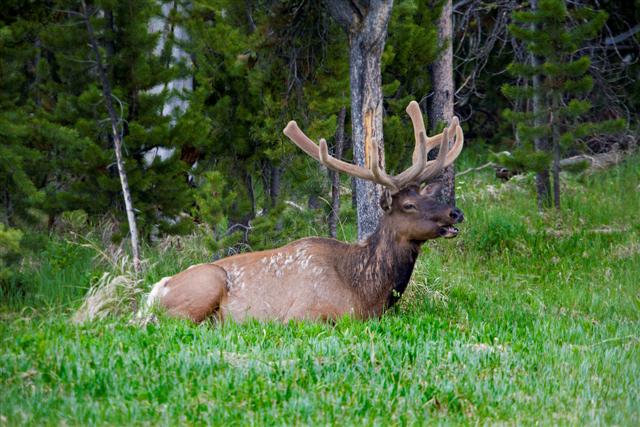 Cindy got this shot of a large Bull Elk lying on the Forest Edge
So while we were making our way North at a slow rate of speed, we spotted a nice size Bull Elk with one of the biggest racks I've ever seen. Cindy fired off some very nice shots of this big boy sitting right on the edge of the woods only about a hundred yards off the road.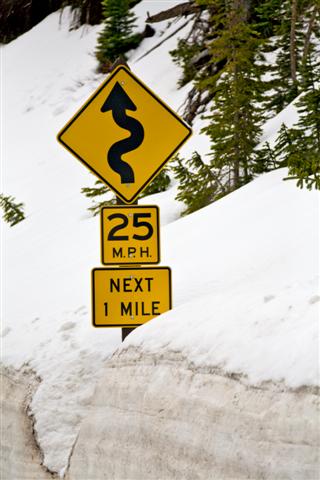 We had just picked up a Sigma 1.4x extender to put on the back of our 400mm lens. So with the lens on a 1.6x cropped frame camera like we have on the Canon 30D, this combination now equals a whopping 896mm equivalent.
It really brings the animals in close and a set-up like this is what is needed in Yellowstone to keep a safe distance from the wildlife yet still capture some nice shots. One thing that it does is makes it almost impossible to hand hold the combo and you have to either have it on a tripod or monopod in order to steady the shot, even with the Image Stabilization built into the lens.
A few miles North from the Elk, we spotted a nice blonde coyote hunting in an open meadow below the Norris Campground and sat glassing it with our binoculars. Big lenses help to get some nice pictures in Yellowstone, but the park is so big, a good set of binoculars or a nice spotting scope is going to be your best bet to see the wildlife.
We crossed over at Norris to Canyon Village and headed up over the Dunraven Pass. Climbing up to almost 9000' in elevation, we were expecting some spectacular views of the surrounding valleys, but once we got near the top, we drove into the thick clouds and lost our visibility. The mountains sure to hold some weird weather patterns and you never know what to expect.
Driving in the clouds, we had a visibility of about 100' and I had to slow down to about 10mph because of the sharp turns this section of the road was throwing at us. The banks of snow were still piled high at this elevation and the temperature seemed like it had dropped 20° since we had left the camper.
Rolling along at a snails pace, we both let out a gasp which was followed by me locking up the breaks, when an opening in the thick cloud cover appeared to show us a view straight out of a snow globe.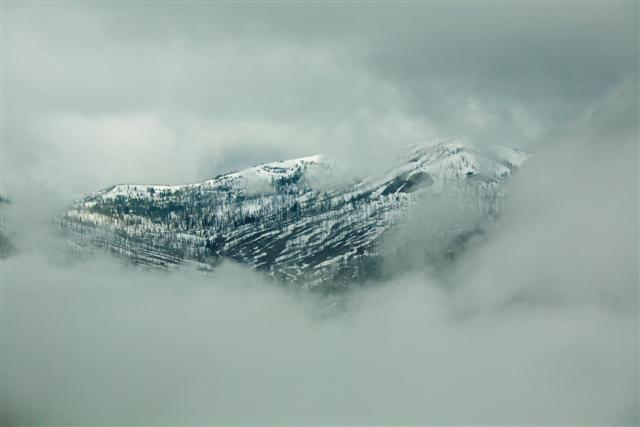 We could see the tips of Observation Peak across the valley and with just enough time for me to snap off a few images, the clouds closed back up and we were cloaked back into zero visibility.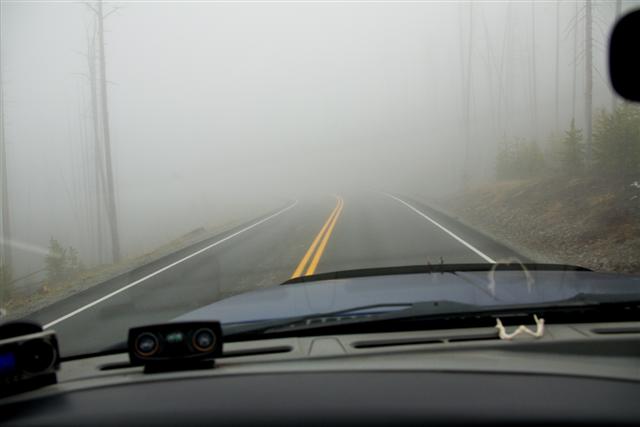 Once we made it over the pass and started our descent into the Lamar Valley, we drove out of the thick clouds and the sun appeared before us. Like I said, the mountains hold strange weather patterns and is why we now keep a duffle bag in the back seat of the truck that holds a supply of rain gear, winter coats, gloves, hats and a pair of shorts. You never can be too prepared.
This length of the drive had taken us a few hours already so we pulled over at the General Store in Tower area to grab a cup of coffee and stretch out the legs. I sat talking with a couple of Park Rangers who let me know a few hot spots where we could find some wildlife.
They said we had missed a male moose who had spent the day roaming around the Tower General Store area along with wandering through the Tower Campground the entire day yesterday. They also told me a nice size grizzly had walked right through the parking lot late in the afternoon yesterday, but they hadn't heard any news on sightings for today.
When I asked about Bighorn Sheep, something Cindy and I have yet to get any good shots of, they pointed me in the right direction and wished us luck.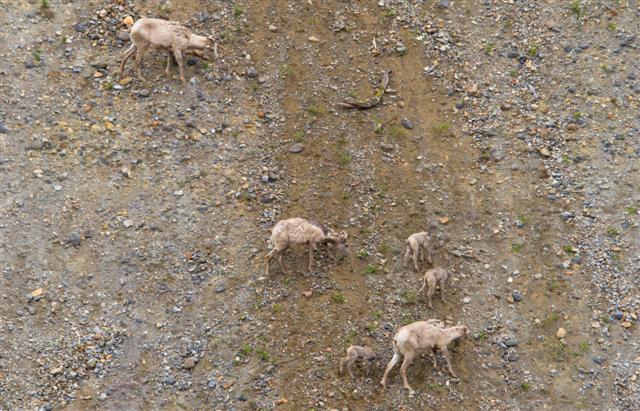 As soon as we crossed the bridge heading West from Tower, we pulled over because of a Osprey Nest that was perched atop one of the wild looking hoodoo's that follow the banks of Tower Creek.
While we sat there looking at the Osprey, we spotted a large group of Bighorn Sheep across the bank. We watched as they ran up and down the crazy steep inclines like you and I would walk down a level sidewalk.
The young babies would run and hop right along the edges of the towering cliffs knocking loose rocks and debris which would tumble down to the river below. They made it look so graceful, but I cant imagine any other animal being able to walk along these steep slopes.
While we were pulled over, a family was beside us and the father was shooting with a Canon Camera. I asked him if he wanted to put his body on my lens snap a few shots through the big 400mm.
When he first put his eye up to the viewfinder, his first words were "OH WOW!"
He snapped off a dozen shots and handed the lens back to me. While we were getting into the truck, Cindy looked at me and asked "Now why did you go and do that?"
I was confused and said "What, he only had a 200mm, I thought I'd let him get some good shots to bring home."
She just rolled her eyes and said "I know why you did it, but you do know that you've now ruined him for life!" She went on to say "The next thing he's going to be doing is pricing out 'L' glass and begging his wife to let him upgrade his lenses."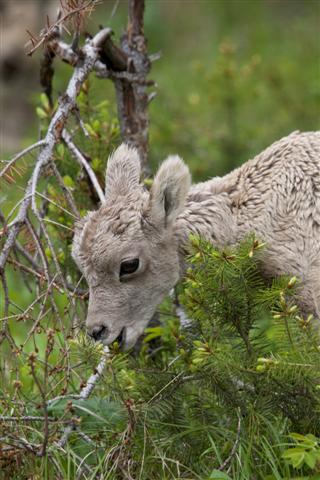 I guess I never thought about it that way, but we've all got to get hooked somehow. We both got a laugh out of it knowing he'll be looking at bigger lenses as soon as he gets home.
We werent up the road but a few hundred yards when we pulled off real quick because of a large group of Bighorn that was grazing right along the edges of the road. They were mostly young sheep with one little baby that spent most of its time sleeping in the tall grass.
While we were standing on the edge of the road snapping some pictures along with about 5-7 other photographers, I overheard one passerby say very loud out the car window, "Look at all these photographers with their big expensive lenses, it just makes me sick!"
I turned to see some guy holding up a little Point & Shoot camera trying to get a picture and said back to him, "I think the word is jealous, not sick!" That got a chuckle from a few of the other photographers as he drove away with his camera size issues.
When we got to the Roosevelt Lodge Junction, we hung a right turn and headed over towards the Lamar Valley. A few of the employees we work with had been kind enough to sit down with a map and a highlighter and mark a few areas where we were sure to see good wildlife. One area we really wanted to see was the Badger Den.
Before we could get there, we rounded a turn to find a traffic jam. There was a section I could pull off the road, which is what you're supposed to do when wildlife are present, and we got out to see what the commotion was about. This was when we spotted the largest Bighorn Ram we've ever seen.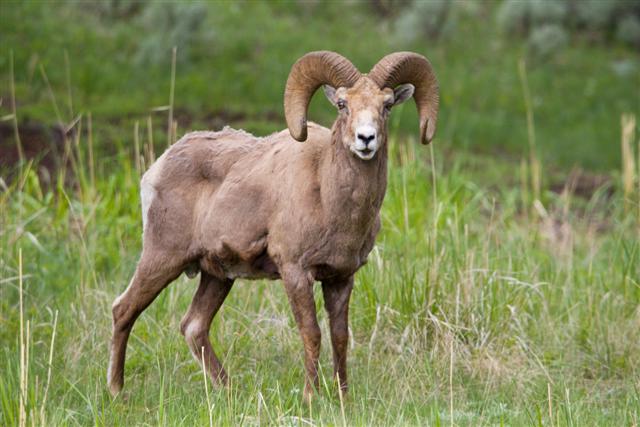 This stud was waltzing around nibbling on some grass and rubbing his almost fully curled rack in the wild sagebrush. We sat snapping off a few shots while he came closer and closer to us. I finally looked at Cindy and said "My lens is useless right now, I can only fit half his head into the camera frame."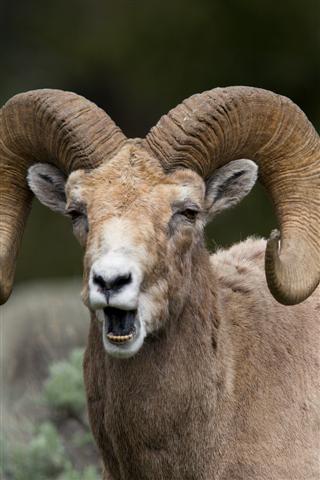 I put the camera down and just watched as this beautiful, almost mythical looking creature walked right around us. He went up to some rocks and sat nibbling the lichens off the surface which was something I've never seen before. When he finally turned and gave us the perfect shot, we knew it couldn't get any better than that and headed back to the truck.
Once at the Badgers Den, which was only a few miles down the road, we pulled up to find a nice young couple set up with a big 500mm lens on a tripod. We sat talking with Drew and Jennifer who were from Texas on vacation here in Yellowstone.
They were both avid outdoors people and we had alot in common. We never had any luck with the Badgers, but we did have a great conversation and swapped some good tips and tricks for traveling with our camera gear. Another young couple pulled up who told us they had just video taped a grizzly at the Tower Area and the girl showed us her footage which was priceless. The big bear was rolling on his back and scratching his belly like you'd see some circus animal do for the audience.
They also gave us a good tip on an Owl nest right beside the Mammoth Visitor Center and showed us some of their video footage they had of a rare Owl at another section of the park. We thanked them all for their info and headed out.
Yellowstone is truly a wildlife photographers dream. Where else in the United States can you have so many options to get such a diverse range of wildlife or scenic vistas, all in the same day?
Heading West we pulled over at the Petrified Tree pull off to see what this was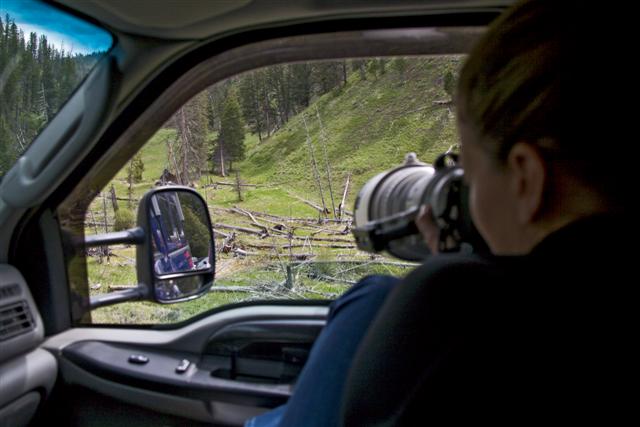 all about (The stump of an ancient tree that is fenced in and not much to look at) But pulling up the road, we ran into another traffic jam. This time it wasn't for Buffalo!
Granted it was only a black bear, but it was still cool to see a big black bear lazily grazing on some tall grass in the bottom of a ravine. Cindy sat snapping away when ever it would get up from it's sitting down position till we finally got bored with the bear. We both thought it was funny that the bear would be eating and just flop down on its butt or belly to continue to eat, like sitting up was so exhaustive.
Pulling back onto the Grand Loop Road, we werent but another mile down the road when Cindy yelled "There is a Black Bear right on the edge of the road." This time we were one of the first vehicles on the scene and didn't have to wait in a traffic jam.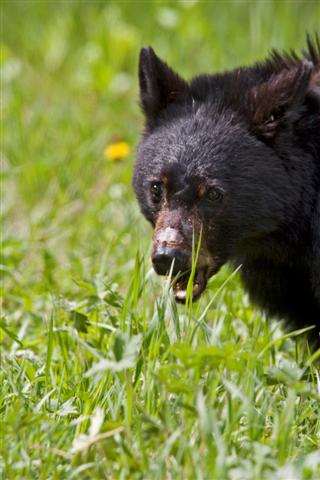 This little blacky wasn't too afraid of the cars and sat munching on dandelions and grass while the vehicles slowly drove around it. What a day it was turning out to be. Not only had we seen a bunch of the animals we've yet to photograph, they were all right at the roads edge for us.
Driving West towards Mammoth, we had to stop one more time because of a Coyote who was trotting right along the edge of the road. This guy must be a trouble maker. One of the rangers had told us if you ever spot an animal that has been tagged, it's usually because they've been getting into trouble and we have to relocate them. If we have to tag them more than 3 times, then we usually put them down because they're becoming too habituated to people.
This guy had a tag in each ear and had a radio collar on and wasn't afraid in the least when he stopped to lift his leg on a bush right along the edge of the road.
Once we pulled into Mammoth, we found the visitor center and walked over to see if we'd be able to see the Owl nest. It wasn't hard since the tree they decided to call home was literally right up against the building. There were a few bird watchers who filled us in on the fledglings and their history.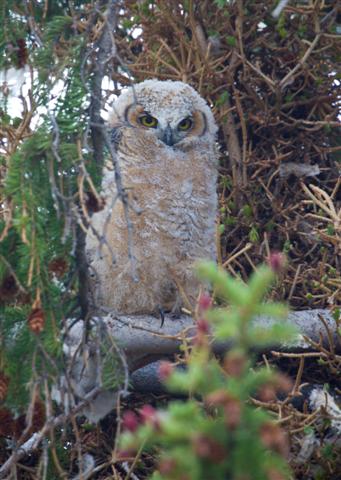 I was amazed at the size of the babies and the expert told us they would probably be leaving the nest in the next few days. He told us last night was the first time they had left the nest for a small flight around the Visitor Area so it wouldn't be long before they were out on their own.
One of the parents was across the street sitting under an eave on another building just keeping an eye on the two giant babies.
Around dusk, the adult Great Horned Owl flew to a nearby tree where it sat a bit closer. As it was sitting there, the Magpie's came swooping in and started attacking it. The bird expert had told us this had happened last night and he wasn't sure if there was a nest in the other tree, or if the annoying Magpie's were just ganging up on the owl.
We sat watching as 5 Magpie's took turns biting the owls tail feathers and flying around the giant owl that was 3 times their size. You would think that if the owl wanted to, it could kill one of the Magpie's with ease, but it sat still on the branch fighting off the black and white feathered gangsters.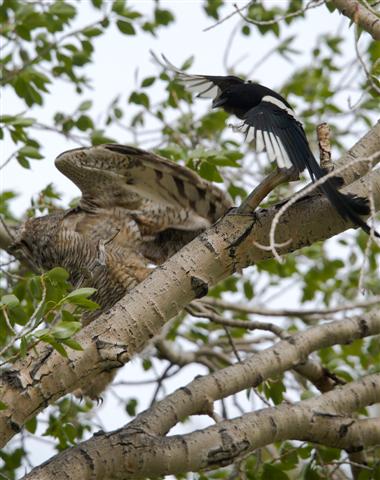 As the light was fading, we headed out of the park towards the small town of Gardner to top off the fuel tank before heading the 51 miles back down to the Old Faithful Basin.
Diesel inside the park is around $2.89 per gallon, and we've found that any of the stations just outside the park are usually .40 to .50˘ cheaper per gallon. So we try and top off the tank anytime we're near an entrance.
Coming back in the Gardner Entrance, we stopped just inside the park to watch a large group of Bighorn Sheep play along a steep rock face. Just East of the sheep, we pulled over again as we watched an Eagle dive down into the Gardner River to catch some fresh dinner. A mile up the road we spotted another Osprey doing to same thing and watched as it too dove down into the swift flowing water but came up with empty talons.
The rest of the ride home was somewhat uneventful when compared to the rest of the day. Granted, we spotted dozens of Elk and Bison, but were once again foiled when it came to seeing any Moose, Wolves or Grizzlies. Not that I'm complaining because we had as picture perfect of a day as any photographer could wish for. Like that pun!? Tally of what we saw and photographed today - Two Black Bears, Eagle, Multiple Osprey, Bald Eagle, Elk, Bison, Red Tailed Hawk, Big Horn Sheep and Rams, Prong Horn, Mule Deer, multiple Coyotes, Uinta Ground Squirrels and untold scenes that could bring a tear even to blind person.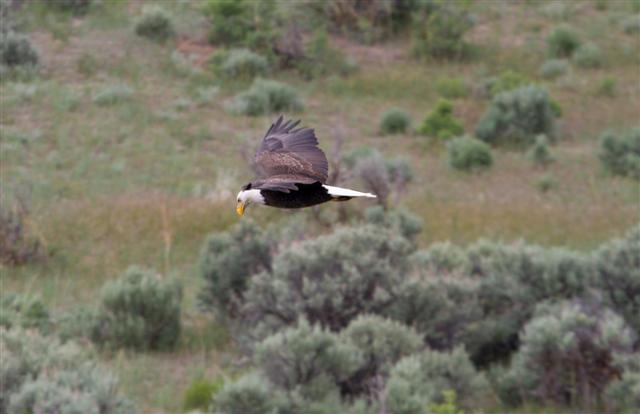 Soaring Bald Eagle over the Gardner River
I'm also glad we've yet to see any grizzlies after reading the front page of the paper this morning. The main story was talking of a hiker who got attacked by a mother grizzly yesterday near the West Entrance while hiking on a trail alone.

Soaring Osprey over the Gardner River
The hiker lived, but has some pretty nasty bites and scrapes on his body. So I guess I should watch out what I wish for.
We're trying to decide what we're going to do with our photos while staying in Yellowstone for the summer. We've been here for just over a week and I've already put together a Gallery from the 1st Weeks Pictures.
I'm afraid if we wait till the end of the month, the gallery will be so big, no one will want to browse that many photos. So let us know if you think a weekly gallery would be better. We like to know what those that read our blogs want to see since you're the ones we're putting this together for.
Saturday June 20th 2009
Is Yellowstone in Seattle? It has now rained for 19 days straight and we've yet to have a single day that we haven't experienced sever thunderstorms. Not that we mind, the crazy weather patterns make for some interesting photographs.
Another good thing with the bad weather is the business it brings into the Fountain. Yesterday was the first day that we had beautiful weather all morning and into the afternoon before the rains came, and it was our slowest day yet.
I guess when it's nice outside, all the tourists want to stay out hiking and exploring the park, but throw a rain shower or a quick cold snap, something that tends to happen every few days, and it drives them in for some warm Hot Chocolate and Steaming Soup in droves.
I'll try and keep the daily work schedule out of the blogs because of how monotonous it will become, but Monday and Tuesday were spent slammed busy with a full park and our first week of the Early Shift. This shift means we have to be at work by 7am, which means we have to wake up at 6am to get ready and make it in time for breakfast. Something we're not to used to.
I've never looked so forward to having a day off as I have working here in Yellowstone. It seems all week long while we're working, we have guests coming in non-stop telling us about their animal encounters.
So by the time we have a few days off, I'm so chomping at the bit to get out and try and photograph them that I can not wait.
Wednesday, we knew we had to go up to Bozeman to get Cindy some new shoes and get both of us a few new pair of pants since we've lost so much weight, we're both falling out of our old ones. We also needed to pick up a few supplies from a grocery store and we were going to open a local bank account so we could write local checks if need be. We figured we'd deposit our tips in this account and could mail back checks to our normal bank account from our tip money.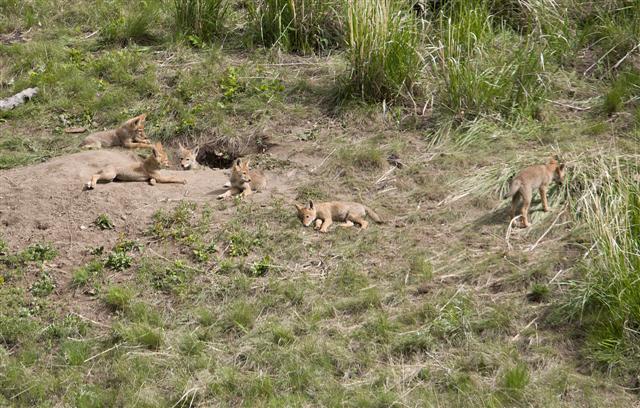 We left from the Fountain at 7am and made our way to the Northern half of the park where we had heard of a Coyote Den that we thought we'd check out first.
We stopped a few times on the way up to snap off some shots of wandering wildlife that pops up from time to time.
We found the Coyote Den and set up the cameras to see what we could get.
Cindy was using our neighbors Canon 500mm f/4 lens with a new Sigma 1.4x Extender on it. I was using the Canon 400mm f/2.8 lens but I was still way too far away to get any good shots.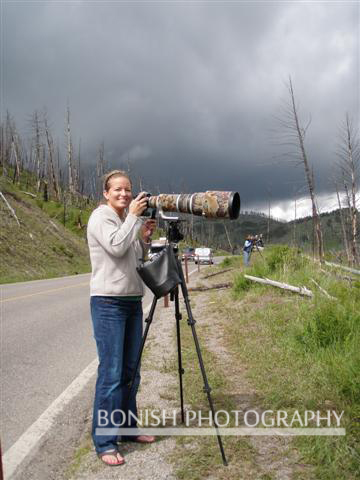 The den was only about 50 yards off the road, but when shooting wildlife, you want to fill the frame with the subject, and I just couldn't do it with my set-up.
Cindy on the other hand had a perfect set-up with her lens/camera combination, but we later found out that the 1120mm of focal length she was shooting was too much for her and the windy conditions we were experiencing. Such a shame too because she had some beautiful shots, they were all just a tad soft due to lens movement.
While standing on the side of the road waiting for the adults to return, I sat talking with another photographer just chatting the normal wildlife talk us photographers do. We were sharing stories of goofy comments we had heard tourists make about the animals they see.
He shared his favorite comment with Cindy and I about a woman asking him why the bison's skin is falling off right now and what is wrong with them?
We all had a good laugh knowing that this woman had no idea what she was talking about and that it was just their winter coat they were shedding. You would think if you were going to spend good money on a vacation to one of the most beautiful places in the world, you'd do a little research first to learn about what you're going to see.
Almost like the Touron (Tourist + Moron) that asked one of our fellow employees "When is the groomer going to come groom the bison? They all look so ragged right now!"
Like this is some sort of petting zoo and a groomer comes in to groom the thousands of WILD Bison! What a complete moron!!! Its very funny to sit around with all the other employee's and hear the comments people have made to them and you'd be shocked if I told you about the stupid stuff we hear them doing.
One Ranger told us about a couple he stopped on the paved foot path right beside Old Faithful who rolled down the window of their car to ask directions. He said he sat there shocked that they were even driving along a sidewalk and when he told them they couldn't drive where they were, they got out, locked the car doors and started walking; leaving the car parked right on the sidewalk beside Old Faithful. Too Funny!!
While we were sitting there sharing goofy stories on the side of the road with the fellow photographer, some black clouds moved in and the sky opened up on us. We ran back to our vehicles to get out of the hail bouncing off the ground and sat waiting out the storm.
A half hour later, we came back out and got back into position to wait for some good shots. The 6 pups had retreated back into their cozy den and we all sat around just taking in the beauty.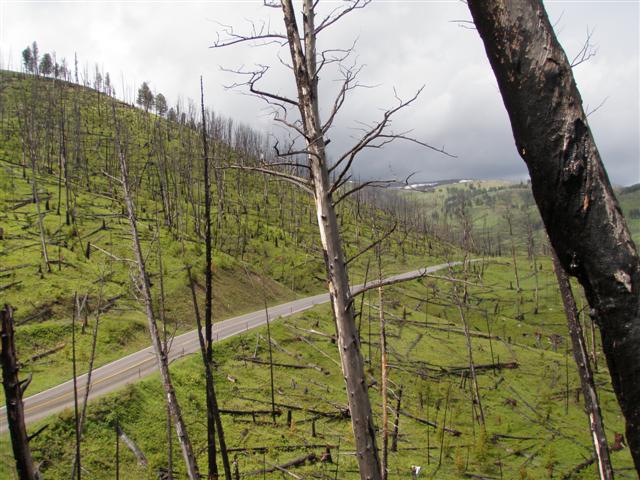 This was where we were waiting by the Coyote Den - Not a Bad Spot to Sit and Wait
One thing about wildlife photography is you're usually in some beautiful scenery when waiting for the animals to emerge. I think the wild animals know what they're doing when they pick out a den location because every one I've seen has offered some beautiful surroundings.
We got a few more shots of a few of the pups before the rain started again and we called it a day. We headed over to Mammoth stopping a few times for a nice size Cinnamon Colored Brown Bear, and an Elk known as #10. This elk has some of the largest antlers of any elk in the park.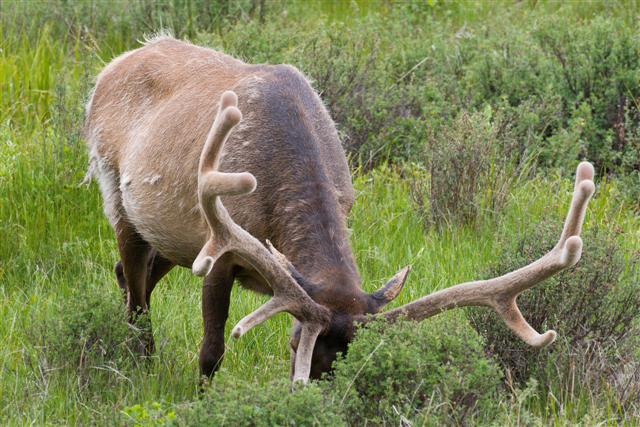 He has a tag in one of his ears with the number ten on it, which is where he got his name from. You'll hear people talking about him all over the park, and you know him when you see him.
Once we made it out of the park, Cindy was fast asleep and I kept myself awake jamming some of Jason Aldean's new CD Wide Open. If you're into Country Music, it's an awesome CD and song after song keep you singing along.
Pulling into Bozeman, we first found a camera store where we needed to get a few supplies. Just our luck that the 3 things we needed they were sold out of. No biggy, as I'm going to be ordering a new Belt System from ThinkTank and the F/11 Camera Shop carried ThinkTank products, so I could try on the belt before ordering it to make sure I knew it would fit.
From F/11 Camera Shop we walked down the street to find a bank. They happen to be closing just as we walked up to the door. The guy told us we could go use the drive-thru but when we told him we were going to open an account, he said we'd have to come back tomorrow. Oh well, I guess we'll not open up an account after all.
So we found a Fleet Feet shoe store so Cindy could get a new pair of shoes. Guess what, the two different pairs she picked out they were sold out of in her size. The salesman told us we could come back tomorrow when they get their next order in, but driving the 120 miles one way didn't seem like a good idea after all since everything we had come to Bozeman for we had struck out on.
We found a Wal-Mart and stocked up on some supplies before we headed home. While shopping in Wally World, a massive storm moved in and was dumping rain and lightening on us which made for an interesting drive home.
We got to see some of the biggest, brightest rainbows we've ever seen and Cindy counted 9 bands in one of the rainbows. It even had a bright purple band in it which was something neither of us had ever seen before.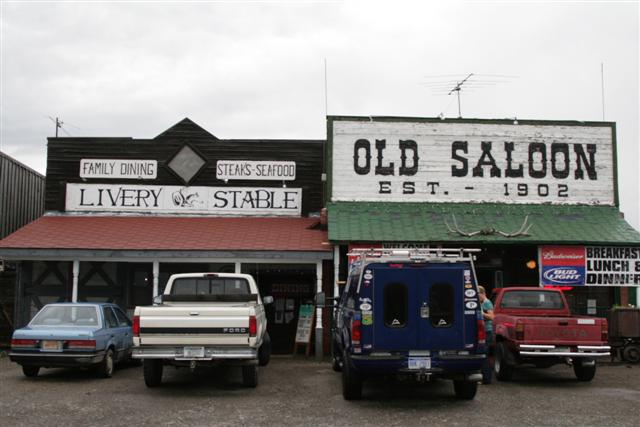 On our drive into Bozeman, I had passed a little saloon in the one stoplight (Blinking Yellow light) town of Emigrant. The front of the crumbling building simply said "Old Saloon - Established 1902"
Cindy was asleep when we passed it the first time, but on our way home she was doing one of her 'Pee Dances' so we pulled in to use the restroom and grab a cold beer.
You know its a good bar when you pull into the dirt parking lot and its loaded with old work trucks and duallies.
We saddled up to the bar and ordered a Coors Light. This place is a little bigger than our camper and just the kind of bar we like. If you've ever seen the movies A River Runs Through It or The Horse Whisperer, most of filming of these movies were filmed in the Emigrant area, so you can imagine how beautiful the landscape is. The town has a grand population right around 300 people.
Being as it was getting dark and it was raining, we didn't want to get too crazy, so we just slammed back our drinks and got on our way, but this will have to be a place we come back to when we have the entire day to kill and need a good buzz tied on.
Driving back through the park, we stopped numerous times for various animals that were walking down the middle of the road and tried our best to get back to camp before it got too dark. Driving in Yellowstone at night is like playing Russian Roulette. It's just one of those things you shouldn't do!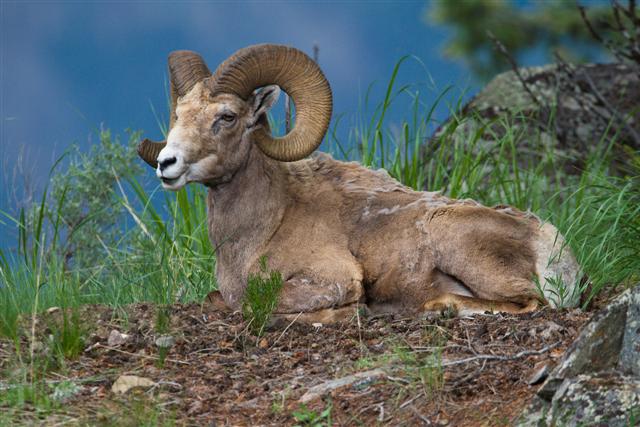 The next morning Cindy said she was too pissed off that her Coyote Den pictures hadn't turned out that there was no way she could head back out for another day of shooting. Not me, I was just the opposite. I was so pissed off that none of them turned out, that I had to go back to see if we could get some more shots before the pups left the den.
I threw some food in the truck, filled up my water bottles and headed out for a day of roaming The Park by myself.
There are alot of times that Photography is better as a one man team. Almost like fishing. There are days when you want a good fishing partner to make the time go bye faster, and days when you just want to have the entire day to yourself.
In the 8 hours I spent driving the Grand Loop Road, I spotted a couple of Grizzlies, but way too far off the road to get any good shots, dozens of Elk, too many Buffalo to count, a black bear that had climbed up a tree to get away from the hordes of people trying to take pictures of it, a bunch of Big Horn Sheep and got probably some of my best shots ever of the Big Horn Stud lounging by himself in the Yellowstone Picnic Area.
While driving one section of road, I spotted some sort of Hawk sitting on the top of a tree scoping out a meadow for some dinner. I got out of the truck with Larry's 500 f/4 lens and proceeded to stalk my way to within a few dozen yards of the bird.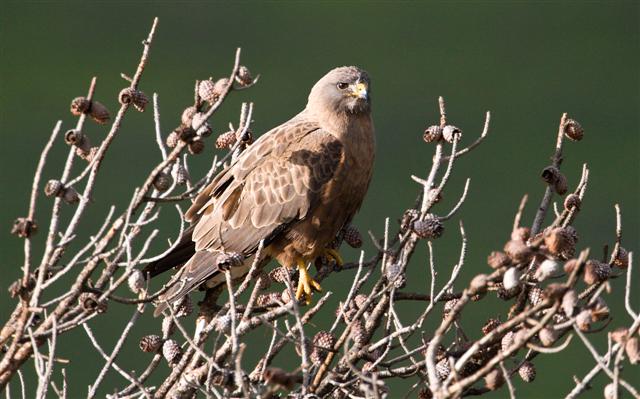 Just as I was starting to snap off some shots, I heard some dufas yell behind me "What cha' taking pictures of!?" at the top of his lungs. I jumped, the bird jumped and took off and I missed the shot I had been anticipating.
I turned and looked at the guy wanting to smack him with my monopod and yelled back "Well I was trying to get some pictures of that hawk until you yelled and scared it away."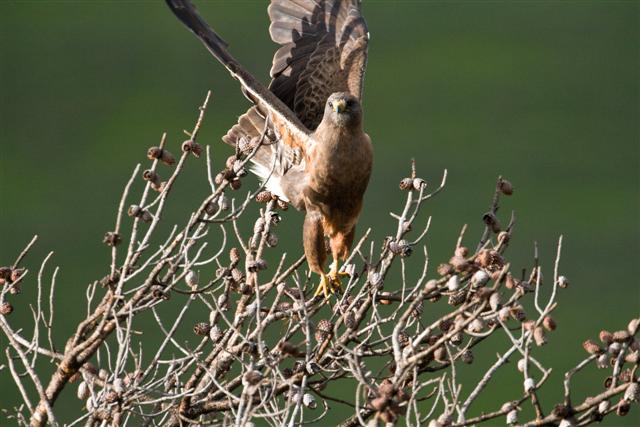 Too dumb to know that I was scolding him, he just shrugged his shoulders and says "Oh, I thought it was something cool like a bear or a wolf" and he turned and walked away.
I just packed up the cameras and headed home to a nice warm camper and my beautiful wife who had spent the entire day cleaning our little cabin from floor to ceiling. There is nothing like a clean house and nice crisp sheets to come home to.
Back to work and I'm already looking forward to our next few days off.
Oh, one other thing I wanted to mention. One of my new goals for this summer is to practice Birds in Flight shots. I've been trying to get shots of this for the past few weeks, but holding the monstrous Canon 400 f/2.8 lens is just too much for me.
So we went ahead and ordered a full Wimberly Gimball Head Kit. Wimberly is the bream of the crop when it comes to Gimball Mounts and is a family owned and operated company, so I cant wait to get it and test it out. I'll be sure to post a full review of it and hopefully, this will make the Birds In Flight (BIF) shots much easier on my arms.
I also uploaded our 2nd Week Gallery if you're interested in looking. Not as much Wildlife as last week, but I'm not one to crowd around when the tourists are in huge packs because of an animal. So I decided to shoot mostly Landscapes and Nature scenes. Although there are a few nice shots of wildlife in the gallery.
Thursday June 25th - Frustrated with Yellowstone Wildlife
Normally we have Wednesday and Thursday off each week. This week our schedule got switched around due to some new employee's showing up and a few employee's being shuffled to different positions. Not that we care, Cindy and I volunteered to have our schedules switched around as long as we still got two days off if it made it easier on everyone else.
What happened was Cindy had yesterday off and I have today off, and we both have tomorrow off together.
We've decided this week that we're going to start some new routines when the weather allows. We've woken up twice this week, rode our bikes to the employee cafeteria, then rode home and went for a hike before we had to be back to work around 11:30am.
Tuesday we hiked the Observation Point Trail which leaves from the Old Faithful Geyser Basin and rewards you with a birds eye view of the Geyser Field from high above the basin floor.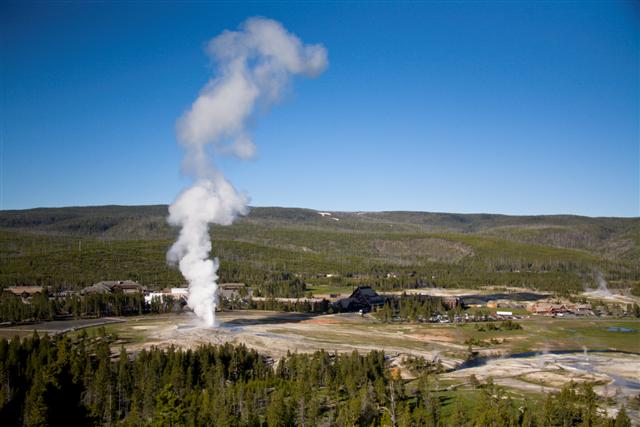 Old Faithful Erupting
The hike only takes about a half hour to climb and even though we didn't plan it this way, right as we reached the top of the trail and the overlook, Old Faithful erupted and offered us a spectacular view from a perspective not too often seen.
The weather was warm and calm and the steam from the geyser stayed stagnant in the air rather than be blown away like it usually is. While we were watching the eruption, we noticed an animal scurry in front of us that drew our attention away from the boiling earth.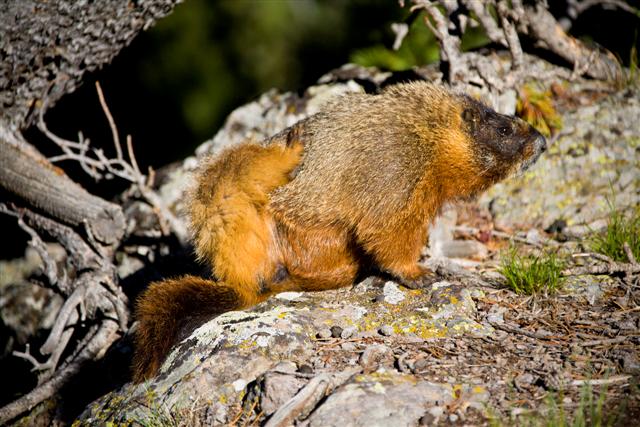 A Yellow Bellied Marmot crawled up on some rocks in front of us and sat watching Cindy and Myself almost as intense as we were watching it.
After awhile, another Marmot came crawling up, this one twice the size of the first one we noticed.
We sat watching them for awhile with no noise to interrupt our morning except for the wind blowing through the pines and the distant sound of Geysers going off.
Once we had our fill of Marmots, we hiked back down the trail and back to the campground. We had enough time to shower, change into our work clothes and head back into work. So far we've broken sales records every single day we've worked with the business the Fountain has been turning, so the rest of the day was spent running our tails off and earning our daily wage the hard way.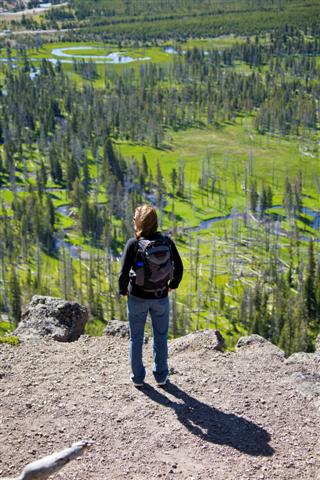 Wednesday we rode in for breakfast and came home to head out on another hike. We would hike the Mystic Falls Trail which is a 2 mile hike that leaves from the Biscuit Basin Geyser Field.
At first we got a little lost because there are 4 different trails converging around the same area, but once we found the right trail, we hurried along on our morning workout.
The weather was nice and warm this morning and the jackets we had worn to breakfast were quickly stowed in the backpacks once we started hiking.
This is another short hike that offers a breathtaking view of the Biscuit Basin and with this mornings clear skies, we could see the tips of the Teton Mountain range off on the horizon.
Once we finished the hike, we made it back to the camper in time for me to shower and ride back into work. Cindy would spend the rest of the day by herself with the dogs and took them on a long hike around the Old Faithful Geyser Basin to wear them out so they would sleep good tonight.
By the time I got home from work, I was dead tired. Riding 6 miles on my bike, hiking 2.5 miles in this elevation and working a 10 hour shift does numbers on spindly legs like I walk around on.
I was really looking forward to Thursday and my full day off from work.
Once it came around, I ate breakfast and lunch at the employee diner with Cindy, and once she headed into work, I loaded up all the camera gear and headed out to see what sort of wildlife I could photograph.
Like I've said before, all week long I get guests showing me their pictures and telling me about the wildlife they've seen around the park, so on my days off, I cant wait to get out and see what I can find.
I hate to say that I spent the better part of 12 hours driving around the Grand Loop Road and didn't get to see anything I actually wanted to see. No Bears, No Wolves, No Owls and the worst part was I was by myself the entire day.
My one goal for the day was to try and see the Great Gray Owl I've heard so much about. Apparently it hangs out near Phantom Lake right around dusk, but I sat waiting, getting eaten alive by ferocious mosquitoes till dark and saw nothing but hordes of bugs that looked like they could carry a buffalo away.
I ended up driving home in the dark, which totally sucks and is down right dangerous in Yellowstone and had no pictures to show for a long day out in the park.
I've come to the decision, that from now on, on our days off we're going to go somewhere specific and either go on a hike that will take up the majority of the day, or sit somewhere specific where we know there will be wildlife activity.
Enough of this wasting fuel and driving the entire park just to come home empty handed.
__________________________________________
I'll say this short and quick, because I'm sure everyone has their own two cents they'd like to comment on. But I think the news of Michael Jackson passing away is a little overboard.
Sure the guy was a marvelous musician and one of the greatest entertainers of our era, but the man hadn't produced anything worthwhile in decades and has spent the last years of his life molesting young boys.
If he was anything other than a Pop Icon, he would have been locked up or fried in the electric chair long ago, so I'm afraid to say that Karma came calling for him at an early age.....NUFF SAID!
Friday June 26th 2009
While I was out exploring the park yesterday, my Wimberley Gimball Head came in the mail. The first words out of my mouth last night after coming home and saying hello to Cindy was "Did the Wimberley come in the mail?"
She told me it did but she had rode her bike to work and didn't have anyway to carry the box home with her. I thought I was going to go crazy and have to go up to the General Store to get it but she finally calmed me down and we just went to bed.
First thing this morning I was ready to head out for breakfast so I could get my new package. I was like a little kid on Christmas Morning.
Now remember we ordered the CineCity Gimball Head a few months ago thinking we would save some money and try an off-brand. It didn't take long before we realized that the CineCity was fine for using here and there, but 99% of our photos here in the park are with the long lens, and we'd rather have the best equipment on the market when we have this opportunity to shoot as much wildlife as we do. So we went ahead and ordered the Wimberley...The Crem-Da-La-Crem of Gimball Heads.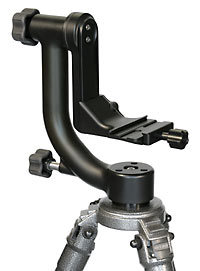 As soon as we got home from breakfast, I tore open the box and sat drooling over the craftsmanship of the Wimberley products.
I know it's hard to understand something like this unless you own one, but how do you describe a piece of metal as being Sexy, Smooth and Soft?
Compared to any other metal product I've ever felt, the metal on the Wimberley actually feels soft to the touch. The edges are ground smooth and everything fits like an Swiss Watch Mechanism. There is still something to say for American Craftsmanship and a small family owned company these days.
I've spent countless hours on the Wimberley website, but I'm one of those guys that wont click on web pages unless it's something I know I want to purchase.
Included in the box of Goodness was a full Wimberley catalog. Of course I sat flipping through the pages and found about 10 more items I've never even knew existed but have now added to the never ending list of products we want. Do yourself a favor, if you get a Wimberley Gimball Head for your long lens, dont look through the catalog they send you. It's Dirty Porn for us camera addicts.
While I was playing with our new equipment, Cindy was getting the stuff ready to head up to the town of West Yellowstone so we could open a local bank account.
Remember when we went into Bozeman last week and never ended up opening an account, well we now need to get this done so we have a place to deposit our tip money and send it home to our normal bank account.
We had planned on opening the account, then heading to a hike Cindy picked out that would be in that area and should have kept us busy for the rest of the day. That was before we woke up this morning to pouring rain.
We brought along all our hiking gear, photography gear (like we every leave home without it) and thought if we got up to West Yellowstone and the weather was nice, we would go out on the hike. If it was still raining, we'd just fool around in the small tourist town before we'd come back down to the Geyser Basin.
It never stopped raining and I think it was actually raining harder once we entered into Montana. So after opening the bank account, we headed over to the IMAX Theater to see if we couldn't waste away a few hours.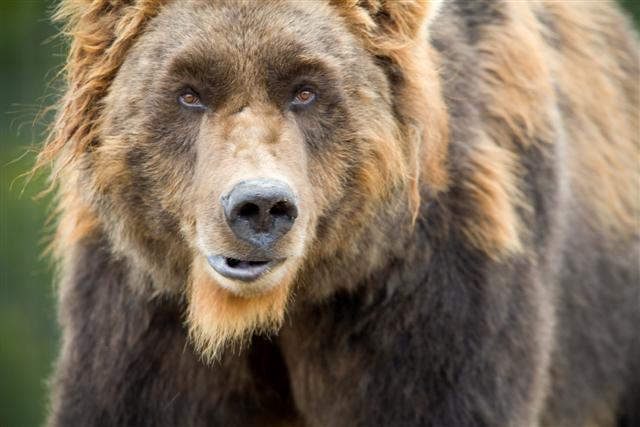 They were showing a film called Alaska which probably wasn't the best thing for Cindy and I to watch. We've been talking for years about heading up to the Great White North to spend a season up there and see what it's like. This film only fueled that urge and made us both realize we have to make the journey North as soon as possible.
It was an older IMAX film, but it was still very cool and my stomach dropped out a few different times when they'd be showing an angle filmed from the bottom of an airplane as it would cross over the top of a mountain range.
By the time we left, the rain had quit and the clouds were starting to break up. There was still dark clouds all around us, so we knew the hike was off, but right beside the IMAX Theater is the Grizzly & Wolf Discovery Center.
We thought we'd head over and see what they had to offer.
The Discovery Center has two separate enclosures for the animals. One that is specific to the Bears and one that is specific to the wolves.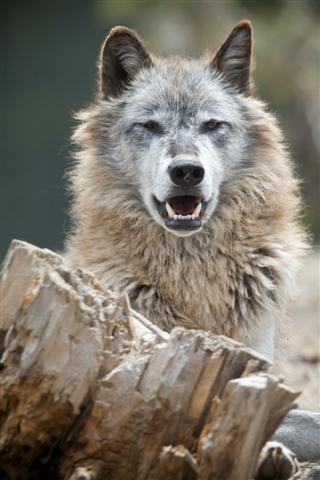 All the animals they have in the Discovery Center have been rescued from situations where the animals would have normally been put-down due to the circumstances. They're a non-for profit organization and have a great wealth of information on the local grizzly/wolf population, so we feel comfortable in recommending them if you're visiting the West Yellowstone Area.
When we first walked into the viewing area, I almost turned around and walked out. I thought there was going to be a 20' tall fence around the enclosures and taking any pictures would be impossible. If I cant take pictures, then I'm usually not interested in staying around.
Then I walked around a bit and found a large opening where we could see the animals clearly without any fences or obstructions in our way. The first two bears they had in the enclosure were sort of boring, but they have 7 bears they rotate into the enclosure so you have a chance to see them active and not just sleeping if you have the time to wait around.
If you've never seen bears before, they are probably lazier than our dogs are, and that's saying something! We've watched a few in the wild who literally lay down to eat and will sit in one place for hours without moving.
You should know that when you see pictures of bears moving or acting up, the photographers have waited hours to get those shots.
While we were waiting for the next set of bears to come out, we wandered over to the Wolf Habitat. When we saw the wolves in the enclosure, we knew what we had seen run through our campground a few nights back was more than likely a wolf.
I had been sitting at the computer when I saw, what I thought was one of our fellow campers dogs run through the campground. I yelled outloud "Jeesh, who is letting their dog run around the campground off a leash!?"
The next day we heard a few employees talking about the wolf they had seen around the camp ground the last few days. I didn't really put the two together till I saw the wolves in this Enclosure. They basically look like a shaggy lab or a big dog with longer hair and just like the animal I had seen run through our campground.
Without sounding like a total nerd, I should probably say that I've never been as happy with a piece of photography equipment as I am with the Wimberley Gimball Head.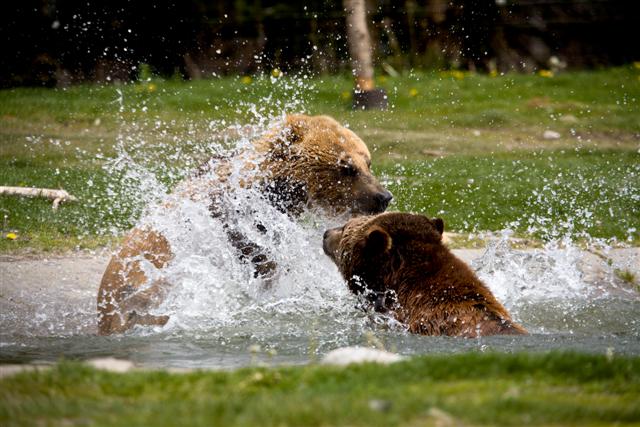 Today was the first time I've actually used one for any length of time, and all I can say is it's like comparing a Ford Mustang to a Ferrari Enzo. Both work, and do their job of going fast, but one does it so much more smoothly than the other. This is the way I compare the Wimberly to anything else I've ever used. Not even like comparing Ford to Chevy, more like comparing Ford to Lamborghini or Ferrari.
By the end of the day, I'd say I've now changed my mind and their not even really comparable. The Wimberley makes using the 11lb Canon 400 lens a joy to use and I'm now a full advocate for this combo.
As we were shooting photos of the wolves, we heard some commotion out in the bear area and headed back over to see if the new bears would be more active than the first two. They now had 4 bears in the enclosure and the next few hours was spent trying my hardest not to laugh too hard while snapping pictures the entire time.
3 of these 4 bears were playing so rough, you would have thought they were trying to kill one another. But once you saw they were just toying around, you knew it was just all good fun.
Two of the bears would run around chasing each other while one of them would use a small pine tree as the "Home Base"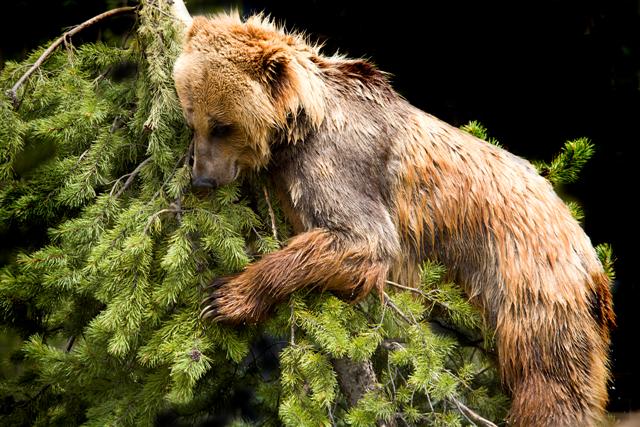 They would chase each other around the enclosure a few times before the smaller female would hide behind a tree. As the other Brown Bear would come running up, the blonde female would jump out from behind the tree that wasn't even really hiding her humongous figure.
They would take turns jumping into the small pond and wrestling like they were trying out for the WWF. If the play got too rough and the moans and growls got too loud, one of the larger bears would come over and join in which would break up the whole routine. They would all go their separate ways for a few minutes till the smaller bears would get right back at the rough housing.
As we sat watching, laughing and snapping pictures, I realized I had filled up my Compact Flash Card. I hadn't brought in my ThinkTank bag because I had no idea I'd snap this many pictures. I asked Cindy if she wanted to use the 400 while I ran out to the truck to grab the bag, but she said she liked her lens she was using.
So I looked around and walked up to the nearest guy who was shooting a Canon camera and asked him if he wanted to use my Lens and Wimberley Head combo while I ran out to my truck.
The guy I asked sort of shook his head and said "Ohh, Yeah, I'll use that no problem!"
I showed him how the tension knobs worked on the Wimberley and threw my camera down beside Cindy so I could run out to the truck.
By the time I got back in, the rough housing was over, so we sat talking with the nice couple who had used the lens.
I laughed because when I walked up to the guy and asked him if he wanted to try it out, his wife said right away, "What are you doing to my husband? Do you know how much this is going to cost me?"
They were from Indiana and here on vacation in their RV. We sat talking for awhile till the cool afternoon air moved in and we all said our goodbyes.
Cindy and I headed out and grabbed some lunch before heading back into the park.
As we got back into the truck, we saw a few bolts of lightening and it didn't take long before it started pouring again. It rained the entire way home and ended our day off. Tomorrow we go back to work and count the days till we can head back out.
Hopefully, we'll be able to bag a bunch of hikes either before or after work in the next few weeks and find some good wildlife while out on the trail. What we've found is if you get even a few hundred feet of any of the roads in the park, you have the trails to yourself. It's pretty cool to be able to be around civilization one minute and hike a few feet away from a major road and feel like you've been dropped into the middle of nowhere.
________________________________________________________
Total Miles Traveled for the month of June = 1703.2
Total Water Used in Coach = Hard to tell exactly because we were hooked up to a city water connection all month in the employee campground in Yellowstone?
Total Fuel Used in Truck = 65.18 Gallons @ a Cost of $177.22
Campground Costs - 30 Days total in a campground $195 total - This is because we were in the Employee Campground in Yellowstone all month and what our total came to for Fee's
No Propane Tanks Used this month, but then again, it was a warm month and we never had to turn on the heat. At the end of the month, neither bottles were showing empty.
Of the 30 days out of this month, all 30 were spent in the camper. 2 of those days were spent either Drycamping or Boondocking and 5 of them were spent in the Old Faithful Employee campground.
That brings us to 140 days so far this year spent in the camper and a total spent on campground fees at $313.
Return to Top of Page
Need Unlimited photo storage- FREE Trial of Smugmug