When we realize our insignificance in this world,
it some how relieves the pressures from society to succeed -
Cindy Bonish 04/07

Pat's May 2008 Blog
If this is your first time here, you might want to start from the beginning of our fulltime RV Journey with our Past Blogs
Photo Gear We Use - Solar Tips, Fact's and Trick's we've learned while on the road
Camper Check List - A list of things we do before leaving camp. Again, this isn't gospel, but its a good start for those who might not already have a list made up.

****
Thursday May 1st 2008 Back to Arizona
With the weekend fast approaching, we were up and ready pretty early this morning. Jeff and his family have made us feel so welcome here in their driveway, if we didn't have a commitment to be in Monument Valley on Monday, I'm afraid we'd wear out our welcome.
When traveling full time in an RV, it's very hard to do the basic maintenance with no home to do it out of. Spending the last few days at Jeff's house has caught us up with all our maintenance items I was wanting to do, and even gave us a chance to remodel a few things on the inside of the camper.
Darrel once told me "The RV Community is a different breed of people, they'll go out of their way to lend a hand to fellow RVer's in need."
Jeff Bettenga drove that fact home in the past few days and showed Cindy and I that perfect strangers can become life long friends in a very short period of time. I only hope that I project that type of kindness in return while I go about my daily tasks. Thanks Jeff for allowing Cindy and I to camp in your driveway for the past week and opening up your house and tools for us to use at our disposal!
When we left this time, I made sure I had raised the rear scissor jacks, the new ones that one of Jeff's friends, Mike had donated to the Every Miles A Memory cause. I even had Cindy and Jeff do a walk around the rig to make sure I wasn't forgetting anything this time.
So with a big, sad Goodbye, we pulled out and headed back over the big mountain range that would leave the Pacific Ocean out of our view for the rest of the summer.
We had forgotten how windy the drive up I-8 was and how many warnings we had received from readers the last time we were headed into California. Luckily we were only blown off the road a few times, and no damage was done to anything on the camper. We did love the beautiful boulder fields you drive through and both enjoyed the scenery on this section of the drive.
I had refused to fill up with California diesel which was tipping the scales right around $4.59 per gallon!! We did have to pull over and empty the 3 6-gallon fuel cans, the ones that we had in the truck filled with Mexican Diesel, into our tank, but when we pulled into the first station in Yuma a few hours later, I never thought I'd be happy to see $4.03 for the price of fuel. Who would think that 70 something miles would drop over .50¢ off the price per gallon.
While we stopped in Yuma to fill up, we also had to drop off some money for a camera I had bought online. When I asked the guy to overnight it to me by Saturday, he said "How are you going to get the money to me so I can mail it to you since I don't accept Paypal?" We had fiddled around with a few different ideas and when I told him I was driving to Phoenix, he said "My dad lives in Yuma, if you want to drop the money off to him, that would work."
So we met a total stranger in a gas station parking lot, handed him a few grand in cash and drove off. Not the typical sale one makes in this day in age, but hopefully our good fortune of trusting people will not fail us. I've always thought that if you trust people, you wont get ripped off. I know in the bar business, we did plenty of sales this way, held plenty of tabs on the back wall till that check would come in on Friday and actually sold the entire bar on a hand shake, so my luck is pretty good so far.
Once we were back on the road, we made good time and rolled into Phoenix around 6pm. A few hours late for Happy Hour, but Darrel was nice enough to wait for us.
Cindy had called to tell him we were coming into town and wanted to see if he was still in the Phoenix area. He had just got back into town a few days ago and gave us directions to the Elks Lodge parking lot he was camped out in. We told him to try and wait for us and dropped the hammer on Big Bubba excited to see a good friend.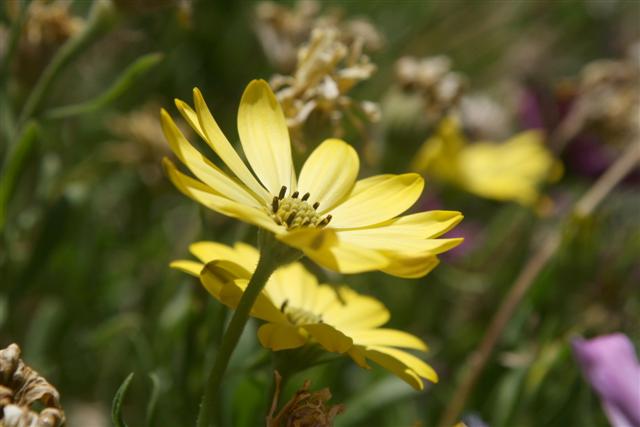 Once we pulled in and stretched out, we spent the rest of the evening catching up on the past few months apart from one another.
Darrel told us he has purchased a new coach and will pick it up in a few weeks once it's finished being built. He had just flown back into town from visiting the factory where he watched his new house roll down the assembly line.
From the details he told us of his visit, Tiffin makes one high quality coach. He told us all about the new details of this beautiful RV and you could see the excitement in his face when he described his beautiful new rolling home.
His son Scott stopped by with some fresh grilled pork tenderloins he had cooked up for dinner, and his son Cody, who loves our dogs tried his hardest to wear them out while taking them for a run.
How wonderful is that to be amongst good friends, have some food brought over from a wonderful chef and be sitting out in the beautiful Arizona weather? If I forgot to mention, the temperatures here are in the 80's and everything is in full bloom.
I've never seen so many cactus in bloom in my life. The dried up, spiky looking plants now look soft, fuzzy and bright, glowing green with fresh flowers dripping off of them. I cant wait to get up to Monument Valley to see everything in bloom in the desert!
Friday May 2nd 2008
Before we had left for Mexico, we had emptied out the bed of our truck from anything that had to do with winter gear and stored it over at a friends house in Phoenix.
I had forgotten how much crap we had with us, and today was a test of fitting 10 gallons of junk into a 8 gallon bucket. I've come to the conclusion that we need to get rid of some stuff again.
The longer we stay on the road, the more streamlined we become. The less stuff we need and the more we realize we can get by with just the basics.
After a day spent packing and re-packing the bed of the truck, which I know will be done a few more times in the next few days till we get it perfect, we headed back to the Elks Lodge so we could go over to Darrel's sons house for dinner.
Scott had invited us all over for a dinner party and I couldn't wait to taste his cooking. Darrel has always raved about Scott's ability to whip up an amazing meal, and the few times I had tasted some of Scott's dishes, I couldn't wait to sample a full blown dinner.
Being around a family setting is always nice for Cindy and I. We're both very family oriented people and being away from our own family is something that is very hard for us. Staying with Jeff and his family in San Diego made us feel very home sick for those family get-togethers we were so used to back home in Michigan.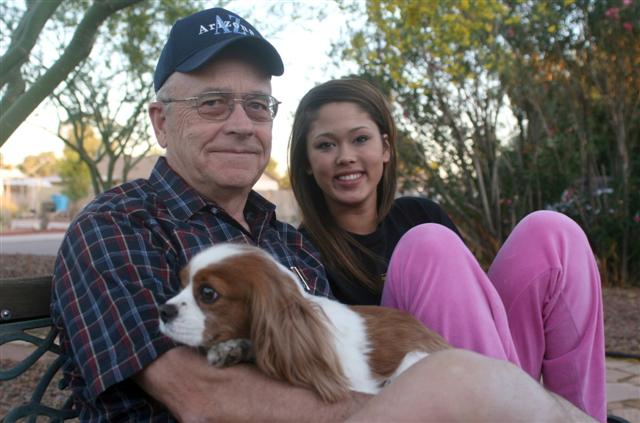 But being able to be around families and enjoy wholesome company is a good thing that Cindy and I both enjoy very much. So we're love every chance we get to spend time in situations like this. Scott's family is great and we had a wonderful evening.
Scott and his wife Yumi have two wonderful kids who are very well behaved. His daughter is beautiful and very grown-up for her age. She is taking a photography course in school, so we had some great conversation about photography and I was able to see a few of her pictures. Very nice work! I always enjoy looking at other photographers images as there is always something to learn from studying others ideas.
I was a little nervous when Scott said he was going to cook some crab wrapped in fresh halibut. Cindy and I aren't big fish eaters, but when I smelled the food in the oven, my mouth was watering.
Scott lived up to his fathers bragging as his dinner was one of the best I've had in years. Something I'd pay $100 for at a fine dinning restaurant without blinking an eye. When Cody, Scott's son said he wasn't going to fishing clean his plate, I dumped everything off of his plate onto mine and cleaned both of them. If anyone else wouldn't have finished theirs, I would have done the same thing. It was that good!
The amazing food mixed with the great company and it was an evening one could only hope would happen night after night.
Thanks Darrel for allowing us to share some of your family time and thank you Scott for such a wonderful meal. The Dittmer family is top notch people and know how to make their guests feel welcome.
Saturday May 3rd 2008
Living in a 25' camper, you can never have enough storage space. I had mentioned that when we picked up the items we had put in storage, I was hesitant to even put them back in the truck.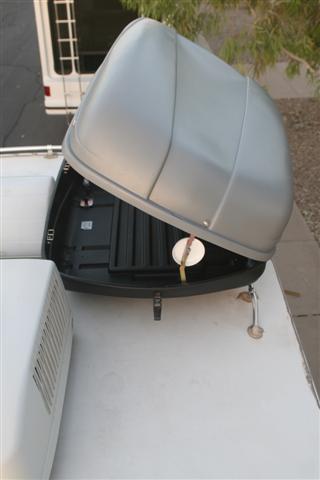 We have a few big Rubbermaid bins in the bed of the truck for our winter gear. We also keep one big bin filled with camping gear, the real camping type. I know some people call what we're doing camping, but when I think of camping, I think of a tent and a sleeping bag.
Well we keep a 4 season tent, two sleeping bags, sleeping pads and a host of other gear in the bed of the truck. You never know when you might want to take a day trip that would require you to camp out, and since we already owned all this gear before this adventure started, we thought we'd bring it along.
I've been thinking of putting a storage bin on the roof of the camper for gear like this, the stuff that isn't always used on a regular basis, but still needs to come along for the ride.
Problem is with our limited budget, I didn't want to go out and buy one of these bins because of their high price tag. I always keep looking around for a good deal, and yesterday I was looking through Craig's List, and found on for $75 right here in Phoenix. That's a great price since Sears has a new one listed at $250 and a few of the other sporting good stores have the Thule or Yakima models starting in the mid $300's.
I called the guy up and told him we'd be there within the hour to pick it up. Deals like this you should never pass up.
Darrel offered to drive me up to Peoria since the bed of our truck is loaded right now. So we had a nice drive in his new Jeep and tested out his GPS. He's still learning it since he just picked up the Jeep last Friday.
After we got the cargo bin, Cindy and I were headed over to Nancie's house when she called to let me know that she had just ran to the store for 5 minutes and missed the Fed-Ex shipment that was delivering my new camera. Murphy's Law!
So Cindy and I drove to the Fed-Ex office and grabbed my new baby. Oh boy am I excited! We stopped by Nancie's house to pick up a few things that had been mailed to us from my parents and some other stuff that had been ordered through the mail.
I joke with Nancie that her postman must be curious as to this boyfriend she has that gets so much mail delivered to her house, yet is never around?
After a nice visit with her, Cindy and I headed back to our camp spot so I could install the new cargo box. I know it aint gonna look too pretty, but at this point in the trip, with the bike hanging off the back, the top of the truck loaded down with kayaks, spare tires and all sorts of other gear hanging off the rig, I think we've dropped out of the race for the prettiest camper contest. Now we're just going for functional. If it works, I'll take it, if it doesn't work, no matter how pretty it is, I really don't want to lug it around.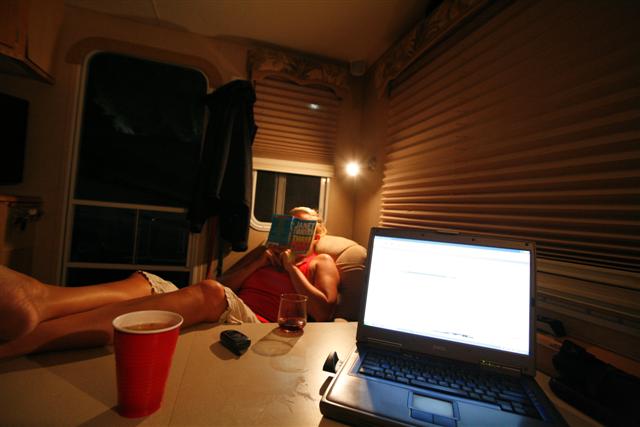 While I was on the roof bolting it down, Cindy and Darrel cooked us up some scrumptious dinner.
Darrel had a Tri-Tip Steak simmering on the grill, and Cindy whipped up a salad and sautéed some mushrooms in a beer/wine sauce.
We ate like Kings and afterwards had to do a few extra laps around the parking lot with the dogs to try and wear off some of this glorious food. I finished off the night emptying the back of the truck about 10 times to pack, and repack everything in some sort of order that it would be all accessible.
The new roof top cargo bin allowed us to empty two of the big storage bins out of the truck, so rearranging everything was quite the chore. Darrel and Cindy sat by watching, offering suggestions on ways to save space, and as soon as I can get ahold of some tools, we think we might have come up with an idea to build a nice slide out rack to hold the two generators.
I'm sure gonna miss Darrel, but it's nice to be able to meet up with him every few months and rekindle our friendship. I think hanging out with him really makes me a better person. He has such a great outlook on life, I learn new things each time I sit and talk with him.
As many of you know, my brother and a few others put together a small entertainment magazine back in Michigan. I write some articles for it and have done countless interviews throughout the past 5 years. While Cindy and I were home over the summer, we were back in the Red Dog one night (Imagine that) and I got to talking with a young guy that I've known for years.
He had joined the service and become a Sniper for the Military. While talking I said how cool it would be to do an interview with him for the Smalltown Lowdown. He said when he got back from his leave, he would check with his superiors and see if he would be able to answer questions for us.
We've spoken back and forth online, and finally in the May Issue, we were able to print the interview. I know it doesn't have too much to do with this website, but it is a cool interview for those who have ever wondered what it must be like to be the military's most cost effective weapon.
If you want to read the interview, Click Here. I know I've said it a million times, but if I have to I'll say it a million more. "Thank you Kyle for what you are doing, and thanks to all our troops who are risking their lives for out country. Please come home safe! Our prayers are with you!"
Sunday May 4th 2008 Headed for Monument Valley
Even though we move non-stop, the last few weeks has been traveling down roads we've already been on. Sort of backtracking if you will. We've also been on interstates way more than I like to be.
There was really no way to get from San Diego to Phoenix without taking I-8, so we had to do that one. But I was jonesing for a new two lane road into some uncharted territory.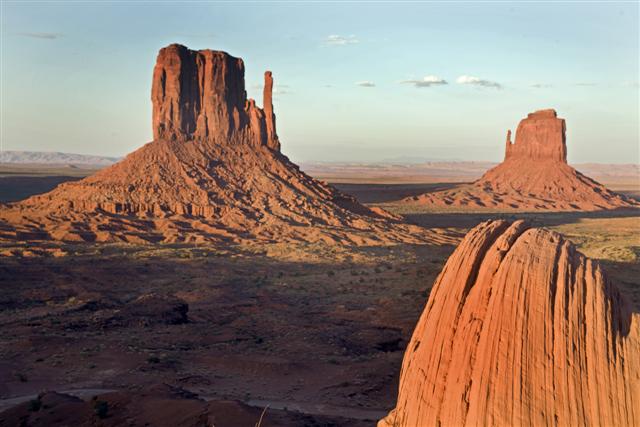 Monument Valley is one of the Holy Grails for photographers. It is on the Top 10 list of almost every book I've ever read on places to see before you die. Knowing that I had a new camera, new roads to travel along and a group of interested photographers to meet when we get there, I was chomping at the bit to get going.
We were out of bed and getting packed up by 6:30am this morning. Not that it meant we were on the road early. We had to go empty the tanks, refill one propane tank and fill up with fuel before heading North.
Once on the road, I found a good driving station, some Outlaw Country on Sirius radio, and dropped the hammer. Cindy was conked out by the time we hit I-17 North, so I sat singing to the dogs who didn't pay too much attention to my horrible voice. Cindy on the other hand could sleep through an earthquake, so I had no worries of waking her.
She finally woke up when I-17 dead ends in Flagstaff and the highway turns into a real road. Two lanes of smooth asphalt with no stripmalls or any other chain restaurants to clutter up the views.
Nope, from here on up we just had beautiful vistas as far as the eye could see with dark blue sky and finally some big fluffy clouds. I'm sick of blue sky and only blue sky. I need a change of weather. I enjoy weather, clouds, rain, fog or anything else to change the views we travel through. Blue sky day after day can get boring just like Gray sky can drive a man to drink in excess. This is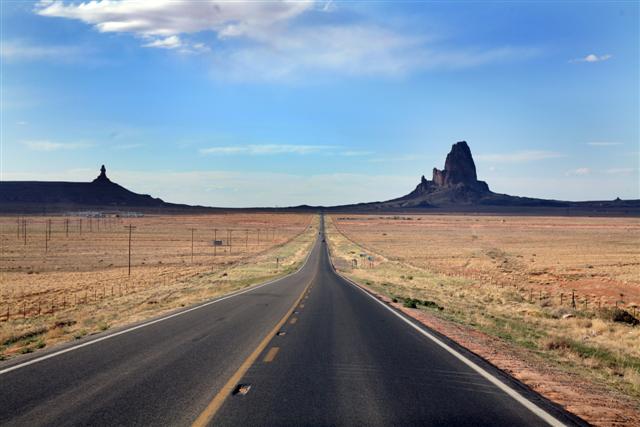 why people in Michigan drink like fish. The sky is Gray from November through March with only a few days of sun to remind you that you haven't gone completely mad.
Don't ask me why people in the West drink like fish, maybe the non-stop blue sky makes them drink more, or at least gives them some excuse to knock a few back.
As the elevation got higher, the scenery only got prettier. Cindy was wide awake at this point and now that I have my own camera, she was back to holding hers on her lap at the ready. I like it when she takes pictures because she is so good at it.
To ask her, she'll tell you that she has no idea what she is doing, but she has an eye for composition and I like to see her as excited as I am when we're driving through a new area.
We were only 20 miles from where Monument Valley was supposed to officially start, but I think we pulled over 10 times to snap pictures of the amazing roadside vistas.
By the time we finally pulled into the Indian Campground which is also the start of the Monument Valley Scenic Drive, the sun was setting and we had those last few minutes of twilight to get some more shots. Looking over the edge at the visitor center, I was awestruck at the view.
Every now and then I have to pinch myself to let my brain know that what we're doing is real. Looking out over the Utah valley, I could have been dreaming and not been able to come up with something this spectacular.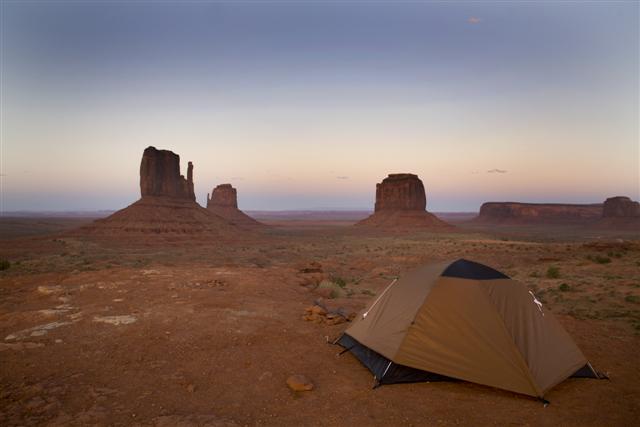 When we finally pulled into the campground, I laughed at the sight of 25 rental campers. Since everyone always thinks our travel trailer is a rental because of all the logos on it, I thought we'd fit right in for once. Most of the rentals were housing German tourists, and they got a kick out of our rig. 3 different people walked over to take a picture of this rolling fun mobile loaded to the limits with too much stuff.
While Cindy cooked us up some dinner, I downloaded our days pictures. Something tells me I'm going to have to work on my skills with this new camera. The reds are so red here in Monument Valley, the images look totally fake straight out of the camera.
I showed them to Cindy and she said "You're going to have to tone those down, everyone will think you Photochopped the colors." Unless you've been here to see first hand how deep red the sandstone is, I'll let you know right now that I did tone down some of the colors, just to make it look a bit normal. But in real life, the rocks are almost a burnt orange in color. Add a setting sun to the spectrum, and they take on a glowing reddish orange color.
We're going to bed early so we can be up to try and see the sun rise over the valley floor. Thank you God for allowing us to see such beauty day after day. I don't know what I did to deserve this, but I'll take all I can get while you're still offering. Heaven knows we're only here for a short time and no one knows when we'll get snatched away from it all.
Wednesday May 7th 2008 The Beauty of Monument Valley
The past few days have been a dream come true for me. I've always wanted to be able to photograph the beauty of Monument Valley, and being here is better than I could have imagined.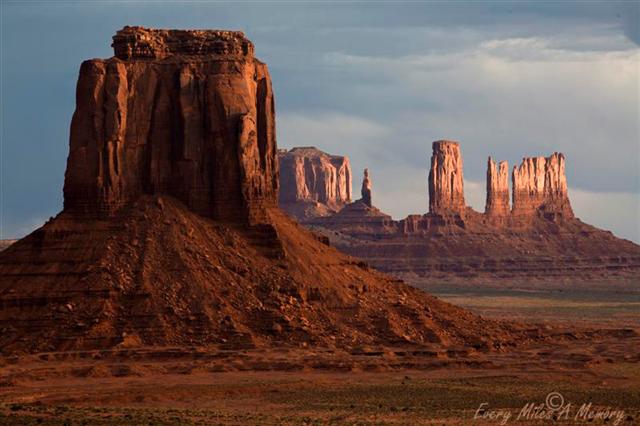 From early morning sunrises, to the long shadows of the late afternoon sunsets, the views are impossible to capture on film and have them look anything like they do in real life. But believe me I've been trying.
Steve Bingham was the professional photographer who put this little photo seminar together, and boy am I glad he did. I jump for any chance to better myself when it comes to photography, but what I really wanted to learn from Steve is some tips on his expertise of Photoshop.
Steve is very funny to sit and listen to, and his great sense of humor makes learning new tricks very easy. With arthritic ankles from a youthful career of motocross racing and a messed up equilibrium from a recent ear injury, this 72 year old photographer walks like I do after a 12 pack of Coors Light.
But his sense of humor is that of a energetic teenager and he's more than willing to teach many of the tricks he's learned on his way to a Professional Photographer.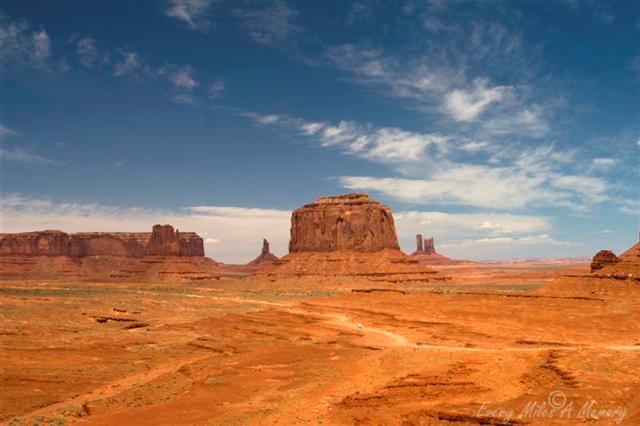 After sitting with Steve and a few of the other photographers yesterday for only a few hours, I've learned a few tricks that I've been struggling with for months. Its so much easier when you have a professional show you some short cuts.
As for my new camera, boy is it different than my old one. The Canon 5D is a full frame digital camera rather than the other models that have a crop factor involved in their image sensor. This means that my wide angle lenses are what they are really supposed to be, VERY WIDE!
After my first day of shooting, I think I deleted 90% of my images because I wasn't used to the settings of this new body. By the second day the quality of the images had improved 75% and as of today I'm pretty comfortable with the inner workings of my new baby.
As for editing the images, being as my old camera was only a 4.2 megapixel camera, and this new model is a 12.8 megapixel, working on the images in Photoshop has rendered my laptop almost useless. What I thought used to be a fast computer, has now turned into a 'Oh So Slow' dinosaur.
I guess like all technology upgrades, when you move up on one side, you have to up the size and speed of everything else to go along with it.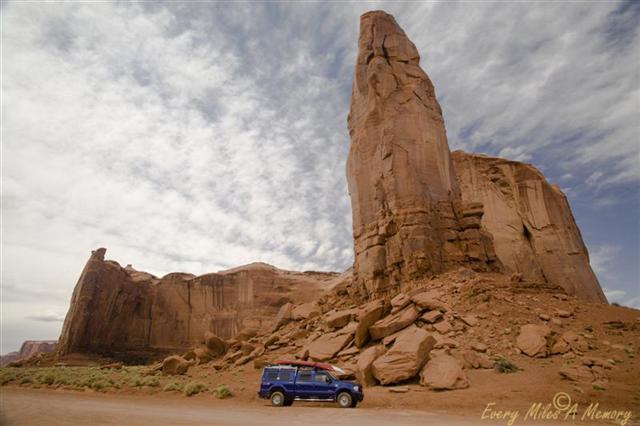 As for photographing Monument Valley itself, all I can say is driving along the bumpy, dusty road that winds its way through the bottom of the valley floor is a humbling experience. There are breathtaking views 360° around you, and the towering buttes change every day, so the photo opportunities are endless.
Another thing that has struck me as strange is the weird weather. Our first day was beautiful with only a few clouds in the sky. The second day some clouds rolled in just after sunrise and made any chance of a good sunset impossible. On our 3rd day, it went from mildly cloudy during the morning, to a wild wind storm that did its best to blow us off the top of the butte were camped on.
With winds around 50mph, a fine layer of sand pelting the side of the camper, and even a few heavy rain drops thrown into the mix, we've seen just about every type of weather I think we could see in a few days time.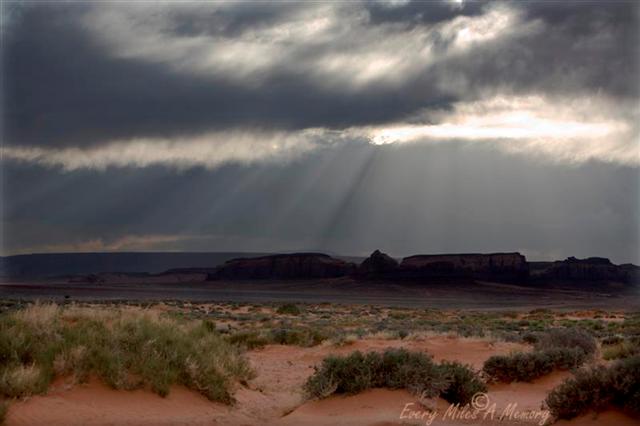 Cindy decided she didn't want to get up with me this morning for sunrise photos, so I wandered around some back roads trying to find a different angle than the typical views the loop drive offers.
While driving some of these dirt roads and sandy two track trials through the Navajo reservation, I did see a rattle snake that had been run over, and found some abandoned cars sitting out in the desert. I enjoyed the time to myself with the eerie quietness of the open landscape. I was standing in the middle of the valley just looking around for about an hour before I realized how long I had just been sitting still looking.
I don't know if I was looking at anything in particular, just everything around me. Words cant describe the beauty, and I'm not that talented of a writer to even try and put my feelings on paper when subjected to this type of scenery. I can understand why the Native Americans hold so much of this land sacred and fought till their deaths to try and keep us from developing it.
It's hard to wander around and not find cool things to add to the composition of the photographs. But I didn't take too many photos this morning, mostly just sat taking it all in by myself.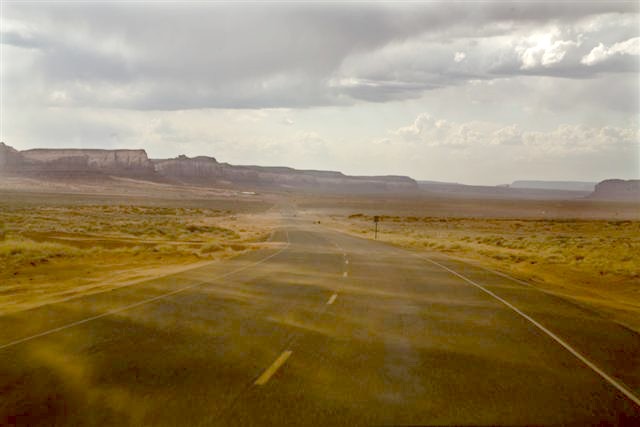 Once the morning picture taking session was over, the 7 of us gathered around our camper and spent the beautiful afternoon swapping stories on photography and traveling in general. I sure do like it here and the company of fellow photographers only adds to the experience.
Then just like the last few days, the beautiful morning sun went behind some afternoon clouds and a nasty wind storm blew in. Now when you get winds back home, it might just blow some leaves around and rattle some shutters.
When you're camped at 5800' and surrounded by open desert, a wind storm becomes a serious event. But as the campers were getting their surfaces pelted, our group of photographers loaded up into two trucks and headed over to Utah to visit Valley of the Gods.
This scenic park is much smaller than Monument Valley and much less visited. Don't let the small attendance fool you, Valley of the Gods is very beautiful and the best part about it was during the 17 mile loop road that intersects the Park, we only passed one other vehicle.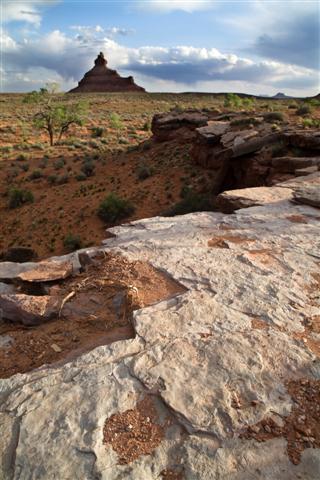 It's BLM Land, so you can camp right in the park and there is numerous campsites along the road. With so much stuff to visit within an hours drive of this area, we think we might come back and use this as a base camp for many other one day excursions.
Talking with the fellow campers, we were told of numerous hikes, ruins and 'Must See's' that were all within an hours drive of this Four Corners Region. Hopefully once the crazy spring storms blow out, we can return for a few more weeks to really explore this area in more detail.
I know I could spend an entire summer in this area alone and not get bored with the beauty.
Valley of the Gods was great, but I never got a good photograph of the dozens I took due to the clouds and funky lighting. Next time I'll wait around till I do.
Thursday May 8th 2008 Leaving Monument Valley for Page
The photography group got together in Steve and Bobbies camper this morning and critiques each others pictures. We all brought in some of our images from the last few days and had Steve tell us what he would do to make them a better shot.
I love to see other photographers images from the same place I've been to. Not only to compare them to mine, but to see the same place from a different perspective. Many times someone might have an image of the same subject, but make it look completely different. This I learn from and it reminds me to always look at each subject from multiple angles.
After our critique session, where Steve thought he was commenting on one of my images before I told him "That's not mine, it's Cindy's." He stopped, looked over at Cindy and said "WOW, I didn't know you were better than your husband at this stuff!"
Everyone decided that the weather was just too crazy here and we should leave to head farther South to Page Arizona and Glen Canyon. When we had walked into Steve's camper, it was nice and sunny with big white fluffy clouds.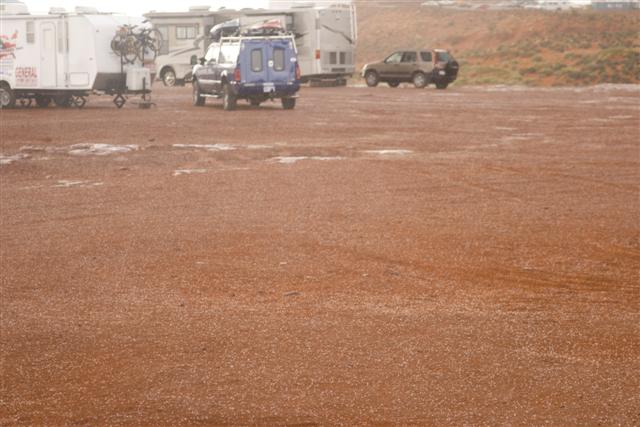 While we were in there, maybe an hour and a half total, it had rained, very hard for a short period, then hailed, and by the time we were finished, it was back to sunny and windy again and we were being pelted by sand as we packed up camp.
That picture is the ground littered with tiny hail stones during one of the freak storms that would blow through.
Driving over to Page, the scenic byway of HWY 98 is a postcard in itself. This whole section of Arizona and Utah is just heavenly when it comes to the vistas.
We pulled into Glen Canyon Recreation Area where the weather was sunny and warm overlooking another postcard scene with Lake Powell below us.
One of the other photographers, Bob, a solo RVer who travels alone in his homemade truck camper had split away from the group and headed North towards Moab. He is going to be work camping this summer in Colorado on the tallest peak Colorado offers, and didn't see any use in heading South, just to turn around to head North again.
But there was still the other 3 couples, and Steve and Bobbie, Bob and Diane and Cindy and I all settled in for the night. We unpacked the camp chairs and circled around the fire pit.
We uncorked a few bottles of wine, brought out a few cold beers and entertained each other with some great conversation. We actually sat up talking till the wee hours of the morning until that cool desert air had all of us wanting those down comforters. Boy did we share some great memories from childhood and past adventures we've all taken.
Friday May 9th 2008
Talking with so many people in this area, there was one place that has come up over and over. The Wave! This place is so coveted in the hiking, photography and adventure guide books, that many will travel from around the world to get the chance to experience it.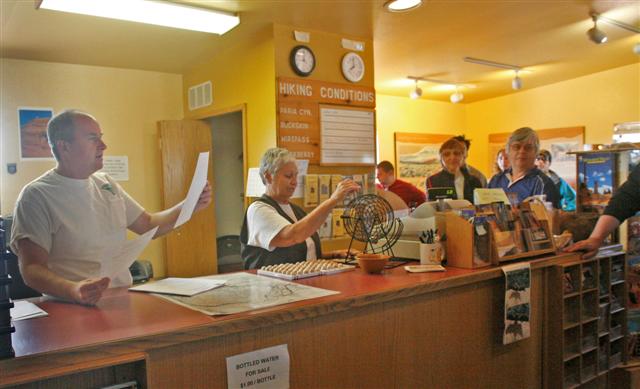 There are only 20 people allowed to hike The Wave per day. 10 reservations can be made online, most needing to be made up to six months in advance, with the other 10 lucky hikers being drawn each morning at the Ranger Station in Paria.
There can be anywhere from 100 people to only 30 that crowd into a little block building to fill out their paperwork so their name can be put into the daily lottery.
The lottery is drawn while you wait at 9am each morning. If you're party is picked, then the following day you will get a back country permit and be one of the few who can brag about hiking The Wave.
Cindy and I were up early driving the 30 miles towards the Paria Ranger Station where we planned on taking our chances with this lottery. I guess for every day you show up consecutively, you get another chance at your name being called.
So if we don't get picked this morning, then tomorrow well get two chances. When we pulled into the dirt parking lot, there were already dozens of people milling around waiting to see if they would be that lucky hiking group.
There were adventure seekers from all over the world. Of the 71 people that were here this morning, only a few were from the United States. One was a fellow camper that we had shared a bonfire with a few nights ago in Monument Valley.
When the clock struck 9am, the room quieted down while the rangers explained the rules. Everyone had a number, a bunch of wooden balls all numbered would be placed in a wire ball and 10 hikers would be drawn. The ranger explained that some people had been coming for the last few days in a row, so a few individuals would have multiple numbers.
This is where it gets tricky. Each party gets a number. So if Cindy and I are picked, we're counted as one party and take up two of the 10 available slots. If another party has 8 people in their group, then those would be the only two numbers drawn. Say a group had 9 and there was one more number to be called, if the next number that was called had two people in their group, only one would be allowed to go. I know it sounds confusing, but read it a few times and it'll make sense.
This was the case that happened today when a German couple that was standing beside me was chosen, but there was only one available slot left. You can either give up your number, or chose to split your party up and go alone. One couple had already given up their number and said they would be back the next day.
This German couple had been coming to the morning lottery for 5 days in a row, and said "One of us has to go, we leave for home on Monday."
I was talking to Darwin, the camper we had met in Monument Valley when he asked if I would be interested in joining him tomorrow? Apparently he had been chosen today, but his wife had fallen yesterday while hiking another trail and wouldn't be able to hike with him due to some bruised ribs.
I mentioned that since the German couple was on their last chance to go, and only one of them could go, maybe it would be better if he brought one of them with him so they could go together. I thanked him for the amazing offer, but said I'd feel guilty going when Cindy and I can wait here for a few weeks if need be. This couple had flown half way around the world to do something that I could take my time to accomplish.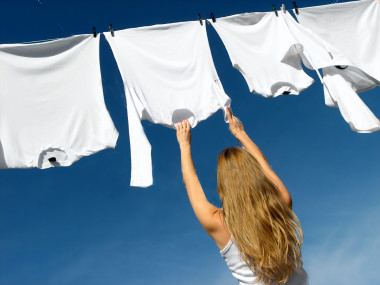 As I walked over to Cindy who was waiting in the truck, I hoped that they could work out a deal so the three of them could go together. It's only what I hope someone would do for me if the tables were turned.
The rest of today is a Laundry day. After the stay in Monument Valley, the inside of the camper looks like a red dirt bomb has been exploded inside. Sheets are pink, the floor has a red tint to it and clothes that could normally be worn for a few days before being washed, were tossed into the hamper after only one afternoon out on a trail.
I feel bad for who every washes their clothes after us. Hopefully they'll be doing a black load and not ruin their whites.
Tomorrow we'll go back for another chance with The Wave Lottery, followed by a hike in Utah in the Buckskin Gulch. Slot canyons, tide pools and amazing photography opportunities are in store for us for the next few days.
Saturday May 10th
Hiking Lower Hackberry Canyon & the Cottonwood Narrows
Rather than keep wasting diesel fuel to go enter the lottery, I got the motorcycle down and rode by myself to the Ranger Station this morning. Man I missed riding this thing for the past few months. Driving a vehicle can almost be done on autopilot and my mind tends to wander thinking about all sorts of different things.
Riding a motorcycle demands your utmost attention, and is one of the few times my mind thinks about nothing else but the task at hand. I love to watch the pavement 10 feet in front of the front tire and I'm always amazed that at 60 miles per hour, how many details you can pick out of it.
These back roads along the border of Utah and Arizona are meant for motorcycles with nice long, smooth straight-aways breaking up the tight mountain curves. I was glad Cindy stayed back at the camper so I could open it up and have some fun. I'm not sure how much the bike liked the wide open throttle after two long months of rest, but if the motor was straining, I didn't notice.
My luck was no better this morning with the lottery for The Wave, but it only gives us more time to experience the many other hiking trails this area has to offer.
By the time I got back to the Lake Powell Campground, Steve and Bobbie were loaded up and just waiting for my return before they shoved off heading for home.
We thanked them for the great weekend and made promises to keep in touch. Steve was cracking me up when I helped him load his big 100lb dog into the back of his Suburban. He said "Boy, we should travel together more often. We make a great team. With my brains and your young muscles, think of all the fun we could have!" I like this guy very much and his constant sense of humor reminds me of my late grandfather who I very much looked up to.
I don't know why, but I've always gotten along with people twice my age. I guess I love to learn and I find it fascinating the wealth of knowledge that can be absorbed from people who have already been out there doing what we enjoy doing.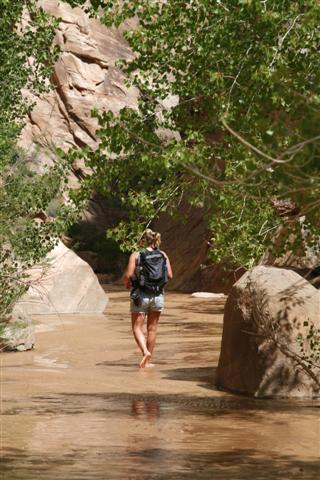 Once the goodbyes were over with, Bob and Diane said they were heading into town and Cindy had us all packed up for our days hike. We made plans to meet up this evening for dinner or maybe another bonfire if the winds would allow it.
Cindy and I headed up HWY 89 till we found Cottonwood Road. This dirt road intersects the Grand Staircase of Escalante National Monument with amazing views in every direction. After leaving Jeff's house in San Diego, the truck looked as clean as the day it rolled off the dealers lot.
It didn't take but a few miles of rough dirt road before it was back to the dust covered dirt ball it so likes to be dressed up as. The rough washboard roads made me think we were back in Baja and I remembered the front steering stabilizer that we think might be broken.
15 bumpy miles later we found the trail head and loaded up the cameras. This hike was described as a 2 mile hike up a wide canyon that follows the mountain stream. It said that it could be hiked barefoot if the water was present, but who would hike a trail barefoot?
A few hundred yards into the trail, we noticed a pile of shoes and boots up on a rock. After another few hundred yards, Cindy announced "I'm taking my boots off! This ankle deep water flowing over the soft sand just looks too inviting."
So we both sat on some big rocks and shed the hot boots and thick hiking socks. The water was so warm, it felt surreal to put your feet into it. The cold, soft sand squished between our toes as we hiked up the beautiful canyon and I kept thinking to myself - 'Now this is hiking!'
We hiked for a few hours with the only sound being the birds that nested in the steep canyon walls and the cool mountain water trickling over the rocks. When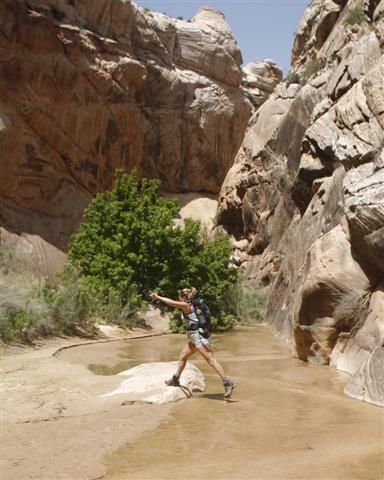 you would have to walk out of the water, the sand in the shade would freeze your feet, but once you could get back in, the warmth of the stream would bring them back up to a comfortable temperature very fast. We joked that we were not only getting a great hike out of this trail, but our feet were getting exfoliated in the best way I could think possible.
We met some fellow hikers along the trail who told us once the trail made the next turn, the water stopped and the canyon widened. The 3 women all noticed our barefoot hiking apparel and commented how nice that must be.
As they walked away with heavy hiking boots and thick socks soaking wet, Cindy and I questioned why they wouldn't just take off the boots if they were going to hike down the stream anyway? When we asked what the trail was like up ahead, they said "The sand was brutal and the heat was similar to sticking your head in a blast furnace." We stopped and had some lunch before we turned around to hike back to the truck.
Of the hundreds of miles we've hiked, this was probably one of the most picturesque trails we've been on. I'm always amazed at the diversity of the hikes around the country. We've hiked trials like this in the Smokey Mountains, but you could never put your feet in the icy water for fear of frost bite even in the middle of summer.
When we finally stopped to put our boots back on, my feet were all pruned up, but yelling at me "NO, don't cover me with those heavy things!"
Once back at the truck, we refilled our water bottles out of the big water jug in the bed of the truck and bounced up Cottonwood Road another 10 miles till we found the Cottonwood Narrows trail.
This trail was described as a hike through a narrow Navajo Sandstone canyon that is phenomenal for pictures. It was very beautiful, but the sand was very deep and the late afternoon sun was making me sweat like whore in church.
I think we had gotten spoiled on our first hike and should have taken this one first, with the cool hike in the ankle deep warm water as a afternoon dessert.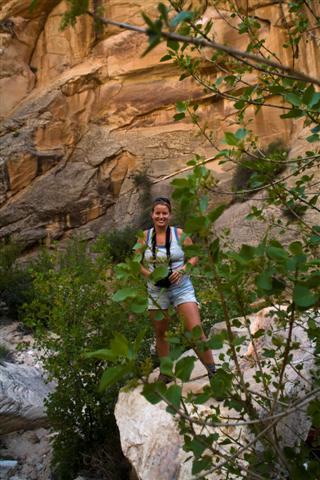 After bouldering over some monstrous fallen slabs of sandstone, me tearing my pants on a sharp stick that tried to impale my thigh, and post-holing through the deep sugar sand, we turned around after only one mile.
Driving back down the bumpy road, I could tell Cindy was going crazy. Normally after a long day of hiking, she's asleep before we get out of the parking lot. But this time the road was too bumpy and curvy for her sleepy eyes to get any rest.
Every time I would see her head start to bob, we would hit a big section of washboard, and she would wake up. Finally I think the sleep overpowered the bumps and her head sat bobbing around on her shoulders through even the roughest sections.
By the time we got back to HWY 89, I was ready to kiss the smooth pavement. So much for a clean truck, as the thick dust was now hiding any wax Jeff had applied back in San Diego.
The rest of the night was spent visiting with Bob and Diane in their big Motorcoach. Tomorrow they leave for home, and Cindy and I are going to move closer to the Paria Ranger Station so we don't have to drive 30 miles each way for The Wave lottery.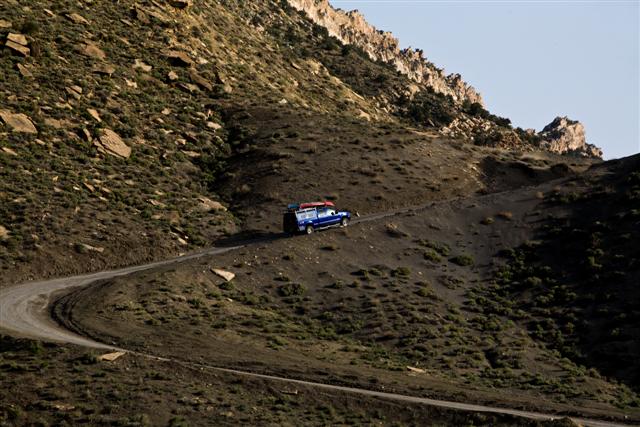 One of the many 10% grades on Cottonwood Road
Sunday May 11th Happy Mothers Day!
We had packed up camp 90% last night, so all we had to do this morning was hook the truck up to the camper and raise the jack stands and we'd be ready to go.
We said goodbye to Bob who was out doing his last minute preparations before heading home to the Phoenix area and we were on the road by 7am.
Driving along the highway into Utah, we noticed a solo bicycle rider packing up his gear from last nights camp. We had spotted this guy riding along the highway on our way back from Cottonwood Canyon last night. He towed a little trailer behind his well worn road bike that was loaded down with camping gear. I looked at Cindy and said "Now that's traveling light!"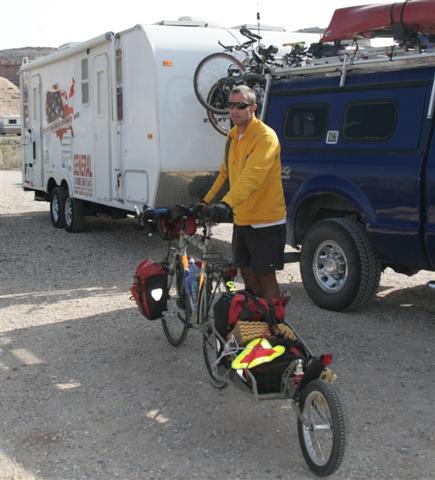 I'd like to say that we won the lottery this morning, but this is why I refuse to waste my money on lottery tickets...I never win! When we came out from the Ranger Station, the bike and trailer were leaning up against a pole beside our truck.
Cindy started talking to Danny, the owner of the bike and pretty soon we were listening to one of the best stories I've heard in quite some time. This guy was circling the lake, all 800 miles of it in 7 days time! That's over a century (100 miles) per day, and he was 80% around the grueling loop.
He told us that once he finishes riding the loop, he was going to hike the entire Buckskin Gulch in one day since the overnight passes are sold out for the next six months. When I asked if he knew the entire length was over 20 miles, he shrugged his shoulders and came back with a cool reply "Yeah, it'll be a hard days hike, but wouldn't that be cool to do it all in one day!"
Danny told us about his winters spent following the powder in the mountains so he could feed his insatiable ski habit and his summers spent around the Four Corners area following the many different sports this area has to offer. In the fall he heads home to Massachusetts where he works through the fall raking leaves before heading back to the mountains for the winter.
What a way to live life and see the country. We offered Danny numerous high protein foods to help out with the muscles that probably never got enough food, but he said his jar of peanut butter and supply of apples was enough to get him to the next town. We wished him luck and he rode away heading up the side of a long mountain climb.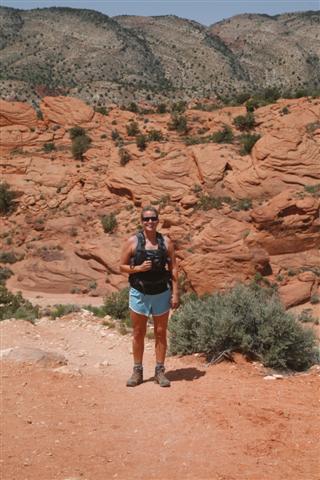 I thought back to him saying "It's all mind over matter, you just need to trick the brain when you have those long climbs ahead of you!" You go Danny!
Only 2 miles down a washboard road right beside the Paria Ranger Station is the Whitehouse Trailhead that has a dirt parking lot/campground. We set up the camper beside a giant white rock that I'm assuming gives this area its name, and loaded up the backpacks for another day of hiking.
One of the guys we had met in Monument Valley had told us about the Coyote Buttes Trail. Scooter and his boyfriend were the ones who had told us about The Wave, but they also told us that the Coyote Buttes trail was just as good, if not better.
So we drove the few miles down another dirt road to the trail head and headed out in the brutal heat of the noon time sun. The first mile was nothing but pure torture. Hiking with a loaded backpack in soft sugar sand is not fun, I don't care how beautiful the surrounding views are.
But once you get onto the hardpack surface of the sandstone, the hiking becomes 100 times easier. Hiking through the Coyote Buttes is what I would think the surface of Mars would be like. I'd love to come back in the winter to see the contrast between the red sandstone covered in a bright layer of white snow!
The deep red sandstone resembles a candle that was left burning for too long. The earth looks as if it has melted on top of itself and except for the random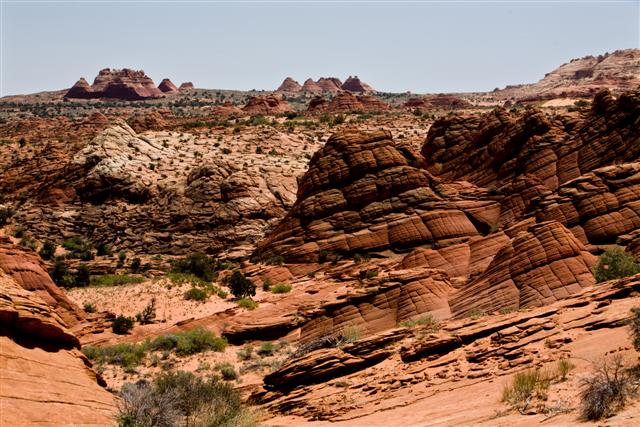 sound of a hawk screeching, there was no sound to be heard for miles. It was almost spooky it was so quiet.
If you were to go to sleep and be placed in the middle of this rugged stretch of land, it wouldn't be hard to believe you had died and gone to hell in your sleep. It's just amazing to think last year at this time we were hiking in the Ozarks which are very close to a rain forest.
With thick wooded mountains that hold in the humidity, hiking there you're dripping in sweat even on a cool spring afternoon. Straight across the map, but a few thousand miles west, the landscape is 180° opposite with air so dry, no amount of water can quench your thirst. Sweat beads up, but almost never runs down your face like it will on those Eastern hikes.
Another amazing sight was the blooming prickly pear cacti. We had seen a few of them along the road sides, but this trail was loaded with them popping out from under the dry layers of red rock. They looked so out of place in this brutal landscape, that you almost thought to see something blooming out here must be fake.
When we finished the trail, we werent tired enough to head for the truck, even though we were running low on water. The one thing about the Coyote Buttes trail is there is no such thing as shade....anywhere! Check out the full Coyote Buttes Gallery here.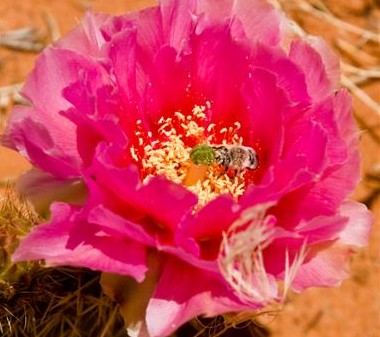 Prickly Pear Bloom with a Bee inside
The trail head to Coyote Buttes shares the same trail head as the Wire Pass Slot Canyon trail. Hiking and photographing a slot canyon has always been a dream of mine, so we turned down the next trail and headed for our first Slot Canyon hike of our adventure.
The first 1.4 miles is another grueling trudge through soft sand where we were second guessing ourselves the entire way. Then you see the canyon walls start to close in on you, and before you know it you're walking into the cool confines of a narrow slot canyon.
The feeling of walking into the side of a mountain is indescribable. You go from the heat of the desert into the cool air of the cave like atmosphere and instantly become cooled down.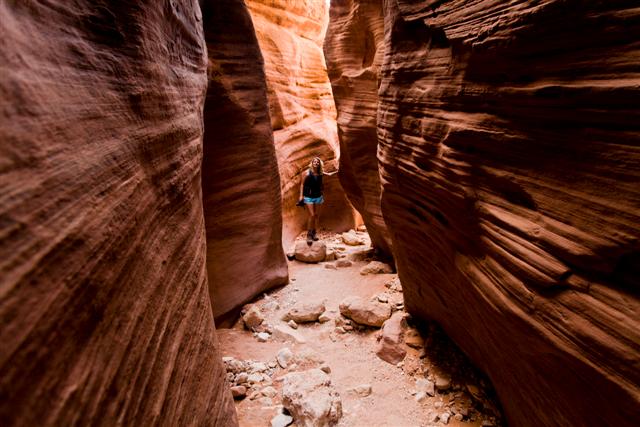 The chilly breeze whipping through the narrow, water carved slot canyon was actually giving me goosebumps while it dried the sweat off my shirt.
The next few hours were spent filling multiple compact flash cards on our cameras and just taking in the surrounding beauty. When we thought there was no way we could take another picture, we turned and headed for home. Besides we had already sat in the narrow confines of the canyon and ate all the food we had brought, drank all our remaining water and worked up a callus on our shutter fingers.
While we had sat relaxing in the cool caves, we wondered aloud about the pioneers who had ventured away from the security of the flat lands of the eastern seaboard in search of untamed lands and uncharted horizons. We curse the bumpy roads and rugged trails all so we can visit these beautiful natural features Mother Nature has made for us.
But imagine those first travelers who had to cross this treacherous landscape for the first time. Most doing it with a family in tow on horse back with a covered wagon to carry their supplies. These adventure seekers are super heroes in my mind. Not even bumpy roads to curse as they were cutting the trials themselves. Imagine riding for miles through this unforgiving landscape only to come upon a slot canyon that has to be crossed?
With no wood to collect to build a bridge for you family to cross, you might have to reroute your path miles in either direction to get by. Or backtrack untold miles only to search out another path with no known ending. Cindy and I have numerous detailed maps so we know where we are located at with precise accuracy. GPS incase we get turned around, we will be able to find our way back to where we came from.
I'm envious of the true Nomad who sets out with no map, only in search of uncharted territory.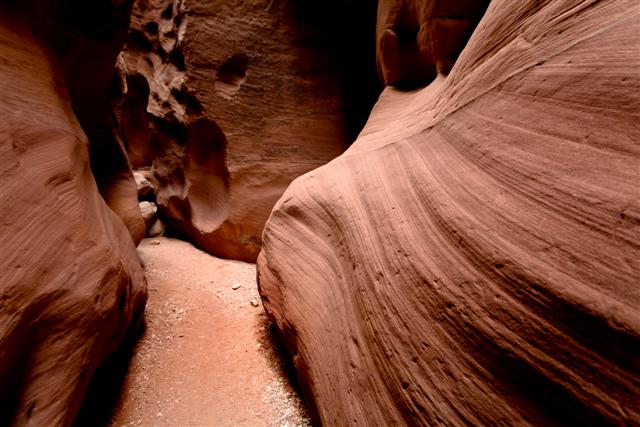 Use your imagination and you can see a big scary face in the rock
For us soft bellied explorers, we knew we had more food and cold drinks waiting for us in the cooler in the truck. So we had a goal to hike back to and knew our way exactly.
A day like today is what I call a perfect day of hiking. One of those days when you look forward to going to bed. Hopefully tomorrow will gain us access to The Wave, but if not, we still have a few more hikes we want to bag before we leave this area.
While we were sitting in the camper resting our throbbing legs, a fellow photographer/hiker who I had met at the lottery drawing knocked on the screen door. He was hiking back to his tent that was just down the road on his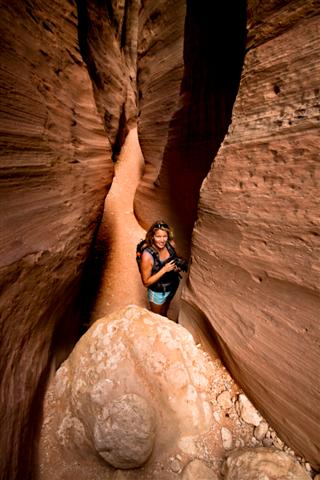 way back from spending the day in Buckskin Gulch. You could tell this 14 mile hike had worn on the guy with his heavy backpack laden down with photography gear sitting low on his shoulders.
Nathan asked politely "Hey man, got a cold beer you could spare?"
We invited him in the camper and spent the next few hours listening to his wild stories of traveling around the globe. From working as a Merchant Marine to photographing his way across the Orient. He told us of some great Native American ruins that aren't on any maps and shared some other cool secret hiking spots he had found along his travels.
I also love to hear the thoughts of fellow Americans on the same places we visit. When the topic of ancient Petroglyphs came up, I mentioned how some areas were fenced off due to our generation applying their own graffiti over top of the rock carvings.
Nathan's view of this was "I think it's fine, it's just another form of expression and our part of history being left right beside theirs." He went into more detail saying "What is the difference between the ancient tribes marking the stone or our culture doing it?"
His views were even more different than ours when it came to the Government regulating the hiking trails. He spoke of how ridiculous he thought the permits were to be able to hike all these trails. "Isn't this Publicly Owned Land?" he asked.
"What gives them the right to charge me and limit me to where and when I can go hike through this land?" he went on to question. I understand his views and agree with him on many of his points he came up with, I just know that if we were to leave the land completely open with no monitoring, this wide open space that is so beautiful and free for us to explore would somehow be ruined like so much of our nations land has been already.
When the night had grown dark, and the beers were doing their job on my aching muscles, my head was bobbing like Cindy's does on a long ride in the truck. Nathan said goodnight and headed home to his camp and I was asleep before my head hit the pillow.
If you'd like to see more images from Wire Pass Slot Canyon, there is a Full Gallery Here
Monday May 12th 2008 A Day of Rest
Our fourth try at the lottery ticket for The Wave, and our fourth loss. Thank goodness that this lottery is free! I thought it was funny that the woman working the lottery system called out my name to give me my numbers this morning and said aloud to the crowd "Boy do we have a real loser here!"
I was questioning the rangers about a certain hike we wanted to try today, but with a 50% chance of rain in the forecast, hiking a slot canyon is not too smart. They recommended that we hike a shorter trail and save the bigger slot canyons for a day with no rain in the forecast.
After 11 German tourists died in a slot canyon a few years back when a flash flood came crashing through the narrow canyon walls, I took their warning and thought today would be a good day to catch up on some writing and much needed picture editing.
I had mentioned to Cindy that it's very hard to go out taking pictures all day long, download them onto the hard drive, but be too tired to even go through them by the end of the day.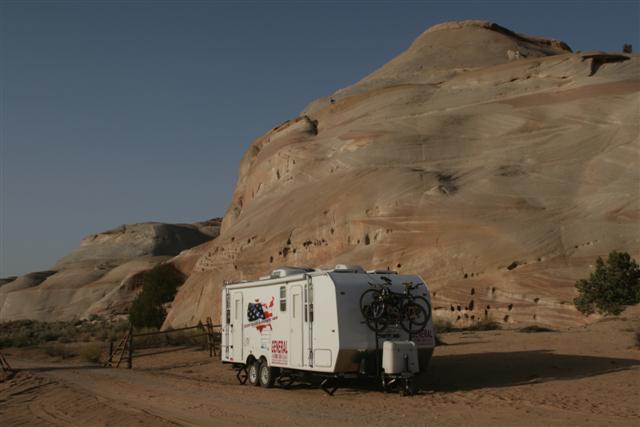 So today was spent deleting hundreds of pictures that didn't meet our standards or were just stupid images. It's amazing how many pictures you take when you're right in the thick of things, but give it a day or two for the excitement of the hike to wear off, and many of those pictures are just boring images.
It worked out perfect for us weather wise today. We spent the whole day working in the camper and the cloud cover kept the heat off of us and the temperatures quite low. With the heavy winds blowing that cool desert air through the camper, sometimes it was actually cold in here.
I also wanted to talk about the two old-timers who are camped in the campground with us. I had first seen these two fellas' a few days back at the ranger station. Nathan had noticed them too and we were both talking to them about how cool it was that they were still out hiking and photographing at their age.
When I asked one of the old-timers about the age of the cap on the back of his truck, he looked at me and said "Oh, he's 93 years old!" I let him know that I wasn't questioning his age or his traveling companions, but asking the age of his truck camper.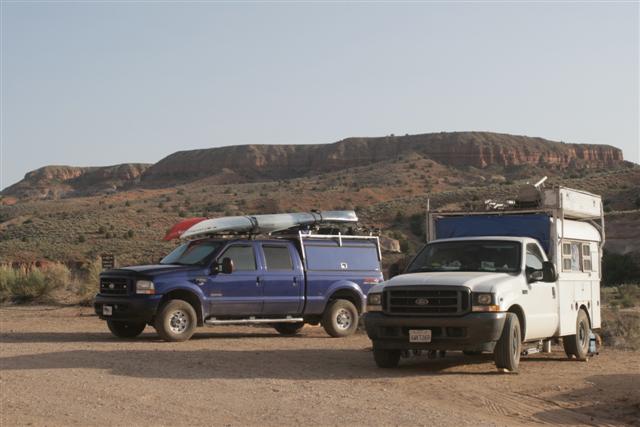 He thought for a second and said "Oh that ol' thing, I think he's had it since the 60's. It's gone through numerous truck bodies, but the camper itself seems to suit him just fine."
The first thing that had grabbed my attention is the walker strapped to the back along side the oxygen carrier. The 93 year old mans wife in the passenger seat uses the walker and oxygen bottle and to see them still out traveling like Cindy and I, well it really gives me something to shoot for.
Well the old guys had been coming to the lottery every morning for the last four mornings. Today one of them won and got the chance to go hike the much sought after location. I felt bad because only one of them could go, but they didn't turn it down, so I guess they're taking their chances and bagging that hike while they can.
Tuesday May 13th
5 days of going to the lottery every morning, and 5 days of leaving the ranger station with my tail between my legs. Tomorrow will be my last try as we need to leave on Thursday to head towards Death Valley to meet up with Jeff, Mike and a group of Mine Explorers to traverse into some abandon mines and see what we can find.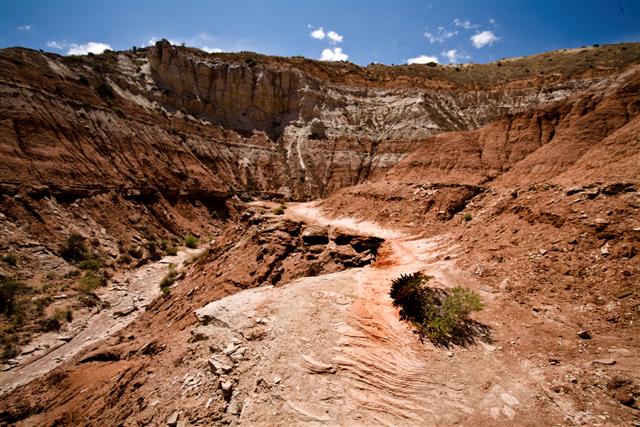 One of the hikes in our local vicinity is named Toad Stools due to the unique sandstone formations that resemble toadstool mushrooms. It's only a short drive from our campground, so Cindy and I loaded up the dogs and headed out for an afternoon hike.
The trail description says this is an easy hike with the total mileage only being a few miles one way. Cindy thought this would give the dogs a good workout and she promised that they would be her responsibility. For some reason she thinks that the dogs need to go everywhere with us?
Hiking up from the parking lot, the surrounding area was blazing white and the surface looked like a dry talcum powder. The ground was a bit squishy under my boots which made it feel like I was hiking on a hollow stage.
The Toad Stools are a series of rock formations where a harder rock is sitting atop a softer surface of sandstone. As Mother Nature does her work, the softer base of the bottom rock erodes away leaving the much larger harder rock sitting atop a tall pinnacle of sand.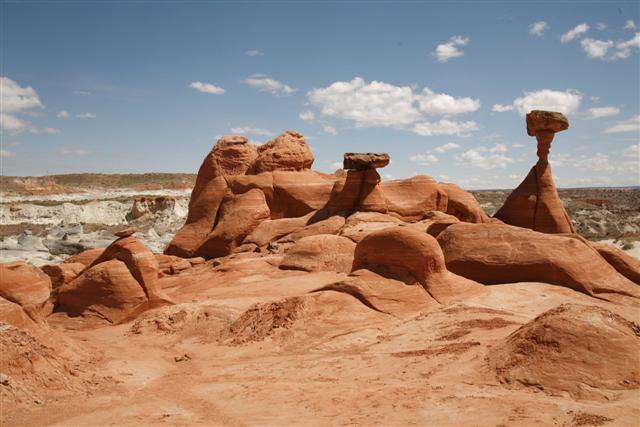 Looking at the crazy rock formations, you would think a strong wind would topple them over, but they've stood the test of time with some being talked about hundreds of years ago by explorers traveling through the area.
From the road, the toadstools don't look like much, that's because your eye is compressing them against the taller mountains behind them. But hike right up to them and you realize they're 50 to 80 feet tall and are quite impressive.
The same goes for the surrounding area they're located in. From HWY 89, the area doesn't look like much, but hike up into the mountain side and look down towards the road, and you realize the short 1 mile hike straight up puts you in perspective of how large the mountain side really is.
We sat on the edge watching the random trucks pass by and to show you the size they looked to us from this height, Cindy pointed to one gravel hauler and asked "What is that, I've never seen a truck tow two small trailers behind it?"
I looked at what she was pointing at and let her know that the truck she was talking about was a large 18 wheeler and was towing two gravel beds behind it.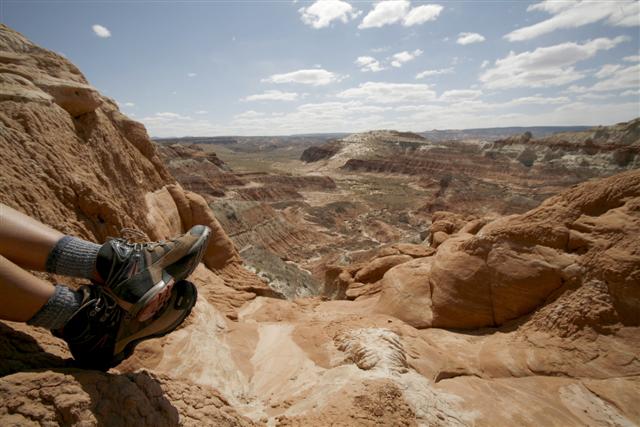 By the time we got back to the truck, the dogs, who were so eager to go for a hike were now needing to be drug that last few hundred yards. Maybe it's the elevation, or the distance, since they're normally only used to going for multiple short hikes rather than one long one. They drank a full Gatorade bottle and were both snoring before we pulled out of the gravel parking lot.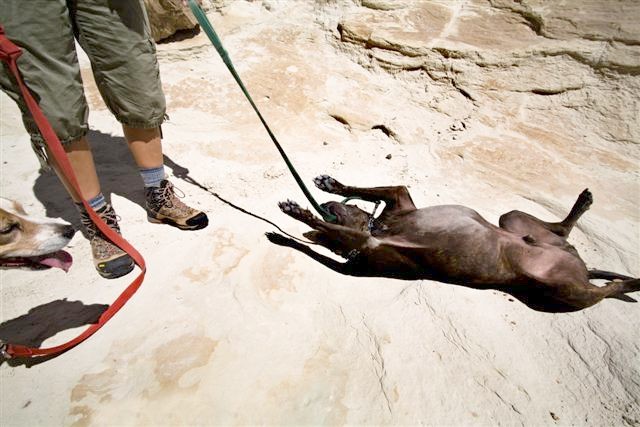 Something tells me Luca has had enough of this Hiking Crap
The sun was still high in the sky and throwing off some great afternoon light on the Vermillion Cliffs that following along HWY 89. We drove the scenic road till we hit the dirt road for old town of Paria.
There used to be an old Ghost Town left over from the Mormon Migration of the 1800's, but some arsonists burned the left over buildings down a few years ago. The only thing left is a cemetery and some old foundations, but the mountain sides bathed in the afternoon sunlight looked like they were plugged in.
I don't think words can describe the multiple colors one mountain side can hold in its walls of crumbling stone, but I know that Crayola could come up with dozens of new colors by sending a technician out here.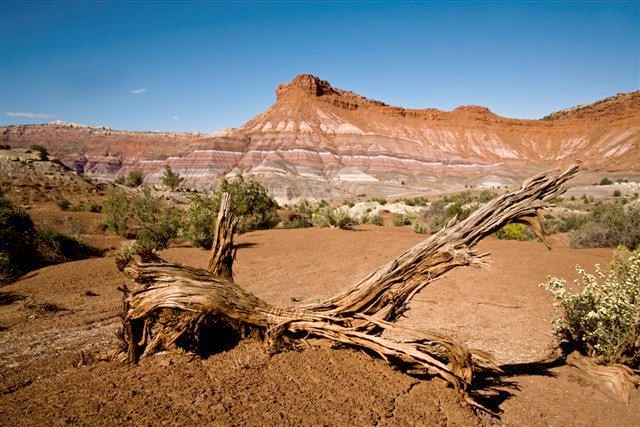 The Vermillion Cliffs of Grand Staircase and Escalante
When the sun finally hit the horizon, we headed for home having to wake the dogs up and give them a hand to crawl up into the camper. They were both that wore out from their hike.
Wednesday May 14th
6 Days of lottery didn't do anything to raise my odds. The 85 people, most Europeans gathered in the ranger station for this mornings lottery got a kick out the fact that I was introduced as the biggest loser of the week. The record for amount of times to lose in a row is 7. I didn't want to break or even tie the record.
Since today was make or break day, I knew I wouldn't go down in the record books. While everyone sat talking and sharing stories of various hikes they had completed this week, I noticed everyone kept saying how much they had enjoyed the Coyote Buttes trail.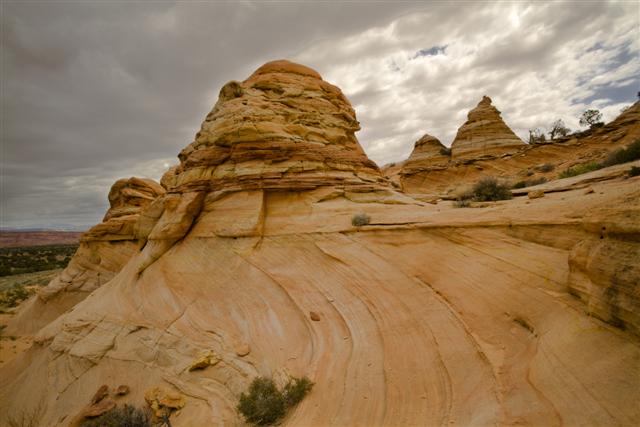 Cindy and I had already hiked the Coyote Buttes North, but I guess Coyote Buttes South was one of the best in the area, many saying they liked it better than The Wave. So when none of my 6 numbers were chosen this morning, I asked what I had to do to get a permit for the South Coyote Butte trail?
The ranger told me that they were going to have another lottery for that trail since they only allowed 10 people in total and there were 35 people who wanted to hike it tomorrow.
Luckily my number 13 was the first number picked for that lottery, so tomorrow, Cindy and I will hike South Coyote Buttes before heading out for Death Valley. Maybe hiking The Wave just wasn't in our plans? It always gives us a reason to come back, right!
When we got back to the campground, I noticed the old timer who camping in his truck camper with his wife was outside going about his morning duties. I asked him if he needed any help with anything and also questioned him about his solo hike in The Wave yesterday.
Bob Calhoun is 93 years old, has been living out of the back of his pickup truck with his wife for the last 40 something years and the two of them have crisscrossed their way back and forth across the United States too many times to count during those years.
Mr. Calhoun has a memory like a elephant and as we sat on some rocks behind his truck, he described in vivid detail so many different places that Cindy and I needed to visit, I had to go get a piece of paper to write down all the details.
Bob would name a park, tell me what was the best time of year to visit to photograph a certain subject, and even be able to tell me where to camp, and what entrance to use for easiest access. He'd ask me what I liked to photograph? If I said Bears for instance, (I've never photographed wild bears), he'd tell me the best places to find them during certain times of the year in various parts of the country.
We're not just talking general descriptions here. Say he was talking about Glacier National Park. He would tell me there are 3 separate entrances, the East entrance was the best and closest one to the certain mountain range he was describing to me and in mid-July would be the best time of year to photograph the wild flowers! He was like a walking encyclopedia.
I was amazed at this guys memory. If I would have closed my eyes, I would never have known he was closer to 100 years old than Cindy and I are put together.
He shared many secrets with me about photography, traveling, free camping, great campsites, scenic drives and wildlife. When I asked him if he had any of his photographs to look at, he said "Maybe later.'
I made sure to thank him for all the info before I headed back to my camper. A few minutes later he knocked at the screen door with a stack of 8x10's and said "Did you really want to see some of my work?"
I invited him in and for the next hour, we sat at the table looking over some amazing images of wildlife, mountain vistas that could be the cover of any magazine and some photos of humming birds that were better than any I've ever seen in my life.
He told me "Humming birds are my favorite subject because of how hard they are to capture on film." Oh yeah, he still only shoots film saying "I never learned how to use a computer and at my age, I'd rather not even bother with it." That's real photography! None of this being able to take 500 pictures and getting 1 good one out of the bunch.
Nope he takes only a few rolls and has to wait weeks before getting the slides returned from a lab in Kansas.
When we were finished looking over his awesome work, I thanked him for showing it to me and was surprised when he said "You're the first person I've showed it to beside good friends of mine." I questioned as to why I was the first and he said "You're the first to ever ask to see it."
What an inspiration that was for me and I only hope that I can still be doing what I love at that age with a clear head and a body that will allow me to keep up with my mind. I wish Bob and his wife Clara many more memories and thousands more miles on the road in their cozy camper.
Photographing Antelope Canyon...Wait, Maybe Not
While talking with Bob, I had mentioned that Cindy and I had just hiked Wire Pass Slot Canyon for the first time a few days ago and talked of how much we enjoyed it.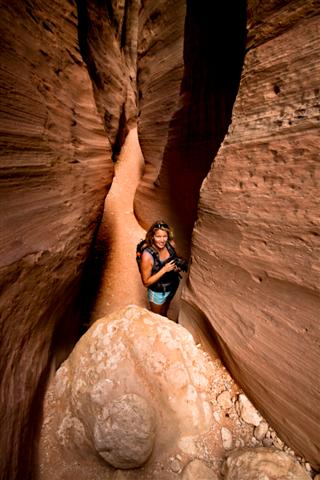 He asked what we thought of Antelope Canyon but when I told him we hadn't had time to hike it yet, he was shocked saying "It's mandatory, you have to hike that slot canyon!" He went on to say "It is one of my favorite places to photograph!"
For me, it's one of the hikes that I've always dreamed of photographing, but I wanted to get some practice in a few smaller slots canyons before we headed into the Grand Daddy of them all.
So with a little encouragement from Mr. Calhoun, Cindy and I headed into Page to go see what we could find in this famous crack in the Earth. 10am to 2pm is supposed to be the ideal times to photograph it due to the lighting conditions and when we left, it was just past noon.
On our drive in, once we got close enough to town to get a cell signal, we had to pull over so I could download some emails while Cindy made some phone calls she had been putting off.
This lasted much longer than we had thought, much of the time with her on hold waiting for an IRS agent to find our paper work from the Red Dog. Apparently they are just now following up on the sale of the bar almost two years ago.
All this time and they still haven't closed our business name or business license on the bar! They were questioning why we hadn't paid any taxes in the past two years to which Cindy replied "I didn't know I had to pay taxes for a business I don't own any more!"
She gave the agent our accountants number who had filed this paperwork days after we finalized the sale, and told him he had copies of everything we had mailed to the government. That's the IRS for you.
It's fine for them to be as slow as a sloth on valium, but heaven forbid us tax payers are more than a day late on our payments.
By the time we got to Antelope Canyon which was only a short 30 minute drive, it was after 2pm. No big deal, we could at least go hike the canyon to see what it was like.
That was until I went to pay and found out it was $26 per person, cash, and the park closed at 5pm. If I'm going to pay over $50 to go take pictures, I'm going to go at the optimal time and make sure I'm not being rushed out of there.
So I guess this will have to be another attraction we come back to.
Just down the road from Antelope Canyon is a spot called Horseshoe Bend. This iconic landmark should be very familiar if you're into nature photography.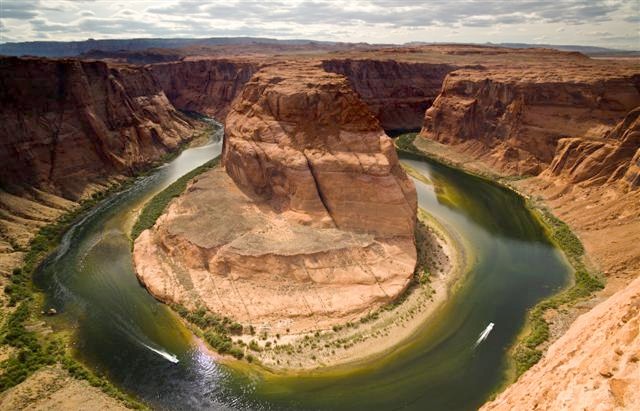 My version of Horseshoe Bend in Page Arizona - Shot with a 17mm lens
It's one of those 180° sweeping bends in the Colorado River where you can see both sides of the river from the edge of a cliff about a 1000' up. It's a free attraction and is well worth the short 1/4 mile hike to get to the cliff edge.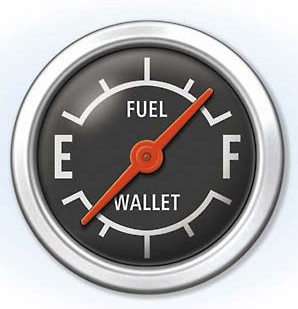 After numerous pictures at the bend, I made a rent payment at the gas station when I topped off the diesel tank and filled the 3, 6 gallon jugs in the bed. Cindy had been talking with Jeff about our trip to Death Valley when he said "Make sure you have extra fuel as the nearest town might not have diesel."
$200 later, we were headed home to the camper and a early night so we would be well rested for our big hike tomorrow. We're going to try and cram a full days hike into just the morning hours so we can hit the road by afternoon to head towards Death Valley.
To think, Flagstaff got a foot of snow two days ago and is only an hour from us right now. We're headed towards Death Valley where the current temperature are a sweltering 105°! Going from one extreme to the other here. But tonight we had a beautiful sunset as we drove back to our camper with unforgettable views of Lake Powell.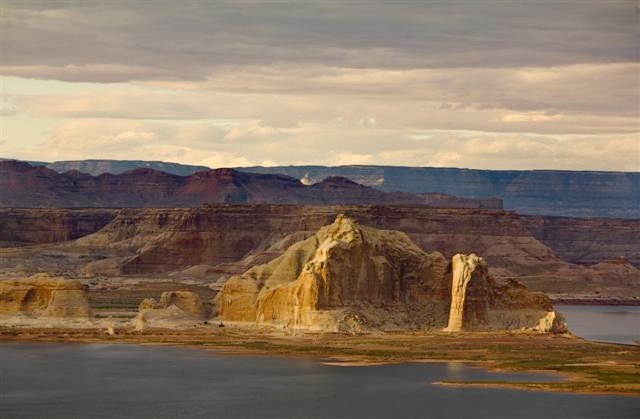 Sunset over Lake Powell
Thursday May 15th 2008 - Hiking Coyote Buttes South
Knowing we had a huge day ahead of us, we were up and going first thing this morning. To go from no schedule to having to cram multiple things into a day isn't all that much fun, but when you lead the adventure lifestyle, you can always make acceptions...LOL
The campground we were camped at was two miles down a washboard road that I didn't want to have to drive over 4 more times, so I hooked the camper up and towed it to the start of the next dirt road that would lead us to Coyote Buttes South.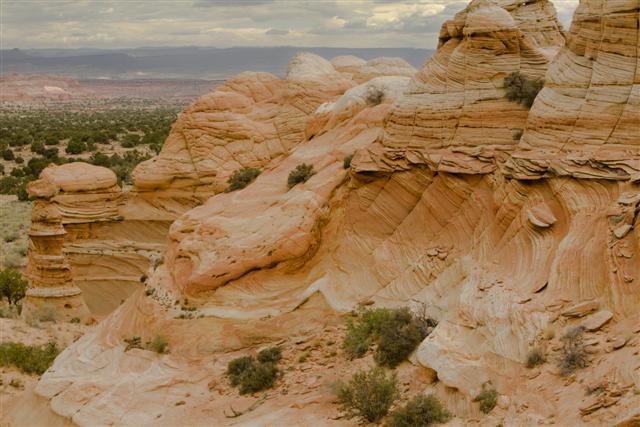 We found this dirt road, Cindy took the dogs for a quick walk while I unhooked the camper. Once we had those little tasks taken care of, we were barreling over the washboard road for the next 19miles to find the turn off that would lead us to the trail head.
The Ranger had stressed that you needed a 4x4 to get back to the trail head, but for the first few miles even Cindy was saying "I could probably drive this in 2 wheel drive."
Then we got to the sandy area and knew what she meant. We're talking deep sand where you needed to keep on the throttle to power through it. You know how the seat belt locks when you're hitting bumps? Well Cindy didn't have hers on and I couldn't come to a stop to let her buckle it up and she couldn't pull it around her because of it being locked.
So it was quite humorous to see her holding on for dear life while we were bumping over the rough terrain with her trying to keep from hitting the ceiling.
11 miles of two track to get to the trail head, and probably 8 of those 11 miles were spent with the truck in 4 wheel drive to keep from getting buried.
Once at the parking spot, we loaded up and headed out in search of glorious rock formations. Cindy told me right from the start "What we're going to do is hike in, take as many pictures as we can and hike out so we can get on the road to Death Valley!"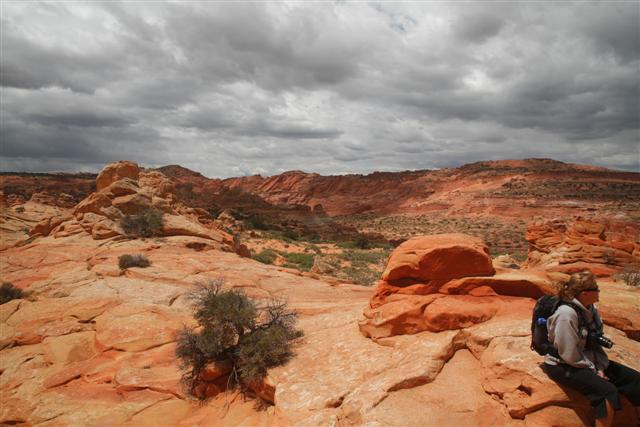 That was till she got into the Buttes. I scrambled up the side of a sandstone cliff to get a different view only to come back a few minutes later with her still sitting in the same spot.
I yelled down to her "What the hell are you doing just sitting there?" She just looked at me and said "This area is so beautiful, I like to just sit and take it all in. Now go away and leave me alone."
Fair enough, I was in no hurry. The next few hours werent spent running around as fast as we could go, but at a more leisure pace of hiking, sitting, listening to the quietness, snapping a few images (a few hundred) and just feeling closer to nature.
I know there are a bunch of people up in Sedona who claim the area is very spiritual, but I felt it much more strongly in this area than in Sedona. This is probably the closest I have felt to a real spiritual place in our travels so far.
From the Coyote Buttes area, there is a shortcut out to the main road which also brings you by the southern most tip of the Buttes called the Paw Paws. The ranger had told me that this road is closed off because too many people were getting stuck trying to climb the sand hill. But if I was to come down the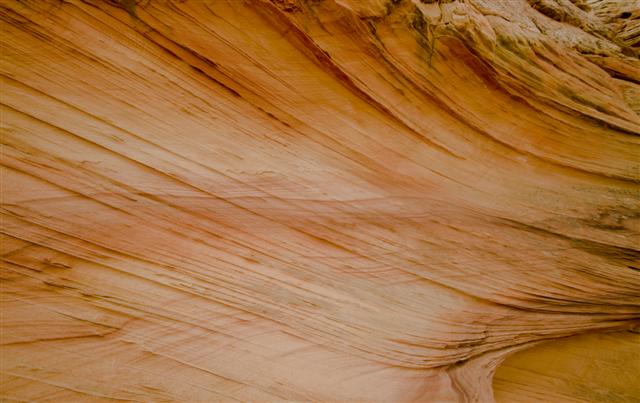 hill, I would have gravity on my side and should be able to make it as long as my truck had high enough clearance.
For some reason all Cindy kept seeing was the signs saying Road Closed, and thought my story was all made up? It wasn't, I don't break the law that blatantly.
As I was blasting down the trail, here she is yelling at me to stop which only would have buried us to the floor boards. Right now momentum was our best friend, but she didn't see it that way.
When we finally came to a halt at the Paw Paw area, I think we were ready to go to fist-a-cuffs. Just one time would I like to have her drive so she could realize that I know what I'm doing. Sure I get stuck every now and then, but I've taken numerous Advanced Drivers Training Courses, I've owned a 4x4 since high school and probably driven more trails in one year than most people do in their entire lives. Lay off me already woman!
I got out of the truck, walked one way while she grabbed her camera and went off in a separate direction. We finally met up at the base of some sandstone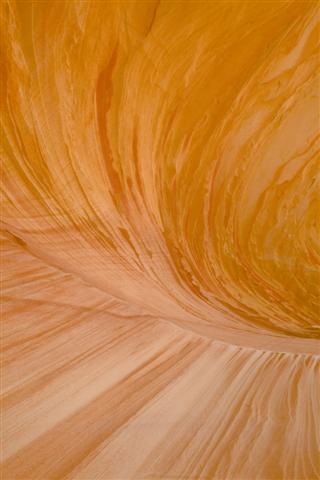 monolith and took our aggression out on one another. We made out like a couple of 9th graders under the bleachers till our lips were sore. Isn't that the best part of fighting, the make up part?
Once we were done with the Paw Paws, we hightailed it back to the camper so we could get on our way to Death Valley to meet Jeff Bettenga and the others who would be joining us for our mine exploring weekend.
Now I've never explored a mine, so I have no idea what to expect. I know that Cindy thinks she is afraid of heights and claustrophobic, so I don't know how well this is going to work out for her. I also know that the last email we got from Jeff stated "Death Valley is going to be breaking record temperatures, so be ready for some heat!"
We drove from Arizona, through Utah, back into Arizona, into Nevada and ended up in California by midnight. Along that route we crossed through Zion which was leaving me with a wet chin from drooling at the beautiful sights.
Do you realize how hard that was for me to not stop when going through an area that beautiful!?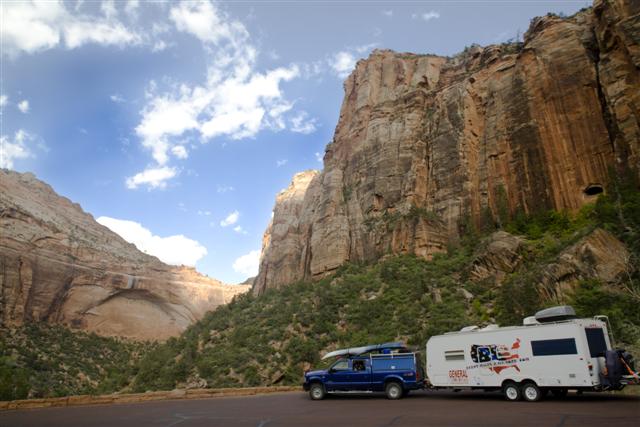 We also had a blow out on one of the trailer tires while the sun was setting in Nevada. I find it strange how Cindy and I can communicate with one another without talking. We've spent so much time together that I think we're starting to be able to read each others minds.
We've also been towing the camper for so long that you notice any slight sound or feeling that is out of the ordinary.
We were cruising along a very smooth section of Nevada highway when I thought I felt something different.
I adjusted my side view mirror so I could see the tires on the camper. It wasn't blown, but it looked different. Every now and then I thought I'd see a small chunk of something fly out from under the tire.
I hadn't said anything outloud yet and Cindy was looking out the window in the other direction. Just then, she reaches over and turns the radio off and says "Are the tires alright? I think I feel something funny." That's what I mean about us reading each others thoughts.
I pulled over real fast and upon closer inspection, we found that a strip of tire had come off from the center of the tread. Sort of like what happens when the tire has been re-tread.
The tire itself was still holding air, but if I was to grab onto the tread, I could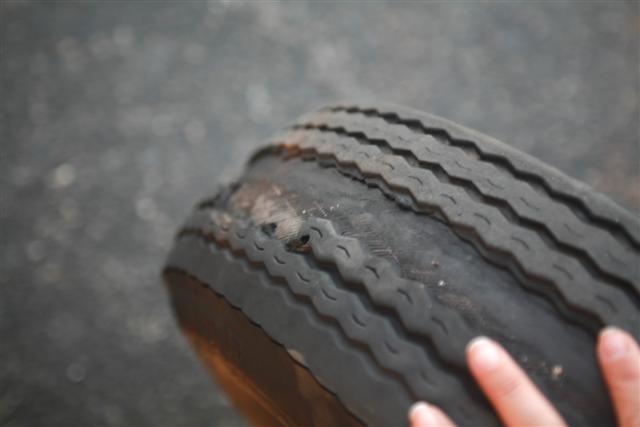 peel it away from the casing like an orange peel.
We have four different tires on our camper, and this was the newest one. It is the only tire on the camper that was made in the USA also. With all this talk about faulty Chinese tires, how come my only tire made here in the ol' US of A is the one to break down?
I got that changed in a hurry and we were back on the road. We rolled through Sin City with no stops and what little money we have stayed in our pockets this time.
Before long, we had the endless array of glittering lights behind us and we drove into utter blackness. You could tell we were getting closer to Death Valley when we pulled over at the last chance for fuel and at 11pm, the temperature was still in the high 80's.
After our fill-up and some dinner in the gas station parking lot, we turned off the paved road onto a graded dirt road. We were looking for a beacon of light to guide us into a makeshift camp and just when we thought we were lost, who pulls up but Mike, Jeff and Dave.
They said they could see lights driving out in the desert, so they came out to see if it was us. We followed them back to Camp where we were happy to throw the truck in park for the next few days.
The rest of the night was spent catching up on the last few weeks of travels and on what we had in store for us on this next adventure. From what the guys were talking it up to be, it looked like it was going to be some serious fun.

Friday May 16th 2008 Exploring the War Eagle Mine
Waking up in Death Valley is not fun. You crawl out of bed at 7am and the temperature is already 80° in the camper. I knew today wasn't going to be fun for Cindy who was going to wait back at the campers while I went exploring with the fella's.
She told me not to worry that she'd be fine and had a ton of catching up to do on the computer. She doesn't like to write as much as I do, but I'm scared she's going to surpass me soon when it comes to her writing ability. I think I've created a monster, for once she gets to putting her thoughts on the keyboard, she comes up with some amazing stuff.
While she was making me some lunch, and I was packing up my backpack and climbing harness, she let me know we were out of peanut butter and jelly. When I tore into her on how could she let a staple like this go overlooked, she said "No worries, I'll just make you some!"
I thought this was one of her smart assed comebacks she is so good at, but when I came back into the camper, she had the blender going and was feeding various nuts into the hopper.
I asked what she was doing to which she said "Just making home-made peanut butter." I didn't know this was possible, but she never seems to amaze me.
When I asked how she was going to make the jelly, she said "I'll just use some of this blueberry preserve, add some raw blueberries, a few strawberries and it should mix up well."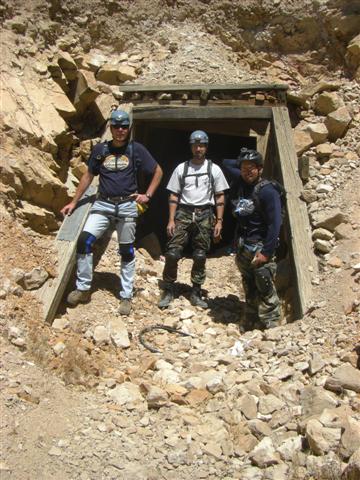 I shit you not, when she was done, I had one of the best peanut butter and jelly sandwiches I've ever had in my life and she had whipped it up out of no where. This is a serious woman I have here ladies and gentleman!
To see the four of us guys suited up, you would think we were heading into battle. We each had on a backpack with a large water reserve in it's holding compartment. Our climbing belts had all sorts of carabineers, d-rings, rappelling devices and other various attachments hanging from them. Helmets with head lamps attached, hand held radios for communication and multiple other gadgets that would make our day easier underground.
Mike is like me and has all sorts of gadgets he carries with him, but for Mike, he has lots of money, so his gadgets are all very high-tech and he has double the amount I do. Needless to say I was admiring all his gear!
Jeff was cracking me up as he is just a laid back kinda guy. He isn't as interested in all the gadgets, but just has a passion to go out and explore. So it's sort of like a comic act where Mike and Dave are talking about all the technical stuff and Jeff is teasing them about how tech-savvy they are the whole time.
Not that Jeff doesn't know about all the tech stuff, it's just that he isn't into it like the rest of us are. So once we got up to the mine, Jeff was like a little kid just wanting to get into the mine while the rest of us finished suiting up.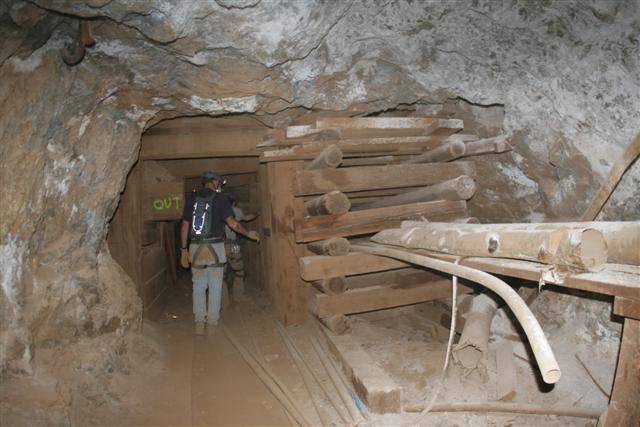 I've never been in an abandon mine before, so I had no idea what to expect. I've been in a bunch of caves, but all of them were the type of caves where you are lead in by a guide. This day of exploring would be guide free and just the four of us wandering around miles of abandon tunnels.
The first 1/4 mile is spent walking down a long shaft with the daylight at the entrance growing smaller and smaller as we walked further and further into the bowels of the mountain.
Luckily for me, I'm not afraid of confined places or have any fear of the dark. And when I say dark, I mean dark. We turned off our headlamps on the helmets and there is no way your eyes can get adjusted to the darkness. There is no light to speak of and if you sit still, there is also no sounds except for the noises in your head.
One question kept coming up over and over, "Who would do this job for a living?" We explored miles and miles of forgotten back breaking work and just walking, climbing, sometimes crawling through these narrow tunnels was exhausting. I can't imagine coming into work day after day in these hot tunnels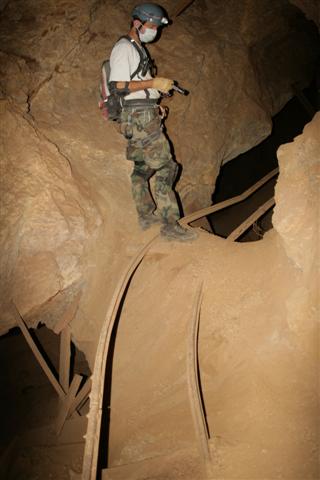 and swinging a pick in search of lead, the main haul out of the War Eagle.
This particular mine operated from 1912 until 1957; the last operator being the Anaconda Copper Corporation which is still in business today but doing most of its mining in South America.
We found numerous wooden spools with shipping labels still intact that had the address labeled for the Anaconda Mining Corporation. It was amazing how well preserved the left over items were we found scattered around the miles of tunnels.
One thing we all noticed was the wheels that were missing from the ore carts left on the narrow gauge tracks. Why were the wheels so valuable and who had wandered into the War Eagle to haul out these heavy mementos?
Hours and hours were spent exploring the miles of endless tunnels. It was hard to justify how long we were in there since you couldn't see, or gauge the time, with no natural light available. When I asked what time it was, Mike told me we were going on 6 hours underground but my excitement level hadn't let my brain notice we had been working that long!
By the time we returned to the surface, the sun had set and my legs were telling me we had spent over 8 hours below ground. I was exhausted and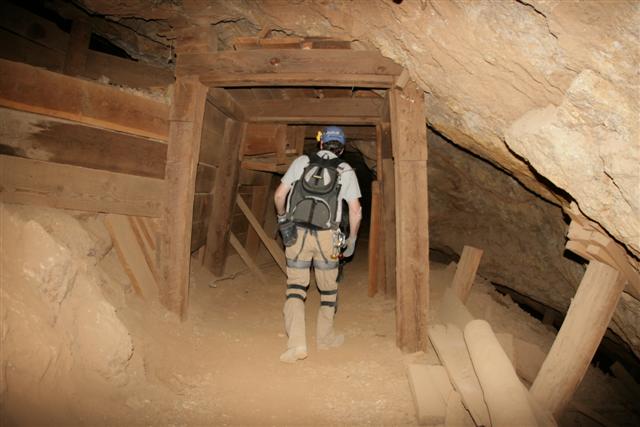 ready for a cold one to wash down the dusty soot that was caking my throat and nostrils.
When we pulled back into camp, Cindy was waiting with that cold one in hand. She let me know that while I was enjoying my day, she had caught up on her blogs and sat patiently through triple digit temperatures. She also let me know that the dual generator set-up didn't work like we had planned. I guess one of the generators had run out of fuel? Oops, my bad!
I took a long cold shower that felt intoxicating noticing the bottom of the shower was covered in gray/red silt.
We had a great dinner in Dave's camper and talked about our days events. A few members from CAMCE, a mine exploration group, had pulled into camp for the weekend festivities so we all went out and sat around the campfire introducing each other and learning a bit about one another.
Tomorrow will be the big day underground in the Columbia Mine. The 8 hours today was just a warm up.
If you would like to visit the War Eagle Mine Gallery, You'll get a chance to see many of the cool things we saw down-under.
Saturday May 17th Exploring the Columbia Mine
Waking up early this morning, I knew today was going to be a hot one. It was 7am and I was already sweating in the camper.
I asked Cindy if she wanted to come with us, but after she had heard of all the crazy things we had done yesterday, she said she'd rather stay back at the camper.
Dave's toy hauler has a big generator with a 30 gallon gas tank and the guys had told Cindy she was more than welcome to sit in their camper to escape the grueling heat. The forecast for today was hotter than yesterday, so I was hoping she would take their offer and enjoy the A/C rather then try to be a trooper and sweat it out in our camper.
Our temperature gauge had told us that the high was 107° yesterday, and today was going to be even hotter.
I guess the two Honda Generators linked together aren't working properly? I'll have to look into this and figure out what is going wrong, but it isn't something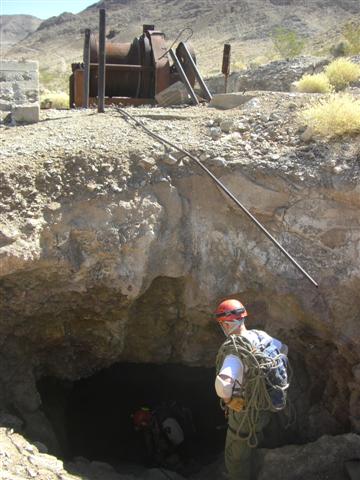 I wanted to be thinking about while I left Cindy in the exhausting heat and us fella's would be underground all day.
The Columbia Mine is sort of a mystery. There is almost no information about it on the internet and even the CAMCE group didn't know too much about this deep hole in the ground.
We all met up around one of the mines entrances and roped down a giant shaft that had loose gravel you had to wade through. Just this first descent was 2 full rope lengths before you unhooked from the rope and were able to slowly climb down the loose rubble.
This was tedious as you had to go one person at a time. The rubble was so loose, you'd send bowling ball sized chunks tumbling to the bottom, so the first section was very slow and boring.
When the group of 8 was safely at the bottom, we headed into the tunnels in search of our next descent. Originally we had two fathers with us who had brought along their younger sons, but when they realized how technical today's adventure was going to be, they decided to go over to the War Eagle where the exploring was more conducive to the younger adventure seekers.
This decision would later be a very good one, as the first descent would split our group of 8 in half right from the start.
While we were sitting on top of the first shaft, looking over 200' into empty darkness, no one really knew what to do. No one in the group had ever been to the bottom of this shaft, and only a few rumors floated around about what was down there, if anything.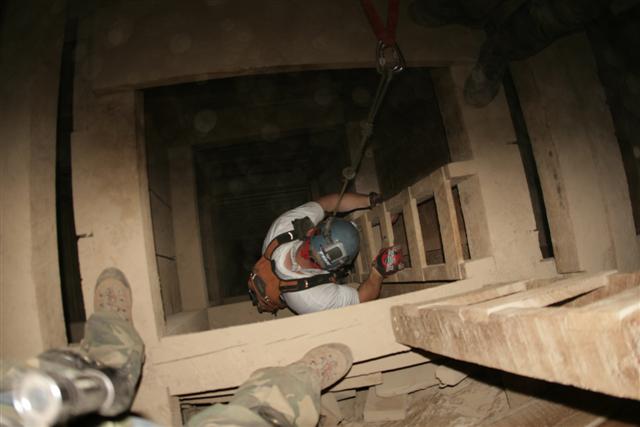 Kip, one of the CAMCE guys was a young, stout firefighter who looked like he spent most of his time in the gym sculpting his shoulders and arms into the solid blocks they were.
He knew that mid way down the shaft, that had old wooden ladders nailed to the sides of the wooden square hole, there was a 30' section of ladders that were broken.
Kip had been on a rescue mission when a explorer had gotten trapped in this very shaft at that broken section. He told us the rescue had taken 3 hours and by the time they were done, everyone was too exhausted to do any more exploring.
This time, they rigged up some rope and dropped it down the dark shaft. We would all hook onto the rope to use as a lifeline incase a ladder broke or you lost your footing. It would have made more sense just to rappel down the shaft, but for some reason the CAMCE guys had brought an old hemp rope that wasn't made for rappelling?
I was under the assumption that these guys were the experts, but for some reason they were using some gear that just didn't make sense? I know Mike and Dave had two Pit Ropes that were made specifically for this type of job up in the truck, but Rob, the main CAMCE guy had told them to leave them behind?
This section of the mine was another long waiting process. Each guy had to go one at a time and the shaft was a few hundred feet deep. Climbing down the ladders was slow and grueling on the arms as they were straight up and down, not leaning like you would normally set a ladder up.
One person at a time in the shaft would keep everyone safe incase anyone was to fall or slip while descending, they wouldn't injure a fellow climber.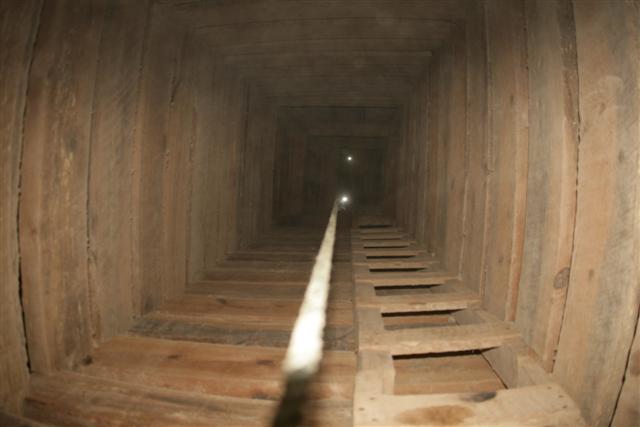 I was the forth one down, and even though they had warned against rappelling on the hemp rope, my arms were on fire trying to climb down the ladders. You had to either smear yourself against the wall to get past the broken ladder section or rappel through that section. Once I had my weight on the rope, I just used gravity for the last 100' and came down fast and easy with my ATC device.
Once at the bottom, Kip, Dave and Larry were asking me who was coming next? I knew that Mike wasn't coming due to an ankle injury that was keeping him from climbing down the ladders, he had attempted to, but about 30' down, made the smart decision that this wasn't a good idea and had come back up.
I like it when a guy is smart enough to listen to his intuition and not try to act tuff. Acting tuff will usually get you into trouble in the long run, and a mine shaft isn't the spot you want to get into trouble.
Rob and John, both CAMCE members had said they werent going to come down? Leaving only Jeff who I thought was very gung-ho to come down behind me.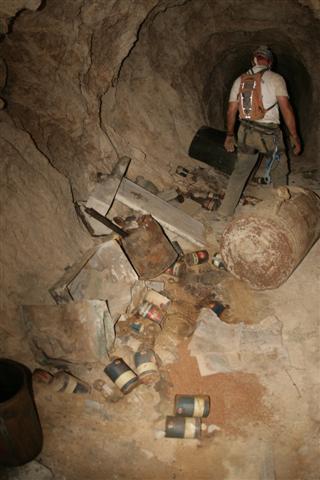 We waited about 15 minutes trying to contact the other 4 guys up top with the radios to no avail. They werent answering us when we yelled up the shaft, and the rope had been dangling perfectly still since I had unclipped from it.
We finally made the decision that no one else was coming down, so we headed off in search of uncharted territory. We knew by some scattered beer cans and a few names scrawled on the walls, that we werent the only explorers who had ventured down to this level, but everything was covered in a thick layer of dust, so we knew it had been some time since the last people had been here.
I could fill a hard drive with the stuff we saw while exploring the Columbia Mine, but I'll try and keep it as short as possible. I will say that we spent over 10 hours in this mine, and saw mining equipment that hadn't been seen or used in many years.
The rumors about their being an underground lake is just a myth. We found the bottom of the mine, some 1000' deep and the only water down there is a small pool about 15' in diameter and waist deep. Who knows what kind of toxins are in that water, but none of us dared to wade through it. Kip and Dave did make a bridge over it with some scrap wood only to find a dead end on the other side.
We found ore carts that still had wheels on them and were able to act like little kids riding the carts down the narrow gauge tracks like some Indiana Jones movie.
We explored a mile long shaft that was hotter than a sauna that led us to a dead end. Freaked out when we turned around to make the trek back and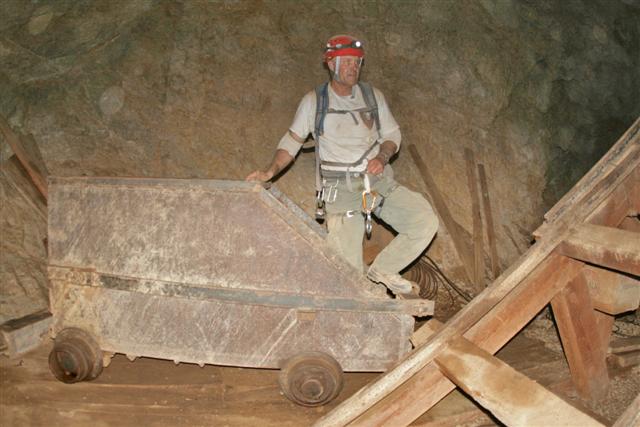 Kip's oxygen sensor started going off alerting us that the air was bad!
We found cases of unused dynamite, piles of oil cans in pristine condition and all sorts of amazing mining artifacts. The day was like a jack pot for mine explorers. Larry, who has had a passion for mine exploring his entire life asked me how many times I had been underground.
I laughed when I told him "Today was my second time as yesterday was my first!"
Larry and Kip both laughed saying "You really know how to break into new things don't you!" After hearing about their years of adventure seeking underground, they both told me that this was the best mine they had ever been in.
So I guess my first weekend of mine exploring was the cream of the crop. On my second time underground, I had roped down a 300' main shaft, rappelled down another 200' shaft, found intact ore carts that we were able to ride down the tracks and touched bottom over 1000' below the surface.
Not bad for a days work.
The hardest part was climbing out. We had to climb up that 200' shaft that I had so easily rappelled down. Getting around the broken ladder section was a bit scary, but I had hooked into my ATC incase I would slip, I wouldn't come crashing down to the bottom.
I know by the time I got to the top, my arms were burning so bad I thought they were going to cramp up. My heart was pounding in my chest so hard I thought it was going to explode. I yelled down to let the next climber know I was out of the shaft and I let my body collapse on the hard rock surface sucking dank, hot air.
It was a long climb up, so I didn't mind just lying there with my head lamp off in the complete blackness regaining my strength. I drained the last bit of water from my Camelback, and knew it would only be a short time before we would hit the surface.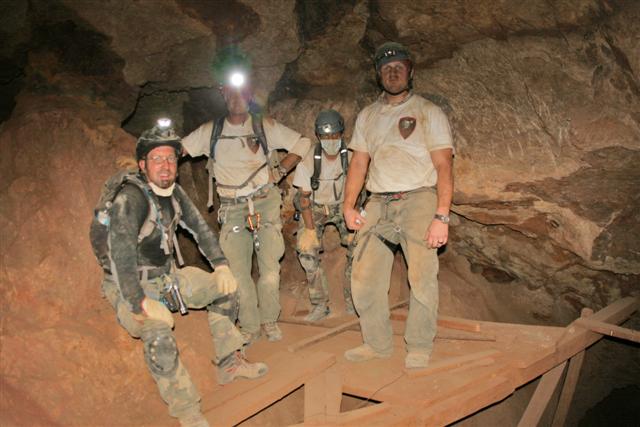 The worst part was we had another 300' shaft we had to climb up on those awful ladders. By the time we got to the top and you could see the glorious daylight streaming in the opening, I never knew I'd be so excited to see Death Valley!
The rest of the group was waiting at the exit, and harsh words were exchanged on communication methods and why we had left the bottom of the first shaft some 10 hours ago.
I felt horrible when we found out that Jeff had climbed down the shaft only to find we had left already. I guess after I had unhooked from the rope, John had decided he was going to come down. He started hooking his climbing gear up and 20 minutes later changed his mind.
Jeff raced down the shaft but by this point we were gone and it would have been foolish for him to try and find us in the never ending maze of tunnels and shafts that lead off in every direction.
Jeff had to turn right around and make that grueling climb back up the narrow shaft only being able to explore a few hundred feet in each direction from the opening. I felt horrible, but nothing could be done now.
We headed back to camp where an ice cold shower had never felt so good in my life. I didn't care if I used up all our fresh water on this one shower alone! I needed to just sit in there and relax.
After a second day of just sitting in an oven, Cindy wasn't in the best of moods and gave me one of those looks that I took as "Get the #@%* away from me!"
I think I drank a full 32oz Gatorade bottle, two 16oz water bottles and a 12oz can of Coke in my first hour of being above ground. All that fluid and I still hadn't pee'd yet. Something tells me my body was a bit dehydrated.
The guys cooked up some plump brats on the grill, while I downloaded the pictures from the last two days. By this point, Cindy had cooled down enough to come over and hear a few of the stories of today's adventure, but she still wasn't her usual self.
I totally understand, and I was very selfish to leave her in a camper in triple digit heat all day while I went off and had a riot with some great guys. I told her if she would get over a few of those fears she has, maybe she could have come with me, but that was like waking a sleeping bear, I bess just leave the ol' cuss sleeping and be done with it.
In the open fields surrounding our makeshift campground, there were cars streaming in and the hum of a generator broke the warm night air. Cindy told us that a BLM Ranger had stopped by during the daytime to let her know that a RAVE was going on out in the desert tonight, and to make sure we kept an eye on our things.
"You know how these wild parties can get out of hand." he said to her.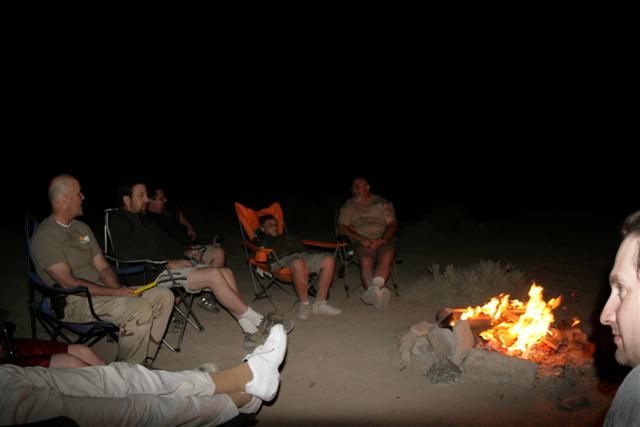 I thought it was hysterical when the large group of mine explorers that had assembled around the raging bonfire were talking about the days adventures, and the 12 year old kid spoke up saying "I'm very unimpressed with the RAVE."
We all started laughing as he went on to say "I thought they were supposed to be wild and crazy parties? This RAVE looks like a dud!" You know your parties a bust if a 12 year old thinks your party is lame!
With everyone swapping stories by the fire, I could feel my eyelids growing heavier and heavier, so I excused myself and headed off to bed.
I think I was more like a walking zombie at this point, and once I laid down, I don't think I moved till I felt the sweat rolling down my forehead in the morning.
If you would like to visit the Columbia Mine Gallery, you'll get a chance to see many of the cool items we saw today.

Sunday May 18th
I hadn't even opened a beer last night, but I woke up this morning feeling like I was severely hung over. Between muscle cramps and dehydration, I was doing more damage to my body than I was doing good.
I think I drank 4 or 5 large glasses of water before I even ate breakfast. Many of the CAMCE group had packed up and taken off early this morning before the heat got too brutal. They were all sleeping in tents, so I know they were probably all very eager to get home to the comfort of some cool A/C.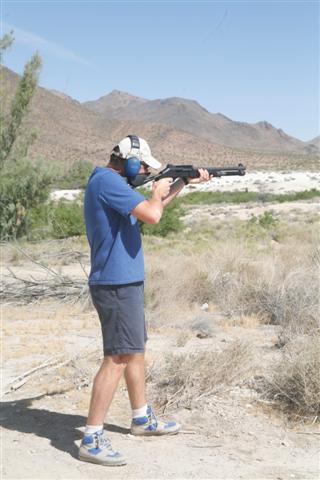 Speaking of A/C, I had to see why these Honda Generators werent syncing up properly. When I checked them for fuel this morning, the same one that had run out yesterday was empty again today?
I topped it off and fired them up. They ran fine while we packed things up getting ready to head out. Jeff came over and had some maps he had printed out at home of a great route that would lead us up through the Sierra's.
Jeff is so nice and how cool is that to spend the time to print out multiple pages of info, then go through the trouble of highlighting the route on the maps with little notes on each area and what it offers.
After spending the morning planning our route for the next month...LOL We got out some firepower and set up some targets on one of the surrounding sand bluffs.
I pulled out all the toys, and Jeff, Cindy and I spent the morning blasting away at targets. Somehow Mike and Dave slept right though it all.
After we were done blasting chunks of wood, we were sitting in the camper cooling off when we noticed a BLM Ranger pull up.
I came outside and sat talking with the nice Ranger who said he was checking on the Rave'rs when they told him they had heard multiple shots fired. OOPS! I had forgotten they were still over there.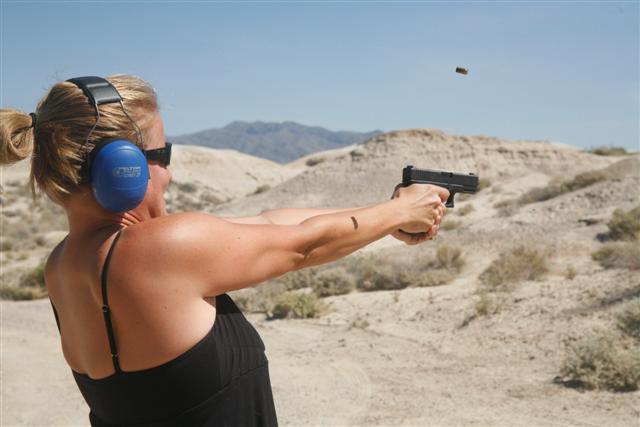 Not that we werent very safe with our back stops and everything, but I'm sure after a night of drinking in the desert, they didn't want to be woken to multiple gun shots. One thing I don't mess around with is my firearms. So no worries when it comes to safety and proper weapons handling.
I asked the nice officer if he wanted to try any of the guns, but he let me know that he had just qualified last week and was just checking to make sure everything was on the up and up.
After he left, the same generator that had ran out of gas the last two times ran out again. For some reason when the two are synced together, one of them is pulling the major load, while the other one barely pulls any load? I'll have to do some research on this to see what the problem is.
So Cindy wasn't crazy and neither was I. She kept telling me that one was out of fuel, and I kept telling her she was out of her mind. I was somewhat right, but now we knew why the one generator kept running out of fuel.
Once we were packed up, I think I had lost 5 pounds of water weight due to the mind numbing heat. I thought to myself "Who in the hell would live here?"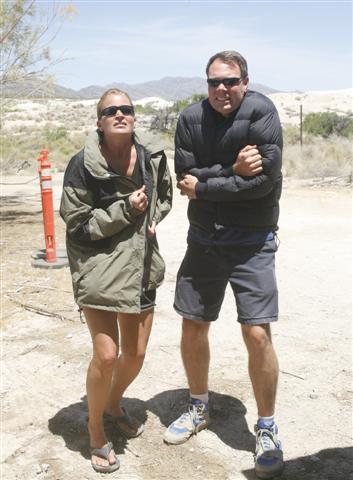 We said our goodbyes to Jeff, Mike and Dave, and headed towards Pahrump. This was the nearest town that had a Wal-Mart and we needed to get our tire replaced.
Once into town, I found the Wally World and spent the next hour getting my money refunded. Apparently the trailer tire I bought is a special order and would have taken 30 days to get shipped here? I had purchased a replacement warranty on the tire, so since they couldn't replace it, they refunded my money in full!
Thanks Jay, the manager at Wal-Mart, who went out of his way to make sure I was satisfied with the outcome. He even went as far as recommending a few different tire shops in town that would probably have the tire I needed in stock.
But since today was Sunday, everything was closed. We found a campground that had full hook-ups so we could run the A/C and parked for the afternoon.
The temperature reached 116° today, which was a new record for Nevada, and the next two days are supposed to break records also. For $16 a day, I think we're going to sit here and stay cool rather than try and drive through Death Valley and become a statistic.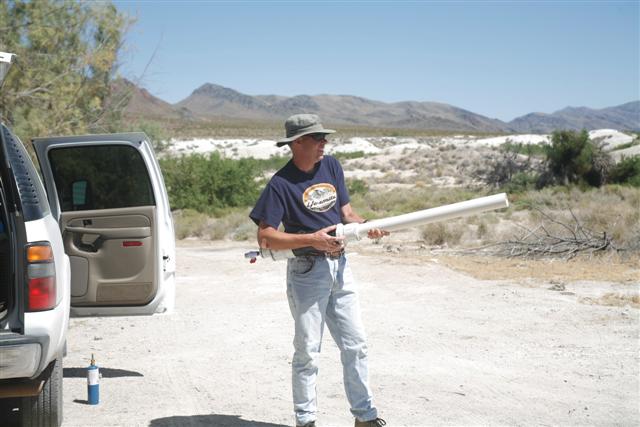 Jeff with the infamous Spud Cannon!
Monday May 19th 2008
Today was a day to sit in the A/C and catch up on blogs, photos and rest for the tired body. After the last few days of non-stop hiking and adventure seeking, my body was telling me it needed some rest.
Cindy caught up on Laundry while I caught up on computer work.
We had the A/C set to 78° in the camper and I don't think it shut off once today. The local news was warning to stay inside and not try and do anything strenuous outdoors for the next few days due to the record breaking heat wave.
Our Norcold refrigerator couldn't even keep the food cold in this heat. Then it started beeping saying it wasn't cooling properly. It was giving me a blinking code reading "No Co"? I looked in the owners manual where it said to reset it by shutting it off, counting to ten and restarting it.
This shut the alarm off, but late in the afternoon it started doing it again. Great, by this time it was 7pm, so any chance of bringing it in to a repair shop was canceled.
Resetting it will only work one time, so the only thing to do now was to shut it off. Cindy has the freezer stocked with meats from our shopping trip to Costco with Jeff back in San Diego, so she was freaking out that we were going to lose the meat.
She looked up the problem online and found a way to reset the circuit board by shorting out the alarm code. I know it sounds crazy, but while we were researching it online, we found that it is a common problem on both the Norcolds and the Dometics and is easily fixed.
It would take me way too long to explain it all, so if you ever have this problem, click HERE and you'll find the answer on how to repair it.
We went to bed early watching the award winning DVD, Juno. What an awesome movie this was!
Wednesday May 21st Sitting Still Due to Wind
After sitting all day yesterday getting caught up on everything, we had planned on pulling out first thing this morning to head through Death Valley and up towards Bishop California for the Memorial Day Weekend and the Mule Days Event.
That was till we were woken up early with the camper feeling like it was being towed down the road. Some wild winds had blown in and were rocking the camper something awful.
Cindy checked the weather which told us the days forecast was calling for 30-50mph wind gusts. I'm not sure who made this forecast, but it felt like the gusts were a constant wind and werent letting up any time soon.
When she stopped by the office at Preferred RV to see if we could stay another day, the guy behind the counter asked which way we were headed? When she said "Down through Death Valley", he said "I'd stay put, there are some stretches of Death Valley that have nothing around in any direction to stop the winds, and you can plan on the gusts being about 20mph faster through that section!"
Looks like we're sitting still for the day.
We did get our blown tire fixed with a better, stronger tire that should add to our load carrying capacity. Our original ST205/75R15 tire was only rated at a Class C rating and had a load rating of 1820lbs. We opted to move up to a 225/75R15 tire that is a smidge wider, but moves up to a Class E rating and ups the load rating to 2830lbs.!
So I'll make sure to keep you, the reader informed on how this works out.
Thursday May 22nd Through Death Valley North to Bishop
Isn't weather amazing!?! Two days ago our A/C unit never shut off in over 24 hours time. The high was 107° and the evening low was 85°. That heat wave kept us holed up in the camper for 3 days straight.
This morning we woke up to a chilly 55° with some strong winds probably dropping the temperature down even lower. That's a 62 degree change in temperature in a days time. How crazy is that!
After resetting the circuit board in the Norcold Refer, it still wasn't keeping the temperature as cool as it should. Cindy put a thermometer in the fridge and the coldest it would drop down to was a balmy 58°. We were leaving for some areas that might not have too many services available for the next few weeks, so while we had a RV Service center available in this town, we called and asked if they could fit us in first thing this morning.
I spoke with Eric over at Tropical RV Centers in Pahrump. After I explained that I needed to be in Bishop by this afternoon, Eric told me "If you can get it over here first thing, I'll pull a guy off another coach and have him take a look at it right away."
You know a good service center when they understand the needs of a full timer and make exceptions for those of us who travel fulltime on the road.
It didn't take long for the service tech to give it a once over and adjust a few sensors. He explained that most the refrigerators are set up for the typical temperatures of the Mid-West, and once you get into the grueling heat of the desert, those settings cant keep up with the extreme heat.
The service tech even showed Cindy and I how to move the temperature sensor up and down depending on where we are in the country. This sensor isn't the dummy setting on the front of the fridge, but a little sensor on the coils inside the unit.
After he adjusted it, we waited around talking for about fifteen minutes and rechecked the thermometer. In that short amount of time it had dropped 5° already. Both Eric and the service tech recommended one of the aftermarket exhaust fans that you can mount in the cavity behind the refer to help exhaust the excess heat out. Jeff Bettenga and I were talking about these and he had already told me they make ones that run off their own little solar panel, so we bought one of those from the Parts Department that I'll install in a day or so.
Thanks Eric and Tropical RV Centers for going over and above the normal service center. For being able to fit us in at the last minute, and getting us in and out in record time. Service Centers like these are hard to come by, and if you're ever passing through Death Valley, make sure to stop by if you need anything worked on.
Rolling Through Death Valley is Nothing What I Expected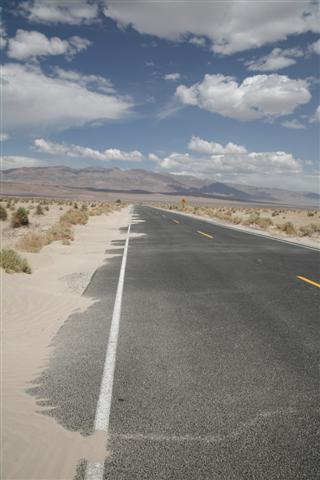 You know how you can have an image of an iconic place in your head and when you finally see it for the first time, that image you had conjured up is completely wrong. That was what happened with my first go-around with Death Valley.
I always assumed that this barren landscape was going to be flat desert as far as the eye could see. Long stretches of empty road with nothing at all to see for hours on end.
What we actually drove through was some of the most scenic, mountainous landscape we've seen in the last few months. Leaving Pahrump, we sat around 2000' in elevation. We actually had to climb up to around 4000' before we started dropping into the valley.
When we finally hit Furnace Creek, that lowest area in the United States, we had the shock of getting rained on! How's that for luck! Rain in Death Valley.
Sitting a few hundred feet below sea level one minute, we noticed the sign on the side of the road read "Steep Climbs for the next 20 miles, turn off A/C to avoid overheating"
I thought that was strange, but since those images I had conjured up of long flat emptiness was already broken with the massive mountains that surrounded us, who knew what to expect.
We started climbing and a half hour later Cindy asked "What is the engine temperature at?" We had been climbing for 6 miles non-stop at a 9% grade! I didn't even want to look at the fuel mileage we were getting, but when I did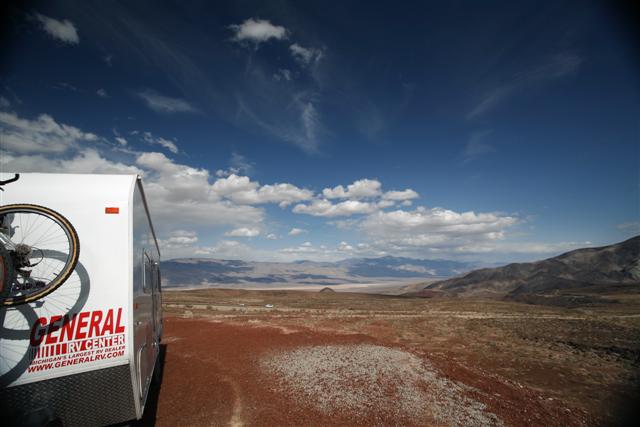 look down, the ScanGaugeII told me we were only averaging 1.9mpg. Oh man that hurts, especially since we had crossed into California, we hadn't seen diesel prices under $5.40 per gallon!
We pulled over every fifteen minutes to not only let the motor cool down, but to get out and take in some amazing scenic views. Who knew that Death Valley was so beautiful.
Once we crested the summit, the sign told me we had 6 miles of 9% downhill to let the motor cool down. This is when I thank Ford for the engine brake on that Powerstroke Motor.
While we were coming down the mountain, the engine brake kept kicking out which I think was telling me the exhaust temperatures were getting too hot to handle. We pulled over again to let everything cool down before we boiled anything on the truck or melted an exhaust tip.
Maybe this is why they call it Death Valley! The extreme climbs and descents probably ruin more than a few cars and trucks per year. I can only imagine if we would have tried to make any of these climbs a few days ago when the temperatures were breaking records. I'm now glad we decided to wait a few days.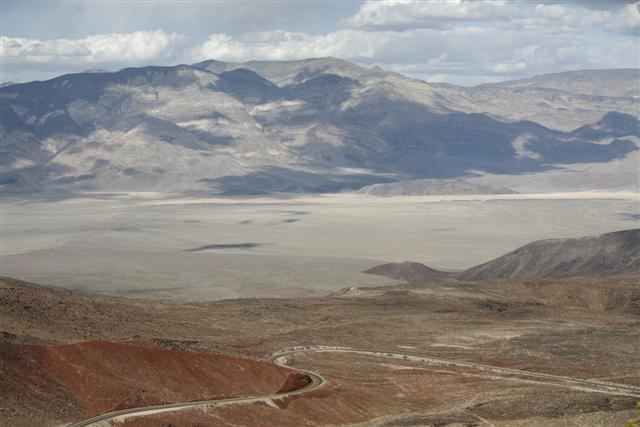 Pulling over at another overlook, we walked about a half mile out to the edge of a rocky dirt road so we could stretch our legs and give the dogs some exercise. On our way back, I was tormenting Cindy because I had wanted to drive to the lookout, but she had said "No lets walk, what if we cant turn the camper around once we get out there?"
There was a nice turnaround and the photo op's would have been award winning. So while I was ragging on her for keeping us from driving to the lookout, I went to jump from one rock to the next and landed on the side of my foot, rolling my ankle over to the ground. With a nice pop sound coming from my foot, I knew right away by the sharp pain shooting up my leg, I had just done something very bad.
I have very weak ankles, having broken my ankle twice and tearing some ligaments in my foot in the past. Cindy looked over and said "You're joking right?" I just looked at her to which she replied, "Maybe not since you're turning a pale shade of green."
I limped back to the truck and we chugged on towards Bishop with my ankle throbbing the entire time. As we got closer to the town of Lone Pine, we were driving along when I said aloud, "Look how weird that bird looks!"
Just then we realized the black bird I was pointing out was actually a fighter jet screaming towards us only 4, maybe 500 feet off the ground. When it got to within a few hundred yards of us, it banked so hard that I felt the turbulence it caused on the front of the truck.
We both watched as this pilot dropped the throttles and the jet was gone in a few seconds time, screaming across the sky like some bat out of hell. I yelled for Cindy to grab her camera when we saw it bank again and start to come back towards us, but this time it never got close enough for her to get a shot. Not that any lens could focus on the plane with the speed this guy was flying.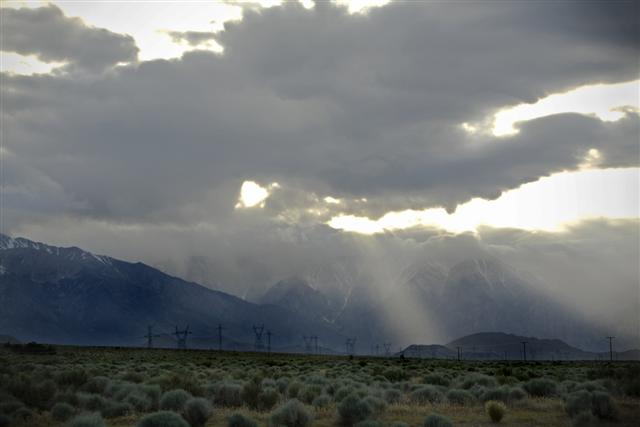 It was a cool sight though and just another neat memory to chalk up in the book of things we've seen while driving.
As we got closer to HWY 395, where we would turn North towards Bishop, we had the Sierra Nevada Mountain range as a magnificent backdrop for our afternoon drive.
When Jeff was showing us the route he had planned out for us, Cindy had asked why we couldn't just hop on over to Sequoia National Park, to which he laughed saying "Well there are these little mountains called the Sierra's that are sort of in your way."
To think Death Valley is only an hours drive from the tallest mountain in California, Mt. Whitney which stands at 14,494'. Not that we could see the peak since the tips of the Sierra's were socked in with snow clouds. If you were really good, you could climb the tallest peak in the state, and be a few hundred feet below Sea Level within an hour of climbing back down.
Driving North on HWY 395, we passed through a few little mountain towns that sit in the shadows of the Sierra's. The type of towns that are dripping with character, and bring you back in time just looking through the windows of the shops along Main Street.
The setting sun kept us from stopping to explore any of these towns, but they were noted so we'll know to stop on the next go-around.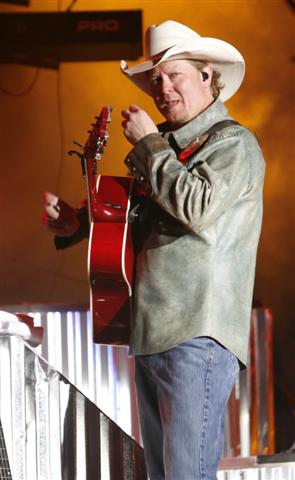 When we finally got into Bishop, we found a place to park in the Fairgrounds, and grabbed the cameras so we wouldn't miss Tracy Lawrence. I love small town fairs and the top name country acts that show up to play in front of these hometown crowds.
That's probably the one thing I love about country music so much. No matter how big and famous the bands get, they almost never forget their roots. Too many Rock-N-Roll garage bands make it to the big time, and never go back to the small towns that made them famous, but Country music stars almost never forget where they came from.
After a top notch show, I hobbled back to the camper while Cindy cooked up one of my favorite dinners. SLOPPY JOE'S!! Who doesn't love a Sloppy Joe on a cold blustery evening? This girl spoils me so bad, I sometimes wonder what I do to deserve such a Goddess?
From the looks of this event, I'm thinking we're going to have a fun weekend ahead of us, gimpy foot and all. Hopefully walking around on it all weekend wont damage it too bad before I can get to the doctor to get it X-rayed! Luckily I've got a huge supply of Hydrocodone left over from my last ankle injury, that always goes down so smooth with Makers Mark and a Coors Light...LOL
Friday May 23rd 2008 Bishop California's Mule Days
My whole life I've heard horses making the noises they make, I think you call it a whinny or something like that? I've heard a few Donkey's make the noise they make, but I've never heard the crazy, blood curdling sound that mule's make.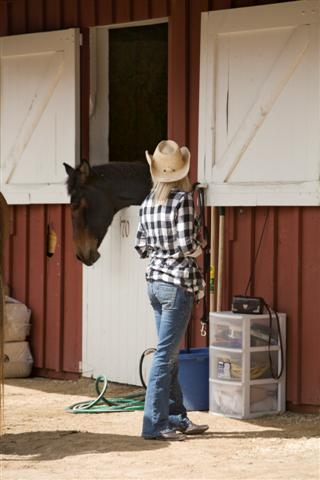 It sounds like a woman screaming in a horror movie while being eaten alive, and one of the 700 mule's make this sound every few minutes. Every time we hear it, Cindy and I both start laughing.
The events at Mule Days started at 8am this morning and will be going all day long. I had called my mother to check in and when I said that I think I broke my foot, she laughed because she too is hobbling around with a broken foot right now.
I explained what I had done and she said it's probably the same break she has as the doctor told her its the most broken bone in the foot. She also told me that the doctor said they really cant cast it, you just have to stay off of it.
Fat chance I'll be able to do that this weekend. But I did notice when I put my hiking boot on, and lace it up to the point where it hurts, the boot holds the foot to where it cant move and I can walk on it without it hurting too bad.
Once I got all laced up, we wandered around the fairgrounds in awe of the diversity of the mules. Who knew there were dozens of different types of mules? Some look like the riders legs are going to touch the ground when saddled up, others look like Clydesdales.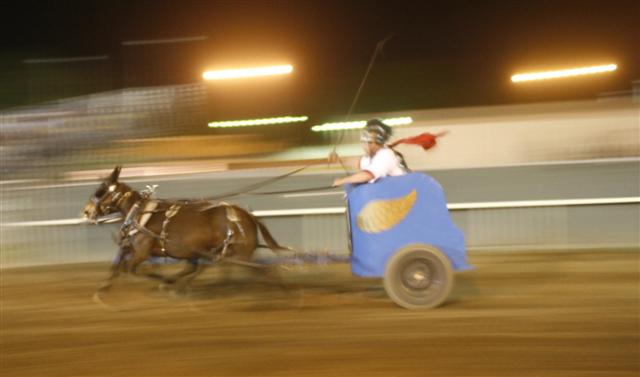 The whole object of the fair is to show people that Mule Owners can do anything a Horse Owner can do, yet do it better with a Mule. The event has been going on since the late 60's when a bunch of local Mule Packers got together before the summer season began to show off their Mules, and what they could do with them. The Mule Days event has grown from a local town fair to an International event that brings in over 30,000 people!
Watching the Roping, Racing, Riding, Chariot Racing, Cattle Working and dozens of other events that we had to get explained to us made for some great entertainment. Add to this the beauty of the Sierra Mountains behind us, and the the White Mountains in front of us, and this was one spectacular weekend.
I did think it was funny that I saw so many burly cowboys wearing pink today, but later found out that today was Breast Cancer Awareness Day, and everyone was wearing Pink to show their support for the Fight Against Breast Cancer.
We took a break from the competition to feed our growling stomachs with some of the sweet smelling BBQ offered. How can you go to a equine event and not sample some home made BBQ roasted over an open fire?
You know what follows a big BBQ meal don't you? After a short nap, we came back for the night time events. This is where the action would get real crazy with the Chariot Racing, the Calf Roping and numerous events that just amazed us. When it finally ended, the temperatures had dropped down to the chilly side of the gauge and the camper, with its heater was sounding very cozy right now.
We went to sleep the same way we woke up, with the crazy sounds of Mules screaming to one another. It was like sleeping in a funny, yet scary movie.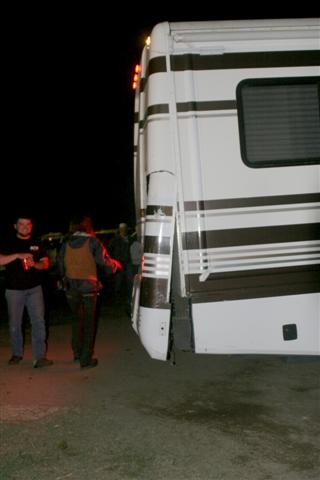 I should say that while we were walking back to the camper, we noticed a big Class A RV that was up against a fence post. I said to Cindy as we walked up to it, "Now who in the hell would back into that thing?"
Just then, a group of plastered kids came stumbling out of the big coach. They looked at the back of the camper, all laughing hysterically at the sight of their rented camper hung up on a fence post. The driver, who was the only one sober, didn't think it was as funny as the rest of his friends did. Not that it mattered; before anyone could do anything, the group of guys grabbed ahold of the fiberglass panel tearing it off so the driver could pull forward into their parking area.
Ahh the ignorance of youth! Little do they know that the cheering and excitement of a RV hung up on a fence post would cost them thousands of dollars come Tuesday morning when they try and return it.
Saturday May 24th 2008 Bishop California's Mule Days
I was getting used to the sound of the screaming mules by this point, but it still made me chuckle each time I heard it.
Today was spent much like yesterday, me hobbling around the Mule Days fair grounds watching various Mules race from side to side, jump over obstacles, pull various carts around the grounds and steal glances at pretty cowgirls in their tight Wranglers.
While we were watching the events in the main arena, we started talking to Elvis who was complaining how tight his suit fit. He joked that he had to use Vaseline to squeeze himself into the suit that looked like it was Liquid Latex.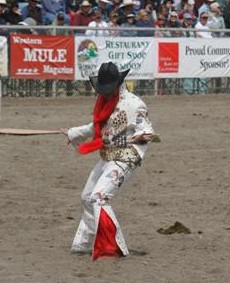 While he did his act, we kept hearing a few of the event organizers ask "Who the hell is this guy? He's not on any of our schedules?" Yet here he was out in the middle of the main arena dancing and acting like the king himself. Cindy and I laughed at the different strokes people will go through to get their ten minutes of fame.
During tonight's festivities, I was amazed when the big Priefert Percherons, a type of horse that makes a Clydesdale look like a pony, came charging into the fairgrounds with a rider standing on the top of these monstrous horses.
The average height of these Percherons is 6'2" and they weigh in around 2200lbs! To see this guy standing atop these things made him look like some sort of toy riding some cartoon horses.
What a way to end the show. But that wasn't the end, after this display, they had a Mule Parade where the Packer Teams came in with their Mules dressed up in different costumes. Some were carrying pianos, others had lighted Christmas Trees on their backs. It was quite the show.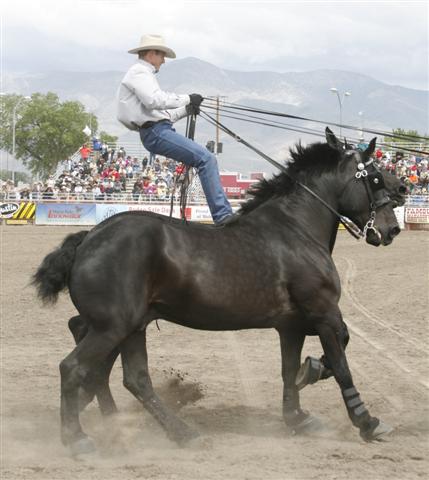 Sunday May 25th Visiting the Mountain Light Gallery
Waking to screaming Mules, we realized they had a reason to be screaming today. The weather had turned sour and was raining on us with some strong winds.
We decided to walk into downtown Bishop today and pay a visit to one of my all time favorite photographers, the late Galen Rowell. I had grown up admiring his work in everything from National Geographic to Outside Magazine.
Our book shelves at home had many of Rowell's books on them as did our coffee tables. I thought it would be a sin to be right here in Bishop, the place where Galen and his wife died in a plane crash back in 2002, and not visit the gallery where most of his cherished work was displayed.
Downtown Bishop reminds me of our hometown of Milford. With a few small restaurants, some rustic, dive bars that were calling to us, and numerous outdoor shops, we could fit right in settling down in this small town.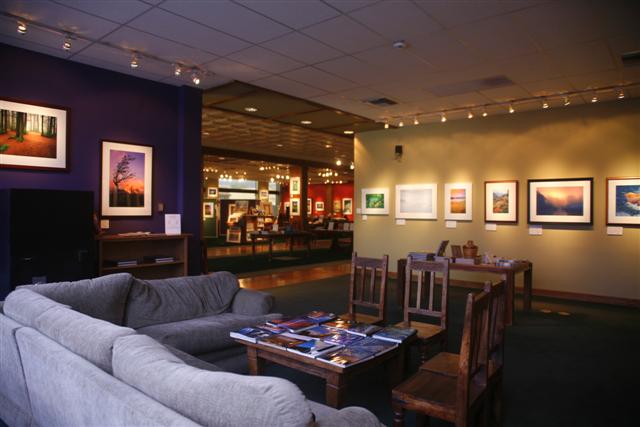 Walking into the Mountain Light Gallery, I think I got goosebumps seeing all the huge prints I've tore out of so many magazines for the past 20 years. Half the images framed on the wall, larger than life were the same images I had hanging on my walls as a child. I can remember reading through National Geographic thinking to myself "Someday, I'll be doing exactly what Galen Rowell is doing!"
The gallery isn't only Galen's work though 90% of it is, there are numerous artists who have their work displayed all amazing photographers I could only hope to duplicate some day.
While we were wandering around the gallery, I started talking to one of the women who worked there. Dodie had only moved to Bishop one year ago, but she knew the area very well. When I told her what Cindy and I were doing, she pulled out a map and a highlighter showing me many of the places where the prints I so admired were taken.
Dodie also shared an adventure of her own when she brought back some memories of traveling on a 7 month journey to Panama in a VW Bus back in the 70's. We compared notes on being on the road and the cool people you meet along the way, and how addicting it can be.
When I was completely humbled, we said goodbye to Dodie, thanked her for all the great information she had given us, and went to find one of those dive bars we had passed. After visiting Mountain Light, I'd recommend it to anyone traveling through the area.
If you're into photography, it is one of those places I would make a dedicated trip just to visit. The surrounding area is where many of the images Galen has hung in the gallery were taken, so just being in the area makes me feel like I'm making a pilgrimage to Mecca.
I know they offer tons of Seminars and if we werent on such a tight budget, I'd say we'd stick around to take everyone of them. But money is the devil when it comes to deciding where we go and what we do.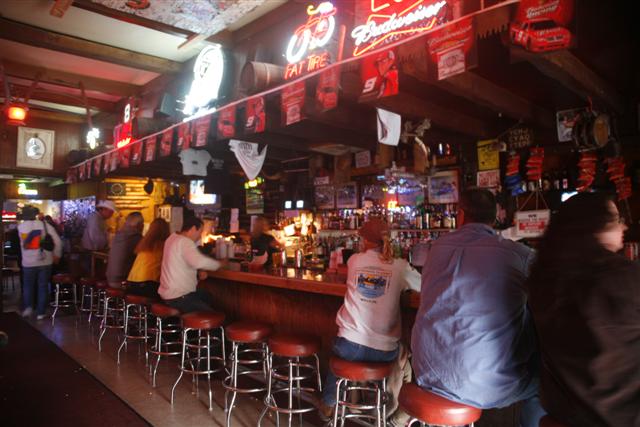 It had been awhile since Cindy and I had sat in a good dive bar, so finding Rusty's was like finding an ol' friend. Dim lighting, musty smells, loud jukebox belting out some classic hits and shitty service. Yep, I like this place and felt at home here. The drunk cowboys at the end of the bar, the yuppies shooting pool on the table in the back and Cindy and I just sitting quietly taking in all the great artifacts hung on the walls.
How can you go wrong with some deer heads, a few paintings of naked women lit with the soft glow from a neon sign and Hank Williams singing to me.
After seeing all that amazing photography in the Mountain Light Gallery, my mind was spinning a million miles an hour. Cindy told me I needed to pound my first drink to calm my thoughts, and after my second Rocky Mountain Iced Tea, I was much more relaxed. I tend to get a bit worked up after being in the presence of such amazing artwork. All I can think about it the lighting and how cool it would feel to capture images like those.
After knocking back a few cold ones, I was a bit more relaxed, we left Rusty's and found the Bishop Grill where we grabbed some tasty grub before heading home for the night.
Thursday May 29th 2008 Leaving Bishop for Mono Lake
The last few days have been a real downer for me, we've been sitting in Bishop surrounded by some of the most beautiful scenery in the United States, and here I am with my foot broken which is keeping me from hiking any of it.
The last few days were spent catching up, and trying to keep off my foot. After the weekend of walking on it and chewing on Vicodin like candy to keep the pain tolerable, Monday, Tuesday and Wednesday I needed to stay sitting down with the foot elevated to ease some of the swelling and discoloration.
It has gone from black and blue to a now pale shade of green. My toes look so gross like all the blood in my foot had drained down into them.
After finally getting the lens we were waiting for, we decided this morning to head towards Yosemite. We figured there was another day of driving and a few stops in-between that might give me a few more days to heal up, and Bishop would have to be put off for when I could hike all the available trails with both feet working properly.
I will say that of all the places we've been to so far, Bishop was the closest we've come to dropping anchor. There is this small town vibe that grabbed both of us and made us both miss our small home town all that much more. There isn't a bad view anywhere you look, and it was hard to keep Cindy from putting in applications she wanted to stay so badly.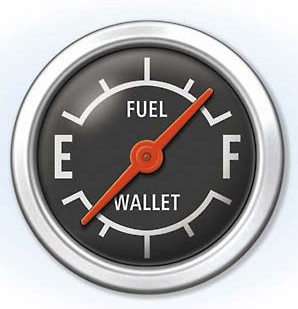 That's another thing that has really been on our minds the last few days. The fact that since we left Michigan 16 months ago, fuel prices have more than doubled.
This has really put a dent on our savings we had set aside to fund this adventure, and who knew that fuel prices would go so high? I used to get angry when I'd top the tank off and watch $50 go bye-bye, now we're talking $120 each fill-up. Now that were in the mountains, the motor seems to be working twice as hard and our mileage is way worse, which isn't helping with the higher fuel prices.
Maybe we should have done the Western States last year, and moved over to the flatter East Coast this year. But again, who knew the prices of fuel would be this high?
I think we are going to have to find jobs this summer to keep us on the road any longer. That goal of staying on the road for 3 to 5 years straight has been shattered till we can find some supplemental income.
No need to bore you with those worries of ours, back to the journey.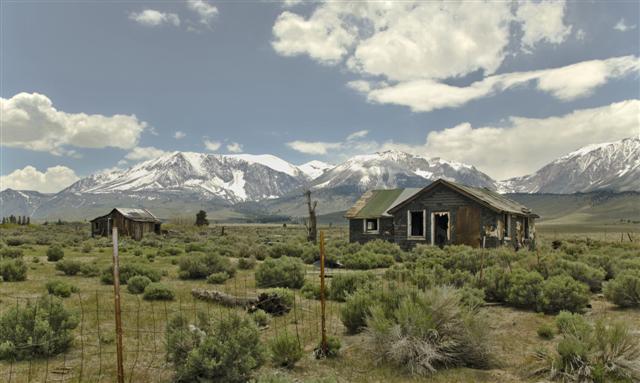 The drive out of Bishop is breath taking. High mountain vistas in every direction with snow capped peaks and deep blue skies. Alpine fields with wild flowers growing amongst the big pines.
Once past Mammoth Lakes, we pulled off the road at Mono Lake to check out the Tufa's. These are a wild looking rock formation that grows due to the salt water of Mono Lake mixing with the natural spring water flowing under ground.
They look like giant stalagmites that you'd normally see in caves. Yet they line the shoreline of beautiful Mono Lake. This mountain lake is 2.5 times saltier than the ocean and the only thing that lives in it is a ugly looking Brine Shrimp. It says that the water is so salty, the birds have trouble keeping their feet in the water as the buoyancy wants to make them float to the top.
When we first got here, it was high noon. We walked around for an hour or so snapping pictures, but when we got back to the camper for some lunch, we both were very disappointed with the images.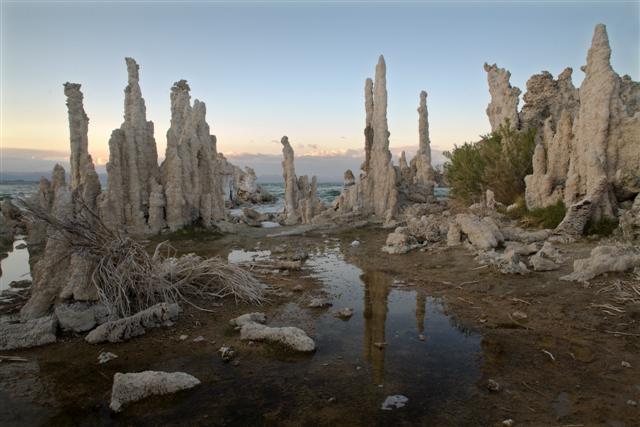 Mid-day is the worst time to take pictures, and we both decided that a afternoon nap would be in order and we would wait for sunset which is usually the best light of the day.
After catching some zzz's, we woke just in time to catch the sun dipping behind the Sierra's. As we were walking down to the water, we noticed about 3 photographers walking back to their vehicles with their gear. Why were they leaving when the light was just about to get so good?
We spent the next few hours scrambling along the shoreline both just yelling to one another "Oh man, the light is soo perfect over here!"
Funny part is, when we got back to the camper and downloaded our images, we had both taken many of the same shots, maybe just a foot or two from either direction.
We plan to be back out for Sunrise to see if the light is any better than it was this evening, then we're going to head up to Bodie to check out that famous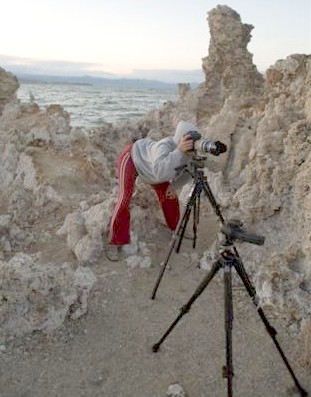 Ghost Town. Our good friend Steve Bingham was telling us so much about the place, that we're pretty excited to see if first hand.
Steve also has an entire website specializing in Ghost Town Photography, which is another thing that Cindy and I both love, so we took lots of notes while talking with Steve and Bobby when we camped with them in Arizona.
Here is a shot of Cindy learning how to use a tripod at Sunset this evening. Rather then raise the legs up to her, she thought it would be easier to bend over to it's level?
You should have seen the other photographers behind her taking pictures!! I'm not sure who was laughing harder, me or them. I'd like to see what they're pictures looked like!
All in a days work for the two of us fearless travelers.
Friday May 30th Mono Lake & Bodie Ghost Town - Both in One Day!!
If you've ever wondered why your pictures don't look like the images you see on the cover of your favorite photography magazine, it's probably because you're not taking them at Sunrise or Sunset.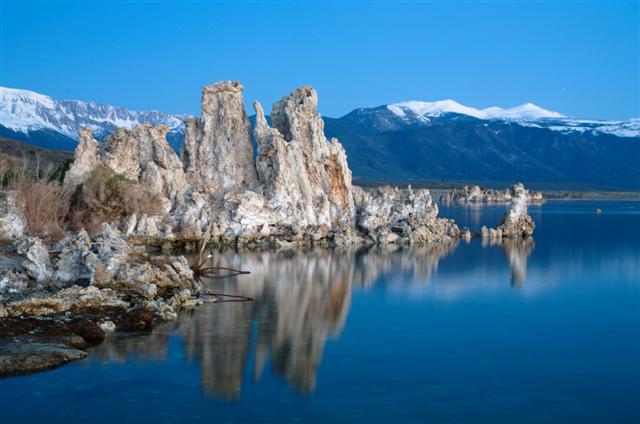 One of my favorite authors on Professional Photography Tips, Scott Kelby says "If you're not taking your pictures at Sunrise or Sunset, then you're never going to get them published in any magazines!"
After this mornings sunrise, I understand completely what he's talking about.
Yesterday afternoon, I took about 100 pictures of the Tufa's on Mono Lake. After this mornings sunrise, I deleted all those shots from yesterday. The soft light right before sunrise makes such a difference, that I couldn't even look at the images I took during high noon yesterday.
Luckily for us, we have the time to wait around for the optimal light, so those first 100 shots just helped me figure out where the best spot was for this mornings shots.
We were up at 4am to get down to the waters edge before the sun was even close to cresting the snow capped mountains surrounding Mono Lake. The water was so calm, it was like a pane of glass. This was much different then yesterdays strong winds that made the camera hard to hold still on a tripod and had the water whipped up in a frenzy.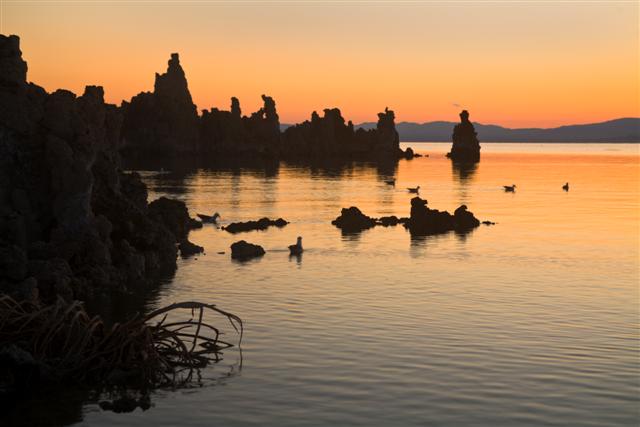 Cindy was much better with her tripod skills this morning, but she has come to the conclusion that the old tripod she is using is going in the trash. Considering it's one I've had since I was 18 years old, I don't blame her.
I also find it funny that a few weeks ago when I told her there was a really good deal online for another one of the Manfrotto tripods that I use, she said "We're not spending another dime on photography equipment!" After wrestling with this dinosaur of a tripod all morning, I think she would have spent any amount to get a better model.
Traveling with your house and office makes for a great way to take pictures. By the time the sun was up, we were back in the camper sipping on some hot tea while Cindy made breakfast. While she whipped up some vittles, I downloaded the freshly taken images off the cameras and while she worked on her blog, I took a short nap.
Once she was all caught up, we were on the road towards Bodie Ghost Town,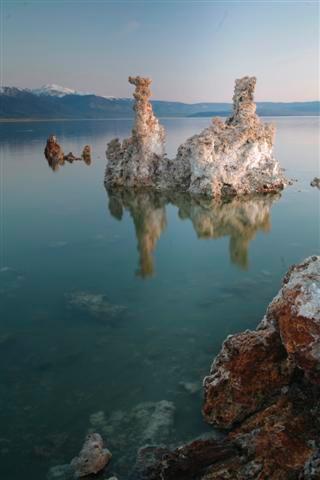 which was an hours drive from Lee Vining. How sweet is that to have caught a sunrise at one beautiful location, and soon to be snapping pictures at another spot while the afternoon sun does it's best to bring out the patina in the wood of these old buildings.
On the way, we stopped at a service station to have one of our tires replaced. We still had the stock 205/75 R15 tires on and one of them had a big piece of wire in the tread. I was a bit worried because another one of the tires was getting a bulge, so I had both tires replaced with the stronger, bigger 225/75 R15 tires. This upped the rating from a Class C of the stock tires to a Class E! Piece of mind for me, and with the stronger payload, hopefully I wont have to worry about blowouts any more.
Not that I should be complaining, these are still the stock tires that have held us through the past 55,000 miles. Granted we have replaced one or two here and there, but for the most part, they've held up great. I just wish I would have known that I could up the size and in doing so, double my payload capacity on the tires.
Make sure you check out our Mono Lake Gallery
Bodie Ghost Town
Ghost Towns are something that Cindy and I both enjoy very much. We're both history fanatics and love anything that is old and tells a good story. Numerous people along our journey have mentioned the ghost town of Bodie, and all have talked about how beautiful it is.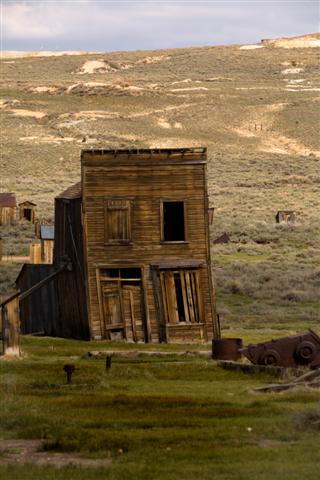 If you remember our adventure at the Vulture King Ghost Town back in Arizona, we were both so impressed with that piece of history, that I was curious as to how Bodie would compare.
Just the mountain road into Bodie is beautiful. 13 miles of winding, narrow road clung to the side of a mountain with snow capped peaks in every direction. Once you crest the summit and start to drop down into the valley, you realize the town of Bodie itself is huge. Twice the size of any Ghost town we've seen to date.
The $3 per person entrance fee was a joke for the hours of enjoyment we'd have for the rest of the afternoon. My foot was killing me after this mornings hike, but I'd have crawled around the dirt streets if I had to in order to photograph this piece of history.
Bodie makes Vulture Ghost Town look like a joke when comparing size. But I will say that I liked the fact that Vulture let you go into almost all the buildings in that forgotten town. Bodie has the doors wired shut, and you have to look into the structures through the original wavy, thick glass in the windows.
I love to wander around the towns imagining what it must have been like when the streets were filled with people. Bodie at one time was a wild town, being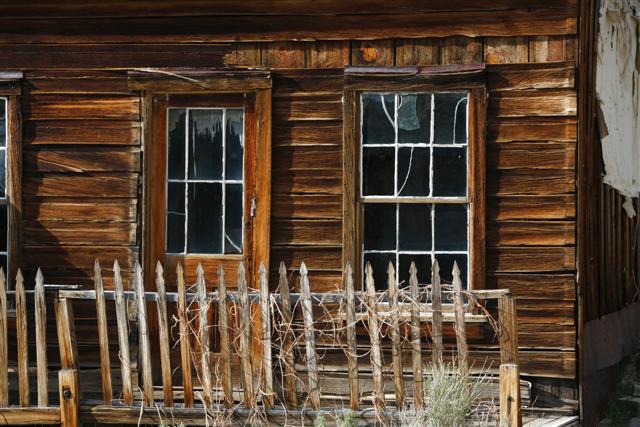 home to thousands of people when the gold mine was active in the late 1800's.
San Francisco's Daily Alta California newspaper says in June of 1879. "There are at least sixty saloons in the place and not a single church." The town rivaled Tombstone, Dodge City and Deadwood for frontier violence and was known as one of the wildest towns in the West in its heyday.
Bodie is also a photographers paradise. With building after building just begging to be photographed, it is no wonder the Ghost Town attracts over 500,000 visitors each year from all over the world. The care taker in the Museum told us there was over 300 visitors just today. But the town is so big and spread out, that most of the day, Cindy and I were alone wandering around snapping images.
By 5:30, there were only two other vehicles in the parking lot. It was a bit spooky to have the whole place to ourselves. We did get a chance to talk with one of the park rangers who told us some great history that isn't in any of the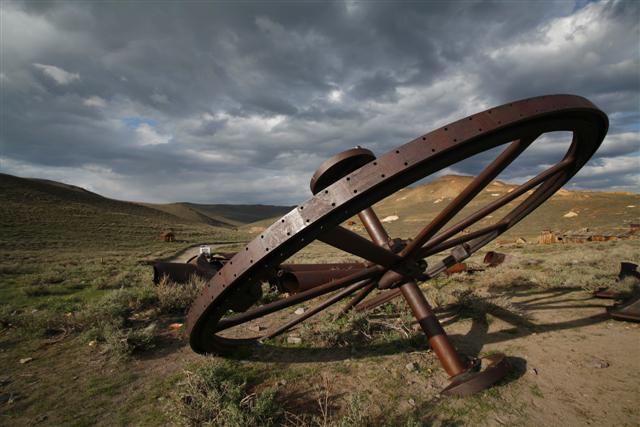 books or pamphlets they sell at the main gate.
To work at the State Park, the employees have to live on the property in a few of the old houses that have been renovated. You'd never know from the outside, but the ranger told us on the inside, they've been updated with electricity and a few modern amenities. When I asked him how they survive the winters, he laughed saying "Oh those can be brutal!"
"With 10 foot drifts, we usually have to tunnel our way around most of the buildings," he told Cindy and I.
Anywhere there was shade, there were still piles of snow left over from the long winters that blanket these elevations in the Sierras. He told us that just last weekend, they had a light dusting of snow.
The park closes at 7pm, and by that time, I was out of Compact Flash Cards, something I never seem to have enough of. By this time, I was needing to get off my foot anyway. I apologized to Cindy and said "I'm sorry if I'm whining, but if my foot wasn't 100% broken before today, it is now!"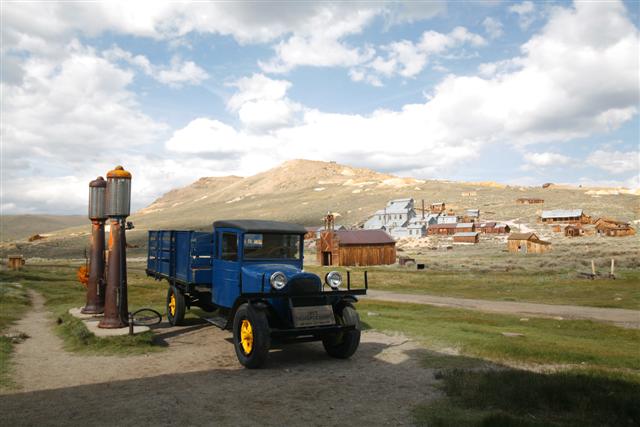 We drove back into Lee Vining where we found a campsite along the shoreline of Mono Lake. Tomorrow we'll head towards Yosemite, and see what the Tioga Pass will have in store for us. Hopefully any chance of snow is done for the year, but this high in elevation, you never know.
I know today was about as perfect of a day as one could ask for. Between the sunrise photography session, then topping it off with the afternoon in one of the largest Ghost Towns in the West, and finishing it all off with a campsite overlooking Mono Lake, who could ask for anything more?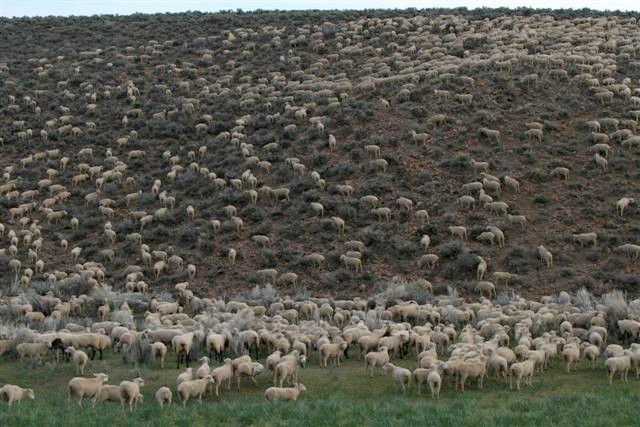 1000's of Sheep along the Mountain Side on the Road to Bodie
Saturday May 31st
After yesterdays photo extravaganza, I needed some time to recoup and catch up with the photographs. I mentioned to Cindy that I haven't even put our Monument Valley images into a gallery yet, and we've done so much since then, I'm starting to get overwhelmed.
So today was a long day spent in front of the computer. I've crashed the laptop numerous times, froze up Photoshop twice and think I'm starting to get bed sores on the bottom of my legs from sitting so long.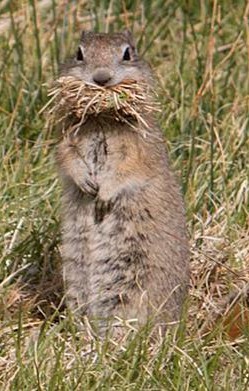 But this is a good thing for my foot. Today is the first day it hasn't hurt at all. After yesterdays walking on it for so long, my toes look like little purple baby carrots. I'm not sure if the foot is bleeding internally, but my toes keep getting more and more purple if I walk on it for long?
Cindy keeps telling me of how much of a pussy I am, but I seem to remember when her foot was hurting while we were in Mexico, to go from camper to beach chair to refill her Margarita was a chore for the first two weeks after her injury.
We got a visit from the Park Ranger who we had talked with yesterday while we were in Bodie. He came knocking on the door to make sure we knew we were camped right on the edge of a preserve and wanted to make sure we werent going to go driving into it.
After leaving Bodie yesterday evening, we saw some two track heading off towards Mono Lake, so we took it till we found a turn around and called it a camp site. He wanted to let us know we werent doing anything wrong, but that we would probably be the last people to camp out here because they were turning the two track into a hiking trail in a few weeks.
He showed us some cool natural landmarks in the area, and bid us good luck before heading on his way. Nice guy and very cool to go out of his way to make sure we knew everything around us incase we wanted to hike or photograph it.
So after too many hours of being on the computer, I've uploaded a Monument Valley Gallery, a Bodie Ghost Town Gallery, and the Mono Lake Tufa Gallery. Doesn't sound like much I know, but the Bodie Gallery is huge, so I'm warning you right now, give yourself some time before you sit down to go through that one.
I still have to go through the Mine Exploring photos, Death Valley, Mule Days, all of the Southern Utah stuff which is a day of work alone, and I'm still working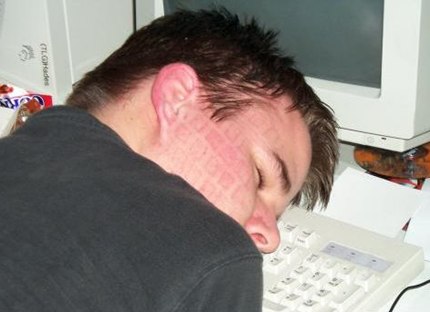 on a Baja Gallery. We were contacted by a guy who puts out a Baja Calendar and wanted some of our images for the calendar, so I've been trying to get some in order for him.
Digital photography is great fun, but the editing process isn't. It used to be so easy to send off 25 rolls of film to the lab and hope 4 or 5 pictures would come back as keepers. Now 75% are keepers, so sorting through them is a major task and then resizing and editing is a whole nother process. Ok, I'm done complaining about my only Job I have right now...LOL
Not all of the time was spent on the photographs either. I did answer a bunch of emails, (By the way, I absolutely love everyone's emails they send us, it so makes my day to hear from readers) talked with Jeff on the phone for an hour about where we're at and got some more tips on cool spots to visit while were here, and fixed the fridge since it went haywire again.
Monday we'll have to call Norcold and see if we cant get a new Circuit Board mailed to us? This is getting scary. I'd hate to lose our food and have to eat one of the dogs. You know it'd be Lucy, the fat Beagle. Luca is too skinny to be good eatin'.
The day ended with an amazing sunset over Mono Lake, but I'm too lazy to download it off the camera. So I'll have to post it later. Sorry, but I hate Photochop right now.
Return to Top of Page
Need Unlimited photo storage- FREE Trial of Smugmug