When we realize our insignificance in this world,
it some how relieves the pressures from society to succeed -
Cindy Bonish 04/07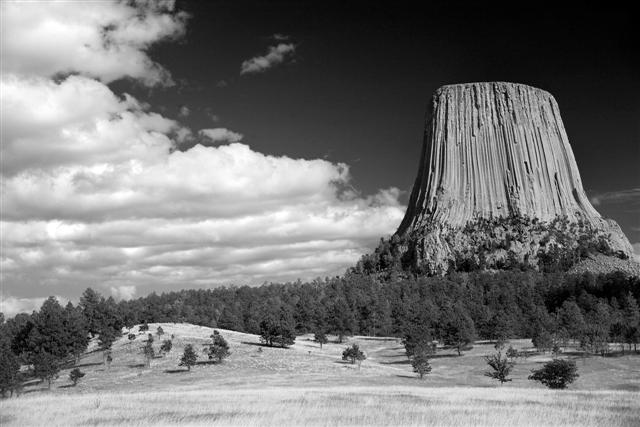 Pat's August 2009 Blog
If this is your first time here, you might want to start from the beginning of our fulltime RV Journey with our Past Blogs
If You Don't Know Me Yet, Click Here to Read Pat's Bio
Photo Gear We Use - Solar Tips, Fact's and Trick's we've learned while on the road
Camper Check List - A list of things we do before leaving camp. Again, this isn't gospel, but its a good start for those who might not already have a list made up.
****
Sunday August 2nd 2009 - Spearfish Canyon Motorcycle Ride
As crazy as this sounds, I think Sturgis might be good for Cindy. Not the actual motorcycle event itself, but the time spent with Jana and some of Jana's friends.
Our past few weeks have been a bit rough on her as she's been going through one of those stages in her life where she's very homesick. I dont think it's the Stick House or the security of being at home that she misses, I think it's the comfort of having close friends to visit with on a regular basis and being around family that she's longing for.
I know that Facebook has helped her cope with these feelings, because she can at least talk with dozens of friends, her brothers and sister almost every single day and it makes her feel a bit closer to home.
Being here in Sturgis and staying with Jana, I've noticed a shift in her attitude almost as soon as we backed into the driveway.
Jana and her husband Tom have been kind enough to allow us a place to park that is only 15 miles from Sturgis. Right at the entrance of their subdivision is the intersection of Route 14 which snakes through Spearfish Canyon and is one of the main attractions for bikers attending this monstrous rally.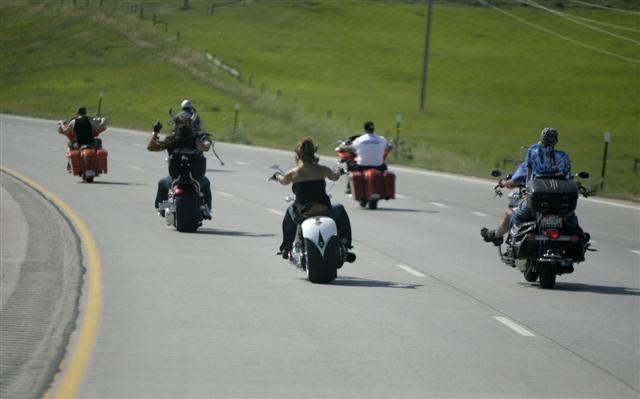 Cindy went out for an early morning walk with Jana and one of her friends, Kym, this morning and came home all excited telling me we needed to drop the bike and get out on the road.
This was a surprise, because Cindy normally hates riding on the back of the bike, let alone telling me she wanted to spend the entire day riding around the back roads of South Dakota.
I guess since we've both lost so much weight, our butts fit a little better on the very narrow stock seat that feels like you're riding on a plank of wood. Corbin makes a softer, gel seat for our bike, but the price is a tad too high for our budget, so we figured it would be better to lose the weight off our back ends rather then spend $300 on a gel saddle.
Since we've left Florida this spring which was the height of our fat, overweight, bloated bodies, Cindy has lost 29lbs and I've lost just about the same. So dropping 30lbs a piece makes doing many of the things we used to avoid much easier.
Once we got on the road, I felt a bit silly riding around on our little Supermoto bike when in every direction we looked was bright, shiny Harley's with their loud pipes and low, comfortable stance.
Not that I felt intimidated, it's just that this is a major Harley event, so riding on what they call a Jap Bike, is sort of frowned upon.
The collection of bikes rolling the back roads is very impressive. You see anything from bone stock Harleys that look like they just rolled off the showroom floor to tricked out custom choppers that probably fetch 6 digits without blinking an eye.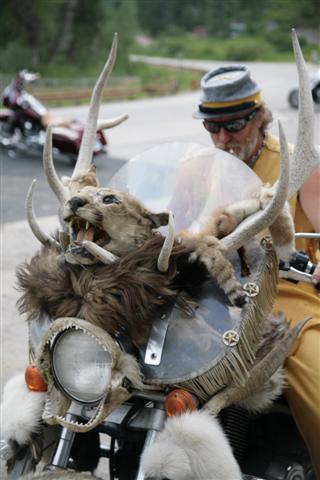 What is even more fun to watch is the riders riding these bikes. Every shape, size and style of person is seen along the crowds. Buff guys with no shirts on to guys that make you cover your eyes who are also going shirtless and shouldn't be.
Tattoos and more tattoos. Leather chaps, thongs, shorts and vests sporting colors, riding clubs and various bike chapters from all around the world. Girls that look like they could be on the cover of any magazine are mingled here and there, but for the most part, the women are corn fed beauties who aren't afraid to show a little skin and let it all hang out.
We stopped a few times in the various little towns that Route 14 winds through and Cindy explained all the history of the mining towns that Jana and Kym had passed down to her along their walk this morning.
The roads in Spearfish Canyon were made for motorcycles and the riding is world class. We've actually met a bunch of guys who are just in town to ride the roads, and could care less for the Rally itself.
We thought that was sort of funny because why would you travel all this way on a motorcycle to ride these roads, yet not soak in some of the events and partying going on all around you? If you are just in town to ride the roads, come in July or in September when the hundreds of thousands of people are back home and you have the roads all to yourself.
We stopped at a little saloon in the town of Lead that is as eclectic as they come. Walls filled with various trinkets ranging from surf boards, to downhill skis to biker paraphernalia. Beer signs dating back from the 50's and a few walls lined with a beer can collection to rival any museum.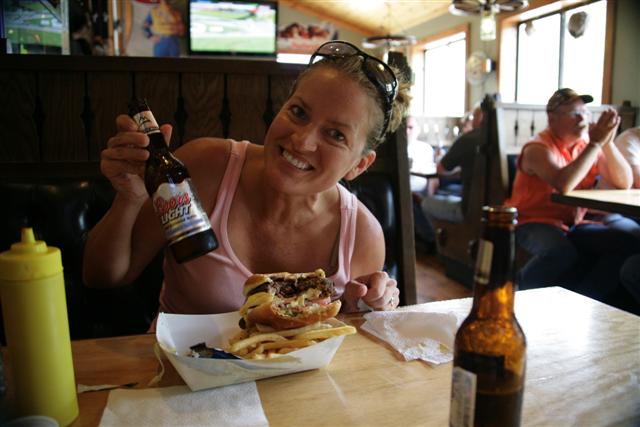 Being a collector of old beer cans myself, I was drooling at some of the names and funky styles of cans they had on the walls. Seeing places like this make me miss the Red Dog Saloon and the eclectic style of decorating we had in our historic bar.
With full bellies and our butts good and worn into the saddle, we headed back out on the road and down to the town of Deadwood.
We just rolled through this town because the streets were so lined with bikers and their rides, finding parking for a little bike like ours was going to be a major task. The sidewalks of Main Street looked like downtown Manhattan at 5pm they were so filled with people. Only difference is rather than business suits and briefcases, the people filling the streets were clad in leather and chaps.
We pulled into Sturgis, and Cindy asked where I was going? I had no clue where we were headed and the town of Sturgis is much more spread out than these other little towns we'd just passed through. So rather than get ourselves lost, we just turned around and headed back towards Spearfish along the twisties of Route 14.
When we arrived back at Jana's, Tom had come home from his weekend camping trip with his daughter in Northern Wyoming and we all headed out to Culver's for some dessert.
This local chain restaurant is home to a custard style ice cream that is to die for. I woofed down my Cement Mixer, their name for a Blizzard style dessert and was ready for sleepy time. Nothing like a thick, custard to send you off to snoozeville. It was like taking a sleeping pill and I was out the second we came home.
Monday August 3rd 2009 - Jake Pine Gypsies Hill Climb
Being the local photographer who covers most of the sports going on in town, Jana had gotten us Press Passes to cover the Jack Pine Gypsies Hill Climb today that was taking place down in Sturgis.
We headed out and I was looking forward to seeing some motocross action on the hill. When we lived in Michigan, this was an annual event we'd head up to the Silver Lake Sand Dunes for as teenagers and it would usually involve a huge caravan of friends camping in the sand dunes for the weekend to watch the dragsters, motorcycles and four wheelers try and climb the steep hills.
Jana and I scurried up the sidelines trying to find some good spots to get better shots, but it seemed that any spot we'd position ourselves, the wind would shift directions and coat us with a thick layer of red South Dakota dirt.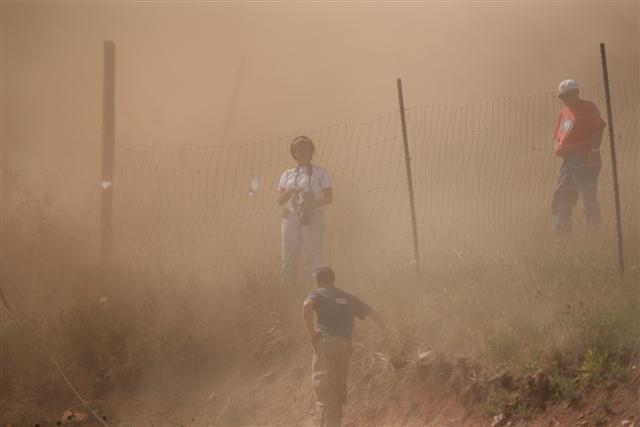 That's Jana in the Middle trying to Cover her Camera - Something tells me this isn't good for the Camera and Lens....LMAO
I finally headed down to the starting spot and sat in the bleachers with Cindy where the breeze blew from behind us and swirled the dirt up the hill. Jana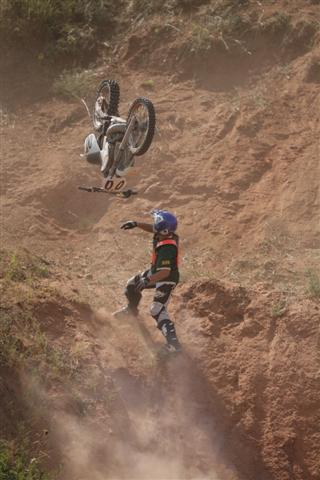 stuck it out and stayed along the sidelines of the upper portions of the hill, and there were a few times Cindy and I would be laughing hysterically as a biker would wipe out right beside her and we couldn't even see her the dirt/dust clouds were so thick.
When it finally ended and we were all back at the truck, Jana was so covered in red dirt, she looked like she was 10 shades darker then when we came to the event. She took off her sunglasses and it looked like she had a white band around her head from where the glasses had kept the dirt off her face.
When we came back to the camper, I took a long, cold shower and had to scrub the bottom of the shower to get the red dirt out of the floor pan. Hopefully it wont clog the gray tank!
The rest of the night was spent fooling around on Facebook. Yes, you heard it right, I finally broke down and joined the social networking craze after deleting about 20 invites each day from all my friends back home.
I figured if you cant beat them, join them, so if you're a member, check either me or Cindy out and you can follow us on either this site, or that one.
The night ended quickly when Cindy was administering to my bug bites I have all over my legs. Remember when I talked of the Mosquitoes loving me while we were in Yellowstone. Well this goes for both Ants and Spiders. Something I'm highly allergic to.
I have at least 12 bites that are the size of dimes all over my legs from sitting out in the grass talking the other night. They itch like mad, but Cindy fixed me up with a couple of Benedryl tablets and a strong Tequila and Sprite, one of our favorite drinks.
It only took about an hour for the Benedryl and Tequila to kick in, and it was sleepy time for Pappy. But at least I couldn't feel my legs anymore.
Tuesday August 4th 2009 - Finally Going to Downtown Sturgis
Most of the day today was spent working on things on the computer and acting like a couple of computer nerds.
Its funny how you can waste away a few hours which will only seem like a few minutes to you because you're busy getting things finished the entire time.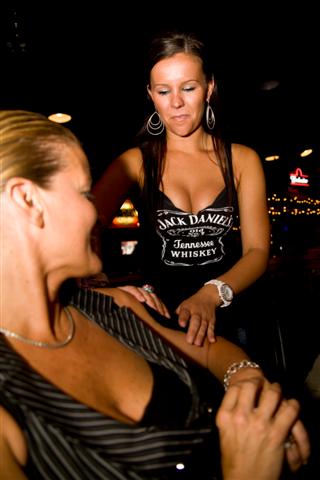 For lunch, Cindy grilled up some steak fajitas for Jana and I, and we all sat around talking photography and about ways for Jana to market herself in this area. She's got quite the business going here in Spearfish, and it makes me want to settle down to work on our photography when I see all her prints.
There is something to be said for having a home base and saturating it like she has with her top notch photography.
While we were talking, I mentioned that if she had any weddings or photo shoots coming up, I'd be happy to offer any help I might be able to give since she is letting us camp out in her yard for free.
About an hour after lunch, she came knocking on the camper door and asked if that offer was for real. She said that she had a shoot this afternoon that would be a first for her.
A friend had asked her to take some Maternity shots of her since she's about ready to pop any day now. We brainstormed various poses and lighting options and got out some gear that we thought would work.
With the two of us throwing ideas back and forth, I assisted her while she shot the young lady in various poses and I think we came up with some great shots that she'll be very happy with.
Neither of us had ever shot a maternity shoot before, so it was fun to do it together for the first time. Photography for me is a learning thing, it seems every day I'm out shooting, I try and learn new things. This is also why I'm so drawn to it. You can make any scene or person look different if you try various settings on the camera, and mastering those tools is my goal.
Once we were finished with that, we all got ready and headed into downtown Sturgis for the night. We had planned on bar hopping and getting the full tour from Jana, her husband Tom and their good friend Kym.
Our first stop was the Loud American Roadhouse which was just as the name suggested...LOUD! The streets were lined with bikes and the sound of rumbling Harleys was all you could hear echoing off the buildings.
We all sat around talking, sharing stories and polishing off a few cold ones. Just as we were about to leave, the sky opened up and it started pouring outside. We ducked under the awnings as we wandered down the street finding our way to the next Saloon.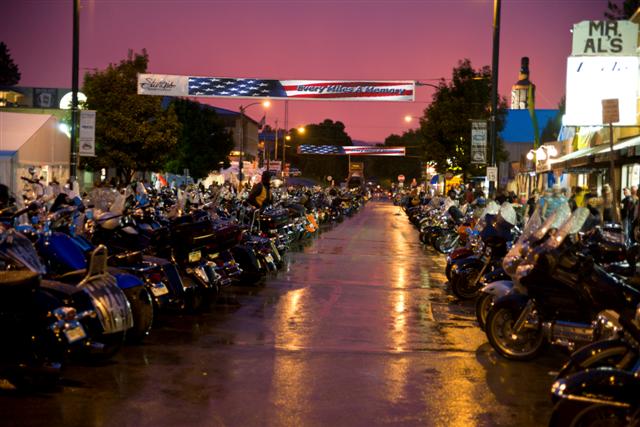 The Knuckle was supposed to be the happen' spot, but I think we were a bit early for the serious action. Plus, I was on two Benedryl which was making me feel just a tad bit sleepy and drugged up.
Not that I minded any, I made for a cheap date and felt more like Johnny Depp in Fear and Loathing in Las Vegas as he tries to walk into the Hotel. If you've seen it, you'll know what I mean.
Jana and Tom both had to work early in the morning so they said they were headed home and if we wanted to stay down town, we could catch a cab back with Kym. Cindy was all for this option till I reminded her that there was a big difference between having a few drinks at home for minimal costs and paying $6 a drink down here.
So we piled in with Tom and Jana and wished Kym good luck with her night out on the town. When we got home, I brushed my teeth, laid down and was asleep within seconds.
I'm hoping we'll find something more exciting tomorrow as tonight was pretty boring. We were able to get Press Passes to cover the Aerosmith show at the Buffalo Chip, but the PR Lady said we'd have to pay our entry fee which is $120 per person, so we said forget that and figured we'd just see a bit of everything else and miss this Sturgis Spectacle. Maybe next time.
Wednesday August 5th 2008 - Downtown Sturgis For Real This Time
With last night being so lame because of my drugged up personality, we figured we'd head back out tonight and see if we couldn't find some fun without the Benadryl in my system.
Jana had company come in from out of town, so she was busy being the tour guide, but Kym, her friend who has been walking with Cindy each morning volunteered to be our tour guide for the night.
Now Kym should be a full time tour guide for the surrounding Sturgis area. Anywhere she brought us, she explained the history, what type of crowd it would have inside and would go on and on with interesting facts. If you know me, you know I'm a collector of Useless Facts, so information like this is what I find most interesting.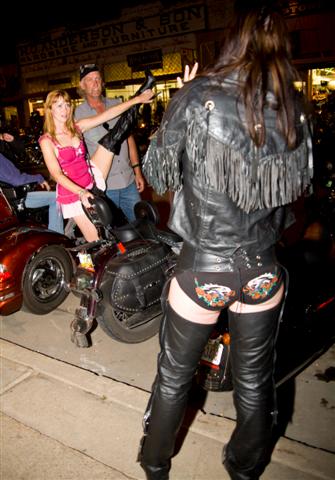 She even offered to pick us up and act as the designated driver since she whooped it up last night after we left so early. I mean can these local South Dakota people get any more outgoing and congenial or what!?!
We started the night in the One Eyed Jack Saloon, which is one of those bars that just keeps going and going. It seemed like each time we'd walk through a doorway, it would open up into a completely new bar that was bigger than the last.
This bar is known for the girls dancing on poles atop the bars, scantily clad waitresses everywhere you look, body shots, wild antics and basically everything you'd expect Sturgis to be during bike week.
Kym said "You wanted to see the real Sturgis...this is it."
We sat out on the second story balcony where we met up with Jana and her family visiting while watching people wander, stumble and ride up and down the main street, which was so lined with bikes, they were parked on both sides of the road and double parked down the middle of the street.
While we were walking downstairs to head out, Kym stopped us and said "Ok, this big bartender is crazy and when people are crowding around her bar, something good is going to happen, so lets hang out a second."
We all stood around watching as the bartender and a couple of scantily clad ladies walked up to a big biker standing with a group of women. They put their arms around the biker and told him they had a surprise for him.
He was all excited thinking a few women were going to do something good to him. They proceeded to tie his hands and feet with caution tape and pull his gangster bandana down over his eyes so he was blindfolded.
Oh, they also gagged him so he couldn't scream too loud. They then picked him up since he was basically Hog Tied and couldn't move too much.
They carried him behind the bar and dropped him into a horse trough that was filled with ice cold water which was keeping the nights beer cold.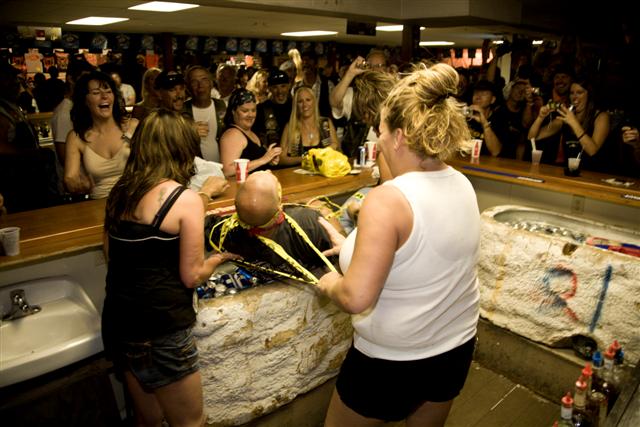 Getting Dunked in a Ice Bath @ One Eyed Jacks Saloon
I'm sure by the way this guy was squirming around like he was plugged in to a 220 electrical outlet, the water was a shock to his system. Not to mention the fact that he was hog tied and gagged. Even through he was gagged, you could still hear him screeching over the live band playing in the background.

Getting Whipped with his Own Belt! That Hurts!
If you think this was a bit much, they then pulled him up and out of the ice water, stood him up, turned him around and bent him over and went to town on his butt with his own belt.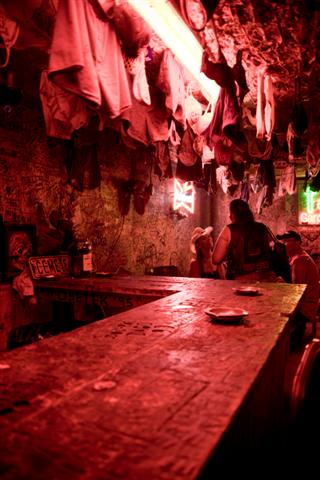 While he was still blindfolded, they filled all his pockets with whip cream and unzipped the fly on his jeans and filled his boxers with whipped cream.
Now if it wouldn't have been for Kym, our all knowledgeable tour guide, Cindy and I would have just wandered out and missed this hysterical spectacle. Thanks again Kym for your expertise in showing us the antics of Sturgis.
From One Eyed Jacks we headed down the street to the Dungeon Bar. This bar/cave/dungeon was below another series of bars and was something you have to see if ever visiting the Sturgis area.
There wasn't a square inch of wall space that wasn't covered with dollar bills, panties, bras or various biker paraphernalia. There was a large jar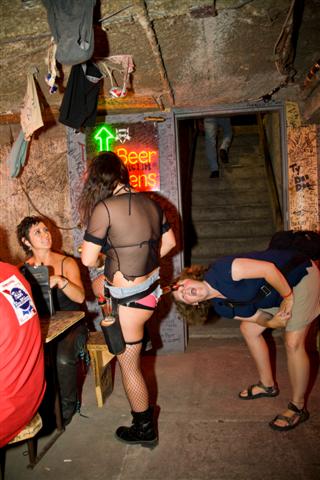 filled with condoms on the bar for sale for $3 a piece, but if you paid $5, you got a beer with the condom too. Sounds like a good deal to me!
Up a steep concrete staircase behind the Dungeon Bar is the Beer Garden. We walked out to see what this was all about. At the first booth sat a big, burly biker woman who was soaking wet.
There were signs hanging at this watering hole advertising Free Beer. This woman looked at my camera and said "If you're looking for the free beer, it's upstairs on the patio."
I asked why she was soaking wet and she growled back in a life long smokers voice "Well the beer is in the bottom of a large pot filled with ice water and you have to dunk your entire head to the bottom and grab the beers with your mouth." Basically bobbing for beers if you will.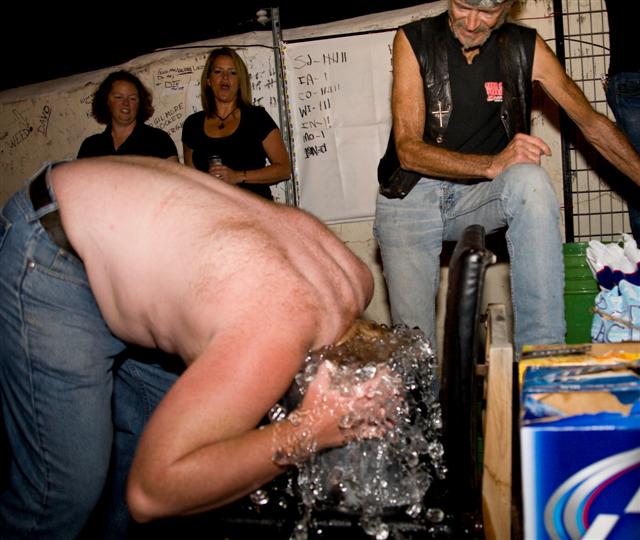 Bobbing for Beers in Sturgis
I asked how many beers she was able to get and she blurted out "Ah shit honey, these tits of mine are so big, I cant get my head down into the bottom of the pot far enough to even grab them, so I'm down here drying out and warming up till I can figure out how to cram myself further down in there."
We walked up another very steep stairway (Something tells me these buildings have been around since long before building codes were put into effect) to a roof top patio filled with screaming bikers and beer drinkers.
As we walked into the scene, a big burly guy from Wisconsin had just dunked his head into a aluminum pot filled with ice and water and came up with a Miller Lite in his mouth.
Cindy made the comment that this isn't fair since he's from Wisconsin and this is how they ice fish in the winter. "These beers aren't even moving, so it's too easy for them" I heard her say to the guy filling the pot back up with ice.
The guy in charge of the game said "Yeah, we have to figure something out, because there is a group of guys here from Wisconsin and they're drinking us out of beer they're so good at it!"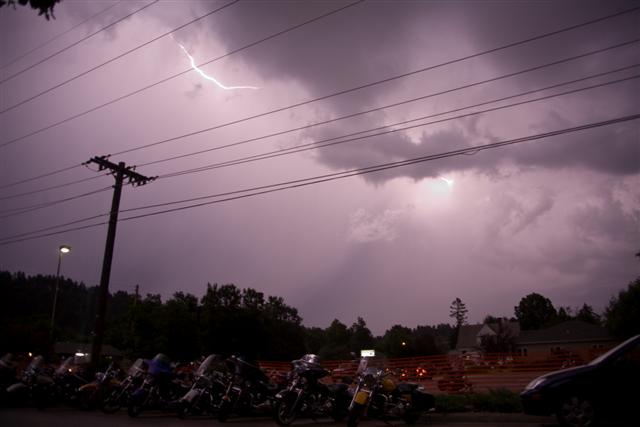 This was one of the only shots I could catch with the camera, but you should see the shots Jana got!!
About this time, the sky was putting on quite the spectacle with lightening zig zagging all across the surrounding mountain sides.
Kym said that we had better get going over to the Broken Spoke before it started pouring or we'd be walking in the rain.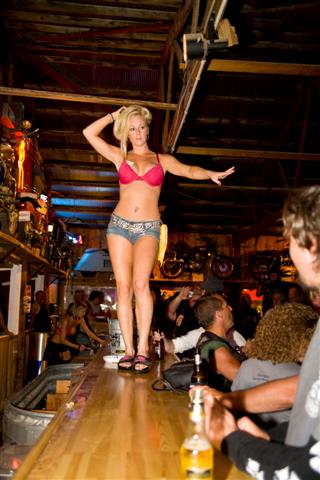 About half way there, the sky opened up and we sat under an awing just watching the lightening, the pouring rain and the wind whip all around us. I'm sure the bars pray for rain or hire some of the local Indian tribes to perform Rain Dances during the Rally. The streets went from them being hard to walk down the sidewalk to a ghost town within seconds of the rain starting.
What happened was the bars now became filled to capacity and the party just went from the streets into the surrounding bars.
We ducked into the Broken Spoke and sat listening to the live band while we waited out the rain. We talked with a group of guys who were on their annual pilgrimage to the Rally and watched the sexy bartenders dance atop the bars to keep the crowd entertained.
Kym had one more stop she wanted to show us, so when the rain let up a bit, we walked back to her car to head across town to the Full Throttle Saloon.
Now calling the Full Throttle a bar is like calling the Sistine Chapel just a Church.
The Full Throttle Saloon is more like a small town than anything else. There are about 20 bars within the compound. There are little cabins for bikers to rent for the Rally week and with random signs you'd normally see along the sides of the Highway positioned around the property, it almost looks like you're entering a small downtown area.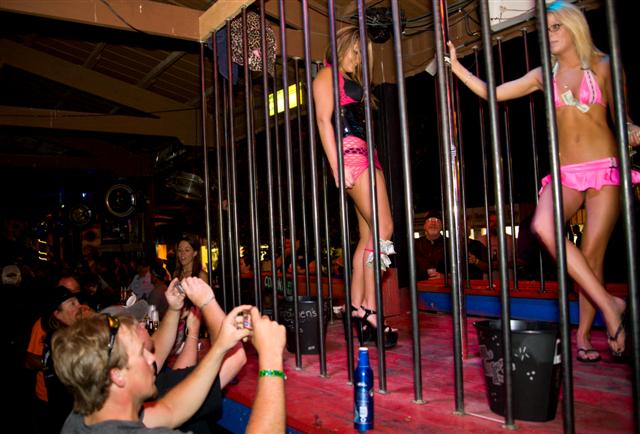 There are booths selling leather goods, bike parts or offering Tattoos for the party goers. There was a live band jamming on the stage and depending on which side of the compound you were on, you could be entertained by half naked girls dancing in carnival cages to hip hop music or watch as a topless girl rode the zip line that raced you from one side of the bar to the other, probably a distance of 75 yards total.
There was a vintage travel trailer that had the side cut off and was converted into a bar.
This place has to be seen to be believed!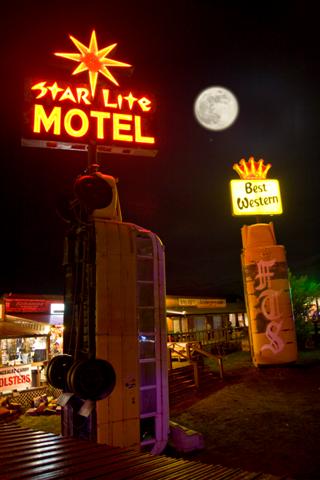 We watched from a balcony as bikers who had ridden their bikes right into the center of the bar would position the front tire up against a block and proceed to burn off the back tire till it popped.
As the smoke from the burning tire engulfed the crowd, the cheers would get louder and louder till you heard the telltale sign of it popping. When you heard the loud pop, the crowd would erupt into cheers. At one point, I heard Kym and Cindy both scream when they were hit with hot rubber from the tire exploding and we were a good 50 feet from the crowd.
In between burnouts, we'd watch as girls would try their hand at the mechanical bull that was positioned right in front of the stage.
The operator would make them think they knew what they were doing as he'd ease them into their first ride. Just as they'd start to get cocky, he'd spin the bull in a tight maneuver which would send them flying off and onto the inflatable mat where the crowd would cheer their acrobatic dismount.
After a few hours of debauchery at the Full Throttle, we wanted to get out of Dodge before the Aerosmith concert let out which was any time now. With the Buffalo Chip at a sell out capacity, somewhere around 100,000 people were going to come back out onto the streets which would mean we either left right now, or stayed out till the crack of dawn.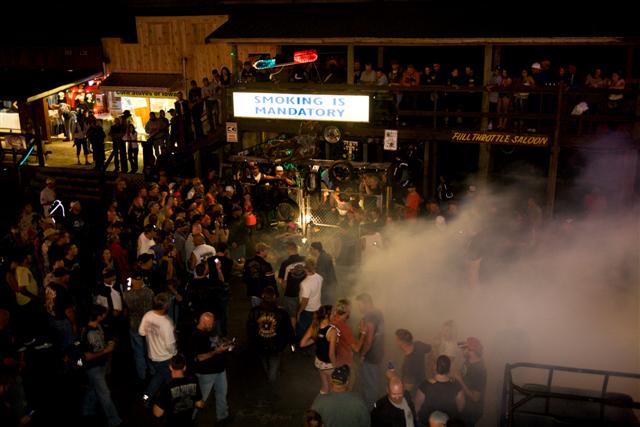 I was having a blast watching the antics of drunken bikers and their babes all around us, but my wallet doesn't always agree with my mind, so we called it a night and headed for home.
With Kym getting us home safe and sound, we couldn't thank her enough for the hospitality she'd showed us and we came into the camper for a good nights sleep.
I'm not sure how we'll top tonight's show, but hopefully tomorrow will be even crazier than tonight.
Thursday August 6th 2009 - One Long & Wild Night in Sturgis
The day started off well enough with the UPS truck showing up with one of our lenses being mailed back from Sigma. A few minutes later the mail lady pulled up and delivered another package which included Cindy's camera being returned from Canon.
It was like Christmas in August here at Jana's house and we were back up and running with all our camera equipment fixed and working properly.
Cindy was eager to head downtown now that she had her baby back in her arms and could take some of her own pictures rather than just sit and watch me shoot all day long.
Kym called to say she was headed downtown and we should meet her on Lazelle street, which is the main road in downtown Sturgis where the action starts.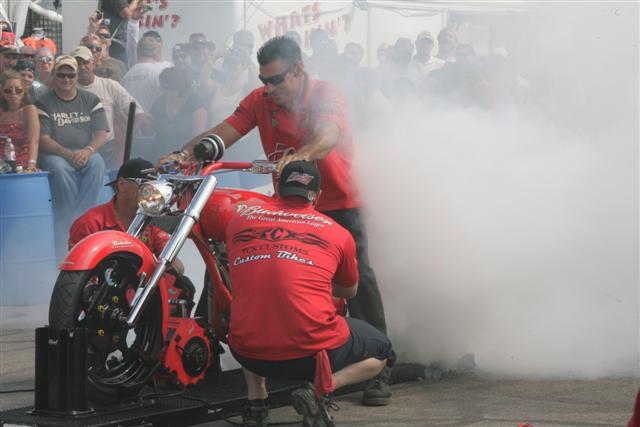 We were able to find parking and met up with her by the Budweiser Burnout Pit. This was an area roped off where they had a bike with a NASCAR rear tire on it that they smoked till it popped.
I know, in a day in age when we're supposed to be trying to conserve and reuse, this seems very silly and wasteful, but man is it fun to watch.
Cindy and Kym were all giddy because Lorenzo Lamas was on hand with Eddie Trotta who are partnering up to build custom bikes next year. I guess this hunk can still make the ladies scream like young school girls by the crowd of women waiting to get his autograph.
We watched as they smoked off the big rear tire till it blew, then decided to move along because the South Dakota heat that was drenching us in sweat. It was really hot and humid today, so walking around the streets was like walking in a blast furnace.
Not that the heat stopped any of the bikers from sporting some crazy outfits, but it did keep many of the women from wearing anything, and this was a good thing in my simple mind.
After a few hours of walking around, we were roasting and needing some replenishment of food, so we headed over to McDonalds. I cant remember the last time I've eaten at this fast food junket, but it was cheap and Air Conditioned and those were two things we were really looking for at this point in the afternoon.
Once we were filled up with grease and carbohydrates, we headed across town to a new bar Kym wanted to check out. On our way there, another storm blew through that was throwing lightening all around the hill sides and offered us a beautiful show with a giant wall cloud and crazy cloud formations all around us.
We would later find out that parts of South Dakota were pelted with ping pong sized hail and Jana's husband Tom came home from work with the roof of his car looking like someone had went to town on it with a ball peen hammer.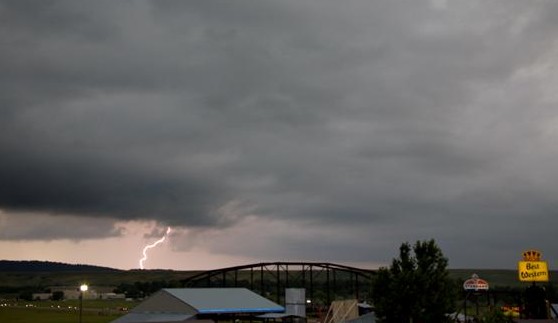 Luckily for us, we only got to watch the edge of the storm pass by and had a free show from a nice hilltop perch behind the Full Throttle Saloon. We only got a few rain drops on us and the Solar Panels back in Spearfish on the camper were safe and sound....Thank God!
Once the storm was over, we headed into the Monkey Rock Saloon which is just a big top tent with stages erected where dancers perform for the crowds of cheering bikers.
The waitstaff in the Monkey Rock are all walking around topless with just airbrushed murals on their chests and the stage was surrounded with bikers who were cheering on the Pole Dancing Contest that was underway.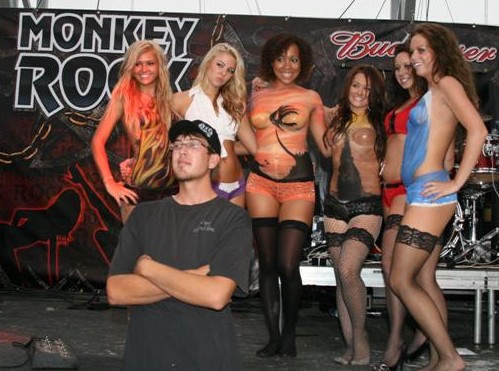 This was entertaining because there were some women who looked like they knew what they were doing on the stripper pole, some who looked like they were strictly running on alcohol and a guy that was holding his own even though he had the rhythm of a typical white man trying to dance beside a group of sexy females.
We watched and laughed for awhile as the crowds got entertained by the women. When the contest finally ended, we scooted back outside to check out some of the custom choppers on display in the parking lot.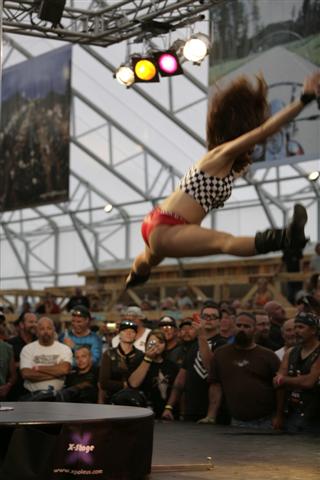 Drinking or eating was out of the question due to what the locals call, Rally Price Gouging. A 12oz beer was $5.50 and burgers were around $11 for something that wasn't all that appealing.
I cant imagine the amount of money these Saloons and Roadhouses must make during these 3 weeks of the Sturgis Rally. From what we've heard, the past few years keep showing numbers dropping and dropping for participants, so I'm thinking either people are getting tired of paying outrageous prices for simple pleasures, or are just bored with the same old thing.
Granted, the riding that is offered around the Black Hills area is something to drive half way around the country for, but the bars, saloons and antics going on are very typical of any biker rally you can attend anywhere around the country.
I know the Easyriders Rodeo series of bike events makes this rally seem like a Church Fair compared to the nudity, debauchery and sheer wildness we'd normally see at that event. So much so that numerous friends we'd bring out would see it once and say they'd never go back, or some would be changed for life and make it an annual pilgrimage. I guess it just depends on what you consider fun and entertaining.
For us, we enjoy just about anything, and as long as we're having a good time, it doesn't matter if its a week long music festival, a one night Burlesque Show or a home town fair, we'll probably come away with some fun stories and good memories to talk about.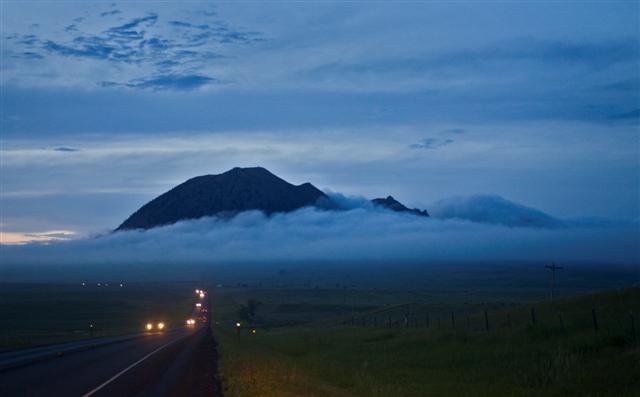 Fog Rolling in under Bear Butte Mountain
While sitting in the parking lot of Monkey Rock, we were watching a thick layer of fog rolling in over the surrounding country side and decided to head out away from all the crowds to check out another Saloon we had yet to visit.
Kym brought us out to the Broken Spoke Saloon, but not the one in downtown Sturgis, one that is located away from the hustle and bustle and situated on a huge chunk of property out in the country.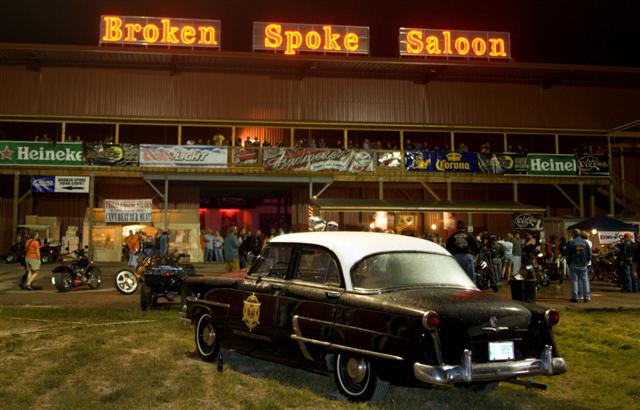 Pulling up to this mammoth barn/roadhouse, we were dazzled by the lights bouncing off the low lying fog. I was reminded of the scene in From Dusk Till Dawn
when George Clooney and Quentin Tarantino pull up to the Roadhouse in a barren Mexican desert.
There were bikers riding through the bar on their Harleys, guys juggling flaming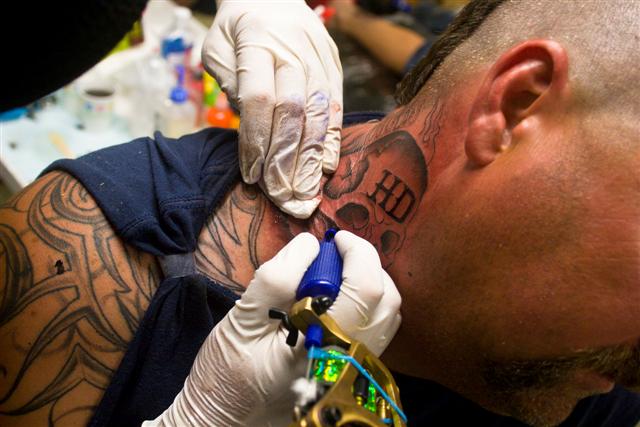 sticks at the entrance way, Rat Rods smoking their tires in the parking lot and rowdy bikers dancing to the live band playing on the big stage.
This place is one cool looking Saloon with a mechanics shop to either repair or customize your ride, a tattoo parlor on the second floor who can put some ink on your skin to really make you remember your Sturgis experience, or an art gallery where works from world class artists who specialize in Biker Art were showing off their stuff.
While wandering around, we bumped into an old friend, Ron Finch who was asked to come out by the owners of the Broken Spoke to display some of his art work in the gallery.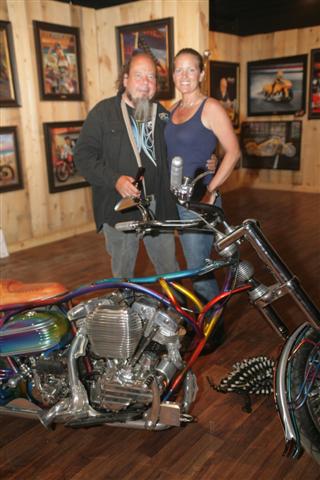 Ron is one of the most talented welders, painters and fabricators and his art work is something that will keep you gazing at it for years. He gave me a custom piece that we had hung in our Saloon back in Michigan to thank us for some photography we did for a coffee table book he was featured in. One of his bikes won the Discovery Channel Biker Build Off and earned him more fame than he had already built for himself.
Ron is the type that despite his fame in the motorcycle industry, he's still just a down to earth guy who loves motorcycles and building them.
One of Ron's buddies, Rob, was a Milford native and had grown up in our hometown back in Michigan. We sat listening to him tell us stories of growing up in this small town and spending way too many nights in the Red Dog Saloon, back when it was a very rough biker bar.
It was still a biker bar when we owned it, but more of the modern day biker style who probably holds down a steady job and has a family and not the Hells Angel type of biker that comes to mind when one thinks of the stigma the name carries with it.
We actually have a photo of the Red Hat Ladies eating lunch in the bar one day when their local group thought it would be funny to hold a gathering in our Saloon while the bar was filled with leather wearing bikers and the parking lot was lined with chrome Harley Davidson's.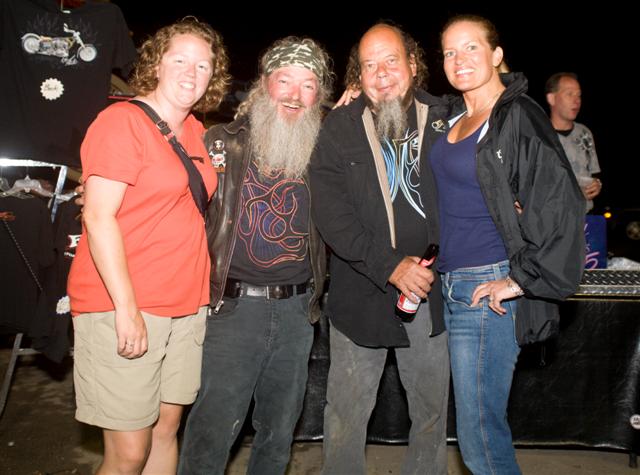 Kym, Rob, Ron Finch & Cindy
So back to Ron and Rob and the Broken Spoke Saloon. We spent a few hours laughing and sharing stories till the bar was ready to close and we needed to get Kym back to her vehicle. I mean one of us in the crowd still has a paying job they need to keep.
When we pulled back into Sturgis, Kym asked if we wanted to hit One Eyed Jacks for last call and anyone who knows Cindy or I knows we'd never turn down another chance to spend time in a bar filled with half naked women, so the 3 of us headed into One Eyed Jacks for one last drink.
This is where the night went down hill fast.
We were having a blast watching the big bartender we had talked about a few days ago, who is usually up to no good soak people with squirt guns, start fights with pissed off patrons and almost get arrested for having too many girls lying on the top of the bar who are doing belly button shots.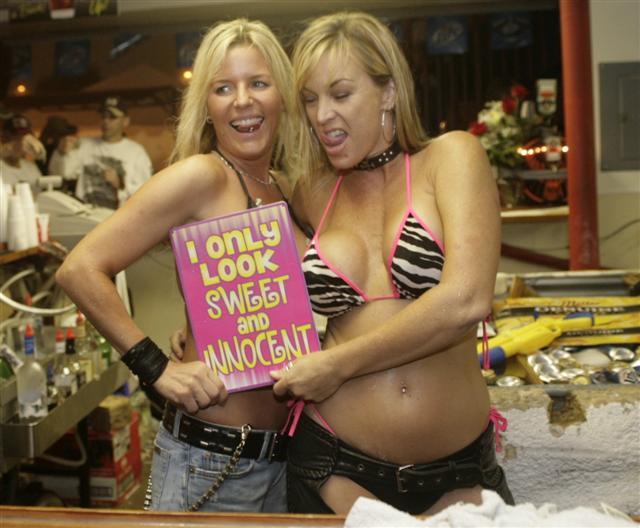 Of course, when antics like this are going on all around us, cameras are everywhere and the bar actually encourages people to take pictures to help show how wild the place is.
So I have no idea why the next series of events went down the way they did?
Kym had left for the night having to be to work early in the morning, and Cindy and I were hanging out just talking with some nice couples who were in town for the rally like Cindy and I were.
The bartender Tammy, walked up and picked up my camera and took a picture of the two of us. No big deal, I mean this happens all the time. She then walked around the bar snapping pictures with the camera acting like she was just fooling around.
Cindy asked what she was doing and I just said "Oh, she's just fooling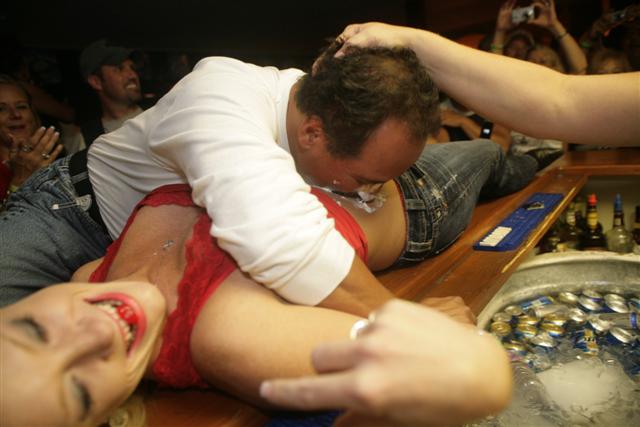 around." But I never took my eyes off the camera making sure it didn't get dropped or anything got spilled on it.
I watched as she was talking with a group of guys when one of the guys took the Compact Flash card out of the camera. I immediately walked up to the group and grabbed the camera out of her hands.
I asked what the hell were they doing and told them I wanted the card back.
They all acted like they had no idea what I was talking about and acted like I was out of my mind. I opened up the card slot to show them that the card was now missing and told them that I had watched in plain sight as the guy removed the card.
They still played the dumb act saying that it must have fallen out or something and that I needed to calm down. Cindy walked up at this point to see what the arguing was about and I filled her in on what was going on.
At this point, I was getting pretty pissed off and some punk got right in my face claiming that this entire group was all police officers and I needed to step off and stop accusing them of stealing or else.
I pushed my nose right back against his telling him I wasn't accusing anyone of anything, I was telling them what I had watched with my own eyes and I wanted the F-ing card back now.
This brought in more guys who got in-between us and had to hold the other guy back before punches were thrown. With all of us yelling and pointing fingers at one another, Tammy the bartender scooted away from the scene when Cindy shoved her hands in the guys pockets who I had watched steal the CF Card.
When his pockets turned up empty and they were all still claiming to be police officers, Cindy pulled out her phone and said "Ok, if you're all cops, when I call 911 and the police show up, you can all pull out your badges and we can get this squared away with police reports being filed."
Suddenly all these so called cops backed down and one guy walked over saying "Here look, is this your card?" He says "It was sitting right under your bar stool the entire time. See it must have fallen out of your camera."
I snatched the card out of his hand only to notice that it was soaking wet and ice cold. Which means that when Tammy, the bartender had snuck away from the group of us arguing, she ran back behind the bar and dunked the card in the beer trough thinking it would ruin the pictures we had taken.
Little did the dumb ass know that SanDisk Extreme III Cards are waterproof and if I can tip over in a kayak in saltwater, or have Cindy wash and dry them on numerous occasions, that dunking a card in some ice water isn't going to hurt it too much.
What kills me is why didn't anyone just ask us to not take pictures if they were worried about what was going on at the bar?
Here's what I think happened.
The group of girls that was beside us who were all doing belly button shots on the bar had one girl in the group who kept saying "I know these photos are going to show up on the internet."
She was with some guy who was all over her and was the one who had his face buried in her crotch and breasts while flashes were snapping all around the bar.
This was also the group that was standing right beside us and asked us who and what we were taking pictures for and asked if they could see the pictures on our camera. I showed them my shots I had taken and when I said they were just for us and we host a small travel website, the guy and girl who I was talking about left right away.
One of the other guys in the group pulled Tammy aside and whispered something in her ear before he left with the rest of the group. I'm guessing money was exchanged and she was asked to try and ruin or get rid of the photos on my camera.
I'm guessing that the couple who was all over each other was probably not married to one another and was probably worried that if the photos were seen by a suspecting spouse, major damage would follow.
Wouldn't you think if you you had pulled me aside and explained this to me I would have deleted the photos? I mean why not be honest in life and not try to steal or harm another persons property just so you can go out and cheat on your spouse or do what ever it was you were so worried about that you felt the need to try and steal my property?
Cindy and I left the bar with what had been an outstanding day in Sturgis ruined and leaving a very bad taste in our mouths.
Thank Goodness that I'm a rational person and know the ramifications of calling the police in on a bar that is filled to capacity on a Thursday night. Because if I had let Cindy have it her way, she was ready to stand out front of One Eyed Jack's and call the cops and file a report on Tammy, the guys impersonating police officers (a felony charge) and bring a whole world of trouble into what was a fun time for everyone involved expect for the two of us.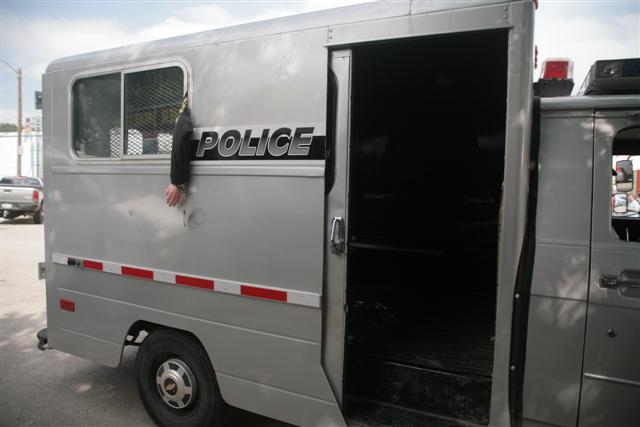 We walked around the block a few times to calm the adrenaline that was pumping through our bodies and relax a bit. We stopped, bought some bottled water and cleared our heads before walking the few blocks back to the truck.
By the time we had got home, we had went over the nights actions enough to put the pieces of the puzzle together to figure out the "Why's" and "WTF's" that had just taken place.
Cindy called the police department to explain what had happened and let them know that there was a group of guys all claiming to be police officers in the bar, but the dispatcher said unless she would come down and file a formal complaint, they really couldn't do anything. She did tell Cindy that her call was the 5th one they had received about One Eyed Jack's this evening and they had the bar under close surveillance. But that didn't do much to calm Cindy down.
I told her that by this point I was over what ever had happened, we had our property back and lets move on.
If there is one thing I've learned in life, it is you will get no where with letting little things get to your mind, and things usually dont make too much sense when alcohol is involved.
Friday August 7th 2009 - Another Full Day in Sturgis
We had a full schedule planned for today, and got things underway early when Kym, you know the one who had left the bar early last night because she had to work today, showed up at the camper ready to go back at it.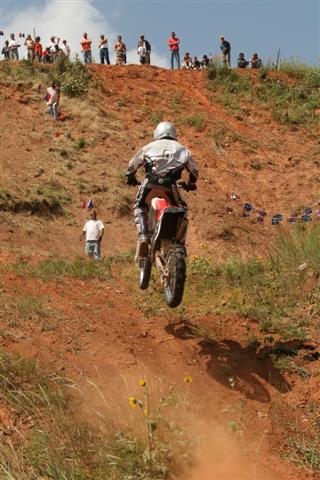 Apparently she had called into work today and tomorrow saying that she had so much fun the last few days, she didn't want to miss out on today's activities.
Cindy was way behind on her blog postings, so she told the 3 of us, Kym, Jana and I to go ahead without her and we'd catch back up in a few hours.
So we left Cindy in the camper and the 3 of us piled in Jana's vehicle to drive over and watch the Jack Pine Gypsies and today's professional hill climb.
When we had went to the hill climb earlier in the week, it was the amateurs who were racing up the hill. Today was the big boys and the pro division.
The hill course was set up different today and when I asked one of the riders why today's course looked so easy, he said "Well our bikes are much bigger, heavier and soo much faster than the ones that were climbing that other course."
I mentioned that the course they were running today looked pretty easy compared to the one the amateurs were having so much trouble climbing and he said "Oh this course is nothing! None of us could make it up that other section, its just way too hard and steep!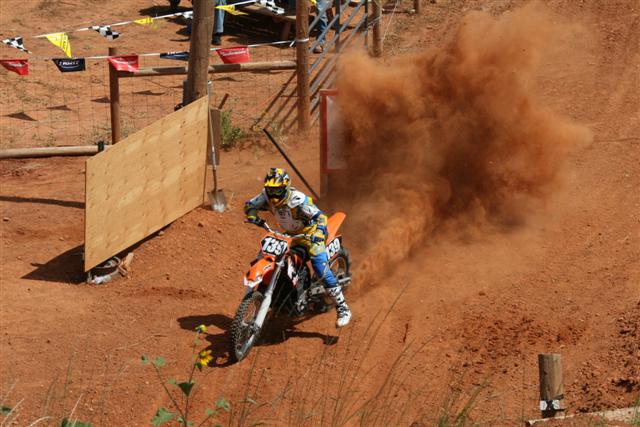 But this section is less of an angle and we're hitting the top at half the time it took them to reach the finish line. Basically this is on speed and the bikes ability, and the other course is based on rider skill and talent."
You could tell just by the sound of the bikes sitting at the bottom of the hill that there suckers were pushing some serious horsepower.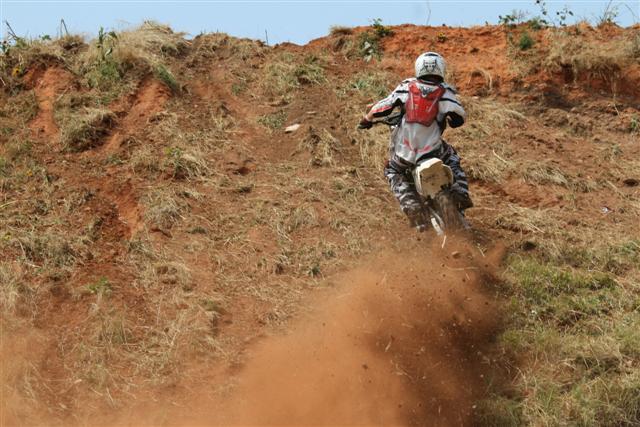 One of them was said to have 1400cc's and sounded more like an Indy Car than a motorcycle. With an extended swingarm and a paddle tire that threw red dirt a hundred feet behind them, these things were cresting the 300' hill in under 7 seconds!!!!!
Kym and I positioned ourselves about mid way up the hill along the fence and had to move a bunch of times due to the spray of rocks and dirt the riders would be throwing behind them as they climbed the hill.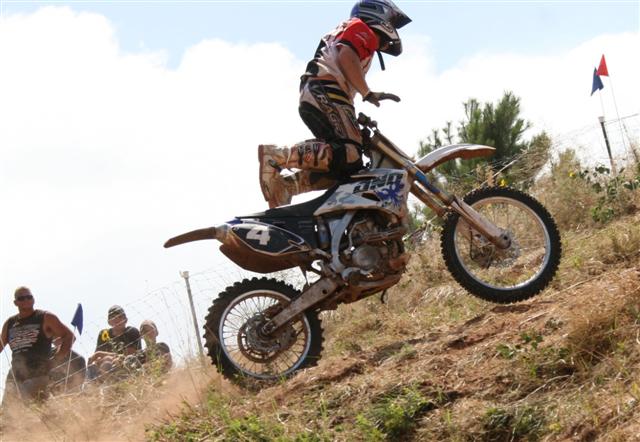 This guy was on his way over the handlebars because of a bad bounce he had made
One guy got hit in the head by a flying rock and they had to call the paramedics over to glue his cut back together to stop the bleeding. I never knew hill climbing was a full contact sport for us spectators.
After a few hours of this non-stop action, we headed home to shower the thick layer of red dirt off of our bodies before we headed out to our next stop.
Jana had asked if I'd give her a hand on a photo shoot she had lined up for this afternoon and Cindy and Kym came along for the ride to keep one another company.
Jana and I spent a few hours photographing an adorable 1 year old little girl in a field of wildflowers under almost perfect lighting conditions. Sometimes the weather just cooperates perfectly and the passing afternoon storm provided us with overcast skies that acted as a big softbox lit with light from the heavens....the best kind you could ask for. You'll have to check out Jana's Website to see some of her amazing photography!
We also heard on the ride home that the expecting mother we had photographed a few days ago went in this morning and had a healthy baby boy. So the timing on that last photo shoot worked out perfect and wasn't a day too soon.
We had enough time to all come home, clean the Compact Flash cards from the cameras, recharge the batteries and scarf down some food before we headed out for the night.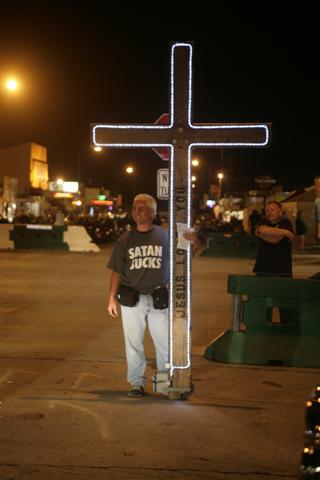 Tonight being Friday and the start of the weekend for those who live normal lives, Jana and Tom were both coming out to be included in the fun.
We started at their favorite local hangout, the Night Owl before we headed over to The Dungeon Bar. Things were looking a little slow tonight at the Dungeon and the Bobbing For Beers game wasn't anywhere to be found, so we moved on down the street to Gunners Bar.
Maybe because it was the beginning of the end of the Sturgis Rally or it was a Friday night thing, but the nations biker gangs were out in full force sporting their colors along the Sturgis streets.
Most of the Sturgis bars have signs posted saying 'No Colors' on the entrance doors. This means that gang members aren't supposed to wear their vests or jackets that proclaim their membership to which ever motorcycle club they belong to.
But tonight on Main Street there were members of the Sons of Silence, Iron Pigs, a bunch of gangs I've never heard of and a big crowd of the infamous Hell's Angels motorcycle club.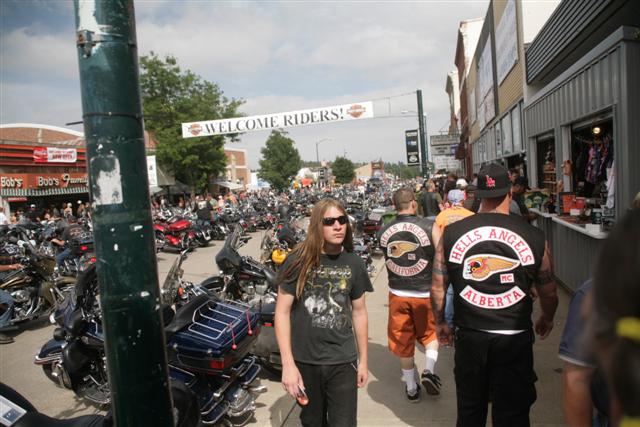 Its funny because bikers are bikers and most look the same to me, but when you see members of the Hell's Angels, they stand out in a crowd. These bad ass looking bikers are usually muscle bound, mean looking thugs that make even the biggest, burliest biker walk a wide birth around these guys.
To add to the stigma that all biker gangs are bad news, the street corner where one large group of Hell's Angles were hanging out had about 25 DCI Agents hanging out across the street keeping a close eye on the gang members.
They werent doing anything wrong as far as we could see, but if one was to make one wrong move, there were multiple paddy wagons and police vehicles sitting along the streets as a just-in-case need might arise.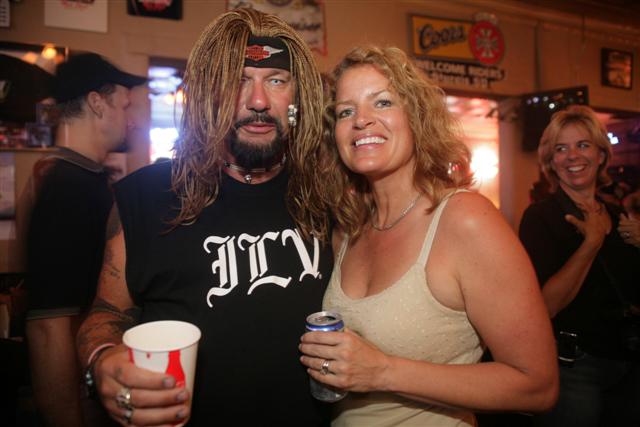 Rather than hang out and get ourselves in the middle of something we had no business being around, we headed down the block to the Oasis Bar. Along the route, we spotted some interesting bikes and one trike that was also a helicopter!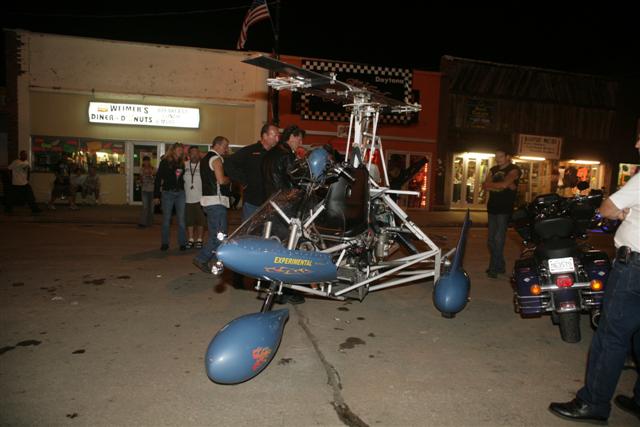 This interesting mode of transportation looked like it could ride down the road like a typical motorcycle, but if the rider wanted to take to the air to miss a road block, there was a set of retractable props that could be extended which would turn the bike into a helicopter.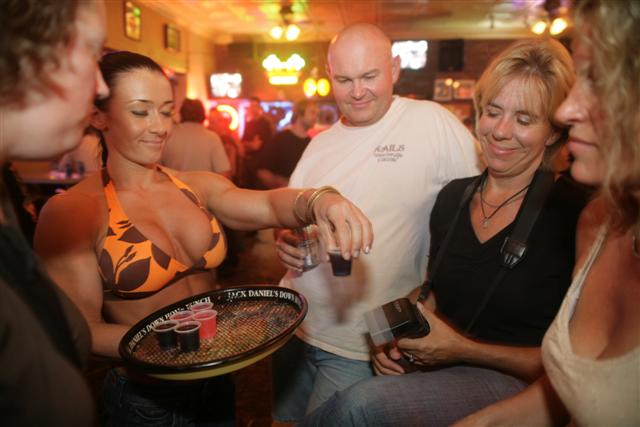 I'd love to have seen it operate, but the owner was sitting explaining it to a large group of bikers who had gathered to ogle the interesting contraption and he had a beer in his hand, so something tells me he wouldn't be flying it tonight.
Once at the Oasis Bar, we were entertained by a packed house of some of the most interesting people we've seen yet. The crowd ranged from old bikers that looked like Mickey Rourke, to buff waitresses who looked like they could double as a bouncer.
We shared one last drink before we headed out and called it a night. So with a full day of Hill Climbing, photo shoots and bar hopping with good friends, we succeeded in having an awesome night and never even got our cameras confiscated or had one bit of trouble. Back to having fun and loving life, just the way it should be.
Make sure to visit our Sturgis Gallery where you can see all our photos from this past week at the Rally.
Saturday August 8th 2009 - Storm Chasing in South Dakota
Somewhat burned out after the last week straight of motorcycles and bikers, today was a day to catch-up on the photos, the blogs and answer a few emails.
Jana had come out to the camper a few times to give us some storm updates as her and Kym are avid storm chasers. I never knew the extent to the crazy weather patterns that passed through Western South Dakota, but they're frequent, they're fierce and they're amazing to watch.
It seems almost every day we've been here we've seen storms pass through that would be monumental back in Michigan. Here, it seems like the locals just take cover in a local bar or restaurant, slam back a few beers as the violent storms pass and go back about their business once Mother Nature is finished with her tantrum.
On Friday, while we were out taking pictures of the 1 year old girl with Jana and I had talked about the storm that was giving us that amazing lighting, that same storm was dumping softball sized hail on parts of the surrounding areas.
We heard they had to close down the Highways and roads because of the damage it was causing to the cars. The news was showing vehicles that looked like someone had shot up the cars with a 50 caliber machine gun.
Jana's husband Tom had his car damaged earlier in the week with Ping Pong sized hail and I was saying that it looked like someone had went to town with a ball peen hammer.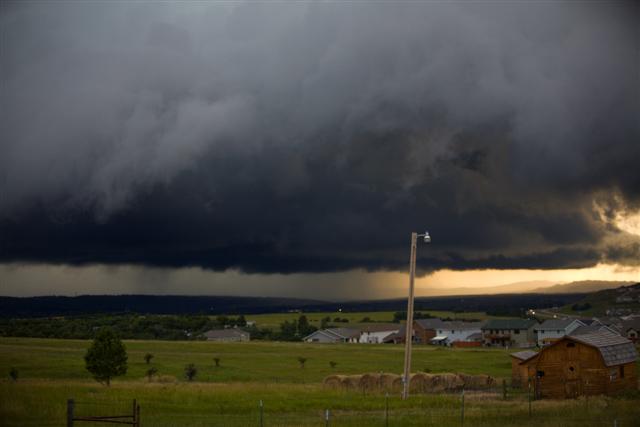 Wall Cloud Moving Towards us at a Fast rate of Speed
Well the cars they were showing from the soft ball sized hail storm looked like a terminator had punched its fist through the windshield and the metal parts of cars from motorists who had got caught out in the storm.
We had all decided that tonight would be a recovery day, and none of us had planned on going out. That was till Jana came running out to the camper saying "Pack up the camera gear, my weather radio just reported golf ball sized hail heading our way with wind gusts up to 60mph!"
So we all piled into the her Denali and headed into the storm.
We didn't even make it out of her subdivision when we were all yelling to pull over so we could try and get pictures of the lightening zig zagging out of the approaching storm clouds.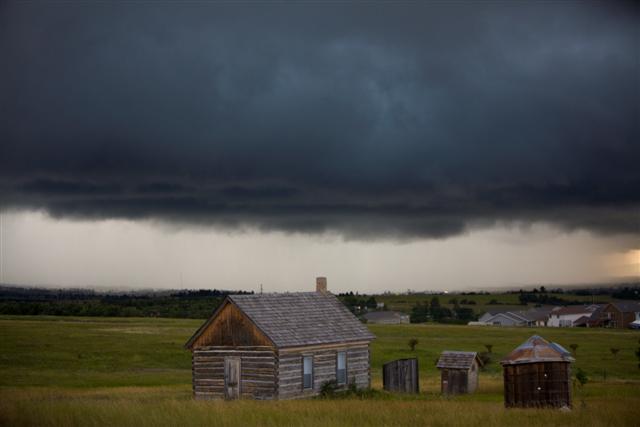 It had to look like some sort of clown car as Jana came to a screeching halt while Cindy, Jana, Kym and I all came piling out with cameras in hand running in different directions trying to set up and get a shot of the storm.
Kym was holding the NOAA weather radio yelling out the coordinates and what the up to minute conditions were. When she said "Ok, that wall cloud right there is going to start dumping hail on us any second!" it was like the cloud was listening to her requests and a full force Gail hit us all in the face.
With the face of the storm on us, we were all running back to the truck as the hail started hitting us in the back. As we piled into the truck, the quarter sized hail was bouncing off the truck sounding like we were being pelted with bird shot.
Jana was racing down the road with the wipers going as fast as they could, which still didn't give you visibility passed the hood of the truck. We could feel the vehicle hydroplaning across the road as we were trying to chase the face of the storm. Problem was the storm was traveling at 60mph, which was wayyyy to fast to be driving in near white out conditions.
I was amazed when we saw two bikers came racing past us with no helmets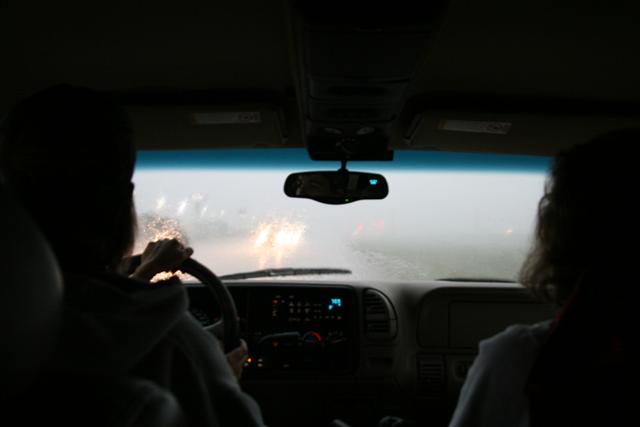 on and both riders simply wearing t-shirts. This must have been like getting shot with salt peter while trying to outrun the storm. With no helmet on, I can only imagine how bad that must have stung their faces to be outside in the hail.
As fast as the storm hit us, it passed over and we hit the backside that was only a light rain shower.
Jana was now racing down the backroads trying to get to high ground so we'd have a good vantage point hoping the backside of the storm would have as much lightening as the front half of it did.
Way off in the distance we could see lightening, but it was too far off to get any good shots of it, so we just pulled over to try and get some shots of a double rainbow where we could see both sides touching the ground.

Its hard to see the second Rainbow when the shot is shrunk this small, but its right about the really bright one!
I've never in my life seen the ends of a rainbow so close to us. If we had wanted to climb over the barbed wire cattle fence, we could have walked the hundred yards out into the field and stood right where the rainbow touched the ground.
It was a very magical moment, and Cindy got her check list marked off for it being the first time she'd every seen both ends of a full rainbow, let alone a double rainbow. Nothing like crossing off another FIRST on that long list of life's goals.
With the storm headed East at a rate of speed that was too fast for us to catch up, we just drove the back country roads looking for some scenic sights that might be nice to photograph with the setting sun at our backs.
Jana asked if we were in a hurry to get home, to which Cindy and I both replied "We're all photographers and this is the light we all search out, so we're along for the ride."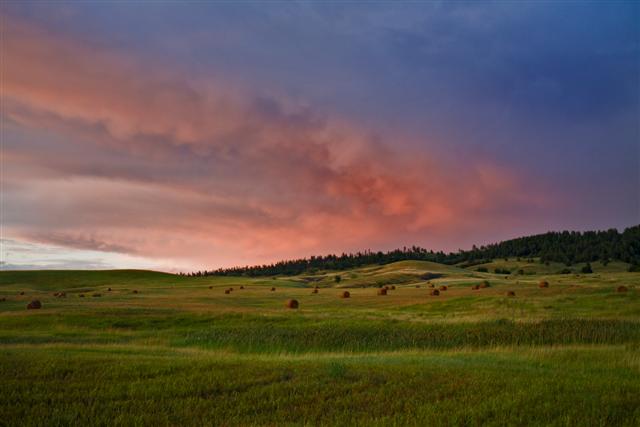 That Magical Light just after the sun sets below the Horizon
At one point, we all yelled to "STOP" because the light was so perfect across a hay field we were passing. When I got out of the truck and started to walk into the waist high grass, I was confused by the piles of what looked like rock salt on the ground.
I mean there was little drifts almost like when its windy and snowing at the same time.
I reached down to touch it to see what it was and was totally shocked when it was ice cold. The piles were actually drifted hail that had collected along the edges of the roadway!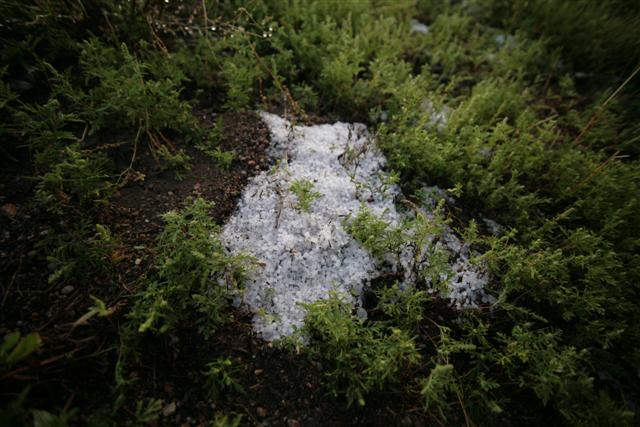 I yelled to the girls to get out of the truck and check it out, and they were all as shocked as I was!
Walking through the wet grass, the ground was covered in hail balls that looked like a truck carrying Water Softener Salt had exploded, scattering its load around the field.
Mother Nature never seems to amaze me and it seems every day we get to see things that leave me astounded.
We finally pulled over with a good view of Bear Butte with the storm clouds off in the distance as a very pretty backdrop. We were on a very narrow dirt road, so Jana pulled off the road and I set up my tripod and camera and sat trying to capture lightening behind the sacred butte.
With the late evening light fading fast, coyotes howling off in the distance and the cool night air picking up, we finally packed up the gear and headed back home.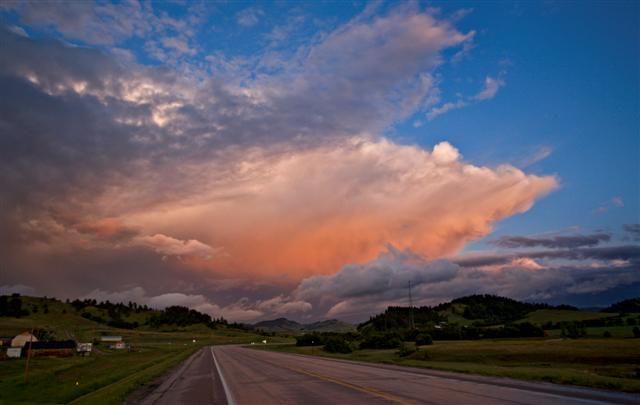 Check out the Variations of Clouds on the Horizon!
So for a day that was supposed to be spent relaxing and taking it easy, Mother Nature threw some excitement at us that included some FIRSTS and added a bunch of great pictures to the portfolio.
What a great way to end the day.
Tuesday August 11th 2009 - A Little of This, a Little of That
The last few days have been spent just playing catch up and uploading a few galleries to our ever growing collection.
I've gotten a Sturgis Rally Gallery up there along with a Jack Pine Gypsies Hill Climb Gallery for your viewing pleasure.
I should say that if you're offended by nudity or crazy ladies, then you probably shouldn't look at the Sturgis Gallery (Megan..That means you!)
I've already gotten an email from my young niece who follows along with our blogs commenting on that gallery...OOPS!
We also received an email from a family that is headed to Yellowstone on their 3 week summer vacation. They told us they've followed along with our travels and were wondering if we could tag along for a few days and get some family photos of them while they enjoy the wide open West.
So we're going to act as personal guides and photographers for a few days. We've offered this on our Bonish Photo website for some time now, and have done it for a few other families before we started this adventure, but this will be the first time while on the Every Miles A Memory leg of our journey to photograph a family for their vacation.
It sort of makes sense if you think about it. I mean if you're not that into photography, then why go out and purchase a new camera and risk going on a once in a lifetime vacation and not have photos to remember it by.
Leave that part of the trip up to us and we'll make sure you go home with shots to hang on the wall and remember your well deserved time off.
We also got a phone call from the Yellowstone Association back in Yellowstone National Park asking us if we wanted to come to work for them.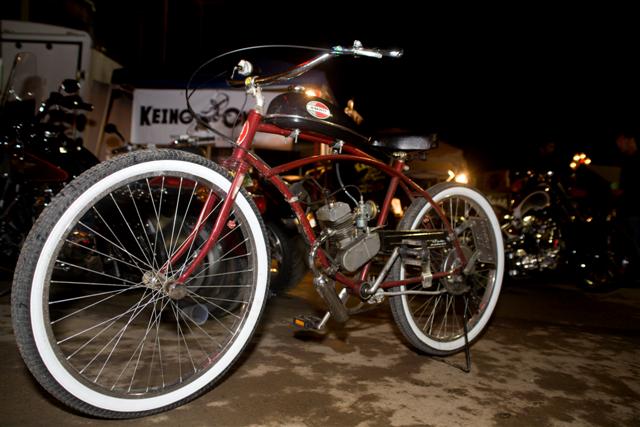 Remember when we were still in Yellowstone and we had mentioned that we had spoken with this company who runs the book stores in Yellowstone? Well they said something just opened up and they wanted to know if we were still interested.
It would be through September, so we'd basically have a spot to park the camper for the last month the park is open and have 30 hours per week that we'd need to work.
Its a set time schedule from 9am to 5pm, so we'd have time in the morning to go out shooting and still have plenty of time after work to head out and see the wildlife.
I'm thinking for one months time, and to get back into Yellowstone for the peak of the fall season, we're probably going to accept this offer.
By the time that you'd figure in our camping costs, food costs and other incidentals, it's sort of a break-even on the pay scale, but we were planning on sticking around the Wyoming/Montana area to be able to see the Fall Rut anyway.
So we might as well break-even rather than dip into the ever dwindling savings account.
I also got a great email from a good friend of ours John Lamb. He said he was looking through the Sturgis Gallery and noticed I had taken a bunch of photos of the bicycles with motors on them.
They're a style of bike I've always been fascinated with because of their versatility. I mean they can act as a regular bicycle if you want to pedal, or you can flick a switch and start up a little motor and cruise along at around 30mph!!
How cool would that be! Cindy and I kept eyeballing them while at the Sturgis show, and we were making comments about getting rid of the motorcycle and both our pedal bikes for a pair of those.
Cindy surprised me when she even said "If we had one of those, I'd learn to ride it like a motorcycle and would probably use it more often."
John even sent photos of his modern day 'Whizzer'. Check out how cool this thing looks!!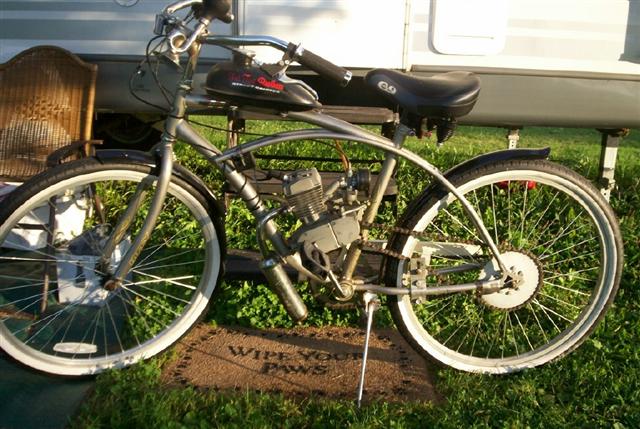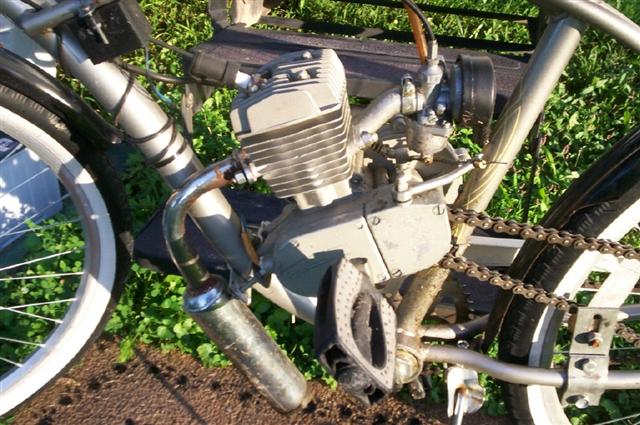 Tell me that thing isn't the coolest bike you've seen in some time!!
John was telling me some of the statistics of it and says you have to start pedaling it to get it going, then you flick a switch which engages the clutch and it starts the motor.
He said it averages about 125mpg and has a top speed of 30mph. He said since the motor is below 50cc, you dont need a motorcycle license or insurance on it.
This sort of bike would make so much sense for people who live within a few miles of their work place and never really had to jump on an expressway to get back and forth to work.
Thanks John for sending those photos and next time we're passing through the Illinois area, we're stopping by for a test drive!
Thursday August 13th 2009 - Leaving Spearfish for Wyoming
With enough time to get all our stuff caught up, we're leaving Spearfish this morning headed for Yellowstone via - Douglas Wyoming.
While sitting on the computer the other night, I found an ad placed on Craig's List that was looking for a photographer to cover a state fair in Douglas.
I answered the ad and figured it would be a few bucks in fuel money in our pockets, and it was somewhat on our way. We had planned on leaving here yesterday, but Jana and Tom invited us in for one last BBQ and some beers, so we hung around for one more night planning on leaving first thing this morning.
The last few days have been a real learning experience for Cindy and I as Jana is very skilled in self promotion of her awesome photography, and it showed me what I'm lacking by not applying myself as my own PR Manager.
I guess me thinking people would see beautiful pictures and just automatically want to purchase them was a pipe dream. Jana showed me that by marketing your images to the right people, you can actually be profitable with your work.
I'm thinking when we finally do settle down, where ever that might be, I've got a pretty good game plan for the future. Now it's just deciding where we might be able to sit for awhile to institute our plan.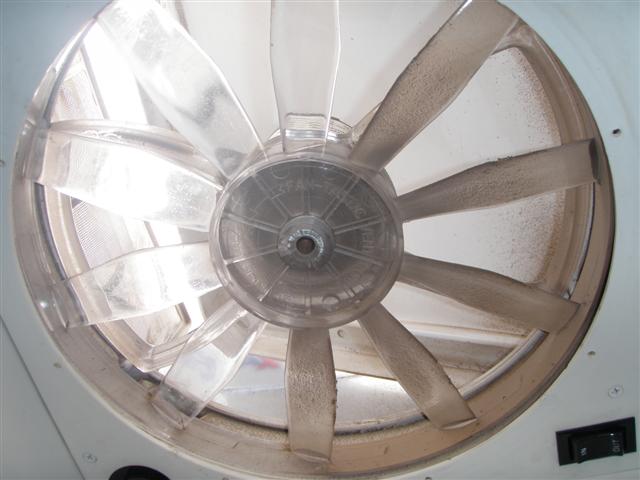 I snapped a picture to show you half of it clean, and what it looked like to start with...YUCK!
Sitting in Jana's driveway, Cindy and I both took the time to clean our little rolling cabin from top to bottom. This is something we do weekly, but not in the detail we did the last few days.
Cindy scrubbed every flat surface and organized a bunch of cabinets we rummage through daily.
I took apart the roof fans, cleaning the blades, the screens and moved onto the window sills.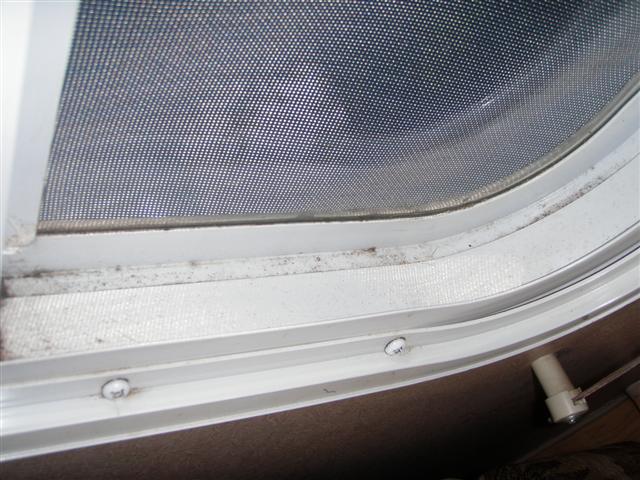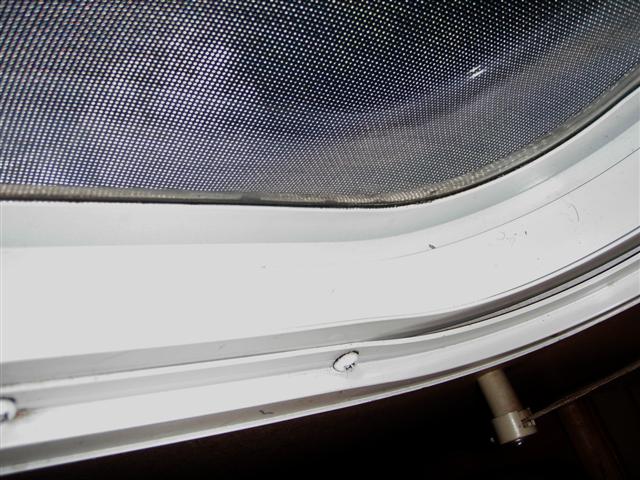 Dirty Window Sill compared to a Spotless Window Sill
It's amazing to me how fast these things gunk up. I mean I cleaned all this when we left Michigan back in January, and again while we were at Cindy's sisters in Louisiana in April. It seems every few months, the place looks like a pig pen unless you're too stay on it weekly.
Window sills, door jams and things that aren't normally wiped down just gunk up something awful. I guess when your house is towed behind your truck and your truck likes back roads, dust tends to build up rather quickly.
So with a fresh, clean house, some great memories of South Dakota and our week here with Jana, we're moving on to see what that open road might have in store for us.
Sorry the only shots I have are cleaning shots, but we've been busy cleaning, so you dont really want to see pictures of us like that do you...LOL
_______________________________________
2nd Half of the Day
So we spent the morning getting the camper ready to roll on down the road. This consisted of Cindy going about her inside duties while I ran into town to fuel up the truck, wash it good since it has a few months of dirt and dust caked around its body, and load the motorcycle.
The temperature was roasting hot this morning and it only took about two minutes of being outside before I had soaked my shirt with sweat.
I stopped by the local Ford Dealer to ask about a problem we've been having with our truck. Driving down the road, the Door Ajar light would keep coming on which would result in our interior lights staying on.
This would also keep the lights on for long periods after we shut the truck off resulting in our battery getting extremely low on multiple occasions.
There are no sensors on the door itself and I cant find a fuse for it anywhere under the dash.
When I went into the service department and explained what the problem was, the guy told me the sensors are now inside the door connected to the latch itself. He told me to squirt about 4-5 squirts of WD-40 in the latch and open and close the door a half dozen times. This should free the sensor that is probably clogged up with dust and road grime.
I did what he said and everything went back to normal. Thanks Service Man for the friendly advise and not making me pay the $90 service fee for such a quick fix.
Once back at the camper, I showered one last time before I emptied the tanks and hooked the truck up. This takes under one minute now that we dont have Sway Bars to hook up. Simply dropping the ball onto the receiver, hooking up the safety cables, the emergency brake cable and the electrical connection and we're ready to move.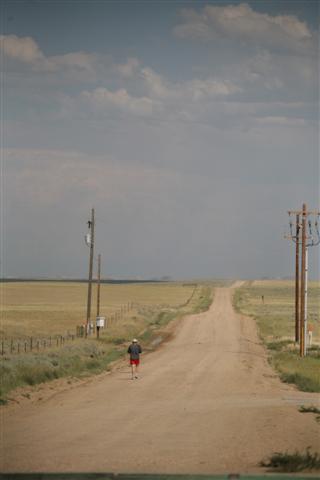 We said one last goodbye to Jana promising to meet back up in Yellowstone before the end of the season and thanked her again. I wish we could do more for all the hospitality her and Tom showed us and I hope they realize how grateful we are for their generosity.
The rest of the day was spent listening to NPR and zoning out. There wasn't much to see to comment on except barren land and the Antelope Mine that stretched for at least 100 miles down the Douglas HWY.
One good thing about the Sirius Radio is we can pause the program to talk about what was just said. When the hosts are discussing a particular topic and one of us want to delve deeper on the subject or interject with our own comments, Cindy can say "Pause that" and we can go on about it without missing any of the program.
I do love the Satellite Radio and cant imagine being on an extended road trip without it.
Without getting into politics, I'll say right now that I sure am glad we own nothing and are 100% mobile for when the next revolution starts. Listening to the news about our own country right now is down right scary. This doesn't matter which station you listen to or what channel. It can be the World News, the BBC, FOX, CNBC or NPR....they all scare the shit out of me right now.
What gets Cindy and I so upset is the fact that all these stations and groups keep bringing race into these issues. The majority elected Obama not on his race and now because his popularity rating has fallen below George Bush's within his first 6 months in office, they keep saying its race related. That's a bunch of BS!!
Its the policies he's adopting and the amount of money our government is throwing around like its Monopoly money. When is this going to stop?
So, back to the Douglas HWY. Long bouts of nothing but prairie and prong horn. Oh, there are miles upon endless miles of train track for the Antelope Mine to move the coal it mines around the country. The tracks were lined up four wide coming out of the mine!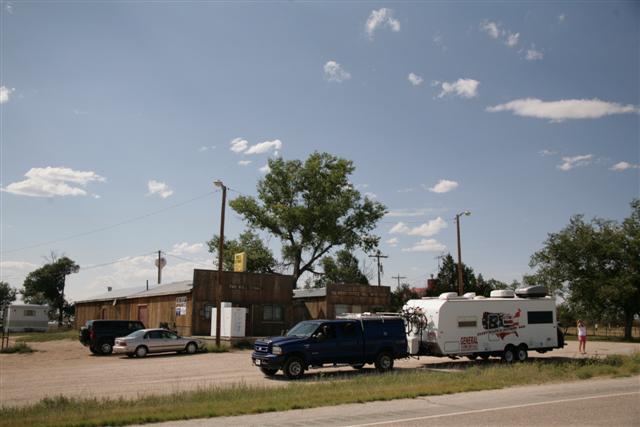 We'd pass some trains where we couldn't see either end for miles upon miles and we'd be moving at 60mph. Another train that we did get to see both ends of was probably a mile long and had 3 engines on each end. Wes later told us this mine is so big, they are projecting to be able to mine its resources for the next few centuries.
We passed a few towns that looked like they catered to the mine workers and with the amount of pick-up trucks we passed with utility bodies on their frame, I'm guess you either work for the mine or a contract company that services the mine if you're in this area.
One town we passed through, the sprawling expanse of Bill Wyoming, was nothing more than a general store/post office and a brand new hotel with a diner connected.
I goggled the town to try and find out what the population was and found this on Wikipedia...LMAO
The settlement is rumored to have begun after World War I when a doctor moved there. It was called "Bill" by the doctor's wife due to a number of men in the area with that name.

In 1997, Bill consisted of a combined gas station and rural post office serving local ranches. It has since been redeveloped with a hotel and diner for Union Pacific Railroad employees who take mandatory rests in the town. The new development more than doubled the population to 11 people in two years.
So I wish I had more to say about Bill Wyoming, but its not big enough to give more than two sentences worth.
Once we hit Douglas, we found the fair grounds and the fun started.
The PR Company we were hired by said to ask for a certain guys name who would get us into the gig. The ladies at the Will Call had no idea who this guy was.
They called in the Site Supervisor who said for us to bring cameras into the event, we'd have to fill out some paperwork for the PRCA. No problem, I understand. This is typical of any rodeo we've covered. He said he'd run back to his computer and email them to me.
In the mean time, we'd park the camper in a campground on-site and hook up to the 30amp outlet so we could run our A/C. It was 96° inside the camper and unless we wanted to sit in the truck with the A/C running for the rest of the night, we needed to find full hook-ups.
So I unhooked the truck, checked the email he had sent me to which I couldn't open the attachment?!? and we headed back up to the gate so we could get the dogs checked? Not sure why we needed this, but it was required for any animal to be admitted into the Fairgrounds.
You know with our typical arguing over the dogs and the hassle they bring, I was loving this added excitement to our afternoon of trying to figure out what the hell we were doing.
Once at the gate, the lady tells us they dont check the dogs here, but a local vet does. We have to pay $10 per dog to have a certificate of health given to us. The vet had closed at 5:30 and it was now 5:45. If you needed this after-hours, it was $50 each dog!
The woman now tells us that we cant go back in without this certificate, so Cindy gets out and waits at the gate, while I go back and hook back up to the camper and get my money refunded from another woman who is even more unhappy than I am.
Sounds like a fun afternoon doesn't it!
There is a KOA Campground across town that charges double what the State Fair campground charges, but it's still cheaper than the vet bill. So we're headed to the KOA when we see a little city park that has a bunch of campers parked in it. We turn around and find a beautiful shaded park that is strictly for camping.....and its FREE!!! How's that for Western Hospitality!
About this same time, Wes Mostaert, a photographer that we hung out with down at the Cheyenne Rodeo calls on my phone and says "Hey, where are you guys going, I just say you pulling out the main gate?"
I told him that our press passes are all screwed up and we probably wont be able to get in till tomorrow. He tells me to hold tight a few minutes and he'll call me right back.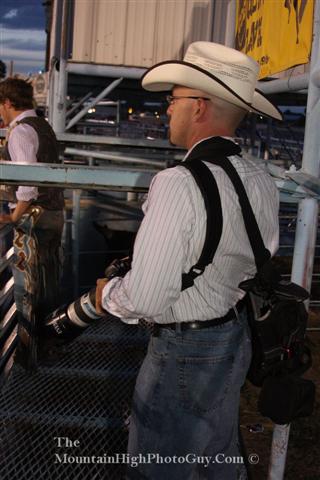 Five minutes later my phone rings and he says "Just pull up to the main gate and I have press passes waiting there for you."
Sometimes things just fall out of the sky like that and it always amazes me! I guess Wes is here shooting the rodeo for Cervi Rodeo, the stock contractor who is supplying all the livestock for the Wyoming State Fair.
Next thing you know, Cindy and I are atop the chutes standing beside Wes, cameras in hand and watching as the meanest bull I've seen is trying to murder the rider before the gate even opens.
This pissed off bull is bucking, throwing the rider up against the steel gates and creating havoc on the helpers trying to get the little cowboy roped in.
Multiple times the rider has to jump off the bull to keep from getting crushed against the gates.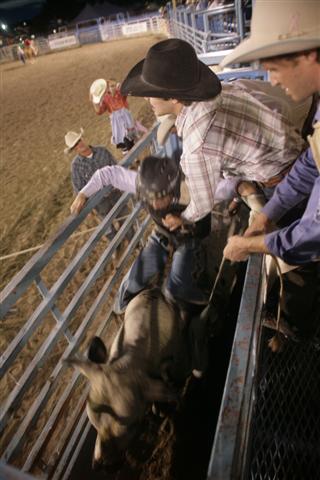 The entire time the bull is growling like a steroidal Rottweiler in a dog fight. Cindy says screw this and jumps down from the chutes to get out of the way because the helpers are all warning the bull might climb up out of the chutes.
They allow the rider to sit for a few while the bull calms down and I head one of the judges ask if he wants a different bull. The cowboy says "Hell no, this is the ride I pulled, I'm riding this one!"
The judge smiles and says "Boy, if you make it 8 seconds on this sucker, you'll win tonight's rodeo!"
When they finally get the guy on this beast, the chute opens and he rides one amazing ride, even while the bull is spinning and jumping like some 2000lb ballerina.
The 8 second bell rings and he jumps to the ground to a roaring crowd. He scores an 82, which is an amazing ride and goes on to win the rodeo tonight.
The adrenaline I felt on the back of the chute is amazing and I feel like I'm buzzed up just being up there. I cant imagine what the bull riders must feel going through their body as they climb atop these creatures.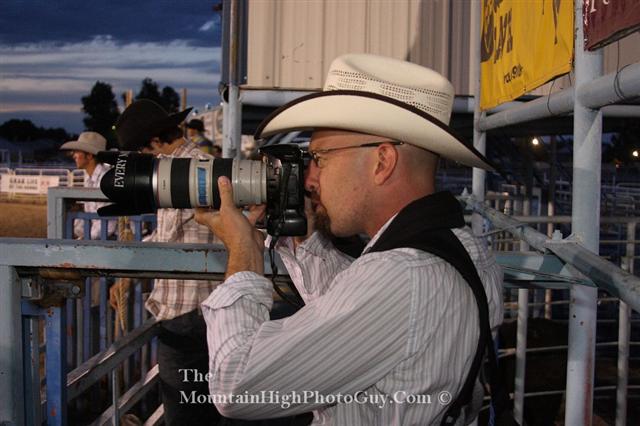 Photo by Wes Mostaert of Mountain High Photo Guy
Once the rodeo was over, Wes treated Cindy and I to dinner at a local restaurant where we shared our Sturgis stories from last week. We had missed Wes by one day at the Rally. We had been talking back and forth by phone, but he had left the morning we pulled in needing to get back to his normal job and real life.
He had us holding our stomachs in laughter as he told us stories of hanging out with the Hells Angels and the crazy stories that go along with the rally.
The rest of the night was spent laughing and sharing stories about different trips around the country and it makes me realize how cool it is to be traveling and always meeting new people. I love hooking up with friends for short periods of time no matter where we are and getting the chance to have so much fun.
Friday August 14th - Shooting the Ragin' Rooster at the State Fair
I know I mentioned the job we had found online that we're in Douglas Wyoming for, but I dont know if I mentioned that it was taking pictures of fair goers riding a Mechanical Rooster.....LMAO
We pull into the fair grounds and meet up with Austin, the young cowboy who operates the mechanical cock, and the fun started. You just have to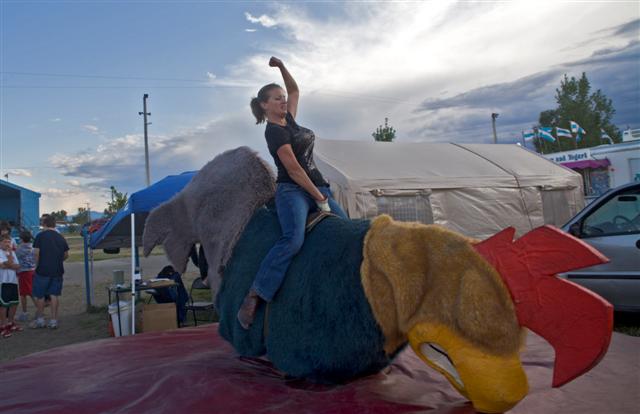 understand when there is a 8' tall rooster and the whole goal is to try and get people to ride it, the jokes that are made are over the top and non-stop.
I dont think I've ever heard so many references made about Giant Cocks in my entire life. Needless to say, my stomach hurt by the end of the night.
During one lull in the riders, we even got Cindy up on it and she did surprisingly well. Maybe covering all these rodeo's has taught her the tricks to staying on a bull.
A really nasty storm blew in around 9pm, just as it was getting dark which worked out perfect, as we were supposed to be shooting from 5-8pm.
We gave Wes a call who was over shooting the Rodeo and he came over to the camper and picked us up. Austin had told us that most of the rodeo riders and fair goers would hit a local saloon called the Watering Hole once the fair ended.
Wes doesn't drink alcohol, but he said he had no problem hanging out in a bar all night with us so he said he'd act as a designated driver. Not that we needed it, I think during the course of the night out, I only had 3 beers.
When we got to the Watering Hole, the band was playing some good country music and the place looked like any local saloon on a Friday night. About an hour later the fair had ended and the place was packed as full as a sardine can.
Most bars in Wyoming dont allow smoking, but this was one that did. With Wes, Cindy and I all being non-smokers, our eyes were watering and we reeked of an ashtray.
We called it a night and Wes drove us safely home after insisting that he also pay the tab! What a great guy and Thanks Wes for everything you did for us the last few days.
Saturday August 15th - Waiting out a Passing Storm
I spent the morning editing the photos from last night and burning them to a DVD so we could mail our nights work out to the company that hired us.
We emptied the tanks at the dump station in this free campground only because we knew we'd be driving for the rest of the day, and why not lighten the load as much as possible. It was free too, so why not take advantage of it.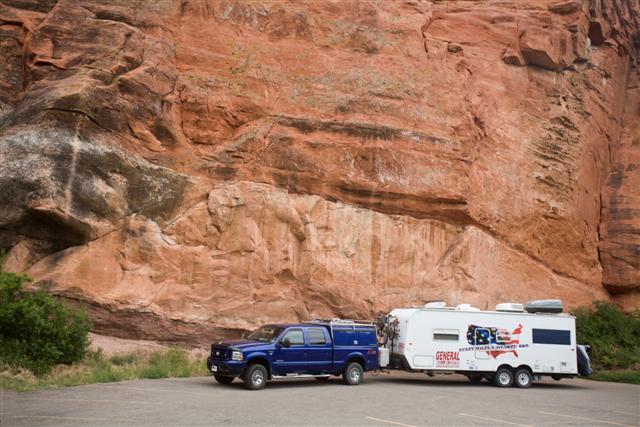 Wes called to let us know that we'd be passing a Natural Bridge that would be worth the side trip, and also asked if we wanted to go to lunch and meet his daughter.
I told him I'd call him after we left the Natural Bridge and we'd see what time it was and what the day looked like.
If ever passing through the Douglas/Casper area, make it a point to visit the Ayers Natural Bridge. Its a beautiful park situated right along a little stream and if we would have known about it, there is a secluded campsite right along the water.
What a beautiful sight and the surrounding country side makes the short 5 mile side trip way worth it.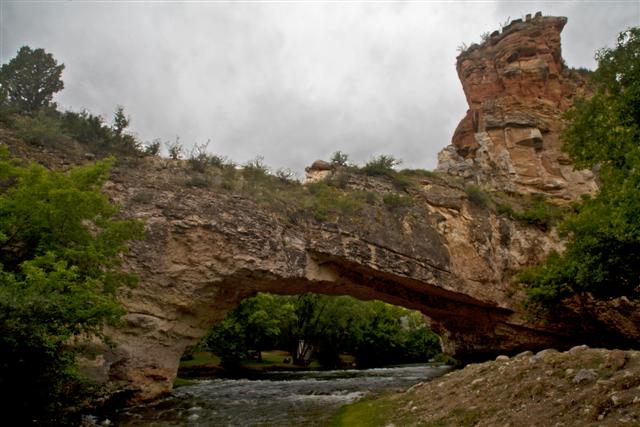 Ayers Natural Bridge Wyoming
While we were walking around taking pictures, we kept hearing thunder off in the distance, so we hurried to get a few shots and get back to the truck. One thing I should mention if you're planning a visit is they dont allow pets at the Natural Bridge.
There was nothing for us to do, so we just kept the windows rolled up and left the dogs in the truck the entire time. Luckily the temps were very cool, almost cold today, so that was fine by them.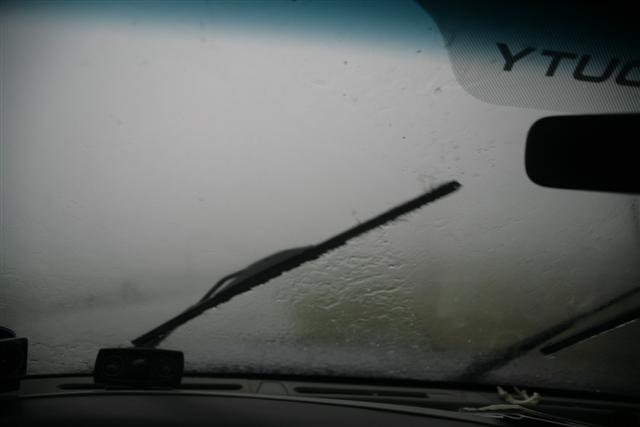 Driving back out to HWY 25, we could see what all the rumbling was coming from and both were a bit worried about the crazy storm blowing in.
A few miles down the HWY, we actually pulled over when I lost sight of the front of the hood due to the hail bouncing off the windshield so bad.
This lasted for about ten minutes till it let up enough that we could get back on the road.
A few minutes later we pulled over in downtown Casper to meet up with Wes and his daughter for some lunch.
After a filling lunch and great conversation, we headed over to the local Wally World to stock up on some groceries before heading North and into the barrenness of Northern Wyoming.
Casper would be our last major city before we'd reach Cody and the Eastern Entrance to Yellowstone. A few of the locals told us the prices would be much cheaper down here in Casper than they would be in Cody.
By the time we came out of Wal-Mart, a second half of the storm had moved in and we scurried out to the camper dodging rain drops. As Cindy put away the groceries and I just sat holding on to the couch, we both decided that the Wal-Mart parking lot would probably be out campsite for the night.
The winds were blowing so hard, sitting in the back of the camper felt like we were driving down the road.
The hail pelting the side of the camper sounded like a band of merry paint ballers were using our camper as target practice so I'm glad we werent trying to put any miles behind us.
I also spent the time waiting out the storm to finally finish my Wimberley WH-200 Review. If you're looking for the best Gimball Head in the business, look no further.
I should also say that there have been a few major phone calls we received today that might change our entire world in the next few days, but I dont want to mention anything till I know the details, so stay tuned. This could be both good and bad for the Every Miles A Memory website.
Sunday August 16th - Crazy Day of Traveling and Meeting New People
So I left yesterdays blog with saying we had gotten an interesting phone call and I'd talk more about it later. I dont really even want to talk about it yet, because I hate to bring things up until they're official, but I'll explain a bit more into detail.
First and foremost, I should tell you that if I was to talk about everything I'm usually working on behind the scenes other than what I actually type on here, you'd probably wonder how I can function on a daily basis.
For instance, here are a few things I've been working on in the past six months.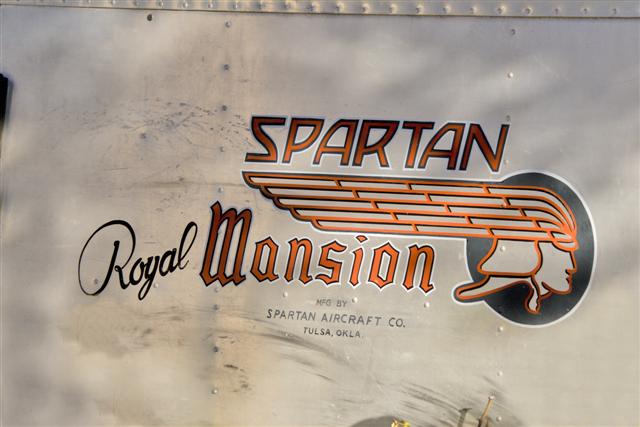 Planning, drawing up diagrams and researching our next camper. Actually this has been an on-going ordeal since the day we first left, and is something that if I even bring up in front of Cindy, it results in a huge argument.
I'm always looking at various camper models and jotting down ideas, coming up with new ways to fit 12lbs of crap into a 6lb bag, and figuring out the easiest way to lighten the load.
That's one thing I'm working on non-stop and it keeps my mind racing at all times.
Another project I've been working on for some time now is mapping, researching and figuring out the logistics of paddling the entire length of the Missouri River system.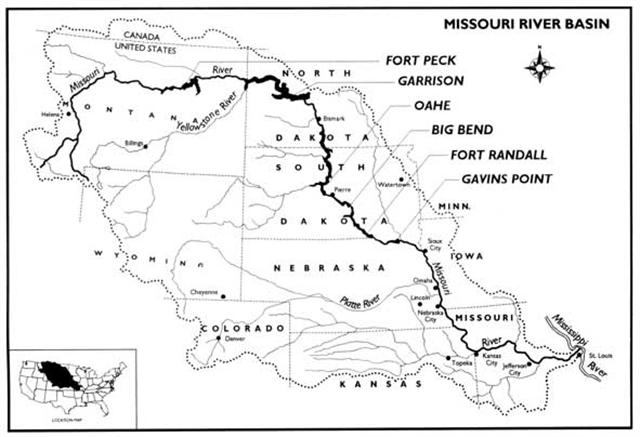 This is something I've wanted to do for years, and is something I'm gonna try and complete before I die, but it's not going to be for a few years, so it's always in the back of my mind and still in the early planning stages.
Another of my favorite past times that I chose not to bore you with is my researching of various motorcycles, sidecars and lightweight gear to one day do an extended trip around North America by some sort of motorbike.
Another side trip that I've been stockpiling information on is an extended trip into Baja on four wheelers that tow light weight trailers behind them.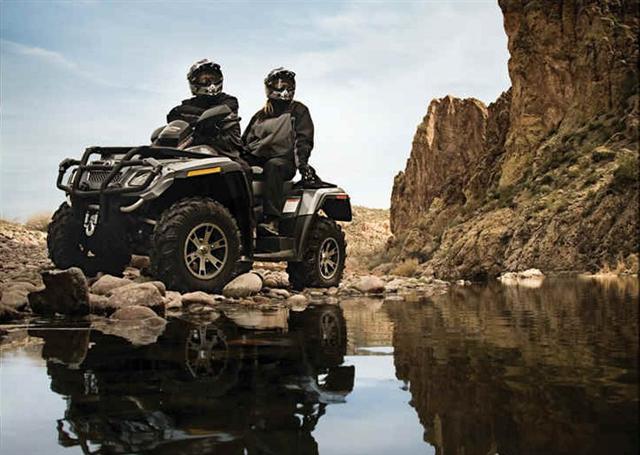 Something that would be totally unique on dirt roads or two track the entire way.
There is also our dreams of getting a small sailboat and spending a few years exploring the Caribbean by water. You know, those trade routes pioneered by a few pirates centuries ago who left a nice trail of empty rum bottles along the tropical white sand beaches. I usually have a few Sailing Magazines scattered around and I'm always looking into various sailboats to see what is available.
What I'm waiting on is the electric motors to become affordable so we can have a bank of solar panels to power motors when cruising between coves and bays and raising the sails would be too cumbersome.
This also leads back to my researching of the Missouri and the Mississippi Rivers because once you hit the main shipping channels, everything I've read talks about how crazy the currents, the barges and the water gets if you're in a small vessel or a kayak. They all recommend you use a large Pontoon style boat to live off of for the southern portion of the river trip.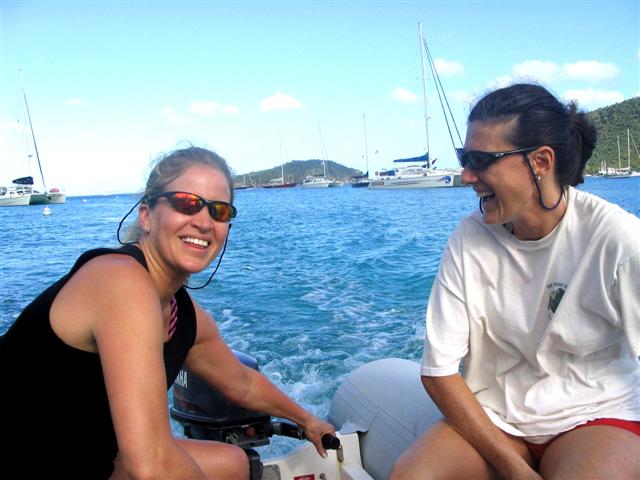 Cindy Running the Dinghy ashore while sailing the Virgin Islands in a Past Life
If I could line the roof of a Pontoon Boat with solar panels to power a electric motor, this would mean no fuel costs and except for the cost of the panels and electric motor, the trip would be like boondocking in the desert in an RV.
So one bit of research usually has a few different angles and I never seem to get bored with finding new ideas and ways to make one, if not all of these master plans go into effect at some point in the near future.
Then there is the next step of our lives, what will earn Cindy and I income to make any of these things possible.
When we originally left Michigan almost 3 full years ago, we had planned on exploring North America by back road and finding a cool place to settle down where we could start life over.
We've found a few places that we've never stopped talking about and have kept in touch with a few of the owners of said places.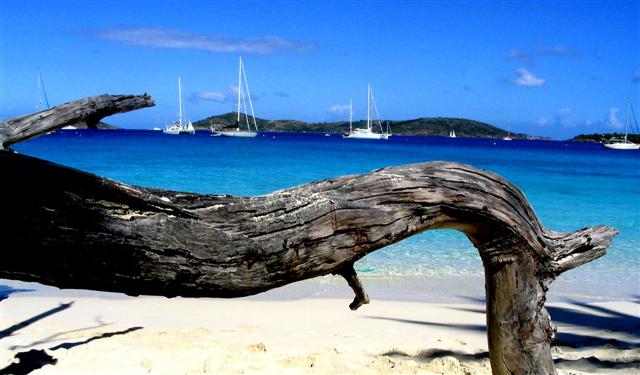 When ever we find a place that peaks our interest, we usually try and meet and talk with the owners to learn some of the in's and out's of how their business is working and if it's profitable.
Many of these places we will sit and talk about on our long days of driving or while out hiking and throw ideas back and forth at one another acting like we owned them and what we would change if the business was ours.
Well yesterday morning, we got an interesting phone call. I cant give any of the specifics just yet, but one of the places that we had left our name and number with months ago, telling them "If you ever want to sell the place, give us a call as we'd be interested."
Well it was them and they said they were thinking about getting out of the business and wondered if we were still interested?
This threw a total monkey wrench into any and all plans and stopped us dead in our tracks.
The rest of the day we sat talking about "What if's" and "Could me make it work?" types of plans.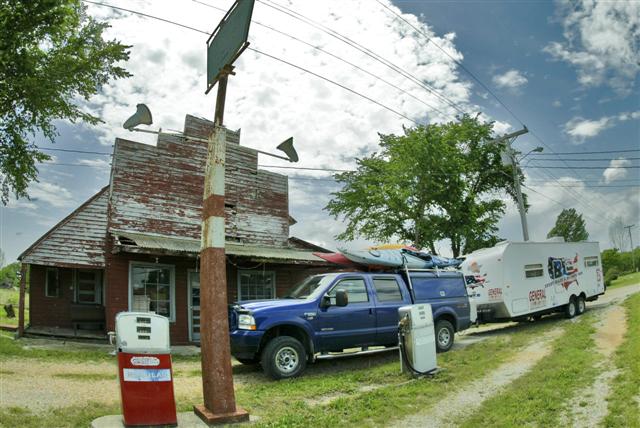 Here is the main problem with 99% of the goofy things I think up. The idea and the story line might be a master piece, but when it comes down to paying for it, most wouldn't be feasible or profitable unless backed by a Hollywood studio.
This is where Cindy comes in and why we make such a good team.
She's the brains behind the money side of our partnership and if it wasn't for her, I'd probably be baggin' groceries at Wal-Mart, not that there is anything wrong with that, I think I just filled out an application last week for that job.
So our drive time yesterday and our afternoon and evening of sitting out the storms in Casper, were all spent talking and figuring out numbers. Cindy has formulas for everything and is the one who will ask questions like "How much is insurance, daily expenses, operating costs and taxes going to cost us?" You know, those things that a dreamer like me could care less about.
I'm the one who thinks up all the really cool things that make people go "Oh, that's really cool, I want to go there and have fun!" Cindy's the one who makes them happen.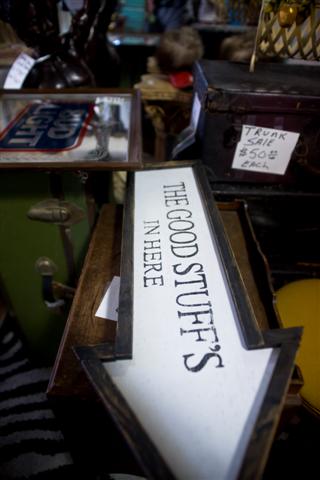 So like I said, it's too early to let the cat out of the bag, because the place we're looking at isn't even on the market, and the owners said to make sure we dont let on that it is, its just something they wanted to offer to us because they knew we were interested and have talked to them a few times about it in the past few years.
Our biggest fear is that we would have to liquidate any and all items we own to come up with a down payment. You know that last bit of Emergency Money we talked about? We'll that would go towards this next endeavor along with probably selling the camper, motorcycle and anything else that is tangible.
So this is a big deal and one that will have to be thought long and hard about.
Oh, and if you really want to get a look at how cluttered my mind is with off the wall ideas....I'll let you in on another really awesome thing we're planning for the very near future. This one is one of my absolute favorites.
I'm always telling Cindy that I want to sell our camper and truck and move to something much smaller and would give us better fuel economy. I mean I probably tell her this four or five times per day. She got so sick of me telling her this after pointing out different, much smaller rigs that pass us by each day, she finally said "Find something smaller that we can rent and we'll rent it for a week or two to see if it is something that we'd even be able to move down to."
So I went to looking, but while browsing one of my favorite forums, Expedition Portal, a member posted a link to this site saying how cool it would be to rent one of these. BING! BING! BING! The light went off and I called them right away.
I've always wanted to try and travel in a VW Bus. You know, like the old hippy days of beat-nick/hippy travel.
Well this company, VW Surfari, has a fleet of Vintage VW Busses that are outfitted with up to date gear, appliances and their busses are road trip worthy. All you need to bring are your clothes, surf boards and food and you're good to go.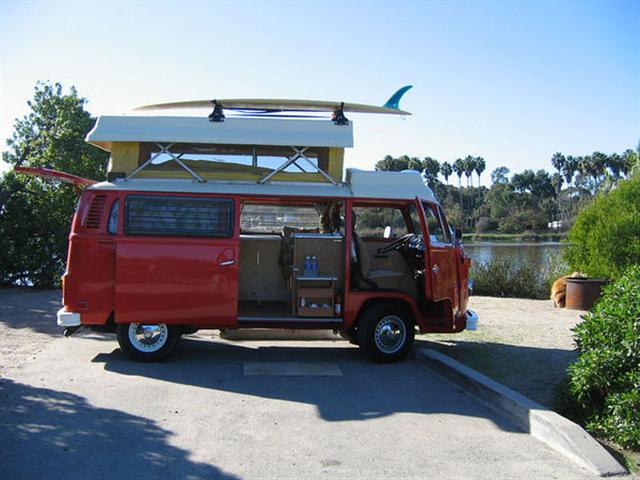 When I talked with Bill over at VW Surfari, he said they're booked solid till almost the beginning of the year, but I told him to put us down for the next two weeks they have an opening for and he said he'd count us in.
Remember when we traveled up HWY 1 last June and I was complaining about all the cool little pull offs that were way too small for our big rig? How I kept saying "Some day we'll come back and retrace this route in a smaller vehicle!"
Well we're going to get that chance in the next few months and we're going to kill two birds with one stone. We'll get to live in a VW Camper and see if we could really scale our operation down to the bare bones.
And well get the coolness factor of doing it in a Vintage Bus like we were living back in the 60's.
So that is a little behind the scenes of what goes on in my daily thought process. This doesn't include the emails, the dogs, the driving and the photo taking and editing that is standard daily rituals, or putting up with Cindy, which in and of itself is a full time job...LOL
Now on to our days travels. We pulled out of Casper heading North by Northwest up HWY 20/26. When looking at a map, there looks like there are a half dozen towns along this route, but these towns have all dried up long ago when the Interstate system was built pulling roadtrippers onto a mass transportation super highway.
So if you're planning on this route across Wyoming, make sure you top off the fuel tank in the towns of Casper or Shoshoni. There are no services in-between, except for a bar or two.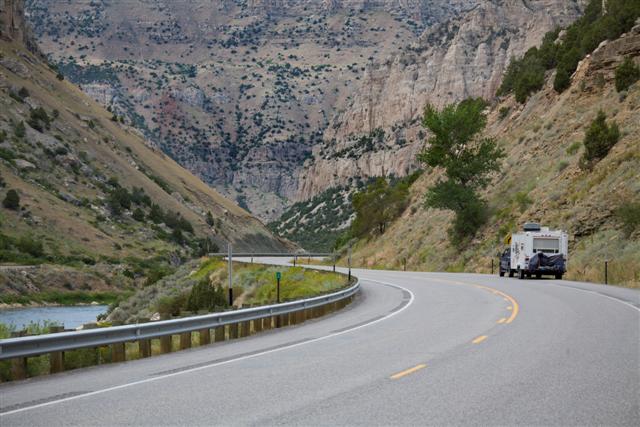 Snaking our Way up HWY 20
At the town of Shoshoni we turned North and headed up HWY 20 towards Thermopolis. We were told by a few locals that this tourist town isn't much, but to make sure we visited the Holiday Inn and it's extensive collection of mounted animals.
The drive from Shoshoni up to Thermopolis is amazing! You drive through this narrow canyon with the Bighorn River cutting its way through the towering rocks on each side of the two lane road with your jaw just gaping open the entire time.
There is a railroad track that follows the river with tunnels cut through the mountain side that is just amazing to look at. A pure feat of construction it must have been to lay those tracks along the falling rock debris from the steep mountain side. It would be so awesome to wait out along the sides of the road for a train to come puffing through the series of tunnels and get some cool photos. Something we'll have to come back for, as the tracks are under construction right now from a recent rock slide.
Once you exit the canyon, you enter into the town of Thermopolis.
Thermopolis is home to the Worlds Largest Hot Spring, but we're not really into bathing in smelly Sulfur Water, so we chose not to visit that area of the State Park.
While passing through town, Cindy yelled out "WOW, look at that camper!"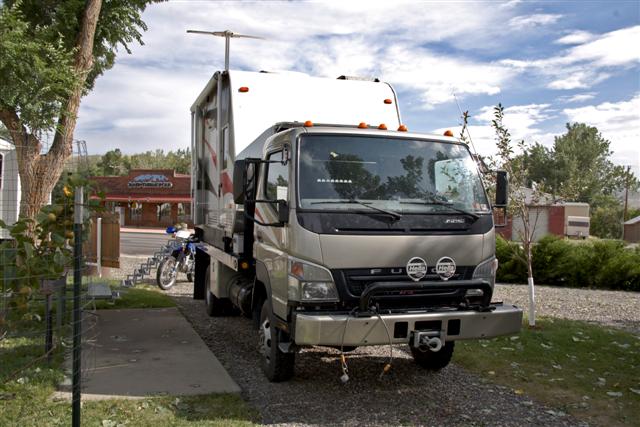 I whipped the truck around to pull over and get a better view of this custom Expedition Vehicle.
It was a Mitsubishi FUSO 4x4 body with a 16' travel trailer mounted on the flat bed in the back.
When I got out to snap a picture and look it over, Terry, the owner and fabricator of this awesome looking rig came out and introduced himself to me. He proceeded to walk me around his custom camper and show me just how he had built it and all the modifications he had made.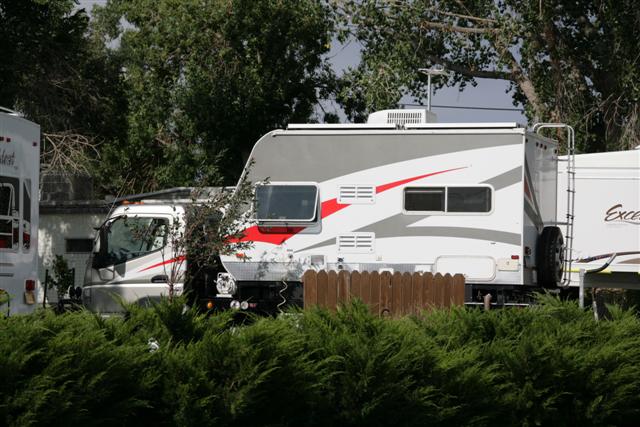 When we had first started planning our adventure, this was one of our first ideas, but with me not being a welder, 100% of the work would have had to been hired, and the cost would have been astronomical.
Terry was a welder and did most of the work himself. He said he had a friend help him with some of the fabrication and welding, but most of the cost was just his own labor.
After talking and visiting with him for at least an hour, we excused ourselves for taking up his afternoon and headed on our way.
We were having some trouble finding the Holiday Inn that Tom and Jana had told us about, because all the local advertisements and Billboards were for a Days Inn.
When we pulled up to the Days Inn that was advertising the Safari Den, we figured we'd go see if this was the right place. As soon as we walked in, I knew we had found it.
The walls are covered with photos from exotic hunts around the world and the collection of Exotic Animals stuffed and mounted is worth probably more that the large hotel itself.
When we talked with the nice guy at the front desk, I mentioned that our friends had told us to make sure we stopped at the Holiday Inn. He told us that the owner had switched franchise names just under a year ago, and they're having all sorts of trouble with that because they were the Holiday Inn for so many years......That explains our confusion.
If ever passing through Thermopolis, its worth it to stop and see this amazing collection of animals at the Days Inn. Granted I would much rather see these animals alive and in pictures, but some people have to feel powerful in their own way I guess.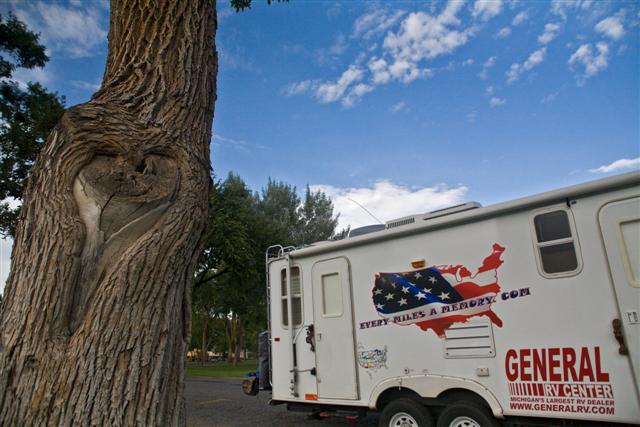 We Love Trees! This is NOT Photoshopped!
From Thermopolis we drove North along HWY 120 through some of the coolest rock formations I've seen in some time. We saw hundreds of Prong Horn, Mule Deer, White Tail Deer and we even spotted a big fox hunting along the edge of the HWY.
Again, there are no services between Thermopolis and the little Historic town of Meeteetse just to let you know if you're traveling this way.
I've been telling Cindy about the cool little town of Meeteetse for years now as I had visited the Cowboy Bar & Saloon about 10 years ago while in Wyoming photographing a Hunt Trip with some buddies of mine.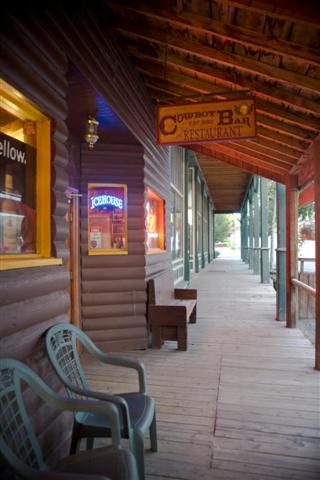 We pulled into town just as the sun was setting and found a parking spot for the camper right along the Greybull River.
We walked down the wooden planks of the towns boardwalk and pulled open a big, heavy wooden door of this historic saloon. The door handle on the bar is an old rifle and the sign hanging above the door says its been here since 1893!
The next few hours would be worth the entire drive through Wyoming even if we were just to turn around and head home right now. The owner of The Cowboy Saloon happened to be sitting inside.
When I asked if I could take some pictures of the beautiful hand carved bar, he turned around in his wheel chair and proceeded to school Cindy and I with enough history of the town of Meeteetse, the state of Wyoming and the history of the Wild West that if I could remember half of what he told me, I could teach a college history class.
Jim Blake has written over 20 books on the history of the area and the State of Wyoming and is so filled with knowledge, he is like a walking encyclopedia on the Wild West.
He has one of the largest collections of photographs of the early pioneer days and has been featured on PBS, National Geographic and numerous television programs.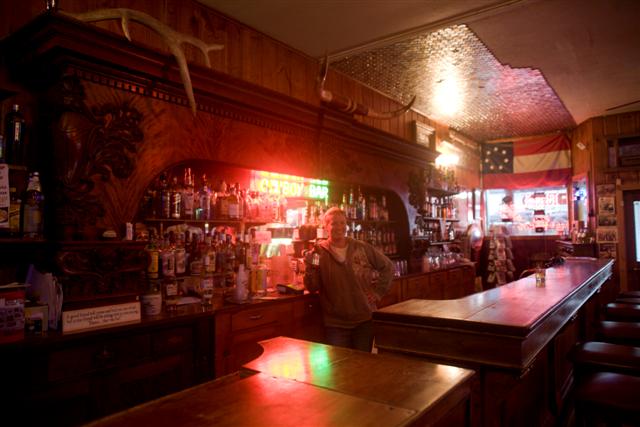 Cindy behind the Historic Bar in Meeteetse Wyoming
He pointed out some of the 11 bullet holes from various gun fights that have happened inside the bar throughout the years and showed us pictures of would be robbers lying dead at the door step of the bar from the late 1800's.
With Cindy and I being so interested in history, especially history of the Wild West, I was like a sponge in warm water. I couldn't get enough and I was disappointed when they had to shut the open sign off and close the place down.
We hadn't planned on spending the night in Meeteetse, but after all the information Jim gave us, we're gonna stick around to visit the towns museum tomorrow and see some of the historic buildings in the daylight.
I only wish I had a digital recorder with me while we were listening to Jim so I could remember half of what he told us. It was like looking through the pages of history with a great narrator as the story teller.
Monday August 17th - Moving a few Miles Closer to Yellowstone
After our history lesson last night with Jim, Cindy and I wanted to make sure we got to see the town in the light of day, so we were out wandering the boardwalks right after breakfast this morning.
Now I should say that the town of Meeteetse is only about a city block long, so it doesn't take too long to explore. But looking through the wavy glass of the century old buildings and trying to imagine what this town has seen in its years on the map is a fun way to waste away a morning.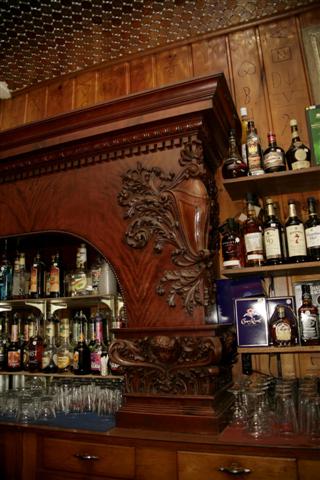 We visited the museum which is loaded with photographs from the surrounding ranches and has some great displays filled with local history. We talked with some locals and some people passing through before we wandered back over to the Cowboy Bar & Saloon so I could try and get some photos of Jim's one of a kind back bar.
While we were sitting in the Saloon last night, I had asked about the story of the beautiful back bar which Jim filled us in on in great detail.
It seems that during the Chicago Worlds Fair of 1893, the Brunswick Billiards Company had a division building saloon furniture that had built a bar to display at this event. The piece they built for the fair won first place and was a big hit.
A Canadian couple purchased the bar for $500 and had it shipped by boat up the Missouri River to Billings Montana. Not something that was such an easy task back in those days.
Once the solid Cherry Wood bar reached Billings, it was loaded onto a Mule Cart and hauled down the mountain side to the new town of Meeteetse. Remember there wasn't such things as a HWY system in these days and this simple task that one might have the ability to have shipped First Class Mail in this day in age probably took the better part of a few months back then.
The hand crafted masterpiece was so big, they actually built the building around the bar. In those days, the building also housed the Meeteetse newspaper and the post office as the town was just getting started during the late 1800's.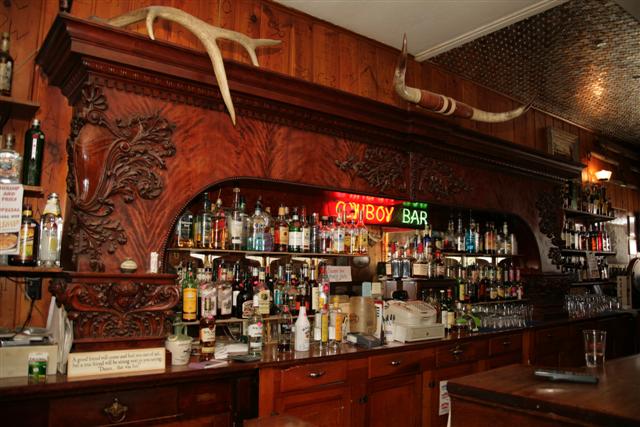 Looking down the Historic Bar in Meeteetse Wyoming
The coolest part about the bar is how good of shape its in. The corner joints look they like they were put together yesterday they're so tight. The intricate carving has hand carved details like nothing I've ever seen before. And to think it's over 100 years old and traveled across the country by boat, by mule cart and has withstood all these gunfights and cowboys trying their hardest to drunk it up.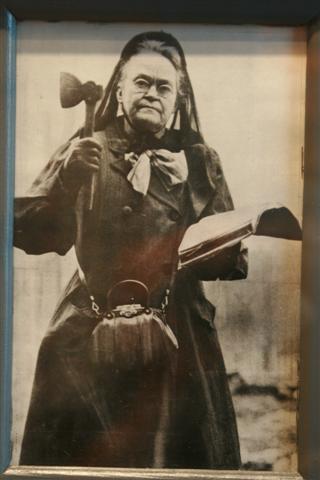 Jim was telling us that during Prohibition (I shudder just typing that word), most of these Brunswick-Balke-Collender Bars were destroyed when the saloons across America were shut down costing the county hundreds of thousands of dollars in tax revenue. Yeah, stick that in your pipe and smoke it Women's Christian Temperance Union!! The dumb asses who thought banning alcohol would solve all the countries problems....NOT!
Jim's little saloon in this town of Wyoming was one of the only bars that never shut down during Prohibition and this beautiful Brunswick-Balke-Collender piece of art survived that time in our nations history that so many of us never want to think about.
He said there is a company out of California that is trying to copy these style of bars and came out to take photographs, measurements and now sells replica's of this exact bar for a measly price of $250,000.
Jim told us that at one point, nearly 95% of all the bar fixtures manufactured between 1885 and 1900 were produced by Brunswick-Balke-Collender. After Prohibition ended, which was followed by the Great Depression, where most of these bars were used as fire wood, there are only 150 original Brunswick-Balke-Collender Bars still in existence.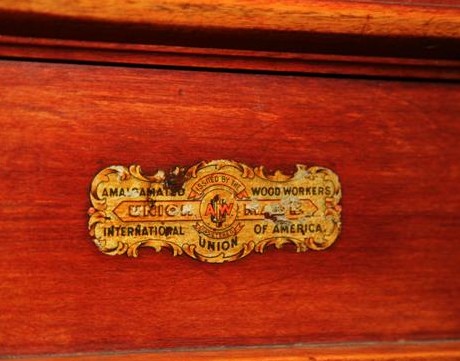 Only 2% of these Bars have the original label, the logo of the Amalgamated Woodworkers International Union of America, and the company crest still stamped on them. Jim's has both of these and we joked that his bar, just the bar itself, not the entire saloon, is probably worth more than the entire town of Meeteetse put together.
For Cindy and I, who have lived most of our lives in rustic saloons, who are amazed by real history, especially if this history has to do with alcohol, the Wild West or the development of our country, finding the Cowboy Bar & Saloon in Meeteetse was like finding the Holy Grail of antique shops. Best part was, we could sit and enjoy all this learning of our nations past while sipping on ice cold beers with one of the best History teachers I've ever met.
We heard a bunch of great stories while talking with Jim this morning and made plans to come back so he could guide us up to a ghost town he had told us about that needs a 4x4 to get to, and is only accessible a few months of the year due to its elevation.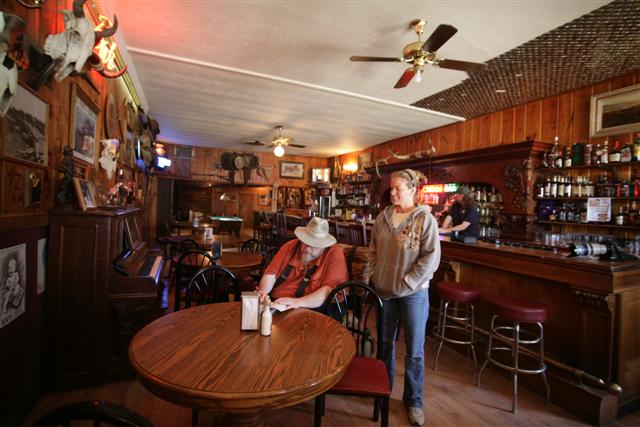 Cindy having Jim sign one of his books we bought while in the Cowboy Saloon
From Meeteetse and the Cowboy Bar & Saloon, we drove up towards Cody through some beautiful country side.
Fields filled with prong horn, mule deer and grazing cattle and big fluffy clouds as a backdrop. It's drive days like today that I could go for hours upon hours and not get bored with the beautiful western scenery. There is just something about sage brush fields, volcanic buttes and big sky country that makes one smile and be glad to be alive.
It didn't take long before we hit Cody. This is somewhat of a bustling Western town, if you can even call it that, but in Wyoming, it's the equivalent of Chicago. While passing through this area on multiple occasions, we've yet to visit the Buffalo Bill Historical Museum, so we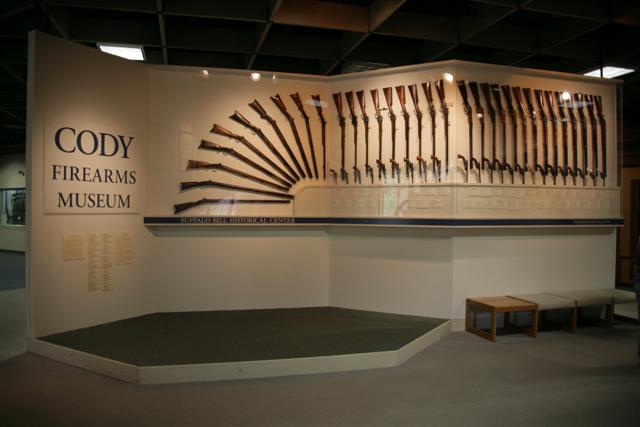 decided to see what everyone has been talking about.
This museum is like nothing I've ever seen before, and if you plan on visiting, do yourself a favor and plan at least one full day here in the museum. I mean we spent almost two full hours in the Buffalo Bill Firearms Collection side of the museum alone.
Cindy's not as much of a gun nut as I am, and I had to pull her away from this side of the building. Then there is the the Western Artwork housed in another wing of this museum, which is just as stunning if not more fun to look at than the massive gun collection.
When it comes to art work, you're either a lover or a hater. I've found that there are some pieces that make me wonder what the hell the artist was thinking, and some that I find myself staring at for very long periods of time. Some of the oil paintings are so deep in texture, you want to walk up and touch the canvas just to feel the energy the scene gives off.
Some pieces of work are so lifelike, you wonder if its a photograph, while others look they were a paint-by-numbers piece done by some kindergartner. But this is the beauty of art, each piece is unique in its own way.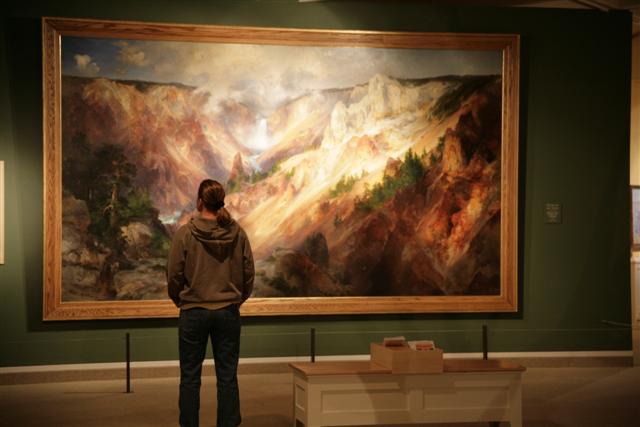 The sculptures were so beautiful with some pieces looking life like and some looking larger than life. There is one whole section that has world record animal mounts that have to be seen to be believed. Most of the mounts in this wing are record holders in the Boone & Crocket books.
Antlers on elk, deer and moose that were larger than Cindy and I, bears that towered over us, wolves that looked the size of black bears we've seen in Yellowstone. Like I said, plan on spending an entire day here if you want to see and read everything there is to see.
Being a lifelong photographer, I've always had a love/hate relationship with hunting and trophy mounts. I understand the necessity of hunting to provide for ones family, but I dont understand the want to do it for the sport of it. With wildlife photography, its like hunting the same animal, only I come away with a photograph I can remember for ever, and the animal gets to go on living to help spread its gene's and keep the population strong.
I know this argument can go on forever, and I choose not to get into it because I see both sides of it, but I feel Wildlife Hunting with a camera is much better for the Earth and our endangered species.
After a full afternoon spent in the museum, we headed over to Wal-Mart so we could do one last bit of shopping before heading into Yellowstone.
While Cindy was shopping, I had a knock on the camper door. I opened the door to a jolly looking gentleman who said "Hello, I just wanted to come over and shake your hand and thank you for all the time you put into your website!"
I was sort of at a loss for words not knowing what to say to this guy. I stepped down and sat talking with Ivey, a very nice guy who lives in Southern Georgia and was passing through this area on vacation.
He told me he's followed along with our website for years now and when he just happened to see the camper, he had to come over and introduce himself.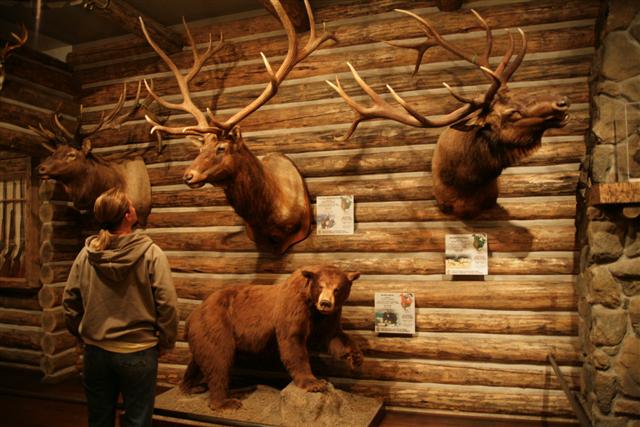 I thought it was funny that he said "You'll have to excuse me, but I cant remember your name. I have no problem remembering Cindy's name, but I cant think of yours for the life of me."
I said "Hey, I understand, who the hell wants to remember an ugly mug like mine! But I'd have no problem remembering a beautiful face either."
Ivey just laughed and said "I wont touch that one, but I think your right."
We sat talking for awhile as he told me about their past two weeks roaming many of the places we've visited ourselves. Sturgis, Devils Tower, all around Yellowstone and he made sure to tell me that we have to drive the Route headed up to Red Lodge in Montana.
Ivey and his wife had just ridden over 200 miles on their BMW Touring motorcycle they were trailering behind their Slide-In Camper.
After awhile of talking, he said "I dont want to keep you for too long, I just wanted to introduce myself and offer an invite anytime you're in the Savannah Georgia area."
He told me about his large piece of property that has full hook-ups for friends who often visit with their RV's and he said "You let me know when you're both coming, and I'll make sure I get a big bottle of Makers Mark for us all to sip on around the Campfire."
That right there told me that Ivey was a true reader of our site because he knew of all our talks of visiting the distillery and how much we enjoy sipping on this small batch Kentucky whiskey.
Once Cindy came out with groceries, she started dinner while I unhooked the truck to go top off the propane tanks along with the fuel tank before we head into the higher prices of Yellowstone.
Come early morning, we head back into the park where we'll be in a whole different world of prices, people, environment and the next step along the adventure.
Tuesday August 18th - Back to Yellowstone National Park
Driving into Yellowstone from Cody is one beautiful drive. I dont think there were more than a few words spoken to one another over the entire hours drive.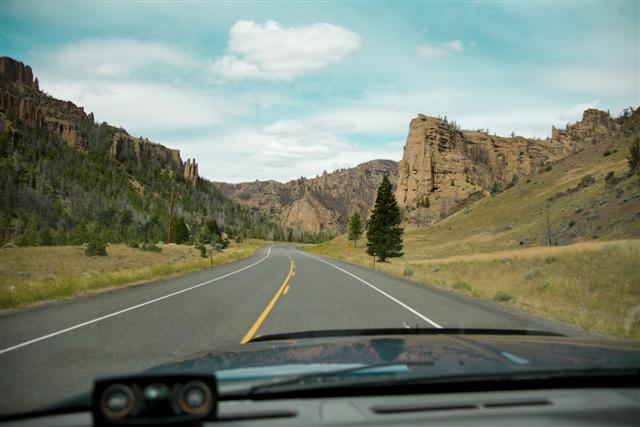 Not that we were mad at one another, its just so beautiful and scenic, we just sat in silence taking it all in. If you have the option of which entrance to come into the park through, I'd choose the Cody entrance.
Funniest part was both dogs sat up looking out the windows the entire drive. Either they liked the views, or they just were excited to be back traveling and heading into the mountains.
Once in the park, we started that massive climb up the mountain with the diesel motor screaming the entire way. I'm thinking its time to get some full service done to the Powerstroke as we've noticed our cooling fan coming on all the time.
Normally this only comes on during extended climbs, but lately its been coming on while just driving down a flat, level stretch of road.
We got an email from a reader named Austin who suggested we have a larger exhaust system installed which should keep the temps running lower, and help with fuel economy. He also suggested we install an auxiliary Transmission Cooler to help with out truck always being under a full load.
Those are both things I'd love to install, its just more of a money issue than anything else. So I guess they'll have to wait.
As per usual, we were running late and needed to drive from one end of the park to the other in order to fill out paperwork. Rather than tow the camper the entire way, we pulled over at the Fishing Bridge General Store and dumped the camper off in the parking lot.
This would make it so much easier to travel through the park, plus it would save on fuel. We thought about taking the motorcycle down and riding that, but with the temps hovering right around 50°, Cindy wasn't too thrilled about riding a few hundred miles on the back of the bike with dark clouds all around us.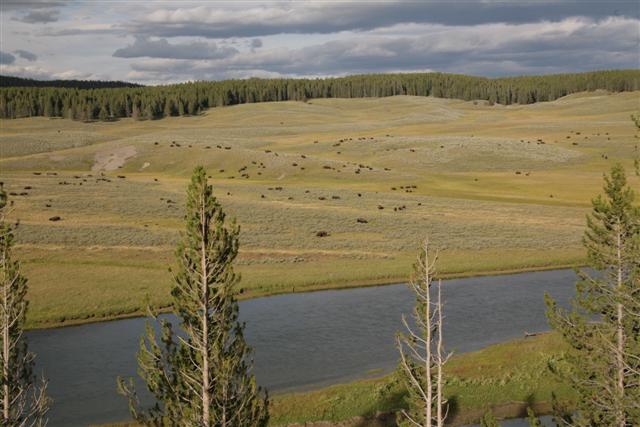 Buffalo Herds in the Hayden Valley of Yellowstone
Like we said the last time we were in the park, if you're ever visiting Yellowstone, skip July and August, and come either in the early spring or late fall. Compared to the early part of June when it was hard to drive the park and not see animals around every turn, we drove from Fishing Bridge to Gardiner Montana, only seeing some large herds of Buffalo in the Hayden Valley and that's it.
Once in Gardiner, we met with the management of the Yellowstone Association and filled out our required paperwork, we got our employee shirts, our schedule and headed back across the park towards our new campsite.
Driving back, we went across the upper section of the park towards the Tower-Roosevelt Junction where we usually have good luck seeing wildlife.
By this time, it was late in the afternoon when most of the animals start to come out to move around more. It didn't take long before we spotted a big herd of Mule Deer. The bucks of the group had some giant racks compared to our last visit when they looked more like our Michigan White Tail with their much smaller sized antlers.
I dont have any photos to show, because there was quite the traffic jam and I didn't feel like adding to the commotion.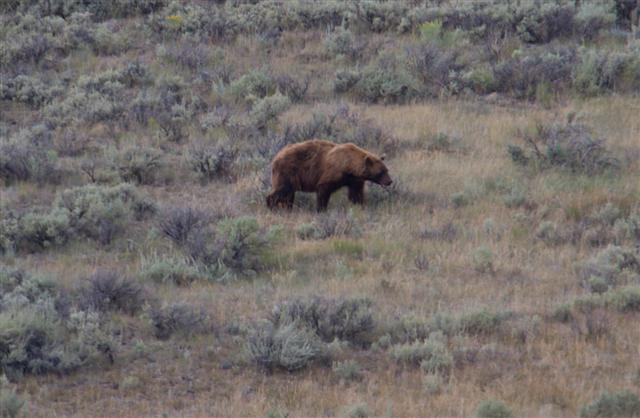 A few miles down the road, I yelled out "Hey look at that bald eagle!"
It was sitting on a perch right over the road and close enough that with either of our longer lenses, we could have gotten a nice shot of it.
While I was pulling off the road to turn around, Cindy said "Forget the eagle, I think there is a bear right there on that hillside."
We stopped and glassed the hillside with the binoculars and sure enough, there was a cinnamon colored black bear foraging through the waist high grasses, turning over rocks and digging for grubs.
Even though the bear was pretty far off, it was a good sized animal so we got out the big lens and waited to see if it was going to wander closer our way.
While sitting along the edge of the road, cars started to pile up with dozens of tourists yelling and ranting about a giant grizzly bear and Cindy and I chuckled to one another saying "I guess it's just more fun to say you saw a grizzly than realize what it really is."

Soaring Bald Eagle in the Hayden Valley
One couple that wanted to look through the lens to get a better view of the bear told me a story of driving up from the Teton's this morning and saw a huge grizzly just laying atop a dead elk filling his stomach with meat.
They said there was a huge group of photographers and a ranger present to keep people from getting closer, and told us it was only 50 yards off the roadway!! That would make for some good photography!
Once the people started to pile up and we figured the bear wasn't coming any closer to the road, we loaded up the gear and headed on our way not wanting to be pulling into camp in the dark.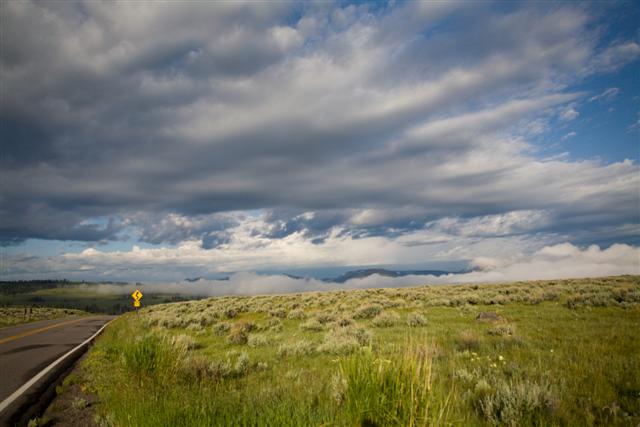 Driving up and over Dunraven pass, the afternoon light filtering through the clouds made for some beautiful vistas, and it felt good to be back in Yellowstone and what most call "God's Country."
Its strange how spending so much time in one place, even something as big as Yellowstone, one can feel a sense of comfort being back within its boundaries.
I mean this is one of the most visited National Parks in the world, yet we've spent so much time in it and know the roads so well, it seems like a big back yard to us now.
Along the drive home, we only spotted a few more deer hidden along the tree line, and waited through the miles of traffic that was inching along through the Hayden Valley where most of the big buffalo herds are right now.
The buffalo look nice and full with their thick coats filling in for the oncoming winter season.
The dead hair falling off which was making them look all mangy is long gone, replaced with a healthy new coat of fur that makes them look full and strong. Forget seeing their skinny frames with ribs poking out like when we first got here in the spring.
They say during the summer months, an average buffalo will eat 25lbs of grass each day. The babies look like large dairy cows now and have lost their bright red coats they have when first born, which are now replaced with darker coats like the adults.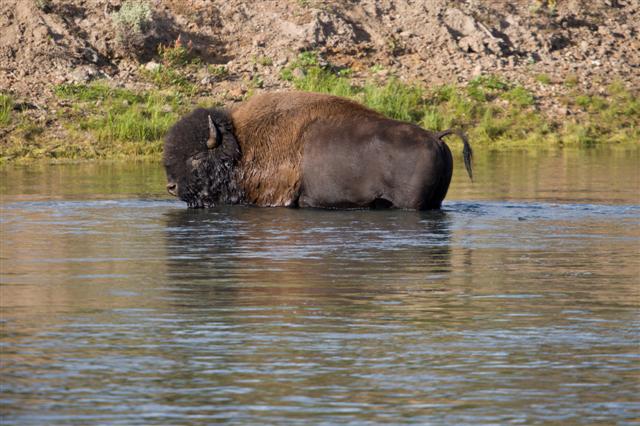 You can tell the bulls are getting frisky as they're sniffing the hind ends of the females and the males are aggressively pushing each other around keeping younger studs away from their harem.
Along the Hayden Valley, we spotted a few more bald eagles and were excited to see so many right along the edges of the road. A healthy eagle population means the surrounding ecosystem is healthy with plenty of fish and rodents for them all the feed off of.
We got back to the camper, hooked up and headed towards the West Thumb Geyser Basin where we're going to be staying for the next month.
Our campsite is large and level with full hook-ups which makes for easy living.
We've found that since we have to pay for our electricity, its easier to run a small extension cord in through the 30amp door on the side of the camper and just use that to run the computers and hard drives.
This way we only use a very limited supply of shore power and still use the solar panels for everything else.
This site is much more open which will be a good thing. For one, it will keep the camper warmer with the upcoming cold temperatures moving our way from being in the full sun all day long. Second it will keep the batteries fresh and charged with being in full sun all day long.
This probably wouldn't have been a good site in the middle of July when the temps were hovering in the high 80's, but you have to remember, in Yellowstone, they had snow flurries last week, so summer is long over up here in these elevations.
We settled into our site and Cindy made some scrumptious dinner while I set things up. I met a few of the neighbors who came out to introduce themselves and see who the new couple was pulling in, and noticed right away that with the cooler fall temperatures, the blood thirsty mosquitoes that were so ravenous last time we were here were gone.
Now I know I'm really going to enjoy our second stay in Yellowstone!
Friday August 21st - Spending the Day with New Friends
So Wednesday and Thursday we trained at the Old Faithful Visitor Center and the one thing Cindy and I both noticed about these jobs is how happy everyone is.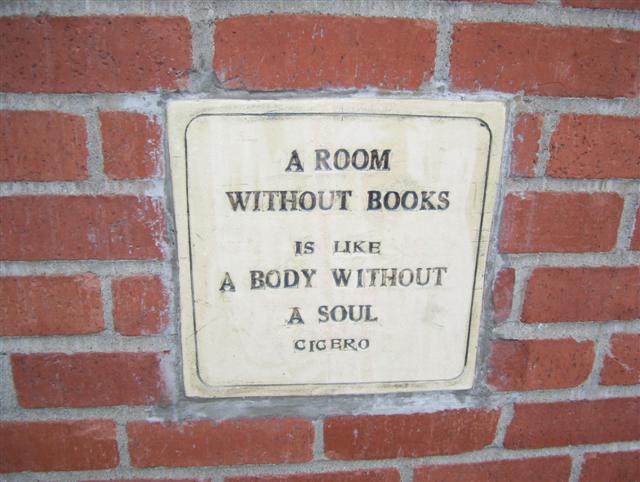 Its so much different working in a book store compared to a restaurant. You dont have people coming in and complaining about service or how long it took for anything to be prepared. They're coming up to the cash register because they want to purchase something, they already know the price of what they're getting, so everyone is in a good mood, and usually the only questions we get, which is about every single person, is where a certain feature in the park is located while they're looking through a picture book or the postcards.
I think its misleading how all the photos they show of Grand Prismatic Spring is an elevated view, but none of the books say how to find that view. If you remember when Cindy and I visited this beautiful spring last month, we were both somewhat disappointed by the views the boardwalks offer, but to hike the Fairy Falls Trail and find the aerial view of this spring, well that is the way you want to see it for all its worth.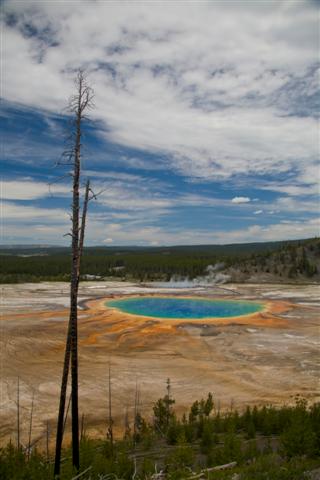 I remember when we posted our photos of Grand Prismatic on a few different photo forums we frequent, we had so many emails and questions about how we got those shots.
So many people asked the same questions we're getting from the customers bringing up postcards and picture books saying "We just went and walked around the boardwalks, but how do we see it like this?"
I think they should show this other hike at the main parking lot for Grand Prismatic and say something like "If you'd like to see it from an elevated view, go down to the Fairy Falls Trail head and hike in a 1/4 mile to the small bluff across from the spring."
This is also why I've learned that when you get to an area for the first time, the best way to get good shots is to go into a visitor center, look at the postcards offered and ask questions about where the shots were taken from. I figure if the postcards are selling, then those are obviously the best images there are and it's a good starting point for where Cindy and I should be heading to.
While we were leaving work yesterday evening, Cindy checked her voicemail and had gotten a message from the family that had contacted us a few weeks back about taking some photos of them while they visited the park.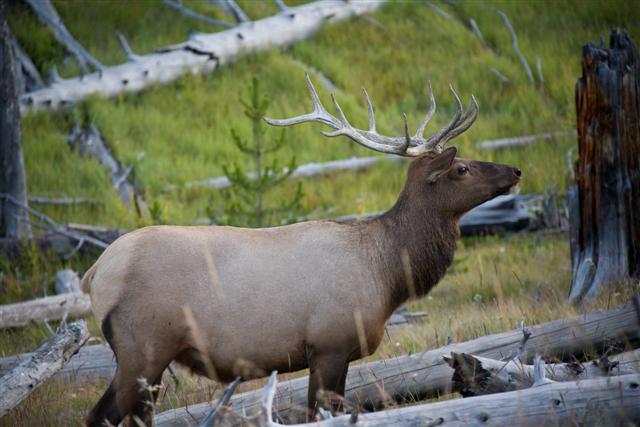 She called them right back while we had a signal in the Old Faithful area, one of the only areas in the park where you get a strong signal, and they told us they had just left Old Faithful and were headed towards Fishing Bridge.
She told them if they'd wait a few minutes, we'd meet up on the side of the road so we could all introduce ourselves.
We were on the motorcycle because we're trying to save as much on fuel costs as possible and the weather is so nice right now, we might as well take advantage of it. A few minutes later we pulled up beside them along the edge of the Grand Loop Road.
When we pulled up, the entire family was out of the truck taking pictures of a large bull elk that was along the edge of the road. We snapped a few pictures ourselves and introductions were made all the way around.
Shyam's brother Ram (pronounced Rham) was the spokesman for the family and introduced himself first, then brought us around to meet the rest of the family.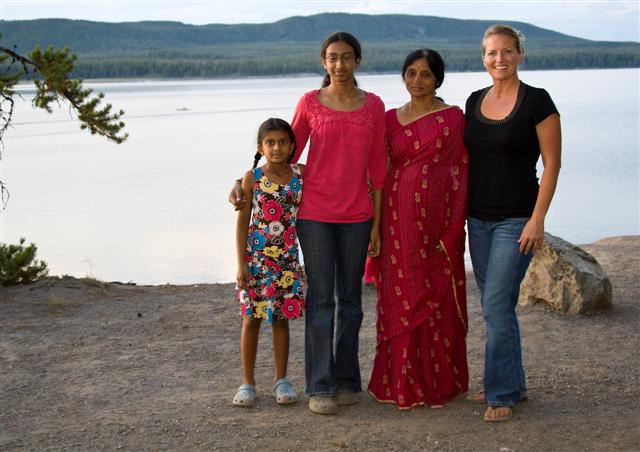 Shyam had brought his parents along on the summer vacation and his brother had just flown in to spend a few days gallivanting around the West with them. I was very impressed with the fact that the entire family had come together to spend their vacation together.
Grandkids with their grand parents, a father spending quality time with his daughters, nieces spending time with their uncle.....its something more families should take note of in today's fast paced world.
These are memories these kids will look back on as they grow older and hopefully will cherish for the rest of their lives.
As we sat talking on the side of the road, the cold night air was moving in, and Ram suggested that we find a local restaurant to go have some drinks and a bite to eat and get out of the cool air.
We headed over to Grant Village and spent the rest of the night laughing and getting to know one another. As dinner was served, Cindy and I excused ourselves to allow them to have a nice meal and we headed home to walk the dogs and hit the sack.
We had all made plans to meet at sunrise this morning and spend the day exploring the park together.
I'm not sure what's wrong with us, but when ever we have to get up at a certain time, we both have trouble sleeping through the night worrying that we're not going to wake up on time. So we barely slept through the night with both of us waking one another every few hours to make sure we hadn't slept through our 5am alarm.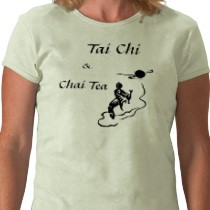 When we pulled up to their camper in the Fishing Bridge Campground, the place was a buzz with the family getting ready for a day out in the park.
Ram had invited us during dinner last night to come by early this morning so we could try his mothers recipe for Chai Tea. He told us that the word Chai is simply a universal word for Tea, but his mother had a recipe from their native country of India where the tea originated from, that was better than anything we'd buy in ANY store in America and we had to try it to understand how good it was.
Being as Chai flavored tea is one of my favorites and what I normally drink on a weekly basis, this alone was enough to get me out of a warm bed at 5am to try.
Ram wasn't lying about his mothers recipe and if I knew how to imitate her concoction, it would probably be the only fluid I'd drink for the rest of my life. It was a great way to start the morning to say the least!
We didn't have a vehicle large enough to hold all eight of us together, so Ram jumped in the truck with me and Cindy jumped in Shyam's vehicle with the rest of the family.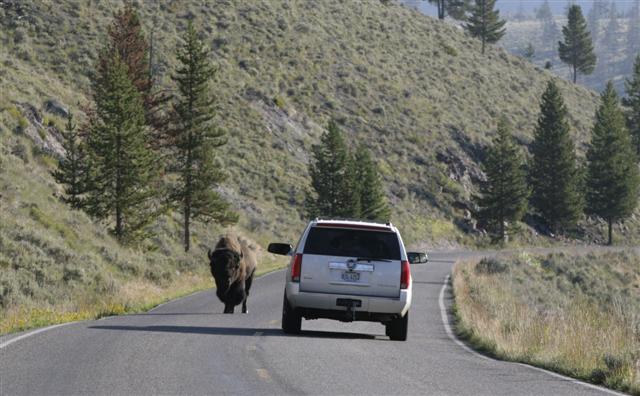 The morning was spent driving North through the Hayden Valley, which was totally fogged in, up and over Dunraven Pass as the sun climbed above the horizon dropping us at the Tower General Store where we all stopped to use the restrooms, refuel on hot coffee and stretch out the stiff legs.
The morning was uneventful when it came to wildlife sightings, but the conversation more than made up for the lack of animals we didn't see. Ram is a very interesting, intelligent person filled with worldly knowledge who taught me a load of new things about history and life in general.
One of my favorite things is to meet new people, and sitting in the confines of a vehicle with someone new on a mini road trip is a great way to get to know one another.
Since they had been in the park for a few days already driving the Grand Loop Road, we figured we'd bring them down the Blacktail Plateau Road where we've had some good luck seeing some wildlife.
We were almost to the end of the 6 mile, one-way road before we saw anything. Then, on our way down the last mile of road, we spotted a young black bear slowly making its way into the woods.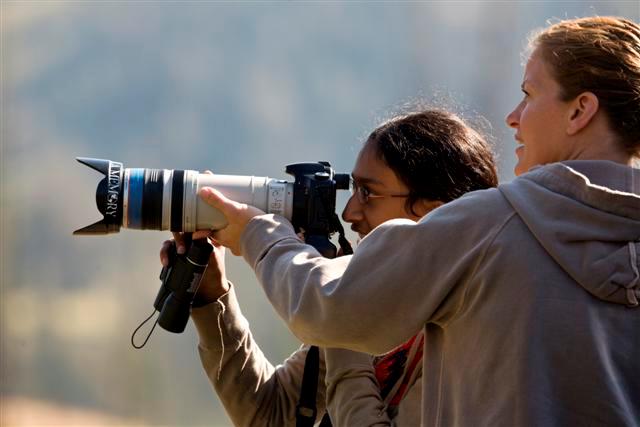 We all jumped out to get some shots, but even with a long lens, I wasn't too happy with my results. I guess we're just spoiled, and unless the wildlife is close, its more fun to just watch it then take a bunch of shots of a really small animal in the frame.
From the Blacktail Plateau, we headed down through the Lamar Valley to Silver Gate and Cooke City where we stopped for lunch. While driving through the Lamar Valley, except for the giant herds of Buffalo, we didn't see much. There was the Coyote that ran right in front of my truck that had Ram yell out to keep me from hitting it.
As we immediately pulled over, I jumped out to tell Shyam and the rest of the gang to look for the coyote just as another one ran right behind his truck. We all got out and scoped the hill, but they only turned back long enough for us to get a short glimpse of them before they were gone over the sagebrush lined hillside.
Lunch was had outside on the patio of a little Cafe in Cooke City in the warm afternoon sun. Shyam, Ram and the family was great to sit and talk with and such gracious people. They made sure we were having fun, were comfortable with everything we were doing and were well fed at all times.
One thing I found very interesting while talking with Shyam was his disgust for foreign made products while shopping in America. This to me is very interesting being as he is originally from another country.
When his daughter said she wanted to buy something from one of the the gift shops, he told her he didn't want to buy it because it was made in China. He said "I only want to buy things made in America and I'd much rather buy something made locally to support our economy."
He drives an American vehicle, says he hates shopping at Wal-Mart because it uses so many products from China and tries his hardest to support the local economy with all his purchases. I'm not sure why I found this strange, but you have so many people arguing over the Made in America label, and here is a naturalized American who is doing more than most American born Americans.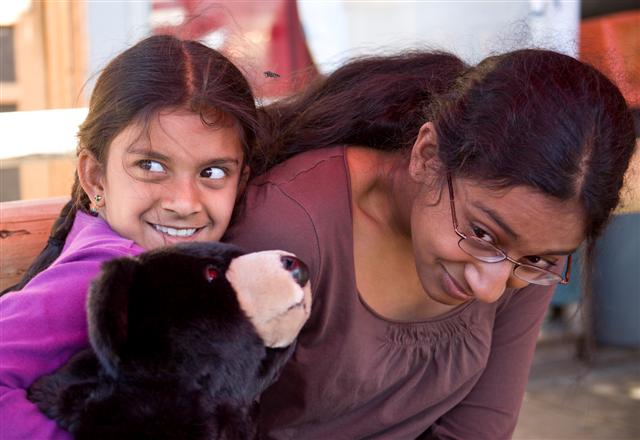 Shyam's Daughters Ducking from the Huge Montana Bugs bombing us during Lunch
Since we had all been up since before sunrise, the afternoon heat and full bellies were kicking in the sleepies, and we were all ready for bed.
Cindy jumped back in with me, and Ram took the drivers seat in Shyam's truck for the ride back. I think Cindy was asleep within seconds and I can only imagine how hard it was for her to stay awake all morning on the drive up to Cooke City.
We all know that she normally sleeps or at least takes a nap every 30 minutes while we're driving, but when I later asked her about the mornings drive, she said that they all talked so much on the ride over Dunraven Pass, she never even thought about snoozing.
I guess my conversation must be so boring, it lull's her to sleep.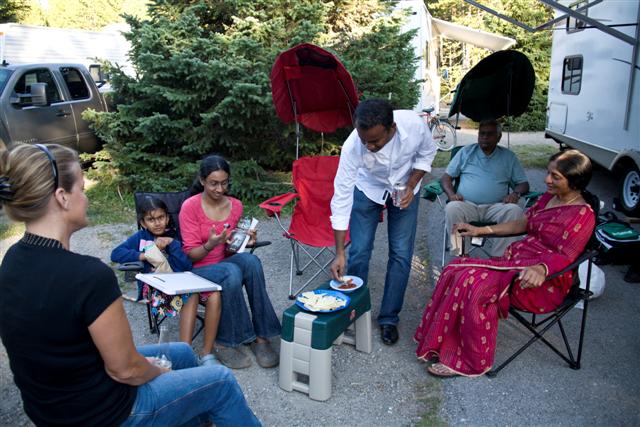 During lunch we had made plans to get some photos of the entire family later in the afternoon, when the lighting would be more favorable. So Cindy and I headed back to the camper while Shyam's family went back to take an afternoon siesta during the late afternoon heat Wyoming was dealing with this week.
We got home, walked the dogs and I took a powernap. This is something I rarely do, but I also never wake up on the early side of the day. That's Cindy's schedule, mine is more of the late night time frame. So I was pretty tired after the days events of roaming around the Park and driving non-stop.
The afternoon shoot went great and it was at about this time the family started warming up to Cindy and I. Its not the norm to having big lenses pointed at your face when you're not used to it. I mean my family, heck they probably think I have a Camera tattooed to my hand due to the last 10 years of outings and holidays that I've documented.
The normal family, something mine is far from, usually freezes up when a lens is pointed at them. But give it a few hours of hanging out with Cindy and I, our goofy personalities and our non-stop picture taking, and most people realize we're just that way all the time and go about their daily business without paying too much attention to us.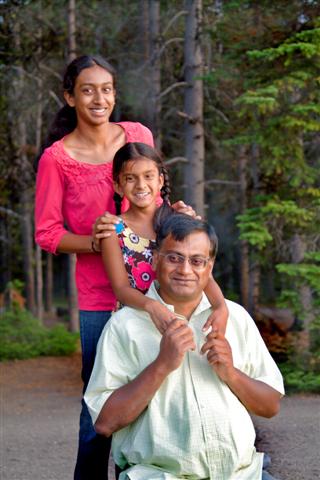 For me, I really hate posed shots. I love the candid look, but that's almost impossible to capture unless you're in a crowd or the subjects are very comfortable around a camera. But I think we got some good shots of their family vacation that they'll be happy with as they look back on them in the distant future.
In our day of talking while on the scenic drive, Ram had told me he was flying out tomorrow from Bozeman and was having a taxi cab come into the park to pick him up.
I felt bad that he'd have to drive for those 2 hours in the back seat of a taxi cab, so I offered to drive him up to Bozeman in the morning if he wanted to.
By the end of the shoot, I think the Kadari family knew that Cindy and I were just a couple of goof balls who were out to have a good time, and as we said our goodbyes, we were all hugging one another and making plans incase we ever visited the Illinois area of North America.
The rest of the night I worked on the photos from today's adventure so when I picked up Ram in the morning, I could give the family a few CD's with the images on them to take home from their vacation.
Saturday August 22nd - Long Day of Driving, But So Worth It
I was driving Ram to the Bozeman Airport this morning, so I was up around 5am to get ready to head over to Fishing Bridge Campground and pick him up. With the Madison Junction closed for the rest of the year, it's really thrown a monkey wrench into the vacationers who are visiting Yellowstone.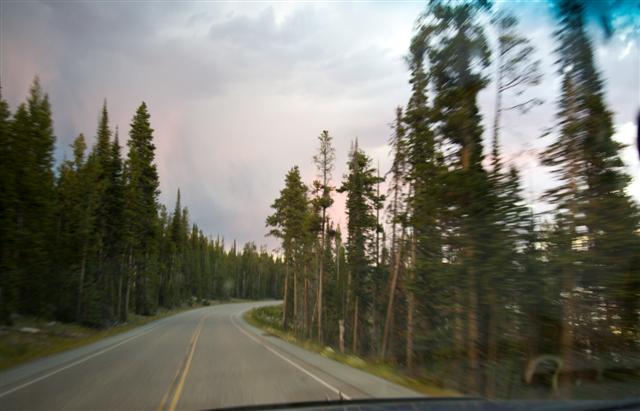 If the parks main loop is a Figure 8, and part of the section of the Figure 8 is closed, it means that people have to drive all the way around rather than completing the loop. This adds hours to a days drive, and if only spending a day or two in the park, it can completely ruin your vacation.
For our days drive, it added at least a few hours to the total amount of time spent on the road.
The drive up to Bozeman was spent with Ram teaching me a tremendous amount of history of his home country of India. I mean I learned more in a few hours drive, than I did in an entire semester of World History in High School.
It made for a great drive, and one I wont forget too soon. Thanks for the great conversation Ram and I look forward to our next visit.
Once I dropped Ram off at the airport, I stopped by F-11, the photography store in downtown Bozeman just to see if they had anything new. I'm really wanting a ThinkTank Belt System, but every time I either see one, or log onto their website, the cheapskate in me takes over and I cant seem to bring the money out of my pocket.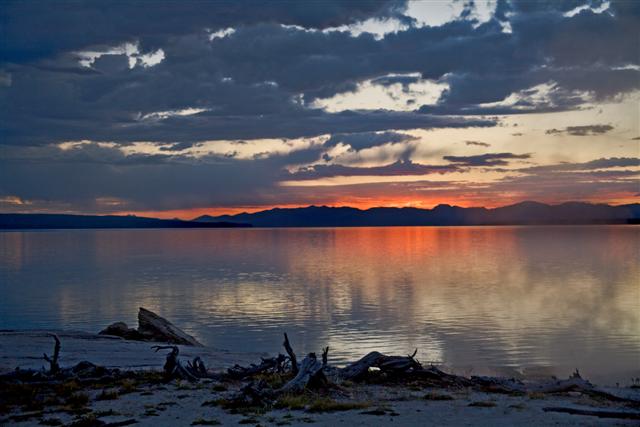 Sunrise over Lake Yellowstone
I guess I'd rather hold the lens in-between my legs, fumble around like some epileptic while trying to swap lenses and risk ruining a piece of equipment rather than drop $50 on a belt system to make it all work so smoothly.
Maybe I've been hanging around Cindy Steinberg for too long when it comes to the spending habits. But then again, money is something we're not supposed to be talking about, so I just browsed the equipment and left empty handed.
The drive home was as boring as one could expect. With a mind filled with new memories from the past few days, thoughts of what lies ahead for Cindy and I, and beautiful scenery no matter which way I looked, but the mid-day, harsh lighting made photography out of the question, so I kept myself sane with NPR radio.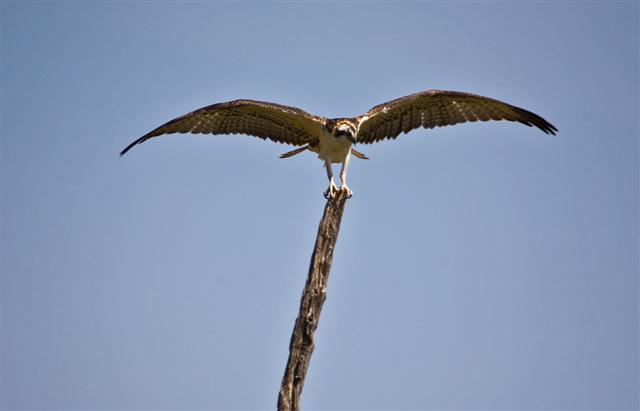 Almost to West Yellowstone, I stopped where the Madison River crosses HWY 191/287.
Cindy and I have seen a few Osprey nests there the last few times we've ventured up into this area but have yet to stop and check them out.
I needed to get out of the truck and stretch my legs after almost 7 hours in the drivers seat. What I found was a gold mine for Osprey pictures. The small Day-Use area had 3 nest with two adult birds in each nest.
I spent the next few hours just sitting along the side of a dirt path with the lens pointed out the window waiting for the birds to either fly in or out of the nest. I should say right now that Osprey have better patience than I do, because in a few hours time, I watched them sit still and cackle to one another rather than fly or leave the nest.
Today's temperatures were roasting hot and I was sitting the entire time with the truck off and the windows rolled down. This meant I was sweating like a whore in church and it wasn't the most comfortable of bird blinds.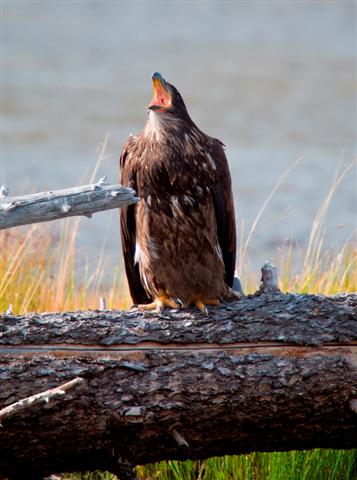 Cindy called to ask what I was doing and why I was taking so long, so I packed up the camera gear and headed back into the park.
While passing the section of roadway leading towards Madison where one of the Bald Eagles nest has been all season long, I noticed a young family on the banks of the Madison River. I looked out into the river to see what they were looking at in their binoculars and noticed a large bump on a log.
After I passed by, I thought to myself, "Why not go see what they were looking at? I mean it'll give me a chance to stretch the legs and see if its anything good."
I turned around and pulled over to see what I thought was a Golden Eagle sitting on a log, mid-way across a narrow section of the Madison River.
I need to apologize right now for anyone who stopped while I was parked along the river for my mis-interpretation of the bird. It was NOT a Golden Eagle, but was a Immature Bald Eagle practicing its flying.
To make a long story short, I sat on the bank with the big lens on the Wimberley for a few hours just watching the bird take small flights in the strong afternoon breeze.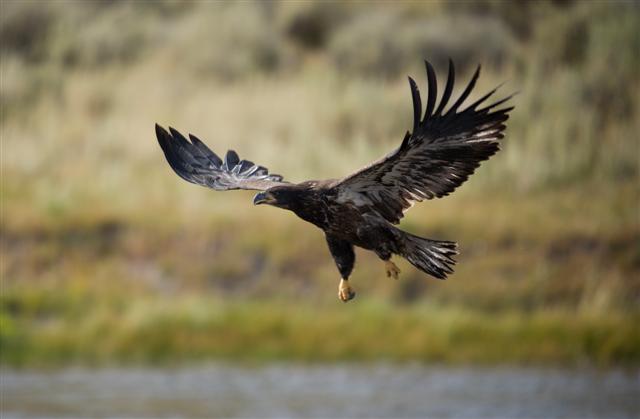 Immature Bald Eagle on the Madison River in Yellowstone National Park
Another photographer that was set up beside me was saying things like "I think something is wrong with that Eagle, it looks like it's either injured or doesn't know how to fly."
Driving home, I put the pieces together realizing it was the baby that had just left the Bald Eagles nest and was sitting along the banks of the Madison River practicing its flying techniques.
What made me realize what the bird was, was when one of the parent Bald Eagles flew up and landed on a nearby branch. I've never seen a Golden Eagle and a Bald Eagle in this close of proximity to one another.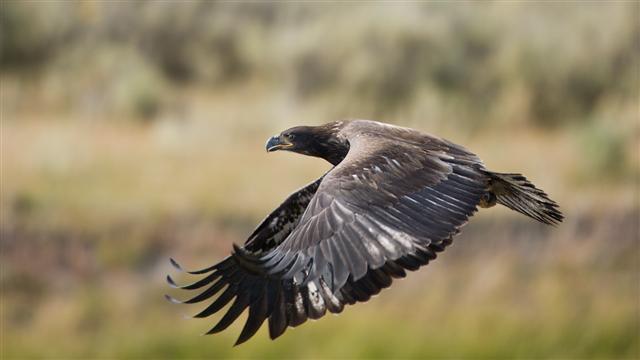 Soaring Bald Eagle along the Madison River in Yellowstone National Park
The Bald Eagle was much larger than what I thought was the Golden Eagle, which is very unusual, and they were cackling back and forth to one another non-stop. Almost like the adult Bald Eagle was coaxing the child to fly and stop being so scared to move.
At one point, an Osprey flew onto a near-by tree and sat screeching at the two predators.
When the Osprey took to flight, and started circling the Immature Bald Eagle, it got all antsy and flew onto a nearby hillside that was covered in Sage Brush. It could blend in perfectly with the landscape and sit protected from another predator that might either hurt it or steal it's dinner from the churning water.
Once the Immature Eagle was hidden in the brush, any good shots were out of the question, so I packed up the gear and headed home.
By this point, I had been out for way too long and had told Cindy I'd be home a few hours ago. Since most of the park has limited Cell Service, it was useless to try and call her to explain why I was so late.
It took me another few hours to get back to the campsite, but once I looked at the pictures on the larger monitor of the computer, I knew it was a Immature Bald Eagle and not a Golden Eagle. Sorry if you were one of the people who pulled over who I gave the wrong information to. I feel bad for spouting off and not knowing what I was talking about!
I think I was in bed by 9pm and sound asleep! But it is days like today when I know I accomplished something good. Probably some of my best shots to date when it comes to birds in flight.
Also got a phone call that peaked the interest of the next stage of our lives. Stay tuned!
Wednesday August 26th - Loving Life in Yellowstone!
The last few days have been a picture perfect wonderland. Yellowstone is aglow with activity in the wildlife kingdom with the animals coming down from the higher elevations because of the recent drop in temperatures.
The cool day time breezes have them hurrying to get stocked up on food and fat storage for the long winter months that will be here soon.
Two nights ago, the bugling started from the local Elk herd that calls the West Thumb area home. At first, I had no idea what it was. It's so high pitched, it sounds like a wounded coyote howling.
That was till I heard the coyotes start yelping and knew this had to be an Elk bugling. This went on all night long and I got up before sunrise to go see what all the commotion was about. It was pretty cool to sit in bed with Coyotes howling while elk bugled the night away. Natures symphony at its best and we had front row seats.
I didn't have to go far after leaving the camper in the morning! Only a few hundred yards up the road from the employee campground and I saw the big bull come over the ridge. He was sitting there bugling in the early morning light as the women in the harem all ran circles around his love calls.
I was in awe when a much smaller bull came trotting over the ridge to see what all the ladies were doing and the big bull went charging after the young stud. This went on for about 45 minutes till my fingers were so numb I had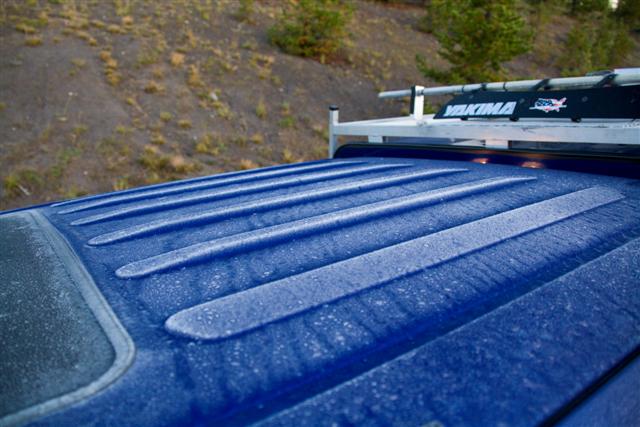 lost all feeling in them and needed to start the truck to get some heat blowing on me.
I should say that a vehicle makes for the perfect blind while shooting wildlife. Most animals will go about their business if a vehicle is present.
Try and so much as open the door and they'll run in fear of a human present. But stay in the vehicle, and you're golden when it comes to photographing wildlife.
The temperature gauge read a balmy 35° this morning and the frost on the roof of the truck never melted in the hour I was out watching the animals.
After seeing my photos from yesterdays early morning excursion, Cindy wanted to go with me this morning.
Again, we only had to drive about a 1/4 mile out of the campground when we spotted the harem running around getting chased by the big bull.
We watched for about 45 minutes till they moved over the ridge and out of sight. One thing you dont want to do is approach any of the animals while they're this worked up. I mean, you never want to approach any of the animals here in the park, but especially while the rut is in full swing.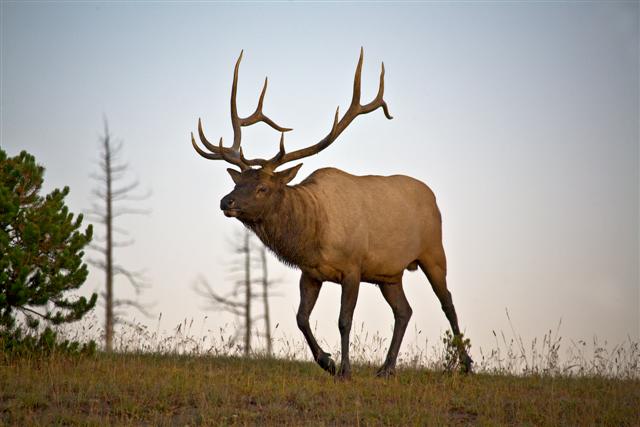 Sunrise on the West Thumb Elk Herd
At one point, Cindy put her camera down and started yelling at some idiot who stopped his car in the middle of the road, got out and walked within 10' of this big bull trying to get a better picture.
I told her to let him get gored and it would get rid of one more idiot on the planet. Darwinism at its finest moment.
I cant say enough about how fun and stress free this job is with the Yellowstone Association. This is exactly what Cindy and I had in mind when we came to the park in the spring.
Easy work, rewarding because you know you're working for a good cause, and you get to meet nice people all day long. We had a guy come in named Kevin who said he's been following our blogs and was visiting the park on one of his many outdoor adventures and just wanted to stop in and say "Hello"
We all sat and talked for awhile and it was cool to meet a fellow photographer who enjoys the same likes and topics we both do. We talked about various hikes around the Country we've both been on and compared notes on the differences in the time of year for when we thought the best photography was available.
The other cool thing about this job is we only have to work 3 and a half days each week, and they dont care which one of us works. They put us both through the training so we can pick if Cindy or I wants to go into work, as long as the shift is covered.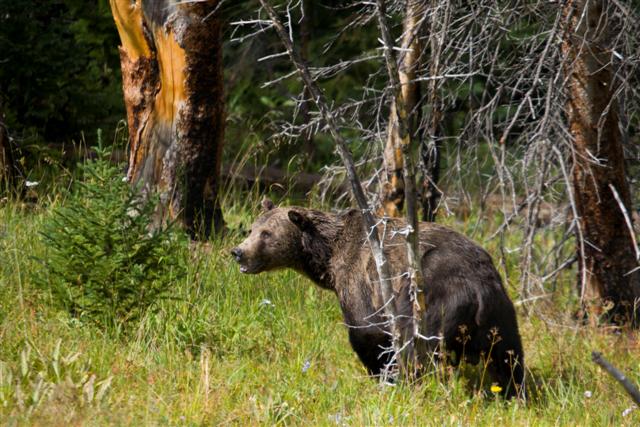 Grizzly Bear on Dunraven Pass
So I worked one day, while Cindy stayed home and had a nice relaxing day of doing what ever she felt like. The next day I drove Cindy to work, dropped her off, then headed out to see what I could find by myself.
The weather was nasty, which is usually the best time to see wildlife, and I had a great day in the park.
Spotted a grizzly while driving over Dunraven Pass, had two different Fox run right in front of me and got a good shot of one of them, spotted a bunch of elk and a few raptors that were too far off to get good shots, but I sat watching them through the binoculars anyway.
It was a great day of just roaming the park by myself and enjoying the beauty. Sometimes its fun to sit and enjoy nature by yourself. You can let your mind wander and sit watching something for as long as you want. Usually something you cant do when with another person.
I dont get these kind of days too often, but when I get them, I enjoy them to their fullest.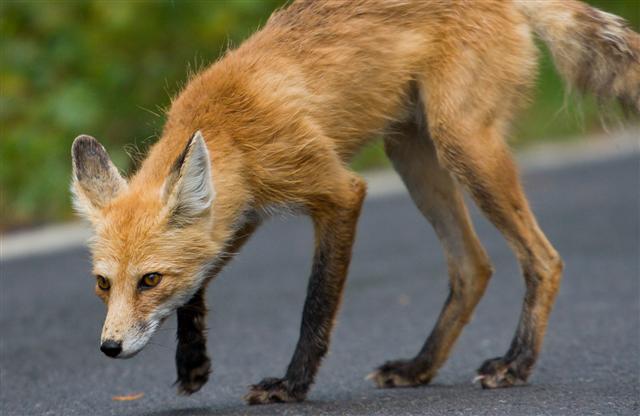 The big bison herds are moving through the Hayden Valley right now, and it's always amazing how stupid people will be with these big animals.
I guess because they look so docile, people think it's alright to walk right up to them to snap a picture with their cell phone camera. I was so wishing one guy would get thumped by a big bull that he was within a few feet of.
The ranger was even screaming at him over the bullhorn on his patrol car to get back in his vehicle as the herd charged right down the road. If it was up to me, I'd be handing out tickets left and right to these idiots. For one, it would generate income for the struggling park system through the fines the people would be paying. For two, you'd only have to do this for a short time before the rumors would be spread around the park that the Rangers dont tolerate any stupidity, and you had better stay away from the animals.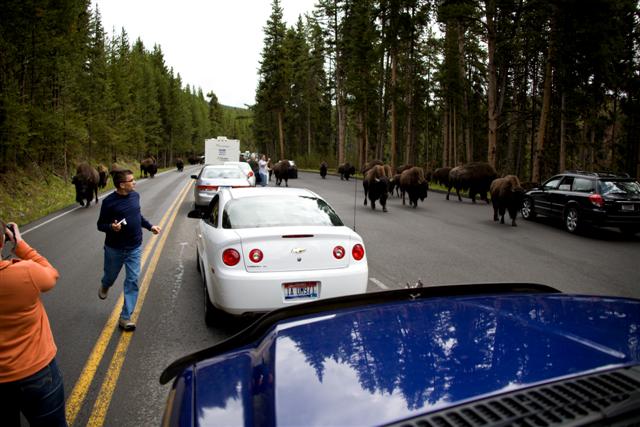 Running away from a charging Herd of Buffalo
Give me a ticket book, I'd pad the budget of the National Park system within a few weeks of driving around the park. Stupidity should either be very painful or very costly and maybe these morons would learn this isn't a petting zoo, these are wild animals.
We've got the next few days off, and have a full boat of hikes and different areas to go explore. Working in a book store that is stocked with nothing but hiking guides, trail maps and picture books of the Park, you tend to get a jonesing for the outdoors every second you're working.
I also put together a small gallery from the last few days of photography. Plenty more will be added as we go out each day for the rest of the week.
Thursday August 27th - What an Amazing Day in Yellowstone!
First and foremost, Cindy scolded me saying I was too harsh and sounded pompas in yesterdays blog post. I wasn't trying to sound better than anyone or act like these tourists are complete idiots, because many people want to get close to the animals.
I understand that completely. I only was trying to let people know that these are wild animals and you can get hurt or worse yet, killed very easily when it comes to approaching a 2000lb animal.
I was trying to drive home the fact that you want to keep a safe distance from the animals, and especially this time of year when they're so worked up.
Now let me tell you about our day, because it was pretty awesome.
We left the camper early this morning with big mugs of steaming cowboy coffee and a belly filled with Energy Shakes to get us started.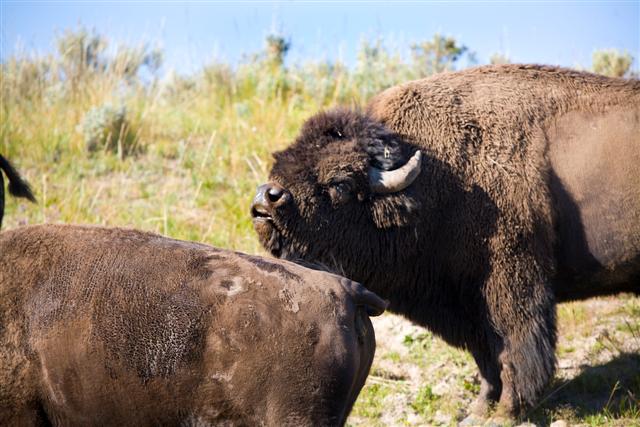 Bull getting all riled up from the Ladies in Heat
Rolling through the Hayden Valley, we stopped for a Bison Jam and watched as one big bull came trotting past us, down the middle of the road just huffing and grunting the entire way.
He walked up towards the females where another bull looked his way, grunted and they both started rolling in the dirt and kicking up dust to show the ladies how big and bad they were.
One female bison was in heat big time and this was driving the bulls wild. When the bulls would get near her and her winking vulva, they would grunt and sniff the air like they were going to explode just from the intoxicating smells she was giving off.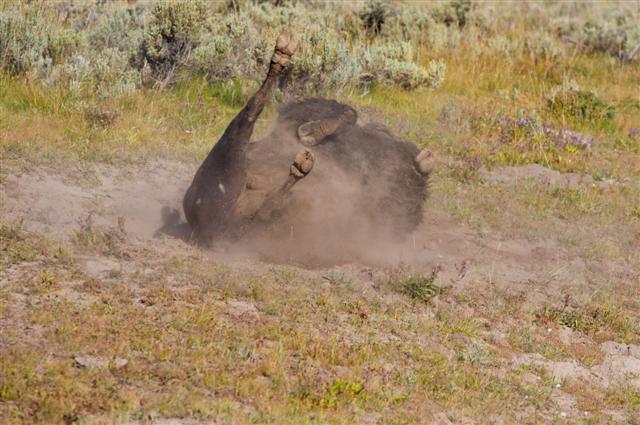 Both bulls were drooling and slobbering all over the place and if any young bulls tried to come into the pack of ovulating females, the big bulls would chase them off right away.
As we drove away from the lust pit, we both laughed when a guy rolled by on a motorcycle. These bison were running from one side of the road to the other, and I was a bit worried about driving past them in my truck, I'd have pulled over or turned around if we would have been riding the motorcycle.
Our goal for today was to hike to the Fire Lookout Tower atop Mt. Washburn. We had a reader email us asking if we'd hiked it because they were visiting Yellowstone this coming week, and they've yet to hike the mountain and were wondering what we thought of it.
It's been one of trails we've wanted to tackle all summer long, and we even drove up there one day planning on hiking it, but when we got to the parking lot of the Chittenden trail head that day, the winds at that elevation were blowing at about 30mph and the temperatures felt like they had dropped about 20 degrees. So we decided to wait till a nicer day to hike the trail.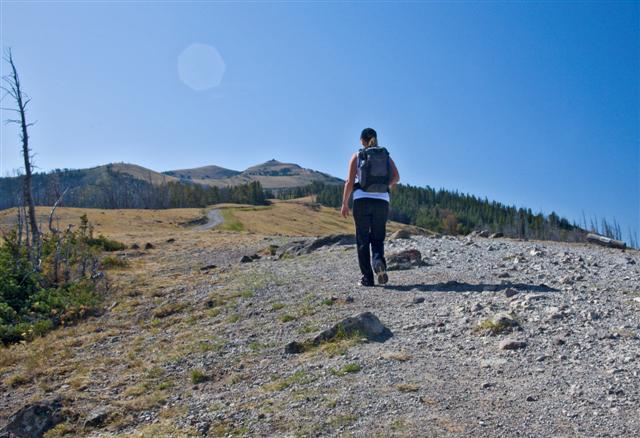 Today was as picture perfect as one could ask for. Deep blue skies, a slight cool breeze and temps hovering around the mid-50's when we pulled up. By the time we got there, it was probably 10am after taking our time coming through the Hayden Valley.
We threw on our backpacks and started up the old wagon road. The hike basically follows a narrow, rocky dirt road with steep grades on either side of the trail. You're pretty exposed because the elevation starts around 9,000' and you're soon above tree level.
Within the first 100 yards, we were both sucking for air and our legs were already on fire. But we got into a smooth rhythm and soon were moving along at a steady snails pace, but a pace that was keeping us able to carry on a conversation with one another the entire time. Heaven forbid we go for a few minutes without talking to each other.
While hiking up the road, we spotted a little squirrel/chipmunk that sat posing for us on some rocks. The little animals seemed like they were as curious about us as we were about them.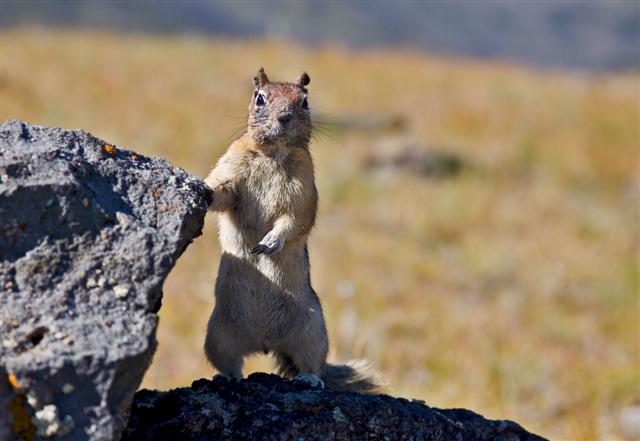 About half way up, we talked with a guy who was on his way down who told us there was a large herd of Big Horn Sheep that were right in the middle of the road around the next turn.
He said they were walking right up to him as he tried to come down the trail.
We wished him well and headed around the turn where we stopped to watch the sheep graze on the mountain side. As we sat watching them, they noticed us and moved closer to us almost like they were coming over to check us out.
We were worried because we both know you're supposed to stay at least 50' away from the animals in the park. Cindy asked "What do we do?" as they came walking right towards us.
I just told her to stay still and they'd probably just walk past us. But they came walking up to us like we had just walked into someone's back yard and they were the neighborhood welcome committee.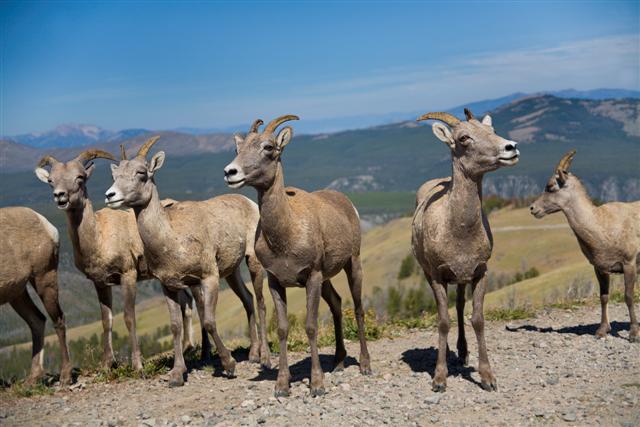 We started to walk up the hill thinking they'd keep going back down, but they followed right along with us like we were some sort of pied pipers.
By this point I was laughing because they were almost playing with us. I was sitting up against a rock ledge when one jumped up on the ledge so he was right above me. He/she, I dont know what sex it was because they all have horns, grabbed a clump of grass, picked it up with its teeth and shook it around throwing dirt all over the both of us. It then dropped it right beside me almost like a dog would do asking me to throw it or interact with it some how.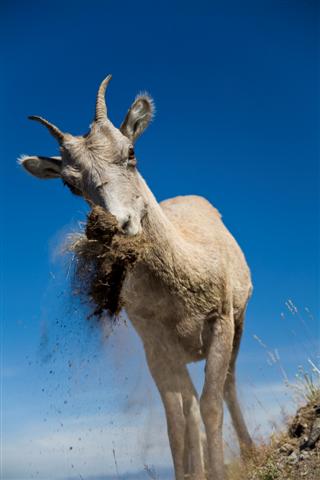 I just kept the camera pointed at it and snapped away. Cindy was laughing saying "I think it's just showing off for the camera....almost like it knows we want to get photos of it."
Finally some other people walked up the trail behind us and the herd grew bored with Cindy and I and moved down to check out the new visitors to their mountain top property.
We continued up Mt. Washburn till we found our next subjects who were almost better models than the Big Horn Sheep were.
While we were walking, I noticed something move right by my foot out the corner of my eye and looked down to see a big, fat Marmot scurry down into a hole in the rocks. I'll admit this scared the crap out of me at first....I had visions of a badger or wolverine tearing apart my ankle, but was pleased to see it was just a furry Marmot.
I told Cindy to stop and we both sat down on the ground. It only took a few seconds till a Marmot head poked out to see if we were still there.
We both sat perfectly still till the Yellow Bellied Marmot came out and sat on the rocks right in front of us. He sat checking us out while we sat snapping photos of him.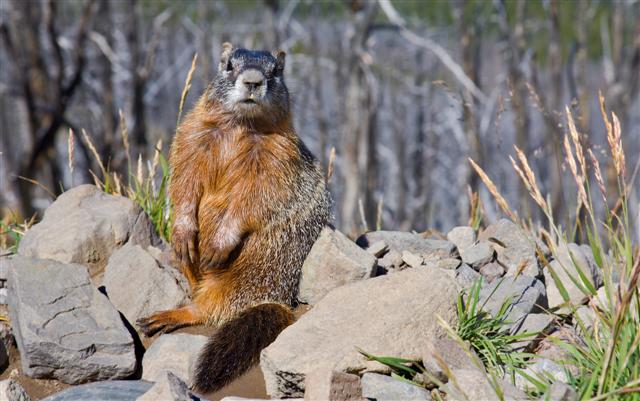 Then another head poked out and his mate came crawling out onto the rocks to see what all the commotion was about. These two fuzzy little creatures sat looking at us and inching their way closer to us almost like they were coming to see what these two new creatures were sitting outside their den.
At one point I was laughing so hard, I couldn't hold the camera steady because of the pose the Marmot was throwing my way.
This went on for about a half hour till more people showed up and it started to turn into a paparazzi moment, so we said goodbye to the little fur balls and moved on.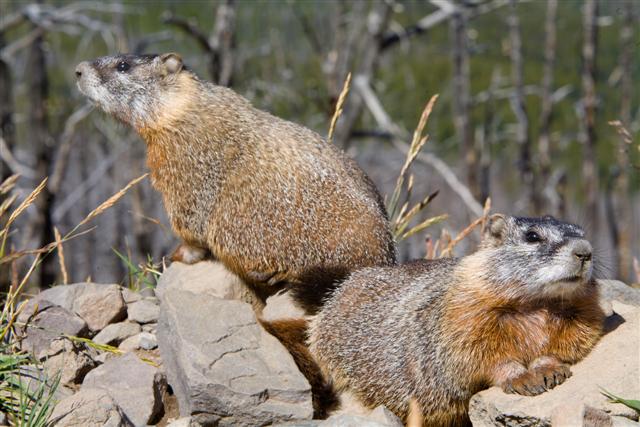 The Marmot Couple Posing for our Cameras on Mt Washburn
The hike up Mt. Washburn is spectacular and the views are some of the best I've ever seen in the park. We could see the Teton Mountain Range on the horizon which is some 70 miles away. That is just an amazing thing to see.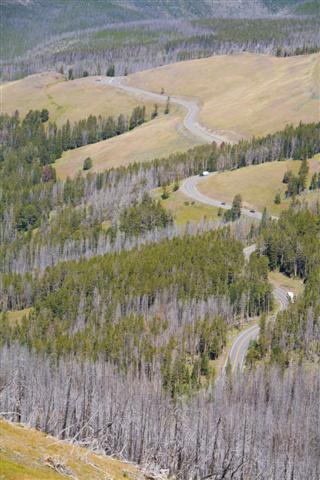 The road we normally cross Dunraven Pass on looked like a narrow trail below us, and the Yellowstone River, the Grand Canyon of Yellowstone and so many of the other features that normally wow us from ground level were simply jaw dropping from this elevation.
Once at the Fire Tower, which we found has a caretaker who lives here non-stop for the entire season, we had some lunch and took a much needed break on the observation tower.
Hiking 2.8 miles around 10,000' in elevation kicks yer' butt in a hurry. I felt bad for the smoker behind us who sounded like he was coughing up one of his lungs. I mean my lungs hurt at this elevation, I can only imagine how restricted his felt.
While sitting on the observation tower, Cindy was saying how crazy she'd go being cooped up in that one room, glassed in house where the caretaker lives. As crazy as it sounds, I think its something I'd like to do!
Our hike back down wasn't nearly as bad. Gravity is a good thing sometimes and can come in handy when you need to come back down.
While we were hiking down, a group of kids came running down the side of the mountain, off the trail, kicking up rocks and dirt their entire way.
There are signs posted everywhere to stay on the trail due to the delicate root structure of the plant life at these elevations.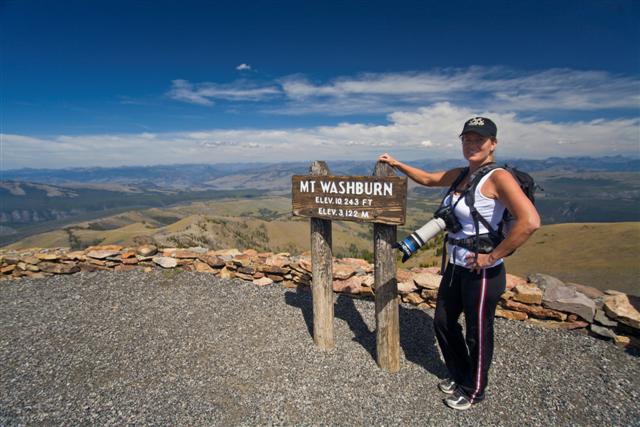 I yelled at them to stay on the trail, which they did for a few hundred feet till they were out of our range and they high tailed it down the side of the mountain again.
I told Cindy this is when I want my ticket book to write them all tickets. In reality, they were only young kids, and their parents were the ones who needed to get the tickets for letting them out of their sight.
Awhile later, as we were sitting along the trail watching a female Big Horn Sheep that looked like it was about to give birth, the rest of the family caught up to us on their way down the hill.
I asked if they were with the four young boys who had raced down the hill a little while ago. One woman said "Yes those are my Grandkids, did you see them?"
I told her about them tearing up the side of the hill and suggested she have a talk with them. I related that we had seen a big grizzly a few days ago right in this area, and the last thing they wanted to do was spook a grizzly at this time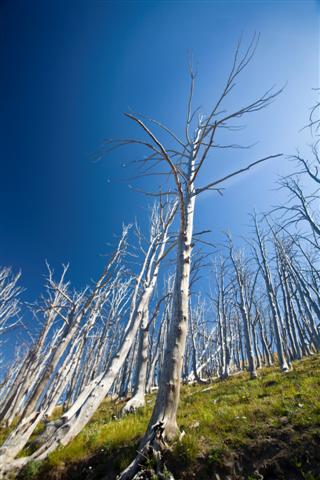 of year. I mean, the oldest boy might have been 13 and the youngest was probably 8 or 9, they had no bear spray, no water and imagine if any of them were to fall or get injured while away from the adults and on the side of a very steep mountain. This is no place for kids this age to be fooling around and running down the side of a mountain.
The grandmother yelled at the parents who were a little ways behind us and the parents apologized saying that the kids had ran ahead of them and they were trying to catch up.
The trail was lined with Fiberglass poles to mark the edges so when the snow flies, the trucks that need to bring supplies to the Fire Tower Watchman could know where the road was.
On our way up the trail these fiberglass poles were all sitting straight up. Following the young boys down, we noticed at least 10 poles that were knocked down and lying in the middle of the trail or broken in half.
The parents apologized over and over and the mother and father were practically running down the trail now.
Around the next turn, we saw a Law Enforcement Ranger driving up the trail and he stopped to talk with the parents. I joked with Cindy saying "That right there is Karma. I'll bet that ranger is scolding those parents for letting those young kids get out of their sight up here."
As the Ranger got back in his car, the parents were literally running down the hill. Cindy said "Lets speed up our pace, I want to see how bad these kids are gonna get it."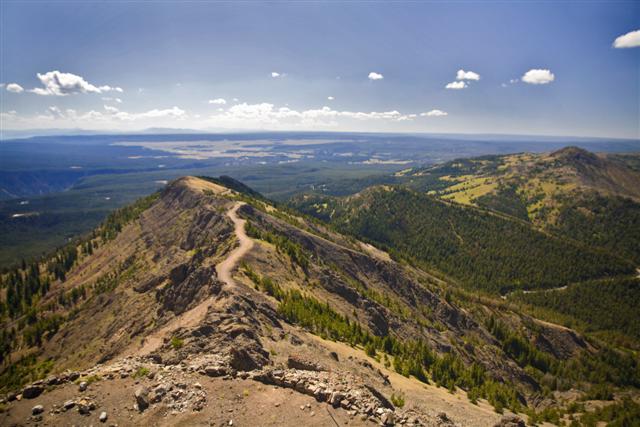 Not at area you want young kids running freely around!!
When we got back to the trail head parking lot, we could hear the father yelling from at least 100 yards away. The kids were all denying everything and I heard the father say "Bullshit, you mean to tell me a Ranger and another couple of hikers all told me the same thing!? You boys are in BIG TROUBLE"
Cindy and I sort of chuckled to ourselves as we unloaded the backpacks and climbed our sore legs up into the truck. Hopefully the kids will learn something and not think its cool to trash such a beautiful place in nature.
From Mt. Washburn, we headed down into the Lamar Valley to see if the rumors were true about the wolves starting to come back down out of the mountains.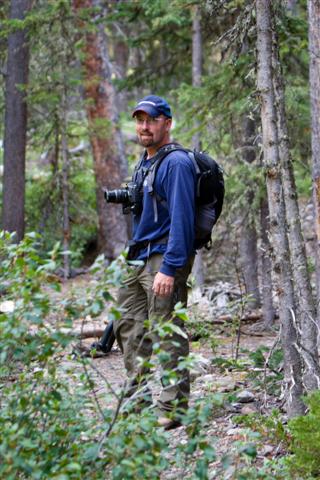 We stopped at the Yellowstone Institute to ask some questions about the wolves and John, the nice guy who was manning the station told us the rumors are true, and the wolves have been showing up around dawn and dusk along the valley floor and the ridge line.
It was only 4pm, so we headed up to the little town of Silver Gate to check out a waterfall I wanted to hike back to.
We stopped at the General Store to ask if Bridal Falls would even be flowing right now. Most of the rivers are pretty dry this time of year, but Henry, the owner of the General Store told us it would still be flowing.
So we drove back through the woods and hiked the short trail up to the Falls.
They were still flowing, but from the looks of the river banks, we'll have to make it a point to come back next spring. This looks like during the spring run-off, this must be a raging river.
Right now it was a small mountain stream. It was still beautiful and we had the entire place to ourselves. We both climbed around the moss covered rocks with the cool afternoon breeze cooling us off with the light mist coming off the waterfall. If you ever visit planning to photograph the falls, later in the afternoon they are completely in Shadow which makes it better for long exposure photography which gives the water that silky look you see in these images.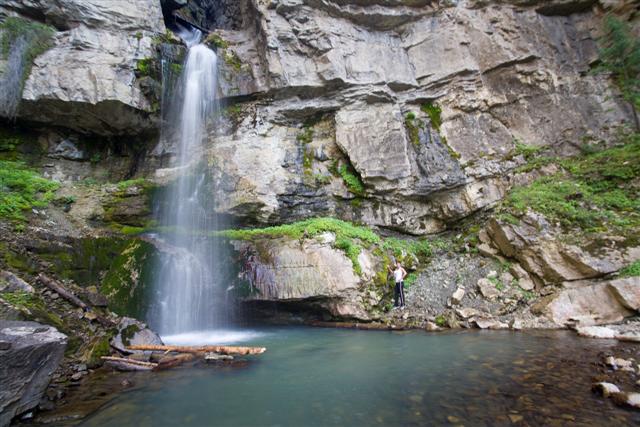 To get a size reference for Bridal Falls, look for Cindy just to the right of the falls at the bottom of the photo! She has black pants on and a white tanktop
When the mosquitoes started to move in, we climbed back in the truck and headed back down into the Lamar Valley. We then realized that in order to get good photos of the wolves, we'd have to come back up another time for sunrise.
The sun sets behind the mountain the wolves are supposed to be coming down, so at sunset, you're looking right into the sun. This makes photography useless, and by this time in the afternoon, both of us were having trouble keeping our eyelids open.
We started the long drive home recounting the days events and both talking about how much we enjoy days like this. Hiking a new trail, photographing wildlife up-close, talking with new people and just loving every second of being outdoors and alive.
I also wanted to mention something else I've recently discovered.
Driving around Yellowstone, the average speed limit is 45mph. This is a sweet spot for our 6.0L Powerstroke Diesel. I've been averaging 25mpg and this last tank of fuel took us almost 500 miles!! That's huge improvement considering we normally average 250-300 miles per tank.
The best I've ever gotten out of the truck is a 400 mile tank and that was down in Florida on level, flat roads. Maybe we should just keep to roads that have 45mph speed limits, or put some sign on the back of the camper that says "CAUTION This truck can not exceed 45mph!"
We still have a few days off this week and plan on hiking a few different trails each day. I'm really loving this schedule and looking forward to the rest of our stay here in Yellowstone.
________________________________________________________
Total Miles Traveled for the month of August = 2266.10
I did some totaling and sine we left Michigan on February10th, as of the end of this month, we logged 13,263.9 miles with the truck and camper. I probably shouldnt say this, but that has all been on the same Synthetic Oil since we left Michigan and had our oil changed right before we left.
The oil on the dip stick still looks good, so I've been holding off on changing it.
Total Water Used in Coach = Hard to tell exactly because we were hooked up to a city water connection for half the month in the employee campground in Yellowstone? But when we shower and use the hot water, we still use it like we would when we're dry camping because we only have a 6 gallon hot water tank, so far less than a normal household would.
Before we arrived back in Yellowstone, we had used 80 gallons of water in the 17 days we were drycamping
Total Fuel Used in Truck = 108.48 Gallons @ a Cost of $319.51
Campground Costs - 14 Days total in the employee campground in Yellowstone for a cost of $70 total - The first half of the month we were traveling, drycamping and had stayed in Jana's driveway in Spearfish for free. Thanks again Jana and Tom!!
August 17th, filled one propane tank with 7 gallons of Propane @ $2.80 per gallon = $19.60
Of the 31 days out of this month, all 31 were spent in the camper. 17 of those days were spent either Drycamping or Boondocking and 14 of them were spent in the employee campground in Yellowstone.
That brings us to 202 days so far this year spent in the camper and a total spent on campground fees at $493.
Return to Top of Page
Need Unlimited photo storage- FREE Trial of Smugmug