When we realize our insignificance in this world,
it some how relieves the pressures from society to succeed -
Cindy Bonish 04/07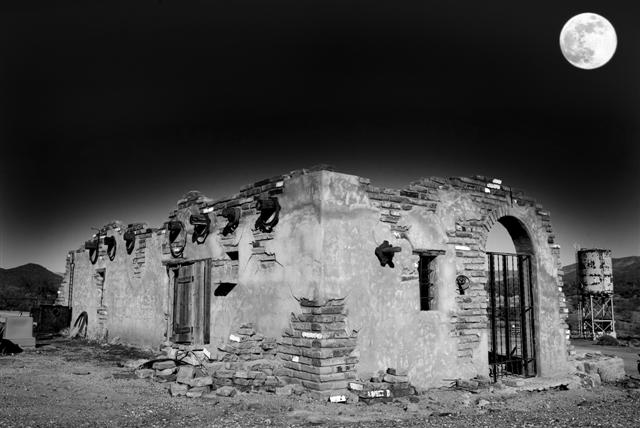 Pat's 2008 February Blog
If this is your first time here, you might want to start from the beginning of our fulltime RV Journey with our Past Blogs
For Those That Don't Know Me, You can click here to read my Bio
Photo Gear We Use - Solar Tips, Fact's and Trick's we've learned while on the road
Camper Check List - A list of things we do before leaving camp. Again, this isn't gospel, but its a good start for those who might not already have a list made up.

****
Thursday January 31st 2008 RVing in a Concrete Jungle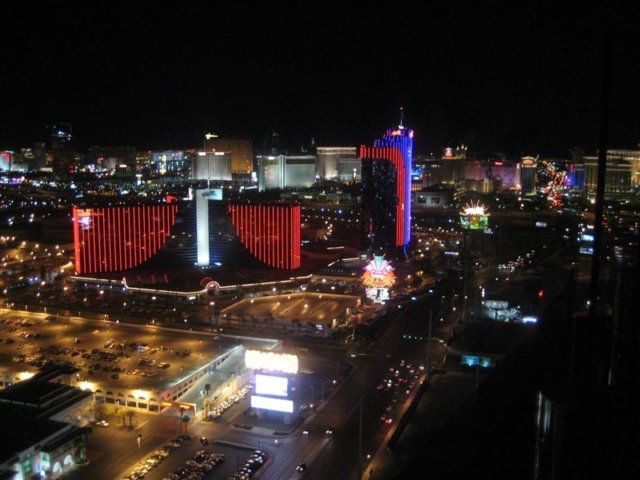 Pulling into Las Vegas just as the sun was setting a few days ago, we found Sam's Town RV park, but decided that we didn't want to stay there. It's not in the nicest section of town if you know what I mean.
Cindy looked up Oasis RV Resort, which was on the other side of town and a bit closer to the action on the strip. This place is truly an RV Resort. With heated pools, a putt-putt course, a restaurant and bar and a full store on site, this was like staying in a resort instead of a campground.
We checked in and called it a night. With temperatures dropping down into the mid 30's, I was glad we had shore power so we could run the tank heaters and the ceramic heater with no worries.
The next morning I took the truck over to a local Ford Dealer to get our oil changed and the transmission flushed. We figured since we tow fulltime, we might as well take some extra precautions and change the transmission fluids when ever we get the motor oil changed. It's not going to hurt anything and hopefully will keep us breakdown free.
While I was at the dealer, I got a call from Derrick asking where we were. I didn't know he was in town yet, and thought he wouldn't get here till Friday. Oh man, I could feel my liver tighten as he said "Get your butt down to Caesars Palace!"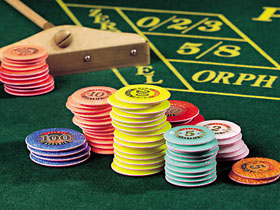 I told Cindy that for every time we hang out with Derrick and Tish, we should get our names moved up the Liver Transplant list by 20 spots. If we can make it a few more years with these two party animals, then we should be eligible for a free transplant courtesy of the Coors Brewing Company.
Oasis RV Resort offers a shuttle to the downtown area, but it's a trolley that has a scheduled route every 45 minutes or so. I started talking to another couple who was waiting for the trolley and after 20 minutes of waiting, I just had the front desk clerk call me a cab. The nice couple said they would split it with me and we were on our way.
Cindy had gone out shopping with our girlfriend Christine who lives here in this ant farm of a city. While I was in the cab, Cindy was calling me to see where I was? I told her I was on my way downtown, and she just had Christine drop her off at the Casino so the 3 of us, could go out to lunch.
I should mention that Las Vegas is everything we are not. It's very big, very busy, very fast paced, very expensive and so over the top that I was questioning why we were here. A simple lunch that wasn't all that great of food, was a whopping $150, but that might have something to do with the 3 buckets of beer we washed it down with.
The reason why we're here is for the company! It had been months since we had visited with Derrick and Tish, and since we were only a few hours away in Arizona, we thought a party weekend was something to get us ready for the big Super Bowl Weekend.
I'm just glad that the entire month of January was spent for next to nothing in the Phoenix area. Something tells me this weekend alone will take all that money from us that we've saved Boondocking and living like gypsies for the last few weeks.
From Margaritaville, we headed over to Caesars Palace to meet Tish who had just gotten out of her convention. We sat talking with some of her co-workers who all looked like they were ready for a night of partying. Tish sells high-end carpets and floor coverings, and the Carpet Munching jokes were flying around like crazy giving us all many laughs.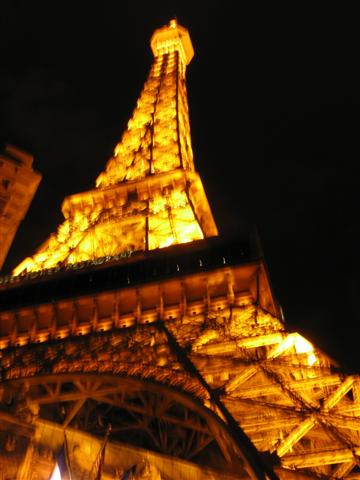 They needed to leave to go get ready for an awards banquet they had to go to, so Cindy and I made plans for tomorrow and walked down the strip. We grabbed a bite to eat at Bill's Casino and once the food hit my stomach, I was ready for a nap.
We walked along the strip trying to walk off some of the alcohol and just in awe of the night life that this town thrives off of. A local news report said that last year during Super Bowl weekend, the town of Las Vegas brought in over 70 million dollars! My God that is a lot of money for one weekend.
We probably walked 5 miles just looking at all the lights and the amazing casinos. Las Vegas is so outrageous when it comes to the next big thing. I remember a few years ago when the New York-New York was the big hype, then came the Luxor, then the Wynn Casino and the new construction building bigger and bigger casinos goes non-stop, 24 hours a day.
We finally made it all the way to Mandalay Bay where we grabbed the last shuttle back to the Oasis. I think I was asleep while I still had my tooth brush in my mouth getting ready for bed.
Friday February 1st 2008
We had to be up early to bring the dogs in to a local vet. We needed to have their shots updated so we wont get hassled while crossing the border into Baja. We also thought that boarding them for this weekend would be more fair for them. There is no need to leave them locked up in the Travel Trailer all weekend while we're out partying.
While we were driving them there, Cindy asked for a piece of gum and when I reached in my jacket pocket, I had a weird feeling that something wasn't right. I pulled out a dinner roll that I had shoved in my pocket last night thinking for some reason that in the long walk down the strip, I'd need some extra carbs to power my drunken legs. We both got a chuckle out of this and the dogs got a nice treat.
Once we dropped them off, we spent the rest of the afternoon trying to re-supply our fluids before we'd do it all over again.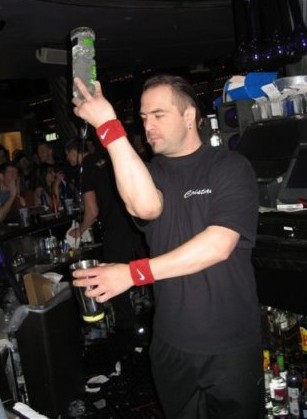 Derrick started calling asking where we were and we knew it was time to suit up in our drinking outfits. With plenty of Milk Thistle in my stomach to boost the liver cells I had ruined last night, we got back on the trolley for another fun filled night.
We met him at a black jack table and headed over to the Carnival Court bar to watch the amazing flair of the best bartenders in the world. Carnival Court is where Christian Delpeche works who is the best Flair bartender in the world. Being Friday afternoon, the town was starting to get it's buzz on getting geared up for the big weekend.
Tish called saying she was done with the convention and the four of us were back together again. We spent the next few hours bar hopping and catching up on all the gossip we had missed while being apart from each other for the past few months.
Eating dinner at some bar in Caesars put a few hundred dollar dent in the wallet, and the night was still young. Cindy and I don't even gamble and we were doing a good job of giving away our money to the mob. I guess one way or another, if you're in Vegas, they're going to empty your wallet.
From Paris we headed over to the Mirage where Derrick had us on the VIP List at JET Night Club. This hopping nightclub was filled to capacity with scantily clad beautiful women every where you looked. The thumping bass was so loud, my shirt was bouncing on my chest. I walked over to one of the doormen asking how we got a couch overlooking the dance floor to which he replied, "To get a private sitting area, all you need to do is buy a bottle of alcohol, prices start at $400 per bottle and we supply all the mixers"
Oh, is that all!?! Well in that case, give me two, I don't want to be crowded. Yeah Right, I guess I'll do fine just standing at the bar watching the wild show going on all around us.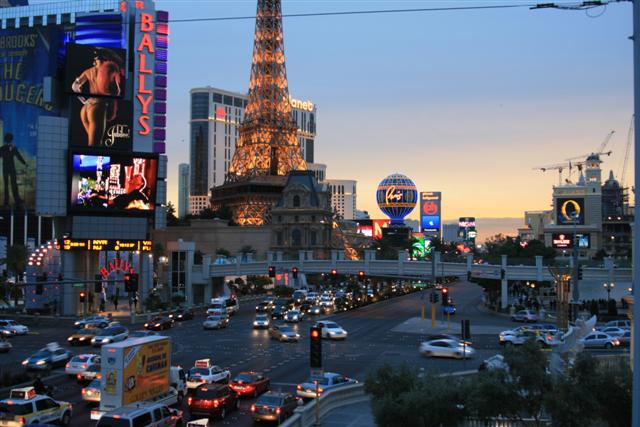 I cringed every time I ordered another round. I kept joking with Derrick that for every 4 beers we bought ($28) we could buy a 30 pack at the store and still have enough for a bag of chips and dip. Then there is this thing that we have about us where people just want to come up and talk to us? I don't know what it is, but it happens all the time?
Next thing you know, this woman comes up and asks Cindy and Tish if we would like to come sit in their private sitting area with them? Of course we said yes, and next thing you know, we're talking with new friends drinking their $400 vodka. Can I tell you that the $400 vodka tasted the same as the cheap stuff that I'm used to drinking, but I wasn't complaining.
When we finally stumbled out we couldn't believe it was 2:30am, we said our goodbyes and goodnights before Cindy and I jumped in a cab to head for home.
Next thing you know, the cab driver is yelling at us "Wake up, you're home!" I elbowed Cindy while I threw him the last of my money. We walked hand in hand back to the camper where we didn't have any dogs to pre-warm the bed for us tonight.
Saturday February 2nd 2008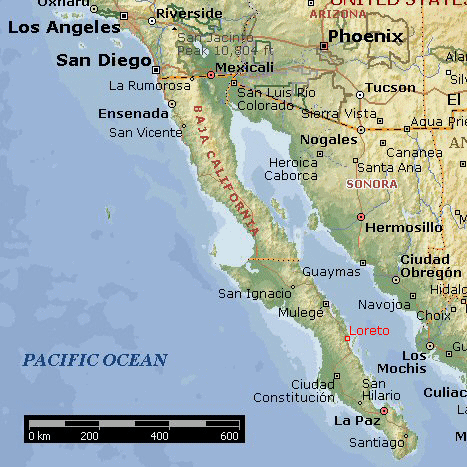 It was 5 0'clock before Cindy got out of bed today...LOL I wasn't in any better shape, but I couldn't lay in bed for that long. There are a few different Forums I've found that are specific to traveling in Baja.
Baja Nomad is amazing for anyone traveling to that area, and kept me occupied for most of the day. From what I've read, 90% of what you hear from the media is not the norm. So, we're still planning on heading South of the Border, and we'll keep you updated on our findings.
We finally got our butts out of bed and headed back into the thick of Party Central. We met for dinner in Caesars Palace before we headed over to the Las Vegas Hilton where Derrick had us on the VIP List for The Scintas Show.
This show was fantastic. Nothing crazy, no pyrotechnics, no crazy lighting, no nudity and no big cats biting anyone, just good humor mixed with great music. These 3 family members along with their band mates had the crowd cheering, laughing and even one girl was crying (not sure why?).
After the show, we sat paying the mob their dues on a few slot machines. Even though Derrick had us on VIP lists at four different night clubs, none of us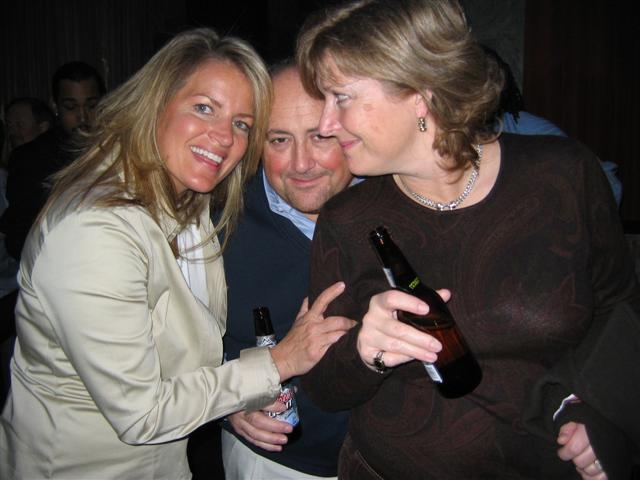 had the stamina to go at it another night.
Maybe we're just out of practice when it comes to this party scene?
So with our tails between our legs, we all said our goodnights and made plans for our next foray. Derrick and Tish would fly home early in the morning, and Cindy and I would have one day of recovery before getting back on the road.
Something tells me that this little excursion would knock a few months off of our trip when it comes to the bank account. I've come to the conclusion that there is no inexpensive way to visit this city.
Sunday February 3rd 2008 Super Bowl Sunday
Even though we were in bed fairly early last night, I woke up feeling like my body was just run down. I had probably ruined my immune system these past few days and my body was telling me something.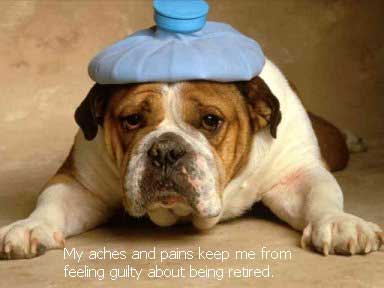 So Cindy made me breakfast and I went back to bed. I couldn't believe that I slept most of the day away. But when I finally got up in time to watch the big game, really just the commercials, I felt 100% better. I'm thinking I just needed some good sleep to rebuild my worn down system.
Yep, I'm thinking I'm getting old...LOL
Checking the emails, I was amazed that a few people had replied to my request for Tips concerning Baja Travel. One fellow RVer who lives on the Mexico mainland even went as far as providing his cell phone number and said that if we found ourselves in any trouble, feel free to give him a call and he would see how he could help.
Every day I'm amazed at how nice and helpful the RV community is. Numerous people from Baja Nomad had given me tons of stuff to look up or suggestions for the best spots to Whale Watch.
I'm planning on putting together a separate page that will list all the helpful info we've received from veterans of South of the Border Travel. Hopefully our first experience will be good, and others who are thinking of RVing in Baja will be able to learn from any mistakes we might make.
Ok, got to go watch the Super Bowl (really just the commercials)
Monday February 4th 2008
With last night being an early night, we were both up bright and early this morning getting things packed up. Cindy did some laundry while I did the basic chores of getting the camper ready for travel.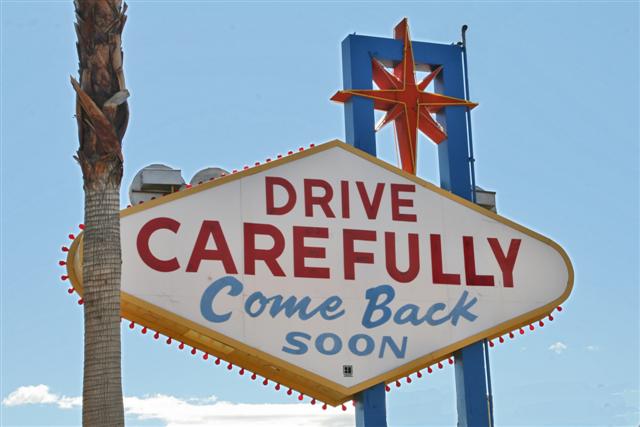 We found out the hard way that you should never leave the windows cracked while camping in the desert. The winds were gusting up to 50 MPH yesterday and we had left one of the windows cracked about 1/4 of an inch. We almost always do this so the truck doesn't get warm inside and we even have those window visors so no rain will get in.
I guess those visors don't care about small sand particles, because the dash board and the passenger seat are both covered in sand. The passenger seat was so bad that it looks like we had been at the beach all day empting our pockets after we got in the truck.
Oh well, I'll have to find a car wash with a vacuum and clean it out. As for the camera and big lens that was sitting on the floor, well that is a different story.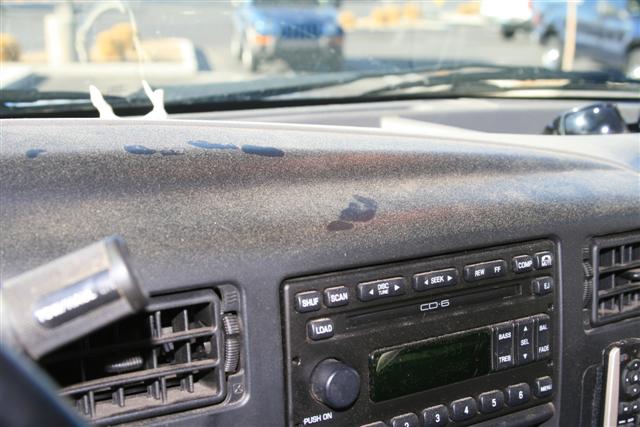 This is what the dash looked like with the layer of Sand on it
After retrieving the mutts, which was funny because Luca is very upset that he was kenneled for the weekend, we headed out of Vegas towards Red Rock Canyon. We found a book store along the way so I could get the Travelers Guide to Camping Mexico's Baja. Every person that has contacted us has recommended this book. Most refer to it as the Baja Bible.
Back on the road, we were in Red Rock Canyon in no time, it's only 17 miles out of Vegas. This is a beautiful park that we had visited last time we were in Sin City. Cindy and I had flown in for a Bar & Nightclub Convention and stayed a few days extra so we could visit Red Rock Canyon and the Valley of Fire State Park. Both were very short visits, so we were eager to get back and really do some exploring.
The background top picture (The Header) on our home page was taken at Red Rock Canyon on our first visit to Nevada years ago for a Bar & Nightclub Convention.
Pulling in, we realized we were going to be in for a night of cool camping. The temperature was unseasonably cold with snow on many of the surrounding mountains. Who ever said the desert was hot and dry, must be talking about somewhere else. So far, we've only found winter weather everywhere we've stayed in this desert climate.
I joked with the campground host when he asked how long we were going to be staying "Only tonight if this weather doesn't warm up!" He replied "Tell me about it, we're from Missouri and it was 70į there today!" We both laughed at that one. Here we are both trying to get away from winter, and the deep South West is blanketed in record lows?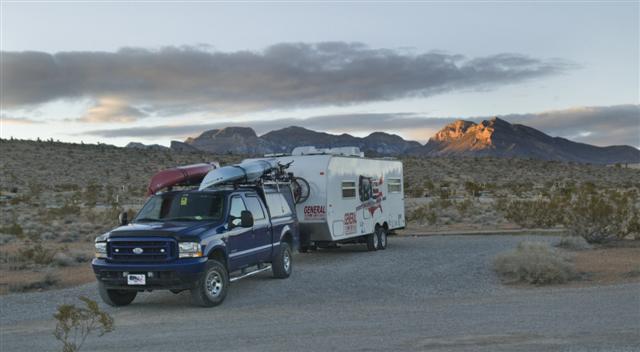 Luckily we had the dogs to pre-warm our bed, since we were going to be fighting for the covers tonight. If it doesn't warm up soon, it looks like we'll be heading back to Phoenix.
Tuesday February 5th 2008
The temperature hasn't warmed up any, and the winds are still trying their best to blow us over. Waiting for the weather to warm up a bit, Cindy is reading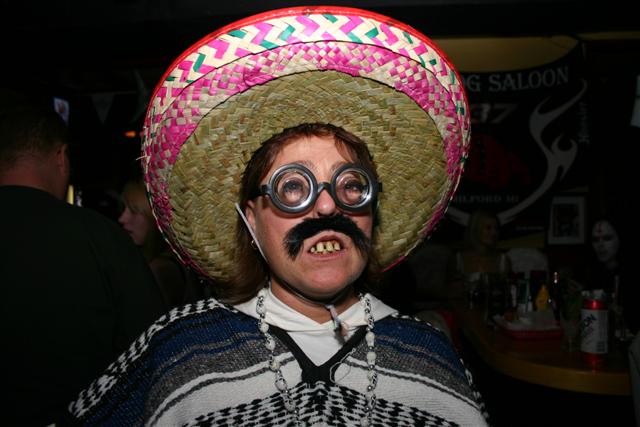 through the Spanish Flashcards we bought at the book store yesterday trying to get some key words down that we might need in Baja.
So far she's picked out Food (la comida), Beer (cervesa), and Cheap (baroto)...LOL With these 3 words, she should have a very enjoyable time south of the border.
She has also been working on an outfit for me to wear so I'll blend in with the locals and no one should even know I'm a gringo. I think she should work on my glasses a bit, but other wise I'll look good.
Once the sun got up, the temperatures warmed up enough to get us outside in Red Rock Canyon. We loaded up the truck with the photo gear and shoved off from the security of the warm camper.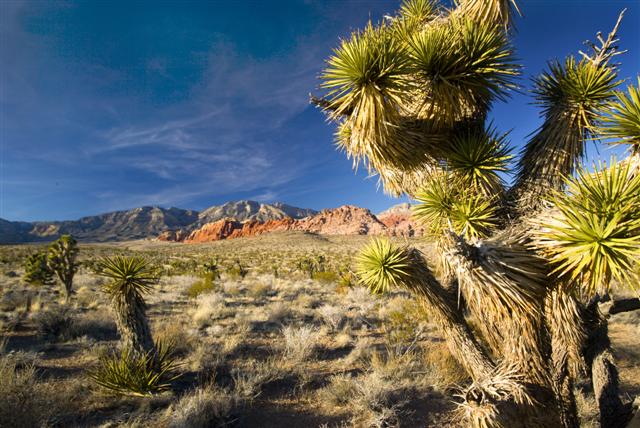 There is a 13 mile loop that winds through the Red Rock Canyon with every mile of it demanding "Ohh's" and "Ahh's" around each turn. Of course we snapped hundreds of pictures and hiked a few different trails. I'd recommend the Calico Trail for those that want to see what it would be like to be on Mars!
The rocks here are so wild, that you just sit and stare thinking someone spike your sweet tea with some good LSD. Between the neon colors and the bright reds, Cindy kept saying "No one is going to believe this is what they really looked like!" She told me that anyone looking at the images would just think we doctored them in Photochop.
Well we didn't, the rocks are out of this world and should be visited by anyone who visits Las Vegas. The minimal $5 it cost to take the drive is well worth the beauty you'll see along the route.
At one pull-off along the scenic drive, I had gotten out to snap a picture and walked away from the truck leaving Cindy and the dogs in it. By this point I think Cindy was getting bored with my enthusiasm and was ready to head home.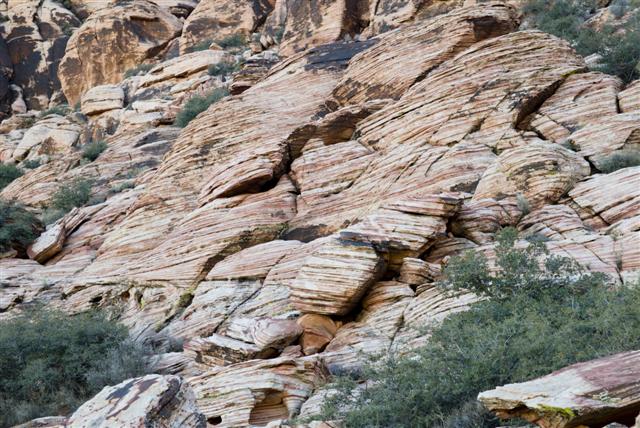 I snapped my picture and while crawling back into the truck, Cindy showed me the LCD on her camera. WTF!?!
While I had gotten out, a coyote had walked up to the side of the truck within 10 feet before Luca, the pit bull scared it off. Cindy was able to think fast and snap off a few quick photos of the little beauty and the whole time, I had missed it all. You'll have to check out her Blog, she said I wasn't allowed to use it...LOL
Tonight wasn't as bad as last night with the temperatures. The heater only kicked on every 15 minutes rather than every 10. But then I got an email from our friends in Phoenix who told us that our complaining about the frost was nothing since they had ice on their cars Monday morning.
Make sure to Check out our Red Rock Canyon Gallery
Wednesday February 6th 2008
'Leaving Las Vegas' (Good Sheryl Crow Tune)
Cindy and I made a decision this morning that we need to run back to Phoenix, pick up a few things waiting for us at our friends house that we've been using as a mail drop, before we make our way towards San Diego.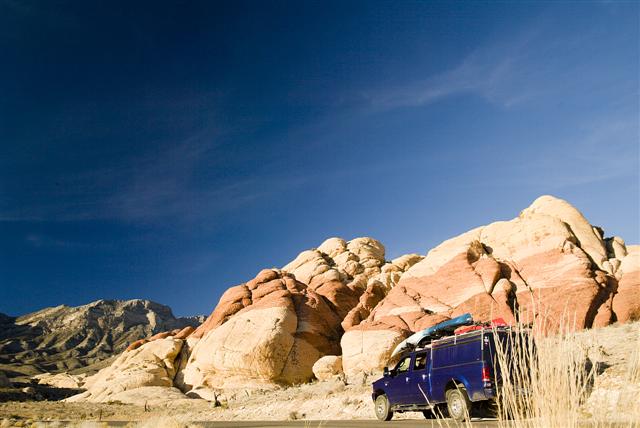 We need to meet the couple that is going to guide us into Baja in San Diego the first week of March. The way we travel, it'll take us a week to get there even though it could be done in a day if you had to. We're VERY Slow!
So we packed up and headed off toward Arizona. We really wanted to cross the Hoover Dam just to see this Landmark. But for some reason the electronic signs above the freeway said the dam was closed today and was detouring us way around it?
Cindy worked her magic and said "There are a few Ghost Towns along the way if you want to check them out?" She had been looking up some stuff on the internet while we were driving along, and found a site listing hundreds of Ghost Towns. So we detoured away from Hoover Dam and headed towards memories long forgotten.
HWY 163 out of Las Vegas towards Laughlin is quite the climb. Luckily for us we have an Engine Brake that holds our speed when coming down the backside of the hill, or we would have burned our brakes out on this monster decent.
Once we got into Laughlin, we headed towards Kingman up HWY 68 which is one of the longest climbs I've ever done. 10 miles of 3000 RPM's with the turbo-diesel just screaming. If you ever head towards Kingman out of Laughlin, make sure you have a full tank of fuel in Laughlin.
Our Scanguage was telling us we were averaging 2.5MPG climbing this mountain :( Oh Man Does That Suck! I cant imagine making that climb in anything but a Turbo-Diesel. We passed numerous gas vehicles that were towing trailers that looked like they were chanting "I Think I Can...I Think I Can!"
When we finally made it to the top, we were able to coast for the next 10 minutes back down the other side. Once we hit HWY 68, we headed back West towards our first Ghost Town.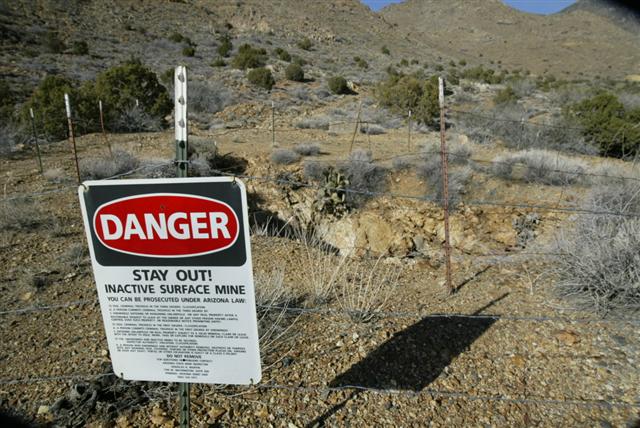 Cindy had it all mapped out but remember, we're looking for roads that don't really exist anymore. To find Mineral City Ghost Town, just follow the signs for the Land Fill.
This Bumpy little two lane road eventually dead ends into the parking lot for the employee's of the local landfill, but if you park just to the left of the employee parking lot, you'll see a few ancient structures hidden in the hills.
Parking the camper off to the side of the road, we grabbed our cameras and wandered into the scrub brush. Anything to the right of the road is marked "No Trespassing", but as long as you stay to the left, you'll find numerous dilapidated structures to let you know at one time, this was a mining town.
Mineral City had one hell of a view in it's hey-day, although now it's ghosts just over look the city dump. But a few (Count 2) buildings still remain to let you know that a thriving mining town once stood here.
I was surprised to see numerous open mine shafts only protected by a few barb wire fences with signs stating Keep Out. One shaft had two entrances that were very close together and looked way too spooky to go near. So we headed back down the mountain to the camper for some lunch.
Make sure to check out the Mineral City Gallery here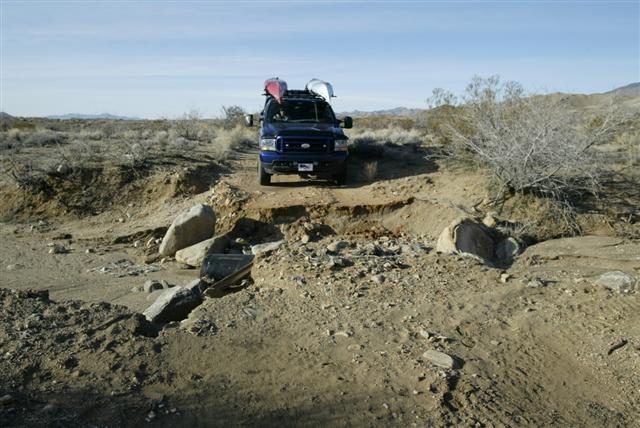 From Mineral City, we drove towards the long forgotten town of Cerbat which once was the county seat. The town was settled in the early 1860s and is the Native American word for the bighorn sheep that once were common in the area.
This was a tricky one to find. The map on the web site only told us the road names, but none of the roads we would cross had names on them? By the luck of the Irish, our GPS, which has been getting us lost lately told us we were approaching CR-125 which was the road we were looking for.
Using the word 'Road' is giving this 4-Wheel-Drive trail way more than it deserves and was why we had passed it a few times already, CR-125 is nothing more than a dusty cow trail. We headed down the sandy two track for a few miles before Cindy said "We have to dump the camper off somewhere!" She kept saying "We've got to be doing damage to the inside of the camper with these rough roads"
So we dropped the Sunline on the side of the trail beside a fire ring that told us others had camped here, and headed off much lighter with just the F-250. Thank God I listened to Cindy this time! As soon as we dropped the camper off, the road became a washed out mess. I kept having nightmares of our excursion in the Bulldog area when Donielle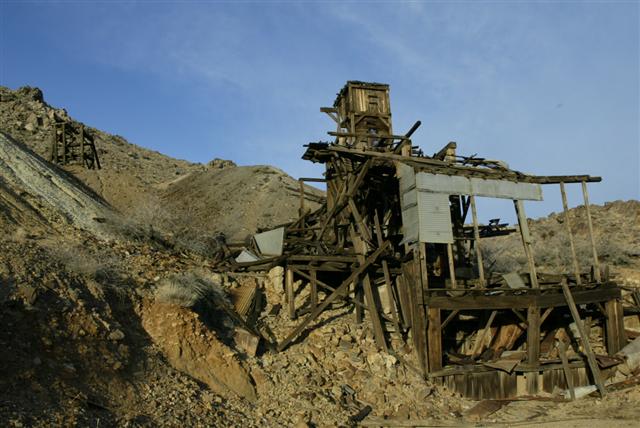 was visiting us, but luckily this just got a bit rocky, and we never even had to make the switch into 4WD.
Once we scouted out the abandon town, which was hard to do with a set of binoculars and the fading afternoon light, we pulled up to Cerbat.
All that is left of this once thriving metropolis is the main mill, numerous foundations dotting the mountain side, and a few open shafts. I guess Mineral City is open enough that they have to fence off the shaft heads with barb wire, but Cerbat has numerous open shafts that you can walk right up to and look down in making sure not to lose your balance and fall in head first. Let me just say it's a bit unsettling looking down into a bottomless mine shaft.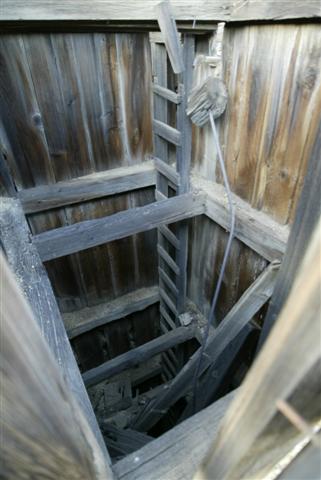 Cerbat was big enough that we spent the remainder of the afternoon wandering around this decrepit town just trying to figure out what went where and how it all fit together. I'd love to be able to see a town map from the late 1800's just to see how it all pieced together.
We found the town dump when we walked over a ridge to find 1000's of rusted steel cans littered down the hillside. You could tell these relics were old because of the tops that needed to be punctured with a can opener which was way before pull-tabs even.
When the sun was down behind the mountains, we packed up and headed back towards our little cabin on wheels. We joked with each other after Cindy found a large chunk of stone with gold flakes all over it that maybe we should just shack up in one of these ghost towns to see what we might just find.
Check out the full Cerbat Ghost Town Gallery Here
Thursday February 7th 2008
After yesterdays adventure with the Cerbat Ghost town, we sat out on some private ranch land, that was open to the public much like BLM Land, and spent the morning just enjoying the solitude.
Between the sound of nothing but the wind blowing and the occasional cows wandering by our campsite in search of greener pastures, we had the few thousand acres all to ourselves.
I think the dogs loved this even more than Cindy and I. I took them both for our morning jog with no leashes on and let them wander about at their own pace. Luca, the bigger, younger dog was running circles around me the entire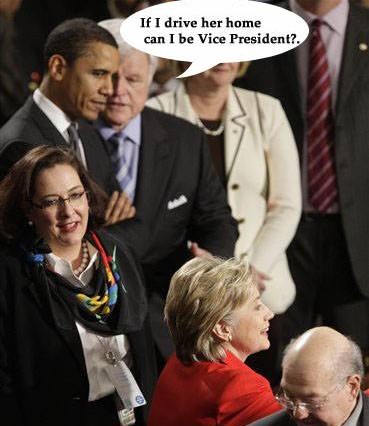 time, but olí Lucy, she was a few hundred feet behind us at all times at her usual slow turtle pace.
I donít think Luca knew what to do not being on a leash, and when ever it would sink in, he would just take off running in a full sprint till I would let out a yell and reel him back in.
Cindy spent most of the day on the computer as the first week of the month is her time to make the financial transactions so we can stay on this little excursion of ours. This usually involves swapping money from different accounts, some with higher interest rates to some that we have money drawn out from automatically. You know, the book keeping end of things, something that I take no part in.
My job is to spend the money, her job is to figure out a way to make sure there is money for me to spend. Itís a great relationship...LOL Iíve never been the one who handles money, Iíve just been the worker our whole lives who brought it home. My macho guy friends back home used to call me a push-over for doing this, but if I was allowed to spend it without Cindy to be that little person behind me saying ďNo, we cant afford that right nowĒ then more than likely we wouldnít be where we are today.
Iíd probably be more like my friends back home and still plugging along working for the man. So Iím very comfortable with letting Cindy manage all the money. Frankly, I hate money in general, and I really suck at math, so itís probably better that I have such a great financial coach.
By mid-afternoon, we packed up and headed towards Vulture Arizona. This route was the alternative to driving up HWY 95 which we took on our way from Phoenix. That route took us up through Lake Havasu and was a beautiful stretch through the mountains.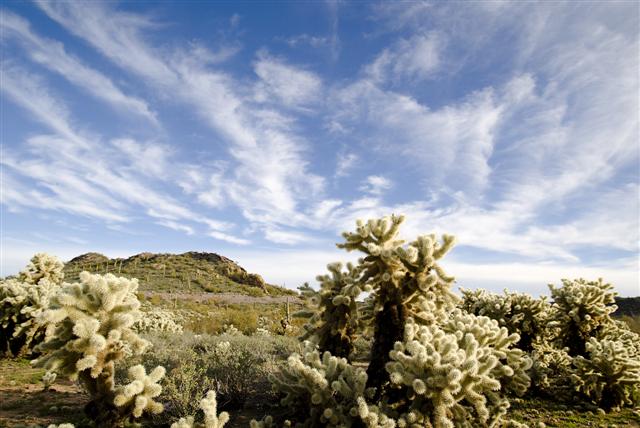 HWY 93 coming out of Kingman is one heck of a road. I cant remember the last time Iíve driven a stretch of road this smooth. Crossing bridges, the transitions were so smooth that I had Cindy close her eyes and she couldnít even tell that we had crossed.
We passed through one section where the Joshua Trees were so thick, they stretched from horizon to horizon like some primeval forest. With the afternoon sun hitting them right, they looked more blonde than they did green.
We finally found Vulture, which is no longer a town, but just a huge expanse of BLM Land just outside Wickenburg. We pulled in just as the sun was setting and still had enough time for one last run with the dogs.
The weather had warmed up considerably from the past few nights, and this late in the evening it was still warm enough for just a t-shirt. This is the weather I love!
Friday February 8th Vulture Gold Mine & Ghost Town
We had no idea what to expect today. I will say that today was one of the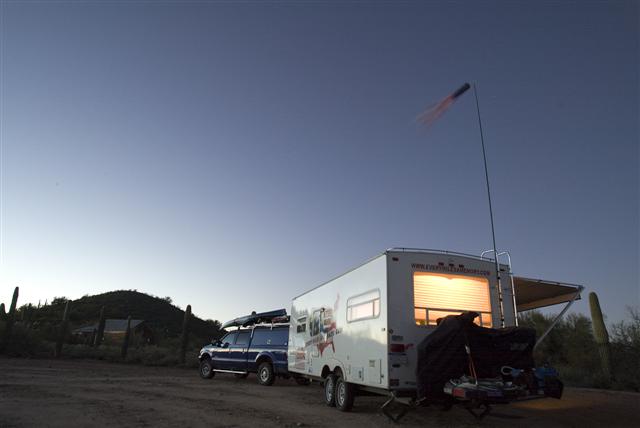 best days in my life, and I cant remember a day that I had as much fun and enjoyed myself as much as I did today.
When I first started typing about today, it got too long for just a typical post, so I ended up making an entire Vulture Gold Mine & Ghost Town Page.
If you really want to see how much fun we had, check that page out. If you don't want to read all about it, then just know that it was a great day and Vulture City is one of those places I could spend many days at. I just love that type of history and photographic opportunities.
You can also check out our Vulture Gold Mine & Ghost Town Gallery which probably has some of my favorite photographs I've ever taken in it.
Saturday February 9th 2008
With almost perfect weather today, we just hung out at Vulture City and shared our time between working on the computer or wandering around the ghost town trying to get a few shots that might not have turned out yesterday.
I sat talking with Marty and Roma for awhile learning plenty of cool things about the Gold Mine. They are very interesting people and Roma needs to get her facts onto some paper so tourists like us can buy the book. She is filled with fantastic history of the historic mine.
After a long day of just relaxing, Cindy proceeded to kick my tail in an ongoing game of Rummy that we've been playing. She was 'ON' tonight and I couldn't barely get on the score board. Maybe while Donielle was visiting, she taught her some card tricks and she is now stacking the deck against me.
Sunday February 10th 2008 Our Return to Salt River
We were on the road early this morning headed back to Salt River so we could say 'Goodbye' to our good friends Darrel and Gene before we leave for Mexico. I had yet to discuss this earlier, but I guess I finally have to fess up about a secret I've been keeping.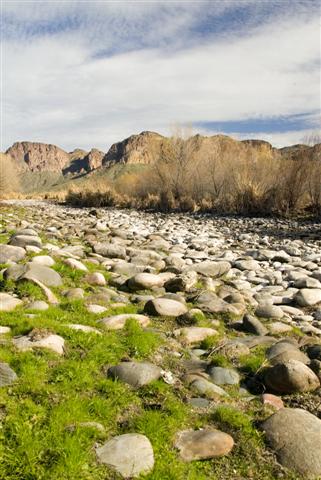 When we were looking for a generator last month, I found one on Craig's List, and one on Ebay. They both were right around the same price, so I bid on the one on Ebay, and sent an email to the owner from Craig's List.
Well you all know that I went and bought the Honda EU2000i the next day from the lady off of Craig's List. What I haven't told anyone was after we had left this area headed towards Quartzsite, I checked my emails and learned that I had also won the auction for the second generator. OOPS! I had forgotten that I had even bid on it by this point.
We went for a year with no generator, and now we have two! I couldn't back out of it even though I tried, and once we started thinking about it, we both said that after last summer's heat wave, it might be nice to have the ability to run the A/C if we have to. Having both generators would allow us to do this.
So I called up our friends at General RV back in Michigan and ordered a Parallel Kit. Both have been mailed and are waiting for us here in Phoenix. We've been getting our mail shipped to a friends house in this area for the last two months. She joked and said almost every time she gets home, she gets excited because there is a new package on her porch, but then it's always got our name on it and she just has to throw it to the side with the rest of our mail.
So yes, I'm a Dumb A$$ and yes I've had to deal with Cindy griping at me that I made a mistake like this. But I'd rather have the two very light weight generators than the one heavy Honda 3000i generator that we were looking at. Now we have 4000 watts available, lighter weight than the single Honda 3000i and are fully set up if we need it. So start the razzing now, but I thought I'd get that skeleton out of my closet for all to know.
Salt River and Our Friends
We pulled in just as Darrel was setting up his camp. I guess he had left the campground because he had family in town in the Phoenix area. When we sent him an email letting him know we would be back for a final Happy Hour, he said "I wouldn't miss it." So here we are all back together again.
We walked over to Gene's camp and I was amazed at the picnic table filled with bowls he had turned while we've been gone. I'm not lying when I say that in a few days of tutorial from Darrel, Gene is turning bowls that most wood turners would take years to master.
He has some pieces that would fetch hundreds in any gallery in the world, and the most amazing part is he has only been working this craft for a month. Even Darrel, who is a Master Woodturner and turns out some of the best work I've ever seen and could teach in any woodworking school was impressed with Gene's newest work.
The best part about it all was the big smile on Gene's face. He had went from a man looking for something to a happy guy that was proud to show off his new hobby.
We all met at Darrel's for Happy Hour at 4 o'clock and sat watching our favorite sun set spot on our adventure. The weather has warmed up so much, that rather than scurry into the camper as soon as the sun set, we were able to sit out till almost 9pm all enjoying the weather with just a light jacket on.
It was good to be back amongst friends.
Monday February 11th 2008
Today was a cleaning day. Or I should say organizing day. Everything we've read has warned about bringing any type of firearm into Mexico. They say that if you're even caught with a bullet, you'll get in trouble. So we spent the day going through the Sunline and the truck with a fine tooth comb to make sure there wasn't anything we would overlook.
We made two piles. One was things that would go back into the rig and one pile was items that would get put into a storage locker we are going to get in this area.
After our cleaning secession was finished, we headed into town for some supplies before we needed to be back for Happy Hour. I'm trying to find an RV shop that can install some window awnings to help hold the heat down inside the camper. Everyone says they can do it, but they also say that the awnings will take 7 to 10 days to order? In a day in age where I can get anything overnighted for the right price, I don't see why I cant get these shipped in 2 or 3 days?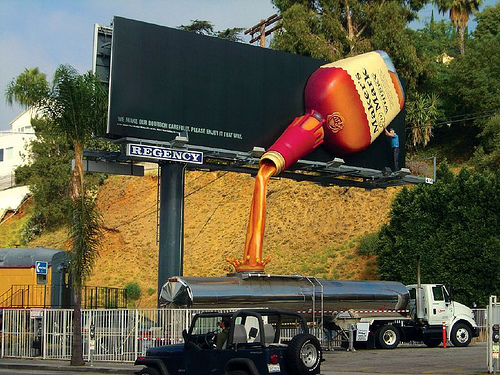 When we returned for our evening quorum of Makers Mark and good friends, Darrel made a good suggestion that we should order the window awnings from an RV Shop that we'll pass along our way. That way they'll be there when we show up. He said that Yuma is known for RV Shops and installation centers, so my goal for tomorrow is to find one and try to order them.
Sitting under the canopy beside Darrel's RV sipping on a Makers Mark and water, we watched one of the best sun sets we have seen to date. The Superstition Mountains were glowing with a nice mix of pink, gold and yellow clouds over top of them. I'm pissed I didn't get a picture of it, but I was having too much fun with our friends to ruin it with getting the camera gear all unpacked, so I just recorded this one with the brain.
Darrel treated us to an awesome dinner at his place, and presented Cindy with a new bowl he had turned today. This beautiful piece of Russian Olive is just amazing. I'm always at a loss of words when it comes to describing how truly awesome these guys can make a little chunk of wood turn into such a beautiful piece of art.
The rest of the night was spent just enjoying each others company. I love to surround myself with like minded people, especially ones that have such a positive outlook on life. At the end of the day, you just feel better when you've sat sharing great conversation and it was all positive. No one to bring the mood down, and nothing negative spoken amongst the bunch.
Good conversation, Good friends and Good food!
What more could you ask for?
Tuesday February 12th 2008
Some days Cindy and I just don't get along. I know in her blog the other day she said that we had driven for a few hours not talking because "She didn't like me today", but that's just a normal affair that happens weekly between us. Any couple that spends as much time together as we do, is bound to have their weekly quarrels.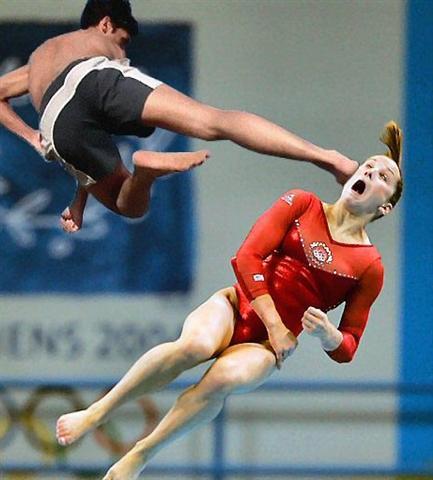 Well today was one of those days. No matter what I did, she went off on me, and anything she said to me seemed like one of those comments that was trying to start a fight which I was ready to add too at the drop of a hat.
So we did a whole lot of running around in silence just listening to our various NPR stations we like to listen to together.
I'm guessing it's because we're both a bit stressed out with the upcoming journey into Mexico. We both are a bit nervous, and this is just not like us. Normally we just head into any situation with our smiles on and ready to take on what ever the road might bring us.
Being in a different country will be a bit different, especially when neither of us speak the language. On top of that we have been getting dozens of emails from people worried about our well-being. That only amplifies our worries, but everyone we talk to that has actually been South of the Border recently, says "there is nothing to worry about." So our stress level is a bit heightened and that is something we haven't had to deal with in the past year on the road.
I found a tire shop where we are going to get a new set of tires on the truck. Ours are pretty beat up and that might be another concern that is stressing us out. Why is it no big deal to drop a few hundred dollars on a night out partying, but dropping a thousand dollars on something that gets us around every day of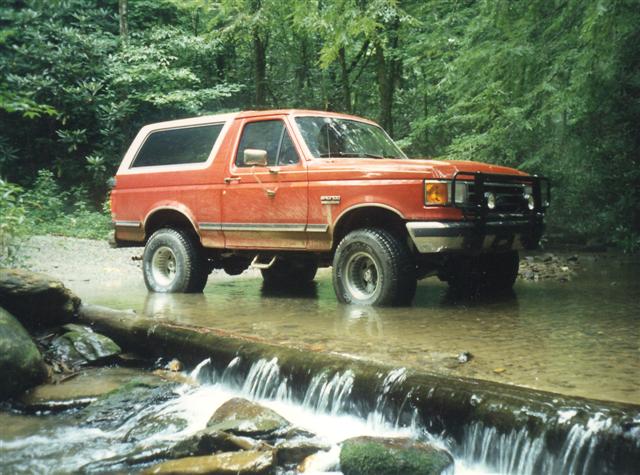 the year for the entire year feels like a bite out of the wallet? That's one of those things I've never understood, but it still stresses me out for some reason?
We chose the Goodyear Wranglers with Silent Armor which has a layer of Kevlar around the tire to absorb road noise and abrasion. Hopefully, this will help the next time we are 4-Wheeling and rubbing against the rocks. The only other tire that we were thinking about was the Michelin MTX. We've had these tires in the past on a different truck, and I'll admit they are very nice tires. That was our old Bronco with a set of Michelin's on it.
The Goodyear's were a few bucks cheaper ($20 per tire) and offered a longer warranty, so we thought we'd try them out this time.
After all our errands, which we didn't really accomplish anything we set out to do, we made it back to Salt River a little tardy for Happy Hour. Darrel and Gene had gotten started without us, but we caught up real quick.
The sunset was just a typical beautiful setting of the mountains going through their change of colors, but the conversation was extra special tonight. It just amazes me what I learn each night from these knowledgeable fellows.
Wednesday February 13th 2008
Not wanting to waste any time, I was waiting at Discount Tire when they opened this morning. When we visited this place yesterday to get a quote, there was at least 10 people in line.
The guys at Discount Tire were great and I was in and out in about 45 minutes with a new set of tires. We saved one of our original tires, the best of the 4, figuring if we get more than one flat while in Mexico, we'll have an extra. If we don't use it, then we'll just dispose of it when we return, but we might as well be safe.
From the tire shop, I stopped by a car wash place that hand washed the vehicles. Every time we wash the truck at a quarter car wash, we probably spend a minimum of $10 and neither of us are happy with the results.
I found a place that hand washed the vehicles and would do it with the kayaks on the roof! That was a big help as taking them down just to wash the truck is quite the chore. It only cost $25 for them to power wash the truck, vacuum the inside, clean all the windows inside and out and hand dry the outside. Not bad when you think of how much money and time it saved me!
I know that the last time we stayed out at the Salt River campground we mentioned how dirty the sides of the road were. I'm not sure if the Forest Service read our blogs, or just took notice themselves, but the sides of the roadways are cleared of all debris and the desert drive looks beautiful.
While I was driving home, I noticed a truck driving down the shoulder picking up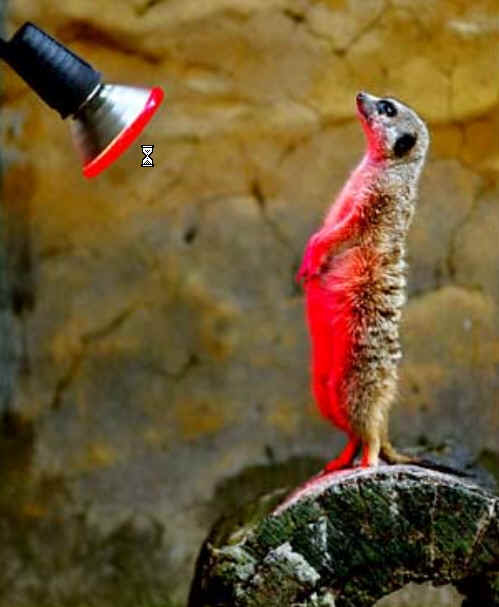 any trash that was currently on the side of the road. Way to go Arizona for keeping the roads clean!
When I got home, Cindy was laying out in the sun enjoying this beautiful weather we were having. I took a mental note of her lying in the sun before putting a good coat of wax on the truck for the next few hours. That took me the rest of the day or at least till Happy Hour started.
Tonight we sat around listening to Mike, another camper in Pebble Beach. Mike has a wealth of stories to keep us entertained and we all enjoyed sitting around listening to his work as a BLM Ranger in both Arizona and Alaska.
Mike even brought over some pictures of his career out in the wild where each picture had a great story behind it. It was awesome listening to his stories and the photos only added to the details. Once the sun set and the temperature brought us in too Darrel's Allegro Motorhome, the big leather couches and the warm air made my eyelids very heavy.
I was having trouble staying awake, not due to lack of quality conversation, just the comfortable surrounds.
Thursday February 14th 2008 YHappy Valentines DayY
I asked Cindy if she wanted to go out for dinner tonight since it was Valentines Day and I thought it would be nice to treat her to something different. Luckily for me, Cindy is almost a guy when it comes to the sappy things like this, and she said "Everyday of my life is a dream come true, so you don't have to take me out and waste money on me at a fancy restaurant just to show me how much you love me!"
This was the valentines card I got for Cindy...I thought I'd share my since of humor with you all!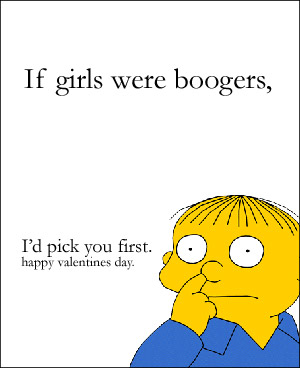 Y Oh how I love this woman! Y
Mike had told us about an archeological site that was within a close hike from the campground and had asked if we would be interested in visiting it with him.
So we met up after breakfast and headed into the backcountry to find some artifacts. Within an hour we had spotted dozens of sites where painted pottery was scattered over the ground, and once we knew what we looking for, it was hard to walk without stepping on some of the many pieces of history.
At one point in time, this area must have been a very big village. Looking around, you knew what must have drawn these native people to this area. The surrounding mountain sides were picturesque and the river could be heard just a short ways away running over the rocks. Mike was filled with knowledge about the desert plants and surrounding rocks we kept asking him about.
It was a great little day hike, and to think we had been camped so close all this time.
Sunday February 17th 2008
The last few days have been a whole lot of fun just hanging with the boys. We've sat and tried to solve life's questions, but have all come to the conclusion that "All Women are Crazy" Just Kidding, but that's what I've come to the conclusion of.
Gene, Cindy and I went and checked out the Red Mountain Gun Club yesterday, and all agreed that the trap shooting is something we need to try before we leave this area.
Darrel has made Cindy a few more bowls and I keep joking with him that "The way he is spoiling her, it's going to be hard for me to break this habit."
Being that today is Sunday and we are planning on leaving in the next few days for the Baja Peninsula, we decided to have a little get together with all our good friends. Don and Denise even came up from Phoenix to say their goodbyes.
Cindy went overboard and cooked a big Mexican smorgasbord while Don and Denise supplied the Pacifico Beer. Don had sent me an email suggesting since we were leaving for Mexico, we should get one last lunch together before we leave for Baja and a Mexican theme might be in order.
We're not one to turn down a beer drinking get together, so we invited all the fellow campers at the Pebble Beach campground, and had one hell of an afternoon. Mike brought over some razor clams he had fished from the Kanai Peninsula of Alaska when he used to live up there, and Darrel supplied all the beautifully crafted turned bowls.
Cindy showed off her Salt & Pepper Grinder that Gene had made for her and we spent the day mixing good conversation with good fun.
The weather held out perfectly and graced us with bright blue skies for the entire day. The food was fantastic, the company was even better and the day was just one of those days that you wait for all winter long! I love days like this and sharing it with good friends is more than a simpleton like me can ask for.
Monday February 18th 2008
After yesterdays lunch, Darrel was packing up camp and getting ready to shove off first thing this morning. Cindy and I got up early to say one final 'Goodbye' before he took off. Before he left, we grabbed Gene and snapped a picture of the four of us since we realized yesterday that all this time, we've never taken a shot with all of us together.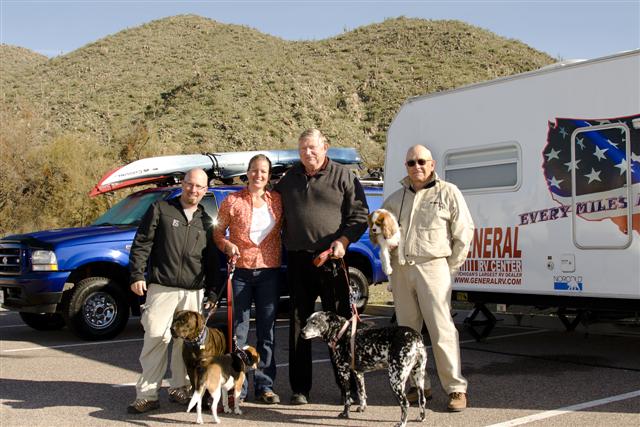 Cindy got a few more hugs in and we all made plans hoping to see each other later this summer in South Dakota.
Kevin had told us about an eagles next along the river banks of the Salt River and had asked if we wanted to go check it out with him. So we headed down the road to see if we could spot a bald eagle.
After scoping out the nest for awhile with our cameras and binoculars, we gave up since all we were doing was staring at an empty nest. From there we headed into town.
I had found a 35 gallon water tank at the feed shop where we get our propane refilled, and wanted to go get it before we left so we would have a transfer tank for our freshwater. This will double our fresh water capacity while we're south of the border.
We came back to the Salt River and Gene was all loaded up to head over to the Red Mountain Gun Club so we could try our hand at shooting trap. We drove across town but the only problem was the trap club was closed on Mondays. So we all came back for some lunch and a nice relaxing afternoon.
At 4 o'clock, just as Cindy was starting to mope around whining about Darrel being gone, Jerry and his wife Kathleen, who had moved into Darrel's camp site came yelling across the road, "It's Happy Hour, where are you guys!?"
So we grabbed a drink, and headed over for one last Happy Hour in the Salt River. We sat for the next few hours sharing stories with this great couple from Calgary while comparing traveling notes between the countries. What a great couple! I truly love this lifestyle!
Oh I almost forgot. When I was cleaning off the table yesterday morning getting it ready for the Mexican Fiesta, I went to wipe what looked like a little fur ball off the picnic table. Not really paying attention, my hand was just about to swat at it when it scurried across the table.
I let out a yelp like a 7 year old school girl, and went running towards the camper. Cindy was inside making lunch, and started laughing hysterically asking what my problem was?
I was bumbling around trying to tell her what was out there like the boogey man had just chased me. I finally calmed down enough to tell her to go look at the picnic table.
Now you have to remember that not too many things scare me, but for some reason, Spiders freak me out! I've owned 6 foot long snakes, 4 foot long lizards and many other exotic animals in my lifetime, but I HATE spiders.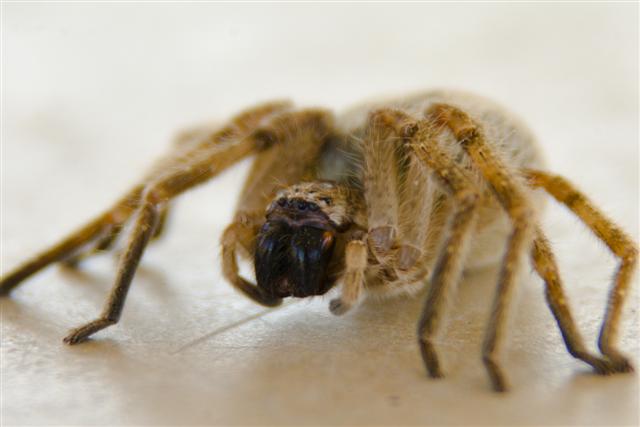 This thing had a butt that would make J-Lo jealous, and was all hairy with a huge set of fangs on the front just below it's 8 beady eyes. When I finally calmed down, I ran and got Jim's kids for them to try to come down and identify it for us. The butt on that thing was the diameter of a nickel!
Next thing you know half the campground is around the table looking at it all with "Ohhh's" and "Ahhh's" before the kids put it in a bug cage and kept it for a new pet along with their scorpion. I just remembered that and thought I'd share it for all to see.
Tuesday February 19th 2008
We knew the Red Mountain Gun Club was going to be open today, so we headed over there early hoping to get a few rounds in before we left for California.
Gene is a great instructor, and soon we were busting Clay Pigeons left and right. Gene has some very nice shotguns and I'm glad he was instructing Cindy and not me.
I could tell she was nervous, but with Gene telling her what to do, she couldn't yell at me like she normally would. Besides, I knew she was used to shooting my shotgun which has a brutal kick compared to these long barreled trap guns that Gene has. Both of his guns have little recoil to them.
Surprisingly Cindy did great for her first time shooting at a moving target, and I honestly think this is something she could get into.
It was great to see Gene finally shooting after almost 20 years being away from the sport. He was once the Colorado State Champion on the Trap Course for a few years in a row, and it showed considering he only missed two targets out of 25, three times in a row!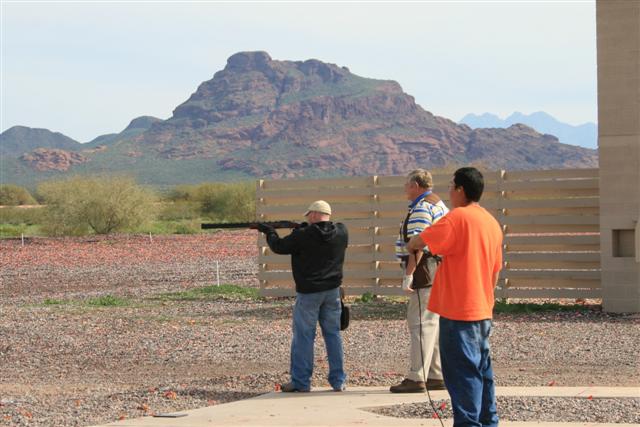 For me, I was shooting with a gun I had never shot before on a course I had never seen before, so I wasn't expecting anything amazing to happen. I will say that I enjoyed every second of it, and cant wait till the next time we can go back.
After 3 rounds of 25 targets, I scored a 14, an 18 and a 13 which wasn't anything to write home about. Give me a few times to get to know the gun and I might be able to get close to where I am with my pistol. But like I said, I had a blast and was loving every minute of it.
My 3rd round I even tried Gene's Berretta with the release trigger. What this gun does is make you pull the trigger and hold it down until you get the target in the sight pattern. Once you're ready to shoot, you just release the trigger and fire. This sort of goes against everything I had ever been taught, so it was hard for me to be focusing on a moving target and remembering everything else that needed to go along with hitting the fast moving clay object.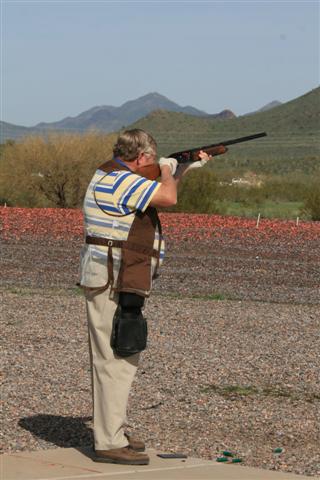 After 3 rounds of Trap, we were all ready for lunch, and headed back over to Mesa. While we were packing our gear up, the young attendant who was releasing the trap for us at the gun club was from Alaska, and sat talking with us about our adventure giving us numerous places to see when we visit his native state.
We joked that it was wild to meet someone in the middle of the desert who is giving us directions for when we travel to Alaska.
By the time we pulled back into the Salt River Campground, it was getting late in the afternoon. Jerry and Kathleen came over and started talking with us as did a few new neighbors who had pulled in behind them. Jim the camp host came down talking amongst all of us and next thing you know, it's Happy Hour time again.
I said to Cindy, "Either pack up, or make me a drink!" Next thing you know, we're sitting under the cabana sipping on afternoon cocktails talking Canadian/American politics.
Our little community was growing closer and closer as Kevin, Jim and his boys, Tom, Jerry and Kathleen along with Gene all sat around till the sun dropped below the mountains. We sat out till late in the evening till the cold weather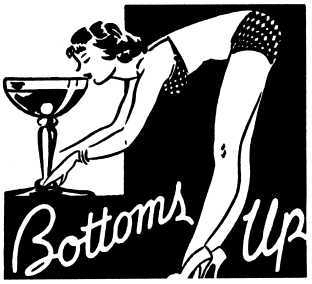 was nipping at our noses driving us into the warmth of our campers.
Then Jerry and Kathleen came knocking on our door to see if their cell phone would get a signal with our Wilson Amplifier. For some reason it wouldn't, but we had full bars with our phone, so we let them make the phone call with our phone instead.
We all sat in our little camper singing 'Happy Birthday' to Jerry's sister back in Canada. Once the phone call was over, we sat talking for the next few hours till our eyelids got heavy and we all said 'Goodnight!"
Wednesday February 20th Leaving Salt River for the 2nd Time
For the second time in the past few months, we were up early getting our gear packed up to leave the Salt River. We made our rounds saying our "Goodbyes", and were on the road fairly early.
One thing you have to remember is Cindy and I go no where real fast. So even though we left the campground early, by the time we had pulled into Mesa and dumped our Black & Grey tanks, did a bit of grocery shopping to restock the Norcold, we were finally on the road a little after Noon.
The weather was beautiful, but the wind was blowing something awful. After skirting around the Phoenix traffic, we jumped onto I-10 till we hit HWY 347 which is a beautiful flat road that crosses some barren desert. I was fighting with the steering wheel to keep the rig on the road the entire time. It was like an old Western Movie with the tumbleweeds blowing across the road and dirt twisters heading in every direction we looked.
When we reached Maricopa, we jumped onto I-8 heading West towards Yuma. A few different times the wind would blow me right across the road into the next lane. Cindy finally said "OK, I've had enough, I'm stressing out!" So we pulled over when we saw the sign for Pictured Rocks Petroglyphs. This is a little BLM park set out in the desert.
For $8 a night, we had a sandy campground with no amenities, but an awesome view of the setting sun over the desert. We took the dogs for a long walk to work out the stress in our legs from that last few hours of driving and relaxed a bit.
We were hoping we would have a clear sky for the Lunar Eclipse tonight, but the thick layer of cloud cover moving across the desert looked like we would be out of luck.
After the last few weeks of being around so many people every night and our days filled with activities, sitting in the camper alone with just Cindy and the dogs was a bit lonely. We had both been quiet all day just driving along with our own thoughts to keep us occupied.
I was thinking about the email that Darrel had sent us saying that the new RV Park he and Charlie were staying in was great, but they werent used to all the rules. I was thinking about what Cindy and I were going to do if we ever decide to go back into reality and have to conform to all the rules society has?
We're so used to doing what we want, going where we want when ever we want that I'm not sure if we could just jump right back into a normal society. I understand why so many RV'ers either love it or hate it. Many people who have lived a structured lifestyle their entire lives feel lost when they suddenly have no structure to speak of.
Something tells me if we have to stop this Wandering Gypsy lifestyle, then we'll have to find something very similar to keep our minds occupied. Maybe move up to working for a magazine where we travel and write, or photograph, but something where we'll be moving all the time.
Back to our new campsite. At 8:30 I went outside to see if the sky had cleared up any and we would be able to watch the eclipse, but I couldn't even see a star in the overcast sky. So we would have to wait till 2010 for the next Lunar light display. We got ready for bed and were both lying around reading. The wind was blowing at about 30 mph and slapping the little strap that allows you to pull the awning down against the side of the camper.
I finally got up to go tape it down, and when I opened the door, the sky was an amazing array of stars. The eclipse was in full mode and we dressed real quick to come out and watch this amazing display of Mother Nature.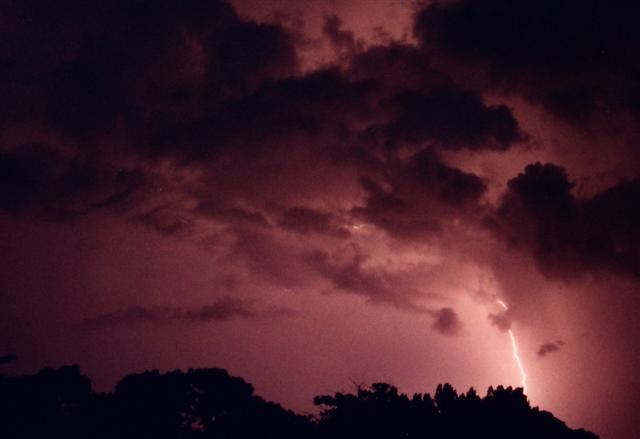 While we were sitting out watching, I kept noticing huge flashes of light off in the distance. I joked that we were camped right near a bombing range, and maybe they were playing tonight. But then we noticed a huge bolt of lightening stretch across the sky.
More than likely, it was just the tail end of the storm that had just passed over us. We werent sure what to watch, the lightening storm, or the eclipse as both were beautiful? The wind was blowing way too fast for me to try and set up a camera on a tripod, and that was just killing me, but every now and then you just have to rely on memory for some shows. Problem with me is I don't have that good of a memory, which is why I take so many pictures.
It was a cool show all the way around and a perfect way to put my mind at ease after a long day of too much thought.
Thursday February 21st 2008
What ever storm blew by us last night was long gone when we woke up this morning. We had blue skies and warm temperatures to hike the Petroglyphs. It wasn't a long hike at all, I could have actually done it on my hands if I wanted to.
Cindy came back from walking the dogs and told me "You know we're only a few hundred feet from the Petroglyphs don't you?" So there was no need for a backpack or a camera bag, all we needed was a camera and a hat to shade my bald head.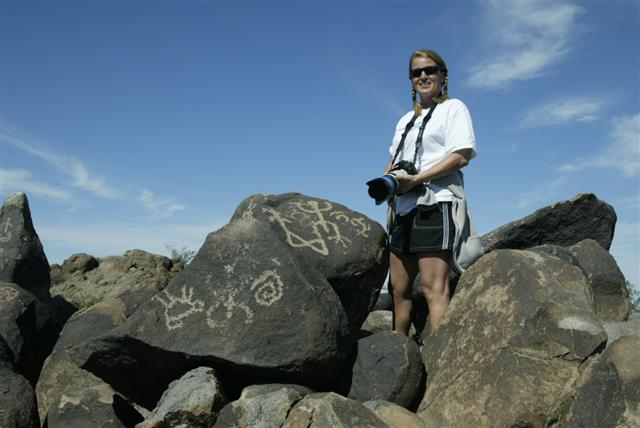 These volcanic rocks were loaded with etchings from the native O'odham tribe that once called this area home. Their carvings werent in any systematic order, and looked more like graffiti scattered on the hills. I guess each tribe had their own way of leaving their message, but this looked much different than any other Petroglyph site we have visited.
While walking along the trail, we met a nice couple from Michigan that we started talking with. When we mentioned the lightening storm and the eclipse last night, they informed us that Nevada had a earthquake and that storm that we saw was reeking havoc on the northern part of Arizona. "The sky is falling" yelled Chicken Little....LOL I could hear my mother quoting from Revelations that the world is coming to an end.
All the more reason to be wandering around in our RV rather than stuck behind a desk somewhere. Besides, the world is going to come to an end in 2013 when the calendars all stop, so we should be enjoying ourselves now while we can.
We packed up camp, and headed West towards Yuma. The winds were gone and the driving was much easier than yesterday. We were getting back into our rhythm of traveling so we were both a little more talkative today. I don't think Cindy could go for more than two days keeping her thoughts to herself anyway. No matter how depressed or caught up she is. I thought of Darrel when he told me "Women use twice as many words to say the same thing that men do, you have to let them talk."
I cant gripe since I talk just as much as she does...LOL
Yuma was one of those "Two trips in one" meaning it'll be our first and last time we visit. I don't see the draw, and a few hundred thousand RV's crammed into RV Parks isn't our cup of tea.
We found a laundromat and while Cindy did the laundry, and she needed to do it bad with the crazy outfit she had on, I combed the yellow pages to try and find a Custom Awning place that could build us something to shade our back window.
Everyone in Yuma said the same thing, "Bring it in and we'll measure it up. Then we have to order it and in two weeks, you have your awning." Not what I wanted to hear.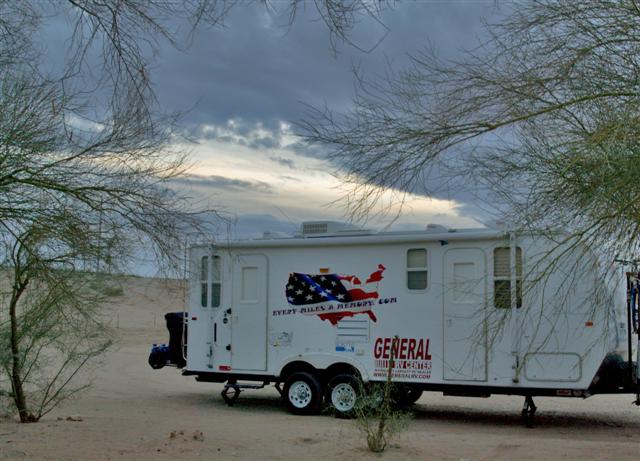 I had gotten an email from Eddie in San Diego who said he had been reading the website and noticed we were headed towards that area. He gave me a number for a Awning place that will come to you and custom make them.
I figured I'd give it a shot and called Best Awning. I got Mike on the phone and explained my dilemma. He let me know that his entire shop was headed up to Northern California for a big RV Show and I was sort of late in calling.
We sat talking and Mike made me laugh when he said "Pat listen, I want your money! I'm going to try and figure this out and get you an awning before you leave for Baja!" I replied with "Well that's good Mike, because I want your awnings and if you can do that, then for once, I'll be happy to give you my money."
I told him I was in Yuma and if he could work some magic, I could be there in the morning if it would make a difference. He said that they were booked up all weekend getting ready for the show, and if I could be there on Monday morning before they opened, he'd have one of his trucks waiting for me to custom make an awning for us. How's that for service!?!
See, sometimes sending that one email might just make all the difference in the world. Mike gave me their address and told me to camp in his parking lot on Sunday night to make sure I was the first one there on Monday morning. So off to San Diego we are!
Here are a few things I thought I'd share with all you fellow RV'ers that are just hilarious. These are the types of emails we get all the time.
_____________________________________________________
1. A turbo Travel Trailer that drives itself! Click Here
2. One wild video that I know you'll watch a few times. For anyone who is into fast trucks, motocross or mayhem, this is the best 2 minute video I've seen. Click Here
3. And then this just had me rolling on the floor laughing. I know it might not be politically correct, but it's titled Clinton's Dream.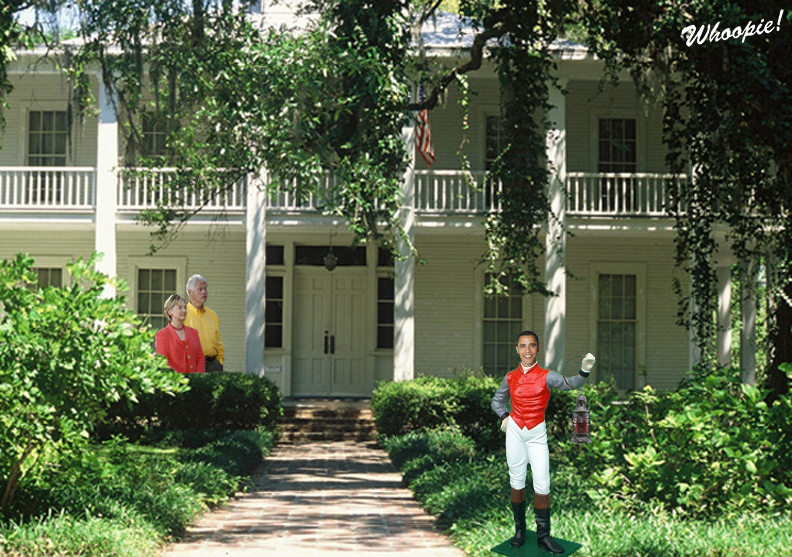 Friday February 22nd 2008
We had found this roadside campground, and when I say Roadside, I mean right beside I-8. We spent the day just making phone calls and getting our insurance for Mexico squared away.
I should say that Cindy did all these phone calls. She used to be an Insurance Agent, so she knows all the questions to ask and is better than I am at stuff like this. I just usually take the first offer and I'm fine with it. Cindy will barter and work deals and can usually get us a better price.
Cindy also spent much of the day working out the particulars on flying to Louisiana to be with her sister while she recovers from a surgery. So it looks like I'll be in San Diego all by my lonesome for a week getting last minute things set up for Baja. Family comes first, so she'll fly back into California the day before we leave which will have given her sister a few days to recover with assistance from Cindy being by her side.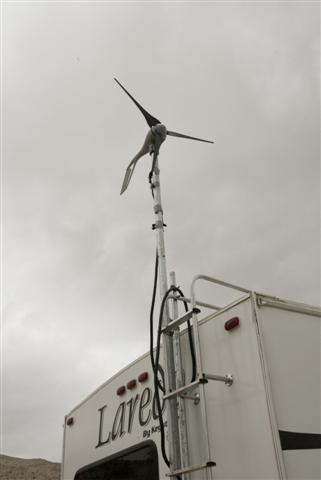 While Cindy was on the phone, I was delighted to see another camper with a wind turbine and went over to ask him some questions. Dave has had this turbine for 5 years and had nothing but praise for it. This day in particular, the clouds had moved in and none of our solar panels were really doing much. But Dave said his 6 deep cell batteries were fully charged because of the slight breeze that had kept the turbine spinning all day.
My main questions were about how he had it mounted and it's reliability. Dave just had a few different diameter fence posts bolted to his rear bumper and told me you couldn't even hear it spinning inside the coach.
Dave was filled with information and was cool to talk to. He sat telling me about his years of RV travels and even gave me a piece of Petrified Wood he had found on a recent hike. I thanked him for all his information and thought about how I'm going to talk Cindy into allowing me to get one of these Turbines?
Hiking around the Yuma Indian Reservation, we noticed little purple and yellow flowers that covered the sandy ground. It was a good day of rest and we got a bunch of little things caught up. It's also the first time in awhile that our sinuses are acting up due to all these flowers blooming.
Saturday February 23rd 2008 We Hit The Pacific Ocean!
We had gotten an email from a fellow RVer who warned us of strong winds coming up and over the mountains into San Diego on I-8. Listening to the weather channel, they said the winds would stay calm for the early morning but become stronger late in the afternoon.
So we were on the road first thing. You know how you tend to find things out after the fact when it is too late to do anything about it? Well if we would have drove another half hour along I-8 we would have hit the Imperial Sand Dunes which was just breath taking scenery. If we would have stayed in the Imperial Dunes, I could have been fooling around in the dunes, rather than just sitting in a gravel pit on the side of the road. But oh well!
Driving along I-8 which is right on the Mexican border you can see the border almost all the way till we hit the mountains. This landscape is what comes to mind when you think of a desert. Miles of sand with almost no vegetation. Strong winds and not much to look at till you hit the town of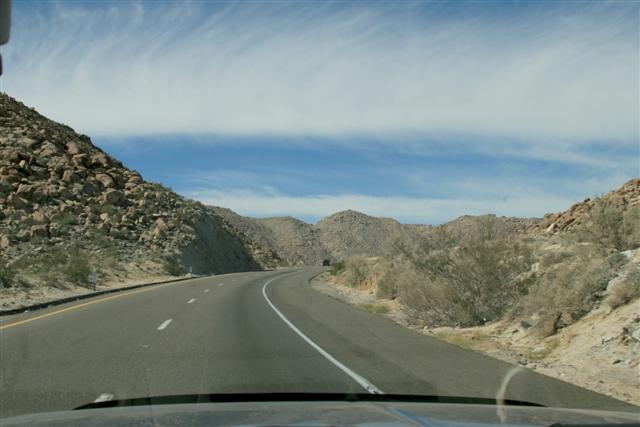 Ocotillo. This town is a only a general store and a gas station where we stopped to top off the tank.
OH MY GOD!!! Diesel in California is $3.89 a gallon!! I about died when I saw those prices. Why didn't I top the tank off back in Yuma where the prices were only $3.39? We put the 12 gallons in the tank that we keep in our emergency fuel cans and only bought 10 gallons at this amazingly high price.
I'm hoping I can limp along till we get into Mexico where fuel prices are only around $2 per gallon.
From the town of Ocotillo which is right around sea level, the road climbs straight up for the next 13 miles. The landscape is other worldly with big boulders and giant mountain peaks in every direction. It's climbs like this when I'm glad we have the Powerstroke Diesel. Even though the turbo was screaming the whole way up, we never werent doing the speed limit and kept passing many other trucks that were towing trailers.
When we got to the top, we held our breath hoping the winds wouldn't be trying to push us off the mountain, but to our surprise, we had smooth sailing the whole way.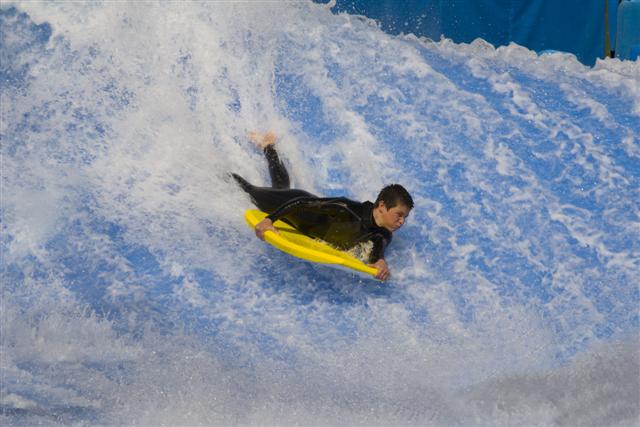 One thing we both noticed was as soon as you crested the mountain top, the landscape changed from the rough desert flora to lush tropical foliage. We hadn't seen so much green since we had left Michigan last fall. Giant palm trees dotted the mountains sides, bright flowers flowed down the sides of the expressway and you could smell the salty air of the Pacific Ocean.
We both looked at each other with a smile knowing that we had finally made it to the West Coast. It only took us a little over a year, but our little adventure had now gone from Coast to Coast. Last February we were sitting on the shores of the Atlantic Ocean and this February we would be relaxing on the opposite side of America.
We pulled up to Mission Beach like Eddie Long had recommended, and found a parking lot right on the beach. The sun was shining and the wind was blowing a thick salty breeze on our faces. It was good to be back on an ocean shore. Even though I didn't grow up on the beach, I've always had a love for water. For some reason being on the water makes me feel like being home. Whether it's on a fast flowing river in the mountains, or a calm ocean breeze, Mother Earths waters are where I feel most comfortable.
We had gotten on the road so early, it was still an early Saturday on the boardwalk. We wandered up and down the sandy boardwalk hand in hand just taking it all in. We found a cool place called The Wave House where they have a giant pool which creates a big pipeline for willing surfers to show off their skills. This bar has a big patio that overlooks the pool where you can sit and watch the action.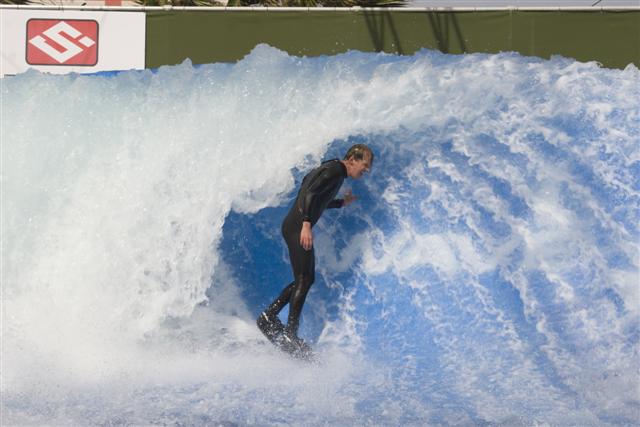 We grabbed a couple Silver Bullets and sat laughing at the carnage the man made wave could do. It's one thing to fall off a wave in the ocean when you're just landing on water. I'm sure it's totally different when you fall off the top of a 8 foot wave and land on a hard bottom of a pool. But it was sure fun to watch others do it over and over.
After hours of shear fun with numerous new friends we had met, we headed out to find a bite to eat. The wind had picked up and we were only in sweatshirts. We decided to go back to the camper and grab a jacket.
I got the bikes down while Cindy made us some lunch. I'd rather eat her cooking anyway and this would save us some money. I also found out our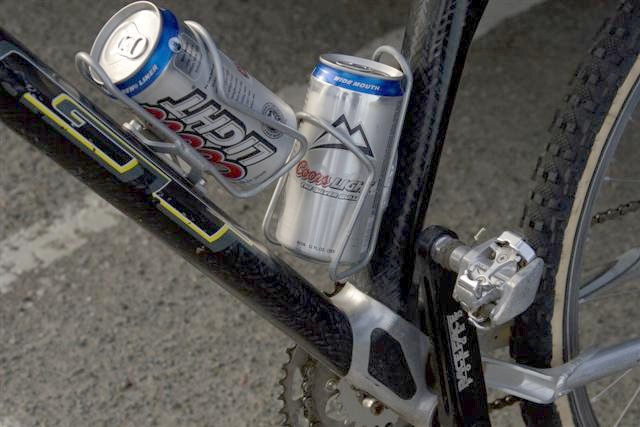 bottle holders on the bikes would hold a Coors can perfect...LOL
So after lunch, we jumped on the bikes and headed down the Boardwalk. This busy beachfront has something for everyone. Between girls in bikinis on rollerblades, guys dancing on roller skates to people of all ages in every athletic build you could think of, the people watching was awesome.
After riding up and down the sidewalk for a few hours, we sat watching the sun drop into the Pacific for the first time on our journey. It was a good feeling and a great end to a fun day.
When we rode back up to the camper, there was a group of self-proclaimed gypsies that had moved into the parking lot beside us. This group of guys were well into a bottle of cheap vodka and more than happy to show us plenty of their tricks they do for money on the street side.
After numerous tricks, some not coming out the way they had planned, they started asking us for money. I asked them why I should give them money?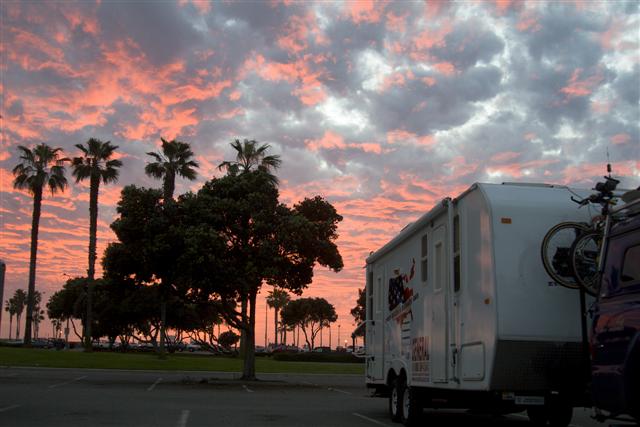 He snapped back with "Help a brother out, I haven't worked in a few years and live in that RV over there." Cindy laughed and said "We haven't worked in two years and live in this RV right here."
They told us they had thought we had rented the thing, (which everyone does), and next thing you know, Cindy was asking them to show her how to do some tricks so she could work the Boardwalk with them.
Once the sun went down, the temperature had dropped considerably, so we said our goodnights, and headed in for the warmth of our camper.
After a good dinner of one of Cindy's magical pizzas, we both were ready for bed. That was when we noticed it was only 7pm!? Man O Man are our time schedules messed up. Needless to say, we werent up for too much longer.
Sunday February 24th 2007
After our early bedtime last night, it was no surprise when we were both lying in bed at 4am wide awake talking to each other. We could hear the rain falling on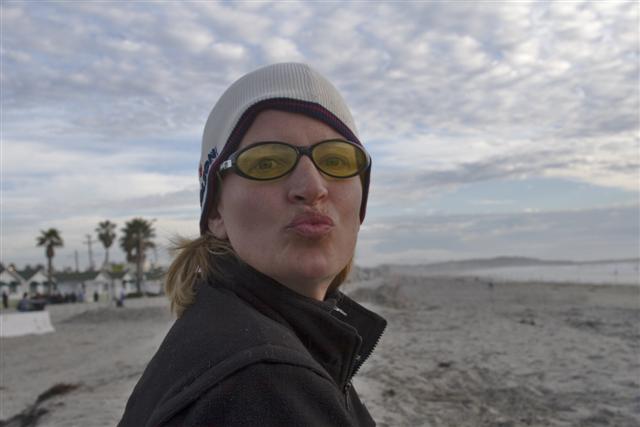 the camper roof, and wondered what we were going to do with ourselves on a rainy day at the beach?
So much for our plans of riding our bikes up and down the boardwalk all day like we had talked about last night. After breakfast when Cindy came in from walking the dogs in the cold rain, she exclaimed "There are people out there jogging in shorts and tank tops!?"
I told her "That's why they look nice and fit, and you and I resemble a shape similar to a mashed potato." I didn't get a nice look in return.
After listening to the homeless people beside us all morning, which was actually really funny to listen to, we decided to move out and find Best RV so we could camp in their parking lot.
When we were getting ready to leave, the Hobo's, for lack of better word, were all sitting around their van singing to each other. I came out of our camper and they all started laughing saying "We're sorry, we had no idea you were still in there." I said "Man, it sounds like a barber shop quartet out here!"
We sat around talking about their work on the boardwalk last night and one of them let us know that he made $130 on his card tricks. Something tells me I need to take a few lessons.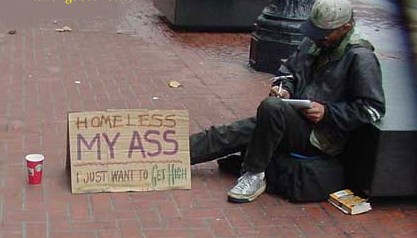 As we drove away, we all said our goodbyes and they wished us well on our trip to Baja. They asked that we stop back by to show them pictures of our adventure. Something tells me we just might do that. Cindy could cook one of her big meals and we could all sit around the parking lot sharing drinks and funny stories since we're really all in the same boat. Jobless and roaming around looking for something to occupy our time.
Driving out of the Mission Beach area, Cindy and I laughed when we would pass each intersection and various homeless people who would be working the corners would all wave and yell out "Goodbye, Have fun in Mexico!"
We found Best RV and took the dogs for a long walk around the industrial park it's located in. The dogs were going crazy with green grass to graze in and real trees every where they looked.
We watched the Oscars Ceremony on TV and were in bed early. It was sort of stupid since we hadn't seen a single movie they were talking about, it was still fun to relax in front of the TV. Something we hadn't done in a long time.
Monday February 25th 2008
Don't you just hate when you have to wake up early for something, so your mind wakes you up every half hour so you can look at the clock to make sure that you didn't miss the wake up call? That was me last night.
When Paul pulled in the parking lot at 7am, he was probably wondering why I was sitting there waiting on him. I told him about my conversation with Mike last week, and he said "Let me get some things started in the shop and I'll be out to measure up your windows."
The awnings that I originally wanted were going to cost $220 for the big picture window in the back, and $180 for the side window over our couch. These two are the ones that allow all the heat to bake the inside of the camper. Camping World had them for about $60 more for each window and they had said it would be 7 to 10 days to order. Then I still needed to pay $35 to have them installed.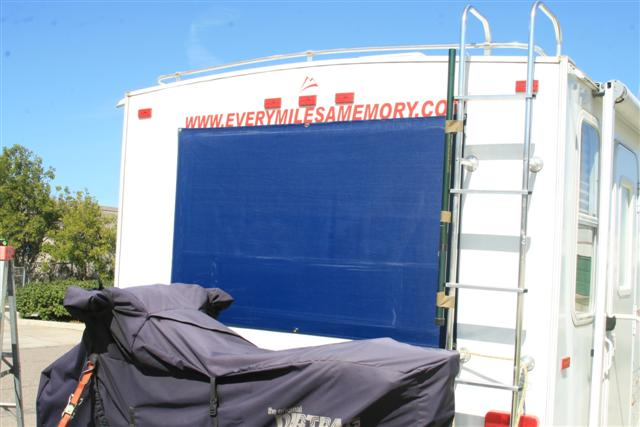 Best RV was less expensive, and could do it while I waited, but we ran into a problem. My ladder sits right beside the rear window. The awning mechanism needs a good 5 to 8 inches on each side of the window for it to lock down. Paul recommended that I get window covers that would block even more light and heat out of the Camper, but still allow us to see out when they're on. Something the awnings wouldn't do.
The best part was the window covers were only $190 for both of them! We accomplished what we wanted to do, and it saved us a few hundred dollars, I like this company more and more each day.
After Paul took the measurements, he said it would be a few hours while they sewed them up, and we should go see a movie or anything to keep busy. With fuel at almost $4 a gallon, I'd be fine just sitting in the parking lot getting on Cindy's nerves.
This is a typical conversation between Cindy and I. She's on the computer, and I'm sitting on the couch. I find these nail clipper looking things that she had left out and start trimming my nails. After the first couple of nails, she notices what I'm doing and yells "What the Hell are you doing, those are cuticle clippers, not nail clippers!"
"What the heck is the difference?" I ask. She just grabs them out of my hands and gives me one of those looks that almost turns me to stone. If she could only figure out that last little part of the Medusa trick, I'd have been a lawn ornament a long time ago.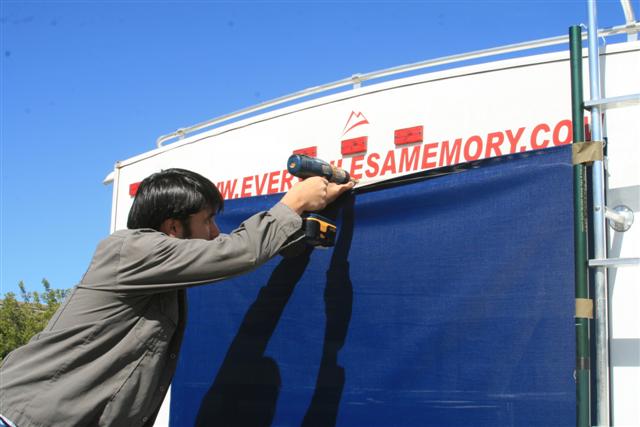 Just as the inside of the camper was starting to get hot, and I was on Cindy's last nerve, Phillip came out with the window covers. He started screwing in the eyelets that would hold the fabric taught and as soon as the cover went over the window, you could immediately tell a difference in the temperature. Cindy even said "It's like you just turned an air conditioner on once they went over the windows."
It didn't take long for Phillip to have them installed, and we were on our way. Thanks Best RV for fitting us in on such a short notice, and Thanks for making such a cool product. For a full product review, click here
From the Awning place, we drove down the coast to Silver Strand State Beach where they allow you to camp on the beach. It costs $25 a night, but you are right on the beach.
A fellow RVer had sent us an email with a bunch of recommended camping spots in the San Diego area. Thanks Jeff and I'll say that California people sure are nice. We've gotten numerous emails from people with recommended places to stay and some even offering us a spot in their driveway! I know I've said it before, but RV'ers are some of the nicest people you'll meet!
We found Silver Strand Beach and backed right in so we'd be overlooking the ocean. The waves were whipping up something awful and the wind was blowing mighty hard. We tried to walk along the beach, but it was like getting sand blasted from the strong winds and my glasses kept getting glazed over from the salt water mist.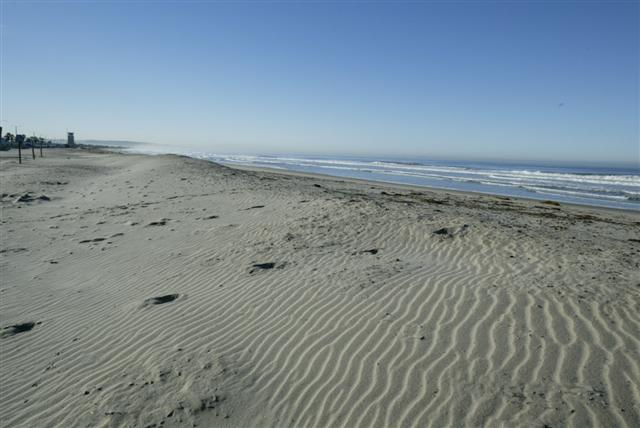 This is when I love having that big back window in the camper. We spent the rest of the afternoon just blowing kisses across the table to each other while we watched the sun set into the big Pacific. Yeah Right!
We sat sipping on some cold ones telling goofy jokes and talking about how excited we were to almost be in Baja. With the occasional burp or fart to interrupt our intellectual conversation.
The window covers acted like dark sunglasses and allowed us to sit and watch the sun go down, without having to squint like you normally do. I cant believe we waited this long to get these!
Tuesday February 26th 2008
Sleeping with the sound of crashing waves right beside you is one of those things I'll happily pay $25 for. Waking to the sound of seagulls and a fog horn off in the distance is like crawling out of a comfortable womb.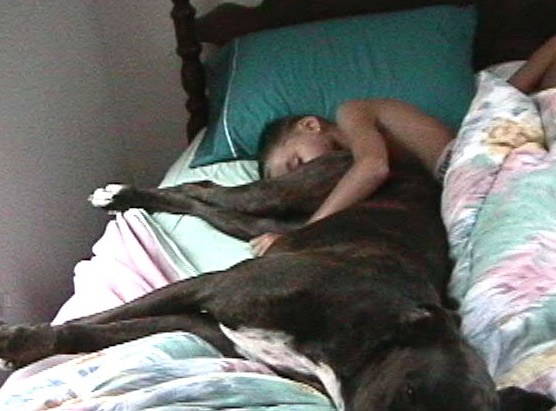 Then you get snapped back to reality when the Beagle starts snorting to clear her nose (We think she has allergies?) and I notice that I'm spooning the Pit Bull and not Cindy. That fuzzy thing in my face is one of his big floppy ears and not her hair like I thought it was.
I roll over to yell at him as he lets out a big morning fart and Cindy who has already gotten out of bed is laughing at the two of us while she's making breakfast. That's the truth as to how my day got started today.
From Silver Strand State Beach, we headed up into the hills overlooking San Diego. Cindy found a nice campground only 10 miles from the airport, and with our Passport America discount, it was only $28 a night with full hookups!
The campground is beautiful with a heated pool, a very nice laundry facility and all the amenities you could ask for. We caught up on our laundry, cleaned the camper from top to bottom on the inside and packed Cindy up for her trip tomorrow.
Once we were all caught up with the necessities, we headed into town to get a new GPS. We've seen what the Garmin c330 could do, so now we wanted to check out another entry level GPS to compare.
We found a Circuit City and grabbed a Magellan Roadmate 1200. For $169, this is the entry level GPS from Garmin's main competitor. There are plenty of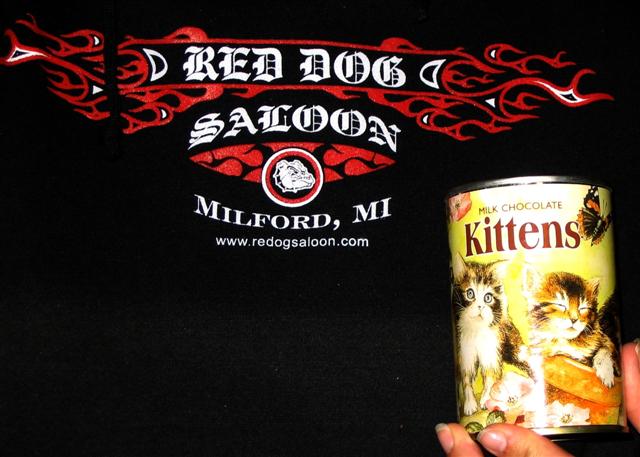 better models on the market, but if we wanted to compare apples to apples, then we have to stick with the same price range.
In this plaza, there was also a nice little food market and Cindy stocked me up on groceries that I'll be able to prepare myself while she's gone. I'm not that much of a cook, so I basically have a fridge full of yogurt, a loaf of bread and some sandwich meat. We even found a can of Milk Chocolate Kittens!?! I'm not sure what the hell this is, but it was interesting enough to take a picture of!! Food for a king...LOL
Just to show how much of nerds we are, before we left from the parking lot, we set up both GPS units to find us the nearest In-N-Out Burger. We've heard so much about this famous West Coast, fast food burger joint, that we had to stop by and try it.
Leaving the parking lot, both GPS units were telling us to head in different directions. The Garmin will only take us on main roads, where the Magellan asks you whether you want shortest route, fastest route, avoid Interstates or a scenic route. We drove along with both models having a duel telling us where to go. The Garmin waits about 20 seconds longer than the Magellan to tell you about a turn approaching, and the Magellan will signal the exact turn with a little chime. The Garmin doesn't do this and that was one of our main gripes with it.
I made a wrong turn just to see what they would do, and the Magellan took a few (20) seconds longer to reroute us than the Garmin did. Both picked the same route to get us there after this wrong turn. When we found the In-N-Out Burger stand, we thought maybe it was a grand opening or some other big event.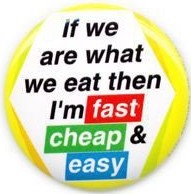 The line for the drive-thru was all the way around the place and the parking lot was packed full. We had to park in another lot across the street to find an open spot. Californian's really like their In-N-Out Burgers!
For how busy the place was, I thought the food would have been better. Not that it was bad at all, it was actually quite good, but I wouldn't wait in that line for it. We were both able to get a good meal for right around $10 and the quality and service was great for a fast food restaurant. If I had to make a decision on where to eat fast food, I'd probably choose In-N-Out Burger over most of the competitors.
We came back to our camper and showered up. One thing you don't realize when you live in a normal house is how nice it is to have an endless supply of water. It's so nice to be able to take your time while showering and not be yelling at each other over how long the water is running. It's a toss up between Cindy and I on who uses more water.
She says it's harder for her with her long hair, and I say it's harder for me because I shave my head in the shower. When you're trying to conserve as much water as possible, I normally fill a little can with water and use that to rinse my razor clean. If it's cold out, this can become very annoying to try and shave your head quickly once you're all wet and shivering.
Probably way more information than you wanted on our showering habits, but I'll just say that it was really nice to take a long hot shower and not have to worry about using too much water.
Wednesday February 27th 2008
We were up first thing (5am) to get Cindy packed up and make sure she wouldn't miss any flights. Traffic was not nearly as bad as I expected, and I had Cindy to the Airport in just a few minutes.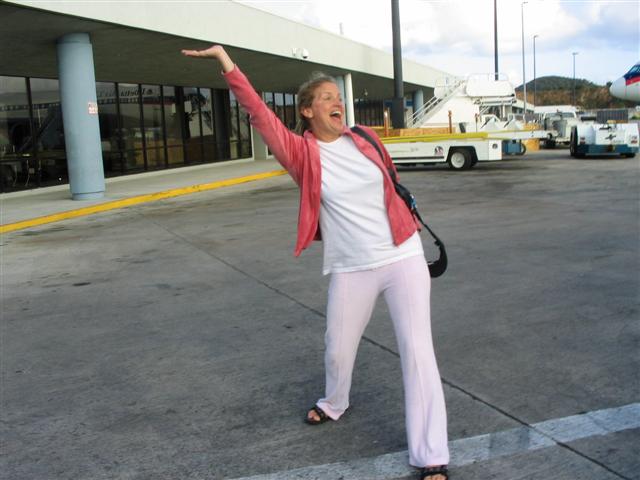 We said our goodbyes, and she was off. Romantic Goodbyes have all but ended now that you can't walk anyone to their flight like the old days. Now all the romance is at the curbside rather than those waves through the airplane windows.
This will be the first time in the last 21 months that I'll be without Cindy for longer than 24 hours. Isn't that weird? Most men couldn't imagine spending more than a weekend with their wives alone, yet Cindy and I are just the opposite. But sometimes you make sacrifices for family, and Cindy will be able to see Donielle again, so that makes it all the better. I hate going for such long stretches without seeing her and I know it's worse for Cindy.
So we'll see how it goes with us being by ourselves for a spell. The worst part is I have to take care of the dogs now! I don't even like them to begin with, and now it's just me and them! Dogs are great when you have a house and a yard, but try having two dogs, one large one that thinks it's a lap dog, both in a small camper, fulltime! Man's best friend becomes the smelly, annoying friend that you seem to always be tripping over.
Sorry for complaining, but I'm alone now and have no one else to complain to. Yesterday we found out that our Mexican insurance doesn't cover our motorcycle while we're south of the border. I had called Chuck and Sandy (the couple we're going to Baja with) to ask if I could store the bike in their garage while we're all in Mexico. Chuck said that would be fine, but then after I put fuel in the truck, I thought twice about this.
Chuck lives in Ventura, which is 200 miles from San Diego. That would be $100 each way because I'd be towing the trailer up there just to drop off the bike. Then when we return, we'd have to drive up there again to pick it up.
So instead of wasting all that fuel and money, I found a local storage place where I can leave it for the next two months for only $80. This way once we come back across the border, we can just grab the bike and head back towards Arizona for our Photo Seminar in May.
My day has been spent with little things that you probably don't want to hear about. Contacting people because we wont be able to for the next few months, following up on dozens of things that I normally put off, and mailing out a ton of stuff to further us in this adventure of ours. Basically all the things that I normally don't do because I have Cindy to keep annoyed. When I'm by myself, I can actually be quite productive.
This is why I normally do most of my computer work at night while Cindy sleeps. She likes to go to bed early, and I sit up till the early morning hours on the cpu. I'm not much of a sleeper, and tend to only sleep a few hours per night.
I did get out for a few hours to get Cindy a new BBQ Grill. This will be the 3rd one I've bought since we left a year ago. This is also the one I wanted to buy before we even left, but Cindy said it was too much money.
We went through the Charcoal thing, which was a total mess and took too long to grill anything in her cheap little grill. Then her little gas grill that she wanted because it was only $35 would burn everything she cooked on it.
While we were at the Salt River Camp Ground, she talked with Darrel about his Weber and how much he loved it. It's not good enough that I wanted it, but now that Darrel said he swears by it, she made the decision that's the one she wants. So now Cindy has her 3rd and final BBQ Grill, a Weber Q 200. Because if Momma aint happy, nobody's happy!
Thursday February 28th 2008 Today Was A Good Day
Today was one of those days when I am reassured that Human Kind hasn't gone down the drain. It's days like today when I know that people are good, and will go out of their way to help a person in need.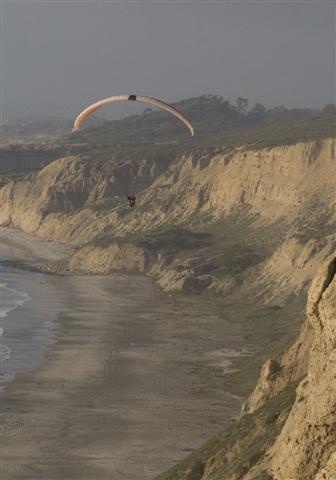 For the past few days, I have been very impressed with the residents of California and their hospitality. Everyone we have met has gone out of their way to show us a good time or recommend a cool place to see.
I've gotten dozens of emails from people telling me about different places to camp on the beach or nice parks to spend the day in just to relax. We've gotten numerous emails inviting us to dinner or just out for a drink and then yesterday, when I said that I was going to have to store my motorcycle while we're in Mexico, I got two emails from people offering to let me store it in their garage!
We've spoke alot of Arkansas and how nice everyone was there, but we've only been in California for a few days and I'm just blown away by the wonderful people that live in this state.
So one of the emails was from a guy named Jeff who has been nice enough to send me numerous emails with suggested places to camp, short cuts coming over from Arizona and just being a helpful RVer. His last email was telling me that he has a warehouse that I could store my bike in for free.
So I met up with him today to drop the bike off. We sat talking for a bit and he asked if I wanted to go out to lunch? I have nothing else to do, so Heck Yeah.
We went around the corner to a local burger joint where we were met by one of Jeff's friends Mike. The 3 of us sat around talking about RVing and just normal guy talk. I guess Jeff and Mike met off of the RVNet forum and have their own RV Club that they recently started where a bunch of local RVers get together a couple weekends per month and head out to some of California's backcountry.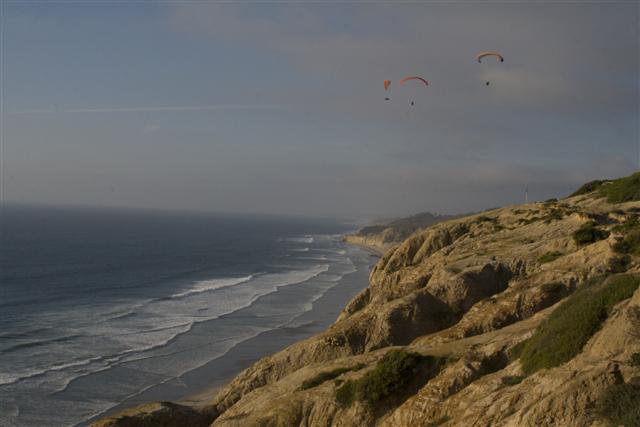 After Lunch we stopped by Mike's shop, which has about one of every toy known to man in it, so he could show me his race car. We sat around for awhile talking about different mod's Mike had made to his camper which he also stores at his shop.
From there, Jeff and I headed over to Torrey Pines Glider Port. This seaside park is where local paragliders practice their skills above the Pacific Ocean. This area of San Diego has huge cliffs that create an updraft where the paragliders and hanggliders can take off right from the cliffs edge.
It was wild to sit and watch the pilots (if that's what you call them?) fill their shoot with air, pull on the cords a certain way and take off right from the mountain side. To see them floating through the air so effortlessly was very cool to watch. My only complaint was I didn't have Cindy with me to experience it, but that only means we have a great reason to come back.
From Torrey Pines, we headed over to La Jolla where Jeff showed me what he called Seal Beach. This area is a man made cove that the seals have adopted and now use to birth their young.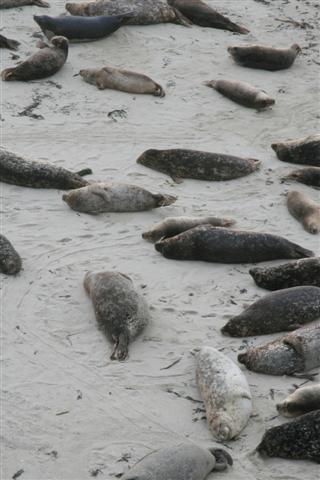 The small sandy cove was lined with Harbor Seals and their babies all grunting and flapping around like a seal out of water...Ha! Ha! Just the other day Cindy had asked me if there was anywhere we could go to see wild seals in their own habitat and now I knew she was going to be pissed when I told her I had seen them without her.
As the sun set behind us, we walked around La Jolla just talking about different aspects of life and what makes this big ball go round. I thought how cool is this that I only met this guy a few hours ago, yet I feel like I've known him for years. I'm not sure if it's the RV lifestyle that allows you to find really cool people everywhere you go, or if we're just really lucky? But what ever it is, I know today was a good day!
By the time we got back to my camper, the sun had long gone to bed, and Jeff asked where I was going to camp tonight? I said that I'd probably just sleep in the parking lot where I was and go find a park in the morning. He wouldn't have it and as I sit typing this, I'm camped in his driveway not worried if I'm going to get a knock on the door asking me to move the camper.
Thanks Jeff for giving up your day to a total stranger and proving that people are still nice in this country of ours!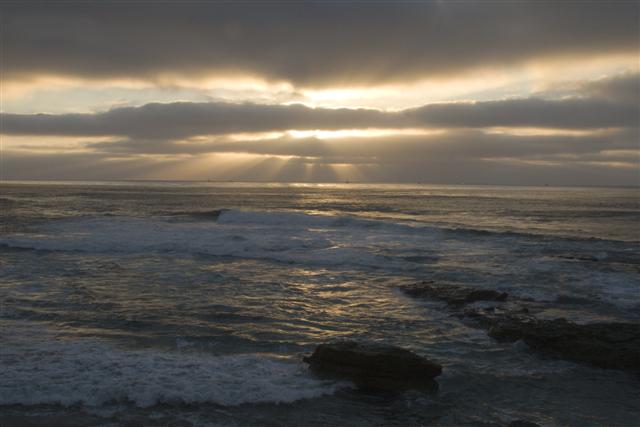 Friday February 29th 2008 Happy Leap Year!
Jeff got me squared away with directions as I needed to find a Kinko's so I could get copies made and mail some things out. All this last minute stuff before we leave has me running around like a chicken with it's head off.
Just as I was finishing up, Jeff called asking if I was done. I told him I was and he asked if I wanted to meet him and the rest of his family for some more sight seeing?
We met a few exits closer to downtown, and I jumped in their vehicle. We headed over to Cabrillo National Monument, which is an old lighthouse atop a big cliff, stopping along the beach to get some photos of the beautiful California coastline.
We walked around the light house which overlooks the harbor and the San Diego Naval Base. None of the big submarines were in port, or maybe they were just underwater, but we couldn't see any of them. The view from atop the giant bluff is spectacular overlooking downtown San Diego.
Jeff is quite the tour guide and made sure to show me all the finer points of this big city. We drove through the marinas and the Gas Lamp District, along the coast and through the downtown. I'm still at awe that I only met this guy a few days ago, and how nice he and his entire family are. They opened their arms and allowed a complete stranger in only wanting to help a fellow traveler.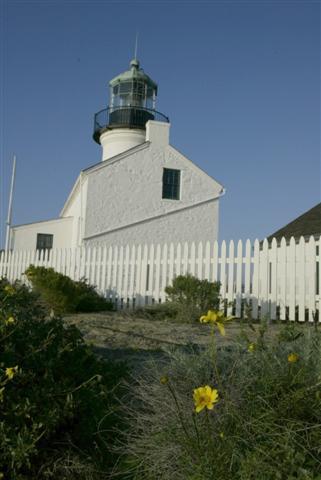 On the ride home, Lori, Jeff's wife said "With you heading into Mexico, tonight sounds like a good night for Margarita's" You know me, I'm not going to turn any drink down with good company, so we headed back to their house for some salty drinks and more great conversation.
We talked all night long about past trips and fun times. About how at the time, a trip can be down right awful, but years later you can look back and laugh at how funny it was. They shared some very humors RV journeys they've had and we all had a good laugh.
I think Jeff and I wore out the rest of the family, because next thing I knew, it was very late, everyone had gone to bed and we were still up with maps sprawled out across the floor. He showed me some different routes to take, and other ways to avoid when our travels will bring us up through California.
Around 2am, my eyelids were too heavy to hold up, and we both called it a night. I headed out to the camper where my two dogs would try and keep snuggled up to me to keep me warm in this cool Southern California weather we're having. Cindy will be home tomorrow and all will be back to normal, if there is such a thing in our lives.
Saturday March 1st 2008 The Return of Cindy
With only a few days before we leave for Baja, today was filled with last minute changes on our rig. Jeff and I spent the morning washing the camper with his power washer, getting it looking all pretty. Then we decided that the motorcycle rack should come off.
We had made up a design that would hold two plastic bins on the back bumper and would hold our sewer gear, the hoses and a few other miscellaneous things that we normally kept on the Hitch Haul rack. I went over to Mikes shop to get some U-Bolts that he had left over from a project he had just finished, and while working in the shop, I noticed Mike had a Wheel Less Trailer.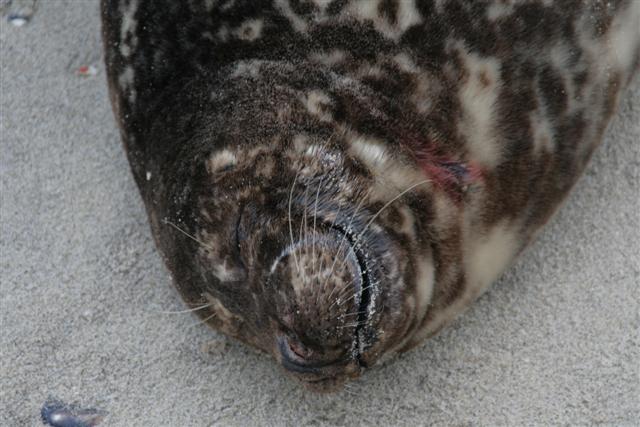 He said he had bought it for his dad and the back of his Class C RV, but they never ended up using it. I asked him if I could rent it off of him for a month or two while we were gone and would drop it back off on our way out of Baja. So the storage bin idea was solved very easily, and I was ready to go get Cindy from the airport.
Once I had my partner in crime back in the passenger seat, we headed over to La Jolla so I could show her the seals. I had told her about Jeff bringing me here, and she was jealous that she wasn't able to see them.
So we sat watching the sun set and the seals grunt along the beach before heading off to find a bite to eat. By the time dinner was done, she was having trouble keeping her eyes open from the jet lag, so we went home and went straight to bed. It was good to have my snuggle buddy back and not have to be spooning Luca.
Return to Top of Page
Need Unlimited photo storage- FREE Trial of Smugmug