When we realize our insignificance in this world,
it some how relieves the pressures from society to succeed -
Cindy Bonish 04/07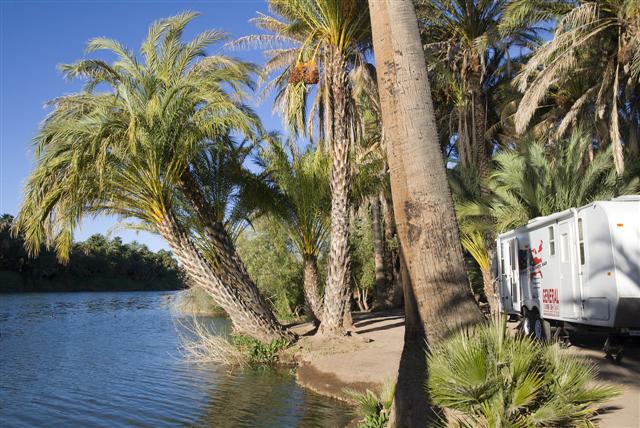 Pat's March Blog
If this is your first time here, you might want to start from the beginning of our fulltime RV Journey with our Past Blogs
If You Don't Know Us, Click Here to Read Pat's Bio
Photo Gear We Use - Solar Tips, Fact's and Trick's we've learned while on the road
Camper Check List - A list of things we do before leaving camp. Again, this isn't gospel, but its a good start for those who might not already have a list made up.

Saturday March 1st 2008 The Return of Cindy
With only a few days before we leave for Baja, today was filled with last minute changes on our rig. Jeff and I spent the morning washing the camper with his power washer, getting it looking all pretty. Then we decided that the motorcycle rack should come off.
We had made up a design that would hold two plastic bins on the back bumper and would hold our sewer gear, the hoses and a few other miscellaneous things that we normally kept on the Hitch Haul rack. I went over to Mikes shop to get some U-Bolts that he had left over from a project he had just finished, and while working in the shop, I noticed Mike had a Wheel Less Trailer.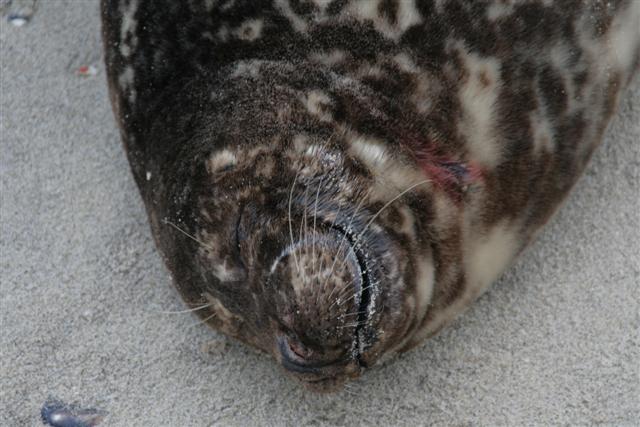 He said he had bought it for his dad, but they never ended up using it. I asked him if I could rent it off of him for a month or two while we were gone and would drop it back off on our way out of Baja. So the storage bin idea was solved very easily, and I was ready to go get Cindy from the airport.
Once I had my partner in crime back in the passenger seat, we headed over to La Jolla so I could show her the seals. I had told her about Jeff bringing me here, and she was jealous that she wasn't able to see them.
So we sat watching the sun set and the seals grunt along the beach before heading off to find a bite to eat. By the time dinner was done, she was having trouble keeping her eyes open from the jet lag, so we went home and went straight to bed. It was good to have my snuggle buddy back and not have to be spooning Luca.
Sunday March 2nd 2008
Cindy brought home some nice weather with her from New Orleans. We sat around the camper with Jeff, Lori and the kids talking with the dogs loving the warm sunshine. This type of weather was what I thought California would be like at all times, not the cold dreary weather we've had the last few days.
We all went out for lunch at a nice Irish restaurant before Jeff brought us to a few of the local shops so we could pick up some more stuff for Mexico. I bought the biggest bottle of Imodium there was just incase one of us got some of Montezuma's Revenge. Let's hope that we wont need to open it for the next two months.
When we got back to Jeff's house, we were sitting around talking when I mentioned that my big computer wasn't working. Jeff got mad asking me why I hadn't mentioned that since he is an IT guy and could probably fix it in a few minutes.
Next thing you know, he has the computer out of the enclosure and is working on it in his office. Within an hour, he had it back up and running. I guess one of my hard drives went bad, and once he removed it, everything works like new.
I tell you, these last few days have been like a dream come true. Between the amazing hospitality and the way everything has fallen into place, I couldn't have asked for a better chain of events to take place. Some times you just know someone upstairs is watching over you.
Cindy and I ran up to the store to stock up on groceries and I'm thinking she went a bit overboard. When you live in a 25' camper, $450 worth of groceries just don't fit inside. Everyone has us a bit scared about eating some of the meats and local cuisine in Mexico, so we made sure that we would have enough food to last us a full two months.
Jeff called to let us know that he had thrown some steaks on the BBQ grill and dinner would be ready when we got back to his place. Does this pampering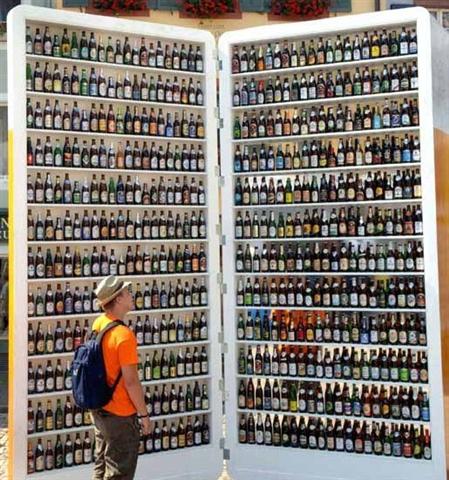 ever stop? I'm not sure if this guy knows that he might have two new people living in his driveway for good if he doesn't kick us out soon.
With two full carts of food, we loaded up the truck and headed back. Then came the task of trying to stuff it all in the refrigerator. This is when having the 10 cubic foot Norcold fridge makes all the difference in the world. Buying this much food would just be impossible with the stock fridge. Having the Norcold and it's full size freezer allows us to buy way more items than the normal RVer.
Cindy did an amazing job of putting the refrigerator puzzle together, and I'm thinking that there isn't much room left for anything.
We had an awesome dinner and more great conversation with our hosts. With full bellies, we limped out the door and into bed. Tomorrow we pack up and ship out.
Monday March 3rd 2008 Happy Birthday Donielle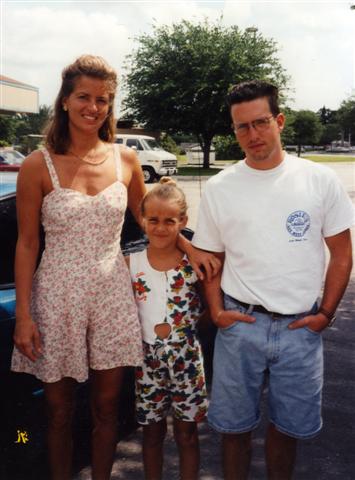 Today is our daughters 22nd birthday and it really makes me think of how fast time flies. It seems like only yesterday when we were attending school plays, band practices or teaching her to drive a car (she still cant do that last one any good). Now she's all grown up and makes us very proud to be her parents. I just hate not being able to celebrate important days like today with her.
We were up early this morning packing things up and getting those last minute items in order. Jeff gave us his huge collection of DVD's to borrow while in Baja and if Cindy and I were to watch a movie a night, every night we are South of the Border, I don't think we'd watch all of them!
We reinstalled the computer now that he fixed it all up, and then disaster struck. When I went to turn the inverter on, it wouldn't fire up? It did this once before, but I was able to reboot it by shutting the main power off and restarting it. Sort of like an Alt/Control/Delete command on your computer.
But this time I couldn't get it to turn back on. After numerous attempts, it finally came back on, but this wasn't what we wanted to have happen only hours before we head out.
Cindy started calling around and found a place that could send a repair tech out right away. In the mean time, we packed everything up and got ready to go. When the guy got to Jeff's house, I showed him what was wrong, and how I had been getting it to reboot. He did the same steps I did, and said there was really nothing he could do without taking the inverter down to the shop to test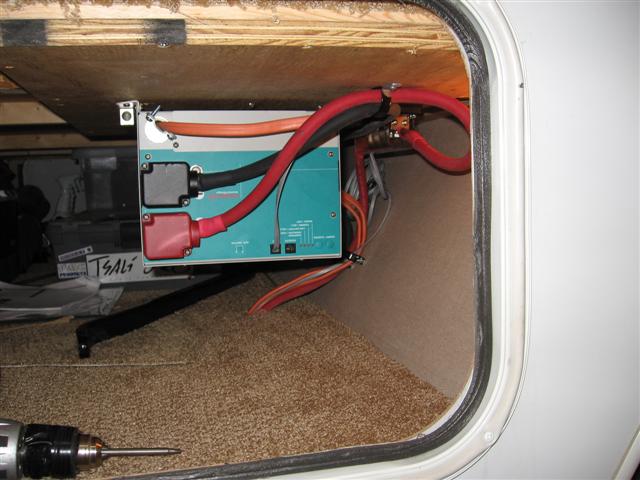 the circuit boards in it.
He said that it should continue to work fine and if it keeps doing that, then when we return, we should get it replaced. But all in all, he didn't do anything that I couldn't have done. In fact the only thing he did was what I showed him to do.
So after I walked him through how to restart a gummed up Xantrex Inverter, I had to pay him $82 for the service call?!? Something tells me I got screwed on that deal, but "Oh Well!"
We needed to run to the bank and get some Travelers Checks just so we wouldn't be carrying large amounts of cash. Most of the places in Baja don't take credit cards, and none of the Pemex Fuel Stations take anything but cash. That was our final errand to run, and once we had that task taken care of, we were ready to roll.
Pulling out of Jeff's driveway is a bit tricky. To get the camper in there, I had to jack-knife the truck to get the camper right up against a wall. While driving back to Jeff's house, Cindy and I talked over our game plan which would have her run in and grab the dogs, do one last check of the inside stuff while I hooked the truck up to the Sunline.
With the truck at that goofy angle, I wouldn't be able to hook up the sway-control bars, but we would just pull over once we straightened out and put them on. I needed to get it hooked up and out of the driveway fast due to the nose of my truck hanging out into the road. Jeff's driveway is just over a hill, so the cars tend to come over pretty fast and I had visions of one clipping the front end of the truck.
Cindy came out an said "I'm ready, how are you doing?" I said "I have it hooked up and we should be ready to go." I jumped in the truck and had Cindy watch from the road to block traffic and make sure while I was pulling out, I wouldn't scrape the block wall Jeff has along the edge of his driveway.
Once Cindy said I was clear, she jumped in the truck and said "Let's Go!" I felt a funny knock and asked "Are you sure I'm not hitting anything?" Something didn't feel right to me? She said I was fine and I needed to move as I was blocking traffic. So I threw it in gear and we took off. That's when we heard what sounded like metal on pavement behind us.
I knew something was wrong and could feel the blood starting to boil on my forehead. I pulled over right away only to hear more metal scraping along the roadway.
We jumped out to find that in our haste, I had forgotten to put the rear jack stands up! They now resembled the Leaning Tower of Piza and were beyond repair. Here you have Cindy and I in the middle of the road yelling at each other over who's fault this was and something tells me it's going to come out that the blame is all mine. I am supposed to be in charge of the outside stuff, but I told Cindy to check my work, and when I stopped and said "I feel something funny", she just told me to stop worrying and get a move on!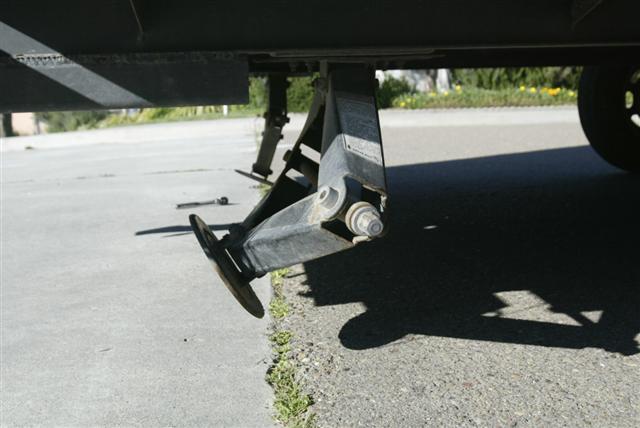 So this was how we started our trip to Baja. Me lying under the back end of the camper and we're not even 20 feet out of Jeff's driveway. I guess we can only go up from this point.
Once the mangled Jack Stands were off, we were back on the road. This was another one of those long drives where neither one of us spoke. Things like this really bother me because of how simple they would have been to avoid!
Another reason why you should never be doing anything in a hurry when hooking up to your camper. We normally never move in a hasty fashion and always walk around checking each other to make sure nothing like this can happen. The one time we are trying to move fast, one of us messes up big time.
By the time we got to the meeting spot, we had started talking to one another again, but there is a huge chip on each others shoulders that needs to be knocked off before either of us will fully forget it. You could tell by the short tempers we both had for the rest of the night.
Chuck and Sandy met us late in the evening, and tomorrow morning we will cross the border at first light. Just a few jack stands lighter.
Tuesday March 4th 2008 We Enter Into Baja Mexico
The four of us were up early this morning ready for a big day of driving. Our plan was to put as many miles between us and the border as we could handle driving. The first few hundred miles of Baja are know as the gauntlet, if anything is going to happen to you, this is where it usually happens.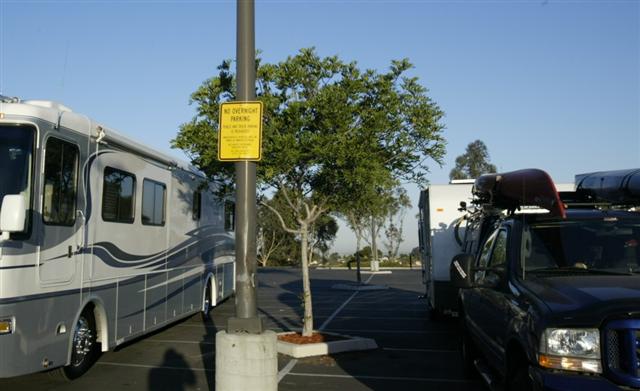 We all sat in the Wal-Mart parking lot going over our directions and game plan. We were on the road by 8am and since we had stayed only a few miles from the border, within a few minutes, Sandy was asking over the radio if we wanted one last time to back out since we were now in line for the Border Crossing.
The crossing at Tijuana was one of the trickiest parts since Chuck said "One wrong turn would bring you into the downtown area where maneuvering a large truck and camper would not be fun."
A few turns later, we were on Mexico's Transpeninsular Highway, or Mexico 1, and headed South. Passing Tijuana, all I can say is there is nothing I saw that would make me want to visit this city. It honestly looks like video footage you'd see on the news from a bombed out city in Iraq.
It's just amazing to me that we had left Southern California only 10 minutes earlier with it's million dollar homes, and now it looked like we were in the middle of a war zone. All I can say is we Americans take so much for granted when it comes to our freedoms and disposable incomes.
I had expected the worst when it came to the roadways, but I was surprised that they werent as bad as I thought they were going to be. Granted, they were not good by any means, but being from Michigan, which has some of the worst roads in the United States, we had driven on worse roadways.
Within the first few hours of driving, we passed breathtaking scenery along the Pacific coastline. There were quaint villages, run down shacks and million dollar homes. The diverse mix of residents was crazy. One house would look like a movie star lived there and their next door neighbor would be a small house that looked like they had forgot to take out their garbage for the last 5 months.
We noticed that our GPS was useless within a few miles of crossing the border. It only showed the direction we were headed with a blank green screen and no roads listed. So we packed it up and put it away for the rest of our Baja adventure. We talked with others who said Garmin has a Baja Map you can download for some of their GPS models, but Magellan didn't offer any I could find on their website.
The Satellite radio kept working and we wondered how long we were going to keep that signal? I don't know what we'd do without our NPR and comedy stations to keep us entertained while we drive.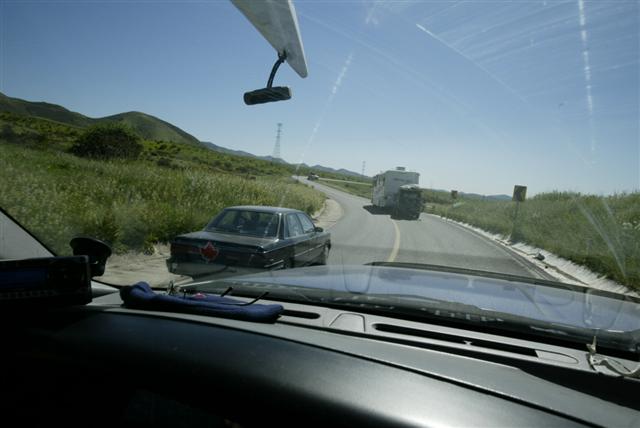 The further we got away from the border, the narrower the roads became. Chuck had warned us of the narrow Mexican roads, but I thought he was only exaggerating at first. After our first stop, which was about 150 miles into Baja, we noticed that Chucks rig was having a hard time staying between the narrow lines.
When a semi would come by, there were only a few inches of space between the mirrors and the side of the speeding tractor trailer. Everything everyone had told us about the crazy drivers was 100% true. If there is ONE thing to worry about in Mexico, it's the oncoming drivers.
They don't slow down and they don't have a problem passing you on a hill around a sharp turn. I thought Cindy was going to give birth when the first semi truck came flying past us and I hadn't warned her of its approach. It's one thing when this happens and we have a shoulder to blow us onto. Here in Mexico, there is no such thing as a shoulder.
If your tire was to fall off the lane, you would more than likely be pulled down into the steep embankment that lines each side of the road. Some places we're talking only a foot or two, while others might be off the side of a cliff!
It didn't take long to realize that driving on Mexican highways isn't something to take lightly. I laughed when we were flying through one tight section on the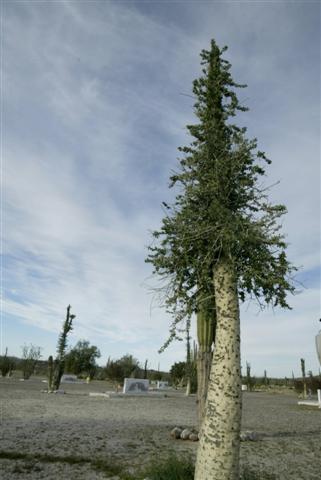 downhill side of a mountain, and Cindy was telling me to look at the wild trees that line the hillside. Without looking, I told her to take a peek at the roadway in front of us and she instantly yelled for me to keep my eyes on the road with both hands on the wheel.
After our first Fuel stop, I realized that filling up in Mexico is a joy! Topping off the tank only costs us 50 something dollars, and my only wish was we had a way to bring a years supply home with us.
We pulled over for the night in Catavina after 10 hours on the road. This is not the norm for Cindy and I, but Chuck stressed that we wanted to be as far from the border as possible. We found a little roadside camp for only $6 a night. The only accommodations they offered was a dump station, but for $6, who's complaining.
We later found out that this isn't the campground you want to stay at while in Catavina. It's noisy and close to the road, so you hear the big engine breaks on the trucks that pass through town all night.
If you head a mile or two past the town of Catavina, there is another campground called Rancho Santa Inez. This campground is a mile off the road, and situated in the middle of these amazing boulder fields. The owners of the campgrounds will direct you to some great hiking in the area and the best part is its away from the road, so you don't hear the trucks all night long.
The last few miles into Catavina was like driving on Mars. Huge boulders lined the roads and crazy trees that resembled something out of a Dr. Seuss novel were sprouting up between every rock.
The cactus around Catavina are like nothing we've ever seen. When Cindy looked them up in our Traveler's Guide to Baja, she found out that they are called Cirio or Boojum Trees, and are unique to the Baja peninsula. No where else in the world can you find these strange looking cactus.
It's hard to call Catavina a town as its really only a few buildings, the Hotel La Pinta and the campground we stayed at. There is an old Pemex station, but it looks like it has been closed for years along with every other dilapidated building that lines the highway.
Once settled in camp, I got out Cindy's new Weber grill. Just like my normal luck, something between the propane tank and the hose wont allow it to feed propane to the grill. This is another reason that you should never bring anything without testing it before you leave home.
This grill, propane tank and hose are all brand new. I only bought them a few days ago, and had yet to use any of them. Sitting in the dark in Mexico wasn't where I wanted to find out that something wasn't working properly. Luckily I had one of those 1 pound propane cylinders which could screw into the grill. With that on, everything worked fine?
After a beautiful sunset and some nice thick steaks on the grill, we spent the rest of the night getting to know Chuck and Sandy.
Conclusion of Today's Drive = 10 hours on the road, 317 miles of driving, two fuel stops, 5 dead dogs seen on the side of the road, 3 naps for Cindy, much white knuckle driving, 2 Red Bull energy drinks, 3 toll booths (each one a different price?) and one military checkpoint that just waved us through.
Wednesday March 5th 2008
We woke to a beautiful morning with nice warm sunshine. After one of Cindy's awesome breakfasts and a short stroll with the dogs, we were back on the road. Hopefully today wont be as long as yesterday was.
I checked the stats on the Scanguage computer in the truck which told us that our average speed for yesterdays drive was only 27 mph! Maybe the roads were worse than I had remembered?
Today's drive was much like yesterday. The landscape was very diverse and every few miles we would make a 180 degree switch in scenery. At one point we would be in desert like conditions with miles of nothing to look at.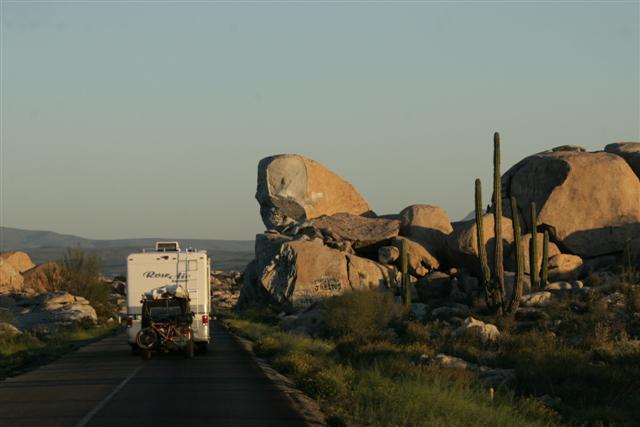 Then all of a sudden you would start seeing the cactus start popping up and next thing you know you would be in a thick cactus forest. At some points you could see the beach while other sections were tucked into the steep mountains. Who ever knew that Baja was so diverse? We were only 300 some odd miles into the peninsula, and it seemed like we had traveled through multiple eco-systems.
I kept thinking to myself that these roads would be beautiful to travel along on a motorcycle. We had passed a few touring bikes, and I kept thinking to myself that someday I'll come back down here on a bike.
Once the highway passed the turnoff for Bahía de Los Angeles, the road got nasty. It went from somewhat smooth asphalt to pot holed, narrow, bumpy trail like conditions. Luckily for us, Chuck knew that this section was very long with nothing to stop at for supplies. We had stopped and topped everything off yesterday afternoon and I can attest that a good guide can be a lifesaver.
There were a few places you could stop and buy gas from road side vendors, but none were selling diesel. If we hadn't topped off when we did in El Rosario, we would have been stranded on the side of the road.
The stretch between El Rosario and Guerrero Negro is the longest stretch of road without any services we had seen so far on our drive. If we needed it, we could use the multiple fuel cans we carried in the bed of the truck, but hopefully we wouldn't need it.
Coming around one turn, we noticed a Cadillac stopped in the road. Chuck slowed down and passed on by, but Cindy and I pulled up behind and stopped. We asked the older gentleman if he needed any help?
He said that he had run out of gas and didn't speak any Spanish to ask for help from the locals. I jumped out and said that I had a few gallons of gasoline we kept for our generators. At this point was when we learned that the old man was a bit crazy. He kept questioning Cindy saying "I cant use Diesel fuel!" Cindy tried to explain that we had gasoline for our generators and were happy to give him some.
A Mexican woman stopped, but there was too much of a language barrier for either of us to comprehend what the other was saying. I think she was telling me if I gave her $200 pesos, she would go get fuel for him. But when I would tell her that she needed to talk with him since I wasn't with him, she would just shake her head saying she didn't speak English.
I started putting my fuel into his car when he said "I'll see if it starts up?" When he started it, he dropped it into gear and took off with me jumping out of the way and spilling gas down the side of his car. His trunk was still open and the gas cap was banging against the side of his car? WTF was the old man doing?
I walked back to the truck and Cindy was laughing saying that we needed to get out of here. This whole situation had gotten really weird all of a sudden. You have to remember that this section of road was in the middle of a steep hill that had a lot of turns on it!
We caught back up to Chuck and Sandy who were waiting for us at a military check point a few miles up the road. We pulled up beside the guy in the Cadillac and he wouldn't even make eye contact with us. His gas cap was still hanging out the side of the car, but the trunk had closed? The military personnel was searching his vehicle when I had to go back and let the officer look through our camper.
The military officer searched through the vehicle and sniffed a few of Cindy's panties and we were good to go! Just joking.
He just looked around the inside, checked a few drawers and gave me a thumbs up. It's times like these that I hate not being able to speak or understand any Spanish. He kept trying to talk with me, but I could only smile and nod since I had no idea anything he was saying?
When I got back into the truck, Cindy was all smiles and flirting with the military personnel who had gathered around our truck to pet the dogs. She asked me if I had noticed the one guy who was sooo good looking? I never knew she had a thing for guys in uniform, but as long as her flirting gets us through the checkpoints with no hassles, then I could care less.
The crazy old dude in the Caddy was gone, and we wrote it off as just another weird memory.
Our next stop was the Agricultural Checkpoint at Baja Sur and the 28th parallel. This is the dividing line between the states of Baja and Baja South or Baja Sur as they call it in Spanish. This checkpoint is where we would normally show our passports and our tourists permits when crossing the border.
We all had our passports, but we hadn't stopped to get our tourist permits at Tijuana like we were supposed to. The border agent let us slide without the $20 per person fine, since we had only been in the country for 24 hours. You have 72 hours before you need to have the permit, and Chuck explained that we were going first thing in the morning to get our permits in downtown Guerrero Negro.
This is a bit confusing, but the only place you can purchase the tourist permits is at a bank, and the banks close at 3pm. So by the time we will head back out of Baja Sur, we will have our permits and everything should be legal.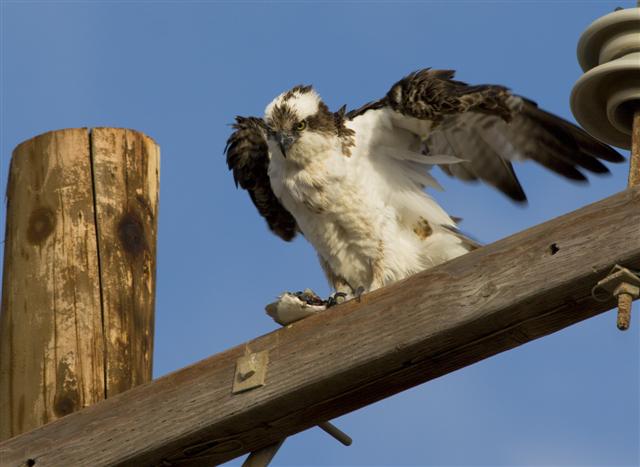 Within minutes of the check point, we were pulling into Guerrero Negro and the Malarrimo RV Park. We would camp here for the night so we could go to the bank in the morning and get those Tourist Permits taken care of.
Malarrimo Campground is really nice for a Baja Campground. Incase anyone with a large RV is coming down, they only have 15 amp service to hook up to, but they have full sewer hook-ups and water. We chose not to hook up to the city water just to be on the safe side. But to have everything else was nice for only $20 a night, and the campground is walled in with a full restaurant that had Wi-Fi.
It was late in the afternoon by the time we got everything set up, and you know what time that is! Happy Hour! Chuck, Sandy, Cindy and I all sat around talking till the sun got too low and the temperatures got too cold for our taste. It's amazing how far south we are and we all still have jackets on!
After Happy Hour was over, Chuck came knocking on the door telling us that there was an Osprey on the pole right by the office. We grabbed the cameras and headed over to see this beautiful bird.
It was sitting up there with a fresh catch just eating away and allowed me to snap a few dozen images of it before it got bored and flew away.
Conclusion of Today's Drive = 4.4 hours of drive time, 147 miles traveled, 33 mph average, 1 dead cow on the side of the road and another skeleton of a horse or burro, one military check point where we got searched, one agricultural checkpoint where we didn't get searched but had to pay 20 peso's so they could spray insecticide on our tires, one fuel stop and one run in with a crazy old man who had run out of fuel.
Thursday March 6th 2008
After two days of long drives, today was just a day to lounge around and relax. Cindy and I got the bikes down and rode through the small town of Guerrero Negro. Our only thing we had to do was go to the bank so we could get our Tourists Permits and exchange some travelers checks for Peso's. Everything after that was just goof around stuff, so we were in no hurry.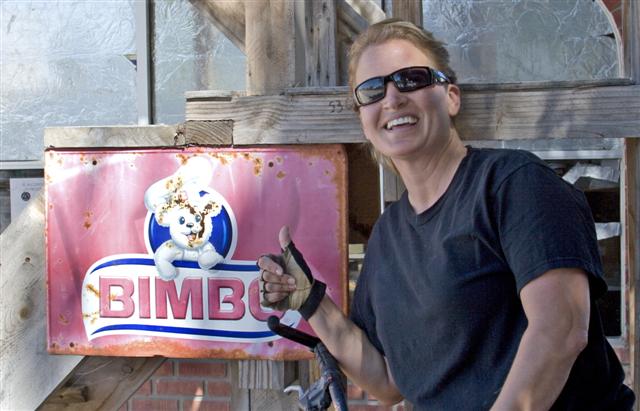 If you spend American dollars, not everyone will give you the same exchange rate. Some places charge a little more and then pocket the difference. Chuck explained that it's just easier if you have Peso's to give the exact amount.
This little village is one of the newest towns on the Baja. It's a company town, and the company is Mitsubishi, its main industry is the Salt Flats where salt water is flooded into large holding fields. They allow the salt to evaporate and use it as Sea Salt for cooking. This is the second largest salt production facility in the world.
Another new industry they're making money off of is the Whale Watching tourists. Almost every building had an advertisement for Whale Watching Tours.
Riding our bikes through these streets is almost like riding along a technical mountain bike trail. Unless you want to ride in the road, which neither of us did, riding on the side walk is pretty crazy. Their curbs can be a foot or two tall, and there are big potholes and obstacles to ride around every where you look. Numerous times would I bunny hop over an open manhole cover which I can only imagine what would happen if you were to fall in at night!
When we got to the bank, Cindy said she'd wait outside by the bikes, and left me to try and comprehend this exchange by myself. Once I got to the teller, the fun started. Since I speak no Spanish what so ever, and she wasn't offering me a beer (Cerveza) or telling me where the bathroom was (El Bano), two of the only words I know, I just sat and looked at her with a dumb look on my face.
I know she was probably saying nasty things about me, because she kept mumbling to the teller beside her in Spanish and they would both laugh, but I just smiled and tried my best to describe what I needed.
When I finally came out, Cindy said "How'd that go?" I said "I have no idea? I know that I have a pocket full of peso's, but the last 20 minutes were so confusing, I could have just signed our lives away!" From the bank we rode away looking for something to keep us occupied in this small port town.
We rode around the city streets just looking at the various ways they make their homes, which is basically out of anything they can find. The local architecture reminded me of my childhood when we used to build tree forts with scrap wood my dad would have lying around our property. I fully admire their ingenuity and resourcefulness and took some notes incase Cindy and I ever want to build another stick house.
The Mexican dogs that roam the towns are everywhere and are all very short. We keep laughing that they all have the body of a large dog, but look like they have been cross-breed with a short dog.
You'll see a dog that looks like a lab, but has real short legs. Or a Pit Bull body, but with Jack Russell Terrier legs. Some follow along while you ride, others bite at your tires and some just lift their heads as you pass by to see if you have any food for them. All of them are skinny and none have collars. They look like they roam around looking for a meal and any spot they can find to sleep.
After riding for awhile, we stopped at one of the many taco stands for some lunch. Since one of the quotes we always use is
"If you reject the food, ignore the customs, fear the religion and avoid the people, you might better stay home" ~ James Michener
We figured we might as well practice what we preach and sample some of the local food. We found a little road side stand and ordered a few burritos. I walked next store to a beer stand and grabbed a few Corona's in a can. It's very rare to see Corona in a can, and couldn't remember the last time I had seen them.
For $10 we got 2 burritos a piece, some refried beans and 2 beers a piece! I like that! With full bellies, we rode back to Malarrimo Campground and grabbed the dogs. We loaded them into the truck and drove out to an abandon lighthouse on the bay. At one time, this was a little fishing village, but now it was just abandon buildings with a few fisherman's boats on the shore.
We walked around looking at the buildings and the huge piles of shells, before the wind drove us back to the warmth of the truck. Even though the temperature was in the 80's, being out on the point with the strong winds was quite chilly. From the lighthouse, we drove over towards the salt mines where there are big sand dunes along the sandy road.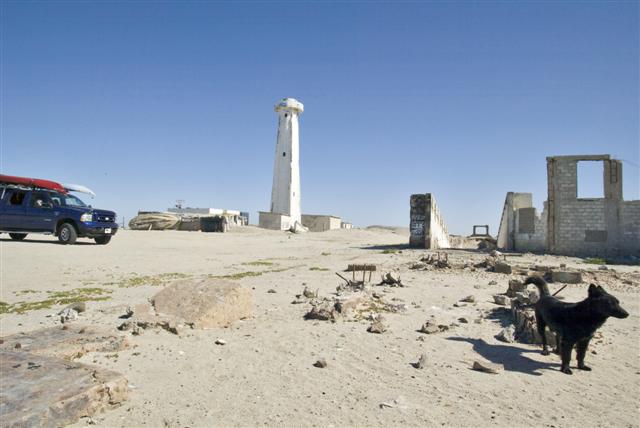 We stopped where the dunes came right to the edge of the roadway and let the dogs out without their leashes on. This is a rare occurrence for them, so you know they were using it to its fullest potential. Luca was running so fast that he would stumble in the soft sand and tumble along the drifts. The sand dunes werent really normal sand. The sand had the consistency of Flour and walking along it you would hit sections where you would sink up to your shin with no warning.
The sand was also bone white and very dry. Normally sand gets damp when you bury you foot in it, but this sand was still dry no matter how deep I plunged my foot in.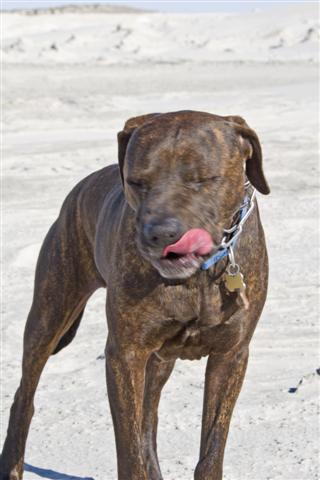 It reminded me of when we were back in White Sands National Park, because Luca just couldn't seem to get it through his thick head that the white sand is NOT snow. Every few minutes, he'll take a mouth full of the sand before the shock of the grittiness would remind him that it's not the soft, wet snow he was thinking it was.
I laughed and said to Cindy, "I can only imagine what his poop is going to be like tomorrow! He's going to crap out a little sandy log!"
With the dogs thoroughly worn out, we headed back to Malarrimo campground just in time for Happy Hour. On our way out of the sand dunes, we spotted a Osprey sitting on the side of the road with a Needle Fish in its talons. The beautiful, big bird allowed us to sit and watch as it tore apart this little fish that was still very much alive. It was quite the site to witness.
Once back at the campground, Chuck, Sandy, Cindy and I sat out till the sun set before we said our goodnights.
Cindy and I watched one of our new DVD's from Jeff tonight. "American Gangster" with Densel Washington and Russell Crow. This is a great movie and even though Cindy swore she was going to fall asleep, she stayed awake the whole time and never even nodded off. That has to say something for the girl that can fall asleep in the middle of a conversation.
Friday March 7th 2008 Whale Watching in Guerrero Negro
One of my only requirements for visiting Baja was to go out on a whale watching tour. Guerrero Negro is one of the mating grounds for the beautiful California gray whales and we were told Guerrero Negro's Ojo de Liebre, or Scammon's Lagoon would be our best bet to see them up close while visiting the Baja peninsula.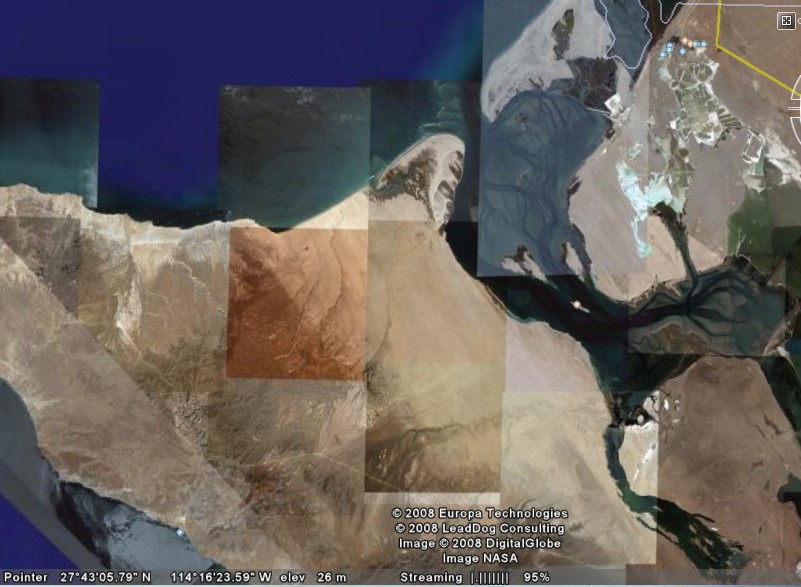 Google Earth Image of Scammon's Lagoon - You can see the salt mines where all the white stuff is in the upper right of the image
These giant creatures hole up in the big blue lagoon where they give birth to their young in the thick, salty water before heading back up to the rich waters of Alaska. We were told that the water's salinity is very high here, and this helps the calves with their buoyancy in their first few months of learning how to swim.
Cindy and I were up early and very excited for today's activities. We almost missed the bus because of our clocks being an hour off? I guess when we crossed the border for Baja Sur, we switched back into Mountain Time which is an hour behind what all our clocks were set for? We also very rarely go by a clock's strict schedule, and normally just go by the sun or how we feel that morning, so this was very confusing for us to be back on a time schedule.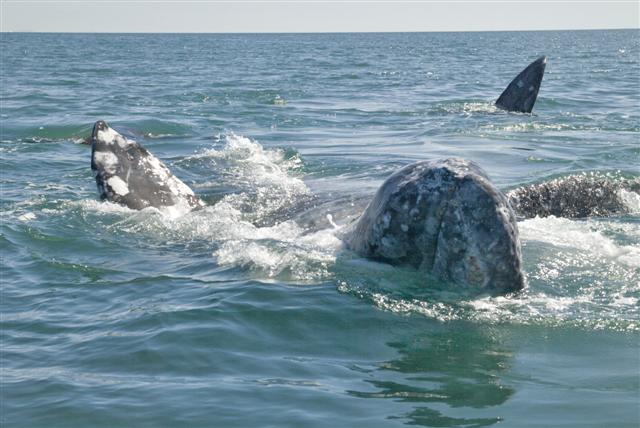 Once on the water, we had our cameras ready for the day ahead of us. The small Panga took us (there were 10 of us in the boat) out into the bay and once we got a ways off the shore, we instantly started seeing the whales breaching and releasing their air into the ocean breeze.
Every whale we could see was way off in the distance, and I thought maybe this wasn't going to be as cool as I had imagined. But the captain never slowed down and kept speeding out into deeper water. At one point I saw a gray whale come shooting out of the ocean with half of its body out of the water. Almost everyone on the boat saw this beautiful sight, but none of us were ready to take the picture because it happened so fast.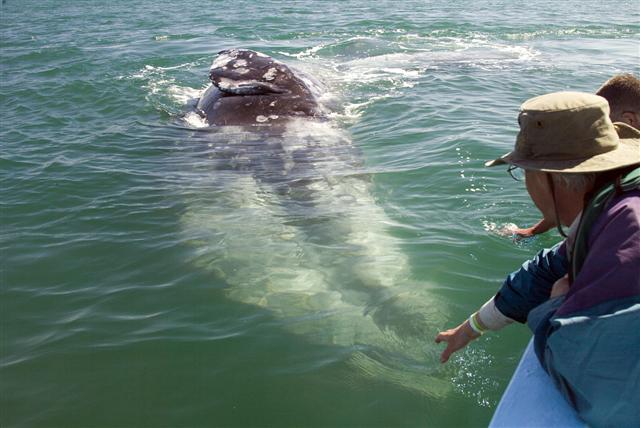 Thinking about all the times I've seen fantastic images of whales doing this, it just makes me realize how random it is to capture with a camera. To catch a whale jumping out of the water is one of those things that is just being in the right place at the right time. After seeing it a few times today, I hold much more respect for any photographer who has been able to capture this magnificent feat.
Capturing an image like this was my main goal for the day, and multiple times I would see a whale do it and just sit and watch. Every time it would happen, I would just sit with my jaw open not thinking to pick my camera up in time to snap the image.
I'll tell you right now that when you see a 50 foot whale come screaming out of the water, to have your mind comprehend the fact that you are supposed to be taking pictures is more than I could register. So like I said, to see these pictures I wanted so bad to copy, I instantly put them up on a pedestal.
As we were motoring farther out into the bay, we spotted a few whales getting closer. The captain slowed down and before you knew it, two giant mammals were only 20 feet from the bow of the boat.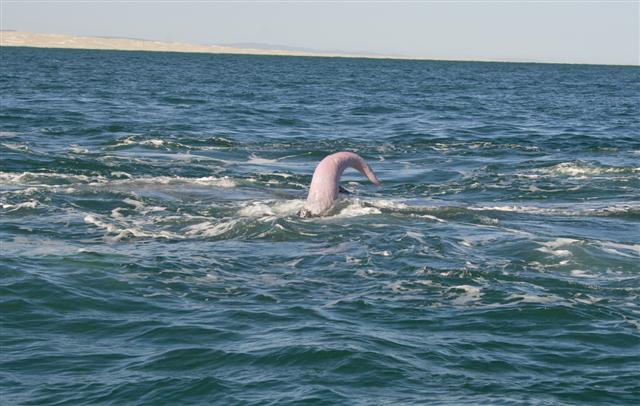 Looking through the lens, my jaw dropped for a second time when I thought I saw a bright pink penis on one of the whales. Could we possible be seeing two whales in the middle of a mating session?
I asked if anyone else had seen it, and only Chuck who was standing beside me said "I'm not sure, but I think that's what I saw?"
I could type about this experience for days, but I'll try and keep it short by saying the next few hours were spent with more whales than I could count breaching and frolicking in the surf all around us. It was way more than I had expected to see, and something that I'll never forget.
To get soaked with salt water from a whales blowhole and hear the sound of this giant beast scratching the barnacles off it's back against the bottom of our small boat was more than I could have asked for.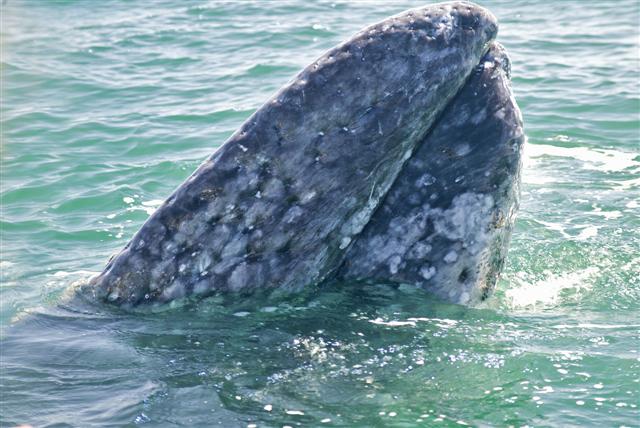 Some of the lucky people on the boat were able to reach right over and pet the giant whales. Two of the whales sat right beside the boat for the next few hours courting each other and rolling over and over in the water. It was almost like the boat was part of their courtship. They were so close that the eyes of these majestic beasts were larger than my head.
With out getting too graphic, I'll say that when a male whale rolls on it's back and exposes his manhood, there is no way not to feel inadequate. The man tool was larger than the front section of the boat, and the female who kept putting her tail in the face of the aroused stud wasn't looking like she was afraid.
Everyone on the boat was making jokes that we were intruding on a very special moment between two whales, but no matter which way the boat drifted, the whales seemed to be attracted to the bottom of the small vessel.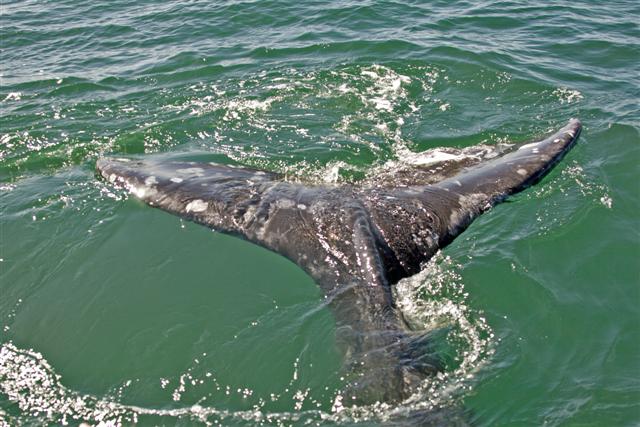 For the record, I went through two batteries in one camera, one 2 gig Compact Flash card in another camera (that's 300 pictures) and more "Ohh's" and "Ahh's" then I can remember in the past few years.
When our time was up and we had to head back in to the docks, Cindy looked at me and said "This would have cost a few hundred dollars in America! We just witnessed so many unforgettable memories for only $50, that I could do this every day and not get bored!"
We got back to the campground and packed things up. All four of us took showers to get the salt spray off of us before getting on the road. Today's drive would only be a few hours or right around 100 miles.
The southern half of Baja is much different than the northern half. All the deep greens and blooming flowers were gone, and replaced by the dry cactus fields of a true desert. From talking to a bunch of people who had visited Baja for multiple years in a row, everyone of them said something about the landscape right now and how green and lush it was.
I guess the deep blanket of green that covered the mountains and all the blooming flowers that we saw running down the roadways on our drive south is not the norm. So I guess we should have been stopping and taking pictures way more than we did. Actually we didn't stop at all, and now I'm kicking myself in the butt!
When we pulled over tonight in the small village of San Ignacio, we werent ready for the amazing sight we were in store for. For the last few hours, we had driven through dry, arid desert, but when we pulled into San Ignacio, it looked like we had pulled into an Oasis in the middle of the desert.
This small village is surrounded with large Date Palms and looks like something out of a jungle movie set. There are a few different campgrounds to choose from, but we found one right on the lagoon. It had no amenities, but a million dollar view. Chuck and I were both able to pull right up to the waters edge where we spent the rest of the afternoon just sitting around chewing the cud.
Oh, I should mention that when we pulled into San Ignacio, we all jumped into Chucks Jeep to drive around and check out the campgrounds and decide which one we wanted to stay in for the night. While driving through the very small town, we heard a loud bang on the roof while bumping down the rough road.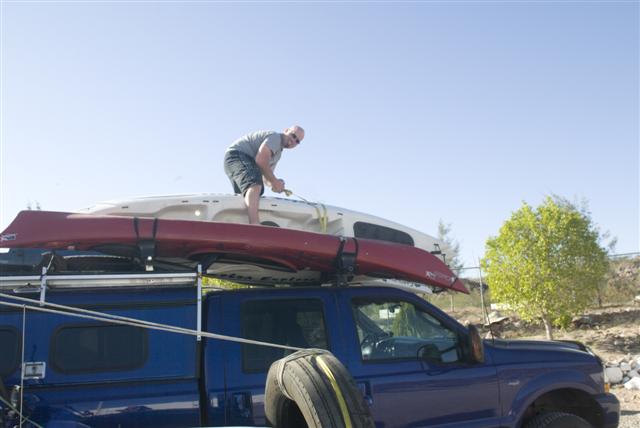 We pulled over to find that one of the support arms on Chuck's kayak holder had broken and fell off. We stopped and picked up the broken arm and just as we were pulling back up to the RV's, which we had left in a Pemex Station parking lot, the second arm broke off.
We both joked that "If you want to test any piece of equipment, just bring it on a trip through Baja!" If it can make it down here on these roads, then it can make it anywhere.
So we took the kayaks off the top of Chuck's Jeep and loaded them onto the top of our truck and headed down to Lakeside Campground for the night.
Conclusion of Today's Drive = 2.4 hours of drive time, 90.5 miles driven, one dead cow along the road, 36 mph average, 10.4 Miles Per Gallon averaged, one military checkpoint that just waved us through, a beautiful campground straight out of a movie set and a broken roof rack on Chuck's jeep that added two more kayaks onto our roof top.
Saturday March 8th 2008
Cindy and I were up early and decided to take the dogs for a jog before we would go visit the San Ignacio Mission. While jogging down the road, I heard Cindy yell and turned to see her tumbling along the asphalt.
At first I thought this was one of her jokes, but when I saw her grab her knee which was already bleeding, I knew she wasn't joking. By the time I got back to her, her ankle was already swollen pretty bad and she had a nice gash on her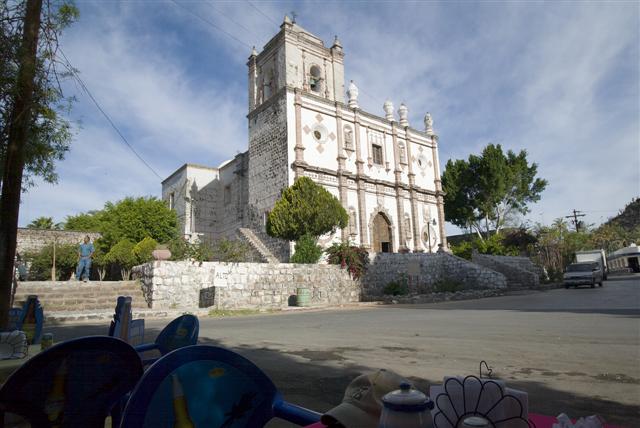 kneecap. In case I haven't mentioned it before, Cindy is one of the clumsiest people I know.
After sitting on the side of the road for a few minutes, we got her up and limped back to the campground. She iced her ankle down and I cleaned up the knee with some peroxide and Neosporin. We wrapped the ankle with an ACE bandage, and limped her into Chuck's jeep.
Rather than unhook our truck and trailer, Chuck said we could take his classic little CJ-5 into town so we could see the Mission Church of San Ignacio. This is one of the nicest Mission's in Baja, and was built in the 1700's with local lava rock. The walls are four feet thick and the church was surprisingly still in very good shape.
After wandering around the beautiful Mission, we had some breakfast at a little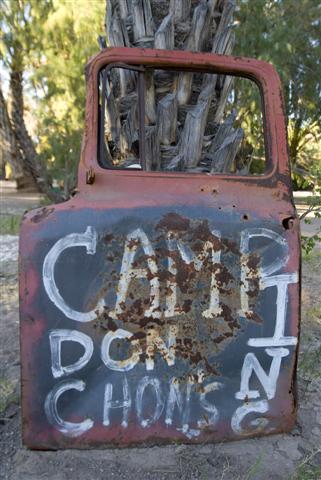 cafe that sits right in the town square. The small village of San Ignacio is just what you would imagine the small villages of Mexico to be like.
A small town square lined with monstrous trees and surrounded by small brick buildings that look like they have been here for hundreds of years. Breakfast was very good and even though we had no idea what Cindy ordered, it was excellent along with the service from what looked like a nice family that ran the place. Again, I wish we could speak Spanish so we could communicate with these very nice people.
They go out of their way to make you feel comfortable, but I wish we could speak to them and learn some of the local culture without so much of a language barrier.
After breakfast, we drove back to our campground, which by the way was advertised on the side of a truck door at the entrance...LOL We packed up camp, and got back on the road headed towards Mulegé.
Make sure to check out our Misión San Ignacio - Baja California Sur, Mexico Gallery where we have put together a collection of pictures from the beautiful Mission.
Chuck had warned us that this stretch of road would be some of the tightest we have seen yet. We needed to come up over a mountain pass and down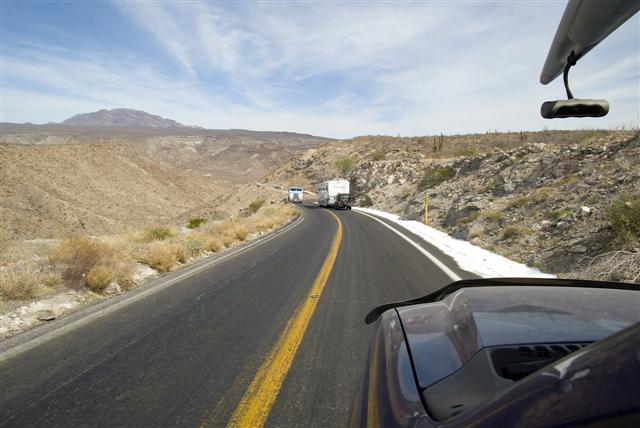 the other side where Mexican HWY 1 would reach the Gulf of California for the first time on our adventure.
The tight turns can be a bit dangerous if a semi is headed up the hill at the same time. The roads are so narrow, that the approaching trucks have to come across the lane. We only passed two and both times we just came to a complete stop way before the turn to give them as much room as possible.
Even with us stopping, one truck almost hit the side of Chuck's rig and all of us were holding our breath for a few seconds. Once into Mulegé, we just rolled on through only stopping for fuel. The town of Mulegé itself is too small and the roads are too tight to pull into with our RV's, so this is why we didn't stop except for fuel. $43 to top of my tank put a huge smile on my face. I'm loving these Mexican fuel prices.
We plan on camping just outside of town along the beach at Playa Santispac for the next few days. This beach is beautiful, and only $7 per night for drycamping. The back of our camper is only 10 feet from the crystal clear, turquoise water of Bahía Concepción.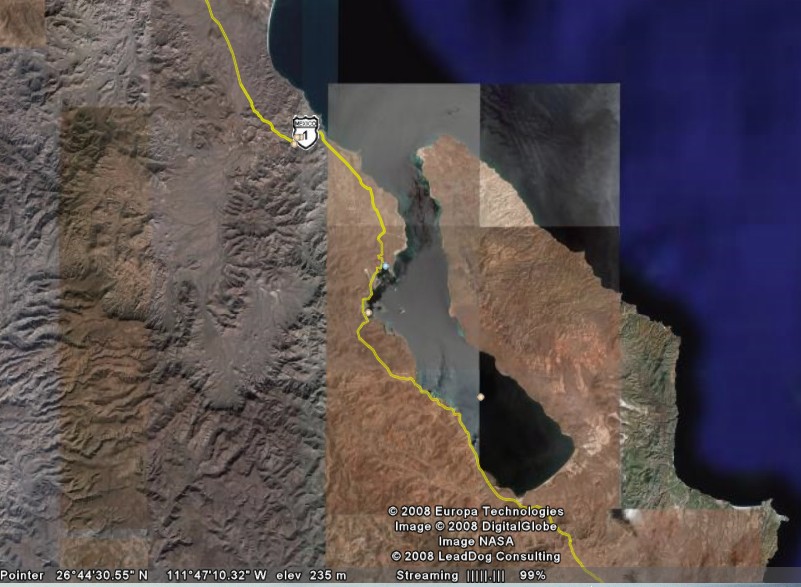 Google Earth image of Bahía Concepción
We parked right beside a palapa and got out the beach chairs. Cindy and Sandy were in their bathing suits and applying the oil within minutes while Chuck and I set up camp.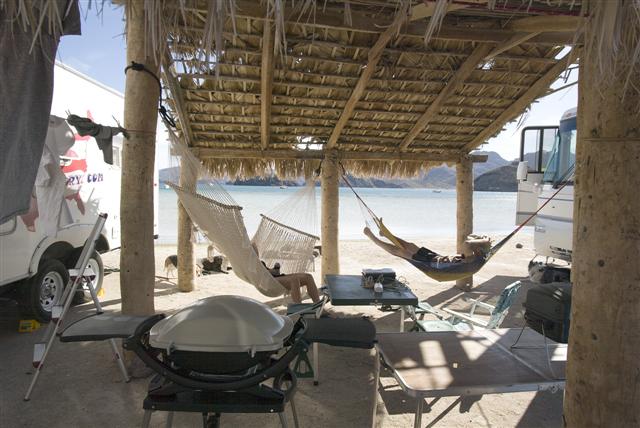 A local Mexican guy was walking down the beach selling some handmade crafts, and I bought a woven hammock from him. Cindy and I had been talking about getting one for some time now, and I'd rather give my money to a local merchant than a corporation any day.
With a warm salty breeze blowing off the water, we all lounged under the shade of the palapa sipping on some cold beverages. This is as close to perfection as you can get. This tropical paradise is what I had envisioned when I thought of Baja, and we were finally there.
After a few hours of just lying around on the beach, the dogs had calmed down after a few dips in the water and a good sunbath, Cindy and I walked down to Ana's, which is a small bar on the Playa.
They were having a pig roast tonight with the theme being Senior Prom. Senior being the keyword...LOL Most of the women camped along the beach had used this as an excuse to break out their jewelry and fancy dresses, where most of the men were in shorts, flip flops and tuxedo shirts.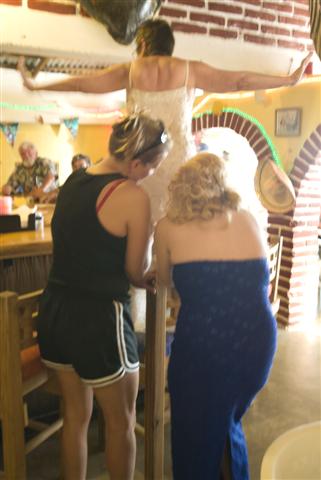 We bellied up to the bar and started mingling with the locals. One woman, Suzanne, who has lived here for the last 15 years sat down beside us and started chatting with us. She knew all the local gossip and was hilarious to talk with. Another woman who owns a local Bed & Breakfast came up and asked if we could help pin her dress in the back?
I got up from my stool at the bar and she climbed up so Cindy could pin the bottom of her dress so it wouldn't drag in the sand. We met another couple that was from Michigan and lived only a few towns away from where we used to live. The world is a small place, and the more you travel the more you realize how small it is.
Our cute little Mexican bartender was serving the drinks like a champ, and before long, I could tell the tequila was getting the best of Cindy and I. We excused ourselves and headed home. By this point, I'm not sure who was helping who, Cindy with her gimpy ankle, or me with my tequila buzz.
The sun had set and the afterglow was just beautiful on the water. After our long day, Cindy and I were in bed by 8:30! I'm not sure if we were just really tired, or if the bottle of Tequila had anything to do with it, but we were snoring soundly for the rest of the night.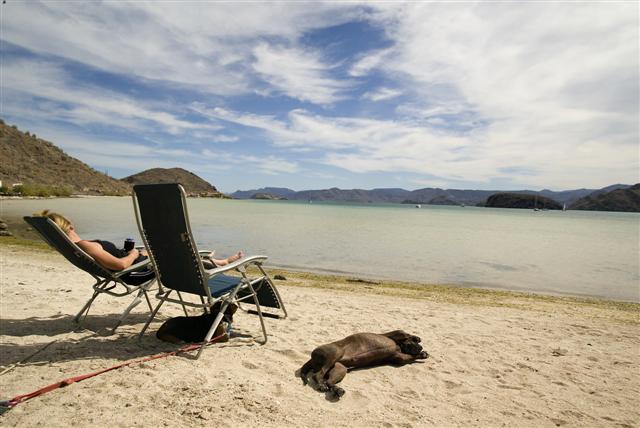 Conclusion of Today's Drive = 3.2 hours drive time, 97.8 miles, 30 mph Average, 11.8 MPG average, filled the tank up for $43, saw one dead cow on the side of the road, made it to the Gulf of California!
Sunday March 9th 2008 Don't forget to change your clocks!
There is nothing better for a hangover than a good paddle in the Ocean. Even though we slept for 9 hours last night my head felt like those little Mexicans that made all that Tequila were still pounding away on their tambourines.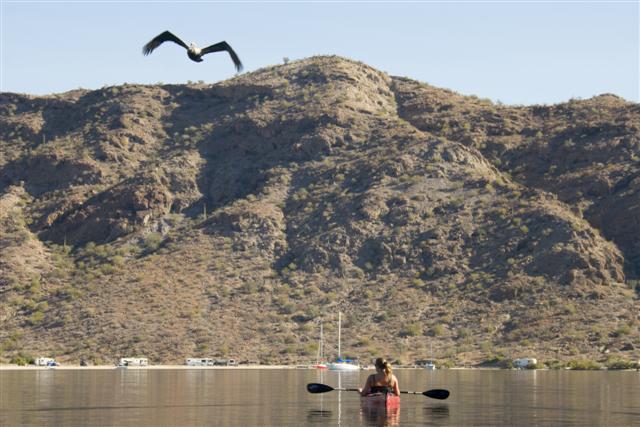 We got up and unloaded the Kayaks from the roof of the truck. Cindy's ankle is just gross today and looks like a plum sitting on the side of her foot. We joked that she looks like she has a bad case of Kankle, but she was a trooper and was up and at em' bright and early.
Early in the morning, the bay is as calm as a pane of glass. There was no wind to speak of and the crystal clear water was just calling for us.
The first few hundred feet the water is only knee deep, but then it drops off fast. There were so many fish in the crystal clear water and more stingrays than I had ever seen.
There are little islands just across the bay, and they're filled with cactus and thousands of birds. Big pelicans were on every rock barking and calling to their mates. These pelicans have different colors than any I've ever seen. Yellow heads with red fur down their neck.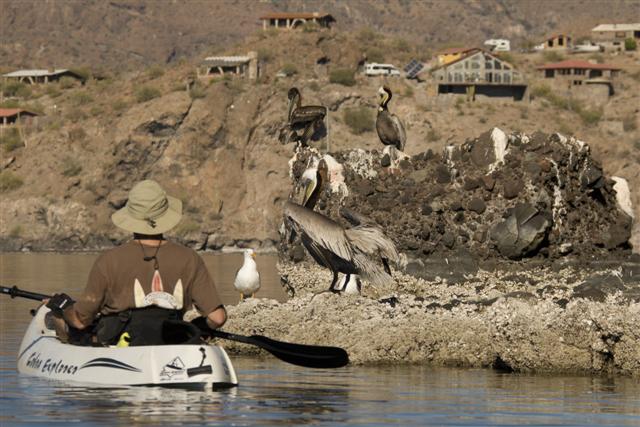 Paddling in and out of the lava rocks that lined the shore, we were all pointing out the dozens of starfish, stingrays, and large schools of colorful fish in and around the underwater caves.
Cindy said her ankle was throbbing, so we paddled back across the bay so she could take some Advil and get it up in the air. The rest of the day was spent with me on the computer trying to edit some of the thousands of pictures we've taken in the last week, and Cindy lying on the beach with her feet in and out of the cool turquoise water.
Chuck and Sandy drove into town to get some supplies and do some exploring on their own and most of the campers on the beach had packed up to head to some other destination. So for most of the day, we had the whole beach to ourselves.
A group of 4 RV's all from Canada pulled in beside us late in the afternoon. Their large black female German Shepard was full of energy, and within minutes her and Luca were running up and down the beach playing with each other.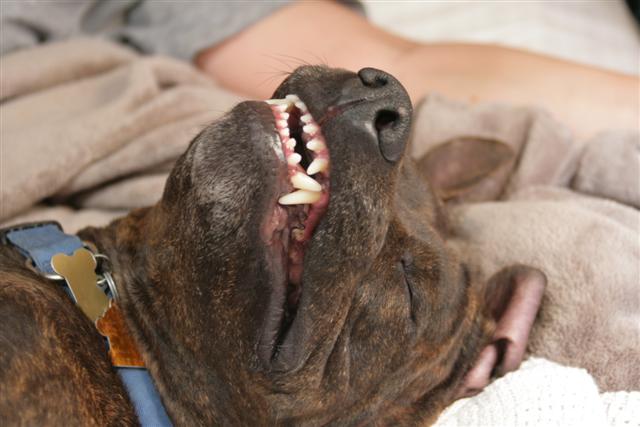 The owner Dave, said that she is so full of energy, she usually wears out any dog she tries to play with. That was just what Luca needed. For about a half hour straight, these two young pups sprinted up and down the beach jumping and playing and running through the shallow surf.
After Luca was good and worn out, he came inside the camper and snuggled up in bed with Cindy. He's now sprawled out across the bed lying on his back and snoring so loud, you'd think it's a diesel truck idling. The funny thing is he's sleeping so soundly that his mouth is open and he's showing all of his teeth. Cindy and I are laughing at him and taking pictures, and he doesn't have a care in the world.
Ah, a dog's life, wouldn't it be great if we could all live one.
After going into town yesterday to upload our blogs to the website and check our emails, I wanted to let everyone know that I can receive emails just fine, but for some reason, I can not reply to any of them. My outbox is filling up fast, and every time I try to send anything, I just get an error message?
So I apologize to everyone who is sending us emails, keep them coming and we'll be in touch as soon as we return to the States.
Monday March 10th 2008
Cindy woke up early this morning all freaked out because she remembered our Credit Card bill was due today. We try and never carry cash with us and use the credit card for everything.
If we're late, they tack on a huge percentage and a stiff late fee, so she was all worried that we were going to miss the cut off time. The company is on the East Coast, so we were way behind their schedule.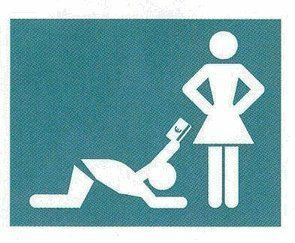 We jumped in the truck and headed back into Mulegé so we could go to the restaurant where I had uploaded everything yesterday. They only charge $2 an hour, so it's not like it's a hassle or anything, it's just a reason for Cindy to create some excitement in our lives.
The little restaurant that I had found yesterday is like a little resort. Being as yesterday was Sunday, when I had gone into town to try and find a Wi-Fi signal, everything was closed and I thought I was out of luck. But on my way back towards Playa Santispac, I saw a sign for a campground/hotel/restaurant and it said Internet Available.
I pulled in and asked if I could pay to use their wireless connection and the American owner said "I wont let you use the wireless connection, but you're more than welcome to go sit in the bar and plug into a Ethernet cable that we have sitting on the tables.
That was even better! So I ordered an ice cold Corona, sat my butt down and while everything was uploading, I had a nice conversation with the Mexican man who runs the restaurant.
When he saw Cindy and I walk in as his first customers this morning, he smiled and said "Senior, you back so soon?" I told him "I liked the place so much, I thought I'd bring the wife to show her."
While Cindy did her thing and paid the bills, we ordered some breakfast and had a great conversation with the older gentleman. He speaks great English and was filled with information on the Peninsula.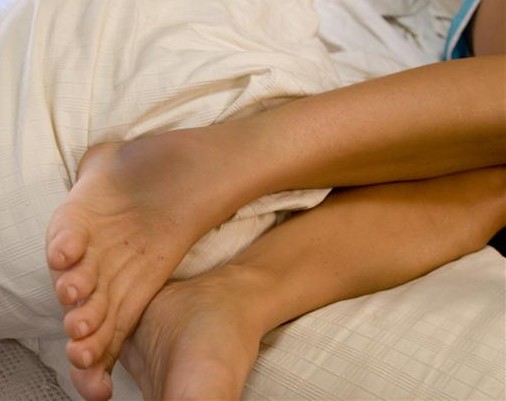 When he saw Cindy gimping around, he asked "What happened to your wife's foot?" I told him the story and said that it was healing up, but now just looked real ugly. He laughed and said "As long as it doesn't smell, then who cares what it looks like!"
He brought her over an empty beer bottle and laid a newspaper on the ground. He told her to stand up and roll the bottom of her foot over the bottle to stretch out the sprain. Cindy did it a few times and said that it hurt like hell.
He said "Well I wont charge you $200 like them sons-a-bitches in the states would!" He told her a few more tricks she could do with the last tip being "When you in the shower, pee on yo' foot!" He said "Pee-pee helps everything!"
We thanked him for all the info and headed back to the beach front campground. By the time we had returned, it was mid-afternoon, and the winds had picked up. It's like clockwork at this location. You wake up to dead calm with glass like water on the bay. Around noon of everyday the winds pick up and for the next few hours you have to batten everything down or it'll blow away. Then as the sun starts to set, the wind dies down and you have a nice calm night.
We sat under the palapa just relaxing in the hammock watching the breeze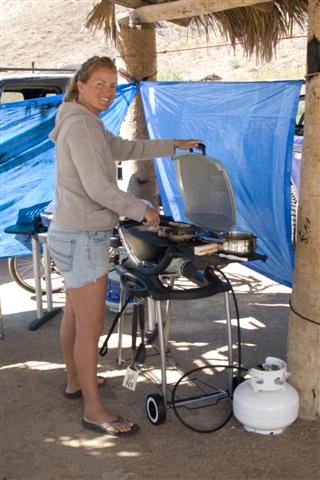 blow ripples along the water. What a way to spend an afternoon. When it got closer to dinner time, I was talking with one of the Canadians camped beside us after I noticed he had the same Weber Grill that we do.
When I told him I couldn't get it to work off my external propane tank, he told me that he had the same problem. He suggested I try tightening the hose connection where it meets the regulator on the grill soo tight that I think I'm going to break it. He told me he used his for two years before he found that out.
I walked over and got a set of Channel Locks and tightened the crap out of the thing, and what do you know, it fired right up! See why it pays to be nosey and ask a lot of questions.
So in honor of a new working grill, Cindy grilled up some chicken breasts with some grilled onions and mushrooms for a scrumptious dinner. We then went to bed and watched "The Notorious Bettie Page Story" which was a really good movie. I've always loved the pin-ups I've seen of her, and we had heard an interview with her after the movie came out where she said the movie was good, but not 100% factual. For anyone who grew up with pictures of this Pin-Up Queen on their walls, it's a great DVD.
Tuesday March 11th 2008
I woke up before the sunrise this morning and felt great. The weather has been perfect the last few nights for sleeping. You know those nights where you have a cool ocean breeze blowing through the windows but the temps still hover in the high 60's.
Well I threw on my running shoes and went for a nice long jog around the beach. By the time I got back, Cindy had a snack packed up and the four of us were ready for a paddle around the islands.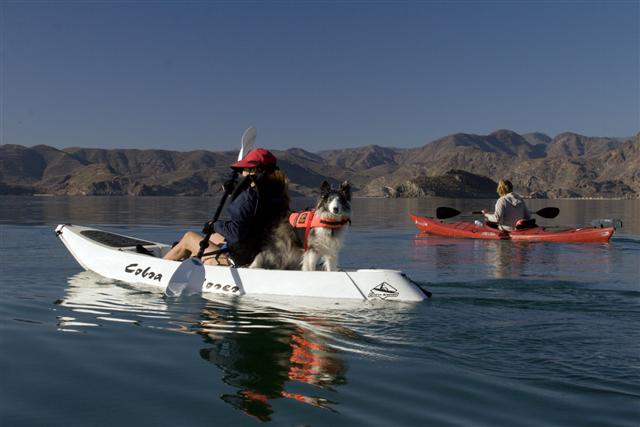 The water was its usual pane of glass this early with the sun throwing great reflections off the surrounding mountains. We all paddled out to one of the farthest islands pointing out the different fish and underwater life that thrives in this area.
After an hour on the water, Chuck and Sandy said they were headed back in for breakfast, and Cindy and I headed farther out to another island. This one had a nice shelf that dropped straight into the ocean that was just filled with tropical fish.
I've never seen so many stingrays in my life, and I'm not lying when I say that there are hundreds of them that'll swim right up to your kayak. Star fish, sand dollars, puffer fish and we even spotted a big sea turtle while paddling around.
This area sure is beautiful and I could see spending the winter here with no qualms about sitting still. Just this little beach area that we're camped at has mountains to climb, islands to explore, dozens of little coves to fish and plenty to keep you busy without ever leaving the protected cove.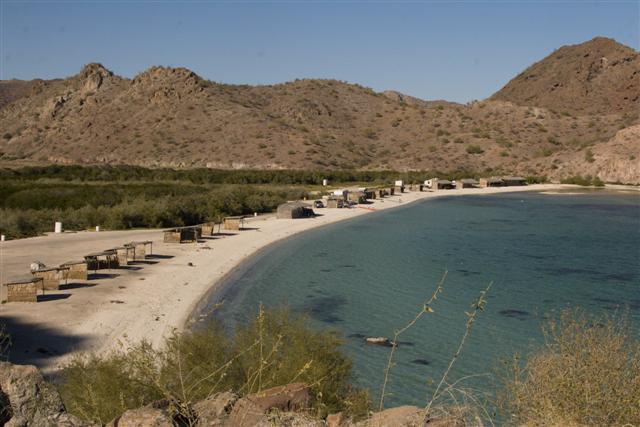 With our solar panels to keep our energy up, we wouldn't need to worry about hooking up to shore power or the generators, and this area even has a dump station to empty our tanks. If we were going to stay here long term, I'd just get a barrel to run the macerator into and that way you could go months without ever having to move the camper.
Now I just need a few lessons from Darrel so I can start turning wood bowls to keep me busy during the daytime when were not out fooling around, and I could see us spending next winter here.
Once the winds picked up, we got in the truck and went to explore the other beaches along the Bahía Concepción. The next few miles of shore line are lined with different places to camp at, and everyone has its own unique features. We wanted to see if there were any that might be better to camp at.
After checking them all out, we both agreed that Playa Santispac is the best for its protected waters, all day long sun exposure and Ana's Bar only steps from the camper.
When we got back, Cindy suggested Margarita's and I thought that was a great idea. We walked in and said hello to Zulema, the cute little Mexican bartender and ordered two of her famous margarita's.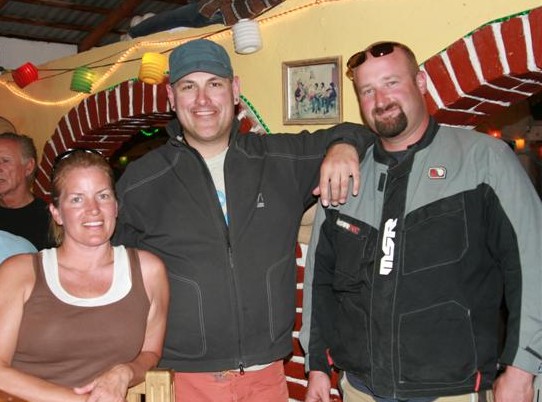 Tuesday night is a hopping night here at Ana's and there wasn't an empty seat in the place. We mingled with the locals, and started talking with two guys that were traveling Baja on motorcycles. Marvin and Ken had left their truck in Arizona and crossed the border in Tecate on their dual-sport bikes.
They'd spent the last week traveling down the peninsula on backroads and camping along the way. To me, that would be one awesome way to travel through Baja. The weather is perfect for tent camping, and the back roads are suited perfect for motorcycle travel.
We exchanged emails and said we would keep in touch to see how the rest of their adventure went. The margarita's were starting to catch up, and I needed to find a bed to fall into.
I woke up in the middle of the night with all my clothes still on and my glasses smashed against my face. Apparently I had walked in the camper, announced to Cindy that I was exhausted and fell into bed. She said that she thought I was joking, but a few seconds later she heard me snoring louder than Luca and realized that 4 of Zulema's margarita's are too many.
Wednesday March 12th 2008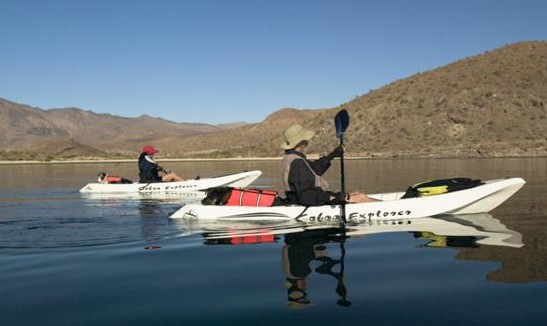 The last few days the Canadians who are camped beside us have talked about paddling with the dolphins every time they go out. We've yet to see them while were out on the water.
Cindy and I sat watching them yesterday while we were on the shore in the truck, so we were determined to see them today up close.
The four of us loaded up the kayaks, and headed out for a nice long paddle. Chuck and Sandy decided they didn't want to go that far out into open water with the dogs on the back of their kayaks, so they turned around to head home about a mile into the bay.
Cindy and I paddled out to where we had seen the playful little dolphins yesterday and sat waiting for a glimpse. As anything that you sit waiting for, they never arrived. So we decided after eating lunch in the boats, that we would paddle back to one of the islands that was loaded with huge Magnificent Frigate birds.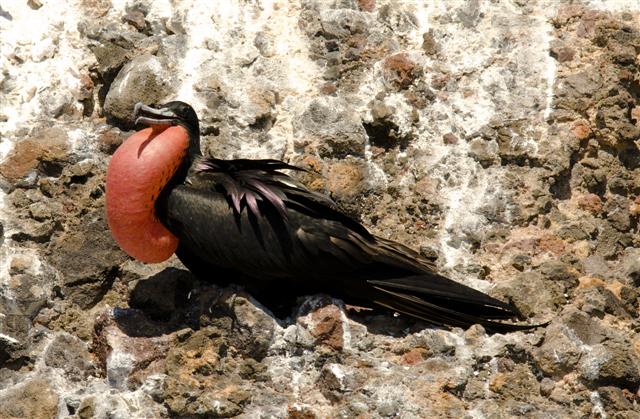 I had spotted a few of these birds yesterday while paddling around this island, but didn't have a long enough lens to get any good shots of them. Today I was armed with my longest lenses and was determined to get some close-ups.
Half way to the island and about our 3rd hour of paddling, Cindy said that she was getting tired and was just going to paddle back to the camper. I told her to go ahead, and I'd meet up with her later. Just as she was paddling away, I yelled to her "Look on the horizon."
On the horizons edge, there was a giant cluster of birds going crazy dive-bombing into the water and creating a ruckus. She yelled back, "I'm sure that's where the dolphins are, but I'm not paddling all the way out there."
So I sat snapping images of the Magnificent Frigatebirds keeping an eye on the cloud of birds that seemed to get closer every few minutes. When the birds were only a few hundred yards off the small island I was floating around, I could see what the commotion was. About 50 dolphin were circling schools of fish and jumping around in an eating frenzy. The hoards of birds were dive-bombing and trying to get their fill when ever they had a chance.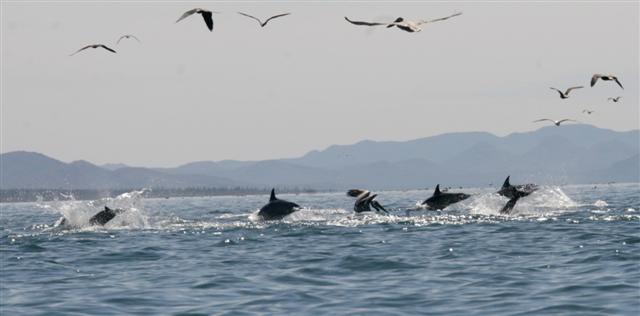 I couldn't believe my eyes with the waves these dolphins were creating by jumping and lining up to circle the fish like cowboys would with a heard of cattle. I paddled over and floated right in the middle of the commotion with dolphin jumping all around me.
My heart was pounding so loud I thought it was going to scare the dolphins and I could feel the adrenaline pumping through my veins as they jumped all around me. This was so wild to be right in the middle of this while trying not to get my kayak tipped over by the crashing surf they were creating.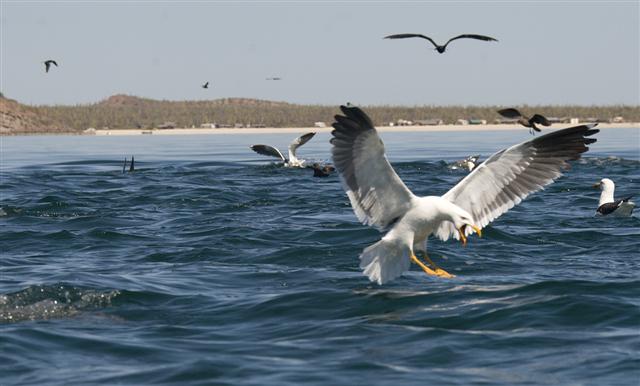 I was trying to get some pictures during all of this, but between holding up a big camera, balancing the kayak with just my hips and not getting tipped over by the jumping dolphins, I wasn't too sure I was going to get any shots that I'd be able to show Cindy.
I snapped a few hundred images real quick before the Compact Flash Card was full, so I put the camera away and just paddled along the feeding frenzy till they started to drift back into open water. By this point I was exhausted and turned towards the camper with an amazing smile on my face.
When I paddled back up to our camp, Chuck was outside his Coach and asked if I had seen anything good? I was so excited, he probably thought I was a young kid on Christmas morning describing all their new presents Santa had brought.
I told the gang about the crazy stuff they had missed while we all chilled out in our hammocks under the palapa. The rest of the day was pretty uneventful except for Cindy's coconut chicken she cooked for lunch which attracted a few hundred honey bee's at every window of the camper.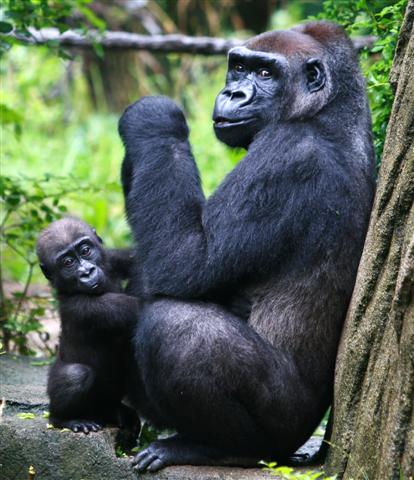 Since I'm allergic to bee's, I was held captive inside the camper for the next hour till the winds picked up and blew them away. Who ever knew that bee's loved coconut so much? This was also hysterical for Cindy but I was hard pressed to find any humor in the situation.
For our evening movie, we watched King Kong, the newest version which made Cindy cry and not even finish the movie. I was laughing at her telling her that "It's just a movie and she shouldn't be crying over a computer generated gorilla!"
But she told me that "His eyes look so sad, and I just feel so bad for him!" Oh well, I'd have to say it was alright, but I liked the version I remembered as a child better than this one with all the crazy computer generated stuff. It was a bit over the top for me.
Thursday March 13th 2008
Cindy was determined to see the dolphin today, so she packed a big lunch and was ready to go kayaking before I was this morning, which is rare.
The water was so calm and there wasn't even a hint of breeze this morning. You could tell today was going to be a hot one. We paddled out to look at the Magnificent Frigatebirds on the island that was filled with them yesterday, but today there was only a few of them there? I'm not sure why they had moved to another island in such a short time, but there were none to be found.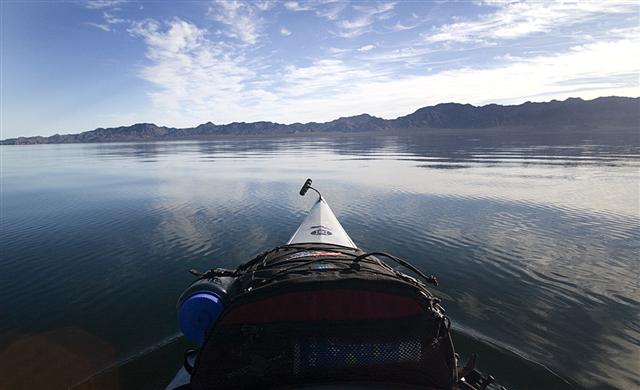 So we decided to check out a few of the far off islands today. We paddled farther out than we have so far, and were treated with one island that had hundreds of huge pelicans along the shoreline. We sat watching their goofy antics while the Western Gull's barked at us begging for scraps of food.
The water was very calm all day today and was almost eerie with no wind and glass like surface as far as you could see in every direction. The only sounds you could hear was our paddles hitting the water with the screeching sound of the birds fighting over the fish that were jumping all around us.
We stopped on one sandy island beach for some lunch, and found a pile of stingray skeletons on the edge of the beach. We wondered what that was from and how weird it was to see so many skeletons all piled up along the rocks.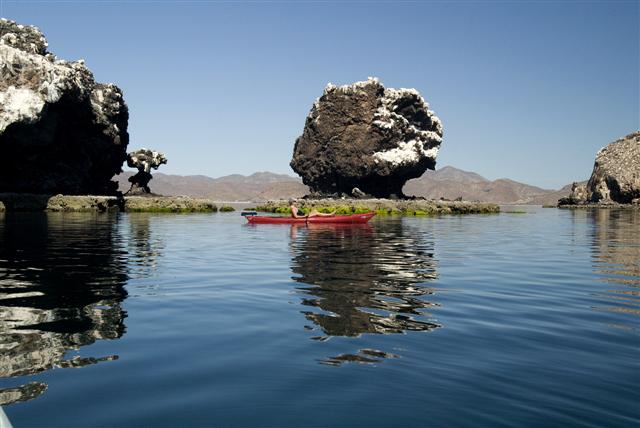 By the time we paddled back to the camper, our morning workout had probably put 5 to 6 miles of water under our boats and we both were ready for some rest in the hammock.
Chuck and Sandy had just returned from Mulegé where Chuck had found a welder who could repair the roof rack on his Jeep. A few welds on the corners and it was as sturdy as could be.
We all sat around enjoying the beautiful hot weather commenting that today was probably the hottest day we have had so far. Our outside thermometer registered at 96.8°! Sitting in the shade of the palapa with the warm breeze blowing off the water it felt great, but to go inside the camper wasn't any fun.
After a short siesta, we all loaded up in the trucks and went up to visit Elena, who owns a beautiful Bed & Breakfast, Casa De Los Suenos which overlooks Bahía Concepción. Elena is the funny woman we had met the other night at Ana's Cantina during the Senior Prom. She was the woman who got up on the stool so Cindy could help button her dress on the bottom.
When we got to talking, she asked us to come look at her B&B and check out her view of the beautiful bay. When we walked out onto the back balcony, my jaw hit the tiled floor. To see the bay from atop the hill was just breathtaking. The water turns such a cool shade of turquoise from this angle and I'd have to agree with Elena that she has one of the best views in Baja.
She gave us the grand tour of her beautiful home that her and her husband had built some 15 years ago. She had never planned on making it a B&B, she said she has numerous kids and plenty of grandchildren, and didn't want them trashing her house. So they built it big enough that they'd all have their own section.
When her husband passed away, she decided it was such a big house with such an amazing view, and with her background as a gourmet chef, why not share some of her beauty and cooking talents with others.
On the hill beside her home, I noticed dozens of solar panels and asked how she powered her B&B. She told us "I have 25 solar panels, 20 deep cell batteries, an 8,000 watt Onan Generator and a 5,000 watt Honda Generator if the sun cant keep up." She looked at us with a smile and said "I'm never without electricity!"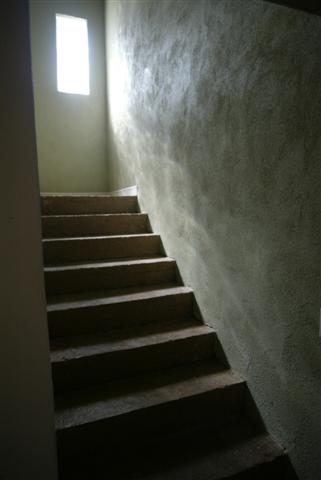 I was impressed with her solar array and she told us that she started the generators up in January just to let them run a bit, and except for that last time, she's run 100% off the solar panels for the last 4 months.
We all sat talking in her big open living room about some of the local beauty and how wonderful this must be to have that view 24 hours a day. I probably said "WOW!" 10 times while we were sitting there. I could sit and look out over the bay for a few years before I'd get sick of that sight.
When Cindy mentioned that we had been kayaking and saw all those Stingray skeletons, Elena told us "The local fisherman will catch a boat load of the rays, and clean them right on the beach leaving the carcasses for the birds to pick clean."
When Cindy asked what they used them for, she said it was some sort of fish jerky you can get at the roadside stands. Yuck!
After an hour or so of great conversation, we excused ourselves and thanked Elena and Maria for the tour. The women had a dinner date in Mulegé and we didn't need to be holding them up. If anyone who is traveling to Baja in search of an island paradise and doesn't have an RV, this is the spot for you! Make sure to give Elena a call or check out her website for more info.
Friday March 14th 2008
We both were a bit sore this morning from our extra long kayak paddle yesterday, so we decided to take the morning off from being in the boats, and headed into town to find a Cafe where we could upload some things to the website.
Wow does not having a readily available internet connection really put a damper on a travel blog! It's times like this when those big Data Storm Satellites look like a great option. A guy camped on the beach beside us has one and he cant say enough about them.
I was tempted to turn my phone on or try and plug in the Broadband card just to see if it worked, but something tells me that $1 per minute would add up real quick when I'd be saying "Oh come on Cindy, let me just check a few emails!" Next thing you'd know, we'd be socked with a bill that could buy us a new camper.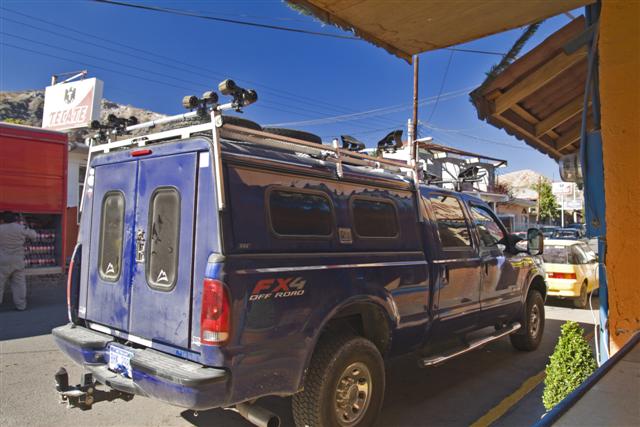 So we headed into Mulegé and found this little Cafe. It had a sign saying it was a coffee shop also, but Cindy laughed when all she found was a little rusty coffee pot on a hot plate with some packets of creamer and sugar. Something tells me she was thinking - Warm croissants, maybe a few different flavors of coffee to choose from and some hot Mexican waiter.
In reality she had a hot plate and some old dude saying "You pay by the hour, pick a table." So we sat for the next few hours downloading emails, uploading blogs and trying to contact a few family members.
When we were done, we were both starving. We found the restaurant a few of the locals had told us about and grabbed a table. This is where Cindy found her hot little Spanish speaking waiter, but instead of coffee flavors, the menu was a gold mine for Margaritas.
For $28 I had two beers, Cindy had two huge margaritas that were really good, and we both had dinner platters that stuffed us like a couple of Thanksgiving turkeys. We walked out with to-go boxes that would probably feed us for a few more meals and big smiles on our faces.
Our young waiter kept telling me how much he liked our truck with both thumbs up and a big smile on his face. Our big American trucks really stand out down here and most of the young men look at them like they are an exotic car when you drive by. The funny thing is I love their little cars they have down here and tend to be rubbernecking them just as much when they drive past.
When we pulled back into our beachside bungalow campsite, Chuck and Sandy had the Santana jamming on the radio and we all sat under the palapa in our hammocks wasting away the afternoon. I can never get sick of this view and the warm salty breezes.
Our nightly movie was one Chuck and Sandy had told us we needed to watch called 'Lost in America'. It's a classic of a couple that sells everything and buys an RV to find themselves. Only the woman spends all their money in the first night when they stop in Las Vegas. It was a cute little movie and being as it was filmed in the 80's, we were laughing our butts off at the outfits. Those sweater vests the women wore and all the goofy hairdo's brought back some memories long forgotten (What were we thinking?). If you've never seen it, it's pretty funny.
Saturday March 15th 2008
After yesterdays hiatus from paddling, we were both up before the sun today and in the kayaks. Cindy is getting stronger and stronger everyday and it's getting harder for me to keep up with her.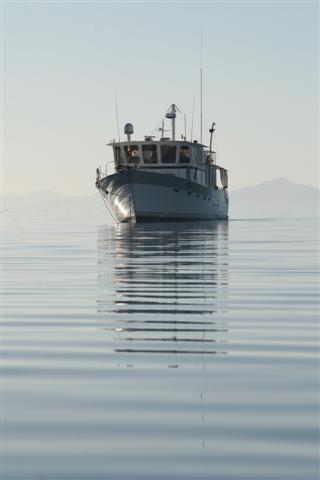 It seems every time I stop to try and take a few pictures, she never stops paddling. When I put the camera back down in the cockpit, I have to paddle like hell to catch back up to her.
I'm thinking by this point that we've paddled ever square inch of this bay. I know each island and the rocky shoreline but the bountiful fish and massive population of sea birds always seem to amaze me.
I've never seen this many stingrays in my life. Each day we go out paddling I think I see more with different spots and markings on them. What kills me is normally when we see things and don't know that much about them, we both go back and look up as much info on them as we can find on the internet.
With us not having a signal, all we can do is look and ask each other the same questions. "Why are some black with gray spots and other brown with beige spots?" "What eats these stingrays and what do they eat themselves?" "What is the difference between stingrays and manta rays?" You get the picture?
While we were paddling Cindy yelled out "Look straight ahead of us, is that a Dolphin!" I had the camera up and at my eye in a matter of seconds waiting for it to resurface.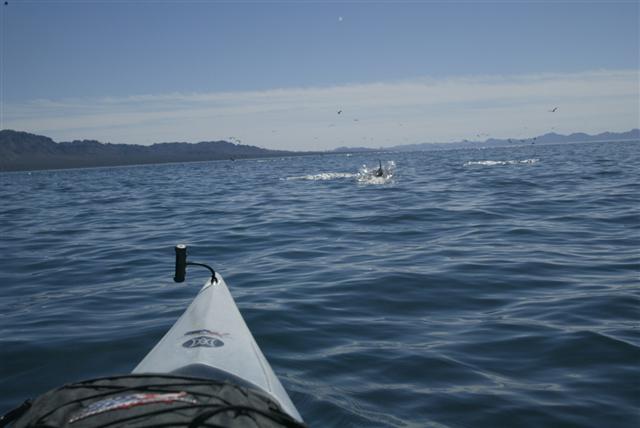 When it did, we both realized that it wasn't a dolphin, but some sort of seal. It was about 100 yards away from us and moving further away. We were paddling like mad, but that was about the closest we ever got to it.
We watched it resurface a few times more, but each time it would be further and further away from us. By this point we were out in open water and the afternoon winds had started to turn the calm water into a rolling boil. We decided to turn and head for home.
The next 45 minutes of paddling was a shoulder buster of a paddle. With the winds blowing strong at our right side, we had the rudders turned pretty much all the way to right just to keep us heading in a straight line, and that wasn't all that straight.
By the time we got to the protection of the closest island to our camp, my shoulders were on fire. My chest and face was covered with a salt spray from the waves and I knew Cindy had to be tired. My boat is much faster than hers and alot easier to paddle. I offered it to her, but she said she'd rather have the workout in hers and paddled on.
The last 1/4 mile was just a cool down because once we got close to camp, one of the mountains were blocking the wind and had diverted it to our backs. We now could almost just use our rudders to guide us along the calm tropical waters.
A nice cold shower followed by an afternoon Siesta and the day was looking nice. We knew a good nap was in order because tonight was Saturday night at Ana's Cantina which is their busiest night and our last night here on Playa Santispac.
Around 5pm, the cars were starting to line up in front of the cantina so we headed over to get a good seat at the bar. Chuck and Sandy said they were even going to join us this evening.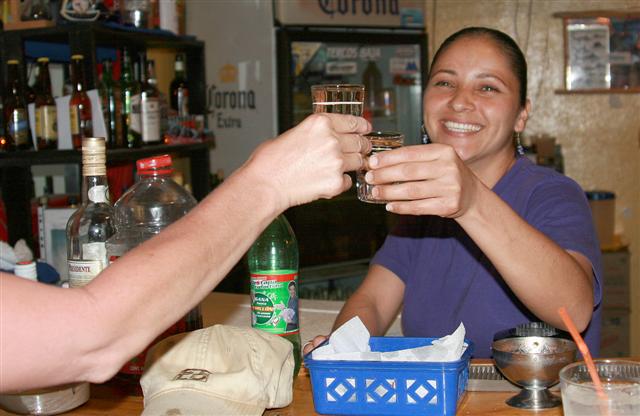 We bellied up and ordered two of Zulema's fantastic margaritas. She makes them right in front of you with freshly squeezed limes and a large helping of tequila. Of course you taste none of the tequila, but the salty feel good juice sure does catch up to you quickly.
We were talking with Joe and Sally, a couple from Napa Valley who owns a house in Mulegé who we've made friends with, when Chuck and Sandy came in. We all toasted to a good time here on the playa and the night began.
As the sun dipped below the horizon, the music got louder and the bar kept filling up. The dance floor was getting packed and next thing I know Cindy who had excused herself so she could use the ladies room hadn't returned.
Zulema walked into the bar section and yelled to me "Cindy foot no hurt no more!" I asked what she meant which she replied "She out on the dance floor dancing like a crazy woman." Either the ankle had suddenly healed itself, or the tequila had made her forget about it.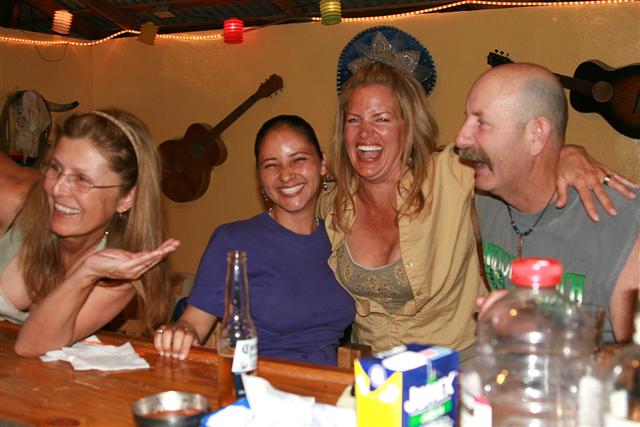 Something tells me it was the tequila, because she danced so many dances, when she came back to the bar, she was out of breath and ordering another margarita.
By last call, Sally who had been doing shots of tequila with Zulema was now dancing behind the bar with her and Russ the owner, Sandy was trying to get on the bar and Cindy was still on the dance floor. If you've ever heard that country song Tequila Makes Her Clothes Fall Off, well that was playing in my head.
Once the music ended the girls finally calmed down, we said our goodbyes to Zulema and the local gang and stumbled home to the camper. I'm already gonna miss this place and the fun little cantina here on the Playa.
I thought I'd mention just so any readers don't think we're major alcoholics, that throughout the night, we each only had 3 margarita a piece. They're just that strong.
Sunday March 16th 2008 Playa Santispac to Loretto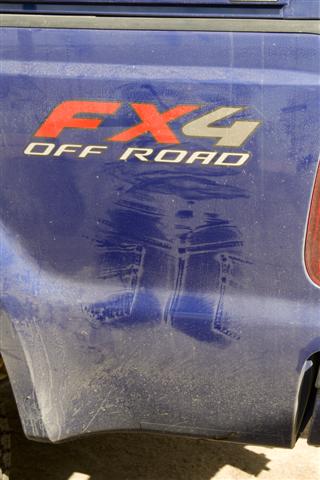 After last nights antics, none of us were bright and chipper this morning. The winds had picked up during the night and kayaking was out of the question. This was the first time I had seen big waves with white caps all across the bay.
Between the dust and the constant salt spray, it's hard to keep anything clean down here in Mexico. While I was packing things up, I noticed that where Cindy had stopped to take a break on our way home from the Cantina last night, she left a nice imprint on the truck.....LOL
Being as today was Palm Sunday and a holiday for Catholic's, the Playa was filling up fast. From what we've been told, this next week is Spring Break for Mexico and the local beaches get a bit crazy. I guess all the local Mexicans come down to the beaches with tents and have big family parties much like American's do for 4th of July and our big Holiday weekends like Labor Day and Memorial Day.
You could tell in the last few days things were changing because most of the American and Canadian tourists with their big RV's who were camping on the beaches had packed up and headed to RV Parks.
Not that camping with the locals is a bad thing, it's just that most RVers like to camp in seclusion and go out of our way to find camping spots where it's just us and maybe a few others in our group. From what we were told, the Mexicans pack every square inch of beach and it gets a bit crazy.
You knew it was going to be different when the Police set up a tent on the beach on Friday afternoon so they could bring out Military Police to walk the beach and keep things in order. This was the first time we had seen anything other than a random police car cruise by. Now we had groups of Military patrolling the once quiet beach campsite.
Already this morning you could tell a difference. The once calm beach was filling up fast, and the quiet gentle breezes were interrupted by loud two-stroke motorcycles racing up and down the beach. Kids were everywhere running around screaming and playing and just being kids. Not that there is anything wrong with any of this, its just not what I like to camp in.
So we packed up camp and headed South towards Loreto. Packing up camp was a bit slow due to our hangovers and Sandy was down for the count. The two margaritas had gotten the best of her and she never even got out of bed today.
The drive south was beautiful. For 30 of the 90 miles you travel along a curvy road that hugs the Bahía Concepción with towering cliffs on one side and bright tropical waters on the other. There are dozens of secluded little campsites along the bay and all of them made me want to stop.
Once the road turns West into the desert, the landscape makes a drastic change. You drive through barren desert with forests of Saguaro Cactus surrounded by tall mountains in every direction.
It was a nice drive at only a few hours on the road and the road wasn't that bad. This section actually looks like it had a shoulder when they built it. Granted it's only wide enough to put a tire on the other side of the white line, but better than the other sections where if your tire left the road, you'd be in the ditch.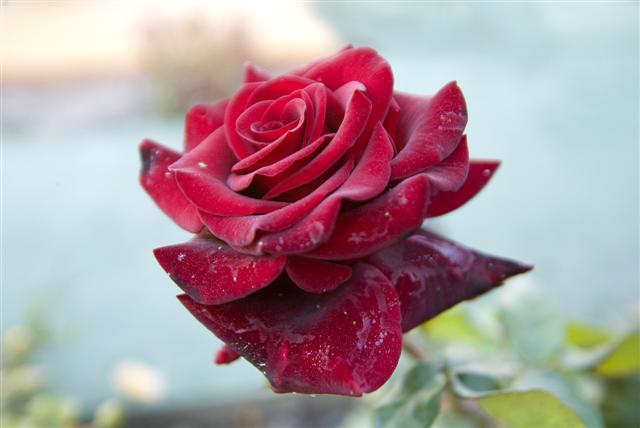 Pulling into Loreto, we were taken from a beautiful beach setting and plucked into a big city. A big dusty city! We found the Rivera Del Mar RV Park and set up camp. This is a very nice RV Park with full hook-ups, laundry, hot showers, a restaurant and a bar. The restaurant patio has a beautiful garden surrounding it with dozens of blooming flowers which was a nice change from the desert contrast we had been used to. We needed a few days to be able to restock our supplies and empty the holding tanks anyway.
After that short drive, Cindy went to run some water and found that what little bit was left in the tanks had stirred up something and our fresh water was coming out cloudy! Great, now we're in Mexico and our drinking water is contaminated.
I emptied the fresh tank, refilled it with some filtered water and added a few caps of bleach. We bought some Thetford Fresh Tank Cleanser for when we get back to the states, but I'm wondering if we might not use it here instead.
Chuck, Cindy and I went into downtown Loreto to see about finding a place where we could buy fresh filtered water, but being as it was Sunday afternoon, every thing was closed.
So we just stopped at a market and Cindy bought a gallon of water to get us through the night. Sandy was still in bed nursing her hangover and we hadn't seen her all day. Something tells me that two of Zulema's margaritas were too many for her.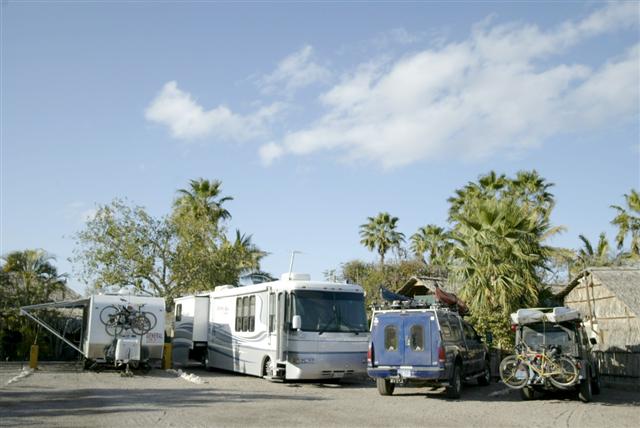 I decided to catch up on our laundry while Cindy is trying to finish a book that she's reading. It's one that I already read and I keep bugging her to finish it so we can talk about it.
When I was done with the laundry, we watched Freedom Writers which is an amazing movie. What a powerful message and shows you a different side of America that most of probably have never or will ever see. The gang life in California is just amazing with a war going on in our own country that most of us just choose to ignore. It's a great movie with a great message.
When we were finished with that one we both decided we werent tired so we watched Into The Blue. This was way better than I thought it was going to be and the Cinema-photography was outstanding.
It's got something for both sexes with hot, buff guys and plenty of beautiful sexy women. It's about scuba diving and treasure hunting, so they're all in bikinis the whole time which was very nice. Jessica Alba who stars in the movie, has one of the best rear-ends in the world and they do a great job of focusing the camera on it without making the movie seem smutty.
By 3am we were done with the movies but still not tired. I'm not sure what the deal is but for some reason we both sat up for about another hour just talking and goofing around with each other.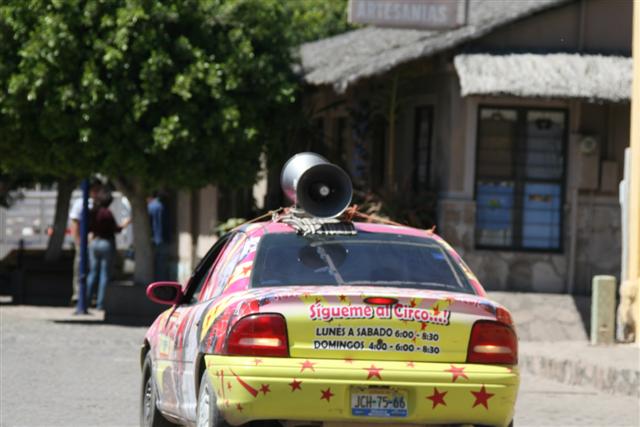 Sunday night in the town of Loretto must be cruise night as there were cars with no mufflers and loud bass thumping all around us. Another thing they do here is drive around with loudspeakers on the roof of their cars advertising local restaurants or nightclubs. It makes it sound like were in a detention camp with this Orwellian voice sending thoughts into your head at all times of the night.
Sort of 1984ish with Big Brother and the 'Thought Police' sending subliminal messages into your mind. Only the voices were in Spanish so we had no idea what they were saying? I can make out ever 10th word and it was usually only "Loreto".
How did we go from a tropical paradise to this detention camp in only a few hours drive? Luckily 'our house has black little round things on it and we can move it when ever we want' as Darrell would say. So we'll explore this area for a few days before we take off to more of paradise setting like we've been in for the last week.
Don't get me wrong, I'm not complaining about the RV Park, it's beautiful and well secured, I'm more or less joking about the traffic noise and the hustle and bustle of the city that were not used to.
Monday March 17th 2008 Happy St. Patrick's Day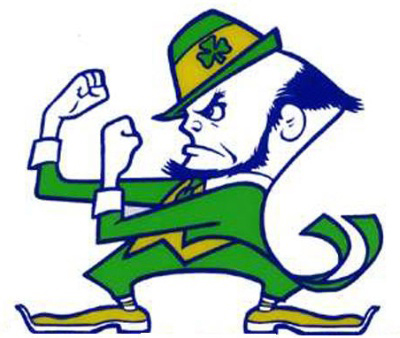 Waking up to roosters crowing and dogs barking, one would normally think of a farm setting. Not when you're in Mexico. This is the norm for most third world countries and something we've experienced a few times before, so we were used to it.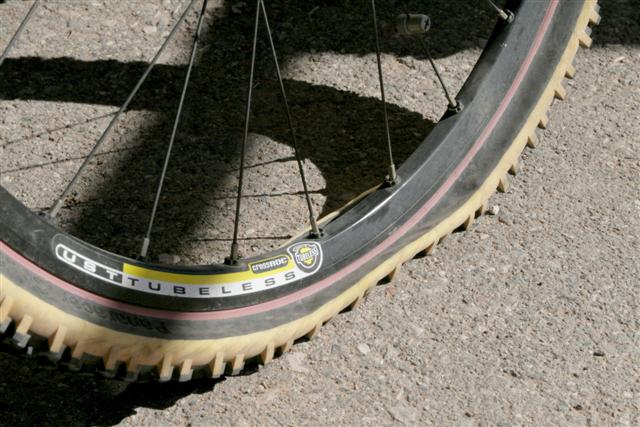 Cindy and I were going to ride our bikes down town and see some sights, and Chuck said he'd come along as he wanted to see where the Tortilla Factory and the Water Purification place was.
I found out I had a flat tire on my bike, which really pissed me off because when we were back in Arizona and kept getting flats from all the thorns, I went out and spent $20 per tire on tubes that were filled with Slime.
I pumped up the tire, but it was leaking air pretty fast. We had seen a sporting goods store and I figured I could ride up there fast enough that I wouldn't loose all my air before we got there.
Problem was once we got there, they didn't have a tube that would fit my rim. Most bikes have Schrader Valves, but mine has Presta Valves. So I filled the tube back up with air and just rode around town with most of my weight on the back tire.
Downtown Loreto is very busy, but very beautiful. The Mission is one of the oldest in the Baja, and at one point this city was the Capitol of California. The town of Loreto is actually considered the oldest continuously occupied town on the Baja having been founded all the way back in 1697! You can view a full Gallery of Misión Nuestra Señora de Loreto by clicking on that link.
There is a very cool shopping area that has ficus trees lined on each side of the road which are trimmed to create a tunnel affect. After riding around for a while, we rode back to the campground because my tire was flat again. I figured I'd just drill out my rim so the stem of the larger Schrader Valve would fit through the rim.
That's my own dumb fault for not carrying a few back-up tubes as spares. I normally do, but had used both of them when we kept getting the flats in Arizona. Oh Well, once the rim is drilled out, I'll be able to find a tube anywhere.
When we got back to Rivera Del Mar RV Park, Cindy and I decided to sample the menu at the quaint little cafe. For $4.50 per plate we each had 2 eggs, 2 strips of bacon, 2 sausages, 2 pancakes, hash browns and toast! At that price, it's cheaper for us to eat out then it is to go to the market and make it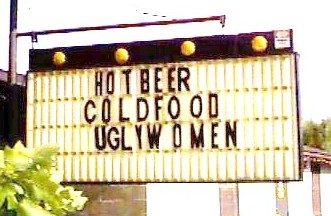 yourself.
One thing that I've really liked about Mexico is the good service. It might not be as fast as in the states, but they have always been very nice, very courteous and we've yet to find a rude server.
We visited the Virgin Islands for a few weeks and I hated even going out because of the awful service and the rude locals. After sitting and waiting for 10 minutes to even have the waiter come over to acknowledge that we were sitting at the bar, he told me "You need to chill out Mon, you're on Island Time!" I snapped back that until I have a drink in my hand, I'm just sitting here steaming mad.
One thing that is hard for Cindy and I to deal with is bad service. Coming from the Hospitality Industry, where you make your life and income on the quality of the service, it's hard to deal with knuckle heads who think giving shoddy service is OK.
After lunch/breakfast, I went to the sitting area to see if I could get online, but instead sat talking with a very nice woman who was doing her laundry. Jeanne and her husband Chris have been down here for a few months and were leaving tomorrow to head back up to Yellowstone where they both work for the summer.
It was really cool to sit and talk with someone who is doing the same thing we are and understood all my goofy stories. Usually when ever you talk with someone who only RV's a few weekends a year, you have to explain a bunch of stuff and why you do things certain ways. When you talk with another fulltimer, many of those things that seem weird to others are now the norm.
After a few hours of great conversation, Jeanne asked if Cindy and I would like to go out and celebrate St. Patty's day with her and her husband. Now she's asking an ex-bar owner who's name is Patrick Scott if he wants to go drinking on an Irish Holiday. I'll bet you know what my answer was already.
During the mid-afternoon time of day, some clouds started blowing in and the temperature dropped pretty fast. I had asked Chuck and a few locals how often it rains here, which they replied "Almost never." Some told me there were years where it might go for a full year with no rain.
But low and behold, we experienced an afternoon rain shower in Southern Baja. To think that a few days ago we were complaining of the 90° heat, and here we are today with cool 60° temperatures and rain showers. How cool is that to see rain in a place that almost never experiences it?
By early evening the rain showers were passed and we were walking the few blocks to downtown so we could try and find a St. Patty's Day celebration. Chris and Jeanne knew of an Italian restaurant that was doing an Irish Dinner with Corned Beef and Cabbage, Potato Soup and even imported Guinness beer to celebrate with! The only problem was they only had 50 seats and the place was booked solid.
So we found another restaurant called La Palapa where they cooked your food over a mesquite grill while you watched and the service was outstanding. The rest of the night was spent with the four of us sharing great stories of various travels and comparing numerous places that we all have visited and what we each thought of them.
Chris and Jeanne were very much like us; laid back, easy going and just looking for a good time where ever they might find it. From their stories, I think they could blend in just about anywhere they might park their fifth wheel and would be able to have a great time.
Hopefully we didn't ask too many questions about Yellowstone because I know how sometimes when people ask you about your work too much it can get boring. But to meet two people who have lived and worked in Yellowstone for a few years now, I had to ask as many questions as possible while I had the chance.
When the restaurant closed their doors and turned off the open sign, we realized that maybe it was time to walk back home to the campground. This is again where everything everyone had warned us about in Mexico just makes me laugh. Here we are, two men, and two very good looking women walking down a neighborhood block very late in the evening with not a single worry about having any problems.
There hasn't been one time since we have been in Mexico where either Cindy or I have even felt remotely scared or uncomfortable. We had talked about this with Jeanne and Chris who both laughed saying "Oh yeah, we hear it from all our friends, before we come down here too" Jeanne went on to say "I think the only two actual crimes that really made the news were so glamorized and over-reported, that you would think it's happening every day."
When we got back to the campground, Chris invited us in to show us their fifth wheel, which only made Cindy and I walk home saying "Can you imagine having all that room?!" I don't think we could fill all the cupboards they had and that huge slide made me have a bit of Cindy's slide envy.
How cool it was to meet two great people in Baja that we have so much in common with. When we head up to Yellowstone late this spring, I cant wait to meet back up with them.
Tuesday March 18th 2008 Downtown Loretto
Chris and Jeanne pulled out first thing this morning. We all said "Goodbye" and planned on meeting up some time this summer in Yellowstone.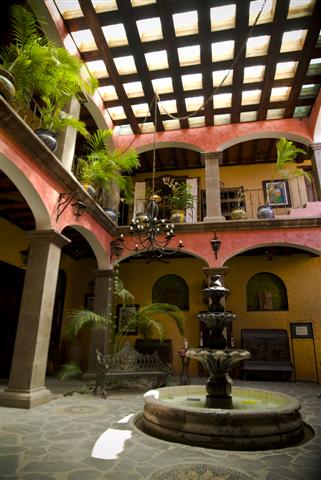 After breakfast, Cindy and I grabbed the cameras and walked into town so we could explore this historic city that was once the Capitol of California. The streets are still cobblestone and many of the buildings still look original, some well maintained and some not so well.
There is a beautiful hotel in the main town square, the Hotel Posada De Las Flores that we wanted to check out. The architecture looks like something out of an old Spanish love story and I can just see Antonio Banderas as Zorro or something romantic like that.
The main entrance has hand carved wooden doors that have to be 8 inches thick. The lobby is just breathtaking and when you look up at the ceiling, your jaw drops when you realize you're standing under the roof top swimming pool.
We asked a very nice front desk clerk if she could show us some rooms and she told us "The only thing we have available is a junior suite since we are almost sold out for the holiday weekend."
She gave us the grand tour showing us the Spa, the roof top restaurant (that only hotel guests can use), a beautiful room and then the fabulous roof top pool. The room was $220 a night, and I know we've stayed in plenty of hotels that cost this much and never offered this type of atmosphere.
If you're ever visiting Baja and aren't doing it by RV, this is a Must Visit hotel while in Loreto.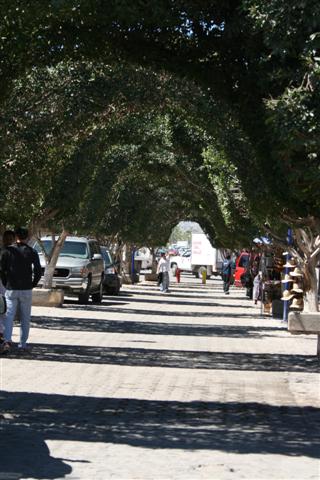 After the tour of the hotel, we continued to wander around the busy downtown area of Loreto. The streets are lined with ficus trees that are trimmed to create a tunnel down the main shopping district. There are plenty of restaurants in town, and you will be able to find a shop to get anything you are looking for.
Where San Ignacio and Mulegé were very small villages with only a few amenities, Loreto is a full service town that has everything to offer. But remember that this means it also has the noise and traffic to go along with a full service town.
Where Cindy and I sat in a roadside Cafe in San Ignacio and never saw another car pass while we ate breakfast, you have to watch where you walk in Loreto because of all the non-stop traffic.
We visited the Mission in San Ignacio and were the only two people in there the entire time we wandered around. Here in Loreto there was a constant stream of visitors coming in and out of this beautiful Mission.
After a few hours of walking on cobblestone streets, Cindy's ankle was resembling the elephant man's face, so we limped on home so she could raise it up and throw some ice on it.
The rest of the afternoon was spent listening to the heavy winds blow through the palm trees that surrounded our campground. I guess it's not so bad.
Wednesday March 19th 2008
We wanted to check out the various beaches that are all around us and see if we could find any that we might be able to move to. So we loaded up some lunches and Chuck and Sandy rode with us on our quest.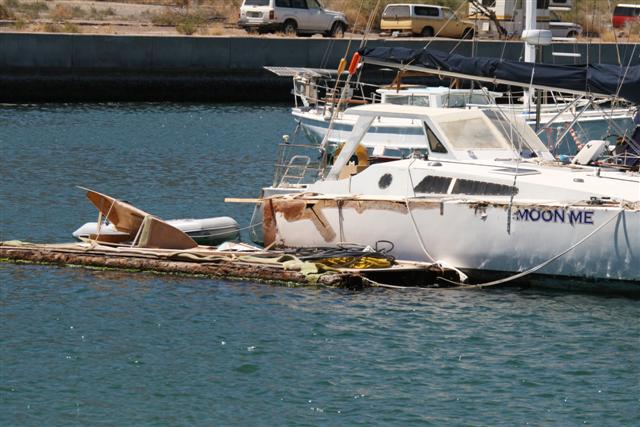 We checked out a few different locations that were in the Baja Bible, but none matched the beauty and solitude that we were used to from staying at Playa Santispac. Puerto Escondido looked like it used to be a full service village that had a Yacht Club and a full port, but the last hurricane left it with crumbling buildings and empty deteriorating streets.
We spoke to a local sailor who was repairing his catamaran, which had a huge section of the hull missing after being sunk in that same storm; who told us it's free to camp here, no one bothers you and on Sundays all the locals get together in the new Yacht Club for a Potlatch feast.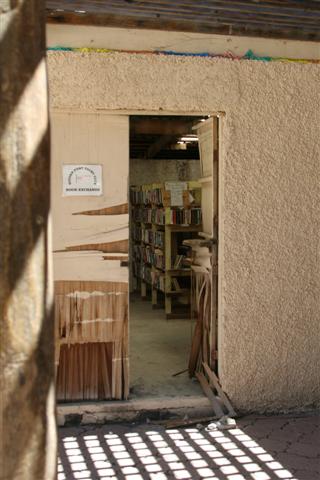 While we were wandering around the ruins, we walked up to what used to be the old Puerto Escondido Yacht Club Clubhouse. The roof was half way blown off and a few of the walls along with all the windows were blown out. Cindy laughed when one of the doors had a piece of paper on it that read "Book Exchange".
We looked through the door to see shelf after shelf lined with books. This was strange since everything else was in such disarray, yet this looked like a working library.
We walked in to find everything was indeed alphabetically organized by title and looked like someone was still maintaining the book exchange. To our disbelief, we all found a few books that peaked our interest and said we would be back to donate ones we have already read.
The sailor we had talked with had told us about a little fishing village that we might want to check out. We followed his directions to a nice secluded beach that a few Americans along with a few Canadians were camped at. The beach was nice and long, but lined with rocks instead of nice white sand. I guess we're getting a bit spoiled.
Besides, there would be no way Chuck could even think of getting his monstrous Class-A back into this beach. The narrow trail we took had me scraping along a few of the turns and we had to gas it hard to make it through a few of the soft, sandy sections.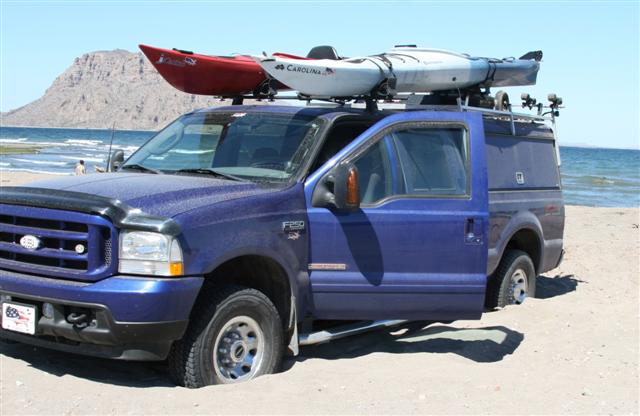 So we moved on further South to Ligui Beach. This beach is at the end of a long graded dirt road and is easily accessible by almost any size RV. Our problem was once we got to the beach, I wanted to drive further down to check out a cool looking spot.
Once I ventured off the packed sand, the truck almost immediately sunk into the soft sugar sand. Of course I had Cindy by my side narrating the whole ordeal to Chuck and Sandy in the back seat. I said I just needed to air down the tires since our bed was fully loaded and the tires were at their maximum air pressure.
I was letting the air out of the tires, with Chuck sitting over my shoulder laughing, while Sandy and Cindy dug out the sand around the wheels and threw some rocks and drift wood they had found lying on the beach under the sunk tires.
Once the tires were aired down, I threw the truck into 4-Low and walked right out of the sand with no problem. Once the gang was back in the truck, we unanimously agreed that we would just deal with the noise of Loreto and stay camped where we were till the holiday weekend was over.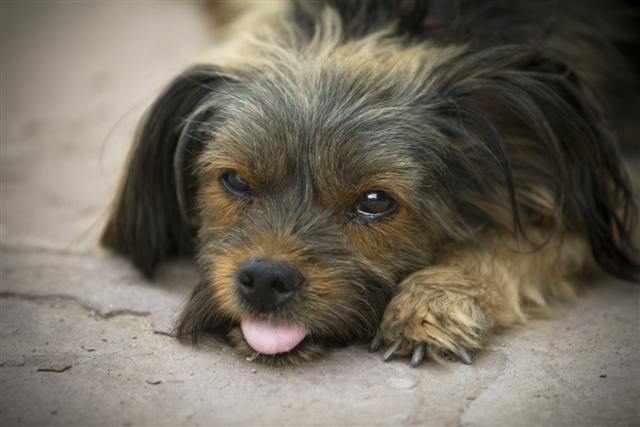 When we got back to the campground, we had some new Canadian neighbors. John and Mary-Ellen are a very nice couple who retired at the end of 2007 and packed up their Class-C Camper for a long Mexican journey. They've been in Baja since January and are on their way back North after driving as far South as Cabo San Lucas which is the Southern most tip of the Baja peninsula.
They have this little, old dog that is just as cute as can be, and we all sat talking till it got dark outside. Cindy then made some scrumptious Pizza with grilled chicken breast, artichokes, green peppers and red onion! Oh man was it good! This folks is why I'm very Fat and Happy.
Thursday March 20th 2008 Mission San Javier
Everyone keeps talking about the Mission San Javier which is a few hours drive from downtown Loreto. This Mission is the only Mission on the Baja still standing that hasn't been rebuilt and still stands in its original glory.
We decided to stuff ourselves before we left with another huge breakfast at the campground Cafe. While eating breakfast, we met Mark who is a young Canadian that has lived here for the last 14 months working on a big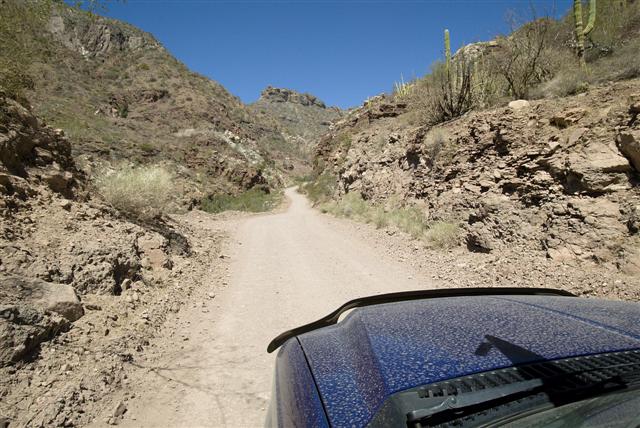 development just South of Loreto.
Mark gave us a bunch of tips on the local driving scene and some alternate routes for driving to the Mission. We've always found that the locals are usually the best secret for up to date road conditions.
Before we left, we were talking with one of the couples who had pulled in with the Escapee's Lazy Daze Caravan that had filled up the campground yesterday. They said they were planning on heading out to the Mission tomorrow and to make sure we give them a full report when we return.
Chuck and Sandy wanted to test their Jeep on these back country roads, so we decided to drive separate. This would later be a very important thing.
The road out to the Mission has been recently upgraded with fresh asphalt on the first 7 miles. It's still very curvy and quite steep in sections, but was a perfectly smooth road. Chuck had heard that with the construction going on, we would be detoured around this new road, but Mark had said that with today being a Holiday, just drive on the new road since no one would be working.
Once the new pavement ends, the road does get a bit bumpy. Nothing that you'd need a 4x4 for, but I wouldn't recommend an RV or anything larger than a truck with a slide in trying to make the trip. We had a few locals pass us in low clearance vehicles, so I wouldn't even worry about high clearance problems.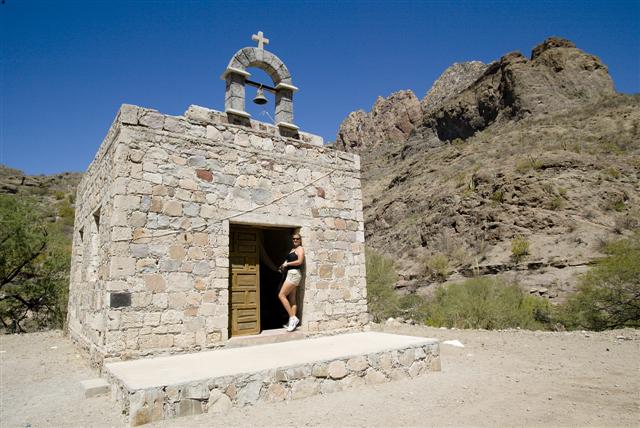 Once you get into the thick of the mountains, the road does get plenty steep and narrow. With beautiful views in every direction, it was one of those drives that you just want to take nice and slow and see everything you can. It reminded me of the Apache Trail in Arizona once it passes Tortilla Flats.
We stopped a few times at the various road side Oasis's and at a little Chapel on the mountain side. At one of the Oasis there was a spring fed stream that flowed down the side of the mountain that was surrounded by big date Palms. We took the dogs for a hike and one of the funniest things happened.
There were numerous pools of water and one was covered in a layer of moss. Lucy was running along and thought she could walk across the moss and went in over her head. Luca was right behind her but he was tall enough that he only went in to his belly.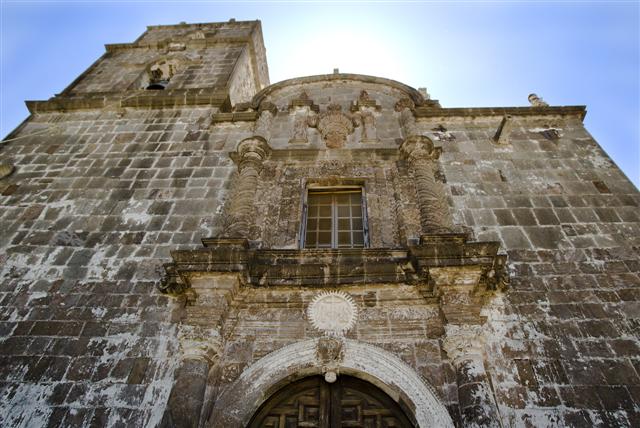 I cant believe that Lucy didn't yelp out in terror as she hates water so much. Luca didn't seem to mind that much after the initial shock wore off that he was standing in cold water and not on solid ground. But boy did Cindy and I get a good laugh.
By the time we got to the Mission, the temperature seemed like it had doubled since we left the campground. Now remember that the campground is only two blocks from the Sea of Cortez and the Mission is 22 miles into the middle of the desert.
We wandered around snapping some pictures of this beautiful structure and glad we had made the journey. It's very beautiful and well worth the long bumpy drive.
Chuck and Sandy pulled in a few minutes behind us and Chuck needed to borrow some tools. I guess along the washboard road, a few screws in his hard top had worked themselves loose. I set him up with my box of spare screws and a Phillips head screwdriver, and while I had the tool box out, our friendly campground neighbors who had pulled up in a taxi cab asked us if they could borrow some tools also.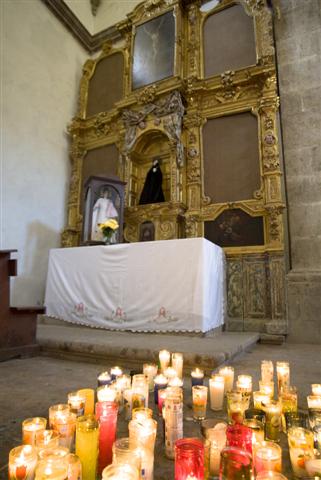 I guess after that bumpy ride, their taxi driver couldn't get his van started either. So with the front of the Mission looking like a repair lot, Cindy and I continued to walk around snapping some pictures while Chuck tightened up his windshield and a few taxi drivers worked on their vans.
This historic mission is very nice with amazing rock work and glass windows said to be the first in a building structure in California. The interior architecture was decorated with three baroque carved and gilded wooden altar-pieces which were carved over 250 years ago in Main Land Mexico, shipped over from Tepozotlán on boats and carried by mules into the mountains.
By the time we were finished with our tour of the religious grounds, the Lazy Daze group had decided that their taxi wasn't going to start back up. We had 3 of the ladies jump in with Cindy and I and another couple crawled into the back of Chuck's very small CJ-5.
This is where I said the decision on taking two vehicles came in handy. The only problem was Cindy had wanted to bring the dogs with us. I have never understood why women always want to bring the dogs where ever they go? Do the dogs get to go in and explore the mission? I'm thinking if you asked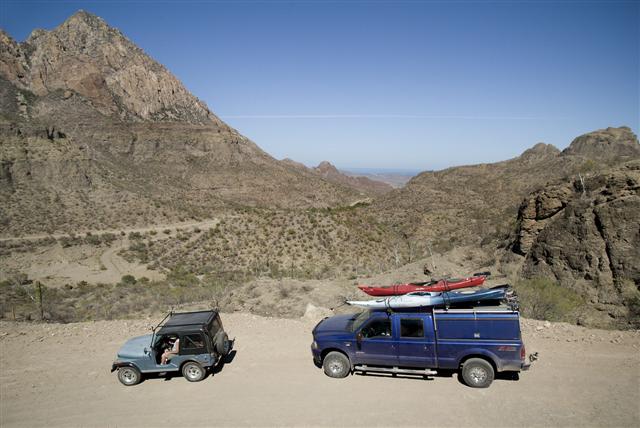 two lazy dogs if they wanted to sit at home on their big fluffy pillows with a fan blowing on them, or ride in the back seat of a bumpy truck, they'd choose to stay home.
But of course Cindy gets what Cindy wants, so the dogs came with us. Well when we put 3 women in the back seat of the truck, that means the dogs get to sit on Cindy's lap.
Luca did not like this at all. He's the type of dog that wants to be sprawled out and likes his space. So he had 90% of the seat, and Cindy and Lucy shared the other 10%.
Cindy will always say to me while were driving, "Can the dogs come up here with us?" I usually just look at her with some dumb look on my face saying "Are you out of your mind!?"
After this ride, I don't think she'll ever ask that stupid question again. None of them were comfortable and maybe things happen for a reason. It took us helping 3 stranded women for her to realize that we don't have lap dogs, no matter how bad they want you to think they can act like one.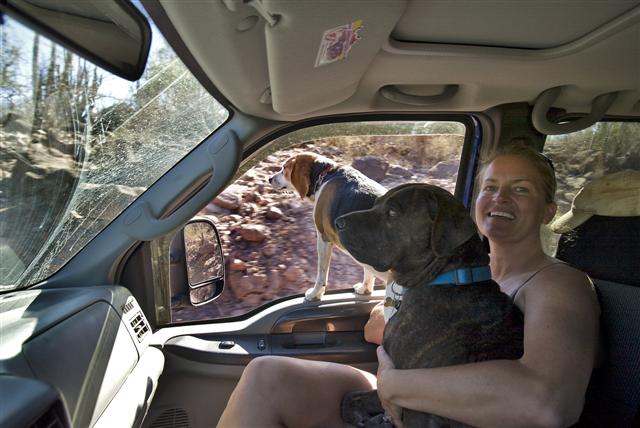 The ride home was great and we all had a couple of good laughs sharing different travel stories. These women had been on the road in Mexico for longer than us, so they gave us plenty of places to stop at if we decide to head further South.
The more we think about it, the more Cindy and I keep saying "If were this far South, why not go the rest of the way?"
When we pulled back into the campground, everyone brought chairs into a nice shaded section between the RV's and we all sat around till the sun went down. This group of Escapee's Caravaner's was a whole lotta fun and were filled with hilarious stories.
We've put together a Gallery for Mission San Francisco Javier if you'd like to see more of our images.
Friday March 21st 2008 A Good Day for Memories
Today is one of those days of the year where my emotions run wild. Six years ago on this day my older brother was killed in a motorcycle accident. I'll never forget when my partner and one of my best friends, Dave Munson who owned the Red Dog with us, pulled me into our office and told me the awful news.
We were busy that night at the bar and I had yelled for Dave to answer the phone. I'm sort of glad that he got the initial call and not me as I don't know what I would have done right there in the middle of the bar receiving that punch in the gut phone call?
My older brother Robb and I were best friends when we were younger. He was 3 years older than me and had moved to Florida right after graduating high school. I followed him down there as soon as I graduated high school and he was actually the one who introduced me to Cindy.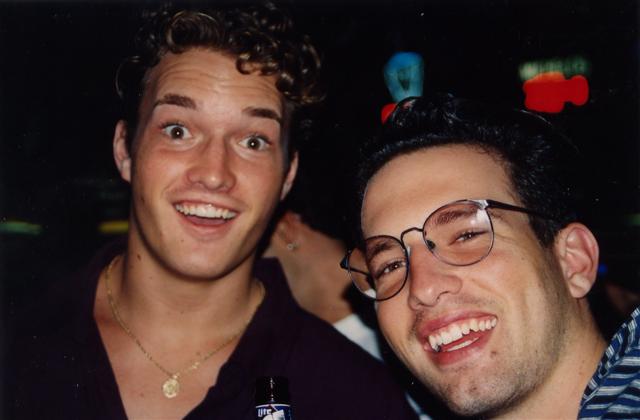 Our first few years as room mates in a big city was also our first years being out of our small rural town of Milford, Michigan. What an eye opener that was. To go from a three stop light town to West Palm Beach Florida was quite the shock to our ego's.
One day we were the Bonish Brothers who knew everyone in our town. We were known for our wild parties we would throw on the weekends and Robb was known for just about everything else. From fast muscle cars, crazy dirt bikes to even faster street bikes. Then the next day we were just two schlubs trying to make it in a town where you had to be really rich or really good looking to get noticed.
It didn't take long for us to work our way into the party circuit that South Florida is known for. I could talk for days of parties that most would think would be impossible to be true, that is unless you were some of the lucky people who attended them with us.
Then after a few years of living the lifestyle most young guys only dream of, I took a step back and thought "If I keep this up, I wont make it to see 30."
Robb and I used to always say "Neither of us will ever see 35 and if we make it to see 40, something major had gone wrong in our lives." Well when I tried to bring him with me to the side of life that meant we actually kept steady jobs and had things in the refrigerator besides cases of beer and expensive vodka, he said "I'll see you on the other side little brother!"
I settled down with Cindy, even though there were many times where we dove back into that lifestyle for a few of his notorious parties, some lasting for a few days, but for the most part, we went our separate ways.
The drugs had a hold of him way too tight and no matter what Cindy and I did for him, we couldn't get him to think there was any other way. He saw no use in me having to work 3 jobs to take care of my family, when he could make that kind of money in one drug deal?
There were times when we thought he was going to live a normal life and leave the partying behind. He got into bodybuilding fulltime and was winning contest after contest. He found a great girl after many years of acting way too crazy and we thought she just might be able to settle him down after they had got engaged.
But then at 31 years of age, it all caught up to him. It's strange how things work out in life isn't it? He died six years ago today in Tijuana Mexico. That's only a few hours from where I am right now and here I am only a few months shy of that age we both swore we'd never make it to. And I don't plan on dying any time soon.
I guess there are many ways to look at life. Some look at it as a giant party and couldn't think of living it sober, and others think of it as a giant party but don't really need the drugs and alcohol to have a good time. I know I'm having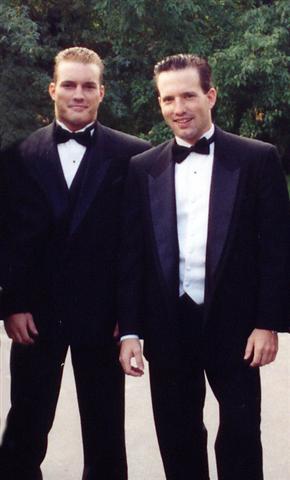 the time of my life and except for a few beers during Happy Hour each night, I don't really need all those drugs to let me know that life itself it just way too fun to miss out on.
Since Robb died, my family has changed quite a bit. Cindy and I both took a step back and said "Wow, that could have been us very easily!" It really hit home how short life is and we both decided that we wanted to get the most out of everything we do. His death was also one of the main reasons we really buckled down and started to work on getting us to where we are right now.
Death isn't really a sad thing for me. My beliefs are that when you die, you go to a much better place. So the way I look at it is - Those family members who died are in a much better place than I am right now, so I don't really sit around and feel sad over the whole thing. Do I miss them? There isn't a day that goes by that I don't think of them, but I almost never get teary eyed over it.
I just remember the good times we shared, and there was plenty of those, and know maybe they're helping me with what Cindy and I are doing today.
Sorry for bringing in so much of my personal life to this usually happy blog, but I felt I needed to share some of it.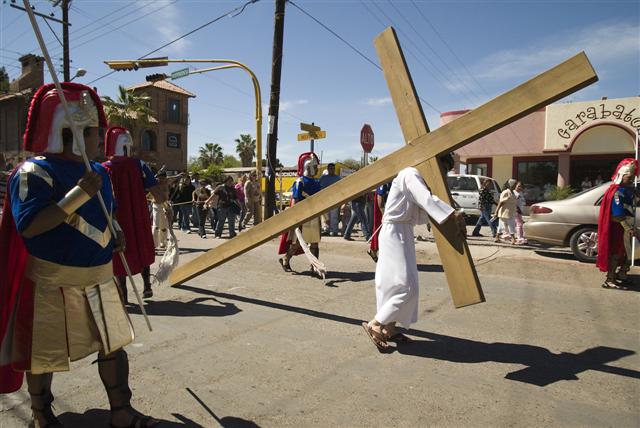 Since today is Good Friday and I was raised Catholic, Cindy and I decided to head into downtown Loreto and see the Stages of the Cross Procession they had going on for the religious holiday.
They were having a reenactment of the final day of Jesus' life, where actors are dressed up like Roman soldiers along with everyone else involved in the Crucifixion of Jesus Christ. They have Jesus carry the cross all the way through town before he is Crucified at one of the local churches.
When we got to the main square, the procession was just passing us and the streets were jammed packed with locals watching and following along on the narrow, dusty streets. Cindy and I stayed ahead of the police escorts in the front so we could get some good pictures and continued to walk along while the crowds prayed.
I realized this would be a great way for me to learn the Spanish language. Being as I was brought to this ceremony every year as a child, I knew most of what they were saying even though I couldn't understand their language.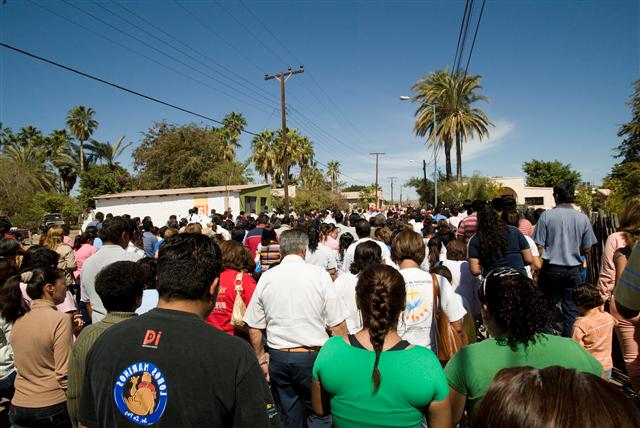 This was very weird to be walking in a large mob of people who were all mumbling Hail Mary's and Our Father's in a foreign language and following a bunch of dressed up Roman Soldiers. Some of the soldiers were walking and others were riding horses that were sweating massive amounts of water out in this oppressive heat.
The procession went on for miles, and every few blocks the actor playing Jesus would drop to the ground with the large wooden cross landing right on his back while the many other actors participating in the reenactment would say various prayers over him.
The temperatures were probably in the high 80's and with the crowds pushing together tightly, I could feel my shirt getting soaking wet with sweat. I could only imagine how hot it must have been for the actors in full uniform or for Jesus dragging the heavy wooden cross down the street.
It was a very emotional ceremony with women crying all around us. One of the women in our group had to leave and go back to the campground as she said "This is just too emotional for me to handle, and I'm not even religious."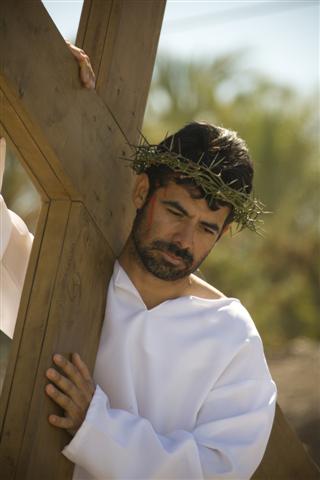 When we finally got to the church where they had the 3 crosses set up on a hill for the Crucifixion, there wasn't a dry eye in the crowd. It was so weird to know exactly what was going on even though all the words didn't make any sense. It was almost like a dream for me. A very weird dream with women crying all around me and people speaking in tongues.
When the play finally ended, we walked back across town to the campground where I spent the afternoon laying in front of a fan thinking too much. I tried to take a nap, but this is one of the reasons why I have so much trouble sleeping. Every time I try and go to sleep, I just lie there and think about stuff.
With today being the day it was, my mind was just racing with random memories I hadn't thought about in a long time. Needless to say, I never did get my afternoon Siesta.
Once the sun set and the afternoon temperatures died down, everyone in the campground gathered behind our camper and had a Potlatch dinner. It was nice to just sit and mingle with a bunch of new faces and hear so many new stories.
I only wish I could have called my mother to let her know I went to a Catholic ceremony today. It's like getting a Get Out of Jail Free Card for me....She'd be so proud.
Saturday March 22nd 2008 Our Last Night in Loretto
Today was a day to catch up on all our chores. I sat down at the laundromat washing all of our laundry including the sheets, which were disgusting! Cindy spent most of the day cleaning the inside of the camper and organizing the cupboards now that the fridge and most of the dry food storage is empty.
Camping on a beach can do numbers to the inside of the camper. Even with trying to hose ourselves off each night before we crawled into bed, I was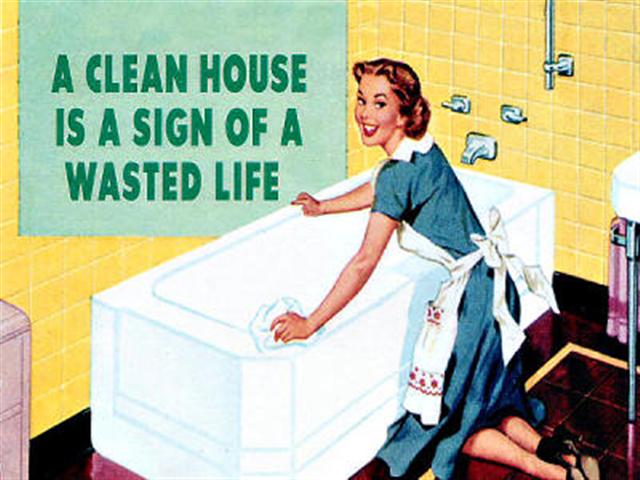 starting to feel like like I was sleeping on sandpaper.
By the time I was finished with my 3 loads of laundry, and had updated the website on a dial-up speed of a connection, Cindy was finished with the inside.
I love our camper when it's all clean and everything is where it belongs. The only problem is its so small, it only takes about 20 minutes for both of us to be doing things inside for it to look like a Tasmanian Devil has just strolled through the place.
While we were talking with the fellow campers last night at our potlatch, we got to talking about wanting to head further South just to be able to see everything Baja has to offer. One of the couples from the Lazy Daze group, Noel and Jackie, asked if we'd like to go with them as they were headed towards Ciudad Constitión on Sunday and then onto La Paz on Monday.
We said we'd think it over and let them know later tonight. They asked if we wanted to go out to dinner with their group and we'd see if the game plan would work out for the four of us.
Once the heat of the day settled down (it was a hot one today), Cindy and I walked into town to meet the group for dinner. While we were walking through the neighborhood streets, I looked into a yard and said "Oh look, that guy is carrying a little goat."
Cindy was saying "Oh that's so cute" when we noticed his friend standing under a tree with some rope. When we saw the guy string up the goat by the back legs and pull out a big knife, I thought Cindy was going to crap her pants.
She started running on her gimpy ankle as fast as she could as we heard the goat give out one last scream before it was prepared for Easter dinner tomorrow.
That's just what you have to put up with when you're in a 3rd world country.
We met up with Noel and Jackie in front of the restaurant everyone had planned to meet at, but they were closed for the holiday. So we waited around for the others to show up, but after about 15 minutes, we decided to head down the road to La Palapa Restaurant hoping we'd see the others along the way.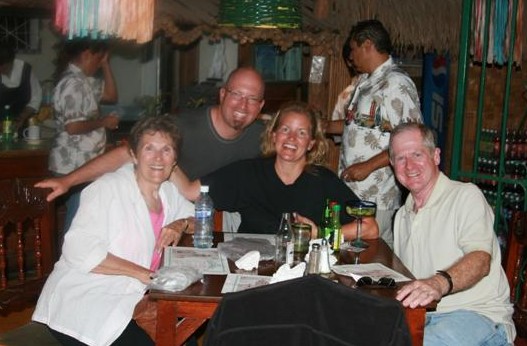 The four of us had a great meal and even better conversation. They are a very interesting couple and it was fun to sit and hear about their travels as they've been in Baja for a few months already. If you'd like to see what they're like, Noel posts his thoughts about each day on a short blog here.
By the end of the night, Cindy and I had decided that we'd pack up camp tomorrow morning and head South with them. We figure since we're this far down already, it would be stupid to not make the full loop incase we never get the chance to get back down here. You never know what the future holds, so if you have an opportunity to take advantage of the situation, we might as well jump on it.
Walking home, we knew that the weather was heating up because you could feel a warm breeze blowing in. The last few days have been getting warmer and warmer and tonight at 10:30pm, it was still in the high 70's outside.
Easter Sunday 2008 Happy Easter Everyone
We were up early this morning and headed to the Sunday morning Farmers Market on the outskirts of Loreto. Everyone had been talking about how much of a good deal you can get by shopping at this weekly market, so we wanted to see if we could find some fresh produce.
One thing that has surprised me is how little the shopping markets offer in the way of produce. There are a few of the staples, but even those don't look all that good. What you do find is so overpriced, we've held out on buying anything.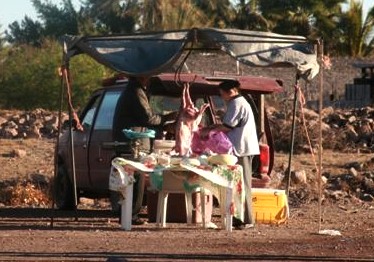 When we pulled up, the first thing we saw was two goats hanging from one of the vendors racks and I said to Cindy "Hey look, there is our goat we saw yesterday!" Cindy just gave me one of those looks and said "Stop, You're not Funny!"
It's wild how they handle their meats and fish here. There is no such thing as refrigeration at many of the markets and there will be piles of meat just lying on top of each other with people handling it with bare hands trying to find a good piece they want to buy. YUCK!
Same with the fish. They have tables set up with piles of raw fish lying on top and when you ask for a certain piece, they pick it up bare handed and put it in a plastic grocery bag for you. Double YUCK!
We found a good fruit stand and loaded up on everything we could find. Fresh spinach, bananas, big red tomatoes, juicy grapes, plums, thin green asparagus, big pink grapefruits, oranges and a few other fresh items that had me wanting to sit down and eat right there. This must be where all the restaurants come to shop because you would see someone walking back to their vehicle with dolly's filled with produce.
Once we had our few bags stuffed full which cost a total of $14 American, we headed back to the campground to get things packed up.
While Cindy was getting everything locked up on the inside, I ran into town to get some more Pesos out of the ATM. If you try and use American dollars no one will give you the proper exchange rate, so you lose money with each purchase.
After I got my Mexican money, I stopped by the water purification place to see if I could get our bulk tank we keep in the bed of the truck filled with good drinking water. Now I was a bit worried about this because our tank is a 35 gallon tank. When I brought our two smaller drinking containers into town while in Mulegé, I got 8 gallons which cost me $8 American!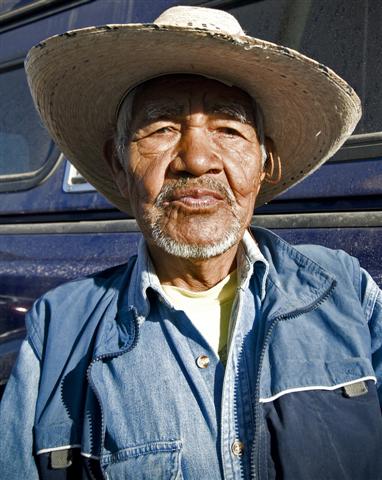 I'm sure the guy saw me coming from a mile away and thought I'll just give this guy any price and he cant really argue about it. Besides I'm not one to barter when it comes to buying things. After I thought I got ripped off, which I did, I talked with a few others who said they couldn't believe the prices of the purified water in that town. So I wasn't the only one who paid a fortune for drinking water.
Well after getting my tank topped off here in Loreto, I was awe struck when he told me it was only 40 Pesos. I looked at him funny and asked "40 dollars, or 40 Pesos?" He showed me the price on the register and said again "40 Pesos!"
I couldn't believe I had just gotten 35 gallons of purified water for $4 dollars American. I was so happy, I gave the guy a $2 tip which he was a bit confused with. He looked at me with a look like "Are you crazy?" But come on, what is $2 to us Americans? This is half of what many of these people make per day! How sad is that!
For those who are counting, that means we've been in Mexico for 21 days now and have gone through one 35 gallon tank, almost all of our 40 gallon tank on the camper, but I dumped out the last bit when it turned cloudy and the 8 gallons I got ripped off for. That's just over 80 gallons in 21 days.
That's for those who are trying to figure out how much to bring with you when you come. Remember that Cindy and I drink a ton of water each day to try and stay hydrated in this heat. While on Playa Santispac, we did a great job of conserving water, but that was 10 days straight of boondocking. So it adds up quick with showering, washing dishes and making a constant supply of ice cubes for our margaritas.
When I got back, Cindy was ready to go and I hooked up the truck to the Sunline and did my stuff outside. I made sure I checked everything twice so I wouldn't loose another set of jack stands like my last idiotic mistake.
Noel and Jackie were ready to get on the road, so we all took a few minutes saying our goodbyes to Chuck and Sandy and everyone else in the campground while we let the A/C get the cab of the truck cooled off.
Once we got on the road, we knew it was going to be a different trip from here on out. Noel's Camper was about the same size as ours in width, so when approaching semi's that took up all of their lane and a bit of ours, we didn't need to come to a complete stop like Chuck would have to do with his huge Class-A.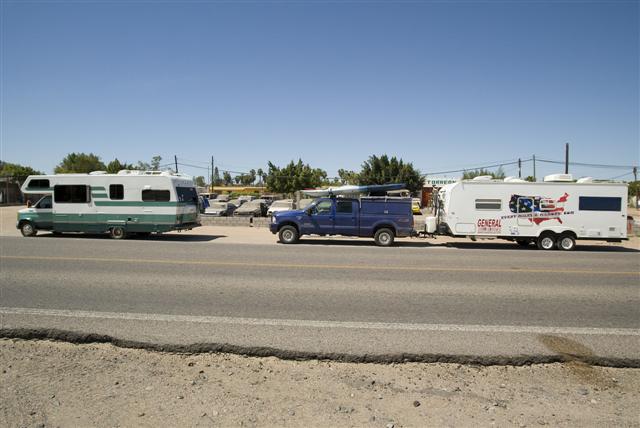 It only took a few hours before we pulled into Ciudad Constitución and found our next campground for the night, Manfred's RV Park. This park has 30 full hook-ups slots, many of them were pull-thru sites, a nice little pool with a palapa over the bar and restaurant and it even has internet access. By this time in the afternoon, the heat of the day was up at 99° on our temperature gauge and we thought we might need to use the A/C already. This would be pretty early since it's still only March.
The RV Park had 15amp service, but it wasn't enough to run our A/C properly. It would turn it on, but the A/C unit didn't like it that's for sure. We ran it for a few minutes just to cool the camper off so we could leave the dogs in there while we jumped in with Noel and Jackie to go to the grocery store.
Once we got the temperature down to tolerable conditions, we went into town and did some grocery shopping. Ciudad Constitución is the first town South of Ensenada that has a full service grocery store and man did we need it.
When we had talked with Chuck about what we needed to bring while we were still in the planning stages, he had told us that we would be buying fresh fish in each campground, so we didn't bring all that much meat products. But the windy weather conditions have kept the local fisherman on the shore, and finding fresh fish wasn't as easy as Chuck had made it out to be. That and the produce wasn't as available as we thought it was going to be. So we were really running low.
Plus we don't really have that much room to store stuff like many do when they come down here for long periods of time. Cindy and I try to eat as much fresh food as possible, and rarely eat from a can or items that are dried for long term storage. You can probably tell that from the size of my belly.
Shopping at a Mexican grocery store in Mexico is a challenge for us. In America, everything has both languages on the packaging, but here, it's only in Spanish. So we had some fun trying to figure out what is what. Some of the packaging is the same, but many things are completely different. Luckily Noel is fairly proficient with his Spanish, so when we would get stumped, he could always translate for us. Again, the open meat is weird for us, but I think were getting used to it.
After shopping, we heard there were two-for-one margaritas in the campground bar. Cindy and I grabbed the computer and headed down to see if Caroline's margaritas compared to Zulema's.
Jackie and Noel were already relaxing in the afternoon breeze, and luckily the temperature was dropping fast with the sun getting lower in the sky. It was still warm, but nothing like it had been when we pulled in. That was just too hot.
When I asked Caroline if they had a payphone so I could be a good little boy and call my mother and father for Easter, she said since her 15amp service couldn't run my A/C, she'd let me use her phone for free since I was paying for Full Hook-ups. I thought that was very nice of her and was a fair trade.
Talking with my mom, she told me that my nephew Austin, the one who had come to visit Cindy and I in Arizona just got invited to try out for the Junior Olympics! How great is that!! I'm so proud of him and his amazing ability to excel at any sport he plays. To watch this kid play hockey, you'd think you were watching a pro, and to think he's only 11.
I like to joke with him that when he's playing for the NHL, I'll be his personal photographer. He just jokes with me and says "Maybe if you're lucky, I'll let you take some pictures of me then."
While in the bar talking with a few of the fellow campers, Jamie told us about the Whale Watching Tours over in Lopez Mateos. I guess Noel and Jackie had tried to go out on a whale watching tour when they were with their Caravan Group, but their boat was the only one in the group that didn't see any whales up-close.
Our campground host and bartender, Caroline, said a three hour tour was only $20 per person, so we asked if she could make reservations for us for the morning tour and we all plan on taking another shot with some Gray Whales. Like we said before, this was so fun the first time, we could do it every day and not get bored.
Cindy and I also met another nice couple from Pennsylvania who have been in the Baja for the last five months. Fred and Deb had some great stories to tell and it was great hearing their last few months condensed into a half hour with just the crazy highlights for us all to laugh at.
That's the beauty of Baja, you have a young couple like Cindy and I having the time of our lives, an older mature couple like Noel and Jackie who are a few years older, but having just as much fun, and all the other couples who come from various walks of life with different status symbols back in the states, but here in Baja, we're all just a bunch of gringo tourists having lots of fun.
Monday March 24th 2008 Whale Watching in Lopez Mateos
With an early start on our morning excursion, we piled in our truck and headed over to Lopez Mateos to see if we could get up-close and personal with some more California Gray Whales.
Driving across some barren farming fields, this area of Baja is pretty deserted and abandoned looking. Big open plains of nothing which reminded me of Central Florida or much of the desert Southwest.
We found the little fishing town of Lopez Mateos and talked with the guides at Aquendi. They explained that the boat cost $1500 Pesos, and the original $20 per person would only be if we could get a few more people in our Panga. They suggested we wait around a few minutes to see if more people would show up.
It didn't take long before 3 more people showed up which brought our cost down to $23 per person. This was much cheaper than the $50 per person we paid back in Guerrero Negro which made it all the better.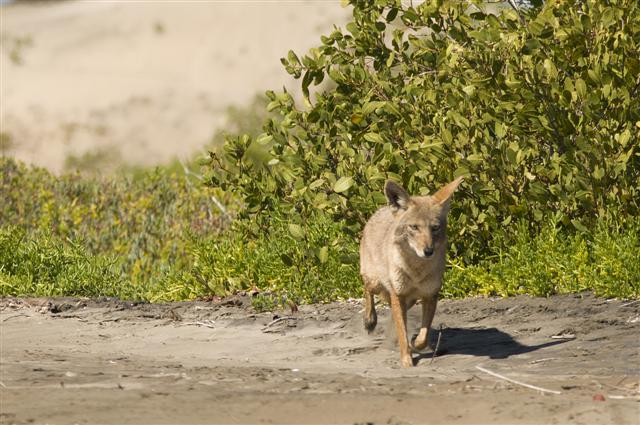 While cruising out into the Bay, we had beautiful views of wide open sand dunes protecting us from the Pacific Ocean. Some sections were lined with thick mangroves along the shoreline, where other parts the dunes fell right into the water.
I spotted a small coyote along the bank that looked like it was stalking a Great Blue Herron, but when we stopped, Cindy only had a few seconds to snap a quick picture of it before it scurried off into the brush.
We did see a large, bloated Sea Lion floating in the calm water that met it's maker and was waiting to become crab food. I snapped a picture of it and Cindy asked "Why would you want a picture of that?" I said "Because no one will know it was dead, I can just say that we saw a sea lion on our trip!" She gave me some disgusted look, so I deleted it for her.
Once out into the Pacific, the water went from glassy calmness, to raging madness. The surf was pounding the shallower mouth of the bay, and I was worried Cindy or I might get sea sick. Normally we're not that good with real rough water.
Once we saw a few boats sitting together, we headed that way figuring they were probably watching something good. Sure enough, when we pulled closer, we could see a few spouts breaking the surface.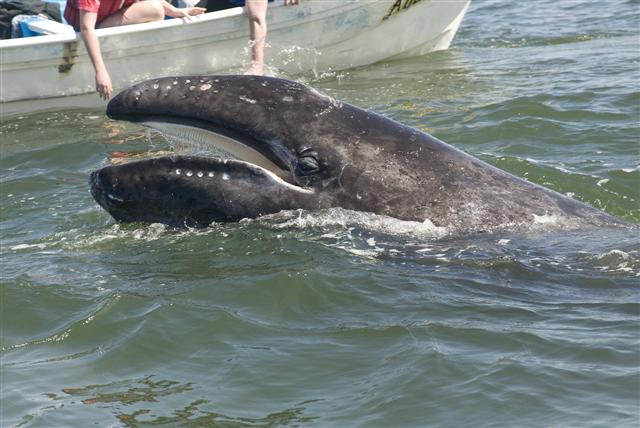 This is when it's worth it to do things twice. After our first Whale Watching Trip, I was a bit disappointed with my pictures and how they turned out. I was so excited seeing everything for the first time, I was just shooting wildly at anything that moved. When I got back and looked at them on the computer, I was very disappointed and even told Cindy "I want to do that again now that I know what I am looking for in a picture."
This time I knew not to take hundreds of pictures of them when their just at the surface, but wait till they either broke the surface or when they are right at the boats. It makes for better images and gives you the sense of the whales size when shown near the 20' Pangas.
For the next few hours we circled around the rough surf with any concerns of sea sickness long gone. The whales were out in force today, and we had numerous mother and calf's willing to play with the small boats filled with tourists.
It's wild how the mother will almost encourage the calf to interact with the boats. It's like they like to be petted and are just as curious about us as we are about them. I find it hard to imagine ever being able to harpoon one of these gentle creatures or do them harm. They are just so docile and interesting.
On this trip, everyone in the boat got numerous chances to pet the whales, some doing it multiple times. Cindy got over her fear and once she touched it the first time, I thought she was going to give the thing a massage she rubbed it for so long.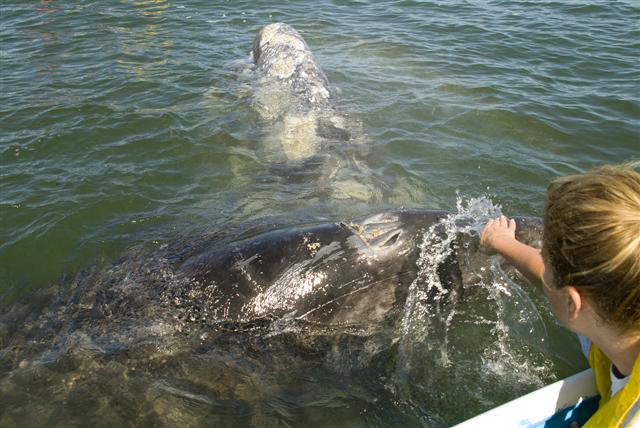 When the boat captain said our time was up, none of us had any arguments. We had been playing in the surf with whales for two hours and had hundreds of good pictures to show for a great day.
I'm so glad we went out a second time and I swear I'd do it a few more times if I could afford it.
Once back at the campground, we packed up quickly and loaded the dogs in the truck. It was so hot outside, they wouldn't put their feet on the hot sand which made up the campground surface. They would stand there doing a dance of trying to keep their feet off the ground till we could get them into the air conditioning of the truck.
From Ciudad Constitución, we headed further south towards La Paz. The roads were very nice and the closer we got to La Paz, which is the largest city in Baja Sur, the wider they got. There were some stretches where you would think you were on an American Highway with shoulders on the roads even.
We checked into a nice campground called Casablanca. It had a beautiful pool, a hot tub, tennis courts, full RV hook-ups with 50amp service, which is amazing for Baja, and even had a nice little coffee shop connected to the office. With big concrete walls surrounding the place and a security gate, I wasn't worried that La Paz was as large as it was.
We all relaxed for the rest of the evening and were in bed early. Every day I say to myself, "Today was so good, how can I top it tomorrow?" Yet each day I find a way to have more fun or a better experience than yesterday.
Tuesday March 25th Boating around Isla Espiritu Santo
Noel and Jackie had talked about heading out to Pichilingue which is a point out on the Sea of Cortez, where you can drycamp on the beach. We wanted to camp out there and take a boat trip from the beach around the Isla Espiritu Santo which is just across from Pichilingue.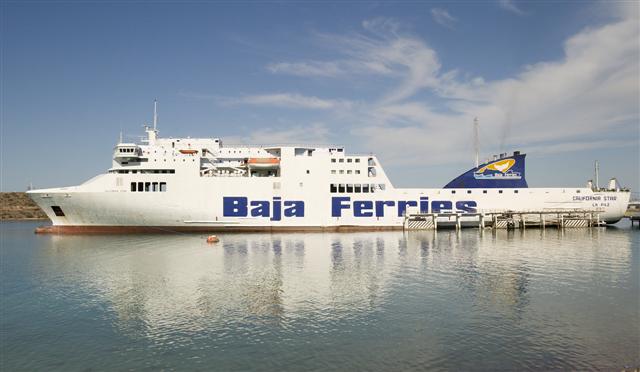 We decided to drive out there in our truck and leave the campers at Casablanca. We'd rather not haul them all the way out there if once we got there, we decided we didn't like the camping spot.
The drive through La Paz was very nice. The downtown area is very cool with a huge waterfront malecón with plenty of shops and restaurants. Once out of town, you follow along the coast, past the ferry to the main land before arriving in Pichilingue.
This open beach is very nice, and would be perfectly safe to camp on in my book. We parked by the restaurants and talked with the guide about the daily boat trips. He told us it was $55 per person, which included a lunch on one of the islands beaches, and also included snorkeling with the islands sea lion population.
That was all he needed to say for Cindy and I to pay up. Noel and Jackie talked it over and both decided that it's one of those once in a lifetime trips, so why not go for broke. I really like the way they think. Very much like Cindy and I do, that if you're on a trip like this, don't worry about the money side of it, just experience everything you can while you have the opportunity.
It was still early in the morning, so we just decided that rather than go get the campers, we'd just leave them at Casablanca and head out on the next boat trip.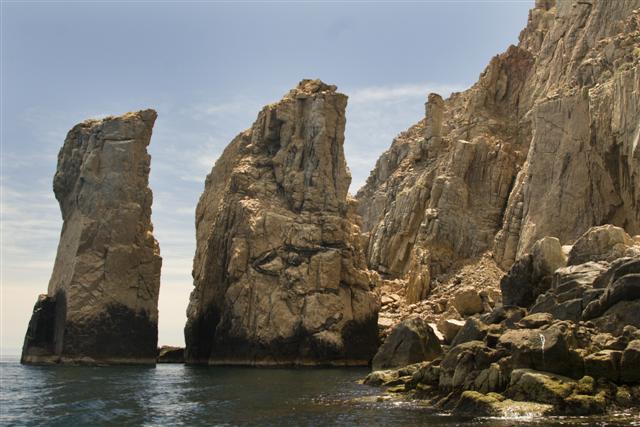 There were 8 people total on the boat, which was very nice and even had a Bimini top to keep us shaded from the fierce sun. We headed out towards one of the islands protected beaches. When we were pulling up, I was asking Cindy "Why are we stopping on this beach?" I couldn't see any sea lions and it just looked like a quiet empty beach.
As we got closer, I noticed there were two young couples on the island with a bunch of camping gear. The boat captain said we were picking up some couples who had camped on the beach last night and who were going with us for the days excursion.
How cool would that be to sleep out on a deserted island with nothing but the stars and the surf to entertain you!
Once they were on board, we were off to explore the craggy coast. This island is very wild because every few miles of coast line was completely different. It was almost like we were passing by many different islands. Some sections had very steep cliffs covered with bright, smooth sandstone. Other sections had giant boulders that fell from the top all the way into the sea below.
One section had tall pinnacles carved from lava rock that we could barely fit through with the boat. The captain inched us into a big, dark cave with crystal
clear water and bright red crabs crawling up the surrounding walls. Then we spotted a little island that looked like it was covered in snow.
I pointed it out to Cindy and she said "I bet that is all Bird Shit!" As we got closer we could start to hear the loud cries from the sea lions and could see them bobbing around in the waves. We also found out that the white covering was from years of bird droppings and when the wind shifted just right, the smell just about knocked you off the boat.
The water was crystal clear and you could see sea lions swimming all around us. The shoreline was covered with these big furry creatures all barking out various sounds to one another.
When the 1st Mate dropped the anchor and pulled out the snorkeling gear, I was tempted to say "I think I'll just stay in the boat!" Then I thought for a second and came to my senses. How often do I get the chance to snorkel with sea lions? Not that often! I knew with Cindy's ankle, there was no way I could get her into the water, so I didn't even try to argue or beg, I just handed her my camera and said "Stand Back, I'm gonna expose the belly!"
Noel was into the water before me and with the look on his face, I knew just because it was a pretty color blue, it wasn't tropical temperatures. When I jumped in, I think the family jewels became hardened marbles and I let out a yelp as the cold water engulfed me. Wasn't I just sweating a few seconds ago in the boat?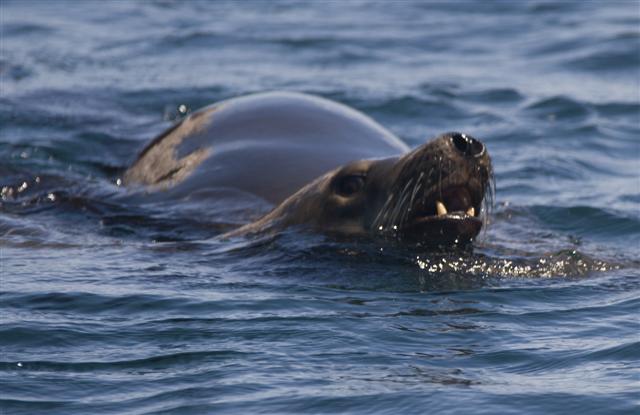 Swimming towards the shore, I was amazed at the beautiful fish that were all around me. Amazing colors, big schools and loads of species I had never seen before. I was so pissed off that I didn't have an underwater camera! Why when we found out ours had broke only days before we left, didn't we go buy a new one?
Then I noticed a few sea lions swim past me and my heart started racing. For some reason when there is something in the water larger than you, even though they are supposed to be harmless, it sort of freaked me out.
I was sitting there floating in about 12 feet of crystal clear water watching two big bulls fighting under water when in an instant, one of them turned towards me with a mouthful of teeth exposed.
Before I could start to swim backwards, he was within inches of my face showing me that he meant business. I've never in my life been so scared and I think I shit my pants right there in the water. Or at least I would have if I wasn't screaming so loud through my snorkel that I think I scared the bull lion as bad as he scared me.
I was backpaddling so fast I thought my fins were going to kick up a wake. When I was far enough away from the two bulls, who were now back to fighting, I noticed everyone else in the group was over by a pod of baby seals.
I figured if they could sit and swim with them, then maybe I would be safe over there. I sat still just floating for a few to let my heart calm down. I was worried that everyone else could hear it since it was still the only thing I could hear.
I watched one of the girls from our group swim with these two sea lions who were playing with a piece of coral. They were fighting over it like two puppies would over a bone. At one point she was able to grab it out of their mouth and they both sat waiting for her to do something with it. Sort of like saying "Throw it already!"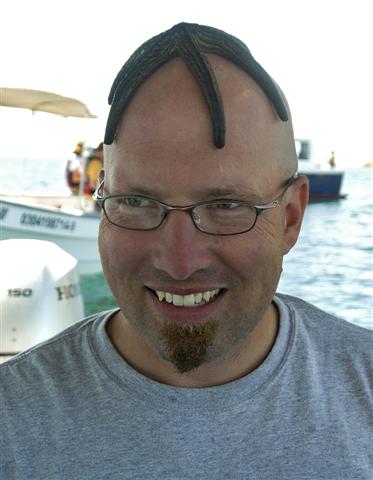 When she let it go to sink to the bottom, they both went after it playing the whole time like the kids they were.
At this point I headed back to the boat because I was starting to go into the early stages of hypothermia. I should have known when the 1st Mate and the Captain had on full wet suits that the water was going to be a bit cold.
Once back on the boat, Cindy, Jackie and I all sat watching the sea lions swim around the boat, bobbing around in the turquoise water. The 1st mate whose name is Louis, swam up to the edge of the boat with a few treasures he had found on the bottom.
He placed a few different varieties of sea stars on the edge for us to look at. I had never seen star fish like this before and each one was so unique. They were still alive and there arms would curl around anything you set them on. Cindy sat holding one as it grabbed ahold of her with its thousands of little suction cups hands.
When everyone was back on the boat, we headed off towards a nice warm beach so we could have some lunch and dry our cold bathing suits on the hot sand.
After lunch, the guides were showing us various landmarks around the islands when I pointed out a heavy flock of birds to the captain. He dropped the throttles and raced towards the feeding frenzy. This was exactly like I remembered the large pod of dolphin while I was paddling off of Playa Santispac, only this time instead of 50 or so dolphin, there were hundreds.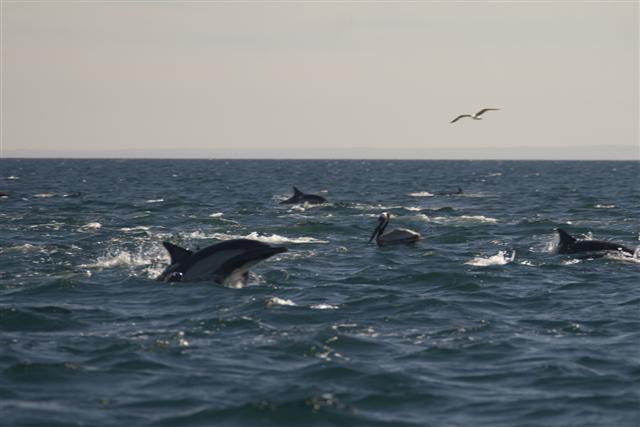 Once in the middle of the pod, he eased up on the throttles and allowed the boat to just float in the middle of what was the largest pod of dolphins I have ever seen. I looked back at Cindy who had tears streaming down her face and said "Can you believe this?"
Every now and then a dolphin would come shooting out of the water and you'd hear the group of tourists on the boat let out a loud "WOW!" It didn't matter which direction you looked, the water was just boiling with dolphins jumping all around us.
When the captain finally said "Ok, we have to go home now" he started driving towards the shoreline with dolphin thinking it was now a game to play in the boats wake. There were dozens of dolphin right under the front of the boat that would race along only a few feet from the front of the bow. Every now and then a few of them would race ahead and come shooting out of the water, some so close we would get splashed when they would land back in the surf.
As we came pulling back up to the beach, everyone was talking about the beautiful sights we had encountered on our 4 hour excursion. What a great day on the water, and we couldn't have asked for a better ending. Make sure to check out our Gallery of Isla Espiritu Santo
By the time we got back to Casablanca, I was ready for a nap. Instead, we showered up and got ready to go walk along the malecón in downtown La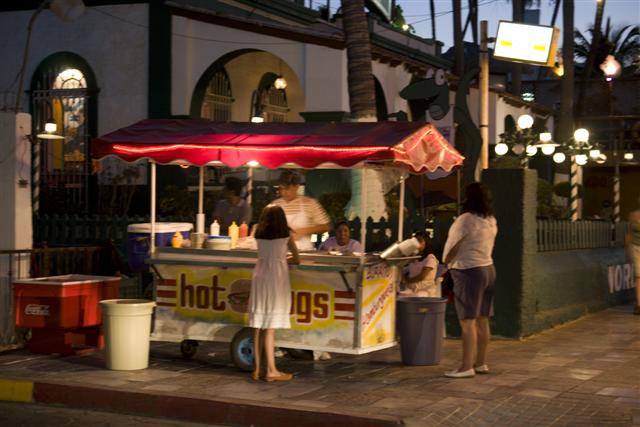 Paz. For such a large city, I think it's quieter than it was in Loretto. Except for the owner of the campgrounds barking dog, there isn't the constant sound of booming radios, no chickens crowing all night long, and the city seemed very clean and well kept.
Finding parking for my truck was a different story. The downtown was packed tonight and parking in a parking structure is out of the question with our roof racks.
Once we got parked, we strolled along the malecón with the sun setting over the Gulf of California. There were street vendors selling anything from hot dogs to tacos to balloons. We found an open air restaurant overlooking the street and ordered a round of margaritas. With a toast to a perfect day spent with great company, we finished off the night with good food, strong drinks and great conversation.
Wednesday March 26th La Paz to Los Barriles
We were in no hurry to get on the road this morning, so we took our time getting camp packed up. Cindy worked on her blog as I fiddled with some stuff around the camper.
A few days ago, a camper pulled into the campground with a tri-axle toy hauler that looked as though it had rolled over or been rear ended. I offered the two guys any help I could lend them, but they both just sort of looked blankly at the strapped together RV and said there isn't really anything we can do to fix it.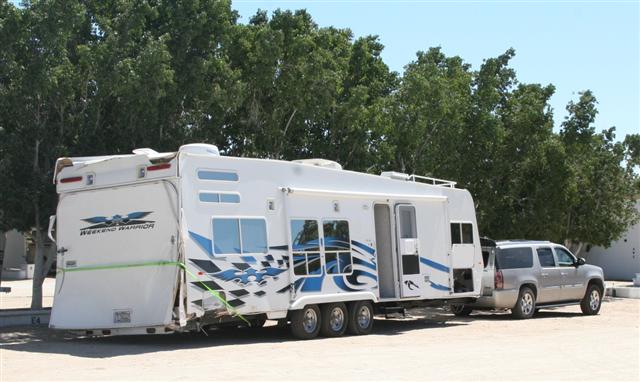 The drop tail gate was held together with a ratchet strap and the rear section of the frame was almost touching the ground. The drivers side of the RV looked as though the springs were blown out on the axles due to the way it was sitting, and I couldn't believe they were going to tow it out of here in this shape!
The most amazing thing to me was they were towing this huge toy hauler with a GMC Denali! I'm not sure of my GMC Vehicles, but I think that is the equivalent of a Ford F-150 when it comes to pay load ratings? The Denali was sitting on it's helper springs just hooked up to the behemoth of an RV. I'd be worried about towing that thing with my truck, and I'd sure as hell not tow it 10 feet in that condition.
When we saw them loading up and getting ready to get on the road, we shifted up a gear and got on the road before them. That is a accident waiting to happen, and in the shape it's in traveling on these roads, they'll be lucky if they don't kill themselves this time.
Driving out of La Paz, we were treated to four lane highways with smooth sailing. About 50 miles out of town, we went back to more narrow roads, none that were that bad though.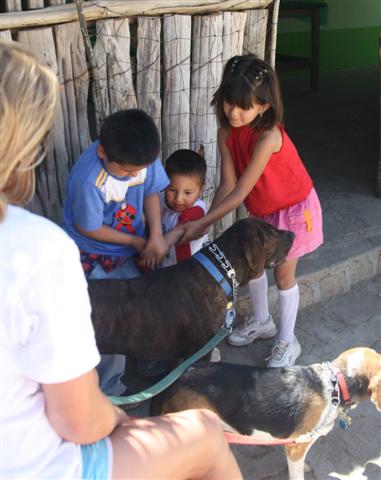 About an hour into our drive, we passed through the cool little ghost town of El Triunfo and pulled over to stretch our legs. This little town used to be home to a gold and silver mine and still has the tall smokestack of the smelter behind town on the hill.
We wandered around looking at the old buildings and checking out a few of the locally made crafts being sold out of peoples homes. At one house, the neighborhood kids gathered around Cindy asking questions faster than Noel could translate them about the dogs.
They were amazed that we had collars on them and kept pulling on the leashes asking what they were for? Just when Jackie was saying "I'm going to go back to the RV and get some of the toys we brought down planning to donate to the orphanages, and give them to these kids" one of them pulled out a cell phone and started taking pictures of Luca.
Noel started laughing and told her that "They werent as out of touch as we thought they were, if one of them had a cell phone!"
We checked out the old church that is being restored by some local craftsman before we found the bake shop. I bought some baked goods just because I thought it would be rude to just give them money. Anytime I see people that are trying to sell hand made items to support themselves, I have trouble not buying something.
When we got back to the trucks, I sat in the shade on the curb eating my little cheese filled baked goods while everyone took a short break.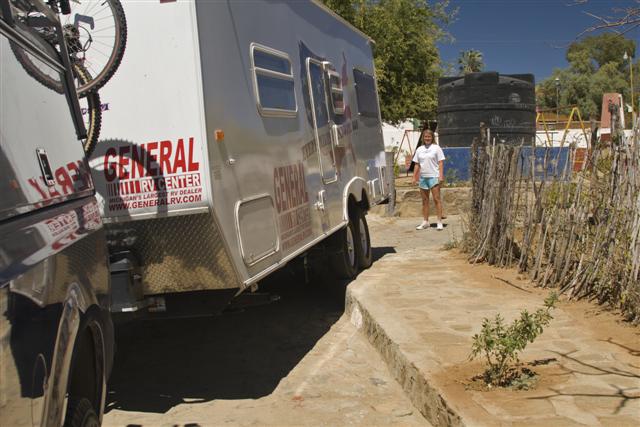 When we were ready to get back on the road, I made a wrong turn on a side street and got myself in a bind. These roads look like they were made for horse and buggy, and trying to turn a truck and trailer without riding up on the foot high curbs is next to impossible.
With the front end of the truck on one curb, and the back tires of the camper up on another curb, I had to get out and put a few of the boards we keep with us to level the camper on the edge of the curb. By this point we had a bunch of the towns people out watching my stupid antics probably all laughing at these idiotic gringos.
Once we were back on the road, we thought our trouble for the day was over.
Jackie was calling on the radio to warn me of an on-coming semi when I noticed the truck behind the semi was close to the center line. The big semi's scare me, but their mirrors are so tall, that I usually don't worry too much about them.
It's the full size delivery trucks that have mirrors at the same level as mine that worry me. Just as I was saying "Hold On, this one's close!" We heard the loud SMACK!!! You've got to be kidding me!?!
I opened my eyes expecting to see another broken mirror like the last time we got clobbered, when Cindy was yelling for me to watch the edge of the road. I had swerved over to try and avoid him hitting the side of the camper and was now about to go off the edge of the road. I pulled it back on the road and we both calmed down a bit.
He hadn't hit the camper, and to our surprise, the only damage he did was crack the turn signal lens on the edge of my mirror. Man was that close!! I couldn't believe I still had 90% of my mirror intact! Boy were we lucky on that one.
Before too long we were pulling up to Los Barriles and into East Cape RV Resort. This is a beautiful campground that makes anything else we've stayed in so far seem pale in comparison.
This is more like a RV Resort than a campground. The landscaping alone is something out of Better Homes & Gardens. There are so many different types of tropical plants on the grounds, the owners will give you a pamphlet listing the identities so you can identify them.
There is a beautiful pool, hot tub, laundry facilities, showers and bathrooms that look like something you'd have in your own house, and it's only a block from the beach. We sat talking with the owners, Theresa and Sean who gave us so much information on things to do in the area, Cindy was saying she wanted to stay for a few nights before we even finished parking.
The owners have a Sport Fishing service they run out of the campground, and were telling us about the great fishing this area offers. Teresa was also telling us about the local Manta Rays and how they are known to jump right out of the water.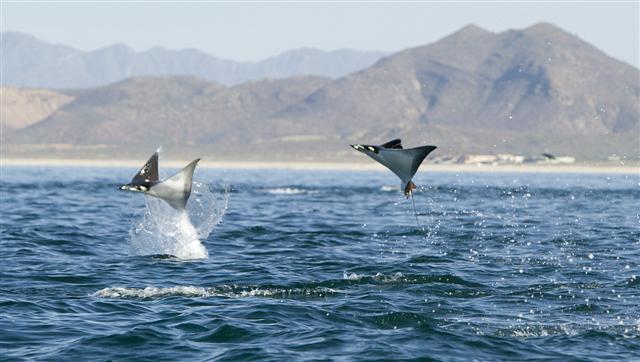 She showed us pictures of huge manta rays five feet out of the water! My shutter finger was already itching when I saw this. Once we had camp set up, I was talking with Noel when Jackie came walking over saying that "Theresa just said the manta rays are jumping right off the beach right now!"
We all grabbed some beach chairs and headed for the free show. Noel and Jackie left a few minutes before us because I was getting out my bigger telephoto lenses to try and capture this amazing sight on film.
When we got to the beach, we saw Theresa's husband Sean who was running fuel and fresh water to his guys who were anchored just off shore. Sean pointed out the manta rays and my jaw instantly dropped open.
I said to Cindy "Look at all those birds, maybe there are more dolphin!" Then we both looked through our lenses and realized it wasn't birds at all, it was the manta rays jumping out of the water!
I was sitting there trying to get a shot of the jumping manta rays when Sean said "Hey you guys want to go out into the middle of that school?" Cindy asked "Yeah, how do we do that?" He said "I'll have one of my guys take you out with the dinghy right there."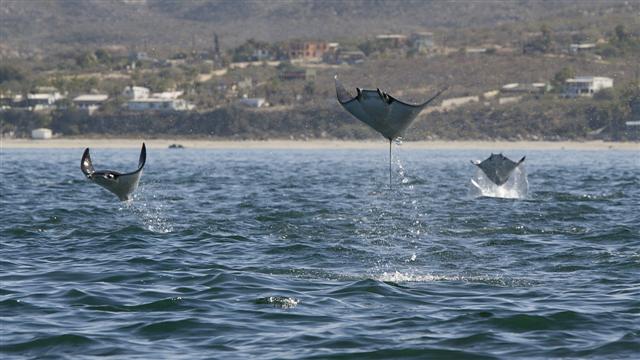 Well Sean didn't have to ask twice! Next thing you know, Cindy and I are climbing aboard this small aluminum boat and our Mexican captain is driving us towards a school of jumping manta rays!
At first I was thinking this is soo cool, then I started remembering those news reports of the woman dying in Florida when one jumped in her boat and killed her. Seconds later, when a manta ray with a 4 foot wingspan launched into the air only feet from the three of us, I was starting to wonder if this was a good idea?
We sat out there for about 20 minutes with both cameras rattling of images as fast as we could press the shutter. It only took that long for us to fill 6 gig's worth of compact flash cards with images.
I was starting to take a picture of one ray when another one leapt out of the water and landed within inches of hitting Cindy. It came so close, I got soaked with water when it hit the side of the boat. The captain was yelling something in Spanish that neither of us could understand and when I looked at Cindy who was cradling her camera like a baby and huddled on the floor of the boat, we both were laughing like a couple of school children.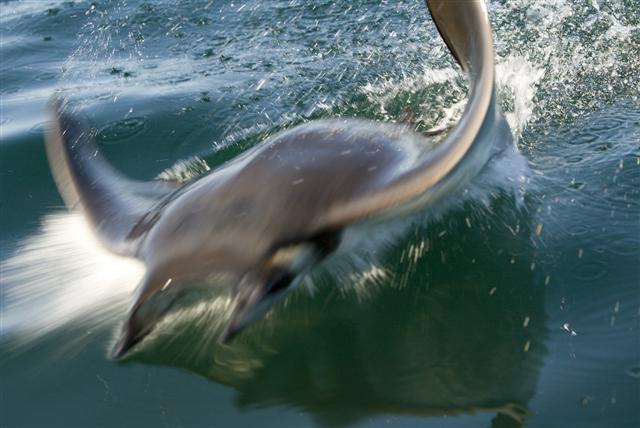 This is the one that almost hit Cindy, I know it's a tad Blurry,
but I was in the process of dropping the camera to cover my face!
We looked back at the captain and all three of us started laughing. The school of rays swimming underneath of us was probably a few hundred strong and we could feel them hitting the bottom of the boat! This was so fricking weird, it was almost fake. The sound of big manta rays hitting the water all around us sounded like someone was lighting off firecrackers on the forth of July.
When both of us had filled the compact flash cards in our cameras, we asked the captain to take us back to shore. On the ride back in, we had a few more close calls with big rays, or Mobulas as their know down here in Mexico, almost hitting the boat and by this point it was just plain funny. No longer were we scared, we were just having some fun now. A Gallery of Flying Moblua's can be seen here.
When we pulled back into shore, Jackie and Noel were waiting by our beach chairs while we scrambled out of the boat. We tipped the captain and thanked him for the amazing experience.
I couldn't wait to get back to the camper and download our pictures to see if we had caught any good shots. This is the way I like to fish, the ultimate catch and release. We don't even scar the fish with a hook!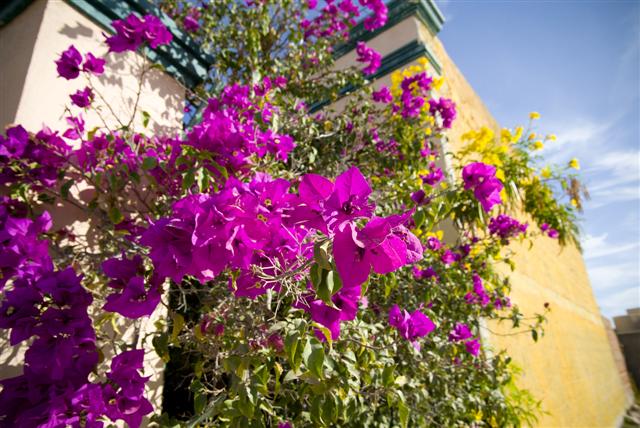 If the day couldn't get any better than this, when we got back to the Sunline, Cindy cooked us up some tasty dinner while I jumped in the shower. I had to wash a little of the adrenaline off of me after that last ordeal.
Just after sunset, with an exotic bouquet of smells coming in the windows from all the flowers around us, we heard symphony music. At first I thought maybe someone in the campground was playing it on their radio and we could just hear it clearly. We both commented on how it went perfect with the great smells, dinner and the perfect way to end the day.
Then we heard a loud applause and realized it was coming from the open air cafe that was right behind the campground. So while we sat editing our pictures from today's fun, we were serenaded with awesome live music from our campers edge.
How does this keep happening to us? And please don't wake me up! Every day gets better than the last here in Baja! I don't know if were ever going to leave if this keeps up.
I was trying to do some research on the Mobulas online, and found this website. This guy goes into such detail on the species, I figured I just link to his site rather than try and explain any of it myself.
Check out our Gallery of the Mobulas here!
Thursday March 27th A Day of Rest
The past few days have been non-stop action it seems like. I joked with Cindy that Noel and Jackie are very hard to keep up with, and they're a few years older than us. We need to get in better shape.
Being as we have a really fast internet signal here at East Cape RV Park, we decided it might be a good idea to stay still for a few days and catch-up on things we've been putting off.
Jackie is flying home today, and Noel had to get her to Cabo for her flight. So we said our "Good-byes" and thanked them for all the wonderful memories they've experienced with us the past few days.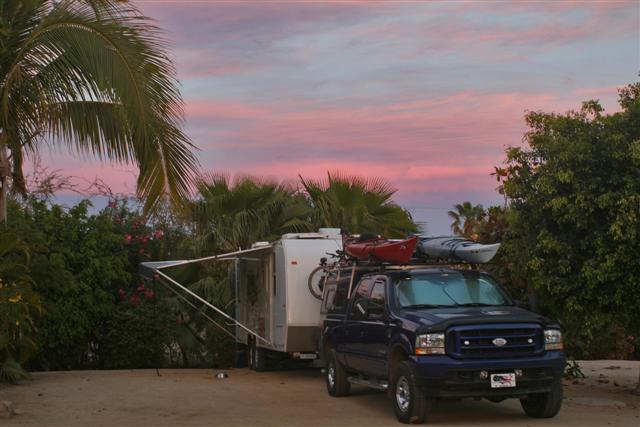 Without them, we probably wouldn't have come this far south, so we're very glad that we ran into them in Loreto.
Today was one of those days that Cindy has been jonesing for. When I told her I had about 3 or 4 hours of work on the computer, she grabbed her book and said "I'll be at the pool if you need me!"
I think that's one of the reasons Cindy wanted to stay here so bad. When I told her the campground had a great signal, and I could work out of the RV, not having to go sit in a office or laundromat, she looked around at the great pool and hot tub, and thought it might suit her well.
So I don't have much to say for today, except by 4 o'clock, I was ready for happy hour. After contemplating paddling out into the big schools of Mobula, to try and get some more pictures, I kept having images of a big ray flying up out of the water, hitting me or Cindy, and one of us dropping our cameras in the ocean. Not a good thing!
So I went down to the office and asked Sean if I could pay him to take us out in his little aluminum boat for an hour or two. He said that it would be no problem, and just meet him on the beach later in the afternoon.
So I grabbed Cindy and had the camera gear all loaded up in the bags. I actually had to get her up from the pool deck, which was an ordeal in itself. But once I got her up and moving, we walked the block to the beach.
This is when I realized that maybe yesterday was more of a once in a lifetime experience. The large schools of jumping Mobulas werent out this afternoon. We could see one or two jumping every now and then, but nothing like the hundreds we had watched yesterday for a few hours.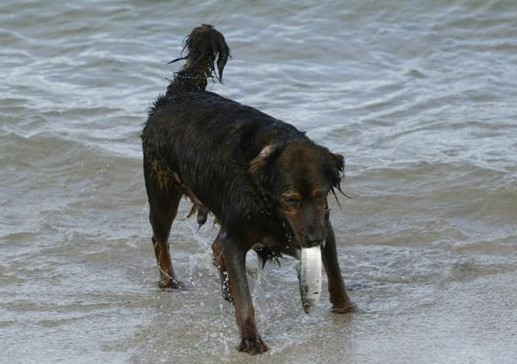 So Sean said the offer would be on the table any time we wanted to go out. We sat watching his dog, Rasta who waits every day as the fishing boats come in for one of the deck hands to throw him a bait fish. He then chases it up and down the beach playing with it like a normal dog would with a bone. It's very funny to watch. Sean suggested another RV park that had a bar overlooking the beach where we could sit and relax and watch the sunset.
We walked through the soft sand and grabbed a couple of rocking chairs on the second level patio of this little bar. This made for some great people watching and gave us a great view of the tremendous aquatic life down here.
At one point, we watched a big school of squid beach themselves because something was chasing them through the water. Once they were stranded on the beach, flopping around helplessly, some young kids came running out and started throwing them back in the ocean.
One woman came running out with a bag and picked up 4-5 probably to have some fresh calamari for dinner. We also saw a few of the schools of jumping Rays pass by, but we were enjoying the view too much to try and run back down to Sean and get the boat out in the water.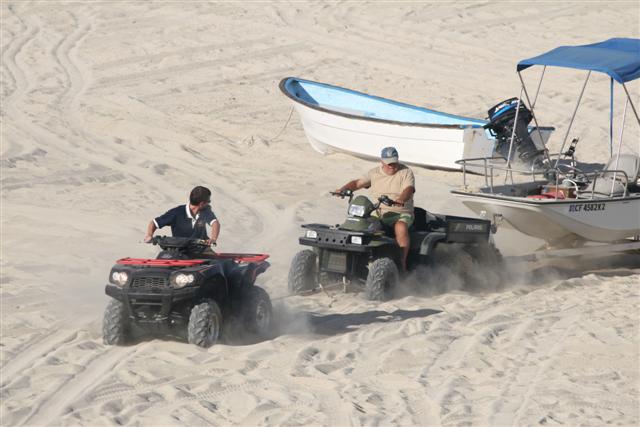 Besides, the people watching was great. There was some guy on a ATV 6-Wheeler that was towing a boat on the beach, and he managed to get this thing so stuck, that we just laughed at how foolish he was with the way he was driving it.
After our Margarita, we walked down the street headed for East Cape. Right across the street from the campground, are a few restaurants. Sean had told us that the one right in front had great food. So we thought we'd check it out.
Looking over the menu, they said they had a fresh catch special. Cindy asked what it was and she said something in Spanish that neither of us understood. Cindy asked if they had Dorado or Mahi-Mahi a most people know it by, and the waitress said "Se, that's what the special is."
So we both ordered the special. Well when she brought it out, I about spit my soup across the table. I actually did start laughing so hard, that some of the spicy soup came out my nose, which burned like hell, but gave Cindy a good laugh.
What the lady brought out was a small fish, that still had everything on it. The scales, the head, the tail and it ever still had its eye balls in the head. We were both laughing pretty hard, because this is nothing like Mahi-Mahi like we both were looking forward to eating.
Cindy politely asked for a carry-out box and we just brought it home for the dogs. It's our own fault for not being able to speak Spanish, and no one in this restaurant spoke and English, so we just paid our check, and brought the dogs a $20 meal. Yep, they're spoiled.
Friday March 28th A Perfect Day on the Water
We had made plans with Sean and Theresa to go out on their boats today for one of the scenic cruises they offer through Congo's Sport Fishing. We were up early and on the beach at 8:30am.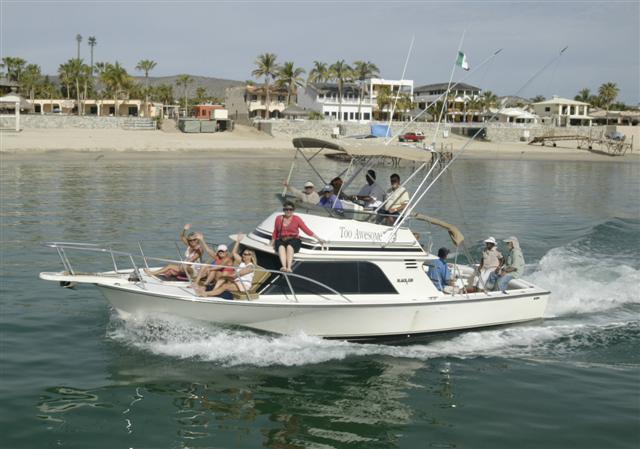 They have two beautiful boats that were going to take our large group out to try our luck with Mother Ocean and see what she would show us today. The weather was great, a tad bit cool, with a light cloud cover, but still in the mid 70's.
They loaded the boats up and we headed out on the glassy clam water. It didn't take long before we were floating through a large school of Mobula. We're talking hundreds of hundreds of these suckers all jumping like mad.
Once we had our fill, which I could never get sick of seeing them jump, but there were plenty of other people on the boats, so I couldn't talk them into just sitting still for as long as I'd have liked, we headed out to look for more sea creatures.
The captain and his 1st mate kept pointing out different fish that we'd troll up on. We spotted a few Leatherback Turtles that were floating on the surface, which was very cool. Then saw a few dolphin and a sea lion that was just floating on its back Thermo-regulating.
There was a marine biologist on board today, and she said "When the sea lions float on their backs with all four flippers in the air, it's called thermo-regulating. They're drawing heat from the sun through their exposed flippers and conserving energy while just floating on the surface."
So that was cool to learn. After seeing and learning all of this, we were headed North about a mile out, when we started seeing whales breeching the surface.
Now the California Gray Whales just come out of the surface a bit, but these whales we were coming up on were shooting out of the surface with almost all of their bodies!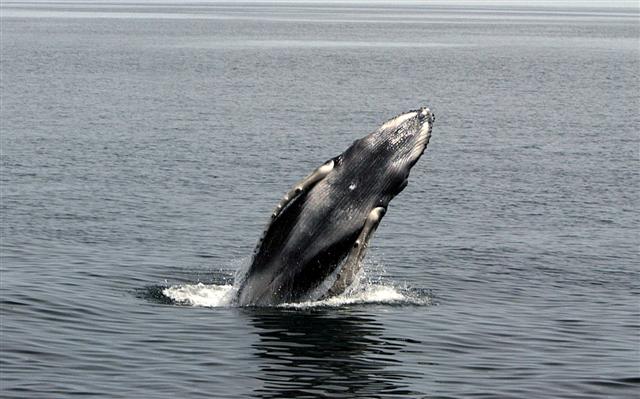 When we finally got close enough to see what they were, we found out it was 3 Humpbacks; a mother and two calves. The calves were the ones who were playing around and jumping out of the water almost non-stop.
This was so cool because ever time we had seen the Gray Whales, it was very random and almost rare to see them breech. But now we were seeing it over and over.
After about 20 minutes of playtime, they dove deep and stayed down long enough that everyone got bored and we moved on.
It was time for lunch at the Giggling Marlin restaurant. We had all picked out our meals this morning at the campground, and Teresa had faxed our order over to this little oasis nestled in a tropical bay.
Lunch was fabulous, and the company was also great. Everyone sat around talking about all the great sights we had witnessed this morning and got to know one another.
Once lunch was over, we loaded back on the boats to head over to a protected cove for some snorkeling. Or at least most of the group was going snorkeling. After the last swim with the seals, I'm not getting in this freezing cold water unless I get myself a wet suit.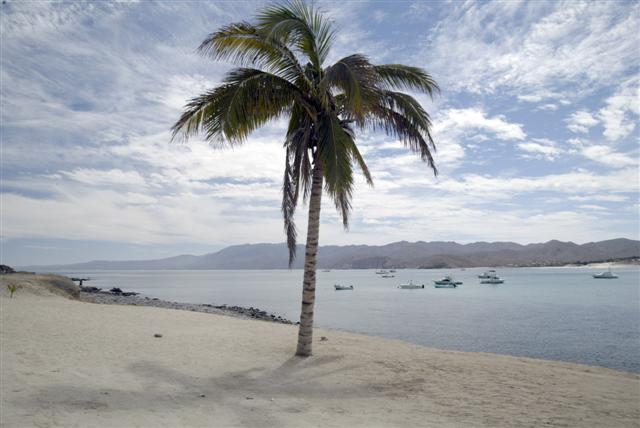 There wasn't one person that jumped in the water that didn't come up screaming about how cold it was. This also makes for a great show as each person went in one by one. I was disappointed, because I do love to snorkel, but we had along boat ride back, and with the overcast skies, I wasn't about to freeze my tail off for the next few hours.
So we lounged around talking with our boat captain who spoke great English for having lived in Mexico his whole life. He had so many stories to keep Cindy and I laughing, that I'm now glad we didn't go snorkeling.
On the way back to East Cape, we saw a few more interesting things on the water. A few big schools of yellow fin that were turning the water up something crazy, then a few schools of Mobulas that were probably 100 feet wide by 100 yards long! We're talking thousands of rays just floating at the surface.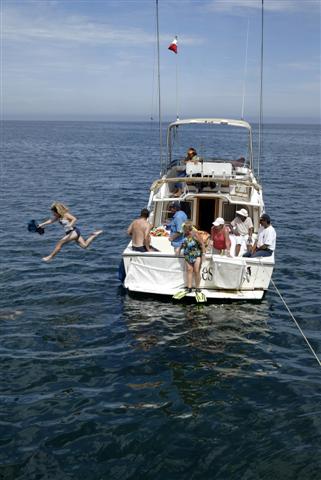 It was so cool to see all of this, especially from the tall tower of the fishing boats. You see so much more from up at that angle.
By the time we got back to the camper, it was after 6pm and we were both ready for bed. Cindy made some grilled hamburgers with grilled asparagus on the side, which was mouth watering, and we started the long process of downloading the days pictures.
What a perfect day on the water. We had so much fun with our boat captain, Roger, and all the great people we met along the way.
Oh, and that picture, that's Theresa, the owner of the boat jumping in the water to go snorkeling with the rest of the gang!
Check out our Gallery from the Day out on the water with Congo's Awesome Charters. We also have a gallery put together from our first month in Baja if you'd like to see all the pictures put in one gallery
Return to Top of Page
Need Unlimited photo storage- FREE Trial of Smugmug