When we realize our insignificance in this world,
it some how relieves the pressures from society to succeed -
Cindy Bonish 04/07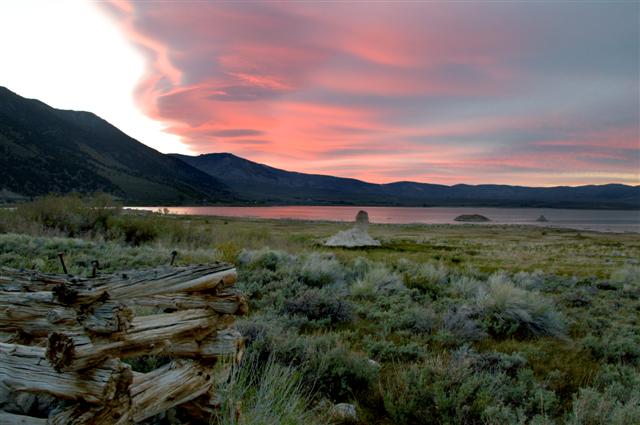 Pat's June 2008 Blog
If this is your first time here, you might want to start from the beginning of our fulltime RV Journey with our Past Blogs
Photo Gear We Use - Solar Tips, Fact's and Trick's we've learned while on the road
Camper Check List - A list of things we do before leaving camp. Again, this isn't gospel, but its a good start for those who might not already have a list made up.

****
Sunday June 1st Up and over the Sierra's to Yosemite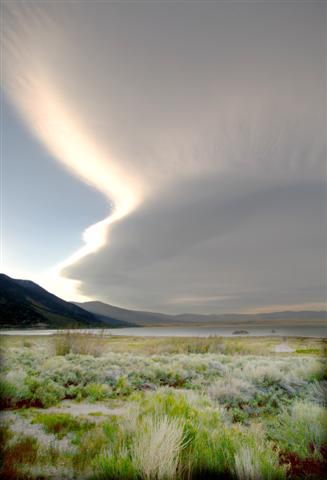 Some places we stay, they're just places to camp for the night. Other spots are those type of places you never want to leave. Camped beside Mono Lake, deep in scrub brush with the Eastern side of the Sierra Nevada mountain range at our backs, I could have stayed in this location for quite some time before I would have gotten bored with the amazing views.
Talking with Jeff Bettenga yesterday, he had reminded us of the June Lake Scenic Drive, and told us to make sure not to miss out on that beautiful route while in this area. We took the drive this morning, but with my foot the way it is, we missed out on many of the cool hikes it offers. The scenic drive brings you through multiple mountain lakes that are so tropical blue, you'd think you're looking at the Caribbean Ocean. This was very hard for me to drive and not be able to hike in to take any pictures, especially like the pictures Jeff had referred me to on his travel website while we were talking about the views.
Once we were done with the June Lake Loop, we turned onto the Tioga Pass, and started our long climb up the mountain. We've taken Bubba (Cindy's name for our truck) up some steep climbs on our adventure, but the Tioga Pass is one he wont forget anytime soon.
Never have we been on a climb when I thought we wouldn't make it and every hill we topped I thanked myself for choosing a Turbo Diesel engine. But this climb was so long and steep, that we pulled over multiple times to let the engine cool down. The turbo was screaming so loud, I thought it was going to throw a bearing at any moment.
I will say that Ford makes one hell of a motor. Bone stock, this baby likes to pull, and pull he did.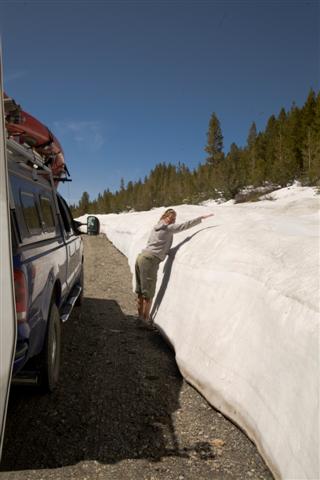 Once at the summit, which was almost 10,000 feet, we had climbed from warm temperatures and lush green shrubs, to snow lined roads still piled 6' high. At one point, you could see where they had carved out the road through the snow. I pulled over beside the snow banks, and the height was taller than the hood of the truck
Once into Yosemite, we had trouble staying on the road. Around every corner, one of us would be pointing out some mountain vista to look at, and the narrow roadway reminded me of the dangers of driving in Baja.
Every where I looked, I was reminded of famous photographs by Ansel Adams, Galen Rowell, Michael Fre, or any of the other photographers whose work you're so used to seeing on the covers of outdoor magazines.
When we finally made it down to the bottom of the valley floor, I already had a sore neck from cranking it side to side to see the top of the enormous waterfalls.
I'm not sure if there is going to be enough time in this month to see, hike or explore everything this National Park has to offer.
Once at the valley floor, we found the terrible news that the four campgrounds that were open were booked solid for the rest of the year. I had asked online if I had to make reservations in advance before coming to Yosemite, but many replied with answers like "No, there are plenty of campgrounds that have a first come first serve basis."
Well that is true, but this early in the season, the only campgrounds open are the ones with paved parking slabs and those campgrounds where reservations are made 6 months in advance.
Now what do we do? We found that at 3pm, they give away any campsites that haven't been checked into for the day, but this is on a lottery system. If you read last months blog and remember The Wave Lottery in Utah, then you know we aren't that lucky with these type of things.
I told Cindy I'd let her handle this one since last time I was the biggest Loser Utah had seen in awhile when it came to winning a lottery draw.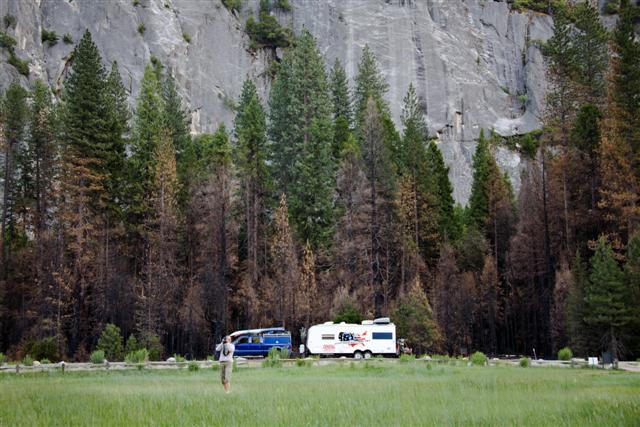 Low and behold, she gets picked, and we get a campsite. Granted it was only for one night, but that would get us through today till we could figure something out for tomorrow.
Once we got our campsite, $20 for no hook-ups and a very narrow camping spot, we set up camp and Cindy took the dogs for a walk. 20 minutes later, she came running back saying she had seen a mother bear with a baby cub walking through the woods. I told her I didn't believe her since she didn't have her camera with her so she had no proof to show me.
We got the bikes down and decided to go for a ride up to Mirror Lake to stretch out the legs after a long day of driving.
Riding along the bike path through the giant trees with mountains so tall, they block out the sun, I was having trouble keeping my eyes on the wide path. I understand why this park is so busy, it's probably one of the most beautiful National Parks we've been in so far on our adventure.
Mirror Lake is an easy hike if you can even call it that? It's more of a paved bike path right up to the lake, and they even allow people with handicapped passes to drive right up to the end of the path. The scenery is what you'd expect, spectacular! Riding back to the camper was uneventful, meaning we saw no wildlife except for the fat squirrels that have no fear of the many tourists.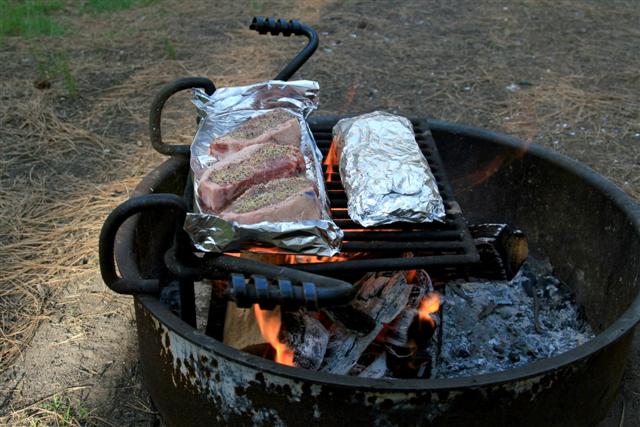 Once back at the camper, Cindy sparked up the bonfire and cooked up some grub over the open flames. What more could you ask after such a great day? When she asked if she could get me anything to go along with the fire, or the spectacular views, I said "Yeah, a cold drink would top everything off wonderfully."
Then we remembered that we were out of everything. No cold Coors Light, no smooth Makers Mark, no aged Scotch, and we had sipped our last bit of salty Mexican Tequila last week in Bishop at the Mule Days Festival. Not that we're alcoholics or anything, heck we had gone for over a week with nothing in the fridge and neither of us had even noticed, but a bonfire just feels right with a cold drink in your hand.
After she checked all the hiding spots, she informed me we were without adult beverages. I said "We do have that Absinth in the cabinet if you really want to get crazy?"
Back when we owned the Red Dog, we had a good friend who was headed to South America and had told me he could get real Absinth if I wanted any. Owning a bar that prided itself with all sorts of different exotic alcohols, of course I wanted some. He brought me home a few bottles of the wildly famous Green Fairy that is outlawed in many countries, the same stuff that made Van Gough cut off his ear, or any of the other famous artists you've heard of who went crazy after drinking the stuff.
We had brought our last bottle along on the journey for a 'just incase', and this might just be one of those times.
So sitting around a roaring campfire in Yosemite National Park, we sat sipping on some 120proof Absinth that isn't even legal in the United States. If you were to look it up in a drink book, the definition states, "A Green Liquor outlawed in many countries due to its aging in Worm Wood, which is known to eat a hole in your brain"
I don't know about all that, but I will say that it reminded me of drinking Moonshine and wasn't at all what I was looking for to sit beside the warm fire. No amount of Sugar, something you're supposed to add to cut the bitterness, can make the stuff taste good to me. Cindy didn't mind it at all, but she loves the taste of Black Liquorices. It reminded me of a really strong Sambucca, which is something I normally hate.
Once dinner was over, we called it a night. We had visited with the neighbors, John and Christy, who had a beautiful little girl who is almost 3 & a 1/2 who talked out ears off for awhile; she was so cute and we were getting a good laugh out of her till John said they were roasting marshmallows. Then she was gone like the flash of energy all kids that age have.
Normally I'd never talk politics, but I just have to get this off my chest.
We're spending a billion dollars a month on a country that has been fighting with each other since before Jesus walked the Earth. Cindy and I come to stay in a campground in a National Park, one of the busiest ones in the country, and they tell us they don't have space for us.
Now they have 7 campgrounds that aren't open, yet the 4 that are already open are booked solid, at $20 per night with no hook-ups mind you, for 6 months in advance. When I asked why the other 7 campgrounds aren't open yet, the ranger told me that they "Don't have enough people to have them ready to open, so they wait a few more weeks till the surface dries out and they get all the trees removed."
This sounds like simple math to me. Hire more people, have these campgrounds ready to open all at the same time, and make more money throughout the entire tourist season.
The parks are swarming with foreign tourists due to their dollar being higher than ours right now, yet hundreds are being turned away because these campgrounds aren't open yet? Why not cater to them and have everything open and ready to sell out by this point?
Can someone explain to me why we're spending millions upon millions of dollars on another country, when we could be making millions of dollars, and providing jobs for the people of our own country if we'd just pay attention to where it's needed? This makes no sense to me at all, but now that I've gotten that off my chest, we'll leave it alone.
Monday June 2nd 2008
We were up first thing this morning to try and drive around to find a good spot to photograph the sunrise. We choose Yosemite Falls, the tallest waterfall in North America, for when we tried to photograph it yesterday afternoon, it was deep in shadows.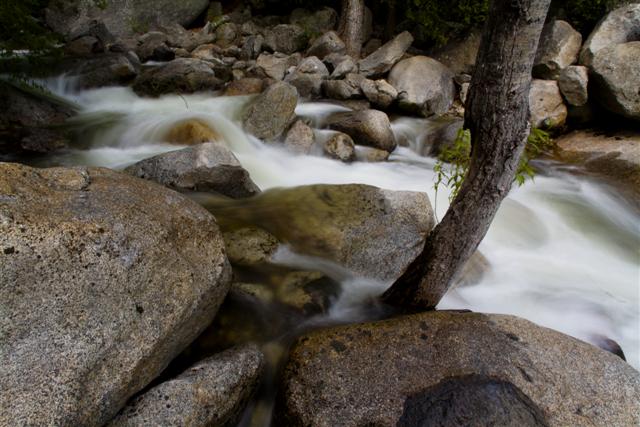 Well early this morning, we found that it remained deep in shadows and gave us no good pictures to show for our early awakening.
Once we realized we had made a mistake, we decided to drive the Valley Loop to see if we could find anything else worth while to snap some images of. Really the whole park itself is breathtaking, and any time of the day is beautiful on the eyes, but since you all know how much we enjoy photography, we're always in search of that next great photo.
While driving around the one way loop, we saw a little meadow and decided to pull over to see if we might spot any animals returning to the den this early.
Just as I was shutting the truck off, Cindy and I both heard the distinctive cry of a coyote. At first the sound was so close, we thought we might have run over it. We rolled down the windows only to find not one, but two coyote's sitting in the meadow welcoming the dawn.
Now I'm no animal expert, but what we witnessed for the next 45 minutes was something I know I'll never forget. These two full grown, shaggy coyote's sat in the meadow howling at the sun something awful. The only thing I could think that they were doing was getting rid of every last bit of energy they held before returning to the den to sleep for the rest of the day.
They sat non-stop with their heads pointed towards the warming sky and let loose with such sounds it would make any horror movie soundtrack sound fake in comparison. But to see it happening wasn't scary in the least, you just stood in awe of some of Mother Nature's creatures acting out in ways only she knows the answers to.
When the sun finally made it's arrival, both coyotes let out a few last "Yipps!", before heading down towards the nearby stream where they disappeared into the brush.
I wish I could post some amazing pictures, but you'll have to make do with these shots that were captured with my much too short telephoto lens. It's times like this when I wish our cameras would record sound. I know Cindy and I will never forget that early morning experience.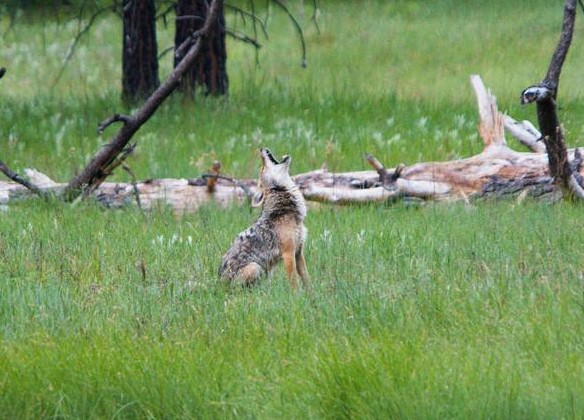 The rest of the day was mostly a waste, spent moving the camper from spot to spot, then all the way to the West entrance of the park so we could meet up with Andy from California Mobile RV Repair, who was driving out to diagnose our cooling problem.
We knew the refrigerator wasn't fixed when the 'No Co' light kept coming on again. But we didn't know it would be such a hassle to get fixed.
After the light coming on twice last night to tell us it wasn't cooling properly, Cindy called some repair places to see what we had to do to get it fixed.
This took up most of our afternoon, and when she finally found someone who would drive out to where we were to look at it, she jumped on the offer. It was either pay the $150 service call, or drive the two hours to Modesto ourselves. That alone would cost more than the $150 in fuel and would save us some valuable time to see this park we've now been in for a full day and haven't seen much of anything.
It didn't take long to diagnose the problem once I told Andy of the gurgling noise I had heard a few days ago. As soon as I told him that, he said "This is not good news!" He told us "That is probably the worst noise you can hear when it comes to a refrigerator cooling system, and probably means you're entire cooling system needs to be replaced."
That was the last thing I wanted to hear, and was hoping that it was going to be one of those "Oh look at this, it's just this silly wire that had come loose" sort of fixes. But nope, our worst fear had come true, the entire back end of the fridge was going to need to be replaced.
Andy went over and above what you'd expect from any repair tech, when he told us his family was planning their yearly spring vacation to Yosemite this coming weekend. He told us if the parts were delivered in time, he'd bring them with him along with his tools and take some time away from his vacation to repair the cooling unit.
In the day in age when you normally get a response like "A service tech will be there between 10am and next Thursday" I couldn't believe we could find a guy that would even make this offer.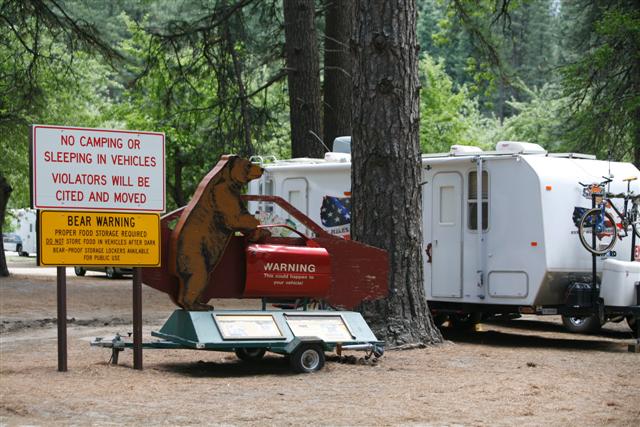 He said he'd let us know first thing in the morning what Norcold would say, and wished us luck in finding a camping spot.
Heading back into the park, we thought since we planned on being up at sunrise again, why not just park in the Day Use parking lot since in all reality we'd only be sleeping in it for a few hours.
As long as you keep this between you and us, we were able to pull one over on the forest rangers by sneaking out a free nights stay this way. But I wouldn't advice it since we've talked to a few others who were woken up in the middle of the night with loud knocks and an escort to the exit.
Tuesday June 3rd 2008
Cindy woke bound and determined to get us a campsite this morning, and was at the reservations office by 7am. I thought this was stupid, but when she came back a few hours later (they don't even open till 8:30am) she said there were probably 40 something people there waiting in line by the time they opened the doors.
There has to be a better way then this foolish lottery system they've come up with?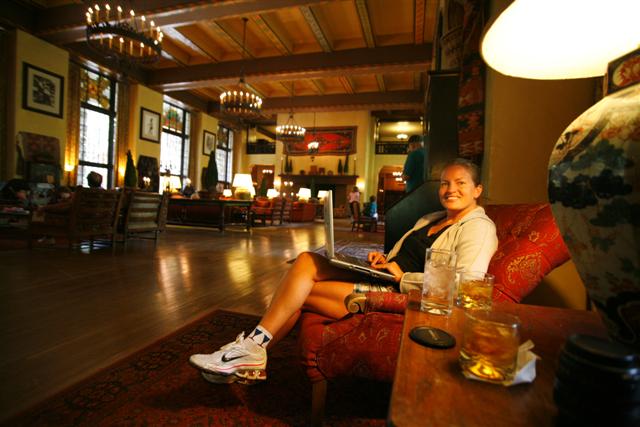 We knew we had a campsite for this evening, since Cindy's early arrival had put her on the number 2 position for open camp spots, but this also meant we were limited to what we could do since we had to be back at the reservations office by 3pm.
Most of the hikes we wanted to go on were long, all day hikes and were now out of the question. While talking with some other campers who were waiting for the lottery system, we learned that there were 6 people allowed per site. We grouped together with another couple, one that was traveling full-time on a Harley Davidson motorcycle pulling a teardrop trailer where their dog lives, and said they could camp with us tomorrow night, and we would camp with them on Thursday night when they already had a reservation.
We did ride our bikes over to the Ahwahnee Hotel, a registered landmark which has been in the Yosemite Valley since 1927. This place is amazing with its dozens of enormous rooms that leave you feeling like an ant in a gopher hole.
Each room is different, yet uniquely rustic. Each room has fireplaces that I could back our truck into and the best part about the place, they offered free wi-fi so we could see about making reservations online for campsites.
As we rode up, Cindy told me "The wi-fi is free, as long as you eat or drink in one of the bars or restaurants." I knew this was a ploy of hers, but I'd take the bait because I felt bad just scamming off their free internet service without making a contribution to the cause.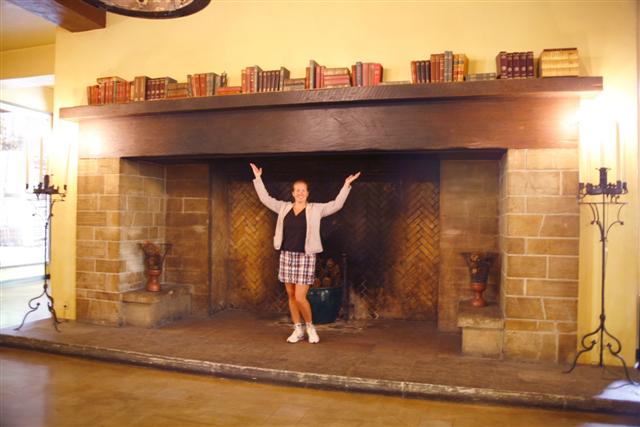 That was till we got the bill for two Makers Mark on the rocks. For $27, I could have bought the entire bottle along with the two glasses, but hey, this was Cindy's bright idea. And she's the one who's always worried about our money situation???? Maybe next time I wont feel so bad about using something for free.
After we answered a few emails and made reservations for the only available night of camping on the reservation list, we found our new campsite, set up camp and made another loop around the Yosemite Valley floor right before sunset. This is the best time to take in all the wildlife that comes out to play at this calm time of the evening.
Oh, and Andy did call back from California Mobile RV Repair stating that he had spoken with Norcold, and everything was under warranty, so everything would be fixed and paid for, but we had to wait till next Tuesday. Looks like dehydrated food is on the menu for the next few days.
Wednesday June 4th
I wont go into too much detail with the hassle it's been to find or switch campsites every single day, but this has definitely left a sour taste in my mouth for one of the prettiest National Parks we've visited.
Even though we were already in a campsite, and fully set up, we had to move out of our site for a few hours and park in the Day Use parking lot only to move back into a different site at 3pm.
This completely ruins all plans of any good hiking or photo taking opportunities with the constant worrying about where we're going to camp each night. Heck, for the past 16 months we've never worried this much our entire time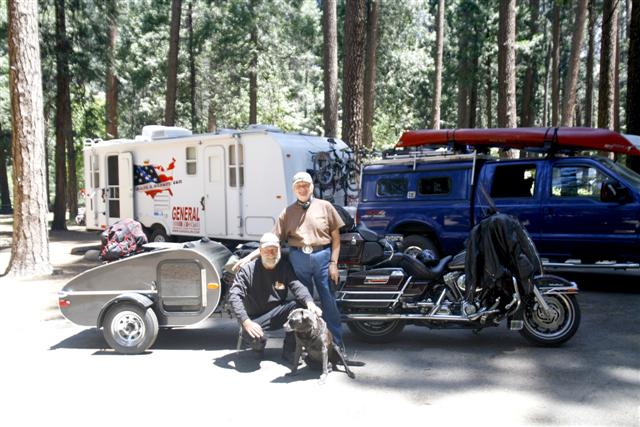 on the road.
But then again we have no problem finding a place to park, something that isn't possible in a park this big. That is unless we want to drive the 60 something miles outside the park each day to find a parking lot or campground where we could not have to worry about the Forest Rangers.
We did ride bikes around the valley for a few hours just to get some exercise and take in the sights, before we met Gary, Joy and their 12 year old dog Joshua, so they could join us at tonight's campsite.
Once we all got to our new campsite, we set up camp, and Cindy cooked up some tasty dinner. The rest of the night was spent with Greg and Joy around the camp fire where we all swapped plenty of travelin' stories, enough to fill a few Wanderlust books for sure.
Thursday June 5th
Since Joy and Greg had a reservation for tonight, none of us had to worry about where we were going to stay, but we did have to pack up camp one more time and move across the street to a new campsite....AGAIN!
Once we had moved and set up camp, Cindy and I got the motorcycle down and rode up to Glacier Point. Thank goodness for the motorcycle in times like this. The ride up to Glacier Point is 30 something miles, all uphill. That climb alone would have cost us a fortune in fuel if we had driven the truck. Luckily the much smaller Suzuki gets 50 something miles to the gallon and makes for a much more enjoyable drive anyway.
I do feel bad for Cindy when we go on long rides like this. The seat we have on our motorcycle isn't made for riding passengers, and the 1 inch of foam her butt has to ride on cant feel all too good by the time we get to our destination.
I also made the mistake of only wearing a light jacket on the ride since the temperatures were very warm when we left the valley floor. I knew I was in trouble when we reached the halfway point and there was a few feet of snow still piled along the sides of the roadway.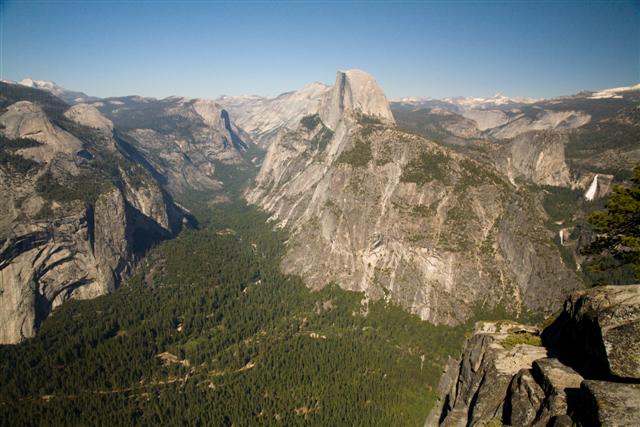 Once we reached Glacier Point, the views stretched on for miles. Talk about a completely different view of Yosemite. Half Dome looked like a small rock formation rather than the 8,842 feet of granite hulking mass it looks like from the floor of the valley.
When we're parked in the valley, the size of the pines make our camper look like a Matchbox toy. From this elevation, the trees blanketing the floor looked like a well manicured lawn. Except for a few spots cleared for parking areas, the inner workings of the National Park are all invisible from the lookout.
Looking over the railing on the viewing platform, the vantage point from 3,214 above the valley floor offers views of many of the iconic landmarks Yosemite has to offer. Yosemite Falls, the tallest of waterfalls in North America looks small in comparison, and you can see all of Half Dome from bottom to top.
You get an eagle eye view of both Nevada and Vernal Falls. You can look across the park to Clouds Rest peak and on a clear day like we were having today, you can see all the way to the eastern most edge of the Yosemite National Park to Mount Lyell, with its 13,114 foot peak as your horizons edge.
I probably could have spent the entire afternoon up here just looking out into the great wide open, but of course our view of the valley was somewhat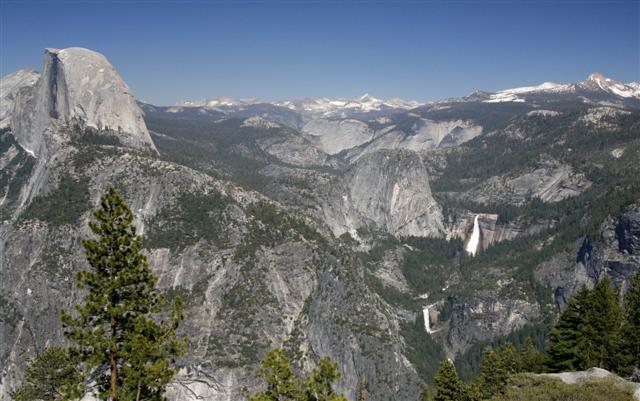 hindered by a controlled burn the park service was doing a few mountain passes over.
The wind was blowing the smoke right through the valley and was blocking any chance of a clear picture of the many sights. Not that I didn't enjoy the views we did see. Once we realized the smoke wasn't going to clear anytime soon, we climbed back on the bike and headed over to Sentinel Dome for a short 1.1 mile hike.
Sentinel Dome is this giant dome of granite that also offers amazing views of the valley floor. This is where any aerial shots of Yosemite Falls are going to be taken from and the view of that monstrous falls makes it look small from this height. Now I know the vantage point to get a good shot of the falls in all its glory.
Looking West, you also have amazing views down into the valley making El Capitan look like a small wall of rock, rather than the largest granite monolith in the world. Sitting up here, Cindy and I forgot about all the nonsense and stress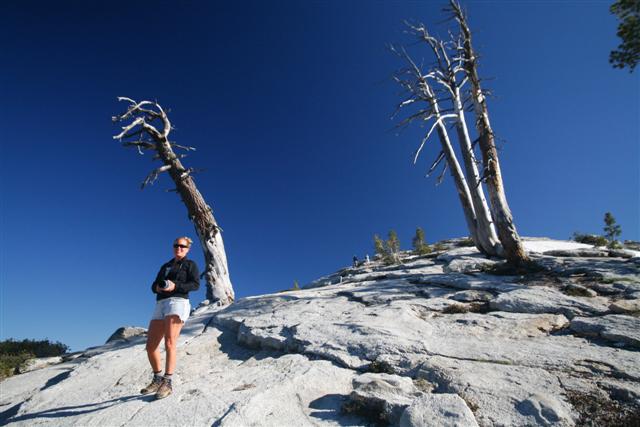 the park had caused the last few days and remembered what this trip is all about, seeing unforgettable sights like this and enjoying them together.
Once the sun started to set, we hiked back to the motorcycle talking with a nice couple from Seattle about various National Parks to visit. We saw a group of deer who was prancing around the woods not paying too much attention to us hikers.
But once back at the motorcycle, the sweat I had worked up while hiking, now froze on my back once the wind started whipping through my thin jacket. I cursed myself for having a nice warm leather riding jacket hung in my closet while my arms froze like two popsicle sticks holding on to the handlebars.
We pulled over to warm up at the most famously photographed spot in the park, the view of the valley floor, with Bridal Veil Falls to our right, and Half Dome off in the distance. You know the one, the shot made so famous by a little known photographer who called Yosemite home, Ansel Adams.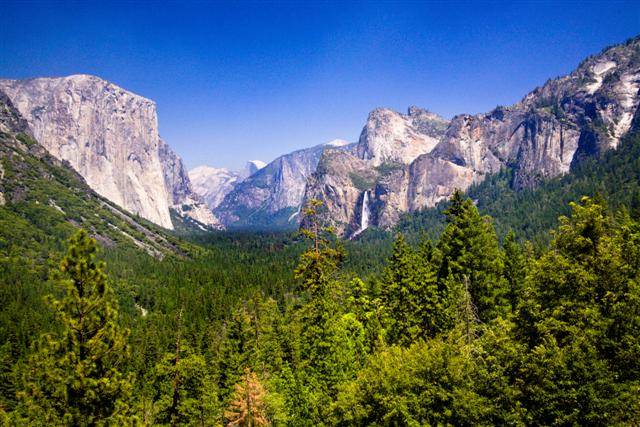 Well by no means could we even try to compete with Mr. Adams today, but we did sit and stare at this amazing view till the blood started to flow back into our extremities. Trying to match his talents and failing miserably every time only makes me respect his work all that much more.
On the ride back to the campsite, we did spot too many deer to count, and one bear wandering along the side of the Merced River. Of course we don't have pictures to show you, so you'll just have to take our word on this one.
Once back at the campsite, Cindy started making dinner for the four of us, and I was volunteered to take the dogs for a walk. While standing there waiting for Luca to finish sniffing every pine needle he could find, I heard a group of dogs start barking frantically.
Out the corner of my eye, I noticed a good sized dog sitting only about 10 feet from me and my two dogs. Luca was the first to notice him, and when his tail starting wagging uncontrollably, I noticed that this shaggy dog wasn't a dog at all, but a coyote sitting face to face with us.
Just as Luca started to lunge at him thinking it was full on play time, the coyote was gone in a flash. Lucy and I were still sitting there in shock when Luca almost tore my arm off going after the distant cousin. When I regained my balance and was able to skid the three of us to a halt, I think Luca was pretty upset that I had held him back from this playmate that would have given him a run for his money. I had to drag him down the road all the way back to the camper.
Dinner didn't take long to scarf up, and after a box of wood burned in the fire ring, we all said our goodnights and were off to bed fairly early.
Friday June 6th 2008
Gary and Joy were headed towards Fresno and Cindy and I are still planning on bagging at least one of these big hikes before we leave Yosemite. So as we packed up camp for our 5th day in a row, we made plans to meet up somewhere on down the road when we'd all have reservations and not have to move every single day.
Cindy and I moved to the Day Use parking lot, AGAIN, and found a nice sunny spot to park the camper for the remainder of the day. The last few days in the campgrounds have been very shady on the solar panels and our batteries are getting dangerously low. Heaven forbid we pull out one of the generators to charge them back up....LOL
It had been 6 days since I had shaved either my beard or my head and I was starting to look like the Unabomber or a distant cousin. Cindy turned on the the water heater and said to me "OK, you have to shave today." Something tells me she doesn't like me looking all shaggy and mountain manish.
I personally hate growing out my hair, but when we're trying to conserve water, shaving is the last on my list of things to do. What I've found is the easiest way to accomplish this task is to first knock down as much of the hair on my head as I can with an electric shaver. Something I cant use on my face as it just pulls at my facial hair, but I have no problem using on my head? Cant figure that one out, but it helps in conserving water.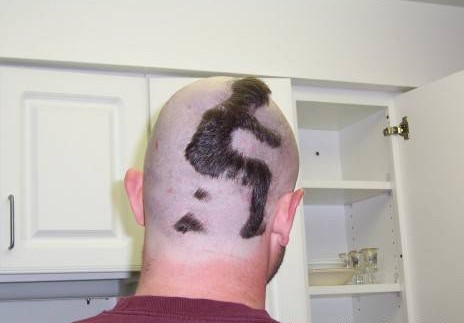 Once I shave off much of the hair with the electric shaver, it leaves my head looking like I got into a fight with a razor and lost, but it does cut the actual shaving time down considerably. I then get in the shower and fill up a small Tupperware container with hot water and lather up my head with shaving cream or Cindy's conditioner, but don't tell her that.
I now can sit on the floor of the shower (I know, not a pretty sight) and shave the rest of the hair off my face and head using the hot water in the container to clean off the razor and not waste any with leaving the shower water running.
The problem with shaving my face is, once I have let it go this long, my skin breaks out very badly right after I shave with a very bad case of razor burn. This is why I always try and shave right before I go to bed. Usually, if I can do this, by the time I wake up my face is back to normal and I don't look like I was on the losing end of a fight with some battery acid.
Now that you know my secrets to shaving, you'll know why if you see me with a heavy beard, it's because I've been trying to conserve on water the last week or so. If you see me with hair on my head, something that I have very little of to begin with, (but that's what I get for raising a step-daughter through her teenage years...LOL) then do me a favor and don't point out my bald spot that is 75% of the back of my scalp.
Saturday June 7th 2008
Today was probably the busiest we've seen the park since we've been here. If you ever plan to visit Yosemite, avoid the weekends. Much of the day was spent relaxing in the camper with the cool breezes blowing through the screens.
I was able to finish the book, 3 Cups of Tea, that I've been reading for the past week. Never have I finished reading something and felt like my life was so useless. What I mean by this is, Greg Mortenson, who the book is about, devotes his entire life to build schools for girls in the Middle East. Something that goes against all their beliefs. These schools are to educate the young girls in hopes to teach their culture better standards.
In a time where most people are so fed up with anything to do with the Middle East, this was a very refreshing view of a way to put an end to Terrorism with books, not bombs.
The selflessness this guy shows should be taught and noticed by every individual on Earth. Never before have I wanted to donate to a charity so badly, or go out and do something good for other people, than after I read this book.
Do yourself a favor and read this amazing story about one man who I cant believe hasn't been nominated for the Nobel Peace Prize yet. You wont be disappointed.
I did get a chance to ride over to the Ahwahnee Hotel where I was able to upload some new pages to the website. Nothing else really happened today.
We are trying to rest up for a big hike we're planning on tomorrow.
Sunday June 8th Climbing the Tallest Waterfall in North America
We got an early start this morning as we knew I'd be hiking pretty slow with my gimpy foot. Usually with my boots laced as tight as I can lace them, I can keep it from hurting too badly. So I was hoping I wouldn't be holding Cindy back too much.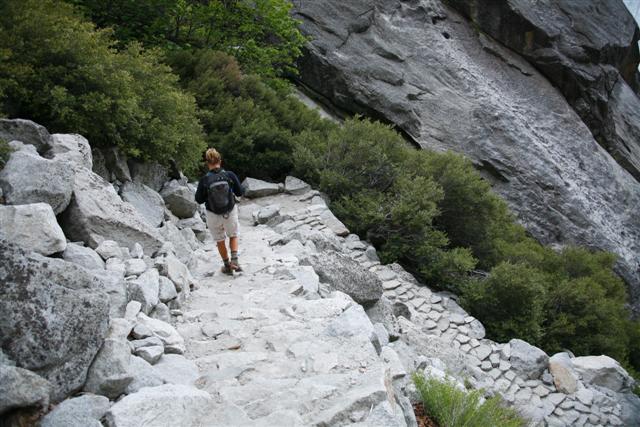 I usually think of myself as being in normal shape. I'll be the first to admit that I'm nowhere near where I should be for my young age of 34. But I know many of my friends back home who make me look like I could be running marathons when compared to their physiques.
Well on this hike, I felt like they look. Chalk it up to elevation, the steepness of the climb, or the simple fact that this was our first strenuous hike in a few weeks, but man did it kick my ass.
Upper Yosemite Falls is only a 3.6 mile hike, but all of it is straight uphill. There were more switchbacks than I could count, and when they say don't stray from the trail, they're not lying. In many places you can look right off the edge of the trail all the way to the bottom, with maybe only a few shrubs to break your fall along the way. Not that we werent passed by a few couples who were my parents age, and another Mother/Daughter team who made us look like a couple of snails.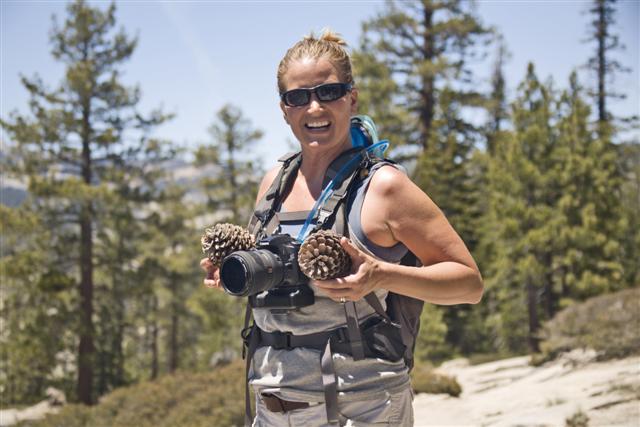 Cindy and Her Double-D Pine Cones
It's funny to compare Cindy and I when hiking. She has trouble climbing, and wants to take a break every 50 feet, where I can climb all day long with out too much trouble. Now on the way down, Cindy is practically running, where my knees feel like they're going to blow out at any minute. The climb down was my nemesis, and I had to keep telling Cindy to wait up for me as I was going so slow.
But the climb back down was a slice of heaven when compared to the HOT climb up. The entire way up, we were in the direct sun, which had me sweating like Charles Mansion in front of the Parole Board. But on the way down, 90% of the trail was in the shade, with a nice cool breeze that actually had Cindy thinking about putting her jacket on.
But enough about the trail itself, what we were really doing all this for, was the spectacular views this hike offers. So many times did we both just stop while saying to one another "I could sit here for days and not get sick of this view!"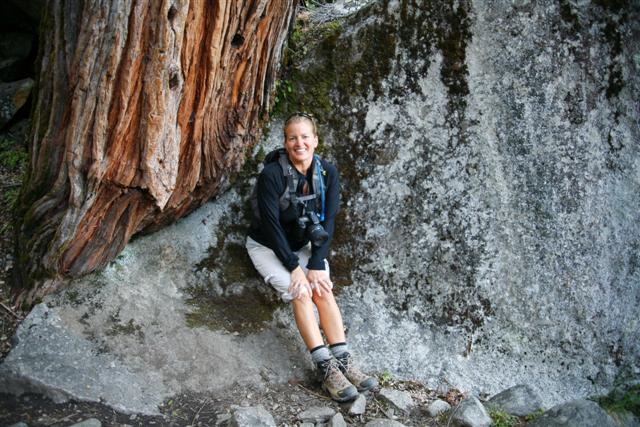 With Yosemite Falls being the tallest waterfall in North America, you know the view from above the falls would be breathtaking. The trail itself only brings you right to the top of the falls, we choose to add another 1.1 miles to the hike by hiking to the top of Yosemite Point. If you ever do this hike, make sure to tack on that extension and see the views from that vantage point. You wont be disappointed.
Once we climbed to the top, we were glad we made the extra effort. All the huffing and puffing, the lungs burning for the past 4 hours as we trekked up the switchbacks were forgotten while we stood on Yosemite Point overlooking the valley.
I think the view from this side of the valley is even better than the view from Sentinel Dome, or Glacier Point. From atop Glacier Point, Half Dome has mountains directly behind it, so it doesn't look as menacing. But from this angle, you're looking right at the front wall of that amazing sheer face, and know how crazy the climbers who scale it must be.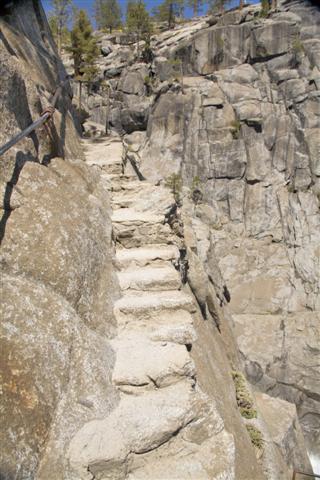 Hiking back down from Yosemite Point, we were going to climb out to the overlook above Yosemite Falls, until Cindy realized the railing was on the wrong side of the narrow stone staircase. If I could have had a video of how fast she came scurrying back around the rocks once she realized the railing switched sides, I'd win the Funniest Home Videos award.
No amount of coaxing could get her to scale that narrow walkway, so I had to do it on my own. Once down there, I wasn't nearly as impressed as I thought I'd be. For one, the wind was whipping so strongly, that I was getting soaked with overspray, and for two, you cant get a good angle of the falls looking straight down the drop.
Crazy as it sounds, I think the best view of the falls is half way up the climb where you're in the middle of the drop, and can sit comfortably watching the foamy water drop off the ledge. But looking straight down the falls, you do get to see a cool Double Rainbow coming off the spray with the Valley below it. So that made the scary climb along the narrow edge worth it for me.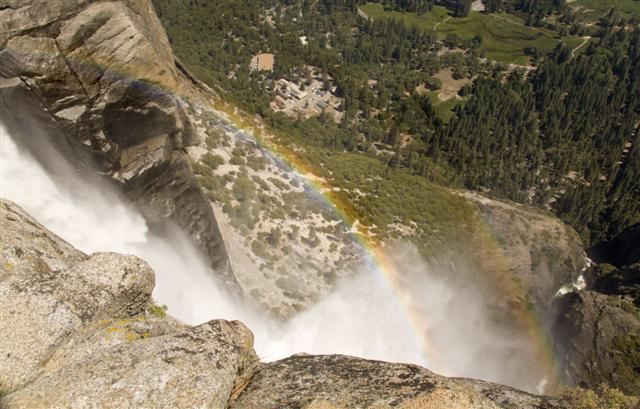 Double Rainbow above Upper Yosemite Falls with the Valley Below
Once we started heading down, I knew I hadn't brought enough water. I had left my Camelback reservoir back at home because it has a small leak in its hose. Cindy had brought hers, and we also had two 32oz water bottles, but I had finished them off while we had eaten lunch on top of the hill.
I was tempted to drink from one of the many mountain streams we crossed, but we don't have a water filter, and with my luck, I can see me getting some virus and being stuck on the side of the mountain with a stomach flu.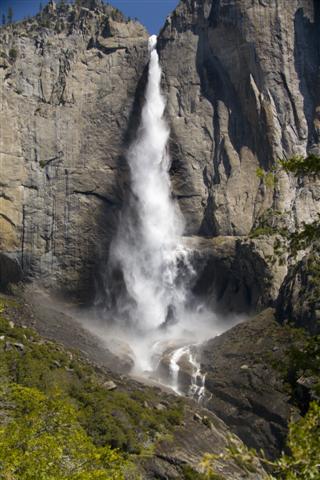 By the time we got back down to Camp 4, where the trail head is located, I was practically running to the water spigot. I'm not lying when I say I filled up one whole 32oz bottle, and drained it just as fast into my parched mouth. I refilled the other two, bringing one back to Cindy, and sipping slowly off the other one while we waited for the bus.
It's times like this when I'm so confused when we see hikers going up the trail with only one small water bottle in their hand? Do they just not think about things like this?
The short walk from the shuttle stop to our camper left me feeling like I had two cement blocks around my feet. Oh my God I'm out of shape! 9 1/2 hours of hiking it took us to cover 9.4 miles of terrain. That's an amazingly fast 1 mile per hour for the average of the day on the mountain. WOW are we some speed demons! It's days like this when I love crawling into bed knowing I'm going to feel good and sore tomorrow, but its soo worth it from the memories we made.
Tuesday June 10th Leaving Yosemite
After our 9 mile hike on Sunday, I woke up on Monday morning saying "Oh man, I think someone beat my calves with a baseball bat!"
Needless to say, we didn't do much of anything yesterday. We did ride our bikes around the valley a few times just running some errands and picking up mail we had shipped to us.
Our friend Don Wessel in Arizona had contacted us saying he had a buddy that could get a good deal on some 4 Gig Compact Flash cards, so he was mailing them to us. When we got the mail, we had a great surprise when Don, also a woodturner included in the package a few handmade wooden pens he had made for us.
He knows how much we love hand made stuff, and what a great guy to think of us with something so cool. THANKS DON!!
A good friend of mine from back home in Michigan had emailed us when he knew we were in Yosemite with some info. Andy is a guy who had been born and raised in Milford like me. He had moved out at one point and called this area of California home for a few years. Sitting in the Red Dog back in Milford, he used to always tell me stories of cruising up and down the twisty mountain roads on his motorcycle and how the little towns reminded him so much of our small town, only with nice weather year round.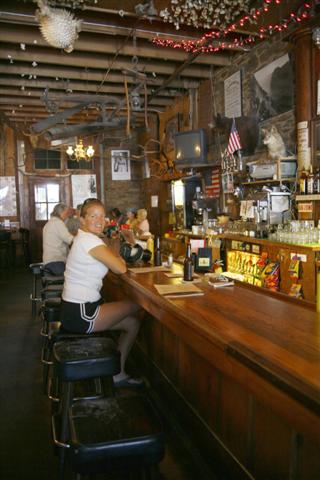 Andy's email gave us a bunch of cool spot to stop by and he wasn't joking with his comment that many of these small towns reminded us exactly of Milford, only much nicer weather.
Call us crazy, but we were both ready to pull up stakes after a week in Yosemite and not much involvement with the outside world. Don't get me wrong, it's breathtakingly beautiful, but there is only so much beauty you can take in a weeks time. That and the place was so packed full of people, we both decided that we'd love to come back in late fall or even in the winter to see what it would be like then.
So this morning we packed up, and made that huge climb up and out of the valley. Over 10 miles of a 6% grade to get out. Luckily for us the last week was spent 100% green. Except for moving the truck from campsite to campsite for the first few days and our ride on the motorcycle, that was the only time we had run a combustion motor in a full week.
The tight windy roads leading away from Yosemite towards Groveland offered great views, and the cool mountain temperatures were perfect to leave the windows down and let the wind blow through our hair, or Cindy's hair I should say.
The first town we pulled through was so small, it let us know on the welcome sign that it's population was only 50 people, and the only thing we saw was a trailer park and a general store. That one we didn't stop in.
The next town we came to was Groveland. This little gem of a town was something right out of a story book. With blooming flowers lining the narrow streets, and the oldest Saloon in California, it was just what we were looking for.
We bellied up to a bar that was older than both of us put together in the Iron Door Saloon, and ordered our first Cold Beer we'd had in weeks. With the fridge not working, and our budget not allowing us to afford anything in Yosemite, I was loving this small town bar.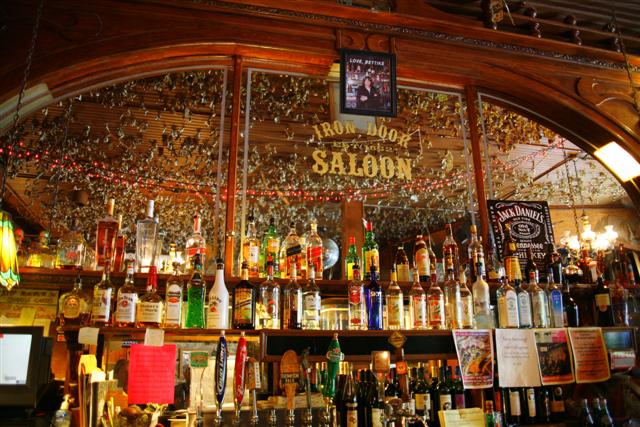 Cindy and I ordered some big, juicy hamburgers and spent the next few hours talking with the ol' bartender and a few of the locals who call this place home. It was just like being back in Milford, Andy was right. The bartender cracked us up because she looked like she had been sipping off the bottle since early this morning and was telling us some very unusual stuff that you don't normally tell two people you've just met.
After our very entertaining lunch, we rolled on down the road to Jamestown where Andy had recommended the famous Willow Saloon. The road between Groveland and Jamestown is one of those roads that looks like you've dropped a handful of wet noodles on the ground. It was so curvy and loaded with 180° switchbacks, I think our top speed was 25mph.
Once in Jamestown, we found a place to park the camper and walked up and down the quaint streets window shopping in all the antique shops. At the end of the block is the place we had come to see, The Willow Saloon. This old time bar under a closed hotel was originally built in 1862 and is known to be haunted. The Willow Hotel reportedly has been haunted since the late 1800s. Under the Hotel an old gold mine caved in and killed 23 miners, and now the hotel is said to be haunted by these miners.
We sat here for a few hours talking with some very cool bikers who had spent the last week riding around Northern California on their Harley's that they had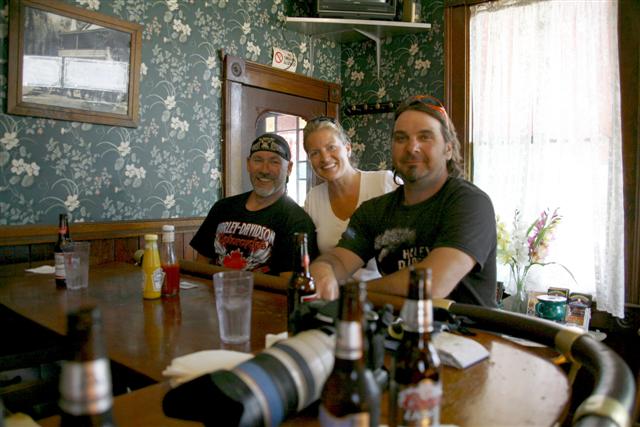 ridden all the way from British Columbia. We never did see anything crazy happen or get to see any ghosts, but the place does have a cool atmosphere about it. We didn't eat, but the food looked great!
From Jamestown, we were headed towards LaGrange down some tight, bumpy roads when we hit a roadblock. Apparently there is a forest fire going on, and they had the roads closed down right before LaGrange.
Don't ask me why they didn't have the roadblock setup at the start of the 15 mile long road, but we had to turn around and head back down the bumpy road to HWY 120.
Sorry Andy but we never got to visit the LaGrange Saloon, which he had described to us as 'The Red Dog West', but thanks for all the great tips on the cool little towns. When I had asked Andy how he could move from this area when he had first sent us the emails, he replied back with "That was the one place beside Milford that I felt in my place."
After spending the day roaming around these little towns, I now know exactly what he means. I never thought I'd say that Northern California reminds me alot of my small town back in the Mid-West, but sure as shit it does.
We finally pulled into Oakdale, and found a parking lot we could call home for the night. Amazing to think that we feel so right at home parked in any ol' parking lot in any ol' town.
I guess once you get this gypsy lifestyle into your blood, it's hard to shake it. Who would have ever thought that we'd both get antsy in Yosemite after being out in the wilderness for 7 days? Throw us in a small town parking lot and we feel right at home. Maybe it's because we had logged some miles on today, and that's what was giving us the itch.
_____________________________________________
I just realized I have forgot to mention this awesome topic!
A few months ago, I had remembered the Wood Carver we visited back in Wisconsin who carved these beautiful mermaids that adorned all his shop doors. The mermaids were actually door handles or door pulls.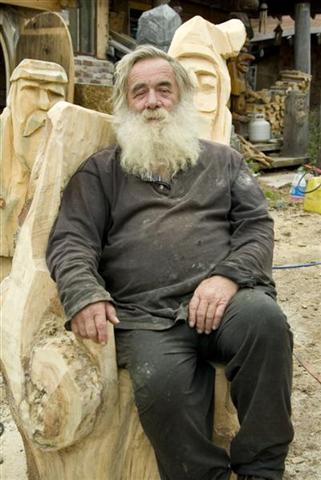 While we were wandering around his shop back in October when we were passing through the Cheese State just after kayaking the Apostle Islands, I asked him if he could custom make me two of them to replace the stock, plastic handles on the side of our camper.
He laughed and said he would be able to, but that was winter work when he was holed up in his workshop and the nasty Wisconsin winter was keeping him from doing any outside work.
Fast forward to this January. We're in Arizona and I emailed Bill (That's his name) asking him if he was still interested in making them for me? Bill said he'd love to carve a few curvaceous mermaids in the middle of the winter, and set about to whittling a few masterpieces.
In that time, one of his work shops caught on fire in the middle of the winter, burned to the ground and the one of a kind life size rocking horse/dragon that Cindy is sitting on in the Woodcarver Gallery burned down with the fire. Awful news! Bill was in our prayers for the next few weeks while he sorted out his mess.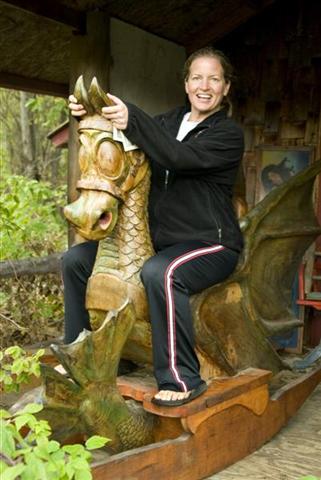 This is the Life Size rocking Chair that burned down with Bill's Shop
The last thing Bill said in his email when he told me the terrible news was "No worries though, your two mermaids were on my nightstand in the house! Safe and sound."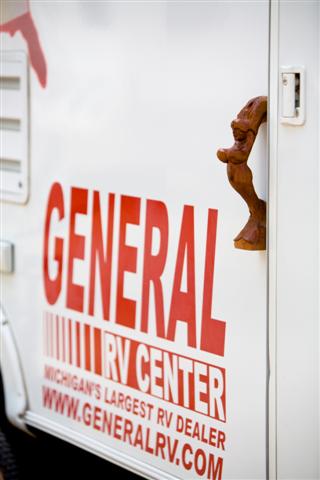 So we just got them mailed to us last week in Yosemite, via Arizona, where Bill had mailed them to us.
I put them on while we were in the Day Use Parking lot in Yosemite and it didn't take but 5 minutes till we had people walking up to look at them. In the past week, I've noticed so many people point them out, that I wish I would have had them when we first got the camper. It's hard for people to walk by without stopping to look or take a picture!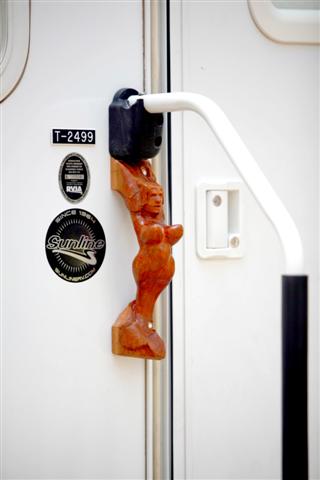 They truly are one of a kind pieces, and every time I walk towards the camper, they put a smile on my face. I had told Bill to make them as curvaceous as he wanted, and he didn't let me down. These two girls are as curvy as they come! Cindy even gets a big smile every time she walks in the door!
My only worry is getting them stolen! We have thousands of dollars of outdoor gear hanging off the camper, and I'm more worried about these two little wooden carvings than I am about our motorcycle or the two mountain bikes getting stolen.
Thanks again Bill Vienneaux, you outdid yourself this time! If you're ever near the Apostle Islands in Northern Wisconsin, make it a point to stop by Bill's workshop. The place is like stepping into another world!
If you'd like to contact Bill, you can click here to do so.
Thursday June 12th Playing the Waiting Game
Yesterday we caught up on laundry and some much needed cleaning of the camper. But it wasn't fun at all due to the heat wave we're experiencing right now.
We had drove over to Modesto so we could meet Andy from California Mobile RV so he could repair the Norcold refrigerator. But the part hadn't come in on Tuesday like we had planned, and Wednesday they had a full day scheduled, so we were planning on meeting today.
Problem was he couldn't schedule us till 4pm. He had asked if we could meet him at a Flying J parking lot where he would do the repair. We pulled in, emptied our gray/black tanks and decided that there wasn't a shady spot in the whole place, so we drove around till we found some shade off the side of a building where we could park. We then called Andy and told him our new location and waited in the sweltering heat for him.
What a difference coming down from Yosemite's elevation makes on the heat index.
By the time Andy got there a little after 4pm, the inside of the camper was at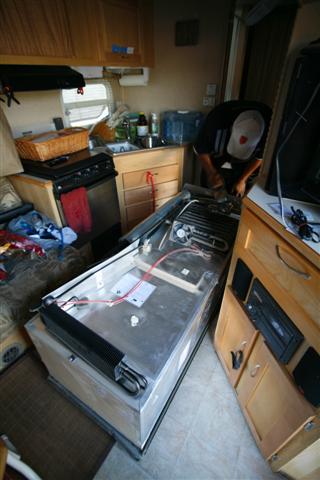 91°. I'm not sure what he was thinking, because he showed up by himself to do the repair? Not that it was a hard repair, but the entire refrigerator unit had to be pulled out and laid on the floor of the camper so he could swap out the cooling units.
Not that I minded helping, but what if I was some elderly guy? How would he have done this on his own?
So a few hours later, he had the new cooling unit in and it was working like a charm. Once he packed everything up and took off, Cindy said "You're taking me out to dinner tonight! There is no way I'm sitting in this hot camper and I'm surely not going to fire up the stove!"
Across the street, there was a host of fast food places to choose from, so we walked down the block and decided we'd give Sonic a try. Every time we pass by one of these drive up, A&W style joints, we notice the line of cars, so we figured we'd see what all the fuss was about.
There is no dining room, and since we had walked up planning on sitting outside, we couldn't enjoy the gimmick of having the food delivered to your car where you would rest the tray on your window like the old drive-up diners of the 50's and 60's.
While we were waiting for our food, I thought I'd go wash my hands before we ate. The bathrooms were locked, so I asked what I needed to do to get a key. The cook told me he'd get the manager since he was the only one with the key.
As this young 20 something year old kid came out, I was following him to the bathroom when he says very loudly "I'm gonna have this place shut down!"
I questioned what he was talking about and thought maybe he was mad that we were here this late. I asked "What time do you all close?"
He says "I don't mean close tonight, I mean close for good!"
I asked him if we should be eating here if he was trying to get it closed down, and he says "Oh, don't worry about the food, it's the bathrooms that are pissing me off!"
As he unlocked the door, he pointed out that the toilet seat was shattered and told me that when he called the district manager to tell him they needed to replace a toilet seat, the district manager told him to "Glue it back together."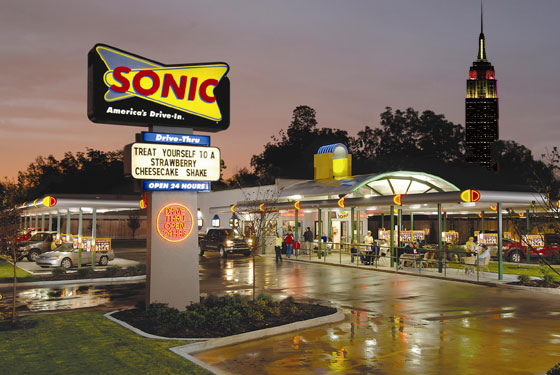 Obviously this long haired, pony tailed, bearded kid was very upset with this reply from his superior, and was making sure I knew the shattered toilet seat wasn't his fault. I let him know that "all I wanted to do was wash my hands and I wouldn't hold it against him."
When I came out, I was telling Cindy about our little discussion about the toilet seat when he came walking out with our food. As he set it down, we asked if we could get some condiments like ketchup, mustard and mayo.
He said "Yeah, I can do that for you."
He comes walking out a few seconds later and throws down a handful of condiments and states very loudly "I hate this place, the food sucks and the people are all rude!"
Cindy and I both started laughing thinking maybe we were on the next episode of MTV Punked. But this young, angry manager just had a chip on his shoulder and wanted to make sure every customer knew about it.
Cindy asked him why he hated the food, to which he replied, "It's not good for you, it's fried and it's loaded with preservatives."
So if I could borrow a line our good friend Darrel likes to use, "Our visit to Sonic was two visits in one, our first and our last." But it made for some good entertainment and we chuckled to each other the whole walk home.
Once back at the camper, we were still roasting from the heat, and went to bed with every fan on in the place. Hopefully tomorrow will be cooler.
Friday the 13th Luckily it's the only one of 2008
We were up with the sun trying to get moving before the heat engulfed the camper. We had camped in a grocery store parking lot, and now that we had a working refrigerator, I walked the dogs while Cindy went grocery shopping for fresh supplies.
Once the dogs were walked, fed, and the groceries were put away, we were on the road headed towards Sequoia National Park by 9am.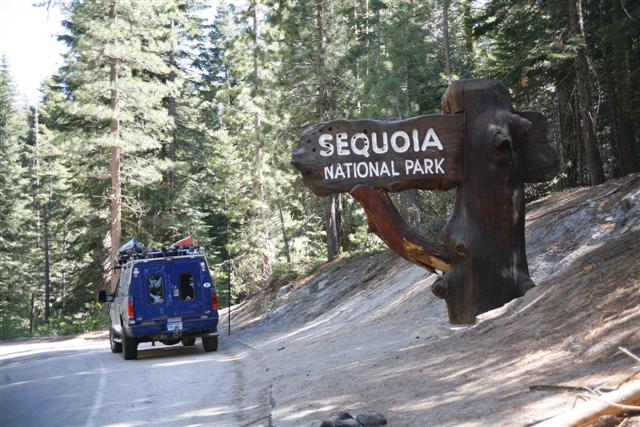 This was a few hours drive from Modesto, along some awful California roads. Up to this point, most of the roads in California had been smooth as silk. But this stretch along HWY 99 is in need of major repair. I felt like I needed to put a kidney belt on due to all the bumps and uneven pavement.
Once off HWY 99, we found HWY 180 and started the long climb up to Kings Canyon and Sequoia National Park. These two park systems share entrances as they border one another.
As soon as we pulled in, thanking ourselves once more for having the Annual National Park Pass, we pulled over at the first scenic overlook to let the motor cool down. In the past 20 miles, we had climbed over 5000 feet in elevation!
While we were sitting there looking out over Kings Canyon, some guy pulled in with a very sweet Jeep Rubicon. I started talking to him about local places to go 4Wheeling, and he asked "where are you going to camp at?"
When I said "I don't know, we just pulled in the park two minutes ago." He told me about a forest service road that leads out to a spot called Big Meadow. He told me "along the road, there are a few different places to take the trucks 4Wheelin' and anywhere along that road is free to camp."
How sweet is that! A free spot to camp just on the outskirts of the National Park! I like this park 100x's better than Yosemite already!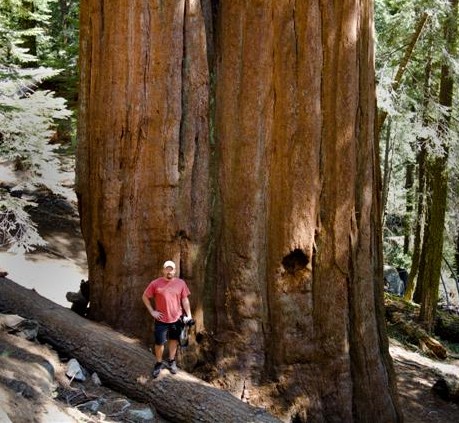 Cindy and I found a beautiful campsite that was blanketed with yellow flowers where unhooked the camper. While I was setting up camp, Cindy made us some lunch, and we both commented on how quiet it was up here.
Being this high up, the temperatures had dropped down into the low 80's, and there was a cool mountain breeze blowing through the tall pines. The air even smelled fresh.
Amazing what some cool weather can do for our grumpy attitudes we both had when we were roasting in the heat of the Valley yesterday.
After lunch, we grabbed the cameras and headed on our way into Sequoia to see what this park had to offer. 20 minutes into our drive, Cindy was yelling to stop because there was a blonde bear walking along a beautiful green meadow.
This would be the start of the rest of the day. For the next few hours we wandered amongst the largest living things I've ever been near in my life. There are no words to describe the Sequoia's and their majestic beauty.
Standing at the base of a tree that is larger than our camper in width, stands some 300 odd feet tall, and absorbs any sound with it's multiple feet of thick red bark, I was at a loss for words.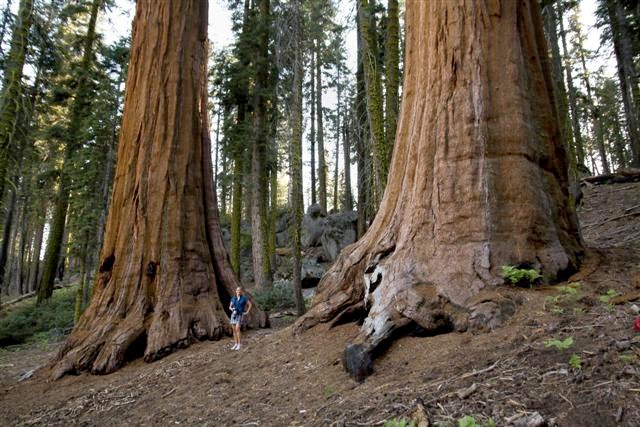 Every time I look at this I'm in Awe!
I tried to take hundreds of pictures to show their size, but unless you have either Cindy standing at the base, or the truck parked somewhere near the tree, you just cant get the feel for how huge these monsters are.
In our first few hours of driving the park loop, we had already spotted numerous deer, and a few bear. We decided to go for a little hike into the woods so we could surround ourselves with these living giants.
Walking through a forest of Sequoias is like nothing I could have ever imagined. The only thing I can think to relate it to is in the movie Lord of the Rings, when the forest comes alive and the giant trees start walking.
I was waiting for one of these giants to take a step at any minute. That's how magical it is to be around them. Not only the fact that the meadows were filled with grazing deer nibbling on blooming wildflowers, but there were bear at the edge of every pond, and the dog woods were in such bloom, it smelled like we were in a Potpourri store.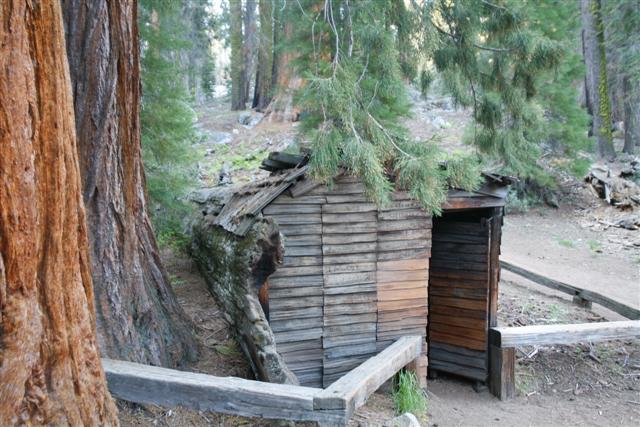 If it wasn't for the hordes of mosquitoes that thought the layer of DEET I had soaked myself with was some sort of aphrodisiac, I would have laid down in the grass thinking I had died and gone to heaven.
On our hike, we found a tree that a guy named Tharp had carved out to use as a house back in the mid 1800's. He had built a small shed off the end of the tree, hollowed out the inside and even had a fireplace to keep himself warm. Imagine living inside of a tree, and not being in a fairytale!
On this hike, we were able to cross a flowing marsh by using a fallen Sequoia that was probably over 200 feet tall. Walking on this natural bridge sounded like thumping your hand on a cork board. The sound was so dense and deep.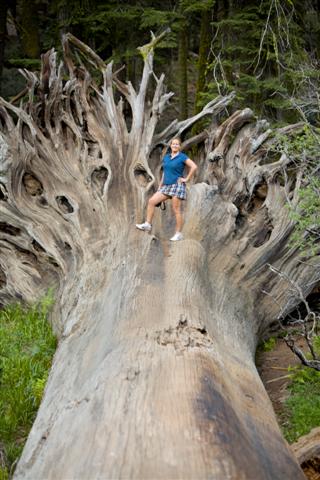 To see the base of the giant trees up and out of the ground is like looking at the side of a building. I guess their root system isn't that deep, it's just very wide and they are known to topple over for no reason.
Once back at the truck, we both said to one another, "why did we waste so much time in Yosemite?" This park has just as much beauty, almost no one at it, and free camping! What more could you ask for?
By the time we got back to the camper, we had been gone for almost 5 hours. In that time we had seen 6 bear; two blonde, one giant Red one, and three black bears. I had walked up to one deer so close I could have petted it like we were in a zoo, and we had another one jump up from its spot it was sleeping so close to Cindy, I thought she was going to walk on water.
I'll admit, we were both paying so close attention to look for bear, that when this deer jumped up, I almost wet myself too.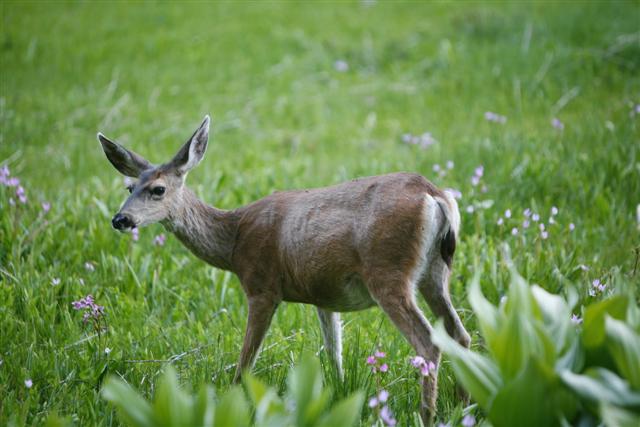 This is the deer that Scared us so bad. Sleeping in a meadow of flowers
Saturday June 14th
Since both parks border each other, we figured we might as well check out Kings Canyon National Park considering we're camped right on its edge.
Up until a few weeks ago, when I was studying a map looking for a route to Sequoia National Park, I had never even heard of Kings Canyon National Park. This park really only has one road that drives through one small section of the deepest part of the canyon. But don't think the park isn't huge! It's loaded with hiking trails and you could probably spend months here before you could hike all the trails it has to offer.
We stopped at the visitor center to get some maps and info on the park, and watching the very cool movie they show, I was amazed at how huge this National Park is. Actually every day I'm wowed at the new things I learn.
My education in the Mid-West was very lacking when it came to the edges of our own country. Who would have known there are all these beautiful parks that I never even knew existed.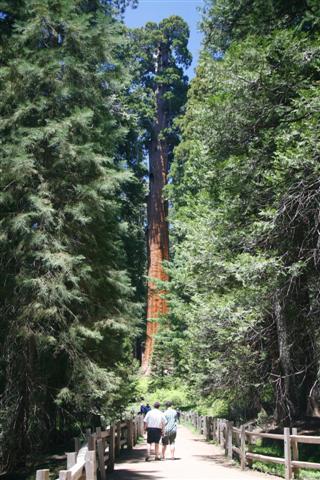 Our first stop after leaving the visitor center was in a grove of giant sequoias where some of the largest trees in the worlds are located. The Grant sequoia is one of those monsters you just sit and look at and feel small in comparison.
Not just in height, I've always been short, so I know what its like to stand beside tall things, but to sit amongst these trees that are thousands of years old, you realize how short of a life span we humans have on this Earth. These trees were here before us, and they'll be here long after we're gone.
Walking the short loop, surrounded by these giants, some so large the US Calvary once used the inside of one as a stable for their mules, you just feel like an ant in tall grass.
Cindy and I have both decided that after taking dozens of pictures of the Sequoias, it's useless unless you have the truck or a person by them to show how large they are. Looking at images of the trees by themselves, you don't realize how massive they are. You need to put something near them to compare.
After the Grant trail, we drove down into Kings Canyon. This deep canyon, lined with massive walls of granite is very impressive. Flowing beside the road is an emerald mountain river that was just raging out of the high sierras.
At numerous spots along the road were signs saying how dangerous the currents were. To look at this raging river, you'd have to be an idiot to get into it, but I guess they put those signs there for a reason. Obviously someone had
already tried to get in the churning waters which led the park service to make signs warning how dangerous it was.
Looking at the water, I said to Cindy that "I've never seen something so dangerous that is so beautiful. It's like the water is calling to me to put the kayak in." If I knew how to whitewater kayak, this is where I'd come for some serious fun. But since I don't, I choose to sit on the edge and toss rocks into the beautiful emerald water.
We stopped at Grizzly Falls and took a few pictures then drove up to the Roads End. HWY 180 dead ends and offers you limitless opportunities of hiking into the Sierras. You could take the John Muir Trail up to Yosemite, or if you're feeling really energetic, you could jump onto the Pacific Crest Trail which goes from Canada all the way to Mexico.
We chose to sit on Muir Rock which is a huge piece of granite with the river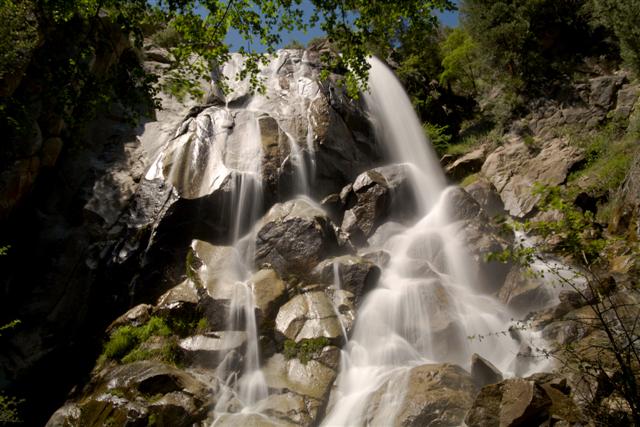 flowing beside it. They say that John Muir used to sit on this rock and give speeches when he'd be entertaining the Sierra Club. I couldn't think of a better setting to listen to a sermon on conservation coming from the master himself.
There was a family that was jumping off the boulder into the chilly waters and we sat watching them for awhile. Every time they would hit the water, they would resurface with a high pitched scream coming out of their mouths. The day was warm with temperatures in the 80's, but something tells me that water was just above the freezing temps. Heck you could still see snow on the peaks above us.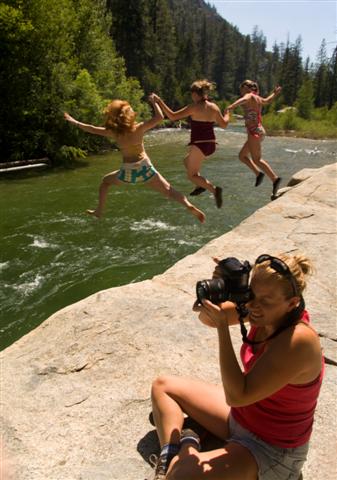 This is just such a funny picture! There is so much going on behind Cindy, yet she's looking the wrong way taking a picture....HA! HA!
Driving back out of the canyon, we decided to take a short cut via the Hume Lake road. This narrow little winding road brings you to a hidden lake nestled in the middle of the mountains. When we got down to Hume Lake, we stopped to see why everyone was gathered around a dock with a launch ramp on it.
What we found was a Christian Camp that sits right on the lake. Hundreds of kids were gathered around to watch a few brave guys, and a few even braver girls who were jumping BMX bikes off the end of the dock into the lake.
W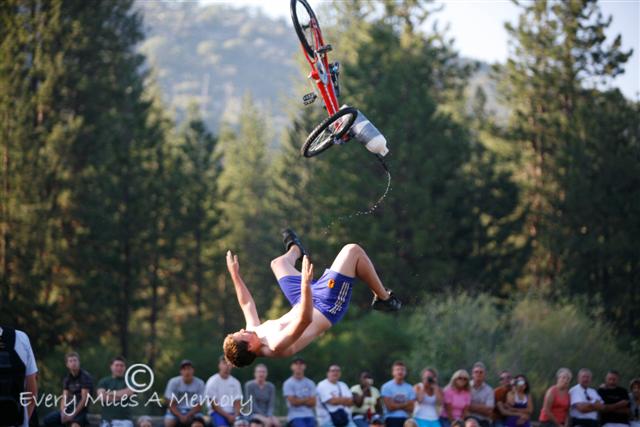 Lake Jumping into Hume Lake
This brought me back to memories of summer time with my cousin Tommy and a few of our childhood buddies. We'd spend countless days jumping our bikes into the water to keep cool and have fun. We even had bikes built specifically for Lake Jumping that didn't have anything special on them, just enough parts to allow us to launch ourselves in the water all day long.
From Hume Lake, we came back to the camper and the waiting dogs. Cindy made some dinner and we were asleep pretty early. If you want to see some funny pictures, check out the Lake Jumping Gallery at Hume Lake.
Sunday June 15th Happy Fathers Day Dad!!
One of the things I hate about being on the road fulltime is missing family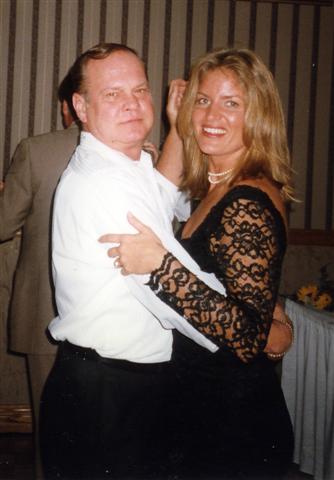 holidays. We've got a big family and always spent the holidays together. Fathers Day around the Bonish household was a great day for everyone.
My parents have a house set up perfect for entertaining. They live on 5 rolling acres in the country where we have a track built for our motorcycles, jumps for our bikes and enough toys to keep the whole family busy all day long.
The entire family would usually get together at my parents house where we'd have enough food to feed an army. After gorging ourselves at the dinner table, the rest of the day would be spent outside shooting guns, riding bikes or doing something to piss off the neighbors.
The reason I hate not being home for the holidays is my dad inst a phone guy. I always call him for any holiday, but here is how a typical phone conversation goes with my father.
ME: Hey Dad, How you doing? I was calling to wish you a Happy Fathers Day.
MY Dad: Thanks Pat, I'm doing fine, want to talk to your Mother?
Then he usually puts the phone down and I hear him yell for my mom.
Now if I'm home, he'll sit and talk my ear off and we'll have a great day together. But being on the road, I've maybe had 10 minutes total of conversation with my dad since we've left almost 16 months ago.
So days like today, days that you're supposed to spend with that person you love, are days I hate being on the road fulltime.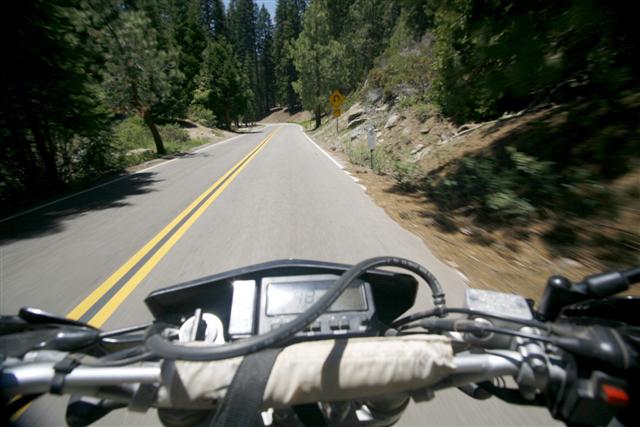 After yesterdays Lake Jumping event, Cindy and I had decided that it would be a shame to have all these pictures of the kids having so much fun to ourselves. I burned a copy of them to a CD and rode the motorcycle back to the little town of Lake Hume. I figured I'd find someone who was involved and would be able to get the CD to the right person.
When I pulled up to the security gate, I sat talking with two young girls who worked for the Christian Camp. I explained what I had on the disc, and one of the girls working security was one of the girls who had been in the event. So it only took my 2 seconds to get the CD in the hands of the right people.
They both thanked me over and over, and made sure to thank me for the rest of the people who I had taken pictures of. I was so impressed with how nice and polite all the kids were in this little town. This would be a great camp to send your child to, and the scenery is so picturesque, they would remember it for the rest of their lives.
Riding back to the camper on the curvy mountain roads, I was having so much fun, I didn't want to stop. I came inside and got Cindy proclaiming that we'd spend the rest of the day cruising around the National Park and its curvy roads.
I cant think of a better way to see the giant Sequoias than on a motorcycle. You can pull over instantly when you spot bear or the many deer along the roadways. Something that we saw plenty of. And the smells from everything in bloom along the edge of the road was just heavenly.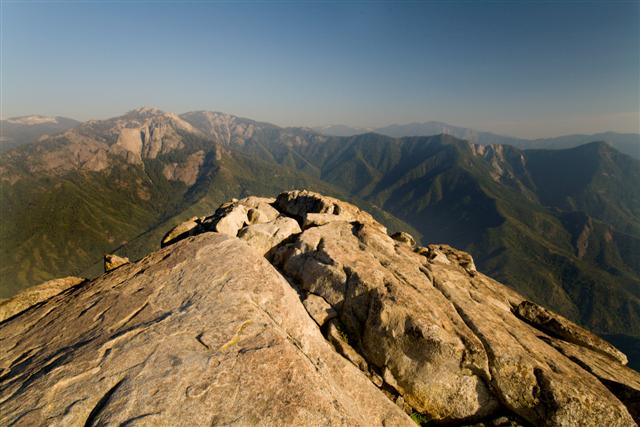 We were able to pull over at a few spots that we couldn't the last time we had driven through the park. We also were able to get some great shots of a big red haired black bear tearing up a log looking for some termites.
We also climbed to the top of Morro Rock for some breathtaking views of the surrounding mountain side. Some 400 steps straight up the side of a granite dome, but the view from the top was so worth it.
By the time we rode back up to the camper, the sun was down and we had logged over 100 miles on the bike. Surprisingly the road was so twisty and curvy, that neither of us were complaining of a sore butt. I think when you're leaning over that far and hanging on that tight, you don't notice the little things like aches and pains.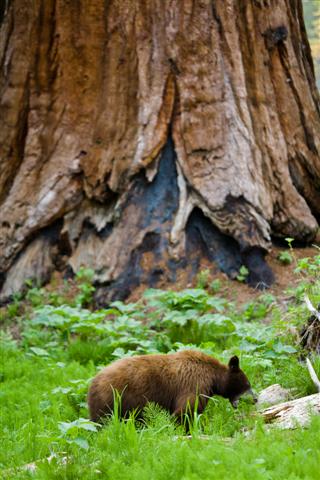 Here is the Red Haired Black Bear in front of a giant Sequoia. The bear was probably 300 lbs
Monday June 16th Leaving Sequoia headed for the Coast
It's funny how quickly our plans can change. It was only a few weeks ago when we said goodbye to the Pacific Ocean, thinking we wouldn't see the Big Blue till next spring.
But after sitting down with a map last night, Cindy and I decided that crossing the state of California on a westerly route, hitting HWY 1 and following that North up to Oregon, might be a nice change of scenery.
We know we have to be near Reno for the Burning Man festival in the end of August, so there is no use in heading anywhere towards the Eastern states. We figured we might as well stick right around this area. Or at least stay within a days drive of the Reno area which is most of the North West.
HWY 180 West is one of those roads I hope I never have to drive on again! Not only is the road bumpy as all get out, but most of the towns we'd pass through were boring, farm towns with little or no character. About the only thing these towns were good for was some fresh produce that had been grown right in the fields behind the fruit stand.
Not much was said today as Cindy and I both are racking our brains trying to figure out how to earn some money to pay for fuel. The thought of the adventure coming to an end has really got me worried. We're coming up on that 2 year mark, but I just don't want the fun times to stop so soon! This had me in a funk all day trying to think of alternatives.
Rolling through Napa and Sonoma, we both were drooling at all the different wineries. Rows of vineyards clung to the hillsides and looked like something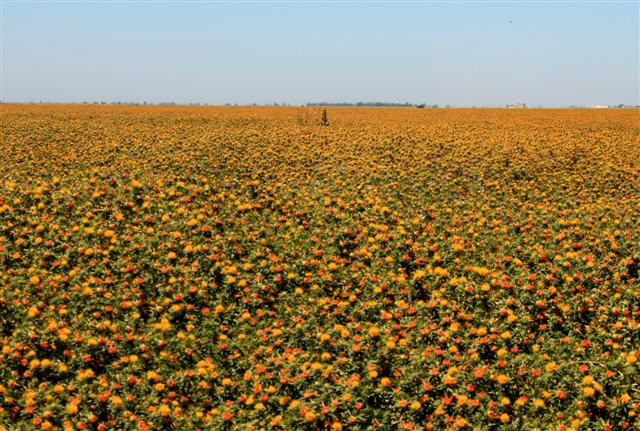 out of a Wine Catalog. With both of us being major wine-o's, you know our mouths were watering. The road sides were lined with blooming flowers and sweet smelling scents wafting into the open windows of the truck.
If you ever get the chance to drive through this area, you wont be disappointed. Just make sure you have a designated driver.
While driving through downtown Sonoma, I said to Cindy, "Do you realize how hard it is not to stop at any of these places!" Problem is, I know all too well that if we stop at one, we will have to stop at all of them. This will also mean a bottle of vino bought from each winery, and that adds up quickly.
Once we hit HWY116, my poor attitude started to lift as the scenery changed so drastically for the better. We had driven out of farm country and right into a rustic scene that looked like the setting of a LL Bean catalog.
Little towns like Forestville, Monte Rio and Jenner that all followed the Russian River through thick groves of tall Red Woods led us out to the sun setting over the Pacific. What an amazing sight it was to see the crashing waves of the pacific again, especially when we had just been in the rugged Sierra Mountains this morning.
When we woke up this morning, we both were scrambling to bundle up because of the 50° temperatures the inside of the camper had dropped down to. Once we dropped down out of the 6000' elevation and into the valley floor, we were both roasting in the heat and the gripping humidity. As we pulled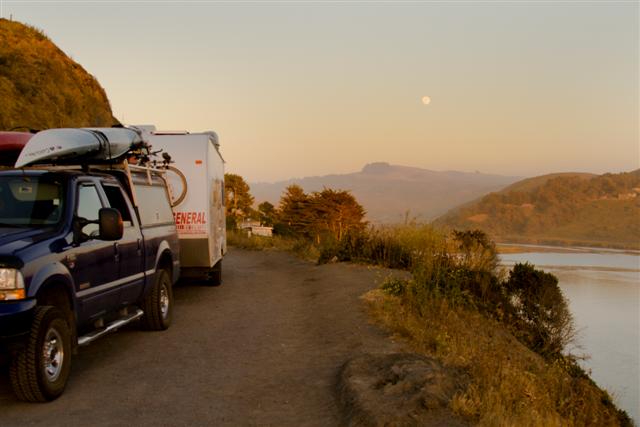 through Jenner, we had the heat on in the truck and I had a jacket on. Talk about some temperature changes in one day!
We pulled over at a pull-off just outside of Jenner overlooking the shoreline below. Right where the Russian River meets the ocean is a little spit of land that is home to dozens of sea lions. We sat on the edge of the cliff watching the sun set with the sea lions playing in the tide below us.
What a way to wash away the bad thoughts I'd had racing through my head all day long. Something will happen that will allow us to keep up the adventure, I just know it. But sitting here on the edge of the Pacific tonight, I couldn't imagine being anywhere else in the world.
Tuesday June 17th Rolling North Along HWY 1
After last nights moon rise and knowing the beautiful setting we were parked at, I couldn't wait to get up this morning to see what the sunrise looked like. At about 6 am I woke up, pulled up the blind and thought, that's weird, I cant see anything.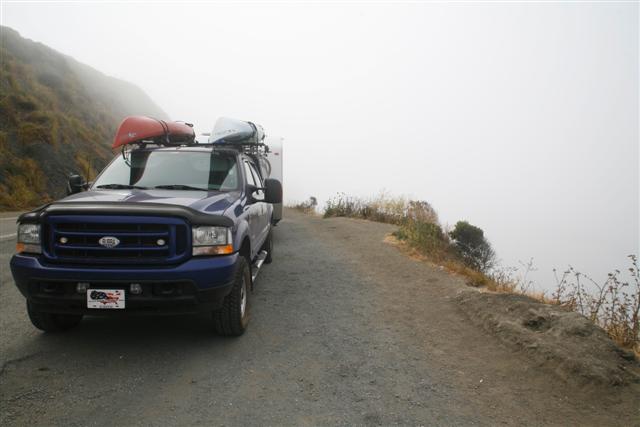 I got up and actually looked out the door, and yep, I couldn't see my hand in front of my face due to the thick fog. So I decided to crawl back into bed knowing that we wouldn't be driving along the curvy coast road in this weather.
By about 10am, we could start to see the fog lifting, so we decided to pull out and see how it went. It didn't take but a few miles before we climbed up and out of the fog and into a clear, beautiful day.
If you've never driven HWY 1 along the coast of California, then this amazing drive should be put on the top of your list. I don't know if I'd recommend it while towing an RV, the ideal mode of transport would be a nice cruising motorcycle. I so wanted to just leave the camper and get down the motorcycle off the back.
This road reminded me of the Hana HWY in Maui, except there were no tropical rain forests, instead you have monstrous Red Woods lining the roadway. I'd also say how impressed I am with Northern California.
My whole life, when ever I've thought of California, images of Hollywood, San Francisco and big city life of L.A. is what came to mind. Northern California might as well be a completely different state. It's just that different than what you'd expect.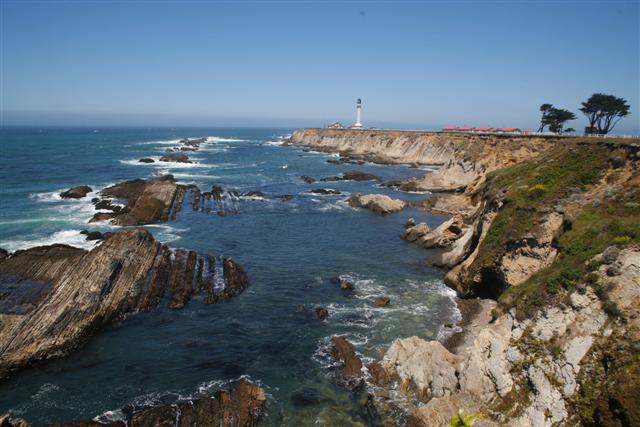 Mendocino County is what we spent the day driving through. With little fishing towns reminiscent of what you'd find in Maine or towns along the Northern Atlantic Coast, I was loving the architecture of it all.
By mid-afternoon, we pulled into the little fishing village of Fort Bragg and stopped for some lunch. We wandered down to Glass Beach which is a strange tourist attraction if I ever saw one.
In a little tourist booklet we had picked up in one of the other villages we had stopped in, they described Glass Beach as a Unique Sight to See. What was once the town dump, is now a strange oddity.
Before our idiotic forefathers learned that dumping their waste into the ocean was a bad thing, they used this section of Fort Bragg as the city dump. Years later, they realized how awful this was, and cleaned 90% of the waste off the beach.
After years of dumping bottles, cars and anything else you'd throw away, broken glass started washing up onto the shore. For anyone who's found Sea Glass, you know it's not sharp once the rough salt water has washed the glass in its harsh water.
When you look closely, you notice the sand isn't sand at all, but tiny pieces of glass. Here is the only problem. Just as our stupid forefathers trashed the beach in the past, our stupid brothers and sisters of this era are stealing the glass from the shoreline by the handful.

While Exploring the Beach, Cindy and I noticed this couple collecting Glass. Cindy asked her if she wanted to borrow my belt?
Even though there were signs everywhere saying "Please do not collect any glass" there wasn't one person we saw along the beach that didn't have a handful to take home. Many people were carrying buckets and strainers to sift through the weird looking glass. I really wanted to go up and say to a few of them, "Cant you F-ing read the sings?!"
We decided that we would spend the night here since it was late in the afternoon. We pulled into Pomo RV Park where Cindy went in to see what the rates were. I'll say right now that it's been so long since we've paid to stay in a campground, that it's getting harder and harder to pay just to sleep at night.
Since we never use anything in the RV Parks unless we need to empty our tanks, I'd rather just pay the $5 most places charge for that service and find any ol' spot along the road to sleep at. 90% of the time, the weird places we find to camp for the night have much better views than almost any campground can offer.
Cindy walked out almost as fast as she walked in saying "We sure as hell aren't staying here!" When I asked what the rates were, she told me the lady behind the counter said very rudely "We charge $40 per night for non hook-up sites" Cindy didn't even wait around when the lady said "That's if we have availability."
Who in their right mind would pay $40 for nothing? If I'm going to pay that amount, then I want a campground like we stayed in while we were in Las Vegas for the Super Bowl. Heated pools, restaurants, full-service shops, Wi-Fi, security and everything else that goes with prices like that. But to demand that much and offer nothing, you've got to be crazy.
So we pulled under the bridge in the Noyo Harbor and threw it in park. This little fishing village is where the movie "Overboard" with Kurt Russell and Goldie Hawn was filmed. The Noyo River flowing into the Pacific had Harbor Seals swimming around and big Osprey diving for dinner along the banks of the water, which was much more to our liking. This I would pay $40 to camp at.
We figured after Cindy spoke to a couple of drifters who hadn't had a home for the past few years who said they'd slept on the beach the last few nights, we probably wouldn't get hassled too much here.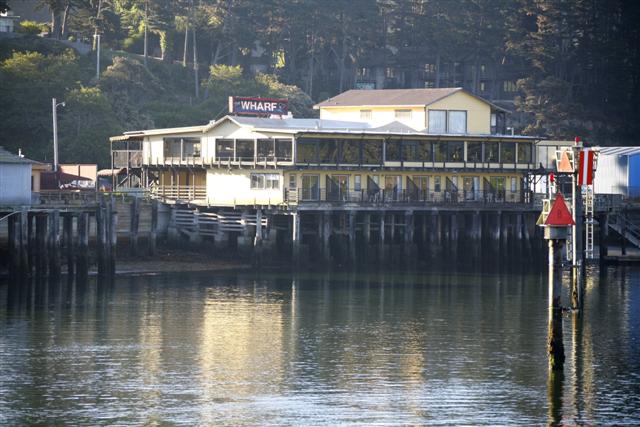 16 months on the road, camped out in places that we probably never should have been camped, this little fishing village was the first time we had a knock on the door by the sheriff.
Two in the morning and here I am answering questions from two sheriff's deputies while I'm half asleep. I'm not sure if it was the Good Cop - Bad Cop routine, but I thought it was funny how one officer was all excited asking me if we'd really been to all the states on the sticker board on the side of the camper.
The other officer was strictly business asking me for ID, where we were from, why we were camped here and if I was all alone. While I was answering his questions, shaking the sleep from my eyes, the excited officer was still asking questions about the kayaks, the motorcycle and everything else we have strapped to the rig.
We got it worked out after I told him the outrageous price Pomo wanted, and that we normally just find a parking lot anywhere we can. Even though we werent supposed to be camped here, they said since it was so late in the night, and as long as we werent going to stay longer than tonight, we could stay for the rest of the evening.
I thanked them profusely, said 'Goodnight' and was back in bed asleep within minutes of closing the door. Honestly the parking lot had no signs that said 'No Overnight Camping' as Cindy and I try to never break any laws on where we stay.
Wednesday June 18th 2008
If somehow I could only drive one road for the rest of my life, I think I would pick California's HWY 1. I've never seen so many beautiful sights all lined along one road.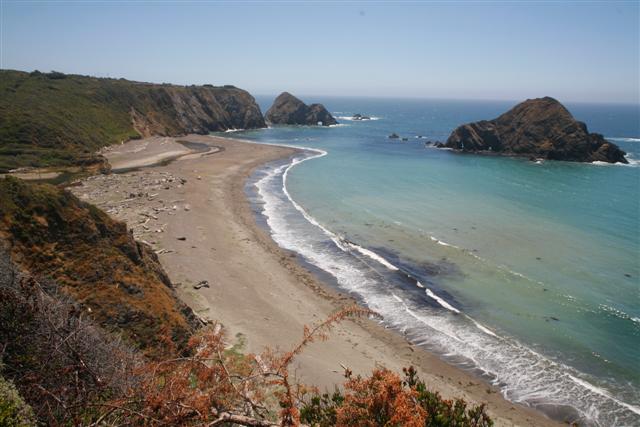 If we said "WOW" one time, we said it one million times today. With beautiful coastal views on the Western side of the truck, thick Red Wood Forests growing right up to the waters edge on the Eastern side of the truck, we were sandwiched between two of Gods most beautiful creations.
Add a winding mountain road, lined with blooming wildflowers and like I said, I could drive this road daily for the rest of my life and not get bored with the scenery.
Where HWY 1 meets HWY 101 in the dried up town of Leggett, we stopped for one of those mandatory road side attractions. The Drive Through Tree.
The Chandelier Tree is 315' tall, 21' in diameter and 2400 years old. It has a section of the base cut out that is 6' wide, and 6'9" high. Large enough for a compact car to drive through it!
Roadside attractions like this are just amazing to me. I'd love to own one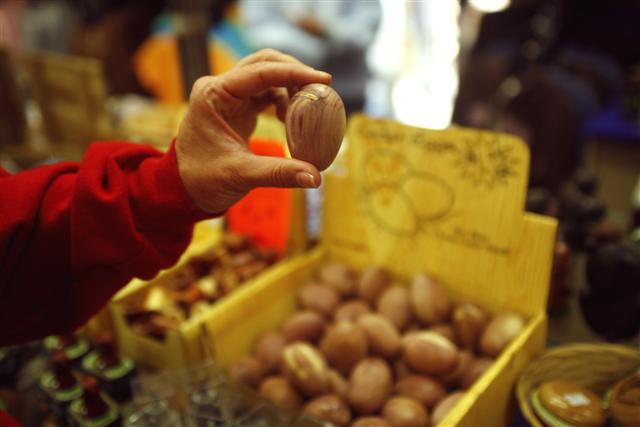 because of the unlimited money you could make. This attraction was nothing more than a 1/4 mile dirt road through a Red Wood forest with the Chandelier Tree as the final Red Wood you see before you make the mandatory stop at the gift shop.
Each vehicle had to pay $5 to enter, and the parking lot was full with tourists milling around snapping pictures. The gift shop was lined with people at the cash register all buying souvenirs they'll probably forget about before they get back on the road. Like I said, a Gold Mine just sitting here!
Cindy got in the truck and said "What would you do with a Cedar Egg?" I asked her what she was talking about and she explained that a woman picked up a Cedar Egg they were selling for $5 and told her husband "Oh look honey, I have to have this." She told me that by the time the husband got to the register, he had $42 worth of junk souvenirs.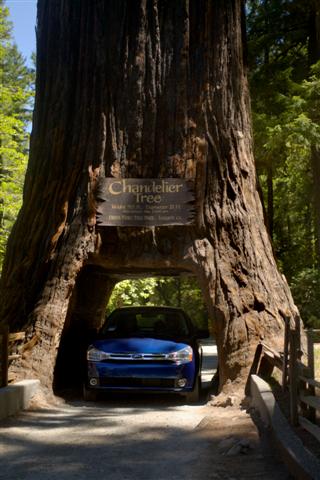 After this stop, and our stop at Yosemite, I told Cindy "We need to find ourselves a Road Side attraction or a National Park, and we'll be millionaires!"
By the time we got up near Red Wood National Park, we were both somewhat catatonic from all the driving. Then Cindy jumped up saying "Did you see that field filled with Elk?"
I've learned that Cindy has a tendency to see things that aren't really there. I've turned our rig around so many times only to find her elk was just a horse, or the bear she spotted was actually a wooden cut-out propped up against a tree, that I now know to just sort of answer "Oh really, that's nice."
Cresting the next hill, I locked up the breaks when we spotted about 20 female elk grazing along the edge of the road. We had seen a few signs for the Roosevelt Elk Herd in this area, but didn't realize how close they'd get to the road.
If you remember our stay in New Mexico where our only goal was to get some close-up shots of bull elk, but after weeks of sitting along the road side never spotting any within 300 yards, we gave up and moved on to Arizona.
So you can imagine how excited we both were to see huge elk right beside the road. I'll tell you that I got out of the truck and probably took 20 pictures of these females. The reason I'm telling you this is one mile up the road, we passed a field where 6 Bull Elk were grazing about 200' off the road.
So those first 20 pictures were deleted once we spotted bulls!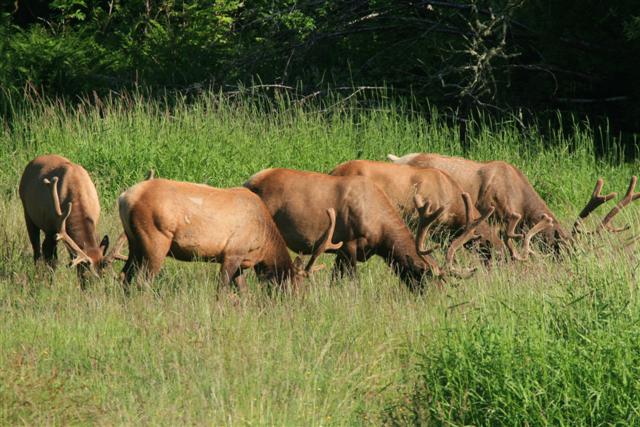 We parked the camper along the edge of the road and climbed up on the roof for a better angle. There were signs posted saying "These are Wild ELK, DO NOT APPROACH!" Again, these signs are up because of some idiot who probably thought they could pet the nice elk.
The next hour was spent snapping images of more elk than I've seen in my whole life. You would honestly not see this many elk in a petting zoo, and surely not this close.
Then, while we were getting ready to leave, we spotted a coyote walking right towards us. We sat watching in awe as the coyote caught some rodent in the tall grass, then scurried right in front of us, maybe 20' from the front of our truck, across the road and into the field. I looked at Cindy saying "Are we at some kind of zoo or nature preserve?"
I've never seen animals this comfortable in their surroundings with people parked along the road snapping pictures. After filling too many compact flash cards with images, we headed North towards Oregon.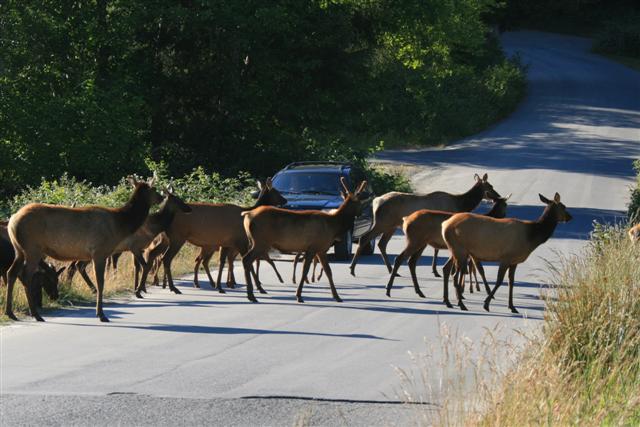 To show the size of these Elk, that's a Jeep Cherokee behind them in the road!
Not wanting a knock on the door tonight, we found a nice rustic campground just below the Oregon border. A nice couple owns the Orman Guest Ranch & Stables. For $12, we got a level place to park, a dump station in the morning and a fresh water spigot to top off the tank. Much better than the $40 they wanted back in Fort Bragg.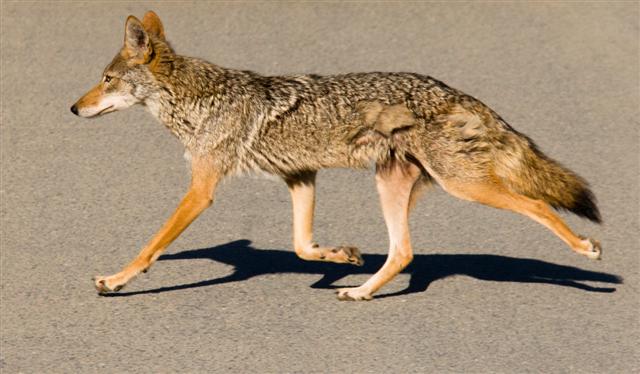 Look how Willey Coyote this lanky sucker is. No fear of us to cross this close!
Thursday June 19th Leaving California, We Thought
Due to a family emergency, we spent most of the morning on the telephone with my family back home. We decided that family comes first, and it would be best to make that turn East and start heading home as fast as possible.
Like Cindy said, "these mountains and scenery have been here for a long time, and something tells me they aren't going anywhere. Our family needs us, so that's where we need to be right now."
It's funny because my sister must not own a map or a globe. Even though we told her numerous times that we were looking at the Pacific Ocean, she must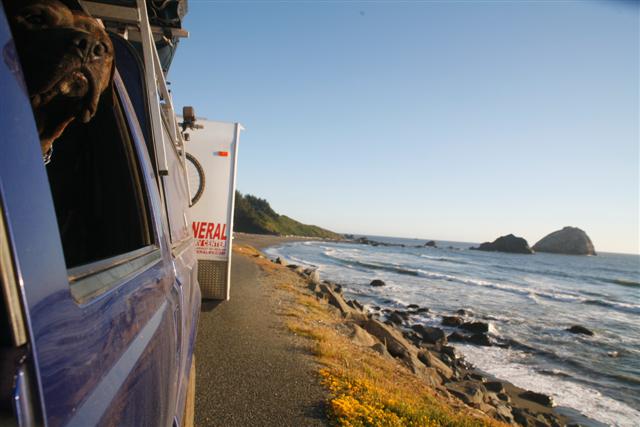 have asked about ten times throughout the day if we could be home in the next few days.
I tried to explain that even if we were to leave this morning, drive straight thru for the next few days, the GPS is telling me we're almost 4000 miles from home. I think she's thinking of our days traveling to Florida on Spring Break where we could make that mad dash in 24 sleepless hours of driving straight through from our home in Michigan. Something that cant be done pulling a camper over the Cascades, the Rockies and through the plains of the Dakotas.
Then there was the fact that after a few hours of driving, where we were on the phone the entire time trying to get some things set up for when we get home, we missed our exit, which meant by the time Cindy looked up from her phone call asking where we were, we we're just crossing back into California.
We got off the phones, pulled out the map, and found a small road that could bring us back around into Oregon without doing any backtracking over the humongous mountain we had just climbed. That's what we thought. This road we turned onto was more of a single lane trail, beautiful I might add, that skirts Copco Lake.
So after a long day of driving, we basically were only about 50 miles from where we started this morning. We both looked at each other saying, "From now on, we don't both talk on the phone while driving!"
We did find a great little campsite right along the lake for free that was as serene as could be. Cindy said "OK, it's late, we're lost, and this campsite is here, free and beautiful, lets just pull over and figure out where we are."
We took the dogs for a long walk around the lake both contemplating our past months of travels and what the future holds in store for us. Neither of us want this adventure to end, but while talking, we both agreed that we couldn't really have fun knowing our minds would be worried about our family.
I've always liked that saying "If you want to make God laugh, tell him your plans." This rang true in my mind after trying to make so many plans for this summer in the Pacific Northwest and being right here. I've also always held tight to the thought that everything happens for a reason, so who knows, maybe this long trip home will turn out to be just another page in the adventure book.
Needless to say, we ended up camping in California again tonight.
Friday June 20th The Summer Solstice - The longest day of the year!
Studying the map, the Delorme Gazetteer and the GPS, all 3 of them said the road we were on would take us around Copco Lake and bring us up into Oregon. Once across the state line, we could jump on a different road which would bring us up HWY 395 so we could skirt across the bottom of Oregon rather than spend almost a dollar more per gallon for Diesel in California.
Cruising around Copco Lake, I noticed the road we were traveling on kept getting narrower and narrower. Then it turned to dirt. I looked at Cindy with a questioning look, but she just pointed to the map saying "Hey, this road is on both of our maps and says it goes all the way around."
About 45 minutes down the narrow, bumpy dirt road, we came to a chain link fence that had a DEAD END sign bolted to it! You've got to be kidding me. Why on earth would they put the DEAD END sign at the end of the road? Why not put it 10 miles back at the beginning?
I'm not lying when I say we were as wide as the road was. How was I supposed to turn this rig around? There was no way to back up for 10 miles...I'm good, but not that good.
Cindy got out and guided me so I could ease the tail end of the camper off the road before it would fall into the ditch. This turned into another 1/2 hour ordeal for me to do a 120 point turn with the front end of the truck pulling up onto a large pile of rocks, and the ass end of the camper hanging so far off the edge of the road, I honestly cant believe we didn't do any damage to either the truck or the camper. Both of us Thanked God for the lift kit on the camper or we would have never been able to make this U-Turn.
Once turned around, we headed back down the road to where we had started. We stopped once again and this time noticed that the lines on the map were a tad bit thicker on the opposite side of the lake. Either way, the road followed the circumference of the lake, and met back up to itself again which is where we needed to be.
We decided that we just must have taken the wrong side of the lake. So we drove for an hour around the entire lake to get to within a few hundred yards of where the DEAD END sign had been, when we saw a sign stating - Unimproved Road, not recommended for trailers or low clearance vehicles.
It also had a sign underneath of that saying 'Oregon Border 8 miles ahead'
So we knew we were right there. We sat wondering if we should risk it and try the road anyway. By this point I knew I wasn't going to turn around again. Besides, how many times have we traveled down unimproved roads and found some of our best adventures?
Just then, Cindy saw a guy riding on a 4wheeler. She got out and went over to this older gentleman to ask what he knew of the road. They sat talking for about 15 minutes before she came back to the truck shaking her head.
She said that the nice guy laughed when she asked about taking our camper up the road. She had told him about us going around the other side of the lake and having to turn around.
He told her that he was a firefighter for this area and he thought all these chain link fences were total Bullshit! He said he carries bolt cutters in his truck, because every map you'll look at says these roads go completely around the lake, "So chaining them off is downright illegal" he told her.
When she asked about going farther up the road, he told her "we'd be lucky to get a 4wheeler across the trail the road turns into, let alone our truck by itself. If we were to attempt it with the camper, we might as well total the thing out right now."
He told her he has been arguing with the city, the government and anyone else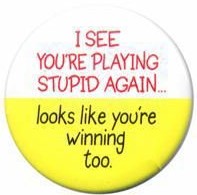 who will listen to put signs up saying the road is a dead end, and mark it on maps, but no one listens to him.
So needless to say, 3 hours after we had left camp this morning, we turned back around once again and headed back down the road we had been on too many times this morning. All because we missed an exit yesterday afternoon.
By this point, Cindy told me she thought she could map Copco Lake better than the Delorme Map Company could.
The rest of the day was spent driving across the bottom of Oregon. I will say that everyone we met when ever we'd be pulled over for fuel or just to take a break, was unbelievably nice.
We both said to each other, "Don't you find it strange that we haven't passed one person who hasn't waved, nodded or gotten out of their vehicle to talk with us!"
I sat filling up the truck at one station where the guy beside me came over asking about the kayaks and the camper. We sat talking for awhile before he wished us luck and went on his way. While I was walking in to pay for my fuel, I got stopped by another local who asked where we were headed.
He sat telling me he was headed up to Winnemucca for the weekend to do some fishing. When I told him we had camped on the Klamath River last night and couldn't get over how beautiful it was, he laughed saying "That place is nothing but picker bushes and weeds."
He told me "if you thought that scenery was pretty, you should come with me for the weekend."
Miles down the road, he came passing by us waving like we were best of friends. Oregon sure does have some nice people.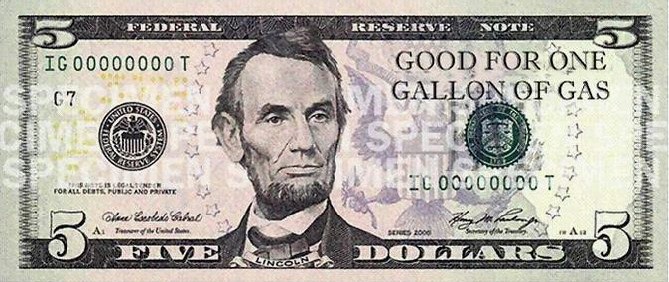 We finally pulled over just after sundown. By this point my lower back was killing me and my legs were cramping up. We crawled out of the truck and into the camper. Cindy mumbled as she took the dogs for another walk "Why do I feel worse after a long day of driving then I do after a long day of hiking?"
Hopefully we can make good enough time to be near Yellowstone by tomorrow night, as we plan on stopping for at least one day. There is just no way we can drive right past it without stopping. It would just be a sin, no matter how important it is that we get home.
Sunday June 22 2008 - Pulling into Jackson Hole
The last few days were spent driving across the bottom of Oregon, which was pretty, but I'm assuming nothing like the northern section of the state. I know I've seen plenty of pictures from Oregon, and most have made me want to go there, but the bottom section just made me want to speed faster through the state.
I'll have to say the same thing for Idaho, which sucks for us, because the few people we've spoken with who have traveled through these two states, told us to make sure they were the last ones we went through, because we'd have trouble leaving. So it was hard for us to just speed through them and not really get to see anything. But I think they'll still be here next time we come West.
Now once we came closer to Wyoming, Idaho really started to become much prettier. The Teton Valley is as pretty as you could imagine, and I woke Cindy up just so she wouldn't miss it as we drove through this rolling section of the state which was bordered with the snow covered Rockies.
We had called a friend I correspond with online on a photography forum who lives in Jackson Hole and asked if he would be available to meet up for dinner or some drinks. Luca Diana who works at Snake River Kayak & Canoe in downtown Jackson invited us over saying he'd be happy to show us around town.
We pulled in late in the afternoon, parked the camper and walked into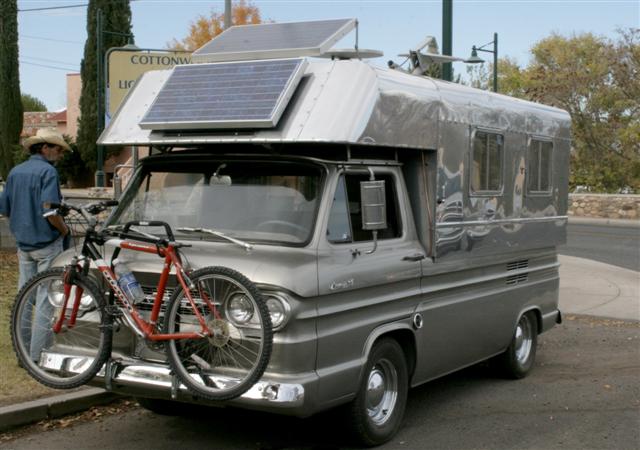 downtown. Even though this is a very little mountain town, it was crawling with tourists as the summer season is just getting ready to kick off.
Jackson Hole is right below Yellowstone, so you can imagine how busy it is with tourists this time of year. Oh, before I forget, as we were coming down the 10% grade into town from Idaho, we spotted Dennis, the guy we had met back in Cottonwood Arizona back in December. He's the one with the little CovairStream RV that is so cool looking.
I pulled off the road and we sat talking with him for a few minutes. I guess he said Arizona had gotten too warm for his blood, with the triple digit temperatures, so he headed further north to get away from the heat.
We wished him well and both went on our ways. It's always cool to keep running into fellow travelers on the road.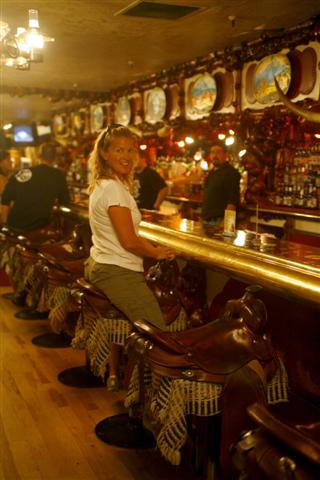 So back to downtown Jackson Hole. We stopped in at the Million Dollar Cowboy Bar just because you have to. This old saloon has saddles as bar stools and is decorated just beautifully with various animal mounts and cowboy memorabilia. Its funny because you see people just wandering around eyeing all the cool things hung on the walls from over the years. There is so much to look at, it's hard to stay still. If ever in Jackson, make sure to stop in, even if you don't drink.
From that saloon, Luca had recommended the Snake River Brewery for their selection of great beers and tasty food. He wasn't lying either. The walls are lined with awards from national beer festivals as the SRB is one of the most decorated breweries in the country.
Cindy and I sat sipping on some frosty beers and shoveling down some amazing food. By the time Luca met us there, I thought my stomach was going to explode from all the food I had shoved in.
The rest of the night was spent with Luca, Cindy and I sharing traveling stories, photography tips and just getting to know one another. Luca has lived in many different countries, speaks with a heavy Sardinian accent, can speak five languages and travels almost as much as we do, except his travels keep him jet setting around the globe, where ours are all here in North America.
He asked if we could stick around for a day or two, he would see if he could adjust his schedule and take us out for a day of paddling on some lakes in Grand Teton National Park. Now who could pass up an offer like that?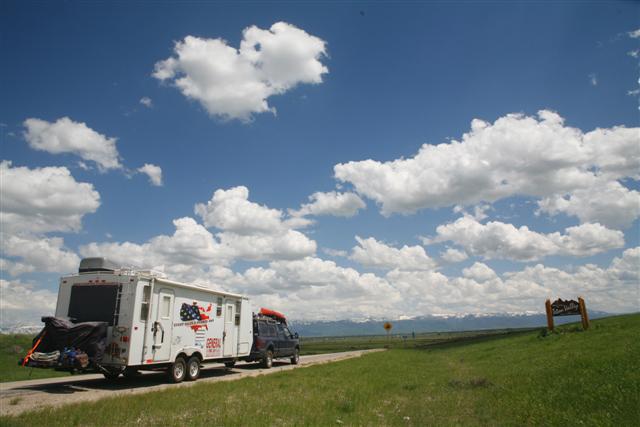 We had spoken to my parents today, who called to tell us that we didn't need to be racing home, the emergency wasn't as bad as we thought it originally was, so we could take our time and see a few sights along the way, but we still needed be home ASAP.
So we told Luca we'd stay for a few days and planned on meeting up with him tomorrow.
We walked back to the camper we had just left parked along a side street. We hadn't gotten a ticket yet, and there were no signs stating you couldn't park here overnight, so we just crawled into bed and called it a night. We figured the worst thing that could happen would be another 2am knock from the Sheriff.
Monday June 23rd Exploring Jackson Hole
This little mountain town of Jackson is like a black hole. I can see why so many people come out here for a ski trip, a kayak trip or just to check it out and never leave. This seems to be the norm from all the locals we've talked with.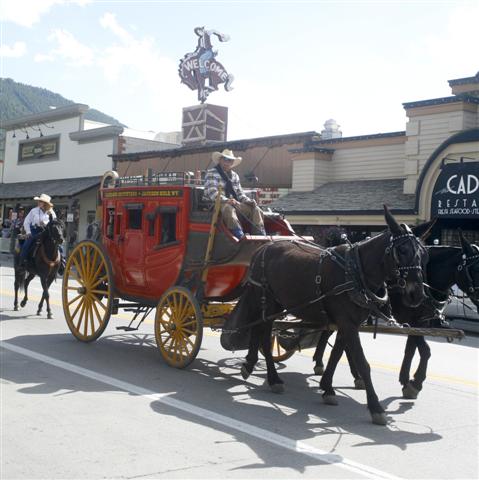 When ever I would ask "How long have you lived here?" They'd say 'Well I just came out on vacation, and never left. That was 4 years ago!"
It's easy to see why. You can live in this town, and never have to drive a vehicle. The streets are all lined with wide bike lanes, and we saw more people on bikes than we did in cars. Every store has a bike rack in front of it, and most were filled up with various types of pedal powered vehicles.
We spent most of the day just riding our bikes around town exploring the back streets which are lined with cool houses. The aromas from riding through town is enough to make any florist jealous. There are huge lilac bushes in ever yard in full bloom, and the whole town smells of this beautiful plant.
Luca had posted some photos on the Outdoor Photographer Site of some baby foxes. When I asked where he had taken these shots at, he said the Fox Den was only a few blocks from where we were parked at.
We really wanted to see this, so we threw the cameras in a backpack and rode over to see if we could get some images.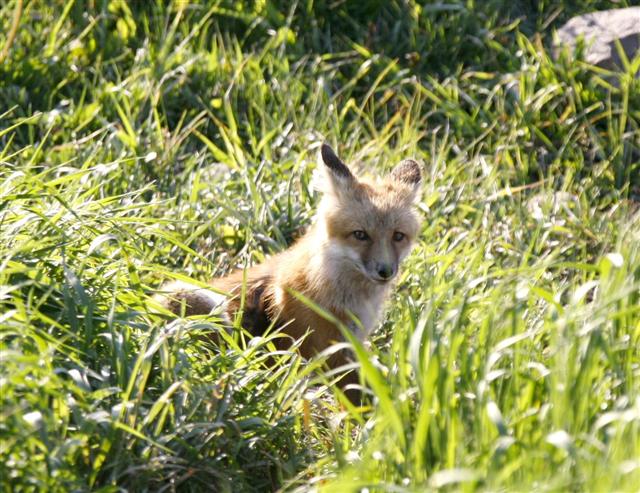 When we rode up, there was already a few photographers sitting near the den waiting for their chance to see the fox family. One woman had a Canon 600mm lens mounted on a tripod. If you've never seen this lens, it resembles a surface-to-air missile launcher and is one of Canon's premier lenses.
We sat talking with Kathy, who is also a local Jackson resident and works as a travel nurse. Like many others we have spoken with, she came here planning on only staying one season, and is now going on her second.
Kathy has been snapping images of the foxes for the past few weeks and is very into nature photography. In the few hours we all sat around talking, she told us of many places where we would be sure to get some great pictures of wildlife. I love when you meet fellow photographers who aren't snobs and are more than willing to share their secret locations.
Luca called telling us he was off from work, and asked where we were? When I said "At the fox den" he told me it was only one block from his house, so he'd ride by to see us on his way home from work.
We all sat around talking about plans for dinner, and finally decided on a Mexican restaurant in town. We asked Kathy if she'd be interested in joining us, and she said she'd love to. So now our visit in Jackson would be with 2 great local photographers.
The dinner was authentic Mexican cuisine, but I couldn't tell you too much about the meal as the conversation was so good, no one ever stopped talking. This is the first time in my life I've sat at a table with three other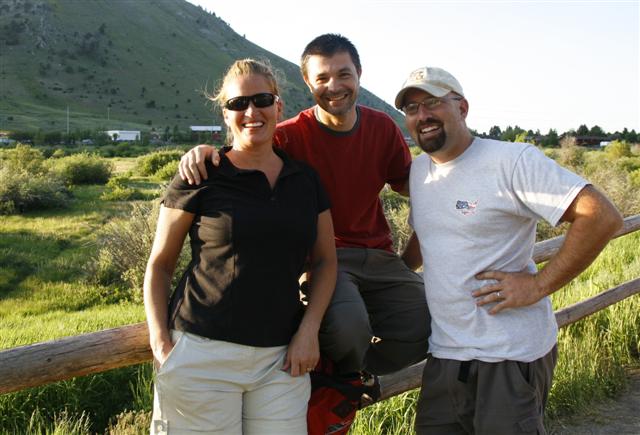 photographers who all understand everything I talk about. It was so cool to be able talk shop, and not have to explain any of the terms or technology I was talking about.
Both Kathy and Luca are very accomplished photographers and both have traveled to many places around the globe, so we all had many fascinating stories to share with each other. They understood exactly what Cindy and I were doing and not only shared in our passion for new places, but were also part of the small group of Nomads we've become members of.
When the restaurant had closed and we were the only table left in the place, we decided to call it a night. We had made plans for kayaking tomorrow and Kathy would be joining us on the paddle.
I was excited to be on the paddling again as this would be the first time we would have the boats in the water since Baja. It had been too long.
Tuesday June 24th Paddling Grand Teton National Park
We werent supposed to meet Kathy and Luca until 10am and I had only gotten a few shots of one fox yesterday, so I rode my bike up at 7am to try my luck again.
Of course I sat for an hour in the damp morning air talking with a nice woman from Michigan, but never did see any foxes.
I rode back to the camper and started packing up kayaking gear while Cindy made some lunches for the gang. This would also be my first chance to really test the Aquapac Housing I got for our camera.
We all met at the Snake River Kayak office and loaded up two more kayaks onto the roof of our truck. Luca had a full day of paddling in store for us, and I was excited to be paddling below the Teton Mountain Range.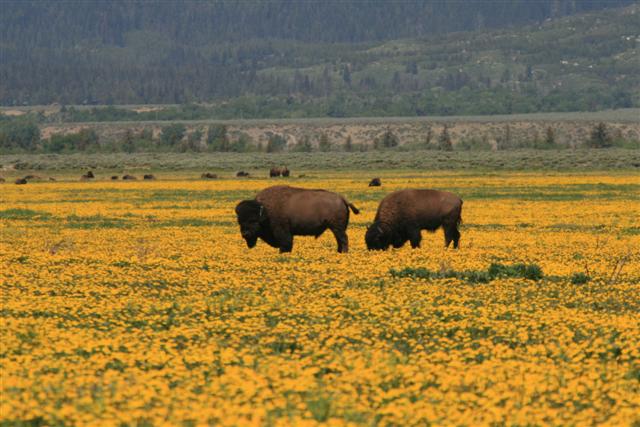 On our drive out of town, we all sat calling off various animals we saw along the sides of the road. The Teton Valley is basically one big preserve, so on any given day, you'll see Elk, Antelope, Buffalo, Sand Hill Cranes, Deer, Bear and many different types of cool looking birds. It's almost like driving through a giant zoo, only these animals are all very wild.
Before we got on the water, Kathy wanted to take us to a place she had mentioned we stop by to photograph. It was right on the way, and is famous for photographic images.
Pulling up to the old historic barn, I know why it is so photographed. With fields of dandelions that stretched on for acres, right up to the base of the Teton Mountain Range, with herds of grazing buffalo wandering amongst the flowers, this was as picture perfect as it comes.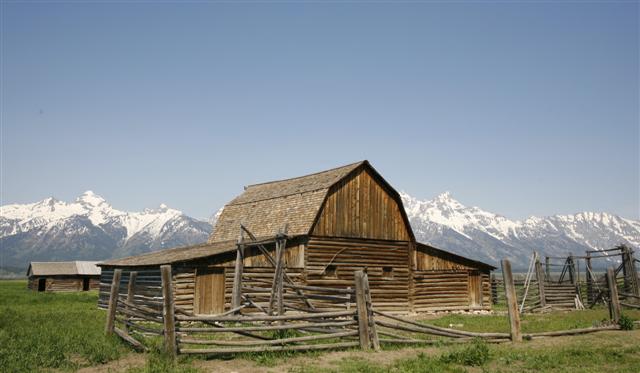 I almost had to pinch myself to make sure I wasn't dreaming.
The four of us wandered around in the fields of swaying yellow flowers snapping picture after picture. I don't think anywhere you pointed the camera would have resulted in a bad image.
If it wasn't for Luca and Kathy, I think Cindy and I would have never left this first stop. I had forgotten about the paddle and would have been content sitting right here for the rest of the day.
But they both live here, so this is just another day in their backyard, so we headed out for Grand Teton National Park.
We pulled up to String Lake and unloaded the mountain of gear we had brought. This would only be Kathy's second time kayaking, her first was in Washington where she paddled with pods of killer whales in the San Juan Islands. I joked that if she never went kayaking again, she would have accomplished most paddlers dream trips.
String Lake is a shallow, crystal clear lake that is fed from Leigh Lake. Paddling through the icy waters, it was very tempting to want to go for a swim because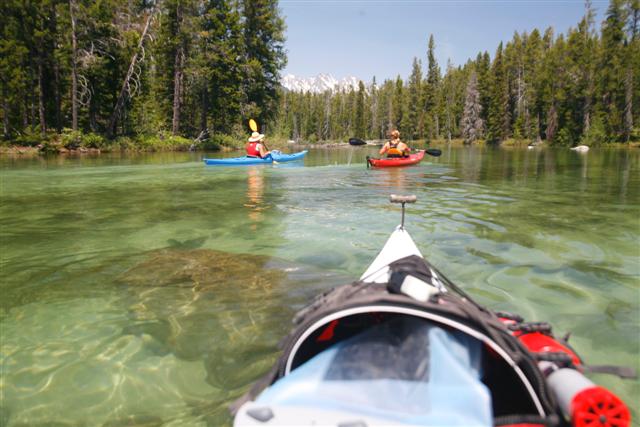 the water looked so good. Put your hand in, and your numb fingers instantly told you not to think about it again, but floating above the water, it sure did look beautiful.
It didn't take but a few minutes and we were to the end of Sting Lake. Here we would make a short portage through a mosquito infested forest to Leigh Lake, which is a much larger lake.
Leigh Lake is a glacial lake that is deep and dark blue. Getting back into the boats, you had to get in the water up to your knees, which was excruciatingly cold for me. The crazy part was there was a group of kids swimming in the water, and some guy who stripped down to his under shorts and dove in while we were putting the boats in. Talk about shrinkage!!
We paddled along the shore line of Leigh Lake passing a few rustic camps you can stay at if you get the proper permits from the forest rangers. The views across the lake were so beautiful, that we all promised "Next time we visit, this will be our goal, to paddle out here and camp along the shores of this amazing lake."
As we paddled closer to the shore, the sound of rushing water grew louder and louder. The peaks of the mountains are still covered in snow, so the run-off is causing major waterfalls down the sides of the granite mountains.
We pulled the boats up into someone's camp who was out paddling, and sat having some lunch with the sounds of the water rushing all around us. Needless to say, it was a very memorable lunch because of the setting and the company.
We hiked back into the forest having to hike through piles of snow that hasn't melted yet. This wouldn't be bad, except for we were all wearing Teva's. Cindy yelped when she was crossing one snow bank and her foot broke through the surface. Sinking up to the middle of her shin in icy snow, she postholed her way across the rest of the snow in a hurry.
The sounds of the rushing water was almost deafening as we got closer to the raging run-off. I asked Luca if the waterfall had a name, but he told me "This isn't a waterfall, it's just run-off from the mountain, in a week this will only be a trickling stream."
Right now, it was pure thunder as the snow came roaring down the side of the mountain in its liquid form.
As beautiful as the waterfall was, the mosquitoes were having a field day on my blood supply. I have no idea what it is about me, but you would have thought I had covered myself in some cologne made to attract the bloodsuckers rather than the gallons of Deep Woods Off I was soaked in.
We paddled across the lake with the winds at our backs this time, which made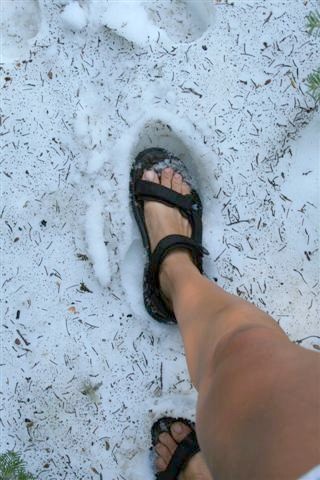 for a very easy paddle home. The portage was made and by the time we were pulling back up to the put-in spot on String Lake, I was seriously thinking of going for a swim. The water just looked so inviting.
Then I got out of the kayak up to my knees, and thought better of myself. Something tells me I'd be singing soprano if I was to go any deeper.
Driving out of the National Park, we stopped to snap some pictures of the lupines that lined the road. To see fields of purple flowers with wild yellow daisies mixed in is just amazing.
Once we were finally back at the Snake River Kayak office, we unloaded the gear, and made plans for dinner. Luca had invited us all over to his place for some home cooked food.
We had enough time to shower, walk the dogs and drive across town to his place. I probably could have went to bed right after the shower and I wouldn't have woken till morning, but I wouldn't miss a home cooked meal for anything.
Ending the day with grilled Pork Chops seasoned with Rosemary Luca grew on his balcony, mashed potatoes and a big salad topped with papaya dressing, I couldn't think of a better way to end an already perfect day.
I'm so glad we stopped in Jackson Hole. Not only did we finally get to meet Luca in person, but we also got to meet another friend who added to the awesome memories we have of the past few years on the road.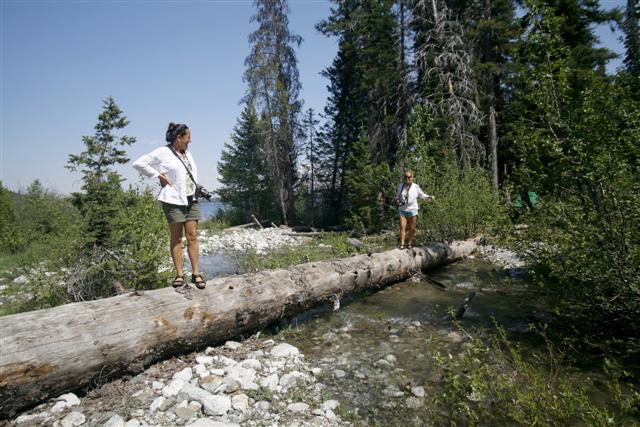 I know why this town is so hard to leave. If we didn't have to be home for family, I think the trip might have ended right here and now. I could throw out the anchor and plant some roots right here and never be bored. Between the breathtaking scenery every where you look, unlimited photographic opportunities, and the great people, Jackson Hole is my kinda town.
Thanks Luca and Kathy for making our time here so amazing.
Wednesday June 25th From the Grand Tetons to Yellowstone
We had camped on the side of the road last night in Grand Teton National Park and woke beside a beautiful green meadow. Looking out the window I thought there was a big herd of grazing elk in the field, but once I woke Cindy to look at them, she looked at me with one of those silly looks saying "Put your damn glasses on, its a bunch of bushes."
Driving up through Grand Teton National Park to Yellowstone National Park is one of those scenic drives that I could do over and over, no matter what the cost of fuel is these days.
At one point, we locked up the breaks when we passed a field so filled with blooming lupine (pronounced Loop - In), that the air was thick with an intoxicating aroma.
We fell out of the truck, cameras in hand, spending the next 45 minutes in this field trying to take in all the smells and sights. It's one thing when you can see these beautiful areas, but to smell the field a few minutes before you even get up to it was just amazing.
Pulling up to the south entrance of Yellowstone, I rolled down my window to hand the Park Ranger my annual pass, and was instantly swarmed with mosquitoes.
I was trying to ask the guy a question, but Cindy was yelling for me to roll the window up. I'm not lying when I say it was like something out of a horror movie. Within seconds the inside of the truck was filled with these annoying, biting insects. I think they've become immune to our daily coverage of DEET.
Once in Yellowstone, the camera was locked and loaded and ready for the wild animals the park is known for. It didn't take long for us see our first Moose. A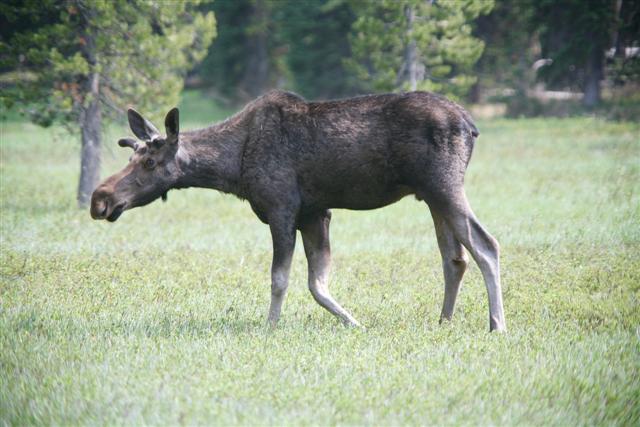 small Bull was wandering around an open field grazing, not paying too much attention to the hordes of tourists snapping his picture.
From Bullwinkle, we pulled into the Old Faithful Lodge to see what we could find. Not having ever been in Yellowstone before, we wandered into the lodge bending our necks in odd angles to see the soaring ceilings lined with wooden beams.
This place is magnificent and a work of art. We heard a few people saying that the Old Faithful Geyser was about to erupt, so we went out the back door of the hotel to watch this spectacle.
We kept walking around trying to find a cool angle to see the eruption from, not wanting to get the hundreds of people sitting on the benches in the picture.
Next thing you know, we're way far away on the Geyser Loop Trail. Once Old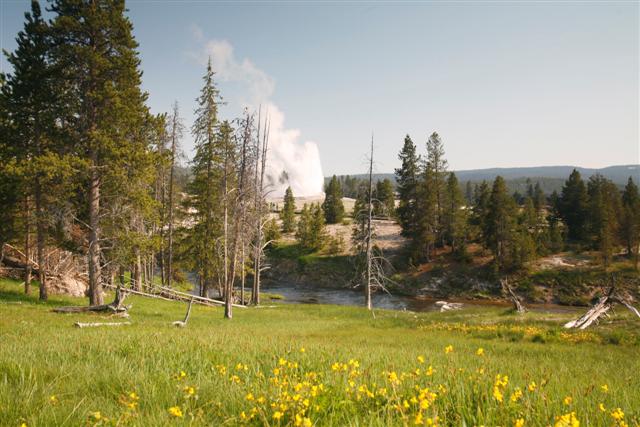 Faithful was finished awing the crowd, we figured since we were already on the trail, we might as well keep walking.
So this is how 4 hours later, Cindy and I were both complaining about how starving we both were. We never planned on walking so many miles, but the crazy scenery just kept pulling us farther away from the truck and our stocked refrigerator.
At one point, I told Cindy, "I don't care how hot or nasty that water is seeping out of the ground, I'm so thirsty, I'm tempted to drink from it!"
The only way to describe the Geyser Basin, is to imagine a very beautiful Hell. There are steaming cauldrons of bubbling pools lined with neon colors that range from every edge of the rainbow. Some pools look so inviting, you just want to strip down and crawl in.
Others reek of sulfur and spit noxious fumes so bad, you need to hold your breath as you pass by them. The trees surrounding the geysers have all died off and turned a brilliant white, which looks completely fake. I sat staring at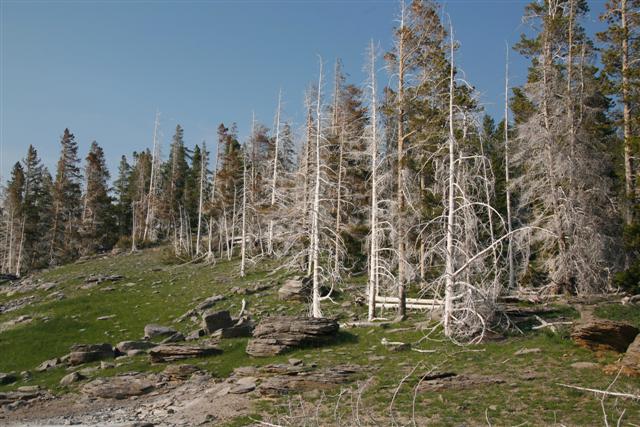 one geyser, the Grant, for so long, I swear it is a stage setting.
How can something look so beautiful, yet so awful at the same time?
The Grant is the worlds tallest predictable Geyser, and was scheduled to erupt between 7:45pm and 10:45pm. By this time in our hike, it was 7:30pm, we had now been out in the geyser basin for over 4 hours.
Cindy said she couldn't wait around, so she headed back to the camper to relieve the dogs, and start on dinner. I decided to wait to see if I could watch this giant eruption.
I sat swatting killer mosquitoes like some mad lunatic for the next two hours watching the sun set, but never seeing the geyser blow its top.
At 9:30pm, it was too dark to get a picture and I probably needed a few quarts of blood. My stomach had started to eat itself, but something tells me with the nice jelly roll I have hanging over my pants, I could probably survive out in the wild for a few days before I'd actually starve to death. But try and tell this to the people standing around me while it rumbled.
I swear at one point, it growled so loud, I think the guy beside me looked a bit frightened and move a few steps away. Maybe he thought it was a geyser erupting off in the distance?
I finally gave up hope and walked back to the camper in the dark. I could smell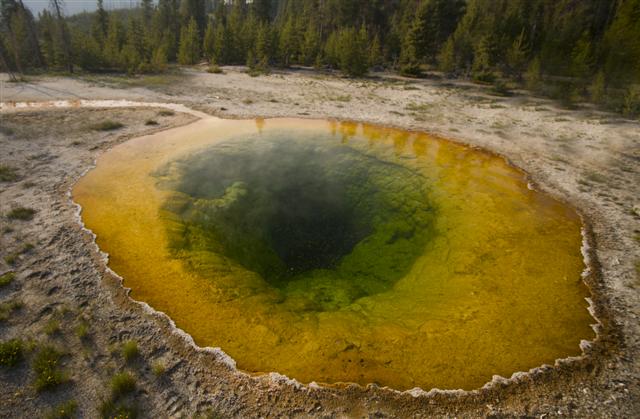 the food from 20 parking spaces away, and almost ripped the door off the hinges as I entered our small house on wheels.
Cindy was the perfect wife and had dinner and a cold beer waiting on the table for me. I couldn't tell you what it was, but my plate was empty in a matter of seconds along with the ice cold Coors Light she had sitting in the coozy.
With a belly full of food and a big smile on my face, I started the undaunting task of cleaning the cards from the cameras. This took over an hour alone, and while the pictures were transferring from card to hard drive, I went out to the truck to grab my camera bag.
Stuck on my window was a business card. At first I thought it was a ticket, for I'm sure you're not supposed to camp in the Old Faithful parking lot.
On the Business card was a note from Chris and Jeanne, the couple we had dinner with in Baja on St. Patrick's Day. They work here in Yellowstone and left a telephone number to contact them. Funny thing was we had their business card out from when we had met them in Baja planning on calling them to meet up.
When Cindy called Chris, he said "Your camper isn't too hard to miss."
We made plans to meet up tomorrow night for a bonfire and a little get-together they were having in the Employee Campground. Best part was they said we could stay in there as their guests.
Thursday June 26th Exploring Yellowstone
We went to the Old Faithful General Store where Chris is a manager to say hello, get some directions and make plans for tonight. He said we could go dump the camper off as we had planned on driving around the park to see some more of the beauty it had to offer.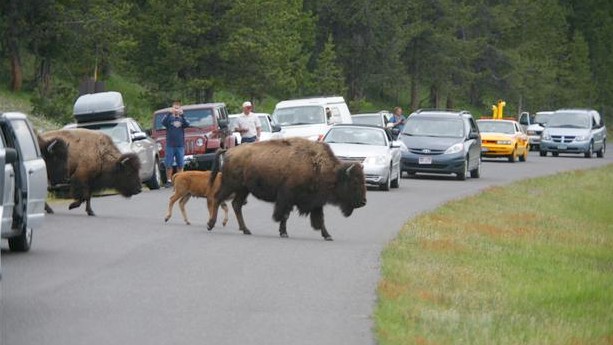 Once we unhooked the camper, we were ready to go look for more wildlife.
This wasn't too hard since around every turn you see a herd of Buffalo, some Prong Horn Antelope, grazing Elk and if you're real lucky, you might even spot a grizzly or a wolf. We had spoken to a few people who had told us they had already seen these last two elusive wild animals roaming around the park.
Man would I love to see a grizzly or a wolf. The last time Cindy and I had seen wild wolfs, we were in Michigan's Upper Peninsula last fall.
Only minutes on the road, and we came to one of our first of many Buffalo Traffic Jams. This is where the buffalo are grazing right on the edges of the roadway, so the passing motorists have to slow down to a crawl. Many times the humongous bison will walk across the road, stopping to sniff a vehicle or look in the windows.
When this happens, you just have to sit and wait for it to make a decision. There is no getting out of the car to shoe it away.
While we were stuck in this Buffalo Jam, Cindy captured one of her best images I've ever seen her take. A bison was leaping over a small ditch when she caught it in mid-air.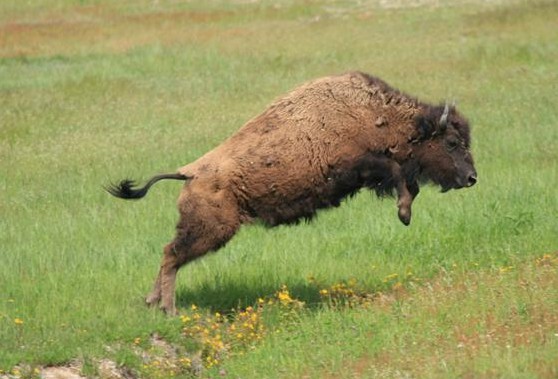 One of Cindy's Best Images!
I keep telling her it wont be long before I just become her camera Sherpa and she does all the photography work.
The rest of the day was spent driving the park roads just taking in the beauty. We've visited many National and State Parks around the United States and have come to the conclusion, that beauty doesn't always mean the nicest park. Yosemite was outstanding, but was so busy, it was probably one of my least favorites.
Now Grand Teton National Park and Yellowstone, are both tops on my list. Right behind Sequoia National Park, all because of how open and not busy they were.
Yellowstone is very busy, but the park itself is just so big, that except for the Buffalo Jams, there are many times you feel like you have the whole place to yourself.
On our way back to the campground, we did spot a coyote crossing the road, who didn't seem to afraid of my camera. She sat on the edge of the road watching me while I snapped some images of her, then trotted off into a field of flowers.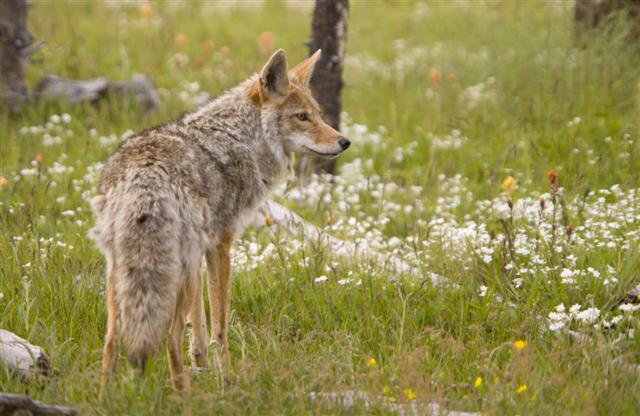 Once back at the campground, Chris and Jeanne were already sitting by the bonfire with a few fellow employees. We came down to their campsite, introduced ourselves and spent the rest of the night with new friends who shared some great stories.
When the mosquitoes finally got too bad, we called it a night and headed home to bed.
Friday June 27th A Perfect Day in Yellowstone
We both were up early this morning wanting to head out exploring more of this beautiful National Park. Since we only had a few days to be here, which is not enough time to get much done, we figured we'd drive the entire park loop, something like 150 miles just so we could see most of the highlights.
There are so many hikes, Chris and Jeanne told us they've been working here during the summer months for 4 years now and haven't been able to see the entire park.
Before we left the camper, I did my morning ritual of checking the emails while Cindy cooked us some breakfast. I was very surprised to see an email from Ben Phelps, who works on Day to Day, a daily radio talk show on NPR. He was asking if we'd be interested in doing an interview for an upcoming show they're going to air on the high fuel costs and RVing fulltime.
The crazy part is Cindy and I are NPR junkies and listen to this show every single day! How funny is that? Hopefully they'll air our interview and we'll be able to be guests on one of our favorite shows.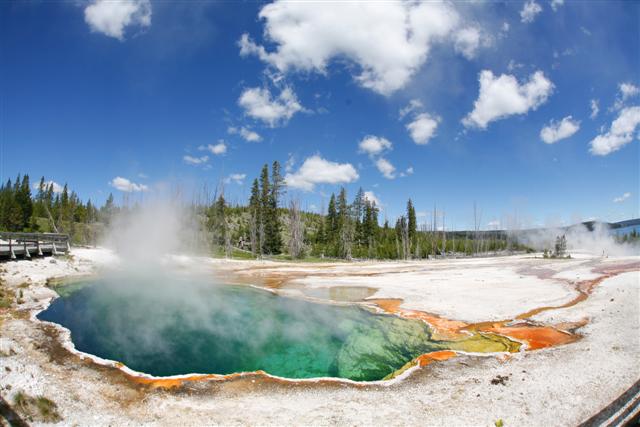 Once on the road, we stopped at the West Thumb Basin first. This is another geyser basin that lies right beside Lake Yellowstone. After yesterdays clouds and intermittent rain showers, we were treated to a brisk day with big fluffy clouds in the bright blue sky. One of those days where you have to keep pinching yourself so you know you're not dreaming.
I've always loved photos of Artist Point. Images from this vantage point just look like something you'd only see in a make-believe movie, a fairytale if you will. Its been one of my dreams to be able to see this waterfall and photograph it.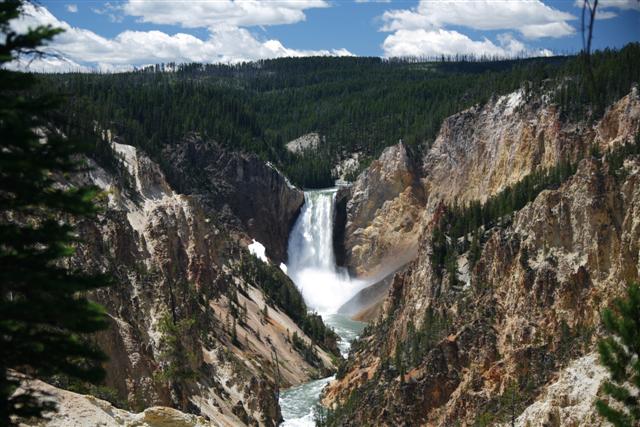 Artist Point - Yellowstone National Park
So when I walked up to the ledge overlooking Artist Point and saw Gods handiwork with my own eyes, it literally almost brought tears to my eyes. Call me a wimp or what ever kind of name you can think of, but this waterfall with the big blue sky and brilliant white clouds was overwhelming.
Now matter how you looked at it, the view still looked fake. This waterfall alone would be worth a visit to Yellowstone. Its no wonder its one of the most photographed places in the park.
The day just kept getting better. Around every bend we'd see open sky that would make one of say "Wow!" Hayden Valley is another section that brought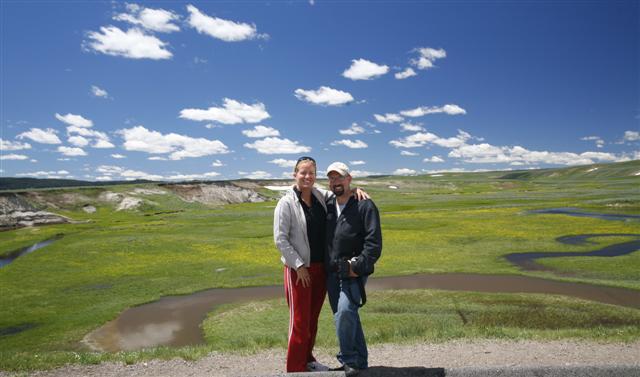 tears to my eyes. Maybe I was feeling emotional or just all the tension from the last few days and knowing this would be our last big Out West Experience we'd see for awhile was bubbling up to the surface. Or maybe the views were just that moving? What ever it was, it is something I'll never forget.
At one point, we came up on a traffic jam and both of us said "Please let this be a Grizzly Bear!" But when we pulled up to the commotion, all the fuss was just two giant buffalo grazing along the edge of the roadway.
We pulled over to snap a few pictures with all the other tourists when one of the buffalo stopped munching on grass, looked right at me and started walking towards me. He was only 20 feet away to begin with.
I backed up very quickly putting the girth of the truck between me and Mr. Bullwinkle. I could hear Cindy laughing at my squeal as I backed up quickly, but she was doing the same thing getting behind the truck for safety.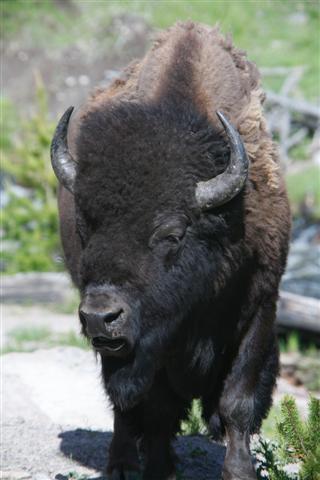 After the standoff ended and the bison lost interest in me, we climbed back in the truck heading home to the Sunline.
Chris and Jeanne had invited us over for a BBQ tonight and when Chris had mentioned he had some Back Straps of Venison, we knew we couldn't miss an offer like that.
What a great couple they are and such amazing hospitality they showed Cindy and I. Over dinner and some drinks, we all shared many stories of various travels and watched a DVD another employee made of his pictures he's taken here in Yellowstone.
Man did it make me want to stay longer to try and capture some of the many animals who call this park home on film. I guess that we'll just have to plan another visit.
Thanks Chris and Jeanne for making our stay here in Yellowstone so memorable. See ya both next year!
Saturday June 28th Leaving Yellowstone
We were up early and packing up knowing from here, it we would only have a few more stops along the long drive home.
We drove out the East Entrance of Yellowstone which brought us up and over the mountains and dropped us down into Cody Wyoming.
I do love traveling these back roads, rolling through the small towns which still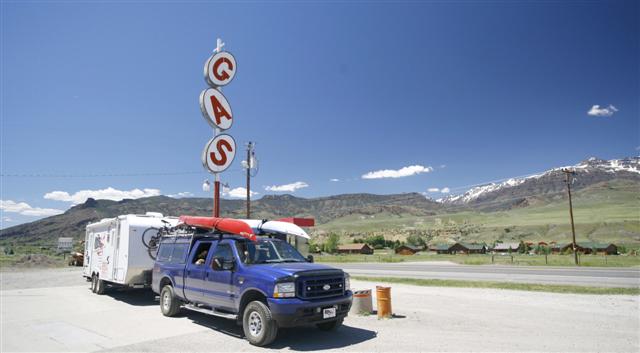 hold so much character. Not necessarily Cody, but little towns like Wapiti, Greybull, Tensleep and those that might be a one stop light town are the ones I enjoy.
I hate when we're driving and I pass a hitchhiker. Why do they all have to be so grubby looking? What bothers me so much is I'd really like to pick them up. I bet they have a really cool story and I feel guilty for the rest of the day when we pass one who is holding a sign saying they're headed in the same direction as we are, but we just roll right past them.
What makes me pass on by is I instantly think of movies like The Hitcher when I see one of them standing on the side of the road. This makes chills run up my spine and is why I never stop. Then there is the fact that we might pull over, offer them a ride in the back seat with our two dogs and the collection of dog hair we've amassed and the poor guy might just say "No Thanks."
Today we passed a kid who couldn't have been older than his mid 20's who was sitting on top of a pile of big duffle bags. His ripped up jeans and long stringy hair looked like they hadn't seen a bath in months. Sitting beside him was a mangy looking dog who was asleep right on the edge of the road.
Now I know that there is a wild story in that odd traveling couple, but we just passed by them without ever slowing down. It bothered me for the rest of the day and here I am still thinking about it.
I had gotten a phone call from my mom a few days ago telling me of a great friend of mine who had stopped by her house a few days back. I guess he had gotten a job out in Redding California and was moving his family out to the West Coast.
She told him we were traveling the same route, but coming East, so Dave and I had been talking back and forth on the phone for a few days now trying to coordinate a rendezvous.
We finally were able to meet up in some random truck stop in Buffalo Wyoming for a few hours visit. We sat in the parking lot talking while his 3 young kids ran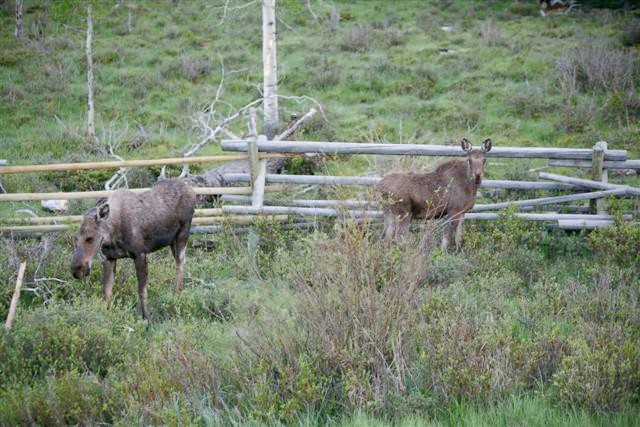 around in a field with the dogs. Cindy and Angie, Dave's wife, sat talking, catching up on the past few years in a matter of minutes while Dave and I sat in the camper looking through some pictures of our last two years on the road.
It didn't take long before the kids were bored, and trying to release a days worth of energy in a parking lot was driving the parents up the wall and they needed to get back on the road to get the kids to their hotel a few towns away.
Cindy and I ended up staying in the truck stop parking lot not wanting to drive after dark. We had just come through the Big Horn National Forest which was so loaded with Deer, Moose, Elk and Antelope, that we knew it wouldn't be wise to be driving after dark. Dave and Angie had just told us that while they were getting off the exit ramp to meet us, the car in front of them had hit an antelope and they had to drive around it in the middle of the road.
I'd really like to have stayed in the Big Horn State Park, as the roadsides were lined with wildflowers and the camping was free. But that'll have to be on our return trip next year.
Sunday June 29th
Driving across Wyoming isn't all that much fun. There are some very cool little towns to stop at, but the Eastern half of the state is pretty wide open with big sky views from horizon to horizon.
The edges of the road were lined with yellow, chest high wild flowers that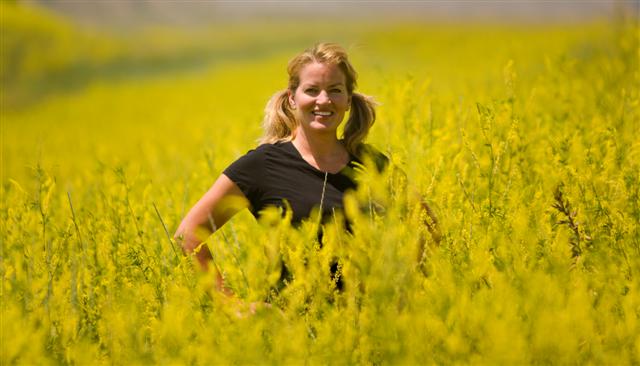 smelled out of this world. At one point, we pulled over to use the rest room we tow behind us and both sat in the flowers just taking as big of breaths as possible.
Our goal for today was to get to the Crazy Horse Memorial and Mt. Rushmore in Rapid City, South Dakota. We pulled up to the Crazy Horse Monument and felt a bit taken by the $20 entrance fee. That is alot for two people to go see a big rock carving that isn't even done yet.
That was till we spent the next 3 hours walking around the Native American Museum, watched the informative video, and were amazed by all the carvings the artist had made in his lifetime. What dedication this man and his family have to devote their entire lives to building this memorial.
By the time we left, I thought the $20 was a pittance knowing it was a private family that was doing all this to help the Indian culture to build a center they could be proud of.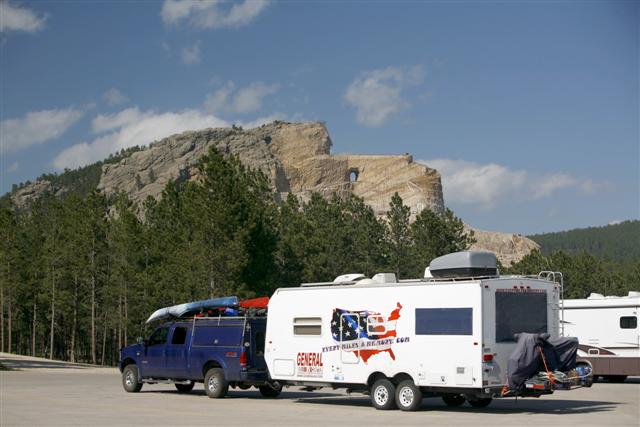 Compared to Mt. Rushmore, which we only drove past due to the sun setting behind it and it being almost impossible to see, Crazy Horse, even only partially finished is much better and all proceeds go to a cause I feel very strongly about.
We were headed to the Badlands for the night, but didn't make it past a Flying J truck stop when Cindy was pleading for me to pull over so she could do laundry. I guess two days of her wearing her pajamas out in public was too much for her.
So we spent the night in the Flying J parking lot catching up on laundry. I also added a new Gallery for Sequoia National Park and another one for Jackson Hole & Grand Teton National Park.
Monday June 30th Getting Lost in the Badlands
How on earth do we get lost with a GPS, multiple maps and a lap top with Streets & Maps on it? Don't ask me, but Cindy's in charge of the navigation, so when we do get lost, all I can say is it's her fault.
We were headed towards the Badlands today, and while driving down some two-lane back road, I noticed a sign saying "Park Entrance 13 miles" with an arrow pointing to the East. I started to slow down to make the turn when Cindy popped her head up asking what I was doing?
I said "Isn't this the park entrance?" She had been asleep in the passenger seat and looked around saying "No, just keep going straight, you'll run right into the entrance" She then put her head down and went back to sleep.
45 minutes later, I hit a t-bone in the road and said "Ok, now where?"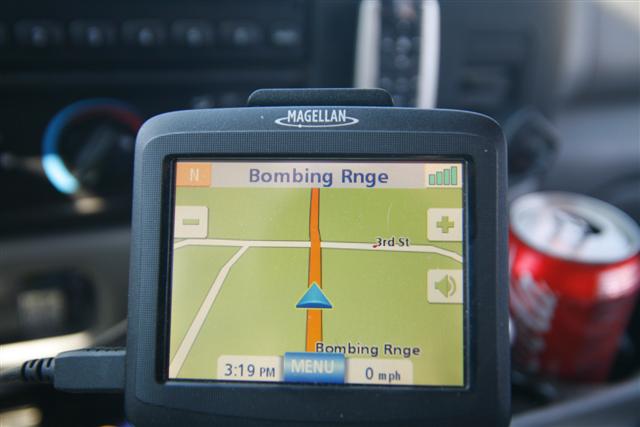 There was an arrow pointing the opposite direction stating 78 miles to entrance of the Badlands. She could probably see the steam boiling out of my ears and tried her best to hide in the passenger seat.
Her excuse was "Why would you listen to someone who is asleep?"
Our choices were to turn around and drive down the very bumpy, boring road we had just traveled along, or find a new route. The new route was basically just turning around, but seeing different views than if we were just to backtrack. The new route also included 30 something miles of dirt road. Funny part was the dirt road was smoother than the paved road.
At one point I looked down at the GPS which only said 'Bombing Range' on it's display. I pointed it out to Cindy who then looked at her map. "Yep" she said, "We're crossing a bombing range right now!"
Our new route was also taking us across an Indian Reservation and through a few towns that looked like they had seen better days. We also got to pass right through the Wounded Knee battle sight. This whole area is very famous for many of the awful battles fought against the Native Americans. The land is very beautiful and I can see why the natives fought so hard to protect it.
When we pulled up to the town of Scenic, South Dakota, I thought the name had to be some kind of joke. We're talking a few dilapidated buildings in the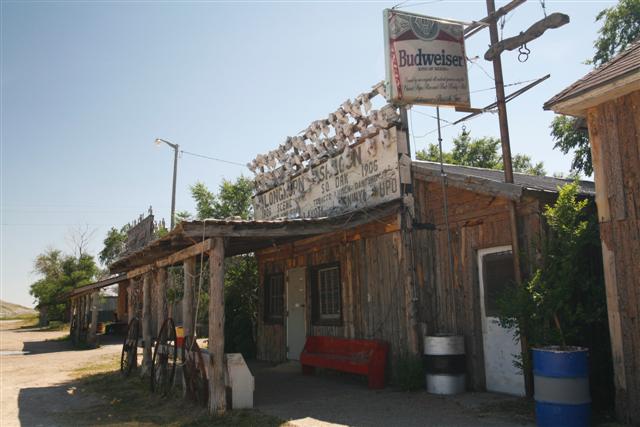 middle of barren fields with the wooden buildings being decorated with large cow skulls. The main street had tumble weeds blowing across it like some ol' western movie, and the one saloon had a large sign painted on the front stating that Indians were Allowed.
I parked the truck and wandered up and down main street, the only street, snapping a few pictures. I did go into a shop that sold just about everything under the sun where an old Indian woman had a very large collection of various skulls and artifacts that she told us she had collected from the Badlands.
When we entered into the Badlands, there were large signs stating it was illegal to collect any fossils or artifacts from the area. I wonder if this woman couldn't read, or just felt it was OK for her to collect anything she wanted?
The Badlands National Park isn't what you'd think of when comparing it to many of the other Parks we've visited. No beautiful hikes, tall vistas or giant waterfalls. Nope, just a very bumpy two lane road that crosses some of the most barren landscape I've ever seen.
It was amazing to me that the fertile fields leading up to this area were suddenly gone. The landscape was left with painted desert and crumbling, dry earth. What a strange oddity this area is. We would pass through some sections where buffalo would be roaming in open grassland that was dotted with Prairie Dog holes.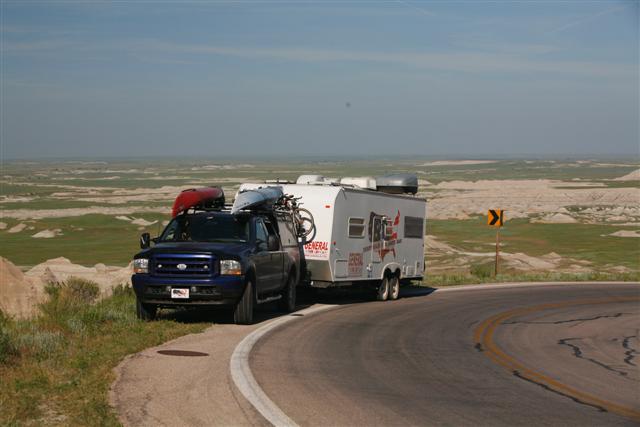 Once Lucy, our Beagle noticed the hundreds of prairie dogs sitting up in the grass, she went hysterical trying to bark at every single one of them. Listening to her howl at the furry rodents, you'd have thunk she was some kind of hound dog.
We also got to see a few mountain goats scaling the side of a steep cliff.
Once we passed through the park, we pulled onto I-90 heading East and prayed we'd make it to the next fuel station. If you ever travel to the Badlands and your vehicle runs on Diesel, make sure your tank is full before you get there. There are a few gas stations, but none have Diesel.
When we finally pulled into the next station, some 20 miles down the road, the truck was coughing and spitting as we coasted up to the pump. We literally ran out of fuel as we pulled into the station.
Once topped off, we were on the road with not much to keep us occupied for the rest of the evening. Normally we never drive at night, but in multiple hours of driving, we hadn't seen much of anything except rolling fields of grain and corn, so we figured we might as well drive till we got tired.
We finally pulled over just outside of Sioux Falls at a rest area and called it a night around 11pm. We knew we could make the final leg into Minnesota tomorrow, so we might as well get some sleep tonight.
I would like to Thank the state of South Dakota as all their rest areas have dump stations for RV's. This really helps in traveling as you don't have to travel with anything in the holding tanks which helps save on weight. If only more states provided this courtesy.
Return to Top of Page
Need Unlimited photo storage- FREE Trial of Smugmug