When we realize our insignificance in this world,
it some how relieves the pressures from society to succeed -
Cindy Bonish 04/07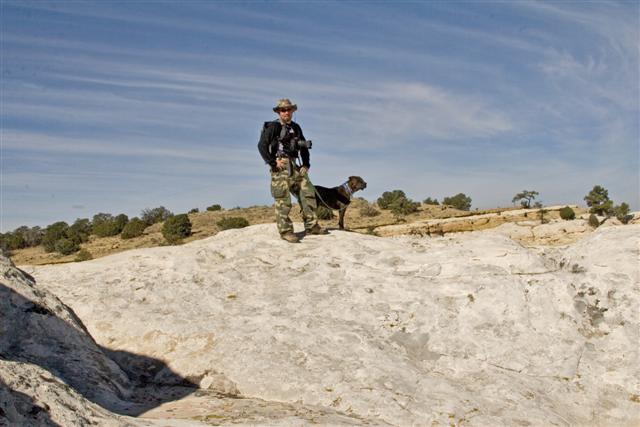 Pat's November 2007 Blog
If This is your first time here, you might want to start from the beginning of our fulltime RV Journey with my previous months Blog's
January Blog February Blog March Blog April Blog May Blog June Blog
July Blog August Blog September Blog October Blog
For Those That Don't Know Me, You can click here to read my Bio
Photo Gear We Use - Solar Tips, Fact's and Trick's we've learned while on the road
Camper Check List - A list of things we do before leaving camp. Again, this isn't gospel, but its a good start for those who might not already have a list made up.

****
Wednesday October 31st 2007 Happy Halloween
We had driven west out of the Los Alamos area, with the only way to get out was to drive back through Albuquerque. That would be our first time being back in civilization in the past two weeks. Let me tell you that the traffic of Albuquerque was enough to drive us back out into no-where land where we're starting to feel very comfortable.
We had found a BLM Campground off the side of HWY 117 near El Malpais National Monument and dumped the camper before heading to La Ventana Arch, the second largest in new Mexico. The beauty of the South West is the BLM land, it's free to camp at and very prevalent. The campgrounds don't have many amenities, and no utilities, but that's why we set ourselves up for Boondocking with our solar panels and deep cell batteries. This is also when a Gazetteer comes in handy, because it shows which land is BLM Land and what is state land.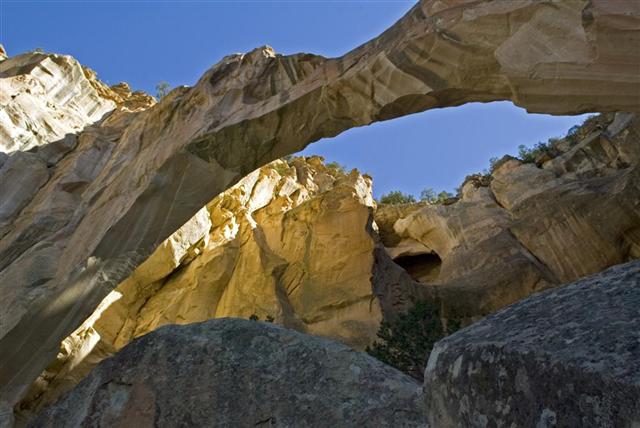 We spent a few hours climbing around La Ventana, which begs to be explored. With giant boulders the size of our camper, and sticky sandstone rock that's very easy to climb, the arch is worth your time off of I-40.
We were amazed at how many people would pull into the parking area, get out of their car, take a picture and drive off. In the few hours we were here, we probably saw this happen five or six times? Each time we saw this, I'd say to Cindy, "I'm so glad we're doing this while we're young and can be up here climbing, able to be hiking and experiencing this the way it should be seen!"
We took too many photos of the arch, and realized just because it's warm when you're in the sun, it doesn't mean you're going to stay warm once you're in the shade of the mountain. I'm the one always yelling at Cindy "Bring you're jacket" or "Put a sweatshirt on!" Now I was the one stuck in just a T-Shirt who was freezing while Cindy was offering her sweatshirt to me and laughing at my stupidity.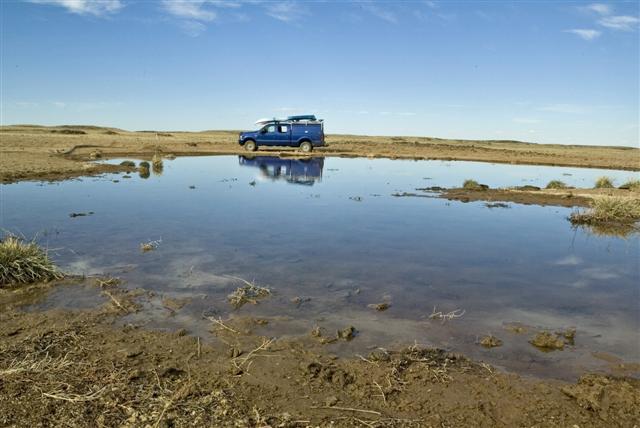 From La Ventana, we drove around the volcanic area of El Malpais National Monument exploring the many attractions. I found it very wild that driving down I-40 you see these mountains off in the distance, but don't realize they're dormant volcanoes that shaped much of this areas landscape. Who would have thought that this area was such a large volcanic field at one time? I know in all my schooling, I never knew that New Mexico was such an active volcanic area.
With large lava flows that look like they were steaming hot only a few days ago (actually the youngest lava is over 3000 years old) you would think you're on one of the Hawaiian Islands and far from the dry desert of New Mexico.
Turning off of HWY 117 onto Route 42, Cindy laughed saying "Not another New Mexico dirt road again!" I pleaded, "No, this is a main road that is on the park map, it just happens to be dirt" Boy was I wrong. Route 42 is a dirt road here and there, but I don't know if I'd take it in a regular car. There were plenty of times that the high clearance of our four wheel drive truck was needed to get over some of the lava which crossed the road. This was also our first experience with Prairie Dogs.
From the truck, the prairie dogs don't mind sitting up and watching you pass, but slow down or try and come to a stop, and they're gone in their ground nests in an instant. Numerous times I tried to get a picture of these funny little animals only to be outsmarted every single time. They also have better patience then Cindy does. She's only good for a few minutes of sitting, looking at a sand mound before she wants the truck started and it to be moving. So needless to say, we have no prairie dog pictures to show off.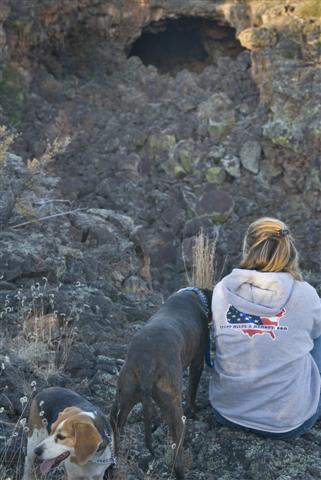 Back to Route 42. What I thought was going to be a quick cut around the National Monument, became a 6 hour slow drive along a very bumpy road. Sure we had made it down HWY 117 very fast, but that was because there was smooth asphalt and speeds of 55 mph the entire way. Route 42 maybe had a max of 25 mph, and at one point when Cindy yelled "Why are you going so fast?!" I looked down and said "I'm only going 20 mph!"
Midway through this drive, we found the Big Tubes section of El Malpais. This was a few hours into driving, and we were both ready for a good hike, walk, climb or anything to stretch our legs. What we found was something that was just amazing!
For a 1/4 mile, you hike over rough lava, a mix of small ups and downs till you come to the section where the big lava tubes once flowed. Here you can see where the lava flowed out of the volcano and through the valley floor. What was once humongous tubes of lava, are now just collapsed sections of flow.
In some areas, you can climb down into the tubes and crawl through the blackest of black caverns. With no light to speak of, and rough boulders all around you, even my headlamp that is normally bright enough for any task, barely cut through the darkness. I couldn't talk Cindy into following me into any of the caverns, which are open to explore, and really I wasn't too keen on exploring them with just the two of us.
All I kept thinking of was the last news reports of those college kids who went cave exploring and got lost. They had done everything right. They notified others of where they were going, they left a note on their car and had multiple lights with them. We had done none of that, so exploring the dark caverns would have to be something we would put on our to-do list.
We made our way back to the Sunline and in the first time I could remember, we did absolutely nothing for Halloween. As we got back to the camper, we couldn't believe the stars and how bright the the milky way was. The nearest town was Grants, which was maybe 30 miles away and not that big of a town to begin with. With not a light to hinder the display of stars, we sat gazing at the sky with our mouths wide open in amazement.
Make sure to visit the El Malpais Gallery to see some cool shots from our Visit.
Thursday November 1st 2007
I got up early and headed back to La Ventana Arch to see if the sunrise would make the light any better, but I basically just froze while watching the same arch we had seen yesterday in the shade. I went back and crawled back into the warm bed where the two dogs had taken over my position beside Cindy.
By the time we were loaded up and on the road, it was noon and we drove over to the Bandera Volcano and the Ice Caves. We had seen signs advertising this attraction all along I-40 and thought since the other things we had been hiking around were so cool, maybe this would be the same.
Pulling up to the little visitor center/gift shop, we made our way in and asked the lady behind the counter our usual questions. She couldn't, or should I say wouldn't answer any question we asked about the cave, saying she had never hiked the 400 yards to see what it looked like? That should have been our first clue that it wasn't that exciting The brochures were very cool looking, with a 12' wall of ice and stalactites hanging from the ceiling. We paid the $9 per person entrance fee thinking at least we might get some cool pictures.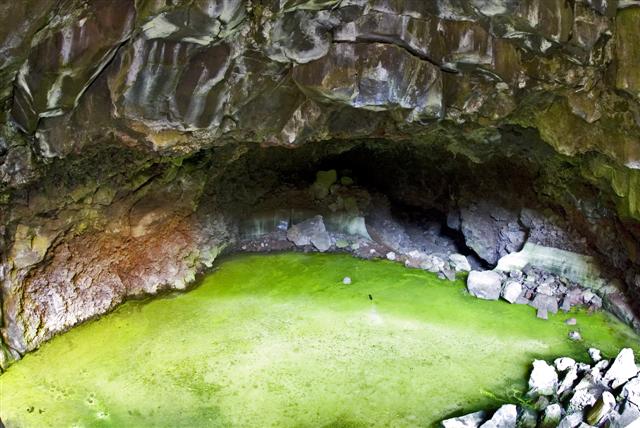 Now if you've been following along with our adventure, you know I like to take a lot of pictures. I even know that I have a problem with taking way too many pictures of almost anything and everything we do.
In the past year, I've filled a 250gig hard drive with photos! It's one of my Obsessive Compulsive Disorders I have, but I know about it, so that's the first step towards recovery.
I hate to say, that Cindy didn't take one picture, and I only took 4, so that should tell you how exciting this was! First of all there was no ice and the little cave (Singular) we did see, was the same thing that we've been seeing for the past few days for free while hiking around El Malpais National Monument.
The Big Tubes were 100 times better then this, and were free! Cindy was so mad and I felt totally robbed. She kept saying she was going to go in and ask for our money back. I just wanted to get out of here and move on to El Morro National Monument.
Cindy did go back in to make sure she had looked at the post cards that were for sale in the gift shop and make sure we had seen them right. When she said to the woman behind the counter that they should tell people that there is no ice in the Ice Caves, the woman just said "Yeah I know, those post cards are from the 50's and 60's."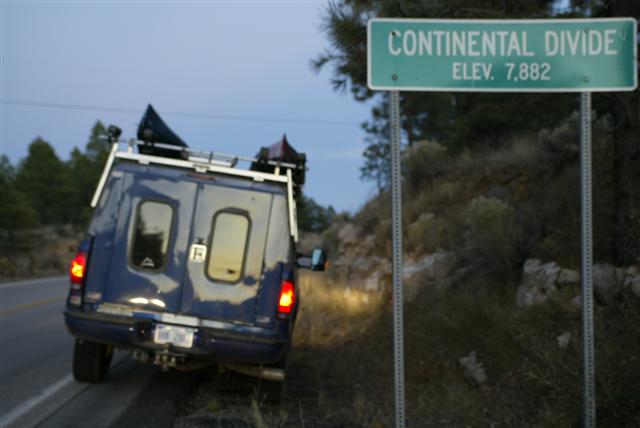 So if I could recommend one thing, it's save your money and stay out of the Ice Caves. Make sure to visit El Malpais National Monument, the La Ventana Arch, the Big Tubes Area and the surrounding areas for free, and make sure to stop in at the visitor center and get some info before heading out into the caves or backcountry. This area is very rugged, but well worth the effort to explore it.
From the Ice Caves we drove west over the Continental Divide towards El Morro National Monument. For some reason Cindy had offered to drive! I was amazed, but thought these roads are so empty, it would be the perfect opportunity for her to get some experience behind the wheel.
The next half hour was spent with me laughing at her yelling that she was freaking out and that I couldn't talk because it distracted her. We made it to El Morro and found that the campground was closed for the season. You could camp there for free, there was just no water available. Great, another free night for us. Free is always good on our budget.
Friday November 2nd 2007 El Morro National Monument
El Morro is another monument like Bandelier. With Native American ruins, petroglyphs and enough history to fill any historians cup, we had a full day ahead of us. When Cindy found out that the trails were dog friendly, of course she had to go get the dogs and bring extra food and water for these two anchors.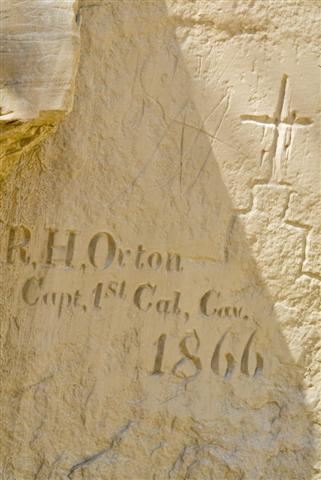 Atsinna Pueblo, the largest of the pueblos atop El Morro, dates back from about 1275. Its builders made use of what they had around them: flat sedimentary rock that cut easily into manageable slabs piled one on top of another. Clay and pebbles cemented the slabs together and have lasted to this day.
Ruins atop the mesa give a vantage point of the valley below in all directions. This million dollar view competes with the pueblo Indians of Bandelier for some of the best scenery I've ever seen. I'll say again, these natives knew how to pick some beautiful locations for their homes. It also cracks me up every time we visit this area and think of being taught that Columbus Discovered this land? How can you discover some area for the first time when there are already habitants here and have been for thousands of years.
This short two mile hike around the National Monument is breathtaking, and well worth the drive off the main highway of I-40. El Morro is also home to some of the oldest writings in America. The soft sandstone walls were a favorite for the Natives to carve their petroglyphs in. The Zuni Indians, whose Puebloan ancestors lived here, call it Atsinna - "Place of writings on the rock." The Spaniards called it El Morro - The Headland. Anglo-Americans called it Inscription Rock.
El Morro was a stop along the main East-West trail dating from antiquity. Over the centuries, those who traveled this trail stopped to camp at the shaded oasis under the cliffs. They left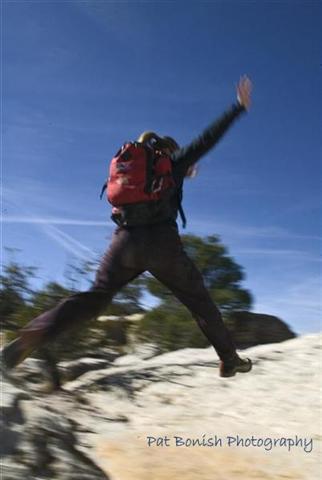 carved evidence of their passage - symbols, names, dates and fragments of their stories that register the cultures and history of those who passed through this untamed territory with some of the earliest dates being from the early 1500's.
Hiking this large mesa is fairly easy. Remember you're elevation here is around 7000', so you're going to be a little winded if you're like us and used to the flat lands of the east. But it's nothing too strenuous.
We passed a few couples in their golden years who were doing just fine with the elevations and the scenery is so beautiful, you'll want to stop often to take plenty of pictures. After yesterdays ordeal with the Ice Caves, it only made me more angry that this beautiful park was only $3 per person, and the pass was good for the next 7 days.
That also included a free campground, yet we paid $9 to see nothing at the Ice Caves! (I know, let it go already)
While hiking, we were joined by one of the park rangers, Lee Ferrill, who had to come out and scold a few hikers who had wandered off the trail into an area they werent supposed to be. Having Lee along with us on the hike was like having a tour guide. He knew so much about the local flora and fauna, that it made the short hike all that much more enjoyable.
He told us stories about certain cracks and crevices, explained why certain inscriptions looked the way they did, and was just a good guy to have along on the hike. He even was a dog person, having three dogs himself, so he didn't care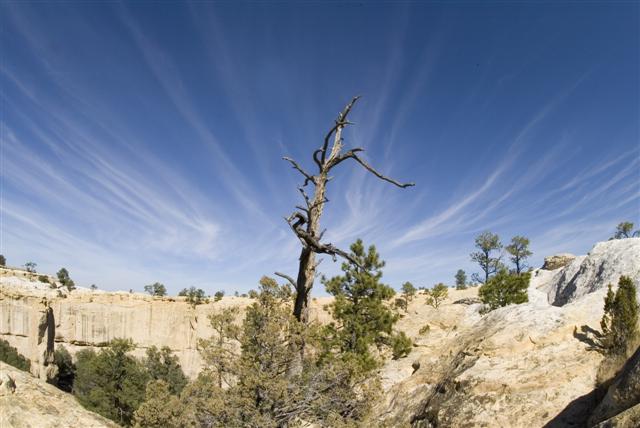 when Luca kept begging for that big hand to pet him some more.
One thing that we found so wild was that Lee had moved to this area after leaving Corporate America. He started working here and a short time later his father-in-law called him to say he had found a letter from a great uncle. This uncle was making the West-East passage and stopped at this very oasis.
In a letter home, he talked of building a scaffolding to carve his name in the sandstone like so many other travelers had done. In the letter he described where he had made the carving; Lee said the day he walked out to that exact location and looked up, seeing the name from the early 1800's just ran chills up his spine. Fate had brought him to a place that hundreds of years before, family had passed by and had left their mark for him to find. Isn't it wild the way life works out?
Lee recommended a few local areas not to miss, and told us to make sure we come back in the fall after the monsoon season, when the valley floor is filled with wild flowers. By the time we got back to the camper, we had spent 5 hours hiking this two mile trail which I think is a new land speed record. Now you know why it takes us so long to go anywhere, we like to talk to people we meet, and we like to take plenty of pictures.
We did meet a few nice couples, one from Oklahoma who recommended a few different places for us to visit, and another family from Minnesota who had taken the last two months to take their 3 kids around the country on a scenic adventure like ours. Cindy and I logged on to their blogs and found it very humorous to see what the same landmarks we were seeing looked like through the eyes of a child. You can check out their site here http://goodsamclub.mytripjournal.com/Baberblog
After so long in the Boondocks, we needed to find a campground that had full hook-ups so we could empty our tanks, refill our fresh water and get some laundry done. So maybe the next few days will be spent just relaxing and playing catch up. We pulled into USA RV Park in Gallup, New Mexico and called it a night.
Make sure to visit our El Morro Gallery to see some neat shots from our day spent exploring this unique National Monument.
Saturday & Sunday November 3rd & 4th 2007
Sitting in USA RV Park in Gallup New Mexico, we've been playing a whole lotta catch-up. It's amazing how fast things pile up. Between emails, photos and updates, you'd think we've been off the grid for a few weeks.
This campground is pretty nice and with Gallup being the biggest town around for miles, it looks like there is plenty to do in this area. Cindy and I have been a couple of hermits and have spent most of our time in the camper on the computer or cleaning the camper before we head off again.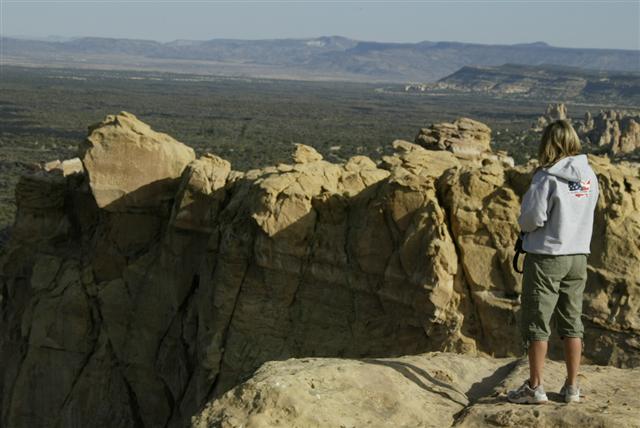 One of our friends who we've become acquainted with from the Sunline Owner's Club Website had sent me a link awhile back for a website where you can download Points of Interest or POI's to our GPS. Tom and Mary were the ones who finally talked Cindy in to getting the GPS we use, and we noticed a few places we were typing into it was having trouble finding. Well I finally got around to checking out this website and now I'm kicking myself for not doing it earlier.
POI Factory is like a dream come true for anyone who owns a GPS. If I would have downloaded all the waterfalls for Minnesota while we were driving through that state, we wouldn't have had to sit and flip through maps. There are POI's for each state's parks, scenic drives, specific fuel stations or attractions for certain areas.
I spent the day downloading all the State Parks, National Parks, Dump Stations and Scenic Drives for the next few states we'll be traveling through. I also found out that while I had the GPS unit hooked up to my laptop, if I looked something up online, it asks me if I want to record this location into my GPS! Thanks Tom and Mary for the link, and now I know to check something out as soon as it's sent over to me.
Tuesday November 6th 2007 Our 1st Run-In with Navajo's
Driving North through Arizona, we headed up to Navajo Nation and one of the largest Navajo Reservations in the country. The drive up was beautiful with vistas from horizon to horizon interrupted by red mesas jutting up from the flat desert atmosphere.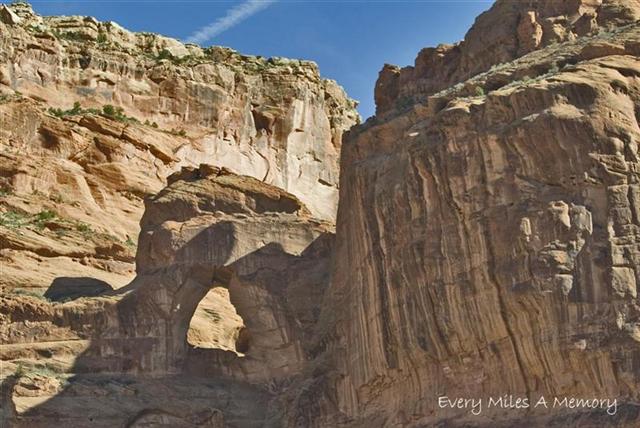 I've been studying the Native Americans for years and have always wanted to see first hand what their Reservations in the South West are like compared to the Reservations we're used to in Michigan.
Reading books like "Bury my Heart at Wounded Knee" or "The Trail of Tears" are enough to make me want to denounce my citizenship as an American from the embarrassment I have for what our government did to these proud people.
Driving onto this Reservation was like stepping back in time to the 1930's or 40's. I cant figure out how some Native Tribes have followed the advances in society while others have sat stagnant for almost a century.
The Reservations we're used to visiting in Michigan are beautiful. They have big casinos where top name acts perform weekly bringing in tourists from all over the state. The homes are up to date and you almost wouldn't know you were on a Reservation if it wasn't for the advertisements and bill-boards trying to bring in more tourists.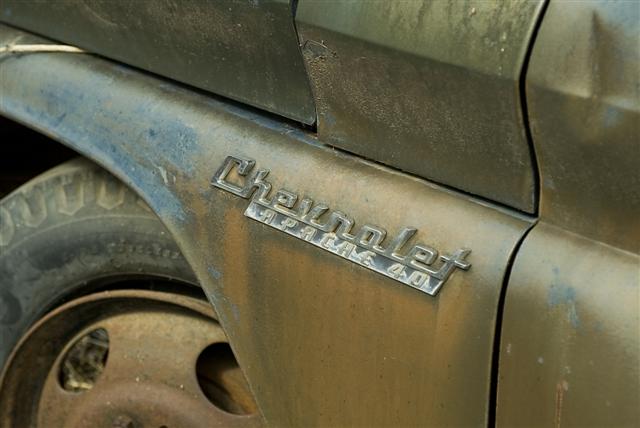 The Navajo Reservation we pulled into was just depressing. Homes that looked more like tin shacks, most without running water or electricity, random dogs wandering around the streets with cattle stopping traffic when they crossed the main roads.
Old iron relics of past decades sitting abandoned in empty fields with tumble weeds blowing around the roadways. It honestly seemed like we had just pulled onto a movie set, only this time it was for real.
Growing up in a middleclass small town with only a few non-Angelo's to speak of, I've never considered myself a racist in anyway. I've kicked people out of our restaurant when they used racist terms and always tried to be as neutral as possible.
I have always wondered what it would be like to have the tables turned on me. For the first time in my life, I was the minority. Except for the few Angelo's staying in the cottonwood campground, we were the only non-Navajo people we met.
Driving into town got us some strange looks and made me feel very uncomfortable. It's one thing to be the new person in a small town, our truck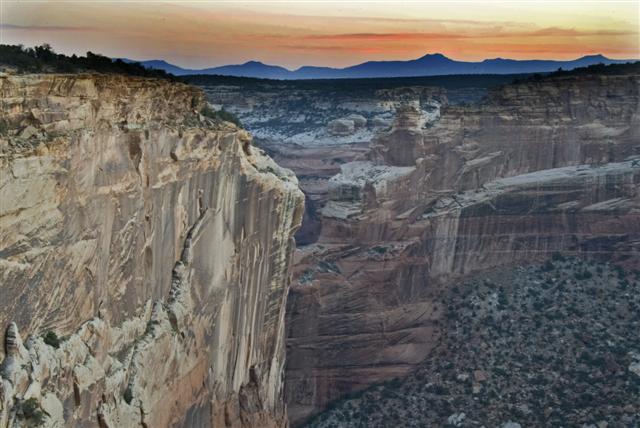 usually gets some strange looks, but most are very cordial and make us feel welcome. This was completely different and very unsettling.
Not that I expected a few hundred years of oppression to be forgotten, but I didn't imagine it would be like this. It was just a stark contrast to the tribes we were used to meeting in Michigan.
The Chippewa's of Northern Michigan are very cordial and go out of their way to welcome you and make you feel at ease. Here, the nasty stares almost made you want to pack up and leave town as quickly as we had pulled in.
The Cottonwood Campground was fenced in and had signs posted to not feed the roaming dogs. The campground was rustic, with no hook-ups, but it was free, so we werent complaining. Free is good, even if I did have to strap on the shoulder holster.
I will say that this area has the worst sand spurs, or stickers or what ever you call them we have ever seen. One step into the grass and the bottom of your shoes are covered in stickers. The poor dogs take one step and just stop with their paw out waiting for you to remove the few in each pad.
Wednesday November 7th Canyon de Chelly National Monument
The only thing we were here to do was explore Canyon de Chelly (pronounced Canyon de Shay) while waiting for some mail to get delivered. We really needed that new LCD screen for the laptop so we could update this stuff you're reading, so while waiting for the delivery, we would see what we could around this National Monument and make the best out of it. Just because we're being looked at funny, I wasn't going to let it ruin our time here.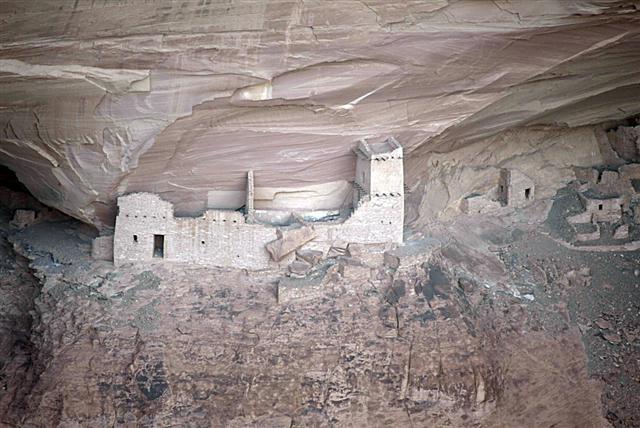 Exploring the canyon can only be accomplished by driving along the North or South rim and stopping at various overlooks to see some of the Anasazi ruins, those natives who once called this area home.
Except for the White House Ruins, all other ruins are off limits unless guided by a local Navajo. It was a little unsettling to pull into each overlook and see a big sign that said "KEEP DOORS LOCKED - DO NOT LEAVE VALUABLES IN VEHICLE" Not what we want to see with a truck full of photography equipment.
Most of the overlooks have locals selling handmade crafts and jewelry, and I did sit and talk with one guy who had some cool hand carved stones. I fell for it and bought some of them because they looked that interesting.
The one hike where you can climb down 1 1/4 miles to the White House Ruins is what we had in our agenda for today. After driving along the canyon rims for the past few days at various times of the day, we figured the White House ruins would be best when bathed in afternoon sunlight, so we spent the morning talking with our various neighbors in the campground.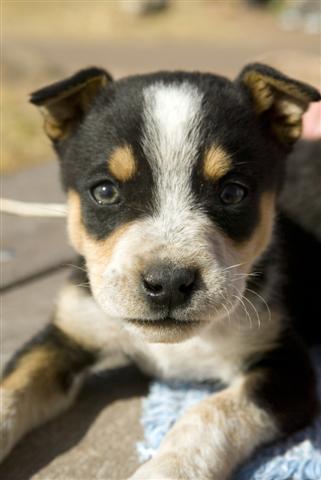 One couple was from Michigan and when we got to talking, we figured out that two of their best friends were from Milford (our Home Town) and I had gone to school with their children. Every time we meet people, it only drives home how small this world really is. Jack and his wife recommended a few places for us to check out and were very nice to sit and talk with.
Our other neighbors were from California and were filled with great information on places to camp in the Southwest. Earl and his wife 'SP', were more than happy to take some time and share their many years of camping experience with Cindy and I. Earl and I sat comparing our solar set-ups and talking about the many ways we've found to boondock for free, while Cindy and 'SP' adored the 3 week old puppy that had been the talk of the campground for the past few days.
This puppy had adopted Earl and 'SP' when it's mother had abandoned it. Being the animal lovers they were, they had taken it in and had been feeding it till they could think of a way to get it to a rescue off of this Reservation where animals, especially dogs aren't that well taken care of.
Hiking White House Ruins
Once the afternoon sun was at the right direction, we headed down the trail and into the canyon. From the start, this hike offers you some breathtaking views. The trail is very easy on the hike down, and could be traveled by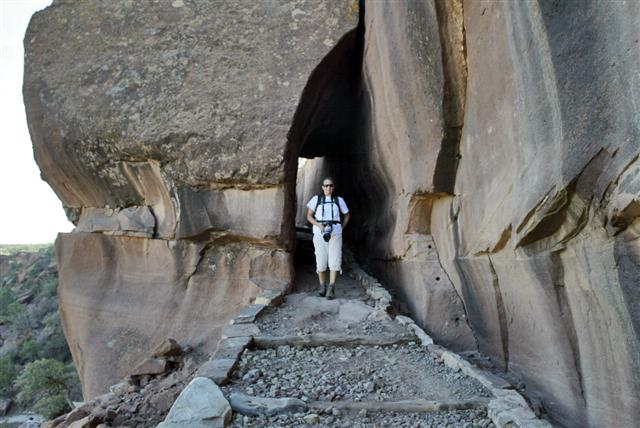 anyone in moderate condition. There are numerous benches for you to stop and take a break, but we chose not to use any on our hike down. The geological features of the sandstone are just awe inspiring. With natural caves and tunnels to hike through, it was like being in an Indiana Jones movie set.
Once we reached the valley floor, the hard packed sandstone we had been hiking on switched to soft sugar sand. We crossed the small river that was barely flowing through the valley floor and were greeted by a few Navajo women selling some of their native jewelry pieces. The ruins are much larger than they appeared from the overlook some 700' above. What looked like a small dwelling is actually multiple rooms which are sprawled out along the cliff side.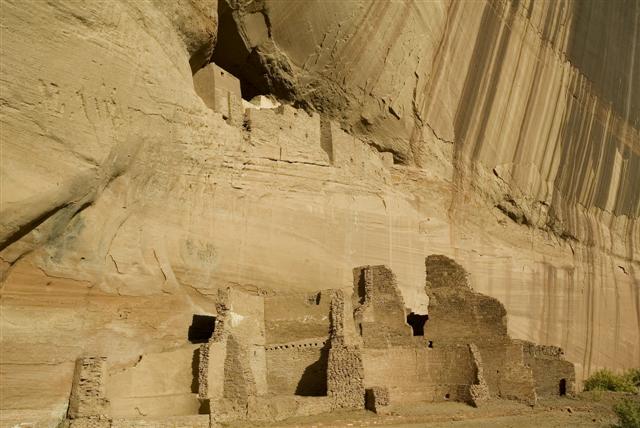 We were right in waiting as the afternoon light was making the painted walls of the canyon just glow with deep golden colors.
We sat watching the huge ravens soar along the walls, riding the thermal updrafts and croaking out their throaty calls to one another. After our usual finger numbing picture ordeal, we headed back up the canyon with the sun throwing long shadows over the canyon floor. We thought about what the Anasazi people must have thought when they called this area home. This canyon has been one of the longest continuously inhabited landscapes of North America and looking at our surroundings, you understand why. I could have dropped my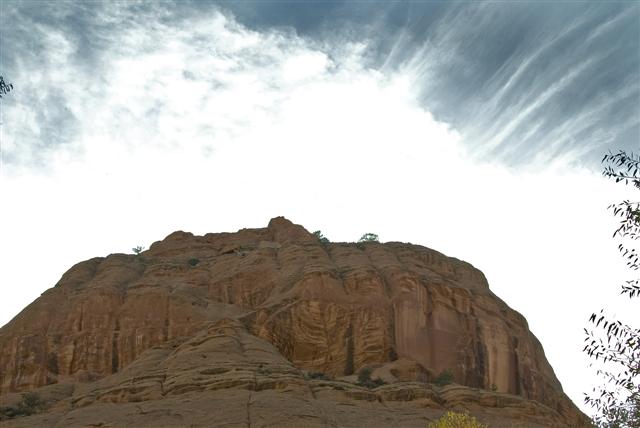 backpack, started building a shelter and been perfectly content with spending the rest of my days here. It's that beautiful.
Remember those benches I spoke of, well we made good use of them on the hike back up. Even though it was only 1 1/4 miles to the top, at this elevation, any effort in climbing is strenuous for us. Although we are getting much stronger than our first few climbs back in Santa Fe, we can still feel the crisp thin air sting our lungs when trying to suck in heavy breaths.
By the time we had gotten to the top, I was sweating good and feeling very refreshed. Hiking is a mind clearer for me and I love to have the time to myself with just Mother Nature and the sounds of nature. Usually Cindy and I are just enough distance apart, that conversation is only exchanged at the resting points of the switchbacks, and then it's given in-between heavy breaths, so it's not that engaging.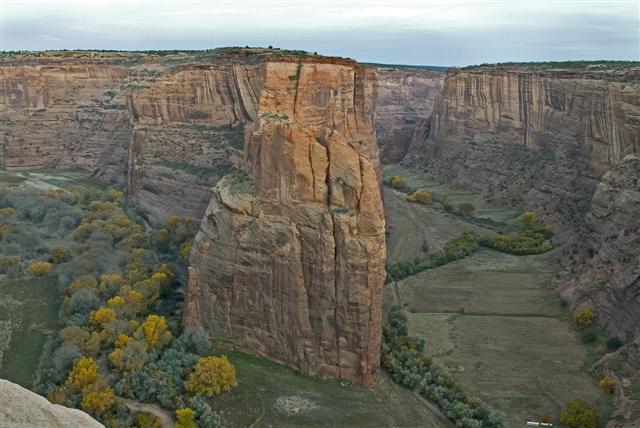 Once at the top, we climbed into the truck, and raced around the rim just in time to see a magnificent sunset from the lookout area of Antelope Overlook. After the sunset, we drove back down the mountain side getting a little scare from a horse walking along the white line of the road in the dark. Like the elk in the Jemez Mountains and the Cows near Fenton Lake, hitting one of these animals would do serious damage and isn't something we even want to think about. Once back at the camper, we invited Earl over for dinner as he was sitting alone waiting for his family to get back from an afternoon excursion.
The 3 of us sat talking, philosophizing and just having a good laugh while enjoying some of Cindy's mouth watering spaghetti for the remainder of the evening. Earl is a retired professor from UCLA and was very interesting to talk to. By the end of the night we had shared quite a bit and my face hurt from both laughing and talking. It was nice to meet such an interesting, easy-going individual.
Thursday November 8th 2007 Driving the Canyon Floor
I had said that the only way to explore the canyon was to hire a Navajo guide. You can do this either in one of their vehicles which is very expensive, or if you have a capable four wheel drive, you can use your own. The guides are on a first come, first serve basis, so I drove up to the Park Headquarters to see if I could find one.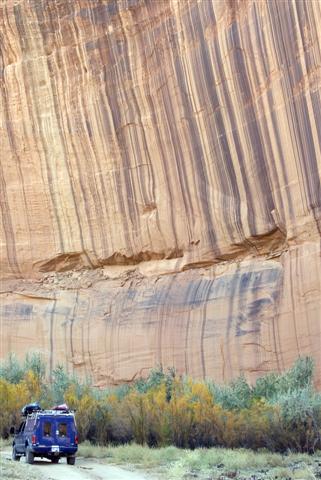 I filled out the appropriate paperwork and the park ranger went to find me a guide. They only allow a certain number of vehicles in the canyon per day, and once the guides are all hired, the canyon is closed for the day. Luckily, we got one of the last ones available.
Alice was an elderly Navajo woman who had lived on the Reservation her whole life and had been guiding with her father since she was a young girl. She told us she was even born in the canyon back in 1939 and knew it like the back of her hand. We pulled in, I locked my hubs, switched the truck into 4-High and took off.
The first mile of the 17 mile long route is deep sand, the kind that a high RPM and much bouncing is needed to get you through it. As soon as I found an area where the ground was solid enough, I got out and aired down the tires so we wouldn't spin so much in the soft sand, something I should have done when I locked my hubs back on firm ground. With the tires aired down to the proper level, we floated right over the sand and I didn't need to keep the truck at such a high RPM.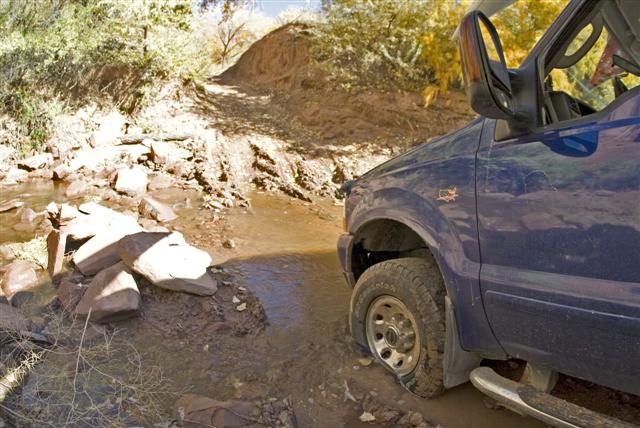 Once past the deep sand, the canyon narrows and the trail becomes tight double track. For the rest of the day we sat bouncing along with Alice narrating different features of the local habitat and listening to many funny stories about her childhood spent running naked along the canyon floor free as a bird with not a care in the world.
This canyon driving was my idea of fun. The trail driving wasn't that hard, but you definitely have to have a high clearance vehicle. With dozens of stream crossings, some up to the bottom of the doors, any vehicle lower than our truck might be getting their floorboards wet. If you ever come to Canyon de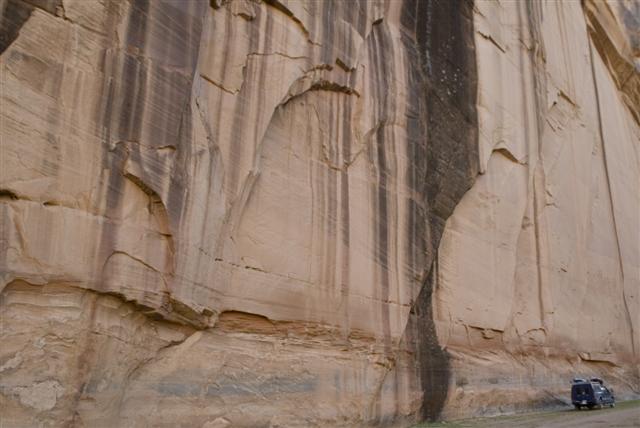 Chelly, I'd recommend that you take your own truck. There are plenty of tour companies that'll take you into the canyon, but the locals call them Shake & Bake Tours. You sit in the back of a open-air vehicle and they tend to drive very fast through the rough trails. One tour company passed us and we all laughed at how fast they were going with a bed full of tourists bouncing around in the back. Earl had also told me that they don't stop but for a few minutes at each ruins, and they are only allowed to stop at the ruins, no where in-between.
With our own personal tour guide, we were allowed to stop at any point we wanted, and could go at our own pace. You know, the snail pace we usually travel at in order to make sure we see every possible bit. By hiring your own tour guide, you only pay a $15 an hour price compared to the $48 an hour price to get bounced in the back of their vehicle. So when rolling along and we came to a pack of wild mustangs, I was able to get out and snap some images. When I really wanted a different angle of the cliff side, I could drive over there or hike away from the truck to get that certain angle.
While riding along, we talked about all sorts of different things and asked about outsiders on the Reservation. Alice told Cindy that she needed to be careful while on the Reservation because of her good looks. She said the Reservation has its fair share of crime and being a pretty blonde, they would snatch her up, rape her and throw her off the canyon the first chance they got! That definitely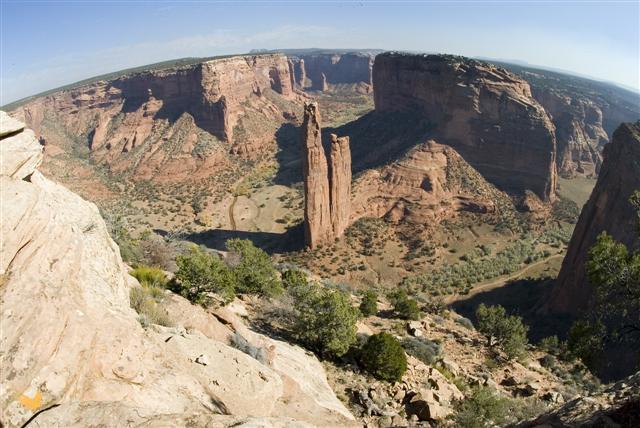 put the fear of God in us and from here on out, we would be staying in the campground. Luckily for us we only had till tomorrow when our package would arrive and we could head out.
It's just a shame that in all these years, we cant seem to get along when it comes to the races. This area has some of the most beautiful scenery we've seen, and 4-wheeling through the canyon was one of the coolest experiences we've done so far. The photography is outstanding and worth every cent it cost to hire the personal guide. I'd recommend this to anyone, especially if you're into photos like us. Just use your head and don't go wandering around by yourself.
Make sure to check out the Gallery we put together from our Canyon Drive.
Friday November 9th 2007
While Cindy cleaned up the camper and got it ready to tow, I ran into Chinle to the post office and grabbed our package. I stopped at the quarter car wash to hose some of the red dirt off of the truck from so many stream crossings yesterday. By the time I had gotten back, we were ready to hook up and get on the road.
Earl and 'SP' had packed up and shoved off and we promised to keep in touch through emails. Cindy and I were betting on whether that little puppy would ever be given away, or if it was a new addition to the family?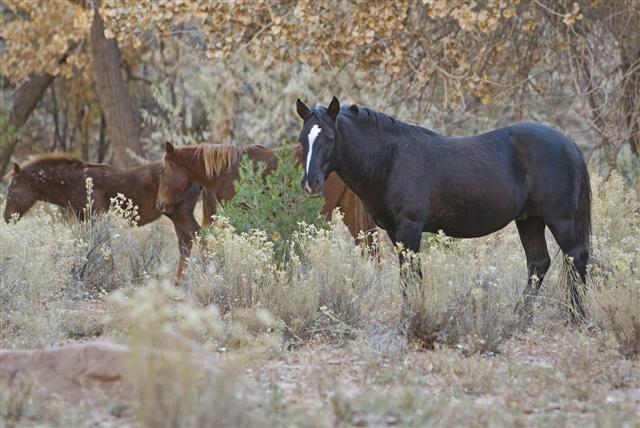 Pulling out of Chinle on Route 191 South, I looked out across the valley and said to Cindy "WOW, that sure is a beautiful valley!" She looked at the map and said "You're right, it's named Beautiful Valley" Sort of funny that the Native American's named things what ever they saw them as.
Then we saw one of the strangest sights to date. While driving, I noticed a bunch of animals on the side of the road. Big birds and a pack of dogs all around a big heap on the side of the road.
Well that heap was a dead horse and the dogs and birds were fighting over who got to eat it!! I don't know if the horse had been hit by a vehicle or if it had succumb to the harsh conditions out in the desert, but it left quite a sight in our minds for the next few miles. Just because Every Miles A Memory, it doesn't mean they all have to be good ones!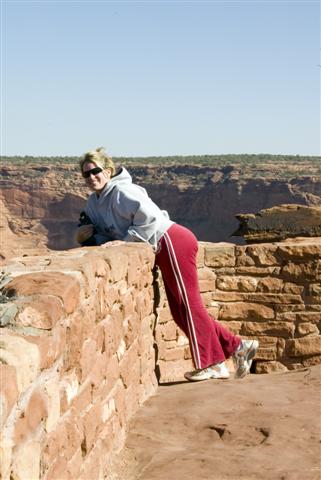 Route 191 South turns into I-40 which brought us west towards Flagstaff. We pulled over in Holbrook Arizona at the OK RV Park where we would be able to dump our grey/black tanks and refill our fresh water. The last campground had a water spigot where most of the Navajo's were coming to get their drinking water, but when we filled up a gallon jug to use for washing, the water had quite a few floaters and was a nice color yellow, so we waited to refill our tanks from a full service campground.
OK RV Park has a laundry facility and even has cable, so you know we were living large tonight....LOL
Saturday November 10th 2007
I'm happy to say that Cindy and I repaired our LCD Screen by ourselves. I made her do it with me, that way if I was to mess anything up, she couldn't blame me....LOL
So the laptop is back up and running and it only took a few hours for the 500 and some emails to download. Now that we had a strong signal, we talked with the family back in Michigan and found out that what was supposed to be the entire family visiting for the Christmas Holiday, will now only be our Niece and Nephew. The remainder of the day was spent updating the sight and downloading the few gig's worth of images from the last weeks worth of adventures. It's times like this when I curse my picture taking habits.
Found an interesting article on how Global Warming is affecting our National Parks. For anyone who enjoys these beautiful areas, this is a real eye opener.
Monday November 12th 2007
Holbrook Arizona was once a major stop for Route 66. The town now has a little historic district, the very cool Wig Wham hotel where you sleep in tee-pees and many other historic places to visit. With the Petrified Forest National Park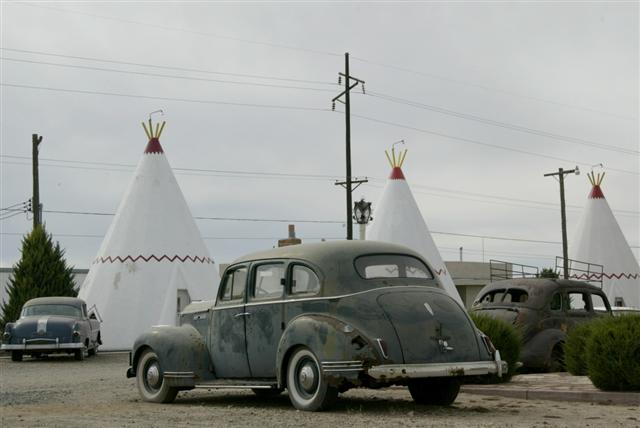 only 20 miles away, most of the local shops are advertising various rocks, petrified wood and fossils from millions of years ago.
We stopped at the Crystal Forest Museum & Gift Shop before we entered into the park, and sat talking with Brandon. I was wondering about many of the different fossils and how they could sell a sharks tooth that was over a million years old for only $28? He said that just goes to show you where we hold our values these days. They price their pieces for what they can sell them for, and it just so happens that historic artifacts go for about the same price as a movie ticket with a large buttered popcorn. What a shame.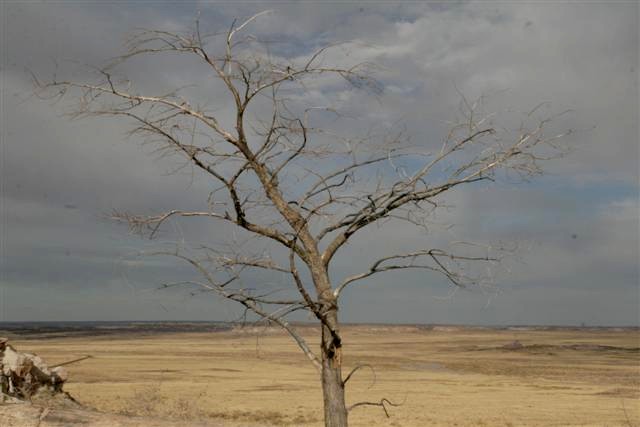 Brandon described the different hikes offered in the park, and said we should plan on spending at least a few days to see everything. He also told us they had a campground that was free on the side of the museum if we were interested.
This was getting better with each minute we talked. If we needed hook-ups, it would only be $10, but since we didn't, he recommended to dump the camper, and save on some fuel costs by just driving through the park with the truck. Made since to me, so we unhooked and made our way into the National Park. With service like that, I can imagine that this place must be packed full during the summer months.
Being as most of the main attractions in the West are National Parks and each one has an entrance fee, we just paid the $80 and bought a yearly pass. This will save us a bunch of money in the long run and we should pay it off in the next month alone.
The park has a main road that crosses through the middle that is 26 miles long. We drove from one end to the other just reading the plaques and seeing what it had to offer. I found it very interesting that this is called a Petrified Forest, and along the 26 mile long road, I only saw one tree.
The painted desert was beautiful with the afternoon sun casting long shadows across the mesas. We stopped at a few overlooks and just sat staring. It's hard to take a picture and have it show the true expanse of nothingness. We watched a group of hikers setting out on one of the trails, and I said to Cindy that as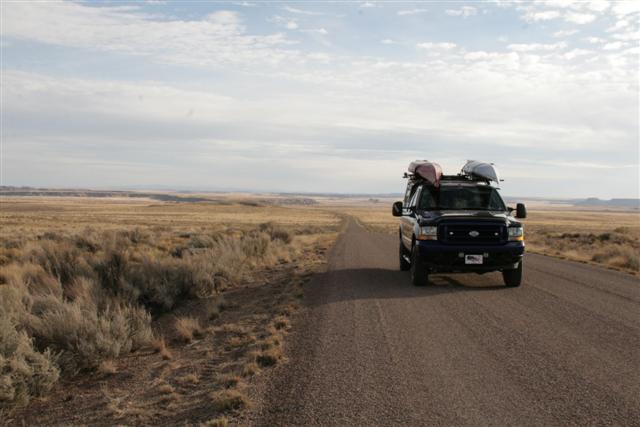 much as I like to hike, these hikes don't appeal to me that much.
When I'm hiking I like for there to be some sort of goal, a climax in the hike if you will. Spending the day climbing these short sandstone bluffs only to see the same thing at the top of each peak doesn't sound that rewarding to me.
There is one hike that we plan on attempting tomorrow that describes some interesting sights, but these are nothing like the vistas of Canyon de Chelly, El Malpais or the peaks above Santa Fe.
I would say that this park is perfect for those tourists that just like to do most of their photography from the overlook. I shall let you know tomorrow after we see what a hike offers us. I also added a Camper Check List page for those that are new to the RV thing and don't already have one to copy off of.
Tuesday November 13th 2007
Pulling into the Rainbow Forest Museum, we sat talking with the park ranger about what the park has to offer and when is the best time to see each area. The museum has some very cool skeletons of dinosaurs that once roamed this area only a few hundred million years ago. We watched a short movie that describes the various attractions the park has to offer, before heading out to the Giant Logs area.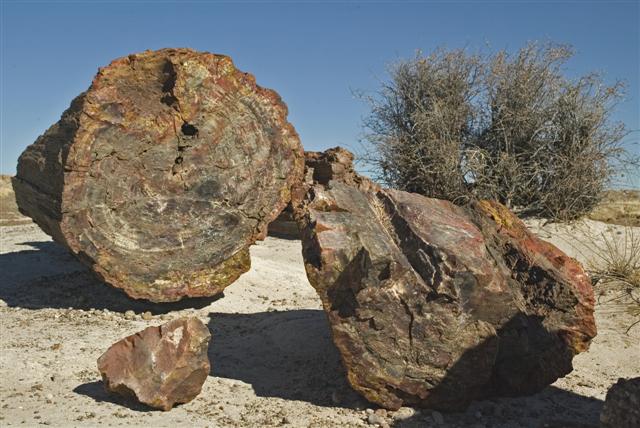 Ok, if you've never been here, I wouldn't recommend this National Park for anyone with kids. Forget climbing into cliff dwellings like in Bandelier, or stunning vistas like in El Malpais, this park offers desert views from horizon to horizon, broken up with some very pretty painted mesas, but other than that, there isn't too much to keep the kids occupied.
Except for one large herd of Prong Horn Antelope and a few lizards, there aren't any animals to see or keep their short attention spans busy.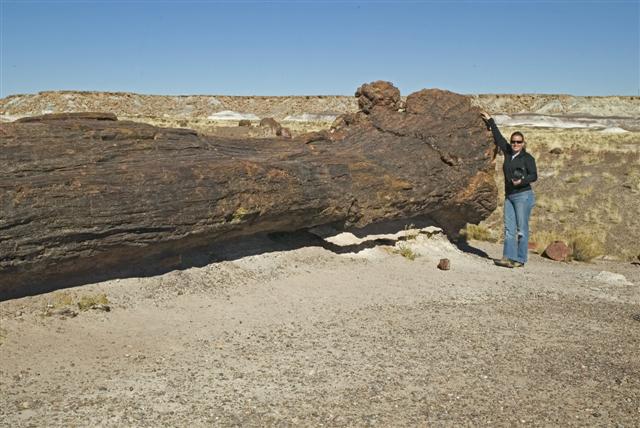 From an adult viewpoint, and especially one who is into history, we found it fascinating. You have to keep reminding yourself that those small rolling bluffs of sandstone that are covered with fallen logs, looking like any forest area that has been recently clear-cut, is actually 225 million years old!
At first, the petrified trees look like rocks; that is till you get close enough to them to realize you can still see the bark on the outside of the ancient tree. In many of the trees quartz glimmers when the sun hits it just right and each log is unique and differs from area to area.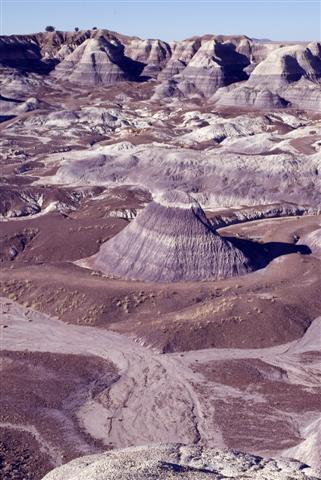 What is just amazing is that a 1 cubic foot section of petrified wood can weigh close to 200lbs and its hardness is a 7 on a 10 point scale!! What might look like a little piece of kindling will be too heavy to pick up. Problem is, the park loses close to one ton of petrified wood per month from visitors taking pieces home with them.
What always amazes me is the stupidity of people when it comes to taking what doesn't belong to them. Why would you go out of your way to visit a park just to see it's natural wonders, yet ruin it by taking a piece of it home with you? It's almost as bad as those who hike out into the wilderness and then litter!?! WTF is that??
From the Rainbow Forest Museum, we walked across the parking lot to the Fred Harvey Gift Shop. Don't ask me why, we had just left a gift shop-museum, but Cindy said "We needed to see everything." Luckily we did. I've been looking for a certain book that I read about in Bike Magazine that lists every mountain bike trail in Arizona.
George who was behind the counter said they didn't have it, but asked which way we were headed and grabbed the phone book from under the counter. He called a few different bike shops and found where we could purchase the book. He then pulled out a map and drew me highly detailed directions to the spot where I could find what I was looking for. Talk about some customer service!!
Cindy and I sat talking with George while he described a few different hikes in the area when he finally asked how long we were going to be in town? He said he had next Monday off and if we were interested, he'd be happy to take us on one of his favorite hikes. We swapped numbers and said we would be in touch. I thanked Cindy for making us go into another gift shop and was reminded that "Everything happens for a reason."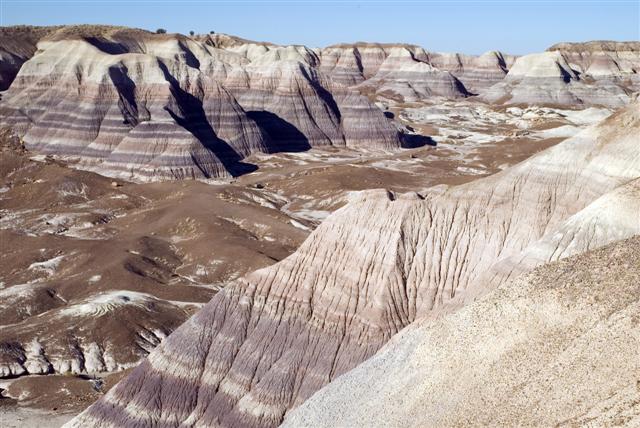 The rest of the day was spent hiking and photographing the various painted mesas and wide open vistas. Too many times we philosophized about how old this Earth we live on really is and who we should believe when it comes to the never ending argument between religion and scientists.
We both believe in a higher power, but this Earth is just so complicated to try and understand it all. Sometimes it's just easier to just sit back and laugh at how alien the surroundings looks. I swear that if you were to film it right, any of the lunar footage or the Mars Rover landing could have been filmed in this National Park.
To think that Arizona at one time was a tropical paradise with giant dinosaurs running around and 200' tall trees everywhere. We saw markings left by Native Americans at Newspaper Rock where some 600 petroglyphs are left on the sandstone walls. The painted desert and Old Route 66, the Santa Fe Railroad which all cross right through the park.......All in all, it was a full day.
Cindy joked at one point and said "Imagine if aliens were to land right here. They would look around and say, it's just like home, let's get our of here." We both agreed that we had walked on another planet today, and headed home for the camper.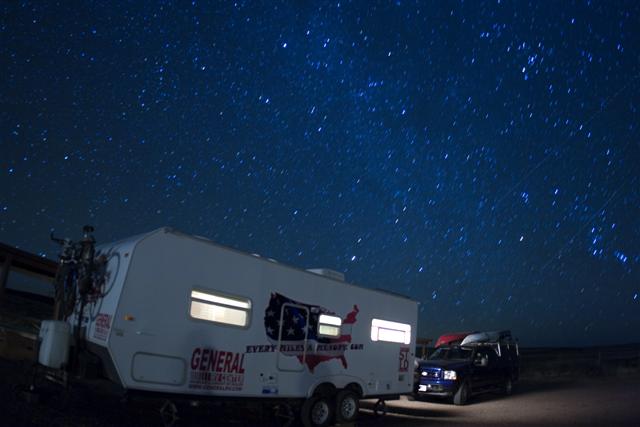 Once the sun finished with its afternoon show, Cindy made some scrumptious dinner, and I worked a bit on the photos. She went to put the dogs out and came back in laughing that "It's darker than I can ever remember" and wanted me to come outside with her.
With no light fall off, cool thin air so there is nothing to hinder your view, the sky looked like a Lite-Brite game when we were kids. There were more stars than I had ever seen and the Milky Way looked like you could reach up and touch it. I sat outside just enjoying the quietness and amazing light show in the sky. It's so quiet, that you can hear a car coming down the road for a few minutes before you can see it pass by.
Wednesday November 14th 2007
Pulling out of the Crystal Forest Museum & Gift Shop we took Route 180 back up to Holbrook where we thought we would drive Route 66 towards Winslow.
Think the Eagles singing "Standing on the corner in Winslow Arizona" We had picked up a local tour guide booklet from the OK RV Park like we had when we found the Jemez Mountain guide back in Los Alamos. This guide book listed a bunch of things to do and talked about driving from Holbrook to Winslow and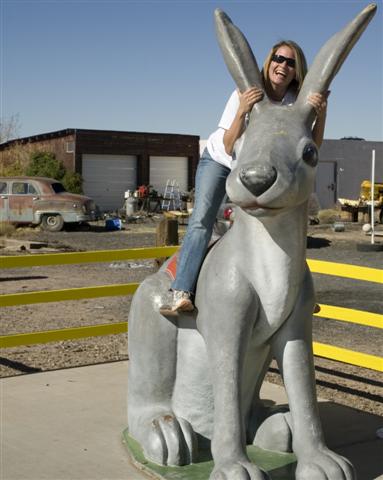 spending the day in Winslow.
We followed Route 66 as much as we could, but numerous times it would dump us back on to I-40 when the Mother Road would just end in a dusty field.
We stopped at the famous Jackrabbit Gas station so Cindy could 'Ride the Rabbit' before we finally found Winslow. Except for a few t-shirt shops selling various Route 66 shirts and a few nostalgic hamburger shops which were closed, there isn't much to do in Winslow.
If you are ever traveling through Arizona and think 'Let's stop in Winslow for something to do', unless you're a huge Eagles fan, I wouldn't bother. We had planned on spending the day wandering around, but now we both stared at each other wondering what to do next.
Jumping onto Route 87 South, we decided to head towards Payson a day early. For the first 30 miles, you roll along a two lane blacktop road with nothing but desert as far as you can see in every direction, except for the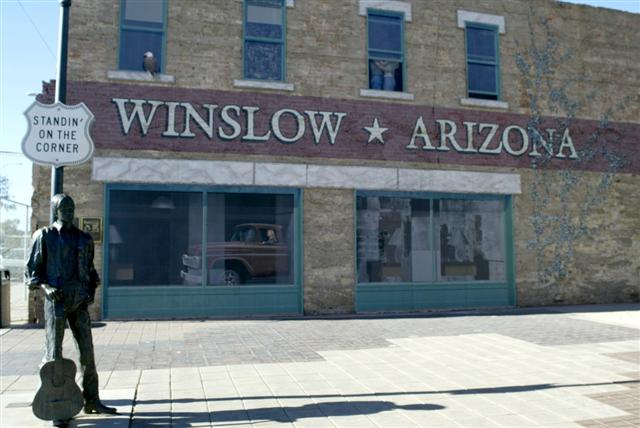 Arizona State Penitentiary.
Then as some mountains start appearing, the road starts climbing away from the desert scrub and small pines start popping up. They soon make their way to towering Ponderosa's and you know you're in the Arizona Rim Country.
We both looked at each other thinking we were back in the Ozarks or a section of the Blue Ridge Parkway. It was weird to go from cactus' and tumbleweeds to the largest Ponderosa Pine Forest in the world. We turned down some forest road and found a little no-name campground on the Gazetteer that is very rustic, but surrounded with beautiful mountain sides and a nice little stream.
When we were in Hawaii two years ago, we saw these really wild trees that have a green and white bark which is very smooth. When we pulled into this campground, I was amazed to see the small creek lined with these beautiful trees. I'm not lying when I said coming up into this part of Arizona, was like going into a different state. I guess these trees are Sycamore, which are in the same family as the Sweet Gum Trees we had seen in Hawaii.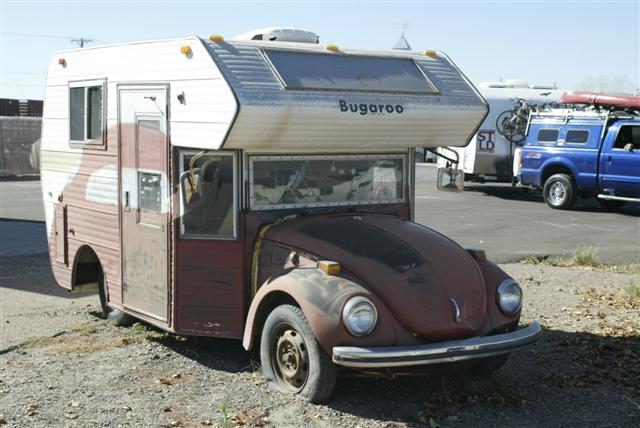 I also wanted to talk about a few unique things that happened today. While driving down Route 66 just outside of Holbrook, we saw the strangest RV we've ever seen.
I love to look at the older RV's and especially one-off custom models. This was a Volkswagen Beetle that had been converted into a Class C camper!
When we were pulled into the Jackrabbit gas station, there was an antique Travette Class C on a Toyota chassis that had dual axles on the rear? Another oldie that I had never seen before. I asked the lady behind the counter how old it was, but she said it was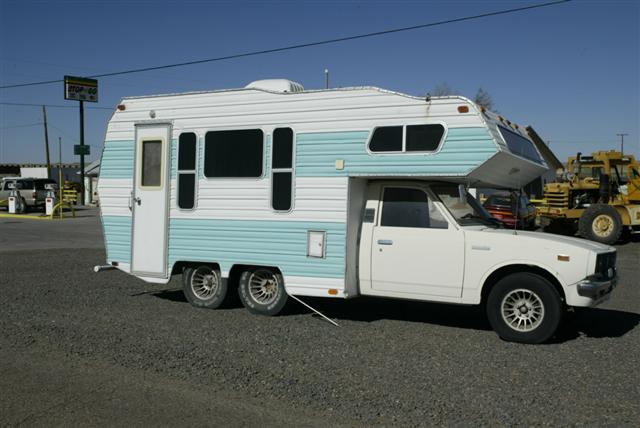 her husbands dads and she had no idea.
Then, while we were pulled over looking at the map on the side of Route 66 between Holbrook and Winslow, Cindy was putting hand lotion on and had taken off her wedding ring. While I sat looking at the map, she said "If we're going to be sitting here for a second, I have to use the bathroom." She got back in and while we were turning around, she started YELLING for me to stop.
I asked what the hell was wrong and why was she yelling so frantically? She said that she had set her diamond ring in her lap, and when she had jumped out to run back to the camper, it must have fallen on the side of the road. YOU'VE GOT TO BE KIDDING ME!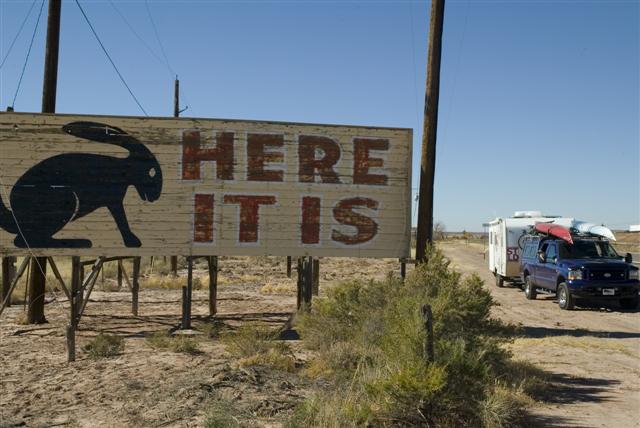 We both jumped out and were walking up and down the side of the road combing the ground. Just when she was starting to get frantic, I saw something shimmer in the sand and yelled "Found it!" A quick "Thank You" was said for those last few prayers and we got back on the road.
Even on days when we're just driving along not doing much, Cindy can still add some excitement to the adventure.
Thursday November 15th Tonto Natural Bridge State Park
We were up early and headed to the Tonto Natural Bridge State Park. We really didn't know what to expect, but a few people we had talked to while on the road had recommended this place.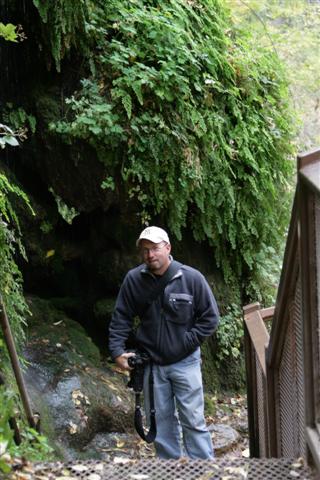 We first had to unhook the Sunline because the road was another 14% grade, and wouldn't allow anything larger than a single vehicle down the entrance. Funny thing is, once we got to the bottom, we both commented that if this was a 14% grade, the Kyle's landing ordeal back in Arkansas must have been a 30% grade, and I'm not lying.
We wandered into the park and decided to try a few different hikes. There are four available ranging anywhere from a few hundred feet to a 1/2 mile.
For the first time since we have left the Boundary Waters area, the weather looks like it could rain. I had just joked with Cindy yesterday that we hadn't seen a cloud in the sky for over a month now. It was actually quite cool with a nice breeze blowing so it was a nice day for a hike.
The first hike was only about 300' long, but went straight down into a steep canyon and showed the differences water in the desert can make on the flora and fauna. This narrow canyon was complete opposites between the two sides.
One side must not get any sun, and with water trickling off the side of the rock, it was covered in a thick layer of neon moss and had long hanging ferns all along the sides. The opposite side, which was only at the most 50' wide was typical desert landscape. With yuccas, cacti and other various desert plants along the sandstone cliffs.
After this hike, we checked out the natural bridge from a few of the overlooks and debated whether we wanted to climb down to see it closer. It wasn't really that impressive from the overlook. It was early in the day still so we decided to give it a try.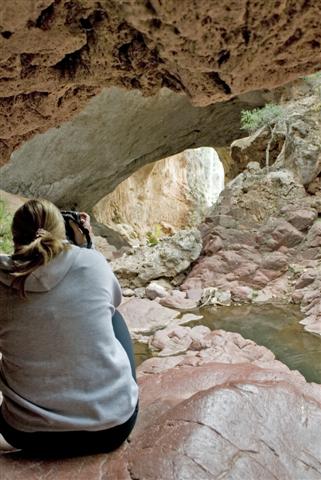 Climbing down the Anna Mae Trail dropped you right down below the Natural Bridge. Looking along the steep canyon walls, we could see various caves that are created by the natural travertine. They say this rock grows over one inch per year, and was called 'The Rock that Grows' by the Native Americans. The big white sycamores with their yellow leaves were a stark contrast against the cliffs. Then we turned on a tight bend in the trail and could see right under the natural bridge.
With both of us letting out a loud "Wow", I was really glad we had decided to make the climb down. From the top, you really cant see the enormous size of this beautiful piece of Mother Nature. Some rocks were bright red and as smooth as marble, while others looked like you grate cheese on them and were bone white. The sound of falling water along the rocks made you think you were in some tropical rain forest and the birds calling to one another echoed under the canyon walls.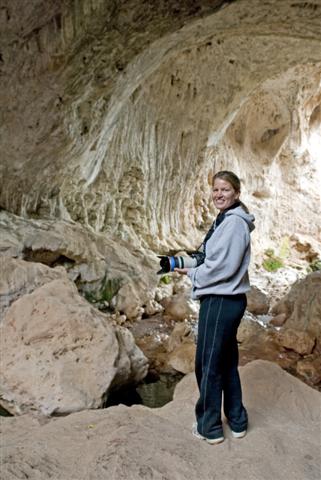 We followed the Anna Mae Trail right under the Natural Bridge where depending on which dimension is used as a measurement, Tonto is the worlds largest travertine bridge - 180 feet high, 400 feet long and about 100 feet thick on top. But from the bottom, it makes you feel very small in comparison. With big blue lagoons which would be perfect swimming holes in the summer time, and stalactites hanging off the ceiling, you can understand why this area was kept a secret for so long.
This was beautiful natural wonder was privately owned until 1990 when the Arizona State Parks bought it and turned it into what you see today. The natural bridge was discovered by David Gowan, a Scotsman, in 1877 while hiding from Apache Indians, he was so impressed by the unusual, secluded location that he persuaded his family to emigrate and live here. I can only imagine the many fun times the family and their relatives must have had in this beautiful location.
While under the bridge, we met a very nice couple who were full timing in an RV and sat talking about various spots in Arizona that we shouldn't miss. They were nice enough to offer us a copy of a map they had been using for the past few weeks that had many different Must-See spots highlighted.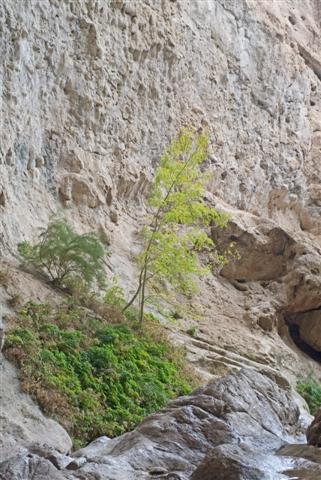 While Cindy and I were laying under the bridge listening to the waterfall, there is a creek above the bridge that falls the 180 feet to the bottom, we both said it sounded like it was raining. When we finally climbed out, we realized it was raining.
We drove into Payson to do some grocery shopping and stopped for lunch at a local pizza parlor. While we walked in, the rain was really starting to come down. A few people got up from their tables and announced to the restaurant that "It was Raining!" we were confused and when Cindy asked "Is rain a big deal to this area?"
We were looked at like aliens. They all laughed saying they hadn't seen rain since August.
We spent the night in a Wal-mart parking lot listening to the thunder and watching the lightening light up the windows of the camper. Maybe I shouldn't have mentioned the fact that we hadn't seen rain in two months the day before?
Friday November 16th 2007
Let me explain how our day usually starts off. After one of Cindy's awesome breakfasts, she'll start with her "Are you ready?"
For me, especially when we've stayed in a random parking lot, all I have to do is grab the cameras and go get in the truck and I'm ready. I always reply with "Yes, I'm ready!"
She'll say "Well then lets go!" One time I just walked out and got in the truck and sat there for a half hour before she finally came out and said "What the hell are you doing?"
I just laughed saying "I said I was ready, so I'm waiting for you."
Well this morning while we played the little "Are you Ready?" game, I kept saying "Where are we going from here?"
She would say "Who cares, we'll figure that out when we get on the road." For me that doesn't work. I hate to get on the road, drive a few miles just to have to turn around and go the other way because she finally picked up the map and realized I'm going the wrong way.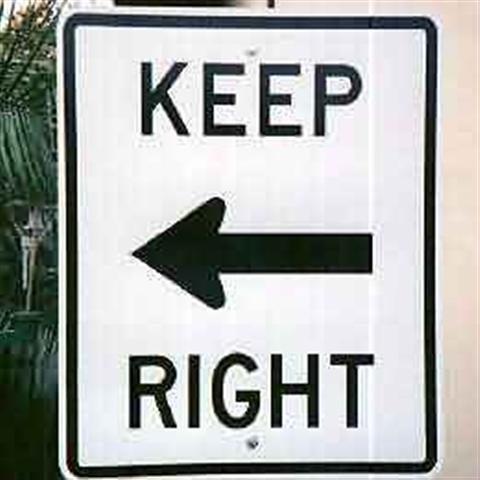 This morning she said "There is a campground just down the street, lets go empty the holding tanks, top off the fresh water and we'll be good for the weekend in case we find anywhere we can boondock."
So I drove the 8 miles down the road only to find out that this State Campground wanted $8 to empty the tanks, and ¢.25 a gallon to fill your fresh water. If you know Cindy, she's way to cheap to pay this, so she said "Just get back on the road and we'll find a different place."
When I pulled up to the intersection at the exit of the campground, Cindy is flossing her teeth and doesn't want to stop to pick up the map. Heaven forbid she waste a valuable piece of floss.
I tell her to turn on the GPS that I bought her which was supposed to stop this arguing and she holds up the floss showing me her hands are tied. So I pull out of the campground and start heading down the road. We pass the Wal-Mart where we started and head another 10 miles down the road before we see a sign stating that we're on 87 South. We want to be on 87North. We look at each other and she says "You know your going the wrong way!"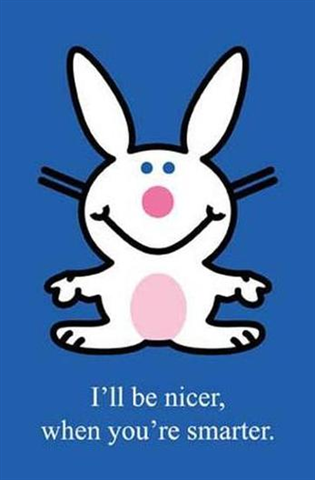 At this point I lost it, I start yelling and was about to grab the floss out of her hand to strangle her with it.
She sees how mad I am, and finally puts it down, turns on the GPS and says "Yeah, we should have turned the other way out of the campground."
So we turn around again, pass the same F-ing Wal-mart that we started at 45 minutes and 20 miles ago and are finally on the right track. She thinks all of this is funny and is sitting in the passenger seat laughing before she finally falls asleep.
Remember she's driven about 50 miles in the past 11 months and it was the most stressful time of her life. Her knuckles didn't get color back into them for a few hours after she crawled out from behind the wheel and we hadn't passed but a few cars on the arrow straight roads she had driven on.
By now I've calmed down, everything is back to normal and we find the campground were looking for. I pull in, start filling up the fresh water tank, because there are no hook-ups, and Cindy takes the dogs for a walk. She comes back and asks what I think of the campground. I tell her "It's nice and quiet, but they want $15 for no hook-ups and it's a ways away from where we want to hike tomorrow."
She says "Good, that's what I was thinking, lets go on to the next campground." The next campground was named Wet Beaver Creek and made me chuckle every time I said the name, so we moved on to there.
The campground host came over and was talking to us and told us of a short cut if we didn't mind taking a dirt road to the Wet Beaver Creek Campground. You know us, I'd much rather take a dirt road, and it would save 12 miles of driving.
We jump on the dirt road and within the first mile realize we made a mistake. I should have turned around at the first opening in the scrub brush, but of course I don't. Imagine washboard dirt road as bad as you can, then add a 10 to that number and you probably wont be anywhere near as bad as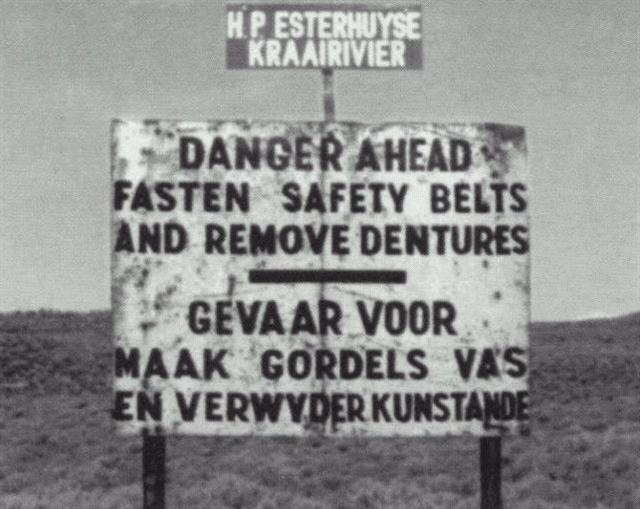 this road was. We would have to slow down every few miles to cross a cattle guard, and the views were amazing, but other than that, this road Sucked!
Going slow only made the bumps worse, so I thought if I sped up, we would just ride along the tops of the washboard.
8 full miles of this, and by the time we got to Wet Beaver Creek Campground, I was white knuckled. We pulled into this tiny little circle only to find all the campsites were taken. I thought Cindy was going to get out the floss to use on my neck this time.
As we were pulling out, the campground host came over and said "If we wanted to wait just a second, someone was leaving and we could have their spot." I said "Good, because I don't want to drive back down that dirt road!"
I thought he was going to bust a nut he was laughing so hard when he found out we had taken the dirt road.
After we squeezed ourselves into the tiny campsite, there was only one other RV, everyone else was tent camping which is what I think this campground is set up for, I walked into the camper. Really I just opened the door, and my eyes about popped out of my head.
For the past 8 miles of washboard road, the inside of the camper had been like the inside of a blender. I shut the door and told Cindy to come take a look at this. She just grabbed the dogs and said "It's your mess, you clean it up, I'm taking the dogs for a walk!"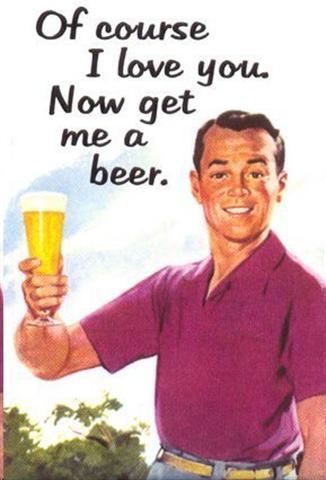 The freezer door had come open, and 4 ice cube trays had decided to add their contents to the blender. The kitchen table was in 3 pieces, the clocks were on the floor, the microwave was almost out of it's cubby in the cabinets, and anything else that wasn't bolted down was either on the floor, or not where it should have been.

I grabbed a dented beer out of the fridge thinking I would wash down some of the grit in my teeth and get to work, and when I went to open it, it sprayed everywhere!
Could this get any worse?! 20 minutes later, Cindy came back and I still wasn't done, but it looked 100% better than when I had started.
The dogs were treated to one of their favorite snacks, Ice Cubes, and she started making dinner. The chicken had already been shaked, it just needed to be baked.
After the long stressful day which I had brought on all myself, we were in bed on a Friday night at 8pm! I was wondering if I should have ever gotten out of bed in the first place this morning.
Saturday November 17th The V Bar V Heritage Site
We were up early and ready to start a new day, stress free! Beaver Creek Campground is only a few hundred yards away from the V-Bar-V Heritage Site. This is the largest known petroglyph site in the Verde Valley, as well as being one of the best-preserved. This is another site that was privately owned up until the 1990's and the original owners kept meticulous care of the carvings.
We walked up the dirt road and made our way into the site. Luckily for us, this is a Federal Park, annual pass we had just bought saved us the entrance fee. Once we walked down the short, level trail, we were greeted by a park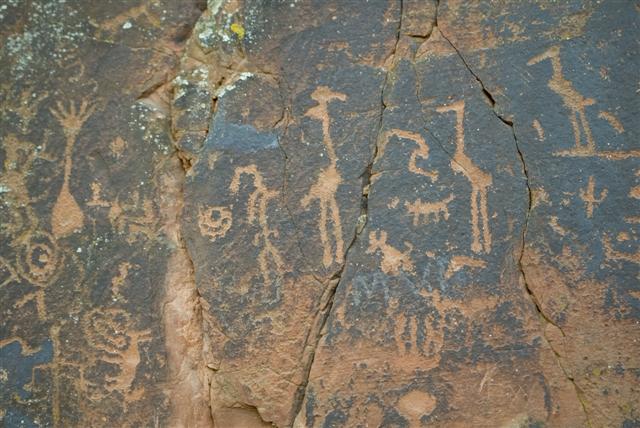 employee who explained some of the history before we walked up to the ancient Ancestral Hopi carvings. This site is home to a total of 1,032 petroglyphs with many being unique to only this area.
The V-Bar-V site is unique in several ways. In addition to its sheer size and amount of petroglyphs, there is only one style present - The Beaver Creek Style - unlike most other sites which have different styles and different tribes all sharing the same rock faces.
Another unique aspect of the site is that, with only a few exceptions, petroglyphs are not pecked on top of one another like they are at so many other sites. There seems to have been special attention by the Hopi to not overlap or cover any element of the carvings. This area was only used as a ceremonial grounds and no evidence has been found that the Native Americans actually lived here.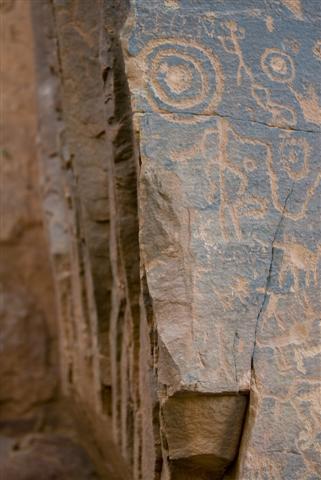 We both thought it was very cool that this site had a guide that stayed down at the rock carvings and went out of her way to explain and answer any question we might have. She was very knowledgeable and was able to describe in detail any carving we asked about.
This certain set of petroglyphs also is home to one of the only solar calendar carvings in the country. There are a few certain carvings on the wall that will be in a certain light during various important times of the year to the Natives. This is just amazing that thousands of years ago these tribes were this far advanced to carve calendars in stone, and still have them work perfectly to this day.
After spending a few hours at the V-Bar-V Heritage Site, we walked back to the camper and when Cindy looked at me with the "Are you ready?" bit, I just said don't start this today.
We drove out of the Wet Beaver area, and up the paved road towards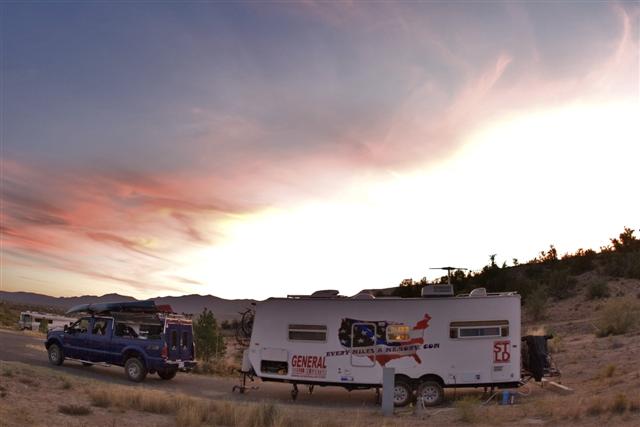 Sedona. Being as it is a beautiful Saturday morning, the busy tourist area was packed. We basically just drove through and right back out of town. We found a nice campsite at the Dead Horse Ranch State Park, and spent the afternoon working on pictures from the last few days.
That is one of the only downfalls of this trip. Normally we would go somewhere, and then have plenty of time to come home and take our time sorting through and working on the pictures we took. Now, we are hitting somewhere different almost every day, sometimes twice a day.
We might go for two or three days before we can clean the Compact Flash cards off of the cameras, and once we find a nice spot to just sit down and work on them, it's usually an all day affair.
Sunday November 18th 2007
I honestly cant believe how early I woke up this morning after last nights Meteor Shower. I had posted a few pictures of the night sky on a photo web forum I spend too much time on, and one of the photographers mentioned that last night was going to be the best night to view the Leonids Meteor Shower.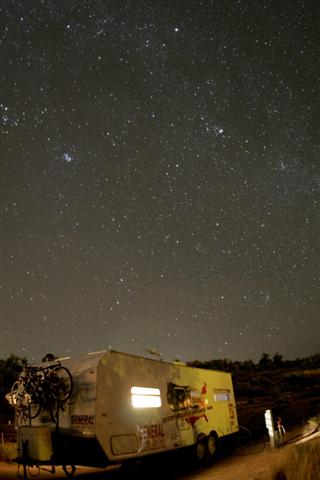 So of course I had all the cameras and tripods out, unpacked the sleeping bags and set up the camp chairs. The only problem is, you don't see too many of them until after midnight.
I kept myself busy on the computer till around 2:30am and thought I would go outside to see if I could spot any. Within the first few minutes, I saw a few that just resembled shooting stars. I got myself comfortable in the camp chair and zipped the sleeping bag around me to keep warm.
For the next few hours I was treated to one of the best star displays I have ever seen. After dozens of meteors dashing across the sky, I went in and woke Cindy up so she could come watch. We sat out 'Ohhhing' and 'Ahhhing' till the sun was starting to come up, and both laughed when we were crawling into bed at 5:30am completely sober. Usually if we're getting into bed at this time, it's because we had closed down a bar, usually ours and had crashed at some ones after-hours party.
So when I got up around 9:30am, I was quite shocked. Dead Horse Ranch State Park has a bunch of trails with some leading right from the campground. We had seen mountain bikers riding 50' behind us all weekend. So we unloaded the mountain bikes and decided to see what riding in Arizona was like.
Can you say "Rocky & Sandy!" We rode around a few of the interconnecting trails and made our way over to the Tuzigoot National Monument. This is an ancient pueblo from A.D. 1000 which is clung to the side of a mesa. Of course I didn't know this is where the trail would lead us, so I hadn't brought my wallet on the ride. We just rode up, looked at it and decided we would come back tomorrow. There is a trail that leads you through this marsh area in the Verde River Greenway Natural Area which is pretty weird. One second you're in arid desert and the next you're surrounded by giant cottonwoods and cattails. Cindy and I sat on a lookout platform over the marsh taking a breather when we noticed some splashing in the water.
For the next half hour we sat watching a family of River Otters play like a bunch of school kids. How strange is that to see river otters in the middle of Arizona?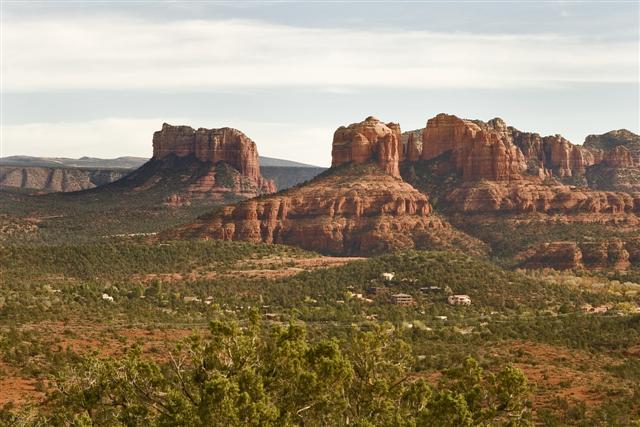 We rode back to the camper where I learned the hard way that riding in the desert isn't good for the bike tires. When I heard a hissing sound, I stopped to see 10 different stickers stuck in my tire. I must have rode through a nasty section and now I needed to get back while I still had air. Luckily a trail appeared which would take me over a small bluff and back to the camper. By the time I rode up to the Sunline, the tire was flat. I guess I'll have to find a local bike shop and get some of those strips you line the tires with to prevent this. Lesson learned.
We unloaded the motorcycle off the back of the RV so we could ride into Sedona and take in some of the sights. This area is absolutely beautiful and the scenic drives are top notch. The camp ground host back at Wet Beaver Campground had recommended a local restaurant for us to try. Hideaway restaurant is supposed to have some of the best homemade pizza in the area. He had told me they make their own dough, their own sauce and their own sausage and I hadn't been able to get the taste out of my mouth.
We rode into Sedona riding some of the scenic turn-offs on the way. Once in town, we turned on the GPS to locate the Hideaway restaurant and pulled up to the door a few minutes later. The man wasn't lying. We filled our bellies with some of the best pizza I've ever had, and was ready for a nap after that scrumptious meal.
After our dinner, we thought we would ride up to Oak Creek because so many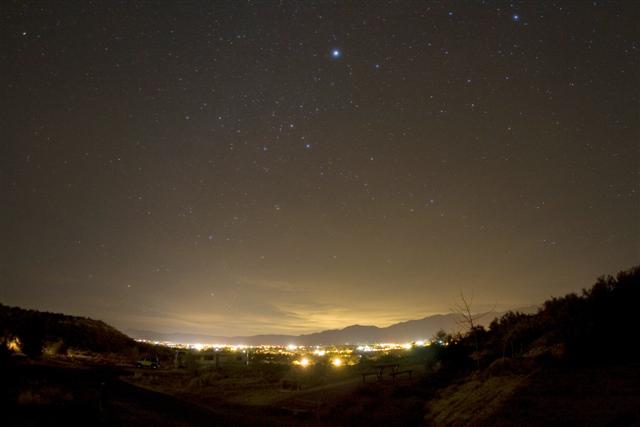 had recommended the drive. Riding through the canyon is beautiful and on a motorcycle, you can stop as often as you like, and in many places where a vehicle might not be able to. The only problem is once we rode into the canyon, that afternoon sun that was keeping us warm was gone. It felt like the temperature dropped 20°! We rode past Slide Rock State Park, and gained a few thousand feet in elevation before we had to finally turn around. The sun was setting fast and the temperature was dropping even faster. We whipped around and headed back home. This is a must see if in this area. The drive is breathtaking and the late afternoon is ideal for lighting. If you're on a motorcycle, make sure you have some leather on and layer.
By the time we got home, we were both frozen. When we had left, the temperature must have been in the high 70's. Now it felt like it could snow any second. Granted the sky was clear, and we were treated to a beautiful sunset, but neither of us were dressed for that drastic of a temperature switch.
Can we complain? NO, it was another fabulous day in the Southwest.
Monday November 19th 2007
Sedona is a very beautiful town, but just a tad too commercial for our liking. Almost everyone we have talked to has said go to Sedona for the beautiful hiking and biking opportunities, but make sure to check out Jerome for the sheer eclectic oddness of it. Jerome, Arizona is a little hippie town perched high on the side of a mountain just a short drive from Sedona.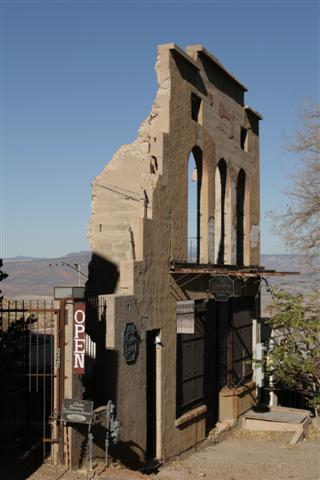 At one point, Jerome was the fourth largest city in Arizona. It now holds the title as "America's Most Vertical City" and "Largest Ghost Town in America". What it reminded me of was Eureka Springs, Arkansas. The streets are at odd angles with wild hairpin turns and none of the buildings have a square corner on them. None are inviting for a RV or anything over 50' in length according to all the signs at the bottom of the mountain. Luckily for us, we had rode the motorcycle up here from Cottonwood, so parking was a breeze and the 180° turns aren't as scary on a motorcycle.
We parked the bike and began roaming around the narrow streets. Between funky art galleries, hippie shops, historic hotels, brothels and bars, this town is worth the crazy drive up the hill. We walked into a local outfitters called Ghost Town Gear, as I was still looking for the Cosmic Rays Guide to Arizona Mountain Biking book. Not only did this shop have the book, but the owner was so filled with information on the best hiking, biking and backcountry spots to go, I sat there for almost two hours talking with him.
Cindy had left a long time ago, bored with my never ending questions, and finally walked back in with one of those looks that told me I needed to stop talking. I thanked the owner for all the info and paid for my selection of guide books he had recommended. After wandering around for awhile, we had overheard someone talking about the REAL Ghost Town at the top of the hill. We figured we'd see what this was about and rode up another mile above Jerome.
It's funny how you usually find the coolest things by accident. We had planned on spending the afternoon in Jerome, but when we heard of a REAL ghost town, you know we had to check it out while it was still daylight.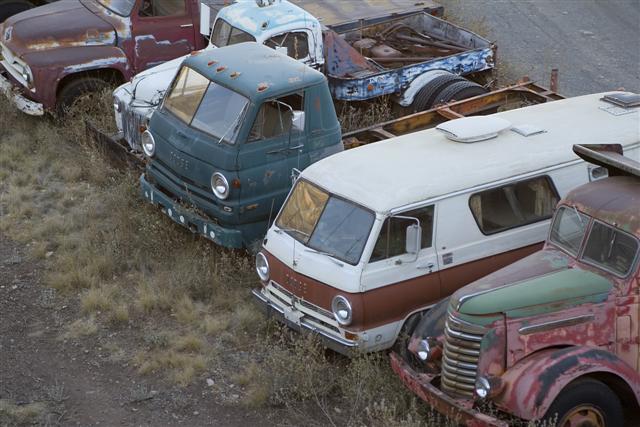 Just pulling up the narrow dirt drive I knew I was going to like this place. It probably wouldn't be as interesting for people who aren't into antique cars, machinery and mining equipment, but for someone who loves to photograph these unique pieces of rusted metal, I thought I had died and went to heaven.
We paid the $4 to enter, and instantly Cindy went one way while I went the other, even though we were both yelling for each other to "Come look at This!" Each corner held some wild piece of history that just begged to be explored.
There are little buildings scattered over the six acres like the Dentist office, the one room school house and many other buildings from the early 1800's when this was a suburb of Jerome. The Ghost Town still has an operating Saw Mill and the old motor spinning the giant saw blade kept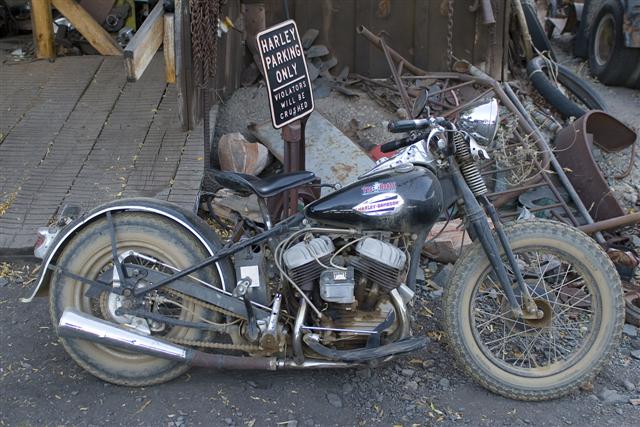 chugging out these loud sounds that reminded me of a locomotive approaching.
An older man with a big white beard who was working the saw mill threw us a wave and noticed I was admiring an old Harley Davidson motorcycle. I joked with Cindy and said "I bet this thing still runs."
He walked over and said "You like my bike don't cha!" He went on to say that he rides it daily and proceeded to throw a leg over the old Hog giving it a quick kick, which brought the thing to life. He rode it around the dirt Mill yard and pulled back up saying "I ride this into town daily."
Don was the owner of the Gold King Mine and told us that once he stopped cleaning this 1942 classic a few years back, it stopped leaking and has run better than ever. Don was a very unique character who is very passionate about anything that runs on fuel or has a combustion motor.
He walked me
over to a Long Nose International with a Cummins motor and told me "There are only two of these in the world that are still on the road, and I own both of them." His collection is unique in the fact that the pieces he has are all very rare.
While I was looking at one old Dodge truck, I noticed an emblem on the grill that I had never seen before. Don noticed me looking at it and was happy to answer my quizzical look.
The emblem was the Jewish Star of David and said 'Dodge Brothers' around it. He told me that the Dodge Brothers were Jewish and used the Star of David as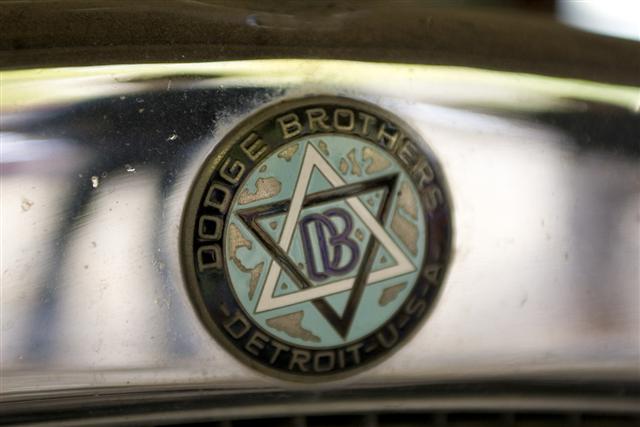 their logo before Chrysler bought their company dropping the 'Brothers' part, the Jewish Star and just leaving the Dodge name. I had never seen this in all my years of car shows and Don said "The emblem is very rare", even though he has two separate trucks that have this logo in his amazing collection.
Correction: I had posted a few of these pictures on a photography forum that I enjoy surfing, and a car buff told me the Dodge Brothers were not Jewish. So I began doing some of my own research. This is what I found out:
_____________________________________________________
The Dodge Brothers Club's FAQ states that the symbol was not chosen to anger Henry Ford, and goes on to say that "At the time the emblem was selected (most likely 1912-1914) it's likely that the Dodge brothers were unaware of its use in Judaism. In fact, at this time, that symbol was not used universally in this context." It suggests these possibilities, among others:

1. These are two interlocking Greek letter "deltas" or "Ds" for the two Dodge brothers
2. A medieval symbol of mysticism and the joining of mind and body; in this case representing the joining of two brothers, who were very close, in this business venture (allegedly, letters addressed to just one of them would be discarded).
3. An abstraction of the square and compass of the Freemasons (this seems unlikely as well).
4. Nothing more or less than a badge with six pointed star similar to those used for law-enforcement officer's badges, some outlined with triangles. Sheriff, Marshall, and police badges frequently were and are six pointed stars. The old-west Dodge City badge had six points. Horace Dodge was said to enjoy accompanying local law-enforcement officers on their runs.

The Dodge Brothers Club News editor wrote that "emblem is also a "Solomon's Seal" sign of interconnected spirits, as the brothers were."
So maybe from now on before I go and make a statement, I need to do some research to make sure it's factual. Sorry if I offended any Jews or Dodge Fans.
__________________________________________________________
Maybe he realized we were truly interested in his collection, or just felt like showing off another prize, but he asked "If we wanted to see something really cool?" He said if we didn't mind coming into his house, he'd show us another Harley he had just finished rebuilding last Christmas.
Cindy and I both chuckled when we walked into his house and sitting in the middle of the living room was a 1955 Flat Track Harley Davidson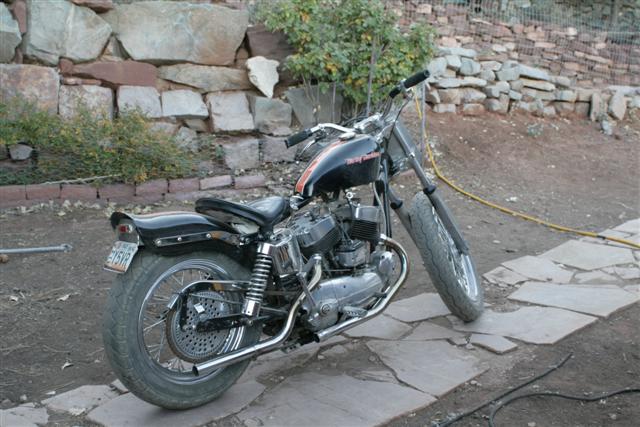 restored to immaculate condition. The reason I say we chuckled is I always joke with Cindy because our mountain bikes were always stored in the house for lack of a garage. I thought we were the only ones.
This Harley was one sweet ride, and Don was very proud to show it off. He rolled it outside so I would be able to snap a few pictures of it and we sat talking about the mine, and the collection of animals he also has.
I felt embarrassed because here is a man who has one of the best collections of automotive history I have ever laid eyes on, and all he keeps asking us is about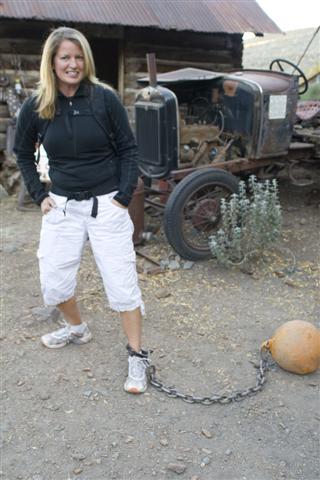 our motorcycle we rode up on. I think he just really likes motors, and anything with a piston in it is worthy of talking about, no matter if it was made in Japan or America.
After keeping Don occupied for too long, we thanked him for the private tour, and headed out. It was starting to get dark, and we didn't want to repeat last nights freeze out on the ride home.
While we were walking out, I looked at Cindy and before I could say anything, she said "I want to come back here tomorrow and spend more time looking at everything when we can take some good pictures."
That's when I know we're using the same brain. I was just trying to think how I could ask if I could come back tomorrow with my tripod so I could really try and get some good pictures.
If you're ever in Sedona, which I highly recommend, make sure to take the drive to Jerome, but the Gold King Mine and Ghost Town is a MUST SEE if you're into history or just enjoy anything with a motor!
Tuesday November 20th 2007
I was riding back from the Gold King Mine where I had spent the morning wandering around admiring the huge collection of classic trucks and heavy equipment, when I spotted the wildest RV I had ever seen. Thankfully I was on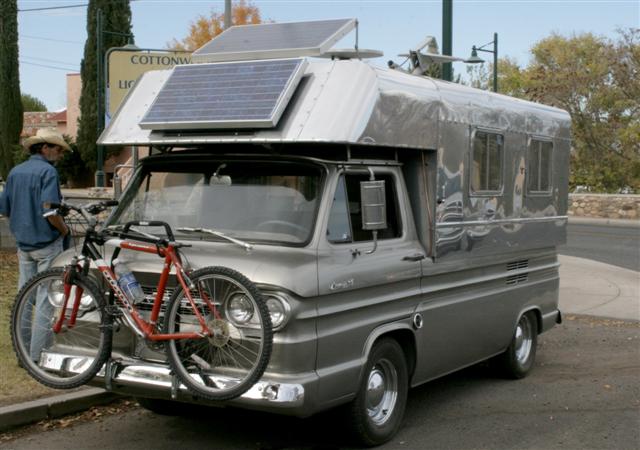 the motorcycle, so stopping to check something out can be done very easily.
When I saw this shiny RV sitting in a small park just off the main road, I couldn't figure out what it was? It had a Chevy Corvair front end, but the back looked completely different than anything I had ever seen.
I walked up, knocked on the door, and introduced myself to Dennis, the owner and fabricator of this retro RV. I told him I just had to have some info on this unique camper if I could take up a bit of his time.
Luckily for me, Dennis was very friendly and more than happy to show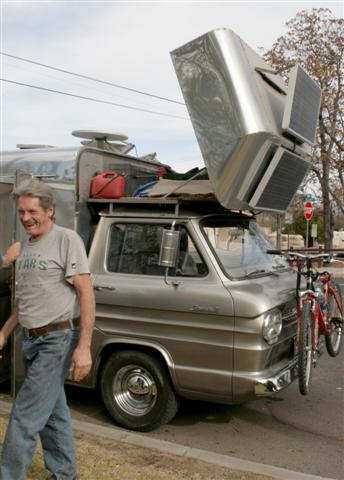 off his one of a kind home on wheels. He explained that he had just retired from the auto body world and was in his first few months of fulltime RVing. We shared a few different stories about our solar panels and battery set-ups, and as I was talking, another interested motorist walked up asking for a tour.
Dennis told us he had purchased the RV for $500 and had spent the last few years refurbishing it. I was amazed at the detail he had gone through to make this little camper so unique.
My jaw dropped when he told me the paint job, that was show quality was all done with a rattle can! He laughed saying he hadn't wanted to put too much money into a paint job when he would be driving it daily, and would be able to touch up any scratches while on the road.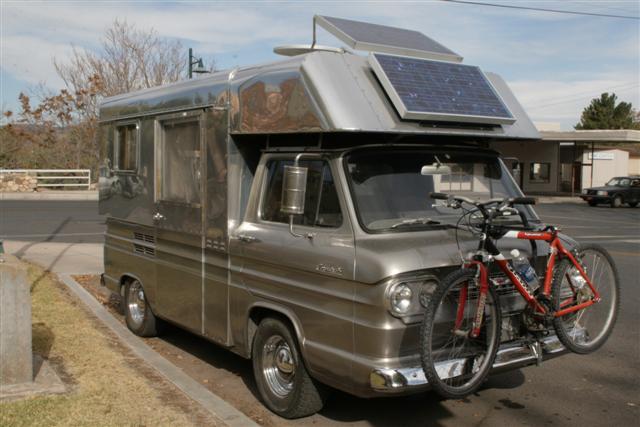 Something tells me that when you have that unique and one of a kind RV's, you're going to have to be a friendly person and one who enjoys showing it off. I thanked Dennis for his time, wished him safe travels and got back on the bike. As I was riding away, I noticed another vehicle pulling up to check it out and wondered how he even can drive around without being pulled over for questioning.
Cindy had the RV all cleaned up and ready to get on the road. We loaded up the bike and headed down to Scottsdale to meet up with a good friend. It's wild how you come down off the mountain elevation and as you get closer to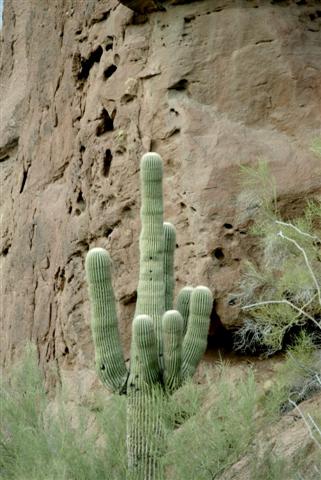 Phoenix, the terrain and surrounding plants completely change. Cactus where everywhere and the larger saguaro were now lining the roads rather than the pines and cottonwoods of the northern area of the state.
I'm not sure if it was pre-holiday traffic, or just because we were in Phoenix, but what was supposed to be an hours drive, turned into a long line of cars just sitting still. I felt horrible for anyone trying to head north. We came over a hill and saw multiple fire trucks, tow trucks and rescue personnel cleaning up what was once a travel trailer that had rolled over. If you've never seen an accident where a travel trailer rolls over, there were multiple flatbed trucks with debris on them. From what we could tell, what was left of the now disintegrated camper was ready for a scrap yard. Cindy and I both just said a little prayer that who ever was involved was safe, and hopefully had their insurance up to date. I wish I could have taken a picture just to show people why they need to slow down while towing a RV.
We pulled into Scottsdale, met up with our friend Nancie and sat up till the wee hours catching up on past memories.
Wednesday November 21st 2007
Nancie had a full day planned for us today and after a late breakfast, we headed over to Camelback Mountain for a little hike. This short 1.2 mile (one way) trail might be short, but it sure isn't easy with 1264' of elevation gain in just over a mile. That's for Cindy and I, something tells me we were keeping Nancie at a much slower pace than she's used to.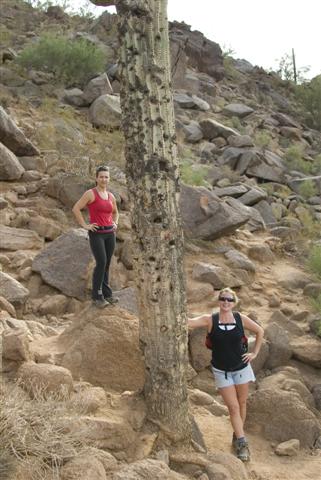 This area is very cool with a mix of hikes situated right in the middle of the residential areas. You can be in a downtown area and within a few minutes drive, be hiking a beautiful mesa.
The scrambling on this climb was enough to keep my heart rate up and keep me winded enough from doing my usual talking non-stop. But the views made up for it and kept a big smile on my face the entire time.
Once on the peak, we sat enjoying the view while snacking on a lunch that Cindy had carried up in her backpack. Luckily for us, some clouds had rolled in this morning and kept us at a perfect temperature around the 70° mark. For once, I was glad to see clouds to keep the burning sun off my bald head.
When it comes to hiking, I can climb all day long, coming down is the hard part for me and this hike was no different. By the time we got back to the car, my knees were on fire. It's time like this that I curse getting older, but thank the stars I'm doing this now, while I still can.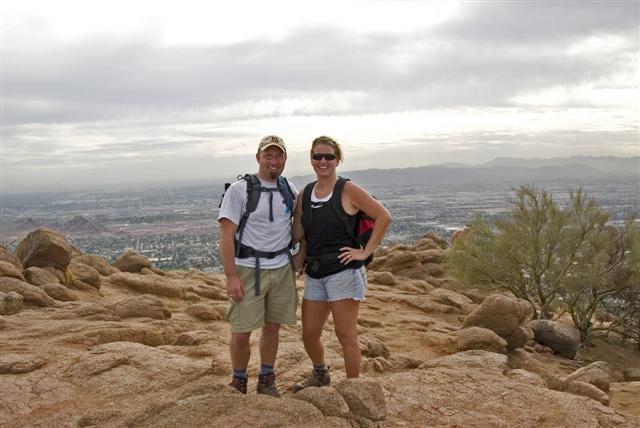 Felling great after working up a good sweat, we all showered up and got ready to head out on the town. This would be the first time in 6 years that Cindy and I werent working behind the bar on the busiest bar night of the year. Instead, we would be sitting on the other side enjoying ourselves for once.
Nancie brought us to a cool little wine bar where we sat in the dark atmosphere sampling some fantastic local wine mixed with some rich cheeses. We had forgotten this lifestyle we had been away from for so long now, and it felt great to be back with good company during the holiday times. For the rest of the night we bar hopped through the Old Town area of Scottsdale having a blast listening to live music and people watching.
By the end of the night, our muscles were starting to remind us of our age from this mornings hike. We got home, and that bed was calling my name. I think I hit the pillow and was already snoring, dreaming of tomorrows turkey dinner.
I hope everyone has a Great Thanksgiving and Enjoys their time spent with Family!
Thursday November 22nd Thanksgiving Day
What can you say about Thanksgiving except sitting around relaxing, eating and relaxing some more. That was the majority of what we did today.
We took the dogs for a few long walks around the neighborhood park in-between bouts of stuffing our face with turkey. Once the tryptophan set in, we threw in some movies and sat in a food coma on the couch.
Friday November 23rd 2007
With our bodies sore and aching from the hike on Camelback Mountain, Nancie pulled out a huge surprise today and treated us to a massage at a local spa. How can you top that?!?
After the awesome Swedish massage, we sat relaxing at Uncorked, a local wine bar. This funky little place had some amazing food on the menu. Between Sirloin Sliders to Blueberry Stilton cheese, we indulged ourselves like Kings and Queens and washed it down with some fantastic red wine.
From the wine bar we stopped by Barcelona to see how the other half lives. Imagine bright red Ferrari's parked at the door, sultry jazz music being sung by a beautiful blonde on the big baby grand piano and a staff of playboy bunny look-a-likes serving up drinks. One drink was enough for us, we really cant afford those prices, but the atmosphere was worth it.
We called it a night and headed home. I'm not sure if you can top days like today. For me, I was treated to a Swedish Massage, hung with two beautiful women at various bars like I was some kind of Mafia Don, and ended the night thanking the big man for just being alive.
Thanks Nancie for an Awesome Day!!
Saturday November 24th 2007
After our last ride on the mountain bikes, all four tires were flat from the sand spurs. Nancie took me over to a local bike shop so I could get some tubes that have Slime in them which will prevent the thorns from stopping us flat.
I swapped out the tubes and we should be good for the remainder of our adventure.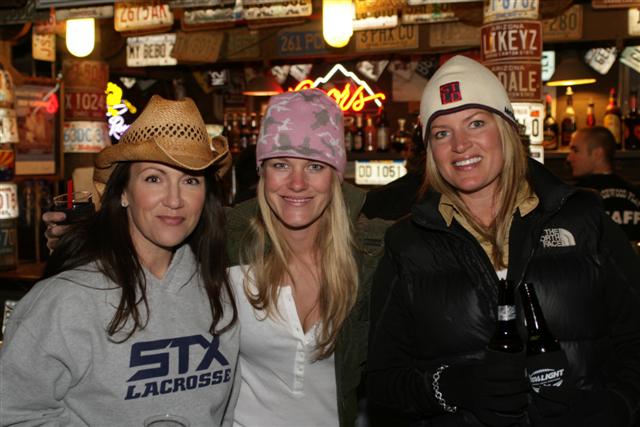 Since we've left last January, we've had numerous people from all over the world contact us with words of encouragement and recommendations on places to visit. We never thought our little website, which was originally designed to keep friends and family up to date on our travels, would get so many great people involved. One couple who has contacted us numerous times with words of encouragement was Don and Denise Wessel. They live right in the Phoenix area and when they saw that we were in the area, they contacted us to see if we wanted to meet up at a local bar.
They recommended Greasewood Flat which is the original stagecoach stop between Fort McDowell and Phoenix. This funky place in the hills of Scottsdale was just our kinda place. Greasewood Flat is a 120-year-old bunkhouse, that has been in business for 30 years and is very well known to the locals in the Phoenix area. It's more like going to a barn party and sitting around the bonfire all night while being entertained with some good country music and some of the best people watching we've seen to date.
Nancie had brought one of her friends Jessica and her man Paul had met us there. Our growing group found a picnic table by one of the many bonfires and sat swapping stories for the next few hours enjoying the big burgers and bowls of chili washed down with some cold Banquet beers.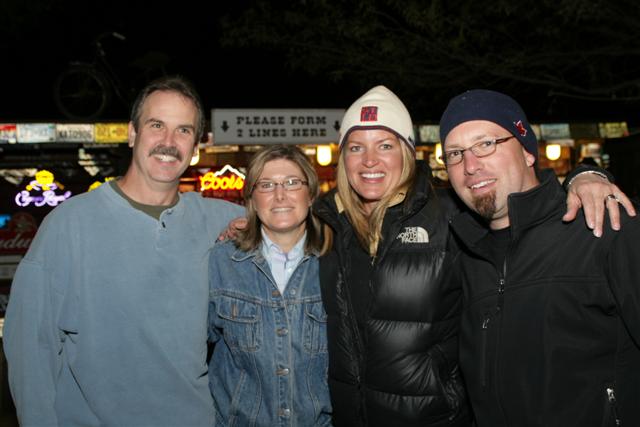 Don and Denise are trying to figure out how to buck the 9 to 5 scene and hit the road fulltime in their RV. So we sat talking of our adventure and explaining a few of the behind the scene bits of info that got us where we are today. After talking with them for a few hours, I felt like they were old friends and realized that except for a few small items, they've made the right decisions to get them started in the Fulltime RV world. Hopefully in a few years, when Don is ready to throw in the towel at the daily grind, we'll be rubbing elbows with them on the road.
This is what our adventure is all about. Meeting people from different parts of the country, who have similar ideas. We all joked saying "Who would have ever thought we'd be sitting in a bar chatting with a couple we met on the internet?" But here we were and having a great time doing it.
When the night air was starting to bite through the warmth of the fire, we called it a night and said our goodbyes. Hopefully in the next few months while we're in Arizona, they might be able to get away for a weekend and meet us somewhere along the road.
Tuesday November 27th 2007 Heading South
With winter creeping up on Scottsdale, we said goodbye to Nancie and headed further south. It's not like we can complain about the weather, it's still beautiful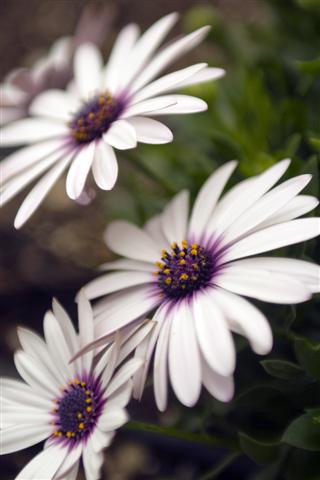 during the daytime, but those night time temps keep getting lower and lower. Really, the only way we can go farther south is to cross the border, so something tells me we're just going to have to deal with these cold nights for the next few months.
For those of you who really pay attention, you might have noticed the darker background on many of our pages. I read that a white screen draws the most amount of power on a computer and was able to test this when our lap top screen was broken.
When I hooked our lap top up to our small 400 watt inverter and powered up the larger 23" plasma screen, it would work fine until I went to a website that had the entire page in white. Every time I went to Google, which is all white for example, the inverter would start screeching telling me it didn't have enough power.
So I figured since we're usually running on small inverters and trying to conserve every bit of power we can, I might as well change our backgrounds to a darker color which will draw much less power.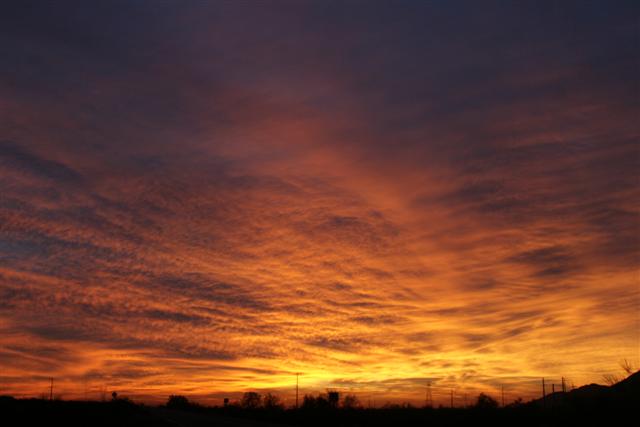 Last night we just pulled over on some BLM land as the sun was setting and witnessed an amazing sunset. Cindy has come down with a slight cold after being exposed to civilization for the last week, and wanted to crawl back into bed. She was in bed pretty early, and I sat up keeping myself busy with various tasks on the computer.
When we had pulled out of the campsite getting back on the road, Cindy punched in Organ Pipe National Monument in the GPS which said we were about 70 miles away. About 20 miles down the road, we pulled up to a road block set up by the Border Patrol.
I looked at her and said, "Did we get lost or is that GPS just that far off?" The Border Patrol agents were searching vehicles coming north from Mexico and the guard in the road was waving me through. I stopped and asked "Please tell me this isn't the border!"
He just laughed and said, "No you have about 60 more miles, this is just a random stop for north bound traffic."
We pulled away somewhat relieved knowing our GPS wasn't on the fritz. I'm sure he must have thought I was either really dump, or way lost to ask a question like that.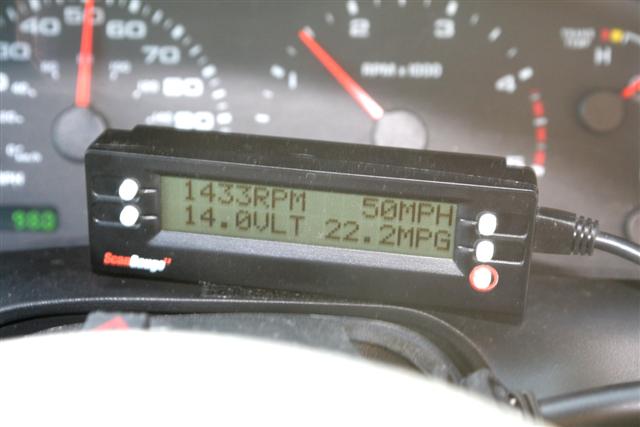 Driving along today, we've been paying attention to a new device we purchased so we could keep track of our fuel consumption. On one of the RV Forums, someone was talking about the ScanGauge II device and how much it helped them monitor their fuel while towing their RV.
I checked it out online and since it was only around $150, I figured it might help us save some money in the long run. The set-up was easy, you just plug it into the vehicles computer and it instantly starts monitoring your vehicles motor.
I can now keep track of my miles per gallon, cost per gallon, miles driven per day, averages of my speed, fuel used and the list goes on and on. We found that we normally tried to stay right around 55 mph thinking that was the best speed for good fuel mileage.
Once the gauge was working, what we found was there is a sweet spot between 57 and 62 mph that brings my fuel mileage up from 11mpg, to 17mpg! I'm thinking I should have had this months ago. I probably would have paid for it already in fuel saved.
That and you really pay attention to your foot on the throttle when you have a read out of your current miles per gallon.
When you have no idea what your getting till the tank is empty and you can divide the gallons used by the miles driven, you tend to not pay too much attention.
But when you have it right in your face when you drop the hammer and see that MPG go from 15 to 8, it really makes a difference.
It's amazing that Organ Pipe was only just a few miles from where we pulled off the road, but it was getting dark, and we didn't want to miss anything. So we pulled off at some roadside stop and called it a night. Driving along Route 85 South, we passed through a town called 'Why' just before we pulled off the road.
We noticed every shop was selling Mexican Insurance, so we must be getting close to the border.
Wednesday November 28th 2007
We had breakfast at a small roadside diner, Milepost 53 Diner. We figured since we had camped in their parking lot for free last night, the least we could do was patronize their establishment.
We overheard another couple ask if they could pay with Peso's, which I thought was odd, but we were only a half hour from the Mexican border.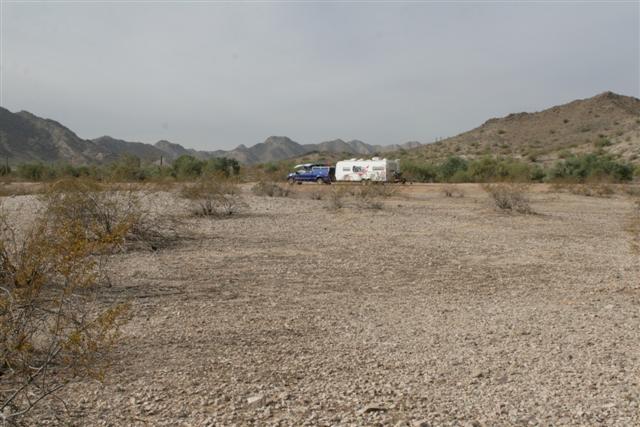 Walking back to the camper, I noticed one of the tires was low on the RV. I had checked all of them before we left Nancie's the day before, so something was wrong.
I had Cindy roll forward real slow while I laid on the ground underneath to see if I could find anything, which I couldn't of course. We drove across the street to a service station, but it was closed, so I just aired up the tire to it's proper pressure and figured I'd keep an eye on it.
We only had to drive a few miles down the road before we hit Organ Pipe National Monument. I guess we were closer than we had thought last night, but I'm glad we pulled over when we did, because this last few miles driving in was beautiful with the roads lined with giant saguaro cactus. We stopped in at the visitor center and watched the very informative movie on the park. This area is home to many unique species of plants and animals that you can only find right here in this area of the country.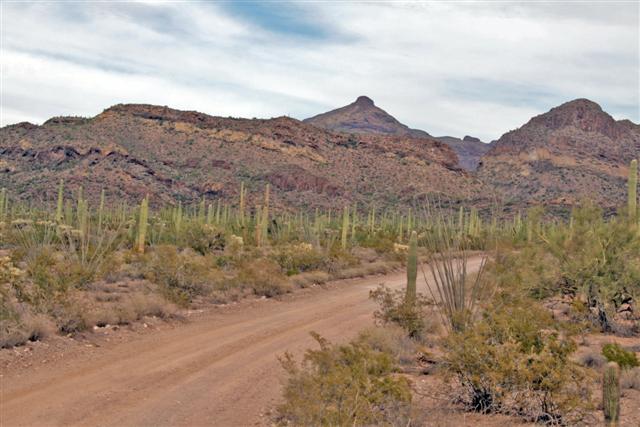 After the movie, we were wandering around the visitor center reading some of the storyboards when we started talking to one of the friendly volunteers. He had asked me about my camera, and next thing you know, we had been talking for what seemed like a few hours about the best areas to take pictures in the National Monument.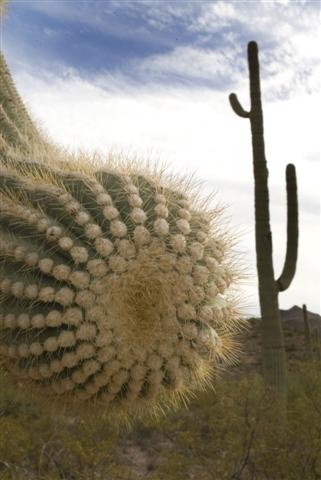 Russell, the volunteer we had been speaking with, shared some of his pictures he had taken from the park and pointed us in the right direction for an afternoon scenic drive.
The park has two different looped drives, but one is closed due to illegal activity on the border. The one that is open brings you through the Ajo Mountains with scenic views all the way to Mexico.
The volunteers at the visitor center were so helpful and informative. Cindy and I learned more in the hour we spent listening to them about cactus, than I thought was possible.
I was amazed to find out that all these giant cactus we had been seeing only the roadways grew about 1" per year. So those giant ones the size of trees must be ancient!
The sky had a mix of different clouds to keep the sun off of us, and a nice warm breeze was blowing across the various cacti. I've never in my life seen so much plant life that could do so much damage to you. From 30' tall saguaro cactus with their human like arms in funny positions, to jumping cactus to Mexican jumping bean plants.
This desert landscape is very beautiful, but very uninviting. I cant imagine the people that make the terrifying journey across this desert to risk a life in our beautiful country. As far as we could see was nothing but cactus and desert, it made me wonder where Mexicans ever got the names Wetbacks from? There wasn't water in sight!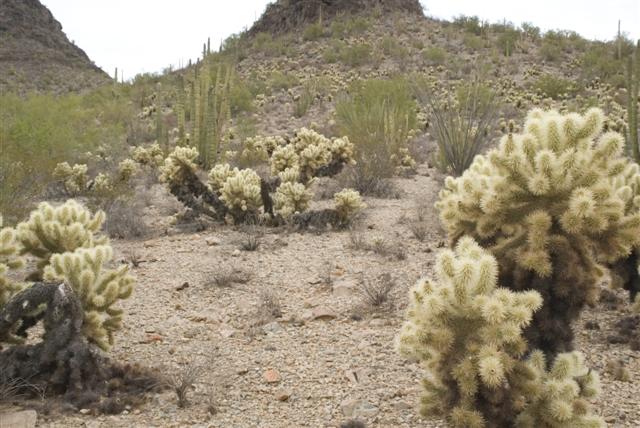 Some hillsides were covered in these little fuzzy looking cacti called Teddy Bear Cactus. With their bright yellow spines so close together, it makes them look soft and fuzzy like a little teddy bear. Get close to one, and you'd be a fool to try and cuddle with them. The spine on one of these little bushes are a few inches long, and look like some Mid-evil weapon.
When we would shut the truck off in any of the deep canyons, you could just sit and listen to the warm winds blowing through the saguaros with only the occasional bird call to break the silence. Even though this is called Organ Pipe National Monument, I think there are more Saguaro cactus present in the park. At least they draw more attention from your eyes as their giant arms reach towards the sky.
The 20 mile loop was driven in a few hours and we wanted to get back to the camper to try and watch the sun set. By the time we had returned, the clouds were so thick, seeing anything but some fading light was all Mother Nature was going to give us tonight. Ph, and the tire was still holding 50psi, so maybe it sealed itself? I'm still going to keep an eye on it though.
Hopefully by tomorrow, the strong winds that were shaking the camper would carry the clouds away with them so we could have another beautiful day.
Make sure to visit the Organ Pipe Gallery to see some images we captured from our Visit.
Thursday November 29th 2007
Well those strong winds that were blowing in werent bringing in better weather, they were bringing in a storm. We spent the better part of the day holed up in the camper just relaxing and making some arrangements for the Christmas holiday when our daughter is going to come visit us.
Not too much else to talk about, except for the dozens of Quail that kept us busy in the camp ground. They were very funny to sit and watch. Once they got used to you sitting outside, as long as you sat very still, they would walk right past you in their endless search for food.
Friday November 30th 2007 Heading to Tucson
We were up early and on the road. Just as we were pulling up to the dump station in the campground, it started sprinkling with intermittent rain. At first we thought it was just a dark cloud passing over, but by the time we were pulling out, it was raining harder.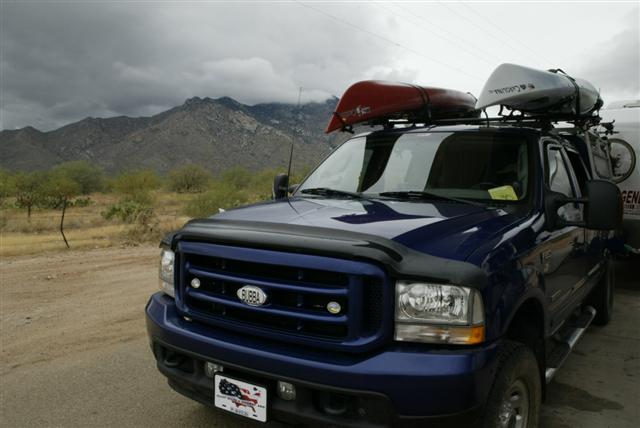 While we were at the dump station, some guy pulled up and opened up his black tank with no hose hooked up and I thought Cindy was going to puke right there.
I've never understood why people think this is easier than hooking up a sewer hose, because it took him longer to rinse the mess off the pavement than it would have if a hose would have directed it right in the sewer hole?
Driving towards Tucson, we spotted a coyote in the middle of the road but were only able to get a picture of it hiding behind a cactus. Cindy also spotted a small bald eagle perched on top of a giant saguaro, but we were going too fast to stop and get a shot of that.
The surrounding mountains looked wild with the dark rain clouds hovering around the tips of their peaks. The park service had given us a pamphlet when we checked into Organ Pipe National Monument which said that this time of year, the average rain fall is 0.14 inches. I guess we were lucky enough to see all of it fall at once.
By the time we pulled into Tucson, it was coming down in buckets and the local radio was warning against flash floods. Cindy and I had just commented on all the signs warning of these areas and had said how cool it would be to see one of these natural phenomenon's.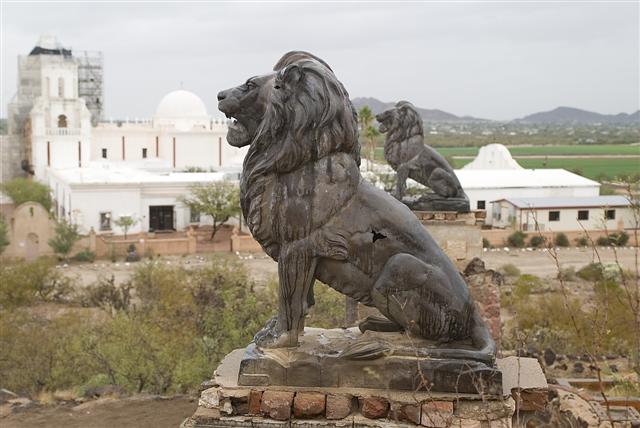 We were headed towards the San Xavier Del Bac Mission (Pronounced San hav-e-air) and all it's history. The church was built in 1783. Not much is written about the Mission from the time it was built until 1828.
At this time the Mexican government demanded loyalty from all Spanish priests, and many, including the priest at San Xavier, refused. Therefore, the priest serving at San Xavier was sent home to Spain, and San Xavier was left vacant. It's situated on a Pima Indian village near a stream bed ("Bac" means "where a stream emerges") in the Sonoran Desert.
The mission is also known as "The White Dove of the Desert" and is easy to understand the nickname. The huge church rises out of the Sonoran Desert and even with the dark clouds and rain falling down, the church stood out brightly against the background.
I'm assuming that a structure this old needs constant upkeep and maintenance, and I was disappointed to see on of the large towers completely hidden behind scaffolding.
No worries, there is so much to see and look at inside, the hours we spent just wandering around gazing at so many detailed religious statues I never noticed the hidden tower.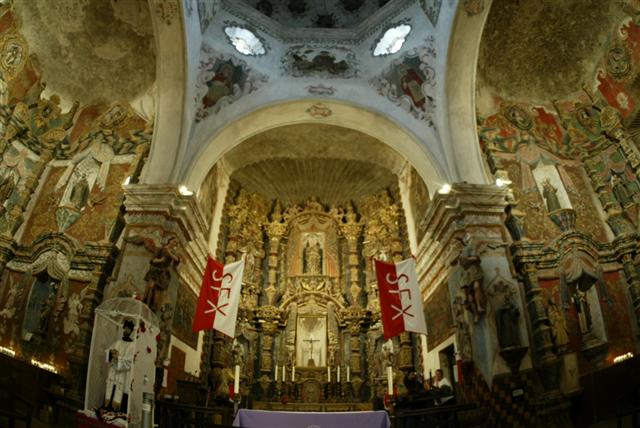 We also found out that December 3rd is a feast day for the Mission when they host a large celebration with fireworks and a big religious feast.
We lucked out and plan on staying for the weekend to take in the festivities.
We left the Mission and went to find a campground before it got dark. The rain was coming down harder now and when we spotted one right across from the Arizona-Sonora Desert Museum, we pulled in. We had also wanted to visit this attraction so we thought this would be a perfect spot to set up camp for the weekend.
When we turned the television on, we were cracking up at the local news. Now being from Michigan, we have rain much harder than the storm we were experiencing for much of the fall and spring, and you wouldn't think twice about it. But I guess here in the Southwest, it's a different story.
The local channels were warning viewers to stay in their houses and not to travel unless the had to. They were saying there was flash floods in numerous areas and the roads were dangerous to travel on. Luckily for us, we were in for the night, so we had no worries about a little rain burst.
Check out the Mission San Xavier Del Bac Gallery for some interesting shots from our visit.
Return to Top of Page
Need Unlimited photo storage- FREE Trial of Smugmug