When we realize our insignificance in this world,
it some how relieves the pressures from society to succeed - Cindy Bonish 04/07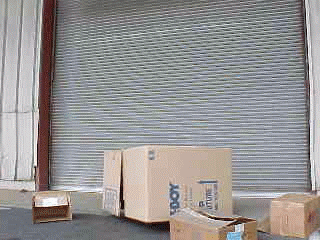 With the new Transformers Movie being so popular, my cousin Tommy sent me this!!
Pat's July 2007 Blog
If This is your first time here, you might want to start from the beginning with my previous months Blog's
January Blog February Blog March Blog April Blog May Blog June Blog
For Those That Don't Know Me, You can click here to read my Bio
July 1st 2007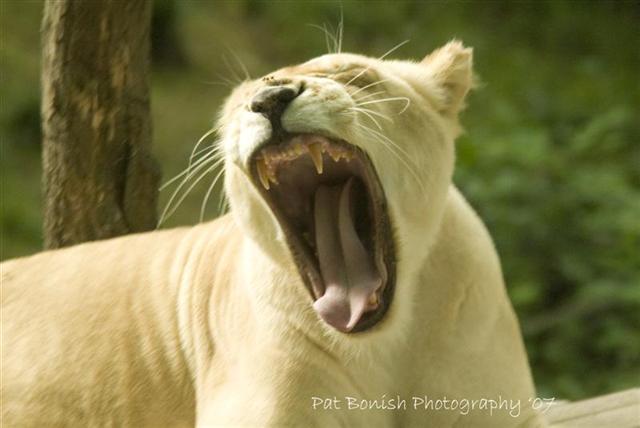 Heading home to Michigan for the 4th of July holiday, we stopped by the Cincinnati Zoo for a visit. With us both being so into photography, and this zoo being world renowned for their animal conservation, we figured this would be the perfect combination to see some endangered animals close up.
What I wasn't expecting was for Cindy's pictures to turn out so good!! She had just gotten a new camera, and was really excited to try her hand with some of these exotic animals. Cindy has always had a real good eye for photography, and she's usually the one telling me "Hey, try and get a shot from this angle" Which is why I figured if we bought her a camera, she could snap away, and we could compare at the end of the day. I'd better start practicing, because at the end of the day, her shots were way better then mine.
The Zoo has tons of fabulous exhibits ranging from White Tigers (The two that ended Sig Freed & Roy's career), a fantastic Gorilla enclosure, a bird show where the birds fly right over your head and was very entertaining, and so many more, that a full 8 hours wasn't enough for us to see everything. One thing we both noticed, was the animals were more active in the early a.m. and again late in the day. With the really hot temperatures, it worked out perfect that the day we showed up, it was pouring rain. This kept the temperatures cool, and most of the animals were out walking around in the mild downpour. The rain let up mid-day, and by the late afternoon I noticed I had worked up a sweat.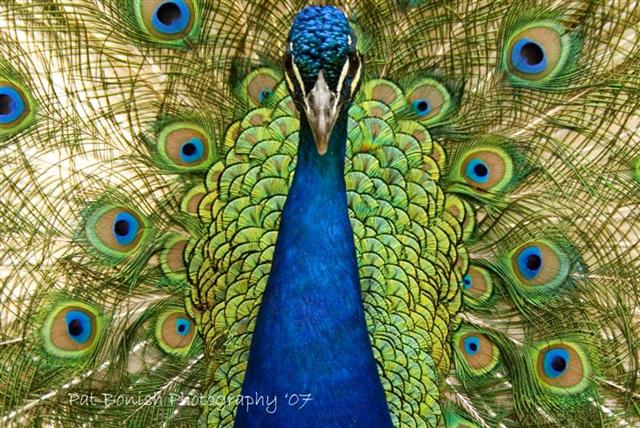 If you're driving an RV to the zoo, one thing to remember is you cant park in the normal lot if you have dogs. They didn't give us a reason, but I'm thinking because of the fact that the lot is right beside some of the big cat exhibits, any animal left in the vehicle might make these wild beasts go nuts. Not that this was a problem; they directed us to another lot that was fenced in, and right across the street. Just a heads up for any of you full-time travelers that bring the four footed friends along for the ride.
If you ever go to the Cincinnati Zoo to photograph the animals (Which everyone should!!), plan on spending two days there. We got there at 10am, and didn't leave till 6:30pm. (They close at 6pm) We never even got to see all the zoo! When we spoke with the PR Rep, she told us to make sure to see the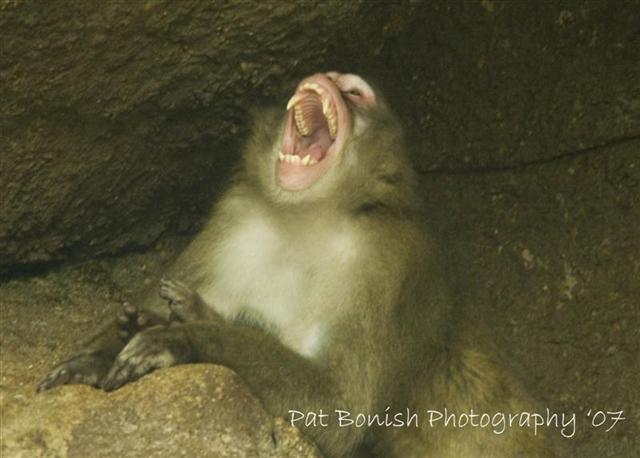 Elephant exhibit, and when they said over the loudspeaker, "The zoo is now closed" We both thought "Oh Sh*t, we still have so many exhibits left to see?" I guess this means we'll be back another day. In the mean time, check out the Cincinnati Zoo Gallery that's on the site and see some of the shots we got. You'll be able to tell Cindy's shots by the watermark on the images, and be sure to let us know what you think of them. I'm really looking forward to seeing more of her photography along the trip.
The zoo is like being able to go on an African Safari, for free. Since most of the animals are endangered, or protected, you get to see the animals close up and living in a natural setting. We got to see a Bald Eagle eat it's afternoon snack from only a few feet away. Watching it crunch on a large Rodent, was pretty wild. The manatee exhibit was really cool and the Macaw Monkeys were one of my favorites. The Cincinnati Zoo is one of those places where everyone can have a good time. Bring the whole family, and there will be an exhibit for everyone to enjoy. Make sure to check out the Gallery for tons of cool pictures.
July 7th Back Home in Michigan
Let me first say that MICHIGAN ROADS SUCK!! As soon as we crossed the border, we both cringed at the Sunline bouncing around behind us. Our expressways are like dirt roads, and our back roads are like single-track trails. Ok, I've gotten that off my chest, now I can go on.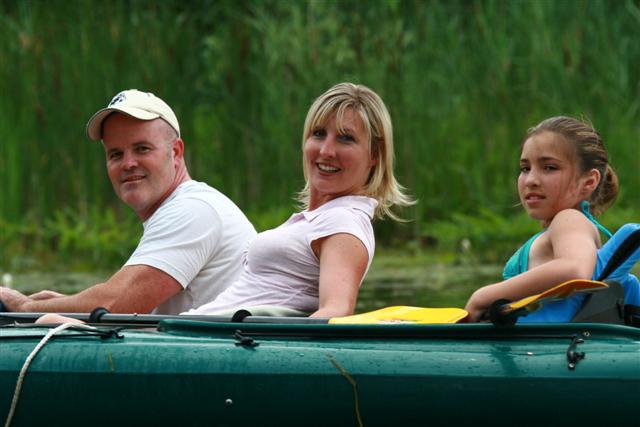 I haven't had time to be near the computer for the past week, so I'll try and sum up our past few days. It seems in the past week, we've been trying to make up for being gone for six months. My sister has 5 kids, and they are a riot to hang out with. My one nephew Austin is 9, and I've been trying my best to wear him out on a mountain bike. My first attempt was a 6 mile ride in Island Lake Recreation Area which only left him asking if we could do the loop again. The next day, Cindy and I tried our best to keep up with him on a longer 9 mile loop, but that day also ended in him asking if we could ride longer? He's riding an off the shelf stock bike that probably weighs 40lbs. and is a little too big for him. I joked with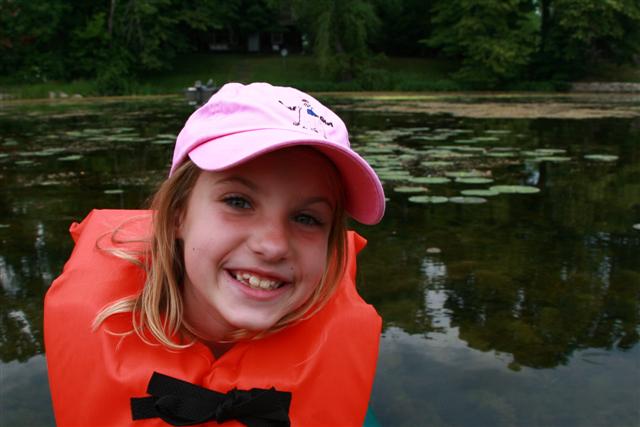 Cindy when we were both huffing and out of breath trying not to let him wear us out too bad, "Imagine if this kid was on a light bike like mine and yours and knew what he was doing!?!" I'm thinking of tying a heavy rock to his seat so we can be a little more even...LOL
Between Kayaking with the family, mountain biking, or just plain ol' having fun, these last few days have worn me out. Between laughing and talking so much with the nieces and nephews, I cant believe we haven't lost our voices. We spent the 4th over at my Sisters house with the kids and family. My brother Joe and his girlfriend Nicole stopped by, and it was really good to see everyone again. Being back around our family really makes me miss the small town closeness we used to have. Sipping tea with my Mom and Dad and telling stories of our past few months makes me realize how much we've done. When we're caught up in the adventure, you don't realize how much you're moving.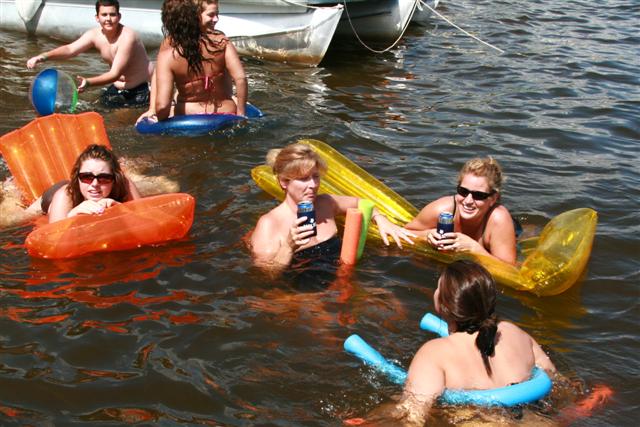 After a few days spent with our family, we scooted away for a side trip and headed up north to visit with our good friends Derrick and Tish, the same ones we went to Jamaica with in March. They now live in Minnesota and were back in town for a daughters birthday at the grandparents cottage. One of the beautiful things about Michigan is the fact that you're always only a few miles from a lake. We spent the weekend on the water sipping on some cocktails and laughing till our sides hurt on their boat and in the cool breezes along the shoreline. It was great to see good friends and catch up on the past six months of gossip.
One thing that is cool about having the camper, is now when we're planning a weekend trip, we just hook-up and go. No need in packing anything or thinking about what we're forgetting. We just bring it all, and it makes getting away much easier. Once we got home, we started unpacking the truck and trailer and sorting things that we haven't used in the past six months on the road. The next week, we'll completely unpack and repack everything and decide what stays, and what gets pitched. Hopefully before we leave to head out West, we can lose a few thousand pounds which might help out with the fuel mileage. I'll make sure to post what we've gotten rid of and what we feel was necessary to keep.
Tuesday July 10th Roasting in this Michigan Heat!!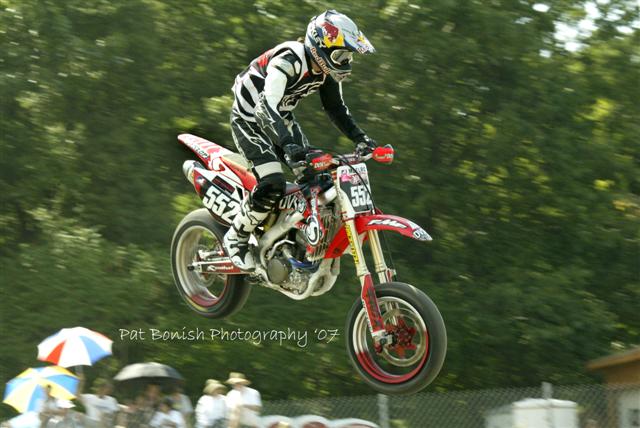 Man, the past few days have been brutal. With the temps hovering right around the high 90's it's hard to go out and do anything. We've been doing a whole lotta catching up with family and some friends for the past week, so I'm sorry if the Blogs have been a little weak.
We didn't think anyone would really want to hear about all the family stuff anyway. I was able to sneak away and cover an AMA Super Moto race at one of the local tracks this past weekend. Incase you don't know, the motorcycle we carry around on the back of our Sunline is a Supermoto style, so I was eager to see one of these events up-close. The action is non-stop and it was pretty cool to see such top names in the world of motorcycle racing in our home town. Spending the day at the Waterford Hills Race Track really got me itching to try my hand on the track with my bike. I'm sure Cindy wont be too thrilled to hear that, but WOW does it look fun.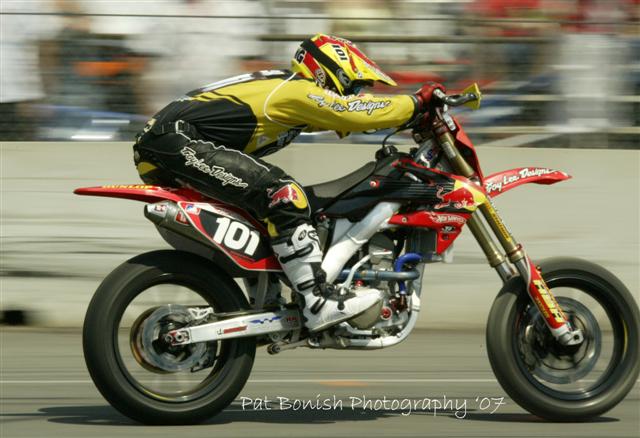 Make sure to check out the Supermoto Gallery to see some action shots from the event. For the past few days, we've been tearing everything out of the Coach, and sort of cataloging what we've used compared to what we thought we'd use, but didn't. I'm also trying to have a few custom parts fabricated for the roof-top of the truck and maybe a rack to carry the Mountain Bikes. Stay tuned and I'll let you know when we get them going.
Hope everyone is having a great July, Cindy and I are both jonesing to get back on the road. This is the longest we've sat still and we're going crazy doing all these little day to day things that we haven't had to do in 6 months now. Boy did we get spoiled in a hurry. But spending time with the family is worth it, and once we leave again in August, we'll be gone for another 6 months, so we need to get our fill while we can.
Wednesday July 18th
Cindy and I have been trying to keep ourselves in good shape this summer. We've been riding mountain bikes, walking and doing a little weight lifting. With so many RVers being over the age of 50, we understand that not everyone can do all of these exercises. So I found this exercise program on the internet and thought I'd share it with you all.
EXERCISE FOR PEOPLE OVER 50

Begin by standing on a comfortable surface, where you have plenty of room at each side. With a 5-lb potato sack in each hand, extend your arms straight out from your sides and hold them there as long as you can. Try to reach a full minute, and then relax. Each day you'll find
that you can hold this position for just a bit longer.

After a couple of weeks, move up to 10-lb potato sacks. Then try 50-lb potato sacks and then eventually try to get to where you can lift a 100-lb potato sack in each hand and hold your arms straight for more than a full minute. (I'm at this level.)

After you feel confident at that level, put a potato in each of the sacks.
I thought that was funny and hope you realize how important staying in good shape is for your overall health.
Sunday July 22nd
I know we've come to a screeching stop on our adventure, but the past few weeks have been a non-stop flurry of emptying and adding a ton of things to the Sunline.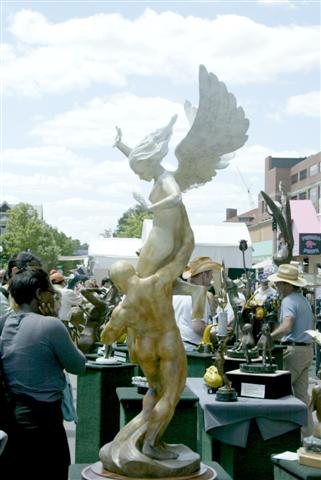 I've built a few new cabinets, re-wired some speakers, added some different lighting fixtures that will hopefully conserve some of our power consumption, and done all of this while trying to get together with all of our friends and family. The weather for the past few weeks has been beautiful here in Michigan. I know our first few days was a little hot, but the last few have been picture perfect!!
Yesterday we attended the Ann Arbor Art Fair with my Aunt Laura who lives in that great little city. This is one of the premier Art Fairs in the country and it was great to have a personal tour guide that knows the city and it's history like she does. Laura is a local music teacher for the Ann Arbor School District and is very knowledgeable in everything Art related. The three of us wandered around for the entire day admiring fantastic photography, paintings, hand blown glass and many other fantastic pieces of art work. By the end of the day, by feet were aching and my mind was telling me it's time to get back on the road.
It was very humbling to see such great photography that so many talented artists displayed and only made Cindy and I realize we still have so many great places to visit. My Aunt Laura had just returned from a 3 week trip to Paris and looking at the pictures from the trip made Cindy and I realize after North America, maybe the journey might need to be extended across the pond.
Wednesday July 25th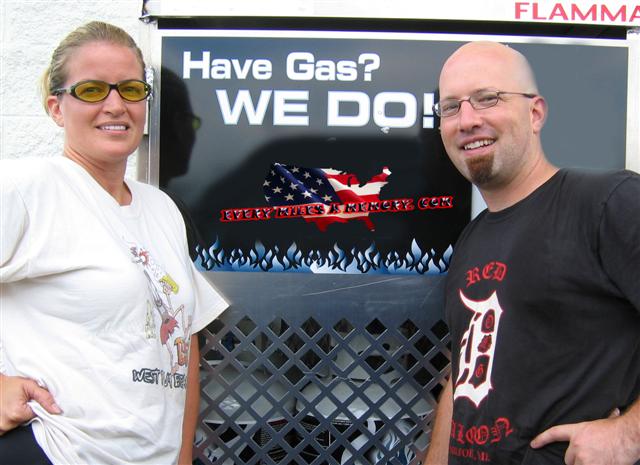 Last night, Cindy and I were sitting on the computer working on a few different things (Check out the Trailer Link) and kept trading emails back and forth with my cousin Tommy. He's pretty savvy with computers and is the one who gave me the crash course on Web Design to get this site up and running.
We always mess around with each other with Photochopped pictures and other goofy things that us computer nerds do when we're bored, and Tommy was the one who sent me the GIF of the Transformers thing at the top of the page. Then a few minutes later, he sends me this email saying "If you like that, you'll love this" and gives me a link to a Shutterbug Movie. If you're in for a good laugh, click on this Link and watch a short movie on Poopy Pants Patty. It's one of the funniest things I've ever seen and Cindy and I were both on the ground crying we were laughing so hard. If you have any friends you'd like to play a joke on, this would be it. After watching it over and over till our sides hurt from laughing, we had to share it with everyone. "Thanks Tommy for the best laugh we've had in awhile!!"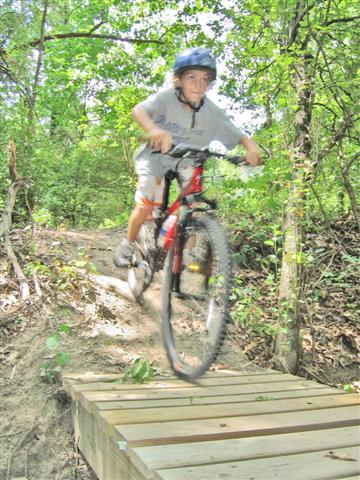 We're both pretty excited because this weekend we're back on the road and headed up North to the Pier Marquette River to take two of our Nieces for a float down one of Michigan's most scenic rivers. Cindy and I are going a little stir crazy with the amount of work we've been doing on our Rental house and the Sunline in the past few weeks. We're jonesing to get back on the road and get back to traveling and this little side trip to introduce the younger generation of our family to RVing, is just what we needed. You don't realize how hard it is to go from 6 months non-stop on the road, to sitting stagnate in one spot and going back to a normal life of daily chores.
Although I will say that my nephew Austin has kept us quite busy on the mountain bikes these last few weeks. After his first couple rides on a stock department store bike, Austin decided to spend some of his money he's saved up and went out an bought himself a real bike from a local Bike Shop we do business with in Brighton. Chris over at The Shop was able to fit him with a Specialized Mountain Bike that fit his short inseam and now it's all Cindy, my brother Joe and I can do to keep up with him. The simple fact that a 9 year old can ride most of the trails were on, should tell you what type of athlete this kid is.
Monday July 30th 2007 Returning from our Weekend Warrior Status
I'd like to apologize to anyone I've every referred to as a Weekend Warrior. Since we've been home, we have been working on either the Sunline or our house non-stop. Well we had my sisters two daughters who are ages 8 and 12 this past weekend, while my sister had to go to Florida with one of the other kids. We decided to introduce them to the camping lifestyle we live, and brought them up north for the weekend.
So Friday morning, we packed up and headed up North with all the other Weekend Warriors, and for the first time, we realized how stressful it must be to go camping for just the weekend. I cant imagine owning a camper and trying to fit everything into a few days with multiple hours of drive time each way. This isn't fun at all!! By the time we got to Ludington State Park, which is on the West side of Michigan, situated right on Lake Michigan, Cindy and I were both ready for bed. The only problem was it was still early in the afternoon.
Of course the two girls had napped numerous times on the long ride across the state, so when we were finished setting up camp, they were ready to go for a hike, walk along the beach and sit by the fire till the wee hours of the night. Now normally, this would be our usual routine, but we rarely ever spend 5/6 hours in the vehicle in one sitting.
While Cindy cooked us all a nice dinner, the girls and I collected some wood for a campfire. Megan, the youngest of the two at age 8, was hysterical when it came to doing anything like this. She really wanted to show you she could do her new job efficiently and try to outdo her sister and I. She would run around the campground collecting wood and sprint back to the campsite with an armload shouting for everyone to look at how much she collected. Her older sister Courtney and I soon realized, that if we slowed down a little, this worker bee would
have us a pile of wood that would last the entire night in the time it took us to collect one load. She collected so much, we actually brought it with us to the next campground the next day.
I'm not sure if young kids realize the difference between campgrounds and their back yard? Early one morning, one of the girls screamed at the top of her lungs to come see this giant worm she had just almost stepped on. I went running to quiet her down as it was still very early in the morning. That was till I saw the size of the Slug or what ever it was. I screamed probably louder then she did for Cindy to come quick with the camera. I'd still like to know what it was? I've never in my life seen anything like it, and we watched it crawl around our campsite for quite awhile.
One thing that just amazed Cindy and I, is the abuse a camper takes with little ones living in it. Forget giving a camper to a test facility to see how long it'll last; give it to a group of kids and tell them to live in it for a week! If it can survive that, it can survive a lifetime with two adults living in it fulltime. By no means am I saying these kids are misbehaved, they are two little angels who were a joy to be around the entire weekend. But a camper isn't designed with kids in mind. That plastic door handle cant be used to boost you up so you can reach the latch all weekend. After the first few times I watched our youngest niece climb in, I mentioned to Cindy that I doubted that handle would survive the weekend. Sunday morning we heard a "OOPS!! I think I just broke something!" She was standing on the step with the handle in her hand worried that she had just ruined something expensive. We both reassured her it wasn't her fault and she hadn't done anything wrong.
Another thing that was funny for two little girls to learn was water conservation. The first few times I heard the water pump kick on, I thought maybe someone was taking a shower. Then I realized it was just one of them flushing the toilet. When Cindy said "Is everything alright in there?" after one long session of the pump running, we heard a quick "Yeah, I'm just trying to get all the toilet paper to go down!"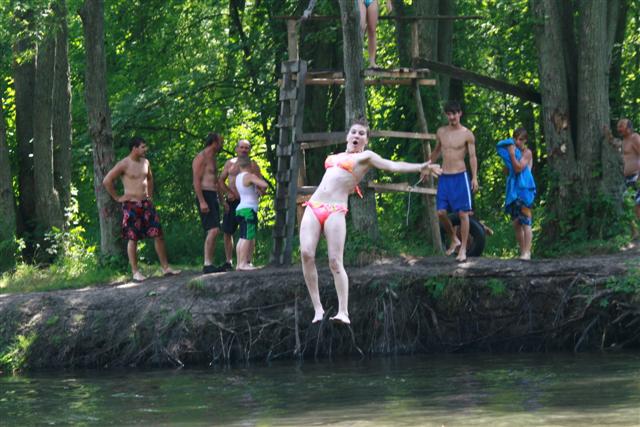 Before we left, my mother had asked me how long our 40 gallon fresh water tank would last the two of us. I told her our longest so far with normal showers and daily usage was 5 full days. Well Saturday morning rolled around and I noticed the water pump sounding a little awkward?? I checked the gauges and was amazed that two tiny girls had just used up a weeks worth of water in under 24 hours!!
Cindy and I would be laughing so hard at most of the things that we just found so funny, little things that they probably wouldn't even understand. The way the youngest one asked if we could pull over so she could go to the bathroom while we were on our way home. I figured we might as well have some lunch and all use the restrooms since I had emptied out the holding tanks in the last campground. While we all took turns using the facilities in the gas station, Cindy got us some Subs for lunch. While we sat in the camper, I heard the water pump run again?? Who comes walking out of the bathroom but the little one that made us pull over to begin with. I asked why she didn't use the bathroom in the gas station like the rest of us, which she snapped back, "Why would I use that dirty bathroom when we have this clean one right in here?" Ahh, the logic of an 8 year old!!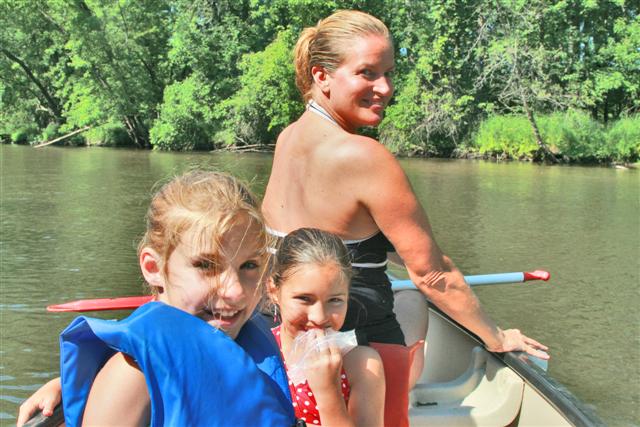 Needless to say, it was a riot of a weekend. We canoed/tubed down the Pier Market River all day long Saturday, roasted marshmallows over the campfire that night, watched scary movies till wee hours of the morning, and learned plenty of new things that we had forgotten from our child rearing days. We found out that you shouldn't give a 8 year old an Energy Drink unless you like the sound of a high pitched whine coming from their mouth for the next few hours. We remembered why you wait till small ears aren't around before saying something that you might not want to hear repeated a hundred times, and never say something about someone walking past the campsite, unless you'd say it to the persons face. Chances are, someone might say it loud enough that the passer-bye hears in the wrong context.
From this day forward, I'll put anyone up on a pedestal who camps with a young child or two. I'll pay my utmost respect to the weekend warriors who drive all afternoon after putting in a long day at work, just to let their family have the experience we take for granted. Full timing is easy, the weekend campers are the real work horses in the campgrounds.
Tuesday July 31st 2007
After I posted the picture of the giant Caterpillar, I got a email from someone directing me to check out What's That Bug. This site will identify almost any insect you can find. Thanks Becky for the link.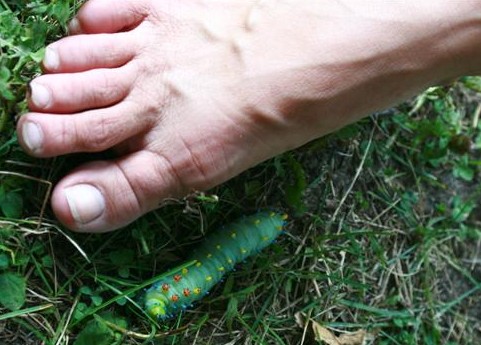 After reading a little info about the Cecropia Moth, I feel very lucky to have seen it. I now know that it is the largest Moth in North America. The site says it feeds mostly on Silver Maple trees, and we remembered that there was a large Maple tree right behind our Coach. The picture is the Caterpillar beside Cindy's foot to show you just how large the 5" larva was.
I had posted the picture of the Cecropia Moth on a Photography Forum that I frequent, and another member gave me another cool site. If you ever want to identify a Caterpillar, make sure to log on to this site and you can see almost any Caterpillar in North America.
Thanks to all who helped me identify the moth and for the new links I've added to the favorites list.
Move to August Blog
Return to Top of Page
Need Unlimited photo storage- FREE Trial of Smugmug