When we realize our insignificance in this world,
it some how relieves the pressures from society to succeed - Cindy Bonish 04/07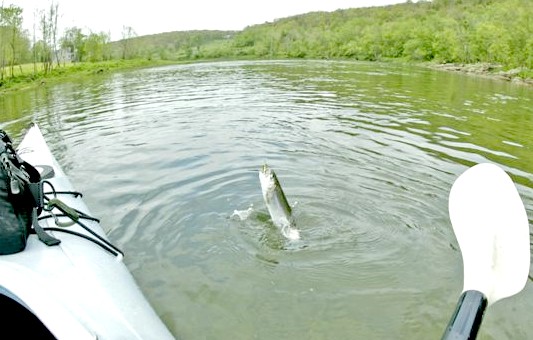 Pat's May 2007 Blog
If this is your first time here, you might want to start from the beginning of our fulltime RV Journey with our Past Blogs
For Those That Don't Know Me, You can click here to read my Bio
Tuesday May 1st 2007
We left Petit Jean State Park yesterday and drove North heading towards the Buffalo River. So far, everyone we've talked to in Arkansas has recommended this river for Kayaking. With every website we've checked on it, saying it's that persons favorite river, I think we're going to like this one. It's 150 miles long, and we're seriously thinking about doing the entire thing. Make Sure to check out the Petit Jean Gallery in the Gallery Section, as it's loaded with many great shots of the beautiful water falls and hiking trails.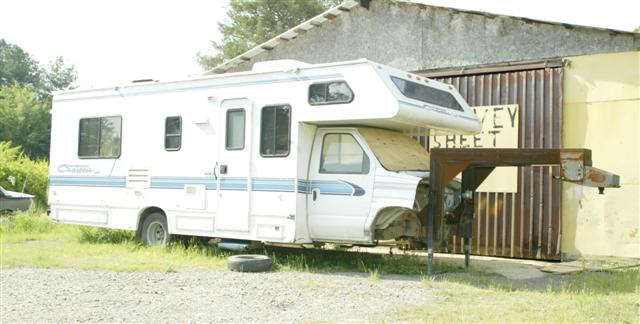 Yesterday while rolling down some back roads, we passed this contraption and had to stop to get a picture. I believe it was a Class C motor home at one time and it looks like the motor blew. Rather then swap out the motor, they added a fifth wheel hitch to the front and now, I think you're seeing the first ever Class C Fifth Wheel!! That's some Hill Billy Engineering if I ever saw it. This thing was licensed and ready to go on the next camping trip. If you look closely, you can see their windshield guard is just a piece of Plywood!! Nothing better to stop those nasty rocks and block out the sunlight!
We are going to spend some time in the Ozarks exploring the Northern part of Arkansas before moving over to Tennessee where we have plans on meeting a bunch of friends from Michigan at the Bonnaroo Festival in Manchester Tennessee. It's a week long music festival held on a 600 acre farm in the country. What better way to hear some great music then relaxing in the country with good friends?! Stay tuned to see what beauty the Buffalo River holds in store for us, and where this 5th month on the road will bring us.
Thursday May 3rd 2007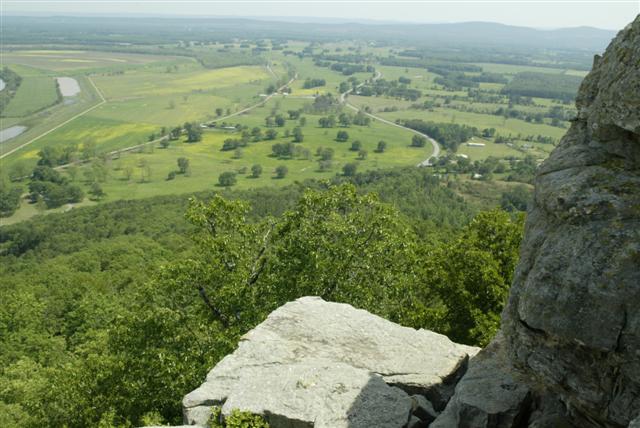 We've been at the Greers Ferry Dam State Park for the last few days because we had planned on kayaking the Little Red River, but for some reason, there are no Outfitters anywhere around?? The river is beautiful, but with no way to spot our vehicle or know what to expect, I don't really want to paddle down a river, not knowing what's around the next turn or how we're going to get back to our vehicle.
So, we're off to the Buffalo River. There hasn't been one person in the Arkansas area that hasn't recommended the Buffalo River. Every website we've read on it says its one of the best in the United States! I'm excited and cant wait to paddle this beauty. Staying in the Greers Ferry Dam Campground in Heber Springs, we met some really nice people; one couple was traveling back home to Wisconsin from Florida while the other couple was a few spaces down from us, he invited us in and after touring his motorhome, Cindy sat down saying "I need to get that image out of my head right now!" Their 32 foot motorhome had a huge slide the size of our entire trailer. I agree with her, we need to get that image out of our heads right now.
We packed up camp in the rain, and headed North. HWY 5 North is similar to HWY 7, very twisty and a little scary in the pouring rain. Cindy commented that since it's raining, we would be passing Blanchard Springs Caverns and we could spend the day touring the caves which would keep us in out of the rain.
Blanchard Springs Caverns & Middle Earth
We turned off of HWY 5, and headed straight up the side of a mountain towards Blanchard Springs. I went in and introduced myself to the Park Rangers asking if I could bring a Camera and Tripod in for the tour? I was introduced to Toni, the PR representative for the park. We sat and talked for a few minutes and although they don't normally allow people to bring in tripods, she said since they were pretty slow today, she would make an exception and allow me to bring it in.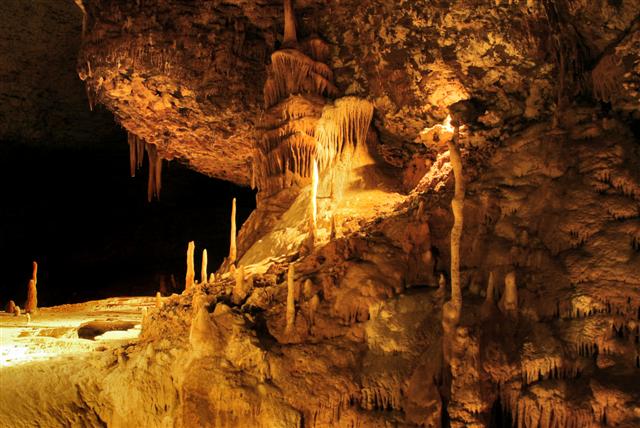 Blanchard Springs Caverns is one of the largest cave systems in the United States and the largest in Arkansas. It consists of 3 different caves with each having their own unique features. You can tour the Dripstone Trail, which is an hour long and the easiest of the three sections of the cave. This is the tour we went on, which brings you 240 feet below ground or the equivalent of 21 floors under the top of the mountain. We really wanted to go on the Discovery Trail which is the middle section of the cave, but Toni told us this time of year, they have that section of the cave closed because of the mating Bat population!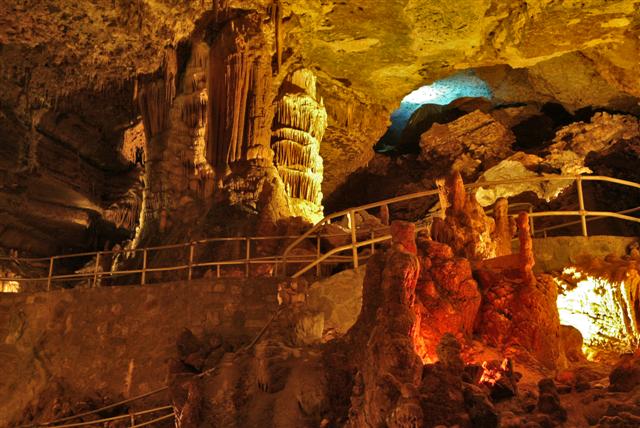 The Discovery Trial will bring you 366 feet into Mother Earth, and is 1.2 miles long. This section of the caverns was discovered in 1963 by two locals cavers, and is the largest of the 3 different sections. Toni told us the very bottom section is still filled with water and is inaccessible. There is one more section of cave that you can explore, but you have to make reservations for this section. This Wild Cave Tour will give you a glimpse of what its like to crawl your way through an undeveloped cave, with just the light of your helmet guiding you.
The only real way to describe the views we saw is to tell you to watch Lord of the Rings, where the scene is set in Middle Earth. I felt like we were on a movie set and couldn't believe how cool this was. I'd think if I was a little kid in here, I would have had nightmares with all the crazy monsters my mind was imagining would live in a place like this. You walk into a room that reminded me of a large auditorium, only the walls look like hardened magma and the cave's chilly 58 degrees kept you nice and cool with the warm muggy weather outside. I remembered touring the Mammoth Caves in Kentucky as a child, but for some reason I don't think it sunk in how cool it was until you see it as an adult.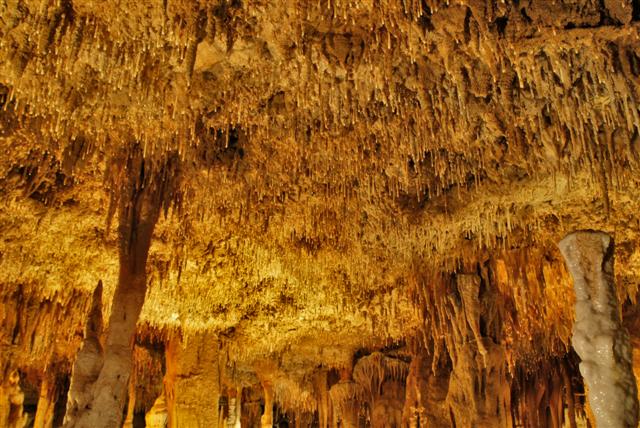 Cindy and I both did this just as something to break up the rainy day blues, and we talked non-stop about it for the rest of the day. We both couldn't wait to get back to look at the pictures on the computer. Although the pictures look cool, seeing it in person is the only way to really understand the immense size of the cave! I was very disappointed once I saw the pictures!? Being in the dark, damp cave, hearing the dripping water and the amazing acoustics is something that no picture can duplicate. Blanchard Springs Caverns is something I'd drive across the country to see. We both plan on coming back at a later date so we can take the Discovery Tour. If the Dripstone Trail was the smaller of the two, I cant imagine how magnificent the larger one must be!
I'd like to say "Thank You" to Toni who allowed us to bring our camera set-up on the tour. For any of you photographers out there, she guides a Photographers Tour twice a year where they allow extra time for us photographers and those long exposures we need to get the shot in the dark caves. I'd love to try and make it back for one of these special tours. For now, you can check out the Blanchard Springs Caverns Gallery in the Gallery Section for tons of great shots!
Mirror Lake and Cindy's 1st Trout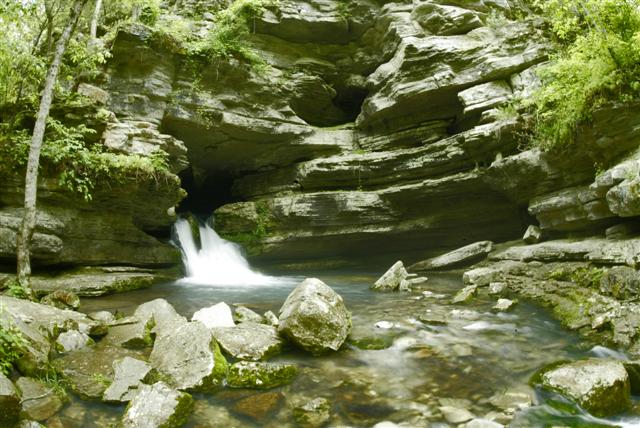 A few hours later when we came out of the cave, the rain had let up to just a drizzle, and we took the advice of Toni and went to check out the bottom of the cave where it empties out the mountain side.
You can leave the Caverns and drive down the mountain side to a secluded turquoise pool with a beautiful waterfall. This is Mirror Lake; just up from there is a little trail that follows along a stream to a large hole in the side of the mountain.
Water gushing out of this hole creates a beautiful waterfall that we had all to ourselves. I thought the caverns were cool, but the day just kept getting better. Who knew a rainy day in the Ozarks could be so entertaining? We climbed around the waterfall taking some pictures before going to check out the 2nd water fall down at Mirror Lake.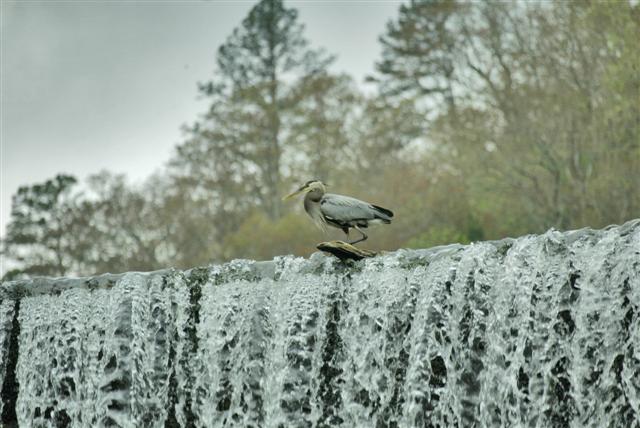 Mirror Lake is a tiny little pool where back in the early 1900's, was the setting for an old mill. You can still see the old stone structure below the dam and exploring the tick infested area, was just the icing on the cake. While I was wading knee deep through the rushing water, trying to get that perfect shot, Cindy was learning valuable trout fishing tips from the local fella's who were fishing up on the lake. I thought to myself that I had better get back up there before she learned a few tricks and became that expert fisherman she's been trying to become.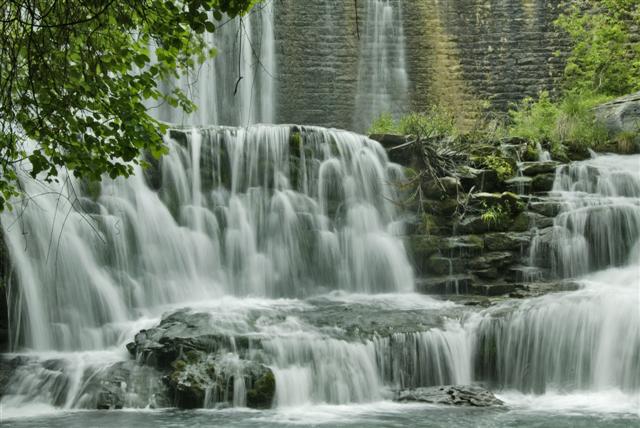 By the time I climbed back up to her, she had ran back to the truck to get her fishing pole and was doing her best to catch her first Rainbow Trout. Imagine a little girl opening up a Christmas present and you'll get the picture of Cindy catching her first fish of the trip. You should have seen all the guys laugh when she finally reeled it in and said "Now What?" When I told her she had to grab ahold of it to take it off the hook, I think her excitement turned into fear. Luckily I was holding the camera, so one of the kind gentleman who had been giving her lessons this whole time finished up by teaching her how to unhook and release her first Rainbow.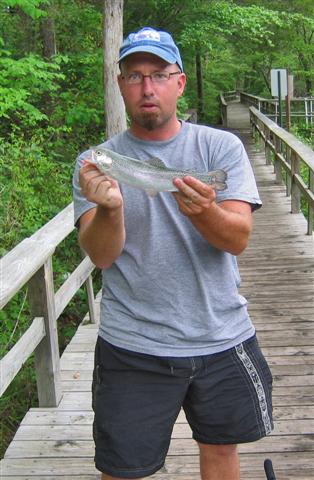 Now imagine how mad I was when she threw it back into the water before I could even get a picture of her holding it up. When I yelled, "I never even got the shot!" She said "I don't care, did you think I was going to hold onto that thing long enough for you to take a picture?" From the time the hook came out of it's mouth, you'd have thunk she had a bomb in her hand! I'm talking maybe 1.2 seconds from the hook coming out of its lip, and she just threw it over the edge back into the water!! Some Fisherman we have here.
She let me try her new lure one of the locals had given her, and what do ya' know, within a few casts, I had caught myself my first Rainbow Trout. We were now even in Cindy's little competition.
Make Sure to check out the gallery for many pictures of this beautiful area.
Friday May 4th 2007 Kayaking on the White River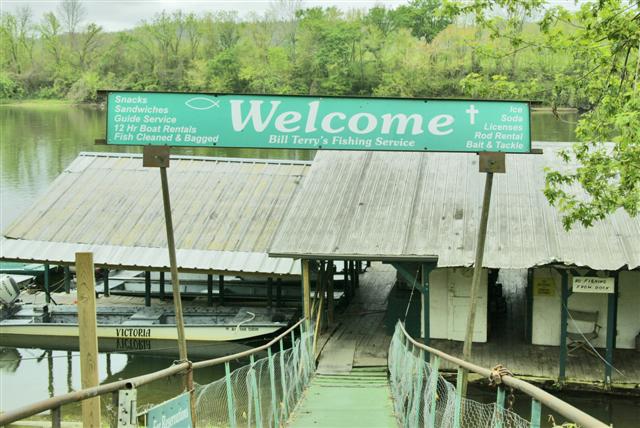 We had made plans to go kayaking on the White River today with local fishing guide Bill Terry (870) 297-8131.
Mr. Terry had us excited by the stories of people catching 50 to 60 trout on a 4 hour float down this mountain stream!! The White River is known as one of the premier Trout Rivers in the United States and today was the day to see if we were fisherman or just wanna-be's.
Bill Terry is a God loving, bible thumping guide who's little fishing dock floats just below the town of Calico Rock. For the last 13 years, this man has been taking people up and down this river showing them what it means to catch Trout. Bill and one of his guides Paul, gave us a few lessons on the proper way to fish for these little buggers, and we were let loose on the water. Cindy was doing her usual trash talk telling me she was going to show me what a 'Reel Fisherman' she was and I honestly thought about tipping her kayak over.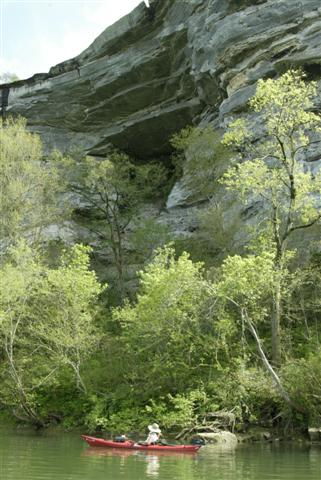 Within the first few casts, I had caught my first Rainbow of the day. Pat 1, Cindy 0.... Maybe Bill wasn't lying when he said we'd be tired of catching so many by the time we floated back to his dock. Within the first 45 minutes, I had caught 4 rainbow on my new lure that Bill had told me was the secret for catching these Arkansas Trout. That was when my line grabbed ahold of something big under the surface, and as my rod bent down touching the tip of my kayak, I was trying to hold onto it and paddle towards it at the same time to relieve some tension. Within seconds my line snapped and my lucky lure was at the bottom of this pristine river. I couldn't believe that had just happened!! What was I going to do now??
I was pissed and yelling at Cindy that I knew she had willed that on me for chanting out the number of fish I had caught to her NONE! She just giggled and paddled on down the river. Paul had recommended another lure and I tied that one on cussing under my breath at Cindy the whole time.
Why couldn't this just be a beautiful float down one of Americas premier rivers? Why does she have to make everything into a contest? When I landed my first Brown Trout, I was yelling for Cindy to take a picture of this lunker so I could post it on this blog, and she un-enthusiastically picked up her camera and said, "There I took the stupid picture!"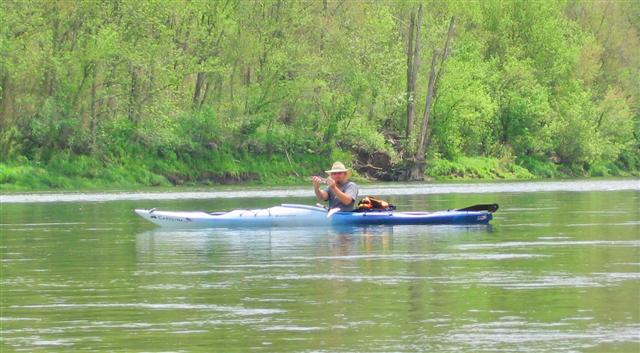 Don't Zoom In Cindy!?! That's my Big Trout!!!
Now when she's fishing and even so much as gets a bite on her line, she's yelling for me to run over with the camera. I'm on number 5 with the last one being the largest Trout I've ever caught, and she's a hundred yards away from me with a little Point & Shoot camera saying "I got the Shot." One of us was going to drown the other by the days end.....LOL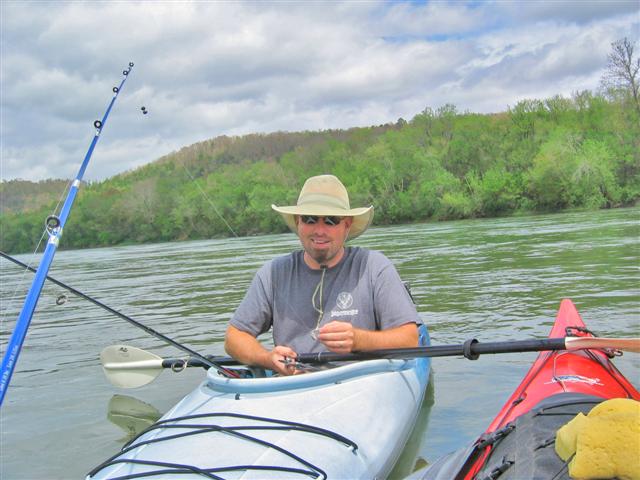 Then the fish just quit biting? I don't know whether our frustration with each other was traveling down our poles, but for the rest of the day, we only had a few bites and never reeled in another fish? Am I bitter? No, I caught 5 trout on a beautiful river and spent the day watching the big fluffy clouds reflect off the clear water.
The White River is truly what us kayakers call a floating river. The current is very strong and keeps you right in the middle. I think I floated for over an hour without ever touching my paddle and never once had to worry about hitting the edge. We floated past a Bald Eagle's nest with two babies in it, we ate lunch in our boats letting the current spin us in the clear water and enjoyed one of Arkansas's best rivers.
When we finally floated back up to Bill's dock below the sleepy little town of Calico Rock over 5 hours later, he was amazed we hadn't caught more than my 5. We're honestly thinking of going on one of his guided tours where he promised we wouldn't come in till we had caught over 50! I think Cindy needs a trip like that to get the taste of defeat out of her mouth. But we'll have to see what the rest of the weekend has in store for us.
We pulled back up to our campsite in the Sylamore Creek Campground, and with sore backs and tight shoulders, we were ready for a campfire and a cozy bed.
Saturday May 5th 2007
Cindy wanted to go into Calico Springs to a Real Estate office today after talking with a few of the locals on how inexpensive the property is in Arkansas. We got the Motorcycle down so we could enjoy the twisty mountain roads that intersect these hills and rode the 20 minute ride into town.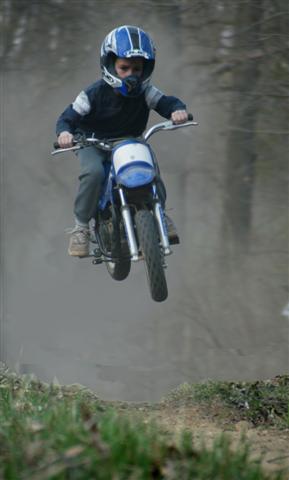 I'd have to say, that when we first started riding, Cindy was a little freak on the back of the bike! If I was to come into a turn too fast, I could feel her squeezing and screaming for me to slow down even though most of the time I wasn't going fast at all. Today was the first time we've ridden that she never squeezed me once and was leaning with me as we flew through the twisties.
We were like one on the bike and it felt great to ride knowing she has become more comfortable now that she's used to it.
Well, she did yell and squeeze me one time pretty hard!! We were rolling down some dirt road (That's giving the road some credit too as it was more of a trail) as I was looking at this old farm house off on a hill side that Cindy was pointing too. I looked back at the road and realized that the turn we were approaching was very sandy and if I was to try and make the 90 degree turn, we probably would have wiped out. So instead, I just went straight off the road, jumping into and out of the ditch in waist high grass and rolling back onto the road without ever missing a beat.
Once we were back on the road, the screaming started!! I was laughing pretty hard at how stupid I was and promised to not look around at the sights anymore.
Thank God she didn't put her feet down or try and jump off which is what I thought she was going to do. We went on to check out some beautiful property on a local river, and had some lunch in the little town of Calico Rock. When I say little, I mean if I was to take off from one end of town, I'd be switching out of first gear by the time we're at the other end. But these towns have some amazing architecture dating back from the early 1800's and are great to walk around in.
Sunday May 6th 2007
We pulled out of Sylamore Creek Campground heading towards Buffalo City and the White Buffalo Resort (870) 425-8555. After getting turned around multiple times and pulling over a few different times for directions, we finally found the road. People in Arkansas give some strange directions and a lot of the roads don't have signs. Well they might have a sign, but you don't see it till you've just flown past it.
This was a conversation I had with a guy at a gas station. He Says "You'll go down this road a few miles past the Flippin' Church of Christ, till you'll see a tractor store, turn right on that road"
I thought, man, this guy must be some kind of Atheist, but I only asked him, "What's the name of the road?" He says, "I don't know, but it's right across from the tractor store." He goes on to say "You'll take that road a ways, and you'll pass through Buford, I don't know if that's really the name of the area, but that's what all us locals call it; so head past Buford and keep driving till you hit a 4 way stop. Make a right at the 4 way, and take that all the way to Buffalo City."
So we finally pass the Flippin' Church of Christ. The Towns name is Flippin! Cindy and I had a great laugh over this and proceeded to think up hundreds of names that Flippin could be used in.
We find this tractor store and turned down a narrow country road. After quite a ways of driving through some farm country thinking this guy was sending us on a wild goose chase, we see a sign for Buffalo City. We see the White Buffalo Resort but I keep driving past it thinking I'm going to go into the actual city to try and get some food and supplies for our stay. That's when I realize if I pass the resort, the road just loops around back to the main road we came in on? The White Buffalo Resort, is Buffalo City!
The general store at the campground is the town! The store and the population of Buffalo City changes with how many guests the White Buffalo Resort has at that time. I love small town America!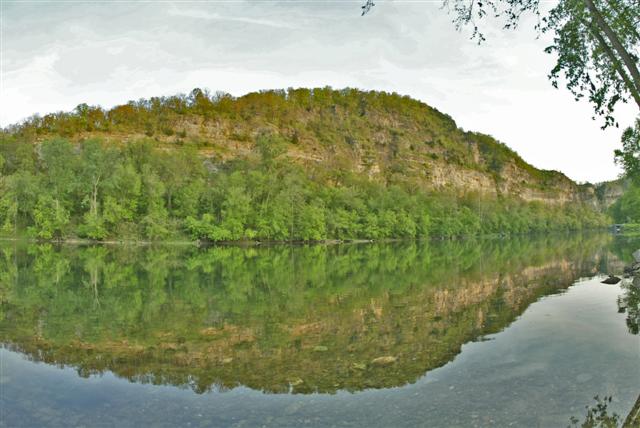 Cindy and I counted the number of houses and adding a few people (incase some of the homes have children), the population of Buffalo City has to be around 40!
So we checked in and sat talking with the owners of this beautiful little resort. This place is amazing, with a giant 600' rock face as the backdrop, the White River converging with the Buffalo River right at the resort and let me tell you, it's a fisherman's paradise!
We grabbed a spot right on the White River and couldn't wait to get our poles in the water. The owner had showed us pictures of another couple that's been coming here for the last 8 years who had just caught a string line full of trout the day before on the river. One of them was a German Brown Trout that was record size and I honestly don't think I could have reeled it in.
We set up camp and cranked the A/C up so when we came back from fishing, the coach would be nice and cool. Today was one of those hot and sticky days where you could cut the humidity with a knife. When we got down to the river, I waded out in the cool mountain water which instantly dropped my body temperature a few degrees.
It felt so good to be in that water, and the fact that my shins were going numb was of no concern. After a few hours of the little buggers biting, but not being able to talk any into coming for a ride on my line, we retired to the camper and mixed up a few afternoon cocktails. We watched the suns glow crawl up the mountain side and couldn't wait to get in the water tomorrow in those kayaks.
Monday May 7th 2007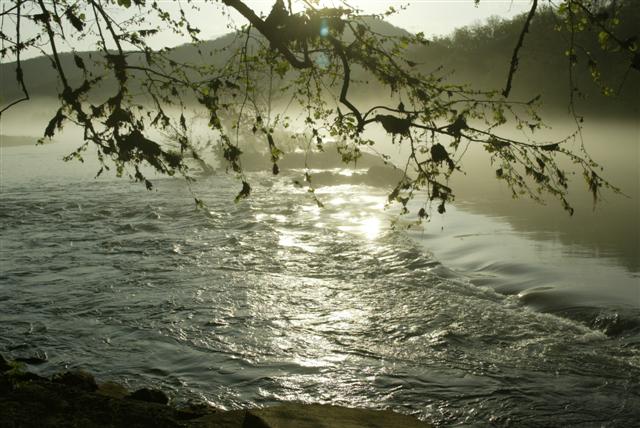 We had planned on kayaking down the White River today, but when we woke up, the forecast called for some serious showers and thunder storms, so it looked like today was one of those grocery/laundry days.
We had to drive back to the town of Mountain View to get a signal on our phones and an internet connection, and while Cindy shopped for groceries, I answered a few dozen emails and made some phone calls. We have to check in with our parents every few days, or my mother gets freaked out and sends out the Mounties looking for us. She doesn't know how to work a computer, so she's never looked at our site which usually tells where we are and that we're doing just fine.
We both laugh when she says "I've been worried sick about you, why haven't you called?" Each time we say "All you have to do is look at our website to know we're fine", but that just makes her more mad. It seems up here in the Ozarks, we don't get too good of reception for our cell phones, but can usually find a signal for the laptop. Sorry Mom.
After talking with my her for a few, I realized the weather system and the rain we were seeing, was some of the off shoots of the storms that Kansas had been getting pounded with. This was one of the reasons my mother was so worried, she knew we were near there and hadn't heard from us since that storm system had blown in. Luckily for us, we hadn't seen any tornadoes and hopefully wont!
Tuesday May 8th 2007 The Day the Trip Almost Ended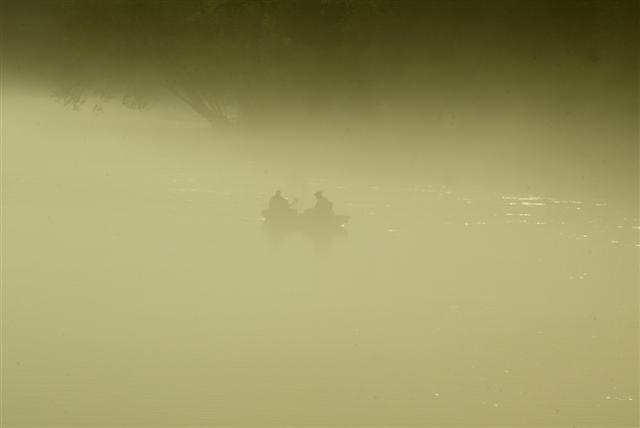 With the early morning steam still rising off the White River, we loaded up the truck for the drive upriver to our put-in point. When we got there, the sunny skies had major black clouds rolling in on the horizon, so we waited a few to see which way the weather was headed.
After sitting at the boat landing for twenty minutes watching the black clouds roll past us and hearing the thunder off in the distance, we decided, a little rain wasn't going to kill us, and decided to shove off.
I couldn't wait to get my pole in the water and try and catch some of these trout everyone was telling us about. Now you'll have to remember that this whole fishing idea was Cindy's. I've never been much of a fisherman, but the simple fact that we're floating these world class trout streams, it seemed a shame to not be fishing on them. I'll also remind you of how competitive Cindy is. The day that I caught the 5 fish to her none, I thought I was going to wake up beside Lorena Bobbitt! I made sure I hid the scissors before going to bed.
So today, we both agreed was HER day to catch some fish on the water. She was using my pole, as she felt hers wouldn't catch any? She was using my lucky lure and before I was even in my kayak, she had her line in the water saying "Here Fishy-Fishy" She wasn't even discouraged when it started pouring rain on us, she just kept fishing.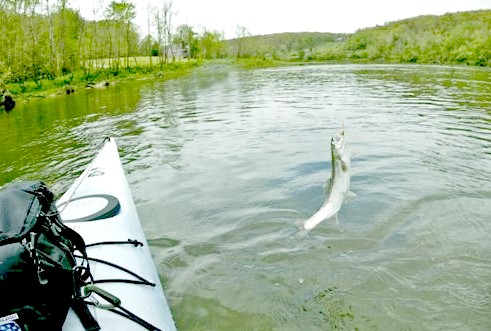 A few minutes later, when I yelled "Fish On" she was pissed. An hour into the float, I was on number 6 to Cindy's none.
The owner of the White Buffalo said this trip should take us about 3 hours if we just floated down stream and I could tell this was going to be a long 3 hours, if I even made it back to the Camper alive. When I heard Cindy yell out "I Hate Fishing!!!" I said, "Paddle over to me and let's switch poles again, you sit right here where I am and cast right where I just caught these last 3 Rainbow."
I honestly don't know what she's doing wrong, we're using the same damn lures, the same cheap gas station poles and fishing in the same area? When I saw how frustrated she was, I said "What do you want me to do?"
To which she replied, "Take your pole out of the water till I catch up to you!" Yeah Right!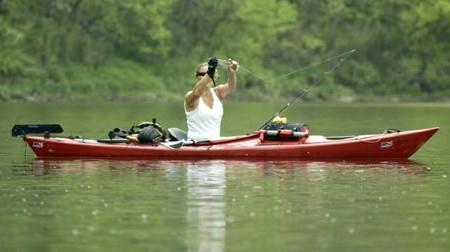 I keep telling her she is so worked up over not catching any, that the fish can probably feel the tension on the end of the lure and don't want to go anywhere near it....HA! HA! That's my fish psychology, but like I said, I'm not a fisherman??
So while I'm changing over lures on my original pole, because I've now lost two of my lucky lure's, I finally hear her scream out "I Got One!"
Thank God, the un-lucky streak had been broken. We fished floating this one area where they were biting on every other cast and Cindy ended up catching 5 Rainbow in a row, with one of them being her biggest yet. It was getting late in the afternoon and we needed to stop fishing to get back before dark. I will say that I've become a little addicted with these Trout. It doesn't matter if you have a 10 lb. monster, or a little guy on the end of your line, they all seem to put up a great fight and since we're just throwing them back, I'm having a blast!!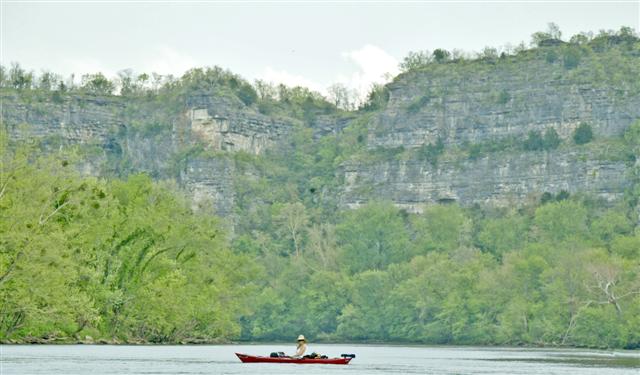 We paddled down the river taking in the beauty of the cliffs that towered over us on each side. The water is crystal clear and you can see the rocky bottom even when you get into the deeper sections. We passed a Bald Eagles nest that had to be 5 foot by 5 foot in size. There was one adult with two babies standing on the edge of the nest just watching us as we floated by this small house in the trees. The two babies were the size of large vultures and looked weird as they didn't have the white heads like the adults did. After looking them up in our bird book, I guess the young don't grow their white feathers till they're fourth year. By the time we floated back to the camper, we had been on the water for 8 full hours. Our backs were sore, our butts were numb, and my hands were cramping up from holding either a fishing pole, or a paddle for most of the day.
We hauled the kayaks back up to the camper, and jumped on the motorcycle to get back to the truck before it got dark. It felt good to feel the warm afternoon air on my skin after sitting in that kayak all day. Between the rain and the splashing from the waves, my skin was waterlogged and ready to dry out.
By the time we got back to the camper, it was all we could do to unload a few of the bags from the kayaks, and eat some dinner, before hitting the sack. I think I was falling asleep while I was shoveling food into my mouth and trying not to bring up the fact that I had ended the day with the unlucky number 13 for my total number of trout to Cindy's modest five. As we were cleaning up the dinner dishes, Cindy was getting down the Scrabble game when I asked "What are you thinking?" She said, "I know I'll win at this, and I cant go to bed with you having beat me that bad, so I want to kick your butt in a Scrabble game first!"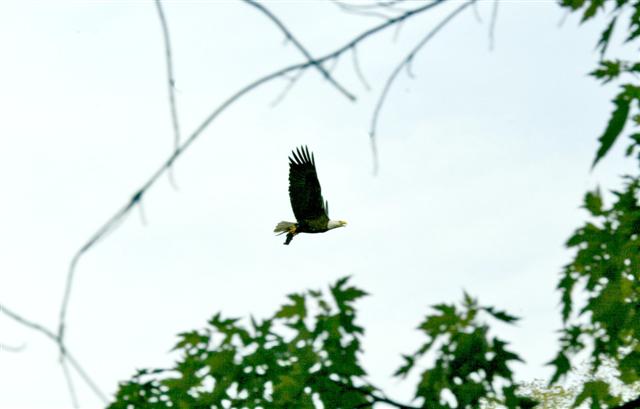 I just shook my head and crawled into bed. I think I was snoring before my head actually felt the pillow.
What a great day it was on the water!! Only Cindy can make Fishing Stressful, that and turning everything into a competition will be the death of me...LOL
Oh, I almost forgot! While we were unpacking the boats, our neighbor walked over to see how we had done (this is the same guy that had caught the monster German Brown Trout), and while we were all sitting there talking about the Bald Eagle, Cindy yelled while pointing at the water. We all looked over to see the Bald Eagle swoop down and grab a fish out of the water. What an amazing sight to see, and how weird to be talking about the Eagle as it was sitting right in the trees above us scanning the water.
Wednesday May 9th 2007 Whole Lotta Nothing Going On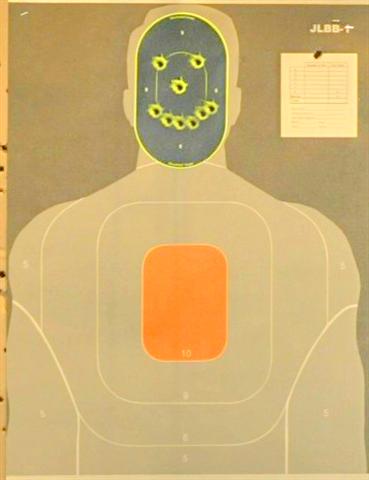 We woke up this morning to aching backs and sore arms. I don't think we'll be going out in the kayaks today. Cindy now says she's done with the Fishing Competition, and is ready to move on to something else? When I asked what she would like to do next, she asked about going to a shooting range to practice with one of our pistols. Now I'm a little worried....LOL
We have plenty of guns, but I don't own any Bullet Proof Vests and shooting isn't a competition you want to get into with me.
So the weather wasn't too good today, and we hadn't really had any of those Lay Around days in awhile. I had just finished one of the best books I've ever read, Night Fall by Nelson DeMille, and had kept bugging Cindy to read it. While I worked on the computer and my portfolio she laid in bed and read all morning.
Listening to the rain hit the roof of the camper and watching the fog roll down the river must have been pretty mesmerizing, cause next thing you know, it's time for bed, and we hadn't done anything all day. We'll, we were able to finish a bunch of left-overs out of the fridge, Cindy read an entire 700 page book and I printed out a 50 page portfolio that I've been working on for a year now. So I guess we did get a few things accomplished.
Make sure to check out our Gallery from the White River Area!
Thursday May 10th 2007
Leaving the White Buffalo Resort was very hard. With the beautiful scenery and the World Class Fishing, it was a little slice of heaven in the Ozarks. But with the weekend approaching, the place was filling up and we wanted to get up near Jasper and the Buffalo River.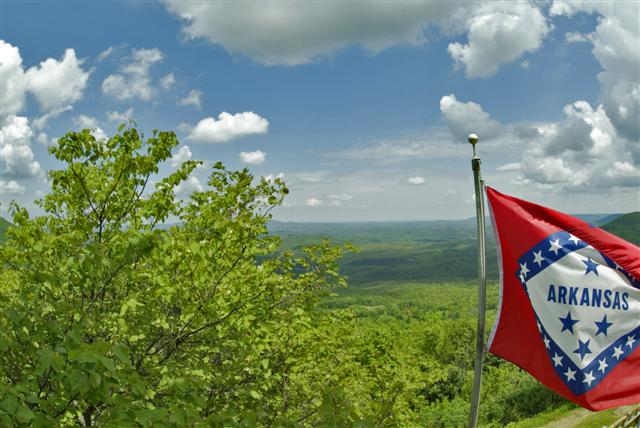 It only took us a few hours of drive time, and you know we're in the heart of the Ozarks with the roads as crazy as they are. It reminds me of driving out West. I'm not sure if my transmission has been out of second gear the entire drive. It's either lugging this long train up one hill, or redlining going down the other side so I don't have to use the brakes.
Jasper isn't big by any means, but if you're into kayaking or canoeing, then this is the place to be. Just about every truck in the little mountain town has a canoe or kayak on it's roof, and the local motel even shuttles canoers up the river.
By the time we got here, some rain clouds had moved in, so we grabbed a campsite at the Dogwood Springs Campground, and settled in for the night. I'm starting to think that the Ozarks remind me of Hawaii or Florida. It's a beautiful, warm day, and then it'll rain for a little while every afternoon. Maybe it's just the fact that it's spring, but it's somewhat nice and keeping the Buffalo River up for us. I guess by the end of this month, this upper part isn't run-able. So we'll see tomorrow.
Friday May 11th 2007
We stopped by the Chamber of Commerce to get some info on the local outfitters and see what we shouldn't miss while in town, and while talking to the very nice woman, she told us not to miss the Cliff House Inn. She said the views are amazing and the food is just as good.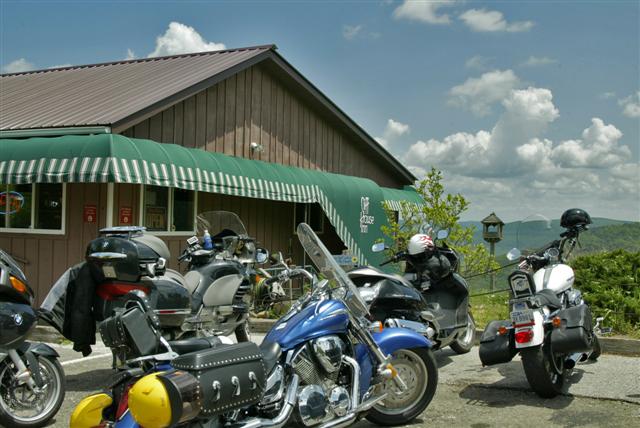 So we drove up and out of the little town of Jasper and straight up into the clouds. The Cliff House is a little restaurant clung to the side of a mountain with breath taking views of what they call the Grand Canyon of Arkansas. The parking lot was full of motorcycles which is a good sign, and with these twisty roads and fabulous views, this is definitely motorcycle country.
We had a great lunch and took a few pictures and decided we would head over to the river to see what the conditions were like. Driving from one mountain side to the other is only a few miles on the odometer, but much different when you're looking out the windshield. What registered on my truck as only 14 miles, took us 45 minutes of driving with a smoking hot transmission and red hot brakes. These roads are steep and twisty with no shoulders and beautiful views in every direction.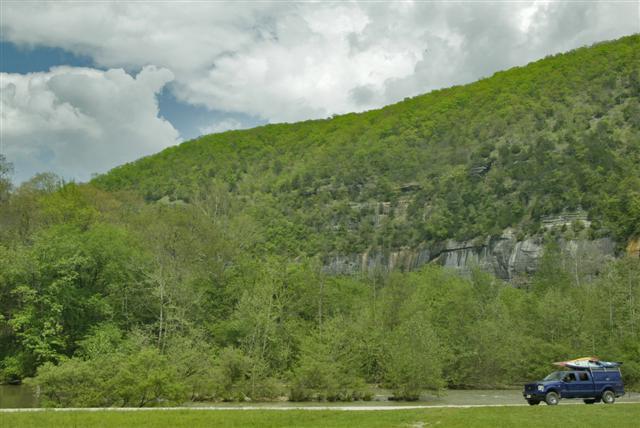 We arrived at the Steel Creek Landing where the scenery was breathtaking!! The ancient rock formations reminds me of being out West with the mountains rocketing into the sky while the cool Buffalo River waters flows below them. As we got out of the truck to walk down to the water, we watched five kids float past us on a Log!?! We both laughed thinking that had to be some kind of a joke.
While cooling off with our feet in the water, a nice gentleman walked up to us asking us where we were from in Michigan. He had seen our license plate on the truck and was inquiring as he lived in White Lake, which is only two towns over from our home town of Milford. Now how strange is that? We're in this little mountain town in Arkansas, and we run into a neighbor. What a Small World.
As John, this fellow Michigander and Cindy sat talking about the traveling lifestyle; he has traveled all over trying to visit every National Park in the United States, and only having a few left on the list, I saw the group of boys that had floated past us on the river. I walked up and started talking to them as one of their stomachs was cut up and bruised due to the wild water and the thrashing the log had given them.
They told me they were local high school kids from a few towns over who were on a filed trip. Cameron told me "Mr. Morton, The Best Teacher Ever, and I hate teachers, brought us here to teach us about geology" He went on to say "With the water as high up and flowing as fast as it was, we just had to go for a ride down the Buffalo and a log was the only thing we could find to ride on."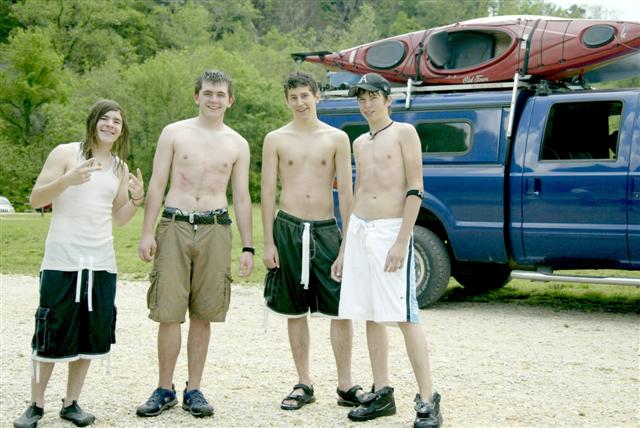 L to R - Cameron, Johnson, Dylan & Thomas - The Four Log Riders
I sat talking to these nice young men for a while listening to them recommend different areas they felt we shouldn't miss while visiting. They wished us luck on our trip, and said they had to get back to their group before Mr. Morton would start worrying where they were.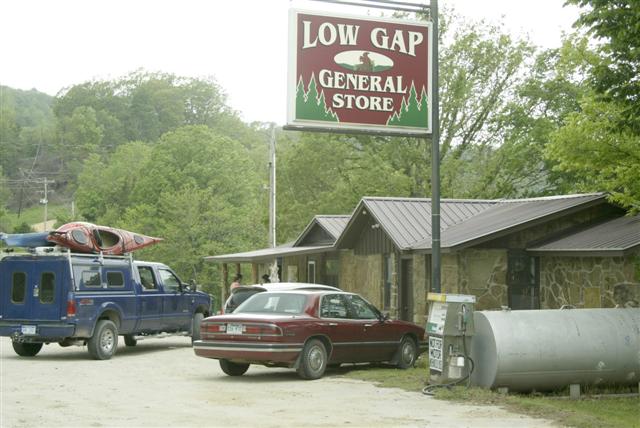 We drove back up out of the valley to what looked like a black wall of clouds approaching. We stopped in the metropolis of Low Gap at the general store for a cool drink and I got to talking to the proprietor.
When I asked her about the Bumper stickers she was selling that read "I visited Downtown Low Gap", I asked "Where is the down town?"
She looked at me like I was some kind of dumb-ass and said "You're standing in it!" The town consisted of the Low Gap General Store, The Low Gap church, and a small cemetery. Out front of the Low Gap General Store, a group of towns folk were sitting around in a circle talking on the front porch. I told her we felt like we were interrupting a meeting and she just laughed saying "This is the Afternoon Group, we have a Morning Group, a Lunch Group and then the Afternoon Group" We were invited to sit down and join them, but we wanted to get across the mountain to watch the storm roll in.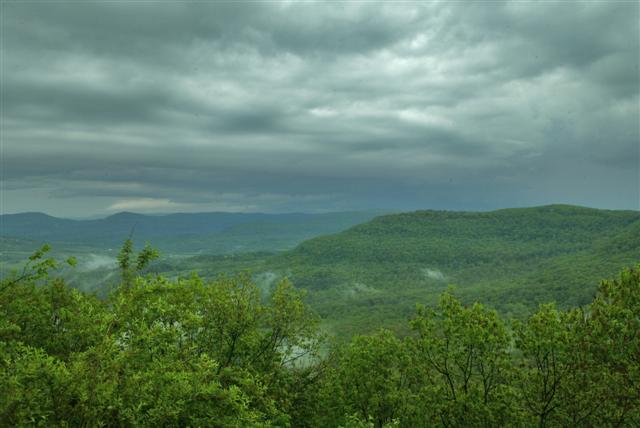 When we were over by the Cliff House, we both had commented how cool it would be to sit on the outlook and watch a big storm roll across the mountain valleys. We both said "Let's Go Back" and high tailed it out of Low Gap down one mountain side and back up the other just in time to watch a major lightening storm roll over us.
We sat there till it got dark and I could have watched the storm into the night. It was like being in a drive-in theater mixed with an IMAX film. We would watch lightening bolts off in the distance and clouds roll up and over the mountain top. One second we'd be sitting in calm, eerie blackness and the next second it would get real windy while the rain would start pounding the truck. Thank Goodness we weren't on the water this afternoon like we had thought about.
Saturday May 12th 2007 Hiking the Hemmed In Hollow Trail
Today we planned on hiking a 5 mile out and back trail that should give us a real workout. The Hemmed In Hollow Trail is a real thigh buster that brings you down a steep mountain side and ends with the climax at the Largest Waterfall between the Appalachian and Rocky Mountain Ranges.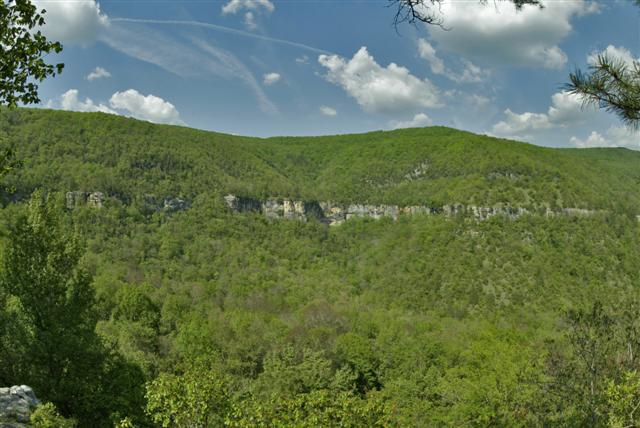 By the time we had hiked down in the afternoon heat, I was ready to crawl into the falls cold clear water just to cool off. Covered in sweat and ticks, we sat relaxing under the cool breeze created by the towering waterfall.
Always trying to look for that unique angle to get a great picture, I was climbing around the rocks with camera in hand when I slipped on slick rock and took a fall. Sliding down a series of steep rocks towards the ledge, I was able to come to a stop only feet from the edge all the while holding my camera in the air out of harms way. By the time I got to the bottom and back to Cindy, I showed her my bruised and scraped up arm which she replied "How's the camera?" There's a concerned wife for you!!
The hike back up the trail was way more then exhausting. 2.5 miles straight uphill is hell on the knees! I was sucking so much oxygen, I thought my heart had somehow made it's way into my ears. It was great to stop on a ledge overlooking valley after valley, and the only sound you could hear was the sound of the wind blowing through the trees, that and my heavy breathing echoing off the surrounding hills.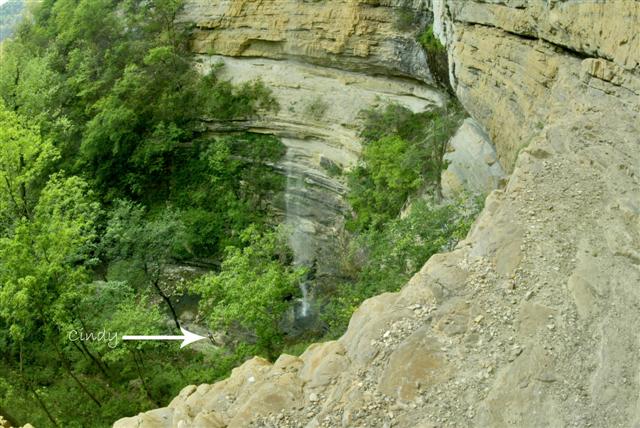 The Arrow is pointing to Cindy, this is where I was when I slipped and almost fell
By the time we got back to the car, we sat picking ticks off each other and downing cold sodas we had stashed in the ice chest. Normally I'm not one to drink sodas, but that cold jolt of sugar and caffeine was what my body needed. We drove back through Jasper as the sun was setting to the West, and spotted a heard of Elk in a tall grassy field. We sat and watched them graze in chest high grass which only made them look like tall deer. But when you looked at them through a set of binoculars, you knew these giant animals were much larger then the neighboring white tailed deer.
A cold shower, some ibuprofen and some Poison Ivy Scrub and we were ready for bed!!
Happy Mothers Day to all you Mom's out there!!!
Sunday May 13th 2007 Happy Mothers Day Mom
Packing up the camper and doing the necessary things to empty the black & grey tanks and refill our fresh water tank, I might be outside for maybe 15 minutes. In that amount of time, I picked 7 ticks off of me and was sweating like a marathon runner in the Arkansas heat. I'm starting to wonder what this state is like in July or August? And what do you do to deal with the ticks?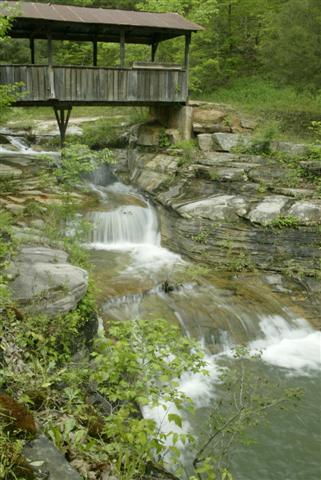 We left the Dogwood Springs Campground and headed towards Ponca. Everyone we had talked to about paddling the Buffalo River had told us to talk with Mike Mills over at the BOC Outfitters. We pulled into this little log cabin on the side of the mountain, to get some info on which spots were the best for our skill level. When I walked into the shop, Mike said with an air of humor, "Lookin' at your rig, I think you need a little more independence!"
Mike has been running his Full Service mountain side retreat for close to 30 years now and has quite the portfolio of available options to keep you busy in the area. If you plan on paddling the Buffalo River, The Buffalo Outdoor Center or BOC is the place to come. Mike can not only shuttle you up and down the river, he can set you up in one of his many mountain side log cabins, take you on a Hot Air Balloon ride above the Ozarks, bring you into the back country on an ATV or take you on a mountain trail on Horse Back.
We sat talking with Mike who gave us some info on where to stay, how to shuttle our truck and motorcycle so it wouldn't cost us anything, and shared some traveling stories of his own. Now that's a full service type of shop; when they explain how to shuttle yourself to save you money!! We thanked him and were on our way to find a campsite at his recommended landing.
This high up in the Ozarks, we haven't been able to get a cell phone signal for awhile now. I had to find a pay phone to be able to call my Mom for Mothers Day. The problem is in this day in age of cell phones everywhere, pay phones have become a bit of a novelty. When I did find one back up the mountain at the Low Gap General Store, the operator explained to me that unless I have a calling card or plan on making a collect phone call, then putting change into the phone to complete the call is also a thing of the past. Man, am I out of the loop. So a collect call to Mom was what she got on Mothers Day.
Camping at Kyle's Landing
When the sign says Not Recommended for RV's, I think next time we should take note. We had seen Kyle's Landing on the way over to the BOC, but when I saw the sign that said RV's Not Recommended, I thought I'd wait till we talked with Mike to see what he thought.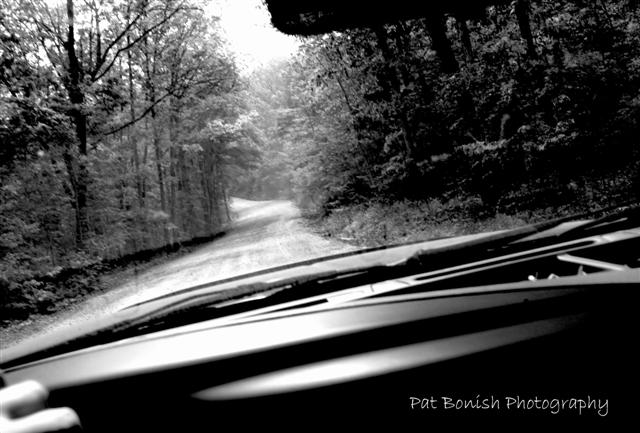 Notice my White Knuckles on the steering wheel & The angle of the road!
I should have known something was up when Mike said "How well can you handle that thing?" Now I was sure of my driving, I was more worried about the road down to the campground and the width of this so called road. We've driven down a few other so-called roads here in Arkansas, and the Department of Transportation and I seem to have different ideas of what a public road is.
Mike said "If you know how to drive that set-up you've got out there, you should be good." So I adjusted the trailer brakes on my controller in the cab and shifted the transmission into 1st gear planning a long crawl downhill.
The first few hundred yards, we had a few cars pass us on their way up and all were waving their hands out the windows with their thumbs up, laughing and cheering us on. This should have been another sign to stop and turn around. Once you get past the moderate decline of the first quarter mile, the road makes a sharp turn and starts its hellishly steep decent down to the river.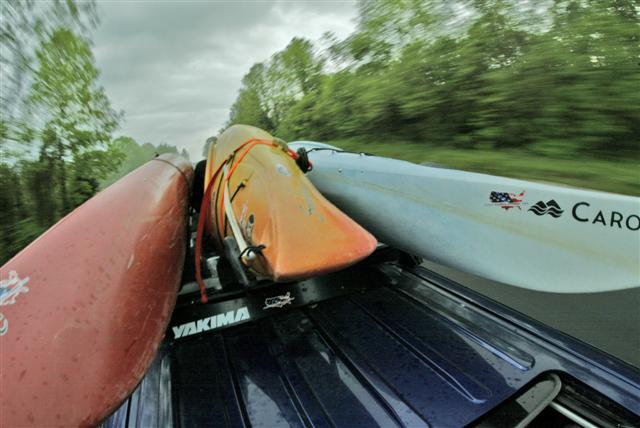 With my trucks motor redlining in first gear trying its best to slow down the 25 foot camper that was ready to roll over top of us; my hand feathering the trailer brakes just above locking them up, and my other white knuckled hand about to squeeze through the bouncing steering wheel, it was all I could do to keep us from sliding on the loose gravel. Then when you imagine the cars that are trying not to lose their uphill momentum, yet realize that I'm not slowing down while barreling down the middle of the narrow road, they either threw it in reverse or pulled off to the side of the road real quick.
At this point Cindy yelled "YOU HAVE TO SLOW DOWN!!" I yelled back "The brakes are to the floor and we aint stoppin' any time soon!" It was at this point when she looked over the side of the road that had now become a narrow trail, and realized we were a few thousand feet up. With no guard rail and a clear view down to the bottom, her seat reclined back and she covered her eyes and started praying aloud.
I wish I could have had a Dash Cam to get the looks on the faces of the people we were flying past. While kicking up a cloud of dust only a run-away locomotive could create, I just gave them the same wide-eyed look with my goofy smile. With Cindy screaming and the dogs both howling in the back seat, we came screaming into the campground announcing our arrival like the 4th of July. I'm sure the campground must have heard us the entire way down, because everyone was standing and cheering as we broke through the trees into the clearing.
When I came to a final stop, the smell of brakes and dust came catching up a few seconds later engulfing us with a quick realization of why you should take note to signs that say 'RV's Not Recommended!'
Kyle's Landing Campground
After that roller coaster ride down, I was ready to set up camp and stay awhile. A large group of paddlers were making their way back off the river to a campsite right beside us. General conversation started about the days paddle, the quality of the water, and next thing you know, we're sitting around the campfire telling stories.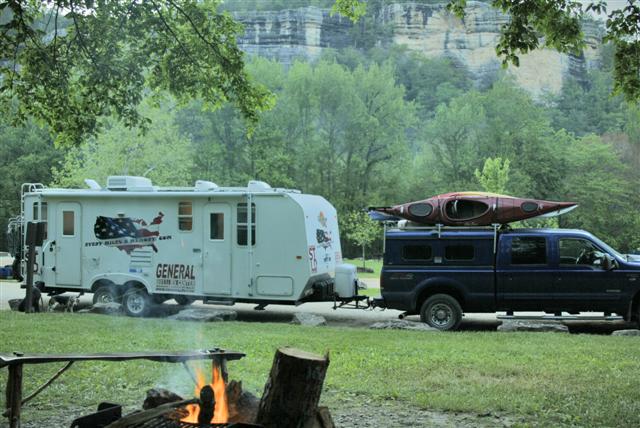 The Nisbett Family had spent the weekend camping and paddling and was ready to make the journey home. Being from Oklahoma, they were all self-proclaimed Okies, and the family gave us many great attractions to check out if we ever pass through their part of Oklahoma.
That night sitting by the campfire, Cindy and I were in awe with the display of stars in the clear mountain sky. We sat out gazing with the sounds of the river flowing beside us and the whipper wills serenading us to sleep. Man I love this State!!
Monday May 14th 2007 Paddling the Buffalo River, Finally!!
Since we had crossed the Louisiana/Arkansas border, everyone we have talked to has recommended the Buffalo River. Some had told us how scary it was, some had told us how fun it was and all had told us of it's beautiful scenery. Even though Cindy had it set in her mind that she was going to tip over and get stuck in some rocks, I was ready to see what the river had in store for us.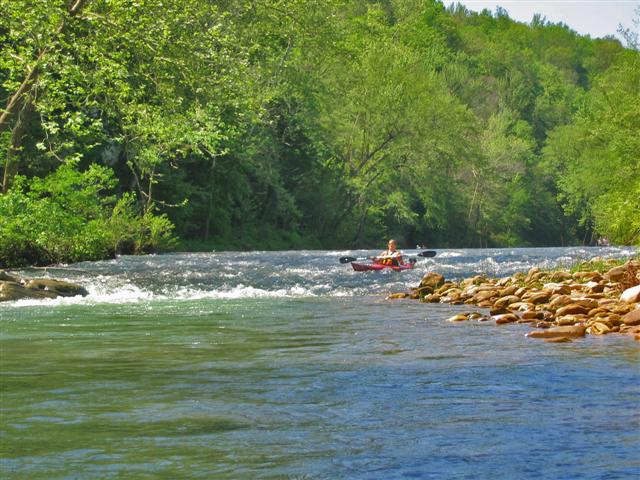 We loaded up and headed out early so incase anything happened, we would still have time to get back to the campground before dark. From Ponca to our campground in Kyle's Landing, Mike had told us it should take 5 hours. Everyone else we had talked to said they had been on the water for closer to 8 hours. Usually everyone we talked to had been drinking and partying, so I understand how a few hours can get added on.
Cindy and I try and never drink when paddling a river for the first time, especially one that has Class I & II rapids the entire way. For this river, I didn't even have my big camera out which was a first for this trip. We opted not to put our spray skirts on but brought them along and after a ways on the river we realized we'd need them.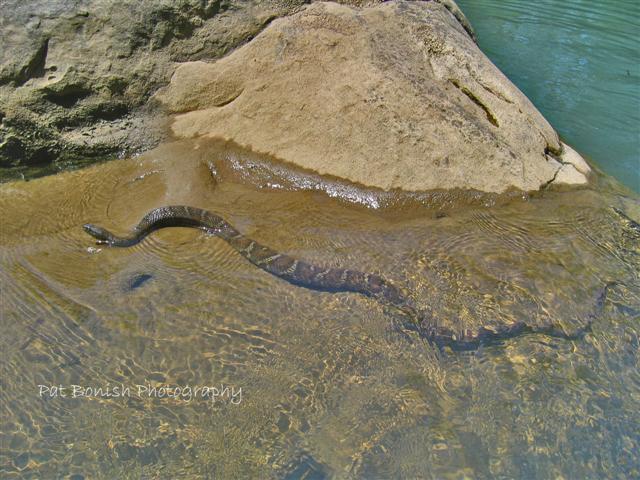 Within the first few hundred feet, we watched a canoer go over on the first set of rapids. In the first mile, we had encountered more rapids, granted only Class I & II, but nun-the less rapids then we had this entire trip. I was loving this river more and more with each mile. With towering cliffs lining the sides, and a deep blue sky reflecting off the turquoise water, this by far is now my new favorite river.
After the first few miles, we had taken on some water while coming down the various rapids, and decided to pull over and have some lunch while emptying out the boats. We spotted a giant water snake sunning itself on a nearby rock, and talked with some fellow kayakers who were out in their white water boats.
The trip was going great and Cindy had calmed down after realizing she had worked herself up thinking the river would be more than she could handle. See Cindy's a great paddler and has been on harder rivers than this, she just always worries about tipping and thinks she's going to get pinned under her boat or hit her head on a rock while under the water. I reminder her that most of the people we had talked to had little or no experience in a canoe and had made it down fine.
The Changing Point on the Water
Paddling around a tight bend in the water, we both commented on the sound we could hear. Was it the wind blowing through the trees or a plane flying over? Once we rounded the turn, we realized it was the sound of a long series of rapids that looked especially challenging. I went first so Cindy could see if I was able to make it without tipping or taking on too much water.
I'll say I made it down, but it wasn't pretty. At one point, I took a wave to the side which turned me completely on my side. Luckily I was in a shallow section and was able to put my arm on a rock and right myself before rolling all the way over. I got to the bottom with a boat half full of water, but I was right side up. With a rush of adrenaline and a huge smile, I spun around to yell to Cindy to watch out for that section.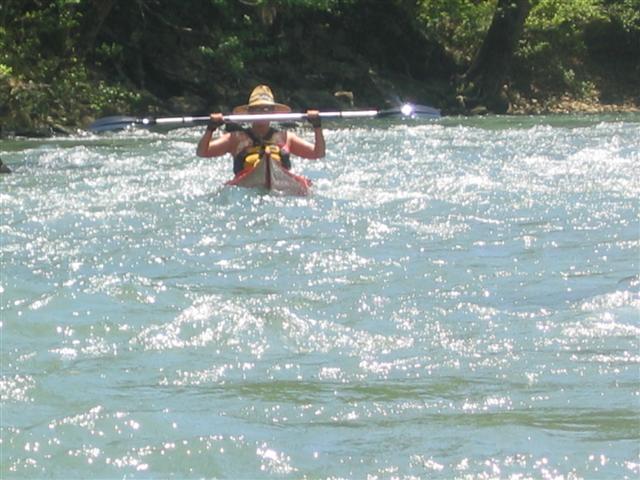 That was when I turned around and saw that she was following the same path I had?! Maybe from her vantage point, she hadn't seen me roll on to my side and thought I had made it unscathed. I watched as she went off a rock ledge and slammed the front of her boat into another rock. The proverbial Stuck Between a Rock and a Hard Place had become reality. Her boat was now balancing out of the water with just her nose and tail sitting on two large rocks. It was then that she rolled to her side and fell out into the rushing water.
Before I knew it, she was standing and holding onto her boat. My heart was pumping thinking she was going to come bouncing down the rapids to me. She screamed down to me asking what to do? I was trying to yell back to her to let the boat go and make her way to the side where she could climb down to me. With the sound of the rushing water, I could hear her, but she couldn't hear anything I was saying. This was comical to her, as she was really only standing in ankle deep water on top of this ledge, but for me sitting down stream paddling up river to try and get back to her, it was a very tense moment.
I was yelling and waving my hands for her to let the boat go for what seemed like an eternity. The whole time Cindy stood there bent over clutching her kayak and yelling "WHAT DO I DO?" Finally she let her boat go which made its way to me where I could tie on to it and bring it over to the shore. With that out of the way, I climbed out of my boat and started making my way upstream towards her.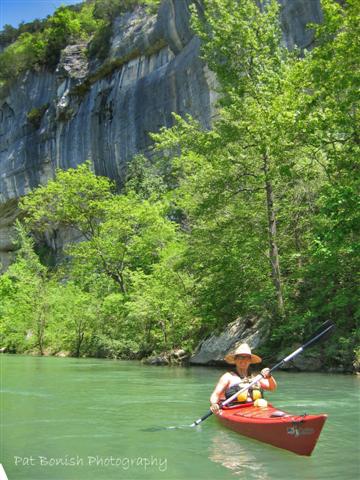 A few other paddlers who had been watching the entire escapade unravel asked if there was anyway they could help, but I just laughed saying "Thanks, but she'd be fine!" By the time I had walked back upstream, I had lost my cool and was yelling for her to walk to the edge. She just kept standing in place in the middle of the river saying she was going to fall and get pulled down the falls. I scanned the water and realized if you placed your feet strategically on a few different rocks, you could literally walk across in only ankle deep water. I'm not much for drama, so I'll be the first one to admit that I could have handled this much better, but in a time like this, when I'm worried that she's going to really get hurt, and then find out that theirs and easy solution, I lost my cool and started yelling.
Looking back, that was the wrong thing to do and I should have been the one to keep calm which would have made her realize it was a easy task. I'm sure I looked like an idiot to the fellow paddlers who watched as I walked out to her, grabbed her hand and walked her back to the edge all the while saying "Look how easy this is!"
We sat on the edge calming down and yelling at each other while we used the bilge pump to empty out our boats. It would have been real easy to let this little episode turn into a major all out brawl, but on the next set of rapids while Cindy was trying to paddle away from me because of how mad she was for me yelling at her, I watched as the first wave came plunging over the nose of her boat filling it back up. I sat laughing hysterically as the second wave repeated the first waves actions knowing she didn't want to talk to me, but had to now in order to ask for the bilge pump again.
The rest of the river was the same thing over and over. Around every bend is a great set of rapids that would splash us with some cool water to wake us up and by the time we paddled down to Kyle's Landing, I think we were done fighting. At least I was!
Tuesday May 15th 2007 Moving on to Eureka Springs
After yesterdays little tift on the River, we decided to head on over to Eureka Springs after so many people have recommended it to us. Having been in little towns and State Parks for quite awhile now, we both needed some interaction with the outside world.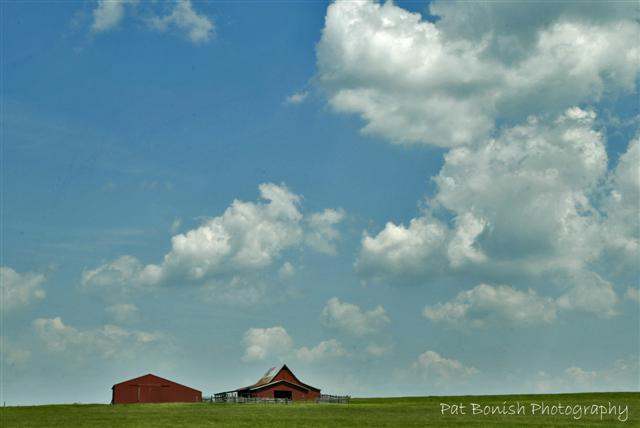 We've been talking with each other on how easy it would be to drop completely off the grid and loose contact with the outside world in these little towns. I haven't seen a major publication in months. It seems most of the big news organizations don't bother to distribute their non-sense to the smaller areas, not that we mind. We try and listen to the news at least once a day on the satellite radio to make sure our country isn't under attack by anything other than racism and illegal immigration, which seems to be the only two things any news organization talks about these days?!?! But other then that, I'd be useless on Current Events of the NOW.
One thing that I love about these small towns, is we haven't seen a Fast Food Restaurant, Brand Name store or Chain anything in months. One thing that we both agree on is we never eat at fast food places, we try and only use local stores when we shop, and never cater to the chain restaurants. Coming from a small town where the Mom & Pop stores were getting pushed out by the big corporations, we try and always support the little guys like we were.
First, we had the task of getting back up and out of the campground that was so much fun coming down to. While we stayed there, the County Grader had come and graded the road/trail so we wouldn't have to worry about the Washboard/Pothole problems that we ran into on the way down. But now, with a fresh coat of loose gravel on the top of the road, getting out was going to be a little scary.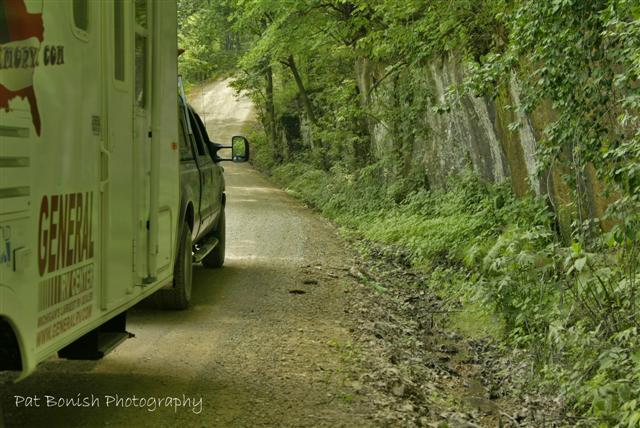 I shifted into 4-High, and dropped the transmission down into first gear. Cindy reclined her seat and started praying aloud, and I started the long two mile crawl uphill. At first I thought the four wheel drive was a little excessive, but when the truck and trailer were at a 12% grade, and we started sliding back down the loose gravel, I'm glad I had the 4-High engaged. For those of you that don't have a Turbo Diesel, you'll never know the sweet sound the whine a turbo makes when it's really working hard. Normally that sound is music to my ears, but on this climb, the pitch of the turbo was starting to become more like a dog whistle, and I was worried I was melting the bearing in the overworked turbine.
I really wished I had a Pyrometer like I used to have when I drove gravel trains in Michigan. It's a gauge on the dash that shows the temperature in the exhaust when the turbo is really working. I'm sure on this climb, it would have been pinned. Around the mid-way point, we heard a few loud clunks from the transmission and I was worried that I was losing something, but I think it was just the big bumps we were rolling over and the fact that everything under the truck was working to it's maximum limit.
When we finally reached the top of the mountain and I let off the gas pedal for the first time in twenty minutes, the turbo winding down sounded like when they shut the engines off after a plane lands. Cindy pulled her seat back up to the upright position and gave a big sigh of relief, and we were back on Route 16 towards Eureka Springs. After that climb, I cant say enough about a stock Ford Super-Duty truck and its ability to haul a trailer.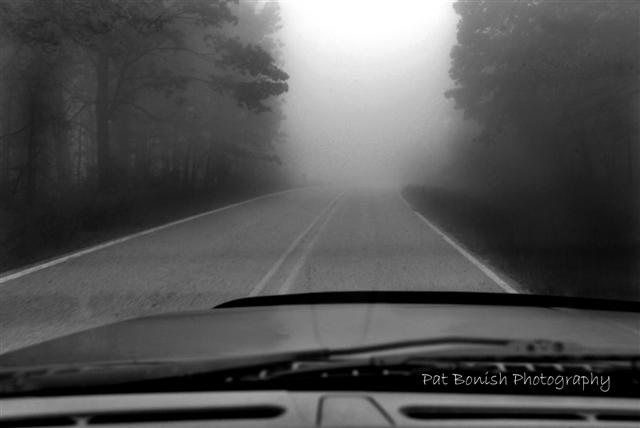 If you ever leave Jasper and are headed towards Eureka Springs, take Route 16 North, to Route 23 North. This little two lane road is fantastic for mountain views, twisty roads and little ghost towns. One thing you want to do, is make sure you have a full tank of gas! Leaving Jasper, I commented that we would be fine with the half tank of fuel, and besides, look at the map, there were four towns between Jasper and Eureka Springs on this route.
When we blew through the first town that had an old general store with vines covering the fuel pumps and half the store front, I thought "Oh Shit!" As we climbed higher into the Ozarks, Cindy said "Looks like a storm blowing in." I said "Come on, its a beautiful day and that's just some haze, why do you think it's so humid?" Two mountain passes later, when the sky was black and the rain was hitting the windshield so hard I could barely see the tip of the hood, we pulled off the narrow road into the safety of a church parking lot (Which was grass by the way).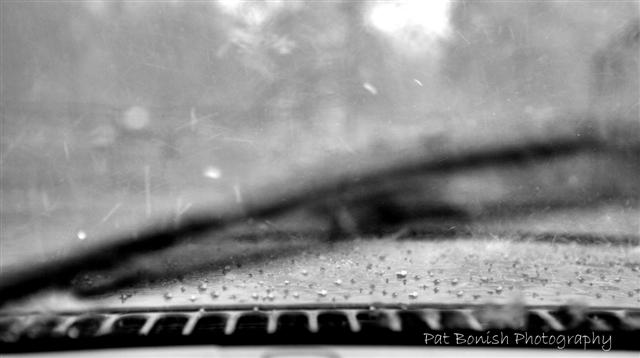 When the marble sized Hail started bouncing off the roof, we both high-tailed it into the camper, ate some lunch and let the thumping on the roof lull us to sleep. We woke up an hour later just as the rain was letting up and decided we could probably get back on the road. That's when I noticed the fuel light come on!!
Cindy said "Pull over and put the 6 gallons of diesel in the tank before we run out!" I said "Lets wait till we get to this next town that's only 6 miles ahead to see if they have a gas station." As we rolled through the next town on the map, we both laughed asking why they even put a town on a map that only has four houses and not even a General Store?
I pulled over and emptied our Emergency Back-up Fuel Can into the tank. Let's hope 6 gallons of diesel will get us the 50 miles to Eureka Springs. Normally we average 13 miles per gallon when were pulling the camper, but on these mountain roads, I know that average has dropped due to the high rpm's while climbing.
Eureka Springs, Arkansas - Funkiest Little Town in America
We pulled into Eureka Springs with the fuel light on and topped off the tank and refilled our little emergency tank. We both commented that when we head West, we're going to have to get a few more emergency tanks as we know gas stations are hard to come by from a past trip we did a few years back.
We stopped at the first Liquor store we saw and bought a few bottles just to re-supply. The lady told us that most of the Northern part of Arkansas is Dry, and by no means do we drink alot, but it's nice to know after a long hike or all day paddle, you can come back to a cold Adult Beverage by the campfire. Something we hadn't done in awhile now.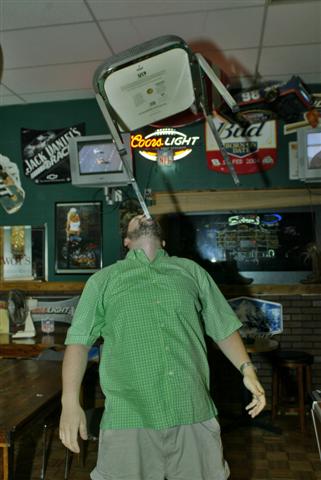 We headed towards the downtown area, and not knowing what to expect, I pulled onto main street. Now if we knew the streets were going to be this narrow, we would have unloaded the motorcycle or un-hooked the Sunline. If you ever travel to Eureka Springs, don't pull a trailer through downtown. Again, by the looks we were getting from the people sitting in the outdoor cafes, they're not used to a set-up like ours rolling through the downtown area. The problem is, once you get onto the road, there is no turning around, you have to make the entire loop.
We drove once through the loop, which was enough, and were just amazed at how cool and funky this town looked. The streets were narrow, situated at odd angles and the buildings were from the late 1800's, but kept in beautiful condition. The stone work looked extensive with little gardens and fountains hidden in every nook and cranny. I couldn't wait to come back during the day and explore this unique little mountain town.
For now, we needed some nightlife and a few drinks. We found Shawbee's Big Dawg Saloon, which is on the outskirts of town, but had a large parking lot that would accommodate us, and headed inside. We pulled up a stool, stuffed our faces with good ol' American fried food and proceeded to get reacquainted with society. We couldn't remember the last time we had watched television, and got to watch our Pistons loose to Chicago in the Playoffs! We meet some locals, hung out with Shawbee himself and got entertained by Chris, a local who has perfected the art of balancing large objects on his chin!
When they were giving last call, we headed out to the camper and called it a night. It was good to be back in society, even if it was for only a few days.
Saturday May 19th Trying our hardest to see Eureka Springs
So we've been in Eureka Springs for four days now and have seen only a small section of town. It seems each night we try and venture downtown, we make it into one store and sit for the rest of the evening talking with locals.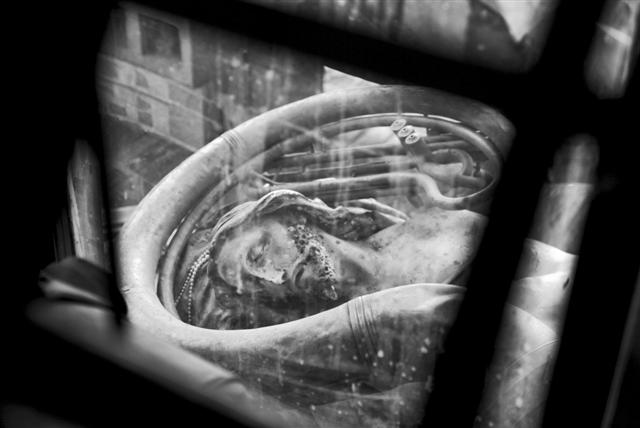 The antique shops here are great, and the local artists are fantastic. Wednesday we rode the motorcycle down and sat listening to a Bluegrass band in the New Delhi Cafe. Thursday we tried to go much earlier as most of the shops close around 5pm, we sat talking with the owner of this funky little Antique shop for awhile and made it one block till we saw the Tavern Open sign blinking. We walked into this off the wall hotel/restaurant/bar and bellied up. There was Cindy and I, along with one other couple who was in town for his wife's birthday and the funny, good looking bartender.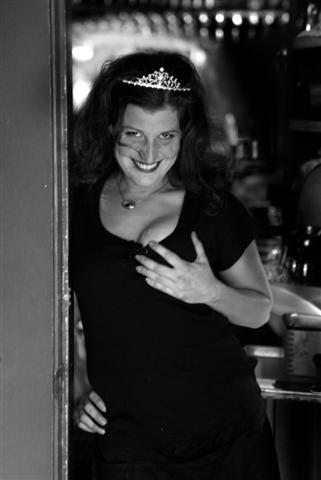 We all sat around which seemed like the entire night drinking, laughing hysterically and sharing stories. When we walked out and realized it was still light out, we knew we were in trouble.
As we were walking back to the truck to sleep awhile, 5 white tailed deer ran past us right up the main street! We weren't sure if it was for real, or we were just over-served, but I thought it was weird that deer were running past us down the middle of the road.
Just so you aren't worried, we never drink and drive, so we walked around window shopping before we crawled into the backseat of the truck and slept off our buzz.
Last night we both agreed, Friday was the night we were going to see Downtown. We got ready and headed into town early. We walked around the historic Eureka Springs Train Station and were checking out the odd Roundhouse across the street. Right beside the Roundhouse is a Native American woodcarver and jewelry maker. We walked into Rod Hamon's Pale NDN Art shop and sat for the next few hours talking with Rod and his partner Sue about the Native American culture and their artwork.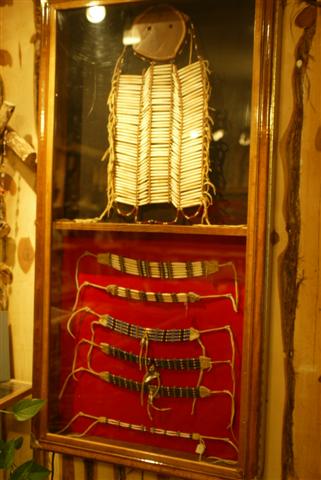 When we mentioned to Rod that we had participated in a Sweat Lodge Ceremony in Louisiana he explained a few of the different versions of the Native American Sweat Lodge that he has experienced, and suggested a few to check out when our travels take us West. Cindy and I are both fascinated with the Native American culture and would love to learn more about these sacred people. Another local artist stopped by to bring some gifts to Rod and Sue and we had the pleasure of meeting Stone Akin.
Stone crafts Gourds into works of art. He cleans them out and then burns images into them that much like Rod's carvings, these works of art look like they would take a lifetime to complete. Both of these artists work was amazing and has to be seen to be understood. Both of these gentleman were filled with vast knowledge of the Native American culture and I could have sat and listened to their stories for hours (Well we did sit and listen for hours, I mean we could have sat and listened for days...LOL)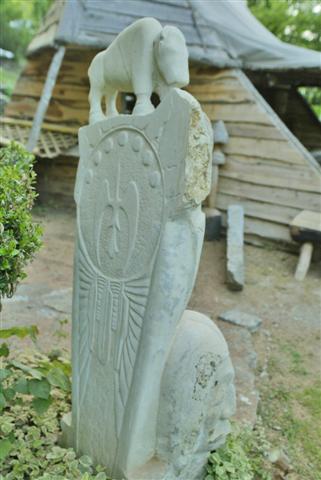 When we were leaving, Rod gave Cindy and I a quick blessing and said he wished us well on our journey. Sometimes I think things happen for a reason, and walking into Pale NDN Art was one of those things. Meeting Rod was like meeting an old friend we hadn't talked to in years, and how great it felt to have him bless our trip. Thanks Rod and good luck with your work!!
If there is one thing I would recommend that everyone should do, is to read the history book Bury My Heart at Wounded Knee by Dee Brown. It is just amazing to me that this book isn't required reading for all school children!! I know it changed my life and the way I think as an American. Rod, Cindy and I sat talking of this and Rod made a great point when he said "How come when our school children are taught of the battles between the Native Americans and the US Soldiers, if the Native Americans won, the battle was called a Slaughter, but if the US Soldiers won, then the battle was called a Victory?"
Think about this for a minute, weren't the Native Americans just defending their country from foreign invaders? If 100 years from now, our American children were taught about the savages you and I were, because we were just defending our country against terrorists trying to invade our homeland, it seems sort of wrong doesn't it? Read that book and let me know what you think!
Off my soap box and back to the days activities. Today we are going to a Chuck Wagon Race that Shawbee told us about. This should be a riot and I cant wait to see the festivities.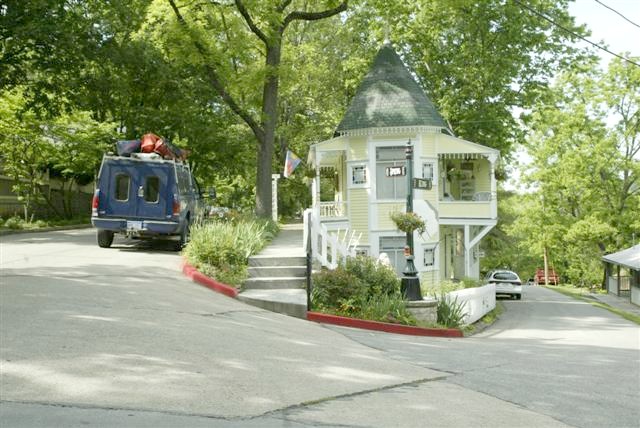 Look how wide this house is in Downtown Eureka Springs - Now imagine us pulling the Camper down these streets!!
The Rock Bottom Chuck Wagon Races

When someone suggested we go to a Chuck Wagon Race, I laughed thinking this would be some good entertainment. I never would have expected it to be as much fun as it was. Let me first say in order to go to one of these events, and be clueless to the equine lifestyle like I am, is a great way to check your masculinity. Thank God I'm not a jealous person or unsure of my man hood!!
When we pulled up to this 440 acre ranch, lined with horse trailers and pick-up trucks, we got a few funny looking stares as people were probably wondering what we were doing pulling into a horse event with Kayaks on our rooftop. Every where you looked were rough cowboys and good looking cowgirls. There is something about a girl in cowboy boots, skin tight Wranglers and straddling a horse, that sends chills up my back. I think Cindy had the same feeling and I know I didn't have to worry about being caught staring, cause there were plenty more cowboys in those boot cut Wranglers and big cowboy hats then there were cowgirls for me to look at. I think by the smile on her face, she had found heaven.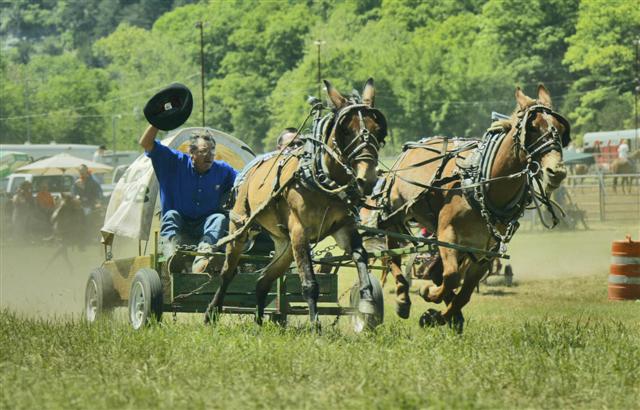 As we were pulling in, the races were just starting. The object for those who have never been to an event like this, is for two Chuck Wagons to race around a grass oval track while they have outriders on horses who have to catch up and pass them or their time isn't counted, it's sometimes called the "Half Mile of Hell". Now this track is lined with pickup trucks and participants who are cheering on the racers and all too close to harms way if something was to happen. By the end of the day, you have some major respect for these riders who are traveling on a speeding horse with no helmet, no pads and flying around this race track at warp speeds. More then once we saw a rider go down hard and when the hit the ground, they go down hard with a large thud followed by a cloud of dust. One rider had to be taken away on a back board, and to our horror, one horse broke it's leg and had to be put down.
When we first walked up, we had started talking to a nice young couple who knew all the rules about Chuck Wagon Racing. We became friends because of how many questions we both had to ask. After fifteen minutes of asking "Why was this happening?" or "What was that, that just happened?" it's sort of hard to not become friends, or get told to "Get lost". When the horse broke it's leg, they all said "it's part of the sport, and happens at almost every race." WOW!! That's some serious carnage going on.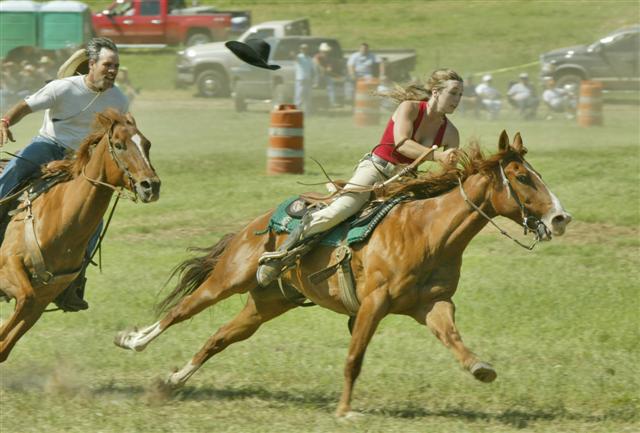 As we sat on the outside of the first turn they announced there was going to be a horse race.
As a bunch of riders came screaming around the bend, I was amazed to see a young girl on the lead horse with all the men trying their hardest to catch this fine young thing. As the cowboys were riding their hearts out, one guys saddle came loose and he came off the side of his horse. The problem was his foot was still stuck in the stir-up and he was getting drug behind his horse!! I'm not lying when I say "This is serious Entertainment!" In the picture you can see her hat flying off about to hit the rider behind her.

Ouch!!!
The rest of the day was spent meeting great new people and watching some of the best action I've ever seen. These events are non-stop action, and there is always something going on. We met Mike & Lou Fowler, the owners of the property and the ones who put this show on. A great couple who should do really well with these events, mostly because of how nice and genuine they both are. Their ranch is gorgeous and at over 400 rolling acres, with a rocky bottom creek flowing right through the middle of it, I don't know how we were going to leave.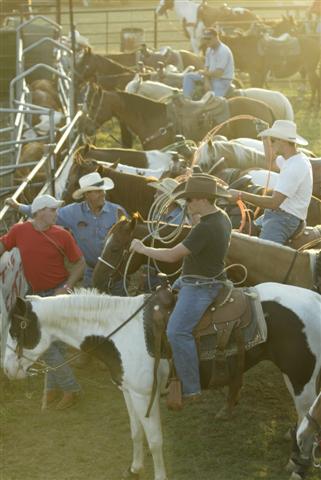 As the sun was going down, our new friends Mark and Ronda told us to get ready for the Ranch Rodeo. This night time event is where a bunch of wild cowboys compete for various prizes, "Nothing really but bragging rights" was what I was told the prize was.
As we went down to our camper to put on some warmer clothes, most of the cowboys and cowgirls were washing off in the creek getting ready for the nights events. Cindy said "I'm going to walk the dogs" and as she was walking down the creek bed, one cowboy who was floating in the water naked, stood up with nothing but his hat covering the family jewels and invited Cindy in for a swim. When she came back to the camper all flushed and laughing, she said "You had better never bring me to another event like this, or I might just have to go home with a Cowboy"
If the Chuck Wagon Races weren't wild enough, put a bunch of drunk cowboys in a ring and let them wrestle steer, rope cattle and just plain ol' have a good time. I was having so much fun, I had completely forgot about the fact that this was my first time. Having most of the cowgirls, who weren't afraid teach me the lingo, tell me what was going on, I felt like I actually knew what the purpose was for all this fun.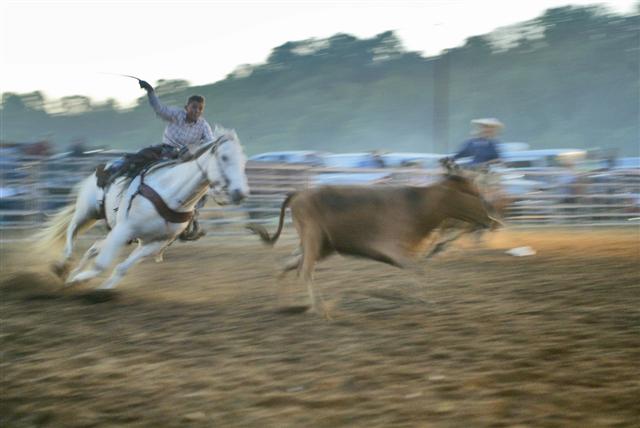 After we saw a few more guys get carried out on stretchers, the Ranch Rodeo ended and the bonfire started. Outside the Fowlers Barn, they had a giant bonfire blazing with a local Southern Rock band jamming for the crowd. We mingled into the night with many new friends and met so many great people, I felt like I needed a pair of cowboy boots and some tight Wranglers just to be complete.
We sat by the firs till the cool night air brought us into our camper. What a great surprise a Chuck Wagon Race had turned out to be.
Sunday May 20th Rock Bottom Chuck Wagon Races Day 2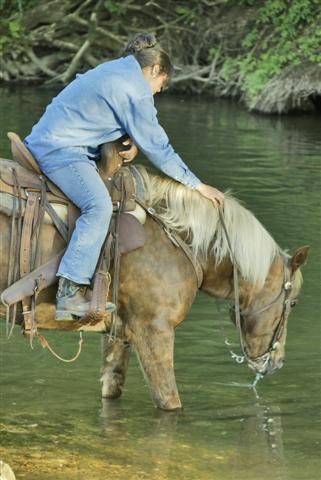 After yesterdays good time, I wasn't sure how they would be able to top it. We were up early to the sounds of cowboys feeding their horses and getting ready for today's event. I lathered up in Sunscreen as it would be another day without a cloud in this big Arkansas sky. For once, I felt a little out of place in my shorts and tennis shoes. At least Cindy has a cool pair of cowboy boots so she could fit in. But whom I kidding, I couldn't compare myself to any of these men.
We spent the day watching the Chuck Wagon Races and meeting plenty of great new people. You'll have to check out the Galleries from the event, but be forewarned, there are TONS of pictures in each gallery. I know nothing about proper horse photography, so I really don't know which image is the best one. With non-stop action and so many good shots, I just put 90% of them in there.
If you ever hear of an event like this in your area, you should check into it. They are a blast and perfect for any RV'er, or the whole family to have a fun time. Thanks again to Mike & Lou Fowler for a great time on their Ranch, and we're already planning on coming back next year.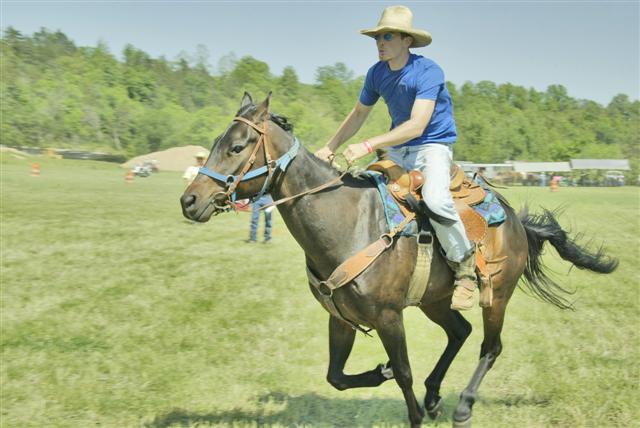 When we were packing up getting ready to roll out, one bruised up cowboy with a large scab cover most of his forehead came limping up and asked if he could see some of my pictures on the computer.
Choking back a tear, he explained that he was the rider whose horse had broke it's leg the day before. He said he wanted to see if I had caught on film what had happened.
We sat looking through the pictures on the computer which I know had to be really hard for him. What was amazing to me was the fact that he was in chaps and covered in dust from riding all day in today's event. As he slowly climbed down out of the camper, I could see how bad his back and legs had to be hurting him, and asked "aren't you going to go to the hospital?" He said "Yeah, they might take me over tonight to see if anything is broken." I gave him my condolences for losing his horse and told him I'd mail him a CD with the pictures on it for him. Like a true Cowboy, he thanked me and said "Yea, that's part of the sport I guess."
That my friends is why Cowboys are immortalized as such tuff characters and why I don't think I'll ever be able to be a true Cowboy.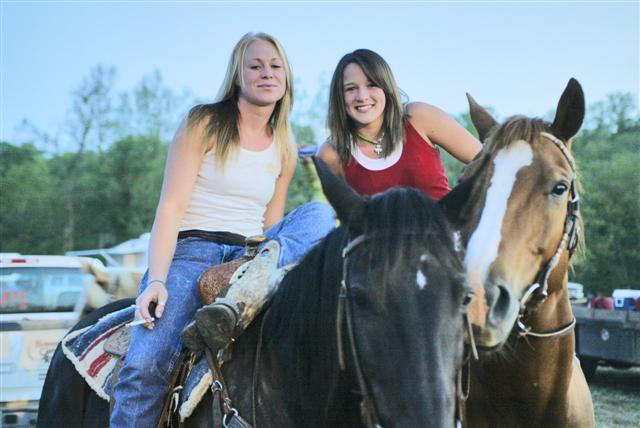 God Bless the Country Girls!
Tuesday May 22nd Trying our hardest to get out of Arkansas!!
After the Chuck Wagon Races, it took us a few days to restock our supplies and do some laundry in the nearest town. We decided to start moving towards Tennessee, since we have to be there for the Bonnaroo Festival in Mid-June.
We were only an hour from Branson and a few locals had recommended it. But after rolling through town, Branson Missouri is everything we are trying to get away from.
We pulled through trying to find a RV Shop since I've somehow lost a part for our Sway Bar set-up? I figured if the town is this big of a tourist trap, they've got to have a full service RV Shop. To our dismay, they don't!!
After sitting in traffic for an hour, we've come to the conclusion that Branson, is Orlando in the mountains. T-Shirt shop after T-Shirt shop, and almost every goofy tourist attraction that we saw in Orlando. We never even got out of the truck and just rolled through laughing at how touristy it was. If it was up to me, skip this attraction unless you like hundreds of the same shops lined up in a row. That and a bunch of impersonators of the big name acts you'd see in Vegas.
After a few hours of driving the fun roads in Missouri, we finally saw a sign for an RV park and we had to stay in one tonight as we had to empty our holding tanks. We pulled in and found a slip for the night. While talking to the owner, we said "Yeah we finally got out of Arkansas after spending the last month there." He looked at us with a funny look and said "Well you didn't get too far, cause you're still in Arkansas!"
Apparently we've been skirting the border traveling East. When we turned off the main road coming into the Blue Water Resort on Bull Shoals Lake, we crossed back over the Arkansas border and were back into our favorite state.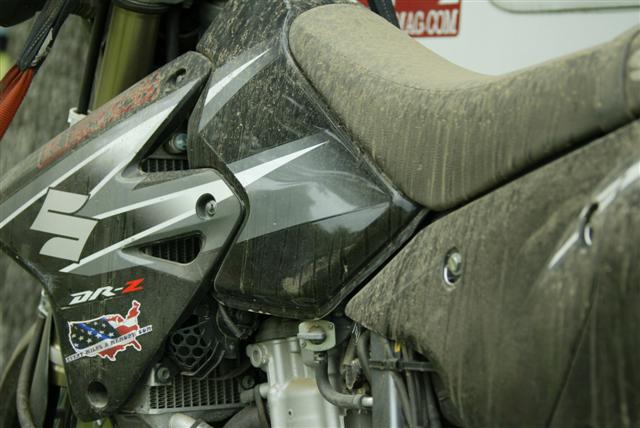 After the long roads of Arkansas and Missouri and the dark red dirt that the states are known for, the camper has a nice shade of red to it, and the motorcycle looks like it's bleeding Red Clay.
Cindy got to cleaning the inside of the Sunline while I emptied the holding tanks. We gave them a good flush and even bleached the Grey Water Tank. Every now and then if we loose the water in the P-Trap on one of these back country roads, when we finally pull over, we open up the doors to a oh so wonderful foul smell. I guess the water in the P-Trap keeps the smell down in the tank, but if over a large bump, the water goes down the drain, the smell from the Grey Tank engulfs the camper. Not a Good smell to come into.
We had to connect with a few friends who we're trying to plan a boat trip with for the end of the summer in Michigan. If you've ever seen the movie RV with Robin Williams; that was Cindy last night. She was on the ladder of the camper trying to get a cell phone signal and walking all around the campground trying to find that sweet spot on her phone. I was laughing at the sight of it. While the sun set over Bull Shoals Lake, we ate some dinner and were in bed early. One thing cool about being in the Ozarks is, it's nice and warm during the day, and then the temperature drops down into the 60's at night. This makes for some great sleeping weather.
Wednesday May 23rd 2007
Driving across Southern Missouri, I kept stopping at every RV Shop I would pass looking for the missing part to our Sway Bars. Cindy thought I was crazy, as we had already talked to Wade, the General Manager at General RV back in Michigan, and he said they would mail us the pin. But that'd be a few days after the holiday weekend, and I didn't like the way the camper was swaying on these narrow rolling country roads. Besides, this was a way to meet more people and I was sick of driving with no real destination for the next few days. I was creating my own little adventure if you will.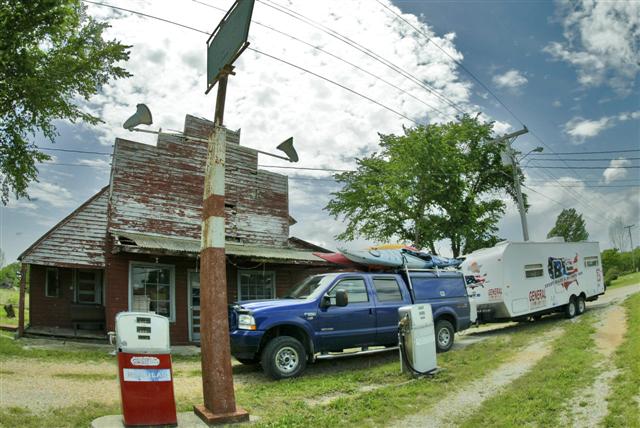 After pulling into multiple locations with most not even knowing what I was talking about, I finally decided to call a local machine shop. The last RV shop we were in, I mentioned that I could probably have a skilled machinist make me the little pin in a few minutes, and the guy grabbed the yellow pages and wrote down a number of a local place that he trusted.
We called the gentleman at C.M.C. Machine, and explained our situation. He said that most of his workers had gone home for the day, as it was late in the afternoon, but to come by and he would see what he could do.
We pulled down this little dirt road, far out into the country and found his shop hidden at the end of the road. We introduced ourselves and explained what the part was and where it went. The nice older man looked at the part, and said, "We can make that no problem" He handed the part to his son, and said "Boy, go make this part for these nice people."
While his son went into this giant barn, we sat talking in the afternoon heat in his driveway. He asked us about our journey and told us he liked our dogs. You could tell he was an animal lover with the dozens of cats roaming around the farm. He had numerous dogs tied in the back yard and had a story on how he had rescued each one of them. The 2 horses weren't his, but he let his older son keep them on the property so the grandkids could ride them when they visited. He went into the house and brought out an old St. Bernard that walked like an ol' sway-back horse.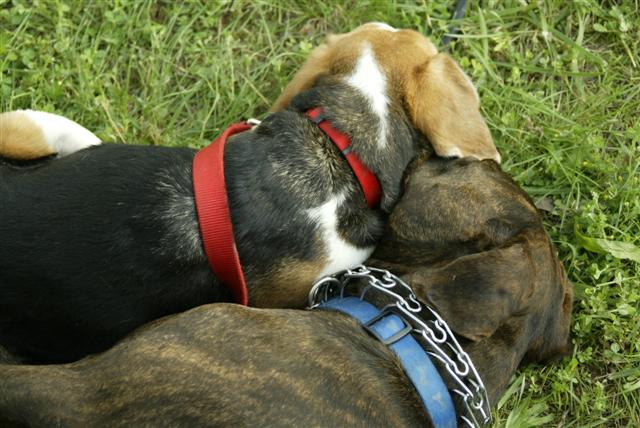 He was very proud of this dog and we sat listening of the trips he and his wife had taken up to St. Louis to bring this dog to what he told us were "The best veterinarians in the country." The St. Bernard had to get both his hips replaced a few years back, but had recovered just fine. Then he told us of the many times they've driven the four hour drive one way, to take care of the cancer that had gotten ahold of the ol' dogs body.
His eyes welled up when he told us "The last chemo treatment was almost too much for my best friend." He went on to say, "I took him home after the doctor told me they could do no more." But that was five weeks ago! Now the dog had beaten the disease and the cancer had gone into remission. He was putting weight back on and starting to grow some of his hair back and actually looked a bit playful. The old man just sat stroking the long mane on the dogs neck and you just knew, this was his best friend in the world.
When his son came out with the new part, he even brought out the welder to make sure that the piece that had come loose, allowing the pin to fall out in the first place, wouldn't happen again. I asked them what I owed them for their time, and the ol' man said "I don't care, what do you want to give me?" I know a custom made piece; made after hours would usually go for a high price, but I said "What ever you think is fair." He said "Ok, I like you two, you're nice people, how about $15?" I gave him $30 and couldn't thank him enough!! People like this are what makes me love this country so much.
Kicking Tires and Dump Luck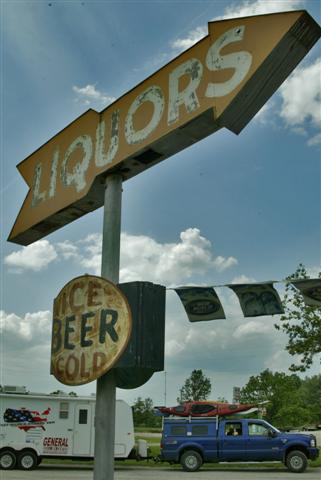 While we had been sitting there talking, I had time to walk around the camper plenty of times looking stuff over. While I was crawling around checking things out, I noticed a good sized chunk missing out of the sidewall of one of the trailer tires?!?! This wasn't good!!
The tire was still holding air, but it could blow out at any moment as the size of the chunk missing was as big as my fist. We had seen a few tires shops on our way in, so we limped back down the road hoping one would be open late. We have a spare, but I didn't think our little scissor jack we have for the truck would lift the trailer.
This late in the afternoon, every tire place had closed up for the night. We spotted a Wally World and pulled into the tire center. They didn't have a replacement, but I asked if we could borrow one of their 10 ton floor jacks to lift up the camper so I could put on the spare. This was when we found out the lug nuts had been put on with a air ratchet, and the flimsy 4-way tire iron I had in our roadside kit wouldn't budge the lug nuts.
I was pulling on the tool so had, I bent the tire iron and still no budge. The guy in the shop noticed my troubles, and brought me one the their heavy duty tire irons. Still no go. He asked if he could give it a try as he was much bigger then my small frame. He was pulling on the tool so hard, when it finally gave way, I thought he had broke his wrist.
We swapped out the tire, and thanked him with a $20 for the use of the tools. Back on the road and we now know we need to upgrade some of our tools in the ol' tool box. Cindy looked at me and said "Luckily for us, we were sitting in that mans driveway for so long, that you noticed the tire." That would have been an expensive roadside blowout, and with these narrow mountainous roads we're traveling on, there's no telling what might have happened. Something's happen for a reason, and we both thanked who ever was looking over us.
Thursday May 24th World Famous Memphis & Beale Street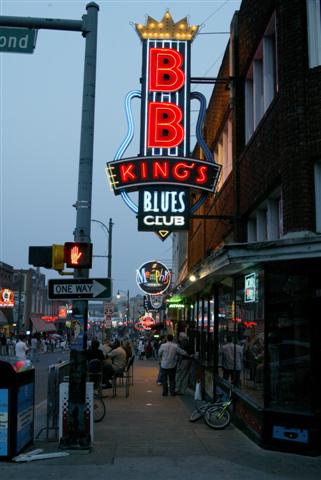 We're right on the boarder of Tennessee and Arkansas, and found a campground to stay at for the weekend. With the big holiday weekend upon us, we didn't really want to be searching for a place to stay last minute, so when we pulled into the Tom Sawyer's RV Park and found out they had a few spots left, we took one. Were now sitting right on the Mississippi River.
Neither of us have been in Memphis together, or as adults, so this historic town, should be a fun little place to spend the Memorial Day Holiday. We headed down to Beale Street as the sun was setting over the Mississippi River, and found a seat on the upper deck of World Famous Alfred's. You could hear the sound of Blue's music coming from the various bars that line Beale Street, and the city was just starting to gear up for a busy Thursday night.
After getting a good meal in our bellies to absorb the nights intake of Adult Beverages, we walked on down the street, checking out the eclectic shops and taking in some great People Watching. We talked with one of the Horse-Drawn Carriage Drivers, who had a cool looking Pit Bull like ours. She told us after we asked why all the carriages had dogs on board, "That it started out as protection for the drivers, but now has become a tradition."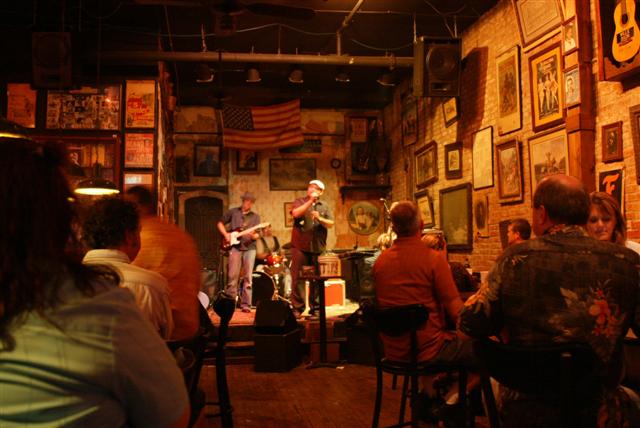 Cindy and I both love Blues Music, and since leaving the Red Dog Saloon, which was known for its many Blues acts, we couldn't wait to hear some real Blues music here in Memphis. We sat in one small bar and listened in on a set while this guy wailed away on his harmonica. The raunchy sound was sweet music to my ears and I was instantly back at home in the smoky atmosphere with the floor thumping and my feet taping the rung on the bottom of the bar.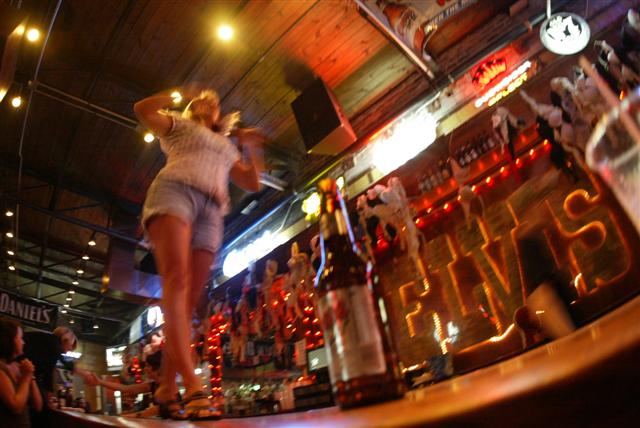 After bopping in and out of a few different places, we found ourselves at the Coyote Ugly Saloon. I know this is a tourist trap, but we had never been in one and wanted to see what all the fuss was about. If you've never been, it's worth the trip if only for a few drinks. The service is horrible, the waitresses are mean, and the women dancing on the bar is everything the movie portrayed this establishment to be. With more steroid fueled bouncers then there were girls, it wasn't really my type of place, but I'll bet the original bar in New York is much better than these bigger ones built specifically like a movie set. I found it hilarious when the young, 20 something's bartenders pulled Cindy up onto the bar to dance with them, this Hot 41 Year old wife of mine showed them all up with here smooth moves. The crowd was getting rowdy and Cindy was doing her best to show the youngin's some new dance moves.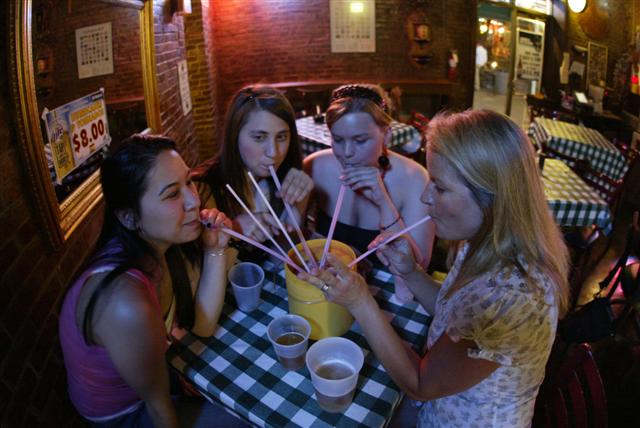 After a few songs dancing on the bar, we left the Coyote and had last call at Silky O'Sullivans. With my head floating in a rum bowl, we walked down to a 24 hour Denny's and soaked up some of the alcohol. A cab ride home guaranteed us we'd have our drivers license when we woke up and would save us any hassles with the Memphis Police.
Friday May 25th 2007
Remember the cool temperatures I spoke of a few days ago, well they're gone now! It was hard to do anything outside today. The temperatures were in the low 90's and the humidity was horrendous. We hung out and worked on the computer and caught up on some laundry.
The Tom Sawyer's campground were staying in has free washer and dryers, so Cindy decided to take advantage of the freebie and wash everything! I wish she would have put the dog's in there too, but I couldn't talk here into it. Yesterday when we pulled in, there were a handful of RV's in the campground, but as the sun set this afternoon, there wasn't an empty slot.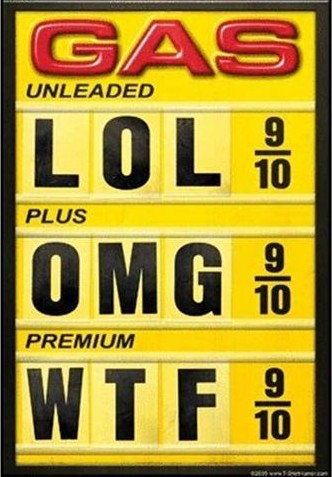 I had made some calls to Memphis Travel and talked with Jackie Reed who gave me a list of things to do that'll keep us here for a few months if we were to try and do them all!?!
She explained that this year is the 30 year anniversary of Elvis's death (If that doesn't make you feel old, I don't know what will?) and said that Graceland had some big things going on. She told us we definitely wanted to pay a visit to the Memphis Rock'N'Soul Museum, Sun Studios where such legends as Elvis Presley, Johnny Cash, Carl Perkins, B.B. King and Jerry Lee Lewis got their start, the Gibson Guitar factory which is right in Downtown, and then the world famous Beale Street bar scene.
I neglected to tell here that my head was a few pounds heavier today from last nights debauchery on Beale Street and we had already experienced the most famous street in Rock N Roll. Jackie was even nice enough to give me her cell phone number and told me if at anytime throughout our stay, we had any questions or needed directions, to give her a call. That's some hospitality there. I'm starting to like this little town more and more, that is as soon as my headache goes away.
We hope everyone has a great weekend and stays safe. God Bless our Soldiers and those Veterans who have already served for our freedoms. Don't feed the hungry fuel tanks, stay home and relax this weekend.
Saturday May 25th 2007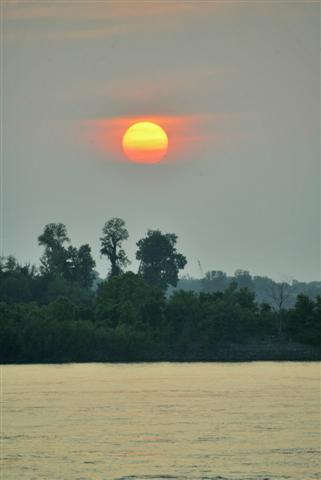 Waking up to a Haze that barely let us see the other side of the Mississippi River was a little weird! We went to bed with clear skies and woke up to a nasty eerie haze?! Apparently, the fires that are melting the forests in Georgia and Northern Florida, are affecting the air quality here in Tennessee. They said on the news, that the air quality is a Code Red, which is the worst it can be. Not good for our lungs, I'm sure.
Venturing over the Bridge and into Tennessee, we were taking the advice of Jackie Reed from the Tourism Board and going to check out the final day of the Memphis In May Festival. She had told us that there would be an Air Show, the Memphis Symphony, The Temptations and the night would end with a fireworks display over the Mississippi.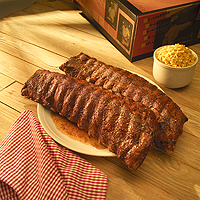 First things first, we needed to fill the gullets with some of this legendary Memphis BBQ we had been hearing so much about. We had been told by a few different friends via email, and Cindy had just watched some show on one of the Worlds Best BBQ joints; they all said to try Rendezvous Ribs. Now I'm not much of a Rib guy and I'm very picky about anything I eat. I'm not one to have rib sauce slathered all over my face in a public restaurant; but when they laid down two full racks of ribs for us to try, I could already tell I was going to like these.
When trying to find Rendezvous Ribs, you can smell the place long before you find the entrance hidden in the middle of an alleyway across from the Peabody Hotel. Walking in, your mouth starts watering uncontrollably and the smell of their secret dry rub seasoning clings to your nostrils. Sipping on some sweet tea, we dug in with rib bones flying like a Tasmanian Devil on some road kill.
When all was said and done, I'd give the ribs a 9 out of a 10. I loved the fact that the tender meat wasn't smothered in a thick sauce. What had me scraping the bottom of the bowl was the baked beans!! OH MY GOSH were they good!! The best I've ever had and I thought about ordering a large bowl to bring back to the Sunline.
Holding our over stuffed bellies like a woman in her 9th month of pregnancy, we walked out of Rendezvous and made our way across town to the festival. We found a shaded spot and laid our blanket down along the banks of the churning Mississippi. For the rest of the afternoon, we were entertained by an Air Show which ended with an awesome aerial act by stunt pilot Skip Stewart. When I heard Air Show, I couldn't wait to see the acrobatics of these trick pilots, but when a bunch of antique planes just flew up and down the Mississippi River, I wasn't too impressed. Then when Skip Stewart came flying in, it was worth the wait. Skip's custom built Muscle Bi-Plane and the flips and tricks he could get the plane to do, was just amazing. I've never seen a plane hover straight up and down like a helicopter, or do so many twists and flips in such a small air space.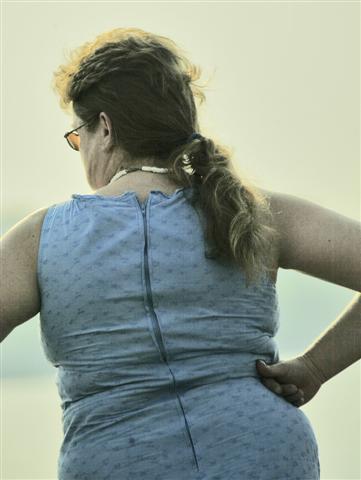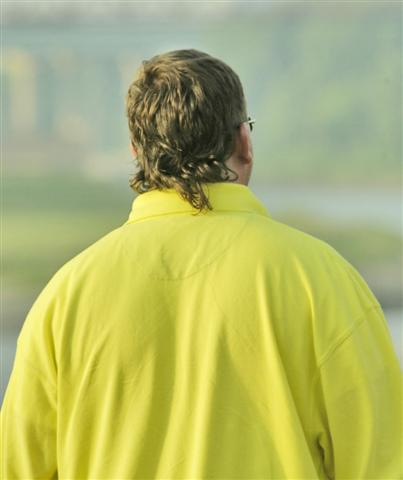 After Skip's show ended, the symphony started. We sat watching the big sun slide into the banks of the muddy Mississippi, while enjoying some great people watching. I had just received an email from a good friend of mine who is traveling across Europe. Ryan told me to start growing my hair out as the next craze that should be re-introduced in the States will be the Mullet. He said at first he thought he had just spotted a few ol' 10/90's (the proportion of hair in front to hair in back) that were being held on to. But after a few days abroad, he noticed everyone was sporting one of the classic Business in Front, Party in the Back style of mops. I thought it was hilarious when Ryan said, "If any of you cant remember what a Mullet looks like, go over to my parents house and ask my mom to see pictures from Grades 2 thru 5." Oh those great elementary school days!!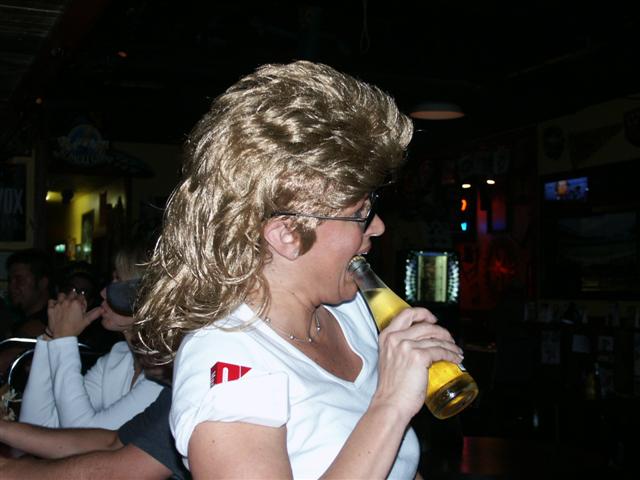 Well Ryan, I'm here to tell you that one of the reasons the Mullet is also known as the Tennessee Waterfall is because it has never gone out of style here in Memphis. Cindy and I were having a blast as it was such an oxymoron, to be sitting in a city park, being lulled by a full symphony, while being surrounded by so many sweet Mullets!! Once The Temptations had finished their show, the final grand finally was the Fireworks Show. We watched as rockets red flare, bombs bursted in air, and felt how lucky we were to live in such a great country.
Mullets and all!!
Tuesday May 29th Sun Studios and The Birth of Rock 'N' Roll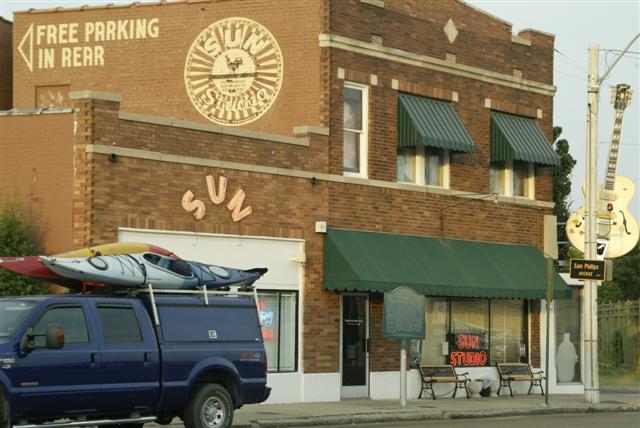 Walking into Sun Studios, I almost felt nervous. I'm not sure why, I don't play any instruments, but I do love music. Music to me is almost religious. I don't care what kind it is, as long as there is a good beat, I'm into it.
Now say names like Johnny Cash, Carl Perkins, B.B. King, Elvis Presley, and Jerry Lee Lewis and you're talking about Gods in the music industry. Almost any sound you hear today, was started with these icons and their individual style of music. How can you not feel butterflies in your stomach walking into the studio where all these legends got their start? The outside of the studio looks innocent enough, just a little corner brick building a few miles off of Beale Street.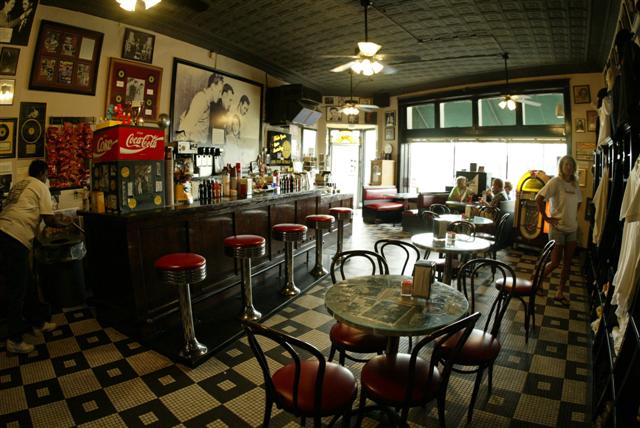 Walking in the entrance, you step into a Diner that looks like it hasn't changed since the 50's. It has an old Wurlitzer Jukebox in the corner filled with 45's from all of Sun Records hey-day. The walls of this little soda shop are filled with pictures from before many of these musical giants became famous. There's Gold Records on the walls, recording machines used back when the saying, "To cut a record" really meant you walked out with a vinyl record in your hand. The check signed over to Johnny Cash for his first big hit, the first song Elvis ever sang into a microphone, and the actual microphone all of Sun Records artists used to sing their unique sounds.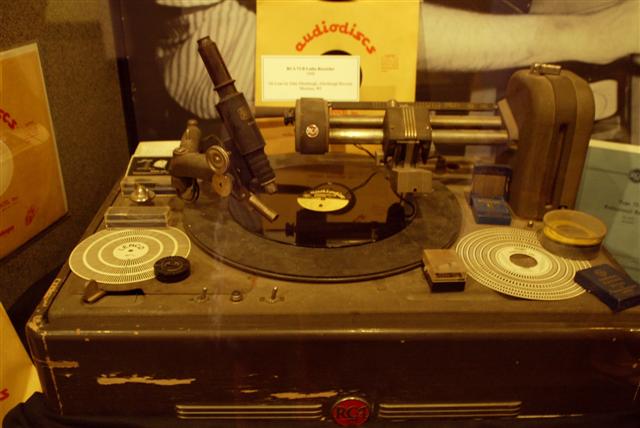 For only $10, you get a guided tour that tells you so much more then you ever knew about the start of many musicians I thought I knew everything about. You normally only hear about legends after they become famous. At Sun Records, most of these household names walked in off the street, nobodies, nervous teenagers hoping to get played on the radio shows that all the country tuned into each night. For $3, you could sing into one of Sam Phillips' microphones and have your own vinyl record cut. If your voice struck a chord with Sam, then he might buy the rights of the record from you, and sell it to a local label. After selling a few that went on to become big hits, Sam Phillips decided to create his own record label, and Sun Records was born. The baby we call Rock 'N' Roll soon followed and the rest is History.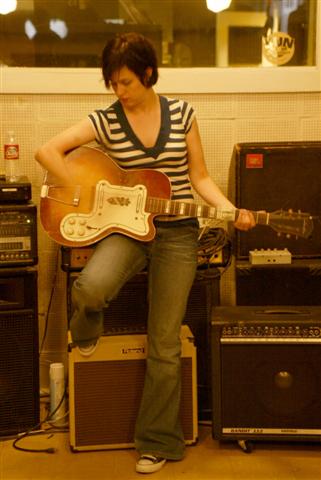 With each new display in the museum, I would feel the goose-bumps roll down my back. When we walked into the Recording Studio, I recalled the place like I had been there before. Seeing it in U2's Rattle & Hum video, where they recorded their Double Platinum album here in the Sun Records studios back in the 80's. Or when Joaquin Phoenix got his scolding from Sam Phillips portraying one of the best parts ever performed on the silver screen, while playing Johnny Cash in Walk The Line, this was that same studio from the movie I have seen so many times. Our tour guide Charlie, was so filled with knowledge, I wish we could have taken her out for the night just to pick her brain and hear all the stories she has in that pretty head of hers. She picked up an ol' Gibson guitar and strummed along with a Johnny Cash tune, showing us how the legend got away without having a drummer in the song, yet mimicking the sound by adding a dollar bill to the neck of his guitar.
Seeing the hand crafted Gibson's lined down the walls, the same piano that Jerry Lee Lewis jammed on, the black X's on the floor where Elvis and his band stood to record their first hit, my imagination was on overload. There wasn't a sure inch of wall space that wasn't covered with original pictures, most taken in the same places I was standing. If there is a Rock 'N' Roll heaven, Sun Records Studio is it. If you're ever in Memphis, it would be a sin to not visit Sun Records and see history one note at a time. Make sure to check out our Sun Studios Gallery.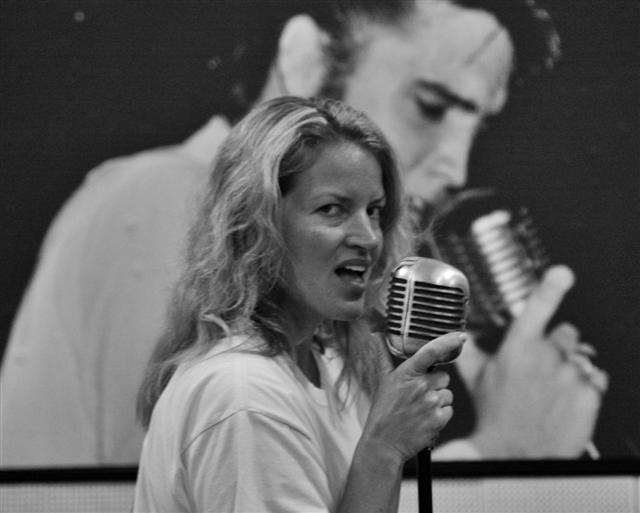 Cindy, Imitating the King with the Same Microphone in Sun Studios!
Wednesday May 30th 2007 Visiting the King @ Graceland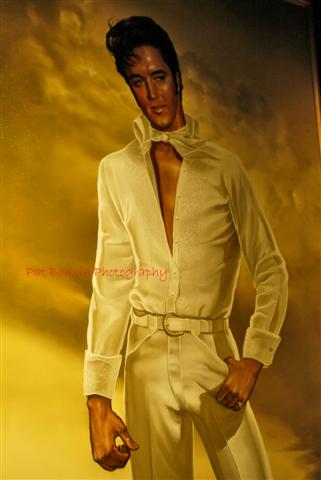 Some people live and breath Elvis. For some, he is simply 'The King', I don't want to burst anyone's bubble, but I've always rooted for the little guys. I have an Elvis collection like no one else I know, but he's not my favorite artist, he's just one of the many greats. For some reason, I have this weird, creepy problem with the fact that I think Lisa Marie is just beautiful, but she looks just like her dad. So when I explained this to Cindy, I asked, "Does that mean that I think Elvis is beautiful?" It sort of creeps me out and I'm not sure how to take it?
Now my buddy Henry, I think he'd give his left hip for the chance to meet Elvis. He lives for him and his addictive music, he knows every word to every song and would be my lifeline if I was ever on Who Wants to be a Millionaire and I was asked an Elvis question. Needless to say, I was excited to see Graceland. I love history, I love music, so naturally I knew I was going to love this tour. The gates opened at 9am, and we walked up at 9:30 and there was already a long line. I'm thinking a few people still like him.
The first thing that I noticed was, Cindy and I were the minority when it came to being American. 90% of the people around us didn't speak English? Just goes to show you that people from all over the world come to Graceland just to try and get a glimpse of this Rock 'N; Roll legends life. Maybe it's the fact that this August will be the 30th anniversary of his death. You'll be lucky to get anywhere near Graceland come August 16th, when they have a big ceremony planned and I'm sure fans from all over the globe will be here. We spoke with Kevin Kern, the marketing director, and he told us that some of the shows scheduled for this summer are already sold out. So if you plan on seeing this icon on a very special year, make your plans now.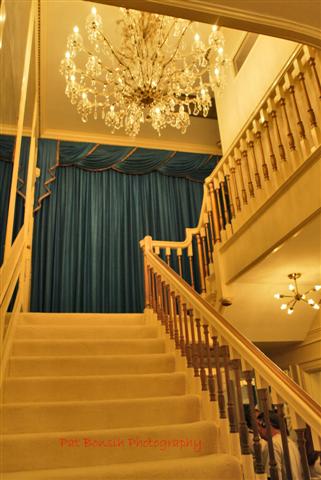 We loaded the bus and drove through the iron gates with the guitar players on them towards the Kings castle. Security is very tight at Graceland, so you're moved from one area to another without being able to just wander like we were allowed to at some other attractions we've been to. But then again, all the artifacts here at Graceland, are original, they're not knock-off's like alot of museums are doing these days. No, the stuff you see here, is the same stuff Elvis saw the day he died on these grounds.
I've always been one to like a good conspiracy theory, so in doing research for Graceland, I was amused to find out that the upstairs bedroom portion of Graceland is off limits for anyone except Lisa Marie or Priscilla. I guess no one has been up there since the day he died except for those two women. If you want to see some funny and interesting stuff, check out This Website for those who like a good conspiracy theory.
We toured the main house, which is still decorated in the fashion I remember from my childhood. Those Faux Furs, the long shag carpets, greens, orange and bright reds; plenty of paneling and the flamboyant style any good ol' southern boy who made it rich would decorate his house in during the 70's. I saw pieces of furniture my parents still have in their basement!!! No Kidding!! Elvis made a ton of money, and he knew how to spend it. The man also knew how to give it away. There are awards and recognitions hung all over the house thanking him and honoring him from charities he donated to from around the World.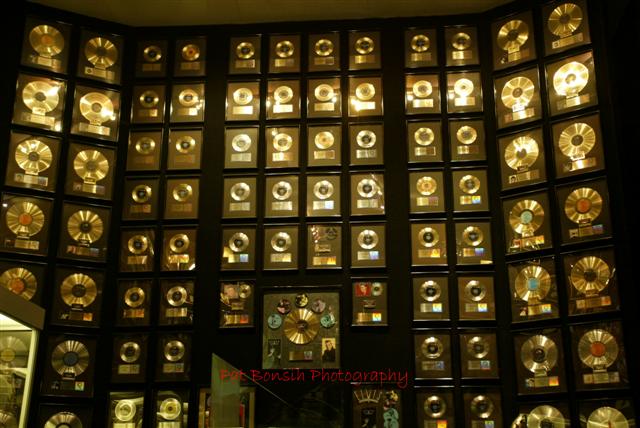 I felt a little weird touring the house. I mean most people don't realize when you walk in the front door, you're standing right underneath where he died 30 years ago. I wasn't scared superstitiously or anything, its just that they haven't changed anything since the day he died. So it's almost like you're intruding on someone's house, like they're going to come home at any minute and find you snooping around their home.
One thing I like about Elvis, was he liked to share his money with his friends. That's something that I can understand, because I've never felt like you could be truly happy, if you didn't have your friends along for the ride. The stories Lisa Marie tells in the audio headset you listen to, tell of many fun times had with a yard full of close friends shooting guns, tearing up the yard in golf carts, pool parties and weekend gatherings. These things I can relate to, as this is similar to our lifestyle back in Michigan.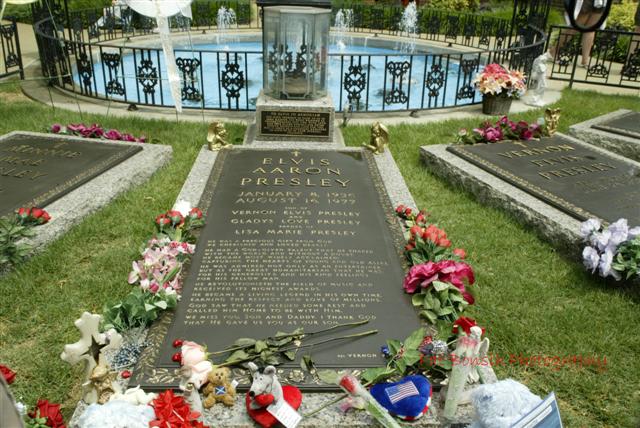 It's when you walk into the hallways lined with Gold Records, the Racket Ball/Gym Elvis had built on his property, which now houses his collection of Platinum Records, Gold Albums and walls filled with awards; that you realize how larger than life this man was and still is. He still sells more albums yearly then most artists do in their lifetime. To date he has sold more albums than any other artist in the world.
There were horses roaming around the many fenced acres. There are little buildings scattered around the property, where his father, Vernon, had his office out behind the house. The pool where I'm sure parties wilder then any you or I will ever see is still sitting beside the beautifully sculpted Meditation Garden where his body is laid to rest. After touring the house, the grounds and the last places he lived, the whole thing was weird and sort of surreal for me. I was shocked to see women and children sitting beside the grave bawling their eyes out, like Elvis was a brother to them. I guess this man really grabbed ahold of some people and stepping back into his life like this was too much to handle.

___________________________________________________________________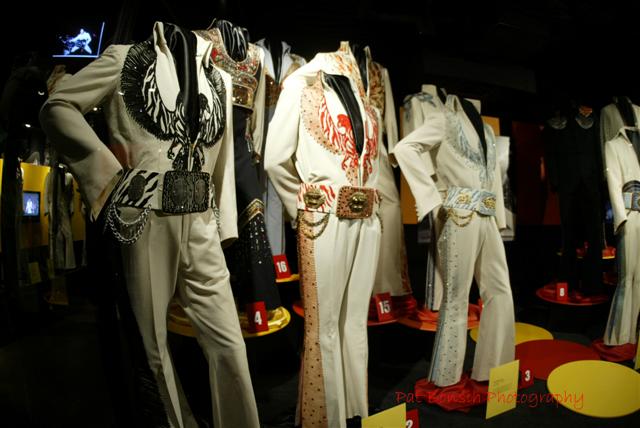 We spent the rest of the morning touring the various attractions. For the $30 ticket price, you get to see his collection of exotic cars and classic motorcycles. There are both of his private planes which are outfitted with gold plated seatbelt buckles and full living quarters. Then the ever so amusing collection of costumes Elvis was known for. Cindy and I laughed at how as his career grew, so did the rhinestones and length of his collars. Going from the slick look of the 50's and 60's, to the bell bottomed, flared out look of the 70's. Big belts, capes and polyester must have kept his seamstress busy. The collection of costumes is worth the cost of the admittance alone.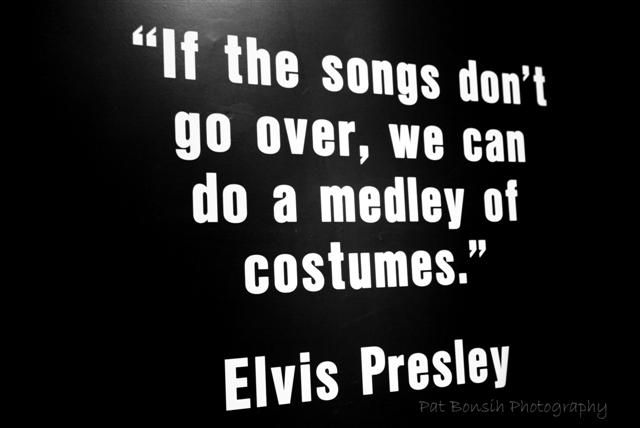 While we were walking back to the Graceland Campground & RV Park, which sits right beside the Graceland parking lot, we both were talking of our first and last memories of this great entertainer and I have something for you to ponder. For all those who think there is a chance Elvis is still alive today, I have this to say. This man was born and raised in Tupelo Mississippi, moved to Memphis Tennessee and became the most well known musician in history. His was raised with good ol' country standards and only had one daughter. If he is still alive, don't you think he would have surfaced when his drop dead gorgeous, only daughter married a black, child molesting freak named Michael Jackson? If that's not enough to make you a believer, then I've got a great UFO story to tell you.
Graceland was really cool and should be on everyone's list of places to visit.
Gibson Guitar Factory, Memphis Tennessee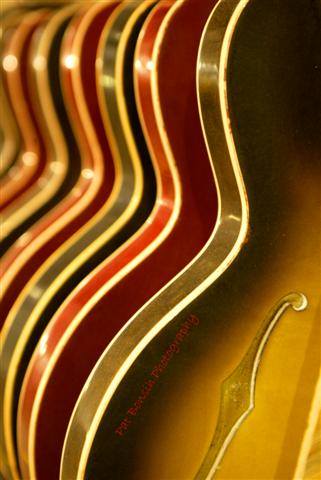 After Graceland, we had some lunch back in the Sunline, napped, and made our way back downtown to tour the Gibson Guitar Factory. I'll be very short on this tour as I don't want to say too many bad things about the staff at Gibson. But I will say, if you're going to be running a World Wide Company, teach your employee's enough to know a few answers to simple questions.
Check out Cindy's Blog to see what kind of BS we went through just to try and get some tickets and some answers.
The Gibson Tour was pretty cool to see how these world renowned instruments are hand made right here in the good ol' USA. It was wild to see how raw materials are shipped in on one side, and 4 days later come out a one of a kind work of art. With each piece being hand made, you know you're buying quality, and know why so many musicians use these instruments. Everything from the woodworking, laminating to the hand painting are done in-house right here in Memphis.
Make sure to check out our Gibson Gallery and the others as we've put a few new ones up from the past few days events.
Thursday May 31st The Difference between Tourism & History
I recently got an email from a reader asking why I had talked so bad about the Orlando and Branson areas, yet on our journey we have visited many other tourist attractions and now we're in Memphis, a major tourist attraction? Let me explain the difference between Tourism and History, or at least what I think about the two different destinations.
Orlando Florida has no history other then the making of Disney World. Before that Tourist Attraction was built simply for that purpose, the area was nothing but orange groves and empty fields. Sitting in traffic for over an hour just to go a few miles from one side of town to the other, and in that time seeing hundreds of the same shops over and over, isn't appealing to us. We didn't see buildings that had stood the test of time, we didn't learn anything about our countries history when visiting, and paying $10 for an elephant ear at any of the hundreds of food vendors just seems like a waste of time and money.
Now Branson Missouri I cant really even comment on other then to say we drove through it's main street, saw the same thing we did in Orlando, and decided to never even get out of the vehicle.
On the flip side of these tourist traps, you have places like Savannah Georgia, Eureka Springs Arkansas, New Orleans Louisiana and our current spot Memphis Tennessee. Are these spots tourist traps? Yes, they can be if all you do is pull in, grab a few brochures and head to the many typical tourist destinations or Traps as I like to call them.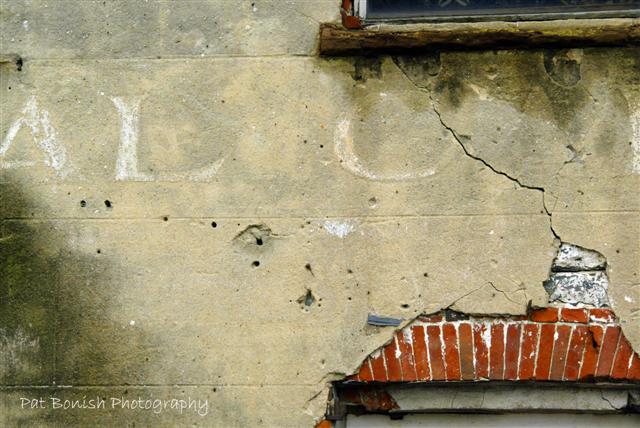 Pulling into Savannah, I almost couldn't get out of the truck fast enough to take some pictures of the beautiful architecture. We're talking buildings that have withstood Civil Wars, narrow cobblestone roads and a history that dates back to the dawn of this country. How can you even compare Savannah to Orlando or Branson?
I kept saying to Cindy, I wish we were stuck in traffic so we could take our time to see the unique buildings. Pulling into Eureka Springs, you almost think you're getting onto a roller coaster ride. The roads are straight up and down (12% Grade!), with buildings dating back from the early 1800's and stone work to rival the Romans; funky little art galleries hidden in alley ways and locals who have passed down generation after generation of history. Again, no comparison to any tourist trap, all you have to do is find your way down the maze of a main street, and you wouldn't complain if you were stuck in traffic, as the buildings are just that cool to look at. Sure they will have a few T-Shirt shops or the typical tourist places selling stuff like the hundreds in Orlando or Branson, but you tend to look past them with all the beautiful architecture and history the town has to offer.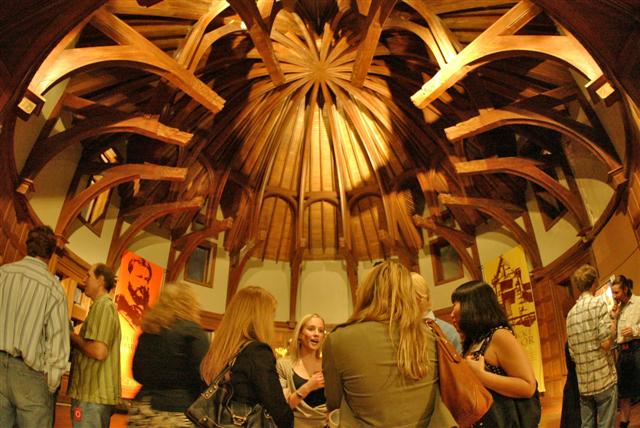 If you don't see where I'm going, then you wouldn't understand that New Orleans has much more to offer then Bourbon Street. I'll be the first to admit that the French Quarter is a tourist trap, but the architecture of it is still something you should see in your life time. We chose to seek a few different attractions while visiting the Big Easy. New Orleans has a Warehouse District loaded with funky art galleries and world renowned showcases. From the Ogden Gallery to the Patrick F. Taylor Library, to the World War II museum, there is plenty to do after getting your fill of beads and boobs on Bourbon Street.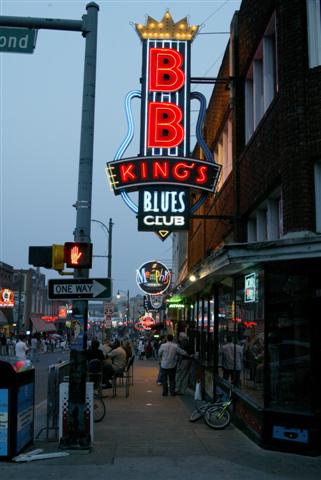 Memphis is anything but a tourist town. Sure Graceland is visited by millions of tourists each year who travel from all over the globe to pay their respects to the King, but with Sun Records, the birth of Rock 'N' Roll and Beale Street, to call this a tourist trap is a sin.
Really I don't know why I should have to defend myself, if you've done any sort of traveling, and it doesn't have to be a journey like Cindy and I are on, then it should be fairly simple to tell the difference between the two. If pulling into a town, any town around the United States, and on the main street, there are more t-shirt shops then there are one-off local stores, then you should know you're in a tourist trap.
If the town is unique, like Eureka Springs, or Savannah, then we both feel it's worth our time to stop and explore. But if pulling through, we don't see anything older then us, and t-shirt shop after t-shirt shop are trying to sell the same merchandise that I could buy anywhere, then we don't feel the need to waste our time or money. If we pull into a town and it's loaded with chain restaurants and retail shops, then we usually just stop for fuel and roll on through.
We're searching for the towns that still hold onto history and good ol' American values. Rather then knock down the historic buildings to build that new strip mall, we like the places that take the time to preserve the towns history and character. This strip mall epidemic that is crippling the country needs to be stopped. I'd take bad service at a small town local diner before I'd sit down at (insert Chain Restaurant name here) for the same menu I can get anywhere in the world.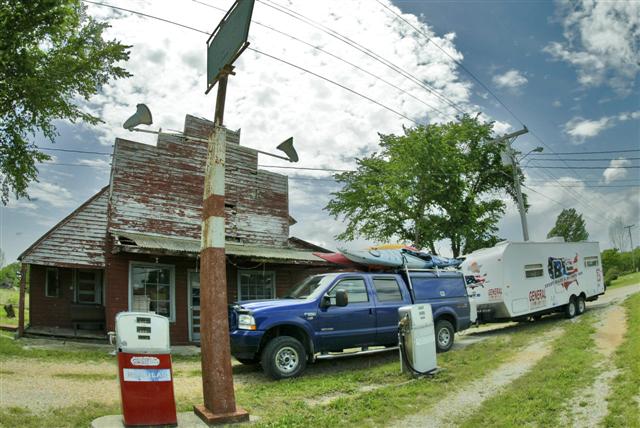 Cindy reminded me that since we don't have young children on our adventure, destinations like Orlando, Branson and Gatlinburg, which would probably be great destinations for those traveling with children, are not anything we need to see.
I'll admit when our daughter was younger, those places appealed to us somewhat, because they cater to children, but now that it's just us traveling, we'd rather see history and parts of the country where a main street isn't much longer then our truck and camper, and if you want a t-shirt shop go to the local hardware store.
Proceed to Pat's June Blog
Return to Top of Page
Need Unlimited photo storage- FREE Trial of Smugmug