When we realize our insignificance in this world,
it some how relieves the pressures from society to succeed - Cindy Bonish 04/07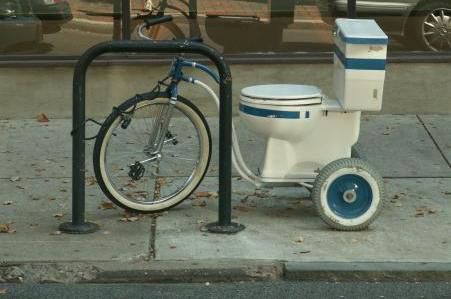 Cindy's New Bike!
Pat's June 2007 Blog
If This is your first time here, you might want to start from the beginning with my previous months Blog's
January Blog February Blog March Blog April Blog May Blog
For Those That Don't Know Me, You can click here to read my Bio
Friday June 1st 2007 Nashville
Pulling into Nashville, I thought I was seeing things. We knew the CMA Fan Fare events were going on and the place was going to be busy, but in the first five minutes, we saw 4 reproductions of the General Lee from one of my favorite childhood shows the "Dukes of Hazard" Now that bright orange 1969 Dodge Charger isn't something you see driving by every day, so we both found it a little strange that everyone we saw walking down the street had orange shirts with the infamous '01' on them and that Confederate Flag on the other side.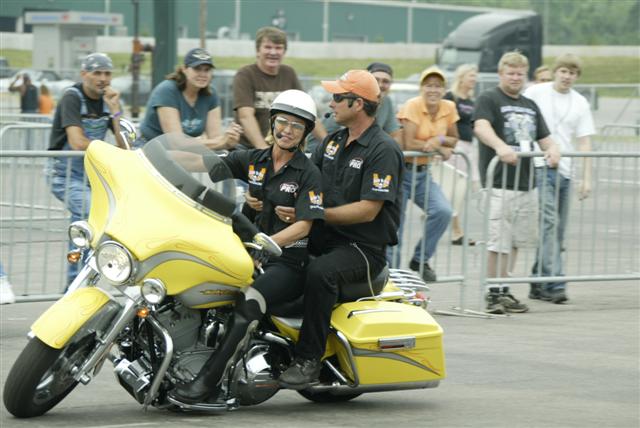 Turns out, the 2007 Dukesfest is going on the week before the CMA Fan Fare event is to start. Mix the thousands of chromed out Harley Davidson's we were hearing thundering down the road, and needless to say, there was a little bit of commotion going on in Nashville this week. This week was also the 2007 Tennessee State HOG Rally which was taking place right here beside the Grand Ol' Opry, which answered out next question as why there were so many Harley's.
First things first, we needed to get to Camping World and upgrade a few things that we've been needing since we left home and been living fulltime in our RV. It's funny how after months on the road, you learn through necessity, that some items you brought are useless and some items you never knew existed are mandatory. We keep a Camping World master catalog floating around the camper and have many pages marked with items we think we now need.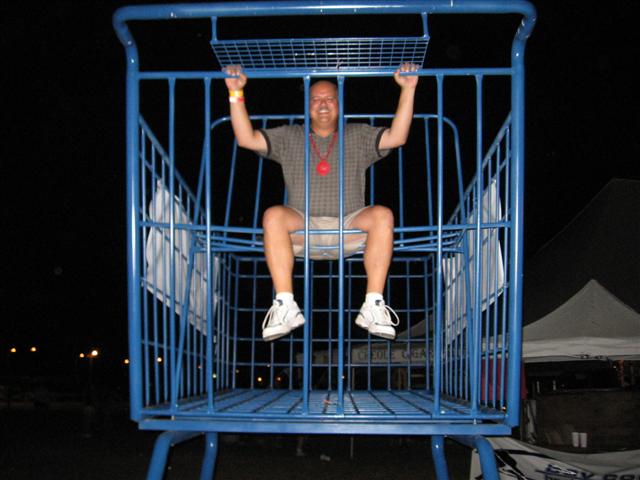 Cindy was cracking me up. You would've thunk you were taking a 5 year old shopping for Christmas presents for themselves. We pulled into the parking lot, and she jumped out of the truck saying "I'll meet you at the check out counter." I don't think we were the only ones needing things done to their camper, cause the earliest they could get us in was next Thursday. It's times like this when I miss the VIP Service of our local General RV service facility. If you're on the road, they move you up the list and get you in and out as quickly as possible. Camping World could learn a few things from the smaller guys out there giving much better service.
So it looks like we're going to be in Nashville for awhile. Now the hard part is going to be finding a Campsite. The first 3 campgrounds we pulled into were filled up and charging between $35 to $50 a night!! While I drove around, Cindy had the lap top out looking up different campgrounds and found one a few minutes out of town for only $15 a night, which is back in our budget.
We pulled in and I think we're one of only a few that don't live here year-round. They were full also, but the owners told us as long as all we needed was a 30 amp outlet, so we could run our A/C in this mid 90 degree heat with 80% humidity, then they had a slot for us. I felt guilty pulling across the guys front yard, but that's what he told me to do. A few minutes later, we were set up beside another RV'er, who was also just passing through, in the front yard of someone's house. Gotta Love Tennessee!! They're good people who go out of their way to make sure you're accommodated.
Saturday June 2nd 2007 I think I'm Dreaming!!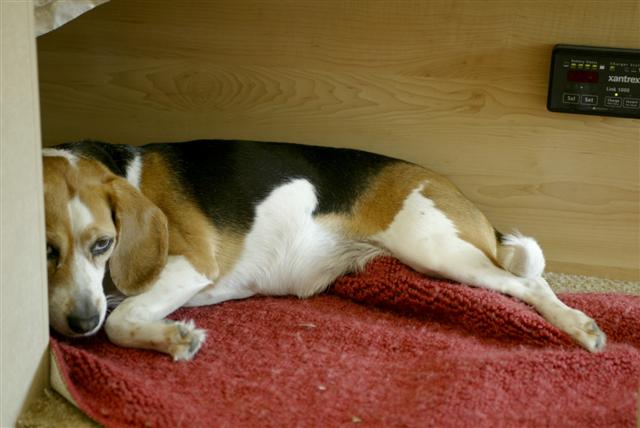 This heat is debilitating!! We finally said, "Let's just sweat, we cant stay cooped up in the camper any longer." I don't mind heat, it's the humidity that kills me. You step outside and the thick air just takes your breath away. If it was just Cindy and I in the camper, then we could just go find some activity to keep us busy, but with the dogs, they have to have A/C. We tried to take them out the other day for a long hike, and the old beagle just lays down panting. She gives you this look like "WTF are you doing to me?"
It was Saturday and we knew Nashville would be hopping with all the activities going on. So we loaded up the truck and decided to see what we could find. To our luck, pulling into downtown Nashville, the skies couldn't hold the humidity in the air anymore and it started pouring. We both said "Lets just go back to the camper and finish our books we're reading." But, as we were coming out of town, the roads were dry and it seemed the rain was sitting right over the downtown area. When we got near the Opry complex, we noticed the familiar sound of rumbling Harley's. We decided to see what was going on, and pulled in. I had spoke with one of the PR People from Fan Fare and she had told me to make sure and check out this event also.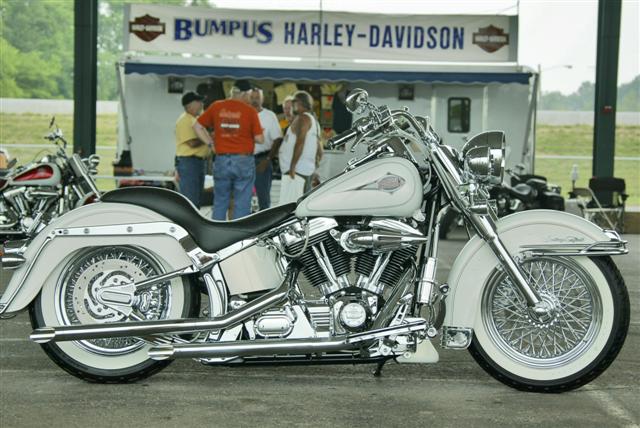 What we stumbled across, was the 2007 Tennessee State HOG Rally. We walked up to the gates asking what was going on, and we're directed to Mike Lane, the site coordinator. Talking to Mike, we found out we missed one hell of a show. The week long event was coming to a close tonight and we had missed a full week of scenic rides, concerts, river boat cruises and numerous shows put on by HOG members from around the United States.
Not that we could have attended anyway, we don't own a Harley, and that's the one rule to attending a Harley Owners Group (HOG) Rally, you need that sacred VIN Number to be a member. Mike was kind enough to let us in and told us the closing ceremonies would be starting soon, we were more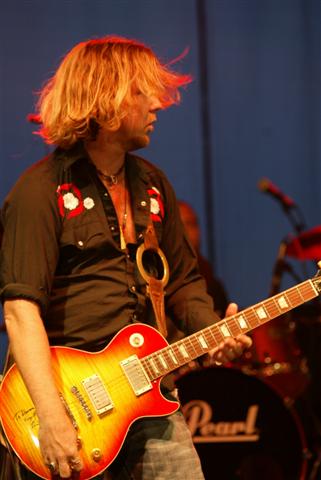 then welcome to snap some pictures of the two bands performing. If you've been following along with the site, you should know by now that Cindy and I love music and live performances. So when we asked who would be playing, Mike said "Oh, you're in for a treat, we have Devon Allman (Son of Gregg Allman of the legendary Allman Brothers) opening for Delbert McClinton."
When Mike said Delbert's name, I think Cindy and I both crapped our pants right there on the spot. Coming from owning a Blues Bar background, we've been listening to the addictive sounds of Mr. McClinton for years now. I've wore out CD's of his and had to replace them to curb the addiction. We even looked into booking him in our small club, but when they told us the price would be over $10,000, our measly 120 seating capacity would never come close to even breaking even. Let me put it this way, Cindy had told me after I found out the price his appearance would cost, when she could see the disappointment in my eyes, that if I could sell the 120 tickets to fill the place, she would pay the rest out of her savings account for a present for me! Yes I know I have a great wife!! That's just how much we enjoy this legendary musician! Of course, I wouldn't make her waste money like that, but I almost took her up on it just to see this lyrical genius perform in a small setting like that.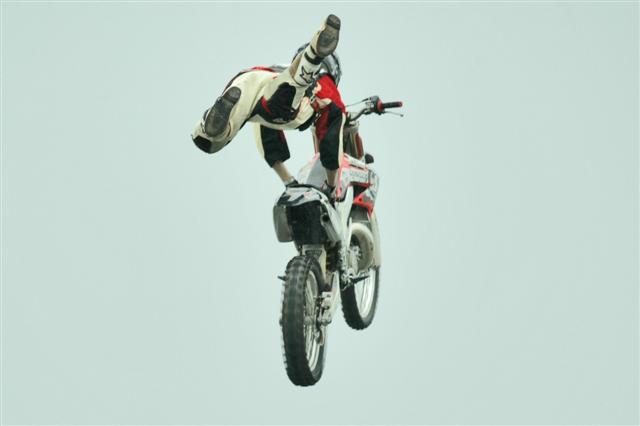 The show didn't start for an hour, so we wandered around the grounds, were entertained by a great motorcycle show and got to see some crazy stunt riders perform amazing stunts on their bikes for the cheering crowd. If you've never seen a motorcycle literally smoke it's tire off of the rim, it's pretty amusing. That and the fact that the guys were doing tricks 50 feet off the parking lot with only some nice soft asphalt for cushion, in case they were to miss the landing.
When the closing ceremonies started, I realized how tight knit of an organization the HOG group is. Mike and his team mates have been putting this event on for 5 years now,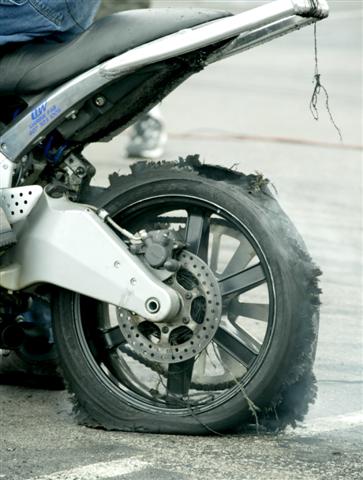 and you could tell with the camaraderie, that all were very good friends. They handed out awards for the different contests that had been held throughout the week and awarded each other for their hard work. When the music show started, the sound was perfect. One thing I hate, is going to live concerts and having the sound be too loud. This quaint outdoor setting, hidden under a large canopy, was perfect. Devon Allman and his band Honeytribe had some tight cords and smooth sounds reminiscent of the bands roots. With some members coming from the legendary Grateful Dead, his fathers roots in the Allman Brothers and their own unique sound, this band was fantastic.
If this wasn't cool enough, it just so happened that one of the original members of the Allman Brothers was in town, and stopped by to jam with Honeytribe. When Johnny Neil was lead to the key boards, this blind keyboardist showed the screaming audience what it means to Jam on a piano. Seated beside Honeytribe's keyboardist, the dueling piano segment of the show was enough, that I could have left right there. Then when country music legend Lee Roy Parnell grabbed a guitar
and walked on to the stage, I thought maybe I was still sleeping in the Sunline and this was all a dream. There's no way we could have just stumbled upon something this cool.
When that amazing show ended, all the while only being a few feet from the stage, we were entertained by a few of the HOG members in a good ol' fashioned Hog Calling Contest. I've never understood why people think pig's would come to the crazy calling they were doing, but man was it fun to watch.
Then my dream came true. I sat in awe as Delbert took the stage. His unique raspy voice sounded even better live then it did on the many CD's of his I own. I wasn't sure if I should be taking pictures or just sit and pinch myself. I was hearing this Blues Legend, 3 time Grammy winner only feet from the stage and at a show we weren't even supposed to be at?! I thought I knew most of McClinton's music, but in a two hour set, I only heard one song I had in my collection. This man puts out some music. There was probably 20 CD's for sale at the booth selling his merchandise. The best thing about his music, is every song tells a good story. You can listen to them over and over and still wonder what was going on in his head when he was writing some of these classics.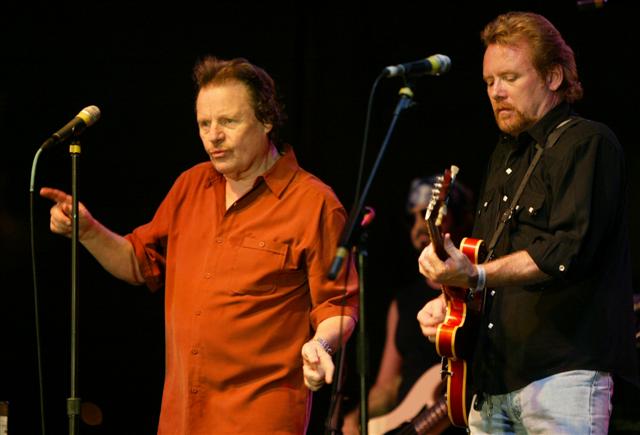 Lee Roy Parnell came up and played a few songs with Delbert, and all too soon, the show was over. Cindy and I sat just in awe with what we had just seen. A few days earlier, when we were wandering around Memphis, I said "You know what would make this journey perfect? It would be to stumble into some little club and find someone like Delbert McClinton playing." With the hum of the amps still buzzing in our ears, Cindy looked at me and said "Can you believe that you just said that to me a few days ago, and it just happened?"
So Mike, if you're reading this, I don't think you know what a big deal allowing us into your private little party was for the two of us. Thank You so Much!!!
Make sure to check out the 2007 Tennessee State HOG Rally Gallery for plenty of great shots of the Stunt Team, Delbert McClinton and Honeytribe.
Sunday June 3rd 2007 Dukesfest and the Sea of Orange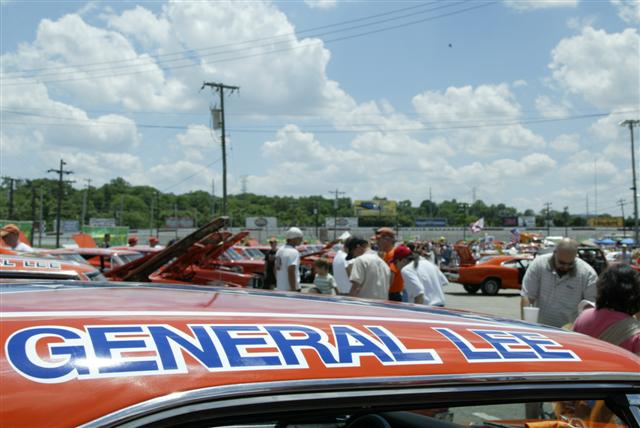 It was Sunday and a perfect day. No chance of rain, and there was a little breeze in the air. What more could you ask for when going to the Tennessee State Fairgrounds to roam amongst the thousands of people attending the 7th annual Dukesfest. This is where 30,000 people gather to honor many of our childhood hero's, those fabulous Duke Boys, Cooter and the ever lovely Daisy Duke. Along with many of the other cast members that made up the show, there were over 100 replica Dodge Chargers on hand and many of the stunt team from the original show.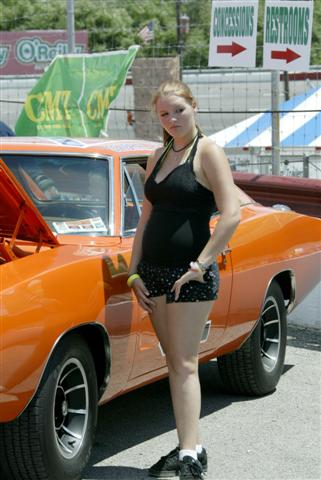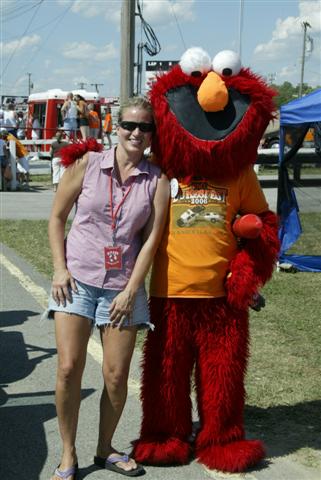 You just know when you get this many good ol' boys together, there is going to be some fantastic people watchin' taking place. I've never seen so many orange shirts with the famous '01' on the back. That and the fact that it doesn't have to be a 1969 Dodge Charger to be turned into a General Lee replica. We found out that anything and everything can wear those famous colors. Walking around the show grounds, we saw Mountain Bikes, 4-Wheelers, Motorcycles, Jeeps, Remote Control Cars, a Chevy Chevette, Wagons, Tow Trucks, Monster Trucks and almost anything you could think of was painted or tattooed the colors of the General Lee.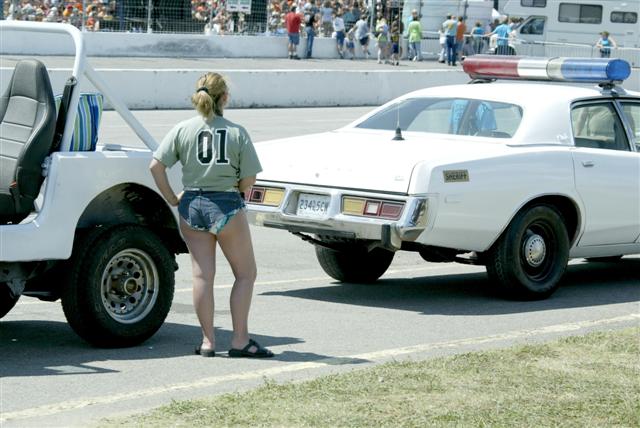 Another thing that we noticed was the difference between some women's fashion sense. I've spent many nights have hot dreams about Daisy Duke and those short-shorts or hers. Some girls can do them justice, and some women need to look in the mirror a little longer. I was in shock by some of the ages of these young girls wearing outfits that should never be on a teenager. Now by no means have I ever been called a prude, but when a 13 or 14 year old girl has on a shirt that says "I look better Naked" that is not an image I want in my head. Especially when she looked the way she did. Naked, Hell I wouldn't want to see you with a shower curtain wrapped around your body.
The people watching and the cars were very cool, but the icing on the cake had to be the Stunt Team from the original Dukes of Hazard TV Series. They had the stunt driver who jumped the last General Lee in the final episode, who happens to be the son of the stunt driver who jumped the first General Lee in the very first episode, on hand to jump a knock off General Lee over a Camper and various other vehicles. One of them being John Schneider's Harley Davidson V-Rod.
We watched as they showed various other stunts like the shows trademark driving on two wheels, Roscoe's vehicle getting totaled, as I think it did in ever episode, and then the all time Trademark of the show, the General Lee launching itself a good 30 feet in the air and driving away from it.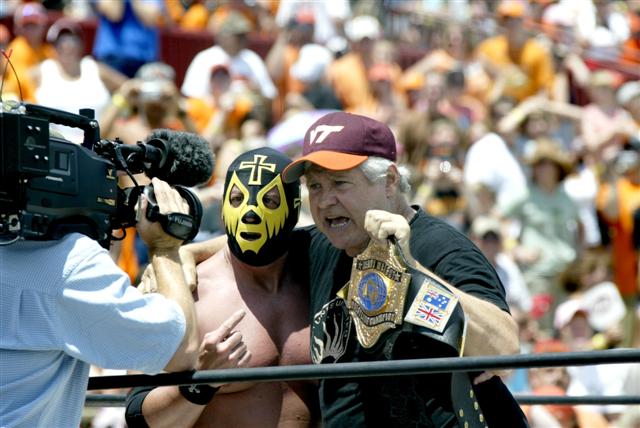 Cooter, who's real name is Ben Jones and his wife are the ones who came up with the idea to host this event 7 years ago in their home town in Virginia. The event got so big, they had to move to a larger city, and for the past few years, Nashville has been the place. Jones went on to give a lengthy speech on the Rebel Flag, stating that "They flew it out of heritage, which is something Southern people are very proud of." He went so far as to apologize and try and distance the people who he said "Wore bed sheets around their heads while waving the Rebel Flag." "That is not what this flag is about, in no means does it condone racism, it promotes heritage, and that's why we wave it so proudly" Mr. Ben Jones went on to say.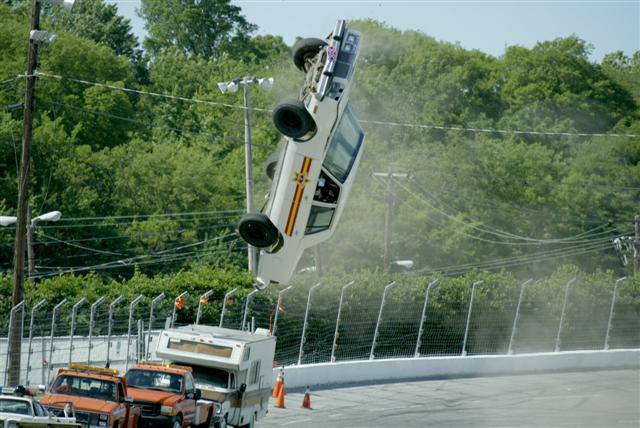 It was comical to see ol' Cooter walking around in the fair grounds signing autographs and posing for pictures with fans ranging from 5 to 85. It just goes to show how diverse this audience was and what an impact this show had on people. They told us most stunt teams in movies these days pull from knowledge the stunt team on the Dukes of Hazard had because they did so many first time stunts on the show. They also did one in every show, so they had more practice then any other TV series.
All in all, it was a great event, and with an estimated 70,000 people coming from all over the country, it was quite the spectacle to watch.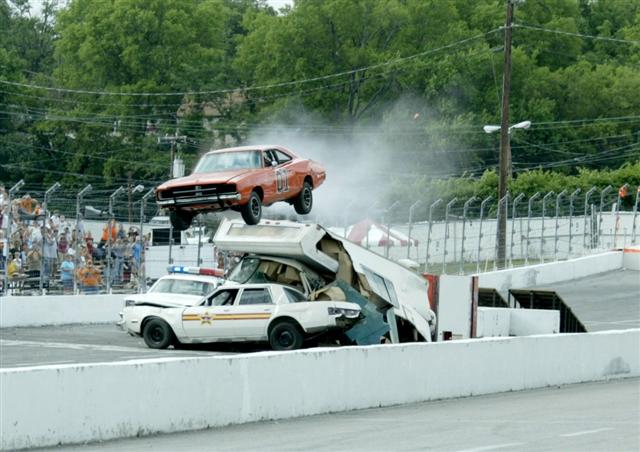 Make sure to check out the Dukesfest Gallery to see the entire sequence of Jumps performed by the stunt team. There's 3 different sets of Jumps they performed with one of them being a 180 degree twist!!
Wednesday June 6th 2007
So we had some time to kill around the Nashville area while in between shows and found something to keep us entertained. It's so hot out that we were looking for things to do that might keep us inside in some A/C and still be able to do some fun stuff.
When we used to live in Florida, we were pretty broke and lived in a small trailer park in a trailer that didn't have good A/C. Florida summers are not fun sitting in a steam box. So to get out of the heat, we used to go to the indoor shooting range to escape the heat and spend the day becoming more proficient with our firearms. Hey don't laugh, it was a fun day, and if you had a membership, it was actually quite inexpensive.
Needless to say, my 9 year old daughter who at the time had a 22LR Pistol and a 22LR Rifle, could make a smiley face on the target at 50 yards. So today I was thinking of my daughter and thought that an indoor range would keep us indoors and keep us cool. I started looking on the internet to see if they had any indoor ranges that we might be able to hang out in and get out of this mid-90 degree heat with what felt like 100% humidity.
When I found Basetac Training Center, I first thought, man this sounds cool, but it isn't a shooting range. Then I started reading about Levi Montgomery and his personal training and thought, this might come in handy while on the road. Levi has quite the extensive background that would take up a few pages to explain. He's trained military personnel, police officers and acted as a coordinator on Hollywood movie sets to make the scenes look real. Just recently has Levi developed a program for civilians, teaching them the knowledge he has only taught highly trained officers and military personnel in the past.
I've always loved that famous quote "Knowledge is Power", and tried to make it one of my motto's. But I've learned no matter how smart you think are, there is always some time when you're going to find yourself in a situation where the odds wont be in your favor. Cindy and I already found ourselves in a few situations where we both said, "That wasn't a good thing, and we need to rethink our whereabouts."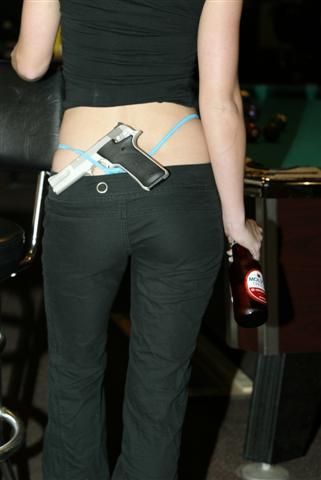 Walking down the street in downtown New Orleans, a street bum walked up between Cindy and I begging for money. We did the usual, "Sorry man, we don't have any" but this guy was pretty persistent and didn't want to let go of my shoulder. When he said to me "Listen man, you shouldn't let somebody like me get between you and your woman" I thought "OH SH*T, this isn't going to be good"
At that point he went to pat me on the back and touched the butt of my gun which I usually carry in the small of my back in my waist belt, and as soon as his hand felt it, he bolted down the street. We both looked at each other, and said, "We need to get some training on ways to handle that situation better." That could have ended our trip and cost one of us both our lives.
We called Tracey over at Basetac and explained our situation. We told her that we wouldn't be in the area for long, but would love to come by and see what we could learn in a few secessions. We were in luck, as the class meets twice a week, and the following night we could participate in a class to see what we thought. We pulled up to their new building just on the outskirts of Nashville, and were introduced to the nice group of people that attend the twice a week training schedule. They had a few different types of people and ranged anywhere from your typical suburbanite male, a very small framed female, to a burly biker who looked like you would walk the other way if he approached you. I like to see a mix of people and was glad they we didn't walk into a cookie cutter secession where everyone would be identical. I think a good mix of people shows that this works no matter what your background is.
Cindy and I were paired up with Levi to start with, and the man has an immediate presence that draws you to him. His affluent ways of explaining each situation, make you really interested in what he's saying. Levi made it clear right from the start that this training isn't about brute strength, it's more about the psychological aspects of making the aggressor become confused and give you the upper hand. In the first few minutes of talking to him, Levi explained to Cindy and I a few different methods of controlling someone in that same situation I described earlier. None of this was like anything I've ever been taught. By simply changing the situation from being the victim, to becoming the attacker, you play such a mind game on the original aggressor, that you gain the upper hand.
I'd love to be able to give you a few quick tips, but in the two and a half hours that Cindy and I were there, we both learned more about being thrown to the ground by a simple flick of the wrist, then ever before.
For obvious reasons, Cindy was paired with a male and I was paired with Tracey, a short stout female. I think they wanted to show that Tracey's 5'3" stature and mature mid-40's age had no indication for the fact that she had me lying on my back, crying uncle within seconds of showing me many different moves. Levi has developed many techniques where the victim can take control of almost any situation with a few simple moves. These moves can be taken to extremes leaving the attacker helpless on the ground, or just shaken enough to draw attention to others depending on the situation.
All the time, every move was taught in such a way that you kept complete control over the attacker with almost no brute strength. It's all because of natural bodily functions and laws of physics. Some of you might be thinking "Why do we need to know this?" The way I look at it is, while on the road, we are a prime target for anyone looking to make a quick buck. We travel non-stop, we are always new to the area, so we're usually lost, and we're very non-confrontational. We like to be in the rough parts of town, as they usually hold the true character of the city we're visiting. Is a sad fact, that most historic cities have become run down and are filled with crime. Does this mean you stay clear of them? No, most hold beautiful architectural finds and loads of history. So why limit ourselves to the touristy spots because the real city areas are off limits? I'd rather be in control of the situation and still be able to go where we want.
Getting back to the training. When all was said and done, I think I was so overwhelmed, I had trouble comprehending everything I had just been taught. This isn't something you're going to learn in one night. Tracey was right when she told me "One night would only give you a taste of something you'll want to delve more into." On the ride there, Cindy had said to me "I can see you becoming addicted to this and wanting to stay here for awhile." Well when we got into the truck to drive home, she looked at me and said "Ok, we can come back on Monday, and we're only an hour and a half from where we'll be staying in Bonnaroo so we can drive back a few times next week also." I looked at her and just laughed thinking "I think she was the one who just became addicted."
Thursday June 7th 2007 CMA Music Festival Starts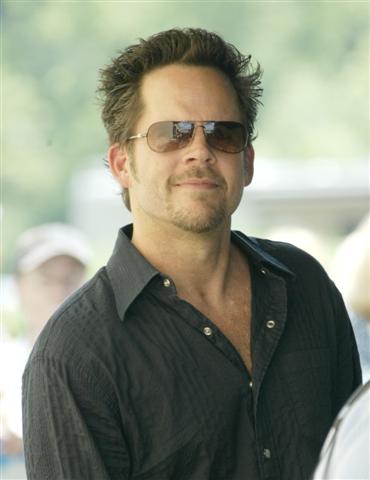 With the CMA Music Festival going on this week, every campground in Nashville is booked solid, so we just stayed in the Camping World parking lot last night. We had to have the truck and trailer in the service bays at 8am, and didn't want to have to get up at 6am in order to get there in time.
Once we dropped them off, we jumped on the bike and rode into downtown Nashville. It's so hot today, that while riding down the blacktop roads, it feels like you're riding in a sauna. You'll go through these sections where the air gets so hot, it takes your breath away.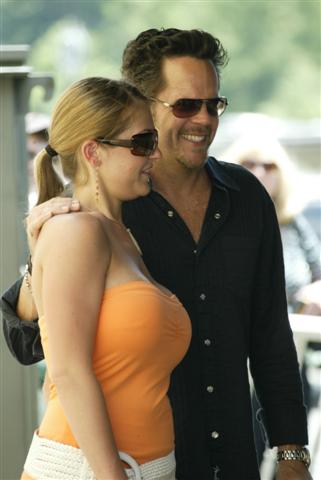 Once downtown, we wandered around in the mass confusion. There is so much going on this weekend, that everywhere you turn, there is some sort of stage, a major recording artist signing autographs or one of them walking past you on the street. We saw many of the top names you are hearing on country radio, and even got to meet a few of them. Stay tuned as I'm sure by the time the weekends over, we'll have loads of pictures to show off.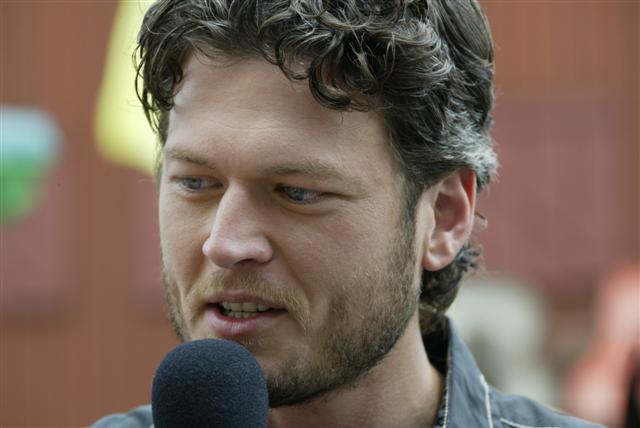 Oh, one other thing I thought I'd mention. One thing about country music these days is they tend to get singers based on their looks rather then their raw talent.
So most of the stars are good looking guys and girls. When you look around, the lines of girls waiting to get an autograph looks like a line outside of a modeling agency. You have hundreds of good looking girls done up in their best outfits thinking they might win the hearts of these young studs. I'm not complaining! It's good scenery....LOL For those that don't follow country music, that's Gary Allan with some young hottie and Blake Shelton with the microphone.
Friday June 8th 2007 Full Day of the CMA Music Festival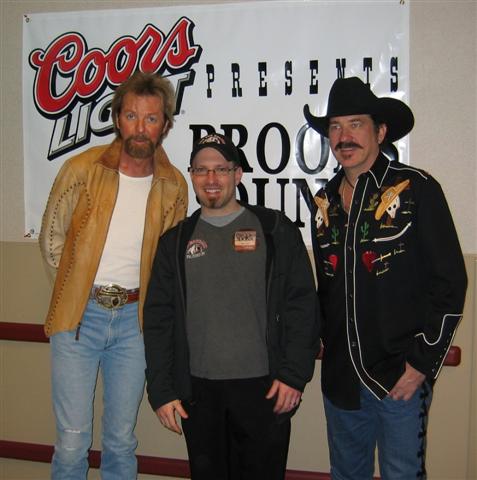 After yesterdays little taste of the CMA Music Festival, we were in downtown Nashville early this morning. We spent the day wandering around dodging rain showers and elbow rubbing with the Country Stars.
Today was a good day to wander around in the Convention Center where most of the artists have booths set up. You can get your picture taken with them and have almost anything signed. Cindy and I were trying to keep tract of everything we've seen that had a signature on it, but lost count after the first hour. We've seen books, cards, hats, shirts, boots, boobs, arms, casts, guitars and almost any item you can carry in for them to autograph. It's cool to see the country stars, and we're talking some very BIG names here, this close to all their fans.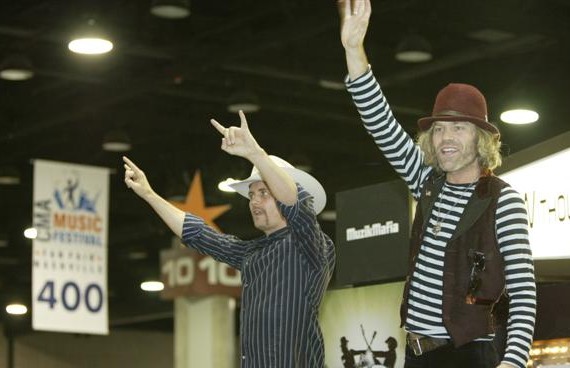 From names like Big & Rich, Brooks & Dunn, Carrie Underwood, Billy Currington, Jason Aldean, Eric Church and hundreds of others just walking around the convention center posing for pictures with their fans. We found out that last night after the performance at LP Field, Brooks & Dunn dropped by one of the local clubs and played for the packed crowd for 45 minutes. Imagine sitting in a local bar with your pub mates when a band that can sell out a 50,000 seat stadium walks in and asks the house band if they can play a few songs.
We were sitting in one of the many Honky Tonk's sipping on a cool drink when I heard a guy say "You've got to be kidding me, Pat and Cindy Bonish" We turned around to see a good friend from our home town who was showing another friend of ours from Milford around Nashville. Mark had recently moved to Nashville after deciding to try something new. What a small world that we happen to cross paths with good friends. We wandered around for a few while longer listening to some more country acts on the banks of the Cumberland River.
There was a lull between the day time events, and the big night time concert at the Titan's LP Field. We found some escape from the humidity in a little bar, and were trying to cool off. Sitting at the bar beside us was country music newcomer Stephen Cochran who's new hit, Friday Night Fireside is one of Cindy's favorites. That's the cool thing with Nashville, you never know who you're going to run into, old friends or country music stars.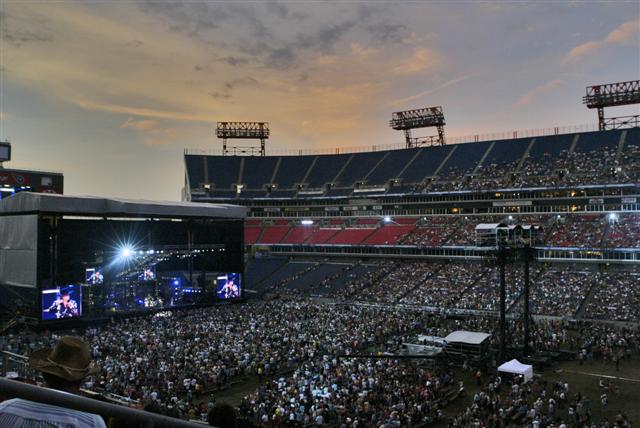 After a few frosty beverages, we walked over to LP Stadium and proceeded to be entertained by Bucky Covington who opened up the nights show, followed by Montgomery Gentry, who brought out Michigan Native, Ted Nugent for a wild rendition of Cat Scratch Fever. The stage had these giant screens on each side that were showing images of the crowd and their various signs people were holding up. Cindy and I, along with everyone around our area were laughing pretty hard when during Montgomery Gentry's song, 'Some People Change' this one guy was holding up a sign that had the word Change spelled wrong. The camera men must have thought this was as funny as we all did, because they kept showing him holding up a large piece of paper that just said "Chang" One reporter sitting beside us said "Maybe that's one of their Asian fans"
After Montgomery Gentry's performance, Sara Evans took the stage getting the crowd a little more riled up. During the many different performances, I thought about why this show is so unique. You have people that come here from all over the world for this event. You have acts that range from easy listening Blue Grass type music, to the wild and crazy performances of the younger more rowdy country stars. You have young kids, and grandparents sitting together enjoying the acts and they all seem to get their own bit of satisfaction from each new bit.
I didn't think they could have gotten the crowd any more wound up, but when Jason Aldean took the stage, the place came to it's boiling point. This young new star blew the roof off the stadium with his guitar and great voice. Jumping around on the stage like a young Garth Brooks, he really impressed me the most out of them all.
Carrie Underwood who is just adorable, was next in line. This girl who won the hearts of American Idol fans a few years back, has come a long way in two short years. After her performance, the President and CEO of Sony Music both came out to give Carrie a new award. They had six Gold Albums framed for her as she has just went over the six million mark for her first album!!
Little Big Town was next on stage and the four young artists calmed the crowd down a bit with their smooth sounds and more laid back style of music. The night came to an end with Sugarland bringing the concert to the ending Fireworks display over the stadium.
After 12 hours of being in Nashville in 90 degree heat, Cindy and I were whipped. We walked back across town to the truck, by-passing all the Honky Tonk's where people were lining up to see who might drop in for an impromptu performance. We knew Jason Aldean was at the Wildhorse Saloon, but with the line wrapping around the joint, we were both too tired to fight our way into any more shows. We headed back to the Sunline Camper and the dogs who had spent another day relaxing in the A/C. Sometimes I wonder if they know how lucky they have it?
Sunday June 10th Ending the Long Weekend of CMA Fan Fare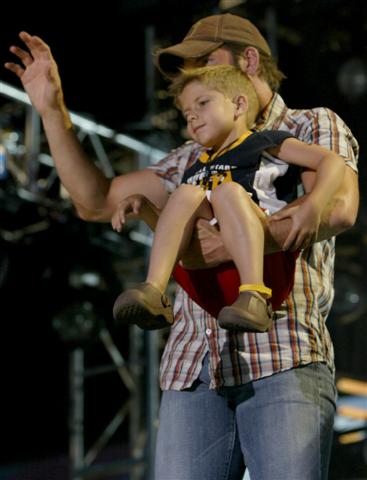 What a long weekend we've had!! Going from our laid back lifestyle of the past few months, to a busy weekend of being shuttled from one show to another, has taken it's toll on us. I'm more worn out then after hiking or kayaking any of the rivers or trails we've done on this trip, and all we've done is wander around downtown Nashville rubbing elbows with country music stars.
Sunday nights show, the final show of the event, was by far the best!! With a line-up of Rodney Atkins, Miranda Lambert, Big & Rich, Gretchen Wilson, Kelli Pickler, and Brad Paisley all rocking the crowd, would you expect anything less?! Rodney Atkins started the show and while singing his song 'Watchin' You' which is about a young boy looking up to his father, his son came out on stage at the end of the song. Cindy and I joked how cool that must be to be a young 7 to 10 tear old boy, and walk out in front of 30,000 screaming fans.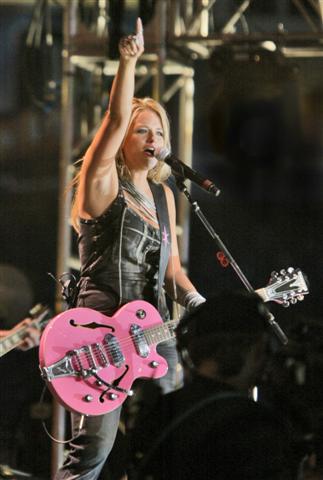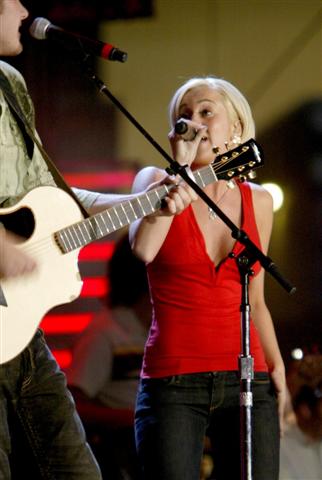 Kelli Pickler who walked on to stage with Short Straight Blond hair, which is very different from her normal long curly locks, brought the crowd to tears as she sang her song 'I Wonder'. I guess her mother was never there for her as a child, and the song is a real life page from her personal journal. When Kelli finished singing the song, she, along many other people in the audience had tears streaming down their faces.
Taylor Swift, Big & Rich, Brad Paisley, and Gretchen Wilson all rocked the house as you would have expected, but the real surprise was Miranda Lambert. This blonde bombshell, with her spunky attitude and high rev'ed songs, reminded me of seeing KISS in full make-up. Something about a girl who's first album is titled 'Kerosene', and her second album followed with 'Crazy EX-Girlfriend', you know this girl has a wild streak a mile wide. The song Gunpowder & Lead was just so wild, I thought this little blond beauty was going to fall off the stage!!
With a great fireworks display to end the festival, we ended the long weekend and reclined in our seats with our ears still buzzing from the great sounds of country music.
Make sure to check out our CMA Fest Gallery to tons of great shots of some of the many Country Music Artists we met. We'd also like to say thanks to the Press Coordinator, Brandi Sanford for making sure we were taken care of at the event!!
Monday June 11th
We had everything packed up to leave for Bonnaroo, but wanted to try and get one more class at Basetac before we left Nashville.
Levi took Cindy and I aside, and walked us through a few more moves that they hadn't shown us from our previous visit. He spent some time with us making sure we understood each move and how to execute it before he turned us over to a few senior members who we could actually practice the newly acquired knowledge on.
I'm not joking when I say "A few hours with Levi and Tracey, and our entire outlook on personal safety has changed." By no means am I cocky with my skills, but I'd feel more comfortable if the need ever arises when I might have to put them to use.
Tuesday June 12th Pulling into Manchester and Bonnaroo
I'm not sure if this Bonnaroo event is going to be right for Cindy and I? We wanted to get here a few days early after talking with people who have been here for past shows. Some told us horror stories of sitting in traffic for 10 to 12 hours.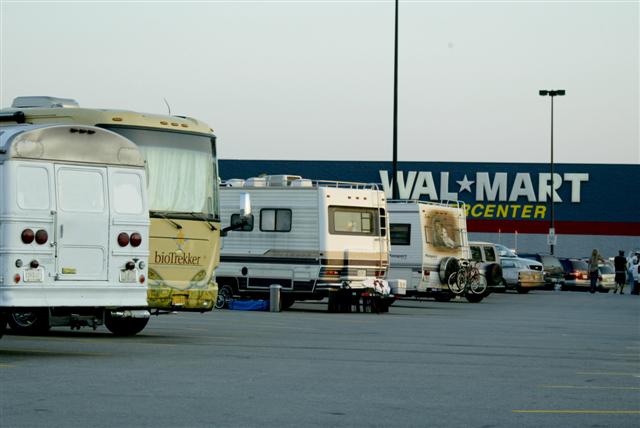 We pulled in and drove up to the entrance, where we were kindly turned around and told we'd need to find a place to wait till Wednesday till we'd be allowed to enter. Cindy found a park on the map and said "Let's go get some lunch till it gets dark and then we'll just park in the local Wally World for the night."
When we passed the Super Center, we both thought it was some kind of joke. We've stayed in a few campgrounds that had less campers then this parking lot did. We're not just talking about RV's either. There are dozens of tents set up, people sleeping on top of their cars, and others laying on sleeping bags on the ground!! We thought we might want to pull in now to make sure we could even get a spot. We grabbed one of the last specific spots for RV's, and since we've been here, another dozen RV's have pulled in. I looked at Cindy and said "I never knew we'd need to make a reservation at a Wal-Mart."
Talk about diversity!! Parked beside us is a nice coach, with a Mercedes on a trailer. On the other side of us, there are a few guys that look like they've been wandering around aimlessly since Jerry died. I can only imagine what it's going to look like tomorrow night when we're a day closer to the event!!
Going to bed tonight, it was like a scene out of a Mad Max movie. These rig's keep rolling in that are just hilarious. We're talking VW Busses painted like a water color. School Busses with multiple air-conditioners out the windows. There were people set up with BBQ Grills, basket ball hoops and a little tent city in the center of the Wal-Mart parking lot!!!
Wednesday June 13th Waking up to the Bonnaroo Followers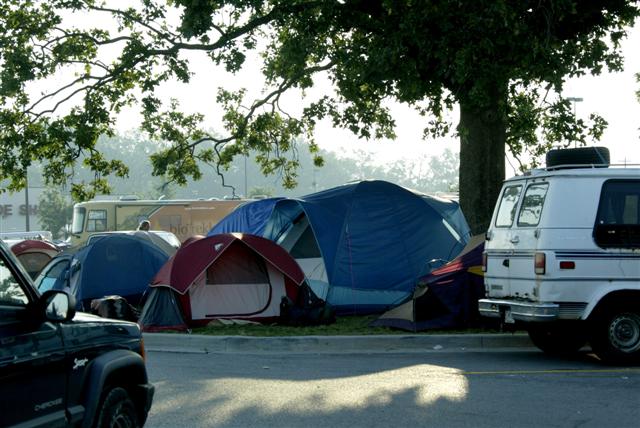 I was up early, just before the sun crested the Horizon. The scene in the Manchester Wal-Mart has got to be seen to be believed. People sleeping all over the parking lot, and I'm not talking about in tents or RV's. You know the pallets of Top-Soil they leaved bagged in the parking lot? Well when I went for my morning walk, there were people sleeping on top of the bags of Soil! It looks like a scene from a Zombie movie, with people scattered all over and sleeping anywhere.
I'm sure this is what gives many RV'ers bad reputations and why many campgrounds we pull into look at us youngsters like maybe where part of this type of group. While Cindy was sitting in line at the Post Office where we had some items shipped to us, she overheard the gentleman behind the counter say "This weekend is Bummaroo, there is nothing but Bum's that invade our town." After last night, I know what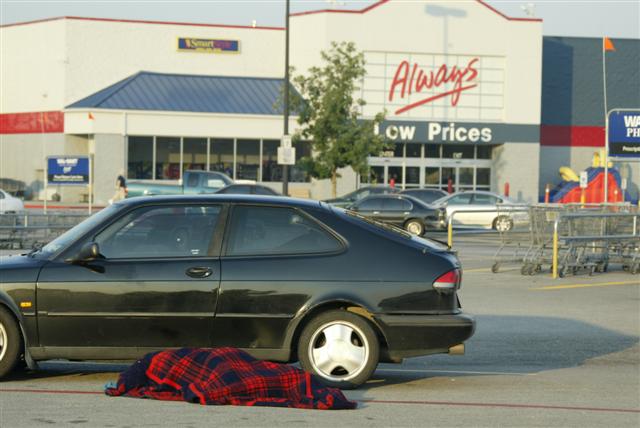 he's talking about and why I'm sure the locals frown upon this festival. But when you think that they only have to deal with the party-goers for a few days, the Bonnaroo festival brings in Millions to the local economy in tourism dollars. I'm sure there are always a few bad apples in the bunch, and I cant wait to see the diversity of the crowd once the show starts.
I knew this festival was big, but the license plates on the vehicles around us are from all over the country. Oregon, Arizona, California, Vermont, Maine, Texas.......You name it, and they're here. Today we're getting some last minute preparations for the event, and tonight we get into line to get in. Wish us luck!!
Friday June 15th Camping at Bonnaroo amongst the Freaks!!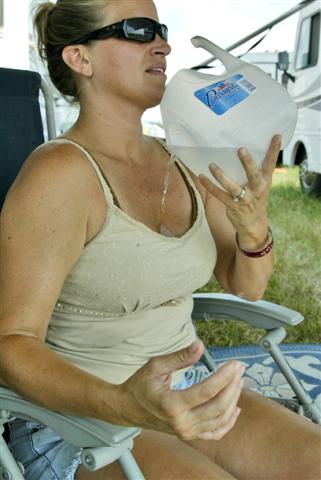 Getting into this festival was harder then crossing the border into Mexico. Between getting rid of the dogs, ditching the motorcycle, having to beg to be allowed to lock our tires of our mountain bikes up at the entrance, you'd think this was some third world countries border.
Once in, we found ourselves surrounded by such a diverse crowd of people, it's hard to describe. Parked beside us are a group of 4 grown men, I'm assuming they lead a professional lifestyle by their proper grammar and very good manners. They told us they're all good friends from high school and got a pass from their wives to meet up together for this festival. On the other side of us is a camper that has an address on it, so I'm assuming they live in this camper year round in a trailer park, and packed up for the weekend to pull it down for the festival. Not that this is a bad thing, but there is eight of them in a 20' camper!!
The heat is like nothing I've ever experienced. It's too hot to sit inside the camper, and sitting under the shade of our awning, our little digital temperature gauge read 93!! Just to see how hot it really was, Cindy said "Set it just outside the shade." The gauge shot up to 118!!! Needless to say, we didn't do much but sit in the shade with a bucket of ice water beside us and people watch while splashing cold water on us for most of the day. You almost have to shotgun your beer or it gets warm fast.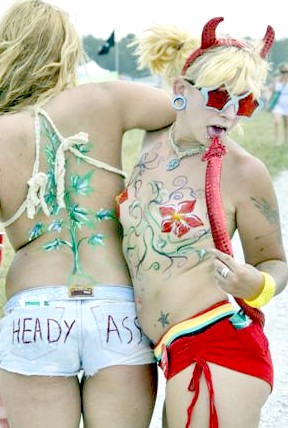 The people watching is what this festival is all about. From grown men dressed like Wonder Woman, 6 year old kids with dreadlocks down to their shoulders, and women walking around topless with just their chest painted....it's quite a show. Luckily for us we came in early on Wednesday night. Yesterday was when 90% of the people showed up, and we heard the traffic was backed up for multiple hours. Most of these people, who are only in their early 20's can't afford to pay the steep price to camp in the RV area, so they park a few miles out and carry their stuff into the tent camping area. Cindy and I spent most of the day amazed at the various carts and utensils used to bring in a weekends load of camping gear.
Some dragged their stuff on upside down folding tables, others carried giant back-packs, while some used wagons. We figured out the people who are attending for their first time, must be the ones who carry the heavy loads, while the experienced people who are returning knew enough to spend some money on a cart with pneumatic wheels. I couldn't imagine carrying a heavy load in this debilitating heat as I found it exhausting to lift the dozen or so Coors Lights I consumed in this nasty heat.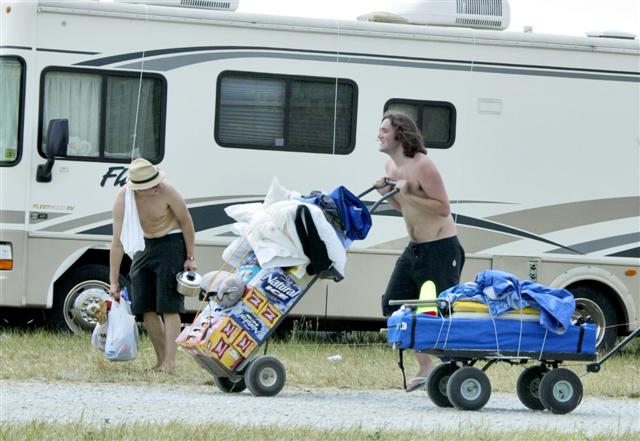 Once the sun went down and the heat subsided a little, the real shows started. We wandered around the festival grounds watching Fire Dancers, Burlesque Shows, various acts performing on the multiple stages and wild debauchery everywhere. With aromas of stinky green stuff floating everywhere, I think more then one person was able to sneak some Gonja past the heavy security at the gates. But then again, we were told by one guard, "As long as you're not bringing in pounds, you should be fine."
We came back to the camper as the shows were winding down. We sat out in the cool night air listening as the last few bands played, while watching the show of hippie's stumble back to their camps. I now know what it must have been like to live in the 60's. I think that's what a festival like this is all about, letting down your inhibitions and forgetting the daily stresses of life. Maybe that's why Cindy and I found ourselves here without even planning on it.
Make sure to check out the Bonnaroo Gallery for tons of wild shots! I'll warn you right now though, you might see some crazy things by clicking on that link!!
Sunday June 17th What a Long Strange Trip It's Been!!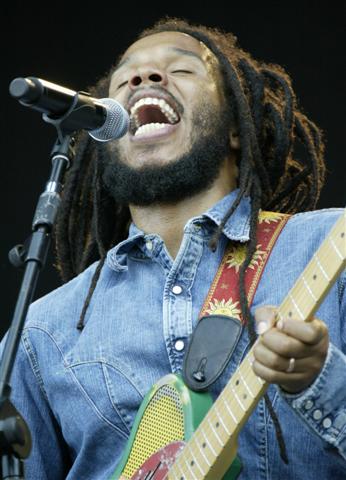 Saturday at Bonnaroo we had a blast. Between seeing Hot Tuna, Ziggy Marley and The Police, amongst many other bands; Sunday rolled around and we both looked at each other and said "NO WAY! We cant take another day of this heat!"
Bonnaroo was one of those events you attend and say "Been there, Done That" But I don't know if I could go back each year like many of the other fans we met. Don't get me wrong, I had a blast, and got some of my best concert photography I've ever taken, but I think the heat was just too much for us.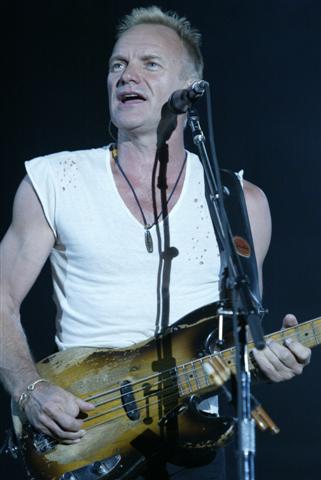 Our Solar panels worked great. We had enough juice from the long days with no clouds to run everything, but to go for 5 days straight in 90+ degree heat with no A/C, I'm not that much of an outdoorsmen. We would get back to the camper in the late afternoon, and it's all we could do to drag ourselves off the lawn chairs to go back out once the sun dropped.
In the 5 days we were Boondocking at Bonnaroo, we still had a 1/2 tank of fresh water in our camper, but our Grey/Black tanks were full. So unless we wanted to pay the $50 fee to have a honey wagon come over and empty our tanks, we needed to pack up on Sunday morning and hit the road.
An extended stay like that really makes me wish we had a generator powerful enough to run our A/C for longer then very short bursts. Up until this point, we've never wanted or felt the need to have one, but when the needle was spiked on that thermometer for so long like it's been, I really could care less about the noisy generator running. I'm sure sitting on the cool couch inside with the A/C and Radio running, would drown out the noise anyway. Besides, almost every RV around us had a generator running, so the noise was deafening during the noon-time part of the day anyways.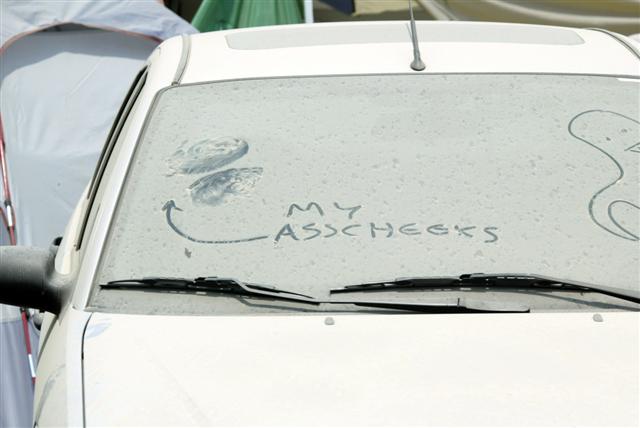 Sunday morning, we woke up at 7am and it was already in the 80's inside the camper. We were packed up and back on the road by 8am, finding a campground that had a dump station just on the other side of Manchester. With 30 amp hook-ups available, we pulled in, cranked up the A/C and while the inside of the camper was cooling down, we decided to wash off the inch thick layer of Bonnaroo dust that had stuck to the outside of the camper.
When I crawled up on the roof to hose off the top of the awning, I realized our Solar Panels might have charged the batteries faster if I would have washed off the dust each day at the event. Something to remember next time we're at a dusty spot for a few days.
Make sure to check out the Bonnaroo Gallery for tons of wild shots! I'll warn you right now though, you might see some crazy things by clicking on that link!! You might also want to check out the short and long-term effects of alcohol abuse after a show like this.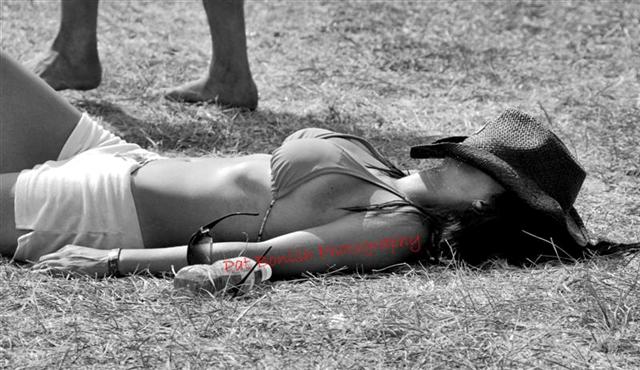 Monday June 18th
This morning we woke up early and went and picked the dogs up. Luca, the puppy of the two dogs, was so excited to see Cindy, that when the Vet-tech walked him out, he jumped straight up in the air lunging for Cindy. You could see the smile covering his face as he continued to jump up and down, licking the air and wagging his tail.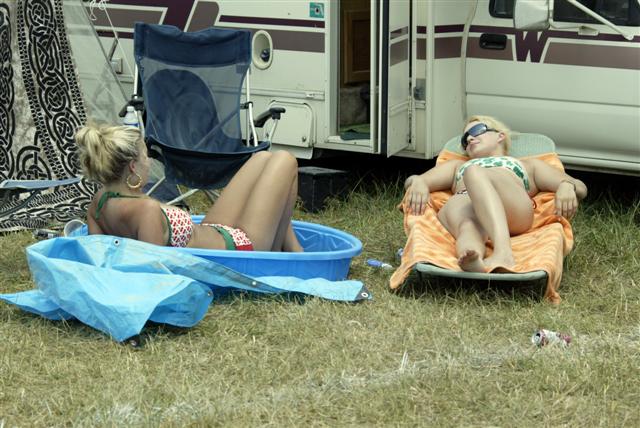 We had one more day to kill because we couldn't pick-up the motorcycle until Tuesday, so the rest of the day was spent lounging in the A/C till the sun went down. I noticed every other RV'er in the campground was doing the same thing. The few tent campers in the park were sitting miserably around their tents and one guy was passed out in a lounge chair, dripping in sweat beside his tent with a pedestal fan set up in front of him. I wanted to take his picture, but thought that would be rude to snap someone's picture when they're in that much misery.
Cindy commented that the group of people tent camping beside us were so miserable, a few of them were sitting in their idling cars with A/C running. When we got up in the morning, we noticed that they had slept in the car all night with it running!?! If I was to go tent camping and the weather turned this hot, I'd just go find a hotel room rather then sleep uncomfortably in my vehicle. With the price of fuel these days, a tank of gas is about the same price of a cheap motel room.
Tuesday June 19th Lynchburg and The Oldest Registered Distillery in America
We figured since we were only an hour out of Lynchburg, we might as well stop by the Jack Daniels Distillery for a tour. While we owned our Bar/Restaurant, we had toured quite a few Brewery's around the Country, from the Largest in America (Coors) to the oldest in North America (Molson) to the oldest in the United States (Yuengling). We've both found them very interesting and unique in their own way. If you ever find yourself in an area that's home to a local brewery, take the time to check one out. You'll be surprised at how much information you'll learn.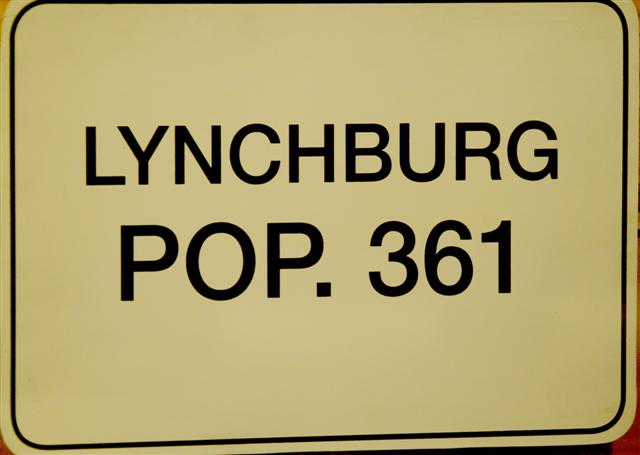 Although I prefer Kentucky's Jim Beam to Tennessee's Jack Daniels, I thought since we had planned on touring the Jim Beam Distillery on our way back up to Michigan, why not do both of them so we could compare. I've always found it interesting to compare like products and see what makes them differ, much the same way we found our Sunline Travel Trailer when comparing it to other models.
Although there were hundreds of different models to choose from on the lot, just like there are usually many different Bourbons to choose from at the local bar, each one is different in their own way. The only way to see the difference is to check them out yourself.
I'd say Jack and Jim are the two most popular whiskey's on the market. We averaged a case of each a week with the closest competitors being their more expensive siblings Jim Beam Black and Gentleman Jack. Lets not go and get all technical here. Yes I know there are many different whiskeys, I'm not comparing Canadian Whiskeys to Irish Whiskeys, I'm comparing American Whiskeys, what most of us call Bourbons. Since they're all whiskeys, and Jack and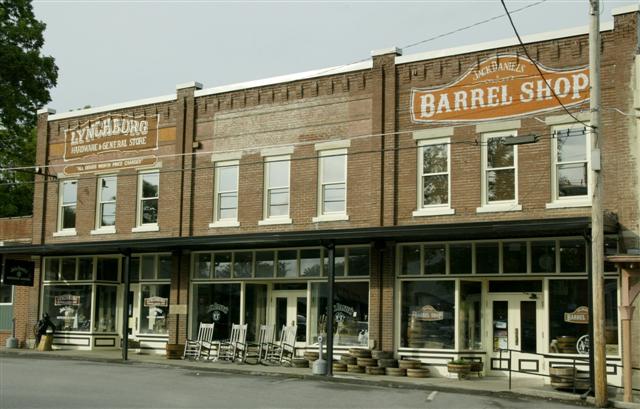 Jim are the two most common American versions, those are the two I'm talking about. Sorry for that, but I've gotten into many an arguments with Whiskey drinkers while doing my time behind the bar.
Pulling into the little town of Lynchburg, you see that the only reason the town is still around is because of the Distillery. It's a quant little town, that is set in a horse shoe pattern with the town hall as the center piece. The Distillery is a block from the town square and it even has a scenic walking path from it's parking lot.
When you enter the visitors center, you could basically take yourself on a self guided tour of the history of Jack Daniels with the displays and story boards set up. We took the time to read through the history before our hour long tour began.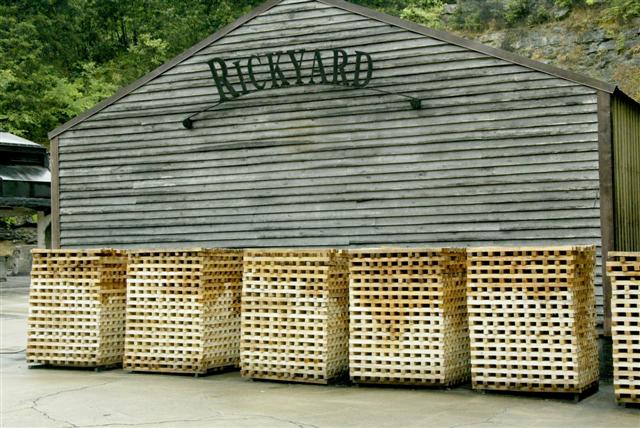 David, a good ol' boy with a heavy southern drawl, started our tour with a short movie, before taking us over to the Rick Yard where the signature charcoal is made. Except for growing the wood used for the charcoal, making the glass bottles and packaging material, everything is made right here on premises. David told us this piece of property is the only place Jack Daniels can be made, because of the water drawn from a spring on the site. Walking around the grounds your nose is infected with various smells depending on which section of the distillation process you're closest to.
When you're near the Rick Yard, there is a distinct smell of Charcoal and Alcohol. They use 140 proof alcohol to ignite the sugar maple wood, so no foreign fuels will taint the process. While inside the fermentation facilities, it reminded me of that rank smell we encountered while touring the many Breweries we've visited. Up to a certain point, beer or whiskey, or breads for that matter are all the same mixture, its what happens to the product after you take it from the fermentation process to the aging process, where the vast differences come into play.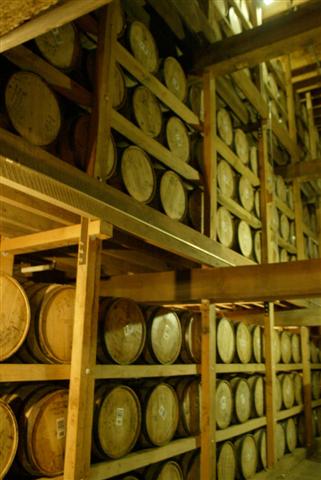 From the fermentation process they allow the sour mash mixture to drip through the charcoal they make on site. This mellowing process gives that distinct smoky flavor Jack is known for. While in the Mellowing room, David lifted the lid on the large vats where the liquid is blended, and that strong distinct smell was enough to make my eyes water. It's a shame Lynchburg is a dry town, because that would be the closest we got to tasting the precious juice. With Jack Daniels, they age the liquid in a large warehouse in big white oak barrels.
While walking into the Barrel House, the smell is intoxicating. Imagine giant wooden barrels stacked floor after floor. The temperatures were cool and damp, but the smell was strong and powerful.
When David was finished with the Tour, I know I held a much deeper respect for this long time Tennessee tradition. David was very funny with his off the wall comments on various facts and stories about Mr. Jack, as he liked to call him. The property still houses the original office where Jack Daniels did his book keeping. It also still has the original safe which killed the Owner. The story goes, Mr. Jack was trying to open the safe, and in a fit of rage, kicked the sturdy metal box. He broke his toe, which then became infected and ultimately cost him his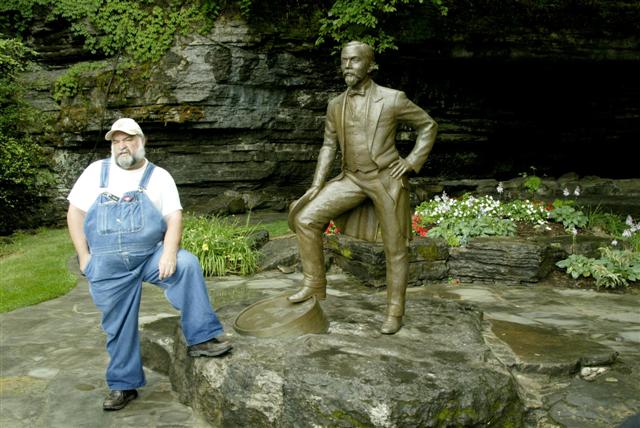 life. Imagine that, you'd think soaking it inside one of the vats of strong whiskey would have killed off any infection!!
It's a shame that Lynchburg is a dry Township, we're used to finishing a tour with a cool drink of the aforementioned product to contemplate everything we just learned. No can do here at Jack Daniels? We tried to go walk around the downtown area of Lynchburg, but it was after 5 and the town must completely shut down? Not one store was open, so we just walked the town square and got back on the road headed toward Kentucky and Mammoth Cave State Park.
A few quick facts we learned while visiting the Jack Daniels Distillery.
1. Jack Daniels has their own Fire Brigade on premises with one fire engine being a 1928 REO Speed Wagon - Which is where the Rock band got it's name

2. Jack Daniels was only 5'2" tall in Height

3. For the true Jack Daniels connoisseur, the Distillery will sell you a full barrel (40 cases of Fifths) for roughly $7,500 for your personal bar!! You also get to come to the distillery and taste the alcohol from 3 different barrels to see which one you want for your personal stash.

4. The Distillery pays a tax of $21 a gallon on all spirits distilled

5. Jack Daniels started distilling alcohol at the young age of 9!!

Make sure to Visit the Jack Daniels Distillery Gallery from our Visit
Wednesday June 20th Mammoth Cave National Park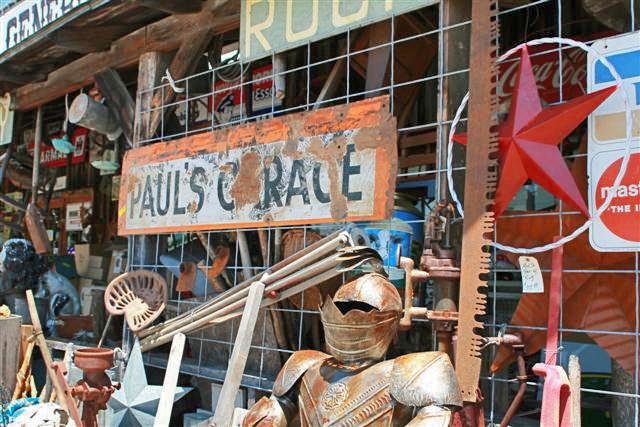 Heading North out of Tennessee, we decided to stop by Mammoth Cave National Park and spend a few days in the cool caves to escape the summer heat. When I say Cool, I mean cool as in temperature wise. The caves stay at an average temperature of 54 degrees year round, so they're the ideal attraction when that summer heat is ruining those outdoor activities.
Today was spent riding the motorcycle around seeing some of these little road side attractions Kentucky and Tennessee are known for. You know the ones, antique shops filled with overpriced artifacts, putt-putt courses, and those alpine slides where you race down the side
of a mountain on a sled with wheels in a paved luge course. Then there are those goofy places that sell various stones, and rocks that are billed as Cave Gems?!? I've always wondered if people actually stop and buy those trinkets?
The back roads around this National Park are fantastic rides on a motorcycle. Narrow, twisty, and a non-stop roller coaster of ups and downs. Lined with thick second growth forests, old farm houses and little cemeteries dating back from the dawn of our country. Spending the afternoon rolling down these roads, we saw deer, wild turkeys and one of the best sun sets we've seen on our trip so far!! The heat of the day isn't nearly as bad on the bike as it is just sitting on a camp chair beside the Sunline.
Thursday June 21st The Historic Cave Tour at Mammoth Caves
We spent the morning with the dogs in the Mammoth Cave Campground. This camp site is a jewel of a campground nestled in mature trees with no hook-ups, but paved, level sites. The early mornings aren't that bad, temperature wise, so these times of the day we don't mind just sitting around relaxing.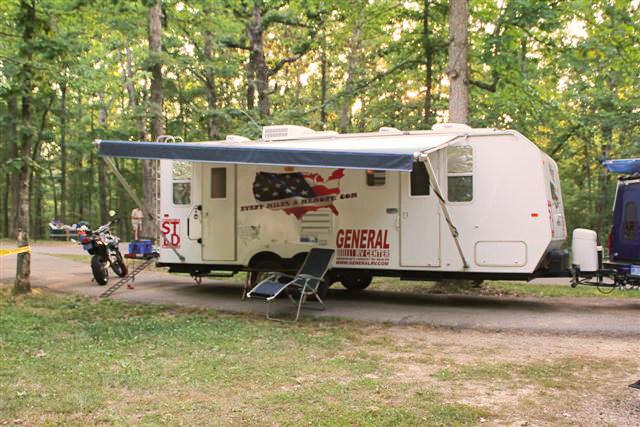 We had talked with the local outfitters yesterday about kayaking the nearby Green River, or maybe floating down the smaller Nolan River. That was till we rode over to one of the landings and looked at how low the water level is due to a major drought Kentucky is experiencing; we decided to leave the boats on the roof rack. Cindy said "There is no way I'm swimming in that water, and the last thing I want to do is be stuck in a kayak in 90 degree temperatures all day." I guess kayaking is out of the question.
Once the temps started to rise, we rode over to the Cave Entrance for our one o'clock Historic Cave Tour. This 2 hour tour covered roughly 2 full miles of underground caverns with a depth of 300' deep. I was upset that I couldn't bring a tripod into the cave system like we did in Blanchard Springs. It's next to impossible to get good pictures in the dim lighting and even using your flash doesn't compare to what it really looks like.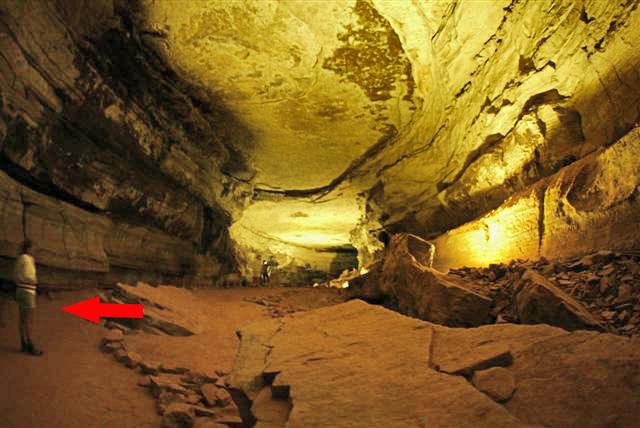 Cindy and I both laughed at how many of the people in the tour were in shorts and flip-flops. Sure it's really hot outside, but when they have signs everywhere stating that the caves are only 54 degrees and you're going to be hiking for two full miles, wouldn't you think about proper footwear and some different clothing? One thing I'd recommend if you're going to go on one of these cave tours would be to bring a good flashlight. While we were in Blanchard Springs Caverns, the rules were quite different because the cave was still considered living. You couldn't use flashlights of flash photography in those caves. Mammoth Caves are different because of how old and how many people have traveled through them. I didn't bring a flashlight, but there were a few areas that I wished I had one. That arrow points to Cindy Standing there in the isle way. That shows how large some of the passage ways were!
We had two guides who both were extremely knowledgeable of the history of the passages we were traveling through. The Historic Cave Trail showed us many different variations of the cave. In one room, it felt like we were in an auditorium with the large ceiling and giant walls. From giant sections like the Rotunda Room, you would walk down a different corridor and into a narrow passageway barely passable by all but the thinnest person. One section is called 'Fat Mans Misery' because of it's narrow, maze like trail. At only 14 inches wide at the smallest section, even my little frame was scraping both sides. I now knew why they didn't allow any bags or backpacks to be brought in.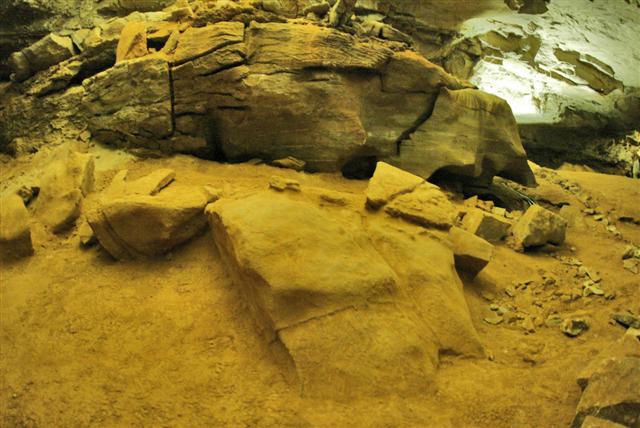 Much of the trail system that we see today in the Mammoth Caves were built by Roosevelt's CCC in the late 20's. Once the National Park system was established in the 30's, they took over. Before the CCC, the caves had been explored by people as far back as 4000 years ago. Throughout the cave system, there are various markings on the walls and ceilings left from past explorers. Cindy asked our guide Paula why it looked like graffiti? Paula went on to tell us that they were Candle Smoke Writings and were left by early explorers from the 1800's. Much like today's youth like to mark there names on various walls and water towers, the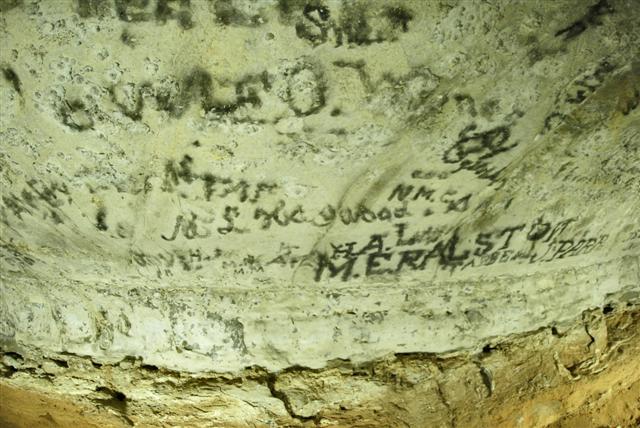 people from the 1800's liked to do the same. Only difference is they didn't use spray paint, they used the candle which would burn the name into the rock with soot.
It was cool to see names of various guides and tourists from the 1800's so clear, you'd think they wrote them yesterday. With the cool temperatures and no adverse weather, anything left in the cave is preserved perfectly for centuries. One thing that we found interesting was one of the guides that had toured for decades, had wrote his name in three separate places all with a different last name. Paula told us "It's because depending on who his owner was at the time, that's the last name he would use." We found it amazing that in a time when slaves weren't allowed to become educated, this guide had taught himself to guide, read and write. Paula told us "He spent so much time in the caves guiding tourists, that many of the them would teach him basic writing in the hours spent underground." Back then, there were two tours available, the short tour, which was 6 hours, or the long tour which was 12 to 14 hours!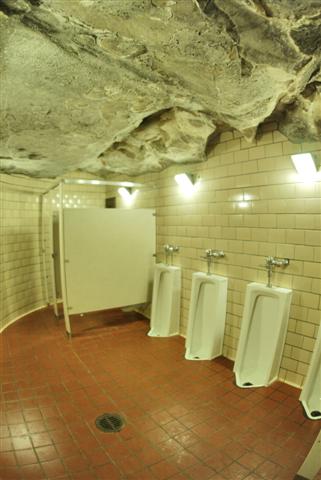 I found it really wild that they had restrooms over 260 feet underground. Taking many classes in Restaurant Management, you learn that one of the most detrimental items in your establishment are the restrooms. I walked into the restrooms in the cave system and was amazed that they just used the natural stone as the ceiling. The first thing I thought was, "How could I mimic this look in our next Bar?"
I had come to the Park as a child, but I was so young, I couldn't really remember anything about it except, it was a giant cave in the hillside. I think Cindy and I enjoyed the tour more then most of the young kids who are on their summer break. I think its funny how many attractions we've seen as adults and enjoyed them more now that we understand the history more clearly then we did as children. I'd recommend this attraction to adults more then I would to young children. Teenagers might like it, but it is some serious hiking and young kids might get bored with their short attention spans.
Friday June 22nd The Grand Avenue Tour at Mammoth Caves
We woke up this morning to pouring rain. Normally we'd think that sucks, but since we had planned on taking the Grand Avenue Cave Tour today, who cares what the weather is like on the surface. Kentucky is in a major drought right now, so they need rain badly anyway. The Grand Avenue Tour is one of the longest tours the Park System offers, at over 4 hours and 4 miles long. The best part is, it's a completely separate part of the cave then we saw yesterday. No overlapping, and by combining the two, we get to see 90% of the toured cave system.
The entire Mammoth Cave system is over 360 miles and is the longest cave system in the world!! Mammoth Cave is so long that if the second and third longest caves in the world were joined together, Mammoth Cave would still be the planet's longest cave and have over 100 miles left over!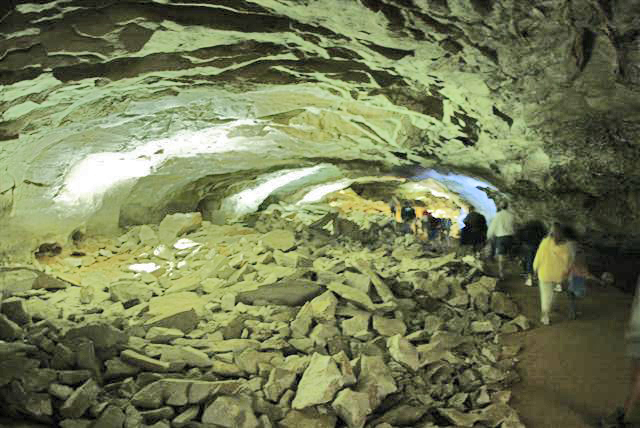 The Grand Avenue Tour is completely different then the Historic Tour. You see alot more on the Grand Avenue Tour, but its alot of the same stuff. Like our Guide told us, "It's a lot of walking while viewing a lot of rock." Imagine walking down a wide sidewalk with amazing views and a low ceiling above you, and that's what this tour is like. I wanted so bad to be able to stop and take some good pictures, but when I apologized to Joe the guide in the back of the group for holding him up, he simply replied "Well you are!" Obviously he wasn't in the mood to talk or have any conversation?! Nothing like our two fantastic female guides yesterday who when I said to one "I hope I'm not holding you up?" Her kind reply was, "I'm the last one to leave, and I get paid till I leave, so take your time, you paid for this didn't you?" That's the way I expect a National Park guide to be. Kind, courteous and very knowledgeable about their subject we're touring.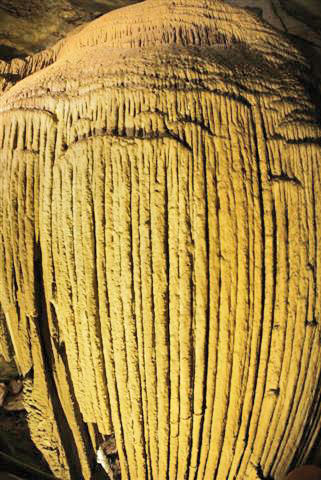 The Grand Avenue Tour is so long, you stop and have lunch in the middle of the tour. At over 250 feet deep, it was weird to sit at some picnic tables eating a box lunch that far underground. The second half of the tour is completely different then the first. Lots more climbing and many different views. Going anywhere from very large rooms, to slot canyons to sections with crystal clear pools to a section that reminded me of Blanchard Springs with its large Stalagmites and Stalactites.
All in all, the Grand Avenue Tour is something you shouldn't miss, but I think our two guides on the Historic Tour talked so much, and were so friendly, they made that tour more enjoyable.
The beauty of Mammoth Cave National Park is that its so centrally located, it's really only a days drive from most of the United States. There is plenty to do around the area while here. Each night they would have a little show at the Campground Amphitheater for free, and with the Green River, the Nolan River and dozens of other caves to explore in the area, it's really a great destination spot for the entire family.
Saturday June 23rd General Patton Museum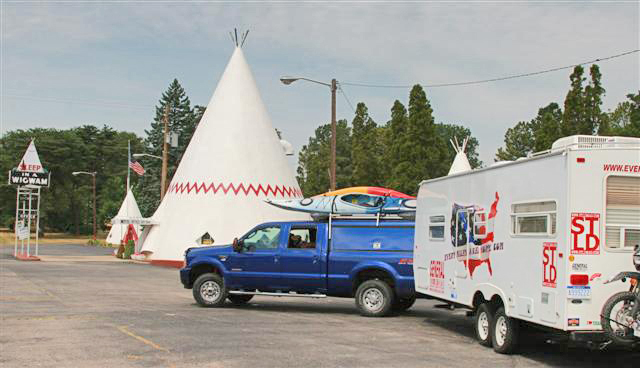 We left Mammoth Cave National Park and headed North toward Louisville. We need to be in Clermont Kentucky to be near the Jim Beam Distillery. We plan on touring it on Monday or Tuesday and had a few days to kill in between. While looking at the map, Cindy said "We'll be passing Fort Knox, we should stop and see if they do any tours?"
If you're ever in the area, DON'T STOP at Fort Knox! I pulled in and was greeted by an armed guard with his hand on his service weapon. I got out of our truck and asked if they offered any tours which must have been the dumbest question this guy had ever heard by the look on his face. He said "I've worked here all my life and have never been inside that place!" I was just about to ask if I could take a picture of our rig in front of the gate when the guard said, "I'm going to have to ask you to leave and no pictures can be taken of the gate or the building itself"
That answered my question and I apologized for being so ignorant. He went on to say "If you want to see something cool, go one exit down and check out the Patton Museum." This is where I said one of the dumbest things I've ever said in my life, and this guy probably wanted to pulverize me right on the spot. I said "What is the Patton Museum? Like Paten Pending or the General?" He just looked at me and through his dark sunglasses, I could see his hand tighten on his weapon. With gritted teeth, he said "The General" I'm sure he wanted to follow with "You Dumb Ass!!"
I got in the truck and Cindy said, "So, do we get to go inside?" I just gave her a look and said "No, they wont let us inside."
The General Patton Museum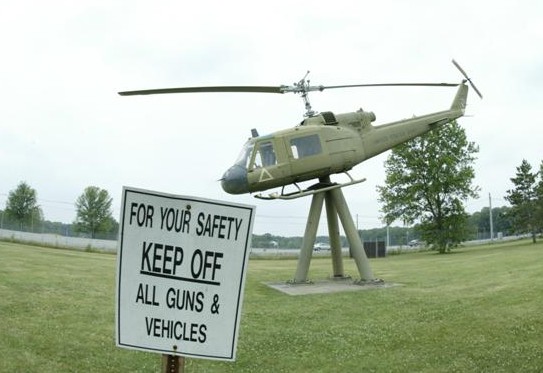 This is another one of those attractions I had never heard anything about in my lifetime. Now that we've been there, I'd recommend it to anyone who enjoys history. It's a must for anyone who has been in the Military and should be required for military history buffs.
The George S. Patton Museum is loaded with artifacts from one of our nations most decorated hero's. Walking up to the museum entrance, I had no idea what to expect. The front lawn is loaded with US Military Tanks and a Huey on a pedestal. I figured we'd be in and out in a few minutes and on our way. Two hours later, I think the only reason we left, was because we were both so hungry. There are many displays from Patton's life and almost all of his Military Memorabilia.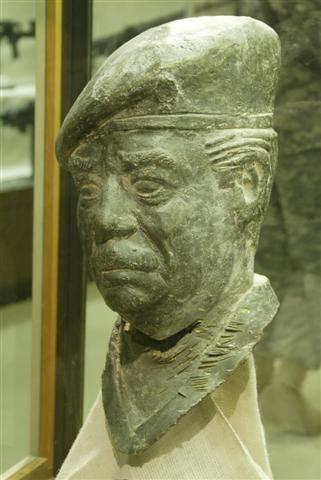 The vehicle he was in that famous accident that cost him his life, many of his personal belongings and amazing artifacts they've found that were presents to this world renowned Four Star General. You get to see so much of his personal life, that I almost felt like I did while touring Graceland. Sometimes I'm not sure if it's right to be reading pages out of someone's diary or seeing notes that were only met for his wife.
The Patton Museum isn't just items from Patton's long and War Torn life. There is an entire display from World War II and the atrocities of the Germans. They have a phenomenal display of weapons from both the Desert Storm and Vietnam Wars. They even have the Bust of the late Saddam Hussein taken from Baghdad. A picture board beside the Bust shows detailed shots of the 1st Battalion, 64th Armored Regiment destroying the full figure of Saddam on a horse with a single shot from their M1A1 tank. The coolest part is, I remember seeing this on the news channels back in 2003 and thinking how cool that must feel to be liberating a country that was run by that awful dictator. They have pieces of the Berlin Wall, signs from the German sect and pieces of history from every major battle in History.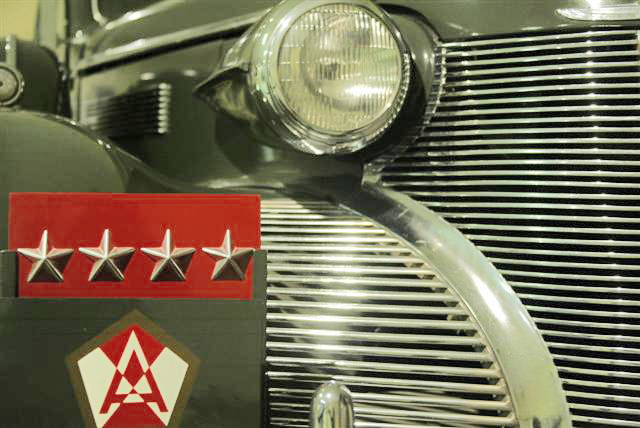 I couldn't believe the Patton Museum was free to tour, and so loaded with military memorabilia, it should be much more publicized then it is. It's hard to fathom, being the history buff that I am, that I had never heard of it before this day, and we really only found it because of the guard at Fort Knox. While we were first walking around reading all the story boards describing the many displays, I noticed a few other families wandering around like us. As we became more interested in the displays, I kept noticing the place filling up with young men dressed in their camouflage fatigues. With Fort Knox being an active military base, it looked like a local platoon had some time to take advantage of this historical treasure.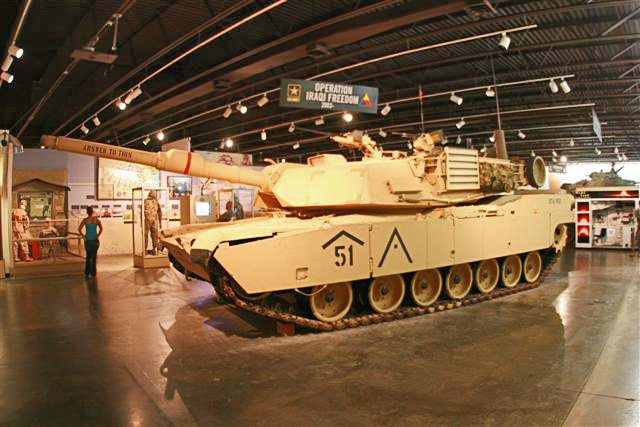 I couldn't help but become a little emotional looking at some of these young men who were only our daughters age, who were volunteering their lives to protect our country. While looking at a display of the various I.E.D.'s used against our forces in the Operation Desert Storm War, a ground of the young cadets were all huddled around the display studying the various explosive devices many of them might come up against in a few months time. I couldn't imagine what might be going through their heads?
I almost teared up when I was putting some money in the donation box and over heard an older gentlemen say to his young grandson, "I came here when I was a child, I brought your father and your Uncle here as children, and now I've brought my Grandson here. This is 3rd generation memories were making here today son!" As he put his arm around his Grandson, they walked out towards the parking lot and I thought to myself, I'm really glad we made a mistake and found this place today.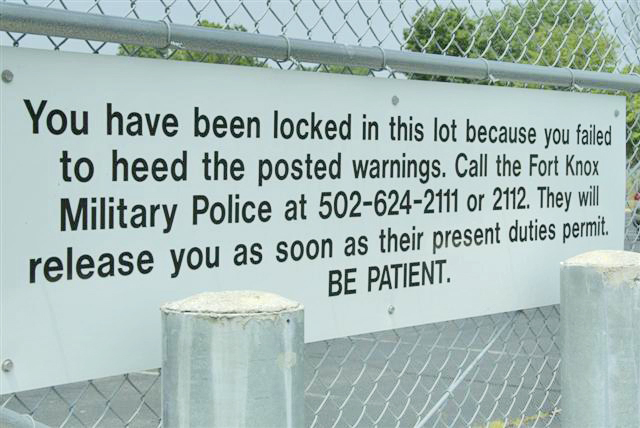 Sunday June 24th Conscious Goods Alliance RV Team
Since we didn't do anything significant enough to mention, I figured I'd mention a group of folks we met while at Bonnaroo.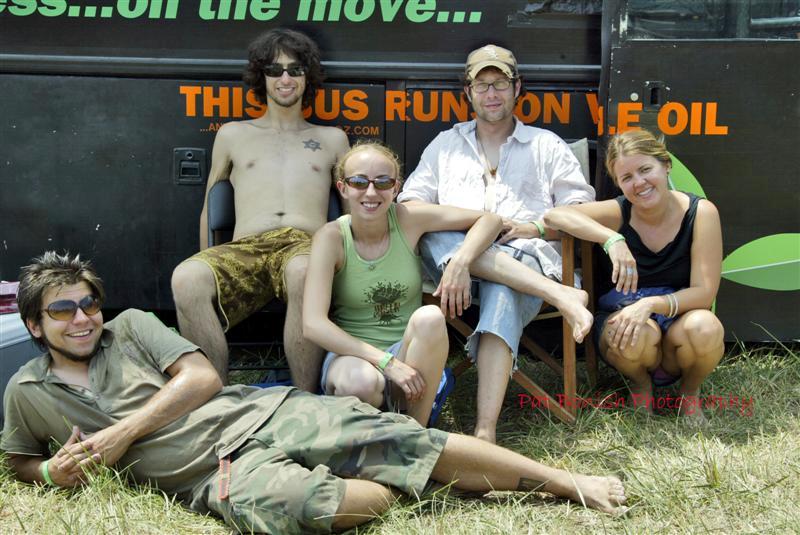 The Conscious Goods Alliance team is made up of a group of young folks who are traveling around the country in a 1984 Shuttle Bus that has been reconfigured to run on recycled vegetable oil. Cindy and I have been looking into converting our truck to run on vegetable oil, so we really wanted to talk with these folks and ask a ton of questions.
When we went in the bus, I was amazed that they had rebuilt the entire interior with materials they had recycled. The counters were recycled bamboo, the wood flooring recycled from an old house, and their fuel is recycled from restaurants they stop at while on the road. They said in the 2500 miles they've traveled, they've only used 4 tanks of diesel fuel!! In a vegetable oil system, you still need to run diesel fuel to start and stop the motor, and once the motor is up to the proper temperature, you switch over to the vegetable oil.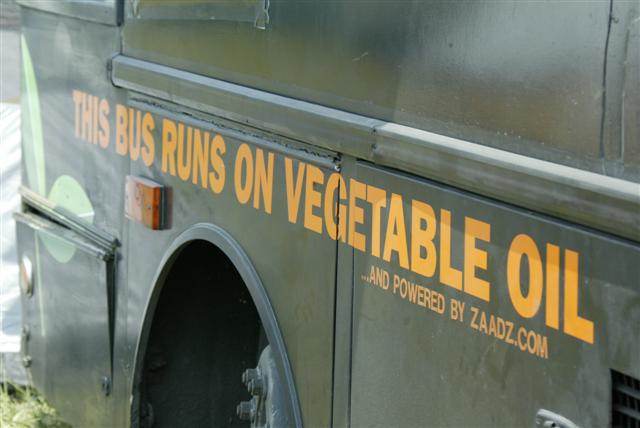 The theory behind the Conscious Goods Alliance is they believe in the world of The Bottom Line, a company's main focus is on how much money can be make, at any cost. The companies that make up the Conscious Goods Alliance follow a Triple Bottom Line approach. A business philosophy that partners with, and is committed to, the social and ecological bottom line in equal partnership with traditional bottom line financial returns.
They are conscientious companies promoting conscious lifestyles, products and brands and believe that by working together - helping consumers make informed, conscious choices - it is possible to not only be profitable but also to be a restorative and positive force in our world.
It was cool to see a group of young adults traveling around the country spreading beliefs on how to help our struggling country. The best part, is they are doing it as ecologically friendly as they possibly can. If more people understood that they could save so much on fuel costs by switching over to Vegetable Oil, our air quality would be much less taxed then it is.
Monday June 25th Bardstown Kentucky, Bourbon Capitol of the World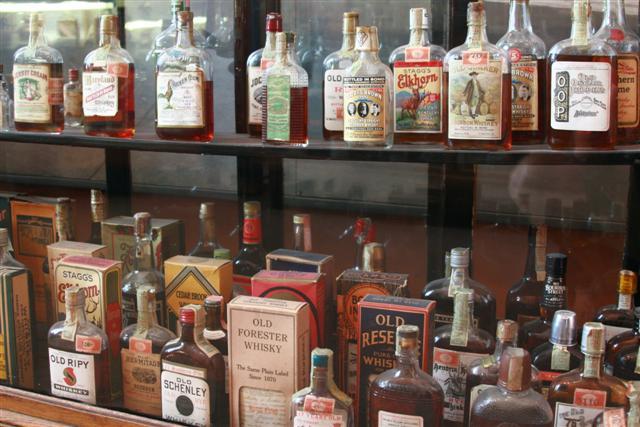 People have many different views on alcohol. Some hate it, some love it, but no one can argue the fact that it has changed our world and contributes to many daily things we take for granted.
If you've never looked into the history of alcohol, you should. If you enjoy reading, read the book, The History of the World in Six Glasses by Tom Standage. After reading this fantastic book, which is a very quick read, I was amazed at how much of the worlds changes have been made due to Alcohol, it's production and it's consumption. So many things have been invented because of Alcohol and it's consumption. The cash register was invented by a bar owner, the refrigerator was invented to be able to transport beer and keep it fresh. Pasteurization was invented also to make beer last longer. Things we take for granted, have come about because of this Fire Water.
Owning a bar for 6 years, and working behind one for much of my adult life, I've done much studying on different types of alcohol and how they are made. Cindy and I love to do Brewery tours, and up to this point, had never done any Distillery Tour to see the flip side of the industry.
A few days ago, we had visited Jack Daniels, and toured their facility. Working our way back up to Michigan, we're traveling through some great areas where alcohol production dates back hundreds of years. Bourbon and Kentucky go hand in hand. To get its name, Bourbon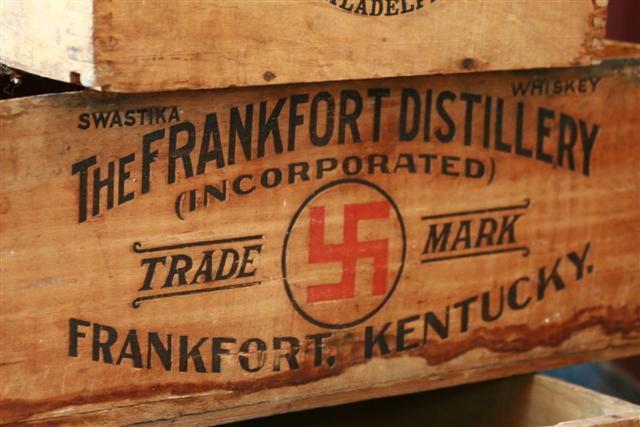 must be made up of an exact mixture of grains, and must come from the Kentucky area. The history of Bourbon dates back to the dawn of our country. The Scotch-Irish settlers who were living in the Pennsylvania colonies had brought over their native traditions and were producing Whiskeys for personal consumption and profit. It was common for most households to have a backyard still, and most of our nations fore fathers distilled their own whiskeys and beers.
When the government tried to put a tax on the settlers and their alcohol production, the Whiskey Rebellion broke out. Instead of fighting an all out war, the Governor of Virginia, Thomas Jefferson, offered pioneers sixty acres of land in Western Virginia, what is now known as Kentucky, if they would build a permanent structure and raise "native corn".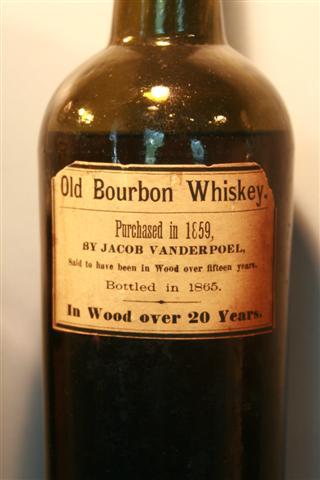 Since no family could eat sixty acres worth of corn a year and it was too perishable and bulky to transport for sale; if it were turned into whiskey, both problems would evaporate.
The legend goes that one whiskey producer was a might thrifty and used old barrels to transport his whiskey to market in New Orleans. He charred the barrels before filling them, thus after his whiskey made the long trip to market, it had "mellowed" and taken on a light caramel color from the oak. Being from Bourbon County Kentucky, he started calling the whiskey "Bourbon". Interestingly today, there is no whiskey produced in Bourbon County. Bourbon is also America's Whiskey, designated so by an act of congress.
Most of the Bourbon we drink today is Distilled in or around Bardstown Kentucky. So much so that Bardstown is known as the Bourbon Capitol of the world. With Jim Beam, Haven Hill, Makers Mark, Four Roses, Barton Brands and a few others all being distilled within a few miles of this funky little historic town. Bardstown is also the location of the Kentucky Bourbon Fest which brings in thousands of Bourbon lovers for this five day event.
Among the many historic houses, museums, churches and shops, the town is also home to the Old Talbott Tavern. This great little tavern which is still being used as an Inn and restaurant, is said to be the oldest western stagecoach stop in America as the westward expansion brought explorers from the east into Kentucky.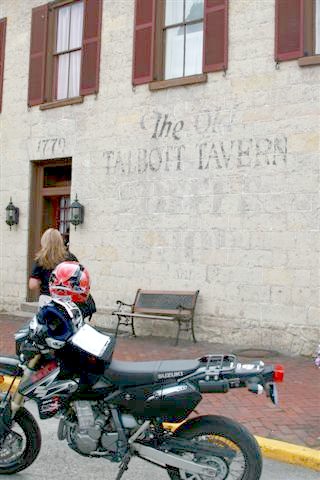 According to legend, figures straight from the history books sought lodging in this Inn during their travels; as a young boy Abraham Lincoln and his family stayed here, Gen. George Rogers Clark, Daniel Boone, and exiled French King Louis Phillipe and his entourage stayed here, even painting murals on the upstairs walls. There are noticeable bullet holes in the now faded paintings and Jesse James is said to be responsible for them.
Bardstown is also home to the Oscar Getz Whiskey Museum. We stopped in the Spalding Hall where a few different museums are located. If you're into history and especially into Whiskey, this is one of those museums you'll spend hours in. The museum has displays ranging from antique bottles, unique advertisements from the 1800's, the bottle from where Booze gets it name, moonshine stills and dozens of other fantastic displays.
With displays of the American whiskey industry dating from pre-Colonial days to post-Prohibition years, I was amazed to learn about Carrie Nation, the physco-witch who during the early 1900's would run around breaking bottles and tearing up bars. With a bible in one hand and a hatchet in the other, this woman riled against sex, alcohol, politics and tobacco and is said to have started the Prohibition Movement. It only took 40 years for the United States Government to learn that banning alcohol didn't solve any of the countries problems. Actually, the government lost so much money on the lost taxes from alcohol production during Prohibition, that this awful law was probably one of the worst the country ever came up with.
We wandered around the museum for hours until we noticed they had locked the doors and the curator was waiting patiently for us to finish. We apologized for taking up so much of her time and headed over to the Old Talbott Tavern to sample some of this product we had just learned so much about.
Tuesday June 26th Touring the Jim Beam Distillery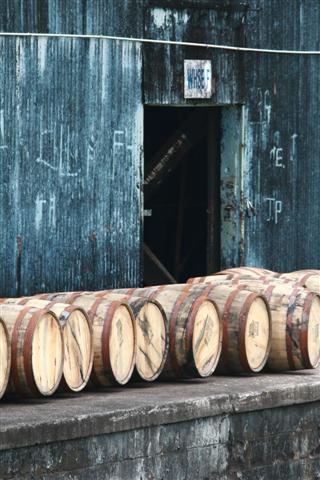 Just a few miles out of Bardstown, is the town of Clermont. Clermont is the home of Jim Beam Brands and the main Jim Beam Distillery. With 209 years of history in one family, seven generations making the same product with the same recipe. The number one selling Bourbon in the world has a great story to be told—what you see is what you get. Straight Bourbon and no frills. After the short movie, and self guided tour through the distillation process, you can wander around the grounds checking out the different displays. The best part was the tasting house.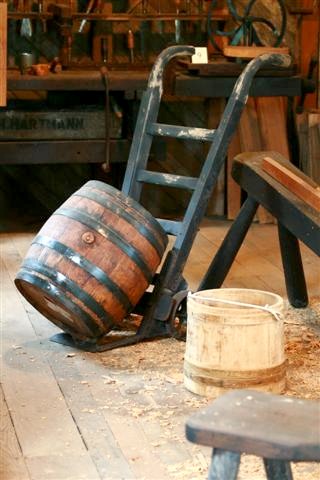 At the Distillery, Jim Beam also distills Booker's Bourbon and Knob Creek. Since we're so used to tasting the smoothness of Jim Beam and Jim Beam Black, we sampled the much more expensive flavors offered. I was a little worried when they said that Booker's is a 125 proof, I thought there is no way I would enjoy a bourbon that strong, that was until I tasted it. For something so strong, it was amazingly smooth and sweet.
From Jim Beam, we headed back to our Sunline and spent the afternoon relaxing and enjoying some of Kentucky's favorite beverage.
I think I could live in a small town like this. It reminds me alot of our hometown of Milford, only surrounded by high quality distilleries.
Wednesday June 27th
Sitting around the campground, we were going to leave today, but it was raining pretty good, so we figured we'd just hang out and wait another day. No need in driving in the rain and all we got is time.
At one point during the afternoon, Cindy and I were sitting in the camper starting to wonder what would happen if the Sunline got struck by lightening? I've never heard of a camper getting struck by a lightening bolt, but I didn't really want to be the first. This storm was very crazy that was blowing over us. We both just sat and watched out the window as bolts struck the ground all around us for a few hours straight. I think so many were hitting the ground, that the sound of thunder never stopped. It was just a constant rumble interrupted every now and then by a loud crack that would make the dogs run for cover.
When we tuned into one of the local news channels to see if we should be running for cover, the news anchor said that in the past two hours, over 250 bolts of lightening had touched the ground in Bardstown alone!! Needless to say, it was an enjoyable show and we thanked the God's for sparing us with their Lawn Dart game.
Thursday June 28th Saving the Best for Last - The Makers Mark Distillery
We had to check out the Makers Mark Distillery before we left this area. I've always liked this bourbon and been interested in learning why it's the only bottled capped in it's signature Red Wax.
The drive over to Loretto from Bardstown was very neat in of itself. Rolling hillsides dotted with ol' farms and fields of swaying corn. The town of Loretto is about the size of a truck stop off any major interstate, and by the looks of the trucks in the local diner, most residents probably work at the distillery or in one of the farms that grow the corn, grain or wheat for the signature product.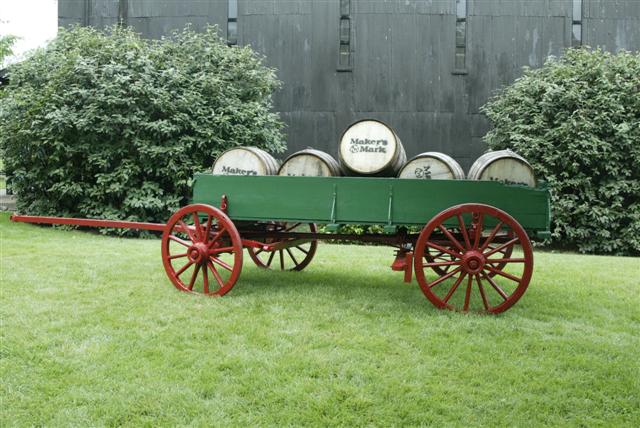 Makers Mark starts their first tour at 10:30 am. We wanted to be there bright and early so we could be on the road by the afternoon. Kevin, our tour guide started us off with some historic facts about the family farm and the land the distillery is located on. Even though Makers Mark wasn't started till the 50's, the Samuels family has been producing Bourbon since 1805. Cindy and I love the smaller companies that can compete with the big boys in the business, and considering Makers Mark is considered one of the smallest Distillers in the US, with roughly only 30 people on staff in the production side of the business, this was right up our alley. They produce 18 barrels per day, which is hard to compare with the 700 some of the larger distilleries produce.
Their is a house on the grounds, where Charles Burk, the original owner lived and it's still used for functions today. This house looks immaculate and was built in 1898! This is the first distillery we've been to that looks more like a garden center then a distillery. The grounds are immaculate and with a rock lined stream flowing through the heart of the operation, you'd think you're in some award winning garden tour rather then a distillery.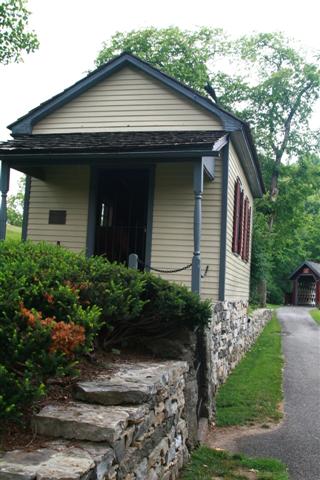 Kevin first showed us the Quart House. This small shed of a house was the 1st retail liquor store in the United States and to think it was a drive through. Back then, people could pull their horse and buggy up to the Quart House to get their own bottles refilled right from a bourbon barrel. That was before the government stepped in and told the distillers their product had to be bottled before they could sell it. That government and their tax system always has to ruin a good thing.
The property where Makers Mark is distilled has everything they need to complete their 'Small Batch Bourbon'. With a ten acre limestone lake to draw their water from and hundreds of acres to grow their corn, you know this family recipe is 100% natural with nothing artificial added. Their wheat is even grown in the next town over back in Bardstown making this smooth whiskey 100% American. Nestled in the hills around the rolling acres are dozens of warehouses where the barrels of this fine bourbon are stored for the aging process.
Kevin brought us right in where the main ingredient is drawn off the trucks that bring this golden sweet corn in from the fields. Rollers turn the kernels into mash where they're mixed with the iron free Kentucky water in the Fermenting room. This is the only distiller we've visited that still had some of the original stills made from cypress. Cypress wood wont absorb the mixture like many other soft woods will.
Of all the tours we've been on in the past few weeks, Kevin was probably our best guide. There wasn't a single question he didn't know the correct answer to and could usually give you a great little story to compliment it. I was surprised when he told us "Makers Mark only makes one product, they don't have to worry about anything else other then making it perfect." It's not bottled on an aged basis, although no barrels are tasted before 5 3/4 years, its found with a tasting panel. The barrels go through a 19 person tasting panel before they're pulled and sent to the final Master Distiller to see if it can be bottled. If for some reason, a barrel doesn't meet the expectations of the tasters, it's destroyed.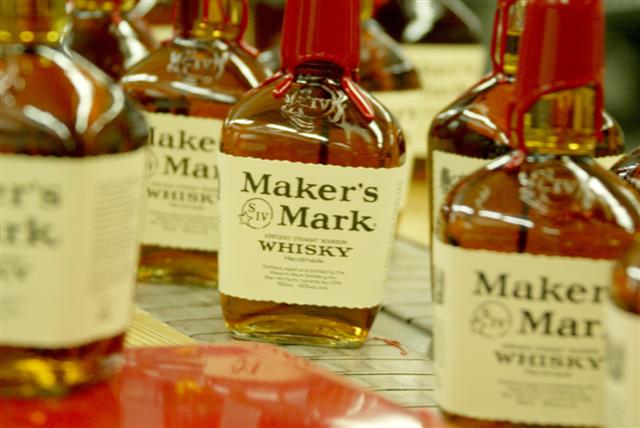 Another thing I found very interesting about Makers Mark, was when Kevin told us that Mrs. Samuels was the one who originally came up with the brands signature Red Wax Top. Mr. Samuels wanted to be left with the distillation process side of the business, and gave Mrs. Samuels free reign on the marketing side. She had a collection of fine Cognac bottles where the tops had been dipped in wax. Cognac was very expensive and usually only the elite could afford to indulge on such a drink. It more or less showed a sign of royalty. She was responsible for coming up with the idea of dipping the bottles she also designed in the red wax that is now their signature trademark. Speaking of Trade Marks, Mrs. Samuels also had a fine English pewter collection at the time, and most of the expensive pieces had a mark of the artist stamped on the bottom, which was called the makers mark. Hence the Makers Mark name was born. Mrs. Samuels was also a calligrapher and designed the label which has never changed since the 1950's.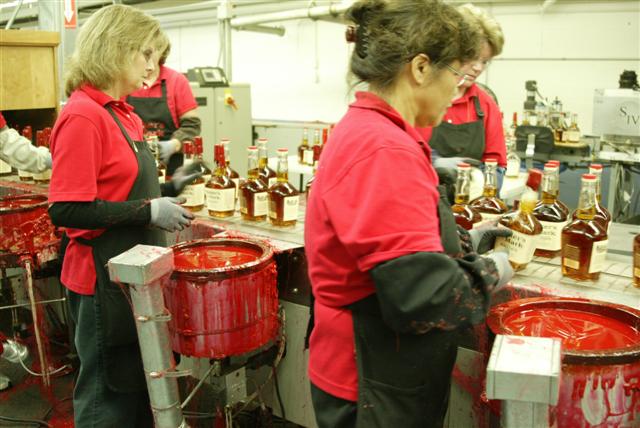 Kevin brought us into the bottling section where each Makers Mark bottle is still dipped by hand. I watched in amazement as bottles whizzed past so fast I could barley focus. Six women stood waiting at the end of the line grabbing bottles, dipping them in a vat of molten wax, spinning them in a twirling motion and grabbing for the next bottle all in one smooth move. I had to sit and watch for quite awhile just to take it all in. Kevin told us the ladies can dip 114 bottles per minute!!!!! So none of them get carpel tunnel problems, every thirty minutes the women rotate positions between labeling, dipping and boxing this product before it is sent off to us in the stores.
After the tour, Kevin finished up with any last questions, and brought us into the Makers Mark gift shop. They have so many different items offered with the wax coatings on them, it was amazing. Hats, Cigars, golf clubs......the list goes on and on. The coolest thing, was you can buy a bottle that hasn't been dipped yet, and hand dip it yourself. Cindy took on the challenge and tried her hand at the process made to look so easy by the women we had just seen. Something tells me it takes years of practice before you get it right, because Cindy's bottle looked nothing like the ones we see on the shelves. But, it's a one of a kind, and that's what makes it special.
This awesome tour I'd recommend to anyone. I'd even say it was worth it's own trip. Central Kentucky is only a days drive from much of the United States, so this is one of those tours you could fit in to almost any vacation to the Mid-West. If you're planning on taking the Makers Mark Tour, I'd call and see who's giving the tour and see if Kevin is available. He made it all the better.
Leaving Kentucky and 7 Years Bad-Luck
While on our way out of Loretto, we were rolling down one of these back roads when a truck traveling at a high rate of speed crossed over the double yellow line and our mirrors collided!! About 4 seconds before impact, I said out-loud "Man, that guy's hugging the line" when a shot gun blast of a sound scared the living SHIT out of the two of us.
Thank God I didn't have my window down or my arm would have been hanging out and probably torn off! With Cindy screaming at the top of her lungs, my heart sitting in my throat, and the dogs shaking in the back seat, we pulled over to the side of the road and waited to see if the guy would turn around? The roads were way too narrow for us to try and turn around, and we couldn't get a signal on our cell phone to call the police, and I couldn't really merge back onto the road with my mirror dangling in pieces off my truck.
While we were waiting, I was able to piece the framing that had held the mirror back together enough to make it stay on the side of the door. I went into the camper and got a mirror I use to shave with and duct taped it where my giant towing mirror used to be. This should be fun going from a mirror that gave me a clear line of sight all the way back beyond the camper, to squinting in a little compact.
We made a police report, stopped at a local Ford dealer who didn't have a replacement, and finally bought a mirror at an auto parts store that we could tape in place. Two hours later we were back on the road, with my ear still ringing. I honestly think I might have done damage to my ear drum?? Noises that loud shouldn't be that close to a naked ear!! But we're safe, and that's all that counts. Tomorrow we visit the Cincinnati Zoo, and Saturday we should be back in Michigan for the Forth of July Holiday. Good Luck if any of you are on the roads and drive safe.
Return to Top of Page
Need Unlimited photo storage- FREE Trial of Smugmug