When we realize our insignificance in this world,
it some how relieves the pressures from society to succeed - Cindy Bonish 04/07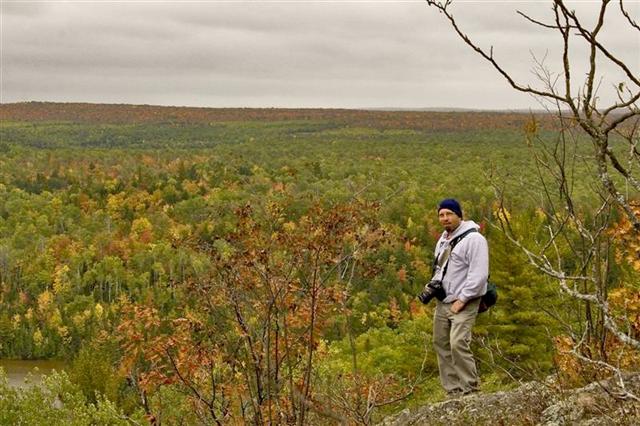 Pat's October 2007 Blog
If This is your first time here, you might want to start from the beginning with my previous months Blog's
January Blog February Blog March Blog April Blog May Blog June Blog July Blog August Blog September Blog
For Those That Don't Know Me, You can click here to read my Bio
Photo Gear We Use -
Solar Tips, Fact's and Trick's we've learned while on the road
_________________

Monday October 1st Heading North towards Boundary Waters
We were up early and headed towards the Boundary Waters area for the next few days. We stopped at a local outfitter to get one of our propane tanks filled. Although we have two, one had gone empty a few weeks back, and we know the area we're headed to isn't that populated. We might as well stock up while we know we can.
While the guy was filling up the propane tank, I was asking him if he could give me any pointers for heading into the Boundary Waters area, and he told me to "Go inside and talk to the girl behind the counter, she is very familiar with that area"
So I went in and talked with Dawn who grabbed a Gazetteer and pointed out numerous spots to camp, hike and fish. I bought the map and thanked her for all the info. I guess this week starts Moose hunting season, so she said "If you're going to be hiking in the woods, make sure you have some bright colors on."
I hate to start off a new month with such a topic, but while driving North, we got a phone call with some bad news. My Grandfather on my Dad's side of the family had just passed away. Although we knew it was coming, he had been in a nursing home for the past few years with his health deteriorating, it always hurts to hear it when it finally does happen. I spoke with my family on the phone while we were driving, and said many prayers in my head.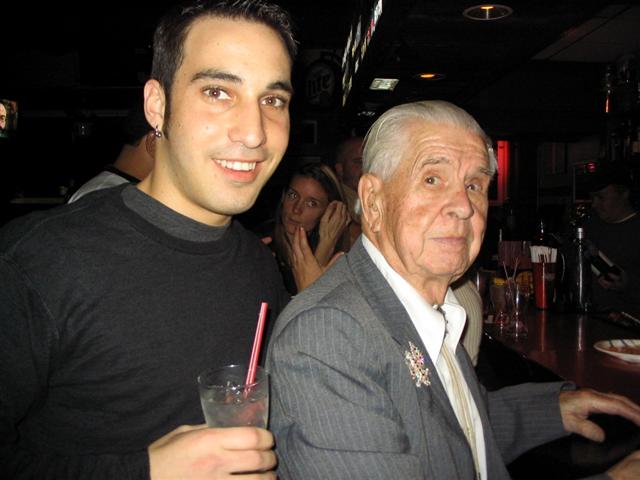 My family will just have a small service, so Cindy and I wont be flying home for the funeral, but I know they understand as we had talked about all of this while we were home a few weeks ago.
We were sort of expecting it would happen this month. So with that said, I'm sorry if I brought the mood down, I just felt I needed to give my Gramps a little mention on his final day. We love him and he will be missed.
That's a picture of my little brother Joe, on his 21st birthday and my Grandfather at the Red Dog. Makes Joe a 4th generation Bonish.
Once we got farther North, we noticed the temperature was dropping drastically. Dawn had told us that this area had already gotten some snow, which was another reason we wanted to make sure we were stocked up and ready for any weather we might run into.
We pulled over in Two Harbors as it was getting late in the afternoon to see the lighthouse. I got out to snap a few pictures and while I was walking back towards the camper, I noticed a hissing sound coming from one of the tires. Oh Man, not another flat!!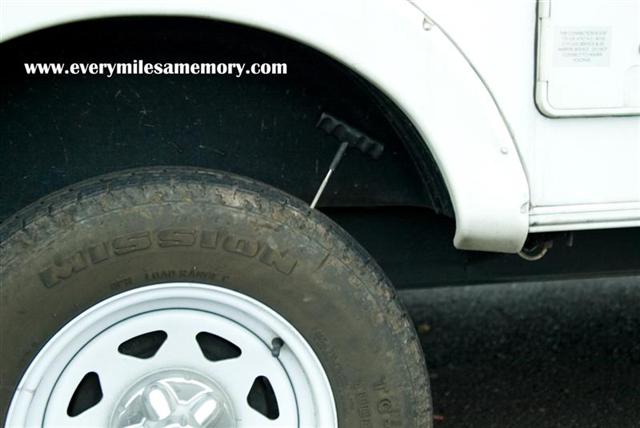 I found a screw stuck in the tire with a slight leak. I didn't want to be changing a tire in the dark, so I grabbed the plug kit out of the tool box and tried to hurry up and get a plug in it.
While plugging the tire, I stopped while I was reaming the hole out and thought, this has to be the worst possible sight you could see, so of course I had to take a picture. Once the plug was in, we stopped at the nearest station to air it back up all the way, and found a campground just as it was getting dark.
We want to be up and on the road early to get to the Boundary Waters area and see what kind of wildlife we can see. Neither of us have ever seen a Moose before, and Dawn said our chances were pretty good this time of year to spot one. So I'm really excited.
On Another Note: I had added a few pictures to the September Blog, so if you missed them make sure to go back and check them out, they are really cool!!
Our Time Spent in the Boundary Waters
Thursday October 4th 2007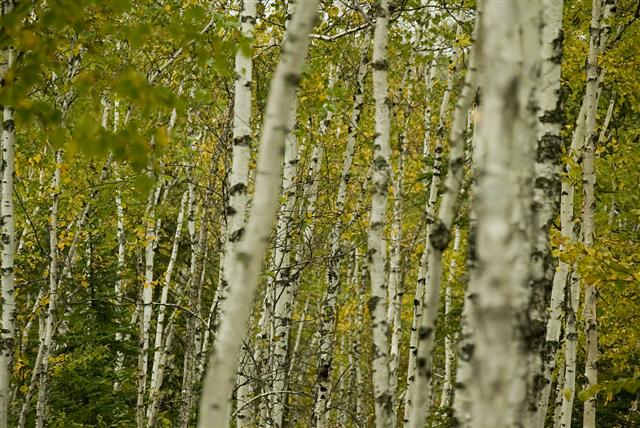 We were both so excited about going to up to Northern Minnesota and camping in the "True North" as my friend Wade likes to call it. This area is some of the most beautiful country we've seen so far. The colors are much different then the fall colors of Northern Michigan. Michigan has tons of maples which turn multiple colors to give you an entire spectrum to gaze at. Northern Minnesota is loaded with Birch, Poplar, and Aspen. These trees tend to only turn yellow or gold. The Poplar and Birch turn a deep goldish yellow where the Aspen only turns a pale yellow, but what I'm saying is the mountain sides look like someone had spilled a few million gallons of yellow paint down them.
Our first day up here, it poured rain the entire day, and I don't mean just a nice light rain. We're talking a down pour for multiple hours. This put a stop on any hiking we had planned. So we just drove around some back roads looking for Moose or Bear or anything that we could, but saw none of them. What we did see was a bunch of deer, a few Eagles, one bald one and one huge American Eagle, and a whole lotta lakes.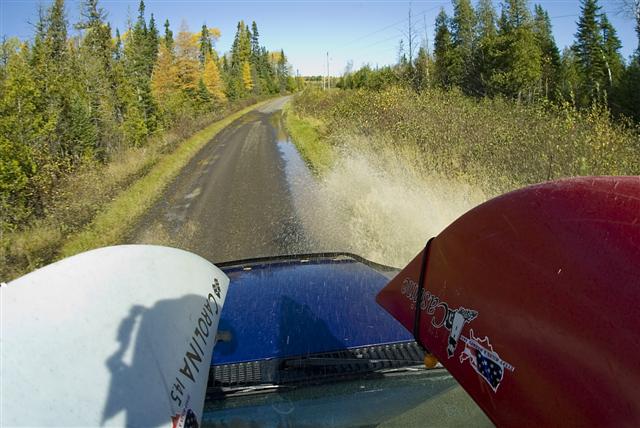 The next morning we woke up to crisp blue skies and cooler temperatures. We got on the road real early hoping to take the Gunflint Trail as far North as we could. This is Route 12 which is the only road through the millions of acres that make up the Boundary Waters area. Talk about a scenic road!! Words cant describe it's beauty, especially with the fall foliage in full swing. We got off the main road and took some forest service roads which are more like a two track trail, but snakes right through the heart of the swamps and many lakes that make up the area.
Our chances of seeing any moose were very slim with the beautiful weather we were experiencing. Talk about a heat wave! With temps in the low 70's, this area that had already seen snow this year, was thinking they were back in the midst of summer.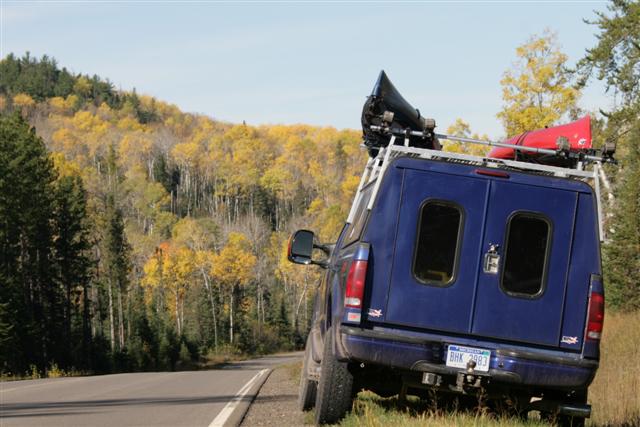 When we got as far North as the Gunflint Trail would allow, we stopped in a campground to take some pictures and just bask in the afternoon sunshine with not a sound to interrupt us.
We talked with a friendly camper who had gotten a flat tire and helped air it up for her so she could make it back into civilization to get it fixed. As we were headed back, I asked Cindy to look on our trusty Minnesota Gazetteer Map to try and find a forest road back to our campsite. With the GPS and the Gazetteer, there was no way we could get lost!?! Yeah Right. When the road went from forest service road, to two track to running smack into a river with no bridge, we knew we were lost.
With the sun setting and eminent darkness approaching, we knew we needed to find where we were on the map. I thought it was funny when the GPS went from giving us the road name we were on and the direction we were traveling one second, to just saying "Driving North West" and showing a blank screen, oh, and we were supposed to be heading South East!?! That's not good. So while turning around and debating whether we needed to put it in four wheel drive, we saw a guy standing by his house/hunting cabin. I jumped out and asked him where I was on our map, which brought out a laugh saying "Yeah, you're mighty lost if you think you're going that way"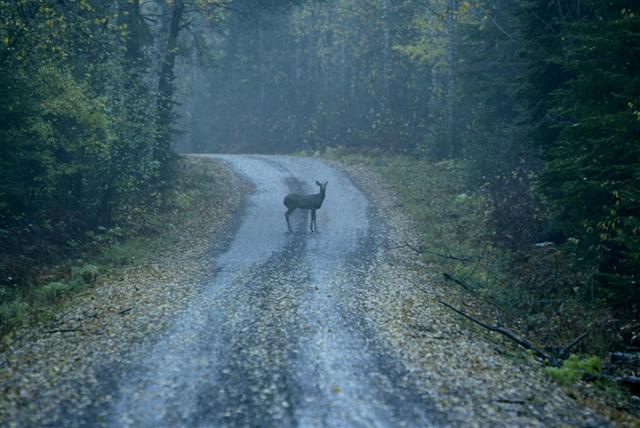 Much to our dismay, we hadn't paid attention to the fact that the route we were looking at on the map went up to each side of the river, but didn't cross it. So miles of backtracking were needed to get back to the campsite.
All under a cloak of darkness so thick, I was out driving my bright lights at 30 miles per hour. At one point, we saw two glowing red eyes in the distance, probably the size of a coyote or wolf, but before our lights could bring it into focus, it was gone into the woods.
I looked at Cindy asking why she was so quiet, which brought out "The only thing I can think of is rounding one of these turns and hitting a Moose!" We made it back to the Sunline and I think I fell asleep at the dinner table within a few minutes of finishing my meal. Much to our dismay, we hadn't seen one big animal, but did get to take in some beautiful scenery.
The Boundary Waters area is so big with so many different areas to paddle, being here for only a few days was just a tease. This is something we will have to come back to when time and nice whether allows us a few days to camp in the back country and enjoy it for all its worth.
Check out the Boundary Waters Gallery for some cool shots from our time spent in this beautiful area. Remember that sales from our photo galleries are the only way we fund this adventure we're on.
Friday October 5th 2007 Waiting out the Storm
We got on the road early yesterday morning to start heading back towards Victoria and our friends Derrick and Tish. We stopped at a few different water falls along the road way and tried our hardest to get a few shots of a bald eagle along the coastline. Our antics of locking up the brakes, grabbing the camera gear and running down the side of the road didn't lead to any good images, or at least anything that I'm proud of, it just made us look like idiot tourists to any passing motorists.
Cindy really wanted to see Duluth and its architecture, so we found a Wal-Mart, dropped the bike off the back and road around town for a few hours. This little port town is filled with cool galleries, historic buildings and plenty of good restaurants. We wandered around for awhile before seeing a sign for Fine Art Photography. I love to look at accomplished photographers and try to learn from their work. Ken Kollodge and his wife have lived in Alaska for the last 30 years and have some stunning work from the Great White North.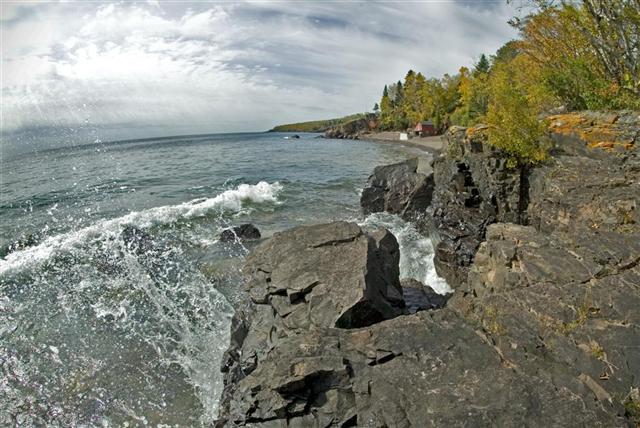 When ever I think I'm getting good at photography, I only need to see work like this to bring me back down to reality and humble my ego. Ken's work if fantastic, and he truly loves the field of photography.
You can tell by the way he will tell how each photo was taken, and he can give you a nice story to make the images all that more inviting. We sat talking with Ken and his wife for what seemed like the better part of the afternoon about traveling and what to expect when we get up to Alaska. They gave us plenty of pointers on the roads, the locals and what to expect. Then they recommended a fantastic little restaurant where we filled our bellies before heading back to the Sunline.
In the middle of the night, Cindy woke to something banging on the side of the camper. Now we've had this Travel Trailer for a full year this month, and have slept in it for 9 months straight, and not once have we heard this noise!?!
The wind had picked up and it felt like the temperature had dropped 20°. The camper was rocking so bad, the coats hung on a coat hook were banging against the wall. She got up to take them off and after getting in bed, we heard the noise again. What we later found it to be was the little strap that hangs down from under the awning. The wind was blowing so strong, that that little strap was making it sound like someone banging on the door.
Now, were just sitting here debating on whether to get on the road or not? The wind is still blowing in strong gusts, and the rain is pelting the side of the camper so hard, it sounds like sleet! Not the best driving weather. After this weekend with the Birthday girl, it looks like we're high tailing it south to some warmer weather.
Tuesday October 9th 2007
After a long weekend spent in Victoria Minnesota with our best friends Derrick and Tish, I needed to rest a few days. Those two are some of the biggest partiers we know, and when ever we get together, man do we have fun.
Talk about a weird weekend weather wise. On Friday when we were worried about driving home because of the nasty weather we were having in Duluth, I called Derrick to ask what the weather was like only a few hours south, and he said "What are you talking about? It's beautiful!" So we jumped on the road, and drove the few hours south to their house.
Like he had said, we got an hour out of Duluth and its nasty weather, and the skies cleared up and the temperature rose about 30°. We met them at Floyd's for a couple of Coors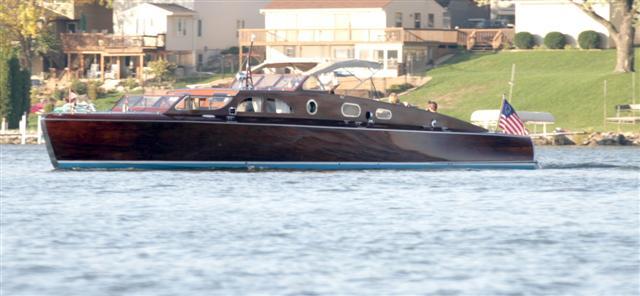 Lights before heading home to their house. It had been ages since we had played our favorite card game Euchre. So the rest of the night was spent laughing hysterically while us guys beat the girls in multiple games of cards. It doesn't always happen that way, so I have every right to brag.
We woke up Saturday morning to beautiful weather with a call for record highs. We put the boat in Lake Minnetonka and spent the rest of the day just taking in the unseasonably warm weather. This lake is huge and with this kind of weather this late in the season, plenty of other people had the same idea we did.
As the sun was setting, we pulled the boat out of the water and headed home. Derrick and Tish's neighbors Jim and Jackie had invited us over for some cocktails out on their back patio. Jim and Jackie were a riot to hang out with as we all had the same views on so many things, you'd think we had been friends for life. We talked about traveling and Jim showed us his Land Rover Discovery he had built for the trails of Colorado where they used to live. What a sweet ride he has.
By the end of the night, a few more neighbors had come and gone and one by one, we were all falling asleep in the warm Indian Summer temperatures. As usual, Cindy and I were the last ones out on the patio talking with Jackie when we finally said our "Good Nights" and crawled into the Sunline. We all kept joking how out of place our little camper looked in their beautiful neighborhood with all these monstrous homes.
Then just as fast as the warm temperatures had came in, they were gone. We woke up Sunday morning to much cooler temps and some slight rain. Cindy and I ran some errands early before coming back to Derricks house where we spent the rest of the day in the basement glued to his huge plasma screen.
Between flipping through hundreds of channels of Sunday football, Cindy catching up on her decorating shows on HGTV, and me getting caught up on some emails, we did absolutely nothing. Tish made one of her fabulous dinners and we ended the night with a hilarious movie, 'Knocked Up.'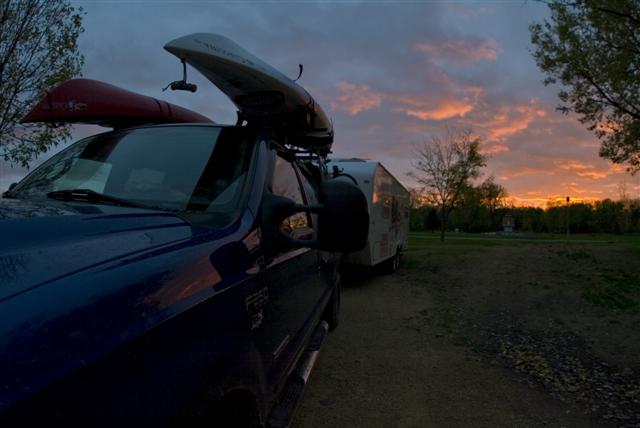 Another whirl wind of a weekend with these two, and like I said in the beginning, I need a break. On Monday morning, we pulled out of Victoria early and found a local REI Outfitters.
The kayaks were driving me nuts with the way they were sitting crooked on the roof top. I needed to find another pair of saddles to raise them up level, and knew REI would have them.
This REI was the largest one we've ever been in. After an hour of wandering around spending thousands with our eyes, we both grabbed each other saying "We need to get out of here before we go broke." We left with our saddles and headed South West.
A few hours drive in some very windy conditions and we landed in Mankato Minnesota. We found a local municipal campground, Land of Memories, and set up camp. While Cindy made some dinner, I adjusted the kayaks and mounted them so I didn't look like the true Pollack that I am. Oh, and we got a phone call from my little brother Joe to tell us he had proposed to his long time girl friend Nicole and they are now officially engaged!! Congrats Joe and Nicole!!
Wednesday October 10th Heading South by South West
While listening to the local news last night, we heard that the Boundary Waters area just got snow!! Thank goodness that we were out of there when we were. We could see the cold weather blowing in, and knew that we needed to high tail it South before we got caught in some nasty weather. The temps were probably only hovering in the 40's this morning which is just about 30° too cold for our liking.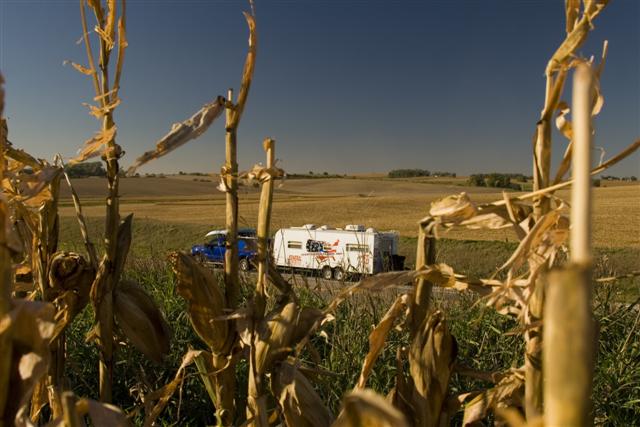 So we were up early and on the road. Within a few hours of driving Southwest on Route 60, we were out of Southern Minnesota and into Iowa.
I cant say much for this section of the Mid-West except they grow alot of corn. Corn from horizon to horizon. At one point, Cindy said "We've seen more combines then we've seen cars pass us" and she wasn't lying!
So I don't really have much to talk about for today. We drove some beautiful roads, Route 60 West, found out that Coors/Molson is going to merge with Miller Beers, which should do wonders for our stocks, and thanked the Gods that we had Satellite Radio to keep us sane.
Hopefully we should be somewhere south in the next few weeks, because this cold weather is for the birds. I'm really looking forward to the South West and all it has to offer.
Thursday October 11th Happy Birthday Little Brother!!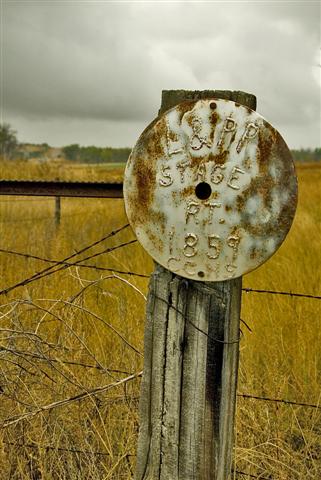 Another long and uneventful day of driving backroads through one stop-light small towns of the Mid-West. I'd love to say we did something fun, but I'd be lying.
After too long behind the wheel, we were pulling through the one stop-light town of Cambridge Nebraska on Route 4, when we spotted a Municipal park that had a camping sign. Since we left Minnesota, almost every town we pass through has a small campground in the local park. This makes so much since and really is inviting for tourists passing through.
This park even offered 30/50 amp hook-ups and had monstrous cotton wood trees lining the small oval camp. The temperatures have come back up to those perfect fall 65° nights that makes sleeping oh so comfortable. Cindy made some scrumptious hamburgers on the grill and we walked the dogs along the small town sidewalks enjoying the quiet streets along with the beautiful display of stars due to no light fall-off and crystal clear skies.
Friday October 12th Our Longest Day of Driving Yet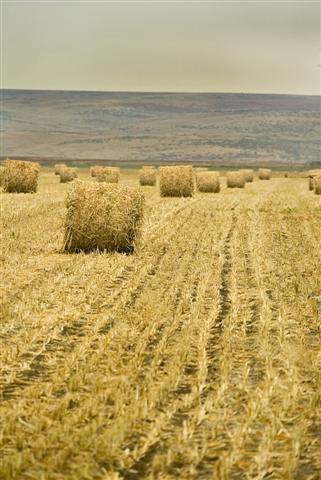 Cindy got some wild spur up her rear end this morning and challenged me to a game of Tennis at the local courts. I personally love playing almost any sport, I just don't like doing it with Cindy, we are way to competitive and it usually ends in an argument.
Half way through the game, she told me how bad I suck at this game. Apparently I was making her run for the ball to much and not just hitting it back to where she was standing.
I thought the whole idea was to get some exercise and run around the court. I let her know "We weren't playing catch, and if she wanted me to return it right to her, then go get her mitt." All in all, we had some fun and were both sweating by the time we were done.
We packed up and got ready to head out. When we pulled up to the dump station, we were treated with something we had never seen before. Rather then a sewer cap to dump the waste into, there was a grate like what you see on the street.
When we had met Jim and Miki in Munising, he had told me of a campground they had stayed in like this, but I had never seen one for myself. There is just something about "Out of sight, out of mind" that a normal Dump Station has to it and the grate thing was really disgusting.
You had to open the black tank, and watch everything flow out onto the grate!! Not that I watched, but what ever didn't go through the grate, had to be hosed down until it did. Actually I lied, I called Cindy out and had her look at the mess when there were a few presents on top of the grate....LOL
I thought it was pretty funny, but when I yelled for her to "Come Quick" she didn't think it was very humorous to see last nights dinner sitting on top of the sewer grate. I guess we have different things we find funny. I just kept picturing Robin Williams in the movie "RV" and the mess he went through and found the whole ordeal quite humorous. I try and turn everything into a joke so it doesn't make me mad, or disgust me.
So, once that crap was out of the way.....Sorry, I had to use a good pun in a situation like that, we got on the road for real.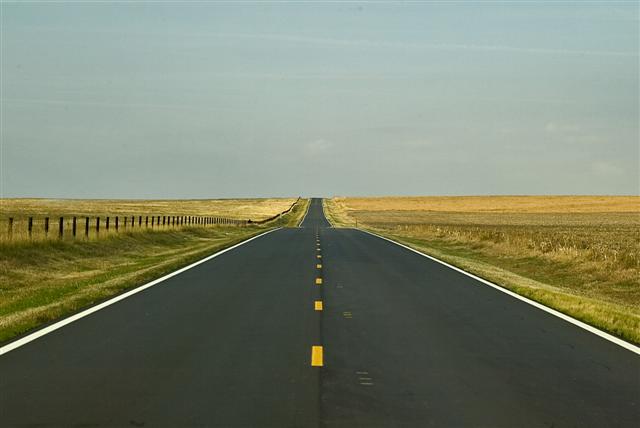 If you've never driven through Kansas, it's like being on another planet. From horizon to horizon there is nothing but fields of corn, sunflowers and cows. For the most part, it's very pretty, just very monotonous, but when we would drive through the sections that held thousands of cattle, we would hold our breath for as long as we could and gag when we had to actually breathe.
Now the dogs on the other hand would wake from a dead sleep and sit straight up sniffing the air. They would scratch at the window, which means they want it rolled down, and once they had an open window, they would shove their heads out as far as they could get them no matter how fast we were going. I'm guessing they were trying to take it all in. We joke wondering what they're saying to each other when a time like this comes along. Are they saying "Why don't we ever stop at these road side attractions?" or are they saying "Mom and Dad really know what routes to take us so we get the best smells we can!"
Lucy, the beagle, used to get out of our yard when we lived in Michigan all the time. Our neighbors had horses and she would go roll in the manure to try and cover herself with the intoxicating smell, it was like a drug for her, her entire goal in life was to break loose of her chain and get to the manure. I'm sure driving through miles of this odor was a living hell, or a dream come true depending on which way you look at it.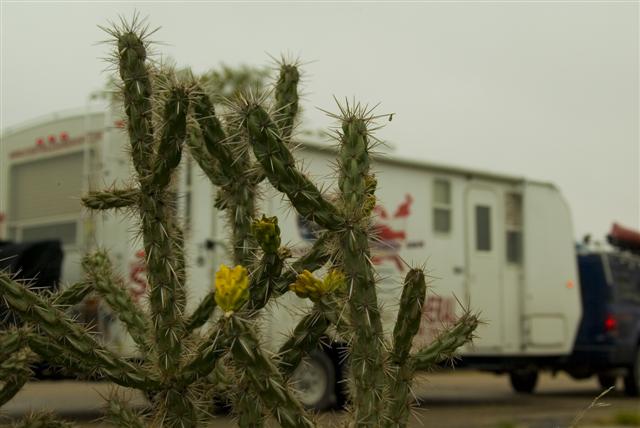 All day I kept thinking of what our pioneers were thinking when they were traveling through these parts a few hundred years ago in covered wagons? There is nothing except for grass or grain for as far as you can see. I know they would have been traveling through the wild grasslands with hundreds of thousands of buffalo roaming the prairie. How beautiful that must have been!
Wind gusts would blow us across the road without warning and this isn't even tornado season. Cindy would get mad at me when I would ask for the hundredth time "Hasn't anyone thought to plant trees in this state?" We saw signs stating 'Free land - Must Develop' and we wondered what it must be like to live out here? You go for miles without seeing anything, and I don't mean just not another car, you don't see anything!
I've always said, I could live in the mountains alone with just nature. But I know I could never live out here for any length of time, and by length, I'm talking hours. There is nothing to look at, nothing to do and no one to talk to!?!
At one point, Cindy fell asleep while we were driving. She slept for about 45 minutes and when she finally lifted her head back up, she looked around and said "Were you sleeping too?"
I asked what she was talking about and she said "I don't think we've moved, this is the exact same thing I was looking at when I fell asleep!"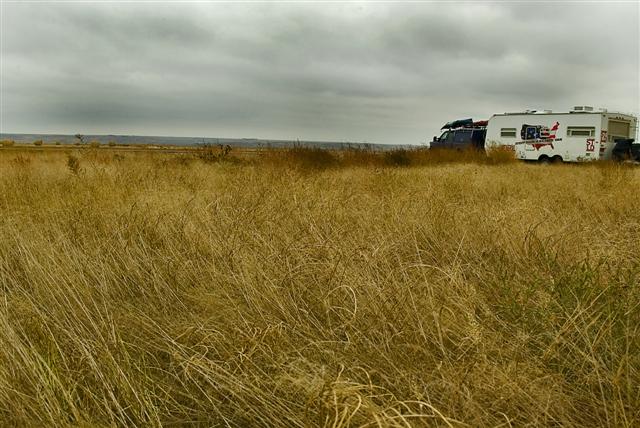 At least when we were driving through the prairies of Southern Minnesota, I felt reassured that they were harnessing the wind when you would see the horizon lined with giant wind turbines.
Here, along the miles of nothingness of Kansas, there is literally NOTHING. No wind turbines, no trees, no houses, no towns and no people. Why are the logging companies depleting our natural forests when we have these millions of acres that are sitting empty? Why not plant trees to cover the empty fields and harvest them rather then let all these acres sit empty.
Imagine how much the wind break of trees would create and how much it would change the structure of this land. For thousands of years, nothing has disturbed the winds, if trees and ground cover was to divert the destructive forces of Mother Nature, how would this change this barren land? Maybe driving for 9 hours with only your thoughts to keep you company is a bad thing, but these are some of the things I think about while driving.
Now were sitting in a municipal campground on the Kansas/Oklahoma border seeing if we can withstand the windstorm that is trying to turn us over. Cindy keeps clicking her heels together saying "There's no place like home!"
Someone from RV.Net forum contacted us asking how we enjoyed Nebraska and it's wind, but I'll say that Kansas has stronger winds than Nebraska since we've been here. Again, it makes me wonder why aren't the empty fields lined with Wind Turbines to generate power and cut off our ties to foreign oil? Just a thought!
Saturday October 12th 2007
For some reason in the past few days, our refrigerator has stopped working on the Propane setting? It works fine if we're running it off of 110A/C, but whenever we try and light the pilot off of Propane, you hear the ignition clicking and then nothing?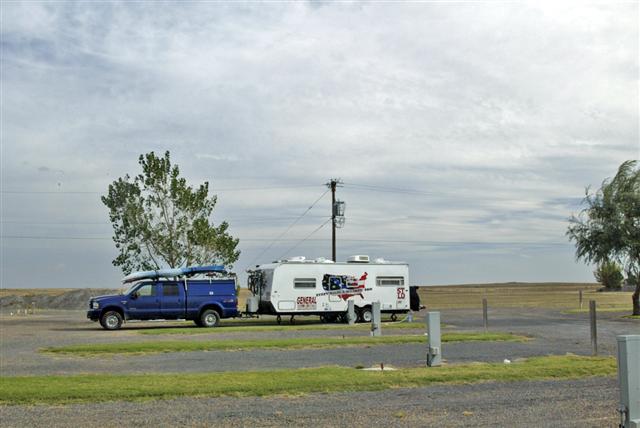 Nothing But Loneliness at this Campground as far as you can see!
So we have an appointment in Albuquerque New Mexico on Tuesday morning at the only place that said they could fit us in. Since we had full hook-ups in this campground, and we have a day to kill, we just sat around enjoying the clear skies and warm temperatures here on the Kansas/Oklahoma border.
It's just amazing to me that towns like this exist. Every few hours a semi-truck passes through, but that's about it. Not much movement otherwise and nothing really to do. It's sort of eerie if you think about it.
Numerous people have contacted us asking us to list what routes we take so they can either follow along on a map, or re-trace them on one of their own journeys. It's somewhat hard for us to list them all, because we just tend to wander. It all depends on what the weather is like, or what we feel like doing that day. One thing is we never try and take Interstates. If you look at a Rand McNally map, the little red lines are the only ones we try and stay on. The grey lines are more preferred, but harder to come by unless you have a Gazetteer for each state.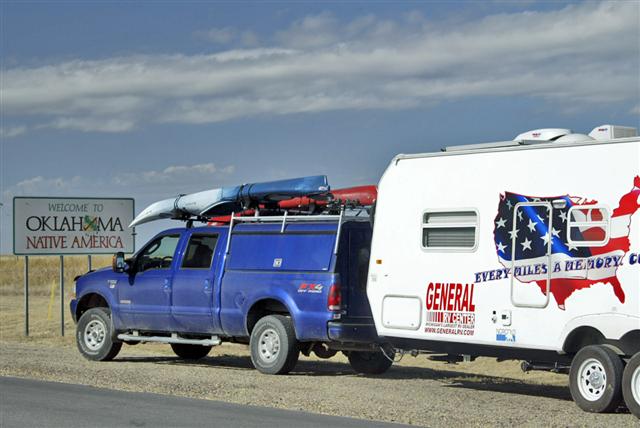 For instance, Nebraska was way too hard to list all the back roads we took. Just that list would take up a few paragraphs.
But once we got to the Southwest corner of the state, we found Route 61 South, which turns into Route 161 South as soon as you cross over into Kansas.
Route 161 T-Bones Route 36 which we took West for just a short time till we ran into Route 27 South.
This road, or little driveway if you will, goes from the top of the state clear through to the bottom. The entire time we were only a few miles from the Colorado border, but remember this whole area is Grasslands territory. Long empty views as far as you can see. When we got to the bottom of the state, we found Elkhart where we are right now. I can see the Oklahoma Welcome sign from our campground, and we're literally straddling the state line.
So if that makes since to anyone, I'll try and start listing some of the routes we take. Just remember if you ever try and follow them, they out of the way and not the fastest way to travel.
Sunday October 13th 2007
Up and on the road early, we figured while we're driving, we can keep our bigger Xantrex inverter on which will power the refrigerator and keep the food cold. We've been trying to eat as much as possible, but when it started acting up, Cindy had just stocked the thing full. The skies are clear, so with our digital readouts coming in very strong off of the solar panels, we should be able to keep the inverter running all day long while we drive and not have to worry about killing our bank of batteries. This is when we're thankful for the Lifeline Batteries and their deep cell capabilities.
We crossed over into Oklahoma and jumped onto Route 56 West. In this Northwestern section of the state, we were in as fast as we were out. Say a half hour and we were in New Mexico.
Route 56/412 through New Mexico was like driving down some ones driveway. The road was so narrow with no shoulder, that the few cars we did pass, I slowed way down to make sure I didn't lose another mirror.
At one point, a coyote ran up onto the edge of the road, stopped on the white line, looked at us and then took off running along side the truck like a dog would do just having fun. Man can those things move! We were doing 45mph and it was running beside us like it was nothing.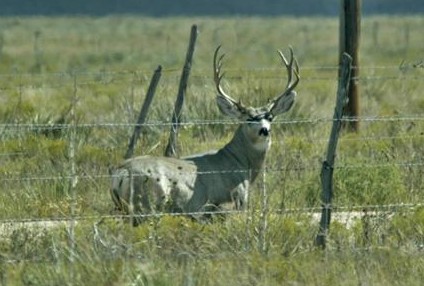 The first time we saw a group of Prong Horn Antelope, we were both yelling and pointing while I was trying to lock up the brakes of our fun train.
We pulled over looking at them through our binoculars for while before getting our fill. After a few hours, we realized this section of road was like driving through a sanctuary.
Herds of Antelope, white tail deer, coyote, and thousands of cattle lined the narrow roads. At one point, Cindy yelled for me to stop while pointing out the biggest white tail buck either of us had ever seen. It was just on the edge of the road and strutted along keeping an eye on us but not minding too much.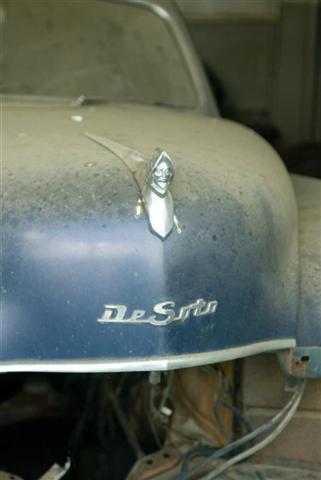 When Route 412 intersected Route 402, we dropped down on that heading South. Route 402 was just as barren as 412 was, but even better. When we ran into our next intersection at the small town of Nara Visa, we pulled off the road in awe.
Here was a town that used to be bustling during the Route 66 days, but now had completely dried up. An old Desoto sat rotting in an old gas station bay like it was just waiting for the oil to be changed.
An old bar looked like it just needed the lights turned back on before we could be sitting enjoying a few Coors Originals it was advertising on the door. Shops still had their windows filled with supplies, but everything was closed up and the streets sat empty. Except for the constant heavy truck traffic that never even slowed down while passing through; this once bustling town had dried up and vanished when the big Interstate system came across the Nation.
After wandering around Nara Visa for awhile, we jumped on Route 54 West and headed towards Tucumcari. I know I'm a huge advocate of hating the Interstates, but to get to Albuquerque without going through some high elevations, we needed to jump on I-40 West for our Tuesday morning appointment.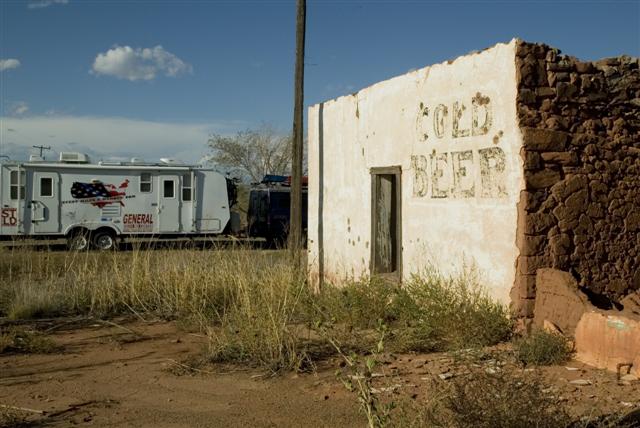 This section of New Mexico is very strange. There will be an exit sign, but if you exit, it only leaves you in a small dried up village that has nothing but a family cemetery and a few abandon buildings. This is what happened when we got off at the Montoya exit. You leave the exit ramp, cross a cattle guard, and are sitting beside another ghost town. There were a few homes where workers lived for the cattle company that had signs saying they owned all this land, but other than that, not much else.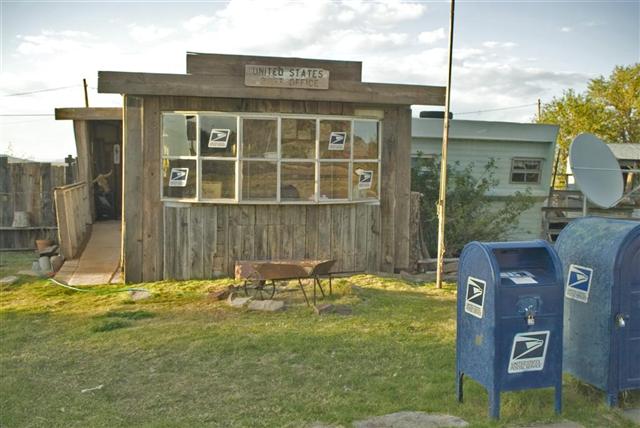 When Cindy said "Hey, a few towns up is a town called Cuervo! Ready for a margarita?" My mouth started watering thinking of a cold drink to wash down this dry, dusty heat we were enjoying.
Besides, it was getting late, what better place to stop for the night then in a town named after a tequila? But when we exited I-40, we were dumped into a few old adobe structures that were barely standing. The post office was a few single wide trailers shoved up against each other, and a service station that had a dozen cars up on blocks.
With our mouths still watering and the thought of margaritas fading from our heads, we crossed the cattle guard and climbed back onto I-40 to find a campground for the night.
A few exits down, we saw signs for Santa Rosa and one of them said Campground. We pulled in and our dreams were even more squashed when Cindy asked where the nearest place was we could get a drink. The woman behind the counter said "I'm sorry this is a dry area!" So warm tea with honey with our BBQ Chicken dinner and we called it a night.
Monday October 15th 2007
What a difference just one state can make. We go from the flat lands of Nebraska, Oklahoma and Kansas and right into the foothills of the Continental Divide.
Oh yeah, and before I forget, remember when I said that Cindy had asked the lady at Santa Rosa Campground where we could get a drink so we could get our Margarita we were jonesing for and she said this was a dry area. Well we leave the campground this morning and a mile down the road is another campground that was $10 bucks cheaper and had a bar right in front of it!?! WTF is that??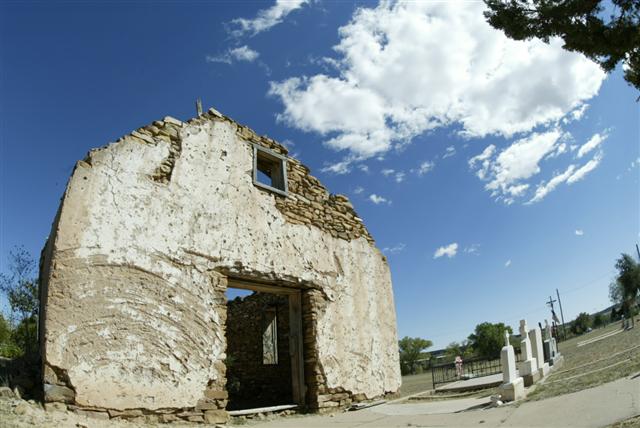 So we wandered around Santa Rosa checking out the roadside attractions that used to cater to the tourists when Route 66 was in it's hay-day.
We also found out that those ghost towns we kept seeing yesterday, Montoya, Newkirk and Cuervo had all dried up when I-40 was put in and Route 66 was no longer the main road to travel on. What a shame. Reminds me of one of my favorite quotes I like to bring up at times like this....
"Thanks to the Interstate Highway System, it is now possible to travel from coast to coast without seeing anything." - Charles Kurault
Driving along I-40, you can see so much cool stuff, but there isn't an exit to get off for any of it. When traveling down the back roads, you see something cool, you can just turn off and find the road that leads you to the point of interest. Oh well, what can you do? We did see a few old churches that were guilt in the early 1800's and a town that Billy the Kid used to frequent while staying in this area.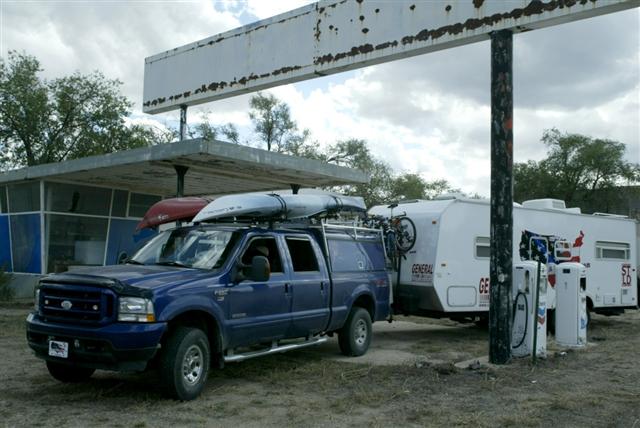 We drove to Albuquerque and right away thought "We need to get out of here as quick as possible." If you look at a map of New Mexico, Albuquerque is the only large city on the whole map, so naturally it has its fair share of bums, vagrants and beggars.
They all seemed to have found us within the first few minutes of pulling into town. We found the RV Repair Center, and found a local KOA Campground, that is if you could call it a campground!? Who in their right mind is going to pay $50 for a campsite that is right in town, surrounded by a barbed wire fence and not a blade of grass in sight?
We drove a few minutes out of town and found a great little place for half the price. Hidden Valley Campground is right out of town, and set up on a hillside with all the amenities. We need to get this fridge fixed and get out of this city life. We've been looking towards Santa Fe, and there are quite a few hikes, bike trails and stuff that looks like it's right up our alley. So as soon as we can get out of Albuquerque, we're heading North to Santa Fe.
Tuesday October 16th 2007
Waking up really early to very chilly temperatures (Low 40's) we got ready and drove the few minutes back into Albuquerque to Myers RV Center. Once we were up and about, we realized we had gotten up much earlier then we had set the alarm on my phone for. Getting out of bed, getting the heater going to warm it up a little and enjoying some breakfast, we were both sitting at the table when we heard the actual alarm go off.
See my cousin back in Michigan had sent a text message to say that his wife had a new phone number and to make note of it, the only problem was he sent it at 7am Michigan time, 5am our time.
So when we heard the ringer go off, we just assumed it was our alarm set for 6am. Don't ask me why he felt the need to send a text message at 7am to begin with, but it got us out of bed an hour before we had planned. We pulled into Myers just as they were unlocking the doors, and hopefully, it would be a quick fix so we could be out of here before being assaulted by the local bum population.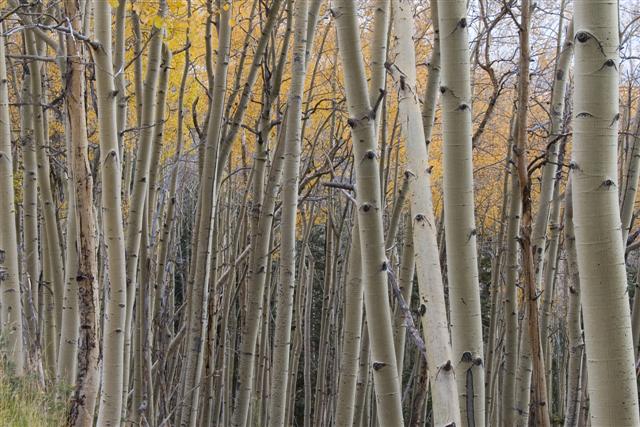 Locals must not think these temperatures are cold, because we saw people waiting for the bus with shorts and t-shirts on? Aren't we supposed to be from Michigan and used to these temperatures?!
Brian, the Service Advisor got us written up and said he would give us a call when it was finished. We figured we'd have some time to go do laundry and find a Kinko's so I could get some things printed out and mailed.
While we were at the Laundromat, Brian called to say it was ready. WOW! Not even an hour and they had the problem solved. We went back and he said the pilot had came out of alignment with the ignition. He also said the whole thing was very dirty and they cleaned it up, something that should be done every six months with us being on the road full-time. One hour labor and we were back on the road with a working refrigerator.
I'm thinking we might have been a little too fast to judge Albuquerque. When we drove down into the main part of town, near the college campus to find the Kinko's, the area reminded me of any college campus area.
Much cleaner with dozens of eclectic shops and boutiques to shop in and a nice mix of people walking the busy streets. Although I did have a bum come ask me for money while we were doing laundry, and Cindy had one walking towards her while she was waiting for me outside Kinko's, this area was much cleaner then when you first get off I-40.
Still way too populated for us, but not as bad as I had first made it out to be. Cindy has found that when someone is approaching her, if she grabs ahold of Luca (The Pit-bull) and says "No, leave them alone" they tend to walk the other direction real fast.
Little do they know he is really just looking for a friendly rubdown and would probably lick them to death, but it keeps people from approaching her when she's alone.
The Turquoise Trail to Santa Fe
If you're ever in the Albuquerque area and heading towards Santa Fe, you can either take Interstate 25, which will get you there fast, or drive a few exits east on I-40 and jump on Route 14, or the Turquoise Trail.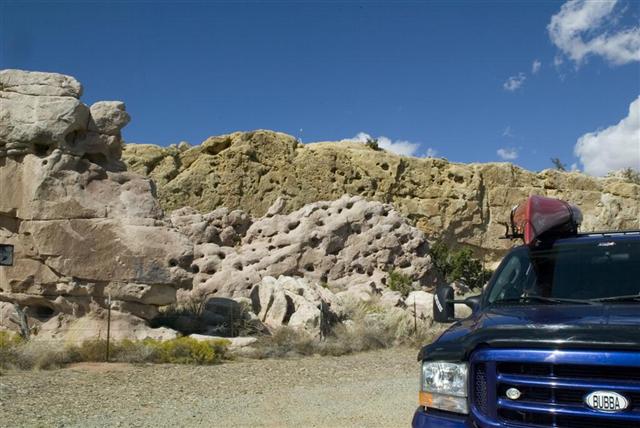 This sixty mile trail consists of steep elevation changes, followed by some twisty roads and tight turns. This wouldn't be a problem, except that the scenery is so beautiful, it's hard to keep your eyes on the road.
The views you see along this route are what I conger up every time I think of the South West. Adobe houses clung to hillsides, wide open expanses with a deep blue backdrop. Mountains all around as far as you can see, and plenty of ranches, the real kind lining the roads.
When we got to the little town of Madrid (pronounced Mad-Rid) we both wanted to pull over and walk the narrow streets. This place is as eclectic as they come, and has character dripping from its storefronts.
Owned by hippies, artists and people who have dropped off the grid, this place begs to be explored. We had the camper behind us, and really didn't want to take up 11 parking places, so we just passed through planning on returning to spend an entire afternoon in this area.
We drove through Santa Fe, which reminds me of another college town. With all its galleries, boutiques and eclectic shops, this to would take a full day to explore. We just passed through and drove straight up and out of town passed the Santa Fe National Forest and into Hyde Memorial State Park. These parks are pretty high up, and our ears were popping the entire drive up the mountain side. We found a campsite for only $14 a night that had 30amp electric, but no water. We signed up for the rest of the week.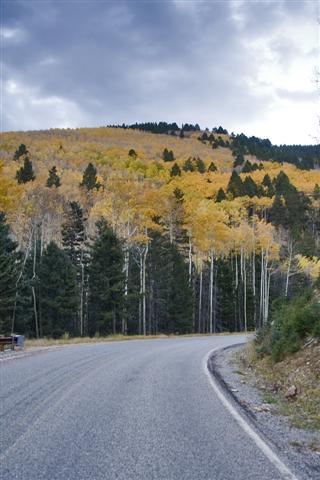 I got the bike down while Cindy did a much needed dog hair removal of the inside of the truck. Its gotten to the point, that if we put the windows down while driving, you need to close your eyes and mouth for a few seconds, as the initial blast of air fills the interior with stray hairs. When she was done, it looked as if a massacre had taken place around the truck. Hair was everywhere, just what we needed to attract the local bear population.
These mountain roads are what motorcycles are made for. Tight turns, steep climbs and even faster down hills. I knew Cindy was freaking out, but when you get a road like this, you have to have some fun on it.
It's obvious this is a motorcycle destination because of all the bikes that were riding up and down the canyons. The aspen covered hillsides fight for your attention, but pulling over on the bike to take it all in is much easier then stopping the truck and trailer combo.
We watched the sun set over Albuquerque and Santa Fe before riding back down the mountain to the warm camper. It was going to be a cold one at this elevation, and even with a leather jacket on, I could feel the air temperature dropping quickly.
Wednesday October 17th 2007
Elevation changes the weather very quickly. I had made a comment to Cindy a few days back about how certain clouds hover around the peaks of the larger mountains. We woke up this morning to very cold temperatures and while walking the dogs, Cindy started yelling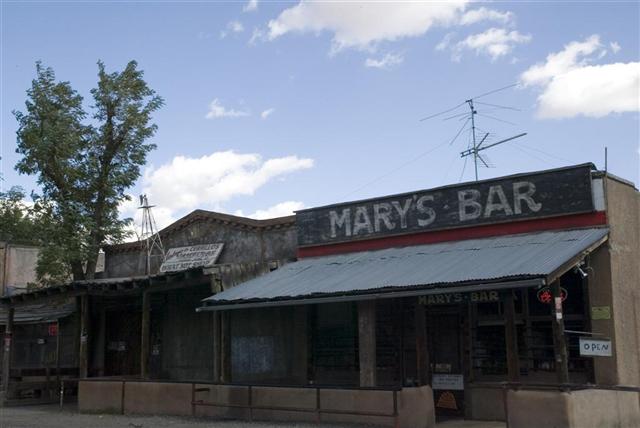 "Is that snow falling?!"
Indeed it was snow, but if you looked towards the valley and Santa Fe, it was nice and sunny. We packed up the truck and drove off the mountain towards Madrid.
As soon as we got into Santa Fe, the temperature had risen about 30° and was a beautiful warm day. Obviously the warm clothes we were wearing were going to be shed very quickly. Driving back up Route 14, our first stop was at Cerrillos. This little town was once the Capitol of New Mexico and had been visited by Kings and Queens, Presidents and famous movie stars in it's hay-day. It was the set for the movie Young Guns, and Vampires and now just sits lonely and empty.
We saw this wild west looking saloon called Mary's that has been in this location since the turn of the century. We went in to take a look, and Mary herself was hunched over behind the bar.
This 92 year old woman was still tending bar. I asked how she was doing to which she replied "I'm here, and that's about it!" We couldn't have a drink, because Mary didn't take credit cards. We later found out from a local in Madrid when we said we had stopped in here, that you need to have exact change, as she doesn't keep change in her register either. Something tells me that Mary should throw in the towel and hire a bartender.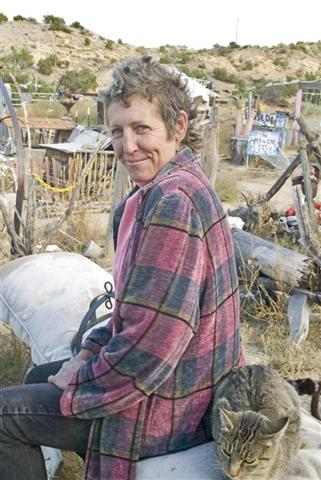 From Cerrillos we found Tiny Town. Tattoo Tammy (what the locals call her) is a colorful lady who lives off the grid on the side of Route 14. Her trailer is set up with solar panels and a wind turbine and she told us she is celebrating her tenth anniversary of being in this location this month.
She collects just about anything (Junk) to turn into 'Art', and has a bone collection that would make any morgue jealous. When I asked her where she got most of her thing she uses in her art projects, she said "I'm a collector, I find things everywhere." She also told us that many of the locals drop things off that she might be able to use, like a full ostrich carcass she showed us that she was planning on making into a big sculpture.
Most of the art work is a mix of dolls, kids toys and bones. It has to be seen to be understood, but Tammy was more than happy to explain each piece to us. She sat with her cat right at her side telling us why she had made each piece, and what the story was behind it.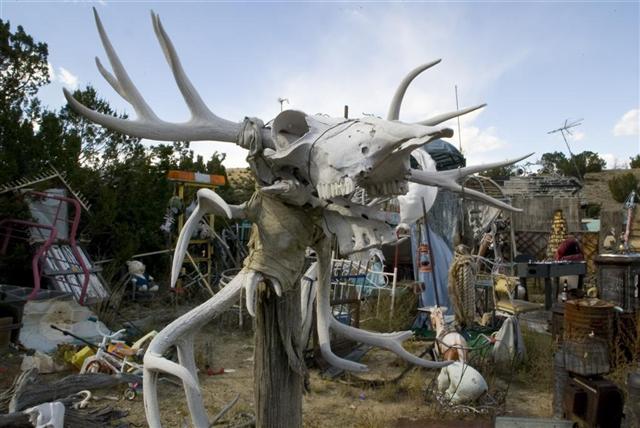 One entire section was a pile of broken glass. She said when ever she needs to relieve stress, this is where and how she does it.
Then she uses the glass in other pieces of her art work when the time comes. Tammy had an outdoor bowling lane with a working return, doll houses set up to make up an entire town (Where the name Tiny Town comes from) and so many different odd-ball things, that we were here for what seemed like an hour before we saw everything.
From Tiny Town, we headed into Madrid. This old mining town isn't much more then a narrow main street lined with old miners cabins that have been turned into art galleries and weird eclectic shops.
The locals are a mix of Cowboys, Hippies and local Indians who all get along just fine. It was wild how one gallery like the ROCK paper Gallery had fine furniture from all around the world mixed with local artist paintings and drawings and the next shop might be a hodge-podge of antiques and knick-knacks that you could find in any gallery. From funky coffee shops to rustic ice cream parlors, this town has something for everyone no matter what your taste is.
When we got to the end of the block, we saw the Mine Shaft Saloon. With a mix of rough looking authentic Cowboys and burly bikers on the front porch, Cindy and I looked at each other and knew this was our type of place.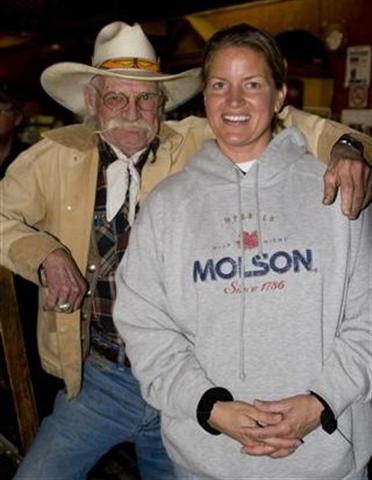 We strolled in and bellied up to the bar. It didn't take long for a local to come over and introduce himself to Cindy and ask about her camera. We got to talking, and Chris turned out to be a local real estate broker who despite his biker apparel, was very friendly and informative.
Chris told us of the local history of the town, pointed out a few of the famous artists who were also sitting at the bar, and told us of a few different places not to miss.
Chris said he had to introduce us to one of the towns most colorful characters and called over Cowboy Bob. This 80 something year old cowboy was the real deal.
With years of rodeo riding under his belt, Cowboy Bob said he had broken almost every bone in his body at least once. While he was talking to us, I happened to look over his shoulder at a poster hung on the back of the bar which was a Naked Man with nothing but a cowboy hat hung on his God given hat rack. I kept looking at it and looking at Bob thinking the two looked alike when Bob noticed my eyes looking past him. He said "Are you looking at that poster?" I said "Yeah I am, it looks an awful lot like you" He chuckled and said "Yep, that's me all right" and went on to tell us about how a man of his age can keep his hat hung there for an entire photo shoot.
We said our goodbyes and walked back down to the truck. What a funny little town with some very interesting locals. Never be intimidated to meet new people, because you usually find the best stories and coolest places in the local dive bars. We know from experience, our bar was the local dive bar, and everyone who passed through walked out with at least one funny story to pass on.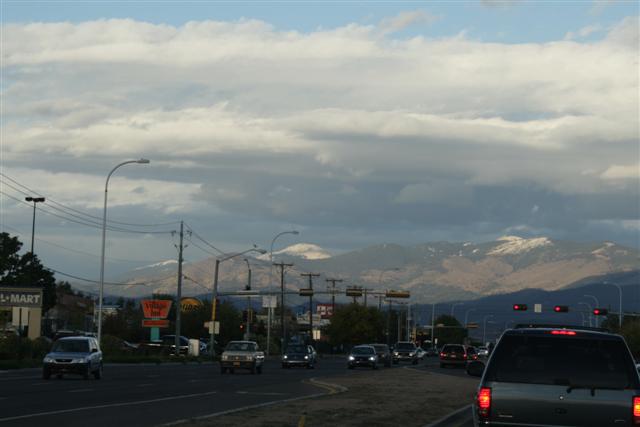 When we were driving back towards our campsite, we both looked at the mountain peaks surrounding us, which were now covered in snow!
I joked and said "Watch, well get back to the camper and there will be snow on the ground."
Remember when I said the clouds were hovering right around some certain peaks, well that's where our campsite is. As soon as we started the climb up and out of Santa Fe, you could feel the temperature drop.
By the time we got back to our campsite, it had probably dropped 20°. There wasn't snow on the camper, but the peaks just above us had a fresh layer on them. We climbed in and fired up the heater.
Our beagle is so funny. She mustn't like this cold weather too much, because when we turn the heater on, she lays right up against it. Cindy keeps yelling at her to stop stealing all the heat, and when you finally grab her to move her away from it, her fur is so hot, it feels like its going to burn your hand.
Tonight will be the first time in a year that we have had to turn on our tank heaters to make sure nothing freezes. Something tells me we chose the wrong campground.
Make sure to check out our Santa Fe Gallery
Thursday October 18th 2007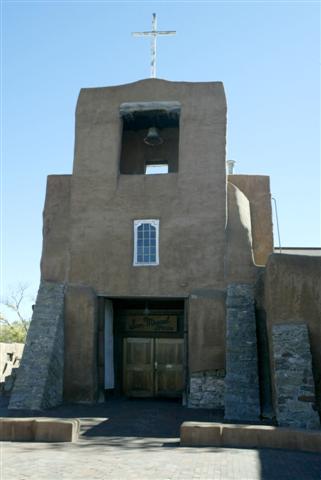 Santa Fe, New Mexico is what you think of when you conger up those images of the south west.
With Adobe structures, old world mission style churches and Native American heritage in every corner of the historic town, it's one of those places where you can just wander around for hours admiring the architecture.
Santa Fe is the site of both the oldest public building in America -- the Palace of the Governors -- and the nation's oldest community celebration -- the Santa Fe Fiesta, established in 1712 to commemorate the Spanish recon quest of New Mexico in the summer of 1692. It is also home to the oldest religious site in America - San Miguel Chapel.
Wandering around admiring the beauty is what we did all day today. With beautiful weather, warm sunshine, and a cool breeze, we wandered from gallery to gallery fondling turquoise jewelry handcrafted by local tribes, eyeing beautiful copper sculptures of battles fought over the taming of the west, and absorbing some of the local culture and magnificent architecture. Cindy kept saying "If we had a house to put some of this artwork in, I would max out a credit card just in this small town."
It is so hard to see such amazing pieces of art work and not be able to purchase any of them. We'd love to be able to buy a piece of artwork from each town we visit, but with no where to put it, we'll have to rely on our photos for when we need to decorate our next house.
We found out the hard way that not carrying any cash might make you miss out on some cool sights. We try and put everything on a credit card, so we can keep track of our monthly expenses, and never have to worry about losing anything or being robbed. I usually have a $10 or $20 bill in my wallet, but we just finished up with laundry, and had spent it a few days earlier.
We wanted to visit the Loretto Chapel and the Miracle Staircase. The chapel was built by French and Spanish artisans who modeled the chapel after Sainte Chapelle in Paris. The story goes that the sisters of the chapel prayed for a carpenter to build them a stairway to the choir loft which had been overlooked while under construction.
An unknown carpenter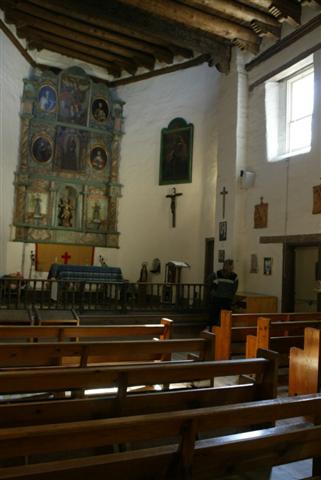 came along and built the spiral stairway without the use of hammer or nails and with wood not native to this area. He left before he could be paid and no one is quite sure who he was or how he completed the masterpiece. Engineers still marvel at this carpenters accomplishment and my mother had just told us of this church while we were home in Michigan.
When I told her we were going to Santa Fe, she asked if I would take plenty of pictures for her. We found the chapel, but there was a $2.50 entrance fee - Cash Only. I reached in my pocket and realized I only had a credit card?! Oh well, we'd just come back tomorrow but I cursed myself for not having at least a $20 bill for emergencies.
We continued to wander around till we got our fill of the local artwork; we then found Sangre de Cristo Mountain Works outfitters. I was looking up the best places to climb on a few different websites, and this local outfitter had a few pages rated, with directions and conditions of the local trails. When ever we get into a new area, the best way to find the best hikes, climbs and trails is to stop by the local home town outfitter and pick their brain for hot spots.
This place was loaded with the latest gear, and a map selection to make Rand McNally jealous. I actually had to wait in line to get the owners time for him to show me some local climbs, as a few others were doing the same thing we were.
He was happy to sit and go over them with me showing which routes he thought would be best for us at our skill level. When we told him we were originally from Michigan, we sat talking about our favorite hangouts.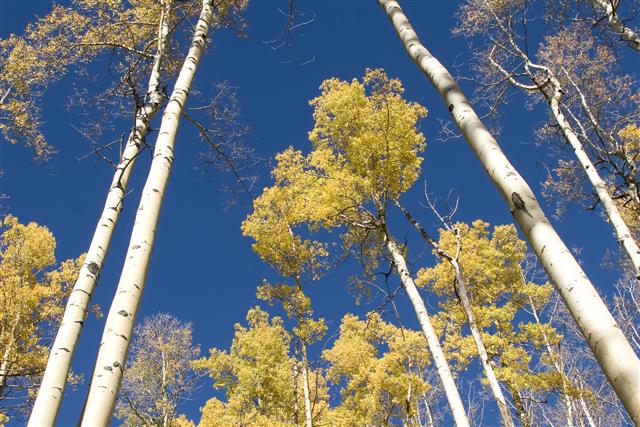 Apparently his wife used to live in Michigan, and he was very familiar with the state. By the time he was finished highlighting various areas not to miss, I found Cindy in the dressing room with a few new pieces she just had to have.
Cindy is almost worse then me when it comes to buying technical clothing and outdoor gear. Funny part is, once I found out she was trying some things on, I grabbed a few pieces that I thought would look good on her, and carried them over to the dressing room. I handed them to her, and she laughed holding up the same exact pieces. We keep joking that we're sharing the same brain when it comes to our thought process.
With these cold temperatures, she needed a few warm pieces that she could walk outside in without having to bundle up too much. The newer technical garments are so advanced, that they'll keep you warm in the coldest of winds with their wind stopping layers, yet allow your body to breath when it comes to running or hiking.
We both really need to update our clothing soon, as most of our gear is a few years old and way out of date. This is one area where we both know you don't skimp and buying the best will save your hide if caught out in a storm. That will have to be down the road, as we're on a pretty tight budget, and these new garments aren't cheap.
Friday October 19th 2007 Getting our First Taste of Elevation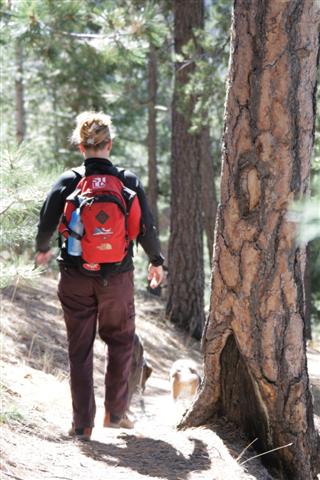 We were up early loading the packs as we had planned on hiking the Circle Trail which actually left right from our campsite.
With a starting elevation at 8800', the 3 mile round trip climb peaked at 9400' and should give us a great introduction to this area. We decided we would bring the dogs with us and see what they thought of this areas flora and fauna.
I'll say right now that us flatlanders are not used to these elevations. We both needed to stop every 100 feet to sit down and catch our breath. It's not like we're that out of shape, it's just that our lungs couldn't seem to get enough air into them. The dogs on the other hand loved it, and Luca was pulling Cindy up the hill most of the way wanting to go faster.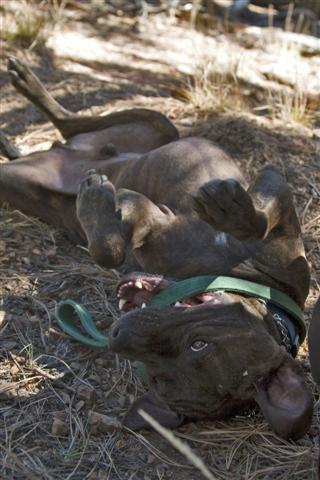 When we got to the peak, we both sat having some lunch enjoying the never ending views. I've always said that I enjoyed climbing better then the coming down part. I'll have to get some trekking poles or something to relieve some of the stress off my knees, but coming down seems to aggravate them terribly. Not that I'm complaining, because the hike was beautiful. We only passed a few people and had most of the forest to ourselves; alone with just the sounds of the wind blowing through the pines and our own thoughts.
Within the last mile, the dogs had given up. When ever we would stop to take a break, instead of pulling Cindy, Luca was now flopping on the ground huffing and puffing. By the time we got back to camp, we were practically dragging them. Maybe 3 miles at this elevation was too much for them. We later found out after both of them wouldn't stop licking their paws, that if we're going to take them for climbs in this country, we need to get them some booties for their feet. The rocks here are very course and were tearing up their pads something fierce. Within a few minutes of being home, they were both snoring so loud, it seemed as though it didn't bother them too much.
It was still early in the day and looked like we had a beautiful afternoon ahead of us, so we loaded up the truck, woke the dogs up and went for a drive down some of the logging roads. While at Sangre de Cristo Mountain Works I bought a New Mexico Gazetteer and found that there was a narrow logging road that crossed some backwoods terrain right near our campsite.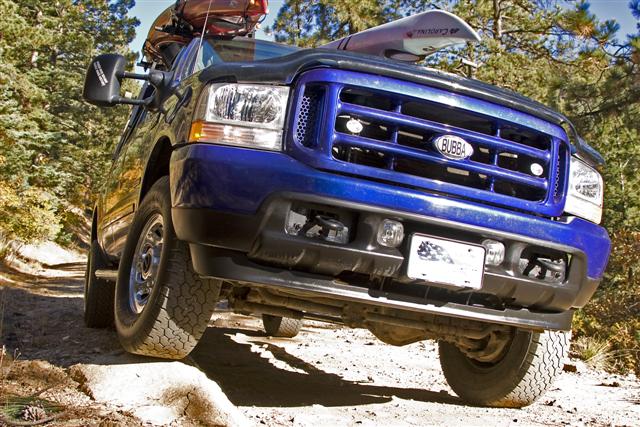 Logging roads in New Mexico aren't like the ones I'm used to in Northern Michigan. Even calling this trail a road was giving it some credit. Cindy kept yelling that we were going to rip off our oil pan on anyone of the large rocks jutting out from the roadbed.
Then there was the tire swallowing ruts that crossed the roads ever few hundred feet, but the scenery was worth it. Mountain vistas lined with golden aspens, open valleys with grazing cattle and mountain streams following the trail kept us going deeper and deeper into the wilderness.
I was amazed that the dogs were even awake for much of it. I'm not sure if they liked the fact that they were fighting to stay awake to take in all the wild smells of nature, but after one time when Luca fell asleep sitting up and the rough road bounced him onto the floorboard, he called it quits and zonked out for the rest of the ride.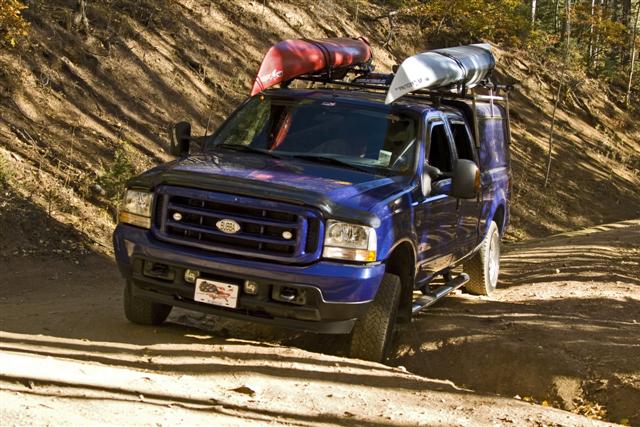 Pulling back into the campground as the sun was setting, we were putting the dogs into the camper when the coyotes started howling all around us. One would call from a neighboring mountain top, to have another reply from a far off peak.
We sat up listening till we couldn't stand the cold any longer and called it a night. Climbing into bed with aching muscles and sore backs from this mornings climb, we knew we were going to sleep good tonight no matter how cold it got.
What we didn't plan on was the 2am wake-up call from a coyote right beside the camper. For some reason, this pup decided to sit beside the Sunline for about a half hour and call to the neighboring population of wild animals. At first we thought it was really cool, then after awhile, we just got used to it and fell back asleep. I guess it's one of the prices you pay for sleeping in the wild.
Saturday October 20th 2007
After yesterdays hike, we woke with aching calves and tender backs. I guess we're not in as good of shape as we thought. We spent the day cleaning the camper and talking with our German neighbors.
While walking the dogs a few days ago, I spotted a camper that I knew was from out of this country. On the Sunline Owners Club website, a member had just returned from Europe and posted pictures of various campers from across the pond. These campers are much lighter, have very different hitch mechanisms and are a few years ahead of us in technology.
Rainer and Vera Heise had their tow vehicle and 19' travel trailer shipped over by boat, and are spending one year traveling around the United States. After I got done talking with Rainer, I came inside and Cindy said "You have to stop using slang, he doesn't know what you're talking about." It's very hard to use the proper words when talking, but I did notice that he was having trouble understanding what I was saying. I'm just not used to speaking with someone who doesn't understand English that well.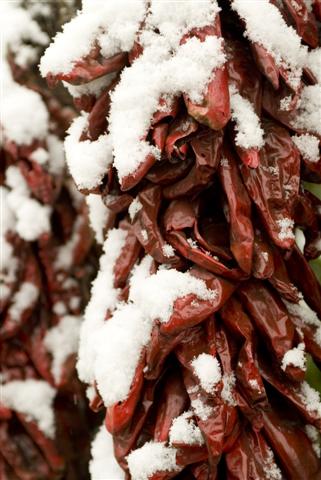 The weather was beautiful today so we rode the motorcycle down the mountain and into Santa Fe. We still needed to get those pictures of the Loretto Chapel and the Miracle Staircase for my mother and knew that it was open till 4:30pm.
We rode past and made sure they were open, but wouldn't you know it that after finding a parking spot and walking a few blocks over to the chapel, 5 minutes earlier they put a sign up saying 'Closed Early' for a ceremony. That's twice now that we've missed this attraction.
While at Sangre de Cristo Mountain Works, I asked where the best spot for authentic Mexican cuisine was and all three guys behind the counter said Maria's. Each gave their favorite dish and all 3 said be careful with the margaritas. So we rode across town and found this little restaurant that was so well recommended.
With over 100 margaritas on the menu, a list of tequilas taking up an entire page, and mouth watering smells drifting over from the kitchen, we found the place they were talking about. We both ordered big margaritas to cool our throats from the spicy salsa they offered for appetizers. I ordered a chicken avocado dish and Cindy ordered the sampler platter.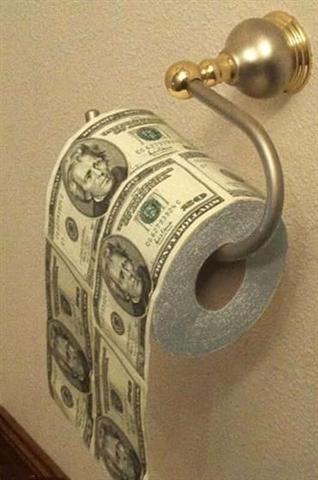 When they set down my entree, I didn't see an avocado on the plate, instead, I saw chicken covered in various peppers and spices that was already making me sweat. When I said I don't think this is what I ordered, Cindy started laughing and said "It didn't say avocado, it said Pollo Avado!" This must mean "Burn your Ass" in Spanish, because although I couldn't get enough of it, I paid dearly for the rest of the night.
Lets just say that the rest of the night was spent cussing the pepper Gods from the bathroom as Cindy laughed from the couch saying "You didn't have to eat all of it you know!, and spray some air freshener"
Now I normally love spicy/hot food, but this didn't even taste that hot. Granted I was sweating while eating it, but the flavor was amazing. It was the after affects it had on my stomach that did me in. I'd go back in a second and would recommend the place to anyone, but don't read through the menu so fast that you miss read one of the words. Next time I'll call a cab, and wash my meal down with a few more Margaritas.
Sunday October 21st Make sure to Listen to the Weather Forecast before going hiking
Planning on hiking another local trail today, we woke up early and packed up our backpacks. Cindy went to take the dogs for a walk before we left and returned saying "We're not going hiking!" I guess the winds had picked up and the temperature had dropped drastically in the past hour. She said there was no way she was going to attempt a 12,000' peak if there was snow at 8000'. I was trying to talk her into it when we started talking to the German couple again.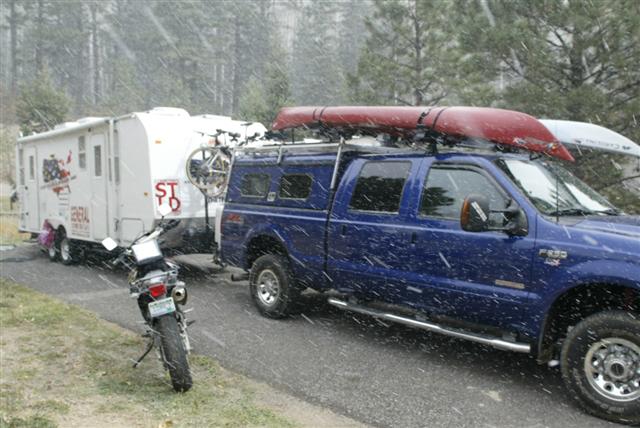 This time Rainer invited us into their camper where we sat talking for a few hours.
Vera had just baked some fresh cookies and the smell of home baked sweets filling their spacious camper made us feel right at home.
We sat comparing differences between our two countries, our various campers and just life in general. It was very cool to see what our country seemed like from two people who share the same ideas we do, but are so far from home.
While sitting in their camper, Cindy said "Is that snow?!?" We all looked outside to see snow starting to come down quite hard. Cindy was right with calling off the hike today and I'm glad we got to know our new German friends.
After our visit, we decided to drive over to Taos, which was an hours drive North through the Sangre de Cristo mountains following the Rio Grande most of the way. Now we were really glad we weren't hiking because the winds were blowing like a tornado and the snow was near whiteout conditions in some of the high mountain passes. Cars driving towards us out of Taos were covered in snow a few inches thick!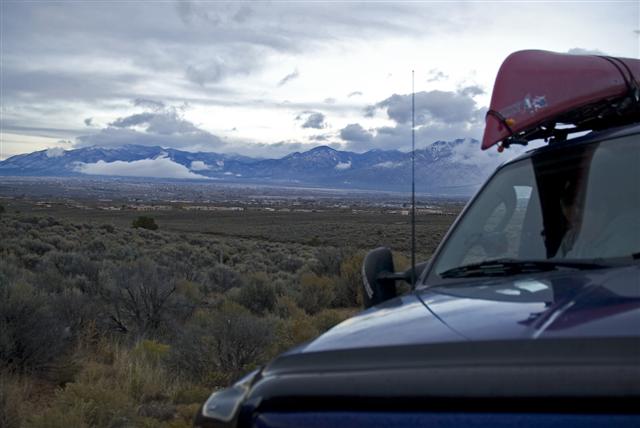 If you ever visit Taos, don't do it on a Sunday afternoon. The area is beautiful with plenty to do, only none of it was open this Sunday. We did get to see some great little ghost towns on the drive up, and the backdrop of snow covered mountains was breathtaking, but I really would have liked to go into some of the unique shops.
On our way back, we stopped at a Lottaburger for dinner. Having never seen one of these chain restaurants before, Cindy noticed that every one we passed was packed full of cars.
It was the best school burger I've ever had, and the first fried food we've eaten in awhile. With a gut full of lead, we pulled back into our campsite where the ground was covered in a fresh layer of snow and cranked up the heater.
Tomorrow we head south and out of this nasty weather. I'm still glad I listened to Cindy on this one and cancelled the hike or we might be camped out on the side of a mountain in a snow cave right now.
Monday October 22nd 2007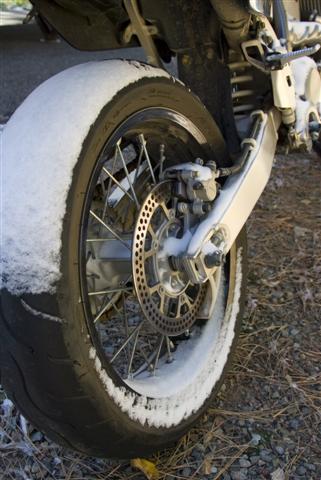 We woke up to 27° and snow covering everything. The Germans had pulled out early and left a note on the door saying "Goodbye and Good Luck".
We packed up, and tried one last time to drive into Santa Fe and check out the Loretto Chapel and the Miracle Staircase. Remember this would be the 3rd time we've tried to see it and this time would be no better.
Again, we drove past and yes, everything was set and people were walking in and out. We parked, walked the few blocks to the entrance as they were putting up the closed sign! They said they had a wedding and would be open in a few hours.
I'm thinking us heathens aren't meant to see it. Cindy joked saying we would walk in, take a picture and it would fall down or something awful like that. So sorry mom, but no pictures for you.
We did find the San Miguel Chapel which was only a block away. This beautiful building is the oldest church structure in America and has been in this spot since 1610. So much for the BS our teachers had taught us back in school about Columbus discovering America. How can he discover something that has already been settled by the Native Americans, the Mexicans, the Vikings and the Spanish Conquistadors?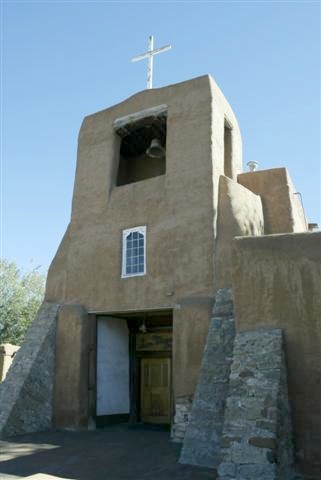 Anyway, this small church has been beautifully maintained and has some serious history under it's creaky wooden floors. After reading through the fascinating story and snapping a few photos, we drove West to Los Alamos and the Atomic City.
Before we headed up to Bandelier National Park where we would be staying for the next few days, we stopped at White Rock Overlook. While sitting out on the viewing platform, we got to talking with this nice older gentleman who sat explaining the surrounding area and the views of the Sangre de Cristo mountains we were looking at.
John Tubb has lived in Los Alamos since he was 13 years old. He retired from the laboratory as a Cartographer and knew the local history, the surrounding hillsides and mesa's like the back of his hand, and he wasn't afraid to describe them all to us.
We sat listening as Mr. Tubb told us which areas held some scenic places to photograph, he told us to make sure to drive up and check out the Caldera which held New Mexico's growing Elk population and even told us a few towns to not be caught in after dark.
He even brought me over to his truck and gave me a map he had drawn explaining the mountain sides he had just taught us about. What an interesting man, and I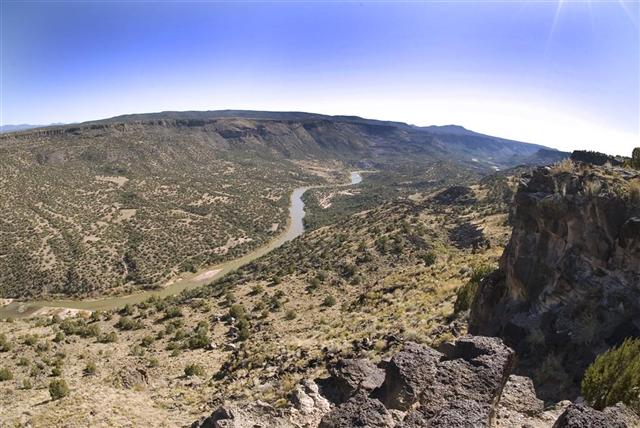 asked if I could hire him to be our tour guide for the next few days while we explored Bandelier National Park and it's ruins.
He just laughed and thought I was joking, but I really would have paid him to come with us, he was just that informative.
On a side note, Cindy's Laptop took a dump a few days ago, so we found a post office to have it shipped back to our computer guy to get it fixed. My laptop screen died and our big computer we use as a back up took a dump all on the same day, all with different aliments. This was also while we kept getting the boot on the church and the staircase. Sort of makes me wonder if someone is trying to tell me something.
Bandelier National Park has a campground, but no hookups, and the slots are very narrow and unlevel. I think its made more for tent campers. Since it was only $12 a night and has a hiking trail right to the ruins, we thought this would suit us perfect. We found a site, and packed some stuff up so we could be up first thing in the morning and spend the day exploring the ruins.
Tuesday October 23rd 2007 Exploring Bandelier National Park
Knowing that we were going to be out hiking all day long, Cindy made a huge breakfast so we would be loaded up on carbs and we wouldn't Bonk during our hike. If you ever visit Bandelier National Park, take the hike out of the campground which is called the Frey Trail. It added almost 4 miles to the days hike (2 down, and 2 back up) but it's well worth the extra effort.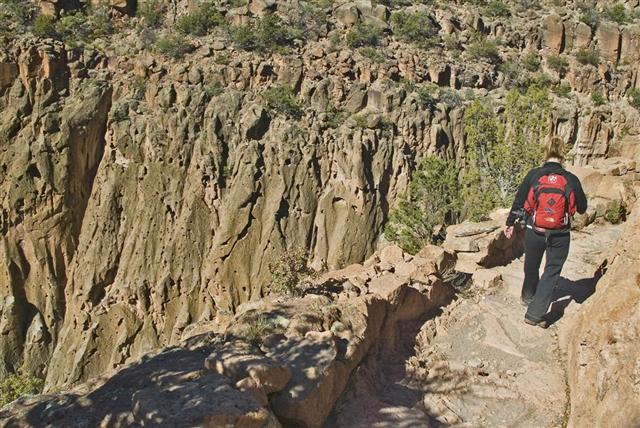 By hiking this trail, which isn't that hard at all, you come in above the ruins and get a birds eye view that most of the other visitors miss.
When we left the camper, the weather was a bit chilly, so we had pants and long sleeve tops on and Cindy even had gloves and a hat on. It didn't take long before the sun came up over the surrounding mountain sides and we were peeling off those layers and swapping them out for lighter weight clothes we had brought.
Cindy's 25lb backpack held the change of clothes and all the food, my 40lb pack held all the camera gear. Being as we were going to spend the entire day exploring this site, I didn't want to leave anything back at the camper, and thank goodness that I brought it all, because we used every bit of it. This park is a photographers dream and we could spend numerous days here just having a ball.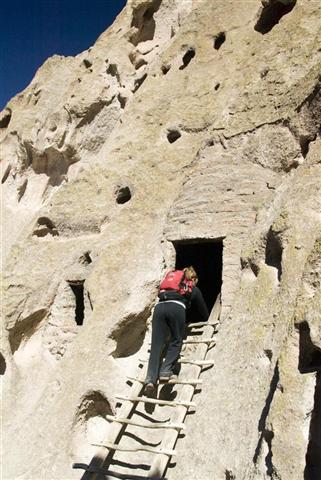 The guide book they give you at the park entrance says to plan for 3-4 hours, but if you really want to see everything and not be rushed, I'd plan on 5-6 hours. Now we spent a full 8 hours wandering around, waiting for the right light for a certain shot, and reading everything about each area. From multiple Cliff Dwellings, to the Ceremonial grounds this historic pueblo offers, the entire area is just fantastic.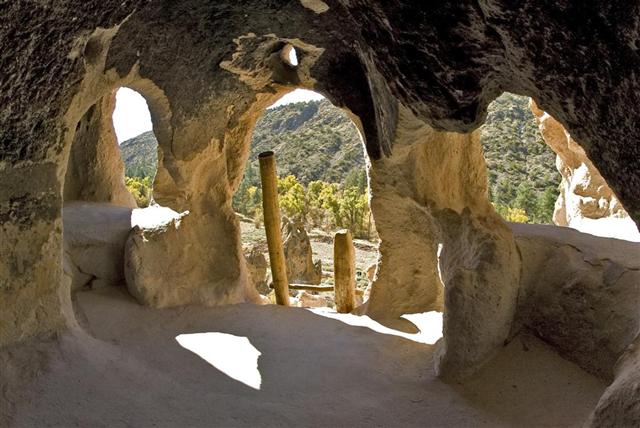 I could go on for days about this site, and if you're interested, I've decided that the areas that really reach in and grab ahold of me, I'm going to do a little bit of research and in depth explaining on. So if you want to read more, feel free to check out my Bandelier National Park Page for more info.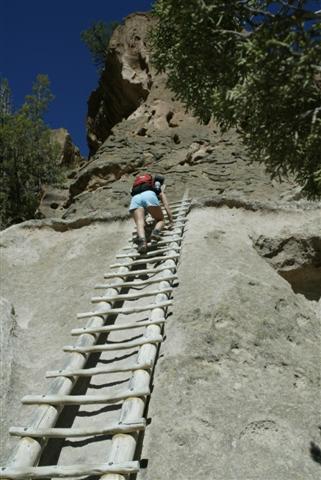 I was really surprised with Cindy and how well she did with all the heights and ladders. She always says she's afraid of heights, but I can usually talk her into tackling a climb or a peak with the reward she's going to get at the top.
To see the Alcove House, which was the Ancestral Pueblo's ceremonial house, you needed to climb up a series of wooden ladders some 140' up the side of the cliff. Many visitors were standing at the bottom debating if they could tackle the climb.
Cindy just walked up to the first ladder, and started climbing. Once at the top, you were rewarded with a view that made the short climb well worth the effort. With a reconstructed Kiva that you can climb down into and a view worth a fortune, we both agreed that these Native Americans knew what they were doing when they settled in this location.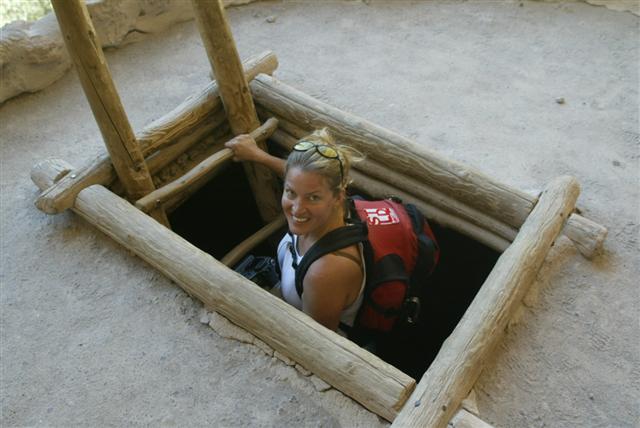 As the afternoon sun was starting to dip behind the mountains, we started our climb back up the Frey Trail to the campground.
For the first 1/4 mile, it heads straight up the cliff side. We sat down in a shaded bend in the trail to take a breather and snack on some food we had in the backpack, when two young ladies came hiking down from the top.
Unlike most of the other visitors, they had decided to hike up and get the Aerial View most miss out on. We sat talking for a few minutes with Elaine and Alana about the surrounding beauty when I spotted a Mule Deer pop its head out from behind a rock.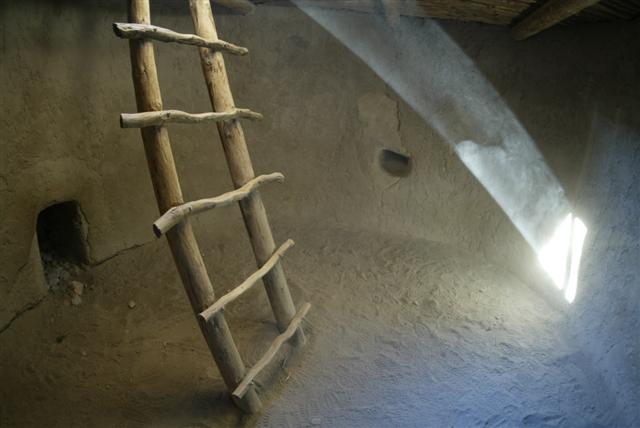 View from inside the Ceremonial Kiva with the afternoon sun coming in the opening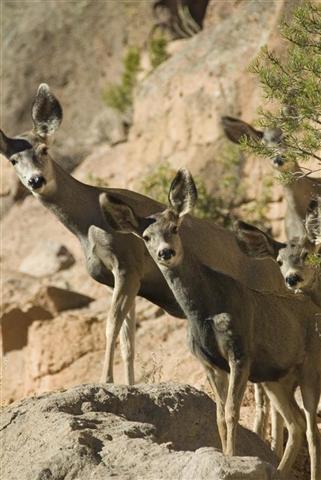 Within a few minutes, 5 mule deer were nervously trying to figure out how to get by us on the narrow trail. The mother deer walked within feet of us and jumped over the edge landing a good 8' below.
She began a series of yips and grunts that I never even knew deer made. Obviously her two fawns were getting anxious to follow her, but were too nervous to walk towards us. We were sitting in a tight bend, and if we were to go down, it would scare them off, if we were to go up towards them it would surely make them run away from their calling mother.
We sat perfectly still till they got up the courage to jump over the side themselves, which had us all sitting on the edge of our seats for a few minutes. At one point, the two fawns were looking over the edge much higher then where their mother had jumped from; which would have been a 20' leap rather than the 8' drop they finally found.
The other two adult deer who were standing above us on a ledge just decided to head back up the cliff side which allowed the two girls to follow the trail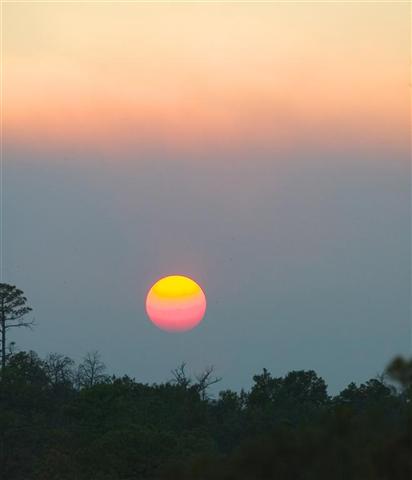 back down, and Cindy and I to finish our climb back up to the Sunline. Before we departed, we swapped numbers with the girls who said their parents were Park Ranges in Arizona and we should look them up around Christmas time. Once again, we were overwhelmed with the graciousness of total strangers who open their lives to us.
With the camper in sight, my lounge chair sitting under the rising moon, and cold beers flashing through my eyes, this day had been the best one I could remember in months. If the day couldn't get any better, as I was outside sipping on a cold one and cleaning the camera gear, I looked up to notice the sun dipping behind the clouds.
The forest service was doing a controlled burn a few mountain passes over and a smoky haze had been lingering all afternoon. When the sun was dropping through the haze, it turned the brightest shade of purple/pink that I've ever seen. What a way to end a already perfect day!
To read a more in-depth review of Bandelier National Monument Click Here or to see our gallery of Bandelier, Click Here
Wednesday October 24th 2007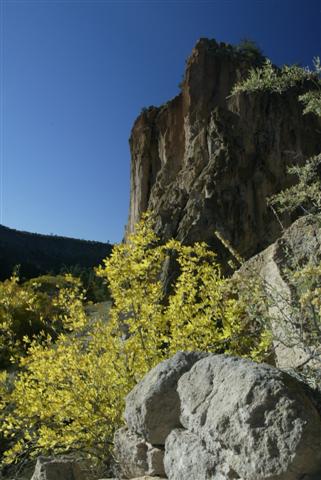 Today was spent trying to figure out how to get my laptop fixed. Oddly enough, if I sit the thing out in the sun, which normally makes the screen very hard to see, it shows up fine. This allowed me to look up a local computer repair person in the Los Alamos area. I called Brady Burke and explained my situation.
Brady said if I needed to update the site, which we hadn't done in a few days now, I could link the lap top to our flat screen television and use that as a monitor. DUH! Why hadn't I thought of that?
Since we were days behind on our blogs and hadn't even downloaded the hundreds of photos from yesterdays adventure in the ruins, the day was spent over the computer playing catch up.
While I sat working on the computer, Cindy took the leisure of spreading out a blanket on the sand and laying out naked under the warm New Mexico sun all afternoon. We were the only ones in the campground and except for the occasional bird call, the sound of the wind blowing through the scrub brush and my fingers on the keyboard, those were the only sounds to hear.
We met up with Brady after he got off work; his computer repair business is a side job and based out of his house. He suggested that I order a new screen off of eBay as Dell wanted over $500 for a replacement. When the screen would get here, he would install it for me and we could be on our way.
On the ride back to the campground, we stopped in the middle of the road for a herd of Elk that was grazing along the roadside. Some of the Bulls were huge! Hitting a deer in Michigan is very common during this time of year, hitting an Elk isn't something I would ever want to do!
Thursday October 25th 2007
When we had met John Tubb over in White Rock, he had given us a quick lesson on the volcano that had created this landscape we were driving through. He told us that over 1 million years ago, a volcanic eruption 500 times larger than Mount St. Helens and it formed much of what we see today. When the eruption took place, it dumped 1000' of volcanic ash over the entire area which is why this area has such unique rock formations.
This eruption was much different than a normal volcano. Rather than blow the top off the mountain like you normally think of, it blasted in a series of eruptions that made the entire top of the mountain collapse in on itself. When this eruption took place, it created a Caldera which we now know as the Valles Caldera National Preserve.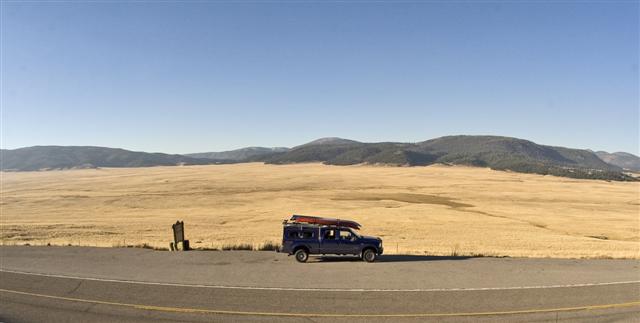 What was once a privately owned ranch used for livestock grazing, hunting and timber harvesting, the Valles Caldera National Preserve was purchased in 2000 as a land trust. This 89,000 acre piece of property is also home to New Mexico's second largest Elk population. You can sit along the roadway of Route 4 and look across the 3 mile wide valley with hundreds of elk grazing on the valley floor.
We sat for most of the afternoon looking through our binoculars at the huge herds of what we first thought was hundreds of wild turkeys, but soon realized were 300-500lb elk. Some with racks that would fetch tens of thousands of dollars from hunters. An older gentleman pulled up and started talking with us; telling us some factual information about what we were looking at. His name was Mick, and he volunteered at the Preserve. He answered many of our questions and invited us down on Friday to the visitors center.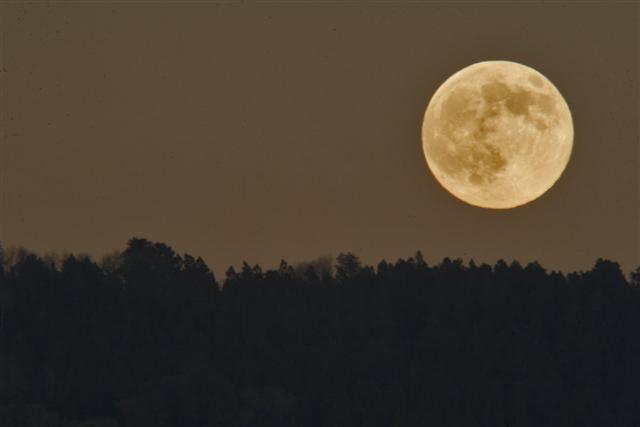 As we were getting ready to drive back out of the Caldera to our campground down in Los Alamos, we noticed the moon coming up over the mountain side. I jumped out of the truck setting the camera back up and watched one of the largest moons I've ever seen. With the naked eye, you could see many of the scars from meteorites slamming into the moons surface. With our binoculars, you could see so much detail, it was like looking through a telescope.
I wonder if it was like this all across the United States, or if we were just lucky enough because of the elevation we were at.
Friday October 26th 2007 Valles Caldera National Preserve
Sleeping was hard last night do to the light fall-off from the moon. Even though we were sharing the campground with only 2 other campers, it felt like we were sleeping in a parking lot with big overhead lights on. We had to hang stuff over the windows because the shades couldn't block out the light enough.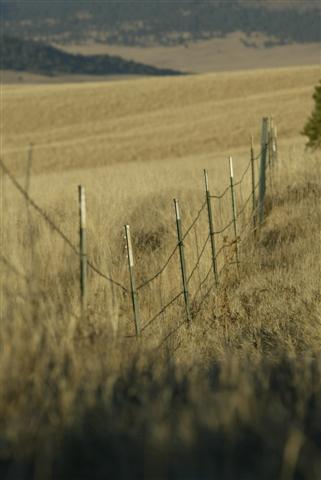 We headed back up into the Caldera hoping to get some good shots of some elk. Its frustrating as a photographer to sit and watch them all day through the lens, but never be able to get a good shot. I took plenty of pictures, but you'd laugh if you saw them because of how small the elk look in the images.
We pulled into the visitor center, and were greeted by Kathy, who like most people out here in the dry mountain country, ask why we have kayaks on the roof of our truck. We got used to that while driving through Nebraska and Kansas where every fuel station stop would invite a flurry of comments on "Where we were going to use those boats on your roof top?"
Kathy was very excited about the Valles Caldera Preserve just as Mick was. They both were locals who really thought this was a great opportunity to restore the land that has been in their backyard and allow others to enjoy it with them. We asked a million questions like where we could go hiking, biking, exploring or fishing on any of the lakes and streams in the preserve. That was when the problem set in.
For some reason, they have this information center, but none of them really knew any of the information except for the history. Kathy really seemed to want to promote the park and quite frankly seemed confused as to why nothing was available.
When we asked about hiking, they said "You have to make reservations on-line, although no hikes are available at this time."
We asked if we could walk down into the valley to try and get some up-close pictures, but they told us "We'd have to wait till Rob, the director, came in who could give us that OK" While we sat talking with the four people who worked the front gate, probably five carloads of people pulled in asking the same questions we were asking. All were turned away with the same response "You need to make reservations On-line."
Their brochure is beautifully done, it talks of Mountain Bike Rides, Night Sky adventures, Overnight birding events, Fly Fishing clinics, overnight photography excursions, but every one we asked all said the same thing, "You'll have to go on-line and make reservations for that."
Now who goes to an area and makes reservations to go for a hike? When you're just passing through, as almost all of us were, you see a beautiful area, pull over and if a hike is available, you take the hike.
As a Land Trust, the Valles Caldera has 15 years to show that they can be self sufficient or the government will step in and turn the preserve into a National Park. Kathy, Mick and Jim, our tour guide, all talked like turning this into a National Park would be a bad thing, but frankly I felt that it might allow people to actually use the park rather then be turned away by the carload. That 15 years is from its inception in 2000, so they're already half way through that allotted time frame.
During the summer tourist season, they offer tours of the 89,000 acres where they drive you along the gravel roads in their vans. This time of year, they only offered mini-tours for $5. While we were waiting for Rob to show up, who was supposed to be able to give us permission to go into the backcountry without going through the hassle of making reservations on-line, Cindy and I opted for one of the mini-tours.
Jim Trout was our tour guide, and knew the Caldera like he had lived there all his life. We shared the van with only two other women who were just passing through like us. They too wanted a chance to see some elk up-close. Problem was, the mini-tours only took you in maybe a mile on some dirt roads, and highlighted most of the old cabins that have been used by various movie sets that were shot on the property, the most recent being Tommy Lee Jones' thriller 'The Missing.'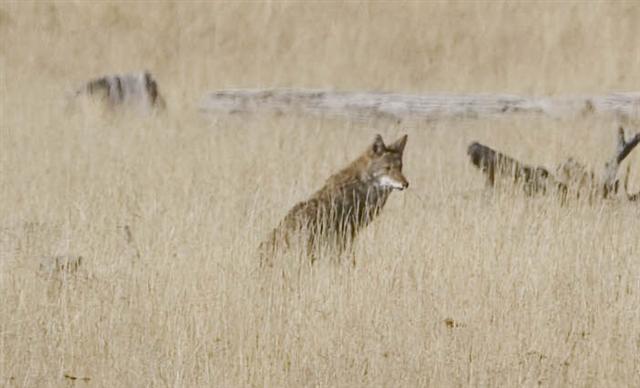 Quite frankly, we were disappointed with the tour. Although Jim was fantastic, we only had a chance to see two coyotes run across the road in front of us, and no elk up-close. When we got back to the information center, Rob had pulled up and we explained that we didn't know we had to make reservations, but would like to go on a hike or drive through the backcountry and be able to highlight the area on our website in hope of helping them gain some free publicity.
Rob sort of blew us off saying that "It was hunting season and no one was allowed in the back country at this time except for the numerous trucks filled with hunters!" What really chapped my ass was that the hunt didn't start till Saturday, all these hunters were just scouting for their best place to hunt. Why couldn't we have paid a fee, and driven along these back roads just like they were?
Now where we live, during hunting season, anyone is still allowed in the National Parks, you just have to wear an orange vest. Are New Mexican hunters that bad of a shot that no one is allowed in the area except for the hunters? In the few hours we sat waiting for Rob, we watched numerous carloads of people be turned away because of this.
How are they supposed to make money by turning people away? I once traveled to Wyoming during hunting season just to go into the back country bordering Yellowstone to try and photograph the wildlife and with no reservations needed.
For the rest of the day, Cindy and I couldn't get over the fact that Kathy, Jim and Mick all were so excited about making this preserve work, yet with their hands tied, no one could give us permission to drive onto the property? Kathy told us about a lodge they have on the property which is available for rent. She said they were having trouble keeping it rented. When I asked how much it was, she told me "It slept 16 and went for $2800!" I asked "Is that per week or what were the daily rates?" She said "No that is the daily rate, and you're not allowed to drive your vehicle up to the lodge, because it would just be too tempting to drive around the 89,000 acres of the preserve."
Now who in their right mind is going to spend $2800 per night and be stuck there? What's going on in this preserve that they wont allow you to drive yourself along any of its roads? Man, things like this just drive me crazy. This area was beautiful! The vista's could be the cover of any outdoor magazine, the photographic opportunities were endless, but all because of some asinine rules, it's off limits for visitors unless reservations are made.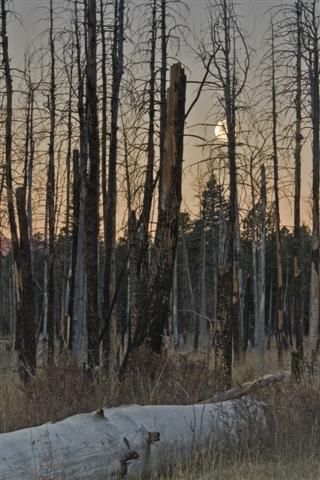 Cindy and I have traveled all over the United States, visited dozens of National Parks, and have never made a reservation at one of them to enter. Call me crazy, but I'm thinking that this preserve becoming a National Park would be the best thing for the people. Considering that our Tax dollars are what's paying for it to begin with.
One last thing, and then I'll be done with my little rant. While on the mini-tour with Jim, he said their yearly budget was over $3 million and they were having troubles finding ways to make money. At $10,000 per day being spent on this preserve, something tells me someone who knows how to balance a budget needs to step in and take over.
Like I've said a hundred times before, If any small business was to run itself like the government does, it wouldn't make it more than a few months before it would go out of business.
Maybe if everyone who reads this was to send an email to the Valles Caldera asking that they change their policies, if any of you travel past here, you'll be able to stop by and go for a hike without having to have made reservations.
I would love to be able to show you amazing pictures of the hundreds of roaming elk, or awe inspiring vistas that sit waiting in this preserve, but we weren't allowed to see any of this ourselves, so it's hard to recommend this park as a destination.
I'd like to apologize for our Galleries being down for so long. We were trying to do something on the back end to speed up the process and make it easier for you the viewer. In that process, they were down for almost a month.
As of today, the Galleries are back up and running with tons of new pictures for your viewing pleasure and they are now able to be purchased, mounted, framed or printed on a host of various styles of apparel, anything from mugs, mouse pads to t-shirts. This is our only source of income and the only way we earn money to keep this adventure going. Sorry, and we wont let it happen again.
Saturday October 27th 2007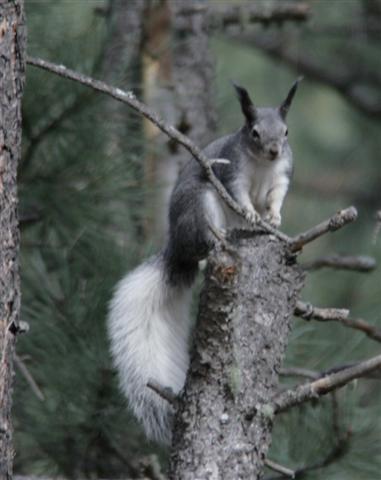 This area has so much to do, it's hard to figure out where and what we want to go see each day. If you look through a New Mexico Gazetteer, they list a bunch of different scenic drives, and all of them are right in the area we're staying in.
When we first pulled into White Rock, we stopped at the Visitors Center where we grabbed a free 2007 Vacation Guide to the Jemez Mountains. This is a must have when in this area. Not only have we kept the guide with us on every excursion, we've used the map to find our way, called a few of the campgrounds they list in it and have almost seen every attraction they've listed. Thanks Jemez Thunder for publishing such a great guide!
We packed up our things early this morning from Bandelier National Monument, which I keep calling Bandelier Campground, but when I looked at the receipt, it's actually called Juniper Campground.....Anyway, we headed to a different campground which is closer to some of the sights we want to see.
Driving Route 4 is a very scenic drive, doing it with a camper behind you is another story. These beautiful mountain roads are very twisty with plenty of hills to deal with. While driving, it was all Cindy could do to keep her sweet, caring mouth shut when it came to telling me how to drive. You'll have to read her blog to see why I'm saying it like this..LOL
Fenton Lake State Park is tucked away so far back in the wilderness that just when you think you made a wrong turn and are lost, you arrive at the camp ground. They must have just paved these roads, because roads don't get any smoother than this. The park offers 5 campsites with water and electric hook-ups, but when we pulled in, the only site left was right beside another camper. I mean only a few feet away. I saw one more site that was off by itself, and wondered why no one was staying there? This other spot would make six campsites total?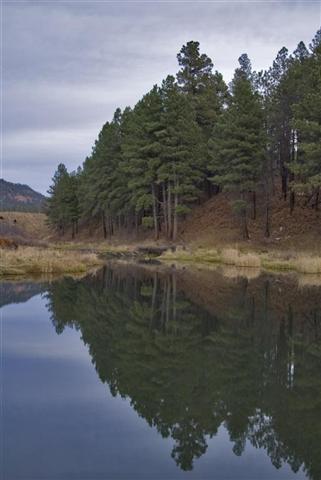 We backed in, leveled off the camper and unhooked. I got my mountain bike down to go pay at the self-registration station, and when I looked at the post to see what our campsite number was, it said "Campground Host" OOPS! We were unhooked and fully set up, so I figured we'd just play dumb and if anyone asked us to move, we would, but if they didn't say anything since it's out of season, then we'd be fine.
This campground is beautiful. With a 37 acre lake that must be great for fishing do to the amount of anglers lining the shoreline, this being a Saturday has them jockeying for the best spot to land that big lunker. Fenton Lake Campground is huge and has plenty of campsites for tent campers which are situated right along a little winding stream which a family of beavers is trying their hardest to dam up. The park borders an old ranch that used to belong to Elijah McLean Fenton who was a Presbyterian minister and civil engineer who came to New Mexico in 1881 and was stationed at the Pueblo of Jemez in 1892. You know this was a working ranch because cows are roaming freely along the roadsides and throughout the campground.
We ended up spending the rest of the afternoon just walking around the campground and enjoying the nature trails. We hadn't had a campfire in along time, so we gathered some wood and got down the camp chairs. We watched the sunset and listened to the nighttime animals start with their calls to each other. One in particular was the local Barn Owl that sat calling to his mate across the mountain side. The noise it made was quite humorous because it sounds like a little girl screeching after being scared. The females reply was much softer, but still just as funny. This courtship went on all night long mixed in with the random cow 'mooing'.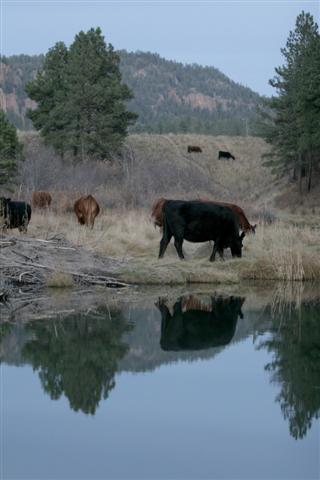 Now normally I wouldn't say anything, but being as California is still recovering from the largest forest fire in history, and New Mexico is under much of the same draught conditions, I felt I had to say something. One of the neighboring campers had two young girls with them. I'm sure the parents were lost in conversation around the campfire and not paying to much attention to their kids, but when the two young girls come walking by our campsite into the woods with long sticks still on fire, I felt the need to scold them.
Suddenly I felt like my father when I heard myself say "Excuse me ladies, I don't think you should be going in there with those sticks." They stuck the sticks into the ground to put the fire out, but the embers were still flying around while they were waving them in the air.
Like I said, I know this is what kids do when you take them camping, I must have done it on every camping trip as a child, but with the current dry conditions, some times you need to speak up. I told Cindy that if they come back over here with those sticks again, I'm going to be that guy that goes over to the neighbors and scolds the parents because of their kids. Luckily for us, my initial scolding kept them away from our campsite for the rest of the night.
Sunday October 28th 2007
With the computers being broke and us not having a connection at this campground, we proved how much of high-tech rednecks we were today. We took the plasma screen off the wall, loaded up all the computer gear in the truck and went to find a strong signal where we could upload some stuff to the website and check on the status of the computer screen I had ordered.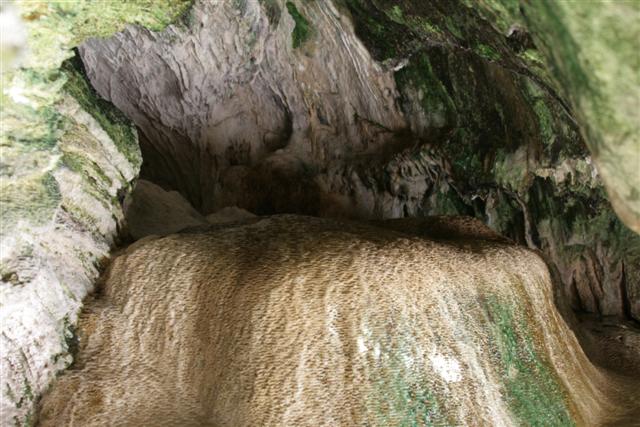 While on the way, we stopped off at Soda Dam along Route 4 which is a natural dam that was created over centuries by mineral deposits from a hot spring. Now the swift flowing Jemez River (pronounced Hey-Mez) is funneled through a narrow opening in this wild looking creation. It reminded me of the stalactites we saw in Blanchard Springs back in Arkansas.
While hiking around, I was taking a picture of the water with the camera mounted on my tripod, and while pushing the shutter release, I leaned against the back of the camera with my large nose. This caused the camera and tripod to start falling forward into the fast flowing river. I leapt forward to try and catch them, landing knee deep in ice cold water. Luckily I saved the camera from going over the falls and drowning, but while trying to catch my fall, my hand that scraped down the rocks trying to grab ahold of something lost a pinky nail.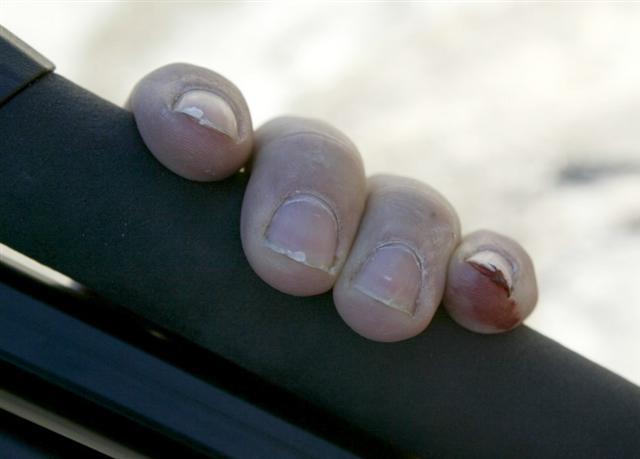 When I came sloshing around to Cindy who was on the other side taking pictures, she took one look at me and said "What, you had to go in to get the picture?"
With my shoes squirting out water with each step, we went back to the truck so I could take them off and try to dry them out. We drove back to the Caldera where Verizon has a cell tower on one of the peaks and we knew we'd get a strong signal. Really it's the only place where we even get a signal in this area. While I set up the computer, the plasma screen and the numerous inverters to power everything, Cindy sat glassing the elk herds with her binoculars on the valley floor.
We must have looked like some sight to the cars passing by. A big truck with kayaks on the roof parked on the side of the road (there isn't a kayakable river around for miles) with a glow coming from the inside that made it look like it was on fire.
After uploading numerous Galleries now that the Gallery Section is back up and running, answering a ton of emails, and checking in with our families while we had a signal, we headed back to Fenton Lake.
With my shoes, socks and pants soaking wet from the knees down, we had the heat blasting on the floor boards, but the windows down because our upper bodies were roasting. We were both laughing at each other over our current predicament. When the sun goes down in the mountains, it gets DARK!
With no light fall off to speak of, I was driving with my bright lights on and my auxiliary fog lights on and was still out driving my headlights at only 45mph. Coming around one sharp curve, I let out a scream like a little girl when I noticed a cow sleeping on the white line of the road!
We swerved and just missed this giant bovine which was probably trying to stay close to the road which would hold some heat from the afternoon sun. At this point, I slowed down to about 20mph thinking what would happen to the truck if were to hit a COW! Unlike hitting a white tailed deer in Michigan, which just sent the deer flying with no damage to the front of the truck, something tells me hitting a cow would do some serious damage.
Monday October 29th 2007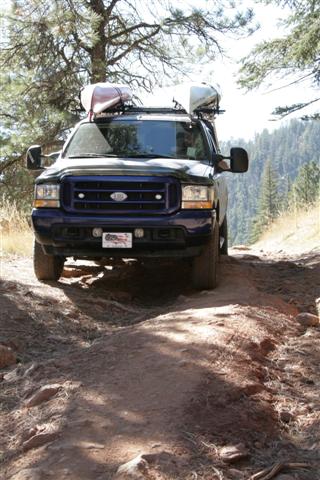 A few days back while driving through Jemez Springs, we stopped at the Laughing Lizard Cafe for some fabulous dinner. We were talking to our waitress asking which Hot Spring she would recommend in the area. Being as this whole area is a dormant volcano, there are numerous hot springs along the mountain sides. Cindy and I haven't had a hot bath in a year of being in the camper. One of Cindy's favorite things to say after a long hike is, "I'm going to have a hot bath" This usually means she fills the floor of the shower with hot water, all 2 inches of it, and splashes it on her.
Our waitress, I apologize for not getting her name, recommended San Antonio Hot Springs as it's hard to get to and alot less crowded then some of the others. A few we have passed which are right off the road, look like they'd be full due to all the vehicles in the parking areas.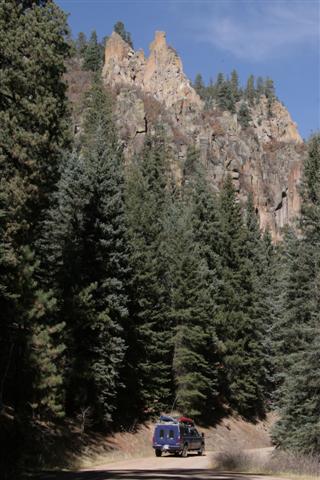 Saying that San Antonio Hot Springs is hard to get to is putting it lightly. Remember when we talked of the forest roads in New Mexico being rough, well the last one we were on with it's 2' deep ruts was like a freshly paved road compared to Forest Road 376.
As you turn off of HWY 126 and cross the cattle guard, Cindy let out a scream when the truck bottomed out on the first pothole. The next five miles was a gruelingly slow crawl over rocks, washed out ditches and soft shoulders with no guard rails to stop you from tumbling down the steep mountain side.
The reward for this rough ride is a breathtaking hot spring situated 3/4 of the way up a steep cliff. We climbed up the short cliff side where we could see steam rising out of the numerous pools. The Jemez Tour Guide says "A sign notes that Nudity is prohibited by state law, though that may or may not be observed on any given day." While we came hiking up to the trail, we noticed a woman standing naked by the steaming pool. As we approached the spring, we found two couples bathing in the hot springs sans clothes.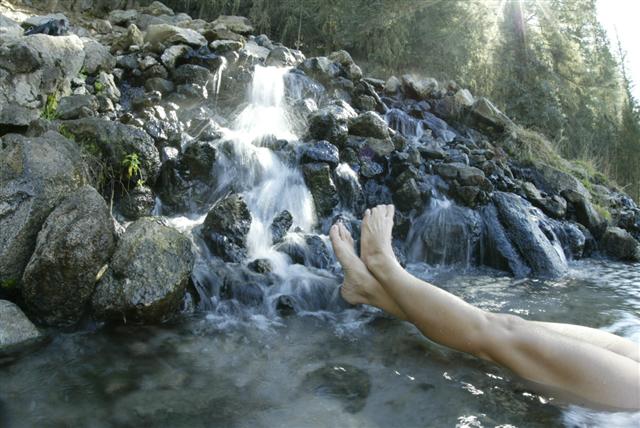 Another of Cindy's favorite tag lines is "When in Rome", so off came the clothes and into the steaming hot springs we went.
Being as this was my first time in a natural hot spring, I'd have to say that I'll have a hard time topping this experience. Sitting in a steaming hot bath, with a million dollar view in front of you is as close as you can get to paradise. The only sound was the water tumbling down the rocks mixed with the cool mountain air blowing through the towering Ponderosa pines all around us.
Because of the humidity from the springs, the trees surrounding the pools were all covered in hanging moss. Unlike the Spanish Moss we saw in Louisiana, this moss was glowing green rather then the light grey common to the Southeast. Both couples that were in neighboring pools left just after we got there, so for an hour, we had the springs all to ourselves. Like I said, "I'll have a hard time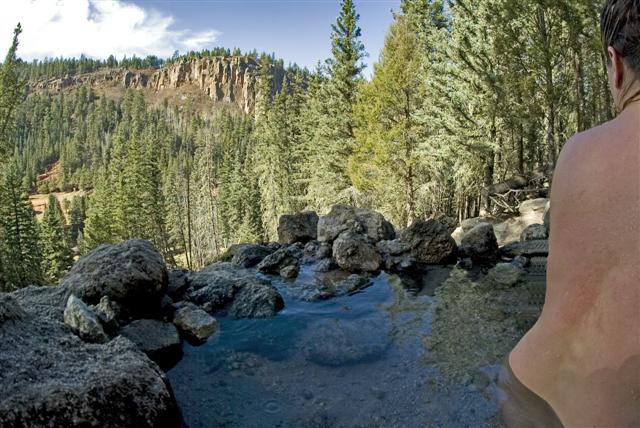 topping this experience anytime soon."
Exhausted from the heat of the water, we got dried off, put our clothes back on and climbed back down to the truck. Cindy had packed a big lunch and we sat beside the stream in the tall grass warming ourselves in the afternoon sun.
This area is home to a very cool looking Blue Bird that has been next to impossible for me to get a good picture of. It seems whenever I don't have my camera with me, they're all around us. When the sun hits them right, their light blue feathers turn an bright iridescent blue. As we sat eating lunch, they were all around us in the field.
Seeing the Tent Rocks of the Jemez Mountains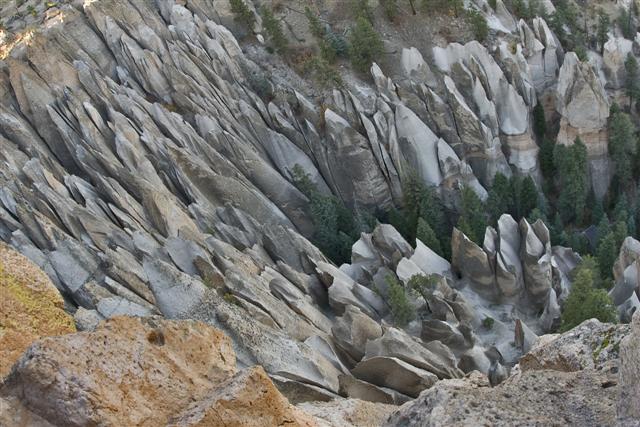 Driving back out FR376 was a test of our suspension, but we made it just fine. We crossed over HWY126 and continued down FR376 which is just a normal dirt road once you cross the highway. Driving just a short distance we turned onto Forest Road 604 which took us to Tent Rocks.
These spectacular rock formations are a geological process where wind and rain erode the soft pumice, leaving the harder rock exposed. Tent rocks are fairly common throughout the Jemez Mountains, but these formations are spectacular. Again, the Jemez Guide book warned of "Steep cliffs with no guardrails" and they weren't joking. Either not too many people visit this area, or numerous people fall to their death while exploring these steep cliffs.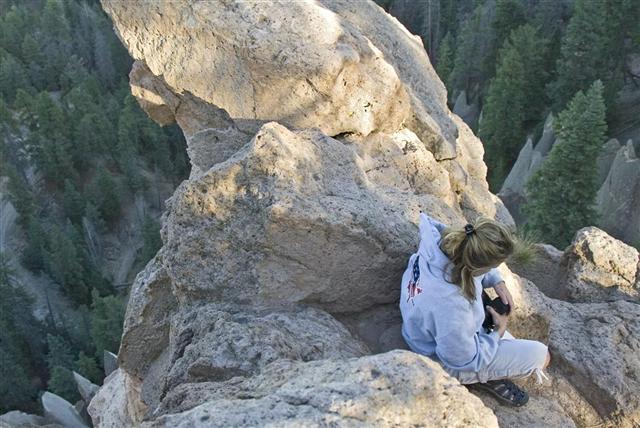 I'm not one to scare easily. I'm not afraid of heights and love to boulder around on anything I can climb. At one point, Cindy and I were climbing around on the rocks trying to find a cool vantage point to get a good shot, when I looked over the edge and lost my stomach.
What I saw was me clinging to an overhang that plunged a few hundred feet below. For the first time in my life, I was afraid of heights. I yelled to Cindy to come quick and check this out which I cant repeat what her reply was. In the picture to the right, she's sitting there crying after she looked over the edge behind her!
These rock formations were beautiful, and we spent the remaining hours of daylight climbing around just taking in the beauty.
When we got back to the campground, it was that last bit of twilight before it gets dark. We walked down by the beaver dam where we were treated with the family of beavers going about their business. These well fed beavers proceeded to climb around the shoreline munching on the tasty branches of any trees they could find. Before we knew it, Cindy and I were sitting in the dark still trying to watch their antics.
It's days like today when we know this is what we're supposed to be doing right now.
We put together an October Gallery with a bunch of photos that didn't fit into their own gallery from this past month
Return to Top of Page