When we realize our insignificance in this world,
it some how relieves the pressures from society to succeed - Cindy Bonish 04/07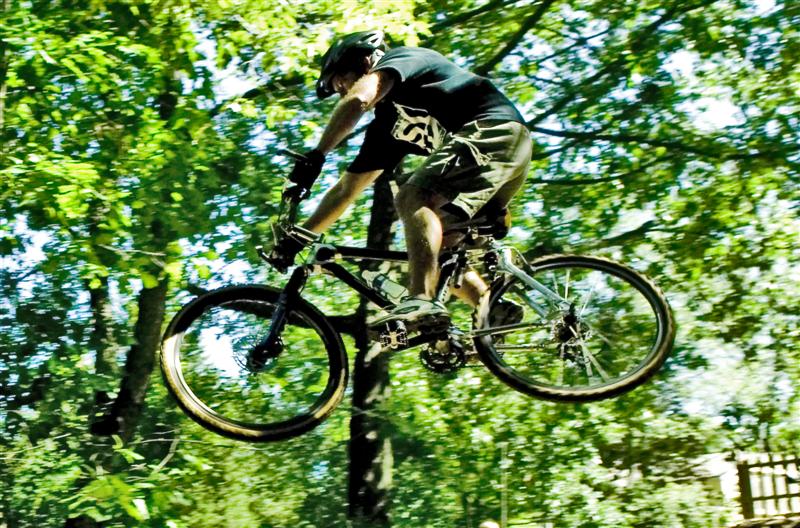 Pat's September 2007 Blog
If This is your first time here, you might want to start from the beginning with my previous months Blog's
January Blog February Blog March Blog April Blog May Blog June Blog July Blog August Blog
For Those That Don't Know Me, You can click here to read my Bio
Labor Day Weekend - I think I need a New Liver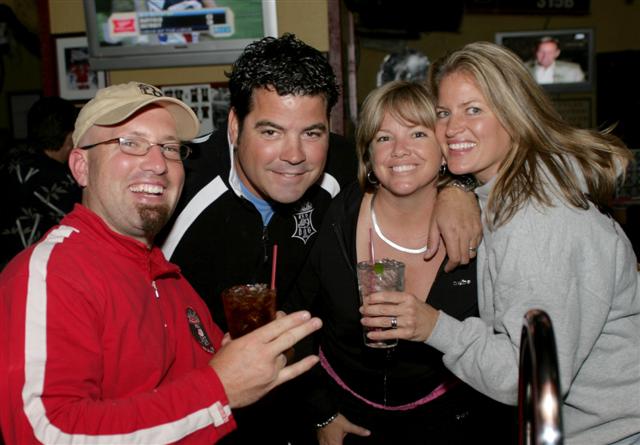 It marks the end of the summer, and the Labor Day holiday was one of those parties that started on Thursday afternoon and is still going strong on Sunday night. This year was no different.
We had some good friends, Jeff and Jen fly in from Florida to visit for the weekend; we went straight from the airport to the Red Dog Saloon to raise a toast and start the weekend off right. Thursday night was Karaoke at The Dog, and Cindy, Jen and Jeff are all Karaoke freaks.
You might remember their names from when we stayed with them in Lake Worth Florida back in February. They are the couple that has a Karaoke machine in their house, and almost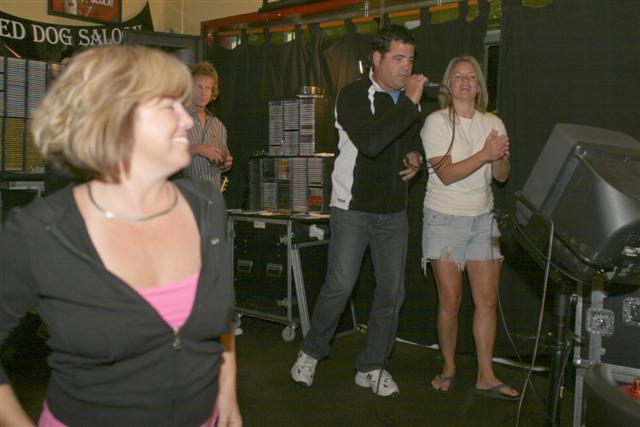 every night would end in a three person sing-along with me rolling on the floor laughing at their antics. Well Thursday night was no different. They had the crowd at the Red Dog standing on their feet with their songs and dance moves on the stage.
After we closed down the bar, we brought some friends back to our house and sat up talking till the early morning hours. You know you're around good friends when someone looks at their watch and gasps "Oh Man, it's 5:30a.m.!?" and none of us had noticed.
Friday - Just the start of the Long Weekend
Surprisingly I was up early, and after a big breakfast, my nephew who had slept over at Grandma's house had me out on the dirt jumps in the back yard. This is also the best way to get rid of any hangover that might be lingering from last night. Ride for a few hours sweating out 100 proof, and it's impossible to not feel good.
Jeff came out with the girls and all us boys ended up on bikes like a bunch of little kids. This reminded me of my childhood days spent in the back yard with friends riding these jumps and just having a good time. My little brother and another friend even came over and soon it was like a testosterone session on the track. Bikes criss-crossing everywhere and all of us taking our turns wiping out.
By one in the afternoon, we had the girls yelling at us to put the bikes away because we needed to leave for the night time events we had planned. A quick shower and we were rolling towards Windsor, Ontario and the Canadian Club Distillery.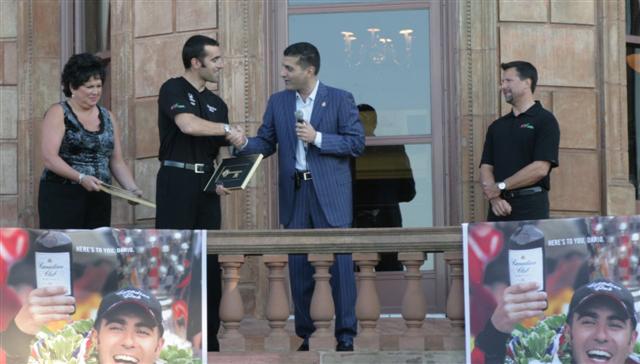 We had been invited to a private dinner at the Canadian Club Heritage Center where the Mayor of Windsor Eddie Francis, Dario Franchitti and Michael Andretti were amongst the many other distinguished guests. Canadian Club has this two seater Indy car, and they were giving rides up and down the road in front of the Distillery! It was quite a spectacle to watch, as multiple police motorcycles would escort the car out of the parking lot while it would scream down the road under police escort.
Back in the Heritage Center, we were allowed to tour the beautiful grounds and see the building that Hiram Walker turned into a world wide name. I also found a new drink that is now right up there on my favorites list, Canadian Club 12year with Ginger Ale. These tasty beverages go down so smooth, that I forgot count after my first bottle.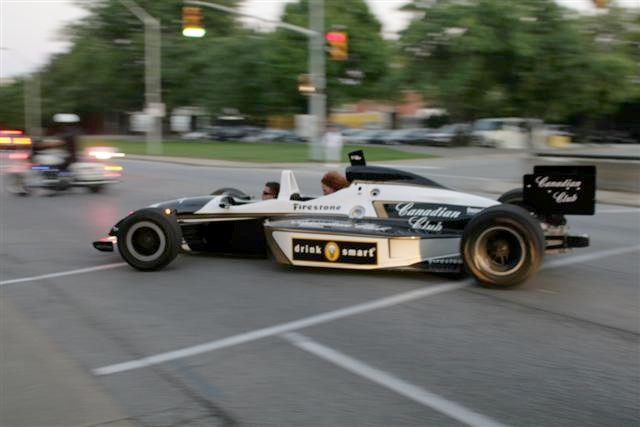 The Mayor of Windsor, Eddie Francis, presented Dario and Michael with the keys to the city, and gave a welcoming speech inviting the two racers to enjoy their beautiful surroundings. With the sun setting over the Detroit River, the night was ready to get crazy.
From the Whiskey Gala, we headed back to the hotel to change into some comfy clothes, and headed out for a Pub Crawl. We met up with a bunch of the other party goers and proceeded to drink most of the Windsor nightclubs out of Canadian Club whiskey. It was funny when 15-20 people would walk up to the bar and order various drinks with the signature whiskey. You would see the bartender screaming for a bar back that he's out of CC and needs a few more bottles. This went on with every bar we invaded, and soon it was last call, and the only thing we could think about was greasy food.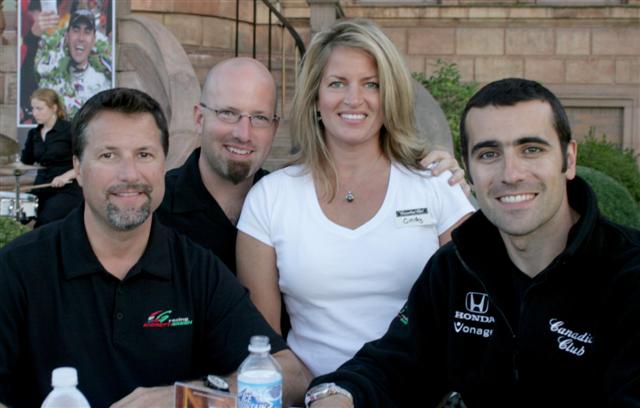 A 24 hour diner is hard to beat after a long night of drinking. I know the food was good, because my plate was shiny when they cleared it off our table. A short stumble back to the hotel and I was out for the count.
We'd really like to say a huge 'Thank You' to George Ziryni, Mark Wilson and everyone else from the Canadian Club team that treated us like Royalty all night and showed us a fabulous time.

That's Michael Andretti, Me, Cindy and Dario Franchetti in Canada
Saturday September 1st - Detroit's Jazz Fest
After a big breakfast and a nice stroll around downtown Windsor, we headed back under the Tunnel and onto American soil. Downtown Detroit was bustling for the Labor Day weekend with its 28th annual Jazz Fest.
The city looked fantastic with so many people filling the closed off streets mixed with the smells and sounds of soul food and good jazz. We also found out that the reporter who had stopped us on the street last night mentioned us in the Windsor Star article he wrote about the Canadian Club Gala.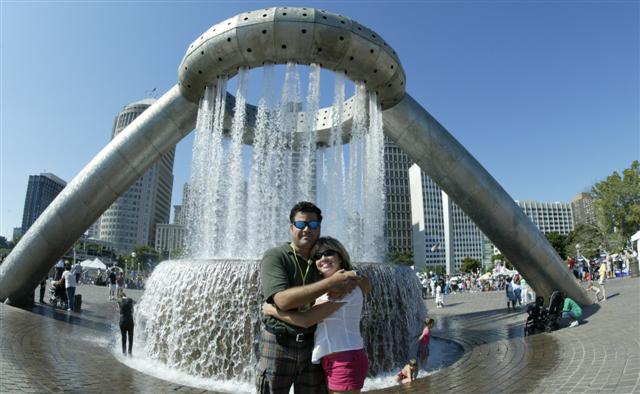 We wandered the city streets listening to great music from multiple stages and sampling some more great products from the Future Brands Hospitality Suites. The weather was picture perfect with cool breezes blowing off the Detroit River and warm sunlight reflecting off the glass sky scrapers towering over us. I was glad we were able to show the downtown area to Jeff and Jen when it was dressed up in its best duds and looking so festive.
We found this cozy little bar called Checkers where we met the two female owners who made us feel like part of their family. They told us stories about their parents and their dreams of retiring in Italy. We swapped some stories of life behind the bar before saying our goodbyes and heading back towards Milford.
On the way, I showed Jeff and Jen some of the parts of Detroit that gives it that nasty title of 'Murder Capitol' which probably wasn't a good idea now that I think about it.
4 naive white people, rolling down a city street with burned down houses and abandoned buildings everywhere got us some strange looks in our big shiny truck, but we were back on the freeway and got home unscratched. The girls wanted to stop at the Red Dog one last time before we headed home.
We got home and sparked up the bonfire. We all sat around laughing and telling stories with my parents till a few of us fell asleep by the fire. This non-stop going is rough on us old timers. What a day we had and tomorrow morning we had to get up to do it all over again.
Sunday September 2nd - Belle Isle Indy Car Race
I rolled out of bed asking myself "Do we have to do this again?" We loaded up on a big breakfast and were on the road headed back downtown. We had tickets to the Belle Isle Indy car race and wanted to get there in time to go on some of the pit/garage tours that our VIP passed afforded us. It was another day of beautiful weather mixed with that smell of burning rubber and ethanol fuel.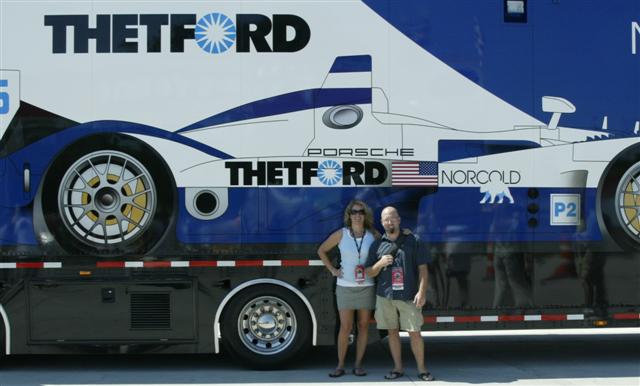 It really ticks me off that Belle Isle is so beautiful, yet sits vacant 90% of the year. The island is nestled between Detroit and its neighboring city of Windsor Canada on the Detroit River. Jeff and Jen were just amazed that the bright blue water was fresh water as they kept saying it reminded them of the intercoastal waters they're used to in Florida.
Although I've been to many races, I've never seen an Indy Car up close except for the Indy 500, and that course is so big, I dont consider it upclose. The cars are amazing pieces of art with a blend of exotic materials like Carbon Fiber and Titanium. We watched as the mechanics rebuilt the vehicles just minutes before the race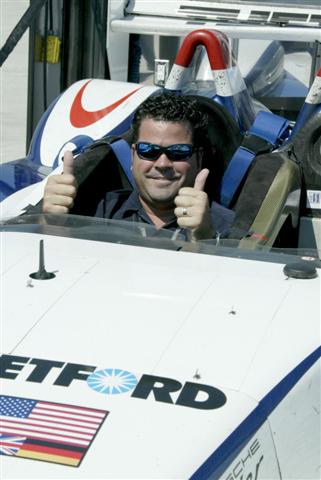 started. Jeff was even able to see what it feels like to sit inside one of the cockpits of these land rockets. After watching him squirm into that tight space, I can only imagine what it would feel like in there during a race.
This was going to be a great race as Dario Franchitti, our Canadian Club driver was battling with another racer for the points race. Dario only needed a few points to take the lead. With next weeks race in Chicago being the end of the season, this race was very important to the final standing of the circuit.
After lunch and drinks in the Canadian Club Hospitality tent, we headed to our seats in the grand stands for the big race. What I thought was going to be a boring race, I normally don't follow racing too much, we found ourselves glued to the seats with a major battle for the lead. We had numerous crashes right in front of us, and the race came down to a major crash in the last lap. Even though Dario didn't win, he had earned enough points to bring him to the lead after leading most of the race.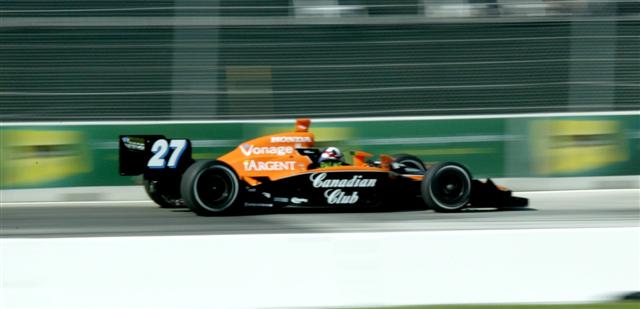 We listened to some great music by Soul Asylum after the race ended and what had been a perfect day, was ruined when we tried to leave the island. They hadn't allowed anyone to drive onto the island because of parking limitations. We had to park in downtown Detroit and take a bus over. This was no problem on the trip over because the buses were running non-stop and the people were trickling over at a comfortable pace. Now try and get an entire island to leave at a comfortable pace, and disaster strikes.
We waited in the line for the bus for an hour and a half before we were able to grab a short bus ride back to our vehicle. When we were leaving, the line for the busses was still so long, I'll bet some people waited for over 3 hours!!!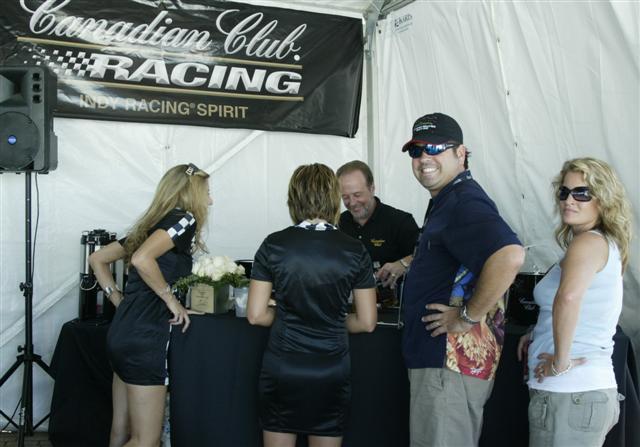 We got over the bus ride ordeal real quick and were home safe in Milford in no time. Again, another perfect day and what a great weekend. Thanks again to Canadian Club for the great seats and a great weekend.
Now I only need to get my name on that Liver Donor list and I should be ready to join you all for another weekend of partying.
Wednesday September 5th
Don't ask me how we did it, but in one of the worst real estate markets in my lifetime, we were able to sell our house in Michigan in 11 days on the market!! I know we gave it away, and it's in move in quality with nothing needing to be done to it, but I have to say we are blessed for this sale. That and we have the best Realtor in the whole state!!
Thanks Cindy Sharp for doing what you do and doing it so well!! You don't know how much stress that took off our shoulders.
We were so worried that we were going to leave Michigan and head out West with it sitting on the market and have to keep making the payments out of our savings account that were supposed to be for this adventure. When our realtor called us and said "We have an offer for full price" I think Cindy crapped her pants with shear excitement. Isn't that what everyone does when they're excited?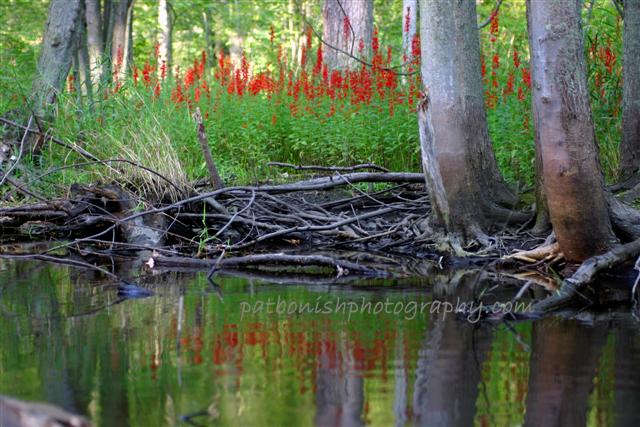 So the past few days have been spent going back through the stuff we had piled into our barn and sorting through it again to see what we want and what gets given away.
The first time was easy, this time we're down to the nitty gritty. Thankfully most of the stuff has been forgotten about in the past 8 months on the road, so when you open a box that is marked KEEP, you aren't as attached to it as when we lived with it every day.
Again we are asking ourselves why we accumulated so much stuff and why we needed all this stuff? I know I've said it before, but I cant stress enough that you should go through your belongings and get rid of clutter. It is so liberating to know after the sale of this house, we will be 100% debt free and be off the grid completely.
We're going to dinner over at my sisters house to see the family before we leave this weekend and try to drench ourselves with the little kids as much as possible before we go without them for the rest of the year.
This just might be harder to leave our family this second time then it was our first time back in January. We've spent so much time with them this summer and I can honestly say that I enjoy ever second of it. I cant get enough of my nieces and nephews and it reminds me of raising our daughter and how much fun we used to have together. I know the first few weeks I'm going to be in a major withdrawal with out them.
Thursday September 6th Touring the Canadian Club Distillery
After our last weekend over in Canada, we had set up an appointment to come back and do a one on one tour of the distillery without the big party going on. It was really cool to be there for the party, but I had so many questions that I felt bad making anyone take the time to answer all of them while so many people were around. The Heritage Center is open for public tours year round so we just thought we'd come back when they weren't so busy.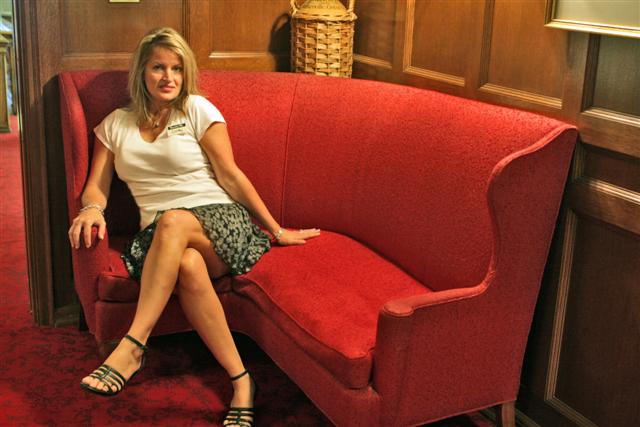 So this morning we got up early and drove back across the border into Canada. We were introduced to Megan who would be our tour guide for the day, and while she got her stuff ready, we had a fantastic lunch accompanied by some of my new favorite Canadian Club Classic 12 year whiskey.
I cant think of a better way to start out the day then with a nice 12 year old bottle of whiskey with a splash of Ginger-Ale added. It seemed like the month of June was all about Bourbon while we traveled through Kentucky.
Cindy and I had really grown to love the smooth taste of Jim Beam and Makers Mark. Both of them we just pour neat with a splash of water to mellow out the smoky stout flavor. This month we have found Canadian Whiskey and Ginger-Ale are almost as good. Like the ol' saying goes, "When in Rome".
I'll warn you right now, this might be a little long, but it was so interesting, I thought I had to share it.
When we finally got started with the tour, I learned real quick, that the Canadian Club tour was going to be much more in-depth then any of the other Distillery tours we've been on. Most of the others were all about the product itself with just a bit of history about the person that founded it. This tour is almost all about Hiram Walker, the founder of Canadian Club.
The Heritage Center was his personal office and was originally erected for the purpose of providing offices for the numerous interests of Hiram Walker & Sons. These businesses included farming, construction and of course the distillation of fine whiskey.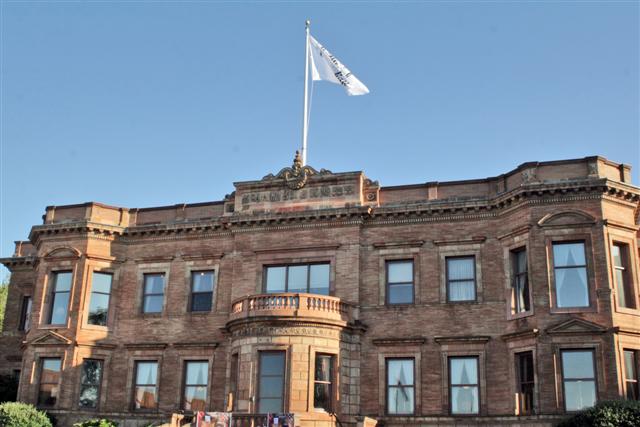 Hiram Walker was born in the United States on July 4th, 1816 in Massachusetts. He moved to Boston at the age of 20 to start his first business.
Two years later he decided to move his dry goods business to the frontier town of Detroit, he soon found himself as a store owner, a tanner and a wholesale grocer.
Walker eventually found moderate success as a wheat merchant and by 1856, with a fortune of $40,000, he set his sights on some undeveloped land across the river in Canada. When Hiram started distilling liquor in the store and selling it out the back door, he soon realized there was more money to be made in spirits then in dry goods. All this was happening while the temperance movements started coming through the city of Detroit which is also why Hiram decided to move his shop across the Detroit River to his vacant land neighboring Windsor Ontario, where the laws were much more laid back.
Hiram started developing his land and soon had an entire town. By 1890, the town of Walkerville was incorporated and Hiram Walker & Sons Limited, owned everything in the town. They provided light, power, gas, water and sewers for free to the people of Walkerville; the only stipulation was you had to work for the distillery or one of the businesses owned by this entrepreneur. The towns fire department, police department, street cars and ferry service came courtesy of Hiram Walker himself and this gracious man even paid his employees with Walker Bucks which could only be spent in Walkerville.
We basically learned so much info about Hiram Walker, that I now feel like I could write a thesis on this fascinating man. I could go on and on with fine details, but I'm sure no one wants to read this much about him and if you were to ever be near the Detroit/Canadian border, then the tour of Canadian Club wouldn't be needed. So I'll just list some of the more interesting things that I felt stood out.
I will say, that the Canadian Club Heritage Center is one of those building that has to be seen. The intricacy of the wood work that covers the walls is astounding. We learned that Hiram imported 200 workers from Italy to do all the woodwork at a cost of only $16,000!! In this era, it would cost millions to duplicate. In 1894 when the Heritage Center was completed, the total cost came to $100,000. This goes to show the wealth the man had accumulated when whiskey was selling for .18¢ a gallon. There are paintings from world renowned artists and sculptures from all over the globe. It is more of a museum then a distillery and I couldn't get enough.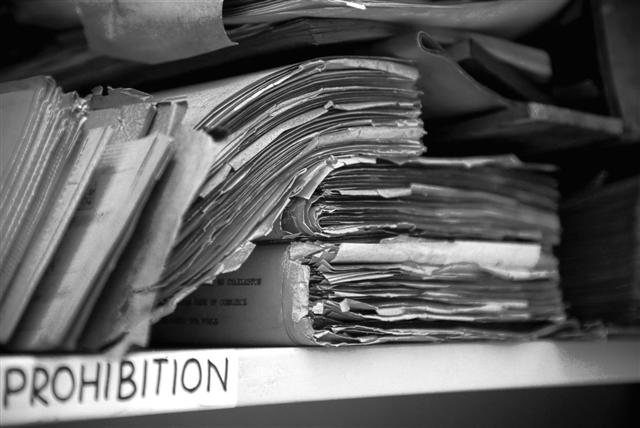 During Prohibition, Hiram Walker and his family was very active in the smuggling trade. They aren't afraid to admit that this is where they made a lot of their money.
There are a few offices filled with coded telegrams from those days of smuggling and many artifacts that show how they were key players in the illegal business. For them, distilling alcohol in Canada was still completely legal, so really they weren't doing anything wrong, they just did little things which helped the bootleggers smuggle it across the border easier.
Canadian Club even made a bottle called the 'Gate Bottle' during the prohibition era which was shaped like the modern day flask. This bottle, with its arched sides fit snugly against the body to ease its hide-ability. This is also where the modern day flask got its shape. In the basement of the offices, there is still an entrance of a tunnel that leads from the basement of the building across the river into Detroit where alcohol used to be smuggled over. Although it's now sealed off, you can still see how much work was put into helping us Americans get our much needed supply of Adult Beverages.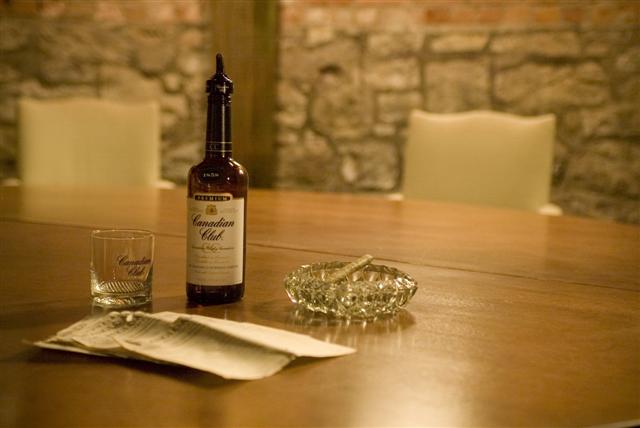 In the basement, there is also a Club Room, or Speakeasy. This room was Hiram Walkers original wine cellar which was turned into the meeting room for major players during those nasty times of Prohibition. People like Al Capone and members of the Purple Gang would meet in this room to talk freely about ways to smuggle the much needed high octane juice across the border. There is even evidence of a bullet hole in the brick wall where rumors say a late night meeting led to an argument which led to a gun fight.
If, you're ever in the Detroit/Windsor area, make sure to stop at the Canadian Club Heritage Center for a very enjoyable afternoon history lesson. Thanks to Megan, Art and George who made this wonderful experience possible.
While in the area, there are plenty of other things to do to keep you busy. With Windsor Casino only a few blocks away, and many restaurants/bars in the Windsor area, you could keep yourself busy for a few days. We typed in FOOD in the GPS and the possibilities were endless to choose from.
Wednesday September 12th 2007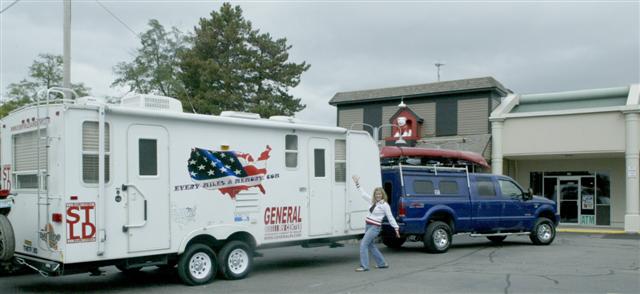 We met with the Milford Times today to do a follow up story on Cindy and I and our travels. Aileen Wingblad is a reporter for the local publication who also wrote the fantastic article on our journey the first time met us in town and we sat talking for a few hours.
After asking many questions and just talking like old friends, she had the staff photographer come over and snap a few pictures of us in front of the Sunline for an upcoming story. Once the story hits the paper, I'll make sure to post a link to see what Aileen came up with for this article.
After the interview, I dropped Cindy off at home to get some things packed up and took the camper to a local welder to have a bicycle carrier fabricated. I'm very sick of loading the bikes into the back of the truck and if we want to go for a quick ride, it turns into a half hour unloading session just to get them out and put them back together. We found a mount that bolts onto the front of the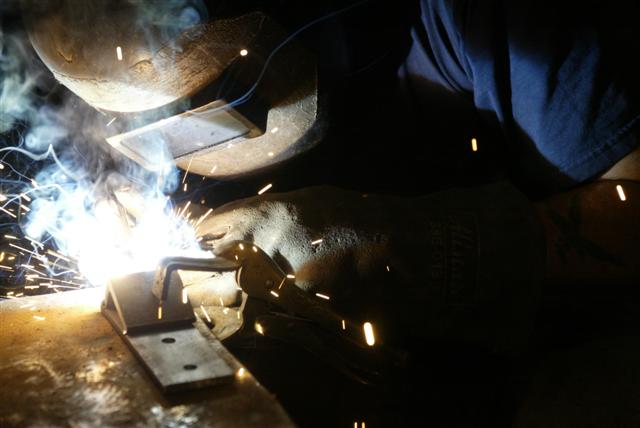 camper hitch, but when I contacted the guy who owns the company, he looked at our website and said he doesn't think it would work because of our bank of batteries that are already mounted on the hitch assembly.
So I took the same basic design, and just had Sean Campbell in Brighton fabricate something similar for me.
Sean made a few different modifications that should make the bike rack hold up for the long haul and in a few hours time, I had myself a bicycle rack for half the cost of what the original model would have cost. Sean is a great fabricator and his unique shop had a fantastic collection of antique equipment that was still in perfect working condition.
Although, this rack is a bit heavier then the original model I designed it after, with our bikes being so light, it should equal what the original rack would have weighed. As soon as we get it painted and bolted on, I'll post some pictures incase anyone else might want to make one for themselves.
Thursday September 13th 2007
The past few days have been spent moving the remaining items out of our barn at the recently sold home and either into another storage location, or giving the items to others that might have some use for them.
Our good friend John Kielian came over a few times leaving with a loaded truck filled with goodies to decorate his bar he is in the process of making in his house. He joked saying in one afternoon, he had acquired a collection of memorabilia that would take a normal person a lifetime to gather. Cindy and I are just happy knowing it's going to a person that will put it to good use and not just trash it.
After spending the day moving, we came home to a fabulous dinner my mother and father had prepared. My sister and the rest of her family had come over to have a last supper before we leave this weekend. Her kids are a riot, and we joke that I could take a few of them with us and not be slowed down in the least. They are just that fun to be around and can go with the flow no matter what the occasion may be.
They're at that stage in life where everything is new and they embrace it for what it is. Some what like the stage Cindy and I are in....LOL Maybe we're reverting back to our childhood?
After dinner, they needed to get home because school is now back in secession and that morning school bus comes early. Cindy and I changed and headed into town to meet with some friends one last time before leaving. After raising a few pints at the local Irish Tavern, we made our way to the Red Dog for one last time this year.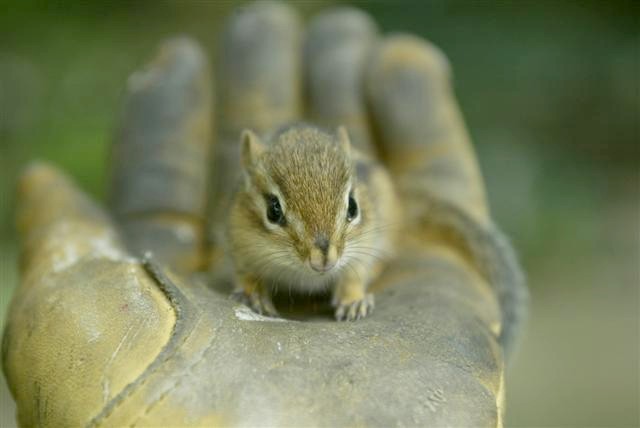 It's next to impossible for Cindy and I to walk through the doors of the Red Dog Saloon and leave anytime before last call. Many toasts were raised and numerous stories were shared and by the end of the night, we needed to be driven home to avoid any altercations with the boys in blue.
I got a little ahead of myself and wanted to show you a cool picture of a present my parents cat had brought for Cindy and I today. We were all working by the barn unloading a truck load of items from our house when we noticed the big tom cat with a baby chipmunk in his mouth. He carried it right up to us and set it down gesturing it like a present.
It was still alive and was visibly shaking. Cindy grabbed the cat and I grabbed ahold of the baby chipmunk so the cat wouldn't finish it off once and for all. The little guy was so small, it just barely fit in the palm of my hand. While I held it, Cindy grabbed the camera and snapped a few pictures to show of it's size.
Friday September 14th 2007
Today our life changed like no other. For the first time in our lives, except for the payment of the Sunline, we are 100% debt free! We signed the closing documents on our house and became truly homeless. Thank you Cindy Sharp!!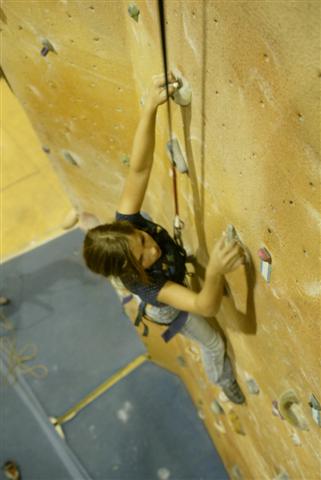 After a slight celebration between Cindy and I, we went and picked up two of my sisters kids and went out to Planet Rock in Ann Arbor. Planet Rock is a indoor rock climbing gym that we wanted to introduce to the kids before we left. This used to be a favorite past time for our daughter and I.
Rather then play in a competitive sport during her school days, her and I would drive out to the climbing gym once a week and spend a few hours learning the ropes. I know, bad Pun.
My niece Courtney is already taking gymnastics and has amazing upper body strength, so I was eager to see how she would perform while climbing. It didn't take but a few climbs before Cindy and I were commenting that this should be her sport of choice. Our family is very small framed, and most of my life I've dealt with the short jokes, but it really never bothered me. I really like being short, I think it has helped in many of the sports I've chosen. My niece and nephew are both short for their age, but very strong when it comes to physical activities. Climbing these walls was made to look very easy by both of them.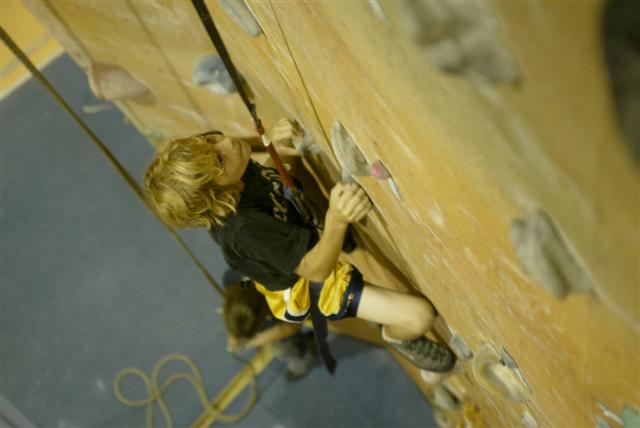 At one point, after climbing every route in the gym, they both wanted to try the expert walls just to see if they could make it to the top.
To top it off and show their cockiness, they wanted to race to the top, in true childhood sibling rivalry. While Cindy and I were belaying them, one bystander who was watching their race, commented to his climbing partner, I know I cant make it past that part and she just made look easy.
By the end of the night, we all had Jell-O arms and were ready to eat anything laid in front of our mouths. We found an awesome restaurant called Creekside, that had a menu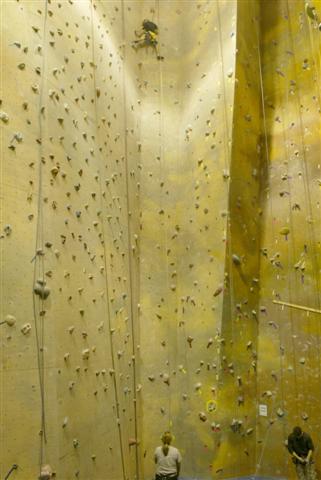 selection to die for. We were literally drooling on the pages while reading aloud every scrumptious item offered. Naturally, our eyes were much larger then our stomachs, as after finishing the our steaming crocks of soup and warm buttered rolls, we barely were able to keep our eyes open once the main entrees were served. By no means was anything wrong with the food, we were just too tired to eat it all.
Our very nice waitress packed up all our food and we shuffled the kids into the truck for the drive home. I'm not sure if they even made it out of the parking lot before they were sawing logs and Cindy and I weren't too far behind them. I needed Cindy to stay awake to keep me from falling asleep, so we talked about our ideas of heading West and how much we were looking forward to this part of the journey.
Neither of us have been West except for the odd vacation to Colorado or Wyoming, so this is new ground for both of us. We also spoke of how much we like to hang out with my sisters kids.
This is one of the main things Cindy and I will miss the most about leaving. As excited as we both are about the rest of the journey, leaving the family will be so hard for us to do. There is nothing like a close knit family!!
Sunday September 16th 2007 Leaving Milford for the 2nd Time
We woke up planning on having breakfast with my parents and getting on the road early. The breakfast part went fine, with painful goodbyes and plans to meet up somewhere in the spring where it would be warm. It'll be hard for the first few days, as we've spent the last two months with them and become very close.
Then we went to back the truck up to the camper and noticed that with the new bike rack, the kayaks were going to hit the bikes, so we would need to relocate the kayaks. This was not something I wanted to do right now and just wanted to get on the road. Cindy said "Forget them, we'll just leave them here!" There was no way I was leaving them, as we planned on paddling in Lake Superior in a few days. So up on the roof I went trying to move the racks around to see how we could make them work.
After a few hours of drilling new holes for the racks to be moved, we found out that my idea wouldn't work all to well, and they needed to go back in the same spots. ARRGGGHH!!! So I un-bolted them from the new spots I had just bolted them into, and moved them back to where we had all started. We mounted one of our old Yakima roof racks onto the top of the truck and were able to move the kayaks forward enough to give us the needed room between the bikes and the back of the boats. So long story short, we wasted a few hours but were now ready to go.
I took one last quick shower in the house, and we pulled out. Just as we were getting ready to leave, my Dad pulled back up from church laughing that we were still here. We had all made jokes when they had left that if we were still here when they got back, that they had permission to just pack us up and push us out the door. One last hug and we pulled out.
ON THE ROAD FOR THE SECOND TIME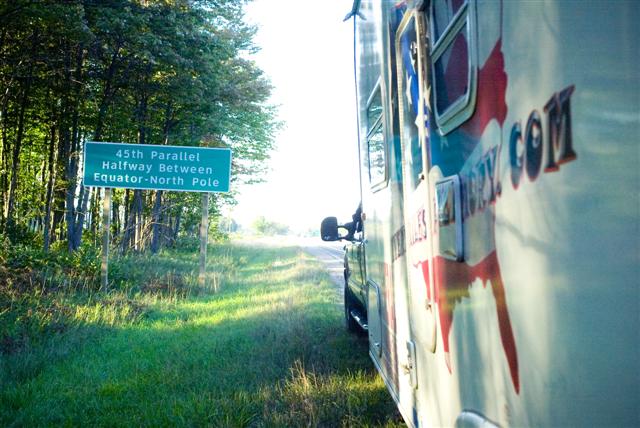 Being as it was a Sunday afternoon, and school is back in secession, we had very smooth sailing all the way North.
Traffic was a little heavy in the South bound lanes from weekend campers trying to get home, but not too many were headed North like us. The leaves are just starting to change, and we were treated with great colors, blue skies and smooth sailing for the entire ride North. I will mention that it was a quiet ride as we were both in somewhat of a funk with all the emotions of leaving for the second time. I think Cindy cried a few different times at different songs that would come on the radio that would touch a heart string.
When it started getting dark, we pulled over to find a campground near Higgins Lake. Both campgrounds in that area wanted $39 a night, for just water and electric!?! We decided that a Wal-Mart would do just fine and Cindy typed it into our GPS to find out where the nearest one was.
When we pulled in, it looked like a few others had made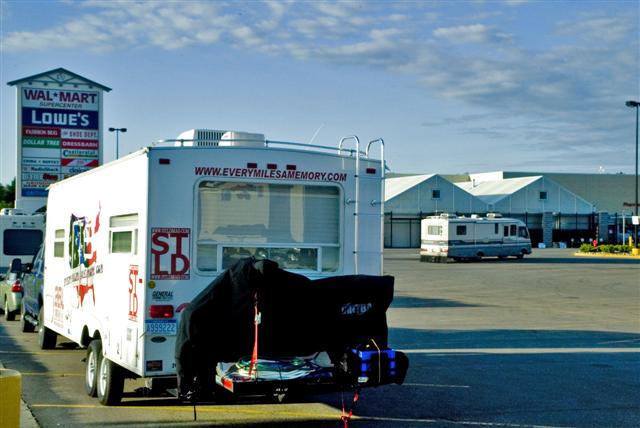 that same decision. There were 7 other RV's in the parking lot, and we nestled right in with them and made some dinner. We had our own little campground right here in the parking lot; a modern day Circling up the Wagons if you will.
Much cheaper then wasting money at a campground where we just planned on going to bed anyway. I read somewhere that Wal-Mart did a study on the average RV'er that stays in their parking lot, and came to the conclusion that they normally spend on average of $60 the next morning in the store. So maybe it isn't as cheap as we thought. But for tonight it was free and we were happy to be on the road again.
First night back on the road, and we're back to where we were the last night before we pulled into Milford. Thanks Wal-Mart for letting us use your parking lots all over America.
Monday September 17th 2007 Heading North
It's amazing how addictive the wanderlust is once you get the bug. We woke up this morning and couldn't wait to get back on the road. It looked like it was going to be another beautiful day, and with nothing on our agenda, we hit the road looking for something to explore.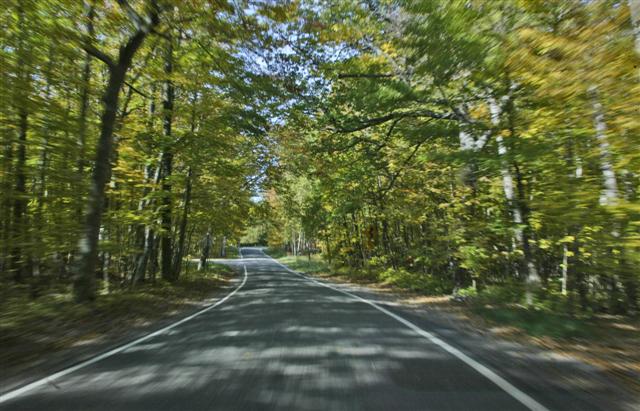 We were almost to the Mackinaw Bridge, but just before we crossed over into the Upper Peninsula, we decided to take a detour and drive through the Tunnel of Trees. It's a beautiful scenic route that follows Lake Michigan out of Harbor Springs and ends in Cross Village. The trees are so thick, you honestly feel like you're driving through a tunnel and with the leaves just starting to change, it was a beautiful drive.
We ended in Cross Village where the historic Legs Inn is located. This old Polish Restaurant is named for the stove legs that line the roof of the building. It's just one of those odd places that you have to see to believe and is a major destination for bikers and Sunday drives in the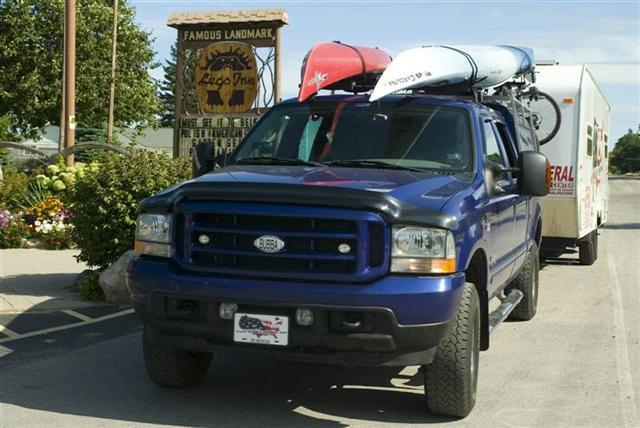 Michigan area. The place is decorated with odds and ends that would make any ol' Pollack jealous, and situated right on the shore of Lake Michigan, the view is to die for.
The Legs Inn is filled with hand carved items from local Odawa Native Americans who the owner had hired to construct the place back in the 30's. The stone construction is amazing and the front door on the place is crafted from burled wood that resembles something out of a freak show!
From the Legs Inn, we drove up some back roads through a little ol' ghost town that only had a post office and a general store before pulling into Mackinaw City. We thought about stopping, but everything was so touristy, we just ended up driving through and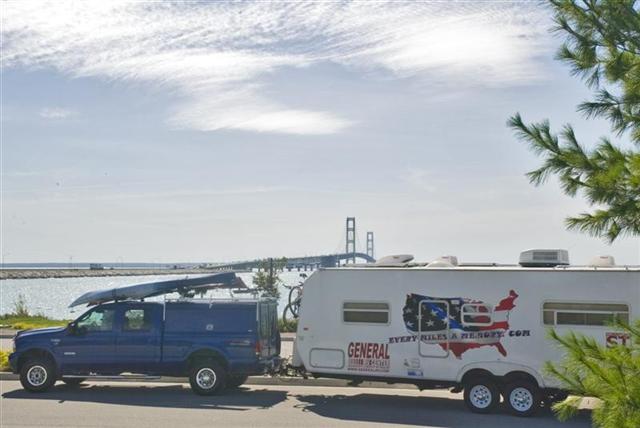 crossing the bridge over to Michigan's Upper Peninsula.
By this time it was noon and we decided to pull over where Lake Michigan and Lake Huron meet, which happens to be right under the Mackinaw Bridge. It was a great backdrop for our lunch with the cool breeze blowing off the water, we enjoyed some relaxing quiet time and just took in the sights.
After lunch, we drove an hour north till we hit Paradise, yes this is the towns name, but with the surrounding scenery, its no wonder where they got the name from. On the drive up from the bridge, we noticed a guy pulled over on the side of the road looking at his front bumper. I slowed down because there was a very large object in the middle of the road that looked like it had just been hit. To our amazement, the guy had just hit a large grey coyote in the middle of the day time!! Yep, we're in the U.P. now, that's for sure.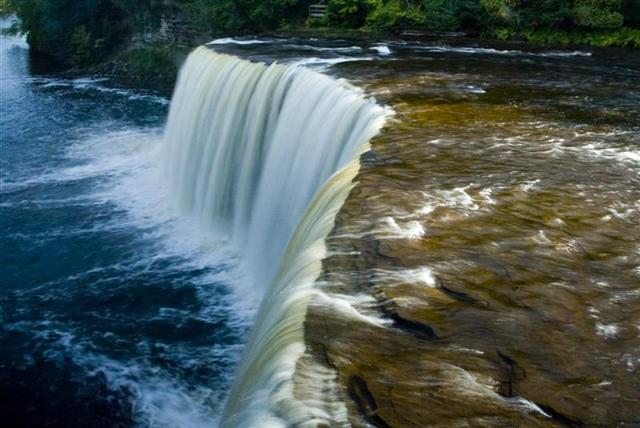 Once we reached Paradise, we pulled over to check out Tahquamenon Falls State Park. We've seen these falls many times before, but they're just so beautiful, you can ever get enough of them. There are two different sets of falls, the Upper and the Lower Tahquamenon and both are completely different from one another. The Upper is one very large, broad waterfall, while the Lower Tahquamenon is a series of smaller broken up waterfalls. We hiked the 94 steps down to view the Upper falls and spent an hour snapping pictures of the beautiful water. It was amazing at how loud the noise was when you were close to the falls. There was a dry erase board that said today's flow was at 2700 gallons per second. The record was 52,000 gallons per second!!!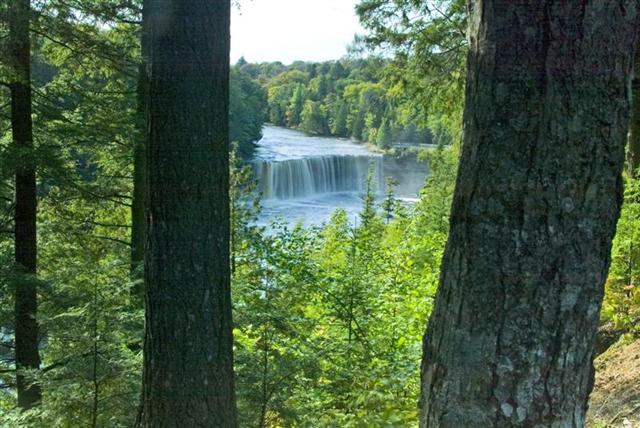 If you're wondering why the water is that brownish yellow color, they say it is from the Tannic Acid from all the trees that are in the water, and is actually very clean despite the looks of it.
The tannic acid actually makes the water very soft, and if you put your hand in it, you feel like you've dumped your hand in soapy water. The water tends to cling to your hands and is very deceiving. After our short hike around the Upper falls, we drove down to the Lower falls to see if we could check them out before it got too dark. We must be here out of season, because the row boats you need to rent to get across the river were all locked up and no one was around. We just ended up snapping some pictures before we decided it was too late to get back on the road. The Lower section of the falls has it's own campground, so we just pulled in and set up camp for the night.
Good thing too, the forecast calls for thunderstorms, and as I'm typing this, we've been hearing rolling thunder off in the distance. I wish we were camped on Lake Superior so we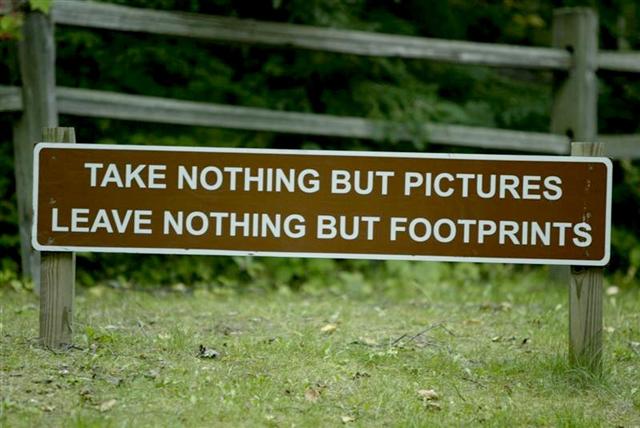 could watch the storm roll in off the water. Tomorrow we plan to check out the Shipwreck Museum on Whitefish Point before heading West towards Munising and boy can I tell you how good it feels to be back on the road filling that wanderlust addiction.
We also noticed most of the vehicles we've passed on the road have been RV's. We figure this is right after the schools have gone back in secession, and the perfect temperatures to be traveling. It's cool to see how many others have the same ideas we do and are out living the dream. Too bad that fuel is so high in price right now. Since we crossed the bridge, we haven't been able to find a station that has diesel for under $3.14 a gallon!?! If we could only do something to help our fuel mileage, this adventure would be affordable.
Feel free to visit the Tahquamenon Falls Gallery to see our interpretation of the beautiful area.
Tuesday September 18th 2007
Waking up to another beautiful day, we got on the road and headed over to Paradise towards Whitefish Point and the Shipwreck Museum. This area of Lake Superior holds more ships at the bottom of its depths then any other Great Lake, which is also why Whitefish Point is also known as the Graveyard of the Lake Superior. There have been over 550 ships that have sunk on this massive Great Lake and many of them were right along this stretch of coastline!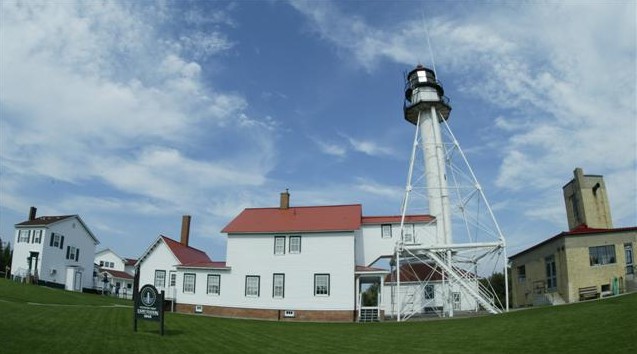 Since the first shipwreck of a commercial vessel, The Invincible, in November 1816 to the Edmund Fitzgerald on November 10, 1975, approximately 320 lives have been lost in over 300 shipwrecks in this area known as the Graveyard. Some lie in only 20 feet of water and can be seen from the surface on a kayak or small vessel. Others are deep and need to be seen in a submarine or by an experienced diver. Cindy and I have paddled these waters many times and know first hand at the power of Superior.
One year we were planning to try kayaking for the first time, so we made arrangements with a local outfitter to take us out with another group. We had been visiting the area for a week and the waters were dead calm. Well the day we met on the beach, the sky was clear and the temperatures were a nice 80 degrees, but the waters were churning with 2-3 foot swells with a strong wind blowing off the water. We launched our long 16' sea kayaks and within the first hour, the swells had moved up to 5-6 footers! The nasty chop was beating us around pretty good and the scary part is the water is crystal clear. One second you're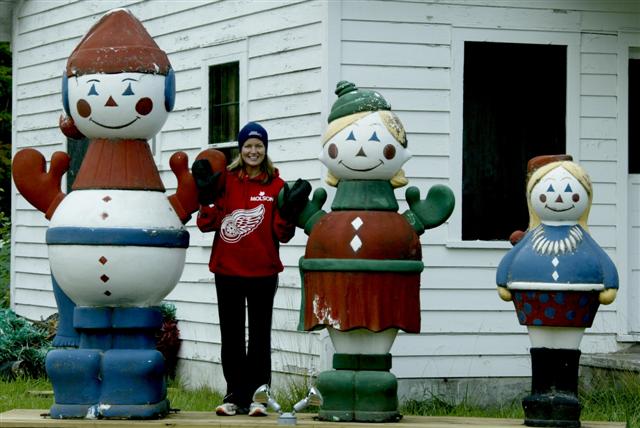 paddling and cant see the bottom then all of a sudden, the bottom will race up at you and you're within a few feet of the rocky surface.
Cindy paddled up beside me yelling "I have to go into shore, I cant take this anymore!"
She was real worried I was going to be disappointed that on our first trip out, which also happened to be my 26th birthday was going to be ruined because she wanted to stop early.
No not me, the one who had thrown-up many times already due to sea sickness and being tossed around in this tiny boat like a rag doll. She paddled up to the instructor and said "I'm going in to shore"
He yelled back "Not now, I haven't taught you how to pull onto the shore in these rough seas!"
Cindy didn't listen and started paddling in with me and many others who were also getting seasick right on her tail. We spent the rest of the afternoon lounging on the shoreline watching the few brave others who stayed out get tossed around and beaten to a pulp.
The next day, we woke up to calm seas and no wind what-so-ever!?! The water was like a pane of glass. Go figure. Well that was 8 years ago, and we've come back many a times to paddle along the Pictured Rocks coastline, one time even being caught farther then we thought we were and had to paddle home under the light of a full moon.
See the problem with this coastline is, once you're out in it, there is no shore to pull back in. 90% of it is a rock wall and the only places to pull in or out are a few secluded beaches. Hopefully in the next few days, we'll get some weather that will allow some paddle time and we can show you some beautiful pictures.
Oswalds Bear Ranch
After we left the Shipwreck Museum where we ran into a group of guys from Minnesota who were traveling around the Upper Peninsula for ten days in their RV's, we headed towards the scenic Two Hearted River.
While on the way, we passed a sign that said Oswalds Bear Ranch. Cindy was bouncing around like a little kid wanting to see some live bears, so we pulled in to see what they offered.
We both agreed that if there were a bunch of bears in small cages, we would just turn around a leave. I cant stand when a roadside attraction is cruel to the animals. Nope, nothing like that here at Oswalds. There were 3 large natural fenced in habitats for the bears to live in.
The owner, Dean, told us that most of the bears they have, come from the D.N.R. and are either problem bears that would otherwise need to be put down, or rescued ones that have been injured in a accident or some other type of injury.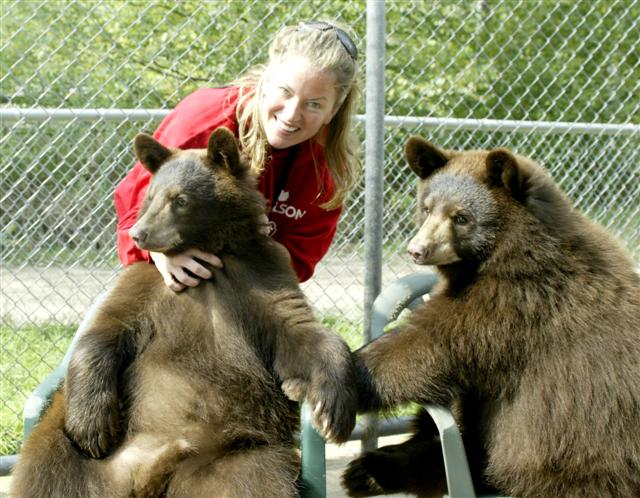 They had two baby brown cubs that were the size of a full grown St. Bernard. You were allowed to walk into the cage with them, and with Dean right beside them, you could walk and pet the adorable cubs. If you were really brave, you could let them nibble on your forearm like Cindy did.
When Cindy went to reach to pet them, Dean said "Watch your fingers, they'll bite one right off it you let them get it in their mouth." I was really surprised that Cindy stuck out her forearm and let a bear that could probably bite through her arm if it wanted to, sit calmly and suckle on her arm!
One time when I got a little too close with the camera, the bear curiously looked my way, and took a swat. I could feel the rush of air come over my bald head as his paw just missed my face and camera.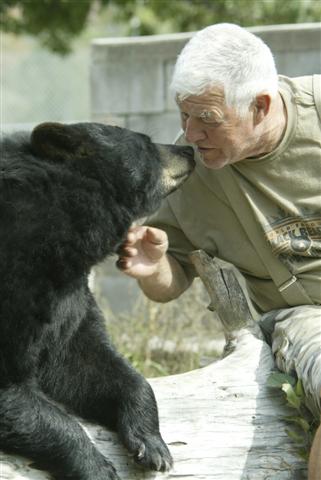 The handler said "Watch your camera, they don't like them being right in their face" Nuff said, I've got bigger lenses and don't need to be getting swatted by a bear cub!!
We wandered around the large fenced in areas watching the bears lounge around in the mid-day heat. Really they weren't doing much, but it was cool to see them in a natural surrounding.
Then Dean came over and opened up one of the gates for us. The bears are so used to him that they allow him to walk right in and they follow him like a dog follows its owner. He walked over and sat on a log while the big sow came over for a little ear scratching. We met a few couples from various parts of the state who were up for the fall colors.
They offered some suggestions on their favorite spots and we made a few notes on places not to miss before heading off towards the Two Hearted River.
Cindy and Her Driving Skills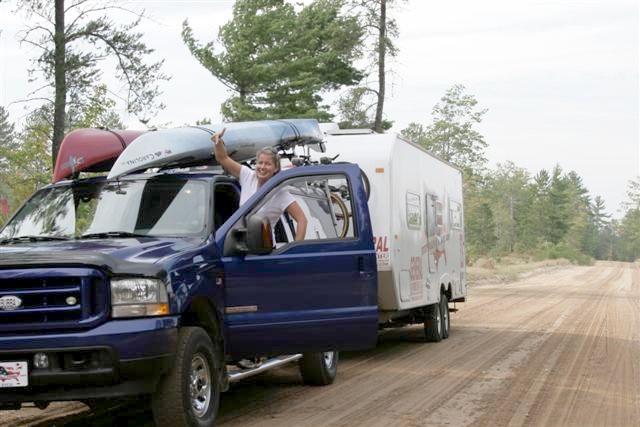 To get to the Two Hearted River, you have to drive down 20 miles of dirt road. Since we've left, Cindy has never once driven the Truck with the camper hooked up.
Every time I tell her she needs to get some practice, just incase something was to happen to me, she says "Wait till were out in the middle of no where." Well we had been driving for an hour and hadn't passed another car, so we figured this would be the perfect time for her to learn to drive the train.
She gets behind the wheel and takes off. She's doing fine at first, just gets a little scared when ever another RV or car needs to pass us, but no big deal, there is plenty of room on this wide dirt road. We both laugh that in the hour I was driving we didn't see another vehicle, even stopped in the middle of the road to snap a picture, but she gets behind the wheel and suddenly it's rush hour.
The first accident happens when Cindy's camera, which is normally on her lap, the same one that I placed on the center console slides off and lands on the lap top behind it. This small fall puts two big scratches on the LCD screen on the back of the camera. I'm yelling at her while she's yelling at me. Two minutes behind the wheel and arguing already.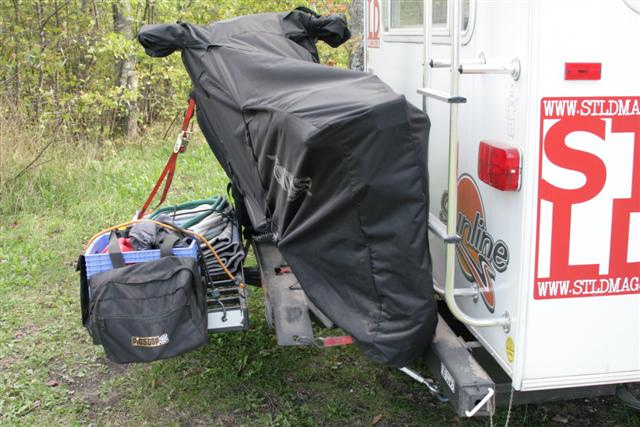 So she makes it fine all the way to the campground. We high five and I pat her on the back for a stellar performance behind the wheel. That is until I notice the motorcycle. Some how in the short drive, she has managed to bounce the motorcycle out of it's carrier and onto the rear bumper. Thank God it didn't fall all the way off, but somehow it managed to lock itself between the carrier and the rear bumper. I know it isn't Cindy's fault, but it happened while she was driving, so you know I'm going to have to blame her for it!
We spent the rest of the night relaxing on the banks of the Two Hearted River. This is one of my favorite campgrounds in the country. Nothing but Mother Nature making her sweet beautiful sounds with beauty all around us. The wind was blowing pretty strong and the sound through the trees was glorious.
It's days like this when I'm so thankful for what we have and the life we live.
Wednesday September 19th 2007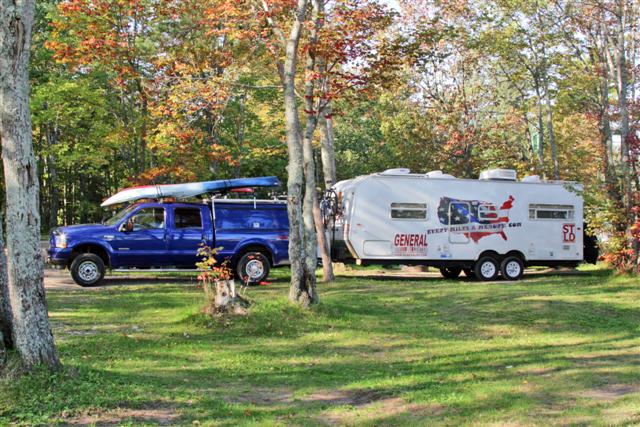 How do you leave a camp site that is as perfect as the Two Hearted River campground is?
We woke to a cool breeze and bright blue skies off Lake Superior. The leaves look like they've had the colors turned up a notch, and every day they seem to look better. We packed up camp and headed towards Munising.
Before we left, we had come up with some new ideas on how to strap the motorcycle down, and hopefully today will be a good trial run to see if they work.
Today would be a test to see if our set-up will hold up to the tortures of dirt roads. The entire drive from the Two Hearted area is back roads and some sections are pretty nasty. For the most part, we found that if we just putzed along, we could avoid the bumps and had plenty of time to stop and get out when the perfect photo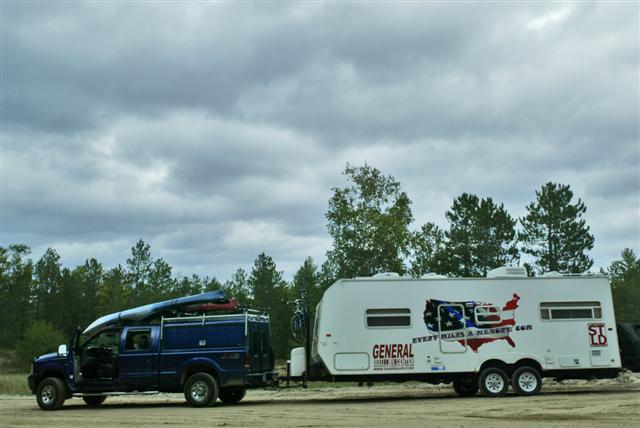 opportunity arose. Then there would be those sections of washboard that felt like they were shaking every bolt loose.
I imagined this is what the roads in Baja must be like. When we came to these sections, we found that if we sped up between 30-40 mph, the washboard didn't feel so bad. We just sort of rolled along the top of the obnoxious stutter bumps.
I could only imagine what the inside of the camper must have looked like, but when we finally came to civilization and a paved road, we pulled over to see our damages. All the straps were tight, and the motorcycle had survived with the new straps in place. The only thing that had went wrong inside the camper was the paper towel roll had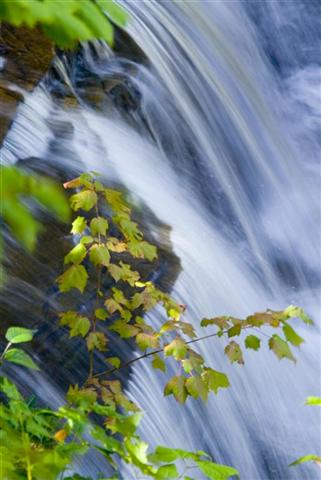 unwound itself? We both laughed, because I never thought that would happen. Over 50 miles of dirt roads and our rig held up fine.
If we can handle this type of abuse for an entire day, then I think the normal roads cant do too much to harm us.
I'm getting ahead of myself here. Let me take a few steps back. We did stop in Grand Marias to snap some pictures of Sable Falls. This beautiful waterfall was a short hike off the visitor parking lot, but I wasn't impressed with any of my pictures. It was mid-day, and the falls were in full sun, so good pictures were just impossible. It was nice to just sit and relax and listen to the sounds of the water mixed with the wind blowing through the trees.
From Sable Falls, we headed back down the dirt road and for hours didn't pass another car. At one point, I stopped in the middle of the road to snap a picture, and another car came around the bend. The guy pulled up to me and asked which camera I was using? He held up his big Canon 1D like mine and said they were traveling toward the Shipwreck Museum we had just came from. We swapped some stories all the time stopped in the middle of the road. I told him to make sure he had a full fuel tank, as there were no stations for the next few hours. Tom and Mary said they would make sure to check out our website as he and his wife wanted to do the same thing, but in a sailboat. Boy would that be an adventure!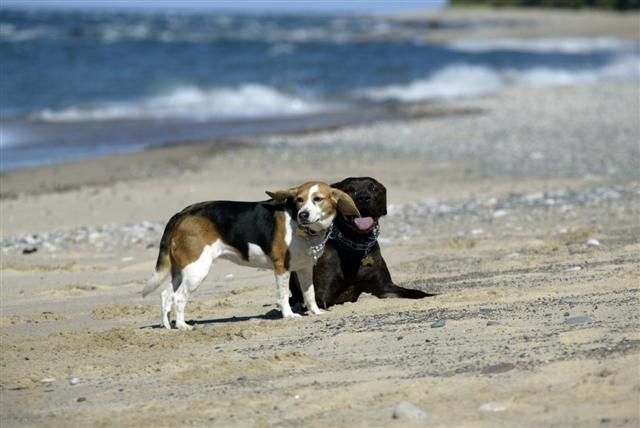 While on the dirt road, we pulled over at one point on this deserted stretch of beach, and let the dogs have some fun running up and down the beach with their collars off.
It was a riot to watch them go crazy and not have to worry about bothering anyone or running off. Our big dog, Luca, was running like mad and didn't care about the cold water or the sand being kicked up all over his body. He was just happy to be free of that 6 foot leash that is always around his neck.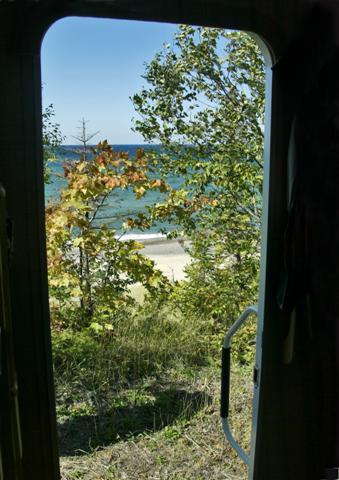 Now Lucy, the little Beagle, she was so enthralled with the new wild smells, that it was all she could do to pull her nose out of the sand. She would get so mad at Luca when he would come sprinting past her snipping at her sides, barking as loud as he could. It was like brothers and sisters and one was a wild card where the other was the lame duck. After an hour of this wild fun, they were both wore out and Luca plopped himself down in the sand panting like mad.
If we weren't out of groceries, we probably would have camped right on this spot for a few days. It was just that picture perfect. It's hard to remember that we're in Michigan. Where else can you find miles of empty beautiful beaches, turquoise waters and fall colors to rival any photo contest winner. Our senses were on overload, and I was trying my hardest to take it all in. We both know that in a few weeks, when the snow starts flying and we're high tailing it outta here, these last few days will hold us until we reach somewhere warm.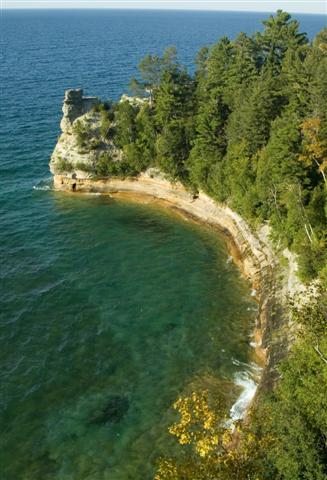 Pulling into Munising, we stopped at Miners Castle. This is a unique rock outcropping on the Pictured Rocks Shoreline that we have to stop at anytime were in this area. I was surprised that it looked completely different then the last time we were here. It used to have a much larger section on the top, but I guess a big storm had blown in a few years back and knocked the top off. We snapped a few pictures as the sun was setting over the water, and headed out to find a camp ground before dark.
Cindy reminded me that we were out of food and groceries. The last few places we had passed were boarded up for the winter, so the pickens were slim. We saw this little road side bar in Christmas, The Trails End, and threw the brakes on. An hour later, we had full bellies and were both ready for bed. The owner of the bar even gave us a tour of the place. They are in the middle of remodeling the bar and it should be ready for snowmobile season which is just around the corner.
Thursday September 20th Our 10 Year Anniversary!!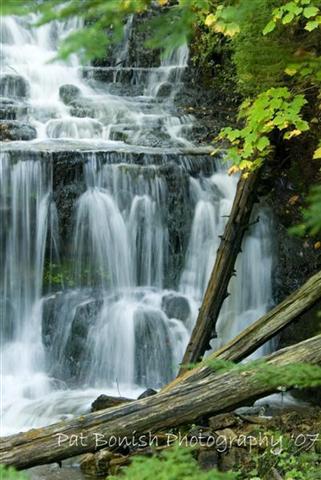 10 years ago today, Cindy and I got married in Milford. We wanted to get married in the fall because it is our favorite season to travel in, and thought every year it would give us a good reason to go somewhere beautiful for a little vacation.
We didn't think it would be for 5 years straight...LOL 10 years have passed us by like the blink of an eye, and boy have things changed for the better then those first few years.
Back then traveling was done in an old beat up Ford Bronco and the camping was done in a tent on the hard ground. My how we've grown soft in our old age.
Living in Michigan, the Upper Peninsula was a great destination for our anniversary get-aways. Many a time have we traveled up here for the fall colors. Back when our daughter used to live at home, we would bring her with us on these vacations, since we were a family, we shared in the anniversary together. I remember one year, the weather was very cold, and after spending numerous nights in a tent, her 13 year old mentality had to have a shower. She wouldn't go in the showers the campground provided, but kept saying that she wanted to get into Lake Superior. I think the turquoise waters deceived her mind making it think it was tropical water or something.
After numerous threats that she was going to get in, I bet her $50 that she couldn't get in and take a full bath in the water. This meant that she had to wash her hair and everything. Now $50 to a teenager was a lot of money.
Cindy and I sat on the bank with the warm towels laughing hysterically while she let out numerous high pitched screams while bathing in that ice cold Superior water. I think after that bath, she couldn't get close enough to the fire for the rest of the night and her lips have never been that shade of purple again. She held on to that $50 the whole way home with it burning a hole in her pocket. She had earned it the hardest way I could think of.
Munising is known for it's waterfalls and we both love to take pictures of waterfalls. Just in the downtown area of Munising alone, there are 5 falls all within a few minutes of each other!! So we set out to go snap some pictures and see which ones we liked the best. We never imagined who we would run into.
A few months ago, a good friend who I hadn't talked to in years emailed me saying "Hello". We were good friends back in the day, but life had snuck up on us and now we were both so busy, it had been awhile since we had seen each other. She said she had been following along with our site because her and her husband were looking to buy a travel trailer so they could enjoy camping like us, she also joked asking me "Why I didn't have any pictures of her on the site?". I told her all the pictures I had of her were of her and her party girlfriends at the Red Dog and didn't think any of them would fit this site all to well.
Through numerous emails, Cindy gave her some pointers on things to look for when it came to purchasing a travel trailer on items we had learned from being on the road so far and we talked back and forth a few times on the computer since then. She sent us another email a few weeks back saying that they had made a purchase and were planning their maiden run into Michigan's Upper Peninsula. While we were driving up here, I thought of them, and thought the weekend she had talked about was the week before we left.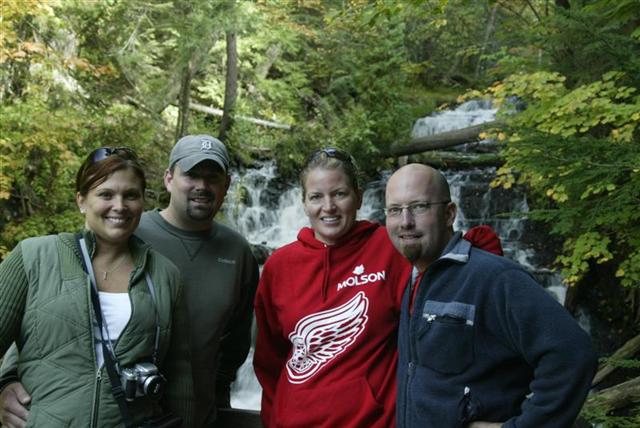 So Cindy and I are sitting at Wagner Falls snapping some pictures and I hear Cindy let out a yelp. I turn around to find Micki and her husband standing behind us on the viewing platform. Now of all the places in the Upper Peninsula, how do we run into each other here? We sat talking for a few hours listening to them tell us about the first week in their new camper, and catching up on old times. After awhile of sitting on the side of the road, we all decided that we could be sipping on some cold ones in a campground rather then on the side of the road. They were camped in the Munising Tourist Park Campground and said there were a few open spots, so we pulled the camper over and parked right beside them.
It's rare that we run into friends while on the road, especially ones that we've known for so long. The rest of the night was spent by a roaring campfire laughing and sharing many stories with each other. We both talked of how cool it would be to have a group of campers, like a caravan to travel around with. That way the guys could do the manly things when they wanted and the women could do their things and everyone would be happy.
It was really cool to have a night with friends on the road, and what a treat to just stumble upon them like this. Oh, and I made sure to take a picture of Micki so she could now be on the site.
Friday September 21st 2007 Riding the Storm Out!!
While sleeping last night, a crazy storm blew in that woke us up and made us grab the dogs for cover. With lightening bolts hitting all around us and winds trying to blow the camper over, Cindy was very scared that we might blow away.
Once day break came and we got up for real, we shared a nice big breakfast in Micki and Jim's camper and spent the next few hours just lounging around talking listening to the rain pour down. They were headed towards Tahquamenon Falls and we were going to stay put today. The winds were way to strong to be heading West, where the storm was blowing in from and it was raining off and on, so we just planned on sitting around and catching up on some much needed computer work.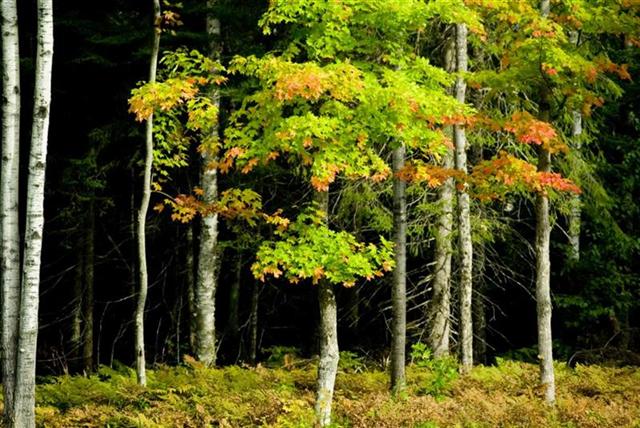 We said our goodbyes as they pulled out of camp, and spent the rest of the day holding on to the Sunline hoping it wouldn't blow over. Cindy turned on the TV and picked up the local news just in time to see that our area was under a tornado watch. This wasn't what I needed to hear. She was already freaked out enough as it was.
The campground we were staying in was right on the shore of Lake Superior, which is known for some nasty storms. We would be sitting here when a gust would blow through that would shake the entire camper for a few minutes. The thunder and lightening was all around us and you could hear the roar of the wind howling through the trees. At one point while we were trying to go to bed, the hail was hitting the roof so hard that it sounded like a drum section in the symphony. Something told me it was going to be a long night of restless sleep. Hopefully we'd still be here when we woke up.
Saturday September 22nd 2007
Well we survived the night. It was a long night with the dogs snuggled against us and Cindy holding on dear life. I'm not sure who was more scared, the two dogs that were shivering or Cindy who was whining like a little puppy.
We woke up to beautiful blue skies and a ten degree temperature drop. We'll try and see some of the sights today while the weather is allowing us to, before heading West towards the Porcupine Mountains of Western Michigan.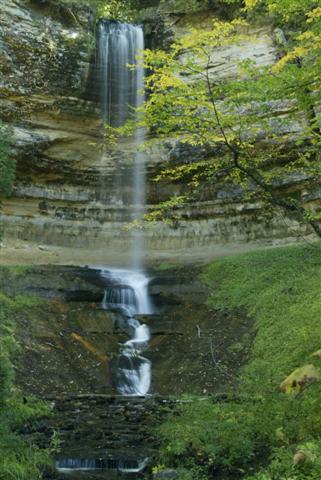 Each day I'm convinced this rock we live on gets smaller and smaller. We had spent the earlier part of the day doing some domestic things. I dropped Cindy off at the local Laundromat while I drove over to a service station/tire shop. One of our tires on the camper had a slow leak in it and every few days I would have to add some air to keep it at its required pressure. I'd rather have this looked at then go through the hassle of having a blow out while on the road.
The guys at the service station were so nice. We all sat talking about travels and the local sights to see. They suggested a few spots that we might want to check out and plugged the hole a small screw had made. By the time I picked Cindy up, we were ready to go look at Munising Falls. We also planned on going on the Pictured Rocks Sunset Cruise, but that didn't leave the dock till 4:30, so we had an hour to kill.
While snapping some pictures at Munising Falls, I got to talking with a group of Mennonites from Pennsylvania. We were talking of the beautiful Pennsylvania Dutch countryside and how much Cindy and I enjoyed traveling through there. The conversation led to our visit to the factory at Sunline in Denver, PA, and a few of the people in the group were from that town. One of the guys did fiberglass repair and used to work for Sunline! He explained to us why the company had gone out of business and how disappointed the original owners were. They were so nice and even walked back to our camper so they could have a tour of the inside.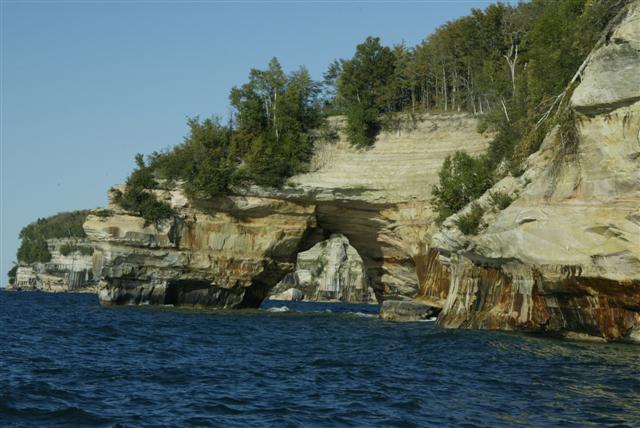 One of the big Arches on the Pictured Rocks Shoreline
After the tour, we said our goodbyes so we could get to the docks and our sunset cruise. Cindy and I would really rather kayak this stretch of Pictured Rocks, but the winds are just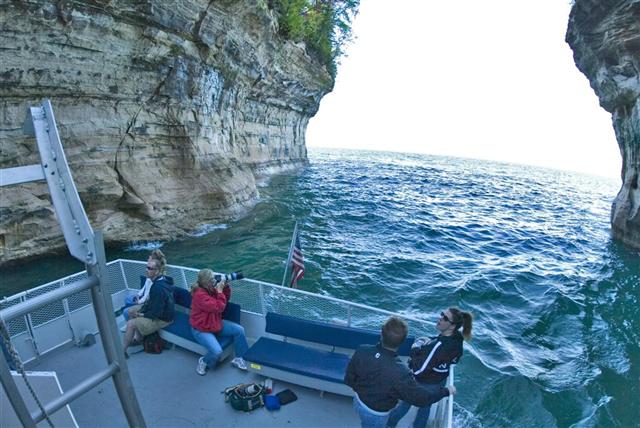 too crazy this week. When we bought our tickets, they warned us how rough the waters would be and said the rollers were between 3 to 6 footers!
The cruise was awesome and I'm glad we chose this over kayaking it. The waters were every bit as bad as they warned us of, and our decision to sit on the very back of the boat deck was perfect. We had an incredible view and never got sick. Although we both almost lost it when a whiff of vomit came blowing back and one of the deck hands went running with a handful of paper towels. Numerous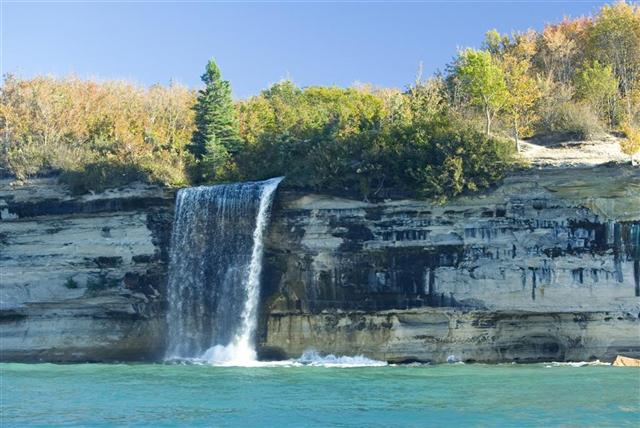 people were asking for little red bags to loose their lunch in. Although we felt the symptoms of sea sickness, both of us were able to hold everything down on the rough ride. We just sat in the back, the calmest part of the boat, and enjoyed the beautiful scenery. That's Cindy snapping a picture while the boat pulls into a narrow section along the shore with the rocks are towering a few hundred feet above us.
If you ever take this cruise, I'd recommend the sunset trip. When the sun gets low in the sky, its rays really bring out the colors in the Pictured Rocks. I don't know how romantic it is with fifty other people on a boat, and many of they puking, but it was a beautiful sight and shouldn't be missed if you're in this area. While on the boat ride back we watched as a huge Bald Eagle soared over us looking for some dinner. A perfect ending to a great little cruise.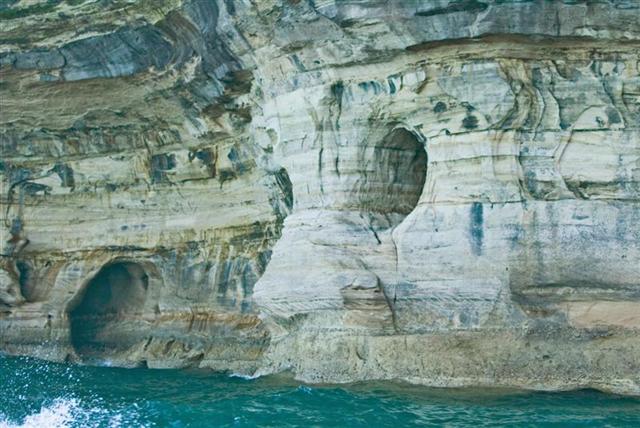 This face in the rock looked something out of a Pirates of the Caribbean movie set
Another Night of Rockin' & Rollin'
From the Pictured Rocks Cruise Docks, we drove West till it got dark and we hit Marquette. We found a trusty Wal-Mart parking lot and eased our wobbly sea legs into the camper. The winds had picked up again and it would be another night of listening to them try and blow us over. This parking lot was like the last one we stayed in, and when we pulled in, we almost couldn't find a parking spot. I think we counted 9 other RV's and it was just getting dark. By midnight when we were going to bed, there had been another 5 or 6 that had pulled in and the place was looking busier then the last campground we had stayed in.
In the middle of the night, a weird thing happened; an unfamiliar beeping noise woke us up. I got out of bed to find our Norcold refrigerator beeping with a 'NO FL' sign flashing on the digital readout. I had no idea what this meant and after a few minutes of pushing different buttons, I just shut it off and figured we must be out of propane.
I laid there for a long time trying to figure out why we had run out of propane in only a few weeks time? We can normally go for a few months with just normal cooking and only the fridge running. Before we left home, we had bought a MR. Heater so we wouldn't be using our propane to heat the inside of the camper. This little heater runs off of those 1LB propane tanks and will put out 9,000 BTU's for 220 hours off of one little bottle. Why I'm telling you this is we hadn't even run the heater to use up any of our propane from our twin 30LB tanks.
Once I got up in the morning, I had figured it out. 'NO FL' means No Flame. The winds were so strong and constant, the pilot had managed to blow out! What I needed to do was turn it off, let it sit for a few seconds and turn it back on. This allows the automatic ignition to re-light the pilot and BAM, the Norcold was back up and running. We learn something new every day.
Make sure to check out the Pictured Rocks Photo Gallery we posted to see some of our pictures from the beautiful lake shore.
Sunday September 23rd I Think Somebody Put Some LSD in My Tea!
Sometimes you get out of bed, and the days rituals are automatic. From the start of your day till your head hits the pillow at night, every step was pre-planned and done just like the last 364. Today wasn't one of those days. As soon as Cindy and I passed the Marquette line on the map early this morning, we were in uncharted territory. From this point on, we have never been this far West on our adventure.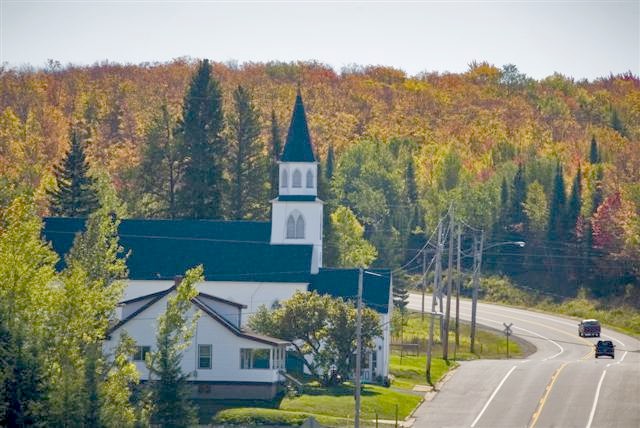 Driving along Route 28 in Michigan's Upper Peninsula today, was like taking a hit of acid and going to a Pink Floyd concert. The colors are so bright and so prevalent, with every bend in the road, we would both let out a loud "WOW!" and just open our eyes wider. I've never in my life seen fall colors this beautiful.
We pulled over so many times to take pictures of entire mountain sides that looked like God had spilled his reds, yellows, oranges and every other fall color in his palate, that I'm sure by the time we get to Minnesota, we're going to need new brakes. We had another perfect sky too, one of those deep blue ones to act as a backdrop for the never ending sea of colors in front of us.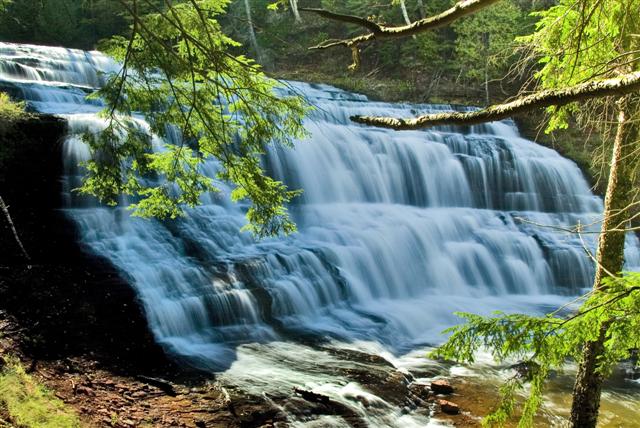 When we saw a sign for Agate Falls, I threw on the brakes once again and we came to a screeching halt in the visitor parking lot. While walking towards the falls, we started talking to a family that ended up being from Linden, which is only a few towns away from Milford. They asked if we had seen Bond Falls?
We had seen the sign a few miles back up the road, but Cindy keep teasing me on how many times I had stopped already, so when she said "Aren't you going to stop for that one?" I simply said "No, I don't want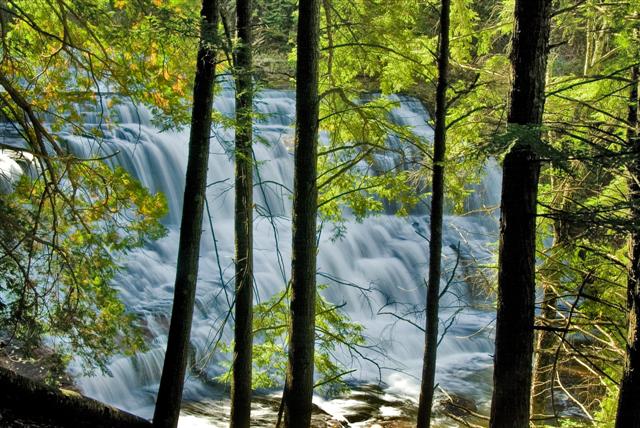 to bore you anymore with my constant stop and go" Well this family said "Go back and check it out" and went on to say "It was the most beautiful waterfall they had ever seen!"
So after we spent some time admiring Agate Falls, we drove back East on Route 28 and found Bond Falls and its Campground. I think everything happens for a reason, and there was a reason we ran into that family. Remember when I said some days you feel like a machine and every step is pre-planned? Well like I said, "Today wasn't one of those days!"
Bond Falls and Campground
It was getting late in the afternoon by this point, so when we saw the sign for a Campground, Cindy said "Lets go park the truck and camper and just ride the motorcycle back to the falls" Man do I love it when she talks sexy like that.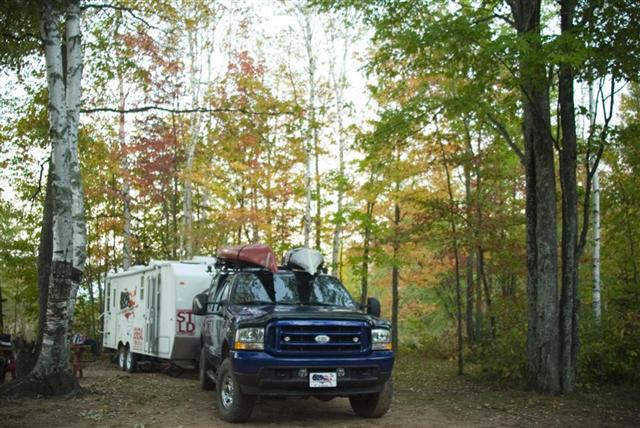 Finding a camping site was like fitting a 2LB sack of potatoes in your tightest jeans pocket, that little useless one that I think is for coins or some other small object. I think when they said Campground, they meant for tents and backpackers. But none the less, we were able to fit out rig into a spot all alone at the end of the row. Not that it mattered, we were the only ones in the campground. I use the word campground lightly because this is more like a two track trail with a few sites cleared along the rustic shoreline. Another time we were thankful for our lift kit and solar panels to get us back to these secluded spots and keep us there longer.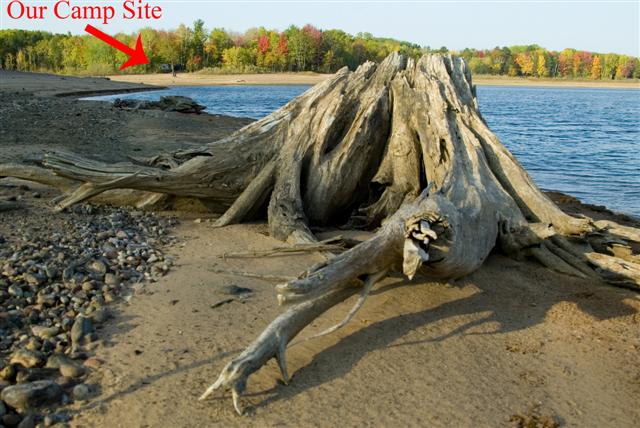 When we got out and walked around the site, we both looked at each other and said, "I could stay here for months!"
It was everything you dream of when you think of going camping. We were situated right on a huge lake, but Upper Michigan has experienced a major drought for the last few years, so the lake level was way low. What this did was create a bunch of little islands with a huge swatch of sandy shoreline. The entire shoreline was rimmed with a row of trees which were in full fall color mode. With 360 degree views of nothing but water lined with a rainbow of colors, we felt like we had just found a slice of heaven on earth.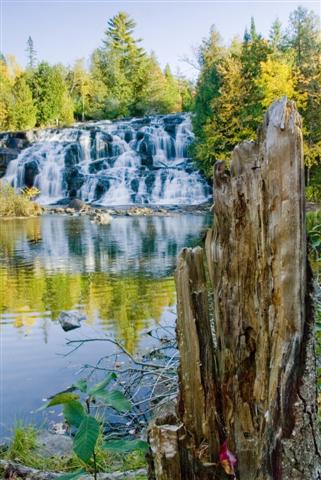 First things first, we took the Dirtbag cover off the bike and unloaded it. We wanted to see Bond Falls before the sun set. It's funny how each time we see a new waterfall, we say "This one was my favorite." But I honestly don't think I could see a more beautiful waterfall then Bond Falls! Imagine a movie set for some perfect island and the couple stumbles on a never before seen paradise, well then you just imagined Bond Falls. We spent a few hours wandering around this labyrinth of falls just looking in awe at some of our creators handy work. Sorry if I sound like I'm getting a little spiritual, but how can you not feel close to a higher power when you're surrounded with such beauty?!?
When we got back on the bike, for the first time in my life, I saw Cindy more excited then I was to go back and look at her pictures on the computer. In the past few weeks I have been showing her how to set her camera up so she can get the results she's trying for. Cindy's always been into photography, but not like me. I live and breathe it. Normally she'll say, "Set the camera up so the picture will look like this" and go on to describe how she wants the image to look. I would set everything up, hand her the camera and she would get a decent image.
Well I think she has been bitten by the creative bug. Once I showed her how to set most of the settings on her own, now she is trying everything the camera offers, which is quite a bit. I hate to say it, but I think she's a better photographer then I am, and she comes up with these angles that make me so jealous. I love to be at the same site and see how different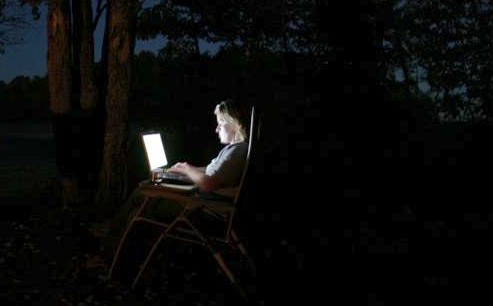 our images will be when we get back to the Sunline and check them out on the computers. Sort of reminds me of back when we used to go out shooting and then sit in the darkroom for hours, only now, our darkroom has become the living room of our camper and a few high powered lap tops and we can be sitting only minutes from where we just took the pictures. Man I love technology!
Once we got back to the campsite, I started a camp fire and she sat out in the lawn chair on her laptop. We watched the last few rays of sunlight flicker and got ready for one of the best displays of nature we had seen to date. While we were sitting there talking about our perfect day, I noticed a huge glow coming up behind the Sunline. I walked over to see an almost full moon coming over the horizon. With no light fall off to speak of, the display of stars only added to the LSD trip we felt like we had been on all day long.
After a dinner grilled over the fire, we pulled our chairs out onto the sandy lake shore, and sat talking till the wee hours of the morning. You know when you hear someone say "You need a reality check!" and it means something bad, well I think I need a reality check, but it's because it doesn't get any better then this.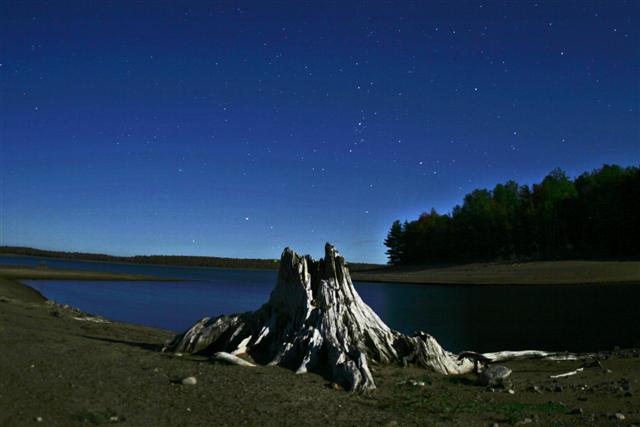 This was our view while sitting under the stars at our camp site! Yes those white specks are Stars
Make sure to check out our Bond Falls Gallery for an amazing assortment of photos from our visit.
Monday September 24th Nothing like a Monday to Start the Week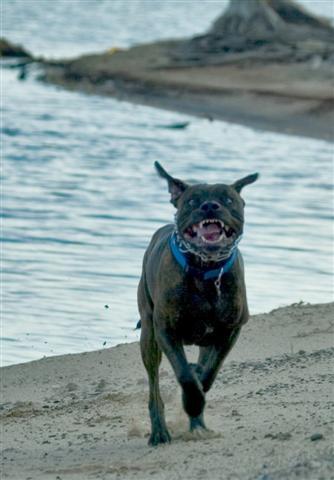 After yesterdays perfect setting, I couldn't sleep to well this morning. I was up at 5am and sat out on the beach watching the early morning glow crawl up over our new found campsite. Maybe this wasn't as great as we thought it was, but you know how it is when you experience something for the first time, well this is what our adventure is for us now. Everything is new and exciting.
You know how you normally hate Mondays, well Mondays for us have always been a good day. Our whole lives we've worked in a bar, so Mondays were always our day off. Bars aren't normally busy on Mondays, and when we owned the Red Dog, we even got to the point that we started closing on Mondays and they would be mine and Cindy's day to do nothing.
So NOTHING is what we did all day. After taking the dogs for numerous walks which made them feel like they were in heaven, with a whole big beach to run up and down, they weren't wanting to get back in the camper anytime soon. Cindy and I both finished the books we were reading, and if you're into good, quick reads, check out Chuck Zito's Street Justice. It's a great book on the notorious Hell's Angel who became a body guard and is now a movie star.
After a motorcycle ride around some of the local back roads and trails, I noticed that some real dark clouds were blowing in from the West. We packed everything up so in the morning we wouldn't be loading anything if it was still raining. We finished loading everything back up just as it started storming like mad. We sat inside for the rest of the night listening to the rain pound on the roof with the lightening reflecting off the water all around us. Big difference then yesterday, but hey it's Monday.
Make sure to check out our Bond Falls Gallery for an amazing assortment of photos from our visit.
Tuesday September 25th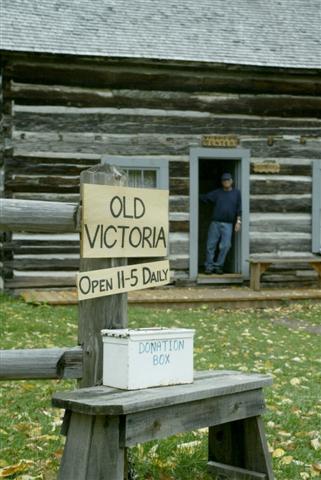 Thank God we packed everything up yesterday while it was dry. It rained all night and was still sprinkling when we got up this morning. If there is one thing I hate, it's to pack up the toys and equipment while everything is soaked.
We pulled out of the campground and were both amazed that even though the clouds were dark grey, the colors in the trees were still as bright as could be. We drove an hour till we pulled into Ontonagon and found the post office. Thank goodness for the GPS, it really helps in the argument department. We were waiting for a package from my parents that was being over-nighted, and while we were driving up to this town, we both were talking about how Over Night Mail would work for a town this far out in the middle of no where.
When I walked into the post office, the lady laughed when I said I was having something over-nighted and it was mailed yesterday. She said "Nothing gets here in one day." So I asked if there was a campground in town and after getting directions to The River Pines Campground, we were settled down for another day.
After four days of Boondocking, we needed to empty our black and grey tanks and do some laundry. So we figured a day or two in a regular campground wasn't that bad. It just meant wandering around on the beach without any clothes on was off limits.
Old Victoria Copper Mine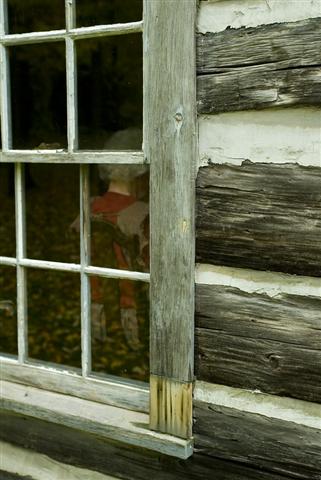 After doing some laundry and setting up camp, we unhooked the truck and drove a few towns away to the Old Victoria Copper Mine Ghost Town. The Victoria Copper Mining Company was a big business back in the last 1800's.
At one time, Victoria was one of the largest towns in the Upper Peninsula. What was once a large city, is now just a few broken down hand-hewn log cabins.
But the guided tour was a walk back in time and showed us plenty of unique antiques that were used back in that era and still in great condition. Our two guides were very funny and had some great stories about the history of the mine and the folks who lived here during that era.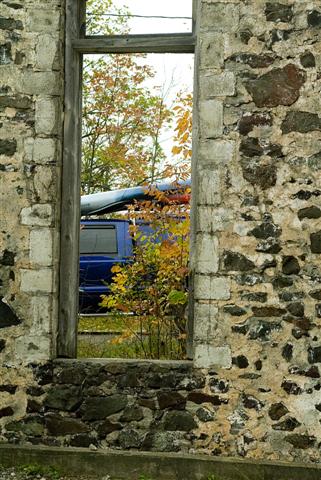 The property is now owned by the Old Victoria Restoration Society, and they are the ones who give the guided tour. After the tour, which was only supposed to be about 15 minutes, but for some reason took us a few hours due to the hundreds of questions Cindy and I asked. I'm starting to think that small talk is our expertise and this nice couple was able to answer all our questions. We drove up to a few different sites that were once owned by the Mining Company. With gorgeous overlooks and a view of the Victoria Falls, which aren't normally running right now, we called it a day and headed back to the Sunline.
Our campsite we had tonight had full cable and what a treat television is every now and then. We caught up on the world affairs with a few news channels and veged out in front of the plasma for the rest of the night.
In the past few days, I've added a few things to the Our Trailer page and a full Tool Kit List of what we bring along with us after numerous people emailed asking for some tips. Check them out and feel free to let us know what you think.
Here is a link to our Old Victoria Ghost Town Gallery
Wednesday September 26th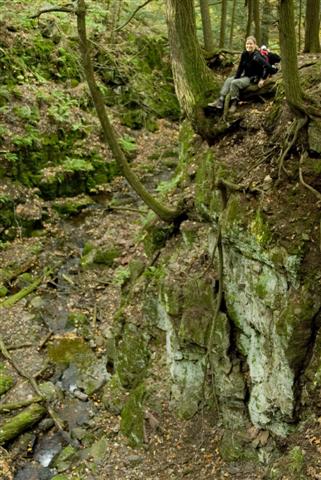 Our two day overnight mail came this morning and we got back on the road headed West towards the Porcupine Mountains or the Porkies (As the locals call them). After pulling into the visitor center, Cindy and I proceeded to get in a big argument over the stupid dogs. I wanted to hike up to the top of one of the peaks, and stay in one of the cabins the Forest Service provides, but Cindy felt it would be too long for the dogs in the camper by themselves. This is the main reason I didn't want to bring them. There are too many times we have to cut excursions short to get back to our spoiled dogs.
After calming myself down and getting over my tantrum, which didn't take long, I started packing equipment for our 2.5 mile one way hike on the North Rim Trail, which is said to be one of the hardest hikes in the park. We headed on down the trail and into the beauty of the old growth forest. Thank God for stiff soled hiking boots and comfortable backpacks, this trail and its rugged climbs would check our stamina and leg strength. We both agreed that we need a few more big water bottles to carry with us after realizing we were going to need to ration our water.
The hike was beautiful and lived up to the recommendation by the park ranger we talked with. Once we got to Mirror Lake we sat on the front porch of one of the cabins and had some lunch. We were entertained by the resident squirrel who wouldn't leave us alone while we were eating. He would eat right out of Cindy's hand telling us he likes hikers and has trained them all to feed him.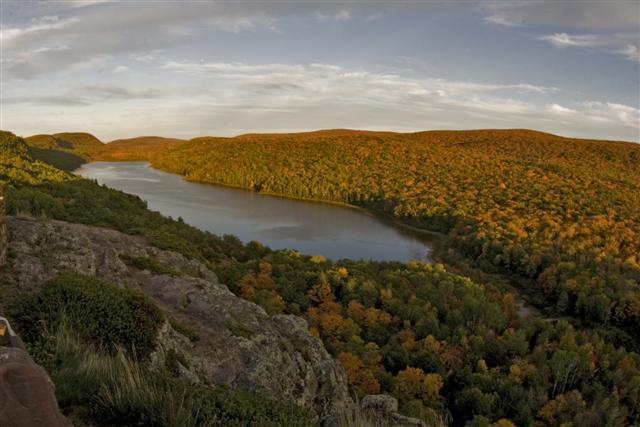 When it comes to hiking, I'd much rather climb uphill, then blow out the knees coming back down. We tried to come down as fast as possible to get it over with and work up a good sweat.
As we climbed back up the last stretch, a total leg burner, we came back to the Lake in the Clouds viewing platform just in time for a spectacular sunset.
I was shivering on the platform while talking with another couple asking them if tonight was going to be the full moon just as Cindy yelled out "WOW, check out the moon!"
We all turned to see the biggest moon rising up over the edge of the mountains. What a treat to see a gorgeous sunset on one side and a beautiful moon rise on the other. With the sun set, the temperature had dropped substantially. The Gloves and winter hat I had packed in my backpack were brought out as I was packing up our photo equipment and the muscles were starting to stiffen up rather quickly.
Once Mother Natures show was over, we climbed our aching muscles into the camper and drove down the mountain to a campsite on Lake Superior and were in bed snoring by 9pm. We pulled in to a very un-level campsite, not even bothering to put down the scissor jacks or hook up to the available shore power and while Cindy warmed up some left over pizza, I downloaded the days photos sipping on some warm tea. I think I was falling asleep at the keyboard with pizza still in my mouth when Cindy slapped me saying "Wake up, lets go to bed!" No arguments here, I was beat tired.
Thursday September 27th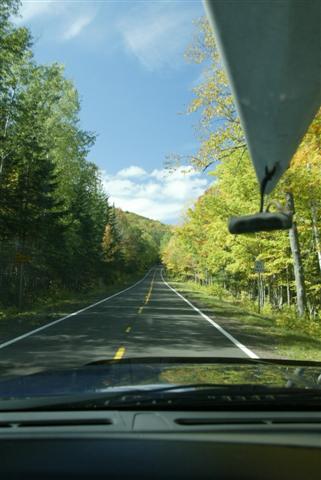 We were up and on the road just as the sun was coming up this morning heading West towards Wisconsin. As we were driving down a deserted stretch of road just listening to some Outlaw Country on the satellite radio, Cindy snapped out of the haze and said "What is that in the road. I think it's a few deer?"
I came back with "No, those are too small, maybe a few dogs" As we got closer, slowing down to not hit them, we realized it was two full grown wolves!
One was a light grey and the larger one being a salt and pepper black. They ran to the edge of the woods looking at us when the black one lifted his leg and marked his territory before disappearing in to the thick forest.
How cool was that to see real wolves!?! At first I was worried about stopping in the middle of the road because of the large semi truck behind us, but he had seen them too and stayed stopped looking at the edge of the forest for awhile after we pulled away. Not that it really mattered, we hadn't passed another car for the last 20 miles.
We crossed over the Wisconsin border and drove North into the Apostle Islands Lakeshore area. This area is beautiful and the town of Bayfield is something out of a movie set. Most of the homes are big beautiful Bed & Breakfasts and the streets are lined with quaint little shops. It has the small harbor town feel with multiple marinas and plenty of history.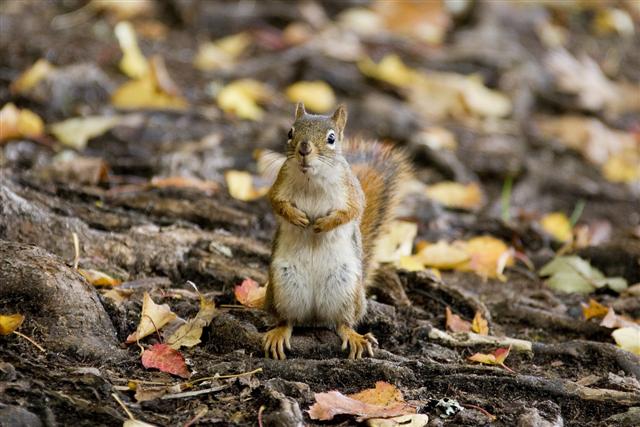 We stopped at the Visitor Center which is located in the old court house which was built in the late 1800's and got some info on kayaking the sea caves.
The park ranger got Cindy all freaked out when he talked of a guy dieing this June due to hypothermia in Lake Superior. They said the wetsuits are mandatory with the cold temperatures of the water, and gave us a name of an outfitters, Living Adventure, that rented them. When we pulled up, the woman was just finishing up with another couple and said "I'm sorry we're closed for the season." But went on to say "Is there anything I can help you with?"
I told her that we just wanted to rent a few wetsuits, and she said that would be no problem.
We got the suits and when I asked how we were supposed to return them if they were closed, she said "Oh we live here, so just put them on the front porch when you're done." You know you're in a small town with good values when they trust you with equipment like that.
We found the Town of Russell Campground and set up camp. It's cool how these little towns all have their own campgrounds. Sort of makes since when you think about it, the town makes some money and they're usually attached to a local park which would be sitting empty anyway. It also promotes tourism and shows that the locals are supporting the traveling folks like us.
As Cindy cooked one of her best chicken dinners over the fire, we both watched in amazement as one of those big storms developed over Lake Superior. You could see it raining over one island with another island being basked in sunshine.
The wind would blow through one second with a dead calm following it. Rainbows and lightening and a dazzling array of clouds danced right before our eyes. It was a great show, and made me think twice about getting in this water in a small kayak.
Friday September 28th 2007
Cindy spent all day working on her blog, while I packed things up for the kayak trip. Not that it would be that long of a trip, but while paddling in these type of waters, I tend to give everything a once over.
I really take my time and make sure everything is in working order and we have two of every item we need. 99% of the time, we'll never need it, but it's that one time when you'll need it and not have it that can make a nice day on the water become a life or death situation. You know when you hear of a mishap where someone gets hurt and you think "Why didn't they have this or that?" Well I didn't want to be that person you were talking about.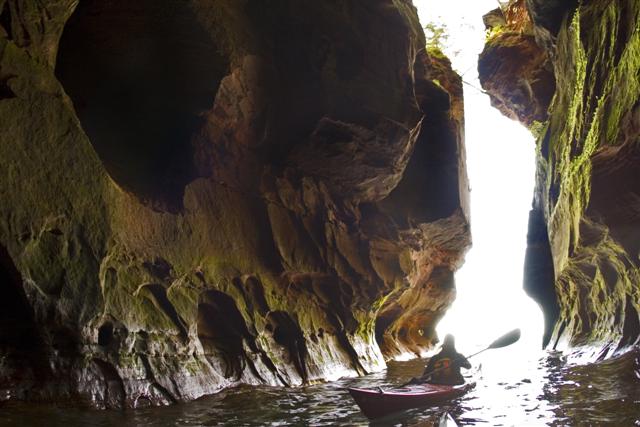 Cindy was already freaking out due to the park ranger telling us that someone had died on the water this year, so I wanted to make sure she felt as safe as possible.
While driving to the beach, I asked her why she was so quiet and just sitting there staring out the window, and she said she was so nervous that she felt like she was going to barf.
Come on, why do you let yourself get this worked up? The water wasn't bad at all, and I knew once she got in the boat, she would be fine. Cindy is one of the strongest paddlers I know and never gives herself the credit she deserves.
She does this with everything we do. She'll be nervous when we go climbing and once she's roped in, she climbs the route with no problem, she worries when we go mountain biking, and rides the entire trail with no injuries, yet each and every time we do anything, she gets herself all worked up and says she doesn't want to go.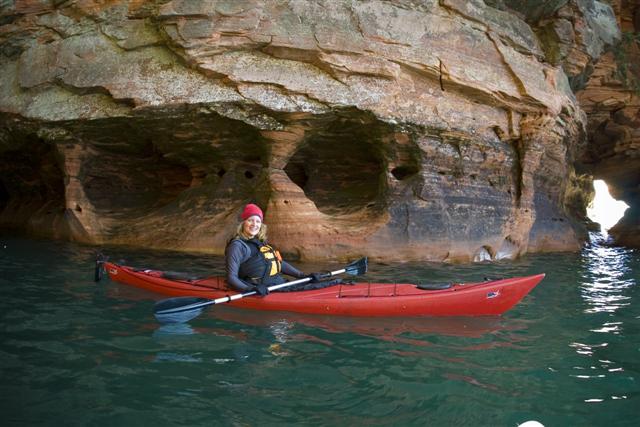 So we unloaded the boats, I got her all situated, and shoved her into the big Lake. By the time I could get in and get my spray skirt on, she was paddling away and yelling something to me I couldn't hear.
By the time I caught up to her, she said she was feeling fine and told me not to worry anymore.
Paddling towards the caves, we were battling a stiff head wind that was making us really work. Once we got to the area where the caves are, the wind subsided and we were protected by the steep shoreline cliffs. The water was crystal clear with the caves jutting a hundred feet into the air.
I'll admit that when we first started paddling under some of the narrow arches, I was a little nervous, but once you go through a few of them, you realize the waves weren't going to smash you against them today, and my nervousness went away. The sound of the waves crashing into the caves with the deep bass notes it was resonating was quite the soundtrack to listen to.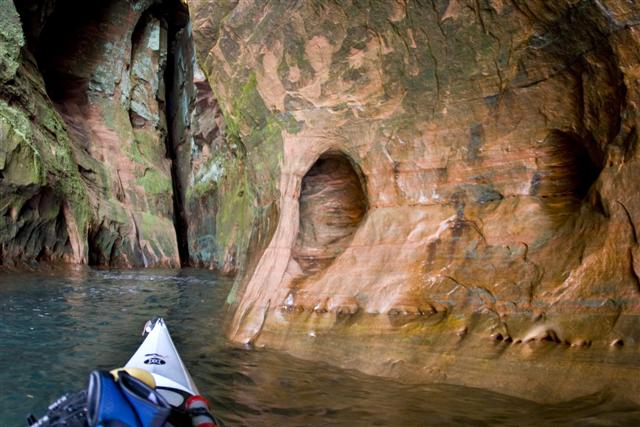 After numerous caves and watching a bald eagle soar above us only to land in a tall tree on the shoreline, we decided to turn around and head back.
I was very surprised when Cindy was following me right into some of the narrow slots of the shoreline. She always tries to claim that she is claustrophobic, yet when ever it is something really cool like this, she's always right there beside me.
Maybe she is just an adrenaline junkie like me and the thrill of being in such a confined space and the risks involved is greater then the fear it instigates in her.
Once we turned around, we were treated to some easy paddling. With a 15mph wind at our backs, we barely had to paddle to keep a nice speed in the waves. It was a really cool feeling when a nice set of rollers would come up and you would surf down the face of it.
I'd love to be in some big waves on the ocean in one of the smaller rodeo boats and see what it would feel like. When we pulled onto the sandy shoreline, we were both feeling the burn in our backs and were glad that we had taken the chance with the waters of Lake Superior. Another fine day with someone watching over us.
Check out our Apostle Islands Gallery for a few very cool pictures from our day on the Lake Superior Lakeshore.
Saturday September 29th 2007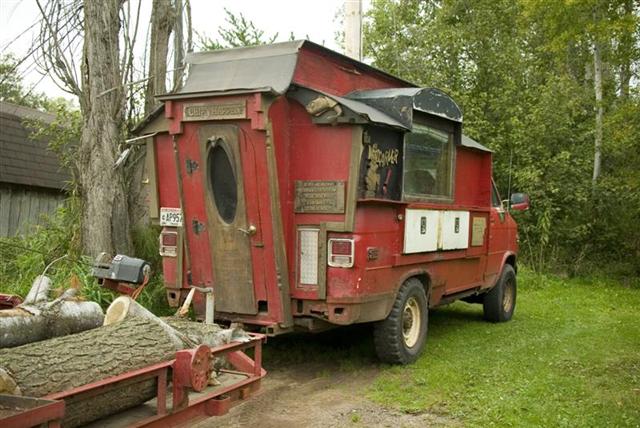 When we were driving up to the Apostle Islands, I had seen a really unique looking truck on the side of the road. We were going too fast for my liking and had a line of pissed off people behind me already for how slow we were going, so I made it point to stop on our way out.
I had remembered that the truck was sitting beside a bunch of wood carvings by what looked like a little Hobbit village. What we found was the Wayward Wind Gallery & Studio.
The truck that had originally caught my eye was only a small piece of the treasures we were allowed to tour. Bill Vienneaux is the owner and head woodcarver at the studio and was a true gentleman when it came to personality. When I asked if it was alright to snap some pictures, he said "You might want to go get your wife, you'll probably be here for awhile."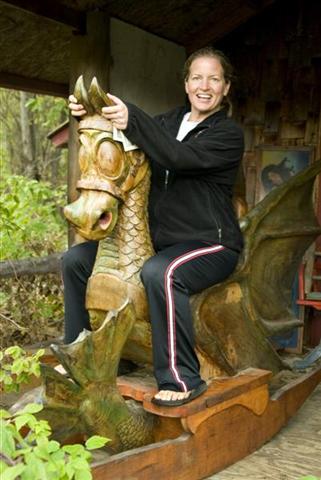 When I ran back to the camper to grab Cindy, she gave me that look of "What are you dragging me into now?"
What we were both truly amazed with was the amount of carving that Bill has dreamt up. Walking into the yard of the gallery was like walking into a stage set for Lord of the Rings.
Bill and his fellow carvers have made an entire little Hobbit village with little huts carved from logs as big around as the hood of our truck. With carvings hidden in every nook and area you look, it could take days to see everything on this small piece property. Each piece is unique and original, from hand carved wooden tool boxes, to nude mermaids carved into door pulls, to a 8 foot tall dragon made into a rocking chair that is ergonomically correct to your seating posture. When Cindy and I both commented on how comfortable the seat was in the rocking chair, Bill chuckled and said "Probably from the hundreds of hours I spent sitting in it while carving the head and neck."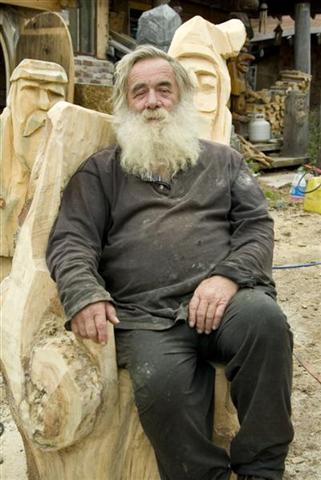 Even though when I was first walking up and Bill was headed into his house for lunch, he toke time out of his day to spend the better part of an hour to show us around and explain the story behind many of the larger sculptures.
I really wanted one of the mermaid door pulls, but Bill told me "Those are winter projects, for when the cold Wisconsin winters keep me indoors." I told him I would get back in touch with him this winter and order one so the grab handles on the side of the Sunline would be truly unique and one of a kind. Plus I would love to see one of his carvings daily and remind me of this unique character we ran into just outside the Apostle Islands.
His many carvings were amazing and finely done, but his personality and genuine spirit is what made me love the place so much.
Bill said he doesn't have a website just yet, but hopes to have one by this winter. He does have a email address that he uses, and said if you'd like anything carved, feel free to drop him an email at the_sawdust_factory@yahoo.com
His work is displayed in China, Austria, Germany and Japan and after seeing some of the pieces first hand, I understand why he is so popular. He says he carves for the pure enjoyment of it and said "I'll carve anything that anybody wants unless it's ugly, I don't carve ugly things"
If you had Bill make something for you, I know it'll be something you'll enjoy for years to come as each item is just that unique. If you're ever headed towards the Apostle Islands, make it a point to stop by Bill's gallery and see the place for yourself, you wont be disappointed.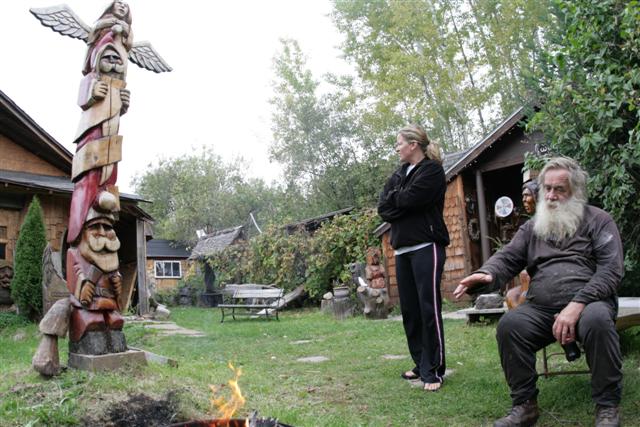 After leaving Bill's place, we started driving towards Minnesota thinking it would take us a few days to get there and we would find a few places along the way to keep our minds occupied.
Little did we know, the drive would be so short. When the winds became too strong for us to stay on the road, we pulled over in St. Croix. We found a Wal-Mart parking lot and thought we would just wait out the storm for the night.
We don't like pulling the camper in strong winds, and our fuel mileage is really hurting us right now with the winds and hilly terrain we've been in. These past few weeks we've had our worst fuel mileage of the entire trip. We normally can average 13mpg while towing, but these last few tanks we've been down closer to 10mpg Yikes!! The Diesel prices around here are awful too!! $3.39 a gallon and I'm trying to figure out how we can make a harness for the dogs to pull us?
Cindy jumped in the shower and by the time she got out, it was sunny again. It was only Saturday night, so she called our friends in Minnesota to see what they were up to and tell them that it would be a few days and we would be there. When she told them we were in St. Croix, Derrick said "You're only an hour away!" and went on to say "We'll throw some chicken on the grill and ice down some Coors Light. See you in a few hours!"
So we put the dogs back in the truck and were back on the road. An hour and a half later, we were sipping on a few ice cold Rocky Mountain refreshments and giving bear hugs all the way around. What a surprise to be with good friends again when we hadn't planned on seeing them for another week.
Sunday September 30th 2007
We woke up to pouring rain, but very mild temperatures. Big difference from the cold nights we had back in Michigan's Upper Peninsula. Derrick and Tish had planned on going to the Minnesota Vikings football game today, and Derrick said since we were in town, "How about the girls go out and have some fun together and us boys would go watch some football."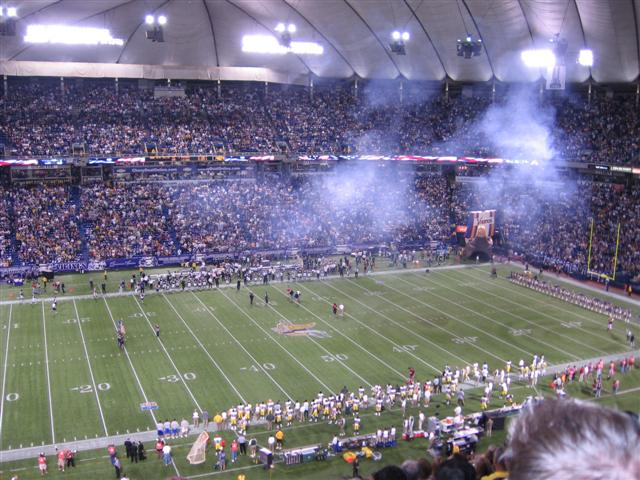 Another surprise, but then again, Derrick is known for his hospitality and anytime you're around the Smigiel's, you're guaranteed to have a great time. Although the Vikings lost, we got to witness history when Brett Farve of the Green Bay Packers broke the NFL record when he beat Dan Marino's record for most touchdowns thrown by a quarterback.
After the game, we met the girls at Victoria's town bar, Floyd's, for some dinner and a few Coors Lights.
I asked Cindy how she had enjoyed her girls time, thinking she would say they went to the Mall of America or shopping somewhere; but she said they had sat in their pajama's till 2pm before they got the call that we were on our way home from the game. I don't blame her. With the crappy weather and the floor to ceiling windows that look out over a beautiful forest, that comfy couch she was sitting on when we walked out the door was looking mighty nice to me too.
Our September Gallery is chocked full of neat pictures from this past months adventures. Make sure to check it out and remember that sales of our photos are the only way we fund this adventure of our.
Return to Top of Page