When we realize our insignificance in this world,
it some how relieves the pressures from society to succeed -
Cindy Bonish 04/07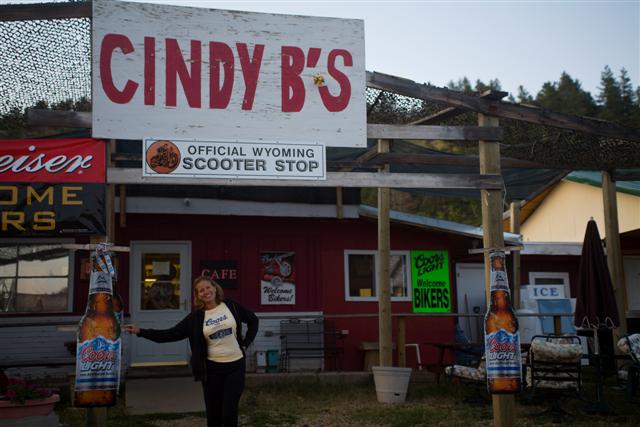 Cindy's August 2009 Blog
Every Miles A Memory
Feel Free to browse past blogs for plenty of travel ideas and many of the places we've been in our first 12 months on the road - 2007 Blog's
January 2008 Blog February 2008 Blog March 2008
April 2008 May 2008 June 2008 Winter 2008 Blog
March 2009 Blog April 2009 Blog May 2009 Blog
June 2009 Blog July 2009 Blog
Solar Tips, Fact's and Trick's we've learned while on the road
Well-behaved women seldom make history
____________________________________________________________________
If you haven't read any of the earlier blogs, you might want to start there to catch up on how we got here.
Sunday August 2nd
I thought it was funny the other day when I was talking to an insurance representative about switching my health insurance plan and she asked me if I was going to have any Dr. appointments in the next 4-6 months.
I replied to her that I had just had my yearly check-up done last September, so "No, I won't need that again for a while." The operator replied that it was almost the first of August and September would come around again next month. DUH! I can't believe I say such stupid things sometimes, it's just that September seemed like a few months ago to me.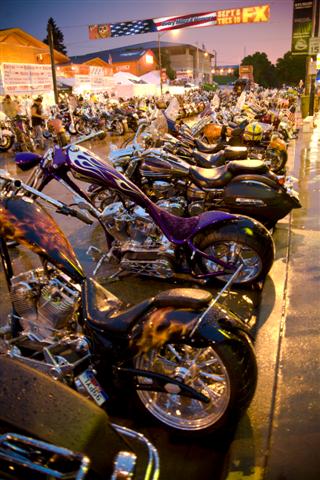 We are over half way through the year already and Halloween is just around the corner! It is so hard to fathom how the years go by so quickly the older that I get.
Today was such an awesome day! When we arrived at Jana's house yesterday afternoon, we all sat around and talked shop for 3-4 hours as the clock sped by. In case Pat hasn't filled you in, Jana Thompson is a friend who has found our web site a while ago and has been keeping us in touch with places to go and things to see in the Wyoming/South Dakota areas.
She had great pointers on places around Yellowstone and neighboring areas, so her and Pat had been chatting back and forth through emails and on a photography forum that they both frequent. When she read that I had gotten on Facebook she was on there also, so she and I started talking pretty much everyday.
Her photography is incredible and she and I have tons of stuff in common. I was really excited to hang out with a female for a change and since we knew quite a lot about each other already, I knew we would hit it off.
After the hours of conversation in the front yard, we said our goodnights and Jana asked me if I would like to go walking with her and her friend Kym at 5:30. I said a.m. or p.m.? Of course it was a.m. to which I responded, "I think I might be able to wake up that early, but I'll let you know tomorrow morning."
I was up at 1:30am and could not fall back asleep until 10 minutes before my alarm went off which was fine because those are just wasted hours, trying to sleep when your body says no.
I headed over to the house, by the way we are staying in an extra parking space they have beside there house, around 5:30 and started with a piping hot cup of coffee.
We drove with her huge Great Dane named Tank, through Spearfish Canyon to Deadwood and into the little mining town of Lead. Both towns are just awesome with the main streets still intact from the 1800's and the mountains and ridges are surrounding the center of the road. The hillsides are rolling and cluttered with homes from the gold mining era that started this town and also held the status of the longest running gold mine in the United States, closing just a few years ago in 2001.
As we drove, Jana filled me in on all of the history she could remember and also told me of the "Can't Miss" things to go to and visit while we're here. Just as I figured, we got along really well and laughed and cut up our entire early morning drive like we were long time friends.
When we got to the Majestic Trail Parking area, we met with Kym and her Yorkie, Joey. Now that was a sight seeing Jana's huge dog get totally reamed by this little fluffy pup that lead the way through the entire trail. Kim is easy going and a great conversationalist, who hopefully will give me a few pointers on how to be more assertive and less shy around new people.
When we finished our walk we rode back a different way and Jana gave me more info on the area which was great since I'm such a history buff. As soon as I got home, I told Pat that he and I needed to ride the motorcycle through these towns and enjoy the scenery and how I had the down-low on a bit of the local history.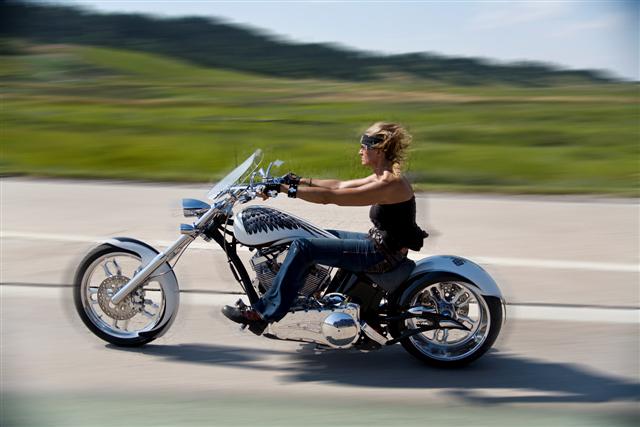 If I knew How to Ride a Motorcycle, I'd have one like this Tuff Broad!
Jana had to do some catching up in her office, so Pat and I got ready and took off on the bike. We didn't fit in well with all of these huge, loud Harleys flying around these twisty curves, but that was Ok with me, we were out on two wheels enjoying the scenery and I had a smile on my face.
We did a big loop around the towns of Spearfish, Lead, Deadwood and then ended up going into Sturgis a little ways, but figured we would rather wait until tomorrow for that town. Spearfish Canyon is a few miles (over 30) of twisting, winding roads enclosed by rock forms 50-100 feet high on each side of the roadway.
There are 3 waterfalls to stop and look at along the way but I asked Pat to wait until I had my camera to stop at those. It was actually nice to not have any stops for photos and just enjoy the scenery with both eyes for a change instead of seeing life through the view finder of my camera.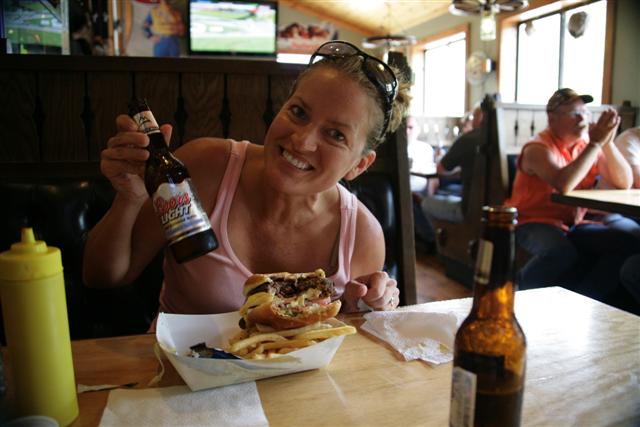 We had lunch at a town favorite called, Lewis Saloon, and had the famous burger. I can see why it is famous! The thing was huge, the fries were great and the beer was ice cold. It was a perfect combination for a 90 degree day. When we got back to the camper we let the dogs play in the fenced back yard for a while and Luca, the instigator tried to coax Tank into chasing him.
Tank has a hot spot on his foot from the hike this morning so he really wasn't interested in this little 70 pound pest. Lucy found 3 bones and thought she needed to have them all for herself and Tank just shared and watched as he sat on my lap.
I decided it was nap time for me so we all went inside and waited for Tom, Jana's husband to come home from his camping trip with his daughter. When he finally came home, we all went out for ice cream-oops, custard at Culvers Butter Burger Shop. The first thing I said was how I wasn't even hungry and really didn't want anything, but I would try and eat a bit.
I was liking the cup when I couldn't scoop any more onto my spoon, enjoying every last bite. When I got back I took the dogs for a nice long run or should I say they dragged me around the subdivision at a high rate of speed until they and I were worn out and I think most of the custard was burned off.
Now it's bed time with the sound of Sturgis in the back ground, a nice steady breeze and crickets by our window. Ahh, it doesn't get much better than this!
Tuesday August 4th
Since we've been here at Jana and Tom's house I have taken a long walk with Jana and usually Kym every morning at 6am. It feels great and it starts my day off with a jump start. Jana has taken me on some great trails through parks and down local river banks and always fills me in on the history of where ever we go.
It's like having my own tour guide, which is awesome. This morning we decided to just take a walk around her area so that we didn't have to drive anywhere. I took my dogs, Tank took Jana and Kym brought her little Yorkie, Joey, which ruled the roost.
Just a few feet from Jana's house are huge open fields that we can walk through and they can let there dogs run free. I can't since my Beagle would never come back and there are cactus everywhere and I'm sure mine would some how have to have a vet visit if I let them roam free and off the leash.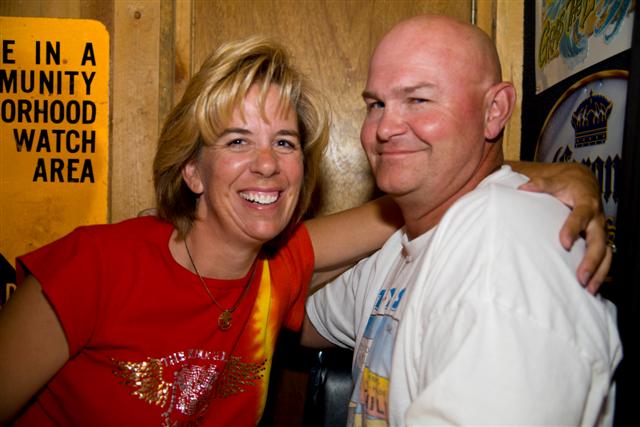 I came back to the camper and caught up on some cleaning and chores that I needed to do, and also got our lunch started. I volunteered to make us all lunch, Tom not included since he's at work, and we could enjoy some time together.
Jana is a very hard working woman and doesn't have much spare time to do anything. If she isn't working on her photography, she is doing her actual full time job which she can do from home. During our Mexican fiesta of steak fajita's, Pat volunteered himself to help Jana in any way he could on her photography.
Not that she needs help with her talent, but she is so busy with all the work that Pat loves to do, he would like to get his hands on some of it if it could help her out in anyway! After lunch Pat and I came back to the camper and hung out until we got a knock on our door. It was Jana telling Pat that she was doing a photo shoot and wondered if Pat would like to help.
Pat lit up like a Christmas tree and his gears began to work as the two of them thought up some poses and such. While Pat went in the house to work with Jana, I naturally saw a great opportunity to take a nap. The weather has been great here, nice and breezy with temps in the upper 70's, so I curled up with the pups and snoozed for a while.
We all waited on Tom's arrival so we could head into downtown Sturgis to see what all the fuss is about. I got ready and we took off close to 6pm and went to the Loud American Saloon for dinner. Service was slow and I actually never got my dinner, but it was a fun time anyway. We met Kym and the two people that were at the photo shoot today and just hung out for a while, screaming the whole time so we could hear each other over the loud music and packed house.
They weren't kidding when they called it the Loud Bar. We saw a couple of painted ladies so I had to get my photo with them and then we headed out into the pouring rain to find our next destination spot. This ended being 'The Knuckle', which is the largest outside bar in the US.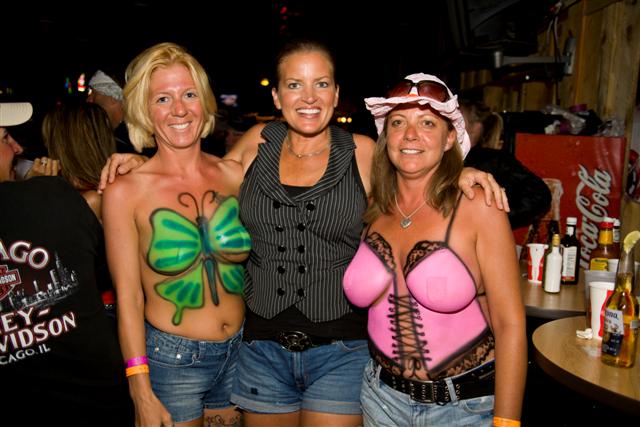 I think I'm way Overdressed for this Bar - Sturgis Ladies at their Best
We had a beverage there and Pat was looking sleepy as Tom was. Tom gets up at around 4am and Pat is still hopped up on Benadryl from his huge bug bites that are dotting his legs. So we headed back to the vehicle and came home.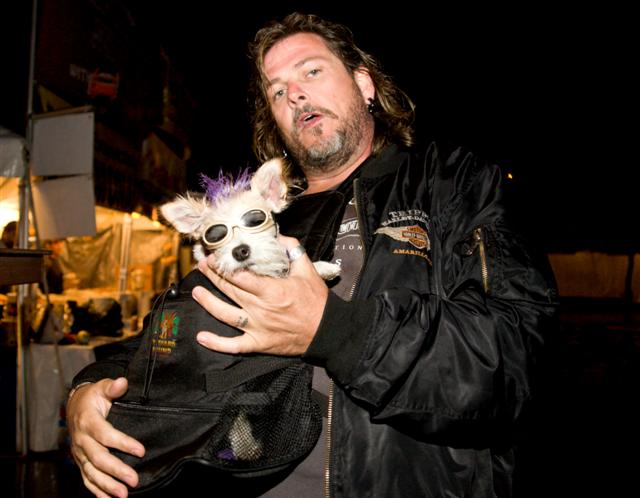 This Biker had his dog in a chest pack and it had a Purple Mohawk & it's own set of Doggles
No real huge amounts of excitement, no nudity to speak of, no orgies in the street? What the heck, I'm disappointed. I guess one has to go to the Buffalo Chip campground to see any of that action. We won't be there because it cost's anywhere from $65 to $110 dollars to get in, depending on that nights entertainment.
So, I have seen more action in the Red Dog Saloon, back home in Michigan than we did tonight. Darn, I was hoping for some wild and crazy people roaming the roads, looking for fights, unadulterated freedom and fantastic nude opportunities. I guess we will try it again tomorrow, maybe a bit later in the evening though.
When we got home it was 9:30pm and Pat hit the sack as soon as we walked in the door. I had to clean up the trash can mess that the dogs made as well as take them out for there nightly potty break.
My bed time is 11pm tonight, so I'm pretty much a party pooper also. Sturgis is actually for Dr.'s and Lawyers to put on there biker garb and travel around these winding roads looking tough for a couple weeks of the year. Maybe we will find some trouble tomorrow?
Wednesday August 5th
After canceling our walk this morning due to just pure laziness, I laid back in bed and tried aimlessly to fall back to sleep. At around 8am, I ended waking up anyway and regretted that I didn't take our long morning tour around the neighborhood.
By the time I did get up and take the dogs for their morning walk, it was close to 11am. We walked about a mile and as we were heading back a vehicle pulled up to me with a young mother driving who was obviously upset.
She frantically asked me if I had seen a little girl in a red dress. I told her that I had been walking for a while and hadn't seen anyone. The mother tearfully replied that she had turned her back for 5 minutes and her 3 year old daughter and taken off out of the yard.
I brought the dogs back to the camper and started walking through the neighborhood looking for this little girl that had disappeared. I saw her two sisters riding their bikes and calling out her name as well as the mother continually driving the sub.
She pulled up to me and asked if I was looking for her and I said yes, but still no sign of her anywhere. She started crying even harder because it had been around 20 minutes by now. I suggested we each take one side of the sub and knock on doors if we had to.
We planned a route and began to take of when I heard a little girl crying. This three year old had ended up right in front of Jana's yard as the mother drove up to her and grabbed her up into her arms. They both wept as the mother then scolded the girl for leaving the yard and explained that she was way to young to go for walks by herself.
Glad to see the girl found, I came back to the camper to start lunch and get myself ready for our day in Sturgis. Jana's brother had come in for the Road Rally, so Jana and Tom were entertaining them for the evening, so Pat and I were going down town by ourselves.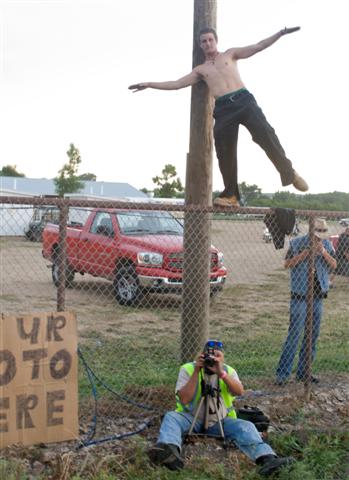 My phone rang and it was Kym calling to volunteer to be our designated driver for the evening. Now, how can one pass that up? She actually drove out and picked us up, offering her services as a cab driver as well as a tour guide.
We got started sort of late and didn't get out into Sturgis until after 7pm. This still gave us plenty of time to see the action and take in the sights. Kym took us on a trip through numerous bars that all had a different character to them. I have never seen bars as big as the ones here in South Dakota in my whole life.
Apparently, they are soo busy for the 3-4 weeks of the rally that as soon as it's over, most of the bars close their doors for the rest of the year. One of the bars/campgrounds called The Buffalo Chip has big name entertainment nightly as well as a bar, restaurant, and a humongous campground.
This is the same price whether you see the entertainment or not. Apparently Toby Keith and Aerosmith are playing this evening to 100,000 people at $120 per person. I think that comes out to $12,000,000 for one night of doing business!!
Apparently, when the Rally isn't going on, this huge piece of land is still a working farm and the owner has his crops sold just before the rally begins. That's double dipping if you ask me! Add that to the food and beer sales and what a dang money maker that is. I guess that the owner knows the in's and out's of things seeing how he is also a very busy attorney!!
Unfortunately for the ticket payers, Aerosmith stopped playing 20 minutes after the show started because the sound system went down due to the nasty storm this area was getting pounded with. While Steven Tyler was entertaining the troops until the repairs were done, he fell off of the stage and broke his collar bone! End of show, non-refund!
I don't feel real bad about missing that performance, I do love me some Toby Keith though, at least the crowd at the Buffalo Chip got to hear him in his entirety. Town seemed to be not nearly as crowded as I might have imagined simply because the forecast calls for serious thundershowers and people don't want to be out on their bikes in nasty weather??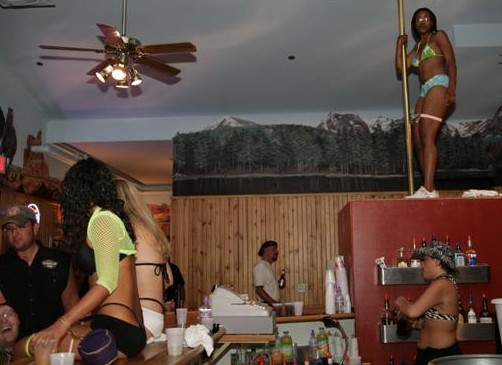 Our first stop of the night was One Eyed Jacks, a 9000 square foot bar and restaurant that had many different levels with numerous bars to keep ones self occupied. This place was different since they had girls dancing on tables and poles who should have had their clothing on! Most of the bar tenders were barely dressed and they should have also been a bit more modest.
Not that I'm a prude, because I like to have a good time, but when one looks 6 months pregnant and has the rhythm of Steve Martin in The Jerk, dancing in pasties with skimpy underwear should not be one's job. Oh well, I guess God made us all different shapes and sizes to make the world a bit more interesting and One Eyed Jacks seemed to have all these shapes and sizes behind their bars.
Our next stop was The Dungeon Bar. This place was properly named since it had low ceilings, stone walls, and not a whole lot of light. The walls were lined with dollar bills and anywhere you looked there was a signature written on the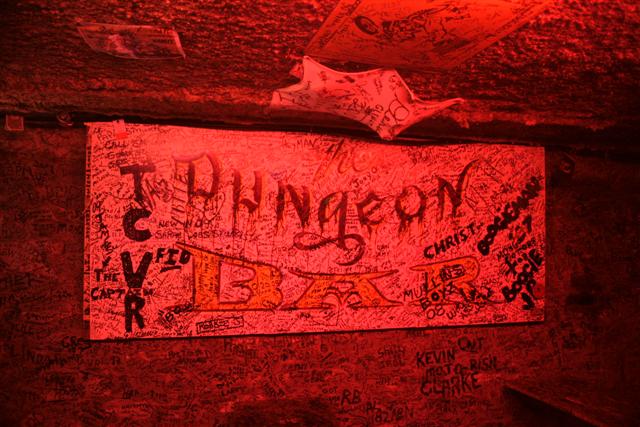 walls, over the pictures, on the bras and panties that hung from the ceilings, carved into the wooden bar and even written on the stools we sat on. Anywhere you looked there was graffiti written on the surface.
We continued upstairs to the Beer Garden where we had a birds eye view of the Bobbing for Beer game going on. The first thing I thought of is that this had to be an Upper Peninsula game or maybe something you'd expect to see in Canada. Only people that live in such a cold climate would think of a game like this.
The fellow that was working the game filled a huge heavy pressure cooker type pot, the kind that my mom always made over-cooked green beans in, and filled it with ice water. The object is to stick your head in this bucket and grab the beer with your teeth! Count me out on this game! If you come out with an icy cold beer in your chompers, it's free.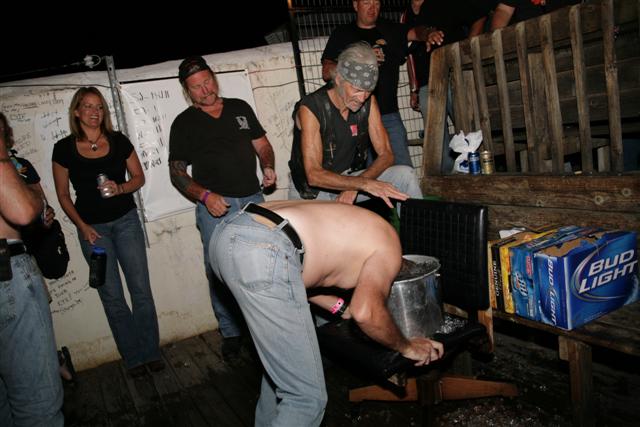 As I was talking with the guy about the game, he informed me that this bar was usually filled with people from Wisconsin which is where the game originated, I knew only cold blooded people think of crazy games like this. He said they had been playing the game in the Beer Garden for over 20 years and now all of the young, brave kids that started the game are old codgers!
It was great to watch, and I bet when they got the beer, it sure was cold. We continued on our Sturgis Bar Tour with the next spot being The Broken Spoke. This place was just like a big warehouse type building filled with picnic tables, a dirt floor, half naked women and tons of bikers enjoying the live music.
Right outside the front door was one of the most amazing sights I've ever seen. Who would think that in a town filled with bikers, wild women and bars, I'd see something that you would normally think would be impossible?
This very interesting guy was standing on the street corner with a dog and a cat both on a leash. That might seem a little strange to some, but the best part, the part that Kym had been telling us earlier in the night was when the guy would Stand the dog up, place the cat on the dogs back and pull a big white rat that was crawling on his shoulders and sit it on the back of the cat.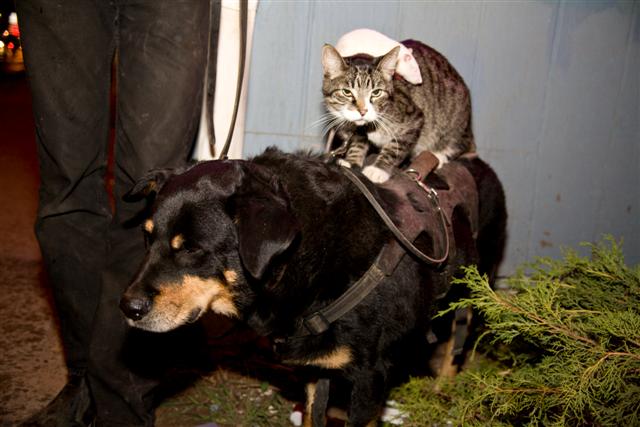 So a Dog, a Cat & a Rat all walk into a bar on top of one another...Sounds like a bad joke doesn't it...LOL
These 3 life long enemies would all sit still while they allowed Pat to snap a few pictures before the guy pulled them back apart. It was so funny to see a full sized cat sitting on a dogs shoulders with a rat on its back, and to think I saw it on Mulberry street. Sorry, I just thought that last little bit of story sounded like something you'd hear in a Dr. Seuss book.
It seems as though the girls here were slimmer and cuter at the Broken Spoke than at our first stop, so half naked made more sense. We chatted it up with a group of guys who had been coming here for over 20 years. When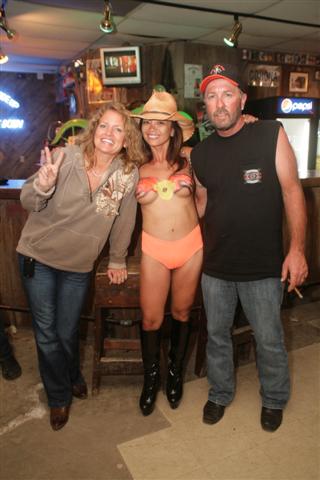 talking about living in our camper fulltime on the road, one gentleman informed me that I dont have to live the way that I do, that I had way to much going for me to live in a camper and roam around like a gypsy.
He asked me why I was married to Pat, telling me that I could leave if I wanted to!!! Pat and I laughed later on that night saying that I should have desperately looked at the guy and whispered "Help me."
It was about this time that the sky opened up, filling the streets with water and lightening. Most people took cover in the restaurants and bars, however Kym, Pat and myself stood under the protection of a huge tree and took photo's of the storm.
Kym is funny, she is like an amateur storm chaser. Her favorite channel is the Weather Channel and she knows pretty much everything there is to know about tornados, lightening storms, cloud types and all of the stuff that I find fascinating to watch, but have none of the technical knowledge memorized.
This shot was taken by Jana as she stayed home to finish some work, but when the storm came blowing through, she put her work aside to head out and do some storm chasing. I asked her if I could post it in my blog because I love it so much!!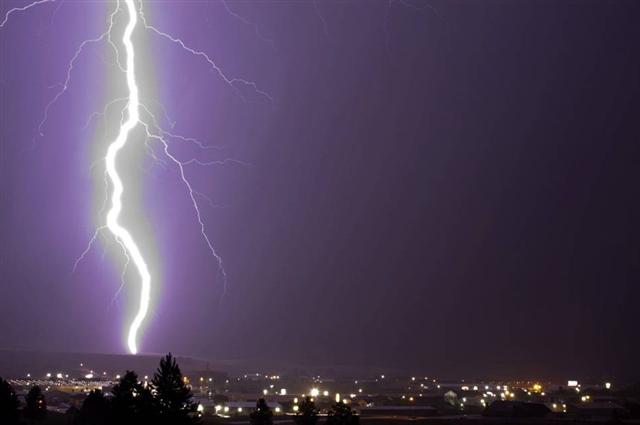 Lightening Over Spearfish South Dakota, photo by Jana Thompson - Thompson Photography
We had time for one last stop on our rounds and Kym wanted to take us to the Full Throttle Saloon, a bar which is a few miles out of town, simply because it is so huge that it wouldn't fit in the down town area. The Full Throttle Saloon is the worlds largest biker bar which opened in 2000.
I simply cant explain the dynamics of this place and the sprawling lay out of it. We walked from one boardwalk to the next, through an open area the size of a football field as we listened to the live band, the screeching of the motorcycle tires as their owners burned them off and the massive crowd cheer them on.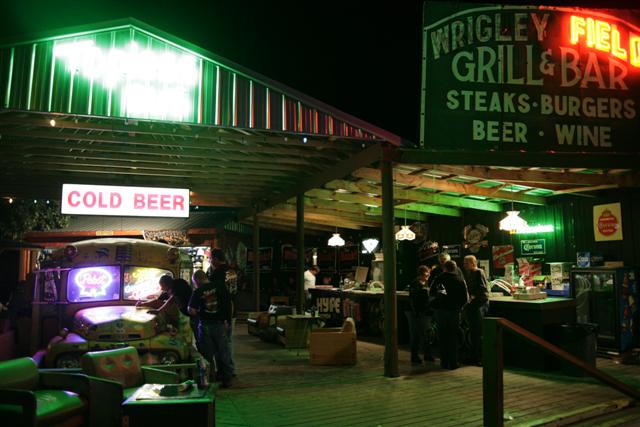 As we stood and watched the crowd from yet another area for customers viewing pleasure, we watched topless women and drunken men fly through the air on a zip line draped 100 yards across the bar. Huge converted school buses were aglow with lighting and bar stools as the scantily dressed bar tenders filled your glass with adult beverages.
Couches were astray throughout the place, giving worn out bikers a soft spot to sit and relax while watching the drunken debauchery. We never made it to all of the bars or all of the different levels since the place is just sooo big. This is another area which closes after the rally, sleeping off it's Rally hangover until next season.
As we headed out to the car, we all laughed while reliving the sights we had seen during our evening and talked about them the whole ride home. We had an awesome time and Pat and myself both really appreciate the generosity of Kym to put up with us beer drinkers as she was the designated driver. Thanks again Kym.
Thursday August 6th Yee Haw! I finally got my camera!!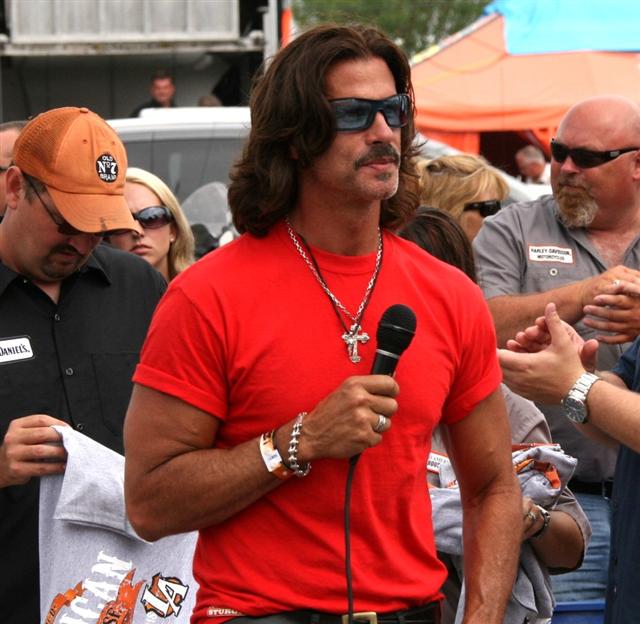 Lorenzo Still Super Hot At 51 years young!!
Great news! My camera has come back to me after all this time. I talked to it for a few minutes and cradled it in my arms as Pat looked at me like I was a mad woman. This gave me the initiative to get into town early today and find some stuff to shoot.
Jana is working again today, so she will be staying home with Tom. Kym called us and said she has the day off again, so the three of us were in town before 3pm, and the streets were packed. It was a hot, humid, sunny day, so the freaks, bikes, babes and weirdoes were out in full swing.
Our first stop was the Budweiser Burn Out Pit which was hosted by Lorenzo Lamas. Apparently he is really into custom cycles and is actually getting into a partnership with one of the best builders around. Eddie Trotta of Thunder Cycles.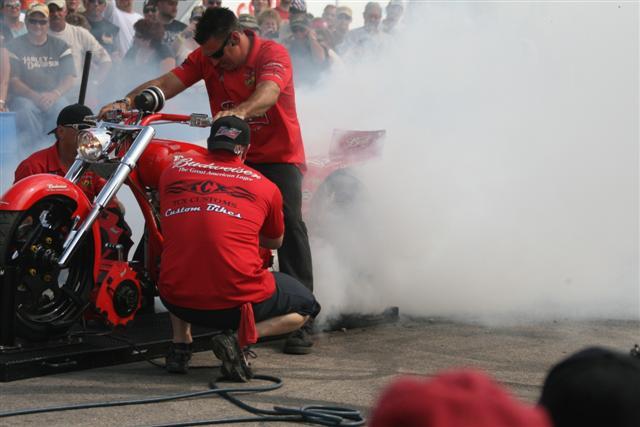 The wide tire that they put on the bike took forever to pop, but when it did, it was really loud and messy. The billowy, toxic gray smoke missed us as the wind shifted it around us instead of into us which was a bonus on our part. The crowd went nuts when the thing blew and it was entertaining to watch to say the least.
I caught a free T-Shirt from the Loud American Roadhouse and gave it to Kym since that was not my favorite place, nor do I have room for any more shirts in our ever shrinking camper. She probably has tons of Rally shirts, but she never said so if she did and was glad to have it.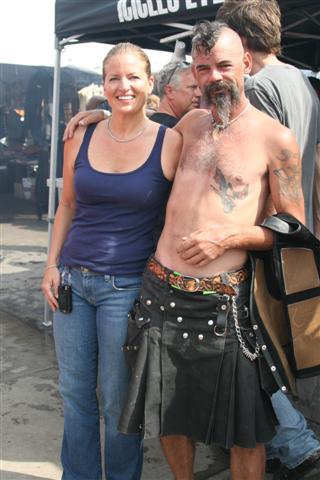 We snapped shots of strange people and sweet bikes as we cruised the streets on foot for the next few hours. Of course my first thought was to go get something to eat and after we checked out the prices in a few spots, we drove to McDonald's instead. I just can't bring myself to pay 11 bucks for a hamburger.
Pat had talked me into wearing jeans today, so I was so darn hot, I needed to find some A/C before I passed out. He said I was freezing last night by the time we got home and I replied that there was no way we would be out until 1am again tonight.
After filling our bellies with cheap, fast food, we piled into our truck and headed across town to check out yet another bar we hadn't been to yet.
On the way to Monkey Rock, our next destination, we ran into another storm system that was passing through the area. We parked up on top of a big hill and watched as the lightening struck and Kym narrated the movement of the clouds with child like excitement. It is so cool to learn about the fronts and the storm walls and how or why the storms transpire the way they do.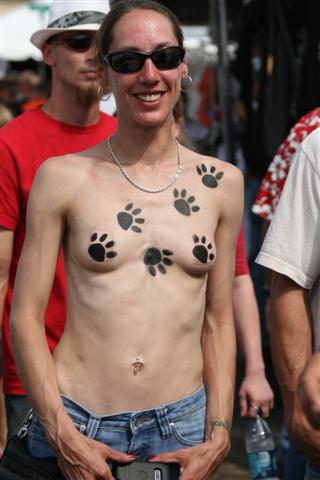 The storm passed in only a half an hour or so dropping only a few drops of rain on us which cooled everything down immensely. We pulled into the Monkey Rock parking lot and were ready for a new experience. I guess this is a new bar which is actually just a huge tent that has been converted into a bar like atmosphere.

Picnic tables lined the center of half the building and two stages lined the other end. We got there in the middle of a pole dancing contest where chicks competed to win $1000 for first place, $500 for second and $250 for third. Plus they all got portable stripper poles to use in the pleasure of their own home.
Kym and I were laughing about Pat and I having one in the camper and I told her that ours was on the roof so I could have plenty of room to do my swinging on the thing.
The girls that were in the competition really could dance, but they danced more like college cheerleaders and barely used the pole. That was sort of dumb, but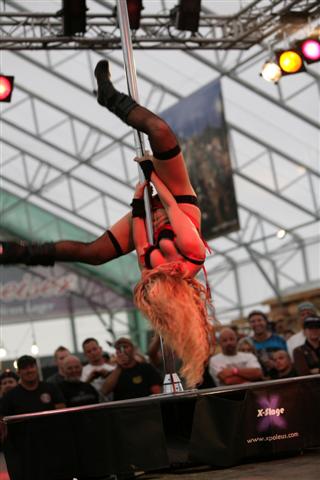 who am I to say how one should be dancing in front of a thousand screaming bikers? Third place went to a guy believe it or not, and second and first went to the cheerleaders.
The $1000 winner walked off the stage in tears, looking like she was ready to give an acceptance speech, but luckily she spared us the drama. It was getting late at this point, so Pat and I decided a beer was in order until we looked at the price of a frosty Silver Bullet, $5.50 for a 12oz can! No thanks!
I asked Pat to buy me a bottle of water until I saw the liquid gold price of $4.00 a bottle on those little 12oz. bottles. It is so tough being cheap, but it has to be done. We watched more of the entertainment which was basically choreographed dancing done buy pretty girls in skimpy clothing.
I guess that's why they charge so much for the drinks because these were the hottest girls yet. Kym came up with a good plan which involved us walking next door to the convenience store and buying some beer and ice so we didn't get gouged at the bar. We always have a small cooler with us and the 6 pack fit in just fine.
We were all standing outside by the vehicle in the parking lot, drinking a beer when security pulled up and said we had to drink in the bar, not in the lot. This gave us the incentive to go to our next destination, The Broken Spoke.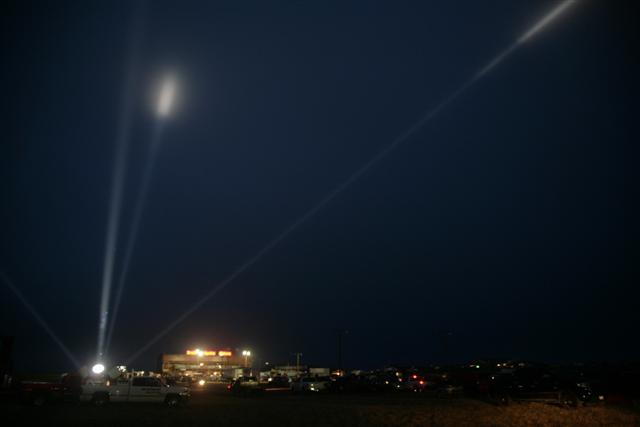 This is not the one in town but a new one further out in Nowheresville. As we pulled up Pat said the place reminded him on the movie made by Quentin Tarantino, From Dusk Till Dawn. The night was filled with a heavy fog which made the lighting look very eerie.
This place was cool, just a huge pole barn with three floors and a big open center. Some custom bikes were displayed throughout the bar and Pat was going crazy taking pictures.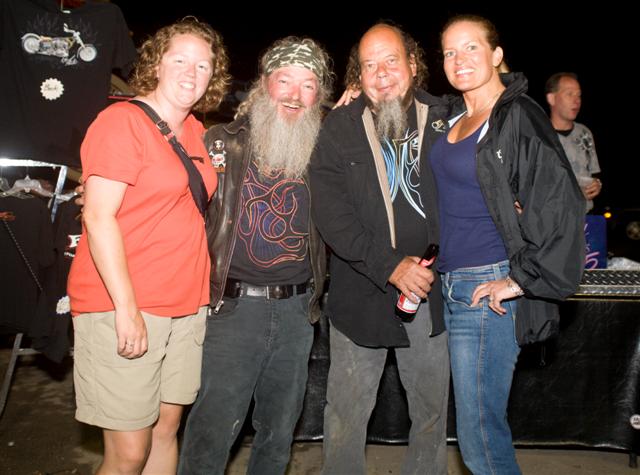 Kym, Rob, Ron Finch & Me outside the Broken Spoke Saloon
Just before we changed our lives and started our road trip, Pat was making his way into becoming a popular bike photographer. He did shoots with people like Arlen Ness and his son Cory, Calendar and advertising shoots for Jolly Roger Customs and also Ron Finch, who who won a Discovery Channel Biker Build Off and pretty much started the custom bike building craze in the 50's.
As we looked around the joint, we noticed a couple of banners for Ron Finch and wondered if he had come to the Rally this year. Ron and his wife Ruth had become pretty close with us when we lived in Milford since we had spent so much time together on photo shoots and would always be seeing each other at biker events.
Sure enough just as we were about to leave the Broken Spoke, we saw Ron and his crew talking with some of his fans about his bikes. It was such a pleasure to see someone from home all the way out here in South Dakota. We all talked for a while and he invited us back in for a beer and to see his newest creation.
Just as we were about to go back in, Kym yelled "Look at that Mack truck driving through the bar!" Sure enough, the horn was blowing and he was bringing it right through the huge barn doors of the place. First time I've ever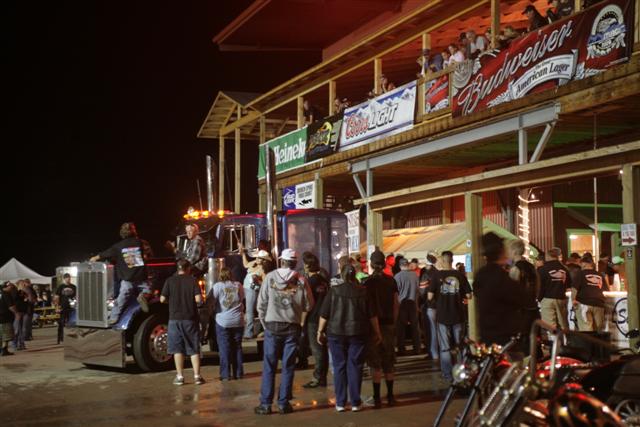 seen something like that. One of the novelties of the Broken Spoke is being able to ride your bike right through the bar, but seeing a full size Mac Truck drive through was unreal!
We all hung out for a while and talked about old times at the Red Dog, rehashing funny stories of the way we were. One of the guys with Ron who was named Rob was telling us some of the funniest stories I've ever heard about locals and his years spent as a young kid drinking and partying in Milford.
The night was getting late, so we said our goodbyes and drove back into town where Kym's car had been left. At the last minute, we all decided to go into One Eyed Jack's again to see if anything exciting was happening.
We were not disappointed. The first thing we see when we come in is the bar keep, Tammy, making drinks for a guy who is waiting at the counter. He apparently ordered doubles because they were mostly liquor and his tab was $88 for eight drinks. When the guy tipped her nothing, she went crazy on him.
His wife walked over and asked what the problem was to which she responded to Tammy with a $2 tip. This was even more of an insult, so naturally Tammy brought the Supersoaker out of the ice water and doused the guy with ice cold water right in his crotch.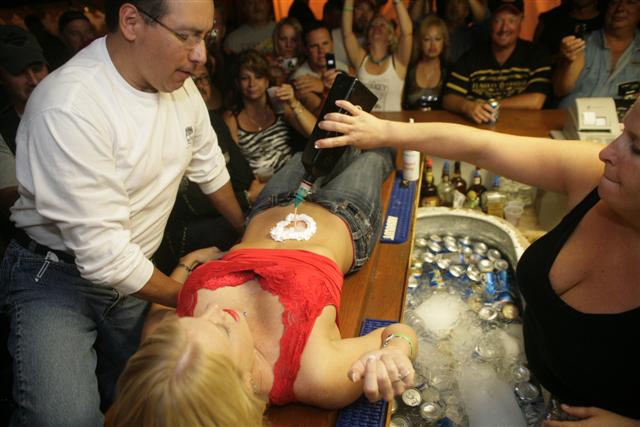 The crowd went wild and the people who had ordered the drinks were furious but for some reason they continued to stay at the bar. Crazy antics were happening all around us as belly button shots with four girls and one guy became the next focus. This was followed by the Police department coming in and almost arresting the people since too many people were on the bar at one time??
This was then followed by the Supersoaker guy trying to buy another round when the bartender said "No Way". The group of them started throwing drinks at her and she brought out the gun again, pelting the wife right in the face for about 10 seconds.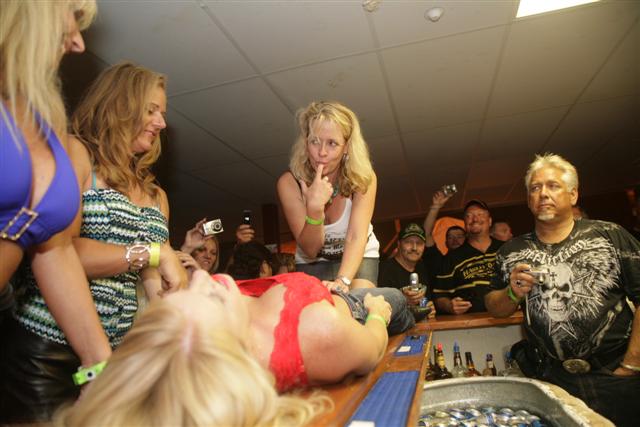 Another woman tried to come over the bar at her and she then got the water gun in the face!!! All the while, the crowd was screaming and cheering until Tammy got security to physically remove the whole group of non-tippers from the bar. The rest of the night went down hill from there.
I don't know what the deal was, but Tammy the bartender, whom we had tipped well and fooled around with all night came up and took Pat's camera. She first took some pictures of us acting like she was offering a nice gesture, this was followed by her walking around the bar taking pictures of other party goers. No big deal, that might be good for our galleries.
The next thing we know she is bringing the camera to some guy and Pat watches as they remove the Compact Flash Card with all of the nights photos. Pat walked over to confront them and asked for it back. Long story short, the group of guys who had removed the card said they were police officers and that they wouldn't steal, but were now telling us we had to leave.
One guy started pointing at Pat and yelling "Listen you **## don't be accusing my friend of stealing" as he was looking very angry. Pat simply stood face to face with the guy and said, "I'm not accusing anyone, I saw him do it."
This went on for 15 minutes before I finally said "I either want my card back or the $75 that it cost us to buy it." This brought a whole new argument of us extorting them for money? After I heard them say they were Police one too many times, I picked up my phone and said I was calling 911 if we didn't get our card back.
Suddenly the card miraculously appeared and we were told it was found under our seats back at the bar. This was impossible since the card doesn't just fall out of the camera without a multi-step process to remove it and the photos the bartender took from around the bar are still on the card. I guess she thought that when she soaked the card in the tub of ice water, it would ruin our photos, but the dumb ass didn't know that the SanDisk Extreme Cards are waterproof.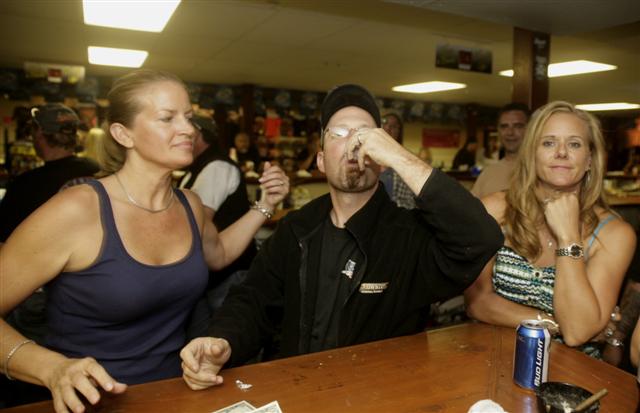 Picture Tammy took after she stole camera
By the time we got home, I was so worked up that I couldn't even sleep. I just couldn't believe that this had actually happened, all she had to do was ask us to delete the photos or not take photos or anything of that sort and we would have done it.
No signs were posted not to take photos and 30 other people at the bar took pictures too. Maybe because our camera wasn't a cell phone camera or a small point & shoot style camera, she thought that some of our photos would be too incriminating, but I am still worked up over the nights events simply because we had such a great evening up to this point.
I'm at a loss as to why the night ended up like this for a reason we don't know.
Friday August 7th
When I woke up this morning the first thing I thought of was the episode that ruined our night last night. I told Pat that if something like that had happened at my bar, then I would want to know about it, so I called the manager, Peter.
I know, I should have just let it go, who really cares about people impersonating a police officer or the bar employees stealing personal property from a customer and maliciously trying to destroy it? Well I did!
I spoke with the manager and he was shocked by the events that happened and said he wanted to get to the bottom of the situation and he would call me back between 7pm and 9pm when he could talk to Tammy, the woman that stole from us and ruined a perfect evening.
I felt better for making the call and I guess that's all that mattered since after that, I could let it go. I sat down at the computer to catch up on my blogs and even though I only had two days that I had missed, it seemed like my days went on forever.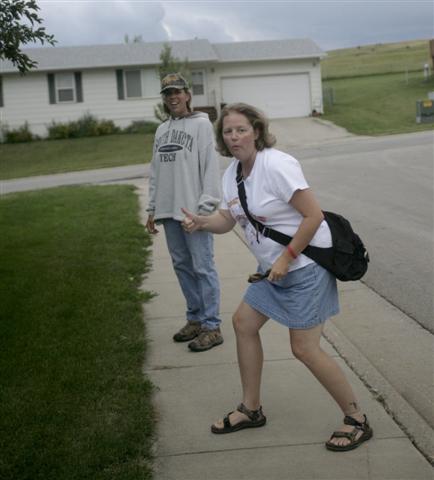 We had done so much in the last two days, it was hard to put it all in my blog without feeling like I was Charlie Browns teacher, "Wha Wha Wha Wha Wha." Pat wanted to go back to the Jack Pine Gypsies Pro Hill Climb today, and since I had so much to do, I sent him with the girls, Kym and Jana, to have fun for the day while I finished up with my typing.
It seemed as though I had been sitting for an hour when Pat came home. It was actually 4 hours and I was still doing my things on the computer. Not that I am that slow, but I made coffee, walked the dogs, made breakfast and all of that stuff that goes with keeping oneself comfortable since I had all day to finish this stuff.
When Pat came in he said "Ok, you have 45 minutes to get ready and we have to go to a photo shoot with Jana" Not that I minded doing that, it's just that when I had talked with Jana earlier, I thought the plan was for them to go straight from the motorcycle event to the shoot, leaving me to spend some more time on my blog.
I told Pat that I wasn't done yet and I was going to stay home which threw him into a childish tantrum. He hates when I won't go with him to places that he has made plans for, but sometimes I have other things that are more important to me.
Jana and Pat are both amazing photographers, I have never done any portraits by myself, on assisting Pat while he shoots them, so I would be pretty much useless on this shoot with Pat Assisting Jana. Pat protested and by the time all was said and done, I jumped in the shower with 15 minutes to get ready.
After I got dressed, I walked the dogs since Pat does not do that and I came back and asked Pat to give me some juice to dry my hair.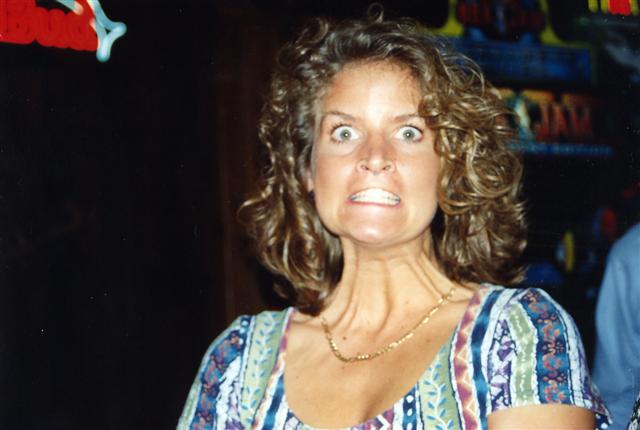 I look like a poodle in a wind tunnel when I let the wind do the drying, so I needed some major work just to be seen in public. Pat wouldn't give me the outlet that had power to it and said for me to just live with it. This made me so mad for him to first of all make me go, then rush me through the getting ready process, then not be of any help with the dogs or my stupid hair.
I think I called him a few choice words as he gave some great explicative thoughts of his own back to me. I reached across Pat for the plug and plugged the dryer in myself. I flicked the button to turn the thing on, ready to show him that I could dry my hair in the 6 minute time limit that I was allowed and I'll be darned if the thing didn't work.
Pat just looked at me and said "That's Karma, for you being so mean!" I took that as a sign that he was right and just put some goop in my hair, grabbed my get ready bag and pulled on my shoes, walking out to the car where Jana and Kym were patiently waiting.
I was hoping that neither of them heard us bickering and put on my happy face. By the time we got to the photo shoot, we were both smiling and laughing and our disagreement was long over.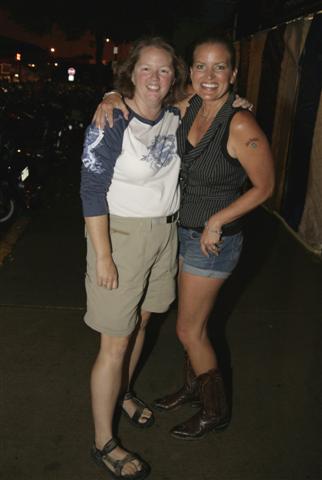 Kym and I never even got out of the truck, leaving the pro's to do their work. Why the heck did he want me to go so bad???
Kym and I talked the whole time they were shooting so I was glad that I went because she and I are like "peas and carrots." She was saying what a great guy Pat is and how "He's a keeper" which made me laugh as I explained the heated half hour before we got into the truck.
I said we are like the old cartoon with the sheep dog and the wolf, we can be fire breathing mad at each other, but as soon as we get around others, it's like we have clocked out from the argument and become the couple that we want to be.
I guess it's from years of working in the bar and having your front of the house face while being in front of the customers compared to walking through the doors of the kitchen and blowing up as to why the dish was made wrong, or where the hell are your wings you've been waiting 45 minutes on, only to turn around and walk back through those doors with a big, bright smile on your face.
We came back to the camper after the shoot, got ready for the evening and took off into Sturgis.
We all drove separate this time so that if someone got bored or tired they could head home. That never really happened this evening and the five of us had a super time. We hopped from spot to spot, people watching and swapping stories of old fun and new fun.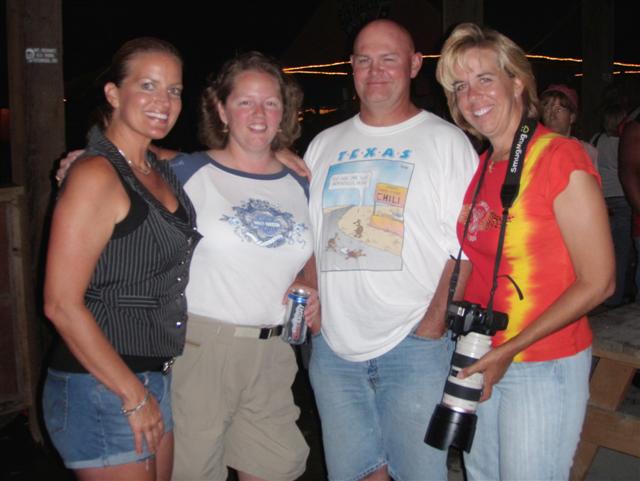 Tom and Jana are a riot to hang out with which we haven't had much time to do since we've been here. Once we got Tom loosened up, he was hysterical, Tom's the kind of guy that doesn't say much until he's comfortable with you. By this point in our friendship, the five of us are all very comfortable with each other and the night seemed to fly by.
Midnight came and went which brought us all to the hungry part of a long day. We all talked about corn dogs and pizza which sounded great but I just knew it was not what I needed. This afternoon when I went to pull on my jeans, I couldn't breath in them, I actually changed into my Fat Pants and was joking about having a baby.
It's amazing what 5 days of fast food, fast bikes and fast women (Jana and Kym) will do to you, not to mention cases of Coors Light! I can look back at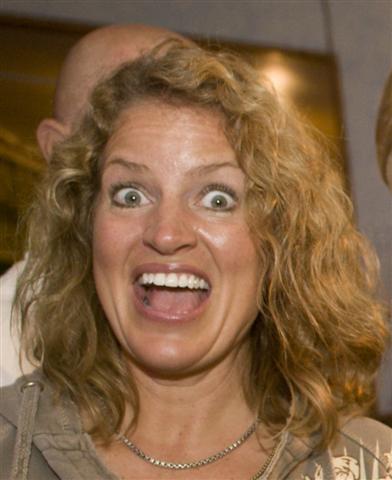 the photo's from this trip and see my eyes puff and my face thicken each day that we are here. That's pretty bad, or maybe it's pretty good because we sure have had some good times.
Our last stop of the night was at the Oasis Bar, which I loved, they had karaoke with talented singers, not the kind who ruin the melody like I usually do. People seemed to be having a great time, dancing and laughing and we were right there in the thick of it.
We bid our farewells to Jana and Tom since it was almost closing time and soon left the flashing night lights behind us. Pat, Kym and myself walked to the truck and talked for another hour before we took off our party hats and said goodnight to Kym.
I was lying on the back seat atop the dog bed which is raised, padded and way too comfortable for me to keep my eyes open any longer, so we said our goodnights before I was lights out and sawing logs.
Oh and we never heard from Peter, the manager at One Eyed Jacks, I guess his concern was not genuine when he talked with me this afternoon. He has bigger fish to fry on a week like this.
Make sure to visit our Sturgis Gallery where you can see all our photos from this past week at the Rally now that we've uploaded that gallery.
Saturday August 8th
Waking up this morning, I felt like someone had hit me with a cane stick from head to toe. My throat hurt, my head hurt, I think my ears even hurt. I knew that today had to be a 'do nothing day' which is exactly what we did.
I had to go grocery shopping since we we're down to eating mayonnaise packets which were left over from The Red Dog years. After spending 2 hours in the grocery, my next plan was to do laundry. That never took place because after I put away the $300 in groceries, I laid down and read for a while before falling asleep.
We got a phone call from Kym and I asked her to bring over a book that we had talked about the other day which I wanted to read. I straightened up the camper a bit and just as I was finishing, Jana came running up to the camper yelling "Storm Alert!"
She notified us that there was a huge storm carrying lightening, hail the size of golf balls and lots of rain headed just a few miles from us and Kym was on her way over to go chase it with us. We all got ready real quick and jumped in Jana's truck and sped down the road toward the interstate.
At the end of Jana's road was as far as we got before we pulled off to take photos of this spectacular event. I'm just going to past some photo's of the rest of our day since a long blog would not do it justice.
The beginning of the storm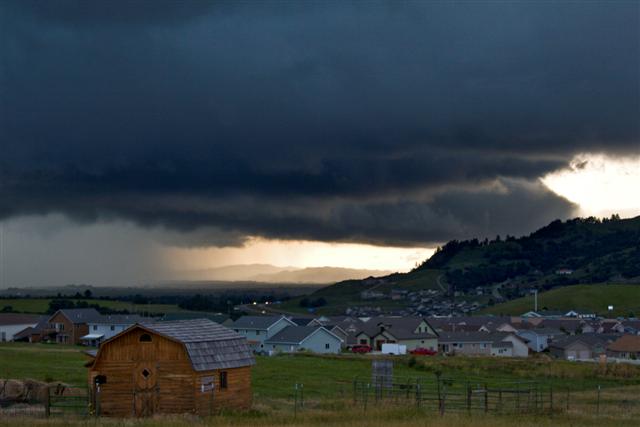 We can start to see the rain and hail coming down and the wind is picking up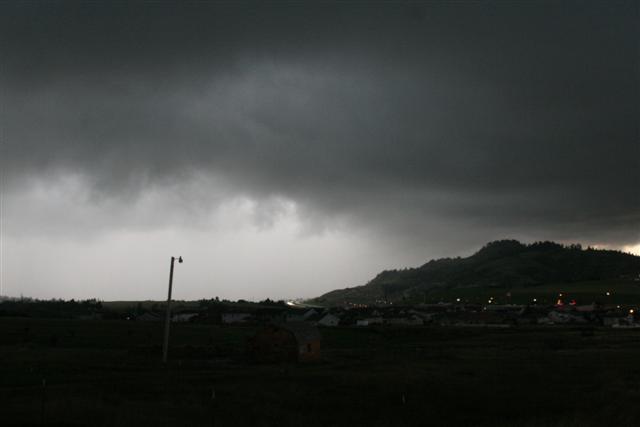 At this point the temperature has dropped 20 degrees and the wind is around 60 MPH, we can barely stand up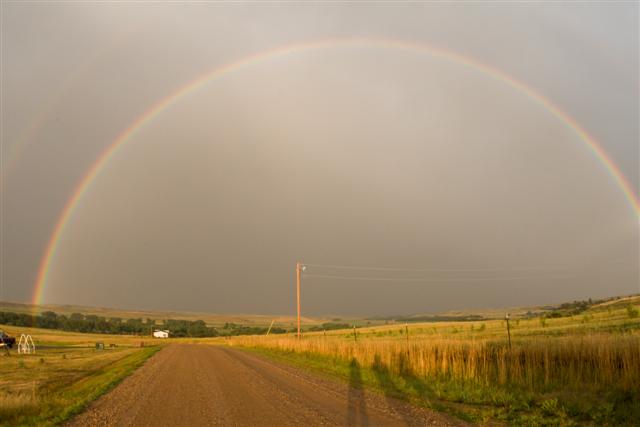 You can't really see it in this image but we saw a full double rainbow when the storm passed, the first time I've ever seen anything like it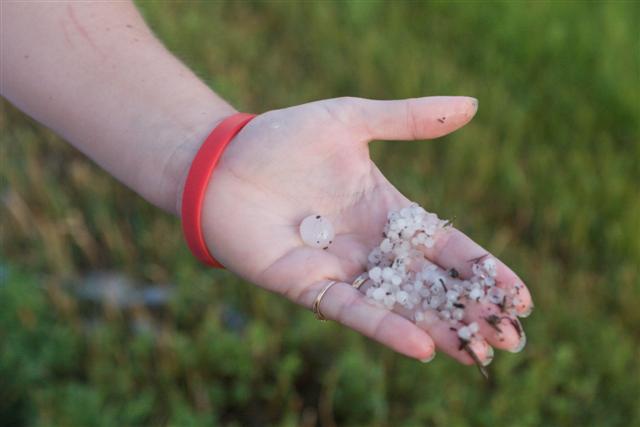 Some nice sized hail that we found an hour after the storm passed over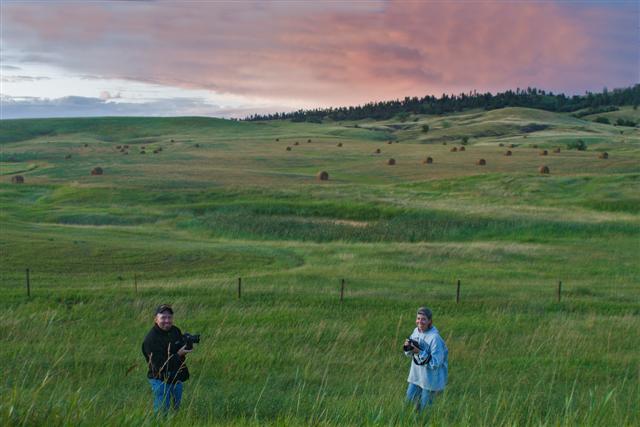 These two were so excited!! (Jana and Pat)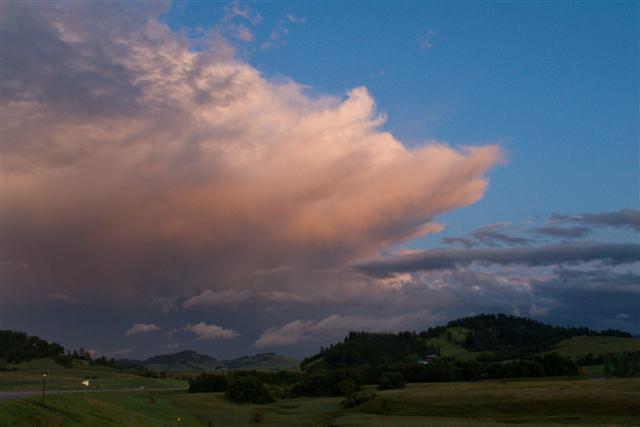 The clouds allowing the deep blue sky to reappear
Sunday August 9th
Today was the full recovery day which consisted of sleeping in until almost 11am, eating healthy, home cooked food, catching up by talking to family and taking lots of vitamins. My very strenuous afternoon was filled with two naps and two long dog walks, lots of reading and I was back in bed by 10pm.
I wanted to do a recap on my Sturgis experience. I would recommend it to anyone, once, since it is such a huge event with so much to see. I would also recommend that if you come to the Sturgis Rally be prepared to be ripped off by pretty much all of the vendors and restaurants in the area.
Our service was bad in every place we went into with the waitress at One Eyed Jacks stealing Pats $15 in change off the bar as we were confronted with the camera situation as well as the server at The Oasis saying we were buying $5 shots of Jager and it was actually fake Kahlua. When I asked her about the fact that she had just sold it to me claiming it to Jägermeister, she just shrugged her shoulders and said "Yeah, its Kahlua" and walked away.
The people that work these events are tired of tourists and most don't go out of there way to welcome you.
I never felt threatened at any point by the bikers, I did however feel like each and every place we went into, we were just a dollar amount walking in the door and the people that worked the festival would rip you off anyway they could.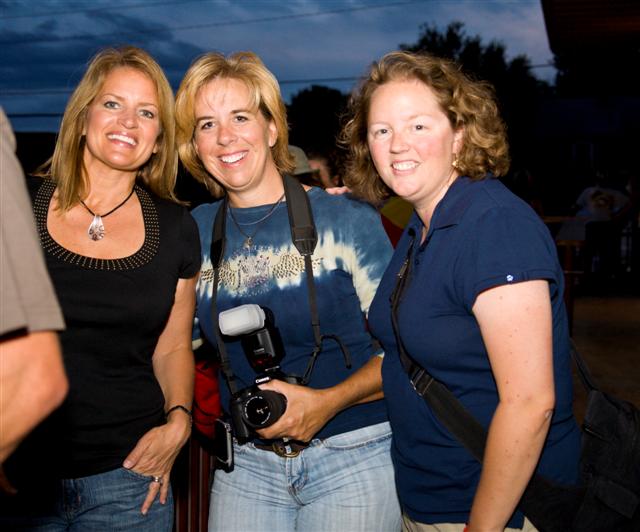 Me, Jana and Kym downtown Sturgis.
I know that is bad to say and I know that if we didn't have Jana, Kym and Tom to bring us to the best places and tell us what to expect, we would have only lasted one day here. I have never been to a festival where I left feeling like an annoying 18 year old on spring break, but this is the way the town treats people.
I am sure that when the rally is over, and the servers that have been shipped here from out of state, go back home, people get back to normal making Sturgis a sleepy little town with good people and better values than we have witnessed this past week.
So, what I would say is enjoy Sturgis, just keep ahold on your wallet and be very leery of the people who serve you. If you need a tour guide, I'm trying to talk Kym into doing this service for a fee which would be well worth it to anyone visiting this town on this crazy week.
Wednesday August 12th
This last week Pat and I have basically been getting plans ready for the fall. We are currently being pulled in so many directions and just not sure what we want to do when we grow up. I want to go somewhere warm for the winter and I think Pat would love to go to the North Pole.
I would love to go to Florida and stay the winter months there, get a job and save money so we can head out to the North East for summer and fall. Pat wants to go to Alaska. I wouldn't mind working as a camp host or something of that nature in the areas of Southern Arizona, right on the Salt River in the Tonto National Forest.
Keeping warm there during the winter months as well as enjoy the beauty of the surrounding Superstition Desert, Pat wants to go to Northern Canada! So you see, we are torn between where and what we want to do. I am enjoying these 90° days and humid temps in the camper which has been hovering around 85°! It's gotten to the point where it doesn't even bother me.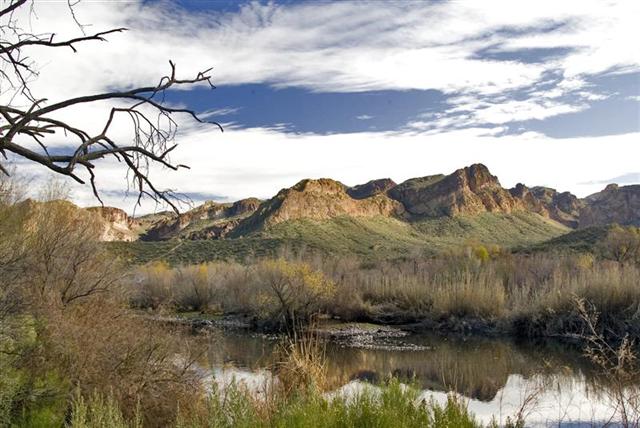 The Beauty of the Superstition Mountains with the Salt River Below
Pat is acclimated to the warm weather also, he's just always wanting to go places we've never been and most of them happen to be colder regions of North America. Today we got a phone call from the Yellowstone Association, asking if we would like to take a job there in one of their bookstores.
This solved our dilemma, since both Pat and I would love to be back in Yellowstone to see the fall season and maybe get a snow flake or two so we could capture some nice photos of the buffalo in the winter wonderland of the Park. This will only be a part time job, 3 and a half days per week, straight shifts from 9am to 5pm, and will give us more of what we were looking for while working in Yellowstone on the first attempt.
With that decision made and us having a time line to fill, we are heading out tomorrow to be there by Monday. When we told Jana and Tom that we were going to leave this afternoon, Jana insisted that we have dinner at her house before we go.
I always say that the hardest part about making good friends while on the road is saying goodbye. This always makes me sad and not want to leave after we have been with great people long enough to really get to know them.
Kym came and got me in the afternoon and I took a ride with her to bring a prop over to Jana for a photo shoot she was on. She came baring gifts of chocolate truffles for Pat and I and all I can say is "Yummy, were they good!" The ride was short but made me realize that in just a few days, she and I had become pretty close and I found that we share the same type of personality.
When she said goodbye, I got teared up and threw her out of the camper so I wouldn't break down and cry, I am such a baby. Pat and I enjoyed dinner with Tom and Jana, enjoying some cold blue mountains along with some grilled burgers and chicken.
I pooped the party early and headed for bed, not looking forward to leaving in the morning.
Thursday August 13th
When we woke this morning, Pat and I both got started packing the remainder of things up in order to move out. We are going to Douglas Wyoming to the State Fair to do a small photography job.
We are taking pictures of an event which involves a mechanical bull dressed up as a giant rooster that fair goers will try and ride. I am doing video....Yikes!, and Pat is doing photos. I have only used my video camera twice since I got it for Christmas 3 years ago since it was the older type that recorded on tape, and we have no idea how to convert it to digital to post on our site.
The subject matter of this shoot should be pretty interesting as well as the photos we get from it. Hey, a job is a job and any income is better than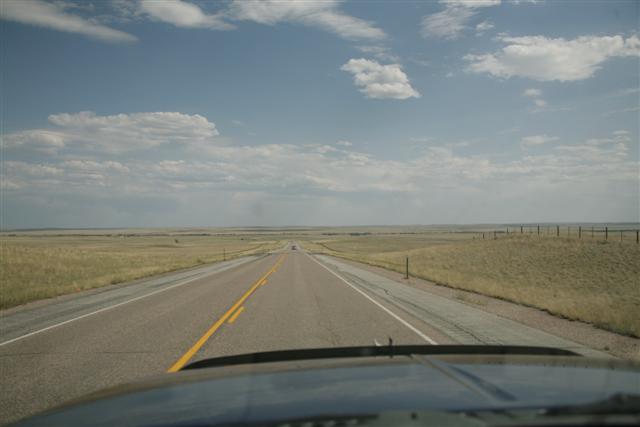 outgo, that's what I always say. We love to take pictures, so no job is too small.
Before pulling out of the driveway, we said another sad goodbye and a huge thank you to Jana and she promised she would come see us in Yellowstone before we leave for the season. I will hold her to that as well as Tom!
After a long day of driving with no sleeping, since Pat refused to let my eyes close, we finally arrived at Douglas. The drive was long and uneventful with a whole lot of nothin' to look at on the way, thank God for NPR on the satellite radio!! We did make one stop in the town of Bill.
This town consisted of a store/bar/post office on one side of the road that looked like it had been there since the 1800's, and a huge, brand new hotel with a dinner on the other side. That's it! I think the hotel is for the miners since on the East side of the road was a coal mine which stretches for over 100 miles along the Douglas Highway and who knows how deep it plunged.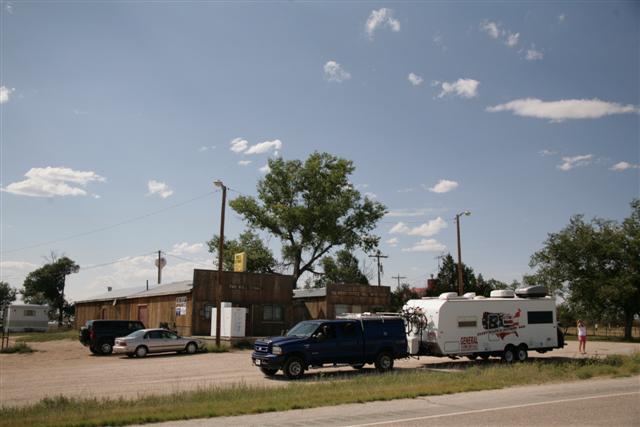 The Thriving Metropolis of Bill Wyoming
A few miles from Bill is Douglas, a bigger town with more facilities available. We found the State Fair very easily and also found a campground since it was 96° in the camper and the dogs just couldn't take it. There were some issues with the dogs not having a current health exam. They said we had to take them to a vet to get them checked which was 50 bucks for each dog since the vet closed a half hour earlier and it was now After Hours.
Forget that, we aren't making enough of this job to pay for a camp site and 100 bucks for the dogs. We turned around to go to the local KOA campground and noticed a few campers parked in a little city park on the side of the road. Pat turned around and this park had a sign posted that says overnight parking ONLY!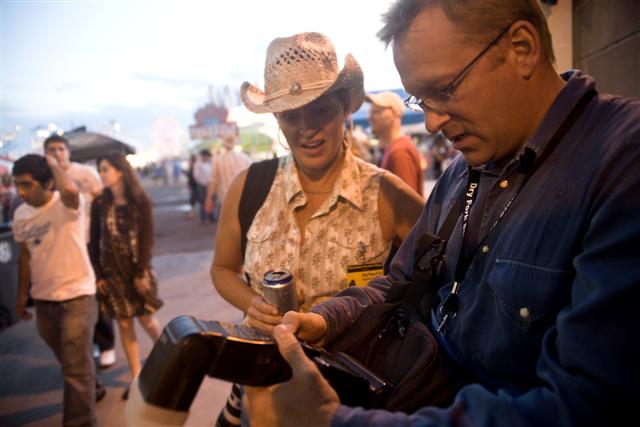 Yee haw, full bath and showers, beautiful shaded park right along a river and it's FREE, can't get much cheaper than that. Gotta love towns that offer free city parks for the weary traveler....Thank You Douglas. Just as we got settled in, Pat's phone rang and it was Wes Mostaert, a fellow photographer that we had met in Cheyenne. He had seen our rig driving down the road and called and asked us to go to dinner with him.
He got us some press passes for tonight's rodeo and when it was over, we all went out for some awesome Mexican food. Wes is funny! He is a single guy who has full custody of his 10 year old little girl. He travels around just as we do trying to earn a living off of doing what he loves, photography.
He lives and works just a few miles from here in Casper, so his travel area is not as big as ours is, but he's traveled and lived all around the world it seems from the great stories he tells. Great guy and he kept us laughing with hysterical stories while sitting in his vehicle for an hour after dinner. This world keeps getting smaller and smaller the more we travel, it would be so nice to have a good friend in every state that we visit.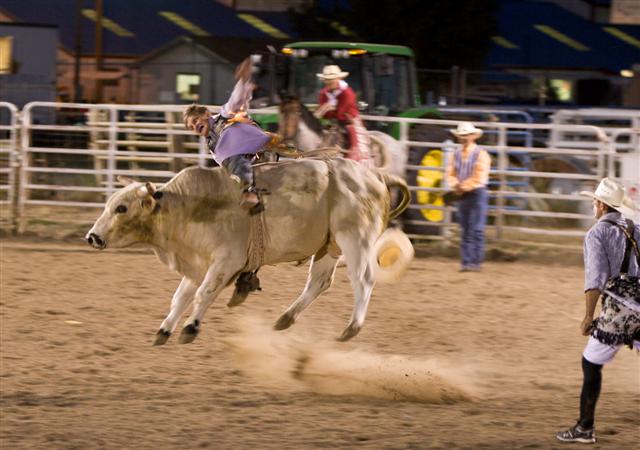 Why Do we keep ending up back at Rodeo's? Is this a Sign?
So far so good, we find that every where we go, we find people that change our lives in some way or another. It might not be monumental and we might not even realize it until months, even years later. So many times I have looked back and drawn upon the thoughts and opinions of the people that we meet on our journey and it warms me to the core.
This is what our lifestyle is all about, meeting as strangers, stepping into their lives and parting as good friends.
Friday August 14th
This has to go down in history as one of most unusual days ever. As I said in our blog yesterday, Pat had picked up a gig through Craig's List for taking pictures of people riding a giant Rooster? Now how Austin, the keeper of the extra large Cock, (I had to say it just once!) thought up this idea is a mystery to me.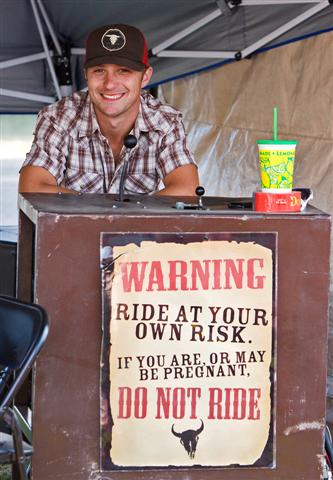 Austin is a real nice guy in his 20's, maybe 30's, but the older I get, the younger everyone else looks so who knows his real age. He said that he came up with the idea and had a seamstress build his mechanical bull a rooster suit. He Velcro's the huge suit backward on the mechanical bull and on go the riders.
Austin said that it is hard for him to run the mechanism since the remote levers are the opposite of what he is used to. When we first met Austin we chatted for a while and found out that he had just spent a week at the Sturgis Rally just as we had.
He spent his time in the Buffalo Chip which all evidence we heard said that the place was crazy...off the hook. Austin reassured us that it wasn't, saying that he was the biggest partier in the park and he's not even a wild man. He said how glad he was that he didn't pay for the Aerosmith tickets and that the attendee's were about to start a riot when the show ended early.
Apparently there was no opening band like I had thought, so when Steven Tyler fell off the stage after 20 minutes, that was all the entertainment they got. Considering the fee for this was a non-refundable $110 the crowd was like a stuck hornets nest, all abuzz with uncontrollable anger!
His opinion of the event was the same as mine, a bunch of Carnies, trying to rip people off. He told us stories of people trying to rip him off also, which reassured me that my two trips to the bike rally, my first and last, will be it for me.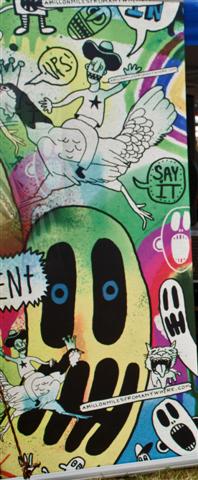 After talking for a few minutes Pat, I realized what the Ragin' Rooster attraction was for, and why the Raging Rooster was at the State Fair.
In 2004, Wyoming youth in the target age range (10-24 years) had a suicide rate of 10.63% per 100,000, compared to the average rate nationally of 7.32% per 100,000.
This represents a significant decline from previous annual suicide completion rates for Wyoming youth. Suicide is the second leading killer of Wyoming youth aged 15-24, accounting for nearly 25% of all deaths in that age range. Among all Wyoming youth, males and particularly Native American males are at far greater risk than other youth to die by suicide.

The state of Wyoming has implemented different programs such as www.amillionmilesfromanywhere.com, to bring attention to a suicide hot line, if you will, so kids this age will have someone to talk to either on line or other resources that are available to them. Public awareness is only one of the resources they are drawing from and have also implemented mandatory school programs for early intervention.
After talking with some of the locals they speculate that most of these completed suicide attempts are on the Native American Reservations, one fellow telling me that it is a Right of Passage to pray to their ancestors and then take their own lives.
Pat and I had a great time watching the kids and adults ride the Ragin' Rooster as well as get information on the web site that the state is trying to promote. I figured that I had to ride the thing since I had just read a book about how to ride a bull, making me a semi-pro.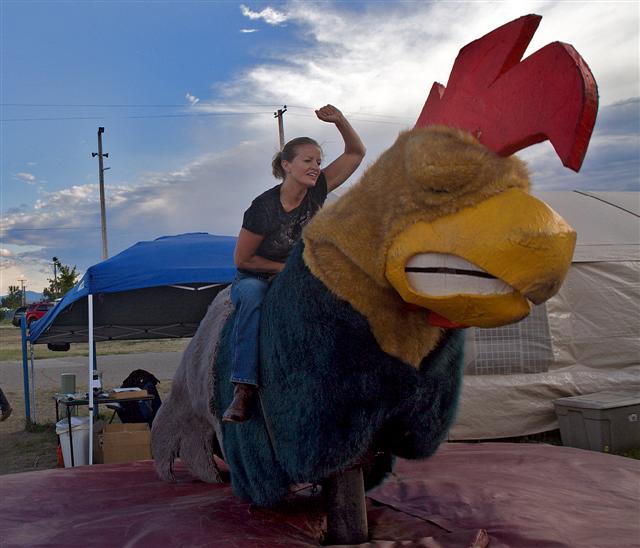 I lasted for about as long as Austin wanted me to ride the thing at which point he spun me off then attacked me with the tail end of the rooster. I had fun and wanted to have a do over until more people showed up. Pat wouldn't get on it even though I tried to convince him how great he would be.
A thunderstorm and some lightening quickly blew into town so we all packed up and took cover. Pat and I went to the camper so I could grab something to eat real quick before we met up with Wes again when he was done shooting the rodeo. I feel like I have gained 10 pounds in the last two weeks and the last thing I need is a deep fried corn dog or maybe an elephant ear, it sounds good though doesn't it?
Wes came to pick us up after he was finished with the rodeo and we all went out to a place called The Watering Hole. I love to have company and would have rather just invited Wes in but our place is just too small and not a whole lot of fun to sit around in.
On our arrival to The Watering Hole, there was only one seat left at the bar and the place was pretty full. I grabbed the seat and the boys stood and talked shop while I people watched. Eventually my neighbor Lloyd struck up a conversation with me and he and I talked for the rest of the night.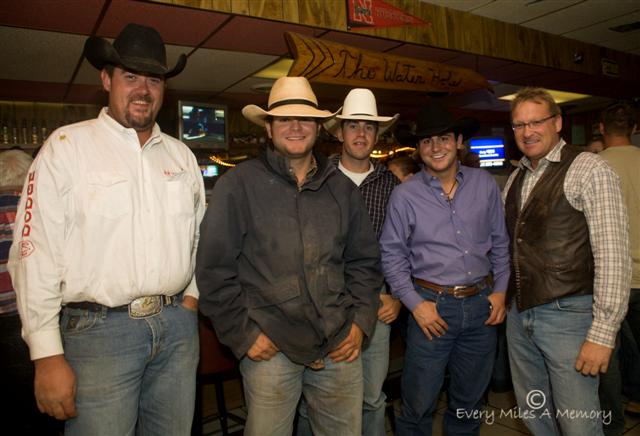 Pat and Wes were rubbing elbows with the riders and the livestock providers, literally since the place got so crowded while Lloyd and I spoke about all sorts of things from political views to family life to history in Wyoming. Lloyd and I discussed the suicide rate of teens in Wyoming and he said that he had lost a brother in his early 20's to suicide.
His explanation is the wind, stating that the wind here gets so aggressive in the winter time, blowing 60-80 miles per hour on most days. He said that people stop going outside and just get depressed enough to end their life. I also looked this up on line and did find some info on why Dr's think that this could be a major factor in depression here in Wyoming.
After talking for 2 or 3 hours Pat finally walked up to me and said, "Let's go" which woke me out of my solitary conversation. When I looked around this place was so packed, we could hardly move to leave. When we got out to the car Wes apologized for leaving me at the bar with a complete stranger.
I actually thanked him for leaving us to our own thoughts and appreciated the time I had with this gentleman. Lloyd is 54 years old and has a son that is one year older than my daughter. His wife passed away in 1998 from liver failure and he went a bit crazy for a while, becoming a hermit and living in the woods on his own for 3 years.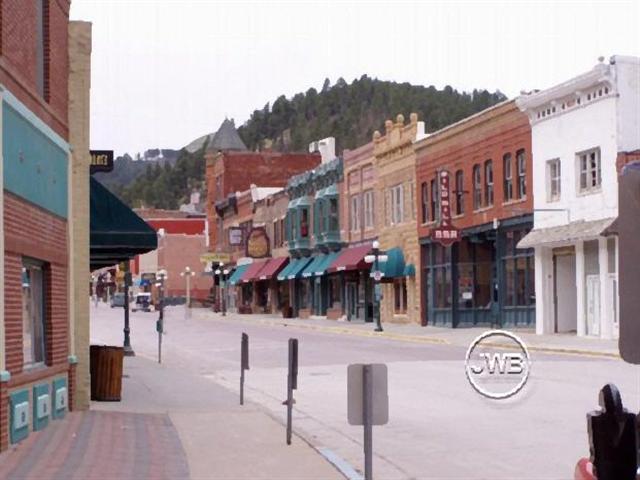 He was then forced to come back to civilization by the passing of his mother and his aging father needed help to get around. He has had bouts with depression and drug abuse but has come out on top of those situations. He told me stories of Deadwood, his childhood stomping grounds, where he lost his virginity in a cat house on main street at the ripe old age of 14.
He got his college education in Rapid City where he lived in a morgue which paid him 20 bucks a week to be the night watchman. He has worked in trades most of his life but his main passion is American History, that part hooked me, we discussed areas for Pat and I to go to and enjoy the early years of the settlement of the West.
I wish I had a pad and paper to write down all the places he told me but, when it comes to history for some reason my memory serves me just fine. When Pat and Wes were ready to leave, I was a bit disappointed because I knew there was so much more to this fellow that I could learn from.
Oh well, thanks Lloyd for your time and knowledge you shared with me, I appreciate it. When Wes dropped us off, we said our goodbyes and thanked him for all his hospitality. Strange thing though, with Wes, I don't think this will be our last meeting. Something tells me our paths will cross again soon, just like it did here in Douglas.
Saturday August 15th
We woke this morning to some chilly air that brought the dogs in bed with us about 4am, both shivering, wishing they were under the covers with us instead of just wearing a thin fur coat. The wind was blowing pretty bad and I could smell rain in the air. Ok, that was a lie, it just sounded better than small rain drops were hitting me.
As I walked the pups around the park, a group of women were setting up for a party. They must have had 20 long collapsible tables which they had to anchor down to keep from blowing away since the wind gusts were so strong. As soon as Pat got up and saw the park being set up, he thought it was time to go.
Pat was talking to a fellow who was working the party and they said it was for the big wigs that had donated time or helped with the fair this week. We both thought it was funny that as we were pulling away, we saw our neighbors, that we had given 20 lbs. of dog food to, had jumped in the food line.
I said to Pat, "OMG! Look at there plates!" They had more food on their plates than I could eat in a day, and I eat alot! I guess I just don't have the courage to be a party crasher. As they walked through the line, everyone in the party was nudging each other with a curious look in their eye.
We pulled away and hoped they enjoyed their lunch. As we drove West toward Yellowstone we got a phone call from Wes saying that he would like to take us out to breakfast and have us meet his 10 year old daughter. Wes lives about an hour from Douglas in a town called Casper.
He recommended a place called The Natural Bridge to us and we would call and meet up after we visited the attraction. Great suggestion by Wes, because this place was awesome. Unfortunately we had to hurry through the park because there had to be 10 signs, beginning 5 miles from the place, that say "No Dogs Allowed!"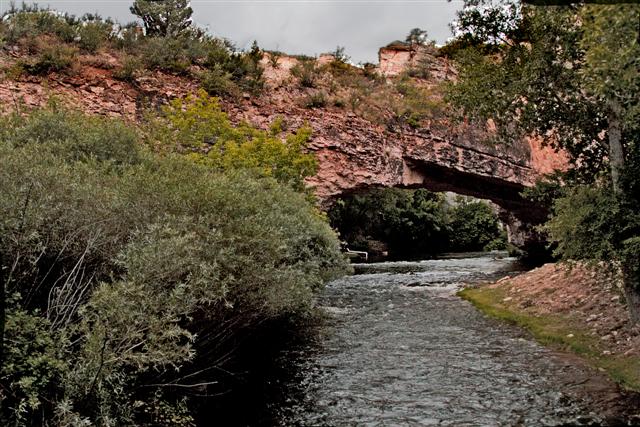 Not that we were going to take them out of the vehicle, but they couldn't even be in your car or it was a $100 fine. We kept the dogs in the back seat where the windows are tinted and ran around the park real quick.
This is when I got yet another earful from Patrick about how MY dogs don't allow us to do anything, BLAH BLAH BLAH BLAH BLAH...... That's actually what I hear now, after this length of time, it seems like he would just get over it. He's such the typical TV dad, like an Archie Bunker if you will, except his political values don't make him a jerk like Archie's did.
And I am Edith...NOT! You will never hear me say, "Oh, Patrick" after one of his rampages, I will give it right back for a few minutes and then it's "Hey look there's corn!" Done and over, love it.
We met up with Wes and his daughter for brunch where I had to sneak the waitress our debit card so Wes didn't pay again. We sat for a couple hours until we said goodbye for real this time. Yesterday, I knew our time was not finished but today was a bit more over, like we were breaking up.
The beauty of our relationship with Wes, Jana, and Kym is that we are all on Facebook and we can still chat everyday and we pretty much do. We followed Wes to our favorite grocery store and stopped for the night. We are sort of waiting on some news which will be life changing for the four of us, dogs included.
Not knowing what our future holds is pretty much the norm for us, but this time we are pretty excited. If it works out, great, if not, well we don't have any regrets in our lives up to this point and we have tried any and everything that we have ever wondered about. If it doesn't work, out at least we put our best foot forward.
My evening was filled with prayers, asking God to give us the go ahead, or the no go sign, so that we could focus on something else but, I went to sleep saying prayers since we had no new news. The crazy winds sort of rocking me to sleep like I was in a 25' bassinet.
Sunday August 16th
Rise and shine and ready for a new day. After the extreme weather we had last night, it was good to wake up to a clear morning. I don't see how any storm could have hung out for long since the winds were blowing at around 60-70 mph all night long.
After reading Pats blog from today, I thought I would give a day in the life of Patrick Bonish to all who are wondering what he's like to live with. A friend of ours was joking and said, "No offense but if Cindy was the wife of the Rubik's cube inventor or the Pet Rock genius, none of us would have ever been graced with those inventions."
Well, this might not be true, since I do love great, different ideas and would try to implement any and all that are monetarily feasible. However when you ride in a vehicle, hike, bike, shower, eat sleep and drink Pat Bonish, things get a little monotonous.
For instance, on our drive yesterday, Pat invented in his head a new type of motorcycle, a camper that will allow the owner to carry a vehicle on the top of it, a new wind turbine that runs off the wind while your driving without creating a drag on your momentum (I do like this one), a camera bag that looks like a gun holder, a backpack that can triple as a photo bag and a dog carrier, repopulating Arizona with foxes that we raise, Pat and I hatching Sea Turtles and protecting them until they are old enough to survive then releasing them (we live in a camper in Wyoming?), growing a garden on top of the camper and having a cover that keeps the food safe while traveling.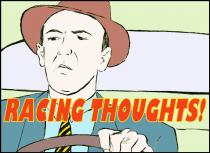 This is one day of thoughts in this extremely intelligent mans mind. So you see when he says that he is the dreamer and I put it together on paper to explain the costs, fees, income, legalities, (reintroducing species?) and man hours that will go into his projects, I am not Dora the Downer, I am just the numbers guy and look at the long term gains and losses to figure out which of his ideas will be workable.
Anyone that knows Pat has either worked with him on building something for us, welding something for us or brainstormed with him on ideas that he has thought up. There are so many hand drawn pictures of new building designs laying around the camper and the truck that I don't know how he keeps up with all of these things.
They are all good drawings and pretty much to scale since he went to school for architectural drafting. We will be driving and he will say "hold the wheel", he will then pick up the trusty pad of paper that is always next to him as well as his drafting pencil and draw something really quick. He will then say, I just had to write that down so I didn't loose that idea.
Sometimes I think I'm married to that guy from A Beautiful Mind, just toned down a bit. Anyway, that is "A day in the life of Pat Bonish" my always thinking, ever dreaming husband that I wouldn't trade the world for!
Monday August 17th
A fun filled day today was had by Pat and myself. We found a little pull off last night right along the Greybull River which runs trough Meeteetse, a town holding keys to many memories of the Old West. I got up early and took the dogs for a walk through the side streets of the 1880's town and just stopped in the middle of the road sometimes, starring into the old log cabins, wondering what these walls have enclosed for the last hundred or so years.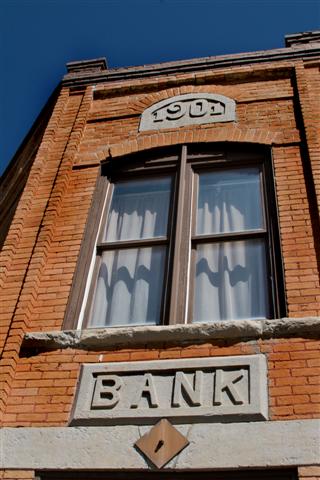 I love history, any kind of history from anywhere in the world. History was the only class I ever liked in high school, my History teacher tried to really push me into becoming an Attorney. He said that my debating skills and my ability to recall exact dates in history would make me a shoe in for the lawyer's world.
As you know, that was not the path I chose since I am now gallivanting around the country with the love of my life, looking for new adventure wherever we go. I came back to the camper and got Pat started with his daily cup of coffee which he now requires in order to wake-up.
Man, he became a junkie real quick, asking for iced-coffee in the afternoon, coffee with dinner and all kinds of crazy stuff. Since he was a non-coffee drinker for 35 years, it comes as quite a surprise to me, his new found respect for the brown liquid.
We headed into town and walked down Main Street while taking photos of the great places where Butch Cassidy, Tom Horn, Calamity Jane, Buffalo Bill and many more have strolled into, sharing drinks and gun fights oh so many years ago.
We came to the outdoor museum and I had to take a picture of the old "Campers" which the ranch hands used. It looks just like the size camper that Pat wants to go to in order to save fuel. The indoor museum was what I really enjoyed.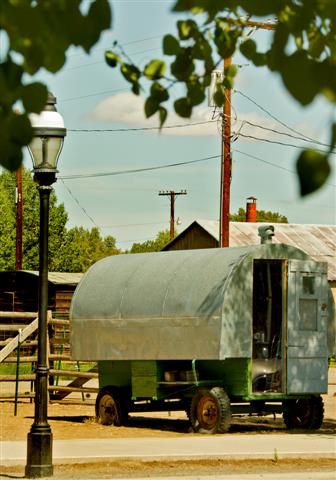 The place was filled with photos from an era which I have complete and utter respect for. Blazing the way to a whole new world, undiscovered yet by the New America. Gosh, how hard would that be to move to a big plot of dirt, plot the thing out, travel back home on horse back to sell your homesteaded property in order to start a brand new community.
Courageous people, fighting the animals and the elements to get there community started. I can't even imagine selling a piece of property now with out a realtor! We said good bye to Jim, the owner of The Cowboy Bar, and bought one of his books so I can learn more of what his town was filled with.
Our road trip to Yellowstone just keeps getting longer and longer. Pat had to stop on the side of the road and talk with a gentleman for an hour about his camper which I made the mistake of pointing out to him. I did receive a phone call however from our prospective life change and am not sure which way my prayers are being answered at this point.
We will keep you updated though when we find something out for sure, hopefully within a week or two. We continued on into Cody and Pat suggested we stop at the Buffalo Bill Historical Museum for a quick look around....not going to happen. Using the words 'Quick' and 'Historical Museum' in the same sentence for Pat and I is just silly.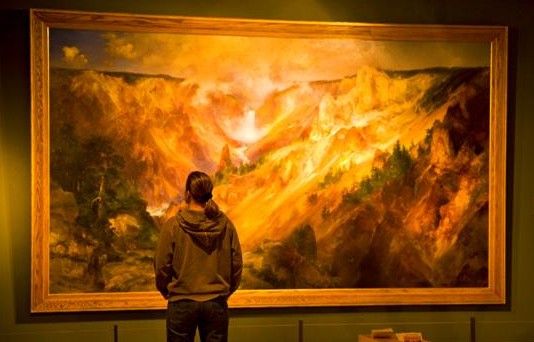 What an incredible museum filled with great art works from the likes of Thomas Moran, who helped make Yellowstone a National Park. I told Pat that I had seen many of his paintings in a book and was not really impressed with them, but when the oil is on a canvas the size of our camper, it is phenomenal.
I know no art terms to make me sound smarter or more knowledgeable about paintings, but all I can say is I felt like I was at the spot he had painted because of the lighting in the paint and the depth of field which the eye could see.
These original art works were something that I could study for hours if only we had the time. The gun collection and the history of the guns being gifted to Buffalo Bill were awesome. I got a kick out of two guns being donated by Dick Chaney, saying to Pat that I wonder if the shotgun was the one that took out his friend on their hunting trip.
There are 5 branches to this museum, all filled with memorabilia and historical items that are priceless. I really enjoyed the Native American exhibit which made me sad in a way. I told Pat that in our world right now, I feel like we are the Native Americans. We keep offering help and refuge to incoming foreigners who we befriend and teach our way of living and do it with open arms and only good intentions.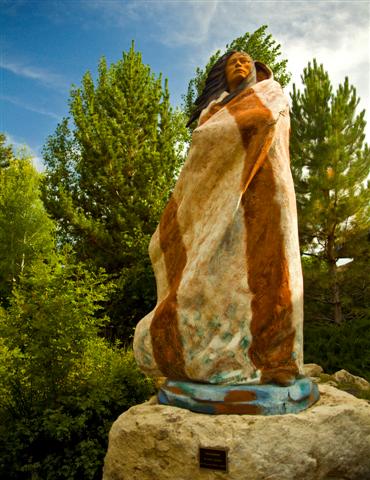 I feel like soon, we will be the minority and will be forced to become a different heritage just as we forced the Native Americans to do so on their Native Lands. Its such a scary thought because I feel like it is happening everyday, right in front of our eyes. The sad part is the government is implementing all of these guidelines just like they did with the Indians.
Dont get me wrong, everyone except the Native American Indian is a foreigner in North America and I welcome anyone who tries to make a better life for themselves in our great country, it just worries me that our government makes it so easy for them and we cater to them so much, that I see the same thing happening to us Americans that happened to the Native Americans.
When the security finally kicked us out of the museum, we made a few more stops before we go into Yellowstone for the next 6 weeks. Wal-Mart for food, gas station for diesel and propane were three things that we didn't want to pay over inflated prices for once inside the park.
By the time we got done with all of this, we had dinner and then some shut eye before our journey into the park tomorrow. I keep praying that we will hear from our friends about our invitation to do business with them at least with a "Yes" or "No" answer, either way will be just fine, but knowing would put my mind at ease.
Oh, I forgot to mention that when I was coming out of Wal-Mart, Pat was talking with a gentleman who greeted me by name as I walked up. I thought that was weird until he explained to me that he has been following our web site for years.
Ivey lives in Georgia and is here in the West on vacation. I love it when this happens!! He and Pat talked for a bit while I put away groceries and listened to their conversation. He gave us an open invitation to stay at his place whenever we wanted and as long as we wanted. What a nice guy, offering his home to people you have just met.
He says he feels like he knows us after reading our blogs for so long, that makes me feel all warm and cuddly inside! He also said he loves our photography and says it gives him inspiration to go out and travel.
Wednesday August 19th
Our first day on the job and officially back at Yellowstone. When I got up this morning the camper was a crisp 51 degrees! No wonder the dogs wouldn't take no for an answer when I wouldn't let them in bed!!
I had forgotten how low the temperatures get here at night and how chilly the mornings are. This makes for some good sleeping though when it is a bit chilly. I am so wrapped up in blankets, the only thing that is cold at night might be my nose or some other body part that has managed to wiggle itself out from my cocoon I'm sleeping in.
I finally got a chance and the urge to do some drawing today, outside on our picnic table, which is a luxury compared to our old camping spot. No mosquitoes this time of year and even after it got into the high 70's, I didn't see any of the biting flies!!
I spent the afternoon making some home made chicken soup as well as some cream of mushroom so we will have some healthy, hot stuff to warm up real quick in the coming weeks. Our first day at the Yellowstone Association Bookstore began at 1:30 this afternoon.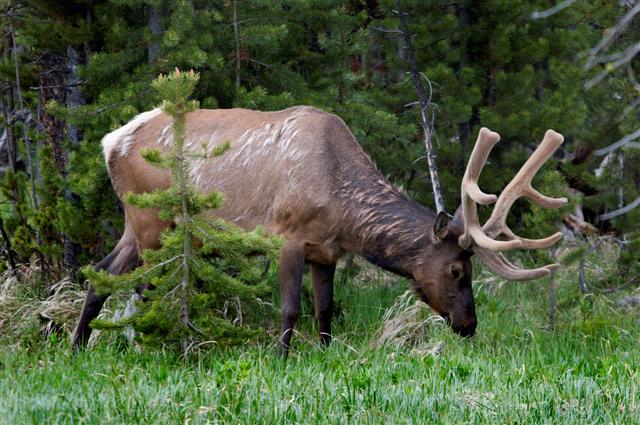 We are training in Old Faithful, but will be working in the West Thumb bookstore. Since Old Faithful is 23 miles from us right now, we rode on the motorcycle to save some gas money and enjoy the views. On our way there I saw 5 big Elk on the side of the road foraging through the weeds close to the road.
Winter is coming quick for them now, so eating is all they think about. I really am excited about the snow falling since we won't be working as much, we can get out and photograph the wildlife covered in the white fluffy stuff. It snowed a little bit when we were here in June and July but never enough to stick, at least none while we had time to photograph.
I think the bookstore is going to be a much better match for what Pat and I had in mind for this area. I'm going to have to learn a bunch more about the park though. Usually if someone has a question, I can just refer them to Pat, my directions guy, but I will be working by myself, so I need to know all of these thing too.
I am not familiar with this end of the park at all, heck who am I trying to kid, I get lost taking the dogs for a walk around a square block!! I am hoping that I can at least direct someone to the Ranger Station when I can't answer their questions.
We wrapped up our first day on the job and rode the motorcycle back to the camper. I am so quiet right now which is so unusual. I am praying everyday for patience so I can wait to hear back from the people about our inquiries either one way or another, so at least I can stop thinking about it.
After some chicken soup for dinner and a bit of reading, it was lights out for Cindy so I can be ready for our second day tomorrow.
Thursday August 20th
Our second day of training reiterated that Pat and I really like our new job. The hustle and bustle of the restaurant is not there and the grumpy people waiting for service is not there either. We had finished our second day of training and had hopped on the motorcycle when I got a return phone call from Shyam.
Shyam had contacted us a few weeks ago giving us a heads up on his trip out west from Chicago. He had been following our site and had a few questions for us about his trip and wanted some recommendations about some places to see in between. Shyam also wanted to see if Pat could give him some help with his new camera settings as well as take some family photos and sort of document his trip to Yellowstone for them.
The beginning of our email conversations began as a business dealing, we would spend a day or two with them and take some family photos, candid shots while hiking or doing normal stuff and they would pay our fee of $200 a day plus expenses.
The more we talked over email and such, I told Pat that I didn't feel right about that and we were becoming more of friends then business acquaintances. We had met so many people this way and would do this for anyone that we meet and become friends with, so Pat and I agreed that we just couldn't charge friends for this service.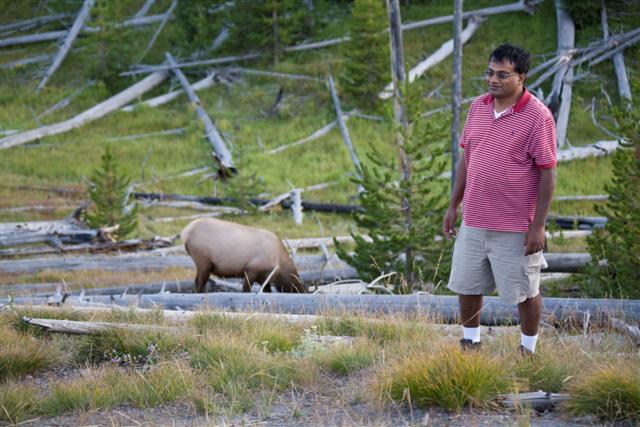 Pat and I were on the motorcycle when we pulled up to Shyam and his family, who were stopped on the road a few miles out of Old Faithful looking at a Bull Elk with a full rack. I don't think they recognized us because everyone sees photos of our truck online. Shyam had his 2 daughters, his mother, father and brother on this family vacation which really added to our new friendships.
After our introductions, we went to The Lake Inn to grab a beer and they wanted to buy us dinner and everything. I didn't want to impose, so Pat and I got to know everyone until dinner came which we then excused ourselves, making plans for an early day tomorrow.
Pat and I rode a few miles home on the bike, grabbed a quick bite to eat, then turned in for the night, looking forward to our day tomorrow.
Friday August 21st
We arrived at Shyam's place about 6:30am to everyone sleepily moving about the camper, getting ready for the day. Shyam has two girls that are very pretty and extremely smart. When I asked his oldest daughter, Priyanka, what she liked to read she told me that she no longer enjoyed childish story books, and she much prefers fiction or anatomy books instead.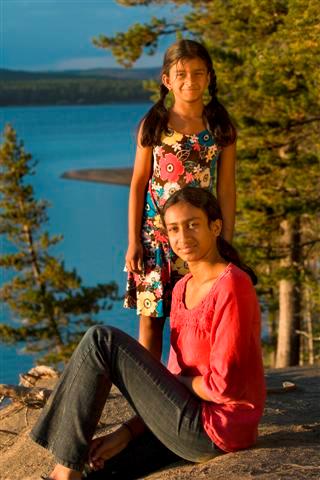 At age 13, I think I enjoyed playing tag and touch football. I don't think I read a book, unless I was forced, until I was in my 30's! Pat and I were treated to Aruna's, Shyam's mothers, Chai Tea before we headed out for the day.
Pat drove in our truck with Ram, Shyam's brother and I rode with the rest of the family in Shyam's Escalade. Whenever I first meet people I am sometimes a bit shy for around 30 minutes or so, I have to admit that I was a bit nervous about being in a vehicle with complete strangers and having us come from completely different cultures.
That lasted for around a minute or so when everyone in the car started talking and having fun. Shyam and I sat in the front seat and talked about everything from politics to family history. The long ride through the mountains and the valleys was not filled with wildlife as we had all hoped. Shyam had already been here for two days so they were sick of seeing grazing Buffalo and they were really looking for some other types of animals.
They are just like us during the first part of our stay in Yellowstone, each and very animal gave us the urge to stop and photograph them. After a few days we were much more selective. No buffalo, only Elk with a huge rack, no ground squirrels, no Deer, we have plenty in Michigan and we were always on a hunt for the ever elusive Grizzly.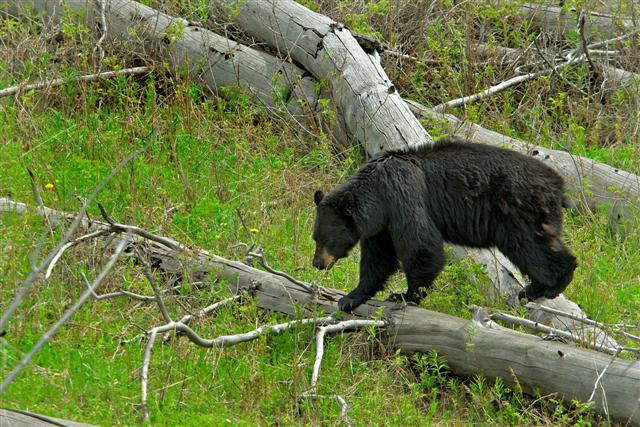 I asked Pat to take us down the only dirt road that we know of in the park which is right beside Petrified tree. Every time we have been here, we have seen either a black bear or a grizzly and we were hoping to have the same luck today. As we reached the end of the 6 mile trail the girls made a wish to see a bear and sure enough 3 minutes later, a black bear on the side of the road.
After all of the excitement of finally seeing something besides a buffalo, we headed toward Cooke City. This isn't a spectacular place but it was close and all of us were hungry and tired. I could tell that Shyam was just about to dose off while driving which kept me wide awake, a challenge in itself. We shopped for a bit in this small town and then had a great lunch at an outdoor dinner.
Shyam cracked me up when his two girls were terrified of all of the large bugs flying and landing around us. He made a sarcastic comment like, "I'm surprised they will even go camping with me since they love bugs so much." On our way back I knew Shyam was going to fall asleep so I volunteered to get back in the truck with Pat and Ram drove the family back across the mountains.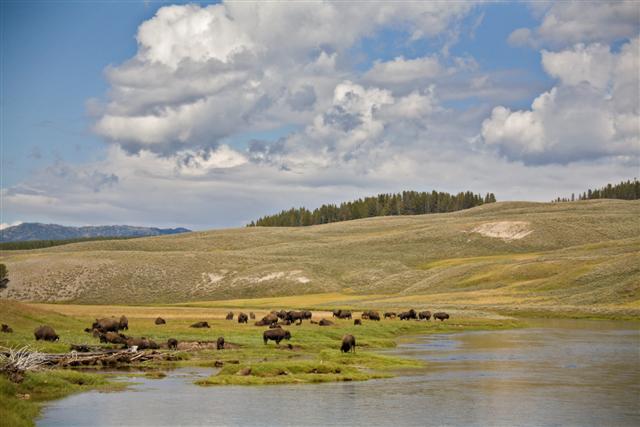 Pat pulled over once to see if they wanted a family photo, overlooking a valley filled with buffalo and surrounded by towering mountains. When he walked over to their vehicle, everyone was asleep except for Ram.
When we got back to the Shyam's camper, we planned an evening rendezvous for 6:30pm, that would give us all some nap time and also give them shower time before we would get some family photos. Pat passed out as soon as we got back and I got some laundry and dishes done which I have been neglecting for a while.
When we met up again, our photo shoot went great. Aruna, looked incredible in her Traditional Indian dress called a Sari. I have to say that I was so impressed by how the boys treated the family. The women of the family are very special to the men and it is very obvious how important they are in their lives.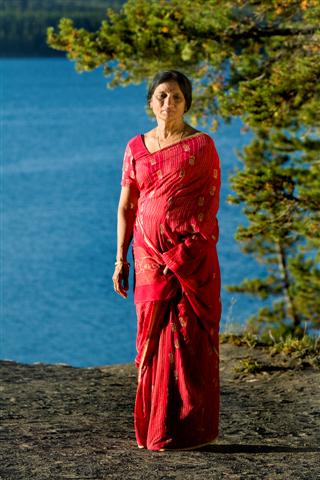 I am so glad that we had the time that we did with Shyam and his relatives, they made us feel like part of their family from the moment we met. I know they had a great vacation because all of them laughed and joked the whole time they were together.
What a special thing to be able to have three generations together at once on the trip of a lifetime. I think if more families could spend time together like this, this crazy world would be a much better place.
What it all boils down to is that family is all we have in this world, I know that sometimes it might not seem like they are the most important thing but tried and tested they are the ones that keep our lives together in good times and bad.
Keeping family close is a life lesson that sometimes takes terrible situations to make one see how important loved ones are. Family will always be there when we need them and also sometimes when we don't!!
Saturday August 22nd
This morning was like being on vacation for me. Pat left real early to drive Ram to the airport in Bozeman Montana. After he told us that he was going to have a cab service pick him up here in Yellowstone, we volunteered so he wouldn't have to pay that $300 fee.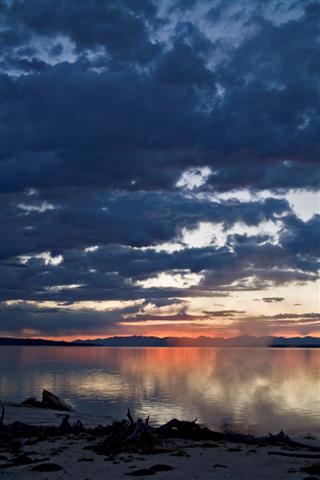 My vacation consisted of walking the dog a couple times on long walks, doing five loads of laundry, vacuuming and mopping the the camper from ceiling to the floor and also preparing a few meals for next week.....I loved it.
Pat didn't get home until just after sunset since he had found a few exciting things to photograph on the way home. It seems like every time he goes without me lately animals are jumping out in front of his and posing for him.
He also said that Ram had given him an envelope which meant that our driving him didn't end up saving him money anyway. Thanks Ram, you really didn't have to do that, but believe me, we will put it to good use.
After I fed Patrick some dinner, I went to bed at around 9pm since we would be getting up early to open up the Wes Thumb store, where we will be permanently working at through the end of September.
This should be fun since we don't know the combination to the safe, where the lights are, what the procedures are to open or much of anything else about the store, but I'm sure it won't take much to find out.
Sunday August 23rd
Rise and shine early this morning to get us all fed, walk the dogs, pack up some food and get ready for our new store. Like I said, we just made a few phone calls and Pat and I ran the store like we would wear an old hat.

Yellowstone's First Ranger Station, now our bookstore.
I did want to share with you some of the questions that people asked us today which are enough to put a smile on my face all day long. I realize that alot of our customers come from different countries and have no idea what to expect here a Yellowstone.
They say that no question is a stupid question, but sometimes I have to wonder. I will start with just a couple that we had today.
"How much power does it take to make Old Faithful go off?"
"Where does the park keep the Buffalo during the day?"
"How long can we leave the car parked in the middle of the road before we get in trouble??"
"Can we bath in the Bubbling Cauldron area?"
"If this is a non-for-profit store, what do you have that I can get for free?"
"I saw a wolf today and at first I thought to myself, that looks like the biggest rabbit I've ever seen??" This was more of a statement made to Pat and myself. The funny part is a wolf is 4-6 feet long and up to 32 inches high, how could the guy think this might be a rabbit? Something tells me he saw a fox or a small coyote.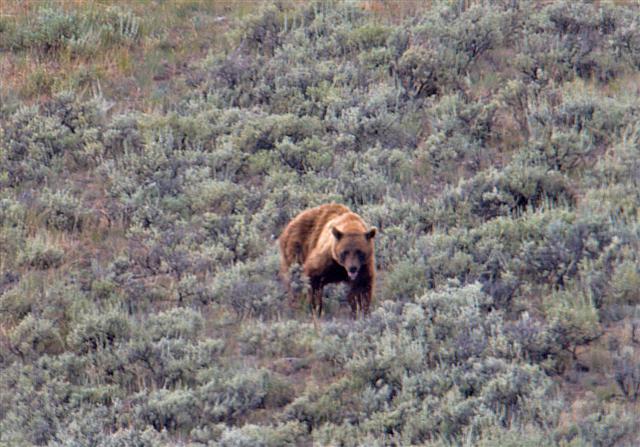 This one had the entire store snickering, "Where can I go to pet and hold the baby Grizzlies, can I just go up to it and pet one if I see it in the woods?"
Does this look like something you would just walk up to and pet? Pat took this photo at least 250 yards from us and it still looks huge!
Now, this is the hardest part about this job, taking these questions seriously and not laughing at people or making them feel uncomfortable about asking such an idiotic question. If I were to ask Pat any of these questions, he would be laughing his head off, but he handled all of them with grace and never let on like these are dumb questions.
I really like this job and am learning so much more about the park just by listening to the customers that are familiar with Yellowstone and go on the different hikes and such, that Pat and I have vowed to take some of these hikes ourselves before the weather turns too cold.
Monday August 24th
My first day on the job by myself! Pat came in to help me open of course since we are basically attached at the hip, it's hard to say goodbye in the mornings.
After he went out on the town looking for animal action I manned the store by myself and did pretty good all in all. I only had a few bumps in the road which a quick phone call cleared my problems up.
I find that answering all of the questions we get is the hardest part of the job. When we trained at Old Faithful, all we had to do was point them across the room to the Rangers and they could get their questions answered by experts. Here at the West Thumb Geyser Basin, there is no Ranger station close by, so I just wing it.
I don't know how long I can use "This is my first day" but I will until I get caught or know all of the answers.
I must say that I was ready to come home by 5pm when I closed the store. Pat had come in around 4 so he could keep me company until my day was over, just because he's such a sweetie. He came back with some great pictures, of course, everyday he impresses me more and more with the pictures he gets.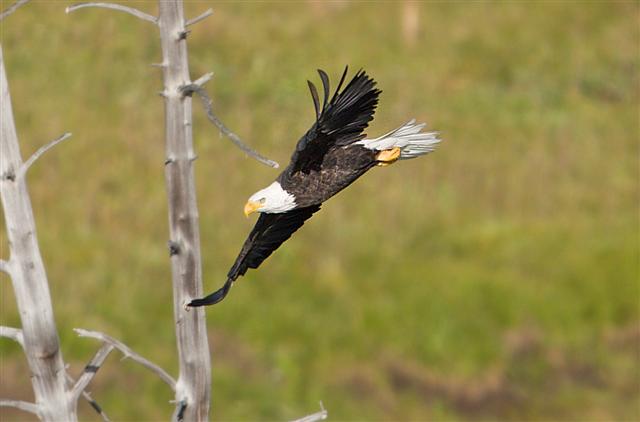 Pretty impressive, wouldn't you say?
The only thing that I don't like about working in West Thumb is that there is no running water. This means that outhouses are the only bathrooms, Yuck! And also no washing of the hands, which I am a huge advocate of at least 10 times a day. I remedied that with some wet wipes and hand sanitizer since I don't think they are going to bring in plumbing on my account.
Not that this wasn't explained to us before we even took the job so I guess I can't complain, although I still will. I think maybe I should just have Pat bring the camper to the store every morning, then I wont have to worry about food, drink or bathrooms at all. I think I'm spoiled, now that we carry our house behind us, I haven't used a public restroom since I don't remember when.
We came home, took the dogs for a long walk and swapped stories about our day. This is such an awesome thing to be able to do! We have been in the same place at the same time for so many months now, I'd forgotten what leading different lives is like.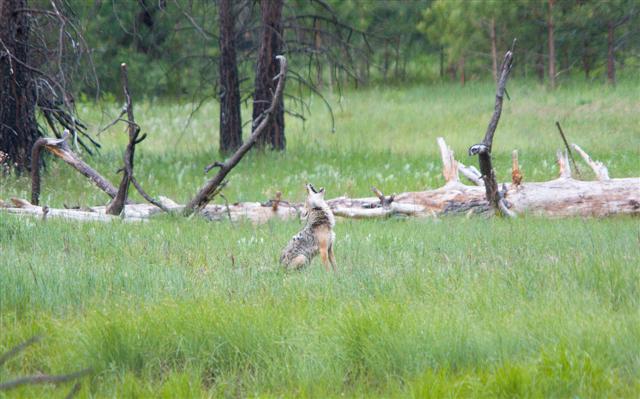 Before we fell asleep we heard the bugling of the Elk, looking for their women and also the howling of coyotes chirping back and forth to each other, this was pretty cool. I could get used to this serenading every night.
Thursday August 27th
Tuesday and Wednesday would be boring for anyone but me so I will skip over my two days of housekeeping bliss filled with cooking, cleaning and playing with the dogs. Thursday on the other hand is a whole nother story.
This will be our first full day off together this week so Pat and I decided to challenge ourselves to a hike up Mt. Washburn which is a long hike with a 1500 foot increase in elevation, bringing us to 10,243 feet at the peak. The entire trail is 5.6 miles round trip and at no point were we not climbing up or trying to keep our footing while coming down.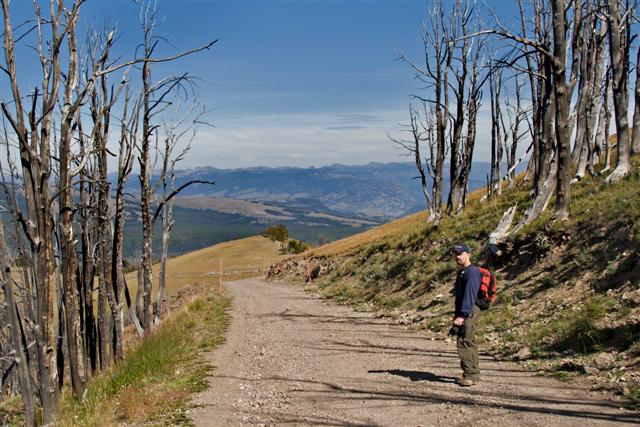 I read our trail guide and these are the exact words that were printed "This route, an old wagon road, approaches the summit on an easy grade from the north." 82 Great Hikes by Robert Stone. Sounds easy enough, right? Not so much.
This hike was strange because from the get go, my legs were strained and I was out of breath. I mean within the first 50 yards I could already feel a strain in my body to push forward. Since the beginning of the trail is at such a high elevation to begin with, my body wasn't sure how to produce enough oxygen to keep me moving.
Not that I'm Jane Fonda, the exercise queen or anything like that, but I do walk at least a mile or two a day and also do some goofy jumping around and lifting of weights (10lb dumbbells!) in the camper. Pat is the sedentary one since he does so much work on the web site and also is always working on photos, so I figured he'd have a harder time than myself.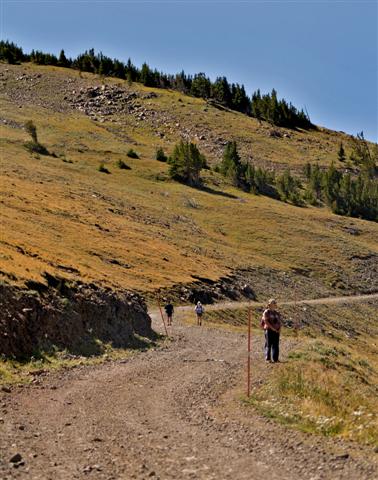 I keep forgetting that Pat is 8 years younger than I and when I think about how I felt 8 years ago compared to now, then it makes perfect sense why his spry, little self can beat me up the side of the mountain even though he hasn't done anything relating to exercise in a while.
As we chugged up this easy wagon route, we passed people with walking poles coming down. Now I hope someone can give me a point of view on these things because if you ask me, they just look like a pain in the butt.
I don't even like carrying a water bottle for a few minutes while taking an incline let alone two poles, the entire trip.
I think I would be to lazy to carry them the whole way, dropping them after a while and picking them up on the way back down.
I can see having them on a hike that is craggy and filled with switchbacks or something where they would help with balance and giving you a boost to push up to the next level but not on this trail. So if any of you can give me a better point of view, let me know because I have never tried these polls to know how well and what they work for.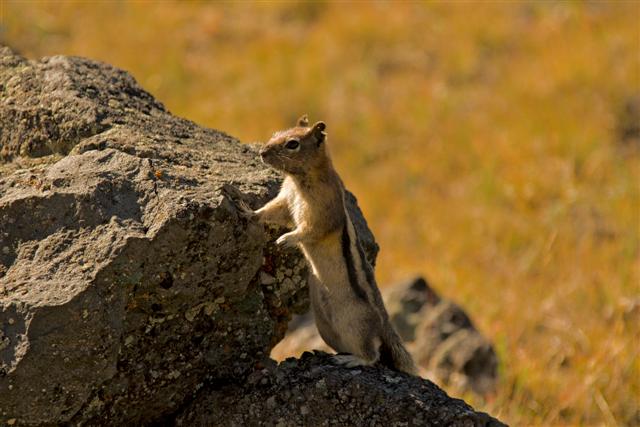 Our hike was starting off well, however, we weren't seeing any wild life, just a whole lot of stubby growth on the side of this old volcano.
Just as I was saying that to Pat, we had our first greeter, a giant sized chipmunk filled with curiosity about the people with the big lenses.
He crossed our path and preceded to climb atop a rock so he could get a better angle on us.
He watched us taking pictures and sat there until we walked away, looking almost disappointed when we did. Our next find seemed to be even more friendly and curious then the chipmunk.
We could see from a distance a heard of big horn sheep and climbed further up the trail to get a better look at them.
We were staying the required distance from the animals, per park regulation, so we didn't cause any conflict with them. As we stood our distance the heard came closer to us, pushing us back down the trail.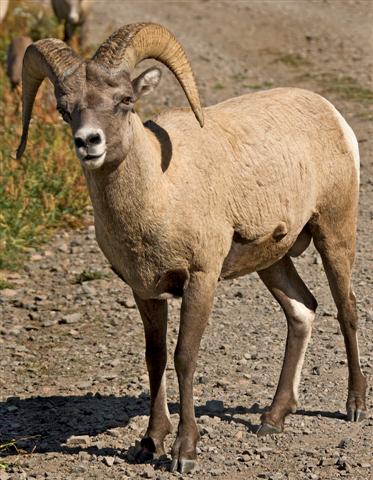 Pat and I backed up for a while until I realized that I was going to have to take this hill for a second time and decided to move to one side of the trail to let these horned guys go by.
When we stopped, they stopped! They encircled us and started to sniff which at first gave me a scare until I realized that they just wanted to see what we were doing.
It was as though they were house pets, in a back yard and I'm sure that if I wanted to, I could have petted them or had a seat and they would have been lap sheep. For the most part this group had over 25 females and around 4 males with only one fully developed male.
This is what is called a harem and the bull or Ram. It must be nice to have a whole harem and not be a Sheik or something! A time or two the big male would start sniffing the air and would get a little frisky with one of his babes, but usually they just hung out with us.
Pat and I decided to continue up the hill since these guys weren't moving away from us. As we hiked further up the hill, we were followed by them for some time.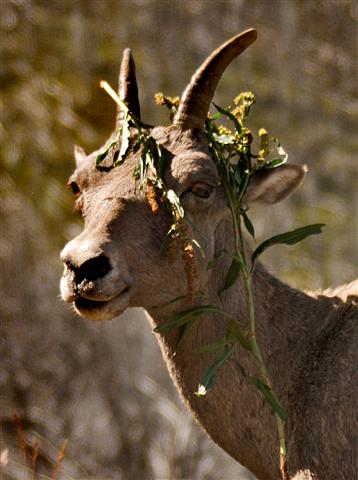 We spent a half hour or so taking pictures and watching the antics of this rambunctious crew until finally they tired of us and moved on down the mountain to entertain some other hikers.
Pat and I were philosophizing about what the month of September might bring for us as we trudged breathlessly up the incline when Pat let out a girlish gasp and jumped to my side of the trail.
I think he thought we had come upon a badger or a wolverine when in actuality we were entering the home of two, fat marmots.
These silky, furry, round balls of fat were laughing, I'm sure at Pat, as they came out from a little culvert under the road to bath in the warming mountainside sun. We sat with them, literally, as they shared their home with us and allowed us to photograph their daily lives.
These two little guys became my favorite part of this hike since they seemed to want to study us as much as we did them. Eventually both critters relaxed and began lounging on the rock side, not even paying attention to us.
I am assuming they were male and female because that makes this story all the more romantic as they held hands and rubbed noses with each other while looking down into the valley.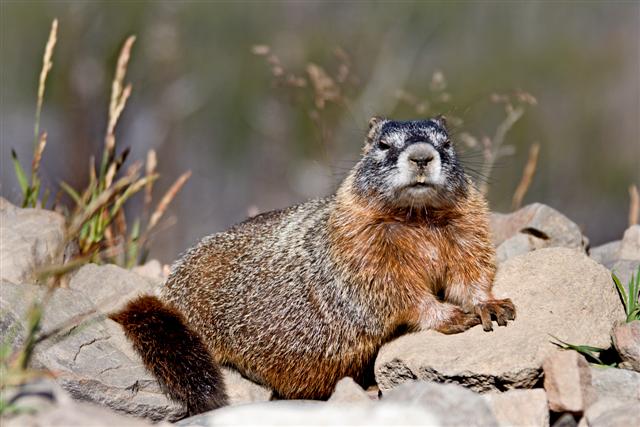 He's getting very bored with us watching him.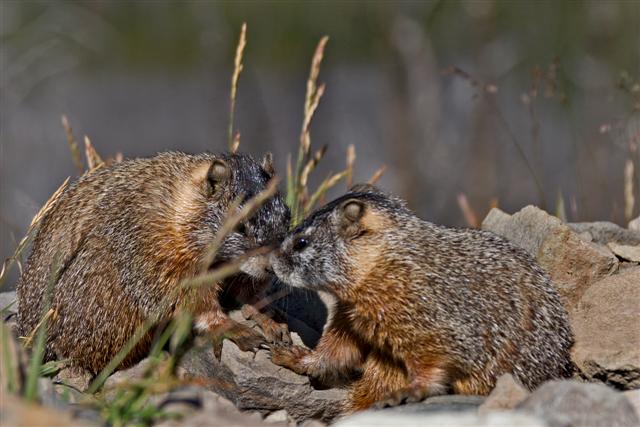 Marmot Love
A good decision to move on before it got dark was made by the both of us since we could have watched these marmots until time got away from us.
We continued on and enjoyed how the sky began to open up for us as we became closer and closer to the observation fire tower at the top.
A few more random sheep sightings and we had landed at our destination with overworked lungs and burning quads. Just as we started up to the tower we spotted the elusive Pica. It's probably not that elusive, we have just been looking in the wrong places since once we saw one, we saw three more.
These little rodents are fast and Pat kept yelling at me to get a picture of one of them as I kept saying that I couldn't catch them through my lens. Pat was so frustrated with me because this was our first sighting of the Pica and I was going to miss it since his camera had a very wide angle lens and wouldn't zoom in close enough.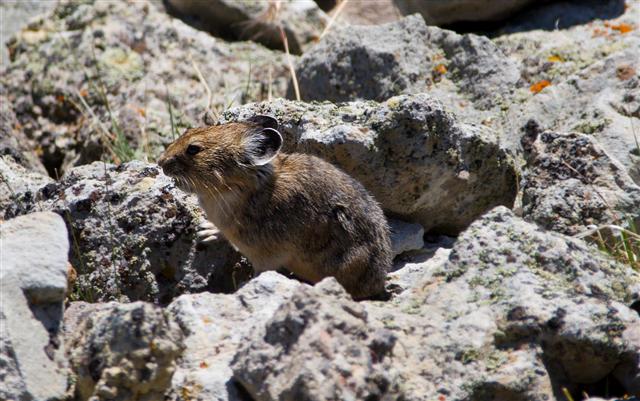 The funny thing about the Pica is that we call just about every other rodent in the park by the name pica since it's so fun to say. We don't just say the word pica once, ever, it is always "pica, pica, pica" in a singing jingle type way that makes me want to skip.
This means that actually seeing the thing was a mile stone for us and as soon as we got a picture of the quickly scurrying thing, we skipped away singing the pica tune that we've learned to love.
Our arrival to the top of Mt. Washburn was breath taking with views of mountain tops in every direction for miles and miles. We could over look the Grand Canyon of Yellowstone, Hayden Valley and also see the Grand Tetons some 70 miles away. The ridge lines are obvious from this vantage point as well as the flow of the Yellowstone River winding through the Hayden Valley.
Lake Yellowstone looks small and disproportionately out of place compared to the rest of the valley even though it covers 136 square miles and is the largest body of water above 7000 feet in elevation. The road that we just hiked up looks more like single track that winds down the side of the mountain.
We sat in the observation tower and had a bite to eat as we learned about the fire patrol that mans this tower for five months out of the year, never leaving the place the entire time. His food and supplies are brought to his one room home which is enveloped in glass, as to see any danger that a fire might emit.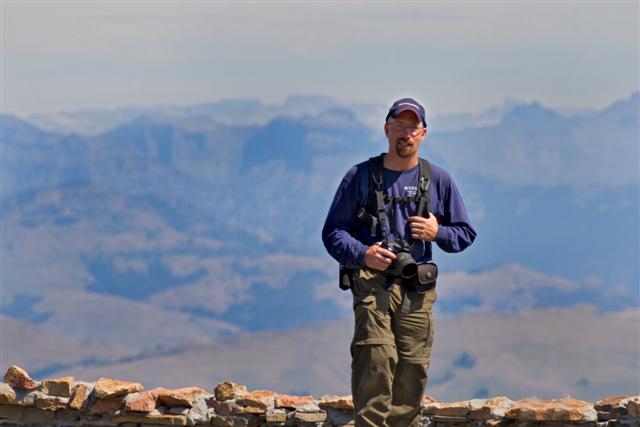 We started our journey back down the mountainside and immediately I began to feel my calves burn and my toes jam up into the fronts of my shoes. I should have trimmed my piggies before I took this long journey up and down this mountain.
The hike ended with us reaching the truck and high-fiveing one another in celebration of finally bagging this hike.
Delirious from the long day, we decided to go into Lamar Valley to see if we could find a wolf or two that has been rumored to be back in the valley instead of the higher elevations. I told Pat that I needed some coffee if he wanted me to continue on this wait for the wolves with him, so he brought me into Silver Gate to find some.
We stopped in the local grocery and purchased 2 small cups of coffee, 2 cookies, and a half gallon of milk for the astronomical price of 12 bucks! Nothing was priced, which should have been my first clue, but we figured $6 for the milk $3 for the cookies and $3 for the coffee, what a rip off.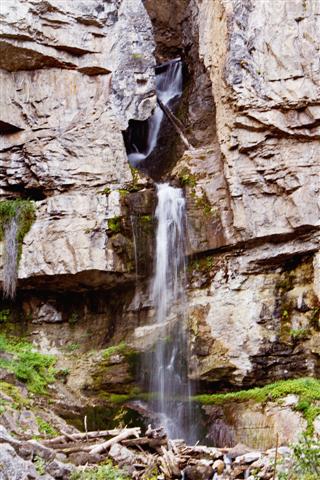 Good thing the cookies were so good or I would have been upset. Pat decided that since we had some time to burn before we might see the wolves at dusk, why not take another short hike to see a waterfall in Sliver Gate, right across the street from the grocery store.
Sure, I felt like I had tree trunks for legs at this point but what's another mile or two on a challenging day like today.
The waterfall was not spectacular since the flow has been restricted from lack of water this time of the year, but it was nice to see. By the time we got back into the truck, we were both pooped.
I knew we wouldn't make it until the wolves might come out, so we never even stopped in Lamar Valley on the way home.
I stayed awake the whole way home simply because I was so exhausted my eyes wouldn't stay closed. We got home and had a bite to eat and laid our sleepy heads on our soft pillows and had lovely dreams of pet rams.
Friday August 28th
Rolling out of bed this morning not only did I feel 8 years older than Pat, I felt 18 years older than I did yesterday morning. My hips, butt, calves and quads are filled with cement and I have tight rubber bands for tendons. When I bent over to get the dog food, I didn't think I was going to be able to lift myself back up.
When I let out a moan and a sigh, Pat asked me if I was ready to do it again. Of course my answer is "heck yeah!" I want to see as much of this paradise as we possible can before winter sets in and we have to be bound by warm layers of clothing and carry bear spray everywhere.
The four of us had some breakfast and Pat and I took the dogs for a walk around a 1/4 mile trail that's at the end of our road. The trail is heavily wooded but has an area cut through it just wide enough to walk through.
This is the walk that the dogs and I take 2-5 times a day and it's an old shoe for us now. Pat however has only gone a couple times and he was paying more attention to our surroundings. Just as we were about to come back out onto the road way Pat jumped back and said "Holy ****!"
This scared all of us to death and when I looked up I saw the bugler that we've been hearing for the past few nights. This bull elk is massive and the rack on it is quite impressive. He looked at us with dismay an continued eating whatever he wanted out of the forest at hand.
We continued around the 500lb animal that was 5 feet from us and took the dogs home before we got ready to take a few more hikes in the area. With everything loaded, Pat took off out of the park and noticed that the diesel was not a happy boy. The truck was chugging and spitting and decided not to go any further without fuel.
Luckily, we carry two 6 gallon tanks in the back of the truck just for this occasion. Once we gave Bubba something to drink, we were headed to the West Thumb Basin where we work. We have people ask us all the time about two hikes that leave from our parking lot and we know nothing about them.
Our first hike was the Lake Overlook Trail which when compared to our hike yesterday, left me very disappointed. Not that the scenery wasn't great, it just didn't compare to Mt. Washburn. It also took us an hour to do the whole trail instead of 5 hours.
Our next trip was across the parking lot on the opposite side to Duck Lake Trail. This was an easy mile long trail, in and out, which brought us to a tiny lake that had cool clean water and lots of privacy. After our fill of the lake. we turned around and headed back to the house.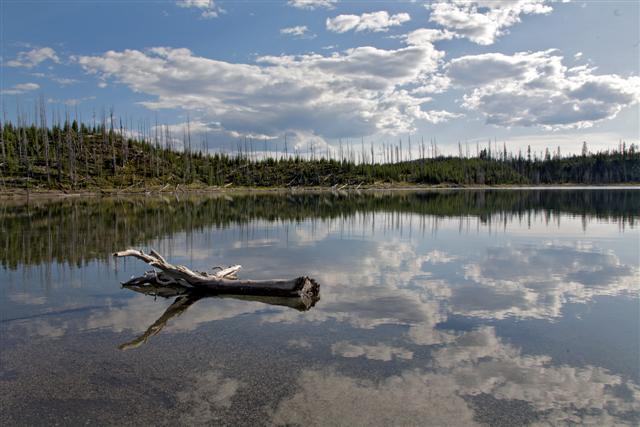 Reflections on Duck Lake
Three miles of hiking with stiff pillars for legs was enough for me today. I came back to the camper, took a half hour cat nap, woke up and made dinner and before I knew it I was back in bed, looking forward to another day off tomorrow.
Saturday August 29th
A day of rest, not a whole lot of moving around today, just hanging out with each other and enjoying our time together.
Sunday August 30th
Pat went to work this morning with no lunch and no breakfast. I stayed in bed and wished him well. After I lay there for a few minutes the guilt set in so I made him some lunch, drinks and snacks and brought the stuff up to him just a few miles away in the little book store.
I don't know why I didn't do it before he left, I guess I just woke up on the wrong side of the bed. Sometimes this happens to me believe it or not! After I came back from my food delivery, I got busy with some things that needed to be taken care of.
Our truck has not been cleaned out in at least 6 months. The dog bedding needed to be cleaned as well as the whole truck vacuumed and floor mats cleaned. It is sort of a loosing battle when we drive non-stop but when we are sitting still, the dogs aren't in and out as much so it might even stay clean for a week or two.
I finished up some laundry and made plans for dinner which is becoming a chore since our supplies are getting low. After we spent 6 bucks on a half gallon of milk in a grocery just out of town, I will wait until we can go into Bozeman for supply stock up.
When Pat got home we talked about his day and the fun customers he has had a chance to talk to. He also let me know that we might have some company visit tomorrow from out of town. Larry and Michelle are from South Florida and are coming here for Larry's 50th birthday.
We have met them through the website and look forward to meeting more new people. Us old farts had some dinner and then turned in for the night at the late hour of 9pm. Dang, we are party animals!
Monday August 31st
After making Pat his coffee and breakfast, I got his lunch together and sent him on his way. The weather was chilly with the wind blowing in a mass of dark gray clouds that filled the sky as far as I could see. I spent my day finishing up some things around the camper that I have been wanting to do but never seem to get around to it.
It's strange just how many things I realize that I have been neglecting while moving constantly. I guess they aren't that detrimental to our happiness or they would have popped up before now on my things to do list.
Pat called me around 5 to let me know that Larry and Michelle would be coming by the camper in a half an hour and we were all going to take the Natural Bridge hike as soon as Pat got home.
I whipped up a pizza real quick for Pat which he was just finishing up as we heard a knock on the door. We all introduced ourselves, we gave them a tour of our home, which took 0.8 seconds, they met the dogs and we were off to our next spot.
By the time we got to the Natural Bridge trail head it was looking gloomy, chilly and almost dark out. I asked Michelle if she was sure they wanted to take this hike and they reassured me that this would be great. I brought a couple flash lights and we proceeded up the mostly level paved trail.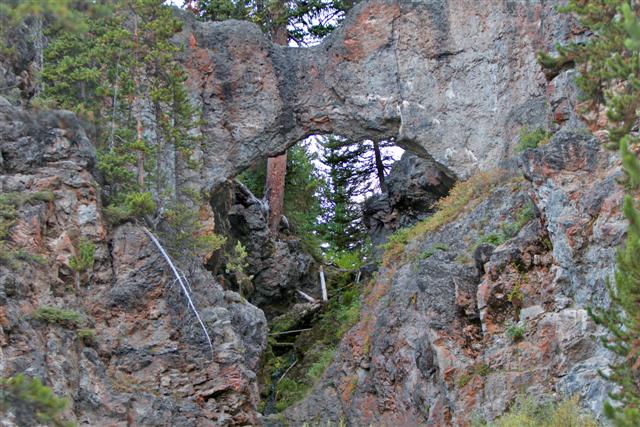 Apparently this used to be another place that horse drawn carriages would go as a viewing spot of the park. This actually was a smooth, gradual incline which brought us through a small valley and up to the bridge.
This short hike gave us time to get acquainted and learn a bit about each others families, hobbies and things we have in common. Pat, Larry and Michelle continued the trail on to the top of the bridge while I stayed back to take some photos.
As I was climbing up the side of a hill to get a better angle on the bridge I saw a huge bird fly across the small meadow below. At first I though it had to be an eagle because it was way to big to be anything else. On closer look I noticed the head of the bird looked more rounded and almost like a stump.
This is when I realized this was a giant owl and I had just taken off my 1.4x extender 30 seconds ago! I didn't have time to even shoot a photo of the bird in flight but I did follow it as it landed 50 yards from me. I replaced the 1.4x extender and tried to get a shot of the owl just so that I could identify it.
Pat was yelling at me from on top of the bridge to come up and join them. I yelled back that I had seen a big owl and I wanted to take some pictures. No one believed me, thinking that I just didn't want to climb on top of a non-secure bridge when I am not so sure about the height of it.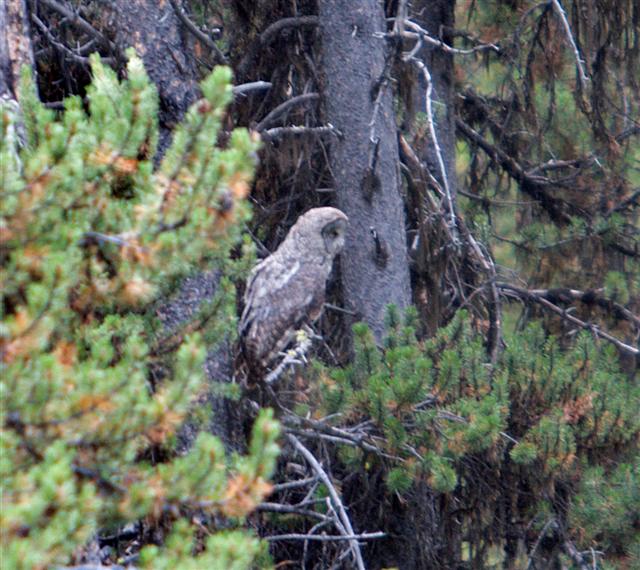 After the three of them came down I showed them my only photo of the owl that came out. It was so far away and as soon as I snapped a shot, it took off. My skills for catching birds in flight are not like Patrick's, he could have gotten this thing winking at him I bet.
Since it was Larry's birthday we all opted to go to The Lake Inn Lodge and watch the cloudy night fill the sky and cover the almost full moon. We sat on the covered porch, out of the wind and enjoyed an hour or two of quality conversation until Pat started reminiscing about his Pyro-technique abilities that he tried to perfect back in the old days.
How embarrassing to tell a retired fireman about how an uneducated kid made bombs big enough to scare the whole neighborhood and set off all of the car alarms. No doubt he had to let him know that he was completely inebriated. I kept giving Pat the 'cut sign' by running my finger across my throat in a forgiving kind of gesture.
Finally Larry looked at Pat jokingly and said "Your the reason I have job security!" We all laughed and I hoped that Pat was done with his antics so we could wrap up the reasons why he still had all of his digits.
By this point in the night it was way past dark and Larry and Michelle had to drive through Hayden Valley which is buffalo country right now. Driving at night is bad enough let alone through that area. We went the opposite direction as they did and we swerved to avoid a sluggish porcupine that was meandering across the road and nearly missed a big coyote that was in the middle of the road.
In Yellowstone, you can easily out-drive your headlights, and I've come to the agreement with Pat, that we need to get some larger driving lights on the front of the truck. Something that will shine further down the road so we dont hit animals or get in an accident.
By the time we got home it was close to midnight and seeing as how I am living on farmers hours right now, early to bed, early to rise, I was ready for bed. Thanks for hanging with us Larry and Michelle, it was so nice meeting you both.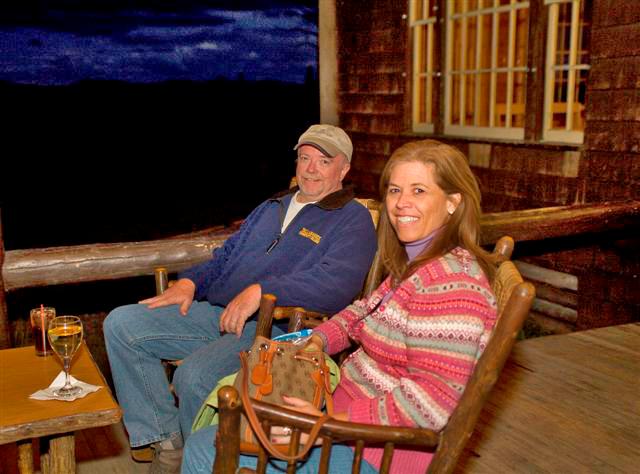 Tuesday September 1st
Pat worked at the YA Bookstore again today which gave me more time to just do my thing. Most of my day was spent cooking with the few remaining ingredients I had left in the cabinets. I ended up with some apple spice cake and some split pea soup when the day was over.
I forgot that it takes different timing in higher elevations for baking stuff, so when I opened the oven door and went to pull out the cake, it looked a little soft. So like an idiot, I shook the pan and watched the entire cake fall flat. Oh well, it ended up being apple spice bars instead.
I ended my day of down time with some dog grooming and also some Cindy grooming. I had bought some hair color about 5 months ago and just now decided to use it. I found myself asking "What has happened to my hair?"
I used to have thick dirty dishwater blonde hair, as my dad would say. I realize that I now have not so think salt and pepper hair!!!! My brother Ron told me that at 40, his hair just changed, at least I got a few more good years out of it than he did.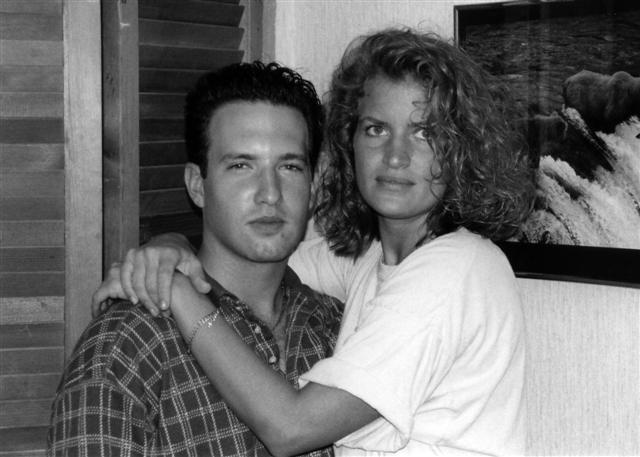 Pat and I back when we both had more hair, 1994
I tried plucking the white hairs as I saw them coming in, but then maybe that's why I don't have such think hair anymore. Pat says he can't even see the white hair, I guess that's one of the reasons why I love him so much. He also says I look spectacular without brushing my hair and no make-up, so I'm not really sure if I believe him.
When my father died in his 60's, he still had a full head of dark hair, not as much grey as my 45 year old brother does right now. I guess we must be getting our hair color from our mom. She had hair anywhere from burnt orange to fuchsia all of our lives, so I'm not sure what color her hair really is.
When Pat got home he couldn't tell that I had even put color on my head, so that should tell me something about his ability to notice change. Pat asked me if I wanted to go drive around again tonight but I just hate sitting in the vehicle all day long numerous, days in a row, I think I can feel my butt getting bigger as we sit for soo long.
It seems like whenever we go looking, we never see any wildlife, with the exception of Buffalo, who are always around the park. The rest of the night was spent just hanging out around the camper until we turned in early again.
Wednesday September 2nd
Today was the half a day shift at work, so I volunteered for that one. Pat came to work with me anyway since I don't think he really likes being alone. I on the other hand lavished in the down time and don't listen to the radio or anything when ever I have the chance.
I think all of the years working in busy restaurants and bars and having bands, loud laughter and fun makes me enjoy the quiet solitude. I tried to have Pat put our hammock up while we're here so I could be outside and listen to nature, but the trees are too close together to hang it any place around our campsite.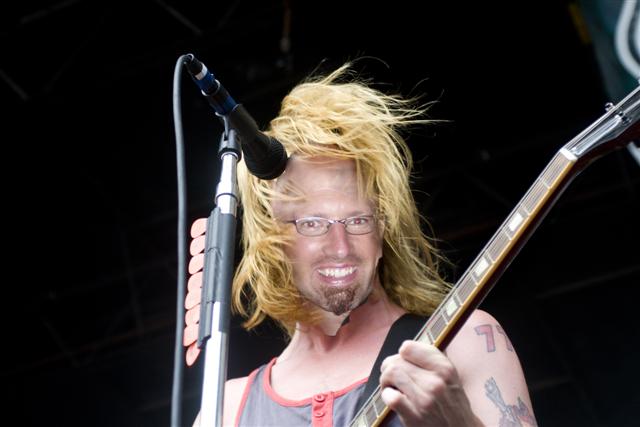 If Pat has time off to himself he has country music up loud and he sings every word while listening to it.
He can also type and read, heck he can probably even do some memorization skills while multitasking his way through the day.
I have to have complete silence to do my blog and can't even have Pat talk to me or my ADD kicks in and I lose my mind set.
Pat and I finished up our shift even earlier than planned since we worked together to put away the stock that came in today. Our 3pm departure time turned into 1pm and we were ready for some adventure. Some friends had contacted Pat through the website and are staying with us a couple of days for their anniversary spent here in Yellowstone.
Yee Ha, I love company and I love meeting new people even more, too bad I had no groceries since cooking for people is one of my favorite things to do whenever I have the chance. By the time we met up with Ryan and Nanette it was close to 6:30pm and our plans of meeting up with Larry and Michelle for the evening was looking impossible.
We had made these plans because Ryan had called us earlier saying that their trip was going to have to be cancelled do to illness in the family. When we got home from work and Pat had set up the plans to meet Larry and Michelle, we heard from Ryan that they had decided to come on the trip anyway.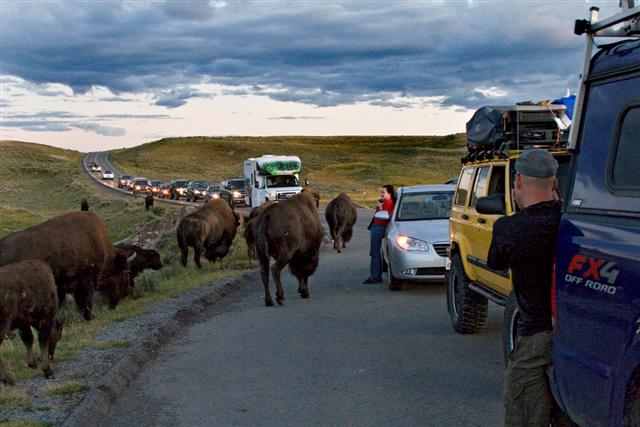 Our plans to meet up in Hayden Valley might still work out, we would just have more people along for the ride. The only thing that held us back was the Buffalo Jams. I love when this happens, so many people come into the store complaining about how it took so long to get from point A to point B because of the noisy beasts blocking the road, but this is better than watching a movie for me.
We found a pullout just after the road started to get congested and watched as the herd slowly sauntered by, with the males carrying their noses in the air while the girls strutted their stuff. The noises the males are making right now are just jaw dropping, I can tell just how frustrated they are by the tones and huffs that come from deep in their abdomen.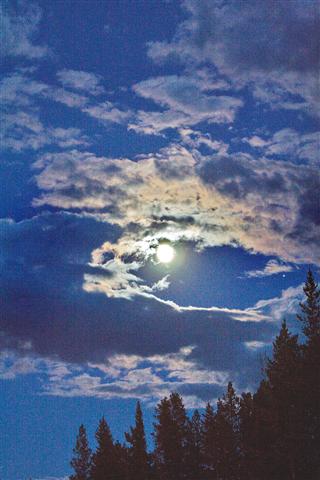 By the time the herd had passed us the moon was high in the sky at almost it's full potential. The striking deep blue background that lined the sky only highlighted the white clouds that threatened to cover the brightness of the full moon.
I couldn't stop taking pictures of the blended melody in the sky that worked so well with the warmth of the evening. I could hear in the distance the frustrations of the buffalo and thought that this night was the most perfect one that I've been out in since we first arrived in Yellowstone back in June.
As Pat predicted, my shots didn't come out quite the way I thought they would since the perfection of the evening really can't be portrayed well enough through a flat photo but I was still pretty happy with the outcome.
Apparently we had just missed Larry and Michelle, they must have driven right past us on their way through Hayden Valley. Dang, I was hoping for a big pow wow with a group of new friends, but sometimes things just don't fall into place.
Our drive home was dark and scary leaving us wishing for more head light power or some sort of night vision, one or the other. I have always wanted some of those infrared goggles so we could take walks at night and see what we are missing in the night time animal kingdom. On the other hand, that might actually creep me out too bad and I won't want to leave the camper after dark.
Ryan and Nanette pulled in right behind, us set up their home away from home as we all enjoyed a beverage and talked about the evening. Bed time came soon enough since we were getting up early in the morning to get a jump on the animals before they are up and at-em'.
Thursday September 3rd
Our 5:30 alarm clock seemed to come way to soon for my liking. I brewed up some coffee, made some oatmeal for Pat and I and shared some spice cake with Ryan and Nanette. We were meeting a fellow employee named Bill for our excursion around the park today, looking for wildlife.
As I said before, whenever we make plans to see animals before they see us, it never works out. We pulled over in Hayden Valley to see a glimpse of the fog covered, lush grasses which apparently, nothing was ready to eat this early in the day, not even the Buffalo.
We did get to see Larry and Michelle as they were leaving the park to head on to Jackson Hole for the remainder of their trip. I thought it was funny that this park in 22 million acres big and what are the chances of running into someone at 7 in the morning on the side of the road.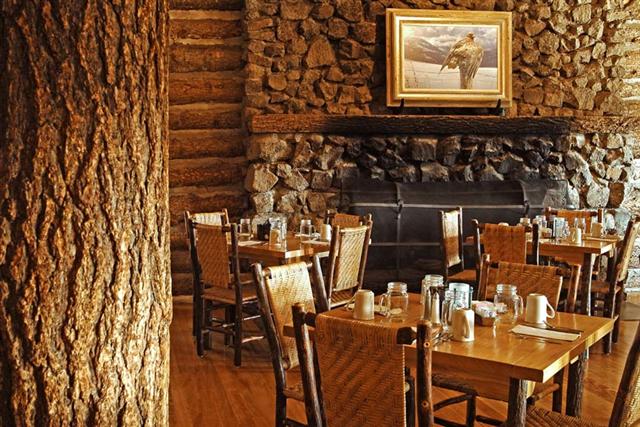 We all meandered our way to Roosevelt Lodge to have some breakfast which took forever to come out and also took even longer to get our check.
Nanette's breakfast came out first and the server explained that they had ran out of home fries so she got tater tots?
I at first was disappointed since I was looking forward to home fries, but then after watching the crunchiness of the tots I thought they would be even better. When the rest of our food came out, of course we all had home fries. I finished every last carbohydrate loaded ounce of my biscuits, gravy, home fries and eggs before we all said our goodbyes for the day.
Nanette and Ryan went to play tourist in the park and Bill headed back to Old Faithful area where he and his wife live. Pat and I decided to continue on an incredibly long drive around the Beartooth pass. Pat has been wanting to take this route for a long time and I of course am always along for the ride.
After the full belly and last nights 5 hours of sleep, I was ready for a bit of shut eye before we reached the area of Beartooth Pass, which I have never seen before. I slept as we drove through Cooke City and Pat woke me as we entered the beginning of the pass.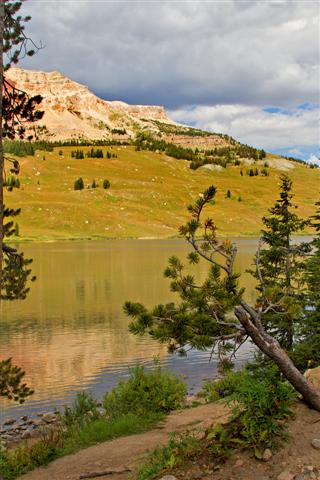 Our first stop was an incredible lake that was so clear we could see the long grasses growing all the way out in the middle of the lake. This was a perfect day since the sky was filled with fluffy clouds, not the dark rainy kind, but the cotton ball kind that just adds to the scenery.
We took a short hike around the lakeside and snapped some photos as my eyes were just starting to open from my half hour nap. What a great way to wake up though.
Pat had given me his camera and lens to look through compared to mine and man, what a difference. His equipment made the lake look long and every bit of the sky and cloud reflection were captured in true color with his gear.
Mine looked flat and no where near the 3D effect that his does with its fullframe sensor. It kind of makes me not even want to take photos when we are side by side, because mine will never look like his does with my older equipment.
Oh well, I better not complain, because then he will want a new something or other for me and I am usually content with what I have.
We continued our trek around this mountain side and the car was filled with ooohs and awws, even the dogs couldn't stop sucking up all of the beauty.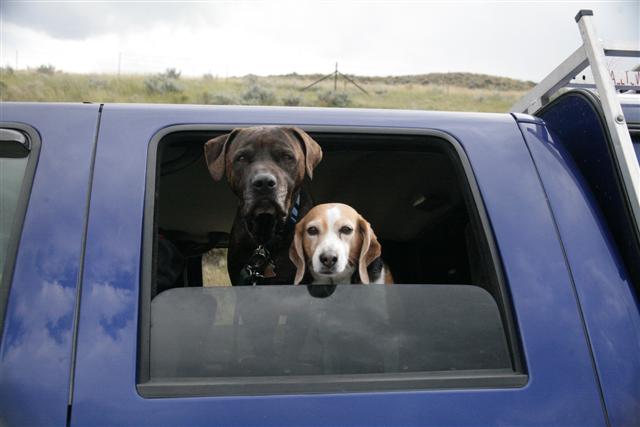 The two of them hung their heads out of the truck for hours on end, fighting the sleep that they both usually fill their days with.
If they did try to lay down, Pat would make noises to keep them up also. Pat does not like for anyone to sleep in the vehicle while he has to stay awake and drive.
Pat and I continued to stop at pretty much every pull off that was offered to us. The views and vistas as far as the eye could see were covered with jagged, granite rock formations, glaciers, glacial lakes and deep green valleys that looked like manicured golf courses from these elevations.
It didn't really matter to either of us that nearly every 10 or so miles we would be stopped by road construction, which made our trip even longer. It gave us a chance to rubber neck without causing any accidents.
The photos we took are nothing like what ours eyes could see and I wish that they would make a camera that could do that because then I would definitely let Pat purchase one of those.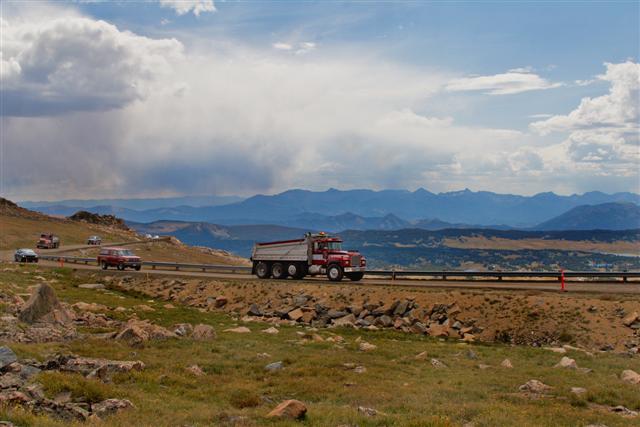 At this location I found a skull of a Marmot for Pat to add to his collection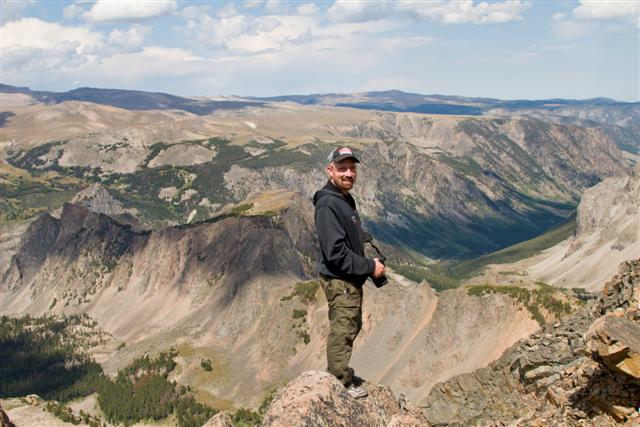 I was tempted to scare him but then I might have to drive back by myself
At the bottom of the mountain we ended up in a quaint little town called Red Lodge. This place looks just like it did when it was founded in the late 1800's the only thing different are the cars and the paved streets. We drove around the neighborhoods a time or two, soaking up all the history before we moved on up Highway 308 towards Cody.
We stopped to take some pictures of an old mining town which had a tremendous life taking explosion back in the late 40's. This accident which claimed over 70 lives, pretty much destroyed the bustling town and left it without the human compassion to keep the place pristine as Red Lodge was.
What remained of the mine looked almost in better shape than the actual town did where people still lived. We stopped to take some photos and got stared at through curtain covered windows by the locals wondering what the heck we were doing. We left Bearcreek and headed towards Cody.
This time of the day is usually my nap time, so when we arrived in Cody to do a couple weeks worth of grocery shopping I was not excited like I usually am to spend a few hours in a store. Before I was even out of the first isle, Pat was already telling me to hurry up.
I shewed him away, telling him that I would meet him near the magazine racks when I was done. This always keeps him occupied and he can catch up on all of the truck, car, and outdoor magazines without making any purchases.
When we finally left Cody ,we were both dreading the drive home in the black of night. Pat drove quickly until it was too dark to see 10 feet in front of us which slowed him down to 35 MPH. It seemed to take a lifetime to get back to the camper, but we made it home just after 9pm.
Ryan and Nanette had just gotten back themselves and were setting up their roof top tent to get some shut eye before they took off tomorrow morning for the rest of their trip. Ryan has some surprise plans for Nanette to stay in a nice resort for the rest of their stay and enjoy their anniversary in luxury.
Sounds good guys and I hope you enjoy yourselves.
Friday September 4th
A day of chillin' for the both of us, we were back to us playing Battleship again since we figured out what was wrong with my computer. Warning, if you receive an email that says "I sent you my favorite joke" or "I sent a funny picture of you" Get it out of your line up of emails ASAP.
I never opened either one and it still messed up my computer. I had to delete the address that it was coming in from in order to get my computer back to normal. I will spare you the rest of our boring evening details and save my typing skills for another day.
Return to Top of Page
Need Unlimited photo storage- FREE Trial of Smugmug