When we realize our insignificance in this world,
it some how relieves the pressures from society to succeed - Cindy Bonish 04/07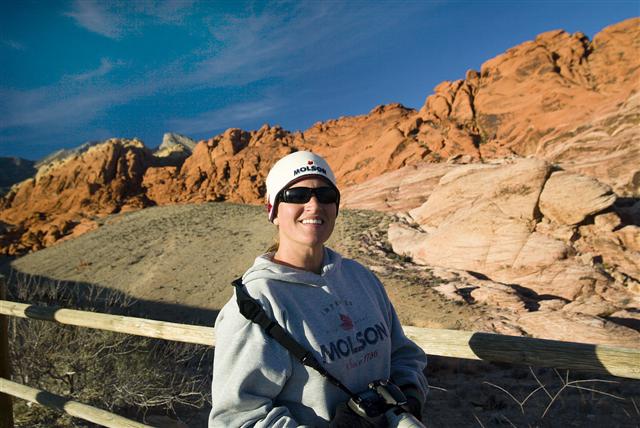 Cindy's February Blog 2008
Every Miles A Memory
Feel Free to browse past blogs for plenty of travel ideas and many of the places we've been in our first 12 months on the road - 2007 Blog's
Photo Gear We Use
Solar Tips, Fact's and Trick's we've learned while on the road
Well-behaved women seldom make history
__________________________________________________________________________
If you haven't read any of the earlier blogs, you might want to start there to catch up on how we got here.
Wednesday January 30th 2008
We arrived in Las Vegas yesterday and headed toward the Sam's RV Park which I had made reservations at on the 24th of the last month. Big mistake! The park is in a very bad part of town which a cab ride to the strip would cost at least 50 bucks.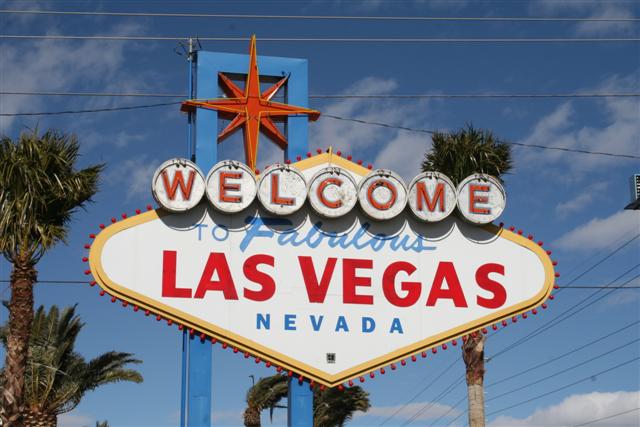 When they say 7 miles from the strip, it doesn't sound like alot until the traffic situation comes into play. We said we would stay one night and then find somewhere else for the rest of the weekend. When we pulled in, the office had closed at 3:00pm so I made a phone call to the number that I had on our confirmation. I spoke to a very nice lady on the phone who told me that I had reservations for the 24th-30th not the 31st-4th.
I explained to this person that there was a mistake and I wasn't there at that time nor did I make reservations for that time to which she asked me to look at my confirmation email. I found the email and sure enough it was confirming the wrong dates.
Sam's had already charged my card for two days for some reason to which she said she would remove one day only. The other day would not be applied to our stay from the 31st thru the 4th since I was counted as a no show and would loose that money. At that point, Pat and I decided not to stay at all and instead moved on to find the Oasis RV Resort.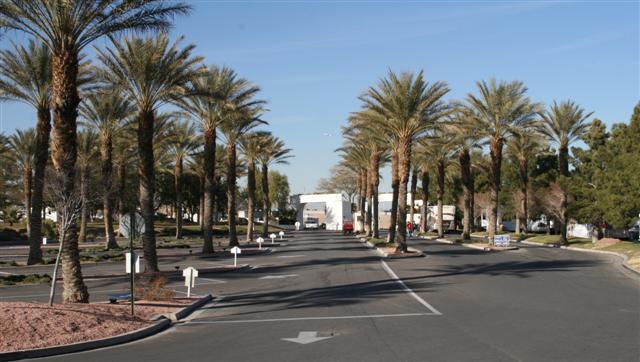 The Oasis RV Park is much nicer with an actual club house which offers Pilates, complimentary movies, a gym, a book exchange and many other amenities. To bad we won't be able to use any while we are here, but I would recommend this place to anyone else visiting Las Vegas in an RV. It is loud, with car horns, air planes, emergency sirens going off sporadically through out the night, but it is only two miles from down town strip, so that should be expected. We are in a city that goes non-stop 24 hours a day!
We settled in for a night of rest before we meet up with our buds for an exciting time.
Thursday January 31st 2008
I spoke to my friend Christine who lives here in Vegas and she offered to take me to a few places so I could buy some new boots. I have been at a loss for a while without my trusty cowboy boots which I had worn out. I had them for 15 years and they were like an old friend. Pat and I had stopped at a few different places trying to find a replacement, but I was never able to find a pair that stood out and said "Pick Me!"
We stopped at many different places until I decided on a pair of Dan Post which I really liked. I got a phone call from Pat just about the time we were wrapping up our visit who said that Derrick is already here and we were going out to lunch.
Thank goodness I got some new drinkin' boots since this means the party is on. I wont go into detail about the afternoon I will just say that we had a blast, with gut wrenching laughter and the "Lets go get em'" gusto that old friends have after a lapse of time has passed since they have seen one another.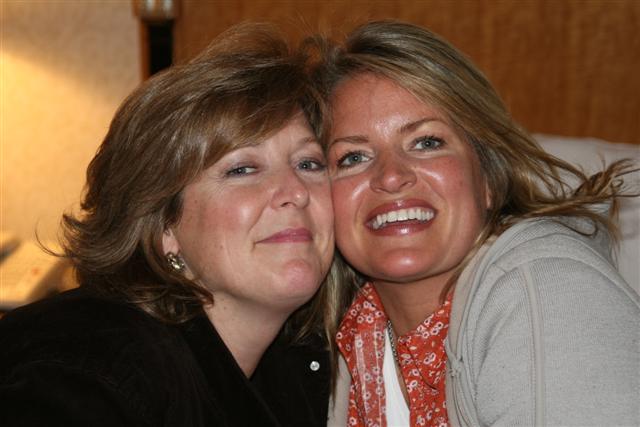 Derrick and Tish had been an extension of ourselves for five years when we lived in Michigan. We went to any and every event together, traveled to luxurious vacation spots together a least twice a year and actually spent a lot of family time together. I had missed them and their friendship so much!
Tish had to work until 6:00pm so we missed out on having her company for the day. We met up with her around 7:00 to have a beverage together and say goodbye until tomorrow. She had some more meetings and an Awards Dinner to go to, so she took Derrick from us also.
Pat and I spent the rest of the night walking around, taking in all of the bright lights and big city. We had some dinner and walked it off before we headed home for some shut eye.
Friday & Saturday February 1st/2nd 2008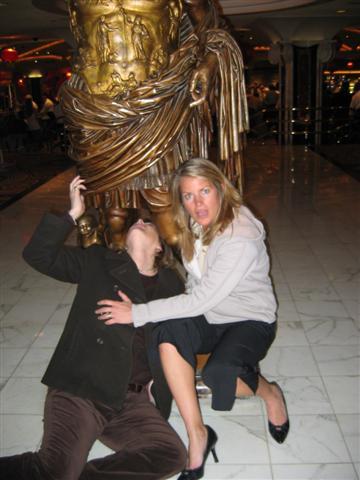 Late nights, great food, great fun. This is all I can say about these two days since this page isn't long enough for all of the fun and antics to be written. I will tell you that by the end of Saturday night my clothes are too tight, my wallet is too flat and my feet have five blisters on them.
Not to mention the sore back from doing the twist with some strangers in a night club at 3am. That and my rib cage feels like I snapped a rib from all the laughter of this weekend.
Yeah, that's Tish looking up Caesars Robe in the front lobby of Caesars Palace at about 3am! And who do you think is her willing accomplice?
Sunday February 3rd 2008
I couldn't sleep worth a darn last night so I got up early and did some things in the kitchen. I think my body was saying to me "Wait, it's not 3:30 am yet, your feet aren't swollen, your sides aren't hurting from laughing till wee hours in the morning, and your alcohol level is just not high enough, there is no way you can fall asleep yet."
I made some spaghetti, some hamburgers some asparagus and a salad which will completely empty any food we have left in the fridge. I heard Pat rolling around at about 8am and he didn't sound to good. I fed him and put him back to bed until I woke him up again at 2 in the afternoon.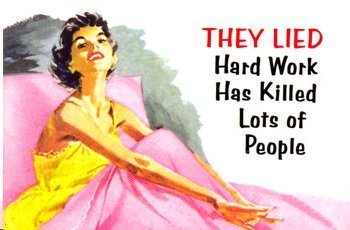 At that point he and I switched and I took over the warm spot in bed while he played on the computer. This day was incredibly lazy, with not much in the way of pressing things to do to get us moving. Derrick and Tish caught their flight at noon so we said our "Goodbyes" last night.
I laid in bed until the Super Bowl came on and watched most of it while channel surfing for other things. What a great game this was. I am glad that the Giants won since they were said to not have a chance. Not that I have even seen a game this year, nor did I know who was in the Super Bowl until this weekend, but I am always rooting for the underdogs.
Tomorrow will be a much more productive day I'm sure. We actually planned on having this time to recoup since we know how our nights linger with good times until early in the morning when we are with these long time friends.
Luckily we were plugged into shore power since a cold snap had blown in today. The winds were gusting between 20 and 50 miles per hour for most of the day, and it was cutting right through the camper. Our little ceramic heater was running all day long just to keep the interior toasty.
Monday February 4th 2008
We got up as early as possible and took care of the laundry from the past weekend while we are in a park with nice laundry access. I'm real excited to be able to pick up the dogs today from the boarding place which also brought their shots update as well as a much needed bath.
The last time we had to board them was in Tennessee during the Bonnaroo Festival which has been about a year now. When we picked them up that time, both dogs were so happy to see me that they almost hurt themselves trying to get to me. This time was not that way.
This time Lucy was excited, but Luca just looked at us with disgust. He won't even come over to let me pet him. Just before we took them in we had started calling him shadow since he never left my side. He seems like his feelings are crushed!
Oh well, he will get over it once I start feeding him everyday again.
We stopped at a grocery store to fill the fridge again. We figured that since we would be eating out most of the time in Vegas that this would be a perfect idea to empty and clean the fridge. The only thing that I dislike about this Norcold freezer is that it has to be thawed due to ice build up. This is the only the second time I have done it in over a year, so it isn't that big of a deal. It is inconvenient though if the freezer is full.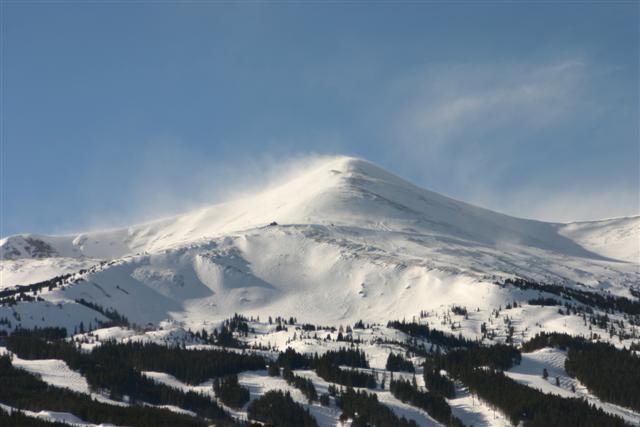 With our fridge stuffed full, we headed out of Las Vegas into Red Rock Canyon National Conservation Area. It very pretty here right now since the peaks of the mountains are filled with a light dusting of snow while the deep colors of rust, beige, brown and green peek though the white toppings. I had no idea that the desert would ever be this cold!!
When I woke up this morning to drive to the laundry area, the truck windshield was covered in a layer of thick frost. I actually had to let the diesel fuel thaw out for about ten minutes before the Powerstroke purred instead of pinged. Man, I haven't heard that in a while, nor did I like it.
As we pulled in and parked at the Red Rock Campground, which has no amenities except for out houses, I realized just how hard our furnace would work tonight. The wind was blowing so hard, it was making the glass vibrate in the windows and allowing a strange whistle to enter through the front door.
I was all to happy to have my two hot potatoes home to warm the bed for me before I climbed into the freezing weight of the sheets. I knew these dogs were good for something.
Tuesday February 5th Exploring Red Rock Canyon
We woke up this morning with me explaining to Pat that the reason we are living in a 200 square foot house with our living room, dining room, kitchen, and pantry in the same 100 square feet is so we can MOVE when it is not the perfect spot to be in. I am not crazy about bundling up at 6:30 in the morning and taking the dogs on a long walk when the temps are below freezing.
Call me crazy and I know that I shouldn't complain, but we have given up quite a few luxuries of a normal lifestyle to be where it is perfect for us. Although it is not as bad as the picture above (Pat being a goof ball slipped a picture of Breckenridge Colorado in December instead of Las Vegas) it is not perfect.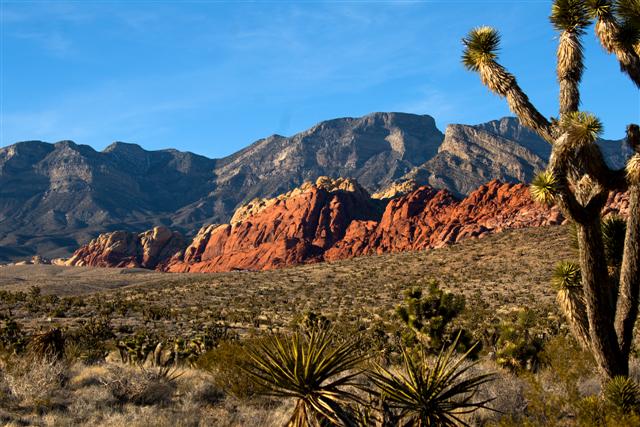 Our decision to move to warmer temps was not a tuff one by any means although we did want to take a look around Red Rock Canyon first. So we got up early and headed around this 13 mile loop to see the incredible land masses that have accumulated through the years into bright red, glowing, striped, pink, muted yellow mounds of rounded earth that have to be seen to believe.
We got out of the truck often just to get a closer look at the sand dunes that have turned to rock oh so many years ago. Of course we both have our cameras in tow and I usually have the dogs with me. I am trying to train them so when I say "Sit" that means they can't move a muscle. This way I can still take photos while walking them and holding on to their leashes.
The dogs are more excited to hike up a rock face than Pat or I put together, so sometimes that is a bit tough to do. I do manage to snap a few shots anyway, thank goodness for the image stabilization in our lenses.
Our 13 mile drive turned into a 3 hour escapade which ended me in the front seat ready for a nap. Pat jumped out to take a picture of something and asked me to go, but I told him I would just wait this time since a sleep spell was coming over me. After Pat was gone a few minutes, Luca sat straight up in the back seat and made his growling noise.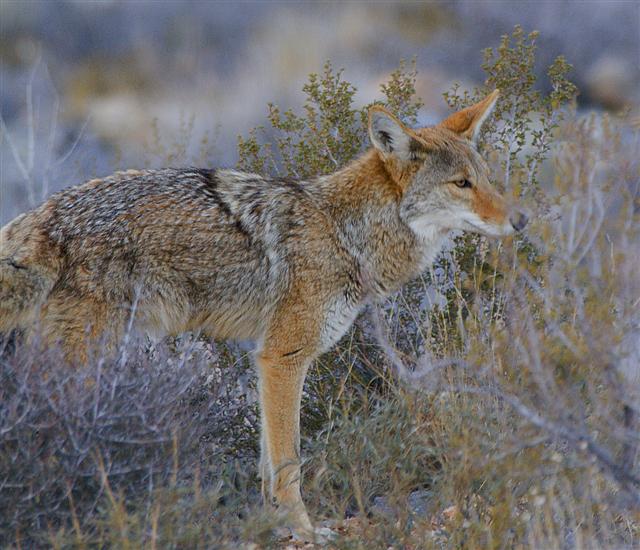 I looked out my window to see a coyote only a few feet from my door. I grabbed the camera real quick a took 5 shots, only one of which turned out OK. When Pat came back he said "Awe you missed a huge rock out there!" I showed him my action shots of the friendly coyote and he about cried. He jumped out of the truck again to try and hunt the cunning pup down but came back with his own tail between his legs.
We had stayed out way to late in the afternoon to move out today, so first thing in the morning we will be heading somewhere? Not sure at this point where but somewhere warm.
Red Rock Canyon Gallery can be Seen Here
Wednesday February 6th
Pat has decided that it would be silly for us to drive back to Phoenix this week when we have to be back in California in two weeks. It's only a four hour drive from where we are now and it will be 10 hours from the Salt River campground.
I told him to go shopping in Lowes to get some things we have been needing and I would figure out a path for us. I really do want to go back to Phoenix to get our mail and our generator but most of all I want to see the boys. I would like one more happy hour at least before we head to Mexico for a couple of months.
I found a route that would bring us over Hoover Dam since we have wanted to see that landmark then we would take HWY 93 all the way down to the Phoenix area. Along the way I have found at least 4 true ghost towns which have always fascinated both of us.
Luckily since I found the ghost towns, Pat agreed to my plan of heading back the long way to Salt River.
The closing of Hoover Dam on Wednesday put a cabosh on seeing that. We took the 36 mile detour down HWY 95 instead which took us though Laughlin and almost to Kingman before we turned and headed North again up Hwy 93.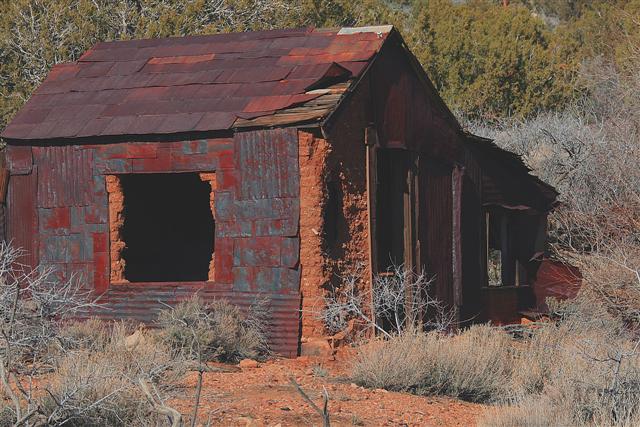 I was trying to navigate us to these ghost towns by memory since we didn't have a signal on the computer and the GPS has done nothing but get us lost lately. It doesn't have up to date roadways or any new or really old roads on it. I have resorted to mapping our way around most of the time unless we are in a big city where it works great.
We finally found our way to the Mineral City Ghost Town first. This town has very few buildings still standing although many old foundations can be seen through out the hill sides. Most of the mine shafts had been fenced in with warning signs posted around the entrances, so we were unable to snoop into the tops of the dark shafts.
Make sure to check out the Mineral City Gallery here
We then ventured off to the Cerbat City Ghost Town which seemed as though this was a metropolis compared to Mineral City. We took these long kidney bruising roads for miles away from anything or anyone, we thought. We were trying to find the city by looking through binoculars for the tall Mills which I had seen in photos on the Ghost Town website. I saw some old buildings and what looked like an old hotel in the far distance.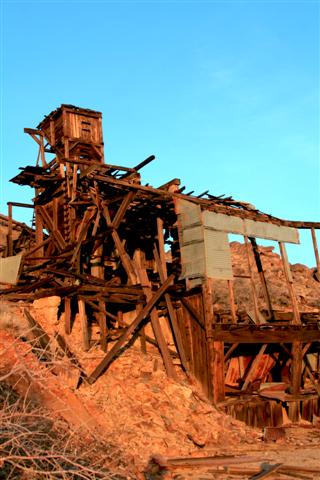 We headed that way and to our surprise, people are living in these places with no electric lines to the homes that we could see and I can't imagine having phone lines out here or picking up cell service. This is truly what it means to live off the grid. We did see some irrigation tubing coming from one of the abandon mine shafts which we thought they might be drawing their water from, but your guess is as good as ours. We drove past these places and kept creeping up the mountain side until we reached the actual ghost town.
This one was pretty cool and very big. Many homes were left and also some large structures which were used to haul the goods from below the earth. We waited to get the right lighting which is just before and after sun down before we called it a day.
At one point I turned around and said to Pat "Did you just say something?" he replied "NO but I think I just heard someone scream!" REAL NICE PAT!!
I told him it wasn't funny and he said that he wasn't kidding. We both headed toward the truck before we realized there was a cow walking on top of the ridge trying to scare us off of his play ground where numerous piles of cow chips left evidence that this was not the only cow on the block.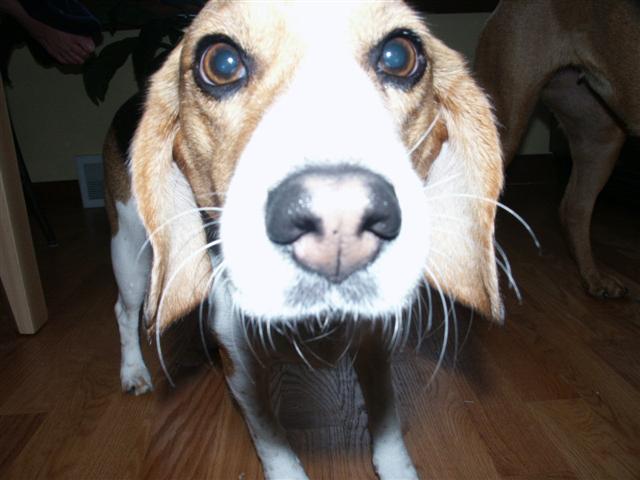 We got back to the car where Pat wanted to do an emergency voice box removal surgery on Lucy since she had been in the truck crying since we got to this abandoned town. Her high pitched whine allows one to hear her for hundreds on feet from her.
We drove back down the well worn path watching the sky give us an amazing light show with the clouds and the setting sun. We had some Boondock chili for dinner and I was back to my normal schedule, being in bed by 9:00.
Check out the full Cerbat Ghost Town Gallery Here
February 7th 2008
After spending the morning sharing the campsite with a herd of cattle roaming about while checking out the new building on their farm, we started up the F-250 and headed on down Hwy 93. We weren't far from I-40 which we had to tag onto for a few miles until it turned back to HWY 93. At this point in the road where the two meet, something spectacular happened to the landscape.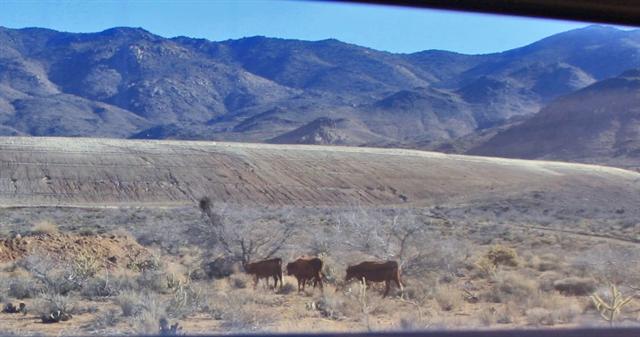 The roadway went from brown desert with large rolling hills to a green forest with thousands of Joshua trees as far as the eye could see. The plains actually had a vibrant spectrum of grasses and shrubs which really broke up the monotony of the previous days driving.
We enjoyed the Dr. Seuss like fauna surrounding us and broke out into some Green Eggs and Ham lines as well as One Fish, Two Fish. With both Pat and I working with Pat's sister, Monica in her day care center, we got to know all of the great ones by heart all over again.
We took the Vulture Mine Road exit thru the town of Wickenburg with the intentions of following this desolate road to the end. This is where we thought the Vulture Mine was located. While looking through the Gazetteer, I noticed this was all BLM Land. I figured we could find a quite spot to stay the night and would see the Vulture Mine tomorrow since it was almost dark already.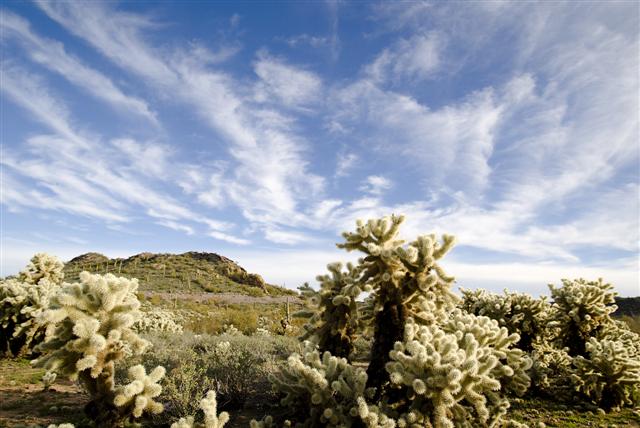 To our surprise we actually found a designated camping area which was absolutely beautiful. The hills surrounding this little valley had about a dozen campers spotted through out. This was also the beginning of a trail head for hiking, biking and four wheeling.
Of course Pats first suggestion was to go 4-wheeling which I told him "Unless we hike it first to see the terrain, our beat up truck tires could not handle a trip like the last one!"
At this point we have so many chunks gouged out of the side walls that one of the tires keeps loosing air. They need to be replaced before we grind them up again. At 2-3 hundred dollars a piece, we are trying to wait as long as possible. If anybody knows where to get a deal on tires, clue us in will ya'.
We settled in for the night with the glowing Cholla Cactus acting as glow sticks surrounding our camp site.
Friday February 8th 2008 Vulture Gold Mine Ghost Town
Where do I even begin for today. Pat and I ate a great breakfast of a new meal I will have to put on my recipes page before we headed out to find the Vulture Mine. It wasn't hard since the road was paved to get here and it was clearly marked.
This has been the first Ghost Town on our little excursion that has had a fee to enter. We spoke with the managers and she explained that they also have dry camping available right next to the old school house for a minimal fee of $10.00 and she would throw in the $7.00 a piece entrance fee. That worked for us and we immediately left our campsite on BLM land which was only 5 miles away to head toward the abandon school house sand lot.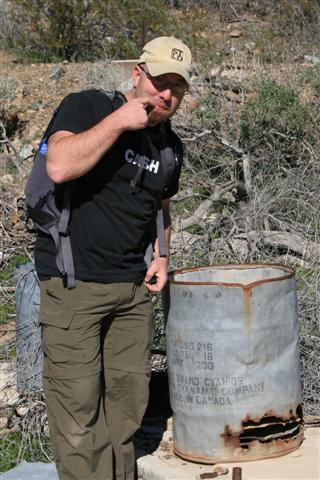 Roma, the manager explained to us the Ghost Town tours close at 4 o'clock, but she would allow us to stay until sunset to get some great photos. She and her husband Marty have managed this land for quite a few years and before Roma and Marty took over, Roma parents managed this ghost town since 1971. So you might say they are a mining family, without all of the bad side effects.
Marty told us a few stories about the mine and how he would like to clarify some of the things that are being displayed on numerous websites as false statements. He told us of the chemicals that these people would work with on a daily basis such as Cyanide and Mercury. He said that if one would die from the toxic fumes, someone else would immediately be put in their place without question.
That's Pat licking his fingers beside a barrel of Cyanide! He ordered a barrel to go he liked the taste so much.
Marty also showed us the hanging tree where at least 18 men have been hung for stealing gold from the mine. The tree is huge and over bearing and extremely close to the ground? Pat made the statement that not even he could be hung there at his 5'5" towering height unless they chopped his legs off at his knees first.
Apparently, right behind this hanging tree is where Henry Wickenburg lived. He had large tubes built into the stone work on the side of his house so that if anyone came to try and kill him, he could poke his gun through the holes and shoot them first. Marty told us that if anyone would try to put their arm in the holes, "ol' Henry would chop them off before they could try and shoot at him."
The remnants of time past are everywhere, with things like dishes, stoves, canned goods, some mining clothes and many other things that brought me to the feeling of the early 1900's; back when life was much less complicated. Not as many luxury items to worry about purchasing or maybe just not enough money to put them into ones thoughts.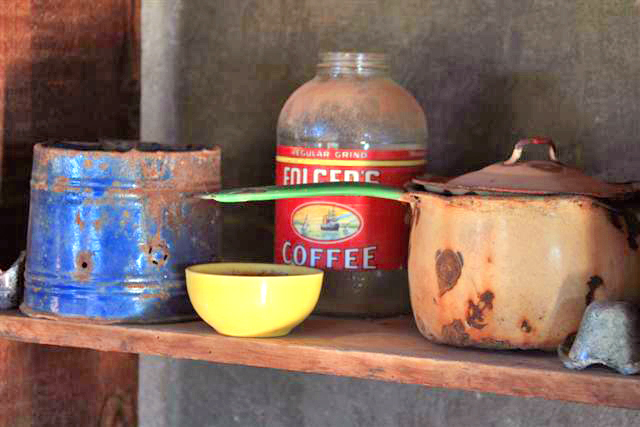 The bunk house was pretty much falling down since the adobe brick has started to crumble, however the mess hall was still in pretty good shape. Marty told us "The buildings tend to stay standing as long as we keep the roof in good condition" We enjoyed the items that have been left for display or neglected to be removed, I can't tell which one.
The Assay Office was my favorite building. This leaning building housed the vault, the gunman's quarters and a couple of other choice rooms. This place is incredible with its 2-3 foot thick walls made from the rock which has been pulled from the surrounding earth. They say that this rock contains over $600,000 worth of gold and silver in it, engineering at its best.
Still looming over the other buildings that have crumbled, this structure, built in 1884, is still very much intact with the only damage being from tourists trying to take home a piece of history. I only hope the pieces they've stolen are like the Lava Rocks tourist steal from the Hawaiian Islands. Rumor has it if you steal one, a curse will be put on you for stealing and defacing something which has been preserved for all of us to enjoy. When we visited Hawaii two years ago, we read that thousands of rocks are mailed back to the islands with letters claiming that since they stole the rocks, they have been cursed with bad luck.
The Vulture Mine was closed by the Government in 1942 and before shutting down the big mill, it produced $200,000,000 in gold and silver during its hey day. It is estimated to have at least 2-3 times that amount still remaining in the underground treasure chest.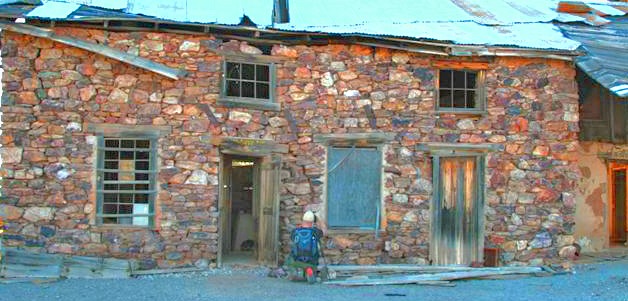 Pat and I were in the mine area from 11:00am until 6:30pm and could still probably spend another day or two wandering around.
We watched the sun sink behind the mountains which was encompassed by the giant monster like Crain lurking out above the hillsides. The sunset truly brought out the golden colors of the rock and adobe which are the foundations for this town.
Once it got this dark, my lens would not take pictures anymore without being on a tripod, and I'm not that patient, so I just sat pretty much right in the middle of the town square and soaked it all up. We were the only living people around, but I'm sure there was plenty of ghosts strolling around that we couldn't see. Once the sun had set, the air had started to chill so I grabbed Pat by the hand and led him back to our home sweet home.
As we walked back we embraced the fact that our lives are different from most peoples, the time we spend on things like this are almost to the point of strange.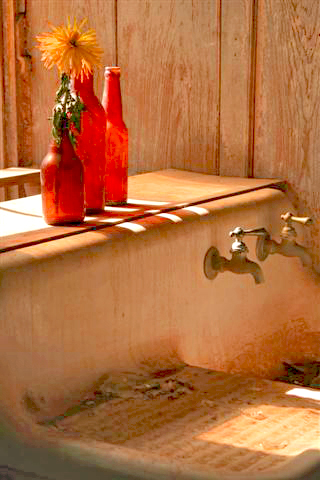 I can't imagine anyone of my friends spending 7 hours in a ghost town without being shackled and forced to stay. We however could only be detoured by the cold night air and the growling in our stomachs. I am so glad that we found each other since we have so many of the same likes. Pat makes me feel so special and important to him which always puts a smile on my face.
The Vulture Mine is haunting, with its stale air and remnants of the bleak past these miners endured as well as the romantic history of the area. Thinking of the hardships they went through to keep their families and themselves afloat made me realize how tough life must have been back in those times. It was worth ever penny of the entrance fee and then some. The drive out here in this beautiful country side was worth it if nothing else.
Pat and I enjoyed this excursion so much that he has made an additional photo gallery where some of our favorites can be seen. He also went into much more detail than I did, so maybe you should check out this page we made specially for the Vulture Gold Mine Ghost Town.
Vulture Gold Mine Gallery can be seen here
Sunday February 10th 2008
After playing catch up on the site and going thru all of our photos yesterday, it was too late in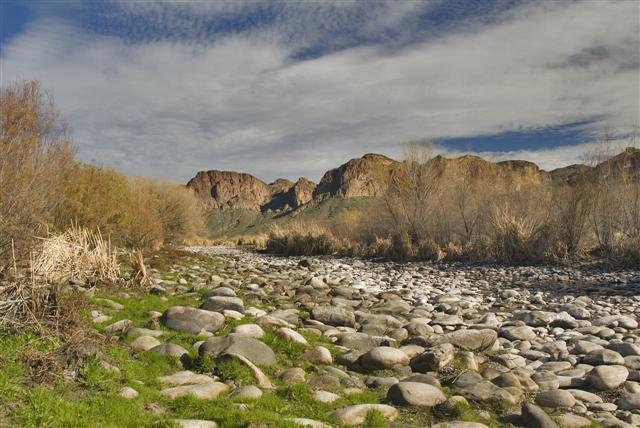 the afternoon to head toward Salt River. We got an early start this morning, leaving the Vulture Mine Ghost Town behind us. We had a quiet drive since Pat and I decided that we didn't like each other today.
Isn't marriage funny, how some days I just gaze at Pat and think he is the best guy in the whole world, other days I would like to ring his neck! We decided that today was a neck ringing day first thing in the morning. I told Pat, "I don't like you today " his reply was "OK". This made for a long first hour or two while driving.
By then, I started liking him again so we got back to normal. We took Hwy 93 South until we hit Hwy 74 east which pretty much brought us into Scottsdale. After a quick stop at a Chevron to dispose of our tank waste, we arrived in Pebble Beach area just in time for happy hour. It was like coming home after a long vacation.
We arrived at almost the same time that Darrel did since he had been spending a few weeks with his family closer to Phoenix. I got a great big hug from Gene and Darrel, and we commenced to attend our ritual of watching the sunset while laughing and cutting up.
We got the update on our friends here in the area including Tom who sold his house this week. Jim found a new dog which had been running around the park, wild for a few weeks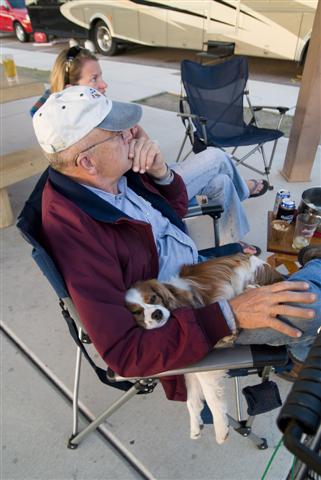 before we left. I guess Jim and his two sons have adopted it. Darrel sold his farm in South Dakota for a great price so he will be full timing for a while longer.
We stayed at Darrel's until about 9:00pm chewin' the cud until I thought Pat was going to fall asleep. He actually got a second wind and we came home to play our on-going game of Rummy 3000. I am beating him by almost 1000 points so he whined a bit and then went to sleep.
Tomorrow we will start planning our trip to Mexico, finding things that we have to store and putting away our winter items and pulling out the summer stuff. I am getting pretty excited about the trip, although I am nervous in a way. We have heard so many things about the crime rate increasing in the recent years, most of it involving tourists. Traveling in numbers is supposed to be the way to go so my fingers will be crossed and many prayers have and will be said.
Thursday, February 14th 2008 A Valentines Day I will Never Forget
As Pat and I woke up this morning he asked what his Valentine wanted to do for their special day. I replied that every day is so special in our life that just being with him would suffice, no gifts or special dinner required.
We started the day off right with some breakfast and some lazy reading time, followed by a long hike with the dogs. We have recently met a new gentleman here at the Salt River who was one of the first BLM officers in Arizona. His name is Mike and he is filled with interesting stories and some great photos to go along with them.
Mike volunteered to take a hike with Pat and I to show us an archeological site which he had found. We hiked into the mountains for about a mile or so when he announced that we had arrived. Pat and I sort of looked at one another as to say "I can't see anything different" Mike pointed to what looked to me like a hole in the ground with some sand piles around it.
I was not really impressed, until he began to point out to us what we were really seeing. He showed us the remains of some pottery from hundreds of years ago when the Native Americans made this spot their home. Some of these pieces were large and were painted with intricate colored designs. Mike then pointed out the bones from either humans or the animals which were eaten by humans.
We walked for the circumference of a city block, continuing to see the remnants of an era long past. We also learned some information on the Flora and Fauna which surrounded us. Mike seems to be quite an expert on the different types of cactus which covers the Arizona floor.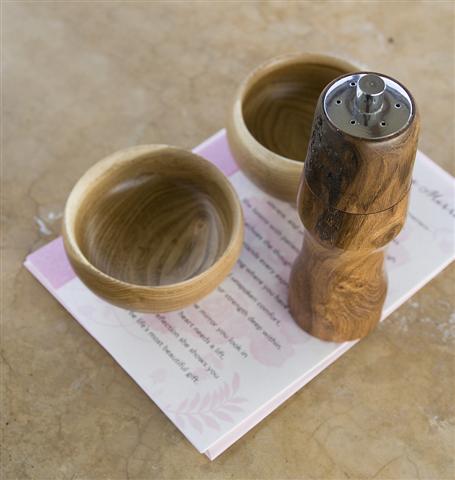 After our journey we came back to the camp site to pack up our things for storage. Our friend Nancie has loaned us some space at her house to dump the winter clothes and other various things we wont need in the heat on Mexico.
Before we left, I dropped some fresh baked corn bread off to Gene and Darrel which I had baked in the morning. Gene informed me that we were going to have a special 'Happy Hour' today to celebrate Valentines Day.
This made me extremely anxious to return home by our 4:00 time frame. Pat on the other hand was just putzing along, taking his time to see the sights and stop for things we really didn't need anyway. We made it home just in time for me to whip up a snack for us and serve up some beverages.
We headed over to Darrel's to grab our seats in front of the mountains as if we are sitting around a bon-fire. Pat was still at our camper when the Boys presented me with my Valentines gifts. Darrel turned, what we call Happy Hour Bowls, for me from a lovely piece of Oak. We always use them at Darrel's to put nuts and small snacks in for us all to share. Darrel always teases that these are his portion control bowls since they are the perfect size to keep one from over indulging.
Gene as you all know has just started this new hobby of his and he is definitely a fast learner. He turned a combined salt shaker and pepper grinder! I was floored, by the intricate work that he put into this. It is made from a piece of what they both called firewood.
The wood is actually a caramelized mesquite with many different hues of brown red, and a dark charcoal. This is where the firewood comes in to play. They explained to Pat and I that this piece of wood that was used actually has char marks from being used as firewood. No matter, this just adds to the character of it.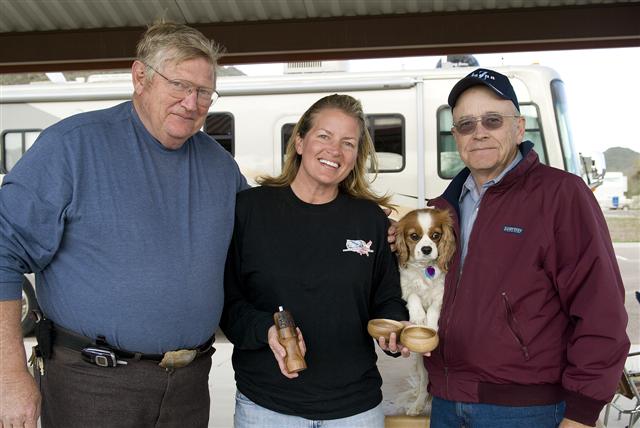 Both Gene and Darrel also gave me a card which expressed how important our friendship is to them. Reading these cards made me tear up since I feel the same way about them. This will be a Valentines Day that I will never forget since I spent it with three of the most special men I have ever had in my life.
I don't know how to explain the bond that Pat, Darrel, Gene and myself share with one another, but I am very thankful that we found each other. I will miss them both very much when we move further South. Something tells me that we will make it a goal to see each other again soon. Somewhere on the road, our paths will cross again and our friendship can spark up again like we didn't miss a beat.
A funny story about Darrel, the other day he brought me over to the back of his vehicle and said "Look at that license plate, do you see where it is from?" I said "Yeah, North Dakota, why would you have the wrong state on your plate?" Darrel started laughing and said "It's not the wrong state, you and Pat always say the wrong state."
So instead of going back and correcting the numerous times that we have mis-placed Darrel's home land into South Dakota, take this as a retraction for our mistake. Sorry Darrel, I'm glad you told us so we will know where to hunt you down in the future when we need a good belly laugh and an iced Makers Mark.
Saturday February 16th 2008
Not much to write about today, the weather has been cold and rainy the past few days so we have tried to spend time catching up on indoor activities. I did however take yesterday, as an opportunity to wash the camper and the awning. In the pouring rain, with my rain coat on , I spent the morning soaping the thing up while God gave me the auto rinse cycle the whole time.
Just as I got it completely bubbled, it quit raining! I just had to be patient and the spout was opened back up again. It took me about an hour but she looks real pretty now and all of the mold is off the awning.
We had dinner with Darrel and Charlie, then came home for an early bed time.
I got an email from a woman from Michigan who has been following our site that I would like to share with you all. I got a kick out of it and Pat really cracked up. I edited part of it out and got to the part that made us both laugh.
Hey Pat & Cindy

My son turned me on to your website & I love to read your blogs.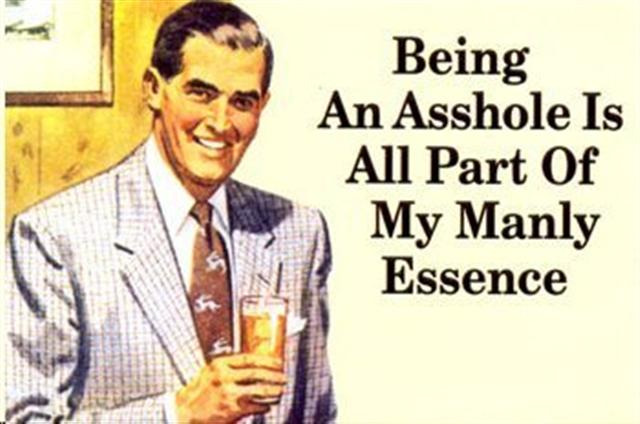 Safe Travels......
Leslie - A fellow RV'er in Michigan where the temp is 28°
PS. I don't know you, but living with any man in a space the size of a walk-in closet can make any woman lose her mind !!! You men are not as endearing as you think you are.
I just want to say Thanks Leslie for the words of wisdom, I don't feel as crazy now!! Thank goodness we can both laugh at our downfalls in this walk-in closet of ours for if not, this would be a very dangerous trip.
Sunday February 17th
I got an early start this morning and drove into town to do some grocery shopping for lunch today. Since Darrel is leaving on Monday and Pat and I will be leaving on Tuesday, I want to have a celebratory lunch with all of our new friends.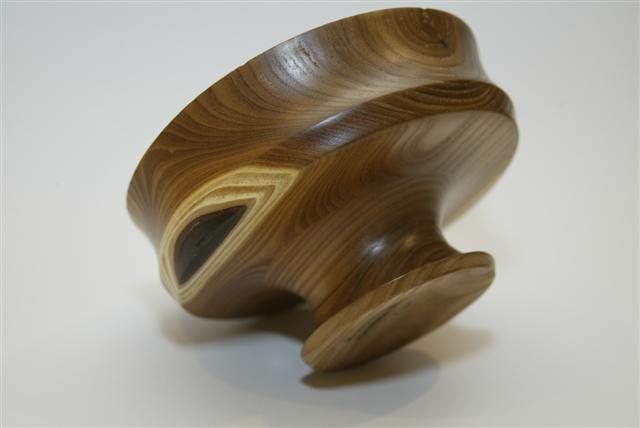 We have been trying to hook up with Don and Denise since we returned from Vegas and today was the day. Everyone arrived at 1:00 and we enjoyed a Mexican lunch beginning with some appetizers then onto burrito's and tacos with all the fixings finishing it off with some cheese cake.
Mike brought us over some Razor Clams which he hand harvested while he was in Alaska. He roasted them in the grill over some mesquite wood, which we have plenty of here, until perfection. Don and Denise brought some Pacifico Clara beer which is imported from Mexico.
We had some great conversation and everyone enjoyed each others company. The biggest hit of the day was my collection of hand turned items which I displayed with pride for all to see. We even had some additional campers stop by to our gathering to see the lovely pieces of art which I have collected.
Apparently this group of people have stayed in this camp ground before, becoming good friends with our camp host Jim. They were referred to our web site and have been following along for a while so they sort of felt like they knew us already.
We all lingered about telling stories and getting to know one another until 4:00 rolled around. At this point we moved ourselves to our regular Happy Hour destination so we could watch the sunset one last time together.
All of us laughed and told stories until it was just too cold to be outside anymore which was sad to say we had to go home. The last few months have been a joy, not only for our incredibly beautiful scenery but also the people that we have met along the way. Our camp host, Jim has made this a special place for all of us with the help of Tom who also works for the parks.
The friendships we have made here will last a life time. Darrel, Gene, Pat and I have plans to go to Sturgis, South Dakota in August this year for the bike show. That will be quite an experience, I'm sure!!!
Monday February 18th
This morning we have planned to look for a Bald Eagle and his nest with Kevin, learn how to trap shoot with Gene, and say our goodbyes to Darrel all before noon. We got none of this accomplished except saying goodbye to Darrel. We didn't see the evasive Eagle or its hidden nest, the shooting range ended up being closed on Mondays, but I did manage to give Darrel some double breasted goodbye hugs.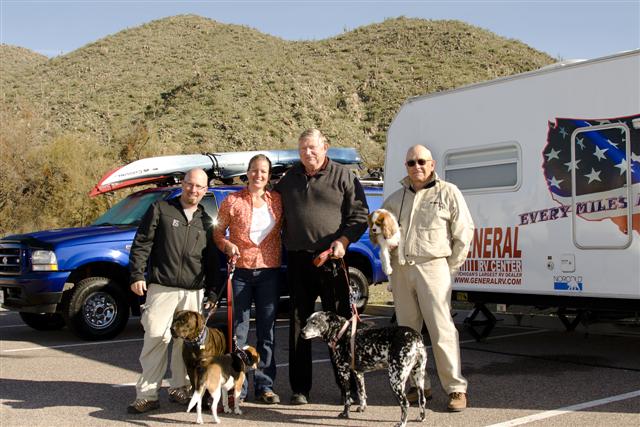 I love the guy like family, so that 'Goodbye' part was sad, but I know we are all ready to move on to our next destinations. He has found an RV Park to stay at which specializes in wood turning. He seems excited that he'll be able to keep making his wonderful pieces of art and hopefully learn some new tricks of the trade.
We decided to stay another day so that we could go trap shooting with Gene tomorrow. Seeing as how he was the Colorado Champion for many years in a row, it will be nice to learn from one of the best.
As we were settling in for a relaxing night we heard a voice from afar saying "Happy Hour begins a four!" To our surprise the Canadian couple that we had met the day before decided to continue Darrel's tradition and invited the park to come to the old spot to hash over some more good times.
Jerry and Kathleen had the chairs and a couple of tables setup to watch the sunset. The biggest part of Happy Hour was missing though. We said a toast to Darrel and learned some new things about our new Canadian friends that had arrived over the weekend.
At about 9:30pm we called it a night, heading straight for bed, looking forward to our session of trap shooting lessons tomorrow.
Tuesday February 19th
We all got an early start this morning and drove the 20 miles to the Red Mountain Gun Club. Gene had supplied the competition guns for us to use, giving us a quick run down on how to operate the guns safely.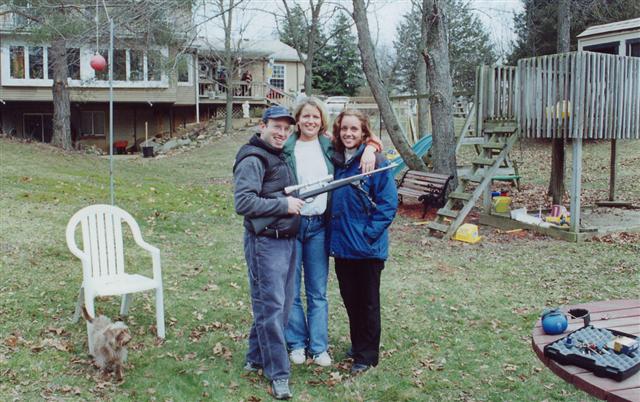 I wanted the boys to go first but Gene insisted on coaching both Pat and I for our first round of 25 shots, just so that we felt comfortable with the procedure. Pat went first since I started getting nervous, as I always do, because of the loud noise and I wasn't sure of what the recoil force of the big shotgun would do to my shoulder.
I'll tell you a short story of why this put some fear into me. With Pat and I being the good all American red neck family that we are, we would take our daughter to shoot our collection of guns all the time when we lived in Florida. It kept us out of the heat during the summer since the indoor ranges were always air conditioned and we thought it was smart to teach our daughter the proper etiquette when it came to the usage and dangers of handling a gun.
When we moved to Michigan, the family would spend holidays in the back yard of my In-laws either shooting guns, riding four wheelers or racing mountain bikes around the home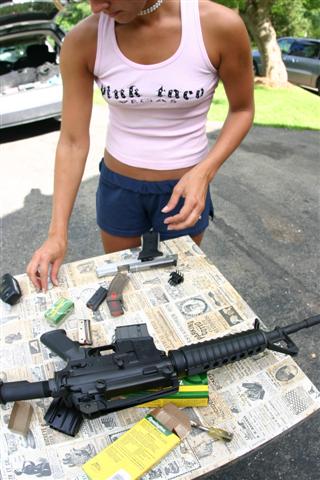 made track.
Donielle and I both had our own 22's which we loved to shoot at cans in the yard. Donielle was quite good with a hand gun and was spot on with her little rifle that Pat had decked out with a scope and bi-pod. One of Pat's rules for us girls was we had to know how to shoot every gun he owned, just to be familiar with them. Neither Donielle or I liked the shotguns because of their nasty kick.
Pat and his brother Joe thought it would be real funny to let me shoot one of Pat's 12 gauge, short barreled shotguns. I did not know that this gun was much more powerful than my rifle or Pat's AR-15, which both have almost no recoil.
As the family stood watching from the porch above the yard, I took a shot at the target. The recoil was so strong on the shotgun that I fell on my butt as Pat caught the shotgun before it hit the ground.
Of course the laughter was a plenty as I picked myself up off the ground. Since then, I haven't fired a shotgun in thanks to the practical jokers that I am surrounded by, better known as Family.
Needless to say, I was a bit leery and nervous, thinking that this gun was real powerful and I might look like an idiot again if front of a bunch of strangers.
Pat went first and he shot 14 out of 25! That was great since he had never been to a trap range. Gene went next (since I was still too chicken) and even though he hasn't shot since 1991, he hit 23 out of 25!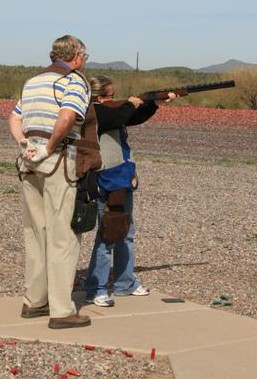 This meant that it was my turn, so Gene went with me and guided me on how to load, aim, and follow the trap until it was in my line of fire. The first shot I took, I had my eyes closed so no surprises, I missed. But to my delight, there was very little recoil and I was still standing with the gun in my grip. Way better than the last time.
Wow! This wasn't bad at all, I could keep my eyes open and shoot this 15 pound shot gun. No recoil at all and it seemed real easy and natural thanks to Gene's tutorial. I ended up with 5 out of 25! I was just glad to hit at least one so my day was complete.
The boys asked me if I wanted to shoot again but after holding that shotgun up through 25 rounds, my biceps were killing me. After they went through a couple more rounds of 25, we were all ready for lunch.
Gene took us out to eat at a pizza place in Mesa and we got back to the camper around 1 in the afternoon. We were 90% packed up from the night before and were ready to head out until we were coerced by our Canadian neighbors to spend one more day at the Salt River and leave Wednesday instead.
We are not in any real hurry, so we enjoyed one more Happy Hour with Tom, Gene, Jim, Jerry, Kevin and Kathleen. Or what is now called the Salt River Gang. It was a lovely night so we were out late and had a great time. Tomorrow we shall leave early to start a new group of friends in Mexico.
Wednesday February 20th
We said our goodbyes around 10am this morning to the friends we have made and I received a big Bear Hug from Gene. We drove off in silence for quite some time, thinking of all the good times we had while at the Salt River.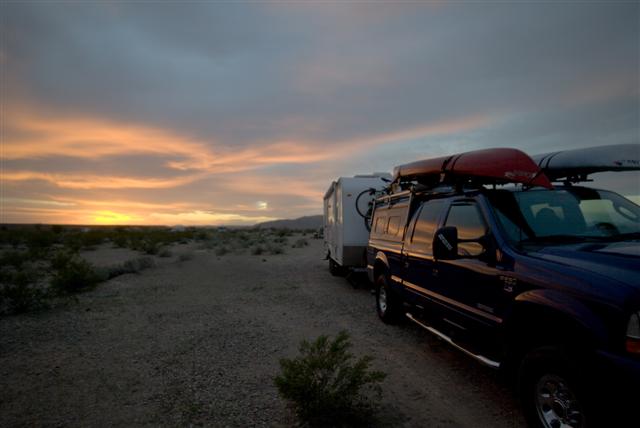 We stopped as we left town to dump our tanks and fill the fresh water tank. I grocery shopped for a few things to get us through the weekend while Pat waited in the truck. Our western trek landed us in between Yuma and Gila Bend at the Pictured Rock Petroglyph Park.
By the time we got all set up, night fall was upon us with heavy cloud cover. We were afraid this would keep us from seeing the lunar eclipse tonight. We snuggled in for the night in our PJ's when the wind forced Pat to go outside and tie down some strap that was continually hitting the side of the camper. He came back inside, filled with excitement, forcing us to get dressed again so that we could enjoy the star filled night with the eclipse if full bloom.
After the grand finally, we got back into bed early with the intentions of going on a long hike to see the Petroglyphs when we woke up.
Thursday February 21st
I got up and took the dogs for a walk real early this morning and to my surprise, the Petroglyph site was less than a football field away from our camper. I went back to Pat to jump start him with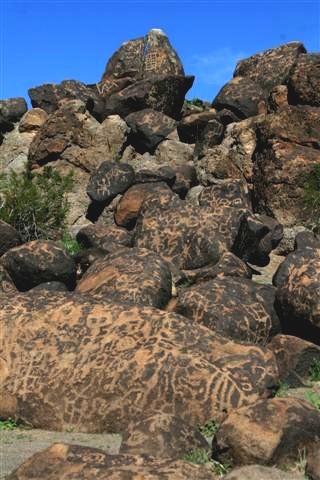 some morning Tea! Our quick trip around the designated site area was not very informative. In no place did I see where the art work had dated back to. Although there were a few lines about the trail in which the Mormons took while coming from Iowa to fight for our country.
Apparently the Gila River used to flow through this area in the mid 1800's, leaving this place a destination spot for weary travelers to get water supplies for their families and live stock.
Since then our government has diverted the water of the Gila River to serve other purposes, leaving the river bed dry and the flora and fauna changed forever.
This was a pretty cool place to dry camp for only $8.00 per night. It did have rest rooms and fire pits with picnic tables placed sporadically about the site.
I have never seen so many Native American writings etched in one rock. They only carved on one side of the large rock formation but again, I am not sure why. There were some story boards that told us a bit of information, but there were no attendants like some of the other Petroglyph sites we've visited. I think my favorite was the V-Bar-V Ranch where there was a volunteer who would explain each etching and was filled with information on the native site.
After our short trip about the rock face, we drove into Yuma. I'm not sure exactly what the lure of this town is, but there are hundreds of thousands of RV's parked here. All of the Parks look as though they might house 2000 trailers, row after row. I only saw one park that had trees in it, leaving me to believe summer would be like living in hell in these places.
We finally found a spot to do laundry, no thanks to our GPS! I was looking pretty color blind with the only remaining clean clothing I had to wear. My shirt started with bright, fire engine red, moving into a hue of purple then to the not so vibrant colors of blue and beige. Doesn't that sound pretty. I know Pat made fun of me each time he looked at me joking that "I shouldn't be out in public looking like this drunken rainbow!"
While driving into California, I got a call from my sister in Louisiana. She asked me if I might be able to come and stay with her for a couple of days since she and her husband are having some procedures done next week and both will be bed ridden for a few days time. I will be out of touch from Tuesday thru Saturday of next week and my prayers are that all goes well with both of them.
Friday February 22nd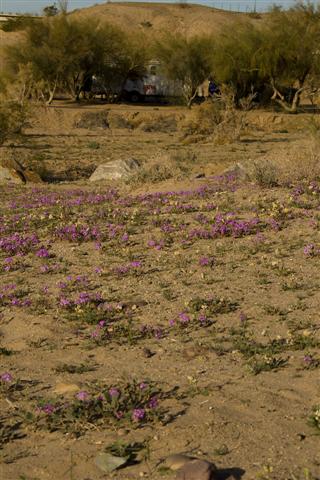 We found some BLM land to camp at last night and tonight which was not the best choice by any means. It is the first spot that we saw to camp at as we crossed the California border on I-8. We were hungry and ready for a break and it was getting dark, so thought we'd stop rather than risk having to find a spot in the dark.
Our lovely site is snuggled a stones throw away from noisy I-8 and an even quieter railroad track, Ahh! As we looked out our front door we did have a great view of a dirt mound, covered with small purple flowers that look like Flocks but smell like Lilacs.
We took the dogs for a walk and as we trudged through the deep sand, carrying our beers, I said a toast to Patrick, "This is our first day in California and lets hope that this is the worst place that we could have possibly found." Both of us hoping the further into the state we travel, the scenery will be much better.
We later found out from one of our neighbors that this is part of a Native American Reservation which they come to collect a minimum fee once a week to stay here. All of the neighbors that we talked to seemed to love the area and were not bothered my the constant noise. They like it so much most of them have spent their winters there for the past 4 or 5 years.
Even though this had to be the noisiest camp site on earth, we learned that Saturday the Air Show in Yuma would take place and the noise would only get better. Fighter Jets, trick planes and historic planes would be looping over this area to show their stuff at the Yuma Military Base.
I'm thinking that we will take off before the planes do on Saturday just because we are both jonesing for the sight of the Pacific Ocean.
Saturday February 23rd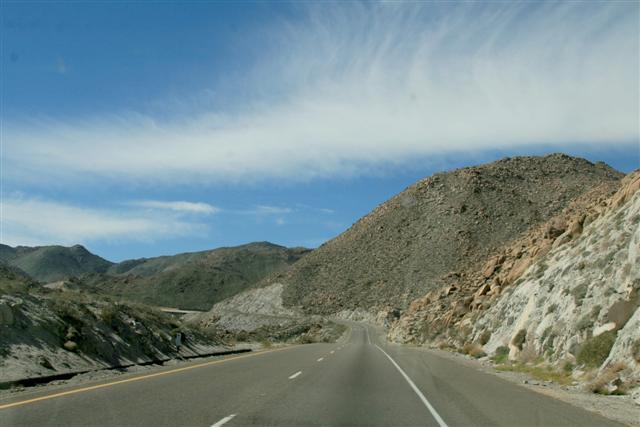 The drive to San Diego on I-8 was straight up a mountain side going from below sea level elevation to over 4300 feet in a short 13 miles. The poor F-250 was chugging along as though we were carrying a 50 ft travel trailer filled with lead instead of our little Sunline. When the radiator temperature got up to 225° we sincerely thought about pulling over, thankfully about that time a border check brought us to a complete stop for a few minutes to cool the overworked motor down.
We decided against staying somewhere on the outskirts of town so that we could be right by the water. Pat parked within view of the ocean on Mission Beach so that we could take a peek at the waves we could hear when we pulled in.
It has been so long since we have seen an ocean that I almost cried when we walked up to it. The sound of the waves lapping on to the packed sand was like music to my ears. I could smell the salt air piercing my nose as we strolled along the board walk.
The sun was beaming brightly upon us as the crisp wind whistled though our hair (well, my hair). The first thing we did was just breath in deeply to fill our lungs with this healing salt air while getting our eyes filled with the beauty of the surf.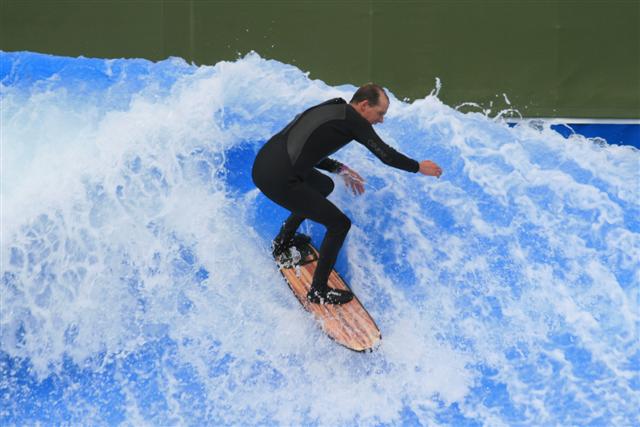 We walked along the boardwalk for a bit until we came to a bar called The Wave House. This is a restaurant, bar and also has a huge wave pool that allows surfers or want to be surfers to get some time in the water.
We ended up spending the afternoon watching many people from different ages, shapes and sizes wipe out continuously. A couple of the people could do well on the waves but most didn't which was much more fun to laugh at. We laughed our butts off for hours while drinking some beers and meeting new people. Some of the wipeouts looked very painful and you'd hear the crowd follow a grueling tumble with a big "Oooh!" with a big cheer.
Although we wore sweat shirts during the day, the sun felt great and was very warming. As the day passed by we went looking for some lunch and began to get cold. We walked back to the camper to get some warmer clothes on and had some lunch here instead of eating out.
Pat suggested we get on our bikes and ride down to the end of the Boardwalk to do some more people watching. We saw a roller skate show which I didn't even know they still made roller skates. We watched some newly weds romp in the surf for their wedding photos even though it was freezing outside by this point.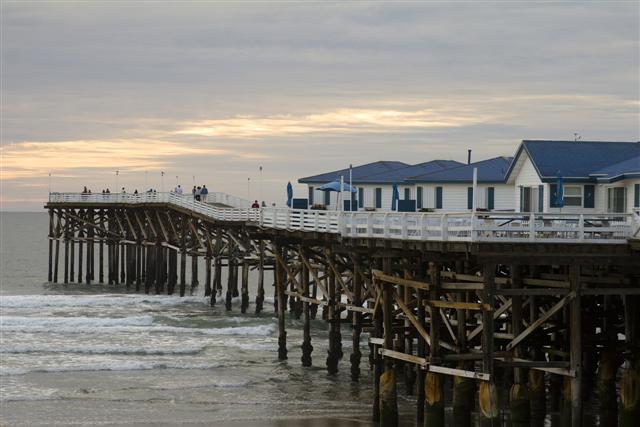 We sat on the beach with our hats, gloves and double jackets on until we watched the big red ball drop behind the horizon. Man, I sure did miss this view and was happy to be seeing it again!
Many different types of people make up this world and I think one of each of them were on this board walk. We came back to the camper after a few hours or so to greet our new neighbors in the parking lot. These fellows live on the beach and do sideshows or card tricks for money. After they showed us a trick or two, they let us know that they are unemployed and they live out of their campers and thought we might be able to give them some cash.
I in turn announced that we are also unemployed for almost two years now and live out of our camper too. I asked them if they might teach me some card tricks if that would help bring in some income on the side. They all got a kick out of that and we talked for a while longer until the night air got a bit too cold for us.
This far West, we gain yet another hour of time but I think Pat and I were both in bed by 7pm Pacific Coast time. At around 9:30pm I woke up to the sound of music playing and electric guitars rocking out beside us from the neighbors. I said to Pat, doesn't this parking lot have any quite hours posted around here? We both laughed and fell right back to sleep.
Sunday February 24th
Isn't there a song that goes something like "It never rains in California"? Well that's a lie since it has been raining here since wee hours of the morning. It's such a bummer since we had planned on spending the day outside, doing some sort of activity to dwindle down our waist lines.
We opted instead to read for a while as we listened to the street people who live next door to us serenade us with some Beach Boys tunes. I found it humorous when I overheard one of the fellas say that he had went on line and found out the best way to approach people without making them feel uncomfortable.
Who knew? How do you think one would find this info on line? "Pan Handling for Dummies", "Bums, It's Not Just for Misfits Anymore" or maybe "How to Live off the Land in San Diego?" Everyone makes a living some how in this world, being the best at what one does by studying the trade would probably be very useful.
In their defense, all of these guys were very nice and seemed sincere in not wanting to make people feel uncomfortable. We had a couple of real nice conversations with them and they were all very helpful in giving us directions and such.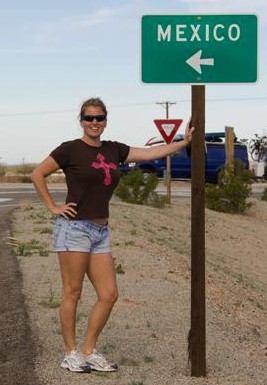 We punched in the coordinates for the awning place, Best RV, which we are sleeping in their parking lot tonight in order to be the first people there in the morning. Mike, the manager, was real nice to fit us in before we leave for Mexico. He said their first appointment was two weeks out until Pat told them of our situation.
I am going soo stir crazy now just thinking about being on the beach in Baja!! I can't wait to get there at this point, loosing all of my nervousness because excitement has taken over. I can't wait to take some incredible photos of tropical scenery and do different things like kayaking, mountain bike riding and jogging in the surf with corn rows in my hair and being a size two with D cup breasts.
Oh wait that is just a fantasy of mine, I don't think the bean diet is going to do that for me in just a few days. Anyways I am feeling sort of stagnant, just waiting to get going.
My trip to Louisiana will be a welcome change although, this will be the first time in 19 months that I have been away from Pat for more than 12 hours. Yikes! I hope we don't go into with draw.
It will be nice to see my sister, my nieces and my daughter next week in Louisiana. My daughter Donielle will be 22 on the 3rd of March so I will be there real close to her birthday. I think my sister doesn't need me to take care of her as much as she wants to bring the family together at this time. Who knows though, family is always nice to have around when you don't feel well.
Tuesday February 26th
We found a campsite last night at the Silver Strand Beach. It's not much of a campground, just a parking lot located right on the beach. It does have a gate for security safety and was nice and level, so I'm not complaining.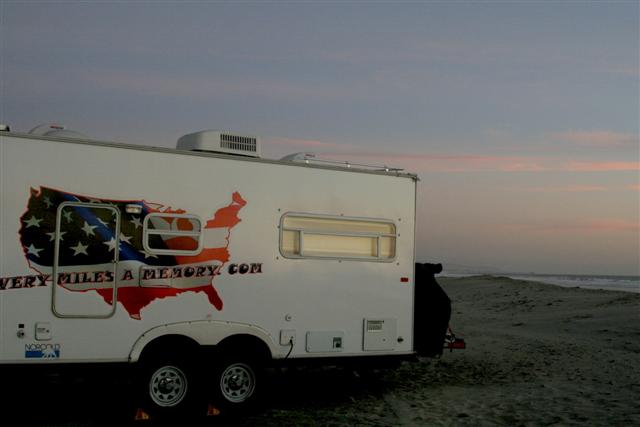 The parking lot is located directly on the beach with an incredible view out our back window of the waves crashing onto the shore. There are rest rooms but that's it, no other amenities at all. That's Ok though the beautiful view is worth the $ to stay in a parking lot.
It also says that dogs are allowed on a six foot leash just not on the beach. We were told when we got here that they could not be in the parking lot even? I guess they want us to drive them to use the bathroom in the morning. The lady that checked us in was quick to inform us of just how strict they are with there many rules that are mandatory we follow to the tee. I think I liked being serenaded by the homeless Beach Boys better. Pat and I walked along the beach fighting the stiff winds that were whipping up the surf to a chaotic mess.
When we watched the news last night, there was reports of 20 foot waves and numerous people needing to be rescued out of the surf. Luckily for us, our big back window kept the winds off of us but allowed us to sit and watch the sun go down in the comfort of my big easy chair. Cold margarita in hand of course...LOL
We woke this morning to a distant sound of the fog horn warning the incoming ships of the dangers of the ocean. Helicopters flew the shore line apparently avoiding the traffic situation on the freeways. Seagulls squalled as they scurried for their morning meal to be found on the coast.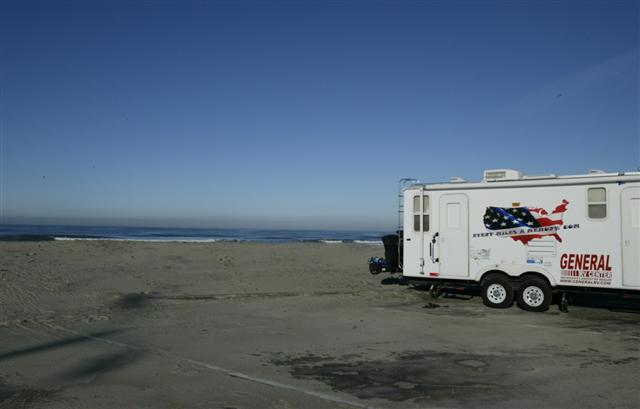 The sun shone brightly by 7:30am begging us to come out and discover some new sights and sounds that this Pacific Ocean has to offer. I carried the dogs out to the road as not to get in any trouble (just kidding) for their morning walk and breathed in the salt air knowing that tomorrow I will be in a much colder climate.
My sister said they are expecting lows of 29 at night and the 50's during the day where she lives. I must go now and enjoy the sun while I can. I will be leaving in the morning for Louisiana so I will get back to our blogs on Sunday.
Oh, I almost forgot, I love the new window covers. The awnings were not possible due to the ladder being so close to the back window but we got a mesh covers instead. It's pretty cool since we can see out but people can't see in. We could watch the complete sunset last night with out heating up the camper like it normally would or having to squint when the sun was at its brightest. It's almost like looking out with dark sunglasses on and it keeps the inside nice and cool. Thanks Best RV!
Pat and I were talking about what our goals are for Baja, and I thought I'd post a few of mine. He wasn't to happy with my game plan, but it was his idea to set goals!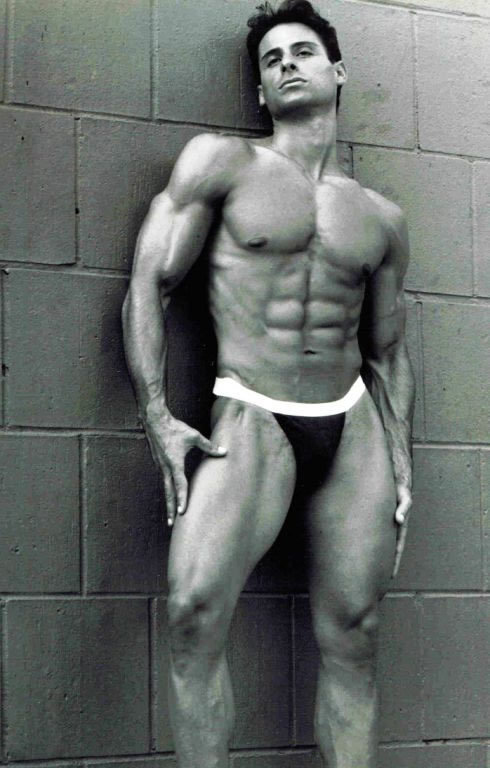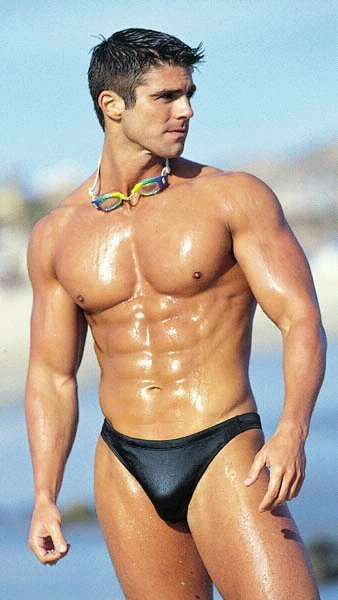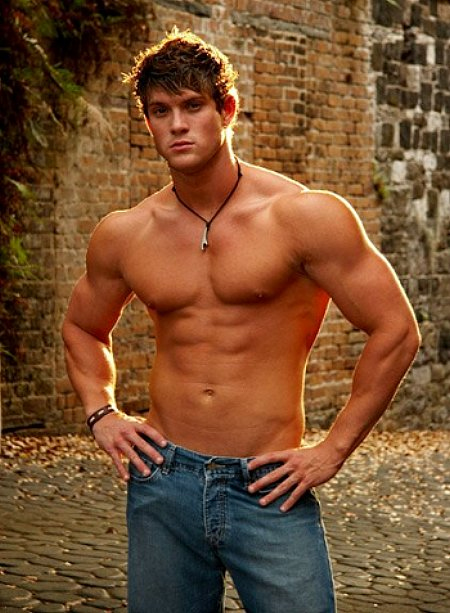 I figured since everyone is so nice here in California, if they could point me in the right direction for this type of scenery, I'd be mighty thankful!
Wednesday February 27th thru Saturday a.m.
These past few days have flown by. I spent them with my sister and her family, helping to keep them fed and well, while my sister has a few days of recovery. I had the enjoyment of seeing my daughter for a couple of days also. It amazes me that every time I see her, she seems to be a different person, each time more grown up and becoming a woman.
I got the chance to see her apartment and have long conversations while we laughed and cut up like we used to. It is so fun to reminisce about when she was a little girl keeping our days busy with silly antics and then later in life, keeping our nights busy with more of the same.
We talked about the numerous car accidents that she has accomplished by the ripe old age of 22. I believe we counted at least 8 before she turned 20 years old. My my, I can't believe she still has a fully intact vehicle at this point.
It was so nice to cuddle with her and watch movies and eat crappy snack food till we both fell asleep. As she dropped me off at the airport she asked if we could please move to New Orleans because she will go crazy without me. I told her that is why she lives in New Orleans, because I drove her crazy when we lived close to each other.
We both agreed that visiting each other as often as possible will really strengthen our bond with one another. Every time I see her, I feel less like a burden to her and more like a mom that she loves and respects. That is a great feeling for any mom to accomplish. I guess that is what growing up will do to us all, giving us a different perspective on daily life.
My twin nieces are growing up to be beautiful, well behaved little girls who love their mother very much. They helped as much as they could to keep their mom comfortable while she dozed in and out of consciousness.
My sister has the biggest bed that I have ever seen and all five of us girls were laying in there at one point giggling and being goofy. We were actually laughing at me sister, who made absolutely no sense for the first two days she was home due to the narcotics the doctors had her on. We had plenty of good times at her expense but she will never remember so who cares right?
Saturday March 1st
Here I am, March 2nd, at 4:30 in the morning, wide awake and it is still very dark outside. When I got home yesterday, or should I say back to San Diego, Pat and I drove around a bit seeing as much of this place as we could before we head further south in a day or two. We ended up at La Jolla Beach where Pat introduced me to the seal population in this area.
The momma seals were surrounded by babies, lying on the man made beach that they have taken over. I always thought that all seals were white as babies and black as adults which today I was proven wrong.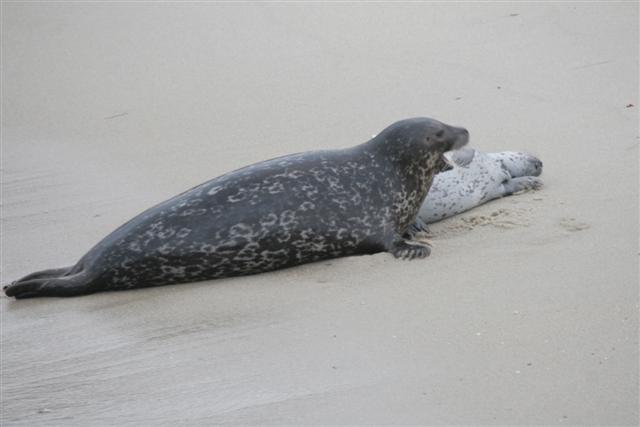 All of the seals have a sort of leopard print on them, ranging from beige fur to grey and black. Some seals lounged around while others played in the surf for some afternoon fun. They are adorable, but man do they smell. I guess they are not real familiar with the common courtesy of keeping their sleeping area free from poo.
After we got our fill of these cute critters we tried to find a place to eat. I guess the nasty poo smell hadn't ruined my appetite, but then again there is nothing short of cutting out my stomach that could accomplish that. This place is so packed on a Saturday night that we had to go through three towns before we found a spot that we might have a shot at parking at.
We were in a large shopping plaza which had to have 1000 parking spots, yet we still had to drive in circles for 20 minutes waiting for someone to leave. As soon as we saw one person leave, I jumped out of the truck so that no one else would take the space. We chose Mexican food for some reason, even though we will probably have our fill of it over the next few months.
After dinner we came back to the camper which is still parked at Jeff and Lori's house. This nice family seems to have adopted Pat while I've been gone and Pat can't say enough good things about them. I will meet them tomorrow for they are gone with some family for the evening.
The dogs greeted me with a big hello, some wet kisses and Luca tackled me to give me hugs. After a long walk with them around Jeff's neighborhood, our arrival back to the camper was less than exciting. I asked Pat if he minded if we could just go right to bed since my times have been messed up again. Louisiana is two hours different from West Coast time, so I just need a few days to readjust. I was absolutely exhausted and it was only 9:00 pm, hence the reason I am up at 4:00 am this morning with nothing to do but type.
Move to March Blog