When we realize our insignificance in this world,
it some how relieves the pressures from society to succeed - Cindy Bonish 04/07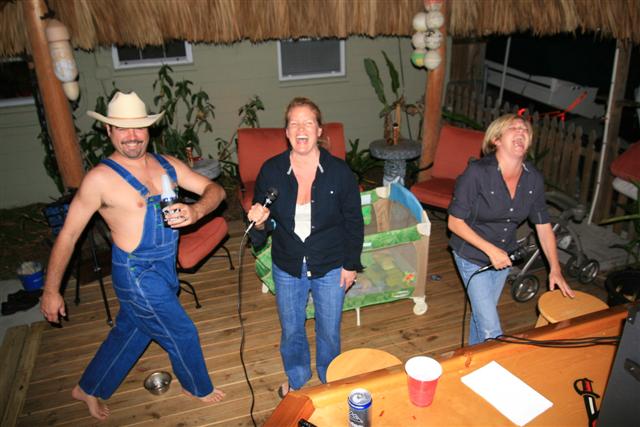 Cindy's March 2009 Blog
Every Miles A Memory
Feel Free to browse past blogs for plenty of travel ideas and many of the places we've been in our first 12 months on the road - 2007 Blog's
January 2008 Blog February 2008 Blog March 2008
April 2008 May 2008 June 2008 Winter 2008 Blog
Photo Gear We Use
Solar Tips, Fact's and Trick's we've learned while on the road
Well-behaved women seldom make history
____________________________________________________________________
If you haven't read any of the earlier blogs, you might want to start there to catch up on how we got here.
Sunday March 1st
After our last good meal with Fonda and Juergen, we loaded ourselves into the truck and headed over to the pasture where we had parked the camper. The last few times we have been over here to get clean clothes or groceries, we have had one helluva time getting in and out. Pat had said before we went to bed last night that he was fearful of pulling the camper out since the pasture was turning into a swamp with all this non-stop rain.
All four of us drove over to the camper just incase we might need a hand getting out. Man, was that ever an understatement! We haven't been this stuck since Baja when we had to dig our way out of the sand. Boy, if it was only that easy this time.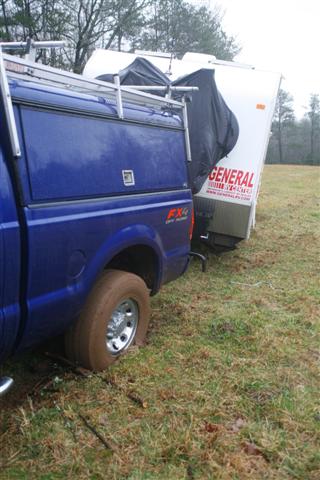 Pat is an awesome driver, and I trust him to do what is right when ever it comes to any type of machinery, so Fonda and I pretty much stayed out of the way of the boys as we watched the truck go deeper and deeper into the mud. Fonda and I were sitting in her truck since the rain was coming down in sheets.
All we could do was watch as the boys did their best to pull the vehicles out. First with Fonda's Toyota Four Runner, then with Bob, the pasture owners big tractor, and when that wouldn't work, the big guns had to be called in. Each time they tried a new method, Fonda and I watched as the camper sunk deeper and deeper into the mud on the drivers side.
I finally looked at Fonda and said "I can't watch anymore!" I mean everything that we own right now is stuck to the back of our F-250 and if that thing rolls, we were going to be spending alot more time in Georgia than we had planned on. I reached into the back of the truck and got Fonda and I a Coors Light and we walked down to Karen's house who owns the pasture.
Fonda said she knew she would have a fire going and we could at least warm up while they waited for the big tractor to arrive. We sat in the house and peeked out every now and then to see less and less of the driver side of the camper. I wish I had the camera because from the front of the pasture, it looked like this thing was going over at any minute.
We saw the big John Deere pulling into the the back of the property and then watched as the four men looked at the situation in the pouring down rain for what seemed like forever while they figured out a game plan. Once they got into action, we again stepped away from the windows so the fate of the camper would be a complete surprise either way.
After we had all put down our cold, wet beers, I heard Fonda cheer "It's gone!" Now this could be interpreted in two ways, so she quickly rephrased that and said, "It's moving on down the hill!" We all gave a resounding YEAH!, put on our wet clothing and got back out into the wet weather that Pat and I would soon be saying good bye to.
The mud from the aggressive tires which had turned into slicks in the red clay slung in all directions as we hit the pavement. The camper was covered as well as the passenger and driver side windows. That wouldn't last long though because as soon as we hit the HWY, we ran smack dab into a nasty SNOW STORM!
In a 45 minute time frame, the roads were covered in the slippery, sloppy white stuff, a couple inches thick. I can't believe it!!! How does this happen to us every where we go. You would think that the first part of March would be snowless in Georgia. Does it even snow here, ever, let alone 4 inches?? For the next two hours we battled not only the heavy snow at a high rate of speed of 20MPH but also the inexperienced drivers who tried to drive in it also.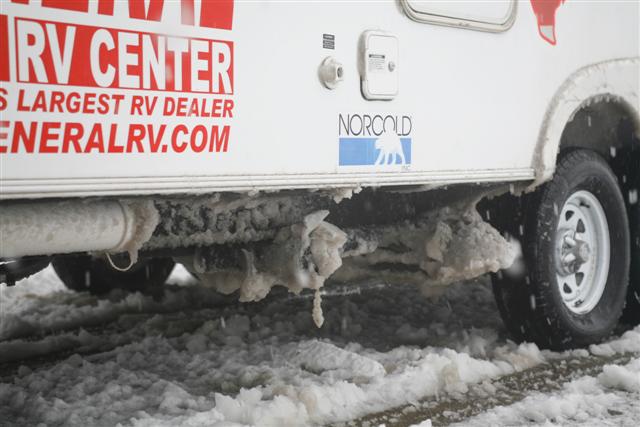 With no snow removal equipment to speak of here in the middle of Georgia, we knew this would be a challenge. When I suggested we pull over and wait out the storm, Pat insisted that we keep driving until we were out of this mess. Moments later the truck is coming to such a quick stop that it felt like we were going to jack knife. A vehicle had run off of the road ahead of us which caused a traffic jam at the cusp of a hill.
We didn't see that anyone was stopped until it was almost to late as everyone was locking up their brakes in a hurry. The Ford Escort in front of us was surely crapping his pants as Pat swerved the truck into the ditch in order to avoid sandwiching them between us and the vehicle in front of him. Like I said, Pat is an excellent driver and got us out of that one without getting anything or anyone hurt.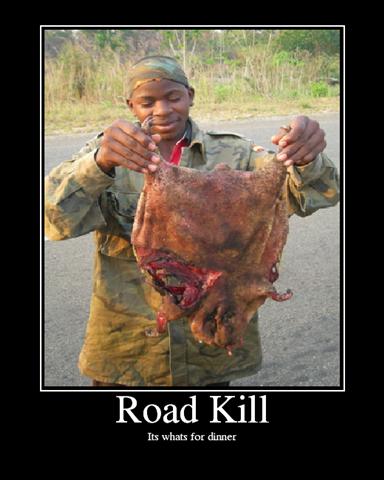 That didn't last for long though as we took a raccoon under our front bumper and heard it bang around the under carriage for a while. Fortunately we didn't have the same experience with the family of deer that darted in front of us just after dark.
Dang, get me to a parking lot so my nerves can get some rest. When we finally did settle in for the night, the four of us climbed into the bed and waited for the sheets to warm up before we could go to sleep.
We ended our drive in Valdosta, Ga. which was also a blistering 30 degrees. Tomorrow, warm weather here we come!
Monday March 2nd
We didn't even get out of bed until 10am this morning and it felt great. The sunshine was peeping through our shades and begging us to start the afternoon. After breakfast and a short walk of the dogs, we got on the road and headed straight for a Flying J.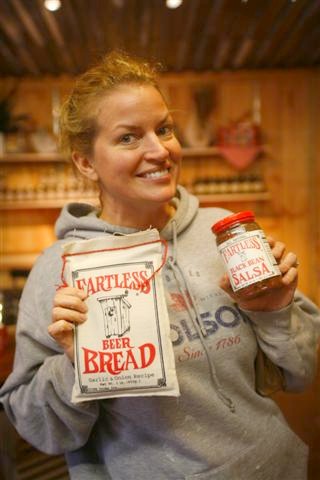 We needed laundry, a dump station, fuel, propane and a day of playing catch up on the computer. Oddly enough we can get all of those here in one friendly location. It is still only 53° today but the sunshine gave us a good battery charge and a boost of much needed Vitamin D.
While we sat waiting for the clothes to wash and dry, I baked a chicken, made some spicy black bean soup with warm, crumbly corn bread which kept the camper toasty warm all day long.
It is now 8pm and I almost have everything caught up for the next week or so. I wish I could be as good at keeping up on this blog as Pat is, but it seems when we get to a stop, I make dinner, walk the dogs and get the camper cleaned up while Pat catches up on his blog. By the time I get those things done, I am ready for bed. We had a talk and from now on, Pat said he would let me update my blog as soon as we stop and he'd tend to some of the chores with the dogs.
I'm sure we will find a new challenge tomorrow to share with you all and who knows, maybe I will post it first.
Tuesday March 3rd HAPPY BIRTHDAY DONIELLE!
Today is our daughters 23rd birthday which really makes me miss her. It is hard to believe that all of these years have gone by since I could cradle her in my arms while gazing into her beautiful green eyes. Now she lives on her own, has a great job which she loves and has no need for the cradling anymore.
We will see her soon enough since we are headed to Louisiana after our visit with friends here in North Florida. We arrived in Cheifland, Florida early afternoon today and spent our day in the Manatee Springs State Park. We are looking for an inexpensive place for us to stay with our friends Jeff, Jenn and there 1 year old Ethan.
Pat had been yawning the whole morning while he was driving so he took a bit of a cat nap while I took the dogs for a long walk through the park to check out the sights. The camp sites are really big, water and electric are supplied and it is only 18 bucks a night. We also get the added bonus of watching wild life such as deer, tons of ground squirrels, pilated woodpeckers and our favorite, manatees.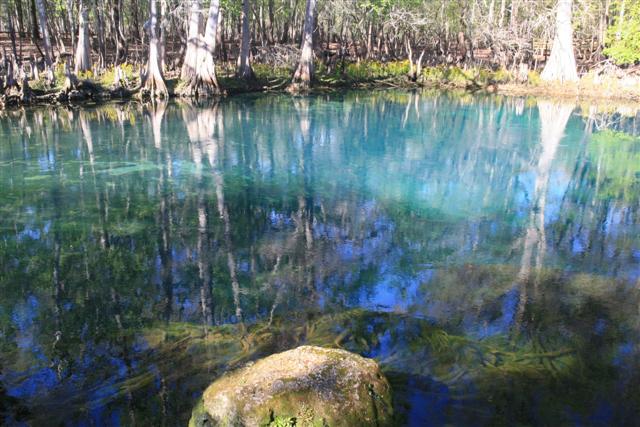 The Springs here are constantly flowing at 72 degrees into an incredible pool of aqua blue water which leads to the Suwannee River. We saw an older couple snorkeling in the swimming area with four manatee surrounding them. They are much braver than I, since Pat and I both had a sweat shirt and gloves on. I bet they were freezing when they got out.
By the end of the day, Pat and I agreed that this place will be great for us all, so I called our friends and they will be here on Wednesday of next week. I got on line to make reservations to find out there is nothing available. I have looked throughout this area to try and find a spot which provides all of the things Manatee Springs State Park has to offer and cannot find anything even close for the price.
Our day will be spent scoping out the surrounding area, maybe heading a bit South to see what we can find for accommodations.
Wednesday March 4th thru Wednesday the 11th
With a bit of a change of plans for our Florida trip, we decided that heading all the way down to Lake Worth would be as cost effective for us as staying in the Cedar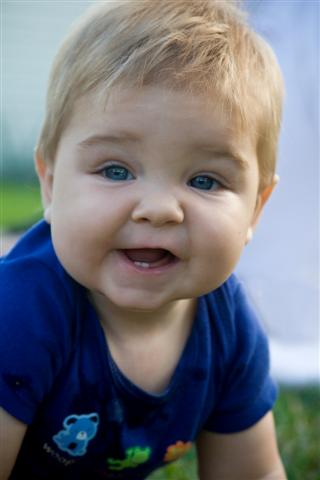 Key area. Jen convinced us that we could drive down south and have warm days, cool nights and a free place to stay. We arrived at the Esposito house mid afternoon to finally meet their new son Evan for the first time.
Evan is 8 months old and a bundle of energy. I can't tell who he looks like yet because he had light brown hair and blue eyes. Both Jenn and Jeff have dark brown eyes and dark hair so his personality will give me a clue later.
Jenn and Jeff tried to have a baby for years and had no success until they decided that maybe it wasn't meant to be and they quit trying. This was just about the same time that they had come to visit us in Michigan the summer before last. Wouldn't you know that just after they left us, Jenn became prego! The Lord works in mysterious ways. I personally think it had something to due with all that Canadian Whiskey we drank while they visited.
Jenn is 39 and Jeff is 42, so one child is going to be all they are having, which will give Evan more than enough of the love and attention that any child would ever need. Like all new parents and some times old parents, they don't want to see Evan cry or be in any kind of discomfort, so he is held alot and doesn't get the chance to get real high strung with tears when he can't sleep.
When I was a new mother I did the same thing and it took me about two years to learn that my little girl had me pegged. She would cry until I got close to her and when she new I was going to pick her up, her tears would completely go away. I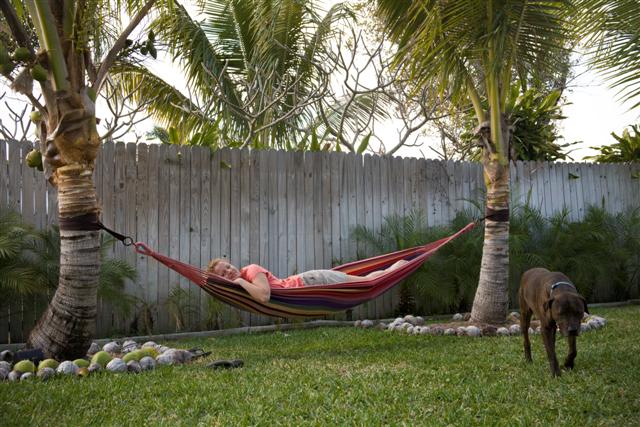 know Evan doesn't have that part figured out yet because he rarely ever cries, but needless to say, I tried to give them the heads up and let them know to watch for the signs of 'smart baby' antics.
Their lives really haven't changed much except for the going to bed earlier in order to get up with the baby routine. Evan was real easy to just plop in the car seat and he was content to go where ever we went. Jeff built this play pen for him that is at least 8'X8' with a padded linoleum floor and a two foot tall wall with padding all around it. This kid will be the envy of all the other babies in the area.
During our stay we played outside most of the time in their kick ass back yard which I spent alot of my time in the hammock that was hung between two coconut trees. At night time, one of us would cook while the rest of us chilled out by the huge TIKI bar that Jeff built.
We didn't even want to go anywhere because we loved this place so much. Just when I thought it couldn't get any better, Jenn breaks out the Karaoke machine. I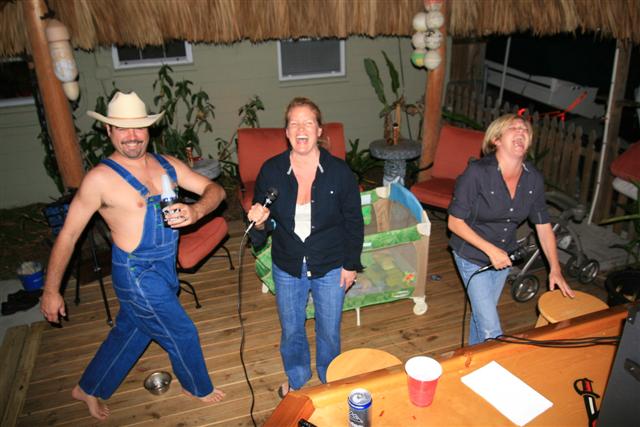 was in heaven! Jenn, Jeff, and myself were singing the tunes when neighbors started showing up.
I am sure we were loud enough to hear throughout the entire neighborhood and they probably thought "If I can't beat them, I might as well join them." What was really cool is the new baby monitors that are on the market actually have a camera on them, so they had baby Evan on the flat screen for us to make sure he slept through our laughter and singing.
We spent a day at the Palm Beach Zoo where Jenn got a foot full of bird poop some how.....I'm still Laughing at this! I bet the people walking into the bathroom thought something was up when her toes were under the sink as well as her shoes being washed of the brown goop.
Our week was filled with fun and games and new memories to rehash the next time we see each other. Jenn and Jeff wanted to still take the time off that Jeff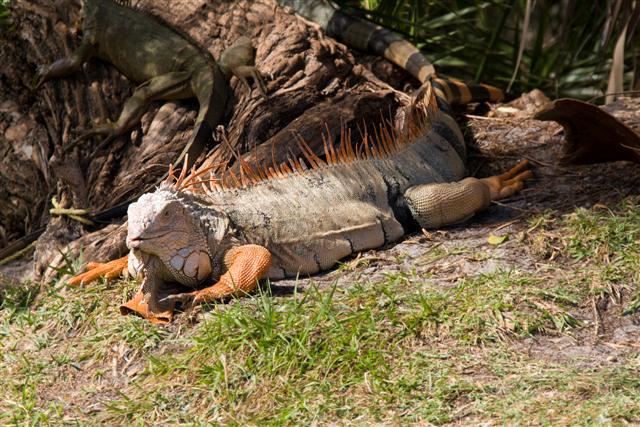 had put in for and go camping with their new pop-up camper. They have taken it out a couple of times already and know that Evan loves too camp also.
Jenn grew up in Okeechobee and still has some friends and family there, so she and Jeff made plans for us to go up Thursday thru Sunday with some life long friends of hers.
In the mean time I had a chance to have a couple of lunches with my older brother Jeff and his family. They live 30 minutes from Jenn and Jeff, but they are always so busy, we didn't really get much quality time before we left. I tried to see my Mom but she wouldn't answer her phone and gave me some reason why she was unavailable.
By the time she did get ahold of me, I had already left the area. This is the second time I came to Florida to see her but she couldn't seem to make the plans. I cried myself to sleep one night and then realized that she has some issues that I will pray about and that always seems to get me through rough times with her.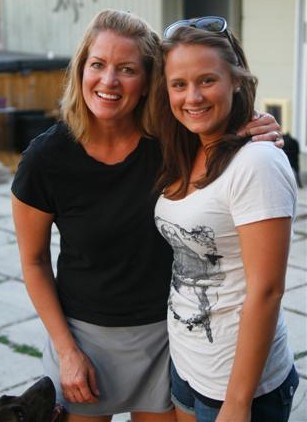 On our last day in Lake Worth, I did get a chance to meet up with a very long time friend of mine and her daughter. Marianna used to baby sit my daughter during the night time while I worked and I would sit for her daughter Elizabeth during the daytime while she worked. We switched kids for years since we were both single mothers, supporting ourselves, working lots of hours to pay the bills.
This way neither one of us had to pay a sitter and we knew the girls were in good hands. Donielle remained good friends and Liz came to Michigan for a few weeks each summer after we moved away from Florida. Liz is now in her second year of college and looks just beautiful. I have known this little girl since she was a two year old terrorist and she has really grown into herself.
We all enjoyed dinner at Jenn's TIKI bar and talked about all of the good times we've had together. We were all ready for bed around midnight, which seems to be alot earlier than the good old days of our youth. It's strange how some friends you can see once every few years and not seem like you have even lost touch with them, while others, you can see them every day and grow so far apart it seems you don't know each other any more.
Thursday March 12th
We were packed up and on the road by 3pm, heading for Shannon and Reed's house in Okeechobee. I had no idea that this part of Florida is so well known for the steers and horse farms and the amount of rodeo riding along with true cowboys that fill the small towns and farms.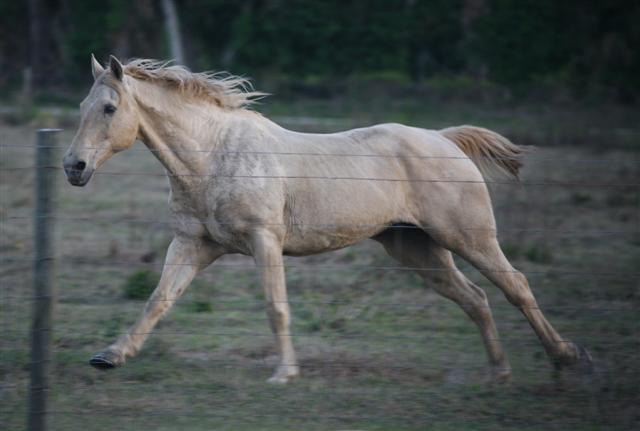 We each had a walkie-talkie so that we could keep one another company on the hour long drive toward the second largest fresh water lake in the US. The only one larger is Lake Michigan. We made our first pit stop only minutes from Jenn's house at a Cuban sandwich place.
Both Jenn and Jeff agreed that this was the best place to have a Cuban sandwich so Pat and I took the bait and ordered one. This would have been perfect a few days earlier when I had a pounding head ache and a week stomach after too much Tequila drinks. However, I was in the mind set to not gain any more than the 10 pounds that I have gained since we left Michigan, so it wasn't quite so appealing.
Basically a Cuban sandwich in a hoagie roll with ham, Swiss cheese, pickles, mayo and mustard on it. The part that makes it a Cuban sandwich is the squishing of it. They put the sandwich in a hot steam press and coat the top and bottom of it with a butter flavored oil.
The sandwich comes out flat, hot and greasy. Not the most tasty thing ever, but like I say it would be great hang over food. The middle of our trip was down a long straight road that was lined with a canal on each side. Jeff told us to watch for gators because the temperature was getting just right for them to be out sunning them selves on the banks.
Right about the time he was giving us the heads up, I spotted my first gator, lounging in the sun on the canal bank. After that, I could hardly keep up with how
many we saw. These things were any where from 2 foot up to 12 or 13 foot. We even saw a couple of white ones but Jeff let us know that those were the bellies of dead gators floating upside down in the water....Yuck!
I counted 31 of them on a track of land that was maybe 25 miles long. I have never really been frightened of gators since we used to go to a park in Dade County and ride bikes around them. They would cross the path and lay about the trail sunning or sleeping. This place in Dade County was an alligator and bird sanctuary so there were hundreds of these huge, prehistoric monsters.
I guess they must be pretty bad dudes if they can stay on this earth for longer than almost any creature we have now, without a whole lot of adaptation. They must be doing something right.
When we pulled into Shannon's driveway, we were greeted by the sounds of baying dogs and mooing cows. Shannon and Reed live on a 10 acre parcel that is surrounded by the family farm. We got ourselves settled in which took us two minutes and poor Jeff about 20 minutes. Thank goodness Pat changed his mind about having a pop-up for this journey we are on.
We hung out for a while and met their children who are both avid rodeo kids. Raybon, who is a 15 year old girl with long dark hair and even longer legs is close to, if not #1 in the state of Florida when it comes to Barrel Racing. I don't want to get this wrong, but I do know that she placed 8th out of 1600 riders in her class in one of the last big rodeo's she competed in. She has been doing it most of her life as well as her little brother Rooster.
Rooster's real name is Racy, but he has a hair style that looks like a rooster in the morning, so his nick name has stuck with him. I think he might be 13 or 14 and he is all boy! The two of them responded immediately after being spoken to, always had a polite "Yes Mam" or "No Mam" when we talked with them and they both have great sense of humors.
Rooster has a set of eyes on him that will make any young lady swoon and Raybon got the looks and talent of both her Mom and Dad which is a sincere compliment. They gave us a tour of the barn which consisted of a pig which Rooster will be showing next week if it makes weight. A Brahma Bull that Raybon's best friend will also be showing. Three horses, which two are used for work and one is Raybon's that she does all of her riding on.
They have too many Florida Kerr dogs to count, and each of them were introduced to us by name with a story behind their blood line or where they had come from. The first thing I asked Shannon is how much does it cost to feed all of these guys. Her response was, "I could be drivin' a Mercedes if we didn't love em' all soo much."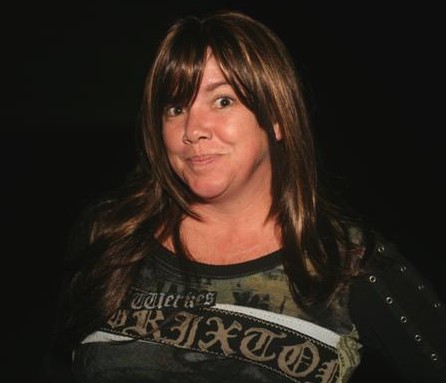 Shannon brought out some pizza's and cooked them on this huge BBQ grill which could also be used as a smoker. This was the best frozen pizza I have ever had in my life! I would have to say that with the flavor of the grill and how crispy the crust was, along with the bubbling cheese, I would hold it up to any pizza I have had any where.
Reed sparked up a bon-fire as we got introduced to the kids friends and more of Shannon and Reeds friends. By the end of the night we had said hello and good bye to at least 20 people. Near the end of the night us girls were getting goofy and put on a long dark haired wig that Shannon had got on a recent trip to Savannah. We all took turns strutting our stuff around the fire, giggling like a bunch of high school girls at a sleep over.
I had said in my blog earlier that I wanted to meet a farmer and a rancher and learn things like how to fertilize, grow and maintain a edible garden as well as learn about cattle and horses. I told Pat that I would even work for free for a couple of weeks if I could pick someone's brain enough to learn this interesting information about a working ranch.
It turns out that Reed is an actual cowboy, not one that drives his truck or four wheeler to heard the cattle. He gets on a horse in the early morning and rides that thing all day long to round up cattle or horses. I sat with him most of the night and asked most of the questions that I could think of as Pat threw his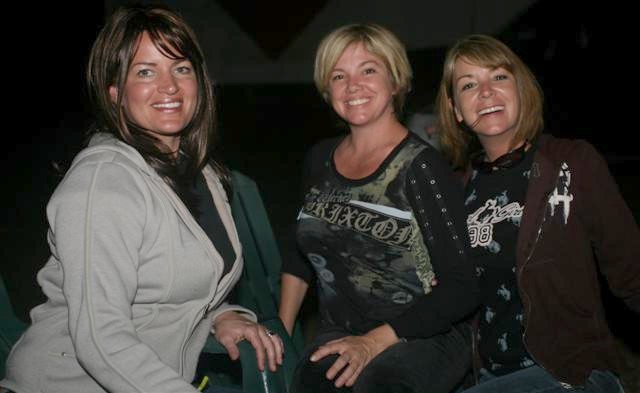 questions at him too. I figured he would be getting tired of us after a few hours, but he explained all of the things we asked with great detail and never seemed to get aggravated by our constant barrage of questions.
Shannon over heard us asking him our ignorant questions and she helped out with most of the answers. I guess she can do all of the cowboy stuff too. Roping and rustling and man I'll tell you right now, "I am so impressed with these two!" We finally turned in after hours of conversation. I can't believe they stayed up with us since both Reed and Shannon had to be up early in the morning to head off to work.
Pat and I went to bed exchanging things that we would find out later on if we started talking about this sort of stuff again. We turned in about 1am and got a great nights sleep. We heard the coyotes get the dogs howling about 3am but it was really cool to hear until we fell back asleep.
Friday March 13th
We woke up around 9am this morning and had some breakfast with Jenn, Jeff and Evan. After a while the boys started getting restless and took off on their motor cycles to see the town and go to Wal-Mart. Jen and I hung out until she went to her parents house for a while so they could spend some time with Evan.
I was cleaning the camper up when Reed came by and let me know that the Ferrier would be at the barn in a while to work with the horses if I wanted to watch him. I think he knew by this point that I wanted to soak up as much of his culture as I could. I called Pat and let him know to come home right away so he could watch also.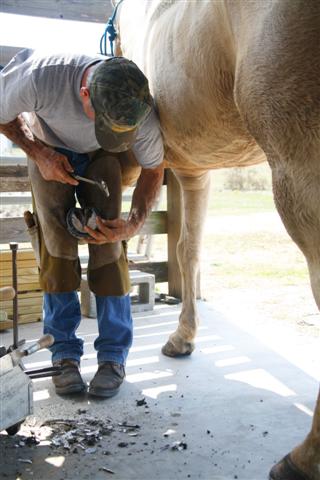 Just as Pat got back the Ferrier pulled up. I didn't want to look like an eager beaver who was wet behind the ears about all of this but when I came out with my camera it was pretty obvious. Reed led the show horse out of the stall first and they went to work on him. I found this so fascinating that I now began to ask this gentleman as many questions as I been asking Reed and Shannon last night.
He very patiently answered them and explained what the hooves are made up of and how he learned his trade. What are the easiest horses to work on and also how hard that Florida weather is on a horses hooves. I loved it!! I loved the smell and the surroundings and the workmanship of every last bit of the experience.
I am sure that this would have to be one of the most strenuous jobs that a man can do. He was constantly bent over, holding up a thick muscled leg while working with his hands and balancing not only himself but the horse too. His wife and grand baby were with him so we all got to talk for a bit while I watched intently.
Reed finally had to drag us away so that we could go have lunch with everyone else that was waiting for us at 'Cowboy's'. Shannon had told us about this place that she had worked with while they decorated. She used most of her photographs that she has taken over the years of her family doing their thing and had them hung or displayed around the restaurant.
This consists of Reed's Dad and two other brothers roping, riding and being cowboys while she got the most intimate shots of them. They were either displayed clearly on the walls with other prominent family's in the area or covered the tables and bar in the most unusual way. Again, I was very impressed by the workmanship of the photo's and her creativity.
After lunch everyone else went back to work and Pat and I waited for them to end their work week. Reed and Shannon waited for the kids to get home, while packing and getting ready for a weekend of camping. Jenn and Jeff got some last minute things from the store and Nikki, a friend of the family came over with her kids so we could all leave together to camp at Kissimmee River Ranch.
The ranch is 20 minutes from their house and is on over 350 acres. We met more friends and family out there and the fun began. We met a gentleman named Mr. Bill who was kind enough to bring us out some wild turkey, not the kind you drink, and fried it up for us for dinner in one of those big, deep fryers. As Reed cut the breasts up, Pat breaded them while they were waiting for the oil to get hot.
I started smelling the oil burning so I asked Mr. Bill to turn it down which he thought he did. The smell got worse after he turned it down until it eventually burst into flames (What had happened was Mr. Bill had actually turned it up onto high) I have seen this sort of thing on TV where they warn everyone how dangerous these deep fryers are.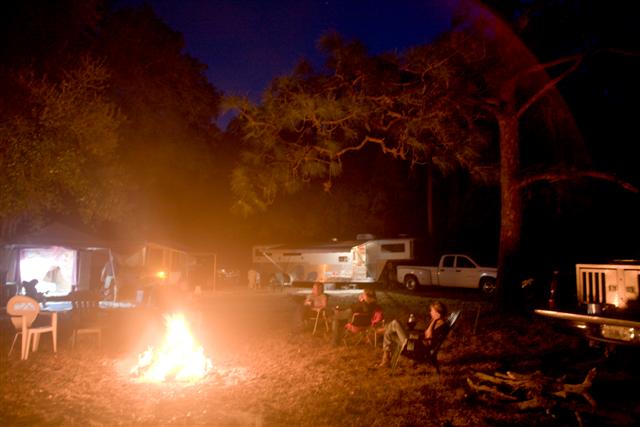 Add that to the fact that Jenn's Dad, a fireman, kept telling us how dry the land is right now and how quickly it would go up in flames and I was freaking out. Someone put my big wooden cutting board over it which made my tension even worse. That didn't work, so Reed took the foil which was on the table and gently covered the flames.
The flames continued to burn for a half an hour before it was cool enough to empty into another nonflammable container. We started the oil over again but this time we kept a close eye on it. The boys also breaded some frog legs that were freshly gigged and we all had some scrumptious freshly caught dinner.
Both of these dishes are new for me since I have never tasted either. The turkey was different than store bought, a bit tougher and it still had some buck shot in it! The frog legs tasted really good but I could only eat one for some reason. All of the pet frogs that I've had through out the years I guess was playing tricks with my mind.
As people started dropping off like flies, Reed asked those of us left awake if we wanted to go out for a hog hunt. The only ones still around the fire were Jenn, Jeff, Mark, Pat, Reed and myself. Jenn had to stay back with baby Evan, so the rest of us went out on a hunt.
I have only been hunting one time and if I learned nothing else, it was that I had to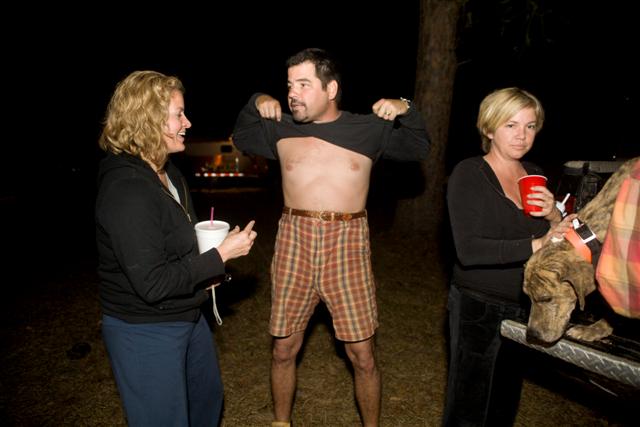 be very quiet. I sat on the dog box in the back with Mark and Jeff and these two laughed loudly the entire time. If there was a hog within 50 yards, it would have ran the opposite direction so fast because of the ruckus these two were making.
That didn't matter cause the dogs had a good time as well as the rest of us. We stayed out for a little over an hour, found some neat things on the property in the mean time and goofed until our sides hurt form laughing so much.
When we returned, Jenn was asleep with the baby and the rest of us should have been in bed hours ago. I slept like a log in the cool breezy night, exhausted from the constant laughing that had been going on for the last few hours.
Saturday March 14th
You know how it is when you first meet people and you're on your best behavior until you can get a feel for everyone else's personality? Well by this point in our stay at Okeechobee, I had found my comfortable spot. Us girls all had two day old camping hair with no makeup and extremely dirty feet. The boys were announcing their bodily functions while riding off into the woods with a shovel.
We all made our own morning meal and gathered around the fire pit. there was no fire, we just gathered there in the hot sun for an hour or so until someone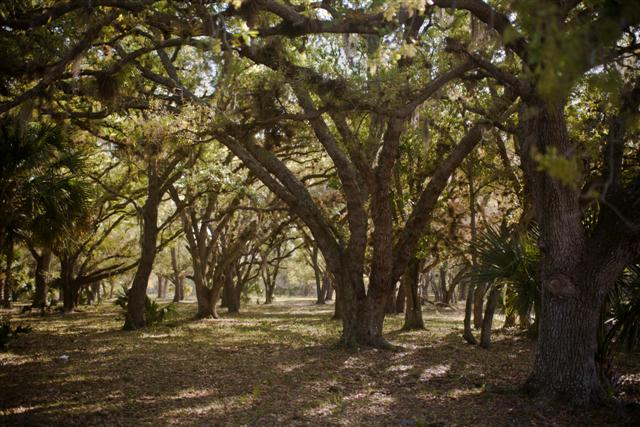 questioned "Why are we all sweating in the sun when we could move 10 feet from the fire and sit under a huge oak tree for shade?" DUH!! Why didn't I think of that?
More friends came out to see everyone and all of them had names like Mr. Tommy, Miss Chris, Miss Deanna, Miss Pam and I finally figured out that this is showing a sign of respect. When I met Mr. Bill, I had no idea that is why he was 'Mr. Bill', all I could think of was that old claymation show where the clay guy, Mr. Bill, always got smashed some how.
Buy the middle of the day, Jeff had forgotten my name already. I have known him for 15 years and he all of a sudden calls me Kim. I really didn't take offense to this since he calls his wife and child as well as Pat by the wrong names all the time. Everyone else heard his slip up, so for the rest of the trip, I became Miss Kim, my alter ego, or Stage Name as most referred to it.
Mr. Bill came over on his four wheeler with his girlfriend and his two American Bull Dogs to let us know that dinner would be ready in a few hours and to start getting cleaned up. How nice is this guy to open up his home to the 20 of us, feed us an incredible dinner of slow roasted prime rib, baked potatoes, salads and even offered us all hot showers if needed.
Mr. Bill is the care taker of the Kissimmee River Ranch, so he keeps the place organized and kept up while the owners are gone. I would compare this place to Graceland in size and decor. If anyone has been there, they would remember the groovy colors, the dark paneling and the use of brick, on the inside.
The house has 7 bedrooms, seven bathrooms a huge game room, living room, walk-in cooler in the prep room...etc, I mean it was Grand. My favorite part was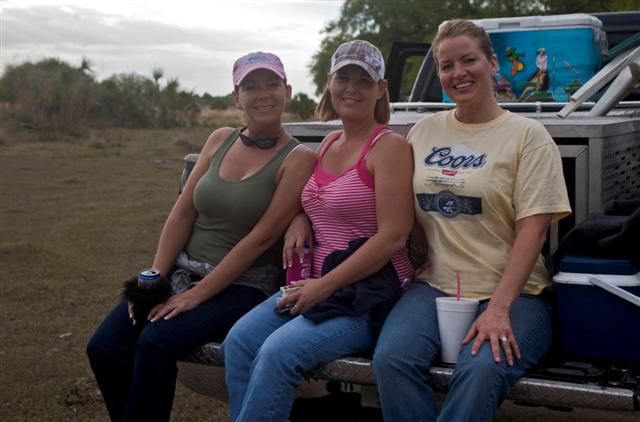 the sunken pink tub in the master suite. After the tour of the house, we sat down for a delicious dinner followed by watching the sun set on a big woven hammock outside.
All were happy, all 20 something of us. Jeff even stripped down to his birthday suit and took a bath in the Cow Pond. This was a natural spring that had a big pump to circulate the naturally warm water from becoming stagnate. Jeff has no worries about modesty and stripped down with a bottle of baby shampoo to let the water jet hose him off. Leave it to Jeff to be the entertainment for the evening. And as always, my husband was right there with camera in hand to catch it all on film (or hard drive would be more accurate)
We hung out at the house for a few hours before our big group made their way back to our camp. All of the locals were very happy after a rain storm blew in and doused the parched ground with some much needed rain fall. I guess they have been in a drought here for a few years now so any rain is very welcome.
The group of us went to bed after it seemed we had talked about every thing we possibly could. When my head hit the pillow, I was out!
Sunday March 15th
My morning wake up call was goofy Jeff roaring his tiny engine up on his scooter under our awning screaming "Get up MO-FO's" until one of us said, "Shut Up! We're Already UP!" He announced to us his second trip into the woods for his bodily functions and sped off into the shade of the giant oaks to go about his business.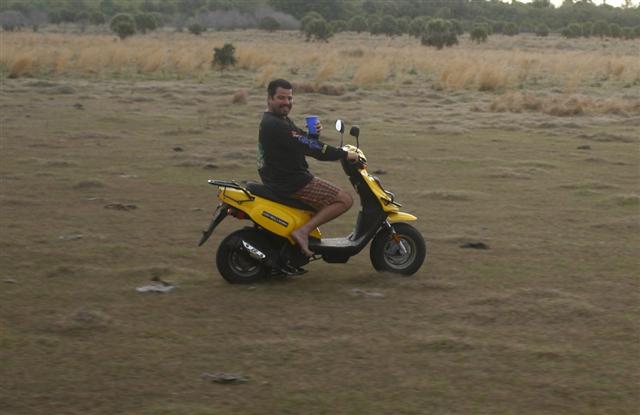 By this point in our trip to Florida, I have gained 10 pounds! I can't take my rings off my fingers and if I don't have something greasy or bad for me to eat by noon, I am going into withdrawal. Alcohol is no longer serving a purpose except to make my stomach turn. I feel like I am wearing a scuba suit that is filled with water and my eyes no longer have any white in them. In other words, I am done!
That will not keep anyone else from cracking a cold beverage, cooking some bacon on the grill and loading up on a bag of potato chips for breakfast. Yum, bacon and salt vinegar chips by10 am. Ok, I did have a half a bag of the chips, but I swore off alcohol and bacon for at least one day.
We sat in the shade today and contemplated our next move. No one really wanted to go home and we didn't really want to get back on the road to drive all day. Our plan was to leave from camp and head north while Jenn and Jeff went home as well as Reed and Shannon starting their work week early on Monday morning.
We ended up all going back to Shannon's house and pigging out on pizza while watching movies in the comforts of Air Conditioning. Just another quality meal to add to my ten pound weight gain. Jeff had to go home, but he left Evan and Jenn with us. When the movies were finished, we all just sort of lumped up on the couches and didn't really have any sort of great personalities.
At this point in our relationship, no words were needed and we all understood how tired the others were. Shannon announced that the space shuttle was going off and my lazy butt didn't even get off of the couch to go watch. I could see the trail of smoke just fine from where I was sitting anyway.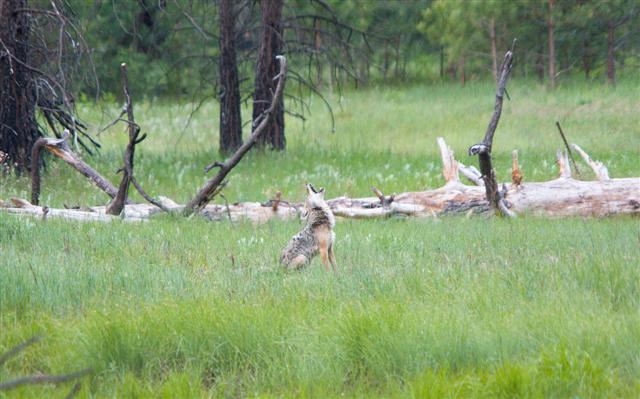 That night after our eyes had closed I heard the sound of the dogs howling along with the coyotes around 3am. I had thought this was so cool the first time I heard it, but by the sixth time of them all whooping it up together, I put my head out the door and yelled at them. I think they just laughed at me! No really, I could hear it.
Monday March 16th
Ok, it is pack up and leave time for sure today, we are really imposing on Reed and Shannon's life by this point by keeping them up all night and them having to go to work early in the morning. Shannon woke up with an ill stomach so she called in to work which allowed us to spend some more time together.
Pat and I agreed that we would like to see the entire town and Shannon mustard up enough energy to give us the tour. After the tour, we would head out or so we thought.
Jenn came by from her Mom's house and the four of us had some lunch followed by the tour which brought us to the Market, which is where ranchers purchase cattle to bring home to their farms.
We saw the schools, the big Lake Okeechobee, the family owned businesses on the main street, where the brothers and sisters live and then we ended up at Jenn's parents. Shannon got a phone call from a good friend who offered an afternoon air boat ride down the swampy canals that border Lake Okeechobee.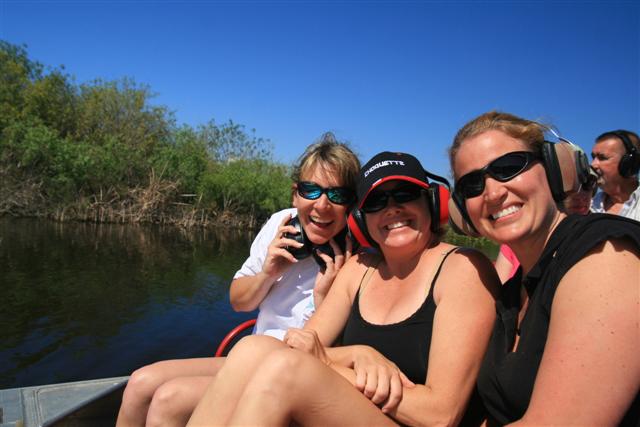 Of course we could put off our departure until we did that. As long as we would all be together, it sounded like fun. Just a few miles away from Jenn's house, we all boarded the shiny aluminum boat and put on our ear protection and sped away from the dock. The water was real low, so the Cypress Knees were huge and the waterways narrow.
We saw quite a few gators including a big momma with her babies. Lots of bird watching followed by the scare of a life time for Jenn and I. After we had hauled butt through a certain area of thick weeds, I looked down and I had a black horse fly on my leg that was bigger than a quarter.
Naturally I screamed and knocked it off of me which landed it on Jenn's foot. We both screamed and almost stood up on the moving boat that was racing across the water at a break neck speed. We caused such a ruckus that the boat stopped and the Captain asked what was wrong. He sort of rolled his eyes at us when we told him it was a big horse fly. He fired up the screaming motor and continued the journey through the shallow waters.
Jason, who owns the Air Boats and had offered us a ride called to let us know that he had made us all some strawberry short cake with fresh strawberries and ice cream on top. Usually Pat doesn't like sweets but this is his favorite. We offered to share ours (We're Really Fat) and I literally had to pull it out of his hands so he wouldn't eat it all.
Our afternoon was winding up and Pat and I were relentlessly ready to say our goodbyes when Jenn said, I don't want to go home. Shannon made a suggestion to go to the pool side bar at the KOA Campground and off we went, residing to the fact that we would stay one more night.
Jenn had to go home and tend to the baby for a while so after Happy Hour at The Shanty, we went home and waited for Reed to get there. It was dinner time by now so we all went to Mc Donald's for some quality health food to add to our waist line. They took us to get some dog food and the rest of the night was spent on the front porch telling tales and laughing my butt off.
Reed has a southern drawl that is awesome to listen to. He isn't Tennessee southern nor Louisiana Southern but maybe a blend of the two. Shannon doesn't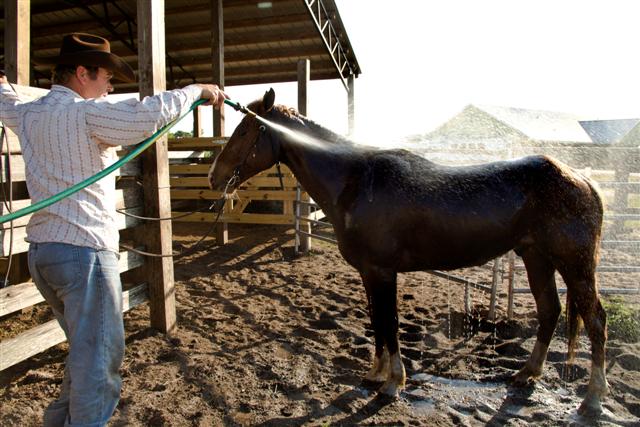 have as much of a twang, but she also has the southern bell quality to her voice.
They could be talking about ground worms and just the soothing sound of their voice would keep me interested in the conversation. By the end of the night, Pat and Reed had put away a few Coors Lights, telling one hilarious story after the other.
Before we knew it midnight was rolling about and my sides hurt and my swollen face had a perma-grin on it. I wish I could tell some of the stories that Reed and Shannon told us about. Stories like dozens of alligators trying to eat their hunting dogs while out hunting hogs one night, riding horses in gator filled swamps to retrieve a lost calf, saving his brother in law from drowning after his horse landed on top of him in the swamp one day and on and on.
The stories of their small Boston Terrier who ate a whole Tonka Truck and the only thing left was one tire. These stories will be in my memories for a long time but I could never bring the humor or energy to them like Reed does with his story telling abilities.
I knew I was going to sleep so good tonight since it was after midnight already and I felt like I had a work out from our action packed day of fun and excitement. The pillow felt so good and seemed like just as I had closed my eyes, you guessed it, the dogs and the coyotes started their serenading again.
This went on from 2am till 5am when Reed had to get to work to do his cowboy stuff. I know for sure that I will more than likely be hateful tomorrow.
Check out the Okeechobee Gallery we put together from our Weekend Camping with the gang.
Tuesday March 17th
This morning we are leaving for sure, Pat and I were supposed to go to a Laundry Matt and then meet Jenn, Shannon and Reed for lunch at the Livestock Market. Do you remember the Market that I had mentioned Shannon taking us by when we went on our tour. well Reed and his friend Randy had been out herding cattle to bring to this market for the past few days.
He suggested we meet them up there for lunch. At first I thought "Lunch at a Livestock Market! Are you Kidding?" But Shannon had told us the burgers were the best around and you know me with food. So I took her word for it and thought you cant go through life worried about trying new things.
Well let me tell you, we had the most delicious hamburgers there!
The whole time we were eating I would all of a sudden feel the ground shake like it was on stilts and a vehicle had rammed it. I saw the auctioneer when we came in as well as a bunch of people sitting around in a square, but silly me didn't know that they actually moved the cattle under the restaurant and thru the middle of the indoor bidding area.
What I was feeling when the floor and my bar stool would shake was the cattle getting restless below us and hitting the pens with their bodies. After our awesome burgers, we watched the auction for awhile while Reed did his best to answer my millions of questions I had for him. At this point, I almost feel like I know a little of what he does and I'm very grateful for all the wisdom both he and Shannon were so eager to share with us.
After lunch we said goodbye for real and exchanged numbers and such with Reed since Shannon had to work. Jenn and I made a quick goodbye so we wouldn't tear up.
Leaving places like this is the roughest part of this journey that we are on. Pat and I never really talk to each other after we leave some place special, we usually go over in our minds the special times, letting the memories soak in while we roll on down the road to our next destination...where ever that might be?
Every now and then we would laugh out loud and talk about how silly Jeff was, standing naked in the outdoor pond or how funny Reeds laugh is, or how contagious Jenn's cackle is. What a great group of people we have met. After we had driven for 3 or 4 hours, we got a phone call asking for Kim.
Reed had called and said he and Shannon were sitting on the porch and it wasn't the same without us. I could hear Shannon saying "Come Back Home!" Now that really made us feel good because we both felt the same way.
Wednesday March 18th
Our drive yesterday brought us to Cedar key which is in the lower Pan Handle if Florida. We had been to this "Drinkin' town with a fishin' problem" a couple of years ago and had a great time with the locals. This time we pulled in and were immediately approached by a gentleman named Mark who saw us walking around with a camera. He was on a golf cart and said "Why don't you guys take this cart and go over toward the airport to check out the Osprey nest."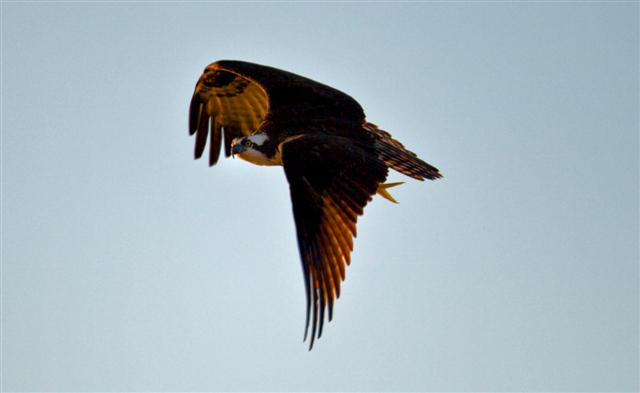 Pat asked Mark how much and he said it's on me. Wow! That sure was nice. We headed off to get some photos of the birds in the not so speedy golf cart and were out there until the sun set. We got a couple of good shots then headed back to the parking area where we had left our vehicle.
As we were getting back into the truck Mark pulled up to us and asked how it went. He also offered a trip out on the water in one of his boats simply for the price of fuel. That was such a nice gesture it made Pat and I wonder why people are always so nice to us.
We ended up sleeping in the same park we stayed at last time but this time it is under new management and is called Sunset Point Motel. Apparently Dan, the previous owner, ended up in trouble with drugs and lost the place. That just kills me to see really good people fall to such an overwhelming, powerful substance. NEVER TRY IT! That's my new motto.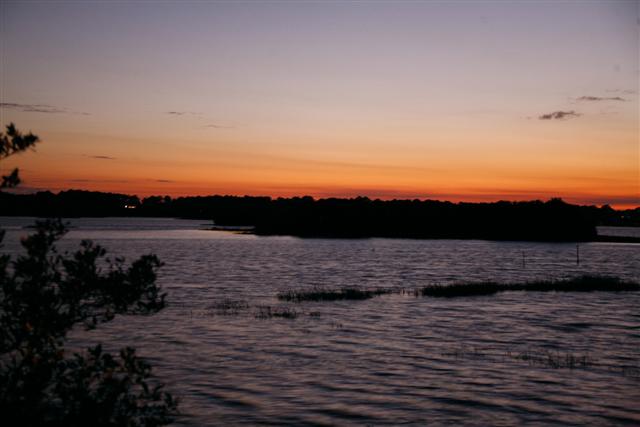 We woke up in the morning and Pat asked if I wanted to go out on the boat with Mark. I replied that within 5 minutes of meeting Mark he had already talked about politics, religion and race so I didn't even want to be in a boat with him and Pat by myself.
I basically waited around most of the day on Pat who was editing my 8 days worth of catching up on this blog till we finally got on the road around 3pm. I don't know what it is but he was bugging me from the moment I got up. I think it is because we were going 24/7 with all kinds of excitement and never spent any time in the camper together for 2 weeks straight. This sitting and waiting for him all day has made me antsy and mean.
I am also reading this horrible scary book where people are killing other people and loving it. It's scary that I think murder sounds really good every time I tell him that I don't have clean laundry and he passes by another laundromat. I have been in the same pair of shorts and t-shirt for 3 days now just hoping that if I start to smell like Pig Pen that he will take a hint a take me to a laundromat.
After driving all day and not really talking much, we stopped at a Wal-Mart and camped out for the night. He had some snide words for me, slammed the camper door and stormed off into the store. I made myself some dinner and was just finishing up as he walked back in.
I was hoping that he was really hungry and he would have to make his own food as I went to bed and read some more of my scary book about Black Rain and Murder. No I haven't lost my mind, besides, everyone can dream right. We always have some rocky spots for the first neck of the trip. It is such a change and adjustment to be as one all of the time.
We will get over it in about 6 months and Love, Love, Love one another again.
Thursday March 19th
We woke up this morning and I felt like a new woman. I had a much better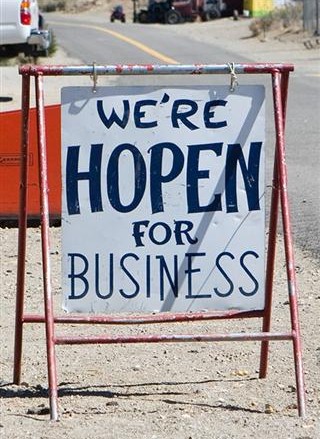 attitude and Pat was not nearly as irritating. I think my problem may have been a woman only situation but during those psychotic episodes, don't even suggest that it might be me!
We went further into the Pan Handle and wanted to try and stay at St. George Island State Park but it seems as though we have passed it both times during spring break and they are always full. We headed on up the road and I have to tell you, it looks like the economy here is worse than back home in Michigan. I didn't think that could even be possible.
Every other house or piece of property was for sale and 70% of the businesses were For Rent or For Sale. The places that were open had no customers in them. One of the buildings had a sign that read "We Dont Need a Bailout, We Need Customers!" I don't think this area ever recovered from Hurricane Ivan, Katrina and Rita a few years back. Alot of the signs were "foreclosures" or "must sell signs" which made the place look even more grim.
On Pat's suggestion we ended up at St. Marks Wildlife Refuge Park along Hwy 98 where we saw alot of large gators basking in the warmth of the Florida sun along the banks of the canals. Many birds of all kinds were fishing for their dinners as well as Bald Eagles and I guess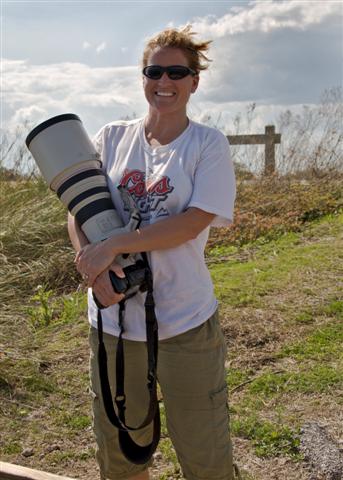 the Whooping Crane made it's stop again this year. These are the Cranes that are lead by the fellow in a hang glider.
The lady in the office said only 7 stopped here but they had a big hold up just out side of Atlanta due to the weather. I don't know why, but that struck me as funny. I could just hear the guy in the hang glider over a loud speaker. "Attention all Whooping Cranes, there will be a slight delay in our arrival time due to some unforeseen weather."
Pat got the new lens out again and got some great shots. I however can't even hold the thing up long enough to take a picture. Our next purchase will be the mechanism that allows us to secure the lens to the tripod and also be able to maneuver it around. I think it's called a Gimball Head or something like that.
We turned in early tonight with me still in the same clothing after not going to a laundromat again today. Surprisingly, I didn't say a word.
Friday March 20th
I finally had to take a shower today because Pat is just not catching on the to Pig Pen thing. He says I am keeping the flies and bugs off of him. Poor guy, the no- see-ums love him. We counted 40 bites on his legs alone! When they bite him, it leaves a welt like a mosquito bite and irritates the heck out of him.
Pat had a goal for us to go to a place called the Flora-Bama Bar which is right on the border of the two states Florida and Alabama. He has heard alot about the place and figured we should check it out. On the way there we passed by an incredible looking beach in Destin Florida which had iceberg blue waters, shallow sand bars 200 yards out and flour like sand. As we passed we both commented on how incredible it looked but then just drove by.
We had stopped to fuel up and there was a major bust going on in the parking lot with under-cover agents going through a vehicle with gloves on. All I saw was them taking out pieces of mail and taking photos of it. I also saw the cop hand the other cop a zip lock bag full of hundred dollar bills.
We waited for them to pull out while we looked busy washing the inside and outside windows. They drove off in the confiscated bright green Dodge Charger. We never saw the arrest but they did have dogs in the back seat of the cop car. We followed that excitement up with a two hours stop in traffic for a fender bender in the two lane divided highway.
Finally we reach our destination which is at the very bottom of Florida on the Gulf Islands National Sea Shore. Apparently Florida gave Alabama the property for the bar as not to pay anything for the road repair they were doing at the time. We walked up to the bar and the first thing we see is a trailer with people lined up outside to purchase memorable T-Shirts.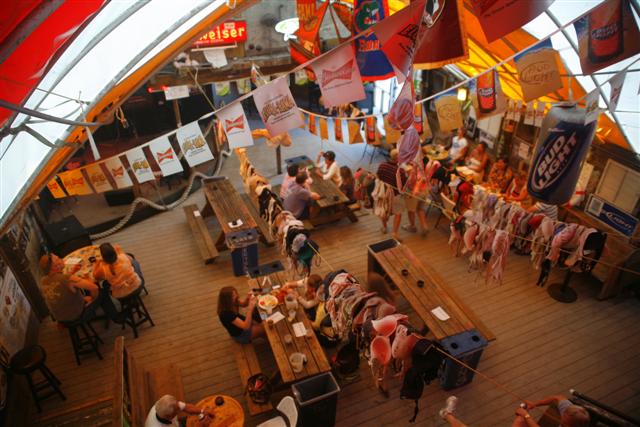 As we walked into the roadhouse, the walkway is lined with about 25 bright yellow port-a-potties followed by a wooden deck that leads into the bar. The next thing we see is a tent covered stage with bras strung strategically from the rafters. On the main floor a young lady is playing the guitar and singing the sing along song that everyone knows and loves.
Lots of wooden picnic tables surround the stage and many people are drinking and having fun. There are at least 5 other bars besides the one we chose but ours was special. We had Greta as our kind waitress. Now that isn't her real name but I think that is what we will call her. We walk up and she is making a jug of some concoction for the night crew which she announced. "I am the only woman that works at this bar, do you think any one of these damn men would actually make anything? NO!"
She then came over and took our order as she yelled at another guy not to touch her trash can or move it. While we were waiting a young waitress walked up and said she had a complaint about her drink. I thought Greta was going to take her bulky, older figure and come over the bar at the guy. At that point we walked away with our 10 dollars worth of weak drinks.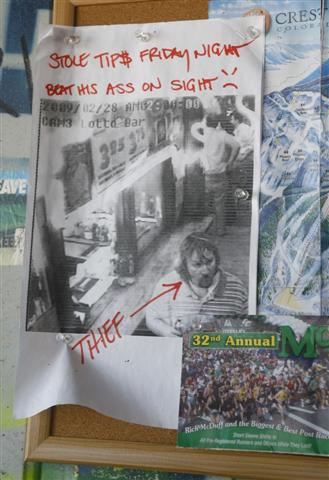 Downstairs there is a ramp to the beach where people were playing volley ball and laying in the sun. I really wanted to get into the white sand but my boring husband hates laying on the beach, so he stayed in the shade while I took a short trip to the ocean water.
When I came back, he asked if I wanted another drink to which I said "I can't stand to pay 10 dollars for two drinks when we have the same thing in the camper for free." We both agreed that another drink was out and hung around for a few more minutes listening to the live music.
We remained in the parking lot all night which held around 75-100 cars. Probably less since we took up at least a dozen spots. I told Pat that this must not be a good year for them either since the lot was almost empty. At 10 pm I heard 10 cars pull in that parked right around us. We got to hear everything they talked about and how the young college studs were looking for a certain type of chic.
One guy was telling the other how his girlfriend had broke his heart so he needed to find something else quick. Another young man was telling his friend what to wear and why he looked like he was trying too hard in his brand name clothing. By midnight the lot was packed and all I could hear was loud music and a bunch of fun going on.
At this age, I am not into the Spring Break type of fun. I try to leave the throwing up and shirt for shirt to the young and inexperienced kids. Pat and I fell asleep to the loud sounds of some Elvis impersonator entertaining his crowd right before Last Call.
Saturday March 21st
This morning started off early with a nudge from my pit bull letting me know it was time to let him and the beagle into our bed. We pretty much have them trained at this point that they cannot sleep with us until we invite them in. This means that around 7am he will stand beside the bed and stare at me until I see him.
Once he gets in, the beagle is not far behind and both of them lay between my legs; so only a few minutes of that and I am up and out of bed. We stayed in the Flora-Bama parking lot last night so that I could get my fix of the beach before we leave the Ocean.
I made some Gazpacho, fresh salsa, a dozen boiled eggs and some guacamole before I finally woke Pat up. I then took the dogs for a long walk along the edge of the road since they have no side walks here and I was then ready to lay on the sandy beach and smell the bacon cooking as my skin browned.
I put my bathing suit on which is almost a 2 piece and a tankini at the same time. It covers my jelly roll in the front but the back and the sides are open. Lord knows this is actually my Goal Suit and since I gained 11 pounds in 10 days on our trip to Florida, this should not be worn. Unfortunately, I was so positive about my healthy lifestyle and dropping my winter sweatshirt and jeans weight, that I tossed my one piece before we left Michigan.
I loaded up my face and neck with some 30spf sunscreen which made me look as though I had a purplish, white tint to my skin. I then put 15spf on everywhere else. I missed my back so I had to ask Pat to grease me up. When I walked out of the bathroom, in my way too revealing bathing suit, Pat just looked at me and smiled.
I immediately said, "Why you gotta laugh at me? That is not very nice and I don't laugh at you" (which is a falsehood). All he said was "I am just smiling because I know you're happy to go to the beach." I finished finding the rest of the things that I would need for the day, such as a beach bag, towel, book, a drink and some fresh fruit for lunch, kissed my husband goodbye and headed off to go relax on warm, white sand.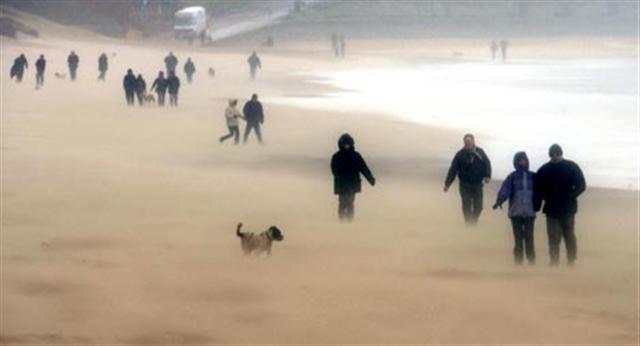 By the time I got onto the beach it was almost noon and I was ready for some time alone and some R&R. The closer I got to the beach, the more I noticed the wind picking up. I spotted a small shack where they hold stuff for beach cabanas and figured I could get a bit of shelter from the wind if I sat behind it.
I laid out my towel, pulled out my book and took off my cover-up. I was looking for some one-on-one time with Mr. Sun. After about 30 seconds of lying there I noticed that my book kept getting sand in the pages. The next thing I noticed was my sun glasses were filling up on the inside of each lens. I decided that reading was not conducive to laying in the sun today so I would just lay my head down and relax.
It didnt take but 5 minutes of laying here and my skin started to hurt from all of the sand that was blasting away at it! I started to open my mouth and my new lip gloss had become a magnet for the small particles to connect with. I lifted my head after another 3 minutes and my ear was absolutely packed full. Between my legs there was at least 2 inches of sand which some how found a way to climb inside my bathing suit. A place that sand should never be!!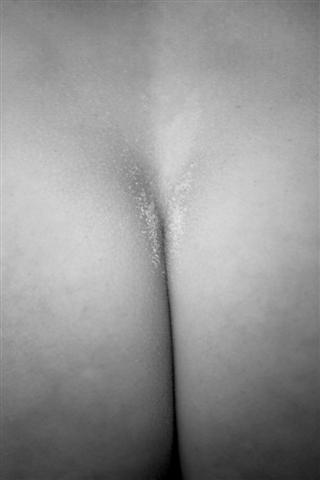 If I would have stayed there any longer I would have been buried in the same sand that I have been pouting for the last 2 days to "just put my feet in". I then packed up all of my stuff and walked back toward the camper.
As I was passing by a group of girls who had just arrived to the wind tunnel, I noticed they were trying to place their towels in the sand while wrestling with them to not let them fly away. One of the young ladies was whining and saying that she was getting hurt by the sand. The others did as I did and tried to weather the storm to spend some time with Mr. Sun. I wonder if they lasted any longer than the 12 minutes that I did?
I actually took my suit off before I went in to the camper, trying to get some of the sand out of the places where sand should not be able to get too. I opened the door to a look of surprise, then shock on Pats face when he saw the inch of sand stuck in my lovely sun screen all along my hair line. He scooted me back outside for another brushing. When I came back in he laughed again and just had to take a photo of sand in my crack.
This gave us a good reason to get on the road again only much earlier than we had planned. We got to our destination of Bellingrath Gardens around 4pm. Pat had looked it up online and it was only a short distance out of our way, but well worth the effort to make the trip. For 11 dollars a piece, we were able to tour the gardens only. The fee for the home was $20 a piece and we are much too cheap to pay that much to see someone else's pretty stuff.
The afternoon was absolutely gorgeous and we spent a good 3 hours touring the gardens and taking photos. We wouldn't have had enough time to do the home anyways since it closed at 5pm. The main gates close at 5pm also, but they allow you to walk around inside the gardens till sundown, which was the perfect light to be taking pictures in. This time of day also gave us the perfect temperatures to wander around very comfortably.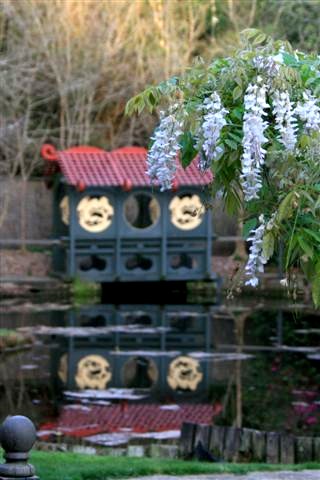 Bellingrath Gardens and Home was the creation of Mr. and Mrs. Walter Bellingrath. The Gardens first opened to the public in 1932 while a national garden club meeting was taking place in Mobile, Alabama. Mr. Bellingrath placed an ad in the Mobile paper, announcing that anyone who would like to see the spring garden could do so free of charge. After an overwhelming response, the couple decided to keep the gardens open year-round, beginning in 1934. (info courtesy of their web site)
Apparently the 65 acre estate was purchased with his doctors recommendation and started out as a two room Fish Camp. Wow they went crazy with the grounds after that! This place actually took up our entire time just to walk the whole way through gardens.
Just when I thought it was over, a new stream would meander through the property. Around the next turn would be a Zen garden with a pond and large coy, arched bridges crossing the water and a quietness I hadn't had in months. The only sound I could hear was birds chirping, the slap of a fish jumping out of the water and our cameras snapping away. I kept thinking how huge of an undertaking this must have been for the architect along with the workers who built such an amazing place.
I told Pat that I would much rather spend the day doing something like this for 3 hours and 20 bucks then be in a spring break bar for ten minutes and $10. We are just old I guess.
When the sun had finally set and the light was gone to take pictures with, we walked back to the camper. We contemplated spending the night right in the parking lot, but decided to head a ways towards my sisters in Louisiana. We drove 20 more minutes from the park into Pascagoula, Mississippi and are staying the night at our favorite resort, Wally World!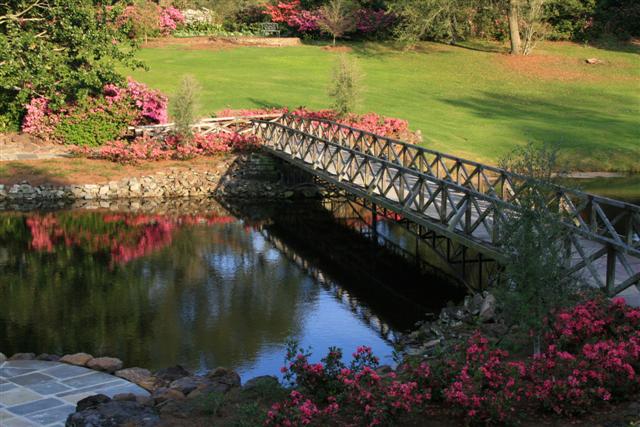 Sunday March 22nd
We got started fairly early this morning around 11am, thinking it was still noon, but that's still pretty early for us. The time changed way back in Panama City, Florida but neither of us knew it. What my sister said would take an hour and fifteen minutes to get to her house, took Pat and I four and a half hours to drive.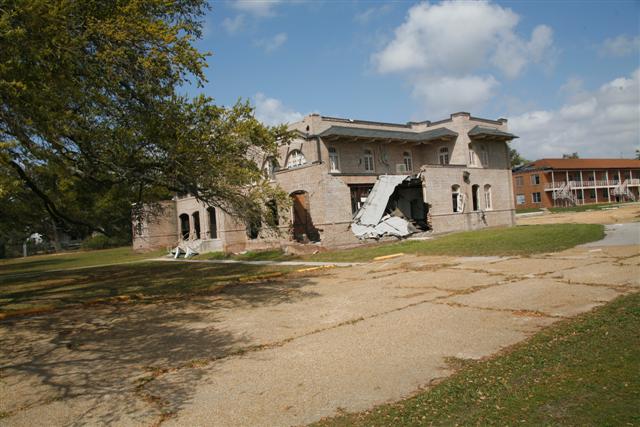 We took all of the back roads including Hwy 90 through Biloxi, Mississippi which was absolutely shocking to me. We drove down the Hwy, which rides along the side of the Gulf, and looked at what the twisted hand of Hurricane Katrina left behind. Nothing!
No beach side restaurants, no glorious homes overlooking the water, no T-Shirt shops selling see through cotton shirts, 5 for $10. Nothing! What lined the shore were dozens of foundations from homes that had previously stood proudly watching over the tides.
A few chimneys were still erect, which by the width of them I could tell they graced the living rooms of mansions at one time. Some places still had there pool house set 100 yards from the road with the pool filled with debris. The white sand lining the water reflected the huge pylons that used to hold marinas with I imagine large yachts and small boats alike.
I still can't imagine the power that this beast had when blowing through and ruining the lives of so many people. I told Pat that I thought Hurricane Katrina sort of marked the beginning of the end for this down turning economy. It seemed like all things started to tumble into loss after insurance companies went bankrupt, thousands of homes and businesses just disappeared, all never to be found again.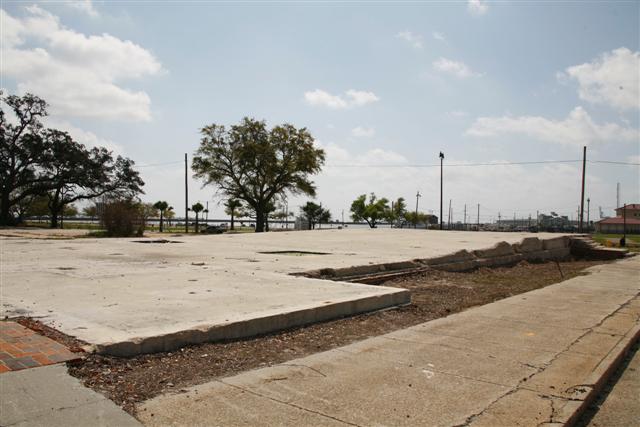 What's Left of a Building along the Ocean. Only Foundation!!
We actually turned around when we were half way down the Hwy just soo that we could soak all of this in. We also had to make a few important pit stops since I have been drinking so much H2O in the past few days it seems like I have to empty the ol' bladder ever few miles.
Once we got out of the downtown area, I had dozed off for about 10 minutes when Pat made a U-Turn in the middle of some back road and shoved the camera in my lap.
"Take a picture, quick" he said, while we passed by this place. It was a trailer with a few broken down cars in the front yard all up on blocks and no windows, a raging trash fire, laundry line directly into the side window and a big sign hanging that said, "Come Back lil Red Mustang". I'm not sure what that meant but it sent a few stories into my mind.
As we got closer to my sisters we got onto Hwy 60 which is one of my favorite roads. I told Pat that I bet even the GPS had a soar throat from saying "Make a right turn followed by an immediate left." Over and over again. I counted 18 turns in under 3 miles.
The phone rang and my sister was seeing how close we were to her house. I tried to respond when I heard Pat yelling "Hey, What's going on?" I hung up on my sister and looked back to see Luca stuck with his neck caught in the automatic window. He and Lucy were both looking out the same side when Lucy stepped on the UP button and rolled the window up catching Luca's throat into it.
We aren't sure how long he was like that but his breathing had changed and he was trying to pull himself out before we noticed. He's a trooper though and went right back to sight seeing as soon as we got him out. This time we had the child lock on the windows so Lucy couldn't play any more tricks on him.
I'm sure if dogs could talk, she'd be saying "Ha! Ha!, I totally got you on that one!"
We got to my sisters house and took a tour of the grounds since Pat hasn't seen it in a few years and all of the plants she planted a few years ago have now grown to maturity. We sat in their swing bed overlooking the waterfall in the pools grotto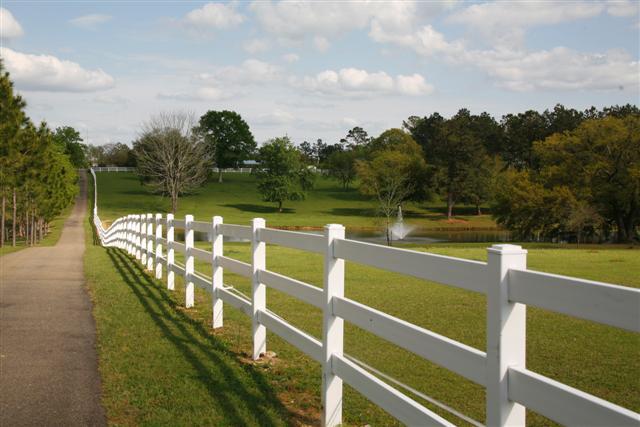 as we caught up on where we've been and what they are up to.
After dinner, I started doing laundry and told Teresa and Don that I was going to bed at 9:30. Teresa kept saying no that I had to stay up tonight to watch a movie, which she never started. I was finally at the point at 10:30 when I said "I don't care if you want to watch the movie, I can't keep my eyes open."
I was putting my laundry in the dryer when I got scared to death by my daughter with a poke in the side and a "BOO!". She was supposed to have left to go to Tennessee today to see her father and his side of the family and introduce her new boyfriend to them.
I had no idea she would be home tonight and now the keeping me up made sense. Wow! It was a nice surprise to see her since I thought I would have to wait another week. She looks so good and healthy it was such a relief to see how happy she is. Her new boyfriend is funny and cute and so nice to her.
Any parent will agree that although we don't want to pick our children's significant others, we don't want them to be with idiots either. That would be her last boyfriend, who I hated the minute I met him. He was rude, disrespectful, and just an arrogant jerk and I saw this in the first two minutes of them picking me up at the airport the last time I was here.
He sat in the front seat the whole time that Donielle helped me load my luggage while she was picking me up from the airport, then leaned into the seat like he was driving a low rider which he was actually in the passenger in a four door Pontiac Sebring. He never spoke unless he was complaining about how he wanted to go home and when he got out of the car he never said "nice to meet you", "kiss my butt", nothing, he just turned and walked into the house.
So needless to say, I didn't have too much respect for this idiot and made sure to let my daughter know how I felt. I guess it didn't take her too long to figure it out, because he was out the door within a few weeks of my visit.
Her new man who she has been dating now for quite some time is the complete opposite. Polite, very talkative and goes out of his way to compliment my daughter when ever he can. What more could a mother ask for?
After spending an hour with them, they loaded back in their vehicle and took off to Tennessee. Since they both work the night shift, these hours are normal for them so I wasn't too worried about them driving in the dark.
I finally put my head on my pillow at 1:30am and was out cold. I may not be back to my blog for a while since I tend to be more of a socializer than a blogger, so I will get back as soon as I can.
Tuesday April 7th
Well, I had no idea that it would be this long before I sat in front of my computer again. Since we have been in Louisiana, my time has been filled with either visiting with my sister and her two girls, sight seeing or spending family time with my daughter and her boyfriend.
Donielle, my daughter, lives what we say here "Across the lake." That means that whenever we see each other, one of us has to cross the 28 mile bridge across Lake Pontchartrain. The first week we were here she was visiting her father in Tennessee but since then, we spent last Tuesday and Wednesday at her apartment.
We rocked out to Guitar Hero for a bit then chilled with a Daiquiri from one of the carry out places New Orleans is known for. It is pretty cool, one can drive up to a carry out window or get a daiquiri to go and drink it in your car. It is legal to drink and drive here, you just can't be over the limit. No problem for me since I only had one as did Donielle.
Pat and Allan, Donielle's boyfriend, had a few beers while watching us get crazy on the instruments and sing. By the time we were finished playing rock band and watching a movie, we were tired and they blew up the air mattress for us. It is so weird to spend the night at my daughters place. She still seems like my little girl and I should be making dinner for and feel like I should be cleaning up after her still.
She proved that wrong when she cooked for us and was the perfect host when we slept over. I couldn't sleep very well on the air mattress because I have to have my certain pillows which is such a pain in the butt when we sleep somewhere unexpected.
Pat always makes fun of me because I have to have one pillow to rest my hand on above my head, one really mushy feather pillow to put my head on, and one old cloth pillow to go between my legs. If I don't have all of these just right, my sleep is irregular.
When we are at my sisters house she keeps me busy with going to her gym a few days each week. She is 49 and smoking hot, so I guess it is working for her. She goes 4 days a week to cardio classes and two days a week to weight training. I went with her and completed everything she did but my walking abilities have been unstable due to the pains in the rest of my body.
She has a home gym here in the house but doesn't have the inspiration to use it?? This place is like a resort and I swear if we lived here, I dont think I'd ever have to leave the property. She has a pond in the front of 13 rolling acres which are spotted with a few horses and some donkeys as you pull into the drive way. Her husband Don calls them expensive lawn ornaments.
Once we get back to the house, the front of it looks like a tropical paradise with another flowing pond and dozens of palms, flowering bushes and a inviting seating area that leads to the front entrance. Once inside she has the home decorated with a style that I can't really put my finger on. Again, she has lots of huge tropical plants inside as well as a few morning doves and a Macaw which says hello to you as you walk in.
The colors are red, gray, maroon, black and white. Huge paintings of the nude human figure drape the walls of the living room. A large brick fire place separates the living area from the master bedroom. The master is something in comparison to Hugh Heffner's Bedroom on The Girls Next Door.
Their bedroom is dark and mysterious with a bed big enough for four people to sleep comfortably in. A sunken whirlpool tub and separate shower mark the large bathroom with a separate closet that is 12 x15. From her master bedroom, they can walk out onto the grey slate deck which has a 12 person hot tub bubbling on it as well as a salt water pool and a little beach with sand and everything needed to relax in the warm sun like you're on a tropical island.
I chose to lay in the swinging, out door queen bed while I listened to the sounds of the water fall coming off of the grotto. Behind the pool area is another few acres which has yet another pond filled with geese and ducks that are very well fed. I could go on and on but I think the place is about 7000 square feet and includes 6 bedrooms, 7 bathrooms, a workout room with a tanning bed, a bird room, a media room and a couple of offices.
Needless to say it took me a few times before I knew my way around this place. I still get disoriented sometimes with the different wings of the house. I sure do have a good time finding my way around here and stopping to see all of the cool stuff that keeps popping up with each new go around.
This week we have been repairing her green house that was damaged by the freak snow storm that dumped 8 inches of heavy snow on the light plastic covering. Pat and I are going to repair that next week, and this week we're in the process of rebalancing their yard. The way the property is right now they have water drainage issues during heavy rain periods due to the levelness of everything.
Last weekend was filled with R&R since my sister had a retreat for 10 women here at the farm. Everyone who attended brought some delicious food, along with their pajamas and we enjoyed each others company for 3 days straight. We had messages, hot tub time, facials, paraffin waxes and were able to find some down time with a few self help meetings.
My sister has been an active member of AA for almost 5 years now and is doing awesome with it. All of the women here seemed so at peace with themselves and seem to have learned a lot from the program. I know I got some great advice about a few issues that I deal with daily.
My sister and I share the same mother but had different fathers which puts us both in the very dysfunctional childhood that we had from my mom. Teresa moved out on her own when she was 13 years old because of the abuse that occurred in our home on a daily basis. When she finally moved out I was only 6 years old and that left me and my 8 year old brother to live with the brunt of my mothers abuse.
By the time I was 15 and left home for good, my mom had been married 8 times and lord only knows how many times she lived with someone different between those 8 marriages. If I remember correctly, between my 8th birthday and the time I turned 15th years old I lived in 32 different houses. This must be why I enjoy our Gypsy lifestyle so much and dont mind Pat and I moving on a daily basis. As children, we all did what we could to get through those rough times and amazingly we are all fairly normal today.
This weekend Teresa shared her life story with the other women in the group and it was extremely hard for me to listen to the things in our past that I have tried so hard to forget. She said it is supposed to be a freeing experience to let go of all that built up anger, hate and those bad memories and I hope she got that release she was looking for from the time she spent sharing.
The boys weren't allowed to be at the house this weekend, so Pat and my brother-in-law Don spent their time in Mandeville, a small town about 45 minutes from the farm. Mandeville is just before the Causeway and has all sorts of unique restaurants and shops you can walk to from their condo.
Since Pat would be away, I had to rely on shear exhaustion to go to sleep each night. I had forgotten how hard it is to sleep with out Pat here and although we don't go to bed at the same time, just knowing he is here is a comfort to me and allows me some great ZZZ's. As soon as I saw Pat come home on Sunday afternoon, I asked him to take a nap with me since I only had 5 hours of sleep all weekend.
I spent my afternoon today going through the three bundles of mail which I have been avoiding for about a month now. All bills are caught up and I even enjoyed the surprise of getting two unexpected checks!! I am not exaggerating when I tell you that I opened at least 75 envelopes which were important, not to mention the dozens that weren't.
Tomorrow starts another day of sight seeing and family time since my girl is off from work so I will get back to my blogging the very next chance I get.