When we realize our insignificance in this world,
it some how relieves the pressures from society to succeed - Cindy Bonish 04/07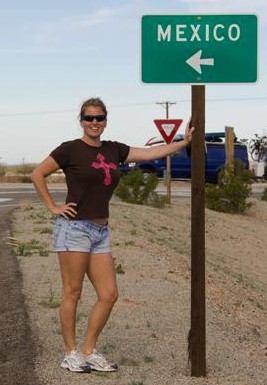 Cindy's March Blog 2008
Every Miles A Memory
Feel Free to browse past blogs for plenty of travel ideas and many of the places we've been in our first 12 months on the road - 2007 Blog's
January 2008 Blog February 2008 Blog
Photo Gear We Use
Solar Tips, Fact's and Trick's we've learned while on the road
Well-behaved women seldom make history
__________________________________________________________________________
If you haven't read any of the earlier blogs, you might want to start there to catch up on how we got here.
Saturday March 1st
Here I am, March 2nd, at 4:30 in the morning, wide awake and it is still very dark outside. When I got home yesterday, or should I say back to San Diego, Pat and I drove around a bit seeing as much of this place as we could before we head further south in a day or two. We ended up at La Jolla Beach where Pat introduced me to the seal population in this area.
The momma seals were surrounded by babies, lying on the man made beach that they have taken over. I always thought that all seals were white as babies and black as adults which today I was proven wrong.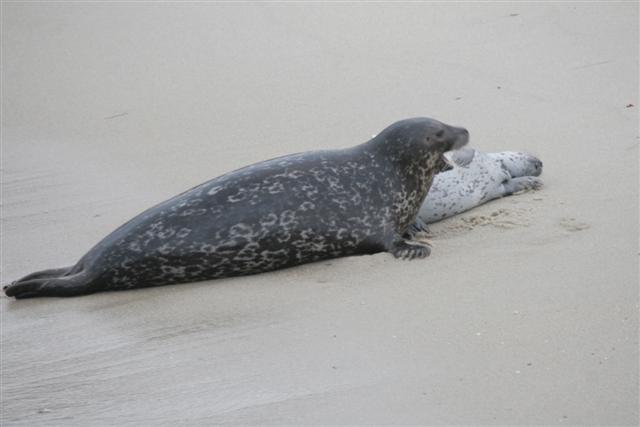 All of the seals have a sort of leopard print on them, ranging from beige fur to grey and black. Some seals lounged around while others played in the surf for some afternoon fun. They are adorable, but man do they smell. I guess they are not real familiar with the common courtesy of keeping their sleeping area free from poo.
After we got our fill of these cute critters we tried to find a place to eat. I guess the nasty poo smell hadn't ruined my appetite, but then again there is nothing short of cutting out my stomach that could accomplish that. This place is so packed on a Saturday night that we had to go through three towns before we found a spot that we might have a shot at parking at.
We were in a large shopping plaza which had to have 1000 parking spots, yet we still had to drive in circles for 20 minutes waiting for someone to leave. As soon as we saw one person leave, I jumped out of the truck so that no one else would take the space. We chose Mexican food for some reason, even though we will probably have our fill of it over the next few months.
After dinner we came back to the camper which is still parked at Jeff and Lori's house. This nice family seems to have adopted Pat while I've been gone and Pat can't say enough good things about them. I will meet them tomorrow for they are gone with some family for the evening.
The dogs greeted me with a big hello, some wet kisses and Luca tackled me to give me hugs. After a long walk with them around Jeff's neighborhood, our arrival back to the camper was less than exciting. I asked Pat if he minded if we could just go right to bed since my times have been messed up again. Louisiana is two hours different from West Coast time, so I just need a few days to readjust. I was absolutely exhausted and it was only 9:00 pm, hence the reason I am up at 4:00 am this morning with nothing to do but type.
Sunday March 2nd
After an early rising, we started to prepare a list for our shopping needs for Mexico. I finally got to meet Jeff, Lori, Capri and Jake this morning and they are just as nice as Pat had said. I should have known we would have a lot in common with each other since they so gracefully allowed Pat to take over their driveway for the past few days. We all hung out around the camper through the morning hours while the dogs entertained us.
The kids are great and so well mannered that I am almost shocked. I have never been around two kids this age that have the respect that they have for adults. I know mine was never this good nor are any of my relatives kids.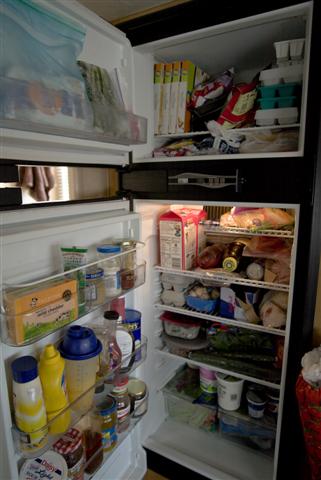 The morning passed and we all went out to have lunch at a place that gave us so much food, I think everyone had carry out bags when they left. We came back from lunch and I learned how to play a funny little pig tossing game with Lori and the kids. I know that sounds funny but they were small rubber pigs that gives points in order of how they land.
Pat and I loaded up and went to Vons Grocery, which are the same owners as Safeway. We all know by now how I love these stores, so I wont go into that. Pat tried to hang with me as I strolled down the isles, looking for the best quality fruits and veggies that I could find. After about 15 minutes he turned and announced that he could not stand doing this and he was going to find the magazine rack.
At this point I had many times told him to stop the cart or not to fiddle with things we weren't buying, to watch out for other people as he raced down the isles with one foot one the bottom of the cart while kicking the other so I couldn't get ride of him fast enough. Around five hundred dollars and two grocery carts later and I was ready to go! How was I going to fit all of this in the camper?
We came back to Jeff and Lori's house to have an awesome dinner made by the two of them. After some great conversation, I excused myself to go to bed. The 4am wake up was catching up to me and I couldn't keep my eyes open.
How fortunate are we to have a nice family take us in like their own relatives for a week. I can't even begin to count all of our blessings in this world, thanks Jeff and Lori.
Monday March 3rd
This morning started off sunny and warm which is surprising after feeling the effects of the Santa Anna winds that had been rocking the camper all night long. I thought this morning would be gloomy and maybe raining since it felt as though some type of storm front had blown in over the night, but that just shows my lack of experience with this California weather.
I had stayed awake pretty much all night in and out of consciousness, dreaming about long romantic walks on the beaches of Mexico with the moon light over head while Pat and I were holding hands and kissing passionately as we strolled along the warm crashing waves and longed for one another's company.
In this fantasy, me being a size 8, the same as when Pat and I met, I was incredibly physically fit and extremely tolerant. Nothing that Pat says or does can irritate me in this dream , not even those times when he sneaks up behind and screams so loud that I drop what ever I have in my hands. This scare tactic is a common one and he thinks it is just hysterical.
In this perfect world, it doesn't bother me when Pat smacks my butt as I walk by him, commenting on how he loves the resemblance my booty has to Jello. I also think it is very sweet and endearing when he points and laughs at my afro hair when I wake up in the morning, which is also a common occurrence.
Only time can tell if this change in country will bring me miraculous feats of romance and kindness out of the one I love. This incredible shrinking woman thing would be great too, waking up to a lot less me sounds great! That is probably the same thing Pat is thinking in more ways than one at this point in our 5 year trip.
All kidding aside, we really are looking forward to being able to sit on a warm beach and ponder the beauty of this big world. Our final days began with some errands to get the few remaining things that we think we might not be able to find in Mexico. We both found a new pair of running shoes, some sun screen and a grill stand to top off our list.
Jeff was kind enough to offer his laundry utilities which we took advantage of and did our last load of clothes. Jeff brought us out at least 100 movies to watch while we are on this trip while also carrying out our broken computer that he fixed, man this guy is handy! Like I said, I count our blessings every day. Someone is watching out for us and Jeff and his family were those little angels that helped us out in a time of need.
Pat and I had made a plan to hook up the camper very quickly as to get our truck out of the road in front of Jeff's house. The way Pat has it wedged in his driveway, he has to leave the front end of the truck in the middle of the road while cars zoom across a hill and see us with great surprise. We didn't want anyone to get hurt, so speed was our intention.
As always, I got everything finished on the inside as Pat took care of the outside. I can't even count how many times I have forgotten something like leaving the pull out cabinet unlocked only to find our entire canned goods selection scattered about the camper on our next stop. This is common for me, but Pat NEVER forgets anything (MacGyver is always prepared).
We both looked at each other and agreed that everything was complete as we jumped into the truck. Pat pulled the rig out of the slanted driveway about 6 feet before we heard a strange sound. Pat yelled "What in the hell is that?!" I had no idea so I jumped out and looked at the back of the truck and saw the bikes jumping around. I told Pat that I thought the bikes were scrapping on the back of the truck.
He continued out of the drive which stopped the noise after a second. We turned down a side street to repair what had been damaged when we heard this loud metal on concrete scrapping again. (I am laughing to myself so hard right now) Pat gave me the look of death as he leaped from his seat to assess the situation.
I exited the vehicle also to see what we had forgotten only to hear Pat yell "NICE, I can't believe you forgot to put up the scissor jacks!" The only thing I said was "This is now my fault????" He looked as though someone had put a red hot poker up his butt he was so angry.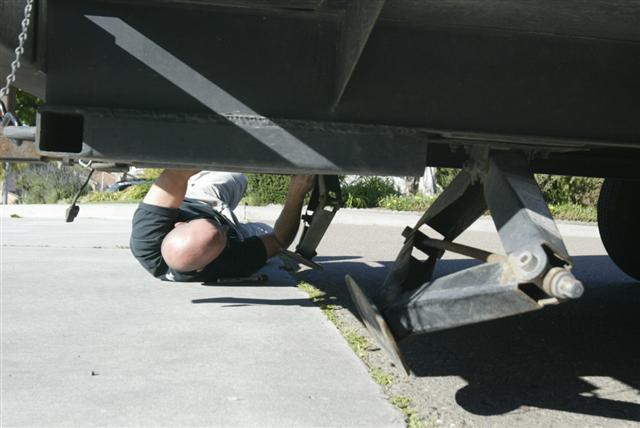 I walked up to Lori and Jeff's house to make sure that we had done no damage to their driveway while giving Pat a chance to cool off. I know that this was not a good thing but I was cracking up to myself. Pat looked so silly when he saw what he had done, only to blame it on me. I know him well enough by now to just let him be by himself for a minute until his hot head cools off.
I also know not to laugh at him out loud, in front of his face when a situation like this arises although I just couldn't help myself. When I walked back to the camper Pat was under the back end, trying to remove the jacks. I grabbed the camera and snapped a few photos of the debacle just so I could have it on record.
After he kept hearing me snicker, he finally lightened up and took the blame for the injustice he had done to these poor jacks. I guess it just goes to show that anything this important as moving your house around should not be done in haste.
Tuesday March 4th Crossing the Border into Mexico
Last night we found the Wal-Mart in San Diego where we met our Mexico buddies around 10pm. It was cold and late when they finally pulled in, so we only had a brief introduction stating that we would meet up today.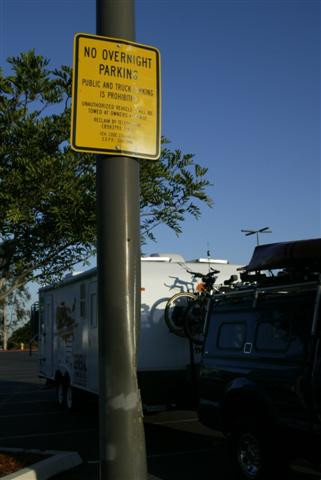 This morning we got a bright and early start and had a bit longer conversation before driving across the border. Chuck and Sandy are the couples names and they live in Ventura, California. Both of them have seen Baja many times although Chuck has been coming here since he was 6 years old.
They have two girl dogs which they travel with in their diesel pusher which is so much larger than our very humble home. Chuck told us that his coach is 108 inches wide and the roads in Mexico are usually 108 inches wide. His biggest concern will be driving, not crime, throughout the narrow roads of Baja.
We were on the freeway before 8am, ready to venture into the unknown territory of Baja Mexico!! YEAH! Crossing the border is supposed to be the most confusing part of the whole trip, so Chuck gave us complete instructions just in case we got separated. I guess if one gets lost in downtown Tijuana it can be very frustrating and dangerous.
We each had a walky-talky so our lines of communication would be open without using the cell phones. We breezed through all of the check points and the toll roads without a hitch. Tijuana looked very scary with all of the abandoned shacks and filth scattered around the city. I can't say that this is a place I would want to spend any amount of time in.
I now understood what Chuck meant by how wide his rig was for these narrow roads. Every time he passed a truck it looked like the mirrors were going to be ripped off. I contacted Sandy on the radio and she informed me that these are the wide roads in our trip and we haven't seen anything yet.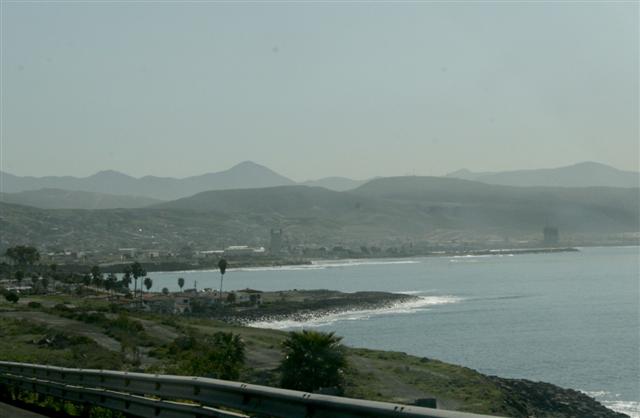 As we got further from the border towns the scenery became much more appealing with the mountains surrounding the shore line brightly lit with new spring flowers and a tropical green undergrowth enhancing the yellow, orange and purple blooms. Sandy called over the radio to watch the three dolphins traveling up the coast allowing their large dorsal fins to protrude from the cresting waves. This is sheer paradise as far as I'm concerned
Chuck is a fluent speaker of the Spanish language, so he was able to help us out when we filled up our tanks with diesel at the Pemex stations. The cost for 30 gallons of fuel was $58.00 with a tip, which definitely put a smile on our face. We drove for 10 hours today ending up in Catavina which is only 150 miles from our destination of Guerrero Negro.
I told Chuck that I was sure he would be stressed out since driving his rig had to be total concentration. I am not joking when I say that the big 18 wheelers will drive about 60 mph down these curvy non-passable roads. If Chuck didn't slow down to a crawl, he would surely get side swiped by these rigs.
The roads are very smooth compared to Michigan roads, but if his RV goes even one inch in the wrong direction, it is a recipe for disaster. The roads don't have shoulders here at all, they just have a 1-3 foot drop off into the dessert scrub.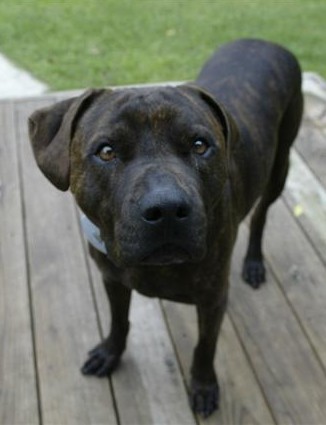 After a dinner cooked on my new Weber grill, Pat and I visited with our new friends. Our conversation was very good so I am sure this arrangement will work out just fine. They wanted our dogs to meet in friendly surroundings, so they asked if we would bring them over to their coach.
I about died of embarrassment when out boy dog Luca, suddenly surrounded by two new females and sniffing like crazy at all the new glorious smells of animal lust, lifted his leg on one of their chairs. OH MY GOD!!! He has never done that before and I thought Pat was going to kill the dog right there on the spot. How embarrassing!
Luckily for us, they are 100% dog people and totally understood the situation. Their dogs are trained so well that our dogs who I thought were very mindful to our commands, look like a couple of hooligans in comparison. Luca was so excited to be surrounded by bigger dogs and one that was energetic like him, that I finally had to take him home because he wouldn't stop trying to play. I excused myself and ventured home to bed after this long and exciting first day.
Wednesday March 5th
This morning was beautiful outside and with the air brisk and light, so I took the dogs for a long walk. The campground that we stayed in last night was only $6.00 a night although we only had a sewer hook-up, but that didn't matter because the place was incredible. We are in the town of Catavina which is straight out of the prehistoric age. I can totally envision large T-Rex's stomping around here while Pterodactyls swooped over head.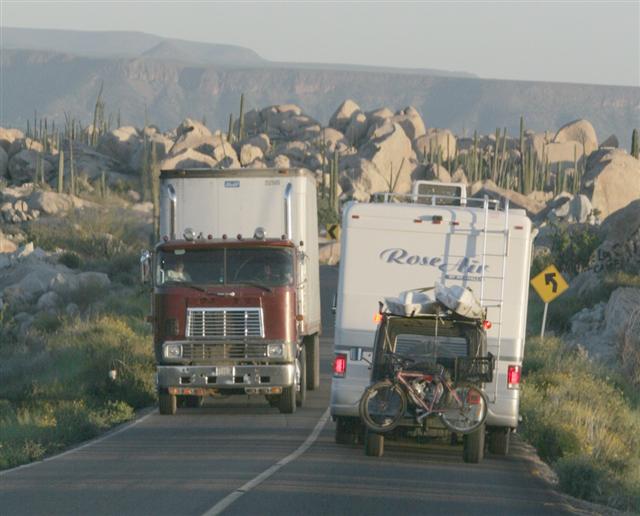 Large mounds of rock formations cover the landscape with the most unusual looking cactus that I have ever seen sprouting up every where. Small yellow daisies mixed with tall white yucca and purple ground cover keeps ones eyes entertained for hours. Every few feet or so a bed of red blooms will jut from the earth, trying to make a name for itself in this competitive landscape.
As I walked along, thinking of the fortunate situation we are in right now, it makes me remember just how hard that Pat and I worked to be in this place in our life right now. These are the places, people and things that make all those years of hard work worth while.
We all had our morning coffee and what not and were on the road before 9am. As we were cruising down the narrow highways, we came upon a vehicle that was stopped right in the middle of the road. Pat and I asked the old man if he needed any help? He said that he is an American and doesn't speak any Spanish so he wasn't sure how to ask the locals for help.
Apparently he had run out of fuel and the nearest station was 10 miles away. Pat offered to put the two gallons we carry for our generators into his vehicle so that he could make it to the station. As Pat was adding the gas, the guy said that he was going to try and start his vehicle. When the Cadillac started, he dropped it into gear and took off like a bat out of hell, with the trunk still open and the gas cap off.
Pat yelled at him that we still had another gallon to give him but he was left holding the can in the middle of the road? When we caught back up with Chuck and Sandy, they told us not to be so trusting as we are not in America. The roads here are dangerous and people are designated to cruise around and help stranded Americans if they need it.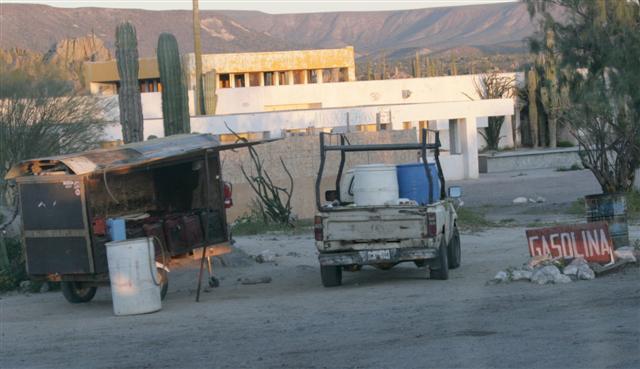 After we thought about what we had done, we both decided that we would leave helping stranded motorists up to the Green Angels instead of putting either one of us at risk. Green Angels are people that will travel the Mexican roads looking for stranded motorists and help them out with what ever they need for free.
During this stretch of the road, we would pass through a check station where the Army would search our vehicle. Pat went into the back with one of the officers while I sat in the front with the dogs.
Three soldiers walked up to the truck to see the dogs and from what I could understand of my limited understanding of Spanish, they seemed very nice. I think one asked me if I had family back in the USA while another was trying to ask me about the dogs. They all had smiles on their faces while they petted our furry kids and I looked like a complete idiot just smiling at them. This is when I wish Spanish 1 and Spanish 2 I took back in High School would kick in and I could answer or understand something that they said. Especially since one of the military personal was very good looking.
All I could do was smile at him rather than do my typical flirting I love to do.
After we had gotten on the road again, I repeated the words they said to me to Chuck and he translated for me. I guess they were asking if Luca was mean or if he was a killer? We went through the check point with no problems, and the military boys were actually very nice.
We had brought a bunch of fruit and found out that we couldn't bring it down into the Baja Sur, so Pat and I had been eating oranges and bananas all morning. When we stopped for fuel, I made guacamole out of the avocados I had brought because this was another one of the substances considered contraband. It says as long as they are peeled and seeded, they are fine to bring into the Southern part of Baja, so by the time we reached the agricultural checkpoint, we had gotten rid of anything that was illegal.
Pat and I joked that we can just see how big and mean we would look in a Mexican prison for smuggling fruit and vegetables. We'd be right up there with all the big drug lords...LOL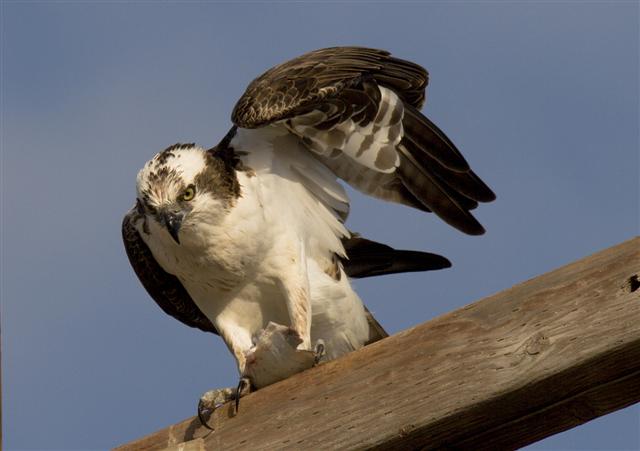 We were off the road much earlier today, which is good. I hate spending my whole day in the truck. I start to feel lethargic and at the end of the day, will usually feel more stiff and tired than if we had gotten out and did a hike or went for a ride on the bike. Just sitting all day is not my cup of tea.
Chuck found a campground in Guerrero Negro and we were set up in no time. Actually just in time for Happy Hour. The rest of the afternoon was spent lounging in the sun getting to know one another better. Tomorrow we will go to the bank to get our tourist permits and from here on out, we'll be 100% legal.
As for tonight, we had hot showers and full hook-ups, so a nice dinner and some of Jeff's DVD's sounded like a good wind down to a long day. Right as the sun was setting, Chuck came and knocked on the door saying that he was walking the dogs and spotted an Osprey a few campsites down. We went over to watch this huge bird tear apart a small flounder she had caught.
Thursday March 6th 2008
Today is the day that we are going to buy our tourist permits and exchange some dollars for pesos at the bank We opted to ride our bikes since the bank is only a couple miles from the campground.
This was like risking our lives at every cross street. The curbs here are any where from 6 inches to 12 inches and most of the time we had to jump the curbs since no entrance onto the side walk was allotted in the concrete. Some times I would just get off of my bike and pick it up and over the curbs since I am so clumsy, I could see me some how hurting myself.
As we rode down the streets we passed many dogs who would scare the crap out of me every time they would chase us, barking and nipping at our heels. Pat went into the bank and I stayed outside with the bikes. After about a half an hour, Pat walked out looking dazed and confused stating that he was not sure what he just did but he thought we had every thing we needed.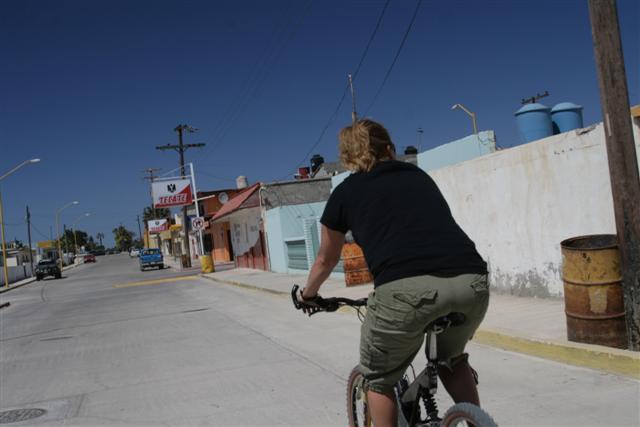 We tried to ride to the beach but some how got turned around and ended up in a small neighborhood just on the outskirts of town. Scary!
The houses are so much different than in the USA in size, shapes and color. No one here has landscaping or clean yards. Most of the homes look like a coat of paint may have been put on them when they were built 30 years ago but that is all.
I must say that everyone that we have come across has been very kind and even though we have a huge language barrier they always have a smile on their faces when our conversation is finished.
We came back to the camper and had some good conversation with Chuck, Sandy and some new neighbors that we met from Canada. The couple are traveling around the world photographing different species of birds. They are avid bird watchers and try to protect them and there habitats as much as possible.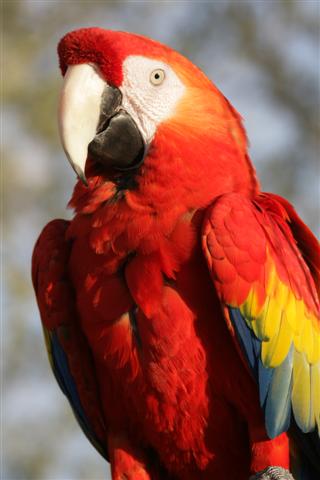 Chuck decided to tell us all a story about when he was a kid and he and his father came to Baja to visit family. They had found a rare parrot and wanted to keep it but didn't know how to bring it back to the states. He explained that his father soaked a towel in tequila and wrapped the parrot in it so that it would pass out. He then took him out of the tequila towel and put it into the glove box of their vehicle.
I thought Sandy was going to crap her pants when he told this to the couple who has spent so much time to try and protect the birds from just such a thing. Chuck laughed and said they weren't trying to hurt it, they just wanted it for a pet.
At this point we all called it a night and went to our own campers for the evening. Every time I think of that story it makes me laugh. Sandy said to him under he breath "Chuck these are bird lovers you are telling this crazy story to!"
All of us are going on a whale watching trip tomorrow so we want to get up early.
Friday March 7th 2008
Pat and I woke up at 5:30 this morning so that we could eat, walk and feed the dogs as well as have a bit of time before boarding the bus that would take us to the whale watching boat. We actually had so much time that I decided to give the dogs two walks since they will be here for a while by themselves today.
As I walked through the parking lot I noticed that a bus was filing up with people and it was only 7:00am. I thought they only had two trips to see the whales, one in the morning and one in the afternoon, but I guess I was wrong. All of a sudden Pat comes running up to me and says "Bring the dogs back quick, the whole bus is waiting for us, we forgot to change our clocks to mountain time!"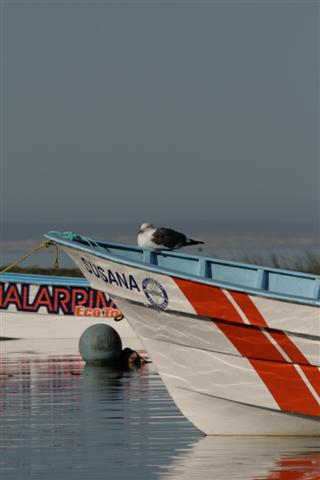 So off we ran to put the dogs away and not make everyone wait any longer. The half hour trip to the lagoon was filled with views of many different Osprey perched on man made bird nests. Some of them feeding their young and some searching for food. We saw a few with fresh catches in their talons as they soared over head.
Ten of us boarded our boat, which took off to the middle of the lagoon bouncing and jumping the waves until we arrived in the center. The trip out allowed us to see some dolphin frolicking beside us as well as the incredible white sand dunes that surrounded the enormous lagoon.
This trip ranked right up there with us snorkeling with the manatee in Crystal river. I can not begin to tell you how spectacular it was to watch these large mammals circle our boats in hopes of getting a glance at us. I think they are just as amused with us as we are with them.
One pair of whales rolled under our boat and ended up mating right in front of us! Now that is a sight that everyone can boast about. The male baby making part kept flailing around out of the water which all of us were in awe over.
When they were finished they both just relaxed and laid on their backs in the water. We moved the boat for a bit to find more unsuspecting whales until a group of three whales found us. These giant gentle creatures were scratching their backs on the bottom of the boat as they dove deep into the clear water to get to the other side of us.
Some people were lucky enough to be able to touch these beasts while they came so close to the side of our boat. After a half an hour of watching this threesome, one broke off and went its own way.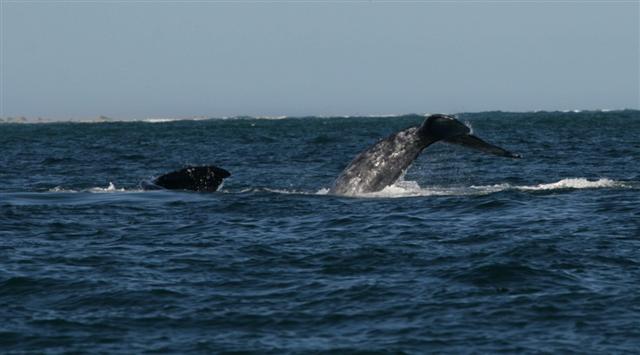 No one could figure out what these whales were doing, why they continually came out of the water touching one another. Just as we had to leave since our time was up, this second male whale showed his stuff. This was another pair who wanted to share their experience with us.
For the rest of the day all I could say was how incredible this experience was. The kind of thing that will bring a tear to ones eye just to be able to behold such beauty in nature.
When we got back to shore, we tipped our boat guide and headed back to the campground. All four of us took a hot shower, since we knew it might be a long time before we had this opportunity again, then on the road again. We had to shower the salt spray that had been blown all over us from the whales being so close to our boat.
Today's drive was alot shorter then the last few days of travel. We ended up in a spot which reminded me of the lagoon in Gilligan's Island. We were right on the shore over looking a large body of open water surrounded by huge palm trees with many birds soaring over head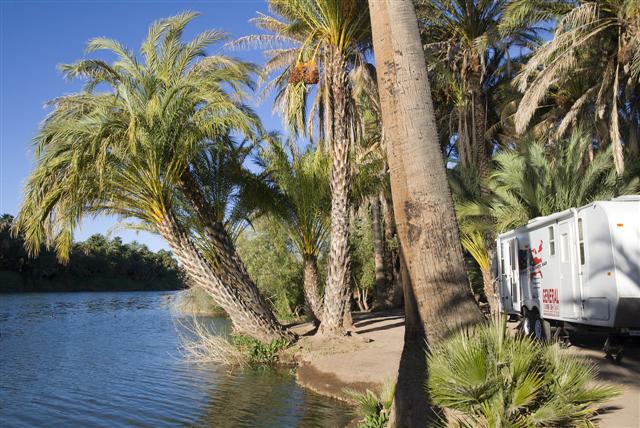 while we could look across the lagoon to see a cliff covered in cactus.
We spoke of our adventure today and stayed outside until nightfall was upon us bringing us into the warmth of the camper. These are the days that dreams are made of, memories that I know will stay in my mind forever.
I am sure that Pat is going to put up a whole gallery to view, it might just take a while for us to get it posted. We are able to receive emails from everyone but we are not able to reply to them just yet. Finding internet service here is much harder than we thought it would be although we appreciate all of the emails we are getting. Keep them coming so that we don't get too home sick.
Saturday March 8th 2008
This morning started as a dream come true. The air was clean and crisp, the company (Pat) was pleasing to my eyes and my head was clear of any stressful thoughts. I figure this morning is the beginning of some great outdoor fun of riding bikes, kayaking, and maybe some jogging on the area beaches.
Pat and I got the pups ready and sprinted out of the camper to fill our lungs with some fresh air. We were running with the dogs across a small bridge and the pavement was uneven. I was looking at the beautiful lagoon and didn't notice the change in the pavement when I went down hard.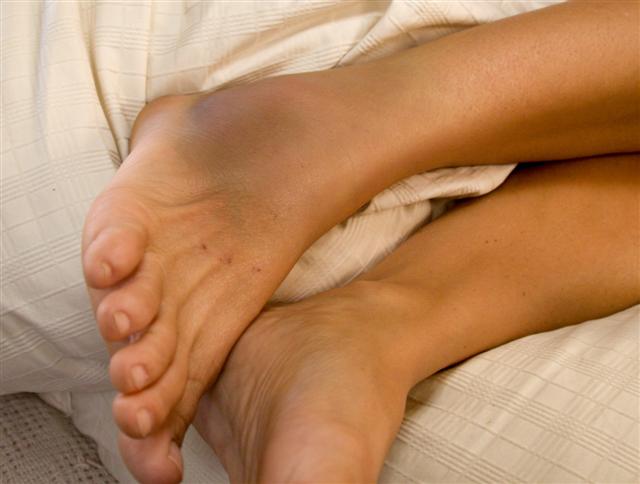 I thought to myself, "This cannot be happening, I can't hurt myself today!" I immediately held onto my bleeding knee and looked down at my twisted ankle which was already swelling. By this point Pat had heard my cry of pain and turned around to see what I had done.
He walked back and commented how I am the only person in the world that can trip over my own two feet. ASSHOLE! Is the first thing that came to my mind. I limped back to the camper explaining that I did not trip, the pavement was uneven and I twisted my ankle.
Pat insisted that I would be fine and I was just clumsy. By the time that I had taken off my shoes my ankle was twice the size that it should be. My leg was bleeding and Pat was out walking around the campsite. I screamed his name in a nice way and told him that he should be helping me mend my wound.
At this point Pat figured out that I was hurt and angry with him because of course it was his fault. He bandaged my knee and wrapped my ankle before he went outside again to get things ready to go sight seeing at the local Mission San Ignacio.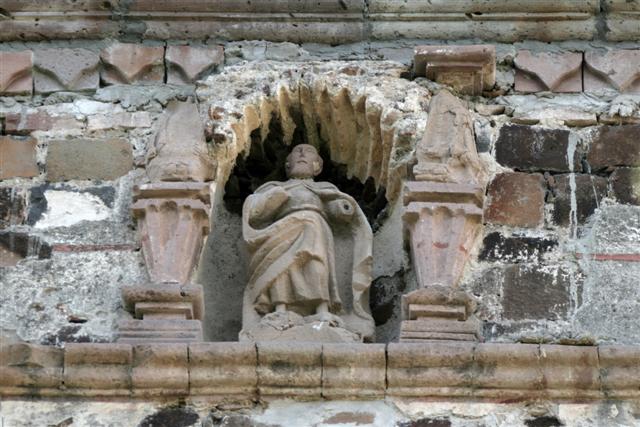 I hobbled to the truck and sat myself down in the seat until we arrived at the downtown area where we planned to do some sight seeing. I walked about the Mission in complete silence just saying some prayers to myself to not strangle Pat for not catering to me while I'm injured. It was still very early in the morning and we were the only ones in this beautiful old church.
My joke for the day was "Boy, who ever built all these beautiful churches back in the 1700's sure were on a Mission." Pat just looked at me with his usual look and told me "You're such a dork."
The only sound except for my limping footsteps was the sound of Pat's shutter on his camera. They say the best way to ease pain is to eat, so we found a small cafe that overlooked the Mission and sat to have some breakfast.
The family that ran the cafe was very nice with us since our limited Spanish kept us pointing to different things on the menu and butchering their language. My breakfast was excellent and my foot was feeling better already.
We got back to the camper and headed out to Playa Santispac where we would camp for the next few days. It feels like we've been in Baja for months, and it hasn't even been a week yet. My how we've kept ourselves busy.
Make sure to check out our Gallery from Misión San Ignacio
The crazy two hour drive was beautiful whenever I had my eyes open. Coming up and over the mountain and into Mulegé was breathtaking, but just a bit scary. The little village of Mulegé is something that we'll have to go back and explore as it looks very old and historic.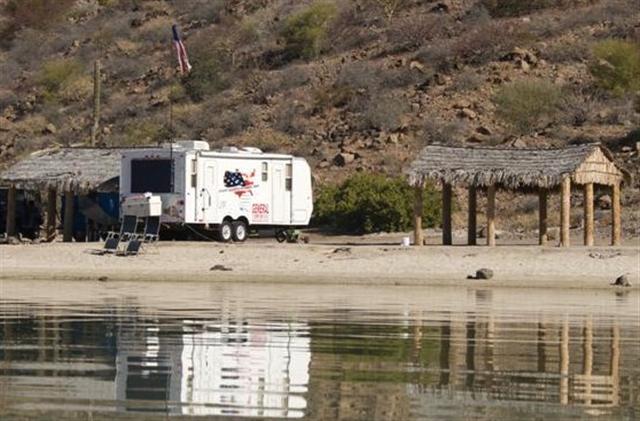 We drove a few miles out of town to where the beaches line the Bahía Concepción with the tropical waters of the Gulf of California. The beach we pulled into is just perfect. It's hard packed sand and Pat was able to back the camper to within a few feet of the water.
I don't think he was even unhooked from the truck yet and I was already in my bathing suit and lying in the sand with a cold one to help ease my throbbing foot. The rest of the day was spent with Pat trying to make up for being such a jerk this morning.
He bought me a woven hammock from a local Mexican man who was selling goods on the beach and hung it under the palapa that we're parked beside. He brought me cold beers when ever I needed another beverage, and even took me out for dinner at Ana's, which is a little bar right on the beach.
There we sat talking with the locals and toasting with strong Margarita's. Pat was flirting with the cute little Mexican bartender who was either trying to get me out of the picture by making my drinks stronger and stronger with each mix, or get rid of him by doing the same.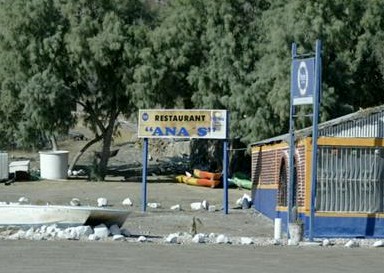 The second scenario worked like a charm, and soon we both were stumbling back to the camper as the sun was setting. At least I had an excuse because of my bad foot, but Pat looked like both of his feet were sprained and I'm thinking his was due to the large amounts of tequila that had pooled up in his shoes.
From what I remember, we were in bed before 9pm with dreams of salty breezes and hot looking men to fan me in the morning while I relax in my new hammock.
Keep the emails coming to us because it is nice to hear from everyone. Remember, we haven't found a way to reply yet, but as soon as we do, we will get back to everyone.
Sunday March 9th 2008
Pat and I got up early this morning to go for a kayak ride across to the islands we could view from our camp site. Chuck and Sandy also have a couple of kayaks so they went with us for what turned out to be a very short paddle. I thought when I woke up this morning that my foot didn't hurt as bad as yesterday so I didn't take any ibuprofen before we left.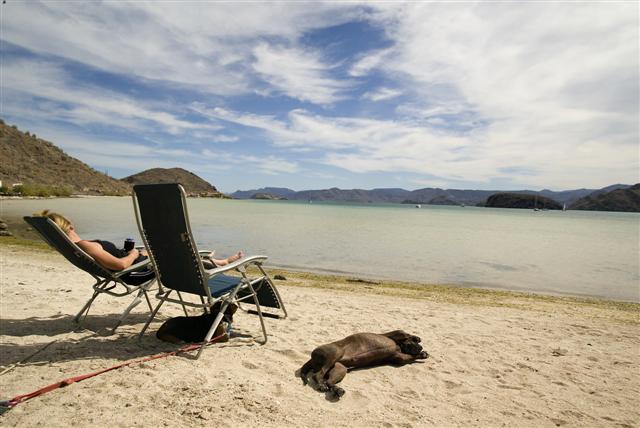 As I got half way to the first island my foot started throbbing so bad that I felt like I was going to cry. I told everyone that I was going to head back so that I could medicate myself. I spent the rest of my day limping around the camp site until I just couldn't stand it any more.
At this point I picked up a book and brought my chair down into the water. I sat with my foot hanging in the cool clean water until my foot turned blue or should I say more blue. I sat there pretty much all day trying to either elevate or soak it hoping that this stupid ankle doesn't ruin everyone's time here.
Pat has no sympathy for me since our last few months that we owned the bar, Pat worked 7 days a week after he had tore ligaments in his ankle while playing with his niece and nephew. When ever I complain of how bad this hurts, he just reminds me of working from open to close with a big brace on even though the doctor had told him to stay off of it for a few months.
So I continue to make food and such for the both of us trying to get by the pain until I elevate it again. He stayed in the camper all day trying to catch up on the web site so that he can up load it when he goes into town this afternoon. I will stay here since walking is just too much for me.
Monday March 10th 2008
I woke up this morning with a panic attack due to the fact that I had forgotten to pay my CC bill. It's not really that big of a deal except for the $75.00 fee that they will slap on for interest. I have vowed to never pay interest to a CC again, since if we can't pay for it in cash, I won't buy it.
Last month I had a great big argument with Capitol One because they said that I didn't pay on time which I paid on the correct day, just not at the correct hour? I guess one has to pay by a certain time during the day or else it posts on the following day. I convinced them that since I have never been late in almost two years that they needed to wave the interest fee.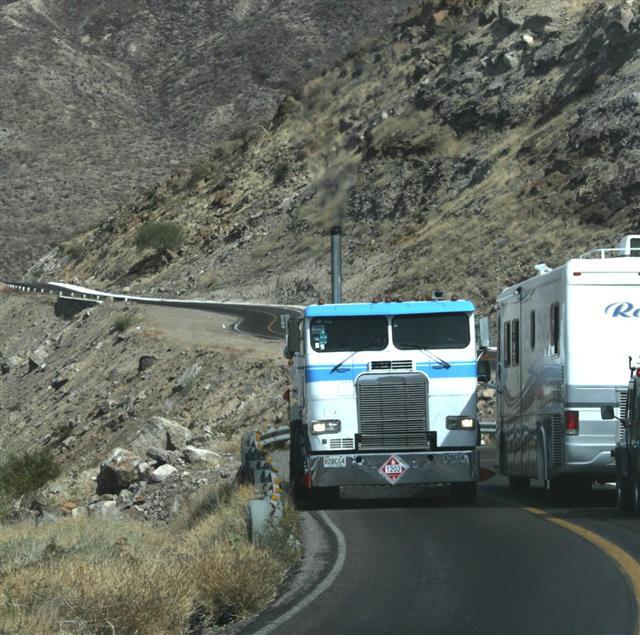 I thought I had to pay before noon which would be 9:00 here in Baja so I was in a hurry to find some internet connection. Pat didn't understand my urgency and putted around here until we had no time to go into town, we had to find the first internet available to us.
The restaurant opened 15 minutes late so we would be paying after noon on Michigan time. As I was posting my payment I noticed that I had plenty of time since the cut off time is actually 3:00pm instead of noon. I didn't tell Pat that though since I was such a freak about the whole thing and he has been PMSing this week really bad.
After we left the Cafe we drove into downtown Mulegé to see what the locals do. This was a chore in itself to try and maneuver our great big truck down these narrow streets. We did a little short tour of the historic town and didn't get out since we couldn't find a place to park. The streets were so narrow, that Pat had to fold in our mirrors on a few sections so we wouldn't hit a telephone pole on one side and a parked car on the other.
We came back to our camp site to grill up some chicken on my brand new Weber grill, which I love because its so easy to clean and use. No mess anymore compared to the charcoal grill although I do like the flavor of a char-grill. I will make the sacrifice for the ease of my new one.
Tuesday March 11th
This morning when we woke up, I thought that someone had taken my sweet husband and replaced him with a bear. Pat was so mean that I just avoided him at all costs due to his attitude. This is very unlike him so I know that it will pass, as long as I am tolerant and don't push his buttons too bad.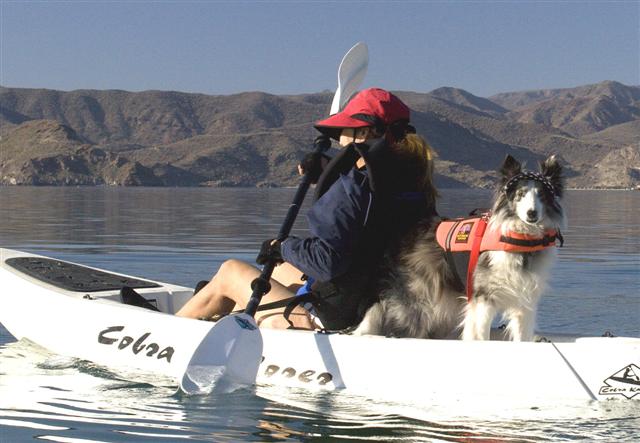 We went out kayaking with Chuck and Sandy and their small dog Mia which rode on the back of Sandy's kayak. She is so darn cute with a slight under bite and big blue eyes that just win one over from the get go. Mia wore a little baseball cap and some sunscreen on her nose to keep from the sun hurting her blue eyes and fair nose.
We kayaked for about a mile before Sandy and Chuck turned back to have their morning coffee and breakfast. This meant I would be on the water with Mr. Personality alone for God only knows how long.
We kept our distance from each other while enjoying all of the beautiful creatures that these waters have to offer. Many different types of birds, fish, shell fish, star fish and sting rays filled our senses to the brim. We enjoyed some lunch quietly while staring off into the distance at the enormous mountain ridges that surrounded us.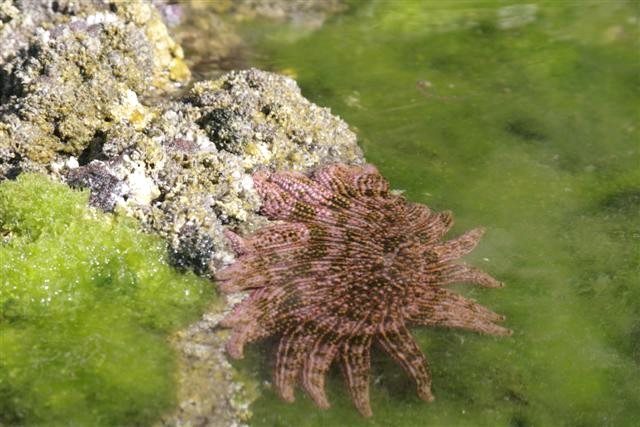 We came back to camp and Pat did some more growling so I went up to the restaurant and had some lunch by myself. This little place is so cute and quaint. The last time I was here, I had three margaritas and a few ibuprofen under my belt, so I was pretty unaware of my surroundings.
Today at Ana's all I had was lunch and man was it good, with the price only being $5 which included a tip for three steak tacos, beans, rice, chips and salsa and a big salad on the side. Now that's my kind of meal. As I was walking home Pat was coming to get me which is so funny since I know dam well that I am driving him nuts right now.
I came back and laid in the hammock while he did his thing inside the camper. Finally he came out and said "Come on, I need a margarita!" Back I went to Ana's for some of their great beverages and some incredible dinner. Pat and I both had four margaritas and each of us had a huge dinner, total cost $25. I can see how people lived here year round and still saved money.
I have been buying most of my veggies and bread from the vendors that come around every morning. Everything is fresh and the bread is still warm when they drive around the camp site. I bought some bread stuffed with jalapenos and cheese that would melt in you mouth for the small fee of .80¢ a loaf.
That's alot better than the Chiclets they used to sell last time I visited Mexico!
Wednesday March 12th
I woke up this morning with the determination to find a Porpoise to paddle with today. Our Canadian neighbors have told us of continually seeing these playful creatures swimming right next to their Zodiac when they go out further in the bay.
We struck out early this morning, all six of us, since both dogs, Carma and Mia, hitched a ride on the back of Chuck and Sandy's sit on tops. Pat and I brought a lunch so we could wait to see the Dolphin circling us as we had been hoping for, so we were ready for a long wait.
Again I think we are, or should I say Pat is way over zealous when it comes to how far we kayak, so the rest of the group headed back in after about an hour. Pat and I got almost to the open water and started to feel the waves of the ocean before we had to turn around. We had seen so many Dolphin swimming out here the day before from inside our vehicle on the shoreline, so we waited until we both started to feel sea sick from the constant waves.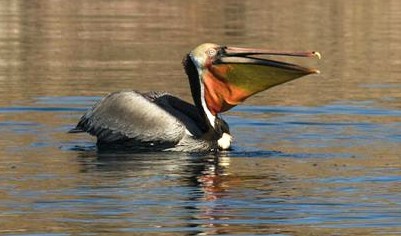 By this point we were miles from our shore line and my arms were getting pretty tired. We had seen many different species or maybe just male, female and babies of pelicans and a bunch of cool looking Sea Gulls but that was it for me today.
Pat wanted to go further out still to one more island, but I opted to turn back so that I could get some lunch started for us. I joke with people that Pat is like the Energizer Bunny and will just keep going and going until I actually make him stop.
This day turned out to be a pretty big disappointment for me since I had not seen anything I was looking for on our long four hour journey paddling into the seas. I made Pats favorite meal of Coconut Chicken and man was it ever a success. The whole camper was surrounded by things knocking on the doors and windows to come in. Unfortunately they were honey bees which would not leave us alone.
The bees were even worse than the other day when I decided to put my gallon of honey outside to soften it up in the heat. I placed it on the front porch step for a couple of hours while we were both in the camper doing our morning duties. Within an hour or so we could hear the bees out front which when Pat opened the door the lid for the gallon of honey had at least 20 bees on it.
Since Pat was still in his PMS state of mind, I thought that he was going to gouge my eyes out with a fork. I mean what's the big deal about giving yourself a shot of Epinephrine if you get stung or you will pass out without medical treatment? It's just a small allergy to the bee venom that he suffers from right?
When Pat came back he had a fish story to tell that would make anyone jealous with the tall tail of a story he had to offer. When I saw the photos I almost cried since I had turned around too soon. Pat had gotten into the middle of a school of feeding Dolphin when I turned away and he said there were so many it felt like he was in a whirlpool with the churning water surrounding him. He had photos to prove it or I would have never believe his story, it was just that crazy.
He told me once he started paddling back towards our camp, the only thing he was worried about was tipping over because without the photos, he knew no one would believe his crazy story.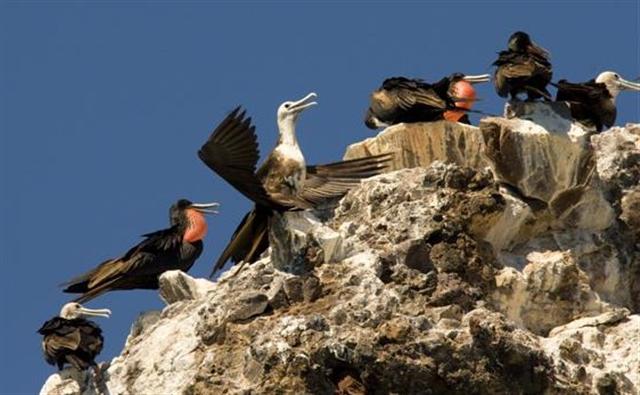 He also had the fortune of watching hundreds of Majestic Frigate birds do their mating dance with one another. He explained to me that the male bird would prance about with its red balloon neck flailing about while the female made a clicking noise and batted her wings until they finally fell deeply in lust with one another.
After he filled us all in on his fish story Pat and I had lunch inside while the honey bees, at least 100 or so kept knocking and buzzing against the windows with Luca trying to eat them through the screens. The rest of the day we lounged about and took a siesta while the heat of the afternoon lifted and the cool night air would blow in and could cool us off.
Thursday March 13th
Another day of early rising and out onto the water for us. I just can't resist this beautiful glassy clear water that we are right on top of. I made a promise that I will take advantage of it for as long as we are here.
Pat has finally come home to me and his PMS is over, Thank God. He is back to his old self of laughing with and at me instead of never finding humor in the stupid things we (I) do. This makes life so much better for the both of us when we spend every single second together. I think it had to do with yesterdays long afternoon siesta followed by a cold shower, if you get my drift.
We went out by ourselves today since we knew we would spend a long time on the water. We want to see every island that we can before we take off from this beautiful campsite.
In order to paddle to everyone, we have our hands full. We paddled around six different small islands today, seeing something different at each one. Each island is unique and has different birds, different foliage and drastically different underwater life around the waters edge.
We paddled the entire time except for the 15 minutes we took for lunch. In that 5 hours of paddling, we covered alot of water. We saw so many new types of fish with each mile we got from the main shoreline. I really wish my ankle wasn't so tore up because these waters would be perfect for snorkeling, but we'll just have to come back another time for that.
Our day was filled with wonder and excitement and some hard work. By the time we got back to shore which was 5 hours later, my entire upper body felt like a pulled hamstring. I don't think keeping my foot in that one position for that length of time was good for it either since as soon as we paddled back onto the beach, in my first few steps I felt shooting pain with each step.
Chuck and Sandy had just returned from town and the four of us visited a friend we had made in Ana's Restaurant who owns a bed and breakfast right up the road from where we are staying. Elena gave us the tour of her lovely place and we sat and chatted a while until I had to go home and put my foot up after taking some more ibuprofen. The darn thing has started to swell again after I took the two flights of stairs down to the entrance of Elena's home.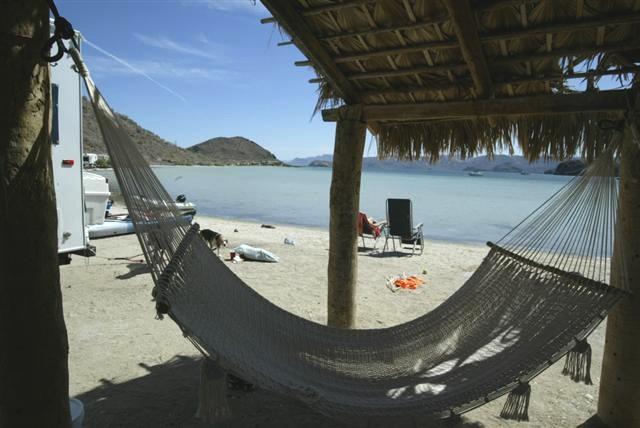 Back to the hammock in the shade where it was a cool 93 degrees! Our camper was 90 inside since the afternoon winds hadn't started blow which normally cool us off.
You can tell it is getting later in the season because each day the winds blow later in the afternoon and the temps get a few degree's hotter.
Once the ocean breeze did pick up, the temperatures dropped about 10 degrees which made it tolerable in the camper. Under the palapa in the shade, it was about as perfect as I could hope for. That's once the med's kicked in and allowed me to forget about my ankle.
Once the sun set, I watched a few movies and fell asleep by 10pm. I sure am glad Pat is back to normal and I am so thankful for every day that I am alive and living this life! In a few years when we're saying to each other "Where did all of our time and money go?" but I know a smile will cross our face when we can relive all these memories we're making right now.
Friday March 14th
Today was filled with sights from the small, historic town just North of our little oasis on the beach called Mulegé. We had to go in to the village to try and find an internet connection which is proving to be quite difficult to work around down here in this third world country.
We met up with a disgruntled American woman while we were trying to get connected. She expressed to us how she is ready to go home since she is sick of the sun, saltwater, Mexican food and the sand. Now I would have to say that it is time for her to leave since that is everything Mexico has to offer.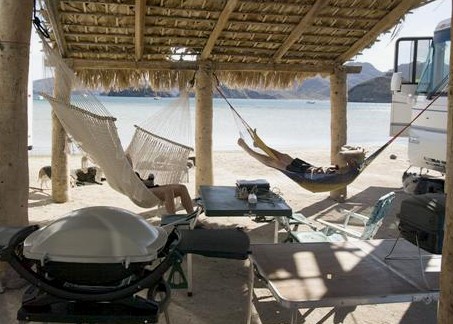 We uploaded to our website and figured out a way to return some emails. Then we looked for a local restaurant that was recommended to us by some friends of ours. The restaurant is called Doney's and it was terrific just as they said it would be. I'd have to say that this has been the best meal we have had since we arrived in Mexico.
After an hour of people watching out of the open aired patio we were sitting on, we went home to let this huge meal digest. We had two heavy boxes of carry-out food which will feed us for a couple more days! We arrived back at the camp site to join Chuck and Sandy under the Palapa, hanging in the hammocks till the sunset had finished its show and we headed in for bed.
Saturday March 15th
We know that our time here is coming to an end tomorrow, so we were up first thing in the morning to get another paddle into this clear salty aquarium which we have become constant guests of. We always go for three or four hour trips on the water which involves some heavy paddling in open water, so most of the time Chuck and Sandy go their own way once we leave to head out on the water.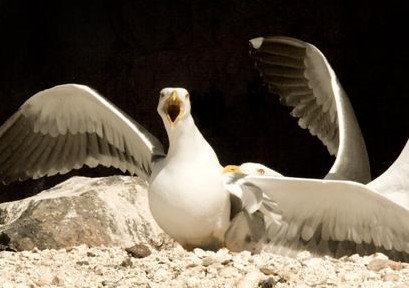 Our long trip today was spent along the rocky shore line, looking through the sea sponges and coral for any signs of life that move about in this area. We always see plenty of rays, starfish, barracuda, clown fish and small zebra fish in these parts, however we have been surprised with a few more colorful fish that catch our eye every now and then.
These shore lines are always filled with some entertaining birds which I must say I have almost mastered their calls or at least I have been practicing alot. Pat really enjoys my gull call although he won't admit it.
After a couple of hours of paddling along the volcanic shore line, we started to turn around when Pat informed me that he would rather cut straight across the open water on the way back instead of hugging the shore. I expressed my thoughts with some comment like "Are you crazy?" The winds by this point were picking up which means the open water is much harder to contend with. I know from previous experiences that heavy winds means white caps on the water and usually Sea Sickness for both of us.
At this point is when I was scoping out the water to see the extent of the rough water we would have to cover when I thought I saw a dolphin. I yelled out "Dolphin, 11 o'clock" to Pat and we both paddled in the direction where I saw it break the surface of the open water. We chased this creature into the middle of the islands only to find that it was a large seal instead.
We never could really get close enough for any good photos although we did get a chance to see it roll over and over, playing in the center of the bay.
By this point we were so far out in the center, we decided to continue through the strong winds and just get a really good work out. After 20 minutes of non-stop struggling with the winds and water splashing up and over my kayak, I needed to rest until my arms could be of some use again.
Big mistake, since as soon as I stopped paddling, the wind took me backward and the waves made me feel as though I was turning a nice shade of green. I began the quest for the safety of the inner bay when Pat pulled up beside me and asked me to slow down or I would wear myself out.
I explained to him that if I slowed down and just sat bobbing in the surf, I would barf or flip over since the waves had now become white caps. Both of us busted some butt to reach the safety of the inlet and once I felt the hard wind stop blowing, I just stopped for a couple of minutes to let my Stretch Armstrong arms get back to normal.
When we got back to the camper, both of us took a shower to wash off the thick salt spray which was followed by a long nap to get ready for our last night at Ana's Cantina. Saturday nights are the best time to enjoy dancing at this beach side hotspot, since that and Tuesday's are the only nights with a DJ.
As we walked the dogs past Ana's around 5pm, I told Pat that they must have turned on their bug zapper. We saw 8-10 people all walking towards the place as though they were in a trance, being attracted by the hum of the generator and the neon lights. We brought the dogs back to the camper and asked if Chuck and Sandy would be attending the party tonight, to which they both said and enthusiastic "Yes".
I wrapped my ankle good and tight because I know me with good music playing. I'm a dancer and not one to sit and watch.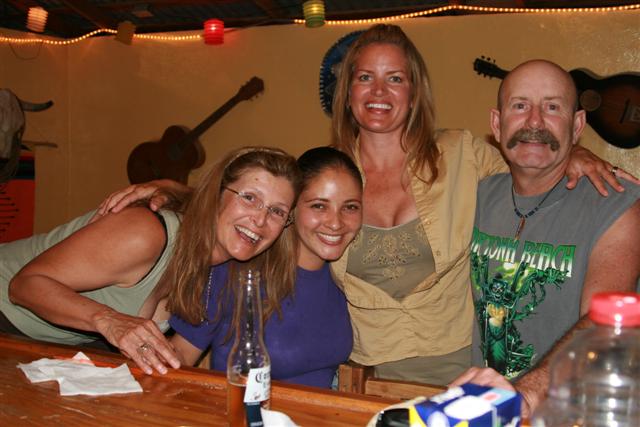 After the second margarita, I was looking for an excuse to start cutting a rug and in came Chuck and Sandy. We all got out there on the dance floor and had an awesome time. I danced with anyone who would pass by me grabbing them to twist or twirl them some how. I guess the margaritas made me forget about my purple, swollen ankle because I never noticed it al night long.
The night ended too soon with smiles and laughter filling the bar as we all said good night and good bye until we meet again. Both Pat and I walked home and passed out after only three of Zulema's special margaritas!!
Sunday March 16th
A sad day for both of us was leaving our special palapa on the white sand beach of Playa Santispac. We can't stay here forever though, or can we? Anyway we headed to Loreto which is about 90 miles south of Santispac. Loreto is a much more populated town with many stores, shopping, restaurants and it even has the first Mission in Baja Sur.
The ride here was spent mostly with me looking at the back of my eyelids while Pat chugged along the winding Hwy 1. I felt so bad for Sandy since she was a bit under the weather after last nights festivities. I don't think she is much of a drinker and two of Zulema's margaritas did her in something awful.
Poor Chuck had to pack up camp and drive the whole way by himself because I don't think she ever got out of bed today.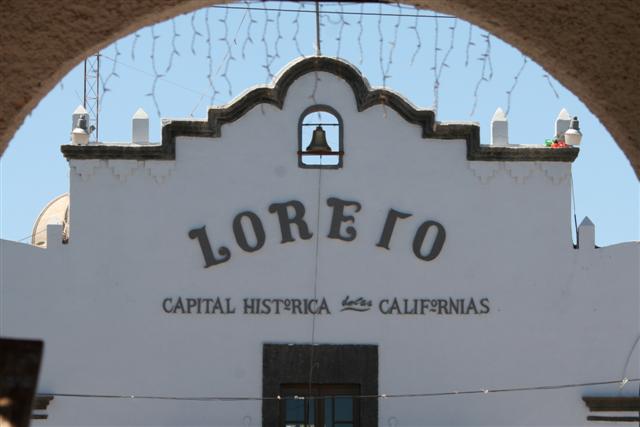 When we arrived in Loreto, we found a nice RV Park which Chuck is familiar with and made ourselves at home. Chuck brought us into town so that I could do a bit of grocery shopping. I can't believe that we still have a good supply of food except for the essentials like bread and milk.
The park we are in, Riviera Del Mar, has everything we need here including Wi-Fi for only $14 a night! This way we can get caught up on laundry, which hasn't been done in two weeks and also use the dump station and have running water.
We got here and I tried to get some drinking water from our fresh water holding tank when I found that the water had turned green?!? It looks like some sort of algae has made a home in the bottom of the tank!!! This meant that we had to find a different source of drinking water for the next 4 weeks.
After shopping in town, Pat walked down to the laundry mat and did two loads of laundry. That darn guy surprises me more and more every day. He used to do all the laundry when we lived in Michigan, however since we have been on this trip, it has become my job. I didn't even ask him to, he just did it. I'm thinking he was sick of his clothes being washed in salt water and rinsed with fresh water like we had been doing for the last few days at Playa Santispac.
Have you ever heard that old saying that goes something like "If your husband changes and becomes really nice to you; is sweet, respectful and caring, that he is making up for cheating on you?" Well, I would have my doubts because of how nice he has been if I didn't spend every waking moment with him. (Just Kidding)
Monday March 17th
We got our day started early today and Pat asked me what the date was, to which I replied with shock, "It's St. Patrick's Day." This is so strange since the past few years of owning a bar instilled many weeks of planning for this busy holiday of drinking and partying. For us to not even be aware of the occasion struck me as strange.
Chuck asked Pat and I if we wanted to ride our bikes into town with him since Sandy is still not feeling well. He and Pat are alot alike in the fact that they don't like to ever be idle, so I'm sure he is going stir crazy by now.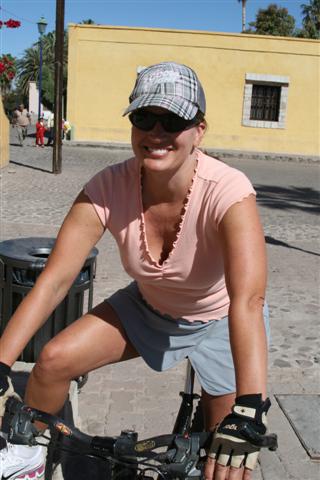 Pat got the bikes all ready or so he thought while I made us a Fruit Smoothie in my Magic Bullet. (My new favorite appliance) He came in for some breakfast and when we went back out side, the tire he just filled with air was flat again. After a couple times of this he decided to ride his bike on a flat tire into town so he could get a new tube for the repair.
Here in Mexico, only standard tubes are carried at the local sporting goods store which does not work with Pats French rims. I thought we would have to turn around but Pat just pretty much rode a wheelie for the rest of the bike ride, he is so crazy.
After our trip around town Pat and I had some brunch at the RV Park Cafe and it was delicious. We figure that eating out in most places here is cheaper for us than having to buy the food and make it at home. For $12.00 We each had two eggs, bacon, sausage, pancakes, and toast with a side of has browns, coffee and another fruit smoothie.
I know what your thinking and yes we could have split that breakfast, but we are both big eaters and finished everything. We met a nice couple while at breakfast and ended up going out to dinner with them for St. Patrick's Day. Chris and Jeanne are currently working in Yellowstone National Park for 6 months out of the year and traveling the other six.
We compared notes to which we found we had alot in common with one another. Dinner was accented with some great company, to bad this is their last night here for they were fun to hang with. I think what they have figured out with the part time jobs is what Pat and I will eventually have to do since our cash tree won't bloom anymore.
The walk back to the camper after dinner was cold, in fact I had on a jacket, hat and gloves. The weather station said a low of 47 tonight and I believe it. To bad that I have taken off the down comforter and put it in storage (the back of the truck) for the summer. To our amazement, our heater came on in the middle of the night and we had it set at 50°!
Tuesday March 18th
Our day was spent walking around town just soaking up some culture in Loreto with the old cobble stone streets and the fading stucco homes and businesses lining the narrow walk ways. The only wild life we have seen here in Loreto is the roaming dogs which may I say are some of the best pan handlers that I have ever seen.
We visited the Mission Nuestra Senora de Loreto which is in the center of town surrounded by all of the businesses. The history held in the 3 foot thick walls I'm sure could fill a book and probably already has. A pack of 3 dogs followed us all through town just giving us the sweetest eyes the whole time.
I told Pat that we should carry around some treats for the really cute ones, but then I had a vision of a Seinfeld episode where Elaine had a pocket full of mutton in her coat which she was unaware of. All of the dogs in the town were following her through the streets, barking and insisting on their share. That made me change my mind.
We laid low most of the day since my ankle started to swell again from all of the walking we did in town. I'm not sure if I am real crazy about this city life with all of the vehicle noise and we are too far from the beach to kayak. Not that we could right now anyway, there is a strong storm front moving across the area that has the Sea of Cortez whipped into something awful.
I think I just got spoiled from staying in Santispac for the past 10 days I guess. We will wait the week out here since all of the beaches are filled with the locals during their spring break type religious holiday.
Wednesday March 19th
Chuck, Sandy, Pat and myself took the truck out today to do some exploring of the area beaches. We all talked about it and thought if maybe we could find a not so busy beach, we could move out of the noisy city area. We got an early start and heading south toward Ligui Beach stopping at everything in between.
The first place we stopped at, Puerto Escondido, sounded really nice when we read about it in our Baja Bible, stating that it had a pool, store, laundry facilities and spacious lots. Chuck said before we got there that he didn't like it from what he had remembered a few years ago. We wanted to check out that area any way to see for ourselves.
Chuck was right, the lots weren't spacious and they were right on the main thoroughfare. The laundry was actually a washer and dryer outside in front of the rest rooms which weren't so lovely either. We never saw the pool and it was more expensive than the place we are currently at? So that was a big "NO".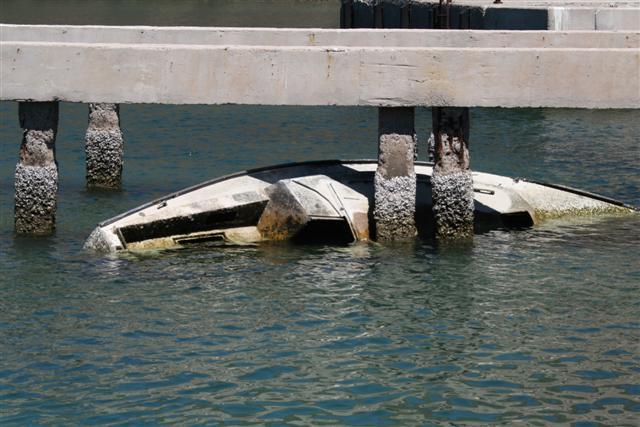 Our next stop was the actual port of Puerto Escondido which Chuck had remembered as quaint with venders and small shops along the pier. This was also a disappointment since a hurricane had blown away the pier and every thing else along the inlet.
This area was weird because there were city streets with lampposts set up for you to imagine a once thriving little village, but now there was nothing left but tall weeds and abandon buildings along the crumbling roads.
We spoke to a gentleman that was repairing his catamaran which he had salvaged after the hurricane. He had pulled it off of the bottom of the ocean floor and reworked all of the mechanical things already, he told us all he had left was a huge chunk of boat missing in the rear end until it would be usable.
This guy pointed us in the direction of a secluded beach that would be easy to get to and free to stay at. He said we would not be getting in any locals way since the beach was mostly inhabited by Canadians and Americans.
We did find the beach area after a bit of off road driving and decided immediately that Chuck would not be able to bring his big rig down these winding narrow gravel and sand roads. Pat decided to drive along the beach for a bit and I informed him that the sand looked way to deep for us.
He said it wouldn't matter since we had a 4x4 truck and he was used to driving in this kind of stuff. After driving about 50 yards the truck came to a complete stop at which point Pat threw it into 4 high. This would usually work except for our tires were dug pretty deep into the sugar sand already and they were full to capacity with air pressure.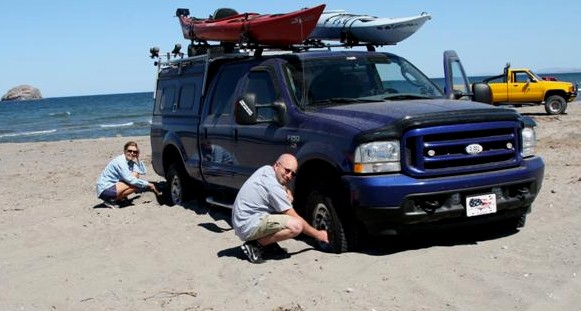 Pat tried to go backward and forward until the truck was basically buried up to the frame rails. The funny part is non of us really panicked or anything, we all got out of the truck and dug the tires out a bit while placing some rocks and drift wood under the front and rear tires. Pat went around and let some air out of all of the tires while I took photos of yet another fine mess he had gotten us into.
Pat got in and drove right out with no resistance as we stood behind him and cheered him on. We all laughed and I explained how I think Pat can pretty much get us out of anything, that's why I have nicknamed him MacGyver.
We all needed a little excitement anyway since the drive was getting a bit boring. At this point we all agreed that we didn't need to see anymore and we headed back to the campers.
When we pulled back into Rivera Del Mar Campground, we had some new Canadian neighbors who had pulled in while we were out exploring. John and Mary-Ellen were very nice with two of the cutest dogs I have ever seen. We had some good conversation and learned a bit more about the area and what it has to offer from them as they have already been all the way down to Cabo and are on their way back North.
Thursday March 20th
We have almost come to the point of running out of the food that we brought from the states, so Pat and I decided to have another awesome breakfast here at the camp ground cafe. We had a few snacks to bring with us to the Mission this afternoon, but that was about everything in our cupboards. Knowing that, we really filled up on breakfast for the huge fee of $4.50 each.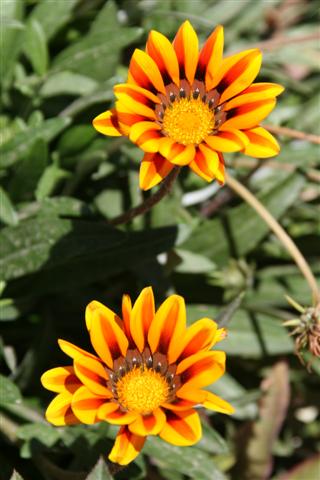 We enjoy this little cafe early in the morning when traffic is light since they keep an incredible flower garden here. They have a large fountain surrounded by roses and many other pretty things that I have no idea what any of them are, I just know it makes me smile to look at them. It has been so long since I have gotten to dig in the dirt, I enjoy seeing the work that someone else has had the pleasure of doing.
During breakfast we met another young Canadian man who lives here fulltime working on one of the big developments we had driven around yesterday. Mark is a very nice, good looking guy that shared some great conversation with us and loaded us up with plenty of great tips on the surrounding area.
We also talked with another Canadian couple who are paddling their 18' kayaks all the way to La Paz from Mulegé! That's a few hundred miles of paddling!! They told us they were staying in the campground for a few days while the winds were so strong and would wait till the weather died down before they headed back out. That was just amazing to me because I thought our four to five hours of paddling was a good workout.
This couple said they average four to five hours per day, but many days will paddle for 8 hours to get to their next tropical beach campsite. We wished them well and got ready to head to the Mission in the mountains, San Javier.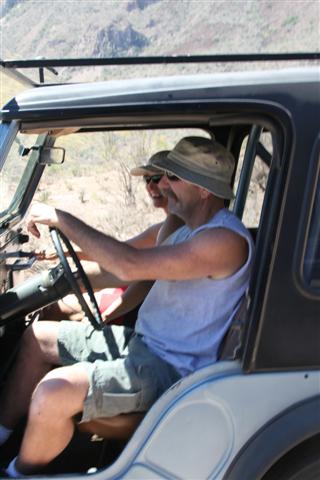 Chuck and Sandy wanted to take their Jeep out to the mission to make sure everything worked Ok and we wanted (I wanted) to bring the dogs anyway, so we drove separate from them. We loaded all of us in the vehicle with plenty of water for us and the pets and began our journey.
The trip to the Mission is 22 miles of back country travel with huge steep inclines and some hairpin turns crawling along the mountain sides. For the life of me I could not figure out why anyone would want to put a mission, or live for that matter up on top of this mountain with such a treacherous trip to and from their place of worship.
That was until we saw the many oasis' dotting the road sides with plenty of spring fed streams flowing down the side of the mountain. The dogs really enjoyed the moss covered water shed also, even though they both went in by mistake. Lucy thought that the moss covering the cool pools was the dirt and went all the way under and had to swim her way out.
This was hysterical because Lucy hates water. She normally wont even put a paw into a lake or stream. So when we saw her try to walk across it, I was yelling for her to stop, while Pat was already laughing knowing the outcome was going to be a wet, smelly dog for the rest of the trip.
Luca was a bit luckier since his height didn't let him go all the way under, he just got a good cooling off and had the crap scared out of him. They both crack me up when they go for hikes with us, showing their personalities with the excitement protruding from their wagging tails.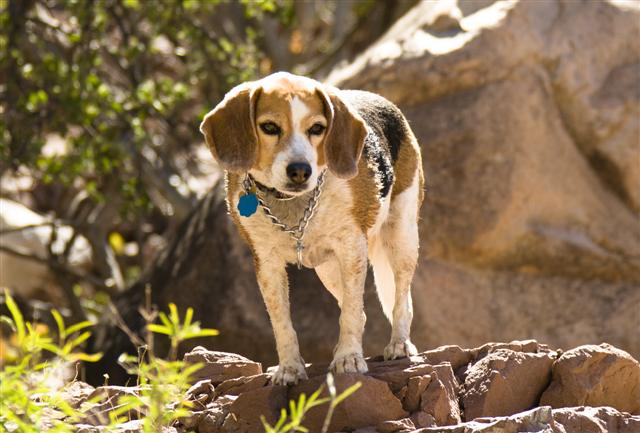 Pat complains the entire time when we bring the dogs, explaining how we need to get rid of them as he thinks they both suck or at least he thinks Lucy does. This used to bother me, but now I just ignore him because he likes them just as much as I do. He actually takes them for walks and feeds them although he complains the whole time.
When we finally arrived at the Mission we were very surprised to find a small village with beautiful flowers lining the cobblestone streets and side walks. We were even more surprised to see people being dropped off in a taxi cab. I guess that would be a good fair except for it is up hill the whole time.
Pat and I got a few good shots in before we saw Sandy and Chuck arrive in their Jeep. Chuck came over and asked Pat if he had any tools that he could use since some things on his Jeep had fallen off on the bumpy ride up.
I thought this was funny since one of the first days we met Chuck he had laughed at the large supply of tools that Pat had with him. Now he has barrowed them at least three times and we're only 2 weeks trip into our journey. I guess the large supply of tools isnt so funny after all when you need all of them.
The next people we saw pull up were some folks we had met in our RV Park who all drive Lazy Daze Class-C campers. They were some of the people who had taken the Taxi up which had now broken down. These people came over and asked Pat if he had a few other tools and some jumper cables to which MacGyver answered "Yes of course."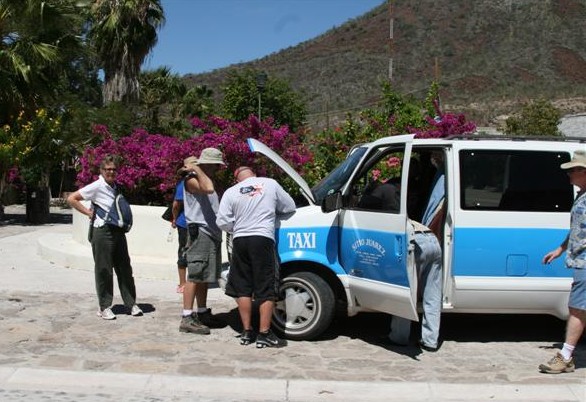 All of the males were working on the Taxi for about an hour in the hot sun before we finally offered to take the five of them back. That bumpy road had jiggled something loose on the taxi's starter and it looked like he was going to have to wait for a tow truck.
We asked Sandy and Chuck to wait since all five of the now stranded campers couldn't fit in our truck.
They ended up taking a very nice couple who had to piled into the very small back seat of the 1975 CJ-5. It was quite a tight fit with four adults and two dogs in that small of a Jeep! We had three nice ladies with us in our back seat while our dogs sat up front on my lap.
I've always told Pat that I wish they could sit up front with me, but now I know that will never happen again. My nose was so packed with Lucy hair and Luca's big butt took up most of the seat. We all laughed and had a great time getting to know one another on the long, slow ride home.
Pat and I were just settling in with a cold one when the neighbors who we gave a ride to came over and offered us money for bringing them home. Pat insisted that we didn't want it so they brought us over a cold Mexican SOL Beer instead. They invited us all over to a clear spot in the campground where they had appetizers and a steady supply of cold beverages while a large group of us sat talking shop on the life style we all lead.
While all us women were talking about our different dishes we use while traveling, I had Pat go and get my collection of Hand Turned bowls from Darrel and Gene and sat showing them off to everyone. If either of these two men would be with us right now, I could have filled a full sheet of paper with the orders I was getting for various bowls and Salt/Pepper shakers. I use any excuse I can find to show off those treasures.
By this time of the evening, I was starting to get really hungry since our day was so fun filled we had eaten nothing but the big breakfast we had at 8 am. I excused myself and I went in to make some dinner followed by an early bed time. Another day in paradise is getting to be the norm around here and we always seem to find some adventure some how.
Friday March 21st
Today is good Friday and a bunch of us went into town to see the re-enactment of the Stations the Cross. They had a procession with hundreds of people who followed the group of Roman soldiers who were either walking or on horse back as well as Jesus and two other men who were on their way to the crucifixion.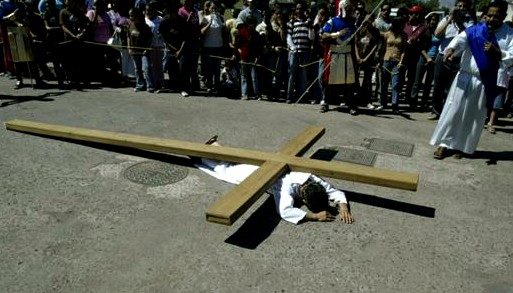 I would have to say that this was right up there with the movie The Passion when it comes to the emotional look on peoples faces and the scorned look in Jesus' eyes. The actor carried a huge wooden cross for miles through the roasting hot and dusty roads of Loreto.
Many times as we followed along in front of the crowd, Jesus would fall to the ground with the cross landing on top of him. The first time I saw this I started to tear up and asked Pat if we could turn back. He told me to suck it up and keep going until the end where he would be crucified in the front of the local church.
While we were debating this we sort of got lost in the crowd of Spanish speaking people who kept repeating Hail Mary's over and over again in their native language. I felt incredibly out of place and also like I was intruding on something sacred to them. On the other hand I am very much a believer and I don't think that anyone was passing judgment on me or Pat.
When we got to the church in the center of town, three crosses were waiting there for the end of life. They only tied them to the crosses, but acted as though they had nailed them to the wooden beams like it happened in real life, this is when it got really emotional throughout the crowd.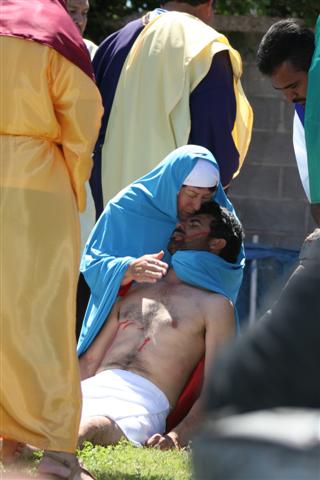 Mary Magdalin (I hope I spelled that right) spoke to Jesus as he was lowered from the cross and she cried and sobbed real tears which just yanked on my heart strings. I had no idea what she was saying, I only knew she was dying inside herself.
Standing in the high heat of the day with hundreds of people surrounding us in tears nearly made me pass out. When it was over, I dont think there was a dry eye in the crowds of people and Pat and I high tailed it out of there to start walking back to the camper. As we walked, I said prayers for our loved ones and our lost ones the whole way.
What an emotional and draining day this was. As we got back to the camper, one of the couples we met from the Lazy Daze group asked us to a potluck dinner tonight and said to bring a dish to pass if we wanted and something to grill for ourselves.
This is sort of funny because I had just explained to Pat that all we have to eat tonight is left over spaghetti since everything else is frozen. We both said we would love to join them and then we went to the local grocery store.
This was fun for us, walking around trying to find something that we are used to eating in the local big (think small Hardware store) grocery. First of all they have everything priced out in pesos, then everything that is sold in weight is by the kilo. We must have looked like a couple of idiots in there trying to price out one tomato.
I told Pat that I would just make potato salad and he said "Make one of your signature dishes instead" This brought a reaction of "Do you see what I have to work with here?" The closest I could get to signature dish would be organic Ketchup on Mac and Cheese.
I did end up finding most of the stuff to make Spinach and Artichoke Dip, or at least I thought I did. Everything here has a different taste and consistency than it does at home. They only have a few types of cheese and the ones they do have are not the same as in the states.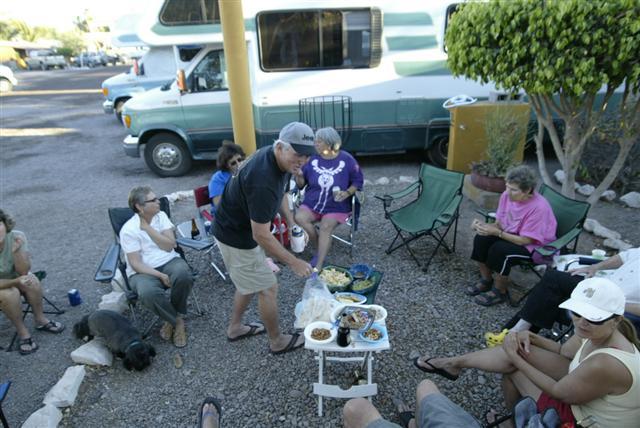 Needless to say, when I asked Pat to try the dip, he said "Oh man, that tastes bad, not anything like it does at home." I thought about not serving it at all, then I came up with the idea to add some salsa and call it something else.
Everyone at the dinner said what is this dip, it is delicious to which I responded, "Not what it is supposed to be." I also bought some stuff to make home-made margaritas with fresh squeezed limes which turned out really good, although I was too tired from my 3am awakening this morning to even finish one of these great drinks.
For once I was not the first to party poop, but I think I ran a close third with the rest of the bunch. I cleaned up the kitchen which was real easy since Pat had done the dishes already (huge brownie points!) and headed of to my cozy cocoon with my pups to keep me company until Pat turned in for the night.
Saturday March 22nd
Pat and I spent this afternoon catching up on the laundry and some house cleaning before we get on the road again. It has been such a long time since I have given this place a thorough cleaning that I think I forgot how to do it.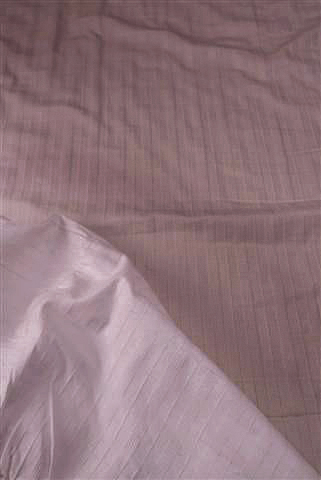 The vacuum cleaner has become a thing of the past in my life and the broom has become my new best friend. With all of the sand and dust here in Mexico, it is almost a loosing battle to try and keep up with it. I know when I'm defeated so I just stopped trying a few weeks ago.
It took me all day to get the place in order and to be honest, it looks exactly the same as it did before. Even the dogs got a bath today since we have a steady water supply and the heat of the day will dry them quickly. Luca loved it so much that he fell asleep in the tub while I was washing him.
I haven't washed or changed the sheets since we left California at the beginning of the month. When I pulled the top sheet back I about died to look at the area where our feet go. My cream colored sheets have become a dingy gray, brown color that I had to Shout out before I even took them off of the bed.
I thought we were being so good at keeping our feet clean and washing up before we went to bed, wrong. I'm not sure if you can tell in this picture but the whiter part is what was tucked under the mattress and the gross dingy grey area is where our feet were.
Please don't hold this against me or my cleanliness, I swear it has only been since the 4th of this month since I washed these sheets. Heck, back home I will go for months with out changing them. (Just kidding)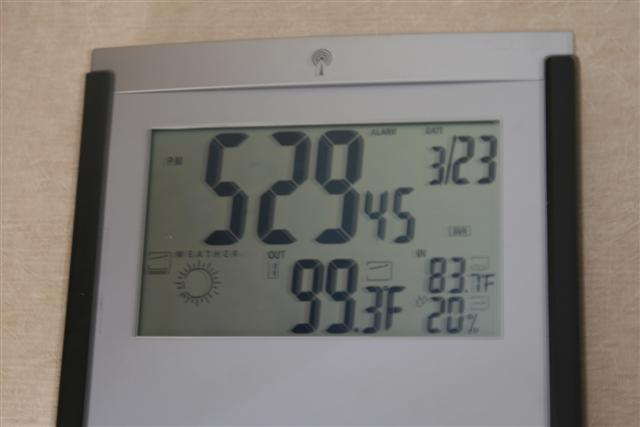 It sure was a hot one today, getting up to the mid 80's in the camper. I joked with Pat and said that when we leave here anything under 80° is going to be cold for us when we get back to the states. I don't even break a sweat anymore even when it is 84° in here.
Our original plan was to start heading North on Monday since Chuck and Sandy are heading that way also. The more Pat and I talked about it, the more we came to the conclusion that we just aren't ready to go back yet. We don't have to be back to Arizona until the end of April leaving us plenty of time to see the rest of Southern Baja.
It is so much less expensive for fuel here, running about $2.20 for a gallon of diesel compared to $4 in California, that it would be silly not to see the rest of the place since we are already here and it's costing us half as much to travel around.
We met a nice couple from the Lazy Daze group who are also heading south, leaving tomorrow afternoon. Noel and Jackie are a newly married couple which had both been widowed in their previous marriages. They each lost their spouse to cancer within the past few years so I 'm sure they had too many things in common.
I had spoken with them early in the morning to find out when they were leaving so that maybe we could tag along with them, to keep the safety in numbers thing going. They said it would be great for all of us to travel together and we would get together later to sure up the departure time.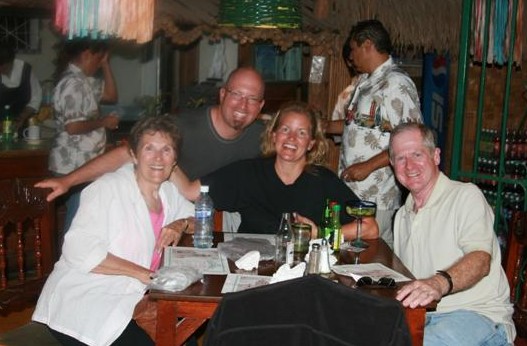 By the time Pat had finished updating the site, while checking all of the emails and I had completed the cleansing of our cocoon, it was almost dinner time. Noel and Jackie asked us to go into town and have dinner with them which worked out great since I have hardly any food left.
We worked out our departure plans while enjoying dinner and great conversation. People are great! I love always meeting new friends and finding out about their lives and personalities. This to me is the best part of our trip, always adding some new seasonings to our stew of life.
Pat spoke to Chuck to let him know we would be parting ways a bit sooner then expected. They knew we would be taking a different direction when we reached the Catavina area so this wasn't a big surprise. It is so easy to find other people to travel with no matter which direction one might be going here in the Baja.
We turned in for an early night, looking forward to going to the local farmers market before we leave tomorrow. Apparently the prices are less expensive than the local markets and the food is a better quality with a much larger selection.
This would have to be one of my only complaints about Baja, the food quality and pricing in the stores is not very good. Even the biggest grocery store in Loreto is more like a hardware store with only a few isles of food. It is hard for me since I don't buy canned food, choosing instead to start with fresh ingredients.
I don't see how the local people can survive here with the average wage being between $5-12 dollars a day! The food at the grocery is usually alot more expensive than in the States for anything they have since most is imported here from other places. I guess it is just too hot here to grow most produce, which also doesn't allow for good grazing for cattle and such.
Hopefully we can stock up on some quality food items at the farmers market to get us through to the next town.
Sunday March 23rd
Today is Easter Sunday which makes me wish for the company of my family. I would love to be lulled to sleep by Father Ron in our home town Catholic ceremony with the rest of the clan, followed by some good grub and a nap on some soft piece of furniture while watching TV with various family members lounging on every piece of furniture in the house.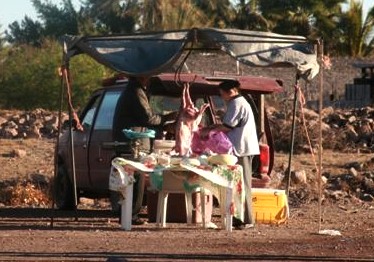 Instead we woke up and said some prayers and gave thanks for our blessings and headed for the market in town. This event makes me think of a swap shop or flea market back home, except for the skinned goats hanging in the open air, waiting to go home with some one.
It was also strange to see the meat market area with trays of chopped meat sitting on an un-refrigerated table while people thumbed through it with their bare hands, looking for the best pieces. Needles to say we did not buy any meat.
We did find some awesome fresh produce though, which I took full advantage of, buying three big bags full of a wide variety of things. We then moved on to the fish market area where I bought a kilo of fresh fish since this has been in a cooler and was caught fresh this morning.
Neither Pat nor I are to crazy about fish however, I am just about out of my meat supply so we better start liking it. We walked around noticing the large array of quality athletic shoes they have to offer for a minimum price. How can they sell Nikes for $15, but sell tomatoes for a dollar a piece?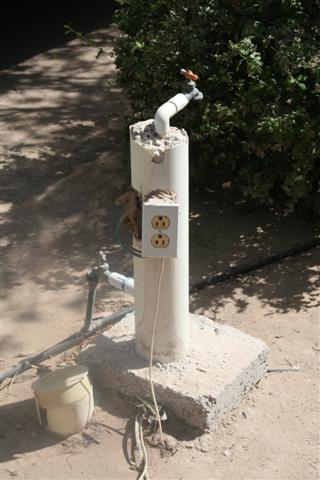 When we got back to camp we did the final putting away of items and got ready for the three hour road trip to Ciudad Constitución where we found Manfred's RV park with full hook-ups for $20 a night. After we hooked up to the amenities we turned on the A/C on since it was 99° inside the camper!
To our surprise the electricity would not hold a strong enough current to run the A/C. We pulled out the fans and opened up all of the windows which brought it down to the low 80's. Noel and Jackie volunteered to drive us all to the grocery store to pick up a few items and get some cool air.
This grocery was like heaven compared to the last ones we had been in. The bakery was incredible with rows of baked goods lined up for us to buy. Pat bought some fresh tortillas which were still hot and I got some bread and some breakfast stuff. Even though we didn't need anything, we spent $70 in the place from impulse buying and seeing fresh foods available finally.
By the time we got back to the camper, the sun was dropping and the place had cooled off alot. Jackie suggested we go have a margarita and a dip in the pool to keep us cool. When we got to the pool, neither one of us would get in since it had no chance of staying clean when its surrounded by a dust bowl.
Margaritas it was and at two-for-one, we couldn't beat it. Pat played on the computer for a few hours while I talked to the locals, Noel and Jackie. They had dinner here and said it was delicious. I found it funny that the bartender took away my Gatorade because of health regulations, however her dog was allowed to roam the restaurant and the kitchen while food was being prepared.
The dog was a year old Lab pup with an abundance of energy to keep us all entertained. We eventually brought Luca out to play with him to maybe settle him down a bit. The two of them did laps throughout the park and kicked up so much dust that I thought my allergies were going to shut down all of my breathing abilities.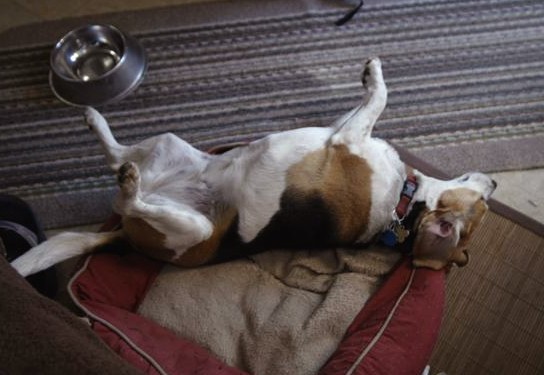 I cooked up some of the fish, which had been marinating in some Italian dressing all day. We both enjoyed it and even had a bit left over for the dogs. I felt bad for them today because it was soo hot. My neighbor in Loreto told me to give them some Pedialyte in their water since they would be loosing so many electrolytes through sweating here.
They really seem to like the strawberry flavor so they will have this added treat until we find a cooler spot.
I had to take an Allegra D for allergies right before I went to bed since my eyes were burning so bad I thought I was going to scratch them out and I could barely breath. Every time I do this, I wake up at 3 or 4 in the morning and can't get back to sleep. I chose the best of two evils and hope I can sleep though the night. We will be going whale watching again tomorrow, it is only $20 here and since the first experience was so incredible we want to do it again.
Monday March 24th Whale Watching in Lopez Mateos
Last night as we sat at the little cabana bar while swatting hundreds of flies surrounding us, our bartender Caroline suggested that we go to Lopez Mateos for a boat trip to watch the whales again. Caroline said that it would only be between $20-25 dollars each, so all of us were way into it. Jackie and Noel had went on a whale watching trip before, though they said they didn't get close enough to touch them.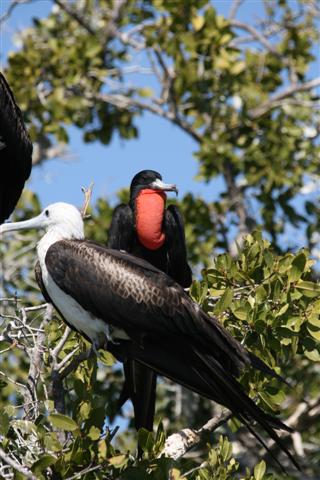 Jackie explained how she thought her guide might have been afraid of the gentle giants since when ever they would come close to their boat he would pull away. All of us wanted to be able to pet the whales since none of us did on our first trips.
We got an early start and all rode in the truck for a 40 minute drive to the docks. This is where it got kind of weird for the pricing of it. This company charges by the boat, instead of the person which means with just four of us, it would cost almost $40. a piece.
The boat company suggested we wait to see if other people would like to share our boat fee to lower the price. After 20 minutes, 3 more people showed up so we had 7 people which lowered the price to about $23 each. When we took off from the docks we all put our jackets on since the salty Pacific Ocean water put a chill in the air.
We rode for a while and saw alot of sand dunes as well as mangrove trees dotting the side of the sand bars. Frigate birds rested their large red gobbles in the Mangroves, waiting for their next meal to swim by.
Pat pointed out a coyote hunkering down in the mangroves, keeping its eyes on a huge blue heron which was perched on a hill about a hundred yards from him. We got a chance to snap a couple of pictures before he got spooked by the sound of the engine.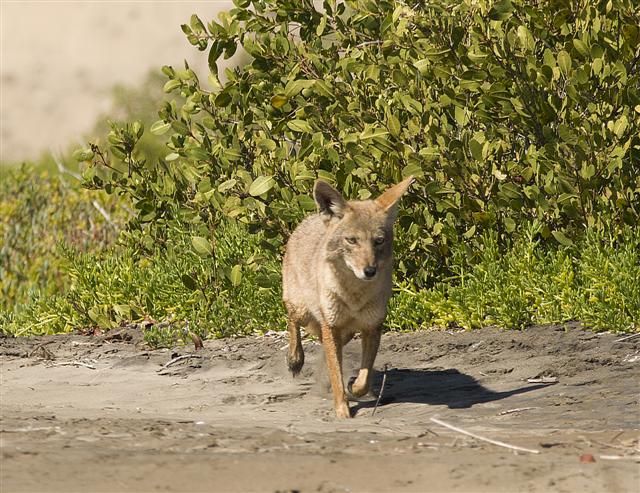 Pat asked the driver to hurry up and take us to the whales since the trip is only two hours long. The guide opened up the throttle and hurried closer to the open ocean where the waves got much higher..
We floated around for a bit with out much luck and I started to think that maybe we had arrived too late in the season to catch the whales before their long trek back to the colder waters of Alaska. We looked about and saw a few boats gathered in a circle and started to approach them.
Sure enough, the boats had spotted a mother and its calf frolicking in the water. We watched for a a while as the baby whale had some fun with the tourists. It was great to watch other peoples expressions as their splashing their hands in the water paid off by a visit from the baby.
This little, I'm guessing 2 ton whale would put it's nose right up against the front of the boat. It would look up at the people and come out of the water just enough to allow people to pet him. He would go from the back of the boat all the way to the front of the boat as if he were a politician shaking hands.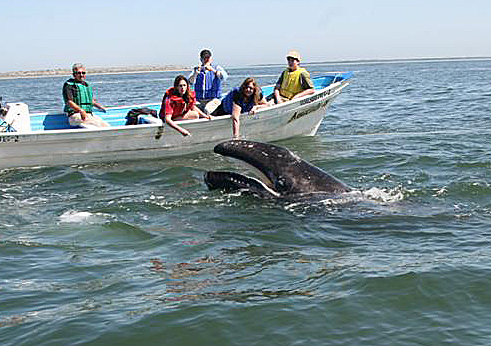 The next thing we know the baby and the momma whale were coming toward our boat! I don't know what the heck is wrong with me but I was afraid to reach over and pet him, not because of the whale but because of the boat. Every time the thing would swim beside us, everyone on the boat would jump to one side and reach way into the water.
For some reason I felt like I had to stay on the other side to counter balance the Panga so it wouldn't tip. The driver explained to us at the beginning of our journey for us all to be aware of our position in the boat. He also said that not everyone could reach over at once because we might tip over due to the uneven weight distribution.
As you probably know by now, I am pretty much a scaredy cat about everything. That doesn't mean I won't try everything at least once, but I still get all freaked out while I'm doing it. One of the worst of my fears is going under water, I know that is stupid, but I hate it unless I can touch and see the bottom, which I could do neither this far out in the Pacific Ocean.
The water was actually pretty rough with 10 foot waves within eye-sight of our boat. I was sort of turning green with sea sickness because of the rocking of the boat while we sat still to pet the whales. Pat kept saying "Cindy reach over and touch it, hurry up!" I finally reached over but still had my body as far to the other side of the boat as possible and I just missed the big guy.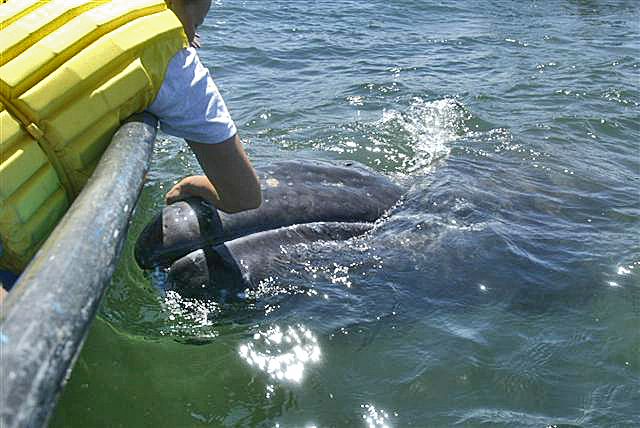 I thought to myself, "What an idiot, why am I the boat master and leveler of the Panga? This is a chance of a life time and I'm going to miss out because I am such a wuss." The next time I saw the whale coming close to us, I was the first one to the side with my hand clapping into the water. I don't know if it works, but they say this will grab the attention of the whales.
I saw the things eyes coming out to look at me and I almost died, it was so cute and gentle looking. It came right up to my hand and I not only petted him, I rubbed him like a masseur was giving a message. It felt like he was there with me for a couple of minutes while I touched its soft, slippery rubber skin.
I could see all of the round barnacles that have attached themselves for a free ride on this water ballerina. I really felt like this creature wanted to know every one of us the way it kept coming back for more of the attention that it was getting.
The mother whale stayed with the baby at all times, almost promoting its escapades of getting to know the tourists. She would stay just below it and help push it out of the water so it could reach the boats.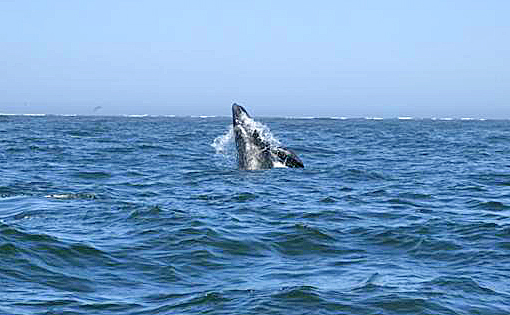 This playful thing then scooted in front of us while twirling in the water and jumping into the air. It put on an excellent show for us to be fascinated and amazed by for at least an hour. I will never forget this experience or the beauty of the Baja for as long as I live.
Our trip back to the camper was filled with excitement and each of our thoughts were expressed about how wonderful this experience was.
On our arrival back at the campground we packed up and headed further south to La Paz. Pat and I weren't sure if we wanted to go to La Paz, since it is the largest city in the Baja, but it proved to be worth it. Besides, once we got close to the big city, the roads became almost American like with multiple lanes and there were even shoulders on the edges of the road.
We camped in a real nice campground called Casablanca. This walled and gated campground had a pool and hot tub that one wouldn't be afraid to swim in, the tall security wall all the way around it made me feel very safe and secure, a coffee shop with free wireless and this one even had a real coffee maker. I liked this place and wouldn't mind coming back here on our trip north again.
Tuesday March 25th Boating around the Isla Espiritu Santo
We got up early this morning to check out an area called Isla Espiritu Santo. We have had quite a few people tell us to take the boat tour around the big island, but we weren't sure what to expect. The cost for this excursion was a bit more pricey at $55 a piece, but this was a four and a half hour trip which included lunch and an hour at one of the pristine beaches on the island. It also included an hour of snorkeling with the islands Sea Lion population.
After we all considered the price, the guide gave us a break down on what to expect. We all decided it would be worth the money if we got to snorkel with the sea lions like they said we would. The Panga that we took was a bit larger than the other boats we've ridden in and it felt much more sturdy with a Bimini cover over top to shield us from the intense sun rays.
As we started out to this island the wind was really cold on us again and everyone put on a jacket to shield themselves from the brisk air. Our first stop was to a sandy, tropical beach where everyone was looking for the seals and thinking this was where we would snorkel? We saw two couples on the beach and our guide informed us that these are some people that had spent the night out here and we were taking them with us on the days boat trip.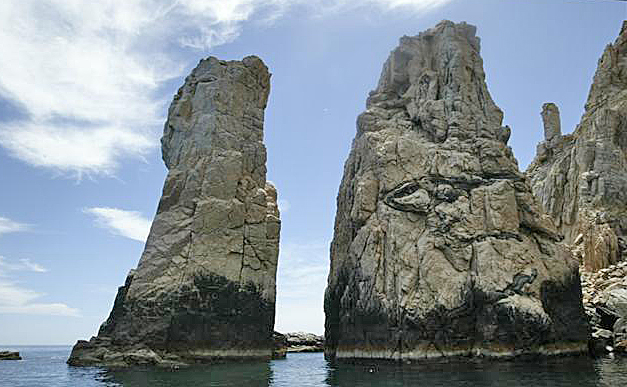 I can only imagine how awesome that would be to have a deserted beach all to yourselves for a night out under the stars. We waited for a few minutes and I was thinking how these guys were cutting into our time so they should hurry. That was not an issue at all and I think I was just anxious to see some wildlife.
We finally got going and ventured further around the island, stopping every now and then for the guides to tell us about different landmarks. They told us the island was formed from lava rock and explained how it is shifting it's shape with the winds blowing off the Sea of Cortez.
Off in the distance we saw a separate island which I called snow island because of how white it was. This was due to the massive quantity of bird crap that had accumulated over the centuries. We could hear the sounds of the great bull lions roaring through their tough skinned noses.
The sound of the baby sea lions penetrated through the heavily scented air and sounded like wounded animals crying for their mothers. The closer we got, the more creatures we could see lounging about the rounded boulders of reddish lava rock. Most were sleeping and drying themselves in the hot sun while others played in the water or scrounged around on the shore.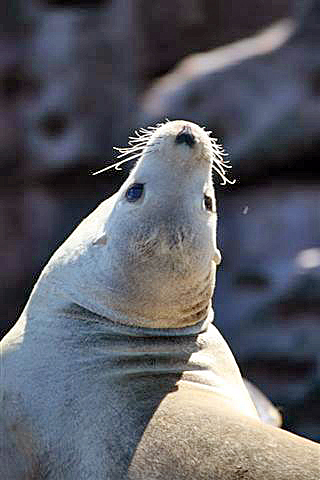 The guide threw the anchor into the deep blue water and everyone grabbed their snorkel gear to enter the chilling waves of the Pacific. I am still having alot of trouble with my ankle and still have it wrapped due to injuring it again. This stupid thing has also put 5 pounds on me since I can't run or do anything really that puts any strain on me.
I knew I couldn't put on any flippers and the water was cold cold cold so I chose instead to stay on the boat and take some photos of Pat freezing while bobbing up and down with the sea lions. Many of the animals would come right up to the Panga to due some flips and turns in front of us while voicing their opinion on what we were doing there.
We watched while the male lions dominated the shore line putting all smaller males in their place. Some of them were so huge they would just knock all of the smaller lions into the ocean to make more room for them selves.
Many of the lions had battle scars but one of the lions made me feel sick when I saw that a fishing line had gotten wrapped around its head only to cut through the flesh as it grew, leaving a large gapping wound.
After about 20 minutes Pat came out of the water with an excited expression on his face and stated that he almost shit his pants down there. He said he came real close to being in the middle of two male lions fighting under water. One came swimming up to him real close with its mouth wide open which put the fear of God in him.
While we were on the deck, waiting for the other people to finish snorkeling, the young guide, Lewis, brought us some sea treasure to observe for a bit. He brought up six different types of star fish which all totally amazed me. When I sea a star fish for sale in gift shops they seem almost like rocks with no personality to them and most of them are very unified and look the same.
These star fish had different shapes to them and we could see the tentacles moving from under their bellies. One of them had a jelly like substance on its under carriage which suction cupped it to my hand as I held it. Pat was a big goof and let me take some pictures of it wrapping itself around his skull.
None of these things looked remotely the same all having different shapes and sizes. I also got to hold a sea urchin and watch all of the spiky things move about when I touched it. Everyone took photos then we sent them back to its hone land of the Pacific to get over its culture shock that we had just given them.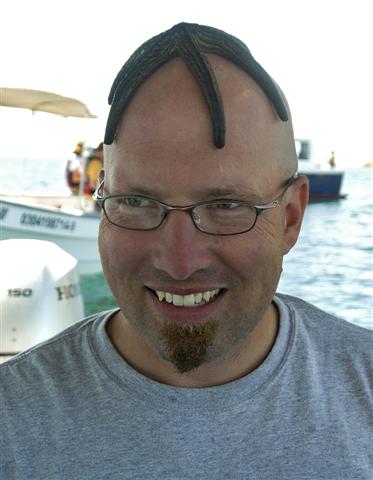 As we rode around the island I was thinking to myself that this is probably the most incredible place I have ever been to. All of the beauty here in Baja is so easily accessed because it is everywhere one looks. The people here are so nice and really helpful to us who don't speak the language that I feel very welcome here.
I starred at the turquoise water pounding against the lava and sandstone cliffs as we drove by and I could not think of anywhere more incredible. Just about that time, the guide turned the boat out toward open water where we could see a feeding frenzy going on with birds. This made me think of the adventure Pat had with the dolphin that I had missed out on.
All of a sudden we were in the center of a school of dolphin that were jumping everywhere around us. When I say a school this must have been a large college for as far as my eyes could see were dolphin in every direction. Some of them were swimming right along side the boat, so close I could have touched them.
I have never seen anything like this. It seemed like they all traveled in pairs and some I could tell were just babies. I could hear them calling and squeaking, even over the sound of the boat motor. This over whelmed me and brought a tear to my eyes with gratitude of having the chance to be a part of this experience. Just when I think it can't get any better, it does.
So much excitement foe one four hour trip had almost worn me out. We stopped on a beach where the guides had prepared a lunch of fish salads with tostadas, ham and cheese sandwiches and since Pat nor I like fish salad, they made us a special lunch of tossed salad and quesadillas.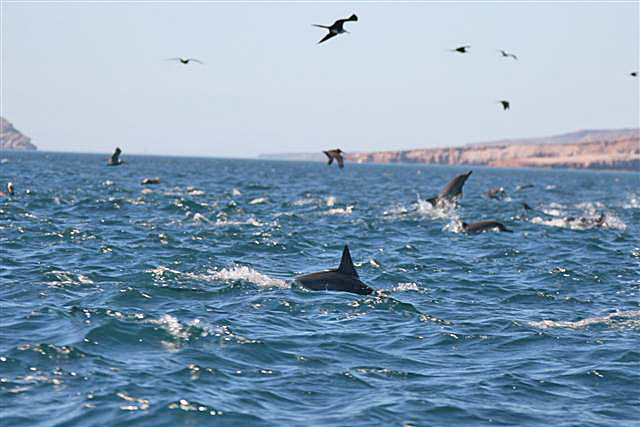 I finished eating then laid back on my towel to watch the ocean and found myself drifting off in no time. I woke myself up with a very feminine snore and went in for a little dip to cool myself off.
We all loaded back onto the boat which brought us to some more landmarks before we reached our beginning spot on the beach. Another day in paradise had brought us all back almost speechless as to how we felt about our day.
To make this days blog not so long I will shorten up our evening by saying we drove into town and watched the sun set on the horizon while enjoying margaritas and some great Mexican food along with great conversation and company. La Paz is beautiful and I'm glad we extended our trip south so that we can enjoy it.
Wednesday March 26th
This morning was a sleep in day since we are traveling only a few hours from La Paz to Los Barriles. We woke up at our usual time of 7:00 but we were in no hurry to get going. This whole week we have been on the road to somewhere exciting by 8:30am. I swear Jackie and Noel are wearing me out, they are like two Energizer Bunnies!
They are both retired and in their 60's and I think they have more get up go when mine got up and went. This is great though since we have seen and done more things in the past week then we have the whole trip. They keep finding these cool things to do and we are both very grateful to have the company.
As we rode through these winding roads we didn't find much else to look at except for the desert which by the way is very pretty right now since alot of the cactus are in bloom. Everyone has told us that this happens only about every 10 years so we are very lucky to see this.
As we drove into one area Pat and I both commented on what a cool town this was and just then we saw Noel pulling over. He walked back to the camper and asked if we minded if we took a look at the place which worked out great for all of us.
The sign at the beginning of town stated "El Triunfo population 347" which was actually written in Spanish but no way could I remember how it was spelled. At one point this was a booming mining town which the evidence of the mine was still left on the hillside.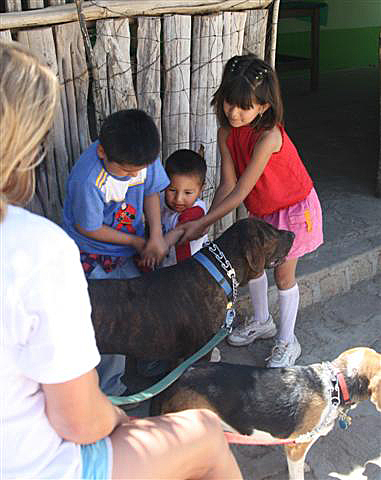 The streets were empty except for a few stray dogs and some kids that were running around since they are still on break. All of the roads were paved with lava rock and the homes were all built with stucco exteriors and thick walls of adobe brick. We went in to see what was once the police department which is now vacant only leaving behind the bars and cells with no ceiling.
I had brought the dogs with me just to give them some exercise so I pretty much stayed outside of the gift shops that were open. I did get a chance to meet some of the local children since they were so fascinated by the dogs. I thought that was funny since they scooted one or two away as they sat and talked to me.
I could answer a few of their questions, bringing back my high school Spanish classes, but I think that was a mistake. After I answered the first two questions correct they assumed that I could understand their language and all started asking me questions while speaking very quickly.
Noel came outside and helped me though their curiosities before we said adios and headed back to the truck. We all had a snack then tried to get back on the road, tried being the key here. Pat wanted to pick up a license plate which he saw in the bushes, but he wanted me to jump out and grab it so no one would see us.
He took the wrong turn and we were screwed! He tried to back up the road we turned on, but it was a big hill with strange angles. We couldn't go forward because the exit onto the road was a two foot curb. He decided that the safest way would be to put the camper and the truck onto opposite curbs and hope for the best.
Now I'm sure everyone knows that I had already told him "Don't turn down there, we will never get out" but that doesn't work with Pat. So I got out and watched as he took out three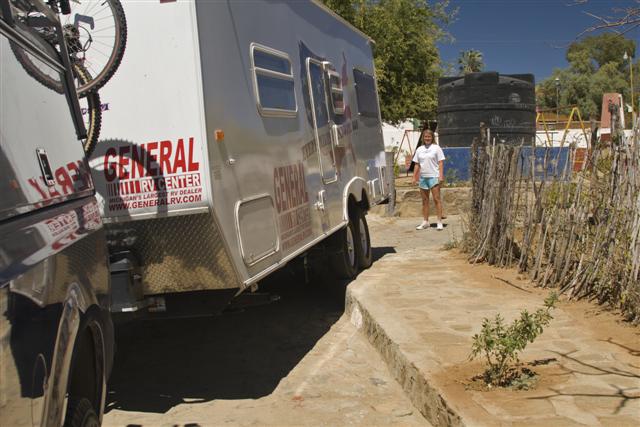 of the shrubs that were planted along one curb as he climbed the foot high curb across the street. I started screaming "NO NO NO, this will never work!" He had the camper up on an 18 inch curb getting ready to drop off of it and I can't even imagine what that would do to the inside.
After some finagling and some thought, we finally figured it out and we were on our way. Oh and yes I did grab the license plate without anyone seeing me.
The roads up to La Paz have been very nice and pretty wide compared to further north of Loreto. Every time I think of Chuck driving that big rig around those roads, I have a soft spot in my heart for him and Sandy.
Just after we left La Paz the roads became much more winding and narrow again, giving us not much room for error without bad consequences. We found this out the hard way unfortunately when a Ford truck the same size as ours clipped the mirror on our truck.
This is such a loud noise and being that it was the second time that this has happened, I knew what it was as soon as I heard it. This time we were much luckier than the last, since all it did was crack the top reflector lens from the turn signal on the outside of the frame.
We continued on until we finally arrived at the East Cape RV Resort. I had asked Noel if we could find a place right on the beach, but I am glad that we didn't. This place is so pretty with so many blooming fruit trees and flowering bushes that I walked around for the first hour just smelling them all.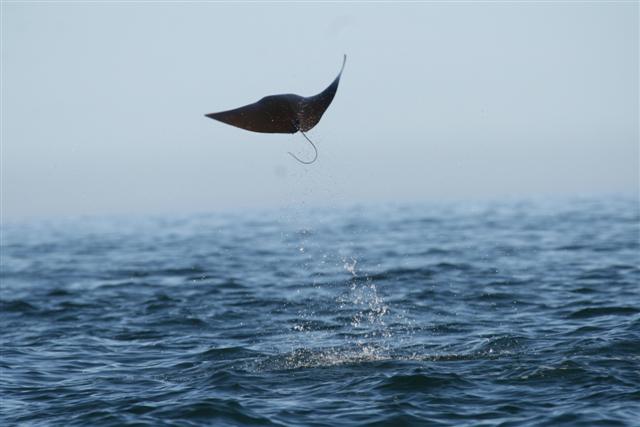 Under our living room window we have a lemon tree which has beautifully white scented flowers wafting into our little house. We are only a short walk form the beach, so after we got settled in, we went down to see what Theresa, the owner of East Cape, called Flying Mobulas. These are manta rays which jump out of the water over and over again.
As we walked down onto the sand, not only could we see them but we could also hear them jumping in and out of the water. It sounded like hundreds of belly flops being tried until their stomachs hurt. As we were standing there in awe, Sean, Theresa's husband came up to us and asked if we would like to go out into the middle of the school.
I said "Sure, how do we do that?" and he called over his boat captain and asked him to take us out in his aluminum dingy. Holy crap, it doesn't get any better than this! (I find myself saying that alot) As Pat and I rode out, we were surrounded by these creatures that look like a small version of a Stealth Bomber.
We were surrounded all around us and I couldn't even take pictures because I was laughing so hard. These things were crazy, flying, flapping, winged fish that were out of control with energy. Now I can't even begin to tell anyone what this was like so I won't, I will try and show some photos but being in the middle of this was just incredible.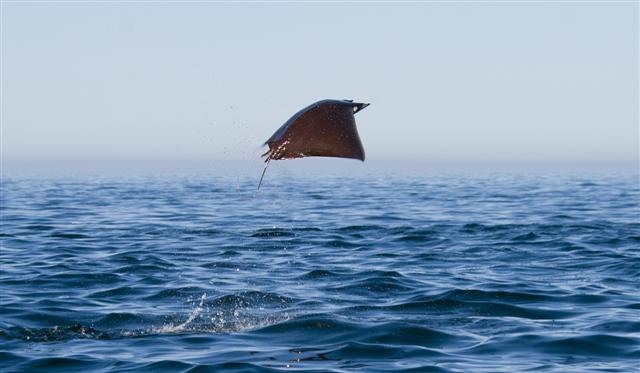 After we took photos until we filled three 2 gig cards, we sat and watched the crazy fish from the shore line and talked with Noel and Jackie about being in the boat. We also got to know a bit more about the owners of the East Cape RV Resort since they were down on the beach watching the show for themselves.
Pat and I will be taking another one of the excursions they offer, either deep sea fishing or touring the waters to look for more sea life that is so abundant here in Baja. I think we will be here for a while, since this is my favorite stop so far. I'm sorry my blogs have been so long but we have just been so filled with new things to write about that I have no choice.
Check out our Gallery of the Mobulas here!
Thursday March 27th
I spent most of the morning by the pool today reading a book that I have been trying to finish for a while. I found an area at the pool which is mostly shaded and has a huge cushion with some pillows, much like a big comfy bed to lie upon.
This has become my favorite spot here at East Cape RV Resort with the many different flowers and palms, I have seen all sorts of colorful birds as well as a big iguana that hangs out on the roof tops, basking in the sun.
I did a couple of loads of laundry while I read and hung my clothes on a clothing line which is provided in order to save electricity. After a few hours, Pat couldn't take it anymore and he came and got me. We went to the beach to catch a ride with Sean, the owner, out to take more photos of the rays.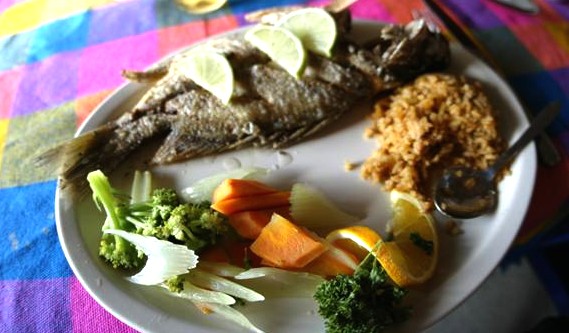 Unfortunately the rays weren't out today like the other day so we opted for a margarita instead. We found a spot right on the beach, over looking most of the action on the shore line. Kids and adults alike played in the sand and the surf until the sun sank deeper behind the horizon.
Pat and I started getting hungry and heard this place offers so much fresh fish that anywhere is good to go and eat. We walked closer to home to find a place right across the street from our camp ground.
We both ordered the fresh catch which was called, Fried Fresh Catch, that made sense right? When the dinner arrived, it was nothing like what I thought it would be and Pat immediately said "I will not eat that!" The fish was whole and he couldn't get over the eyes looking at him.
The fish, I'm not sure what kind, was pan fried whole in a bit of corn meal then put on the plate. I was raised in the south so I am familiar with this due to eating trout that way. I cleaned both fish of their meat and eat a bit, which I have to say was hard for me too.
We came home with some hot fresh fish for the dogs which they loved.
Friday March 28th
We got an early start this morning so we could meet a group of people that are going on the sport cruise with Congo's Water Sports, which are the people who own the RV Park we're staying in. The day consists of the boat tour looking for sea life while drinking smoothies and having a snack on the boat.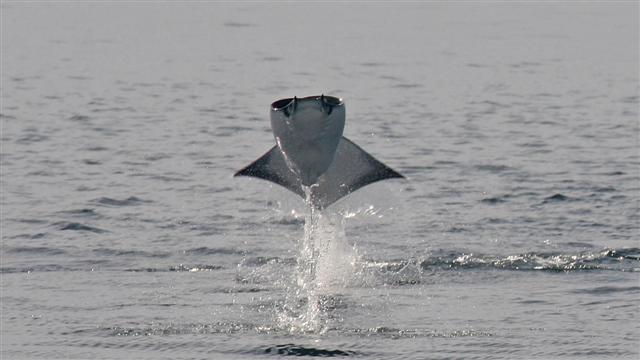 We then stopped at a secluded beach called Bay of the Dreams for lunch at a nice restaurant called the Giggling Marlin. After lunch we motored out to snorkel along a coral covered bay where a bunch of the group members went snorkeling, then back to shore.
During this excursion we saw so many things it will be hard to put them into this blog, although I will try. Within our first few minutes on the water we saw some rays jumping about on the calm ocean but nothing like the other day where hundreds were jumping out at the same time to scare us.
After 15 or 20 minutes we had seen a few dolphin floating along the top of the water with their fins cresting every few seconds. Further out into the ocean, we could sea a large Sea Lion rolling along the surface trying to stay afloat while taking a nap.
At that point someone spotted a whale which brought us further out into the ocean which was topped by a thin layer of fog. The captain of the boat told us sometimes they will use the GPS to come back since all visual landmarks are lost to the fog.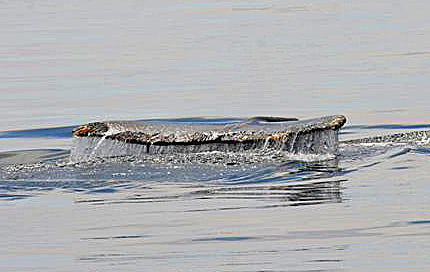 We saw the giant beast cresting every now and again, so we hung back as not to freak it out. The captain (darn I wish I knew his name because he was awesome) explained that we were seeing a humpback whale which looks completely different than the gray whales that we had seen earlier in the month.
Every time I have taken a photo of a whale, I always say to myself, "Show me some tail, show me some tail", this time she did. I guess that these are more known for that then the gray whales are so it was not very unusual to se such a sight.
It was so great that the captain seemed just as excited for me to get a good photo as I was, he would say to me "Did you get it?", with excitement every time the shutter would sound. We moved on into a different direction where we passed by schools of what he called bait fish, followed by hundreds of squid, or calamari if you will.
Within the next 20 minutes we spotted a whale jumping straight out of the water, so far up that we could see him from at least a mile away. We hurried over to find a momma and two babies frolicking about the surface with no worries in the world.
I got some of the best photos I have ever taken which put the biggest smile on my face. We followed this group for a few minutes until they submerged themselves deep in the water. The captain said "She's done with us, we will leave them alone now."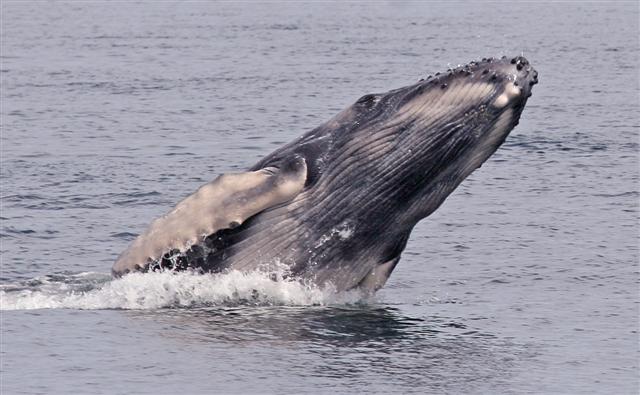 On our way back from lunch, we caught a glimpse of a big Marlin swimming quickly through the still water, two huge leather back turtles that look so prehistoric and are probably five times my age, a school of yellow tail which darted so quickly through the water they looked like they were racing on the Autobahn to go somewhere important.
I'm sure we could have seen alot more stuff if we had chosen to snorkel with the rest of the group but I am just not that into swimming in bone chilling water. It is so funny how Pat and I have become acclimated to this heat. At 85 degrees we are perfectly content, at 75 we have a jacket on!
Well I guess I have filled another page with memories that will hopefully last forever! Till tomorrow when we will see what else we can find to get ourselves into.
Saturday March 29th
Today was filled with a whole lotta nothin' which is just the way I like it sometimes. I read a new book by the pool, took a cat nap as I heard the birds whisper a sweet lullaby into my ear, walked the dogs and did a bit of grocery shopping.
Just as I was getting supper started Sean came over to the camper and brought us a three pound gift of fresh Marlin that the fishing tour boat caught this afternoon. I have never had Marlin so Pat and I were both real eager to try it. I put the chicken I was making on the back burner until tomorrow and sautéed the fish steaks in some olive oil and garlic.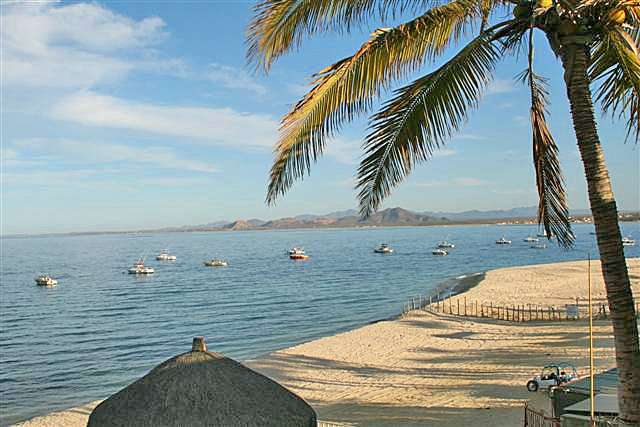 OH MY GOSH! The fish was incredible and we have enough to keep us happy for quite a while. That sure was nice of Sean to think of us as he filleted his fresh catch. Apparently they had a good day on the water which is a fisherman's dream here.
I keep trying to convince Pat that we should stay here for a month since the gas is so inexpensive and we are having such a nice stay. As we finished dinner Pat looked at me and said "I'm freezing, where's my jacket?" We both laughed as we looked a the temp which read 76 degrees!!
I fell asleep to the sounds of a fiddler and a violinist playing some lovely tunes at the dinner restaurant in front of the camp ground. I was later awakened by the sound of a constant dance beat which was so loud, I thought Pat was listening to it in the living room. We both listened to this consistent throbbing until 3am when the bar finally shut down.
The day before we had commented on how the cows walk the streets and moo at 3am just waiting for the roosters to crow to give them the signal to go home. Between these fun noises and the beach dogs howling from 9pm till midnight, there is never a dull moment in this town.