When we realize our insignificance in this world,
it some how relieves the pressures from society to succeed - Cindy Bonish 04/07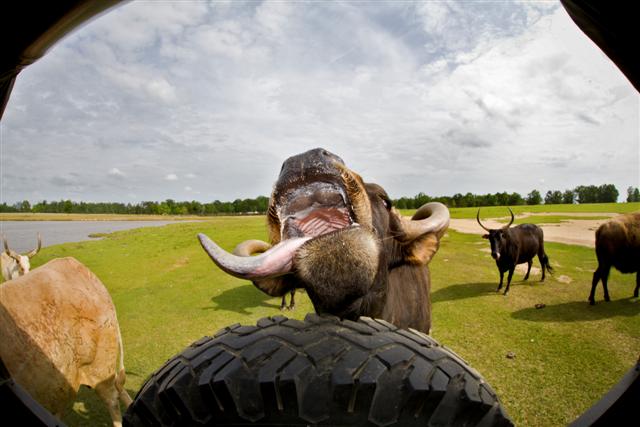 Cindy's May 2009 Blog
Every Miles A Memory
Feel Free to browse past blogs for plenty of travel ideas and many of the places we've been in our first 12 months on the road - 2007 Blog's
January 2008 Blog February 2008 Blog March 2008
April 2008 May 2008 June 2008 Winter 2008 Blog
March 2009 Blog April 2009 Blog May 2009 Blog
Photo Gear We Use
Solar Tips, Fact's and Trick's we've learned while on the road
Well-behaved women seldom make history
____________________________________________________________________
If you haven't read any of the earlier blogs, you might want to start there to catch up on how we got here.
Friday May 1st 2009 Starting Fresh with a New month
Wow! I can't believe that the month of April is now behind us. Within April, I celebrated many things including my birthday, spending quality time with my family, learning to grow through some difficult times that I have been looking at more intensely and also for the first time in 8 years, I have dropped below 159lbs!! Yee Haw!!! It is time for me to get back to my blogging or Pat is going to ring my neck.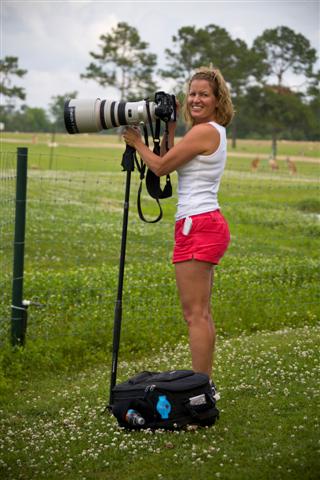 Instead of going over last month and everything I did, I am starting a fresh new blog for May. This is perfect since we went to one of the coolest parks we have ever been to yesterday afternoon. I finally got to take some quality photos with our new 400mm lens for the first time. Man, what a difference that thing makes, I just keep zooming in on the photos which I can practically count every hair on an animal we shot from 50 feet away. I don't think I will be able to let Pat use this lens while we are in Yellowstone.
We went to a place which is only 15 minutes from my sisters house in Folsom called The Global Wildlife Center, which I have to say is a photographers dream. Pat and I loaded up the truck which we haven't driven in so long that the batteries were almost dead and headed out for the last tour which started at 3pm. You should have seen the look on peoples faces when we walked by with the 400mm Monster. I couldn't tell if it was shock or wonder, not knowing what the thing was for.
We started our tour with Scott as our guide and loaded into a Pinzgauer which he let us know is from the World War II era so it might not start every now and then, but just wanted to let us know that was expected. The cost of the private Pinz tour is $35 per hour and let me tell you, it was more than worth it. They also offer tours on a huge covered wagon that seats tons of people for only $17 for adults and $10 for children. We chose the Private Pinz Tour so that it could go pretty much anywhere on the property and we could take our time with just the two of us in the vehicle with our guide. This way we wouldn't be holding anyone up or be rushed along within a group.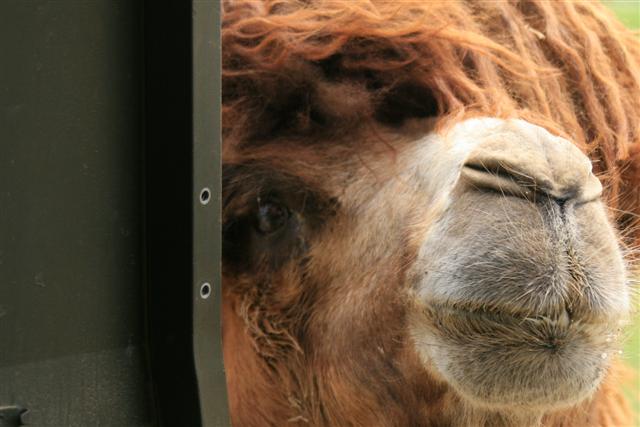 Our tour started off great with our first stop at the Camels. These guys were very friendly since they knew we had a bucket full of golden corn with us. They knew exactly where to find it in the front seat of the vehicle. The one they called Aladdin was my favorite animal in the whole place. He is a Gobi Camel native to Mongolia and is covered with dreadlocks right now, he will eventually drop all of his dreads and become completely bald for the warm summer months.
Aladdin sat and had a stare off with me a couple of times as he waited for more corn from the 5 gallon bucket. His lips were so thick and fuzzy, surrounded by the massive amounts of hair, I couldn't resist almost filling up an entire photo card on him. And this was only our first of thousands of animals we would encounter over the tour!
We next went on to the giraffes which are all from the same family. Scott let us know that the mother was 24 years old and had given birth to 4 or 5 babies since she has been in the Global Wildlife Center. The father of the babies has just recently passed away of old age somewhere around the ripe ol' age of 28. They think that the mama might have gotten pregnant one last time before he checked out to that big zoo in the sky but it's too early to tell just yet.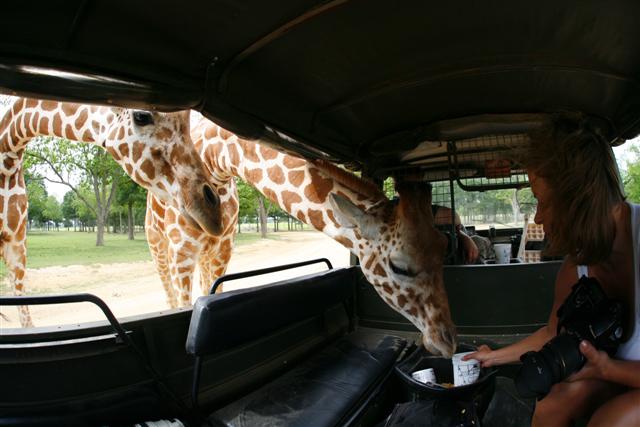 All of her children are girls except for one boy which is just under 2 years old. If the young boy giraffe begins to get frisky with any of his sisters, they will trade him out with a different center as not to have any in-breeding going on. As the giant creatures saw the Pinz, they came over to inspect what we had to offer.
At first I got pretty freaked out by the four giraffe surrounding us and putting their giant heads in the back of the Pinz looking for food. But that wore off quick enough and after a few minutes I was actually petting one while it helped itself to corn from the bucket. The exquisite markings on them are so intricate and all of them are individually different.
They let us know that we could get out to shoot images of almost all of the animals except the giraffes and the Watusi Cattle since they can be dangerous when one least expects it. Not that they are aggressive, but if one got spooked, major damage could occur to us tiny humans in comparison to their massive size not to mention their humongous horns.
Throughout the tour there was never a reason for us to get out of the vehicle since the sides are all open and we could get great shots from right where we were sitting. Scott stopped any time we asked and usually humored us with a story about one of the animals or gave us some more interesting facts on them.
My favorite personality of all of the animals is that of the Rhea Bird. This bird looks like a smaller version of the Emu, which by the way they used to have here but they had a fascination with shinny things. This resulted in women being chased around the parking lot for their earrings and jewelry, so the Global Wildlife Center traded them in for this smaller version.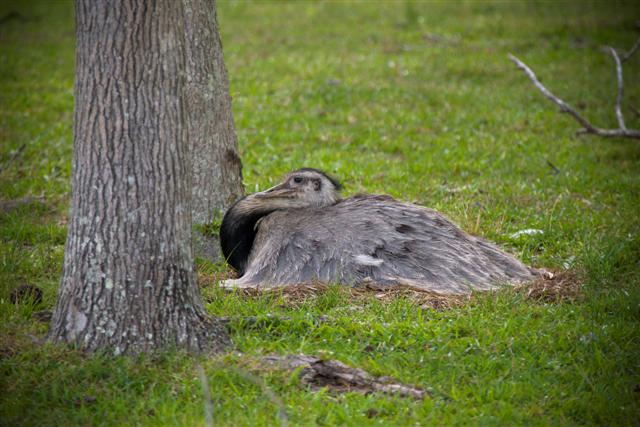 The Rhea Bird is peculiar to me because of its rearing of their flock. The male bird actually takes care of the young while the female go about their daily business. Up to 30 birds will lay eggs in his nest and he will take care of all of them for a few months after they are born. The mother of the bird will come by once to make sure the male is taking good care of the brood.
If they find him not being a good parent to one of the chicks, all of the mothers will come to him at separate times and pluck out his tail feathers until he is bald. The feathers won't grow back for at least two years leaving him so unattractive that no one will mate with him for those two years. Now that is a woman's scorn if I have ever heard of any. No, I did not do that to Pat's bald head!
Many of the animals in the center are endangered or extinct in the wild and have found an extraordinary home on this 900 acre preservation. The history of the farm is this: the owner of the property inherited the farm at the young age of 35, he thought it would be great to have an exotic animal on the large piece of property since it would have plenty of room to roam about.

His first animals were 2 giraffe which quickly became the town favorites, giving him an idea for the rest of the property. He then decided to purchase more exotic animals since he was able to give them a home where they would not be caged up in. The property is still owned by the same person who currently has his home situated on the acreage.
The Global Wildlife Center is now a not for profit organization which is home to 4000 exotic animals who are well kept and have the ability to roam freely on this acreage while reproducing at will. All of the monies generated goes right back into the center, which by the way was voted one of the best places to work in the state of Louisiana.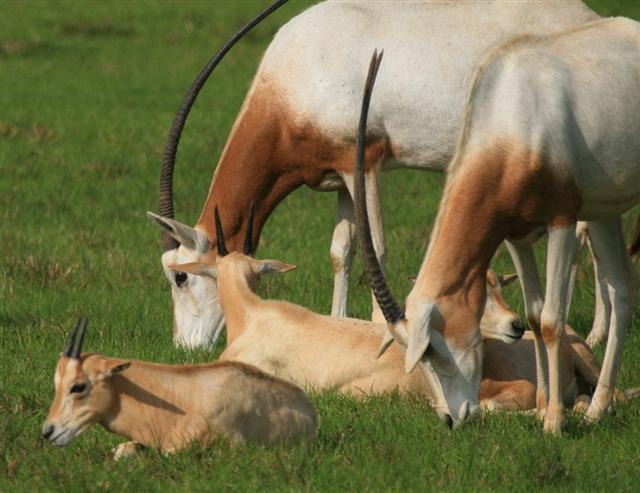 One of the animals that roam the land is the Scimitar Horned Oryx which exists only in captivity due to over hunting. They are wanted for their thick leather hide and their sharp horns which African Hunters use for spears. They are native to Africa and are in the process of being reintroduced back into the wild in that country.
The Global Wildlife Center has 3% of the world population of the Scimitar Horned Oryx living on its land. These animals are quite majestic and have said to be the animal that started the tale of the unicorn. The horns are so long and close together, it looks as though they only have one giant horn which goes right up the center of their skull. They are also one of the animals that can go without drinking water for very long periods and usually get their water from food they eat.
African Tribes used to believe they brought the rains because they followed the rainy season around in order to eat the lush grasses. If you see carvings of African Rain Gods, many will resemble the Scimitar Oryx.
Scott was so informative on all of the animals that live in the center that I felt like I had taken a class by the time we ended our trip. Scott also thanked us for his first ever 2 1/2 Pinzgauer tour since he has worked here. I kind of felt guilty keeping him for so long but he assured us it was his pleasure. He told us he loves to give tours to photographers because they are so laid back and usually want to go slower than many of the other tours that have lots of kids with short attention spans. I could have stayed there all day and into the night just watching the many animals hang out together and roam the wide open plains. It was as close to an African Safari as one could hope for, and thousands of dollars less expensive.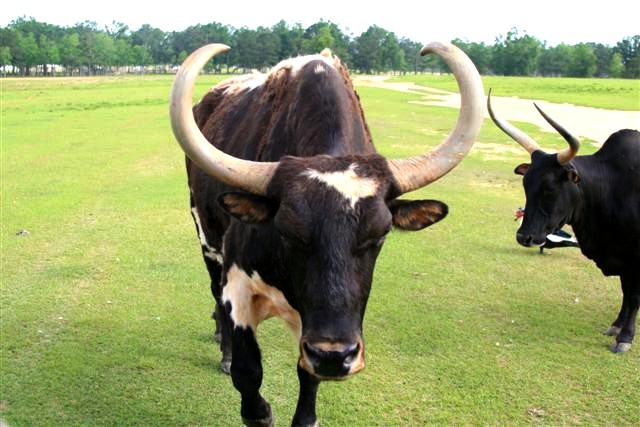 Huge Beefallo named Arby, another one of my favorites.
Pat and I have been to many centers and homes for wayward animals on our journey, but this one was by far the best yet. The animals have so much room to live a natural life and are very well taken care of. The interaction with so many friendly creatures, seeing the different beings that roam this earth and getting the time and space to photograph them was something I will not soon forget.
We asked Scott how the animals fared during hurricane Katrina and he told us that the giraffe get put in their own pens each night so they were secured indoors, but the rest of the animals were on their own. No humans could stay at the center due to the mandatory evacuation for the hurricane. A neighbor that lives less then a mile from the center was going to stay and ride out what was soon to be known as one of the worst natural disasters in history. He volunteered to check on the animals as soon as the storm had passed, not knowing what that would in tale.
When the road was passable and the neighbor entered the park he couldn't see any of the animals, making him extremely concerned. As he got deeper into the park he reached the highest peak of the rolling hills throughout the park and to his shock, close to 4000 animals had migrated to this high point. The largest creatures were on the outside rim while the babies and youngest were secured in the center of the huge herd.
I cant even imagine what that would have looked like. I couldn't believe it when Scott told us they had lost no animals to the powerful grips of Katrina. Pretty cool story if you ask me.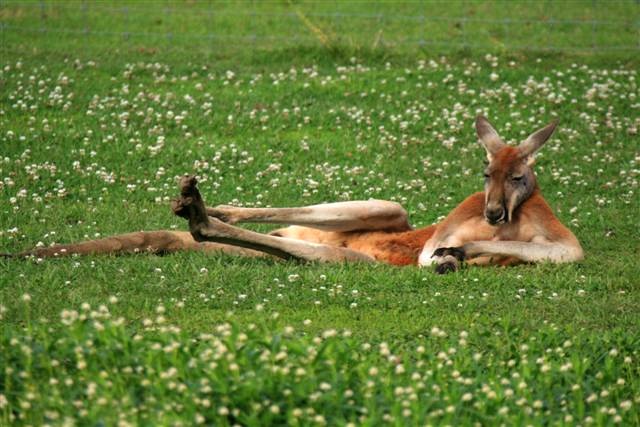 When our 2 1/2 tour was finally over, we thanked Scott for his time and headed home to settle down for some dinner and great conversation about the sights we saw today. Lying down to a prayer of thanks for the great differences that God has put on this earth for us to see and photograph.
Make sure to check out the Global Wildlife Gallery on our SmugMug Gallery Page for an awesome series of pictures from this Preserve.
Saturday May 2nd
We woke up at 5:30 this morning in order to get a jump on the rest of the traffic leading out of town. As a birthday present my sister invited me to join her and 6 other girls on a weekend get-a-way to beautiful Destin Florida. Of course, with Pats blessing, I joyfully said 'Yee Ha, lets go'. My sister Teresa is driving myself, Jude and Lisa to the land of white sand beaches, gently tumbling waves and a whole heck of alota' fun.
We left the house by 7am and had to make a stop at my sisters favorite spot, Starbucks, to get her a coffee. Not just the regular coffee, the kind with six different adjectives in the name finished with "iced please". I have never figured out how people can spend 6 bucks on a cup of coffee, but after this trip, I see alot of people crave the stuff.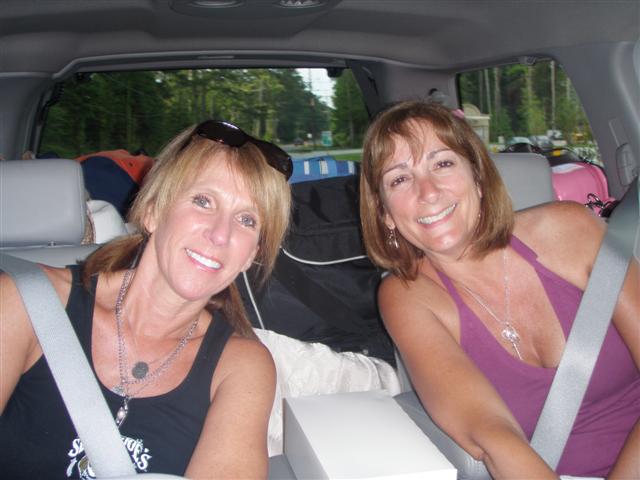 When we arrived at the condo on the beach, we were told that we had to have a code to get into the parking garage, a different code to ride the elevator, another code to get into the actual room in addition to a code to exit a gate leading to the crashing waves of the ocean. This became such a huge deal because none of us could figure out how to use the different sequences of numbers plus * or # followed by entering a floor and then entering the floor again, I think. I know I heard the theme song from Mission Impossible every time we came to a door.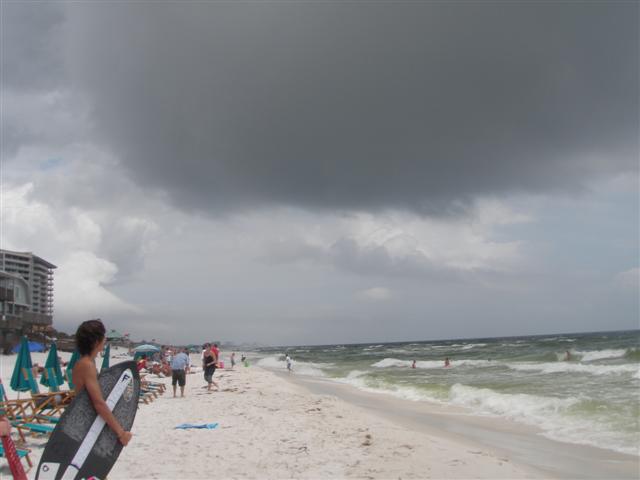 It was comical at one point when were standing at the 8 foot tall metal gate leading to the water, watching people pass us as they strolled down the beautiful sand beach. I am sure we looked like old dogs in an animal shelter just yearning for some where special to go. I heard a couple snicker and say "Look at those people, all that money for a fancy condo and they can't even figure out how to get out of it."
After a while of trying to break the code, we ended up walking around the hotel and taking the public access route from the public parking lot. We all got lubed up with either sun protection or baby oil, depending on the person and what type of tan they were going for and spent a few glorious hours in the white flour like sand that lined the front of the condo.
This pristine place, that we lovingly called Fort Knox, had four huge luxuriously decorated bedrooms with five full baths. The master suite looked like something out of Decorators Magazine. The floor to ceiling wrap around windows over looking the breaking waves four stories below made me droll from the beautiful vistas in every direction I looked. On the top floor was a private pool with one of those infinity edges which also came with breath taking views.
The condo was at least 5000 square feet and even sported a baby grand piano in the exquisitely fashioned living room. It was a perfect fit for all of us girls to have room to dress at night and lounge during the day. Our first night we enjoyed dinner together out on the town followed by a bit of dancing at the hottest clubs along the strip. Everyone asked us if we were at a bachelorette party since we stayed so close together and laughed like old friends through out the night.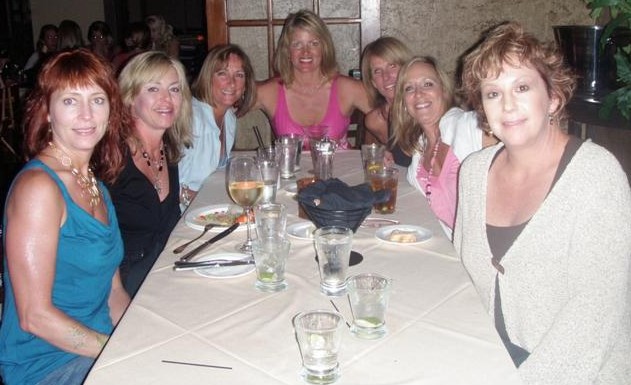 After hours of dancing and having fun, it was getting late and the group was starting to disperse. Felicia and Calla were not ready to call it a night yet and the other girls were ready for bed; I was still wanting to dance some more since dancing isn't something Pats likes to do too much of, so I try and take advantage of it every chance I can. My sister gave me the go ahead to hang with Felicia and Calla while she rode home with the other three girls.
Not that they turned in early mind you, it was already 2am when they left. I had my dancin' shoes on so we headed to a 4am club that had a band. We had a riot cracking each other up the whole time. It seemed like we had known each other for a very long time ,giving us all the freedom to act goofy around each other like old friends do. We finally left when they started putting the chairs up on the tables about 4:30.
When we arrived at the all foreboding parking garage, I heard the intimidating Mission Impossible song again. We tried every code that we could muster up including The DiVinci Code and still we couldn't get in. By the time we went for plan B, it was almost 5:30 in the morning. Poor Mary Anne who had stayed home the whole night and hadn't gone out with us because she felt a stomach flew grabbing her was our one phone call.
We figured she had had the most sleep and wouldn't mind rescuing us from sleeping in the convertible BMW. I felt like I was in high school again sneaking back in the house after a field party or something, tip toeing into the huge condo like a ballerina as if anyone would hear me in that big, huge place. Unfortunately I don't sleep well unless I am in my own bed, so my waking up at 7am was pretty disappointing.
Saturday night was our only night time excursion and the rest of our time was pretty much spent with beach time and lounging lazily about the condo when we had had enough sun. Stephanie and Calla had brought wonderful dishes like lasagna and spicy chicken casserole, topped off with Jude's killer freshly tossed salads and our bellies were full most of the weekend.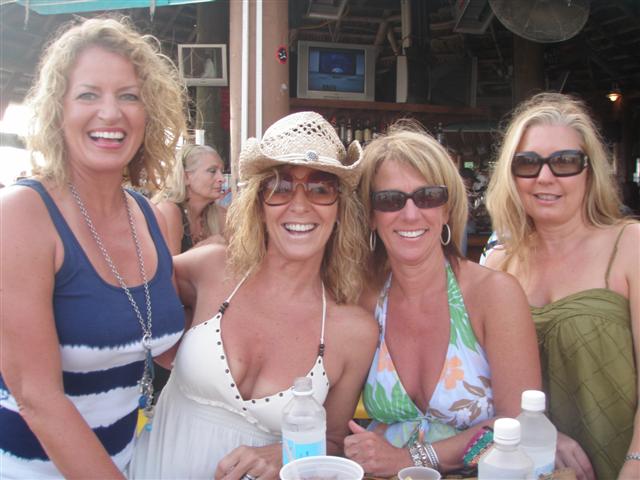 From Saturday thru Tuesday, at one point or another, I actually got to have some quality time alone with each of my new friends. It was strange that at first we would make idle conversation about nothing and it always grew into talking about some of our most intimate details in our lives.
I can't say the weather was perfect every day, but it sure was close. A few storm clouds would roll through every afternoon, giving us something to look at, but they never rained on us. I have an open invite to attend next years traditional outing but who knows what our calendar looks like for that time? It was an awesome treat and I will keep that birthday present as one of my favorites.
By the time Tuesday afternoon rolled around, I was really ready to come home to Pat, yet at the same time, I could have easily shared some more girl time with the others. My sister would be leaving early on Thursday morning to go to South Carolina with her husband for the weekend so she needed a day to prepare, making our departure decision very easy.
I really wish I could go into intimate details of the entire weekend because we sure did have fun, but I'm not sure who will be reading this so I will treat this like a Vegas vacation. "What happens in Vegas" you know the rest.
Wednesday May 6th
After the excitement of the weekend, it was pretty easy to get back into the swing of things back here at the ranch. I spent my entire day catching up on laundry and being with Pat and the dogs who both seemed to miss me the same.
We met up with my daughter, Donielle and her boyfriend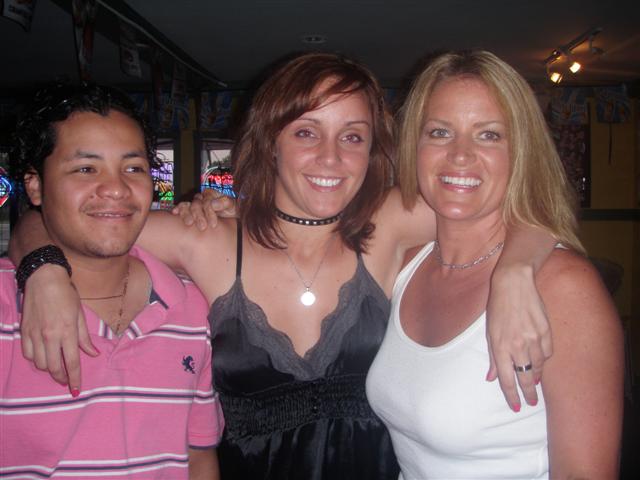 Allan, midway between our place and theirs. I got schooled at pool from Donielle as I watched her run the table while I only sunk one ball. We followed that up with some darts, which also left us feeling like losers, and finally gobbled up some pizza for dinner.
I have been craving pizza for some time now and Pat finally said "If you want it so bad, then just order some." So we ordered some Domino's to be delivered to the little bar we were playing pool at and I finally satisfied my craving. Hopefully I'll be good for a few more weeks now till I need another Pizza fix.
The end of the night snuck up on us quickly and since Pat is working on the green house again in the morning, we called it a night around 11pm. This will be our last days together before we leave for the summer, so the time we spend together needs to be quality, cherished moments.
I will be very sad to leave here, but at the same time I can't wait to get back on the road again. I am hoping for a departure early Monday morning, but we will see how that goes.
Monday May 11th Back On The Road!
After sitting for one of the longest spells outside of our Michigan visit, we finally got a late start today and got on the road around 3pm. As usual, my first few hours were filled with sadness for leaving the people that I love behind and wishing that we could some how bring them all with us.
Pat and I will reminisce about the fun time we had or the silly situations we were in for the past few weeks and this will help me know it was time well spent. Usually calling everyone within the first hour and saying good bye again is my normal routine before the new sights and views out the windshield take my attention away from leaving.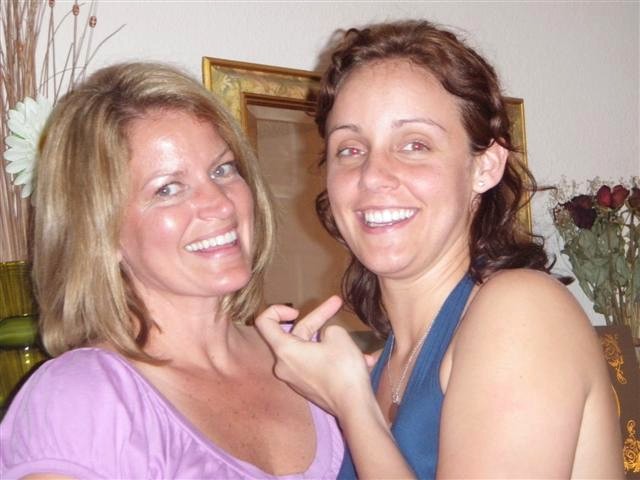 This time is a bit different because we are leaving our daughter behind and even though she is very capable of taking care of herself, we still worry about her as much as any other parent would. The only difference is unlike most kids that live within the same town as their parents, we cant come running if she needs that tender hug or Mother/Daughter chat which I miss the most. At 23 years young, there are so many decisions that have to be made for the first time in your life, it is hard to choose the right path sometimes, but luckily she's doing a great job so far.
I can vouch for the stupid decision making by some of the idiotic things I did at that age. I guess all we can do is trust and pray that she makes good choices or learns from the bad ones not to do them again. My sister and her husband are probably so glad to see us leave at this point since a 2 week stay turned into 6 weeks.
It is hard to leave paradise in the rolling hills of Folsom, Louisiana, especially when the work we took on had to be completed before we could pack up. After the finishing of the green house and the completion of rebalancing the yard, I told Pat that I am very proud of him. He took the Greenhouse project on not having any idea how difficult it was going to be.
Pat worked all day and sometimes into the night without complaining about the 119° temps in the greenhouse. He was absolutely baffled at some points and had no idea how to finish the giant thing, but always figured it out and it now looks fabulous.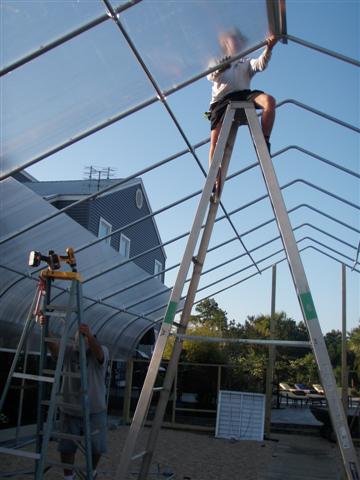 Pat has really surprised me with the projects that he has begun to take on by himself. He is usually the king of 'Bring it Somewhere and Get it Fixed or Replaced' instead of attempting to repair it himself. I guess the lack of funds and the curiosity of knowing whether he can figure it out has given him the incentive to do it himself.
Before we got packed up to roll out, he made a few minor repairs to some not working things on the roof which he would have never done 3 years ago. With all our goodbyes said and done, everything working and strapped down on the camper, we were finally ready to roll into the next strip of this adventure.
The scorching weather of lower Louisiana region was nothing but a distant memory after we got a bit closer to the Mississippi State line. The skies darkened and began to drop some heavy rain upon us which Pat and I both welcomed as some much needed heat relief. It's strange that when the first drops fell, they pretty much dissipated into thin air since the heat in the air must have been thirsty for some moisture also.
Looking at the map I noticed that when reached the town of New Roads, we would be crossing the Mississippi River on a toll road. It looked really short so I didn't think the cost would be huge. The map said 'TOLL FY.' which I thought it meant Toll Freeway. Wrong! We had to board a ferry to cross the mighty Mississippi River.
Thankfully we just met the length requirement at an even 51ft, anything longer would not be allowed on the ferry. After we crossed the river, we got a bit turned around and had to back track our steps for a few miles, but being lost for us has become the norm and we dont even fight over it anymore. This was actually a blessing in disguise since we saw the most incredible sunset.
The sky was so confused whether it wanted to bring a terrible storm or a calm summer sunset, so it gave us both. In the distance the horizon was filled with a red, orange light that was so mesmerizing. A thick black layer of clouds, the color of an oil spill, was smeared across the rich, luminous ball of fire that backlit the hues of reds and oranges which were spreading across the land before us.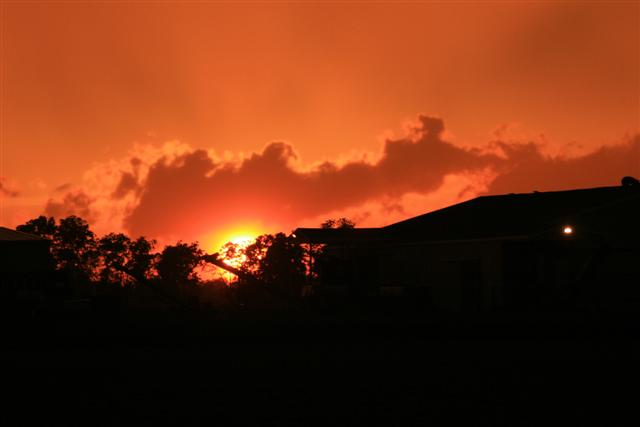 Pat and I were so excited, that we pulled over immediately to take some photos and enjoy the night. We happened to have pulled over into a quite, believe it or not, truck stop which we decided would be our home for the night. The winds were picking up and lighting was surrounding us with it's reaching tentacles.
I have a good friend back home that every time it would storm, she came to my house to hide in our basement. Pat, Donielle and myself would be out on the porch, drinking a beer and watching the show as she shouted warnings up the stairs to take cover.
I love to watch the work of up above, even though some times it is destructive. The power and beauty always keeps me on the edge of my seat. When the winds died and the show was over, we caught up on some computer work and got a good nights sleep.
Luckily so since we were awakened by a train horn every 15 minutes from 6:30a.m. to 7:30a.m. this morning. It is hard to see these things in the dark, so this type of thing has happened to us more than once on our travels. Pat commented half asleep, that he hoped I pulled the hand rail in by the back door since the train sounded close enough to take it off.
Thursday May 14th
It is sort of eerie that on my last blog I was talking about how much I really enjoyed watching the beauty of a good storm. How they didn't really put fear into me like it does by friend back home. Well, after riding through the town of Mena Arkansas yesterday, I retract that statement.
As we first pulled into the area from HWY 71 North, I noticed that a gas station had some severe damage done to the over hang above the fueling section. I thought maybe a big truck had torn it off or something like that, until we continued down Main Street. We took a turn toward Queen Wilhelmina State Park bringing us deeper into what looked like a war zone.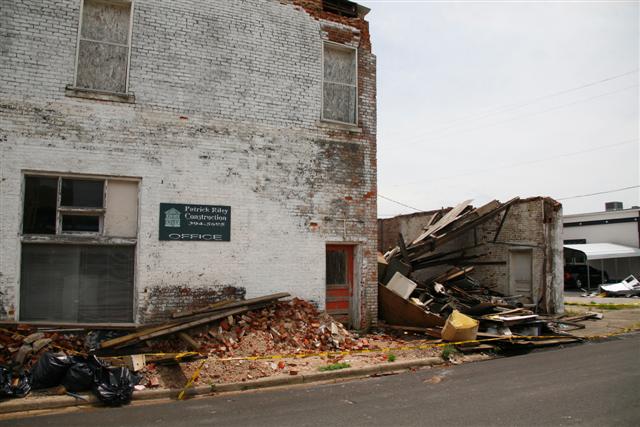 This is the oldest part of town, the area where the 5&Dime store or the Red Wing Shoes would have been 75 years ago. Most of the buildings were brick and very close together like all old Main Streets are. I would think that on a good day, this place would be bustling with children and elderly alike, roaming the streets looking for a bargain or an ice cream cone to share with a friend.
When we rolled down the road yesterday, all we saw was destruction, devastation and people in a hurry to get it repaired. The High School that was at the end of the road was boarded up although the children were still attending class somewhere amongst the rubble.
Homes and businesses were looking so vulnerable with a roof missing and walls torn off, showing the belongings of the unlucky dweller. It reminded me of Hurricane Katrina with the dreaded X symbol spray painted on the side of a store front. Signifying if anyone had lost their life to this twister.
Sadly we saw two homes that had the symbol of a life passed and felt a small part of the despair that this area must have felt on April 9th when a number of twisters rampaged this small town. The woman we spoke to almost started crying as she explained the theory of at least 4 twisters, maybe 5 tracking through this small town, taking three lives with it.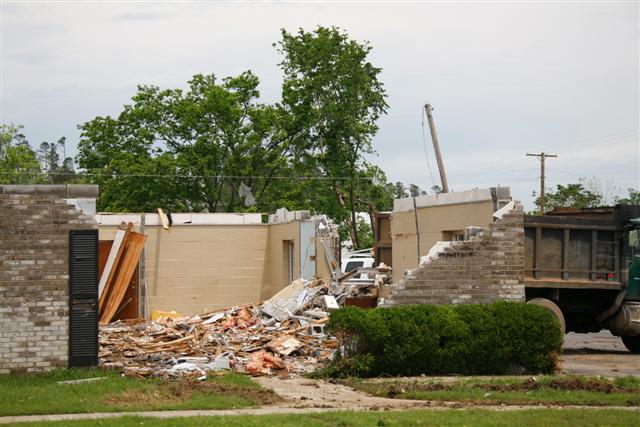 I guess I must re-evaluate the power of nature and think about what could happen before I sit on the porch and dare it to come near my friends and family. How naive and ignorant I feel when I think I am or could be the observer of nature, so strong and much more powerful than me. When in reality I have been invited to come along for the ride, but just try and stay out of the way when Mother Nature rears her vicious side.
After exiting the downtown area, we headed up to the second tallest peak in Arkansas, Rush Mountain. The surrounding area was socked in with a foggy mist as Bubba slowly pulled us toward our destination for the night. After finding our camping spot we had some dinner and were relaxing before we went to bed.
I was reading a good book and Pat was on the computer when we had a bear encounter that will stick with me forever. I didn't get to see the entire bear situation but what will ring in my ears forever is the pitch of Pat's voice as he shouted "BEAR!" Sounding like someone had just grabbed him where the sun don't shine and twisted until they popped.
He looked like a little boy who had just seen the real Santa Clause coming down his chimney. I looked up just in time to see the bears back end entering the bushes. I don't know which one was more shocked, Pat or the Black Bear that had enjoyed the smell of my cooking.
I laughed for hours over this and I think I even woke in the middle of the night to let out a chuckle, thinking of Pat's facial expression and that little girl like shrill coming from his manly mouth. I immediately called our daughter and shared the laughter with her and also my sister, my in-laws and anyone else I could get on the line to try and imitate the Bear Shrill.
After a good nights sleep I woke up early on Thursday morning to the cries of my beagle, Lucy. I have learned the hard way that when she wants to go out, don't hesitate to take her. I left Pat in bed as we took a trip around the campground to complete their morning duties.
Something that I didn't miss while we were at my sisters house was the warm squish of the dreaded plastic bag while walking the dogs. Having lots of property and numerous animals, mine sort of went unnoticed.
A rain storm last night brought out some pretty cool specimens for me to check out on our walk. I saw the biggest worms I have ever seen in my entire life. They had to be at least 12 inches and some even bigger. All of them were very see through and disgusting. I was going to bring one in the camper as a surprise to Patrick, but I couldn't bring myself to pick any of them up.
I brought the dogs back and grabbed both of the cameras since the fog that had blanketed this area last night was gone and the sun was almost up. I walked up to the closest look out point which was a mile from our site and sat by myself, looking at what an incredible view this spot had to offer.
A gentleman came by and started asking me questions about the cameras and I had a complete brain fart. I have had this equipment for years, know everything about the lens and camera abilities, when to use which lens for the lighting and the distance and purposes of the equipment. I could come real close to writing a how to book by this time.
He asked what type of lens I was using and I couldn't even answer him. I stuttered then looked at what was in my hand and still gave him the wrong info. I felt like such an idiot! I hate when I get nervous like that. It happens to me all the time too.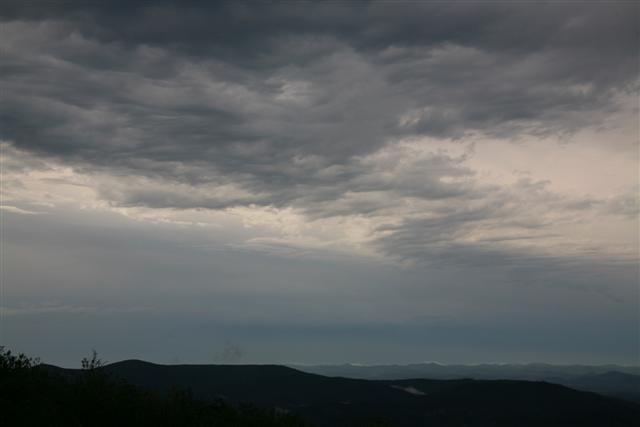 You would think that after we have been traveling and meeting new people for the first time, every day for three years now, I could not look like a complete ninny when someone asks for my knowledge about something I am very capable of giving. Nope, not me, never have I looked intelligent when I really want to.
Oh well, I got some cool photos and came back to share my worm stories with my still sleeping husband. We got a mid-afternoon start and were on the road again to another place that we have yet to see. We don't have to be at the Chuck Wagon Races until the 22nd, so we have plenty of time to soak up the beauty of the Arkansas scenery.
Pat and I were talking last night and both agreed that Arkansas has the most beautiful and well kept state parks that we have ever seen. All of them have a distinct attraction whether it be a lake, mountain top or whatever. They have large, flat spots to pull into and have the most friendly people we have come across.
Everyone always asks me where is my favorite place that we have been in the United States and my answer is always Arkansas. To a look of confusion and wonder, I explain everything that this state has to offer which I always get the reply, "I didn't know anyone went to Arkansas"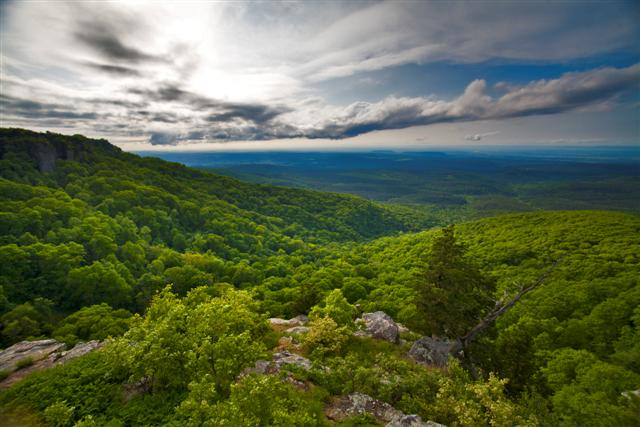 View from atop Mount Magazine in Mount Magazine State Park
Friday May 15th
This morning was like a script out of a scary movie when I woke to take the dogs for a walk. I couldn't see 10 feet in front of me because of the dense fog that had settled in over night. This stuff was so thick I could see it part as we moved thru it. Pat went with us this morning, thinking he was going to get some good photos then realized the camera was pretty useless in this stuff.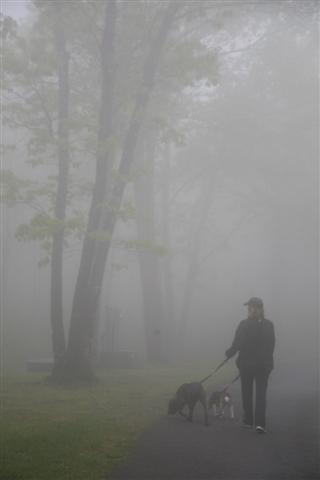 Since we have been on the road this time, I have been keeping up with my work out ritual which is pretty hysterical to do in the confines of our little camper. Wait, let me take a step back and fill you in on my thoughts.
When we got to my sisters house on March 23rd, I had put on a few pounds of pure fat since leaving Florida....are you ready for this....weighing in at a whopping 173lbs. My weight is usually around 165lbs. for as long as I can remember, fluctuating when I go on vacation or when I work out ALOT! I have been able to get down to 159lbs., 3 times in the past 11 years, but that is it.
When I saw my sister this time, she inspired me to get into better shape. She is my older sister and looks incredible, which made me wonder, what the heck am I doing to myself. So I started going to the gym with her, taking kick boxing, body combat classes and lifting weights with her personal trainer.
This is no normal gym of course, it has a couple of indoor pools, a water park, tennis courts, spa, restaurant, dozens of fat burning courses to chose from throughout the day and a full weight lifting facility. This place is Primo and I liked it so much that I started going by myself even when my sister was out of town or not feeling well.
I started to feel better and look better but no weight was coming off. Finally on April 12th Pat and I read an article on sugar which gave us a different game plan. I have been telling Pat for a long time that his diet consists of way to much sugar but it took him reading an article in Men's Journal to really believe what I was telling him. I think he was unaware of the word 'carbohydrate'.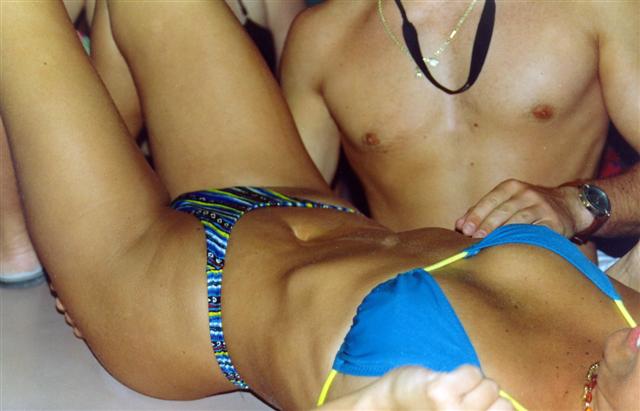 This is a picture of Pat & I in the Keys when we were first dating - Pat was about to do a Belly Button Shot off my then, very flat stomach - Pat's Older brother Robb took this shot of us. Notice Pat's build and lack of hair on his chest...LOL I think he was only 19 years old!
He lived on flavored yogurt and granola bars. I am not kidding when I say that he would go for days while I was on vacation eating nothing but yogurt and granola bars so he didn't have to make anything for himself. I would guess that he consumed at least 500 carbs a day between sodas and energy drinks combined with his favorite "healthy" food of yogurt and granola.
My problem is portion size and the fact that I love to cook and love to eat even more. I don't just have an 8oz steak, I'm the one who eats the 16 oz prime rib. A small salad is not enough for me and never has been, I eat an entire serving bowl, enough for 4 people in one sitting. My stomach must be huge to accommodate everything I put into it.
I have always been able to maintain the 165lbs and haven't worried about getting any smaller, but I just don't want to get any bigger. Since the 12th of last month, we have cut out yogurt, granola, soda, bread, pasta, and for the first two weeks, no fruit. I am happy to say that Pat has lost 6 lbs and I have gotten down to 155lbs.
For the first week Pat was just a bear of a person to deal with; grumpy, short tempered and no sense of humor. After that first week though he really started to feel good. No highs and lows like before, no head aches and shakiness when he didn't have food for a few hours. His glowing personality came back, leaving his extra few pounds behind.
I really had to cut down on my portions and went hungry all the time. I am adjusting to my 1500 calories or less a day by eating small portions 6 times a day. I am now at the weight I was when Pat and I got married and actually wore a two piece swim suit on the beach for the first time in years. I will never be the swim suit model that I was when Pat and I first met, but I am realistic.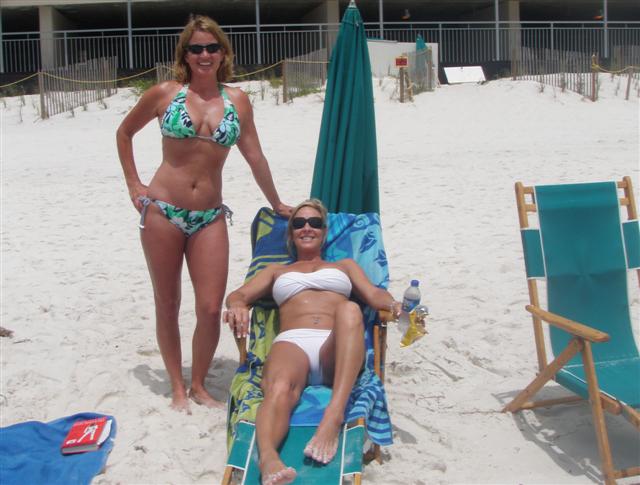 Me & My Sister in Destin Florida - I haven't worn a Two-Piece in years!!
Every morning I jump around in this little camper doing moves from the classes I took in Louisiana. Kicking and twisting, punching and squatting for at least an hour followed by lifting my 20lbs dumbbells until I cant lift any more. I have went from a size 14 to a size 10 pant and medium shirts now fit me instead of the large, sometimes extra large I usually wore.
I have gotten a couple of emails about my difference in appearance and I want to say a huge "THANK YOU for the kind words", that really encourages me to stay on the right track. I want to get down to 145lbs and I'm striving for that weight within the next two months. I will keep you posted, but next time not in so much detail.
OK, now back to the rest of our stay at Mount Magazine State Park. When we arrived yesterday it was only about 5pm, so we had plenty of light to check out the area and snap a few shots of the beautiful vistas that surrounded the camp. Within a 1/2 mile from our secluded camp site in the woods, we could walk to an over look that gave us the ability to see for miles.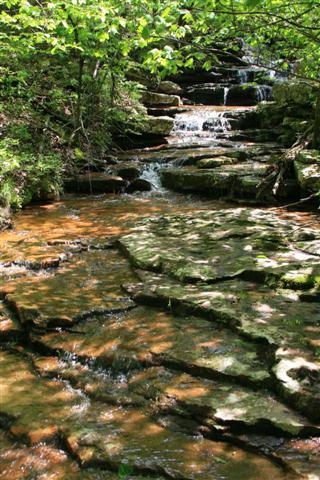 We had doused ourselves with Deep Woods OFF because of what they call here "Buffalo Gnats" that swarmed our heads the whole time we walked. These things are huge and are four times the size of a regular gnat. I think all that bug spray we had on kept the tics away also. We walked a mile or two then couldn't take the gnat torture anymore and went in for dinner and a good nights sleep.
In the Morning, we stopped at the visitor center to check out and to pay for our stay last night. We were looking at the brochure for the park and decided to take a short hike which was just beside the office. Their brochure showed a nice waterfall which we wanted to try and get some photos of although we both know better than to try and take photos at high noon, let alone water shots, but the hike would be nice just to get out in the fresh mountain air.
We had forgotten about how much the ticks love Pat until we started to load up this morning and noticed he had two on him already. Needless to say, we sprayed ourselves with lots of OFF before going into the woods and I put a cap on so the little bugs wouldn't get in my hair. On our way back out, Pat found three ticks on his legs which put him into the itch mode for the rest of the day.
I had seen Poison Oak on the trail and knew that I had touched it, so when I came back to the camper, I immediately washed my entire body with Tecnu Outdoor Skin Cleaner which must have gotten any stray ticks off of me. I have never used the stuff before, but I know that even if I look at poison ivy, oak or sumac, I get an awful rash.
I bought this stuff last year and have not had to use it yet, so I will let you know if it worked or not. I know that I got into contact with the Poison Oak at least 10 times on our hike since we were hiking off of the trail around the waterfall, so if I don't get a rash, it will be a miracle.
All afternoon Pat kept looking in his shirt, checking his legs and rubbing his head because he felt something crawling on him, which gave me a good laugh and allowed me to make fun of him the entire time, one of my favorite past times. He picked off two more ticks crawling up his leg while he was driving, then had me hold the wheel for a second because he said he could feel something on his beltline. He looked onto his side and yep, one had burrowed into his hip, right under his waist band.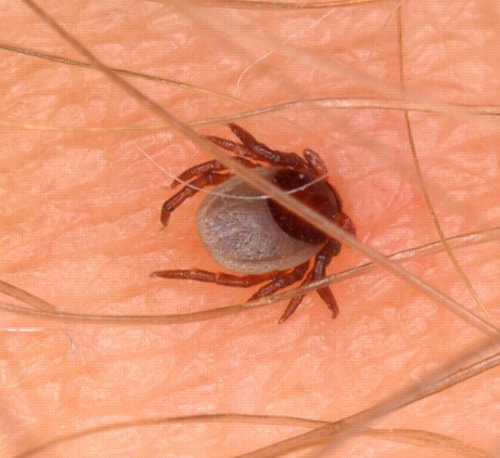 This was funny and scary at the same time. Here Pat is driving down the road and he's telling me to pull it out, but without tweezers, I didn't want to risk yanking on it and leaving the head in his skin.
He pulled over so that I could get the tweezers and pluck the thing out. This had to look like some sight for people passing by. One fella even stopped to see if we were all right, but Pat just held up the map and said, "Yeah, just trying to find out where we're going." He pulled away and we both chuckled saying to ourselves "Oh no problem, the wife is just pulling a tick from my side while we stop on the side of the road. Nothing unusual here!"
Once we pulled over for the evening in the littlest Wal-Mart ever, we ate some plump portabella mushrooms I pan seared for dinner, followed by a thorough tick check before bed time.
We each got the tic inspection with a flashlight and tweezers in hand. As Pat pulled his shorts down, another tick fell to the floor which totally creeped me out. My husband is now the 'Tick Magnet' instead of the 'Chic Magnet' he was back home.
Saturday May 16th Whole Lotta Lazy
We slept in late this morning, almost until 10am! Spent most of the day reading or just hanging out in the parking lot of the smallest Wal-Mart in the history of the company.
After dinner we rented three movies and vegged out in front of the flat screen while lying in bed. Now that is a vacation I'll tell you!
Sunday May 17th Getting Lost is Always Pats Fault
Being on the road before 9am is very unusual for us, but with the lazy day we had yesterday, it wasn't hard to do. When we were driving the other day, I had explained to Pat that we could either stop in the town of Ozark which would keep us on track to where we were going, or we could scoot around the hillside for a bit longer so that we didn't stop at 5 in the afternoon.
Pat chose to drive further north since these roads in Arkansas are such a treat to cruise around on. Our stopping point was an hour or so north of Devils Den State Park which is where we wanted to be by Sunday evening. In order to get back down to the Park, we could either take I-540 for a straight shot down or we could take the smaller Hwy 59 which is way out of the way but a much smaller, more scenic drive.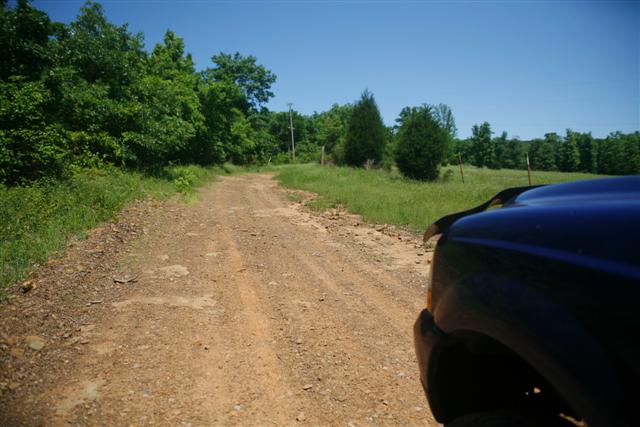 Unfortunately Pat chose option #3 and took a back road which cut across the mountain, or so he thought. We had turned on the GPS and put in the address of Devils Den State Park, followed by the 'shortest distance' option, which was a big mistake. Dora, the GPS goddess had given us a route that was a narrow road called Pleasant View Drive or something like that. That lead me to believe we were going to an elevated point on the mountain to get this "View" the road was named after.
The first thing I said was, "I don't want to take that dirt road, every time you do, it ends up bad." Pat, always playing the 4X4 king with a camper attached, decided against my directions and took the dirt road anyway. He calls me a pessimist, says I need to lighten up and enjoy the ride, stop having a glass half full attitude and all that other bull.
I then have to remind Pat of the time in Minnesota when he wanted to take the back way back to our camp and had to back 200 yards out of a two track because the bridge was out, or the time when we were in Mexico and I said "That all looks like sugar sand, don't go any further" and we had to dig all four tires out of the quick sand before we could pull away. Lets not forget the time that we were trying to get from California to Oregon, the back way, and it took us two days to recover from that blunder.
Pat continued driving up the side of the mountain as I explained all of my reasons for not taking this route, he tuned me out as he would sometimes put the truck into 4 wheel drive to make it up the steep inclines. On one of the descents down a steep hill, we passed a vehicle with two men in it and they were trying to stop us. They were yelling something out the window as Pat continued down the hill at an unstoppable rate.
I then spoke up and said "They are probably trying to tell us that the road is closed or the bridge is out or something bad like that!" Pat laughed and just kept going. We finally got to a point in the road where it looked as though it had not been traveled on at all in a long time. I made Pat stop and asked him to please turn around before we wouldn't have anywhere to turn around on the mountain side.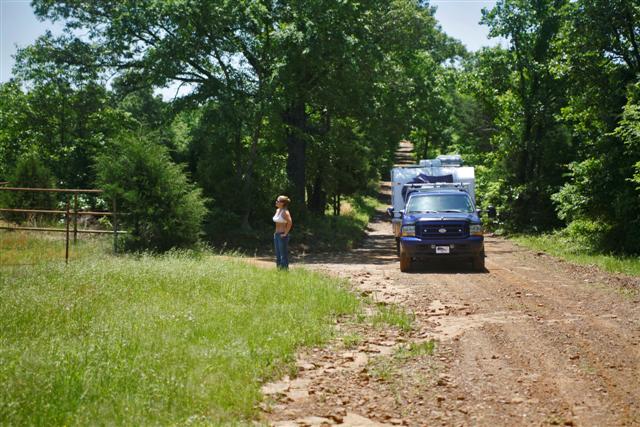 Backing up this mountain side in 4-Low does not strike me as a fun time. After he got out to access the road, he agreed to take advantage of the only turn around we had seen for miles and head back to where we started. I told him to go ahead of me and I would take the dogs on a run for a mile or so since we had been so lazy the last two days.
As I was running I noticed that when the road came to a fork and Pat was supposed to go to the right, he turned left?!!!? What the heck was he thinking? As I caught up to the vehicle, Pat calmly explained to me that Dora (the explorer) had given us the wrong info before and she had now changed our direction to take this road.
I sat for a minute and asked him to please go back to where we started. What if we went down this road and there was no turn around and we had to back this rig all the way back up this hill. Pat's new choice in roads looked even worse than the last, besides that, I heard water running, loud and fast.
He said all we had to do was follow this road for a eighth of a mile then turned onto another 2 miles of dirt road and we were there. He suggested that if it would make me feel better, I could run down to where I hear water and make sure everything was OK before he drove down the steep descent. I started off down the hill at a slow jog and it didn't take long before the dirt road started turning into mud.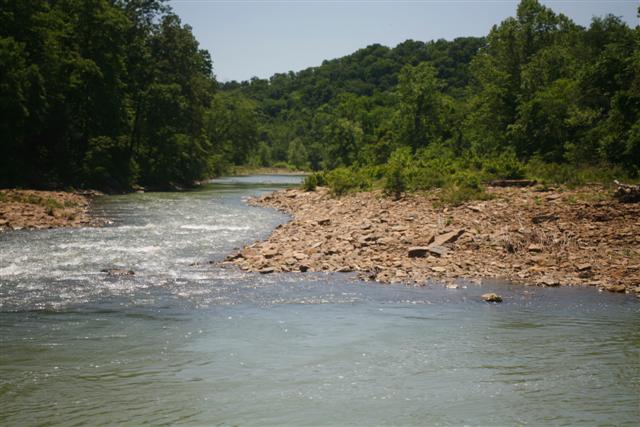 As I got closer to the rapid running water, I had to walk in the woods since the road had been washed out and a large puddle of mud was all that was left behind. When I finally got to the water source, it was a huge, wide, deep body of quickly flowing green, cloudy water. I immediately texted Pat, hoping he had not already started down this muddy two track with no turn around and a wide open body of water to slide into.
I frantically ran up the one mile long hill to reach him before his stubborn self got any closer to this failed bridge. When I arrived back at the truck, some neighbors had pulled up and were talking to Pat. They had informed him that he couldn't take the route he wanted and he had to get back on the main road which I had tried to get him to take in the first place.
All's well that ends well. We got to see some pretty country side, I had some great exercise while Pat got my heart rate pumping and I get to add another "I told you so" to my ever growing long list it has now become. After getting to the road which we were supposed to stay on hours before, we finally arrived at the Devils Den State Park a few hours behind our very loose schedule.
When I spoke to the friendly lady at the Visitors Desk she told me that I was getting here at the right time since at 7pm tonight, this place would turn into an excellent, quite place to camp. We found a cool spot for 13 bucks a night, plugged in since the spot is completely shaded with full growth trees, and jumped on the motorcycle to enjoy the fresh mountain air.
We topped our night off with some good grub and a hot shower, followed by some shut eye before we go out hiking tomorrow.
Monday May 18th Exploring the Devils Den State Park
When we woke up this morning the dogs were in our bed shivering. It has been a while since we have seen any temperatures below 70° and they are a couple of wusses to begin with. I threw the blanket over them and snuggled them in as Pat grumbled and made a comment of how spoiled they are.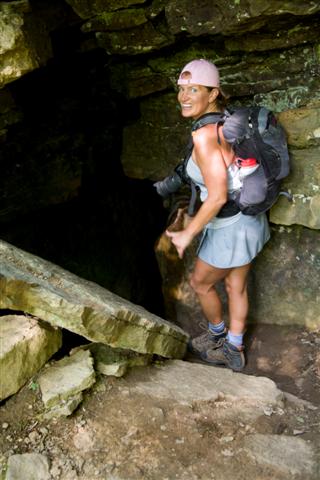 It was 59° this morning at 5am, so I am sure they were cold. When we finally got up, Pat worked on his blog for a while and I walked around the park with the dogs trying to keep warm. When the sun was beaming straight above us we finally got acclimated and decided to pack up the cameras and take the main hiking trail in the park, the Devils Den Trail.
The information on the trail told us it is 1 1/2 miles, taking about two hours to hike the trail which we planned on four hours, leaving us plenty of time to take photos. This ended up being one of my favorite hikes in the history of all of our hikes. Not only were there numerous water falls, caves to explore, and a few challenging inclines to contend with but the best part was Pat getting attacked by a bat.
I say attacked, but I think the poor critter was lost and Pat was the first thing he landed on. As we were hiking through the trail, we came to an opening in a rock that looked like it had been frequently traveled into. We were sort of standing around debating on whether to go in or not when some people came hiking up the trail from the opposite direction.
They let us know that we wouldn't be able to hike more than 200 feet into the cave with all of our equipment since the space was so confined and there were sections you had to lie down and squeeze through. They also let us know that we had to have flashlights since it is completely dark as soon as you walk into the cave. That pretty much did it for me since I am claustrophobic and not real comfortable in dark, cold, musty places.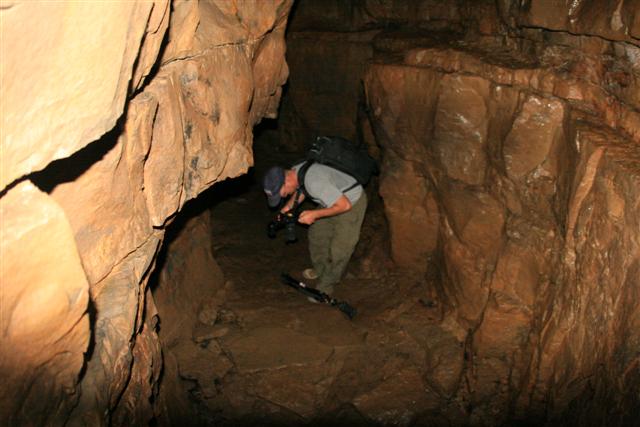 Just then, another couple of guys came waking up and rested for a bit as they shared their info about the cave. One of them started to enter in front of us so I told Pat that I would give it a shot and hope for the best. I made sure to tell him if I start to freak out, I would just back out of the place.
Pat went first so I could be closest to the exit and we entered maybe 6 feet before it was completely black. At about 15 feet I heard a high pitch squeal followed by a "Holly Shit! What in the Hell is on me!!!" I stopped in my tracks since I recognized that squeal from Pat and his bear episode the other day.
Pat had been posing for me and turning the flash light on to his face so he looked spooky. I had my flash light off and the camera in my hand when his squelch pierced the air. Pat took his flash light from his face and pointed it at his body where a tiny bat had landed on his leg.
He frantically took photos so he could get a few shots before the thing flew away. He was explaining to me that the bat had first landed on the bill of his hat then fluttered its wings right in his face and he could feel the air from them moving on his face. He then felt it scurry down the front of his chest, landing on his leg. OMG!!!! I would have crapped myself right then and there.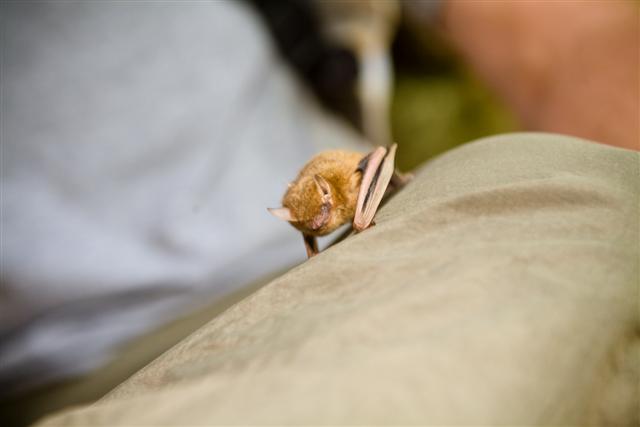 Pats Little Friend hanging out on his pant leg!
After we calmed down, we both tried to get pictures of the cute little thing, thinking that it would fly away at any second. We snapped a few dozen pictures and the thing just say there clung to his pant leg. When Pat exited the cave a couple minutes later, the little guy was still clinging to his leg. Pat finally had to use his ball cap to encourage his flight which ended up back into the direction of Pats head again. Luckily this time it flew back into the cave, not Pat.
So that completed our tour of the Devils Den Cave, inside only 15 feet and out in 15 minutes. When the bat flew off of Pats leg and in my direction, I let out a small scream. Pat assured the crowd that had gathered that the scream had come from me, not him. That is when one of the gentlemen piped up and said "Oh, but I heard the squeal that came from you inside the cave and it was plenty loud and high."
We all got a kick out of that and moved on down the trail to our next exploration.
The next spot was an open vault type of slot canyon, not a covered cave, so we didn't have the fear of having another bat episode. This place was so cool, it was like the earth opened up and nature had supplied a way for us to enter and explore its insides.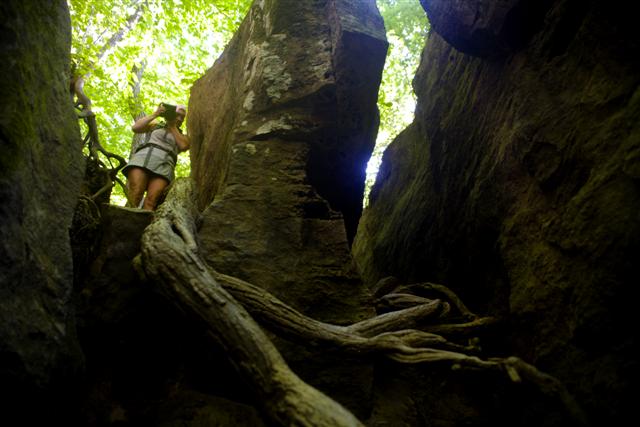 Pat at The Bottom of the Roots Looking Back Up @ Me
A tree had grown from atop the entrance and the root system had grown into the hole in the earth, leaving us the perfect slide to get into the hole. As we slithered down the slippery root and dropped into the hole, the temperature dropped at least 15 degrees. We walked from one end of the open slot to the other the whole time 'ohhhing' and 'ahhhing' at the funky moss covering all the walls which gave off a weird green glow.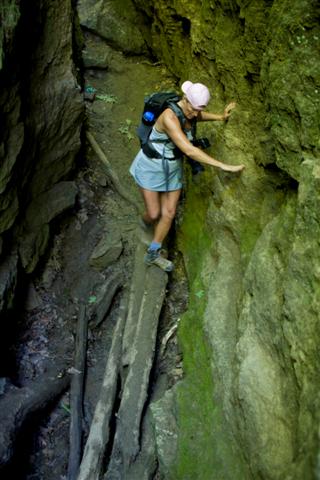 Many different areas of wonder filled the side of the mountain including rock formations that looked like giant geodes, waterfalls that sporadically dotted the green flora and a few deer and squirrel to entertain us.
Needless to say our 2 hour tour turned into 6 full hours of hiking and it was after 8pm before we walked back to our camper. We had discovered another way back to camp via a trail right along the water instead of the main road that we took earlier.
As we were walking home, we saw an older couple fishing and Pat had stopped to ask what they had caught and all that kind of stuff. While he was chatting with this lady, I had hung back to see if there were any photos opts to be had when I noticed a fish moving strangely right along the shoreline.
I then noticed that a big snake was attached to this fish and he had him in his jaws trying his hardest to swallow dinner that four times the size of his mouth. The fish was maybe 6 inches long but it seemed almost as big around. I called for Pat to come back to me in a hurry and he came running over. Just then the white haired lady asked "Is that a snake you're looking at?" I said "Yeah, I think he's trying to eat a fish!"
She basically came right over to the thing and started to put her hand in the water. I thought this lady was going to grab the snake or maybe she wasn't having any luck and wanted the fish for dinner when she pushed Pat out of the way to get to this thing. I then realized that the fish this snake was eating was hers that she had put on a string line with three others.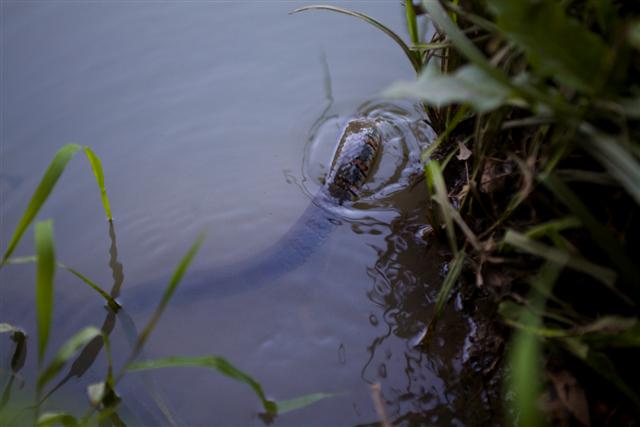 The line was attached to a stick which she picked up out of the water with the snake still attached. As she picked it up, the snake fell away and swam to the center of the river, watching us the whole time with its head sticking up out of the surface of the creek. Pat and I laughed as he thought the same thing about the lady like she was Crocodile Dundee or something.
After a real good laugh with the fishing couple and watching the snake go back for her catch again, she moved her dinner to another spot, hoping the snake wouldn't figure that out. The strange part was that the snake watched everything she did with those fish, just waiting to get ahold of them again.
By the time we got back to the camper I was famished and threw some burgers on the grill, letting Pat know that all we were having was burger, no bun, no veggie, nothing else because I was too hungry to make anything else.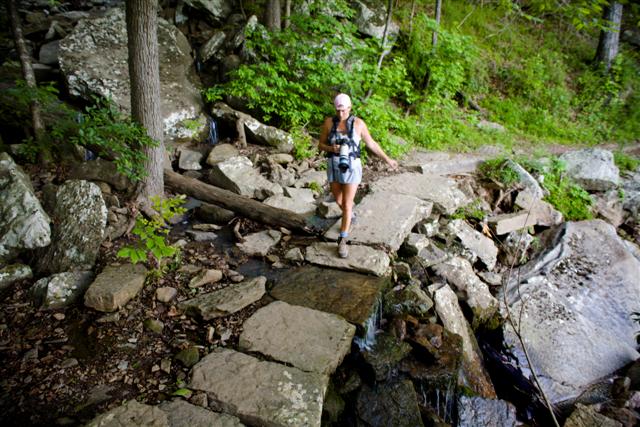 After dinner, we looked at some of our photos and cleaned up the camper and I was in bed by 11pm. I'm looking forward to seeing all of the cool photos that we took today because this was such a great hike and I enjoyed our day the best way I know how, outdoors with nature and with someone I love.
Make sure to check out the Devils Den Gallery for all the shots from today's hike.
May 21st thru 24th Rock Bottom Chuck Wagon Race
Two things that God has blessed this earth with Cowboys and Arkansas!! When ever someone asks me what my favorite place is on our travels, so far my answer is always Arkansas. That usually brings a strange look to peoples faces because it is a well kept secret by the locals.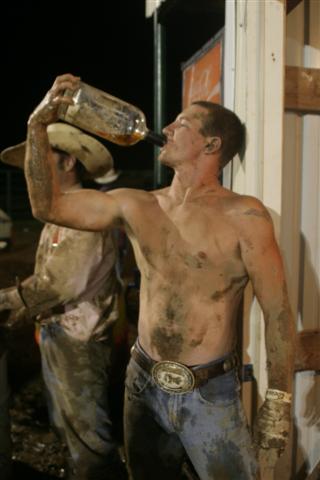 Not only is this country filled with natural wonders, but the people here are always willing to give 100% to make your stay more enjoyable. This weekend was no exception with the added bonus of horses, mules, bucking bulls, men, women and children willing to try their hand at taming them.
The other thing I love so much about Arkansas, Cowboys, with their boyish smiles, their rugged looks and a twang in their speech that could make any girl swoon, I just can't get enough of them. I have been looking forward to this event for months, hoping that it wasn't just a fluke thing that we had so much fun last time we were here.
You know how some times you will go to a place or do something for the first time and it is just the best thing since sliced bread. Then when you try to do it again or go to it again it just doesn't hold up to what you had enjoyed the first time? Well this was not the case at all for our second Rock Bottom Chuck Wagon Race.
From Thursday thru Sunday, our time has been filled with numerous events to entertain and amaze us while we took thousand of amazing photos for our memories. I can't really pinpoint an event that was my favorite this weekend because everything had it's own appeal.
From the Mutton Bustin', with the tiny kids trying to ride a sheep as long as their little fingers will hold on, or the Bull Riding, where the Cowboys test their fate with some of the meanest, ugliest, pissed off creatures on the planet, all of it amused me to no end.
We met people from Maryland to Washington State, Missouri and Texas over the weekend, adding more people to our list of friends to visit next time we are in their area. Pat and I both agree that this has got to be a yearly destination for us. I know we said this a couple of years ago when we were honored to have stumbled onto to this gem of an event for their first round but this year sealed the deal.
Lou and Mike Fowler are the hosts of the event which makes it seem like a big family reunion. They are both very kind and concerned that each and every person has the most optimum time and go far beyond any host we've ever had the honor of meeting. We had the added pleasure of meeting their children this year and they are a riot.
Jake and Luke are their sons who work with them on this event, which I am sure takes months of preparation. The boys work the ring as what I think are called pick-up men, keeping the bull riders and the livestock safe while everyone else gets to enjoy themselves.
Their pretty daughter Janice, is also a rider and has the knot on her head to prove it. Apparently she got bucked off of her horse on the first day of the event and had a big scrape just above her temple which added to her charm. I'm sure she plays a big part in making this such an awesome event to come to fro both young and old.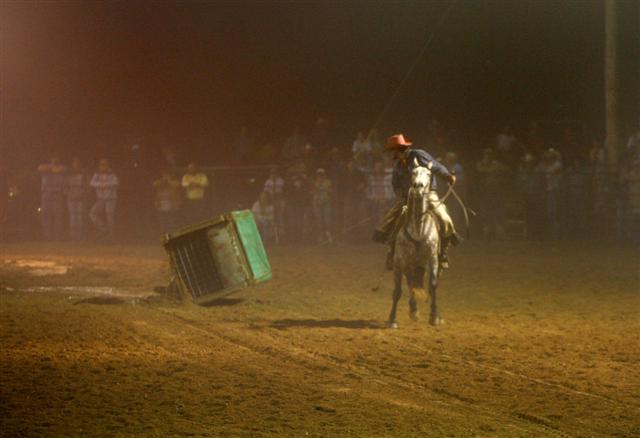 All of the events that they had were great to watch but I think one of the biggest crowd pleasing shows was the port-a-potty pull. One man gets into a full port-a-potty while another cowboy lasso's it and attempts to drag it across the finish line at the other end of the arena. I only hope that everyone can see an event like this at least one time in their life.
The poor guy in the potty is knocked over, rolled, smothered and covered by the time they get anywhere close to the finish. They come out of the out house all brown and slimy looking, covered in a molasses type liquid that they fill the bowls with. Most of them come out looking dazed because of being knocked around in the potty for so long while its drug behind the horse.
The laughter from the crowd would make anyone laugh even if you were blind folded and had no idea what was going on. A contagious laughter that lasted the entire night and kept the crowd pleased. They had a live band on Friday and Saturday after the arena was closed and served food for the hungry and the tipsy people in the group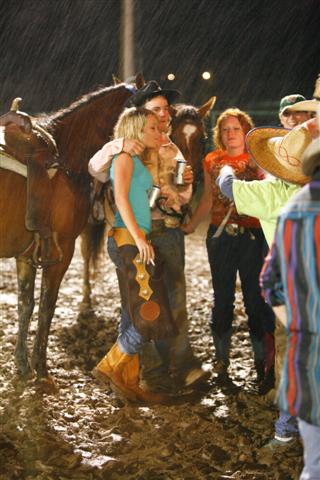 Sunday had to be my favorite day which is surprising since it was plagued by rain basically all day long which never put a crick in the giddy-up around here. The arena was packed for the rodeo at night and the chuck wagon races during the day had the hillside dotted with attendee's. These Arkansas people are die-hards, I hardly even saw any umbrellas or rain gear, it was like the rain didn't even bother anyone.
The rain did have an effect on the arena though, leaving it a huge ring of mud, instead of the dusty dirt that covered us the day before. This made no difference to the bull riders or the bulls they challenged to that famed 8 seconds of riding time. The bulls still tried their hardest to throw those riders as far as they could from their personal space.
Pat stood in the announcers booth with the big 400 lens and I stood out in the arena in the pouring rain with my 70-200 lens. This was by choice mind you because I liked being closer to the action. I got some of the most phenomenal photos, catching the bulls 5 feet in the air or with their back feet reaching for the sky as their front two were planted firmly trying to shake the rider.
They had some PBR sanctioned riders to really add to the challenge and also some prize winning bulls that are known to put up an excellent fight. One of the riders was only 16 years young and he held on to that bull for what seemed like at least 7.8 seconds before that bucking bully threw him for a loop.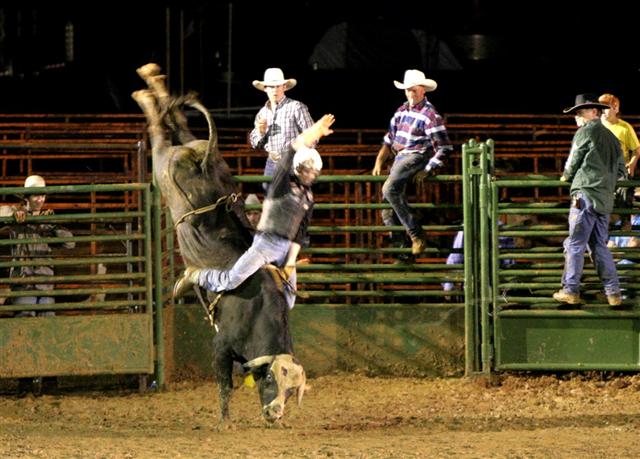 Midway through the night, the announcer dared anyone to enter a mud wrestling tournament with a hundred dollar prize going to the winner. Pork Chop, the entertainment for the night, kept daring the crowd to participate, offering cash to the winner.
I didn't think there would be alot of people getting into this ring of animal poo and urine blended with the dark Arkansas earth for a mere 100 dollars, but I was very wrong. Thirty or so men and women dotted the arena looking like they were auditioning for the WWF.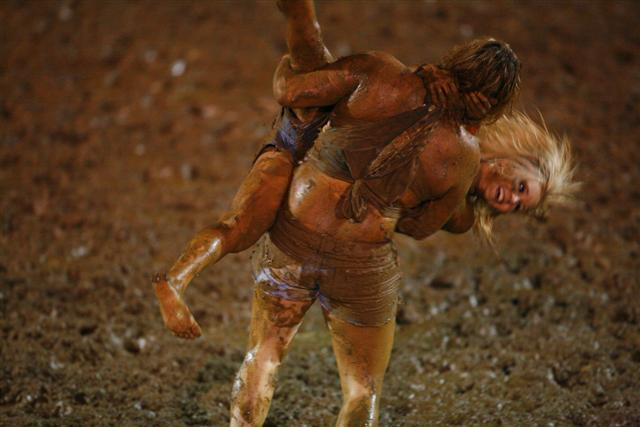 They saved this event for the end of the night for a good reason, but I just wasn't aware of why yet. This spectacle brought out the kid in everyone because once the winner was announced the crowd went crazy. The next thing I knew, people in the stands, the parking lot, just below the announcers booth, in every direction were getting crazy with the mud. Girls were throwing down grown men, filling their shirts and pants with handfuls of this goopy black earth.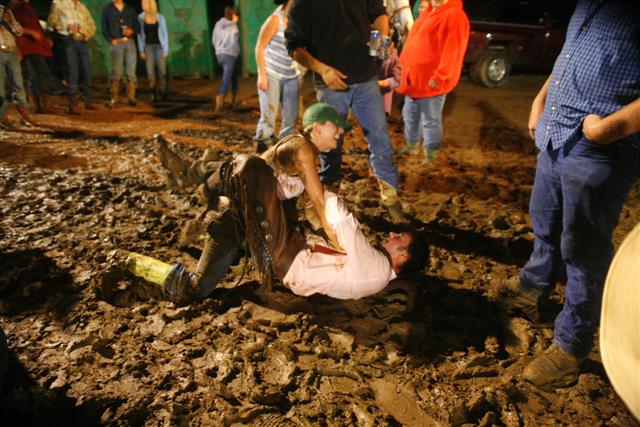 The rain was coming down hard by this point, but that didn't stop anyone, it seemed to add to the frenzy. Grown men were turned into boys again, laughing and giggling while they chased their best friend through the night, getting revenge for the face full of mud they had just received.
There were 50 or more people rolling in this thick stuff and all I could see were teeth and the whites of their eyes. Luke, Jake and Janice had mud from head to toe and wanted to shared the experience with all of their friends. This went on for what seemed like hours or until everyone involved was wore out.
Pat and I were spared the mud dipping since we clung to our cameras like they were a life or death breathing apparatus. That didn't mean we didn't have one hell of a time watching all involved get coated with mud while the hard pouring rain tried to clean them off.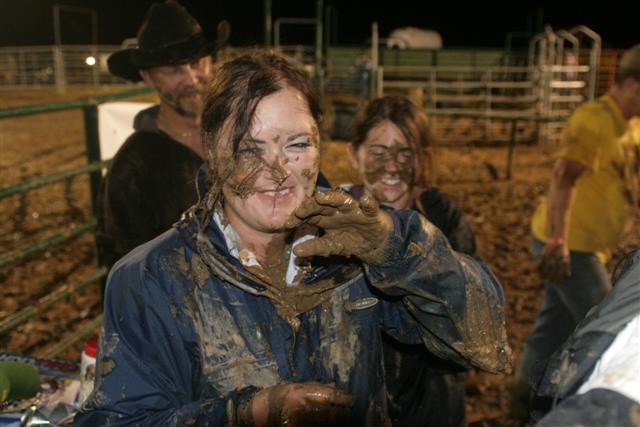 It was pretty funny when Mr. Fowler came stomping up to the crowd of mud daubers long after most of the crowd had gone home and our little after party was in full swing and asked someone a question in the announcers booth.
The look on everyone's face was like we had just been busted by our parents and were going to be in big trouble.
He got a response to his question and let us know he was going to bed and turned and went home. As soon as he walked away, the mud slinging commenced again.
One little boy was the instigator of most of the crossfire, taunting the older men by calling them old farts or daring them to catch him. It took them a long time but when they finally caught up to the little guy, he got it good!
Below the announcers booth was a bathroom and a shower which some people took advantage of while others walked down to the creek and attempted to get all the dirt off. Their is no amount of Tide in the world that could get the stains out of those clothes.
Just when things were calming down a couple of girls came walking up with nice clothes, freshly done hair and make up for what they thought would be an normal after party. They were allowed to remove their white jackets, which were handed to Pat to hold on to before they too were cleansed with a good mud bath.
I haven't had this much fun........since I don't know when. Even though the races and the competition were awesome to watch and photograph, the people that we met after the whole show was over made my weekend. As we were walking back to the camper around 3am, a truck load of people asked us if we wanted to join them for a party at the other end of the field. By this point I was soaked to the bone, well on my way to having a good buzz from the beers and Jägermeister that kept getting passed my way, and couldn't find it in me to go any longer.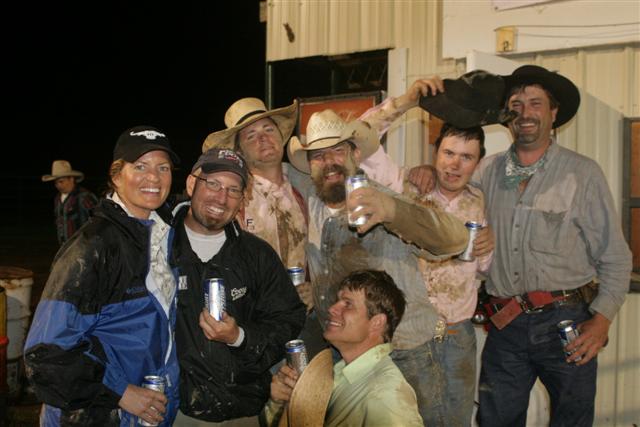 We passed on the invite and continued to dredge through the foot deep mud to reach the camper. Although we were spared the mud fight, we both had to undress outside and leave our boots and clothes under the camper. My feet felt like they weighed twenty pounds each from the earth I was wearing on them. My stomach hurt as we crawled into bed just after 3am last night from all of the laughing.
I want to give a big heart felt 'Thank You' to the Fowler family and all of their wonderful friends for showing us such great hospitality and letting us be a part of your Arkansas traditions.
I would also like to thank any of our Troops fighting for our freedoms overseas which allowed us all to have a wild weekend like this. Those service men and women who have fought in past wars or are enlisted currently and serving this amazing country of ours.
Thank you for what you do and allowing us to remain the best country in the world! Happy Memorial Day Everyone!
It'll take a few days before we get all the galleries posted from the weekend. But we already have some of them up if you want to check out the fun times. Rock Bottom Chuck Wagon Galleries
Wednesday May 27th
The past few days have been nothing but looking out the window, yearning for the beauty of Yellowstone and missing the days we left behind. We have spent the last two days crawling across Kansas at what seems like a snails pace trying to keep each other occupied with conversation and music.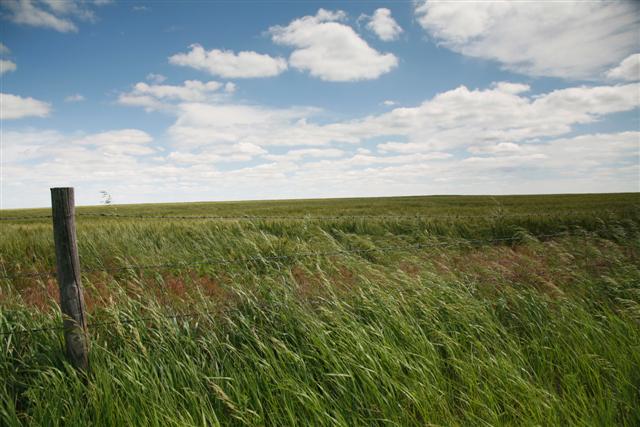 That only last for so long when were in the vehicle for 8 hours. By the third hour I get so fidgety I can't keep my legs still, they go on the floor, to my side, in the window. Pat hates when I sleep, so that is pretty much out of the question also. By hour number 5 or 6 I am like a little kid asking "are we there yet" every few minutes before we start looking for somewhere to stop for the night.
When we were in the lower part of the state, things were actually very nice and hilly with some rock formations jutting from the earth that made things interesting, that was back in the Gypsum Hills section. This part of the state has an innocence and quaintness to it which makes me realize why they started Dorothy off in this location for the book "Yellow Brick Road".
We saw remains of what looked like recent wind storms as well as the broken limbs and bare branches of trees that had suffered damage in the years past. We tried to make the road not so boring by stopping to look at the "Historical Markers" which they should have called them hysterical markers.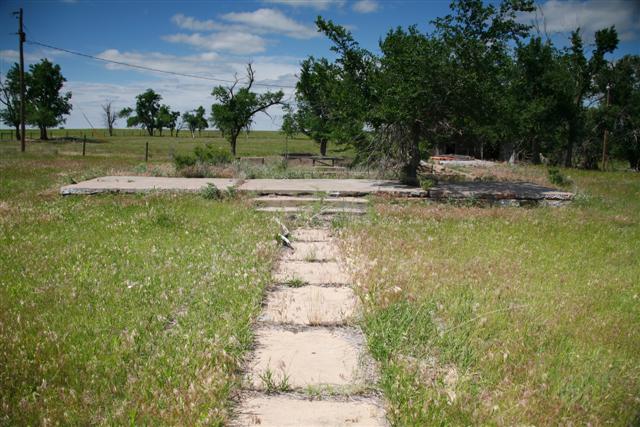 The information they contained was so trivial that I don't even know how the state found out about it. I guess when one goes for miles and miles without seeing another home or barn, you would have to pick out the little things to highlight because they are all you got.
We will start out tomorrow in Kansas and hopefully within a few hours of desolate driving, be into Colorado by the time our day is over. I can't remember if Colorado is much different in the eastern part of the state then where we are right now. I seem to remember driving on flat land for a long time then out of no where comes a huge mountain side.
We will see what we run into tomorrow and I don't mean that literally!
Thursday May 28th
Pronghorns, Prairie Dogs and Prime Rib has been the scenery for the past few days. We finally finished off Kansas with me being a total grump the whole day due to me having a constant cough. When I was in Florida at the beginning of the month, I caught the first cold I have had in a long time.
Since then, I have not been able to kick the cough part of it, granted I know that by this point it is even more annoying to Pat than it is to me, but I can't help it. I woke this morning the same way I have for the past three weeks and the first thing Pat said is "TAKE SOMETHING FOR THAT!" I explained that I have been taking prescription Allegra D since I started with the cold, but nothing seems to help.
He told me to try something different so I took an anti-histamine, which if anyone is familiar with it, it knocks you out and leaves you feeling drugged all day. I took Benedryl-D and within 30 minutes I was drooling in the passenger seat, unaware of what we were doing or where we were going. Pat would say something to me every few minutes and I would just bobble my head around and continue drooling.
When I finally came out of my haze a bit, I was so irritable that I think Pat would rather have me coughing, which by the way began again in around 20 minutes of the drug wearing off. I will think I am almost done with the thing and then I will get an uncontrollable tickle in the back of my throat. I try to clear my throat in a quiet, lady like type of way which apparently after being in a vehicle with me for 8 hours straight is more annoying than an all out smokers cough.
So needless to say between the long drive, my passed out, grumpy self and Pat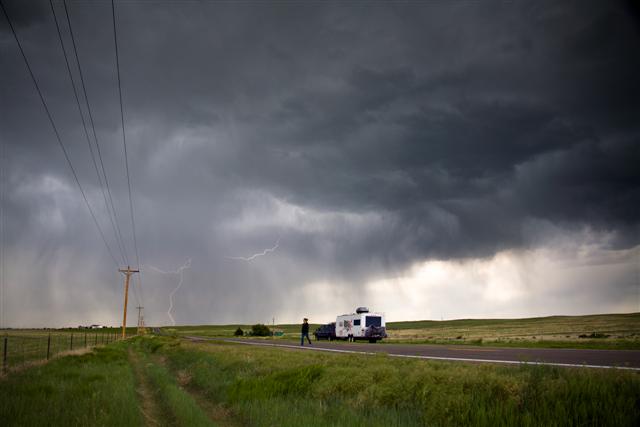 wanting to choke the last breath out of me, I was ready to stop and get out of the driving hell that I had been in for way too long.
We did drive through a nasty storm that I could have swore was a tornado. I made Pat pull over because of how bad the camper was getting blown around and we sat and watched the crazy storm till the rain made us get in the safety of the truck.
We ended up driving right through the nasty weather and back into a beautiful sunset. We didn't end up stopping until after 9pm which is actually 10pm for us (Time Change Thing/ think Jet Lag) and I was hungry as a bear as well as my two dogs that had been nudging the back of my seat since 7:30. Since Lucy has to take meds every 12 hours, it's like she is our time clock with a wake up call in the morning as well as a dinner bell in the evening.
When we finally stopped, I apologized for being so mean but hunger does not sit well with me and I guess neither does Benedryl. Thank God that Pat is who he is and puts up with me and my tantrums when ever it is that time.
Friday May 29th
Oh what a glorious morning, no coughing to wake up sleeping beauty and we woke bright and early to get a head start on the photo taking opportunities. I have found that as long as I use my Magic Bullet every morning, it makes the day go much smoother. The Magic Bullet is a small blender by the way, which we have no problem using with the solar panel wattage and our batteries.
I have found that if I make Pat either a strawberry of raspberry smoothie to start his day, he is like Prince Charming for the rest of the afternoon. We woke to the beauty of pronghorns traipsing through a swaying field just after sunrise and headed out to take advantage of the amazing scenery Wyoming has to offer.
This is where the driving starts getting good! When the landscape starts breaking up into either tall peaks or low lying grassland that is filled with a mix of wild life and wild flowers along the road side, you know you're in a better place.
Hey, no Benedryl this morning, don't I sound like a much nicer person?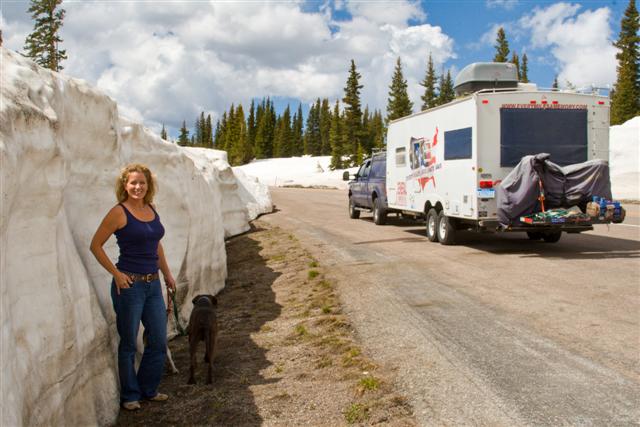 Anyway we took our time today weaving through the back roads of Wyoming and taking our sweet time to pull off the road for plenty of pictures. Its hard to point your camera in any direction and not see a beautiful sight in this state.
I'm not sure if I've ever mentioned this before, but my husband is somewhat of an oddball and is one who collects bones. Yep, Bones! When we had our house in Michigan, I had refinished an antique cabinet of his Grandmothers that she gave to me where I kept my collection of antique perfume bottles behind its wavy glass doors. Pat decided that the crystal and glass perfume bottles looked too girly for our rustic, very eclectic house and arranged many of his skulls and various bones around the crystal bottles.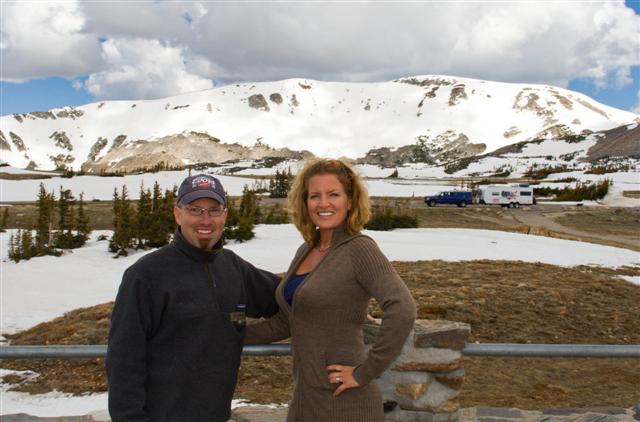 By the time he was finished, I wont say it was anything that would have won a decorating award, but it did draw strange looks and numerous questions from anyone who stepped foot into our house.
So while driving along the road, Pat saw a skeleton of some Prong Horn that had lost the "Why did the animal cross the road" debate. When I asked why we were stopping to turn around, he said "Because, I want to get that skull to add to my collection!"
I rolled my eyes and said "Well I wasn't going to tell you this, but on the other side of the road was a mother Prong Horn giving birth to a baby." He blurted something out about "Why wouldn't you tell me that!?!" But I just told him that I didn't want him to have to stop again or bother the mother at such a stressful time.
We pulled over to see the baby animal take its first few wobbly steps while the mother was busy licking it clean from the birthing process. We didn't want to spook the newly acquainted pair because of how good the Prong Horns eye sight is and how skittish they are, and the fact that she was only about 100' off the side of the road. So we only watched for a second before pulling ahead so Pat could go collect his new skull. Stupid men and their silly collections.
Besides crossing the 10,000' mark in elevation, seeing snow piled higher than our camper, coming down the back side of the mountain into a valley that stretched for hundreds of miles wide, passing through small towns that had been void of inhabitants for decades and seeing some amazing views out the windshield, I couldn't think of a better way to spend a Friday on the Road.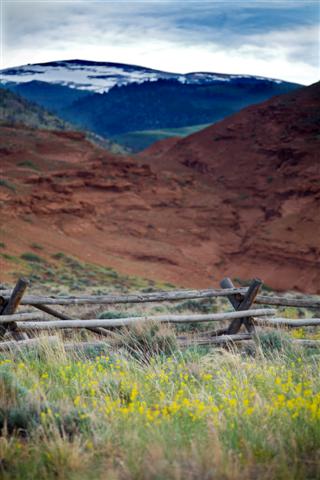 Throughout the day, I kept thinking aloud to Pat how people can believe the earth is only 6000 years old. All one has to do is travel North America to see signs of past millennia. I mean if you can find aquatic fossils of salt water fish in the valleys of these arid mountains, one doesn't need to be a scientist to know that at one point this entire area was all underwater.
The Wind River Range alone can show one views of glaciers moving across the mountain sides when looking at the rows of piled rocks. You can see the forces of water and wind eroding solid mountains of stone and rivers cutting their paths through eons of history. A history that had to be alot longer than a few thousand years in my mind. I mean none of this landscape has even changed in the past few centuries, so how could it change that drastically in a few thousand years?
I struggle to comprehend all of this but love to learn both sides of the argument. To each their own is what I always say, but I've always thought you cant make an educated decision without knowing both sides.
When ever we travel, I sit and wonder what different areas would look like if I could be transported back in time. What would this valley look like filled with water with just the tips of these giant mountains peeking out the surface of the water?
What must the Indians who lived off this land have seen with the thunderous herds of buffalo, elk and the millions of other animals that shared this landscape amongst one another. The more we travel, the more I want to see; the more I want to learn about the geology and topography of this earth we explore. It makes you realize how little we are and how much more there is out there to see. Its quite an addicting and intoxicating feeling that comes over me.
Taking pictures like we do is one way to record our time in history, but they do nothing to show the true beauty of this rugged landscape. There is no picture that can allow you to feel the absolute emptiness of standing on one of these lookouts and only hearing the sound of the wind rushing across your face.
Standing on the edge of a cliff with the Wind River and its thunderous sounds rushing below, while you look out onto hills that are dotted with big horn sheep climbing along the steep inclines. Having the sun blind you as it reflects off the snow you're climbing on while standing at 11,000' in elevation, yet you're only in a tank top and jeans because of how warm it is.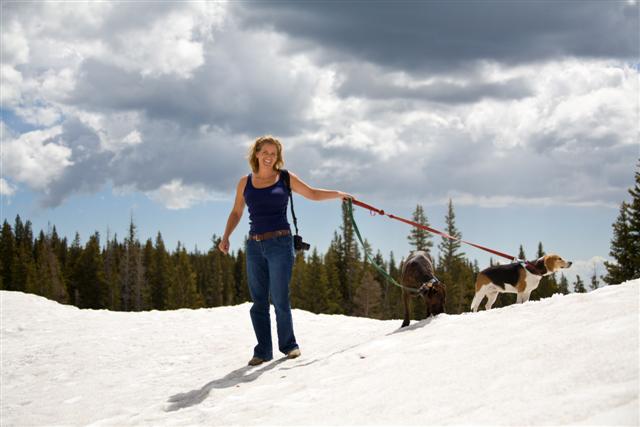 These are things that make me realize everyday is an amazing time in life. Each new day brings things into my life I never knew even existed and to think they are all right here in our own backyard. I know Pat shares in my awareness of how magnificent of a journey we're on, and I cant imagine ever going back to any other type of lifestyle.
Its days like today when I think "It was so worth it! It was so worth the years of hard work to get to right where we are this second. I dont care if we're dead broke and dont have a dime to our name, being out in this glorious landscape is worth it all for me."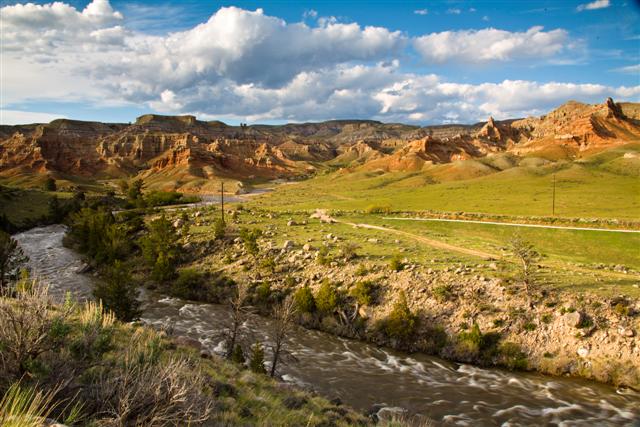 Ok, sorry if I got a little deep on you there, but my mind has been swirling with emotions all day from the views we've been experiencing. Its hard to describe a view that can make you want to cry, but not from any kind of sadness, only the pure beauty of it. That was the way I felt all day today.
When we finally reached our destination of Dubois Wyoming by 7:30pm it was getting dark. After watching the sunset against some beautiful mountains with the Wind River right below us, Pat finally pulled over so I could get some laundry done and we ate one of my new favorite dishes.
I found these things in an Arkansas grocery store called Flat-Out bread. They are whole grain, with only 90 calories and 6 grams of carbs and they make an awesome pizza. They are oblong and a bit bigger than a traditional flour tortilla, but with only those few carbs, Pat and I have been eating them up.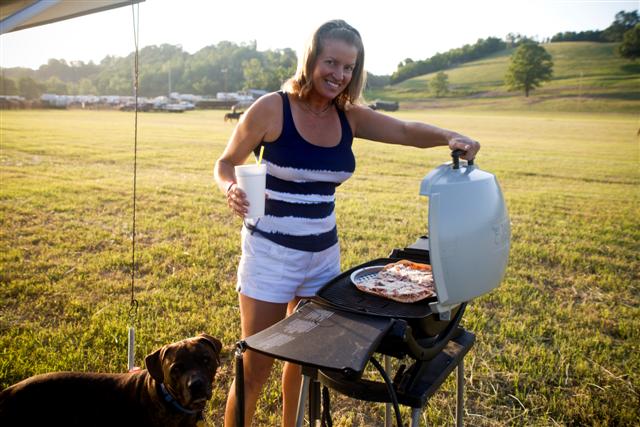 I made the first couple on the grill with spaghetti sauce, mushrooms, red peppers, fresh spinach and grilled chicken and topped it with mozzarella cheese. All of these things we can have on our diet and they turned out perfect. The only thing is I haven't been able to find them anywhere since them. Its gotten to the point that I am rationing them for when we really get a taste for pizza.
We drove a bit further after dinner and stopped for the night when we started to feel like we were in a video game of dodge the deer. After missing 6 of them crossing the narrow road that has no street lights, Pat decided to hang it up for the evening.
While I am typing this, he is sleeping on the couch across from me since we started our day so early and he went to bed so late last night. He has been putting up galleries from the Chuck Wagon Race that we went to last weekend for days now and we continue to get emails asking if we have more pictures.
Don't get me wrong that is awesome for so many people to find our site and enjoy our photos, it is just alot of hard work for Pat, which he loves. But tonight I think he needs his sleep, and I dont blame him after the last few days of driving and taking in all the amazing sights we've seen.
Saturday May 30
Last night after we were playing dodge ball with the deer we ended pulling over in a gas station just outside of town for the night. When we woke up early in the morning Pat said to me, "Hey, get up, we are in someone's front yard!" Feeling like idiots, we high tailed it out of there before the home owners ever woke up.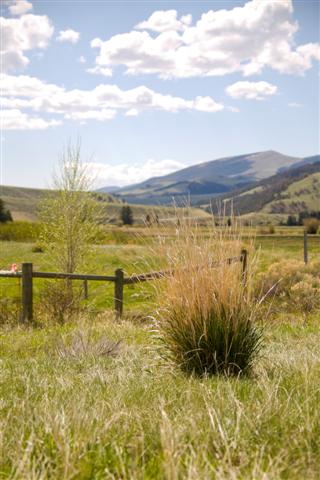 We stopped at an old train stop about 10 miles ahead and decided to catch up on some last minute things and let Pat take a short nap since we were on the road before the sun came up. Me and my pups took a spin around the area just to check things out and stretch our legs when Lucy just sat down and looked at the other side of the street. Luca then did the same thing which never happens on a walk unless they need medical attention.
The strange thing was it was like they were just taking in the view, snow capped mountains, the large pond in the center of the valley had 2 hawks diving for food in the dark water and top that off with some Elk in the distance and it sure was a sight. We all sat for a few minutes listening to the winds and looking as if we were patiently waiting for the beginning of a movie.
It was at that point when I realized there was a cat scurrying about the brush, carrying it's breakfast of a large field mouse in it's mouth. When it got close enough for me to see it Lucy started shaking from head to toe and Luca's ears perked up. I don't think he knew what he was supposed to be alert about, but he was going along with his buddy.
Usually I am crazy bored when Pat does his thing on the computer but this was a sensational view so I sat outside with the dogs just soaking up some sun rays while Pat finished up. After lunch we started to go over the pass to get to Jackson Hole allowing us plenty of quite time since we both just soaked up the views.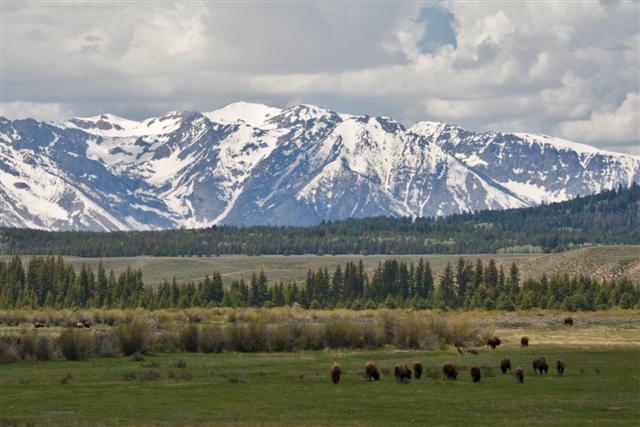 Once in Jackson, we met up with a friend of ours Luca, that we met here last year. We all went to have a few beers and some dinner while doing some catching up. Luca has just come back from a 2 month vacation to Italy, Rio, Hawaii, and Brazil, now that is a nice trip. He told us of his adventures as we listened to his Sardinian accent making it sound much more romantic.
After dinner we walked home in the rain, holding hands like young lovers would at the beginning of a relationship. It was actually because Pat had 3 pints of 7% Belgian Beer at the Brewery where we had dinner and he was feeling a little loopy. I think he was holding my hand more for balance than anything else.
Sunday May 31st
When we woke Sunday morning, we drove a short distance to a spot just outside of Jackson which is a viewing area for the Wild Elk Preserve. We didn't see any elk but that didn't matter since there were numerous birds singing a chorus in harmony with one another while jumping around on the tall fence posts right in front of our camper.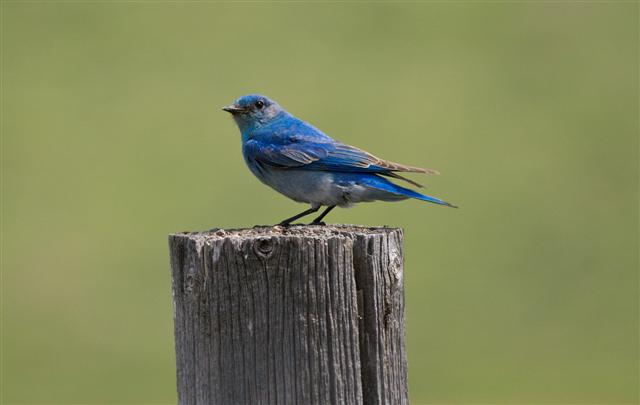 By the time we even got started to head to up Yellowstone, it was after 4 o'clock and we still needed to grocery shop and buy some new shoes for work. I also had to find a mail box to send in a large payment to a 6 month, no interest credit card that I had taken out at the Home Depot over the winter to pay for the condo repair.
It is such a relief to alleviate debt from our worries. Lord knows that debt is one of the main things that can get between couples and if you have that worry and live in 200 square feet of space, someone could get hurt.
That now means that we are back to having no payments and we have the condo back in Milford to fall back on if we go crazy, broke or one of us murders the other, it means we will have a place to stay without the cost of a house payment. It is strange how my mind works sometimes but a girl has to think about the future you know.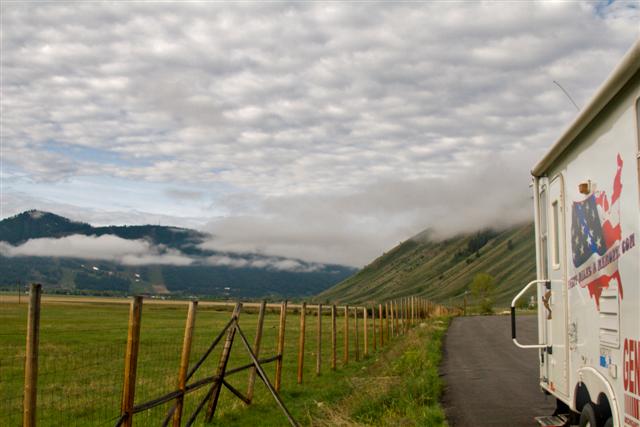 Overlooking the Elk Preserve just outside of Jackson HoleMo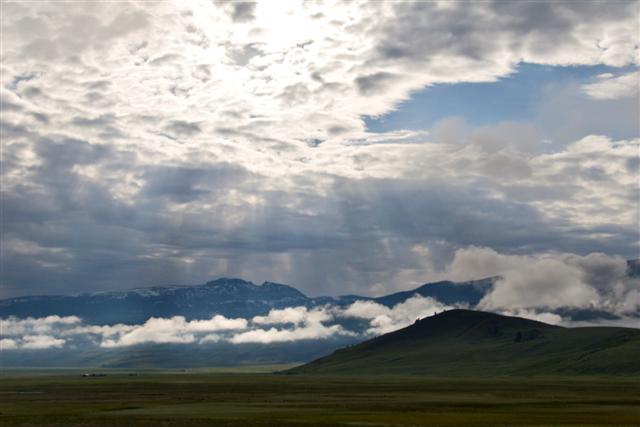 Socked in by clouds before the sunshine burns them off, Elk Preserve
We finished our errands so late in the afternoon that our arrival time into the park was pushed up to just after dark. Pat and I had somehow remember Jackson Hole being just an hour from the campground in Yellowstone, we were however very wrong. It took us over two hours of driving time but the night was just gorgeous, so we didn't mind. The sunset we witnessed on the way in was absolutely breath taking.
I tried to take as many pictures of the strange clouds and burning sky before I lost the light while Pat was telling me they would not turn out, granted they were from a moving car in the dark, but I think I may have captured a bit of it's beauty which I would love to share with you.