When we realize our insignificance in this world,
it some how relieves the pressures from society to succeed -
Cindy Bonish 04/07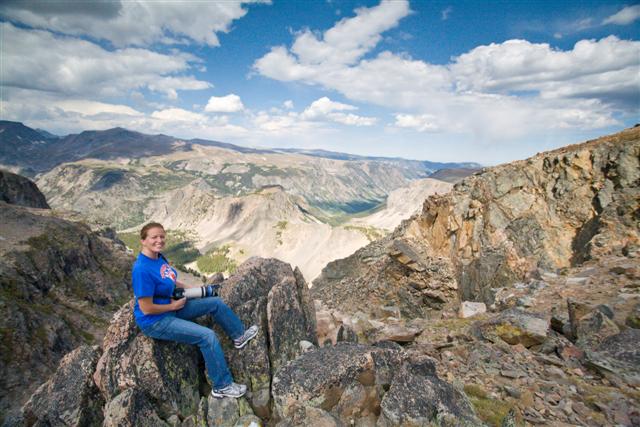 Cindy's October 2009 Blog
Every Miles A Memory
Feel Free to browse past blogs for plenty of travel ideas and many of the places we've been in our first 12 months on the road - 2007 Blog's
Winter 2008 Blog March 2009 Blog April 2009 Blog
May 2009 Blog June 2009 Blog July 2009 Blog
August 2009 Blog September 2009 Blog
Solar Tips, Fact's and Trick's we've learned while on the road
Well-behaved women seldom make history
____________________________________________________________________
If you haven't read any of the earlier blogs, you might want to start there to catch up on how we got here.
Monday October 5th
Let the travel begin! "Big wheels a rollin', movin' on" or tunes like "I've been everywhere man" were our theme songs for the past few days. All those cliché's and songs that are said when we are on the move, brings excitement to my blood, my eyes, my nose and my heart! We have been on the road for 2 days now, leaving everything in my world turned around, just the way I like it.
No more leaving stuff piled on flat spots until we can get to it, everything has a place and there is a place for everything. No more just letting the dogs go out in the yard for a few minutes like we could in our Yellowstone Campground. They now get a real walk and some exercise and so do I. The camper is always picked up and the dishes are always done, I like that.
New sights and sounds, new birds to hear, new animals to count, in herds of 20 to 30, all along the baron, empty roadsides. We are coming into fall again as we roll further and further south, tons of golden Aspen are popping up along the sides of the roads and the riversides which have been getting their fill of nourishment for the past few days.
The first night on the road, just outside of Jackson, I saw a big female Moose, grazing in the willows just below the roadside. Just after dusk, I saw a Bobcat creeping along the road, looking for an easy meal. I have never seen a Bobcat before! Of course, it was impossible to get photos of these creatures, but I've got the memories, so that helps.
New things, new places, God fills me with wonder and anticipation as to what comes next, I just can't get enough! Driving through Colorado, we stopped at the Colorado National Monument for a short visit, man is that place incredible! I have never even heard of it before and had no idea what to expect.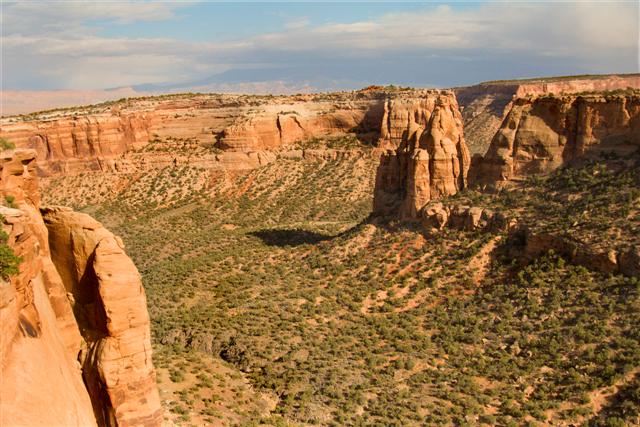 Incredible, tall, sheer red cliffs, over looking a now empty valley but what was once a rapid flowing river that ran over the earth so many years ago. All the evidence of a previous world that is so mysterious and wondrous lays in the valleys, under tons of silica and earth. Skeletons of T-Rex, Stegosaurus, huge crocodiles the size of a vehicle, tiny alligators the size of a frog.
They all lived here in Dinosaur Valley which is in both Colorado and Utah. Large femur bones, taller than I am are displayed in Dinosaur National Monument, from a find which was made in 1917. Imagine digging that thing up, what did we even make of things like that in the 18 and 1900's, before carbon dating or any real knowledge or theories of what these things were.
Watching Pat with a new love for his camera makes my heart race. Taking picture after picture, out the front of the truck window, pictures of the dogs, pictures of the truck, pictures of my legs, the same ones he's seen for the past 17 years and having new enthusiasm like a kid at Christmas with his favorite toy.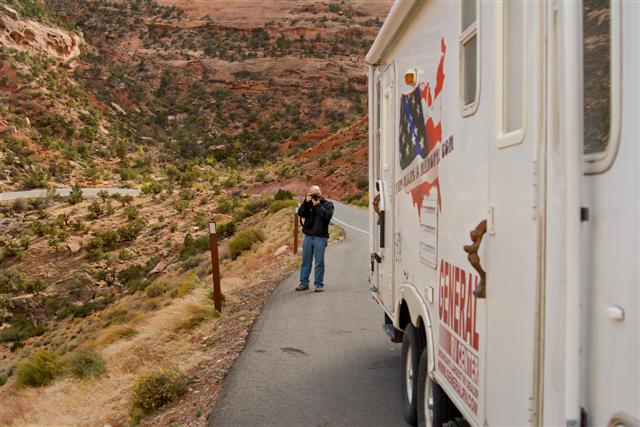 Even the 50mph wind gusts throughout dinner, rocking us and keeping us on the edge of our seats, wondering if we would make it through the pounding rain, hail and wind, gave me joy. Life on the road, there is nothing like it. Can I ever give it up? Will I ever be happy sitting still? Can our life ever be normal again after seeing so much and yearning to see more everyday?
The Gypsy life has taken hold of me again, all I needed was to get a taste of what's out there and my spirits are soaring with excitement. Life is good, the world is a wonderful place and I want to see every inch of it.
Tuesday October 6th 2009
Last night, after we got ourselves settled in to our new camping spot, Jim and Leigh invited us over for an awesome dinner. I was actually thinking that a few beers were in order to celebrate our new travel schedule, but after the mound of food we ate, one beer did me in.
Leigh had some garden fresh tomatoes that she had just picked, topped with olive oil, balsamic vinegar and parmesan cheese. She also made fresh pasta salad and some garden fresh basil pesto with roasted pine nuts, Yummy! My mouth is watering just typing this.
Pat and I both cleared our plates and had seconds as we all got acquainted with one another. We had hung out with Jim a few years back at The Last Man Standing competition that we attended in Texas. Pat and Jim have kept in contact through email every since.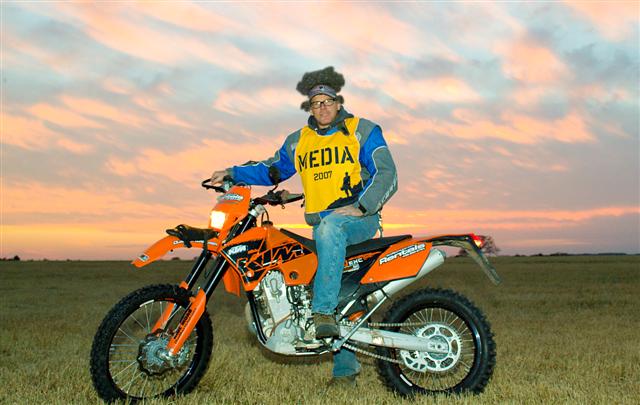 This is the first time we met Leigh and we all have a bunch of stuff in common. I knew we were in trouble when the first thing the boys did when they got together was go shoot guns! Leigh and I both like to hike, we love dogs, both of us crave fresh foods and vegetables and cooking is a passion for both of us girls, so it looks like things are going to work out great here in Moab.
After dinner Pat and I rode Jims scooter home and I bet we were a sight. It was very cold out and all we had on were sweat shirts, I was carrying a bunch of dishes home from our part of dinner, and Pat and I were so tight together as we rode that both of us started laughing like crazy.
Pat made some reference to my drool freezing on his shoulder as in the movie "Dumb and Dumber" and I thought I was going to fall of the scooter I was laughing so hard. When we pulled back up to our camper both of us were in tears from our short ride home.
We loaded our full gullets into the bed and slept like bears for the rest of the night. We had a knock on our door today with an invite from Leigh to go hike in Arches National Park for the day!! Heck yes! Both Pat and I got ready real quick and Leigh said she would pick us up in half an hour after she went and got her friend Christy who was also going to join us.
This place would be the perfect area to live for people who love hiking. Jim and Leigh's house if one block off of downtown Main Street in Moab and Moab is only 4 miles from Arches. I would be so skinny if I lived here cause of all the hiking, not really.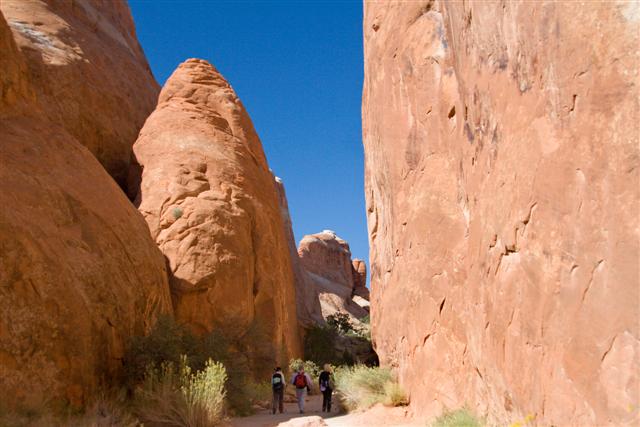 When Leigh picked us up, she had made both Pat and myself a turkey roll-up sandwich and they smelled so good we almost ate them right then even though we had just eaten some lunch. We jumped in the back seat and were introduced to Christy, a friend of Jim and Leigh's.
Christy is a super hiker and her and her husband have hike all over the United States. So, with two awesome tour guides and a delicious lunch made by Leigh, our hike was really looking good. We took a 6 mile hike around the Devil's Garden which offered so much scenery, multiple arches, semi-difficult climbs and super companionship that I was wondering if these two ladies were tour guides.
From the minute we stepped onto the trail I was in Awe! The rusty colored cliffs, blended with the Snag trees which are all twisted and turned by the strong winds, made for an unearthly sight.
Both Christy and Leigh are fast hikers so that was great, it gave both Pat and I a challenging pace to keep up with them. We all carried on conversations as we covered ground quickly, both Pat and I kept tripping because our eyes were up looking at the grand scenery instead of the trail like we should have been.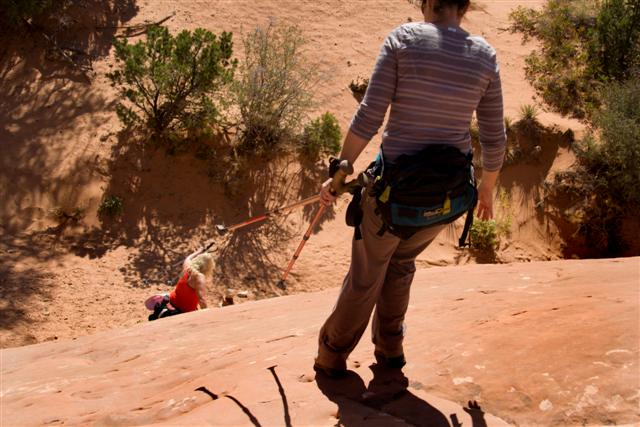 Christy is at the bottom Leigh is making the decent next.
When we finally settled down to have lunch, both Pat and I wolfed our turkey wraps down, it was loaded with fresh tomatoes and pesto as well as sun dried tomato baked turkey. I had no idea how long this hike was going to be so this roll-up really made the hike easier.
When we were all eating lunch I commented that it was funny how we were all sitting, staring at a 150' red rock wall for our scenery and it couldn't have been a better place to be.
The wall in front of us was filled with tiny holes from the ever penetrating wind and lines scratched into the sandstone from erosion over the last few millennia.
Dozens of colors that mocked wet clay were dripping from top to bottom of this mammoth wall, leaving not an inch of it un-textured by the colors and shapes that time has deposited.
At the base of the wall were more of the Snag trees which look like juniper bushes with a twist.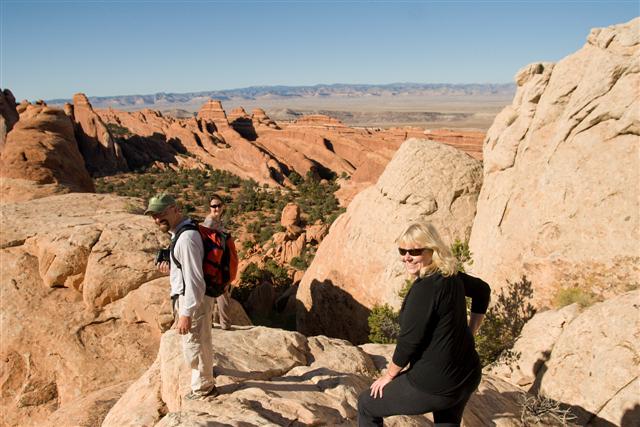 I could have sat there forever if we didn't have to be back before dark. We headed on out to get to see some of the arches that this trail had to offer. I think we saw at least 10-12 of them, be it large or small, lurking in the corridors of this huge maze of jumbled red rocks.
One arch has recently fallen, leaving nothing but the memories of what was once carved out by waters that once flowed here and taken over by the harsh winds that continue to mold this earth.
I had forgotten just how blue the sky is in this area, Pat kept asking if I wanted to use the polarizer and I always said no since Mother Nature was supplying me with one on her own. So many pictures to take and none of them could do this place justice, such a sight to see and a content place to be.
When we finally arrived back at the vehicle, Christy had brought us each a beer which was the perfect ending treat to a long hike. The beer she had was from Colorado and was 5.9%, I commented to her that I felt like I had a buzz off of one beer when she laughingly pointed out the alcohol content.
Jim an Leigh had plans for the evening to meet up with some friends that had moved away from town and would be here for only one day. Leigh was nice enough to invite the rest of us along for a Mexican dinner which was a fabulous idea.
Just yesterday I was telling Pat that Mexican food and a good margarita sounded awesome. I think he said something like "That does sound good, why don't you make some?" That's the only down side to being a good cook, we never want to eat out.
There were 7 of us at the table and all of us had a great time, laughing and learning about one another. Before I knew it I had devoured a cake plate sized portion of food as well as 2 baskets of chips and salsa, swallowed down with 2 golden margaritas.
When the food came out the first thing that went through my head was "I will never eat all that" Wrong, I loved every bit of it, hence the reason why I wouldn't be skinny even if I did live here and hiked every day.
Jim invited us over for some hot tub time but I would not be able to fit my gut in a suit at that point so we declined for another night. The two of us waddled into bed and slept like babies.
Wednesday October 7th
Pat was gone all day today riding motorcycles with Jim. He was so darn excited about going that he woke up around 5 am which of course meant that I was up also. Pat has never done anything like this so I pretty excited also.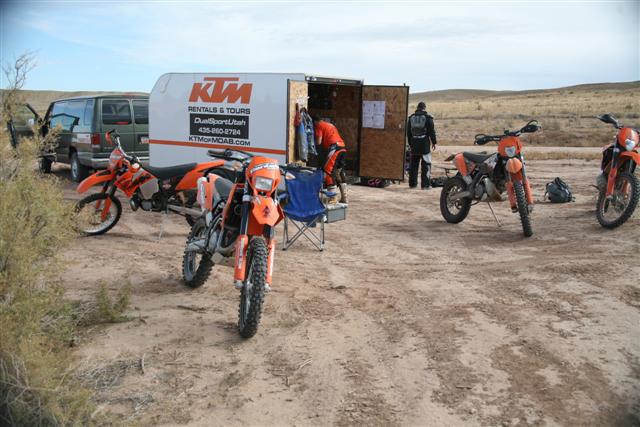 He was out of the house, nervous and anxious at the same time, around 8 am which gave me the rest of the day to myself. I had made tentative plans with Christy and Leigh to take all of our dogs out on a sand hill walk.
The girls had told me that a few walks like that with the dogs and I wouldn't need to trim their nails because God's good earth would do it for them. You can see the giant nail file below!
I had a knock on the door early this morning from Leigh who had stopped by to let me know that Christy was busy doing office work and that just she and I could go if I wanted.
This kind of gave me an opportunity to cancel until another day since I still had lots of catching up to do around the camper. Things that I can't do when Pat is here just because he is in the way in this enormous amount of room we live in.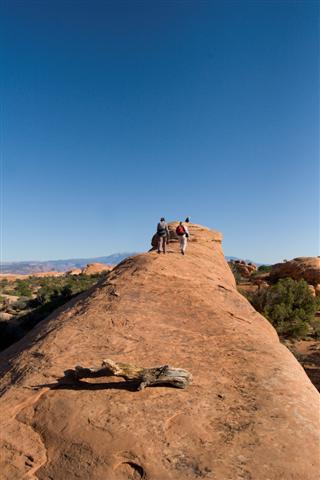 We ended up meeting around 4 instead and all went to an aerobics class together.
The class is only a couple blocks from where our camper is and both Christy and Leigh go a couple times a week.
That was so fun and funny! I haven't done an actual aerobics class in years so none of the moves were very familiar to me. There were only 8 girls in the class but they all looked like old pros.
I found myself constantly face to face with someone since I was always turned the wrong way.
I would just jump around aimlessly for a few minutes until a part would come up that I had caught onto, I would then work in sink with everyone else for 30 seconds then back to the idiot moves.
I was cracking myself up, if I had a video camera we could have put it on funniest videos or something.
I came home after that and Pat still wasn't home yet. I knew he would be starving so I made him a great big salad with all of his favorite things on, waiting for him to arrive. I got a phone call from Leigh at around 7 saying the boys were coming to get me and we were invited to have dinner over there.
Super, I had the perfect salad for 4 made and Leigh had grilled some Italian sausage and stewed up some home made red sauce which was awesome. After dinner and some dessert, we all sat talking and laughing until I looked over and saw Jim's eyes were closed.
He lids had been getting heavy for a while but at this point they were a hundred pounds a piece. Pat an I excused ourselves, thanked them both for the company and the dinner and jumped on the scooter, headed for home. It wasn't nearly as cold out tonight as last night so the ride was short and pleasant. I think Pat was too tired to even let out a giggle let alone laugh until we cried like last night.
He opened the camper door as he was peeling off his clothes and said "I'm going to bed". I snuggled in next to him and our day was complete.
Friday October 9th
Since we just couldn't get things together last night to have ourselves ready to head out, we thought we could leave early this morning. Our first plan for the day was to do our laundry and get some grocery shopping done. Since Pat had to have the truck in order to put the new roof top tent on, I couldn't do either.
We were going to leave the camper here and take just the tent, a cooler, and some supplies to get us through the weekend. After I sat down and made a list of things that we would have to bring, I decided that taking the camper with us was at this point was the easiest and the more cost effective thing to do.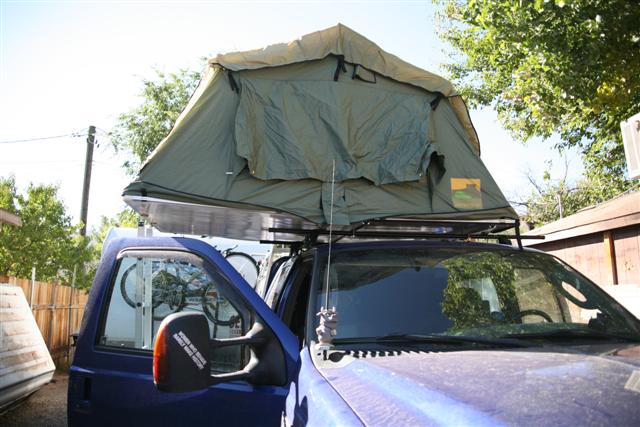 Since we aren't used to tent camping anymore, we just don't have the right equipment for it right now. You know, the simple things including a cooler to fit a couple days worth of food in, a cook stove instead of our big grill, stuff to cook in since my pots and pans have been wedding gifts and cannot go on that kind of trip we are planning.
They are much to heavy and to expensive to use as camp wear. It would cost us 2-4 hundred dollars to get us in a good position to camp for 4 days, plus we would have to keep the dogs in the truck all day since we were going to be riding with other people.
Hence the reason why we are taking the camper on this trip. Since Pat had spent most of the night last night working outside on installing the roof racks, I thought he would surely be done by now. When in all actuality, he was working with a tiny head lamp on and no other light to speak of, so no wonder he didn't finish anything. I walked out at one point to see if he needed help, only to find he was in ADD mode and working on something completely different.
Like a good wife, I walked back in the house, cracked open a beer, then brought him one out with the promise of a good dinner waiting for him when he came back inside. At the end of his installation attempt, Pat had four of just about everything left and isn't sure if they are extra or if they go somewhere? How does he put things together without reading directions?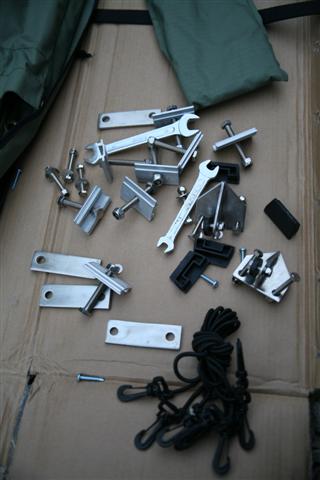 Today was a different story, I really needed to get my stuff done and he would have no part in me taking the truck. Granted we are really close to everything here, but not close enough to carry 3 loads of laundry and some groceries back on the motorcycle like Pat suggested. By the time Pat was finished, I had decided that we could make do with the groceries we had in the Norcold and what clean laundry we had left just so we could get going.
Just as we were getting ready to take off, the truck wouldn't start. Pat had left the truck doors open for the past two days and the interior light stays on forever for some reason. Pat came back inside and said "The damn truck won't start", and that he had to do an airport run for Jim real quick.
I didn't mind since I was ready for a nap anyway, during this point of the day most of my feistiness is dulled by now. Pat got home, the truck started and I had a short nap, things were looking up. Our destination, the San Rafael Swell, is just a couple of hours away and the ride was really pretty.
By the time we arrived at the campsite, which was 15 miles off of the main road deep into the desert, it was almost dark and the camp fire was roaring. We only knew Nanette and Ryan, but there were at least 20 more people out here, all friends and family of Ryan's.
We sort of said our hello's to everyone, got some dinner and then spent a little time by the camp fire. Everyone brought a dog that is used to the camping life style and had no interest in checking out the surrounding areas. I of course have a beagle that will take off and not come back as soon as I turn my head away from her where-abouts.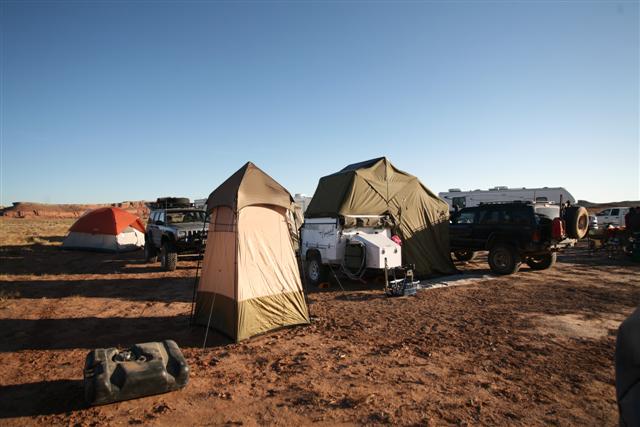 While the other dogs lay lazily by the camp fire, listening to there masters tell stories, mine were watching the shadows in the night, ready to pounce on anything that moved.
At one point while I was sitting with their leashes in my hand, they decided to go after something and drug me a couple of feet from the fire, on my side with the chair still clung to my ass cheeks.
It was great to make a first impression on all the new people we met! About that time it got pretty cold outside so I turned in for the night, bringing my juvenile delinquents with me.
Saturday October 10th
Let the fun begin!! This morning was an early start to a very long day. I say an early start, but we actually didn't get on the road until after 10am since there were so many of us and all had to make breakfast and lunch for them selves or the family.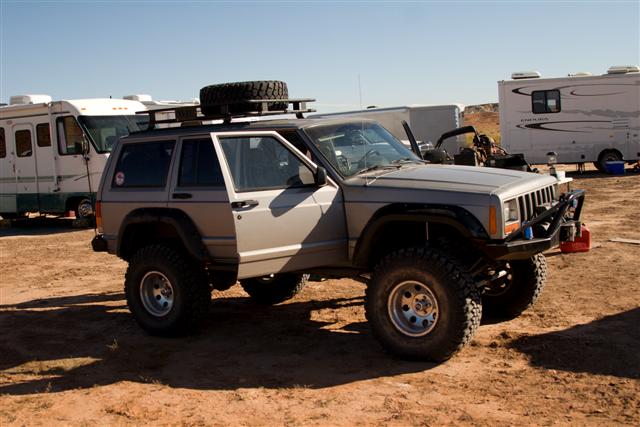 I loaded up with Nanette and JT, their son for the first leg of the trip and Pat loaded up with Ryan and Kirsten, their daughter.
Nanette has one sweet jeep which also has A/C, which came in handy during the long, hot, dusty, awesome trail.
I don't know if anyone remembers the last time I went four wheeling, but I vowed to never go again after that lovely experience.
Pat had taken myself and our daughter on a shortcut and took a 10 mile trail across the hills of Arizona.
This shortcut ended up costing us over a thousand dollars in new tires as well as ruining our paint job as well as taking 6 hours of our day trying to get off of the trail.
I ended up walking most of the way with the dogs in tow and our daughter Donielle decided it would be more comfortable to walk with me. That was when she wasn't trying to dig the truck off of a rock in the middle of the trail.
All we had was a foldable Army type shovel, so that ended up breaking in two before the trip was over.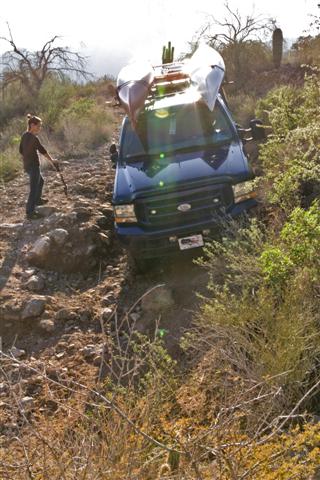 I forgot to mention that we also had two 15 foot kayaks strapped to the top of the truck as well as the bed of the truck filled with 2 generators, 4 full fuel tanks, a 35 gallon water barrel and a few other choice things that could spill, slosh, thump and bump their way around the back of the truck, making God awful noises the entire time.
Needless to say, I wanted to go four wheeling twice, my first and my last time in Arizona. This was completely different than that day, thank God.
These vehicles are made specifically for taking trails like this and they have super long travel suspension as well as being geared to crawl up and down the rough, sandy spots in the trail.
Some of the switchbacks were so tight that we would have to back up right in the middle of the turn in order to not drive over a cliff. That was a little dicey for me, but I had complete confidence in Nanette's abilities by that point.
At a couple spots, I actually had a tight stomach but that only lasted for a second as we would cross over whatever obstacle this trail threw at Nanette. She totally rocked the entire trip, never looking nervous or hesitant about anything we went up, over, across or through.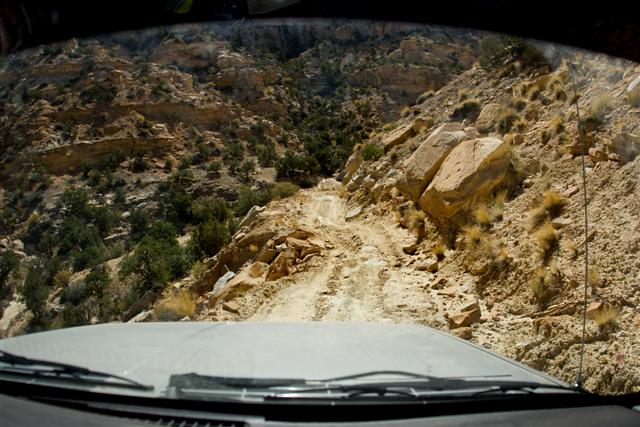 The views were just incredible, with the large canyons surrounding the wash we trudged through always looming over us. The beginning of fall has started its quest to shake the leaves from the trees, making the Cottonwoods change to a bright yellow and the sky shone the bluest blue that I've ever seen.
It was hard to believe that the wash still carried any water in it, but at some points it still had a bit of liquid left behind from the spring run off. We also had the chance to check out a natural spring which flowed like magic from the base of a steep canyon wall that jutted a few hundred feet into the air.
We stopped on the trail a few times to either eat, take a potty break or just shoot the ****. By the end of the day, we all got to know each other fairly well and were looking forward to enjoying the pot luck that everyone was talking about all day long.
Nanette was saying that everyone cooks their food in Dutch Ovens over charcoal. Her uncle makes pizza and cobbler, her friend Clint makes Corn bread topper which is soo talked about, their sister-in-law made some enchiladas and his mom made this dessert that has been a family tradition for years.
We got back to camp close to 7pm and the coals were stoked and most of dishes were already started. Pat had a chance to do one of his favorite past times, shooting guns, while I tried to fix something in the camper to serve more than 2 people.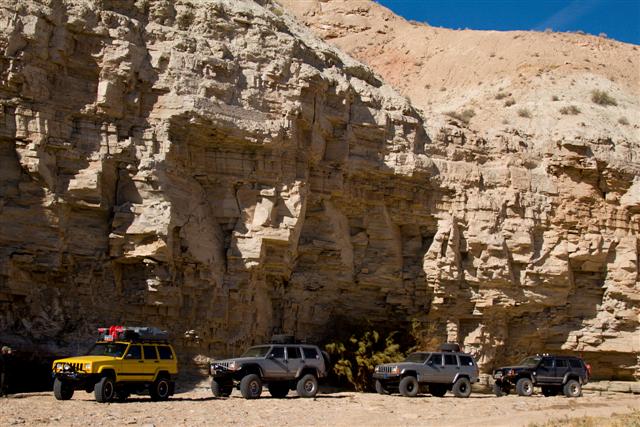 It was getting darker and colder, so we all grabbed a plate and dug in. I never got to try the pizza or the cobbler, it went directly into somebody's tummy. I did however get to try the Enchiladas as well as the corn bread topper. All the ranting and raving that Nanette had done during the day, couldn't even describe how good this stuff was.
I think the way that it was cooked really added to the flavor. The heavy, cast iron Dutch oven looked to have been seasoned for years. I topped of the meal with some home made chocolate cake as well as some of the family dessert. Ok, I had 3 helpings of the family dessert!
After the meal, I could hardly hold my eyes open due to the self induced food coma I had just put myself into. I sat by the fire for a few minutes and headed off to bed. The next thing I know, we had a knock at the door. It was so windy outside that the party needed to come in.
This was great, I love having company, especially when they don't mind being a bit cramped in our tiny camper. We ended up with 6 or 7 of us in here at one point, all telling stories and looking through photos from the days event. By the time everyone left, it was close to midnight and I think we were all pooped from the afternoon of fun and a night full of good food.
Sunday October 11th
One of the coolest days ever, filled with exploring old things and creating new memories. My day started out with a phone call from my renters, saying that their heat wouldn't work in the condo. Not a good thing since Michigan is having their first cold snap and heat will be needed.
I got ahold of my friend Joe from back home and he is going to be checking on things for me, Thanks Joe! I wanted to stay with the camper so I could get a signal since without our Wilson antenna, we can't even get one bar out here, so I drove with Pat out of camp while everyone else stayed behind finishing their packing.
We drove ourselves to Clint's Aunts house and parked our rigs there until we came back in the evening after our tour of the swell. Our ride with Clint driving sort of felt like a Baja 5000 race! He is a fast driver with alot of tork and even more breaking power when he would get to a point that the road just fell out of view.
At first I was scared like crazy then I realized that he knew what he was doing and most of the swaying was from the lack of sway bars. I just sat back for the rest of the day and soaked up the scenery as I enjoyed the adventure.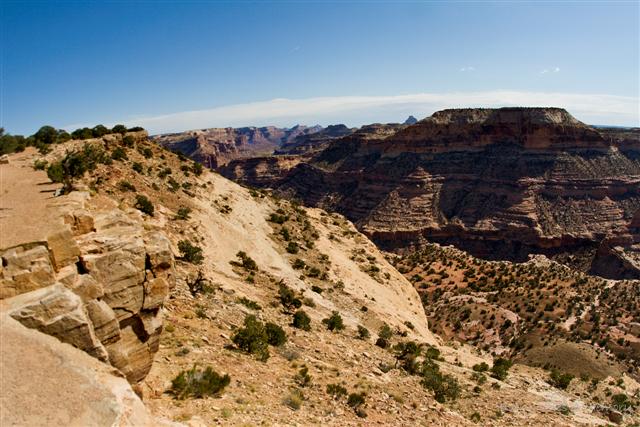 They call this the Grand Canyon of The Swell.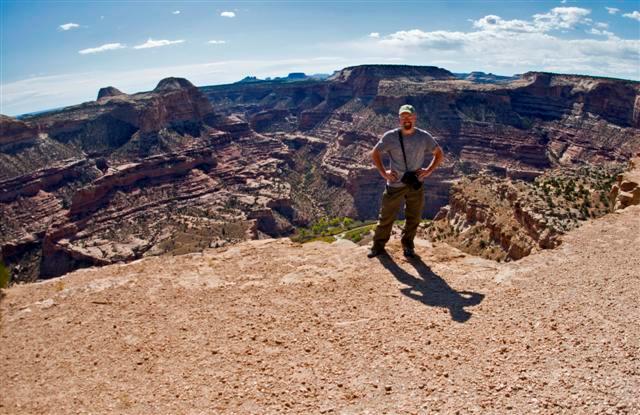 There's my handsome man standing at the other end of the canyon where we could see the San Rafael River flowing through.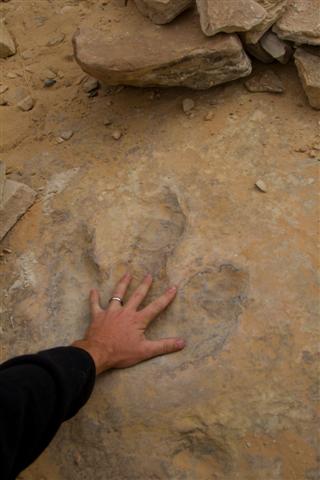 Walking where the dinosaurs once did, pretty amazing to see.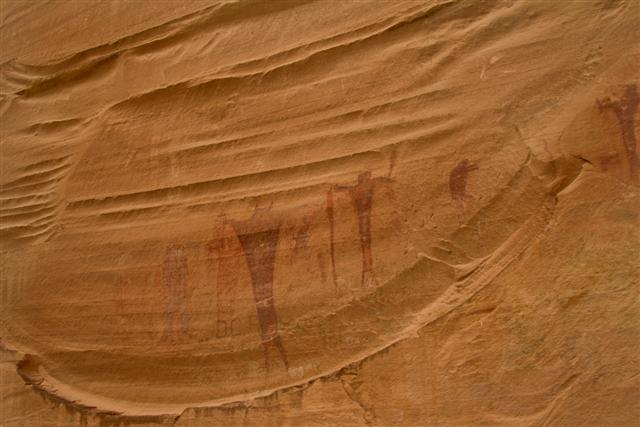 Yet another type of civilization that was here before us. One-two thousand years ago these Native Americans left their mark.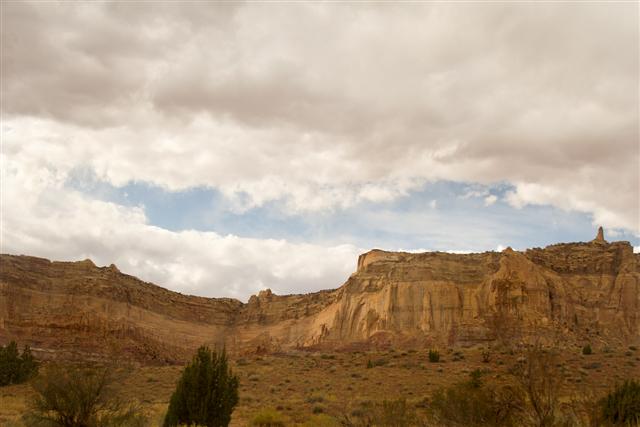 Even with these heavy clouds looming over head, we never got rained on.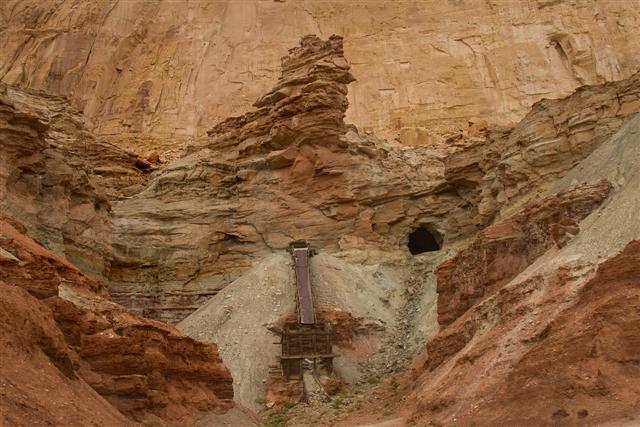 How would you like to drive 30 miles into the desert everyday to work here? I imagine one would begin to feel like Fred Flintstone after a while.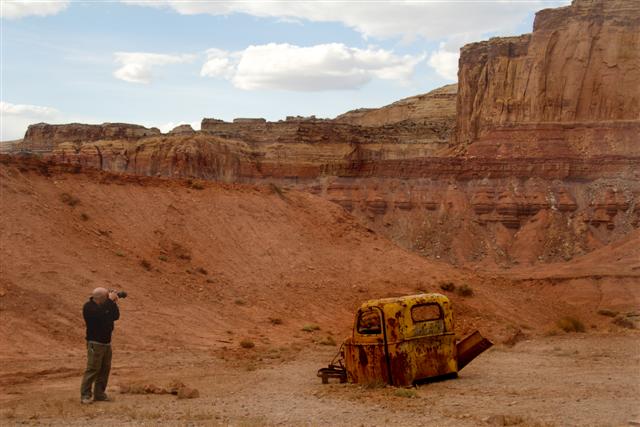 My handsome man doing his thing that he does so well.
By the end of the day Pat and I were both beat. We got back to Clint's Aunt's house and all said our good bys, which I always hate doing but you'd think I would get used to it by now. Pat and I got into the camper and pulled to a desolate spot right nest to an area that we looked at some petroglyphs the other day.
This spot was so dark, quiet and filled with stars over head. Too bad we were both so worn out or we could have star gazed for a while. I was the first one in the bed, followed by my two constant companions then Pat.
Monday October 12th
Waking up to an incredibly sunny day is always an awesome start for me. Since our camper was in such a desolate spot and we never saw any cars coming down the road all morning, Pat let the dogs off of their leases and let them run around the hillside for some exercise.
The two dogs get so crazed when Pat yells little taunting things at them like "GET LUCY", constantly that it is hard to get them settled down. After about 20 minutes of this kind of play, Lucy had enough and took off after Luca until he was afraid of her.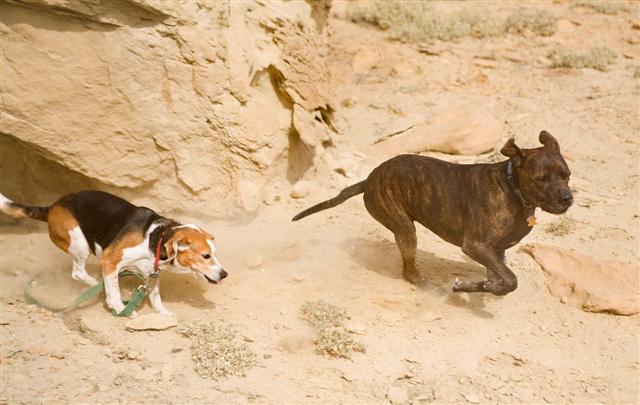 This brought Pat to start the "GO GET MAW" which of course is me. Luca came running at me at a high rate of speed and I think he somehow has no depth perception because before he even saw me, he had run over me, spilling my morning coffee all over my only fairly clean clothes that I had left.
This was just a shear laugh-fest for Pat, slapping his knee, tears running down his face just having a good 'Ole time. As I was on the ground, I think I may have heard him giggle out "Are you OK?" but I'm not sure. I got up, dusting myself off and went in to get a towel to dry myself off since these were the clothes I had to wear until laundry day.
I thought the day started out just fine and was eager to get to Goblin Valley since we had heard so many cool things about the place. Pat and I had ourselves and the dogs all loaded up into the truck and we were driving down the road just soaking up all the sights.
I turned to Pat and said "Man, my stomach feels really full" I had all of a sudden felt like everything I had eaten was at the bottom of my lungs pushing up. I tried to breath my way through it until I finally realized that what I had for breakfast did not want to stay where it was.
I asked Pat to pull over and he said he would at the next rest stop. I quickly insisted that the side of the road would be much better timing as I grabbed the door handle. The trailer hadn't even come to a stop before I jumped out and gave the desert animals some lunch.
This happened about three more times before we reached our destination of Goblin Valley. When we got into the park Pat asked me if I wanted to lay down but at that point the brisk cool air had felt good. I insisted on taking the dogs for a walk with us since they had been in the camper basically all weekend. The only photo that I managed to take is this one of Pat wearing my favorite jeans.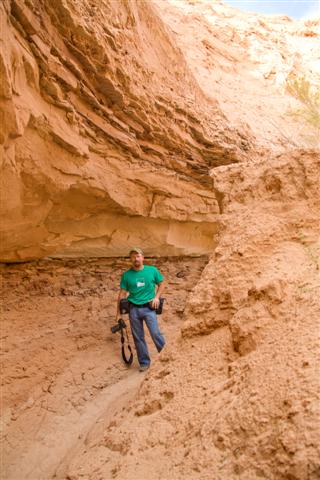 Sometimes I wonder why I always want to bring them because between my throwing up all morning and the two dogs dragging me through the twists and turns of the trail we took, I had started to feel like crap all over again.
I got back to the camper and was so tired that I wanted to cry because I wanted to explore this area with Pat. He said he would wait for me to lie down for a while before he went out just to see if I would get to feeling up to hiking.
A couple hours went by and I still felt like crap so Pat went out without me as I lay in bed looking green and clammy. When he came back I asked him how it was and all he could say was "It was just like being on another planet". I could tell he wasn't going to go into it cause he knew I felt bad already.
It was just about sunset when Pat got hungry and actually cooked some burgers that I had seasoned and shaped in the fridge. He added some mushrooms and yellow peppers to the pan and made a great burger for the both of us. That is the second time in the history of Pat and Cindy, almost 18 years that Pat has ever cooked anything for either of us. He must have really felt bad for me.
I didn't even get out of bed to eat my burger, I just shoveled it in while laying down. This fortunately stuck with me and I actually felt a bit better. We had to move the camper out of the park so we could sleep for the night which wasn't hard since they have boon docking available just a few minutes from the entrance.
I was in my pj's for the ride out of the park so as soon as we parked, I went to sleep for the night. Sorry Pat for being such a yucko today.
Tuesday October 13th
When we got up this morning I felt a little better, but I still wasn't 100% so we opted to just head back to Moab instead of going back into Goblin Valley. When we got into town the first thing we had to do was laundry, 9 loads of it including all sheets and blankets.
We followed that exciting chore up with some grocery shopping at the market which was right next door to the laundromat. By the time we completed those simple things, it was dark outside and we'd been parked along the side of the road the entire day, so we decided to just stay put and make it to Jim and Leigh's house tomorrow. It was only a few blocks away, but why move the camper in the dark, and if we happened to get one of those 3am knocks on the door, we'd move it then.
That wraps up our exciting day in a nut shell.
Thursday October 15th
I skipped Wednesday because there was no photo taking on that day, so that always makes for a less exciting blog. The most excitement I had on Wednesday was chasing a dog, Spots, that Leigh had agreed to foster for a while because he has been in the shelter too long.
He is very sweet, but likes to run, I think he is one of those sheep herding dogs, at least partly due to the markings on his fur. He is so fat and overweight, that his neck is bigger than his head so it's easy for him to slip out of his collar.
Leigh brought him over to show him to me cause she knows I'm also a dog person. While we were talking the darn thing took off like he was a Greyhound chasing a rabbit. I ran after him while Leigh jumped in the Jeep to come get him when I finally did catch him. After a block or two we finally wrangled him into the back of the Jeep in order to get him to her house which has a fenced in backyard.
The Humane Society that Leigh works for is really struggling to even stay open right now. They really can't charge anymore for the dogs to be adopted out since the economy is so bad. Donations have really slowed to a point that they're afraid they might have to shut down. That would be such a shame to have one less opportunity for these homeless dogs to give someone some love.
I'm trying to think of some ways to help them, but since my funds are probably worse than theirs, I will have to come up with something different. After we had our sprint around the neighborhood, Leigh and I went to aerobics. After aerobics, we went over to Jim and Leigh's house for some dinner and a couple of beers. We rode the scooter home and my bed time was early this evening.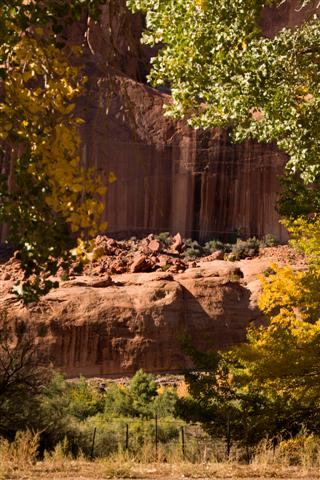 On Thursday Leigh and I started off the morning with a 10 mile bike ride through some of the most incredible scenery that I've seen yet. It was almost like what we crawled through in the Jeeps last weekend except for we were riding on paved road on our bicycles.
The leaves are coming into full fall colors here and the contrast against the red rock canyons is just awesome. I then came home and walked the dogs for about 4 miles and we all came home exhausted. I tried to take a nap but since Pat was leaving for the weekend, he would have no part in me sleeping.
He and I hung out until I got ready for aerobics at 4:30. Class is so close to the shop that I can ride my bike there. After the bike ride and the long dog walk, I could only get through a half hour of class before I was about to collapse.
I came home, showered and got ready to go to dinner with Kristi and Leigh at an awesome Mexican place here in town called La Haciendas, which has great margarita's and really good food. Dinner was at 6pm and since we were all going home to empty houses tonight, we decided to play a game or two of pool first at a place just up the street from where the camper is.
Kristi's husband is a geologist and currently works in Alaska, Pat and Jim are working the charity motorcycle ride all weekend and had to leave tonight to drive to Colorado to get ready for the start of the ride tomorrow. They are working with the Rider Down Foundation, which offers help to riders and their families who have been injured on a motorcycle. Great cause and also very helpful to the families of these injured riders.
When we got to The Rio to play pool, I was teasing the girls saying that we were the youngest and best looking women in the place. They both laughed and I said "It's true, look around". I think it was Kristi that said, "That's because we are the only females in the place". I neglected to mention that the way I put it, it sounded much better in my mind.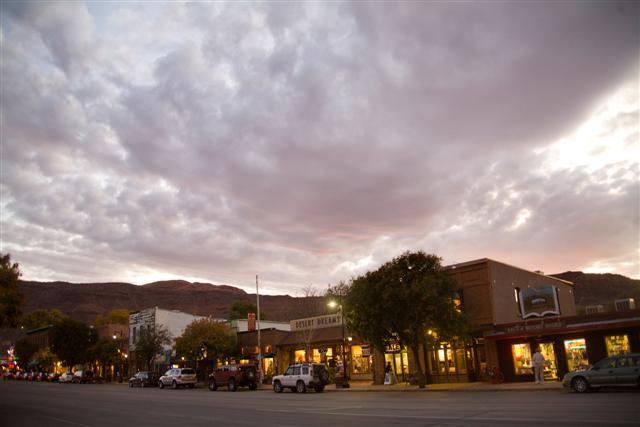 Downtown Moab just before we hit the town!
Us girls were having a great time and kept winning in pool, I think it was four games in a row! I haven't played a game of pool that well in a long time so I was happy with my winning streak. I introduced the girls to what a Jager Bomb is as we laughed and had an awesome time.
Just when we were ready to go home, I heard the DJ say it was Thursday karaoke!! Woo Hoo, could the night get any better??!! We stuck around just long enough for me to sing one song and then called it a night. I must say, in my ears, my voice sounded great. I'm not sure what everyone thought but I did get a big round of applause.
I called Pat before we went to bed, we, being myself and my two pups so he could keep me company while I fell asleep. I hit the sack and called my dogs into the cozy covers with me. I think the dogs were just as exhausted as I was due to our long walk together.
Friday October 16th
This morning was spent catching up on the last week of missed blogs and trying to put things down in words before I forget half the stuff I've done. It's not hard to do when nothing in your life is repetitive which is completely fine by me and just the way I like it to be.
It seemed like I tossed and turned much more than my usual menopausal self last night without having my spooning partner to sleep with, at least one with two legs and not the one with four that I ended up spooning all night.
I was just completing yesterdays blog when Leigh dropped by and asked me if I was going over to Kristy's for dinner. I had gotten so caught up in the computer that I missed aerobics and forgot about dinner plans.
I change out of my PJ's real quick and jumped in the car with Leigh. She had brought Thor, her sweet 10 year old Airedale with her so he and I were passengers for the 15 minute ride into the canyon.
We arrived at Kristy's and I got a tour of the yard and pretty much just took in her amazing views. Her house is in a low lying area settled in the midst of large canyons which I could see in every direction. The house is designed very South-West and just lovely.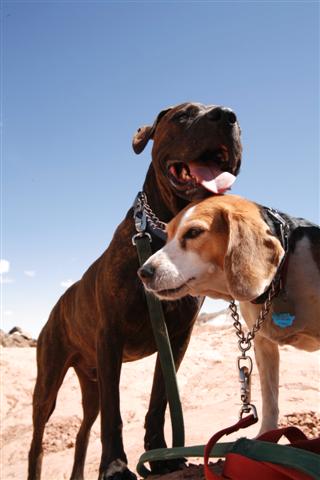 Kristy has two dogs, a chow and a Tibetan Mastiff which are as friendly as can be. She asked why I didn't bring my dogs and all I can tell people is that mine play different than other dogs. You guys have seen the photos of Luca and Lucy chasing each other with open mouths and running like crazy, Lucy will just turn around and bite Luca when she gets fed up with his pestering.
I'm not sure if other dogs will take to his constant aggravation to play like a puppy does. I try to keep them in areas where they can run alot, but not have so much interaction with dogs that might kick Luca's butt. These 3 dogs are nothing but lovers and sat around calmly while us girls had dinner.
I tried salmon for the first time tonight and really enjoyed it. Kristy wrapped it in foil, put it on the grill, and had the teriyaki sauce which she made, soak into the grilled fish. If I could have it like this again, I would definitely eat salmon more often.
After our delicious dinner, we watched Jay Leno for awhile which was not that entertaining. I don't know if it's because I haven't seen TV in a while or what, but his show was a little flat in my eyes. The best thing about it was a guest comedian which really did have us all laughing pretty hard.
Around 10:30pm we were all just about to fall asleep on the big comfy couches, man I miss just laying around in comfort. We don't have that in the camper that's for sure. Leigh woke up enough to get us home and Kristy said good night, anxious to talk to her husband that she would be calling back once we left.
Great dinner and great company, these girls really have made me feel like one of the group. Lots of girl time which I have been longing for is really good for the soul. As we pulled up to the camper I was really dreading sleeping alone again and I had an empty feeling in my stomach just thinking about not having Pat home.
No sooner did I get my shoes off, Pat walked in the door with a big smile on his face. I think he was missing me just as much as I was missing him. He said he was only a half hour drive from home so he chose to drive it and be in his own little camper with me and the pups.
Saturday October 17th
I had started thinking about Spots this morning, the fat Lab that Leigh had taken in for a few days from the animal shelter, and decided I would go see him. Leigh and Jim have had a family emergency and need to go out of town for a week or two so she has taken him back to the center.
I have a harness that will fit the chunky beast so I decided to walk it over to the Humane Society. I looked online and found that the place was only a few blocks away, so after I took my dogs for a long walk first, I would bring the harness over to him and also walk the fat guy for a while if I was allowed to.
I walked all over the area that the online directions had given me and finally had to stop and ask for directions. A nice lady had been kind enough to write the directions to the Humane Society down for me and said that if I liked walking, it wouldn't be too far.
This ended up being around a three mile trip one way which was just fine since the sun was shining and I need the exercise anyway. When I got to the Humane Society I found out that all of the dogs they have are currently in foster homes so they can be acclimated to people and any issues they might have can be evaluated.
Spots however is in the Animal Shelter which is in the same building as the Humane Society. The lady at the desk was pleased that I had come to give the dog some walking and share some human time with him. The center is really nice and the space that they have for the dogs is very clean and roomy compared to some that I have seen.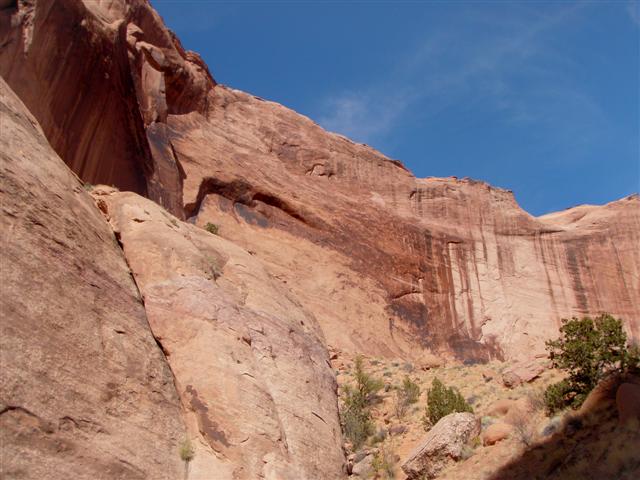 I just wish the dogs that are in there would be able to find some parents. It is hard to see them jumping and barking, looking for attention and you then have to walk away from their cages. I could never do this for a living since I would end up with 20 dogs living with me.
On my way home, I did some window shopping in town and stopped at a thrift store to see if there was anything I can't live without. I came home empty handed, no new dogs, no must have items and no energy left in my exhausted body.
Just about the time I got home, I heard Pat and the rest of the motorcycle riders pull up outside. They were finishing up the long day of riding and had to pass through downtown Moab on their way back out to the Red Cliffs Lodge. Pat had come to get me to take me out to the ranch where the guys are staying and also to have dinner at the Lodge with them.
We rode our bike up into the canyons for a half hour or so and it was beautiful. What a difference the views are when you have no roof on your vehicle. I looked around in awe the whole time as Pat drove about 100 miles an hour through the passes playing with the other guys who were all amped up from a long day of riding through the desert.
I didn't say anything since he was just keeping up with traffic that was also going way faster than I enjoy. All of a sudden Jim fell back in the pack of bikes and we realize he had run out of gas. He kicked on his reserve but a few miles later, he was out of gas again.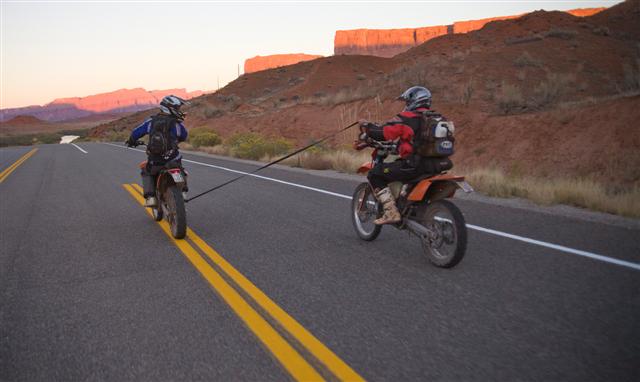 One of the guys hooked up a tow strap and the two of them were off, riding only a few feet from one another and looking very silly. We managed to snap a few shots before we arrived at the ranch. This place was incredible, I can see why they call it the Red Cliffs Ranch because it is in the middle of a lush, green valley with sheer canyons all around it and the flowing waters of the Colorado River right at its side.
After being with women for a week or so, it was strange being one of the guys again, but they were all really nice and made me feel very comfortable around them. Dinner was great and after the meal was completed we could see everyone nodding off one at a time.
Jim rode home with us in our truck, he sat in the front while I took the dog bed. He was pretty much out in just a few minutes on the road and I can understand why. Jim has worked terribly hard to get this event put together and make sure everyone enjoys themselves.
He did all of this for the Rider Down Foundation and his time and effort is all donated as well as the other guys who helped photograph, video, guide and offer to do what ever else was needed to make this thing a success. Lots of hard work and energy was put into this and I could tell that it was a great time for all.
Sunday October 18th
The final day of this event for Pat so he was up bright and early to get things going. Leigh had called me to ask if I wanted to take the dogs out on a trail with her and Thor which would be good for their long nail problem.
Of course, I am always up for a hike and the dogs haven't been in the wilderness since before we went to Yellowstone. We all piled into Leigh's vehicle and off we went to a 3 or 4 mile hike through a place that story books are made of.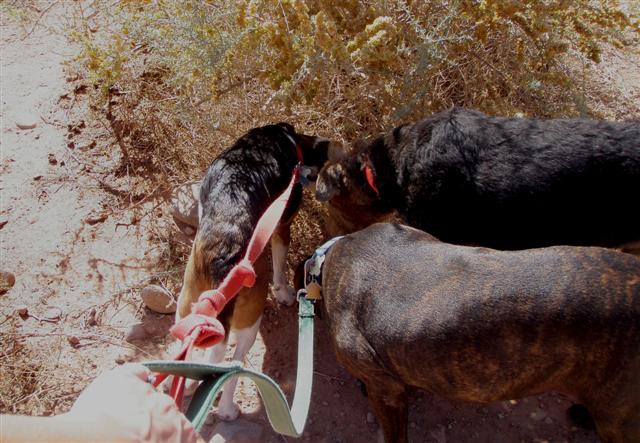 I had the dogs on leashes for the beginning of the hike since most people let their dogs run loose and I don't like the way Luca greets other dogs. He runs up to them and immediately starts to play, no worries about getting to know them first and some dogs don't like that.
As we walked into the canyon, the sides of the free flowing river was lined with golden cottonwood trees that loomed over the water. The sky was cornflower blue and the red canyons were bursting with vibrant red, due to the backdrop of the sky.
Only a 1/2 mile into the hike we had to ford the cold water stream which turned out came all the way up to our waists. I had to drag Lucy by the leash to get her to cross and Thor was in the water, swimming up and down the stream before we even got to it!
He is a water dog big time and watching him gave Luca the courage to cross on his own. When I sat down to put my shoes back on, the dogs shook water and mud every where so I just let them go.
They had a fine time as Leigh and I dodged them darting up and down the path, waiting for us to catch up. I wish that Luca didn't still act like an untrained puppy when I let him off leash but he does and after a half hour or so, Leigh was used to him too.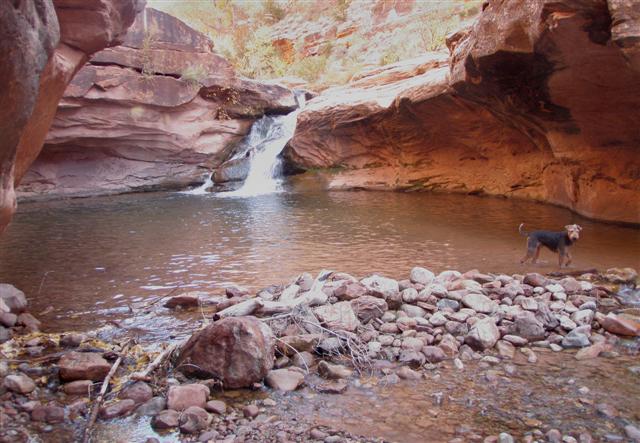 We had to ford the water two more times on our trail before we arrived at a swimming hole that was just gorgeous. At the back of the watering hole was a small waterfall and again, Thor was in the water the minute he saw it. He played fetch with Leigh for a few minutes as Lucy walked around looking for food and Luca sat watching his new best friend have all the fun.
Luca attempted to swim but he only got as far as his manhood before he would change his mind. This is where my two dogs really started exerting some energy an playing the way they do at home. Running in circles, biting each other, pestering one another until they can't run anymore.
Loud barks and showing teeth completely freaked Leigh out as I reassured her that this is how they both enjoy playing. I finally got them calmed own enough to head away from the pond and back up the trail. Only a mile or so further and we got to some ledge areas so I put the dogs back on leash.
A group of people came up the trail with a few large dogs so Leigh and I just sat on the rock ledge with the dogs at our side. When the others past Leigh got up and said, "I think I sat on a cactus" and sure enough she had about 20 thorns stuck in her but.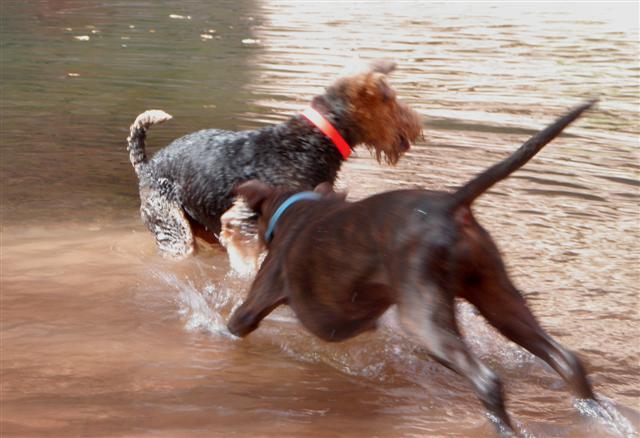 I'm glad no one walked up the trail as I sat picking the things out of her pants so we could continue on up the trail. After our cactus episode we ventured to the end of the trail and came to another small pool where this time all 3 dogs got into since it was much warmer by this time of day.
After a bit of a rest for all of us we headed back to the vehicle along the same trail we came in on. All dogs were off leash by this point and I hoped that if and when Luca met another dog, he would be to tired to play with it by now. Of course that was not the case and I was lucky enough that other people have well behaved dogs and when Luca runs up to them, they don't get freaked out.
The dogs played the entire time on the way back, not even slowing down when Luca jumped from a rock and landed in the middle of a cactus. He looked down at the thorns sticking out of his legs and trotted further up the trail to find Thor.
By the time we got home, all dogs were pooped in the back of the vehicle. Although it was only about 10 miles from the camper, Luca couldn't barely move when he had to get out of the truck.
I brought them both in, pulled 50 or so thorns from their bodies as they both lay passed out and not even caring what I did. The girls were right about the nail thing, both of them have worn down the nails to the quick so I won't have to worry about those for a while.
Monday October 19th
After being without Pat around for a few days, it sure was nice to have him with me full time again. It is so strange how I think having some alone time would be a nice change, then when I'm without Pat, even for an hour or so, I feel sort of lost.
As he worked away on his computer, I took the dogs out for a walk followed by doing the dreaded laundry again. We had lots of it this week because of Pat riding motorcycles each day and coming home caked in red dirt, sand and stinking of fuel. Since the market is right next door to the laundromat, I picked up a few groceries and headed home.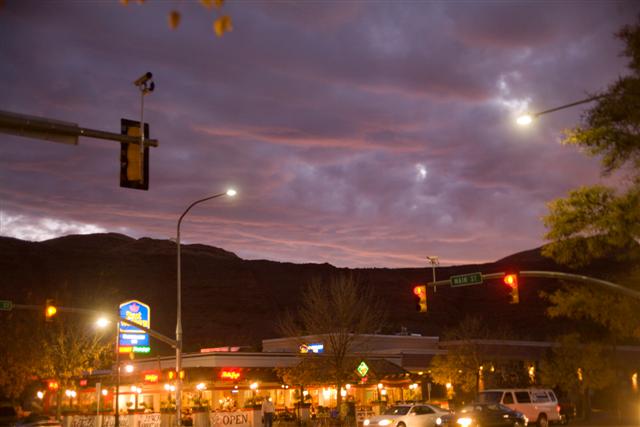 I stopped at a Red Box to get a movie and couldn't find anything that either of us want to see. I guess I could go to a video store except I'm too cheap to pay 5 bucks for a movie.
When I got home I mixed us up a pitcher of Margaritas and made Pat get off of the computer so we could play tourist for a day. We loaded up our Nalgene bottles and were out the door before dark. The weather here is just beautiful right now. I'm not sure but I think it is unseasonable warm since we both wore shorts and T-shirts.
Our walk around town lasted for a couple of hours which worked up a hunger, of course. Pat had went to a place with Jim and the boys the other day where locals get a huge discount on food and drinks. After looking over the menu, we both decided it would be cheaper to have dinner here than to go home and eat, well maybe not cheaper but much less work.
It sure is good to have my best friend back to talk to and laugh with while pigging out on pizza and chicken wings. After dinner we strolled home and turned in for the night. We had the windows open and the fans on while sleeping since it was so nice out, can't ask for more than that in mid-October.
Wednesday October 21st
We have been lazy the past couple of days, just playing on Facebook for me and Pat working on the photos from his long weekend of riding. It rained all day yesterday which I hear is a real rarity in Moab. I was just fine with that and took advantage of the down time.
Today we finished up some things around the Camper and both Pat and myself wanted to go up the Canyon Road that Leigh and I had ridden bikes down the other day. This time we took our truck and continued past the paved road and on into the heart of the red rocks.
Our friends from California had said that if we stop in Moab, we would never leave. I am starting to think that might be true since I have been asking Pat questions about staying here through the winter. I really like all of the hiking, biking and local community opportunities that are offered here.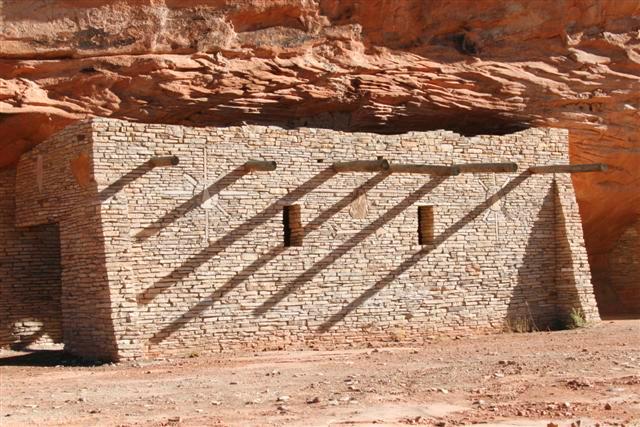 I enjoy taking the dogs for a walk and just soaking in the beauty of the canyons, driving around the area and seeing the different types of homes, and the weather is just incredible. The homes here range from humble shack like structures to large adobe mansions, some built right beside one another.
They can be hoisted high upon a canyon wall or settled deep into the valley. We have seen homes made out of sculpted Styrofoam blocks, mud Hogan's that people have hand crafted from the Earth, a Plexiglas camper which looks like a movable greenhouse and also homes that are dug deep into a cave in the side of a canyon.
There isn't much keeping up with the Jones's here which would fit our life style just perfect. Not sure what our plans are at this time, but just something we are tossing around. I believe that they have employment opportunities in town so we could catch up on our finances if we did decide to stay for awhile. There are soo many things that we haven't seen and done here, I can't imagine leaving so soon. Heck, we've only done one hike in Arches and have yet to see Canyonlands National Park.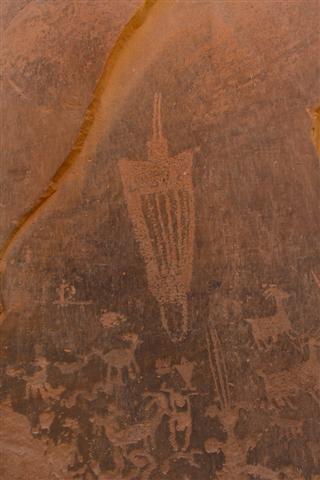 As I was shooting questions at Pat, trying to get a feel for what he thought about my suggestion, we proceeded further up the canyon road toward a fenced in area. Behind this fence is an area with petroglyphs which are right beside a hiking trail and a campground.
Further up the road are some of the houses I was just talking about that are chiseled into the mountainside. Around 5 miles up, the road turns into gravel and this is where the mountain biking, four wheeling, hiking and camping areas are located. No homes, just deep red canyon walls, a small flowing stream cutting through the canyon floor, from the rain we had the other day and quiet, nothing but quiet.
Its so quiet out here, all I can hear is my own heart beating as a try to listen for any noise. No birds, no vehicles, no planes, nothing. That has to be the strangest sound of all, absolute silence.
We stopped dozens of times to take pictures of the tall structures that the dinosaurs roamed and the places that were once covered by bazillions of gallons of water. It is all obvious to the naked eye, how the wind, water and glaciers have reeked havoc on these walls that surrounded Pat and I.
I told Pat that every time we go somewhere, I think that we have found the most incredible place in Utah. We go to our next destination and it gets even better. When we arrived at the cusp of one of the Canyons, Pat and I decided to open up our new tent and check it out.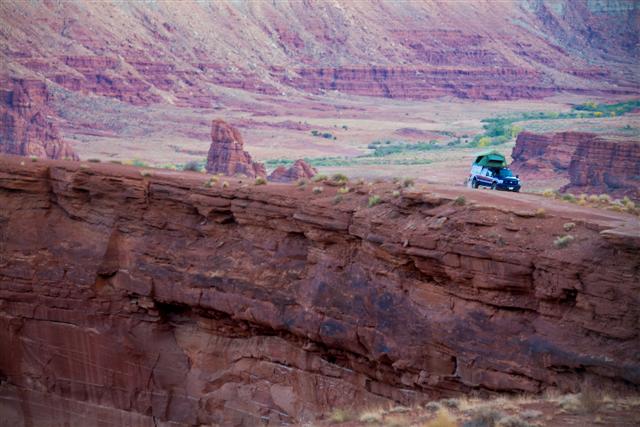 Notice the drop off on each side of the truck.
I took the dogs for a walk on the hillside as Pat unfolded it and put it together. This is our new Camping Lab two man collapsible roof top tent. Camping Lab has agreed to sponsor our adventure after they read through our blogs and realized we would be perfect candidates for there equipment. To test it out and see if it can survive the rigors of fulltime travel in the real world.
It took Pat about 15 minutes to put it up. The longest part of setting it up is getting the waterproof cover off. Once that is done, he unfolds it and all he has to do is unzip the four screens and we are ready to roll. There is a soft, foam mattress inside the tent which is actually longer than the one in our camper and is about as wide as a queen bed.
I tried to get some pictures of it from a cliff top which jutted away from the safety of the canyon, but the light was wrong and since the dogs don't have their leashes on, I was worried they would fall off the edge. I went back to the tent and climbed in to check out the inside.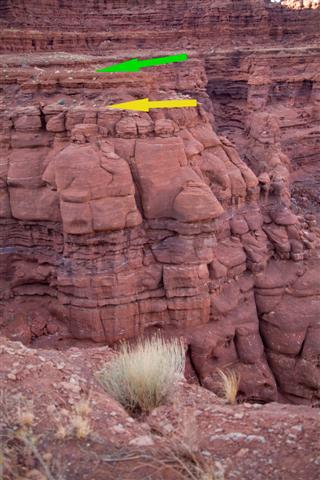 I zipped up all of the zippers and the material it is made with blocked all of the wind and actually made it pretty cozy. This is when Pat said "Let the dogs out and I'll take them for a walk." I know my husband and he will not watch these two while they are playing around on the rock ledges and I asked him just to leave them in the truck.
Of course he didn't listen and took them out without their leases since those were left at home on accident. I literally said, "Pat please don't take them near the edges, they are not used to this terrain and if something happened to them, I would never forgive you."
His response of "Just quit your whining" was something I expected. I sat back in our new little home addition, reading a magazine while he walked over to the cliff area that I had just left. The next thing I heard was a scream from Pat telling Lucy to come back.
While Pat was on the phone with his Mom, (green arrow) Lucy had jumped over the side of the cliff, (yellow arrow) landing on a ledge about 15 feet down! OH MY GOSH!!! I didn't want to scream because I thought that might get Lucy nervous and make her fall.
I was also worried that when Luca plays, he is always looking for his girlfriend. If he went over this thing looking for her, Pat was going over after them cause I was going to push him. Lucy kept climbing on the rocks like she was some sort of Mountain Goat with a 1000' cliff on one side and a near vertical wall on her back side.
I climbed out of the tent and walked over to where they all were, cussing under my breath the whole time. Fortunately when Lucy saw me, she found a route that would bring her back up to the top of the cliff. The dogs went back to playing and Pat thought it all just one funny episode.
I rounded up the dogs and brought them back to their safe haven in the truck. Sometimes, I just want to strangle my husband until his eyes pop out, not enough to kill him just an eye popping strangle. We hung out for an hour or so longer until the sun dropped behind the canyon.
By this point, I was ready to get on out of there because the roads would not be conducive to night time driving.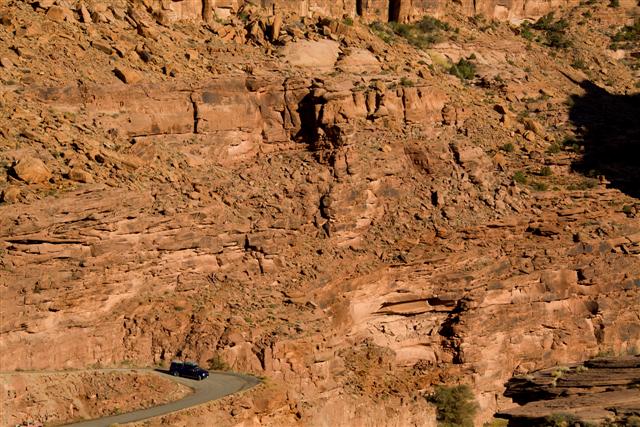 Notice the lack of guard rails or reflectors, this is in bright day light and still scary that is about a 2 foot mistake range before dropping of into the soul of the earth.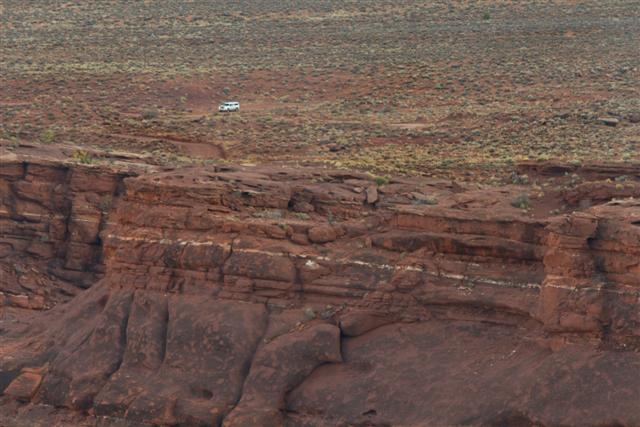 If you can see that the road leads directly to the edge of the cliff before veering back to the brush. This is about the time we headed out and we did drive home in the dark.
The taking down of our roof top tent took even less time, the only thing that we will have to get better timing on is putting the protective cover back on since that took us about 10 minutes. We passed a bunch of people who had made this canyon their home for the night with bonfires and bikes cluttering their camp sites.
We came home and had some dinner followed by a movie which my daughter told me I had to rent. She said it is complete stupid humor and Pat and I would enjoy the heck out of it. The movie is called "I Love You Man" and she was right, it was stupid humor and we loved every minute of it.
By the middle of the movie, we were both crying we were laughing so hard. It is rated R for a good reason and unless you enjoy movies like Knocked Up, Road Trip (the first one), and Forgetting Sara Marshall, don't rent it or you'll be disappointed.
Thursday October 22nd
Learning to deal with Pat's new addiction is getting pretty challenging. Every morning he will wake up with a glossy look in his eye and a scruffy voice as he croaks out "I Want Coffee". I don't even hear a good morning anymore from the man who once despised to even see me drink the stuff.
He was like a little kid and would give me the "I don't know how you even drink that crap" every time I started my day with the dark brown energizing liquid. At first it was just a cup, then it was half a pot, now he is craving some throughout the day, sometimes two pots before he stops demanding another cup.
Of course he can't make his own coffee! Its like I have the secret formula and only I can brew this fowl smelling java that Pat used to hate. Our in-laws bought us a big thermos while they were here so we could take coffee to work with us. A full thermos has now become a requirement every time we get in the truck.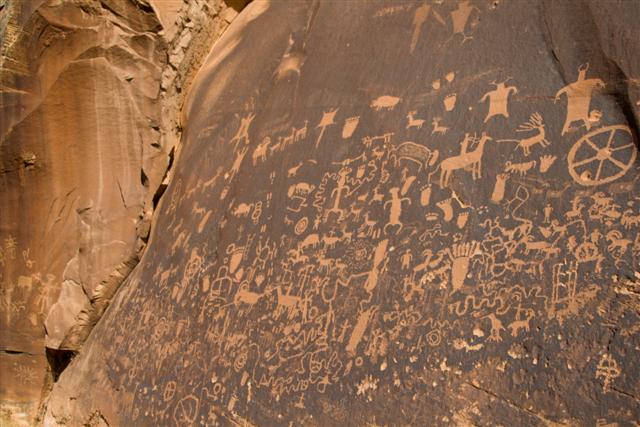 As we were driving toward Canyonlands this morning, I caught Pat sneaking a small cup of coffee out of the thermos while I was in the gift shop at The Hole in the Rock. It has become a challenge for me to share the thermos with him since he is constantly downing the whole cup like he's doing one big shot or something.
We pulled into Newspaper Rock, and shared the last drop of java until I brew the next pot tomorrow morning. A look of disappointment crossed Pats face as he swallowed his last cup of go-juice and we headed out to see the ruins. Newspaper Rock is a large wall of petroglyphs dating from 1000-2000 years ago. We haven't seen this many markings on one wall since we were in the V Bar V area in Sedona Arizona a couple of years ago.
These markings were really some of my favorite, with lots of very distinct figures, animals and little feet, some with five toes, some with six. We took a few photos until a few van loads of people pulled up which didn't allow much room for us to fit up close to the markings. We drove on into Canyonlands National Park to get our journey started.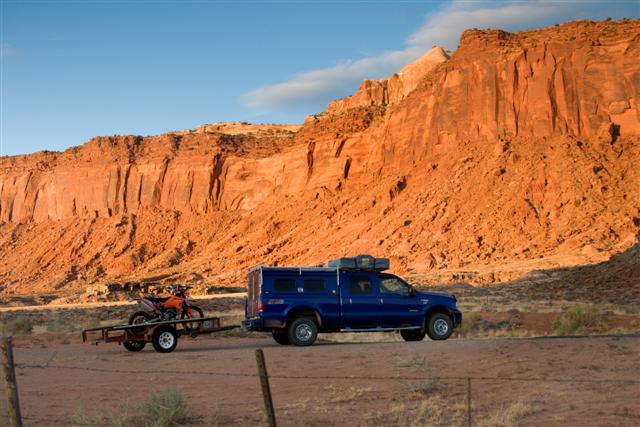 Canyonlands is just what it sounds like, nothing but huge canyons which surround you in every direction and not a whole lot more, but dont get me wrong, the scenery is beautiful. We stopped at the only store near the park entrance which was like entering an episode of the Twilight Zone, only in full color. The owner was quite the character and seemed to really enjoy having a beer or six, I'd say getting her day started pretty darn early with the first one.
Our tour through the park was nothing short of spectacular with views in every direction eye popping with the vibrant colors jutting from the deep red ground contrasting with the afternoon sky. We took a few short hikes back into the canyons to see some ancient ruins left by the Native Americans and some not so ancient remains of what the cowboys of the 50's and 60's had left behind.
The weather was perfect with a fair breeze blowing through the canyons and warm sunshine lying gently on our shoulders. I really didn't want to leave this place and everywhere I turned there was more to observe and photograph. We had an awesome day and enjoyed ever minute of this National Park.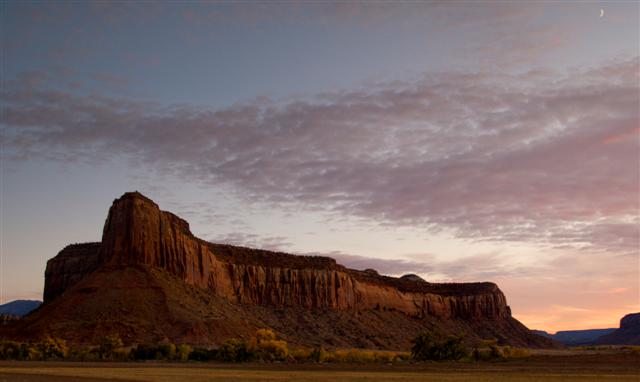 I think this will bring us up to around 15 or 16 National Parks that we've attended and just over 70 of the combination National Parks and Monuments. It would be sweet to see at least half of these designated areas before our time comes to settle down. With over 360 parks on the registry right now, we better hurry up.
Sunday October 25th
Our last few days have been spent with Pat on the road and me soaking up all that I can of this little community of Moab. I hate sight seeing without Pat but with him picking up some hours for Jim I have had no choice. I am really glad that Jim had some extra work for Pat. Since we have really restrained our budget, we can get by on about $400 a month, give or take a few dollars, plus our fuel expense.
This is a far cry from the beginning of our trip when we thought we "might " last on the road for up to two years. Little did we know that the fever would strike us the way it has and sitting still is now no longer an option in our lives.
The side jobs that Jim is needing help with might even add a few weeks of extra travel onto our journey! Thanks Jim for trusting us with your business while you have had this family emergency!
Before we wrap things up here in Utah, Pat wants to do a trip that he has longed to accomplish for years now. Pat has shown me magazines, videos, on-line blogs of the White Rim Trail since the day I first met him. I don't know why, but this boy will not let up until he does whatever it is he desires to do, something that gives me great admiration for him.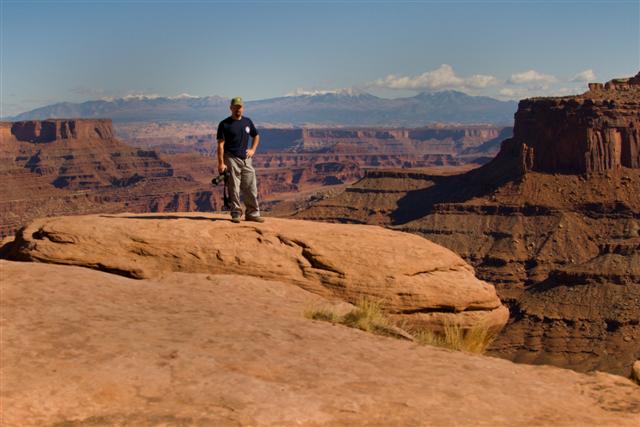 When we were getting ready for the trip, Pat was like a little boy getting ready to go to Boy Scout Camp, preparing all that he needed with great care not to forget anything. As usual, I was responsible for the food, clothing, bedding/sleeping requirements and he was responsible for all the outside gear.
I had done some shopping for groceries and he had prepared meticulously as he always does for the rest of the gear. Much to Pats dismay, the dogs were going with us since we can't afford to board them and they are also behind on their current shots which is required for boarding.
I actually hate boarding these two members of our family because every time I do, one or the other ends up with a cough that lasts forever. I can't say that it's kennel cough because they obviously have that vaccination before they are sent in but they always come out with something.
As the four of us headed up the road with the radio playing and a mug of coffee in hand, I could tell that Pat was just as happy as could be. He is living his dream, in his element of adventure, branching out to new areas which he hasn't explored and had his three side kicks by his side. As much as he says he hates the dogs, and I mean he says this EVERY DAY, I know deep down he would be lonely without them, just as I would.
We would wind up back at the entrance to Canyonlands in order to get onto the White Rim.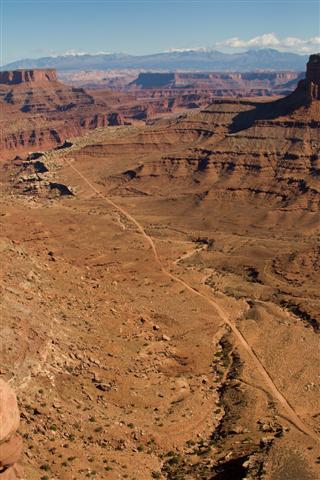 Pat went in and took care of the permit fee's while I sat outside and took in the views. By the way, dogs are not allowed on the White Rim Trail, so don't bring yours. I do understand this because some people may not watch there dogs and they could go over the edge of one of these cliffs and not be able to get back up, PAT.
I however kept them on a leash the entire time and also kept house after them, so nothing was left behind as evidence. I have to say that from the get go, we knew this would be a tough trip. The poor dogs were bouncing and falling all over the back seat and could not get comfortable at all.
Pat was lovin' all the head banging bumps and had a grin from ear to ear the entire time. I on the other hand felt like my entire breakfast was being put though the wash cycle in a front loading washing machine.
When Pat asked me to drive so he could take photos, I thought that was the best idea since sliced bread since I could then control the speed at which we covered these huge bumps, lumps and holes. Pat was shocked when I immediately said yes, I would drive.
I didn't want to tell him I was about to throw up and maybe driving would help me keep my breakfast in my stomach where it was supposed to be. He hopped around the truck like a little leprechaun taking pictures in every direction as I got real comfortable in the driving position.
I could really get used to this, no wonder Pat likes this so much, driving seemed so much less stressful on my psyche. It also gave me something to hold onto when we covered the large obstacles, I think I could really get to liking this. Now we just need better suspension to make the rough roads smoother.
The longer I drove, the more I kept thinking about how Nanette was so confidant while driving and never seemed to break a sweat, even on the tough parts. This drivers side also allowed for much better viewing as I could now see down into the bottom of the canyons and out across the terrain that has been carved out over many years.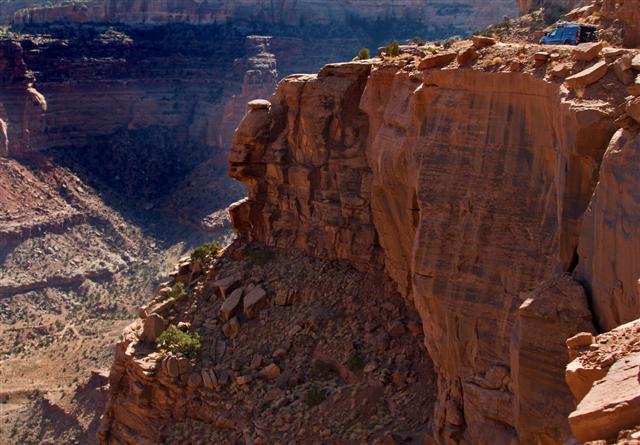 The passenger side gives me the view of a rock cliff on one side and Pat driving on the other, that gets pretty boring after a while. This whole thing about wanting to do this trail made complete sense to me now, being the driver is definitely the key.
We pulled over in an empty campsite for the night....not our designated campsite but we were making such slow time, we would never make it to where we were supposed to be camped. Pat got out the lawn chairs and ordered up a beer, leaving him extremely disappointed when he found out we had none.
This got him to start setting up the roof top tent and it is a darn good thing he did. No sooner did he get the tent set up did the winds start to pick up and I mean really got to blowing. I made us a quick sandwich out of the cooler since anything that was brought out ended up being taken by the wind.
I sent Pat in two different directions to wrangle in some cheese wrappers that were stolen from the inside of the cooler by the winds. With the wind blowing so strong came the cold. Double digits dropped off the thermometer while we sat eating our sandwich.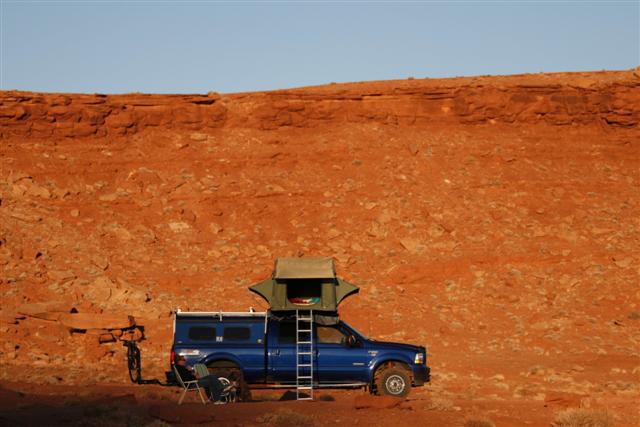 The only thing left to do was to get into bed since the cold gusts now contained sand particles that left my eyes bleeding. Pat asked me what I was doing getting into bed at 7pm and I asked what else there was to do? It was now past dusk, high winds blowing all around us, cold temperatures and sand storms....sounds like a nice night for a hike??
Pat took off walking with his camera as I got the dogs settled into the back seat for the night followed by me crawling up into the loft reading magazines. At least that was the plan until I found out that Pat had forgotten the head lamps.
When Pat got into the tent after an hour or so of hiking and taking photos, I asked him to please take the rain fly off since these wind gusts were starting to make it flap pretty loud. Little did I know that the rain flap was the worst of our worries. Within the next hour the wind went from blowing the rain flap to sending a freight train trough the center of it.
This was a little shocking at first then it became hysterically funny, bringing tears of uncontrollable laughter to my eyes for a half hour straight. The gusts would not let up, constantly trying to pull us off of this roof. At one point it was so loud, I couldn't even hear Pat speaking who was laying right beside me.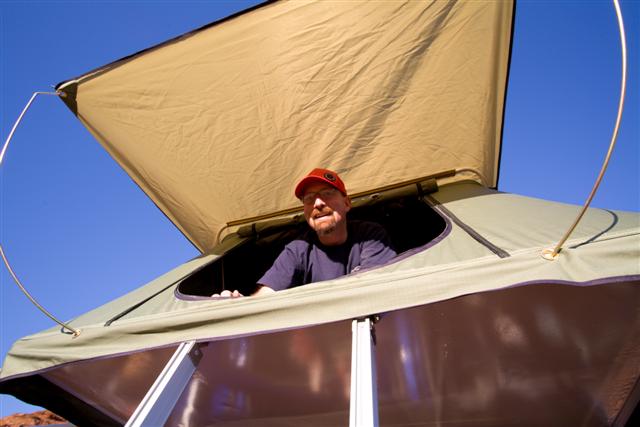 After a few hours of this I finally said that I was going to sleep in the truck with the dogs. Pat would have none of that and snuggled me close to keep me from blowing away. I sat up for a minute, thinking I might check on the dogs when I realized that the ladder had been blown under the tent.
I would have to use my bouldering techniques that I've never actually mastered. I thought about climbing down except for I suck at it, so I chose to hunker back down with Pat. We took a video of the darkness with a flashlight lighting up the sturdy poles which kept this tent from collapsing. The noise was so unbelievably loud that we had to have some sort of evidence to show people, even if it was dark on the video.
I'm sure it was a few hours into the storm before both of us finally fell asleep, waking in the morning to complete silence. This was one of the craziest nights of my entire life. It was a great sleep over/camping trip in our little roof top tent and something I will never forget.
We started off the day back in the vehicle gasping at the narrow roads, wide canyons and steep inclines. I drove for half the day letting Pat drive through the really rough parts of the trail which I wasn't sure about. Just about the end of the trail on day two, Pat asked if I wanted to stay another night, but by this point I was done with the bumps, jarring hills and sore hand from grabbing the handle above my head to keep myself sturdy.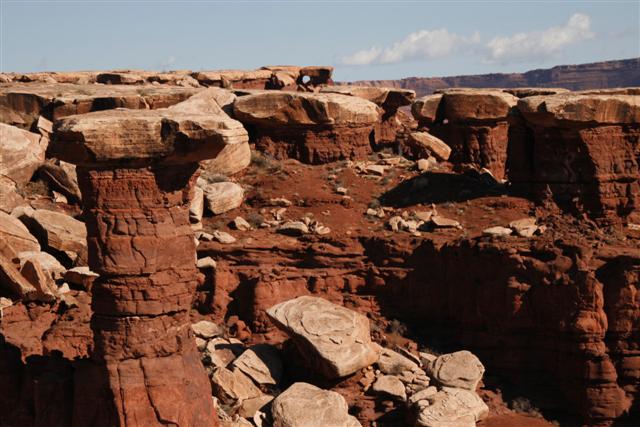 I chose instead to head back into Moab for some Mexican dinner and a few margaritas before we got back to our home away from home, the camper. Man did this thing ever feel roomy after sleeping in the roof top tent.
Wednesday October 28th
Looks like our time has come to call it quits in Moab, not that Pat or I are ready, but Mother Nature sure is ready to send us on our way. As my feet touched the linoleum floor of the camper this morning my toes almost yelped like a dog getting scolded.
Wow, was it cold in her today. Pat got up and stated something about how it must have really dropped over night because the camper seemed extremely cold this morning. As we sat sipping our morning coffee, Pat lifted the blind to look out the window and exclaimed in a loud voice "Snow!"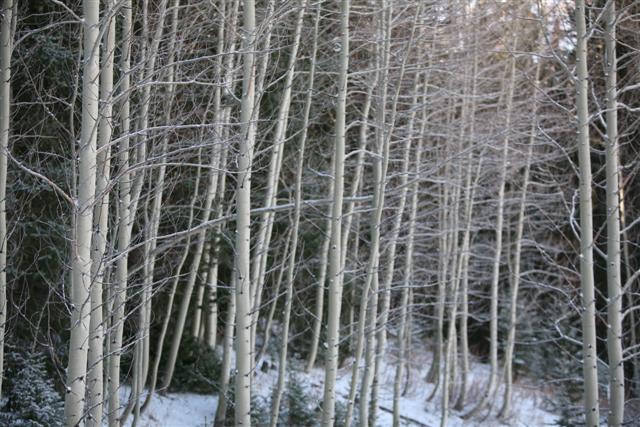 Ah ha, that explains my lack of enthusiasm to get out of bed this morning. I just don't enjoy snow, not that I don't like to look at "snow" per say, I don't like the temperatures that come with it. Both of us had the same frame of mind to pack up and head to warmer climates as soon as possible.
Saturday October 31st
Hard to believe it's November 1st and I'm this far behind on this blog! How does this always happen to me, well I'll tell you. We only have one computer which allows us to use Microsoft Front Page, the software we use to post our blogs with.
When we get up in the morning, I walk the dogs, make breakfast, straighten up a bit while Pat usually works on his blog, answers email and works on our photos that have been taken for the past few days.
Pat is very diligent with this and does such an awesome job with everything that goes into this web site of ours. I am very into the daily preparing of meals, baking, laundry, keeping our little cabin fairly clean and just the overall homemaking. It's hard to believe that I could actually be a homemaker in 200 square feet, but it is still my passion.
By the time he is finished, I'm so ready to get going and see what else we have to explore out there that I have absolutely no focus on my blog. I wish I could say that I want to sit inside, type and keep up, but that would be a lie.
I figure that Pat is such an eloquent writer and is so explanatory, that I am just the back ground guy anyways. We have had a couple emails asking why I don't post as much and the simple truth is that I just don't have the attention span to sit at a computer for hours like Pat does when there are so many other things to see and do.
I might decide to just post every now and then when fun and excitement come our way, for instance our recent chance to work a scary haunted house on Halloween.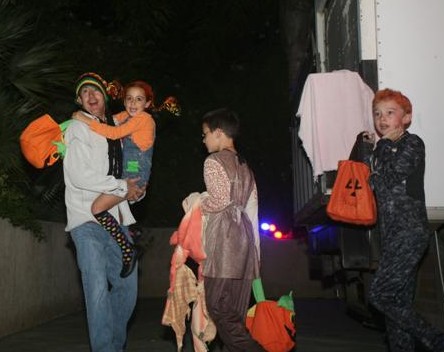 Our friend Mike and his wife Julia host a haunted house each year for friends, family and neighborhood guests. This is not just a little walk through production with bowls of jiggled jello and fake eyeballs.
I know that Mike has been working on this production for months on end, adding to his last years master piece, getting ready to scare the pants off of anyone who dare enter this fright zone.
The haunted house, called Dead End Manor, opened it's gates at 7pm and closed a few hours later that night at 10pm. Numerous times I walked through the thick crowd, taking photos of the ghouls, goblins and princesses to try and get a grasp on just how many people were attending this masterpiece the weird scientist had invented.
It is funny just how excited people get themselves to go into a haunted house. There were monsters scaring and jumping out of nowhere trying to frighten the children, the adults and friends while waiting in the long entrance line. The laughter was in abundance before they would enter the toxic experiment lab, but all were running to get out when they left.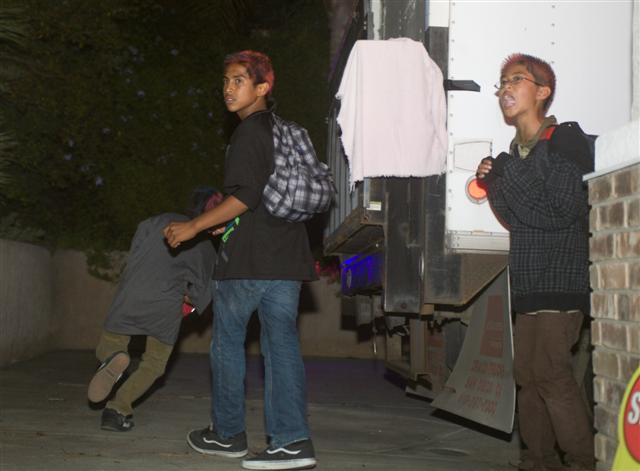 This elaborate set up had little girls crying, little boys clinging to their parents while closing their eyes and adults cringing as they tried to exit through the terror zone. I haven't had this much fun watching people scream in, ok, I've never had fun watching people scream, but this was awesome.
Pat had the best job of all which was to chase people with a chainsaw and that really scared the crap out of all who went through the Dead End Manor. I sat hunkered down near him and as people would leave the experimental lab, thinking that the haunted house was over, I would scream a blood curdling scream to get their attention.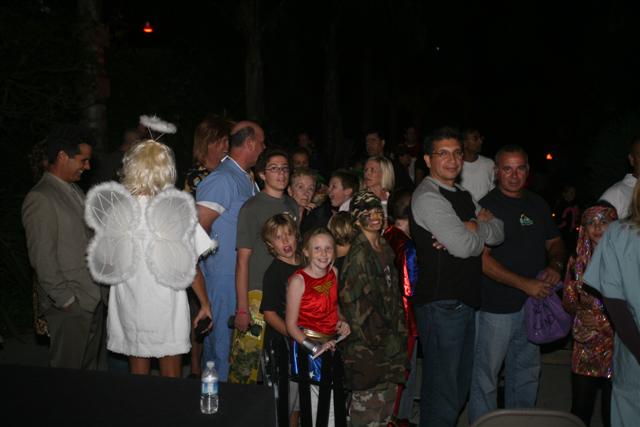 As the people would look to see who was screaming, Pat would run at them with the chain saw revving up. This was so much fun I didn't want the night to come to an end. As 10 pm rolled around, we had frightened over 200 people and raised a few bucks by way of donations for the local Humane Society, can't beat that with a stick.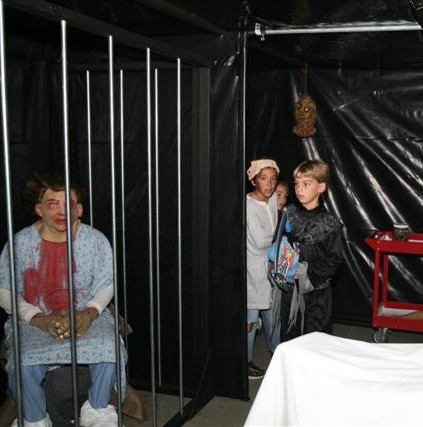 These poor kids were already screaming twice before they got to this point in the Dead End Manor Haunted House.
They thought Mike was just a stuffed Ghoul like the one sitting across from him in a Wheel Chair, when the corpse on the operating table lurched at them from the front, Mike grabbed them from behind.
I really enjoyed it when the kids that were acting all tough would start crying before they even got to the chain saw.
When that thing started up, they could here me scream and a strobe light was going in their eyes they would either run like crazy, just freeze and scream bloody murder or they would clench their fists to get ready to start punching. Most everyone ended up with a big laugh before they left and I really hope that not too many kids had nightmares later in the night.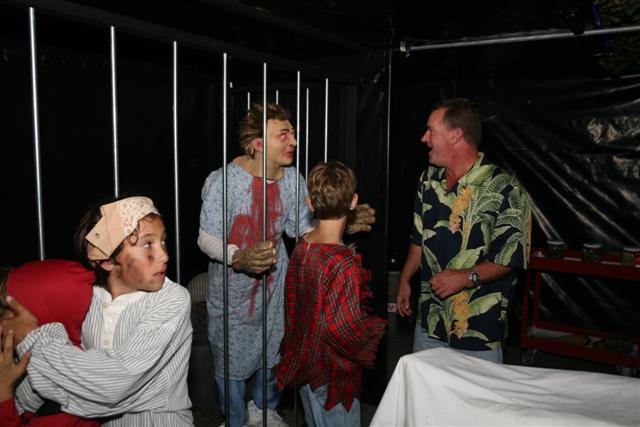 Remember, these photos are taken when a flash goes off, what these people actually saw was lit by black lights and it all looked very real! I told Mike that we would love to come back next year so we can scare the life out of a few more people.
Return to Top of Page
Need Unlimited photo storage- FREE Trial of Smugmug