When we realize our insignificance in this world,
it some how relieves the pressures from society to succeed -
Cindy Bonish 04/07

Pat's September 2012 Blog
If this is your first time here, you might want to start from the beginning of our fulltime Journey with our Past Blogs
If You Don't Know Me Yet, Click Here to Read My Bio
****
Flat Stanley - Having Fun with Photoshop
Sitting out in the Tiki Bar the other day, we had a visit from our Credit Card Representative, Crystal. Cindy and I talked with her for awhile and when she was finished, she asked if she could take a few pictures for her nephew.
She pulled out a piece of paper that was hand drawn, colored and cut out to look like a little boy.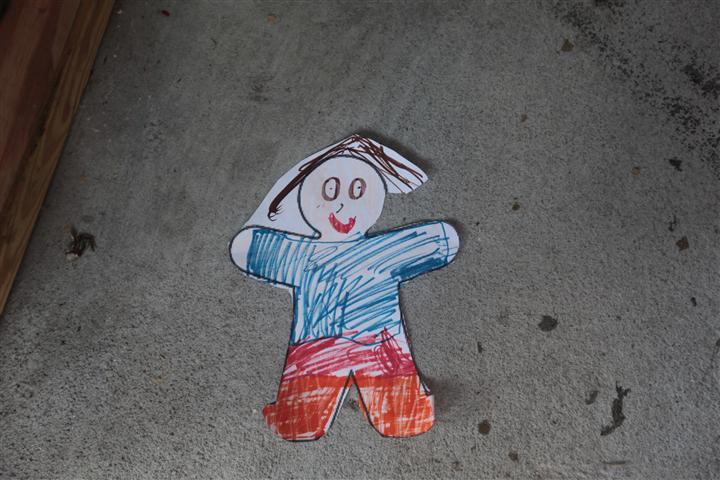 It is a project young children do in elementary school to help them learn geography. Our niece Morgan had participated in the same project last year in her school and my sister had mailed me the piece of paper asking if I could take some pictures of it in cool locations so Morgan could show her classmates.
We took it one step further and placed the Flat Morgan, which is what it's called, a flat version of you, in random photos that showed her in awesome locations around our beautiful country.
My sister was floored and told me when most of the other kids gave their presentations, it would take all of 5 minutes to show the 1 or 2 photos of their Flat Versions in different locations and point that location out on a map. When Morgan stepped up in front of the class, they spent multiple days going over all her locations, finding them on the map and talking about them. Her teacher sent me a personal email thanking me and said it was a great learning tool.
So when Crystal asked if she could snap a photo of Flat Stanley on our dock, I asked if I could take a photo of the piece of paper.
I spent an hour on the computer the next day and Photoshopped Flat Stanley into some hilarious locations around the country. I'm not sure if this is more fun for me to find cool photos to place the Flat Version into, or for the kids to show off their Flat Versions? Here is what Stanley is going to be able to show off to his class.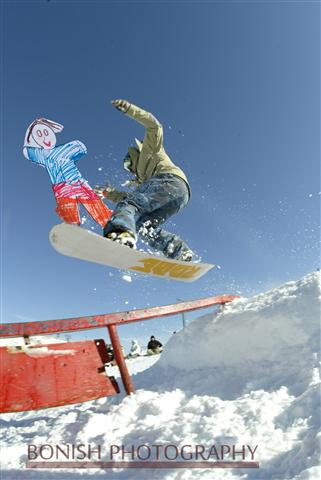 Flat Stanley Snowboarding in Michigan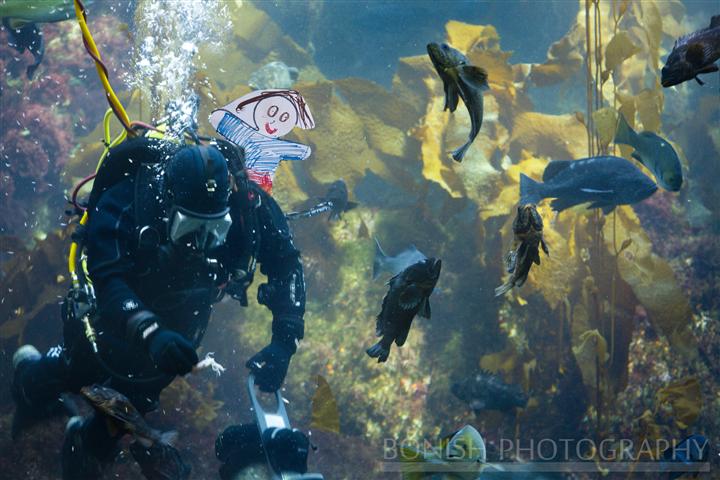 Flat Stanley going Scuba Diving in Monterey California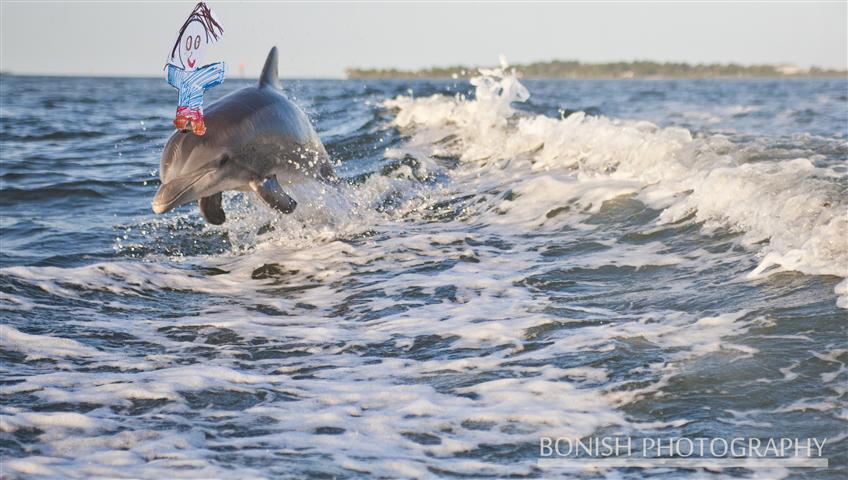 Flat Stanley Riding a Dolphin in Cedar Key Florida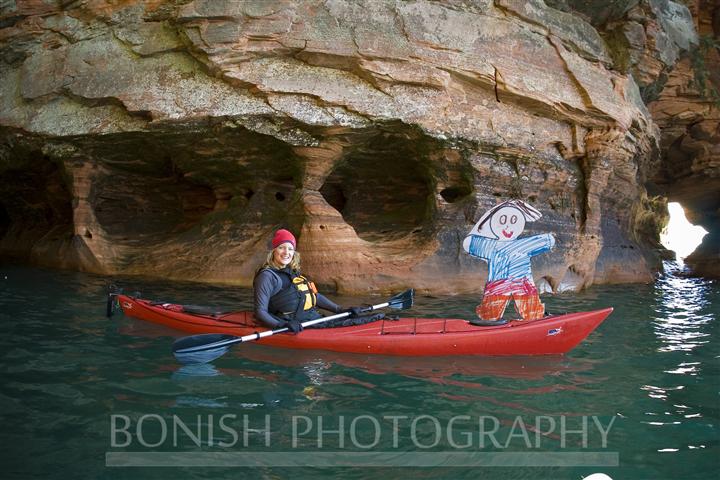 Flat Stanley Kayaking the Apostle Islands in Wisconsin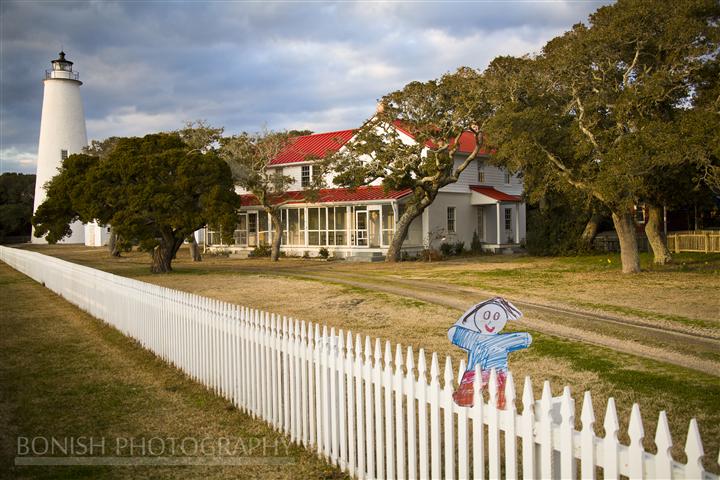 Flat Stanley in front of the Ocracoke Lighthouse in the Outer Banks of North Carolina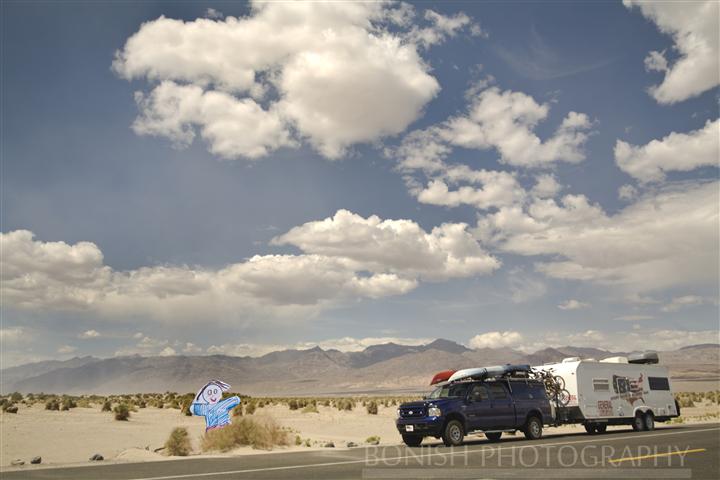 Flat Stanley at the Lowest Point in the United States in Death Valley, California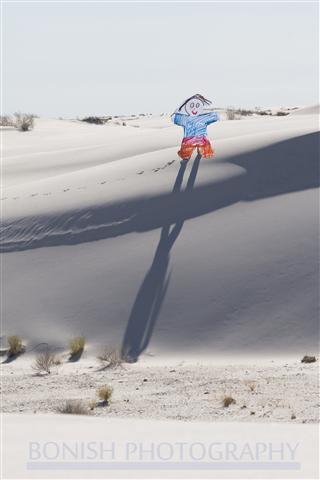 Flat Stanley Hiking in White Sands National Monument, New Mexico

Flat Stanley on Honeymoon Beach on the Island of St. John, US Virgin Islands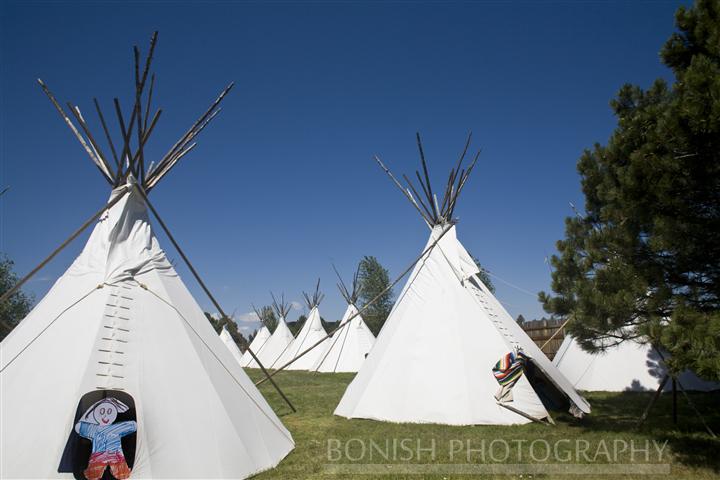 Flat Stanley in a Native American Village in Wyoming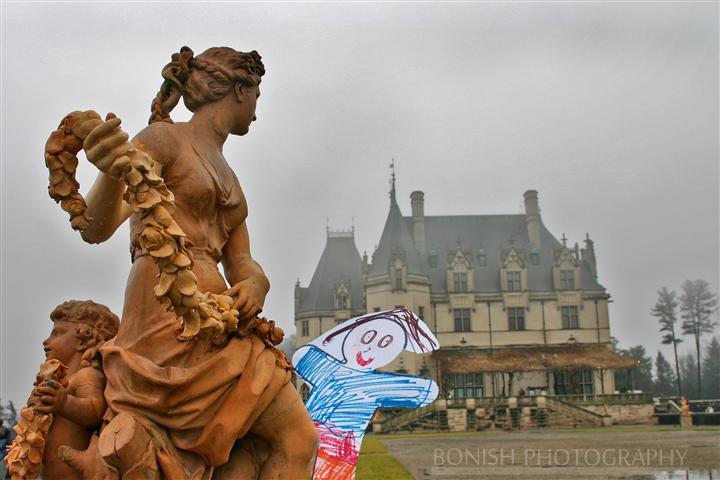 Flat Stanley climbing the statues at the Biltmore Estate in North Carolina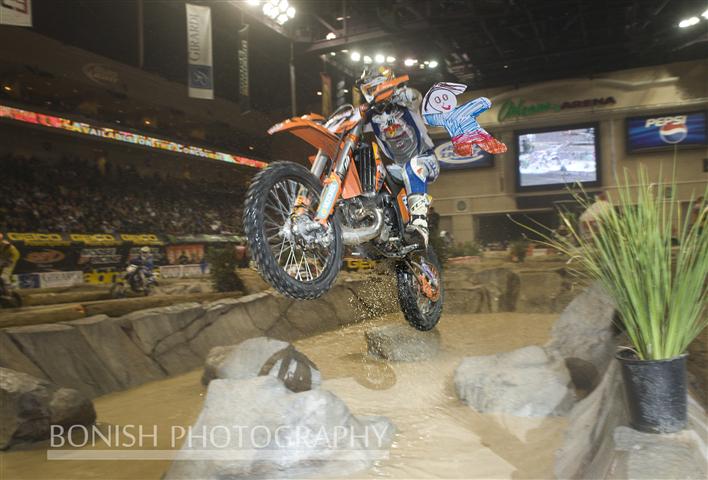 Flat Stanley hanging on to the jersey of Taddy Blazusiak,
the EnduroCross Champion in Las Vegas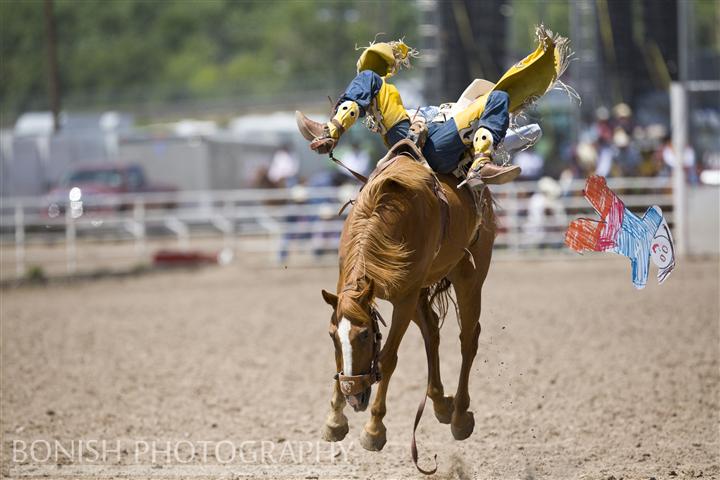 Flat Stanley tried to go for a ride at the Cheyenne Rodeo, but got thrown off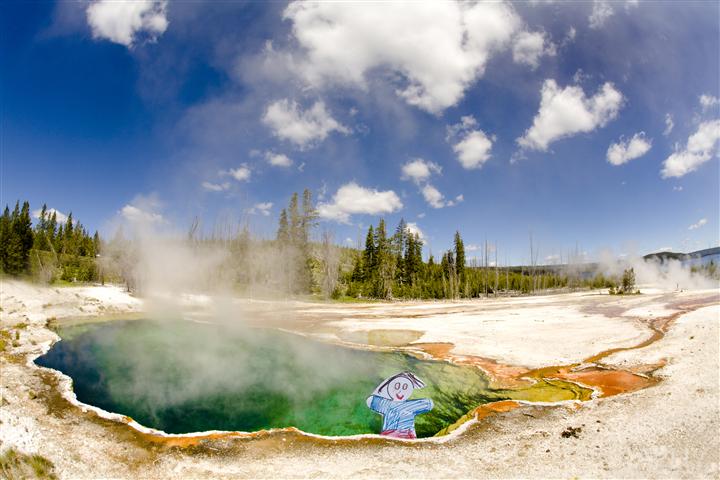 Soaking in a Geyser in Yellowstone National Park, Wyoming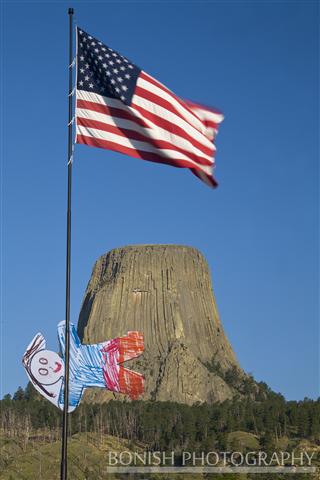 Flying on the Flag Pole at our Nations First National Park, Devils Tower, Wyoming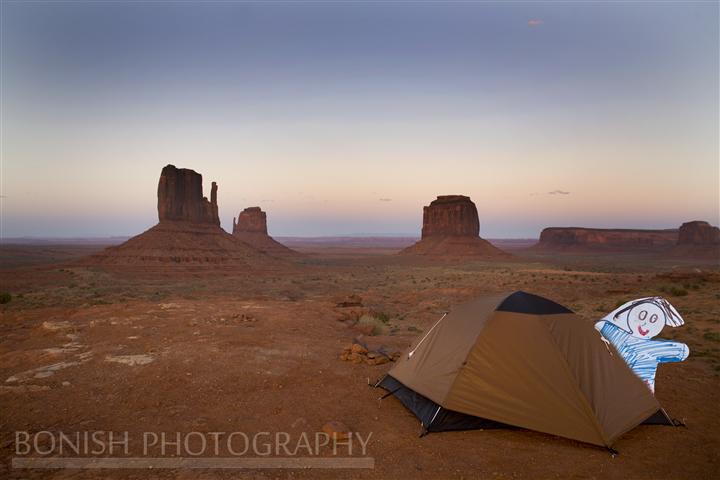 Camping in Monument Valley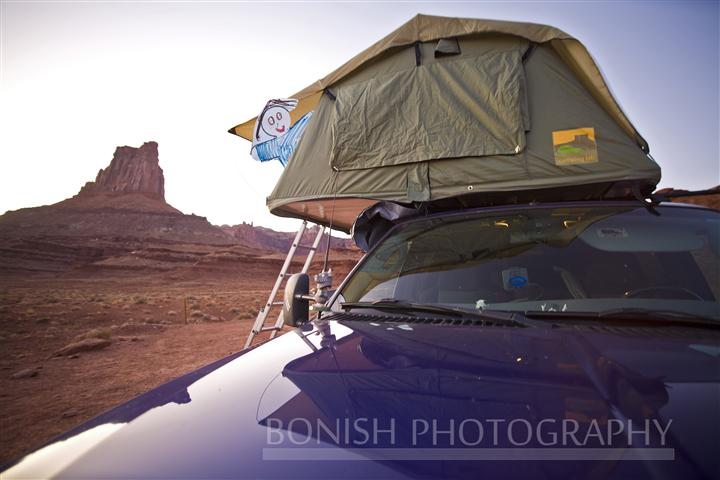 Flat Stanley Camping in Canyon Lands National Park, Utah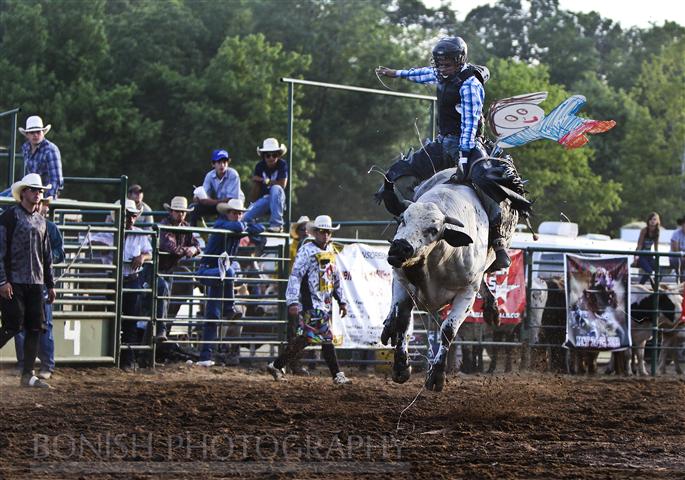 Riding a Bull at the Rock Bottom Chuck Wagon Races in Arkansas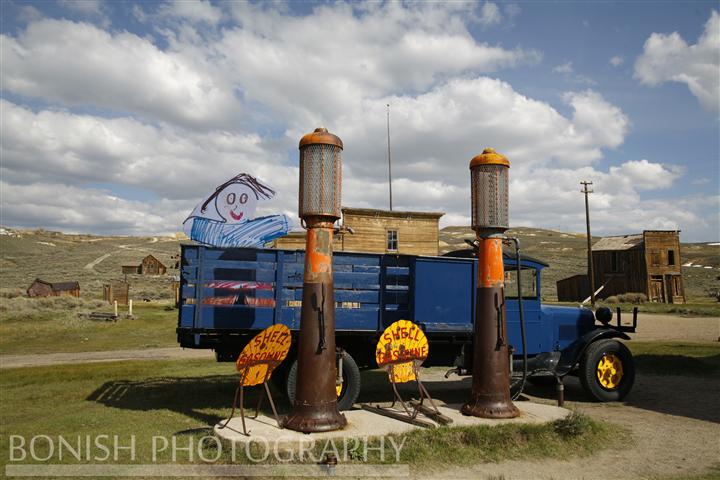 Playing on an old delivery truck in Bodie Ghost Town, California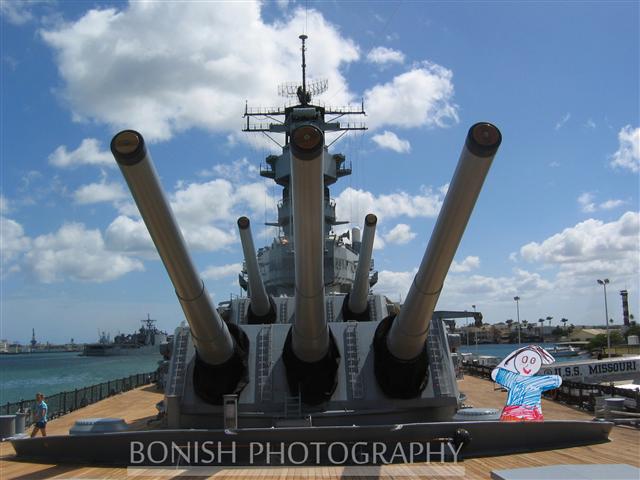 Flat Stanley aboard the USS Missouri in Pearl Harbor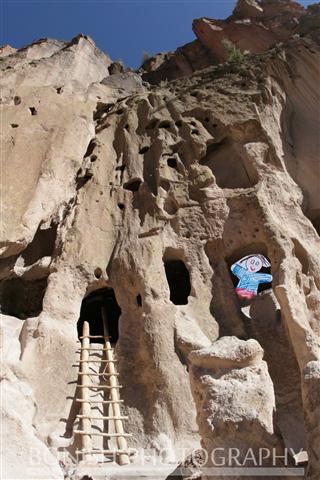 Flat Stanley playing in the cliff dwellings of Bandelier National Monument, New Mexico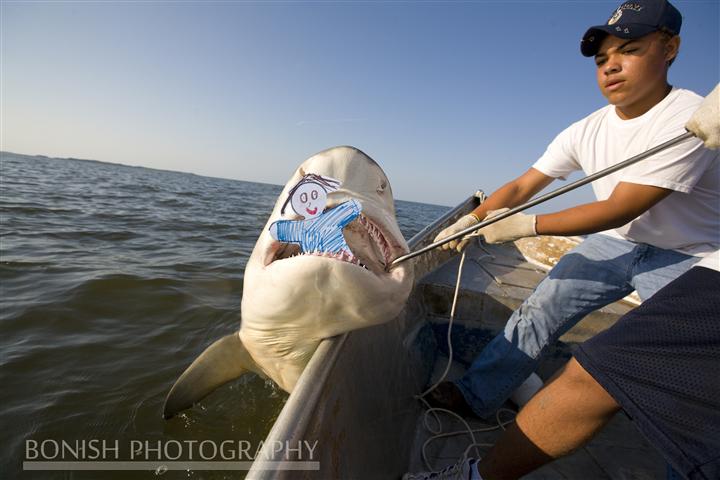 Flat Stanley trying not to get eaten by a shark in Cedar Key, Florida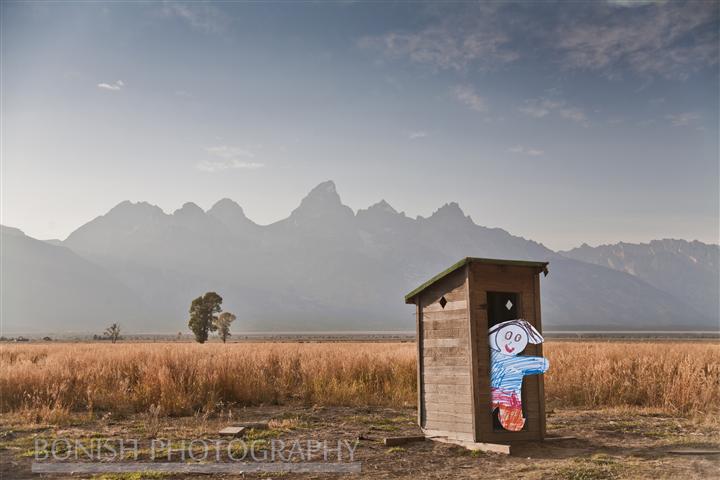 Best Outhouse on Earth in Wyoming with the Grand Tetons as a backdrop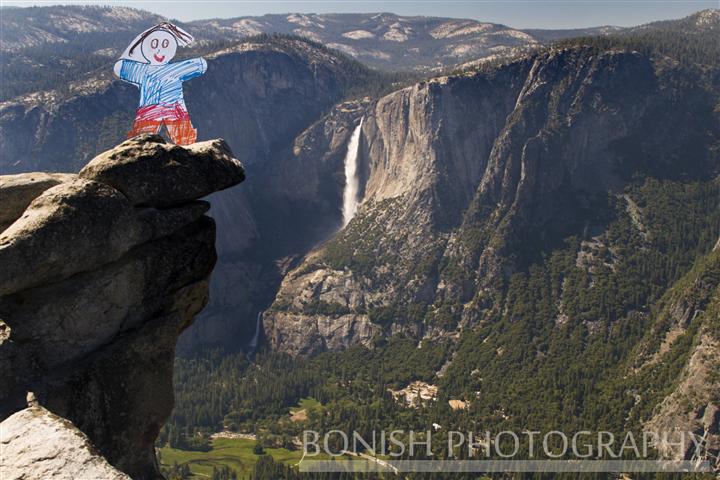 Overlooking Upper & Lower Yosemite Falls, Yosemite National Park, California
So, what do you think? Wouldn't that be a fun presentation for a elementary school kid to give to their class!
Wednesday September 19th - Celebrating our 15th Anniversary
Cindy and I had planned on taking the boat down to Tarpon Springs for our anniversary so we could check out Anclote Key and some of the surrounding islands. Our goal was to be able to go snorkeling and use the Underwater Housing in the clear water that area is known for, but when I dropped the boat off to Troy last week, he told me it would take a full week to get all the welding done.
That meant I had to come home and tell Cindy to cancel our hotel reservations and we wouldn't be going anywhere.
We were both upset over this, but it either meant go for multiple weeks without the boat being fixed up, or get it out of the way and just push this little 3 day trip back a few weeks.
Heath heard us bickering over changing our plans one night while at the Tiki Bar and he suggested that we all jump in his boat and run down to Yankee Town where we could go out to dinner at the Izaak Walton Lodge.
This historic lodge sits along the banks of the Withlacoochee River and had just recently re-opened. If you're tempting Cindy with Good Food, you don't have to try too hard. Today was our normal day off, so we made plans to celebrate our anniversary today, even though the actual date isn't till tomorrow.
After 15 years, who really cares what day you actually do the celebrating on? Especially with our lifestyle, every day is basically a celebration, so this is just another reason to go for a boat ride.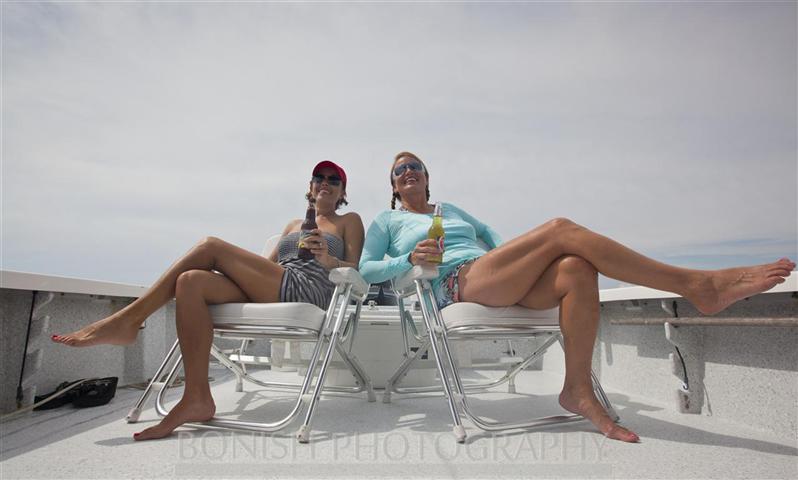 Jolie & Cindy enjoying the afternoon aboard the Persuasion
We all met at Heath's boat dock at 2pm and loaded up The Persuasion with the coolers and gear. The Withlacoochee River would take us about a 30 minute boat ride to get to from Cedar Key, but once in the river, you have to maintain idle speed since it's all a No Wake Zone. So we'd have some time to kill while we idled up the river.
I love river cruising. Idling up the river just browsing the docks, admiring the beautiful homes, taking notes on the various types of boats and counting turtles and Manatee.
We were running a little early for our 5 o'clock reservations, so we continued up the Withlacoochee River just enjoying the beautiful afternoon. We floating almost till where the river dead-ends into a dam before we turned around to head back to the Lodge.
The girls changed into their evening wear while Heath and I stayed in the same grubby chaps we were wearing when we left Cedar Key.
Dinner was great! The food was excellent and I can see this being a monthly excursion for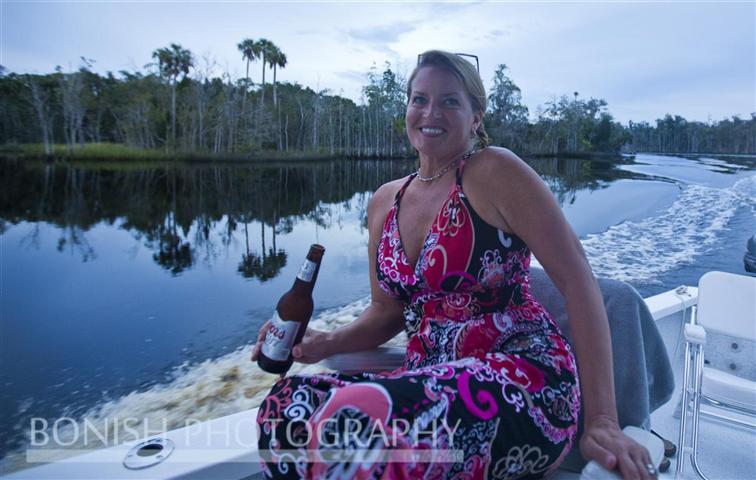 our group of friends. It would be a great day trip for friends or family visiting Cedar Key and I'd highly recommend it to anyone in the Nature Coast area.
The ride back down the Withlacoochee River was fun with the evening air cooling us off. Once out in open Gulf, Heath drooped the hammer so we'd get home sometime before it was pitch black.
While racing home, we watched a beautiful sunset over open Gulf of Mexico waters and all took it in thanking one another for making time to enjoy such a beautiful day together. What a fantastic life we live and I'm so glad we have such good friends to enjoy it with.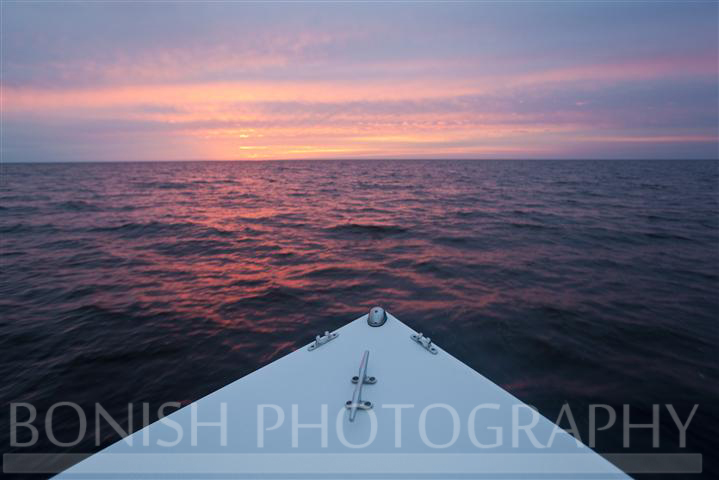 Tuesday September 18th - Picking the Boat Up
Last week Heath and I had brought the aluminum boat up to Williston Marine Metals to have some custom work done to it. Troy, the owner had called this morning to tell me it was finished and I could come pick it up.
When we got the boat from Heath a few months ago, it had always been just a work boat. Work boats aren't pretty and they're not meant to be, they're meant to serve one purpose and usually one purpose only. This boat, the one we call the Honey Badger, has its purpose, running in very shallow water and not giving a shit what type of abuse you put it through.
It doesn't matter if you bounce it off a nasty oyster bed or beach it on a shell littered beach. The bottom isn't fiber glassed and you don't have to worry about scratching it up. It's all aluminum and can take a serious beating. The boat was an old aluminum airboat hull that Heath had a tunnel custom made under it so it could run in really shallow water.
Being as Cindy and I use the Honey Badger to enjoy the water for photography and get us into some seriously shallow areas that most boats cant even think of going, we're trying to make it as comfortable as possible without taking away its purpose.
I don't want to paint it all pretty and put multiple coats of clear coat on it to make it all shiny. I do want to paint the deck either white, or light grey so it wont get so hot while walking on it in bare feet.
I hate being in the sun, so I need to have some sort of bimini or T-Top installed that provides shade over the center console where I stand to pilot it. I don't like that boats always have a seat behind the center console that is so low that you cant really sit down while piloting the boat. So we've ordered a leaning post that sits higher and will allow me to either lean against it while the boat is moving, or sit down and still be higher than the center console for a clearer line of sight.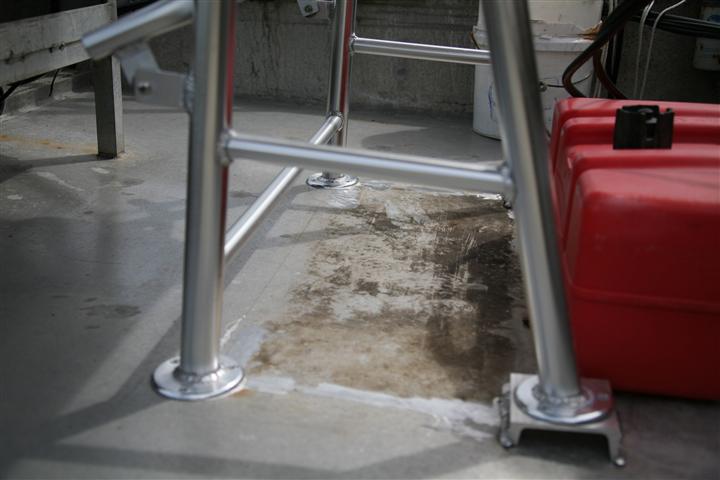 Base of Leaning Post where an Igloo 48qt Marine Cooler fits perfectly
This leaning post was custom built with storage under the seat where I'll be able to store camera gear while out on photography tours. I'm planning on putting in some foam from one of the Pelican cases so the big Canon 400mm will ride safely under the seat and be ready at a moments notice, yet safe from salt spray or water splashing on it.
I could have went out and ordered any ol' bimini or had a standard T-Top installed, but I wanted something that looked good and it had to be foldable so we could still get under the Cedar Key bridges at high tide.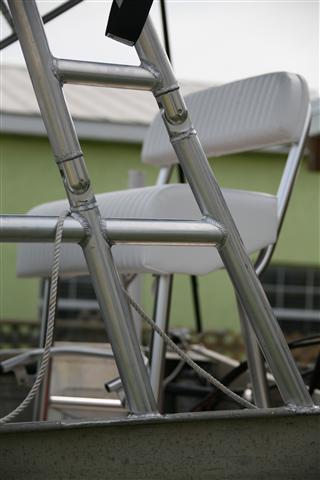 That's the one thing with the Honey Badger, it can get under all the bridges which is something most other boats cant do because of the height of their T-Tops. Explaining all of this to Troy at Williston Marine Metals, he assured me he could make a top that was foldable yet would still provide plenty of shade for the back of the boat.
He was going to remove the old, square tube aluminum side railings and replace them with round tubing that would be more comfortable to lean against since that's where everyone likes to sit. Plus, removing the square tubing, which looked very industrial and work like, and replacing it with round tubing, which is so much better looking will give the boat a different look. It'll bring it from work boat look to pleasure craft.
The deck of the boat had stress cracks along some of the welds from the constant abuse we put it through and I was having him re-weld those areas to strength it up. Troy was moving the cooler seat from behind the center console to the front of it so passengers could have a place to sit, and he was mounting the leaning post/seat, behind the center console for me to have my station to work from.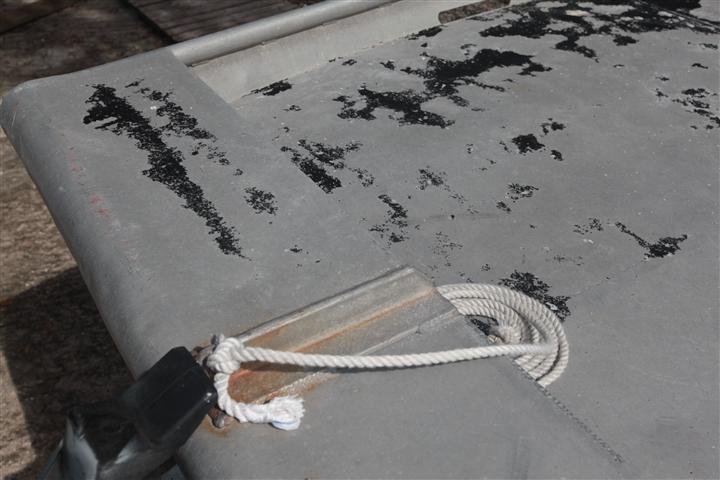 The plate that is now removed and sanded smooth
There was a big plate that had been welded to the front of the bow where Cindy likes to sit; this gets in the way from people sitting down or laying down up front. Like I said, we use this as our everyday boat, and do a lot of floating around just relaxing, so I want to make it as comfortable as possible.
It's still going to be a work boat, but it'll just be a more comfortable work boat. We're not working on the boat like Heath and his dad did, Clamming, we're using it for photography, so its a different type of work.
Since we've had the boat, I also had new rims put on the trailer, had the entire axle rebuilt with new bearings, springs and shackles replace so when we need to trailer it around, we're not worrying about losing a wheel. We also hooked up new lights with all new wiring so we'd be legal while trailering. I bought bunk guides so while loading the boat, you don't have to worry about the wind or the tides moving you off the trailer while trying to load it. Troy welded up some stiffer mounts to hold the bunk guides so the standard U-bolts they come with wouldn't break loose over time.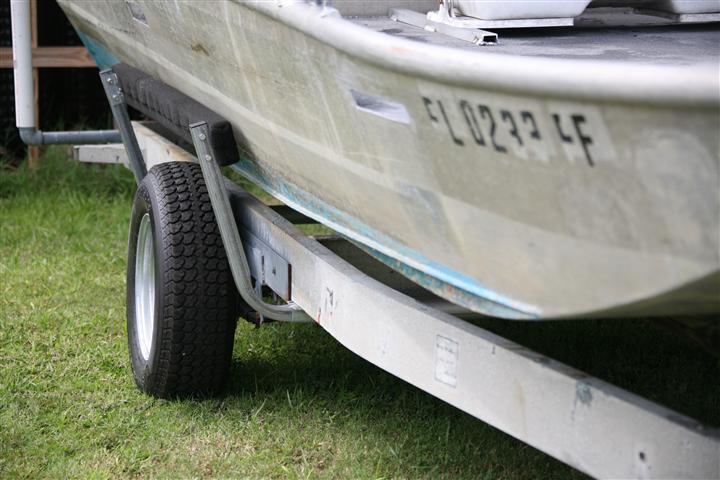 Bunk Slides to help guide the boat onto the trailer along with new rims and tires
Troy's work turned out beautiful and it's amazing how well everything came together. Our next task is to sand the aluminum deck down which used to have a black truck bed liner sprayed on it years ago. Over the years, it's peeled up and now it just looks crappy.
Over the next few weeks I'll remove that black stuff and work on painting the top of the deck with a white topside paint. This will not only keep the deck cool to the touch, but it'll give it a natural boat look rather than the work boat look of the bare aluminum. I'd priced out having it sprayed with Line-X, but my quote was just under $2000, and that's just too much for my paper thin pocket book. I can buy a gallon of Topside Paint for right around $100 and do it myself.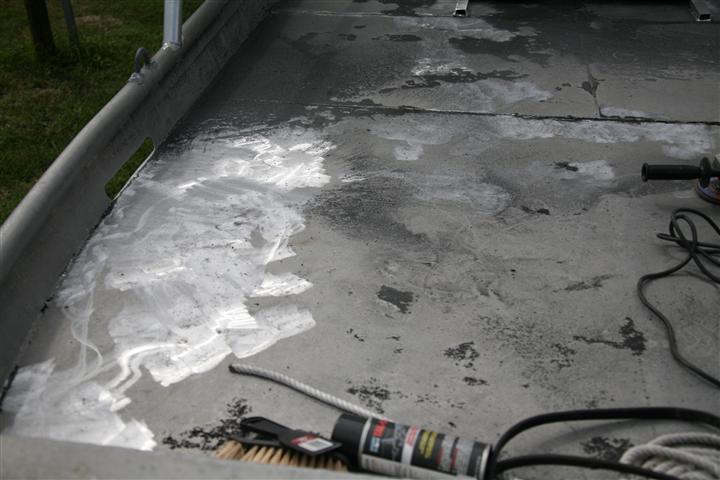 Grinding off all the old bed liner that is peeling up on the deck
I really wanted to have the Line-X sprayed on, but I'd have to bring the boat to Tampa which is where the nearest dealer is located. That 2.5 hour drive alone would add a few hundred bucks to the cost of the job. Maybe if I win the lottery or find a pile of money lying around, I'll do that, but for now, a fresh coat of white paint will have to do.
Once the boat is painted, our next item will be a radio for some tunes and some lights installed so we can stay out after dark. With that done, I think it'll be complete and the rest will be basic maintenance. Or at least I tell myself that right now. Check out this Jon Boat a friend of mine showed me. They call it the Jon Yacht. This is taking it to a whole new level and has already given me some ideas.
That's the deal with boats, you can keep them as basic as you'd like, or you can pick up a West Marine Catalog and max out as many credit cards as you own. I'll try and keep the progress of the transformation as detailed as possible, and if anyone has any good suggestions or tips, feel free to pass them along.
Saturday September 15th - Annual Coastal Clean-Up
Each year there is an annual Coastal Clean-Up where the community comes together to clean up the shores and area beaches. We've participated for the past few years and I love seeing everyone come out and lend a hand.
I have issues why there needs to be a day to do this, as I feel every day should be Coastal Clean-Up day and anyone who enjoys the beach, the shoreline or just being out on the water should do their part to help keep it clean.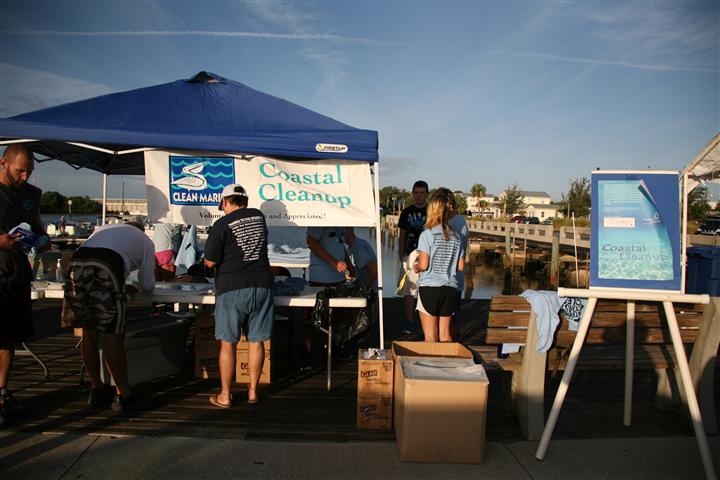 Just like the 'Leave No Trace' motto we live by, where you always try and leave the trail, the campsite or anywhere you visit cleaner when you leave than when you arrived, I feel this should go along with boating, paddling and for anyone on the water.
Heath, Cindy and I had planned on going out this morning on the Airboat simply because we'd be able to get to some areas that you normally cant get to in a normal boat. That and it's always fun to have go out on the airboat.
While at the Tiki Bar last night, we were talking with a friend, Ron, who lives next door in Sunset Isle Campground in his RV and we told him if he wanted to join us, he needed to meet us at the dock at 8am.
Ron said "Yeah, if you don't see my scooter, don't wait around for me, that's pretty early!" I told him to make sure and wear a Blue Thong to match the color of the airboat and mentioned that Heath and I would both be wearing them.
Ron laughed really hard and said "Well I guess I can sleep in since I wont be going now."
Heath replied saying "We wont be wearing them, but Cindy will be in one and she's going with us."
Ron pipes back up and says "I guess I'll be at the dock at 6:30am in that case!"
We found a few areas that were loaded in trash from the high tide mark. Especially where the fisherman like to hang out along the sides of the bridges which just infuriates me. Why come and fish, yet leave trash in the area you've come to enjoy? That makes absolutely no sense to me?

Heath & Ron cleaning up trash that gets piled under the bridges from the high tides
We had noticed a few weeks back after Tropical Storm Issac blew through that a new boat had appeared washed up on some oyster beds behind the motel. After filling more than 7 Hefty Bags full of trash, we went over to check out the abandoned boat.
There were no holes in the hull, but there was a milk crate that had a pile of live 12 gauge shells and a brick of .22LR shells in it. There was a plastic bag sitting in the bottom of the boat that Heath used to make a plug for the back of the boat.
He wrapped the plastic bag around a 12 gauge shell and shoved it in the drain hole in the back of the boat. Ron, Cindy and Heath pushed the empty boat off the shell mound and sat watching to see if it would float. After awhile of watching it sit there with no water coming in the hull, we tied the stern of the boat to the bow of the air boat so we could push it back to the marina.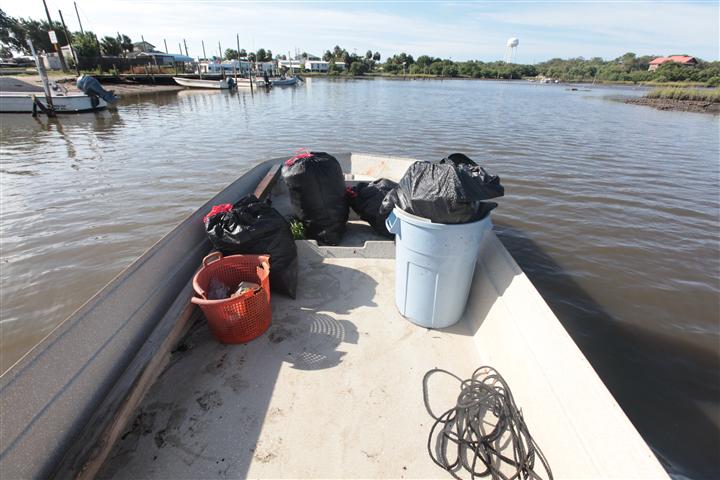 Pushing the Barge back to town
Normally if we see an abandoned boat around Cedar Key, you just leave it as it'll become a reef for the animals soon enough. But this one was sitting close enough behind the motel that I was worried that the next storm blowing through might land it in our back yard.
Funny thing is it'll more than likely end up there anyway, but I'd rather put it there myself rather than let Mother Nature do it in the midst of a storm. We can always make it into another flower box the way we did the last boat collected during Coastal Clean-Up.
Once tied to the bow of the airboat, we loaded all the trash bags into the empty barge and pushed it back to the marina where they had dumpsters waiting to sort the trash and weigh how much debris was collected.
When we pulled up to the marina, the workers started unloading the trash bags and talking with us about what we collected. They were surprised to see a bunch of live ammunition, but happy to see it out of the water. When we told them the empty hull was there's too, they laughed saying they had just thought we were using it as a barge to haul the trash.
We explained that it was abandoned and we had pulled it off a shell midden and told them if they wanted to deliver it to our motel, we'd be happy to use it and keep it out of the land fill.
By the time we were cleaned up and back at the motel, it was before noon, and we had the rest of the day to clean a few rooms and work in the yard before we had to open the Tiki Bar. Doing things like the Coastal Clean-Up are chores I don't really mind doing. Its the kind of work that makes you feel good and you know you've made a difference in your surrounding area.
Wednesday September 5th - Birding Tour & A Day on the Boat
I had gotten a call from a couple of photographers looking to get on the water in Cedar Key. We were scheduled to go out yesterday afternoon, but the Radar showed a huge cloud coming our direction that had a lot of Red in it, which means lightning. Which is not something you want to be on the water with.
This is a daily occurrence during the summer months, and 90% of the time, it blows by without ever dropping a raindrop on us, but I'd rather be safe than sorry. And we were expecting some afternoon winds, so a choppy boat ride isn't conducive to photography.
We rescheduled it for sunrise this morning, and I'm glad we did as it ended up being a great trip. I picked up Harry and Judi at the marina and we loaded up the camera gear on the boat. Motoring out to the channel, we positioned ourselves for a sunrise position with a sailboat right in our foreground.
We had some beautiful clouds that were really showing off some nice colors. I was trying to position the boat to get out of the wind that was blowing and sit in the calmest water there was, which was hidden behind the island of Atsena Otie Key.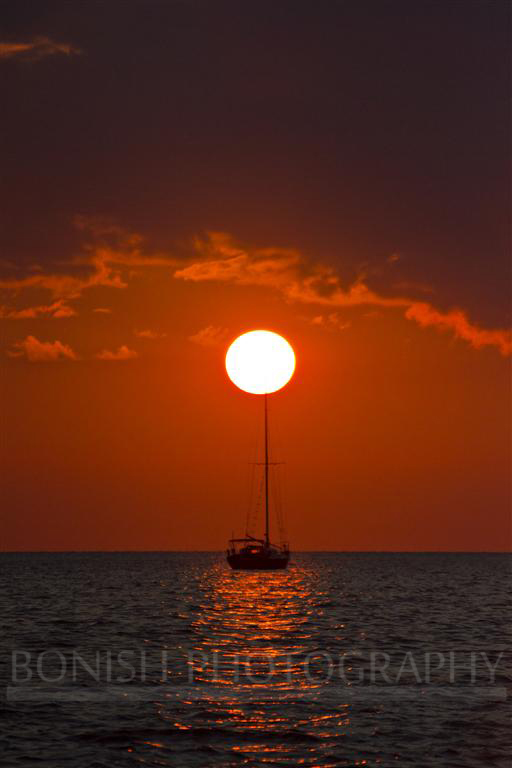 They say a sailboat at anchor is supposed to have a Mast Light,
but I think this guy is taking it to an extreme
Once the sun had crested the horizon, we motored over to the island of Seahorse Key to see what the resident bird population looked like this morning.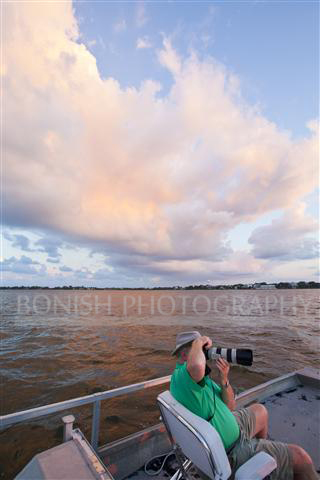 This late in the summer, you've got a eclectic mix because you still have some of the Magnificent Frigate Birds hanging out, but not the high numbers we had back in July. The Roseate Spoonbills are grouping up in high numbers probably because they're getting ready to head south for the winter due to our cooler nights we've been experiencing. And you still have very high numbers of Egrets, Cormorants and Pelicans that are always hanging around in the Cedar Keys. So birding around Seahorse was good for the cameras this morning.
We spent some time around Seahorse Key until we grew bored with what it was offering. The tide was heading out at an alarming rate, so I wanted to try and get into some of the backwater to see the Roseates.
Once we grabbed some shots of them sitting around in the mangroves, we went looking for a real surprise. Last night as Cindy and I were sitting out on the dock watching the sunset, Cindy had pointed to a large flock of birds flying towards us when she said "Look how big those Wood Storks look!"
Only when they were right above us did we realize that they weren't Wood Storks, but a large flock of White Pelican's. This is very early for them to be in the Cedar Keys as they're not normally here till late fall....October and into November is their normal time to arrive. So to see them in early September was a shock.
They like to hang out in two different locations, and as we headed over to Seahorse, we passed one of the sandbars where they normally hang out. They weren't there, so I was headed over to the other spot by Cedar Point Island where they like to congregate. Sure enough, we found a big flock of them sitting on a shell midden and we slowly crept up to them.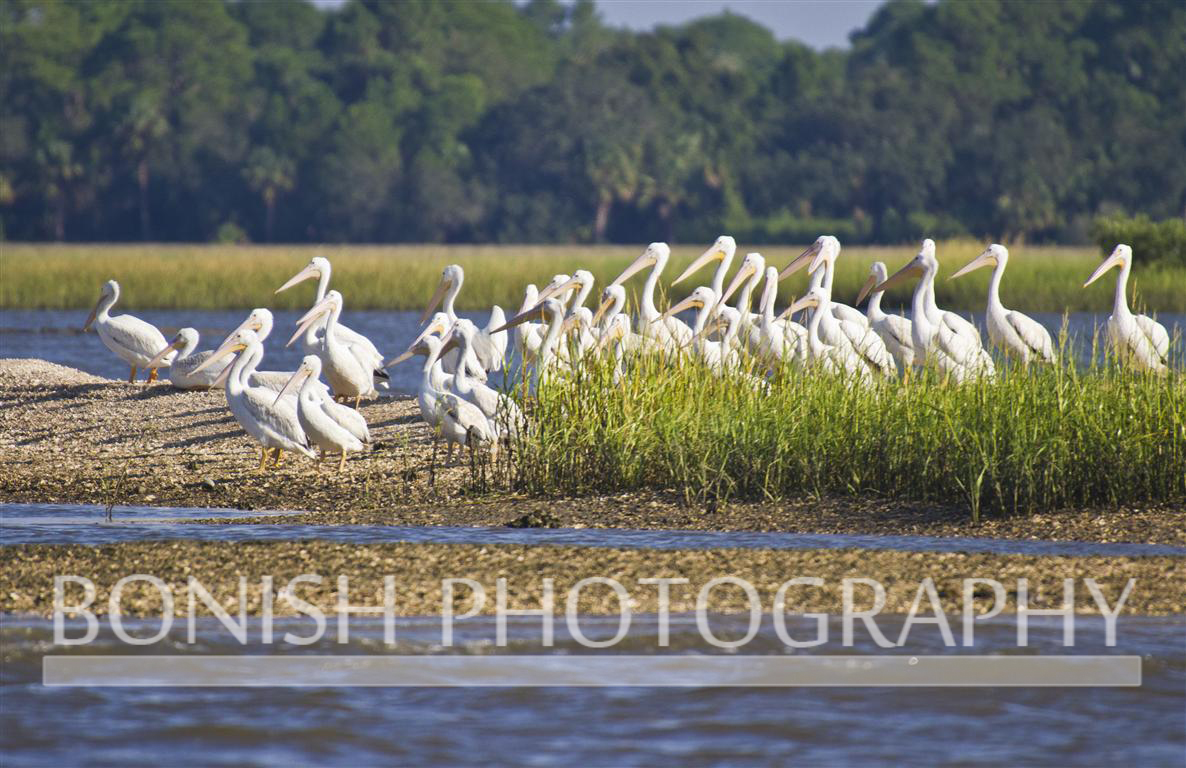 First photo of the 2012 Winter Season of White Pelicans in Cedar Key
We were able to get pretty close, but the sandbar where they were hanging out was in maybe 6" deep of water and our boat will run in shallow water, but not that shallow. Luckily Harry had a Canon 70-200mm lens and had a 2x extender attached, so he was able to get some really nice images. Just the fact that we were seeing them this early in the year is a treat, so I was very happy and hopefully they know how rare of a opportunity this was.
After the White Pelicans, I mentioned that the only thing they needed to see was a Bald Eagle and this trip would be a Grand Slam. Harry said "Well we've seen a dolphin, but we really want to see them jumping in our wake." We had watched a dolphin playing earlier while we were motoring over to Seahorse Key, but we didn't get him to follow the boat.
So I motored over to the other side of the islands into a channel where we have very good luck with getting the dolphins to follow in our wake.
Once we got into that channel, it didn't take long before we had 4 dolphins following the boat playing in our wake. Harry and Judi were snapping away as the dolphins jumped, surfed and frolicked behind our boat.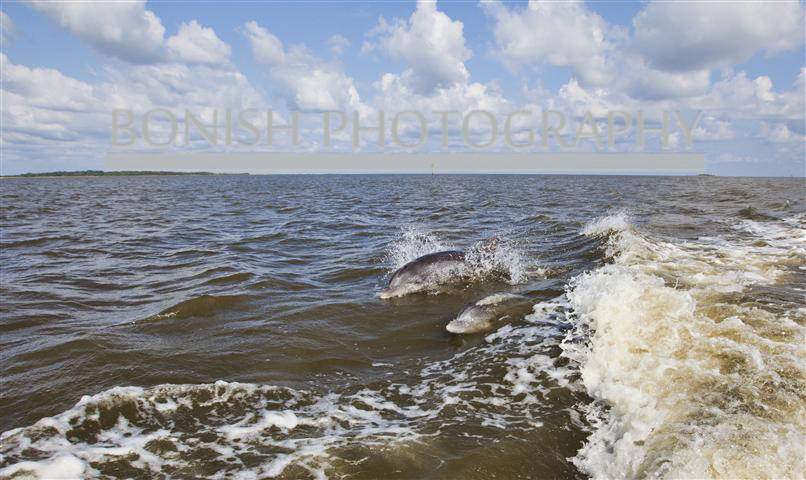 This was simply shot with the camera pointed over my back while I was driving the boat
They stayed with us for about a mile till we ran into shallow water and they turned to go about their day. Harry and Judi were ecstatic as they had both had ample time to nail some great shots. As we motored back to the marina, we talked of the dolphin and how fun they are to watch and photograph. Cindy likes to say that you'd have to be dead if you get tired of seeing dolphin play in your wake.
I dropped them off at the docks and thanked them for such a fun morning. It's always great to see other photographers get a chance to experience what we live with every day. Here are a couple of shots I got during the tour with Harry & Judi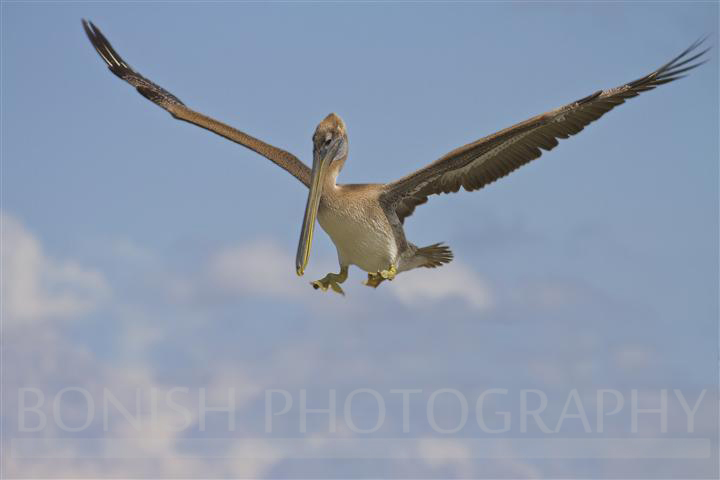 Immature Brown Pelican coming in for a landing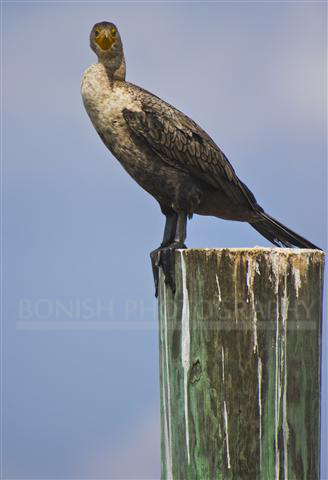 Dont the feathers on this Cormorant look like scales on a fish
Cindy had been at the doctors all morning for an annual check-up and was getting home just after I pulled up to our dock. She had gotten all done up because she was going to be out in public and was looking stunningly beautiful. Wednesday is normally our day off, so I suggested we head out the boat.
She asked if I didn't want to take a nap first since I had been up since 5am this morning. I said "Nope, lets pack the boat up and I'll take a nap in the shade under a palm tree on one of the islands." I knew if we stuck around, it wouldn't take long before I'd be out mowing the yard or tending to something that was calling my name. The list of To Do's, is never complete and it only takes a second for me to get started on something and I'll be off working for the rest of the day.
Cindy packed us some food while I grabbed a cooler and threw some drinks in it. We loaded up the dogs and headed out for some island time.
We found a nice shoreline that offered some shade and a cool offshore breeze. I plopped down a beach chair, dug my feet in the sand and cracked open and ice cold beer while Cindy went off walking with the dogs in tow. They chased one another up and down the beach while Little decided she loves to dig holes for no reason. She'd just dig a hole, then take off running only to stop randomly and dig another hole. This was new to us, but we both thought it was funny to watch her digging away for no apparent reason.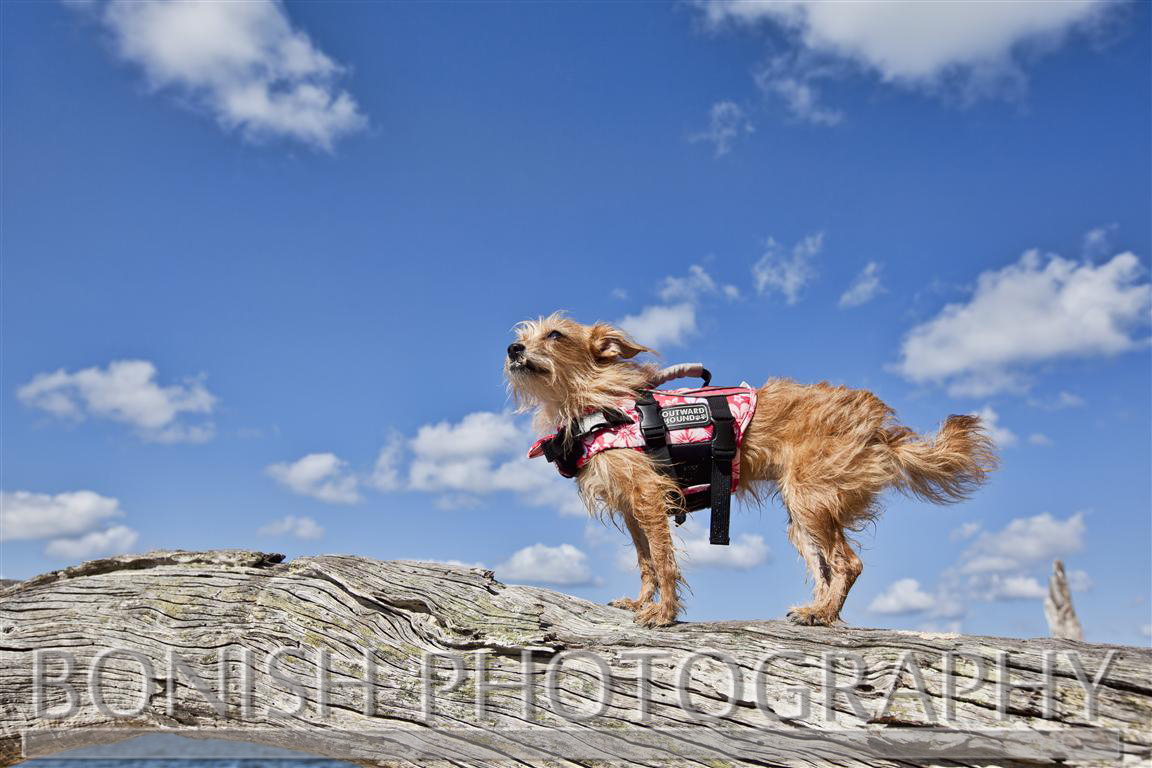 I could have sat here for the rest of the day, that is until the biting flies found us. This drove us back onto the boat so we could get out into open water where they leave you alone.
I told Cindy she had to captain the boat so I could just relax and kick back in one of the chairs. We motored way out into open water where the breeze was blowing pretty strong. We killed the motor and both laid down on the blanket we had brought. The breeze was blowing us back towards shore, but we were a few miles out so we'd have plenty of time to just float along. This is probably one of my favorite things to do.
You just lay down and look up at the sky, the clouds and the birds and hear nothing but the sounds of the waves hitting the side of the boat with a nice breeze keeping you cool. It's a heavenly place to be and one of my favorite things to do when Cindy and I have time away from the motel.
It didn't take long and I was sound asleep on my motorized waterbed. I woke up about a half hour later when I heard the motor start up. I looked up to see Cindy behind the wheel saying she was worried we were too close to the shoreline. She was moving us back out to sea so we could repeat the process of just floating with the wind.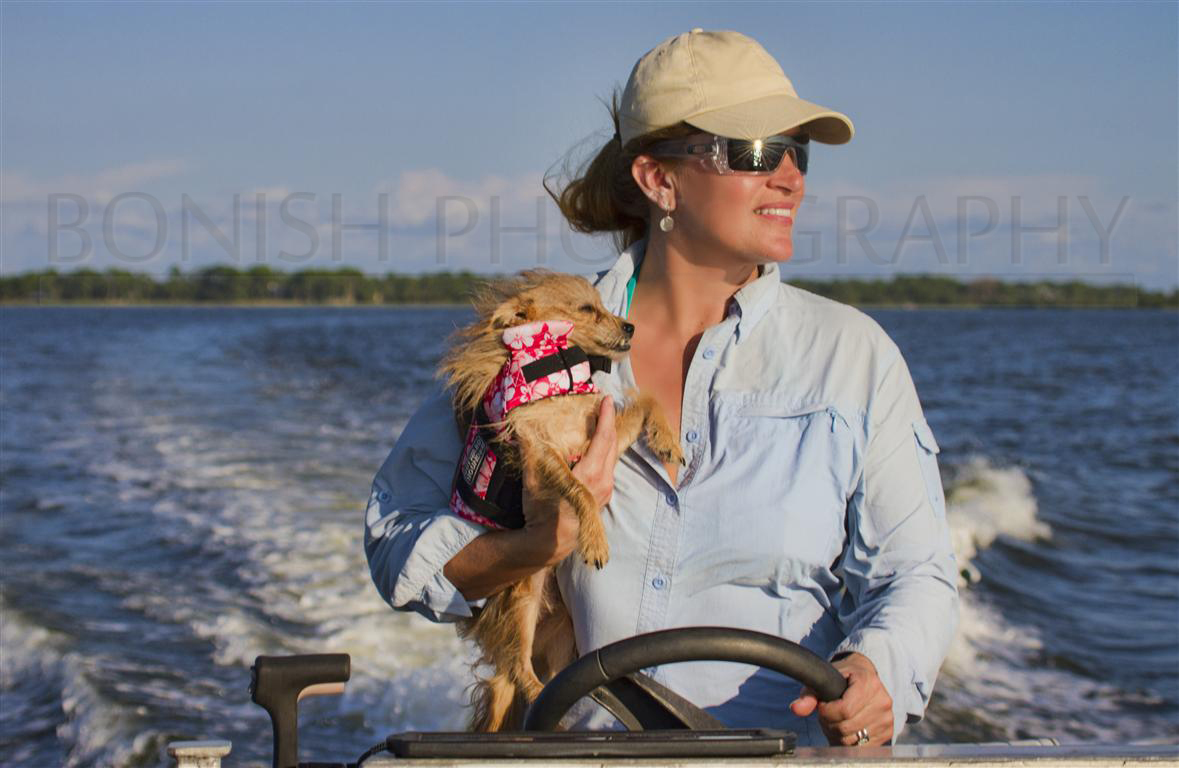 Cindy & Little piloting the boat
We repeated this process a few times till the sun was low on the horizon. It was late in the evening at this point, and we sat up watching the sun go to bed as we floated back towards shore one last time. Once the sun set, we needed to head in right away as the boat doesn't have running lights yet. That's something I'll have installed soon, but we're without them at this point so being out in the dark is dangerous.
We motored back to the motel dock and unloaded the camera gear and the dogs. Cindy made some dinner while I cleaned off the boat, and soon enough, we were all snoring away.
Just about as perfect a day as one could ask for. Spending the day on the water and watching both the sunrise and the sunset is why we live on the water.
Labor Day Weekend - Fun Times in Cedar Key
Wow, what a fun weekend we had in Cedar Key. The best part, I don't think Cindy and I ever left the motel or the Tiki Bar the entire time.
We were packed full all weekend long, including the RV's so the Tiki Bar was chocked full of patrons all weekend. We met so many fun folks and laughed so much, I think I need to take a day off just from all the fun.
Some random signs posted at the entrance of the Tiki Bar that make the patrons laugh.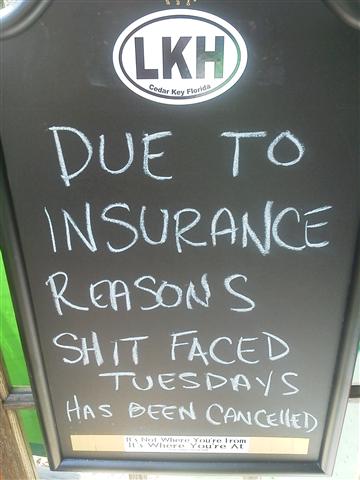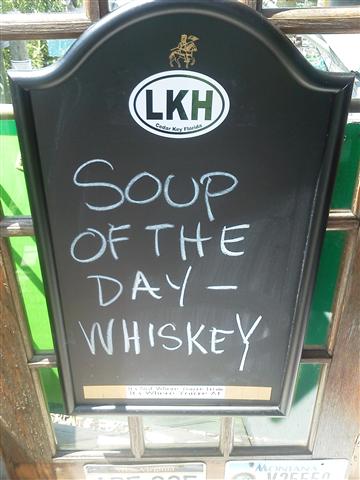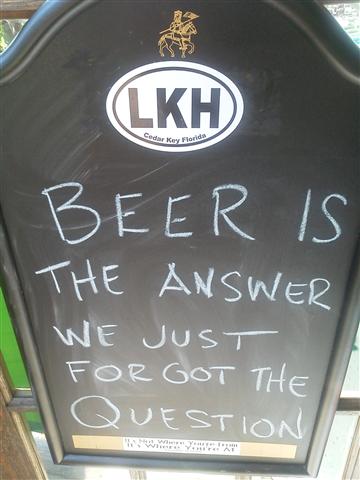 Monday August 27th - Tropical Storm Isaac
Weatherman = The only job you can do wrong 90% of the time and still keep it!
If you've been watching the news or the weather channel for the past week, the ONLY thing they've been talking about is Tropical Storm Isaac. Cindy and I have been laughing our heads off at how big of a deal they're making this even though it's anything but a big deal for us here in Cedar Key.
Latest News Report: Take cover, you should be expecting 20-30mph wind gusts!!
Seriously? We have those on a daily basis? I mean what ever happened to reporting it like it really is? If there was ever a reason to have people not pay attention to the real storms when they blow through, it's because of reporting storms like this that they blow so out of proportion.
Sure, you should be ready if it decides to turn in your direction, but when they're reporting on blown over umbrellas at beach resorts in Miami??? Come on!!
The tiki bar stayed full, we served a ton of Hurricane's and it was a beautiful weekend.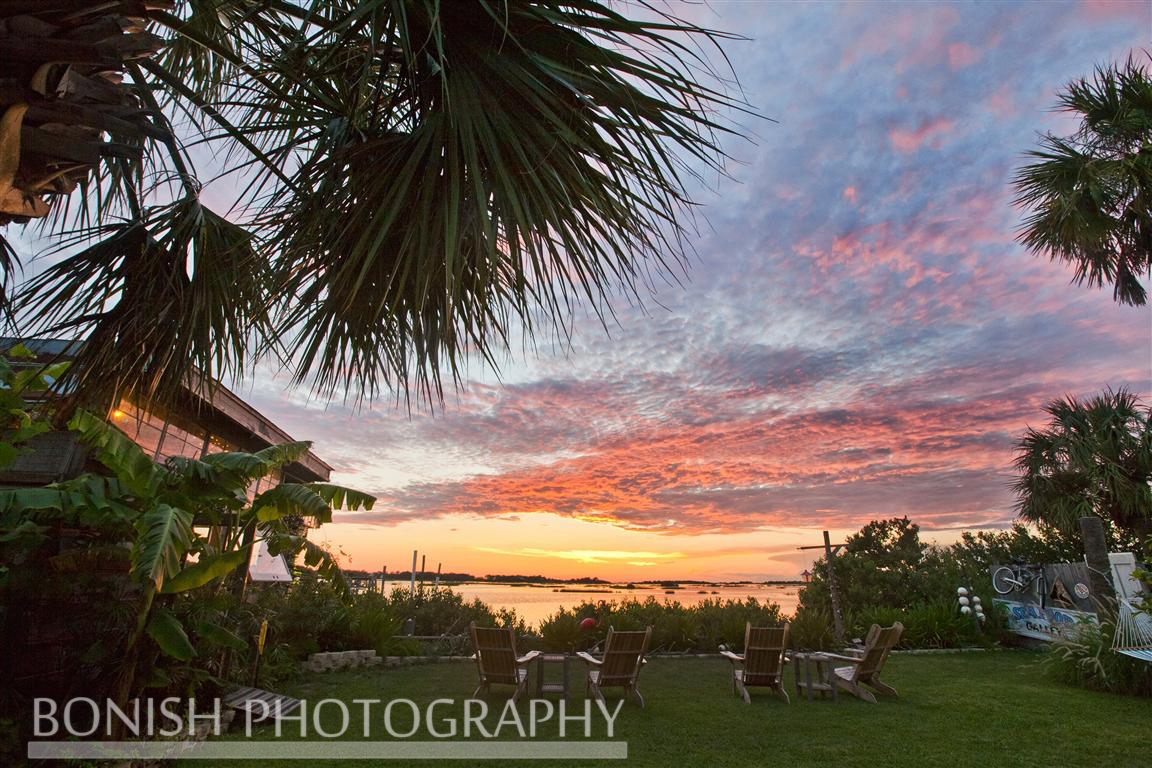 Sunset on Saturday night during Tropical Storm Isaac
Sunday and Monday we had maybe three, 20 to 30 minute rain showers and that was it. If you had never turned on your television, you'd never have even known that what blew through was supposed to be a Tropical Storm.
My mother called me a dozen times to ask if we were alright, and I could tell why. If she was watching the news, you'd have thought we were all done for. But again, this is why people do get caught by the bad storms. They get so sick of the media blowing anything with the name Tropical Storm or Depression so out of proportion, they don't even pay attention to the real ones.
Cindy and I had the camper filled with fresh water. We had the Refrigerator turned on so we could exchange the food out of the house refer to the camper one and we could have been on the road and heading towards safety within an hours notice if we needed to.
As for the motel, other than sandbagging the doors, boarding up some windows and locking everything down, there really isn't too much else we can do. When living at the nose bleeding altitude of 4' Above Sea level, with Gulf of Mexico at both your front and back door, there is little to do in the way of stopping Mother Nature when she wants to come ashore.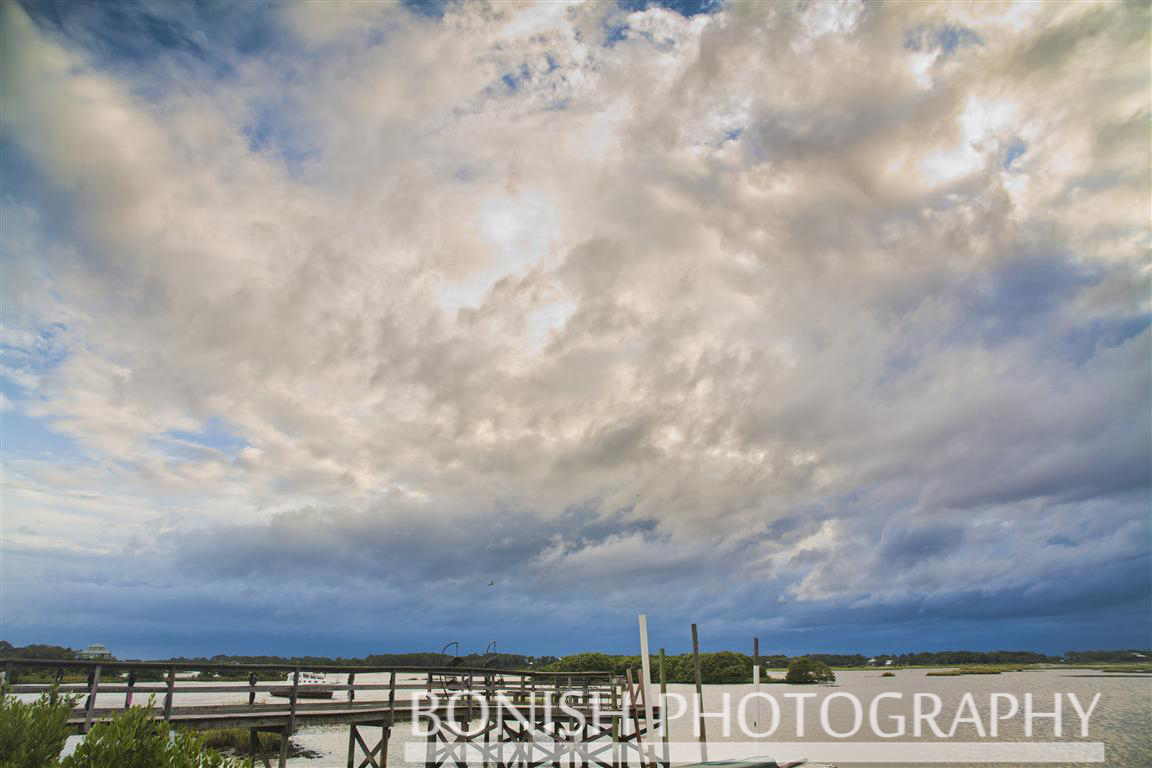 Sunset during Tropical Storm Isaac on Monday night
My mom asked me why we wouldn't leave sooner and I asked "So from now on, should I expect you and Dad to leave the State of Michigan every time you get a tornado warning?" That's something that happens at least once a month up in Michigan during the summer months.
There was a long pause and she replied "Ok, I see your point!"
Believe me, we gambled and spent over $10,000 on Hurricane Insurance this season. If I see one that is for real coming our way, I'll be sitting in that camper somewhere safe just hoping that the building gets blown away. The problem is, all that'll probably happen is we'll get flooded out and have a giant mess to clean up afterwards.
So Tropical Storm Isaac was nothing more than a wimpy wind storm that never even dumped much rain on us.
Saturday August 25th - My First Scuba Lesson
I had spoke of not being able to use my underwater housing since I got it for my birthday last month. Heath and I had spoken with a local guy who told us that he's traveled all over the world scuba diving, and when he dives just off of Cedar Key, he sees more sea life than anywhere else.
This got us pretty excited and Heath started talking with some friends of his who are into diving. They said they'd supply the equipment if he'd take us out to the shelf, which is some 20 miles off shore.
We had Tropical Storm Isaac approaching us and the weather people were telling us it was supposed to pass us by around Monday or Tuesday. You'd never have know there was even a storm in the Gulf for how beautiful the weather was.
Thursday and Friday, I'd spent the entire days getting the yard and motel ready incase this storm turned out to amount to anything. We had trimmed the trees, removed any debris that was lying around and I went up on the roof of the Tiki Bar with a caulk gun and applied some reinforcement to a few places where leaks were known to exist.
Friday night, while Catie was working the Tiki Bar, I spent the hour it takes to mount the Canon 5DMKII into the Ikelite housing making sure I took my time and everything was lubed and all seals were made properly. Installing the camera in the housing isn't something that can be done fast.
It's not like you just say, "Hey, lets go out swimming, throw the camera in the housing and lets go!" It has to be done right and you don't skip any steps, or you will probably end up losing the camera to a leak. Something I don't want to do!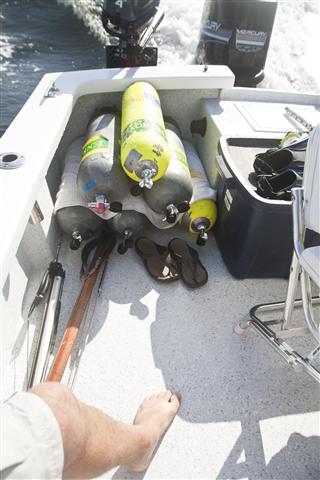 We met Heath down at the dock after we had picked up Jolie just after 8am. It was a beautiful fall morning with a slight coolness in the air. I love this time of year! The breeze isn't stifling hot like it's been the last few months, and you can almost feel the change of season coming on.
Gray and Marjorie Drummond met us a little while later with their good friend Matt. The girls all went to chatting about hair, which would remain a topic of discussion for the remainder of the day, while us guys went to loading up the scuba equipment.
One thing I noticed right away is when going scuba diving, there is a LOT of equipment involved. Between the tanks, the regulators, the spear guns, all the flippers and masks....Heath's boat that normally feels huge with lots of deck space kept getting smaller and smaller the more we loaded on.
Soon enough we were headed out into open Gulf. While we motored out, Matt went over the basics of what to expect. We'd only be diving in about 20' of water, so it wasn't going to be anything we'd have to worry about if a problem crept up, but I've never dove with air tanks before, so this would be a first for me.
The further we got offshore, the worse the waves got. Even though the sky was bright blue with no clouds, Tropical Storm Isaac must have been doing something to the seas because we went from nice, calm water around Cedar Key to 5-8' rollers once offshore.
When we finally hit the numbers Heath had been going for on his Chart Plotter, we all sort of laughed, because the bright, clear, blue water we had been expecting was a murky brown from the silt being washed up in these big waves.
The girls had all gobbled up a bunch of Motion Sickness Medication as soon as they left the dock, but I'm not sure if it had kicked in yet. Marjorie kept saying she was going to get sick, but was holding it down because she didn't want to puke in front of all of us.
We all made the decision that someone should jump in, follow the anchor line down to the bottom and see if the visibility was even worth putting the girls through the nightmare of sitting in this pitching boat on the surface while we tried to dive. Gray grabbed his mask and jumped overboard.
He swam over to the anchor line, grabbed a hold and started following it down. He resurfaced pretty quick saying "OK, visibility is about zero! I was following the rope down and hit bottom before I could even see it in front of me!"
We were only anchored in about 20' of water which is probably why the waves were so bad. Supposedly there is a nice shelf along the bottom here that fish love to hang out on. On a calm day, the water is supposed to be pretty clear and great for diving and spear fishing. Today wouldn't be one of those days.
We all made the decision to head back in towards calmer water and I made the mistake of trying to put the camera gear away. While taking my eyes off the horizon with the boat pitching and rocking so bad, my mouth started watering and I told Marjorie that I'd break the ice with being the first one to Chum the water.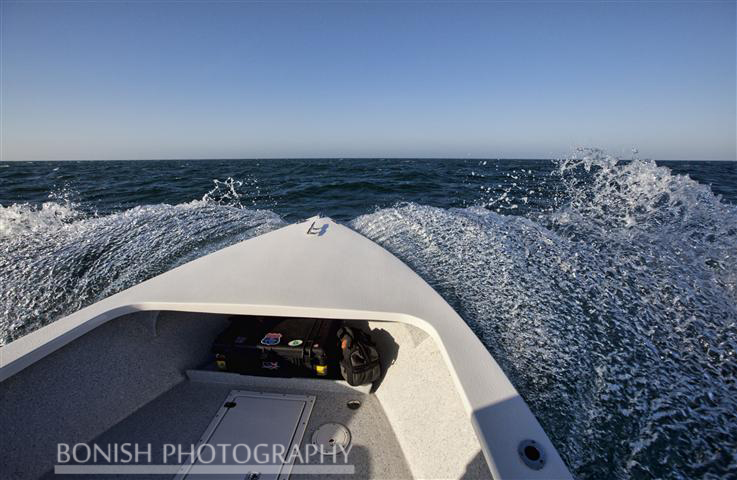 Heath did a great job of getting us back into shore since the winds and waves were blowing against our path. We'd ride up a big swell, come crashing down with spray drenching all of us with warm, salty water only to repeat the process multiple times. Some of the hits would be so big, you'd hear every bolt and joint in the hull creak with the impact.
I was sitting in the very back of the boat facing the wake and many of those times when we'd be in the very trough of the wave, the outboard motor would go completely underwater.
I kept asking Cindy to yell to Heath to stop so I could grab the camera I had put away, but she refused to get up or she thought she'd get sick too. So I don't have any photos of this wild ride of ours. But let me tell you, it was one for the record books.
Once back into calm water, we spent the better part of the afternoon just floating away a Saturday talking about this and that. The girls still talking about hair and us guys sharing various travel stories of our past. Gray and Matt have dove and seen some amazing things around the Gulf and were both very entertaining to listen to.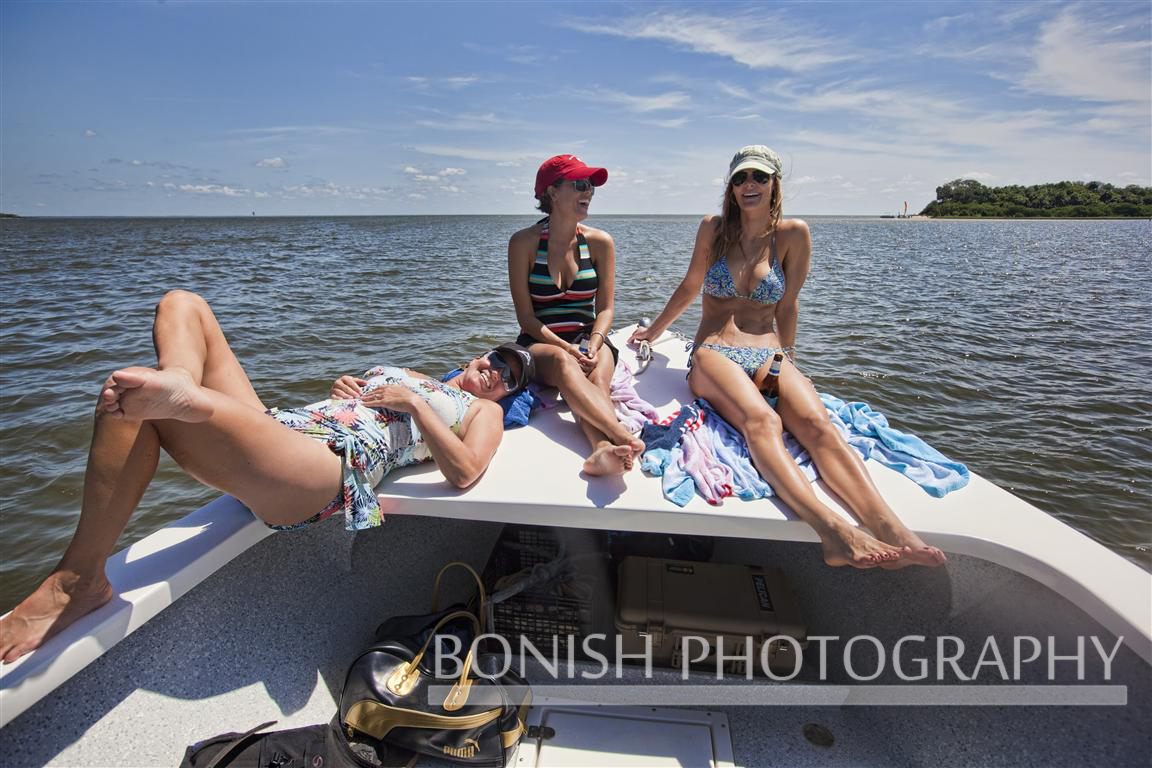 Not a Bad View off the boat! Cindy, Jolie and Marjorie
After awhile, Heath asked if he could put us on a hole, would we still be wanting to try and dive? He knew a spot where there was a deep hole that had some old poles submerged that lots of fish like to hang around.
We motored over there, but the tide was so low today, that it was only about 6' deep. I wanted to try and get used to breathing out of the regulator and learn to float with the buoyancy vest, so we suited up and jumped in.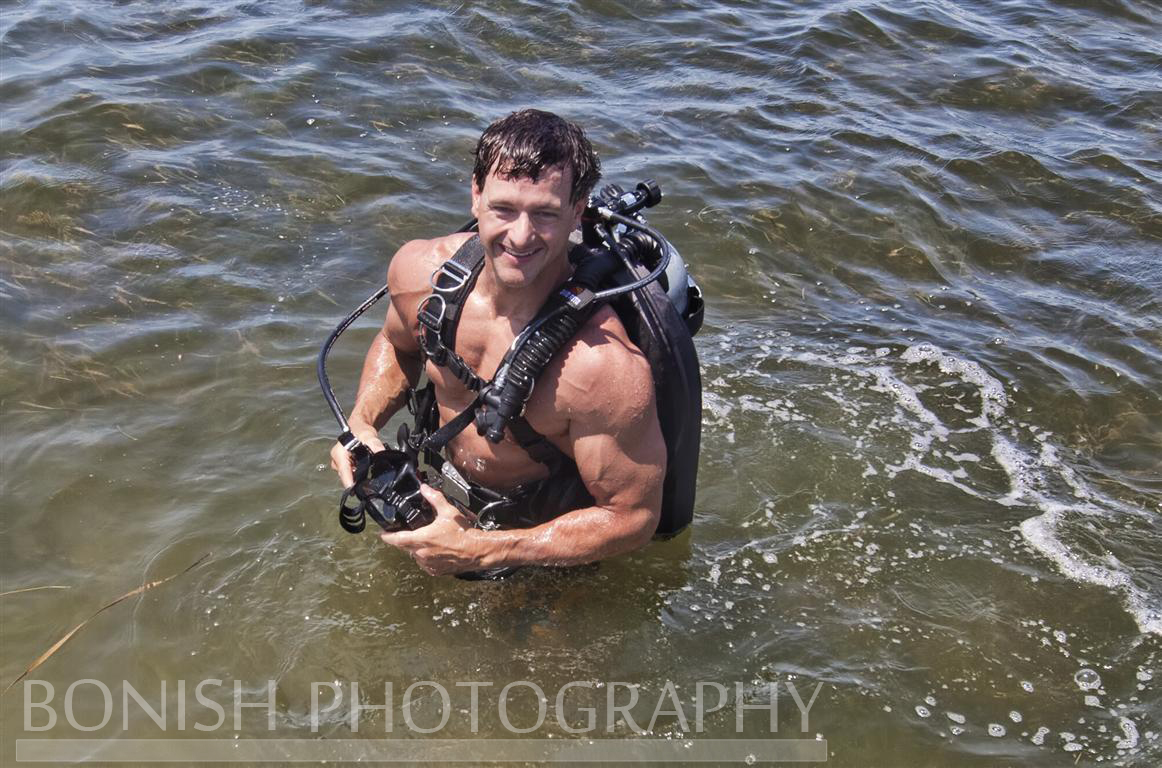 It was hard to keep Cindy out of the water. And, yes, she's afraid of water
Even in this flat calm water, the visibility was still only about 12 inches in front of my mask. Which totally sucked. These old, algae covered poles were surrounded with fish, but it wasn't like you could see them too well, so again, the underwater housing never got to be used! Ohhh, the agony of having it and not being able to use it!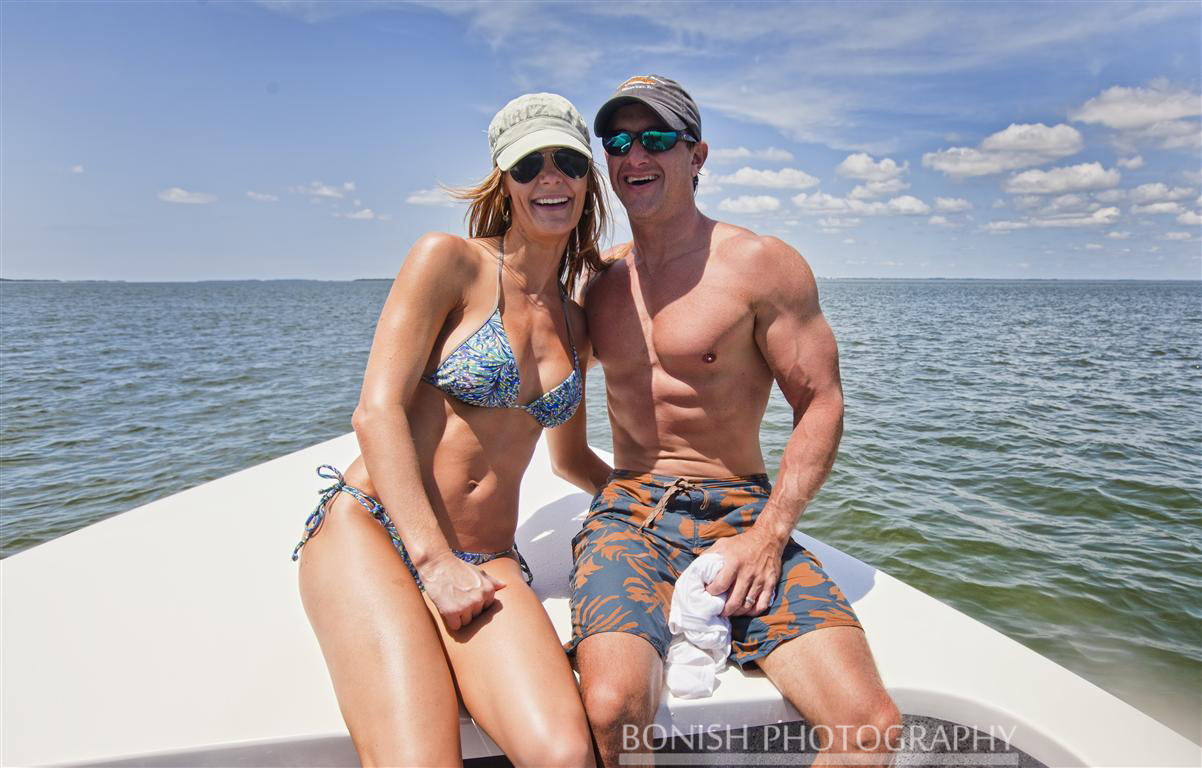 Gray & Marjorie Drummond
Our day ended around 2:30 as I had to be back to open the Tiki Bar and go to work. We'd know tomorrow whether we needed to start evacuating or just sit tight and weather the storm. As far as you'd know from our weather today, it was just another day in paradise.
Monday August 20th - Great Read on Travel
If you haven't guessed by this point, I haven been keeping to my strict rules of keeping the blog updated as much as I used to.
Over the past few months, I've found that it's much easier to browse through Facebook while Cindy and I eat breakfast, upload a new photo or two and keep up with the where-abouts of some fellow travelers I keep up on.
The other day Jeanette, a good friend from the Travel Blog Cheddar Yeti, had posted a link to an article about Henry Rollins. This was basically an interview with Rollins asking him about his worldly travels.
It really touched home to me not because I'm such a world traveler, but because I felt closest to my true self while I was traveling. I loved that Rollins talked about staying off the tourist path and seeing things for what they really are. Walking through cities and interacting with the locals. This was my favorite thing about living on the road.
I learned a new favorite line I plan on using after reading that article. Rollins said - "People come up and ask, "My friend, what are you doing here?" My icebreaker is, "I'm here to meet you." I love that!
I copied the link and forwarded the article to some friends on my email list. I was surprised to see the responses I got back. Some thanked me saying they found it inspiring. One guy replied saying "I didn't get anything from that and I've been to many of those places mentioned in that article and it didn't open my eyes at all, just made me appreciate America more." I had to stop and think about that one for a second, but realized this guy in particular travels the way most American's do....as a tourist.
They travel to the tourist spots, they do the tourist things and eat at all the tourist restaurants. The real way to travel is like Rollins does in the article. A backpack stuffed with some Energy Bars and your camera. You immerse yourself into the local culture and become one of them. When you fit in with the locals, you'll see things much differently than watching them as an outsider.
I remember Cindy and I sitting in small bars talking with locals and asking them to show us their hang-outs...their best spots that the typical tourist might never see. While sailing in the Virgin Islands one year, we asked one of the local bartenders we had been talking to, "Where do you go after you get off of work?"
He said "Oh you don't want to go there, it'll only be all the locals and workers and it isnt a nightclub atmosphere like this place is!"
In reality, we wanted out of the atmosphere we were in which is why I had asked him in the first place. He gave us directions to this really cool little bar that you had to go down multiple back roads and alleyways to find. Tourists would never have found it unless they were majorly lost. We ended up having a wonderful night shooting pool, BS'ing with locals and learning so much more about the islands than you normally would by hanging out in the normal restaurants. Plus, since it was a locals hangout, the drinks were half the price they were in the clubs and places that were right on the strip.
What I'm getting at is when traveling, don't always be the tourist. Try and fit in with the locals and rather than tell them about where you're from, why not ask them to tell you about where you are.
One of my favorite quotes is "The most interesting people are the ones who are interested."
Saturday August 18th 2012 - David & Jennifer's Proposal
A few weeks back, I get a phone call from this guy named Dave. He explains who he is, we've meet a bunch of times when ever he comes to visit his girlfriend here in Cedar Key who works as a FWC officer.
He explains that he wants to propose to Jennifer and wants to do it on the dock at sunset. He asks if we could help out by taking pictures of the event and help out with the planning? So for the last few weeks, Cindy and I have ran through different scenario's in our heads.
Dave and Jenn are both avid fisherman, and David's original idea was to have them fishing off the dock at sunset, and he was going to have one of his buddies who is a diver swim up, grab a hold of Jenn's line and attach a sign that would read "Will You Marry Me"
That would be great if the water was deep enough out behind our dock to allow a diver to swim up, but with it only being maybe 3'-5' deep at a high tide, that wouldn't really work.
So we thought if we had a fishing pole on the end of the dock with a sign already attached, we could think up some story to have them come out to the end of the dock and have Jenn reel it in.
All David had to do was make sure he could get her to the Tiki Bar by 7pm so we could have them out on the end of the dock and in position by 7:30 when the light would be perfect.
Cindy and I spent a few hours on Friday afternoon with a fishing pole and different sized fishing weights trying to figure out the perfect way to get the banner we had made to sink all the way, but not be too heavy that it would be hard to reel in.
When we saw them walk into the Tiki Bar, we gave them a few minutes to get their drinks and settle in. Our story was going to be that we were out on the end of the dock trying to take a Postcard Picture of a young couple fishing at sunset and we needed a different couple so the people in the photo wouldn't actually be Cindy and I.
Cindy walked into the Tiki Bar and explained all of this to Jennifer with David knowing the story already and saying "Come on Jenn, this will be fun." I had already asked him numerous times "What if she wont do it?" Luckily she was a trooper and said "Sure, I'll do it."
So their group of friends they had with them all walked out to the end of the dock. I told her to grab the fishing pole and start reeling it in, but to look at me the entire time with a big smile on her face. I figured if she did this, she wouldn't know what the banner said till it was reeled all the way in and was right in front of her.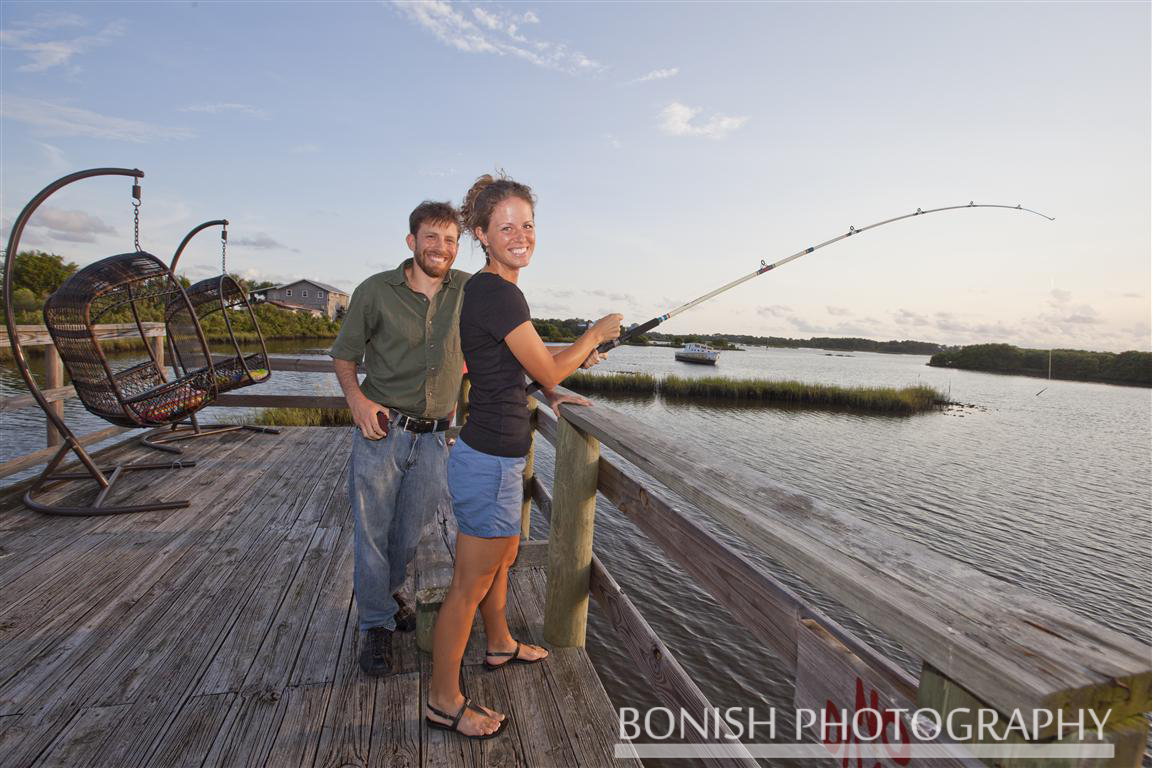 So she's reeling it up and David is standing behind her. Once it gets high enough, David gets down on one knee as she looks at the banner. She had this total look of confusion as she says aloud "Wait, this banner says something?" and she's trying to read it.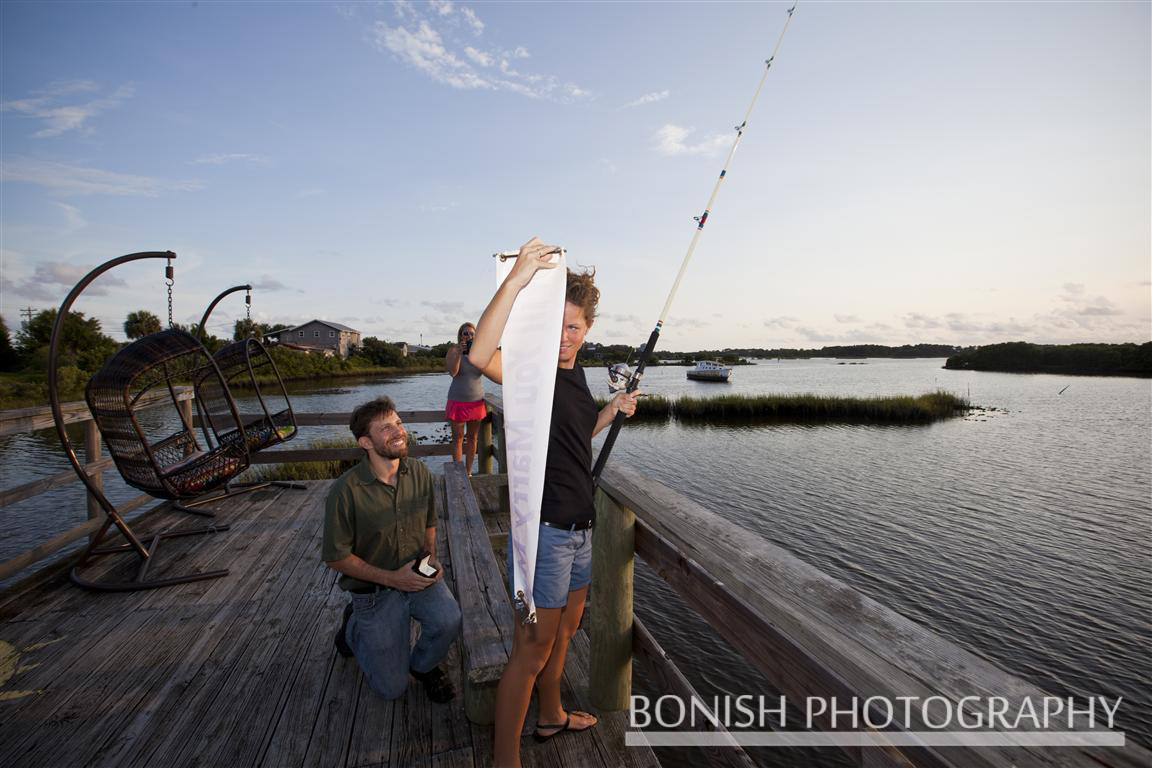 The look of confusion gets even worse when her brain is telling her what it says and she turns around to see David down on one knee with the ring box opened.
Right away, as if it was rehearsed like a movie scene, David says "Jenn, you're my best friend in the world and I want to spend the rest of my life with you. Will You Marry Me?"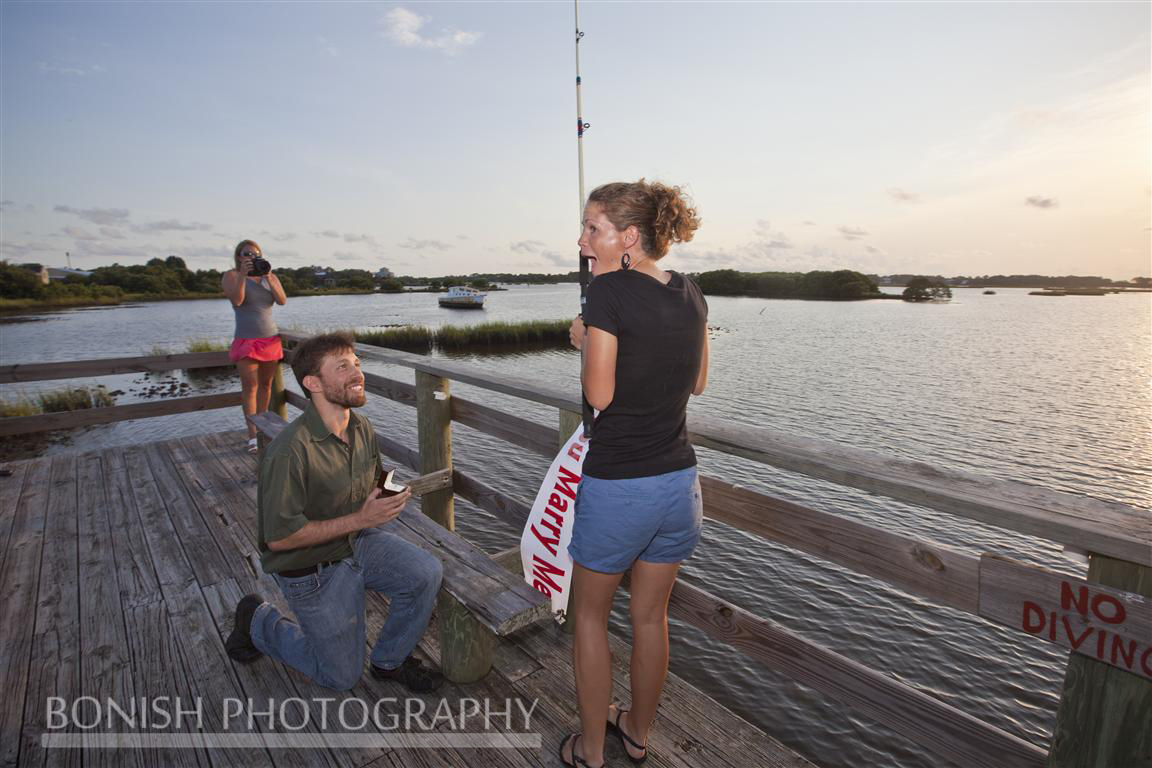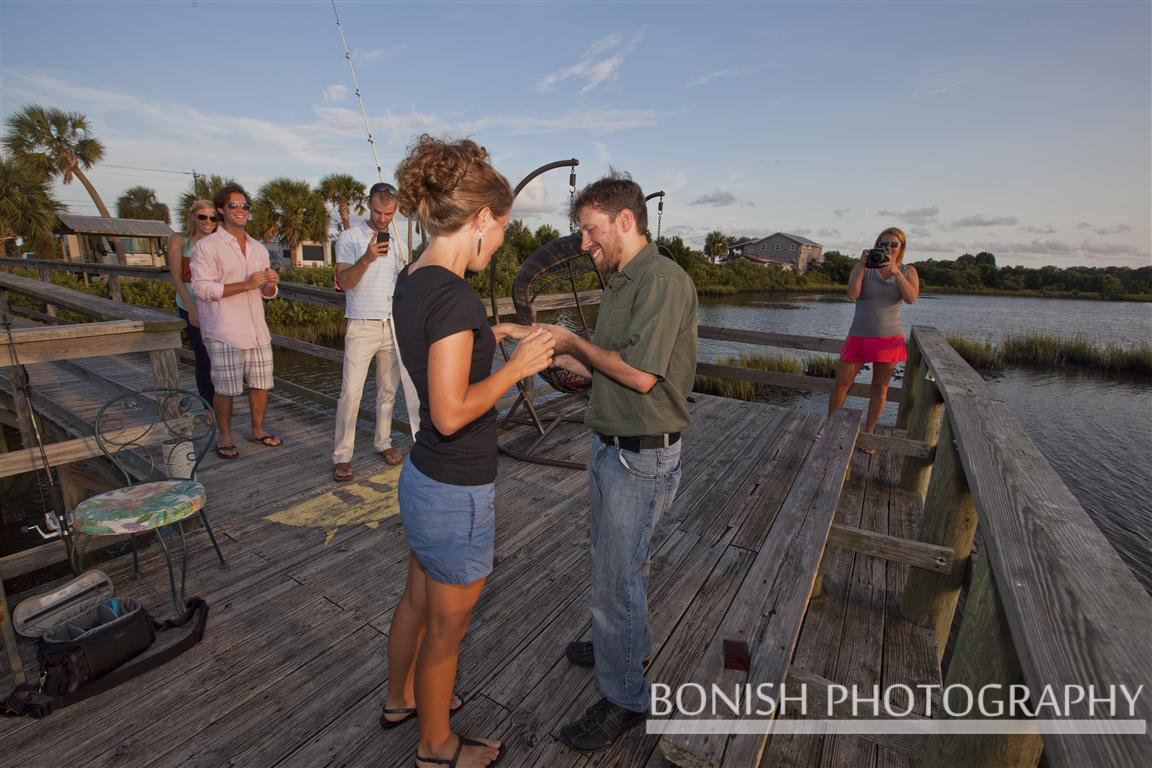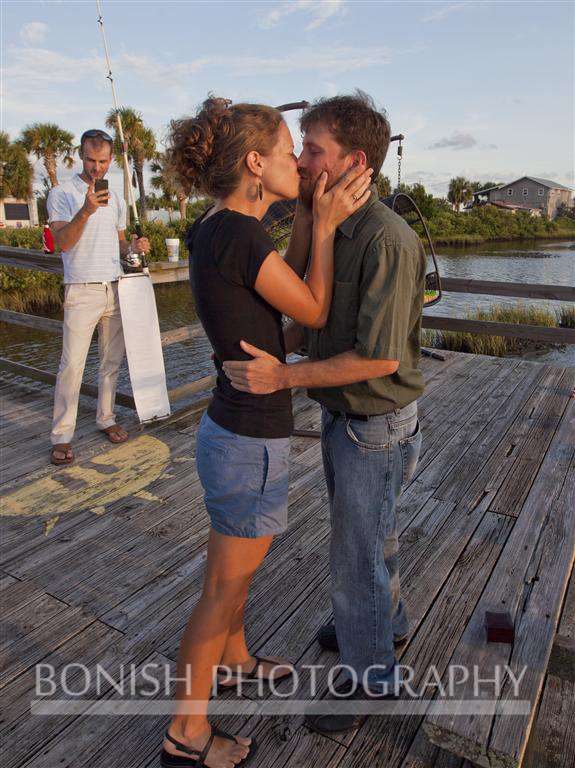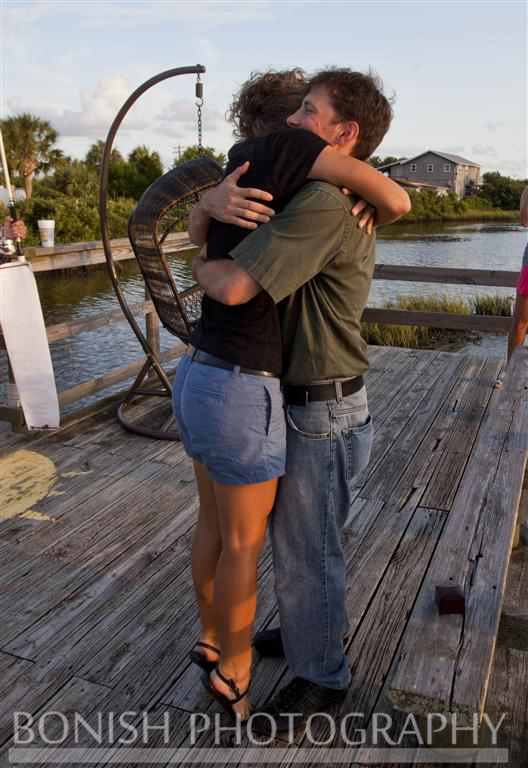 She starts screaming and jumping up and down and yells "OMG! Yes!"
The entire Tiki Bar, which is jam packed full of people that all know what is going on starts cheering as they hug, kiss, cry and start their new life together on the end of the Low-Key Hideaway Dock. Cindy's pictures all turned out useless because she was shaking and crying the entire time....LOL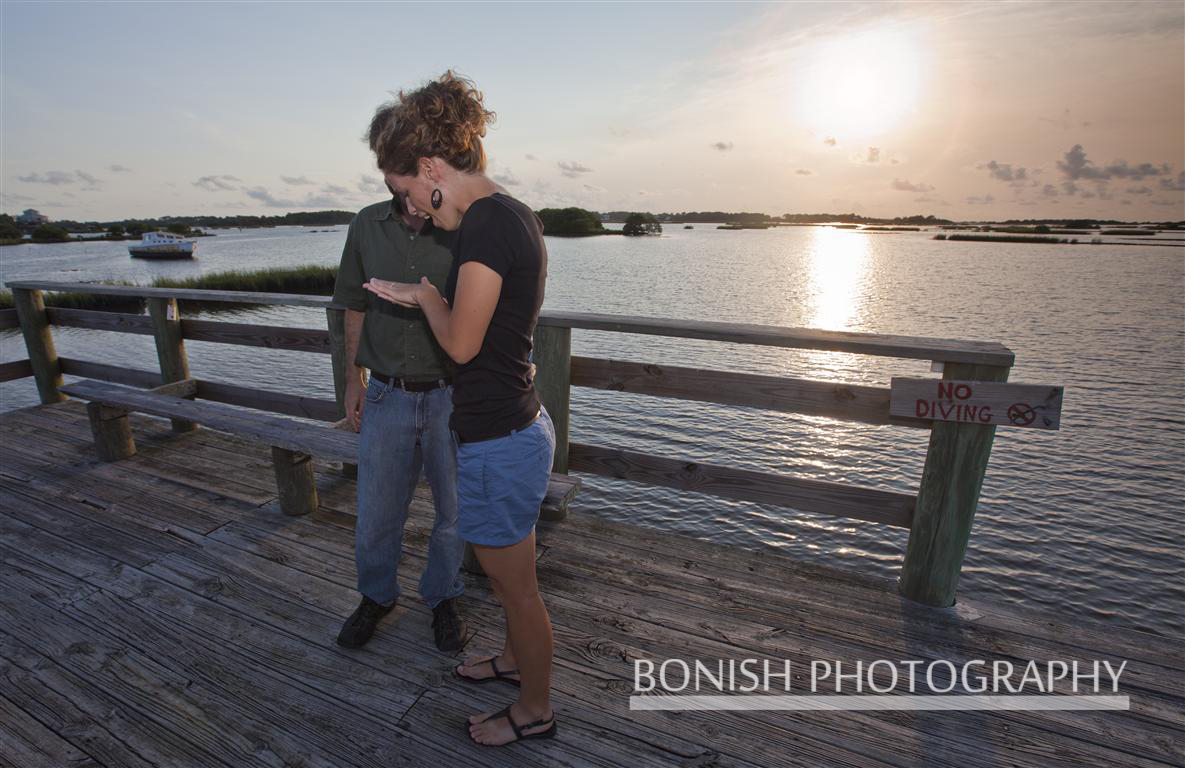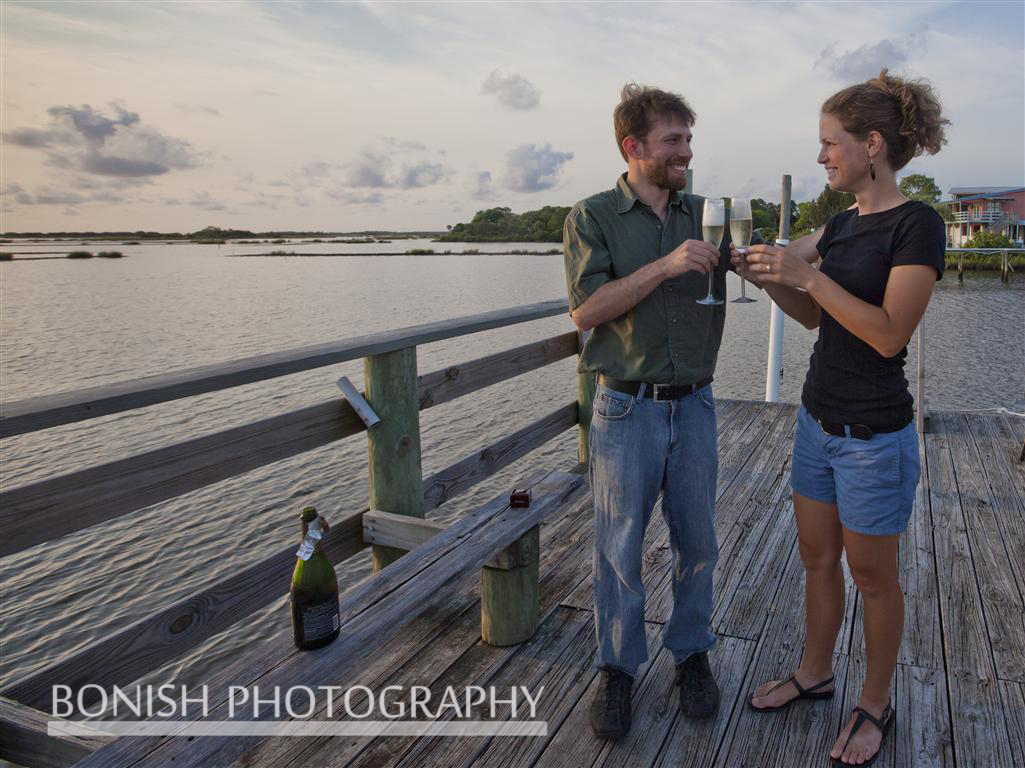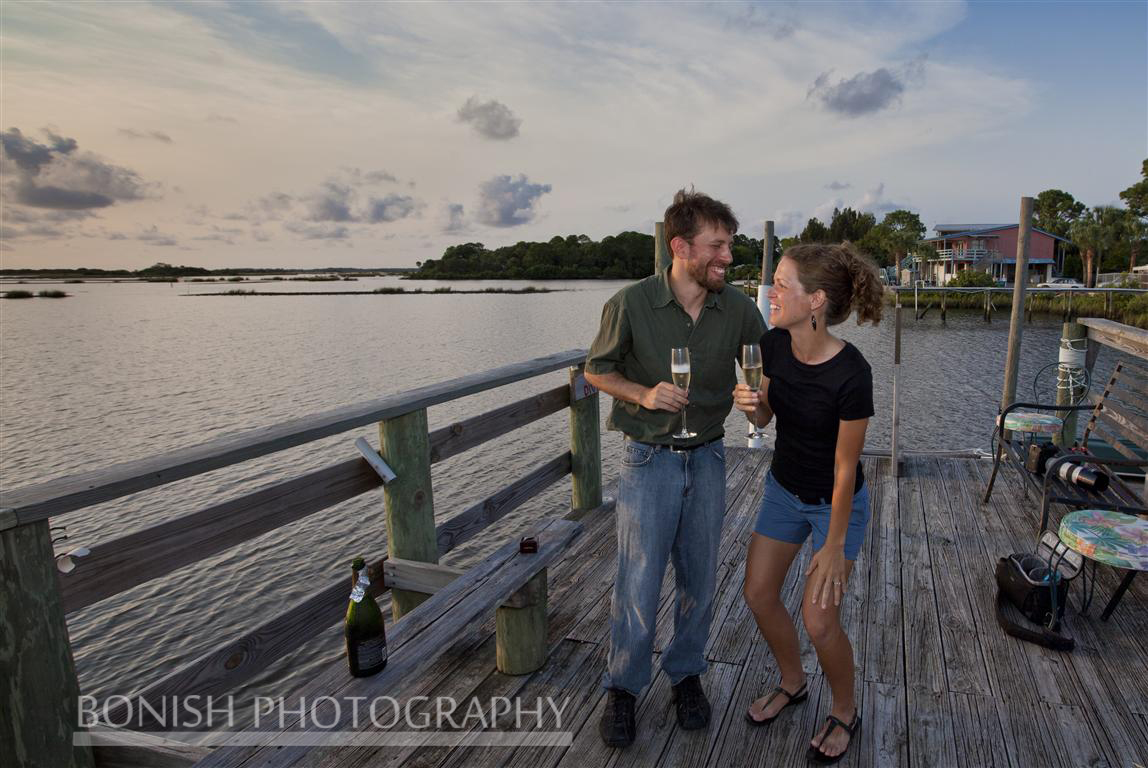 After she took her first sip of champagne, her knee's buckled and she said "Oh Gosh, I can barely stand right now I'm shaking so bad!" It was a great night and Cindy and I both felt honored to be a part of this relationship. Maybe the wedding will be planned here in Cedar Key or even at the Low-Key Hideaway.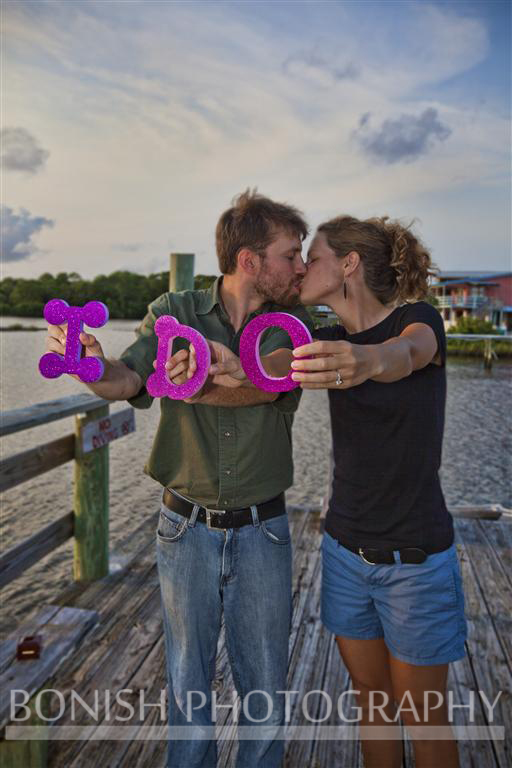 Congratulations David and Jennifer!
Skip Forward to August 18th - Catching Up Real Quick
The past few weeks have been non-stop work and catching up. I apologize for taking so long to update this. It seems once we got home from our Michigan trip, it was hard to find time to sit down long enough to catch up.
I celebrated my 39th birthday on July 27th. It was a great weekend at the Tiki Bar with multiple guests celebrating birthdays each night, so the partying was non-stop and so much fun.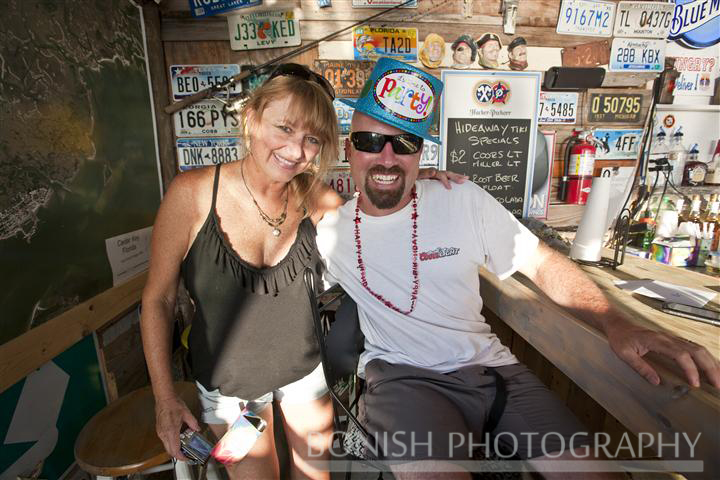 Pat in his party hat with Kathy who was staying with us that weekend
It was also Kathy's husbands birthday the night before mine, so there was much cause for Celebration
Cindy rewarded me with one of the coolest presents I've ever gotten for my birthday. She's so good to me and if I ask for something enough, she'll usually cave in and reward me with it.
I've always wanted a Underwater Housing for a full size DSLR since they were introduced. There have been times we've been tempted to get one, but we always held back because the bodies themselves were advancing at such an alarming rate.
It just seems silly to buy something that is specific to a certain body, when you might replace that body within the next few months. Many of the underwater housings are more expensive than the camera body itself. So if you're going to drop the money on one, you want to make sure you really like that body.
I cannot say enough good things about the Canon 5DMKII body and the images it's capable of producing. I don't see us updating it anytime soon, so when I was browsing through a camera forum and saw a used Ikelite Housing for that body at a price too good to pass up, I begged and pleaded with Cindy till she said "Go ahead, buy it, it'll be your birthday present."
The main reason I couldn't pass this package up was it came with a lens port, which you normally have to buy separate along with a bunch of extras that the seller was throwing in for free. Just the housing itself would have been a good deal at the price he was offering it at, but with all the extras thrown in, it was like we were getting a good deal on a housing with another $1000 worth of gear thrown in for free.
Here is the nerve wracking part. Since we've gotten it, we've yet had a time to actually use it. We've gone out on the boat with the intent to do some snorkeling and underwater shooting, but the Suwannee River is flowing so heavy right now that it's dumping copious amounts of its dark, red water into our bays. So the visibility is about zero. We've been too busy to head out to any of the surrounding springs where you're guaranteed crystal clear water.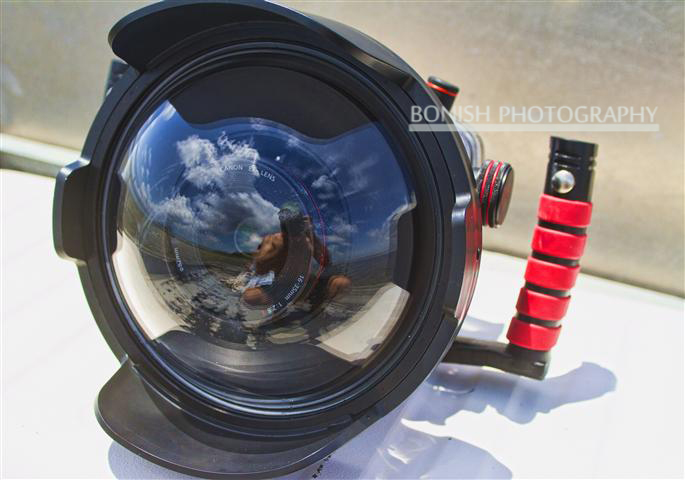 Ikelite Canon 5DMKII Housing with the 8" Port
So I've been going insane just looking at this beautiful piece of machinery without being able to use it. Hopefully soon we'll get the chance to spend the day underwater, shooting some new images. I'm wanting to use it for Underwater Fashion, which is something I think will be really fun and different.
When we used to live in Michigan, one of the types of photography I shot most often was modeling. Since being on the road, it's rare to get to shoot that style and Cedar Key really doesn't offer up too many opportunities to quench my thirst for it. I find it one of the most challenging types of photography because you have to be able to manipulate the light perfectly to get your desired results and you have to be good with working with a model rather than a static landscape.
I always ask Cindy to model for me, but she usually just says "No Thanks, go find a different model." One of my other birthday presents was having her be my model for a full day while I got to practice lighting and some different poses I'd been thinking up in my head.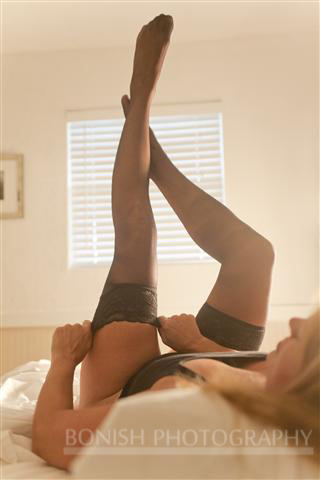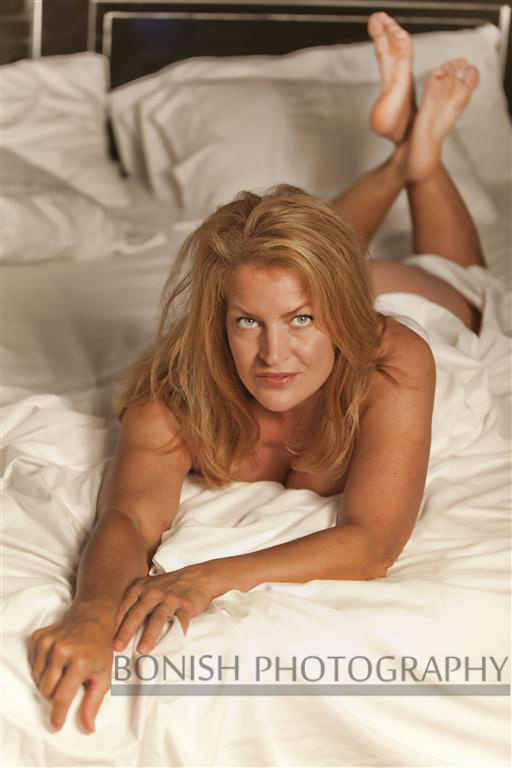 That was such a good present and it only made my hunger for this type of photography get worse. Sorry I cant show you all the photos as I feel they're too risky for this blog I try and keep PG-13. If you'll Google my name and search hard enough, you'll be able to find them on the intraweb. Maybe I'll have to start advertising in the Gainesville market to see if I can find some more work outside Cedar Key.
These past few weeks have been really good for summer storms. We've been having some regular rain which brings in beautiful cloud formations. Sunrises have been amazing, but the sunsets have been a bit lack-luster. It seems that each afternoon, there is a thick marine layer just over the Western Horizon that blocks a good sunset view.
I did go out and guide a photography trip a few days ago and was able to snap off a few cool shots of my own.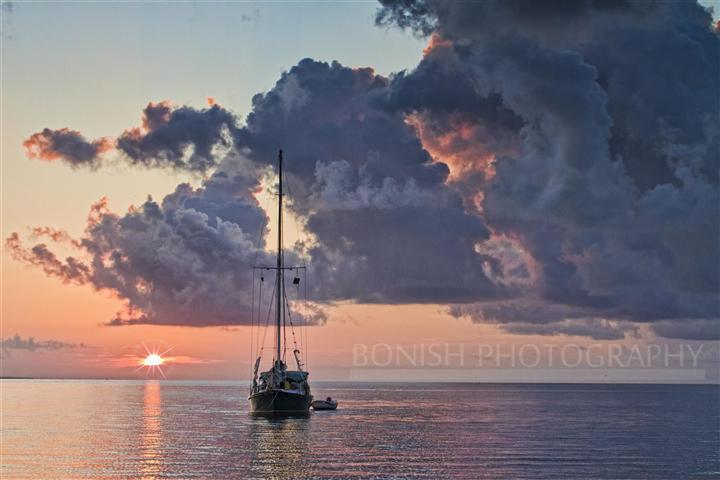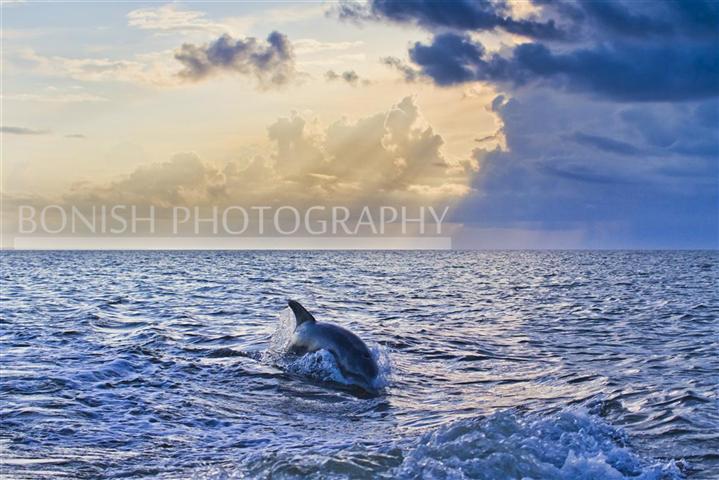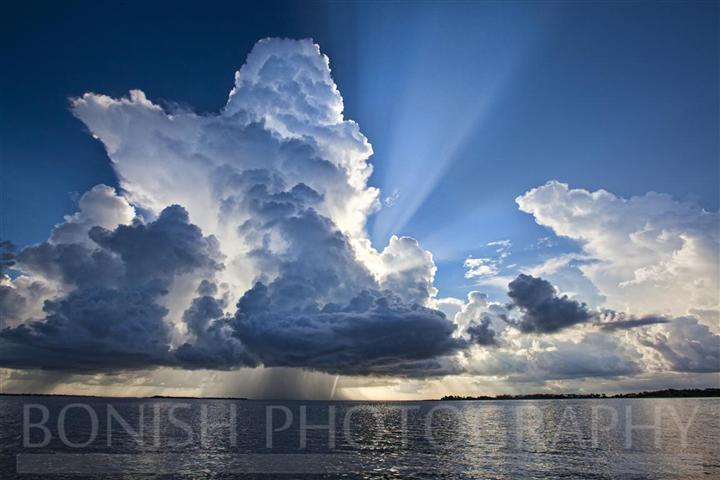 Another day Cindy and I were plugging away when some guests were knocking on the door saying "Grab your camera and come out back, you're never going to believe this bird!"
This really nice couple that was staying with us was walking out to the dock when they passed a small dove that was sitting on one of the outdoor chairs. As they passed by it, it never even flinched or flew away like the rest of the birds did as they approached.
The guy, Robbie, was eating sunflower seeds and he put some in his hand and the bird flew right over and started eating out of his hand. This is when his wife came running for Cindy and I to come take some pictures.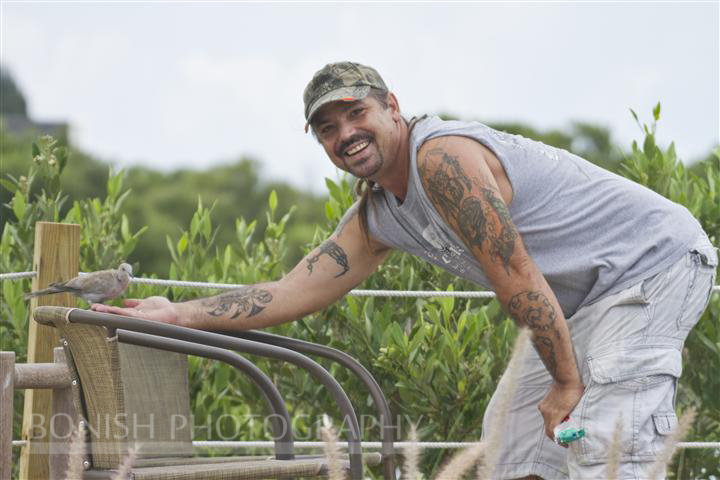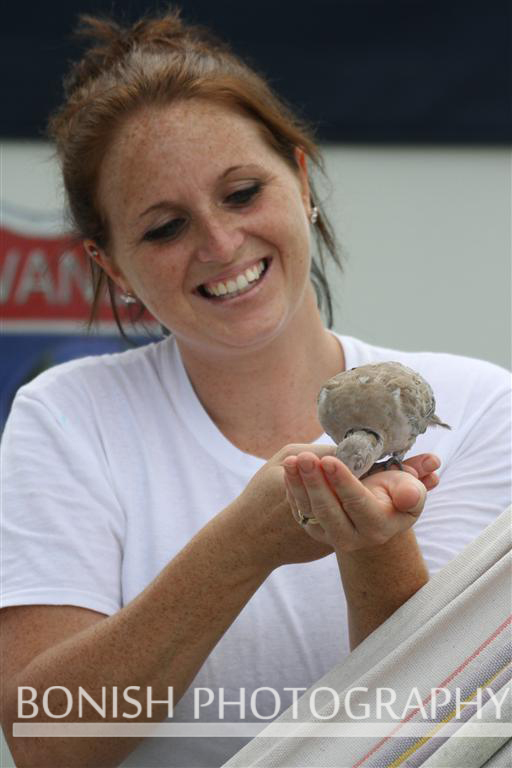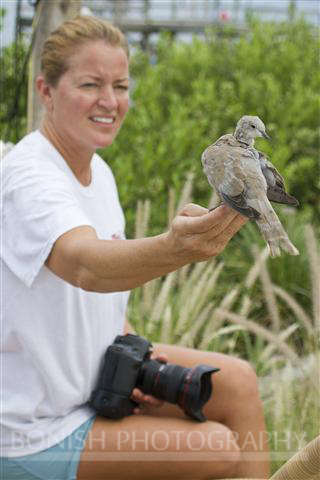 We were all sitting there in awe as the bird would allow us to touch it or have it eat right from the palm of our hands. We figured it had to be someone's pet that had gotten loose. At one point, someone moved which scared the dove and it flew in a circle around all of us and landed right on my shoulder.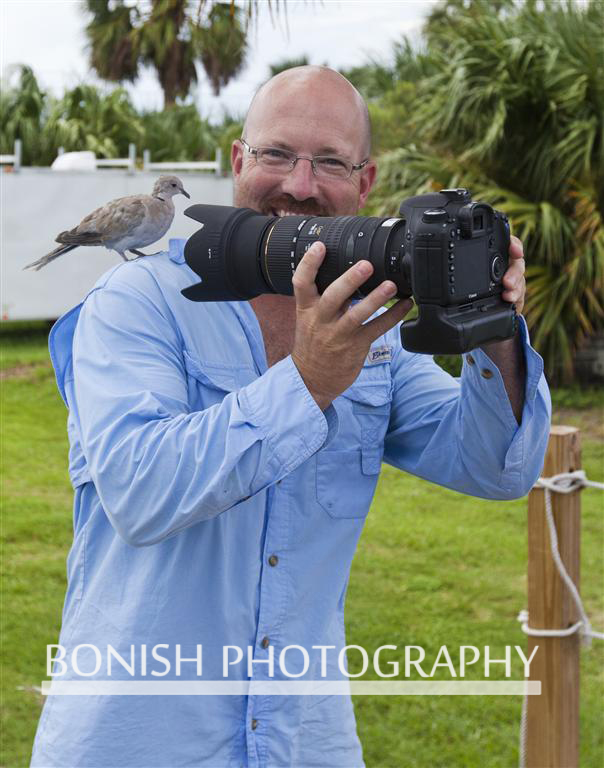 This was a very cool experience for all of us. When Cindy posted the above photo of me with the bird on my shoulder onto her Facebook page, Doug Maple, a local boat guide told us he had raised this dove from a baby when a local tree trimmer had cut a branch the nest was in. He told us that he has hand fed it for the last year which explains why it wasn't afraid of us and was looking for food.
Doug explained that he's in the process of trying to let it go free, and will put it outside in the morning so it can try and get used to the outdoor feeder and watch the other wild birds. But he said that it will sit right at the back door when it gets dark and prefers to sleep inside in its cage at night.
So I guess that this particular day, it had flown from Doug's house, which is only a block away from the motel, to our yard and hung out with our guests all day long.
Thursday July 19th - Finally Home in Cedar Key
I woke up late to a light rain on the roof of the camper. For a second I was confused wondering where I was and if I was dreaming or were Cindy and I back on the road? What state were we in? What town were we in and what had we done yesterday that I was so sore and tired this morning. It was as if we had been at a big party and I was super hung over.
I sat up and looked around, but I only had Luca snuggled up to me snoring loudly on Cindy's pillow and Little cozied up underneath my pillow to stay warm.
I yelled for Cindy to see if she was out in the kitchen, but there was no answer. I got up and got dressed. Brushed the night out of my mouth and looked outside. Cindy was outside pulling weeds in the rain and tending to yard work. I came to realization that we were back home in Cedar Key and not still on the road. My soreness was from two 12 hour days of not exercising my muscles and sitting down the entire time.
I stumbled outside and we spent the morning, while it was still somewhat cool (High 80's with a 90% humidity level) and the rain was keeping the bugs at bay. We both joke that we could weed or work in the garden fulltime and never get bored.
Some mornings I'll come outside and trim around the trees, the porches and RV hook-up's with scissors so I don't wake any guests and the place still looks kept up. A weed-whip can be obnoxious even when no one is around.
Amber was packing her stuff up while we were unpacking our bags and trying to get back into the routine of our lives. We now had a cargo trailer filled with junk that we don't really need, we've lived without for the last 6 years and now have to find a home for. This was not going to be an easy task.
I tried to spend the entire day outside working to get my blood flowing again after those two miserable days of driving.
The tiki bar would be opened soon and we had a bunch of people coming out to watch the sunset. It was good to be home.
Wednesday July 18th - Another Long Day of Driving
We both slept in this morning and didn't get on the road till around 10am. Boring day of driving with getting caught in Atlanta in horrible traffic.
On the Southern Side of Atlanta, Cindy kept saying lets just pull over for the night. I'm tired, I'm sore from sitting all day long and we still have 6 hours of driving.
There was no way I was going to spend another $100 for a motel when we were within a few hours of home. So we pushed on and drove on through the night.
We finally pulled into Cedar Key around Midnight and crawled right into the camper. Amber was watching the motel for us, so we just slept in the camper rather than wake her up or dirty a room just to get a good nights sleep.
I was dead tired and think I was asleep before my head hit the pillow.
Tuesday July 17th - Long Drive South
We pulled out of Michigan by Mid-Morning. It's hard for us to ever be prompt and leave when we plan on.
As usual, Cindy was asleep by the time we got out of town and slept for the first few hours. This was pretty hard for me since there was no radio to listen to and I was just as tired as she was.
Our day would be spent driving and talking in-between her naps. Sounds really fair doesn't it? Mid-way through Ohio, we were driving through some serious storms that actually had the radio making that super annoying sound telling us we were in a tornado storm. We would turn the radio on every now and then just to break the silence.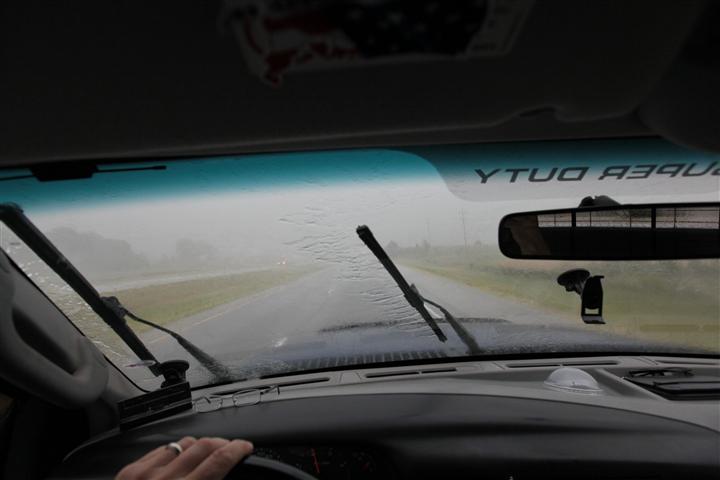 We pulled over at a Cracker Barrel to have some lunch and get off the road while the storm passed through. We figured it would be better to be off the road since most of the traffic was driving with their hazard lights on and only going about 20mph due to the low visibility.
We ate lunch and while Cindy was using the rest room before we got back on the road, I figured I'd take the dogs for a quick walk so they could relieve themselves too.
Luca and Little were both standing on the back seat eager for me to hook up their leashes so they could jump out and go for the walk. Once I had them hooked up, I told Luca to jump out first which turned into a big mistake.
He jumped from the seat which is about mid-chest height for me. When he jumped, his leash snagged Little's and pulled her to the ground with him. The quick jerk of the jump sent Little flying straight to the asphalt, slamming her onto the hard ground with him landing on top of her.
She started yelping and screaming at the top of her lungs which made it sound like I was behind the truck murdering my dog. This freaked Luca out who took off running with her leash still wrapped around his. So as I was trying to hold onto her on the ground to see if anything was broken, all of a sudden she gets snapped out of my hands and goes sailing across the parking lot as Luca is freaked out running around dragging her behind him.
I jump up to try and stop this chaos yelling at him to stop and sit. Little is now screeching so loud I'm afraid police are going to show up any second. I see Cindy sprinting across the parking lot with a look of fear on her face.
I finally get them both stopped as I untangle the two leashes. Little is literally shaking in my arms and whimpering like she's seriously injured. If I touched her rib cage, she'd start yelping again and all I can think is I just allowed major harm to Cindy's dog.
Cindy comes sprinting around the front of the truck at this point yelling at the top of her lungs "What the HELL is going on!!!"
Right away Luca sits down with his ears tucked so far behind his head like he knows it's his fault and he's in major trouble. Little is trying to squirm out of my hands to get to her momma and I'm trying to not hold onto her for fear that I'll hurt her even more.
When all the commotion settles down and Little stops shivering and whimpering, we all climb back into the truck. The rest of the day Little wouldn't look at me or even allow me to touch her. If my hand so much as moved away from the steering wheel, she'd cower down hiding behind Cindy's neck and hide her head like I was about to slam her on the ground again.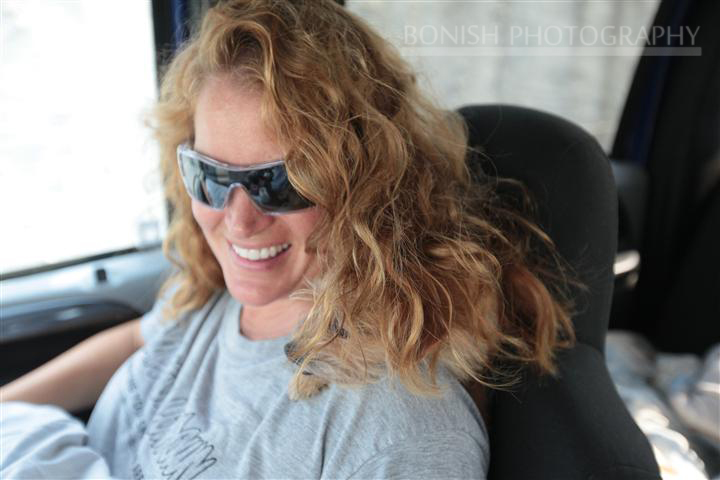 If you'll look closely, you'll see Little camouflaged under Cindy's Hair hiding from me
This was the way she acted when we had first brought her home from the Shelter. Figures that this has to happen at my watch so she associates pain with males, which she's normally scared of to begin with. She had no idea that Luca was the one who pulled her onto the ground that hard. As far as she knows, I was reaching for her to put her down on the ground when within a split second, she was slammed down there.
The rest of the drive and day was spent dodging storms and trying to get Little to gain some confidence in me again. This was accomplished by copious amounts of Beef Jerky and having her eat it out of my hand.
When we finally got tired and decided we should pull over, we stopped in Corbin Kentucky at the same Red Roof Inn we had stopped at on our way up to Michigan.
Cindy went in to register while I said I'd park the truck and take the dogs for a walk. I figured I'd messed up so bad on my first attempt, I might as well redeem myself and show Cindy I could be a responsible dog owner.
This particular motel has a huge lawn area that wraps around the motel. I started to put Little's harness on her and she started to whimper when I touched her rib cage. I was worried that it would still be really tender, so I just figured I'd let her walk without a harness and leash on and allow her to walk around free.
This was going really good till a Tractor Trailer drove by on the Interstate and hit his engine brake. When the truck made the loud growling sound, I saw Little's ears go back as she took off running across the parking lot in search of Cindy. That was the last direction she has seen her walk towards.
Here I am sprinting behind her yelling for her to stop as she's outrunning me headed towards the front door of the motel. Just at that second, the front doors of the motel opened and Cindy came walking out. She looks up to see me screaming and chasing after Little as Luca comes bounding past me thinking we're all going for a run. I can only imagine what this looked like to the other guests who were outside unloading their luggage.
Cindy just bent down and said "Come here Little" who ran straight into her arms scared to death.
I was so friggin' mad at this point, I just grabbed a hold of Luca and went back to the truck. I suddenly didn't like this little monster that does nothing but get me in trouble with Cindy.
I always scold Cindy for carrying Little everywhere because neither of us want to be one of those dog owners, but it looks like till she recovers from her beat-down, she'll become a spoiled dog.
We put the dogs in the room, fed them and walked across the road to a restaurant. We were both asleep as soon as we got back to the motel room. Little still wouldn't look at me and quite frankly, I didn't want to look at her at this point.
So it turned out to be a pretty sucky day of driving for both Little and I.
Monday July 16th - Packing Things Up and Shooting Blue Birds
Today would be spent packing up items we had forgot we even owned. We had so many things scattered around my mom and dads house, in their barn and in another storage barn that was in another location. It wasn't much, but it was enough to fill our 14' cargo trailer from one end to the other.
We had planned on spending the entire day doing this, until I was eating breakfast in the sunroom at my parents and kept noticing this blue bird flying around. I sat watching its movements and noticed it would catch some sort of bug, land on this one branch every time and watch the surrounding area for a minute. Once it knew the coast was clear, it would fly over to a bird house I had built for my mom years ago and feed the chicks that were nesting inside.
This would be the perfect opportunity to practice with the 800mm. I mounted it to the Canon 7D body atop a Mono-Pod with the Wimberley Gimbal head. This is a pretty sweet combination for birding!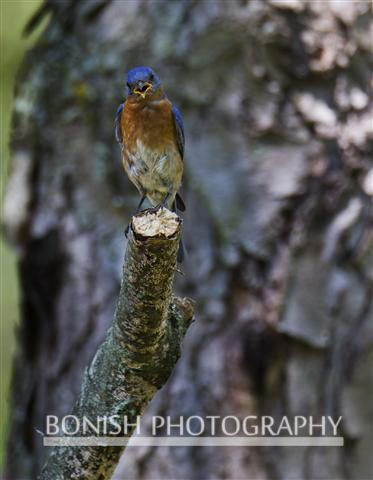 Male Eastern Blue Bird perched on a dead branch
I positioned myself a good distance away from the bird nest, but in a location that I could also see the branch that the blue bird couple would land on before returning back to the nest. This way I could see when they were coming and would know to be ready.
I was hoping to capture some shots of either of them flying, but the lens is too powerful and I was zoomed in way too close to try and follow such a small bird that flies so fast and erratic.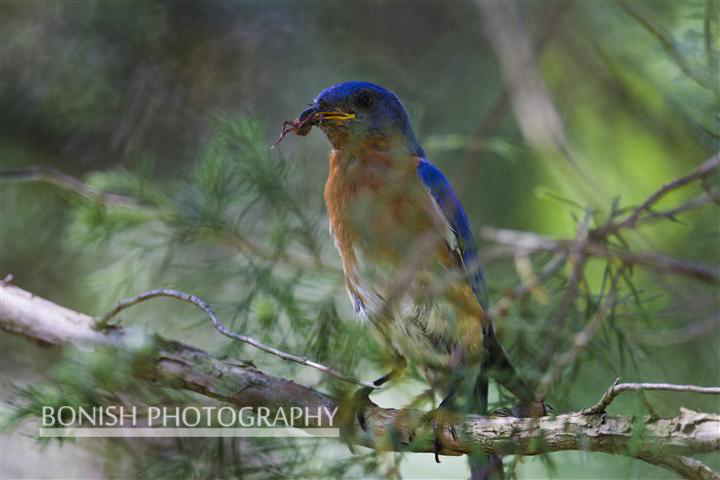 Male blue bird with a juicy bug in it's beak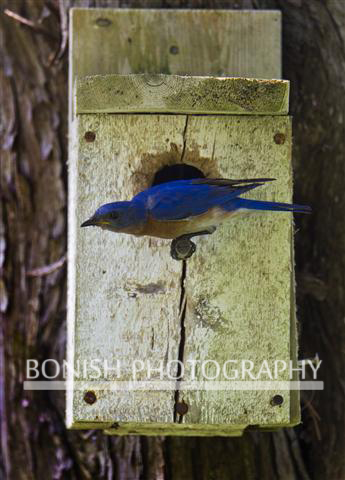 Sitting on the perch of the bird house
My parents back yard is a little sanctuary and could keep a photographer busy almost year round. I was basically standing right out their back door and could see a Eastern Blue Bird nest. I could hear another nest that was home to some Finch's in a tree that was only a few feet away from me, but it was situated at the very top of the tree, so the only angle was to shoot straight up at the bottom of it which gave me useless images.
While I was standing out there watching the blue birds, a family of wild turkeys came waltzing through the back yard which scared away the family of white tailed deer that had been feeding just at the edge of the wood line.

Nursing Fawn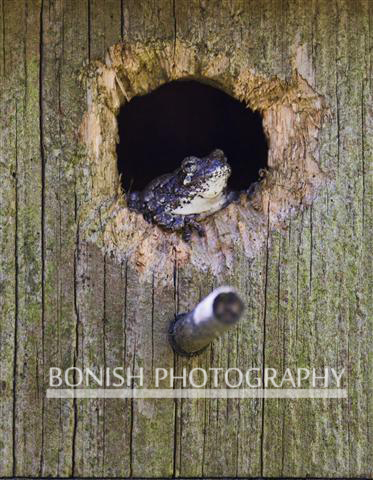 This frog has lived in this bird house for about 10 years now.
I think my parents should be charging him rent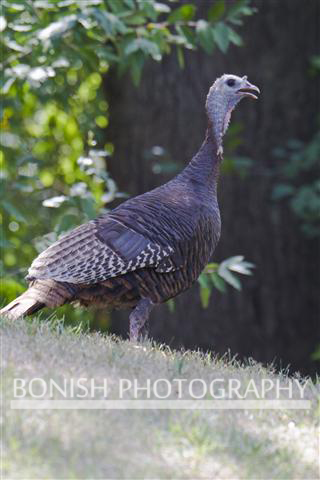 Wild Turkey wandering through the back yard
The pond my parents have in their backyard is nothing short of a Mecca for frogs, dragonflies, butterflies and many other animals that come to drink, swim or cool off in its cool, flowing water.
With multiple feeders, there are birds in every direction you look and I could probably spend weeks without ever leaving this yard and fill a few wildlife books. My mom will send me messages saying "Oh how I wish you were here with your camera right now as there is a big owl sitting right on the branch outside our window!" You can replace that with owl, hawk, heron or numerous other birds that fly through to visit, but I get those messages often and know she's thinking of me.
After a few hours of shooting birds, we got busy packing things up before we headed over to my sisters house for a pool party. Being as we were only in town for two days, we wanted to spend as much time with the family as possible.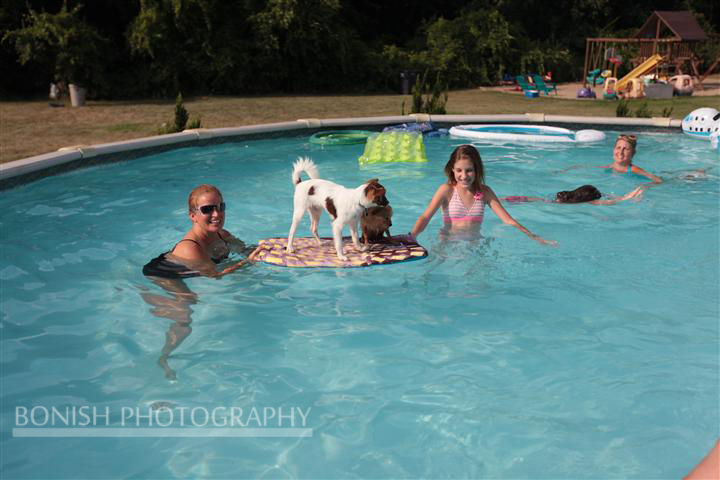 My sisters dog Zac and Little riding a skim board in the pool
The evening was spent laughing hysterically with the kids and their silly antics and catching up on all the crazy stories my family is filled with. It was good to see them all again and spend time with them.
Sunday July 15th - Michigan & Courtney's Graduation Party
After a great nights sleep, we had eaten breakfast and were on the road by 7am this morning. We had about 7 more hours of drive time till we'd reach our destination in Michigan, so there was no time to fool around and sight-see.
I think Cindy took 4 naps in those 7 hours, and kept complaining about how tired road trips make her, which just confuses the hell out of me? If she wasn't sleeping, then she'd be reading on her Kindle
. She was trying to read aloud to me since the radio doesn't work, but she kept saying "Every time I try and read out loud, it puts me to sleep."
We got to Milford and went to my parents house first. We wanted to unload the trailer, the dogs and change out of our driving clothes before heading over to the party. This all took maybe a half hour before we were on our way to my sisters house.
The rest of the afternoon was spent visiting with family, friends and sweating away in the near triple digit temperatures the Mid-West is experiencing.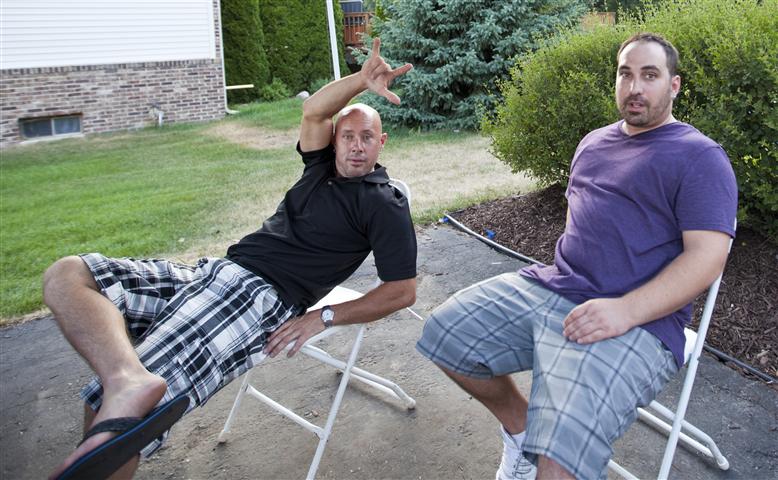 My good friend Shane & my Brother Joe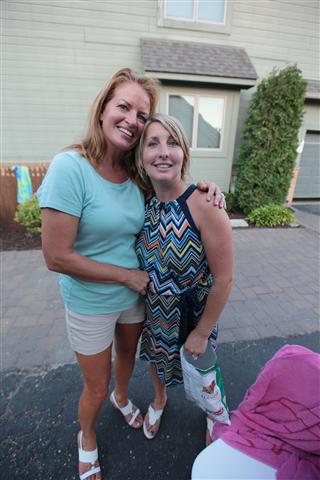 Cindy & my Sister Monica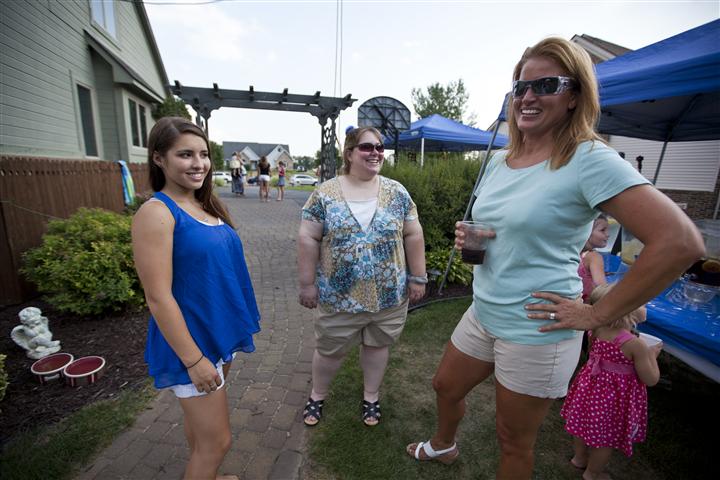 Courtney, Sue and Cindy all standing around the drink tent mingling
Funny Side Note: I had brought one of the quarter sticks of dynamite that I had saved from the 4th of July. I had showed it to my brother and sister, and we all agreed to wait till my Mother and Father had left along with a few of the other guests that we were worried might have a heart attack when we lit it off.
My Mom had said goodbye to everyone and was on her way down the driveway towards her car. I thought it would be funny to light it off as she was pulling away in her vehicle so she'd still hear it, but she'd be shielded inside the car.
My sisters road is in a Cul-de-sac and my mom had driven towards the turn around as I was getting the explosive ready. She was driving out of the Cul-de-sac when I started to light it. I wound up like a professional baseball player with the wick lit and hurled it as high as I could in the air hoping the arch of the throw would make it explode in the air and not on the manicured lawn.
It was just about dark while all this was happening, and my Mom caught the twirling wick out of the corner of her eye and comes to a stop exactly in the path of the throw to roll her window down and ask what that twirling, glowing thing is that is coming towards her at a high rate of speed.
I hear my brother, Cindy and a few other friends who were standing behind me let out a loud gasp just as she comes to a stop and the quarter stick is coming down to the ground about 20' from her window. Just as she gets her window down and starts to yell out "What is that?", it goes off with an obnoxiously loud BOOM that echoed throughout the neighborhood. We see her face go pale as the thing explodes and I'm sure deafening her due to how close it is.
For a few seconds everyone just sits quiet until we hear her yell out at the top of her lungs "Patrick, you're in trouble when you get home!!!" as she drives off shaking her head in disgust.
We had great fun with our friends and family and it was a fun night all around. Between the top notch food, the bounce house that had both kids and adults kept busy and just good company, I think the party was a huge success.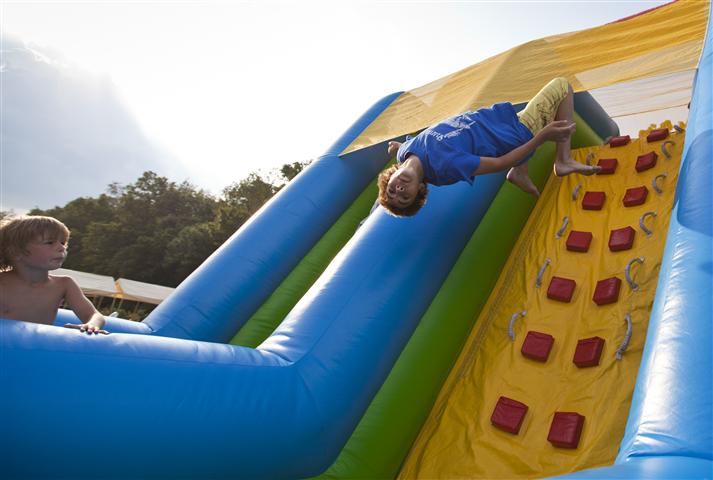 My Nephew Austin showing off his Skills - This boy has some serious skills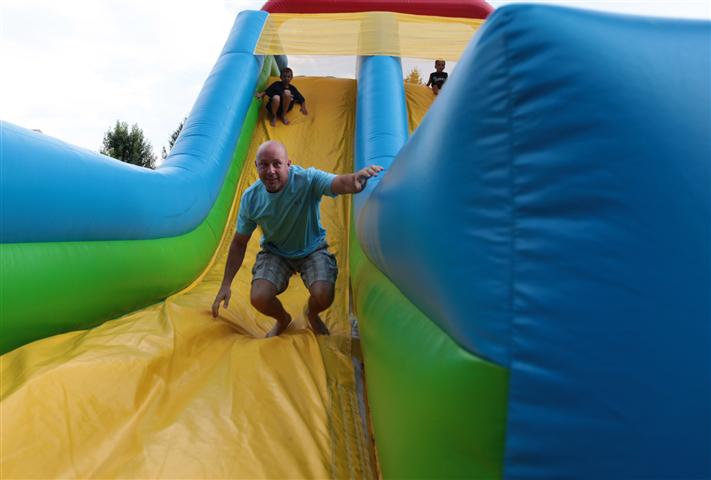 Shane on the Bounce Thing racing the Kids and beating them EVERYTIME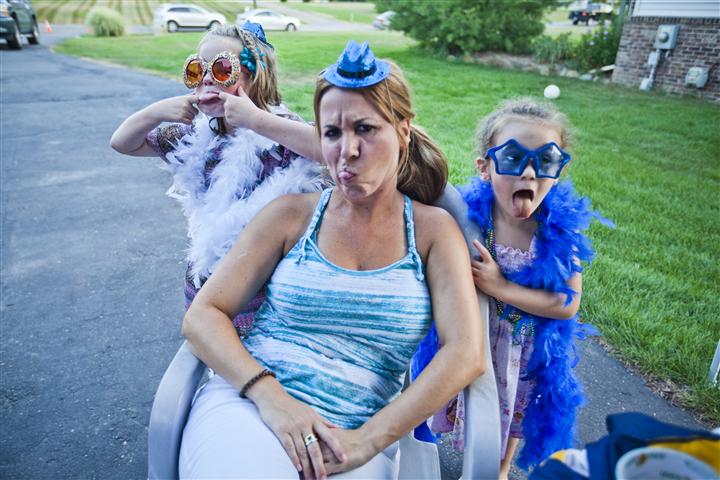 Christine is Queen of the Princesses
Saturday July 14th - A Quick Drive North
Thursday and Friday were spent playing around with the lens every chance I could get. I filled all the bird feeders in the back yard and would sit inside the tiki bar watching to see what would come to the perches.
The difference between the 400mm and the 800mm is pretty substantial at this distance and I learned real quick that the lens has a huge learning curve. I remembered back to when we first got our 400mm and how it took me at least a month before I'd know the exact minimum distance I needed to be to allow the lens to focus. It takes awhile to find the sweet spot of holding the lens and its limitations of how it likes to focus.
My niece Courtney had just graduated high school a few weeks ago and she was planning her Graduation Party on Sunday afternoon. The rest of my family had been asking if we'd be able to attend, but we weren't sure we'd be able to sneak away until the very last minute.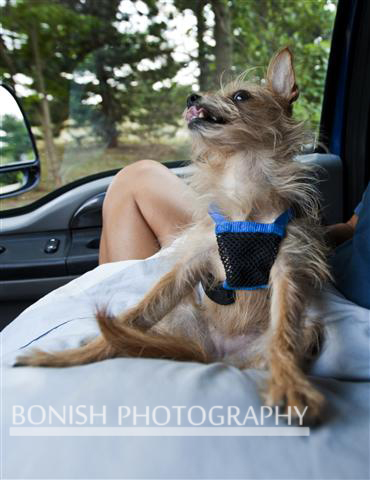 The motel was full this weekend, but this time of year, the rooms tend to slow down mid-week and the RV visitors are non-existent. Most of them have driven north to try and escape the heat, which proved to be a big mistake this summer since much of the Mid-West and Northern States are hotter than we are.
We figured if we left early this morning, we'd be able to drive all day, sleep somewhere in Northern Kentucky or Southern Ohio and make the final push on Sunday morning to arrive just in time for the party.
We had packed everything up late last night after closing the Tiki Bar and pulled out of Cedar Key around 7am. We would be towing our 14' cargo trailer behind us so we could pack up the last of the stuff we had left in Michigan back in 2006.
I like to tease my brother and sister for storing so much of their junk in my parents big pole barn. But we've kept a small closet filled with junk for the past 6 years, so I'm as much a hypocrite as I am a smart-assed brother.
So many times we get asked "How do you part with all your worldly possessions when going out on the road Full Time?"
Years ago, I thought there were things that were really important to us. These were the things that have taken up this 5' wide by 10' long space for so long. Boxes of pictures, records the IRS says you're supposed to keep incase you get audited, mementos from school days. All those things that you think mean so much. As Cindy and I were driving north, we were trying our hardest to remember what was in that closet that we felt was so important at the time. Except for the fact that we knew there were boxes of images and a few pictures that were framed, we couldn't name anything in there.
I guess it just goes to show you that what is important at one time might not be all that important once you let it go and move on.
The drive up I-75 was uneventful with Cindy sleeping most of the way while I cursed myself for not having satellite radio. I know that after our last road trip, I said I'd never do that again, but this one was last minute, so we hadn't had time to get a new radio installed. Our stock radio itself is also broken and will randomly turn the volume up to full blast or turn it down to zero so you cant hear it.
If you're trying to play a CD, it'll skip songs or be in the middle of a song and just eject the CD saying 'Disc Unreadable'. So much of the drive was me just listening to Cindy, Luca and Little snoring away.
We pulled over around 9:30pm in Corbin Kentucky at a Red Roof Inn. Cindy had been browsing hotels that were pet friendly on my phone and was shocked to see the pet charges range anywhere from $10 to $25. This particular Red Roof Inn allowed pets to stay for free!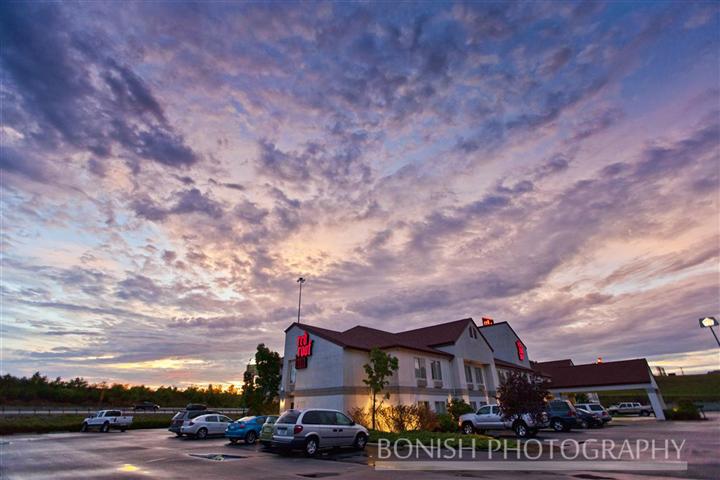 Sunset Behind the Red Roof Inn - Corbin Kentucky
For $85 per night, we got a King Sized Suite and a Free Breakfast, which is so worth it! The motel had ample parking for our truck and trailer and a big mowed lawn for the dogs to run around and stretch their legs in. The room was spotlessly clean and the bed was super comfy, although I was pretty tired after more than 10 hours of driving, so I'm sure I could have slept on the floor and would have thought it was comfortable.
Wednesday July 11th - Bringing out the Big Guns
We've always talked about the big guns of Canon Lenses. Lets face it, when photographing wildlife, you can never have enough zoom. Canon offers multiple lenses ranging from a small 200mm fixed lens up to a unthinkable 1200mm that is almost impossible to come by.
Their 800 f/5.6 is the longest consumer lens available as that 1200mm is so coveted, it's usually reserved for military, Law Enforcement or those with such a disposable income they don't balk at the $120,000 price tag. Here is a great review of that lens that is pretty funny to read.
The Canon 800mm f/5.6L lens isn't all that inexpensive either. Breaking the bank at $13,899 from B&H, it'll cost about as much as the average used car. Putting the price aside, the lens will allow you to photograph wildlife in their natural setting without the need to get so close that you disturb the animals behavior.
There would be no way we could ever afford this lens, so the next best thing would be to rent one and see if it lived up to all the dollar signs I see when drooling over it online.
It arrived in the mail yesterday and I could barely wait to load up the boat and go see what I could find.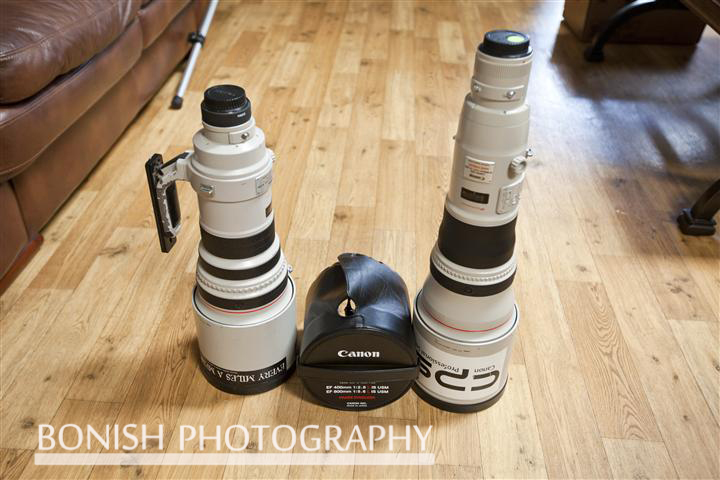 First things first. A few tips about handling the lens and getting it ready to go shoot. The 800mm giant is actually lighter than our Canon 400mm f/2.8L lens believe it or not. I guess the Fluorite glass Canon uses for those lenses is pretty hefty stuff. The 800mm is also easier to hand hold due to the better weight distribution because of the lens itself being longer than the 400mm. Not that we'd be hand holding this monster all that much, but it's nice to be able to pick it up and fire off a few shots if the need arises.
I mounted the Wimberley P-50 Plate on the foot of the 800mm so we'd be able to have it riding the Wimberley Gimbal Head which would make the long lens very stable and accurate.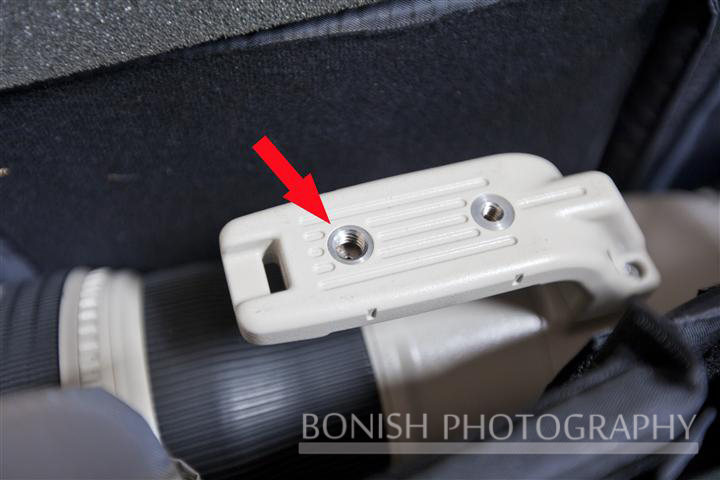 Red Arrow points to the larger socket the adapter has to be screwed into
The front screw socket in the 800mm needs one of the 3/8" to 1/4" Brass Reducer Bushings that Wimberley supplies when I had ordered our Gimbal Head and Plate to begin with. That was confusing at first why one of the mounting screws would screw in but the other kept falling out.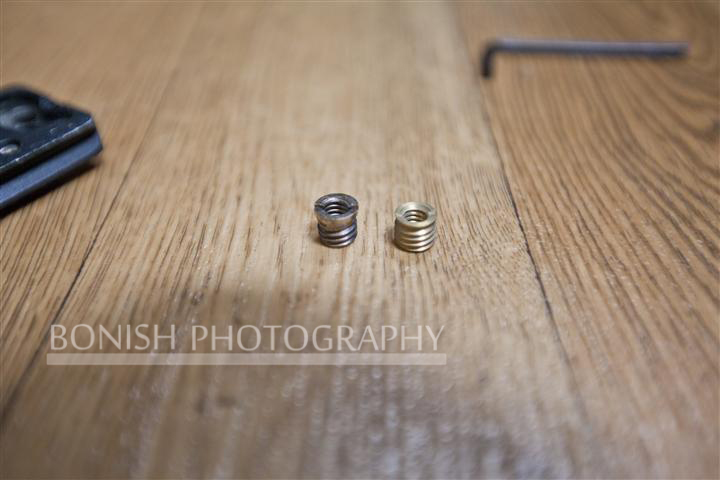 Good to know if you're ordering this lens or renting one. You wouldn't want to be stuck with a rented lens and not be able to attach it to the Gimbal Head.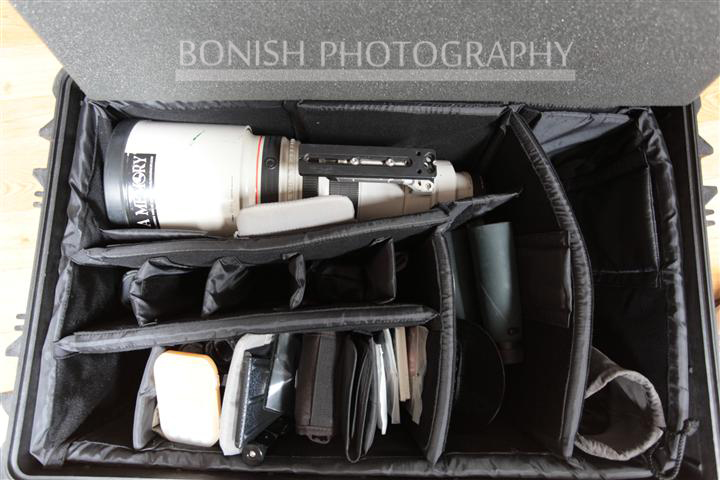 The Canon 400mm with the hood in shooting position riding in the Pelican 1650 Case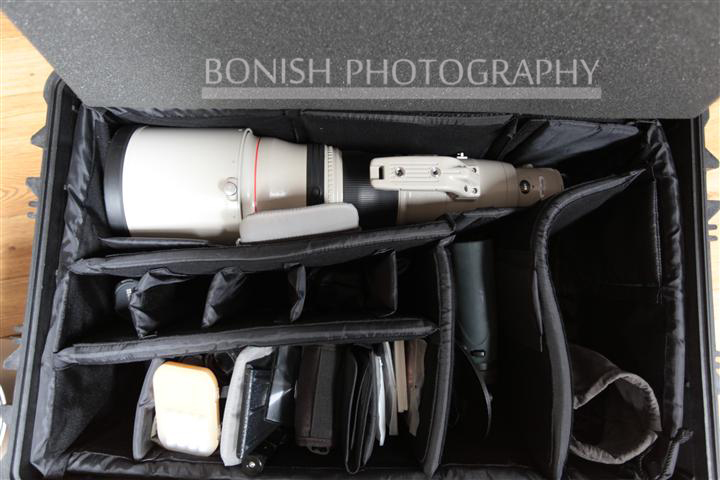 The Canon 800mm with the hood in the shooting position - All we had to do was move the padded dividers to allow for the longer barrel of the lens
The 800mm fits into the Pelican 1650 box we use to haul our gear around with the hood in the shooting position, which is the best way to store the lens. This way that front element is always protected from anything touching it and if you need the lens in a hurry, it's ready to be picked up and fired off without having to re-mount the hood.
Both lenses come with their own hard suitcases from the factory, but the only way to carry them in the supplied cases is with the hoods reversed and I think they fit so snuggly that you cant even have the mounting plates attached to the foot? So those cases are a major FAIL in my mind as most folks don't strip down their lenses every time they're done shooting. At least I don't.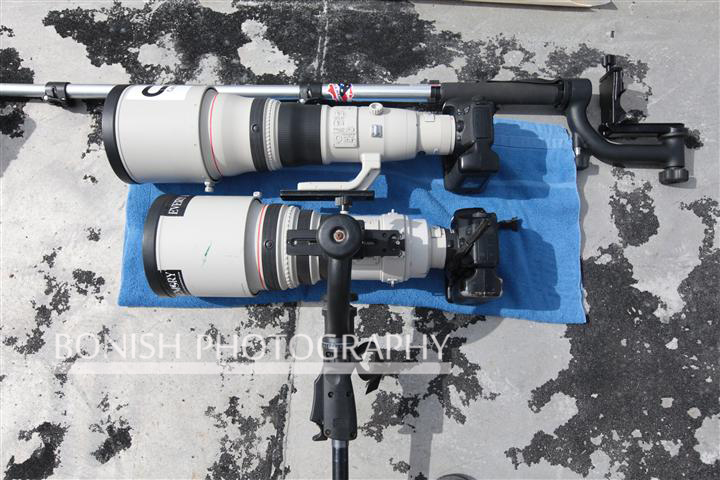 Canon 800 f/5.6L mounted on the Canon 7D body on top
Canon 400 f/2.8L mounted on the Canon 5D body on the bottom
Shooting with this lens attached to the Canon 7D body, with it's 1.6 crop sensor, I'm basically shooting with a 1280mm image stabilized lens. That's much closer than I'm used to with the 400mm with the 1.4x extender attached, which is my normal combo. That combo added up only gives me a equivalent of 896mm, and the 1.4x extender slows down the auto-focus just a tad bit. So I'm betting that extra 384mm will produce some better images with greater detail.
Being out on the boat and shooting with the lens is a learning experience. It probably wasn't the best idea to be shooting with this long of a lens for the first time on a floating boat with a 10mph breeze blowing.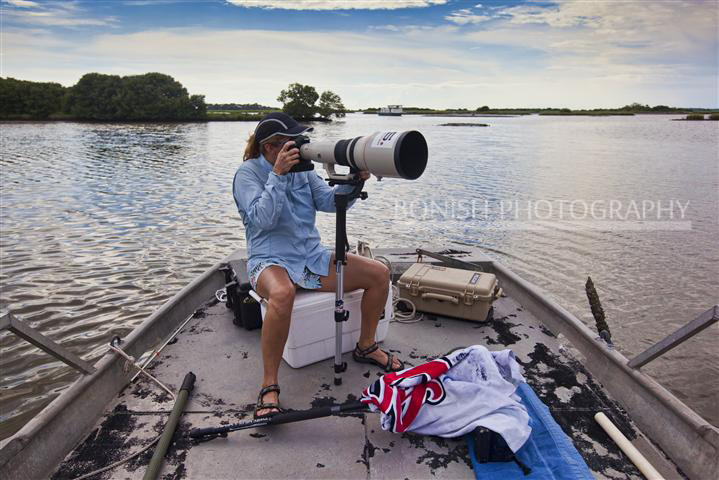 Cindy tried first and laughed saying "Ok, I give up!" after only about 5 minutes of trying to lock onto a Roseate Spoonbill that was near by. I was a little bit more steady than she was, but I knew exactly what she was talking about. It's hard to hold the lens still while the boat is floating and the wind is blowing.
First thing I noticed is we can get shots of birds that are normally very skittish and fly away as we're approaching. With this lens, we don't have to try and get as close and the birds don't really pay attention to us, so the images are more natural.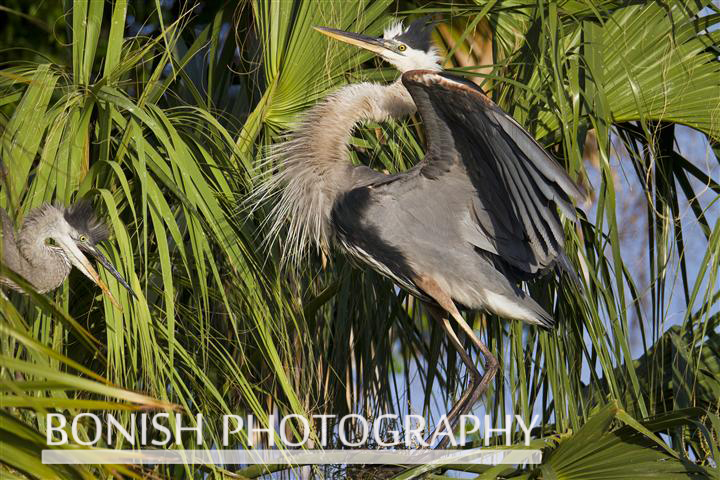 Great Blue Heron Feeding Dance - The one standing is the adult who had just returned to the nest to feed the immature heron - This was beautiful to watch
We spent the evening floating off of Seahorse Key watching and listening to the strange sounds nesting birds make. We watched as an egret stood atop its nest and did the more elaborate dance to a watching mate.
We watched the Magnificent Frigate Birds soar overhead with their giant wingspan and the Night Heron's bark out their calls to one another from the thick cover of the tropical jungle they hide in.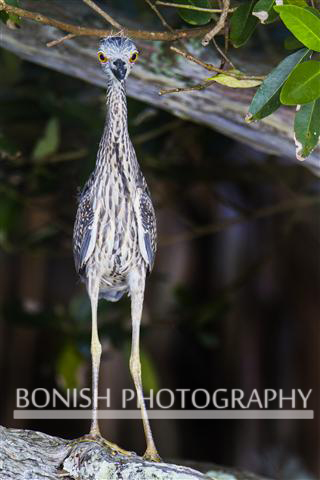 Very Immature Night Heron, as in just left the nest
As the sun set behind us, the birds flew back to Seahorse Key by the hundreds. The island grows louder and louder as the birds come home to their perches for the evening. The one downfall to the 800 f/5.6 is as the evening grew dimmer, the lens becomes harder and harder to focus due to the low light.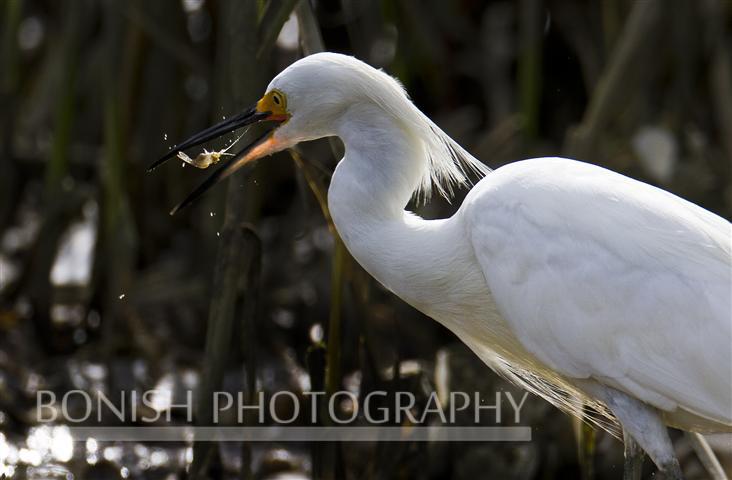 Fresh Catch
With our Canon 400 f/2.8, we can shoot pretty late into the evening if we're shooting at f/2.8. Not so with the f/5.6 setting on the longer 800mm. No big deal, we have the lens for a few days, so there will be plenty more time to shoot with it.
We rode home eager to see the images to see if the longer lens is worth the extra cost.
Tuesday July 10th - Taking A Day Off on the Water
This past week has been hot. Not as hot as the rest of the country, but it's steamy here in Cedar Key. It's crazy to watch the news and see that Central Florida is the coolest part of the country with temperatures only being in the high 80's to low 90's while areas in the Mid-West are reaching triple digits.
What we have is the humidity. That'll get cha' every time. Stepping outside of the A/C controlled house, glasses instantly fog up, your first few breaths are hard to suck in, and if you're carrying a camera outside, don't plan on using it anytime soon. It takes quite awhile for the glass to acclimate and the fog to dry up.
I've found that if we know we're going out shooting, I'll put the gear outside an hour before we're scheduled to leave. This way the glass has warmed up and we don't have to worry about the fogging issues.
Cindy and I normally take Tuesdays and Wednesdays off. The last two weeks we were getting everything ready for the 4th of July event, so taking a day off wasn't allowed. Since the 4th was on a Wednesday this year, it meant that the next few days after the holiday were business as usual which meant there was no time to recover.
I think it was Sunday before I finally felt normal again and we had this place back in order. Between the folding tables, tents, folding chairs and dishes that people loaned us, the first few days after the party was crazy just trying to return everything and remember who had loaned us what. Plus we had moved our camper, our cargo trailer and a few other items off the property to give us more room. Those all needed to be hooked up and returned to their proper places so the A/C could be turned back on in the camper.
The day started unusually for me around 3am. I awoke to Luca wining in his cage. This normally isn't started till his usual 6am wake up call when he'll make this half whimper, half barking noise that lets us know he's done sleeping in the crate with Little and it's time for another hour of snuggle time in our bed.
When I heard the wake-up sound at 2:30am I wondered what the heck was going on. I was laying there about to tell him to quiet down when I heard the thunder and saw the bedroom light up from some lightning strike close by. That told me there was no way of getting him to pipe down as thunderstorms are one of the only things that scares him. The only thing to do was open the crate and let him crawl into bed with us or we'd just sit and listen to him whine till the storm passed.
Once Luca and Little were both in the bed snuggled around Cindy, I was laying there wide awake just listening to the storm roll closer. The room was lighting up as if someone was flicking the light switch on and off at a really fast pace. All I could think about was "This would be cool to photograph!" so rather and lay there and not get any sleep, I crawled out of bed and loaded up the camera gear.
I put the ThinkTank Hydrophobia Rain Cover on the 5D MarkII camera body with the wide angle Canon 16-35mm lens and attached the AEO Lightning Trigger. This combo is a pretty sweet set-up for catching lightning strikes.
At first I just thought I'd go hang out on the dock behind our place, but after a few minutes of being out there, I realized the major part of the storm was pretty far out in the Gulf still. So I jumped in the truck and headed downtown to see what I could find.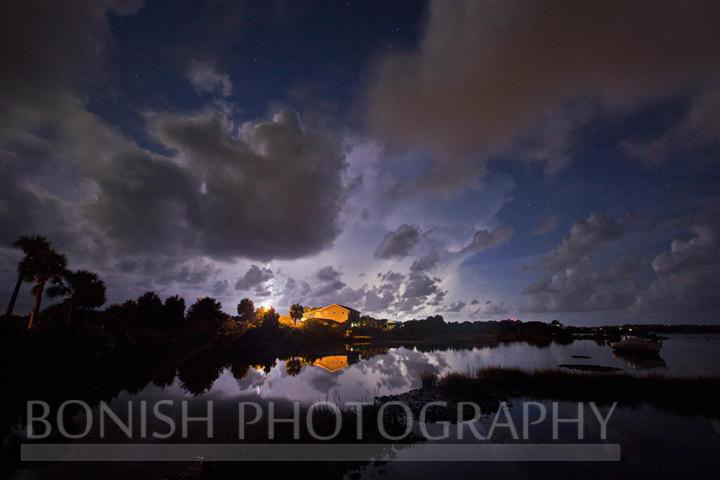 If I would have stayed at the Low-Key Hideaway, this is all I would have seen
Once I got downtown, the show was amazing. There were so many strikes hitting the Gulf and spider webbing across the sky, my hardest decision was deciding where to set up the tripod.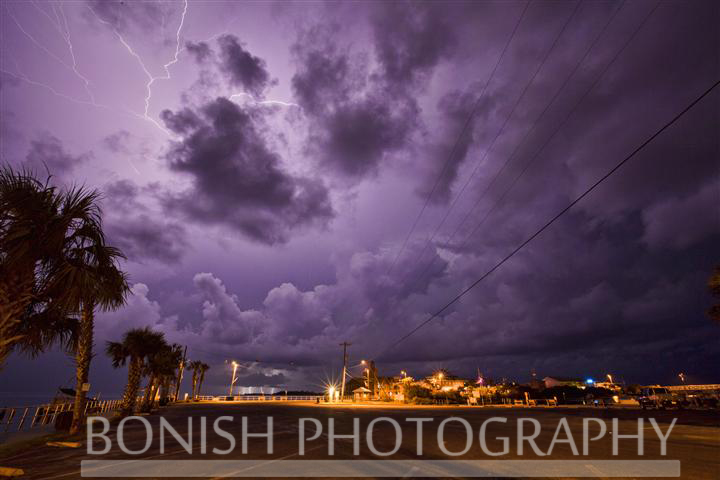 Looking across an empty Marina Parking Lot at Dock Street - You can see lightning in the upper left corner of the image, but look behind Atsena Otie Key and you'll see about 5 strikes hitting the Gulf on the horizon
I would set it up in one location, compose the shot and turn the trigger on. This is just a crap shoot because what usually happens is you set the camera up for what you think will be a really cool shot, and for the next few minutes the lightning strikes decide to go off just outside the view of the lens. You have to remember that in order to get good images, you have to leave the shutter open for a good length of time so it's not like you can keep moving the camera non-stop.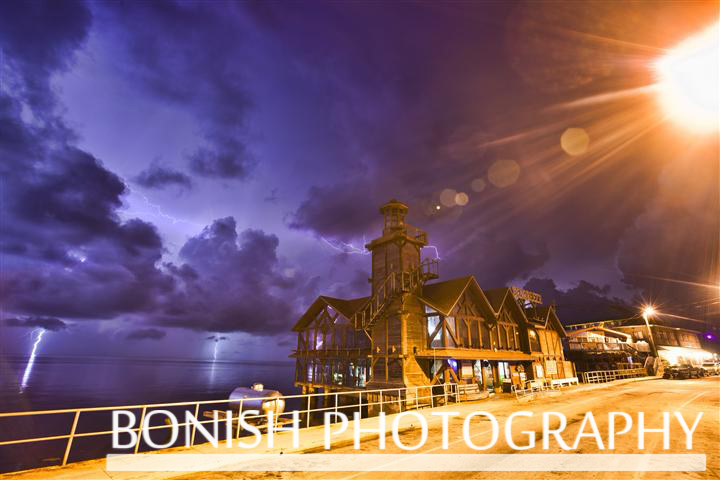 Another shot with multiple strikes coming out of the clouds while one spider webs behind the copula on the Seabreeze. Also notice the reflection of another strike in the windows of the restaurant that was behind the camera
I picked a 30 second setting with the f/stop being set to f/9. This is a pretty safe bet that the scene wont be too over exposed unless you get so many strikes in that time frame that it washes everything out. Sometimes that happens. Other times you don't get anything and the image is just a black scene that is useless. This is where I Thank God for digital cameras.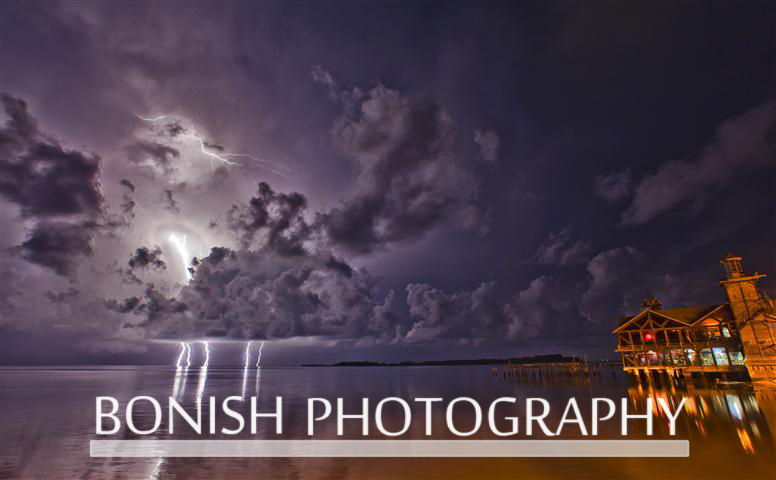 5 Strikes hitting the Gulf at one time
I can remember back when we shot film, and Cindy and I would sit out during a storm and shoot multiple rolls of film. You never knew if you had caught the strike and if the scene was going to be exposed properly until days later when you got the film back from the lab. What usually resulted was a waste of multiple rolls of film with maybe one or two mediocre images.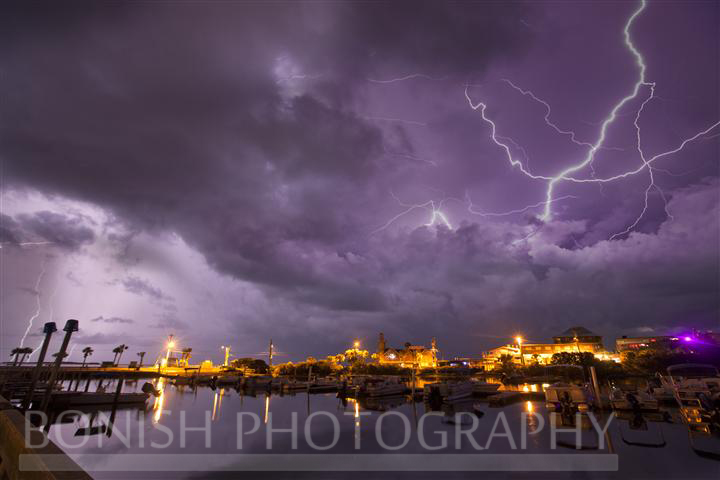 Looking across the Cedar Key Marina at Dock Street,
there is so much lightning in this shot you cant even count it all
Tonight would be different. There was so much lightning being thrown around the sky that it didn't really matter which way you pointed the camera, it was going to capture multiple strikes in each image. Many times I'd be watching a completely different direction than the way I had the camera set up and I'd be giggling like a little girl as the entire sky would be lit up with lightning streaking across the clouds.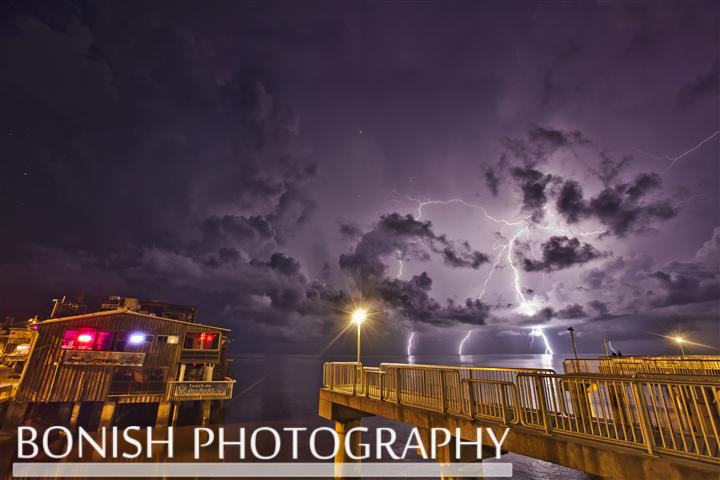 Standing on Dock Street looking towards Ken's Diner,
one strike comes into a clouds and exits as multiple bolts hitting the Gulf
I probably moved the truck 5 times from one end of town to the other while trying to get different foreground subjects. If I would have been closer to a casino, I would have went in and bet everything I had in my bank account because I couldn't lose tonight. It's rare to have an entire night of shooting offer so many spectacular shots.
I'm surprised I didn't overheat the camera because the shutter would just have closed from a 30 second exposure when another strike would go off that would reset the shutter for another 30 seconds. This went on for a few hours like this with the camera never having a rest.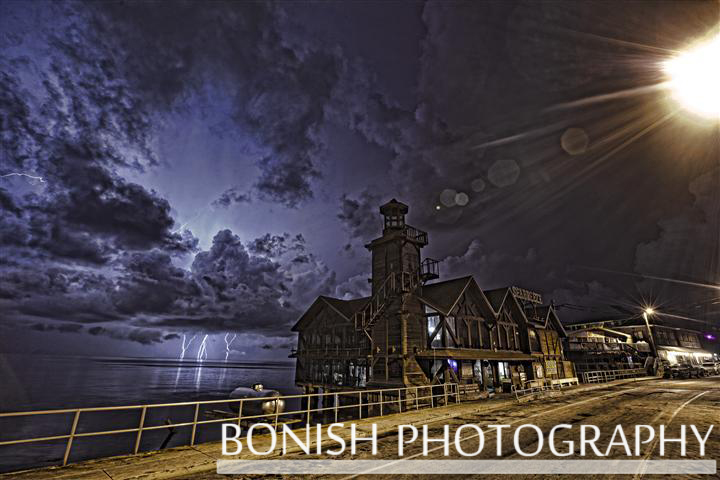 I ran this one through Topaz Labs Adjust to give it this gritty, raw feeling which would be perfect for a Halloween Post Card of Cedar Key
When the front of the storm finally reached Cedar Key, the rains started coming down consistently and I figured I had donated enough blood to the local mosquito population. I loaded up the well used gear in the truck and headed back to the motel. It was 5am and I had been out in the storm for 2 hours. My legs had about a million mosquito bites and I was soaking wet from the on and off again rain, but my body was buzzing with excitement to see the images on the computer.
Those few hours I hadn't seen another soul stirring other than two fisherman out on the pier who were as awestruck as I was by the storm. Talking with them while I had climbed up there to snag a shot, one of the guys just kept saying "Man, this is the coolest show I've ever seen in my life! My buddy is scared shitless and wants to go back to the truck, but I cant get enough of this!" I was in 100% agreement with him. I could watch a storm like this for days and not get bored.
Once back at home, I downloaded the images from the compact flash card to the hard drive and took a quick view through the storm one more time. The excitement and adrenaline rush had caught up with me and once I had taken off my wet clothes and changed into some dry ones, I was pretty tired and felt almost like I was hung over. I think my body had been drained of any energy and I finally went back to sleep. Cindy had never even woke up from the time I had let the dogs out hours ago till I climbed back into bed at 6am.
Around 8am when we both woke up, Cindy was in the kitchen making our morning coffee when I called her back in the bedroom where my office is located. I had one of the lightning images pulled up on my monitor and said "Hey, come check this out!"
She looked at the computer totally confused and said "Where did you get that image?"
I said "What are you talking about? I took it last night during that storm." She looked at me with a look of total confusion and asked "What Storm?!"
I had her sit down and look through the images which had her saying "WOW!", "Oh My God that is beautiful!", to "Oh Man, WHY didn't you wake me up?!" She had no idea it had even stormed last night let alone that it had rained pretty good. And this is a woman who will yell at me if she's sleeping and I'm reading a magazine because she'll say I'm turning the pages too loud???
It was a good start to what would end up being an amazing day and the sun was just coming up.
When Cindy asked "What do you want to do today?" My response was "Load up the camera gear, pack a cooler and spend the entire day on the water doing NOTHING!"
At first she started to say "We have so much to do before we leave for Michigan, are you sure you don't just want to take the day and get everything in order?" But I think the look I gave her made her realize I wasn't going to be doing any work today, and she just started packing the cooler with food and drinks.
With the boat loaded by 10am and Amber left at the controls of the Motel, we punched out and climbed down the ladder at the end of the dock. The day was good and roasting hot already, so a clear sandbar was our destination so we could actually get in the water. Getting in the water wasn't going to cool us off since the waters temperature was around 90°, but being wet felt better than just sitting there sweating for no reason.
First we were headed towards Seahorse Key to hang the hammock from a strand of standing drift wood that would make for a picturesque scene. We had thought up this scene in our heads and had both collaborated on what we thought would make a cool postcard image. So we wanted to get this shot out of the way before the sun would shift and change the light.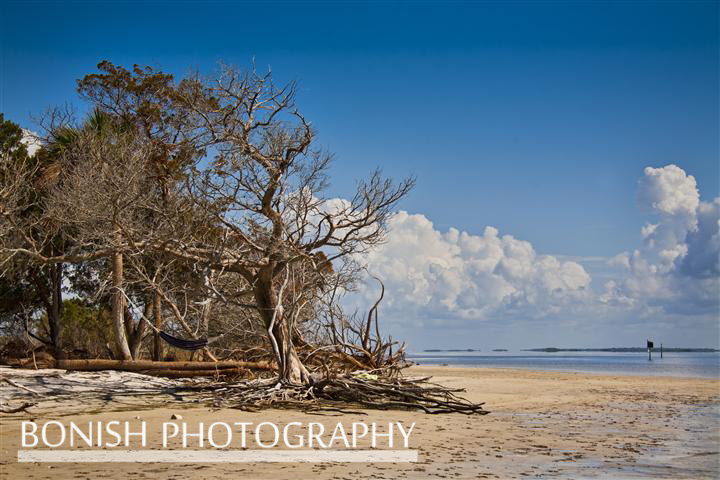 Pulling up to the island, we were dealing with a receding tide, so we had to anchor the boat a few hundred yards off the shore, and just walk into the beach. While we were pulling up, we were watching Bonnet Head Sharks swim around in the shallow water. They're harmless sharks that prey on crustaceans, so we weren't in any harm, and they're very pretty fish to watch swim. They're the smallest member in the Hammer Head Family of Sharks and gather in the Gulfs waters during the warm summer months.
With the boat anchored, we walked ashore and found a very cool oak tree that has died, yet is still standing. It's entire root system is exposed from the tides and it makes for a really artistic backdrop or focal point.
While I hung the hammock, Cindy lugged in the gear. Of course she made me swing in the hammock for awhile claiming that I'd hang it so it would fall once she got into it. If you remember, this happened to her while we were in Baja Mexico. I had hung a hammock, kicked back in it for a few beers, and the second she laid down in it, the thing fell to the ground with her slamming hard on the sand.
Now she always makes me get in a newly hung hammock and swing much harder than anyone normally would to show her it will hold up.
Once that test was over with, I got to shooting while she got to modeling for the camera.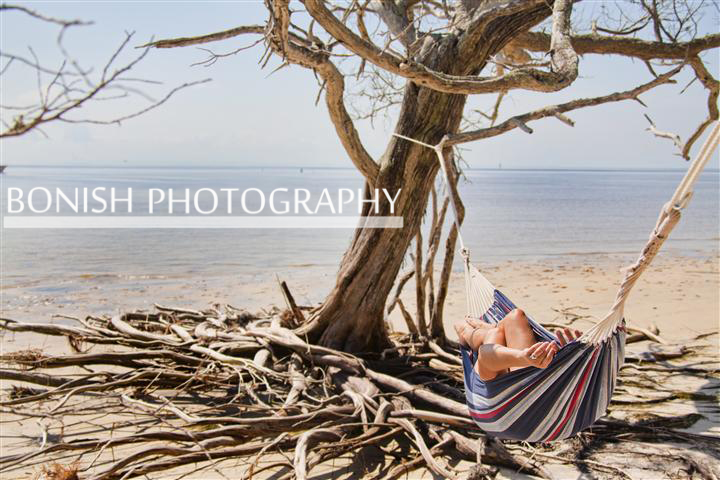 Our Postcard Image we ended up with
Now you would think if you were out on a boat, and you see another boat anchored on a deserted island, and a couple of people walking along the beach or sitting there just hanging out, that the proper thing to do would be to leave them alone and let them enjoy their solitude. NOPE!
With 13 different islands to choose from in the Cedar Key Wildlife Refuge, another boat passing by has to pull up right beside ours and drop anchor. Another couple jumps in and starts swimming around and coming ashore while they're all yelling back and forth to one another. Not that this is private property or anything, but if I was motoring past and saw the same scene, I'd keep going and go find my own little hideaway.
Luckily we had already nailed our shot, so we packed up the gear and headed over to a good swimming hole. One of the islands has this huge sandbar that exposes itself on a low tide. The bottom is all white sand so it's good swimming, which is normally something that is hard to find in Cedar Key.
Once we were in our swimming hole spot, the anchor was dropped, beers were cracked and the day was spent sitting in what would be considered Mother Natures Hot Tub. The water was so hot, that at one point Cindy said "The water is so warm, I cant tell when I'm peeing!"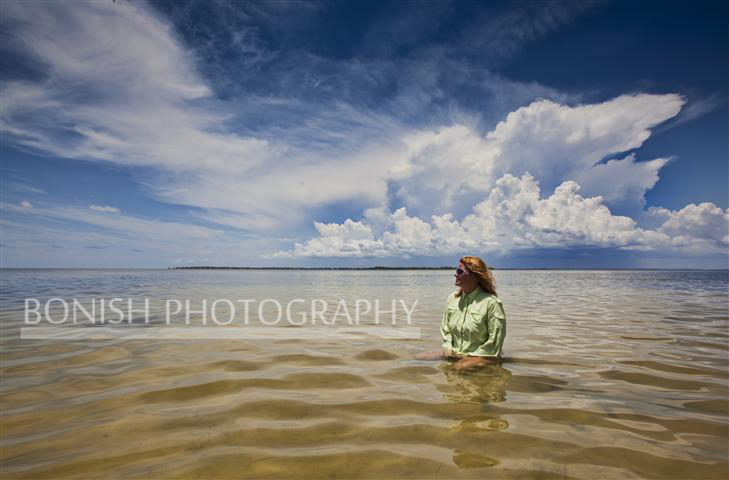 Just sitting in the waist deep water enjoying the day
You know you've found a little piece of paradise when you're sitting in bath like water, sipping on a ice cold beer and can reach down and pick up a big, juicy scallop that is crawling past you on the sand.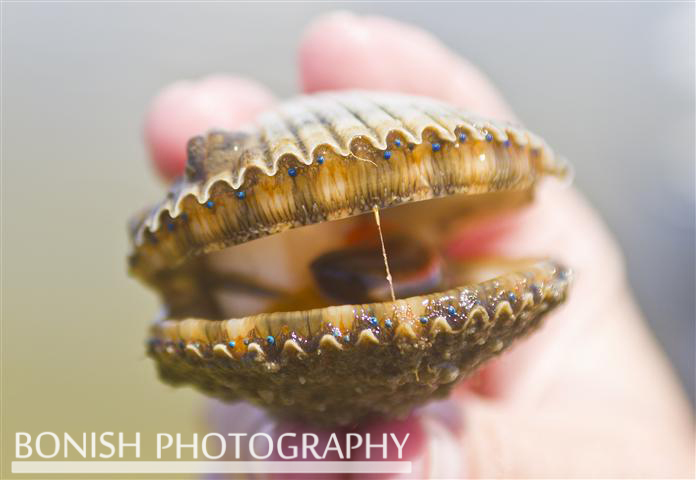 Fresh Scallop that I picked up while sitting on the sandbar
At first we had our long sleeved shirts on to keep the sun off of us, but it didn't take long before everything was stripped down and the water was the only thing around us.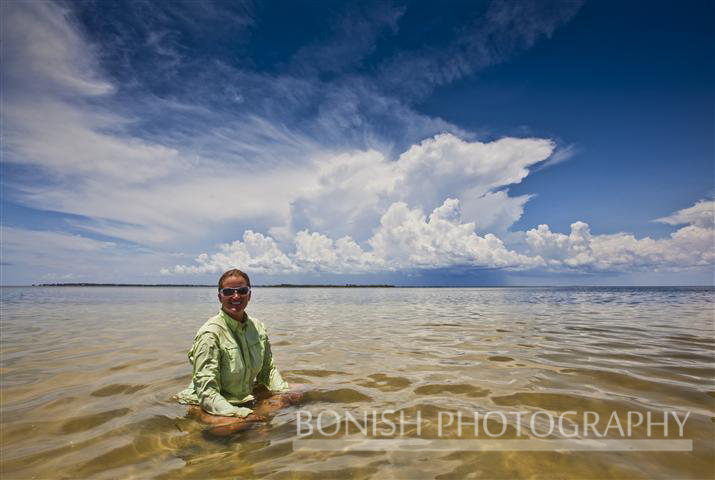 We did get dressed for a little while to take the boat into town so we could grab a bite to eat, but once our stomachs were full, the clothes came back off and we were back in the water. I cant really think of a better way to spend a hot summer day than floating in the Gulf with the woman of your dreams.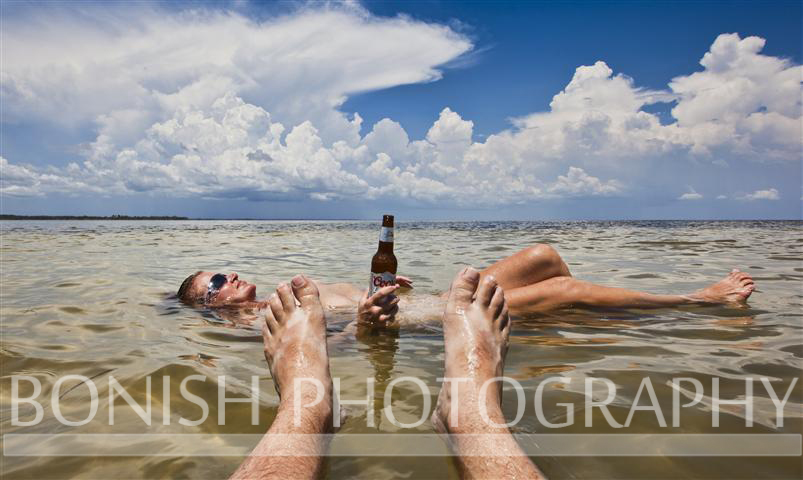 Strategically Placed Toes keep it PG13 for the Blog
But you get the idea of what my view was all day!!
There were storms booming on the horizon all around us from the days heat, but offshore, we never got anything so it was just a good show to watch. Late in the afternoon, Cindy kept seeing the dorsal fins from the sharks swimming all around us and while motoring away from the sandbar, we had one of the Bonnet Head Sharks swim right up to the edge of the boat.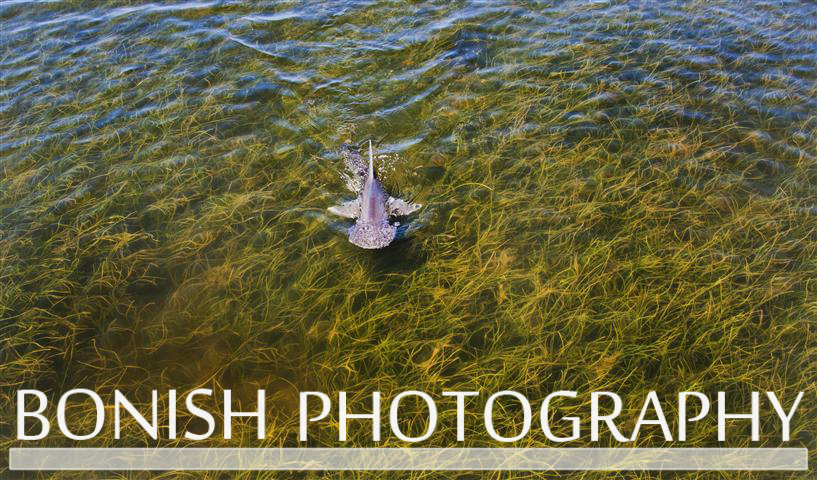 I probably could have reached down and grabbed it if I wanted to, but I'm not that silly. With a dolphin escort back to our dock, we agreed it was probably one of the best days on the water we've ever spent.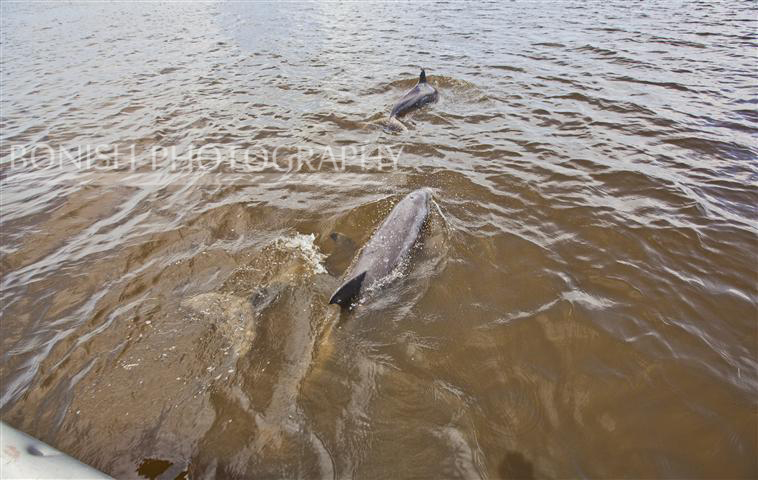 Wednesday July 4th - Happy Birthday America
Talk about a busy day! Cindy and I were up and working before Sunrise this morning.
We had tents to set up, campers and trailers to move and fireworks to organize. I'm not sure how long it will take to get rid of the smell of Gun Powder in our kitchen, but I've gotten used to the smell over the last few days.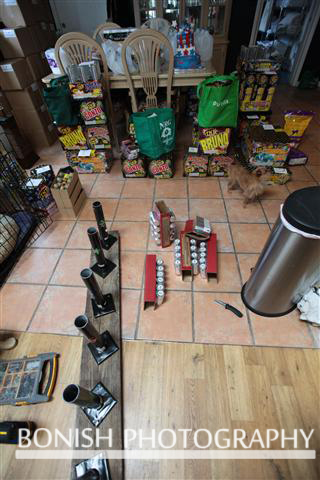 Setting up the Shot Tubes for the Pyro's
We had moved the fireworks into our house so Cindy could go through them and organize them into sets for Heath and Levi who would be setting them off from the barge we had anchored out behind the motel.
The tiki bar was fully stocked with extra beer, extra liquor and everything else we could think of. Now we just needed to pray that people were actually going to come to the party or I'd go in the hole with as much as I'd spent on all these supplies.
The entire day was spent getting things ready and by 5pm, people started trickling in. By 7pm when we had scheduled it to officially start, the place was packed.
We had went out and bought a brand new grill for tonight and what a way to break it in. Dave, the owner of Island Pizzeria had volunteered his time cooking the 400 burgers and despite the debilitating heat, he was sure to stay in front of the grill to everyone was fed.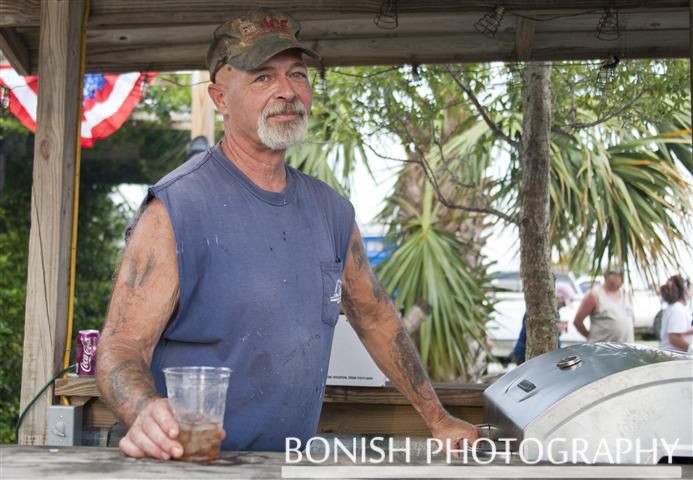 I don't think there was enough Iced Tea in Cedar Key to keep Dave hydrated over this grill
We had a band playing on one of the decks, games for the kids and plenty of lawn space for people to kick back and enjoy the holiday.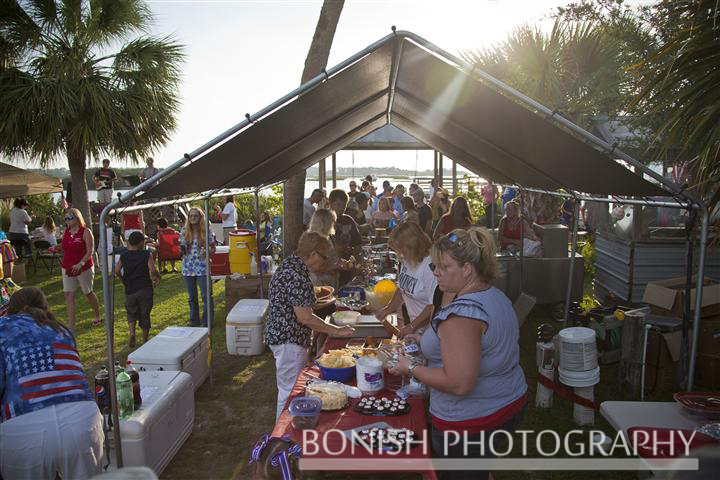 Lined up for the food

Nicole carrying out the festive cake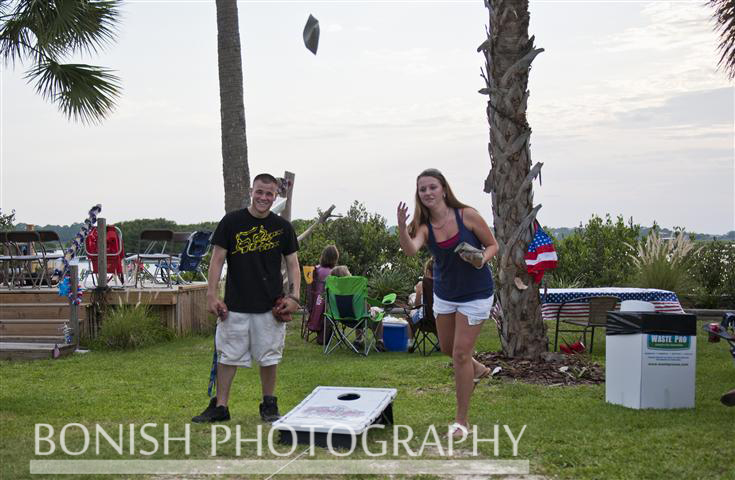 Playing Corn Hole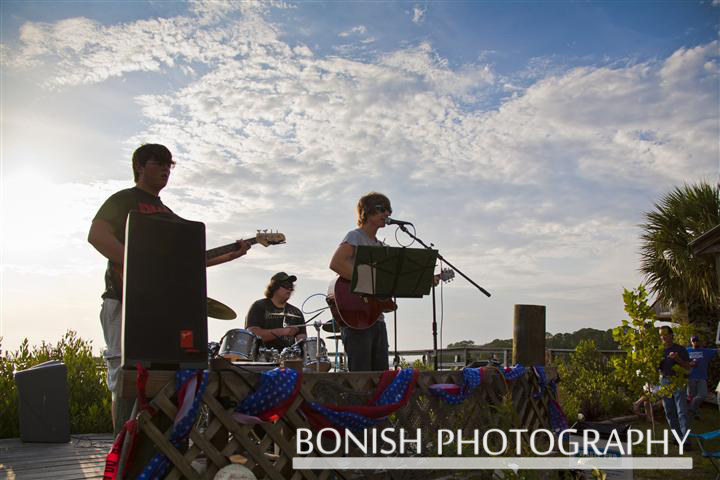 Live Music playing in the back yard
Once it got dark, the fireworks were loaded onto the barge and the crowds anticipation could be felt in the thick humidity. I was nervous our show wouldn't muster up to the expectations of what everyone was hoping for. It was a big deal to make sure this went off without a hitch and no one got hurt.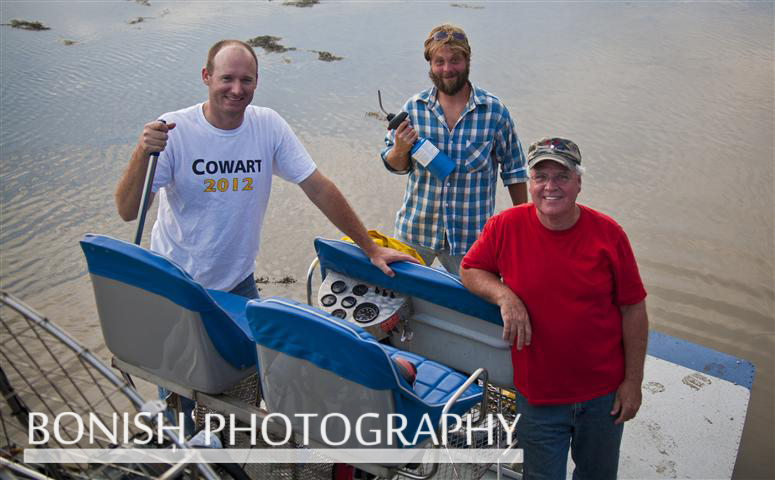 Heath, Levi and Jim getting ready to head out to the barge

We had all agreed that no alcohol would be touched before the fireworks were over with. We had borrowed Fire Helmets with full face shields along with fire shirts from the Cedar Key Fire Department to make sure Heath and Levi would be protected out on the barge. Cindy had spent hours organizing the fireworks selection to be sure there wouldn't be too many going off at once so they'd have time to go from one end of the barge to the other.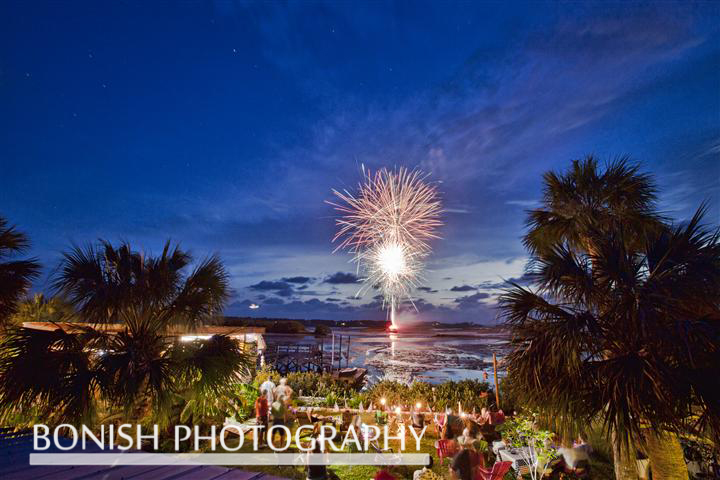 Once it was dark, the show started. It went on for the next 45 minutes to the crowds delight. It was better than expected with cheers and applause being heard up and down the road as both sides of the road were lined with trucks filled with people sitting up in the beds enjoying the holiday.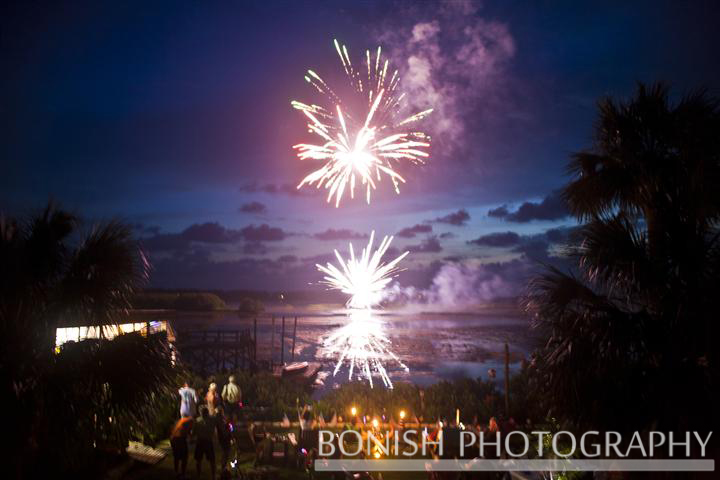 What happens when one of the mortars explodes on top of the barge. Thank God they were wearing the helmets and fireproof shirts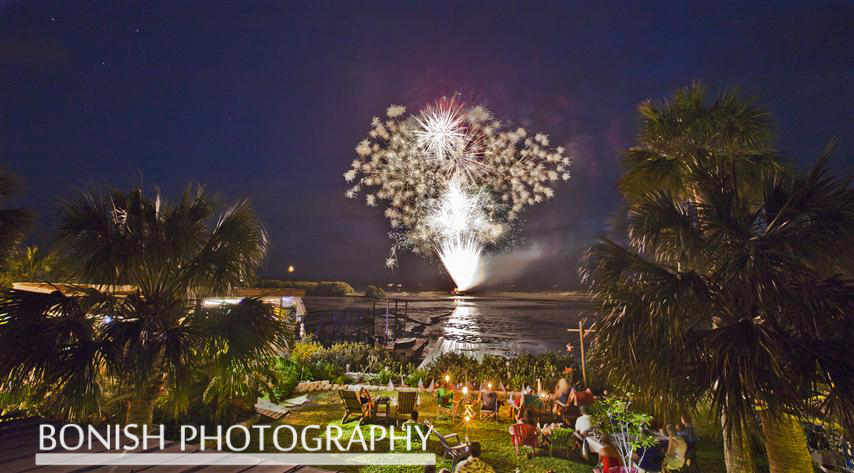 Look at the top of the boat!!!!
That's some serious fire power for the Grand Finally!!
When the grand finally finally was lit, the show came to a stop and everyone stood cheering and screaming. I think the night was a success and I still couldn't believe we pulled it off with under two weeks of planning.
It just goes to show what a community can do when they pull together to help celebrate the 4th of July. Thanks to everyone who helped make the 4th such a memorable day. Those who donated their time, their hard earned money and those who came out just to enjoy the show and be together for the holiday. Cant wait till next year!!
Sunday July 1st - Seahorse Key Opens
Even though we're crazy busy right now, we couldn't pass up our 3rd year of opening day of Seahorse Key. I mean most of the images in our book have been shot around this bird rookery which hosts so many bird nests, multiple species and opportune shots to grab.
Cindy and I were up and on the boat at sunrise to get out to the island. We had no idea what to expect because this year has been so warm, many of the birds are months ahead of their routine rituals. Then when you factor in Tropical Storm Debby blowing through earlier this week, more than likely most of the nests were blown out of the trees or damaged from the high winds.
Our normal spot was a total bust. It's the best location for early morning light, but it's also facing east, which is the direction the storm was blowing in from, so there were no nests to be seen. Either they've already been hatched and fledged, or they were just blown from the trees by the storm.
There were a bunch of birds hanging out on the backside of the island which would have been protected from the storm, but this also meant you'd be shooting right into the sun. So we just idled around watching the birds to see if we could learn anything from their behavior. There are still hundreds of Magnificent Frigate Birds soaring over the island, and this year there seems to be double the amount of Cormorants than there was last year. I wonder what the meaning is of that?
We were able to get a couple of nice shots, but not the bevy of images we normally come home with. This is what I love about photography, it's always a crap shoot!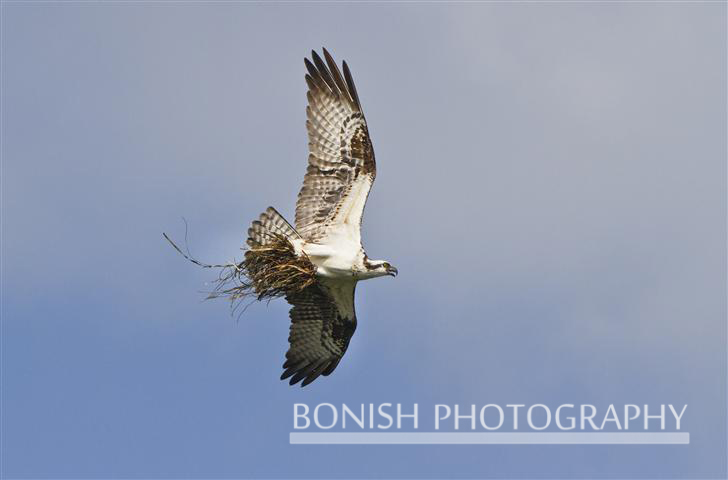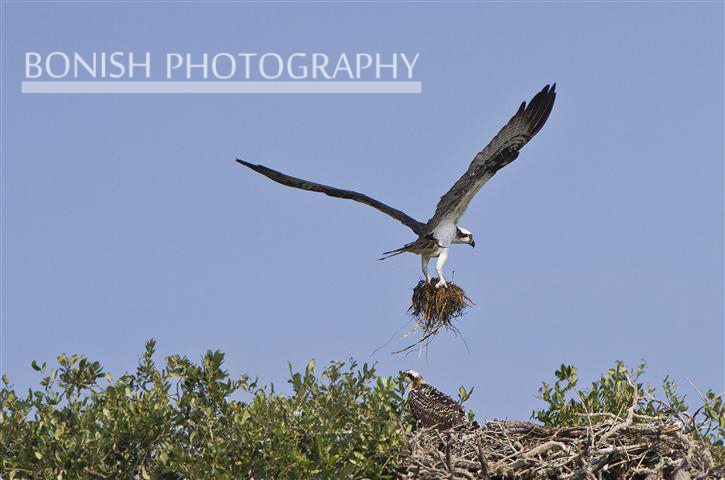 An osprey we watched as it rebuilt it's nest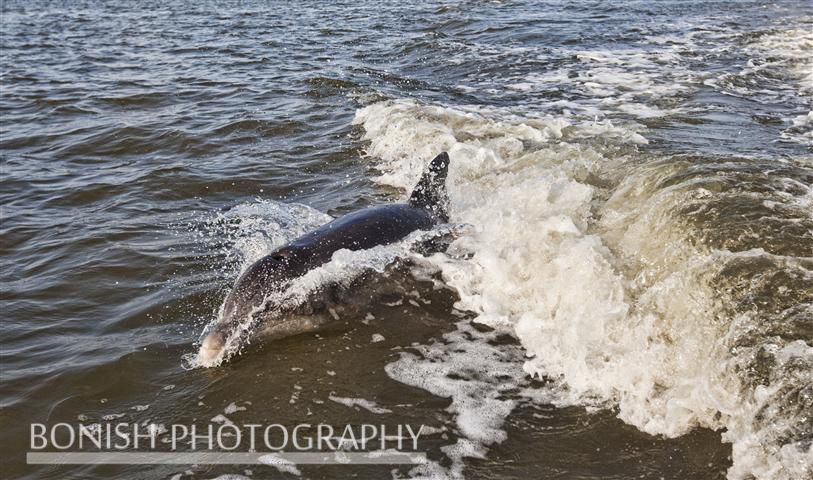 ___________________________________________________________________
Photo Gear We Use - Solar Tips, Fact's and Trick's we've learned while on the road
Camper Check List - A list of things we do before leaving camp. Again, this isn't gospel, but its a good start for those who might not already have a list made up.
Return to Top of Page
Need Unlimited photo storage- FREE Trial of Smugmug