When we realize our insignificance in this world,
it some how relieves the pressures from society to succeed -
Cindy Bonish 04/07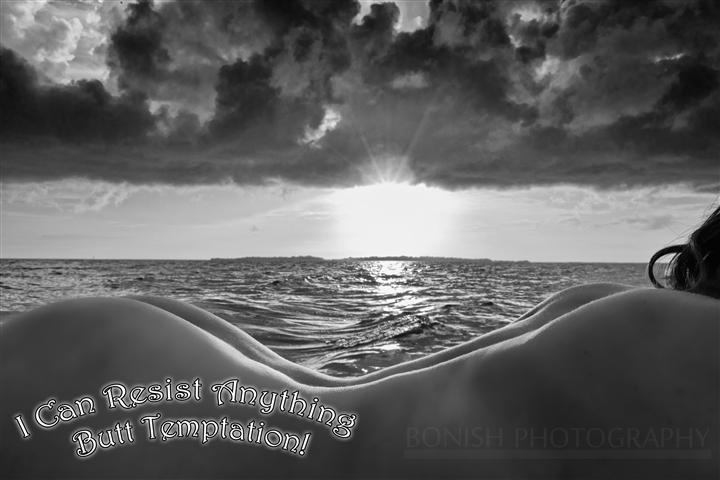 I Can Resist Anything Butt Temptation
Pat's August 2012 Blog
If this is your first time here, you might want to start from the beginning of our fulltime Journey with our Past Blogs
If You Don't Know Me Yet, Click Here to Read My Bio
****
Labor Day Weekend - Fun Times in Cedar Key
Wow, what a fun weekend we had in Cedar Key. The best part, I don't think Cindy and I ever left the motel or the Tiki Bar the entire time.
We were packed full all weekend long, including the RV's so the Tiki Bar was chocked full of patrons all weekend. We met so many fun folks and laughed so much, I think I need to take a day off just from all the fun.
Some random signs posted at the entrance of the Tiki Bar that make the patrons laugh.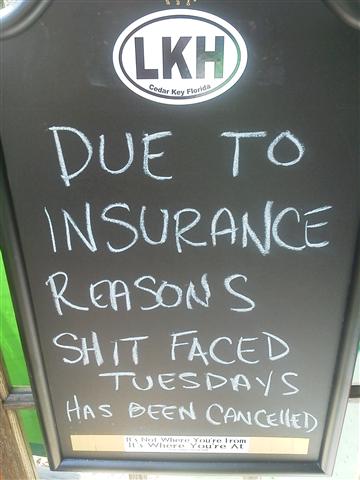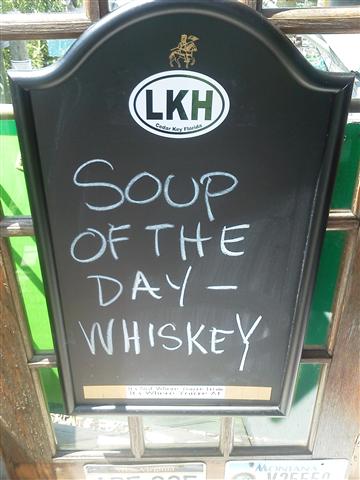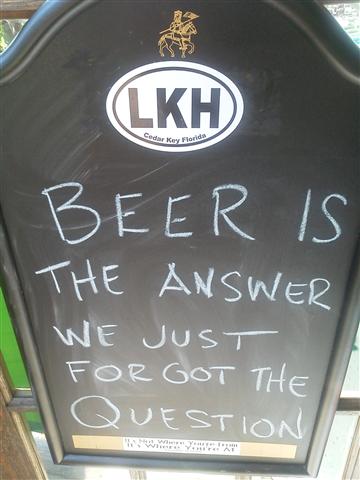 Monday August 27th - Tropical Storm Isaac
Weatherman = The only job you can do wrong 90% of the time and still keep it!
If you've been watching the news or the weather channel for the past week, the ONLY thing they've been talking about is Tropical Storm Isaac. Cindy and I have been laughing our heads off at how big of a deal they're making this even though it's anything but a big deal for us here in Cedar Key.
Latest News Report: Take cover, you should be expecting 20-30mph wind gusts!!
Seriously? We have those on a daily basis? I mean what ever happened to reporting it like it really is? If there was ever a reason to have people not pay attention to the real storms when they blow through, it's because of reporting storms like this that they blow so out of proportion.
Sure, you should be ready if it decides to turn in your direction, but when they're reporting on blown over umbrellas at beach resorts in Miami??? Come on!!
The tiki bar stayed full, we served a ton of Hurricane's and it was a beautiful weekend.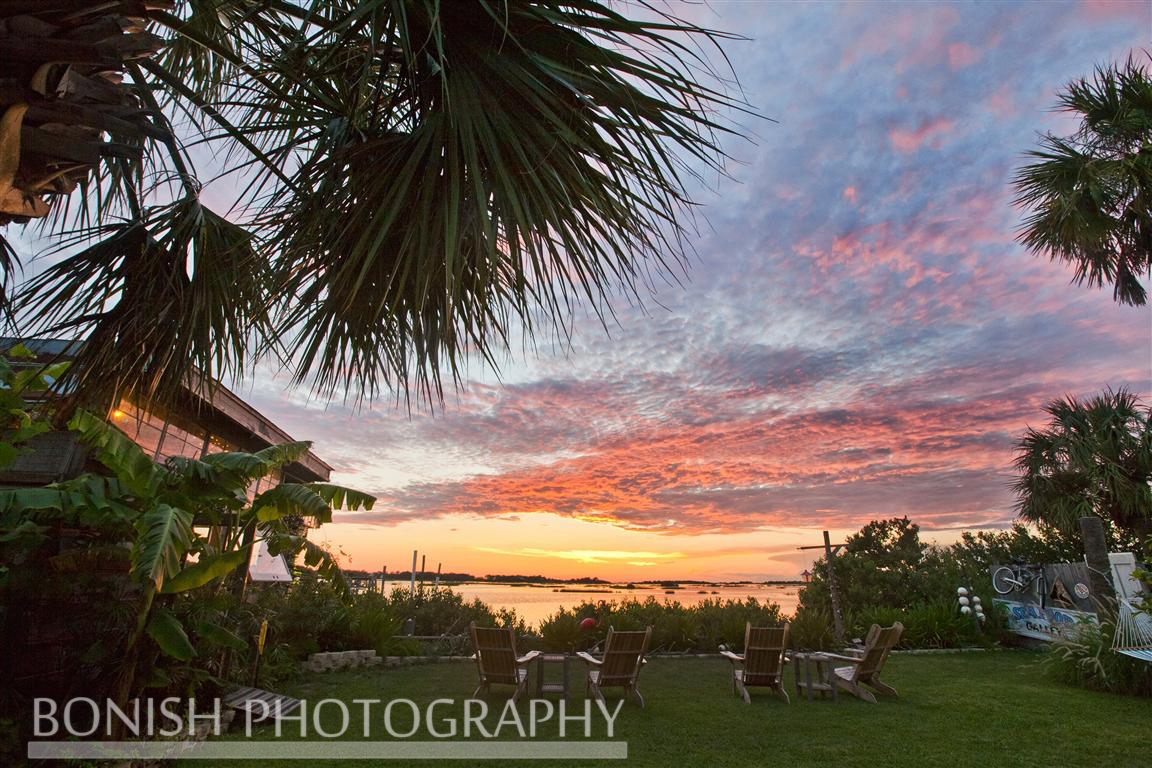 Sunset on Saturday night during Tropical Storm Isaac
Sunday and Monday we had maybe three, 20 to 30 minute rain showers and that was it. If you had never turned on your television, you'd never have even known that what blew through was supposed to be a Tropical Storm.
My mother called me a dozen times to ask if we were alright, and I could tell why. If she was watching the news, you'd have thought we were all done for. But again, this is why people do get caught by the bad storms. They get so sick of the media blowing anything with the name Tropical Storm or Depression so out of proportion, they don't even pay attention to the real ones.
Cindy and I had the camper filled with fresh water. We had the Refrigerator turned on so we could exchange the food out of the house refer to the camper one and we could have been on the road and heading towards safety within an hours notice if we needed to.
As for the motel, other than sandbagging the doors, boarding up some windows and locking everything down, there really isn't too much else we can do. When living at the nose bleeding altitude of 4' Above Sea level, with Gulf of Mexico at both your front and back door, there is little to do in the way of stopping Mother Nature when she wants to come ashore.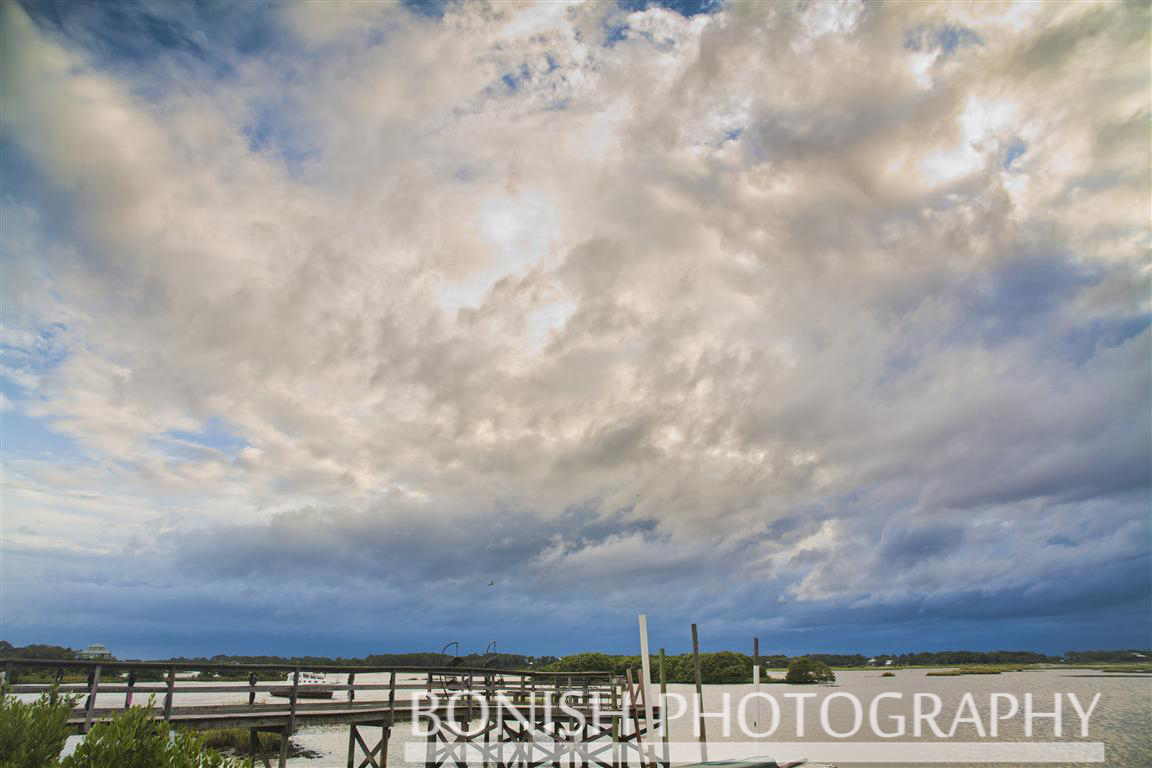 Sunset during Tropical Storm Isaac on Monday night
My mom asked me why we wouldn't leave sooner and I asked "So from now on, should I expect you and Dad to leave the State of Michigan every time you get a tornado warning?" That's something that happens at least once a month up in Michigan during the summer months.
There was a long pause and she replied "Ok, I see your point!"
Believe me, we gambled and spent over $10,000 on Hurricane Insurance this season. If I see one that is for real coming our way, I'll be sitting in that camper somewhere safe just hoping that the building gets blown away. The problem is, all that'll probably happen is we'll get flooded out and have a giant mess to clean up afterwards.
So Tropical Storm Isaac was nothing more than a wimpy wind storm that never even dumped much rain on us.
Saturday August 25th - My First Scuba Lesson
I had spoke of not being able to use my underwater housing since I got it for my birthday last month. Heath and I had spoken with a local guy who told us that he's traveled all over the world scuba diving, and when he dives just off of Cedar Key, he sees more sea life than anywhere else.
This got us pretty excited and Heath started talking with some friends of his who are into diving. They said they'd supply the equipment if he'd take us out to the shelf, which is some 20 miles off shore.
We had Tropical Storm Isaac approaching us and the weather people were telling us it was supposed to pass us by around Monday or Tuesday. You'd never have know there was even a storm in the Gulf for how beautiful the weather was.
Thursday and Friday, I'd spent the entire days getting the yard and motel ready incase this storm turned out to amount to anything. We had trimmed the trees, removed any debris that was lying around and I went up on the roof of the Tiki Bar with a caulk gun and applied some reinforcement to a few places where leaks were known to exist.
Friday night, while Catie was working the Tiki Bar, I spent the hour it takes to mount the Canon 5DMKII into the Ikelite housing making sure I took my time and everything was lubed and all seals were made properly. Installing the camera in the housing isn't something that can be done fast.
It's not like you just say, "Hey, lets go out swimming, throw the camera in the housing and lets go!" It has to be done right and you don't skip any steps, or you will probably end up losing the camera to a leak. Something I don't want to do!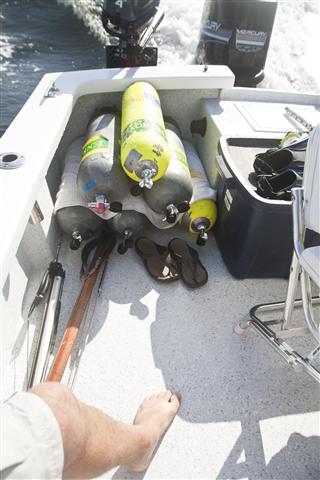 We met Heath down at the dock after we had picked up Jolie just after 8am. It was a beautiful fall morning with a slight coolness in the air. I love this time of year! The breeze isn't stifling hot like it's been the last few months, and you can almost feel the change of season coming on.
Gray and Marjorie Drummond met us a little while later with their good friend Matt. The girls all went to chatting about hair, which would remain a topic of discussion for the remainder of the day, while us guys went to loading up the scuba equipment.
One thing I noticed right away is when going scuba diving, there is a LOT of equipment involved. Between the tanks, the regulators, the spear guns, all the flippers and masks....Heath's boat that normally feels huge with lots of deck space kept getting smaller and smaller the more we loaded on.
Soon enough we were headed out into open Gulf. While we motored out, Matt went over the basics of what to expect. We'd only be diving in about 20' of water, so it wasn't going to be anything we'd have to worry about if a problem crept up, but I've never dove with air tanks before, so this would be a first for me.
The further we got offshore, the worse the waves got. Even though the sky was bright blue with no clouds, Tropical Storm Isaac must have been doing something to the seas because we went from nice, calm water around Cedar Key to 5-8' rollers once offshore.
When we finally hit the numbers Heath had been going for on his Chart Plotter, we all sort of laughed, because the bright, clear, blue water we had been expecting was a murky brown from the silt being washed up in these big waves.
The girls had all gobbled up a bunch of Motion Sickness Medication as soon as they left the dock, but I'm not sure if it had kicked in yet. Marjorie kept saying she was going to get sick, but was holding it down because she didn't want to puke in front of all of us.
We all made the decision that someone should jump in, follow the anchor line down to the bottom and see if the visibility was even worth putting the girls through the nightmare of sitting in this pitching boat on the surface while we tried to dive. Gray grabbed his mask and jumped overboard.
He swam over to the anchor line, grabbed a hold and started following it down. He resurfaced pretty quick saying "OK, visibility is about zero! I was following the rope down and hit bottom before I could even see it in front of me!"
We were only anchored in about 20' of water which is probably why the waves were so bad. Supposedly there is a nice shelf along the bottom here that fish love to hang out on. On a calm day, the water is supposed to be pretty clear and great for diving and spear fishing. Today wouldn't be one of those days.
We all made the decision to head back in towards calmer water and I made the mistake of trying to put the camera gear away. While taking my eyes off the horizon with the boat pitching and rocking so bad, my mouth started watering and I told Marjorie that I'd break the ice with being the first one to Chum the water.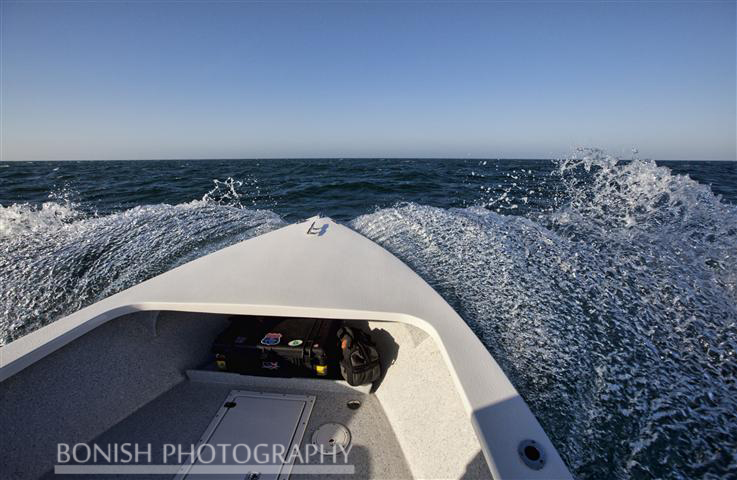 Heath did a great job of getting us back into shore since the winds and waves were blowing against our path. We'd ride up a big swell, come crashing down with spray drenching all of us with warm, salty water only to repeat the process multiple times. Some of the hits would be so big, you'd hear every bolt and joint in the hull creak with the impact.
I was sitting in the very back of the boat facing the wake and many of those times when we'd be in the very trough of the wave, the outboard motor would go completely underwater.
I kept asking Cindy to yell to Heath to stop so I could grab the camera I had put away, but she refused to get up or she thought she'd get sick too. So I don't have any photos of this wild ride of ours. But let me tell you, it was one for the record books.
Once back into calm water, we spent the better part of the afternoon just floating away a Saturday talking about this and that. The girls still talking about hair and us guys sharing various travel stories of our past. Gray and Matt have dove and seen some amazing things around the Gulf and were both very entertaining to listen to.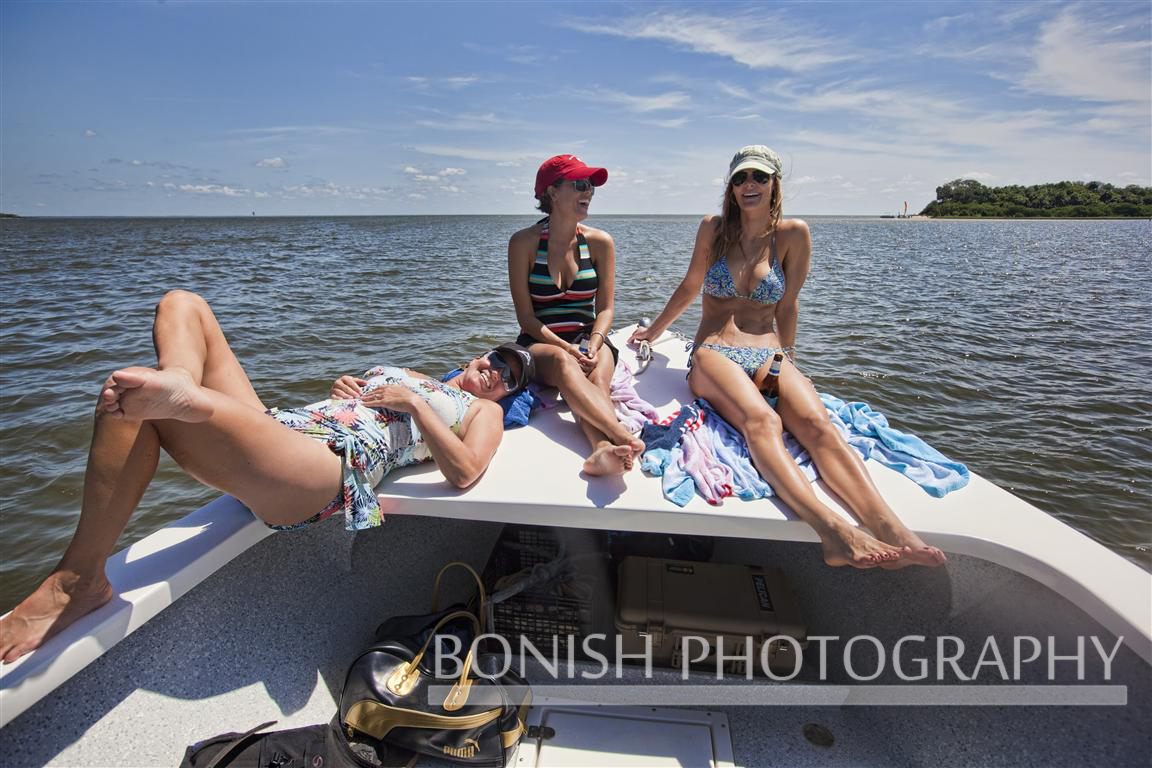 Not a Bad View off the boat! Cindy, Jolie and Marjorie
After awhile, Heath asked if he could put us on a hole, would we still be wanting to try and dive? He knew a spot where there was a deep hole that had some old poles submerged that lots of fish like to hang around.
We motored over there, but the tide was so low today, that it was only about 6' deep. I wanted to try and get used to breathing out of the regulator and learn to float with the buoyancy vest, so we suited up and jumped in.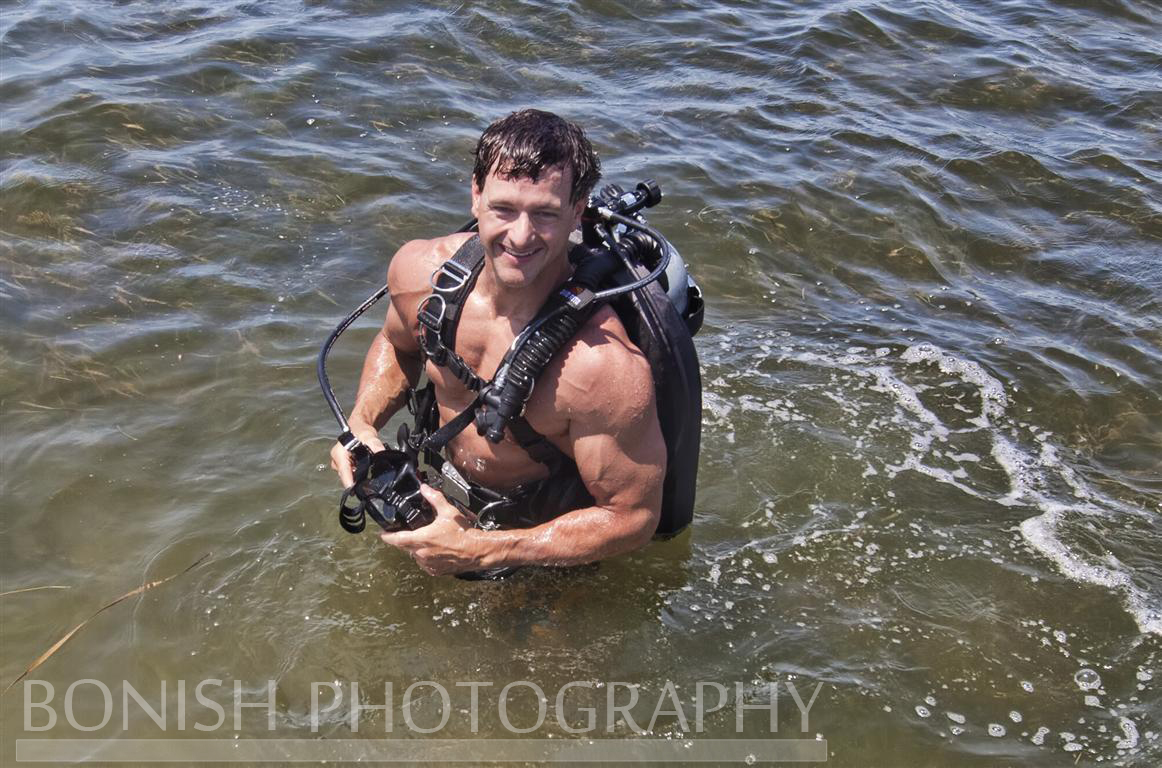 It was hard to keep Cindy out of the water. And, yes, she's afraid of water
Even in this flat calm water, the visibility was still only about 12 inches in front of my mask. Which totally sucked. These old, algae covered poles were surrounded with fish, but it wasn't like you could see them too well, so again, the underwater housing never got to be used! Ohhh, the agony of having it and not being able to use it!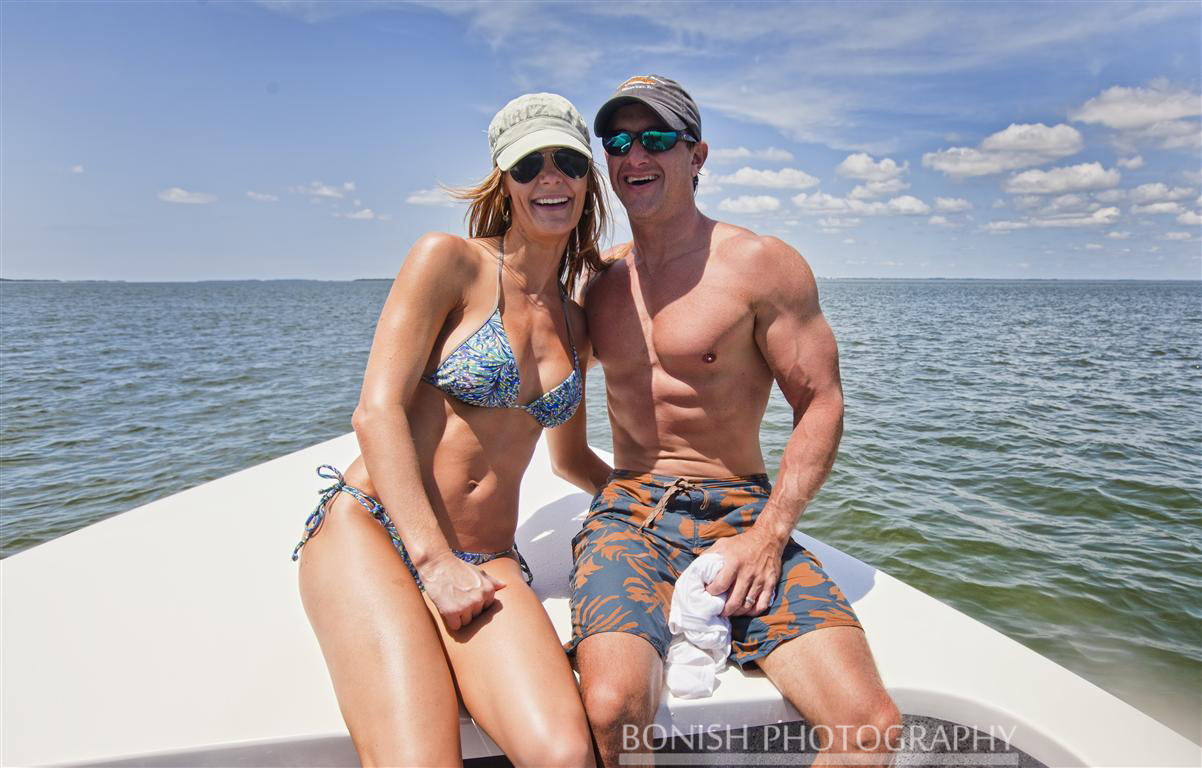 Gray & Marjorie Drummond
Our day ended around 2:30 as I had to be back to open the Tiki Bar and go to work. We'd know tomorrow whether we needed to start evacuating or just sit tight and weather the storm. As far as you'd know from our weather today, it was just another day in paradise.
Monday August 20th - Great Read on Travel
If you haven't guessed by this point, I haven been keeping to my strict rules of keeping the blog updated as much as I used to.
Over the past few months, I've found that it's much easier to browse through Facebook while Cindy and I eat breakfast, upload a new photo or two and keep up with the where-abouts of some fellow travelers I keep up on.
The other day Jeanette, a good friend from the Travel Blog Cheddar Yeti, had posted a link to an article about Henry Rollins. This was basically an interview with Rollins asking him about his worldly travels.
It really touched home to me not because I'm such a world traveler, but because I felt closest to my true self while I was traveling. I loved that Rollins talked about staying off the tourist path and seeing things for what they really are. Walking through cities and interacting with the locals. This was my favorite thing about living on the road.
I learned a new favorite line I plan on using after reading that article. Rollins said - "People come up and ask, "My friend, what are you doing here?" My icebreaker is, "I'm here to meet you." I love that!
I copied the link and forwarded the article to some friends on my email list. I was surprised to see the responses I got back. Some thanked me saying they found it inspiring. One guy replied saying "I didn't get anything from that and I've been to many of those places mentioned in that article and it didn't open my eyes at all, just made me appreciate America more." I had to stop and think about that one for a second, but realized this guy in particular travels the way most American's do....as a tourist.
They travel to the tourist spots, they do the tourist things and eat at all the tourist restaurants. The real way to travel is like Rollins does in the article. A backpack stuffed with some Energy Bars and your camera. You immerse yourself into the local culture and become one of them. When you fit in with the locals, you'll see things much differently than watching them as an outsider.
I remember Cindy and I sitting in small bars talking with locals and asking them to show us their hang-outs...their best spots that the typical tourist might never see. While sailing in the Virgin Islands one year, we asked one of the local bartenders we had been talking to, "Where do you go after you get off of work?"
He said "Oh you don't want to go there, it'll only be all the locals and workers and it isnt a nightclub atmosphere like this place is!"
In reality, we wanted out of the atmosphere we were in which is why I had asked him in the first place. He gave us directions to this really cool little bar that you had to go down multiple back roads and alleyways to find. Tourists would never have found it unless they were majorly lost. We ended up having a wonderful night shooting pool, BS'ing with locals and learning so much more about the islands than you normally would by hanging out in the normal restaurants. Plus, since it was a locals hangout, the drinks were half the price they were in the clubs and places that were right on the strip.
What I'm getting at is when traveling, don't always be the tourist. Try and fit in with the locals and rather than tell them about where you're from, why not ask them to tell you about where you are.
One of my favorite quotes is "The most interesting people are the ones who are interested."
Saturday August 18th 2012 - David & Jennifer's Proposal
A few weeks back, I get a phone call from this guy named Dave. He explains who he is, we've meet a bunch of times when ever he comes to visit his girlfriend here in Cedar Key who works as a FWC officer.
He explains that he wants to propose to Jennifer and wants to do it on the dock at sunset. He asks if we could help out by taking pictures of the event and help out with the planning? So for the last few weeks, Cindy and I have ran through different scenario's in our heads.
Dave and Jenn are both avid fisherman, and David's original idea was to have them fishing off the dock at sunset, and he was going to have one of his buddies who is a diver swim up, grab a hold of Jenn's line and attach a sign that would read "Will You Marry Me"
That would be great if the water was deep enough out behind our dock to allow a diver to swim up, but with it only being maybe 3'-5' deep at a high tide, that wouldn't really work.
So we thought if we had a fishing pole on the end of the dock with a sign already attached, we could think up some story to have them come out to the end of the dock and have Jenn reel it in.
All David had to do was make sure he could get her to the Tiki Bar by 7pm so we could have them out on the end of the dock and in position by 7:30 when the light would be perfect.
Cindy and I spent a few hours on Friday afternoon with a fishing pole and different sized fishing weights trying to figure out the perfect way to get the banner we had made to sink all the way, but not be too heavy that it would be hard to reel in.
When we saw them walk into the Tiki Bar, we gave them a few minutes to get their drinks and settle in. Our story was going to be that we were out on the end of the dock trying to take a Postcard Picture of a young couple fishing at sunset and we needed a different couple so the people in the photo wouldn't actually be Cindy and I.
Cindy walked into the Tiki Bar and explained all of this to Jennifer with David knowing the story already and saying "Come on Jenn, this will be fun." I had already asked him numerous times "What if she wont do it?" Luckily she was a trooper and said "Sure, I'll do it."
So their group of friends they had with them all walked out to the end of the dock. I told her to grab the fishing pole and start reeling it in, but to look at me the entire time with a big smile on her face. I figured if she did this, she wouldn't know what the banner said till it was reeled all the way in and was right in front of her.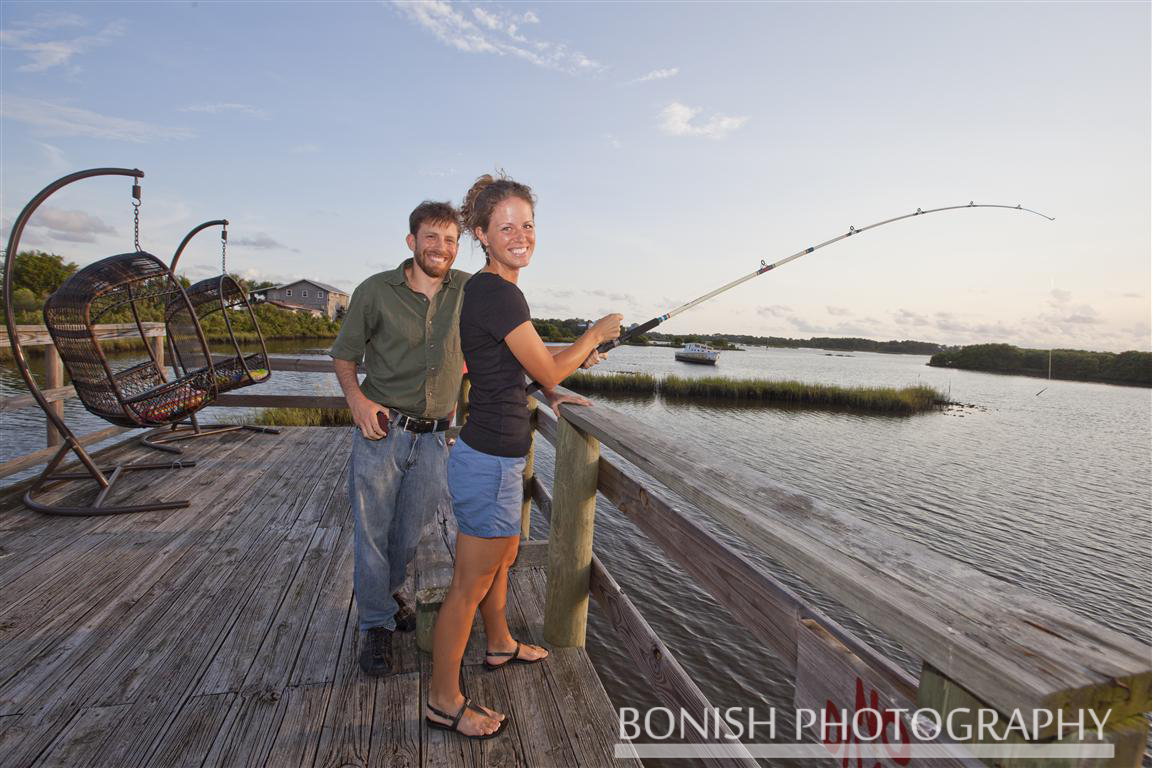 So she's reeling it up and David is standing behind her. Once it gets high enough, David gets down on one knee as she looks at the banner. She had this total look of confusion as she says aloud "Wait, this banner says something?" and she's trying to read it.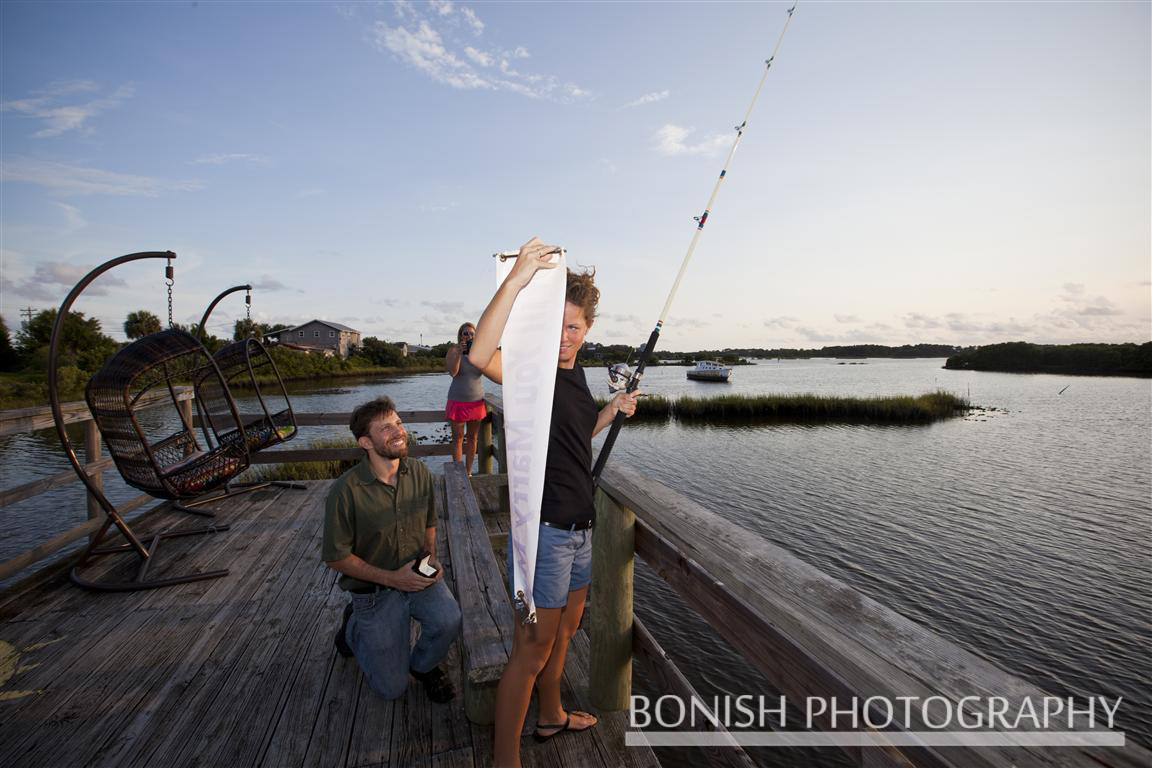 The look of confusion gets even worse when her brain is telling her what it says and she turns around to see David down on one knee with the ring box opened.
Right away, as if it was rehearsed like a movie scene, David says "Jenn, you're my best friend in the world and I want to spend the rest of my life with you. Will You Marry Me?"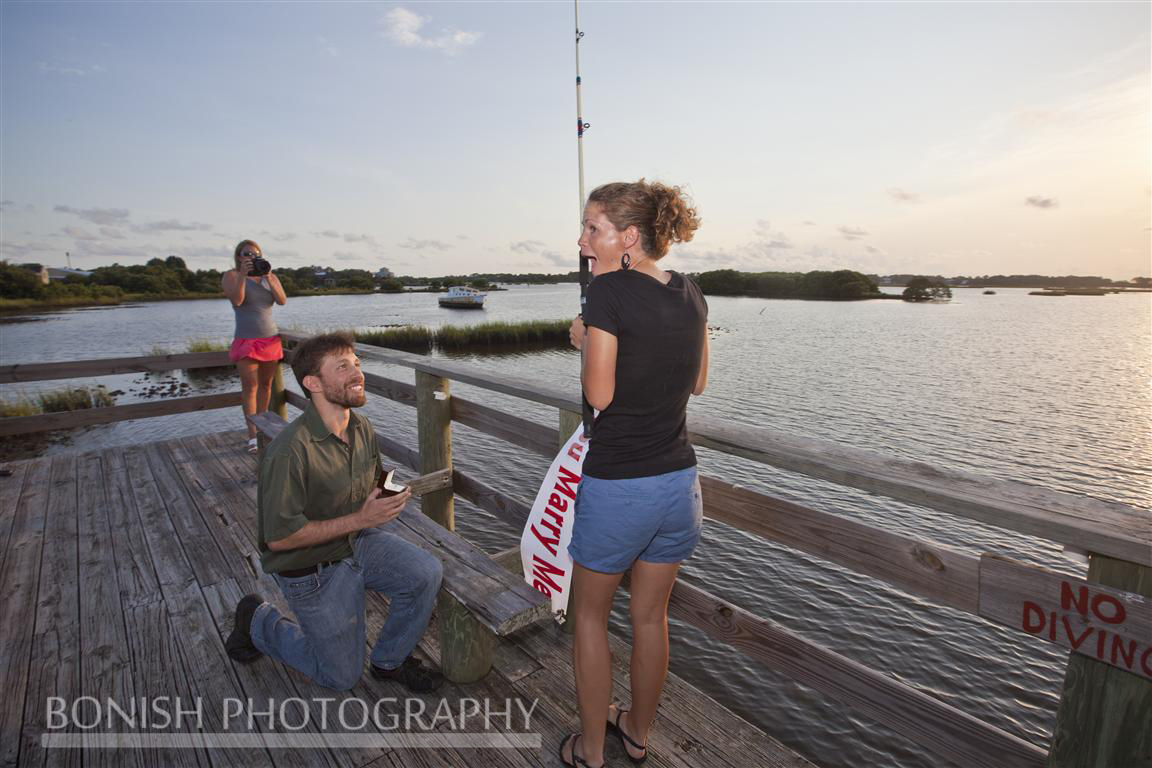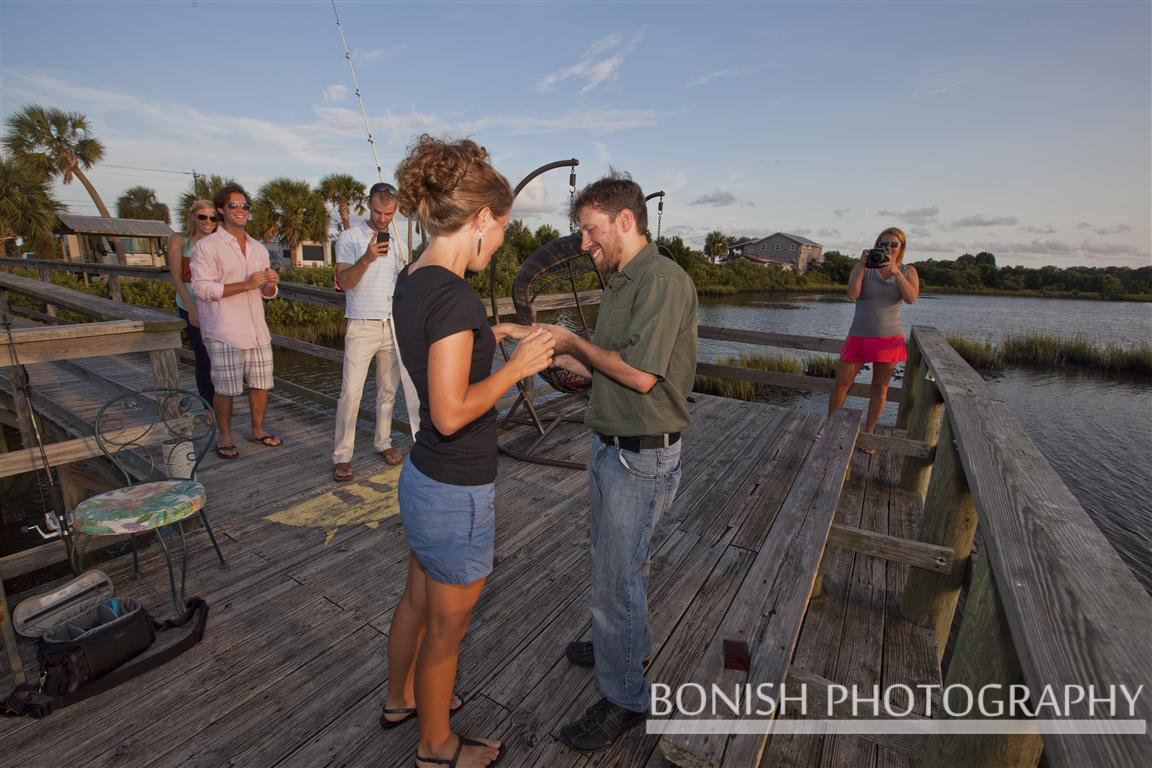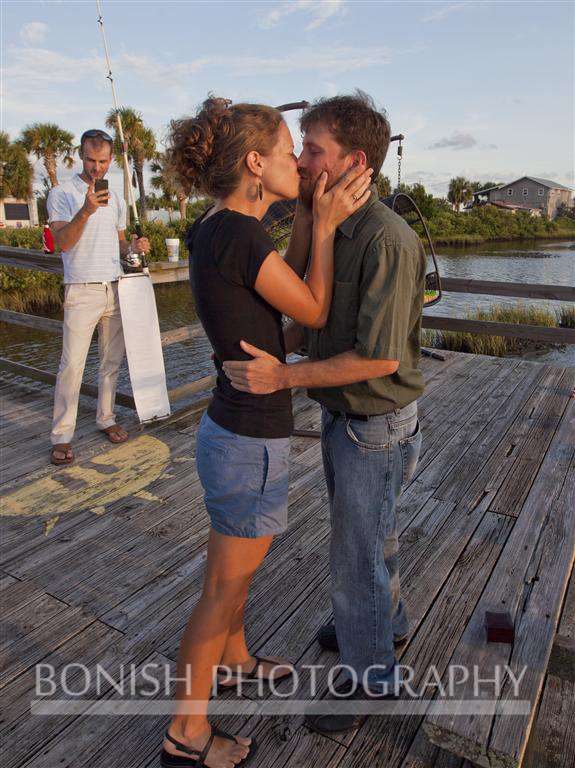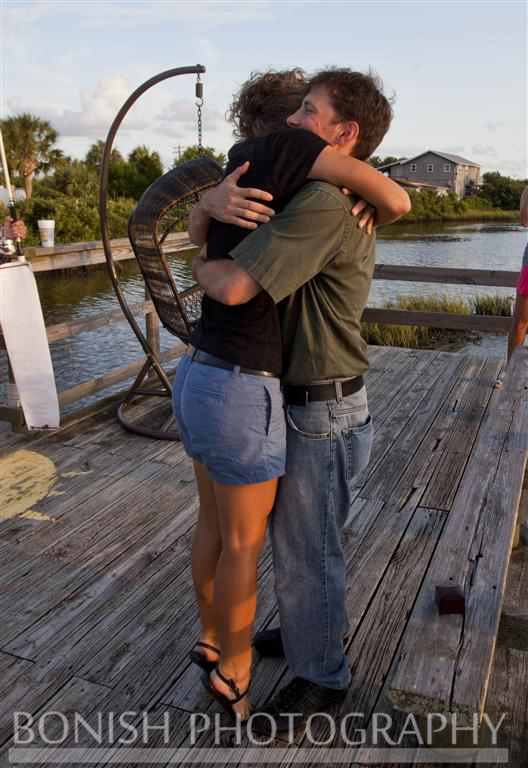 She starts screaming and jumping up and down and yells "OMG! Yes!"
The entire Tiki Bar, which is jam packed full of people that all know what is going on starts cheering as they hug, kiss, cry and start their new life together on the end of the Low-Key Hideaway Dock. Cindy's pictures all turned out useless because she was shaking and crying the entire time....LOL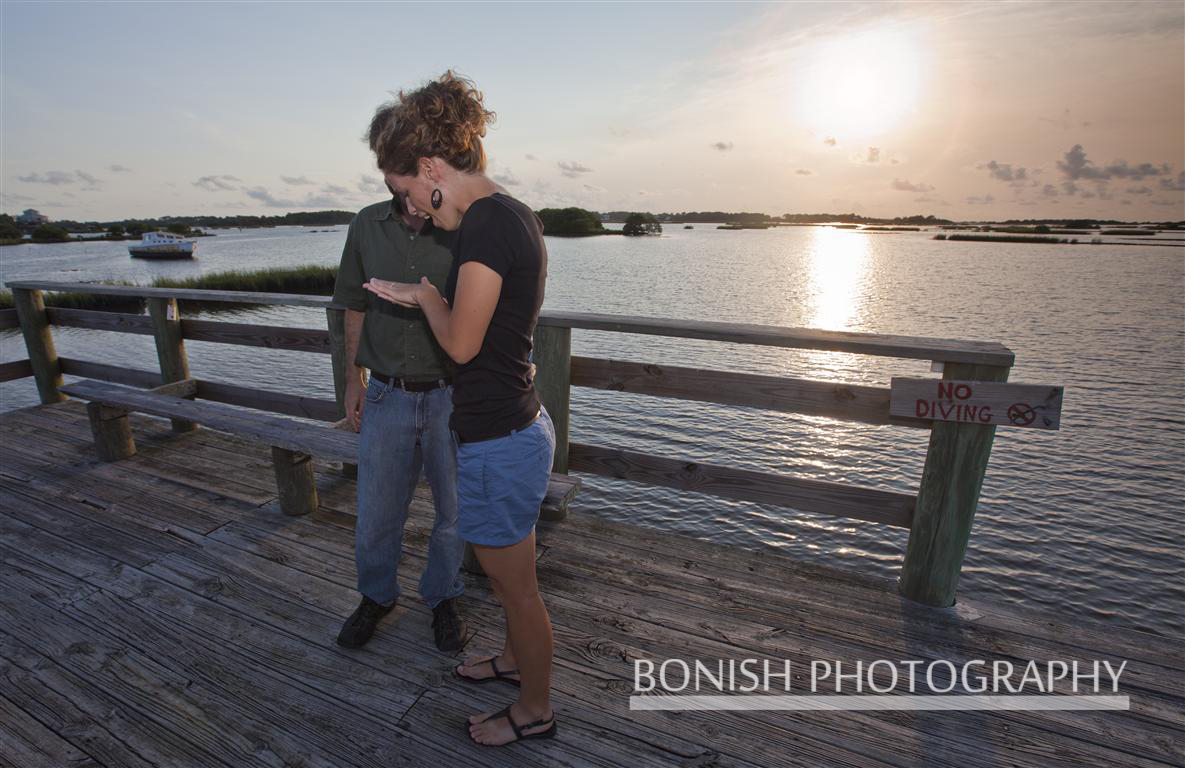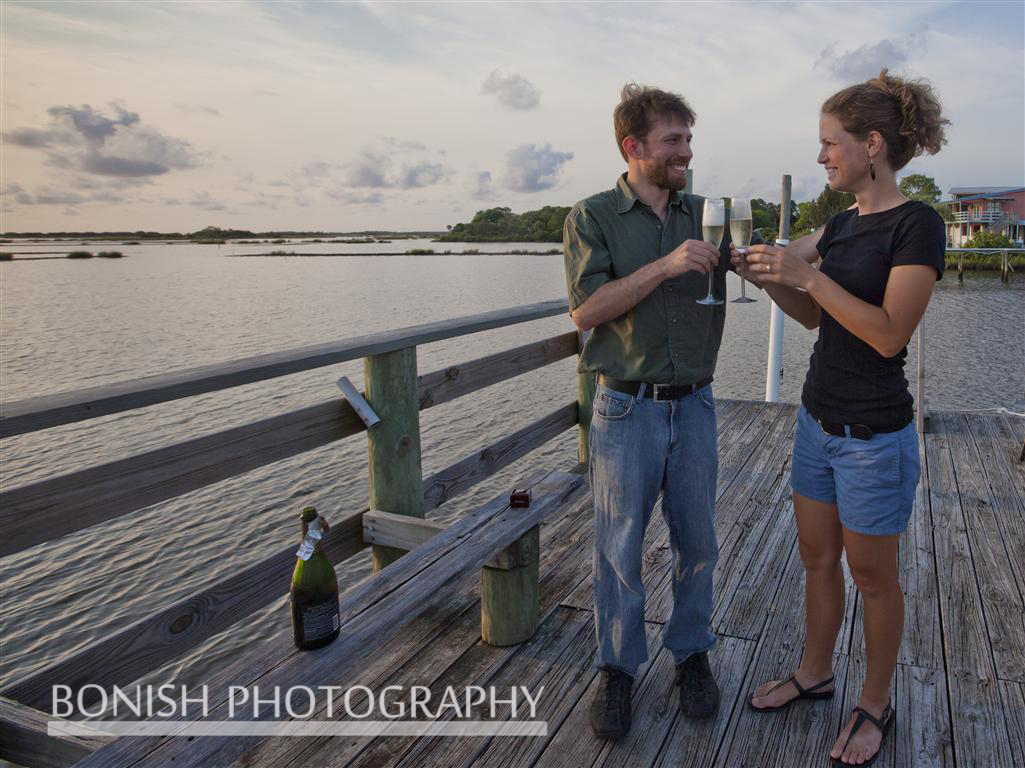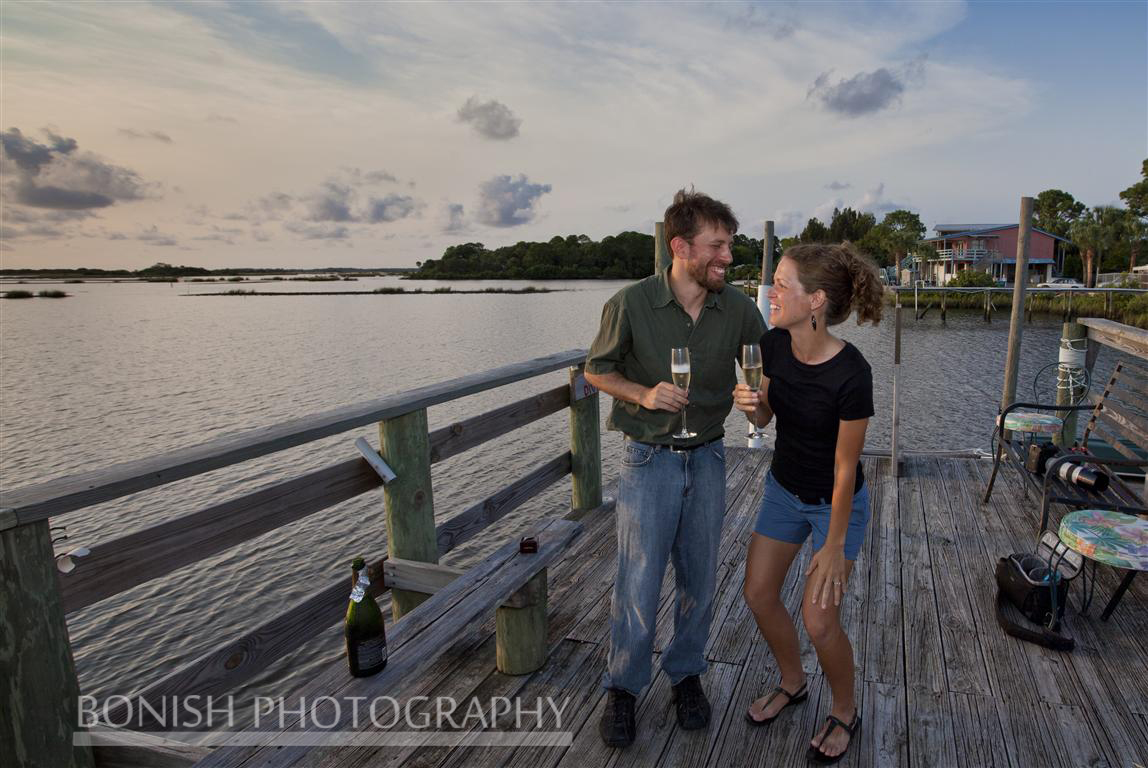 After she took her first sip of champagne, her knee's buckled and she said "Oh Gosh, I can barely stand right now I'm shaking so bad!" It was a great night and Cindy and I both felt honored to be a part of this relationship. Maybe the wedding will be planned here in Cedar Key or even at the Low-Key Hideaway.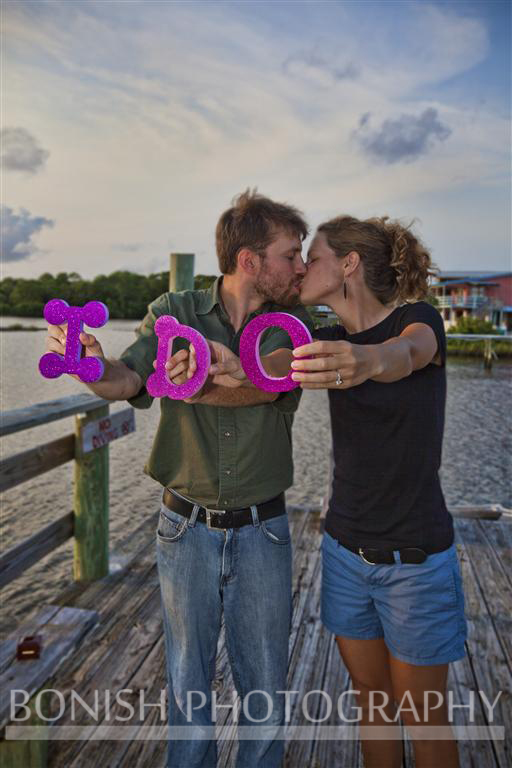 Congratulations David and Jennifer!
Skip Forward to August 18th - Catching Up Real Quick
The past few weeks have been non-stop work and catching up. I apologize for taking so long to update this. It seems once we got home from our Michigan trip, it was hard to find time to sit down long enough to catch up.
I celebrated my 39th birthday on July 27th. It was a great weekend at the Tiki Bar with multiple guests celebrating birthdays each night, so the partying was non-stop and so much fun.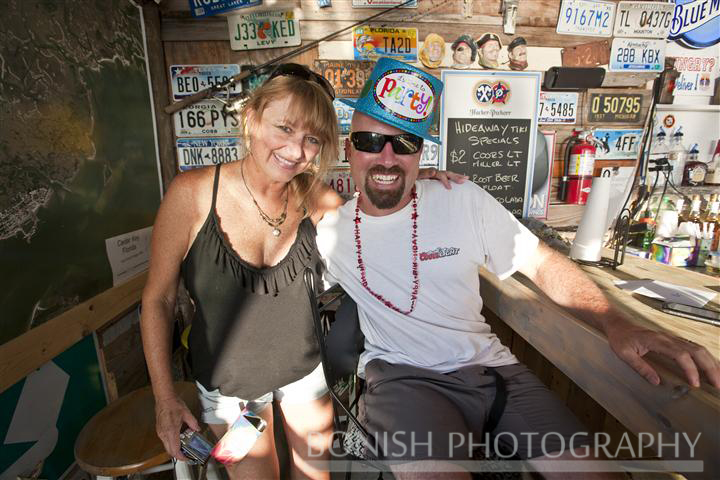 Pat in his party hat with Kathy who was staying with us that weekend
It was also Kathy's husbands birthday the night before mine, so there was much cause for Celebration
Cindy rewarded me with one of the coolest presents I've ever gotten for my birthday. She's so good to me and if I ask for something enough, she'll usually cave in and reward me with it.
I've always wanted a Underwater Housing for a full size DSLR since they were introduced. There have been times we've been tempted to get one, but we always held back because the bodies themselves were advancing at such an alarming rate.
It just seems silly to buy something that is specific to a certain body, when you might replace that body within the next few months. Many of the underwater housings are more expensive than the camera body itself. So if you're going to drop the money on one, you want to make sure you really like that body.
I cannot say enough good things about the Canon 5DMKII body and the images it's capable of producing. I don't see us updating it anytime soon, so when I was browsing through a camera forum and saw a used Ikelite Housing for that body at a price too good to pass up, I begged and pleaded with Cindy till she said "Go ahead, buy it, it'll be your birthday present."
The main reason I couldn't pass this package up was it came with a lens port, which you normally have to buy separate along with a bunch of extras that the seller was throwing in for free. Just the housing itself would have been a good deal at the price he was offering it at, but with all the extras thrown in, it was like we were getting a good deal on a housing with another $1000 worth of gear thrown in for free.
Here is the nerve wracking part. Since we've gotten it, we've yet had a time to actually use it. We've gone out on the boat with the intent to do some snorkeling and underwater shooting, but the Suwannee River is flowing so heavy right now that it's dumping copious amounts of its dark, red water into our bays. So the visibility is about zero. We've been too busy to head out to any of the surrounding springs where you're guaranteed crystal clear water.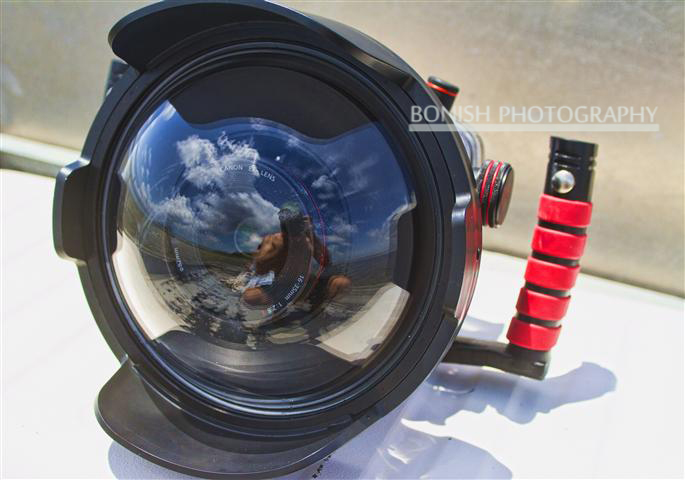 Ikelite Canon 5DMKII Housing with the 8" Port
So I've been going insane just looking at this beautiful piece of machinery without being able to use it. Hopefully soon we'll get the chance to spend the day underwater, shooting some new images. I'm wanting to use it for Underwater Fashion, which is something I think will be really fun and different.
When we used to live in Michigan, one of the types of photography I shot most often was modeling. Since being on the road, it's rare to get to shoot that style and Cedar Key really doesn't offer up too many opportunities to quench my thirst for it. I find it one of the most challenging types of photography because you have to be able to manipulate the light perfectly to get your desired results and you have to be good with working with a model rather than a static landscape.
I always ask Cindy to model for me, but she usually just says "No Thanks, go find a different model." One of my other birthday presents was having her be my model for a full day while I got to practice lighting and some different poses I'd been thinking up in my head.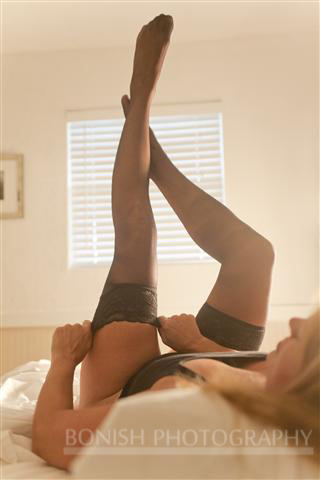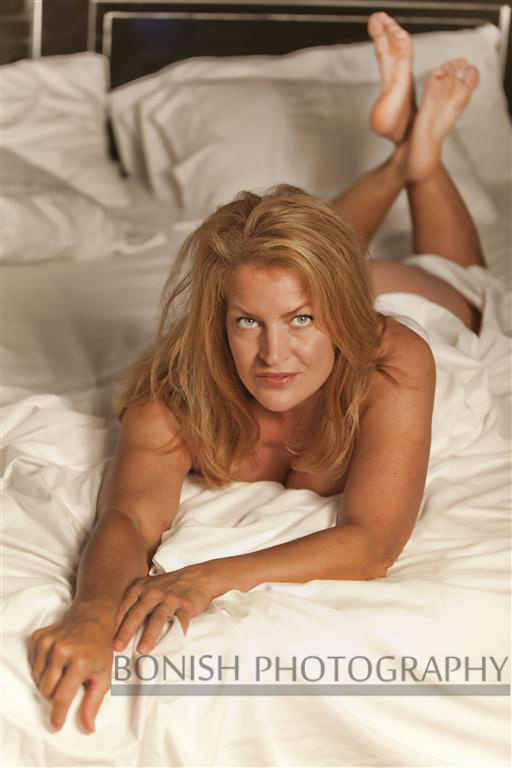 That was such a good present and it only made my hunger for this type of photography get worse. Sorry I cant show you all the photos as I feel they're too risky for this blog I try and keep PG-13. If you'll Google my name and search hard enough, you'll be able to find them on the intraweb. Maybe I'll have to start advertising in the Gainesville market to see if I can find some more work outside Cedar Key.
These past few weeks have been really good for summer storms. We've been having some regular rain which brings in beautiful cloud formations. Sunrises have been amazing, but the sunsets have been a bit lack-luster. It seems that each afternoon, there is a thick marine layer just over the Western Horizon that blocks a good sunset view.
I did go out and guide a photography trip a few days ago and was able to snap off a few cool shots of my own.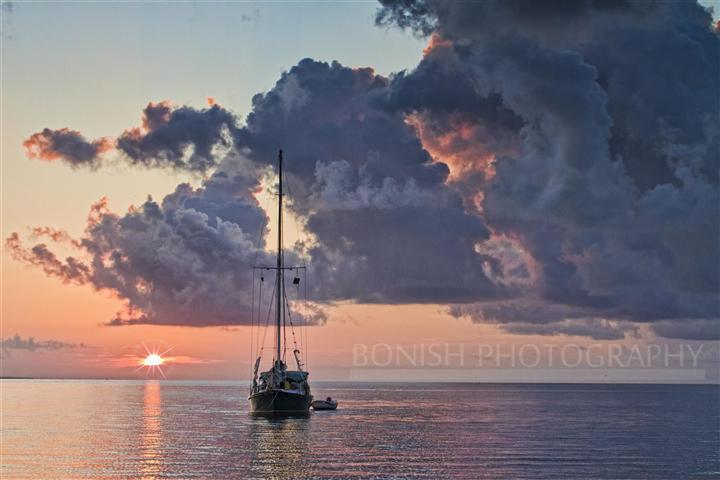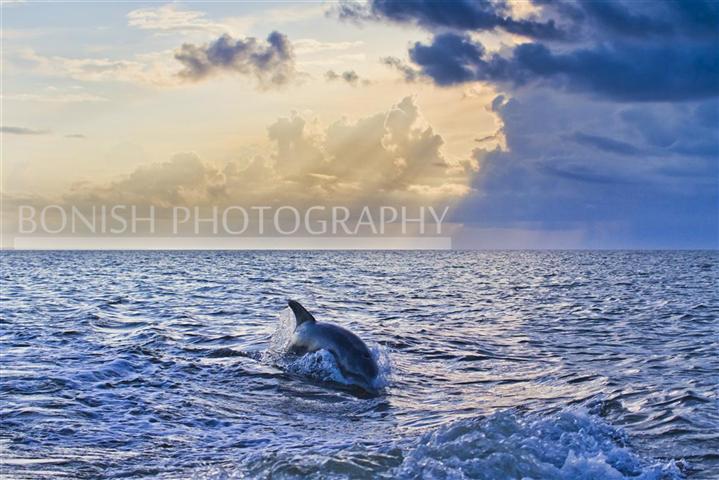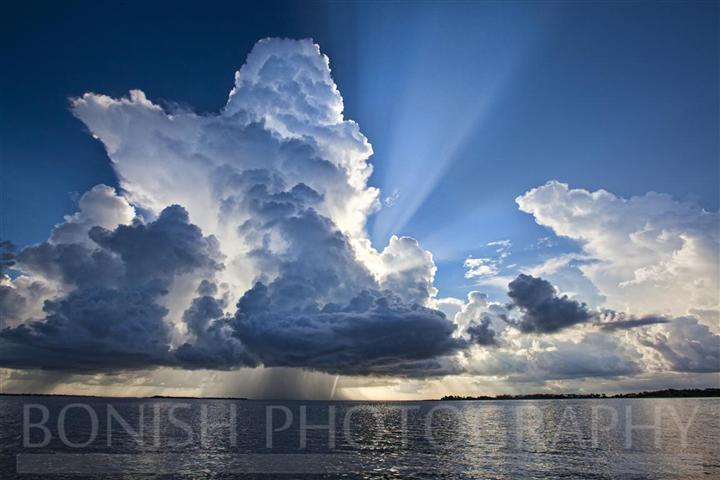 Another day Cindy and I were plugging away when some guests were knocking on the door saying "Grab your camera and come out back, you're never going to believe this bird!"
This really nice couple that was staying with us was walking out to the dock when they passed a small dove that was sitting on one of the outdoor chairs. As they passed by it, it never even flinched or flew away like the rest of the birds did as they approached.
The guy, Robbie, was eating sunflower seeds and he put some in his hand and the bird flew right over and started eating out of his hand. This is when his wife came running for Cindy and I to come take some pictures.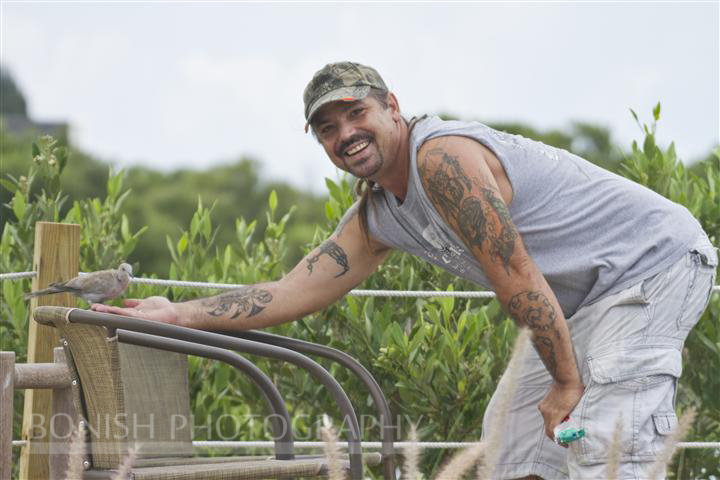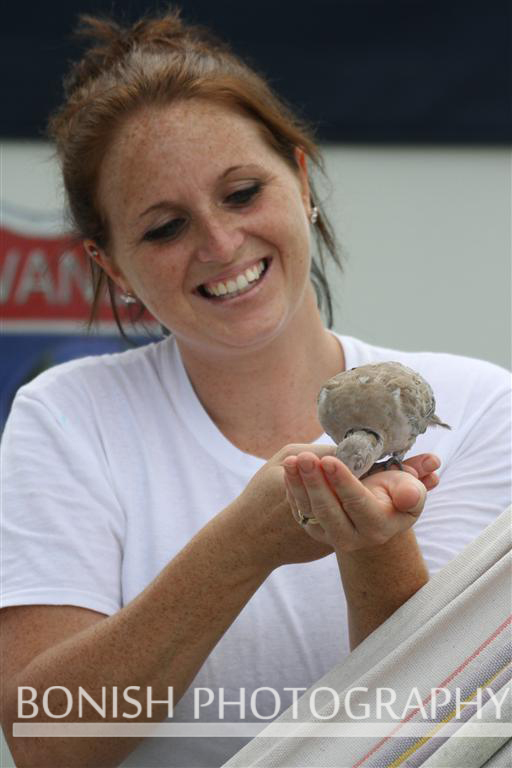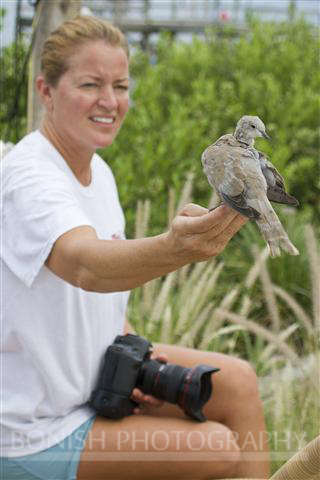 We were all sitting there in awe as the bird would allow us to touch it or have it eat right from the palm of our hands. We figured it had to be someone's pet that had gotten loose. At one point, someone moved which scared the dove and it flew in a circle around all of us and landed right on my shoulder.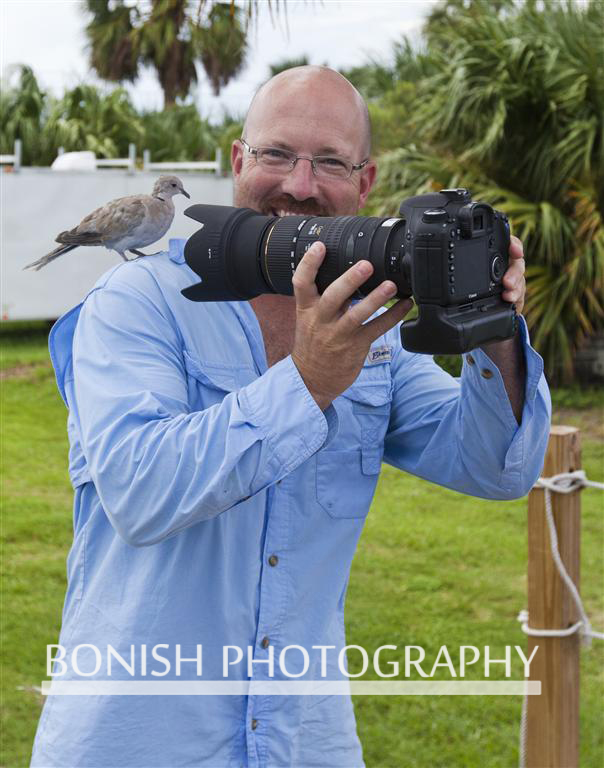 This was a very cool experience for all of us. When Cindy posted the above photo of me with the bird on my shoulder onto her Facebook page, Doug Maple, a local boat guide told us he had raised this dove from a baby when a local tree trimmer had cut a branch the nest was in. He told us that he has hand fed it for the last year which explains why it wasn't afraid of us and was looking for food.
Doug explained that he's in the process of trying to let it go free, and will put it outside in the morning so it can try and get used to the outdoor feeder and watch the other wild birds. But he said that it will sit right at the back door when it gets dark and prefers to sleep inside in its cage at night.
So I guess that this particular day, it had flown from Doug's house, which is only a block away from the motel, to our yard and hung out with our guests all day long.

_________________________________________________________________
Photo Gear We Use - Solar Tips, Fact's and Trick's we've learned while on the road
Camper Check List - A list of things we do before leaving camp. Again, this isn't gospel, but its a good start for those who might not already have a list made up.
Return to Top of Page
Need Unlimited photo storage- FREE Trial of Smugmug