When we realize our insignificance in this world,
it some how relieves the pressures from society to succeed -
Cindy Bonish 04/07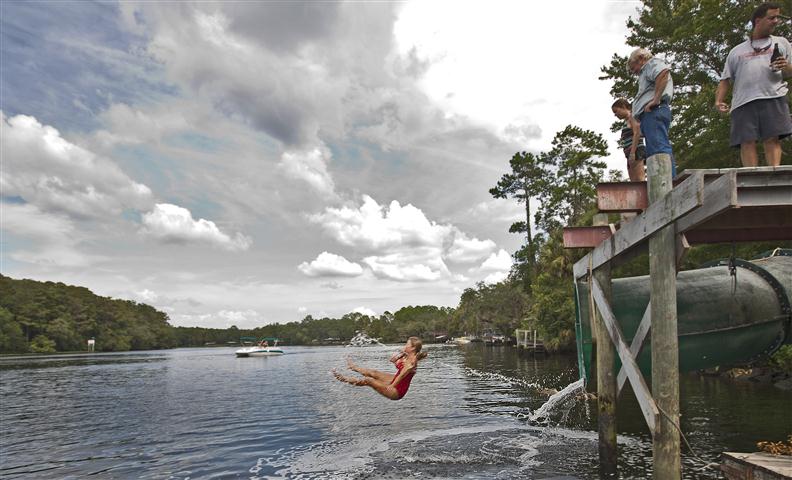 Pat's September 2011 Blog
If this is your first time here, you might want to start from the beginning of our fulltime Journey with our Past Blogs
If You Don't Know Me Yet, Click Here to Read My Bio
****
Friday September 30th - Getting the Truck Figured Out
I haven't talked about it in awhile, but we've been kicking around some ideas for our truck. If you remember awhile back, we were driving down the road when we had a rear tire blow out that ended up doing some damage to the rear fender.
Right now we're driving around with a jacked up fender and riding on the old, rusty steel rim. The truck looks really bad and I'd rather have it looking pretty like it's always been.
The entire time Cindy and I have been traveling, we've always kicked around the idea of swapping our bed for a Utility Bed or a Flat Bed. The A.R.E. Cap has been great, but it has its drawbacks.
I'm so short, that loading anything onto the top of it is a major chore. It means we always have to carry a ladder for me to load kayaks or anything up onto the roof. The availability of storing things inside the cap means it's always jammed full of crap which drives me insane.
The motorcycle has always ridden on the back of the camper with the custom hitch/rack we had made. That has major draw backs as it's hard on the camper, it's impossible to see if it's still back there and it's a bugger to load and unload.
If we had a flat bed, a simple ramp would keep the bike within easy view on the bed of the truck. It would give us so much more visibility and I can only imagine how much weight it would save us compared to the standard bed and that big A.R.E. cap.
I've been looking around and I cant really find any Utility Boxes that I like, and I think if we were to go that route, we'd end up cramming all the boxes with so much crap that it would get as heavy if not heavier than what we're carrying now.
Cindy and I have both agreed that we like the minimalist approach and would like to streamline what we have and what we carry. By the time we ended up in Cedar Key, much of the stuff we were carrying around with us was just being stored and rarely used.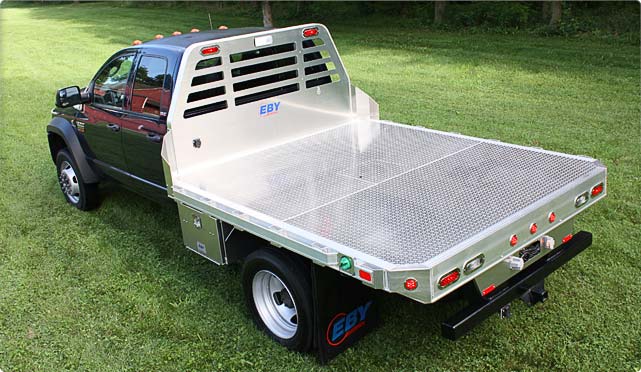 EBY Aluminum Flat Bed on a 4 Door Ford - Photo from the EBY Website
Moving to an Aluminum Flat Bed would mean we'd save weight all the way around and quite frankly, it would look really nice. A couple of boxes hung under the bed would hold a few of our necessities and would keep the clutter to a minimum.
If we kept the kayaks, we could just put the Yakama racks on the roof of the truck and the backs of them would hang over the flat bed. This would be so simple to load them like that! Or we could always have a rack made that would go around the flat bed and the kayaks would ride on that rack? These are all things that would be figured out at a later date, right now we're still trying to decide which route to go.
We have both talked about it, and I think we're going to sell our motorcycle and find a smaller moped to carry around. Don't ask me why, but Cindy wont ride the motorcycle because she says it scares her. Mopeds on the other hand, she has no problem with??? It must be a girl thing?
I've been looking around at some options and Yamaha makes a Zuma that is a 125cc moped. It'll go quite fast if you're on a HWY or a road that requires you to go a bit faster, but 90% of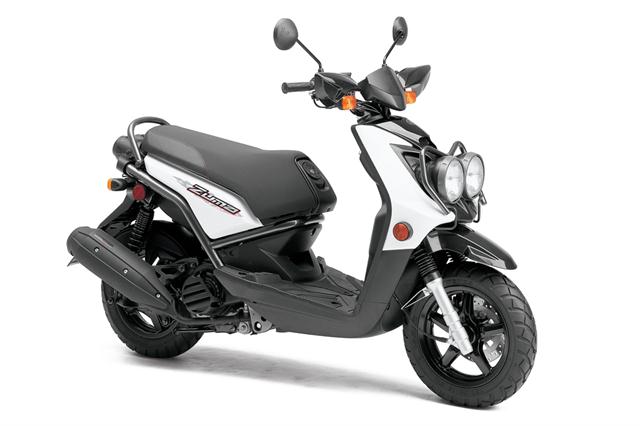 the time we used the motorcycle, it was when we were inside a city or a small town and wanted to use it just to cruise around and see the sights at a slower pace. The Zuma also has an 89mpg fuel efficiency which is better than the 50mph we're getting with the current motorcycle.
I think the aluminum flat bed would help us save fuel efficiency on the truck too. I cant prove this before we actually make the switch, but I would think saving hundreds of pounds compared to the cap and stock bed would account for some fuel savings. Plus the aluminum is a recycled and recyclable product, which only keeps within our green ideas.
With the aluminum flat bed, the Zuma could ride right on the back and be kept out of the wind stream, be seen very easily from inside the cab of the truck and heck, I would have to do some measuring, but it might even be able to ride sideways across the bed so loading it would be as simple as riding it up an aluminum ramp we could attach to one side of the bed, then moving the ramp to the other side when you want to ride it down and go scouting around on the moped.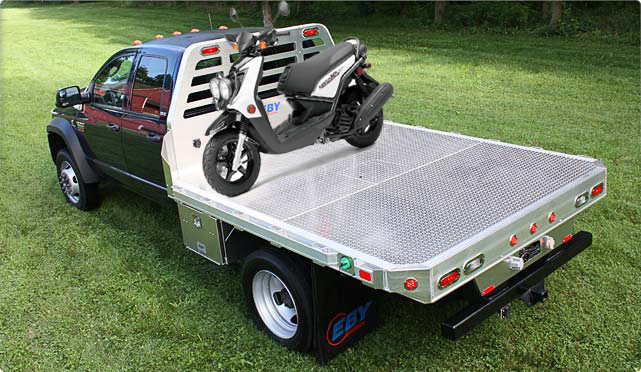 That was simply done in Photochop, but it gives you an idea of what I'm talking about. This is what we'll be working on over the next couple of months. If anyone is interested in buying the A.R.E. Cap, the Suzuki DRZ400SM motorcycle or our Camping Lab Roof Top Tent, all of these will going up for sale.
Cindy and I recently did an interview with a fellow RV'er who has his own travel forum. Here is a link if you're interested in reading the questions Shane asked us.
Wednesday September 28th - Wedding at the Low-Key Hideaway
I had mentioned that Jim and Linda were back in the campground. The reason for their return visit was for their daughters wedding today. Awhile back her fiancé Chris had called and asked if it would be ok with us if they got married on the dock behind the motel.
That was fine with Cindy and I, and Chris's next question was, "Can you take the photos for us?"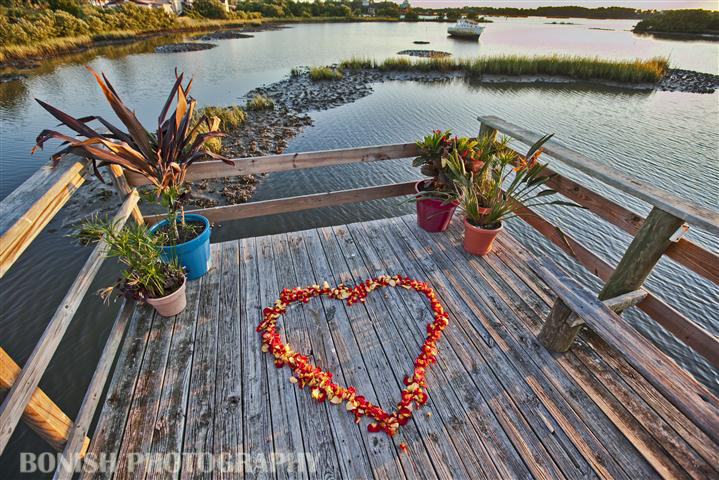 It's pretty easy to go to work shooting a wedding when it's in your own backyard. We spent the day getting things prettied up for them, and at sunset, the family and a few close friends gathered on the end of the dock for the ceremony.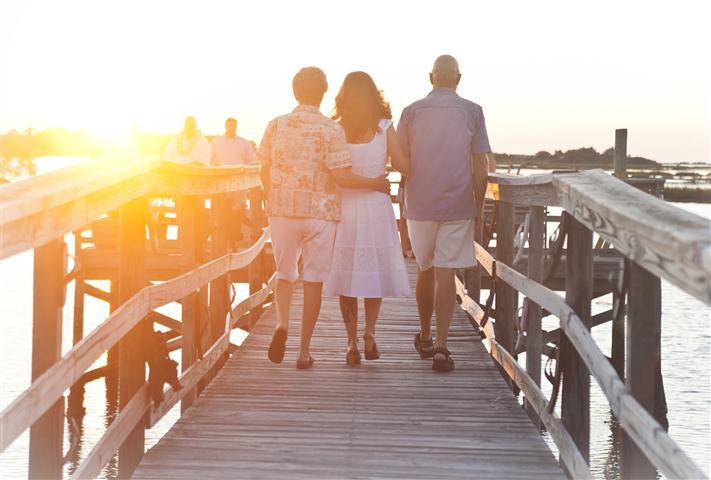 That Last Walk - Jim & Linda walk her down the Dock to her new Husband
It was very romantic since they wrote their own vows and you couldn't ask for a prettier setting to tie the knot.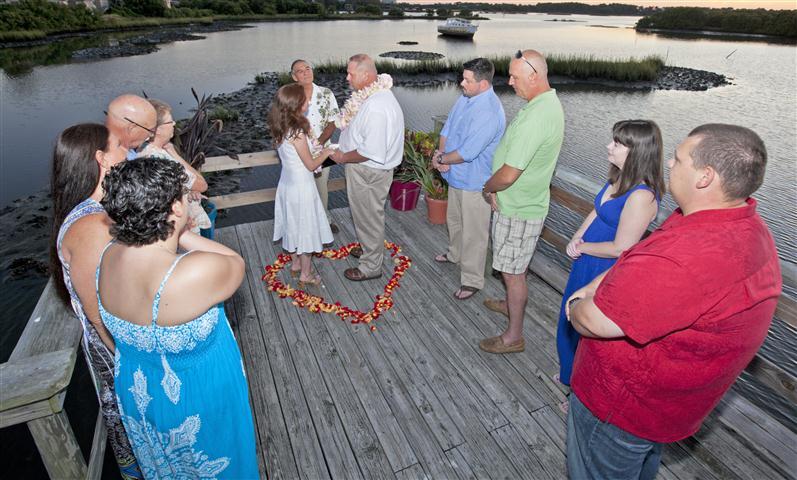 After the ceremony, the group of us toasted with a few bottles of champagne on the back porch before we headed into the Island Room for a Wedding Feast (Awesome Food!!). I love that this little motel of ours has allowed us to meet new people and become part of their extended families.
Saturday September 24th - Great Day All Around
Cindy and I were scheduled to be guiding a sunrise paddle off Cedar Key Beach this morning. Heath had helped me out and brought my kayaks down to the beach yesterday afternoon, so all we had to do was be up early and be down on the beach with our PFD's and paddles.
This weekend was supposed to be the kick-off to the Hidden Coast Paddle Fest, but while we were gone on vacation, someone had dropped the ball and it didn't look like too many people were showing up?
The kayak fishing event was in full swing, but the paddle fest was a total flop. The two were completely separate from one another, and just happened to be scheduled on the same weekend. Since Cindy and I were up and on the beach, if no one showed up, it still meant we were going paddling. We don't get out enough and I cant believe that people come from all over to paddle these islands, and we've only been out a handful of times ourselves.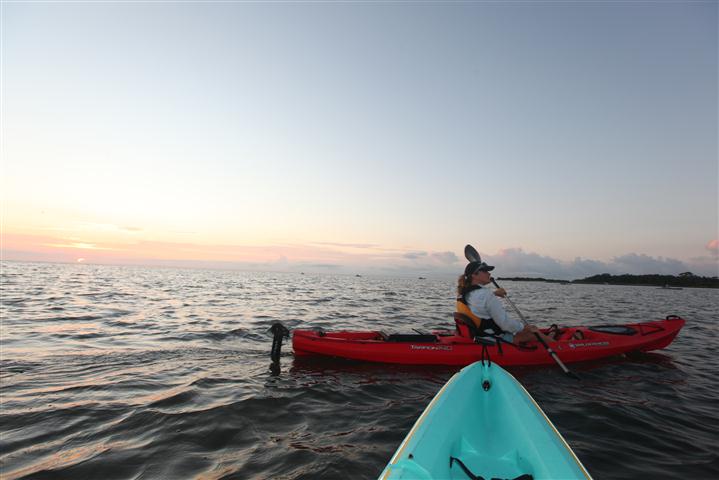 Paddling at Sunrise in Cedar Key
Maybe things happen for a reason, because I had bought a used kayak for $150 off of Craigslist awhile back. I had yet to use it but knew it had a small crack in the bottom. I thought I had fixed it by putting some marine silicone on the crack, but we found out soon enough that the leak was much worse than I thought it was.
We paddled over to Atsena Otie Key and I told Cindy I needed to stop on the beach to see what was wrong with my kayak. I was paddling like a mad-man, but was barely moving. Once ashore, I pulled the plug and struggled to tip the kayak up on end. Cindy just sat there shaking her head as water poured out for a few minutes. Imagine if the Guided Paddle had been a big turn-out and the person guiding it was emptying their boat ever few minutes.
Rather than turn around, we paddled around the island and I just stopped when I could feel the boat getting sluggish and would empty it out.
Cindy was paddling our new Wilderness Systems Tarpon 140. We traded two of our sea kayaks for this boat and it was her first time on the water with it. She said that she loved the way it paddles, felt really stable and liked this boat a lot. Maybe we can get another one of these and ditch the one with the crack in it.
Once back on Cedar Key, we headed home and showered up. It was only 9:30am, so the day was just getting started. We got everything ready for tonight and moved our big screen from inside the house to the Tiki Bar. Gator's Football is a really big deal in this area of Florida, so having a big screen to watch the game on is mandatory.
Even without the Kayak Fishing Party being here tonight, the tiki bar would have been standing room only because of the game. Throw in 50 more kayak fisherman and it was a great night. The sunset was beautiful, the people were fun to hang out with and the Gators game was a total blow-out. No wonder their fans are so hard core.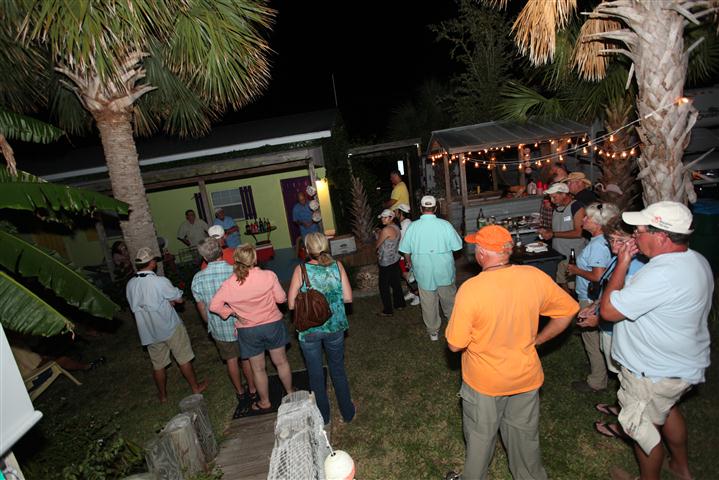 Wednesday September 21st - Back In Full Swing
We were both up bright and early this morning. We had a full day ahead of us and we had Jim & Linda arriving back in the RV Park today, and the grass was about knee high.
I wanted to get out there and get started before it got too hot, but that wouldn't really be possible. Walking out at 9am, the thermometer was already pushing 90°. With the grass this long, it would mean I would have to cut it about 3 times to get it back to where it needed to be to look good. I think keeping your grass maintained is a Mid-Western thing, but we like to keep our grounds maintained and it shows. It's one of the things people always comment on and it's a good feeling when people take notice of your work.
I would drink gallons of water while mowing and never once did I have to pee. All of it just sweated out faster than I could put it back in. But I think after that vacation, sweating out all those impurities was a good thing for my body.
Around noon, the lawn was back to where we like to keep it. A few of the trees had been trimmed, the front beds had been weeded and Cindy was finishing up with getting the rooms back to their perfectness.
This weekend we were expecting a full crowd for the Kayak Fishing Meet that had us, along with 3 other motels here in town sold out. Saturday night they were holding their cook-out at our place and with the Gator Football Season in full swing, this weekend was going to be a lot of fun.
Once the yard was back to where it needed to be, I took a cold shower in our outside shower, (Slice of Heaven) and came into the A/C to cool down and work on some photos.
I've yet to really go through any of our images from the vacation with the fine toothed comb I like to do my editing under. I was able to put together a Gallery for the Goat Island leg of the trip and was shocked that the first day I uploaded it, I sold multiple images.
It was good to be back home in Cedar Key and I think Mother Nature was telling us the same thing. She was happy to have us home, so she showed her Heart to us that night in the sunset.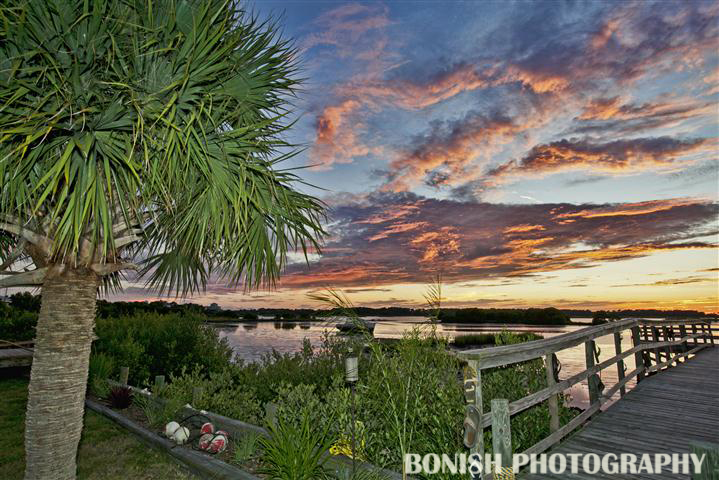 Mother Natures Heart -Sunset over the Low-Key Hideaway - Photo by Pat Bonish
Tuesday September 20th - Happy Anniversary to Cindy and I
Our last few days had been spent kicking back at the beach house. Every day we'd spend a few hours walking up and down the beach finding different shells that are unique to this area. I always love how each area has rocks, shells, plants or people that are so unique and different. It's what makes exploring new areas so fun and exciting.
We had originally planned on going down to Philly to see that city, but I think Cindy and I got burnt out in the first leg of the trip. Once we reached the Jersey Shore and this beautiful house nestled right on the beach, there was no need to leave.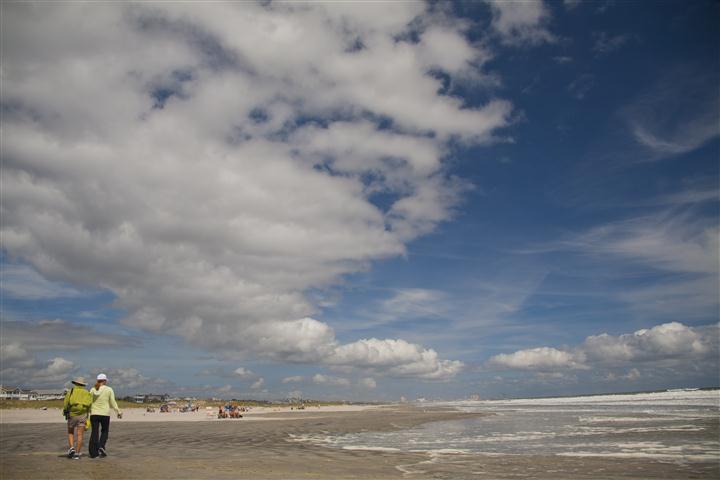 Sunday afternoon Marina, Cindy and I did head down to Atlantic City because we had heard there was an Oktoberfest Celebration going on. We never made it to the actual Oktoberfest Party, but we did find a celebration of our own.
I wont get into it, because it got pretty ugly, but it ended with us calling Luz to come pick us up due to none of us being able to drive and the 4 of us being approached by the management of a casino asking if we were alright, then politely asking us to leave.
Today we were flying back home, and in all reality, I think we were both ready to get back to work. We've always used that as an indicator that you've had a good vacation. When you are looking forward to getting back and you're energized to plant a new garden, re-decorate some of the rooms or just fix some things you've been putting off, you know it was a successful vacation.
Today was also our 14th Wedding Anniversary. Fun way to spend it sitting on a plane or in an airport, but at this point in our lives, we're not all that into celebrating dates, anniversaries or birthdays. Our next big party will probably be my 40th Birthday in a couple of years, and then Cindy's big Five-O a few years after that.
The flights went by without a hitch and I was able to read an entire book from start to finish. Cindy had read it a few weeks ago and had been bugging me to read it so we could talk about it. I had brought it with me on this trip, but today was the first day I was able to pull it out and start reading it.
Cindy wasn't lying when she had said "It was one of the best books I've ever read." I started when we got to the airport, and read non-stop which made the flights go by so fast. It helped that book itself makes you turn the pages almost faster than you can read them, just to see what's going to happen next. If you're into suspense, thrillers....Read this book!
We landed in Orlando, picked the truck up from the long term parking and drove home under an amazing lightning storm. Our entire ride home was somewhat of a decompression. This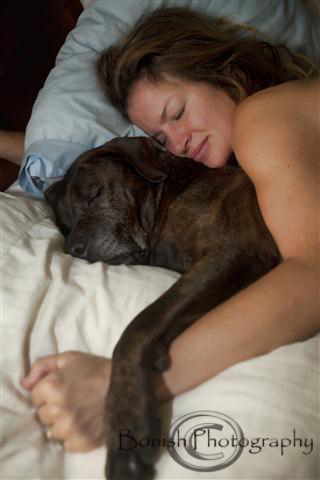 vacation showed us a few things. We don't do well with moving non-stop. We need to take time to experience the places we visit, and neither of us really like traveling without the camper.
We learned that last summer when we went up to the Mid-West for the month of August and left the camper at home in Cedar Key. Sleeping in different beds every few nights, not having the comforts of your own place and not having the luxuries of a bathroom when ever you need it really makes us realize how much we enjoy traveling with the camper.
Riding home, a 2.5 hour drive, I think our first hour we never said a word. We both just sat and watched the lightning storm and unwound.
The reunion of Cindy and her pups is something that I need to learn how to video tape. Luca goes insane and literally knocks her down, stands over top of her and licks her face till he's about to pull the skin off. I don't see how she can let him do that his breath smells so bad, but I think she was as excited to see him as he was to see her. Lucy just runs circles whining the entire time.
Crawling into your own bed is one of those comforts that is hard to compare to anything. Its like a big hug from your Mother after being gone for too long. Tomorrow we go back to reality and we're both looking forward to it.
Friday September 16th - Great Day in Ocean City
Cindy and I were up at Sunrise this morning. Actually we were up before Sunrise, so we sat out on the balcony listening to the waves and watching the sun come up over the Atlantic Ocean.
Once we were done with our morning coffee, we went for a super long walk down the beach. I mean we probably walked for 2+ hours. It was fun to just talk, pick up shells that are different than ours in Cedar Key and watch the gulls chase the waves.
The gulls here are 3 times the size of ours down in Florida. I don't know if they're a different species or if they're just immature and all fluffed up from their baby feathers, but what ever it is, they're huge. Numerous times would we mistake them for Osprey's. Then we'd get closer and realize they're bigger than our osprey we have in Florida.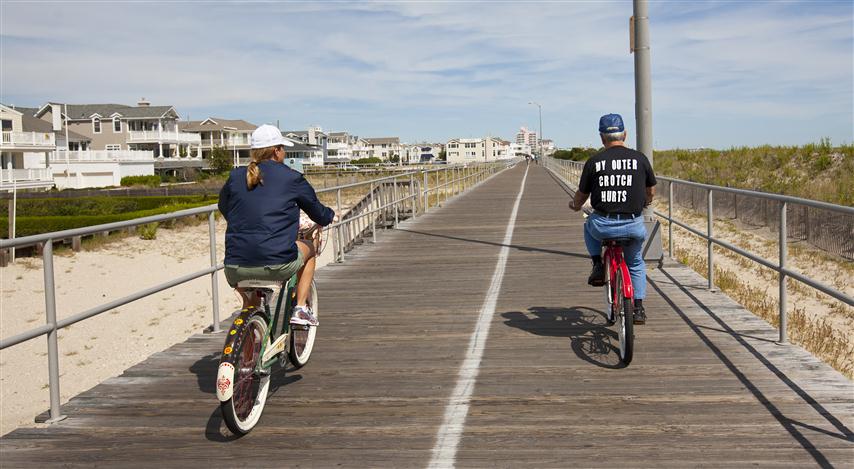 Incase you cant read his shirt, this 70-something year old man
had a shirt on that read "My Outer Crotch Hurts"
When we passed him he had a pink poodle in the basket on the front of his bike
After walking for a few miles, we headed back to the house and got on the beach cruisers. Ocean City has a long boardwalk that stretches down the beach and from the looks of it, the place must be crawling with people during the summer months.
We rode the bikes around just checking out the scene and taking in the beautiful weather. Shorts and a sweatshirt is about the perfect attire one could ask for. By the time we got back to the house, Jim had arrived and we all introduced ourselves.
The rest of the afternoon was spent sitting around talking, getting to know one another and waiting for the Happy Hour Bell to ring. When someone finally stood up and said "Who's ready for a Banana Margarita?", we knew the games had begun.
Once the deliciously strong margaritas were served, the afternoon turned into a laugh fest when Jim broke out his new game of 'Pass the PIGS'.
This involves having two little rubber pigs that you toss out of your hand and onto the table. Depending on how the pigs land, Face Down, Upside Down, On Their Feet...etc, it all equals different points that are scored by the thrower.
Once we learned all the scoring of the points, this turned into a major competition. Jim is as competitive as Cindy, and that means you play till you win and there are no quitters.
Marina and Luz were the first to whimper off to bed. Walter, Cindy, Jim and I stayed up till late in the morning throwing Pigs on the kitchen table, screaming at one another for the way they were throwing the pigs (Everyone has their special move) and just laughing at how stupid, yet awesome this game was.
By the time we crawled into bed, I knew we wouldn't be waking up before the sun tomorrow A.M.
Thursday September 15th - Happy Anniversary Luz & Walter
Today was Luz and Walter's 33rd anniversary. Originally we had planned on having Walter meet us in New York, but due to his busy work schedule, he had just gotten into the Beach House on the Jersey Shore late last night.
Rather than drive down to the city and meet us, we decided that we'd drive out to New Jersey and meet up with Walter and Marina and get out of the hustle and bustle. It's too hard for the 3 of us to really explore the city without tugging at one another to go separate directions and up to this point, we had been going non-stop since we landed in Maine. Cindy and I were ready for some laid back days of just relaxing on the shore.
Luz kept warning us that there was absolutely nothing to do at the beach house, but I think that is why we were so excited to get there. It's hard when we both work so much while at home in Cedar Key to take a vacation and just go-go-go non-stop. We normally take our vacations and pick something where we can kick back and get rested up. At the rate we were going on this vacation, we were going to need a few days off just to decompress before we go back to work.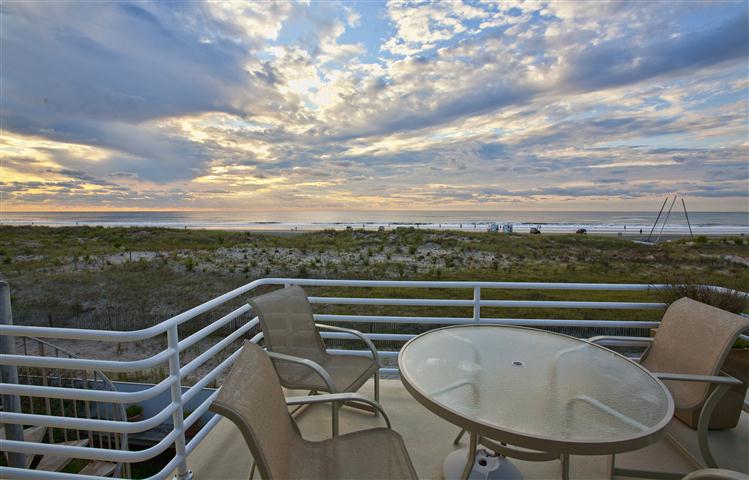 The horrible View we had to put up with while in Ocean City...Life's Tough!
We packed up our things and checked out of Manhattan. This was a totally different experience than what I had expected it to be. I actually liked this big city and can understand why people are so drawn to it. There is so much architecture, history, entertainment and atmosphere here. I don't know if I could live here fulltime, but I really enjoyed visiting it. Plus, it gave me an understanding as to why people are so amazed that we can live in Cedar Key.
Here is a city that has a Starbucks every 2 blocks. You can find ANY type of food you're looking for from any nationality you can think up. Walk from a block that has nothing but jewelry stores to a block that has nothing but the best clothing stores in the world. You can be in a skyscraper looking down on the city one minute, to multiple stories underground riding a mass transit train that can get you from one side of town to the other in mere minutes.
This is just amazing and fascinating to me. Cindy and I are so used to the laid back lifestyle of Cedar Key and just living at our own pace out of the camper, that seeing cities like Manhattan, Boston or Atlantic City are the equivalent of people who live in these cities coming to Cedar Key to get away from it all. It seems we leave the calm, nothing to do Islands and explore the concrete jungles on our time off.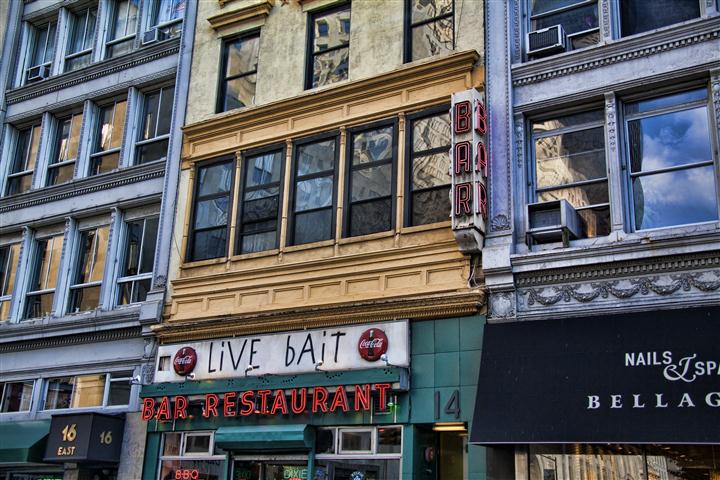 The Only Thing we could find in Manhattan that reminded us of Cedar Key
Driving out of the city and into New Jersey is anything but pretty. It looks beyond industrial when crossing the George Washington Bridge and looking down on the ship yards and huge factories lining the water.
The weather was crappy and overcast which only added to the feeling of dirtiness. By this point, I was somewhat used to Luz's erratic driving and learned to just keep my head down and play on Facebook on my phone.
I was utterly amazed that Cindy could ride in the front seat and not rip her head off. If I was to drive half as bad as Luz does, Cindy and I would be divorced. I guess when she's around others, she has more control of her mouth than when she's just around me. When its just me and her, she has no issue letting me know I'm tailgating someone, not paying attention to my surroundings or speeding.
We pulled into Ocean City and felt the tension ease as soon as we got out of the vehicle. Walter and Marina were waiting here for us and soon we'd all be sitting out on the deck listening to the waves crash on the beach.
Lunch, a few beers while we all caught up on the past few days adventures and we were finally in full relaxation mode.
This house that we're staying in belongs to very good friends of Luz and Walters. The owners names are Jim and Judy, but they weren't here right now. They'd be arriving tomorrow for the weekend, as school is back in secession and they have a son in High School.


View from the balcony looking towards Atlantic City
While we all sat around talking, a big afternoon storm blew in which took any guilt that we should be doing something out of the equation. This was perfect as I finally had time to start going through the images we've taken up to this point.
I'm pretty anal when it comes to my photography. I don't like to get too many days behind on editing and looking through our stuff. Let me explain and this will make it sound more logical.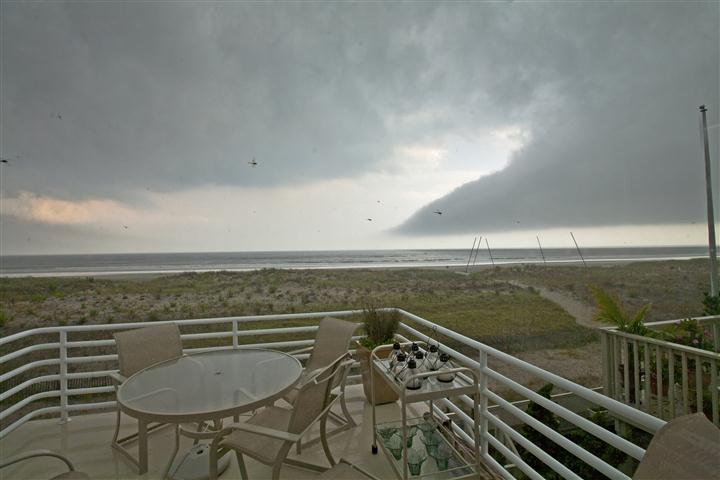 Storm Blowing In
When Cindy and I traveled fulltime, we would usually use our first day someplace new as reconnaissance. We'd go out for a few hours and shoot everything and anything we came across. This would give us a ton of images that we'd normally delete the majority of. But what it did do was give us a feel for what to expect when we'd go out the next day or for the following days afterwards.
Many times we'd shoot a few scenes and get back to the camper, look at the images on the computer and say to one another "Hey, this scene right here is cool, but what if we change the angle and come in from the other side." Or "What if we wait till the sun was set and it had the lights on." See what I'm getting at?
It would also tell us what lenses to bring and what times we should be and where. Moving non-stop like we have been has been hard to follow those rules we set for ourselves. A perfect example is while we were in Boston, Luz somehow unknown to her changed her focus setting on her camera. That night back at the hotel I asked for her SD Card so I could download her images to a hard drive.
While looking through them, I noticed that all of her images were out of focus and the focus was set to the left side of the camera. I asked her to hand me her camera and when looking through the viewfinder, I noticed that the camera was set to focus on the left side of the image screen rather than in the center where it should be.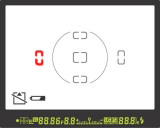 If we wouldn't have reviewed her images that night, it more than likely would have stayed like this for the rest of the vacation and 99% of her images would have been useless.
Imagine getting home from a nice vacation only to find all your images are out of focus! This is why it's best to bring something to be able to review your images on a screen larger than the LCD monitor on the camera. Looking at them on the camera, you could barely notice that they were soft, but when looking at them on a lap top monitor, you could tell right away.
So tonight was a night of sitting in front of the computer and going through our images up to this point. I deleted a ton of stuff as I normally do, editing some of the better ones and made mental notes of what to look for the next time I visit.
It's hard to update the blog when there are lots of people around. Writers normally hide themselves in a quiet room, put themselves in a specific mood and get in a specific frame of mind. Try doing that with multiple people in the room, everyone having a different conversation and the television on in the background.
Hence why I'm usually a few days behind on updating the blog. I usually have to wait till everyone has gone to sleep before I can find it quiet enough to jot down my thoughts. By that point I'm usually half asleep myself, so I just do a quick type-out of what I did that day. It wont be till I get myself in that frame of mind where I know I can sit for a length of time and go through everything in my head and actually make it readable.
I remember one day when we were traveling full time, I had jotted down all my notes into my blog. I then shut the cpu down and went to bed. I woke up in the morning and Cindy was all proud of herself. She said "I updated my blog, edited all my own photos from yesterday and I noticed you had wrote in your blog but didn't post it, so I went ahead and posted it for you."
If you were one of those people who happened to click on my blog that morning before I had time to correct it, you probably would have wondered why the entire post was one long run-on sentence and the entire thing was just a nonsense of rambling.
So tonight was a very relaxing night. Nothing done that raised the blood level. We were all in bed early and the sounds of the waves crashing on the beach through the open window was perfect to sleep to.
Wednesday September 14th - One Long Day in New York
Luz was so ready to go first thing this morning, but deep down, I knew that today would be a very long day, so Cindy and I weren't in any hurry to get up and go at first light like she wanted us to.
I cleaned the images off the cameras from yesterdays exploration, we ate a big breakfast in the Concierge Lounge, showered and packed up Think Tank camera bag. I think it was 10am before Cindy and I were ready to go. Luz was going crazy by this point because she had been ready to walk out the door at about 7am.
I think Cindy and I would have been completely content just wandering around the City the entire day just shooting the architecture and experiencing the sights and sounds of one of the busiest cities in the country. Luz had a different agenda for us and had this crazy non-stop schedule planned for today.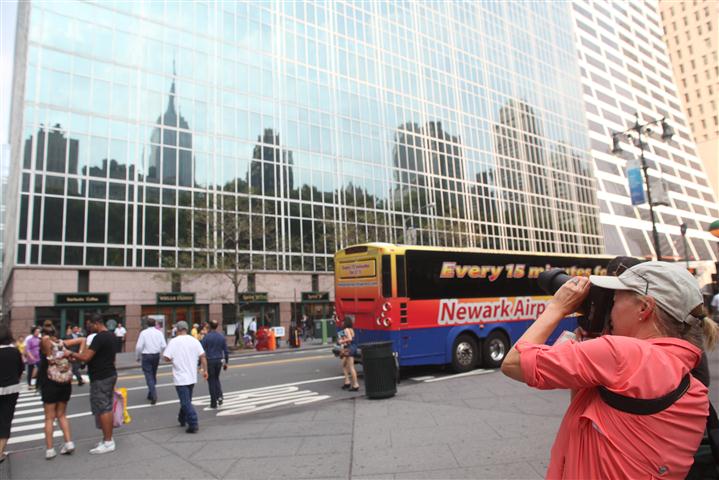 Much like Boston, I think Cindy and I would throw a serious monkey wrench into her planned schedule because of our laid back and slow pace we like to see and experience things at. Walking around the streets was very interesting and fun to just see the eclectic things that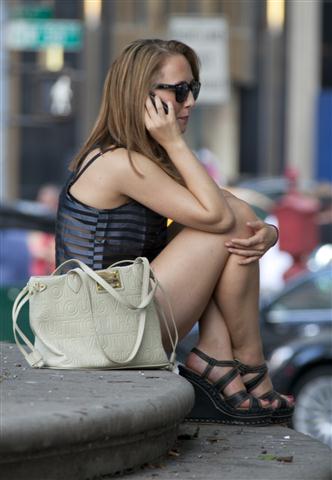 New York is known for. The People, the buildings, the multi-culturalism and the crazy things people wear. I honestly think you could walk down the streets naked and no one would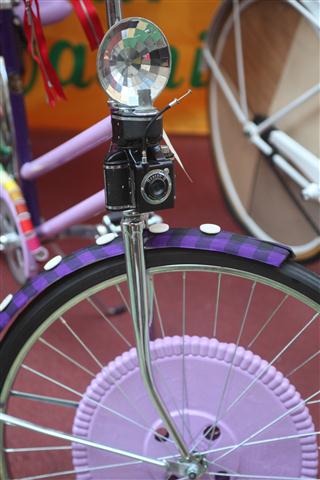 even look up from their phones.
At one point, I told Cindy I could feel a brain tumor coming on just from the amount of cell phones I was surrounded by. If we passed 500 people on the street today (Totally made up number?) all 500 of them had a cell phone up to their ear or were in the process of texting while they were walking.
Walking the streets of New York is interesting to see the way the flow of people handle the stop and go traffic. If the Crosswalk sign is saying stop, but the traffic gets held up, one person will start to cross which makes everyone cross. It usually only takes one person to make that step off the curb to bring the entire herd close in behind them.
The commuters on bicycles are just amazing to watch. You see bikes of all types and styles. People in 3 piece suits riding a road bike or bike messengers in full riding gear that are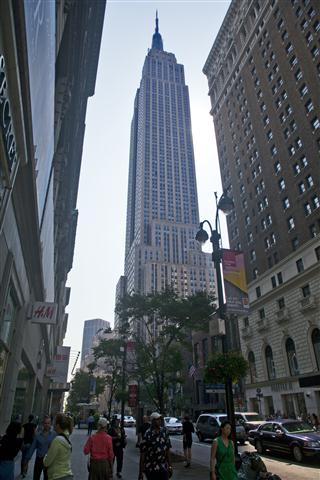 moving faster than the flow of traffic can. Bicycles would be the best form of travel in New York, but you'd have to be 100% on the defense the entire time.
I always expected New York to have much more honking going on, but I guess in the past few years, they've enforced a new law that gives a $350 fine if you're caught honking. It because a game between the 3 of us that if we heard a car honk, we'd yell at them "That's $350 you owe us!"
Our first stop was the Empire State Building. This New York Icon is a must see when visiting Manhattan. We took the elevators up to the 86th floor observation deck. Wouldn't you just know that today there would be a nasty haze blocking much of our long range view of the city.
Yesterday and the past few days had been crystal clear with picture perfect conditions. Today we go out to photograph our visit and a funky haze is blocking much of our view. Oh well, we're on vacation and I'll take what ever Mother Nature wants to throw at us.
We all took our time and took in the views from each side of the observation deck. Seeing people down on the street made them look like you were peering through a microscope at tiny pieces of DNA swimming around in a labyrinth of plasma.
Once we had seen each side, we got back on the elevator and headed up to the 102nd floor Observation Deck. On this deck you couldn't go outside, but it still offered spectacular views. It is $15 extra to go from the 86th floor deck up to the 102nd, but who knows if we'll ever make it back to Manhattan, so we might as well experience it for all its worth.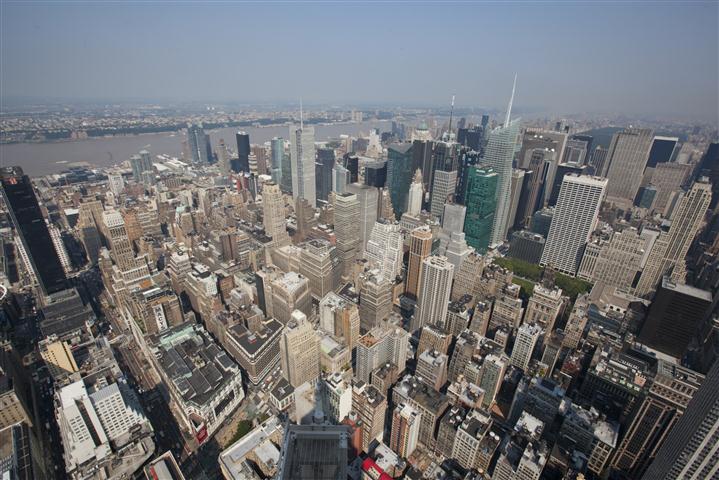 View from the 86th Floor
From the Empire State Building, we walked around the city for another hour or so till we found ourselves close to the holy grail of Camera Stores. I had told Cindy that the only thing I really wanted to see while in New York was the B&H Store. I know, that sounds really bad to admit, but I'm a camera junkie, and this is the biggest pusher in the world.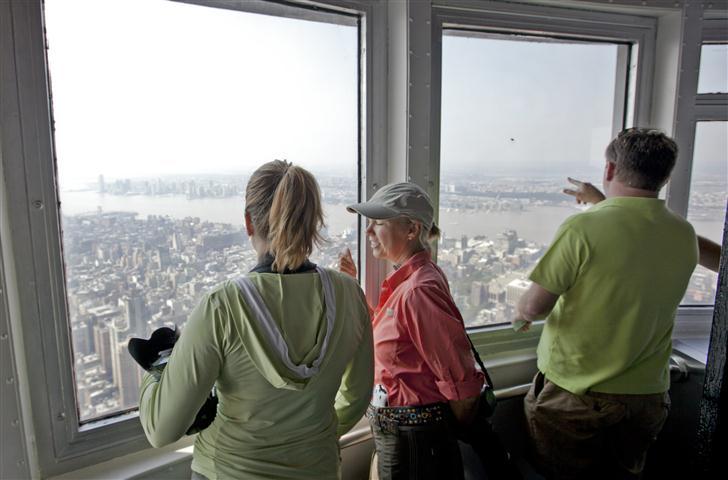 Cindy & Luz on the 102nd Floor
When this catalog arrives at our house, I usually plop myself down on the couch and spend hours just drooling at all the newest of Camera gear. If Cindy gets it out of the mail box before I can, she'll hold it ransom or make me do something I've been putting off before she'll actually let me have it. She usually yells out "Oh, the latest issue of Porn has arrived!"
To be able to see it first hand would almost be too much. Cindy and Luz walked into the store with me, but Cindy said right away "Ok, this is too much for me, hand me your wallet and we're going to find something to eat. Call us when you're done drooling and dreaming."
I spent about an hour fondling high end camera gear. I checked out a few items I've been wanting for some time now but didn't want to purchase them before I knew how they'd feel in my hand. I scoped out a few new items that just came out on the market and finally realized I couldn't bring myself to buy anything.
When it comes down to it, I have everything I need right now so anything I'd purchase would just be spoiling myself, so I left to go find Cindy and Luz. There are some studio strobes I really want, but they're one of those items I've been saving up for some time now and I'm going to have to keep saving up for a few more months before I'll be ready to make that purchase. But again, it was cool to see them up close and get a feel for their size.
I found Luz and Cindy a few blocks down in a deli and I grabbed some lunch while we talked about the camera store experience. Luz really wants a new lens for her camera so she doesn't have to change between her wide angle and her telephoto-zoom lens while walking around.
Cindy's lens of choice is her Canon 28-300 f/3.5-5.6 L Lens. This lens mounted on a Canon 5D full frame body will be sufficient for 99% of the shooting you'll encounter while walking around a city or every day shooting. It's the perfect Walk-Around lens and means you have everything from a Wide Angle to a long Telephoto Zoom without having to change your lens. There are many times we fight over who gets to use it. It's too expensive for us to own two of them, but I told Luz about another option she might think about.
Luz decided she wanted to go back down to B&H and pick out a lens that would be like this so she wouldn't have to change her lenses. She asked if I'd help her pick out a lens that would suit her needs.
I've been looking at a Sigma 18-250 f/3.5-6.3 to keep as a incognito walk-around lens. It's got an Image Stabilization (Sigma calls their version 'OS' for Optical Stabilization) built in much like the Canon and Nikon (Nikon calls their version 'VR' for Vibration Resistant) versions do, but being a 3rd party manufacturer means its a quarter of the price.
Cindy's big white lens draws lots of attention and isn't always the best to have when in certain situations. There have been times when we've been trying to get into places and if we have one of our big White 'L' lenses mounted on the camera, they'll tell us they don't allow professional cameras in. But we can go out to the truck and swap lenses to a smaller lens that looks more normal and walk right past the same people who told us we couldn't come in.
Luz compared this Sigma to the Nikon version and agreed with me that she'd save over $300 and the Nikon version is only a 18-200 rather than a 18-250mm. So it made more sense to buy the Sigma version this time.
Cindy and I both laughed that we had so wanted to visit B&H and neither of us even bought anything. Luz on the other hand didn't even know this store existed and came out with a new lens. The place is amazing and was packed full of people. I've never seen any store this busy in my life, and when I asked the guy if this was typical, he said "No, this is sort of slow right now." I cant imagine it busy!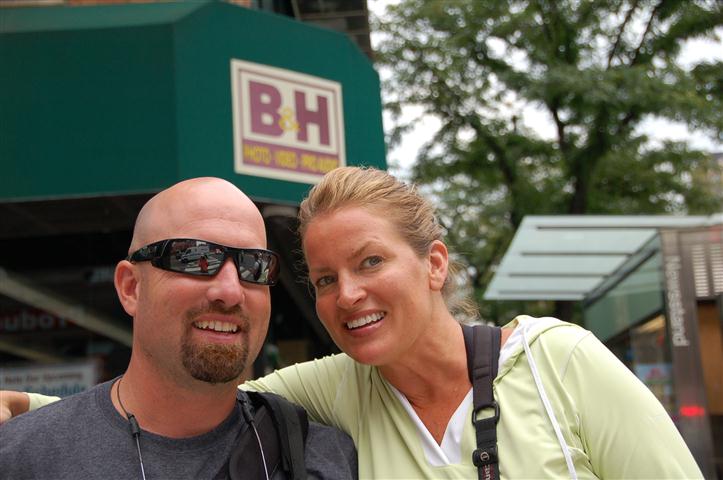 Cindy & I in front of B&H - Photo by Luz Kraujalis
From B&H, we walked up the streets passed the Garment District, ogled the sparkling window displays in the Jewelry District and made our way uptown to Rockefeller Center. We stopped where the ice rink normally is for a rest and a drink at the Rink Bar. We needed to cool ourselves down and take a load off the feet by this point.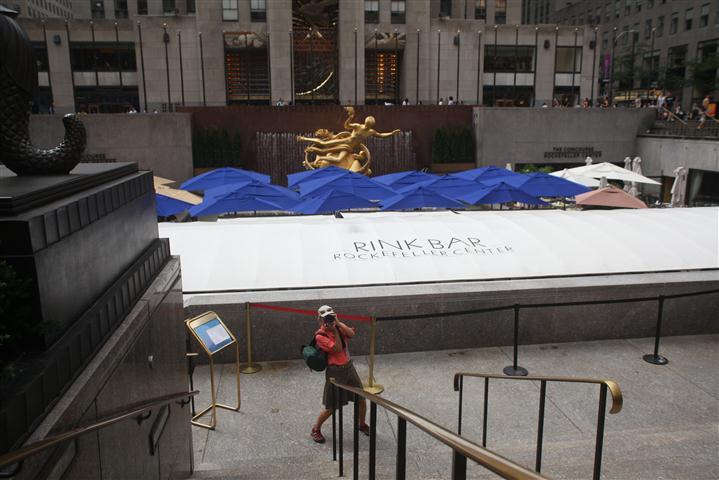 From Rockefeller Center, we walked up to Central Park and strolled through that for a short distance. This was the only time we saw bums sleeping on the ground. I fully expected to be hassled with bums non-stop, but up till Central Park, the streets were clear of them. New York was nothing like I expected it to be in a very good way.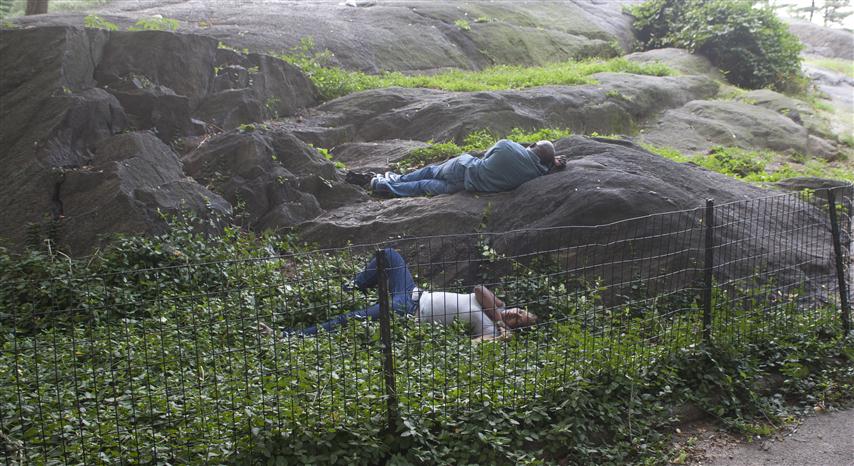 Bums Sleeping on the rocks in Central Park - Photo by Cindy Bonish
By this point it was late in the afternoon and Cindy and I were ready to call it a day. We had walked some 6 miles and I was surprised at how hot it was in the city. The weather forecast had said it would only be in the mid-70's, but I bet with all the steel and concrete surrounding us, it easily added 10-15 degrees to the thermometer.
We'd say to Luz, "Ok, we're ready to go back to the hotel now" and she'd say "Ok, lets head that way" A few blocks later she'd say "Ok, we're at our next stop" which would be another attraction or famous building. When we'd be finished touring this site, we'd say again, "Ok, lets go back to the hotel now!" and she'd repeat the innocent "Oh we are headed that way" but a few blocks later, we'd stop at another attraction. She had the Map and we were deep in-between buildings, so we really had no inclination as to which way we were headed at any point.
We finally said "Ok Luz, we're not stopping to see ANYTHING else!" She grabbed one of the Rick-Shaw taxis and we all jumped in. This was a blast as the driver was a young college kid from Morocco who would yell at people we'd pass by and say funny things to people in their cars as we'd pass them.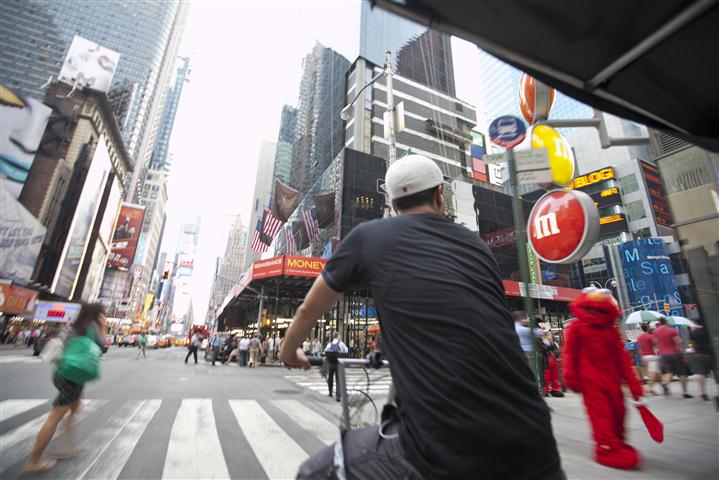 He spoke 5 languages fluently and drove the Rick-Shaw part time to put himself through college. I joked that American kids were stupid compared to kids from other countries and he said "America pulls the smartest people from all over the world. They bring those people into America and get them to design items that we use every day. Then they call it an American invention." This is true, but what I meant is most kids we talk to from other countries can all speak multiple languages and all put themselves through college while they keep a job.
Most American kids can barely speak English and few go on to college after they graduate High School. As we were riding the Rick-Shaw, he pulled up to the St. Patrick's Cathedral and says "Ok lady, this is where you asked me to bring you." We both looked at Luz and said "What the Hell?" She just smiled and said "We have to visit this place!"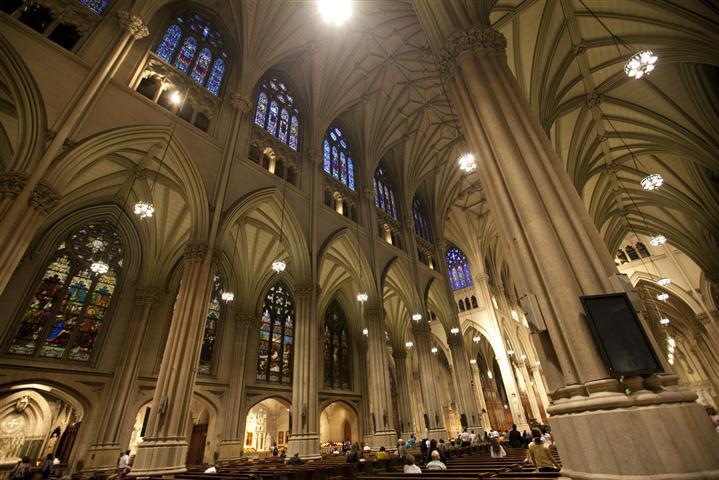 Looking up at the amazing ceilings of St. Patrick's Cathedral
We all entered through doors that were taller than most houses. Walking into this place is just jaw dropping. The ceilings are 75' tall if not taller. The detail in the architecture is like nothing I've ever seen and everywhere you look you see something new. From the street it doesn't look as big or deep as it does from the inside. All 3 of us split up and walked in different directions all finding something different to photograph.
One of the reasons I love photography so much. You can take 3 photographers and put them in the same building and all 3 will come home with different photos.
We probably spent an hour in the cathedral before we all found one another and walked back out the huge doors to the bright afternoon sun. We jumped back on the Rick-Shaw and laughed our way back to the Marriott. He was swerving in and out of taxis stopped in the rush hour traffic and yelling at people in multiple languages the entire way home.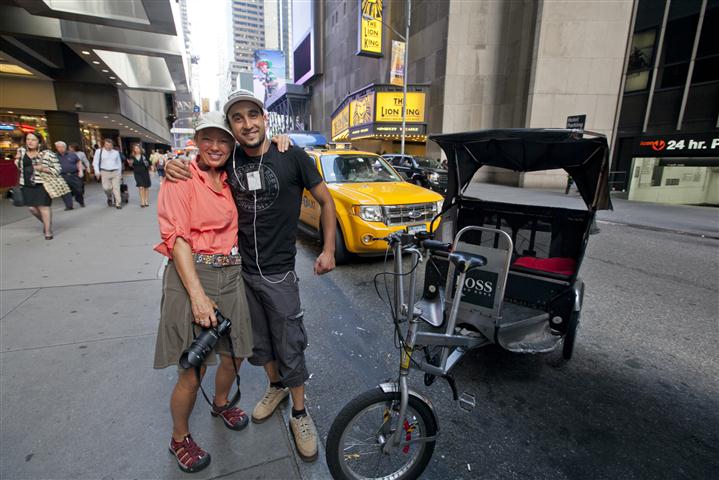 Finally back at the hotel, we went straight to the Concierge Lounge to grab a bite to eat and put our feet up. We all sipped on some hot tea and made plans that we'd go back to the hotel room, shower up, take a nap and head back out tonight to see the city under the bright lights.
It sounded like a great plan while eating and drinking in the lounge. Once back in the room, fresh out of the shower, we all laid down at about 9pm. About 5am, I woke up and shook Cindy. I said "Hey, party girl, you ready to head out now?"
She looked at the clock, punched me in the head and said "Go back to bed!"
So much for experiencing a Manhattan Night Scene.
Tuesday September 13th - Leaving Boston Headed for the Big Apple
If you saw my Facebook post this morning, you'll chuckle knowing I have the best wife any man could ask for. She's such a good sport when it comes to being my model when I ask her to do silly things like pose with an Apple in the Small of her back.
We were all up bright and early since the 3 of us were in bed last night before 10pm. Seems to be par for this vacation so far. We've been up so early every morning and going-going-going all day long, that it's rare to make it more than an hour or two past dinner before one, if not all of us are dozing off.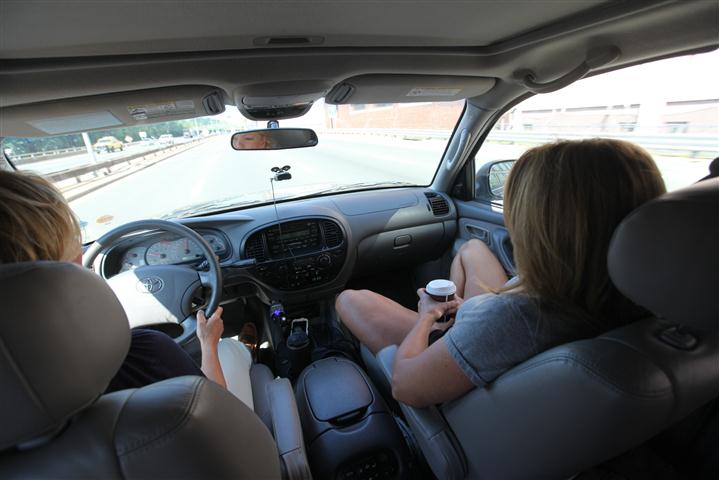 We loaded up the gear and headed out from Boston planning on driving straight through to New York. It would be a 2 hour drive from what we guessed on the map.
We were only an hour into it when I couldn't take the Female Driving anymore and asked if I could drive. There is something about speeding up only to slam on the brakes that just drives me insane...LOL Sorry Luz. It was either continue to be a backseat driver and tell her how to drive or just take the controls myself. Cindy finally said "Do you wonder why I haven't driven in years?"
Most of what we were driving on was just expressway, so I wasn't worried about getting stuck in New York traffic and I told Luz I'd be sure and give her back the controls when we got closer to the city.
She had our first leg of New York all planned out with a driving tour of the Key Attractions she wanted to show us.
While driving towards New York, we all decided we were hungry and started looking for a place to stop before we'd get into the city. We missed our exit as we were passing through White Plains and Luz assured us we wouldn't find anything in-between that would be worth eating at. If I haven't mentioned, Luz is a very picky eater and stopping to eat at anything short of table service would be impossible.
The next exit, Cindy says from the back seat "Ok, I'm starving, just pull over at this exit and we'll find something to eat no matter what it is."
We were getting off the exit as Luz is telling us we're not going to find anything and we see this quaint little house sitting right off the exit that had a sign in front of it. I pulled in and threw the truck in park.
We walked in and were totally shocked that just off an exit, with no signage to say it was here is a beautiful restaurant (Primavera) that is as fancy as one you'd expect in the big city. We sat down and proceeded to have one of the best meals we've eaten in a long time. Who would think that you'd have luck like that when just picking a random exit?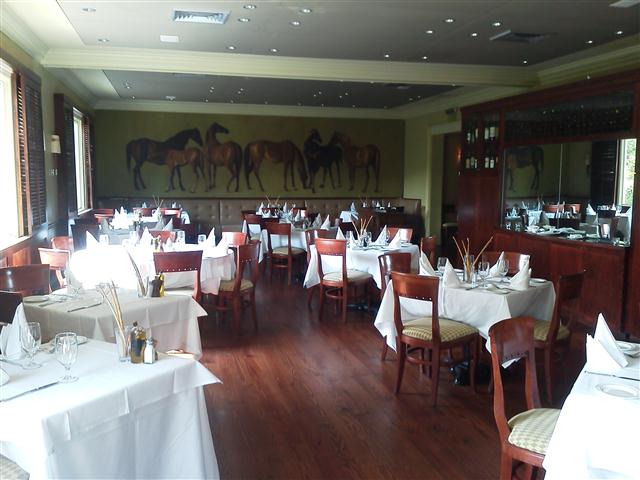 The Dinning Room inside Primavera Restaurant
Once we were good and fed up, Luz took back over the controls since we were only a few minutes out of the City Limits. The next few hours would be spent fighting New York traffic while being shown many of the famous landmarks the city is known for.
Being as we were only a few days after the 9/11 Anniversary, getting anywhere close to Ground Zero was impossible and caused for much aggravation because of the congestion due to detours and road closures.
We had thought about being able to tour the newly opened 9/11 Memorial, but we found out that these first few weeks of it being open would be by reservation only. That will have to be done on another visit. I cant imagine touring it without a box full of tissues and planning on going home immediately afterwards because of how emotionally drained I'd be for the rest of the day.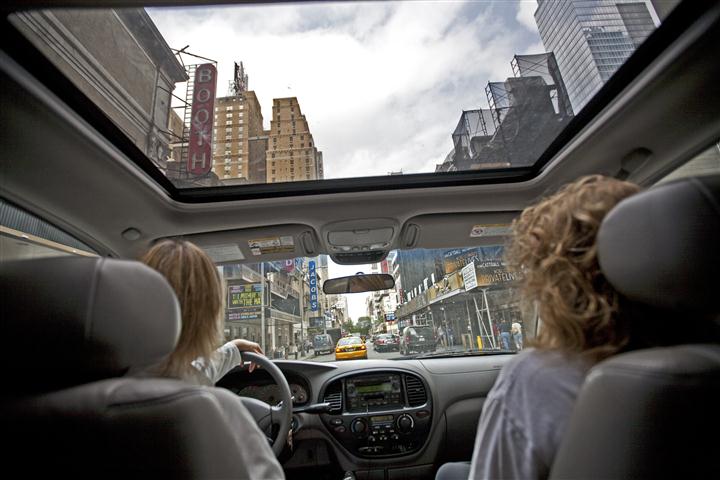 Getting Luz's Driving Tour through New York City
Last week I watched a few of the specials CNN was airing and I cried the entire time just remembering all of those horrible atrocities that happened that horrible day 10 years ago. I remember my parents always telling me that everyone their age could remember exactly what they were doing when Kennedy was assassinated. I think that I'll be able to remember minute by minute the entire day of 9/11 for the rest of my life.
After a few hours of driving around Manhattan getting the Luz tour, we finally found our hotel, the Marriott Marquis which was right in the heart of Times Square. We checked in and had all our luggage brought up to our room which was on the 41st floor.
Our view stretched on for miles looking towards Central Park. We unpacked, freshened up and went down to the Concierge Lounge to grab a bite to eat and get a drink. I honestly think I could sit and stare into the windows of the surrounding hotels and buildings for hours.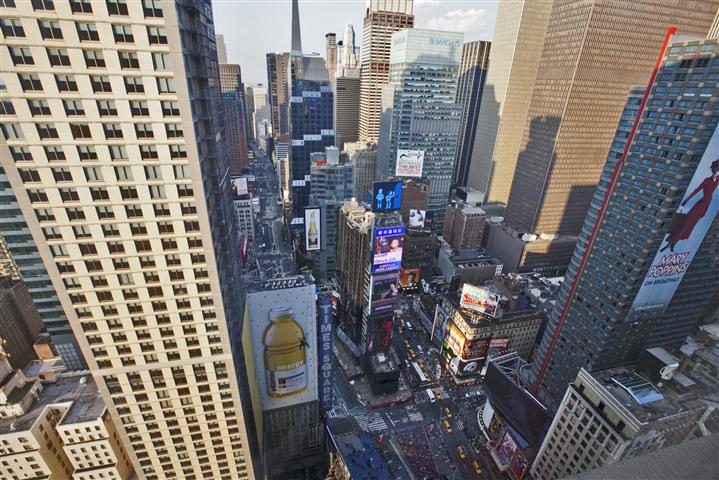 Our View from our room on the 41st floor
If I lived in New York in one of these high rises, I'd have the best set of binoculars and be a total Peeping Tom. I know, I shouldn't admit that, but it's the truth.
While in the Concierge Lounge, we talked with Derrick, one of the servers who told us he was a life long New Yorker and told us where the locals would go to see the Real New York. His first suggestion was the Meat Packing District. He told us this area is the newest, hippest section of town to be in. He also told us that this week was Fashion Week, so most of the clubs and restaurants in this section of town would be packed with the worlds top models and fashion designers. We thanked Derrick for his info and grabbed our cameras.
We headed out onto Times Square and were blinded by the light. This was my first time ever being in New York and my first impression was utter amazement at how bright it was at night. It was 180° opposite than what we're used to back in Cedar Key. Our dock at the end of the night is pitch black and completely silent. Standing in Times Square was equal to standing on the main floor of a full blown rock concert at noon on a bright, sunny day. My eyes and ears were on sensory overload.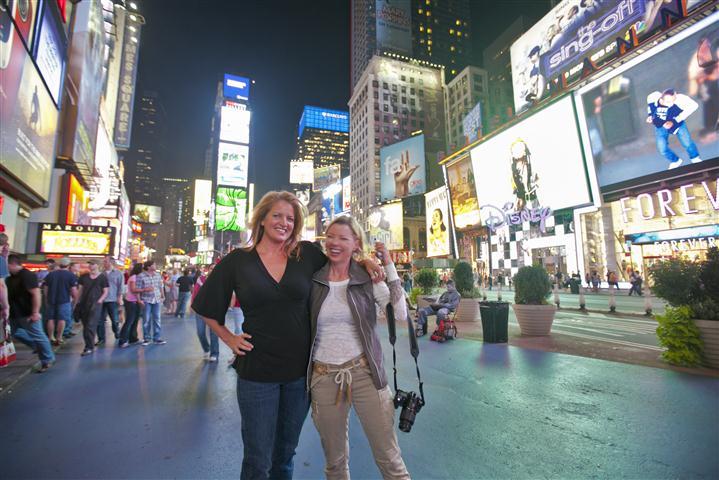 Cindy and Luz in the middle of Times Square
Luz had gotten a phone call from a good friend who had recently moved back to New York. We met Jason down on Times Square and introduced ourselves before we all hopped in a cab to head down to the Meat Packing District.
Getting out of the cab, we all decided it would be best to just walk around till we found a place that struck our fancy. Numerous clubs were packed full with beautiful people who were all way too tall and skinny, meaning we had found some of the Fashion Week Parties.
We found a funky restaurant (MPD) that had outside seating and plopped ourselves down to people watch. This is some of the best people watching short of New Orleans or Venice Beach that I've experienced.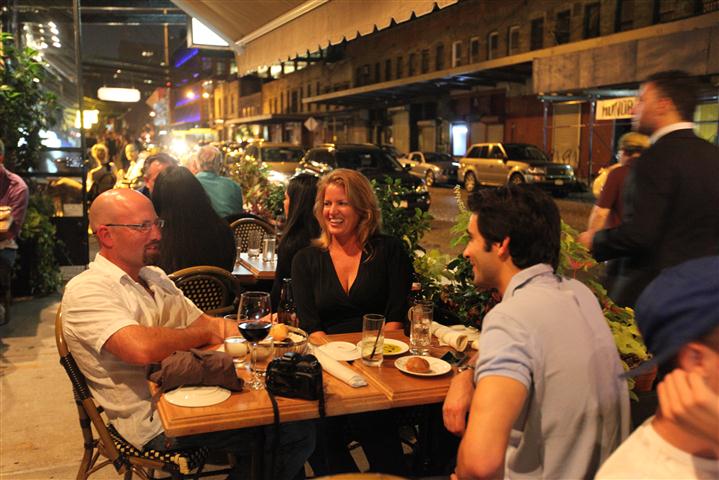 Sitting outside at MPD Restaurant - Photo by Luz Kraujalis
I don't know how to say this without sounding racist, which I'm not, but this area is also known as a hangout for the gay community, trans-sexuals and people who live alternative lifestyles. This is what I meant when I said the people watching was top notch. A few of the women that were standing in the street hanging out around our table were 6' tall beautiful women, that upon closer inspection were actually men.
We sat for an hour or so talking and watching, laughing and telling stories till the place filled up with beautiful people and we were crowded out.
Jason told us about a park that was right beside us. New York's High Line Park is a converted train trestle line that has been developed into a raised trail above the city. It stretches for many blocks and is decorated with beautiful plantings, benches to sit down on, chaise lounges that roll on the old rail lines and very modern lighting that doesn't ruin your night vision, if that's even possible in a city that is made up of lights.

Jason & Cindy checking out the Views from New York's High Line Park
We walked for many blocks just talking, taking in the sights from 3 stories above the city and smelling the aromatic scents coming from the wild flowers that line the trail. Cindy and I were totally amazed that walking up on this trail the noise was almost cancelled out. The city seemed very quiet and tame.
While walking along the trail, we came upon a group of star gazers that had a bunch of big telescopes set up. They asked if we'd be interested in looking through their scopes at the planet Jupiter.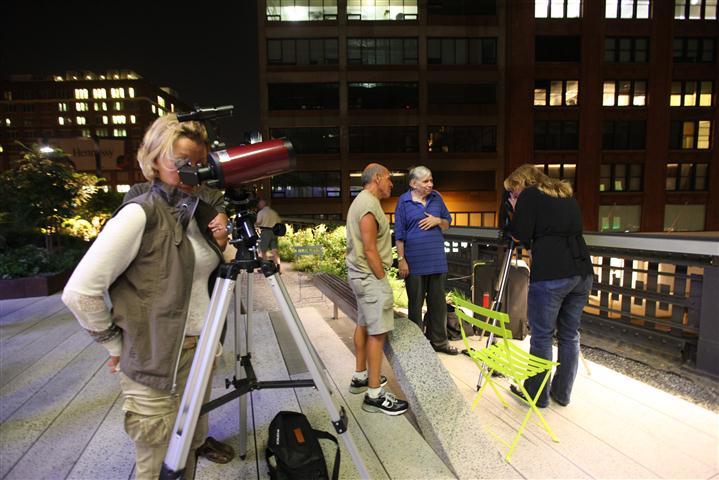 Luz & Cindy star gazing on the High Line Trail
We all took turns looking at the planet and it's 3 moons that were in view. One of the scopes was set up with our planets full moon in view. It was awesome as you could see every pock mark and indent in our moons surface. I so wish I could have taken a photo of the view through the telescope. And how nice of them to just ask some passer-byes if they'd be interested in sharing their amazing views.
So far everything I had heard about New York was false. I was told the people were rude, the city was dirty and dangerous and there was no way I should be carrying any of my camera gear around out in the open.
So far we had seen and met nothing but nice people, the city made New Orleans look like a Garbage Dump and I had already seen a dozen people with nicer cameras than I have who were all walking around out in the open. I don't even think I had seen a beggar or anyone that made me nervous about my whereabouts. I really like when we get somewhere with a preconceived notion of what to expect and we're totally wrong. This is why we also like to go to new places without anyone telling us what to expect before we get there.
I'd rather experience it for the first time without already having a image in my head as to what I think it's going to be like. That's almost impossible for New York since it's in the news so much and in so many movies, but it wasn't anything that I expected it to be. Cindy and I were both very pleasantly surprised.
I absolutely loved the High Line Park. I mean what an idea to keep the trestle track since it was already there and turn it into something people could enjoy. Especially since New York has so much concrete, having all these wild flowers and trees was just awesome and totally unexpected.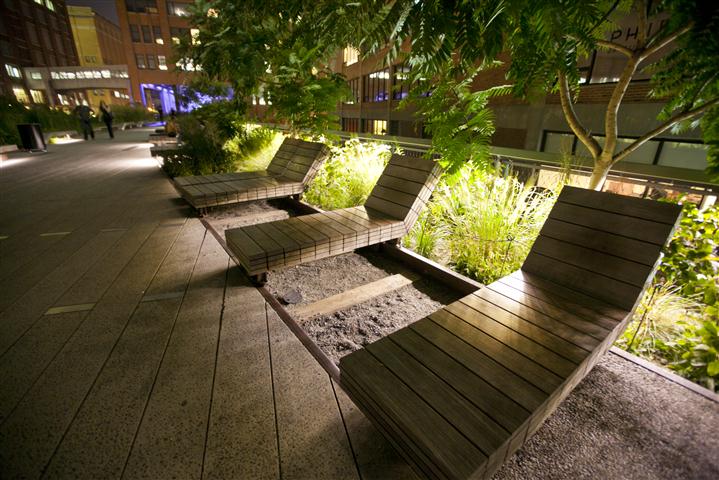 Chaise lounges set up on the old train rails
After another hour of walking down the trestle stopping every block to take another photo or just take in the views, we finally came back down to street level and grabbed a cab back to Times Square.
Jason had to work in the morning and we'd been up since pretty early. Times Square was even busier than it was early this evening and something tells me the city was just starting to get going.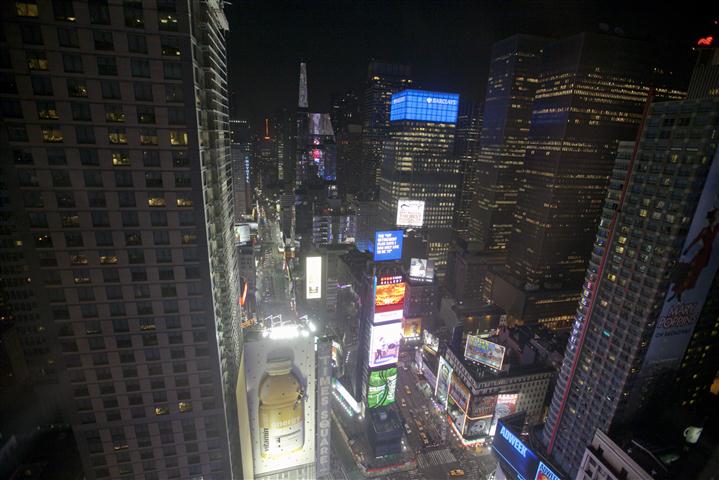 Times Square at Night from our Room
We said goodbye to Jason and headed up to our room. The view out the windows was just amazing at night and again, it was one of those views that is just as spell bounding as our views out over the Gulf of Mexico, but in a completely different kind of beauty.
Monday September 12th - Historical Boston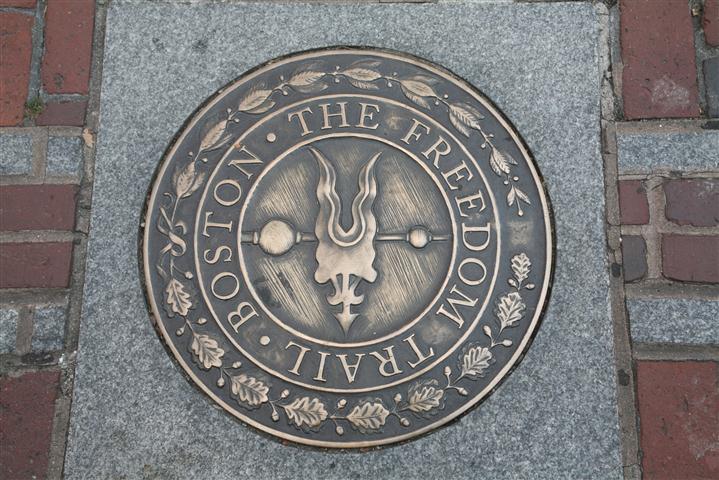 I was way behind on updating this blog, Cindy and Luz were ready to head out exploring downtown Boston first thing this morning, but I hadn't even cleaned all the images off the cards from yesterdays visit to Salem.
I told them I needed a few hours to work on the computer and they'd have to go out wandering around on their own. That was fine with them, they both grabbed their cameras and took off. Who knows what sort of trouble they could get themselves into, but I know those are two of the toughest chic's around, so I wasn't worried about them in the least.
In what seemed like only a few minutes, but was really a few hours, they were both back in the room saying "Ok, times up, lets go!"
I closed up the laptop and grabbed my camera gear, my ThinkTank Speed Demon which is perfect for throwing an extra lens in, my flash and a few necessities for wandering around all day and I was ready to go.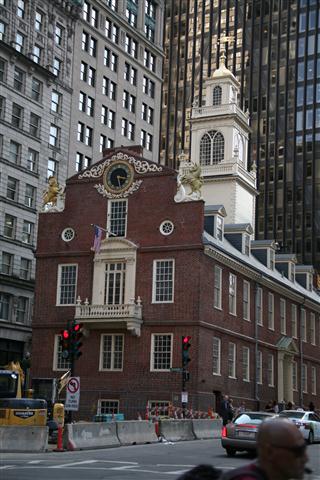 We grabbed a cab and ended up at Old North Church. I get confused because everything here says it's 'The Oldest', but I'm pretty sure this one said it was the oldest church in Boston.
This would start our day off exploring the architecture of this beautiful chapel, it's boxed in pews the parishioners had to purchase in order to attend service and all its beauty it has to offer. Just the boxed in Pews were something you had to sit back and think about. Folks like Paul Revere, many of our founding fathers and past presidents like Franklin Roosevelt have all sat in some of these little seats while attending a mass here.
From the Old North Church, we'd follow the Freedom Trail around Boston stopping here and there to visit historic structure after historic structure that had something to do with our founding fathers and where they lived, worked or hung out in their free time when our country was in its infancy.
From touring Paul Reveres House, to listening to a lecture in Faneuil Hall, seeing the Boston Massacre Site to walking around in the Old State House. We walked through the Cemetery where many our our founding fathers are buried and stood in front of the First Public School Site in Boston. Today our brains were on historical information overload and Cindy and I were loving every second of it. Normally we'd have taken a few weeks to absorb all of this history, but this just wasn't possible with our time frame we had this vacation.
I'm not sure how Luz was handling it all because she likes to never stop moving, but Cindy and I like to take our time and see all of it for what its worth. By the time we ended up at Cheers Bar, I think we had all enjoyed our time in Boston but we were all officially worn out. This was some 8 hours and 6 miles of wandering around Boston later when we finally plopped down in Norm's seat at the end of the bar.
We all know this isn't the actual Cheers bar that the movie was filmed in since the series always started with the line "Cheers was filmed before a live studio audience", but this IS the bar that they got the idea for the set from.
We sat and had a drink and rested our tired legs from the last few hours of walking the Freedom Trail around the city.
I couldn't believe how crazy busy this place was. Every seat was full and it was simply a mid-afternoon day, nothing special and this time of year is out of the normal tourist season. But it seemed like it was full of locals as only a few of them had cameras in their hands or were shopping in the gift shop.
I was really surprised how much Cindy and I enjoyed this city. For those of you who have followed the blogs from the start, you know we usually enjoy out of the way places and do our best to stay out of the normal tourist areas, especially big cities. I know Boston is considered a small city when comparing it to New York or Chicago, but for some reason the city felt quaint and had lots of character.
I really loved that you could walk from one end of the city to the other within an hour and you wouldn't have been running to cover that distance. The upper side near where Cheers and the Boston Common Park is located is elevated so you have an awesome view of the water and there seemed to be a nice breeze blowing through the city the entire time.
From Cheers, we walked back a few blocks and decided that rather than walk all the way back to the motel, we'd jump in a cab and pay the $5 to get us the few miles it would cost to cross the town when the sidewalks were full with everyone trying to get home from work.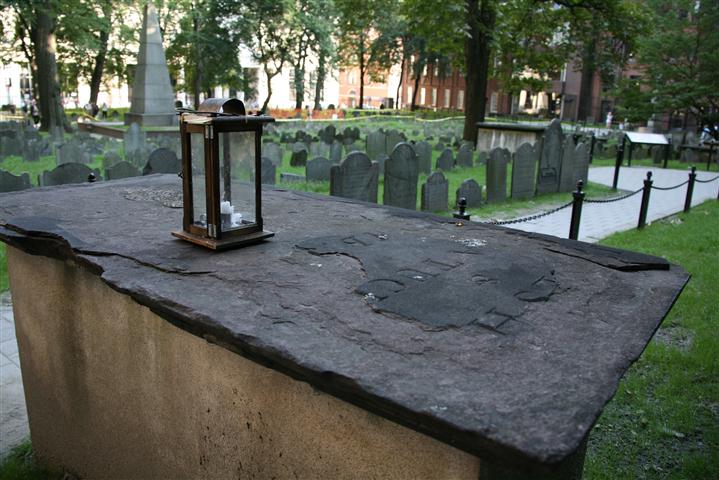 Boston Grave Stone with a Lantern atop
By this point I think we were all tired and our brains were overloaded with facts of Historical dates and names. I can only absorb so much information in one day.
We got back to the hotel and everyone showered, ate and rested. Cindy and Luz watched a movie in the bedroom while I sat in the living room downloading the photos from our 3 cameras and organizing them in their respective folders.
It was an awesome day of sight-seeing, but for some reason, I cant bring myself to blog about it with the passion I normally do. I think I saw too much in such a short period of time. My brain hurt from trying to remember everything we had seen, all the dates and names we had heard about and even just trying to remember all the buildings we had visited.
I'd love to come back and visit again, only next time, take a week or more to cover what we saw just today.
Sunday September 11th 2011 - Leaving Maine and Heading South
First things first, I almost didn't want to update my blog from today because there is nothing I can type that is as important as the 9/11 Anniversary for all those who were affected by that horrible attack on our country.
I hope no one is offended because I added our happenings from what we did today. I did stop and say some prayers for the families who lost someone or was affected from this tragedy before we got our day started.
My blog is more or less a on-line journal that I keep for myself, so I'm typing out what we did today so a few years from now when I'm too brain dead to remember these things, I can look back and laugh at myself or have a reference incase I come back to the same place again.
We were all up early this morning packing up our stuff and splitting up our group. Fonda and Juergen were flying back to Florida, Cindy and I were going down to Boston with Luz and Scott and Karen were staying here in Maine till they leave for Cedar Key later this year.
We all said our goodbyes and were on our way around 10am. Luz and Cindy were in the front seat of Luz's truck and I put myself in the backseat so I'd be safe. There is nothing worse than a guy driving with two different women telling him how to do it. I figured I'd play it safe and just sit in the backseat allowing them to get us where ever we were going to go on their own terms.
Cindy and I had debated about bringing our Garmin GPS, but we knew Luz had one, so we left ours in the truck at the airport in Orlando. When we were pulling out of Scott and Karen's driveway, Luz handed Cindy her iPhone and asked her to punch in the city of Salem, Massachusetts. That would be our first stop before Boston.
Cindy and I asked Luz where a real GPS was, because neither of us wanted to be calling out directions from a small phone. Sometimes its better to have the GPS to yell at and blame for getting lost rather than a person giving directions. But Luz let us know that she had left her GPS at a friends house which would be our last stop down in New Jersey...so no real GPS for us.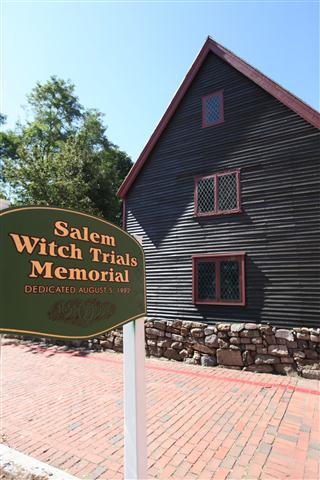 Cindy said she didn't want to use the iPhone and had me hand her a traditional atlas. I figured between the iPhone and the atlas, we'd be good, but I'd keep my mouth shut either way.
Salem was only a few hours drive and we were pulling into the parking garage within no time. I'll leave the bickering about which route to take out of the blog because I'm doing my best to forget the ride in the back seat. I'll also keep out how many times the fact that we were in Salem and these two felt so right at home I made note of today.
Luz's reason for bringing us to Salem was she thought we'd be interested in the Witch Trials which Salem takes every advantage of to attract tourists and talk about in all their literature.
Cindy laughed and said "Luz, Salem is one of the oldest cities in our country, the witch trials were just a small part of that history. We'd have happily came here even if you didn't bring up the witch stuff."
This turned into an all day argument because Luz thought that Boston was one of the oldest cities, which don't get me wrong, it is old and there is a ton of history there too, but just for the record, Salem was settled in 1626 and Boston was settled in 1630.
We started at the National Park Visitor Center and grabbed a map. We then proceeded to spend the rest of the day walking around reading all the story boards and admiring all the awesome architecture, the cool little cemeteries and the historic wharf. I know I've said this many times before, but I went to school for Architectural Drafting and one of my many things I absolutely love is architecture, especially historic architecture.
Over time I've forgotten most of the specific names of what each era is known for, but I still admire it and love to compare the different styles from city to city.
We stopped on the Wharf and had lunch at Vic's Boathouse that turned out to be the typical service to what we've been getting since we've been here. It starts off really good, we get our drinks and food right away, then we either lose our server or something goes wrong and the visit is ruined from the time it takes to get our check and actually leave the place.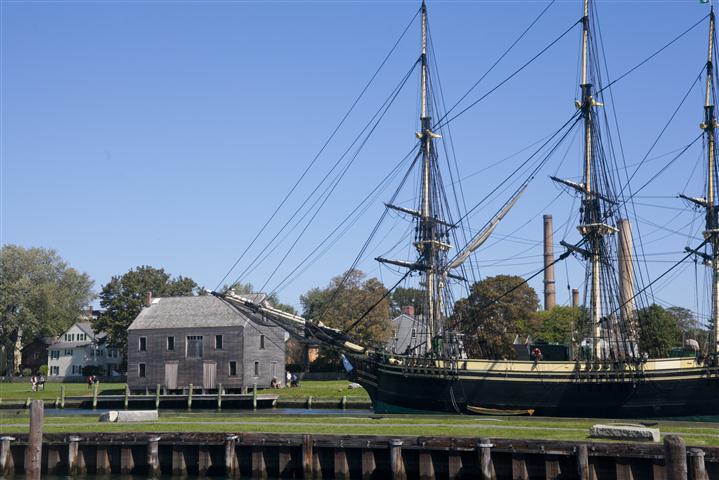 Wharf in Downtown Salem
For instance, this lunch at Vic's would have been great. Our food was really good, the service started out great and then the server just disappeared. We waited for about 20 minutes after we were all finished eating and still never saw her again. We finally got up and asked a hostess if we could have our check and she told us that our server had been sat by a large party and was busy taking care of them.
To me, that's total BS because you don't just leave a table when you get another one. But no biggy, we paid our tab to the hostess and went back out exploring Salem and all its history.
We wandered around for so long that I think we threw Luz out of her groove as to what she had planned for us. She thought we were just going to walk around and look at the cemetery, check out the witch museum and be on our way down to Boston. I had tried to warn her that Cindy and I had originally planned on only spending one year, maybe two to tour all of the United States when we originally started this adventure, and 4 years later, we've still only visited 40 states.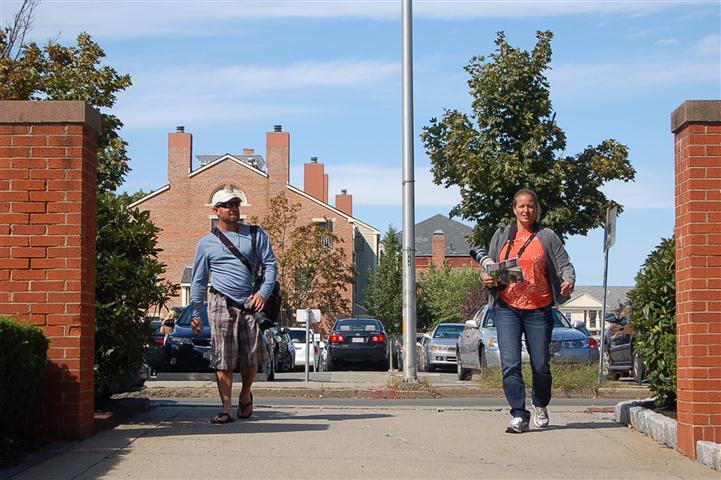 Cindy and I wandering around downtown Salem - Photo by Luz Kraujalis
Cindy and I like to read every story board they have taken the time to make for visitors. We really like to admire the architecture and absorb the sounds, take in the smells and get a feel for the places we visit. The last thing we want to do is just rush through a new place just to say we've seen it. There are plenty of places we've skipped because we both had said "If we don't have enough time to see all of it, then we really don't want to just blow through."
So our two hours Luz had planned for us in Salem turned into the majority of the day. By the time we had made the full loop and seen 99% of everything there was to see, that was touristy, it was late in the afternoon.
We walked back to the car and unloaded our heated up cameras and got ready to make the 45 minute drive down to Boston. I'd recommend Salem for anyone who is interested in our nations early history. They have plenty of guided tours, interesting artifacts from the dawn of our country and it would be fun for those of all ages who enjoy history.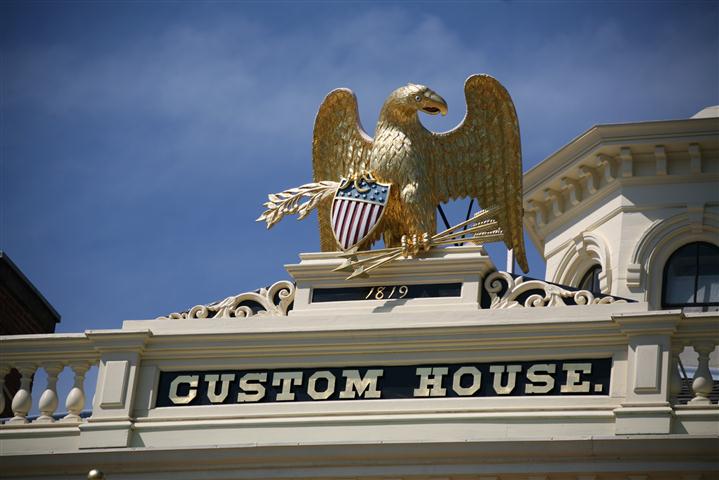 Gold Clad Bald Eagle atop the Customs House, Salem - Photo by Cindy Bonish
Making the trip from Salem to Boston sounds very easy when looking at a map. Let me warn you that it's anything but easy, especially when you have one woman who thinks she knows where she's going and another whose actually looking at the map and barking out directions.
There were plenty of times I was sitting in the back seat covering my eyes and wishing I had earplugs. We narrowly missed a few accidents, made a few illegal u-turns and soon enough were pulling into Downtown Boston.
At this point, I was ready to go find a store and buy a GPS so these two could stop telling each other they knew where they were going. I was just thankful that I hadn't made the mistake of offering to drive at any point.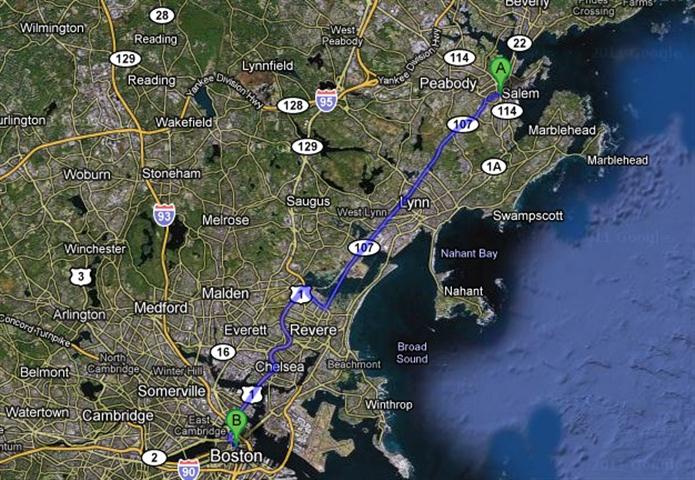 We found our hotel and I about jumped out of the car like it was on fire. I unloaded the luggage onto a Bell Cart while Luz checked us in. We were staying right on the water overlooking a big marina with the Boston Skyline right outside our room. Beautiful views all around us even though it was a big city. It's actually a nice change from the relaxed, unobstructed views and atmosphere we're so used to in Cedar Key.
We got into our room and all settled down from that exciting drive and we were ready to go find something to eat. We looked through some magazines and decided we'd go downtown and check out the Union Oyster House. It declares itself as the oldest continually operating restaurants in the United States.
There is some debate to this claim, but either way, its pretty friggin' cool when you know that many of the founders of our country had sat in this restaurant eating fresh oysters and sipping on cocktails.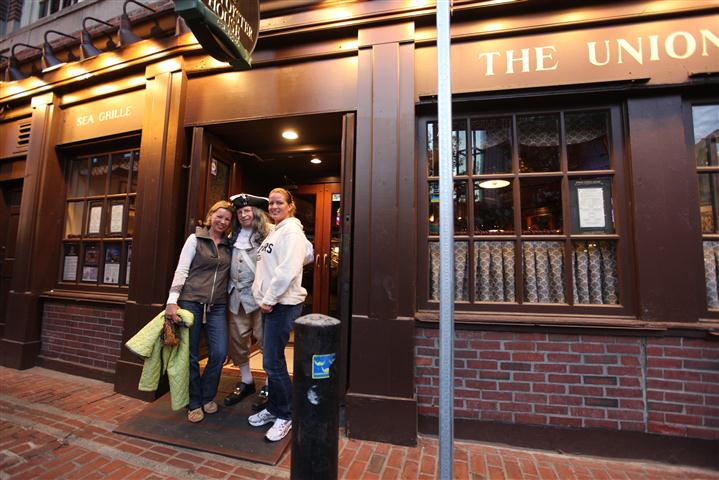 Luz & Cindy with Ben Franklin outside the Union Oyster House in Boston
As we were walking up to the front door, who walked out but Ben Franklin! It was actually some guy that gives speeches wearing authentic clothes and has studied Franklin's biographies word for word, but he let us get a photo of him and we sat talking with him for awhile.
The Union Oyster House was very cool on the inside. If ever in Boston, make sure to stop and check it out. Dinner was good, not great, but just a disappointing Good. Again, our service was lacking, the food was really expensive for what we got and we had to go find our waitress to pay the tab.
But again, if in Boston, be sure to stop in and just read all the cool stuff on the walls.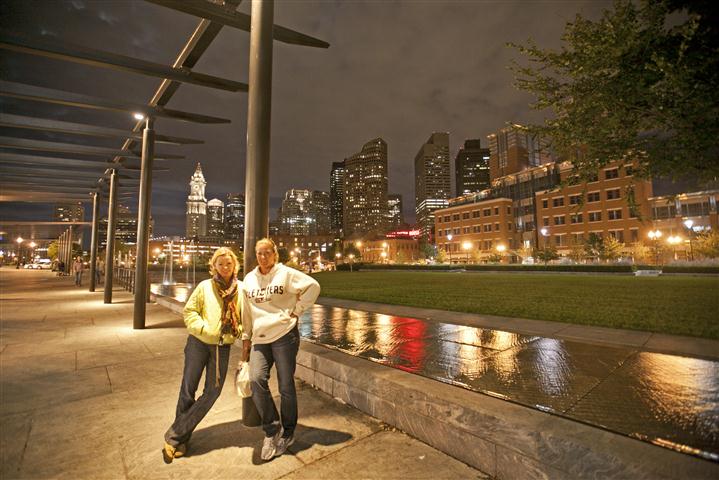 Luz & Cindy striking a Pose in Downtown Boston
After dinner, rather than take a cab back to the hotel, we walked around for awhile just enjoying the perfect weather and trying to burn some of the dinner calories off the waistline.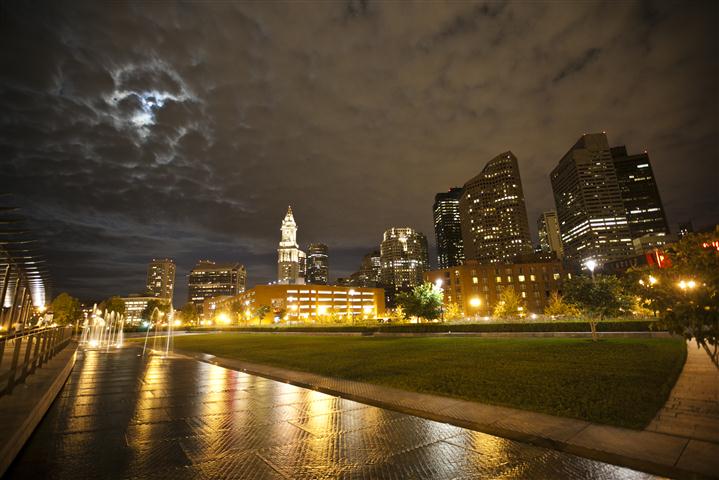 Downtown Boston at Night - Photo by Pat Bonish
There was a full moon tonight, so it was giving a really cool glow to the light cloud cover we had. We walked around for about an hour before we made it back to the hotel. By this point we were all tired and ready for bed. Tomorrow would be a big day of non-stop walking and taking in the history of this city where so much of our country was developed. I was really looking forward to it and couldn't wait to see it through the camera lens.
Saturday September 10th - Beautiful Day in Kennebunkport
Our only plans for today were to go into downtown Kennebunkport and walk around checking out the shops, the port and just have a day of relaxation.
This little town reminds me a lot of Charlevoix up in Michigan where Cindy and I stayed last summer when we were on our way home from the U.P. Overland Adventure. It's very picturesque, has top notch galleries and shops, not generic t-shirt shops or places filled with junk and was a lot of fun to walk around and waste a picture perfect Saturday enjoying ourselves.
If I had money, I could have spent all of it here in Kennebunkport. Many of the galleries left me longing to buy some of the other artists works, which is rare.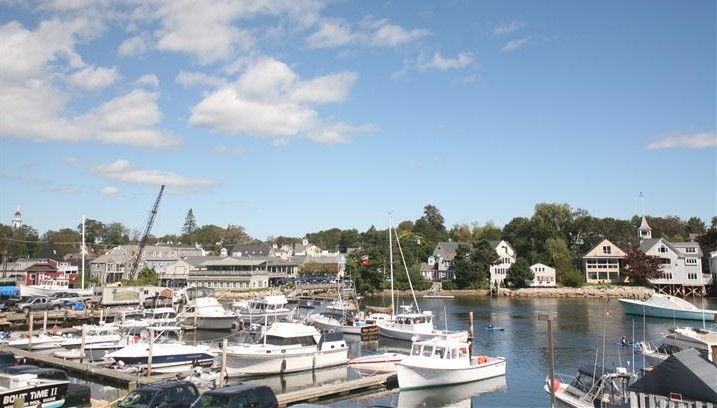 I love glass sculptures and funky designs, and there were a few that had me contemplating maxing out a credit card or two. Luckily I always have Cindy a few steps behind me to reel me in. Besides, I was trying to save any and all my spending for B&H when we're in New York later next week.
We had lunch at the local brewery, Federal Jacks, which serves up Shipyard Brew and has the seasonal Pumpkin Ale flowing at a steady rate this time of year. We all had a great lunch and had great service. I love when we get good food paired with a server that knows how to treat their guests right. It makes spending that hard earned money so much more enjoyable knowing you had a good time.
From Kennebunkport, we went back to Scott and Karen's for awhile before we drove up to Goose Rocks Beach so we could give the dogs some exercise by letting them walk down the beach.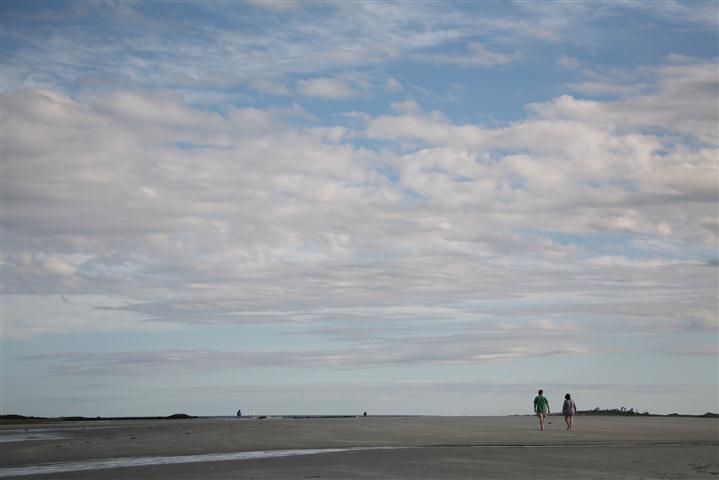 This is a big, wide beach that was pretty empty except for a few others who were walking their dogs or just out enjoying the beautiful weather. We were told the walk on the beach was to wear out the dogs so we wouldn't have them going so crazy and running around the house like they did last night during the party, but in reality, I think it was to wear us out too.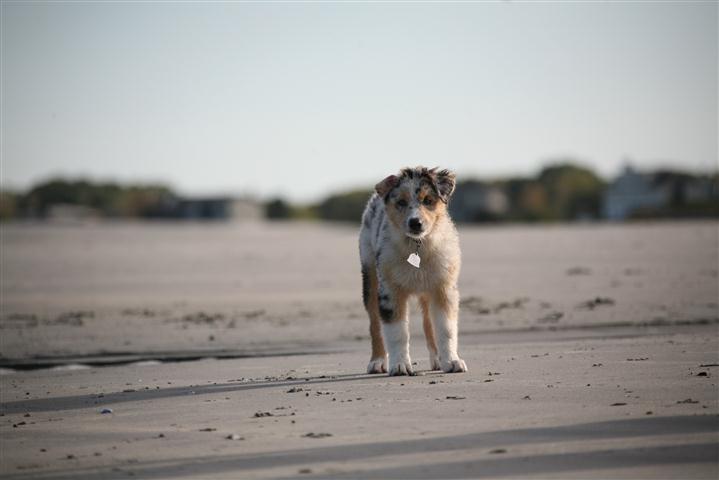 Follie the ever so Energetic Puppy
I'm not complaining, I love walking up and down the beach, any beach, as long as I'm with some good friends and we have nice weather. Plus the pack of dogs we had was so much fun to watch that I could have stayed out there all night long.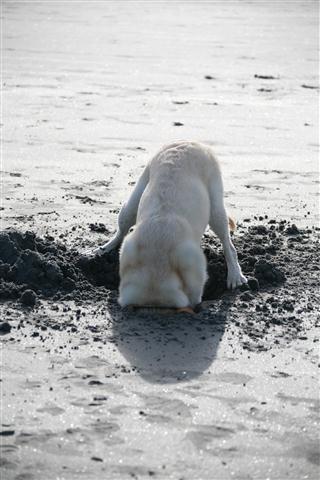 When we had worn the dogs out something good, we all loaded up in the truck and drove a few towns over to Mulligan's in Biddeford. Scott and Karen had told us about this place last year when they were living in Cedar Key during their winter retreat from the great white north.
The reason we had talked about it was their claim to fame is EVERYTHING on their menu is under $5. We're not talking cheap, fast food either. The food was really good and the entire time we were there, there was a line of about 20 people waiting at the door due to how full the place was and how fast the tables turn over. Something tells me when the economy is this bad, it makes since to go out to eat at a place like this.
Karen's sister and her husband had joined us on the beach. They also came up to Mulligan's with us and it was fun sitting and talking with them the entire time.
The food was great, the service was top notch and if you're ever passing through this area, make sure you check out Mulligan's. You'll get some great food and it wont hurt your wallet either!
With full bellies and a long day behind us, we headed back to the house where we stoked up a nice little fire in the outside fire pit.
We gathered up some chairs and everyone sat around talking and laughing till late in the night. Scott and Karen have a great group of friends and Craig, one of the guys who stays at their place was so much fun to talk with. He kept us all laughing the entire night with some good stories and his easy going personality.
It was a great way to enjoy our last night in Maine and it wont be soon enough before we get to see everyone again back in Cedar Key.
Friday September 9th - Another Fun Day in Maine
After yesterdays wildness, I was a little groggy this morning. Especially when the Fog Horn started making it's obnoxious noise at about 6:30am. That was a little too early for my thumping head but it got me up.
Big glass of water, 2 Excedrin Migraine and I was lacing up my hiking boots and reaching for that camera. Today would be our last day on Goat Island, so I wanted to make sure I did as many laps around the island as possible.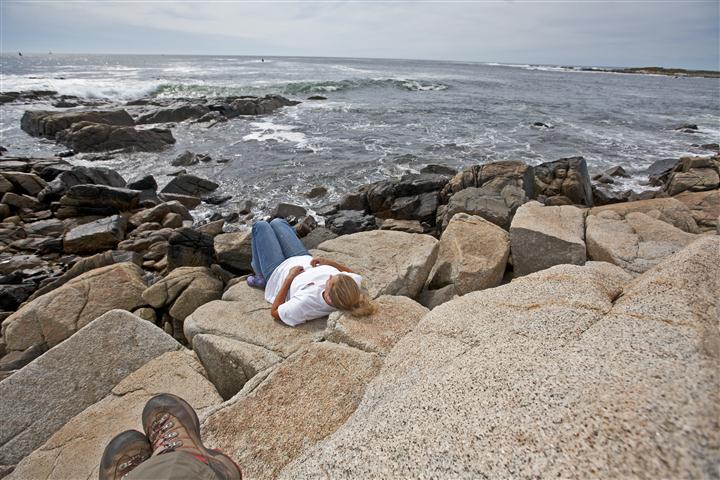 Relaxing on the Rocks on Goat Island
Much like yesterdays weather, there would be times when the island was covered in thick clouds for a few minutes only to blow over and leave us with bright blue skies only to do it again and again.
For only spending two days on the island, I joked with Scott and Karen that to look through our images, you'd think we would have spent weeks out here from all the different views we captured with the beautiful backdrops.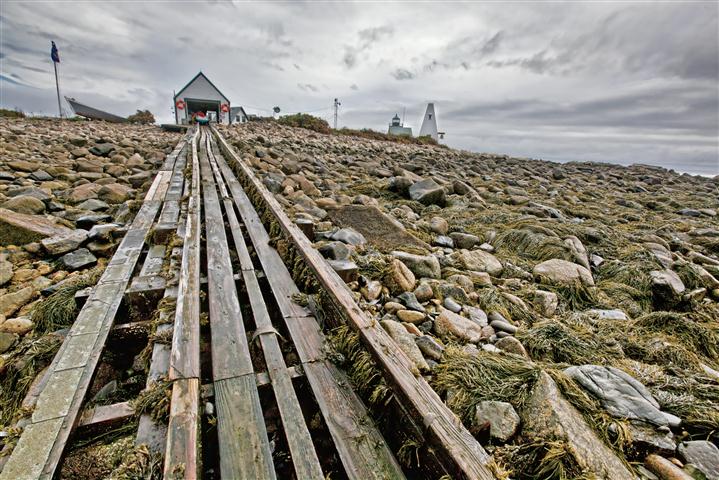 Looking up the Boat Ramp from Low-Tide on Goat Island
Scott and Juergen went into the Harbor with a load of stuff and Scott had to run some errands around town early this morning. The girls and I stayed back on the island and cleaned up the house. We laundered the sheets from the beds, vacuumed the house and packed everything up to be taken off the island.
Labor Day sort of designates the Maine coastline as the end of season. Even though the town looked busy to us, Scott and Karen told us if we would have been up here a few weeks ago, we'd be shocked at how much slower this is.
In between loads of laundry and cleaning, we'd go outside to take a walk and feel the cool, salty air blow against your face. Even with a pounding headache, the views were just too beautiful to not take in as much as I could while I had the chance.
They have a new puppy that is full of energy and chases their older dog around non-stop, so if we weren't walking around the island taking photos, we'd be entertained by the antics of the puppy.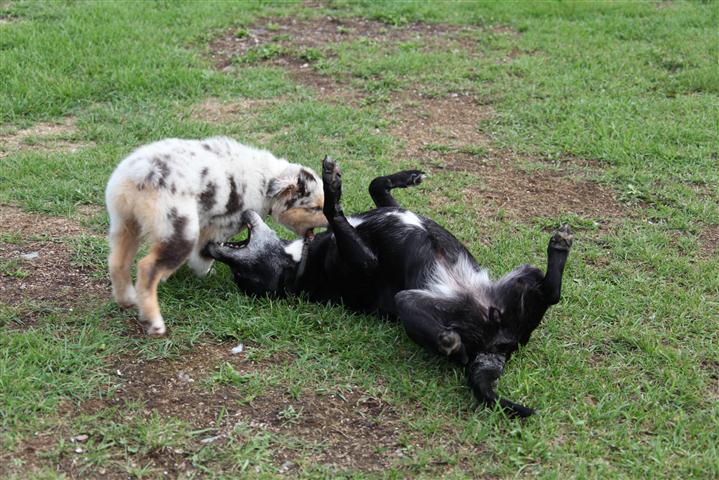 Follie the Australian Sheppard teasing the older Lauren
Once the cleaning was done and the beds were all made back up, we loaded up the boat and headed into Cape Porpoise Harbor to load the bags into the truck and head back to Scott & Karen's house in Kennebunkport. This is all of a 2 minute drive up the road.
Everyone took turns showering and unloading their bags from the truck and distributing them around the huge house to their designated bedrooms. The house they own in Kennebunkport is monstrous and has so many bedrooms and different levels, it's easy to get lost in.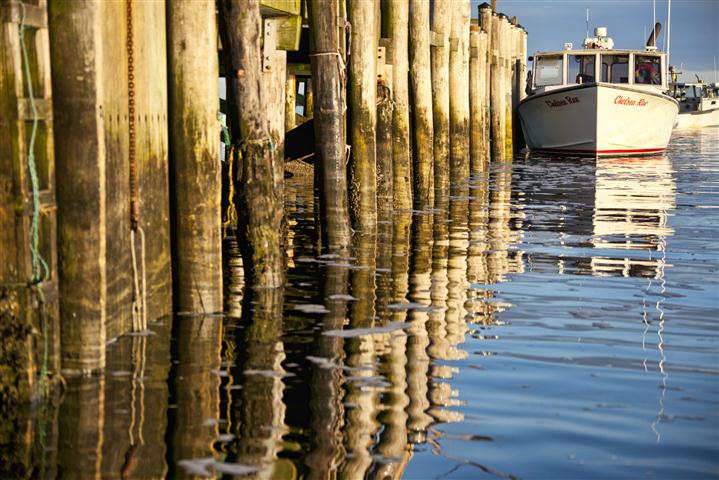 Once we were all showered up and had everyone back together, it was around 2 in the afternoon and we wanted to go check out some of the antique shops that dot the back roads.
Its always fun to see if you can find something from a different state that might be a memento of your vacation or just add to the decor of the house. Problem is antique shops aren't what they used to be a few years ago before shows like 'American Pickers' or 'Pawn Stars' became so popular. With the internet being so prevalent in searching out what items are worth, there really is no such thing as finding a 'Good Deal' in the antique shops anymore.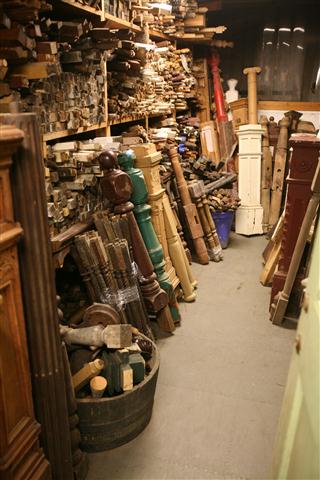 It's still fun to look around. I ended up getting a few more license plates to add to my collection and hang out at the tiki bar.
From the antique shops, Scott took us to a salvage place called 'Old House Parts'. This is basically a giant warehouse that is stocked full of antique doors, windows, fireplace mantles, sinks and everything and anything you could imagine that would be salvaged from an old house.
Their new thing they've been doing is mixing these old pieces in with new pieces in their custom woodworking shop for customers who are building a new place or refurbishing an older home. It gave Cindy and I a ton of ideas if we're ever to build a new house.
When we were all antiqued out, we headed back to Scott and Karen's where some friends were gathering tonight for a little get-together. Some of Karen's family was coming over and a few others would stop by throughout the night.
Guitars would be brought out and everyone would sit around the house singing, listening to some amazing strumming and enjoying themselves immensely.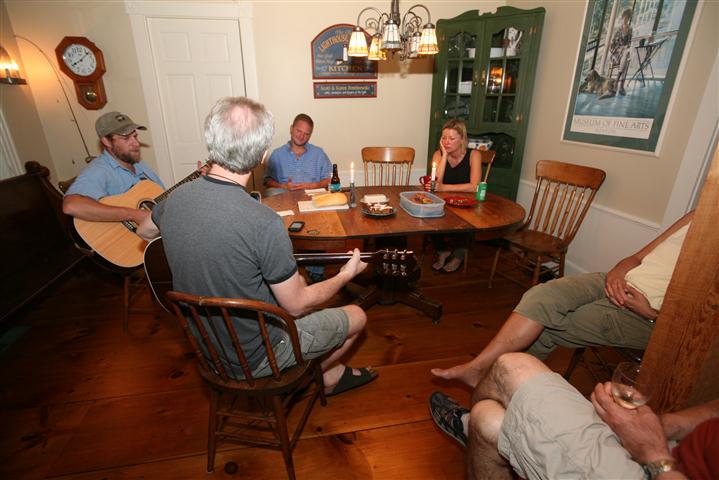 I was still a bit groggy from the festivities last night, so when they all decided that they were going to be heading out to a local piano bar for some more fun, Cindy and I excused ourselves and snuck off to bed. I think we were both sound asleep by about 10pm, but I was hurting from all the fun we had around the bonfire on Goat Island.
Our Gallery from Goat Island can be seen at this Link
Thursday September 8th - An Epic Day on Goat Island
Maybe because I slept so sound, or maybe because I was just so excited to be back out exploring new things and having new scenes to point my camera at, I was up well before the sunrise this morning.
I laced up my hiking boots, threw on my jacket and rain coat and grabbed my camera and headed out into the glow of the early morning mist.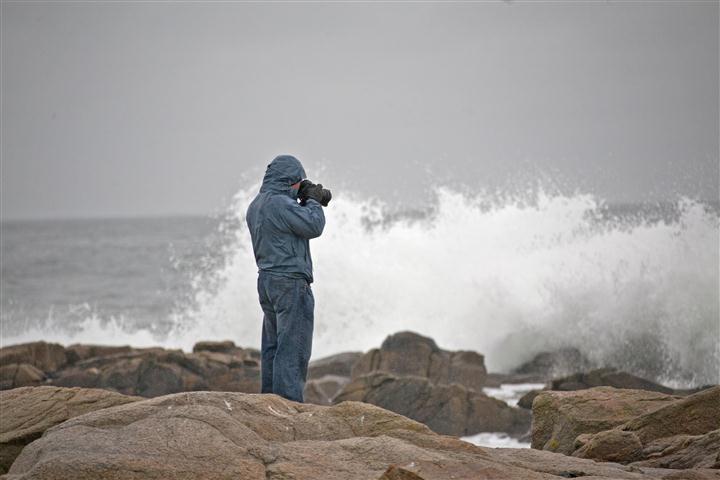 Shooting the surf on Goat Island - Photo by Luz Kraujalis
Goat Island is rimmed with huge granite boulders, many the size of small cars. Its a lot of fun to climb around on them and hop from rock to rock. The tide was on it's way out, and tides here are like something we've never experienced before. Checking the Tide App on my phone, it told me the low tide was going to be 8' lower than the high tide would be. People are always shocked at the 5' tide fluctuations we have in Cedar Key, but this is making that look like childs-play. Add to that the storm surges that are moving the waters and building even bigger waves due to the tropical storms traveling up the coast and the ocean was fun to sit and watch.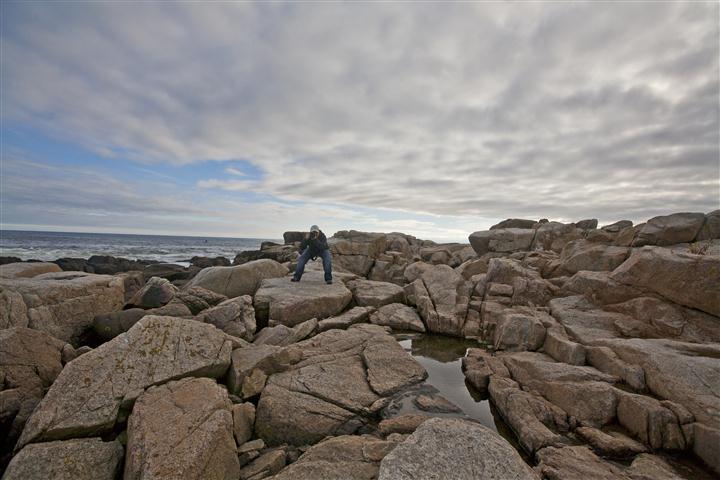 Playing on the Rocky Shoreline of Goat Island - Photo by Cindy Bonish
This meant I could climb out close to the water and explore rocks that are normally covered in turbulent water during low tide. As the sun made its appearance, it gave me enough light to start snapping off images with each new step I took. I had to tell myself, "Ok, stop taking a photo with every step, this is supposed to be Every Miles A Memory, not Every Step is a Memory."
But each rock I would climb up on gave me a different view towards the lighthouse or made the sizes of the lighthouse and the bell tower be completely different in perspective to one another than the last photo would look.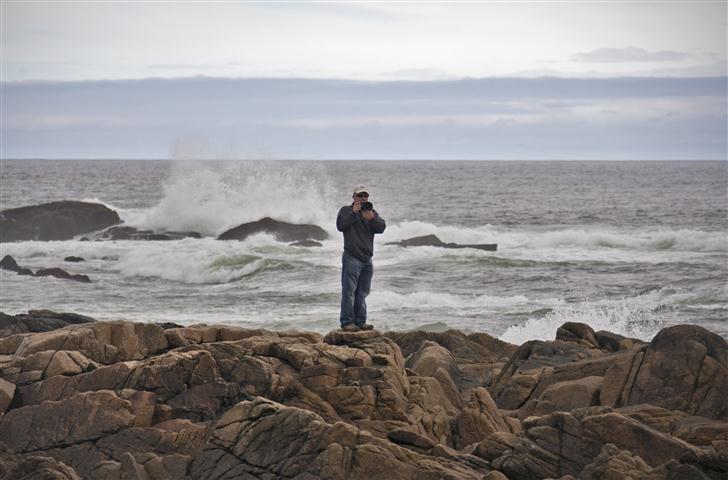 Yet another scene perched from atop a rock pile - Photo by Luz Kraujalis
The process of narrowing down which shots will be keepers and which shots will be deleted will be a hard decision after this adventure is over.
As the sun came up, in came the clouds and before long, it was raining again. Most people would be disappointed with rain on their holiday, but in reality, this is exactly the way I pictured Maine. Cool, damp, rainy and cloud covered. So far it had lived up to all my expectations.
By the time I got back into the house, everyone was up and around the kitchen eating breakfast. Scott had called into one of the Lobster Boats who had said we'd be able to pull right up to the docks and buy some lobster for this evenings dinner right off the back of the boat.
Juergen, Scott and I got back on our wet weather gear and motored through the harbor to go meet the lobster fisherman and pick up our freshly caught lunch.

Scott & Juergen as we motor away from Goat Island
We loaded up a wooden crate with a few dozen lobster and motored across the harbor to another fish house where we bought a big bag of fresh clams to go along with our lobster.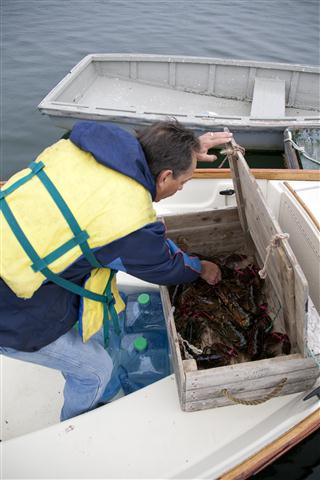 By this point, it was raining pretty hard, so we headed back to Goat Island. We tied the lobster crate to the end of the dock so the bugs (as the locals call them) would stay fresh till it would be time to drop them in a pot of boiling water.
As everyone sat in the kitchen of the lighthouse keepers quarters listening to Scott tell us stories of passing storms and cool things they've seen over the years, I heard the distinct sound of a beer cracking open.
I looked around and said "Who's drinking beer already?"
Someone said "Why, what time is it? It has to be close to noon!"
We all looked at the clock and busted out laughing. It was 9:30am!
This is how the rest of the day went. Cindy and I grabbed the cameras and went for a walk around the island...something that we'd do a few dozen times over the next 24 hour period.
As we walked we talked about how cool it would be to live on this small of an island. I mean we live on a small island right now, but this would be taking it to the next level of extremeness. I could walk around this island hundreds of times and the scene seems to change with each circle. Plus its great exercise walking/jumping/hopping from boulder to boulder.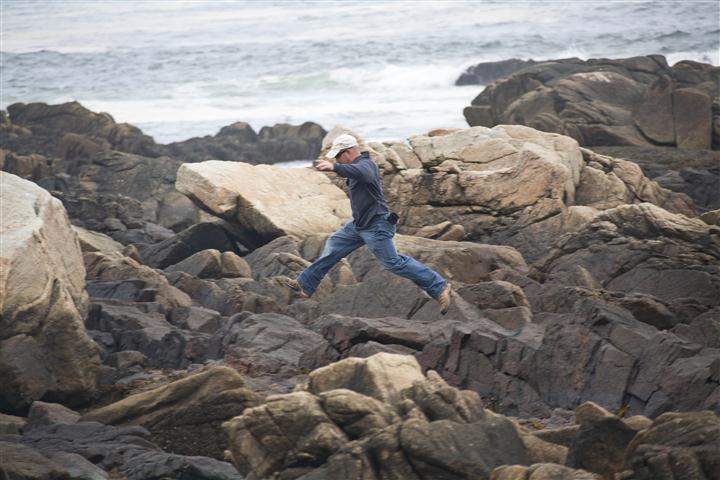 Jumping from Rock to Rock on Goat Island - Photo by Luz Kraujalis
Much like in Cedar Key, with the tide changing so drastically here, every hour the scene looks completely different. The waves are sometimes crashing right at the base of the lighthouse. Other times you have a hundred yards from the waters edge to the base.
The weather changes almost as fast as the tides do. It seemed one hour it would be raining, the next it would be sunny. We'd lay on the rocks and watch storms blow over Kennebunkport but they'd never cross the harbor and dump their liquid on us. We'd feel the winds pick up and cool the air instantly which would raise a fog and send the Fog Horn into an obnoxious awakening. That is an entirely different scenario that would take some getting used to if you lived on the island, but Scott says you get used to it and don't even notice it after awhile.

Storms Blowing Behind Goat Island while we're bathed in Sunshine
Then an hour later the winds would die down, push the fog out and it there would be beautiful blue skies all around us.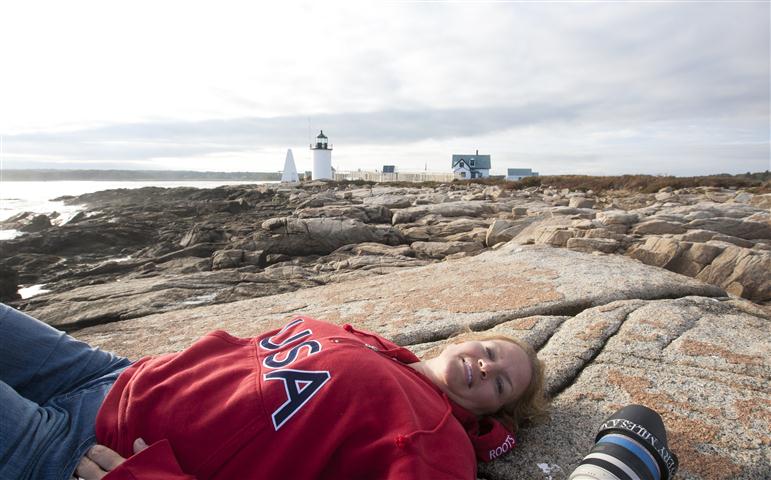 Cindy laying out on the rocks of Goat Island enjoying the cool weather
and the sounds of the crashing waves
Around noon time, someone suggested lunch and asked if we had to wait till dinner to break into the lobsters. Scott said "I got 2 bugs for each of us, so if you want to have one for lunch and one for dinner, then by all means lets start eating them now."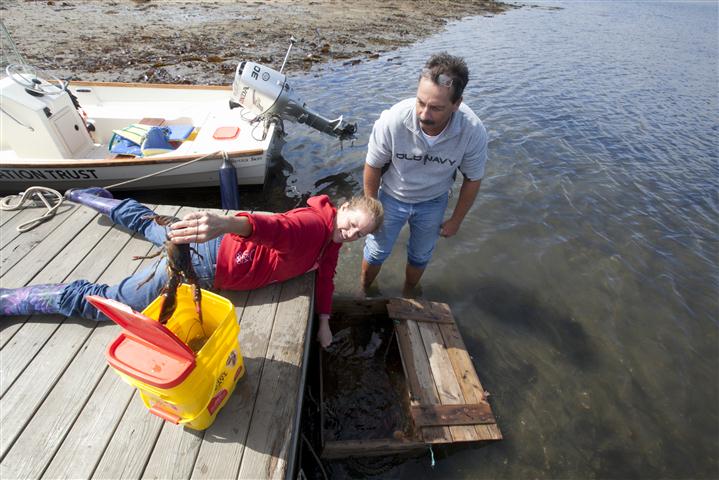 Fonda was so excited to have a Maine lobster and Cindy had never eaten a lobster from Maine up to this point. She's tried Florida Lobster many times, but always says she doesn't know what all the fuss is about because she doesn't think they're that good. That thought process would change as soon as she had her first bite of a Maine Lobster.
We went down to the end of the dock to pick out which Lobsters we were going to boil up for lunch. This was comical to watch Cindy and Juergen pick through the wooden crate. As soon as Cindy learned that their claws were banded together, she wasn't afraid to plunge her hand into the cold water to feel for a big one. The tails would be flipping and splashing around, they'd be moving their big claws at you trying to get at you, but with them banded together, they're pretty harmless.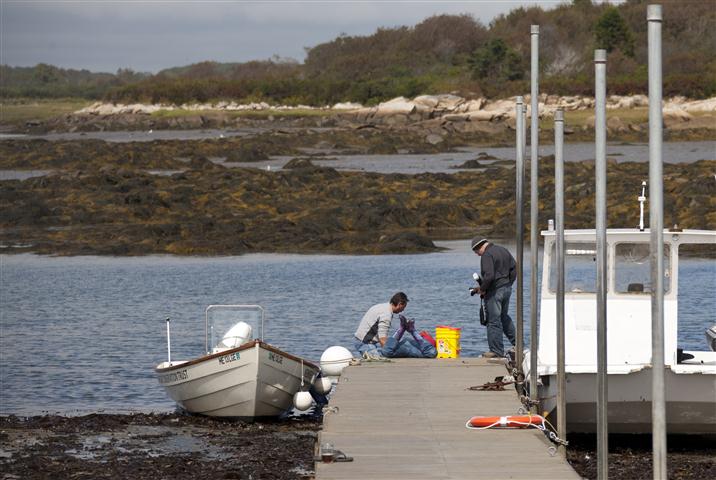 Cindy lying on the dock picking out Lobster - Photo by Luz Kraujalis
We picked out 7 bugs and carried them back up to the house in a bucket. Scott had a big pot of water boiling on the stove and one by one, he dropped in the bog lobsters. Pretty soon, the house had that distinct aroma and we were all foaming at the mouths waiting to dig into our fresh lobsters.
Scott gave us a quick tutorial on the proper technique on opening the shell to get to the succulent meat and get the buttery juice out. Cindy's face during all of this was one of disgust. I kept laughing thinking that she wasn't going to even try it. Then she finally took a bite. It was all downhill from there.
Shell pieces were flying, butter was being thrown every where as she dug in with both hands trying to get more. We now have a addict when it comes to Maine Lobsters!
After lunch, we took another walk around the island that lasted for multiple hours. We stopped numerous times to just sit and watch the waves smash into the rocks. We talked about everything under the sun and we just enjoyed our time away from ringing phones, guests checking in and out and having to tend to a busy motel and tiki bar. It was exactly the way a vacation is supposed to be.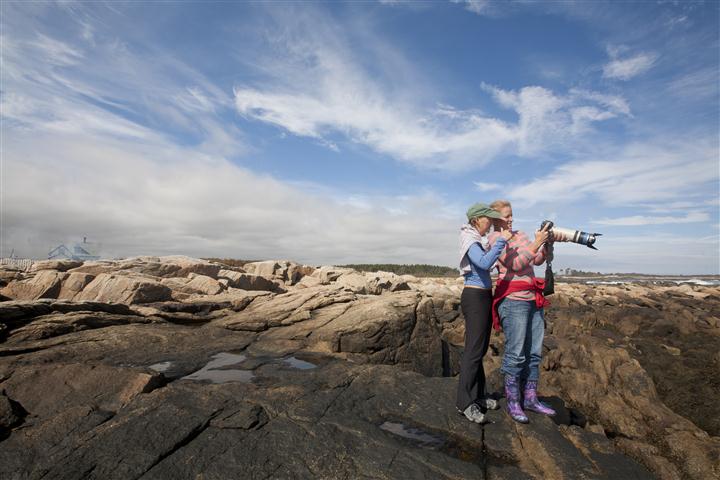 Luz & Cindy shooting on the Rocks - Notice that a layer of Fog is almost blocking
the lighthouse even though we're only a few hundred yards away and in total sunshine
Later in the afternoon, we went for another boat ride to get some things from the docks and just get a change of scenery in the harbor. Scott took us by some of the large mansions that line the shoreline and showed us the Bush family compound.
We came back to the Island and cooked up the rest of the Lobster for a Maine Dinner Feast. Cindy and Fonda were loving every bite they took and I was surprised it had took this long before they had suggested dinner.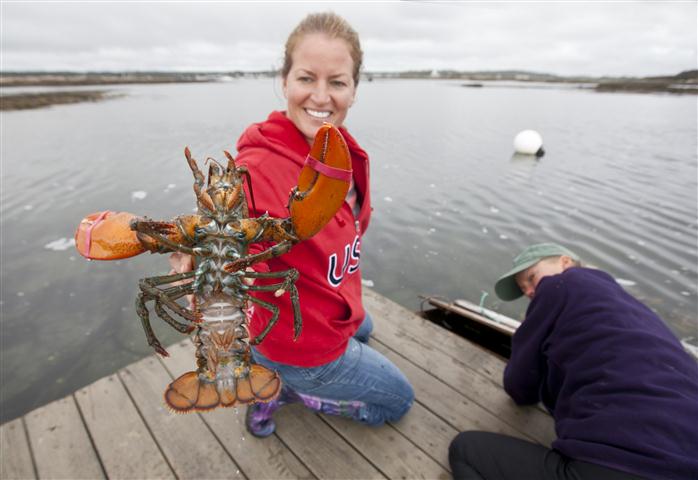 Cindy & Luz picking out Lobster for Dinner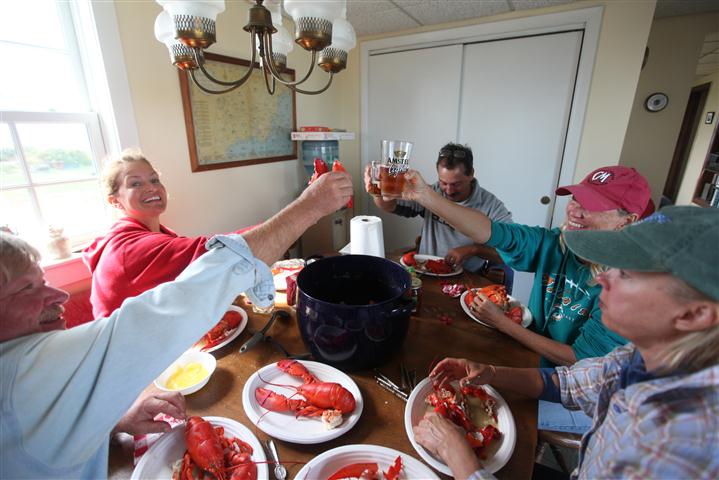 A Toast to a Feast Fit for a King and his Best of Friends
By the time we finished dinner, it was getting late in the afternoon and we got out the cannon for the sunset festivities. Juergen would have the honors of lighting it off tonight and Cindy would have the honors of ringing the historic bell.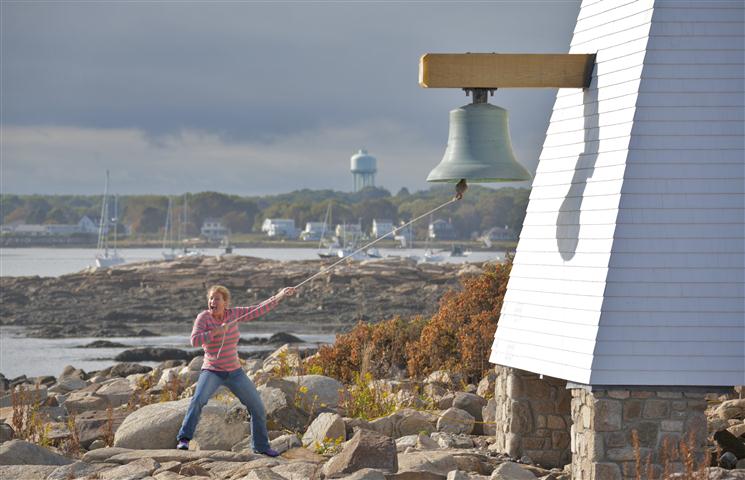 Look how excited Cindy is to be ringing the bell!
The cannon will have to be something we try and incorporate into the sunsets at the tiki bar. Its a 10 gauge shot that's anything short of impressive.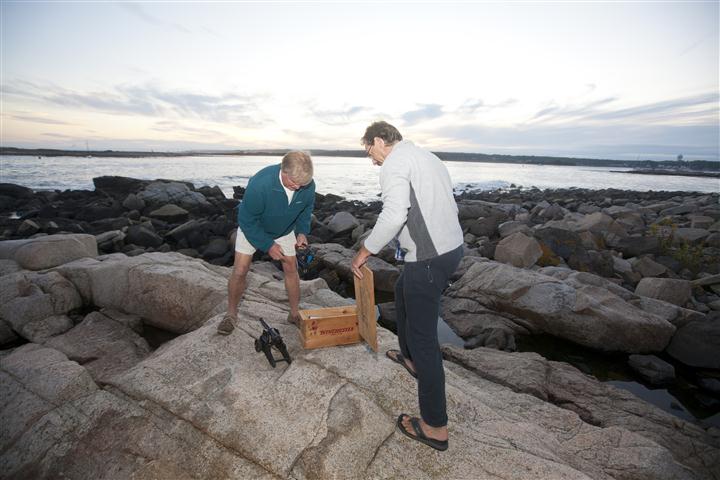 Scott & Juergen setting up the Cannon
Once those chores were complete, it meant we had officially spent our first full day in Maine on Goat Island and the party had begun.
We gathered some wood and all sat around the roaring fire telling stories and listening to the pounding surf at our backs. Two of my favorite things in life (Besides Beautiful Women and Cameras) are sitting around Bonfires and watching the waves crash into the shoreline. To be able to do the both of those things at the same time all the while being surrounded by some beautiful women and having a camera in my hand meant this day was as epic as any man could ask for.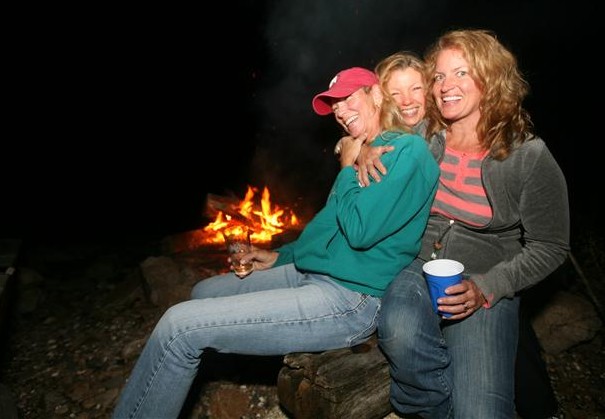 Fonda, Cindy and Luz cuddling around the Bon-Fire on Goat Island
Wednesday September 7th - Leaving for Maine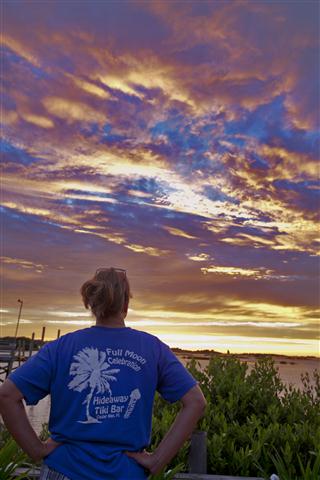 Monday and Tuesday had been spent cleaning up the place after the big holiday weekend. We then went into full-on packing mode and cleaned our entire house, stripped down the tiki bar since it would be closed down for the next few weeks and packed up our photo gear for the trip.
As we were getting everything finished and the day was coming to an end on Tuesday night, I walked out back to find one of the most amazing sunsets we'd seen in awhile. I ran inside to grab the camera and tell Cindy to come out back with me, and she carried our dinner plates out to the swing where we sat in total silence just watching our send off sunset from Mother Nature.
We left around 7am this morning to head out from the Orlando airport. We had a layover in Atlanta which worked out perfect because it gave us some time to stretch our legs and grab a drink.
The flight into Maine wasn't all that bad. We left Atlanta with gloomy skies but flew up and over the clouds and had clear blue skies to look at the entire flight. It gave you the impression you were flying over the Arctic Circle because as far as you could see, there was nothing but the tops of the clouds which resembled a great white tundra.
We landed in Portland Maine to pouring rain and very cool weather. This actually felt good considering we had left 90° temps this morning. Luz was waiting in the terminal for us and was jumping up and down like a little kid who hadn't seen their parents in months.
It was great to see that big smile on her face and the energy she exudes from deep in her soul. We all exchanged big hugs, grabbed our luggage and headed out to Luz's vehicle. Remember that when I say "We All" I mean Cindy and I, and Fonda and Juergen who also flew up with us.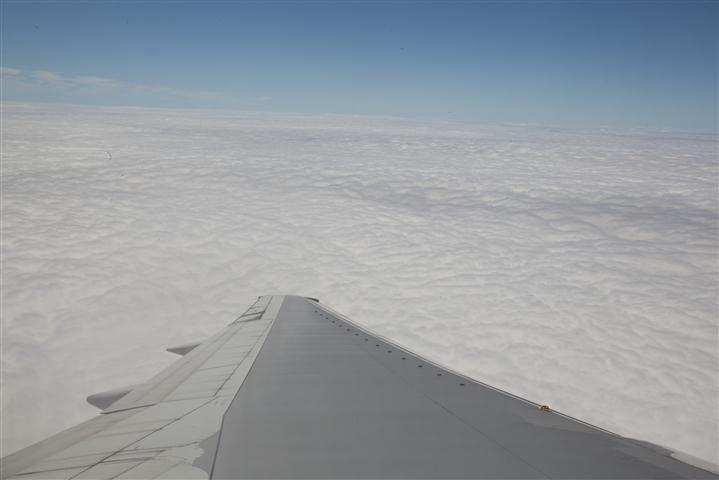 Flight to Maine over the Great White Tundra of the Tropical Storm hitting the East Coast
Kennebunkport and the coastal town of Cape Porpoise is about 45 minutes from the Portland Airport, so we all got filled in with what to expect and heard about Luz's adventure up to our arrival. We made a stop at a local grocery store to grab a few necessities and we were soon unpacking our bags at Scott & Karen's house.
For these next few days, we were going to be staying out on Goat Island where Scott & Karen act as Lighthouse Keepers, or Keepers of the Light, as their title names them. This is a historic Lighthouse that has guided mariners into the safe harbor for the last few generations.
It has a great story that goes along with it and over the next few days, we'd all hear so many stories that would make for an amazing book if you're into history. To sum it up very quickly, the Goat Island Lighthouse had been decommissioned back in the 70's when advances in aides to navigation made the use of Lighthouses something of the past.
The lighthouse had been damaged by a few passing storms and was left in a state of disarray. Scott had a great job working in the professional field when he heard they were thinking about demolishing it. There had been talk about the Coast Guard dismantling the historic lighthouses along the coast so they wouldn't have to maintain them any longer.
Scott had lived in and around the area his entire life and didn't want to see such an important part of history just be dismantled because no one wanted to maintain them. He got together with a group of like minded individuals and formed the Kennebunkport Conservation Trust.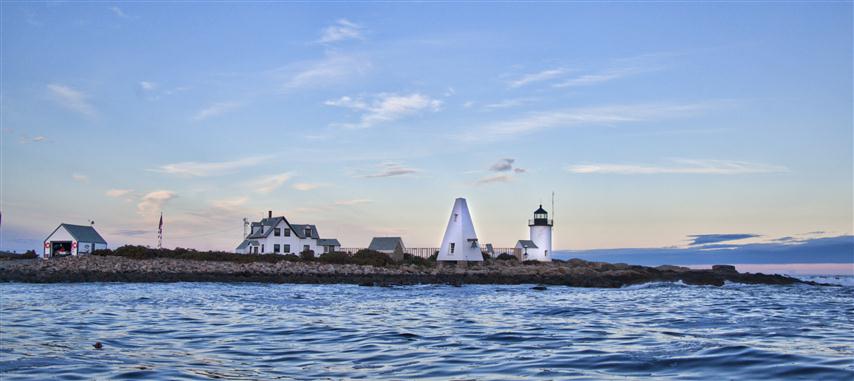 He took over the management of the lighthouse, retired from his day to day job and now the Conservation Trust owns over 13 of the surrounding islands. They are a non-profit organization that runs solely on donations and help from volunteers who spend hours and hours keeping the coastline of this Southern Maine area staying clear of development and keeping it beautiful for others to enjoy.
Back to Scott's house and us unloading our bags from the truck to repack them into a small overnight bag that was waterproof to head out to the island.
Within minutes of being in Kennebunkport, the excitement was already starting. It's pouring rain, the wind is whipping something crazy and we're going to load a small boat with our bags and head out to the lighthouse in the dark. We all know how scared Cindy is of stuff like this, so I left her with Luz to handle because she wont act like such a baby if she's around someone other than me.
Luz kept her busy and not noticing the fact that we were tossing our bags off the dock and into this pitching boat while it was pouring down rain and completely black outside. Within a few minutes, we were riding the swells out to the island and screaming to one another over the sounds of the wind and the waves.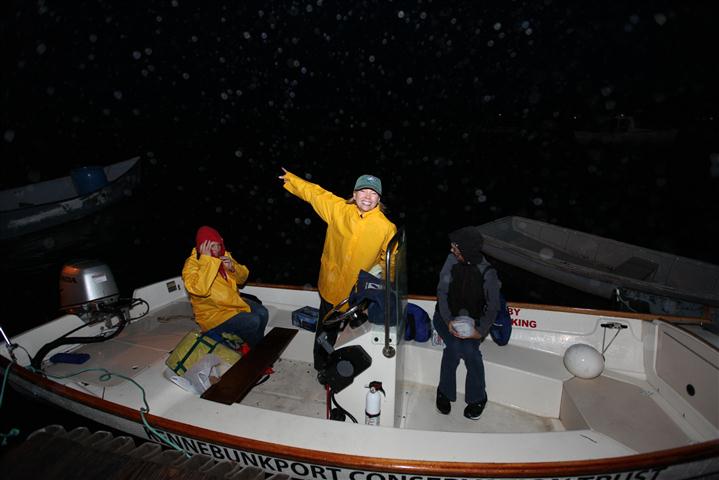 Loading the Boat to head out to the Island - Notice Luz is all Smiles!
It's just a short ride out, maybe a half mile, but I know it had to feel like an eternity for Cindy who was shaking in her goulashes.
Soon enough, I was tying off the bow as Juergen was taking care of the stern while we pitched our bags onto the rolling dock and tried to steady ourselves. Walking up the floating dock felt like I was 3 sheets to the wind (I hadn't had a drink at this point) and I'm sure if you could have been a witness to any of us trying to walk up this rolling dock, you'd have been laughing pretty hard.
I thought Cindy was going to kiss the ground when she stepped onto Terra Firma. We couldn't do anything other than run towards the keepers quarters because of how hard it was raining at this point. Soon enough, we were inside in the warmth of the cozy little cottage and it was finally time to celebrate our arrival in Maine.
We all raised a glass, toasted the fact that this morning we were almost 2000 miles South of here on a little idyllic island in smothering tropical heat. Tonight we were on another little island bundled up and huddled around the warmth of the furnace enjoying new experiences with good friends. Isn't life an interesting journey!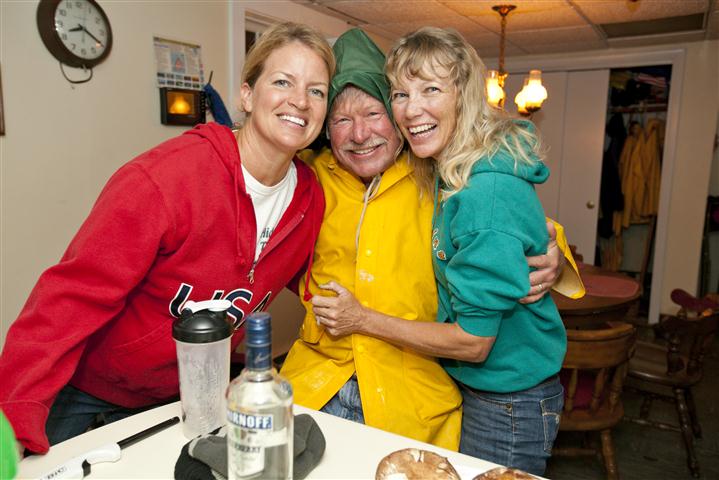 Cindy & Fonda with Scott in his Maine Boating Attire
Once we were all settled down and the adrenaline started to ease a little, we got the tour from Scott as best we could with it being dark outside and heard lots of great stories about his last 20 years on the island.
I really like the fact that while we would be visiting, we'd get to see a transformation from what it currently looked like, to what it will look like once the construction is finished. The island is basically a construction site right now and has been all summer. Due to a very large donation from a generous Conservation member, they are in the process of converting the island back to what it looked like before all the storm damage that has happened in the past few decades.
There used to be a covered walkway that led from the Keepers Quarters to the Lighthouse so back when the keeper had to light the beacon by hand each night, they could do so without having to go out into the nasty weather.
The walkway had been damaged decades ago and never rebuilt. Scott and Karen and the Conservation Trust have rebuilt the Bell Tower this summer, years ago they added a modern LED Light to the top of the lighthouse that is powered by a solar array and this covered walkway will be the last step in bringing the lighthouse back to its original glory.
Remember that this is all being done under the strict guidelines of the Historical Society, so if you've ever dealt with a situation like that, then you know that this is anything short of a speedy process.
Normally at sundown, a cannon is shot off and the giant bell is rung to signify that the day has ended. Since tonight it was dark by the time we arrived in Kennebunkport, we'd have to enjoy those activities tomorrow evening.
Tonight we had a great dinner cooked by Luz and Scott and all sat around laughing our heads off. I think due to the long day and adrenaline rush of the boat ride over, the evening was draining on most of us. Once that food hit my stomach, it was all I could do to keep my eyelids open. Cindy and I excused ourselves and headed up to our bedroom where I think we were both asleep within seconds.
I was really looking forward to seeing this place tomorrow in the early morning light.
Sunday September 4th - A Day of Rest...NOT
After yesterday, I woke up early this morning feeling like I had been in a nasty bar fight. Every muscle in my body ached. I had sunburn on my lips from being out in the water all day long which made it feel like I was chewing on sand paper, my back ached when ever I moved and my eyes were so swollen from laughing all night long that I looked like I had been beat up.
We spent the morning cleaning up and getting things put back in order before we headed down to the Pickled Pelican for lunch.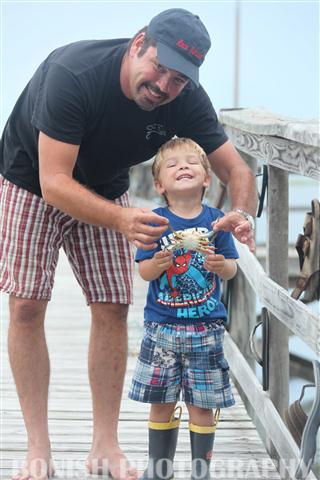 That's what we all needed! Good food and big, mason jars filled with sweet tea. It'll cure what ales ya'.
You know what follows a big lunch don't you? A long overdue nap.
I think it was what all of us needed to recharge our batteries. The afternoon was spent playing around on the dock with Jeff and Evan catching Blue Crabs with some string with chunks of scrap chicken tied to the end.
Jeff and I had hung up a Ring Toss Game in the Tiki Bar on Friday afternoon and we've played it so much over the past few days, we broke the string tonight. We re-hung it and played non-stop till it broke again...LOL Rough life aint it!
Just when you think the weekend is over, it picks back up and next thing you know we're all sitting around telling lies and knocking back cold ones.
Jeff had brought up some Florida Lobster Tails he had caught and Jen grilled up some juicy steaks and we all ate like Kings and Queens tonight.
No matter how hard they begged, I wouldn't let them spark up the karaoke machine tonight, and it actually started to rain right after the sun set, so we headed into the house where we'd be able to be as loud as we wanted and not risk running anyone else off.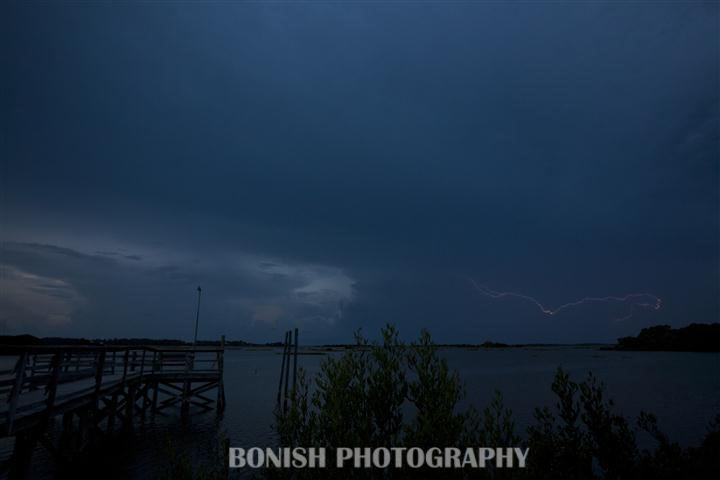 Notice the Lightning Bolt Zig-Zagging in the Right of the Photo
We sat inside in the nice A/C and talked till wee hours of the morning. It was good to see Jeff and Jen again and it had been way too long to be apart.
Saturday September 3rd - Longest Day of Partying Evar!
We had big plans for this weekend with Jeff and Jen visiting. Our friends Hazie and Amanda invite us almost every weekend to go to Jack's Sandbar on the Suwannee River with them. Normally we have check-in's and check-out's to deal with, but when we're full at the motel for the entire weekend, it makes it easier to go out and do fun stuff like this.
We were up early and did a quick check on the rooms to get them all squared away, then packed up some bags (Always have to bring more stuff when Kids are involved) and we met Heath down at his dock.
We'd be taking his big boat from Cedar Key up the Suwannee River so we'd have a boat big enough for all of us to be comfortable on.
The sand bar is 10 miles up the Suwannee River and the mouth of the Suwannee is 8 miles north of Cedar Key. This means we'd be motoring at a high rate of speed for about an hour just to get to where the party is, but it gave us all plenty of time to suck down a few beers and work out the grogginess from last nights party.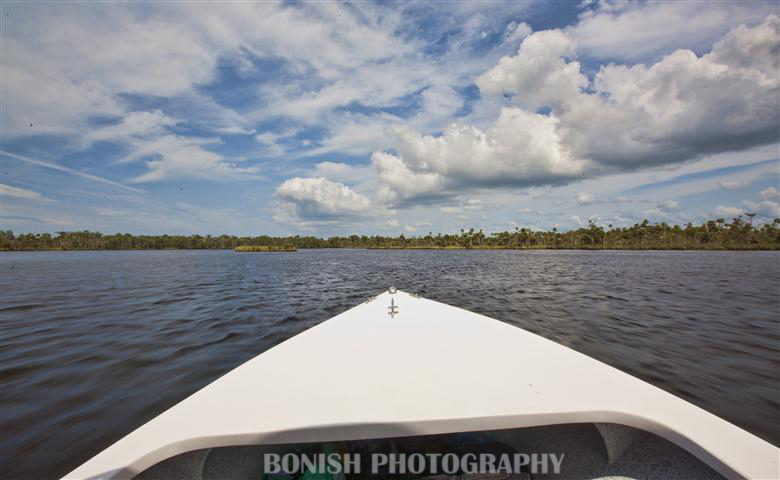 The day was about as perfect as one could ask for. Big fluffy clouds in the sky and a temperature in the high 80's which would make the sand bar nice and refreshing.
From the rumors we had heard, the sandbar can be anything from 10 boats to a few hundred. I was thinking that since the schools had all gone back into secession last week, most families would be spending time close to home, so hopefully it wouldn't be too crazy.
There were about 20 boats anchored into the dark tannic water when we pulled up, and all our rowdy friends threw out a cheer as we motored up. Let the games begin.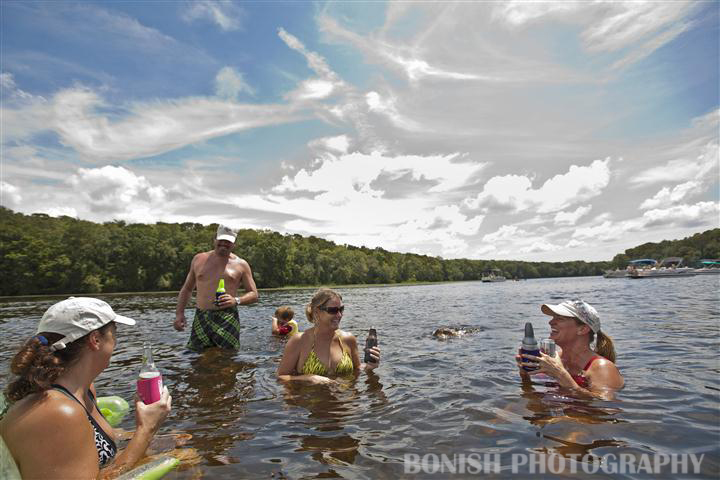 The next few hours would be spent wading from boat to boat mingling with tanned bodies and enjoying the beautiful day. Isn't this what Labor Day Weekend is all about?
Being as we had to open up the Tiki Bar at 5:30 when it's normally supposed to open, we had to watch our time. We had pulled out at 11:30am and it had taken us an hour to get up here. We knew we'd have to stop at the Boat Launch at Fowlers Bluff to get fuel for the boat, so we wanted to give ourselves ample time to get back to Cedar Key.
After a few hours of partying with everyone, we said our goodbyes and most said they'd see us at the Tiki Bar tonight.
We loaded up and headed back down the Suwannee River towards the Gulf of Mexico.
Pulling up to Fowlers Bluff General Store, it's good to be running with the right people. Heath knew the guy who owned the place, so when I had gone inside to get an attendant to help us with the fuel and said who's boat we were filling up, the owner brought us out a heaping pile of BBQ Ribs he had just pulled off grill.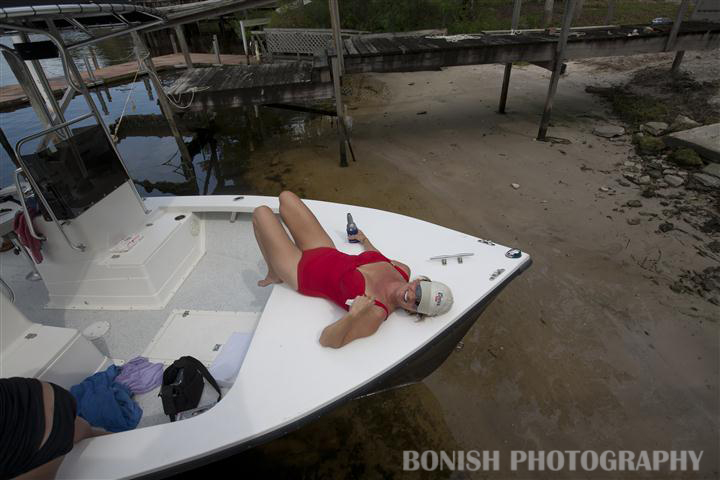 This was just what the doctor had ordered for a bunch of people who had been drinking on the river all day long.
The owner asked if we were going to head down to his waterslide and Heath looked at me and said with a big smile on his face "I'm sorry Pat, but you're going to be late opening the Tiki Bar tonight."
Sometimes I guess you just have to go with the flow. I wasn't too worried about getting fired for being late to work, and a big water slide that ejects you out into the Suwannee River sounded like a riot.
We pulled up to the dock beside the waterslide and everyone was scrambling up the gangway to be the first one to go down the chute.
I wasn't sure what to expect, but when I saw Heath come screaming out at about 30mph about 10' off the water, I got a smile so big I almost dropped my camera. I don't care if we even open the tiki bar at this point. Lets just spend the rest of the day right here.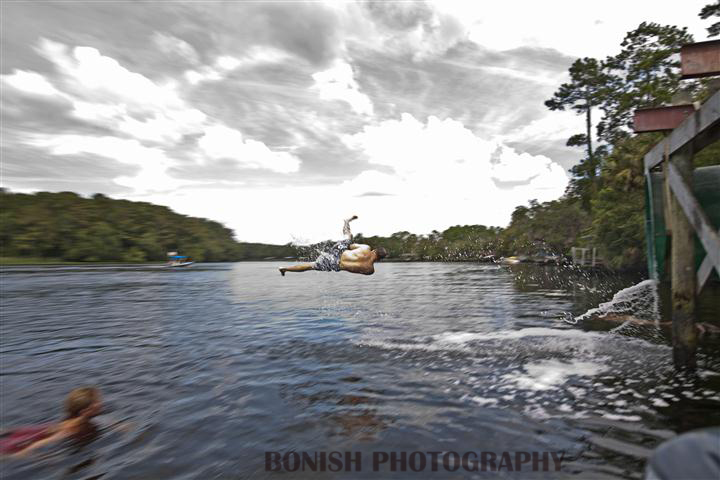 That's Heath coming out at a high rate of speed
Just so you know how fun this thing was, Cindy is afraid of heights, hates to go underwater and she slid down the slide about 6 times....screaming and laughing the entire time.
The chute has a twist and a lip right at the end of it that ejects you up in the air. The entire thing is about 30' long, so you have plenty of time to pick up speed. Us guys were running and jumping into it to get even more speed, so we were coming out of it like a bullet out of a gun.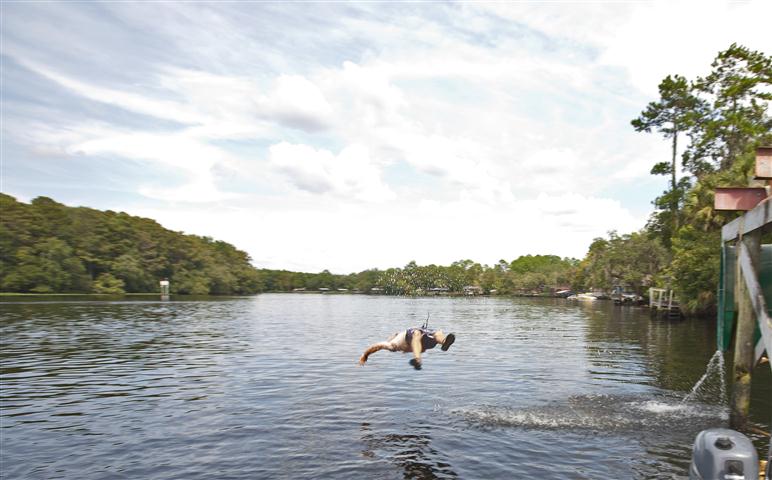 That's Me upside down and yes, I landed like that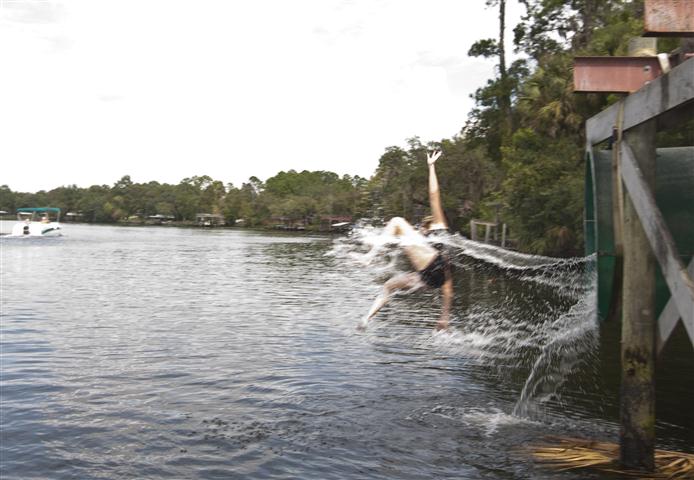 Jen coming out as graceful as a bull in a china shop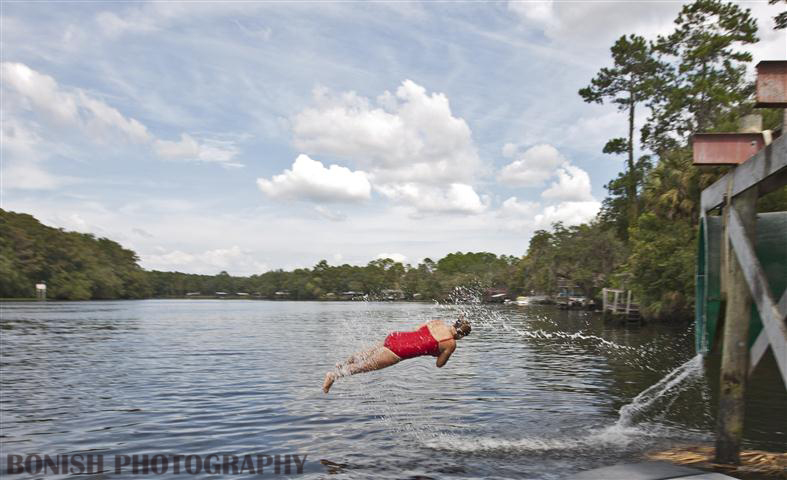 Good Form Cindy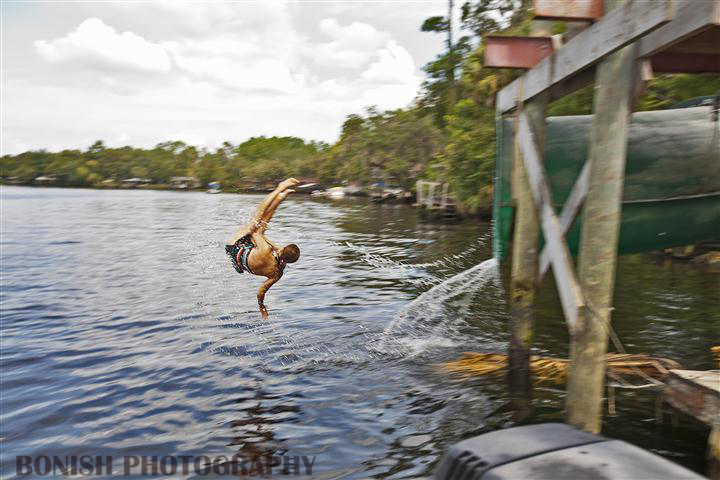 Jolie's got her Toes Pointed for Points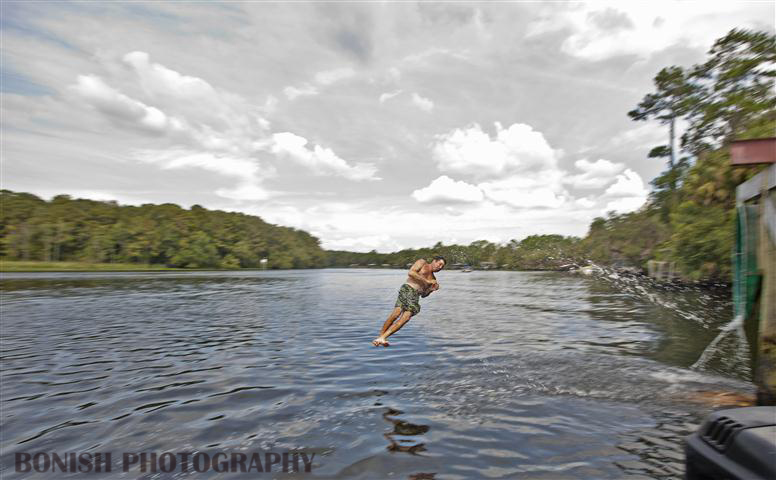 Jeff chanting 'Light as a Feather, Stiff as a Board'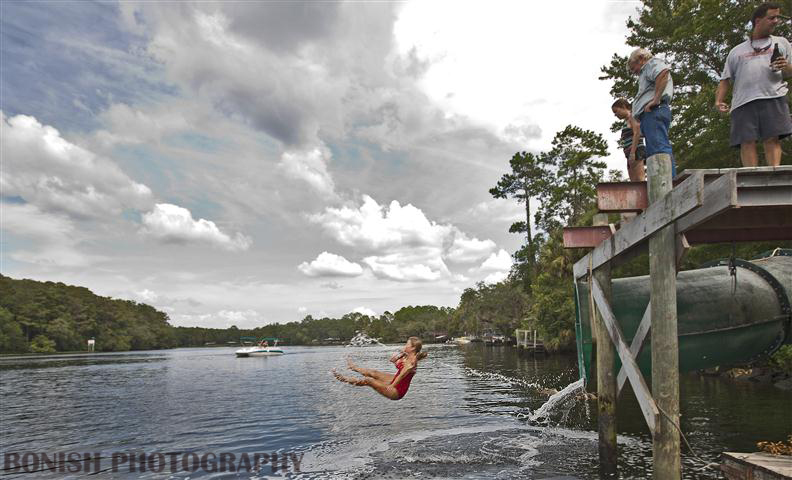 Cindy going for that 30mph Water Enema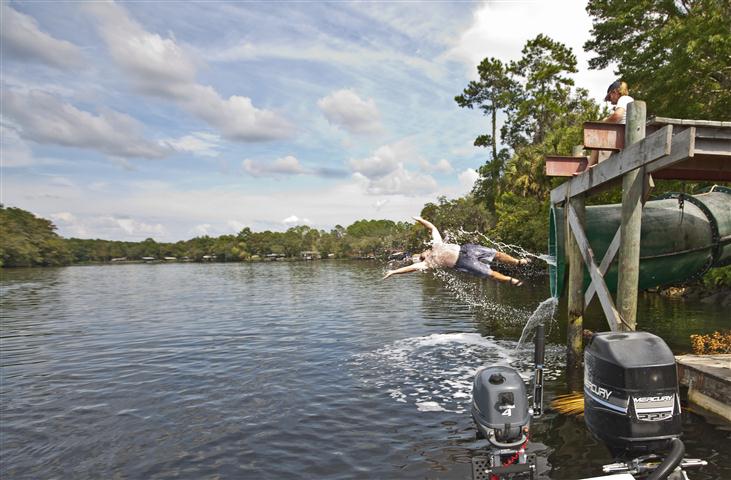 Me coming out face first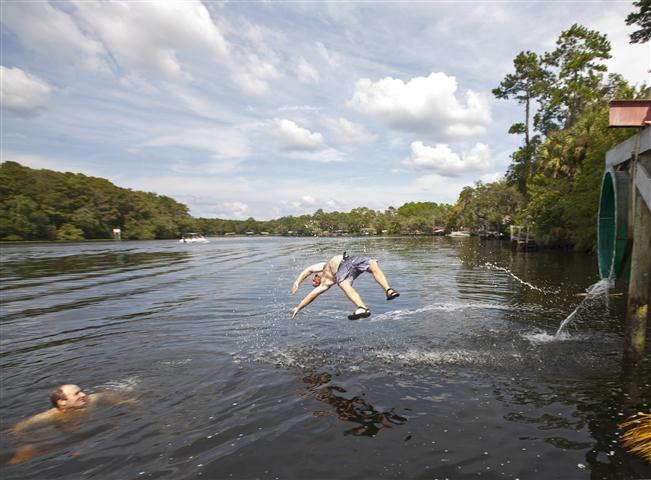 and Missing my tuck
About an hour later, all of us were wore out. I'm not sure if it was from the slide or from how hard all of us were laughing. Even those that didn't go down the slide were laughing hysterically. If we lived somewhere that the water was deep enough to have something like this, I'd use it every day!
Now, here was the hard part. After spending an hour running up a multi-flight staircase, only to be hurdled down a slide that would smack you into the water at about 30 miles per hour, everyone of us was ready for a nap. Problem was, when we pulled up to the dock behind the Low-Key Hideaway, there was people waiting at the tiki bar.
No Nap for me. We unloaded the boat and went to work. A little while later, Hazie, Amanda, Kevin, Nicole, Harold and a whole mess of others showed up with the Karaoke Machine. Remember when I said this was the longest day of partying ever, we'll it just got longer.

Kevin, Harold & Hazie having too much fun at the Tiki Bar
The tiki bar went from a bunch of people having fun, to a bunch of wild people singing, fighting over who got to use the microphone and dancing around like a bunch of wild people. Cindy was the ring leader in all of this.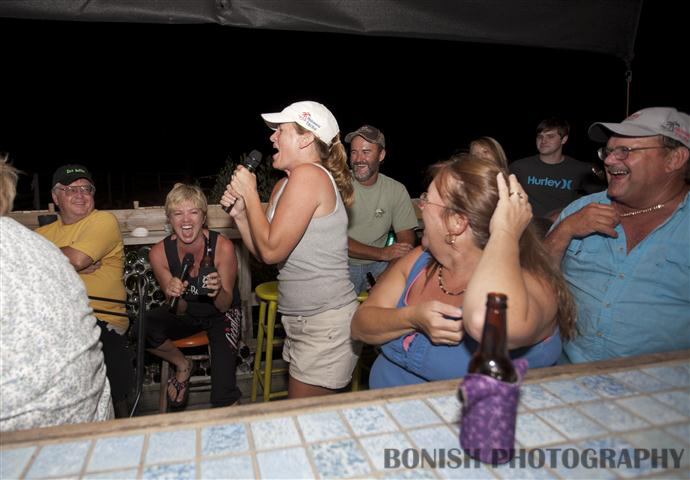 Cindy and Jen doing something to make the crowd laugh
At one point, two guests who were staying here in the campground and were sitting quietly watching the antic's going on said to me "That last duet (Jeff & Hazie) was some of the best entertainment I've seen in my life, and I've traveled all over the world."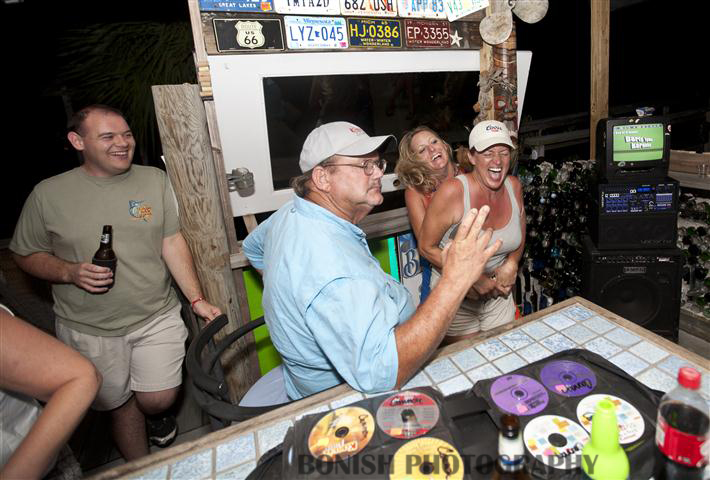 Cindy and Amanda fighting over the Microphone while Harold tries to decide which one ot backhand first
Cindy and Hazie sang duets, Jen and Amanda, Jeff and Jen belted out a rockin' rendition of the B52's 'Love Shack' and there is video of Cindy dancing to Hazie's rendition of Sir Mix Alot's 'Baby Got Back'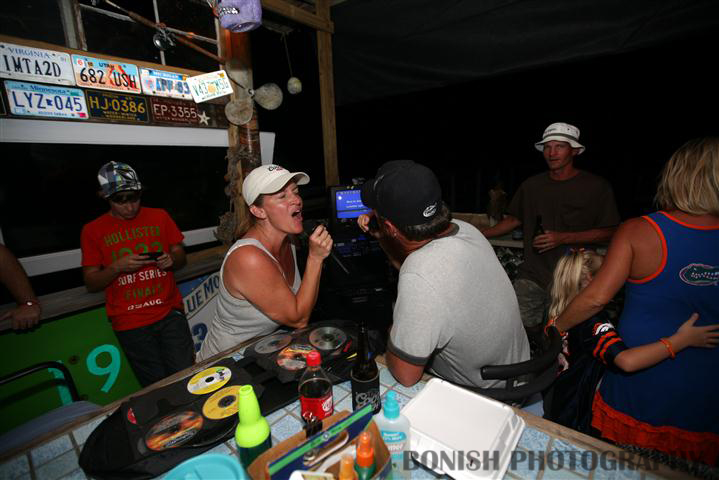 There were a few times that I told Cindy it was getting a little out of control and she needed to turn the Karaoke down. We had already had a guest leave because they said the party was too loud last night and they thought this was going to be a quiet, relaxing weekend for them...OOPS!
Around 11pm, I told her she had to turn it off or at least turn it down. She was high on Karaoke Excitement and walked over and turned the volume dial up and kept singing.
Around 12:30am, I told her if she didn't turn it off, I was locking the cooler doors and going to bed. She just kept singing and a little while later I locked everything up and went in the house.
From what I heard before I fell fast asleep, they were still out there partying for another hour!
Friday September 2nd 2011 - Jeff & Jen In For the Weekend
Its amazing that we've been in Cedar Key for almost 2 years now and we've yet to have a visit from our good friends Jeff and Jen. This is the couple we stayed with when we visited West Palm Beach in our first two years on the road.
They're the ones who have the big tiki bar in their back yard. The ones with the awesome karaoke machine and the ones who are so fun to party with.
Seems with a 3 year old kid, traveling for party weekends is something of the past for them. We had called them awhile ago and said "Ok, this is ridiculous, you've got to plan some time off and come visit!"
They said the next time they would be able to would be this holiday weekend because Jeff would have time off from his job. Remember he's also the one who made Cindy's teeth when she knocked them out in the bike incident, so we owed him big time!
Well they finally got here this afternoon and the fun began! The last time I had seen Evan, he was just a toddler crawling around and taking a few steps here and there with the help of adult hands holding him up.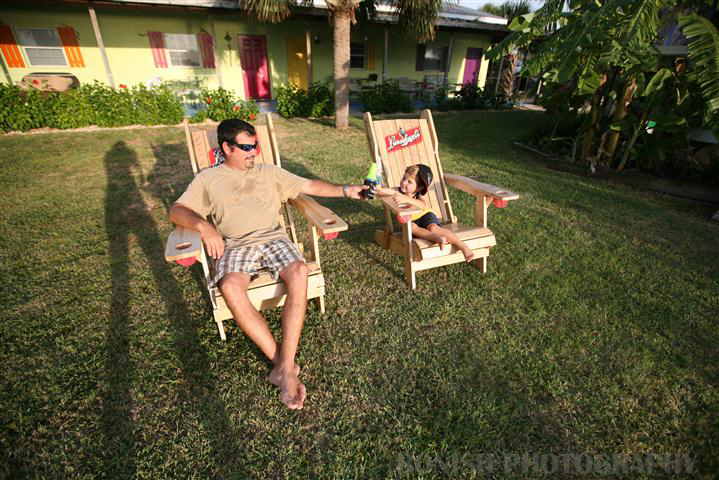 Jeff & Evan toasting to the start of a Great Weekend in Cedar Key
Not any more! He's now 3 years old, has an amazing vocabulary and is a hand full with the amount of energy he has.
We all sat out at the tiki bar making small talk and catching up on lost time since our last visit. It wasn't long before people started showing up for the nightly ritual of the Sunset Celebration.
For some reason, the bar was filled with people who all had dogs with them tonight. At one point, there were 3 Yorkies, a 150lb Bull Mastiff, a Jack Russell Terrier, a Lab mix, a Blue Pit, a Baby Squirrel and 2 Weiner Dogs....Only in Cedar Key Florida would you walk into a Tiki Bar ad find this mixture of animals.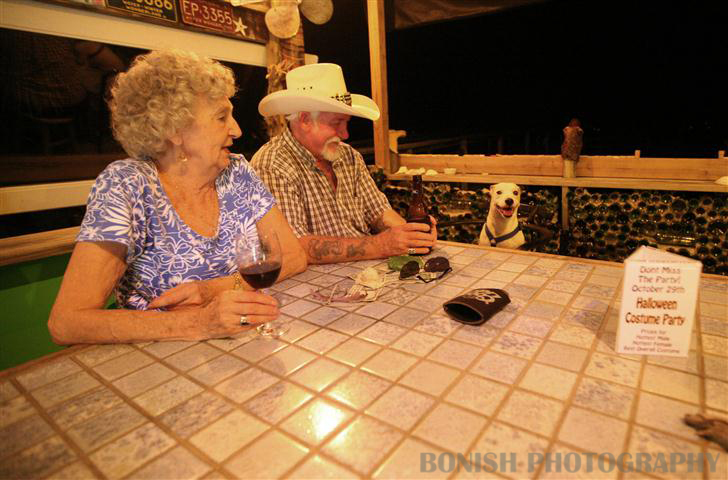 A Nice Couple from New Zealand with their Jack Russell Terrier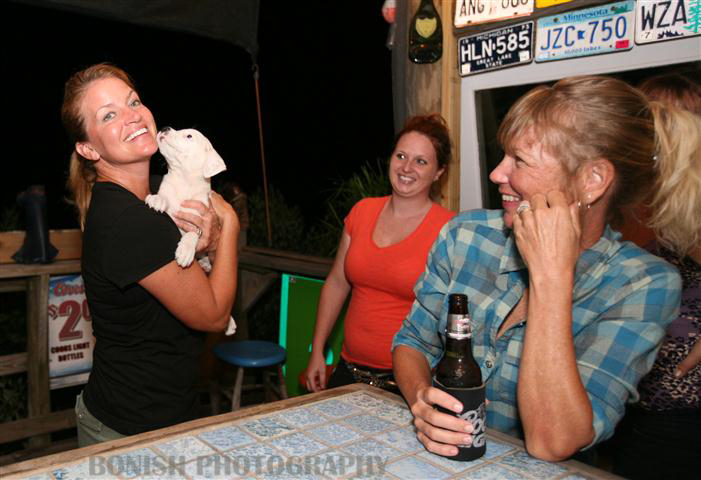 Cindy with a baby Pit Bull Puppy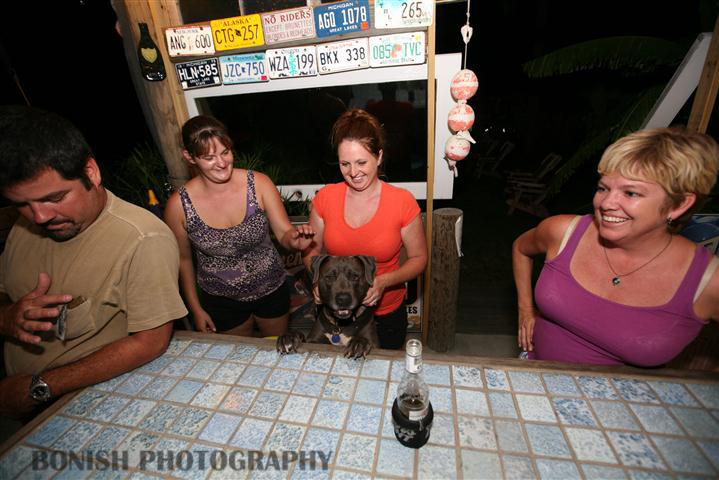 Notice Jeff petting the Baby Squirrel in his shirt pocket and the Blue Pit wanting another Beer
The combination of owners with these dogs was as interesting as the mix of dogs themselves and it was a great night in Cedar Key.
The sunset was somewhat of a bust tonight because of the storms blowing through, but the breeze kept the bugs down which was perfect.
I'm not sure if it was a good thing that the tiki bar stayed open till after midnight, but everyone out there had a lot of fun. It was those who chose to go to bed early that were probably not too happy with the rest of us...but Hey, it's a holiday weekend.
Thursday September 1st 2011 - The Start of the Holiday Weekend
The past few days have been non-stop work to get everything ready for this upcoming Holiday Weekend. We're booked solid and we had to get all the stone spread out front, get the yard groomed to our standards and all the beer restocked for a big drinking weekend.
The foot has been really sore the last few days, but with my shoe tied tightly, I don't pay it too much attention. Cindy is quite the slave driver, so there is no chance for me to be sitting around whining about a hurt foot anyways.
By this evening, we had everything ready and we hung out at the tiki bar with some local friends. There was a wild storm that blew through Cedar Key but never dropped any rain, just a bunch of really cool clouds and some heavy winds.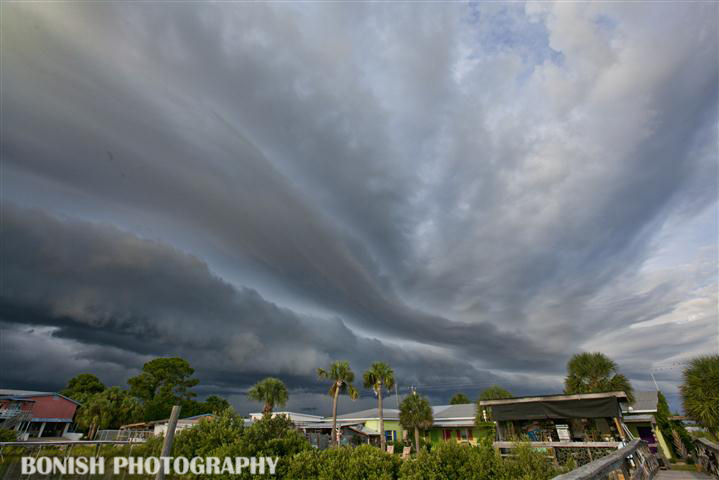 This is the front line of the storm blowing over the Low-Key Hideaway

Same Front, but looking from the end of the Dock out over the Gulf of Mexico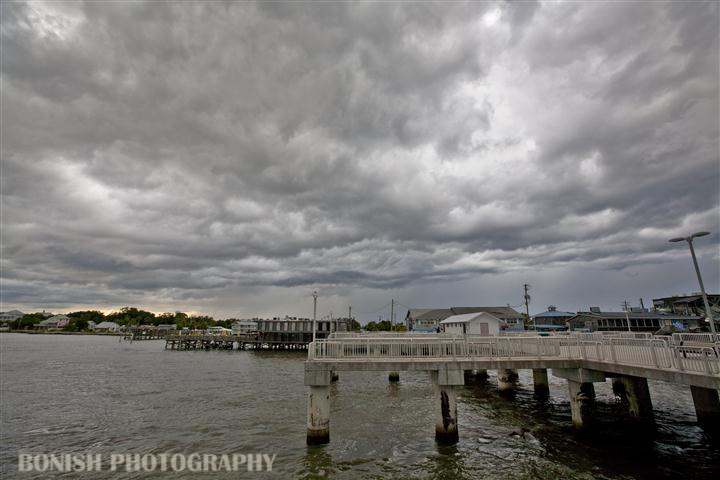 Sitting on the Pier in Downtown Cedar Key, this was the storm blowing over us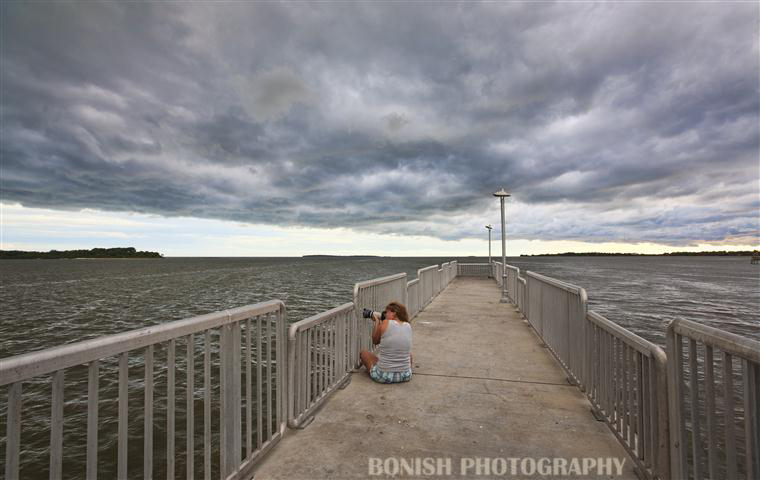 Cindy sitting on the pier shooting the storm as it blows over us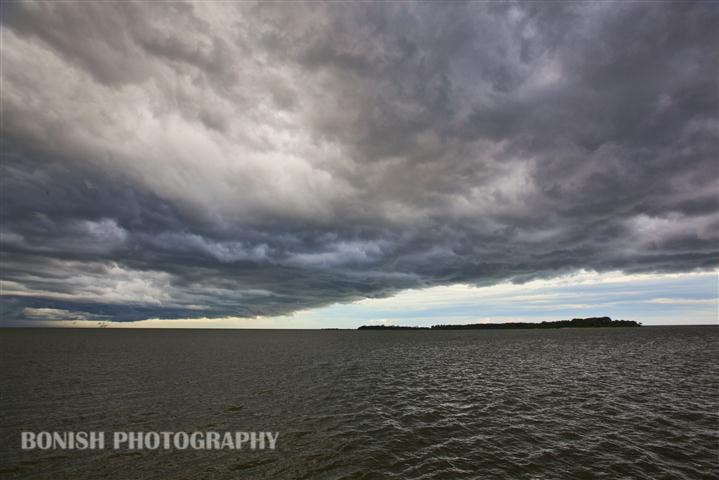 This was the image she took from her view in the photo above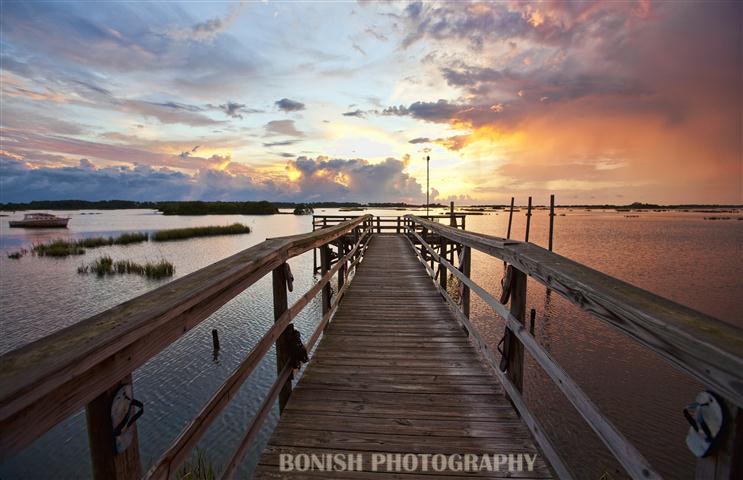 When the storm finally passed, this was our final Sunset that night
One of my favorite things about living on the water is to be able to just sit and watch the storms blow through. Being as we're a few miles out into the Gulf of Mexico, clouds and storms rarely hang out, so watching them move through is so fun.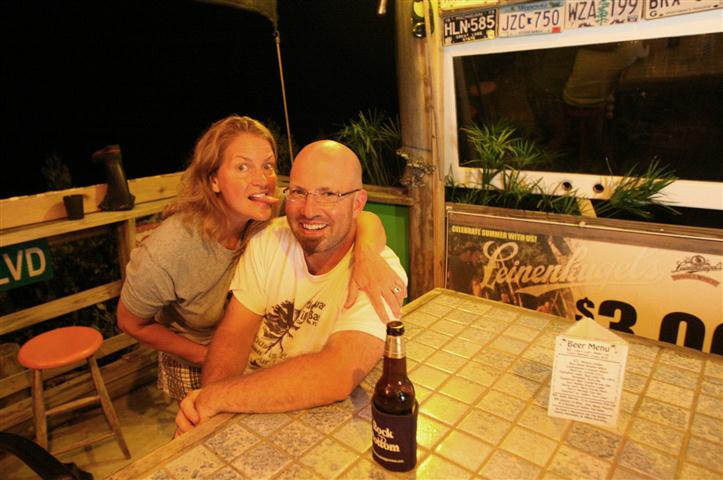 Our good friend Kevin snapped this photo of us sitting at the tiki bar just kicking back and hanging out. We're both really looking forward to this weekend.
___________________________________________________________________
Photo Gear We Use - Solar Tips, Fact's and Trick's we've learned while on the road
Camper Check List - A list of things we do before leaving camp. Again, this isn't gospel, but its a good start for those who might not already have a list made up.
Return to Top of Page
Need Unlimited photo storage- FREE Trial of Smugmug