When we realize our insignificance in this world,
it some how relieves the pressures from society to succeed -
Cindy Bonish 04/07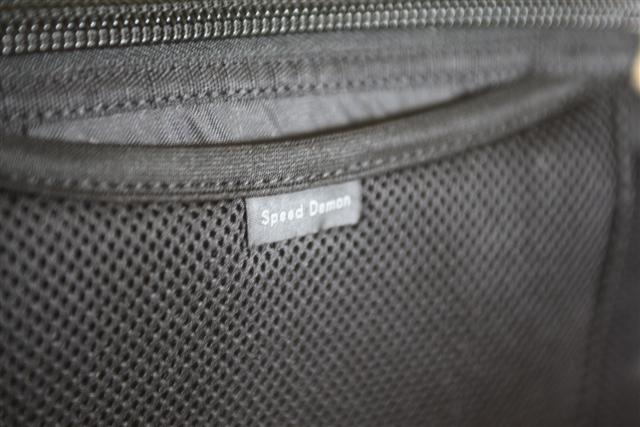 ThinkTank Speed Demon Beltpack Review
As a working photographer, my needs seem to always be changing when it comes to how I'm carrying my camera gear. The Events, Weddings, Model Shoots and day to day photography is always demanding a different situation and requiring me to carry a mix of various equipment to get the shot.
At one point, I had a closet filled with camera bags that all filled various needs. That was till I found ThinkTank and their line of camera bags. I've now narrowed the collection down to 3 specific bags that are all different, but fill a specific need I've come to require in my style of shooting.
I've done reviews on the Street Walker HardDrive backpack, which was my first piece from ThinkTank. You can read that review here if it's something you're interested in.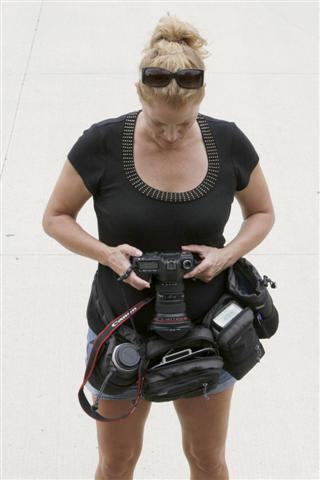 My next piece which has been used on almost every shoot I've done since owning it was the ThinkTank Modular Belt System. It can be added to or adjusted with different pouches and items for each shoot and it should be winning awards for it's design. I've yet to find a flaw in this rig other than when wearing it for extended periods, it would put the weight of the belt on my hips which I'd never notice at the time, but the next day I'd feel like someone had smacked me on each side of my waist with a baseball bat.
This was solved with the addition of the Pixel Racing Harness™ V2.0 that pulls the weight of the belt system off your hips and allows the shoulders to distribute the weight of a fully loaded belt. Problem solved and it's the best system for weddings, event coverage and shoots that require you to have everything within reach at a moments notice.
I still had a void I kept running into on certain occasions which was recently solved with the addition of the ThinkTank Speed Demon Beltpack. There were situations where I didn't need to be carrying around excess gear in the backpack, I only needed one or two camera bodies each with their specific lens so I wouldn't be needing to strap on the belt system, but I might need some extra batteries, a flash or two depending on what I'm shooting and I didn't want to draw attention.
One thing I've found with the Modular Belt System is the comments and attention it draws. If you're trying to wear it at anything other than a event where they understand why you have it on, plan on answering lots of questions about it from curious onlookers who might have never seen one before.
The backpack is great when needing to bring lots of gear, but if I'm simply shooting a model for a quick session or walking around a park for the afternoon, sometimes I dont want to lug all that gear or draw any attention to myself.
The ThinkTank Speed Demon Beltpack fills that void perfectly. It's small, blends in very well and has so many ways to carry it, I'm still figuring out new ones.
It can be worn as a belt around the mid-section with the included waist belt. This is the most comfortable way to carry it and I've found that if I need to bring any of the Modular Belt Components, they can be strapped on to increase the carrying capacity.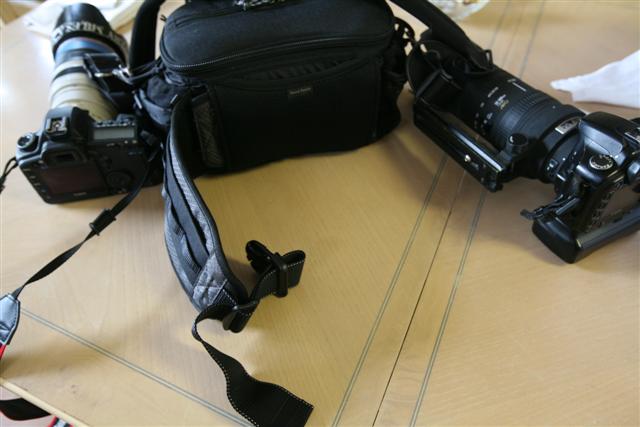 With the Waist Belt out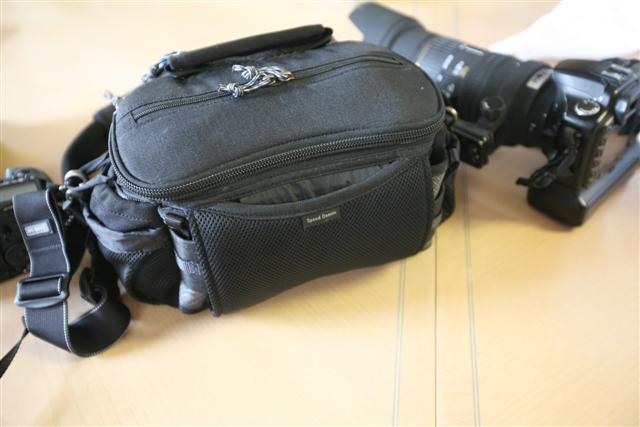 With the waist belt tucked behind the padded back portion
It's almost embarrassing to say, but since I've got this latest bag, it's become my Man Purse. The shoulder strap has a padded section that is very comfortable and has a piece of sticky material on it that keeps it where it should be on your shoulder. This keeps you from always having to adjust the strap due to sliding down. It stays put and is super comfortable to wear for extended periods.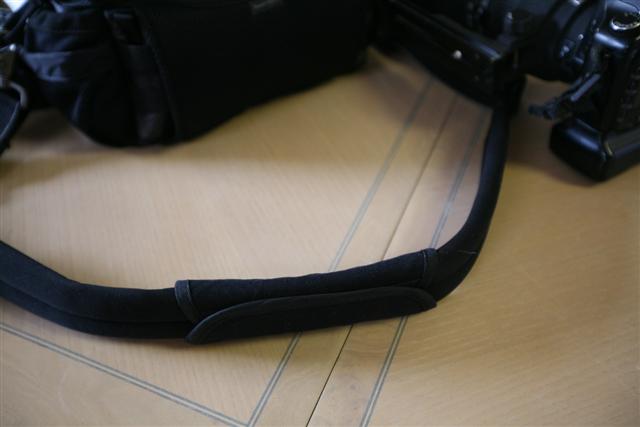 The padded Shoulder Strap
The Speed Demon is the perfect size to throw a bottle of water in one of the two outside mesh pockets, a granola bar in another, keep a note pad and some pens in one of the other interior pockets, a stack of business cards at the ready, the flash with some extra batteries and a spare lens or two.
What I like best about it, is the ability to carry it so many different ways. I can keep it slung around my shoulder while walking around. I can strap it to my waist if I'm going to be hiking, climbing or riding the bike. If I want to hide the waist belt system, they simply tuck behind the padded section on the back and it takes on the look of a small black purse/bag that totally blends in if in an Urban environment.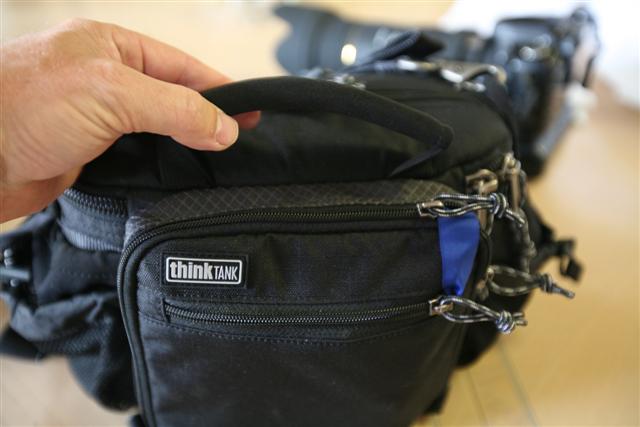 The Padded Carrying Handle on the front of the bag
It has a nice padded handle that allows you to carry it like a very small duffle if you were flying and didn't want it to be swinging from your shoulder while boarding the plane. Dont be one of those guys/girls that has the bag slung over their shoulder and smacks every person on the shoulder while walking down the isle.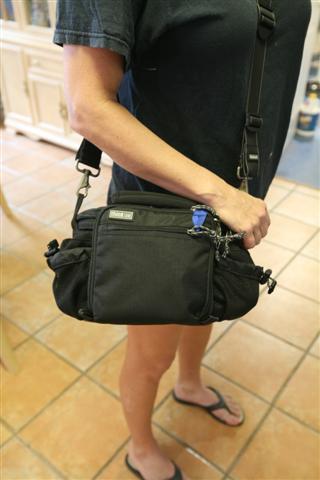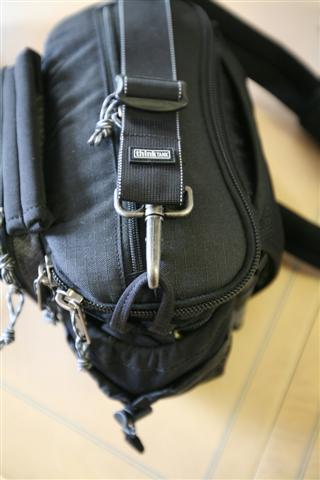 The padded Shoulder Strap has quick release buckles so taking it off to board the plane or stow it take seconds. The attachment points are built stout and look like they'll last a lifetime.
Carrying the bag around your shoulder, it hangs perfectly at your waist and like I've already mentioned, unless you're a Camera Know-It-All, you'd never pay it much attention that it's a camera bag. It can simply blend like you're wearing a shoulder bag or a purse (If you're a woman, I guess it's a Man Bag if you're a male)
It's really a jack of all trades and has become my number one bag that goes with me everywhere. I've found that I simply keep it loaded up with one of my Flashes, a few sets of extra batteries, one of the Pixel Pocket Rocket™ holders that carries extra Compact Flash Cards and I always have a small bag to grab at a moments notice.
A few of the features that make the Speed Demon so unique, and makes ThinkTank the company they are.
If wearing the beltpack around your waist and you need quick access to the interior of the bag, but dont want to unzip the entire top of the bag, there is a quick access zipper that allows you to reach in without opening up the entire bag. Very useful if you are simply grabbing batteries or need to reach in without drawing too much attention.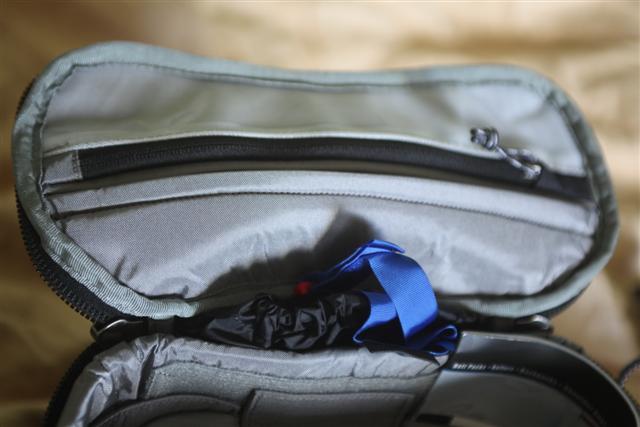 The Clear Pouch on the inside of the lid. The blue strap connects the Rain Fly
There is a clear pouch on the fold away lid so you can see the contents of what you have stored in there without having to go searching.
The buckles, zippers and pull-tabs are all typical ThinkTank quality and will probably outlast the life of the material they're sewn to. Not that anything is budget about the material itself. My Street Walker HardDrive backpack that has seen multiple years of non-stop abuse looks as new as the day we got it.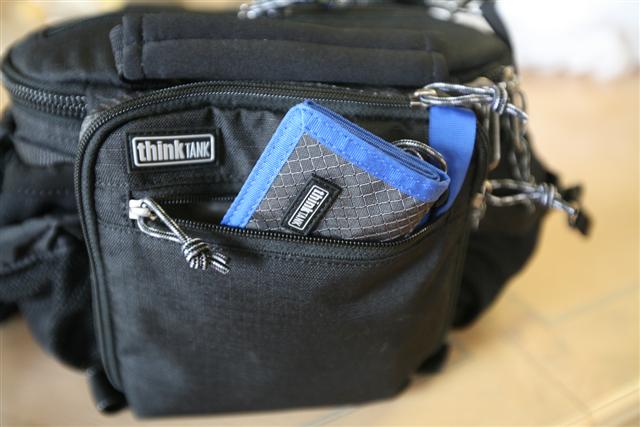 ThinkTank Pixel Pocket Rocket peeking out of the Speed Demon
The amount of pockets this small bag has is amazing. The interior has thick padding that is interchangeable to accommodate just about any sized DSLR body with a small lens attached (I think their website says up to a 24-70 f/2.8 lens attached) That padded section is also removable incase you need an inch or so of extra space.
I almost never carry a camera in the bag, so I've yet to test this feature. I'm more the type who always has the camera out and at the ready, and the bag is to carry extra gear.
There is a waterproof cover that sits inside the bag incase you get caught in a downpour. It's not going to give you 100% access to the contents of the bag with the cover on, but who in their right mind is going to opening up a bag in the pouring rain. Just the fact that ThinkTank included the rain cover is a bonus in my mind. Other Camera Bag makers usually make you purchase their rain covers at an extra cost. I love that ThinkTank throws these items in with their bags.
One of my favorite designs of the Speed Demon is the way the lid flips out away from the person wearing it. I used to have another bag similar to this, but the lid opened up towards me which meant one hand/arm had to be wrestling with the lid while the other was fiddling with what ever piece of gear they were trying to get.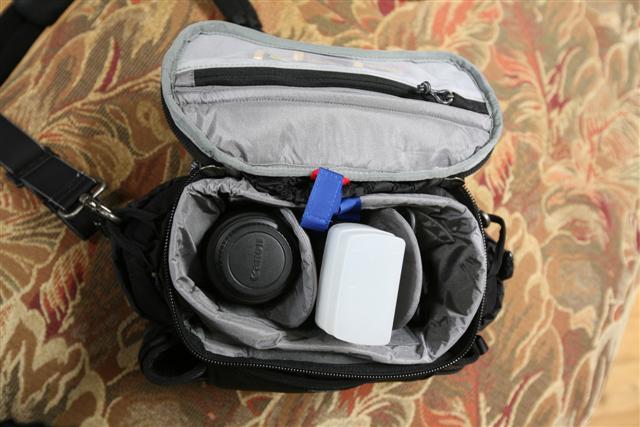 This is with the lid opened away from where it would be resting against the body - That's a 24-70 f/2.8 with the hood in shooting position and a 550EX Flash
With the Speed Demon, you simply unzip the lid, fold it out AWAY from you and have full access to what you're trying to get to with the use of both hands. I've found if I'm shooting and have the bag around my waist with the belt, I simply leave the lid unzipped but folded down so I can reach in and grab that second lens or grab the flash without having to unzip the entire bag.
Conclusion
After years of testing and putting dozens of bags through the paces, I think I've narrowed the search down to a few choice bags that each fill that specific niche.
The wife is extremely happy because the closet that used to be filled with dozens of various bags has been narrowed down to 3 perfect ThinkTank bags each used for their specific purpose.
The Speed Demon is my new go-to bag for everyday carry and the jack of all trades that does the job 99% of the time. Thanks ThinkTank for designing such awesome bags!
Return to Top of Page
Need Unlimited photo storage- FREE Trial of Smugmug