When we realize our insignificance in this world,
it some how relieves the pressures from society to succeed -
Cindy Bonish 04/07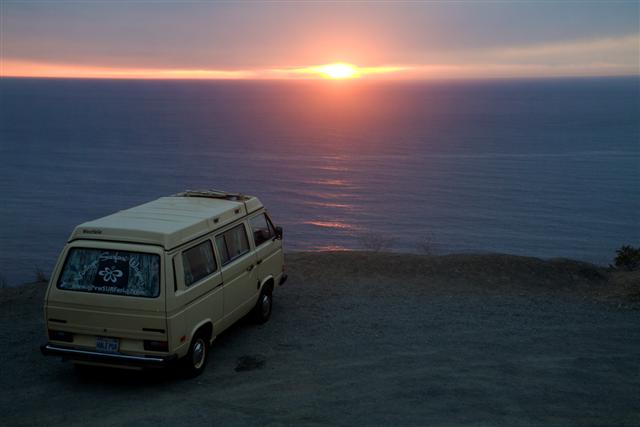 Pat's November 2009 Blog
If this is your first time here, you might want to start from the beginning of our fulltime RV Journey with our Past Blogs
If You Don't Know Me Yet, Click Here to Read Pat's Bio
Photo Gear We Use - Solar Tips, Fact's and Trick's we've learned while on the road
Camper Check List - A list of things we do before leaving camp. Again, this isn't gospel, but its a good start for those who might not already have a list made up.
****
Tuesday November 3rd 2009
The last few days here in San Diego have been a flurry of getting things ready for the VW Bus adventure, having Jeff fix or reorganize things in our camper and eat like Kings with Mike and Jeff's family.
Jeff is the type of guy who knocks on the door each morning asking "What can we do to your camper today?"
He found out we cant get a Television signal and was on the roof with a volt meter checking the antenna strength, following the cables around the camper checking for a bad connection and checking online to see what is wrong with our televisions.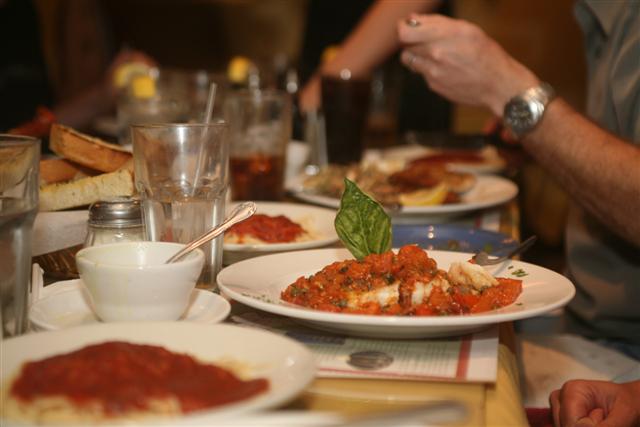 We haven't watched TV in a few years, but this bothered Jeff that we didn't have the ability to since his normal Television will get hundreds of HD Channels.
When we finally figured out that I had been duped when I purchased both of our TV's and they dont have Digital Tuners in them, we all had a good laugh. This sent Jeff on a search for a Digital Tuner Box that could allow both our TV's to tune in off of one box.
Jeff would comment on how dirty the camper is and start to get out his power washer before I could talk him out of it or get him to stop.
That's just the way he is and its great to see someone with more energy than I have. Probably one of the reasons we get along so well.
We spent the entire day on Sunday over at Mikes house taking down Halloween decorations and Mike repaid us on Monday by taking us all out to dinner at an amazing Italian place.
They all kept talking about this place and how mouth watering the food is. I was told of the owner who is straight out of the God Father movie and 100% old world Italian.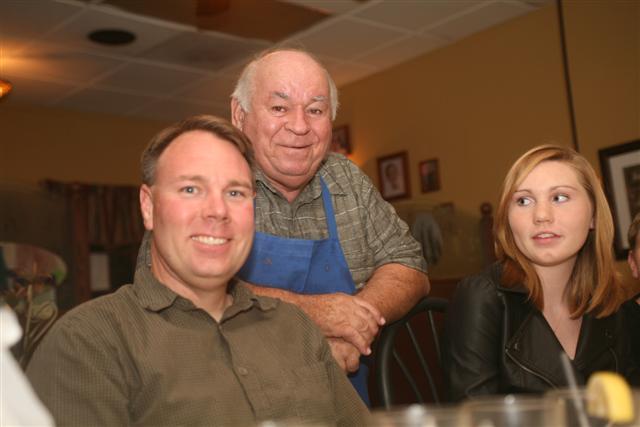 True to the rumors, when Vito walked up to our table to introduce himself, you would have thought it was a joke he fit the bill so well. But true to the rumors, the food was everything it was touted to be and hours later after multiple courses of pastas with thick, home made sauces, we all crawled out of there stuff to the gills.
Yesterday we went down to Solana Beach to one of our Favorite Pizza Places and gorged ourselves on pizzas and award winning, home brewed beers.
Those who complain about life's hardships should just sell everything and hit the road fulltime. The people we meet along the road take such good care of us, its like having family in every town we visit and I love every second of it.
Cindy and I were hoping we were going to get a little vacation from the dogs when Mike and Julia offered to watch both of them while we're acting like Hippies in the VW Bus.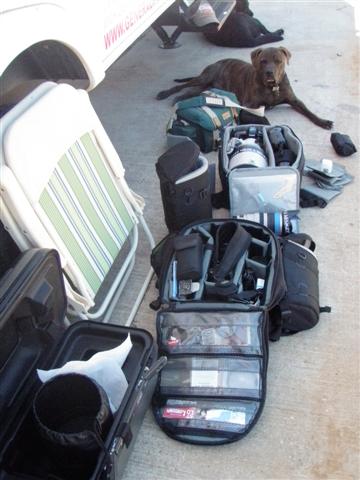 That was till Luca decided he had to mark his territory thinking he now owned the house. Mike and Julia have a beautiful house, and the last thing anyone would want would be a dog peeing in their house. Stupid Dog!! (Sounds better if you say it in a Homer Simpson voice)
Lucy on the other hand, the dog that annoys every living nerve in my body is completely content just left outside in their huge, fenced in yard searching for mice, lizards or anything else that scurries under the vegetation.
Its hard to get her to come into the house unless you're tempting her with food. You'd think Cindy gave birth to this dog the way it lusts after food.
Once the dog situation was figured out, and Luca was back in the camper with us, last night was spent packing and figuring out what we're going to bring with us.
This is a monumental task considering we normally have everything that has its own place. Inverters are hard mounted, camera bags all have specific places to be tucked away and trying to figure out how to condense ones life that has already been condensed into 200 square feet into a few duffle bags is not that easy of a task.
I think I packed, and repacked my camera bag at least 10 times alone.
Battery chargers, spare batteries, headlamps, backpacks, computers and their chargers, hard drives......UGHHH!! This was not an easy task.
We went to bed late and woke up early this morning to a camper that looked like a bomb had gone off inside it.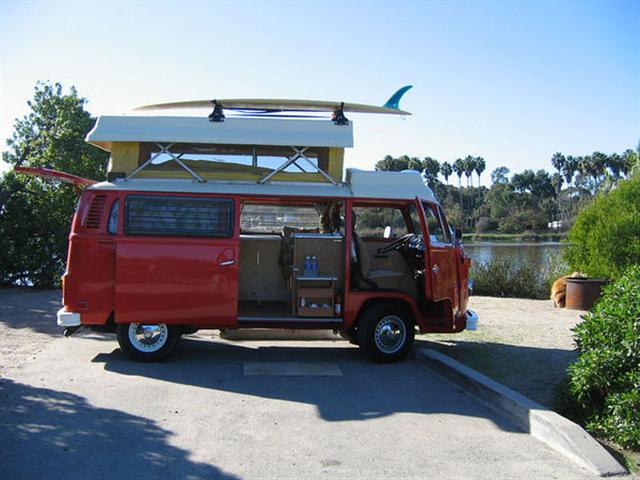 This is all the drama we have in our life, so it makes it fun and in a day or so, we'll be rolling up the California Coast at a top speed of about 45mph in a VW Microbus......loving life.
Wednesday November 4th Pacific Coast Highway Tour Begins
With the truck loaded down like we were heading out for a month long trek across the Himalayas, we said goodbye to Mike, our little camper and left San Diego heading for L.A. and the Pacific Coast Highway, or the PCH as its known to Californian's.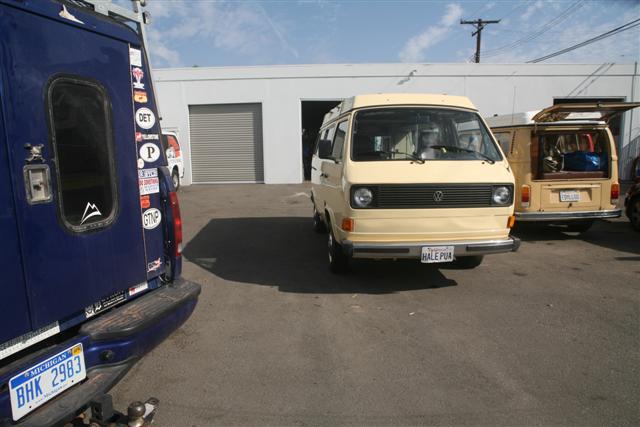 We were up early packing the truck, but waited for the morning rush hour traffic to get themselves to work before we finally left San Diego around 10am. We had smooth sailing the entire way up the Southern California Coast and got to Bill's yard where VW Surfari keeps their selection of Vintage Busses hidden away without any incident.
Throughout the years, I've seen a bunch of these tiny, well thought out campers and even had a few friends who have owned various models, but Cindy and I have yet to spend any quality time inside one.
The first thing I noticed was how much junk we brought and my first thought was we should probably put half of it back in our truck. Problem was, most of the stuff was photography gear, and unlike our truck, that we've had years to think and rethink where to best store everything, this little bus was going to be a whole new story.
The pale yellow, 1982 Vanagon Westfalia we would be spending the next two weeks in is mint condition and looks as clean as the day it rolled off the lot in Germany. Bill and Diane have their buses decorated so cool with ours having a tropical Hawaiian Surf theme.
We spent about an hour in the yard talking with them about how they got the VW Surfari Company started and heard some good stories about past adventures.
Bill and I went over our itinerary of recommended places people have emailed us with and he jotted down a few more places to add to the list. I know we normally never use an itinerary and we dont plan on following it with any time frame for this journey, we just have 3 pages of 'Not To Miss' sights that people who know the PCH much better than us have recommended over the past few months.
With the our little Vanagon that was named Hale Pua, which means 'Little House' in the Hawaiian language, loaded down more than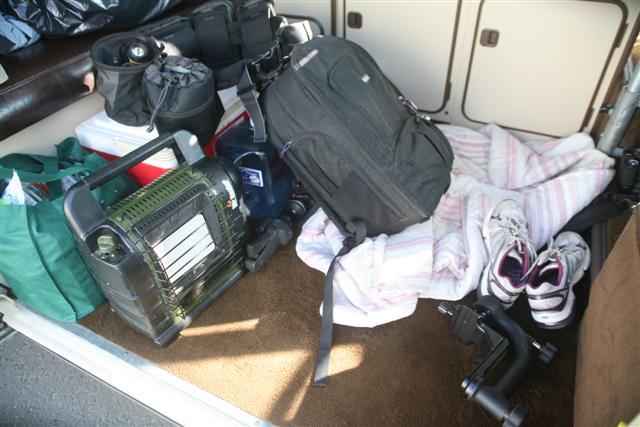 it should have been, we said our goodbyes, took a few photos and dropped the hammer, going nowhere fast.
The first thing we figured out with the bus is you aren't going anywhere in a hurry. Bill had shown us multiple pistons out of motors from his vans that people have burned up driving them like they're a regular truck.
The VW Buses have small motors and luckily ours was a water cooled model, but being water cooled doesn't make it any faster than the others, it just ups the chances we wont overheat the motor.
But this Snails pace is just our style of travel. Its about the same speed we move when towing the camper, only we're much smaller in size and can pull over anytime and anywhere we want. We often joke that our mascot should be the snail because we both move at about the same pace and we both carry our homes on our backs....well, we tow ours behind us, but its sort of the same thing.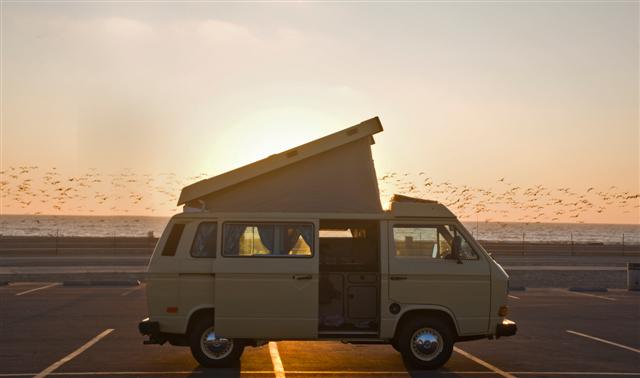 Cruising up the Pacific Coast Highway, we had the warm afternoon sun setting on our left side and the L.A. skyline on our right. I guess I've never realized how much oil or gas production there is along the California coast, but for miles and miles of coastline there is off shore drilling stations in the water. I wouldn't even really call these off shore because they're only a 1/4 mile out to sea.
It was a strange sight to see and one I'd normally think when conjuring up thoughts of Texas.
We rolled along leaving snail tracks and pissing people off because in California, everyone is in a hurry. They drive like race car drivers at all times and run red lights like they're not even there. We were stopped at one intersection as I counted not one, but three cars that ran the red light.
When a light turns green, I usually hesitate a few seconds to see if any cars are going to come screaming through it.
We pulled over at a beach side park so Cindy could make some dinner and we could spend a few minutes unpacking our bags and organizing everything into the tons of storage hidden in every nook and cranny.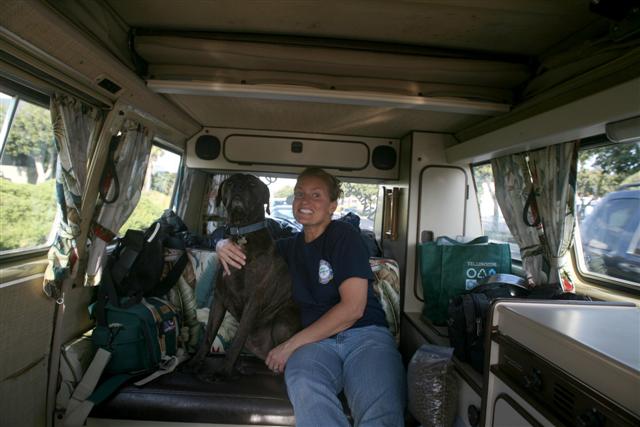 Cindy & Luca in the Back Seat with me Acting as Chauffer
Luca wasn't liking the back seat of the bus too much because its right overtop the motor and vibrates a little. He jumps up there on his blanket we have laid out for him and lays right down when ever we shut the motor off, but as soon as we start the van up, he jumps down and looks at the seat like it bit him.
He's funny because the windows along the bus are too tall for him to see out of, so he's constantly trying to get up on Cindy's lap so he can look out the window.
Cindy treats him like a child and she has now resorted to sitting in the backseat, allowing him to sit in the passenger seat beside me so he can see out while we drive.
Our first meal in the Westfalia taught us a lesson in cooking in tight spaces. First things first, I had to lift up the Westfalia Camper Top so Cindy could stand at the stove. This is no problem for me and my short height as I can stand in the van with no problem, but anyone who is a normal height has to have the roof raised.
Once the roof was up, we learned a few things very quickly. Using regular dishes means you have to wash them and not having a black or gray tank like in our camper means the water dumps right onto the ground where ever we're parked.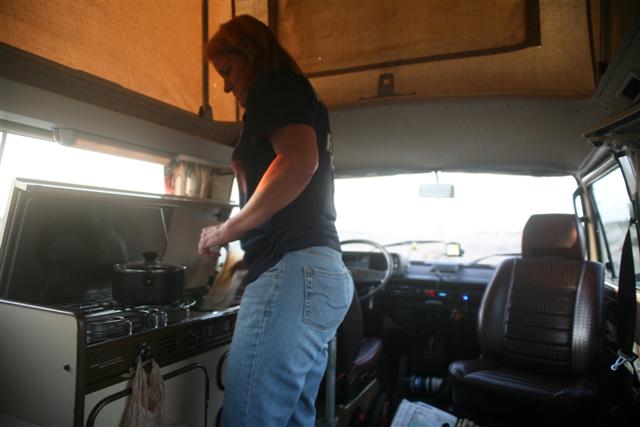 I think Paper Plates and food that doesn't need to be prepared is going to be the norm from here on out. We also had to remind ourselves that we only had 5 gallons of fresh water to use for washing dishes, so using them seemed sort of useless and wasteful.
Before too long, we were back on the road and out of the L.A. area driving into the eclectic areas of Venice and Santa Monica. By this point the sun was setting, but without any clouds to reflect off of the big orange sun, it wasn't all that pretty to photograph. We both just enjoyed it with our limited memory banks rather than try and record it with cameras.
We pulled up to the Santa Monica Pier where Route 66 ends and meets the Pacific Ocean. We figured since we've driven so much of the historic Mother Road, we might as well check out the end of it. Hopefully one day we can visit Chicago and have visited the Book Ends of the road that started what we now know as 'Road Trips'.
We parked the van and walked along the pier watching the vendors do their thing. People were everywhere because Circ De Sole is in town and has their big top tent set up right beside the pier.
With the back end of the Halloween Full Moon rising up over the Ferris Wheel, it made for a very romantic evening. That would all end very soon as soon as we got back to the Bus and had to find a place to park for the night.
Major cities are one of the main things we avoid on our normal journey, but L.A. and its surrounding cities is unavoidable when it comes to traveling up the PCH.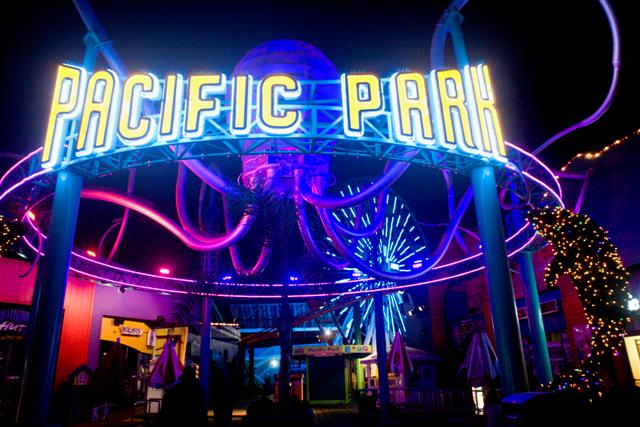 We cant afford to sleep in a hotel, and that would sort of defeat the purpose of having the Westfalia Camper edition and the VW Bus. We drove around the Venice area and notice that the side streets were lined with campers just parked along the curb. We figured this must be allowed, or the police just dont enforce the No Overnight Camping Rules, so we pulled up beside a city park and joined our fellow homeless travelers.
Cindy and I have both agreed that this leg of the journey we'd try and live like hippies would when these busses were the chosen mode of transport.
The bus has curtains that keeps people who are walking down the street from seeing in the windows and we hung a curtain around the front windshield so we had our own little cocoon to live in surrounded by a few million Californian's.
Its amazing when you cant see out how your space becomes its own little cave. There were guys playing Frisbee in the park beside us and a group of neighborhood kids playing soccer, but inside our little van, we had all the comforts of home and fell asleep in our cozy little bed....just the three of us, Cindy, Luca and me.
Fast forward a few hours into the middle of the night. Cindy wakes me up saying she has to go to the bathroom. Oh Man, this is not good!
Where do you go when in a neighborhood and you have to go to the bathroom?
It was 4am and we packed up our urban camp, motoring around looking for an all night diner or a gas station. Cindy spotted a Donut shop and yelled "Pull Over Now!"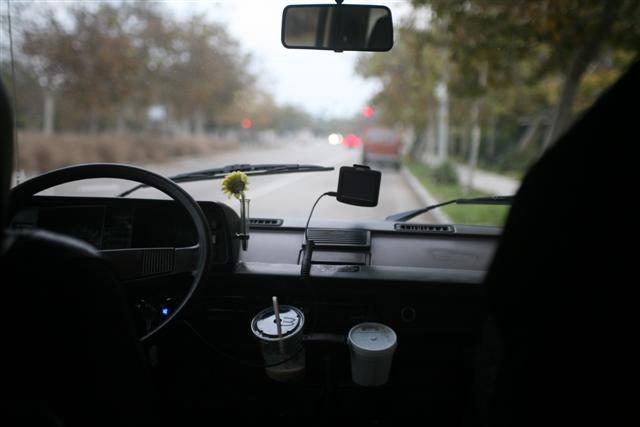 She ran inside only to find out they dont have public restrooms. We stopped at another gas station but they too didn't offer public restrooms. This was starting to become comical to me because each time we'd pull over, Cindy would psyche herself up thinking she was going to have relief for the bladder, only to find she'd have to hold it down a little longer.
I guess when an area has such a homeless population as the Venice Beach area, public restrooms are hard to come by. I also thought it was very funny that we were now in that same group of people....homeless and looking for some relief.
We finally found a McDonalds that was open 24 hours and Cindy made me run in and look to make sure they had a bathroom open so she wouldn't have to stand up again.
We bought a cup of coffee so we would show some patronage and found ourselves sitting in a parking lot at 4:30am with nothing to do.
I decided to crawl back into bed while Cindy tried her hardest to keep me awake by talking non-stop to my closing eyes. Luckily for me, we've been married for so long, that I can tune her out and I was back asleep pretty fast.
Cindy never fell back asleep and woke me up when it was finally light enough outside that we could go down to the beach and walk around.
Thursday November 5th - Venice Beach, Malibu and More PCH
If you ever visit Venice Beach, and I think everyone should see this area of California, get there just as the sun comes up.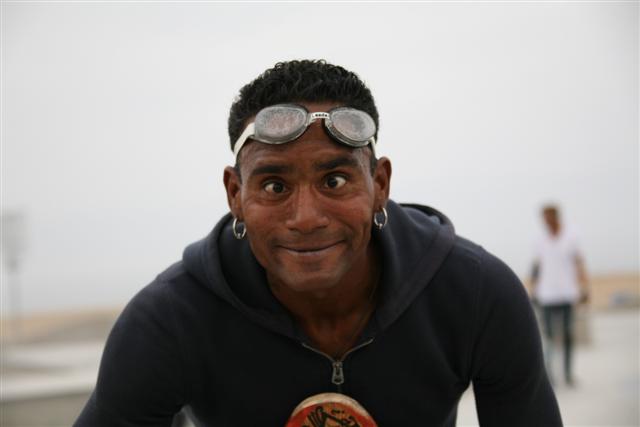 Venice is known for Muscle Beach, the Freak Show of people skating, roller blading and walking down the boardwalk and just being home for a ton of eclectic people.
To get to Venice first thing in the morning, you get a completely different view of the beautiful beach scene. Homeless people are sleeping everywhere. Alleys are lined with young adults sleeping on the ground and sporting dreadlocks down to their waist.
One dude was sitting in an office chair with a sport coat on and a bright green pair of sandals, smoking a cigarette and cussing as people walking past him.
Another guy who had a shopping cart loaded down with more stuff than we have in the back of our truck and camper combined had two solar panels strapped to the top of the load to power his radio and other electronic gear he had with him.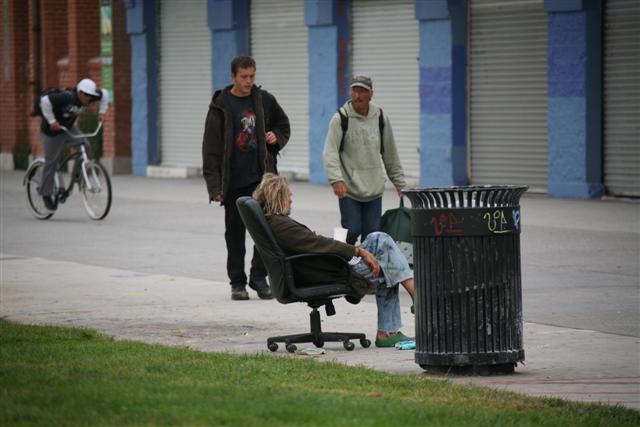 One guy who had a bike loaded down with a fake skeleton asked us about our cameras and talked eloquently enough that you would have thought he had a Harvard background. When I told him we were taking photos for our travel website, he asked what the name of the site was and said he'd check it out when he goes to the library to check his email.
This is one time when I think Luca comes in handy and the Pit Bull in him keeps sketchy people from approaching or bothering us for hand outs. Not that I mind these sort of people, because we usually get funny replies when we explain that despite the big cameras we're usually carrying, we too are homeless and dont have a dime to our name.
Jeff had told us if the weather was cold or crappy, to skip Venice Beach as the scene wouldn't live up to what its known for. I know what he meant because we didn't get to see any of the Chain Saw Jugglers, or crazy people the famous strip of beach is so known for, but we still had a cool experience none the less.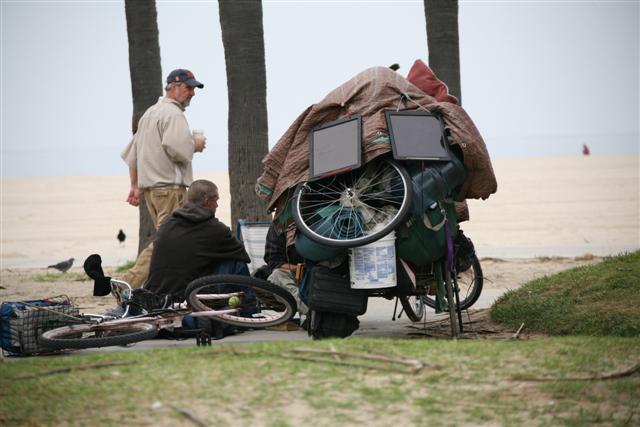 Notice the 2 Solar Panels on the Back of his Rig
Maybe on our way back down we'll have better weather and can stop for another visit.
From Venice Beach and the Santa Monica area, we drove North up the PCH towards Malibu. This section of coastline is beautiful and very scenic. Malibu is everything its touted to be with multi-million dollar homes along the picturesque coastline and when we passed a cool sea side villa, we both decided it was time for some wake-me-up coffee and turned around to stop for a mid-morning break.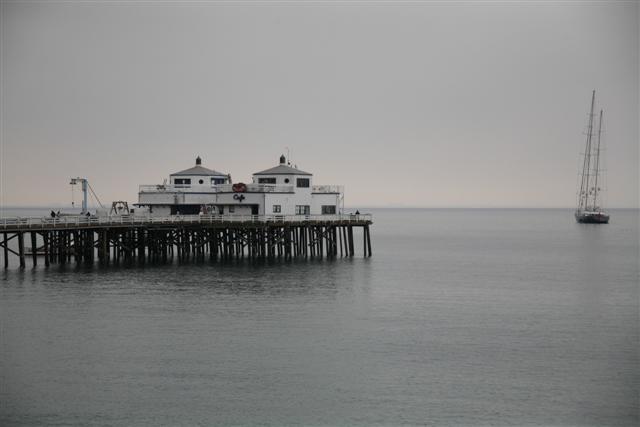 Malibu Pier with the Big Sailboat that grabbed our Attention
There was a beautiful sailboat parked just off the Malibu Pier and as I walked down to snap a picture, a guy lounging in a VW Eurovan commented "Beautiful Boat isn't it."
I sat talking with Steve, a retired surfer who had recently bought his modern version of the Vintage VW Camper we were in. He told me he bought it so he could have a comfortable place to sleep when he goes on his surf trips up and down the California coast.
When I asked if this was a good surf location, he threw me a quizzical look saying "You're not a surfer are you!"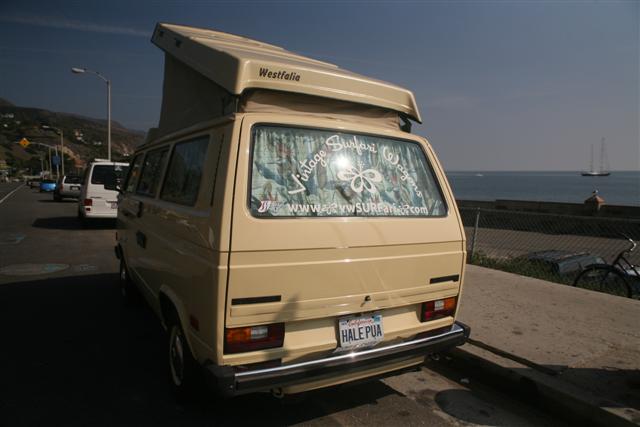 I told him I was not and he spent the next half hour schooling me on the local surf scene, Duke Kahanamoku, and much of the history of the Malibu coast. Apparently the area we were parked in, right in front of the wall that used to be lined with surf boards during the 'Gidget' heyday in front of the Rindge Family Malibu Ranch, was where Surfing in California was originated and the whole 'Gidget Factor' started.
As Steve suited up, Cindy and I walked over to the famous Adamson House that is now a beautiful museum.
We spent the next hour or so learning a piece of history that we had never even heard of before this point in our lives. Who knew this entire area was once owned by one family and all of Malibu was once a humongous ranch.
The Adamson home is classic Spanish Architecture and had me longing for a drafting pencil and a piece of paper.
Back at our German Camper, we packed up the pop-top and headed North along the coast. One of the places Bill had recommended for us to stop was Neptune's Net.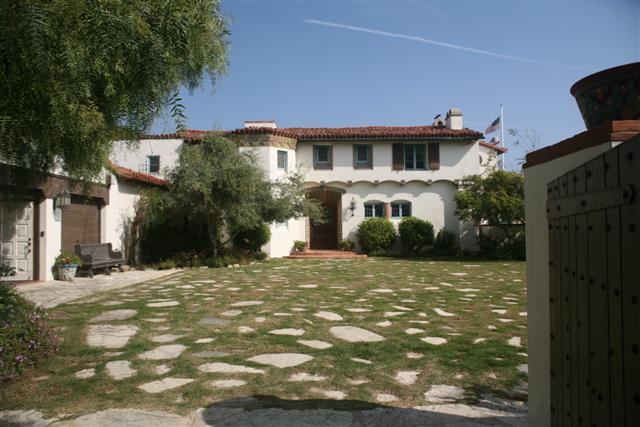 This little roadside restaurant is known for its fresh fish and looked as good as anything we'd seen up to this point.
Overlooking the Pacific Ocean, we ordered their Sampler Platter which would give us a taste of most of what they offered and we grabbed a cold beer to wash our lunch down with.
The restaurant had a movie scene being filmed out on the patio, so Cindy got to ogle some hot actors while we ate lunch. I was just happy to be sipping on a strong Belgium Beer while watching the pelicans glide over the ocean.
With bellies filled with fish, we were back in the van headed up the coast.
Once the PCH passes Point Mugu State Park, the road heads inland around the Point Mugu Naval Base till it hits Channel Islands National Park.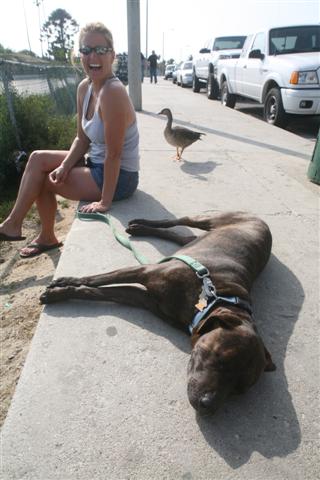 With Luca along for the ride, taking a boat ride out to the Channel Islands was out of the question because it would mean leaving him in the van for the day by himself. Do-able in our normal camper where he has room to move around, but not really nice to leave him in this small of a van for more than an hour or two by himself.
When we had been in the Adamson House Gift Shop, the very nice woman working the counter had told us about a little Artist Community/Town known as Ojai (Pronounced O-Hi).
She recommended we visit this little town and browse some of the galleries.
While we were driving up the coast with the sun setting, we stopped at a few of the State and County Campgrounds, but they were way above our price range. $30 for one night with no hook-ups, $45 if we needed any electric or water.
The attendant at the State Park booth told us they only allowed campers with Black or Gray tanks so we couldn't even stay at those campgrounds.
This made the decision that it would be better to head up HWY 150 which would bring us to Ojai. We figured we would have better luck finding a spot to hide out for the night away from the beach and all those NO OVERNIGHT PARKING signs.
Driving California HWY 150 away from the coast in a sports car would be a blast. In a VW Van, its downright scary.
The road is as curvy as a hot spaghetti noodle with hairpin turns warning of 20mph speed limits. Remember my talk of crazy California drivers? We'll we had plenty of them behind us climbing these hills and none of them were happy with my slow speeds.
The car right on my back bumper was laying on the horn and flashing his lights like he was an ambulance on its way to the hospital with a dying patient in the back.
When I finally had a dirt patch to pull off the road, Cindy and I busted out laughing when a tiny Smart Car came racing past us with a woman on her phone throwing us the bird and cussing up a storm. We both sat on the side of the road laughing as we let the long line of cars drive past us in their hurry to get up the mountain side.
A few more turns up the mountain and we pulled off the road at a level, dirt pull off thinking it looked as good as any for a spot to camp for the night.
We were both still full from our late lunch at Neptune's Net, so there was no need to cook anything for dinner. We both just climbed into bed calling it an early night.
Friday November 6th Day 3 of the VW Surfari Adventure
I thought I should say that I'm sitting in the Ojai Coffee Roasting Company cafe right in downtown Ojai updating this blog. We're having trouble doing it while on the road because the VW doesn't have an extra house battery, so we cant run the cpu's unless the motor is running.
My laptop battery doesn't hold a charge, so it has to be plugged in and the only way to run the inverter we brought with us is to have the motor running and sit somewhere idle. Yeah right, try and talk Cindy into that one...LOL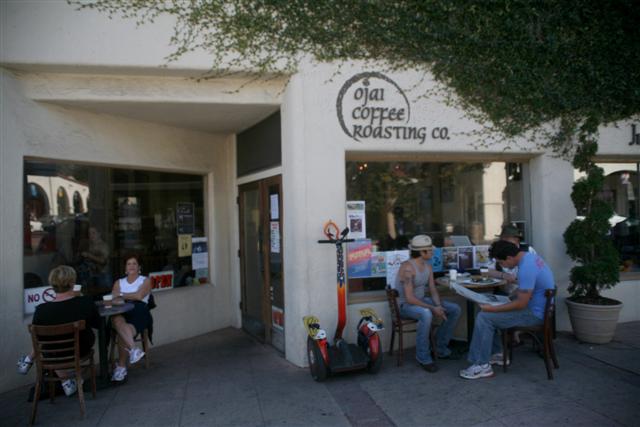 This coffee shop is packed full of people and I'm not really too happy with my writings as the place is full and there is a ton of people and distractions, I mean there is a line at the register right now and its hard to concentrate with all the good people watching that is offered.
People always comment about me blogging while on the road, and many make fun of the fact that I will take time out while visiting a beautiful location to stay caught up on this silly blog of mine (Jeff recently called me a Blog-aholic). I dont think most people realize that when you move non-stop, its pretty hard to write down your true feelings at a later date.
If I go a few days without writing, then try and go back into that state of mind to conjure up those same feelings I had while we were doing what ever it is we were doing, its not as real or personal as if I was to type it out that same day when its fresh in my head.
I'll be the first to admit, I'm probably addicted to it, but I dont think recording my feelings is a bad thing to be addicted to...LOL I can think of worse things.
_____________________________________________
While I was in the Coffee Shop all morning, Cindy walked around the town of Ojai browsing all the interesting galleries and funky shops.
When I finally finished up, I told her I wanted to walk around and check the place out, but she said she didn't want to see everything again, saying it only makes her want to buy things we cant have, so she was ready to get on the road and head up the coast.
It's probably one of the only things I hate about living on the road fulltime. We pass through some very interesting areas, and I'd love to have a memento from each area, or at least the ones I really enjoyed, but with no place to store them and no place to put them in the camper, it seems silly to waste money on things that would just go in a storage locker. I guess that's why we take so many photos. Our next house or place of residence will be wall to wall photos from around North America.
While I was in the Coffee Shop, Cindy had time to grab some fresh groceries and we were soon enough stocked up and headed North towards Santa Barbara. I thought we would have passed an actual town of Santa Barbara, but nothing was along the beach where we were driving, so we missed it and turned off at the exit for Lompoc.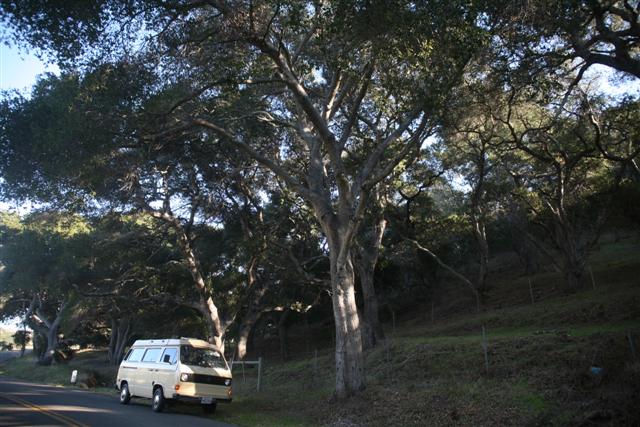 A few people had recommended Lompoc and Jamala Beach saying it was a great little secluded beach that is remote, but well worth the drive.
I cant say much about the town of Lompoc as we never made it that far, but the drive into Jamala Beach is worth the trip. California has such diverse scenery ranging from lush, green hillsides to barren looking desert landscapes. This road was as curvy as could be and warned about speeds higher than 10mph around the twisty turns. Fat, Happy Cows were grazing along the hillsides, beautiful eucalyptus groves made you want to stop and explore them and knarly, craggy trees lined many sections of the road allowing you to think you had driven into some sort of spooky fairy tale.
When we finally climbed that last hill and rounded the 90° turn which offered us our new view of the turbulent Pacific Ocean, we both let out a loud "WOW...How Beautiful!"
This was so worth the drive and I wasn't even worried how much they were going to charge to camp here, we were going to spend a few nights no matter what. When we got out to snap a few pictures, I told Cindy that I'd be content if we spent the next two weeks just sitting right on this beach, and I'm not a beach person.....so that's saying alot.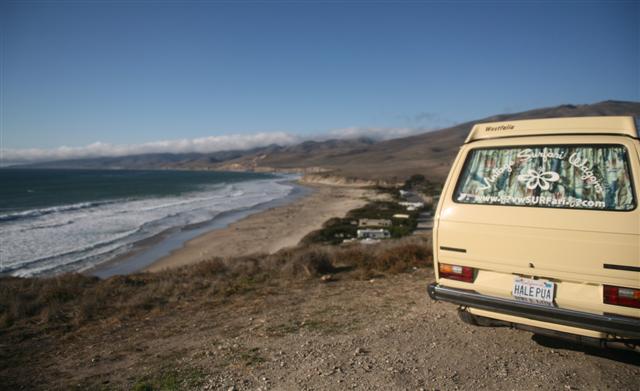 Dont get me wrong, I love the beach, I'm just not one who likes to lay out all day in the sand and do nothing. But this beach was different. There were a dozen kite boarders riding the West Coast winds and a few sailboarders playing in the rough surf.
This meant I could sit and watch these guys play while I took pictures and Cindy could do her lounging thing if that's what she wanted to do.
Jamala Beach Campground has something for everyone and offers everything from dry camping sites right along the beach, to full hook-ups for RV's that might need that sort of thing.
We decided to splurge and get a site with electric so we could back up the photos onto the hard drives and work on the blog once the sun went down. Something its doing earlier and earlier each night this late into the season.
The campground also offers hot showers, a dump station and a small general store that has items you might have forgotten or ran out of while having a fun vacation.
Once we parked the little bus in our campsite, we grabbed the cameras and the dog and headed down to the beach to check out the kite boarders.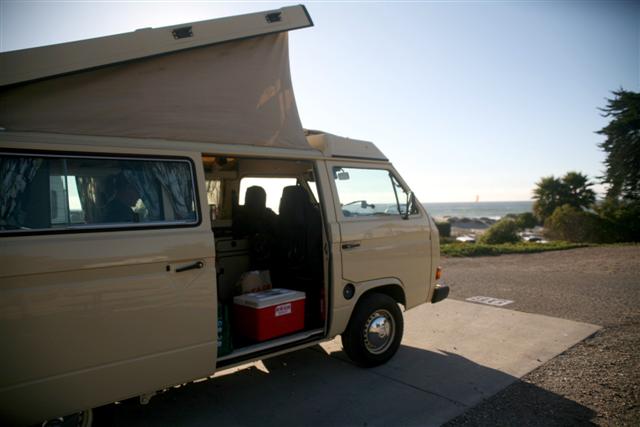 There was a huge swell blowing in and the winds were blowing something fierce. Forget laying out in the warm California sunshine. We're talking sweatshirt, long pants and a knit hat just to stay warm if you were right on the beach. That's how strong the winds were blowing. But those same winds were doing something beautiful to the waves. Big, green waves rolling in with a bright white mist blowing off the tops of them.
After a few hours of getting the top layer of skin wore off, we headed back to the Vanagon for some protection.
Outside the winds were whipping up the Pacific Ocean, but inside our little cabin on wheels, we had a nice cozy nest built. I always say our camper is our rolling office, and where ever we choose to park it is where our office is located that day.
As we sat and watched the big red ball drop below the horizon, Cindy raised a toast and said "I like the spot you found to park the office today!"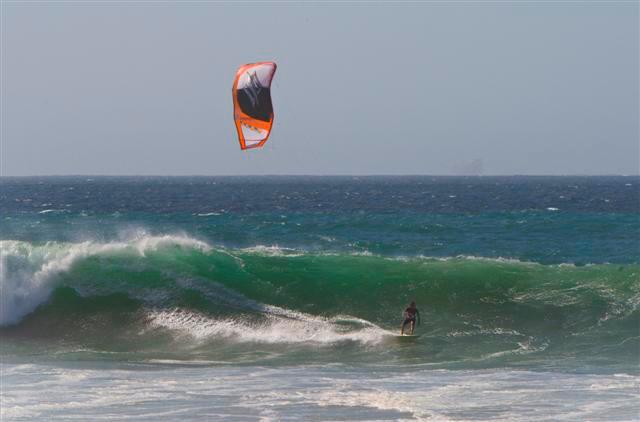 We spent the rest of the night blending the hippie technology of the VW Van era with our modern technology of digital cameras, high speed card readers and large capacity hard drives. The van is laid out smooth enough to give us each a work station and still stay within beers reach of the cooler. I couldn't think of a better way to spend the night with my wife or be working on our blogs and photos.
As the night grew later, the sounds of the waves kept getting louder and louder. The swell Mother Ocean was blowing in was a big one and sounded like we were parked beside a freight train. Funny to think that if we were parked beside a freight train, we'd probably be pissed off at the noise, but since the outrageously loud sounds were coming from Mother Nature, it was actually very cool to listen too.

Luca Sleeping with his Head on the Table beside Cindy
The funny thing is the Amtrak Pacific line runs right behind the Jamala Beach Campground on top of the bluff. The few times we would see the almost silent passenger train go whizzing by, we wouldn't even be able to hear it because of how loud the surf was pounding the shoreline.
With the Westfalia top popped up, the little VW seems quite roomy, but by this point in the night, the winds were blowing so strong that we had to bring down the lid to keep the fabric from ripping. This was a good thing because although it makes the van seem smaller, it keeps the inside really warm with just the 3 of us breathing.
The night ended well with dreams of tropical scenes to go along with the sounds of crashing surf echoing off the bluffs behind us. These sounds kept us company till the first rays of light started to lighten the skies again.
Saturday November 7th 2009 Day 4 in the VW Surfari
The only thing I dislike about camping in the late Fall, early Winter is how early the days end. With the sun setting around 6pm and darkness following immediately afterwards, it means we've been going to bed around 8 or 9pm each night.
This means we're well rested by sunrise which is normally a hard time for us to wake up and witness first hand. But not on our VW Surfari; so far we've watched each sunrise, and usually with our second cup of coffee in our hands.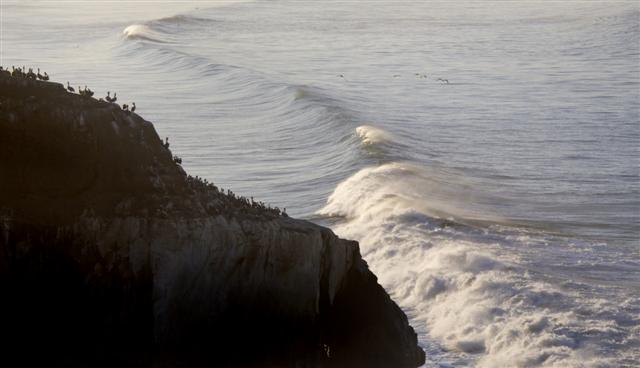 Sunrise on the Pacific Ocean
A sunrise on the East Coast, or even inland is completely different than a sunrise over the Pacific Ocean.
With a swell that had built bigger and bigger all night long, it was almost impossible to take our eyes off the giant waves as we sat on the beach sipping on hot coffee and watching the soft morning glow slowly light our surroundings.
It was dream like to sit and watch the dark reds of the distant cloud cover slowly turn to pink before turning to a washed out white before the sun finally rose at our backs. This is what I mean about watching a sunrise over the Pacific, you dont actually watch the sunrise per say, like you do on the East Coast, you more or less just watch the ocean get brighter till the sun rises up over the bluffs at your back and kisses the tips of the waves good morning.
I've never been a beach lover as much as I've been a woods or mountains kind of guy. But I love a good storm over rough seas almost as much as I love a bonfire or watching a swift mountain stream.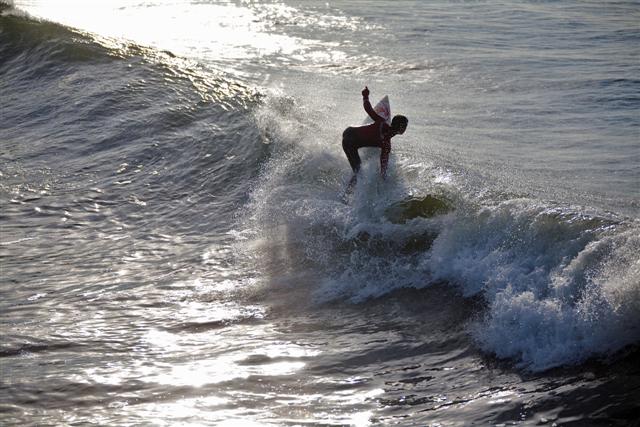 Surfing at Sunrise on the Pacific
Bonfires are one of the only things in life that can hold my utmost attention; putting me in an almost trance-like state of mind. I've spent many nights staring into the glowing embers of a fire or watching the tips of the flames dance above the crackling logs.
Running a close second to a good bonfire is sitting on a dune overlooking the ocean as a big swell does its best to try and change the shape of the shoreline with the force of its waves. I can sit for hours on end watching the tides roll in, but only if they're big waves.
Small waves like those on a calm lake, the ones you usually find along the Gulf of Mexico or those found on the Sea of Cortez just dont hold my attention like those big spell binding swells you find during a storm off the Atlantic or Pacific Oceans.
We spent a few hours on the chilly beach this morning watching the waves, the sunrise and Mother Ocean do her best to erase any signs that people had walked along this shoreline yesterday.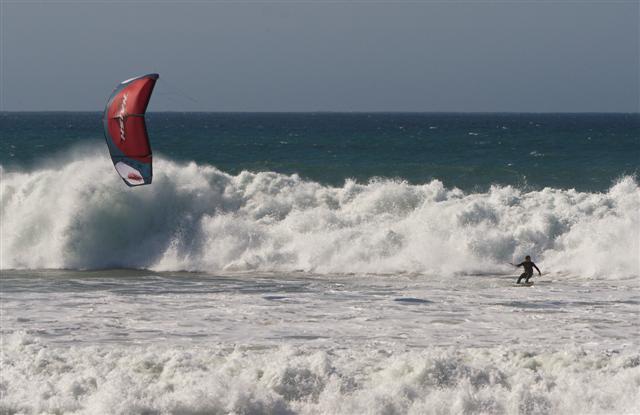 The only reason I noticed how cold it was, was due to how bad Luca was shivering. His tight coat and muscle laden body isn't suited for temperatures below 60°. But being the good dog he is, he never once whined or tugged on his leash asking to go back to the warmth of the VW Camper. He simply tucked in close to the two of us and leaned his body weight against our warmth we were giving off.
We both commented that he seemed as interested in the waves as we did and wouldn't it be so cool to know what his thoughts were on this beautiful morning scene we had before us.
When the sun was finally up in full force, we walked back to the VW for some breakfast and our 1st shower of the adventure.
Jamala Campground has warm, clean shower stalls that cost ˘.25 for about 4 minutes of high pressure water. I dont know about Cindy and her shower, but I went all out and spent a full ˘.50 on my shower! I took two turns under the steaming hot water cleaning off all the road grime and salt spray we had collected the last few days.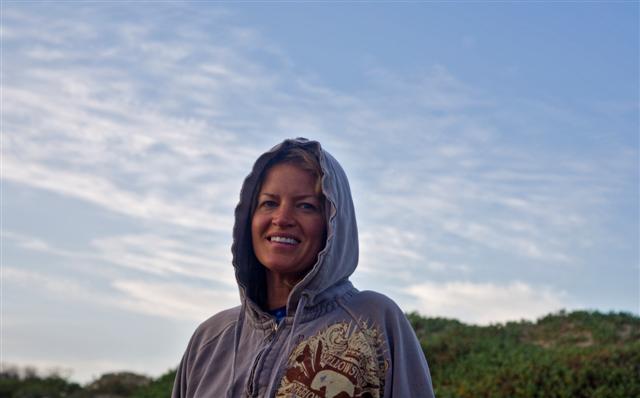 Its amazing how good a shower can feel after a few days of simply wiping yourself down each night with a few wet wipes to get off the days grime and soot.
With the two of us cleaned up and feeling like new, we spent the next 10 minutes cleaning up the VW Surfari and putting everything back where it goes. This has now become second nature and takes about a total of 10 minutes with us both fooling around with one another the entire time. For anyone who knows Cindy and I, they know we're constantly picking on one another or playing jokes on each other to try and get the others goat. Its just our nature and if you see us and we're both acting cordial, it usually means we're arguing.
With the Mellow Yellow, Hale Pua organized and cleaned up, Cindy made some lunch while I refilled our fresh water supply, all 8 gallons of it. 5 Gallons in the holding tank under the chassis, and 3 gallons we use inside the camper for day to day drinking water.
I was suggesting we spend a few more days here because of how much fun I was having watching the Kite Boarders, a spot I was told by a few of the locals is legendary amongst the California Kite Boarding crowd.
One of the guys I had been photographing is supposedly the World Champ when it comes to this sport.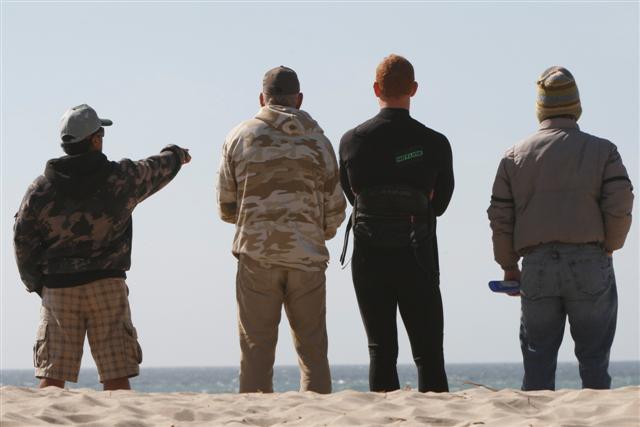 Cindy on the other hand was bored with the scene and due to the strong winds, it meant laying on the beach, catching rays was out of the question. Being down on the beach meant you needed a wind breaker, long pants and a hat to stay comfortable. Something Cindy didn't want to be seen in.
Since my wife is also known as "She Who Must Be Obeyed", it meant if she wanted to leave, we were moving along the Pacific Coast Highway again.
She even offered to drive out of Jamala Beach. So with her ti-dyed shirt that Jeff had made sure we brought with us, my little hippie chic drove us away from Jamala Beach and all its beauty along this twisty California road.
You might remember a few weeks back while we were in Moab and I spoke of driving a couple to the airport who had just finished up with a float trip down the Green River.
Dave and Joanie told us about their plans to start a new curriculum on healthy eating and the growing of food for impoverished schools and neighborhoods. Since that first visit, we've kept in touch and talked back and forth on how to help further their upcoming website they're in the process of building for the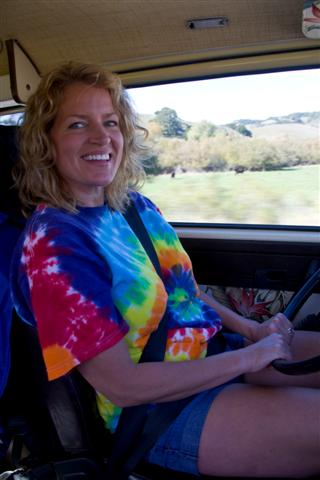 Healthy Food Coalition.
I had told them I had some tutorials that might help them with their website and they just happened to be here in California. They were in Northern California last week, but were headed down to L.A. to fly out on their way to Australia for the next 4 months.
In our talking back and forth, we had planned to meet up somewhere along our routes that we would be crossing and today looked like the day. We stopped on our way out of Jamala Beach and picked up a computer they had delivered to a friends house in Santa Barbara.
From there, we drove North and met in Pismo Beach. Dave and Joanie grabbed a hotel room and unloaded some of their stuff. We gave them their new computer we had picked up for them and we got to swapping the software.
While the computers were doing their thing, they treated Cindy and I to dinner at a local steak house that offered some of the best grub we've had in ages. With full bellies and a great night of conversation, we made sure everything had copied the way it was supposed to before we said our good byes.
We wished them well and went to find a hiding spot for the night.
The local Wal-Mart had the dreaded 'No Overnight Parking' signs posted, so we drove around till we found another shopping center lot that had a few other campers bedded down for the night.
Thank you Mr. Pismo Beach Police Officer who sat in the parking lot watching for speeders, but turned a blind eye to us dirtbags who needed a free place to camp out for the night.
We've yet to sleep in the Pop-Top due to the cold nights we've been experiencing and the fact that each night we've been hiding out, so we haven't wanted to draw attention to our little van, but hopefully the weather will warm up a bit and will get to try it out.
Sunday November 8th Day 5 in the VW Surfari Mobile
The call of a full bladder woke us up before sunrise this morning and told us it was time to pack up and get the bus going.
It only took a few minutes to have everything put away and we were on the road in search of a breakfast spot or gas station that would be open this early on a Sunday morning.
If I had to find one thing I dislike about the VW Trip, it would have to be the lack of a bathroom in the little van. If I would have known it would have been this hard, I would have stopped and bought a cheap cassette toilet from an RV Dealer in San Diego and brought it with us.
But other than that luxury, we've yet to find anything that has made the trip anything but stellar.
Once we found relief for the bladders, we had fresh, hot coffee to keep us awake and soon found ourselves on Pismo Beach watching the sun show its bright yellow face to the Pacific Ocean.
I wanted to spend the day fooling around on the Pismo Dunes, but Cindy would have none of that. After too many times of getting our four wheel drive truck stuck in the sand, the last thing she was going to let me do was take this two wheel drive VW Van off the pavement.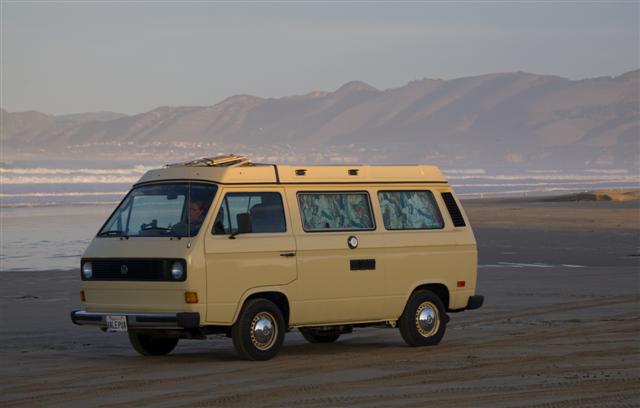 Come on, I'm not that stupid!
While visiting with Jeff down in San Diego, he had showed me some of his family photos from a past vacation up the coast to the Pismo Dunes. The family had rented a sand rail and spent the day buzzing around the dunes having a blast. I really wanted to have some of this fun for ourselves, but Cindy would have none of that either.
She is like that damn little angel on my shoulder telling me what I can and can not do. Only problem is she's the same angel holding onto the check book who knows what our balance is. Its usually hovering right above $0.00, so she's the one who says what we can and can not do when it comes to things like renting a dune buggy for the day.
So I guess the Pismo Dunes will have to wait for another trip along HWY 1.
When we were asking for tips and suggestions on the blogs awhile back, one of our friends who used to live in California, but had moved back to our home town of Milford a few years ago had told us to make sure we stopped to check out the town of Avila.
Andy had described Avila Beach as a little hippie town hidden back in the woods. He told us to make sure we asked the locals about the hot springs they would know about and he told us we'd love the funky vibe the town gives off.
I almost hated to tell Andy that 'The Man' had ruined his one time Hippie Hide-away with modern development and a fresh coat of downtown renovation.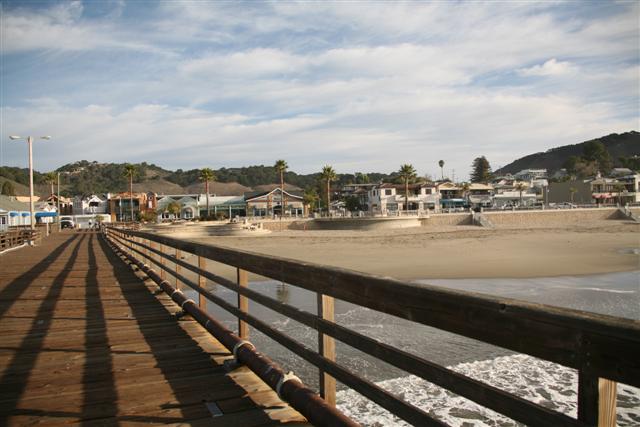 Looking down the Pier towards the Renovated town of Avila
If Andy hadn't painted that picture of Avila I was expecting to find, I would have still liked the town Avila has become after the renovation that took place in 1999.
The buildings have all been rebuilt, yet they still hold a quirkiness about them. The boardwalk has been completely redone and juts out into the calm, protected bay. The upscale golf course and resort, although very much not my style is nicely done and somewhat hidden from the downtown area, yet still a short stroll away and the streets are lined with hand cut stone benches and planters giving it a very tropical feel, yet still leaving it small and quaint.
Those hidden hot springs Andy had told us to talk to the locals about, they're now a Campground and RV Park with its own water slide attached to the hot springs.
The Avila Barn with its fresh produce and homemade sweets was another spot a reader had suggested we stop, but we were strolling through this town early on a Sunday morning, so everything was still closed. We'll have to make sure we stop on our way back to visit the barn, because we've heard people talk of it and the amazing food they offer while traveling the entire Pacific Coast.
So I guess times change, and hidden places get found and developed, but maybe if Andy just keeps those memories of what Avila once was, he wont let what it has become get in the way of enjoying it still. If you visit it again Andy, I think you'll like the vibe it is still giving off....at least we did.
I also liked that just beside the town of Avila, along the same protected bay, they have camping right along the water. There is everything from full service campgrounds to dry camping where you can back up right to the edge of the sidewalk. Good info to know if we ever come back up this way with our coach in tow and want a really pretty place to spend a few days.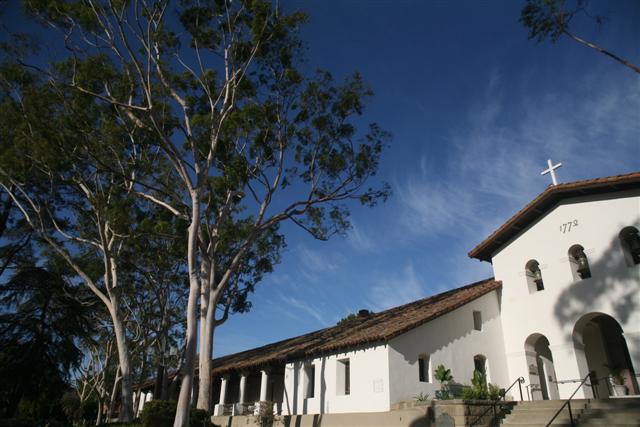 Since the sun was just starting to rise and the morning was still really early, we got back on the road and headed further North up the coast. Our next stop was the Mission San Louis Obispo De Tolosa in where else, but downtown San Louis Obispo.
This mission was built in 1772 and was the 5th in a chain of 21 missions that stretch from San Diego to Sonoma. They were all built by the Chumash Indians living in the area. The mission has some interesting history and in 1846, John C. Fremont and his California battalion quartered inside while engaged in the war with Mexico.
When we first arrived, we were hoping we'd have time between the Sunday morning masses to check out the inside, but we were out of luck as a mass was already underway. We didn't want to be walking in during the middle of a mass, so we just wandered around the beautiful grounds and listened to the congregating sing us some morning hymns.
The towering eucalyptus trees with their bright white bark match the glowing white stucco of the churches exterior. I've fallen in love with the eucalyptus trees and their variety of textures, looks and thick groves they grow in.
If we ever have a house of our own, I'll be sure to plant some of these trees in the yard.
Right beside the Mission San Louis Obispo is the town museum, which was once the Carnegie City Library. This is an amazing structure built with hand cut stone back in a day where craftsmanship was something people earned a living on.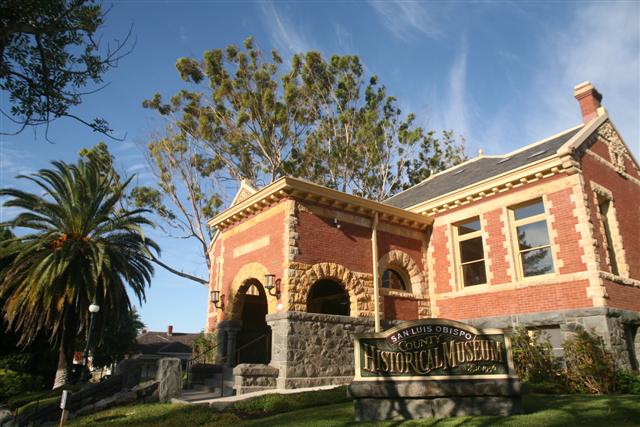 This building was for 55 years, the city library. One of over 1,681 libraries given by Andrew Carnegie to American towns in the early 1900's. It was built in 1905 and is noteworthy in saying that while $10,000 was the Carnegie gift, the cost of the building was underbudget at $9,750!! Can you imagine that?? We had fake stone put on the front of our home in Michigan and it cost more than $10,000! This is all hand cut stone, brick and mortar masonry and should be seen when visiting the San Louis Obispo area.
From the Mission and the Library, we jumped back on the Pacific Coast Highway heading north to the little fishing village of Morro Bay.
This safe harbor is right out of a movie set with the array of boats seeking protection in the calm harbor and the seals bobbing their heads up to check us out while they go about their morning fishing routines.
Believe it or not, we had visited 3 towns so far this morning and it was still pretty early. The wharf was pretty quiet except for the gulls and the seals and the occasional fisherman tending to a dock line or packing up some gear. The swells pounding the break wall that was protecting the harbor were way too treacherous to be taking a boat out in, so I think today would be a day every boat in the harbor would stay tied to the dock.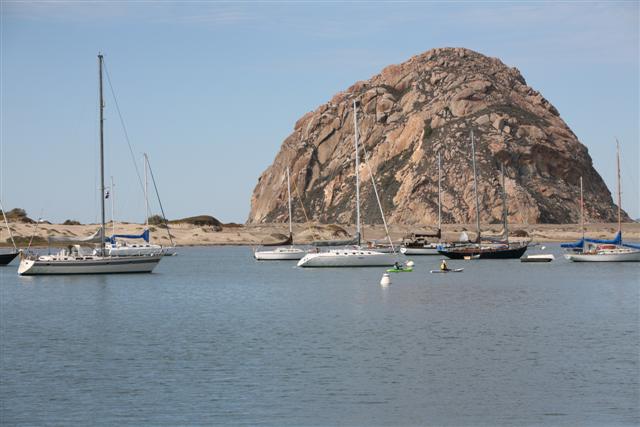 Morro Rock behind the Protected Morro Bay
Morro Rock is a giant hunk of rock called Dacite, which is similar in many ways to granite. This material is useful as a building material because of its durability and was used in the foundations and buildings all around this area when they used to quarry from this age old landmark.
Quarrying was stopped in 1963 and Morro Rock was declared a State Historic Landmark in 1968. The area is now protected due to its significance as a nesting site for peregrine falcons and hundreds of seabirds that call this place home.
The giant mountain of stone jutting up from the Pacific has also been used for centuries as a landmark for sailors. To think that we once blasted away more than a million tons of rock before our ancestors got wise enough to leave nature alone.
We stopped on the wharf to empty the bladders one more time and I should mention that the public restrooms offer hot showers for ˘.25 if anyone is planning on visiting this area. For me, I've already showered once this week, so I'm way above my dirtbag quota.
With the morning light offering a golden glow across the rock, we drove out to the point to watch the waves crash over the jetty. They had the parking lot blocked off and made you walk out there for safety reasons.
Much of the stone blasted away from Morro Rock was used to build the protective Jetty which makes Morro Bay so peaceful and calm. Those same waves that had been pounding the Jamala Beach area were doing their best to come over the break wall at Morro Bay.
This made for some great shows as the foamy, frothy salt water would come crashing into the stone. It reminded me of 4th of July and when a big wave would hit, the group of people that had gathered to watch Mother Oceans powers of erosion would let out a loud cheer of approval.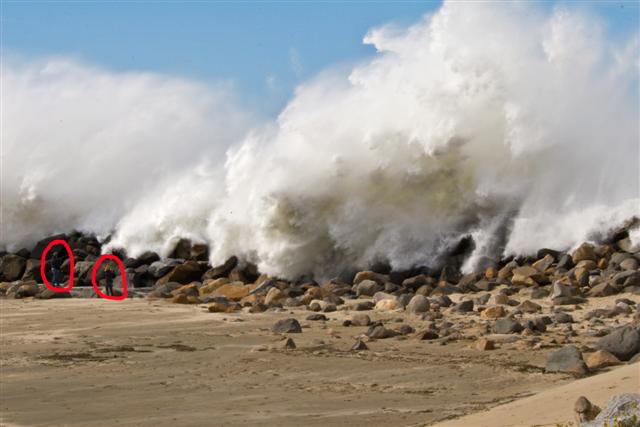 The two red Circles are the two people standing way too close to the wall - They Survived!
One couple who was new to the scene walked up past the barrier that said "Stay Clear For Your Protection" and was standing right below the break wall. If you could have seen their faces when one thunderous wave hit the wall and sent them running for their lives. This is when we need the ability to switch to video mode like the new Canon 7D offers...Hint..Hint..Cindy!!
We must have sat watching this show of nature for at least an hour before we were both coated in a layer of salt spray and decided to head back to the VW for some warmth and protection from the winds.
As we were walking back to the parking lot, Cindy pointed out into the bay and asked "Is that a group of seals?"
We both looked through our lenses to get a better look and were shocked to find out they werent seals, but a family of otters playing in the calm waters of the bay.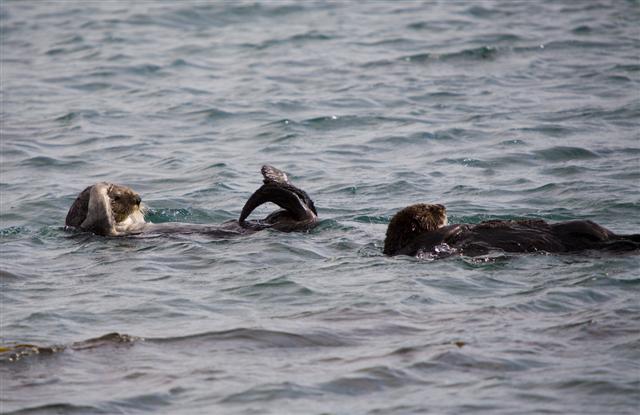 In all our travels, we've seen maybe 1 or 2 otters and they were both in the bayou of Louisiana. This was a treat to have a group of 4 adult otters playing right in front of us and one of the female otters even had a baby riding along on her plump belly.
They all sat wrestling in the water the same way puppies would on solid ground. After an hour of play, the group found a big piece of floating kelp to climb atop of and take an early afternoon nap. There is something about watching otters play that makes one feel good about life. I think you could show Charles Manson a group of playful otters and the physco would walk away a happy human being.
With big smiles on our faces, Cindy and I were walking back towards the VW van when we noticed the most beat up Dodge Truck we've ever seen in our lives. In place of the Pick-up Bed was a homemade dump box with a homemade camper type structure built on it.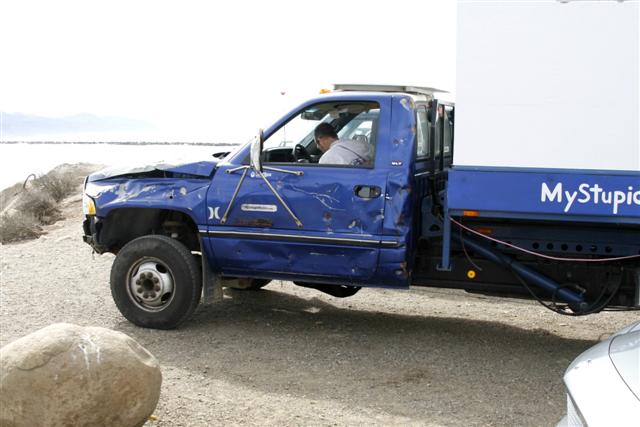 On the side of the dump box was hand painted letters that said MyStupidRules.Com. The guy was sitting in the truck with the window rolled down, so I walked up to him saying "Ok, you've peaked my interest, what is mystupidrules.com all about?"
This was my first mistake! For the next half hour, I sat listening to the weirdest person that walks this Earth. Nothing in the guys non-stop ramblings made any sense and the conversation kept going in circles about how Ted Turner had tracking devices in all our computers so he can control us and everything we do.
Cindy was hiding two vehicles down inside the Van, but could hear every word being yelled out of the guys mouth. She later told me she had to stay hidden because of how hard she was laughing the entire time. She told me she couldn't believe I could stand there and listen to it and not laugh in his face.
I'll admit I did bust out laughing a few times right to his face at some of the comments. One of them being the comment about Hollywood trying to steal his life story and Brad Pitt wanting to play the part of him, the crazy loon.
The other comment that made me bust out laughing right in his face was when he told me he had a year long love affair with Sarah Michelle Geller. If you could have seen this guy, you'd know Miss Geller would have a restraining order faster than the judge could write it up.
The final straw that sent me running was when he started to talk about his warrants for Child Molestation and Drug Trafficking. This was when I interrupted the loon by saying "Thanks for your time, I'll be sure to check out your website." I turned and walked away at a fast pace with him still yelling things at my back.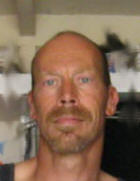 I didn't even want to walk towards the van and show the guy what we were driving or that I was parked only two vehicles from him in fear he might get out and follow me, so I just walked in the opposite direction and went and stood near someone else's car.
Just so you know a few of the things I learned while I listened to his conspiracy theories; the Government has installed tracking devices in all our vehicles and sold them to us as ABS Brakes. This is why he removed the ABS Brakes off of his truck.
If you try and type anything negative about the government or the movement to control our thoughts, Ted Turner can go into your computer and scramble the words so they dont mean anything, or at least they keep doing this to his writings.
He told me he spends hours typing his thoughts that he is compiling for his upcoming Autobiography, but when he goes back to look at them and reread his writings, the letters are all jumbled and none of it makes any sense due to Ted Turner and his ability to control the computers.
A lawyer will never talk to a client in a room that has windows because they know that lasers can be pointed at the windows so the government can ease drop on the conversation.
When he finally drove out of the parking lot, I walked over to our VW and got in glaring at Cindy. I said "Thanks for coming out to rescue me on that one!"
She just sat there laughing so hard she couldn't even reply. We were both wondering how that guy functions in society and why does he have a drivers license? Scary Stuff!!
We left Morro Bay with way more than we had bargained for and headed for Montana de Oro State Park
This is another recommendation high on the list of a few California locals and once we pulled in, I can see why. Its beautiful.
Long views of the turquoise waters stretching all the way along the coast with Morro Rock off in the distance. Scenic views in ever direction you looked which made us pull over at the first pull-off to have some lunch and take in the views.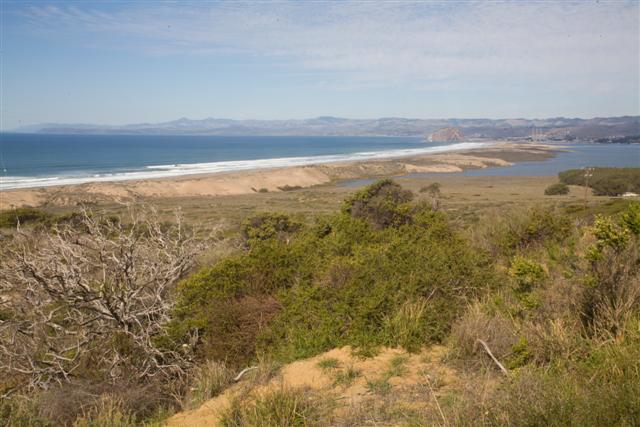 This was the shot of the secret Surfing location he was worried about
While Cindy was making us both some vittles, I got out of the van to snap a photo of the scene when I heard some guy yell out from his van parked behind us, "You had better hope none of the surfers see you taking photos of their secret surf spots unless you want your nose broken and your camera busted!"
I looked over at the guy asking "What the Hell are you talking about?"
He went on to say that the surfers are very protective of their secret surfing spots, and if any of them see me taking photos of the locations, I'd probably get beat up.
I told him that I am standing almost a 1/4 mile from the shoreline on a public road and taking a photo with a 24mm lens on a full frame camera. I probably have 20 miles of shoreline in my image and the last thing I'm worried about is the secret surf spots.
And how is this a secret if we're in a State Park, and parked in a designated pull-off above a stretch of public shoreline? I highly doubt that with the stream of cars coming in and out of this park, its that big of a secret.
I think the guy sort of realized he was an idiot and he apologized for his comments and drove away. Jeesh! What's up with California and the crazies?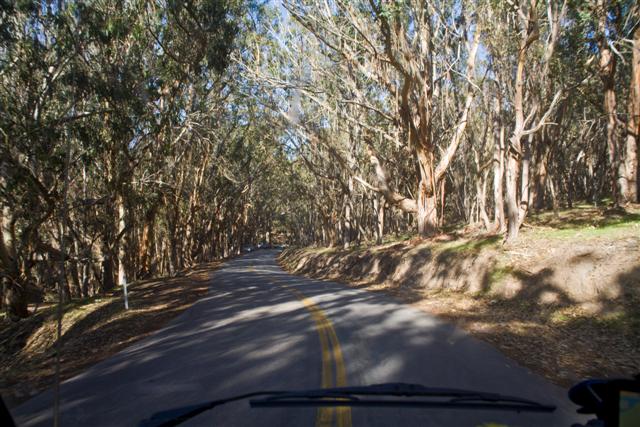 We spent a few hours in Montana de Oro State Park, enjoying the pull-offs, the eucalyptus forests, the informative museum and the comforts of the VW Van.
One thing with this surf wagon is you can slide open the side door, pop the Westfalia top and go from small, streamlined van to the ultimate picnic vehicle in under a minute.
For weekend trips up the coast or a solo roadtrip, I think a VW Bus like the one we're in is the perfect vehicle. Now that we've been on the road a few days straight, its easy to see what we need and what we though we'd need, but have yet to use.
A good cooler is key to keep some drinks and cold cuts iced down and within reach. The camera gear, a pair of flip flops for the day and a pair of comfy shoes and warm socks for the night time cooler temperatures. A pair of shorts for the day and a nice, loose pair of pants to pull on in the afternoon. A hoodie to keep the chill off when the breeze picks up each afternoon and a wind breaker to layer atop the hoodie turning it into a warm combination.
The wind breaker is a key piece of gear used to turn multiple pieces of clothing into a warm inner layer.
Throw a few well worn t-shirts in the storage locker and you're good to go...super light weight and streamlined.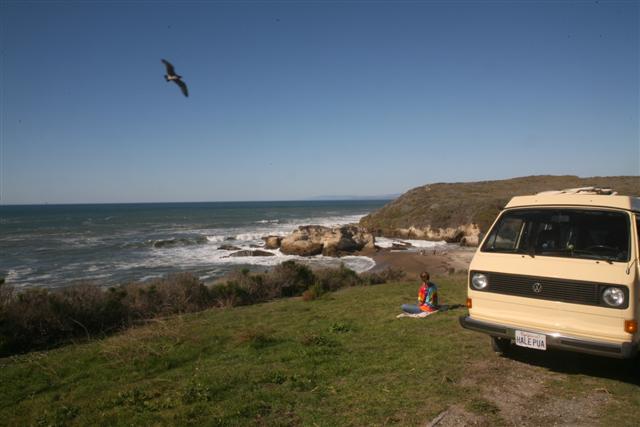 When these articles of clothing are dirty, you can either stop and wash all of them in one load, or know its time to head home.
Even Cindy has made a bunch of comments on how this sort of lightweight travel really makes you look at how easy it would be to get by with so little.
I'm already thinking about how much crap I'm going to donate to the Goodwill when we get back to the camper in San Diego.
We contemplated spending the night in the Montana de Oro campground, but we did a drive through and noticed they only offered pit toilets for a cost of $25 per night, so we chose to either find a campground that had hot showers or dirtbag it on the side of the road.
While we still had a fair amount of light to search out our next destination, we headed further up the coast towards San Simeon and the Hearst Castle.
I made the mistake of not topping off the fuel tank while we were in Morro Bay and even going as far as buying a few 5 gallon gas cans to bring along for the Big Sur leg of the trip. Our fuel gauge read 3/4 when we were pulling out of Morro Bay, so I thought we'd be fine for the next day, but by the time we pulled into the town of Cambria, we were needed some fuel.
I about chocked when we noticed the price of fuel had jumped some ˘.60 in the last hour of driving north.
$3.79 for fuel in Cambria. I only put in 5 gallons hoping I'd find something more reasonable as we drove further North. In San Simeon we grabbed some dinner at the local Mexican Restaurant, which was excellent, then found a dirt parking lot to pull over for the night.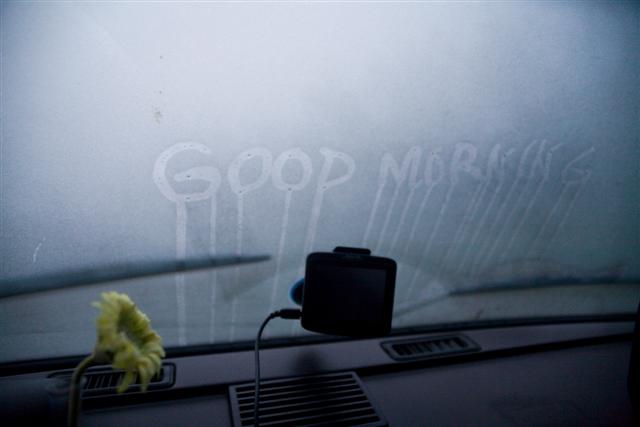 The time was 6:30pm and we went to bed fully expecting a knock on the door telling us we had to move or get ticketed. California has spent a lot of money on No Parking/No Camping Signs along this stretch of roadway.
Cindy woke me up later in the evening saying "Its starting to get light out, lets get going."
We started to get up and get our day rolling when she flipped open her phone to see what time it was when she exclaimed "Hold up! Its only 11pm at night! We're not going anywhere."
The lights we were seeing was the overhead parking lot lights and our eyes had just become acclimated to the dark. So we both climbed back into bed snuggling up to Luca who was smart enough to have never crawled out from the warmth of the blankets on the bed.
Amazing enough, we made it through the night with no knock from 'The Man' and I'm thinking we've finally earned our Dirtbag varsity letters when it comes to camping out along Highway 1.
Monday November 9th Hearst Castle and our Break Down
When we finally decided we had better move out, we had been parked for 12 full hours! Man it sucks when its dark at 5:30pm. Its not like there is any nightlife to give you something to do once the sun sets.
In our camper, with the big bank of deep cell batteries, once the sun goes down, that usually means we go in the camper and work on the computers till were good and tired.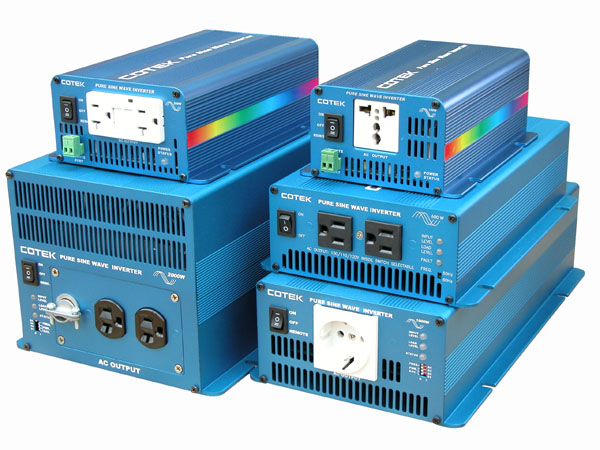 In the VW, with only one battery, we need to conserve its power to make sure it will start the motor in the morning, so unless we're driving, we cant work on the cpu's at all. This is grueling for both of us as we're used to at least looking at our photos knowing what we've got at the end of the day.
I can go without internet, that's no big deal, but shooting gig upon gig of photos, and not being able to look at them is downright painful for both Cindy and me.
Having the 12 volt inverter with us means we can charge all our batteries while driving and that really important. I cant imagine traveling without some of these luxuries in this day of digital cameras, portable hard drives and other electronics we carry with us.
Why did it take so long for vehicle manufacturers to figure this out? I remember our first inverter we bought. I think we spent a few hundred dollars for a 300 watt model that would create a nasty buzz in any of the electronics we'd plug into it.
Our current model is much quieter, much more efficient, runs at 400 some odd watts and cost $59. Its easy to bring with us in any vehicle we drive in and has come in handy for many trips when we dont have our truck and all its built in photographers luxuries.
We had camped in San Simeon last night, so we could visit the Hearst Castle first thing this morning. I know this is a major tourist destination, but with our love of history and architecture, I'd still recommend it to everyone driving down the Pacific Coast Highway. Heck, we liked it so much, I'd go as far as say it would be worth booking a specific trip just to visit the castle.
Since we were driving around before the sun had risen, and the town of San Simeon is only a few hundred people that live there, finding anything open this early was out of the question.

Sunrise on the Shoreline of San Simeon
We found a really pretty spot to sit and wait for the sun, earth and waves to do their morning ritual. While Cindy made some coffee to warm us up, I got out my tripod to try and play around with the waves and the craggy shoreline.
Another truck pulled up and I sat talking with David, a panoramic photographer who had stopped to see what the morning light might offer for his lens. He joked that he saw my tripod and was glad to see that he wasn't the only photographer stupid enough to be out here this time of morning freezing his fingers off.
He told me that of all the rugged coastline seascapes he's found driving up and down HWY 1, this particular section is his favorite.
For me and my relationship with sunrises, they're not that strong. If I make it up that early, it had better be one spectacular scene to get me holding onto a bunch of freezing camera gear when I could be snuggled up to a warm woman in bed.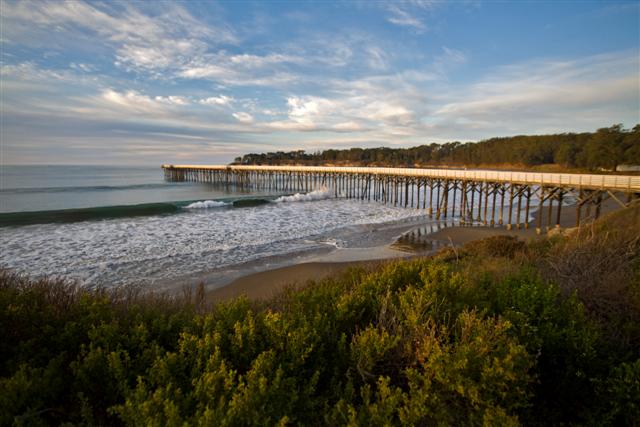 Then once the climax happens of the sun actually coming over the horizon, the colors loose their zest and I get bored with the scene.
I spent about an hour along the coast and when I was worried I was going to have to amputate my fingers from losing all feeling in them, I scurried back up the rocks and into the warmth of the Van.
We were off to find someplace warm where we could get some food and hot coffee to really wake up.
We found the only place open for breakfast and grabbed a booth. It was a one man operation and the same guy who took our order also cooked our food. While he was in the kitchen cooking our breakfast, I got up to refill our coffee and another guy walked in for his morning cup of Joe.
The cook/waiter/head bottle washer peaked his head out the kitchen window saying "I'll be right with you!" and I asked him if he wanted me to serve the guy his coffee so he could stay in the kitchen.
He laughed and said "Sure, go ahead if you dont mind."
So I sat the guy, poured him his coffee and gave him a menu. I figured it would help get our food faster. Cindy and I sat warming ourselves up and talking with a woman from Canada who was on a bus trip down the California coast with a group of senior citizens.
We talked of various sights we've seen and compared different areas of the coast as we got fed up on our mornings breakfast.
The waiter came back to the table and I asked him where he'd recommend if I was traveling North and needed gas. I was shocked when he replied "I'd go back to Cambria. That's where I go for my cheap gas."
He told us the further North we travel, the higher in price the gas is going to go. "Plan on spending at least $5 a gallon once you get into Big Sur."
Oh man, why hadn't we bought extra gas cans while the fuel was only $2.89 per gallon back in L.A.?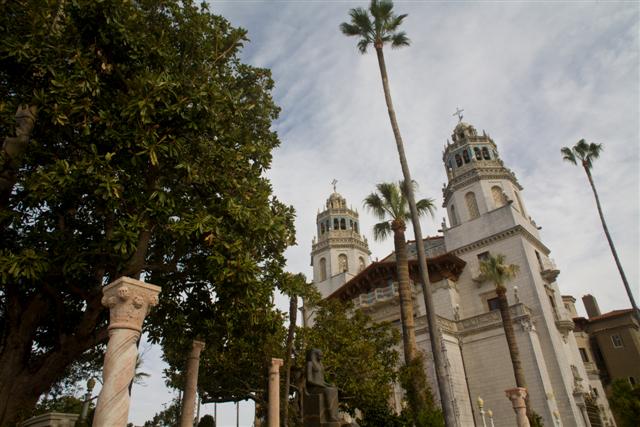 So before we headed up to Hearst Castle, we went back down to Cambria for our second trip to get some very inexpensive $3.79 per gallon gas.
While in town, we figured we might as well top everything else off. So Cindy went grocery shopping for some fresh produce and I topped off the propane knowing that would probably be inflated the further North we explored.
Once everything was topped off, we were back on the road heading North to Hearst Castle. Cindy had checked their website to see about hours and prices and said "Oh, it's only $12 per person, we can afford that." But when we got to the visitor center, it was actually $24 per person. Cindy had been looking at the child price for entry. Oh well, it was still worth the higher entrance fee.
The only thing I was worried about was they werent going to allow us in with our cameras. When we visited the Biltmore in Ashville, North Carolina, they had strict rules about cameras and when we were just down in Malibu, the Adamson House wouldn't allow cameras inside either.
Hearst Castle allows cameras, just no flash and no tripods. Easy enough and with a few of our faster lenses, we'd be sure to get some good shots. We just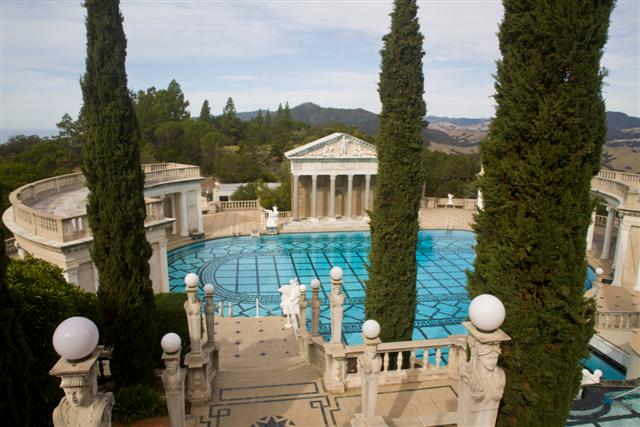 needed to remember to bump up the ISO when we went inside and more importantly remember to bring it back down when we came back outside.
The only thing I didn't like about the tour of the Hearst Castle is you have to go through the home with a tour guide. One in the front who acts as a Narrator and one in the back to usher you along and make sure no one touches anything or wanders off on their own.
Other than that, the tour is amazing. 'Beyond Words' is the only way I can think to describe this architecture and collection of original artwork. Pieces from the 15th and 16th centuries. Pieces from failed dynasties and empires you normally only read about in text books or that art history class.
I could take the one tour we were on four of five times before I'd be able to retain all the information we were told. They offer 4 separate tours and have just introduced a photography specific tour. That tour I'd love to take in the spring time when everything in the gardens is in full bloom.
The story of the Hearst Castle is so long and interesting, it could be a few books or movies in and of itself, so I wont try and get into it in detail, but I will say that its well worth the entrance fee and it shouldn't be missed.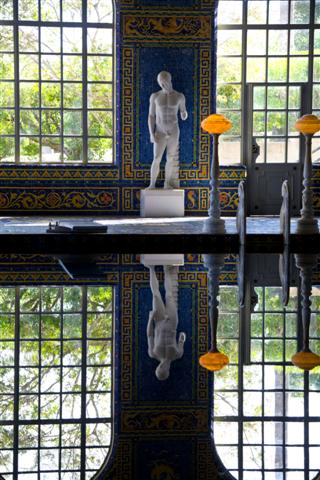 We met a nice couple while on the tour that we talked shop with when it came to photography and wildlife. Birds in particular as they were avid birders. Jess and Susy are from Washington and visiting the California Coast checking out the migrating birds in their 5th wheel camper.
After our tour we had some lunch in the parking lot before heading North. A few miles up the coastline we pulled over at the Elephant Seal nesting beach to check out these giant, hunks of slobbering blubber.
It was fun to sit and watch the males bash their chests against one another while trying to show off in front of the ladies.
Jess and Susy also came down to the seal viewing area and the four of us sat talking for over an hour about our past travels and journeys we still have planned. They recommended a few sports for us we've yet to visit and we told them of a few of our favorite places we've visited along the road.
The sun was getting lower on the horizon and the winds were picking up, so we said our Goodbyes, exchanged numbers and Cindy and I climbed back in the VW Surfari.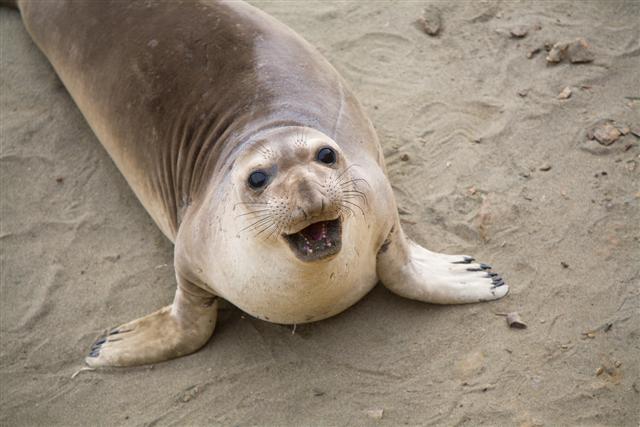 One of the Many Elephant Seals on the San Simeon Coastline
From San Simeon north, the California coast becomes very rugged and HWY 1 becomes reminiscent of the Hana HWY along the Maui coast. Winding curves so tight, you almost have to come to a complete stop when taking them. Drop offs on the other side of the cliff so steep that one false move would leave you swimming in the Pacific where you'd become shark bait instantaneously.
We passed the little village of Ragged Point and were keeping our eyes peeled for Salmon Creek. A waterfall we wanted to hike that someone had recommended to us online.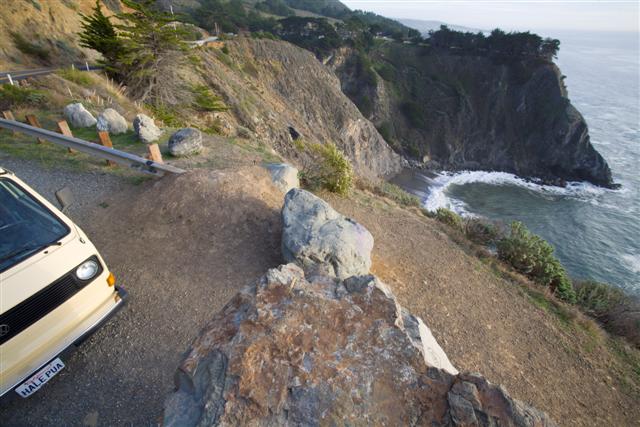 When we came down the hill and passed the turnoff, I turned into a pullout to let some cars pass and turn around to go check out the trailhead. We only had about a half hour of light left, but we thought we'd get out to stretch the legs some.
As I turned the bus around, we heard a strange noise that sounded like I had run over a coat hanger or a piece of wire. We both looked at one another with that look of shock and our faces read "Oh Shit!"
As soon as we heard the noise, the gas pedal went dead and the little Yellow van that had carried us 626 miles North of L.A. had now broke down.
The nose of the van was out into the road, so we both jumped out to push it back into the dirt pullout. A pick-up truck that was driving by stopped and the guy jumped out to help us push it backwards.
He joked with me asking "Do you just want to keep pushing it back right over the edge?"
Jack and Lydia were touring the Pacific Coast Highway for their wedding anniversary and once the VW was off the road, we all sat talking about their many trips up and down the coast from their home state of Washington.
Jack told me this trip they were exploring the hundreds of miles of dirt roads that snake through the Sierra De Salinas Mountain Range. He was telling me about the old homestead properties that are left up there and the old Mission San Antonio De Padua that still stands hidden in the mountains.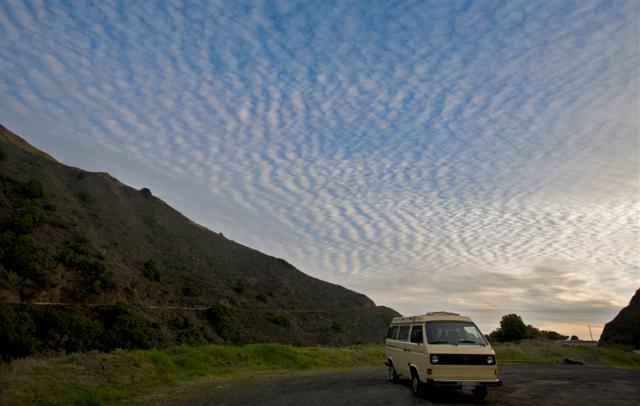 The Pull-Out we Broke Down in - Not a Bad Spot to Spend the Night
I added that route to the long list of places we must come back and visit on a different adventure. But right now we needed to pay attention to the task at hand, a broke down VW Van.
I'm not much of a mechanic and I know these vans are the type that need constant maintenance. But we were 25 some-odd miles from the nearest service station and sitting in a spot with no cell phone coverage.
Jack and Lydia offered to drive us where ever we needed to go, but once we talked of the dog and our loads of camera gear we had with us, we figured it would be easier for us to just stay with the van and have them call Bill back at VW Surfari once they reached a cell signal.
I mean we were in a fully functional camper and we had just stocked everything full this morning knowing we were headed towards Big Sur.
They wished us luck, we thanked them profusely and they drove South towards Ragged Point. A few seconds later, Jack pulled back in the turnout saying "100 yards down the road there is an Emergency Call Box that motorists use in case of a break down or accident."
He told us he'd still call Bill for us, but that call box might get some help out to us faster if we wanted to get towed out tonight.
We thanked him again and Cindy and I walked down to see what sort of help we might be able to call on the phone. I've always seen these phones along the side of the road, but I guess I've been lucky enough up to this point to never have to use one of them.
As soon as you pick up the phone, an operator answers asking if you've had car trouble and if you need medical assistance?
We answered "Yes" to the first question and "No" to the second one. We explained our situation and tried to stress that we didn't need a California Highway Patrol car to come out because we werent going to leave the vehicle due to the amount of contents and the dog.
The operator told us it was protocol to send out a CHP Officer , but she would let them know it wasn't an emergency situation. They also called Bill's number, but only got a voicemail, so they left a message for us.
From this point, we had done everything we could do and the only thing left to do from here was crack open a beer while we watched the last few rays of sun blend with the stars that were trying to pop out from behind the heavens.
I figured this would show us how strict all the 'No Camping' signs are that are posted up and down the PCH Trail. Being as we were parked right under a sign the size of the front end of the bus that said "No Parking at Anytime"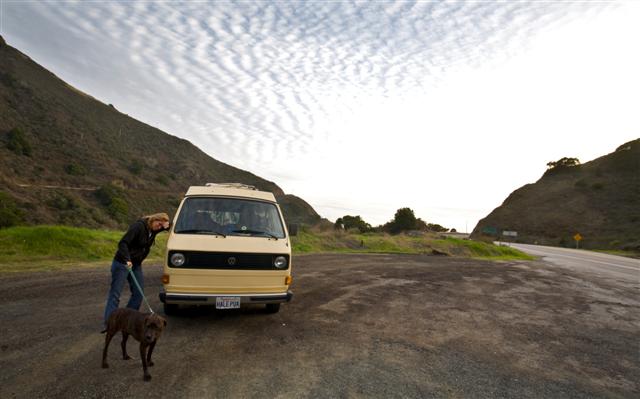 We are on a very busy road with plenty of cars whizzing past us and not one even taped their brakes to see if we are in need of help. Even with Cindy standing under a call box on the phone while I was walking around with Luca, not one of the cars passed to see if a single girl needed help.
Granted we're in a VW Bus and they probably just figure we're some beatniks not following the rules, but I expected at least a few people to stop. Thanks Jack and Lydia for stopping and offering us a ride and use of your Anniversary time. Karma will come back around for you at a later date and something good will come your way I'm sure.
When we watched a forest ranger truck go whizzing past and look right at us, yet never even tap his brakes to slow down or consider coming back to see what we were doing, we both laughed that up to this point, we've been worried about sleeping along the side of the road.
Cindy made us some dinner, I drank my one beer and we hit the sack. A nice warm breeze was blowing in and you could hear a faint sound of the waves crashing against the craggy shoreline and in all honesty, I couldn't think of a more beautiful location to be broken down. Dont tell anyone, but I was hoping it would take a few days for help to arrive.
Our whole reason to be in this pullout was to hike the Salmon Creek Waterfall Trail, so we'd get to do that tomorrow before anyone would have time to get to us.
Tuesday November 10th 2009 - Getting the Van Fixed and our 3rd Trip into Cambria
When I awoke this morning, I said to Cindy "That's the best I've slept this entire trip so far."
I told her because we had no worries about the dreaded knock in the middle of the night, I slept really well.
She laughed and said "I think its funny that we're broken down on the side of the Pacific Coast Highway with no cell phone coverage, no idea of what comes next and we both had the best night of sleep yet!"
We popped the Westfalia top to exhaust the condensation and air out our morning breath and Cindy cooked us up some breakfast.
After breakfast, she decided to go use the Call Box again so she could see if Bill had received the onslaught of messages and see what the plans were for our rescue operation today.
I cleaned up the inside of the camper and put everything in its designated location.
When Cindy came back from the phone, she said "Ok, Bill is in Phoenix picking up another van for his collection, and was out of cell coverage range when we were trying to call him last night. He had gotten all our messages and said he sent us a few different text messages, emails and voicemails with places we could get the van towed to. He said text messages go through in places a cell phone signal cant reach, so he tried to cover all the routes of communication."
She said "The call box operator is sending a flat bed tow truck to bring us to a shop and he should be here within a half hour." My response was WTF? What happened to hiking the waterfall trail?
Isn't that the entire reason we're sitting where we are right now?
She gave me one of those looks that brought my tail between my legs and said "Did you want me to ask if the operator could wait a few hours before calling the tow so we could go do a hike?"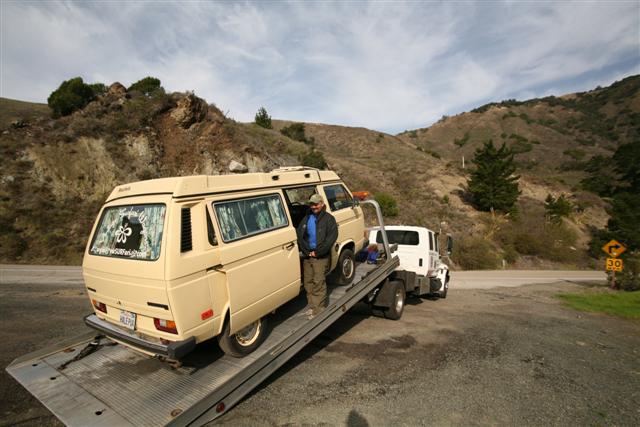 So we packed up a bunch of stuff not knowing what would be the outcome of the tow.
The driver from Cambria Towing pulled up in no time, and soon enough we were loaded up on the flat bed on our way back to Cambria for our 3rd time in as many days.
Funny that the drive out of Cambria to where we broke down seemed like it took us forever, but in the tow truck, with the high rate of speed the driver was bringing us back into town, it seemed like it took us a total of 20 minutes before we were back in the little town it had taken us so long to get out of.
A few miles up the road, we were back in cell phone coverage range and I was on the phone with Bill right away.
He explained that it would more than likely be an easy fix, and he would be back from Phoenix later this afternoon, so if it wasn't something that could be fixed while we waited, then he could be in Cambria in the morning with another Van for us to swap our gear into and we could be back on the Adventure.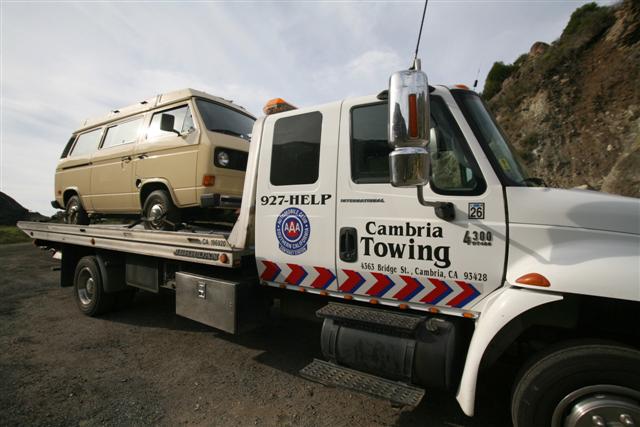 Pretty damn fine service if you ask me. I mean we are talking about a 27 year old vehicle, and one that wasn't all that reliable the day it rolled off the assembly line in Germany. So its nobodies fault the thing broke down, and Bill was adamant about getting us another van or getting us back on the road as soon as he could.
First things first and we needed to get into Cambria and have it looked at before we started making plans on what to do next.
Ron, the tow truck driver who was actually the owner, brought us back to his yard he shared with Brad, a mechanic who knew his way around the inner workings of a VW. He actually had a newer VW Bus up on his lift, and has a mint condition 1950's era VW Bug in his garage that he let us drool all over.
Brad got right on our bus, crawling underneath it and checking out a few different things he thought might be wrong with it. He had Bill on the phone walking him through what was brand new (The Transmission) and what Bill was thinking it might be by the noises Cindy and I were describing.
It took Brad about 20 minutes before we heard him laugh and say "Yep, I know what it is. Easy fix and you both should be out of here within a few hours as long as I have some spare parts on the bench."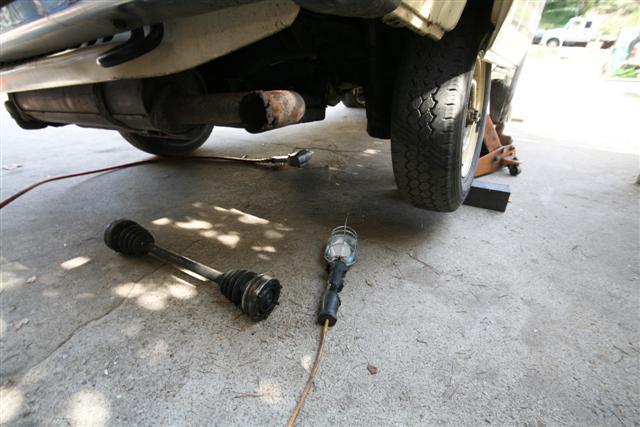 Apparently the rear CV Shaft had sheared off a few bolts and was the reason the gas pedal was useless. It was spinning the little drive shaft, but with the bolts sheared off, we werent going anywhere.
It took all of about 20 minutes before Brad had the CV Shaft on the ground and was working on it in his shop. One of the bolts that had sheared off was lodged in the threads, so he said it was going to take awhile to tap the broken bolt out, and we should probably go wander around downtown so we werent just sitting in the driveway of his shop.
Cindy and I each grabbed a camera and left to go explore downtown Cambria. The town is very nice with tons of specialty shops, bakeries, coffee shops, art galleries and bars.
We found this one shop that had so many funky little trinkets, that we both had to pull one another out of it because of how bad we wanted to start buying the unique items they offered.
We grabbed a cup of coffee at one of the many cafe's and spent about an hour just window shopping and catching up on a few phone calls to family since we finally had a cell signal that wasn't going to drop out around the next turn.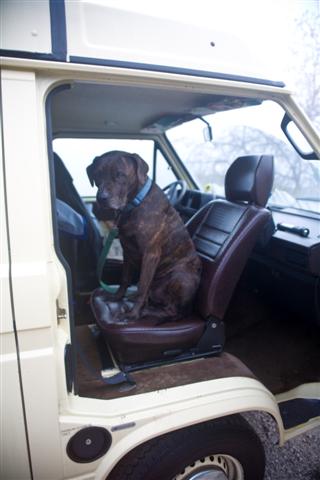 By the time we walked back up to Brad's Shop, he had everything put back together and told us to take it for a spin around the block to make sure everything ran smoothly and that was the only thing making the noises.
He said to me, "I would have taken it for a test drive myself, but that dog of yours was sitting in the drivers seat when I went to get in, and I wasn't about to move him."
I'm not sure what Luca would do if someone was trying to get into the vehicle when we werent around, but something tells me they'd probably get a face full of bad breath kisses.
When we pulled back up from our test drive, Bill had already taken care of the cost of the repair over the phone, and we thanked Ron and Brad for their amazingly fast service and keeping our mini adventure going smoothly. This was basically just a speed bump, and with as long as we've been on the road, it wasn't even a big speed bump.
So for the 3rd and hopefully the last time, we said goodbye to Cambria and headed North towards Big Sur.
We had so much fun at the San Simeon Beach viewing area where all the Elephant Seals hang out, that we decided since toady was pretty much a wash, we might as well stop again and just hang out watching the seals.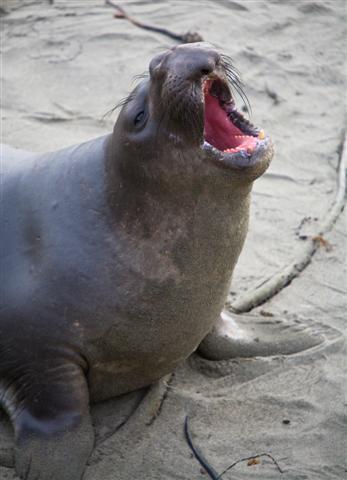 This time, we both talked with the very informative guides and learned a ton of info about these very interesting animals.
We sat watching them for the majority of the afternoon and had a blast doing it. I know we're total nerds, but they're just fun to sit and study.
By the time we got back to the Salmon Creek turnoff where we had broken down, it was about the same time we had passed yesterday and we've still yet to hike the waterfall trail.
This time we didn't slow down or turn around, we just kept going till we found a nice pull-off to watch the sunset. How boring when we dont have to use a call box or worry what tomorrow is going to bring...Just Kidding.
Once the sun dropped below the horizon, we spent the next few hours just sitting up talking about what we have done up to this point and threw ideas back and forth about where the road might lead us when we're finished with the VW Surfari.
You know those decisions about what you plan to do when you grow up. That was what we talked about all night.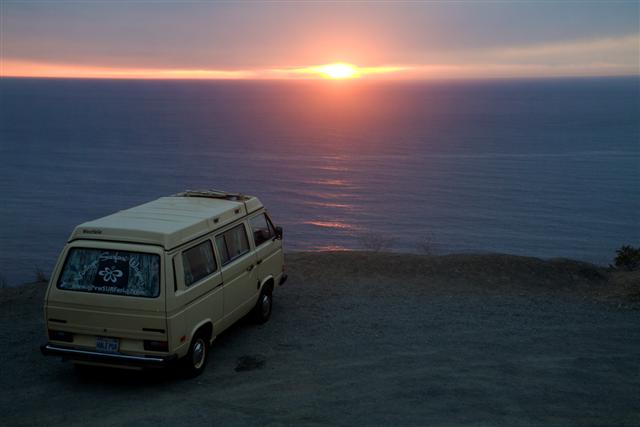 This evening we were parked right up against a big bluff that was acting as a nice wind break, so the weather was actually pretty warm even though we were a few hundred feet over the Pacific.
It was a fun day, and hopefully the Salmon Creek Waterfall would live up to the build up that lead us to tomorrow mornings hike we had planned.
Wednesday November 11th - Day 8 of the VW Surfari Adventure
Waking up this morning was like being perched along the edge of a cliff. Cindy commented that it felt like we were flying over the Pacific Ocean because of how far we could see down the coast and out to sea.
Another camper had decided to share our pull-out with us, so I guess we werent hiding all too well. Their big fifth-wheel stood out like a sore thumb where we had tried our hardest to tuck ourselves up against the side of a wall.
We threw down some breakfast and were on the road heading back towards the Salmon Creek trailhead.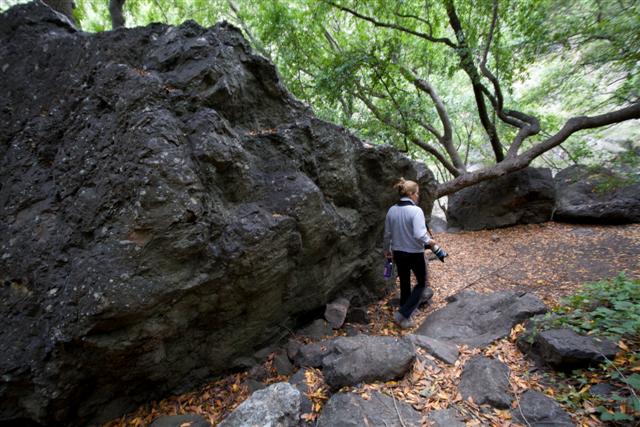 Once parked, I threw on the ThinkTank Belt System to carry a few extra lenses and some filters that always go with us when we photograph waterfalls, and we finally on our way to see this waterfall.
The trail is pretty easy, although it climbs up and around some smooth rock. If you ever come out to Big Sur to hike this trail, make sure you have good hiking shoes with a sticky sole on them. Cindy was wearing just a normal pair of running shoes and was sliding all over the rocks.
The black and green volcanic boulders we were climbing around were the size of our camper and they dwarfed the big trees all around them. It was as if we were hiking through a fairytale and the waterfall lived up to the excitement we had to go through to get to it.
There are a bunch of different routes to give you various views of the water dropping over 120' into the emerald green pool at the bottom of the cliff.
We played around all morning and if you ever come out to photograph this waterfall, make sure you're here early in the morning. By 10:30am the light was starting to filter through the trees on the bluff behind us and was causing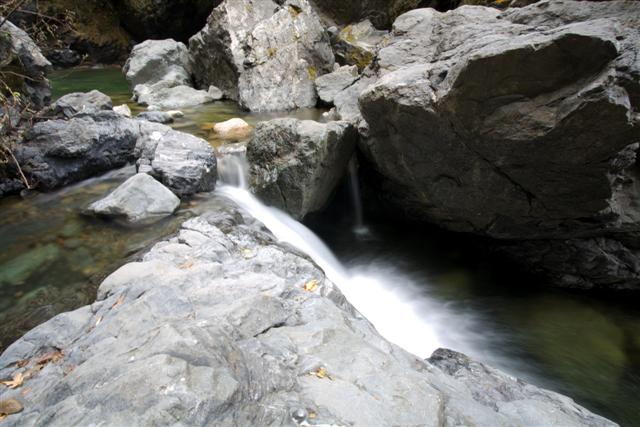 that dappled light that ruins photographs.
I wanted to hike up to the top and have a view from the peak, but with Cindy's slippery shoes, she decided to stay down at the bottom and just soak in the view.
Climbing to the top was very strenuous, especially when carrying a tripod in one of your hands. The view was pretty awesome and coming back down I found a much easier trail that dumped me back out my the road.
I hiked back in to see if Cindy was still down there, but she never answered any of my calls, so I grabbed her water bottle she had left sitting on a rock and hiked back out to the van.
Once at the van, I found that she wasn't here, so I threw the camera gear in the back and grabbed Luca to give him some exercise. He would probably make a great Search and Rescue Dog as long as Cindy was the only one he was searching for.
All I had to do was say "Go Find Ma!" and his nose hit the ground and he was gone. I could barely keep up with him he was towing me so hard behind his leash. One of his favorite things to do is play Hide and Go Seek, so this was a really challenging game for him.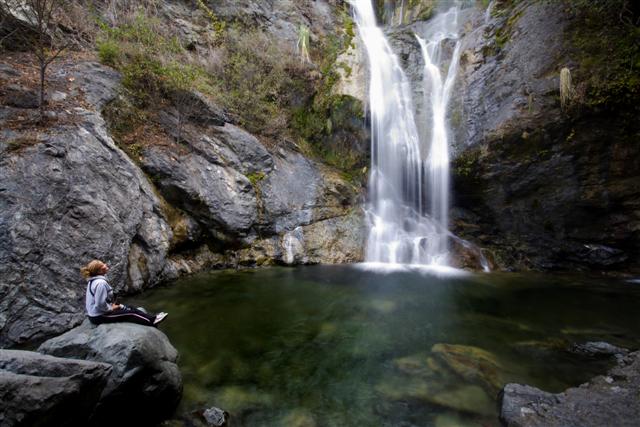 Cindy just soaking up the Beauty of Salmon Creek Waterfall
Surprisingly enough, he followed our exact route we had taken in the first time and he never even veered off when we passed the trail I had hiked back out of.
When we heard Cindy whistling for me, I let Luca go and told him to go get her. He took off so fast, I was worried we were going to have another incident where he plows right into Cindy and knocks her onto the ground.
She yelled at me for going back to the truck without her, and I explained that I had called for her a few times. Sitting at the base of the falls, I realized you're almost deaf to any other sounds because of the roaring of the water.
The 3 of us walked back out to the van and were soon on our way North up HWY 1.
The rest of the day was spent pulling over every few miles to take in the views and we finally found the McWay Waterfall. I had told Cindy that I had a few things I wanted to photograph and see with my own eyes along this journey.
The Elephant Seals up-close in San Simeon, touring the Hearst Castle, visiting the end of Route 66 on the Santa Monica Pier, taking in the Salmon Creek Waterfall, experiencing Venice Beach and finally, seeing the McWay Waterfall. Up until a few weeks ago while I was compiling all the info we had received for this adventure, I had never even seen or heard of this amazing piece of nature.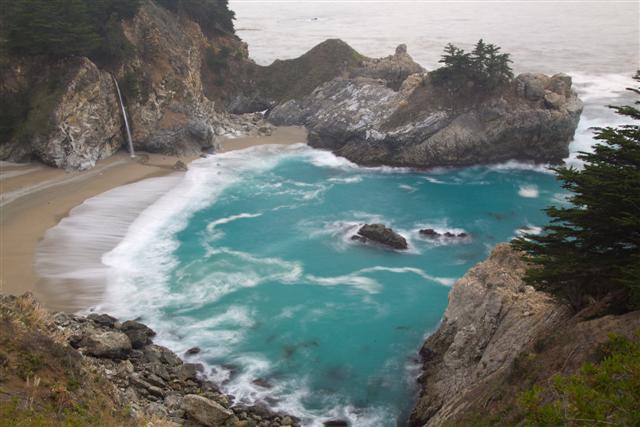 But once I saw it in a photo someone had sent me a link to, I haven't been able to stop thinking about it. Its something you'd see on a tropical island in the Caribbean. When Cindy asked me how you could even describe it in words, I said I'd just say "Imagine you're jogging down a tropical beach in slow motion with corn rolls in your hair, a skimpy two piece bikini on your tanned, buff body. This would be the backdrop you'd see in the background."
I couldn't believe it when we found out this piece of property was actually someone's private house at one time. Imagine owning the only waterfall to drop directly into the Pacific Ocean along the West Coast.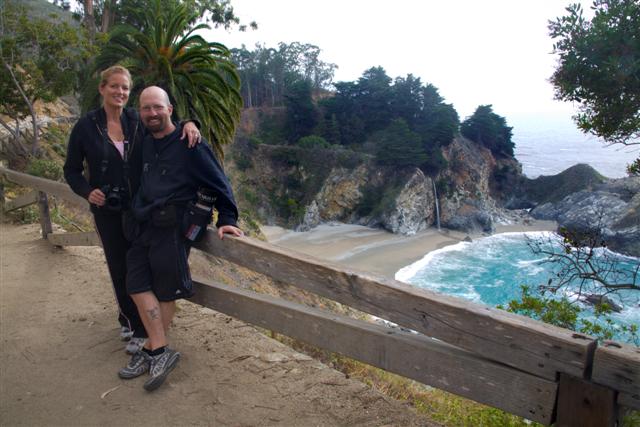 This waterfall is breathtaking and I couldn't stop taking pictures of it. I've also found a new goal in life. To do a photo shoot on the beach and have a few days to wait for the perfect light.
As we were leaving the McWay waterfall, we were sitting in the parking lot having lunch and watching the ravenous Steller's Jay who were practically stealing the food out of our hands as we ate with the doors open when another of Bill's VW Surfari Vans pulled up right beside us.
The German couple who was driving the vintage green Westfalia tried to talk with us, but they spoke very little English, and we spoke no German.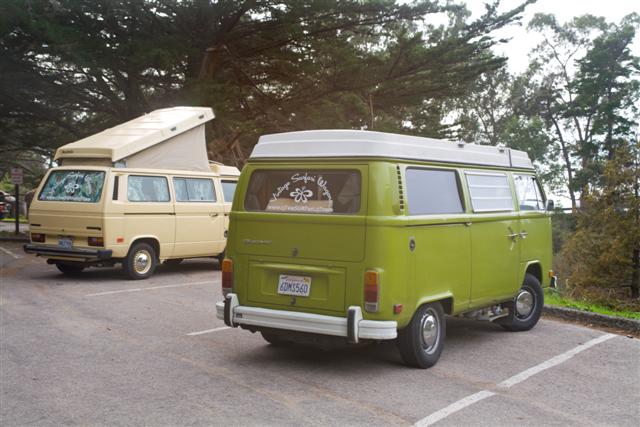 So we just smiled, pointed at a few different things and did alot of laughing.
After lunch we stopped at a few Galleries and had a drink at Nepenthe. This Restaurant/Book Store/Cafe offers some amazing views and blends into its surroundings so well, you almost dont even notice it.
The views off the deck are something everyone should see while traveling the PCH Trail and while we were sitting there just watching the evening fog roll in, I said aloud to Cindy "Why would anyone want to live anywhere else than California?"
The place is so beautiful and diverse. Each day just amazes me more and more with the new sights we see.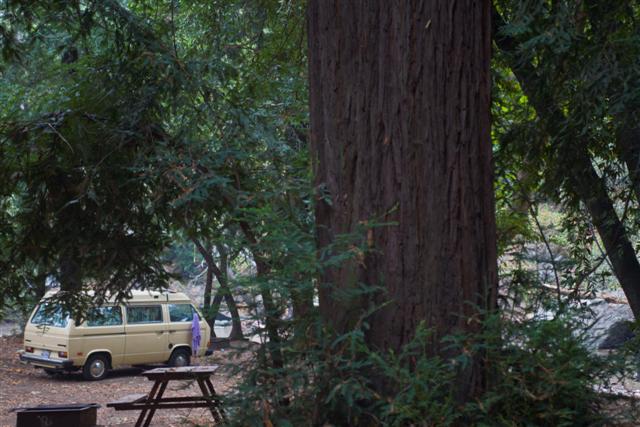 We finally landed at the Fernwood Campground so we could have some electricity and I could get caught up on this dang blog of mine. I'm so far behind right now, it will be days of sitting in front of the laptop before I can get some galleries posted and have everything uploaded.
Camped in a thick grove of redwoods, even though it was only 5 in the afternoon and the sun was just now setting, once we pulled into the grove of towering trees, all outside light was blocked out and it instantly became night.
If you thought the VW Van was small before, try looking at it when it's parked beside a 300' tall redwood that is larger in circumference than the van is long. Nature has a way of dwarfing you and making you realize how insignificant we humans are in this world, no matter how bad we try and ruin it.
I sat in the van all night while Cindy grabbed her Laptop to go sit in the little coffee shop/restaurant the campground has. While she was checking in, the guy working the desk was surprised to find out she was originally from Michigan. I guess he just moved here last week and said the same thing I had just said while sitting on the deck at Nepenthe. "Why did I live in Michigan for so long?"
Thursday November 12th - Moving back into Civilization
I'm thinking that sleeping in the camper last night with the temps getting down to the low 40's wasn't good for my worn out body. I woke up with an all over body ache and a throat that felt like I had a piece of sandpaper stuck in it.
Cindy made some coffee while we took turns in the hot showers. I'm confused that we pay $40 for a campsite, and still have to pay to shower. I've come to the conclusion that California is way to rich for my blood.
Being tucked in this Redwood Forest between these towering giants was like being locked in a cold, damp cave. We could see that the sky was a deep blue above the trees, but none of that warm sunlight could penetrate the thick canopy.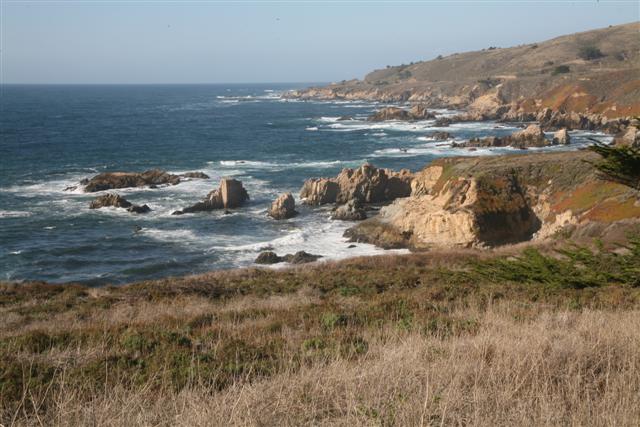 We figured since we spent $40 to camp here, we might as well take advantage of the electricity and work on the computers till check out time, so the morning was spent putting together a VW Surfari Gallery of our photos up to this point and trying to move my many pages of notes into a legible, readable blog.
We moved from the campsite to the Fernwood Cafe, but it was too hard for me to write because of the worst service I've seen in years. The manager was sitting at a table and Cindy and I could see the frustration in his body language with the young, slacker girl behind the counter.
She sat texting on her phone the entire time, and when a new couple would come walking in, he'd have to clear his throat to get her to look up where she'd give a short, rude "Can I help you?"
Two ladies came in and sat beside us and when we all got to talking about the $6 coffee and crappy service, we found out that they were from Michigan and knew the Red Dog Saloon from visiting Milford....What a Small World!
We sat talking about California and how beautiful it was and our journeys up HWY 1. They were headed to Whistler at a pace about the same slowness as we were crawling. We talked about the VW Van and how fun it was to have the ability to pull over and have everything with you, but also about the camping and how exaggerated the prices were.
I guess people from California are just used to these sort of prices, because each time we bring them up, folks from out of state all agree its just too expensive, but people from California almost seen shocked when we say "Its just too much!"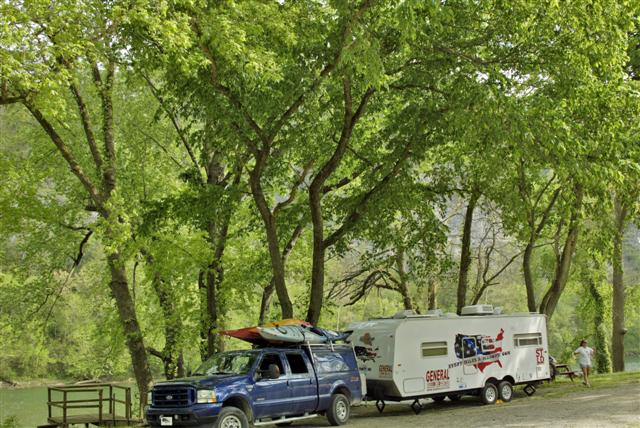 Camped in Arkansas along the Beautiful White River for $20 per night!!
I have no problem spending $19 for full hook-ups when we're camping in a beautiful Arkansas State Park. I have no qualms about spending $25 for a full hook-up site with laundry, hot showers and beautiful scenery when camping in a Florida State Park.
When we boondocked in the Ocala National Forest in central Florida, the sites were primitive with a water spigot you had to share for the entire campground and cost only $7 per night. Arizona, New Mexico and Nevada offer BLM campgrounds that blanket much of those states for free, State Forest Campgrounds are $6 per night for primitive sites and maybe $20 on the high end for full hook-ups.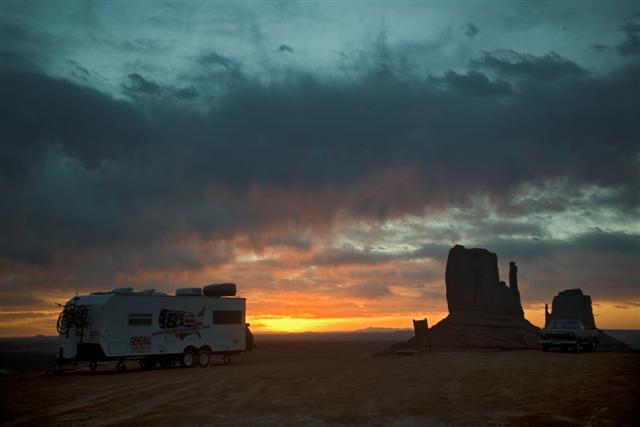 Camped on the Rim of Monument Valley - $15 per night and worth every cent
Minnesota and Wisconsin State Park Campgrounds offer free camping if its out of season and still provide access to the dump stations if you need it. Oklahoma offers free camping in many of the public parks and their rest areas along the roadways have dump stations so travelers dont have to be carrying extra weight while they drive.
None of these states have the problems California does with their financial budgets, and they are major destinations for travelers. I understand that California isn't really comparable to any of these states, but you would think rather than keep raising the costs to go out exploring and having fun, it would be in the best interest of the state to lower the prices of these campgrounds which would make more people want to go out and have fun, especially in these off season months.
When we left Fernwood, we drover further up HWY 1 stopping every few miles to take in our last few miles of remote coastline. We knew that once we hit Carmel, Monterey and Pacific Grove, we'd be back in civilization and this rugged, remote coastline would be behind us.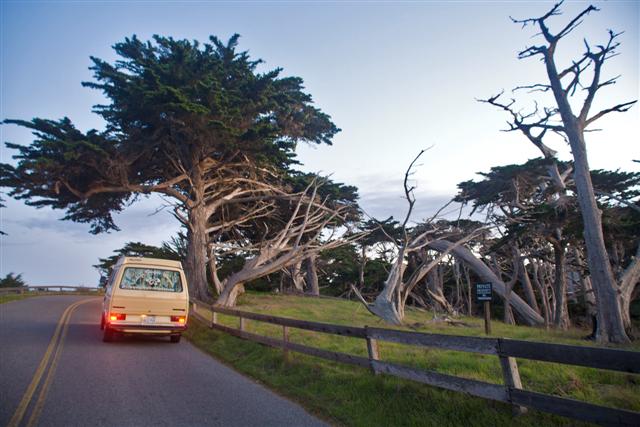 Spooky Cypress Forest in Pebble Beach
Planning for this adventure, we had thought we were going to have a few days in San Francisco, maybe even enough time to spend a day or two sampling wines in Napa Valley. But heck, we didn't see half the things we wanted to see and we're 9 days into our journey.
The VW allows us to pull over so much more than when traveling with the much larger travel trailer in tow, I can only imagine if we were to explore in this sized vehicle full time how much more we'd see.
Monterey, with the Aquarium and its downtown district would be a whole day in and of itself, and it will probably take a few days to drive back down the 101 to L.A.
As we were pulling into Carmel, I saw a sign for the Mission San Carlos Borromeo del Rio Carmelo. It was getting late in the afternoon, so I figured why not stop to add this Mission to the long list of religious structures we've visited.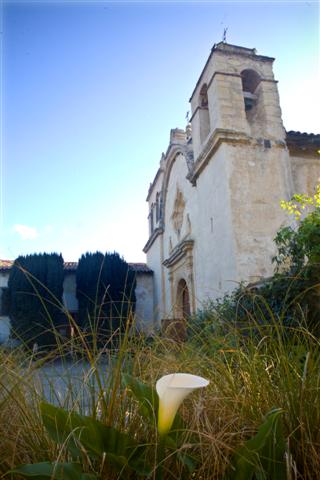 If you haven't noticed up to this point, I have a pretty bad sickness when it comes to photography. If there is something beautiful, out of the ordinary or anything that has to do with History or Architecture, I'll stop to photograph it.
This addiction is insatiable and it tends to control everything I do. The other night while we were sitting there in the VW, Cindy asked what I was thinking about as we were watching the last few rays of daytime disappear. I replied with some comment about trying to set the camera up on a tripod to shoot some star trails but couldn't figure out how to do it because each night we've had such strong winds.
Of course Cindy just rolled her eyes and laughed at how crazy I am.
So when I saw the sign for Mission San Carlos Borromeo del Rio Carmelo and turned into the parking lot, Cindy just rolled her eyes again, grabbed her camera and said "Let's go do this."
Walking around the beautiful Mission, I could feel a cold coming over me that no amount of layering or bundling up was taking care of. I'm thinking the last week of going, going, going non-stop and sleeping each night in the damp, cold, coastal air has got me a little worn down.
Leaving the Mission in Carmel, we were pulling into Pebble Beach just as the sun was setting and took the 17 Mile Drive Loop around this amazing tract of property.
We stopped to see the most photographed tree in America, the Lone Cypress and wished we would have had more light to see more of this area in the beautiful light of late afternoon.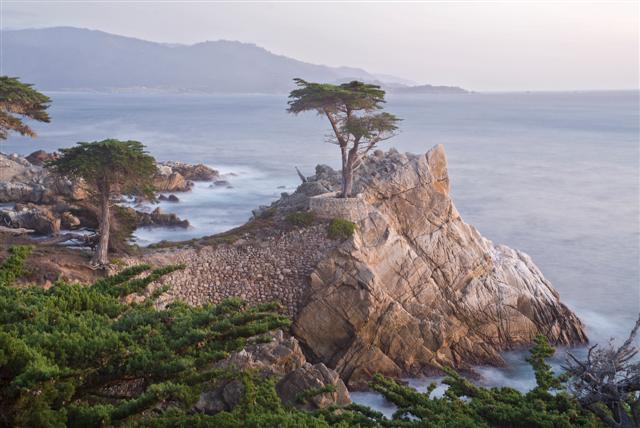 Lone Cypress in Pebble Beach Shoreline - Photo by Pat Bonish
Pulling out of Pebble Beach, we found a spot where we could hang out, plug the computers in and play some catch up. Thanks to the local Subway in Pacific Grove for letting us take up one of your booths for a few hours straight.
As we left the Subway because they were closing, we were sort of in a pickle. I was feeling like crap feeling like I was coming down with a full blown cold and the temps were down in the low 40's again.
The last thing I wanted to do was sleep another night in the cold with an aching body and hiding out in the Monterey area. We were told by a few locals that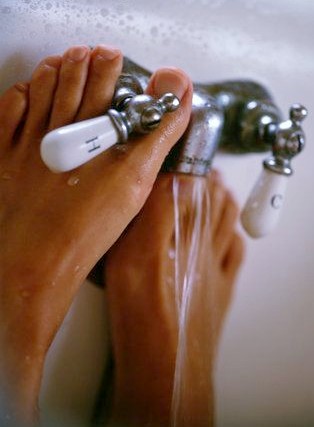 the local Po-Po isn't too keen on dirtbags sleeping along the streets, so against all our normal rules, we broke down and got a hotel room.
I justified it with simple math. $40 for a campground where we still have to sleep in a roof top tent with no heat. Pay for hot showers in the morning and have to share a bathroom with everyone else in the campground. Or, pay $70, sleep in a king sized bed, have heat, have our own bathroom with unlimited hot water to bathe in and breakfast included in the morning.
Thanks to the Front Desk guy at the La Quinta Inn who totally hooked us up on the price and allowed us to sneak Luca in the back stair even thought they dont allow dogs. I was more worried about him sleeping out in the cold night air than Cindy or myself.
Once in the room, Cindy was like some kind of drug addict with the television and a remote control. She jumped into the bed and spent the next few hours drooling on herself flipping the channels incessantly.
I spent the entire night working on my blogs, uploading the VW Surfari Gallery shivering even though we had the heat on high.
When I finally crawled into bed, it was 4am and Cindy was still watching the TV. I kissed her goodnight and was asleep before my head hit the pillow. Best $70 I've ever spent.
Friday November 13th - Sort of a Lazy Day
We slept in this morning, ate our free breakfast in the dinning room of the hotel, I answered some of the 1700 emails that I haven't been able to look at for the past 9 days, and Cindy vegged out in front of the television some more.
We both took long, hot showers just letting the steaming hot water wash some of the aches we were both feeling come over us in the past 24 hours. I hate getting a cold and with us being on the road so much, its rare that we ever get one, but I guess with the last week of cold nights and non-stop moving, our immune systems are worn down a little.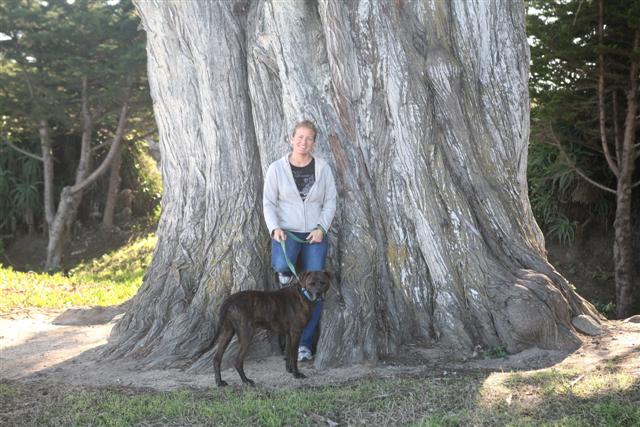 When we finally left the luxuries of the hotel room, I said to Cindy that if we had the money, this would be the ideal way to travel the California Coast.
Using the VW Van as your ideal mode of transport. Having it for the luxuries of its small size, the ability to carry all our camera gear and the Westfalia pop top that allows us to stand up comfortably when making lunch or lounging around waiting for the right light to make our photos work. Yet not having to hide out at night and worry about where we're going to use a restroom.
Since the average price is right around $40 for a campground here in California, I'm thinking if we have to chose one or the other, the hotel would be our first choice.
I really want to visit the Monterey Aquarium because of how many people we've talked to that have just raved about the displays of sea life and how close you can get to the aquatic life you'd normally never see unless you're really into scuba diving.
Cindy on the other hand was only looking at the $30 per person entrance fee.
So we compromised and visited the Pacific Grove Museum of Natural History which is free. We spent a few hours wandering around this great little museum that describes every type of mammal, fish, shell or bird you'll find in California.
I couldn't believe how cool it was for being free. I also spoke with a woman from the Pacific Grove Chamber of Commerce who gave me a map to the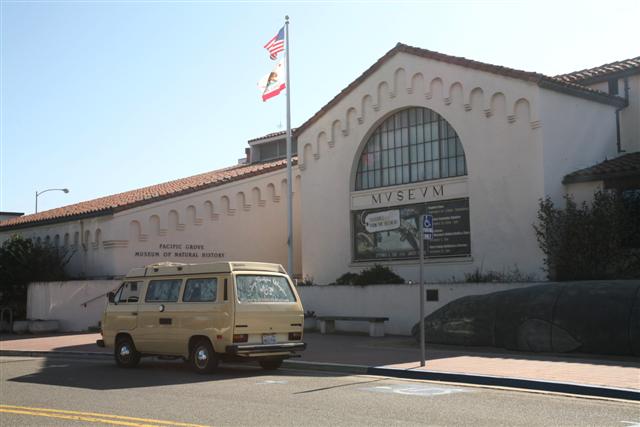 Butterfly Sanctuary where the migrating Monarch Butterflies are supposed to be hanging out right now.
While talking to her, she too recommended the Monterey Aquarium and said that to offset the entrance cost, just make sure you get there at 9:30 in the morning when they open and get your full $30's worth by staying till they close at 6.
After the Pacific Grove Museum of Natural History, we drove over to the Butterfly Sanctuary, but only saw a few butterflies and they were pretty far up in the eucalyptus trees, so no good photos.
Jess and Susy had told us about the butterflies while we sat talking with them in San Simeon and Jess showed us some awesome photos he had taken. We were both bummed today's visit left us empty handed with no photos to show off.
As the cool night air started to set in, I asked Cindy what she wanted to do? She said we were both feeling like crap and she's so worried about our bank account, that she thought it would just be wise to start heading back towards L.A.
I said that we were right here, and its stupid to not visit the Aquarium because we're worried about money. If that's the case, we probably shouldn't have left Yellowstone in October. We should have just stayed in Wyoming and continued to work.
She asked me what I wanted to do and here was my plan. Lets get another hotel room tonight. Stay right here in Monterey and be at the Aquarium first thing when they open. We'll spend the day seeing everything the Aquarium has to offer and we'll leave from here tomorrow to start driving back to the VW Surfari headquarters.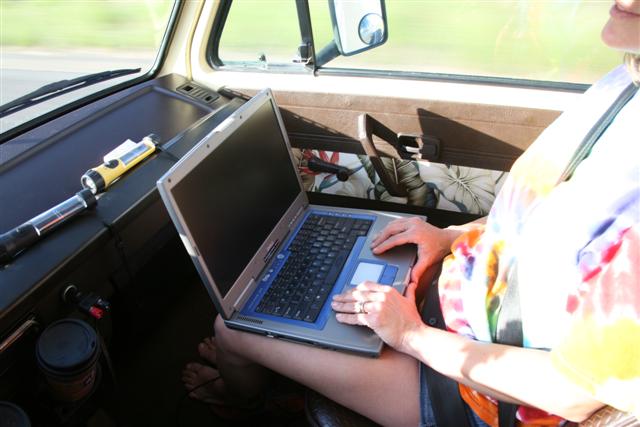 When we had met up with Dave and Joanie in Pismo Beach, Dave had asked if he could jump on my laptop real quick to book a hotel room for the night. He logged onto Hotwire.com and said he wanted a hotel in the area for $50. The cheapest price they offered him was $57 and he jotted down the number and we followed him to his hotel....it was that easy.
So Cindy grabbed her lap top and tried to do the same thing. She found a 2 star room for $57 that included a continental breakfast and I wondered whey we hadn't been doing this the entire journey? We soon were as happy as clams sitting in a warm, cozy room with our own bathroom, a big bed and more TV to feed Cindy's addiction.
She went to bed saying if we're going to go for broke, we might as well break the entire bank while we're having fun. I figure once the account hits zero, it'll give me some more incentive to figure something out to earn a buck while we're on the road.
Tomorrow the Monterey Aquarium, then we head inland where it'll hopefully be warm enough that we'll be able to go back to sleeping in the van. These off shore winds are what's dropping the temperatures so bad.
Saturday November 14th - Waking up with a New Rash
We woke up this morning, or I should say that Cindy woke up this morning with a rash on her forehead, the side of her face and on various other parts of her body.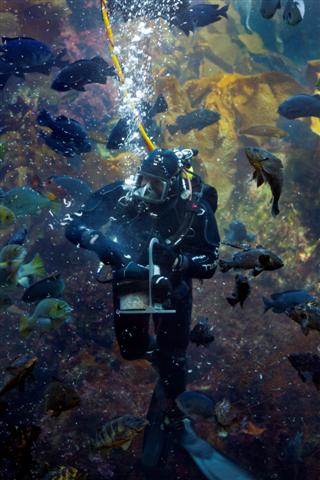 At first we started running down a list of things it could be and thought maybe it was a reaction to sleeping on different pillows and sheets that smelled very strongly of bleach or using the harsh soap provided in the hotels we slept in the last two nights.
Cindy was a trooper and threw back a couple of Benedryl. We grabbed some breakfast in the hotel lobby and packed our things up.
My cold I've been fighting seemed like it was peaking this morning, so we stopped at a pharmacy so we could grab some more Benedryl for Cindy and a bottle of DayQuil for me before we hit the Monterey Aquarium.
With me all loopy from the DayQuil and Cindy all zoned out on Benedryl, we spent the rest of the day wandering around the floor to ceiling, some times two story tall tanks holding every type of fish imaginable.
What an attraction! But we should have listened to more people and took their advice when they kept recommending that we visit during the week.
Being as we had waited around an extra day just to visit, there wasn't much we could do, and we still had a great experience, but for us and taking so many pictures, I think we would have enjoyed it more without the hundreds of school children wrestling around us trying to get right up against the glass to get a better view.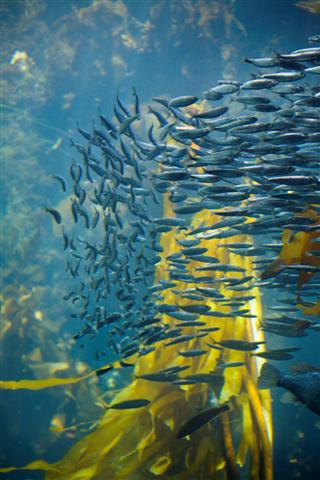 The aquariums are spectacular and if you're into underwater aquatic life, this should be put on your list of places to visit while traveling the California coast.
I've always been fascinated with underwater photography, and its something I'd love to get into. Problem is, I'm not certified to dive, so I'd have to get that accomplished first, then start the long road to collecting my scuba gear, my underwater housings for the cameras and everything that goes along with this field of photography. Can you see the same dollar signs that are flashing through my eyes? Hence why I've never gotten into this type of photography yet. And the fact that Cindy doesn't like going under water too deep. She's fine with snorkeling, but hates to dive down even in shallow water, so that's another reason why I've yet to seek this out.
But being in the Aquarium, it gives you an opportunity of what it would be like and how hard it would be to become good at this type of photography. Fish dont tend to sit still and the lighting is not the greatest, so to come away with a good photo is much harder than you would think.
This was also my first time I've had the chance to use my new ThinkTank Belt system to carry a few extra lenses and attachments for our cameras for any length of time. I've been using it since we got it a month ago, but today I had it on for a long time and loved the comfort of it. Stay tuned for a full review that will be coming shortly, but all I can say so far is "WOW! How did I get by without this thing for so long?"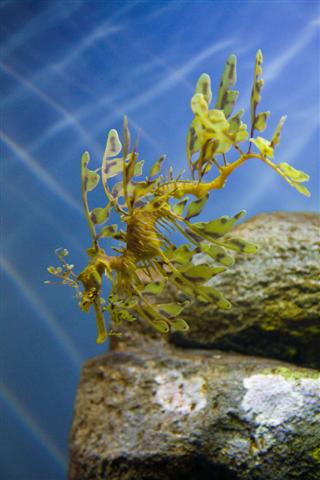 It keeps everything right at your fingertips and within reach and you never have to worry about taking a backpack off or reaching into a camera bag slung around your neck to find a different lens. Ideal for how busy the aquarium was, yet still gave me full access to everything I had brought in those cramped conditions.
We had walked in around 10am, and by 5pm, we were ready to go. Cindy was a walking zombie by this point due to the amount of Benedryl she had taken to try and keep her from scratching the rash that was now growing in size, and we had seen many of the attractions multiple times waiting for people to leave the front of the glass.
The Jelly Fish, the Sea Horses and the Coral Beds were just amazing to sit and stare at. Its honestly the closest you can get to being in another world. The jelly fish alone could hold my attention for hours on end.
Its like watching something move while dreaming or tripping out on some sort of hallucinogen. Maybe the effects of the DayQuil helped a bit, but I could hear children, grand parents, adults and everyone standing around in awe whisper the same thoughts Cindy and I had. Its just other worldly to sit and watch these creatures move around in a dream like state.
Leaving Monterey was knowing the adventure was over. I think this was why I was reluctant to leave the aquarium, but Cindy on the other hand was about to push me aside and climb behind the wheel of the little Mellow Yellow VW Bus and drive this thing home at a high rate of speed.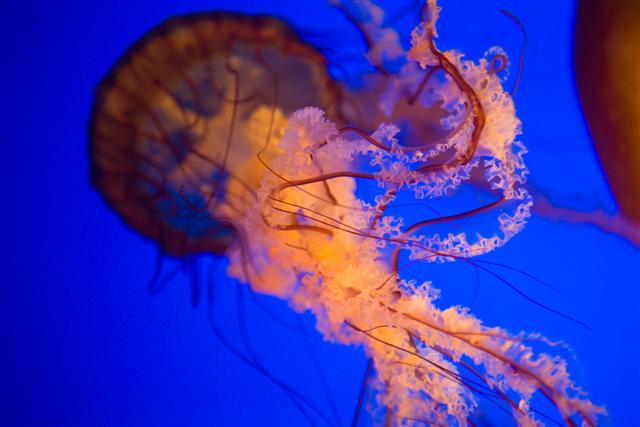 Watching the Sea Nettle Jelly Fish was dream like!
As the day grew longer, the rash got worse, and she was now starting to get a little scary looking. It didn't help that the majority of the rash was on her left side, which meant that sitting in the passenger seat, she felt uncomfortable because it was all I saw while looking at her. This meant she was now sitting in the back of the bus and we talked through the rear view mirror the entire way.
The rash was moving up to her ear, which was now growing larger and larger with each hour we drove.
For those that know Cindy well, they know she has an ear fetish almost as bad as she has a tooth fetish. So having a swollen ear was the worst thing she could think of, but quite funny for me to joke around with her about.
I kept telling her things like "I think your ear lobe has gotten so big, it probably wont go back down to its normal size and once the swelling does go down, you're going to have two different sized ears." or things like "What if you get stretch marks on your ear lobe from all that swelling?"
This wasn't funny in the least to her, but I was having lots of fun with it. Not that she will remember any of it anyways. She was on so much Benedryl to try and keep her from scratching her face off, that she was like a punch drunk boxer after a ten round fight.
We thought about heading over to the Pinnacles National Monument, but as we were heading that way, Cindy and I both agreed that her rash wasn't looking to good, and the Pinnacles was way out away from civilization, so we just kept driving South into the night, towards L.A.
We finally pulled over around 10pm, which is very late for us to be driving, just North of Coalinga at some truck stop.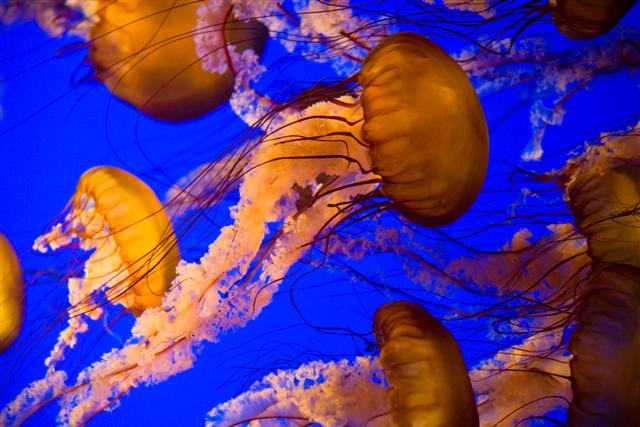 I climbed under the covers beside my swollen eared wife and was asleep almost instantly after a long and tiring day. I think the Shot of NyQuil helped to knock me out.
Sunday November 15th - Our First Trip to the Emergency Room
It didn't seem like I had been sleeping all that long when I heard the van start up.
I jumped up to see what was going on to find Cindy sitting in the passenger seat. It was just starting to get light outside and was still very early.
I asked what she was doing, but she just sat staring out the windshield and said, "We need to go to the emergency room, my ear is so swollen its starting to close up and I'm worried it might do damaged to my ear drum because of how sore and swollen it is."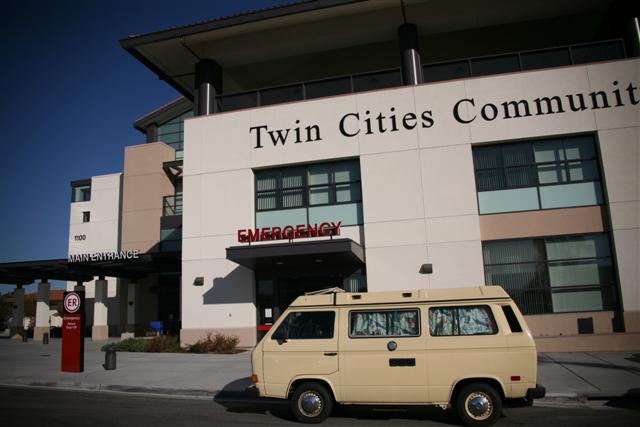 So I threw on a pair of pants, scrubbed the night out of my mouth and we were following the woman that talks to us out of the GPS which was leading us to the nearest Emergency Room.
We had been heading back towards the 101 when we pulled over last night, and the road we were now on was one that I'll have to remember when and if we ever drive this on a motorcycle.
Route 41 west off the I-5 is boring at first, but once it crosses Route 46 and climbs up and over the mountains, it becomes a fun little, curvy mountain road. This area is where James Dean died in that infamous car wreck, and I'm sure he was driving that little Porsche of his at a high rate of speed down some of these curvy roads that day his life was taken.
While we were driving, every time I'd go to look over and talk to Cindy, she'd say "No, dont look, its just too gross for you to look at!"
Of course this would make me want to look at it more, so it was a fun little game to try and sneak a peek at the beautiful woman sitting beside me with an ear the size of a 90 year old man.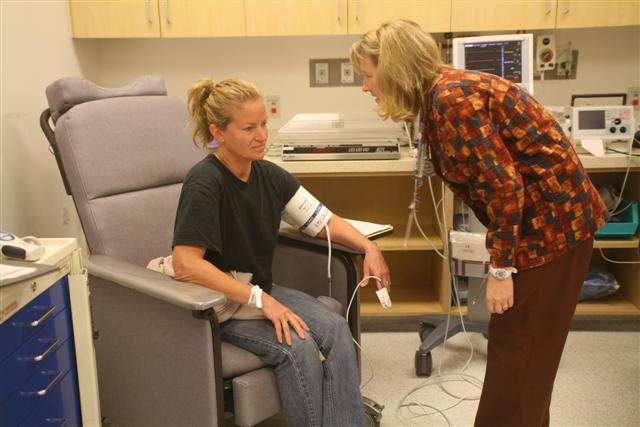 Cindy's so out of it by this point, she doesn't even know the nurse is talking to her
We found the emergency room and walked inside. The woman asked Cindy "And why are you hear this morning?"
Cindy pulled back her hair which was covering her ear to reveal the pussing, oozing piece of flesh as the woman's eyes got real big. She said "Oh, ok, why dont you come right back here and we'll have a look at that."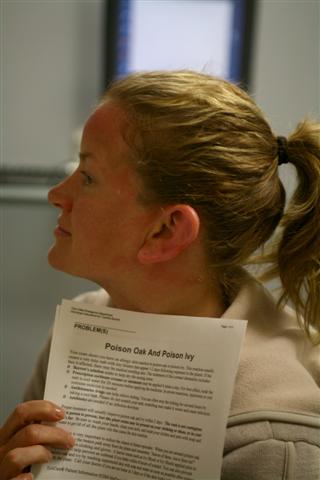 The doctor asked us a bunch of questions and asked if we'd been hiking any time lately?
We said we had, and there had been signs of Poison Oak, but we made sure not to go off the trail or touch any of the surrounding foliage. He sort of laughed and said "Yes, but your shoes did, and you probably tied a shoe lace or touched your shoes while taking them off and then touched your face with the oils on your hand." He simply said "There nothing to worry about, its just a bad case of Poison Oak."
He also said "People come in all the time who have been out hiking with their dog, and they swear they never touched anything, but their dog was running around and they touched their dog." ....bing....bing...bing...Lightbulb goes off above both our heads.
He could probably see the look on both our faces as he asked "Let me guess, you guys were hiking with a dog?"
Yep! That would probably be where she picked it up from.
No big deal, he wrote Cindy a prescription for Prednisone and another for Ambien to help her sleep. He told her the next few days she was going to go through hell as this rash would become unbearably itchy and she would have trouble making it through the night.
We walked out to the front desk and the woman just looked at us saying "Have a nice day."
We both sort of looked at one another and walked out to the VW.
Cindy said "Did you give them any of our insurance information?"
I told her that she had filled out the form while we were waiting for the doctor to come in, and she had laid out our insurance cards, but neither of us had seen them do anything with the cards.
I figured they'd probably bill us and we'd send it into the insurance company, lets just get to a pharmacy to get you some medication and get this rash on its way to recovery.
Problem was, it was 9am on a Sunday morning. The store was open, but the pharmacy didn't open till 11am. The doctor had told us we needed to get some isopropyl alcohol and wash everything down that we had come into contact with.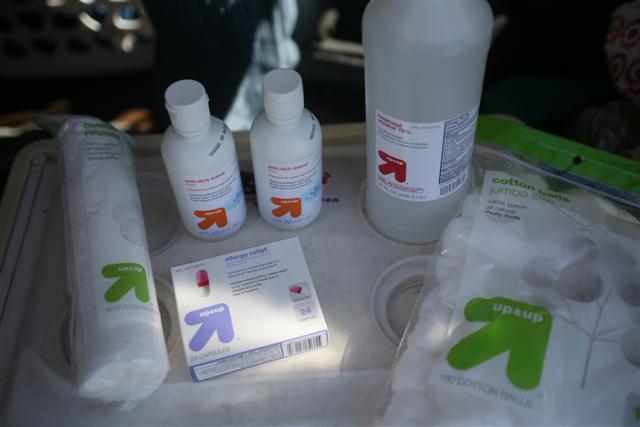 We told him about being in the VW Surfari Mobile, and he said "Treat the van like its a crime scene, wash everything down with the alcohol and wash all your bedding, clothes or anything you had come in contact with."
So while we waited for the pharmacy to open, we spent the next few hours acting like we had murdered someone in the van, and washed everything down with strong, 140 proof alcohol. Man, I felt like I had a buzz just sitting in here wiping everything down.
We bagged up all the bedding and our clothes into garbage bags and had some breakfast while we waited. The doc had said that "Within the first 24 hours of taking the Prednisone, the swelling would go down drastically, but the next few days the itching would get alot worse."
Once the prescriptions were filled and the van was wiped clean, the rest of our Sunday was spent driving South down the 101. Well, I spent the rest of the day driving, Cindy was so high on Benedryl, that she slept in the back the entire way.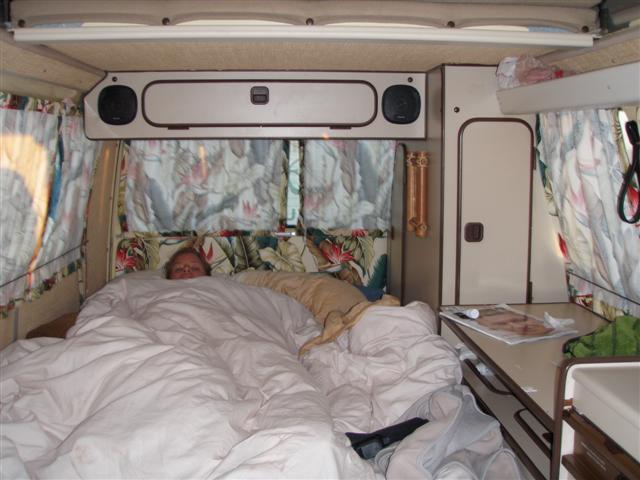 We did stop just South of Santa Barbara to pick up a new Photo Backpack. A reader had contacted us saying that he had been reading our website and saw that we were traveling the California Coast. He said that he had bought a photo backpack a few years ago when his sister was in the Olympics in San Diego.
He hasn't used it since, and he'd like to give it to us to use on our travels. He said if we couldn't use it, then he was sure we knew a bunch of photographers who we could probably pass it along to and he knew of our philosophy in recycling and thought this would be a good way to act upon it.
How awesome to have a total stranger contact us, offer a free piece of equipment and Steve had even said that if it was out of our way to stop, which it wasn't, he'd be happy to drop it in the mail if I just gave him an address. Thanks Steve!
Almost like Bob Mostue who mailed us the seat pad for our motorcycle just because he heard us talk about how uncomfortable the stock seat was. Or Jeff and Lori who have allowed us to camp in their driveway for free, or Mike and Julia who are watching our annoying beagle right now. One thing about the RV/Travel Community we've learned is its made up of great people who go out of their way to help a fellow camper.
Its a very rewarding feeling to know there is always someone out there to help...many times a total stranger, but never afraid to lend a hand.
We pulled into the VW Surfari yard around 8:30pm and spent an hour or so talking with Bill and Diane about our adventure, the vans they own and heard some great stories about other people who have rented their vans and their trips they've taken.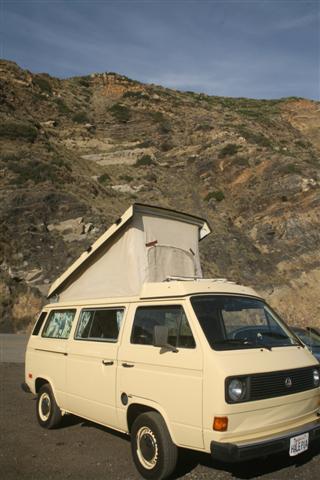 Bill was telling us about two guys that have rented one of his buses and are out following major bands like Metallica while using the bus as a vehicle to draw attention to their business of promoting one of the opening bands. He said they've been on the road for months now and have traveled all over the country in the VW Surfari.
We thanked him and Diane for everything they had done for us in helping to get us out of the breakdown situation and made plans to meet up for dinner or drinks at a later date.
They're only an hour and a half from where we are in San Diego right now, so it wouldn't be hard to drive up one afternoon, go out to dinner and have a good night of stories and fun together.
Cindy and I were really looking forward to our spacious camper, the luxuries of having our own toilet, our own kitchen and a source of power that we didn't have to go search for. We learned alot while spending the last 10 days in the VW Surfari.
We learned that you dont need much in the way of clothing, bedding or supplies to have a great time on the road. We learned that going slow and light allows you to see alot more things along the road, and having your own bathroom is a luxury we dont want to be without at this stage in our lives.
The VW Bus is the ideal way to travel if you know what you're getting into. Dont expect to go anywhere fast. Its a mode of transport that allows you to pull over anytime and anywhere you want, and still gives you plenty of room to carry your photo/camping gear in luxury.
I cant imagine living out of one fulltime the way many do. I have to hand it to those people, but a well equipped bus like any of Bill's would make for the perfect vehicle to explore the California Coast, take a long weekend trip up to Yosemite, spend a weekend out in Joshua Tree National Park or just enjoy a short weekend at Jamala Beach.
It sure is a fun way to travel, but I think 10 days in the bus showed us we're not ready to downsize and travel fulltime in something that small anytime soon.
Oh, and the hospital ended up calling us saying they had forgot to get any of our insurance information, so Cindy was kind enough to give them to it over the phone...LOL
Thursday November 20th - Visiting Aluminess Products
While we're here in San Diego, I thought it would be cool to visit one of the local businesses that makes products for trucks that makes me drool. Probably better to say I lust over these custom bumpers the guys at Aluminess fabricate from raw materials.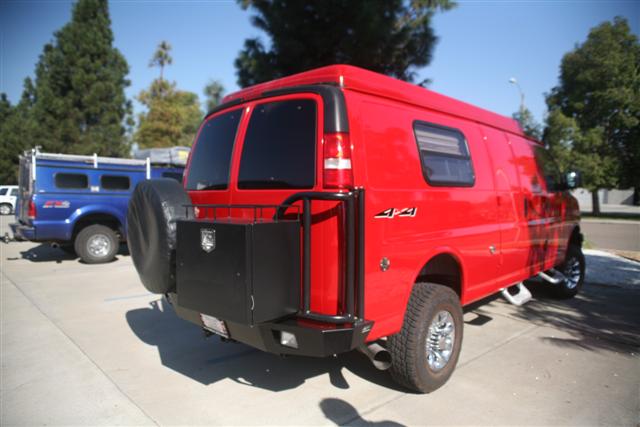 Aluminess is a small company out of Santee California that makes custom aluminum bumpers, roof racks and storage boxes for the Overlanding World. They're probably most well known for their presence on Sportsmobile Vans. The bumpers come as an upgrade on the Custom Vans built by Sportsmobile and recently Aluminess started offering their products for a variety of different makes and models of trucks.
You might wonder why anyone would lust over a simple bumper, and I totally understand. Jeff questioned why I wanted one of these so badly while we were driving over there, that was till he saw them up close and got to see all the love that is put into each piece.
For the past month or so, Dave who owns Aluminess and I have been talking back and forth on emails. When I told him I was coming to San Diego, I asked if we could come by the shop to check it out.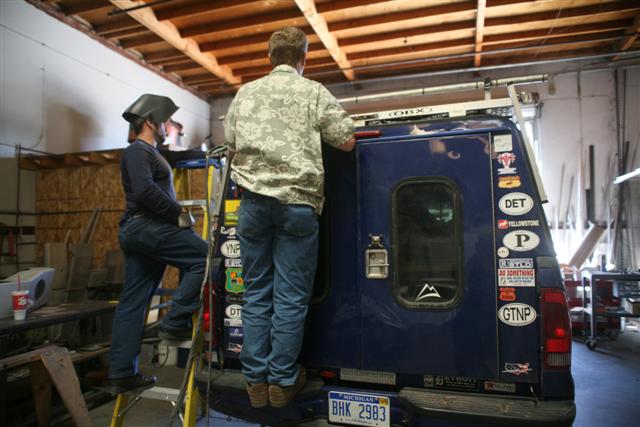 I also needed to have some aluminum bars moved and welded on my roof rack because we've decided that we'd rather have the Camping Lab Roof Top Tent moved to the back where it wont catch the wind coming off the windshield.
Dave had said they could handle the welding I needed, and it would give us an hour or so to check out his products they offer.
Dave took time out of his busy day, and I mean for the few hours we were there, his phone never stopped ringing, to show Jeff and I around, show us the complete process from start to finish and gave us the Lowdown on his business.
By the time we left, Jeff was ready to put a down payment on one of these bumpers for his truck. That's how nice they are! When you see how much work is put into each piece, you know they ooze quality and perfection.
The custom rear bumpers with the Dry Boxes built-in are something that can be sized to hold generators, spare fuel cans, spare tires and extra water cans.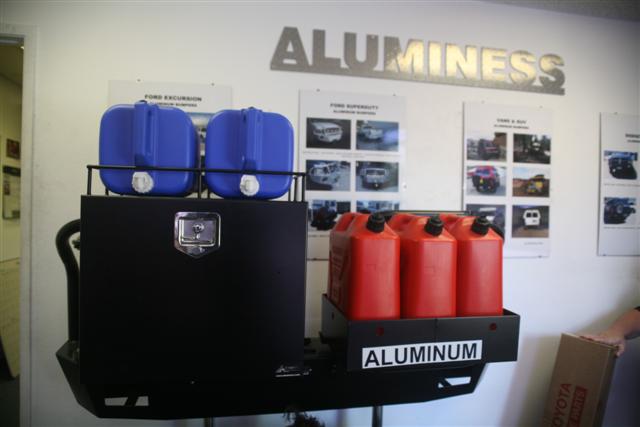 The best part is everything is built from Aluminum, so even though they look big, heavy and bombproof, they're super light weight.
I've also been working on a top secret Wind Turbine mount and wanted to run my blueprints (Drawn on a bar napkin) by an expert to see what his thoughts were.
Dave and I talked about a bunch of different ideas and we might have come up with the coolest telescoping turbine mount ever! You'll just have to wait and see what we debut in the spring.
We thanked Dave for taking the time out of his day, and with my aluminum supports moved to the back of the truck, we drove back to Jeff's house where we spent the rest of the afternoon moving the RTT from over the cab to atop the bed of the truck.
Thanks again to Dave for showing us around and to Jeff for helping me with the RTT.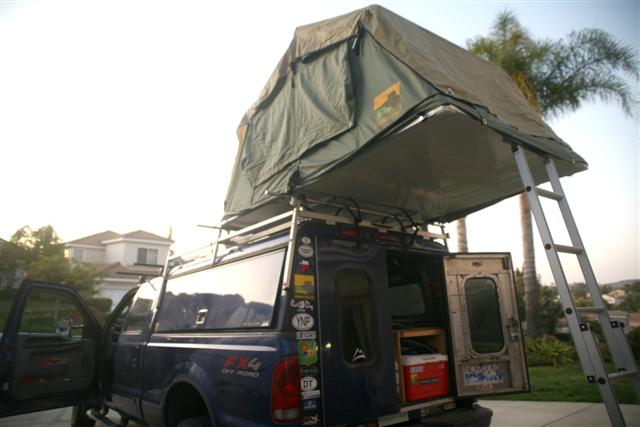 The New Home for the Camping Lab RTT
Saturday November 21st - Riding to the Endurocross in Vegas
My buddy Jim from Dual Sport Utah had called a few weeks ago asking if we wanted to drive over to Vegas to check out the Endurocross race with him. We figured it would only be a 4/5 hour drive from San Diego, so I told him we'd be there for sure.
That was before Cindy was covered in Poison Oak. As the date got closer, Cindy let me know with pulling up her shirt and a show of a bright red rash covering much of her body that "I'm Not Going Out In Public!"
So when I told her that I still planned on going, she told me there was no way we could afford the cost of fuel just to have one night of motorcycles and fun in Las Vegas.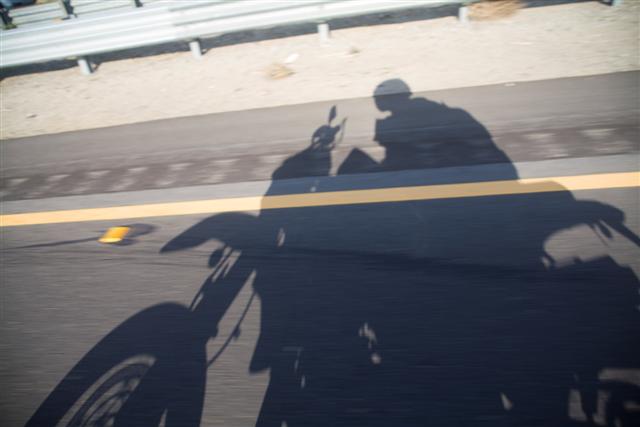 She came back with some remark like "The only way you can go is if you ride your motorcycle there."
I think she thought that would stop me in my tracks. It actually made a light bulb go off and I thought "Hey, Good idea, that's what I'll do."
When I woke up this morning, she asked "So are you going or not?"
I grabbed my ThinkTank backpack, threw in both cameras and the lenses I'd need, grabbed a shirt, a spare pair of pants, put the toothbrush in the bag and said "Ok, I'm ready to go."
Cindy looked at me and said "You know what you're doing is very stupid dont you!?"
I said "Yeah, but do I ever do anything that makes sense?"
She just laughed and said something that only Cindy Bonish would say. Her last words were "Ok, ride defensively, take good pictures, have fun and No Hookers!"
With that, I threw my leg over the seat and left for Vegas and the 2009 Finals of Endurocross.
Jeff printed up a map for me to throw in the map pocket of my Motorcycle Tank Bag that told me I had 316 miles till I would hit the strip, and it was telling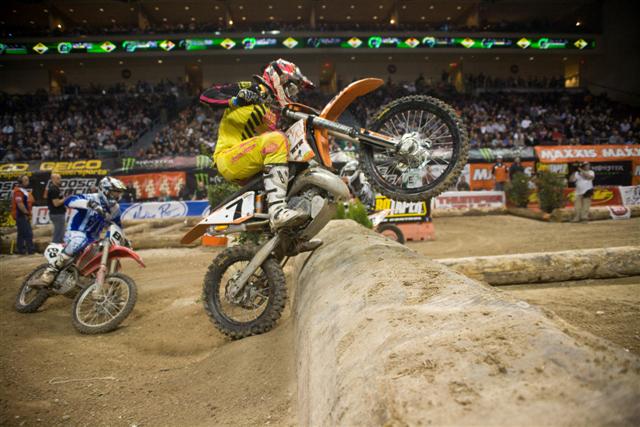 me it would take around 4 hours for me to get there. Four hours on a motorcycle isn't that bad, and with it all being Highway miles, this should be a cake walk.
I read somewhere on ADVrider about using the foam earplugs for long road trips and cant believe I've been riding this long without using them. I've always kept a few pair in each camera bag for when we cover concerts, so I grabbed a set out of the bag and tried them out for this ride.
They cut the wind noise so much that if I forget to put them in after a fuel stop, I'd wouldn't even make it down the entrance ramp before I'd pull over to put them back in.
They're not really needed for dirt riding, but when you're just flying down the expressway at 75mph for hours on end, it makes the ride so much more comfortable. If you ride, get yourself a pair and keep them with your helmet so you dont lose them.
My new seat pad Bob had mailed me was what made this ride possible. I cant imagine sitting on that stock seat for 4 hours straight. Granted, even with the extra cushion, it still wasn't all that comfortable, but it wasn't as bad as I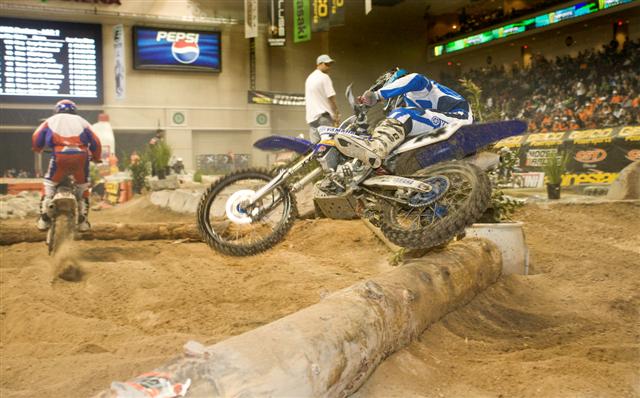 thought it would be. Thanks Again Bob, I was thanking you more and more as each mile racked up on the odometer.
Riding across the Mojave Desert with the sun setting behind me wasn't all that bad. The views were spectacular and the mountains I was riding into were a bit chilly, but I'd take this 60° weather any day over the 30° temps I was riding in back in Utah.
I only ran out of fuel one time and limped into the only gas station in the middle of the Mojave with the motor sputtering on reserve. I topped the tank off and bought a liter of water, poured the water out and filled the plastic bottle up with extra gas so I wouldn't have to worry about running out again.
Of course since this was the only station in the middle of the desert, fuel was $4.99 a gallon, thank God my bike only holds 2 gallons. I do need to start shopping for a bigger fuel tank so I can go farther than 70-100 miles per tank.
I pulled into Vegas at just over the 4 hour mark. I called Christine, a girlfriend of ours who lives there and had her give me directions to the Orleans Arena where the Endurocross event was being held. Another thing I need to hook up is a 12volt power supply on the motorcycle so I can bring the GPS while riding. I pulled in, grabbed my Press Passes and went to find Jim.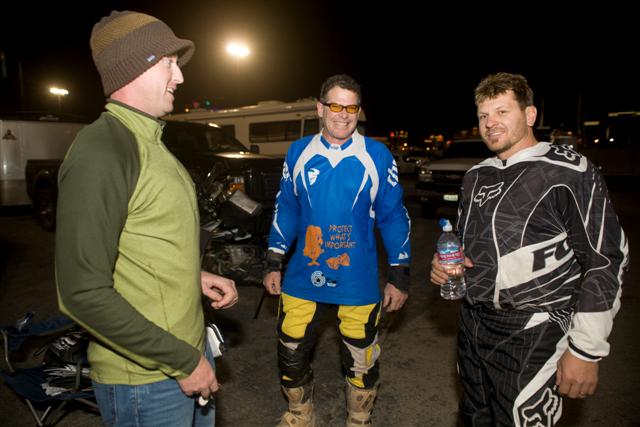 He had his trailer parked out in the pits where all the racers were sitting and I met another friend of Jim's, Matt who had flown in from Georgia for the race.
I guess Matt had talked Jim into racing in the Expert Class after a bunch of ego stroking, so this was going to be much more exciting than I had thought it was going to be. His first race of the year and its the finals of the Enduro World. Remember that Jim is in his late 40's, so racing in class like this is a big deal.
Jim being a veteran Baja Racer and probably logging more miles each year than most riders do in a lifetime would make up for lack of actual racing time in the saddle.
If you've never been to an Endurocross event, its basically a small, very tight track set up inside an arena that has major obstacles to get over, around and through. Logs stacked 10' high, smashed cars you have to jump over, monstrous tires laid on their side that will swallow a bike if you dont pick the right line to ride over them, and even a water crossing that you have to jump in and out of.
Since I had gotten here so late, the qualifying had just ended and we had a few hours to kill before the main event started.
Matt, Jim and I jumped in the van and drove back to their hotel and gorged ourselves on what Vegas is known for, all you can eat Buffet food.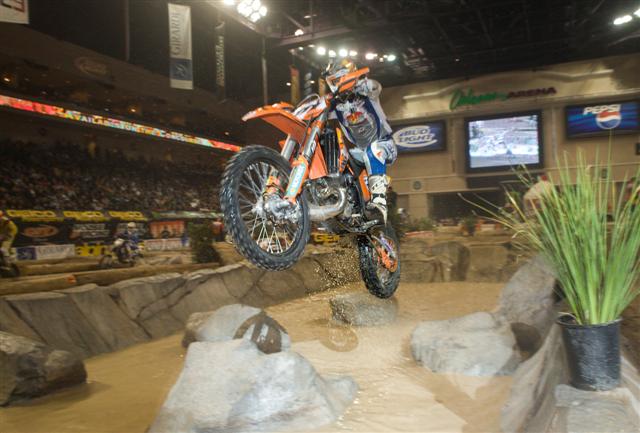 Taddy Blazusiak Jumping out of the Water Crossing
After dinner, we went up to their room so Jim could crash out for a quick Power Nap while Matt and I sat talking and getting to know one another. Matt's from Savannah and Cindy and I love that area, so we sat talking about paddling, photography, travel and just the normal stuff new friends talk about. We were both into anything outdoors, so we had plenty of stuff to keep the conversation going non-stop.
Soon enough we were waking Jim up and the fun was ready to start.
The race was awesome and way more exciting than I thought it was going to be. Cindy and I have covered a ton of motorcycle racing, but this was non-stop action the entire time. I loved how small and tight the track was because there was really not a bad seat in the sold out arena.
With my press credentials, I was allowed on the track, and right in the action. There were times I had to duck to get away from the flying dirt or mud or a out of control motorcycle that was heading right at my camera. The racers were going as fast as they could for 4 laps around the track, and some would make the obstacles look easy while others might have trouble with the first set.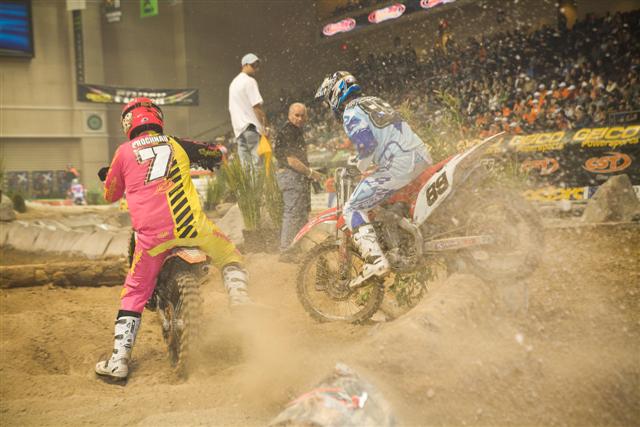 About to get blasted with flying dirt
Once the pro's got on the track, you realized just how good of riders they are. These guys were flying over the obstacles and rather than ride over a certain section, they were good enough to know how to jump over it.
With both cameras slung around my neck, it was hard to decide where to point the lenses because of so much action going on around me. Standing beside the water crossing, I was covered in mud and had to keep wiping the front of the lens so water spots wouldn't show up in the images.
The smell of high octane fuel and the sounds were enough to get my blood flowing. The crowd was loud and roaring when a rider would get thrown over the bars or catch major air over one of the many jumps.
Between the semi-finals and the main event, they even had the riders race around the track with the arena lights off and nothing but a Baja Designs 8" desert race light on the front of the bike. This was wild to watch because the lights were so bright, they would blind you if you looked right at them, but with the jumps and all the obstacles, it was hard to follow anything other than the bouncing light beams that looked like some sort of light show.
When the main event was ready to go, you could feel the excitement in the arena. This was the final race of the Endurocross season and the winner was taking home a check for $50,000.
The pro's who made it to the final race were going to go balls out for 8 laps. Geoff Aaron made an unbelievable maneuver when Ricky Dietrich went down in front of him around the 90° turn atop the pile of boulders. Aaron gassed his Christini 2-wheel drive bike and popped the front end up spinning it around Dietrich's head like some ballerina move.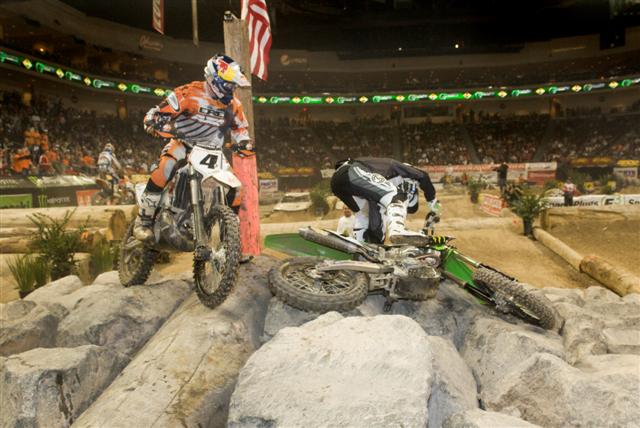 Geoff Aaron #4, pulling up behind Ricky Dietrich on the boulders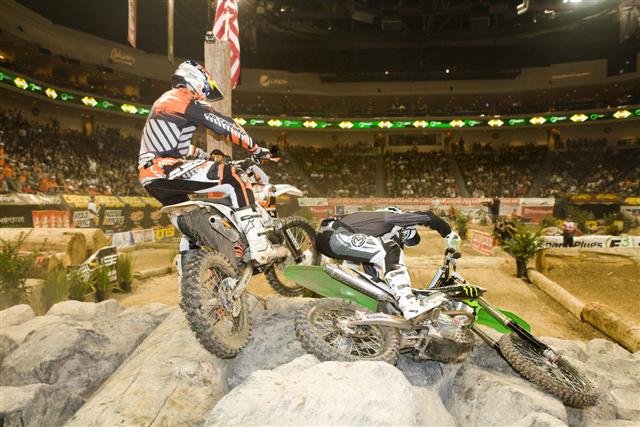 My wide angle lens was on the slower Canon 5D body, so I missed the shot where his bike was up and over the head of Dietrich, but these two shots were within a few seconds of each other
The crowd erupted and Aaron kept the lead for most of the race till Dietrich was able to snake past him and bring home the winning check. The number one Enduro rider in the world, Taddy Blazusiak had wiped out early in the final race and despite coming all the way from the back of the pack to within 3rd place, the rider from Poland was never able to catch back up and ended up finishing in 5th. He also got hit in the knee and was seen leaving the arena in an Ambulance.
You might remember that when we covered the Red Bull Last Man Standing race back in 2007, Blazusiak and Aaron had fought side by side with Taddy walking away with the win, and Aaron coming in second.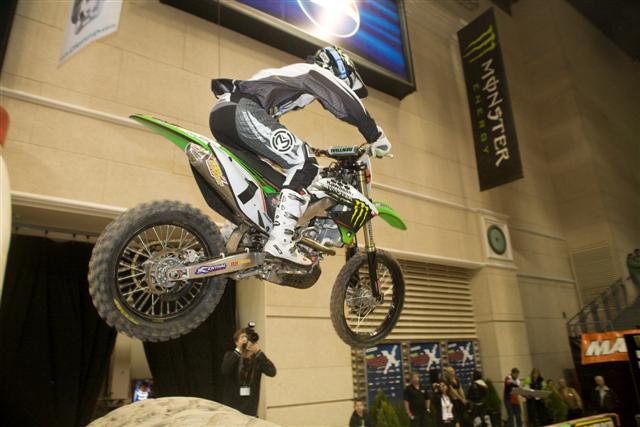 Ricky Dietrich Going in for the Big Win of the Finals
So this was a good fight till the last lap, and when the race finally ended, the title had switched hands again, but Aaron was still sitting with a 2nd place finish.
After the race was done, Jim and Matt said they were pretty whipped from all the excitement of the last few days of Vegas and non-stop riding, so they were headed back to their hotel room.
When Cindy and I owned the Red Dog Saloon, we had one bartender who we had hired from the young age of 15 years old as a cook. Nick stayed with us the entire time we owned the place.
Nick was like a son to us as we watched him grow from a young kid to his adult years while working with us at the bar. We praised him when he got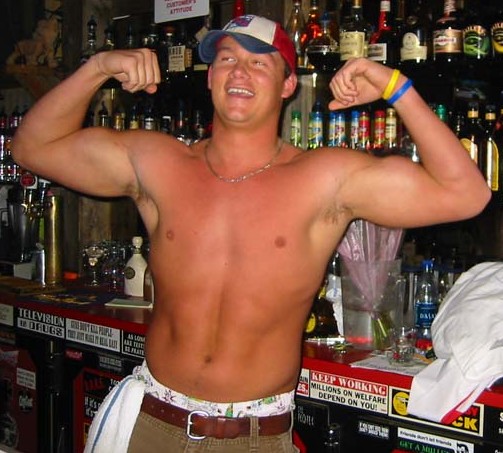 good grades and scolded him if any of those grades dropped just like we did our own daughter who was the same age.
Nick was a big, muscle bound football player in our little town, and when ever the bar would be going crazy with girls taking their clothes off or just a typical rowdy night, rather than let the guys have all the fun, Cindy would always pull Nick out like a trump card and yell behind the bar "Nick, take off your shirt and show all the ladies your bulging muscles."
Of course if you're a 18 year old guy, you have no problem doing this and love to soak up all the screaming and girls going wild all while having a big smile on your face.
We've always kept in touch with Nick and he has recently moved from Michigan to Vegas. I had called him to see if I could crash on his couch for the night and see if he wanted to meet up and have a beer now that he's of legal drinking age.
Nick had told me he had to bartend at the big UFC fight that was at Mandalay Bay tonight, but we could meet up afterwards.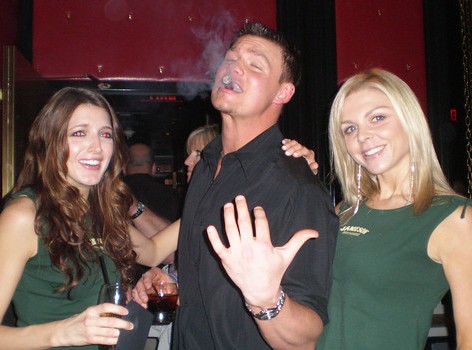 Nick all Grown up in Vegas
This worked out perfect because it was midnight by the time the race ended.
Nick came over to the Orleans Arena and met us in the pits. I threw my photo backpack in his truck and followed him out of the downtown area to his place. I'm so glad he didn't want to do the tourist thing, because although the clubs and big bars in Vegas are fun, they're also way out of my budget.
So when he suggested we go hang out at a neighborhood bar right by his house where his girlfriend was going to meet us, I was all for that.
We hung out at a little bar sharing a few beers and plenty of stories. It was cool to see how grown up Nick has become. He's got his foot in the door in some of the top bartending jobs in Vegas and knows the ropes of the nightclub world in many aspect. It was after 3am before I curled up on his couch and called it a night.
By this point, my back was starting to cramp up and my arm, which has a big spot of Poison Oak on it was itching like mad. I'm not sure if I've mentioned that yet, but I ended up coming down with the nasty rash and have been going insane with how bad this stuff itches.
I cant even begin to imagine what Cindy is going through with how much of it she has on her body. Every time I start to complain about how bad it itches, she just points to her face, neck, torso and now even her leg and says "Shut Up! Dont you dare say a word about your little spot when I'm covered from head to toe with this devil poison!"
So I went to sleep silently itching my arm knowing Cindy was back in San Diego probably a lot worse than I was.
Sunday November 22nd - The Long Ride Back to Cali
Nick and his girlfriend had to be up early for a Flag Football game they were in, so I was up and ready by 7am.
I was meeting Christine for breakfast at Bass Pro Shops....Just kidding, it was at a Casino that has a Bass Pro Shops connected to it.
When I pulled up, all I could see was the Bass Pro Shops and thought, "Why in the hell are we going to a hunting/fishing store for breakfast?"
Christine is a family friend who grew up with my little sister. She lived with my family at one point, and lived with Cindy and I for a year when we first moved back to Michigan. We all keep in touch on a regular basis through emails, Facebook or phone calls, but seeing each other face to face is so much better.
And Christine is really good looking with huge boobs, so I'd much rather see her face to face than talk over the phone...LOL I had to say that for Christine because she always teases me about how rude and obscene I am.
We had a great breakfast and talked non-stop through the entire time we sat together. We're both still trying to figure out what we want to do when we grow up, so it's fun to sit and bounce ideas off of one another.
When we had taken up a table in a busy restaurant for way too long, we said our goodbyes and I put my already sore butt back in the saddle.
Riding home seemed much easier than riding there. Maybe because I wasn't worried about my time, and knew I had the whole day to ride at what ever pace I wanted to.
I also felt like I had a nice tail wind the entire way which made the riding alot easier than it was on the way there.
My riding jacket has big elbow pads and forearm guards and with it vibrating in the wind was like itching my Poison Oak rash the entire time. I had to pull over and buy some more Benedryl to calm down the itch or I thought I would saw my arm off.
I made it home safe with only one scare when a woman on her cell phone started to change lanes without looking and came close to hitting me. I know California passed the No Cell Phone While Driving law, and I understand it and agree with it completely.
When I pulled into Jeff's driveway and the waiting camper, I had been gone for 29 hours and 15 minutes according to the timer on the bikes computer. I had ridden 685 miles and spent $36.24 in fuel.
Got to see friends from various parts of country, met new friends along the way and had one awesome experience with the Endurocross. It was a great 29 hours, that's for sure.
Cindy made us some dinner, we watched a movie Jeff had let us borrow and I was asleep by 9pm.
Sunday November 29th - 180° Change in Life with 1 Phone Call
It's funny how you can think you're headed in one direction and with one simple act, a phone call, life can change 180° from the direction you thought you were headed.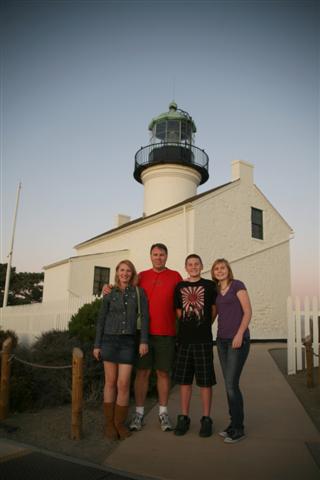 Coming home from Vegas, I had a few hours to think about what this winter was going to bring for Cindy and I. I planned to start looking for a job as soon as the Thanksgiving Holiday was over and settle down to earn some money for a change.
Our bank account has reached that point that no one ever wants it to get to, and we have to sit still for awhile to recoup some fuel money.
We had both sort of come to the agreement that with Jeff and Lori's generosity and offer of a free place to park for the winter, this would be a stupid decision to not work our butts off and save some money.
Then we get the phone call that changed everything.
Remember when we had talked about the thing in Florida that we were so excited about? The little motel/campground/bar that we had been trying to work out an agreement on...Yeah that one.
Well the phone call came in that if we were still interested, then they were ready to talk serious.
This has turned our plans completely around and changed everything. We spent a few days hammering out the details, and the decision was made that as soon as the Thanksgiving Holiday was over, we'd start heading to Florida to become owner/operators of our own business again.
We spent an awesome Thanksgiving with Jeff and Lori and their family, and on Black Friday, while everyone else was headed to a shopping center and Jeff and Mike were headed out for the weekend to go Mine Exploring, Cindy and I said our goodbyes to our California friends and headed East.
Thank you Jeff, Lori, Mike and Julia for all the help in watching our dogs, giving us a free place to park the camper and just being such good people. It will come back around to you ten fold in some form or another.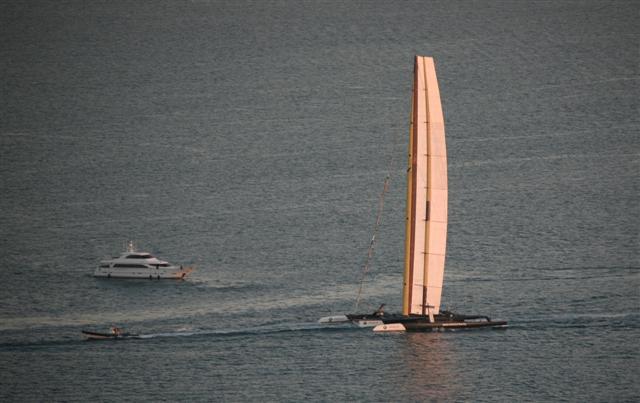 BMW Oracle Sailboat - Notice the triple decker yacht behind it!!!
Cindy and I were able to pull out of Jeff's driveway without losing any stabilizer jacks this time and spent the first long day of driving with non-stop conversation about what we need to do to make this work, and how we plan to implement those ideas.
This opportunity is monumental for us and it makes me wonder if some higher power doesn't have everything already planned out for the two of us.
When we sold our bar 4 years ago, we told everyone we were going to travel for a few years before we settled back down to a much smaller bar, one that could be ran with just the two of us and maybe a spare bartender or two.
Nothing fancy, just a few stools and a nice selection of drinks, but it had to be on the water someplace tropical, warm temperatures and in a small town community.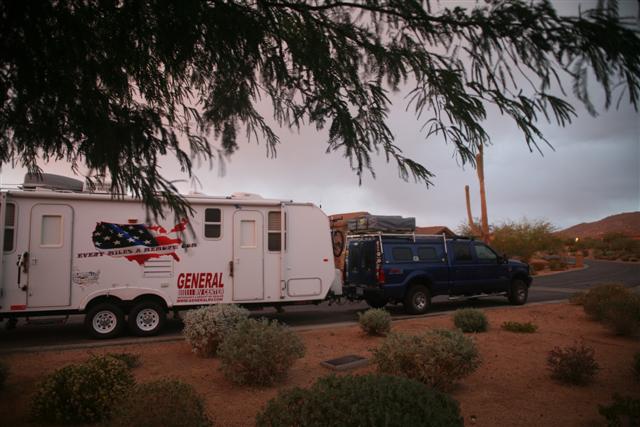 Then once we started traveling, we sort of tossed that idea to the curb and figured we were having so much fun roaming around, that we'd just do this till we couldn't do it any longer and then figure a new plan out.
When traveling, I always ramble on about starting over with a clean slate and how much fun it would be to sit still for a year or two and build the perfect camper while we're working for ourselves. Or maybe forget the back roads mode of travel and start outfitting a sailboat.
Cindy would always comment about how she wanted to have someplace that she could fix up, decorate just the way she wanted and still be able to meet new people the entire time.
This is the equivalent of everything we've ever wanted all rolled up into one package. We can have the little tiki bar, still stay connected to people traveling, we'll be situated right on the water, earning an income to save for the next leg of the journey, whether that's on the road or on the open seas, and the most important of all, be working for ourselves again.
Could anyone ask for more??
All these possibilities kept us talking to one another non-stop and jotting down notes on ideas we thought were good or might be worth the effort.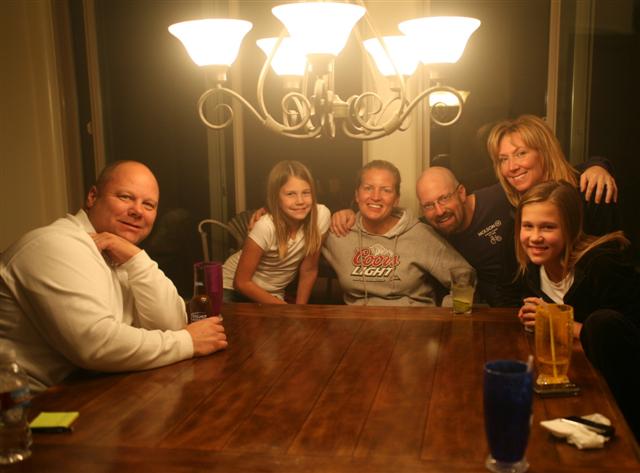 Partying with the Bennett's in Phoenix
Our first stop would be Phoenix. We have some good friends that used to live near us in Michigan who have relocated to Arizona and offered us a free place to rest for the night.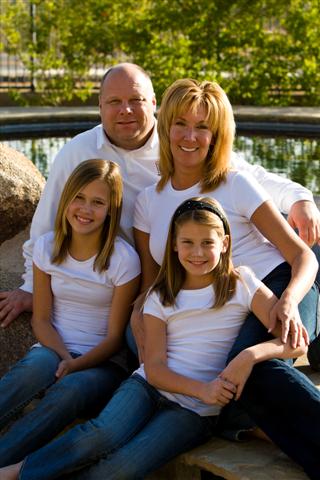 Trig and Amy are living with another couple, John and Michelle while they get settled in their new location and find a house of their own.
John and Michelle live in a house that is jaw dropping when it comes to its size. Two sets of families, both with two kids each live in this castle and they still have empty bedrooms for guests.
We could have probably pulled the camper into their kitchen, and the master bedroom alone is the size of the house Cindy and I lived in back in Michigan.
We spent the night reliving some past memories and laughing till late into the evening. We roasted Smores over a fire pit and ate left over turkey till the tryptophan kicked in sending us all to our beds with full bellies and big smiles.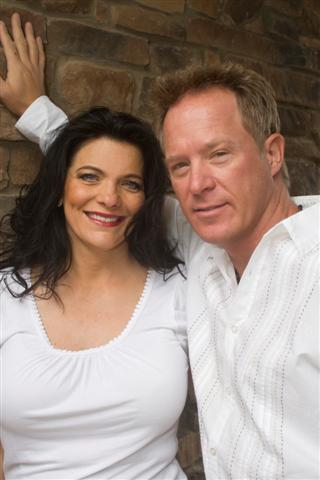 Saturday I spent the day taking photos of the families so they would have family pictures to send out as Christmas Cards. We had planned on leaving Saturday afternoon, but with the non-stop Bowl Games playing on the 70" plasma and a cooler full of imported beers, we ended up staying another night.
The company was too good to only have one night with them and it was great to be playing cards and laughing with old friends again.
A few more pictures this morning before we said goodbye to our Michigan friends and Cindy and I were back on the road driving into the darkest clouds I've ever seen in my life.
My mind is racing so fast I dont even think the Benedryl is working on slowing me down right now
I've already filled multiple pages in my note book with things to do as soon as we get to Florida, and we're still a few days away.
In no way does this mean the Every Miles A Memory site is going to stop and Cindy and I have been working on a bunch of different ideas on how to keep it going while we get the Motel up and running.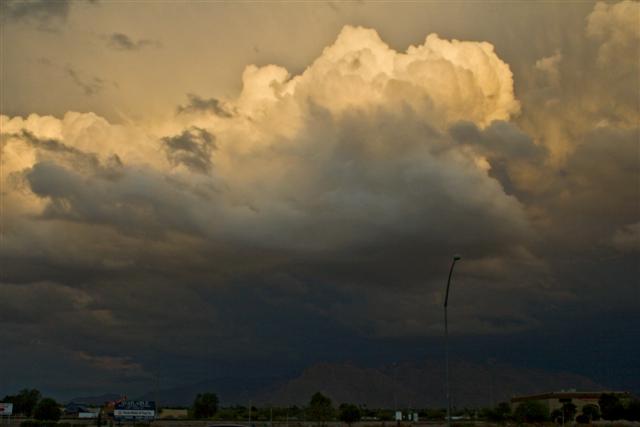 Notice the Mountains at the Bottom of this Image, that's how dark the sky was
We'll be doing plenty of road trips around the Florida area. The motel is located in a National Wildlife and Bird Sanctuary, so the photography opportunities will be endless. There are a few dozen places to paddle within an hours drive of our location we'll be staying at and we're trying to figure out how to let other people join the site so fellow travelers can share their adventures with our loyal group of readers.
I hope everyone reading knows how much this job is needed and realizes that we're not throwing in the towel, we're just taking a small break to recoup our monetary funds so the next round will be even bigger than this past leg of the journey was.
Make sure you stay tuned and I'll keep the blogs updated as we get closer and closer to our destination.
Tuesday December 1st - Waterlogged and Road Weary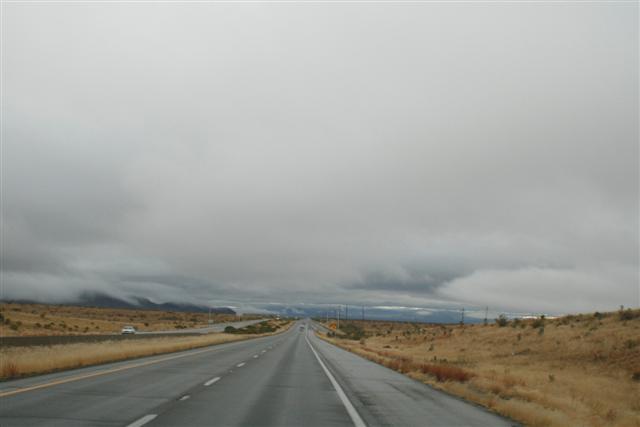 We pulled out of Phoenix on Sunday afternoon and drove the entire day in the pouring rain. As we drove East, the rain turned to big, wet snowflakes and soon to hard sleet pellets bouncing off the windshield.
We found some random truck stop to sleep in and listened to the sleet hit the roof of the camper the entire night.
We awoke early on Monday morning and spent the next 13 hours driving East through white out conditions. Cindy kept asking "When are we going to pull over?" to which I'd reply "When it stops raining or gets warmer!"
Neither ever happened!
We spent last night in another rest area listening to the rain pound the roof of the coach wondering if we shouldn't stop at a boat showroom to finish the trek to Florida.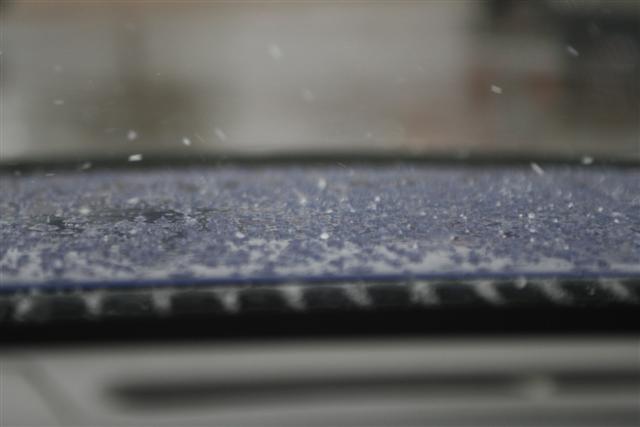 Sleet Bouncing off the Hood
Today was amazing. The entire state of Texas, and DAMN, Texas is a big state to drive through, and it NEVER stopped raining.
Numerous accidents due to slippery road conditions, visibility of maybe 100' most of the day and the smell of wet dogs in our vehicle have made this one day I'd like to forget.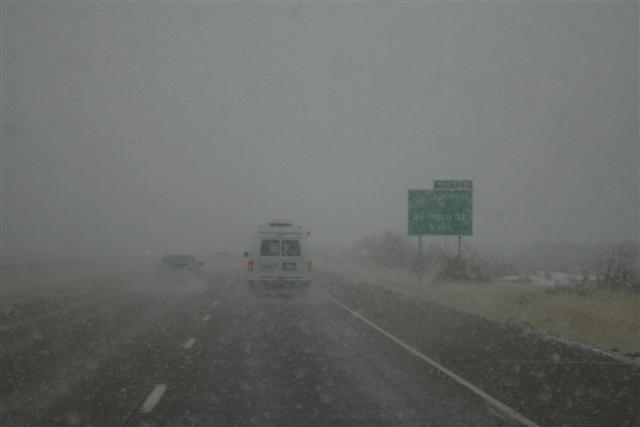 We're now pulled over on the Texas/Louisiana border in guess what? The pouring rain!! Yep, it's still raining cats and dogs. I'm wondering if we shouldn't start collecting pairs of animals to load the ARK.
You know it's bad when you have satellite radio and get sick of the 100+ channels because you've heard everything on them at least once during the day.
Ok, enough of my ranting, I just had to get that off my chest. Cindy just checked the forecast for Louisiana, and it looks like tomorrow will be another waterlogged day. If you happen to meet us along the road, please know I usually dont smell of wet dog, but these past few days, I'm starting to get used to it. I'm really looking forward to Florida and some sunshine.
And one other thing. I always read on RV Blogs about people saying that your truck will charge your batteries on the Coach while driving. We've now driven for 3 days of over 10 hours at a time and our battery gauge has never moved over the 12amp mark. So who ever thinks they will charge their batteries while driving is mistaken.

Return to Top of Page
Need Unlimited photo storage- FREE Trial of Smugmug