When we realize our insignificance in this world,
it some how relieves the pressures from society to succeed -
Cindy Bonish 04/07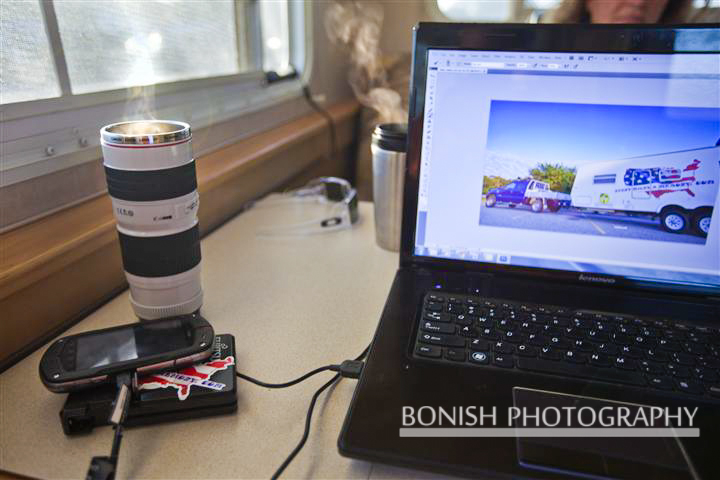 Pat's May 2012 Blog
If this is your first time here, you might want to start from the beginning of our fulltime Journey with our Past Blogs
If You Don't Know Me Yet, Click Here to Read My Bio
****
Thursday May 31st 2012 - One More Day at Lead Hill Campground
There had been talk of leaving today, but after weighing out the options, we both decided we really liked it here and decided to stay one more day.
Besides, it was pretty windy today and I don't really like to tow the camper in strong winds. We did move from where our campsite was to a different spot only because we had to go up and empty the gray tank, and we saw a site that had a water spigot right beside the campsite and wanted that option.
Since that Freshwater Intake hose was kinked and I wasn't able to fill the fresh water tank all the way, I figured I'd try and crawl under the camper and see if I could re-route the hose to un-kink it and allow us to fill it 100% while we'd be parked on a nice concrete pad. 40 Gallons of fresh water can normally last us a minimum of a week, but we can stretch it out to 12 days if we know we're going to be without water.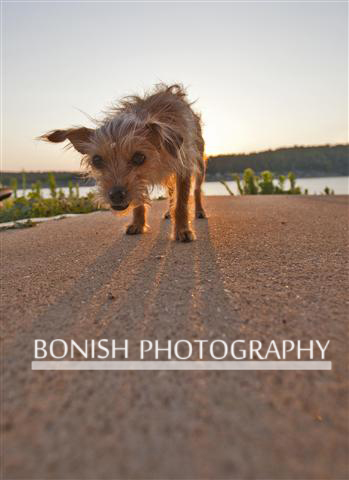 Only being able to fill that tank up with 20 gallons was really putting a strain on showering and washing dishes while dry camping. Luckily we've been camped on a lake, so it's helped a lot.
Once I had the tanks cleaned out and emptied at the dump station, we were in the other site pretty quickly since it was a pull-thru and I was under the camper working on the tubing before it got dark.
When we woke up this morning, it was pouring rain, so we had just sat all day in that other site and I worked on the computer while Cindy cleaned the camper more. So by the time we moved to the other site, it was pretty late in the afternoon.
Once under the camper, I could see what the deal was and I just needed to undo the pipe straps on each end and let the hose un-kink itself by twisting it a bit. Once it was straight, I tightened up the pipe straps and got out the hose to see if it would accept water the way it was supposed to......Success!
I filled the tank and we were back in business. Notice how Little has to be so curious about everything I'm doing.
While I was doing all this stuff, Cindy had been making some fried chicken that was outstanding! She used a corn batter breading rather than a flour batter to bread the chicken breasts. It was awesome and so great to see her cooking again. We're usually so busy back in Cedar Key, that she makes real easy things rather than working on one dish all day long like she'll do in the camper.
By the time we were finished with dinner, we had maybe an hour before sunset and we had some beautiful clouds moving in. I grabbed Cindy and the dogs and we walked down to the shoreline. This side of the campground was totally different than the other side we were at.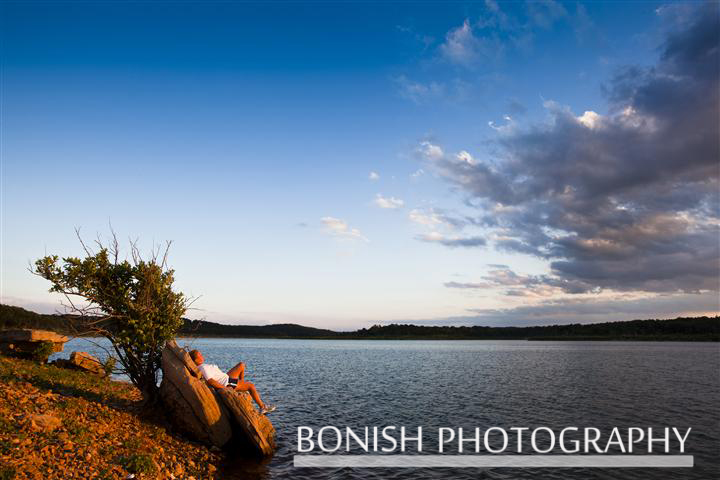 Cindy kickin' back on Mother Nature's Chair at the waters edge
The other side had loose rocks that went from the campsite down to the water. This side had big shale type rocks along the shoreline and it looked like you could walk out about 20' in knee deep water before there would be a sharp drop off.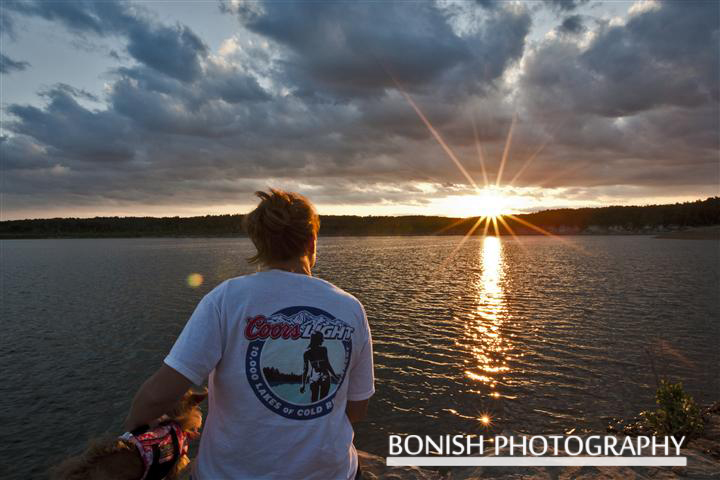 Cindy and Little enjoying the sunset on Bull Shoals Lake
The 4 of us climbed around on the rocks getting different views of the area from various heights. The dogs were loving being off leash and being able to explore on their own. There wasn't anyone camped around us so we thought it was fine for them to be running around and getting some exercise. They get lots of exercise, but they rarely get to run around off their leashes so it was especially exciting for them.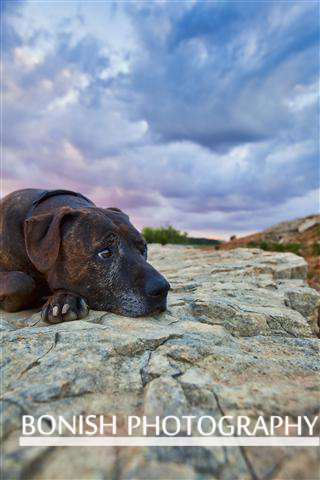 I love how intently Luca is watching the sunset. Such a beautiful dog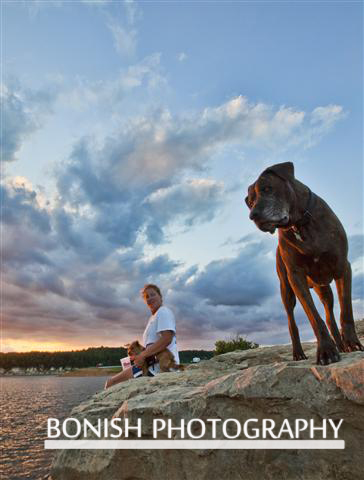 Cindy and the pups on Bull Shoals Shoreline
We sat on the rocks watching the sun go down till the light faded away and the winds picked up which drove us inside the camper. We worked on images late into the night because tomorrow we would be moving the camper back towards the Fowlers so we could all meet up. Something tells me this would be the last bit of computer time I'd have for the next few days.
Wednesday May 30th - Another Day of Pure Awesomeness!
If you read yesterdays blog post, today was pretty close to a repeat. Between working on images, going swimming to cool off multiple times throughout the day and just kicking back in the hammock, it was as close to the definition of a "Vacation Day" as one could ask for.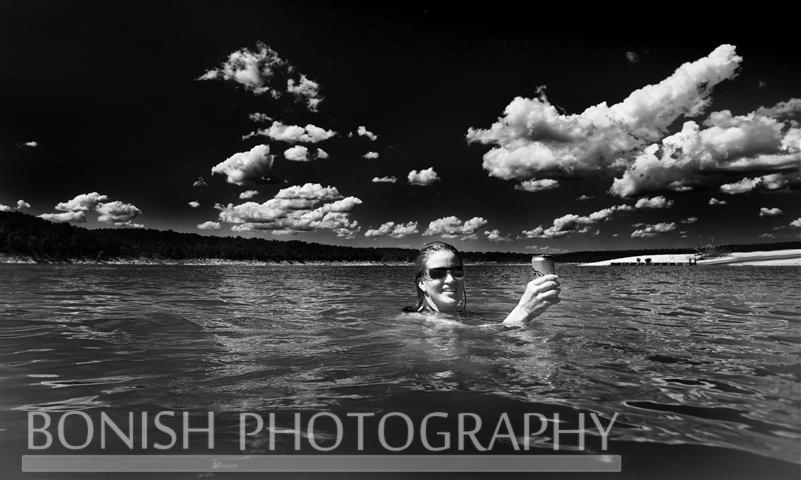 Late in the afternoon, Brian called to say that they had taken the front end of the truck off, power washed everything and I wouldn't believe the amount of junk that had come off the coolers. He told me they had just finished putting everything back together and refilling all the fluids and they were going to take it for a test drive. If everything came out good, he'd be here in a little while to pick me up.
What kind of service is that! I mean we're sitting at a campground and the guy is going to come pick me up!
When he did come get me, he showed me some photos he had taken on his phone of what they looked like while they were cleaning them and I asked "Ok, what can I do to keep that from happening again?"
His reply was "You've got 119,000 miles on this truck and it's 11 years old. We shined a flashlight down into the radiator and it was spotless. Except for the outside which was pretty gunked up, you should be good for another 10 years or 100,000 miles."
He had told me that the exhaust and Bypass Dual Oil Filters would take a few days to get in as he didn't have them in stock and we had agreed that we didn't want to wait around. He told me both were items that could be installed pretty easily so I could always get them done once we get back home.
Other than that, it was another heavenly day spent looking over the water from the camper window. It has to be the best office a person could ask for. I mean I'm sitting at my desk with a big picture window beside me that's overlooking a turquoise blue lake with my wife swimming half naked behind me all day long. What more could I ask for?
Tuesday May 29th - Going to Get the Truck Fixed
While I was busy working on sorting the images into galleries last night, Cindy was trying to find the best place to get the truck fixed. The Ford dealer back in Alabama had told us there was another Ford dealer in Harrison that had a service station, but all the reviews that Cindy could find said to avoid that dealership.
She found a few reviews of Brian's Truck Shop that all talked about how good he was and how much money he saved them compared to what the Ford Dealer was going to charge. Then we had a reader send us an email saying "If you're anywhere near Harrison, I'd highly recommend Brian's Truck Shop." That did it for us, we called them first thing this morning and explained our situation.
I spoke with Brian for about a half hour on the phone and he said before we replaced anything, lets make sure that the oil cooler, the A/C cooler and the radiator wasn't clogged to begin with. He said that he see's way too often where dealerships wont even check something this simple and simply want to replace the parts rather than trying to just clean them first.
He told me if I could get the truck to him, he'd try that first and we'd go from there. He also told me there was a really nice State Park a few miles down the road from him where we could camp and I could come drop the truck off at the shop, and he'd give me a ride back to my campsite.
His plan was for us to drop it off sometime today, let everything cool down so they could get started on it first thing tomorrow morning. I totally understand that because if that motor has been running for even the shortest amount of time, it's wayyyy too hot to get near it let alone work on it.
As soon as we knew what the plan was, we packed up camp and got ready to move. I swapped out the bad tire on the camper first thing and noticed that there was just a big bubble on one side of the tire. I'm guessing this was where the tire had sat for so many months while the camper was just sitting still being stored. Say's something for long term storage of a camper.
I don't think in the 4 years on the road, Cindy and I ever had this much trouble with the camper because everything was used non-stop. Stop using it and it breaks.
From the resort, it took us a little over an hour to get to the Lead Hill area where we knew we'd spend the next few days. We wanted to drop the camper off in a campsite, then with just the truck, run back into town, refill the propane tanks, grab some supplies and get everything set up before I dropped it off at Brian's. I noticed that the price of diesel has come down over 0.40¢ from before the Holiday Weekend.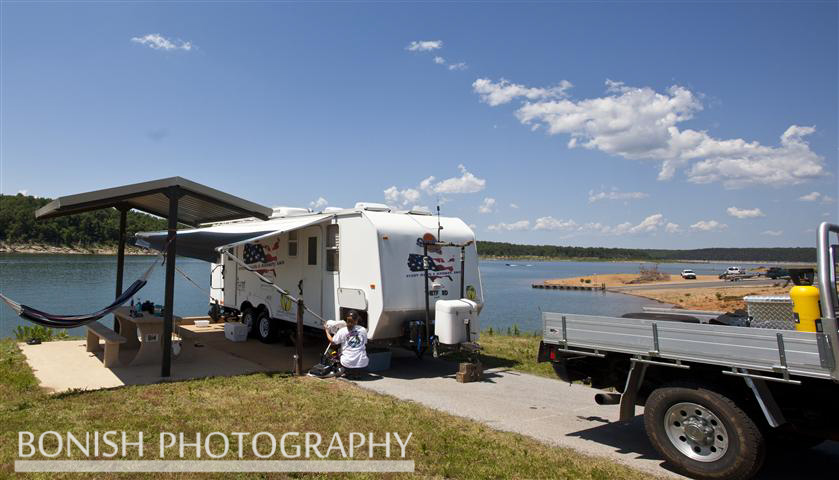 Camped in Lead Hill State Park on Bull Shoals Lake
We found Lead Hill State Park and loved the fact that they had nice, level sites with little covered patios, picnic tables, 30amp electric hook-ups and best of all, the sites were right on beautiful Bull Shoals Lake. All this for only $18 per night. There was no water or sewer, but they had a dump station at the entrance of the park, and we had just emptied the tanks this morning, so we knew we'd easily be good for a few days. Although we barely had any water due to that line being kinked, but I planned on working on it while I didn't have the truck with me and had nothing else other than photos to work on for the next few days.
We found an awesome campsite and got everything set up. By this point, it was pretty warm so all of us went for a swim to cool down before we did anything else.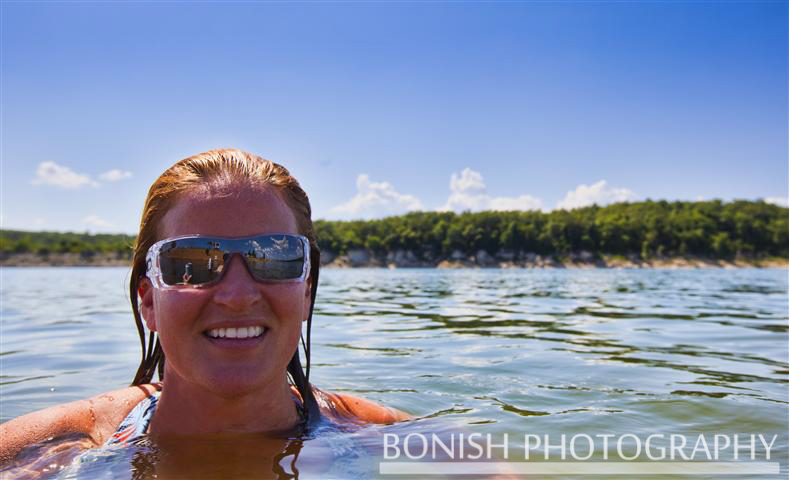 We had Little's life jacket on her and were both laughing hysterically when we realized that when she's floating in the water, if we hold onto the handle of the life jacket, but just leave her where it's too deep for her to touch, she goes into this trance like state with her eyes closed and her head pointed straight up in the air. She'll literally sit there as long as we hold onto her looking like she's sleeping and not moving at all.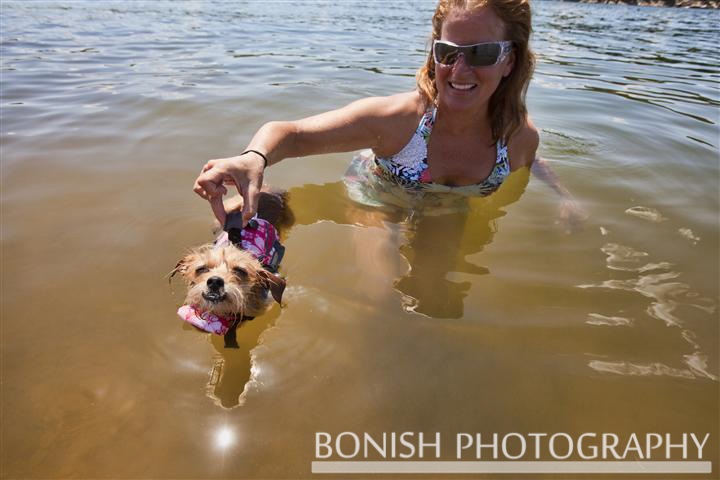 Little in her Water Trance
Once Luca found that he could just get up when ever he wanted, walk down to the water till it almost touched his belly and get a drink, he was going from sleeping on the shoreline to standing in the water every few minutes. I think if he figured out that he could just lay in the ankle deep part we'd probably never get him to leave.
Once we were all cooled off and the camp was 100% set-up, I brought the truck up to Brian's Shop and dropped it off.
We introduced ourselves and Brian brought out another of his mechanics. This isn't a typical truck shop off the side of the road where the mechanic is dirty and covered in grease and tools are scattered all about the shop. This place was really nice, had 3 bays with shiny painted floors all with newer model Ford diesels getting various things done to them, and the reception area was lined with trophies from diesel drag races that Brian has won.
Brian's Truck Shop, or BTS as their logo goes by, strictly works on Late Model Ford diesels and is very well known for the work they do. It only took about 3 seconds before I knew that he knew what he was doing. Being as I had brought it to a Ford dealership that hooked it to a computer, then checked out a few things and told me I'd need to spend $1500 on a new oil cooler.
Brian looked at the front of my A/C cooler, then pulled back a piece of rubber that's under the hood that covers the top of the intercooler, the oil cooler and the radiator which are all behind the A/C condenser and looked down there with a flashlight. Upon looking down there, he said "Yep, there is your problem!"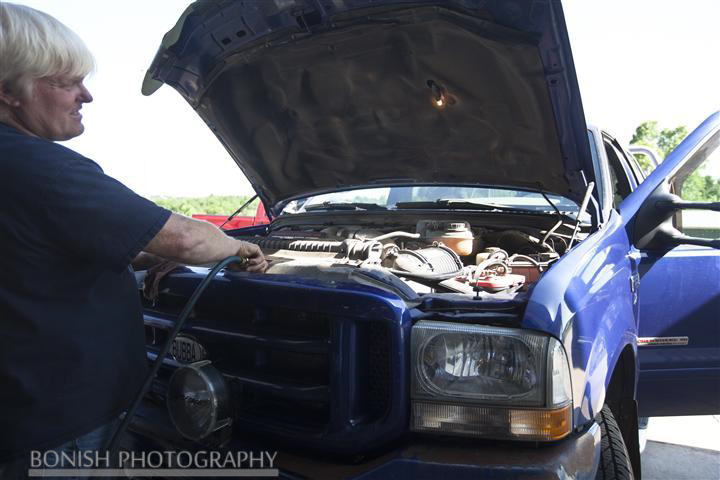 He went and grabbed an air hose with a open flowing head on it and sprayed it down where he had just shined the flashlight. The 3 of us had to stand back due to the dust and debris that came flying out.
He looked at me and said "Ok, that's just spraying a little bit of air down there. Imagine if I was to power wash all 4 of those coolers how much junk would come out."
Sitting around and talking with Brian and his other mechanic, we all agreed that tomorrow they'd basically pull the entire front end apart. They'd empty out the radiator and flush that, they'd power wash the outside of all the coolers and try to straighten the cooling fins that were smashed flat in many areas.
They were guessing that once that was done, the truck would run just like it did the day it came off the lot.
I couldn't be happier due to the fact that he said they should be done with it by tomorrow afternoon as long as once they got into it, they didn't find anything else wrong. Plus he told me they should be able to do all this for under $500 which is much less than the $1500 the Ford Dealer was going to charge.
While Brian drove me back to the campground, I picked his brain about so many of the things I hear about diesel motors and what he thinks works and what doesn't. Many things I've been wanting to do he basically told me I'd be wasting my money. The only things that I wanted to do that he agreed with was adding the Bypass Dual Oil Filter and putting on a straight exhaust system to remove the catalytic converter which would probably help my fuel mileage. I asked him if these were parts he had in stock and if so, since he was saving us so much money, I'd rather give it back to him and have him install them.
He said he'd check and let me know tomorrow.
Once he dropped me off at the campsite, the rest of the afternoon was spent working on photos, taking a break to go swimming with Cindy and the dogs, or lounging in the hammock with the nice breeze keeping us cool.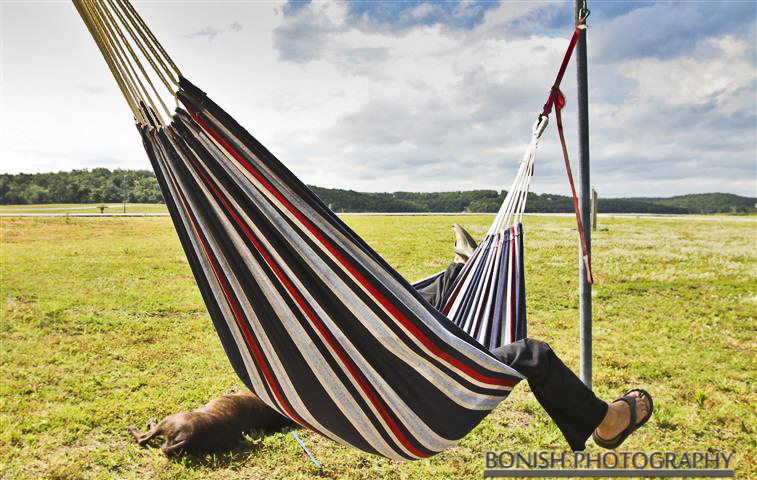 I couldn't tell who liked this campsite more, Cindy or the dogs. While I'd be working on the computer, I'd see her get out of the hammock to go back to the water with both dogs following close behind. They'd swim for a while before laying on the shoreline on a towel in the sun. They'd get back in the water before coming back up to lay in the hammock before they'd repeat the entire process. It was exhausting just watching them.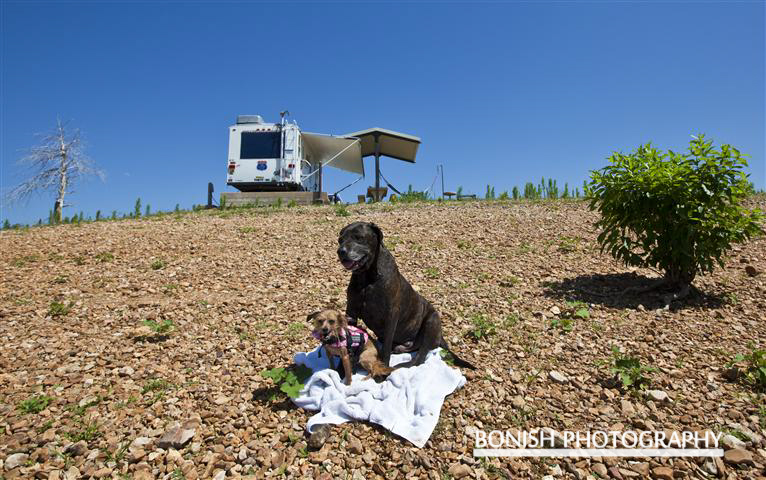 Happy Pups!
After multiple hours staring at rodeo pictures and trying my hardest to delete bad ones and keep good ones, my brain was mush. I grabbed a cold beer and headed out to the hammock to watch the sunset with Cindy.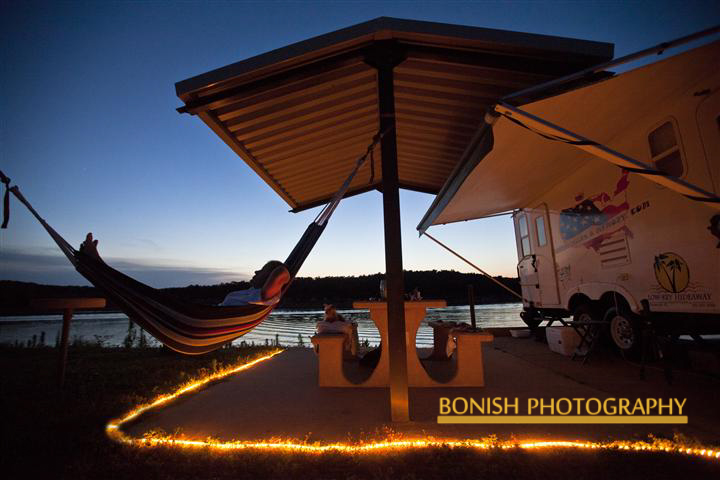 Life Sucks Right About Now - NOT!!!
This campsite is pretty awesome and we both just laid there remembering why we loved Arkansas so much. I think if we didn't have such a good gig going in Cedar Key right now, we'd either be living in Moab or in Arkansas. Those are our favorite places in all of the United States, and it was great to be back in one of the Top 3.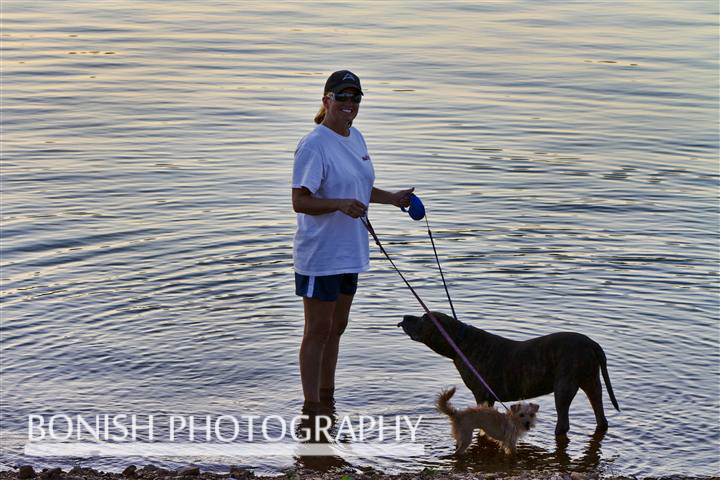 After the sunset relaxation point, I came back in to work for a few hours before going to bed. I thought it would be funny to go over a typical conversation between Cindy and I when it comes to her sleep.
She's getting ready to go to bed and makes it a point to say:
"Can you do me a favor and not wake me up at any point to tell me about earthquakes or anything else that's happening outside the camper tonight!"
That's a long story from a few nights back where everything in the camper started shaking at one point and I woke her up to ask her if she felt it. Obviously she didn't so she thought I was crazy.
It's about 4am this morning when the wind picks up something awful. This is humorous to me because its the first thing I tell people checking into the campground when they stay with us in Cedar Key is to not leave their awning out at night. We had the windows open in the bedroom and were both loving the cool breeze blowing off the water all night.
But it picked up crazy and was flapping the awing something awful. Cindy shakes me till I wake up and says "Pat, the awning sounds like it's going to blow away, you need to go put it up"
Within about 2 seconds I'm up and outside putting the awning away. Cindy had also left multiple pairs of flip flops outside, her bathing suit hung on a line, the comforter the dogs were sleeping on and their towels all hung over the picnic table that are now all scattered over the campsite in the strong winds. So here I am collecting all this stuff that is blowing away while trying to put the awning in by myself.
I come in 20 minutes later and get back in bed. I thank her for coming out to help me and she starts talking to me. I sit up and say "Can you do me a favor and not wake me up at any point to tell me about anything that's happening outside the camper tonight!"
She gets all pissy and says "Are you serious!?!"
I just said "YES" and went back to bed.
Monday May 28th - Back to Life, Back to Reality, Not Really but it's a Good Song
There was talk of everyone involved with the event going golfing today. Cindy and I woke up early and realized we were out of water in the camper. It had been almost 6 days since we'd left Cedar Key and had been without hookups. She then let me know we were out of Propane too, but I think we had only started with one half-full tank to begin with. It looked like we'd were packing up and going to find a campground.
Since today was a Holiday (Thank You to all who have served and especially those who are still serving!) we knew any shop that could fix our truck would still be closed. But we thought it might be better to go find a campground and empty the gray and black tanks, refill our fresh water tank and be able to plug the camper in so if we did go golfing, we could leave the dogs in the Air Conditioning.
We had everything packed up pretty fast, but I was having trouble getting the battery connection unhooked on the Wind Turbine. I finally put the mast down far enough that the head of the turbine itself could spin freely without the blades on it, but was lower than anything else on the roof line.
Cindy was pretty upset with this saying "That's not some easily replaceable piece of equipment! You need to figure this out!" but I was standing on the roof in 100° heat cussing something awful and still couldn't get the electrical connection undone, so I finally said "screw it" and just climbed down.
We drove out of the pasture and stopped on the way to take a picture of the little truck that Mike Fowler normally drives around in. It was all smashed up with the windshield lying on the ground in front of it and the front end looking like it had been wrapped around a tree.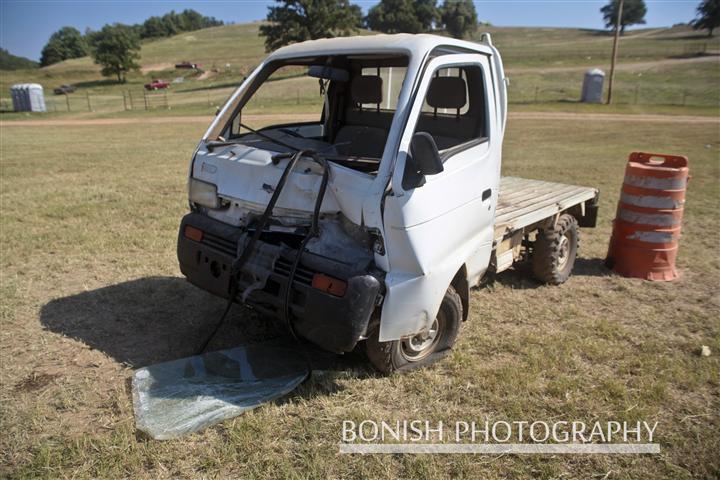 Something tells me that wasn't going to be a good thing, but it made me laugh that there was a Every Miles A Memory sticker right on the middle of the hood from the last time we'd visited.
We got on the main road and started heading towards the town of Blue Eye which is where we could grab a main road to head towards Harrison where we already knew there was a Ford Dealer.
Once we got off the mile long dirt driveway and onto pavement, I had to stop in the middle of the road to walk around the camper and the truck to make sure we didn't have a flat tire. While driving, something just doesn't seem right, but everything looked fine once I checked them out. A few miles up the road, we saw a sign for Outdoor Resorts of the Ozarks RV Campground. I came to a screeching halt thinking it would be good to grab a place really close so if we did go golfing, we'd only be a short drive away.
Pulling into this Resort, Cindy and I both felt totally out of place. The truck looked like something from the Beverly Hillbillies at this point covered in a thick layer of red dirt and the trailer was even a worse sight following behind us.
Cindy came out of the office laughing saying "Ok, this place is totally out of our league, but I got us a night anyways."
She went on to say "Oh, and the really nice lady behind the desk made sure to let us know that it would be totally fine if we wanted to wash our truck and camper!" I think there was a "Hint! Hint!" thrown in there subliminally.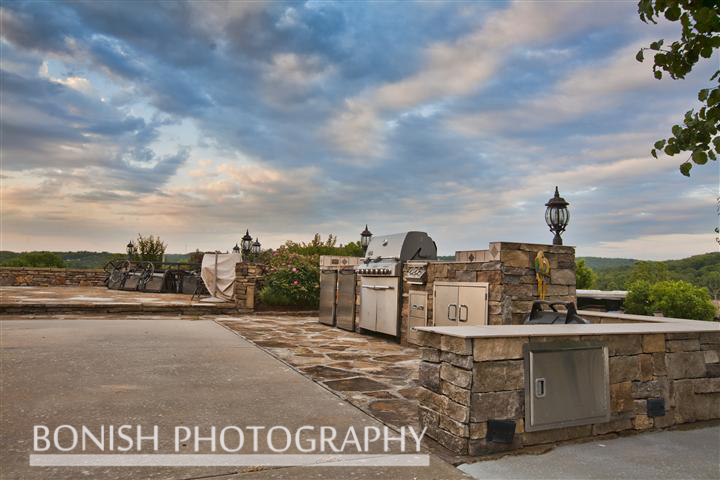 Yes, this is a outdoor kitchen beside one of the campsites!
We were escorted to our campsite by a really nice guy on a golf cart who explained about the pools, the tennis courts and everything the resort had to offer. This place has to be seen to be believed. It's nothing short of a landscaped masterpiece with some slots having brick paver patios, waterfalls, outdoor kitchens with dual stainless refrigerators and big, six burner stainless grills. There is a little Par 3 Golf course that winds its way around the sculpted grounds which are all set on a terraced hill overlooking Table Rock Lake.
I'm not lying or over exaggerating one ounce when I say this is the nicest campground we'll probably ever stay at in our entire lifetime.
First things first, lets get back to reality and get our scrappy looking rig cleaned up and washed down. We first plugged in the coach so we could leave the dogs inside with the A/C running, and started filling the fresh water tank. I realized that the hose we just put in is kinked some how so it would only allow me to fill it half way before it would overflow out the side of the camper! UUUGGHH!! Could anything else go wrong on this trip???
We got out the long handled scrubbing brush, a bucket and some soap and both went to town on the camper itself. There was a nice breeze blowing off the water that was much cooler than it was down in the hot pasture only a few miles away.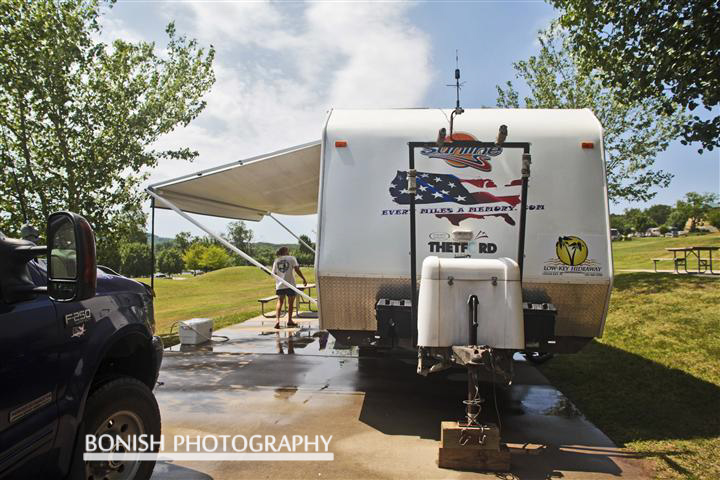 About an hour or so later, the camper actually looked presentable and we weren't so embarrassed to be camping here. Even though our little Travel Trailer was the smallest one in the park and probably cost so many times less than most of the Million Dollar coaches that were staying here, at least it didn't look like a dirt hauler now.
While washing the camper, I was scrubbing the dirt off the tires and noticed the culprit for why I thought I had a flat tire earlier. One of our older tires had a big bubble in it and would need changing before we left here. So another blow-out was avoided before it happened, and I was thanking myself that I had gotten that extra spare when we had the chance. Something tells me before we get back to Cedar Key, those other two tires will need to be replaced.
We've both agreed that once we get home and put the camper back in storage, we'll jack it up and put it on blocks so the tires don't have so much weight on them for long periods of time without moving.
While we were washing the camper down, a nice woman on a golf cart pulled up to let us know there would be a BBQ going on at one of the 2 pools that would only be $4 for a burger, a bag of chips and a drink. Major bonus on our part!!
Since we had no propane to cook anything in the fridge, it looked like we'd be taking full advantage of this.
While at lunch, we asked around where would be the nearest place to get our propane tanks filled and it looked like the town of Harrison would be our best bet, so we'd just have to eat something for dinner tonight that didn't involve cooking.
During lunch we mingled with some of the locals who live in the resort who made us feel right at home. I guess you can purchase the lots which is why so many of them look beyond immaculate. This would totally make sense for someone who is retired and has a nice camper to live out of. You could live here for half the year, and for those few months Arkansas experiences somewhat of a winter, you could leave in the coach and head further South. The lawns are all maintained by the association, and each individual lot is maintained by the owner themselves which is why some are so unique and look more like a model at a garden center.
After lunch, we came home and both took long showers to finally wash all the dirt and dust off. I hadn't shaved in 5 days and was starting to resemble something out of a Grizzly Adam's rerun, so shedding all that facial hair was heavenly.
Once we were both showered and the A/C had finally cooled the camper down, we all crawled into bed and took a nice, long, much needed nap. I think Luca was enjoying the A/C the most. He was finally snoring so loud it sounded like a freight train was in the camper with us.
An hour later, we woke up and headed into the major metropolis of Blue Eye Missouri. If you lived in this town all your life, you could come visit us in Cedar Key and ask questions about how we deal with a town this big. The sign heading into Blue Eye told us the population was an astounding 38 people.
We stopped at the one store which only carried beer & liquor and asked if the town had a market. She pointed towards the next town and said we'd have to go there. This Market was actually just a Conoco station that had a small deli inside. I just looked at Cindy and said "Great, so I'm going to eat my dinner out of a gas station because you ran out of propane!" That was one of my smart-assed attempts at humor incase you don't know my personality.
Cindy walked out with a loaf of bread, a pound of deli meat and a half pound of cheese. She said we'd be eating cold sandwiches for dinner and I needed to shut up. That's fine with me since food isn't a big deal and we still had plenty of cold beers to wash it down with.
We headed back to the resort and crossed from Missouri into Arkansas in a total of about 10 miles. I had about 4 days worth of images to sort through and we were already getting emails asking about when the pictures were going to be posted. The entire time the event had been going on, the announcer would be letting people know they'd be able to see photos from the rodeo on our website.
Trying not to be like other photographers who just post every single image they take without editing out the blurry ones or doing any sort of cropping or editing, we both try and take extra time to only post the best of our images.
Just after sunset and once the days heat had cooled off, Cindy and I went outside and did a few laps walking around the resort. We both took about 30 images hoping to gain some ideas on how we could make similar gardens back in Cedar Key at our place. With each campsite we'd pass, we'd both be more and more impressed.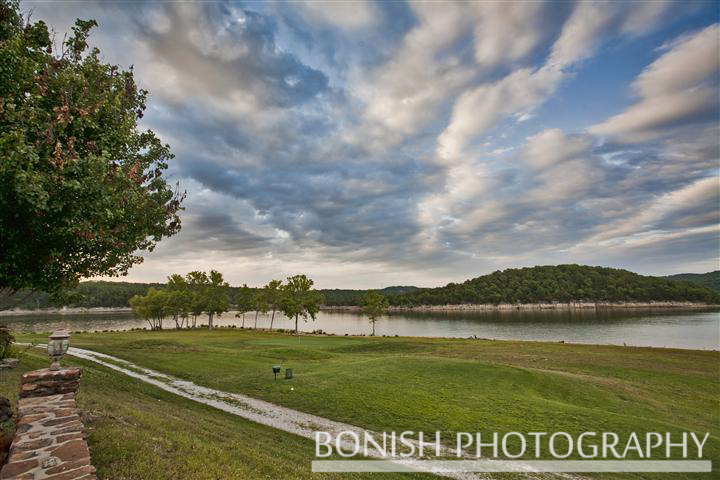 Looking off one of the campsites over the golf course onto Table Rock Lake

At the top of this waterfall is one of the pools.
Surrounding the waterfall is the terraced campsites
I think I worked into the wee hours of the night on images and trying to update this blog before finally falling asleep with some Air Conditioning.
Sunday May 27th - The Last Big Day at Rock Bottom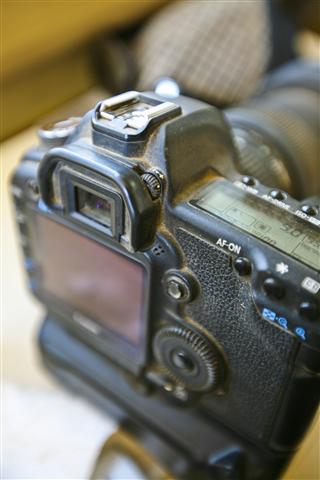 We both woke up this morning feeling 100% better than we did before going to bed last night. I think we needed a full nights sleep that wasn't alcohol induced.
There were kids events starting early this morning which I'd go cover while Cindy took care of the dogs, the camper and tried to clean up some of the dust.
The problem is the first day we left all the windows open in the camper to try and keep it cooler than 110° inside. This was a big mistake because even with the screens on the windows, EVERYTHING inside the camper has a fine layer of red dirt coating it. I mean everything...our sheets, the dishes, the table, the computers, the cameras and everything else that's inside.
Our solar panels aren't doing that great of a job keeping the batteries charged due to the 1" thick layer of dust coating them. Luckily the breeze kept the turbine spinning most of the day to keep the batteries topped off.
Yesterday was the qualifying for today's Chuck Wagon Finals. Everything was running much faster and smoother today which made the day fly by. Tonight would be the big Bull Riding event in the arena followed by the Survivors Party at the Rock Bottom Saloon.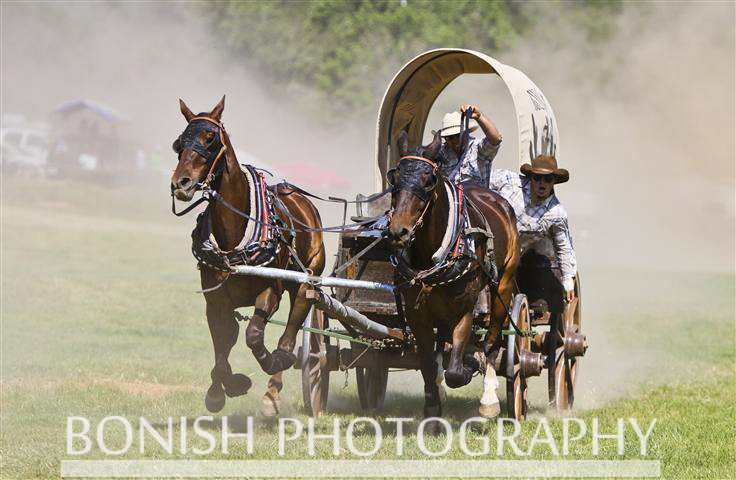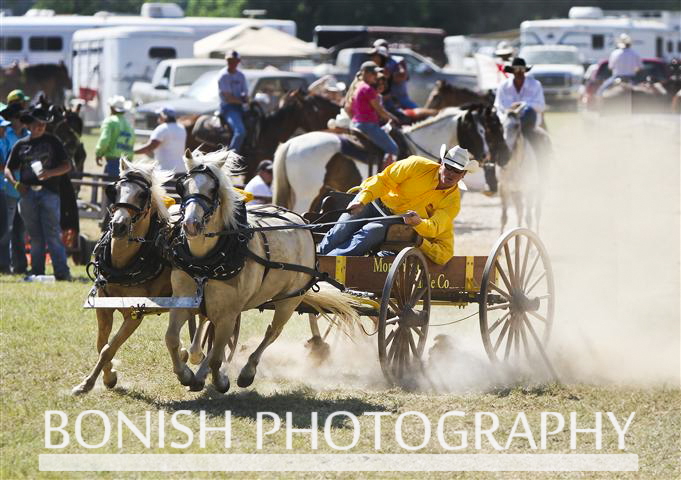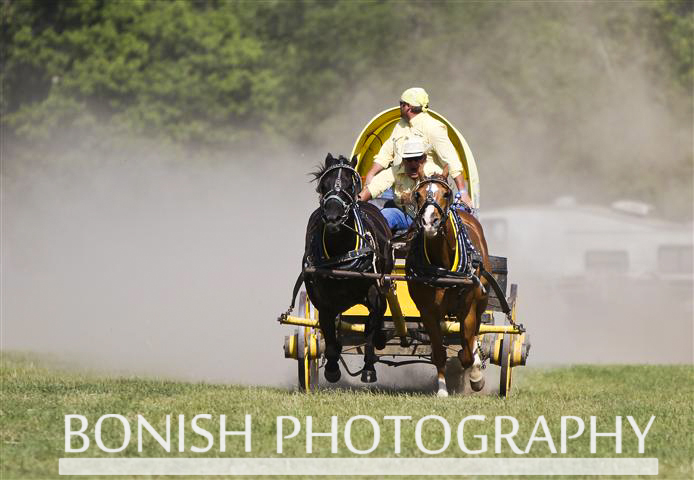 The Chuck Wagon Races today were awesome with many races coming down to the final few feet of the track for the race to be won. After the races, they had a Mule Race and a Horse Race that are always super entertaining to watch. The horse race had a big accident around the first turn that was so scary to watch. We could see the horses go down, but the cloud of dust following the pack blocked our view of anything else.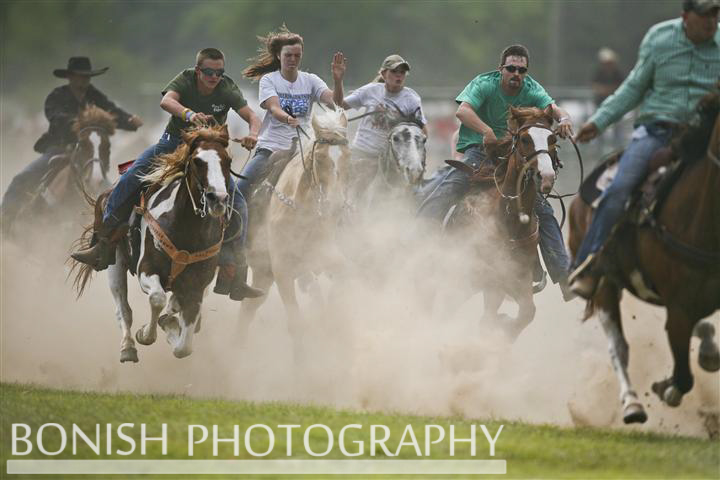 Horse Race - Photo by Cindy Bonish
By the time the dust settled, there were ambulances and paramedics everywhere. I didn't want to even go down there and hinder the paramedics, so we just stayed over at the camper and let them do their job.
With the days races ended, we had a few hours to cool down while we got ready for tonight's Bull Riding. Cindy went to take photos of the awards being handed out while I downloaded today's images.
While she was gone, Chuck pulled up in his golf cart and asked if I wanted a ride to the top of the hill so I could snap some photos of the entire area from an aerial point of view. I grabbed a camera and a wide angle lens and jumped in the cart.
We drove to the top of the hill and I lined up the shot, but when I went to press the shutter, I realized the compact flash card from the camera was back in the camper in the card reader. Total rookie mistake and I was kicking myself since I was the one who had asked Chuck earlier in the day if he could give me this ride to the top of the hill.
Luckily I had my phone with me, so I did snap a Panoramic image of the view from high atop the hill, but it's nothing like it would have looked from a real camera.

While we were up here, he asked if I wanted to see some more of the property and where a lot of the other people camp. We drove down through some big pastures and followed the river with it's steep rock banks direct the turquoise waters flow. This piece of property is utterly amazing and something out of a Western movie set. It's rolling and lined with large growth trees the provide great camping spots. I think the next time we come here, we'll camp up here on the hill nestled under the shade of some of these big trees along the rivers edge.
There was a group of people partying and jumping off the rock ledge into the cool river water below. That looked like fun and something I could do for an entire weekend.
Cindy called as we were headed back to camp to ask where I was and I told her about being up on the hill. She said "Oh I cant wait to see those photos!" until I told her about the Compact Flash card being in the computer. She laughed and told me how dumb I was which I already knew, but I blame it on my brain being melted for the past few days in this heat.
Once back at camp, I got the cameras ready for tonight and headed over to the arena. The bull riding on Sunday night is usually the best as they bring in bigger bulls that follow the larger rodeo circuits.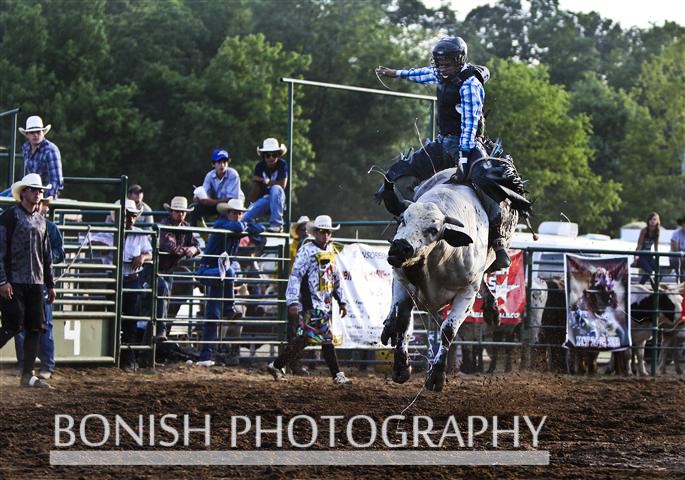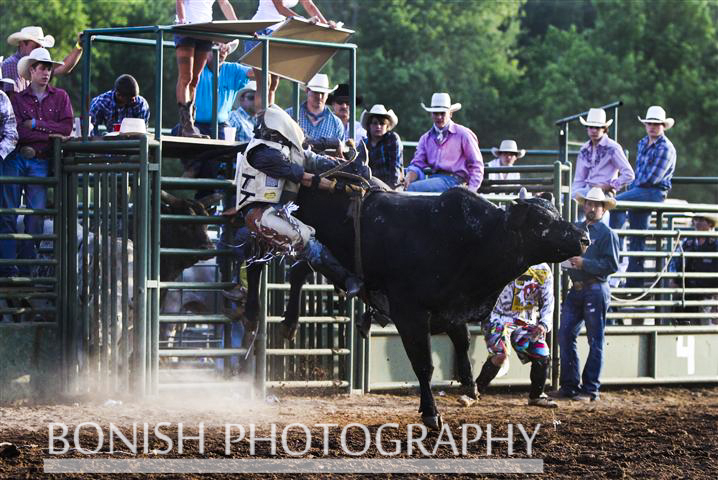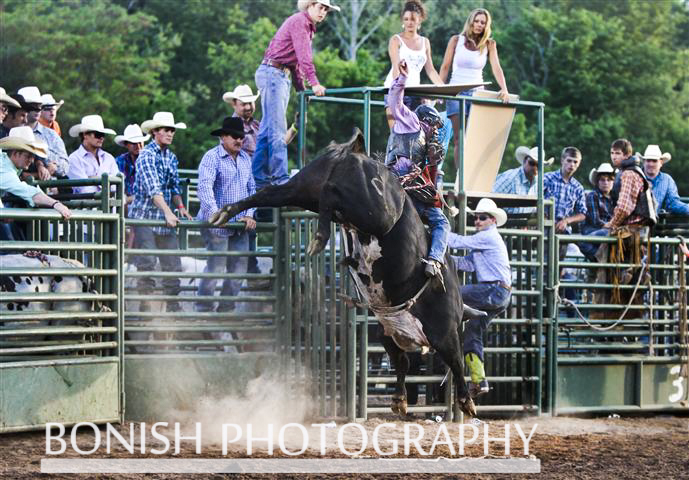 Needless to say, the rodeo was awesome! After the sanctioned bull riding was done, they did something that was utterly insane. They called it Mexican Poker, and had 4 cowboys sit in chairs in the middle of the arena. The object was to be the last cowboy sitting to win $100 cash.
If all 4 cowboys stood up, then they had to try and pull a pink ribbon that was tied between the bulls horns. Yep, utterly INSANE! But man is it fun to watch as long as you're not the cowboy in the arena.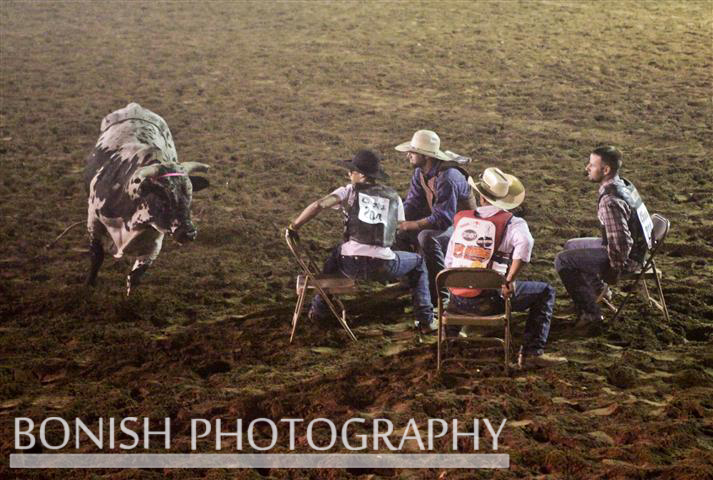 No one was able to stay seated once this mean mutha' came stomping up looking at the 4 guys sitting on chairs in the arena. Once they all started running, the chase was on. It lasted for some time and I don't know if any of them came out unscathed.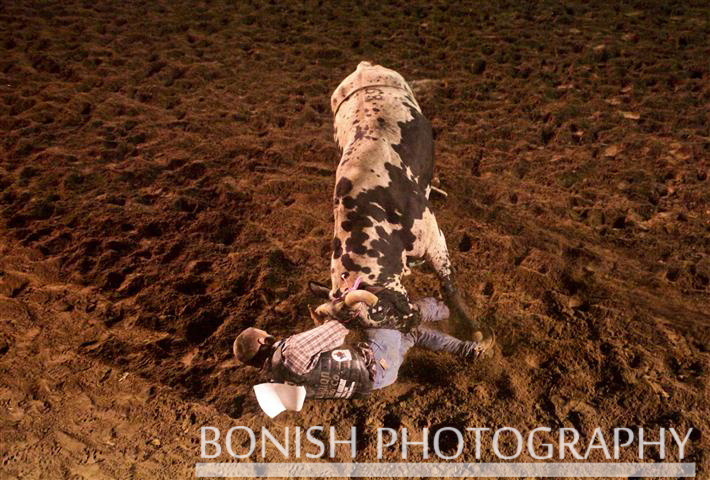 It pinned a few of them down really working them hard. I was standing atop the chutes with a few of the Stock Contractors who own the bulls. One of them yelled to the rodeo clowns who were working their hardest to keep the bulls off the guys playing poker "If one of you clowns can grab that ribbon and end this, I'll give you the $100!"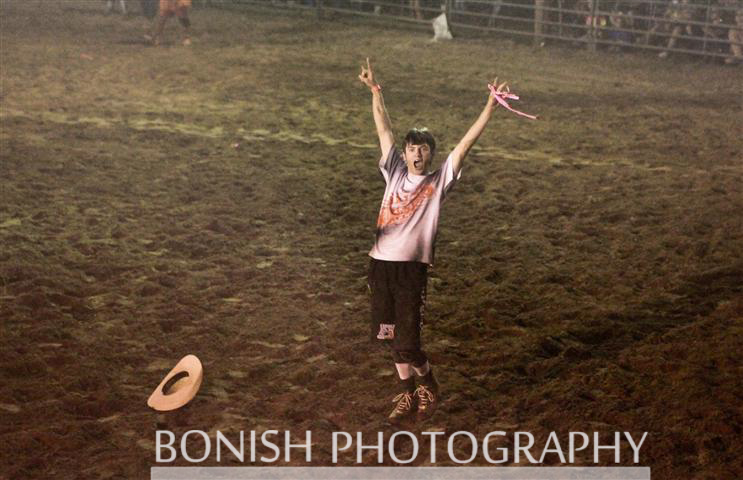 It didn't take but 20 seconds for one of the clowns who had given up his protective vest to one of the poker players to run up to the snorting bull, slap him in the face with one hand to confuse him while he snatched the ribbon off his horns with the other hand. I have to hand it to these Rodeo Clowns, they make it look so simple and easy, but when you put normal cowboys in there with these raging bulls, you realize how good they really are.
The Mexican Poker ended the night, or so we thought. As people were leaving, one of the Fowlers asked over the loud speakers "Who wants us to bring in the water truck, get this place good and wet and have some mud wrestling?"
People started jumping the fences as the water truck started spraying water into the arena. Before long, it was a full blown mud fest with guys and girls wrestling like it was Friday Night Smackdown. The guys just have fun with the mud, the ladies on the other hand go all out and are grabbing handfuls of hair and smashing one another's face into the sloppy soil.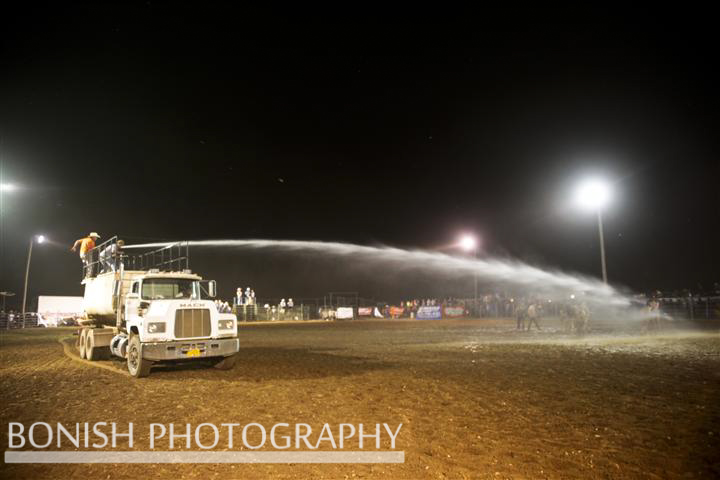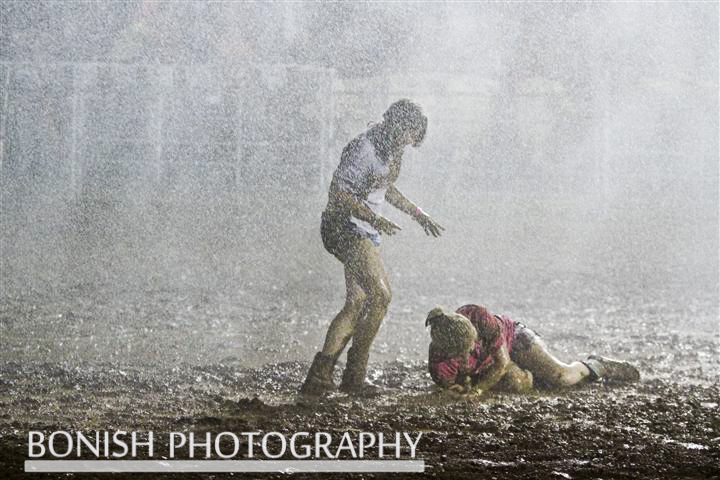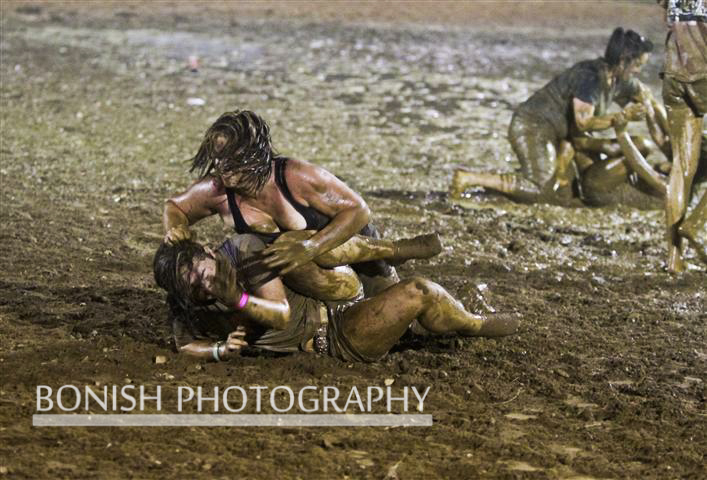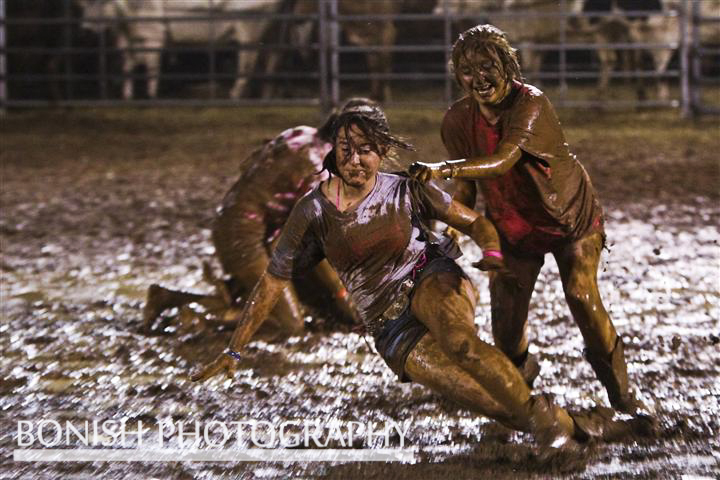 While much of this was going on, most of the people who are behind the scenes of this event are finally letting out a big sigh of relief. This weekend event takes months of preparation and I can only imagine how much stress is involved in making it all run so smoothly.
Jake Fowler pulled out a big bottle of Crown Royal that had been sitting in a cooler filled with ice the entire day and took a long draw off of it. He passed it around as everyone shared in the success of another fantastic weekend.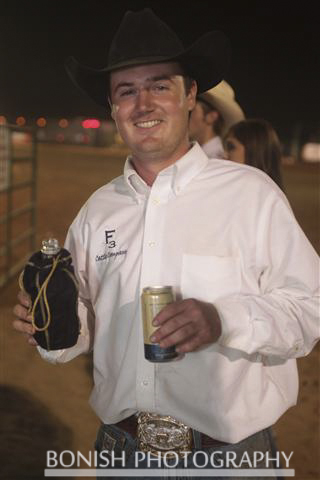 Jake with his celebratory Crown Royal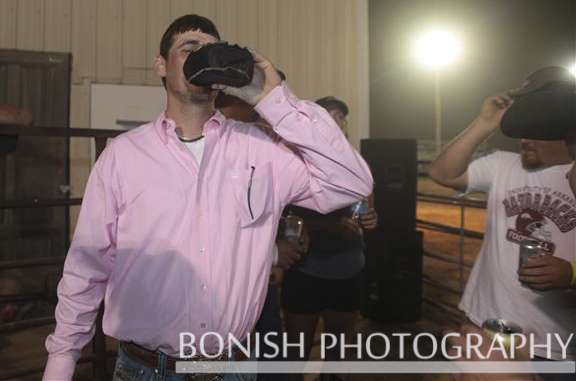 Brad the announcer taking a sip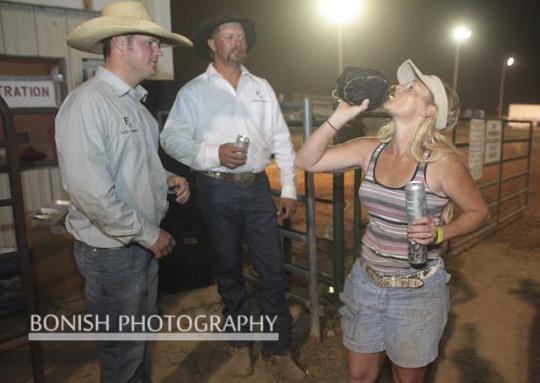 Christy & Brad both took draws off it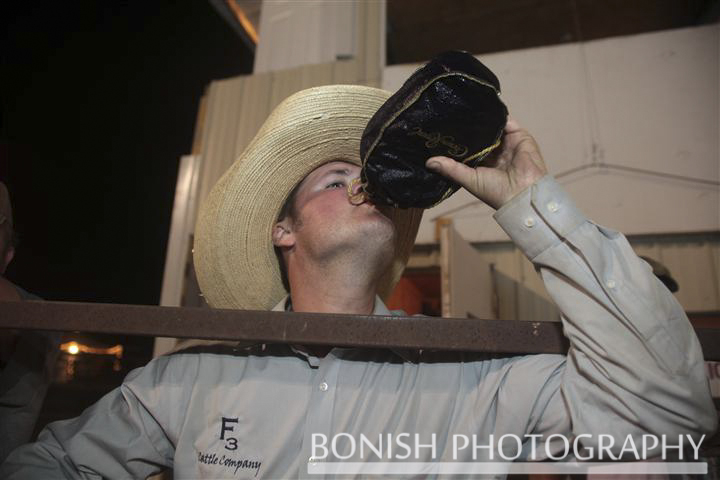 Luke took a Looooong draw off it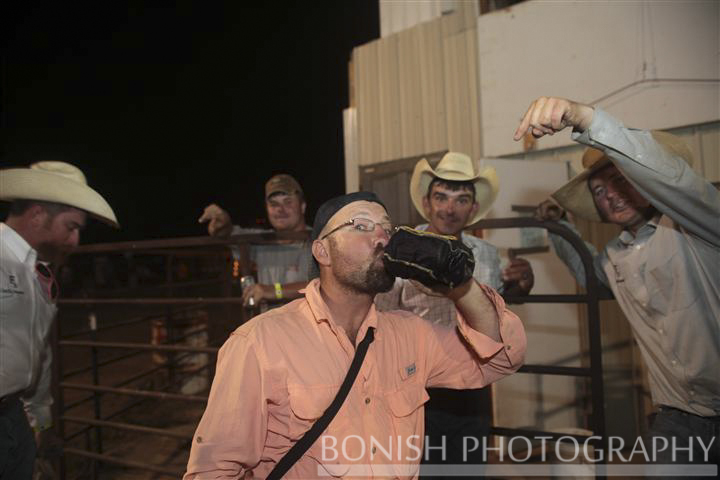 And yep, even I took a wee nip!
From here the night gets a bit fuzzy. I know that by looking through my cameras images the next morning as I'm updating this blog, the survivors party back at the Rock Bottom Saloon looked like a lot of fun.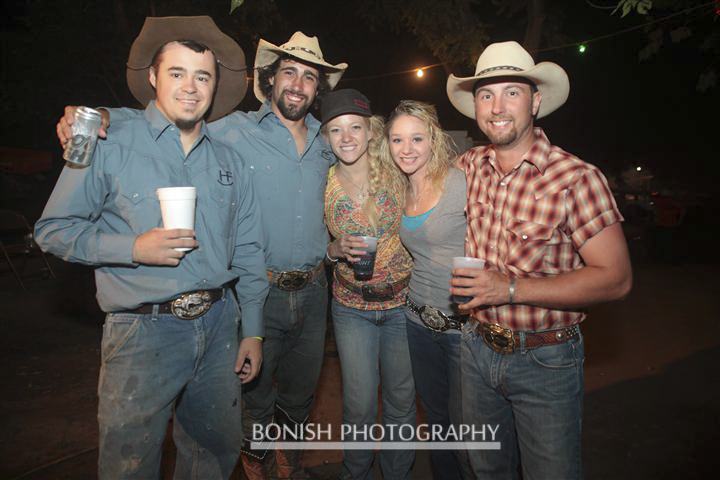 It looks like lots of the Chuck Wagon Teams had fun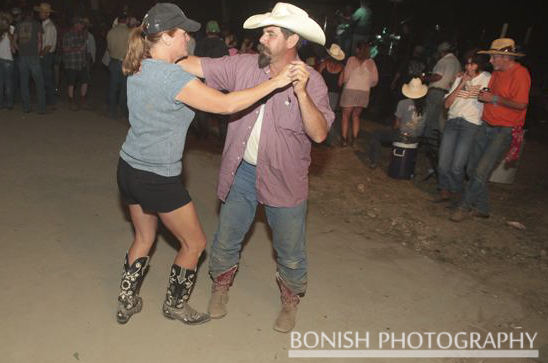 It looks like Chuck and Cindy danced some more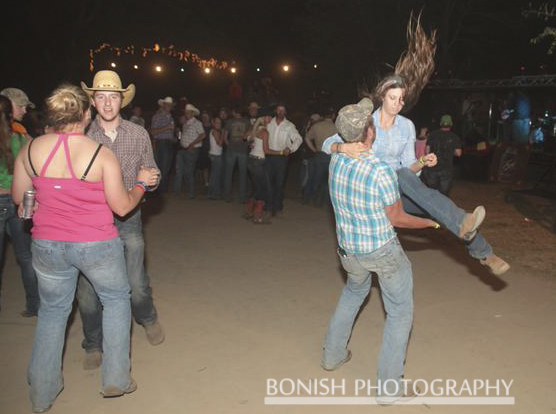 It looks like one guy really knew how to dance with his partner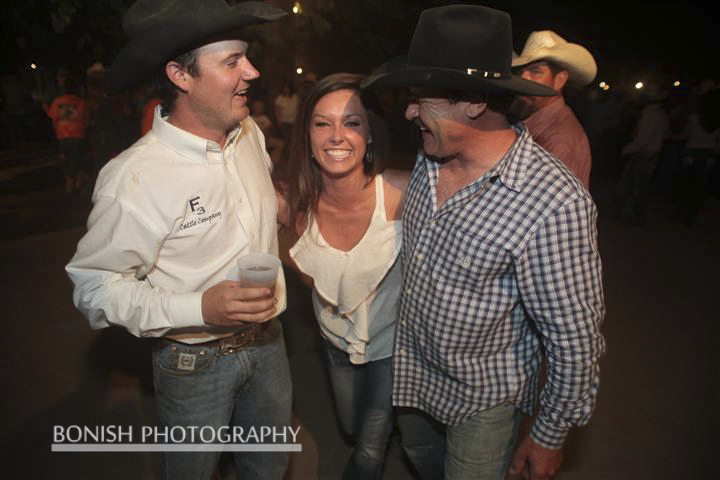 It looks like there were some beautiful women there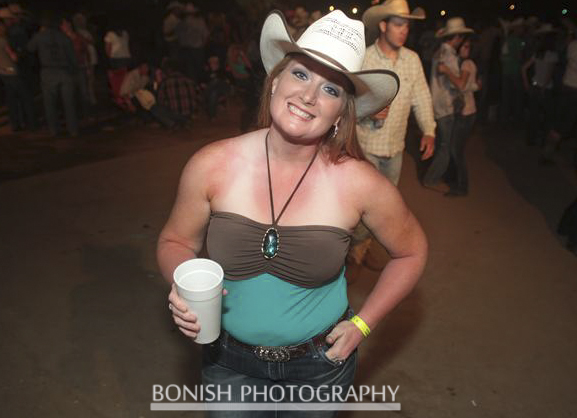 It looks like some of those beautiful women had forgotten to wear sunscreen earlier today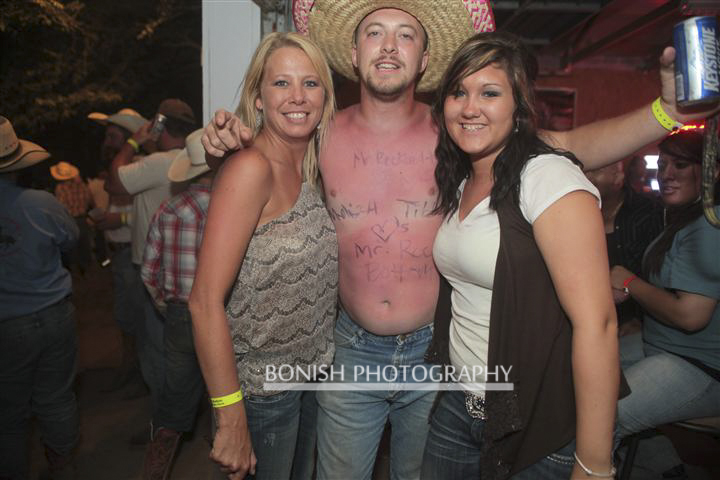 It looks like Mr. Rock Bottom had found a few of those beautiful women with his new title

It looks like Brad is sick of me taking pictures of his beautiful wife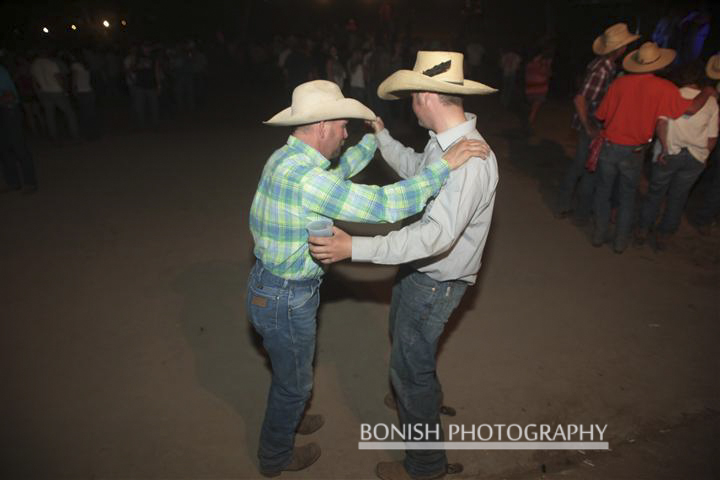 It looks like there was some Brokeback Mountain Shit going on....
Don't Ask, Don't tell, but the camera doesn't lie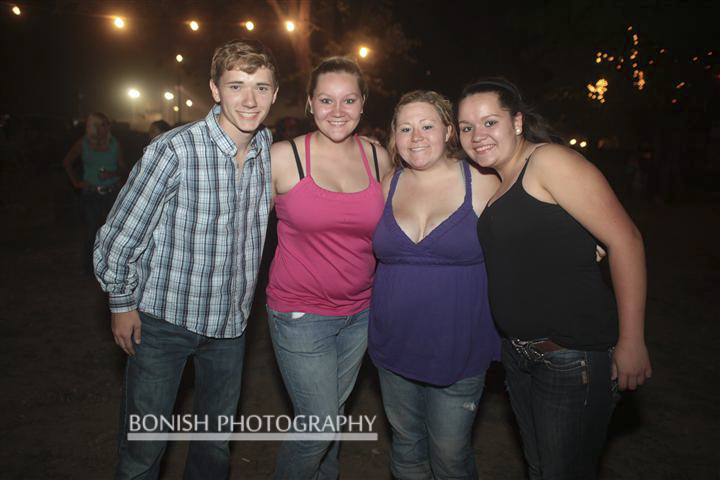 Looks like we found the Luckiest cowboy of the whole event! He's found 3 women
Saturday May 26th - Day 3 of the Rock Bottom Weekend
I DO NOT LIKE CAMPING IN EXTREME HEAT! Why on earth did I not bring both generators so we'd have Air Conditioning? Why didn't we listen to the Fowlers when they asked us if we wanted a campsite that had electricity?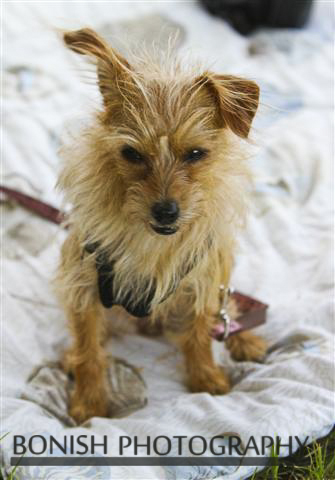 This is what I looked like this morning when I woke up!
We both woke up today feeling like crap, but a quick cool down in the river always snaps some life back into you.
Today was much like yesterday, except instead of Pasture Roping as the main event, the Chuck Wagon Races started which made our campsite be the perfect spot to watch all the action. Cindy stayed under the shade of the awning with her dogs while I wandered the pasture shooting from multiple angles.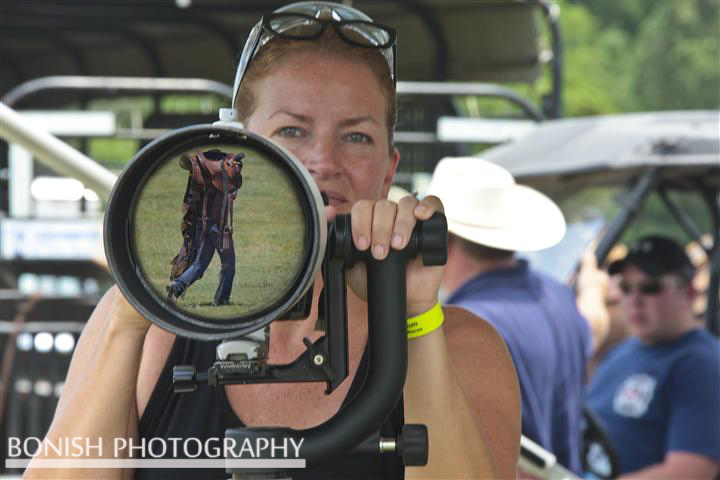 There was an intermission which had more Pasture Bronc Riding which I find highly entertaining and always keeps the crowd cheering. I'm amazed at how many more events there is this year than previous years we attended.
In years past, there would be long breaks between events, but this year, there is never a pause except for the mid-day break between the day time events and the evening events. The Fowlers have done a great job with this event and each year it gets better and better.
During that mid-afternoon break, Cindy and I went up to the Saloon so I could drop off a DVD they had asked for so they could scroll images we've shot over the last few days on a big screen TV behind the bar.
From the Saloon, we went over to Beau & Andrea's camp where they had invited us for a dinner. Now Beau's camp was nothing short of luxury camping with a kitchen spread to make any chef jealous.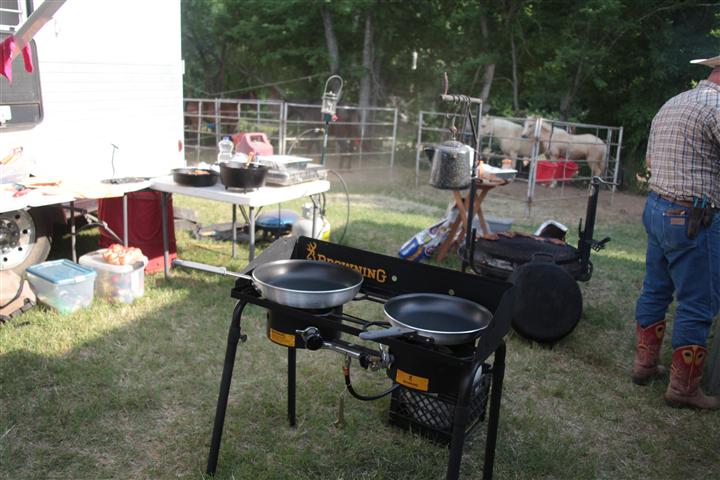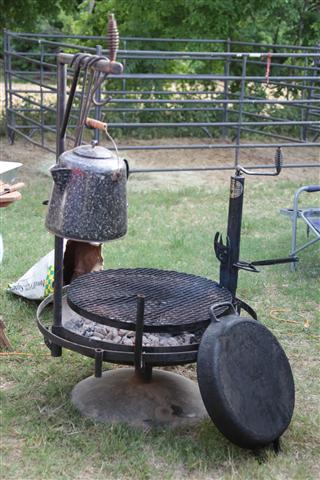 I guess Beau has some 30 people in their camp to put together the multiple Chuck Wagon teams, so his father acts as camp cook the entire time and makes sure all the racers are fed like Kings.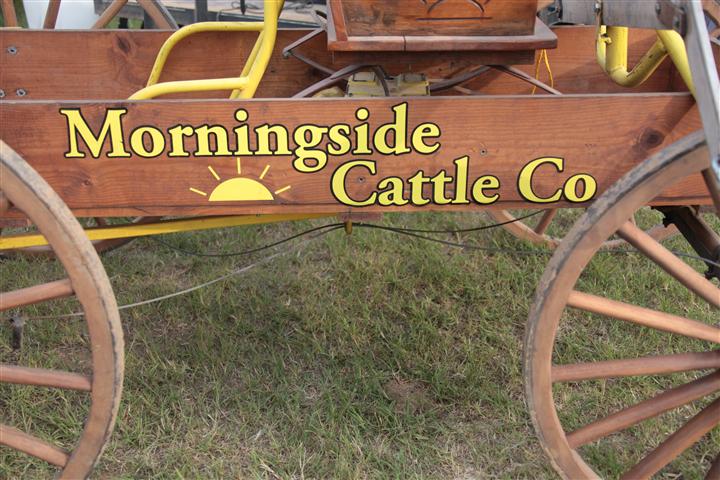 We ate amazing food, met his family and many other friends before excusing ourselves so we could head back to our own camp to be ready for tonight's events. One thing I've found about the cowboy lifestyle is they'll go out of their way to make sure neighbors, friends and complete strangers are taken care of.
We've always said that RV'ers are an amazing bunch as they'll invite total strangers camping beside them into their lives or around their campfires, but cowboys take it to the next level. We hadn't even finished setting up camp before a friendly neighbor was bringing us over a jar of Moonshine and asking if we needed help setting anything up.
If I would have complained to anyone other than Cindy about the heat, I'm sure I would have been offered 4 or 5 different generators that would have run our A/C the entire time. But what is the use of borrowing someone else's when we have them sitting at home and just didn't think enough to bring them on this trip? My own ignorance is my punishment I guess.
We went back, took the dogs for one last cool down bath before loading up the camera gear and heading over to the arena for tonight's Ranch Rodeo. Tonight was the big night with this being an invitational event with BIG money as the prize.
The events lasted till after midnight and the bleachers were packed solid. To watch the random things these cowboys do is amazing to me. One of the events was Wild Calf Milking. They release a cow into the arena, and a 4 person team has to rope her, hold her still while they get some milk into a empty water bottle where they run it down the other end of the arena to a judge. This makes for some hilarious entertainment.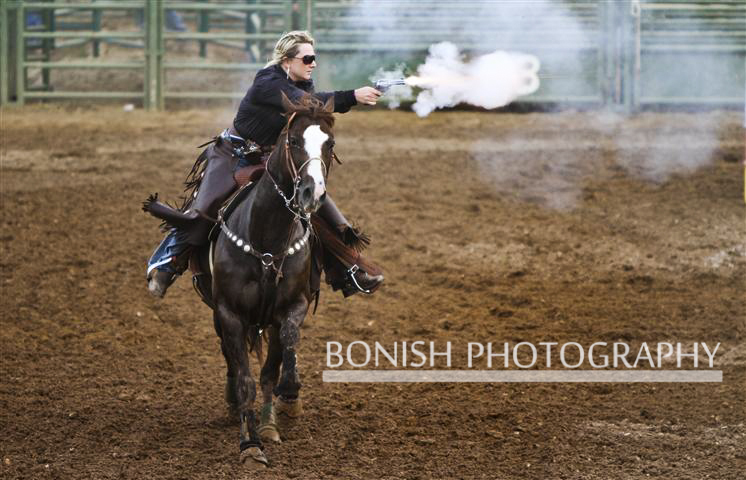 Cowboy Shooting Started off the Event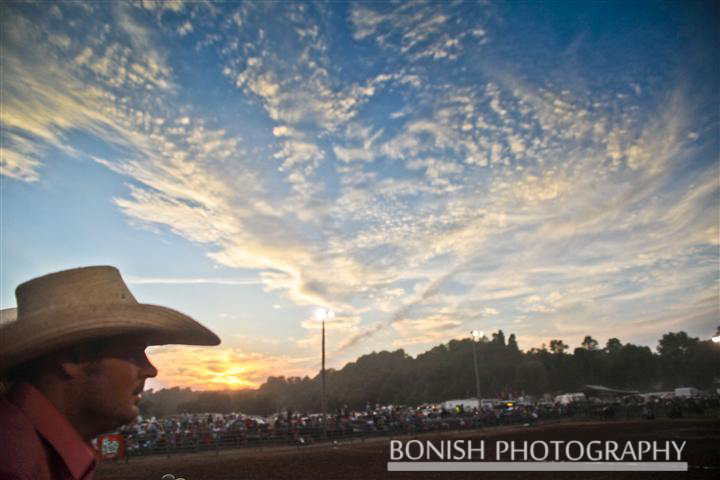 Luke Fowler looks over the arena as the events take place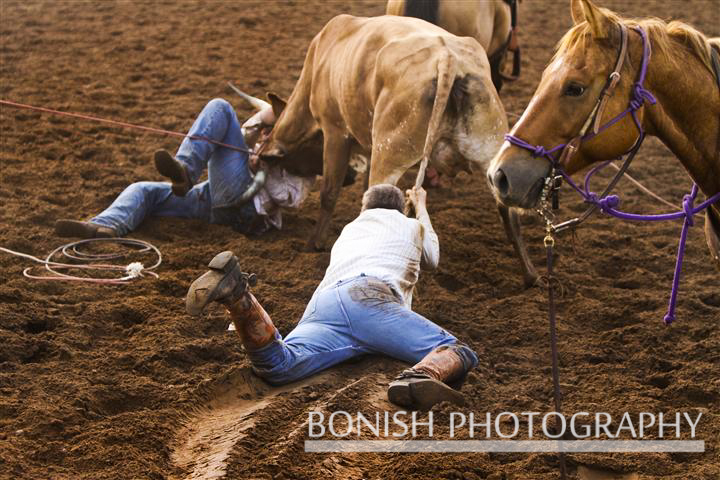 JJ getting drug behind a cow as they try and get her to settle down so they can milk her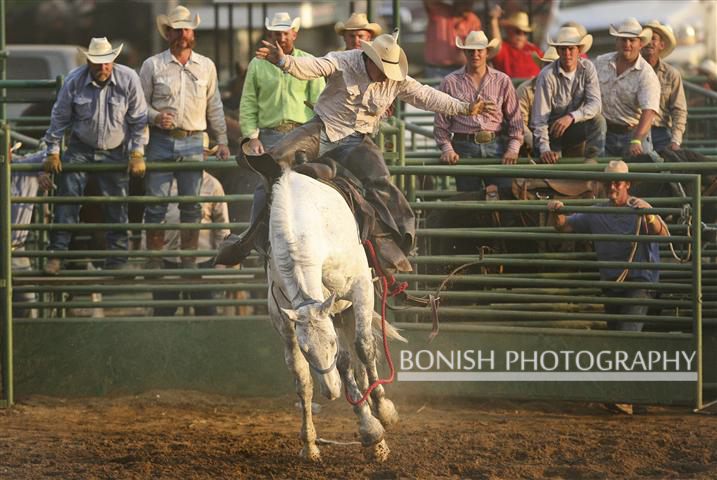 Not the most glamorous exit off a Saddle Bronc - Photo by Cindy Bonish
They also had the World Famous Porta-Pottie Races where some unlucky soul gets into a porta-pottie and another cowboy lasso's the shitter, then has his horse drag it to the opposite end of the arena. This usually results in the porta-pottie tipping over with all the contents spilling out onto whomever has chosen to get inside.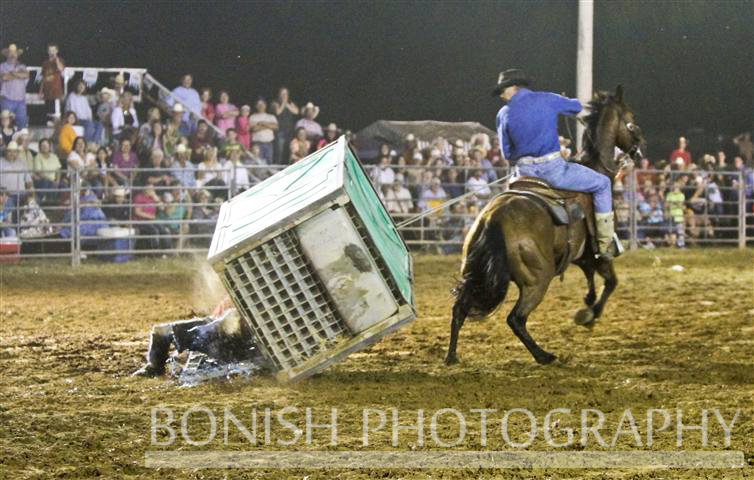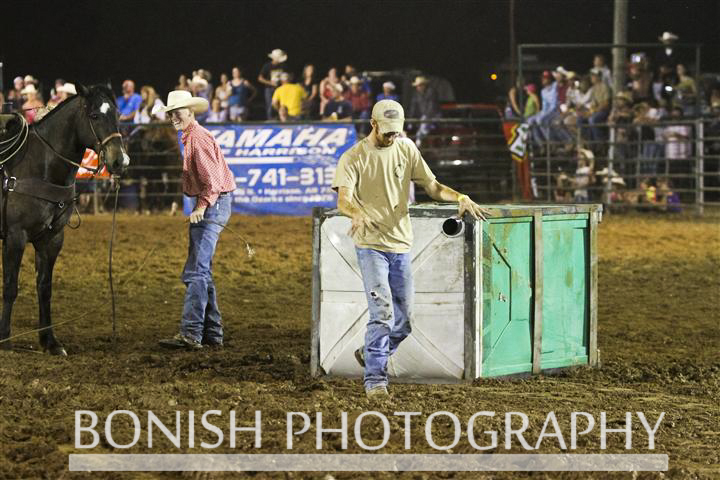 By the time everything was done, Cindy and I were totally and completely exhausted. The Saloon was out of the question tonight and we both looked at one another like we were half asleep already. We said our goodnights to everyone and went back to the camper. I think Cindy was asleep before she hit the pillow and I took a few minutes to try and download some images to the hard drives, but it didn't take but 20 minutes before I was falling asleep at the computer.
From what we heard, the Saloon was absolutely crazy last night with the crowds going till early into the morning and we were told by numerous people that we missed one hell of a party. Something tells me if we would have been there, we wouldn't have been to lively due to our lack of spunk from the days heat.
Friday May 25th - Long Hot Day of Shooting
We awoke this morning with it pretty hot already and knowing it was only going to get warmer. Cindy tried to make some coffee, but this meant she had to get the burners going on the stove which only heated up the inside of the camper more.
I was outside getting camera gear ready when I heard her say "OMG! I think I'm going to throw up!" I heard the bathroom door slam shut and the toilet flush a few seconds later. I came inside to see her coming out of the bathroom with her toothbrush in her mouth.
I asked what she was doing and she said "I was standing over the stove making coffee sweating so bad that I felt light headed and just threw up!"
Something tells me that being in a tin box that's close to 100° while standing over a stove top isn't good for a hangover!
I find it funny that the sound of a barking dog will drive me utterly insane, but I can wake to the funny sounds of a horse or a mule screaming at one another right outside our camper and it doesn't bother me in the least.
We had horses and mules tied up all around us, so it sounded like we were camped in the middle of a pasture, which in reality we were. I'm sure they were all questioning why these campers were invading their space, but everyone seemed to get along just fine.
We're camped right next to the river where each morning cowboys and cowgirls wander down to take their baths, give their horses a drink and cool off from this early summer heat wave we're experiencing.
I'll admit it's a beautiful sight to watch a bathing suit clad woman bathe her horse...it's something I could get used to in a hurry.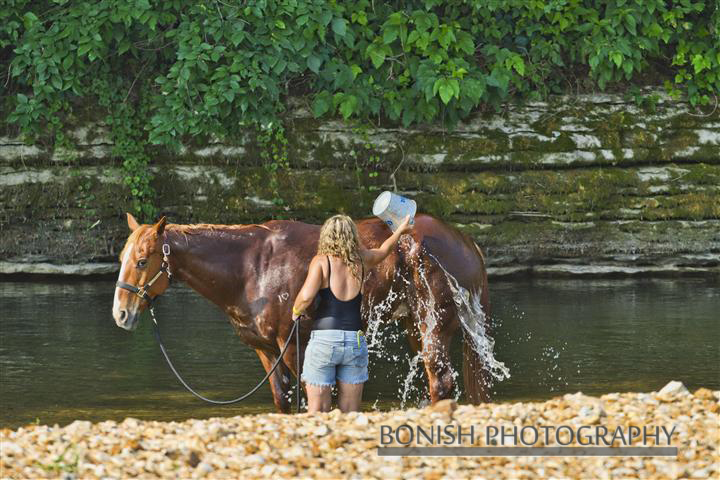 Today would be a long day with various events starting as early as 9am and running clear through the night till after midnight when the final bull riding would end.
I was hoping our cameras could keep up and we had brought enough Memory Cards to record this amount of action. Cindy was back in the swing of things right quick and had nailed some great shots last night. She was all worried about not being behind a camera for so long, but it's like riding a bike, you just remember how to do it once you start doing it again. As long as you don't fall and knock your teeth out like she normally does.
While waiting for events to start, we brought the dogs down to the river to cool them off and laughed about Little who would just walk right into the water without even acknowledging the depth or temperature. Luca is always very cautious and walks very slowly into any water. Little on the other hand never skipped a beat and just followed Cindy till it got deep and she had to start swimming, but she wasn't going to let Cindy get away from her for a second, even if it involved getting her stomach wet.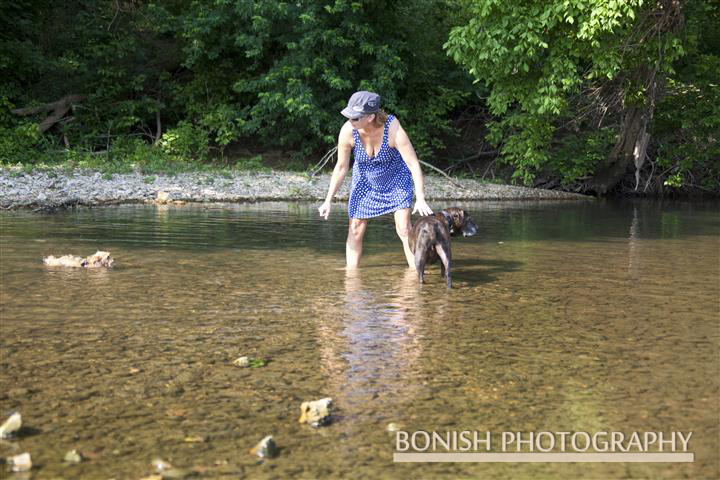 Little getting pulled by the current into deeper water
This would happen multiple times throughout the day in an effort to try and keep us all cool. The temperature was 93° and even the occasional breeze felt steaming hot. The inside of the camper was an oven so the dogs had to stay outside with us, as they sat panting on a blanket we laid on the ground under the awning. I'm questioning why I didn't bring our 2nd Honda eu2000i generator so we could run the A/C? I brought one just in case the solar panels couldn't keep up or we were boondocking for extended periods in bad weather, but the last time we were here, we were in jackets and pants due to the cold weather.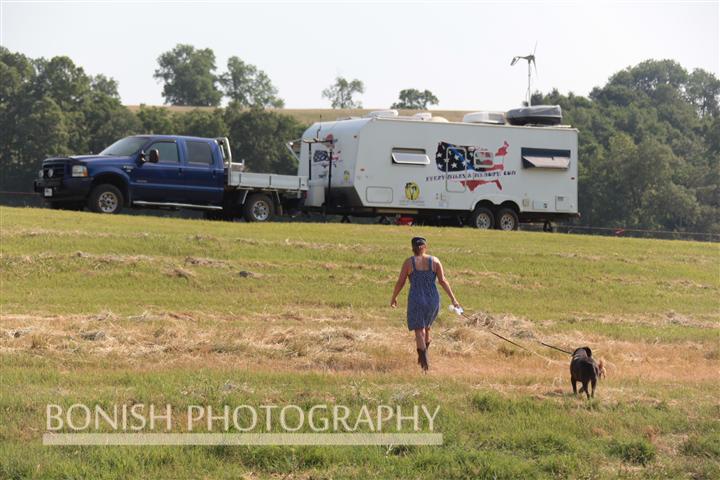 Heading back to the camper after their cool down in the river
Remember when I said by the end of this trip Little is going to be a different dog? Well imagine what the heck she must have been thinking today. She goes from the comfort and regularity of our place in Florida, to riding in a truck and sleeping in truck stops for 3 days, to sitting out in a pasture with horses and mules all around her. Dogs were everywhere, but we were the only ones who kept ours on a leash.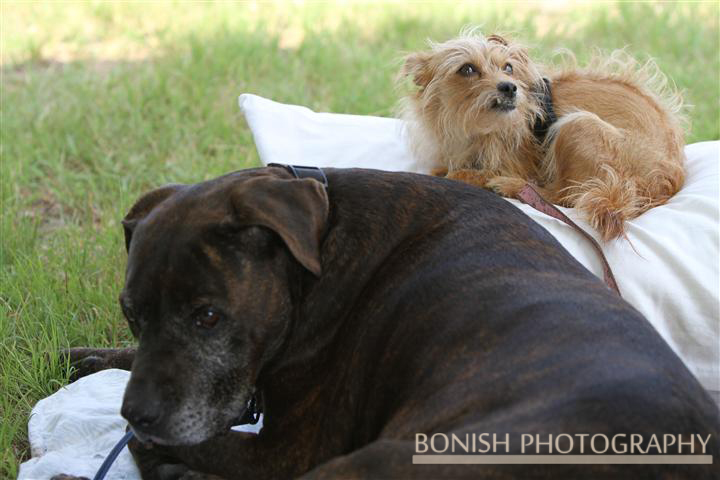 Notice that Little always has to be higher than Luca
Cattle dogs are trained to stay right at the heels of their owners horse and don't really pay any attention to anything else. None ever get put on a leash and they all are very well behaved. Something I wish we could do with our dogs, but being as they're always on a leash at home, it's what they're used to.
The big event today was the Pasture Roping which would involve the event organizers letting steers out of a shoot while two riders would have to chase down and rope the wild cattle. This is much harder when the steer has an entire pasture to run around in rather than a small, fenced arena. Multiple times the cattle would come running at the campers lining the pasture, so it would get interesting very fast and very often. There were pick-up men sitting atop their horses every so often to help keep the cattle clear of the campers, but it was a hard job and many times they'd be running right into the crowds of onlookers.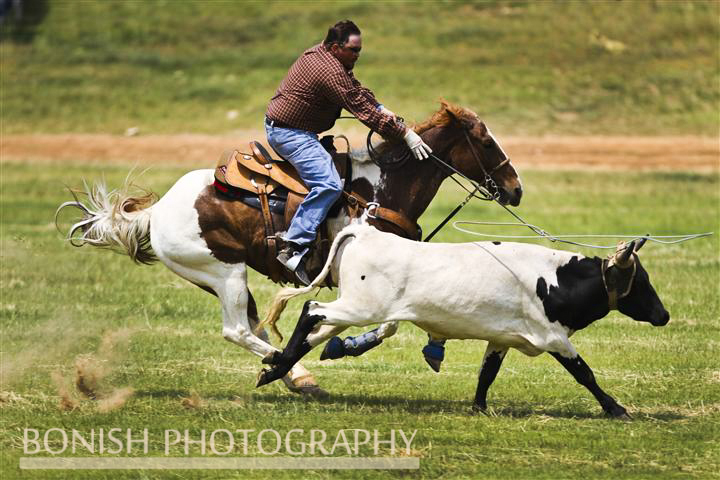 Notice the Lasso perfectly positioned above the horns
The announcers had to keep reminding everyone to stay alert and keep watch for stray cattle running loose in the pasture.
Luca and Little were pretty content until one of the stray cattle or wild horses would come running near the camper. Luca would suddenly go from this docile ol' dog lying at Cindy's feet to her guardian angel and would puff up his chest and bark his head off at anything that was approaching us at a fast pace. Little would just follow his lead and go ballistic when ever she'd see him get tensed up.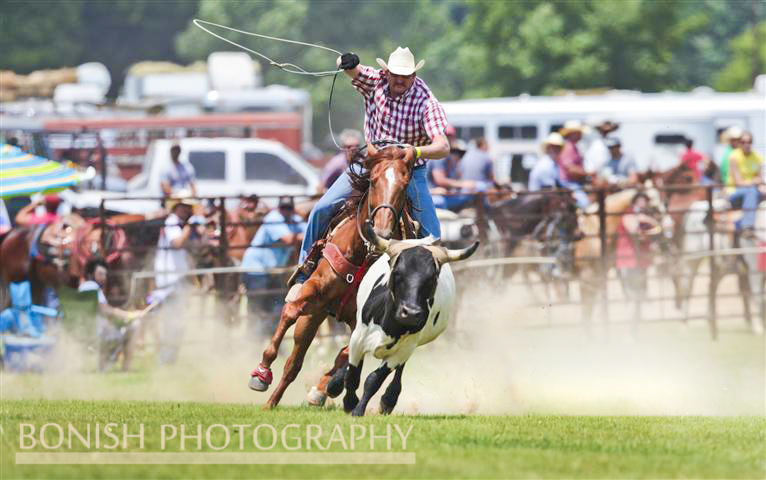 Photo by Cindy Bonish
Little also had a problem with the starters pistol, which was something that was shot off every few minutes so the timers knew when to start the stop watch. I think by mid-afternoon, she was learning that the noise didn't mean anything for her to be concerned with and we almost had her trained to ignore it or she'd get squirted with a water bottle, which is her worst enemy. I don't think she realizes that Luca loves getting squirted because it cools him down.
During an intermission of the Pasture Roping, they had a Saddle Bronc riding secession in the pasture, which made for some wild entertainment. Like the roping, it's much harder to contain a wild horse when they're in a wide open pasture compared to a small arena with fenced sides.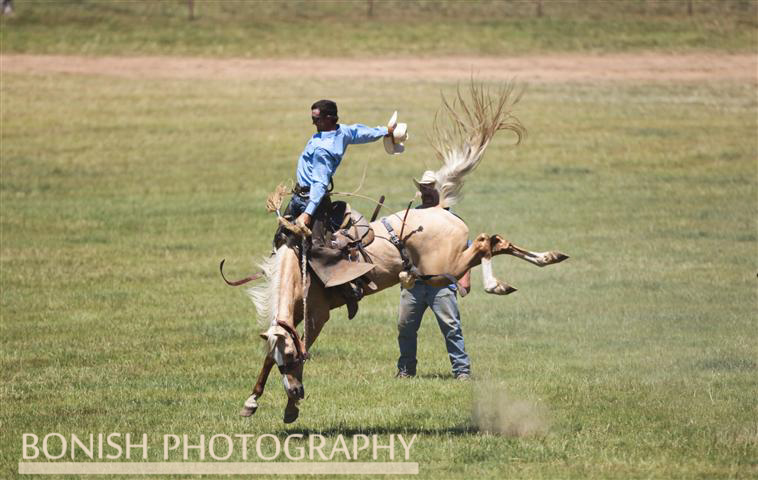 Plus, the pasture had ground so hard, I had trouble pounding in metal stakes to strap the awning down. Imagine falling off a bucking horse that's moving at a high rate of speed and landing on a concrete like surface, or falling off a bucking horse and landing on fluffy soil that's about 8" thick like the arena surface is. Big difference and you could see the toll it was taking on the riders and how much longer it would take for them to get up after getting bucked off in the pasture.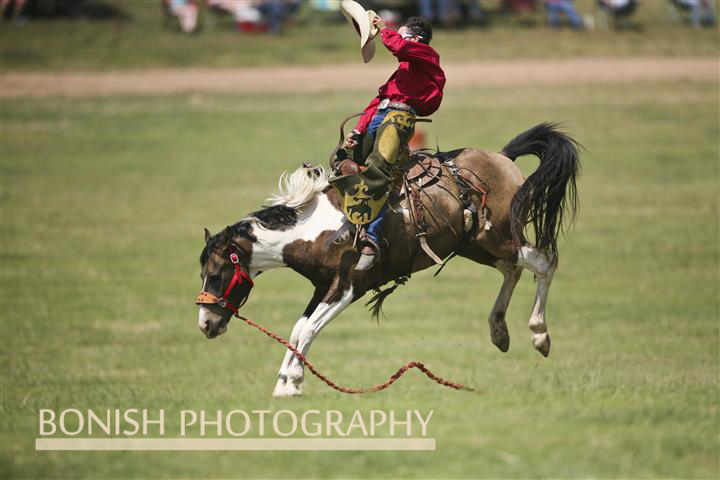 Photo by Cindy Bonish
But the action was non-stop all day today and the spectators were getting their moneys worth that's for sure. Due to the lack of rain, the dust was awful and was really making it hard to get photos because once the riders would pass us, the cloud of dust behind them would completely block out any chance of getting a good photo.
Cindy stayed stationary under the shade of the awning with the big 400mm and the dogs, and I took the other 2 camera bodies and roamed the sidelines looking for different angles. It was a hot day, but the action kept my mind from how flippin' hot I was.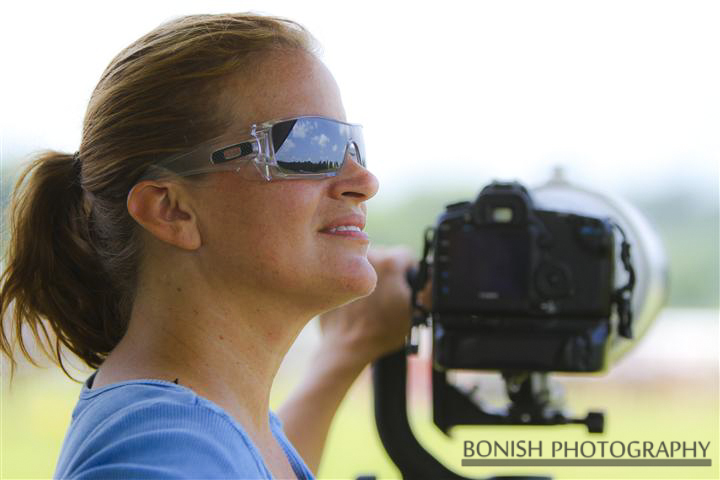 There was a short intermission (2 hours) between the Pasture Roping and the night time events so we had a few minutes to try and clear the images, down as much as water as we could to try and rehydrate and take the dogs for another dip in the river.
Soon enough, the evening ACA Rodeo was starting which would include Mutton Busting, Saddle Bronc riding, Barrel Racing and a few other goodies that would keep the crowd entertained before the final event would end with Bull Riding.
It was hard to take photos tonight due to the dust. Since the main events were Saturday and Sunday, and most people still were working on Friday afternoon, the line of trucks pulling horse trailers was non-stop flowing in tonight. The campground areas that were big open pastures were filling up as the night grew longer, but it kept kicking up more and more dust with each new truck coming in. So most of our images taken in the arena with the big overhead lights look like they have a haze over them.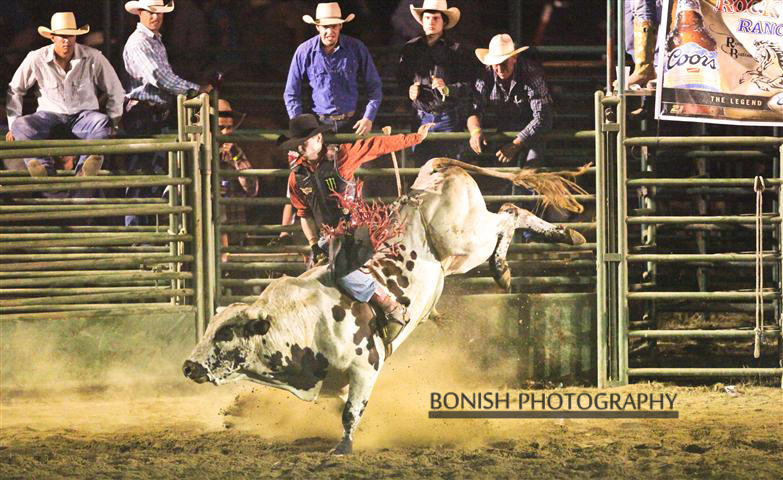 Rock Bottom Bull Riding - Photo by Cindy Bonish
Once the main events were done, everyone headed to the Rock Bottom Saloon where there was going to be a contest for Mr. & Mrs. Rock Bottom. Big Chuck had been rounding up women all day long in an effort to make this a great showing of Cowgirls.
While sitting around talking with riders and attendee's, we met Beau & his wife Andrea and really enjoyed talking with them while doing some great people watching. I'm thinking that today's heat was really affecting everyone and their intoxication level tonight. Plus, it was the start of a big holiday weekend, so everyone was trying to get it started and outdo their friends who were trying to outdo the cowboys beside them.
Towards the end of the night, the Mrs. Rock Bottom Contest started and it looked like it was going to be good. There was some beautiful scantily clad women trying their hardest to outdo one another, which is why I thought it was great that the woman who won was wearing normal jean shorts and a tank top and wasn't showing anything like the other women were.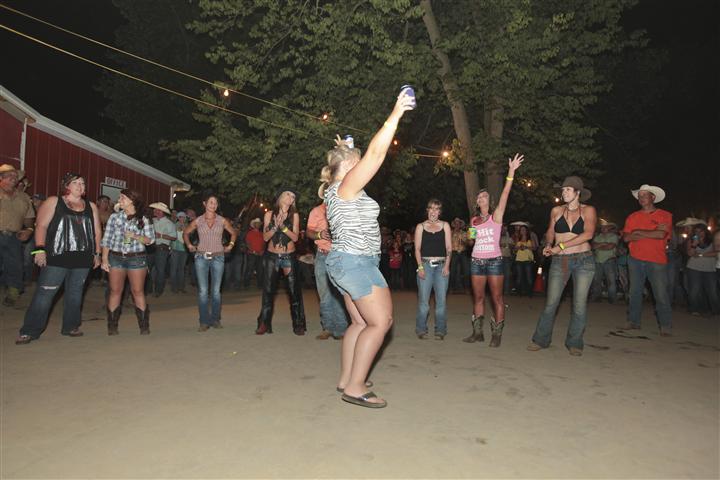 Mrs. Rock Bottom 2012
The winner was chosen on audience participation which meant who ever got the most cheers was the winner. I'm thinking the woman who won had something to do with the fact that there were lots of women in the audience and they wanted to see an everyday woman win rather than a really sexy, hard body, which was fine with me.
By this point of the night, I was surprised I could keep my cameras focused due to lack of hydration even though I'd been sucking down Coors like it was some sort of contest. Cindy and I said goodnight to everyone and stumbled back to the camper. At least the night air had cooled down which would allow us to sleep in comfort. Although I doubt I'd have any trouble sleeping tonight after this exhausting day.
Thursday May 24th 2012 - Finally Back in Arkansas
We both woke up rejuvenated and ready for the last leg of the drive. Sleeping with cooler weather had me feeling good and refreshed.
While Cindy cooked some breakfast and made some fresh coffee, I worked on the blog and answered some emails with the new service through Verizon. It seemed to work just fine and I was happy with it.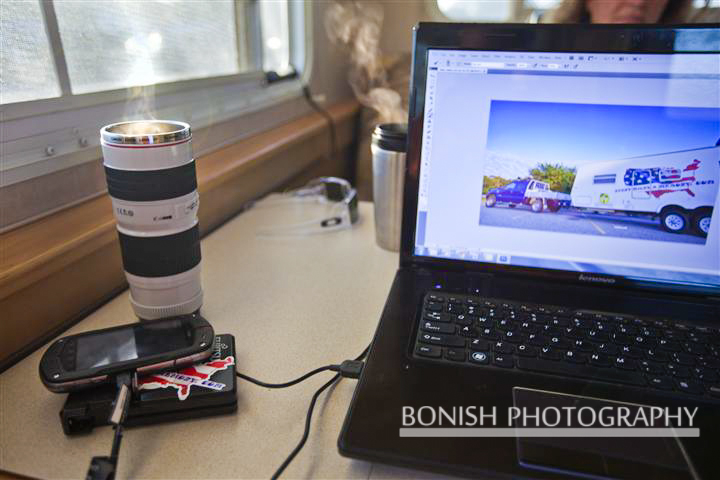 Working in my Mobile Office
That was till I had the blog uploaded with only a few small pictures added and had answered a few emails. I checked the App to see how much data I had used. With one blog update and about an hour of being online, I had used up 2.9 gigs worth of data. Remember that we only have 4 gigs total! So saying that you could surf the internet for 4-5 hours a day for the month before you'd have to worry about your limit is a crock.
I guess it'll be good to keep as an emergency backup, but we wont really be using it too much I think.
With everything packed up, I went out to start the truck and get my side of packing ready. That's when I noticed one of our tires was flat!?! Come on, I was in such a good mood too.
Cindy reminded me that at least we found it while we were sitting still and it wasn't a blowout that couldn't have caused damage to the camper or an accident. So I guess she had a point and if we were going to have one, it's best to catch it while parked. I'm sure this has to do with these lovely pot-hole, bumpy as all hell roads we're enjoying in Mississippi.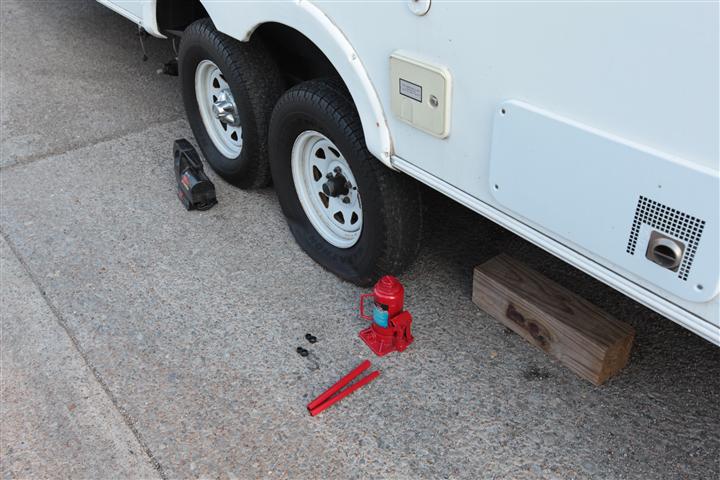 It took me about a half hour to get it changed. Luckily after the truck had it's last blowout and I had so much trouble changing the tire, I got a 10 ton bottle jack that makes changing a tire so much easier than using the standard scissor jack.
With that changed and us on the road, Cindy was calling around to see if there was a tire store or a Wal-Mart that would be on our way that would have another tire in the size we needed.
We've learned that when one tire goes, you'll almost always have the 2nd tire go a little ways down the road. With our spare on the camper, we now would be stranded if the 2nd tire was to blow.
This would be our first time we were ever traveling with a motorcycle or even bicycles as back-up transportation if the need came about. It sort of had me scared a little, but we were trying to travel as light as possible on this trip.
While Cindy was on the phone with a guy from a Wal-Mart that was in the next town we'd be passing through, I saw a truck stop tire shop at the next exit. I pulled over and asked them if they had the tire I needed, but they only had it in a 'C' Rated tire, and we only use the heavier duty 'E' Rated tires.
He told me there would be a shop down the road that would have it and gave me directions.
We pulled up and I asked the guy behind the counter if they had 225/75/R15 'E' Rated tires in stock. Cindy had told me that the guy at Wal-Mart said they had a 'D' Rated model for $135 if this guy didn't have them.
He said he had some in stock and they were only $105. I told him if he had a 5 spoke, white wagon wheel that would fit my trailer, I'd buy that and 2 tires. Something tells me with these old tires on our trailer, we're going to need 2 spares. Cindy and I had just been talking about getting a 2nd spare just to be on the safe side.
Since I'd be saving $20 per tire, I might as well get two of them. While the guys changed out the tires, Cindy made some lunch in the camper and I was sitting in the reception area. The woman behind the counter was asking about the camper the same way most people do. Asking if it was a rental and where we were headed.
I told her we were photographers and were headed up to Northern Arkansas to cover a Chuck Wagon Race. She went and got the owner of the place telling me he was also a photographer.
I sat talking with him while our tires were being mounted and loaded into the bed of the truck.
Soon enough we were back on our way and the thought of being stranded due to flat tires was put in the back of my mind.
Arkansas is nothing short of beautiful to drive through, even if you are doing it with the heater running on a hot summer day.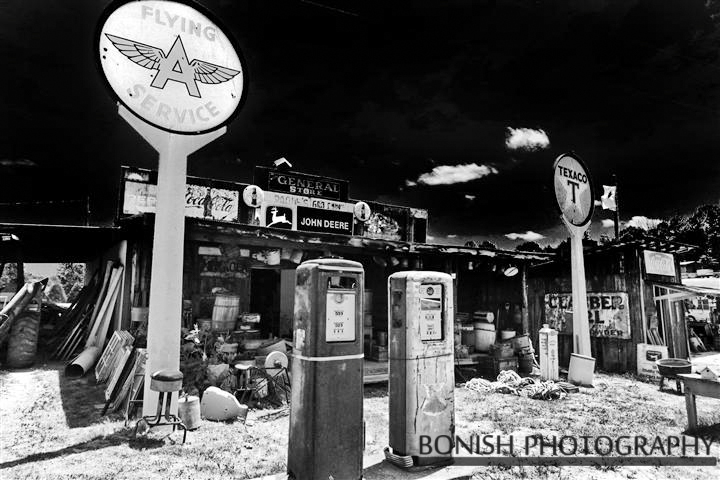 We stopped at a few roadside oddities to let the truck cool down and stretch our legs. I joked with Cindy that you know its a bad day when you have to get out of the truck to cool down, and the temperature outside is close to 100°.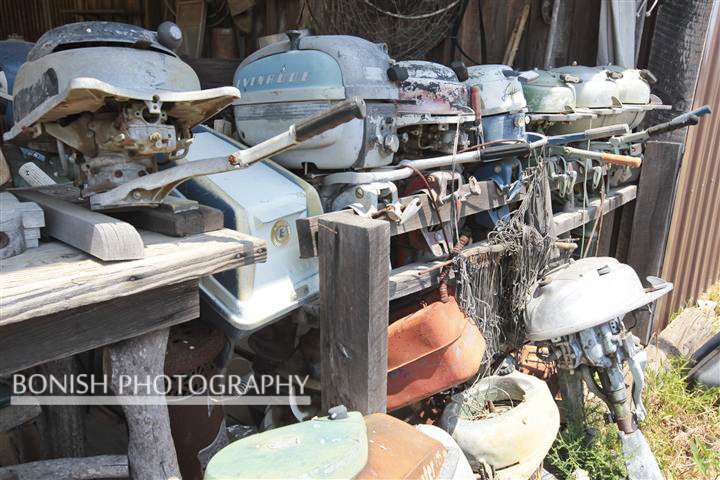 If I had money, I'd have bought every one of them to decorate the Tiki Bar with

More junk than any one person should own
Other than a few interesting stops here and there, we made good time and Cindy was really surprised when I told her were almost there. She had thought it would have taken us a few hours longer than it did, and that was going as slow as we were going. Which was really slow for my tastes.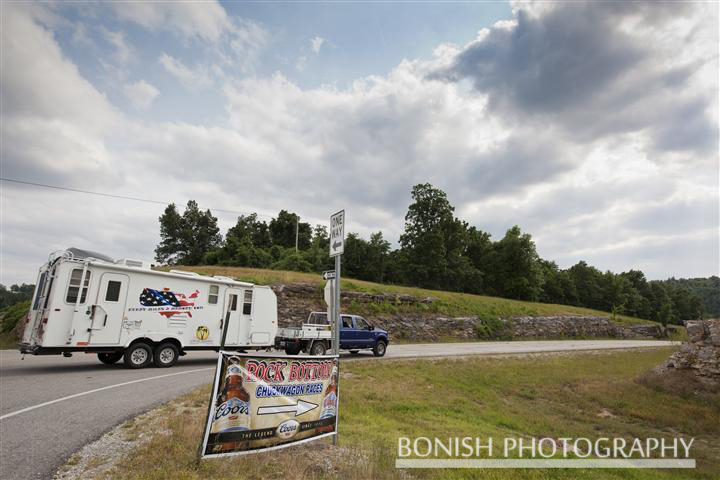 Follow Us to Rock Bottom!
Soon enough, we were pulling into the pasture and setting up camp. It felt good to be back to a place that holds so many fun memories.
Pulling in I reminded Cindy of the last year we had to cross the stream with it raging. She got a look of fear in her eyes thinking of the tire problems we've already had and the truck not running right. She said "Oh man, why did you have to remind me about that?"
But when we pulled up to the river crossing, the water was so low we'd have nothing more than a narrow concrete bridge to cross.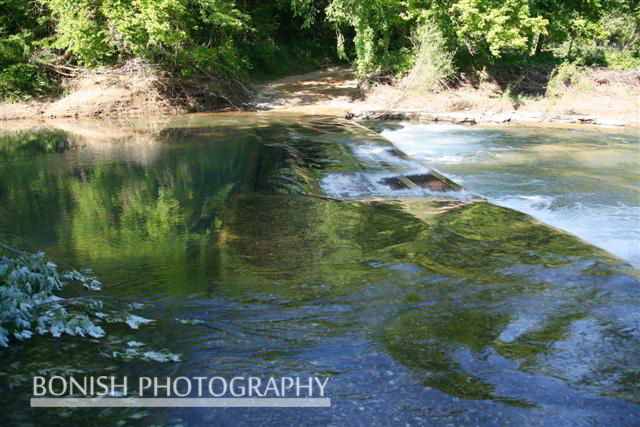 This is what the river crossing looked like back in 2009, the last time we attended the event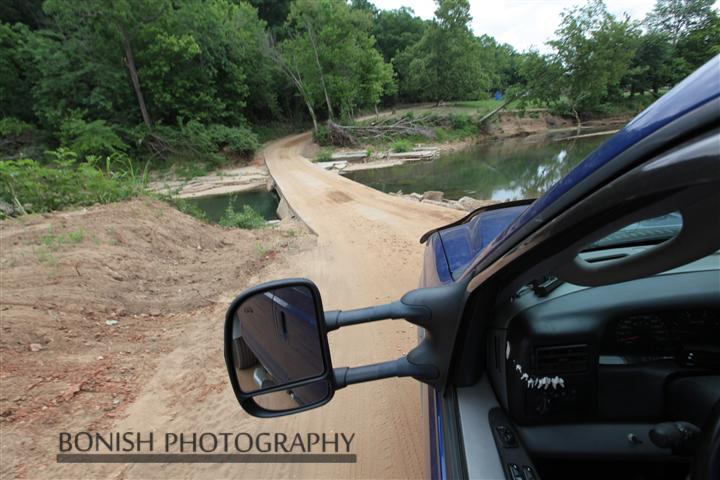 This is the same river crossing! Notice how low the water is!!!
This will be our 3rd time shooting the Rock Bottom Chuck Wagon Races and the Fowler's always make us feel like we're coming home.
As we were setting up camp, a neighboring camper came over and welcomed us back. She said "I remember ya'll from a few years back. Where the hell ya' been?!"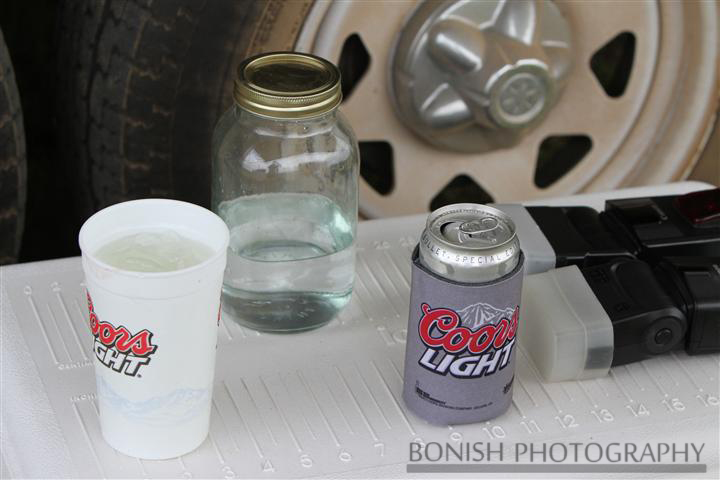 We talked about this and that while we were setting everything up. Soon enough she came back with a Mason Jar with some White Lightning in it and said "Here, my husband wanted me to give this to ya'll. Be careful with it, it's some powerful stuff!"
Once camp was set up, we walked over towards the event arena's to meet everyone and let them know we were here.
There was going to be a rodeo tonight and a big party to follow back in the Rock Bottom Saloon. Each year this event just gets bigger and bigger than the last. It was amazing to see how much it's grown since our first time back in 2007.
Chuck came right over to give Cindy a big ol' hug and welcome us back. Luke and Janice were all smiles telling us about how many new events they've planned and all the new, fun stuff that we'll be seeing this year. I was excited already and the event hadn't even started.
Soon enough we were back in the arena and the fun had begun. We had Mutton Busting, Bronc Riding, Roping, Barrel Racing and did I mention Coors Light. Our beer of choice just happened to be the sponsor of the event, so it was flowing heavily. Here is a teaser before we get the galleries uploaded which will take another day or so.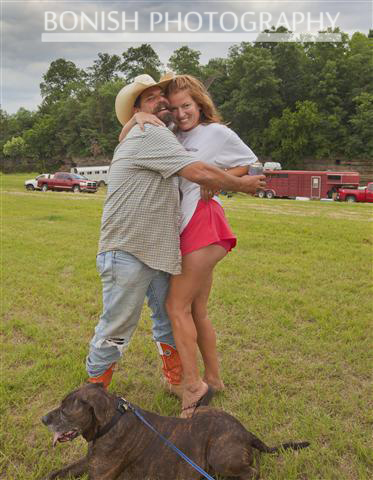 We were told today was National Short-Short Day, so Cindy had to show them off for Chuck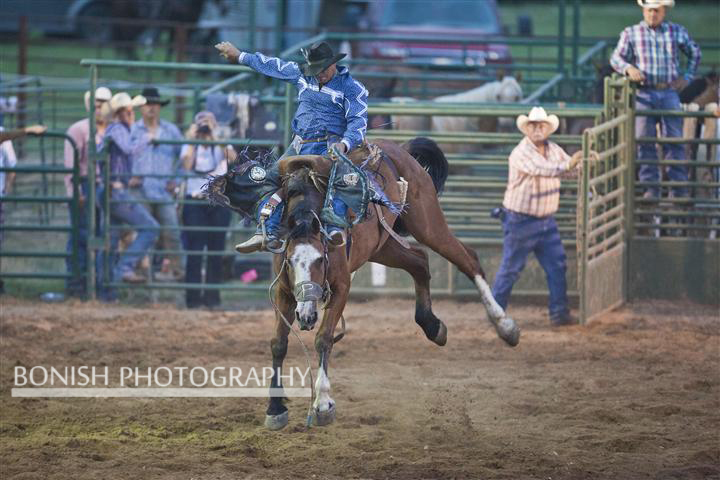 Professional Bronc Rider Darin Lively showing them how it's done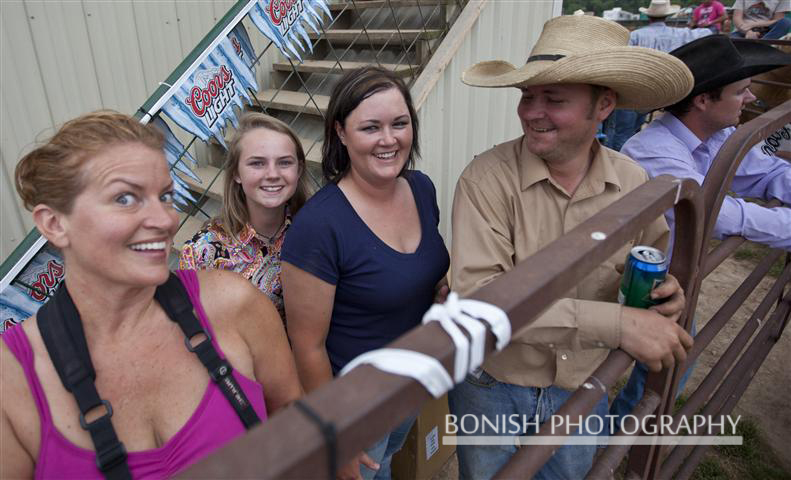 Cindy making the Fowler's laugh with her facial expressions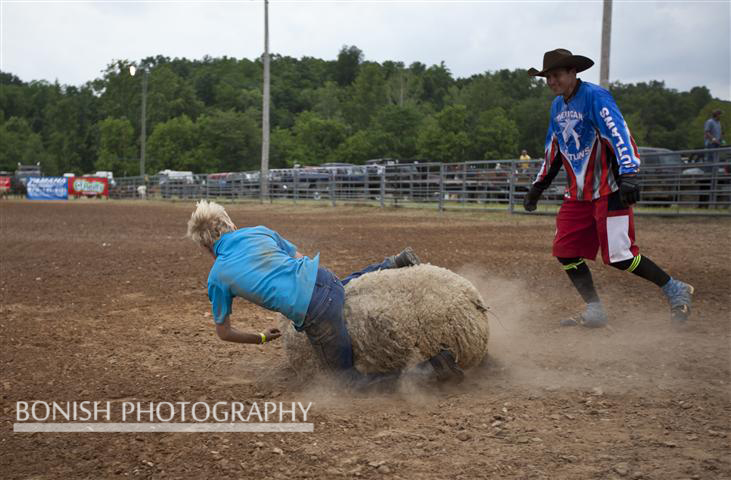 Mutton Busting at its best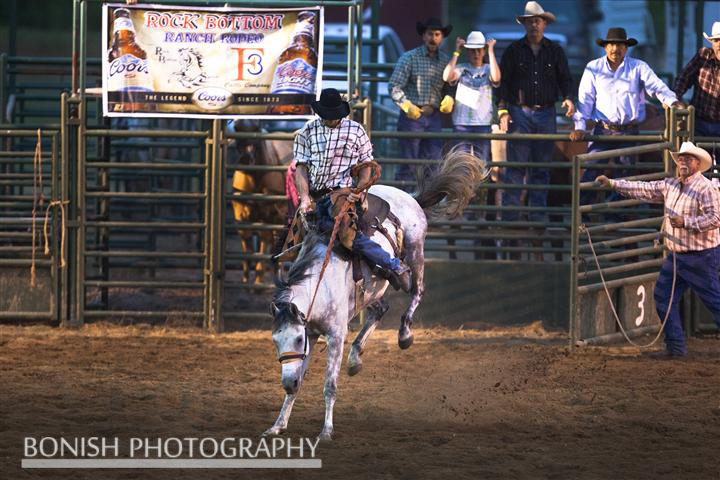 More Bronc Riding
Once the events ended, we all headed up to the Rock Bottom Saloon where there was a band playing and fun times to be had by all. We got to talk with so many great people, it would be hard to mention them all and re-tell the stories, but I'll say it was great to be back in Arkansas and amongst such good people. I'll let the photos speak for themselves.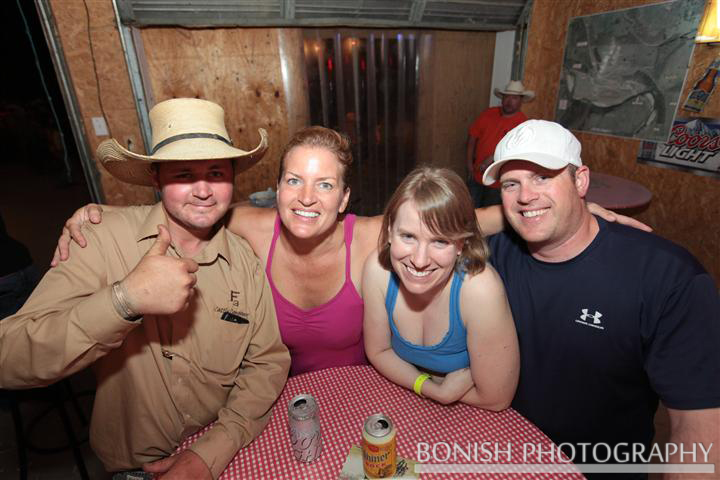 Luke Fowler with his Family from out of town



Imagine that, I'm making people laugh!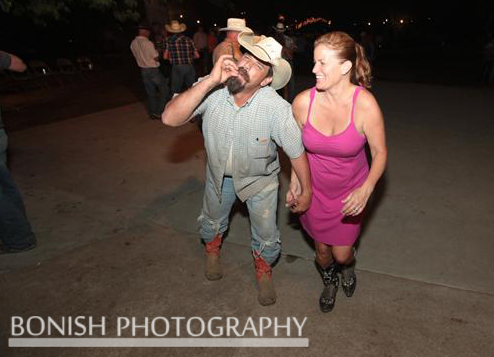 Chuck was saying that Cindy must be smokin' some goofy stuff because she dances so crazy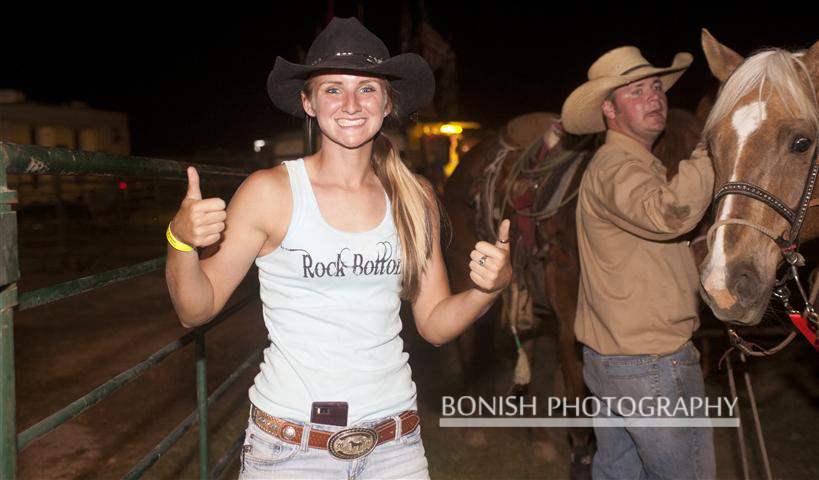 Thumbs Up for Rock Bottom

I have no idea what Cindy just said,
but that woman looks shocked and Chuck's expression is saying we might have to fight
Wednesday May 23rd - Long Day in a HOT Truck
Today would result in very much bad news. We rolled out of the Wal-Mart parking lot early hoping to make good time and get this drive behind us.
I found an auto parts store first thing and swapped out the air filter. I knew that couldn't be the problem because the old one wasn't even that bad. I mean we live in Florida and never take the truck off road, so the worst thing that could be clogging it up would be some salt residue.
It wasn't long before we started hitting some hills which meant the truck was working harder than normal. The temperature readout on the Scangauge was telling us we were pushing 230° on our water temp. which is much higher than the normal 190° it sits around.
Cindy looked up a Ford dealer on my phone and gave them a call. The dealer we were passing said their service shop was booked full but the guy on the phone told her to check out Gilmore Ford. He said they had a pretty big shop and might be able to fit us in.
As she was hanging up the phone, she told me where he suggested and I looked at the next exit that had a sign for the dealer. How perfect is that?
We pulled in and I walked up to the service shop where I found a few guys were on the phone. Jeff Pickens was the Service Advisor who was busy on the phone, so Ben L. (Don't know what his last name was, but his name tag said Ben L.) grabbed a clipboard and started taking down my information.
I explained about the phone call to the competing dealer and explained that we were on the road and on a pretty strict time line as we needed to be in Northern Arkansas tomorrow. I asked him to be honest and let me know if he could fit us in or at least have a technician give it a look and tell me if it's something they could even fix.
He told me to pull around back to the Diesel Service Bay and he'd grab the Lead Technician off what ever he was currently working on and have him grab the computer to run a diagnostic check on the motor.
By the time I was pulled around the back, Johnny Smith walked over with his laptop, introduced himself and asked if he could plug into the cpu on the truck. He sat there running some tests and asking us questions about the problems we were having.
Earlier that morning, I had already gotten a few emails from readers offering suggestions. Thanks for the emails by the way!!
_______________________________________________
I happened to be looking at your website this morning and noticed that you are having a problem with your Ford diesel engine. I had a Ford diesel pickup with this same engine that I pulled a 15K fifth wheel trailer. I started having a similar problem to the one you are having - overheating, low coolant, blowing white smoke. It turned out that the EGR cooler had failed which is a common problem on this engine. The only solution is to immediately have this cooler replaced.

Question, please let me know.

David Mitchell
_______________________________________________

You might try changing out the fuel filter as well. I had problems with my dodge cummins acting up and changing out the fuel filter cleared it up.

Have a safe trip,
Doug
_______________________________________________
"How's Bubba? You have to love that truck! FORD!" Scott Johnson
_______________________________________________
Someone else said it was probably one of our injectors, but I already know that we have a bad injector that has been limping us along for awhile.
Johnny and I talked about these and he said after hearing what our issues were, his first thought was the EGR cooler. He crawled up on the motor and removed a part that he said would tell him right away. I guess if this part came out wet, then he'd know we had a EGR cooler problem.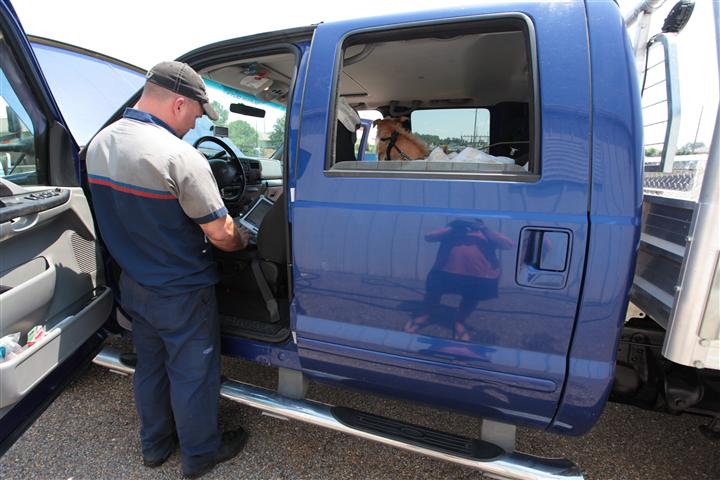 Johnny working on the cpu in the parking lot
Upon removal of the pump, it was bone dry so that eliminated that problem. He ran the truck few a few more tests that involved keeping it up at a high idle for a few minutes straight, but couldn't get any of the sensors on the computer to indicate a problem. He did let me know that the injector I already knew was sticking wasn't opening all the way, but he said I could keep driving it till it finally shut down which I'd know right away due to how bad the motor would run.
I explained that when driving around with just the truck, you'd never know there was a problem. It's when we're hooked to the camper that it feels different.
So he suggested we unhook the camper so Cindy and the dogs could stay here while he and I took the truck for a ride.
He sat in the passenger seat with his laptop watching the sensors while I drove the truck.
We found a 4-lane road that was empty of traffic and he told me to get on it as hard as I could. I stomped the throttle to the floor as we watched black smoke billow out the exhaust pipe and went from zero to 80mph in a hurry. He looked at me and said "Nope, it's not supposed to do that!" It's amazing how fast the truck will go when you need it to. Something I never really need it to do, but good to know it'll do it if I'm in need.
He still didn't see anything that was alarming him that there was a problem. He said we might have to go back and get the camper to see if we could mimic the problem under a serious load. He suggested before I go through all that hassle, I turn around and stomp on it a few more times to get it good and hot.
On the 3rd try, I heard him say "Ok, there's your problem!"
The oil temps are heating up real fast and these motors use a lot of oil (think 18 quarts!!!) so if the oil is heating up prematurely, it's causing the rest of the motor to heat up and work harder than it should to try and keep cool. He said my oil cooler probably had a clog in it and would need to be replaced.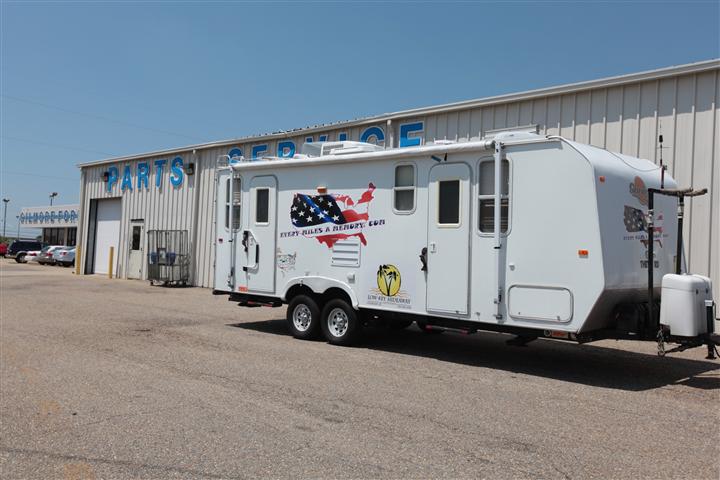 I asked if this was something that could be done today, or would I be able to limp into Arkansas and get it fixed after the holiday weekend?
He told me that if I was to keep the A/C turned off, and drive it like a Grandma I probably wouldn't have any issues. He did say to watch that temperature gauge and if I saw it climbing high, to pull over and let it cool down.
I asked about the old trick of turning the heater on full blast and he said "Yep, the heater core acts as a great radiator, so if you can bare with it, do that too."
Remember that we're looking at temps in the mid-90's right now, so driving with the heater on high doesn't sound too fun!
We pulled back into the dealership and Johnny said "Let me go get an estimate written up for you so you'll know how much a dealership or an independent should charge." He also said that whom ever I had do the work, make sure I told them to flush the system with VC9 detergent. He said its a detergent that contains cleaners that effectively remove rust and polymers that disperse sludge's which is what's probably causing the blockage.
I asked about having them perform a good flush on the motor right now, but he explained that it would probably just be a waste of money because I'd be paying for the flush, a full oil change and it probably wouldn't fix the problem. So when I had to have the oil cooler swapped out at a later date, I'd have to have the flush and the oil change done again.
While Johnny went to his desk to write up an estimate that they'd charge if they were to do the job, Ben and Jeff in the service department sat asking questions about where we were going. When I explained that we had to be in Arkansas by Thursday which is why I couldn't have them do the job, Ben said "Hold on, tell me where you're going in Arkansas, and I'll see where the nearest Ford dealer is with a service shop so you'll know."
Jeff told me that if I could limp up there and we planned on coming back this same way, that if we wanted them to do the job, just give him a call and he'd be sure to have the parts ordered and have a technician waiting so we'd be in and out as fast as possible.
I was blown away by this amazing service from a dealership and honestly, if we weren't on a strict schedule, I'd have left the truck right there and had them fix the oil cooler and the injector.
I couldn't thank the guys enough for not only stopping what they were doing (The place was packed when we pulled up with every bay filled with cars and trucks being worked on) but looking up the dealership in Arkansas, offering to have the parts ready and a mechanic waiting if we were to return and just their genuine hospitality. If you're ever in Prattville Alabama and need work done, Gilmore Ford is the place to go.
So we rolled out of Prattville knowing that at some point in the near future, we're going to be $1500 further in debt if we want the truck to keep running properly. Until that time, we had the windows down and a nice, warm 100° wind blasting us.
It wasn't long before we were in northern Alabama which can be hilly and the bigger climbs started. That meant that we'd have to crank up the heater on high which was blasting out a heat so hot it felt like it was going to melt the windshield.
Luca was panting in the backseat something awful and I had sweat dripping down my forehead while driving down the road. How did folks do road trips back in the days before A/C? Or are we just pussy's?
We drove all day long like this. Let me just say right now it was utterly miserable. Cindy was dozing in and out of a coma most of the day and it was all I could do to not pass out. At one point I pulled over in a truck stop and parked under the shade of a tree. Cindy asked what I was doing and I said "I cant keep my eyes open because of how hot it is and you're of no help due to you sleeping in the passenger seat the whole time."
I asked if she'd drive, but we all know what that answer was. I said I was going to go lay down in the camper for awhile and take a nap and suggested that she take the dogs for a walk. She says "Heck no, I'm coming to take a nap with you!"
WTF??? She's already taken 4 naps and when I say I'm going to take one, she is in bed and asleep before I can even get comfortable? I never understand how she sleeps so much.
An hour later I wake up even more miserable with a pounding headache. The inside of the camper has to be 110° and my shirt was soaking wet and my head seriously feels like it's melting. I poured some cold water over my skull to try and cool down my core temperature and changed out of my nasty, wet clothes. Our next RV will have a generator so we will be able to run the A/C when pulled over like this, or enough battery power with a big enough bank of batteries to run it while dry camping.
We got back in the truck and I told Cindy "I cant take this, I have to have the A/C on for a little while to cool down. I think my brain is melting!"
We drove for about an hour with the windows rolled up and the A/C blasting. I was watching the temperature gauges closely to make sure we weren't staying too hot for too long. I was following Johnny's advice and driving like a Grandma and it was keeping the motor pretty cool. I found that if I kept my RPM's around 2000, no matter what my speed was, it kept the temps where I needed to have them. This meant that if climbing a steep hill, 2000 RPM's might mean I was only at 45mph. I'd be over in the right lane with my flashers on rather than being the guy that can pass everyone on steep climbs.
Not that I'm some speed demon, but I do like having a motor that will normally allow me to maintain the posted speed limit no matter what load I'm pulling. Not using my flashers and only doing 45mph when the speed limit is 70mph.
At one point we were driving along and the motor was getting too hot. I put my window down not even thinking that Little was sleeping atop the Pelican box behind me. When that first blast of air hit her, all I heard was a yelp as Cindy and I saw a blur of fur fly across the backseat. She hit the passenger side door and was under Cindy's seat within seconds hiding for her dear life.
I was laughing so hard I was crying. Cindy was punching me telling me how cruel I was, but it wasn't like I meant to do it. I had just forgotten she was back there.
It took us awhile to get her out from under the seat and when we finally did, Cindy said her heart was beating a mile a minute. Cindy held her for awhile to try and calm her down but driving with the windows down was freaking her out.
There was nothing to do but hold her and let her get used to it. Although I can understand her anxiety when we'd be climbing hills and the big trucks would come blasting past us with their air tanks filling and letting out the extra air with the high pitched noises. ITS LOUD!!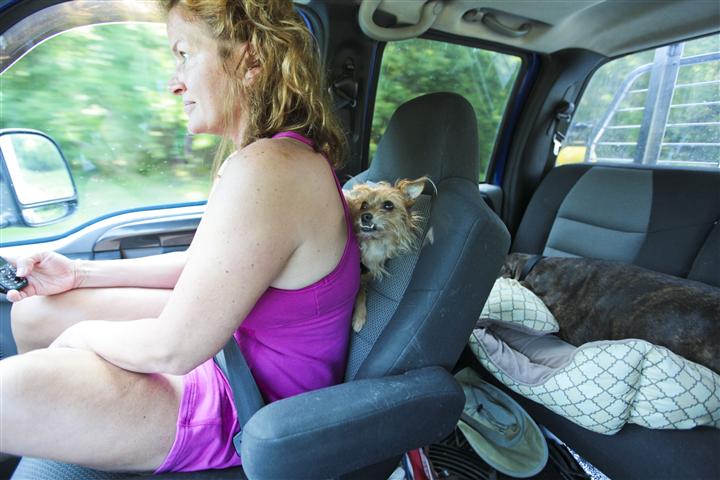 One of the many places she'll crawl to hide from the wind and loud noises
We bypassed Birmingham and drove up HWY 78 out of Alabama and through Mississippi. I think the Department of Transportation needs to come to Florida and take some lessons from our D.O.T. or Road Commission or whom ever paves their roads.
Growing up in Michigan, we have some bad roads. One of the only places I've ever thought the roads are worse than Michigan's is Louisiana's. Mississippi I now think has pushed Michigan into 3rd place. I was laughing as Cindy was working on her 5th nap when we'd came to a bridge and the entrance portion was basically a launching pad. The truck would almost catch air as we'd bounce across the bridge.
Then we'd get to the back of the bridge and you'd have to launch off the pavement back down to the normal road. Cindy was furious that she couldn't stay asleep because of how rough the roads were.
As we were questioning the ability of our suspension to withstand this abuse, we were listening to something on the radio talking about the Billions of Billions of dollars we've given to the middle East to help them with their country??
Is it just me or does any of this make sense to anyone?
Why are we spending billions of dollars on other countries when ours is in such bad shape? Why aren't all our roads and highways paved roller rink smooth? Why aren't the Highways lined with trees to act as wind and noise buffers?
Why don't we have a mass transit system that is all across our country like so much of Europe does so we don't have to use our gas guzzling vehicles to get from Point A to Point B?
Why don't we have the infrastructure built to handle the massive amounts of electricity the Plains States could supply the rest of the country from their wind power?
I'm totally amazed that this country is still surviving this long. We have millions of people out of jobs, but rather than put them to work rebuilding America, we'll just send our money to other countries and borrow more from someone else?
With a heated conversation between Cindy and I about all these topics, we drove all afternoon getting our kidneys handed to us through the floorboards of the truck.
When we traveled before, we used the Verizon Aircards to connect the laptops to the Internet. We cancelled that service when we got to Florida because of a landline. I had been looking into how we were going to connect while on the road this time and Jo & Fred told me I could call Verizon and connect to the internet through my Smartphone using it's signal as a hotspot.
So while driving today, I made that phone call and had that service turned on. It's only $20 a month and gives you 4 Gigs worth of information you can use. The guy on the phone said "You should be able to surf the web for 4 to 5 hours a day for the entire month before you'll use up that amount of space." He told me to download an App that would let me monitor the usage so I'd know if I was close to going over the limit, which they then charge you $10 per gig that you go over.
I figured I'd be fine since we'd only be using it to update the blog.
Cindy kept herself busy all day long when she wasn't napping, talking on Facebook on my phone, but thought it was funny that she was making comments on everyone's walls posting as me. I told her she had to let everyone know that it was her commenting but of course she didn't.
So if you saw a comment made by me that seemed strange, it was Cindy thinking she is funny.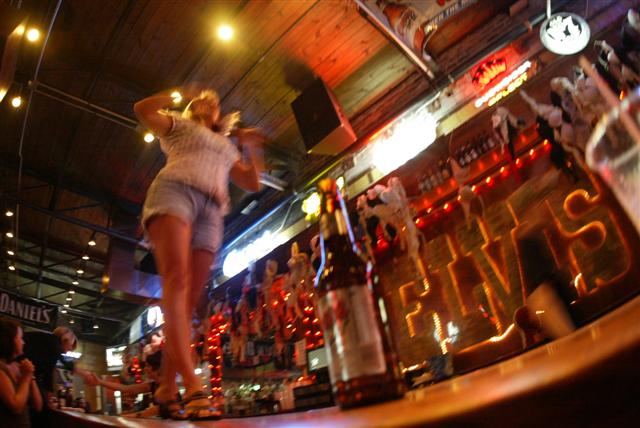 Cindy atop the bar of Coyote Ugly on our last visit to Memphis
I thought I'd talk Cindy into stopping in Memphis so we could listen to some of my favorite music there is. Live Blues on Beale Street is nothing short of Angel's singing in my ears. But she brought me back to reality when she reminded me we'd have to find a campground to leave the dogs in the camper, we wouldn't be able to party too hard because we have to drive all day tomorrow and the truck was running nice now with the sun set and the cooler temps staying off the road surface.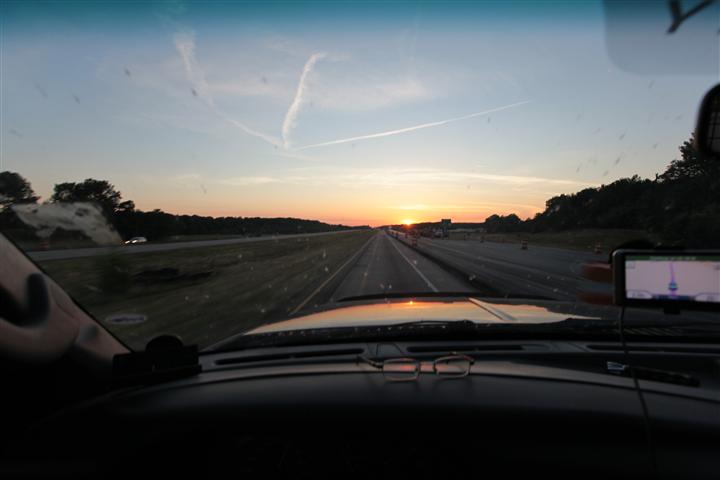 My brain was actually starting to cool down now that we had the windows up and the A/C running. We can monitor the in-coming temps coming through the air filter and since the sun had come down, the temps had dropped some 20° so our incoming temps were now in the low 80's rather than in the triple digits.
Cindy was now working on her 6th nap and it was late in the night. We had gone through Memphis and were into Arkansas and I was starting to get sleepy. I decided to call it a day and pulled over in a truck stop. We walked the dogs and I was asleep as soon as I hit the pillow. It was a long day of driving with the heat wearing me out. Tomorrow was only going to be worse, so I needed to take advantage of the cool night air.
Tuesday May 22nd - Driving North West
Cindy rolled over at 6:30am and asked "What time does the hardware store open?"
I told her it didn't open till 7am which is why I was still in bed. She said she'd make the ritualistic morning coffee and I needed to get up and get dressed so I'd be ready to go get the needed water pipe as soon as possible. Remember we were planning on leaving by 9am.
At about 7:20am, I was home from the hardware store with pipe in hand and we were both outside cussing at the camper. This original pipe had obviously been put in at the factory as the camper was being built and the 4 other smaller pipes that were snaked through the same hole were probably put in after this larger 2" flexible pipe.
Trying to get this pipe through the hole was the equivalent to trying to fit the proverbial square peg through the round hole. I was laying in the sand sweating, cussing and getting chewed on by No-See-Um's as Cindy was inside the camper yelling at me through the floor telling me what to do the entire time.
I finally crawled out from under the camper, brushed the dirt off me, swatted at 100 bugs before walking inside the camper and telling her we needed to switch places so she could see what the ordeal was underneath the camper. I laughed when I heard her crawl under there and yell out "Holy Shit! That pipe is never going to fit through here!!!"
With me working the flexible pipe from the top, and her pulling from the bottom, we finally got it stretched to where the original dry-rotted pipe had been. I then realized that the old clamps were too rusted out to re-use, which meant I had to make another trip down to the hardware store to get new pipe clamps. Thank Goodness for our little scooter. We've now put over 500 miles on it running into town for little errands like this. I know our truck loves us for this purchase.
Once all of this non-sense was done, I was dirty, bleeding profusely from a gash in my knuckle and pissed off to no end. I should probably apologize right now to Cindy, Amber and everyone else I spoke with this morning as I was nothing short of an orny old cuss to anyone who crossed my path.
The rest of the morning was spent loading and arranging last minute things. We were almost pulled out when I realized I had the spare tire in the cargo trailer and the license plate was off the camper due to the mounting tabs being dry-rotted. That damn sun will kill anything that it touches if left uncovered!
Once all these loose ends were tied up, I think we finally pulled out around 1:30pm. Much later than our scheduled 9am.
It didn't take long for us to start learning new things about the truck, the camper and the dogs.
For one, since we've lived in Cedar Key, we've switched from 265/75/R16 tires to 235/85/R16 tires. The ones we have now are much narrower and a little bit taller than the tires we've driven on over the last 4 years. These narrower tires are great for driving around town and running errands in and out of Gainesville. We've actually found that the taller, thinner tires give us better fuel mileage.
When I talked about switching to this size awhile back, we received a few emails from readers warning about how they'd handle while towing the camper. At the time, we didn't have any travel plans scheduled, and I figured I'd be sitting in Florida for awhile, I might as well save some fuel economy while I could.
Pulling the camper with these tires actually SUCKS! It feels like we're on ice and I have to have both hands on the steering wheel at all times to keep the truck from running off the road. It's amazing that these tires are what comes on the trucks standard from the factory. They're great if you are just driving the truck, but hook an 8,000lb camper to the back, and it makes for a white knuckled drive. Cindy can even notice the way the truck handles form the passenger seat if that gives you any indication of how squirrely it feels.
So that is another lesson learned that we'll be changing when we go back out on the road.
The other thing that kept us laughing and entertained the entire day was Little. This would be her first time ever in the truck other than coming home from the shelter and one ride to the Vet.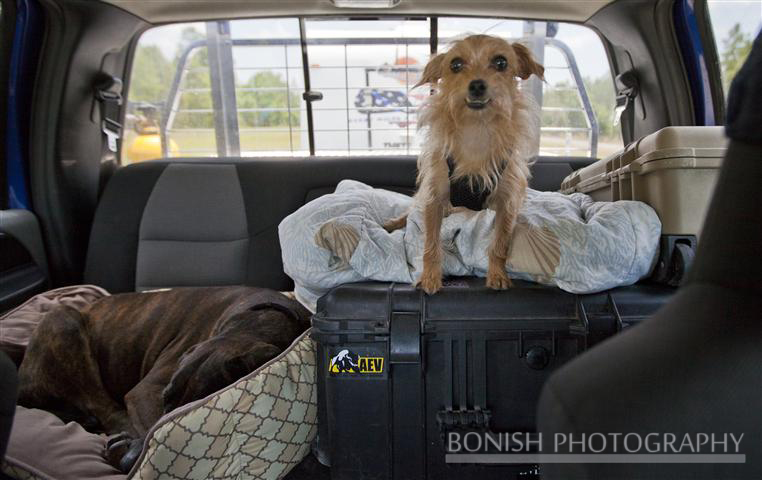 Little's position atop the Pelican Camera Box so she can see out the windshield
Luca is an old pro and had his nose out the window for the first few miles, but soon enough fell into his old habits of snoring away the long drive in the back seat.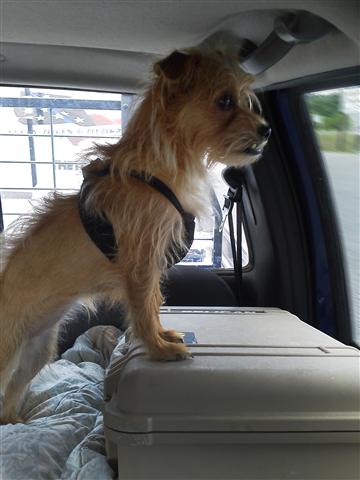 Little on the other hand was awake and aware of everything passing by the vehicle. She'd be sitting there looking out the window and as a car would pass, she'd jump back from the window like it was going to get her. The first few things that passed....cars, trucks, semi's...I think she actually barked at them.
Then there was the problem that she just wouldn't stand for sitting in the back seat where Luca was. She wanted to be up on Cindy's lap the entire time. As long as she was sitting there, she'd be content. As soon as Cindy would put her back in the back seat, she'd start barking at things passing by, or try her hardest to get back up to the front seat.
Being as small as she is, she cant jump up from the floorboard to the center console to get on one of our laps. At one point, I looked out my peripheral vision to see her airborne after she'd leapt from the Pelican Box in the back seat only to land square on the center console with her back legs hanging off. I busted out laughing as she clung there trying her hardest to climb up onto Cindy's lap.
Of course this won Cindy's approval which meant she got to sit in her lap for awhile before she put her back into the back seat.
She also wants to see outside the entire time. She's so small that she cant look out the window the way Luca does. Luca has his ritual of standing up and putting his nose out the window when ever we slow down. Little cant reach the window, so she figured out a way to sit up and get the fresh air filled with so many glorious new scents they both want.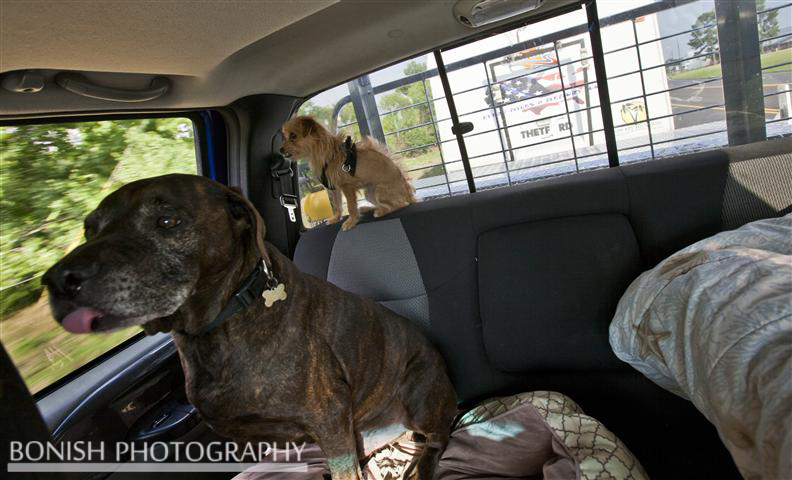 Luca licking at the air while Little checks out the surroundings from high atop the backseat
If there was ever a way to break a dog of being skittish, it's to take them on a long road trip.
When the GPS would tell us a direction to take, Little would go from sleeping to jumping up and looking around to try and figure out where this new voice had suddenly come from.
At one point she was sleeping calmly on Cindy's lap when the windshield wipers went off. I thought she was going to jump out of the truck she freaked out so bad. Cindy and I were laughing so hard, we couldn't even do anything to comfort her...we just kept laughing at everything she was freaking out about.
Since this will be a multiple week trip, hopefully by the time we return home, she'll be a completely different dog....but for the better. One thing people have always told us is we have very well behaved dogs. But I've noticed that folks who travel fulltime usually have their dogs trained pretty well.
While traveling through Tallahassee, we kept getting teased with raindrops on the windshield. The sky was dark and threatening all around us and we were both hoping for a good rain to help wash the truck off. As usual, we never got more than a few drops so the truck is still covered in a layer of salty residue from living right on the water.
While we crossed over into Georgia with the storm behind us, the radio did one of those Emergency Sounding things you hear all the time that's normally a test. This time it was saying there was 1-2" sized hail with sever storm warnings for the area we had just passed through.
So maybe it was a blessing that we missed that one! Thanks to whom ever was riding the roof of the truck with us and kept us out of harms way. We tend to have a few guardian angels rolling along with us when we travel.
Another issue we're having besides Little keeping us laughing the entire time is the trucks performance. Remember it's been sitting somewhat stagnant for over 2 years now. We drive it into Gainesville or down to Crystal River every few weeks, but without ever having a load on the motor, its more or less just idling along.
This would be the first time in years that it's chugging and pulling an actual load. It's NOT happy. I had tried to go down to the local Auto Mechanic a few weeks ago to see about getting one of the Amsoil Dual Oil Filters installed as I wanted to have the oil changed before we left.
Of course this got put on the back burner due to the Auto Mechanic not being able to get the parts in time.
I noticed the truck not feeling like it was pulling with it's normal Ummph! It was running hot and was blowing black smoke something awful when I'd get on the accelerator. That is something it never does.
At first I was thinking it was just blowing out carbon build-up from sitting around running short errands for so long. I figured it would be back to normal after the first tank of fuel was run through it.
By the time we pulled over late in the evening at a trusty ol' Wally World in Alabama, we knew something was wrong with the motor.
I went into the Wal-Mart while Cindy cooked dinner and bought a new oil filter, some anti-freeze and wanted to get a new air filter, but they were out of those.
I added almost 3/4 of a gallon of anti-freeze which is weird, and swapped out the oil filter for a fresh one.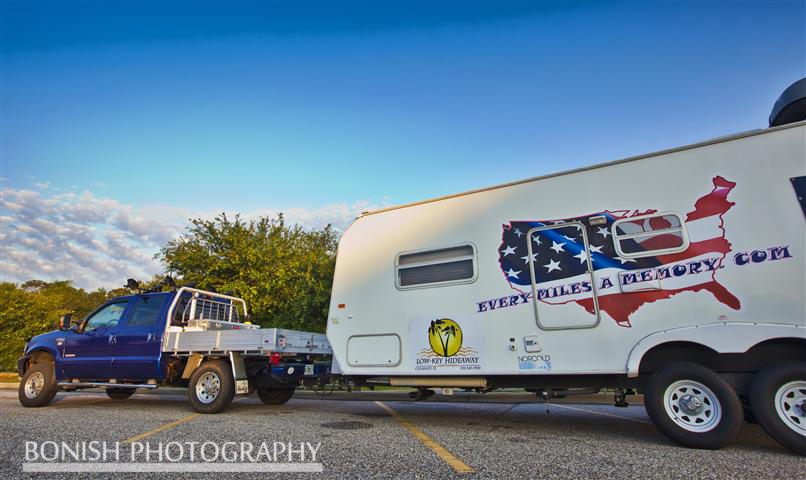 In the morning we're going to find a auto parts store to get a new air filter and see if that helps any, and if not, as soon as we limp into Arkansas and we're finished with the Chuck Wagon Races, we'll go find a Ford Dealer to get it diagnosed.
If anyone has any suggestions, feel free to shoot me an email. Or if you own a dealership and want to offer a newer truck as part of a sponsorship, we'll be happy to come trade in this older model :)~
Monday May 21nd - When Did Rv'ing Become So Hard?
How do two very experienced RV'ers go from having a next to perfect system worked out to looking like a couple of fumbling idiots?
I guess all you have to do is not camp or use the RV for a few years and everything goes to shit. That's what happened to us the past few days as we tried to get ready to leave for our Rock Bottom Chuck Wagon Adventure.
It all started last week as the work campers showed up and we started the initiation process. I learned real quick that I'm not a good teacher/trainer. Cindy informed me on many occasion that just because it's second nature to me, it doesn't mean that people who have never done it before will pick it up on the first try.
I also found that I have a major problem with leaving the tiki bar in someone else's hands. This is something I've never done, and just recently getting the coveted Liquor License, I'm scared to death to let anything happen to it. So trying to train new people while I'm still learning what's working and what isn't is really hard for me to do.
So many times they'll ask me a question about a scenario, and I don't have an answer. I'll just think about it and say "I don't know, I haven't had that happen yet?" I probably should have listened to Cindy and not applied for the liquor license till after we returned home which would have made things much simpler, but once I got the loan, I have to start making payments whether I've ordered liquor or not.
Cindy is so much better at this training stuff than I am, so it's easier for me to let her handle it and I just close my eyes and hope for the best.
Building up to a vacation, you always have a punch list of tasks that are normally put on the back burner. Pulling the boat out of the water and scraping the bottom was something I've been meaning to do for weeks now. There just seems to always be something that is taking up my time to keep me from doing it. I finally pulled it out and brought it out to Heath's property where I lifted the boat up with the tractor and scraped the bottom free of it's speed robbing barnacles. One task knocked off the list.
We decided to not bring the kayaks with us on this trip and thought if we want to paddle any rivers, we'd just rent boats. We wanted to put the kayaks out at Heath's property to get them out of the way, so Cindy suggested that I bring them out one afternoon about an hour before the tiki bar was to open.
I think her exact words were "It'll only take you a second, and you'll have time to get back and take a break before you have to open the bar."
We loaded the boats atop the truck, which is really easy with the aluminum bed. I drove them out to the property and set them on some saw horses he had lying around.
Simple task accomplished until I tried to pull away from the saw horses. Everything in Florida that isn't covered in grass is Sugar Sand. You'll know that my truck hates Sugar Sand but has no problem finding it like a dried up sailor can find a bar when pulling into port.
I went to pull away and felt the back end of the truck sink into the soft sand. I tried to coax it out but soon enough the back end was wheel-hopping and I was stuck. I shifted into 4WD thinking it would pull me right out.
The dashboard indicated the truck was in 4X4, but I kept digging deeper.
So I walked across the acreage looking for a shovel. Nope, for some reason Mr. Heath has all his shovels hidden and I got to digging with a piece of 2x4 I had found lying around.
I called Heath, Cindy and Heath's dad to see if any were available to pull me out. Mike (Heath's dad) reminded me that my truck has manual locking hubs. I normally always keep them in the locked position so all I have to do is switch the dashboard knob and I'm in 4WD. Knowing that I wouldn't be off-road any time soon, months back I had switched the hubs into the Unlocked position to reduce drag on the hubs.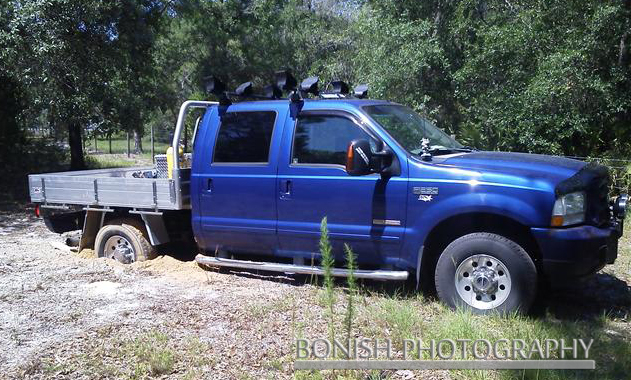 So after about a half hour of digging, sweating and cussing at myself, I switched the hubs into the locked position and drove right out of the sand pit. This got me home about 10 minutes late to open the Tiki Bar and covered in sand, sweat and another good story to make fun of myself with.
Next was the truck itself. We just had the old, dinged up bed taken off and the new aluminum flat bed installed. I had a friend, Jarrod Beckham, do the work and it looks phenomenal! He sanded the frame and undercarriage and painted it flat black. He then mounted the bed and had it back to me within 2 days time.
Cindy even noticed that while driving the truck, "Men stare like a naked woman is riding in the bed. What is it about flat beds that drive men wild?" was her remark/question after having it back for a few days.
I'm not sure, but I'll have to agree that while driving down the road, I do notice a lot of men looking and taking double takes to get a better glance.
Once the bed was installed, this meant I'd have to figure out how to bring along many of the items we used to carry with us that rode inside the 'Garage'. Cindy still cant figure out why I switched to a flat bed and wanted to get rid of the A.R.E. Cap we originally had.
Truth is, I loved the cap, it just became a catch all for junk and clutter. It was too easy to just say "Throw it in the bed and we'll figure out where to put it later." That meant when trying to find something, it usually involved emptying out a half hour's worth of junk to get one item.
I want to have our set-up down to a 'T' and streamlined to save weight and try and become as clutter-free as possible. That was impossible with the cap on.
When we got rid of the cap and just had the high-sided stock bed, it was always filled with unnecessary junk. So that was when I knew we needed to move to a low-sided aluminum bed so we could get rid of anything that was not needed.
Here's the problem. Most of the junk in the bed and under the old cap was mine. Now I have to try and figure out how to bring stuff along and keep it hidden, or get rid of unnecessary junk. That's a lot harder than it sounds.
Go ahead, try it, take the bed off your truck and try and see what you do with all the junk you're hauling around in it.
While I was figuring this all out, I had Jarrod come back out and install some new LED Flood Lights on the back of the truck. When we had the A.R.E. cap, we had lights that flooded the area behind the truck incase we were backing up in the dark or working out behind the truck. They went with the cap, so I upgraded from standard lights to high lumen LED's.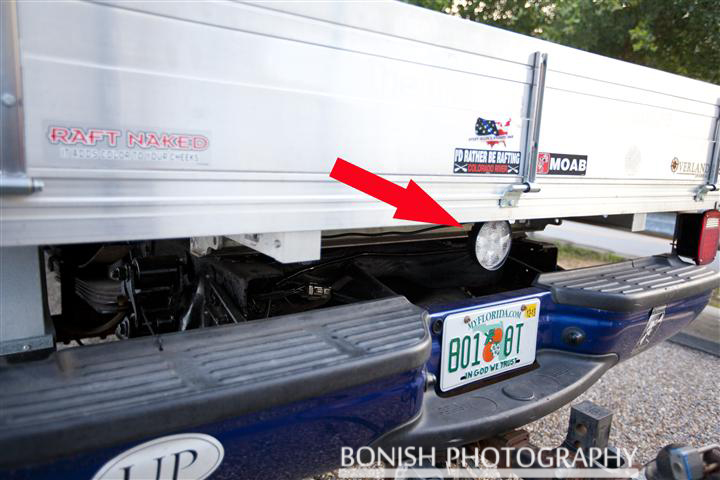 Arrow points to one of the LED lights for hooking up or unhooking at night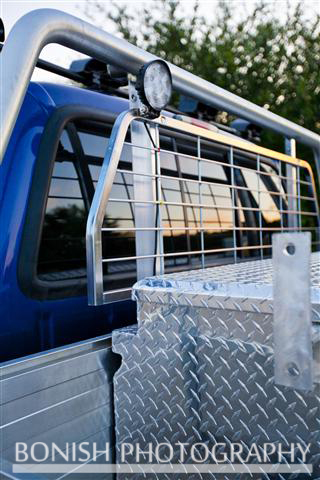 The 2nd LED flood mounted on the Headache Rack - Backwards Zombie Blinders
While all of this packing and getting the sorting of things accomplished was going on, we took delivery of our Hard Cover book. Talk about throwing a monkey wrench into the motor. Try and have a crazy, busy weekend lined up, then have 1000 books delivered on a pallet on Friday afternoon 10 minutes before the tiki bar is to open.
Fred, Cindy and I had to hand carry all 64 of the 24 pound boxes into the house because the delivery guy couldn't move the pallet any closer than the parking lot. With that out of the way, this meant Cindy and I had to sit down and sign 1000 books which more than 200 had already been bought and paid for. We never accomplished that task. We signed a few so locals who were waiting to get their copies could come pick them up, and went to work at the Tiki Bar.
That night at the bar was awesome as we were having a going away party for our good friends Amy & Levi who were leaving to head back up to Virginia for the summer. With everyone having a blast out at the tiki bar, getting anything on my list accomplished was put off yet another day. But a good party and fun with friends is always an acceptable excuse to put off your work.

Since they live in an Airstream, this was their Going-Away Cake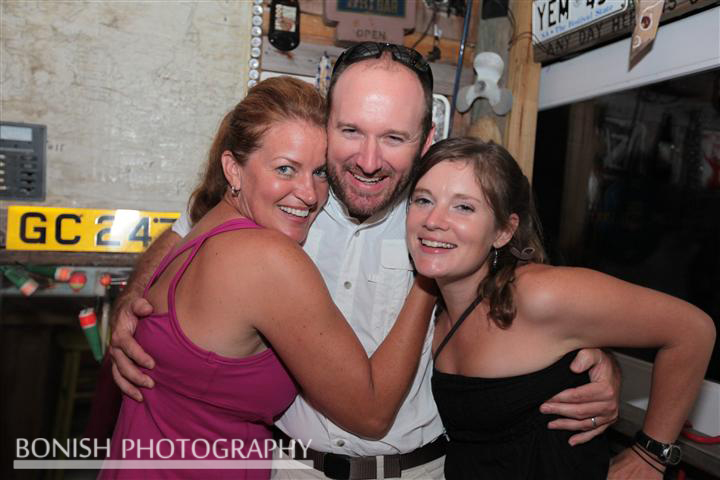 Cindy, Heath and Amy all having a grand ol' time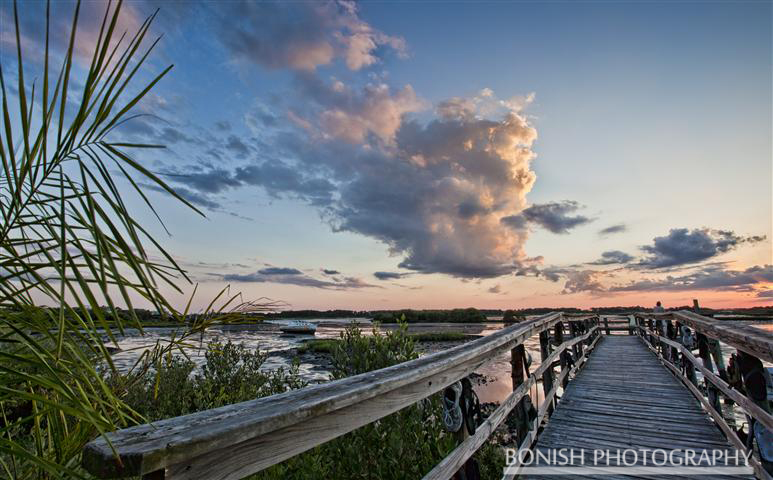 Not a bad ending to a long work week!
Getting back to work on the camper opened up a whole new can of worms. With each step forward, we'd end up moving two steps backwards. We had moved the camper to an RV site last week to start getting it ready, but this weekend we were full, so we had to move it back to it's stationary spot in the Clammery beside the motel.
Once an RV site opened up, we moved it back only to find out that Cindy had forgotten to switch the solar panels on, so the batteries were dead. This was actually a good thing because with AGM's, you're supposed to run them down to zero every now and then before giving them a blast of good energy to charge them back up to 100%.
So that was minor. But when I told Cindy to do something with the water in the fresh water tank to get rid of it, she suggested that she bathe the dogs. We normally keep the fresh water tank full with treated water incase of an emergency, we'll always know we have 40 gallons of fresh water.
So she grabbed the dogs and took to giving them a bath. When she told me she was done and I needed to empty the gray tank, I went to use our sewer hose only to find out it had dry-rotted and was leaking everywhere.
Then, when I went to fill up the fresh water tank, I learned that the hose leading from the side of the camper down to the tank was dry-rotted and was pouring water inside and underneath the camper. This wasn't good!!! By this point in the afternoon, the local Hardware store was closed and we had planned on leaving first thing in the morning. Looks like we'd be a little later than planned.
We finished packing what we could and sat down to sign some more books. So far, as soon as we think we're caught up with having a good stock pile signed and waiting at the front desk, Amber will let us know she's sold them all and needs more back up copies.
We went to bed with sore hands, frustrated minds and two worried dogs who knew something was going on but couldn't figure it out because we were still inside the house. I mean why would we be packing so much stuff into the camper, giving them baths and then just staying at home?
Tuesday May 15th - Little's First Boat Ride
After a very productive morning of getting work buttoned up, Cindy suggested we pack the cooler and head out for a boat ride. We'll be taking the boat out of the water to scrape the bottom and have it painted while we're gone, so this would probably be our last chance to go out on the water.
I was game, so we started getting ready. The last time we were in Gainesville, we stopped at a Pets Smart and bought a life jacket for Little. She has only tried it on in the house, and while wearing it, she'll only walk backwards or sideways...LOL It's very funny to watch.
We figured since she now has a lifejacket, why not bring her out with us since Luca loves to go out on the boat.
Motoring away from the dock, we noticed she wasn't too sure about this, but she'd run around the edges of the boat looking at the water splashing up and run back to the protection of Cindy's lap. This went on for some time till I finally made Cindy just hold onto her so she wouldn't become neurotic about the splashing water.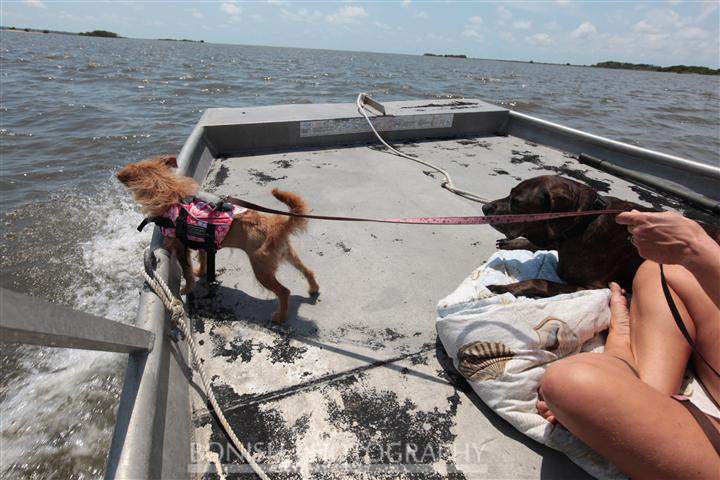 Cindy was sure to hold the leash tight incase she decided to go after the splashing water
As long as we go slow, she doesn't seem to mind it and I think with all the commotion going on around her, she forgot about the lifejacket she was wearing because she had begun walking normal again.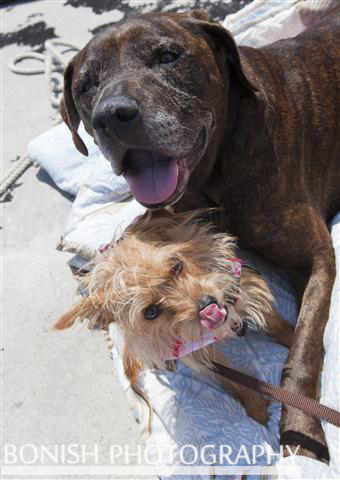 She normally isn't all that cuddly with Luca, but while the boat was underway, she'd snuggle right up beside him for protection. I think having an older dog around is good to train a new dog. Lots of times when we do something new, she looks right at Luca to see what he's doing and follows suit. If he gets excited, then she starts barking and going ballistic even though she doesn't even know what is going on. If he stays calm, then she stays calm.
Cindy wanted to go swimming and we have a spot that has a white sand bottom and clear water, so we motored over there so we could get in the water.
Cindy jumped in and started walking towards the shore. Luca isn't all that fond of water, but he'll walk through a burning fire if it means staying at Cindy's side. So when she jumped in, he jumped in.
I wasn't too sure what Little was going to do about all this, so I stayed on the boat with her. You could see the confusion in her eyes as she watched Cindy and her partner in crime walk towards the shoreline. It didn't take but a minute of her whimpering before she built up the courage and leapt into the water.
As soon as she hit, she was swimming like a champ. The life vest was obviously keeping her afloat because she doesn't have an ounce of body fat on her. But even with a strong current trying to pull her away from Cindy, she swam up-current and was soon running along the shoreline.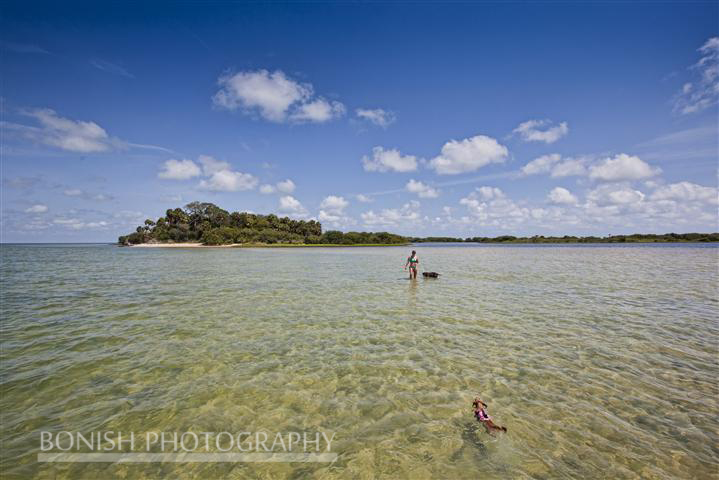 We were the only ones out here, so we spent a few hours just swimming, floating and enjoying another beautiful Tuesday Fun Day. The water was bath temperature and was perfect for swimming and cooling off from the 80° heat.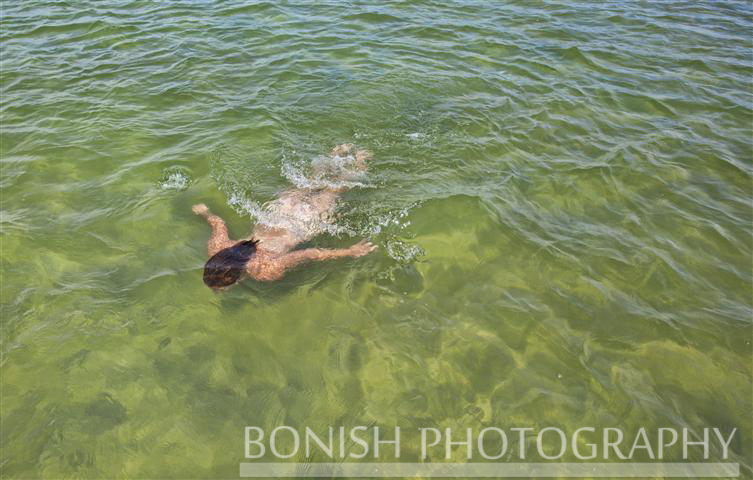 Taking a Dip in the Warm Water

The life vest has a handle on the top making it perfect to carry her back out to the boat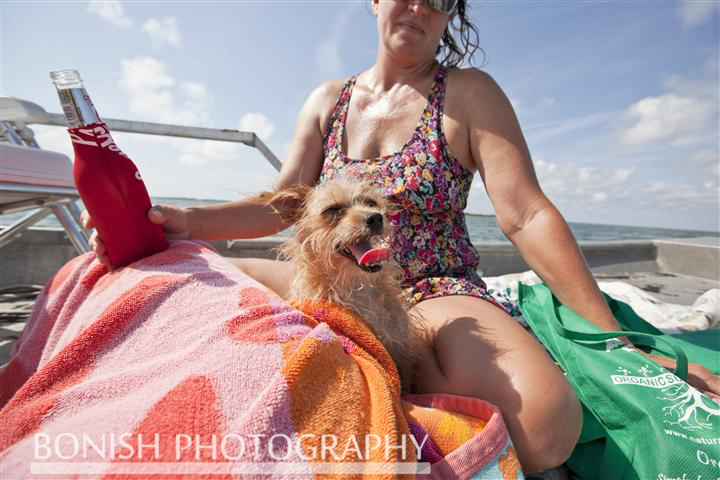 Do you think Little is enjoying herself?
After a few hours of just relaxing, we motored back towards out place because we had to attend a Commission Meeting tonight in town and we were both starving. We had thought about stopping and getting some food, but didn't want to bring the dogs with us.
As we motored through the inside channel, we had a dolphin playing in our wake and giving us a great show.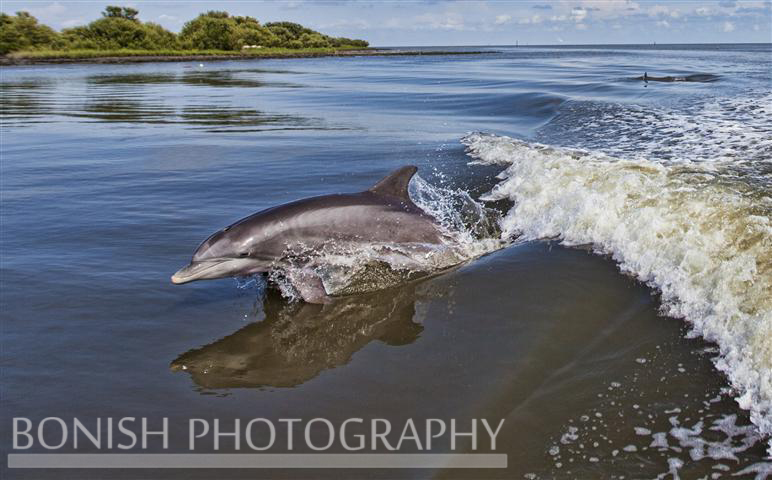 Once back at our place, the tide was too low to get the boat up to our dock, so we tied it off at the Clammery at the #3 Bridge and walked home.
We showered the salt water off and headed into town. Small town politics can be very entertaining. Everyone jokes that we should be videotaping these meetings because of how humorous they are to attend, and I fully agree.
From the Commission Meeting, we went to the Island Hotel for one of their awesome burgers. We hung out with some locals just having a grand ol' time before we came back home.
As we were walking in the door, I remembered that we had left the boat tide up at the Clammery, so we both walked back down and grabbed it. We motored it around to our dock now that the tide was back in. Once we had it tied up, we hung out on the boat sitting there just watching the stars and clouds pass by and enjoying the cool night air. What an amazing day and night today was!
Wednesday May 9th 2012 - Gearing Up For Another Busy Month
It's going to be hard to top last month, as if this were some sort of competition! I was just looking back through last months blog, and man, we have some serious fun don't we?
Cindy and I looked at our calendar for this upcoming month and I felt a little nervous wondering if we'll be able to make it all come together the way we have it worked out in our heads. Which is a scary thought if I were to actually tell you everything that is being worked out in this crazy skull of mine.
We have some work-campers coming in to help run the Low-Key Hideaway while we take a few weeks off to go to Arkansas and cover the Rock Bottom Chuck Wagon Races.
Fred and Jo blog about their full-time travels on their website The Wandering Wishnies. We've met them a few times in the past when they visited Cedar Key and have kept up with them while we've been sitting still here at the motel.
They seem like the perfect fit to help keep our little place up to snuff while we take some time away from it. This will be a first for us, so we'll just have to see how it works out with work-campers helping Amber. Normally when we leave, we just close the motel down, but this work-vacation will coincide with the Memorial Day Holiday, and the motel is already booked up, so there was no option of closing it down.
On top of all that, the Tiki Bar got the liquor license which means that's something new to learn, and we still have to get the truck worked out. Remember the bed of the truck is just sitting there with no bolts holding it on to the frame. Well there is two bolts holding it, but not the 8 it normally has.
That transition has to be finished within the next week which is much harder than it sounds. We have to deliver the truck, with the new aluminum bed strapped to the top of the old bed this Friday, so we'll see how it goes.
It's hard to give up the vehicle for a week to get it swapped out due to our crazy schedule. I'm really looking forward to the swap because I hate driving around with our old bed all dinged up. Plus, I hate having that pretty aluminum bed just sitting there on wooden saw horses collecting leaves.
We had some great friends get into town earlier this week and it's been a great few days showing them our little Hideaway.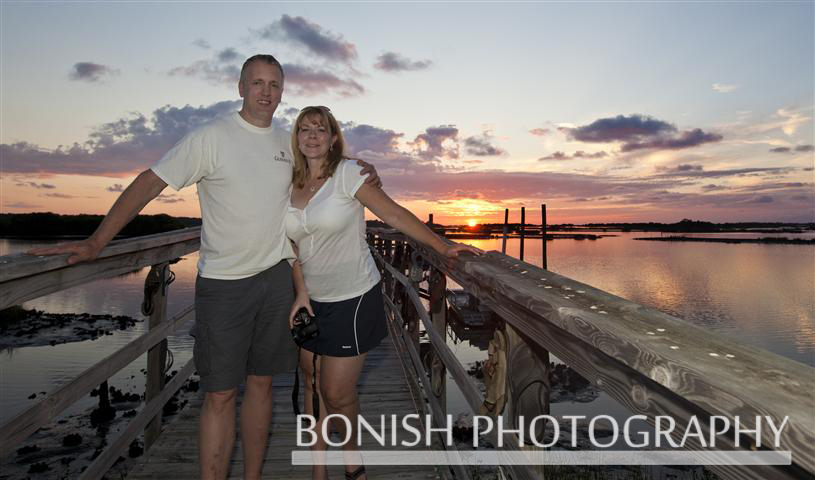 Shawn & Julie with one of our fabulous sunsets
We got to go out on the boat as Julie said she'd never seen a wild dolphin. She told us she's seen them in places like Sea World, but never out in the wild. Well we went out on the boat and had them jumping in our wake, swimming all around us and the girls almost got to swim with them.
We were anchored on this big sandbar that has a white sand bottom. Everyone was in the water swimming when we noticed two dolphin swimming towards us. We sat watching for awhile but they turned and went the opposite way. Cindy and Julie put their mouths underwater and started making high pitched noises and the dolphins turned around right away and came back towards them.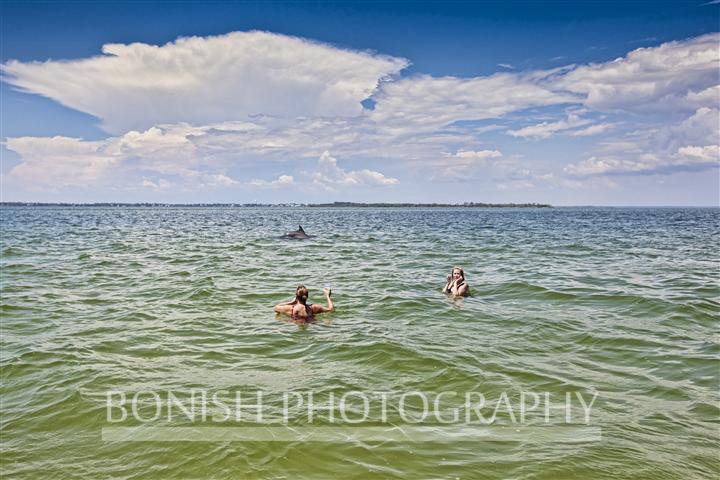 They swam around within about 20' of them, but would never come any closer than that which is probably a good thing. But I'm sure that's more than she had planned for when she said she wanted to see dolphin.
Another exciting event is about to take place in our lives! We got the tracking number from the book publisher telling us that our first Hard Cover Book will arrive in Cedar Key on 22nd of this month.
We set up a Pre-Order Page where people can place their orders so all we'll have to do is sign the copies and drop them in the mail for them. The first 1000 copies will be signed and numbered and we've already sold a few hundred just off the pre-order list. So if you're interested in a nice hard cover book of our images from our first two years here in Cedar Key, place your order before they're all gone.
I'm really looking forward to the upcoming Chuck Wagon Races. We always have so much fun in Arkansas with the Fowlers and we usually come home with some great images. Cant wait to get back on the road and get behind the camera with it pointed at something different than these horrible images of my back yard...LOL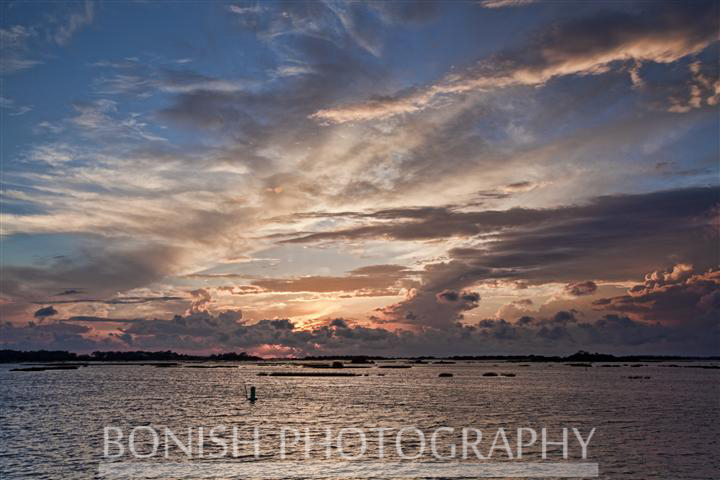 Another awful night here in Cedar Key - Just Kidding!!
Saturday May 5th 2012 - Perfect Day on the Water
This weekend we had the annual Cedar key Small Boat Show. The weather was absolutely perfect and the attendance this year was awesome. To see so many sailboats on the water was very rewarding. It's what I imagine when I think about living on the water. I only wish every weekend was a mirror of this one.
Heath, Scott & Karen and our friend Levi all went out in Heath's boat to see the sailboats that had gathered on Atsena Otie Key. We anchored Heath's boat and walked the beach admiring the collection of handmade goodness.
Here is a link to my gallery of images if you'd like to see them all, and here is a sampling of some of my favorites from the day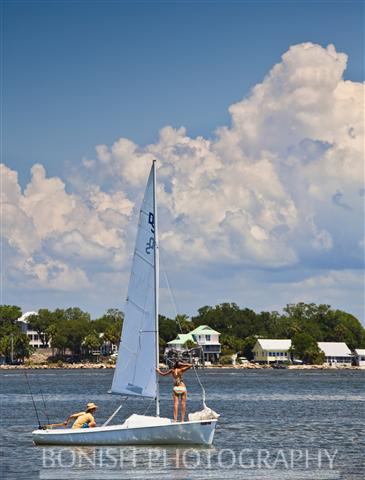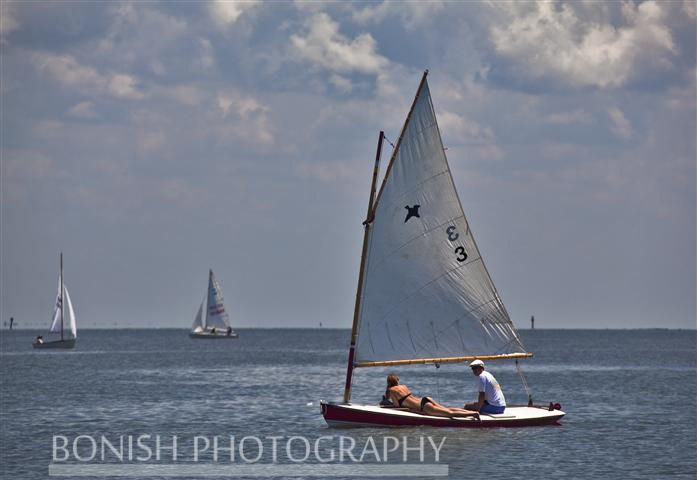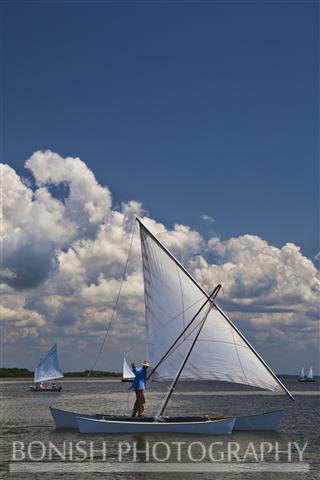 Really cool Proa Sailboat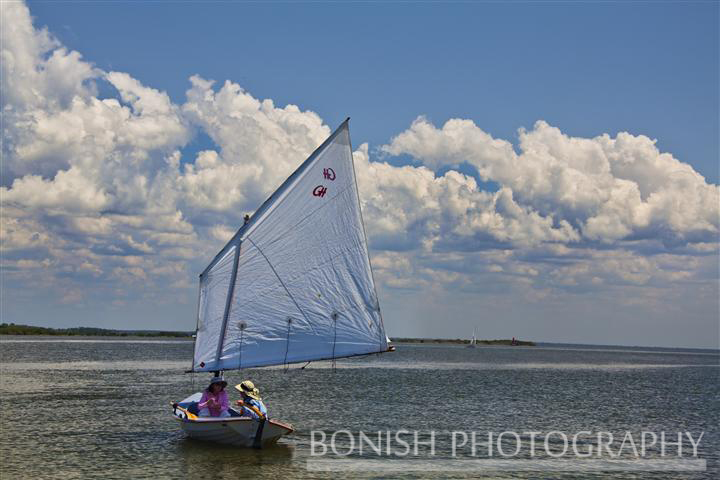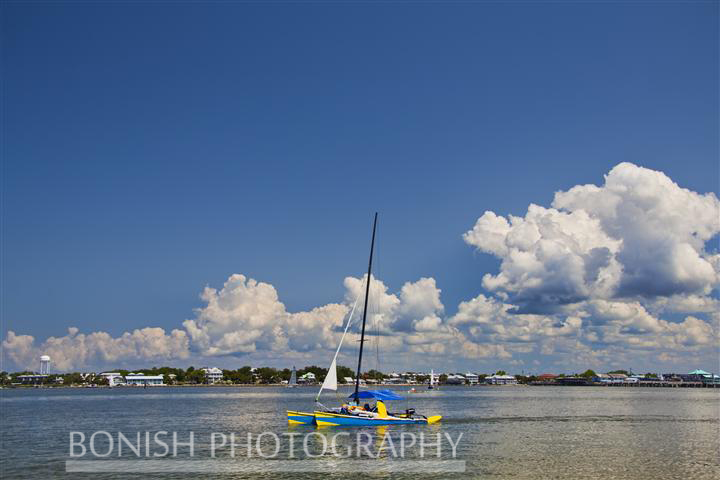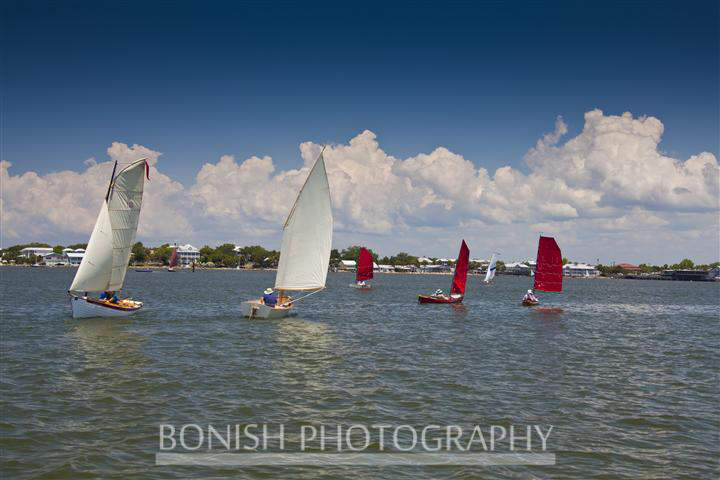 If the Small Boat Show wasn't enough, tonight we had a big Going Away party for Scott and Karen at the tiki bar. There were so many people there and so much food you'd have thought we were a 5 Star Restaurant. Some of the guests staying at the motel said "Wow, so far we've never even left the motel and we've had drinks, food and the best night of our lives."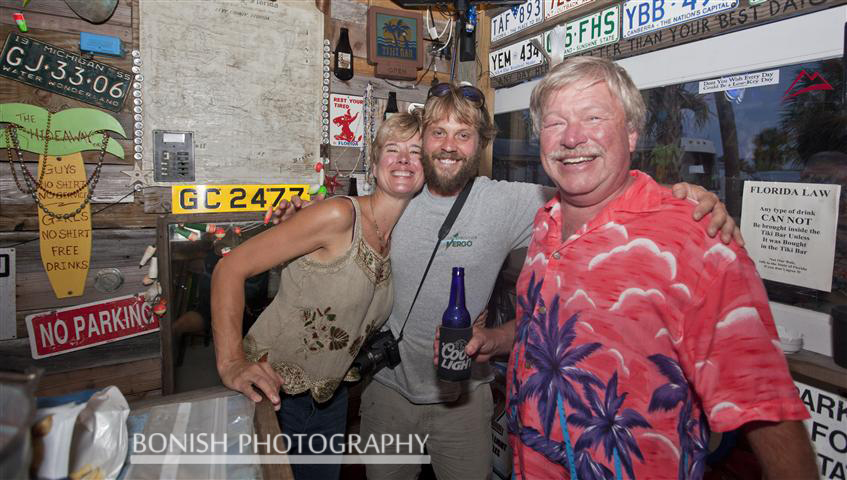 Karen, Levi and Scott all look like they're having some serious fun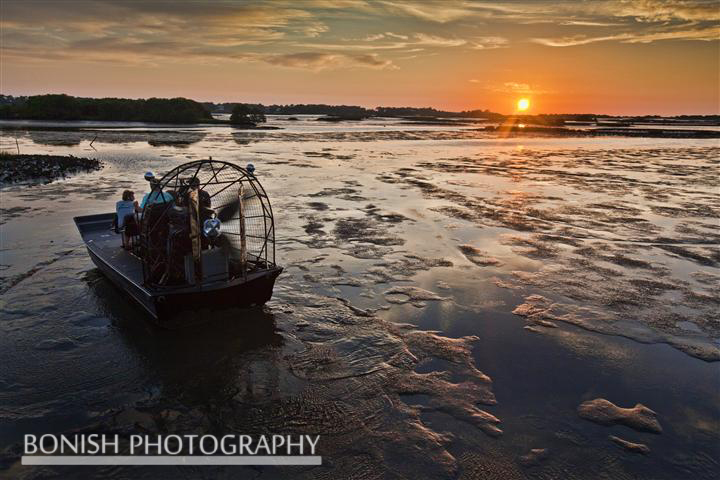 Tidewater Tours showed up with their big Airboat and were giving sunset rides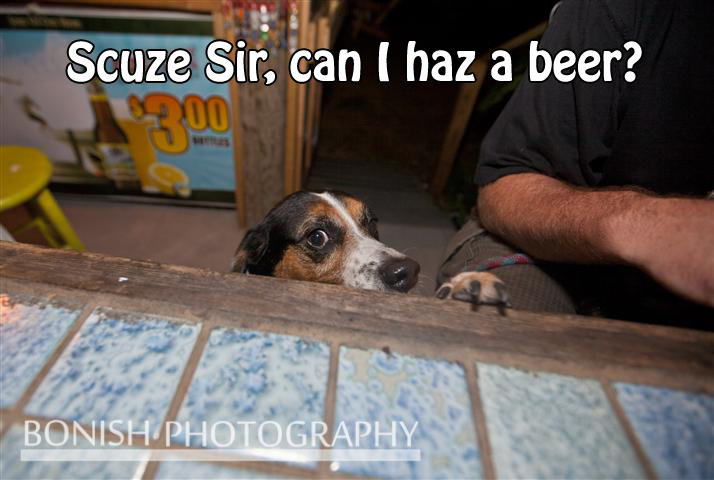 Yes, we're dog friendly at the tiki bar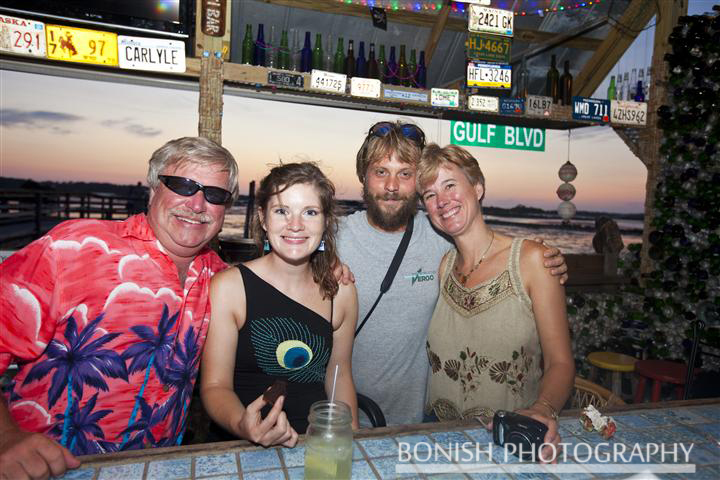 We sure are going to miss our Maine Friends!!

___________________________________________________________________
Photo Gear We Use - Solar Tips, Fact's and Trick's we've learned while on the road
Camper Check List - A list of things we do before leaving camp. Again, this isn't gospel, but its a good start for those who might not already have a list made up.
Return to Top of Page
Need Unlimited photo storage- FREE Trial of Smugmug