When we realize our insignificance in this world,
it some how relieves the pressures from society to succeed -
Cindy Bonish 04/07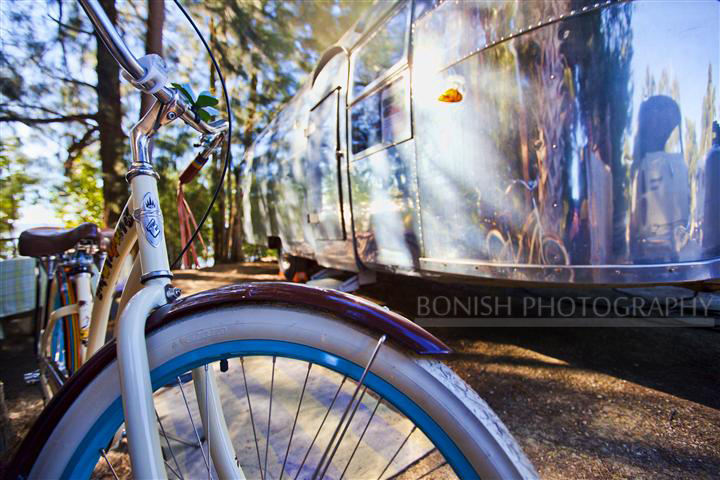 Pat's February 2012 Blog
If this is your first time here, you might want to start from the beginning of our fulltime Journey with our Past Blogs
If You Don't Know Me Yet, Click Here to Read My Bio
****
Tuesday February 28th - Fun Afternoon on the Boat
Sunday and Monday were nothing but rain. We needed it and Sunday was a useless day for me anyway. Except for a few things like taking out the trash and recycling and taking a shower, I don't know of one thing I accomplished that day.
Monday night we opened up the Tiki Bar for the Daytona 500 race, but as the night grew on, everyone went back to their rooms or campers to finish the race, and luckily so, because it went on till after midnight.
After all the rain, the yard is looking great and Cindy and I spent the entire morning weeding, planting and mowing. Today was a perfect day outside with a nice breeze, big fluffy clouds and temperatures in the high 70's.
Mid-Afternoon, Cindy said "Ok, I'm done for the day, lets go out on the boat!" You don't have to say that twice as I'll jump at any chance to be out on the water.
We loaded up a cooler and took the boat over to the launch. It didn't take long before we were taking photos of White Pelicans, American Avocet's and Osprey.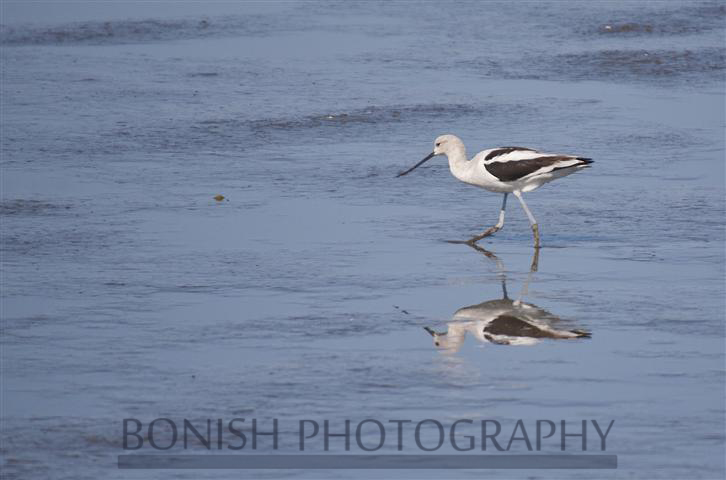 American Avocet - Canon 5D with a Sigma 50-500 lens - Photo by Pat Bonish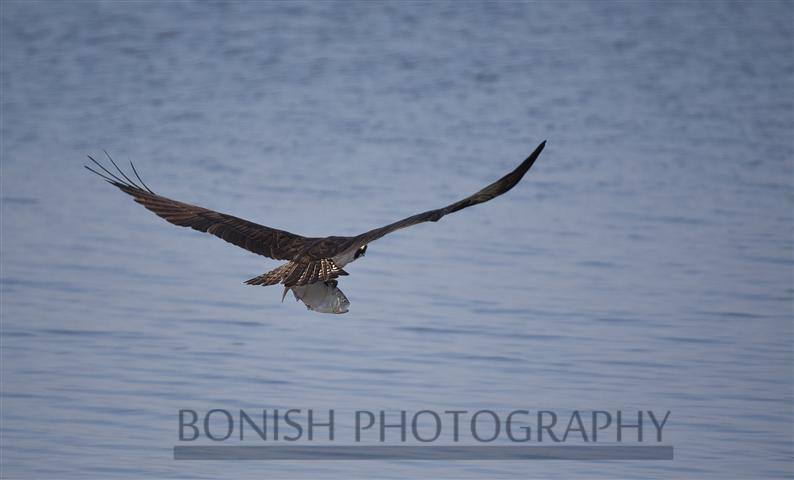 Going for a ride with an Osprey - I don't think this Mullet is enjoying itself -
Canon 5D with a Sigma 50-500 lens - Photo by Pat Bonish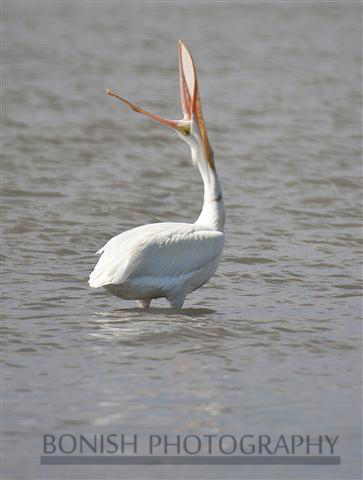 White Pelican in a Head Throw -
Canon 5D with a Sigma 50-500 lens - Photo by Pat Bonish
While we motored towards the Islands, we had a pod of dolphin come up and play in our wake. When we first spotted them, Cindy said "I don't want to play with them, I just want to watch them." So I killed the motor and we just sat in the choppy waves watching them swim around us.
But one of them was a baby and kept swimming up beside the boat, turning parallel with the side of the boat and racing away almost like it was asking us to make a wake for them.
I looked at Cindy and said "I don't care what you want to do, here is your camera, I'm going to take off, and if they follow, great, if not, then we just keep going."
Within seconds of the wake forming, all 3 dolphin were jumping up and out of the water. The little baby was shooting way out like it was enjoying itself so much.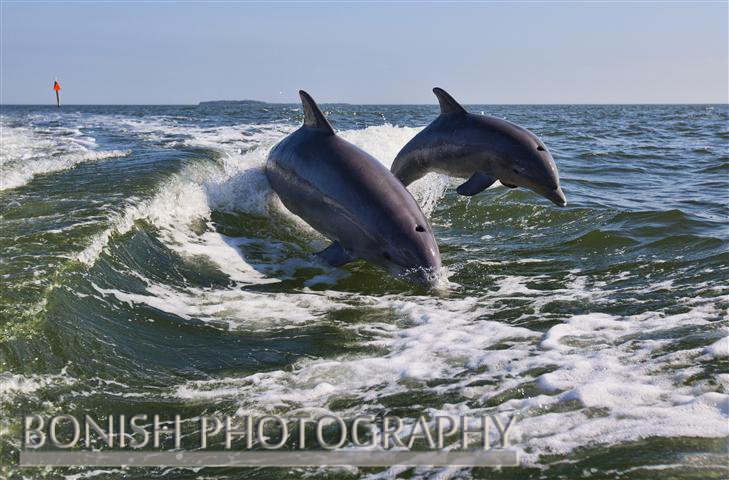 Dolphin Couple - Canon 5D MKII with a Canon 16-35 f/2.8 lens - Photo by Cindy Bonish
Cindy followed suit and got to snapping away with the camera. It's impossible to have dolphin playing in your wake and not take photos. It puts a smile on your face EVERY TIME and is one of those things that will never get old no matter how many times I see it happen.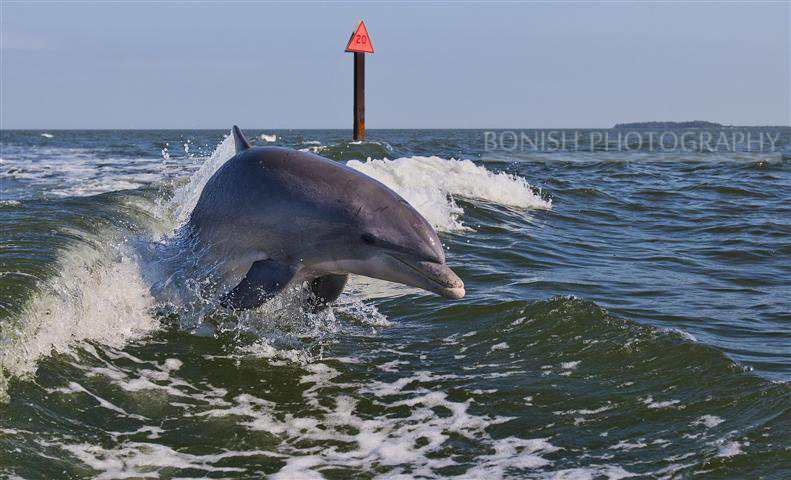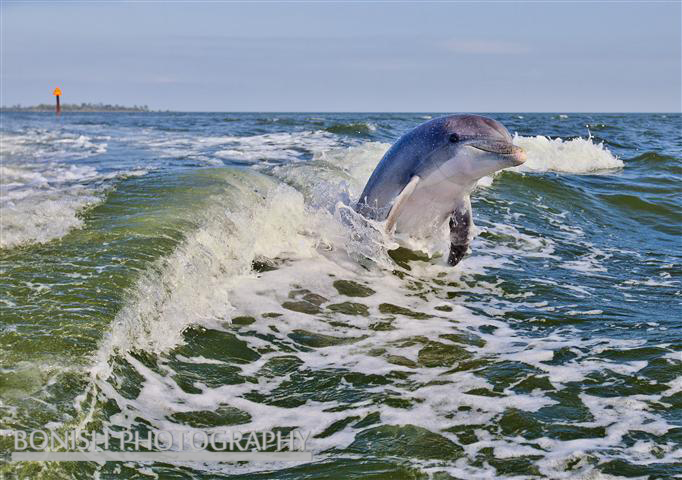 Jumping Dolphin - Canon 5D MKII with a Canon 16-35 f/2.8 Lens - Photos by Cindy Bonish
After awhile, I think we got into shallow water and they grew bored with us. We kept going towards Atsena Otie Key to protect ourselves from the winds that were blowing out of the East.
Once behind the island, we ventured into the channel that winds its way through the shallow oyster bars. We spotted a few egrets, blue herons, some osprey and saw eagles sitting in their nest. This area has got to be a birders paradise.
We beached the boat on a bright white sandbar and hung out just listening to the waves lap along the shoreline. It's days like today when I know why we live in Cedar Key.


Looking Towards Cedar Key from Atsena Otie Key - Photo by Cindy Bonish
After awhile of hanging out, we motored over to another portion of the island and idled up a small canal that is only accessible during high tide. We found another Bald Eagle's nest. This one both adults were at along with two young eaglets sitting in the nest. Cindy got a few cool shots of the eagles flying around us checking us out before we left them alone to head home.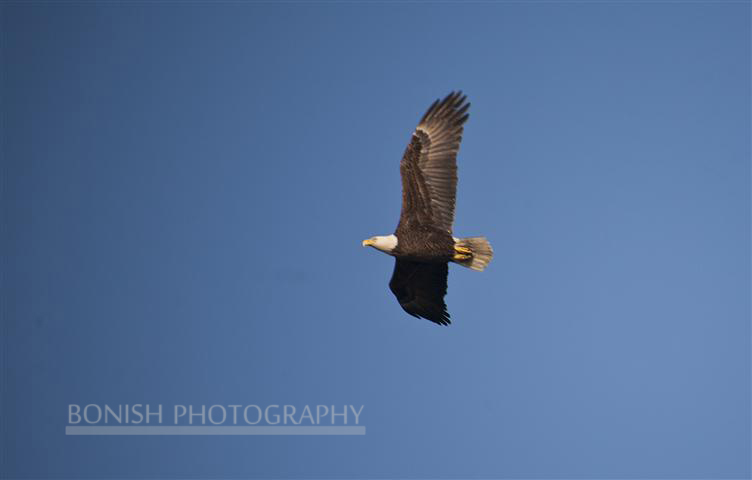 Soaring Eagle - Canon 5D with a Sigma 50-500 lens - Photo by Cindy Bonish
By this point the sun was starting to set and we would only have about an hour of light left. Not that it took us that long to get home. We were there within 10 minutes and hung out at the tiki bar with Barry acting as Guest Bartender to finish the day off.
What a glorious day today was!!
Saturday February 25th - Margo Anderson @ The Island Hotel
Cindy and I had been invited to a event tonight that would be held at the Island Hotel here in Cedar Key. It's not normally the type of event we'd attend, but the folks who asked us to go with them are great people, and we really enjoy hanging out with them. So we figured we'd have fun no matter what the night turned out like.
We were supposed to meet them around 5:30pm, and it was all I could do to leave the Tiki Bar in my own backyard. Around 4pm when the Tiki Bar normally opens, we had a group of people show up so I ran out back and opened it up.
I explained that we'd only be open for one hour tonight because I had to go somewhere, but told them all that they could hang out and watch the sunset which was scheduled for 6:30. Right before I left, I gave them all one last drink and ran inside to change my clothes.
Cindy looked stunning as usual, but all I had to do was put on a button-up shirt and some dress shoes and I was ready to go.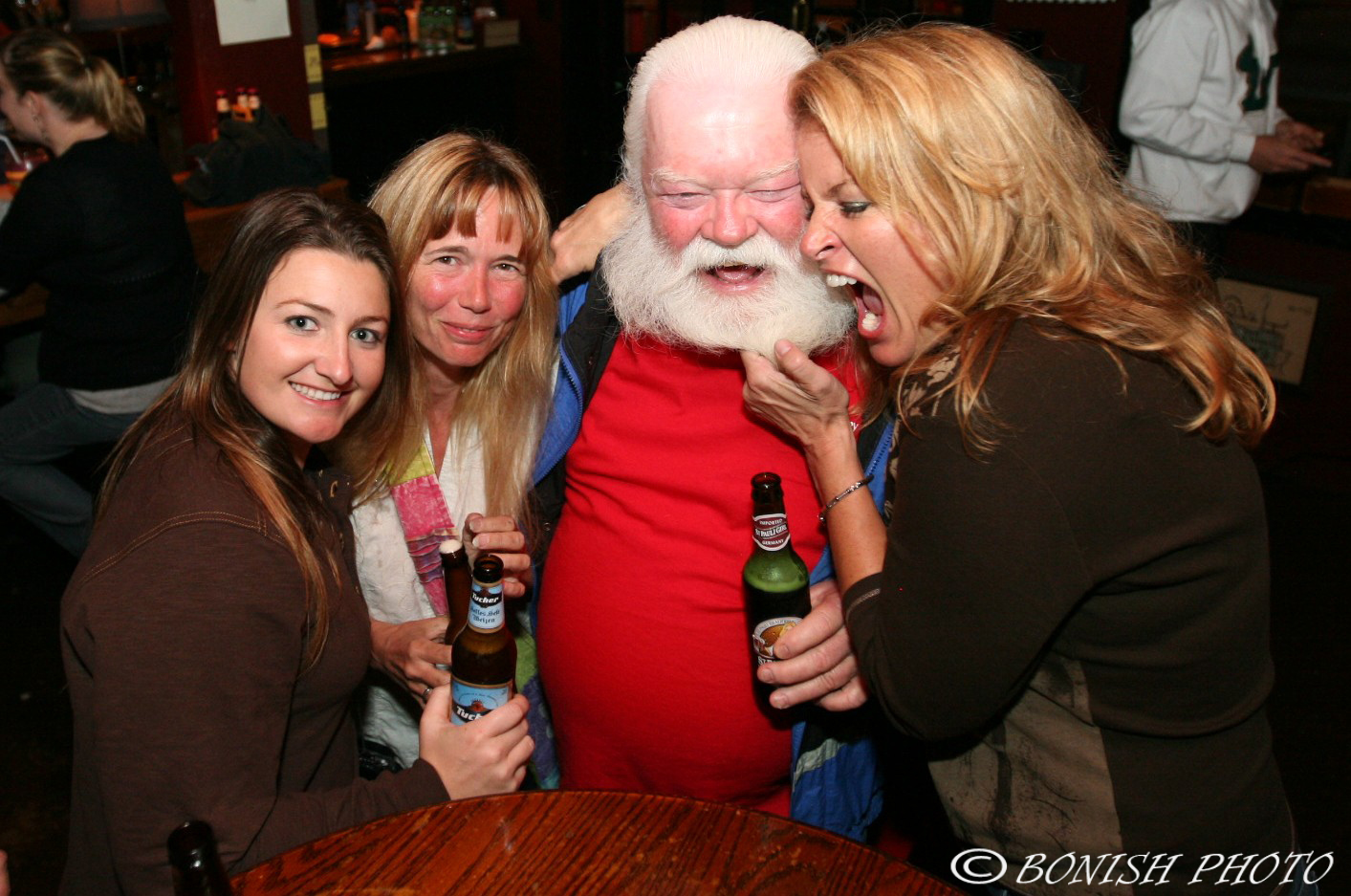 You might remember our friend Bill, which everyone in Cedar Key knows as 'Santa' from his last visit around Christmas time. We had all went downtown as a big group and partied in every bar in Cedar key that night. I think the photo of Cindy eating Santa's beard received more comments than any other photo I've ever posted to Facebook.
Bill is known around town because he loves to party. When ever he visits Cedar Key, everyone in town is usually hung over on Monday morning. Most of the bars run out of Patron due to Santa buying round after round.
Whenever he comes to Cedar Key, he stays at the Low-Key Hideaway with Cindy and I. This weekend we were booked up, so he was staying at another hotel in town but had called Cindy and I to ask if we'd join him and his friend Nancy for this benefit dinner.
Margo Anderson is best known for her Patsy Cline impersonation. She's played with many performers all around the United States and sells out the Island Hotel every time she comes to town.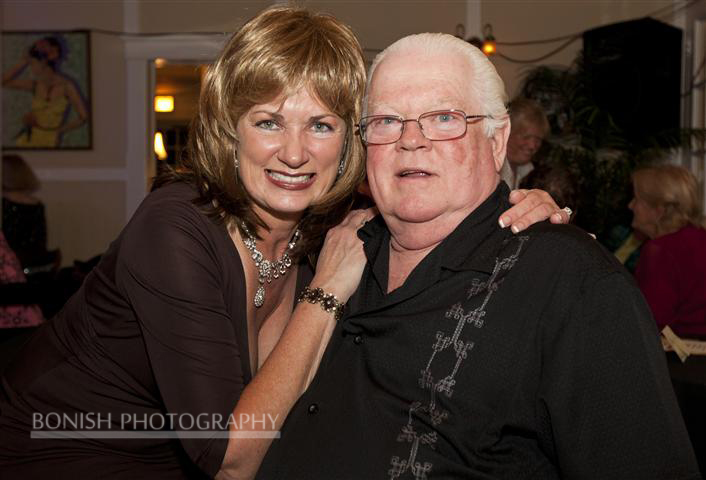 Margo Anderson & Bill...AKA Santa
Tonight she'd be paying tribute to Barbra Streisand and Celine Dion. The show was sold out and everyone in Cedar Key was there. It also brings in plenty of folks who come to town just for the show. The benefit was for Hospice out of Chiefland.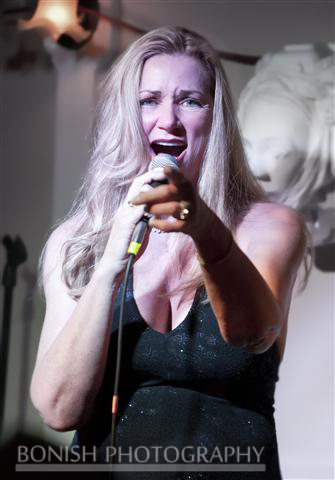 Dinner was served before the show started and we were sure to get our fill of our favorite burgers in town. It was funny to be sitting with Bill because every person who would walk past would stop and say "Hello Santa, thanks for the round of drinks last night!" Many women wanted their pictures taken with him and all the men were happy with a shake of the hand. I guess you never get over the feeling that there might be a real life Santa Claus, so you never take the chance to thank him and show him you've been a good boy or girl.
Funny part was Bill told us he shaves his beard off once a year to let it grow back and stay healthy, and this was one of those times he was beardless. It didn't matter, everyone still called him Santa even without his signature beard.
We were sitting right beside the sound guy, who was also Margo's husband. Lee and I were talking cameras and he was asking me all sorts of questions about how I was going to be able to take photos without using a flash.
I explained that the lens costs a few grand and he about crapped his pants. He just said "Heck, I'll just hire you to take the photos then."
Once the show got started, we were just getting into the 3rd song when I stood up to take a photo. As I stood, my chair slid forward and while I was trying to focus on Margo who was under the stage lights, everything went dark. I pulled the camera away from my face thinking the batteries had died when I noticed the music had stopped too.
I felt a tap on my side and heard Lee say "Hey Asshole, you just unplugged the sound system."
Just then, Cindy yells out "That was Pat Bonish!" as everyone followed her announcement with cheers while we waited for Lee to get the sound system back up and running.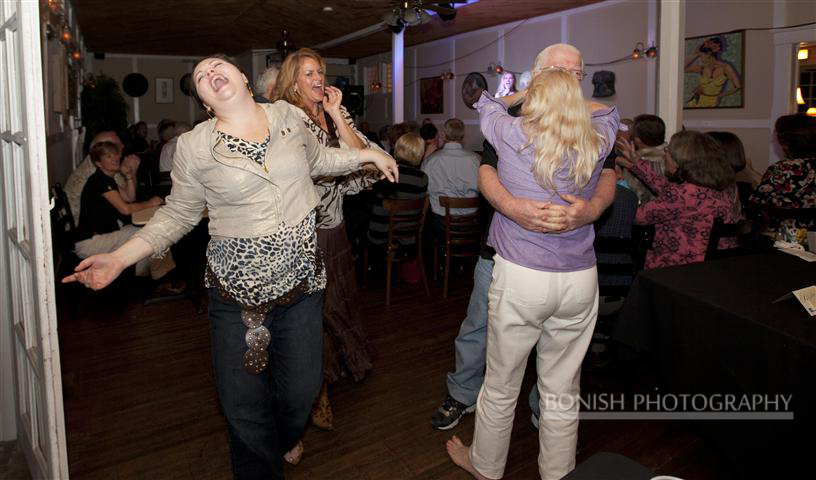 The rest of the evening was spent listening to good music, dancing with my beautiful wife, and watching every woman in the place come over to dance with Santa.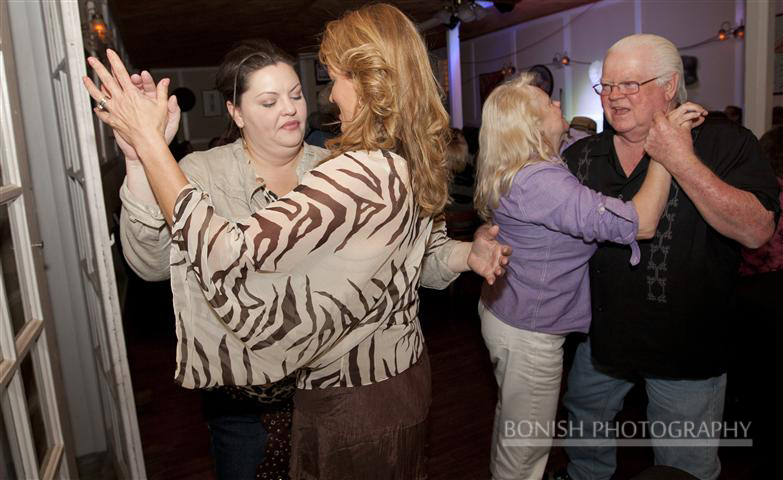 No One Could Keep their Eyes off Cindy...LOL
When the show finally ended, Bill and Nancy asked us to come back to their motel room for a night cap. Not that I needed another drink, but we went anyways.
We walked to two blocks to Natures Landing Condo's and tried to unlock the front door. Bill stepped back and said "That's weird, my key wont work."
I tried and it wouldn't even turn. I pulled out my knife and was in the process of jimming the lock when I stopped and asked "Are you sure we're at the right door?"
He looked at his key and said "Look, it says the same number as is on the door." I looked up and noticed it did say the same number, but I questioned if we were at the right building because they all look the same.
Cindy walked over and looked at the building number and started laughing. She told me to move away from the door because more than likely, I was trying to opening up someone else's hotel room door.
We walked to the next building and guess what, the key opened up the door on the first try. Thankfully I never got the door opened on the other building or it would have been an interesting night as four drunken strangers came barging into someone else's hotel room.
We ended up sleeping on the couch at their place after many laughs and some more food to sober us up.
Wednesday February 22nd - Final Push on the Book Project
We were all up bright and early this morning. Yesterday was a such a slow start due to figuring everything out. By this point, we were working really good together and were moving right along.
We did run into some issues. My proof was originally only around 60 some-odd pages and I had left out a ton of photos due to that smaller size. I knew I wanted the actual book to be closer to 100 pages so we could include all of the photos we had picked out.
Problem is by mid-morning, we were at 120 pages and still had lots, and I mean lots of images that we knew had to be included, but didn't have any idea where they were going to go.
This meant Cindy and I had to start culling images, which is something we didn't want to have to do. It also meant Adam had to re-adjust the books layout because when you add more pages, it increases the thickness of the spine.
So that took up time to go through and adjust the page dimensions and sort through images we either had to leave out, or re-configure.
While Adam was making all these adjustments, I ran into town to get fuel for the boat and packed up a cooler. We were still going to try and head out on the water even if it meant we'd be a few minutes late.
At 2pm, we were at 135 pages and after doing some serious photo selection and culling, we had it about 99% finished. Cindy was getting stuff packed up when I came in and said "Hold up, it's starting to sprinkle outside, so we might want to hold off a few to see which direction this weather is going."
Cindy said "A little rain wont keep us from heading out on the water!"
About that time, we heard a loud crack of lightning and the sky opened up with buckets of rain. Something told me the boat ride wasn't going to happen.
We finished up the last few pages while Cindy mixed up some drinks. Adam asked if the tiki bar was going to open up tonight and I said "No, not with this crappy weather."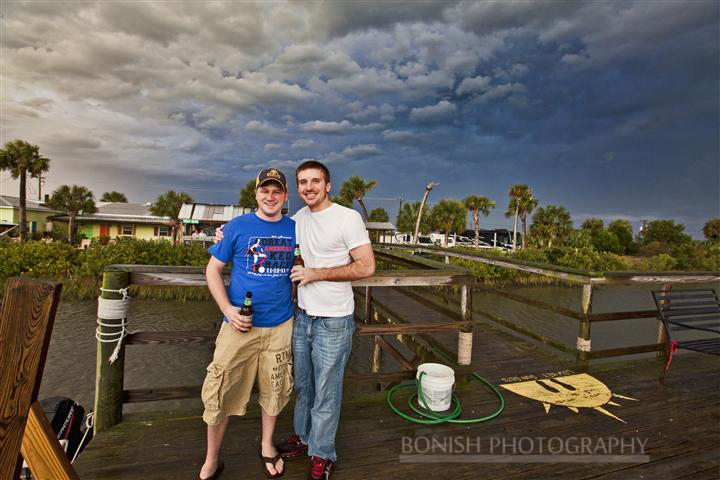 Adam & Shawn on the dock during the storms
We looked outback to see about 10 people sitting in the tiki bar watching the rain and storms pass through, so we felt we should go join them. The storm clouds passing overhead were wild to watch. They were very fast moving and one side of the island was pitch black with dark clouds and lightning. The opposite side was blue sky while another portion of the sky had an eerie glow to it.
We had some drinks while the crazy weather blew through, but when it started pouring rain again, we all headed back inside. It was like a giant weight had been lifted, and we were all ready to head into town for some dinner and many celebratory libations.
Our first stop would be the Island Hotel, where we nuzzled up in the corner of Neptune's Lounge and listened to the blue grass music play. Cindy had been telling Adam about the burgers here because while we owned the Red Dog Saloon, we won many awards for our hamburgers.

Shawn, Adam & Cindy in Neptune's Lounge
So burgers were ordered by all 4 of us and while we waited, we talked and mingled with some more locals and enjoyed a night out in Cedar Key.
When we were all finished eating, we left Neptune's Lounge and headed onto Dock Street to see what was happening. I guess with the crummy weather, everyone had stayed home because most of the restaurants had closed up. The Black Dog was open, so we stumbled in and grabbed some beers.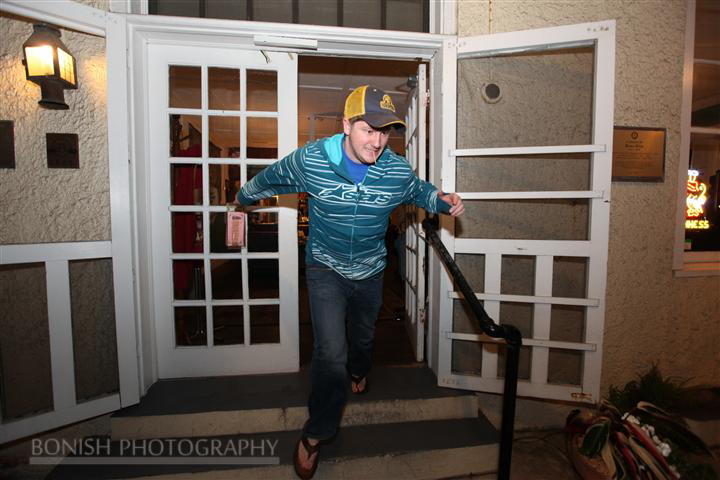 Adam running out on the tab...Just Kidding
The next hour was spent playing darts and laughing till our sides hurt. I'd like to say that Adam and Shawn won the dart game, but I'd be lying.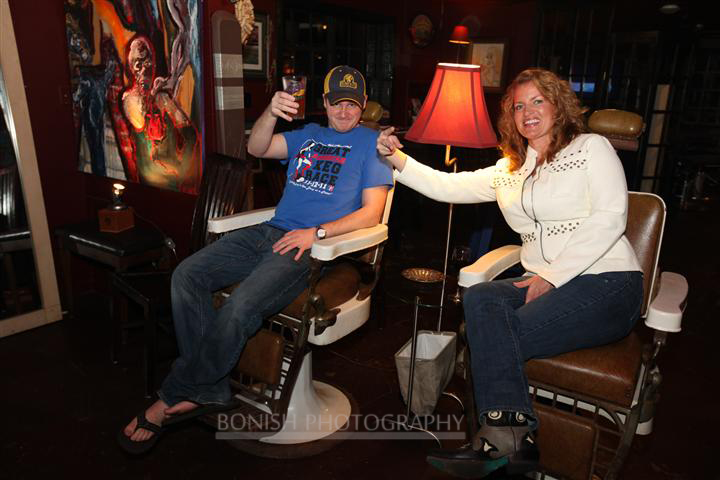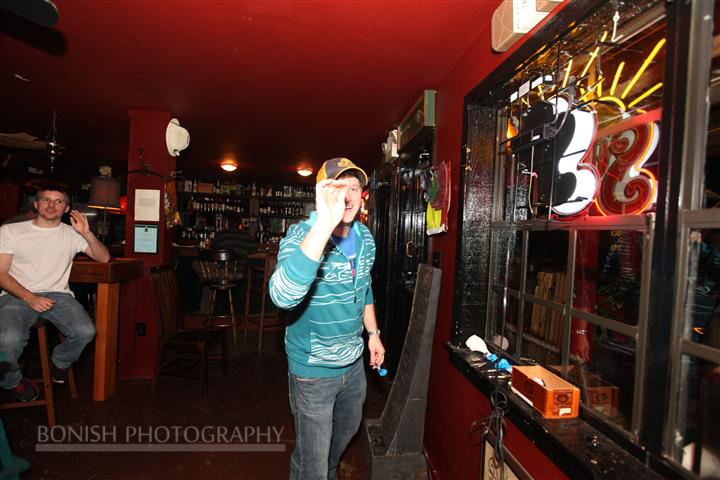 From the Black Dog, we headed back home and finished the night with testing our balance while playing Wii Sports. This is much more fun than you think it is after a long night of drinking. Especially when Cindy and Adam are pretending to be commentators with the Karaoke Microphones.
Tuesday February 21st - Long Day of Work
We were at the kitchen table at 7am this morning. We had multiple computers laid out, hard drives scattered about and our kitchen resembled a make-shift computer lab.
Cindy's agreement was if we could get this thing busted out in a few days, she'd make sure we never had to ask for anything during the entire period. So our coffee cups were kept full, breakfast, lunch and dinner was all served right at the table and I think we logged almost 12 hours at the laptops.
The day started somewhat slow while we got the pages laid out and figured out the dimensions the printer had sent over in their requirements. We had to get a rhythm going, but once we did, the book started flowing like a well oiled machine.
Cindy asked around Lunch how we were doing, and looked worried when we told her we were only on Page 10. But by 5pm, we were almost to Page 50.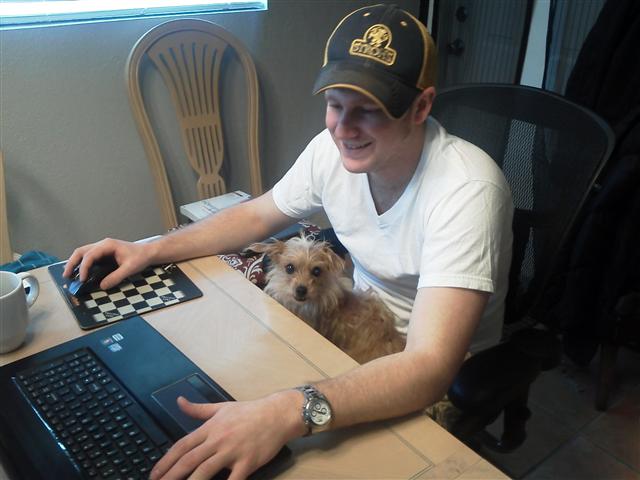 Remember Little, the dog that was afraid of men? She got over that and spent most of the day on Adam's lap keeping him warm and overseeing the computer work
Adam had asked if he could have a friend come visit from hi college days. One of his college room mates lived down in Boca and had a few days off, so he drove up to visit. We joked that their room was only a King Suite, so they were going to have to snuggle, but we promised we wouldn't tell anyone.
Adam said "I told Shawn he had to bring an air mattress!" We all laughed because he was sleeping in the newly remodeled room that had the King Sized Tempur-Pedic bed, and he was going to make his friend sleep on an air mattress.
It was foggy all day and crappy weather, so I wasn't too worried about spending the entire day inside. We were going to try and make a solid push tomorrow and be finished by 2pm, when High Tide would allow us to take the boat out and celebrate. Adam said he was jonesing to be on the water after looking at all these photos.
Cindy finally made us quit working around 7pm when she had dinner ready. Grilled Burgers with some red-skinned potatoes and we were soon in a food coma.
We finally called it a night and sat around talking and sharing funny stories till we hit the sack. I had zero trouble sleeping tonight and was actually worn out from our partying last night mixed with the long day of work today.
Monday February 20th - Starting on the Cedar Key Book
Cindy and I have been working on our first self-published book for months now. I've had a proof printed. Talked to some locals who all think the book will sell well here in Cedar Key, and lined up a printer to have it come to life.
Problem is the companies you find online that make the software so easy to use to make simple one-off's; well that software isn't savable so I can send it off to the printers.
You need to be able to use one of 3 different programs that the printer requires. I don't know how to use any of these 3. I checked into taking classes, but this would be a month long class and would cost over $1000.
I'd like to have the book done as soon as possible.
I made some phone calls and found that a friend of ours, someone who had worked for us when we owned the Red Dog Saloon, also worked with us when we ran The Lowdown Magazine, actually went on to school for Graphic Design and knows the program I need to build the book.
I called up Adam and explained what I needed done. He felt that he could get it finished in a few days time if I had all the photos ready to go, and had all the text laid out. I asked if it would be easier for me to fly to Michigan where he lives or if he wanted to fly down here.
He laughed and said "Wait, you fly to Michigan in February or me fly to Florida in February?" I guess he was flying here.
So I picked Adam up from the airport this afternoon and we got back to Cedar Key just in time to see the sunset with Cindy.
We all headed into town to grab some food and catch up on our last few years apart. After we left for our adventure, Adam went off to college and graduated with his Bachelor's degree. He has a job in his chosen profession which is almost unheard of with today's graduates, especially in the design and graphics field. I guess this shows his skills and how good he is at what he does. I know we were certainly excited to have him working with us on this project.
We started at Brian's Big Deck on Dock Street and had a few drinks while watching the last few rays go to sleep over the Gulf of Mexico.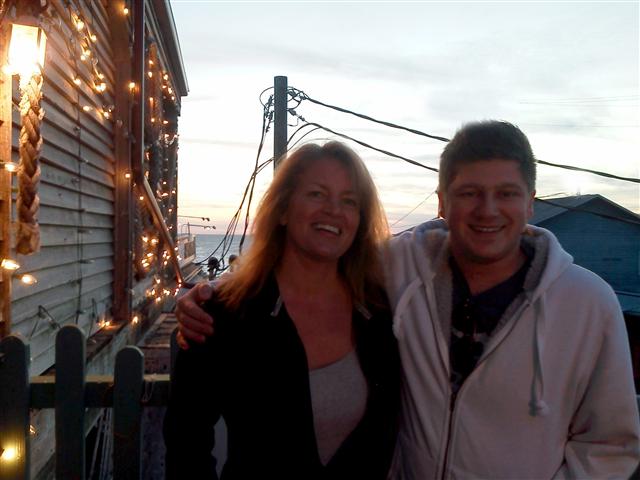 From Brian's we walked across the street to Steamers where we had some dinner before heading home. Cindy kept wetting Adam's whistle with talk of Karaoke and Just Dance 2 on the Wii. She has a tendency to find people who enjoy these sorts of games and when she realizes they're like minded, she goes non-stop till they fall over.
When we got home, these two children started playing Just Dance 2 on the Wii, but also had the microphones from the Karaoke machine in their hands and were singing along with the songs on the game over the speakers of the karaoke. I proceeded to sit on the couch with the dogs and laugh my butt off at them.
I wondered at what point we were going to get a knock on the front door from one of the guests or from the police saying they had a noise complaint. I have went outside on a different occasion to see how loud it is and I think the block construction of the motel does a good job at deadening the sound. So I wasn't too worried about disturbing any of the guests.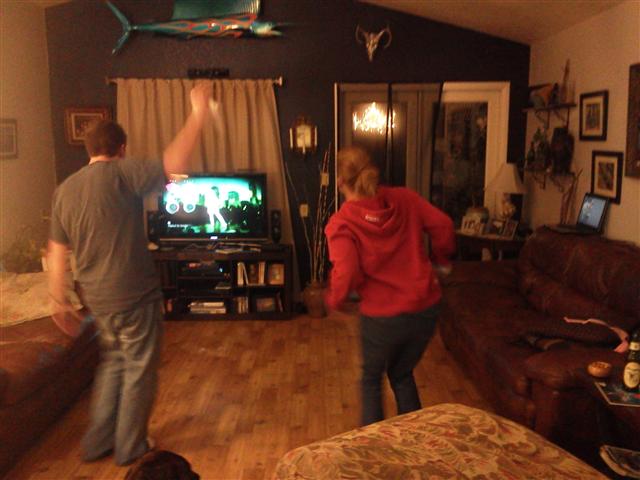 Crappy Cell Phone Picture, but you get the idea
Notice in the photo that they're competing against one another, and they're supposed to be doing the same moves, yet they're 180 opposite???
Sunday February 19th - Cancelling Yet Another Tour due to Weather
We had another sunrise photography tour scheduled for this morning, but as Heath and I sat talking to one another while looking at the radar at 5:30am, there was a small craft advisory, a wind advisory and a fog advisory all set for Cedar Key! WTF is up with that?
We called it quits and everyone went back to bed. It was a good thing because I wasn't looking forward to being back out on the water for another day of fog and zero visibility.
We tended to the motel and the cleaning of rooms since Amber is still home tending to a sick child.
By mid afternoon the weather had lifted somewhat, so I suggested to the photographers who had wanted to go on the sunrise tour that we head out and see what we could see. They were staying here at the motel, so I could just go knock on their door and I had the boat tied to the back of our dock.
A little over an hour on the water and except for an Osprey and a few birds fighting the winds, we came home skunked with out tails between our legs. The winds were awful and the chop on the water was keeping everything huddled tight on the sand bars.
I guess it's the one reason I love photography so much. If every time you went out, you came home with knock out images, it wouldn't be all that much fun. I like that its such a challenge. I can go out hundreds of times and every single time is different. There are times we never take the cameras out of the cases and times when we run out of memory on the compact flash cards.
It's those amazing days that tease you with near perfect conditions that keep you coming back during all those really crappy days like today.
Oh well, there is always tomorrow to try again.
Saturday February 18th 2012 - A Full Day on the Water
We had another sunrise boat tour scheduled this morning. The weather wasn't looking to promising, but when we arrived at the dock before sunrise, we could see stars in the heavens with some scattered clouds blowing quickly overhead.
I personally like clouds in the sky for my photos. I especially like an overcast day because it acts as a giant light box and evenly distributes the sunlight. Studio photographers go to great lengths and spend thousands of dollars to buy light boxes big enough to evenly distribute their lighting. On an overcast day, Mother Nature is providing the light box, so use it to full advantage.
We loaded up with a very nice couple that was visiting from the mountains of North Carolina. Elizabeth is learning photography and very eager to absorb any information I could provide to her.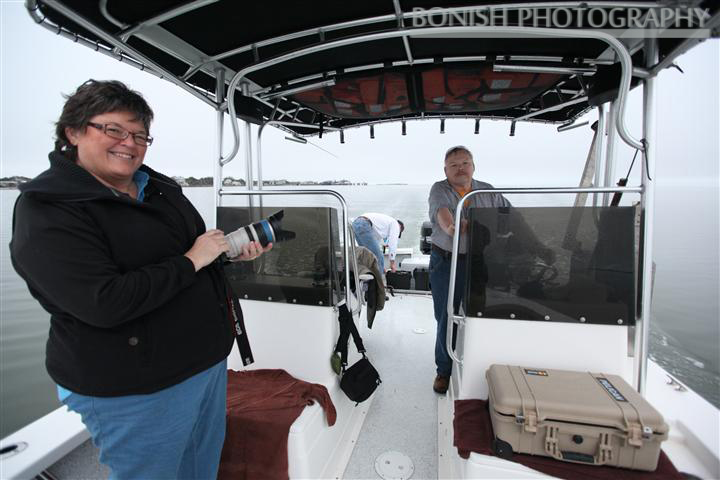 Elizabeth and Tom on the Water in Cedar Key
While Heath motored us out to some areas we expected to see some birds, Elizabeth and I went over camera settings and talked about the cameras functions.
As the morning got lighter, the dreaded fog started to roll in. We had hoped that the sun would burn off any fog that was lingering around, but the opposite was happening. As the morning grew longer, the fog got much thicker.
It would come rolling through in waves. One second we could see the horizon miles away, but a few minutes later, we'd be cloaked in a thick, wet fog that would leave us blindfolded with visibility about 20' out from the boat.
While motoring over to one of the reefs we knew the birds would be sitting on, we stopped by the Clam Leases and spoke to one of the local clam farmers. Elizabeth and Tom had been asking us numerous questions about the clams and how they were grown. Since one of Heath's many professions is Clam Farming, he was doing all the explaining when it came to that portion of the tour.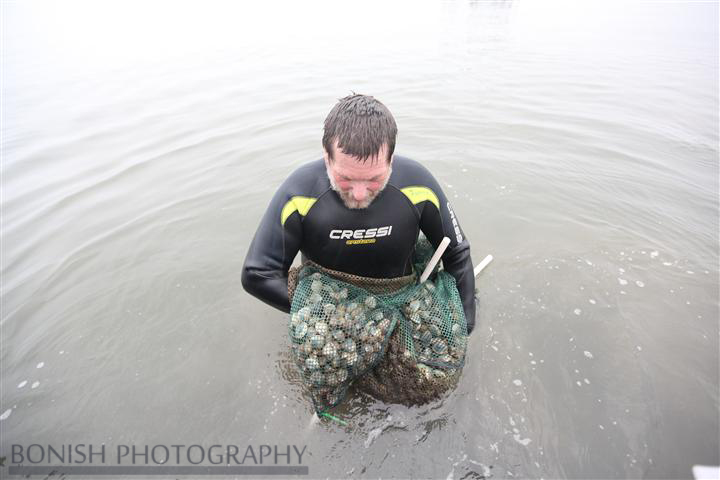 Mr. Jimmy on the Clam Lease with his bags of clams
Mr. Jimmy, the clam farmer we were talking to brought over a big bag of clams that was ready to be pulled and sent to the market. He was even nice enough to pull out a few handful's and give them to Elizabeth and Tom so they could steam them on the grill later for lunch. We thanked Jimmy and headed off to look for some birds.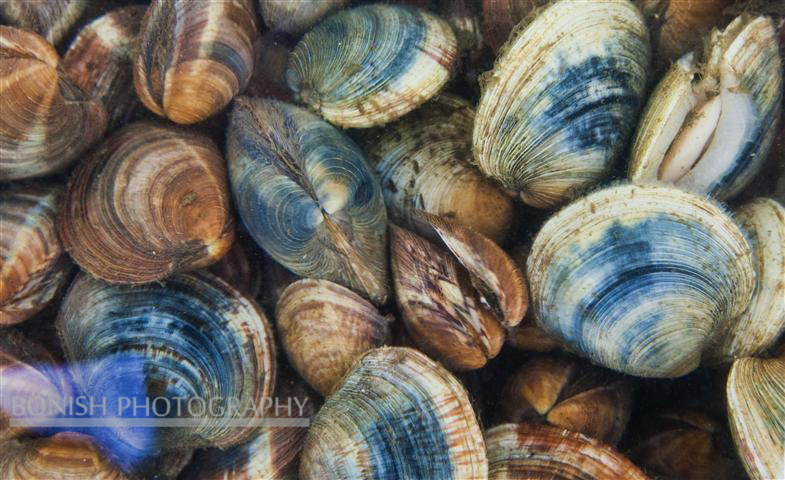 We found some big flocks of white pelicans and waited for the fog to roll on through so we could get some photos. While we waited, we all sat around talking about small town life in Cedar Key. Elizabeth was full of questions and between Heath and I, we do a good job of answering both sides of any question. Heath can provide one aspect since he's been born and raised here on the Island. His family dates back over 8 generations and has roots in almost everything you see in Cedar Key.
I can provide the outsiders take on it, but one who has immersed themselves into the local culture and heritage. Cindy and I love learning about what makes Cedar Key so unique, so we don't always get shunned like so many outsiders do who come in asking so many questions but don't really want to hear the answers.
Elizabeth was amazed to find out that she was on a boat with an actual clam farmer, a local who had lived in Cedar Key his entire life and the towns Mayor.
When I told her that Heath was the mayor, he laughed and said in his thick Southern drawl "Well Ms. Elizabeth, that title isn't as prestigious in this town as it might be in others. Here in Cedar Key, most look at it as a sentence rather than a title."
We all had a good laugh at that one.
With the fog so thick around us at this point you cut cut it with a knife, we were sort of at a loss as what to do. Luckily Heath's boat has a big GPS monitor so we can navigate back to the marina without even having to look up.
We normally use an iPad on the boat with Google Earth pulled up because it's much more detailed than the normal GPS and the screen is so big. With crazy weather like this, where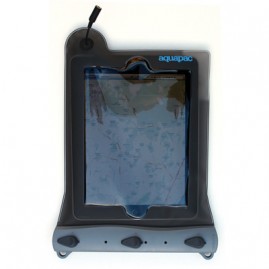 everything is somewhat wet, it's probably not a good idea to pull out a piece of computer equipment that isn't rated for wet weather. Because of this, when we got home today, I went online and ordered a Aquapac Waterproof Cover for the iPad.
I figure since we have used some of Aquapac's products in the past and know they work really good, we'll give this one a try and see if it allows us to keep the iPad out no matter what the weather is. Aquapac claims it will be "Protected against long periods of immersion under pressure - The case is suitable for immersion for at least 30 minutes to a depth of 15 feet/5 metres".
I figure since we only need it to be used on the boat in wet weather, and don't plan on going swimming with the iPad, it will be total overkill, but why not play it safe. Once we get it and put it through the paces, I'll be sure and give a full review of it.
We all agreed that we'd start heading back towards the docks since the fog was so thick. By this point, we had been out for almost 3 hours. While motoring back, we had a pod of Dolphins swim up beside us.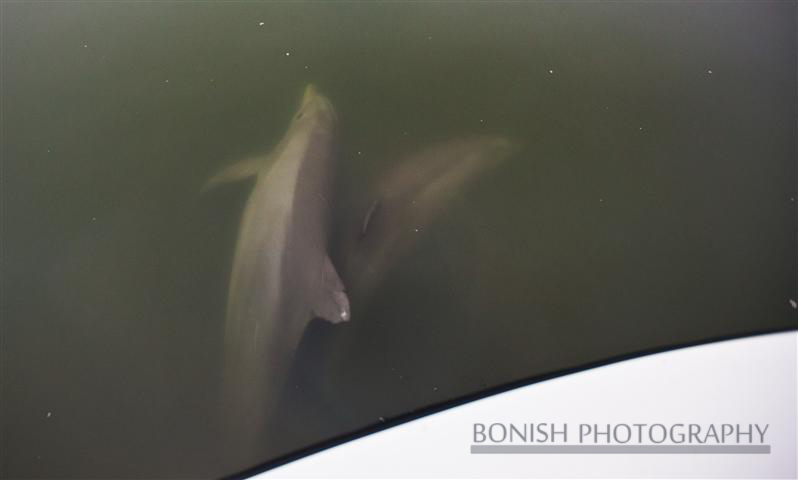 Dolphin Swimming beside the bow of the boat
Heath lowered the motor to create a big wake and right on cue, the acrobatic mammals were all jumping and surfing in our wake.
Elizabeth, Tom and I were all taking photos of them playing while Heath navigated the boat through the fog. It was a very surreal scene because you couldn't see too far beyond the wake. So it gave the illusion that we were driving away from a big white screen with dolphin jumping in and out of it.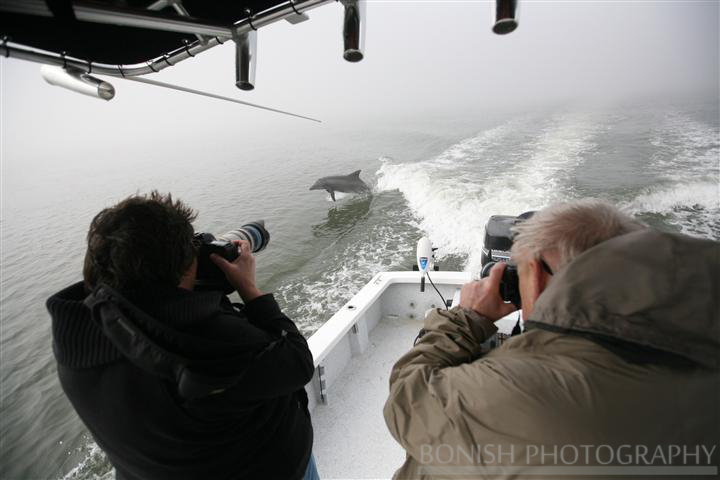 Elizabeth and Tom photographing the Dolphin playing...Notice the fog and our limited visibility
At one point, there were 9 dolphin jumping in our wake. Around that time, we heard Elizabeth scream in a very loud, excited voice, "HOLY SHIT! This is so amazing!" That had us all laughing pretty hard. But I guess for someone from the hills of North Carolina, having a pod of dolphin jump behind the boat at such a close range, to the point that when they landed, we were getting splashed, this is a monumental moment.
Don't get me wrong, it's still just as exciting for me and I cant see it ever getting old. One of the dolphins was jumping way out of the water and was much smaller than the rest. We figured this one was probably a baby because of it's small size. When it would come out of the water, it would squeal in that signature dolphin noise you've heard them make. Each time I'd hear that sound, it would put a smile on my face from ear to ear.
It was as if the dolphin was having even more fun than we were and reminded me of the commercial on TV where the pig is squealing "Weeeeeee, weeeeee" as it rides the zip line.
When the dolphin grew tired of us, we slowed down and all exchanged high fives. Heath told us they had been playing in the wake for over a mile! We turned the boat around to head back to the docks since we had bypassed them because of the show going on behind the boat.
As we turned around and started heading back in, they came up again and started jumping right back in the wake.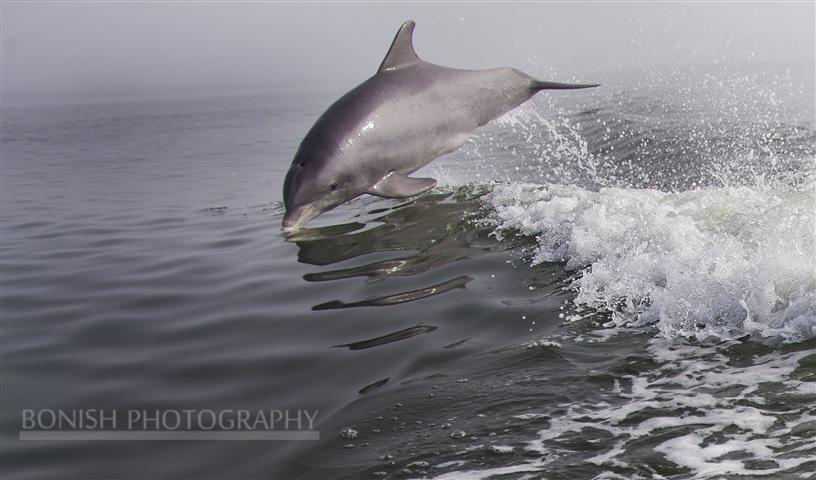 They followed us right up till we had to slow down because we were approaching the docks. It was a great morning on the water and everyone went home very happy!
We got Elizabeth and Tom off the boat and tied it up to the dock. I unloaded my camera gear and headed home for some breakfast.
We had another tour scheduled right away, but I called and rescheduled it for later this afternoon hoping the fog would burn off as the day grew longer.
We had a few rooms to turn over back at the motel and while Cindy and I busted that out, I charged up the camera batteries and cleaned the Compact Flash Cards so I'd be ready for the afternoon tour.
While I was home working, Heath never got off the water. The local tour boat operator, Tidewater Tours, needed an extra Boat Captain because of how busy Cedar Key was this weekend, so Heath tied up his boat and ran one of their boats till our afternoon photography tour was scheduled to leave the docks.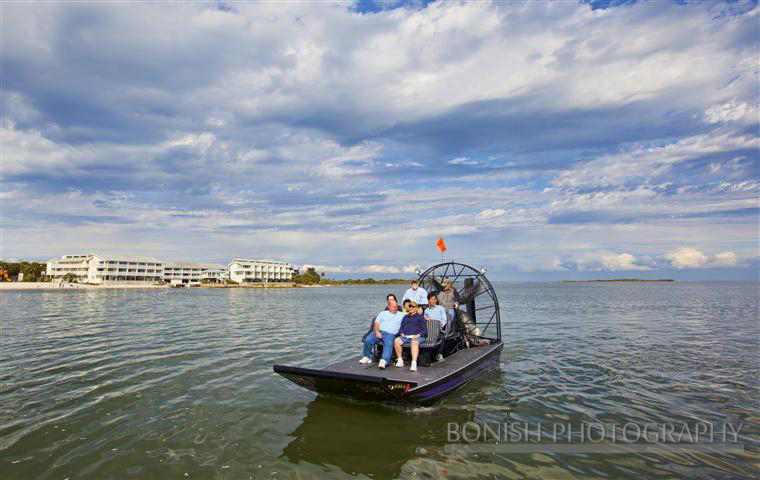 The Tidewater Tours Airboat coming back into the Docks in Cedar Key
When I came back down to the marina at 3:30, the day had cleared up nicely. The fog had burned off and we now had a beautiful backdrop of big, fluffy clouds on the horizon.
Our next couple, Kim and Pete, were another pair of photographers who were interested in learning some more skills to better their photography. When asked what they wanted to photograph, they didn't give any specifics, they just said "Anything that is interesting."
Photographers can be tricky. Some like very specific subjects while others, like me, could care less what you show them, they'll find something in each scene to make images from. If you have a artistic eye, you can see beauty in almost everything you look at.
We headed out from the docks in search of interesting things. The afternoon weather was nice and warm with cool breezes blowing across the Gulf of Mexico. You'd go from sweating one second to having to put your jacket on because of the temperature changes the next second. It was an interesting afternoon to say the least.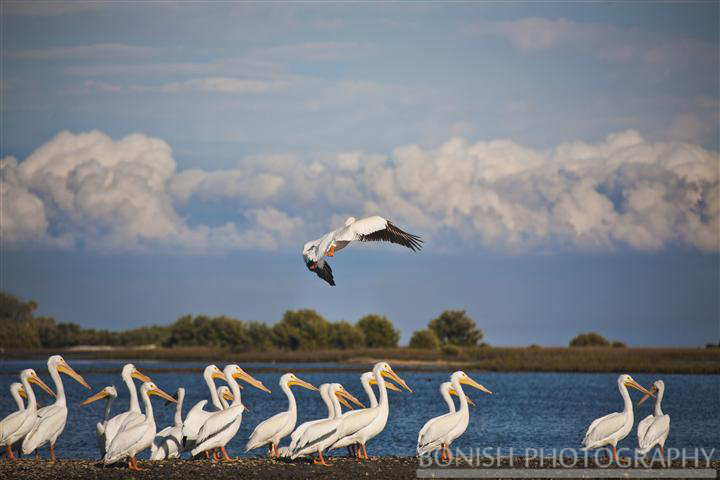 We found some big flocks of white pelicans that were lit perfectly in the afternoon sunlight. We found a Bald Eagle's nest, but the giant bird sitting in a nearby tree wasn't really interested in us and was sitting too far from the shore to get good shots of.
While motoring from one side of the chain of islands to the other in search of interesting things, we shared stories of past travels and talked photography. I explained settings on their cameras and why certain settings would produce different images.
As the sun was starting to set to the West behind North Key, we found a pod of dolphins that wanted to play in the wake.
Heath created that signature wave they love to play around in and the cameras started clicking away. Kim had only bought her new camera yesterday, and when she told me this, I promised her we'd break it in properly.
We had about 5 dolphin jumping behind the boat and one was way more excited than the rest. It kept jumping clear out of the water into the air, it would turn sideways so when it landed it would create a huge splash. Each splash would soak the back end of the boat, but when you're seeing it happen, you could care less about getting your camera equipment wet.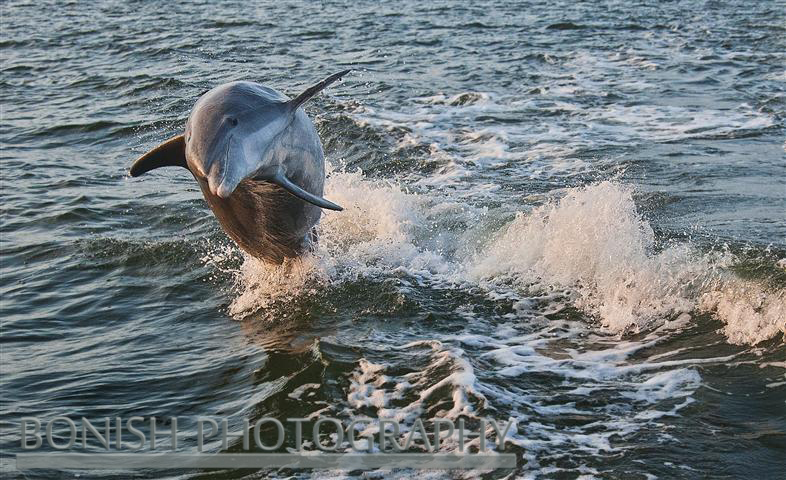 We watched the dolphin play in the wake as the sun set at the same time. It was a pretty amazing evening and life on the water was as good as one could hope for.

Giant Splash from the dolphin jumping!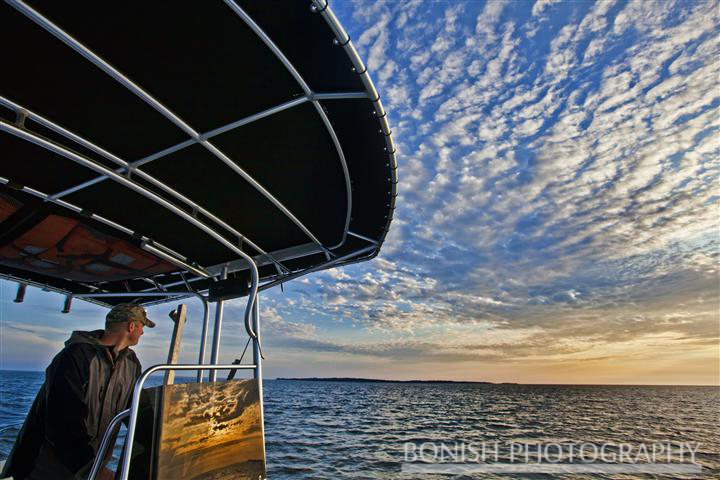 When we finally got back to the docks, we were all happy and had some great stories to talk about to go along with our outstanding photos. Kim and Pete went into town to get some dinner, Heath took the boat home to the lift and I headed home to relieve Cindy from the Tiki Bar.
By this point, I'd spent over 8 hours on the boat and Heath was pushing 12 full hours. Not bad for a days work in Cedar Key.
Friday February 17th - Crazy Weekend Weather Arrives
This morning we had a Birds Over Water tour scheduled. We met down at the docks at Sunrise, but some crazy weather had blown in and visibility was about the end of the dock.
Neither Heath or I felt comfortable taking the peoples money to go for a boat ride where you couldn't see much further than the front of the boat, so we apologized and said the tour was cancelled.
I felt bad because the photographers were only here for one day, so it wasn't like we could reschedule for another day once the weather would clear up.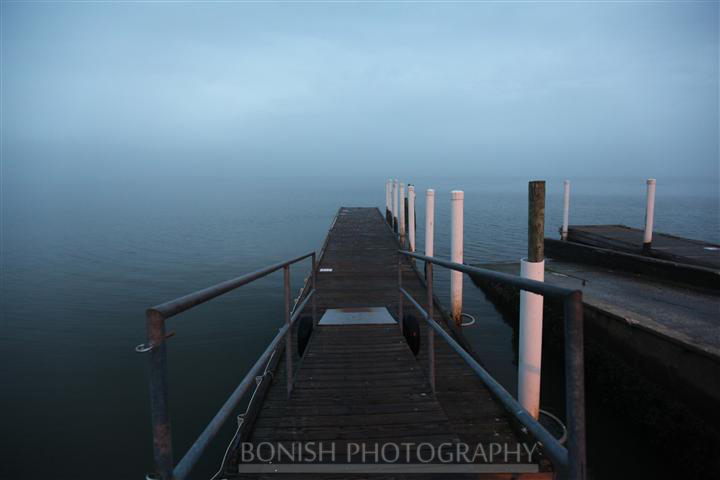 Not a Promising Day on the Water for Photography
After they walked away and got back in their car, Heath suggested we go out just to see what we would have seen so we'll know in the future what to do with a weather situation like this.
We motored around the islands under a thick layer of fog. The weather had the birds acting really weird and I guess I've never been out in this thick of a fog to realize that birds dont fly in it.
We kept motoring right up to big flocks of birds that were just floating on the water rather than foraging or hanging out on the sandbars where they normally are. A flock of White Pelicans was on Atsena Otie Key, which would be a first for either of us to ever see them there, and huge flocks of Double Breasted Cormorants were seen floating in the channels looking as confused as we were.
We both agreed that we were glad we had cancelled the tour because I would have felt really guilty taking someone out and not having them see anything. The entire time we were out on the boat, I never took the cameras out of the safety of the Pelican Box and everything was covered in a thick layer of dew. It was the equivalent of being in a light rain, even though it never actually rained.
The rest of the day was pretty crappy weather wise with rain on and off. This is good for our area since our water levels are so low, but bad for anyone visiting and planning on being out on the water.
Cindy also went to the doctor today because she's been feeling under the weather lately. The doctor told her she has a double ear infection and a sinus infection. She got some antibiotics and was sent home to get some rest.
That would be fine if Amber's child wasn't sick, which means the work load is thrust back upon Cindy and I with a fully booked weekend at the motel, and 3 more Birds Over Water Tours scheduled along with the Tiki Bar being opened each night. Rest...Cindy just laughed at the Doctor and said "Can you put that in writing so I can give it to my boss when I get home."
Wednesday February 15th - New Artwork/Trash
A long time ago we were out on a boat in the back bayous of Cedar Key with Danny when he showed me a Drop Tank off an old plane that had washed up on one of the deserted islands. When he showed it to me, I told him I wanted it to put in the yard at the Low-Key Hideaway as a decoration.
The other day he showed up and asked if I was serious. He said if I really wanted it, he'd go out and get it for me.
So last night, he shows up with it on his airboat and dumps it off in our back yard. Oh the ideas I'm having for this are limitless. We've already come up with so many different ideas and at least a dozen people have come by just to look at it.
The markings and name plate riveted to the aluminum shell says it holds 320 gallons of fuel, it was made in March 11th of 1963 in California and is 'Property of the US Government'.
The inside is currently filled with foam, so either it was a dummy tank, or someone else was using it as a dock float or attached to a boat of some sorts?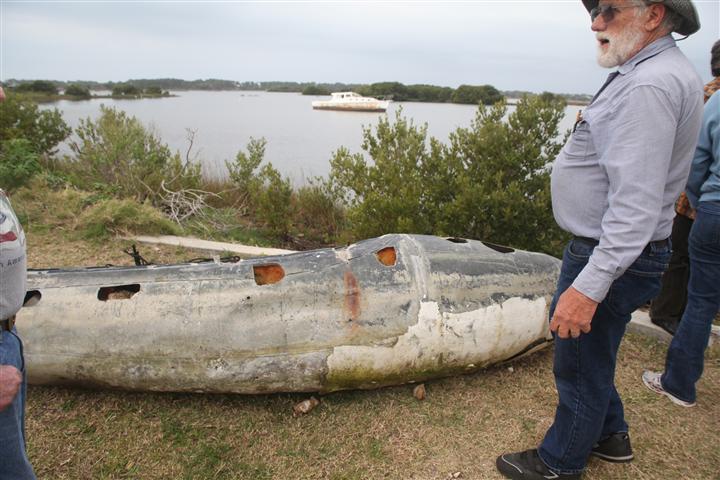 It's about 10' long and has a bunch of holes in it. Some have been cleanly cut, others look like parts were ripped off due to force. It'll be interesting to see what we come up with once we figure out what to do with it.
Pat and Barry finally arrived back in Cedar Key and it was good to catch up on ol' times. We all hung out at the Tiki Bar last night along with a bunch of other interesting guests visiting right now.
Monday February 13th - Getting Ready for Season
Heath and I have been slowly outfitting a couple of his boats for our Birds Over Water tours. We've tested multiple electric trolling motors with different set-ups to see which ones will push the boat, yet keep quiet as to not disturb the birds we're trying to photograph.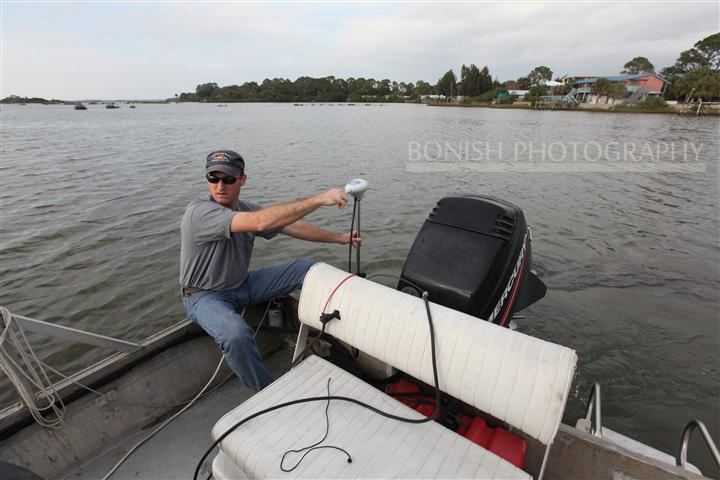 We've been taking the boats out despite how friggin' busy both of us are, and we think we finally have the system perfected. We went with the largest thrust they make in a trolling motor and had to have 3 Group 27 deep cell batteries to be able to keep us going for hours at a time.
I'll keep everyone updated on how this works out over the next few tours.
Some recent shots from the last few days while out testing!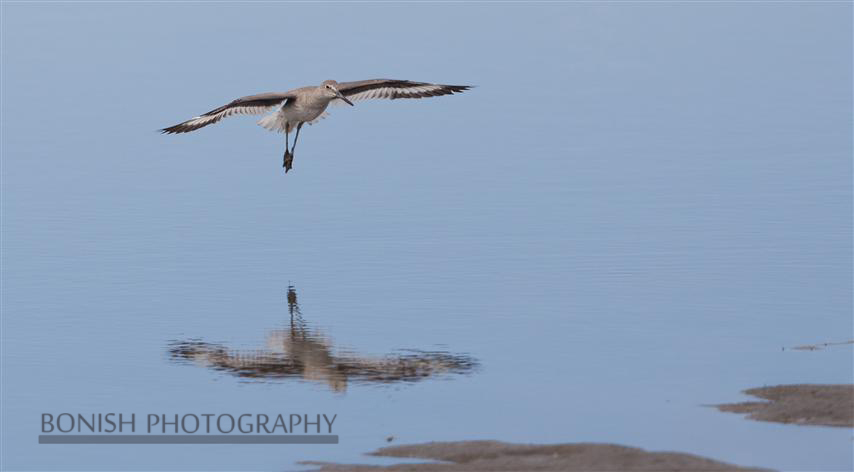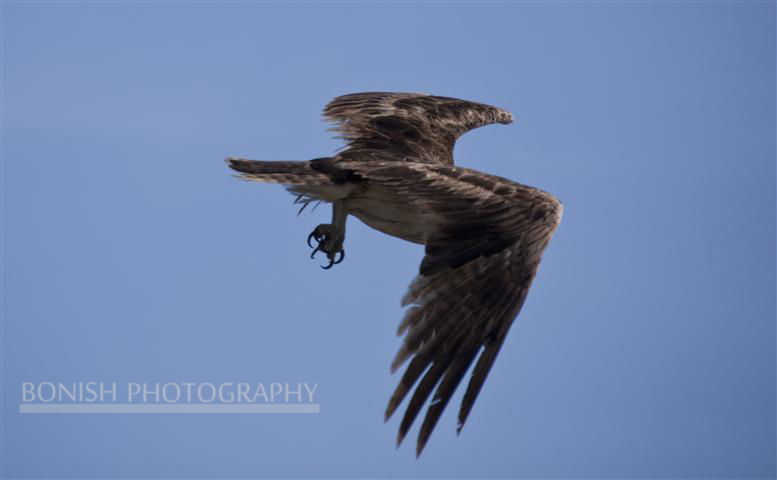 Saturday February 11th - Strangest Day Ever
Cindy and I have some crazy days, but today will probably go down in history as one of the strangest we've had.
We had gotten a call from Budget Travel Magazine who had asked if they could send a writer out to do an interview with Cindy and I about the motel, probably because of our nomination as the 9th best place to stay in the United States if you're looking for a bargain on Trip Advisor. The woman had told us she'd be here around 5pm to do the interview.
We told her that would be perfect because the tiki bar would probably be full and the sun would be setting and it would be a good time to see the place. The motel is full, so we couldn't even offer her a room to view or stay in but she said that she had to be back down in Miami Sunday afternoon, so she hadn't planned on staying.
I don't think too many people think about how far out Cedar Key is, and it's probably not a good idea to drive out late in the afternoon only to leave and drive home in the middle of the night.
Highway 24 is lined with deer and wild hogs at night and isn't the safest road to be driving down unless you have a big truck with a heavy duty grill guard.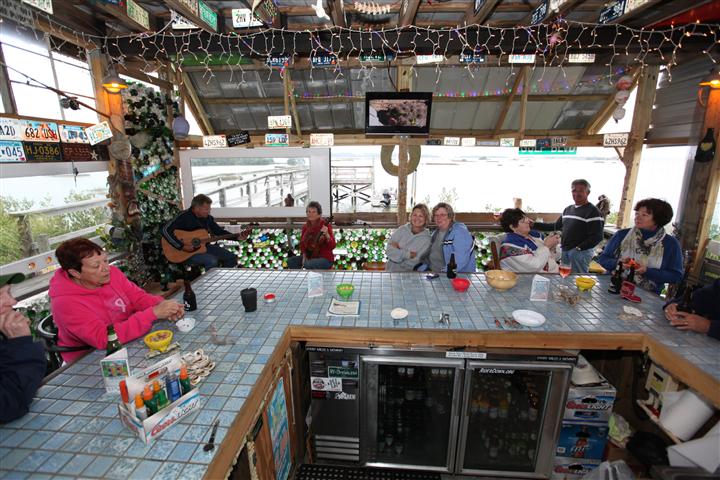 Amber has Saturday's off, so Cindy and I tended to the motel. We only had one room to turn over and we were in and out pretty fast. I have a sickness with the vacuum so that portion takes longer than it should as I normally vacuum all the fan blades, the ceilings, walls and every nook and cranny. It's a good sickness to have if you're managing a motel I guess.
Last night at the tiki bar we were standing room only and had two people playing music for the guests enjoyment. This wasn't planned, but a visitor on Thursday night had stopped by, had a few drinks and said "I like to play guitar, do you mind if I bring it by tomorrow evening?"
I said "That would be great!", but didn't plan on anything because folks say this sort of thing all the time, then never show up.
So when he came walking in with his guitar strapped to his back, I was surprised and excited. Then another guest who is staying in the RV Campground came over to see what was going on, and said "I'm going to go get my fiddle and come back to join him." She would just listen to him playing and find the beat of each song and join right in. It sounded great and everyone really enjoyed themselves.
We figured tonight would be another great night out back. That was till the cold winds started picking up which was dropping the temperatures at an alarming rate all afternoon.
By the time we were supposed to open the tiki bar, it felt like it was 40į outside and the wind was blowing at a steady 40mph. The gusts that were blowing in had the metal roof on the tiki bar sounding like it was straining to stay attached to the rafters.
I went out to open the bar up, but 30 minutes later, I was numb and not a single person had showed up. I put a sign on the door that said "I'm a Pussy! It's too cold and Windy - Go into town and drink at a different bar!"
I came back inside the house and Cindy told me the woman from the magazine had just called and said they were running late and wouldn't be here till 8ish. She tried to call her back and say "If you're coming to see the grounds and the motel, by 8pm, it'll be pitch black outside, the rooms are full so you cant see any rooms and it's a long way to drive just to interview us. Are you sure you still want to make the trip?"
She said they were still on their way, so we just told her to call us because we were headed into town. The Black Dog was having an anniversary party tonight and had 2 bands performing. Fonda and Juergen were in town visiting, Scott and Karen and Heath and Jolie were all going to be there along with plenty more of our friends, so we figured we should go have some fun. The place was wall to wall people when we showed up and the party was in full swing.
One of our friends had already had too much to drink by the time we got there, which made for some great fun. Tonight she was infatuated with Cindy's breasts, even though she repeatedly kept assuring us she wasn't a lesbian. She had to keep touching them, fondling them and making comments about how much she enjoyed them. This woman is normally very prim and proper with the best kept manners. Tonight she was throwing F-Bombs around like they were party favors and no matter how much her husband tried to keep her quiet, she just kept them flying.
This had all of us laughing pretty hard because it's not the norm and it was hysterical to see a side of her we normally don't get to see.
From the Black Dog we headed over to the Big Deck Raw Bar where the girls wanted to do some dancing. They took over the dance floor and kept on partying. Around this same time we got the call that the writer was in town and we told her we'd be home in a few minutes. She told Cindy "I just dropped my boyfriend off at one of the bars and I was heading back out to your place."
Cindy asked which bar and it turned out he was sitting at the table beside us watching the basketball game.
She came back to the bar and walked in with her dog in tow. We sat talking for awhile, but between the band playing very loudly and everyone coming up to pet or ask questions about her puppy, it was next to impossible to conduct an interview. (Who brings a dog to an interview?)
We suggested that we head back to our place so it would be quiet and at least she could try and get a feel for the place despite how late it was.
We told her that we were dog friendly and she could bring her puppy into our house to meet our dogs. This is where it got real interesting because we were supposed to be doing an interview...or at least we thought we were. (Who brings a dog to an interview?)
While her energetic puppy tore through the house with Luca in chase, we tried our hardest to keep on topic. This was about impossible because one of us would have to get up every few minutes to pull the dogs off of one another or get her puppy to stop chewing up something or humping on Luca.
Luca is normally very calm and submissive with other dogs, but when one tries to dominate him by humping on his back, that when he usually puts the dog in its place. I normally allow this to happen because it's natural and dogs will usually work it out amongst themselves. Cindy on the other hand freaks out and tries to get involved, which makes Luca more defensive and more aggressive. Needless to say, it was quite hectic. (Who brings a dog to an interview?)
After at least an hour or more of questions, she had multiple pages filled with notes and our interview was done. She asked if she could walk out back and see the tiki bar. I showed it to her and explained how we've built 90% of it with recycled materials. She said she was very impressed with our Green Practices and mentioned that we do more than most big hotel chains do.
Scott and Juergen had just gotten back from the bar and I asked if we could show her the room that Fonda and Juergen were staying in. We had put them in Room 3 which is the one we had just finished building the bed in. So at least she got to see a room, even if it wasn't 100% made up and ready to be shown.
We said good night and she loaded the dog back in her vehicle.
I walked into the house where Cindy, Fonda and Karen were all sitting around giggling. Somehow between leaving the bar and arriving at our place, Karen had changed into polka-dotted pajama pants that looked like a Twister Board. I looked at them and asked "Ok, how more friggin' weird can this night get?"
Between our girlfriend being drunk and obsessed with Cindy's breasts (Like we need two of those kind of people?), the late night interview with a dog present, the freezing temperatures and now the Polka-Dotted pajama pants....it was a strange night for sure, but fun just as they always are here in Cedar Key.
Wednesday February 8th - More Camera Practice
Not much of a blog update, unless you're into photography. We had some more scraps to feed the gulls so we hung out on the end of the dock for a few minutes. I really like this practice since I cant always be out on the water in the boat.
Plus, it shows you don't need any fancy equipment or exotic locations to make some cool images. Just your camera and some patience. Just to be fair, of the say 100 shots I took, I only kept about 5, but that's why it's called practice, and that's why I love Digital. The rest are just deleted and cost me nothing but the few minutes it took to download them, look through them and hit the delete button.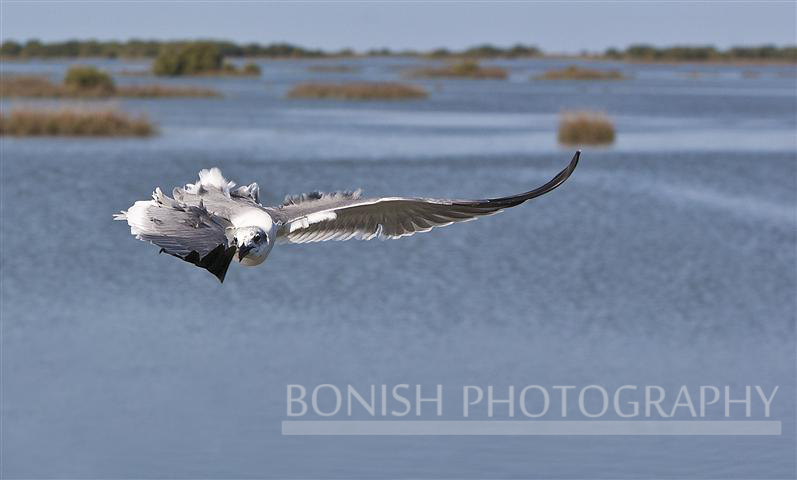 Tail Wind - I like that the wind was blowing the feathers backwards on this shot -
Setting are pretty much the same for all the shots
Canon 5D with a Canon 70-200 f/2.8 lens - ISO 400, f/5.6 @ 1/4000th of a sec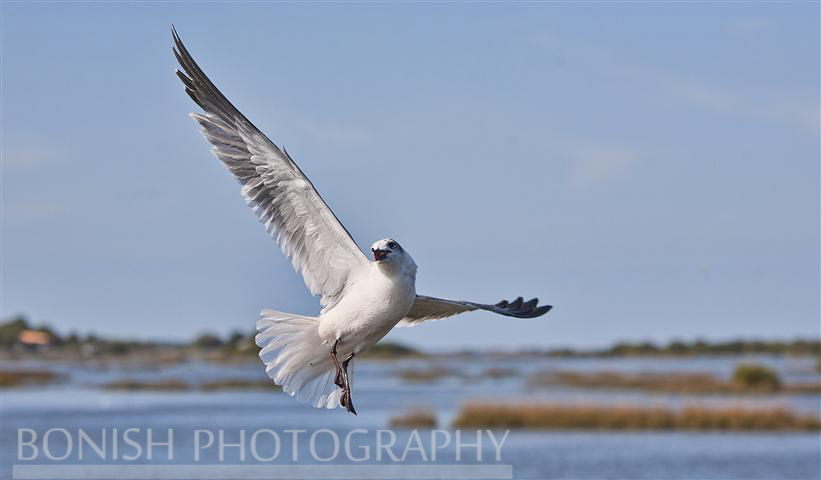 Showing off for the camera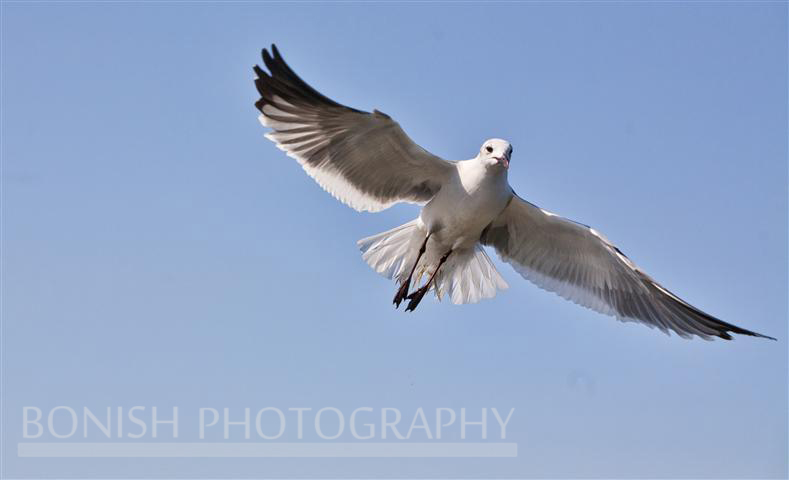 Underside of a Gull
Cindy has a flowerbed filled with Gerber Daisy's in our backyard. Each morning they're usually covered in dew and look amazing. The flowers are fun to practice macro shots with because they're so colorful.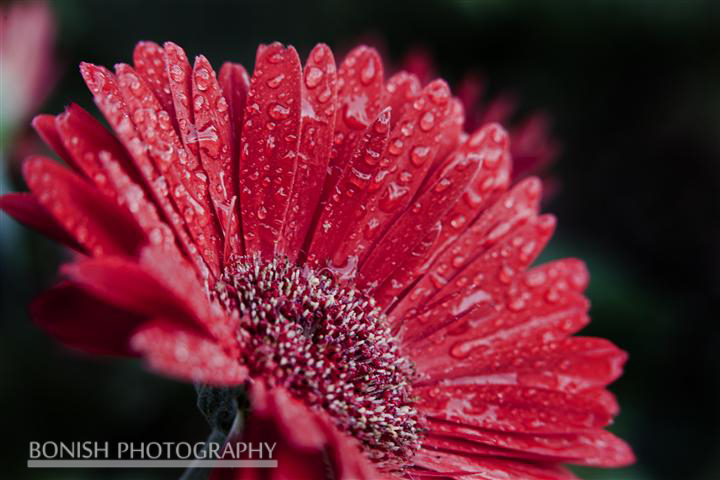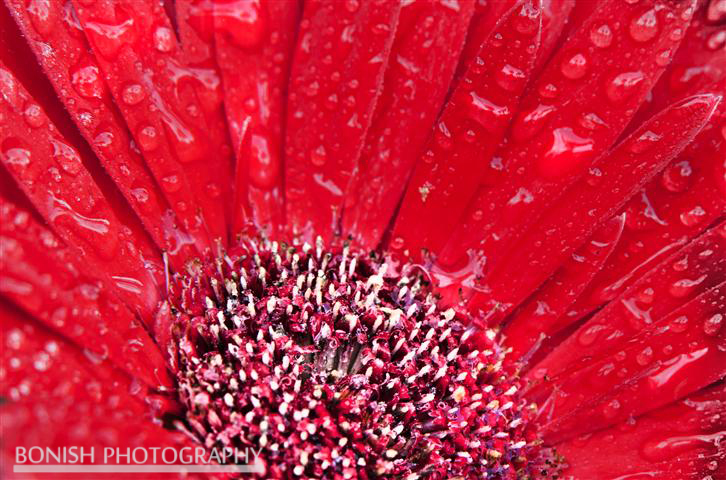 This isnt any type of special lens or anything. I just put a set of Kenko Auto Extension Tube Set
on my Canon 70-200mm zoom lens. You set the camera to manual focus and all you really do is move the entire lens in and out to get the subject in focus.
Just wanted to show you that you dont need to go on vacation, or go anywhere special to make some nice images this time of year. If you live somewhere cold, you can go to the local flower shop and buy a few different flowers and experiment with them in the house.
Just find a big window, set them near the window so natural light is bathing them and spend an hour or so trying various angles.
Monday February 6th - A Great Visit From Michiganders
If I had a dime for every time someone from Facebook, or a past High School friend sends me an email and says "Hey, we're going to be in Florida and we want to stop by for a visit", I'd be a rich man.
Lots of people send us these messages, 99% never stop by. I understand that too. Cedar Key is way out of the way, and most don't think about that when they're going to be in Miami or South Florida, Cedar Key is an 8 hour drive North.
Unless they actually make reservations with us, I usually know it's just email fluff and I will probably never see them. Heather and her husband Jason were different. Heather contacted me and said they were going to be visiting family in Florida, and asked what days we had open that she could make a reservation.
We only had 1 day open during the time frame they gave us, but she said "That's fine, book it and we'll come visit!"
Monday morning was a blur of activity with the motel having almost a full turn-over from the busy weekend. Cindy was working away, Amber was cleaning the rooms and I was moving flat screens from the Super Bowl Party last night in the tiki bar back into the rooms and hanging them on the walls.
We had worked so much over the last week, Cindy had said yesterday, "Let's work till noonish, get as much stuff done as possible, then head out on the boat and take some time off." We need to get back into a schedule of taking time off and making ourselves go out on the water or going out to do something other than working around here.
Cindy was packing up the cooler, and I was getting the boat ready just as the doorbell rang. Heather and Jason had arrived. I asked if they were interested in going on the boat with us and Jason's reply was "We like boats!"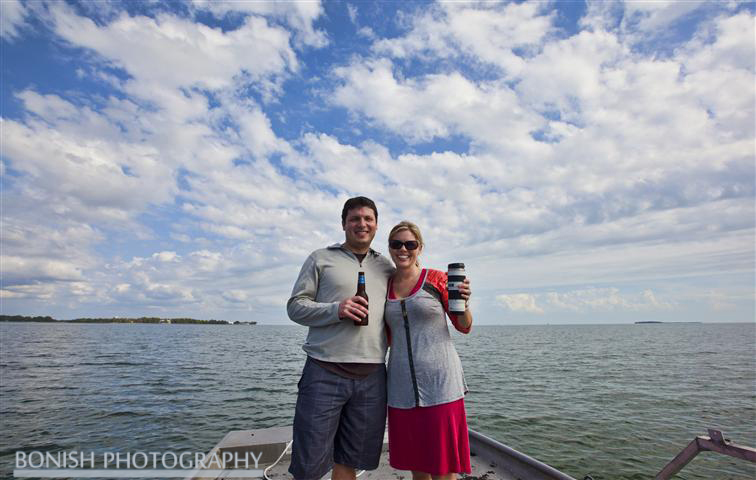 Jason and Heather out on the water in Cedar Key
We loaded up and headed out. This would be my first time operating Heath's boat that it wasn't sinking or filled with water, so it would be completely new to me.
We were pulling into the main channel between the island of Cedar Key and the surrounding outlying islands when we spotted some dolphins swimming towards us. I slowed down to kick up a bigger wake and within minutes, we had 3 dolphin jumping in our wake.
Heather was taking photos with her iPhone, which was actually taking great photos. Jason was just absorbing it all while Cindy and I were back in our favorite spot....on the water with dolphin playing all around us.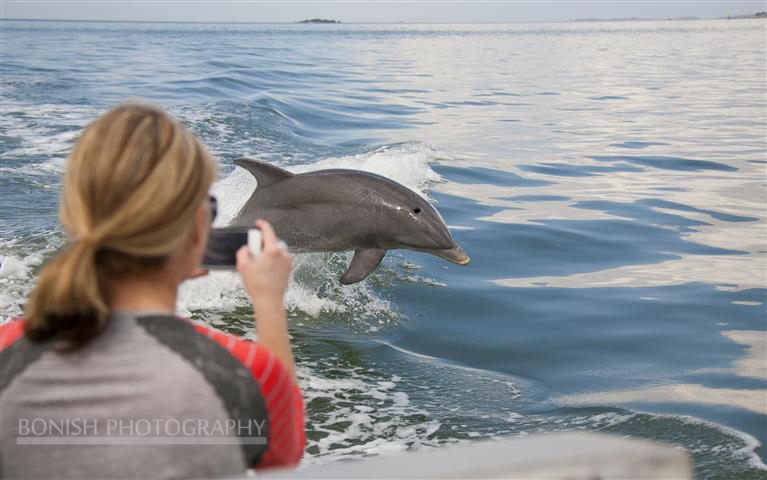 Heather taking pictures with her iPhone - Photo by Cindy Bonish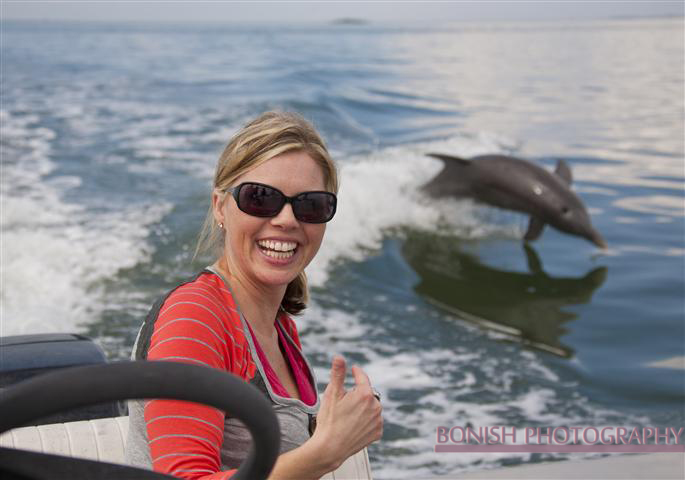 Heather with the Dolphin jumping behind the boat - Photo by Cindy Bonish
After the dolphin got tired of our wake, we slowed the boat down and motored over to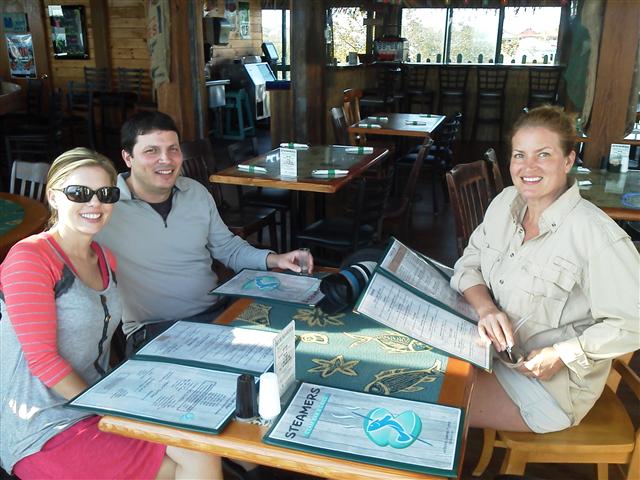 where a big flock of white pelicans were hanging out on a sandbar.
We motored around the calm waters just talking and enjoying our beautiful day off. Heather and Jason were great fun to talk to and hear fun stories about friends back in Michigan. After awhile of being out on the water, we headed into the Marina where we tied the boat up, and grabbed some lunch at Steamers Restaurant.
After lunch, with the sun setting behind the islands, we raced back to the Low-Key Hideaway before we lost all our water. Jason and Heather got to see what typically happens in Cedar Key when you stay out too long. We barely made it back into the dock behind the motel, and thankfully Heath's boat will run in some very shallow water.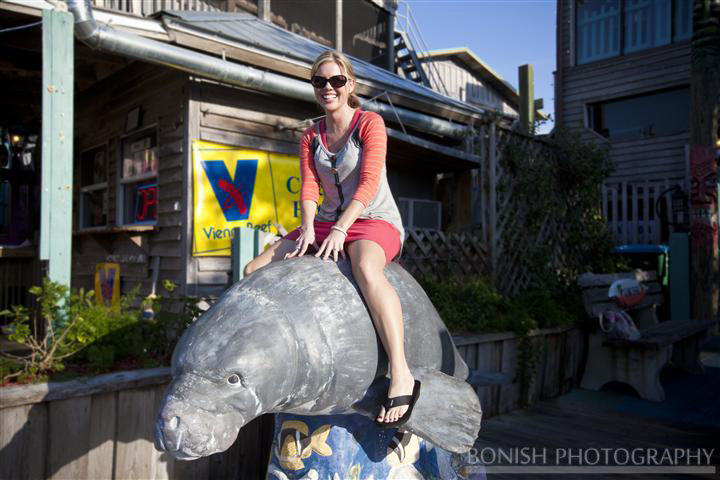 Heather riding a Manatee in Cedar Key
Although we still had to pole ourselves that last few feet into the dock. I'm not comfortable with the boat enough to come screaming into the dock under full power the way Heath does it.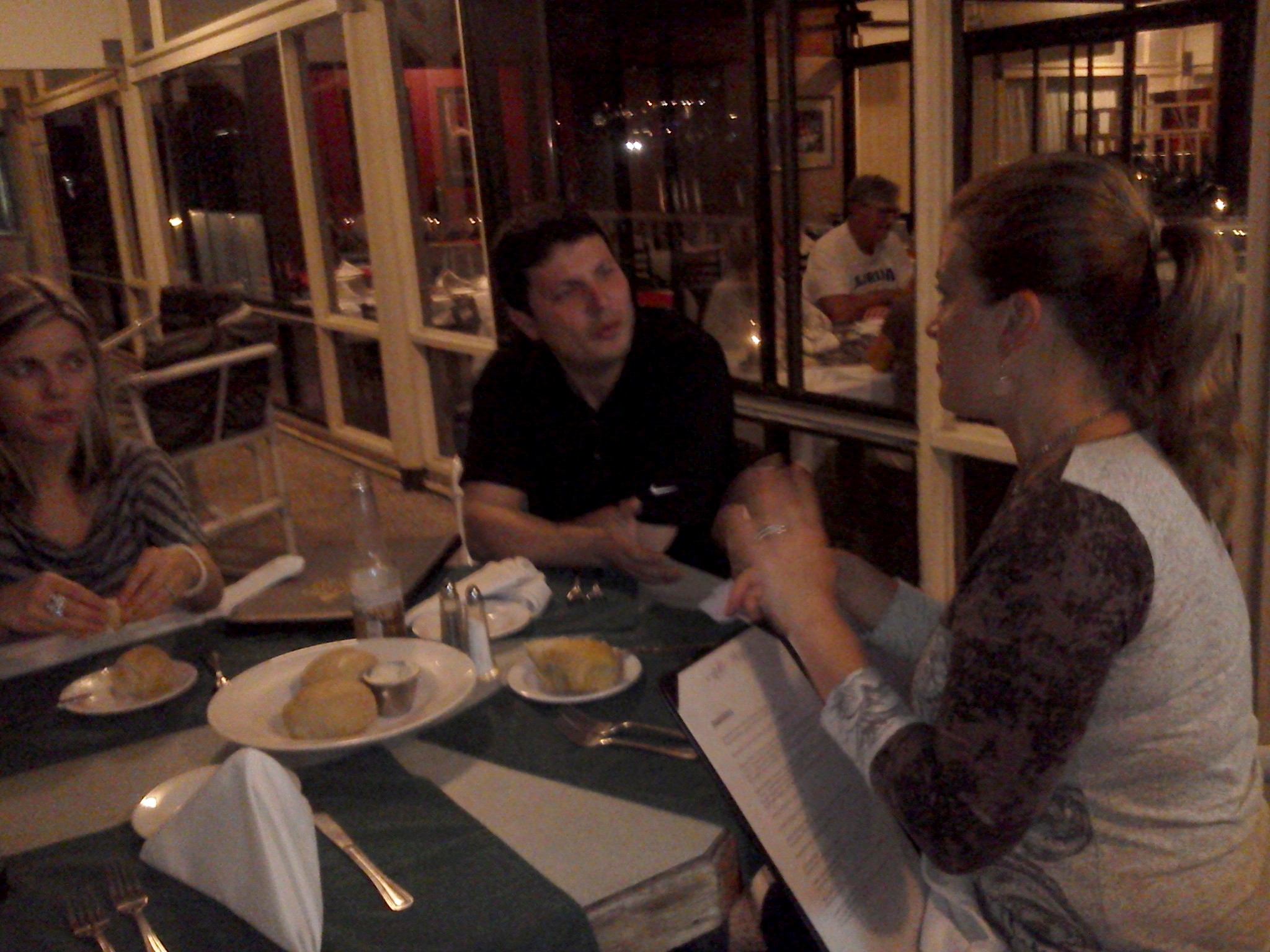 Once tied safely to the dock, with the boat sitting on the bottom, we climbed up the ladder and got ready to head into town to grab some dinner.
Heather had made the comment to Cindy earlier that she wanted a night she'd never forget. Cindy laughed and said "Unless I slip a mickey into your drink, on a Monday night in Cedar Key, that will be just about impossible." We all laughed as we drove down Dock Street and not a single business was open.
Mondays are best at The Island Room where they have great food specials and good service.
We all sat outside on the water and enjoyed our conversation, our food and just had a wonderful evening.
On our way home, Cindy said "If you want a wild night, we can always go back to our living room and I can spark up the Karaoke machine!" There were no takers.
Sunday February 5th - Super Bowl Sunday
Cindy and I had ordered new flat screens for the rooms last week. We then had a company come in and wire the cable down the walls and put in outlets and cable jacks high up so when we mounted the TV's, you wouldn't see any wiring behind them.
We both agreed we'd wait till Super Bowl was over so I could put multiple Flat Screens out in the Tiki Bar for the night of the big game. If you've ever visited the Hideaway Tiki Bar, then you know how small it is.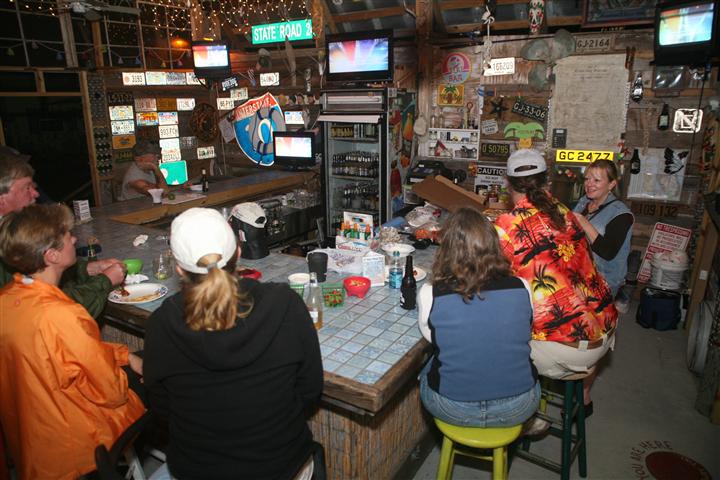 TV's everywhere at the Hideaway Tiki Bar
So to come in and see 5 big screen TV's in this little bar, it made it seem very out of place. When Dave and Cris from Island Pizzeria came in with Pizza and Wings for the party, Dave looked around and said "What is this Pat, the Hideaway Sports Bar?" He laughed and said "You're the smallest bar in town, yet you have the most televisions of them all!"
The game was awesome, and we had a ton of food brought in from everyone who came to enjoy the festivities. We had a bunch of give-aways and it was a great night had by all who attended! I wish we had more fun times like that because it was about as perfect as one could hope for.
There was so much good food and everyone was saying how stuffed they were. Then Dave and Cris showed up and it was like no one had ever eaten! But when Dave brings his specialty "Buffalo Chicken Pizza" you cant say no!
Friday February 3rd - Marathon Room Turn-Over
I think my wife watches too much HGTV. I always laugh that these shows would be so much more fun to watch if they didn't add in all the drama of having to complete the job in 2 days time.
Earlier this week, Cindy said "We have 2 open days for Room 3, lets build a new King Size Bed Frame and redo the room for this coming weekend."
We had made the decision a few weeks ago that this last room, the only one with 2 double beds needed to be switched to a King Sized bed. It was our least rented room because every time we tell someone it has 2 double beds, they say "Thanks, but we were looking for a King Bed"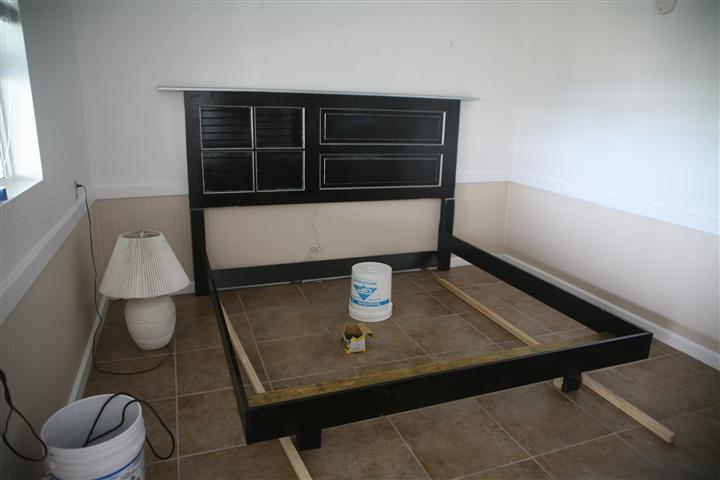 We also made the decision to go to Adult Couples ONLY and not allow kids. Switching this room to a King Sized bed would eliminate the chance of having kids. Not that there is anything wrong with kids, it's just that our motel with the Tiki Bar out back, the sea wall that isn't kid friendly and the fact that kids usually mean more mess, it was a decision we had to make.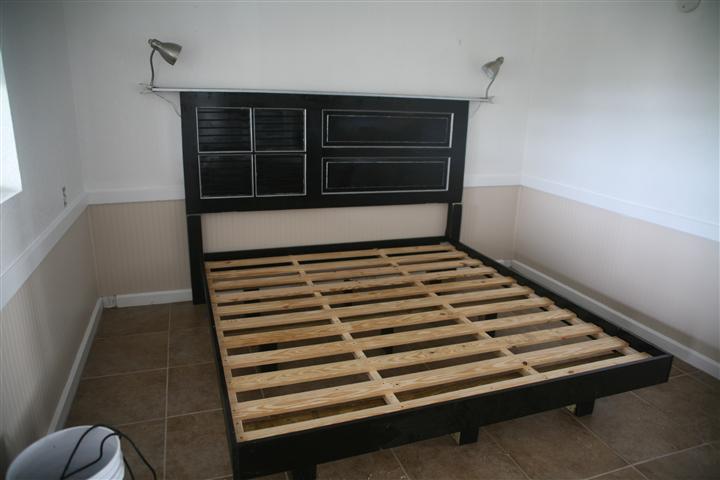 So what I had planned on as a laid back week, getting ready for the Super Bowl turned into a 2 day marathon of dismantling a room, and building a new bed frame from scratch.
Our good friends Hazie and Amanda had asked us if we wanted an old door they had found in a abandoned building over in Gulf Hammock. We were at a bonfire at their house and Hazie was showing me all these cool architectural finds they had saved. Cindy mentioned she wanted me to build another headboard from a cool door, and Hazie said "Well here, you can have this one!"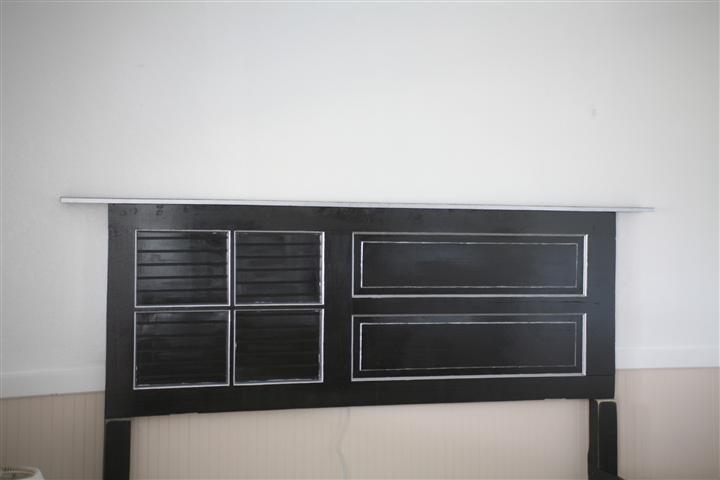 Room 3 is all decorated in Black. Black leather chairs in the living room, black accent pieces. We've tried to keep all the picture frames in either black or polished silver. So we decided to paint the bed frame black and I'd accent it in a bright silver paint I found.
I honestly cant believe we pulled this off, and the amount of screaming and hair pulling behind the scenes could have made this 2 days into a Emmy nomination for any reality TV show. Luckily, there was no cameras to record any of our fighting and name calling. I also cant believe how cool it looks considering neither of us have any carpentry skills.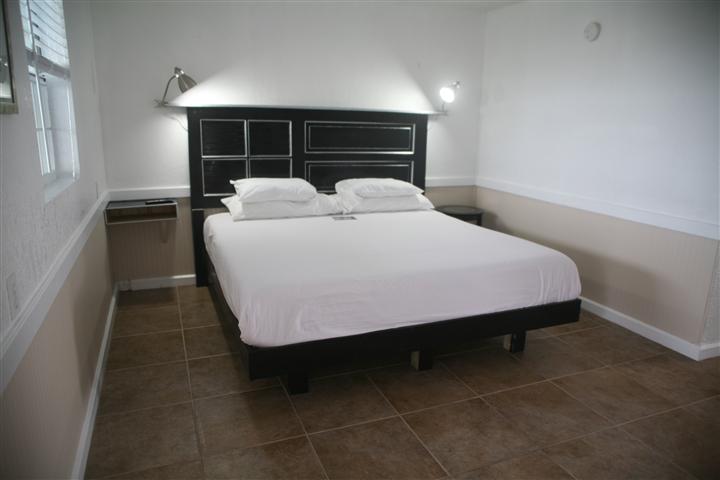 Cindy had heard some good things about the Tempur-pedic Memory Foam Mattresses, so she got one of those to see if the guests would like it. Hopefully it'll be a success.
Monday February 1st 2012 - Getting some Shooting Practice
It seems our last few weeks have been a non-stop blur of activity. I was jonesing to get some time behind the camera but we're too busy right now to take a day off and head out on the water. Although we've both promised one another that we're going to try and make that become a weekly thing.
A motel guest had checked out and left a bag full of crackers, bread and various chips to be thrown away. Rather than just toss them in the garbage, we usually pitch the contents off the end of the dock so the birds and fish have something to eat.
I figured I could take a few minutes away from work and get some images out on the dock. The morning sun was perfectly behind my back to provide really good lighting, so I asked Cindy to be the thrower while I'd take 25 minutes to fire off a few photos. Just to quench that thirst for some new photos to look at.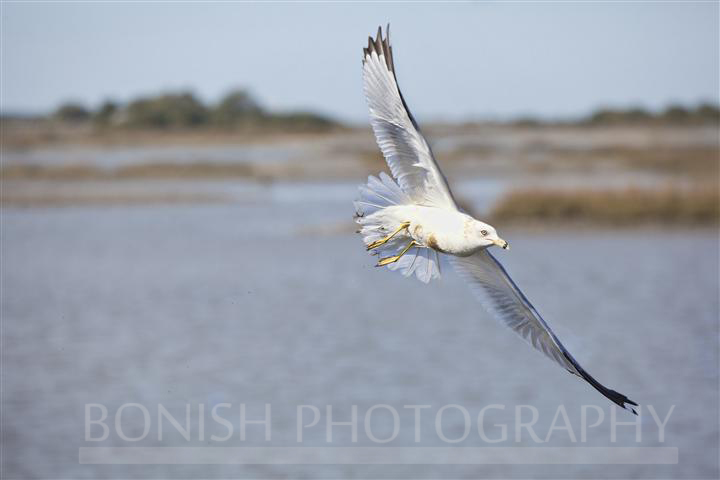 Plus, it keeps me sharp and allows me to practice on moving objects and trying to follow something that is flying at a high rate of speed. This is much harder than one might think it is.
This is one of those secessions almost anyone can sit in their back yard, the beach or in the park and accomplish. You don't need any special equipment and you certainly don't need a high powered zoom, just an assistant to toss the bread or crackers and you need to know what settings to have your camera set to so you'll get keepers.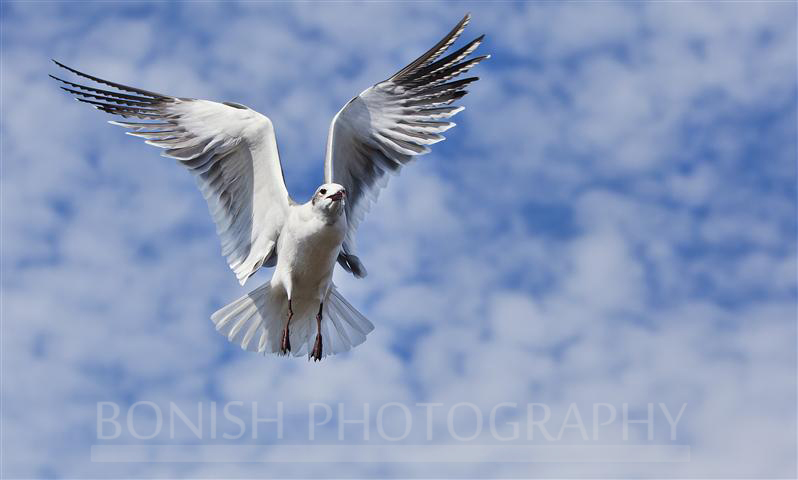 I had my camera set so the shutter speed was very high (1/4000th of a second), a mid-length depth of field (f/5 so the entire bird would be in focus, but the background would be blurred) and the camera itself was set in the Al Servo Focus mode. This mode allows the lens to maintain a focus on a moving subject. That's the trickiest part of this type of secession. If the bird happens to land, the focus will usually shift to something in the background or the water moving behind the main subject.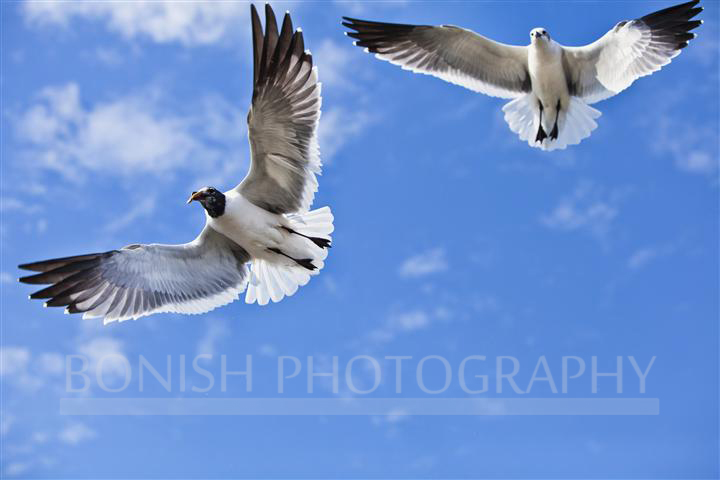 You'll need enough light to be able to set your cameras shutter speed to something really high; most of these were shot at 1/4000th of a second, so it stops the wings completely without any blur. This is why the low angle of the sun at my back, it was early morning (10am) worked out perfect for these shots because it put the birds just above my head, but the sun lit the underside of the wings so I didn't have any harsh shadows and there was no need to use a flash which will sometimes scare the birds when taking photos at a close range.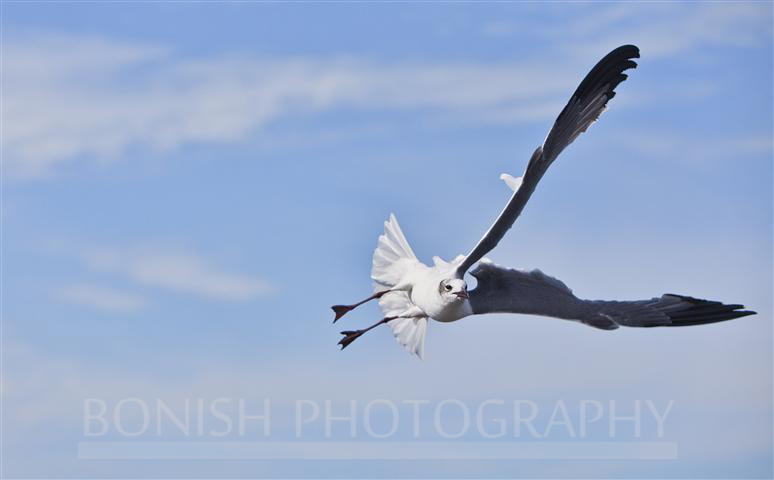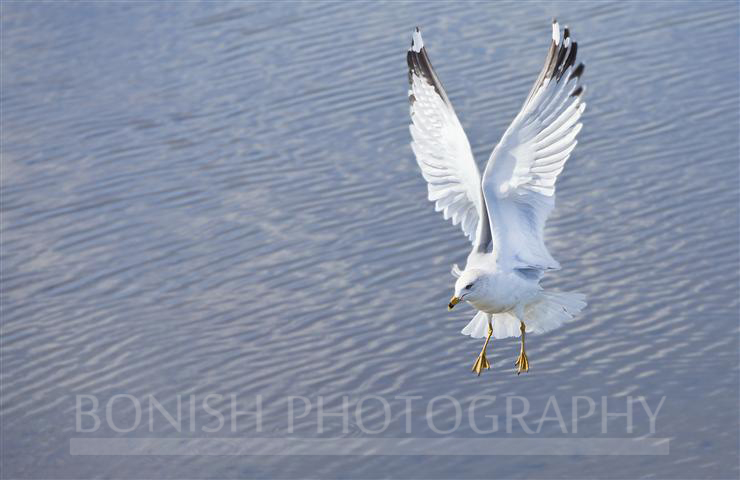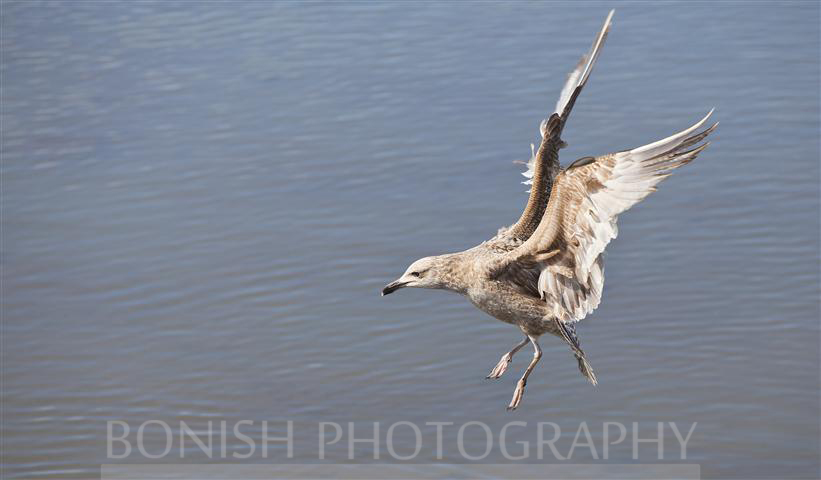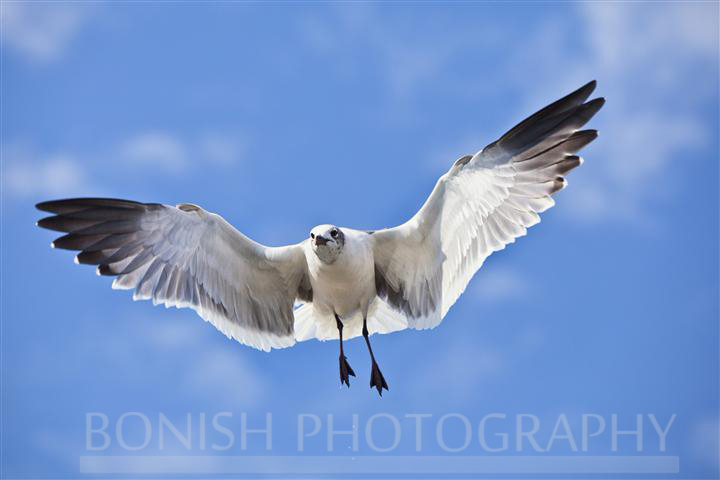 The only thing you need to be sure of is to keep the sun at your back, and you'll be golden. I also liked that there were some soft clouds in the background rather than just a solid blue sky. I think this helps make the Gulls pop out of the image, but I'd like to know what you think?
Something else Cindy and I learned is if she holds the food up in her hand right beside the camera, you'll get the birds flying directly at the front of the lens. When they get really close, almost too close to focus, she'll toss it up above my head so I can follow the flight path while the wings are flapping.
Word to the Wise: Put a hat on so you don't get poop in your head or hair...LOL Not that this happened, but Cindy kept saying "You know I love you if I'm willing to sit here risking these birds pooping on my head just so you can get some practice."
We also got an email I felt I'd share with our readers. Emails like this really make me feel good about our website and all the work we put into it. Thanks Lance!
____________________________________________________
Just got caught up on your blog, and couldn't stop crying
Pat and Cindy, Iím so sorry to read about Lucy, itís very difficult to lose a loved member of the family. I miss my dog still after all these years, but a good dog is a gift to good people like you two.

Fast forward to later this afternoon to Mondayís post about the boat adventures and you had me crying again. My wife came in asking what was all the laughing about and proceeded to crack up laughing also.

We very much want to come relax at Low-Key Hideaway, but will have to work out our schedule. We are desperate to see some sun, as you know Ohio is a little on the cloudy side.

Thanks for your all your posts on your blog and the inspiring trip reports. You two are very talented with a gifted eye, what a team you make. You'll be on our stop in Baja in the future.

Thanks
Lance
____________________________________________________
Tin Can Tourists Visit Cedar Key - Adding to my love of Polished Airstreams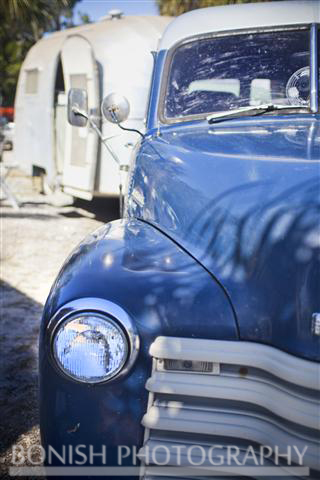 This past weekend we had the annual Tin Can Tourists visit Cedar Key. Sunset Isle RV Park fills up with vintage travel trailers with many being pulled by classic trucks matching their arrival date on the market.
We all know my love of Airstreams. I've had a fascination with these since early childhood. Cindy and I had looked at them when we first were looking at campers, but we couldn't justify their cost, especially when we weren't even sure if we were going to be lifelong Trailer Trash or we'd just use ours for one long trip and get ride of it.
My goal is to have a 23' Airstream Flying Cloud Travel Trailer. I'd have the aluminum skin polished to a mirror like shine, and travel North America positioning the camper in scenic locations.
Rather than take images of the camper in these locations, I'd make images with the scenes reflected in the campers mirror like surface. At the end of our adventure, we'd put together a Coffee Table style picture book of this adventure. It would be soooooo cool!
If anyone knows anyone who works for Airstream, or anyone knows someone who has an older Airstream they'd like to part with for this project, feel free to Contact Me so we can work out the details!
The Tin Can Tourists are a great bunch of folks. They all love to show off their rides and most are open to tour through. We even met a few campers that said "Hey, are you Pat & Cindy from Every Miles A Memory? You're the people that got us into camping!" It's always a great feeling to know that our blogs and photos pushed someone into making that leap to start RV'ing and living a simpler lifestyle.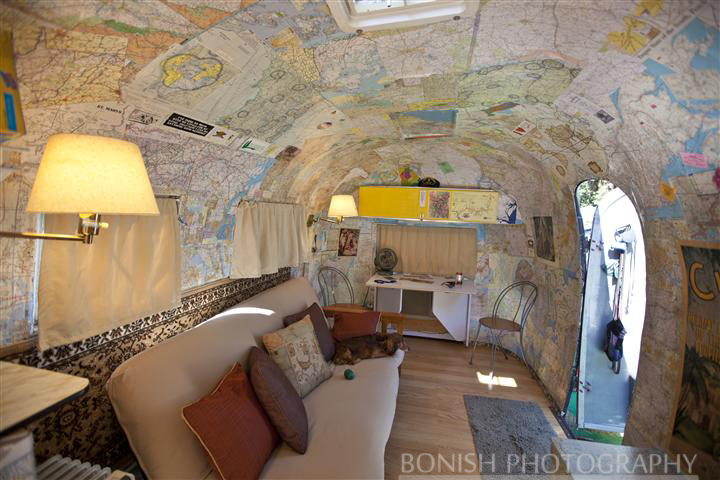 The interior of this Airstream was all maps!!! How Cool!
Entire Tin Can Tourists Gallery can be seen Here = LINK

___________________________________________________________________
Photo Gear We Use - Solar Tips, Fact's and Trick's we've learned while on the road
Camper Check List - A list of things we do before leaving camp. Again, this isn't gospel, but its a good start for those who might not already have a list made up.
Return to Top of Page
Need Unlimited photo storage- FREE Trial of Smugmug