When we realize our insignificance in this world,
it some how relieves the pressures from society to succeed -
Cindy Bonish 04/07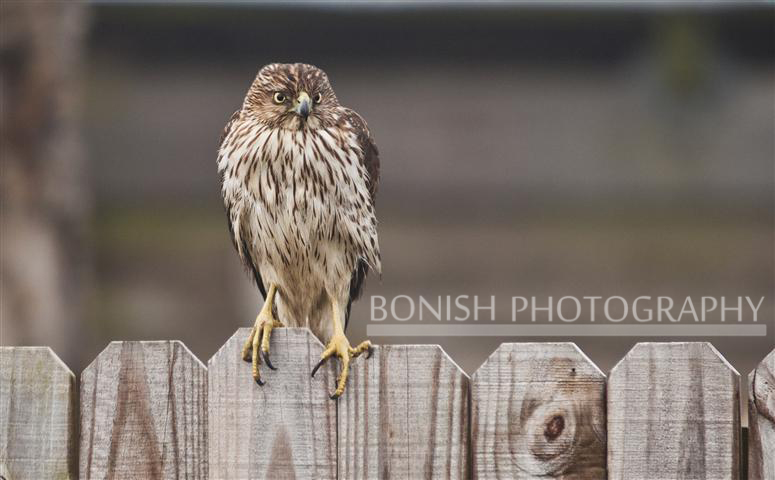 Coopers Hawk on the Fence behind the Low-Key Hideaway
Pat's March 2012 Blog
If this is your first time here, you might want to start from the beginning of our fulltime Journey with our Past Blogs
If You Don't Know Me Yet, Click Here to Read My Bio
****
Sunday April 1st - Cedar Key's 1st Ever Hash Run
Years ago while I was living down in West Palm Beach, a good friend asked me to go on a Hash Run with him. I had no idea what he was talking about but after he explained its a group of people that say they're 'Drinkers with a Running Problem", I thought I needed to check it out. Here is a link to describe the origins and history of the Hash House Harriers or H3 as it's usually abbreviated.
Ken and I ended up attending a few of these runs and always had a blast.
While visiting and hanging out with our crazy group of Nomads that are visiting right now, we all got on the subject of Hash Runs. Bill & Debby are veteran hash runners and suggested they put together a run for this Sunday. They also came up with a very cleaver name (Hash Running is loaded with funny names and acronyms - Trailer Trash Hash House Harriers or TiTiH3)
So this morning at 11am, we all met around the Tiki Bar to commence drinking, signing lots of very vulgar Hash songs (something that is just part of the tradition) and hurt our bodies in the warm temperatures we're experiencing right now.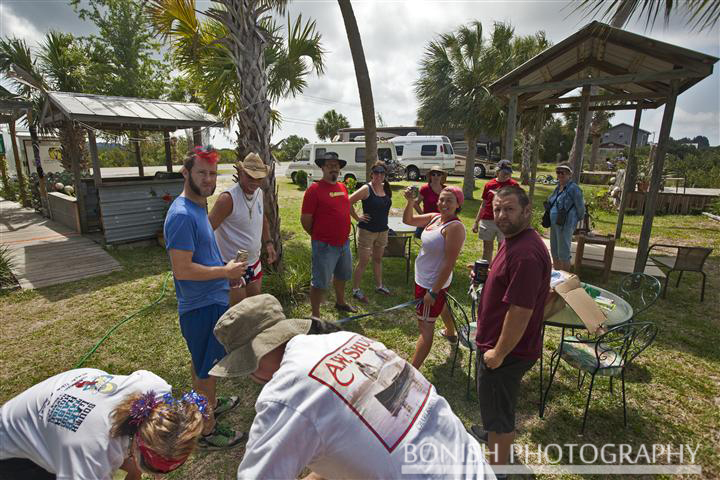 Now I'm not in that great of shape right now, and since we've become so settled down here in Cedar Key, that active lifestyle we once lived of hiking, biking or paddling on a daily basis has gone to the wayside. Hence my 20 some-odd pounds I've put on my waist.
So running around all day in the heat was going to be brutal. Luckily there would be plenty of beer. Bill said his course was mapped out to be right around 5 miles. I figured I could handle that and you don't have to run the entire thing. There is a Eagle Route, which is for those who want to run the entire time, and there is a Turkey Route, which is for those who would rather just walk the entire route.

Diagram of signs we should be looking for
Bill took the first 20 minutes to go over the rules and signs we'd be looking for along our route. The whole object is to allow the Hare, which would be Bill & Debby today, to get a good 20 minute head start.
The rest of the group has to chase them following the marks they leave via chalk or baking flower left on the ground.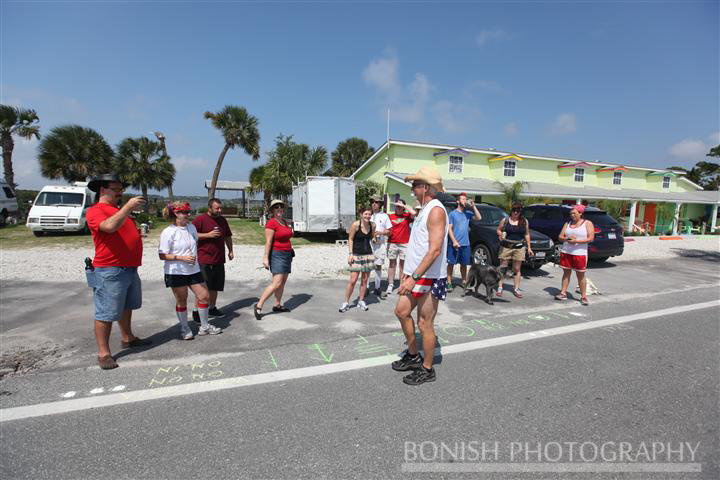 Many marks will lead you in the wrong direction so there are many turns and intersections where the group of runners has to split up and head off in opposite directions to see which mark is the right one and which mark is the false one.
When you find the right one, you blow your whistle and yell out "On On" so the rest of the group knows that you've found the correct trail and everyone follows behind you.
Once Bill was finished explaining the chalk marks, he told us there were Easter Egg's hidden behind the motel that we needed to find. There would be prizes ranging from Whistles to Drink Tickets to Viagra. While we were hunting around for Easter Eggs, Bill and Debby took off to start marking the trail and get a good head start.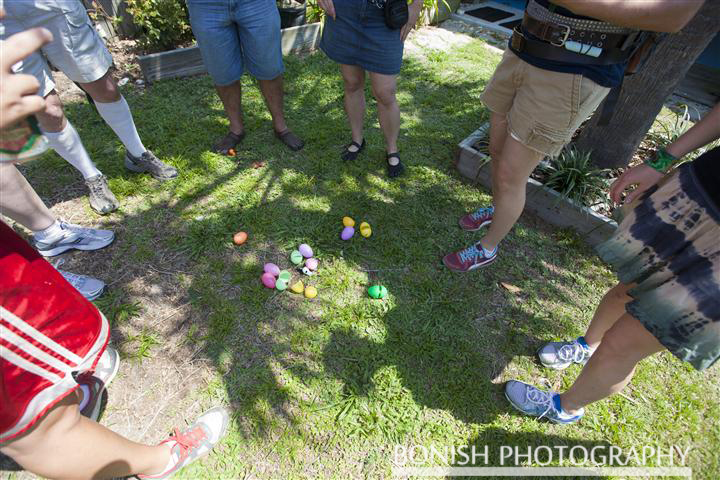 Once all the eggs were found and we were finished with our stretching session, along with a few more beers guzzled down and plenty more Vulgar Hash songs sung, we were all ready to take off. Due to the vulgarity of the songs, we had already lost one participant who was staying in the campground and had thought she'd join in on our fun. Oh Well, it's not for everyone I guess. I have a very sick mind and have a mouth like a sailor, so swearing and crude comments only humor me, but I understand it offends some, so if you're one of those people, stay away from attending a Hash Run.
We all took off running towards town and very soon realized that slamming about 5 beers and taking off in a sprint only foams the beer in your belly and makes you burp really loud.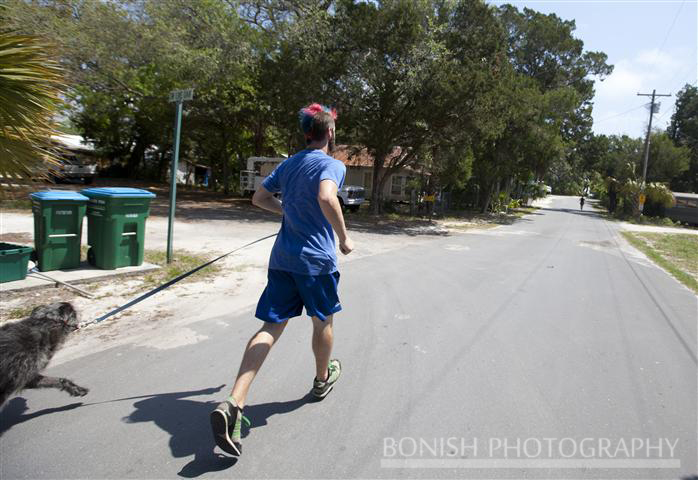 Amy and I were in the front of the pack and found our first intersection where we had to decided which way to go. I went one way while Amy went the other. Soon enough I heard her whistle and heard the words I was waiting for "On On" which meant she was on trail.
I turned around and caught up with the rest of the group who was waiting at the intersection.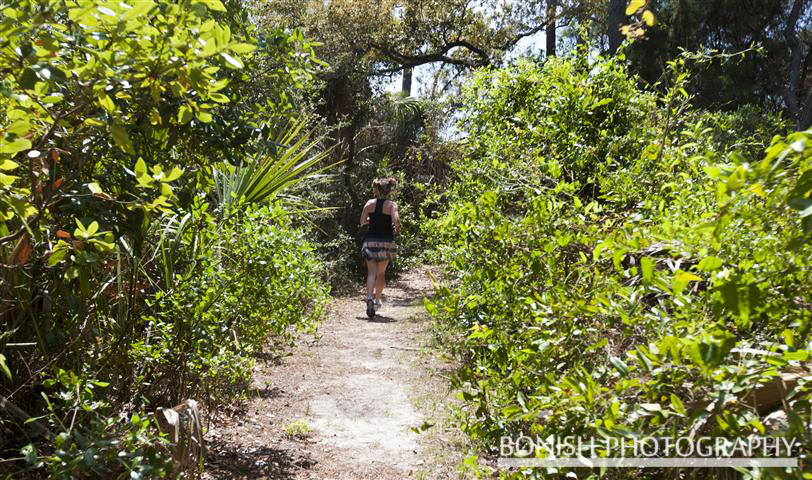 The next mark that got us excited was a circle with the letters 'BN' in the center. This stood for Beer Near which meant there would be a cooler waiting with more ice cold beers waiting for us somewhere near by. Soon enough we were running down a dirt trail that lead us out to a little exposed Oyster Bed where Debby was waiting with a couple of coolers of beer.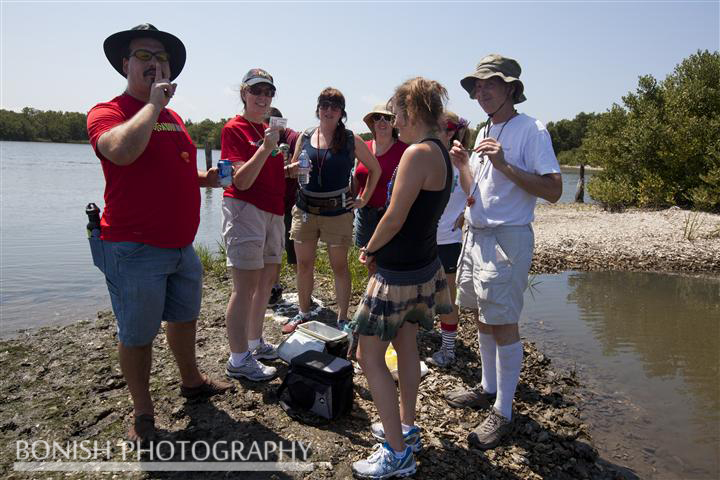 We huddled around the oyster bed all pounding beers and catching our breath. Once we were all there and a few more Hash Songs were sung, we took off trying to look for more chalk marks to point us in the right direction.
Much of the afternoon was spent this same way. Running through town, finding clues which would mean we drink more beers and sing more vulgar songs.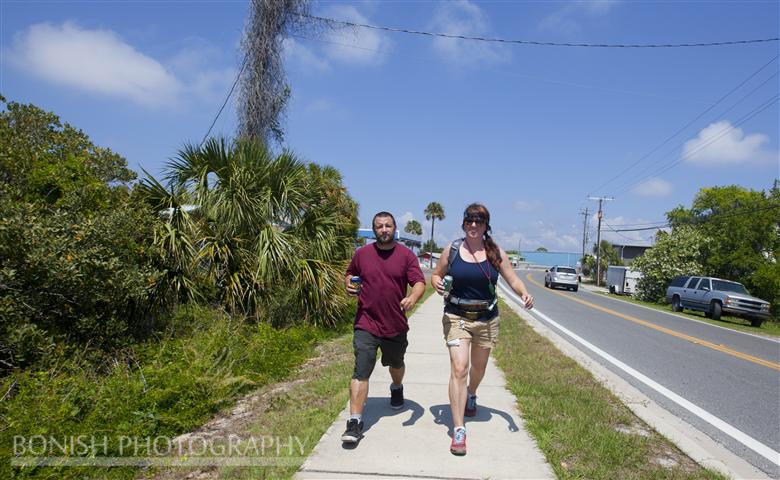 We all meet up at Brian's Big Deck where we invaded the outdoor patio, slammed back some beers and caught our breath. From Big Deck we headed back out along the trail till we found our last clue. This was where Bill & Debby were waiting with yet another cooler filled with beers.
At this location, hidden along the road under some pine trees we all sat around in a circle drinking beers and singing more songs.
This had to look very strange to folks passing by on a beautiful Sunday afternoon when they look over and see a group of people standing in a circle singing at the top of their lungs and pounding back beers.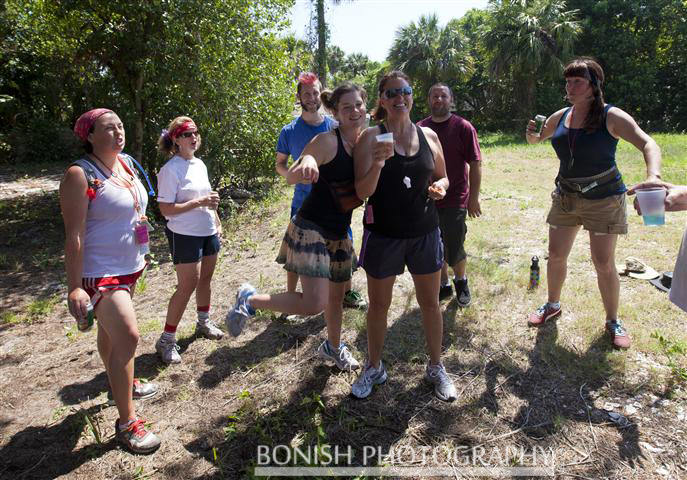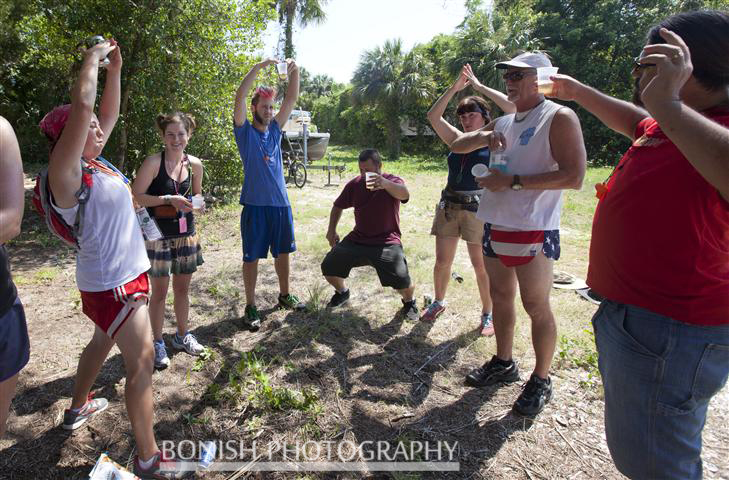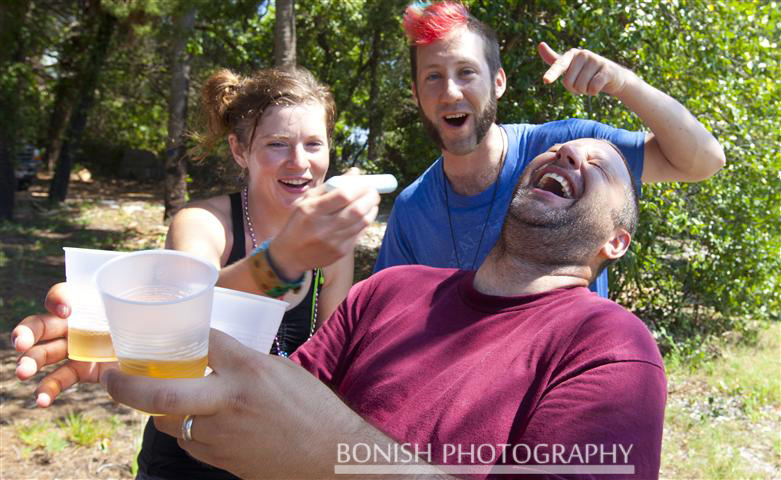 At one point, a Cedar Key police car pulled up looking over at us. Everyone stopped singing the vulgar songs and someone broke in a version of Kumbaya. While we all sat there singing this age old classic, the cop just waved and drove off. I guess they didn't have any issues with that song?
After awhile of singing and dancing and getting carried away, we decided it would be cooler to be back out at the Tiki Bar where we wouldn't be drawing so much attention to ourselves. We decided we wouldn't open the tiki bar up to the public and just had our own little private party.
We still needed to inaugurate Brian with his Hash name which is a ritual at every Hash Run.
The girls all hazed him something good and threw flour on him and poured beer over his head while everyone sat around singing songs and dancing in the grass. Heaven help us if we ever get guests to come back to the motel after many sat out back watching this debauchery.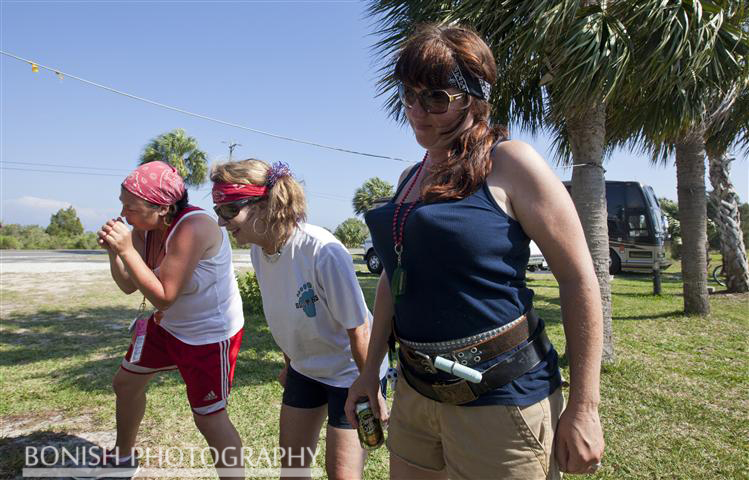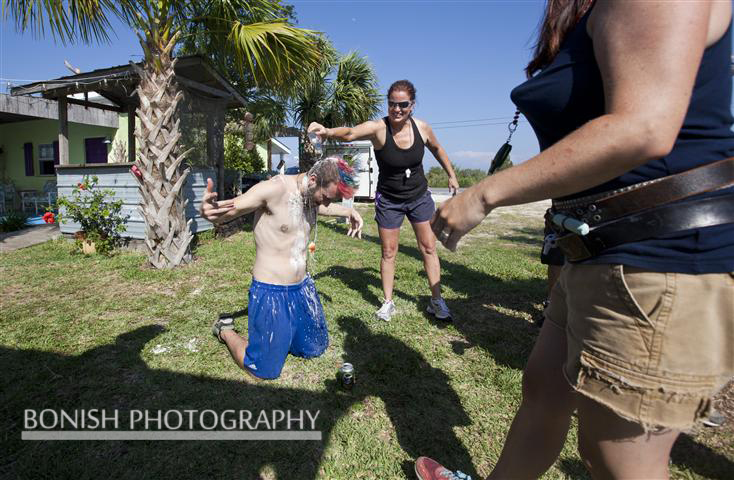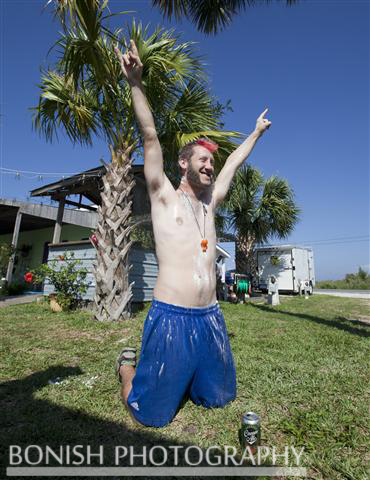 The day ended early for most of us due to the dehydration caused while drinking copious amounts of beer while sweating it out as fast as we could ingest it.
I think I was passed out by 9pm and woke up at midnight wide awake and wondering what to do with myself.
Friday March 30th - Big Karaoke Night at the Tiki Bar
We had some guests visiting the tiki bar a few nights back that are staying next door at Sunset Isle RV Park. Dave got to talking with Cindy about his Karaoke set-up telling her that he travels with a professional set-up like you'd see in a big nightclub.
Cindy was frothing at the mouth and asked if he'd bring it down to the tiki bar tonight.
Dave wasn't lying when he said he has a full professional outfit. With over 4400 songs to choose from, you could think up ANY song and he'd be able to pull it up for your singing pleasure.
This made for great fun because there would be some old timer singing Classic Hank Williams followed by some young whipper snapper busting out some rap tune.
The hit of the night was Maria from The Roaming Pint website who busted out a Missy Elliot Tune that was just amazing! Luckily Debby, of Bill & Debby's Wild Ride, videotaped it and uploaded it to YouTube for our viewing pleasure.
This was just a smidgen of what the night was like. It's hard to fathom not having as much fun as Cindy and I do on a daily basis and I'm not really sure how we keep going at this pace?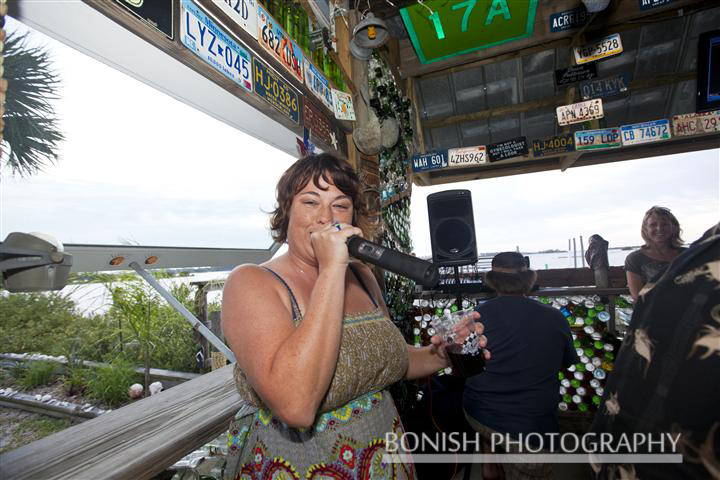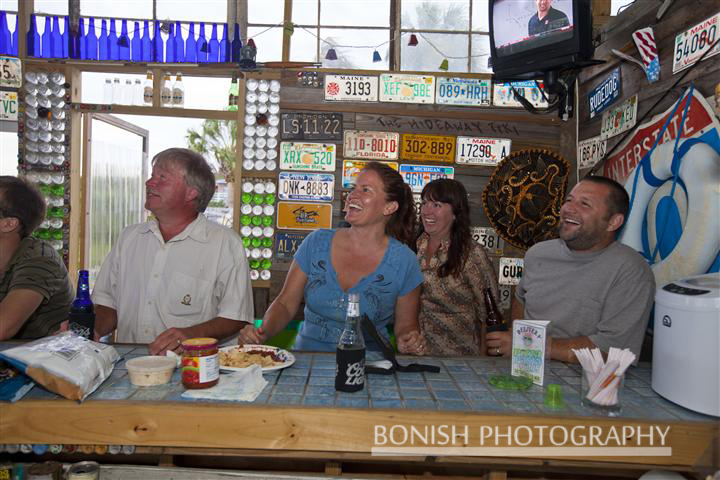 Laughing at the antics of Karaoke Singers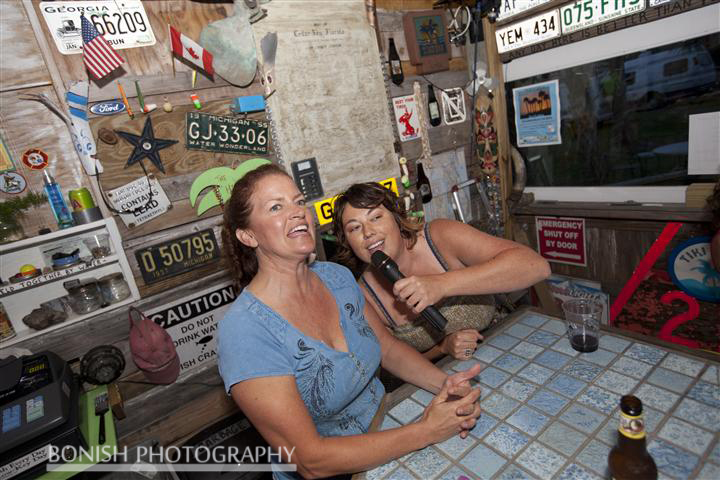 Notice how Cindy has to keep her fingers locked
to keep from snatching that microphone away from Maria
The night also ended with one of those AMAZING sunsets we're so known for! Everyone piled out of the tiki bar to raise their glass and offer a toast to the Sun going off to sleep!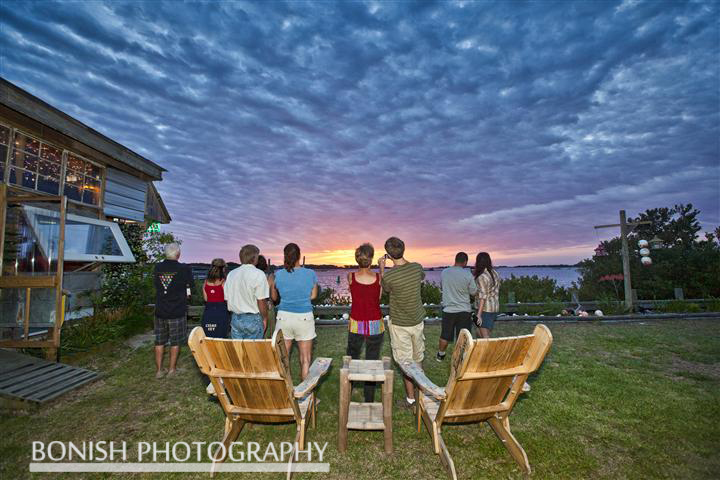 Thursday March 29th - Rockin' at the Tiki Bar
Except for Tuesday night, and only because we were out of town with Scott and Karen, the tiki bar has been open every night this week. Every night it's full with patrons having a total blast.
We all know that Cedar Key attracts some interesting characters, but these past few weeks have been especially unique. It's somewhat of a gathering of Gypsy's and Nomads who all have just happened to cross paths at the same time.
The conversations being thrown around the tiki bar have been like none I've ever heard before except for sitting around while attending Overland EXPO in Arizona.
Tonight we had one of our impromptu Potluck dinners with dozens of Gypsy's showing up and all bringing dishes to pass.
Chris and Cherie of the travel website Technomadia were in attendance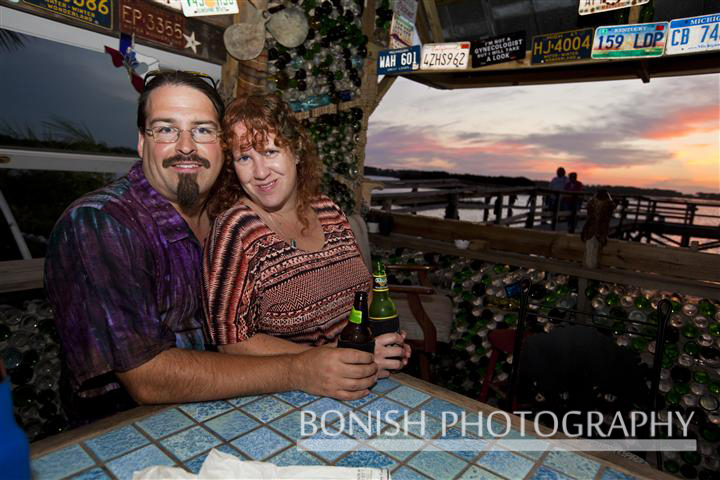 Chris & Cherie enjoying a Cedar Key Sunset at the Hideaway Tiki Bar
Brian and Maria from the travel website The Roaming Pint were there and kicking back as usual.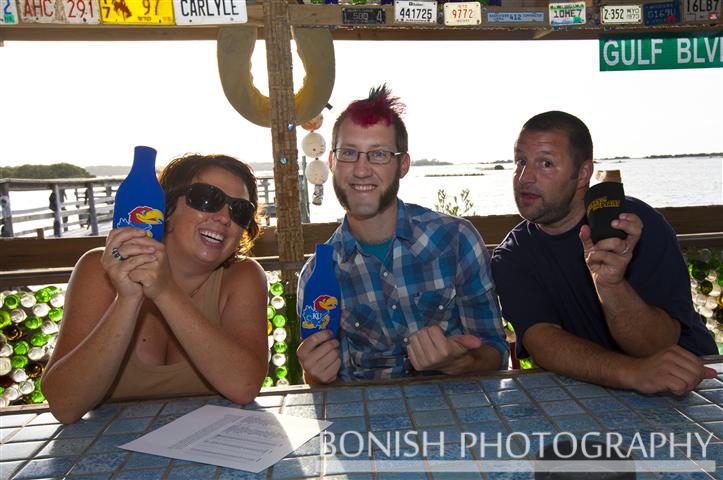 Maria & Brian from the travel site The Roaming Pint
with Dennis all telling me to fill their Coozie's

D

ennis and Jeanette from the Travel Site Cheddar Yeti have been around for awhile now and look like they'll be for another few weeks.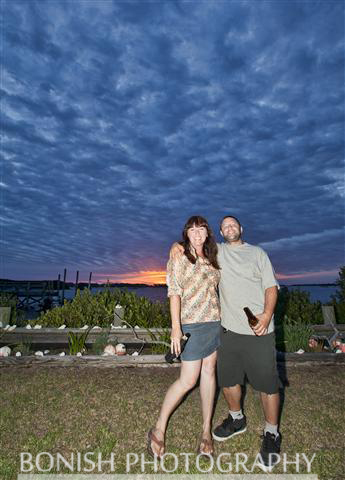 Jeanette & Dennis hanging out with one of our spectacular Cedar Key Sunsets
Bill and Debby of the Travel blog Bill & Debby's Wild Ride brought over some awesome chili that kept us all going back for 2nds.

Bill & Debby posing for my camera while toasting to the Sunset Celebration
Clarke and Elaine of Our Newell Adventure were on hand sharing some funny stories and grilling out with everyone else

Clarke & Elaine toasting with Chris & Cherie at the Tiki Bar
Levi and Amy are in town building a house for their parents. They both live out of a fixed up Airstream that Levi has restored from the frame up. They don't keep a blog, they they live out of a camper fulltime, so they fit right in with the rest of us Nomads and could relate to may of our crazy stories.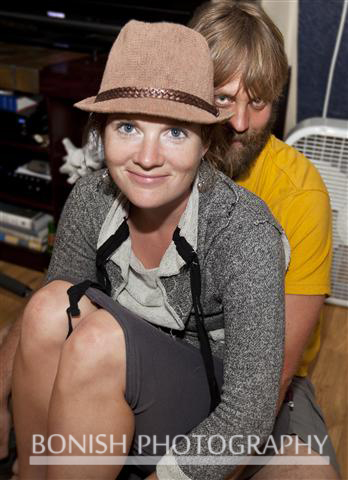 The night was beyond awesome till Cindy came out saying we were too loud and we'd need to move the party into the house if we all wanted to keep drinking, sharing stories and laughing our heads off.
A few went on back to their campers and a few followed Cindy through the back gate like the Pied Piper. She had coaxed them all in with the lure of sparking up her Karaoke Machine.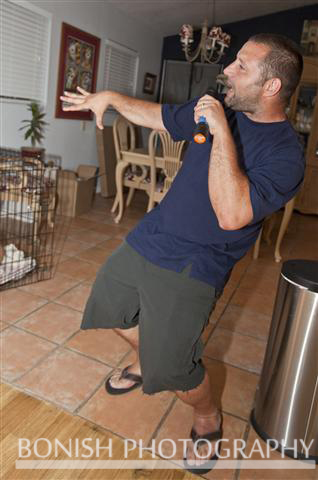 I stayed out at the tiki bar stocking beer and cleaning up. I could hear the sounds of music and laughter coming form our house and finished up my cleaning duties in record time.
Let me do a bit of explaining as to why we got in trouble and needed to go inside. We were all talking about things I cant really bring up in a blog I try and keep PG13, but if you've seen the movie 'Waiting' you'll know what we were talking about.
We had a young couple staying in the motel from the U.K. The woman was listening to our conversations and kept asking questions which was only making it all so much funnier. Having to explain things that are normal to us was making it sound really creepy and weird.
So I finish up and come in the house to find Cindy with a microphone in her hand (Big Surprise) and Dennis with the other mic. They're singing 'Baby Got Back' while everyone else is laughing hysterically.
Dennis's wife is doing an interpretive dance to music you would never normally dance to and Levi and Amy are laughing beyond hysterics. The English couple is just watching like they're in another world which was making the whole scene even funnier.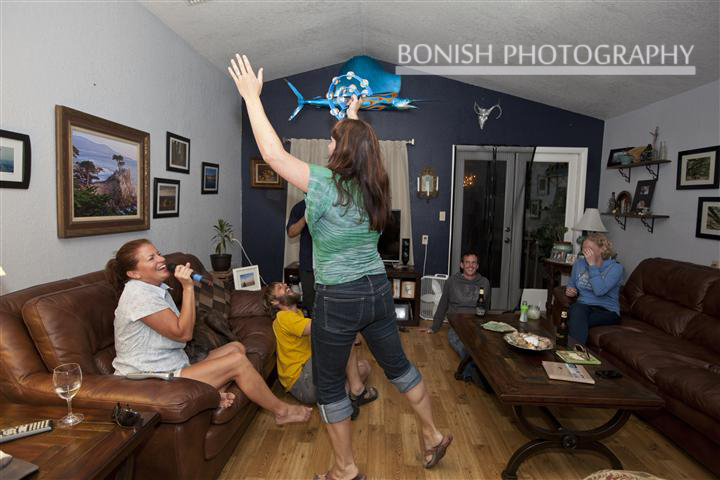 There are plenty of nights we laugh a lot, but this one was over the top. I think Cindy and I went to bed giggling and woke up laughing again. It was so much fun and I'm so glad this gang of Gypsy's have all found Cedar Key.
Tuesday March 27th - Rainbow Springs State Park
After last weeks Vacation Tuesday Club, Scott & Karen had made plans with Cindy and I to head out to Rainbow Springs State Park in Dunnellon. It's about an hours drive from Cedar Key just north of Ocala.
We loaded up the truck and headed out early (10am). The drive over seemed to only take 10 minutes because the conversation between the 4 of us is usually never ending and very entertaining.
Scott and Karen have traveled all over, live a very active lifestyle and we always have lots to talk about.
Our first stop was KP Hole Park. We weren't sure which park offered what, so we thought we'd stop and check them both out just to see what they offered.
What we found was the KP Hole Park is basically a small park that rents Kayaks and Canoes, has a little picnic area along with a swimming area that is very small. If we wanted to paddle the crystal clear waters of the Rainbow River, this would be a great spot to launch from.
We asked about the waterfalls and the attendant told us we were in the wrong spot. She gave us a map that showed we had to drive out of KP Hole Park and head up a few miles to where Rainbow Springs State Park was.
We asked about food, and she suggested we head into Dunnellon if we wanted to get some food, so before we drove up to the park, we headed back into town to see if we could find a place to eat.
Cindy and Scott looked up places and found The Blue Gator. It was right on the water and had outside seating. That was perfect since today was in the 80's with big white fluffy clouds in the sky.
The Blue Gator has a huge outside deck overlooking the Withlacoochee River with big oak trees providing a nice shaded place for a break.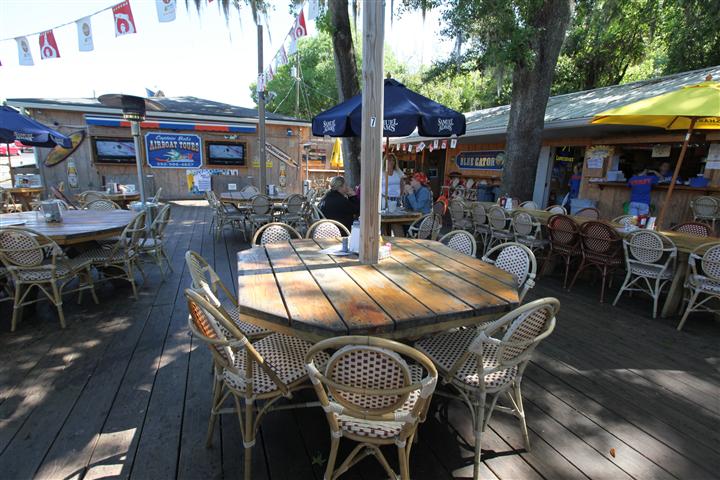 The Deck at the Blue Gator Restaurant
The four of us sat watching the boats idle paste while we enjoyed a great lunch.
From downtown Dunnellon, we headed back towards the State Park where we found some parking and paid our $2 per person entrance fee.
The park has really nice paved walkways wandering through a thick canopy of huge trees. There is a nice lawn that overlooks the tropical blue springs that were filled with people trying to cool off from the unseasonably warm spring we're experiencing.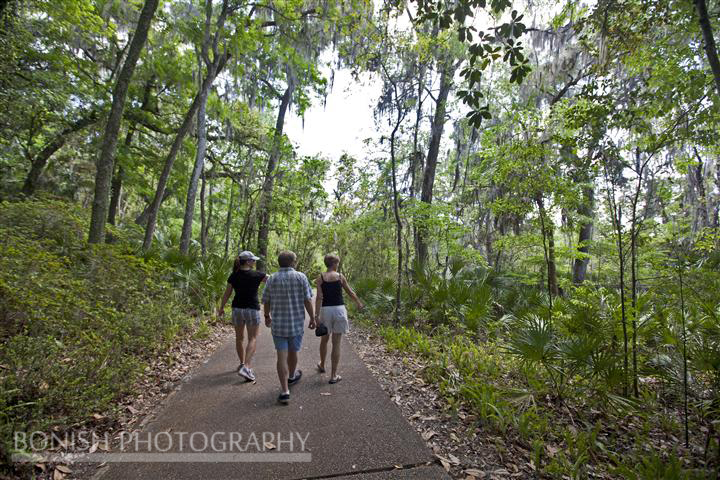 Cindy, Scott & Karen walking through Rainbow Springs State Park
We also forgot that this week is spring break for many of the surrounding high schools, so the springs were loaded with kids enjoying themselves.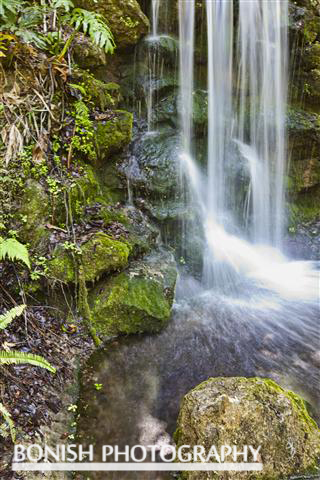 We put our bags down on a picnic table and went to check out the waterfalls. I guess when this was a privately owned attraction back in the 30's, they built some beautiful waterfalls from a quarry where they were mining Phosphate.
The falls trickle down a beautiful collection of rocks and pools and run back into the Rainbow River where the water is drawn from. They're lined with ferns and blooming flowers and reminds you of something you'd find in Hawaii or some other tropical location.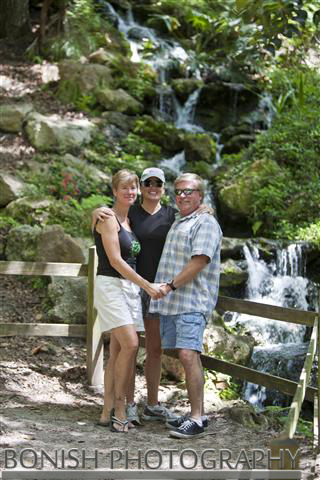 We wandered around the walkways snapping photos and feeling the cool air come off the waterfalls. By this late in the afternoon, it was pretty sticky outside due to the humidity. Being around the waterfalls made it feel like you were standing beside an air conditioner. I couldn't believe how much cooler just being around them it felt.
We wandered around for a few hours till we were good and wore out. None of really felt like getting in the water and going for a swim, although by this point it kept looking better and better.
We decided to head towards home so we wouldn't be driving in the dark. As we were walking out the main entrance, we walked past a motorcycle that was parked right on the edge of the woods. We noticed there was two little birds that kept flying in and out of one of the helmets that was hung off the back.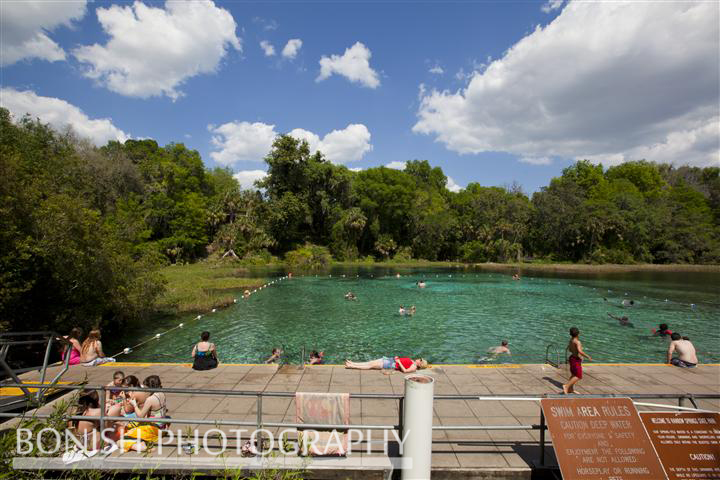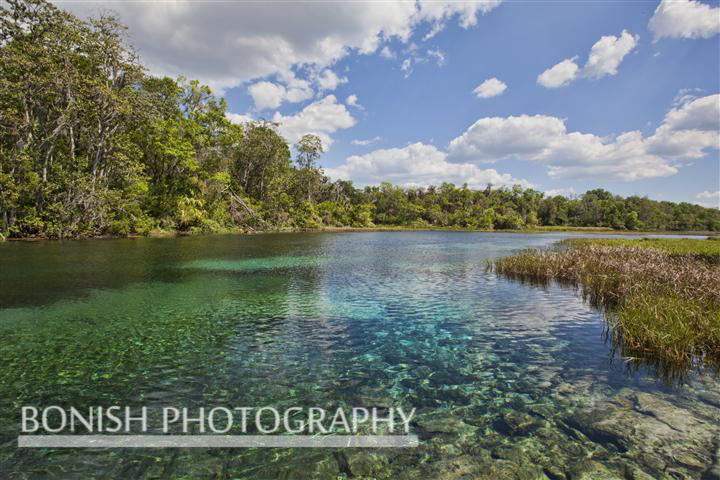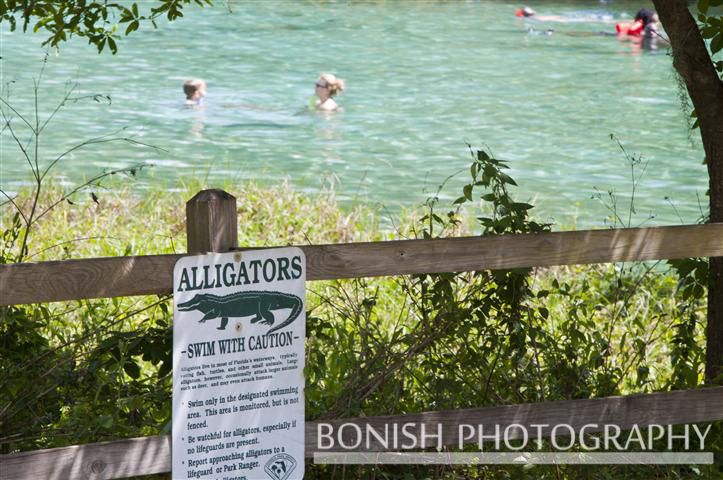 We sat watching as these two little birds did their best to build a nest inside the cozy, padded helmet with the big picture window. They were working at a feverish pace and we walked up and looked in the helmet to see they had a complete nest built in the short time we watched. We were all laughing hysterically thinking of how excited the birds had to be. To them, this had to be the Taj Mahal of bird houses.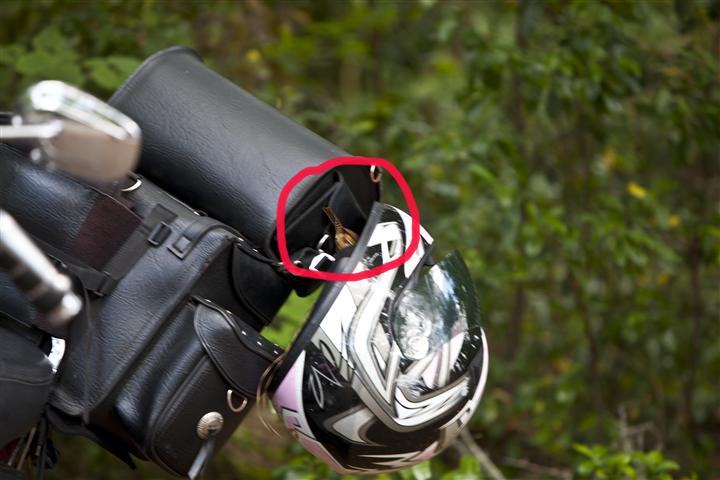 I circled the bird going into the helmet
We also were laughing thinking about the people who were going to come back from the park to find a fully built nest inside one of their helmets. We contemplated just hanging out to wait for the folks to return to see their expressions. But after awhile of waiting, we were laughing too hard and just decided to leave.
We took a different way home which brought us through Crystal River. After stopping for fuel, (It's about 30 cents cheaper in Crystal River than it is in Cedar Key) we decided to stop at Cody's Roadhouse for Happy Hour and some snacks.
We don't get out of Cedar Key all that much, so when we do we need to take advantage of it. Cody's is great and decorated with lots of old memorabilia that reminds me of our old place the Red Dog Saloon. It provided great food and wonderful service, which is what we were looking for.
We made the hour drive home just in time for Sunset and hung out on the back deck talking with some folks in the campground while we all enjoyed the beautiful scenery! So awesome to have this as a back yard!!
The Gallery from Rainbow Springs State Park can be seen here
Sunday March 25th - Another Beautiful Day
What a difference a day can make. After yesterdays crazy storm, today turned out to be a picture perfect day.
I called Laura in the morning and she let me know her friends agreed to stay an extra day so they could go out on the boat.
Today's tour was perfect. Calm water, warm breezes, dolphin jumping in our wake and quiet coves to float in and eat lunch. It was a perfect day on the water and I think they all enjoyed themselves immensely.
Saturday March 24th 2012 - Partying Through the Storm
Florida is in major need of rain! When ever we see rain on the forecast, we actually get excited. Many of our trees are brown and the grass isn't all that green this spring due to the lack of water. This afternoon was one of those days we were excited.
We could see a large system on the radar moving west across the Gulf directly towards us, and it was raining off and on early in the afternoon, but nothing crazy, just a light drizzle.
I had a Boat Tour I was supposed to be taking out at 1pm which I was a little worried about because of the weather. It would be 6 people so I was using Heath's big boat even though Heath and Jolie were out of town. This would be my first time taking his boat out on my own so I was a little nervous.
The people I was taking out live here in town during the winter months and had some friends visiting this weekend. They wanted to show their friends the islands and let them see why so many of us residents love this area the way we do. Once I had the boat in the water and I was floating out in the main channel, I called Laura asking if they really wanted to go out today? The wind was blowing pretty good and the water was pretty choppy and I was trying to tell her it wasn't going to be all that fun of a ride.
She said that her friends were only in town for one day, and they were really looking forward to the boat tour. She said they'd be fine with a shorter tour, maybe just showing them some of the islands and hopefully while we were out on the water, the front would pass us by. If not, they'd be fine with a shortened tour and she told me they'd still pay the same amount.
I let her know that she should bring rain gear because everyone would probably end up getting wet from the spray coming off the waves.
Soon enough they were at the docks and we loaded everyone onto the rocking boat. Once everyone was situated, we motored out into the channel as the winds were actually picking up. There was a nice spray coming over the bow from the waves we were crashing through, so cameras weren't an option for this tour.
I tried to position the boat so the bow wouldn't crash into the waves because each time that happened, the wind would blow the water right back at us leaving us all with a nice salty shower. Before long, everyone on the boat was good and wet and we hadn't even been out for 10 minutes.
I tried to get the boat behind Atsena Otie Key in order to use the island as a wind block, but the winds were blowing so strong there really wasn't any place to hide. I thought if we could sneak back across the channel and get into the inside in some of the protected coves, we might be able to get out of the wind and waves. As we were motoring across the main channel, it started pouring rain.
Finally one of the guys in the group came to his senses and said "I'm going to call it, please bring us back to the docks!" I thought this was a very good idea!
We unloaded everything off the boat and I told them if the weather cleared for tomorrow, we'd try this again. Once they were off, I ran back around to Heath's dock and put the boat back on the lift. By this time I was soaked to the bone, so I headed home for a warm shower and a nap.
At first I was thinking no one was going to come to the tiki bar tonight, but we had multiple people knock on the door asking why it wasn't open, so I went out and opened it up even though the weather wasn't perfect.
Pretty soon the bar was full and the rain was getting heavier and heavier as the afternoon grew later. Before long, you couldn't see the end of the dock due to the heavy rain and in order to try and stay dry, most of the patrons were huddled behind the bar with me.
The rain was coming down so heavy and the winds were blowing so hard, it was coming in sideways and pretty much everyone in the bar was soaking wet.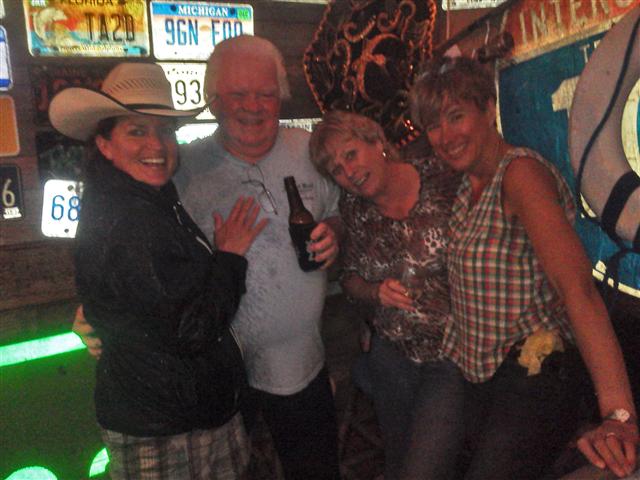 Cindy, Bill a.k.a. Santa, Pam and Karen all huddle in the corner to try and stay dry. Notice how wet Cindy's jacket is! Sorry for these crappy photos, but it was almost pitch black and these were taken with my phone!
Did that matter to the Saturday night crowd? NOPE! Everyone kept drinking, laughing at the storm and commenting on the impromptu Wet T-Shirt Contest we were having.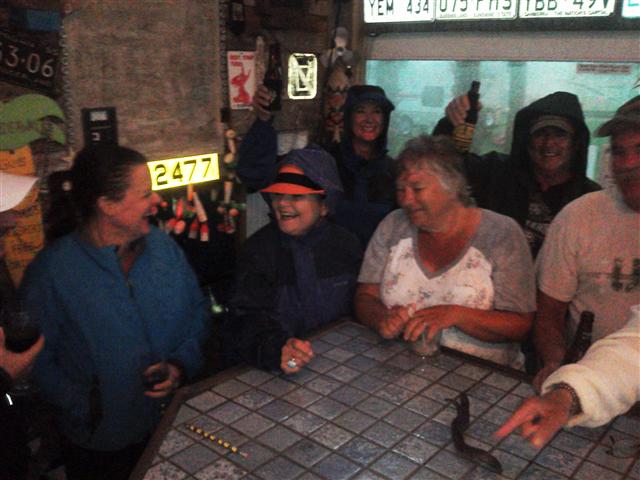 The Other Side of the bar with everyone huddled in the corner to try and stay out of the driving rain. notice how much fun everyone's having even though we're all soaking wet!
After an hour or so of solid downpour, we were checking the system on the radar and could see that it was just about to blow past us. We still had 30 minutes till the sun was supposed to set, so everyone hung out to see if we might get another beautiful sunset following the storm.
I'd love to show you some beautiful pictures, because it ended up clearing up and we did have an amazing sunset, but there were some guests staying in the campground that were shooting Canon cameras and she was asking about my 5D MarkII, so I let her borrow it so she could try it out. So no photos to show off, but it was a great ending to a wet and wild day.
Tuesday March 20th - Long Day on the Water
We have tried to make plans with Scott & Karen on multiple occasions since they've been back in Cedar Key. We've had a few nights of going out to eat, or having drinks at one another's house, but we've yet to get out on the boat like we keep trying to do.
Last week, we were all talking at the Tiki Bar and said "Let's just make set plans for next Tuesday. Then we'll have to go out like we've been planning on."
So today would be the day to head out on the boat. The tide was going to let us leave the motel right from our dock at noon, and we had hoped to see the sunset from the water. Just in case things changed, or the tide got too low for us to return back to the motel, Scott left his truck down at the marina.
We loaded up the boat with coolers that were filled with food, drinks and supplies. The girls had been making food for two days now and to see the menu items Karen and Cindy had been preparing, you'd think we were going to be out on the water for multiple days.
The day was absolutely gorgeous with almost every type of cloud imaginable in a deep blue sky. There was a nice breeze to keep the 80° temperatures comfortable. We motored over to North Key first and anchored the boat on the big white sand beach.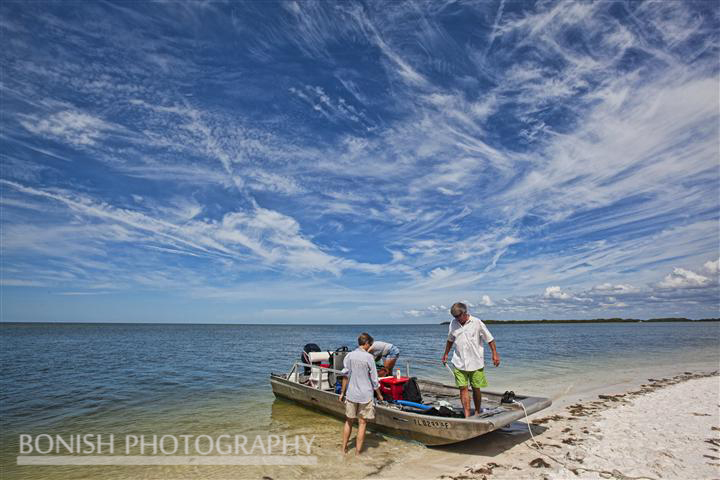 The 4 of us strolled the beach with knee deep, luke warm water cooling us off. We explored the tangles of driftwood and took in the giant eagles nest perched just inshore. The nest is so big that two grown adults could sit on the edges with their feet faced towards one another and they probably wouldn't touch.
It's funny to see the difference between guys and girls on a beach. I think we could have left Cindy and Karen in their beach chairs and picked them up at 5pm and they'd have been content.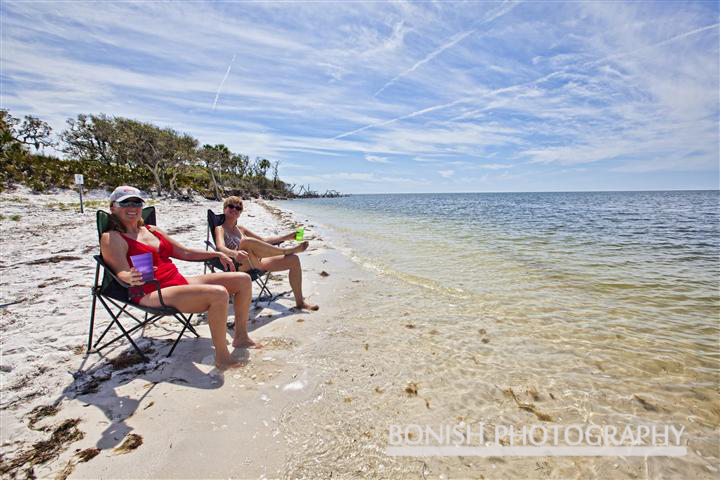 Scott and I on the other hand don't like to sit still, so it didn't take long before we were telling the girls they needed to pack up their shit and we were going to move around on the water. I also like that the boat can go from everything having its place to looking like a teenage girls bedroom within 20 minutes of Cindy being on the boat.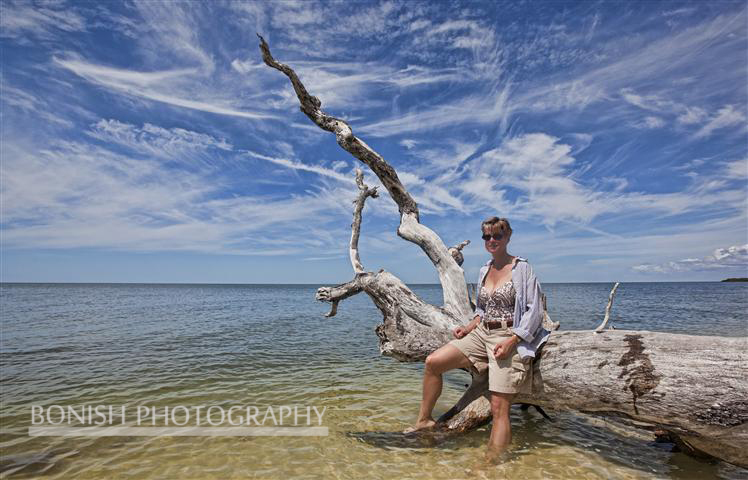 Karen posing on my favorite piece of Driftwood

Scott Drinking form a Conch Shell
The coolers had been emptied of their contents, she had changed and her clothes were laying all over the deck of the boat. Chairs were scattered about and towels were thrown all over. When I suggested she pick up her stuff, she just looks at me with one of those looks saying "Don't start with me!" and left it where it was. This meant the boat wouldn't be able to go faster than a slow idle for the rest of the day for risk of items flying off. Now that I think of it, this was probably her goal.
We motored out and around Seahorse Key, but it's that time of year when the island is closed to allow birds to nest, so we couldn't get close to the shoreline.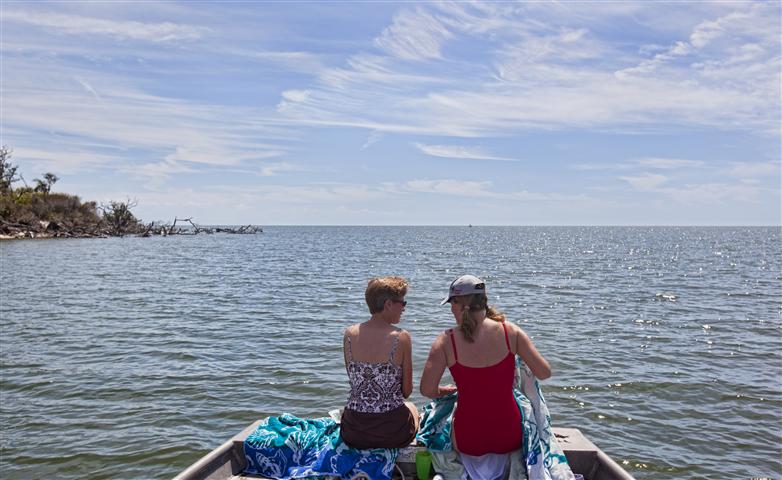 We idled over to Snake Key and found a nice shaded section of shoreline where we tied up to the beach. As we sat eating, drinking and watching the blue crabs fight with the hermit crabs, we enjoyed our afternoon on the water immensely.
We all agreed that Tuesdays need to be scheduled as a day of fun and exploration. Whether we go out on the boat or visit another small town in Florida, we need to start taking more days where we go out and enjoy ourselves.
We spent awhile just relaxing on the shoreline of Snake Key. This little cove was just perfect. Shaded, nice breeze, clear shoreline where you could wade out and take a dip if you needed to cool off. There was a big palm tree that had fallen over which made the perfect bench to sit on with your feet in the sand/water while the stories and drinks flowed like the tides.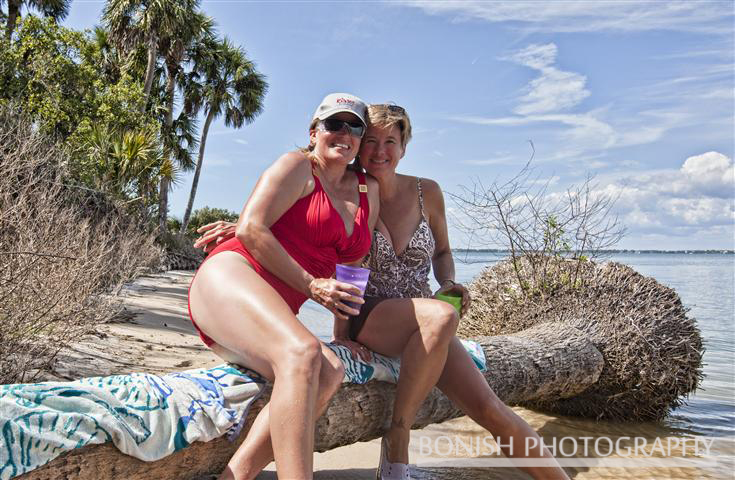 After a few hours, I got the itch to move again and we shoved off to go float around in the currents. While we were floating, we were seeing dozens of dolphin playing all around us. They were either mating or playing, but they were jumping and frolicking a lot.
We had too much stuff scattered around the boat to make any sort of wake, so we just floated and watched the dolphin play while we listened to the water lap against the side of the boat.
While we were just sitting there floating and watching the dolphins, Cindy started screaming "Sea Horse, Sea Horse, Sea Horse!" while pointing frantically at the side of the boat. I was looking behind us towards Sea Horse Key thinking she was seeing something back there.
I finally realized she was pointing at a tiny Sea Horse that was clung to a piece of sea grass that was floating past us in the current.
I held the camera over the side of the boat and snapped a picture of it, but the tiny sea horse wasn't any bigger than a cigarette lighter, so its not all that great of a photo.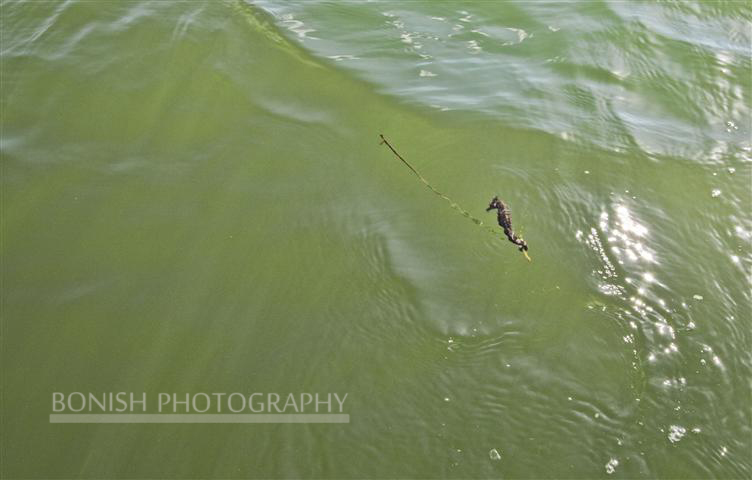 Sea Horse floating past us hanging on to a piece of Sea Grass
After another hour or more of sitting around watching the dolphins, Cindy said she was ready to head back home because she was worried about not being able to get to the dock. We packed everything up so we could bring the boat up faster than an idle and headed towards the Low-Key Hideaway.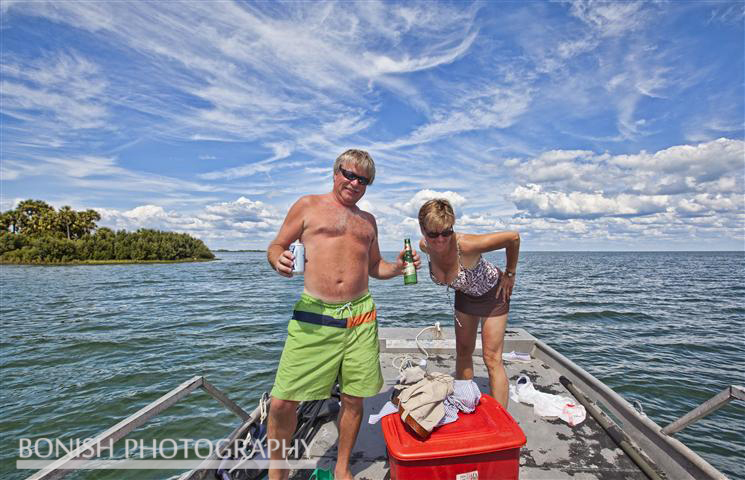 Scott & Karen enjoying the 1st Day of Spring
Coming in the back channel, I didn't think we were going to be able to make it because of how many oyster bars we were seeing. Once up behind the motel, Cindy refused to even let me attempt an effort. She said there was no way she was going to do another mud walk, so we turned around and took the inside channel back towards town.
We had forgot that Scott had left his truck down at the marina. Once out in the open water between Dock Street and Atsena Otie Key, we figured we only had an hour to wait to see the sun set, so why not just sit out in the open water and wait for the last few rays of the 1st Day of Spring.
Our last hour was spent cooling down watching a storm blow around us as we watched the sun set off in the West. What a perfect way to welcome spring!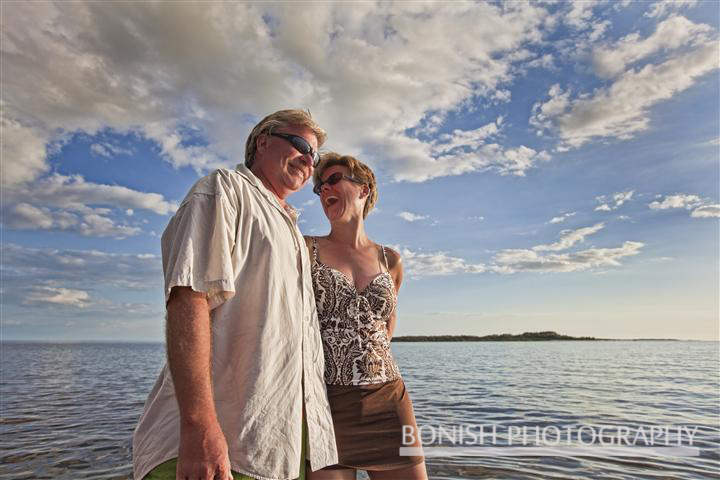 I think these two are having too much fun!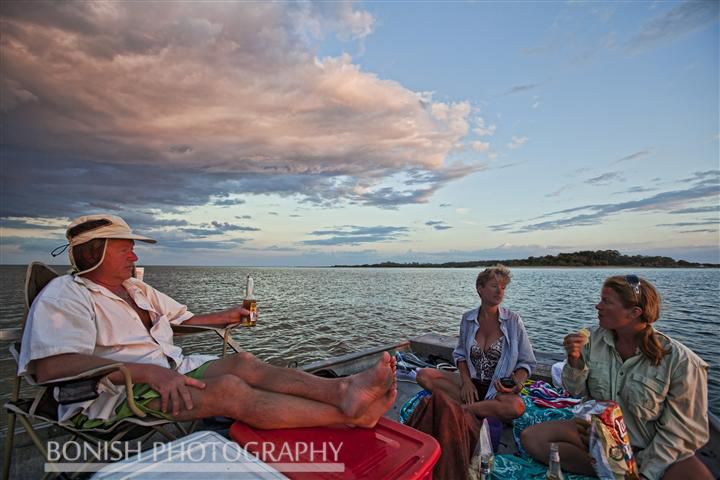 Sitting back enjoying life in Cedar Key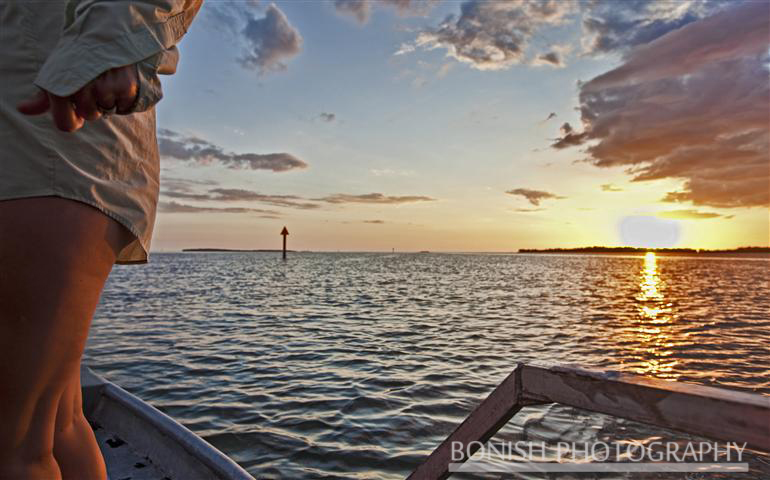 Monday March 19th - What a Great Day
I was up early answering emails and catching up on some computer stuff when Cindy came in from taking an early morning dog walk and said "Grab the cameras, there is a huge flock of birds off the back dock."
I grabbed some equipment and headed out to see what we could see.
It was low tide, but there was a small pool of water that must have been filled with fish, because the birds were going crazy all around this area.
We had such a great mix of birds...white pelicans, egrets of all sizes and colors, American avocets, ibis, wood storks and gulls all fighting for some free breakfast. A few of the motel guests came out to watch as we all sipped our morning coffees with shutters clicking like crazy.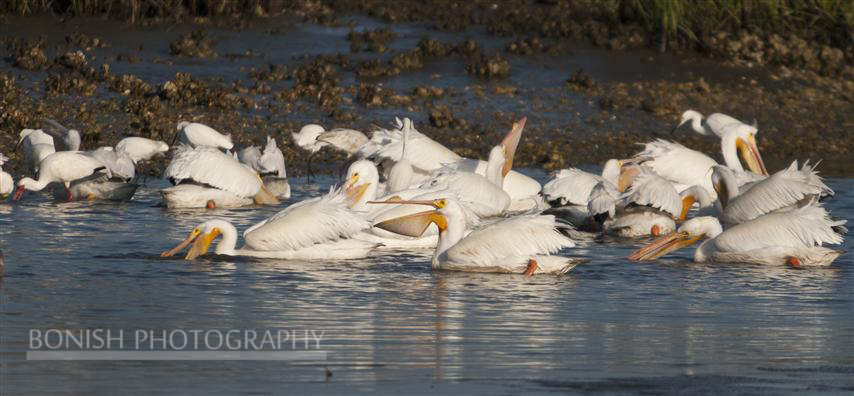 Cindy even got some camera time which is rare for her to get behind the camera when the subject is birds. She says they don't excite her like action stuff does, but she's very impatient, and she didn't have to wait for anything with this flock, they were all moving pretty fast.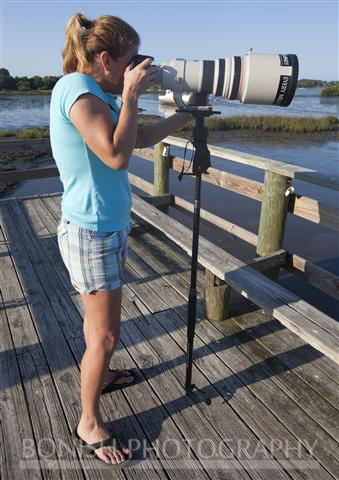 This entire gorging only lasted about 20 minutes before they all flew off for richer waters. We headed back into the motel to finish our daily chores and put in our time on the clock.
As a tip for the Photography Boat Tour on Saturday, Heath's mother had invited us over to her house for some Elk Steaks grilled over the fire.
You cant pass that offer up, so we packed a cooler full of drinks and headed out to Sumner where they live. When we pulled up, the party was already underway with pick-up trucks scattered around the yard and folks standing around the fire pit.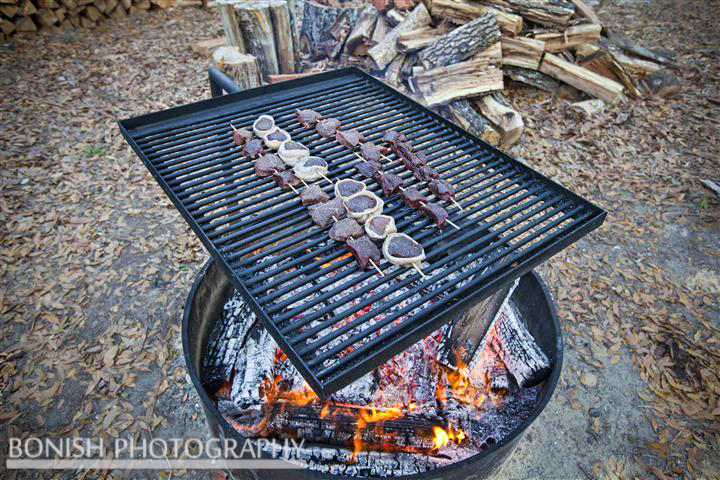 Heath & Jolie were there along with their girls. Scott & Karen were there and Lisa & her husband Dana were also enjoying the aroma of a wood fire with tender meat sizzling overtop.
Heath's dad Mike had went out to Colorado this fall to do some Elk hunting. Tonight we'd be enjoying elk back straps, the most tender part of the animal and they were wrapped in the thickest bacon I've ever seen. My mouth is watering while I'm typing this thinking back to how tasty they were. Those were just the appetizers!
For the main entree we had thick, juicy elk burgers and some spicy venison sausage. All this while listening to the afternoon breeze blowing through the tall pine trees and hearing stories of Cedar key, Maine and various hunting trips Mike, Dana and Heath have gone on around the country.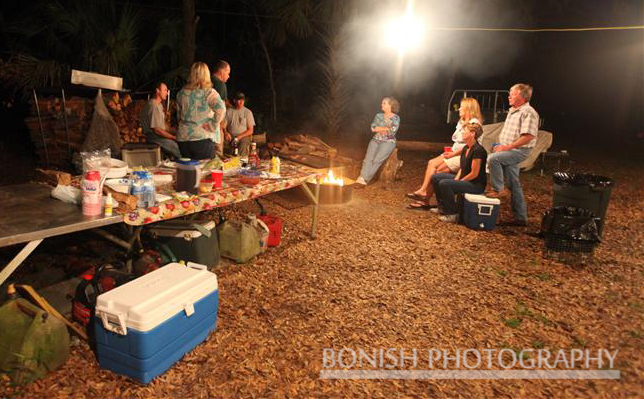 There is something timeless about sitting around a campfire listening to old timers talk of their youth. Mike was telling us so many hilarious stories about growing up in Cedar Key and of the interesting fisherman that floated through these parts over the years.
There were a few times I had tears rolling down my cheeks I was laughing so hard. Heath has told me many of these stories, but to hear his father tell them is just awesome. It was a great night had by all and I think my stomach hurt by the end of the night due to how hard we were laughing.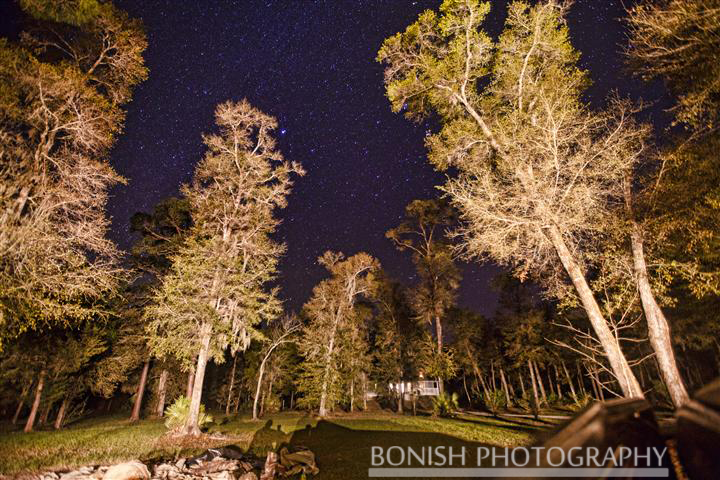 Looking away from the fire across the yard.
This was a 15 second exposure. All the light you see is from the bonfire!
Sunday March 18th - Taking a Day Off
We have a group of 7 girls staying with us here at the motel. They've rented 3 rooms and had a bunch of fun last night at the tiki bar. This morning they asked if we could take them out to their own private island so they could have a secluded beach all to themselves.
I called in Heath to help with this, and we did our best to make sure they were set up nicely on a beautiful beach.
When we picked them up later in the day, they told us a funny story.
They said that just after we dropped them off, a FWC Ranger pulled up in his boat asking all sorts of questions and wanting to see their Permit.
There have been some tents set up on this particular island for the last few weeks and I guess the FWC Ranger thought these girls were the ones who owned the tents. You need Permits if you're going to be camping on any of the islands in the Cedar Key Wildlife Refuge.
Once he found out the tents didn't belong to them, he kept joking around with them without them knowing he was joking. He told them they were going to get fined if they didn't call me right away and get me to come pick them up.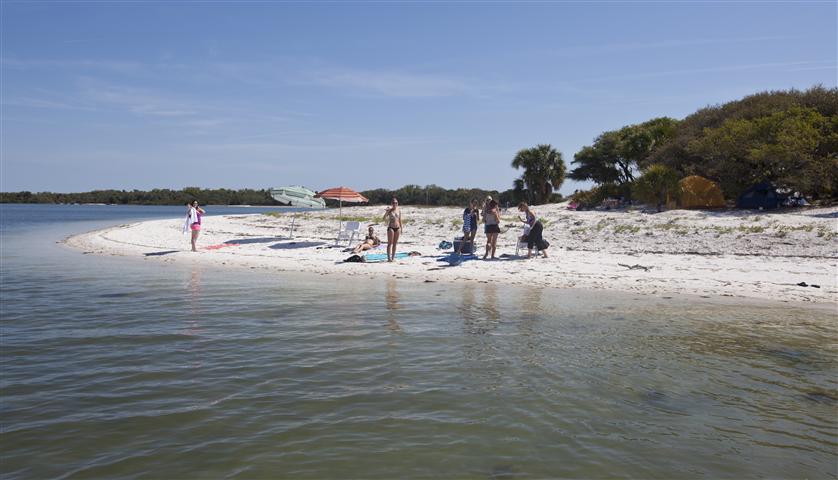 Set up on the Beach all to themselves
They told us when they were almost to tears, he finally smiled and said "I'm just joking with you." In reality, there was a group of beautiful women in bathing suits on the beach, and once he found out they didn't have anything to do with the tents, he was probably trying to buy some time to keep talking to them.
We have some campers staying with us that have been great fun to hang out with and share traveling stories.
Dennis and Jeanette live in their Class C fulltime, but they are right around our age, which is very unusual for fulltime RV'ers. They both work fulltime from their RV, so if you think about the costs of day to day life in an RV compared to living in a stick built house with all the upkeep, taxes and insurance, the RV Lifestyle actually saves them money.
Brian and Maria also live in a Class C and work/live fulltime from the road. I think they're a few years younger than us, which is even cooler. It's rare to meet like minded people who don't have any issues with living with a closet big enough your entire wardrobe wouldn't fill a large suitcase.
Most people sit and grill Cindy and I with questions about how we did it, wasn't it weird to live on the road fulltime at this age and all sorts of wacky questions people come up with. So meeting folks who already know all those answers and can just talk about day to day topics like it's completely normal is very rare, but great fun.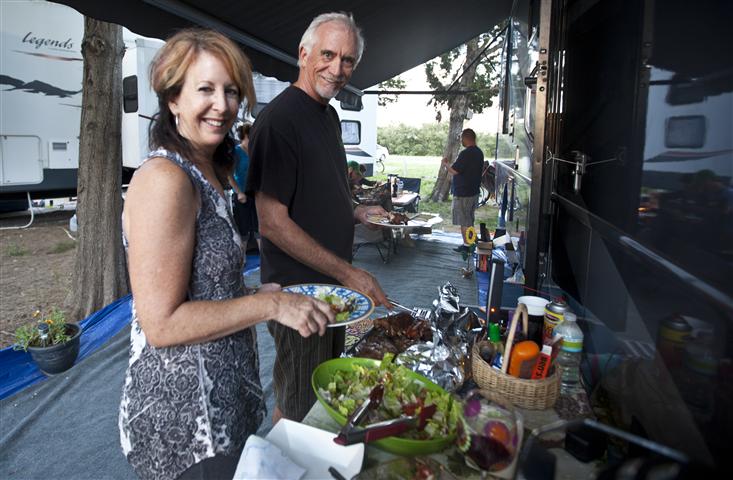 Debby & Bill from the site Bill & Debby's Wild Ride, getting ready to enjoy some great fixin's
Bill & Debby, another couple who live fulltime out of their RV invited us down to Sunset Isle RV Park where Dennis & Jeanette and Brian & Maria were all going to be joining in. We rarely get invites like this, so we decided to close the tiki bar tonight and join them for some BBQ Ribs and drinks under the tall pine trees that shade our neighboring RV Park.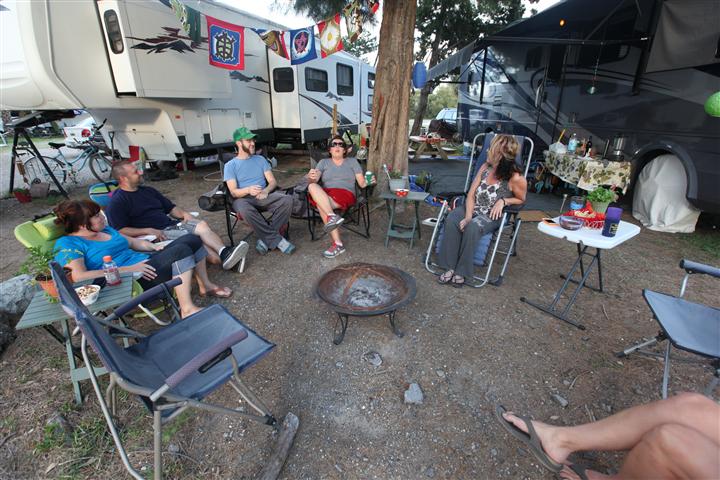 Sitting around laughing at our own stories
Bill & Debby are the ones I shuttled over to one of the islands with Bob & Sini last week.
The night consisted of some great stories shared of various places we've all visited around this amazing country of ours. Bill & Debby told us some hilarious stories of Burning Man, their camper getting trashed by the dust and what they'd do if they go back again to prevent it. Which is good to know, because it's still on our bucket list of events to partake in.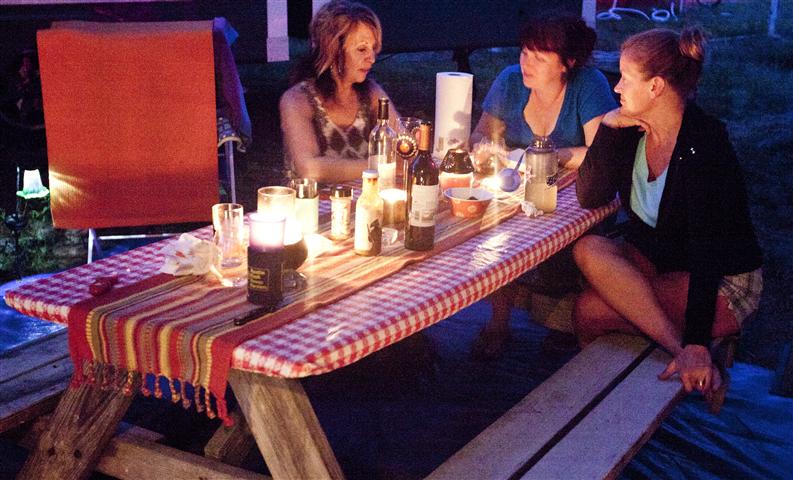 Debby, Jeanette & Cindy sitting around chatting by candlelight
After some awesome food and the sun setting, Cindy and I came home and sat out back in the Adirondack chairs just admiring the sky and the shooting stars. Our backyard is beyond amazing. It was a great day off! Thanks for inviting us Bill & Debby!!
Saturday March 17th - Happy St. Patty's Day
The Tiki Bar was rockin' last night, but we were still up and at the docks this morning for Sunrise and another photography/boat tour.
This one was more a trade than a paid tour. Heath's mom and one of her good friends Lisa, wanted some one-on-one photography instruction and we said we'd trade for a Maine Lobster dinner.
Lisa is from Maine and has a connection where they fly in Maine Lobsters to one of the fish houses down here in Florida. So we said we'd swap a photo tour for a Maine Lobster dinner.
When we were getting on the boat this morning, Lisa said "Every time I go out, they joke with me that I'm a Jinx when it comes to seeing dolphin."
Heath and I told her we've yet to go out and not have dolphins playing, so she didn't need to worry. First things first, we had to wait for the sun to rise so we'd have enough light to play with.
While Heath got us into position, I talked the girls through the settings on the cameras and what we wanted to have our settings set to.
We started the morning off with Black Skimmers. These huge flocks of acrobatic birds are great fun to try and follow with the camera lens. For me, I enjoy challenges when it comes to my subject matter, so birds that move fast or constantly are some of my favorite subjects.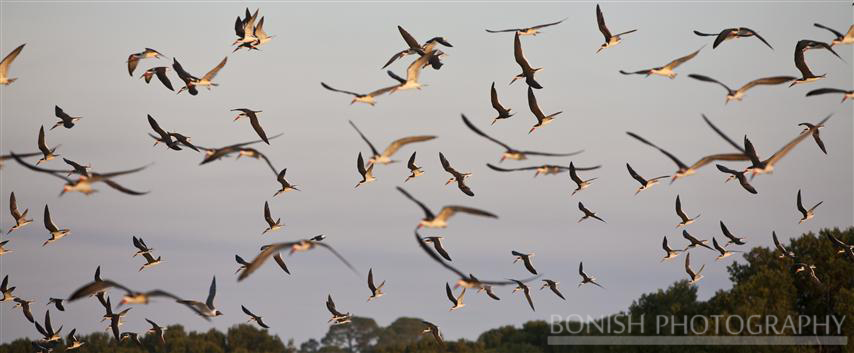 Flocks of Black Skimmers circling the Boat - Photo by Pat Bonish
From the Black Skimmers we moved in one of the inner channels and found a couple of spots that were loaded with multiple groups of birds ranging from Roseate Spoonbills to Night Herons to Egrets and Ibis to Great Blue Herons. It was a good start and the girls were firing away.
We also learned a few things this morning. The girls keep their cameras set to AUTO ISO which allows the camera to set their ISO (Film Speed Equivalent) to what it thinks will work best for the scene.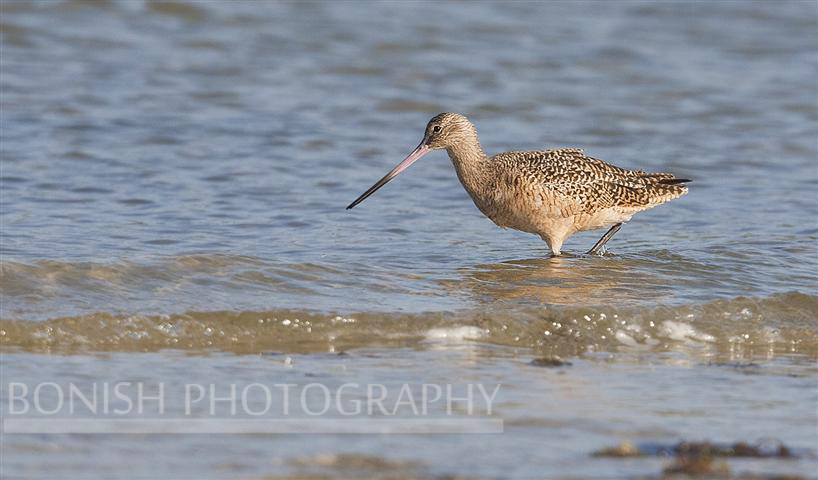 Marbled Godwit in the Surf - Photo by Pat Bonish
We learned that when shooting a white bird, the camera will set the ISO low which means the settings change and might not be as fast as they should be to capture the movement. I always set my own ISO depending on the scene and available light, but for people that don't shoot on a daily basis, this can become tricky. We changed their settings so we set the ISO ourselves and it helped get more keepers.
We spent the morning moving along the islands finding different variations of birds to photograph. The girls were learning to get their balance on the boat, which is something I forget is a learned trait only after experiencing it multiple times. I remember my first few times on the boats and how frustrating it was. When trying to lock your focus on a bird while the wind is blowing, the boat is floating up and down and the birds usually don't want to sit in one place can make the 1st few times very frustrating.

To add to the frustration, I wanted to girls to test out different lenses that usually help because of Image Stabilization and a faster motor to help lock that focus. These lenses are usually heavier and longer than a normal consumer lens, which means there is a learning curve even when standing on stable ground.
Either way, they were having fun and the morning was another great day on the water. After a few hours of shooting birds, we started motoring around specifically looking for some pods of Dolphin. Lisa had told us she really wanted to see some dolphin and wanted to add some jumping shots to her portfolio.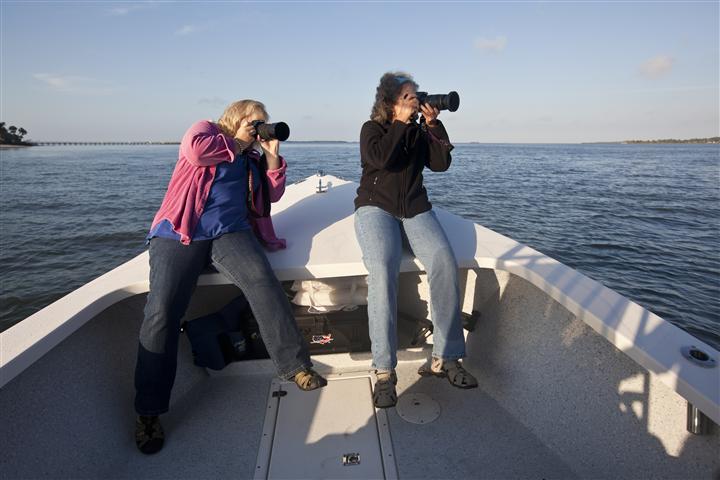 We rode around for an hour or so just looking for any break in the surface, but never spotted anything other than birds and more birds.
We killed the motor and just floated for awhile thinking we'd wait to see if we could spot anything on the horizon. Nope! Lisa wasn't joking when she said she was Dolphin repellant!
By this point it was getting late in the morning and the sun had risen too high to get good shots. We called it a day and headed back into the docks. The girls headed out to do what ever it is they do for the day and Heath and I went onto work.
The Tiki Bar was rockin' again tonight and being St. Patty's Day, we had a great night with guests, Cedar Key locals and random visitors who joined in on the festivities. The sunset was monumental and was shared by all who were lucky enough to have stopped by. The end of the dock looked like the sidelines of the Super Bowl with the amount of cameras that were pulled out and faced West. Couple of Pic's to show you what you missed.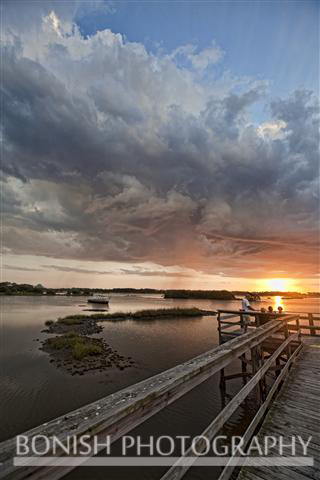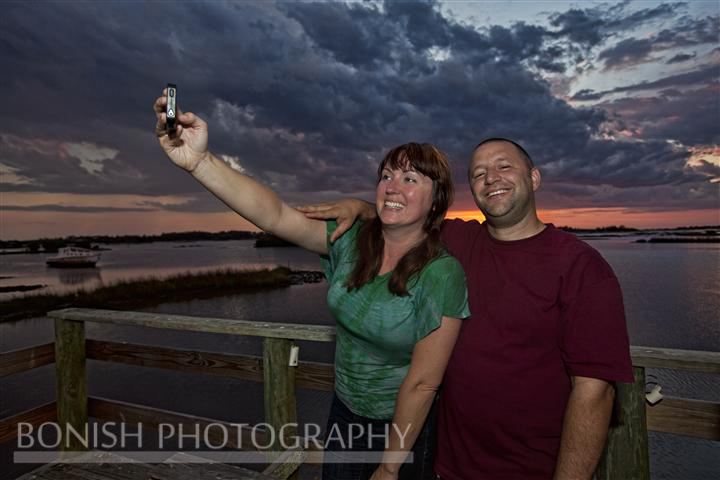 Jeanette & Dennis from the Travel Site Cheddar Yeti Capturing the moment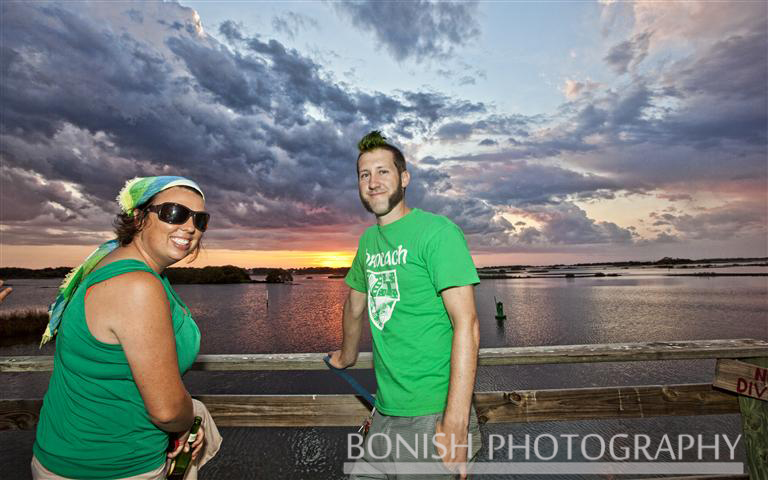 Maria & Brian from the Travel/Drinking Site Roaming Pint enjoying the Dock at the Low-Key Hideaway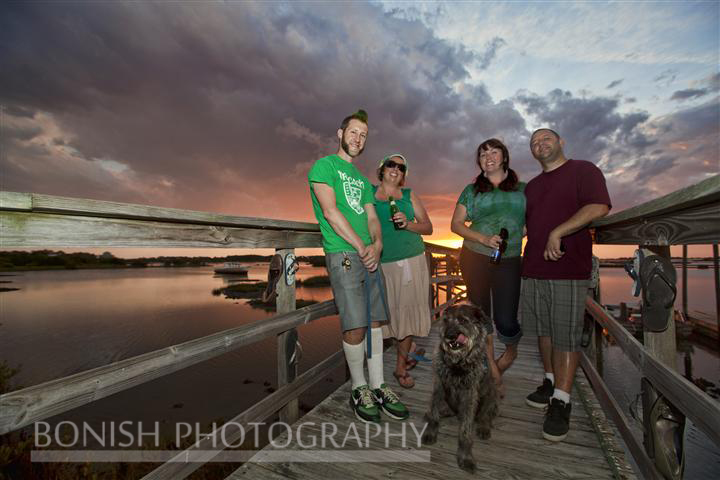 Travel Bloggers Extraordinaire
Wednesday March 14th - Sunrise Boat Tour
Scott & Karen have been back in Cedar Key for a few months now, but we've all been so busy, getting out on the water just hasn't happened.
We see one another quite a bit, but it's usually just at the tiki bar or passing in town while running errands.
Over the weekend, we all made plans to head out one day this week for a sunrise boat tour. This morning was the day when the stars all aligned allowing Cindy to go along for some fun.
We met down at Heath's dock at 7:15 which would give us 15 minutes to get out on the water before the sun actually made an appearance.
We all sat around enjoying the quiet of early morning Cedar Key. This is when you have a normally bustling island all to yourself. We saw a group of Roseate Spoonbills which have arrived early to this area because of the unseasonably warm weather.
As we motored out and sat off of the big dock waiting for the arrival of the sun, we heard some heavy breathing coming from a group of dolphin just behind the boat.
We sat watching while we noticed a few adults who were getting below a baby dolphin and holding it up on their backs to keep it at the surface. It was the smallest baby dolphin I have ever seen and it couldn't have been bigger than our little dog.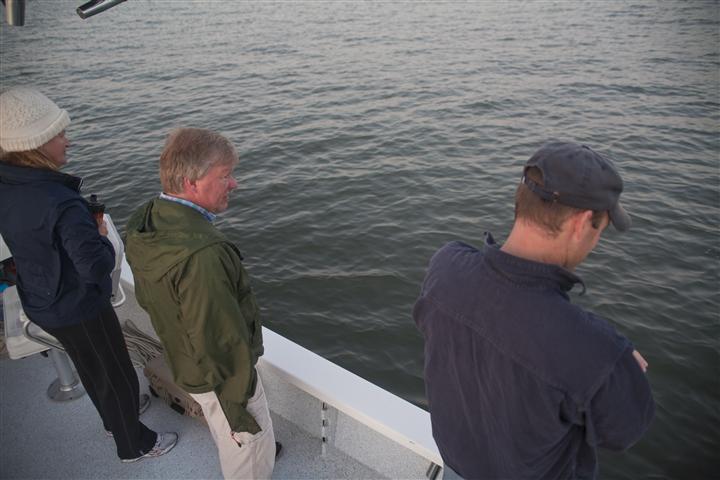 Cindy, Scott & Heath watching the Dolphin beside the boat
The adults were breathing heavy to keep themselves afloat which was keeping it up and at the surface. They must have been showing it that it needed to come up to breathe. We all guessed that we were witnessing a dolphin that had just been born and we're watching the first few minutes of it's life play out.
After awhile of watching, they swam away from us and we started the boat back up to go try and find the eagles nest. While we were motoring off, the little baby started jumping in the wake, but I hate to say neither Cindy nor I were able to get pictures of this amazing sight. But it's safe to say it's one of those memories I'll probably never forget.
We tried to get to the eagles nest, but the tide wasn't cooperating, so we just decided to go motor around and enjoy one another's company.
While we were coming back in front of Dock Street, we had another pod of dolphins come back to play in our wake. Cindy and I took turns sitting right at the back of the boat as the dolphins jumped out of the wake showing us their acrobatic skills.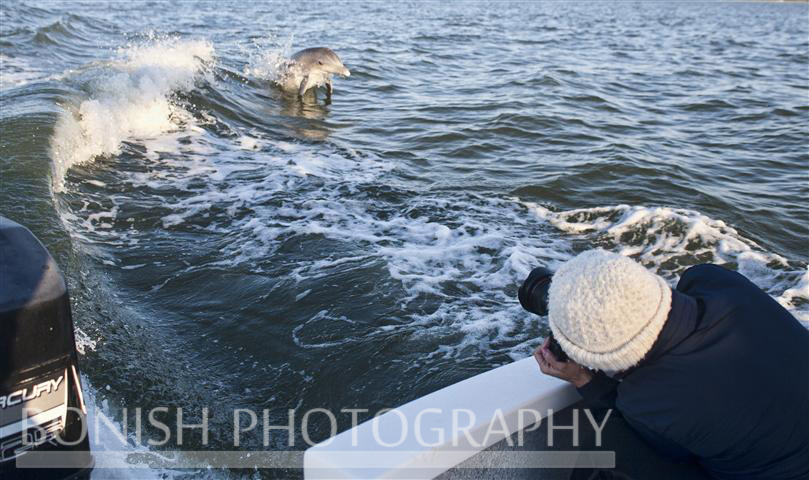 Cindy capturing the moment - Photo by Pat Bonish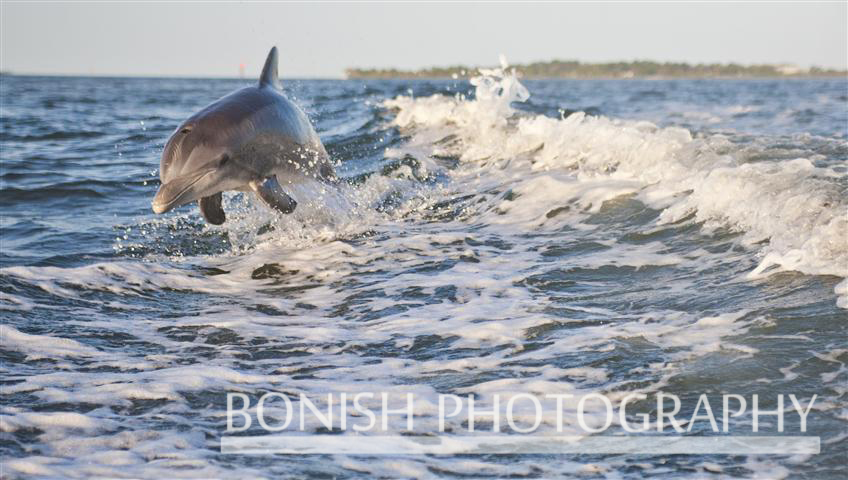 Clearing the Wake - Photo by Pat Bonish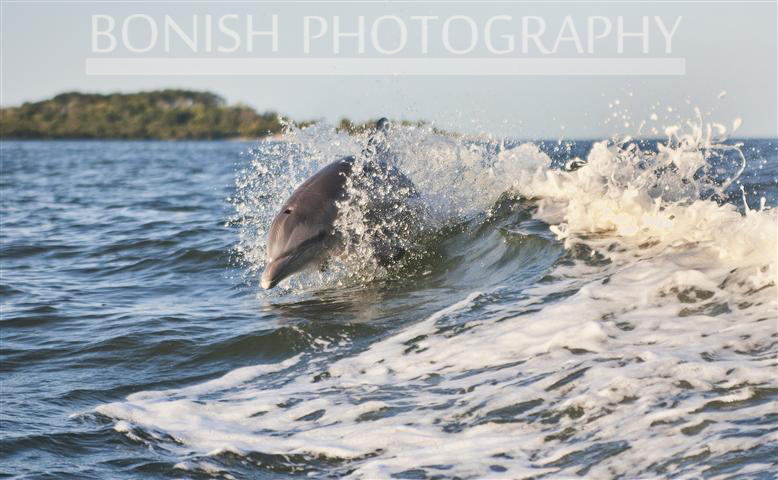 Wake Explosion - Dolphin playing in our wake - Photo by Pat Bonish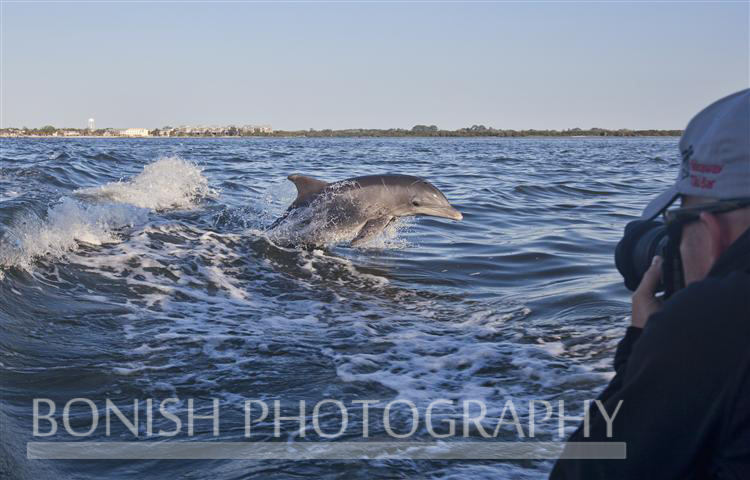 Me capturing the moment - Photo by Cindy Bonish

The photo that my camera caught
the same second Cindy was taking that other picture - Photo by Pat Bonish
Needless to say, it was another glorious day in paradise!
Monday March 12th - Awesome Day on the Water
The weather was beautiful today. Amber called in due to a cold either her or her son has...I cant remember because they seem to keep giving it back and forth to one another?
Cindy and I busted out the rooms we had to clean and turn over and we were ready to head out as soon as the tide came in enough to let us leave the dock. Cindy also wanted to bring the dogs, but we don't know how Little will act on the boat, and we don't have a life-jacket for her, so we only brought Luca with us.
The winds were flat today, which meant the water was perfect. It was like looking at a pane of glass with a mirror finish.
We motored out and breathed a big sigh of relief. Being on the water is like taking a valium. It just puts me at ease, even if the waters rough or choppy.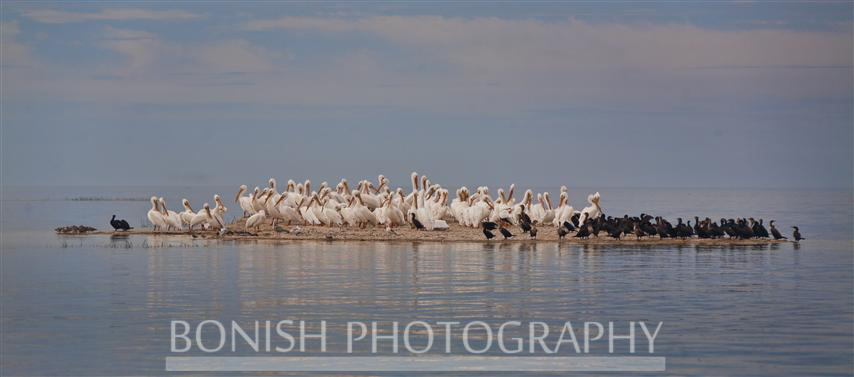 Segregation in the Animal World
We showed Shane the White Pelicans and how big they are. We toured the surrounding islands, giving a short history lesson and enjoying our afternoon on the water.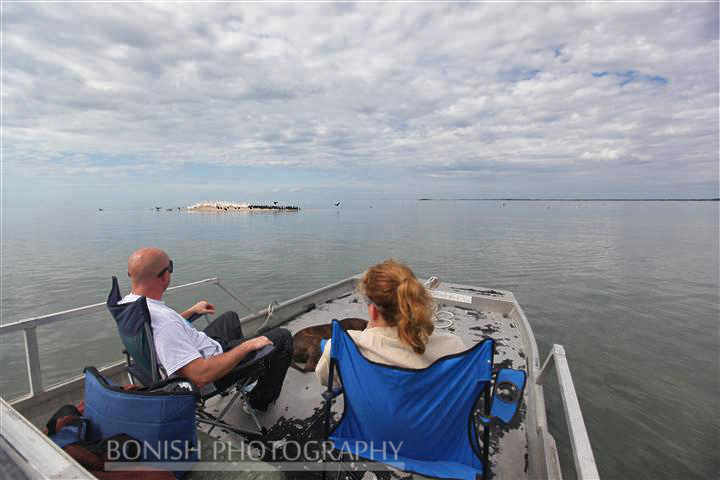 Shane & Cindy watching the White Pelicans from a safe distance to not disturb them
From the Pelicans, we motored up Tyre Creek to see the Bald Eagles and found that the two immature ones are out of the nest. We watched them wobble around the limbs of the tall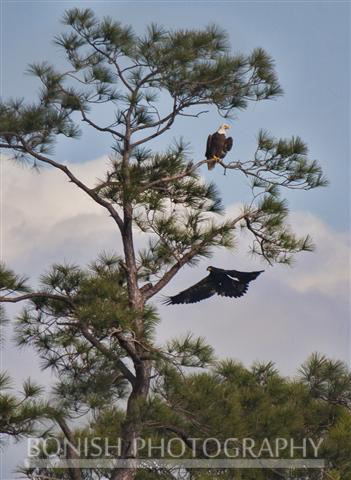 pine trees till we heard them start screeching.
We then noticed that the adult Bald Eagles were flying back towards the nest with fish in their talons.
This made the immature's take to flight and follow the adults who flew a short distance away from the nest before landing on another pine tree.
Our guess was they were making the young eagles learn to fly with the temptation of food.
We motored slowly towards the new tree they were in and killed the motor allowing the wind to blow us up closer to the tree. They weren't paying too much attention to us, as there was food and flying lessons to pay attention to.
We watched for some time till we grew bored with them just sitting there.
Once back out on the open water, we found some dolphins who wanted to play in our wake. Shane was as excited as we were and was happy to get to see it up close.
He would later say "Seeing the dolphin makes me so happy I just want to get in the water and hug them!"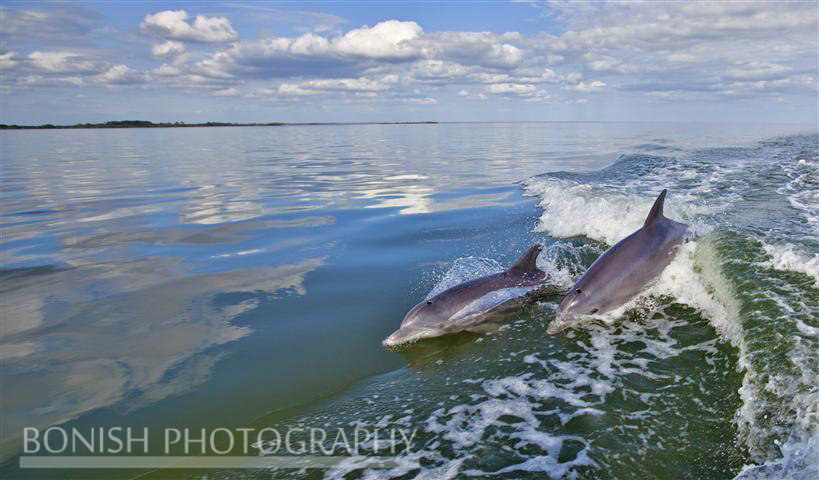 We had planned on staying out on the water and watching the sun set from open water. That was till we watched some really dark clouds slowing moving our way. Cindy didn't want to risk being out on the water and getting caught in a storm, so we headed back to the Low-Key Hideaway.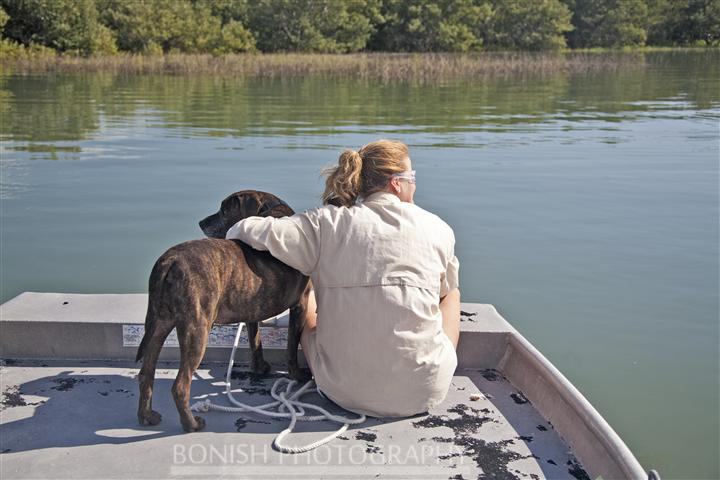 Luca & Cindy enjoying a day out on the water
The tiki bar isnt normally opened on Monday nights, but as we were pulling into the dock, we noticed about 15 people sitting in the bar and around the backyard. They all looked at us questioning why the tiki bar wasn't going to be open?
Cindy said "I'm going inside to make dinner, you can do what ever you want!"
So our night off went to having a full tiki bar with almost record sales.
Sunday March 11th - Visit From an Ol' Friend
You know that ol' question "Do you have many or few true friends?" I have trouble answering that. I have lots of lots of friends. I would like to think there are many I could call in a time of need to ask for assistance, but there are few that I keep in constant contact with.
I do know that there are a handful that I could call at any point of the day, night, time of year and ask just about anything of them, and they'd say "I'm on my way."
Shane is one of those friends. We've known one another for some 29 years of our lives. There have been long periods we went without talking, periods where we didn't get along, and too many wild stories to share on a blog I try and keep PG13. But when it comes down to our friendship, we both know we can call on one another any time we need anything and it doesn't matter how long we go between seeing one another, we tend to pick up the conversation like we just spoke yesterday even if it's been a few years.
I saw on Facebook that Shane was up in St. George Island, trying his best to escape a typical Michigan winter. Not that this winter is all that bad up in Michigan, but it's not a consistent 70-80° like we have down here.
I shot him a message and asked if he was coming to visit? He said he'd be down in a few days, and showed up this afternoon.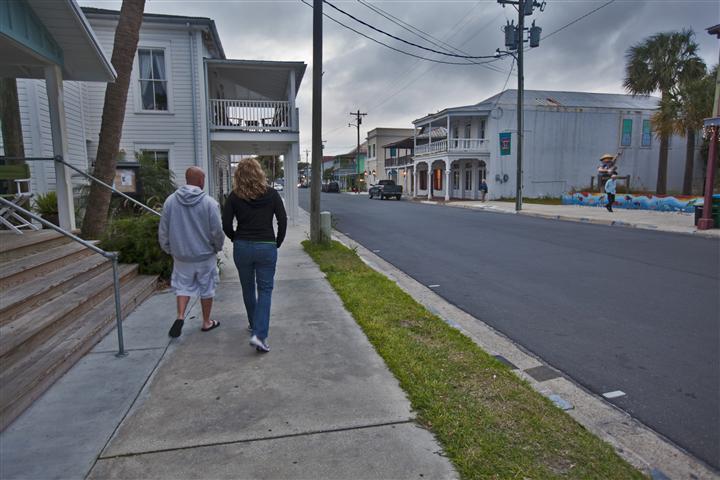 Sunday nights in Cedar Key are pretty lame and by the time Shane had pulled in, it was late in the afternoon with a slight drizzle coming down, so the weather was too crappy to keep the tiki bar open and going out on the boat was out of the question.
We sat around talking before we headed into town to show him the hustle and bustle of Cedar Key.
This included dinner at the Island Hotel and a long walk around downtown just to show him how wild and crazy it can be....please note that is all being typed in a very sarcastic tone.
After our wild and crazy night downtown, we came home to kick back and relax in front of the television and just reminisce about old times and our past few years apart.
Luckily Shane is a Dog Person like us, and luckily our dogs aren't high strung! Here Shane is being used as a pillow like Cindy and I normally are.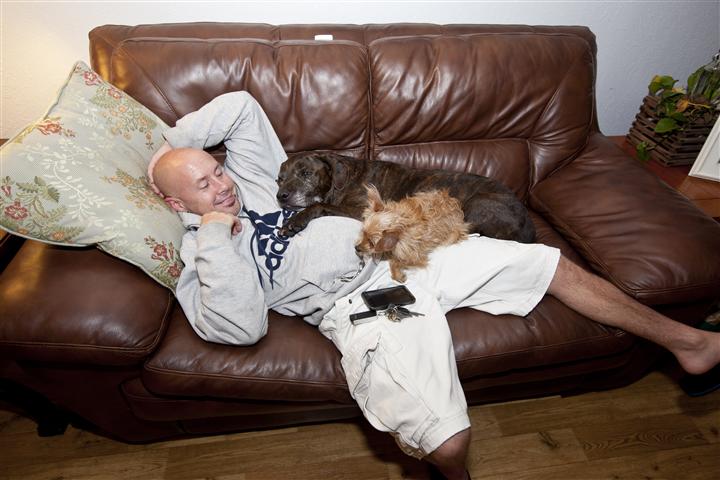 Saturday March 10th - One Last Boat Ride with Barry & Pat
Barry and Pat had been scheduled to stay through the rest of the month, but due to some family emergency back home, they told us they'd be pulling out early and leaving us this afternoon.
We had all went out for a boat ride while Jeremy and Robin were visiting last week, but Barry and Pat never got the chance to see any dolphins playing beside the boat. That day we were on the water, we saw a few, but none wanted to frolic in our wake like they normally do.
Knowing this would be their last chance, we asked if they wanted to leave our dock at sunrise this morning and head out to see if we couldn't find something fun to add to that Cedar Key memory bank.
We climbed on the Honey Badger (The name of the aluminum boat we use) and motored out the #3 Channel.
The morning was crisp and cool with clear skies and a slight breeze. Once out in open water, we motored along just enjoying a picture perfect day on the water.
We were out for awhile before we actually saw anything. Like it normally happens, we were just floating along at a slow pace all talking about this or that, when we noticed a pod of dolphin swimming towards us.
I throttled up and created a larger wake for them to play in. At first we didn't think they were going to play along, but within a few seconds, we saw one break the surface and start playing in the wake.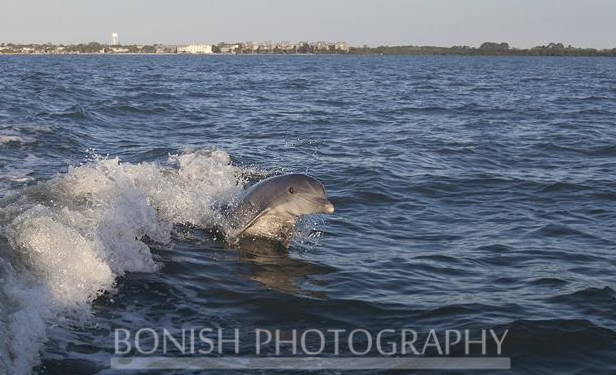 They stayed with us for awhile jumping, surfing and just having fun. There is something so magical about the dolphins in the wake. They make anyone and EVERYONE who witnesses it happy.
After at least a mile of watching them, they grew bored with us and swam off in a different direction. Our mission had been accomplished and Barry and Pat were finally able to knock that off their bucket list.
We turned the boat around and idled back towards downtown. We tied up in the city marina and walked down Dock Street where we enjoyed a breakfast overlooking the Gulf sitting on the deck at Ken's Diner.
While we sat and ate, there were numerous pods of dolphin playing out in the water in front of us. It's times like this when I have to remind myself that we live in a spot most only dream of. Each time we take the boat out, we have sights that most would consider a 'Once in a Lifetime' sort of sight. Our back yard overlooks the Gulf of Mexico and offers some of the most spectacular sunsets I've ever seen in my life.
Sure it's work, but if I have to work, which is something 99.9% of us have to do, then I might as well work at something where I'm surrounded with beautiful things.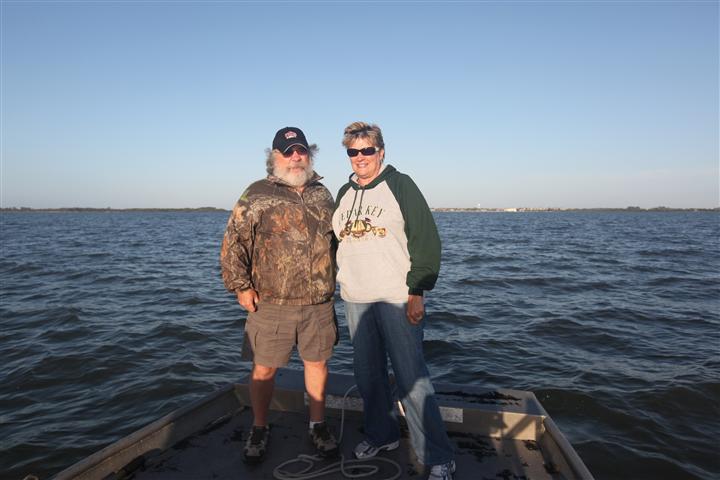 Barry & Pat on the Bow of the Honey Badger with Cedar Key behind them on the Horizon
After breakfast, we took the inside channel back to our place but the tide was too low to get the boat up to the dock. I dropped Barry, Cindy and Pat off at someone else's dock that we could float up to so they could safely walk home, and with the boat sitting higher in the water, I was able to make it right up to our dock.
We weren't going to take the chance of making anyone else walk in the mud.
So on their last day, Barry and Pat got to see some dolphins play and it was another beautiful day on the water.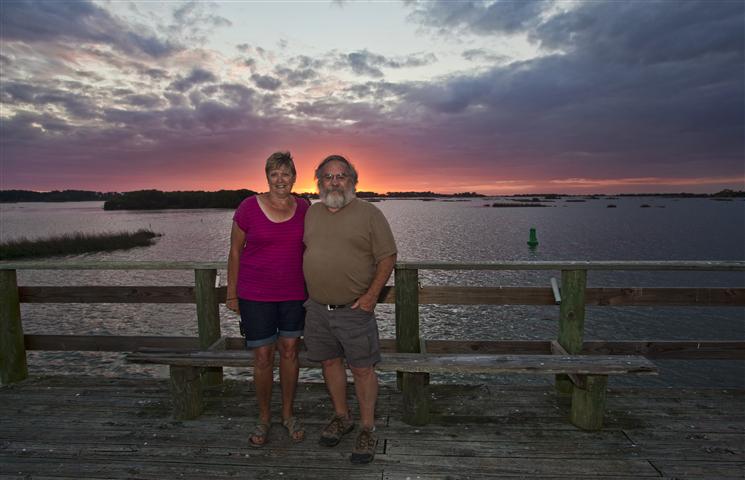 Their last sunset in Cedar Key this season
That night we had one last drink at the tiki bar talking about all the fun we've had this season. Barry and Pat bought a new house last year and plan on making a wall that is dedicated to Cedar Key.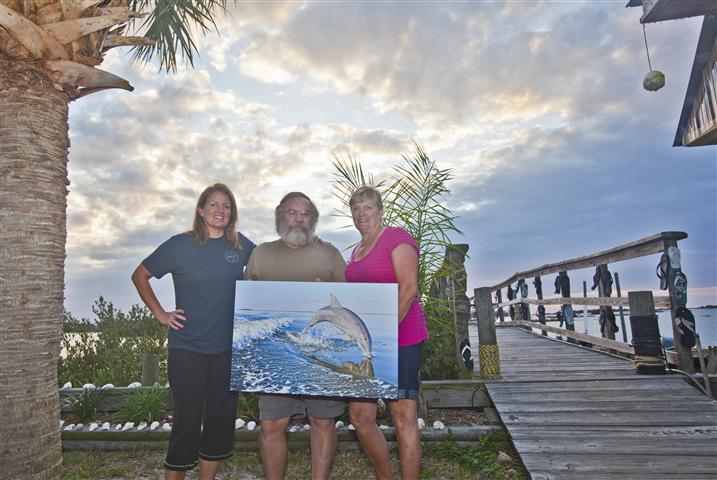 They bought Cindy's 'Jumping Dolphin' print to hang on that wall which will be a very cool addition to their collection of prints.
Friday March 9th - Update Since Rescuing the Boat
I had said that I had more things to talk about but couldn't because I didn't have images to go with my words; well on Thursday morning, I paddled the kayak out once the tide got high enough and brought the boat back into the dock.
Camera gear was safe and sound, so no worries on that part. The mud walking drew lots of hysterical comments from the pictures being posted on Facebook and Heath told Cindy she is no longer considered a Yankee, because any woman who will walk through that mud is "True Cedar Key."
One of the couples staying in the RV Campground, Sini & Bob Schmidt, were the ones who had pulled up on their Harley just as Heath was crawling out of the mud beside their camper. They were the ones who hosed Heath down and while Bob was washing the mud off our illustrious Mayor, Sini ran out to snap some photos of Cindy and I trudging back through the mud.
Here are a couple of photos that Sini copied for me for your viewing pleasure.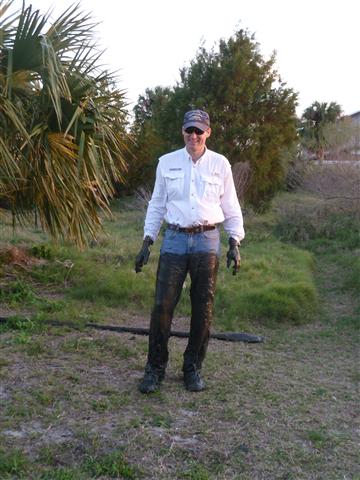 This was the view they pulled back up to - Photo by Sini Schmidt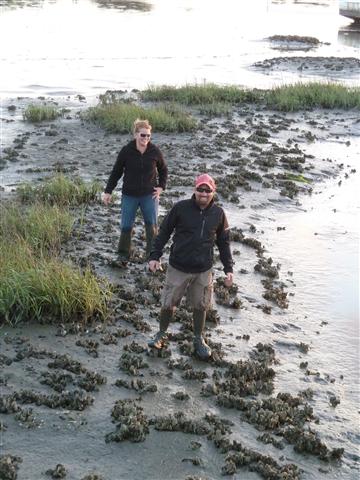 Then she walked out to the end of the dock to see us fumbling our way in - Photo by Sini Schmidt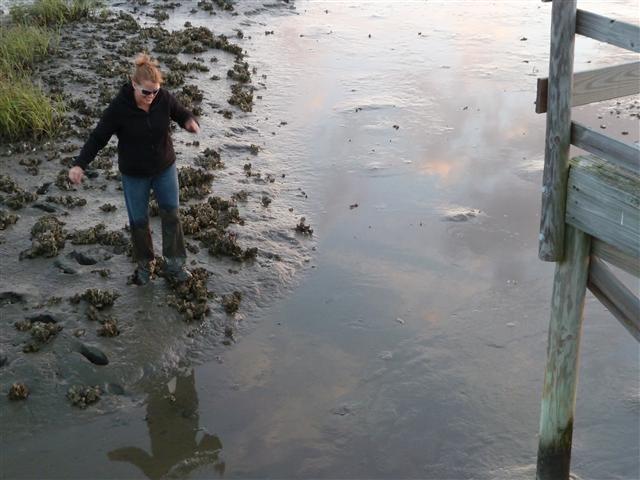 Cindy looks safe here - Photo by Sini Schmidt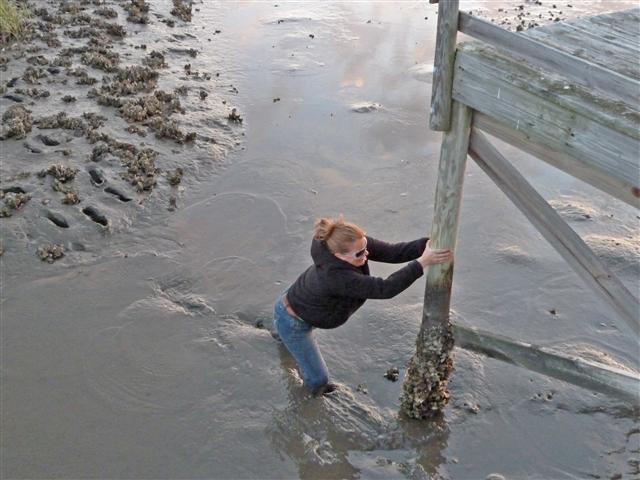 But one step further towards the dock and she's up to her thighs in muck - Photo by Sini Schmidt

On Thursday, Sini & Bob, had chartered a boat ride out to one of the surrounding islands where they asked me to drop them off for the afternoon so they could have a secluded, white sand beach all to themselves.
They brought along some friends Bill & Debby who are staying in Sunset Isle Campground and the 4 of them got a dolphin escort out to North Key. Sini was able to snap some awesome photos of the dolphin and when I went back out to pick them up later in the afternoon, they said it was one of those afternoons they had been dreaming about for months.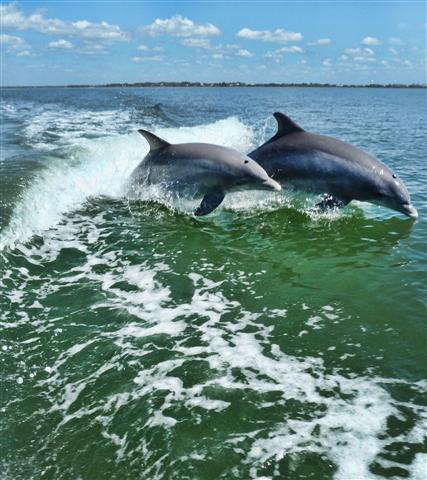 Dolphin Escort to North Key - Photo by Sini Schmidt
When I picked them up from their little oasis, they talked the entire way back to the tiki bar about the birds, the beach and their afternoon alone and in their own little slice of heaven.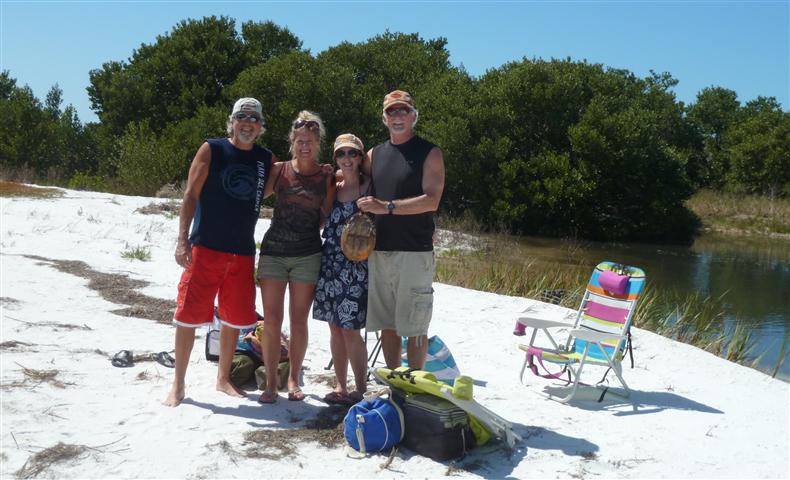 Bob & Sini with their friends Debby & Bill on their own private beach
The tiki bar was rockin' that night and it was picture perfect weather for all who attended.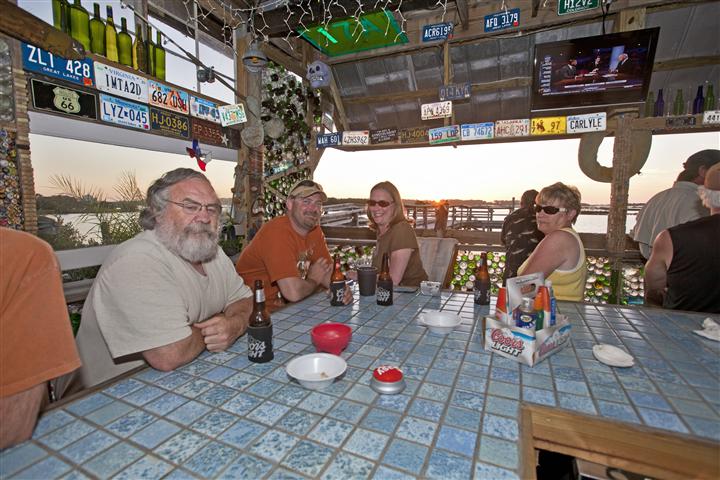 Barry, Jeremy, Robin & Pat enjoying another Cedar Key sunset
Back on Wednesday, I finally got around to moving the Drop Tank that we had acquired last month. It had been sitting right where Danny had left it and it's been causing quite the stir with people passing by.
People stop every day to come look at it and take photos. At one point, Cindy saw a pick-up truck back up to it and two guys tried to put it in the bed of their truck, but realized it's much larger than they thought and it wasn't going to fit.
Before it got stolen, I figured I'd put it someplace where more people could see it and where it was mounted for good.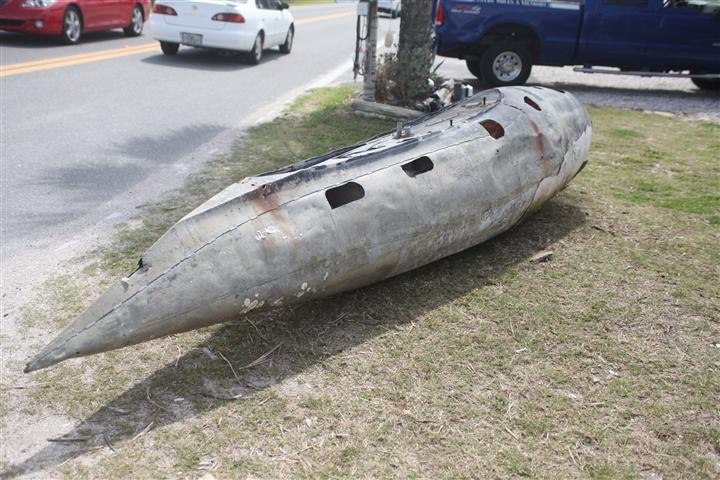 This thing is HUGE when you get it close to vehicles and have something to compare it to
Jeremy and Barry volunteered their muscle to help me get it set, while Cindy, Pat and Robin acted as Supervisors. Don't forget Karen, the all knowing Cedar Key Gossip Columnist. Karen is right at the heart of anything going on in Cedar Key while she visits, so you know she was right there the entire time making sure we had it set to her high standards.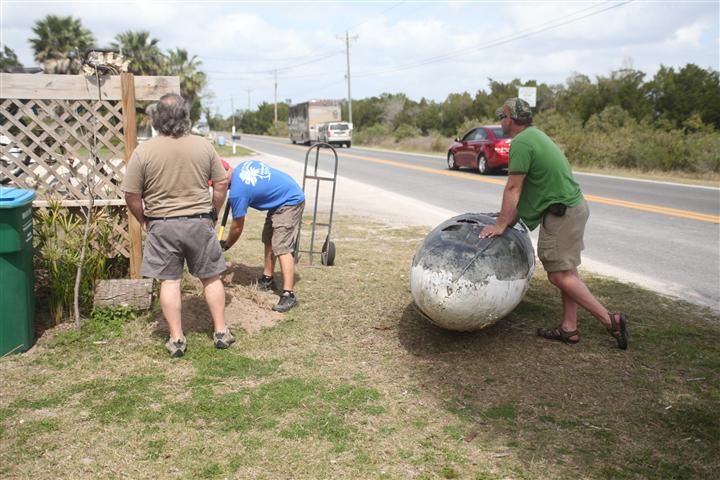 Me digging the hole for the nose to sit in
We dug a deep hole to sit the nose into and mounted it to our fence with some stainless steel screws to keep it there with all the strong winds we get.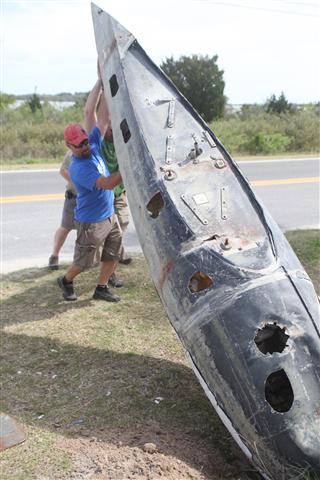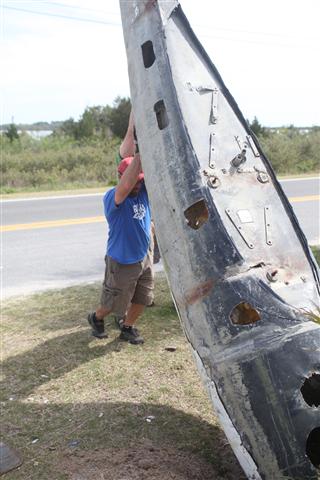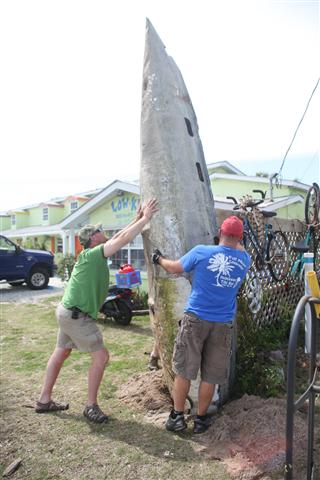 When we were finished, we all agreed it's a hideous sight and will draw LOTS of attention. I've always hated how fast the cars drive in front of our place. The speed limit goes from the 30mph posted limit to 35mph right in front of the motel, so the cars are always speeding up as they pass, even though it's only a 5mph difference.
We've gone to the City of Cedar Key to ask about having speed bumps installed, but they said they had already looked into it and didn't feel it necessary. Well, putting the Drop Tank out front has acted as a Visual Speed Bump.
Cars almost come to a complete stop when passing and I've seen numerous cars actually pull over to get out and look or turn around to take a photo of this oddity that has just appeared out of nowhere.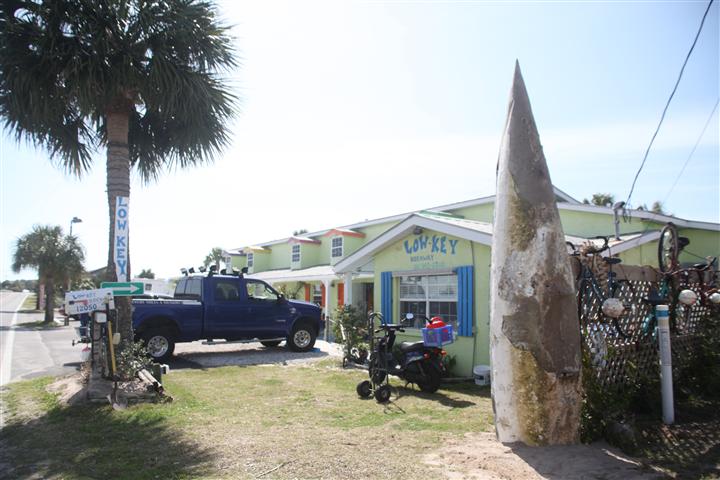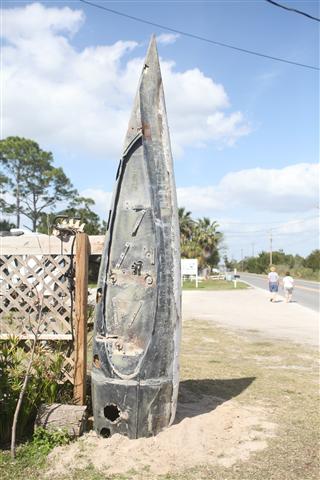 Thanks Barry & Jeremy for all your help and assistance in adding this landmark to our Hideaway.
A few days ago I also took it upon myself to grind the bed bolts that have been giving us so much trouble. Talking with another friend who is pretty crafty when it comes to fabricating custom toys for his truck, RV and house, Jim suggested if I want to keep the bed without damage done to it, just try grinding the heads off the top of the bolts.
I moved the truck away from the motel so the grinding noise wouldn't bother any guests, and fired up the Honda Generator to power the Grinder.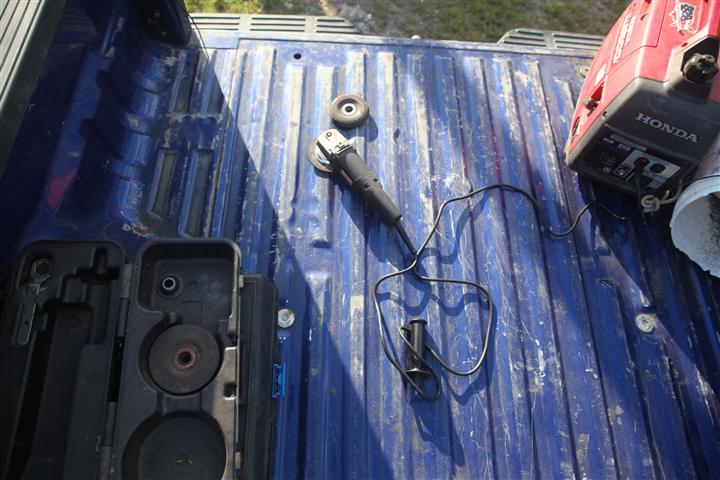 It took maybe an hour total to get all 7 bolts ground down with ZERO damage to the bed itself. Remember there are 8 bolts total, but the Ford dealer had been able to remove one of them when I dropped it off the first time.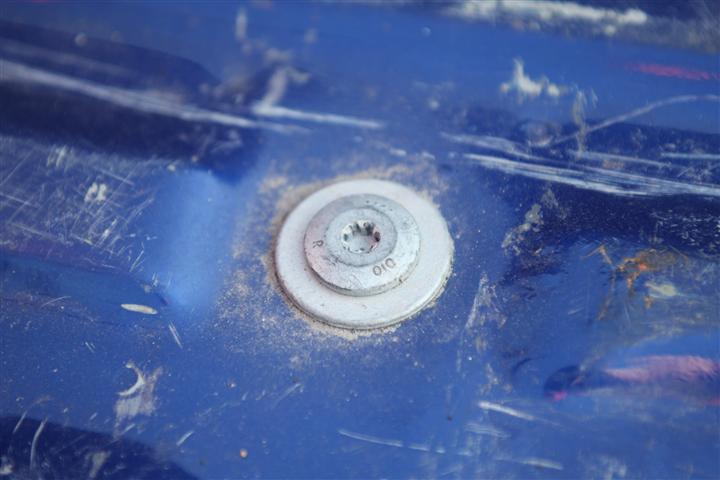 What I started with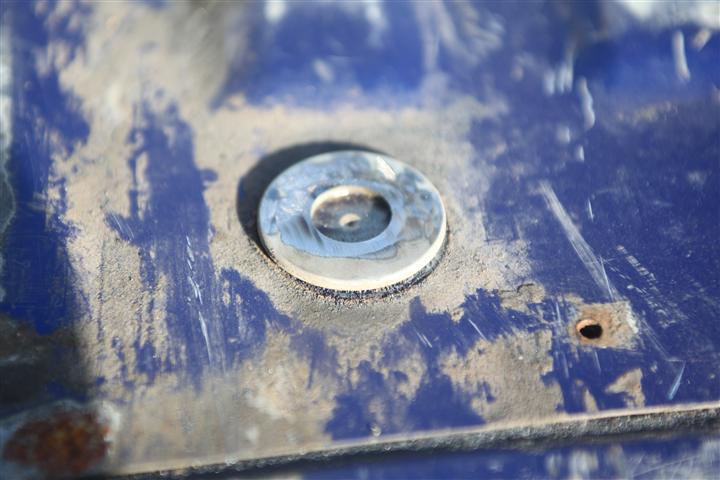 Ground off flush with the washer.
Once the bolt gets ground flush, it pops itself down once the metal cools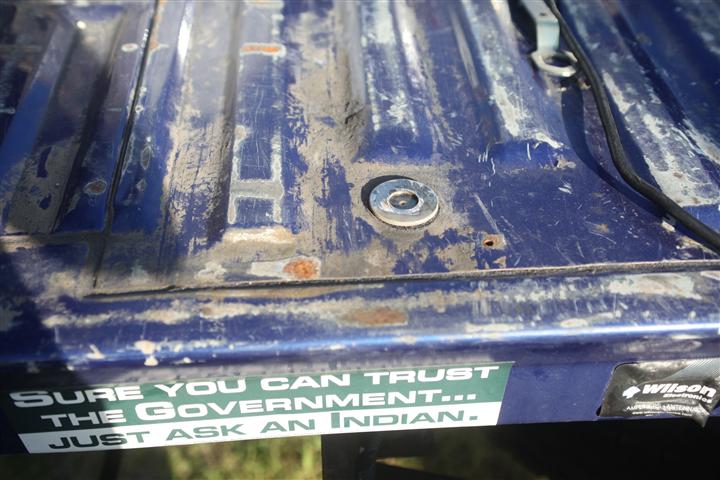 ZERO damage to the bed. Remember the dealership told me this was going to take 8 hours to complete and they'd end up trashing the bed due to torching off the heads of the bolts
Just so the bed wouldn't fall off the frame till I could get it to the fabricators, I left two bolts that are ground almost to the point of being gone, but they're still holding on for now. I figure the day I bring the truck to the guy who's going to swap it out, I'll grind those last two right in his driveway.
Thank you Jim for suggesting this to me. It only cost me a 5 pack of grinding discs, which I only used 3 of, and an hour of my time. Now we just need to figure out how to be without the truck for a week while I drop it off at the fabricators.
Wednesday March 7th - Evening Mud Baths
Heath had called me earlier today asking if I'd be able to help him move a floating dock later this afternoon. We'd need to use the aluminum boat I had tied at the dock behind my place, so I told him to just call me when ever he got off of work and I'd meet him in town with the boat.
When he made the call, I asked Cindy to come with us because our last few times we've done little excursions like this, we've both said it would have been helpful to have a 3rd person with us for that extra set of hands. This would later turn out to haunt me!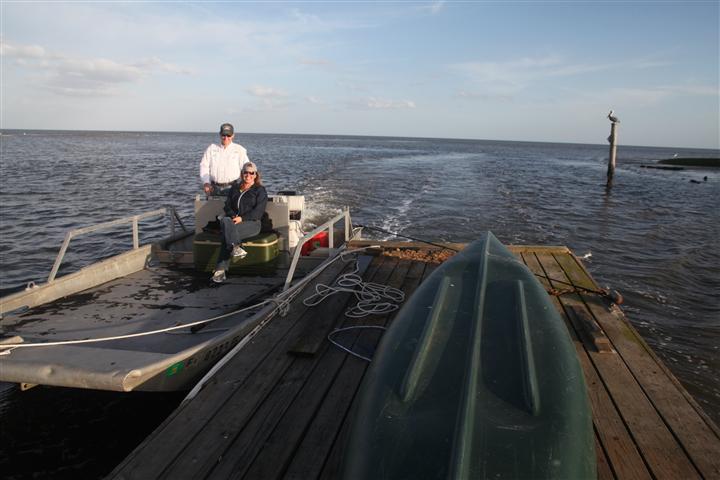 Now you know because I talked Cindy into coming along, we'd never need her, but it was good to have her with us joining in on our little escapades we find to keep our lives entertaining.
Once the floating dock was moved, it was late in the afternoon. The sun was almost set and we were sitting in the #3 channel out behind the motel wondering what to do. We had a few options. The tide was really low and Cindy kept telling Heath "There is no water behind the motel, don't try and run up in there!"
That was like a test for Heath who knows his aluminum boat can run in next to no water.
Heath asked "Well what's our other option Miss Cindy? Leave the boat tied up down at the Clammery and walk home?"
Cindy said she thought that would be the best option, but Heath said "If you two sit on the bow of the boat, I'll be able to get us up to the back of your dock no problem."
I've been on the boat with him on numerous occasions when he does this, so I just walked up to the bow of the boat and sat down. Cindy came up there with me and said once again "I don't think there is enough water, but I'll go along for the ride!"
Heath threw that throttle up and we were up on plane skimming across the mud toward our dock within seconds of us sitting down.
We were doing fine till he took the turn too wide behind the SS Minnow which was a big mistake. Something he's told me not to do numerous times in the past. The problem with these flat bottom boats is they don't have chine's on the bottom to cut on and don't turn well.
While we were running home one time, I made the same mistake and Heath told me "You're gonna end up hitting the back of that boat one of these times if you keep taking that turn too wide."
Well this time we were headed right towards the back of that big wooden boat as the aluminum boat went up on it's flat bottom and got to sliding sideways. Cindy and I just held on knowing we were either going to hit the back of the boat or stop short and be stuck in the mud.
Heath tried one last ditch effort with a punch to the throttle, but with a rooster tail of pure mud being thrown about 50' behind us, he pulled back and we stopped just short of the stern of the wooden yacht.
We all let out a big sigh as Cindy and I crawled to our feet. Heath mumbled "This isn't good!" as we looked over the edge of the boat to see we were sitting in solid mud and the boat was no longer floating.
Cindy grabbed the push pole thinking she'd be able to push us quickly back into some deeper water as she let us both know "You do know that the tide is still going out! We're going to be stuck here for the next 6 hours waiting for the water to come back in!"
Heath was already on the phone calling his girls telling them they'd have to find a ride home from track practice because he was stuck on the boat. His next phone call was to Jolie to say "Hey honey, I'm going to be late for dinner."
He hung up and looked at Cindy and said "You gonna get on my back or are you gonna to walk in yourself?"
She burst out "YOU'RE CRAZY IF YOU THINK I'M GOING TO GET IN THAT MUD!"
We all got a good laugh out of that as Heath took a step off the stern of the boat and sunk up past his knees in thick, rich, Cedar Key mud. He threw out the anchor so when the tide did come back around, the boat wouldn't float back out into the channel and he kept a walking towards the dock.
I waited to see what he was going to do, and which route he was going to take as he kept trudging along saying that if he stopped for too long, his legs kept sinking deeper and deeper. All I kept thinking is Heath is about 6'4" and if he's up to the top of his knees, I'll be up to my waist.
Cindy was getting frantic at this point saying "I'll just sit on the boat for the next 6 hours waiting for the tide to come back in." I probably would have stayed with her except that she had already attempted to put her feet in the water once before chickening out, so now she was standing here with soaking wet feet. There was no way she could sit here for long with wet feet and the sun going down or she'd just be miserable.
I tied my shoes as tight as I could tie them, put the camera gear back into the pelican box and thought "Wow, I'm going to leave about $10,000 worth of camera gear just sitting out on a boat in the mud for the rest of the night??" I questioned my sanity one last time but thought "No one else is dumb enough to come out here and steal anything off the boat!"
(You'll have to excuse these photos because I'm updating this early in the morning while the boat still sits out in the mud with the cameras on it - Hopefully. These photos were taken with my phone)
That first step is the worst. I was asking myself the entire time "Why does anyone take a step off a nice, dry boat into thigh deep mud?" Cindy and Heath both had pants on, but I was in shorts, so I got the full effect of the mud against the skin.
With each step, I felt my shoes and socks fill up with more mud. Cindy was screaming for me to wait up for her, but Heath was right, if you stayed still for very long, your legs became stuck in the mud like quick sand. You had to keep moving as quickly as possible.
At one point she almost caught up to me, but I knew if I let her grab a hold of me, she'd probably pull me backwards into the mud and that wouldn't be a good thing. I figured if I kept a few paces ahead of her, it would keep her more scared of being left alone and keep her moving really quickly behind me.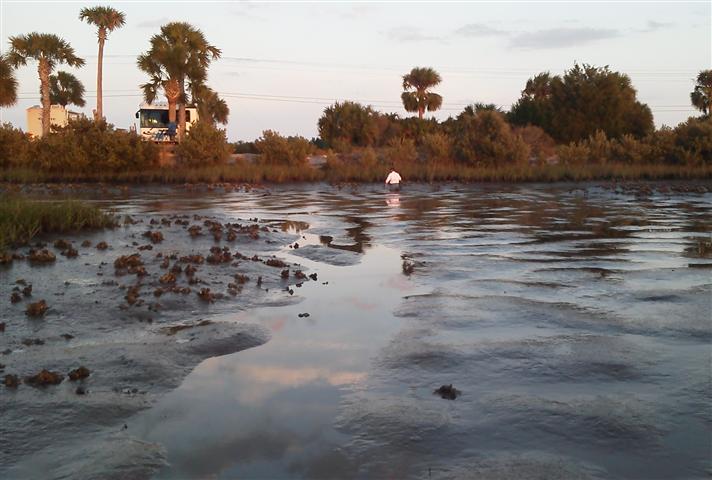 This was taken just after Heath got himself unstuck from the waist deep hole!
We looked over at Heath who at this point had taken a different route than we were taking. We were both walking towards an oyster bar that looked like it would be more solid than trying to walk across nothing but wet mud. Our plan turned out to be the better one because at one point, I started to run when I heard Heath yell "OH SHIT, I'M GOING DEEPER AND DEEPER WITH NO SOLID GROUND BELOW MY FEET!"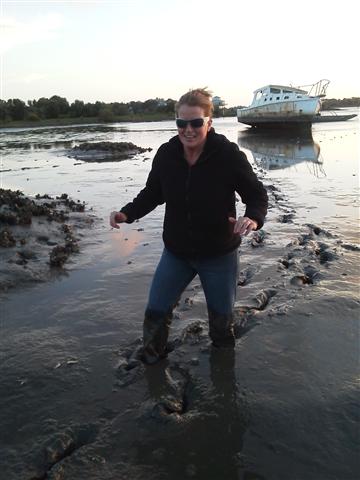 I looked over and he was up to his waist in mud. He had carried the push pole with him for leverage and while he was struggling to keep from going up and over his waist, he put the pole out in front of him and used it to pull himself up and out of the mud. Now his arms were also covered in thick mud up to his shoulders!
You have to realize the comedy in all of this. Heath is one of those guys that washes his hands all the time. If someone steps on his boat with muddy shoes or even sandy shoes, he pulls out the hose and washes it down instantly. His clothes are always impeccable and his truck, boat and house is the same way. So to see him waist deep in thick, slimy mud was just outrageously funny.
Once on the oyster bed, Cindy and I were on somewhat solid ground, although we were still standing in muck up to the middle of our shins. But looking over at Mr. Mud Bogger, we were in great shape. We made sure he got to the shoreline before we made the last push to the dock.
Once on the dock, I gave up some thanks to the Mud God for allowing all of us to be on hard ground and headed over to turn the hose on. Cindy and I took turns hosing one another down while some RV Guests helped Heath get the mud off of him.
I'm sure this was very comical for all the guests at the motel and campground who were sitting out back enjoying what was a magnificent sunset. Completely ruined by 3 idiots trudging through the mud in the foreground.
By the time I got in the house to grab a pair of flip flops so I could drive Heath home, Cindy was already in the shower with a pile of muddy clothes left outside the back door.
Heath wouldn't even get in the truck, opting to ride in the bed. I dropped him off and we both just laughed saying "Had a blast, see ya' tomorrow!" Oh, and he let me know that he told all the RV Campers who were around him while he was hosing off, that he told them I was the one driving the boat, and he wouldn't recommend any of them ever getting on a boat with me!
I have a bunch more stuff to update, but I don't have any photos to go with the story, so I'll wait till I get the cameras back before I update again. So check back soon, hopefully the cameras will still be there come daylight.
Friday March 2nd 2012 - Canceled Birds Over Water Tour
We had a Birds Over Water Photography Tour at sunrise this morning. Like the past couple of weeks, our weather is cooling off so much during the night time, that we wake each morning to a thick layer of fog.
I had spoke to the folks who were going on the tour and said unless it was raining, we'd still be going out and asked them to meet us at the boat ramp at 7am.
Heath and I were down there early getting everything loaded up and making sure the boat would be prepped up. The fog was actually lifting as the morning grew closer to sunrise, and we could see out past Atsena Otie Key, which meant from the docks, we had over a mile of visibility.
We were sitting on the boat just talking and waiting for the 4 photographers to show up. We watched them pull up in their cars and sit in the marina parking lot with the vehicles running.
Heath asked if one of us should go up and see what they were doing, but I said "Heck, we're the only boat sitting out here this morning, it's not like it's hard to figure out where we are?"
After a few minutes of waiting, we watched them back out and drive away.
I called Cindy back home to see if she could get me the telephone number that I had written down on my desk. As I was talking to her, she said "Hold on a second, there is someone walking into the office right now."
She handed the gentleman the phone so we could talk to one another.
I explained that we were and still are sitting at the boat ramp and he told me that none of them felt comfortable taking their camera gear out in the fog. I tried to explain that this fog would lift off early this morning and it would be a good morning to go out because of the weather.
He said they were going to go to breakfast and asked if we could just wait around for them because they wanted to see if the day would turn out better than it looked right now.
I told him that we had other plans for the boat this afternoon and they either had to go this morning, as we had planned or we'd have to reschedule for another day. He said they'd call us later in the week and would reschedule another day.
At this point, the boat is off the lift, the tanks are topped off and Heath and I are sitting here ready to go?!?
Heath suggested we head out for a short boat ride just to cool off since we have everything loaded up.
So we motored off on the route we had planned on just to see how it would have gone. We wanted to test out the Electric Trolling Motor to see how well it would push us against a current and for how long.
We found a nice channel that would lead us back to the Bald Eagles nest and killed the big Mercury 225 outboard. We switched to the little quiet trolling motor and I looked at the GPS which told us it was pushing us at a steady 2.5knots against the current.
Doing so with not a sound to be heard except the noise of the water lapping against the bow of the boat. Pretty cool to feel the boat being pushed along so quietly and watching the birds sort of look at us in confusion as to why this big boat isn't making any noise.
The birding was alright this morning, but I wasn't that into taking pictures as it wasn't what I had planned on. I didn't have the lens I wanted because this morning wasn't supposed to be about me taking pictures, it was supposed to be about me making sure other photographers came home with good photos.
We watched the bald eagles for awhile and basically just sat bullshitting with one another about life, work and day to day things. It's amazing how friggin' busy the two of us are and how many different things we have going on. We rarely get a day to sit and vent about all the BS and just talk to one another.
When we were finally ready to head home, Heath said "Heck, it was worth them canceling the trip just so we'd have a morning to ourselves on the boat. I needed me a good boat ride just to re-connect with the boat and myself." I couldn't have agreed more!
As we were pulling back towards Dock Street and the Marina, we were just talking to one another and not even really paying attention to what was going on behind the boat when we heard a splash and that tell-tale squeal of our Bottle Nosed friends.
We turned around to see a pod of dolphin so thick, they were jumping out of the first and second wakes the boat was creating.
I scrambled to grab a camera out of the Pelican box and ran to the back of the boat. At one point I heard Heath yell "I counted 9 that jumped in that last wake!!!"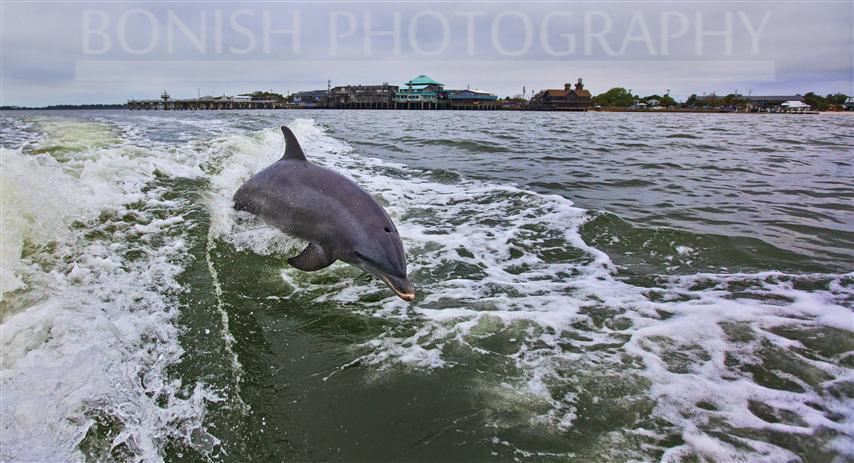 One of the dolphins jumping out of the wake with Dock Street in the Background
We had to look like the pied pipers for anyone who was up this early and down on Dock Street. As we motored past the pier, we had a humongous pod of dolphin playing behind the boat. I was able to get a couple of killer shots that really made the entire morning worth it, and that's what counts.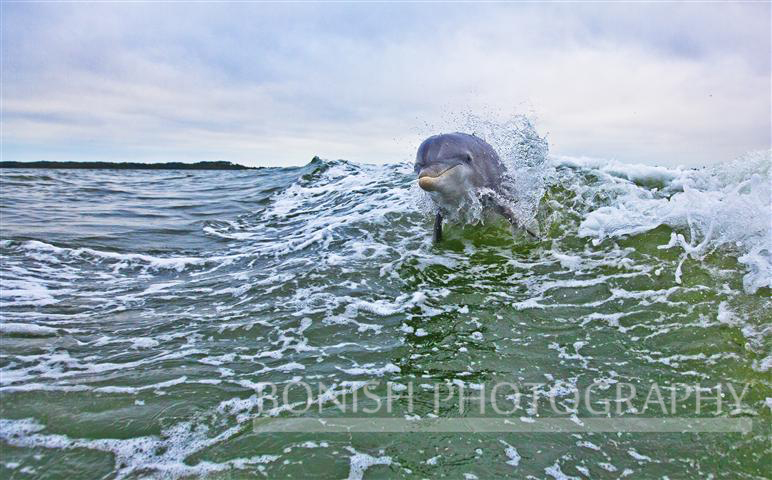 One of my favorite shots because it looks like I'm under the Dolphin
When we finally pulled up to the marina, we had huge smiles on our faces as we unloaded everything and recapped all that excitement. It was a good way to start the morning and our first trip of the month.
Remember last summer when Barry & Pat's kids Robin & Jeremy came down to stay with us for their Honeymoon? Well they were coming back to surprise their parents this spring.
Numerous times while out at the tiki bar, I'd hear Pat say "I wish Robin wasn't so afraid of flying so they could come and visit us again this year."
A few months ago they had called and made reservations, but told us it would be a surprise for their parents, so Cindy and I had to keep it quiet. That was hard to do for someone who likes to talk as much as I do. There were a few times I almost gave it away.
As I unloaded all my camera gear this morning, Cindy told me she had seen Robin and Jeremy walk past the office window so we wouldn't have to keep the secret any longer.
Our night was spent out at the tiki bar with lots of hysterical laughter and plenty of drinks thrown back while we caught up on the past year apart from each other. It was good to see the smiles on Barry and Pats faces and I find it heart warming to see how much parents enjoy having their kids around.
Side Note: We received our Aquapac iPad Waterproof Case we had ordered and have had it out a few times to test it. Rather than take up a huge section of space in this blog, I wrote a full review of it HERE. If you have an iPad, an e-Reader or any other tablet that you like to bring out by the pool or on the boat, this is a MUST HAVE item.

___________________________________________________________________
Photo Gear We Use - Solar Tips, Fact's and Trick's we've learned while on the road
Camper Check List - A list of things we do before leaving camp. Again, this isn't gospel, but its a good start for those who might not already have a list made up.
Return to Top of Page
Need Unlimited photo storage- FREE Trial of Smugmug