When we realize our insignificance in this world,
it some how relieves the pressures from society to succeed -
Cindy Bonish 04/07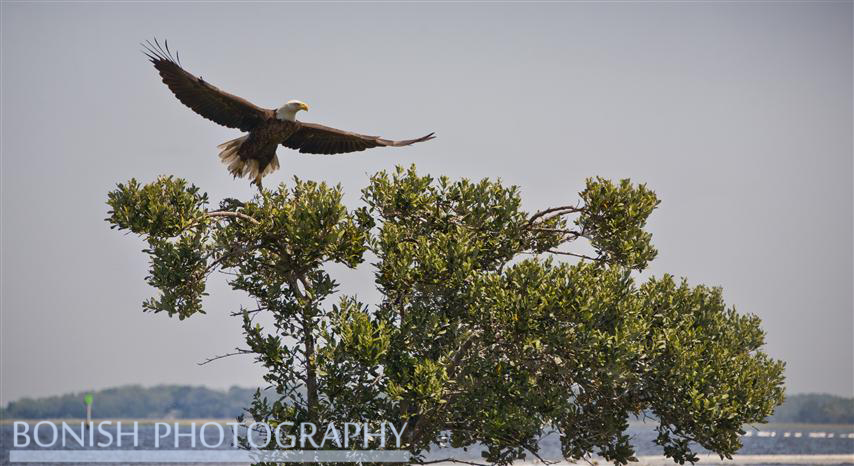 Bald Eagle Leaping from a Black Mangrove in Cedar Key
Pat's April 2012 Blog
If this is your first time here, you might want to start from the beginning of our fulltime Journey with our Past Blogs
If You Don't Know Me Yet, Click Here to Read My Bio
****
Monday April 30th 2012 - Waccasassa River Trip
Awhile back, Heath had taken me on a day trip up the Waccasassa River and I've been telling Cindy, Scott & Karen about it ever since.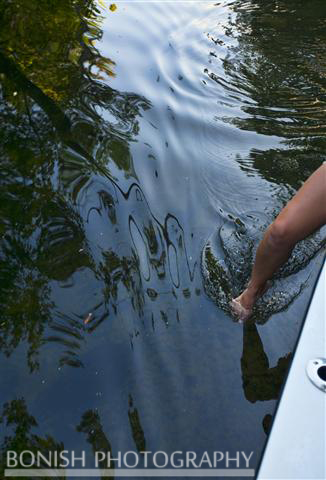 With today being Derrick & Tish's last day here in Cedar Key, we figured this would be the perfect chance to show all of us the Scenic Beauty the Waccasassa River offers. We had all planned on renting a Pontoon Boat from Tidewater Tours Boat Rentals, but when I went downtown early this morning, they already had it rented out and the waves looked like they were a little too choppy for a comfortable ride in a pontoon.
I was talking with Heath and having him draw me a map when I suggested that he just captain the six of us down the river and we rent his boat from him. This way I wouldn't risk getting lost, and Heath's boat has a Deep-V hull so it can handle choppy water with a much smoother ride.
Plus, with Heath along, we'd get to hear all the history and local knowledge that comes along with one of his boat tours.
We all met down at the dock around 4pm and loaded the coolers, the BBQ grill and everything else we were bringing along onto the boat.
On our way down the coast, we pulled up to Corrigan's Reef, which was fully exposed due to how low the tide was. This was pretty cool to see this reef which was entirely made from Reef Shell with its unique shape. We were told that every time it's exposed, it will have a different shape.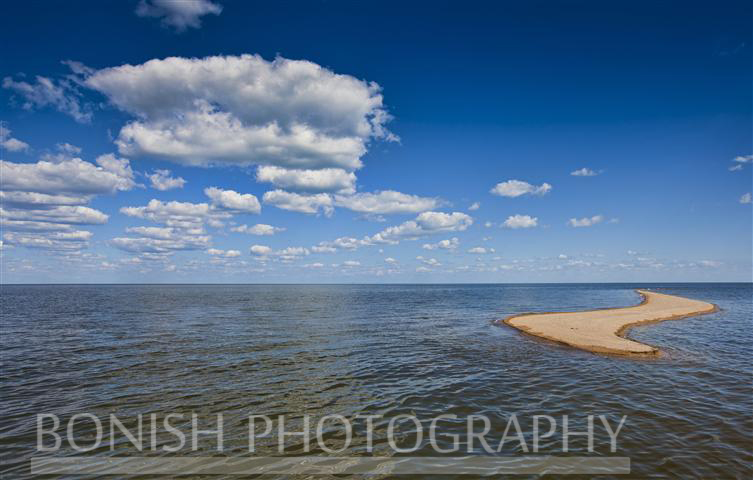 I made a mental note to remember this spot for an upcoming photo shoot. From Corrigan's Reef, we motored Southeast towards Waccasassa Bay with a lone Dolphin escorting us the entire way. This dolphin kept playing in our bow wake, in our stern wake and along the side of the boat.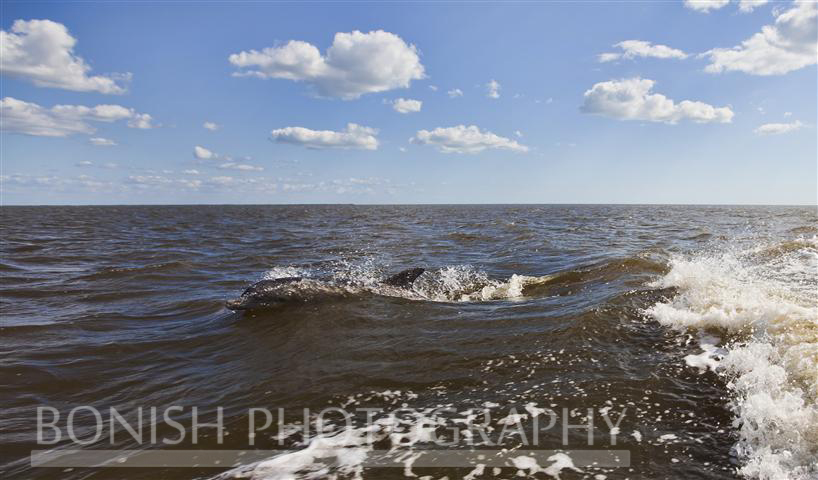 When we were right at the mouth of the river, it turned and headed off in search of the next boat that might allow it to play and we all said goodbye.
Once in the mouth of the Waccasassa River, you instantly feel like you've stepped back in time. There is no development along the banks of the river, and the old growth cypress trees, gnarly oak trees and stumped over palm trees make you feel like you're floating back in time.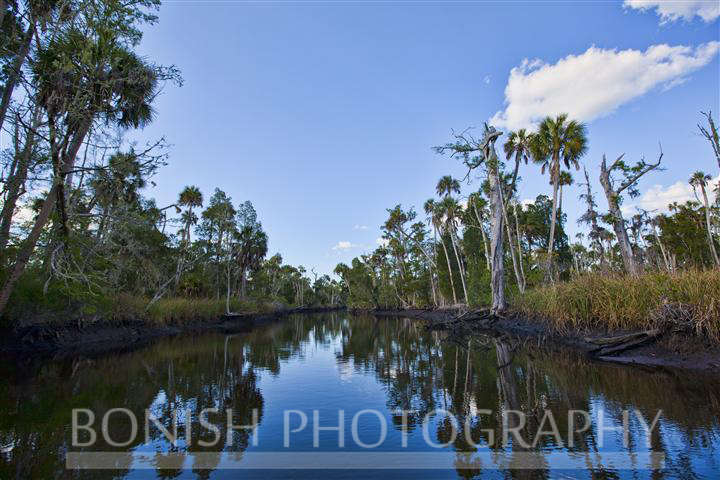 Floating up the remote Waccasassa River
The dark, muddy banks are crawling with crabs, birds and gators. If you were to break down out here or get yourself lost, something tells me it would be awhile before anyone would find your remains.
I was in heaven with all the Night Heron's we were seeing with their breeding plumage dangling off their heads. We spotted young ibis, mature ibis, young herons, Egrets, reddish herons, osprey, buzzards....the list goes on. It was an awesome afternoon and if I heard someone utter "This is just unbelievable!" one time, I heard them say it a thousand.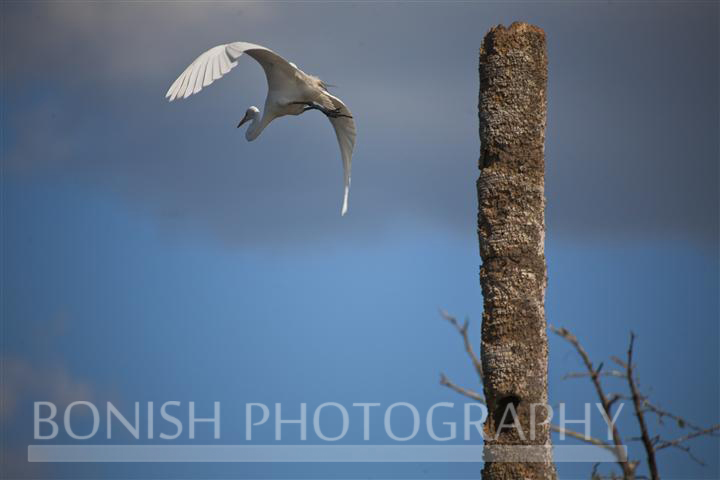 Egret Taking to Flight from a Palm Stump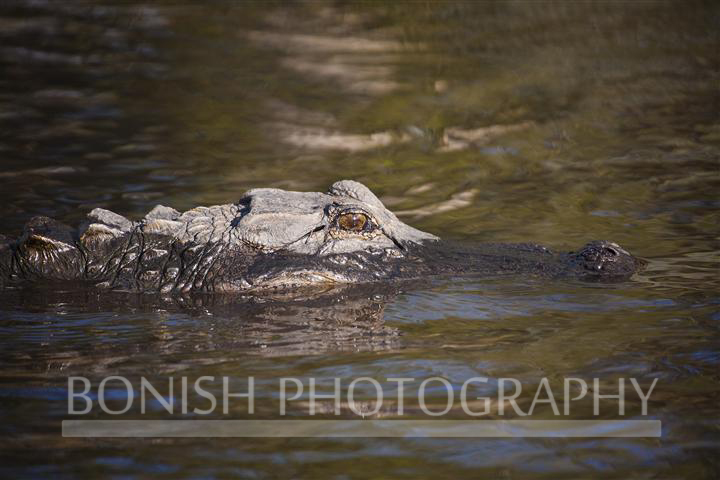 Little Gator right up beside the boat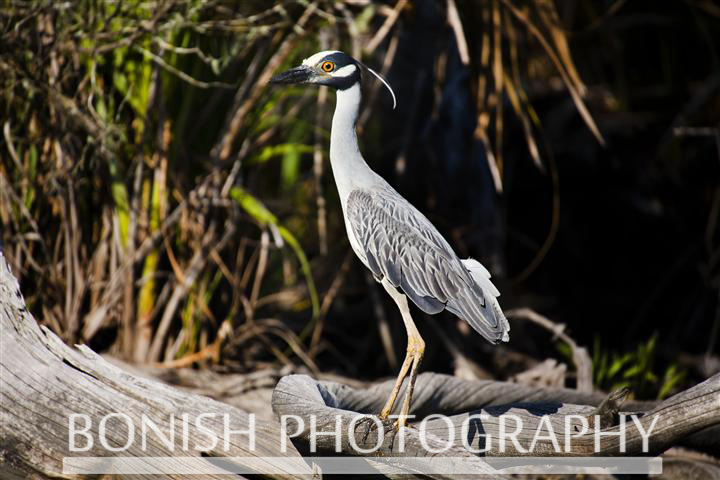 Night heron in its breeding plumage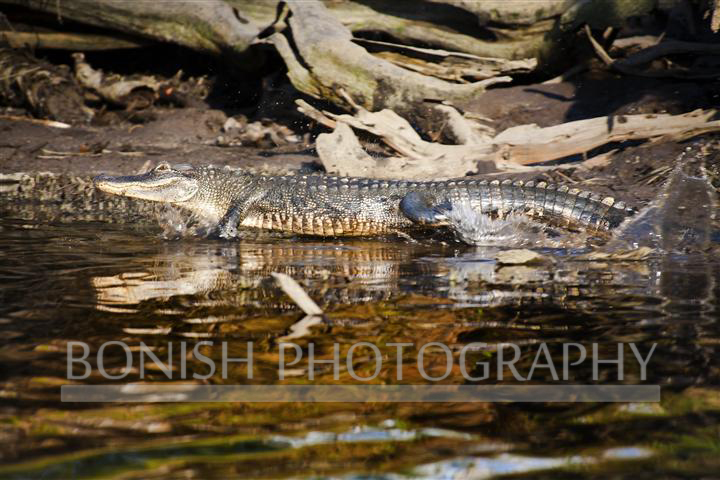 Another gator running back into the water when we spooked it off the bank
Many folks just cant realize there are still areas like this along the East Coast of the United States, especially when you're in Florida which is known for its overdevelopment and packed coastlines.
Heath killed the big 2-Stroke motor and switched to the trolling motor. This allowed us to motor up the river in complete silence. The birds stopped paying attention to us but we did spook a few gators while floating up the dark water river.
While we were using the trolling motor, the boat was calm enough that I set up the Weber Grill for Cindy to start cooking some dinner on. While we all enjoyed the beautiful surroundings, we also enjoyed the tasty smells of grilled venison sausage, thick steaks and marinated chicken breasts. You know, the typical finger food you always eat while floating up an ancient river with a great group of friends.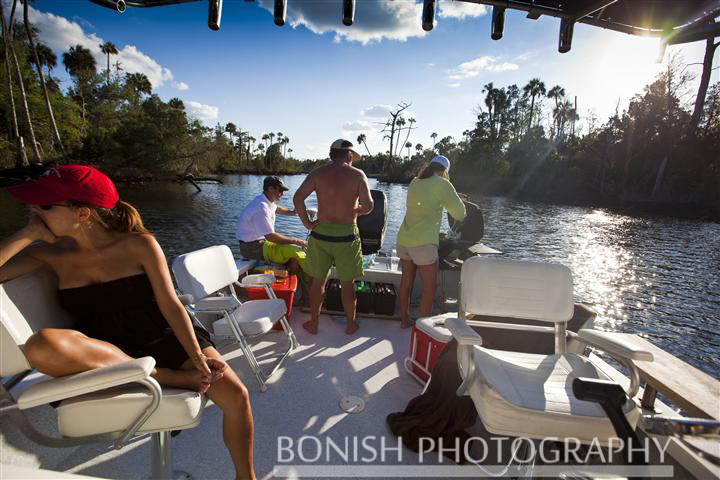 Grilling while boating!!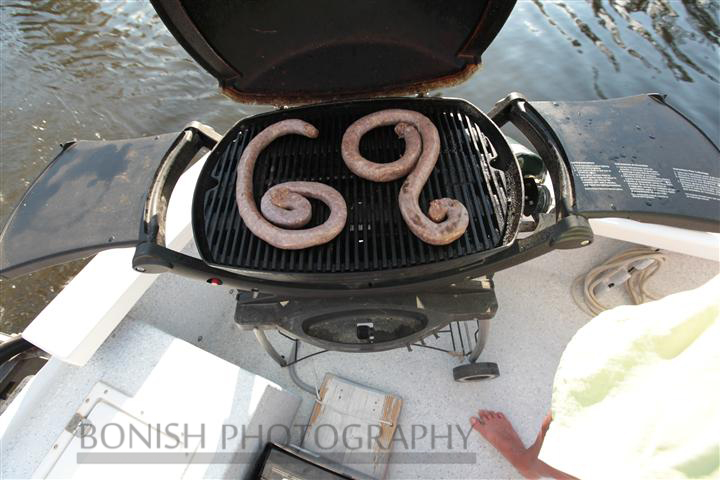 Cindy says "Hey look everyone, I made a 69 with Heath's meat!"
We turned off and headed up Otter Creek for a ways before the river got too narrow and we had to turn around. Once back on the Waccasassa River, we kept going upriver till we turned off again and headed up the Wekiva River. The Wekiva is spring fed and is crystal clear.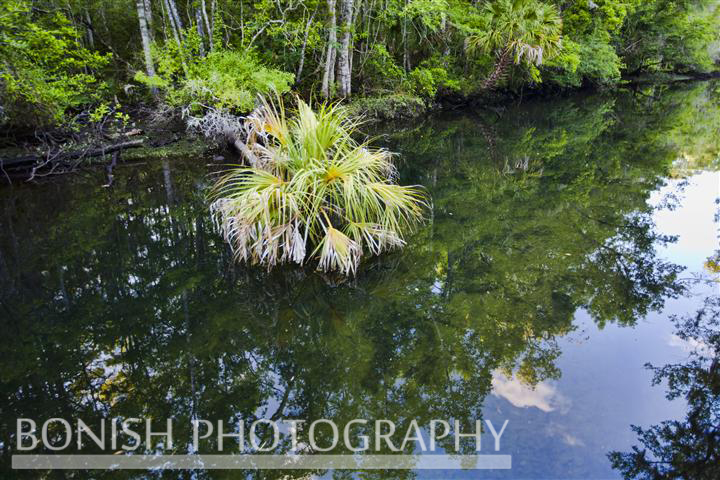 Crystal Clear waters of the Wekiva River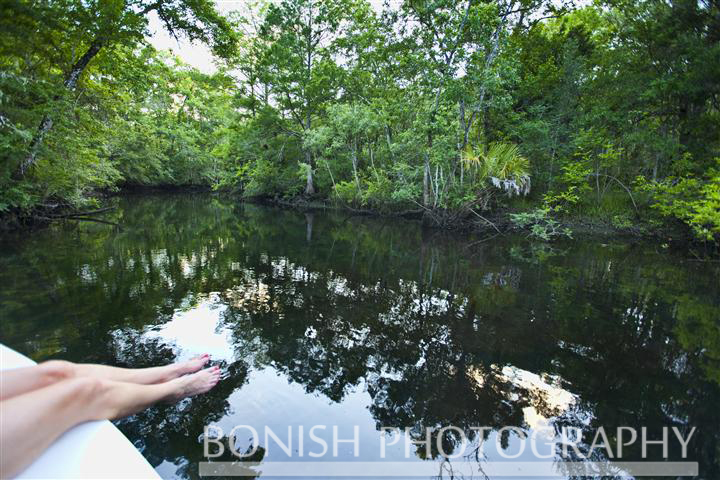 Heading back down the Wekiva River for the Waccasassa River junction
We passed so many birds by this point, I had stopped counting a long time ago. Once we got too narrow for the boat, we turned back around and started heading home. As we were motoring down the river, we spotted a manatee that was floating down the peaceful river. It was moving faster than any manatee I had ever seen and Heath told us it was probably because it knew it was too big to be in this narrow of a river with a boat beside it.
Once we passed the Manatee, Heath fired back up the big 2-stroke because of how late it was. We'd be lucky to make it back home before dark. We packed everything up so we could drop the throttle and get home fast and everyone grabbed a fresh drink for the long haul back down the river.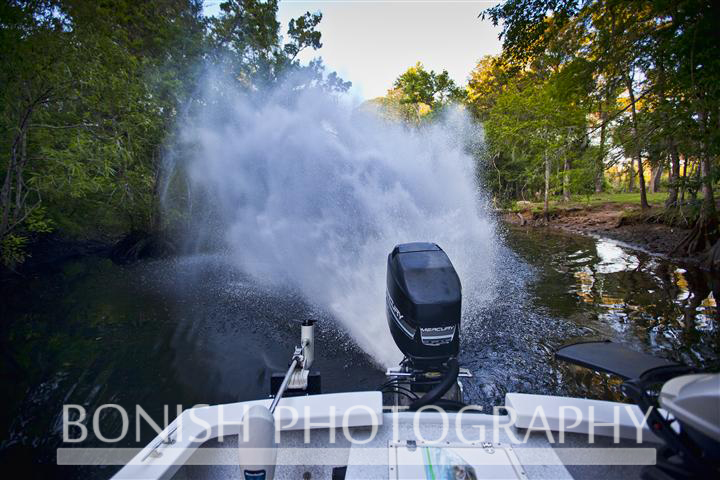 This is how you pull a hole shot!
As we came out the mouth of the river, we were welcomed with a beautiful sky and a light chop. Luckily the bow of the Persuasion has a Deep-V design to its hull so it sheds water away without any of us getting one drop on us. Soon enough, we were pulling up to the docks in Cedar Key and calling it a night.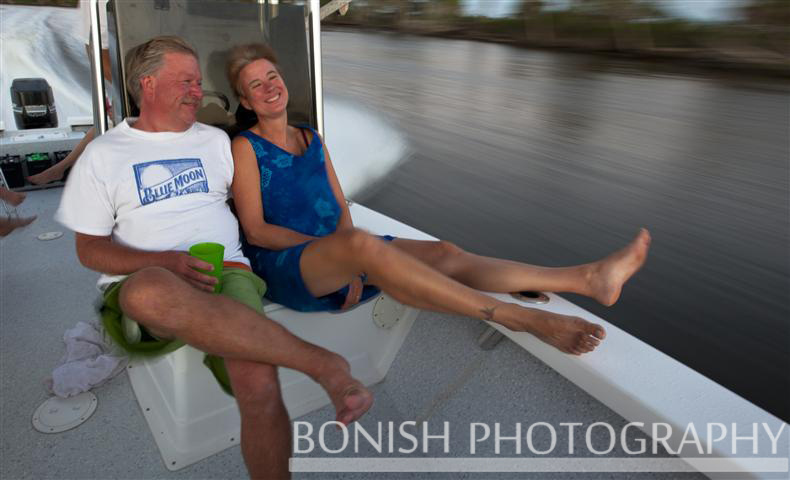 Scott & Karen enjoying their last few days in Cedar Key before they're Maine bound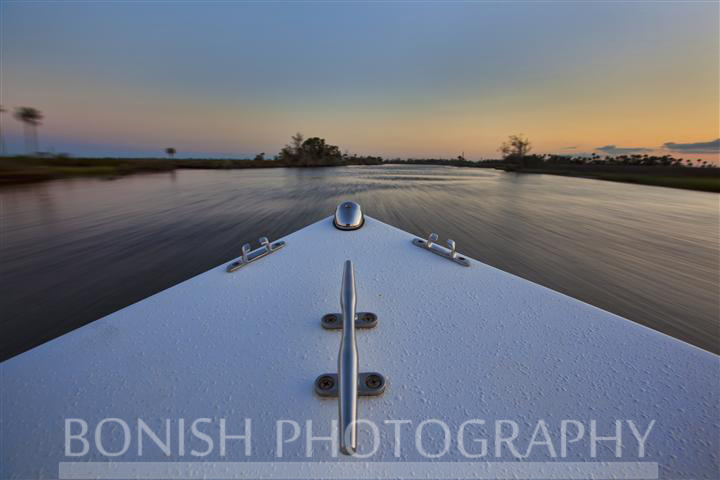 What an amazing day on the water and one I wont be forgetting for years to come.
Derrick, Tish, Cindy and I came home and sat out by the dock talking for awhile longer just watching the stars and reminiscing about past trips and the fun time we've had over the past few days. We're already talking about putting another trip together this coming December and trying to get a group of us down in the Virgin Islands. That right there would be EPIC!!
Sunday Funday - Outrageous Day on the Water
Today would go down as one of those days we'll talk about for years to come. We needed to be out on the boat by 10am so we could get out before the tide got too low. We thought this would allow us plenty of time to get back and get ready for the Tiki Bar tonight.
Last night Cindy had let everyone know that she'd bring out her Karaoke Machine this evening, so they had all better show up.....but that would never end up happening.
We had the coolers loaded up and the sunscreen applied early this morning. The fuel tank was topped off and I brought an extra 5 gallons of gas in an extra gas can. I'm one of those types that never wants to be stranded anywhere, so I always bring extra fuel.
We motored over to Deer Island and ended up spending most of the morning on the beach talking with George about this and that. He's a very interesting guy to mingle with and the day was picture perfect, so who knows how long we actually sat there, but we were all enjoying ourselves tremendously.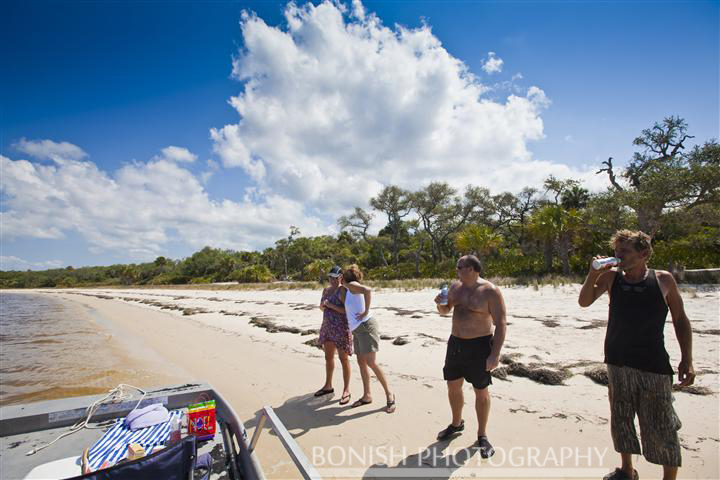 Morning Spent on Deer Island Beach
When we ran out of beer, we headed back for Cedar Key to go home for the day. As we were motoring up the #3 Channel, we realized the tide was too low to get back up behind our dock. This meant we'd have to go park the boat downtown in the Marina and walk home or find a ride.
As we were heading around the islands through the inside channels, we stopped at the #2 bridge so Derrick could run up to the Chevron Station and grab some food and more drinks.
While he was up there, I dumped the extra 5 gallons of fuel into the gas tank. Motoring over to Deer Island and back was a 10 mile trip each way, and the boat only has a 11 gallon tank so we had burned through some reserves especially just idling along and not having the boat up on a plane which is much more fuel efficient.
I started to get off the boat with the empty gas can in my hand when Cindy asked me where I was going. I told her I was going to go fill it up so we'd have another back-up can of gas.
She gave me the lecture that we were only going to be out for a little while longer and made fun of me for always being so worried about running out of fuel. She told me to just get back on the boat because she could see Derrick walking back down and she didn't want to wait around any longer.
So reluctantly and against my better judgment, I got back on the boat and we headed through the inside passage over towards Atsena Otie Key.
Once we got out into open water between Atsena Otie Key and Dog Island, we ran up on a pod of dolphins that were acting all crazy.
They weren't following the boat like they normally do, but they were swimming in circles and jumping high out of the water like they were putting on some kind of show for us.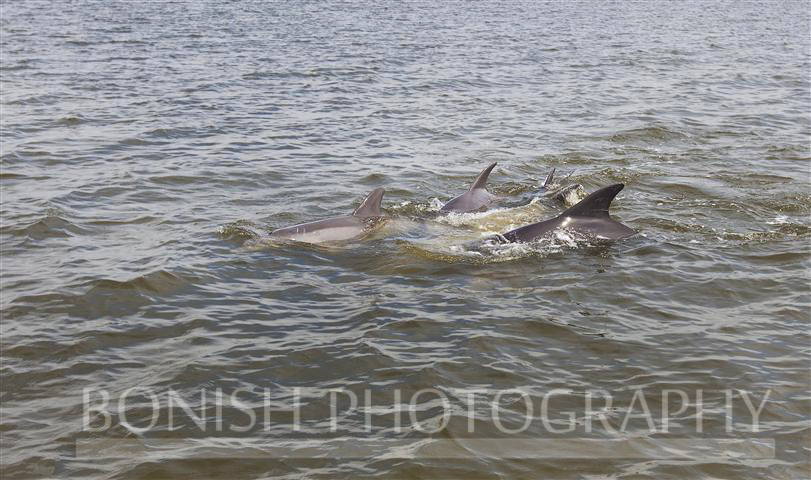 We sat watching them for a long time and while watching, we also learned a new trick. If we would shut the motor off, they'd swim away from us, if we left the motor idling, they'd hang out right beside the boat. Literally at times so close we could have reached down into the water and petted them.
What we learned was they were actually mating with one another and it's something that happens in groups of dolphin like we were witnessing. Two different times did we actually see a male dolphin roll up and out of the water exposing his manhood at us while trying to get closer to the female dolphin.
I read up on this courtship and found that in order to mate, they have to be belly to belly and they roll around in the water which is exactly what we were watching the entire time. The article I was reading also said that multiple dolphin will corral a female dolphin for hours at a time, sometimes for days and continue to try and mate with her till she finally gets into her cycle and allows them to mate.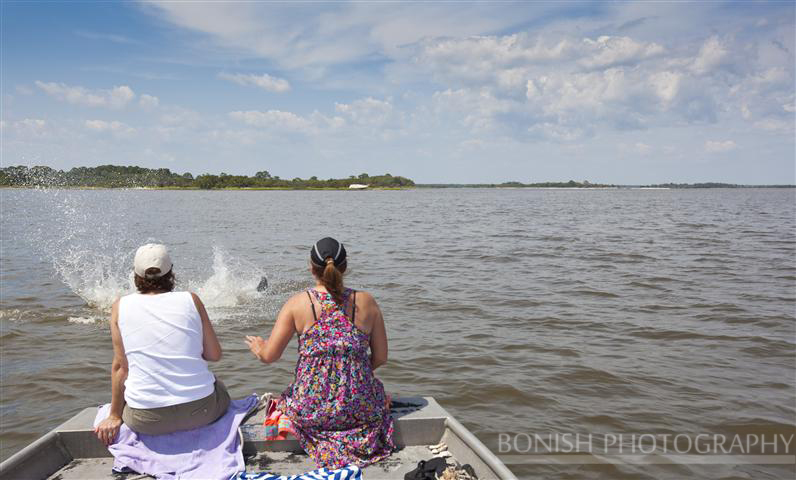 Tish & Cindy getting splashed by a jumping dolphin
This was truly a National Geographic moment and was utterly amazing to watch at such a close range. Cindy and Tish were sitting on the front of the boat with their feet in the water and at one point one of the big male dolphins jumped out of the water right in front of them. It was so close they were both soaked from the splash.
At this point we had been out for so long, none of us were really ready to head home and Cindy and I made the decision to just stay out longer and not go back and open the tiki bar. Cindy was saying things like "It's Sunday, it's the end of the Festival Weekend so you know you wont be busy!", and going on with "We're out with Derrick and Tish, cant we just stay out till Sunset?"
So you know I just said "Ok, lets just stay out!"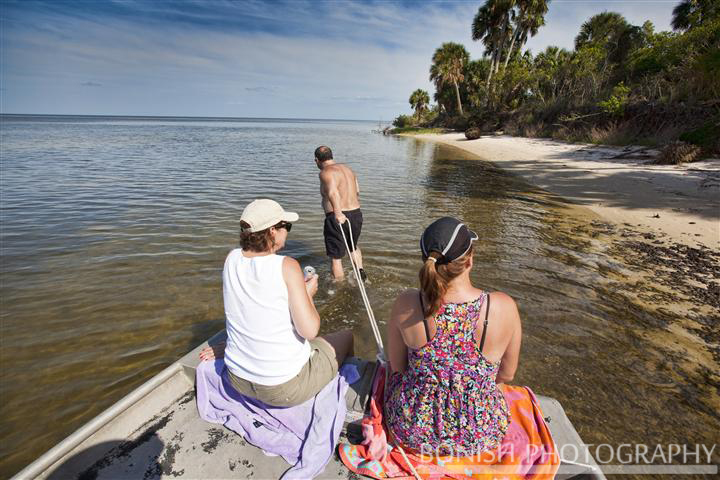 We motored over to Snake Key and found a nice shady spot along the shoreline where we all sat around BS'ing and just enjoying every second of the afternoon. One of the reasons I love the Cedar Key area so much is we can sit on this secluded beach for a least two hours and never once see a boat, another person or even hear a sound other than the water lapping the sand and the birds overhead. It was like we had our own tropical island all to ourselves and the rest of the world just floated away.
By now it was late in the afternoon and we figured we only had a little while before the sun would be setting, so we might as well stay out long enough to watch it from the water.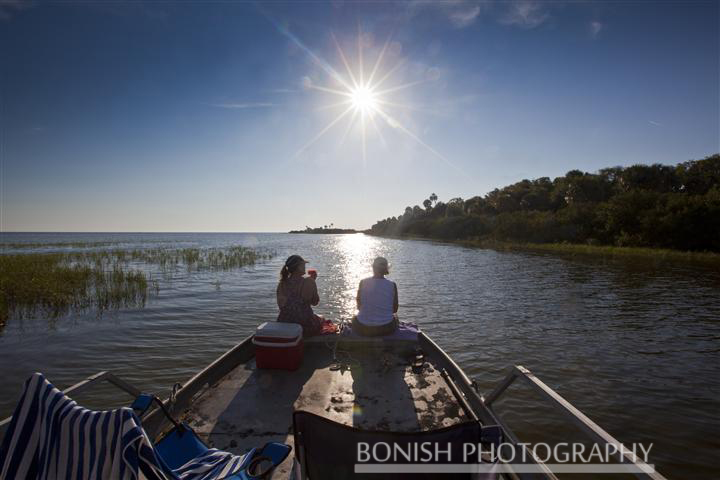 We motored around for a little while showing Derrick and Tish some of our favorite places most people don't get to see before we made that last turn and started heading for home.
As we were heading down the #3 Channel from the outside edge of the island, the motor sputtered out and died. Everyone turned around and looked at me like I had done something.
I simply kicked the fuel tank and said "There ya' go Cindy, that's what you get for not letting me go and get more fuel!"
We had run out of gas and still had a ways to go to get home. Paddling or getting out and walking was not an option as the tide had come back around and we were now looking at a very high tide.
Cindy grabbed my phone and called Heath explaining that 'I' had run the boat out of fuel.
He said he'd be right around to get us. She didn't have the phone hung up and put away before we could start to hear a motor off in the distance. We all joked and said "Yep, here he comes" but I thought Derrick was going to crap his pants when not 20 seconds later Heath came motoring around the bend in the channel.
How is that for service!?! He said that he was on his way over to the Tiki Bar figuring we'd be rocking out on the Karaoke Machine when his phone rang, so he just was right around the corner behind us.
They hooked up a tow line and we were pulled the rest of the way back to the dock as the sun went to bed behind us. By this point, because of running out of fuel, we were too preoccupied to even pay attention to the sunset which was why we had stayed out so much longer.
While he was towing us over, he looked back and said "At least toss me a beer!"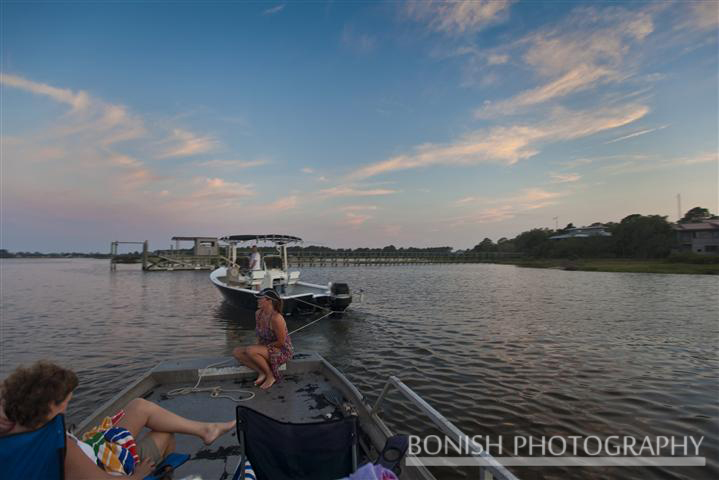 We opened up the cooler and were shocked to find out that for the 2nd time today, we'd run out of beer. So not only did we run out of fuel, but we had run out of beer.....twice.
Once back at the dock, we tied everything up, unloaded the boat and thanked Heath profusely. There was no way we could open up the tiki bar this late and the only thing on any of our minds was food.
Cindy grilled up some steaks while I cleaned off the boat and took the garbage out from the busy weekend. What an end to another amazing visit with Derrick & Tish. Thanks Heath for the rescue!!
Saturday April 28th - Arts Festival and Tiki Bar Party
The arts festival is a great time for Cedar Key. It brings in a ton of people who enjoy many different aspects of art ranging from pottery, photography, painting to sculptures. This is a juried art show, so the art being shown has to meet a set of standards that raises the bar over many of the other shows around Florida.
You never really know what you're going to find, but you can guarantee you'll see something that suits yer' fancy.
Rather than have to deal with the torture of finding a parking spot, we decided to get some exercise and walk downtown to enjoy the show. The weather was really warm today, and by the time we got to the Island Hotel where they had music playing out in the courtyard, we were all ready to take a break and enjoy the A/C.
We ordered some drinks and sat in the overstuffed couches in the lobby listening to music and enjoying the company of our best friends.
From the Island Hotel, we walked over to the park where there was more music playing and folks were gathered around enjoying the breeze coming off the Gulf of Mexico.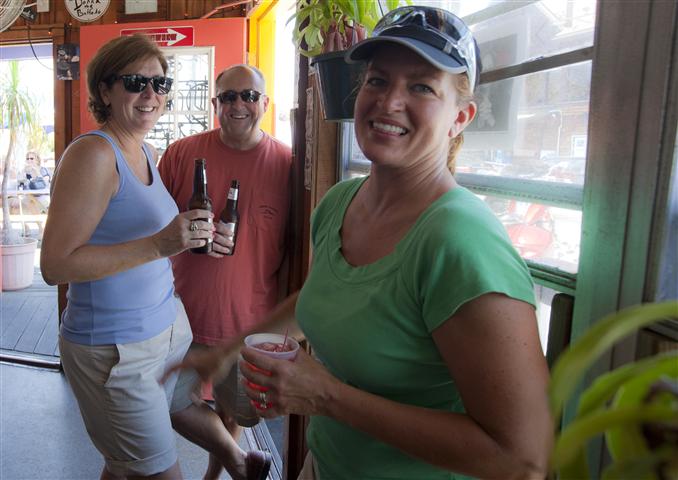 We soon found ourselves in the Big Deck Raw Bar where we grabbed another drink and chatted with a few of the local characters who were hanging out.
We had to get back to the Tiki Bar soon, so we said goodbye and headed home to get the place set up for tonight's festivities.
This is where you bust your tail to get everything in place, run inside to shower and change, lay down for 10 minutes before you head out for a long night of fun and serving drinks. That last sentence describes my life pretty much.
Soon friends and more friends started rolling in and before you knew it, the place was wall to wall people. Derrick had brought a Bag Toss Game, or better known as Corn Hole, so there was people out playing that. The grill was surrounded with people gobbling up fresh Venison Sausage and the drinks were flowing heavy out of the coolers.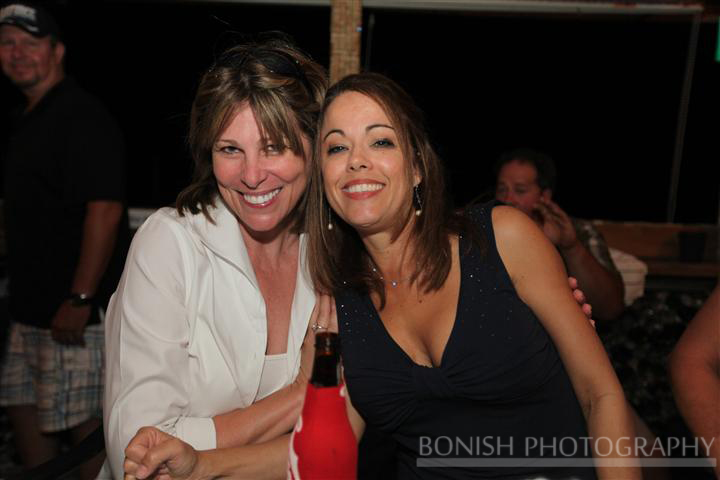 Suzie & Jolie having Fun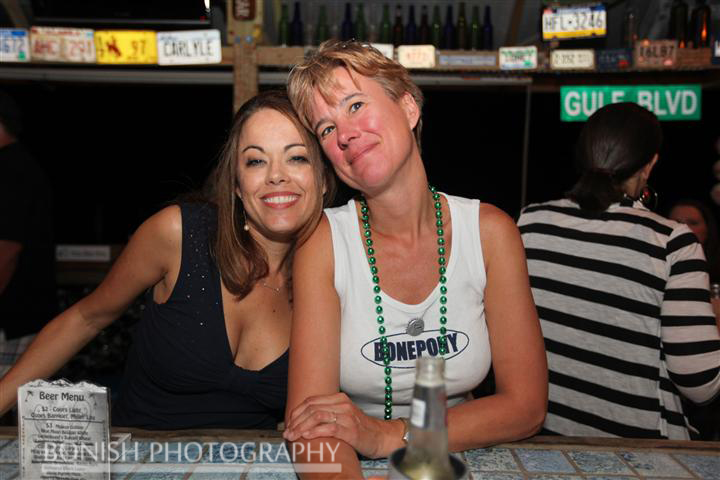 Jolie & Karen smiling for the camera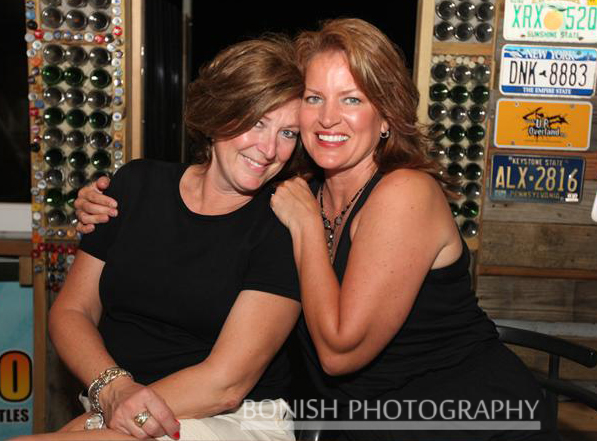 Tish & Cindy back together again!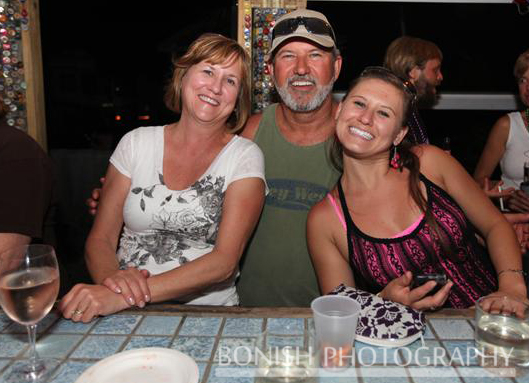 Beth, Pete and Christy were loving the Tiki Bar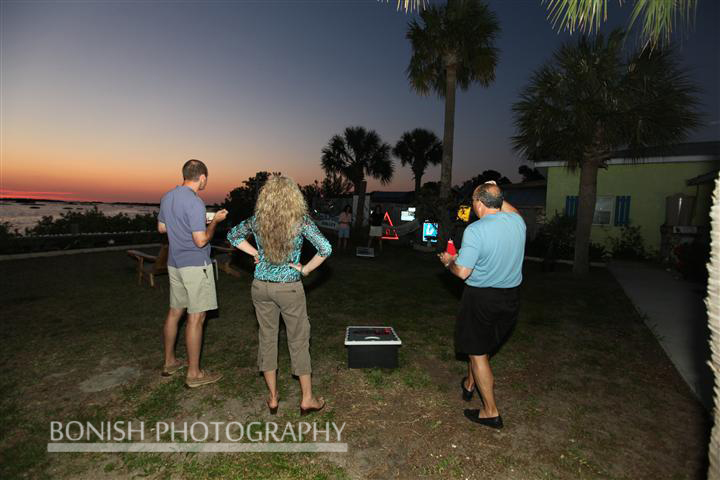 Corn Hole Tournament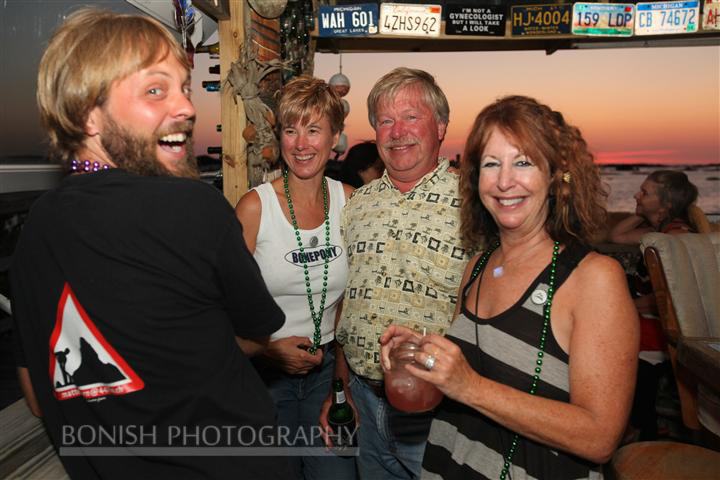 Levi was scared of the flash behind him, Debby, Scott & Karen just smiled along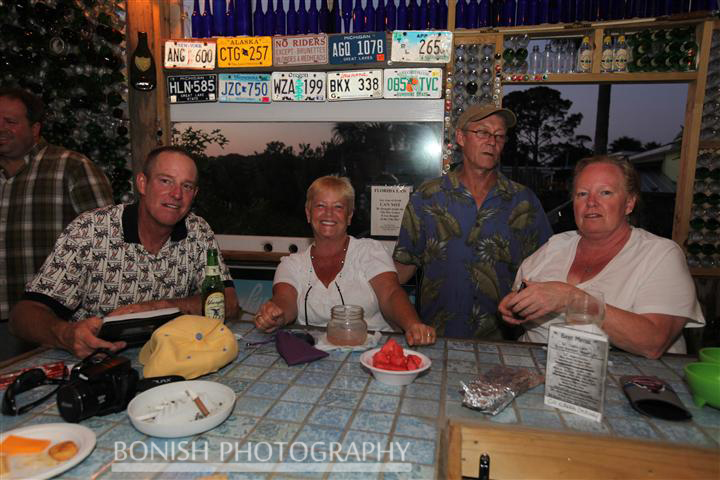 Darryl and his family brought over some great food!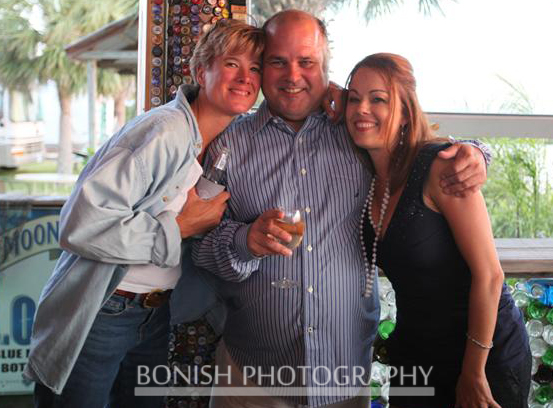 Karen, Roy and Jolie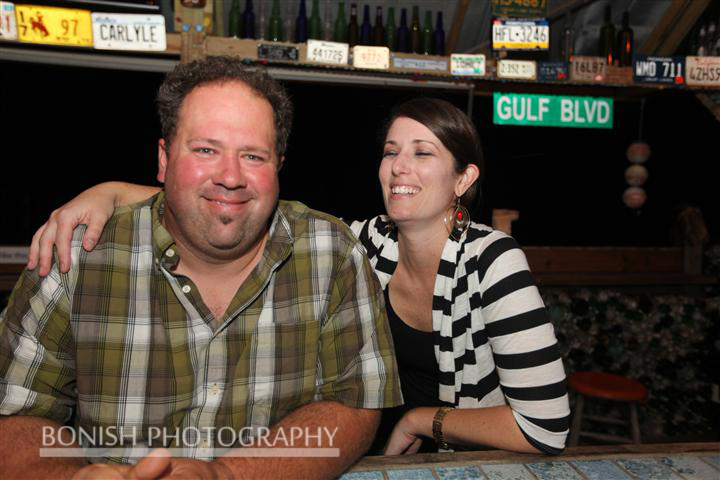 Waylan and Milinda enjoying a night off together
Around 9:30, we gave last call and started winding down the night out here. We knew the Tiki Bar was simply the starting point, and everyone was planning to head downtown to the Big Deck to dance and get a little sideways.
Cindy, Derrick, Tish & I stayed back to clean everything up before we headed downtown. Before long, we were at the Big Deck with the rest of the party crowd watching the infamous Steve Champagne. This one man band puts on a great show and the crowd was totally into it.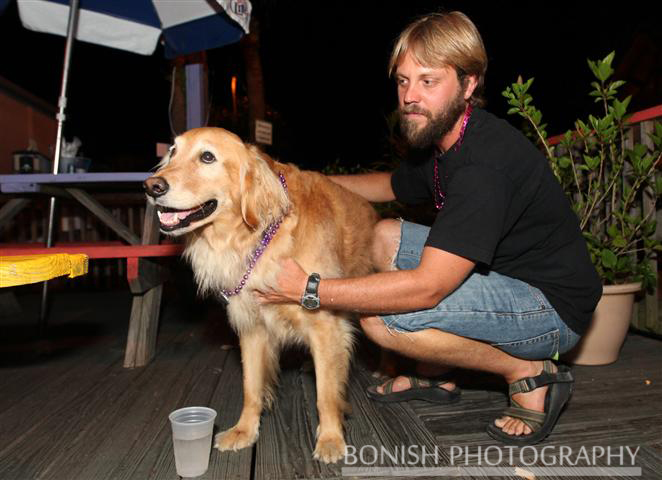 Levi making sure Cuervo has a drink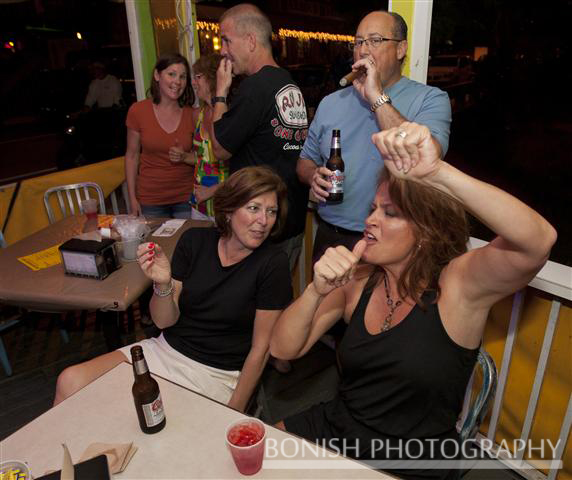 Cindy will improvise if she's without her microphone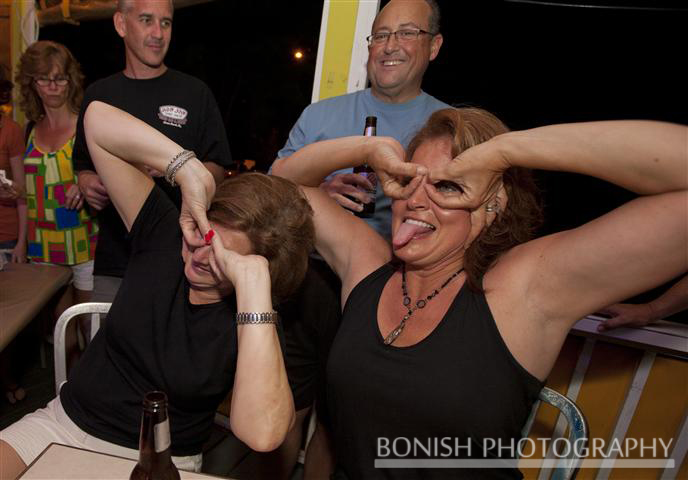 A game Cindy and Tish like to play with Heath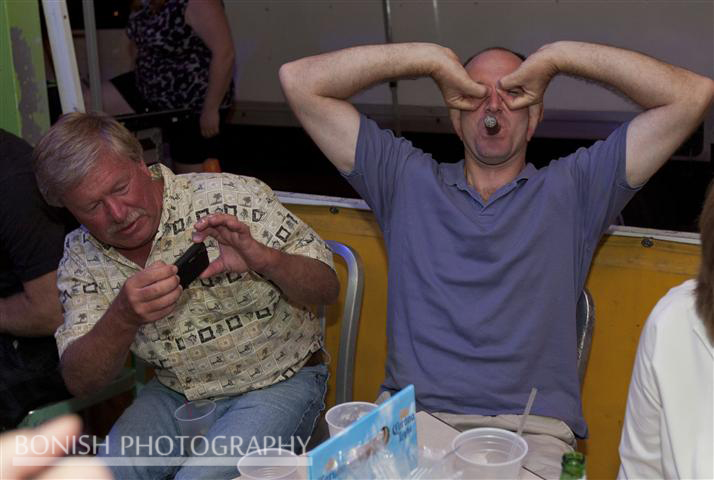 Heath Playing Along with the girls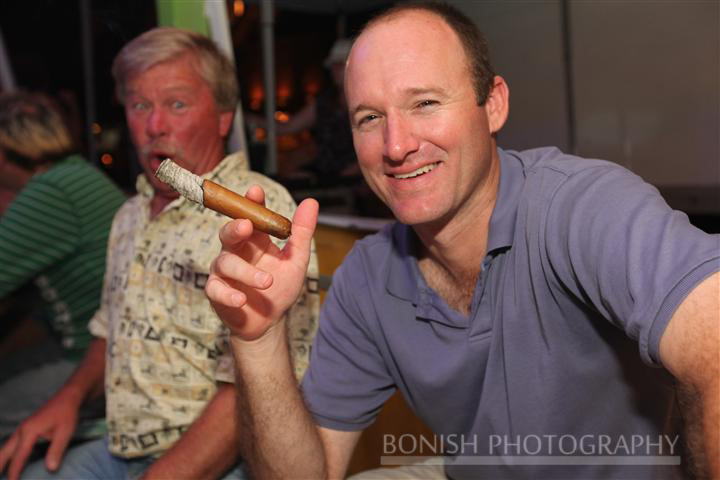 This photo makes me laugh so hard!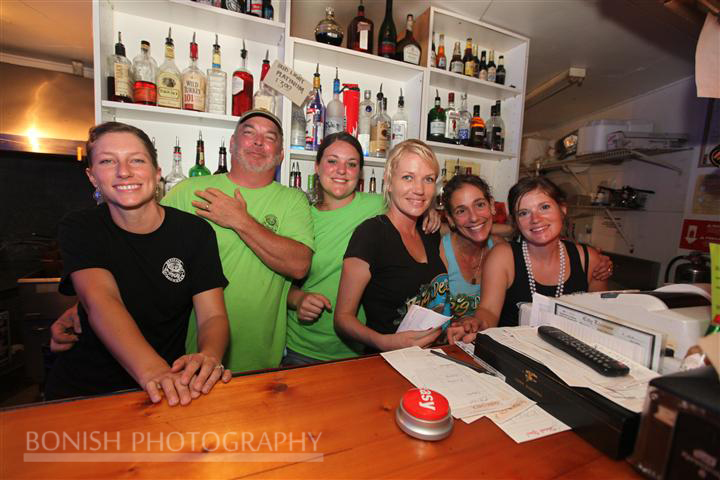 The great staff at The Big Deck that make sure we all have fun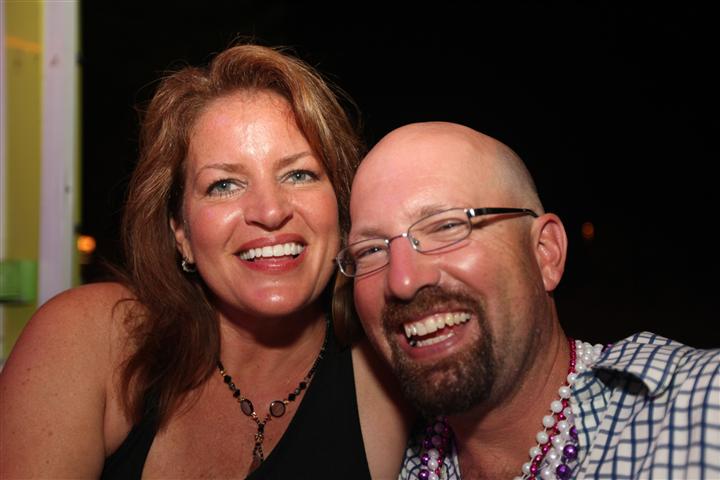 Jolie behind the camera snapping a rarely seen picture of Cindy and I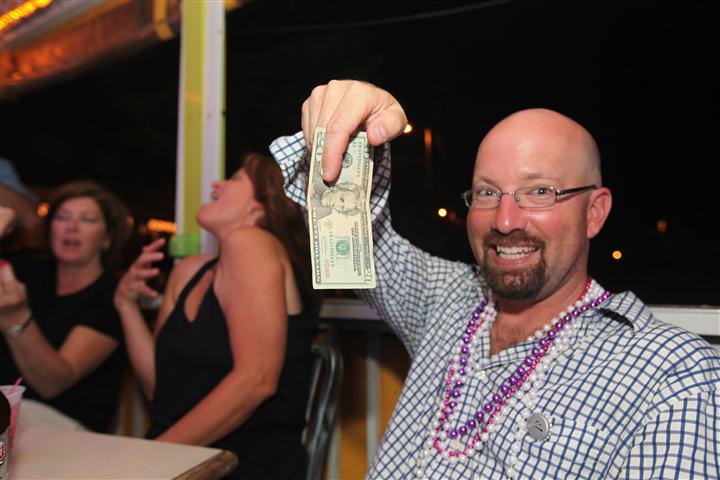 Cindy is appalled I'm offering $20 for Lap Dances - Photo by Jolie Davis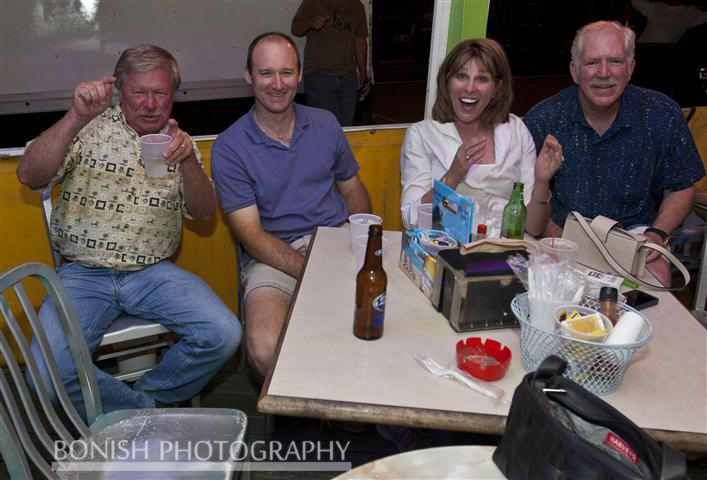 Scott, Heath, Suzie & Brantley having fun with Steve Champagne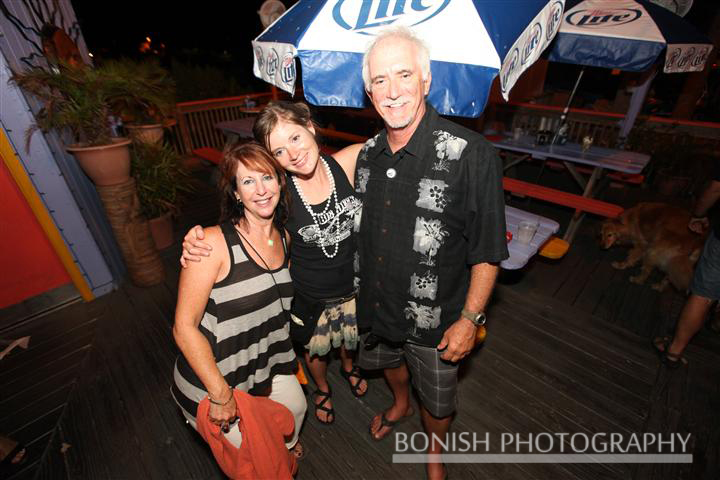 Debby, Amy & Bill on Debby & Bill's last night in Cedar Key - What fun it's been!!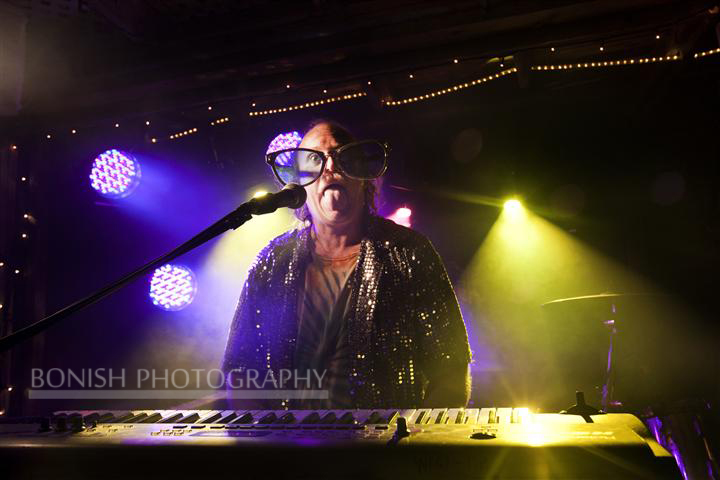 Steve Champagne on the Keyboard at The Big Deck
Friday April 27th - Start of Arts Festival
Spent the entire day working to get everything in tip-top shape before the big weekend. We had all 5 rooms checking out and checking back in again, so Amber and I busted them out like champs while Cindy went into Chiefland to do some shopping and drop Luca off at the vet.
We cant deal with his nasty breath any longer, so we're having his teeth cleaned professionally. They have to put him under for this, so he has to spend the entire day there, but it'll be worth it if we don't have to smell the foul odors coming from his Yuck Mouth.
Once everything was buttoned up, we opened up the tiki bar and the party weekend officially began.
Derrick & Tish arrived around 6pm and soon enough the tiki bar was filled with good friends, motel guests and plenty of locals.
We try and keep strict hours to not upset motel guests who are looking for a quiet weekend by shutting the bar down at 9pm, and getting everyone out by 9:30. Tonight was one of those nights that no one wanted to stop partying, so Cindy said aloud, "If you want to keep partying, grab some beers and follow me into my living room for Karaoke."
Almost the entire bar ordered another round and followed Cindy into the house.
I cleaned up the bar and came into the house to hear the karaoke machine rockin' with everyone watching Derrick & Cindy sing their hearts out.
Luca was still all drugged up from his teeth cleaning earlier today and his gums were bleeding a little. When people are around, he usually wants to be up and visiting, but I was trying to keep him stationary. So I plopped down right on the kitchen floor with him laying there so I could keep him still and keep a towel under his face so if he bled anywhere, hopefully the towel would catch it.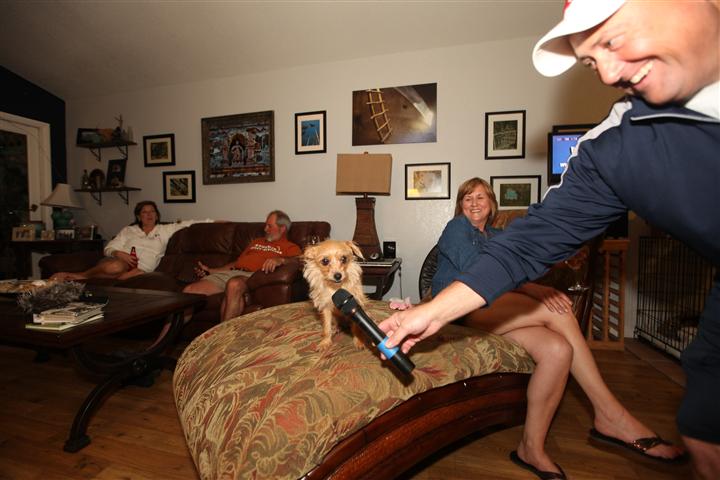 Derrick and Cindy also learned that if you make a certain low noise while singing, it drives Little totally insane and she goes ballistic. I cant remember in all the years I've known him to see Derrick laughing so hard. They'd be singing along and he'd make that noise and Little would just snap, she'd start barking and running around like crazy which would make us all bust out laughing. It was so friggin' funny.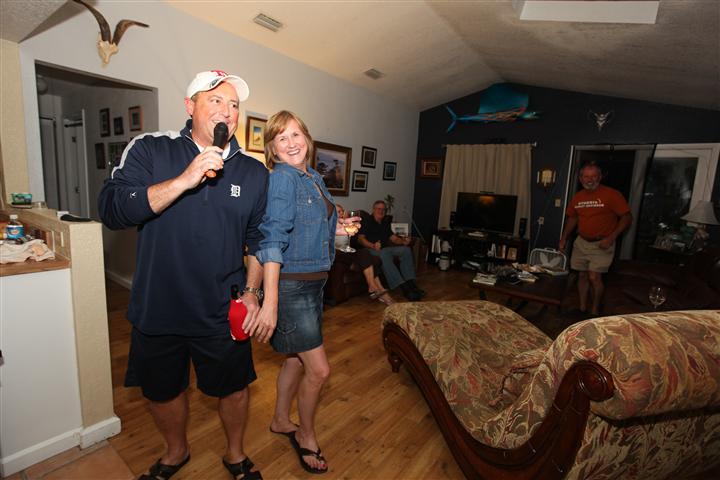 Derrick singing with Beth acting as a back up dancer
Around 1am, I had finally had enough of the karaoke and had to give my wife the ol' 'LAST SONG' call she hates to hear.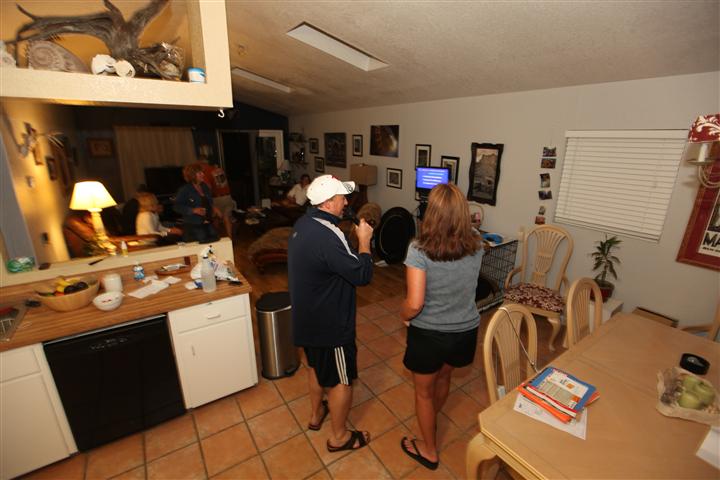 We all had a very long day, and tomorrow we were planning to go check out the arts fest, and there was already a big Pot Luck scheduled for the tiki bar. So we had another big day ahead of us. Sleep was very much needed.
Thursday April 26th - Long Work Day
After multiple days of foolin' around, today was a long day of work...Sun Up till well after Sun Down actually.
We had a few pallets of paver blocks delivered last week and today was the day to get them all put out. We also had a load of Pine Bark Chips delivered and while I was laying the blocks that Cindy had moved with the wheel barrow, she was now wheel barrowing loads of chips to all the flower beds and gardens. This woman likes to work!
By the time the tiki bar was scheduled to be open, we had the front finished and most of the back yard done. I ran in and showered and cleaned up so I'd be presentable to tiki bar patrons while Cindy worked till sunset working that wheelbarrow.
By the end of the night, we were both whipped, but the place looked like it had a new facelift. We both slept good tonight knowing that with Derrick & Tish arriving tomorrow, and this weekend being the Arts Festival, it would probably be the last sleep we'd get for awhile.
Wednesday April 25th - Kanapaha Botanical Gardens
Since yesterday was Cindy's birthday and we were gone all day, we couldn't do our normal Tuesday Fun Day with Scott and Karen. They'll be leaving in a week or so to head back up to Maine, and we want to try and get in as many things as we can while they're here.
So we took an extra day off and did our Tuesday Fun Day on Wednesday.
One of the attractions in Gainesville we'll send guests to is the Kanahapa Botanical Gardens if they say they're headed out of Cedar Key for a daytrip. They all come back raving about how cool the place is, so we felt it should only be right for us to actually visit it ourselves so we can give an honest representation of where we're sending them.
I you haven't figured out by how much gardening Cindy and I do, we both love planting new things and maintaining a nice yard/garden. I mean we fight over who gets to work in the yard and who has to stay inside and work on the computer and answer emails.
I could be completely content living on a few acres and have a nice green house where I could grow and plant trees, flowers and exotics year-round.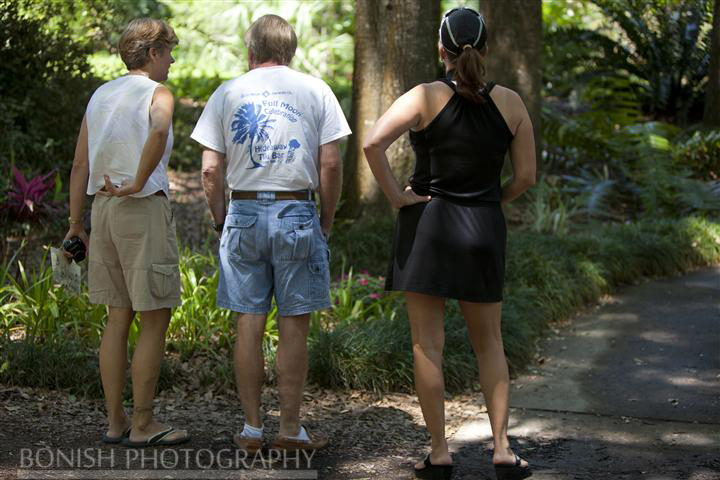 Karen, Scott & Cindy enjoying the Botanical Gardens
Here is a short description of the gardens from the Kanapaha Website: Kanapaha Botanical Gardens is a 62 acre facility founded, developed, funded and operated by the North Florida Botanical Society, a non-profit educational organization. In 1978, the Society signed a lease agreement with Alachua County whereby it gained access to a 33 acre tract of land for the development of a public botanical garden; in 1982, an additional 29 acre parcel was added to the lease, bringing Kanapaha Botanical Gardens to its present size. The Gardens' name is derived from its proximity to 250 acre Lake Kanapaha. The word Kanapaha is derived from the Timucua Indian words for "palmetto leaf" and "house." Taken together, they refer to the thatched dwellings that were home to the original residents of a small Timucua village on the western shore of Lake Kanapaha.
They charge $7 per adult to enter for the day, and you can leave and come back if you want to go have lunch. It was so worth the entrance fee because of the photos we captured and the ideas we got for our own planting arrangements.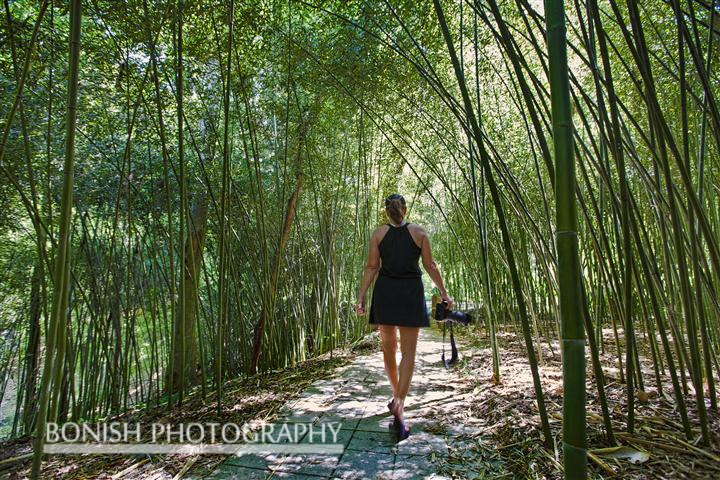 Cindy walking through the Bamboo Grove
There are two loops to walk, one being a mile long and the other being a 1/2 mile. Both provide different settings. The Botanical Gardens have the largest grove of Bamboo in the state of Florida and the largest Herb Garden in the country.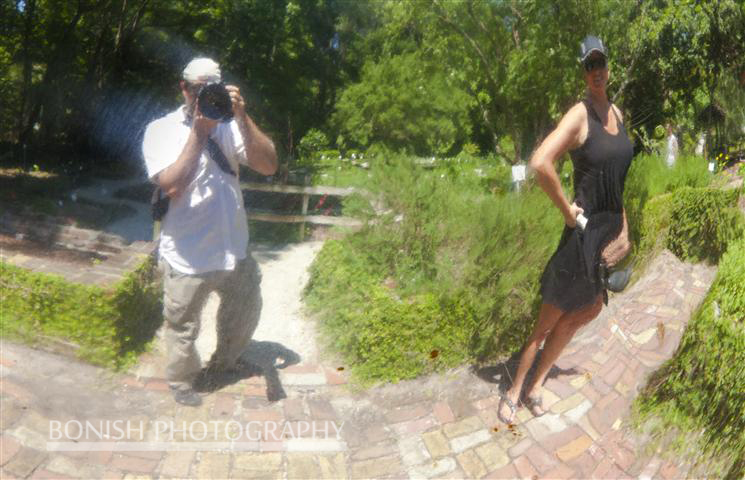 Picture of our reflection in the Gazing Ball in the Herb Garden
The smells were intoxicating and the blooms were never ending this time of year. We had a great time and I know I'll be back throughout the year when different species are in bloom. Its the perfect place to work on Macro Photography. You can View the Entire Gallery Here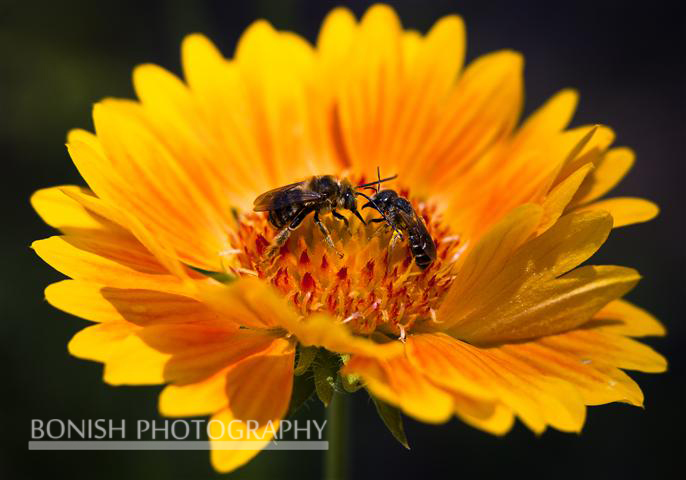 Two Bee's fighting over a Gerber Daisy Bloom
From Kanapaha, we went into Gainesville to have some lunch. I was telling them about a pizza place Heath and I had visited that was really cool. We pulled up to Satchels to find out it had caught fire a few weeks back and is currently closed for remodeling.
While walking around in the parking lot looking at all the crazy creations the owner comes up with, one of the workers came out and was talking with us. He told us they were all walking across the street to a little bar called The Ole Barn, to have a drink. We told him we'd join them and followed them over.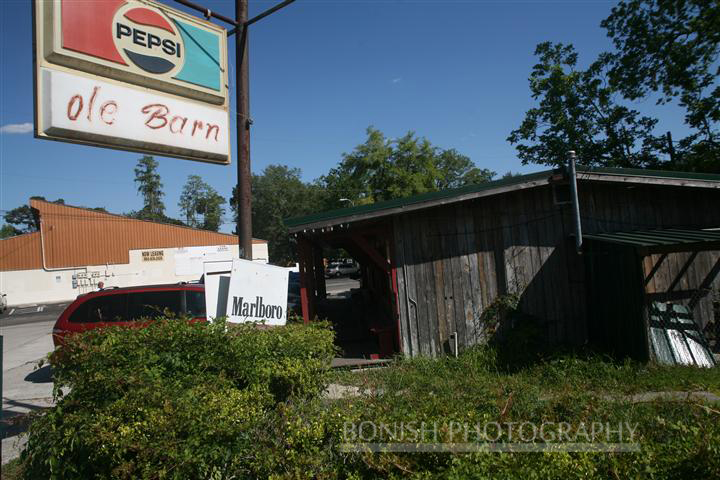 The Ole Barn is small, dark, smoky and still has the original old, soft, well worn wooden floor. There were maybe 10 old timers sitting around smoking and drinking and all looked at us like we were crazy for even walking into the joint.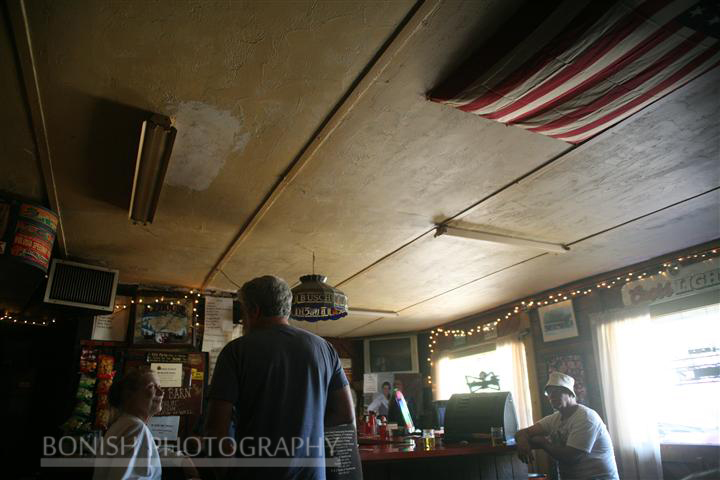 Notice the white mark on the ceiling?
That's a spot they've recently fixed. The yellow color is the ceiling
I felt like I got Lung Cancer within the first half of my beer and the yellow-stained walls are probably held together from the resin clung to the plaster. Everything in the place had a dingy yellow hue to it including the bartender who had a cigarette hanging out her mouth the entire time we were there.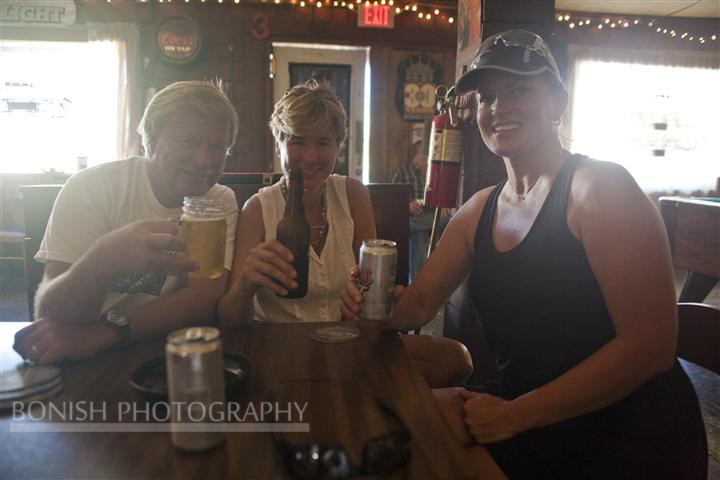 The worker who had told us about The Barn asked what we were doing in Gainesville and when we told him we were looking for a funky place to eat, which is why we had come to Satchels, he told us to head downtown and find The Top. He said we'd enjoy it as it reminded him of Satchels and the food was equally as good.
With that tip, we left quickly so we could breath fresh air and hopefully escape a bout of emphysema.
The drive over to The Top was easy and we were able to find parking right behind the place. Luckily we got there early and found a table right away. As we sat drinking homemade margarita's and eating amazing food, the line kept building up as the afternoon crowd piled in the place.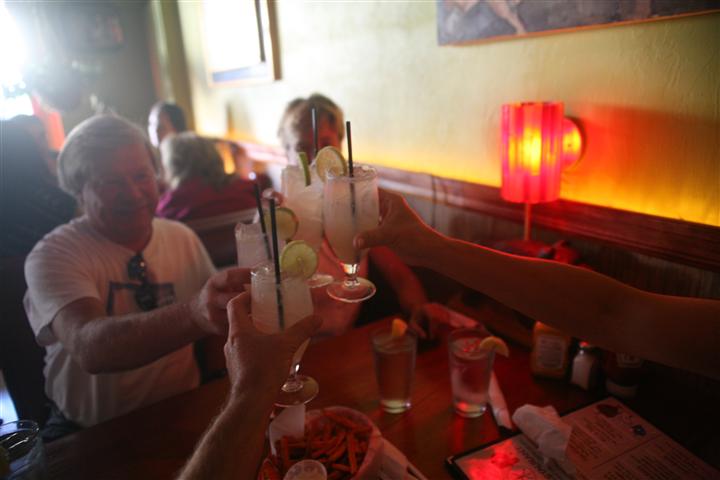 This is obviously The Place to be in Downtown Gainesville and the service and quality of food showed us why.
After our dinner, we walked around shopping for a little while in some funky vintage/antique stores before we climbed back in the truck to head home.
On our way back to Cedar Key, we stopped at a little place that you pass every time you come in or out of Cedar Key when you're driving on HWY 24. There is a little bar called Four Corners, but none of us have ever stopped there. This time we all agreed we'd stop and see what we were missing. We figured since our little adventures are about seeing new places and experiencing different things, we might as well stop at every place that strikes our fancy.
Four Corners isn't as smoky as The Ole Barn, but I was having trouble breathing due to every patron in the place toking on a cancer stick. We all had a drink before we said our goodbyes and headed home for the night. Cindy did get her picture taken with a tall, handsome cowboy while we were in the bar.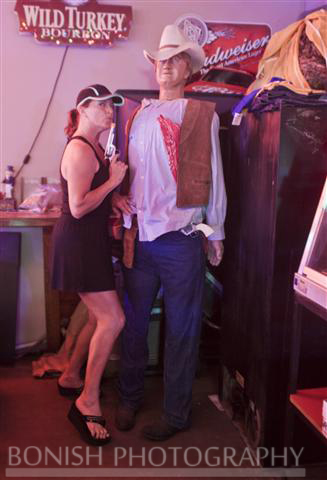 It was another great day out exploring Central Florida with good friends.
Tuesday April 24th - Happy Birthday Cindy
Today is Cindy's birthday and I was under strict orders to not have gotten her ANYTHING, not to have planned any parties or do anything special. She told me the only thing she wanted for her birthday was to go into Gainesville and be able to go shopping for the entire day by herself without me hurrying her up.
I had a bunch of things I needed to get from the larger Big Box Stores in the city, so I suggested I'd drive her. This way I could drop her off in one of the complexes that has a dozen or more shops to visit, then I could run my errands and pick her up when she was done.
We stopped for lunch before all of this shopping started and filled up our bellies so we'd be ready to go for the rest of the day.
Once I dropped her off, I was told to not call her until she called me and said she was done shopping. I ran up to Alachua to pick up some doors I found on Craigslist to go on the Tiki Bar.
Since we're going to have full liquor soon, I figured it might be a good idea to have doors that are lockable. I found a guy that was selling two beautiful leaded glass, solid Oak doors that had come out of a TGIFriday's that was being torn down. They weighed about 200lbs a piece and I talked him down to $55 per door, so it'll be cool to see them hung on the tiki bar.

Not that the doors will keep burglars out, I mean if you want to break in, you'll simply have to break the glass, but at that point, you're actually breaking and entering and more than likely will be shot (Hence the sticker that will be on the door). They're more or less to keep the honest people honest.
Cindy and I look out all the time and see people sitting out in the tiki bar when its actually closed and before we put locks on the cooler doors, there used to be times we'd have a note left on the bar saying "We stopped by and had a few beers", and there would be money laying under one of the table tents. We're hoping the doors will stop that.
Once I had the doors, I got the call from Cindy saying she was done shopping. She had picked out a few new outfits and was ready to be chauffeured home. We stopped and had some dinner at a cool little restaurant that served amazing food. If ever around the Gainesville area, check out Blue Highway Pizza! Outstanding food and service.
Sometimes its nice to get out of our little town and just experience something different, even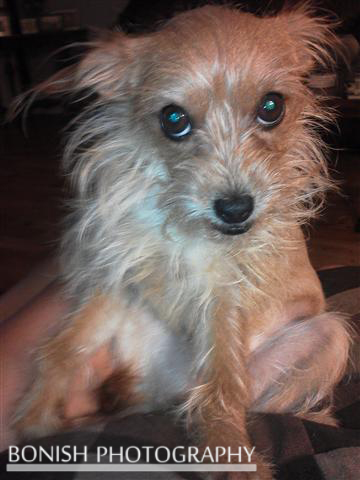 if it's only a few miles away. Cindy said she had a great birthday and it was just what she wanted, a day with no agenda and all to herself.
I did buy her a new Karaoke CD Set that is 4 discs of pure goodness. She was asking if I could go faster on the ride home so she could get back to her microphones and warm up her vocal cords for when Derrick and Tish arrive.
While we were out today, I bought a life jacket for Little because Cindy keeps wanting to bring her out on the boat. I told Cindy I didn't want her on the boat without having a life vest on her incase she gets scared and jumps off.
When we got home, we put it on her and she didn't like it at all. For some reason she'd just stand there and not move. When we both tried to get her to walk to one of us, she'd only walk sideways. That made us both laugh hysterically.
When I took it off of her, she ran right into her crate and would not come out. I finally went and got her but she wouldn't even make eye contact with me. She was so made for us laughing at her.
I put her on Cindy's lap and she just sat there fuming mad with a look that made you feel bad for her. Cindy snapped this photo with my phone of the look she was giving her which is just priceless!
Saturday April 21st - Planting Trees and Dancing on the Bar
We were up first thing this morning because we were having more trees delivered. Cindy and I have never really been happy with the front of the motel, and the way it's lacking something to make it really look cool.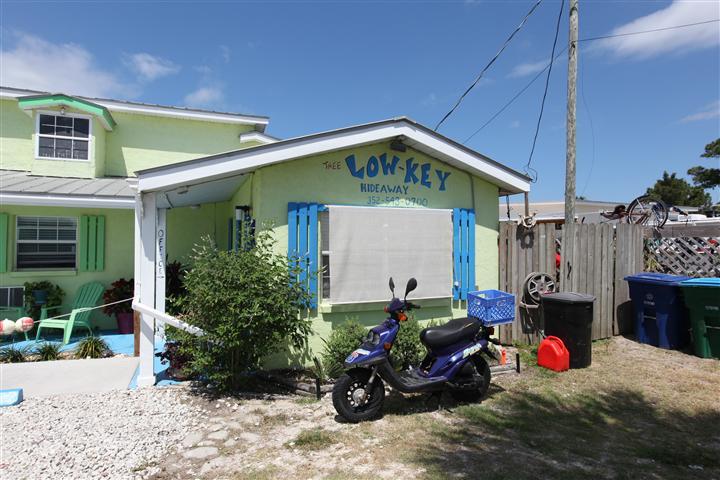 What it looked like yesterday
We decided that a couple of big, cabbage palms would really frame the office and front of the motel nicely. Plus, when they're grown out with a big hammock of palm fronds atop of them, it'll help shade the front of the building and office which gets very hot.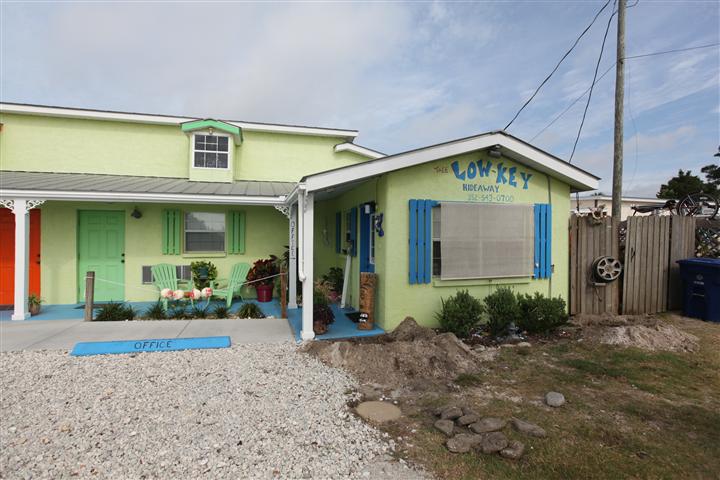 Bush removed and holes dug for planting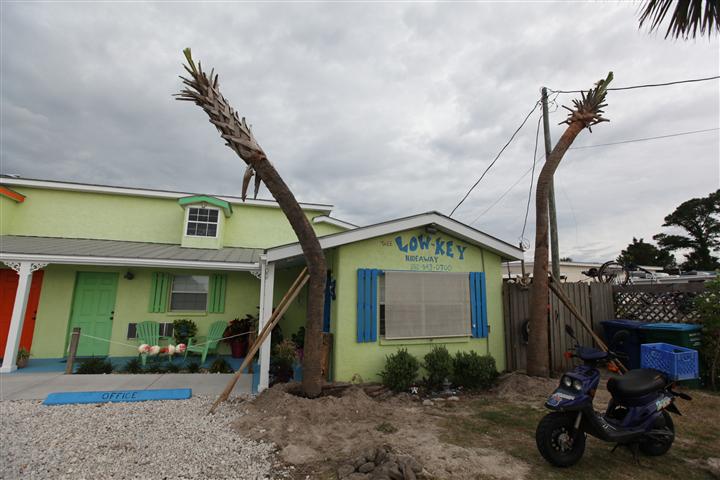 To match our logo, we ordered two palms that had bends in them
and planted them so the bends would grow away from one another
Holes were dug, a grown-out bush we had planted a few years ago was moved to a new location and another hole was dug where a large Cedar Tree was going to be planted. I figured since this is the Cedar Keys, we might as well do our part and replant some of the species that gave the islands their names.
I've always loved the quote "The best time to plant a tree was 20 years ago, the next best time is today" and since tomorrow is Earth Day, I figured it was the perfect time to be planting some more trees.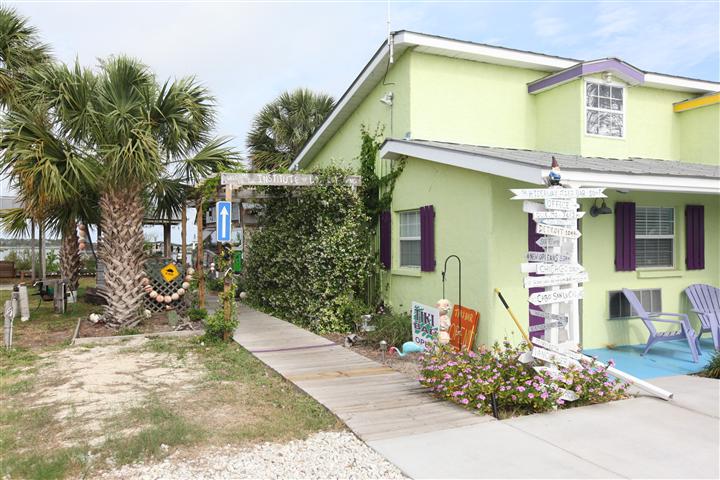 Before Cedar Tree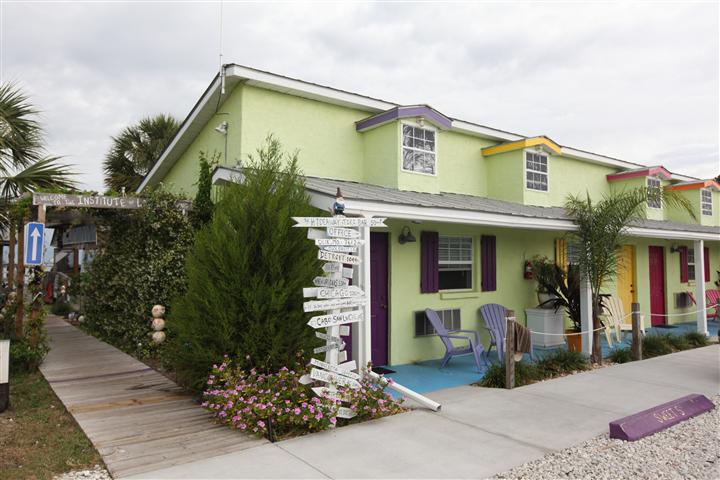 After Cedar Tree
If I had a lot of money, I'd plant trees at an alarming rate. The back yard would be a grove of native and exotic plants that would attract birds, butterflies and provide shade for guests. The motel would be compared to a sanctuary where not only birds, but people would flock to in order to relax and enjoy the diversity of landscape.
Until we have lots of money, which is something I highly doubt we'll ever have, I'll do my best to keep planting new trees as best I can. In the 2 years we've been here, we've planted some 38 trees on our tiny piece of property. That doesn't include any of the plants, shrubs or flowers we've planted either.
While we were putting the trees in the ground, a large group of women was walking down the road. They asked if they could go check out the back yard and asked about the Tiki Bar. We explained that it opened at 4pm and after taking lots of photos off the dock, they told us they'd be back this evening.
Once the trees were planted, I worked on installing a drip hose around the two palms so I could water them for the first few months to get them established. We've lost two of the really big palms we had planted in our back yard, and we cant seem to figure out why?
Both were doing great for the first few months and showed signs of new growth, then all of a sudden, they both just started dying back and soon after died completely. Cant figure that one out, but while we were planting the new trees, we had a tree trimmer cutting down the dead ones.
Soon enough, my day was ended and it was time to open the Tiki Bar. It was Saturday night and Saturdays can be very strange. I'll either be slammed busy, or completely dead, and there is never a pattern to it.
We had some guests hanging out at the bar celebrating their anniversary and of course some of the locals were there too.
Then the wild girls showed up. It was a girls weekend where they all come to Cedar Key to rent a house, kick back and get away from their normal lives over on the East Coast of Florida. That is our typical guest, and we probably have more visitors from the state of Florida than we do from out of State.
The girls were a fun bunch and we had personalities across the board. One was from Northern Ireland and true to their heritage, swore like a sailor and drank like a fish. She had us all laughing with her stories and wonderful accent.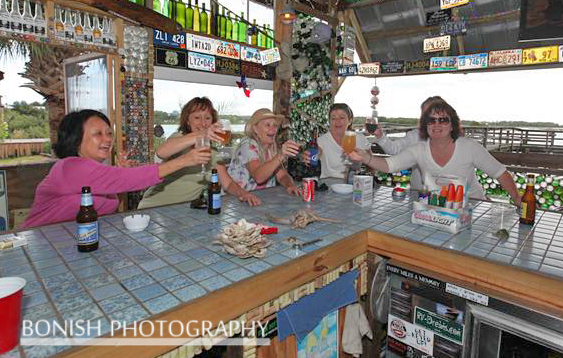 A couple of them were very quiet and just added a few comments here and there, and a few were very outgoing and talkative and kept the conversation going non-stop. A great group of girls that made the afternoon fly by.
We had a some clouds blow in around sunset which blocked the actual sun setting, but gave a beautiful backdrop and soon enough the night was underway.

This was taken with my phone
By this point, the girls had started mingling with the couples staying in the motel and soon enough, we could hear them all laughing and enjoying themselves on the back porches behind the rooms.
One of the ladies comes into the bar and pulls me aside. She's one of the guests staying at the motel and says "We just figured out that I know one of these ladies daughters really well. Would it be alright if she gets up on the bar and dances and I'm going to take some photos of her dancing atop the bar. I'm going to send them to her daughter saying 'Look at this crazy woman we met who is dancing on the bar' and see what she says!"
I'm all game for that, but at this point its starting to get late and as women do, they're laughter and screams are echoing across the bay behind the motel.

Having fun atop the bar
Luckily for all of us, Cindy had just happened to walk outside to visit with Heath and Jolie who had come out to the bar to see the sunset. As long as Cindy see's it all unfold right from the start, I'm in the clear, but if she happens to look out the window from the house to see what all the screaming is about and see's a bunch of girls dancing on the bar, more than likely I'll have some explaining to do.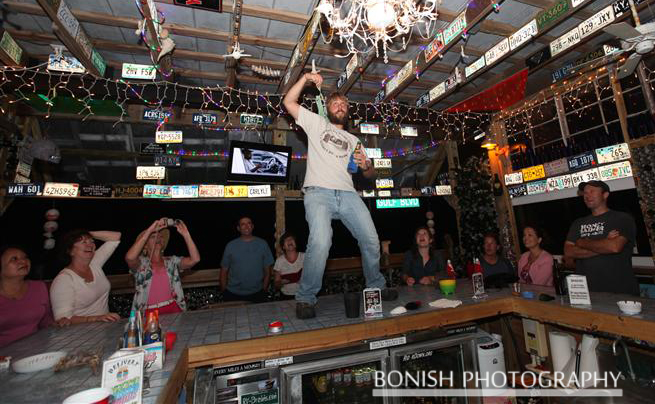 Levi hanging the bra from the chandelier!
So the girls jumped up on the bar, we cranked up the radio and soon enough, everyone was yelling and screaming like Coyote Ugly had suddenly invaded Cedar Key.
As usually happens when girls are drinking, dancing on the bars and being rooted on by fellow drinkers, a bra was taken off, thrown on the bar and subsequently hung from Cindy's chandelier. The same one that she had helped me hang up in the tiki bar the following week with strict orders that she was to never see a bra hanging from it. Fun Times were had by all and we even had Cindy's approval!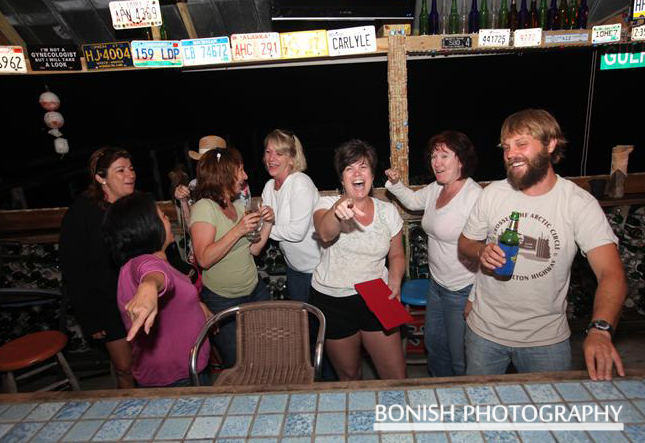 The night couldn't have ended better. Hopefully the girls had a good time and will remember the Tiki Bar and their new found friends for years to come.
Tuesday April 17th - Tuesday No Fun Day
We normally take the day off today and go do fun stuff with Scott & Karen, but today we had an appointment at the bank to sign paperwork and do administrative things. So it resulted in another work day. The sunrise was magnificent today! Here's a photo of what it looked like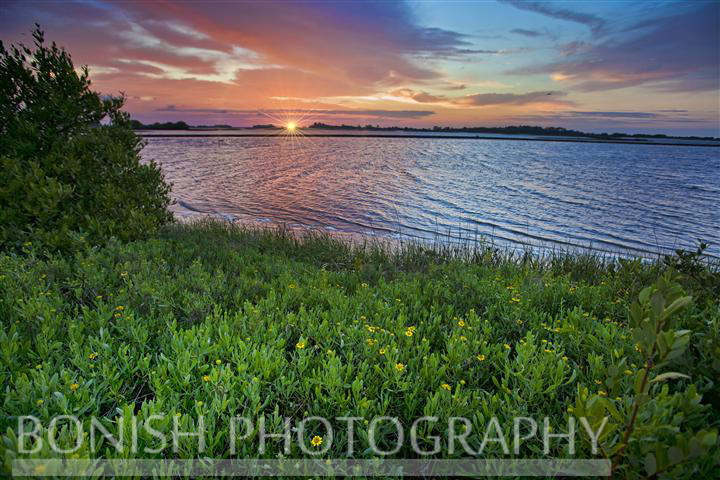 We've finally decided to apply for a Liquor License for the Tiki Bar. We figure since we know we're going to be here through December and with a promising season for next year already on the books, we might as well take that leap and see if it can make us some more traveling money in the long run.
It'll really change the way everything is done out back in the tiki bar, but I think it'll be a good thing for us. If we get 10 people who come in the bar, 8 of them ask for a mixed drink, and 5 of them will leave because they don't drink Beer or Wine, so we hope it'll increase sales and help keep more people around.
After all our paperwork was signed at the bank, we came home and spent the rest of the afternoon working in the yard since the sidewalk was installed.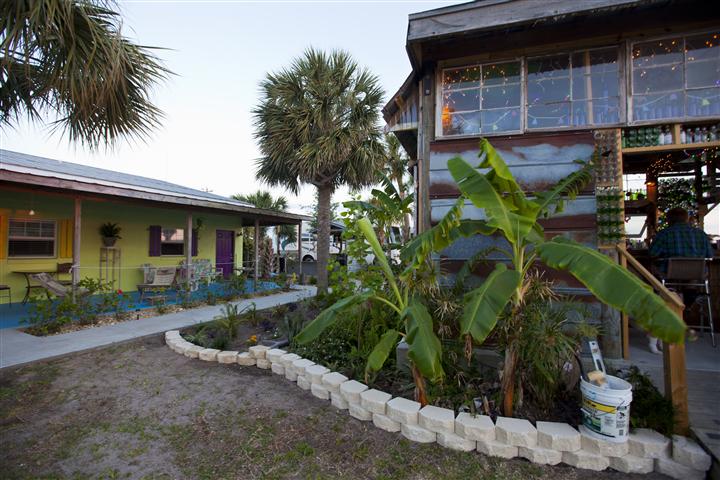 Cindy planted a new garden behind the tiki bar
and we installed these paver blocks to make it look better
Sunday April 15th - End of a Long Weekend
Cindy's family had all came into town this week to celebrate her mothers 75th birthday. It was the first time all the kids had been together in a long time, some 20 years, so it was a monumental occasion.
Her older brother Ron and her sister Teresa had both arrived on Friday night. This meant that once the tiki bar was closed, Cindy had to bring them in the house and show them the karaoke machine.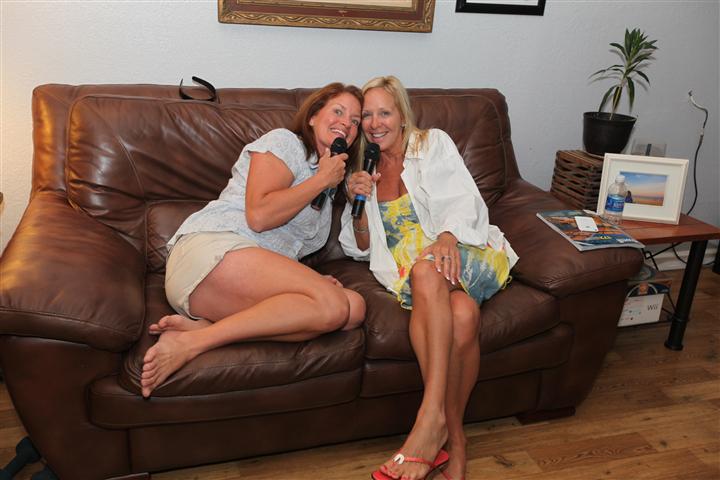 Cindy & Teresa Singing Karaoke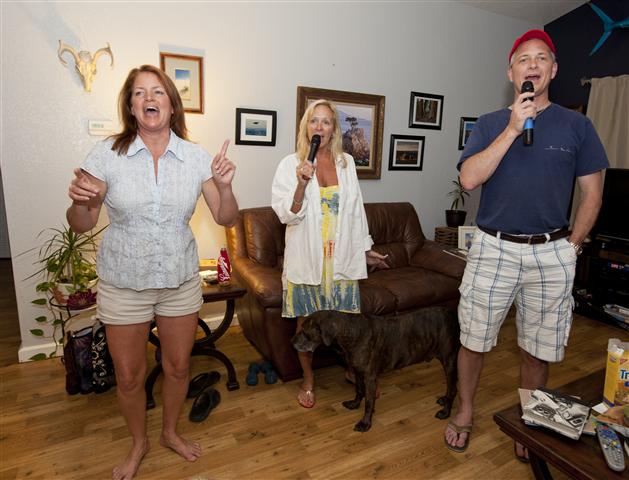 Teresa & Ron sing while Cindy and Luca dance to the tunes
Saturday was an exhausting day with her other brother and their mother showing up at 9am in the morning. The family walked downtown for lunch, came home and played multiple games of Corn Hole in the back yard before sitting down for a gourmet meal Cindy had prepared for all of them.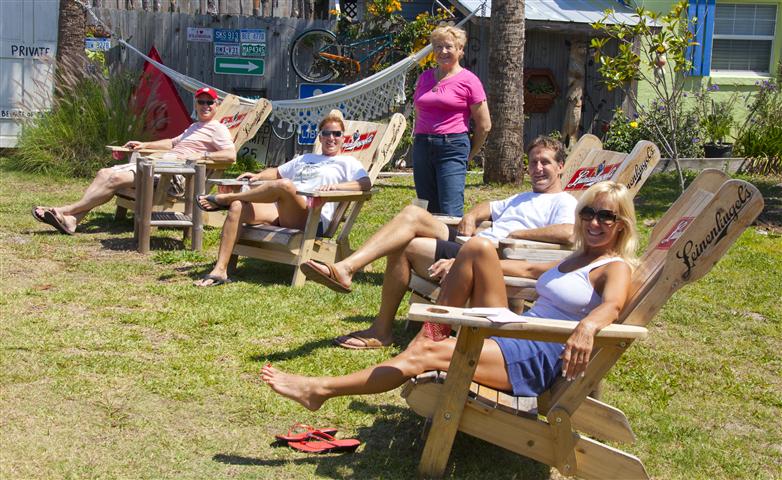 All the Kids hanging out in the back yard with the birthday girl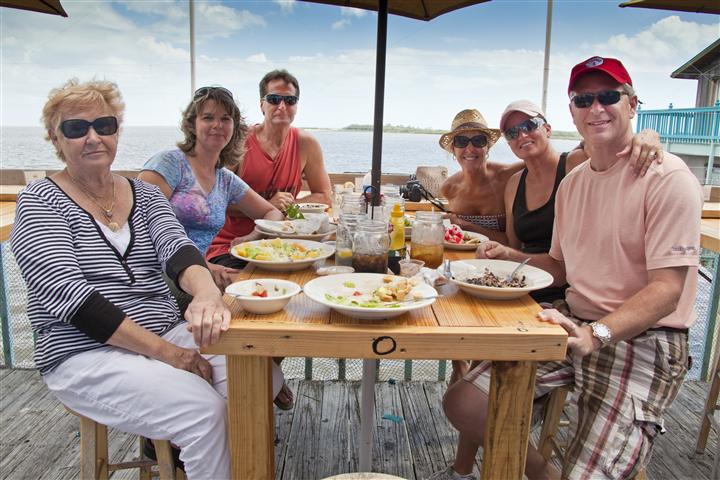 Lunch at the Pickled Pelican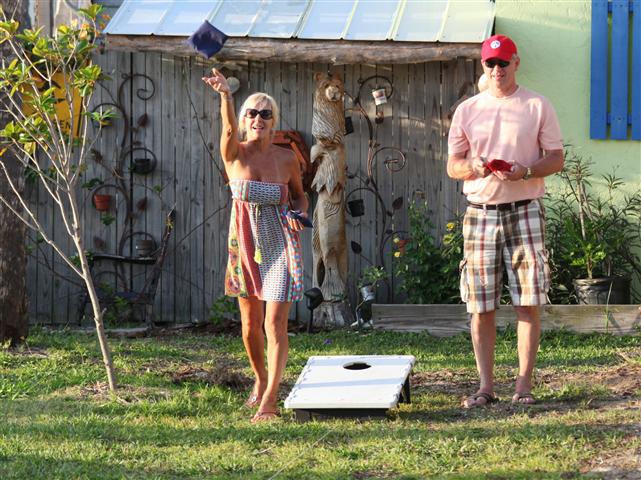 Teresa & Ron competing in the Corn Hole Game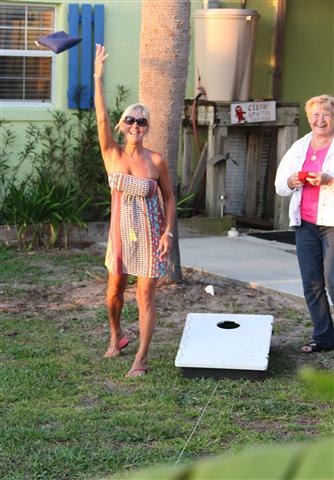 Teresa & Betty having fun
Sunday morning Ron and Teresa both had to leave very early to get home with one having a 10 hour drive and the other having a 8 hour drive. Today also happened to be Ron's birthday.
Cindy and I had all 5 rooms checking out and all 5 rooms checking back in, so we had our work cut out for us. We said our goodbyes to the family and got to work.
Before you knew it, it was time to open the tiki bar for another marvelous sunset celebration.
Wednesday April 11th - Senior Photos in Gainesville
I had a senior photo session scheduled in Gainesville today with a young woman who is planning on following her fathers footsteps and attending the University of Florida.
Miranda has already been accepted to UF, so she wanted to have some of her senior photos done around the campus and inside the stadium. It was different for me to go to a shoot at a location I've never even seen myself and just find the right lighting and backgrounds, but we made it work.
By the end of the day, we were all very happy with the results and Miranda was a joy to work with. Some seniors are spoiled little brats and even though I'm there to try and make them look the best they can, they make it very hard due to their attitudes.
Miranda on the other hand was awesome and could easily move straight into fulltime modeling and most would think she's been doing it her entire life.
Here are a few of my favorite shots from the day.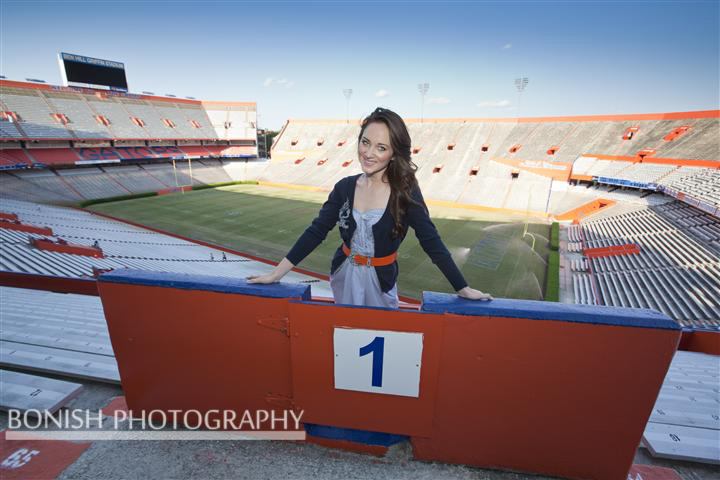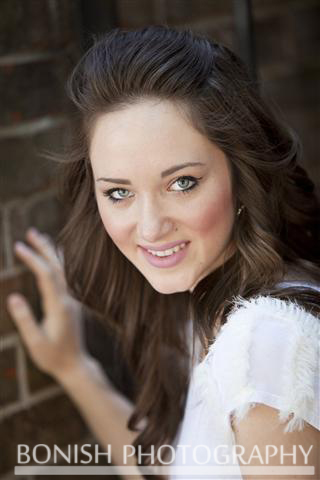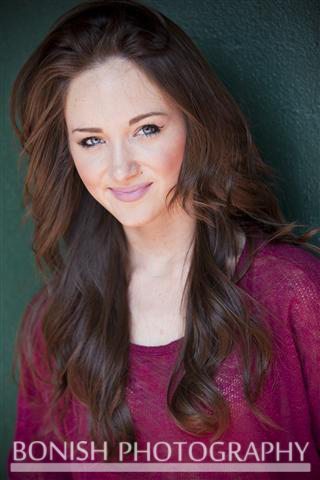 Tuesday April 10th - Tuesday Boat Day
After yesterdays early morning start, I felt horrible when I heard the boys show up again this morning at 6:30am. I jumped out of bed and ran out to see what our day would be like. We were getting everything ready as the first concrete truck pulled up.
I held my head in shame as the big concrete truck pulled into one of our RV Slots, right beside some campers that were obviously still sleeping since the sun wasn't even up yet and spun that big cylinder to get the concrete flowing which sounded like the space shuttle landing. It was 7am and we still had a half hour before the sun would rise, but at this point, we'd woken every guest up and probably some more people on the island.
I ran the two wheelbarrows while the guys who knew what they were doing ran the trowels and finish tools. I'm a good grunt and can hump a wheelbarrow all day long.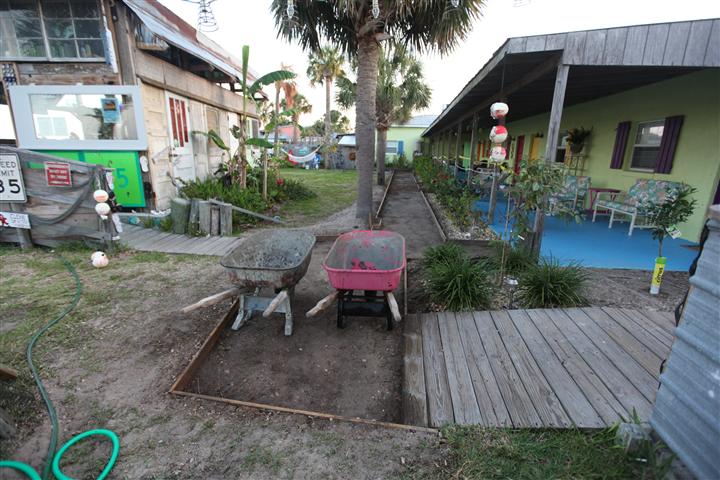 Like yesterday, before the sun was fully up, we had the sidewalk poured and had our work done.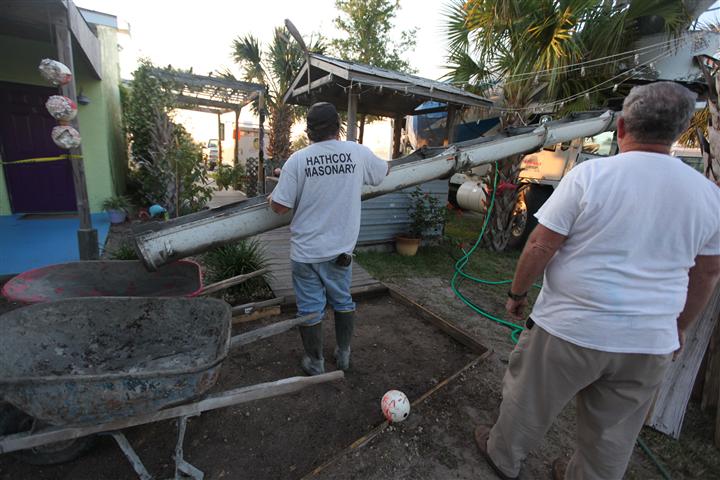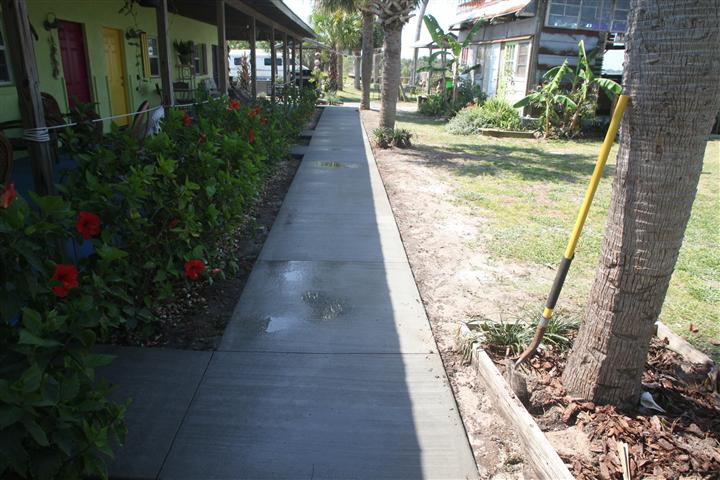 The boys said they'd be back later in the afternoon to pull the forms and said they'd come by tomorrow to put the saw-cuts in the dried cement to try and keep it from cracking. I asked if there was anyway they could come after lunch so we didn't keep waking the guests up before sunrise. They laughed and said "Sure Boss Man, that sounds good to us."
For today's 'Tuesday Fun Day' with Scott and Karen, we had planned to stay close to home and just go out on the boat. They have a good friend visiting from Maine and wanted to show him around via the water.
Rather than just do the typical island tour, we decided to go a different route and head over towards the Suwannee River. We thought we'd check out Deer Island which is a huge private island owned by a good friend of ours.
We had the boat loaded and headed out with a nice breeze keeping the sweat off our bodies.
As we motored over, we spotted a big Bald Eagle sitting on a Black Mangrove tree that was on a sand bar. The eagle let us get really close before it finally flew off in search of some food.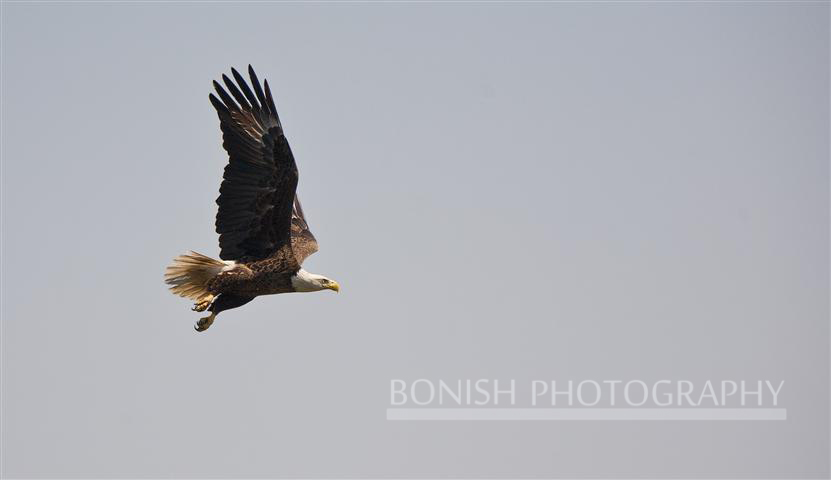 Cindy called George to let him know that we'd be pulling up to the island and could he call the caretaker to let him know we'd be approaching his dock. No need in getting shot over a friendly visit.
The caretaker met us on the dock with a friendly wave and a lab puppy in tow. He introduced himself as George and told us the dog wasn't his, but another visitors who had come by earlier in the week and left it. He explained that if the owner wasn't back by the end of this week, the dog would be considered his as he had grown fond of it already.
I cant imagine living on a tropical island alone and not having a dog as a companion. Heck, if I lived out here, I'd probably have 4 or 5 dogs to keep me company and act as security from the snakes and boaters who try and use the island as a party stop.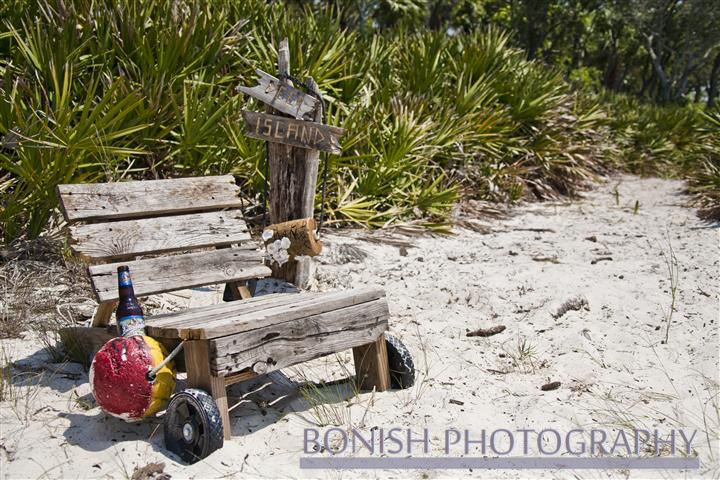 We walked across the island to the open ocean side and noticed a couple of boats washed up on the beach. We asked George what that was all about and he explained that some folks were partying a little too hard and allowed their pontoon to be washed ashore during high tide. Then when the tide receded, the boat was stuck pretty far up the beach.
He had lent the guy his John Boat to go back to the main land, and when he returned it to him a few days later, the motor was dead. He was in the process of trying to walk the boat around the shore of the island to the side where the dock was so he could work on it.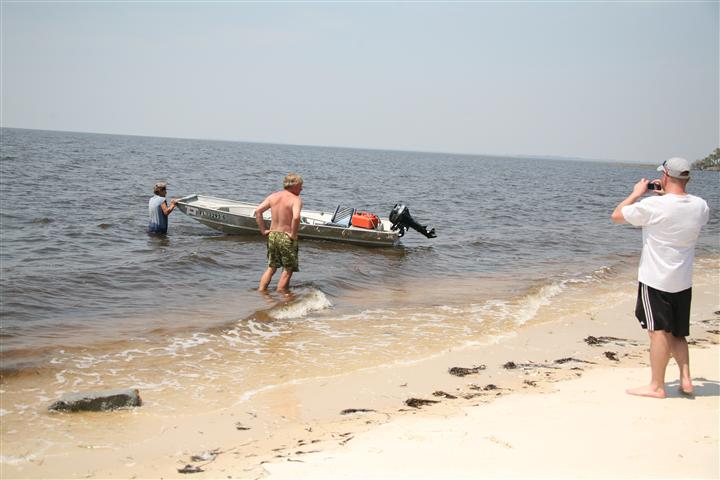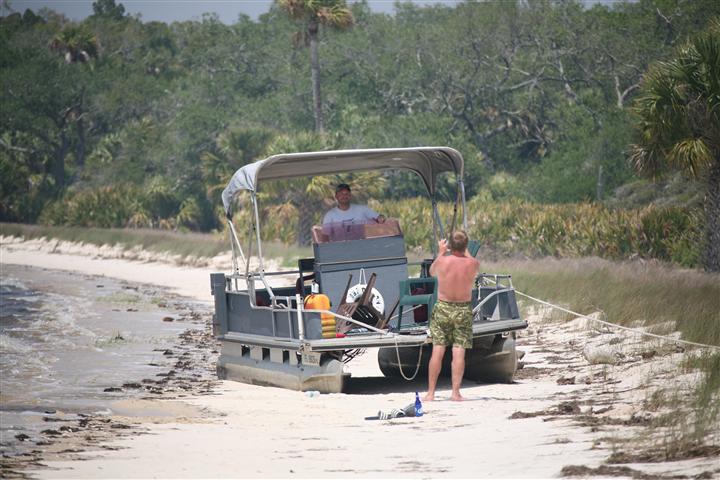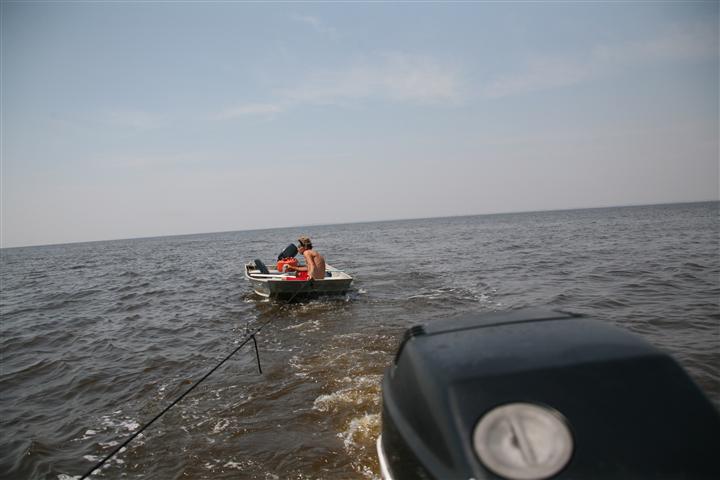 We offered to tow him around and he gladly accepted. Made since to use another motor rather than try and push a boat around a huge island in waist deep water.
Once we had George around to the dock, we said good-bye and motored back towards the Cedar Keys. Idling over, we had a dolphin playing in our wake, but never got any really good shots of it.
The afternoon winds had picked up and the chop was pretty bad, so we tried to keep to the inside and took a different route home.
Keeping to the inside channels keeps you blocked from the winds and waves and we had a good High Tide which allowed us to sneak over many of the oyster beds that normally hinder our route.
We had a fun time out on the water today, and it was good to show Craig our little island oasis.
Beth & Mike Davis had invited us over for a Lobster Dinner tonight at their house, so we had to be back early enough to get the boat tied up and head out to Sumner. This is only a few miles inland from Cedar Key, but we wanted to be able to change and shower the salt spray off of us from today's boat ride.
The lobsters looked awesome and had been flown in fresh from Maine just yesterday. Cindy and Heath got busy removing the bands from the big claws before they dropped them in the big rolling pot of water.
Once they were all cooked, the rest of the night was spent eating like kings and queens and sharing more great stories amongst one another.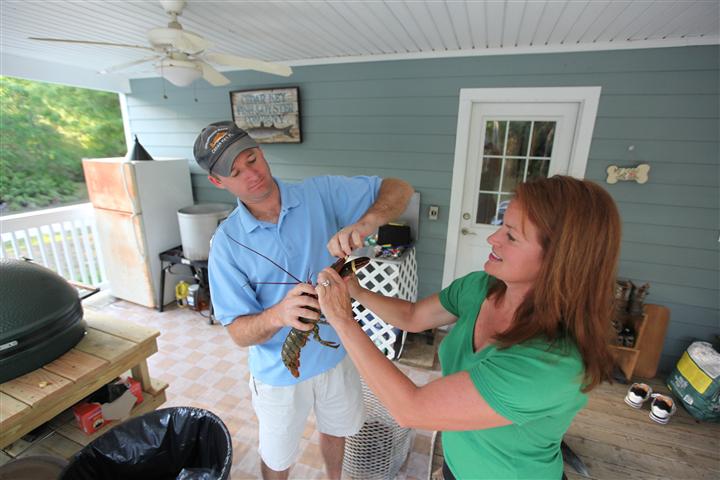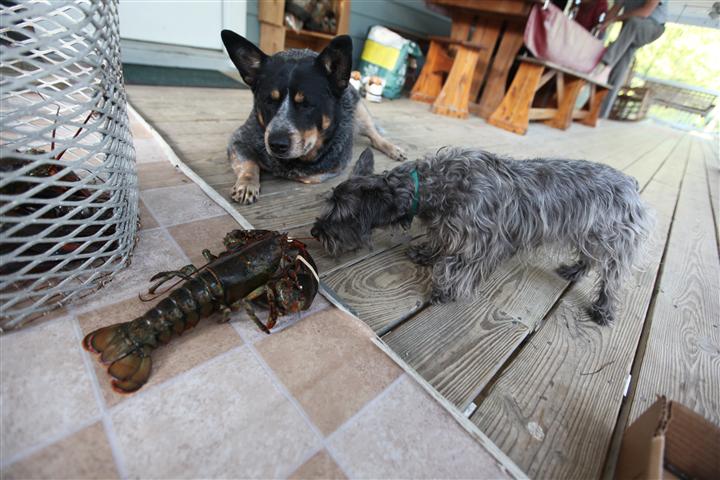 Daisy & Blue inspecting the Lobsters before they were dropped in the pot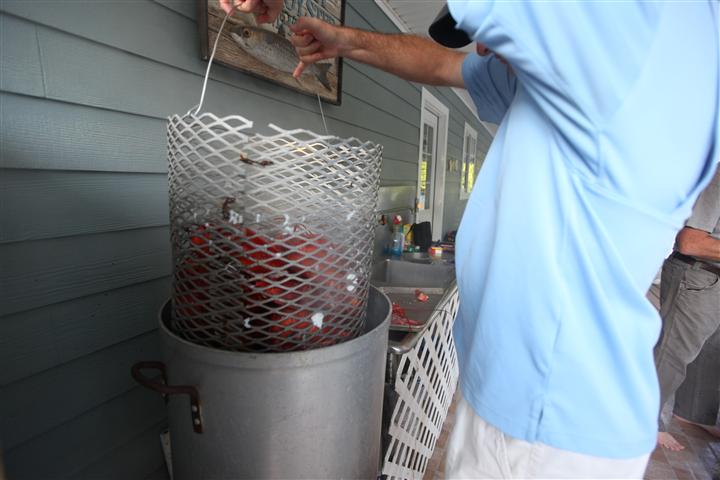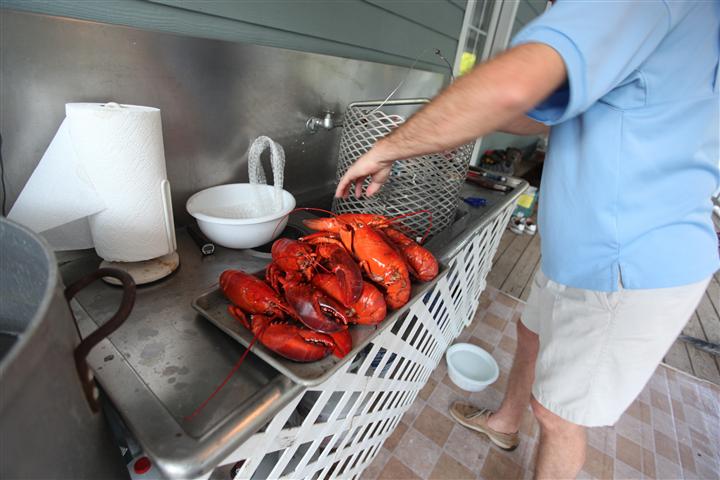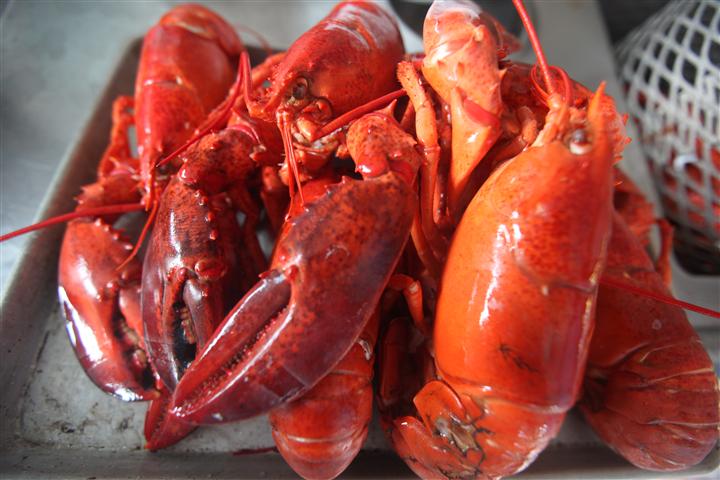 Thanks Mike & Beth and Lisa for the wonderful Lobsters!!!
Monday April 9th 2012 - Up Early for New Construction
Monday morning comes real early around Cedar Key, especially after yesterdays wildness. I was laying in bed when I heard a loud thumb shake the ground. I sat straight up wondering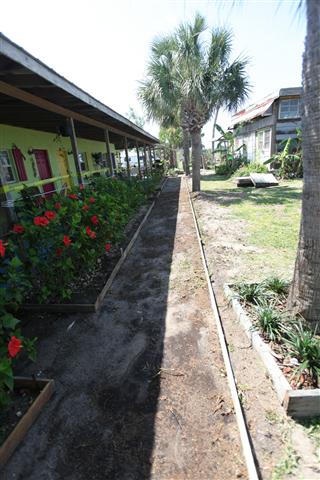 what the hell that was since it was only 6:30am and the sun wouldn't even be up for another hour.
I looked out my bedroom window to see the boys from Hathcox Concrete were already in the backyard setting forms and getting the back yard ready for our latest addition.
I got dressed in a hurry and was out helping the guys with the construction. This is a milestone for Cindy and I. When we first got in Cedar Key, we made a list of specific things we thought needed to be done to bring the Low-Key Hideaway up to our standards. Almost every one of those items have been crossed off the list, but the last thing other than the pool, was a sidewalk along the back of the motel.
We've finally saved up enough money to put in the sidewalk which will keep guests off the back patio's and keep the patio's private for each guest and their suites.
When we put the sidewalk in the front of the motel, it made a world of difference in keeping the rooms cleaner due to the dirt it kept out of the rooms. Having a dirt parking lot just meant that anyone walking into the motel rooms had dirt on their shoes. Once the sidewalk went in, that trial of dirt was nonexistent. Now, the only time you see a bunch of sand or dirt on the floors in the rooms is at the back door due to the guests walking in from the backyard.
We're hoping this will keep the maintenance of the rooms down and keep people off the back porches. Hopefully the pool will be next!
I felt bad for the guests who were trying to enjoy their vacations while we were pounding, shoveling and working outside their bedrooms before sunrise. I could smell the beer sweating out my pores from yesterday and was afraid to lick my lips for fear I'd get drunk again.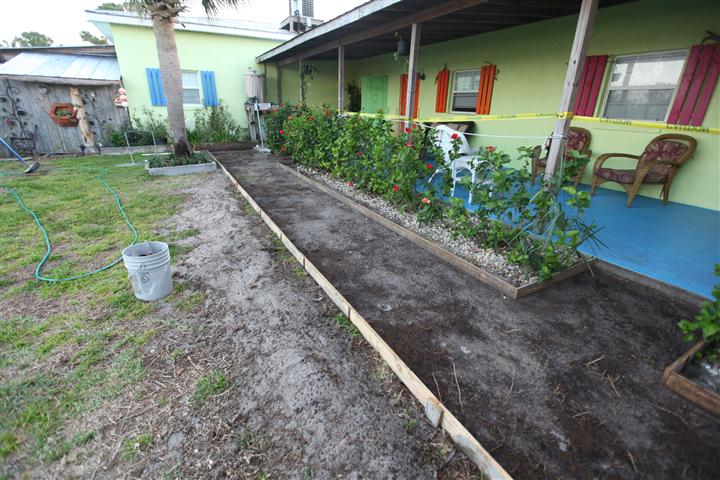 I do think that hard work is good for you and I have always said that if you're going to work real hard, than you should be allowed to party really hard. It's those who fail to work yet still party who ruin it for the rest of us who know how to balance the two out.
With the forms set up, the soil leveled out below and the surface ready for concrete, we were done for today. Due to Friday being Good Friday, the concrete trucks were backed up and wouldn't be able to deliver till tomorrow, so by the time most were just waking up and getting their day started, we had already put in 4 hours of work.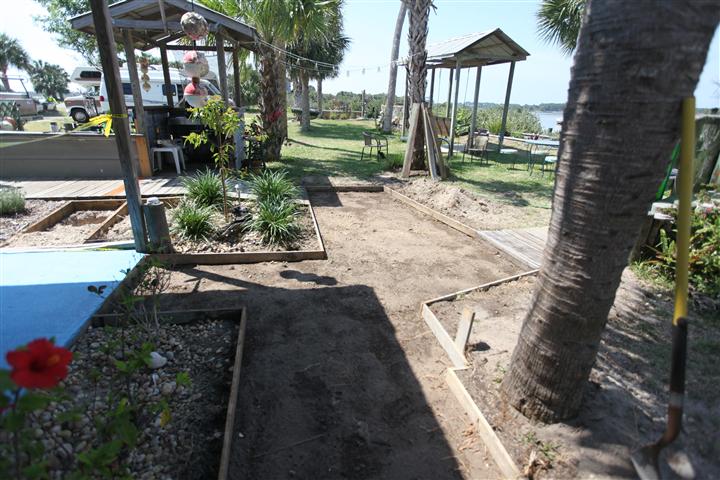 The rest of the day was spent working around the motel and tiki bar. Something that could consume 100% of my time and usually does, even though I hear all too often, "It must be great to work here! I'd like to do this when I retire." Yes it is great fun, but most don't realize the amount of work that is involved in making it look like it does.
For instance, try and set up an ad on Trip Advisor. That little task right there involved a 57 minute phone call for me today while I set up the ad, which will be our first since we've had the motel, and I'm sure will be the result of some sort of Ear Cancer for me.
Easter Sunday - Easter Sunday Hash Run
After last weeks Hash Run, Bill & Brian had scheduled another run for this Sunday. After last weeks Hash Run, they all came up with a new name for our group since we all live in Trailers and we're now officially known as the Trailer Trash Hashers.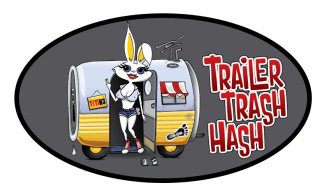 Jeanette Designed this Logo for the group!
This would be Brian's first hash run where he set the trail. He would be called a Virgin Hare as the hare is who is getting chased the entire time by the Hashers.
Amber had the day off, and so Cindy and I could both run it with everyone else, they moved it back to a 2pm starting time. Cindy and I busted out the cleaning of the rooms and had everything ready to go just in time.
We all met at the #4 Bridge where I'm sure we looked like a bunch of crazy's to anyone passing us. Since it was Easter Sunday, you were to wear your best Easter Bonnet. This was basically anything that was wild and crazy.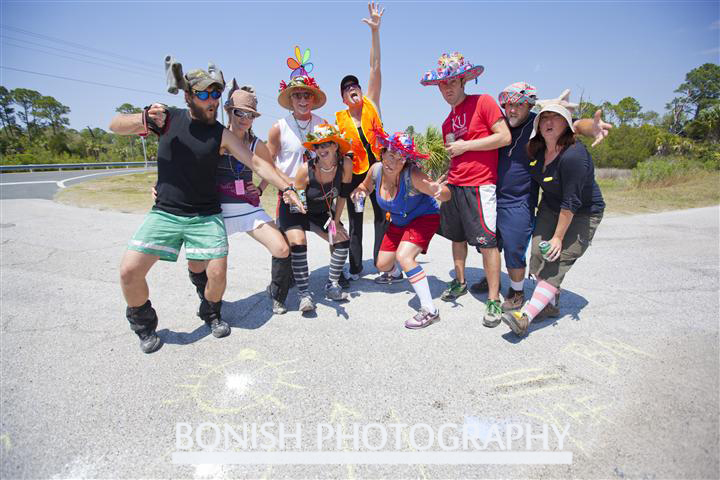 I really wont be able to do the recording of this hash run any justice because I was toasted within the first 20 minutes. I guess because the day was good and warm, and the fact that we all stood around singing crazy hash songs pounding beers before we even left, but most of the day is a blur for me.
I know we ran, jogged, walked miles through the heavy underbrush of the Cedar Key Scrub Preserve while talking, yelling "On On", laughing at one another and shot gunning beer after beer.
Since I don't really remember much, I'll just let the photos tell the story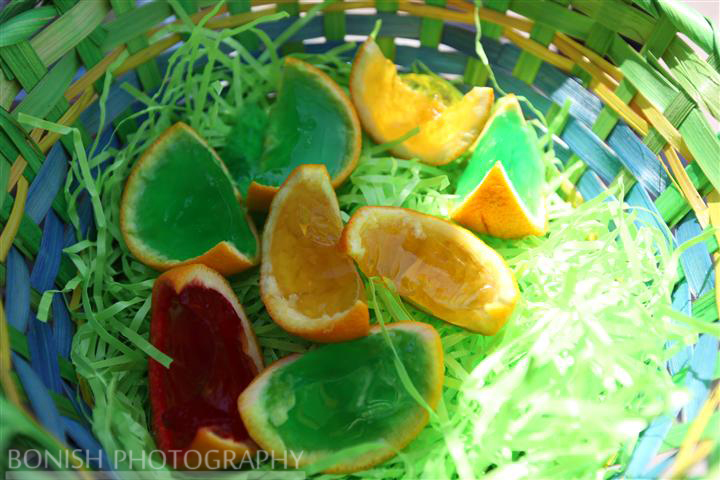 Easter Basket filled with Jell-O Shots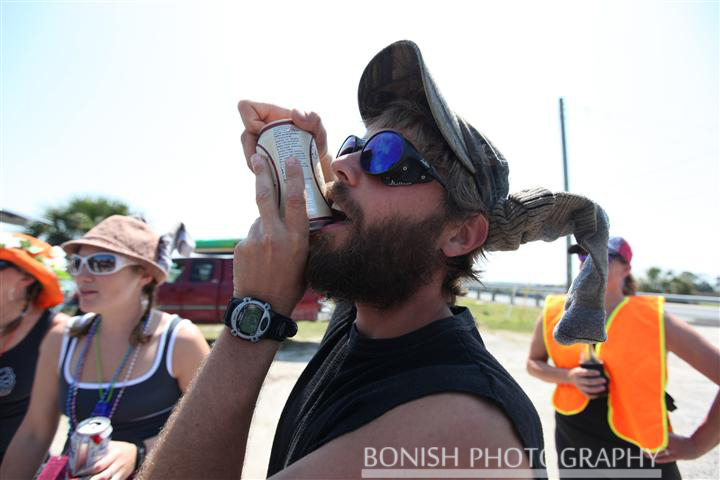 Levi showing everyone how to Shot Gun a Beer and puncturing the can with his tooth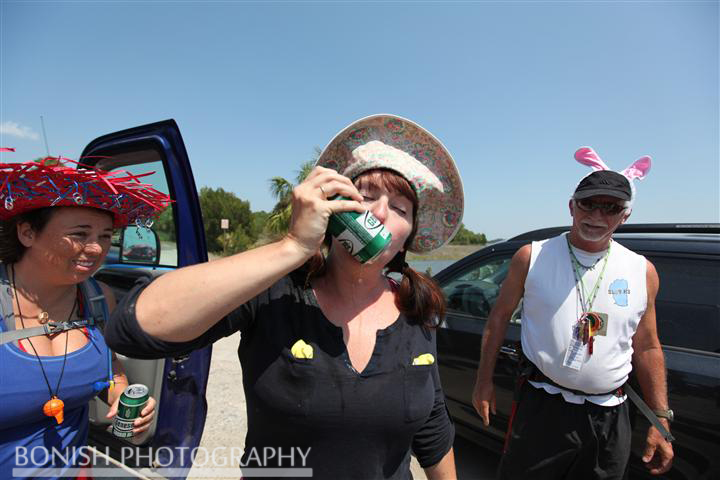 Jeanette shotgunning her Gennessee - Notice the Easter Peeps riding along in her shirt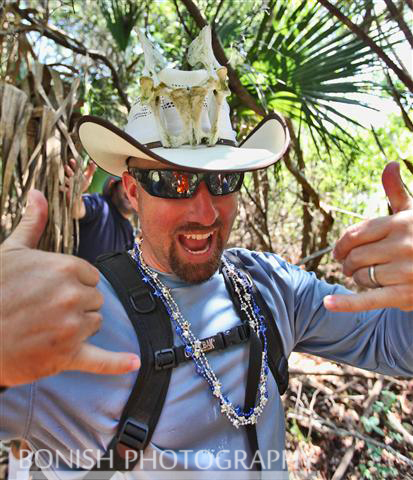 Somewhere along the trail I found a bone to add to the collection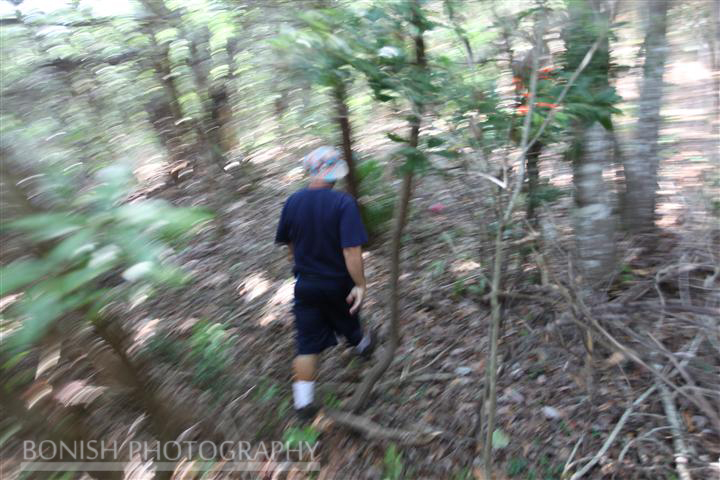 This is the way I remember most of the day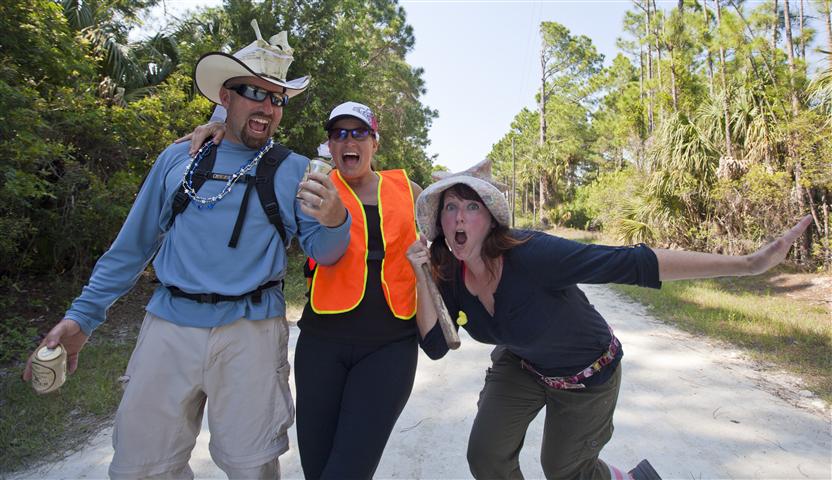 Dennis behind the camera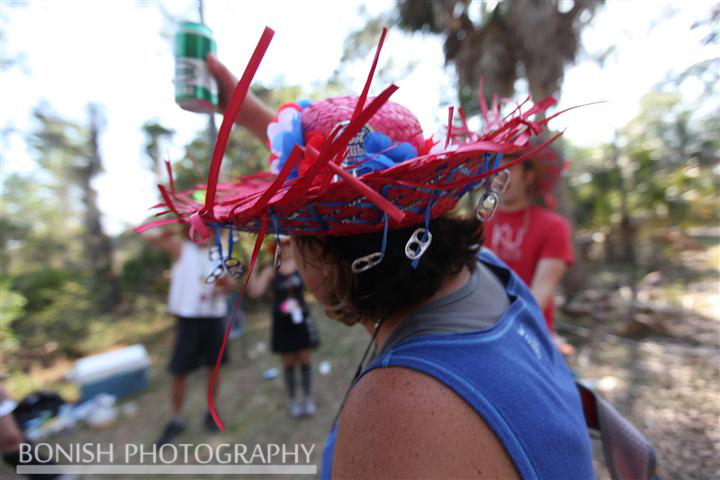 Maria's beer can Easter hat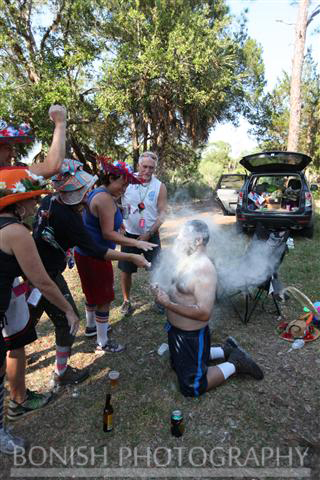 Dennis getting hazed and earning his hash name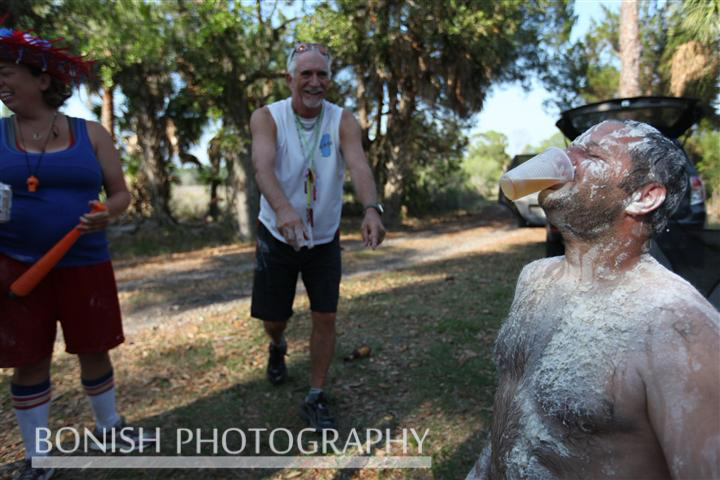 Little background story here. Thinking back, I cant believe we weren't all arrested. Notice the two-track behind us. This is actually someone's driveway we're all partying and doing all this nonsense in. While all of it was going on, they were coming home all dressed up in their Easter Sunday best!!!! They just asked us what we were doing and someone said "Celebrating Easter Sunday"....They told us to have fun and be sure we didn't leave any litter behind. I cant believe we weren't arrested!!!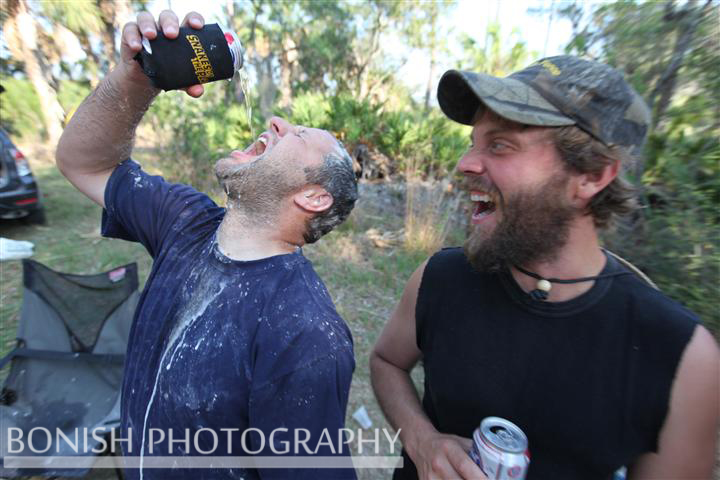 After the hazing and naming ritual/ceremony was finished, everyone walked back to Sunset Isle and hung around Maria and Brian's campsite for awhile. I had to excuse myself from the ride due to it spinning so fast. I walked back home and was sound asleep before the sun even set.
Happy Easter Everyone!

Saturday April 7th - Long Week of Potluck's and Tiki Bar Fun = HEAVEN
People always ask us why we chose Cedar Key to settle down? I'm not sure if it's Cedar Key so much or just the Low-Key Hideaway and it's location in Cedar Key.
Take these past few days for example. It seems almost every night this week we've had people out at the tiki bar that bring plates heaping over with mouth watering food to share with fellow travelers and enjoy the sunset.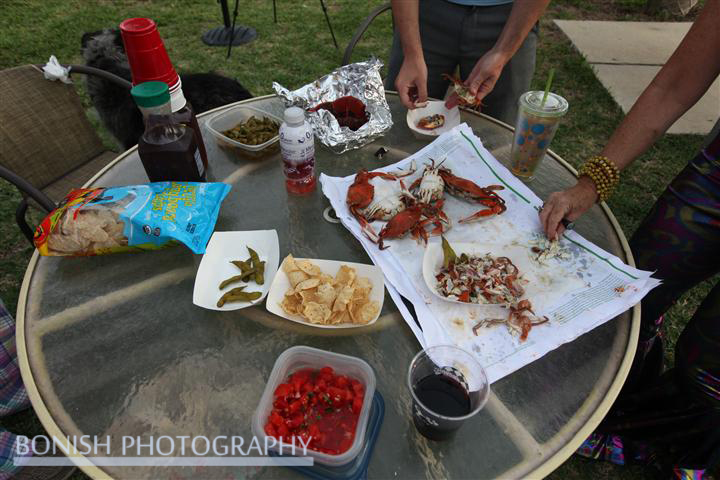 Fresh caught blue crab, homemade salsa.....Ummmmm
This means each night, we're all sitting around a tiki bar with a salty ocean breeze keeping us cool while sharing great stories, laughing the night away and enjoying some of the best sunsets you could ask for. Best part is, this seems to be a daily occurrence around here which is what keeps us from leaving.
Cold beers, beautiful sunsets, friendly interesting people and a back yard I still don't believe I even have....Can you explain why we would want to leave?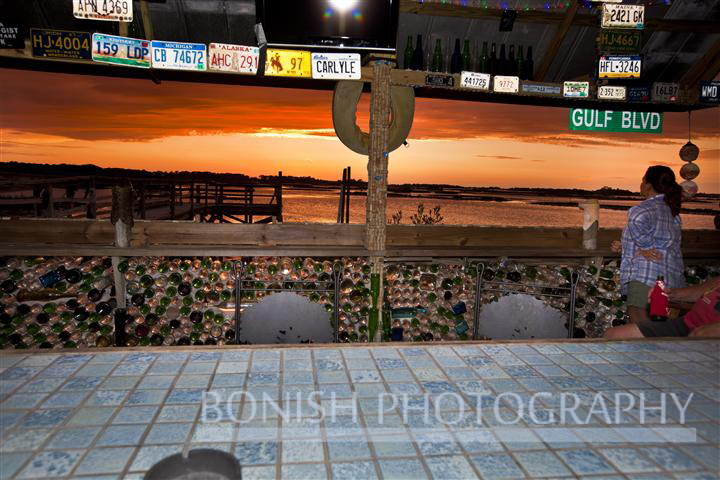 One night the nomads all decided to throw an impromptu Vintage Party where everyone was supposed to wear something vintage. We all laughed asking "Does this mean we're officially old since we all own clothes that are considered VINTAGE?"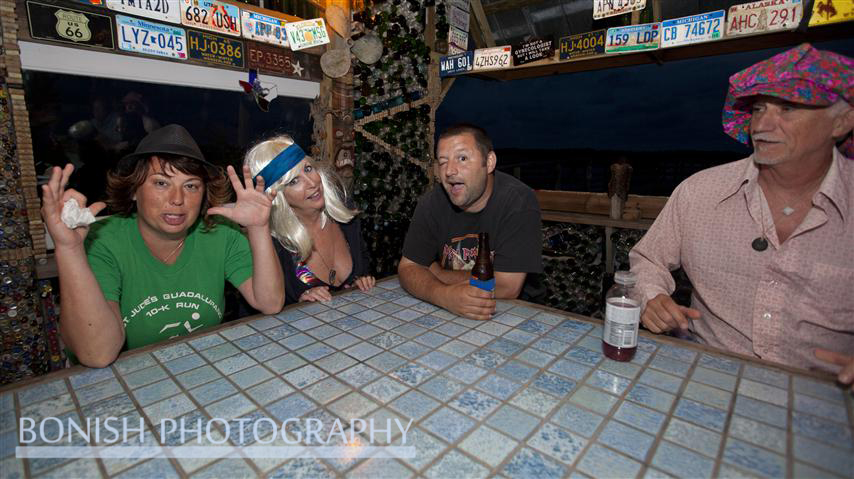 Vintage Night at the Hideaway Tiki Bar
Tonight was a spread to rival any 5 Star restaurant. Venison Backstraps, homemade tortillas with homemade guacamole and salsa, spicy venison sausage on the grill, local shrimp grilled Cajun style, fresh salads with homemade dressings, local clams sautéed in a white wine garlic sauce....I could go on and on, but the food just kept coming all evening with campers trying their hardest to show off their best dishes to impress the locals and fellow travelers who were all bringing their best dishes. It was truly a feast for kings and our stomachs weren't complaining.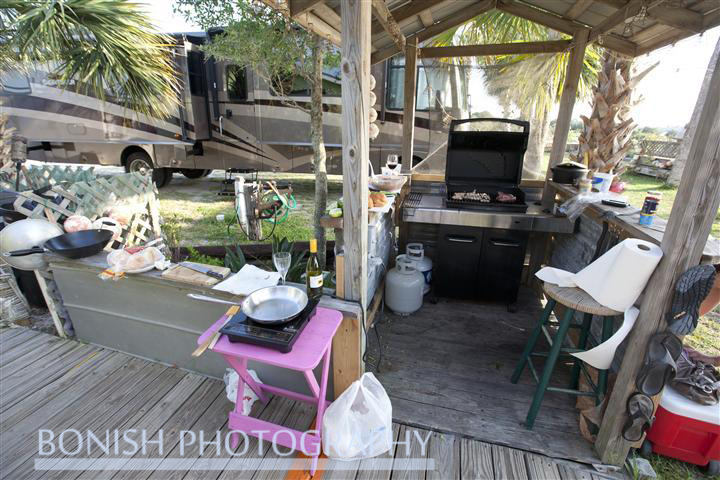 Outdoor Kitchen where all the goodness is made
And people wonder why I've put on 25lbs since we've landed here in Cedar Key. It's because weekly potlucks at the tiki bar are awful for my waistline, but I'll happily take a big belly full of food shared with friends over cold beers any day rather than worry about my girlish figure.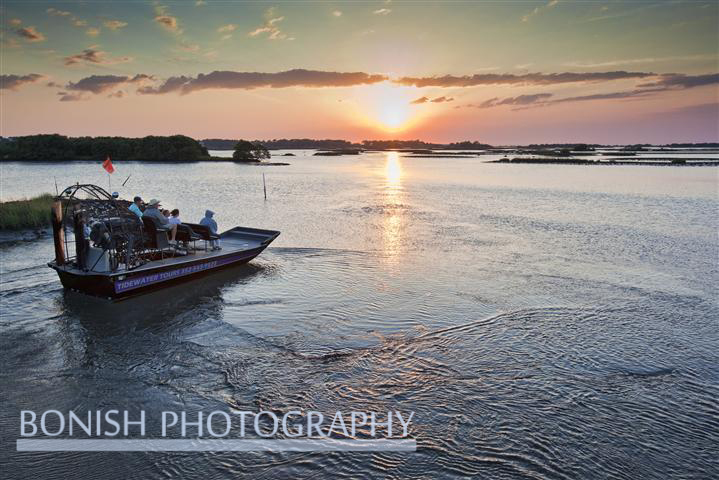 Heath pulled up in the Tidewater Tours Airboat just in time so everyone aboard could fill their plates, grab a cold one and enjoy the sunset. Now how is that for the best airboat ride one could ask for?
Just another reason this place is so special. If the food, the locals and the amazing sunsets weren't enough, tonight was one of those nights that just as the sun was dropping below the horizon, the full moon was rising on the opposite side like a pendulum.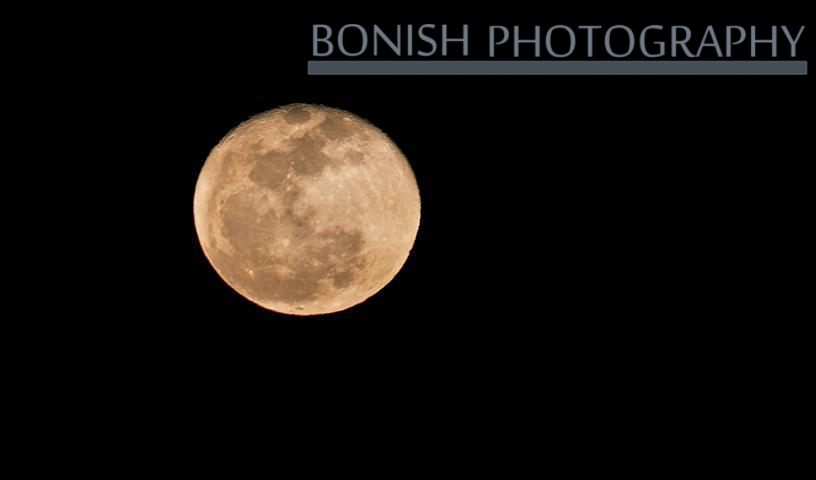 As we raised our glasses to the sunset, everyone ran from the back of the tiki bar which faces West to the front of the motel which faces East to watch the moon rise.
If you question why we're still here in Cedar Key, reread this Blog Post till you figure it out.
Tuesday April 3rd - Weeki Wachie Springs & Mermaids
Guests who stay at the motel always ask where they should stop and what they should see when they leave Cedar Key and they're headed South.
We have a few places we recommend in and around Crystal River and the Homosassa Springs area. Many ask about Weeki Wachie Springs and the Mermaid shows. Neither Cindy nor I have ever been to this historic attraction, so we cant really recommend it one way or the other.
We thought for this Tuesdays Get-Away Day, we'd visit the Mermaids and see what it has to offer.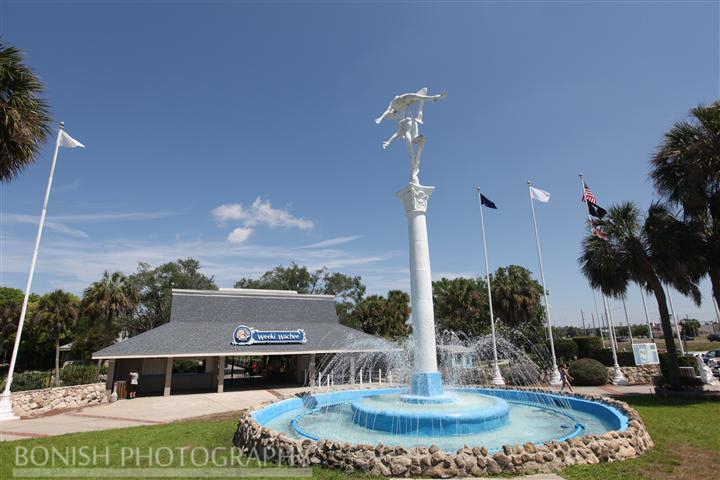 The Main Entrance to Weeki Wachie Springs State Park
Weeki Wachie Springs is a landmark and the Mermaid shows have been a Florida attraction for more than 60 years. Long before Disney and the dreaded I-75 thoroughfare came to Florida. The springs themselves were an attraction to Seminole Indians for centuries before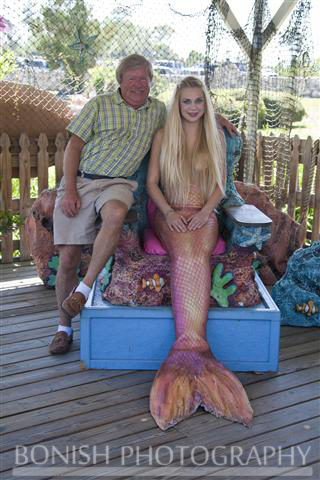 that and the name Weeki Wachie comes from them. It translates into 'Little Spring' or 'Winding River'.
Today we would visit with Scott & Karen, and Dennis & Jeanette. Scott would drive in his van and the 1.5 hour ride south seemed very short due to the non-stop conversation going on inside the vehicle.
Both couples were filled with great stories that kept us all entertained the entire drive.
We knew going down that the water park would be closed during the week, so we'd only get a chance to see the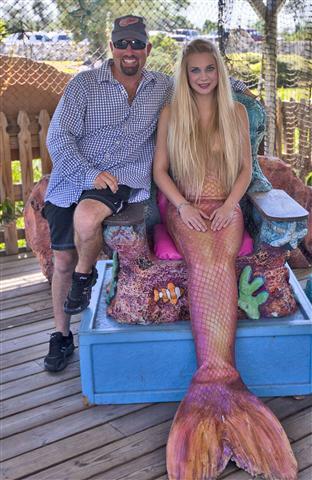 Mermaid Show and some of the other attractions, but traveling on the weekends is not an option for Cindy and I and none of us really wanted to deal with the hordes of kids we figured would be there on the weekends when the water park portion of the State Park is open.
The entrance fee was $13 per person for us Adults which gave you an all day pass with the option of leaving if you wanted to go grab a bite to eat somewhere outside the park. They do offer concessions inside the park if you don't want to leave.
We had about 30 minutes to kill before the next mermaid show would start, so we fooled around with some of the props where you can pose and look like a mermaid. Scott had trouble getting the hang of it, but Cindy and Jeanette made for great mermaids and Dennis....well he just made for some really funny pictures.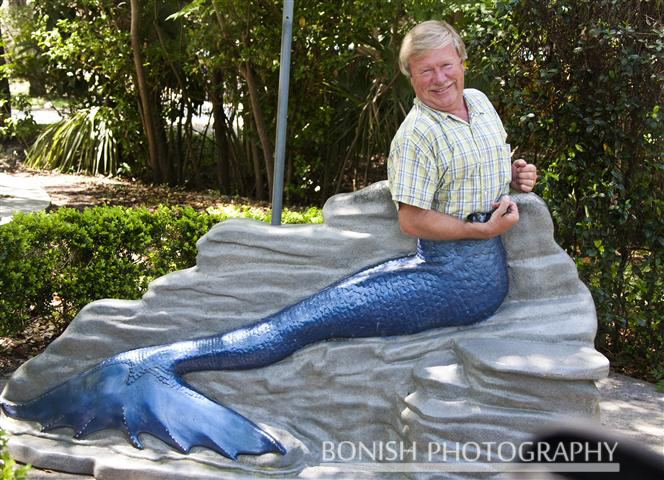 Scott the Very Flexible Merman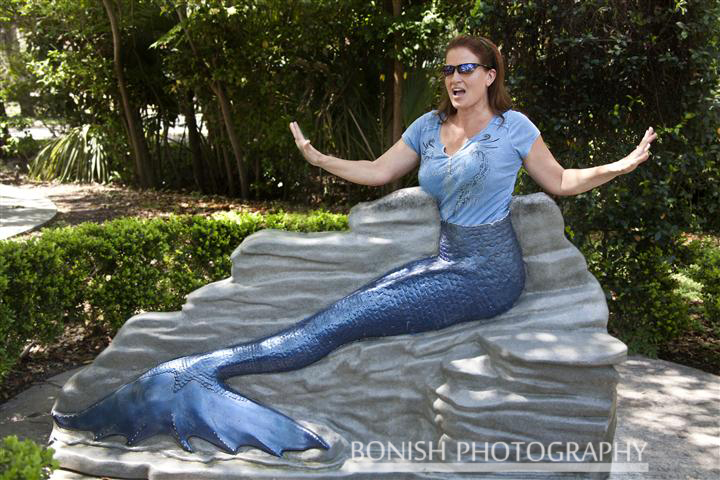 Cindy doing her best Mermaid Swimming impersonation

Dennis asking if his cups look as big as Cindy and Jeanette's?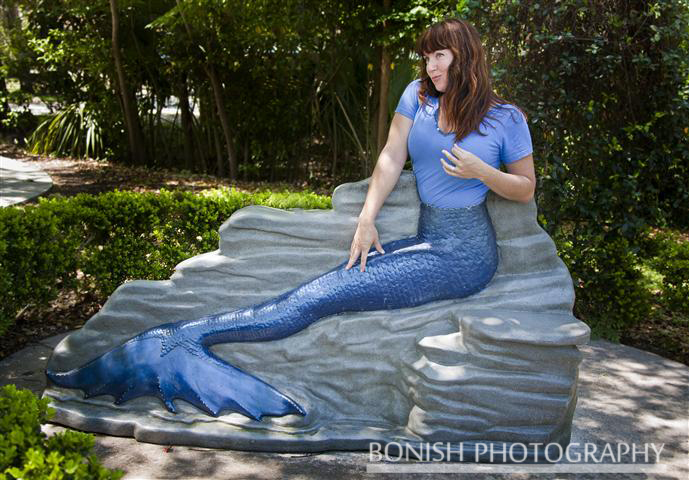 Something tells me Jeanette has done the Mermaid thing before

We joked that since Scott & Karen live in Maine,
this would be a great Christmas Card for them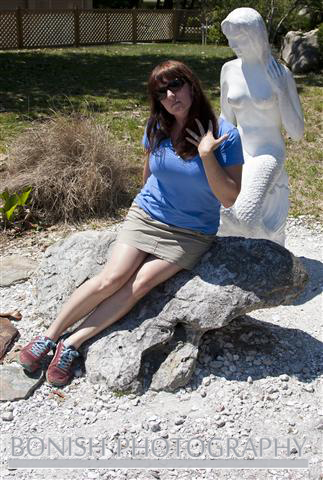 There were some Peacocks wandering around the grounds and a boat ride you could take that meandered down the river, but we had to decide if we wanted to go for the boat ride or go watch the Mermaid Show first. The shows run 3 times a day, so you have options depending on what time you visit or how many shows you want to see if you stay the entire day.
We all wanted to see the main attraction, so we got in line for the Mermaids. They make you sit in this dim theater with a big curtain hung over the windows in front of the aquarium. We sat for about 15 minutes and the anticipation was killing me. All the statues of the mermaids were topless, so you know Scott, Dennis and I were hoping that we'd get to see a bunch of topless Mermaids. I mean you never see mermaids with bathing suit tops on?? They're fish, they don't wear clothes right?
They give a little presentation on some flat screen televisions to give you some history on the place and rattle off some statistics about how much water the spring pumps out each day. Some 117 million gallons per day!!
Soon enough, we had mermaids swimming in the crystal clear waters in front of us putting on their show. Just so you'll know incase you're planning a visit, they wear bathing suit tops which really disappointed Scott, Dennis and I.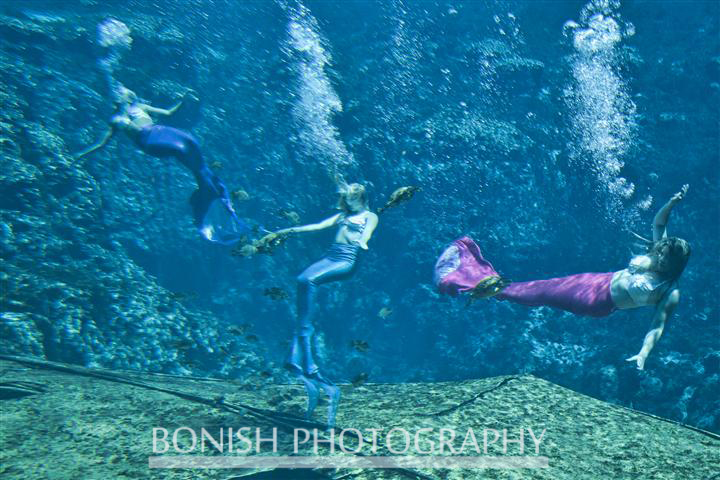 The show lasted about a half hour and was pretty cool. I had always thought the air hoses they use to draw air from while swimming were hidden so it looked like they were holding their breath for that long. But they actually hold the air hoses in their hand the entire time which removes any chance of little kids believing they're real mermaids.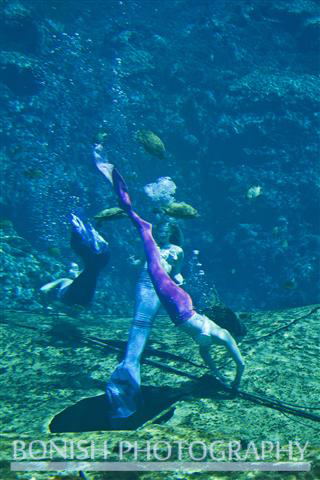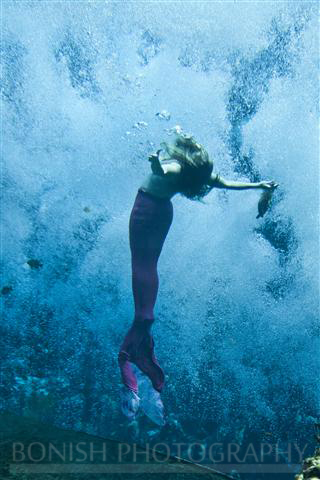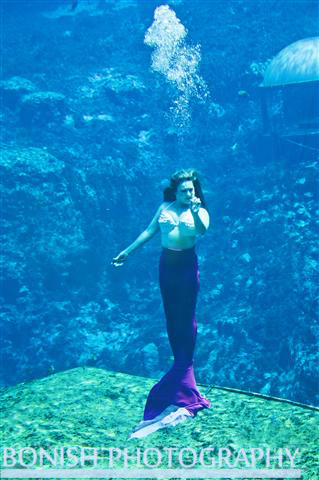 The show was pretty cool none-the-less, but it is more geared towards children. I guess they have to keep it somewhat short to keep their attention spans going. While the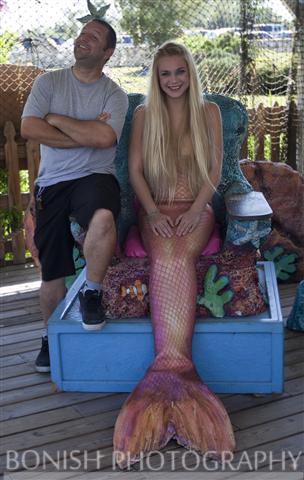 audience was filing out of the theater, I overheard numerous children telling their parents how excited they were to have seen live mermaids and how AWESOME the show was, so it is really neat for children.
After the show ended, we walked around the park and thought we were going to take the boat ride down the river, till we were waiting in line and sat listening to a screaming kid cry the entire time. The 6 of us looked at one another and agreed none of us wanted to go for a boat ride with that.
So we walked around the park some more before we all decided it would be time to head out and find some lunch.
We sat in the parking lot sipping on some cold refreshments and munching on some snacks the girls had brought while we decided what we were going to do next. After some deliberation, we all agreed we had enough of Weeki Wachie Springs and decided to head back towards Crystal River.
We've heard numerous people talk of a restaurant called 'The Freezer' and how good the food is, but on numerous visits to Crystal River I was never able to find it.
With Dennis, Jeanette and Karen all searching various forms of GPS's or iPhones, we were able to locate the address and find out where it was hidden. It's back off of HWY 19 and more in a neighborhood setting, which is probably why I've never been able to find it in the past.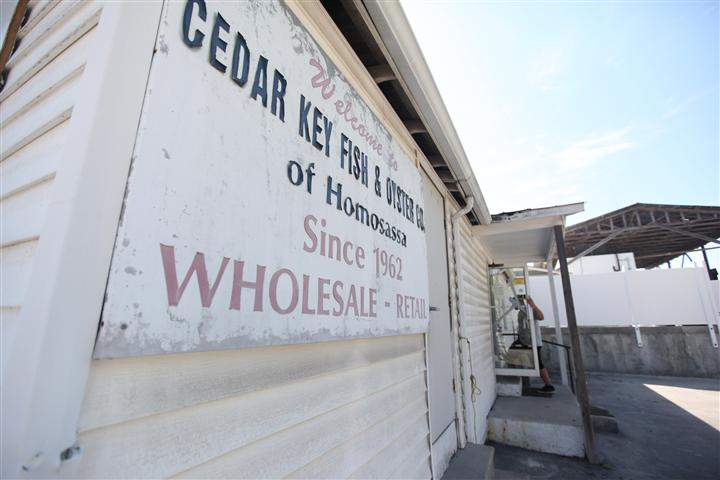 When pulling up, it simply looks like you're pulling up to a warehouse or some sort of loading dock. I was confused that the sign said "Cedar Key Fish & Oyster House of Homosassa". I guess this is why so many folks tell us about the place and say they've eaten Cedar Key Oysters while in the Crystal River area.
Walking in the entrance, you pass through those heavy plastic curtains that are usually hung on the entrance to a Walk-In Cooler so it wont let the cold air out.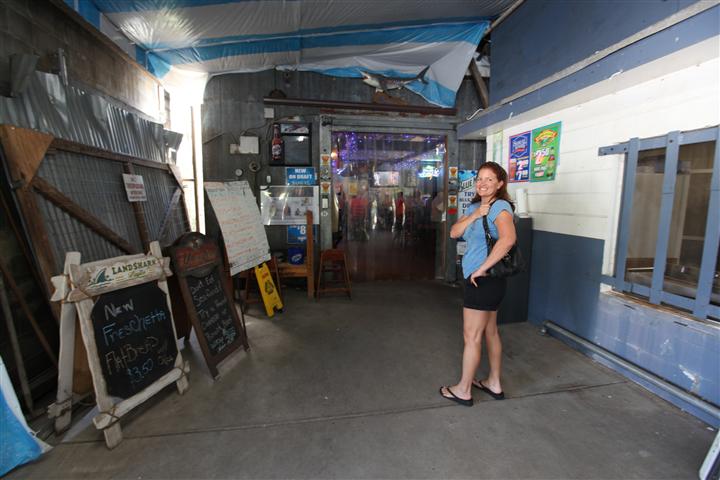 We all found a table and checked out the menu. There is no table service, you simple walk up to the bar, place and pay for your order and tell them where you're sitting. When its ready, they bring it out to you at your table.
Everything on the menu was seafood with prices that are too good to believe. I was thinking we were going to get some skimpy little orders, but the food they brought out was piled high, steaming hot and mouth watering good! Between the six of us, we ordered almost everything on the menu, and everyone couldn't stop talking about how tasty their dishes were.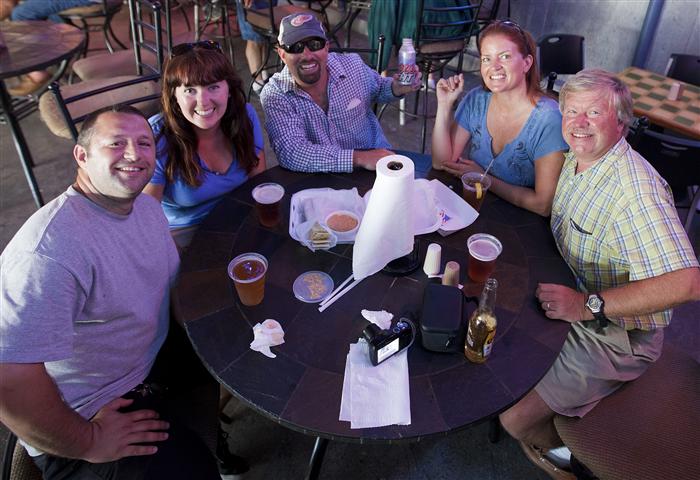 No wonder the place was packed full! We all sat around talking about the mermaids and sharing travel stories from past adventures.
Once we were all stuffed full of fresh seafood, we made the hours drive back to Cedar Key just in time to take in another one of our amazing sunsets. While sitting out back watching the evening draw to a close, Chris and Cherie came over to join us from the campground.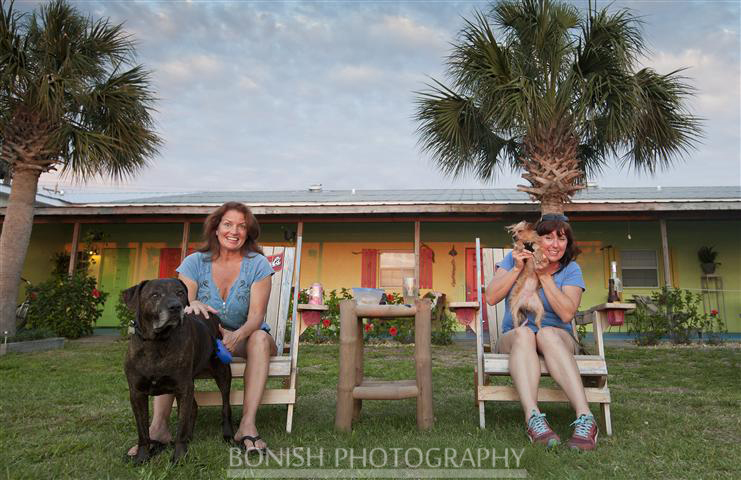 Luca & Cindy and Jeanette & Little enjoying the sunset
Once it got dark I headed inside and was ready for bed. My wife on the other hand had other plans. Jeanette came in the house just as I was getting ready to put my feet up and lay down on the couch to warn me "Ok, Cindy just invited everyone inside to sing karaoke, and I thought I had better come inside and let you know before we all come barging in."
Thanks Cindy! Soon enough, the living room was filled with people who were singing and dancing to horrible music, but by this point, no one was paying too much attention to the scratching sounds blaring out the speakers. Everyone just danced the night away laughing at how silly we all are.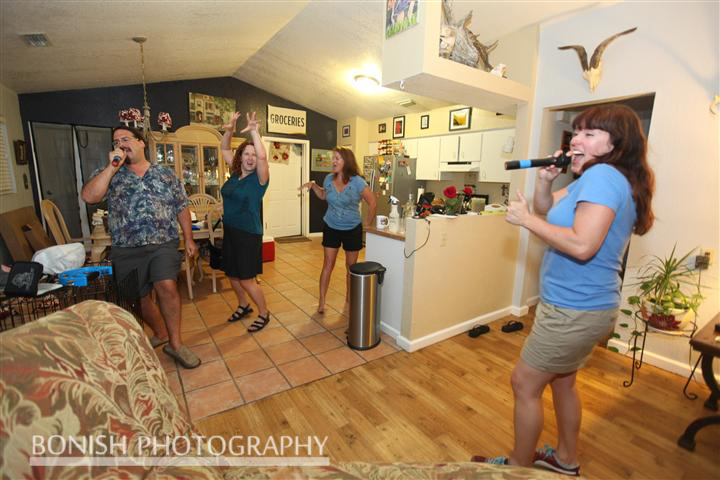 Chris & Jeanette sing while Cherie & Cindy dance
Even though I never got off the couch, I laughed till my sides hurt at the craziness going on in our living room. When Cindy brought the night to a close while double fisting the microphones and belting out some song, I gave 'LAST CALL' and told everyone the karaoke machine had to be turned off.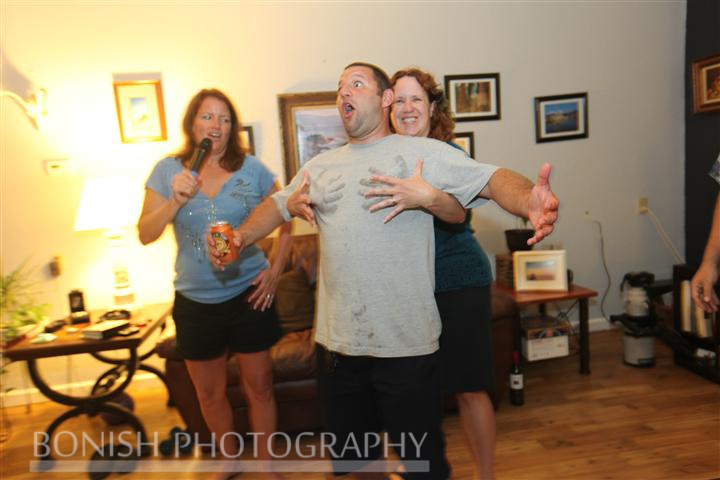 Cherie leaving her mark on Dennis's shirt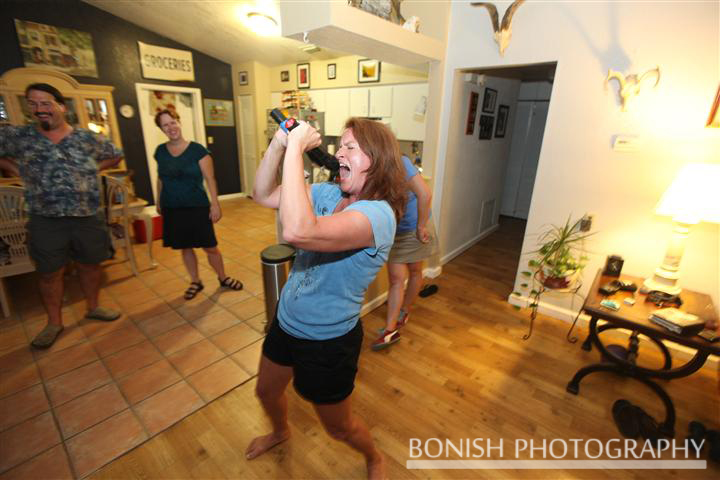 Cindy bringing the night to a close and blowing the speakers
Sunday April 1st - Cedar Key's 1st Ever Hash Run
Years ago while I was living down in West Palm Beach, a good friend asked me to go on a Hash Run with him. I had no idea what he was talking about but after he explained its a group of people that say they're 'Drinkers with a Running Problem", I thought I needed to check it out. Here is a link to describe the origins and history of the Hash House Harriers or H3 as it's usually abbreviated.
Ken and I ended up attending a few of these runs and always had a blast.
While visiting and hanging out with our crazy group of Nomads that are visiting right now, we all got on the subject of Hash Runs. Bill & Debby are veteran hash runners and suggested they put together a run for this Sunday. They also came up with a very cleaver name (Hash Running is loaded with funny names and acronyms - Trailer Trash Hash House Harriers or TiTiH3)
So this morning at 11am, we all met around the Tiki Bar to commence drinking, signing lots of very vulgar Hash songs (something that is just part of the tradition) and hurt our bodies in the warm temperatures we're experiencing right now.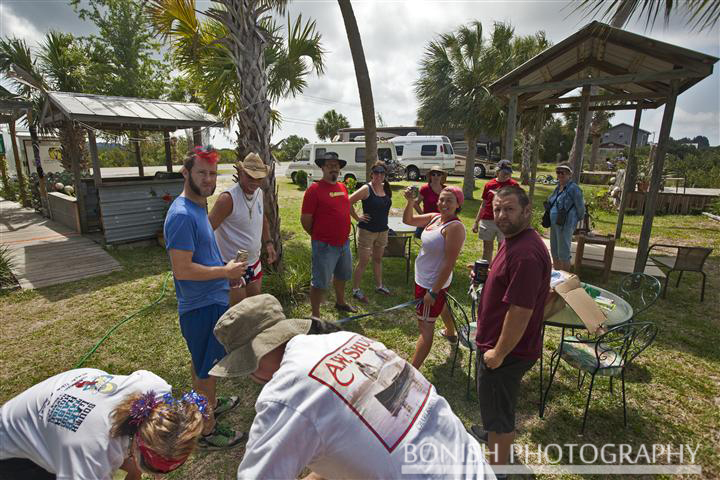 Now I'm not in that great of shape right now, and since we've become so settled down here in Cedar Key, that active lifestyle we once lived of hiking, biking or paddling on a daily basis has gone to the wayside. Hence my 20 some-odd pounds I've put on my waist.
So running around all day in the heat was going to be brutal. Luckily there would be plenty of beer. Bill said his course was mapped out to be right around 5 miles. I figured I could handle that and you don't have to run the entire thing. There is a Eagle Route, which is for those who want to run the entire time, and there is a Turkey Route, which is for those who would rather just walk the entire route.

Diagram of signs we should be looking for
Bill took the first 20 minutes to go over the rules and signs we'd be looking for along our route. The whole object is to allow the Hare, which would be Bill & Debby today, to get a good 20 minute head start.
The rest of the group has to chase them following the marks they leave via chalk or baking flower left on the ground.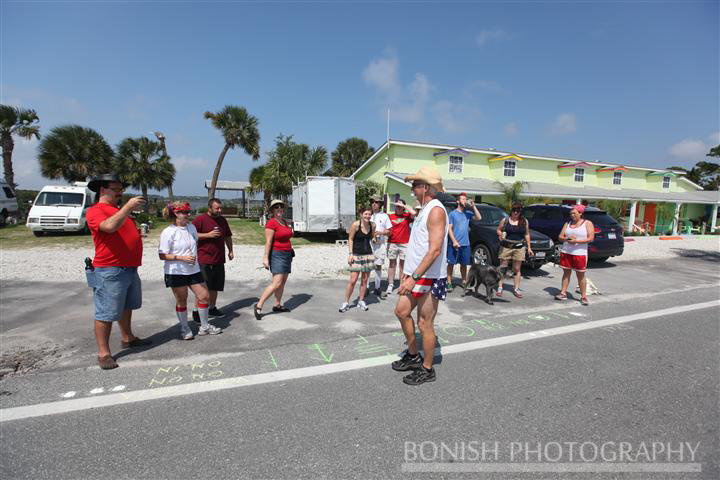 Many marks will lead you in the wrong direction so there are many turns and intersections where the group of runners has to split up and head off in opposite directions to see which mark is the right one and which mark is the false one.
When you find the right one, you blow your whistle and yell out "On On" so the rest of the group knows that you've found the correct trail and everyone follows behind you.
Once Bill was finished explaining the chalk marks, he told us there were Easter Egg's hidden behind the motel that we needed to find. There would be prizes ranging from Whistles to Drink Tickets to Viagra. While we were hunting around for Easter Eggs, Bill and Debby took off to start marking the trail and get a good head start.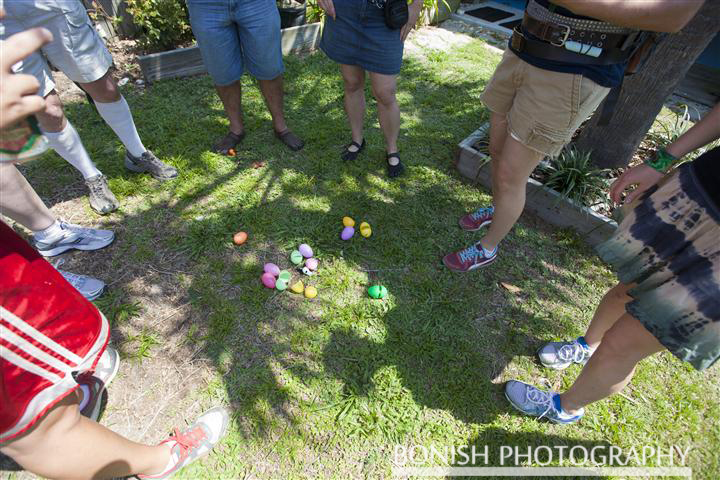 Once all the eggs were found and we were finished with our stretching session, along with a few more beers guzzled down and plenty more Vulgar Hash songs sung, we were all ready to take off. Due to the vulgarity of the songs, we had already lost one participant who was staying in the campground and had thought she'd join in on our fun. Oh Well, it's not for everyone I guess. I have a very sick mind and have a mouth like a sailor, so swearing and crude comments only humor me, but I understand it offends some, so if you're one of those people, stay away from attending a Hash Run.
We all took off running towards town and very soon realized that slamming about 5 beers and taking off in a sprint only foams the beer in your belly and makes you burp really loud.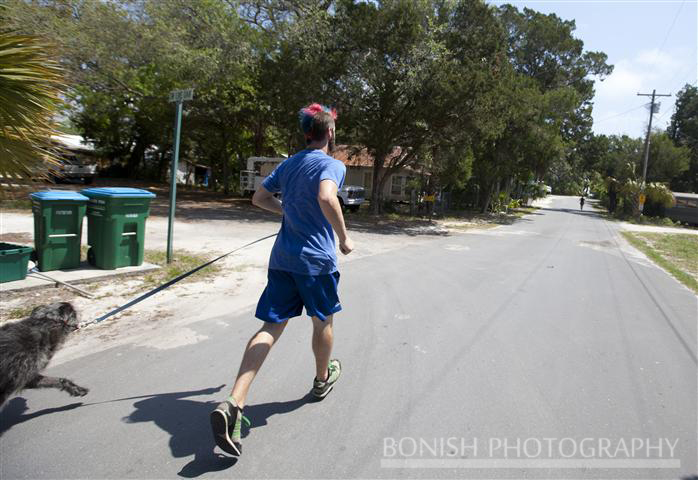 Amy and I were in the front of the pack and found our first intersection where we had to decided which way to go. I went one way while Amy went the other. Soon enough I heard her whistle and heard the words I was waiting for "On On" which meant she was on trail.
I turned around and caught up with the rest of the group who was waiting at the intersection.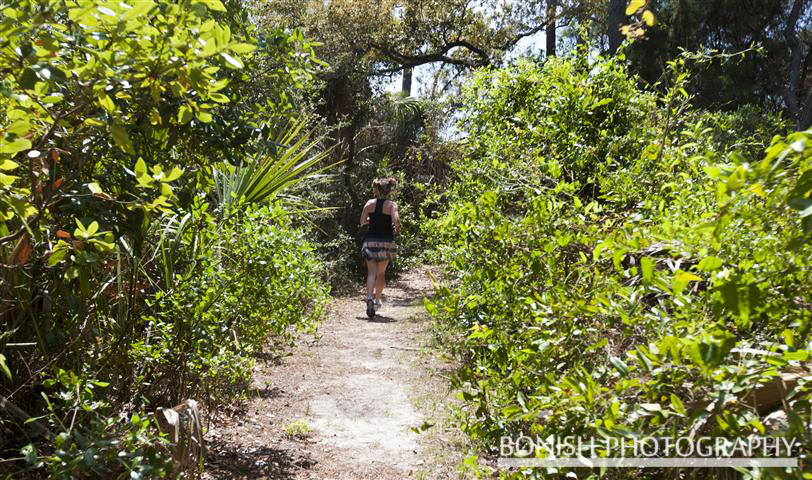 The next mark that got us excited was a circle with the letters 'BN' in the center. This stood for Beer Near which meant there would be a cooler waiting with more ice cold beers waiting for us somewhere near by. Soon enough we were running down a dirt trail that lead us out to a little exposed Oyster Bed where Debby was waiting with a couple of coolers of beer.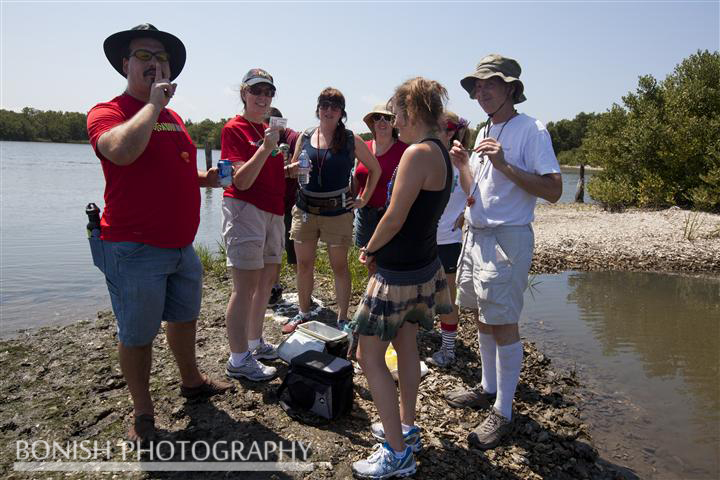 We huddled around the oyster bed all pounding beers and catching our breath. Once we were all there and a few more Hash Songs were sung, we took off trying to look for more chalk marks to point us in the right direction.
Much of the afternoon was spent this same way. Running through town, finding clues which would mean we drink more beers and sing more vulgar songs.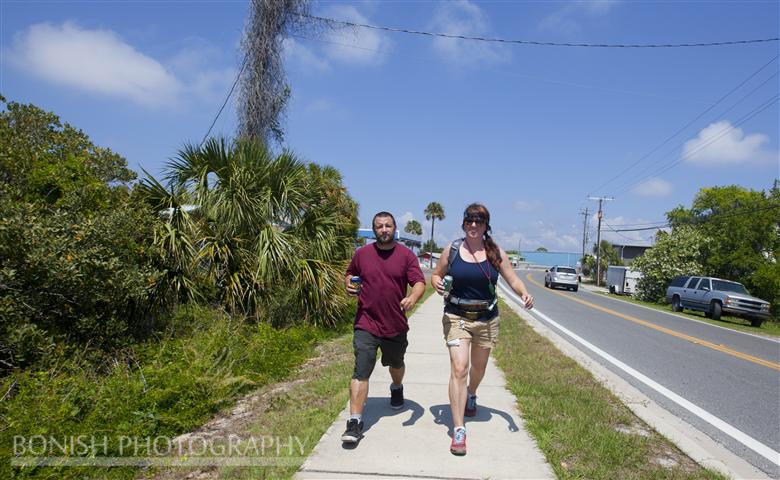 We all meet up at Brian's Big Deck where we invaded the outdoor patio, slammed back some beers and caught our breath. From Big Deck we headed back out along the trail till we found our last clue. This was where Bill & Debby were waiting with yet another cooler filled with beers.
At this location, hidden along the road under some pine trees we all sat around in a circle drinking beers and singing more songs.
This had to look very strange to folks passing by on a beautiful Sunday afternoon when they look over and see a group of people standing in a circle singing at the top of their lungs and pounding back beers.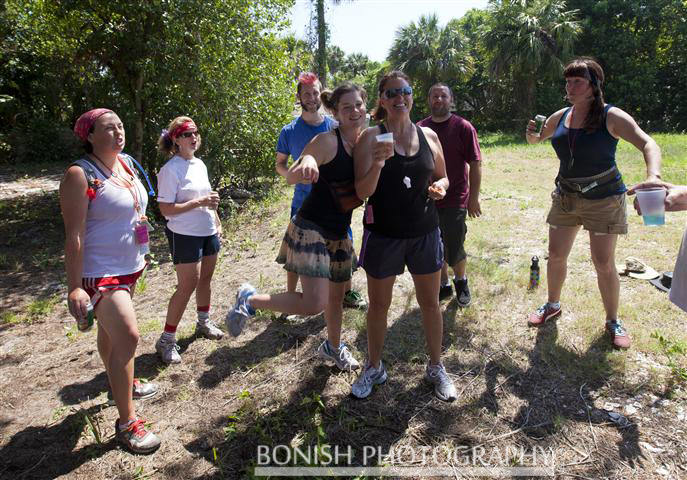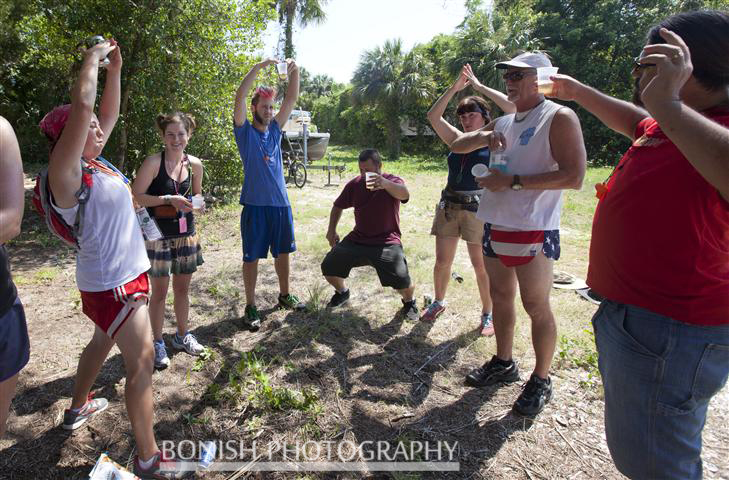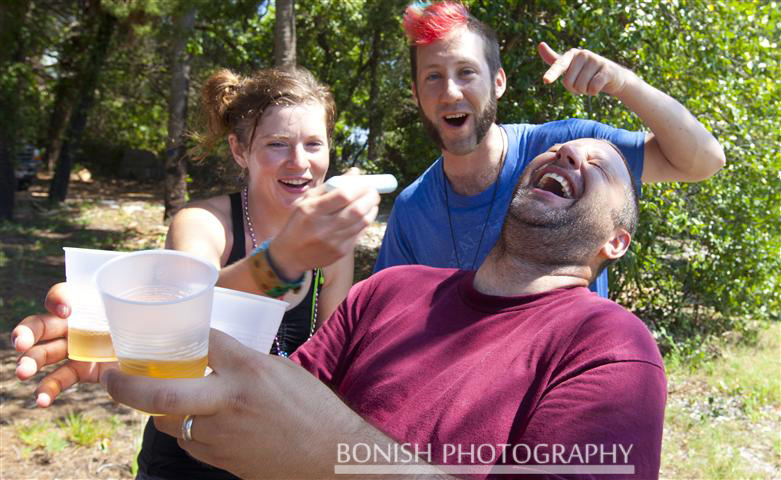 At one point, a Cedar Key police car pulled up looking over at us. Everyone stopped singing the vulgar songs and someone broke in a version of Kumbaya. While we all sat there singing this age old classic, the cop just waved and drove off. I guess they didn't have any issues with that song?
After awhile of singing and dancing and getting carried away, we decided it would be cooler to be back out at the Tiki Bar where we wouldn't be drawing so much attention to ourselves. We decided we wouldn't open the tiki bar up to the public and just had our own little private party.
We still needed to inaugurate Brian with his Hash name which is a ritual at every Hash Run.
The girls all hazed him something good and threw flour on him and poured beer over his head while everyone sat around singing songs and dancing in the grass. Heaven help us if we ever get guests to come back to the motel after many sat out back watching this debauchery.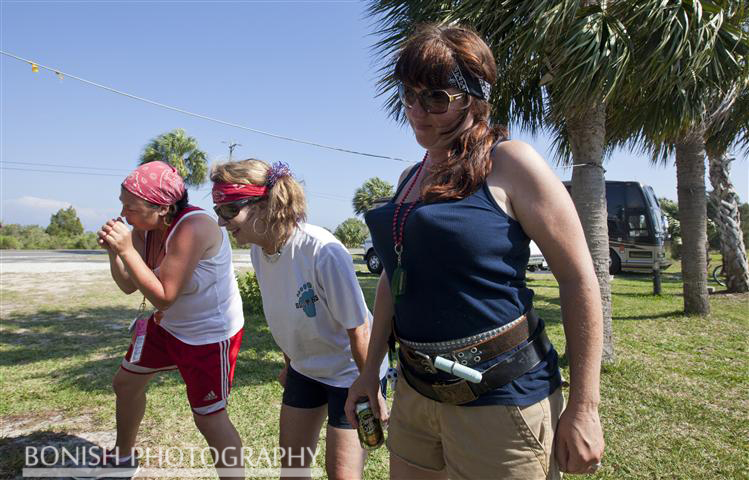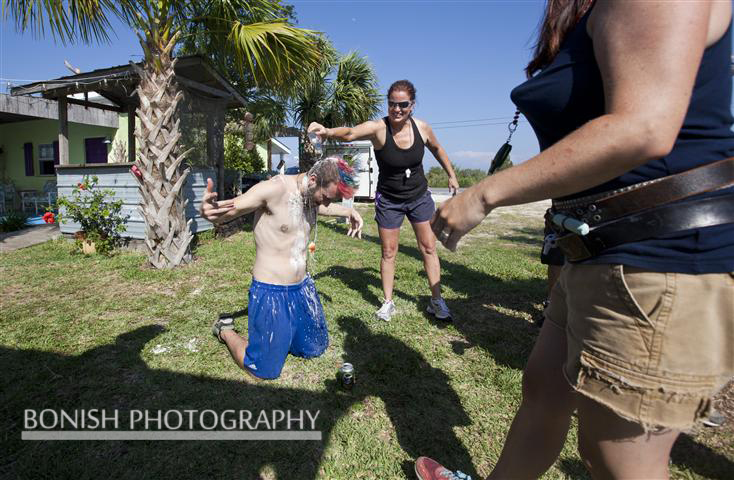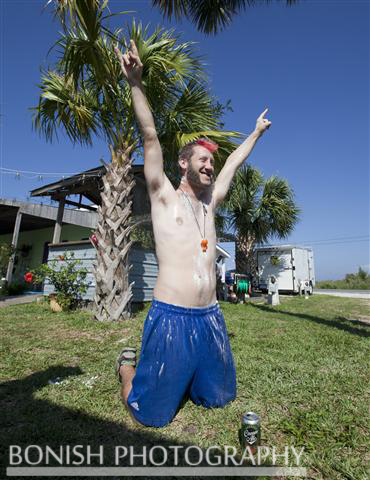 The day ended early for most of us due to the dehydration caused while drinking copious amounts of beer while sweating it out as fast as we could ingest it.
I think I was passed out by 9pm and woke up at midnight wide awake and wondering what to do with myself.

___________________________________________________________________
Photo Gear We Use - Solar Tips, Fact's and Trick's we've learned while on the road
Camper Check List - A list of things we do before leaving camp. Again, this isn't gospel, but its a good start for those who might not already have a list made up.
Return to Top of Page
Need Unlimited photo storage- FREE Trial of Smugmug