When we realize our insignificance in this world,
it some how relieves the pressures from society to succeed - Cindy Bonish 04/07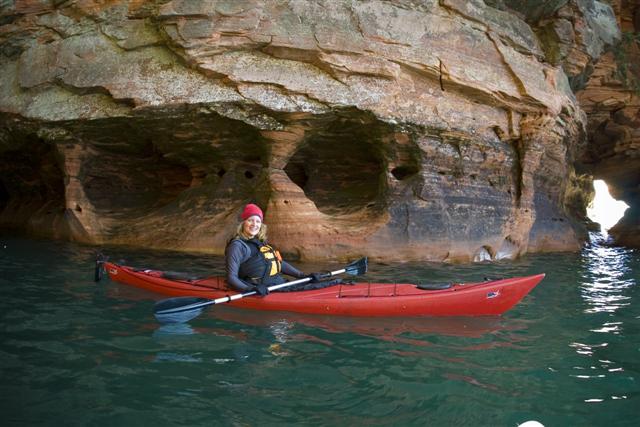 Cindy's October 2007 Blog
Every Miles A Memory
Feel Free to browse past blogs for plenty of travel ideas and many of the places we've been in our first 9 months on the road fulltime.
January Blog February Blog March Blog April Blog
May Blog June Blog Summer Blog
Photo Gear We Use - Solar Tips, Fact's and Trick's we've learned while on the road
Camper Check List - A list of things we do before leaving camp. Again, this isn't gospel, but its a good start for those who might not already have a list made up.
__________________________________________________________________________
If you haven't read the January, February, March, April Blog, May Blog, June Blog then you might want to start there before jumping ahead to this months.
Monday October 1st 2007
Jeez, I can't believe that it's October already. It seems like this year has been the fastest to pass in all of my 41 years. We woke up this morning and got ready to head further up North in Minnesota. We want to see the Boundary Waters area and also I hear that at dusk in that area, Moose are a plentiful thing. Neither of us have seen a wild Moose, so we're excited for a chance to see new things like this.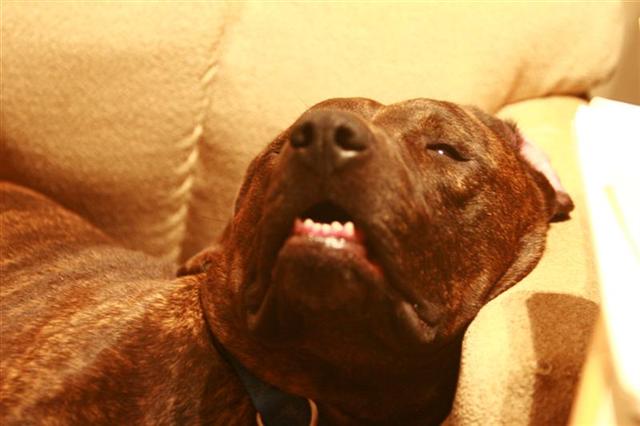 We drove all day with my head bobbing up and down barley staying awake due to the action packed weekend with our long time friends, Derrick and Tish. I finally gave into the sleep spell that I was under, only to be awakened by Pat smacking me with a back hand to the chest telling me to "Wake Up!" He advised me that he couldn't take it any more, that my face became so contorted when I slept with my head back and the strange gurgling noises I was making, that it was driving him crazy. Like I can control what my face looks like when I sleep!?! The rest of the drive I fought to stay awake.
We found a small town just outside of Duluth called Two Harbors, caught up on our laundry and bought some groceries to last us the rest of the week. When we found our camping spot for the night, we pulled into our assigned lot and I was immediately accosted by an mean lady who wanted to know "Why the hell would I park right next to her?"
I informed her that I was simply following the spot I was assigned to and not to worry, we are not very loud. I wanted to say that we are great fun and we could be the life of her party if she was nice enough to give us a chance, but I held my tongue and guided Pat into the small slip.
After a supreme dinner of Filet Mignon and sautéed mushrooms with a cucumber raspberry salad, I went directly to bed. It was 8 pm! I know, I'm wild and crazy sometimes.
Wednesday October 3rd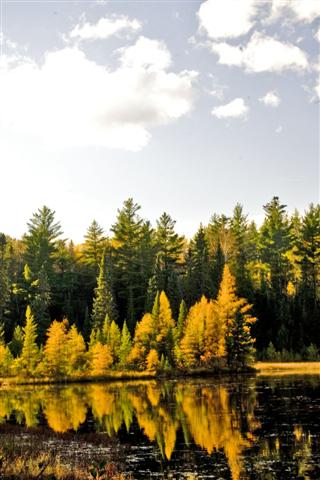 The past few days Pat and I have been in the Northern area of Minnesota. The leaves were at their peek, just about to fall from the branches at this early in October. We found a great camping spot right on Devils Track Lake with only one other camper in the park. Fortunately, we just hit the off season which allowed for us to stay in the campground for free. This is always a big help on the budget when one is gainfully unemployed.
Our days have been spent hiking, walking with the dogs or driving around looking for moose. We had no such luck spotting a moose, apparently the weather has been too warm.
We only caught a glimpse of a few bald eagles lurking in the golden leaves of the birch trees as we passed them with our vehicle. The nights have been a crisp 55 degrees and the days have been in the 70's and sunny. The trip up here was by way of HWY. 61, overlooking Lake Superior at all times.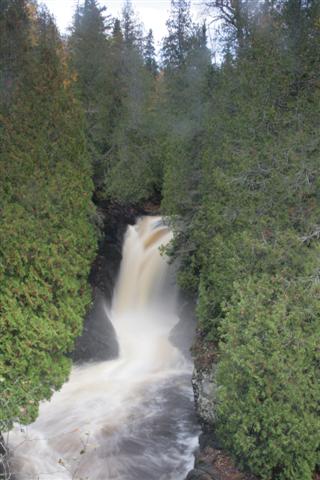 It seemed as though every half a mile we would see a waterfall streaming down the rock covered sides of the highway. We stopped at the first 10 or so but then decided that we would never get to our destination if we stopped to see them all. The waterfalls are so frequent we got to the point of saying "Water" and that was it. Both of us would turn our heads and say "wow" and continue down the spectacular path we were on.
I can't begin to tell you what a great time we have had together. It is strange how on some days I feel as though I could just tune Pat out, only to leave me with my own private thoughts.
The past month or so since we have left Michigan, it is almost like a honeymoon. I have nothing but admiration and doe like love for the man I married. I am sure those feelings will alternate many times through out our life time together but I really like these dumb struck love times.
We are heading south again in the morning and we will stay the night in Duluth. When we glided though this town on our way up north, I made it a point to visit this historic town on our way back down.
Check out the Boundary Waters Gallery for some cool shots from our time spent in this beautiful area. Remember that sales from our photo galleries are the only way we fund this adventure we're on.
Thursday October 4th
We arrived in Duluth by early afternoon looking for the area Wal-Mart. We pulled in and immediately unloaded the motorcycle so we could head into town. Driving around for a few hours just soaking up the waterside views of this neat city was so relaxing and it was so nice to be able to just jump on the bike and not have to worry about pulling the camper down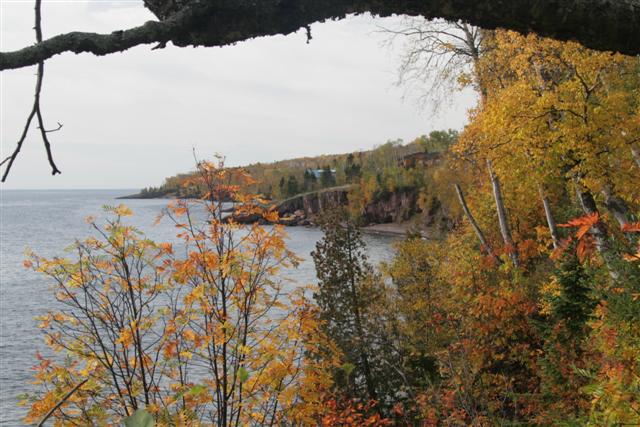 narrow roads or trying to find a place to park it. We ended up at a great little art gallery downtown. I let Pat go in first, giving the time that he would normally take to talk shop to the person in the gallery. I hung out down stairs in an antique shop so that I wouldn't get bored while he was asking questions.
When I walked into the Gallery of Ken Kollodge I was correct about Pats first impulse to ask questions. This time however, I was just as interested in the photos as he was.
Most of the photos were from Alaska which is somewhere that I can't wait to see. We started speaking to him and his wife and found out that they had lived in Fairbanks for 30 years. They decided to come back to their home state after a long stay in the beautiful wilderness of Alaska.
We actually had quite a bit in common with this couple and his photos were incredible. I found it funny that his wife had decided to take up painting since her patients wore thin while waiting for her husband to find the perfect shot.
Both of the couples art was on display, giving us the opportunity to share some of their experiences. We ended up at a small cafe for dinner, then home for a good night sleep. I know I will need it for Tish's Birthday weekend. I think Pat and I have celebrated her Birthday with them for the past 6 years and I'm glad we will be able to carry on the tradition this year.
Friday October 5th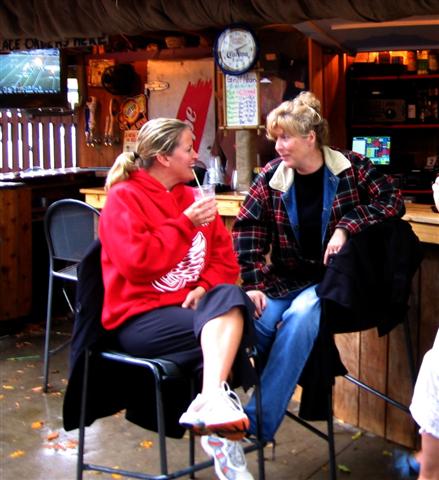 We ended up at Floyds again for a night of fun times and good belly laughs. After getting to know the servers, the bartenders, and the other customers, we decided to go back to the house and play some euchre. Pat and I love to play the game, however we haven't found anyone that knows how to play it since we left my brothers house in February.
We laugh together so much every time we are together, that my face and guts hurt the next day. I think its because we are all very much body comics, either moving our hands, feet (you better watch them) or our faces in such strange ways that we have to laugh, even if we aren't that funny. Goofing around is our specialty and no one even cares how dumb we are, now that's true friendship.
Saturday October 6th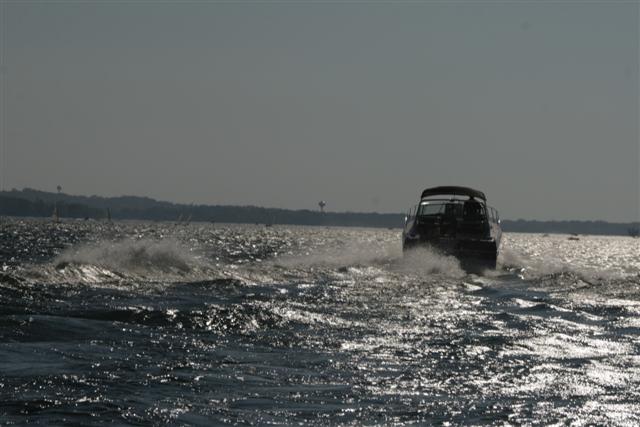 After struggling to awaken ourselves, we all got packed up and ready to go out onto Lake Minnetonka. The days was unseasonably warm so we took advantage of it and sunned our selves for the afternoon on Derricks boat.
Our day was relaxing to the point of Derrick falling asleep at the wheel while the rest of us sat silently, staring off into the waters.
We all sat with gapping mouths looking at the incredible, multi-million dollar homes that line the banks of this huge lake. At one point I thought I might get sea sick due to the heavy winds and high waves on some of the open water sections of the lake. That's when we stopped and fed our faces at Lord Fletchers, a nice restaurant with a bad staffing problem.
Our server at Lord Fletcher had approximately 70 people to wait on and only two bartenders to fulfill her orders. I guess they weren't planning on such a lovely day with 80° temperatures in early October.
After lunch, we went back to party with the neighbors Jim and Jackie for a while, reminiscing about the old days and hearing new stories to ponder. One of the other neighbors who stopped by with her husband Joel, sat like a baby bird, waiting for her next meal.
Karen sat with her mouth, so gaping wide open at the antics we were all talking about, that I wanted to shove some food in it. As she left early, she did say that she would pray for us all on Sunday morning. God Bless her heart.
Sunday October 7th
Ahh! The day of rest. Pat and I got up around 7am and started off with our daily ritual of food. We ended up looking for a laundry mat to catch up on our 7 days of laziness. After completing that despised chore, we hooked back up at Derrick and Tish's house. They actually left us dead beats there and ran their own errands, while we vegged out in front of the 60" plasma screen in the 'Man Room' in their basement.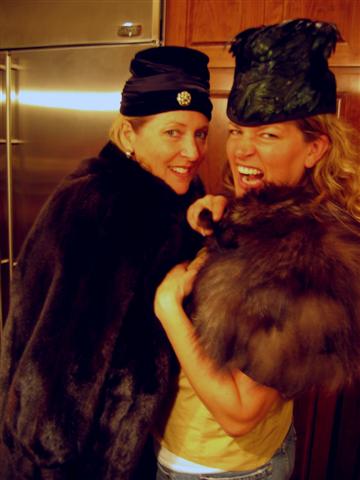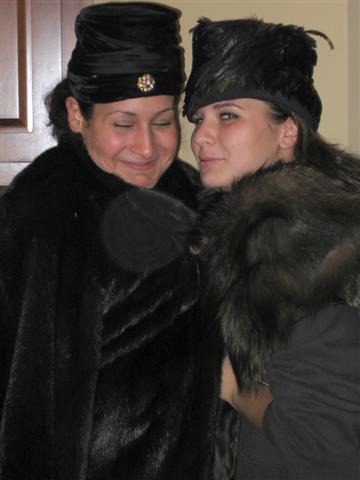 Tish, Cindy, Lauren and Elaina, playing dress up in antique clothing!!!
We wound up our evening with some wicked martini's and blue cheese stuffed olives (YUM) and incredible vittles which Tish enjoyed making all by herself while I hid out in the basement. I did come upstairs just as she was finishing although it was too late to lend a hand. (Perfect!)
October 8th Happy Birthday Tish!!
It is time to shove off from this soon to be iceberg of a beautiful state. We headed out early, saying our goodbyes to the ones we love and already deeply miss. It gets harder and harder to say good bye to people that we so enjoy, knowing that it will be quite some time before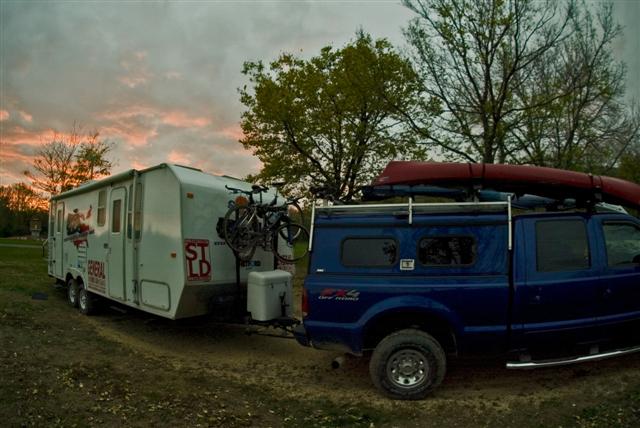 we can hook up again. The weather was perfect to shove off in, cold and raining, so it made it that much easier.
It seemed as though we drove for hours, well actually we were gone from Victoria for 6 hours before we pulled over for the night. We ended up 60 miles from Victoria when we decided to stop.
I think that brings us to just about 10 miles per hour. Now you can see why our two year trip has now been moved up to a five year trip! We didn't do 10mph, but we had a few stops to make during the day, and we aren't really in a hurry.
We stopped in Mankato to catch up on the web site, do some much needed cleaning, and get some sleep after that long weekend of partying. We stayed in the Land of Memories Municipal Park and enjoyed a very quiet evening. That was until the district high school track teams had their qualifying races all day, right next to our camp site. I kept hearing the coaches yell "Watch out for that big cord in the way", which was our electricity plug that was slung across their course?
October 10th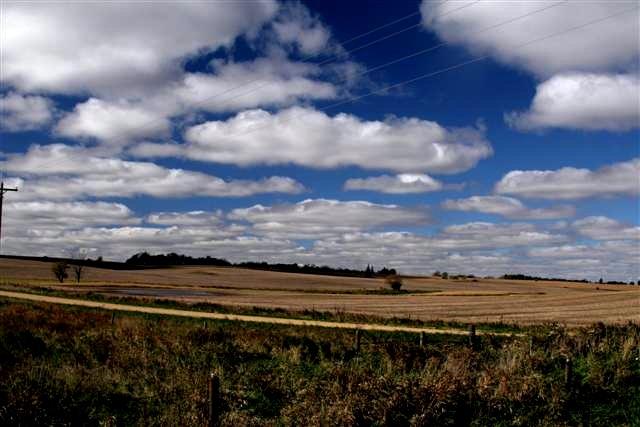 We started early today with the goal to get out of the cold and head to warmer, less windy areas. We got through the remainder of Minnesota, a small portion of Iowa, and ended up in a Wal-Mart parking lot in Norfolk Nebraska. Not alot to say for the journey, Oh wait, A LOT OF CORN!, some cows, and some very different odors, which my dogs loved. Happy Birthday Tish!
October 11th Happy Birthday Joe
Drove pretty much all day today, we didn't mind not stopping due to the fact that we have seen the same fields of hay, corn or cows for the past two days. Every now and then we would see a different kind of bird or maybe a new brush along the side of the road, but that's just about it.
We ended up in the little town of Cambridge Nebraska which offered a free park for RVers. We were able to hook up to electric and fill our fresh water at a site which had nice grills and picnic tables.
Thanks Cambridge, that was very generous of your town and we wish more towns offered these type of services.
October 12th
We woke up around 8 o'clock this morning to an incredible day. It was a bit over cast but the temperatures were in the high 60's. I challenged Pat to a game of tennis on the courts that were provided by the Cambridge city park.
He accepted, and Game On! We brought some tennis racquets and tennis balls with us on our trip, thinking that we might get a chance to use them more often, but this will be our first time so far. I haven't played tennis since I was 25 years old and I never played tennis well at anytime in my life. Today I did!
I had so much fun using my wicked back hand (no control and was lucky to hit it) and keeping in step to volley the ball back and forth with Pat. I think we will have to play this game more often, great exercise and we are pretty equal with our talents or should I say inabilities!.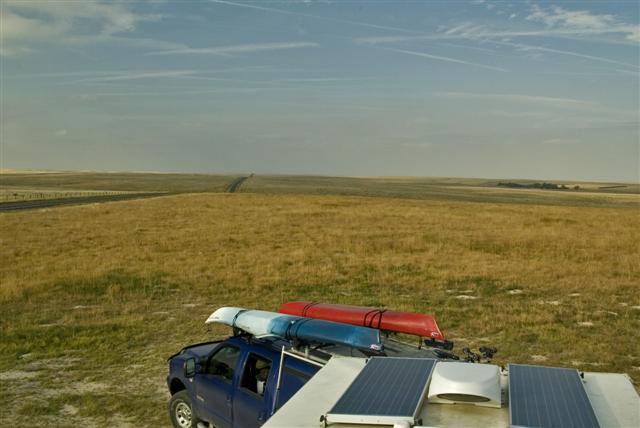 As we traveled along the desolate, long, dismal roads of Nebraska and Kansas, we kind of started to appreciate the constant sameness of the landscape.
Always a tannish brown color, swaying crops as far as we could see until a home or farm was spotted in the far distance.
When we would come up to a spot that had a different kind of crop growing, we would both be sure and point out the difference in color or texture to one another as if it was a big deal. The bales of hay and straw were pretty cool also rounding the horizon with the boldness of their size. At one point when Pat was out taking pictures, I walked the dogs for a bit, then asked Pat to hold their leashes while I went inside to go to the bathroom.
This is when Pat tried to convince me that from here on out, while we were alone on these pastures and farm land, that I was going to go to pee outside, in the freedom and openness of this lonely road. He explained to me that if I did go outside, I would feel my independence from the camper and how good it would be for my soul. Right! Whatever. I explained to Pat that he could pee into the wind if he wanted too, but we had a few differences between us.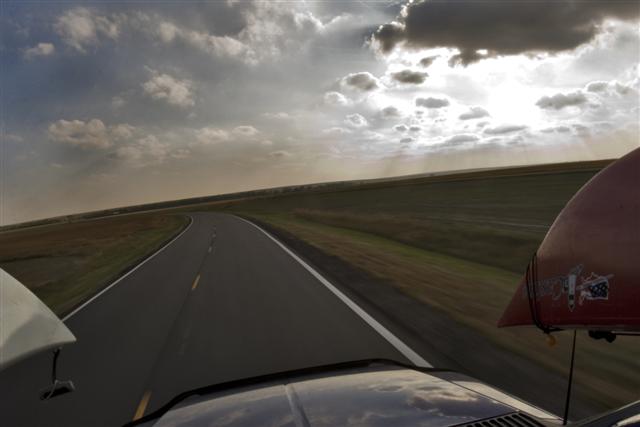 First of all he doesn't have to squat in the 12 inch long broken corn stalks as I would have to (OUCH) not to mention the TP issue. I was not about to carry the TP outside with me every time only to carry it back inside when finished. Yuck!!
I thanked him for the suggestion and the thoughtfulness of wanting me to experience the luxury of corn field peeing, then I went inside to use the bathroom like a normal female. Not that anyone would have noticed, I think we were stopped on the side of the road for about 20 minutes and never had another car pass us and couldn't see anyone in any direction we looked, even if we used the binoculars.
We made it all the way from the top of Kansas to the border of Oklahoma in 9 hours. We are stopping for the night in Elkhart, Kansas at 8:45 pm, and I think this could be a first time for this long of a drive since January. But normally we don't like to miss anything, and we like to stop at as much as possible. I hate to say, that the entire state of Kansas has about as many attractions to stop at as a normal drive to the local church.
Each time we would pull over at a Historical Landmark that would have a road side sign, it would be a simple sign stating that a certain battle had taken place here, or a Cavalry had camped at this location in the past, but the view was the same as the rest of the day.
From horizon to horizon, just corn fields and cows.
Saturday October 13th
Got up this morning with the excitement filling my mind of another 8 hour drive of sheer boredom. Fortunately we were able to basically by-pass Oklahoma with the route that we took. We drove through the state in 45 minutes. We just couldn't bare to go through a few more states of just prairies and tumble weeds.
We decided to stay in Elkhart again and get caught up on some web stuff. Actually they had cable TV and I just vegged out all day. Sometimes its nice to do nothing at all even if I am killing brain cells with 'I Love Lucy', 'Leave it to Beaver' and 'I Dream of Jeanie'.
This was one of the weirdest campgrounds we have ever stayed in. It was a deserted town with just this little campground with 20 or so sites. No attendant, no host, nothing just a cinderblock lean-to that required honesty to pay for your stay.
Sunday October 14th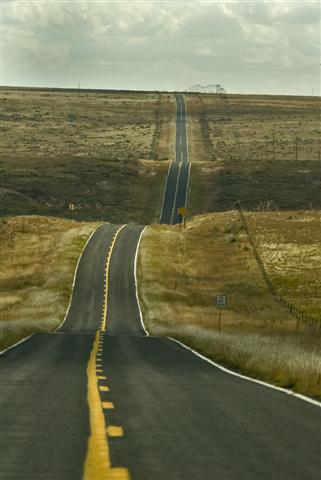 As we headed into New Mexico, I made the statement to Pat that it is amazing how one state can make such a difference in scenery. New Mexico has some awesome jutting hillsides that come out of no where.
The landscape consists of much more greenery, such as huge cactus and some juniper trees scattered on the hill sides. We saw so many dilapidated ghost towns that had been left behind by long forgotten residents we would have never bee able to stop at all of them.
We did stop at an old cemetery along old Route 66 in Montoya which we could see while driving on I-40.
I was walking in a different direction from Pat in this cemetery wearing my shorts and flip flops when I started screaming "Tarantula! Tarantula!" Pat hurried over to where I was standing, but the spider had crawled into a small hole in the ground. Of course Pat didn't believe me, thinking that I was just trying to freak him out.
The next thing he said was "I bet they could bite you real easy with those sandals on." I immediately ran back to the camper and put on my hiking boots. If I would have had tall cowboy boots, I would have put them on to save me from the creepy, crawly critters.
As we moved on, we continued to see quite a bit of wild life. We saw dozens of prong horn antelope grazing in the wide open fields. I thought that I saw a grey cow or a horse, but on closer inspection we realized I was seeing a monstrous white tailed deer. This was the biggest deer that I have ever seen in my life. It only had 8 points on his rack but if he could have been graded on size, I would have given him 12 points. He very gracefully trotted down the center of the road as we watched him until he blended into the wilderness and his big white butt disappeared.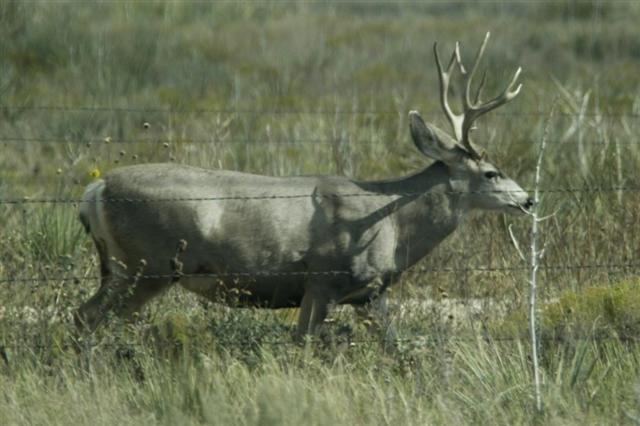 We drove for a bit longer and saw a coyote running quickly down the side of the road next to us. It was almost like he was a house pet chasing the mailman out of the drive way.
I can't believe how quickly he could move among the cactus filled brush. Throughout the days drive, Pheasants and road runners would scurry along the side of the road, always looking like they were in a big hurry to get some where.
We ended up taking some sections of the old Route 66 HWY through Santa Rosa, New Mexico. There is so much history and nostalgia strewn along the road sides that I hate to see the decline of such a booming HWY come to this.
Some of the stores still had merchandise on the shelves ready to serve the never to be seen again customers. I can't imagine the loses that these business owners dealt with to just pick up and leave all of their stuff behind, like it was a part of their life they just wanted to forget. It's very sad, but it sure did make for some good photos.
We settled into Santa Rosa Campground which had everything to offer a guest, including a restaurant which will deliver right to your camper! How about that for service? We opted instead for some of my famous grilled, raw chicken for dinner.
I can never seem to time chicken right on a charcoal grill. Every time I make it, the coals go out before the meat is done and I end up so disappointed. The beauty of this is my sweet husband just enjoys the heck out of it anyway and would never say a word unless I took it away from him.
Monday October 15th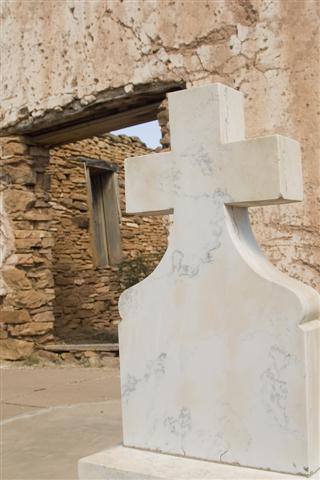 Pat and I, before going to bed last night, commented on how packed the campground was and that they had a good business going. By the time that we got up and about today, we were one of three campers left in the park. I guess everyone gets an early start now a days trying to take in as much as they can in the beautiful surroundings.
We took a few back roads in the area of Santa Rosa to check out the sights and headed on our way towards Albuquerque. When we arrived, I looked at Pat and said "I only want to spend one night in this town!" This is a big city compared to where we have been lately and I wouldn't exactly call it my style.
When we stopped for fuel, a woman came up to me and asked me for money, when I said "No" she then followed me to the camper door and asked me to buy her some food. I said "No" again and entered the camper door and locked it behind me.
I started feeling bad and I was making her a ham and cheese sandwich when I heard some guy asking Pat for money. At this point I put the stuff back in the fridge and imagined we were sitting on a park bench feeding birds, once we started, they would just keep coming. Not that this couldn't happen anywhere, I just didn't want to be around it.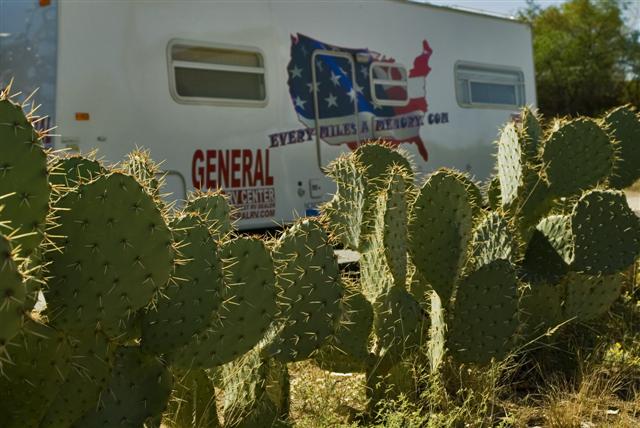 We headed up the street to the KOA Campground or should I say Penitentiary! It had a tall fence with barbed wire surrounding the grounds and no grass at all, just concrete.
We pulled in, much to my dismay, with the reassurance from Pat that we were only staying for one night, until our refrigerator was fixed. I walked in to ask for the rates and it was $46.00 a night plus 12% tax!! I just can't see paying that much money for the protection of a barbed wire fence.
Pat and I headed back East on I-40 for about 10 miles and found Hidden Valley Campground, a hill side campground with full hook ups and a nice trail to walk the dogs on. The check in was smooth and I am sure this place is hopping during season with all of the amenities they have to offer. We had some left overs for dinner to try and empty the fridge and are heading off to bed. We still can't figure out what time it really is here, although I am pretty sure we have been going to bed at 8pm by these clocks.
I guess that explains why I woke up at 4:30 am this morning, by these clocks. Our route keeps taking us from Mountain Time to Central Time Zones and some clocks our changed for one time zone while others are changed for another. Either way, we never know what time it really is. All I know is it's time for bed.
October 16th & 17th
We arrived in Santa Fe yesterday afternoon just in time to find a great camp site on the side of a mountain. We took Route 14 from Albuquerque which is a sensational road. Since my sleeping hours have been so messed up in the past week I was too exhausted to keep my eyes open to see the beautiful sights all around us. I asked Pat if he would pull over on the side of the road and let me sleep for an hour so that I could enjoy the great panoramas with him.
We stopped for an hour and a half while both of us took a nap. AHH the beauty of bringing your house with you where ever you go! I am so glad that we took a cat nap since this was one of the best roads we have been on in a while. The curves, hills and climbs were filled with steep rock formations jutting from the cactus ridden red sand. In each direction we saw things that we made note to stop and see when we ride the motorcycle back after we found our camping site.
By the time that we got the camper set up, I told Pat that I couldn't live with the dog hair situation in the vehicle any more. I took an hour and did a thorough hair removal for the front and back seats and every thing we store in the cab. When I were finished we decided to check out the park that we were in instead of going back into town. We rode the motorcycle up some steep inclines and pulled over to drink up the colors. While we were in Michigan, Pat and I had the discussion of what the difference is between Aspen and Birch, now we know.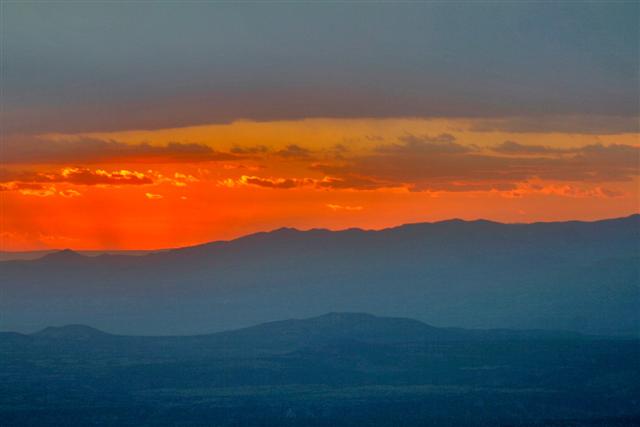 The Aspen here are bright yellow with some reds and oranges unlike the Birch which were almost a dirty gold color during their peek fall colors. The Aspen have much smoother trunks and seem to be a much hardier tree, visually that is.
They also grow like Bamboo, with new trees growing off the root system of the host tree. So they grow in tight clumps, and when you see one of them, you usually see dozens of them. We spent a couple hours on the bike riding through the canyons before coming home to warm up. We got a chance to see an incredible sun set behind the mountains. After a nice dinner, we fell asleep at 9pm.
At 2am Pat and I were both wide awake, carrying on a conversation! I think it is the altitude or the time change or something, but our internal time clocks are way off. I read a book and Pat sat on the computer for a couple of hours before trying the sleep thing again.
We ended up reawakening at 9 am. We took the dogs for a short walk since it was only 42 degrees and for some reason I can't breath up here. We came back to the camper, had some breakfast, packed up, getting ready to start our day.
As we opened the camper door it was starting to snow. I can't even believe we are in snow! I don't have a real "Winter Coat", I have some hoodies and I dress in layers due to the car being warm and the outside being chilled. When I saw a few flakes, I started to panic. We got into the car and decided to make the best of it. The funny thing is, by the time we got down to the bottom of the mountain, it had warmed up to 60 degrees.
We both decided that the flakes were just our imagination, or just a fluke thing to happen since it was so warm here in town.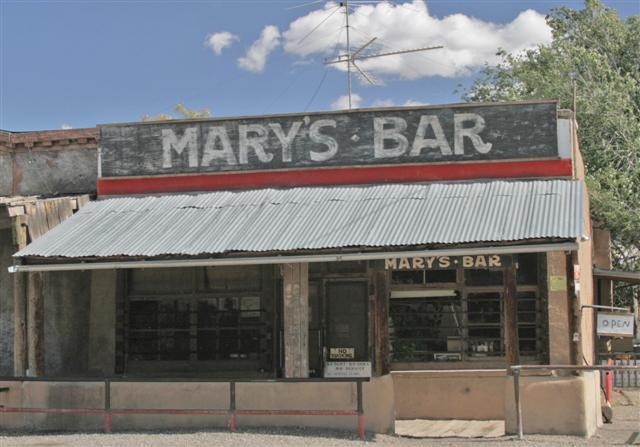 Our afternoon was spent on Route 14, stopping in towns such as Cerrillos. This town was established in the early 1800's and at one point was considered the Capitol on New Mexico due to its large population and big businesses. The industries were mining gold, mining turquoise and bars.
It seems they had more saloons that homes. We happened to stop into Mary's Bar which has been in Cerrillos since the turn of the century. Previously owned by her parents as a grocery store. I wasn't sure at first if we were walking into her living, family room or a bar. We were greeted quickly by Mary herself. I said to Mary, "It looks like you have been here for a while" Her reply was "Yep, 92 years" My, and I thought we were burned out in our bar after only 6!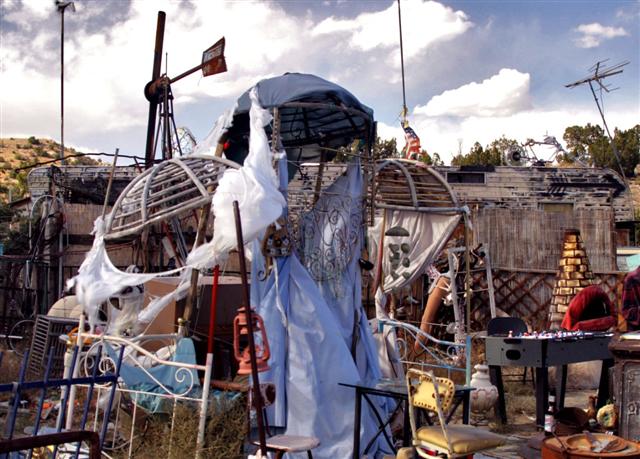 The next place we stopped was at Tiny Town. This place was something that you have to see to believe. The place is owned by Tammy Lange, known to the locals as Tattoo Tammy. Being so hooked on photography Pat and I could have stayed there for hours.
The yard was completely filled with "Art work" which came from the mind of Tammy. Dozens of small areas which she had named for the feeling she got by them. One was called 'The Thrown' in which she says she loves to sit at in the summer. Another is the children's area which is filled with toys and thing kids would love. Another is Bone Art she calls it 'Better Bones and Gardens.'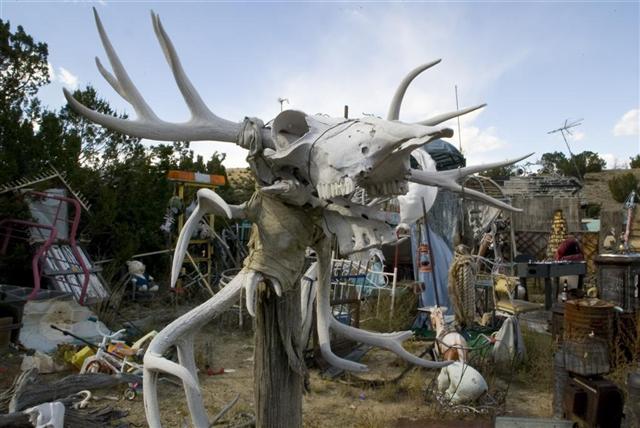 Tammy came out and chatted with us for quite some time, explaining where she had come from and how this is her life times work of passion. Some people bring her things to add into her collections such as an ostrich carcass, feathers and all.
She explained that it was an anonymous donor which made it even more special. We walked around listening to the loud music over the outside speakers. She explained that she has no electricity and lives in her trailer using a wind turbine and solar panels for power. I enjoyed the time we had with her but we couldn't keep her all to ourselves since she had many other curious guests stopping by to see her 10 year endeavor.
Our next stop was Madrid, only 5 miles from Tammy's place. This town is small but filled with big characters. The streets are lined with old miners cabins which have been refurbished and put to use for such things as coffee shops, art galleries, diners and many other eclectic places. If anyone has ever seen the movie Wild Hogs this is where the diner came from which was the home base for the good guys.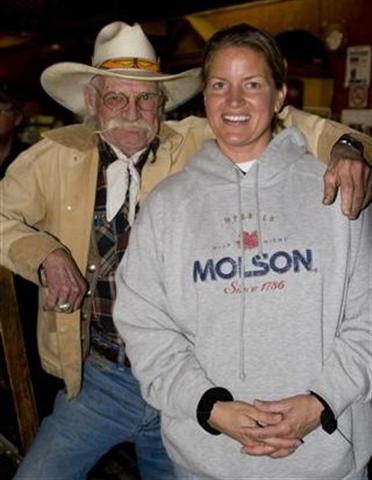 We stopped in a few of the art galleries, then went for lunch at the Mine Shaft Tavern. We had some great Mexican food and even better conversation. We met up with a gentleman named Chris that has lived in the area for 15 years with his wife and family. He gave us some pointers on what to see in the surrounding areas and shared some history of the town with us.
I could go on for days about this little town and how it began but I'll just give you a few bits of info. The mining town was established in 1881-1957 than reestablished in 1970. This means that no one lived there for 33 years, except hippies and squatters.
It began to thrive again little by little due to a gentleman who owned the town named Mr. Hubbard. He owned the Mine Shaft Tavern and the town was basically built around this bar. Isn't that how it always goes? I also got a chance to meet Bob, a handsome cuss with a handle bar mustache and a cowboy hat. We had great conversation and took a photo together since he is the towns star.
On the back of the bar sat a calendar with a picture of him naked on it. The only thing that was covering his privates was his cowboy hat, without him holding it!!! Now, did I mention that Bob is just a little past 80? He gave us his secret to the hat hanger. "One blue pill, two tablespoons of Miracle Grow and a shot of Fix a Flat" He says his wife came up with it, no pun intended.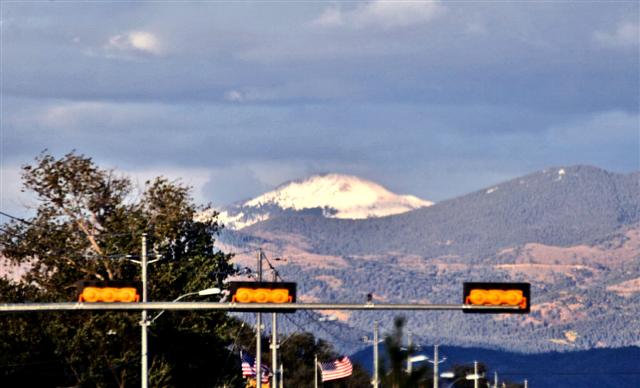 On our way home we looked up into the mountains where we are camping and saw three snow covered peeks. I guess we did have reason to think it might snow. Both of us are ready for bed and it is only 6 o'clock. What the heck is the matter with us? I have noticed that I have a hard time running the dogs up here like I have been, it's like I just can't breath enough air.
I am going to blame it on the altitude. Make sure to check out our Santa Fe & Route 14 Gallery
Thursday October 18th 2007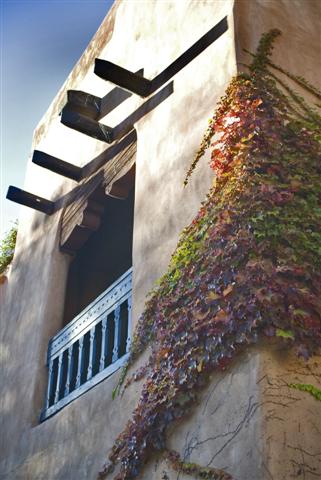 We spent the afternoon walking around downtown Santa Fe, soaking up the rich history of the place. What beautiful architecture they have here. The weird thing is that I can't tell which of the buildings are new and which ones are original. Everything is so well kept and clean here, that even the buildings built in the 1600 and 1700's look new. I started getting discouraged by walking around, window shopping. We found so many things that I would love to have if I only had somewhere to keep them.
We ended up stopping at a local outfitters called Sangre de Cristo Mountain Works . Pat was talking to the owner of the store for a long time getting some information on different hikes around our camp site.
He took a small break and came up to me and said "Did you find anything that you wanted?" I took that as an open invitation to get what I wanted. I tried on a couple of things that would keep me warm while taking the dogs for an early morning run or those long walks after the sun goes down that we all enjoy so much. I found this great new material that is so soft yet so incredibly warm that I had to have them.
I walked up to the cashier and Pat was still talking with the fellows there when I laid my new purchase on the counter. Pat didn't know what to say and just kind of looked at me when the total came to over three hundred dollars for two things. Darn this high tech material is outrageous.
Friday October 19th 2007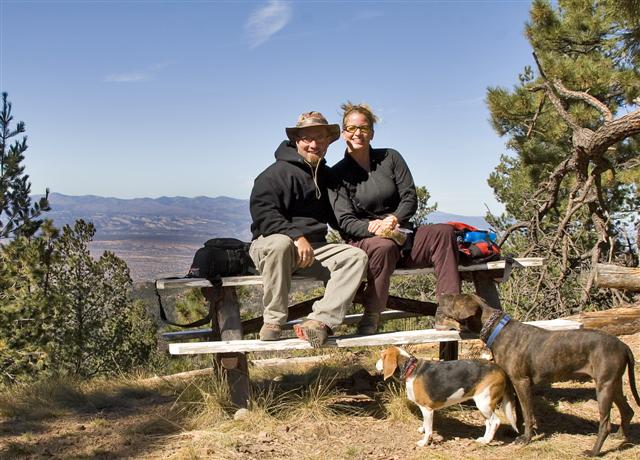 We got up early this morning to an incredible blue sky like I've never seen before. I keep trying to think of a color to explain the deep clear blue of the New Mexico skies but I am yet to come up with one that does it justice.
I packed a big lunch for us and we headed out on a three mile hike. We brought the dogs with us so they could enjoy the beautiful warm day with us. I was very surprised at how well they did on this steep mountainside, filled with rabbits, squirrels and chipmunks. The only time I really kept them on there leashes was to pull my butt up the big inclines. The rest of the time they stayed right with us and had a great time.
It is such a big difference hiking in these elevations when it comes to catching my breath. I had to stop every 20 feet it seemed like to try take a breath. It was all worth it though when we got to the peak (9400), looking out over the great expanse of the mountains and valleys below.
We sat for a while just taking in the views then pushed on down the hills. We have a portable water dispenser for the dogs which is easy to carry on walks and such. This time Luca was so thirsty, he didn't want to wait for the bowl to fill up, he drank right from the nipple on the end of the bottle while Lucy took over the bowl.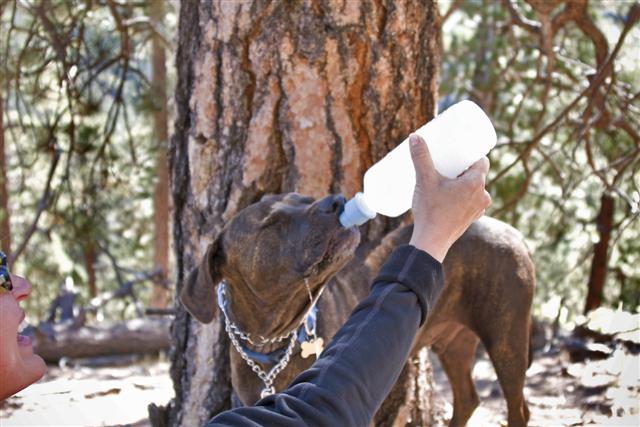 We didn't realize it until we got home that the rough terrain was hard on their pads. I think they would do it again in a minute though since they had so much fun.
The rest of the afternoon was spent driving down narrow mountain roads with me yelling at Pat.
For him, these roads are something he calls fun, for me, all I could think of was tearing off the oil pan on one of the large rocks or breaking something underneath the truck which would leave us stranded. Of course we made it just fine, and by the time we got back to the camper, we were ready for bed. The muscles in our backs were already starting to feel tight from that long climb earlier in the day.
Saturday October 20th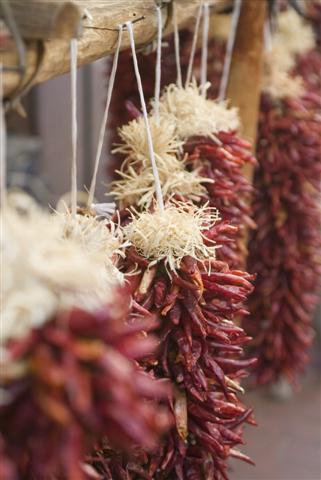 We rode the motorcycle into Santa Fe this afternoon since it would be easier to park then our large truck. I didn't realize how sore I was from the hike yesterday until I had to lift my leg on and off the bike numerous times. We went to dinner at a restaurant called Maria's which had come highly recommended by the locals. Maria's had a margarita menu that was a few pages long ranging from $6 to $48! After studying a while we decided on the middle of the road 'Rita' at 15 bucks and both of us loved them.
We started with some complimentary chips and salsa (Awesome) and then moved onto the main coarse. I got the sampler platter which I thought I would never finish when they set the huge plate of delicious food in front of me. (I ate every bite) Pat chose a dish which neither one of us had heard of before.
It sounded good when he explained to me telling me that it was a baked chicken in spices with some avocado. Wrong! This dish was so spicy that I couldn't even see the chicken for all of thick Mexican seasoning covering it.
When they sat it down Pat said "Where's the avocado?" On second glance at the menu it actually said AVADO which I'm assuming meant hot and spicy. He was sweating thru the entire meal and I laughed the entire time. The best part began about 20 minutes after the meal while riding on the motorcycle.
I could feel his stomach growling while I held onto him on the way home. The rest of the night Pat kept having to take breaks from our card game to go sit on his Thetford throne while cursing the fact that he misread his meal of choice.
Sunday October 21st
Our hiking trip for today was cancelled due to unwanted snow fall. We ended up getting to know our neighbors instead, which I think was more fun anyway. Our neighbors are Rainer and Vera Heise from Germany. They invited us into there home/camper to enjoy some fresh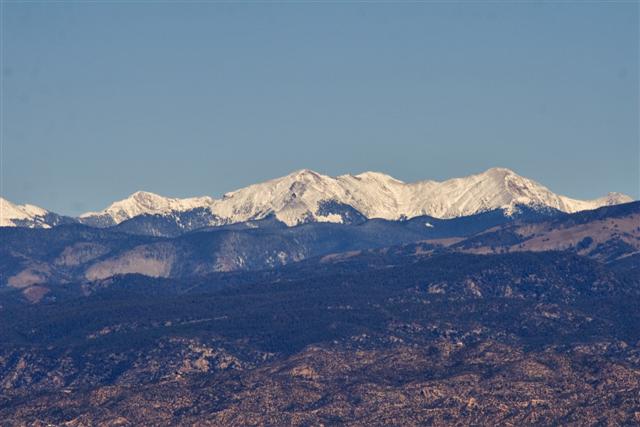 baked cookies that Vera had made. We talked about the difference between our cultures and realized that we have alot in common with one another despite the language barrier.
They are both very funny and we enjoyed the few hours we spent with them before we headed out for an afternoon drive.
You would think that the last thing we would want to do is drive more than we have to, but I guess that's what makes this adventure so fun for us, driving is one of our favorite things. We traveled into some higher elevations and through various whiteout snow storms. We saw some Native American reservations and a whole lotta beautiful scenery, but not much else since it was Sunday afternoon.
We got back into Santa Fe sort of late and thought that a movie might be nice to way to relax and wind down the evening. We went to Blockbuster, making the loop around the place twice, coming up with no movies that we wanted to waist a couple of hours on. Just as well, I think we would have fallen asleep during it anyway.
Make sure to check out our Santa Fe Gallery
Monday October 22nd
We moved out today and headed for the Los Alamos area and Bandelier State Park. It is really very cold in Hyde Park, up on this mountain where we have been for the past week. When we woke up this morning to 27° out side and everything covered in snow, we knew it was time to climb down off the mountain and into some warmer temperatures. We stopped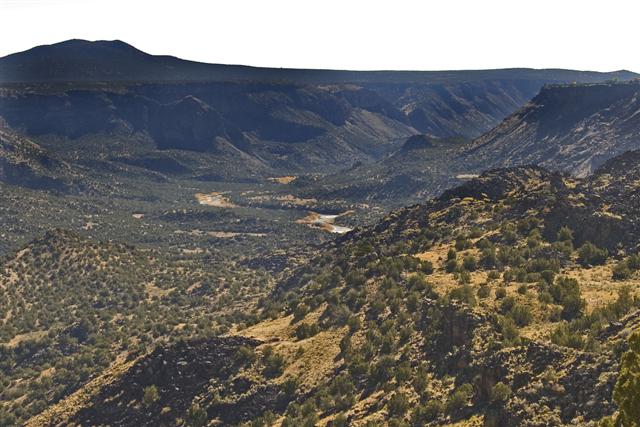 in White Rock on our way to Bandelier and checked out the White Rock Overlook.
We could see Colorado from where we were standing which was 120 miles from us! That is some amazingly clean air to be able to see that far. We met a very nice gentleman named John Tubb who gave us so much history and information on the area that we thought he worked as a guide for White Rock or something. After he was done explaining the entire area, Pat offered to tip him because we had learned so much.
John filled us in on some spots that we had to see and gave us the history about the surrounding areas. We found a camp site in Bandelier State Park which is very rustic, with no hook-ups, but it is beautiful. We are the only campers in the park, so that makes it even better.
Tuesday October 23rd
I got up this morning and packed a big lunch and added plenty of water for our hiking trip to see the ruins of Bandelier. This was a 7 mile hike, round trip so I new we would need a lot of stuff. Pat carried the camera backpack, which I wouldn't wish on anyone as it is so heavy and uncomfortable, that the one time I lugged it around for the day, I swore to never do it again.
We took the Frey trail which was named after the park manager who used to walk this trail every time she had to go into town. It is said that she brought all of her things to her home at the bottom of the hill by pack mule. Mrs. Frey even brought a piano down this rugged, narrow trail.
Eventually her husband built a pulley system from the top of the mountain to the bottom which they could use for transportation of goods and themselves, and we think we're roughing it sometimes. That's a woman after my own heart.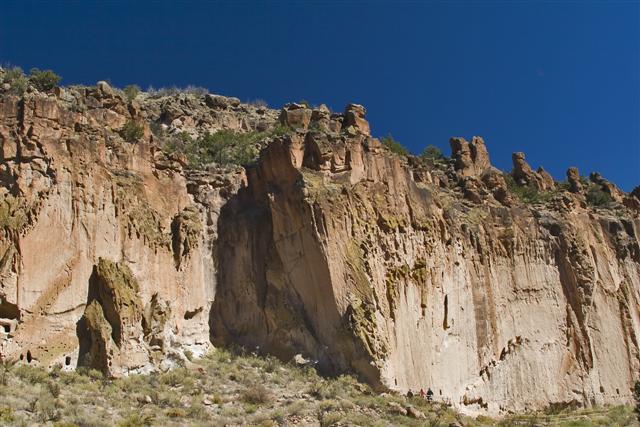 The hike was spectacular, with unbelievable views from the peaks of the mountain tops into the valley of Pueblo ruins down below. I really can't explain what it was like to see the surrounding areas and imagine the people who settled in these lands so long ago.
I just kept saying to Pat "These people were really smart" They had the ability to move about freely among there tribesman and still had the protection of the rugged terrain against unwanted intruders. At each turn in the narrow trail, I could imagine being an Indian warrior and going to the edge, looking about in all directions, and being able to see anything or anyone coming your way for miles. What a shame that most people miss this part of the hike being as we came down from the campground, which only added two miles.
The cave dwellings are estimated to have had 400 rooms in them with at least 800 people. We were able to crawl up into some of the rooms that these people made their home and I can see why. The temperature was cool in the hot sun and warm in the winter. Smoke residue was still left on the roofs of the small dwellings from the fire places that once were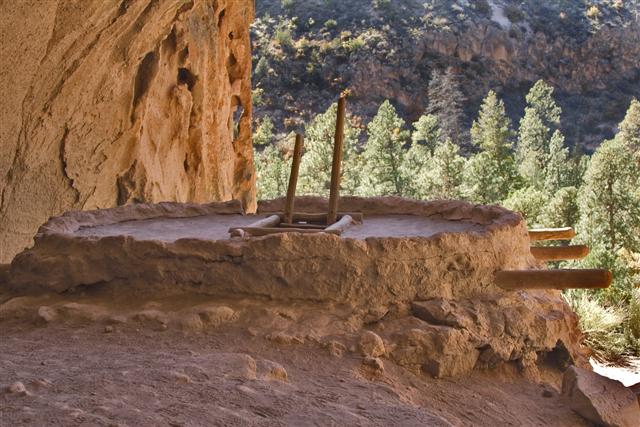 used for cooking and warmth.
The engineering and design of the Kiva, built out of adobe and rock for gathering places and ceremonies, is a testament to their creativity. The fact that these structures are still here is proof of that.
Usually I get really really really bored when Pat is taking soooo many pictures. This time I was very content just to sit back and enjoy the sounds of the birds flying over head and the trickle of the water flowing down below. I could have sat there for days just seeing the mountains and fall colors just ending there cycle.
Gazing up at the side of the Canyon walls, we sat eyeing the dozens of petroglyphs as we compared what the guide book said they were to what we thought they looked like. Its just amazing how well preserved these drawings are after hundreds of years.
What was supposed to be a Macaw in the guide book, looked much more like a dog or a horse. Here are a few so you can decide for yourself as to what you think they look like.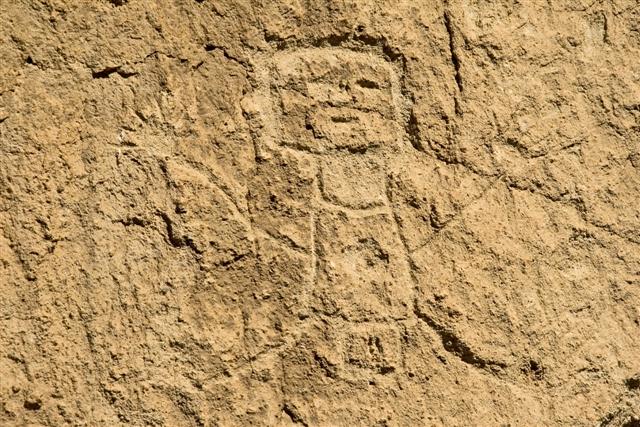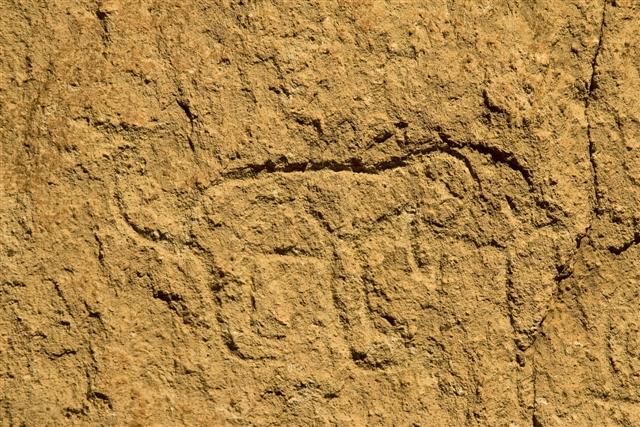 We headed back toward camp so that it wouldn't be dark while trekking our way home through the brush. As we were walking up the trail, both us decide to take a break and have a snack while sitting in a shaded switchback in the trail. We met two girls on the trail coming down the hill and also some mule deer. While we were talking with the hikers Elaine and Alana, five mule deer approached us to make there way down the hill. The deer came so close to us, I am sure that they are used to the presence of humans.
This had to be one of our best days yet. Everything about it was perfect including the views, the clean air and having my best friend at my side to share the whole thing with me.
To read a more in-depth review of Bandelier National Monument Click Here or to see our gallery of Bandelier, Click Here
Wednesday October 24th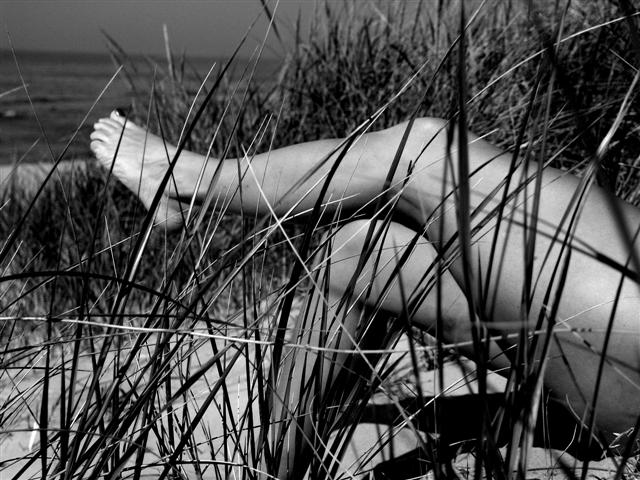 After the awesome day yesterday we decided to rest, and work on some things on the computer today. I took advantage of the incredible sunshine and the fact that we are the only people in the camp ground.
I spent two or three hours in the sun reading and napping and I have no tan lines at all. We lounged around most of the day until we went to get some work done on one of our lap tops.
Unfortunately, my lap top has been sent back for repair, Pats lap top has a burned out LCD screen and the large computer in the camper has got some issues also. For three days we had no lap top at all, which drove Pat absolutely mad. We have some how fangled the TV to act as the LCD screen for our lap top and we're able to work on it that way until all repairs are done.
Thursday October 25th
We took a long drive today into the mountains to see Valles Caldera National Preserve . On the way there we had to go to Los Alamos to try and send a money order for a new LCD screen we had bought on eBay. The day was not going well when the banks would not sell us a cashiers check, unless we belonged nor would the Post Office sell us a money order unless we had cash.
We never carry very much cash, if any, since we really carry are credit cards, so the day was a bust and our patience were wearing thin.
While we were pulling out of the parking lot, Pat was stopped at a green arrow for what I thought was a long time so I said in a sweet voice "Green Light" Pat totally freaked out on me and start yelling for me to stop telling him how to drive, and that I should try driving some time.
Basically he was screaming like an idiot. I told him to stop screaming and that I just wouldn't talk to him at all from now on! We all know how that goes, just the two of us in a car, we both like to talk, speechlessness doesn't last long.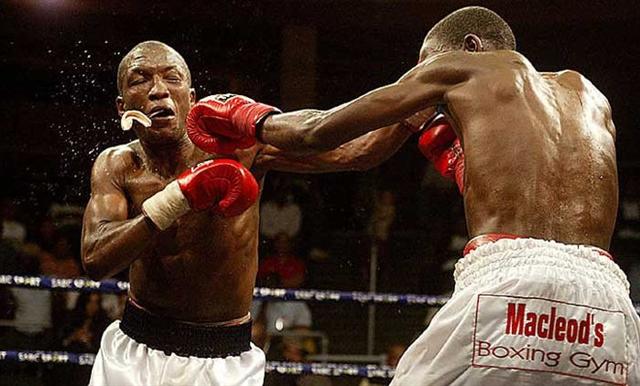 When we got up and over the mountain, which was all I could do to not tell him how to drive on those narrow roads, we could see the Elk in the valley floor. Naturally we talked with each other because we were both excited to try and get some photos.
Pat asked me for a different lens and I said "Would you like to apologize to me?" he said "I will if you do." I bit my tongue and said "Sorry if I hate the fact that you drive so stupid and I tell you what to do." Pat said "OK than I am sorry that I sometimes want to punch you in the face." We both started cracking up and said we could live with that, at least we are both honest.
The rest of the day we enjoyed ourselves, trying to get some photos of the Elk which we could only see though binoculars.
I'd like to apologize for our Galleries being down for so long. We were trying to do something on the back end to speed up the process and make it easier for you the viewer. In that process, they were down for almost a month.
As of today, the Galleries are back up and running with tons of new pictures for your viewing pleasure and they are now able to be purchased, mounted, framed or printed on a host of various styles of apparel, anything from mugs, mouse pads to t-shirts. This is our only source of income and the only way we earn money to keep this adventure going. Sorry, and we wont let it happen again.
Friday October 26th
We headed to Valles Caldera at about 1PM today to meet up with Mick who is a volunteer at the park. He let us into the gates which are open to the public for just a mile or two into the huge 89,000 acre place. We had spoken with him yesterday and he suggested that we come into the park and maybe he could bring us to a nice spot in the park where we could get a shot of a big bull elk. When we arrived Mick was told that he had to get the approval of Rob, the director, before we could get out in the areas close enough to get a good view.
We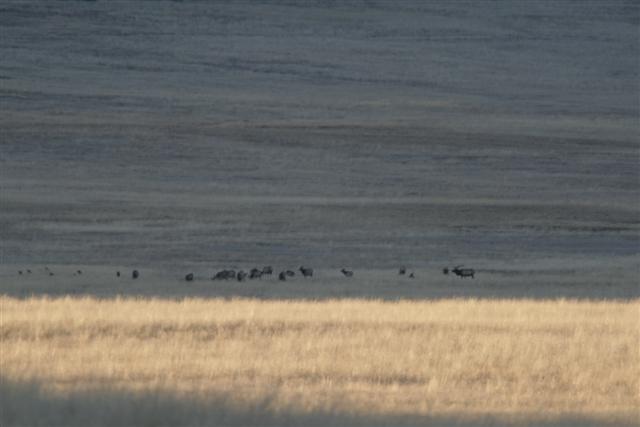 explained to the people that work there that we have a web site and would like to promote the park and would be willing to pay for a tour by one of the guides. Rob never returned any of the four phone calls and I suppose that he thought we were gone by the time he arrived 3 hours later.
I can't even begin to tell you how mad I was at this guy. He totally acted like we were trying to scam them or something. He blew us off and even took a snotty tone when Pat asked if we could sit in the grass somewhere and just wait for the elk to come around which he snapped back with "We don't allow blinds anywhere in the preserve!"
I can't go any further into this subject because I get so mad, we were trying to take pictures, not hunt any of them. All I can say is that the things that they offer in the brochure for the park are untrue. I would not recommend going into the park, just sit on the side of Route 4 and you will get more satisfaction. This picture is about as close as we can get with a 600mm lens!!
Saturday October 27th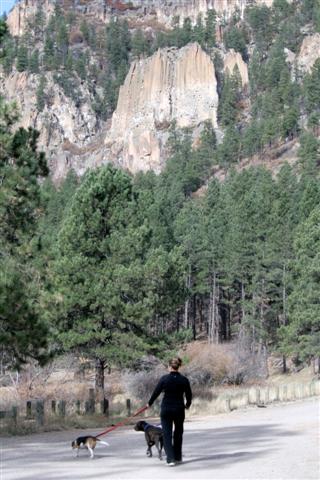 We packed up the camper in the morning and headed toward the Jemez Mountains. The road that we had to take was so twisty and turning that I had nightmares about traveling it in the camper.
A couple of the turns are a complete 180 degree turnaround with very little room to make a mistake. The entire trip I kept my eyes closed as not to aggravate my sweet husband with my encouraging words of wisdom on how to drive.
We ended up at Fenton Lake State park which is very secluded and has quite a bit to offer. Its location is perfect for the many hikes, hot springs, superior landmarks and drives we would like to enjoy in this area. We grilled out some bratwurst on the fire and man were they good. We never have fattening food anymore due to my constant struggle with fatness.
By the way, since we left Florida and our one month of binge eating and drinking I have lost 18 pounds!!! Anyway, we turned in early after listening to the wild calls of the Barn Owls, the climbing around of the big eared squirrels and the neighbors kids looking for a kitten (What!) in the woods after dark.
Sunday October 28th
We were going to try one last chance at getting a picture of some Elk before we gave up on the thought. On our way to Valles Caldera we stopped at Soda Dam. Every time we have past this spot on the road, Pat always says "Did you fart?" We figured out that most of the formation was made up of sulfur, the dreaded smell of rotten eggs lingered over top of us.
Pat and I went our different ways when we started hiking around on this big mound of stuff. I went up into the cave and took some photos while Pat chose to go wading through the creek for his shots.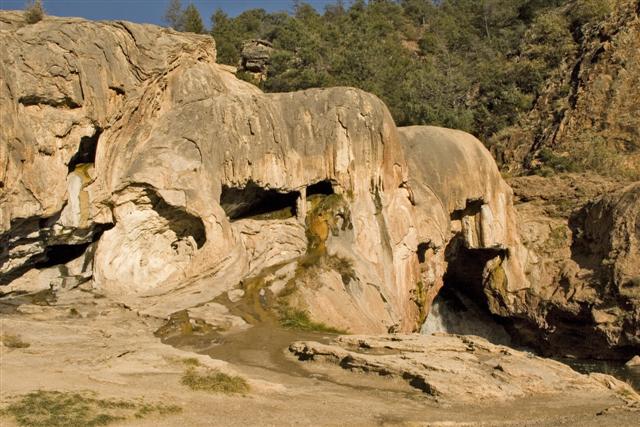 I saw Pat coming toward me and his pant legs were wet all the way to his knees. I asked him what happened and he informed me that he had to make some sacrifices to keep ahold on the camera which almost fell into the stream.
We both laughed about it and headed toward Valles Caldera to pick up a phone signal and try and see some wild life. We had no luck with the wild life photo but we had a very clear signal for the computer to download some things that we were falling behind on.
Being the resourceful people that we are, we figured out that we could take down the 23" TV and bring it in the truck with us to use as the monitor since the LCD on the laptop is burned out. We had to bring all of our converters and some extra stuff, but it worked just fine as long as the truck was idling.
Pat had four hours of work to do on the computer while I sat in the front seat smelling his dirty wet shoes attempting to dry out by way of super high heat from the floor. I'm sure all the vehicles that passed us while we were downloading stuff probably thought it was strange that we had to stop and watch a movie on our TV at night on the side of the road in the backseat of our truck.
Monday October 29th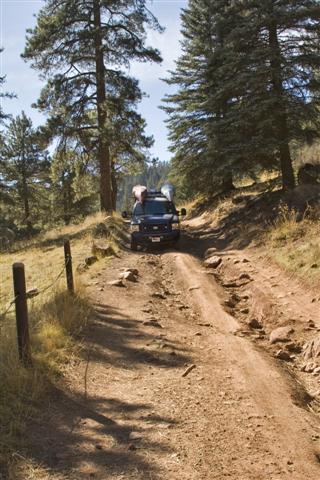 Today was one of the best days that we have had since being in New Mexico. We packed a lunch and headed to San Antonio Hot Springs which are perched on the side of a mountain. The drive in was absolutely treacherous for me which meant Pat loved it. The ruts in the road were so deep I thought we were going to lose a tire and we had to drive around numerous rocks that had fallen from the mountain side.
The thing that completely amazed me is that on our way down the hill we passed a Mazda four door economy car and also an old Dodge minivan heading up the nasty road! How the heck can they even get through this terrain without tearing apart their undercarriage?
As we hiked the short trail to the springs, we looked up and saw a couple of naked people in the various pools. As we both got into these bubbling hot pools of natural mineral water, Pat removed his shorts and I followed his lead and removed my suit.
We sat is the springs for hours, testing each of the four pools for warmth and depth and decided on our favorite. The view was incredible and the other folks had left long ago so we were by ourselves in this picture perfect paradise. Finally, after a full year on the road, I am actually taking a nice hot bath.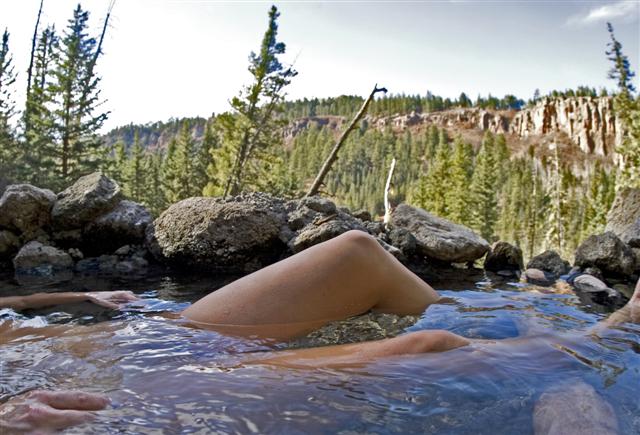 I said to Pat that if I stayed in these springs much longer, I would need a nap before we hiked back down.
We dried off and hiked down to the base of the mountain where we sat having lunch by the fast running stream. It took us about an hour to drive the rugged 5 miles out, but we made it off the mountain in time to see the Tent Rocks
It is only a short trip across the highway to get to Tent Rocks from the San Antonio Hot Springs and it was definitely worth the drive. The view was spectacular and of course Pat had to go climbing around on these mounds of jutting rocks that drop into a deep canyon hundreds of feet below. I of course was not that crazy about all the climbing up, but I did it anyway. This time was alot different than in Bandelier State Park. There was no ladder, no hand rails and no safety net at all. I ended up climbing all the way up to this peak and then freaked out when I looked down.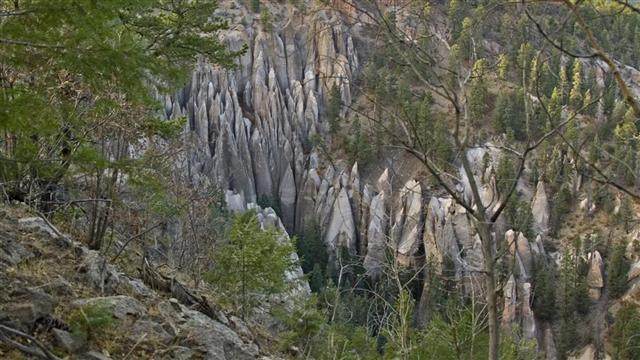 Pat was all enthusiastic and asking me to look over some huge ledge when he noticed that I was in shock. He asked me what was wrong and I said with tears in my eyes "How did I get hear and how am I going to get down? Now I can't move" Of course he laughed at me and helped me to a safe place where I hurried down the cliff and put my self behind the guard rail on the dirt road.
I wanted to post the picture Pat took of me sitting on the ledge crying, but he had already posted it on his blog, so you can check it out there.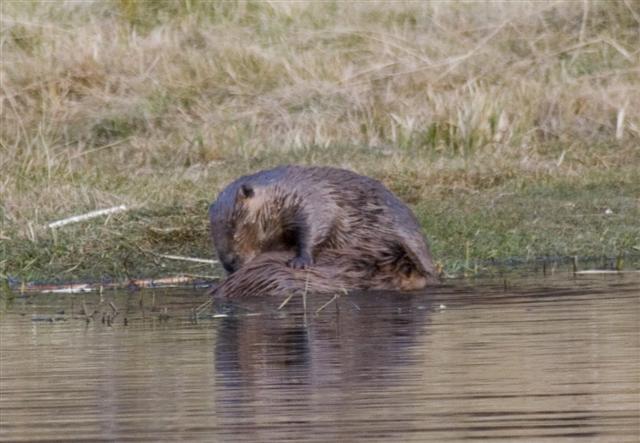 We got back to the camper just before night fall and hiked over to a spot where we had seen some beaver action going on the day before. We sat with some snacks and a cold beer while witnessing the likes of five beaver putting an addition onto their den. Darkness came way to early and we headed back to the camper for some dinner and a 9 o'clock bed time.
I tell ya', our life is so incredible, I just have to pinch Pat sometimes to make sure it's not a dream.
Wednesday October 31st
El Malpais National Monument is located just outside of Grants, New Mexico, set not far from the interstate and only a short hike to enjoy the beauty close up. We were actually able to climb up into the very center of the spectacular La Ventana Arch and get some great pictures.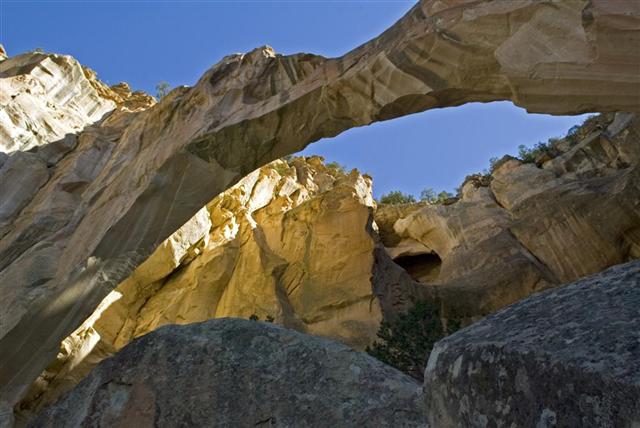 When we left La Ventana Arch, we drove for a few hours down some more New Mexico dirt roads, which I just love (NOT) to get to the Big Lava tubes area which are estimated to be 3000 years old. This area of New Mexico reminds me so much of Hawaii that all I am missing is the crashing of the Pacific in the background and a few palm trees.
We had no idea what to expect on this excursion of .4 miles to get to the Caterpillar Collapse in the center of the large mounds of Lava. Lava Tubes are formed when the Lava on the outside of flow hardens while the inner lava remains warm and flowing. Eventually the outer layer of the lava collapses which forms a huge cave.
We brought the dogs with us which was so stupid!! They loved the hike even though the ground was so incredibly unforgiving, Pat had talked to a Park Ranger about hiking on the lava and she told him that when she guides hikes full time through the summer months, she goes through a pair of hiking boots per month!. Thankfully it was a short trip and when we got back to the truck, both dogs wanted to continue to hike.
Our trip back to the BLM Campground that we were staying at was sooo long. Pat decided to take a scenic road which was 2 1/2 hours longer than it had to be. I joked with Pat that we should leave the light on for the trick-or-treaters coming by back at the camper. In reality we hadn't seen any one for hours either on the road or any of the hikes we took. We had the whole National Monument to ourselves; that's the beauty of traveling to places out of tourist season.
Check out the El Malpais Gallery to see photos from our day exploring the Badlands of New Mexico. We also have a October Gallery with a bunch of photos that didn't fit into their own gallery from this past month.