When we realize our insignificance in this world,
it some how relieves the pressures from society to succeed - Cindy Bonish 04/07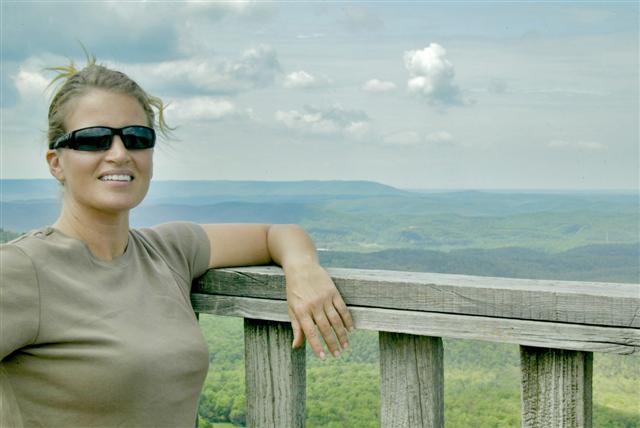 Cindy's June 2007 Blog
Every Miles A Memory
January Blog February Blog March Blog April Blog May Blog
__________________________________________________________________________
If you haven't read the January, February, March, April Blog or May Blog, then you might want to start there before jumping ahead to this months.
June 1st 2007
We have been looking for a Camping World for a couple of states now. We have decided that the truck is starting to sag a little from all of the weight it is towing fulltime. The leaf springs are completely compressed together and there is no room for any give. It's basically sitting on the helper springs when loaded up like we keep it.
We are going to install something called Air Bags so that we can adjust the amount of lift that we need per situation. We learned the hard way to buy major purchases from National Chains that are pretty much nation wide just incase you need to return or repair the item. (Our brand new flat screen DVD/TV hasn't worked since we got it from our local ABC Warehouse due to the vibration from the road)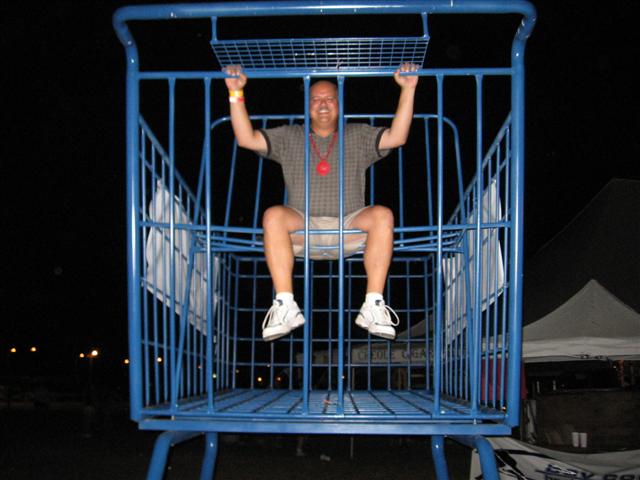 I was so excited to go to Camping World, I told Pat it was like going to a store right before Christmas to buy your own presents. I got a lot of things that we will return because I was so filled with the urge to impulse buy.
We are also having a new Max Air Fan put into the bedroom above the bed. We figure this will really help to have three fans to exhaust the heat in the summer time, especially at night while sleeping. Camping World can't do the work on the truck or camper until Thursday the 7th so we will be in Nashville for a while. Times like this when we really miss the quick service of our local General RV!!
While looking for campgrounds in Nashville, we came across three of them that are all over $50 a night which is not in our budget. I called another campground that is 20 minutes out of town. This campground is much more reasonable at only $15.50 a night. This is with electric only, no sewer or water.
We both agreed that would be fine for our needs since all we want is to run the A/C on these 90° days. When we arrived, we pulled up to the office and noticed that most of the campers are pretty close together. I went in to pay and Pat stayed in the truck. I asked the lady at the counter if I could take care of the registration and payment, and she said she was waiting until Pat looked at the site. This should have been my first clue.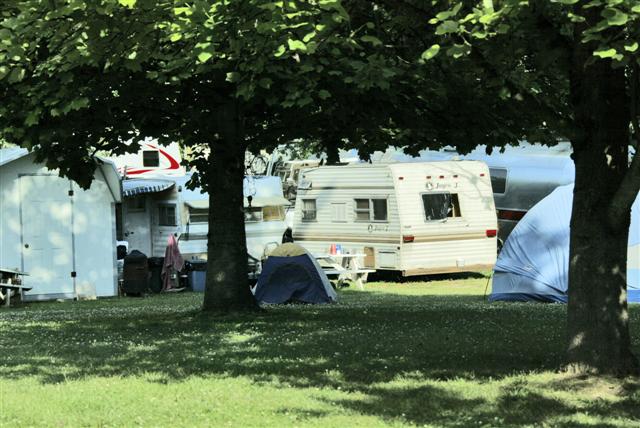 I said "Oh that's OK it's getting dark and we don't like to drive in the dark, so any place would be fine" I registered for two days and saw Pat drive off to pull into the site with the woman's husband directing him.
A few minutes later the gentleman that showed Pat where to park came back into the office. His wife asked him "Where did you put him?" his reply was "In the front yard." Now this had me a little scared for a minute.
The gentleman said to me as I exited the office "Did you see where he went? Just walk right in the front yard of my house and you're right there."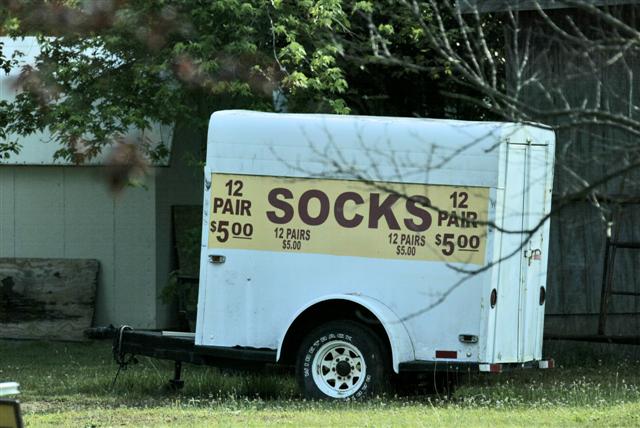 This is a very interesting spot especially since we are neighbors with another camper who is also parked in the front yard of the owners home.
The most bizarre part though is that we are plugged into the business next door to us? I'm so sure it is a prosperous one, besides how often do you get the chance to find a Wholesale Sock Shop? A shop where they make them right in front of you.
I'm sure the highest technology is applied while making the white tube socks. I guess this is serving our purpose for a couple of days while we catch up on some house stuff and get the beginning of the month bills taken care of.
I will try and sneak some photos of our surroundings today so that I can share them with you. I told Pat that after these two days we can find a Wally World to stay at for the rest of the days, funny how that will be an upgrade!
June 2nd 2007 You've got to be kidding me!?!
We headed out this afternoon to check out downtown Nashville. We wore cool comfortable clothes because it is so darn hot right now. Just as we entered town, it started to down pour. After driving around for a little while in the rain we decided to go to a HOG (Harley Owners Group) event that we had been referred to the day before.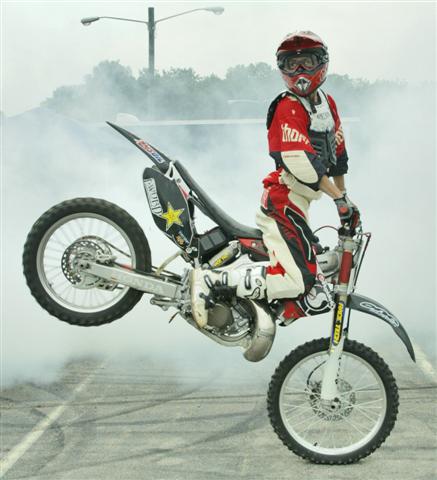 We got to the event and it was pretty much dry on this end of town which was great for the festivities. I guess we got there just as they were wrapping things up for the weekend. The name of the event was The Tennessee State HOG Rally and it had started on the previous Tuesday.
They had planned rides for the HOG members and every day they have a roster that is filled with events for the participants. This is a yearly event and one must own a Harley in order to attend.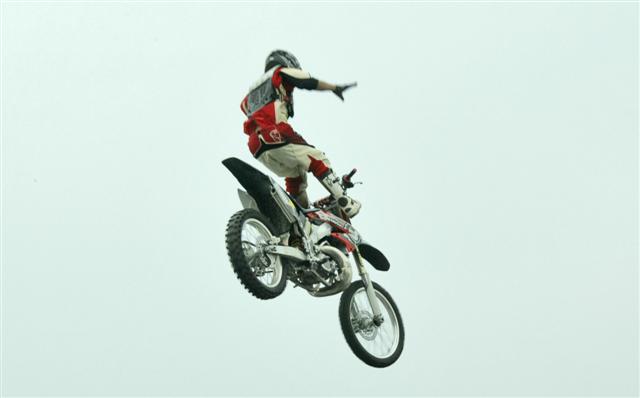 This is NOT an Easy rider event (thank goodness), it is a family oriented festival with a little something for everyone. When we arrived we did have a chance to catch some of the stunt riders doing there thing.
They were using ramps to launch themselves high over the parking lot and do tricks such as the Superman, the Knack-Knack, and the Can-Can. Sounds like I know what I'm talking about doesn't it! Pat just told me what these things are because he used to love to watch movies with all this stuff in them. He also can do these things on his pedal bike.
We were talking to the site coordinator of the event, Mike Lane, and he let us know all the great things that we had missed for the weekend. He did say that they had some great performances later on in the afternoon that we would be more than welcome to stick around, take some photos and enjoy the music. When he told us who was playing I about crapped my pants right there.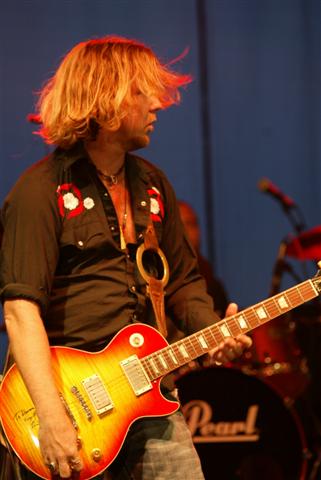 Mike told us that Delbert McClinton would be playing for the HOG members!! Delbert is my most favorite blues singer ever. Every since I heard an interview with him on NPR a few years back, I have wanted to see him.
Pat and I listen to his raspy soulful music pretty much every day. Pat and I were talking a couple of weeks ago about our adventure and Pat said "Wouldn't it be awesome if we could some how find out where Delbert might be playing and could travel to see him?" Now the chances of us being at the right place at the right time really took me by surprise.
The opening act for Delbert was Devon Allman and Honey Tribe. The band was excellent and the singer Devon Allman had some nice pipes to belt out his original tunes. The base player was incredible and they sounded real tight together. We enjoyed their set but I was really looking forward to seeing Delbert McClinton.
When Delbert came on my heart skipped a beat. If you haven't heard him before and are not familiar with his music, you are missing out. I'm sure most people have heard his song "Givin' it up for your love" and his duet he sang with Bonnie Raitt "Tell me about it" but this is only scratching the surface of his conglomeration of music.
He started off his carrier in the early days as a member of the Ron-Dels and has continued making great music every since. His voice is like nothing or no one that I have ever heard before. He has an aching to his sound that makes really feel what he is singing.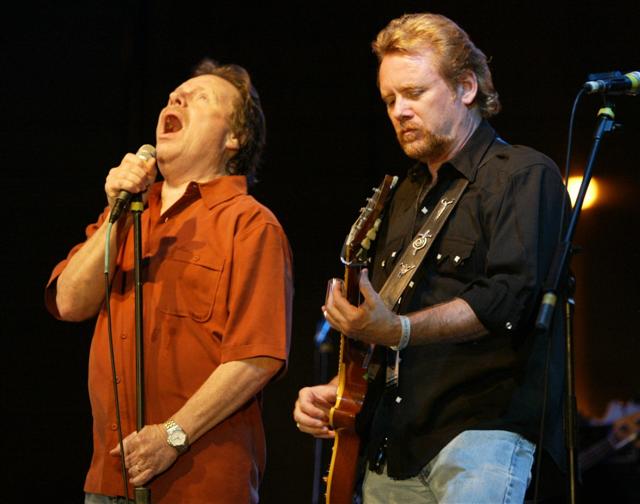 When he would howl his yearning into the microphone, I wanted to go up and hug him and tell him it will all be ok. His performance was right with the crowd also.
Everyone was up dancing and shaking and clapping. The horn section kept me moving and I had suddenly become a dreaded "chair dancer". I finally told Pat that I wanted to go up and dance even if it was by myself. He and I walked up to the front of the stage and I stared at Delbert the whole time he was crooning the heart felt songs that he was belting out.
The night couldn't have been more perfect if we had planned it. At the end of his set, a young lady climbed up on stage and asked him if she could sing a song with him. He danced with her for a while and they sang a few notes together. He left her on the stage to finish the song for him and she was so excited. I heard her say "This is a dream come true".
After the concert was over she held her husband and cried on his shoulder because she was so overwhelmed. We drove home and all I could say was "What are the chances of this happening to us, it just keeps getting better"
Make sure to check out the 2007 Tennessee State HOG Rally Gallery for plenty of great shots of the Stunt Team, Delbert McClinton and Honeytribe.
June 3rd 2007
Since we arrived here in the Country music capital of the world, we have seen The General Lee pass by us about 10 times. We found out that we have arrived on the weekend of the seventh annual DukesFest. Thinking that this will definitely be some good people watching, we have decided to brave the 90 degree heat to go check it out.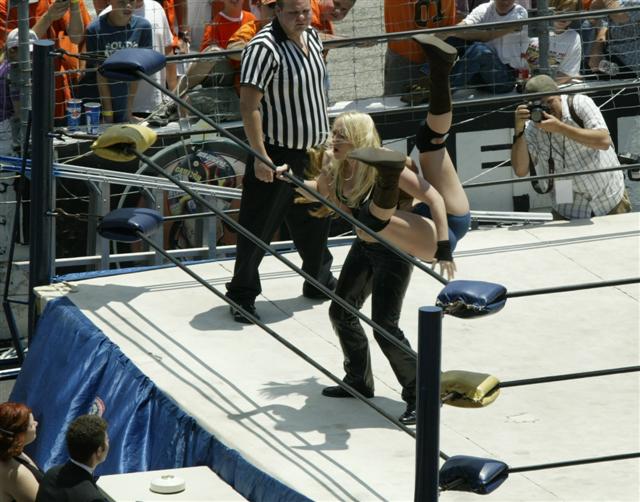 When we got to the event at the Tennessee State fair grounds we walked right in to find a great wrestling match with two chicks in a full size ring. They were throwing each other all over the place giving hair pulls and body slaps while screaming at each other the whole time. Now I figure we are in for some good times here.
We walked around on the grounds and checked out the 130 replica General Lees that were parked for all to inspect. Alot of the vehicles had some photos of the actual people from the Dukes of Hazard TV Show with these cars.
This is some serious car care and restoration and I was actually pretty impressed with beauty of the cars. Most of the Dodge Chargers were 100% restored although some were still in the beginning stages of bringing the General back to life. We met some people who had emblazed their bodies with a permanent tattoo of The General on them and saw others who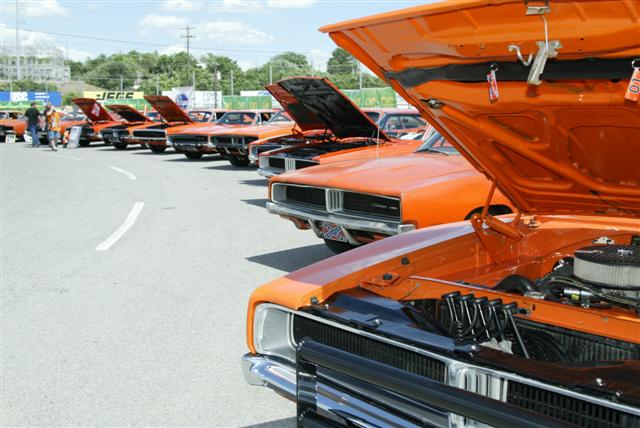 tattooed the faces of the entire cast of The Dukes of Hazard on their back. I guess we all need something to believe in?
John Schneider, better known as Luke Duke, emceed the events which also included some stunt men crashing and flipping Roscoe's Police car into the back of an old RV. The General Lee jumped 30 feet in the air to clear the camper, John Schneider's motorcycle and a car!! It was quite fun to see all of the preparations it takes for just one stunt.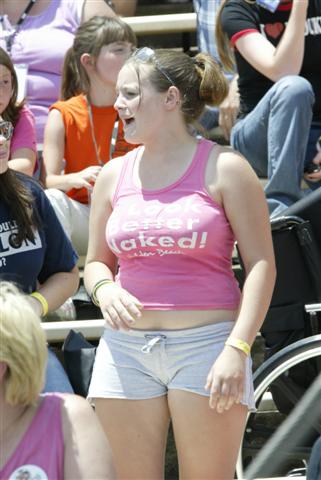 I would have been just fine with the people watching even if they had no events to keep us entertained. Some people who had the infamous 'Daisy Duke' shorts on apparently do not own a full length mirror.
One 13, maybe 15 year old girl had a size 2 outfit on her size 14 frame that said "I Look Better Naked" (I hope so because you look awful in that outfit) Where is her mother to let that kid go out of the house like that? By the way ladies, Luke is still hot!
I forgot to mention that in the morning before we left, Pat and I had an argument over something stupid (probably Pat). I had said to myself that I am just not going to talk today and he will hate that.
I was doing pretty good on the not talking thing for the whole ride there and for the first hour of event. We had walked back to the car to eat some lunch that I had packed in our cooler. Still not talking, I reached back into the cooler and accidentally elbowed Pat in the forehead, very hard. I started laughing so hard and I said "I can't even say that I am sorry to you because I am so mad!" That was the end of the argument. Some times things are settled in strange ways.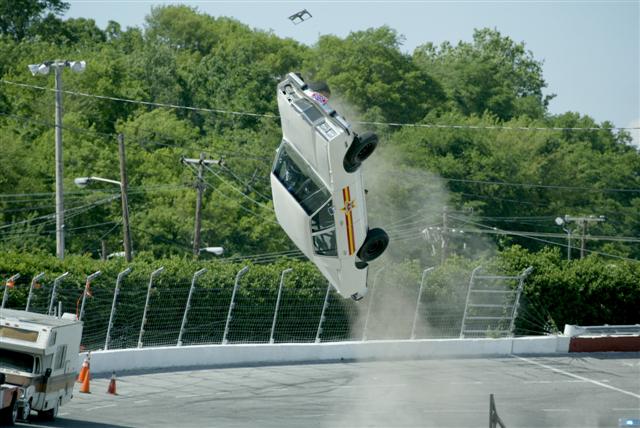 Some of the wild antics of the Dukes Stunt Team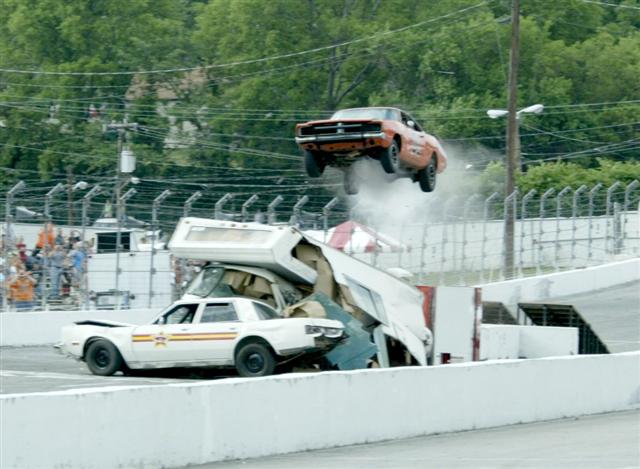 Make sure to check out the Dukesfest Gallery to see the entire sequence of Jumps performed by the stunt team. There's 3 different sets of Jumps they performed with one of them being a 180 degree twist!!
June 6th 2007 Basetac and some very sore Wrists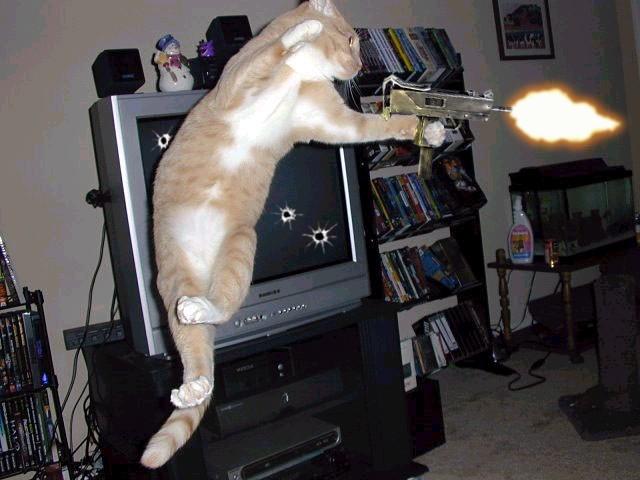 With the temperature in the mid 90's and any outdoor activities out of our agenda, we contacted a company called Basetac Training Center to see if we could take a few new lessons in hand-to-hand combat. Pat had sent them an email to find out some info about their hand gun training and see what we could learn in our short time hear in Nashville.
Pat and I used to shoot our guns a lot when we first met, but in the past few years I have become uncomfortable handling a pistol due to the lack of practice I have with them. I've always felt I shouldn't shoot or handle anything I don't feel 100% comfortable with.
With our busy lifestyle we used to lead, I hadn't shot in quite awhile. I told Pat last month that I would really like to become reacquainted with our pistols and maybe take some self-defense classes to compliment the training. This class at Basetac seemed like it could give us the opportunity to expand our knowledge of both subjects we were interested in.
We received an email back from Tracey at Basetac almost immediately. She welcomed us to come to the class and left Pat her cell phone number if we had any questions. When Pat called Tracey, who ended up being an instructor in the class, the two of them spoke for about an hour, swapping stories and talking like old friends.
I thought that Tracey would be a male since they had so much in common. Turns out Tracey is a 5'3" woman, who can really handle herself in a difficult situation. From what I got from eaves dropping in on their conversation, Tracey has been teaching and learning self-defense for just about 20 years. She has been working with Levi Montgomery for about 10 years now and it sounds like they make a pretty good team.
Since we are waiting for our appointment at Camping World tomorrow at 8am, we decided to spend the night in the parking lot and be ready to turn in our vehicle first thing. This poses the question - "What do we do with the dogs during our class?" It is way too hot to leave them in the camper with no A/C. So what do we do?
We decided to take them with us and leave them in the truck with the air on while we went in to the class. I found some humor in this since the class that we went to was in a non-air-conditioned gym, and they sat out in the truck freezing while we sat in 90° heat. I'll have to agree with Pat here when he says "They are so spoiled!"
The class began with Mr. Montgomery giving us some instructions on the frame of mind we should have if we are ever put into a compromising situation. Everything I've ever learned about being in an uncomfortable situation and ways to protect myself have been completely different from what Levi was explaining to us.
He informed us that if you react to the situation with the same frame of mind that the attacker has, your odds of coming out safe are increased tremendously. Attackers feed off of your fear and panic.
He explained that if you can turn that shock and fear around on your attacker, you'll end up with the upper hand. Now I know this sounds like "Yeah Right!" and you'd be saying "How am I supposed to do that?" Well that's what this class is about, learning how to turn the situation around and become the aggressor when put into a situation where your integrity and life is threatened.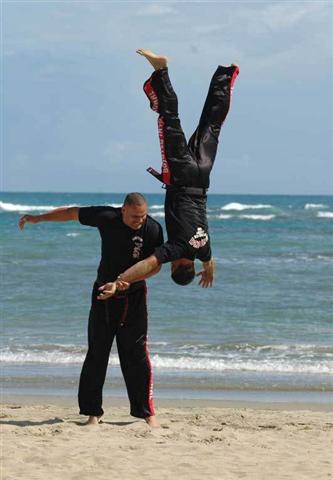 It is hard to believe that the few simple moves that Levi taught us really worked as efficiently as he said they would. The reason why I know this is because I was brought to my knees numerous times and even had to lay down on the floor for mercy as the pain was very extreme from such a simple move applied to a certain pressure point or tendon.
These tactics were explained to us and how and why they worked, which muscle and tendon they were effecting and the final result of the maneuver. Most giving you the option of disabling the limb, or just leaving it useless for a short time.
After a couple of hours of practicing these maneuvers with an instructor, I felt comfortable enough with them to practice at home on Pat (YEE-HAW!) After the hand-to-hand session, we had a conversation about gun handling and the proper techniques for different situations. I learned more in this 20 minutes then I have in the last decade of dabbling in weapons training in various classes.
I explained to Pat on the ride home, that if I had a few more classes like this, I would feel much more comfortable when handling and shooting a gun. I did some of the dumbest things with my gun during the class and realized, its a darn good thing that I haven't picked one up in a few years.
As we said our good-byes, I thanked Levi and Tracey for all the knowledge that they gave me in these two short hours. I also said that we would be back on Monday to take the next class. Pat found this quite funny because when we were going to the class, I said to him "I know how you are, you are going to want to keep taking more classes and we just don't have the time to stay in Nashville to do it."
When we got in the truck for the short ride home, I said "OK, we are going to have to figure out a way to take at least two more classes, I don't care how we do it." We figured we can drive back to Nashville from Bonnaroo on Monday and Wednesday, (about an hour and a half), just so that we can come back to these classes and learn as much as we can in the short time we have here.
I really wish there was a way to learn these skills without having to be here in Nashville, but after being shown how, I realized this type of knowledge is something you only learn after months, maybe years of practice.
Thursday June 7th 2007 CMA Music Festival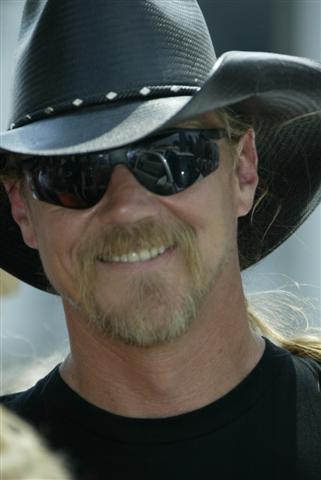 When I woke up this morning my wrist on my right hand is completely swollen and blue from last nights adventure. But I'm thinking the knowledge I gained was worth every bit of the beating I took. I honestly can't wait to do it again!!
We had stayed in the Camping World Parking lot last night because we had to have our camper there at 8am and the only campgrounds available in the Nashville area are miles out of town due to the CMA Music Festival.
Once we dropped the truck and trailer off to get fixed, we had the rest of the day to ourselves, and with today being the first day of the CMA Music Festival, there was tons of stuff to keep us busy in downtown Nashville.
We rode the motorcycle into town and man was it hot. As the heat from the road and the bike was rising from below me, I thought my shoes were going to melt to the pegs they were on. Even the air movement from the speed of the bike was a balmy 100 degrees.
I was really excited when I got to see this tall drink of water up close!! For those that don't follow country, Trace Adkins is one of the Hot Country Stars and stands about 6'8". He pulled up in an Escalade with his three children (all Girls) and I am assuming his wife. On the front license plate it said "One Hot Momma, Do You Wanna?" He stayed for a while, standing in the hot sun like the rest of us, to sign some autographs and make his fans happy.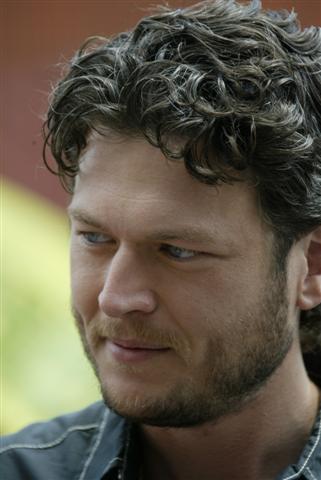 While we were walking though town we also got the chance to see Blake Shelton doing a spot for CMT. The poor fellow was so hot that his assistant kept dabbing the sweat running from his brow.
So many people were gathered around him, I don't know how he could even breath. Blake is quite the hottie also! I could see him real good because he stood a head taller than anyone else in the crowd.
I'm looking forward to tomorrows events and can't wait to find some more country music singers hanging with their fans. I hope they are all as good looking as the ones we got to see today. There's something about those tall country boys in boot cut jeans with the boyish grins that really get me going!
June 8th 2007
Here at the CMA Fan Fare They have packed this town with fun things to do for the entire family. Pat and I walked through the Fan Fare Exhibit hall for most of the afternoon. The Exhibit Hall is where the people can meet their favorite artist and get their picture and autograph from many of the artists who are here.
Hundreds of people were lined up to see artist such as Big & Rich, Mark Wills, Darryl Worley, Trace Adkins, just to name a few. I believe that over 30 different stars participated in this frenzy of an afternoon. We would be standing on one end of the large exhibit hall and hear hundreds of fans screaming on the other end when a new artist would walk in.
I can show some photos of our fan fare to give you an idea of the star struck day.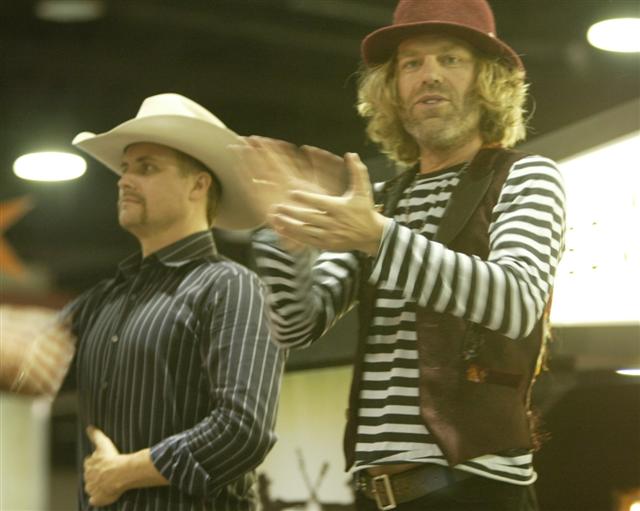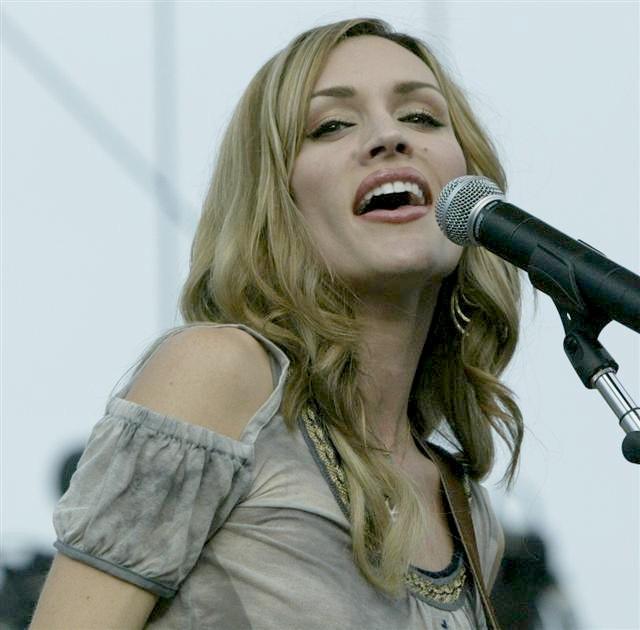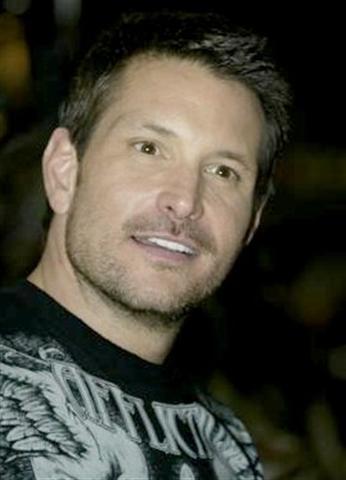 Big & Rich Jennifer Hanson Ty Herndon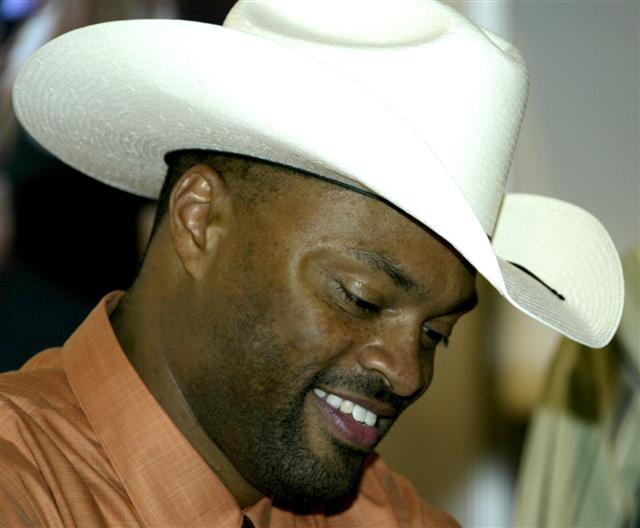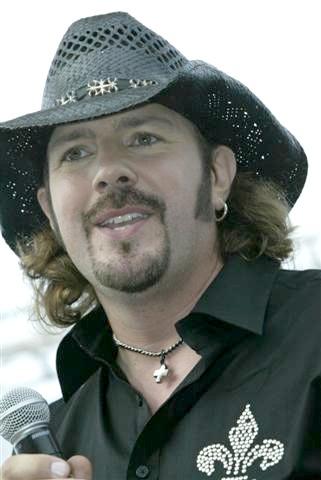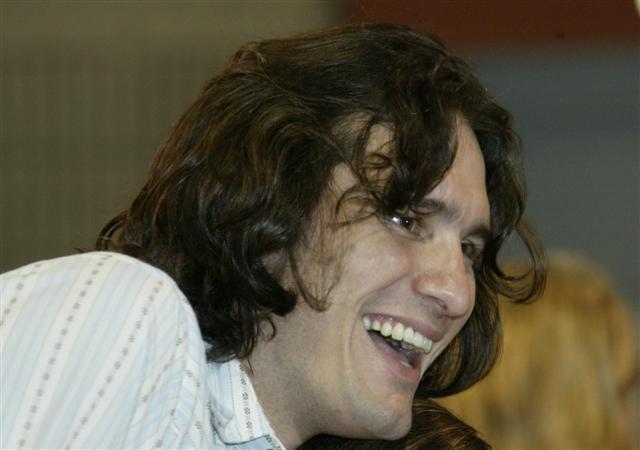 Cowboy Troy Dusty Drake Joe Nichols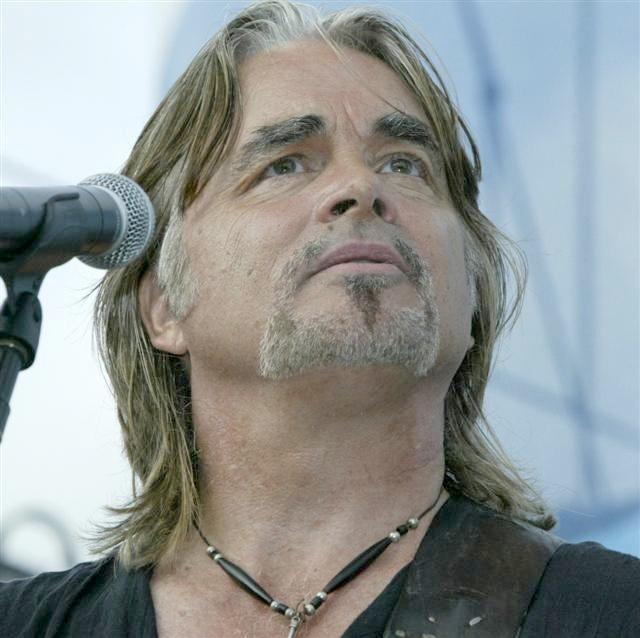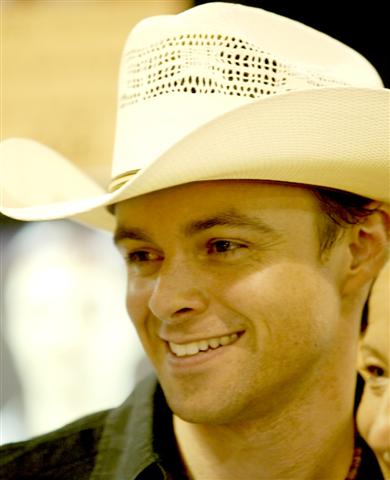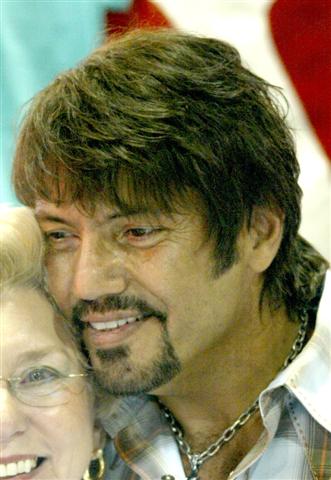 Hal Ketchum Sage Keffer Jeff Bates
Make sure to check out our CMA Fest Gallery to tons of great shots of some of the many Country Music Artists we met. We'd also like to say thanks to the Press Coordinator, Brandi Sanford for making sure we were taken care of at the event!!
June 14th 2007 The Bonnaroo Experience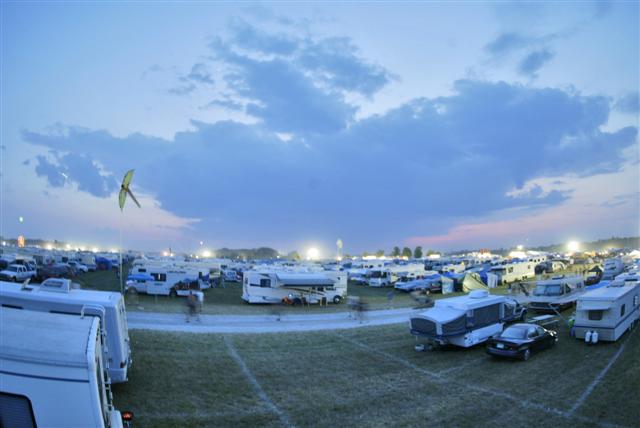 The past week has been a flurry of excitement. Between going to the country concerts at CMA Fest and finishing up another wonderful class with Basetac, we left Nashville completely exhausted.
I must say that if anyone who enjoys country music ever has the chance to go to the CMA Fan Fare, take advantage of the opportunity. I guess one has to plan ahead for the opportunity to have some where to stay, due to the popularity of the event, but it is well worth it. The nightly concerts were great with stars such as Carrie Underwood, Montgomery Gentry, Miranda Lambert, Sara Evans and way to many more to go into.
We are going to try and catch at least one more class at Basetac before we leave Nashville. I am sure that it would take months of practice to really be comfortable with the application of the moves that were taught to us, however, I would still like to have one more class under my belt. The last class that we attended I basically worked with Levi the entire time.
He doesn't fool around when it comes to showing you what could happen to a person if they don't know how to defend themselves. Even when it was just Levi acting like he was the attacker I instantly went into panic mode. Hopefully with a little practice on Pat, I will get better at applying what I have learned.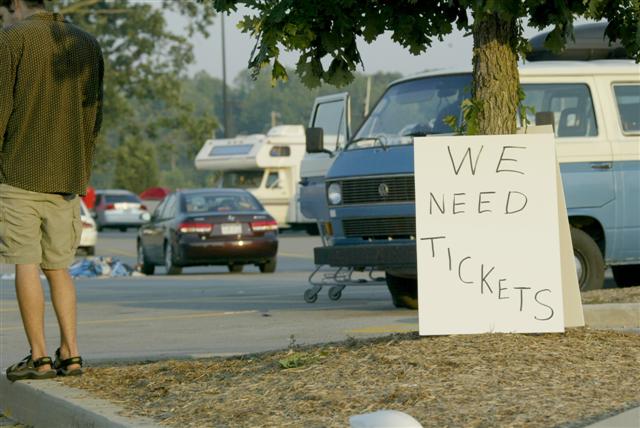 Pat and I have drove about an hour to get to Manchester where we are attending Bonnaroo. We arrived a couple of days early because we heard that people sit in traffic for hours to get into the event. We stayed in the local Wal-Mart since the area campgrounds are full. WOW! This is the strangest bunch of people I have even seen at a Wal-Mart.
When we pulled in our first thought was, hurry up and find a spot to park. There were so many RV's parked in the lot that I doubt the regular customers could have found a spot. It was like watching a Side Show at the local carnival. Some people had hoola-hoops and jump ropes out playing games and almost all were getting totally baked. At 7:30 in the morning all we saw around the parking lot was beer cans being popped open for breakfast. Any spot of green grass was topped with a tent which had at least two people and a dog or two in it.
There were bodies on every open parking space at night, some with sleeping bags, some just lying flat on the pavement. All we could smell was the distant scent of a skunk and I don't think that there are any skunks in this parking lot, if you know what I mean.
We spent the day outside under the shade of our awning just people watching and waving at the numerous cops that rode through the parking lot. We had to go to the local post office to pick some things up that my mother-in-law mailed to us and I over heard the locals calling this event Bum-a-roo, I now understand why.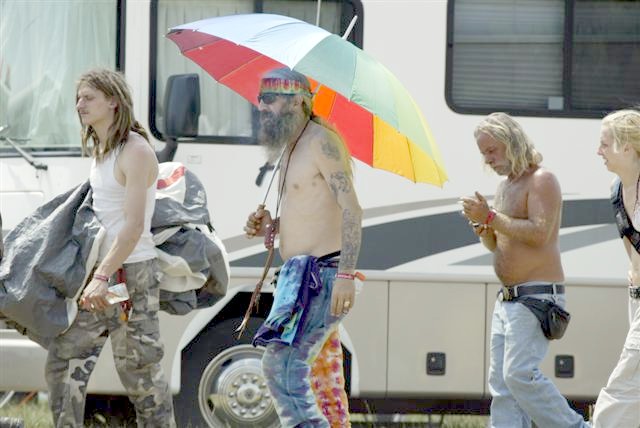 What a difference from last week. I guess if I traded all the cowboy hats for dreadlocks and all the bling and rhinestone shirts for wife beaters and hairy arm pits (on the women that is) these are basically the same kind of people, all celebrating music in their own personal way.
Every one is enjoying one of the things in life that brings a smile to your face and a tune in your heart, no matter what that tune might be.
We finally arrived at the gates of Bonnaroo only to find out that we couldn't bring pets, guns, bikes, or motorcycles into the event. We were also informed that we could not bring in any drugs by the pound! What that means?? We didn't even ask, but we were told every vehicle will be thoroughly searched. This meant that we had to find a place to board our dogs, ditch the motorcycle somewhere, and get rid of our bikes. I wont even talk about the arsenal Pat has in the vehicle and camper!!
Needless to say we were going to be busy for the next few hours! Finding a local vet to board the dogs for us was very easy and not that expensive. The motorcycle was dropped off at a local repair center to get a new battery put in and they said it would be fine to leave it there until the event was over. The rest of the stuff was a little harder to deal with.
Now, we don't have any drugs by the pound but we do have two bicycles that we carry with us at all times. The first thing the team of vehicle searchers, at least six of them, said was we could not get in with our bikes. They also found two boxes of bullets in the truck!?! WTF Pat?? Pat talked to the supervisor who allowed us to lock our front tires to the fence at the entrance and we had to throw away the boxes of bullets. Easy enough to do, I just hope our tires are still there when we leave.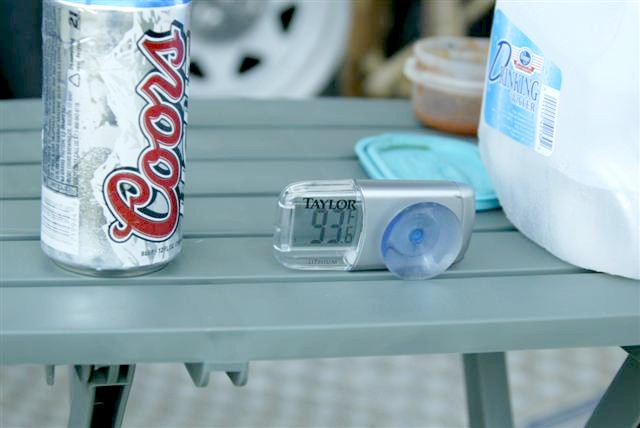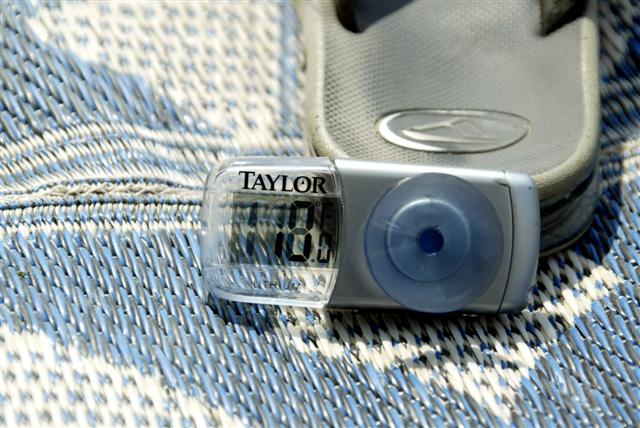 This was our thermometer in the shade - it reads 93! This is it outside the shade on our Patio Mat - 118!!
We are parked in a big field amongst what seems like millions of other campers. We have no amenities, so during the day it gets incredible hot. Even with the solar panels we can't run the A/C in this hot weather. We sat outside under the awning today and it was a blistering 93 in the shade and 118 in the sun!!!! I can't even believe so many of these people can stand being in a tent when the temperatures get this high.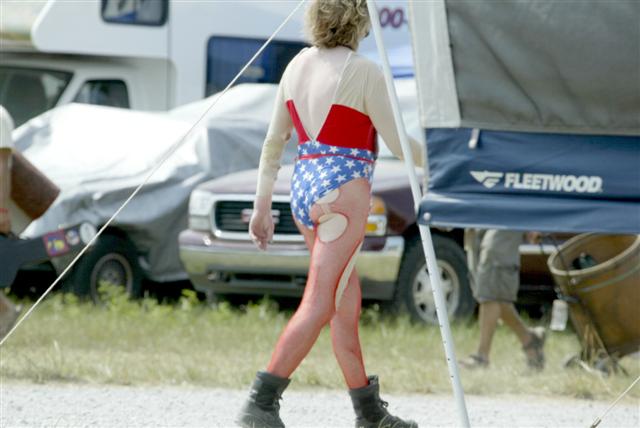 While we were sitting outside we had the chance to witness a drug bust. Two Canadian Mounties stood watch on their horses while two under cover cops confiscated a pound of mushrooms from a Rasta man. They took the goods and let the guy go! Within the two hours we sat outside we saw quite a few exchanges of goods behind the campers and found it interesting to watch the effects later in the evening.
We walked around at night time and I decided that I would have loved to be at this event at the ripe old age of 20 or 25 at the latest. These people love to hear the music, enjoy each other and get really high. It makes for some great people watching! We had to watch every step as not to walk on top of some one passed out on the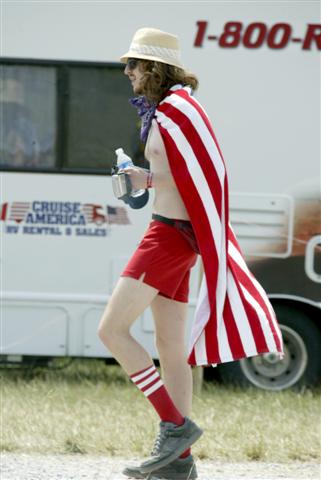 ground. If someone gets the urge, they just lay down in the grass and fall asleep, even if it is right in the middle of heavy foot traffic.
Today is our day to really enjoy the whole experience. I told Pat that we are going to spend the whole day mingling with open minds and the night watching the concerts. We will see how long we last! It' 9a.m. and it is 80 degrees in the camper. There's not a cloud in the sky and nothing but sunshine which means that heat will be here to keep us company again today. Thank goodness we brought plenty of H20 and good supply of Coors Light!
Make sure to check out the Bonnaroo Gallery for tons of wild shots! I'll warn you right now though, you might see some crazy things by clicking on that link!!
June 15th 2007 Our First Real Day of Bonnaroo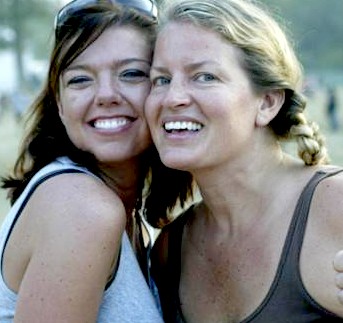 OK, so you know that old saying "When in Rome do as the Romans do" that was my motto for today. I had finished my first Coors Light by noon and was on my way toward the stages to meet & greet some new friends. Our first stop for the day was to watch a five piece Jazz group called The Firecracker Jazz Band.
The band was very entertaining with their big band sounds and if it wasn't so hot, I'd have been up dancing. They played alot of Louis Armstrong tunes and the lead singer could really blow a trumpet! How strange it is that some people can sing, dance, play numerous instruments and do them all well at the same time.
I can't even carry a tune in the shower by myself, let alone have any instrumental talent going at the same time. I felt bad for the poor guys though, due to the lack of air movement in the tent they were playing in, I'd swear that within the first two songs all of them had sweat just dripping off of their brows.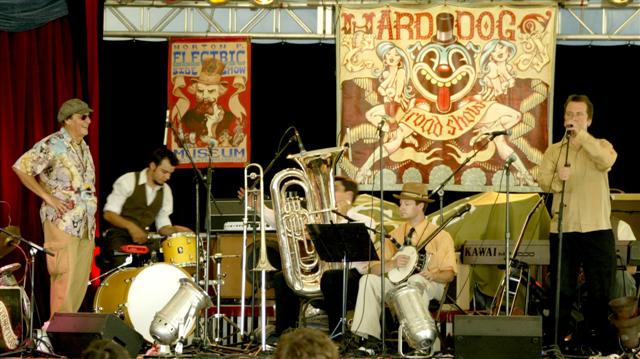 Pat and I both said the one thing they need here at Bonnaroo is better air circulation in the theatres. I wouldn't be surprised if one of the entertainers passed out from heat stroke over the weekend. Even a few exhaust fans in the enclosed tents would be very helpful.
From one show to the next, we were on our way to the next stage to see a band from New York called the Brazilian Girls. The lead singer was actually Born in Rome and being able to sing in five languages, the lyrics were mixed with a little of each language, sometimes in the same sentence. The music they played was really different from what I am used to although I really enjoyed it. There was alot of synthesized songs and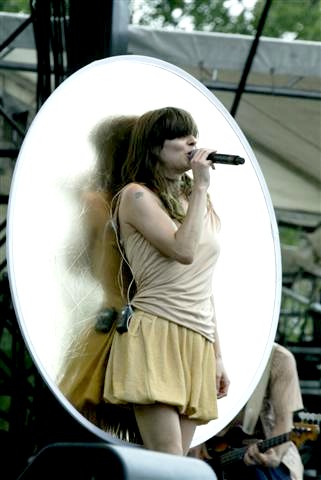 some distortion in her voice which added a sexy, eerie quality to the music.
We couldn't figure out what she was wearing around her neck?
Once she opened it, we both agreed it was a reflector that a photographer uses to bounce light onto his subject. After the first three songs she ended up opening it up and strapping it to her back instead of around her neck. It looked pretty cool though, surprisingly enough. After we heard her sing a few songs such as "Sexy Asshole" and the infamous "Pussy" we decided to get ready to move onto the next big event.
One of our favorite country singers was playing on one of the big stages so we hurried over to get close to the front. We arrived just in time to hear Dierks Bentley kick off his first set. Fortunately for Pat, he can go up to the front of the stage with all of the other professional photographers, so I always end up watching the shows by myself while he is taking pictures for the first three or four songs.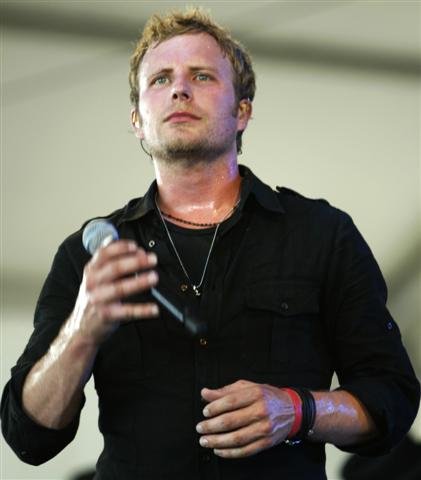 I ended up standing next to a group of people who were taking part in some fine Jamaican produce. They offered to share, and like I said, "When in Rome." By the time Pat found me in the crowd with my new glassy eyed friends, I was really enjoying the show.
We stayed for the entire show as did most everyone else. I was really surprised at how many people were watching this type of music.
Dierks Bentley was the only country music performer at the entire Bonnaroo event, and the tent he played under was packed full of screaming fans. Most of the attendee's that we have seen at Bonnaroo don't really strike me as country music buffs, but there were sure quite a few who came out to see this sweaty piece of Man-Hood.
After the show, we came back to the camper and enjoyed the company of our neighbors. We all had a couple of beers, shared some stories and then went back to the adult carnival and the night time events. I think the People Watching at Bonnaroo is extraordinary, with the young and old dressing to catch the eye of the other attendants, there is something for everyone to look at. Some are very normal looking, but the normal ones actually stand out in the crowd more than the extravagant people.
At one point we just sat down under a tree and enjoyed the flamboyant dressers and painted ladies. I will enclose some of my favorite photos and you can see what I mean! I will say that Pat was at a loss, as the men with their ripped stomachs and sweating bodies out numbered the topless ladies 5 to 1. Oh Well, this time I win!!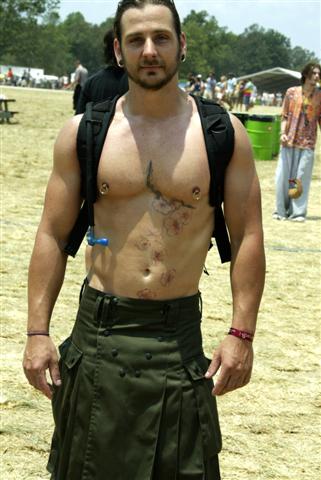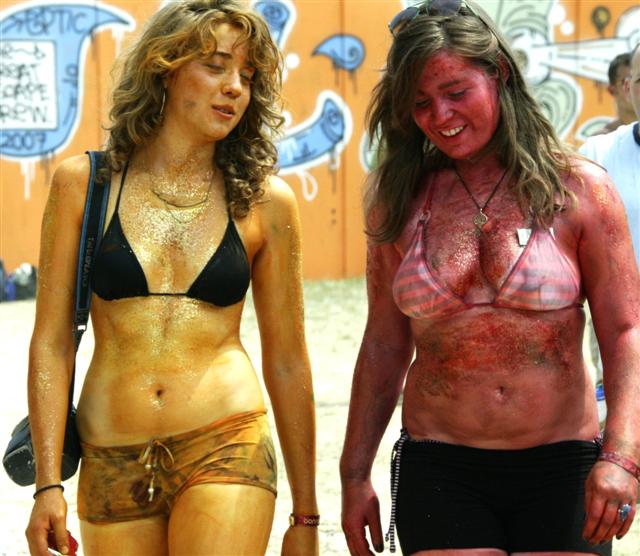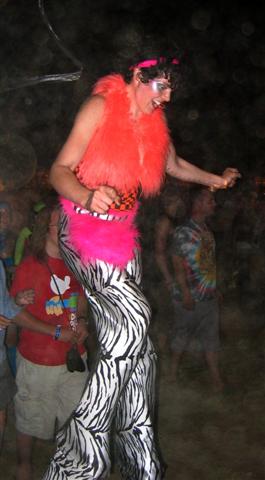 Make sure to check out the Bonnaroo Gallery for tons of wild shots! I'll warn you right now though, you might see some crazy things by clicking on that link!!
June 16th 2007 Our Third Day of Bonnaroo!!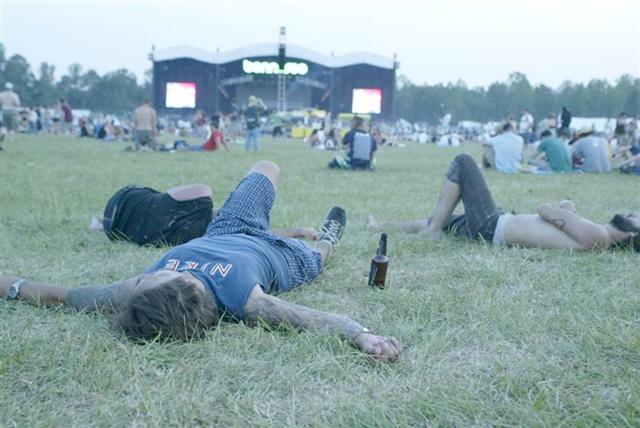 I was awakened this morning at 5:30 a.m. by the noise of three little girls giggling next door. I mean they were having a great time, with almost surreal laughter coming in our open windows. I said to Pat, "They have to be on something to be having this much fun at this time of the morning."
When Pat talked to our neighbors after we woke up, he found out it was actually three of the biggest guys in the camp. Apparently they had over indulged in some of natures pasture grown nuggets, those little spores that induce some serous hallucinogens! We are leaving to start our day and the young men are still asleep at 2:00 p.m., so they must have enjoyed themselves tremendously! I will get back to you on how the festivities fair this afternoon.
_________________________________________________________________________
2nd 1/2 of the Day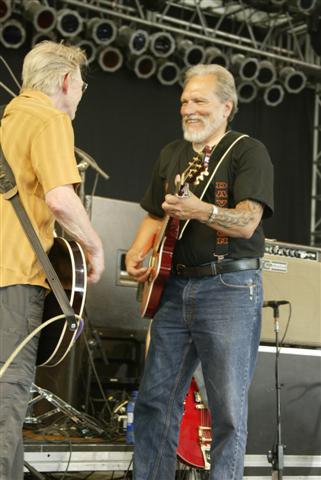 Our first stop of the day was to see Hot Tuna, a band made up of four guys, two of which are Jorma Kaukonen and Jack Cassidy, who used to be members of Jefferson Airplane. These two have been friends for 50 years and are still going strong, jamming to the sounds of acoustic folk to heavy electric blues. They have a huge following and the tent filled up fast. I noticed that Hot Tuna had a few more older fans than most of the bands we have seen here.
The crowd loved them as they played with the energy of a group of twenty year olds! The base guitar was so strong you could feel it vibrate into your skin. We enjoyed this band for a while until we headed off to our next stage to line up for Ziggy Marley.
Ziggy Marley and the Melody Makers were on the largest stage of the Bonnaroo event. On each side of the stage there are two huge screens so that the entire crowd can see the artist perform. They were put to good use considering there was a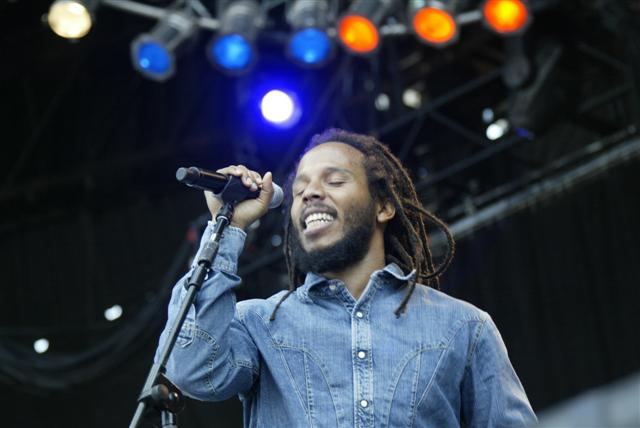 sea of people for as far as my eyes could reach. Ziggy and the Melody Makers have really kept their fathers legacy alive.
His three siblings Cedella, Stephen and Sharon make up the band and I am sure they would make their father proud, sharing the message of peace and equality that started the Reggae tradition.
Ziggy has the longest most perfect dreads that I have ever seen. He sang with a calmness about him, while at the same time keeping the crowd pumped up. He would hop around the stage and play his guitar while all the time his dreads were flying around behind him. As we turned around to see the crowd behind us, a cloud of smoke was lingering over the crowd that practically engulfed the sky.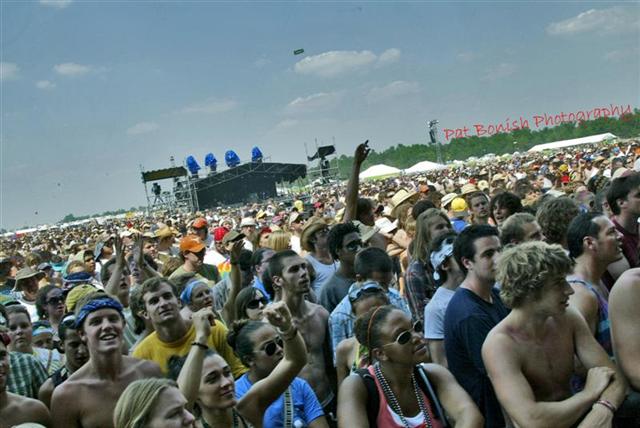 Many people danced as others just sat back and enjoyed the show. Pat and I swayed to the sounds of reggae until our stomachs were growling and it was time for some lunch. We went back to the camper to have some chow and get a break from the heat, knowing we would be right back to the same stage in two hours to see The Police.
After our little lunch break and a quick shower we headed back to find a seat to watch the reunion tour for The Police. We were there an hour early so that Pat could go into the front line up for the press photos. I was actually right in the front row and could see every muscle on the guys arms, WOW! How old is this guy? He looks like he has been running marathons or something. I don't thick he has even aged since the debut album in 1978.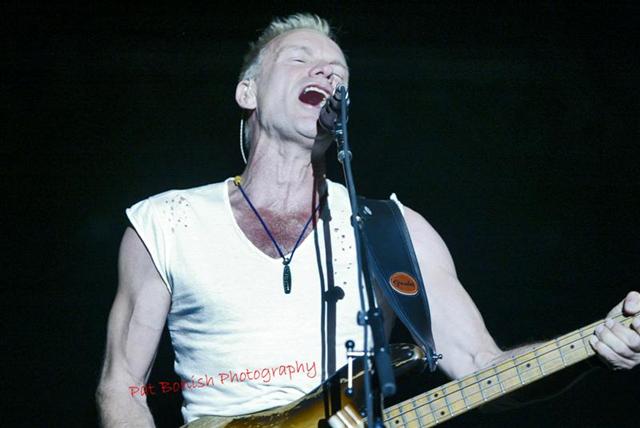 Unbelievable, the amount of rhythmic music and lyrics this band can display with only three members. This is the busiest I have seen any stage since we have been here.
I would have to think that at least 30-50 thousand people were standing, sitting in chairs, laying on blankets or up dancing their pants off. The Police was one of my favorite groups growing up. They were just getting started when I got my first eight track player to blast tunes through my Spark-O-Matic speakers until I could no longer stand the distortion from blowing them.
Who would ever think that a song with the lyrics "Don't stand so close to me, De Do Do Do, De Da Da Da" would stand the test of time for one of the worlds all time favorite hits. It's hard to believe how many memorable tunes they put out in the six years that they were together.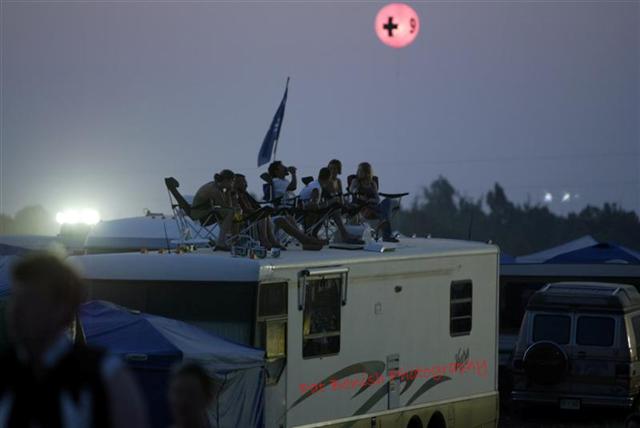 As the night went on, the temperature began to drop into the 60's and I was ready to put my head on the pillow and pass out. We got back to the campground and People Watched many exhausted bodies make their way back to their camp sites.
I almost fell asleep outside due to the cool temperatures and total exhaustion. We are heading out in the morning one day earlier than the show ends. I must be getting way too old for this because I am beat! I miss my dogs and I am ready for a quite night with some challenging games of Scrabble or something exciting like that. Bonnaroo was a once in a life time thing that I will never forget. I am also pretty sure that these ol' bones won't be attending Bonnaroo again any time soon.
Make sure to check out the Bonnaroo Gallery for tons of wild shots! I'll warn you right now though, you might see some crazy things by clicking on that link!!
June 20th thru June 23rd
This week has been such a hard week for me. I think that I have jinxed myself by stating to Pat last week that neither one of us have been sick in the whole year that we haven't worked. The very next day I came down with the kind of cold that makes you feel like your in a weighted tunnel. Everything on me aches, my head hurts, my eyes are almost swollen shut and I can't breath. I guess that will teach me for feeling so darn healthy. Oh and I forgot to say I also have a kidney infection which I refuse to be on antibiotics to add yet another disorder to my list of yucks.
Needless to say I have been sleeping alot and trying to take so many homeopathic meds to try and can cure myself. These ailments, however, will NOT keep me from going to see all the cool places Kentucky has to offer.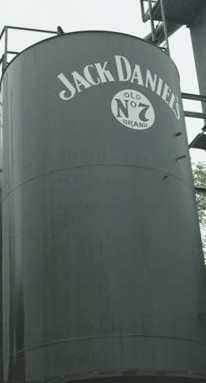 While still in Tennessee (Pun Intended), we hit the Jack Daniels Distillery to see the oldest licensed distillery in the US. Fortunately I could still smell the stench of the glorious hops and barley fermenting in the huge vats.
This smell reminds me of two friends of mine who have lived together for years as swinging bachelors. We called their apartment "The Taj Mahal" or "The Taj" for short. "The Taj" was always filled with heavy smokers and drinkers until 5 or 6 in the morning or until the last person passed out from drunkenness, most leaving behind the empties to clean up the next day.
In Michigan we have a 10 cent deposit on all bottles and cans. These two bachelors would save the bottles and cans that were left at "The Taj" for months in a closet in their living room. The beer would be left in the bottom of the bottles until it molded and smelled so strong that it smelled like a distillery, hence my reference to the odor.
I liked the tour, as well as our guide Dave. He gave us alot of history behind the distillery and the golden age of opportunity which Jack Daniels took advantage of at the ripe age of 9. The tour was tasking on me though, trying not to cough or blow my nose during Dave's speeches. I also refuse to touch any handrails on the stairs when I am sick so that I don't spread anything. The stairs seemed like they went on forever, even though there were only a few short flights up. We got back to the truck and I slept until we arrived in the Mammoth Cave National Park area.
We checked out a few local stores and headed through the tourist areas of mini-golf, dinosaur world, bumper pool and go carts. This would be a kids play haven, although I guess now days, most would think this very out dated and be looking for something electronic or high tech to play with.
We found a nice camp spot in the Mammoth Cave Campground where we took the rest of the day for some down time. All day I think I was awake for maybe six hours. I took three naps and fell asleep twice while reading. At this point I thought I was going to loose a lung to TB or something and my whole body just ached. I decided not to take any Ibuprofen, so that my kidneys didn't get worse. I dosed up on Cranberry pills, Milk Thistle, Acidophilus and multivitamins at least three times a day.
We ended up taking a "short" two and a half hour trip into the mouth of this huge hole in the earth, Mammoth Cave. The walkways were so incredibly narrow in some places, I just don't see how every one could fit through. We took what was called the Historic Tour and it began at the original entrance of the cave, discovered over a century ago.
The writing on the walls were dated as early as 1839 and as old as 1969. The tour guide explained that the first people to do the job of giving tours were slaves. They would lead people blindly through the cave by the light of a lantern. Back then the short trip was 6 hours and the long trip was 12 hours. These dirt trails were taken in the likes of a suit and cumber bun or a long dress and heels for the ladies. These people were on vacation and they had to look good; I can't even imagine hiking in any of that!
After the tour I went home to bed at 7pm with the hopes that tomorrow will be a better day for my illnesses. We planned on doing a four and a half hour trip and I really wanted to be one hundred percent. The morning came and I still had the yucks. "Oh well, I guess I can make the best of it" was my response to Pat when he asked if I wanted to go. I am very glad that we did take the long tour because I think it worked the cold out of me. I have felt much better every since.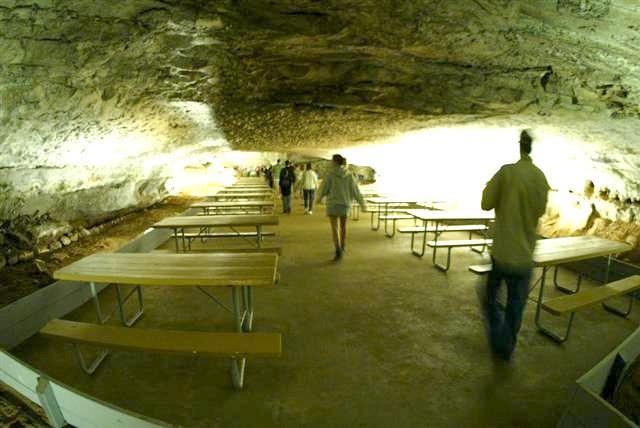 The four hour tour was more strenuous and filled with much more rock. Half way through the Grand Avenue Tour tour we stopped at the Snowball Room for lunch. This was an open cavern where a box lunch was offered for a minimal fee and restrooms and such were provided. The only thing that could have made this better is if the food was good. We sat and gazed at all of the smoke writings on the walls and talked about what it must have been like back then. I can't imagine being one of the first people to tromp though this cave by yourself, unguided, trying to map it out for others to see. That must have been such a thrill but at the same time, very scary.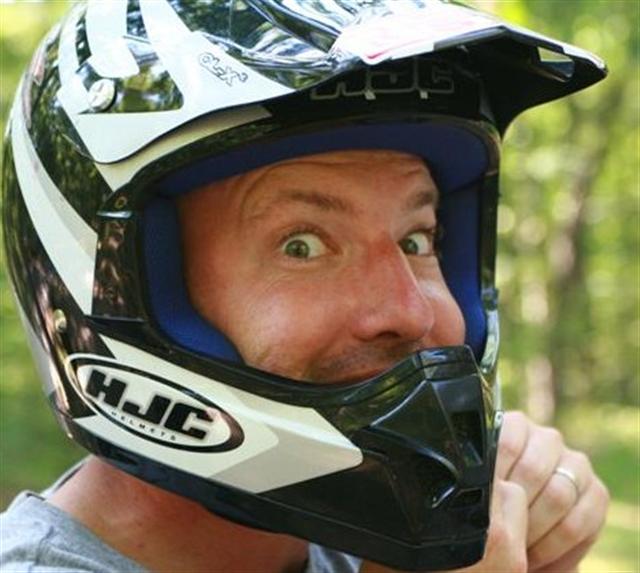 After our short stay in the Mammoth Cave National Park area, we had seen a small blurb on the Kentucky map about Fort Knox and The Patton Museum and decided to head that way. Sometimes my husband says and does the dumbest things, God Bless him, that he even amazes me. I can talk bad about someone if I say "God Bess him" after words, right? Ok so we are pulling into Fort Knox and he and I both thought "Wow those people are going right through the gate" they didn't have to pay or anything. As we pulled up we stopped at the visitor center to ask for a brochure of the place or some kind of map. While Pat was walking in, an armed guard was walking out to greet him. He informed Pat that we were not allowed to enter and this was an active Military Base, not a tourist attraction. He said we had to leave immediately.
Before Pat walked away the guard did say that the Patton Museum would be a great stop for sight seeing. Pat came back with the question to the officer "Is that the Patent Pending Museum?" DAH, we are at a military base!! The man had a look of disgust and informed him it was The General Patton Museum. Pat came back into the car with his head hung low, ready to kick himself in the butt for asking such a dumb question.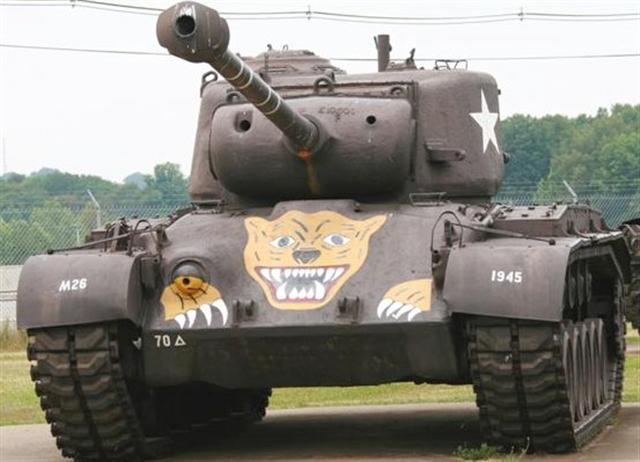 When we got to the Museum I saw all of the Military tanks ranging from WWI to Desert Storm. This reminded me of my father who would always help us build model tanks and airplanes as children. My father was in the Korean War and was wounded during service so he would always tell my brother and I war stories. One of his favorite military men was General Patton, so I was excited to be here.
The size of this Museum is immense, with so many different weapons and machines on display dating from the early 1900's to current IED'S that are used in Iraq. This Museum brought me through time from the French Fighters to the Desert Storm Troopers, with the Korean War and WWII equally represented. At one point a soldier walked up to us, as we were staring at some war torn tanks and explained to us where they came from. I guess that in Afghanistan there is somewhat of a tank grave yard.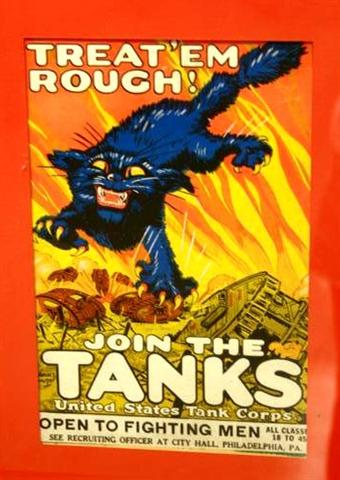 The country has brought all of the military weapons they have found and put them in a scrap yard. Fortunately the military has taken the time to refurbish one of 1918 tanks and are currently working to restore another 1918 tank. Pats reply to the officer was "I can't believe with the high price of steel that the Afghan's didn't just sell it or recycle it" DAH we are in a military museum, not the best thing to say!! That is not the way he meant it, but only he and I knew that.
The Patton Museum is much more than the life of our US Hero, General Patton. It lets you see how the US has struggled through the years to keep our country safe and free and help liberate the less fortunate countries from war time atrocities. The thing that bothered me about The Patton Museum was the dozens of young soldiers, walking around, learning just as we were about the past lives of our men at war.
The only difference is these young men will more than likely be in the combat zone very soon, rather than standing and learning from afar as Pat and I were. I finally had to tell Pat I was ready to go because I was just about to cry. I looked at as many of the young soldiers as I could straight in the eyes and said "Thank You" as I passed by them. This was such a great place to stop and see the struggles of our country and our soldiers, I think everyone should have to see it once.
June 24th Doggie Update
We have had a bunch of people ask about the dogs and how they are doing so I thought I would give an update on the two luckiest dogs in the world.
Lucy now has her meds regulated to twice a day, which has turned her into a new dog. She has started running with us again and really enjoys eating her regular dog food. This is a big change from me carrying her on our walks and spoon feeding her wet food so that she would eat.
Luca is the same old fun lovin' dog, filled with energy and kisses for all that he meets.
They are both very obedient dogs and never bark or growl at any one or any thing (accept maybe a bird every now and then?) Luca is still my protector and neither one of them want to be out of eye sight of me or they whine, or so Pat says, I've never heard them. Here are just a few photos to make you laugh as there cute little faces always make me laugh.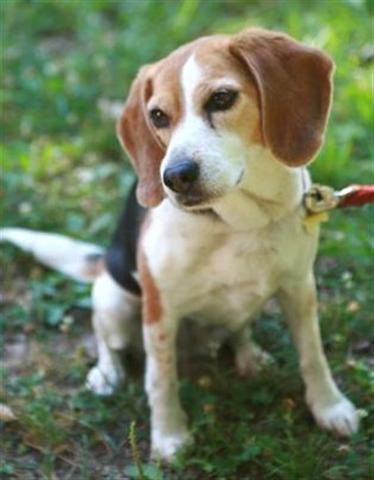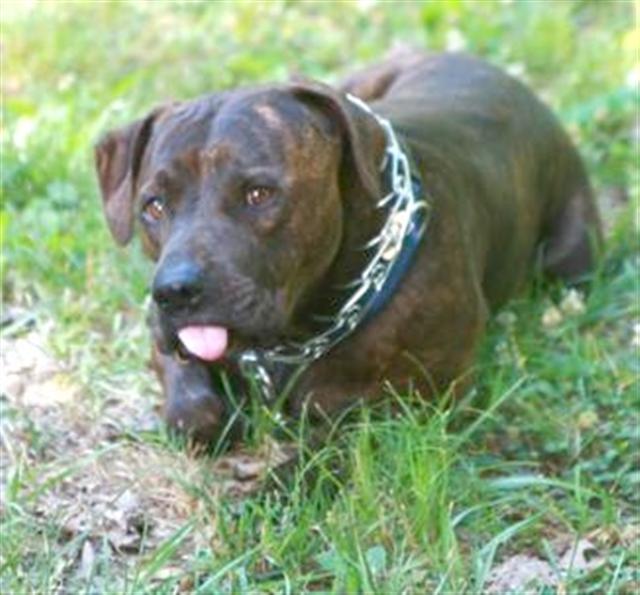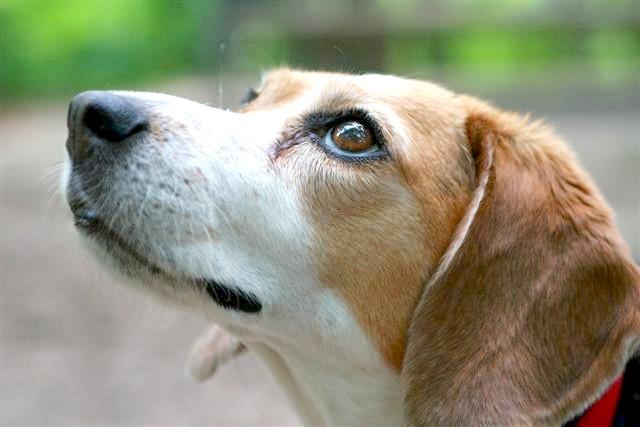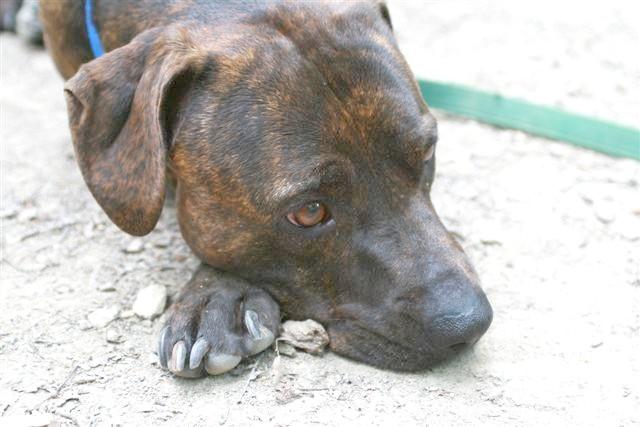 June 27 2007
This past week has been alot of down time for us. We have ended up in Bardstown, KY which is also the Bourbon Capitol of the World. We have done a couple of distillery tours and spent some time in this historic town, but mostly we have just relaxed in the A/C for the past few days. I think we have gotten real spoiled by the early spring temperatures of the months past. I can say that my dogs are way, way spoiled and won't even go for their normally long walks anymore when it's this hot. Basically my ol' beagle will stop and turn back towards the camper after only walking a few feet away from it.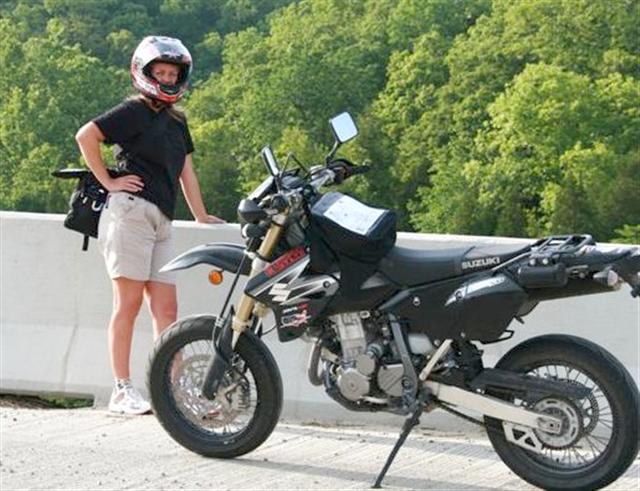 I had Pat drop me off at a hair salon to get my hair cut for the first time since December, 2006. I actually had a pair of Pats shorts on due to the fact that laundry, my favorite thing, has not been a priority this week.
I walked in the Salon with my helmet in hand, since we had ridden our motorcycle, and asked to see if they had any openings for a cut and color. I walked in by myself and Pat waited outside for me to tell him what time to come back and pick me up.
I must tell you that I looked just like a, how can I say this, a female Golf Pro when I looked at my self in the mirror. The length of the men's shorts, those tennis shoes, a collard shirt, and no make-up made me want to put my helmet back on.
I walked out and told Pat to come back in an hour and I should be ready. I also explained to him that no matter how good he told me those shorts looked on me, I would never wear them again. It was weird how long we were apart. We haven't been separated that long since we have been on this journey. An hour and a half later, I walked out (looking a bit like John Wayne) with shorter, darker hair and a big kiss for my long lost husband.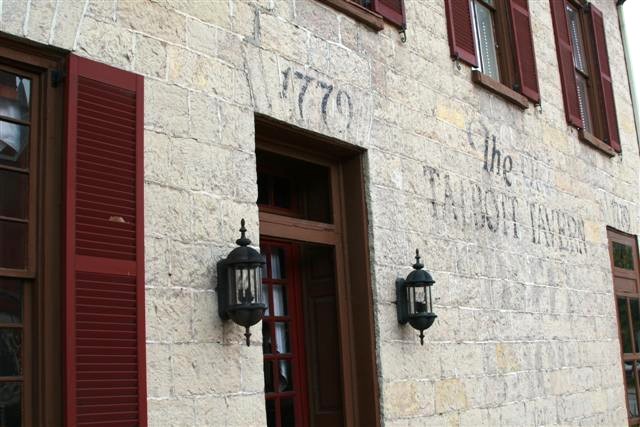 We rode around this quaint little village of Bardstown for a while looking at the historical homes dating all the way back to the 1760's. One entire street was lined with homes from the previous century, completely up kept to hold their beauty as it was seen by our forefathers.
We ended up at The Old Talbott Tavern which is located in the center of the downtown district. This Tavern was established in 1779 and been a comfy nights sleep for many a famous travelers who have founded our country. Just a few names which are documented include; Abe Lincoln, Daniel Boone, King Louis Phillipe, Jesse James and George Washington. I'm sure many more dignitaries called this place home for a night or two throughout the Taverns centuries of business.
After we leave here we are headed home for some friends and family time which I am looking forward to. I am afraid that our blogs might be a little few and far between for the month of July since not everyone wants to hear about family stuff. We will keep updates on anything a reader might find interesting, and probably alot of things that you wont.
June 28th 2007 Makers Mark and a Hit & Run
Wow, what a day! We started the day off early in order to take the first tour of the day at the Makers Mark Distillery. I had forgotten how much that I liked Makers Mark until we came here, to the Bourbon Capitol of the world. We did a sampling of five different Bourbons at the Talbott Tavern the other day, and after our tasting of all five, I drank the shot of Makers Mark and Pat had the other four! Makers Mark has an almost thick, sweetness to it that finishes smooth and leaves a nice after taste on your tongue.
We were the last people to arrived for the 10:30am tour and almost missed it except our tour guide Kevin, was nice enough to wait for us. I must say that we have been to three distilleries this week and Makers Mark was by far my favorite. Jack Daniels was nice and our guide was funny and informative. Jim Beam was something that unfortunately, I wish we hadn't wasted our time on. It is a shame since Jim Beam is such a quality product with such an interesting history behind it, that the tour was self guided and not very informative.
Makers Mark on the other hand is a tour worth planning a whole trip around. I don't know if we just lucked out with our tour guide Kevin, or if all of their guides are as knowledgeable as he is about this 'Small Batch Bourbon', its family history, or the Bourbon industry in general, but this tour will stick with me for awhile.
During our tour we entered the Brew House which is where it all begins. This room is like nothing I've ever seen before. This room consists of numerous large vats of the Bourbon in its earliest stages. This is where they blend the ingredients together to get the natural reactions from the corn, wheat and yeast.
We tasted the Distillers beer in the different stages of perfection while Kevin explained each stage and what it means to the process. Standing in front of these century old cypress vats was incredible, some gurgling and bubbling while some vats were further ahead in the fermentation process. These older batches looked like huge pans of golden corn bread that just came out of an oven. These 5 day old batches then get processed again before the white lightening gets sent to the barrels where it's be aged to that Carmel colored goodness.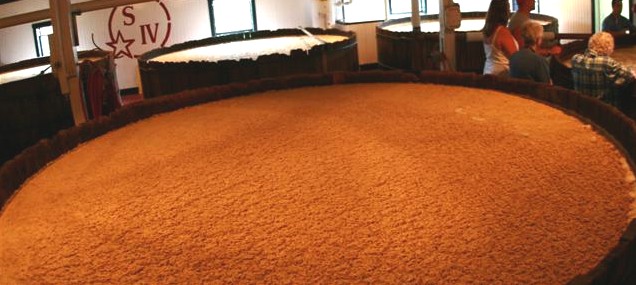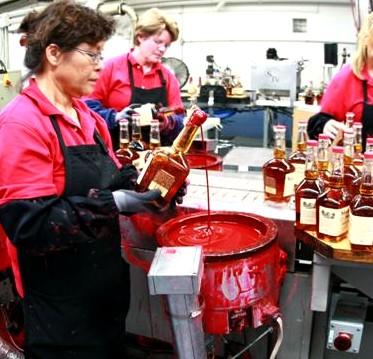 We moved on to the barrel storage area, where the fine 125 proof alcohol begins and ends it's 5 and 3/4 year aging process. Through out the tour, we learned of the Samuels Family heritage, which is the family who began using this most excellent recipe for making this smooth Bourbon. The Samuels family went on to start the Makers Mark brand and put it on the market in 1953.
Our next stop was the bottle and labeling center where we witnessed the final touch of hand dipped glass bottles that put all other Bourbon bottles to shame. Just before we left the distillery, we were invited to try some awesome Makers Mark filled dark chocolates (which are available on their web site) and I also opted to hand dip and seal my own bottle of Makers Mark before we left.
This was a great tour and I would recommend it to anyone who enjoys the history of our nation as well as the good old boys who started the Bourbon craze. Thanks Kevin for a great tour!!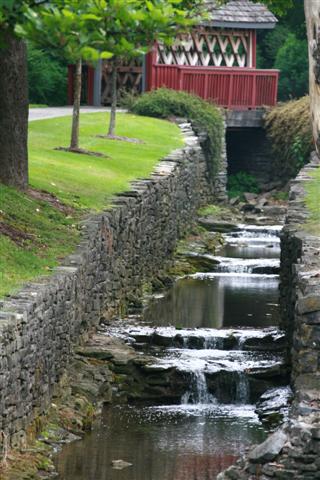 As we were driving toward the interstate, down a narrow two lane road, Pat and I were talking about how much we liked the tour and how beautiful the grounds were.
Pat always tells me if someone is getting really close to the truck just to scare me and sometimes he will even scream "BAMB" just to see me jump.
This is the ploy that I thought he was pulling again when he said "Man, that truck is riding the yellow line and coming on to our side of the road." Naturally, since this is a common Bonish scare tactic, I didn't even pay attention to him.
The next thing I know, I heard the loudest sound I think I have ever heard, unless I was at a shooting range. My first reaction was to scream followed by a "PATRICK! What the hell did you just do!!!"
At this point I saw Pat holding on to his left ear and I saw the shattered remains of what used to be a mirror on the driver side window. We figured out what happened and pulled over as soon as we saw the slightest shoulder to pull on to. I said to Pat "Is that guy going to turn around?"
I knew we had to make a police report and get his info for insurance reasons. We would have to drive a long way before we could find a place to turn around, with the hopes that we might catch up to him. We sat for 15 minutes and waited for him to come back, then decided to call the Police.
No phone signal and no where to turn around, "So much for a Police report." We decided to find a Police department back in Bardstown and make a report there if we could. What a jerk this driver was! I am sure that the same thing happened to his mirror, it's not like he didn't know that he had just hit us.
Oh well, I guess we should just count our blessings and be thankful that he just barely crossed the line instead of coming all the way into our lane and actually smashing into the truck or worse yet, the Sunline.
We are staying in Cincinnati tonight so that we can go to the Cincinnati Zoo tomorrow. I am pretty excited to take some pictures of animals that we don't normally see. I hope that this Zoo is the type that gives the animals large exhibits to live in and that they look very comfortable and relaxed. My view on a Zoo is such a grey area, but we've heard some great things about this Zoo, so we really didn't want to miss it.
I just don't think that I could ever bring myself to go to a traveling Zoo ever again in my life. I hate to see the animals in those tiny cages with no stimulation or exercise available.
I am excited to see a large Zoo which is actually a rescue center for alot of these animals that couldn't survive in the wild for one reason or another. These larger Zoos can also give some endangered species the opportunity to breed and keep that species alive, while still allowing them some freedom and normalcy.
I'll show you some pictures tomorrow and let you know how it was.
July 1st 2007 Enjoying the Cincinnati Zoo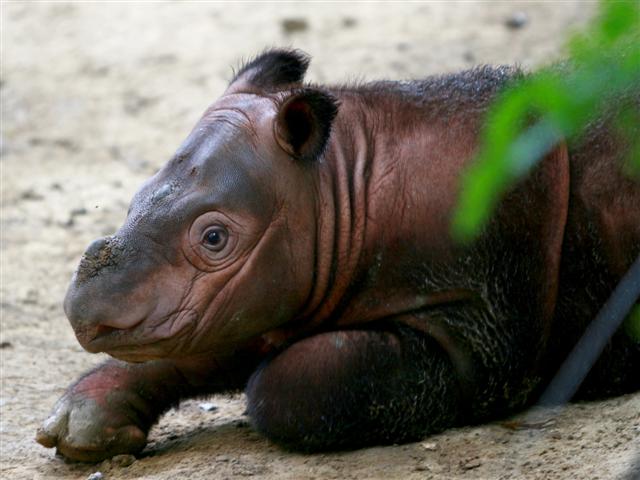 I can hardly believe that we are through half of the year already. This year is just flying by. I remember when I was a child and it seemed like forever between birthdays.
Now it seems like a blink of an eye and I am getting older and older. Speaking of being a child, the last time that I went to a zoo my 21 year old daughter was only 12. Needless to say, it has been to long since I have taken advantage of the opportunity.
Pat and I decided to go to the Cincinnati Zoo which is world renowned for their breeding program and the amount of animals they have kept from disappearing in the wild. This was the first chance that I had to use my new camera, which I love. It is a Canon 30D which will allow me to use all of the lenses that we currently have for our Canon 1D. Man, what a difference it makes compared to the point and shoot I was stuck with. I had so much fun trying to capture just the right expression on these charming animals faces that the 8 full hours we spent there just flew by.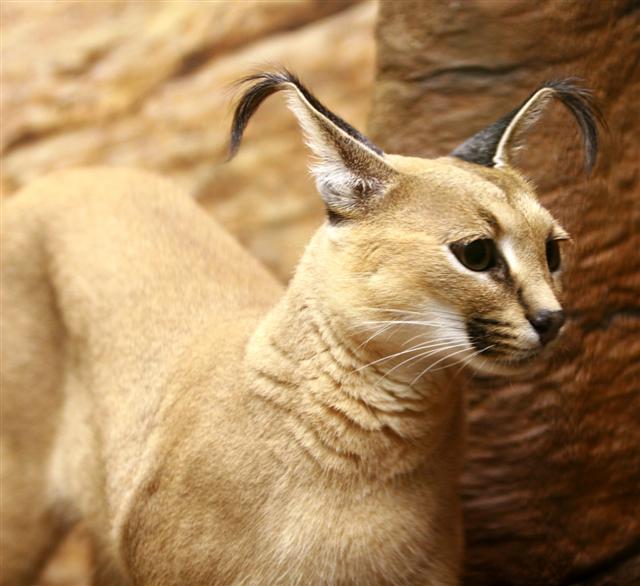 I was very glad to find that the Cincinnati Zoo gives the animals quite a bit of room to roam around and the animals generally seemed happy. The Zoo was very clean and had many places to eat lunch in and also offered cooling stations for the humans as well as the animals.
Fortunately Pat and I didn't need a cooling station because it rained for the first part of our visit. I found it pretty cool that even though it was down pouring, we could barley feel it, due to the coverage from the trees over head. I would actually recommend going to this zoo on a rainy day. All of the animals were out, taking advantage of the cool bath that Mother Nature was providing for them.
I would also recommend getting to the zoo as early as possible. Especially if you want to take pictures. Pat and I got there at 10:00am, we stayed till after closing, 6:30, and we still didn't see all of the exhibits. I know for sure that we missed the elephants and I don't know what else but we missed an entire wing of the 75 acre piece of property.
It's pretty neat that this big patch of land is located right smack in the middle of downtown Cincinnati. The surrounding area looks like it has been established for a long time. Like any big city, the heart of down town was not the nicest part of town however, the parking is gated and plenty of security guards made us feel safe leaving our Sunline Camper alone for so long.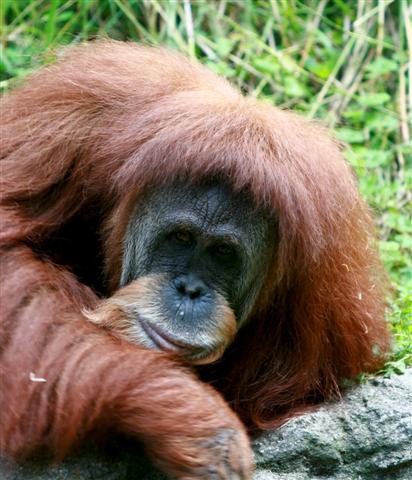 I had some favorite animals that entertained me the longest which include the Orangutan, the White Lions, which used to be managed by Siegfried & Roy, and the Gorillas. The 47 year old Silver Back Gorilla was incredible and the female had the cutest little baby. She tended to this baby more than any human would for their infant child. The White Lions seemed very much at peace in their enclosure. I some how think they are glad to be retired from show business.
By the end of the day, we were beat. Pat had weighed his camera pack and the darn thing weighs 50 pounds. Plus I had my camera and the tripod which were about 12 extra pounds. Add to that the 15 extra pounds that I am carrying around my thighs, and waist area and we were loaded down.
I can't say enough about how much fun we had. If you haven't been to a Zoo in a while, you have most likely forgotten just what you are missing. This experience is not just for kids, although there sure were alot of them running around with nothing but excitement and wonder in their eyes. Take a day or even two and enjoy a top notch Zoo in your area.
My only recommendation is to be sure it is the type of Zoo that is contributing to the well fare of the animal. Putting animals on display in a small area and not contributing to the growth of the species is not the kind of Zoo that makes you fell good when you leave.
The Cincinnati Zoo is one of the best Zoos in the US and if it's not a huge trip from your home, go there as adults or bring your kids. This makes for a great time young or old.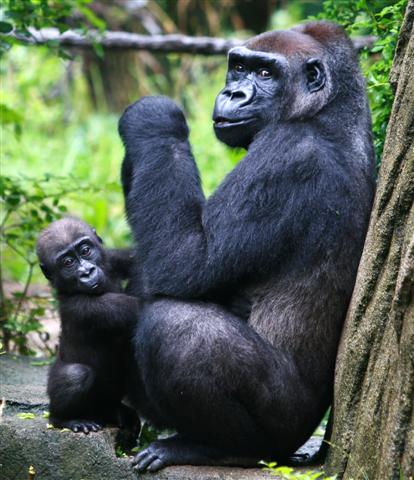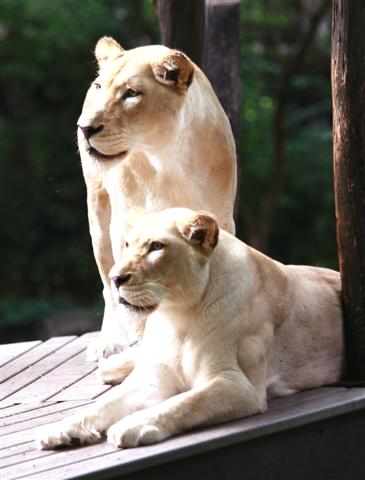 I'm very proud to say, that all of these shots are my own. Most of the time, Pat and I share photos on the Blogs, but this time, armed with my new piece of equipment, I was taking just as many pictures as Pat was.
As soon as we can sort through the literally thousands of shots we both took, we'll put a gallery up for everyone to enjoy.