When we realize our insignificance in this world,
it some how relieves the pressures from society to succeed -
Cindy Bonish 04/07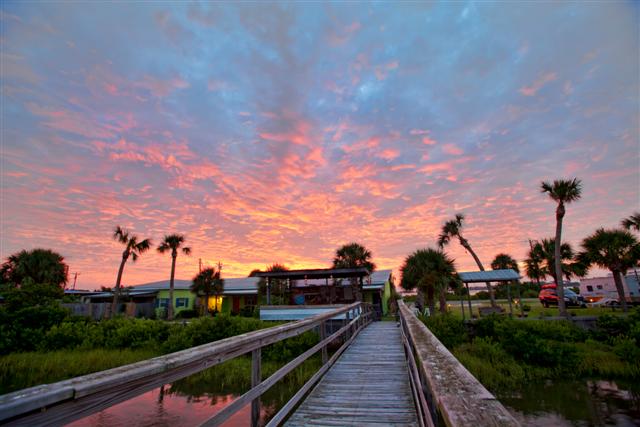 Pat's September 2010 Blog
If this is your first time here, you might want to start from the beginning of our fulltime Journey with our Past Blogs
If You Don't Know Me Yet, Click Here to Read Pat's Bio
****
Wednesday September 22nd 2010 - One Last Check on the Wooden Yacht
I've been keeping it under wraps for awhile now because I hate bringing things up only to have them fall to pieces or never come to fruition. But this one looks like it might just happen.
Awhile back I had talked about finding a derelict boat around the Cedar Keys, something there seems to be lots of and bringing it up on land, parking it in one of the RV Slots at the Low-Key Hideaway and refurbishing it to become a themed room.
While Cindy and I were on vacation during the month of August, I got a phone call from our friend Heath Davis. Heath left a message that he had found us a wooden boat (That was my only stipulation, it either had to be a sailboat, or an old wooden boat) that he thinks would fit my criteria perfectly.
As soon as we got home, Heath and I made arrangements to go look at the boat that is basically tied up behind a empty house here in Cedar Key.
You have to remember that much like the rest of the country, a few years ago when the housing boom was peaking, many people came to Cedar Key buying up property thinking it would be a great investment.
We all know now that the market took a dive, the bottom fell out and no matter what the politics of whether the recession is over or not, no one is buying homes right now, especially ones that are worth hundreds of thousands less than what was paid for them a few years ago.
Many people are in way over their heads and there are a ton of homes here on the island that are bank owned or just left empty.
The guy who owned this particular house and boat was one of those people. He came to Cedar Key with big plans to fix up the house that sits right on the water, then start on this beautiful old wooden yacht.
When he lost the house, he basically pulled the plug on the boat and left it sitting in the water filling up with muck and nasty, back bayou water.
If you have a good imagination, like I do, then you can look at this boat and have big expectations. It's a shame the boat is too far gone, at least for my non-existent budget, to ever get it sea worthy. It would make for an awesome boat to live off of because of it's wide 14' beam and shallow draft.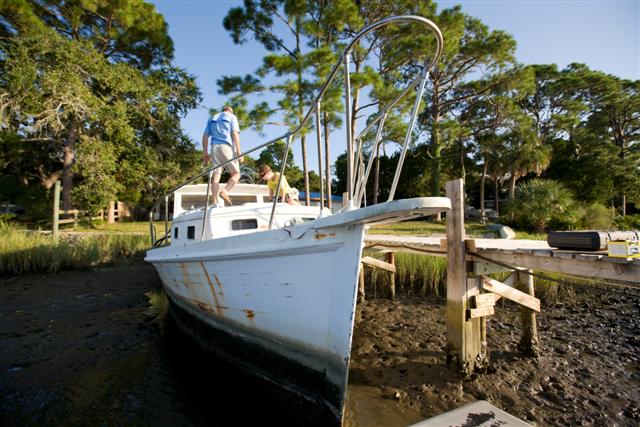 Heath and I have gone and pumped it out a few times now at different tide levels to see where the holes are. While there, we've screwed in some pieces of wood to try and help stop the water from coming aboard and tied up a few of the exhaust fittings that are allowing water to seep in.
There are still a few holes that are too low into the muck for me to get down and get anything drilled over them, but Heath's pump is very powerful, so hopefully it will expel the water faster than it can come aboard while we're towing it. At least that's the plan for now.
You have to remember that Heath keeps saying things like "Having it sink in even deeper water will only make it more fun to try and get it behind the Low-Key Hideaway if we have to raise it yet again." I guess these sorts of things are fun for a person who has spent their life on the water.
So this afternoon while we were pumping it out one last time, securing the pump to the side of the boat so it will continue to work while we're towing it and just buttoning things up, we had a little bit of excitement happen to us.
Heath had brought along a friend of ours grandson who is about 10 years old. I dont know how old the kid is, but by the way he acted, he seemed very smart for his age and size, I'd guess him to be around 10.
While Heath and I were buttoning things up, the boy was doing what 10 year old boys do and having a blast tying rope across the beam, finding all sorts of things in the cabinets and exploring the innards of the sunken boat like it was a new found treasure.
When we called Cindy to come get us (We were leaving Heath's boat there so tomorrow we could save time and start pulling it as soon as he could get out of work), Heath asked the kid to put the roof hatch back in place so we could get going.
As we both sat there watching him lift the roof hatch back over the cover, we watched in horror as he slipped and fell into the hatch.
Now the boy had been playing down in the bottom of the boat setting up wooden planks to walk across because he knew that he'd get in trouble if he was to fall into the few inches of muck that has covered the floor.
I'm sure this was why he was holding on for dear life as his body was contorted into a position it shouldn't be in as he held himself in the opening of the hatch.
When we had watched him drop out of sight, I was on the phone with Cindy giving her directions to where the house was on the island (Yes, she was totally lost on a island the size of a postage stamp???) when we saw him disappear.
She said the last sounds she heard was a loud crash, Heath and I yell something like "Oh Shit!" and then heard the phone bounce across the dock as I threw it and started running towards the boat.
I flung the hatch out of the way, grabbed the kids wrist and yanked him up into the air. By this point he was screaming pretty loud. Think of the sound any kid makes when they're scared to death, then amplify it by 10 notches and this was the sound coming out of the berth of the boat.
Holding the scared boy in my arms, we laid him out on the roof of the boat and tried to get him to stop crying.
His arm was already lumped up pretty good and he had blood coming from numerous scrapes along his legs and arms.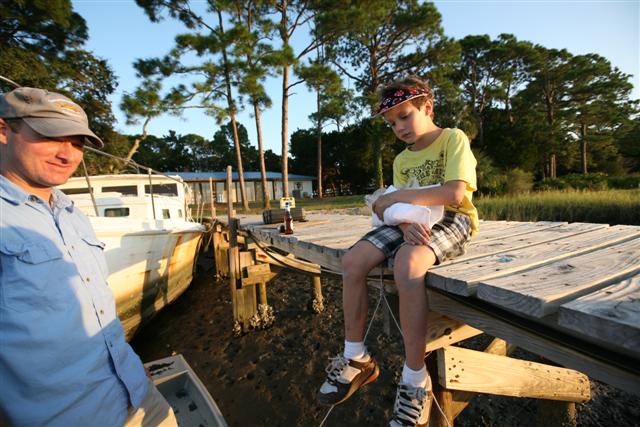 Holding Ice on his arm to help with the swelling
Luckily he could move the arm, wrist and put pressure on it, but I'm guessing that tomorrow he probably wont be able to move it too good because of how sore its going to be.
Within a few minutes, he was laughing with Heath, Cindy and I about the whole incident and joking that he didn't really like the boat any more. I'd love to have the resiliency of a 10 year old after a fall like that.
Heath and I just kept looking at one another thinking "Great, first time we bring the kid out with us and he almost breaks his arm falling into an open hatch!"
Some babysitters we are.
So tomorrow is the big day that we'll try and move the boat away from the dock and tow it behind the Low-Key Hideaway. If that is accomplished, the next step is going to be to figure out how to lift it out of the water with a crane, set it on a set of jacks or hull supports and support the wood base without having it crumble under the weight of the boat itself.
Stay tuned and I'll be sure to update the progress of our next stupid idea.
Monday September 20th - Our 13th Anniversary! Lucky #13
13 years ago today, Cindy and I tied the knot. Not that the number 13 is our real anniversary number because we had been together for 5 years already by the time we decided to officially get married.
I guess neither of us rush into things, and we knew we were going to be together for eternity, so the marriage license was just a simple piece of paper to solidify it in court I guess.
We spent the day working around the motel, went into town to check out an empty space a friend of ours has for rent, not for us, but to see what she has available. This way if we find anyone who is looking to start a business in Cedar Key, then we might be able to point them in the right direction.
If you are looking to relocate your existing business, or have always dreamed of starting up a new business in a sleepy little Island Community, then give us a call and we can get you in touch with our friend....She has multiple spaces available that range from a small little bait shop to a huge, waterfront shop that would be perfect for a bar or restaurant.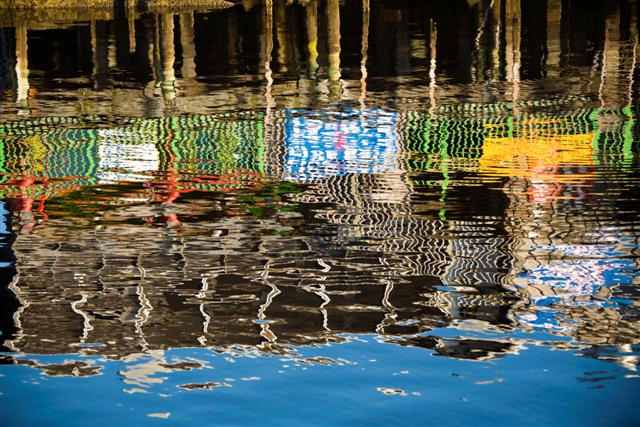 Reflections on Dock Street - Photo by Pat Bonish
As the afternoon grew longer, Cindy and I packed up a cooler, snuck Luca out of the house so Lucy wouldn't know we were bringing him with us, and took Luz's boat out for a Sunset Anniversary Cruise. (Luz and Walter are out of town and she had asked us to use her boat so algae wont grow on the bottom just sitting in the warm Gulf water)
Lucy is just too much work when it comes to bringing her anywhere. She needs constant attention and is usually whining in her Beagle tone, so she gets left out of a lot of fun things because of her cat like tendencies.
Since it was building up to Low Tide, we knew we'd probably get stuck somewhere, but with a warm breeze blowing over the Gulf of Mexico, a cooler full of drinks and food, and nothing else to do, we didn't really care if we got stuck.
I can think of lots of worse places to spend a full moon evening with my bride than being stuck on an island off the Cedar Keys.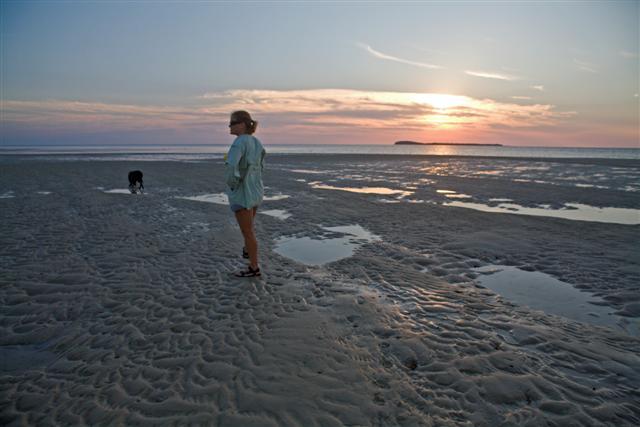 Cindy & Luca on a big Sand Bar
We found a big Sand Bar off of Snake Key and let Luca get out to go explore. He instantly started eating his share of fresh crabs and shellfish that were scurrying in every direction as he ran around gobbling them up.
The Gulf of Mexico this time of year is so warm you'd think it's bath water and it makes me wish our surrounding waters werent so dark and tannic. I'm not a big fan of swimming in ocean water I can not see in when under water.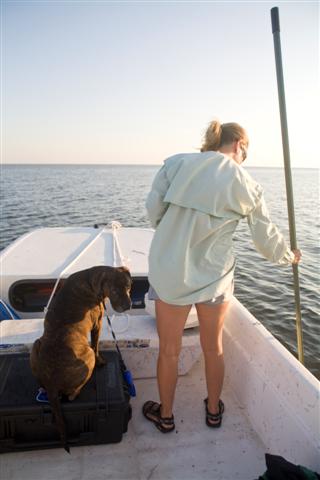 Especially since I know how teaming with sharks this area is after going out with Danny and Jarrod on their fishing excursions.
So rather than get in and go swimming, we simply hung out sitting in the boat, allowing the breeze to push us around where ever it wanted to while we simply sat and enjoyed the evening.
As the full moon rose into the sky, creating almost daylight like brightness, we slowly idled back into the marina not in any hurry to get home.
Being as it was Monday night, the slowest of slow days in Cedar Key, I cant remember if we even saw another boat the entire time we were out on the water?
It was a great night with just the two of us, and Luca along to share in our anniversary.
Wednesday September 15th 2010 - Where Has Time Gone?
My deepest apologies for my lack of time spent behind the computer since we've been home from vacation. This is probably the longest I've gone without updating the blog in some time.
Let me do some explaining. After a month long vacation, we came home to a few things that needed some immediate attention.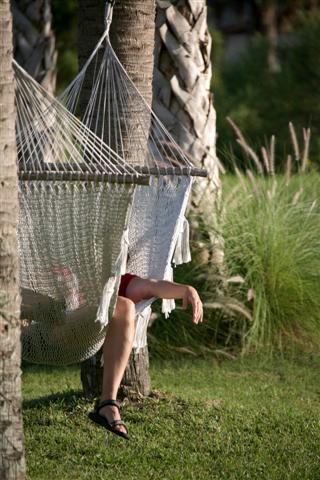 The cutting of the lawn and the trimming of the trees was something that I knew would be on my list of chores and would keep me busy for a few days.
What we didn't expect was to get our water bill and have it say that during the month of August, when no one was here and the motel and RV Park was empty, we would use 27,000 gallons of water!
During our busiest month so far this year, when the motel and RV Park were full almost the entire time, we used right around 11,000 gallons of water. So I'm sure you can understand the shock that unexpected bill was for the two of us. Especially when Cindy and I are so conscious with the way we use our water.
I mean we still act like we live in the camper when it comes to taking showers or washing dishes. We have four 65 gallon rain barrels that hold rain water collected from the gutters we've installed to help water our plants and trees and we conserve water every way we know how to.
We had a company come out from Gainesville to do a pressure test on our water lines to see where we had a leak and I'll have to get back to you on the results. Right now I think we solved the issue, but I cant really see the small drip we found being a 27,000 gallon leak? If so, I'd expect there would be a sink hole that could have consumed a large vehicle, not just a moist spot in the lawn.
Upon arriving home, we learned that the roof leak we thought we had fixed before we left had simply moved to another part of the house, so that was a necessity needing to be fixed right away. While we were gone and no one was here to check on everything, the leak caused the ceiling to collapse in the RV Bathroom where the new leak has been draining this entire time.
So the roof was repaired AGAIN, and the drywall was replaced in the bathroom after a very deep cleaning of everything in that section of the motel.
Our A/C Unit in our apartment took a crap on us and with the Florida temperatures hovering right around 100°, that was also something that had to be fixed ASAP. We tried to go for a few days thinking we'd just get by without the comforts of Air Conditioning, but when we'd come in from outside and both dogs would be laying on the tile floor panting like they were going to pass out at any second, Cindy said "We have to get this fixed!"
Dont worry that neither of us could sleep at night because our bedroom was a muggy, humid 80 something degree's at night, but if those dogs are uncomfortable, then by all means get the A/C fixed right away with money we dont have.
We also had cable run to all the RV Slots. This is something that we've been putting off for sometime now simply because there has always been people camping in the slots. With the slow month of September in front of us, I decided to dig the trench from the Motel across the RV area and have the cable run.
This resulted in my cable runs not working 100%, and us having the cable company come out to have them fixed. I tried to tell Cindy and I didn't know what I was doing, but all I kept getting was the typical "Stop telling me you cant do it and just go out there and do it."
So I go out there in 110° heat and spend a day digging a trench and running the line. Then, we have a full weekend in the RV Camp and all of them are knocking on the door telling us "Our cable doesn't work?!?"
Something else that has been an on-going problem I've been working on is getting our wireless signal to reach the furthest campsite away from the motel.
We have a wireless router in the Motel Office, and another Repeater up in the attic of the Motel that is hard wired almost all the way to the end of the motel, but only the first few camp sites can get a signal strong enough to surf the web.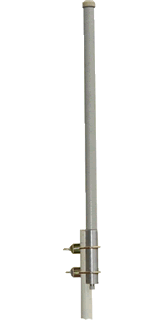 After having the last few people who have stayed in that site come knock on the door and tell us they cant get a signal, I finally spent an entire afternoon online researching stronger outdoor amplifiers, then another few hours on the phone with the company explaining our situation and going over the options they offered; I now think I might have fixed this problem.
I'll let you know if it's solved once we get the new outdoor antenna amplifier in the mail and if it's working like it's touted to. Being as we traveled for so long in a RV, and the internet was mandatory for us to update the blogs and our photos, I know how important this is for fellow RV'ers who are on the road fulltime.
If this outdoor amplifier doesn't solve the issues, this company offers a router that is so powerful, its the strongest model on the market without having to apply with the FCC for a broadcasting license.
The guy I spoke with kept trying to get me to just upgrade to this really strong router, but I told him "If all I need is this amplified outdoor antenna, then the two routers I already have would simply be a waste of money."
He joked with me saying "Yeah, but just think if you had our router, everyone within a five mile radius would see your signal!"
I laughed and said "Yeah, well we live on a pretty small island and I dont think I want to feed a wireless signal to the entire island. I just want to get it to the campground a few hundred feet from the office."
Again, it's ordered and once I get it in the mail and install it, I'll be sure to let you know how it works.
Before we had left for Michigan, I had the brakes on the truck replaced; 1st time in over 100,000 miles!! While the mechanic was replacing the front rotors, he called me over to his house to say that I needed the wheel bearings replaced too.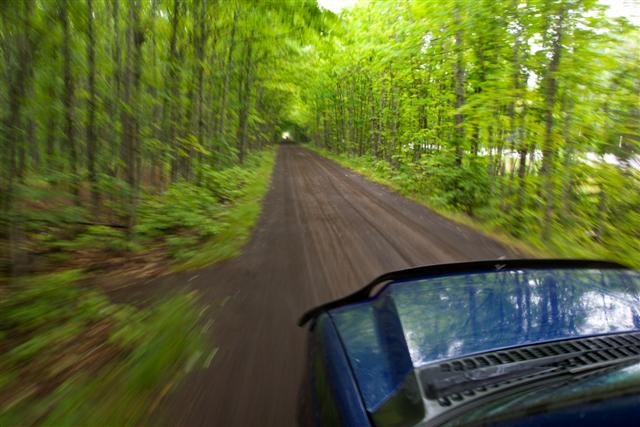 He said that they werent supposed to sound like they had sand in them when they spun around, and even though they werent that bad right now, they were going to go fast by the sounds of them.
I didn't have the money to fix them at the time, and said it would be something that would be replaced as soon as we got back.
After a 5000 mile, month long trip that included a few hundred miles of the truck being off-road in four wheel drive, the front end now sounds like I'm driving on flat tires.
I'm scared to drive the 20 something miles into Chiefland where we need to go to get groceries or supplies for the motel. It sounds awful, but the money we were going to spend on the bearings went into the A/C and Water Leak repairs.
For the past few months, the truck has been running a bit rough and I just pawned it off on the diesel motor only being run for such short distances around the small town of Cedar Key. I mean it's normally used to running hot, pulling a load and being driving for miles upon miles at a time.
Well while we were in Michigan, the Check Engine Light came on and I was able to check the computer codes off our Scan Gauge device we have that monitors the motor. The code it gave me tells me that we have a bad sensor that needs to be replaced.
I did a quick Google search to see if it was something I could replace, but from what I found online, everyone says that unless you're a skilled mechanic, the location of the sensor requires a truck hoist, some serious wrenching just to get to it and good knowledge of the Powerstroke Motor. So I'm thinking that this will have to be something the dealer fixes. Just add it to the long list of things we CANT afford right now.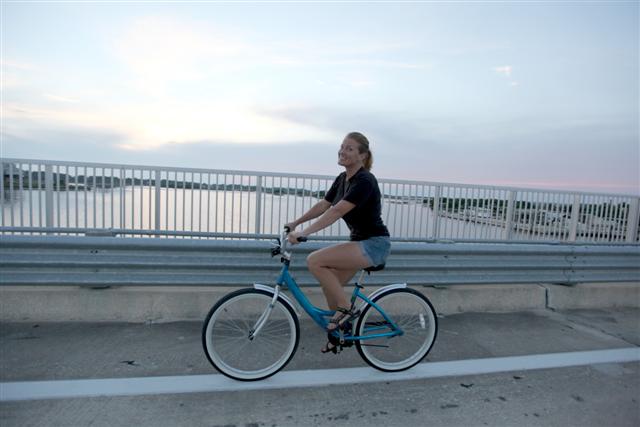 This will be the most we've worked on the truck in the past 4 years. Not that I'm complaining because it has treated us great over the past 100,000 miles, but it's proof that simple day to day driving is much worse on the thing than non-stop pulling is.
Cindy and I keep joking with one another saying "Ok, what else could go wrong?", but right about now I'm afraid to find out what that next thing is going to be.
So with the truck not working, we've been riding bikes around town more. Yes, even though Cindy said she'd never get back on one again, she's been on her bike a few times and still has all her teeth!
Since we've been home, it's been quite nice to have our weekends full, but our mid-week empty enough to give us time to get everything caught up around here.
14 to 18 hour days are the norm and a few of our friends who stop by on a regular basis have even said "Do either of you ever stop working around this place?" When running a small business and it's just the two of us, there is never enough time in the day to catch up on everything there is to do.
Mix in the editing of 3 photo shoots worth of images, learning Photoshop CS5, trying to update the Low-Key Hideaway website, the Bonish Photo website and write a few articles for submissions to various magazines to supplement the income, and I'm starting to lose sleep over all this. I think I need another vacation.
Since being home, I've scheduled two weddings to photograph in the next year, one on the East Coast of Florida and another back in Michigan and a few more photo shoots are in the works. Anything I can do to try and help pay for the camera gear and earn some money on the side.
In between all this fun stuff, I went to look at an old wooden boat we're thinking about having lifted onto the property to use as a themed room (More on this later), and while out with my good friend Heath, we were talking about the changing of seasons.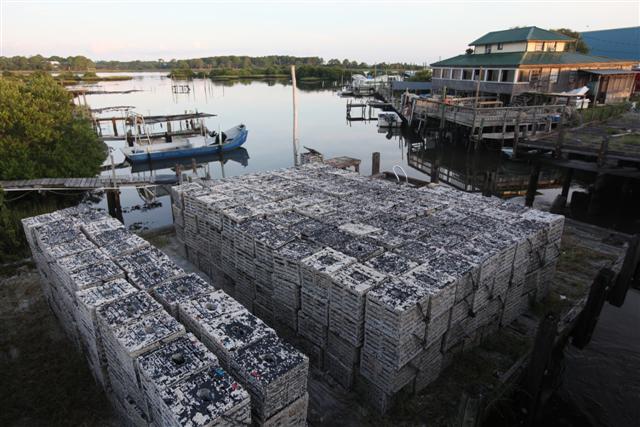 The Fisherman are getting ready for Crab Season to Open Up
Heath has lived here in Cedar Key his entire life. I asked if he's ever seen the change of seasons in other states? This was after a conversation about how much I enjoyed this time of year in the Mid-West when the leaves are changing and you can feel the coming of winter in the fall air.
Heath thought for a minute and told me that even though he's never been outside of Cedar Key for the change of the seasons, we still have things that let you know the seasons are a changing.
He talked about the opening of Scallop Season which tells you Summer is here, Hurricane Season with the wild storms and the humidity blowing up from the tropics to tell you that late summer is here. The first Nor-Easter that blows in and tells you that winter will be here soon. You also have the arrival of the different birds which tells what time of year it is if you've lived here long enough to know when they get here and leave each year.
For instance we've just started seeing the big White Pelicans arriving back in Cedar Key from their migration grounds of the North. We're seeing less and less of the Roseate Spoonbills that migrate up here from the Tropics as they're starting to leave to head back home for their winter parties.
So I guess the perception of seasonal change is simply how much you pay attention to your surroundings. Here in a climate where everything stays a lush green year round, you dont pay attention to the trees to see which time of year it is, you pay attention to the birds, the animals and the storms blowing through.
Thanks Heath for making me look at my surroundings in a different way.
As our busy season grows closer, Cindy and I are figuring out that this is going to be a good year ahead of us. We have a few months where we're almost sold out already and it's only September.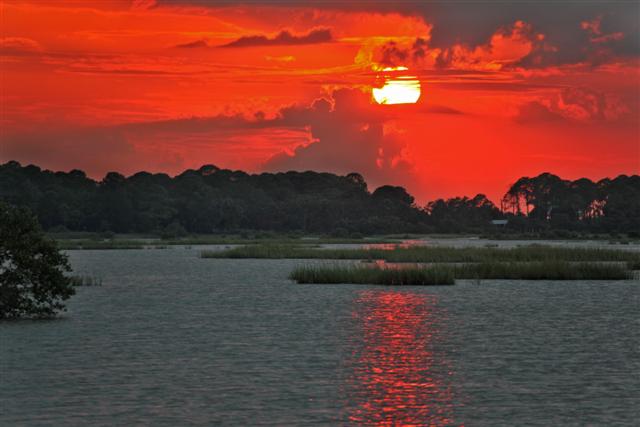 Last Nights Sunset 9-14-2010 after a 14 hour day of work - It's so worth it!
We're working on getting the Tiki Bar up and running and we have some big stuff planned for the look and feel of the backyard. If you came to visit last year, you probably wont recognize the place this spring.
I joke with Cindy and say "If we had money to spend on landscaping, this motel would be considered 5 Star and we'd be in Gardening Design Magazines"
But try and do this on a peasants budget, and it takes a long time to accomplish. Especially when you dont have the friends and natural resources like we did back in Michigan. Up there I could go grab a Back-Hoe or pick up a load of gravel, rock or landscape materials from any of my buddies who worked in the business and get things done as fast as I wanted.
Here in Cedar Key, the nearest place that has Landscape Materials is over an hours drive away and I have to go all the way down there to see if they even have anything I can afford. Sometimes being poor really sucks.
So you see why I haven't had time, nor the want to update the blog. One thing I hate doing is complaining about our finances and only talking about basic day to day garbage.
Hopefully within a few weeks, we'll be flooded with new birds, new boat rides around the surrounding islands to talk about and fun things will have happened that will make this blog more interesting to read.
I can relate a funny story we had a few nights ago.
Cindy and Luz had taken the afternoon off and went out in Luz's new boat.
Luz, Walter, Cindy and I were all sitting around talking a few days later when Luz started telling us about their boat ride.
She was telling us that they were on the one of the deserted islands just chilling out on a sand bar and hadn't seen another boat for hours. Luz was practicing throwing her cast net and Cindy was simply laying in a beach chair in a few inches of warm Gulf of Mexico water.
Luz didn't want to get tan lines, so she took her top off while throwing the cast net. She said that after awhile she said aloud to Cindy, "If I have my top off, I might as well take my bottoms off so I dont have ANY tan lines" and proceeded to remove all her articles of clothing.
Cindy was simply laying in the sun by herself, so she said "I didn't want tan lines either, so I'll take off all my clothes too."
Walter and I were just sitting there listening to these two silly girls tell us about their naked afternoon on the water when I interrupted them and said "Ok, this is fine and dandy, but imagine if the roles were reversed. For two women to tell this story, it actually sounds sort of sexy and would be something I would want to float up on if I was out in a boat. But imagine if Walter and I had been out on the boat all afternoon and we were telling a story like this at the bar!?"
Would it sound sexy in the least? Or would it just sound really gross and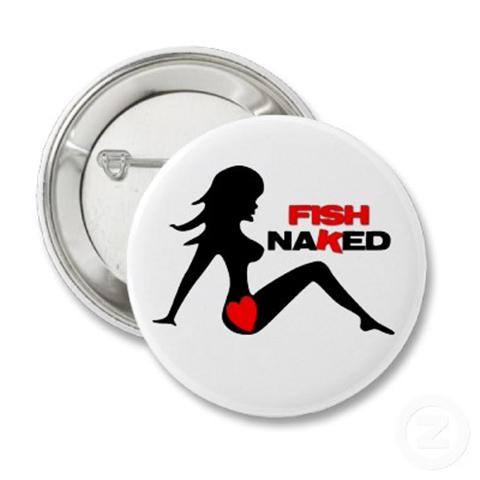 creepy! We all got a good laugh out of that and Walter looked at me and said with a worried look on his face, "Pat, this is a really small town, PLEASE dont tell anyone that you and I were out on the water in the boat together and got naked!"
This made us laugh even harder and we promised the girls that this would never be a story Walter and I would be telling about any of our boat trips around the Cedar Keys.
So even though we've been crazy busy, we're still finding time to kick back and have a little bit of fun every now and then. But not like we normally do. Luz has had a new boat since we've been home and I've yet been able to get out on it.
Wish me luck and hopefully our run of bad luck has run out. I mean, what else could possibly go wrong?
___________________________________________________________________
Photo Gear We Use - Solar Tips, Fact's and Trick's we've learned while on the road
Camper Check List - A list of things we do before leaving camp. Again, this isn't gospel, but its a good start for those who might not already have a list made up.
Return to Top of Page
Need Unlimited photo storage- FREE Trial of Smugmug