When we realize our insignificance in this world,
it some how relieves the pressures from society to succeed -
Cindy Bonish 04/07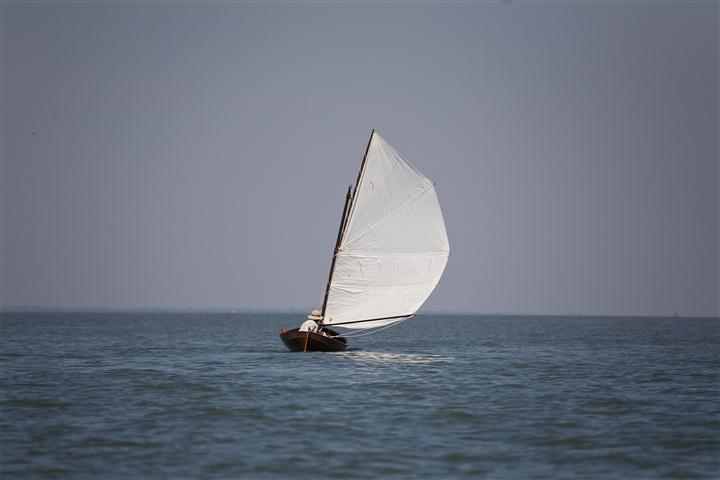 Pat's May 2011 Blog
If this is your first time here, you might want to start from the beginning of our fulltime Journey with our Past Blogs
If You Don't Know Me Yet, Click Here to Read Pat's Bio
****
Friday May 27th - Running Around and the Rehearsal Dinner
I haven't had my Social Security Card for years now. Not that I've ever needed the actual card. I know the number by heart as does Cindy, so it's never been that big of a deal.
While I was taking the Captains Course, we were told we'd need to make a copy of our Social Security Cards to mail in with the application packet.
So this morning I drove into Pontiac to the Social Security Administration building to see what I needed to do to get a new card.
Fully expecting this to be a major hassle and cost an arm and a leg, I was in and out in under 10 minutes with not a dime out of my pocket! Simply amazing. Thank you nice teller that was so fast and courteous.
Driving home, I stopped at Camera Mart which is a full service camera store in Downtown Pontiac. I was looking to find a place where I could rent some lighting for one of the shoots I have coming up this week.
Talking with one of the very helpful salespeople, they gave me a few numbers of local photographers who rent out their studios or might rent me some lighting.
I gave one of them a call while I was still in the parking lot because they said he was only a mile down the road. I talked with David Birdsong for a few minutes on the phone asking him about his studio and what he had to offer.
We both agreed that it would be better for me to come take a look at it since I was so close. I drove up a few blocks and found the building. Up to the 9th floor and found Dave's loft/studio.
Its fully equipped with multiple strobes, various octoboxes, umbrellas and light modifiers to achieve almost any style of lighting you'd be interested in. He has a nice wooden floor for the model to either stand or lie down on and has an assortment of backdrops to choose from.
We sat talking for some time about photography and modeling and I think I might come back on Sunday when he's going to be giving a Workshop on lighting and figure study.
He's quite an accomplished photographer and I'm always looking to learn from someone who has a style I like.
From Pontiac, I came back into Milford and stopped at the local McDonalds because I knew they'd have WiFi and I could sit down for a few minutes and let some emails download.
My I.T. guy had just fixed something that was wrong with my emails since I haven't been able to receive any for the past few days. He told me I was either trying to send a file that was too large, or someone was trying to send a file that was too big for our server and it froze it up.
He had to reset it and while I sat there watching my inbox fill up, I realized how many emails I get in only a few days. After being in McDonalds for almost an hour, the computer had only downloaded 800 of the 4000 some-odd emails it was trying to download.
I needed to get home and grab some things before I had to be at the rehearsal dinner, so I had to cancel the download process and pack up the cpu.
I'll have to get back to that at a later date.
Before the rehearsal, I had to meet up with a good friend of mine who was going to let me borrow one of his Canon Flashes. I have 3 flashes and two of them are broke right now. Joe told me I could use one of his for the wedding while I'm waiting to get mine fixed.
Once at the park, the fun began. Nick and Kailey are such a fun couple to be around. They're young, great looking and have amazingly uplifting attitudes.
Nicks friends are all a bunch of good looking guys that are typical high school football player jock types. The jokes and banter that floats between this group is enough to make anyone around break out into laughter.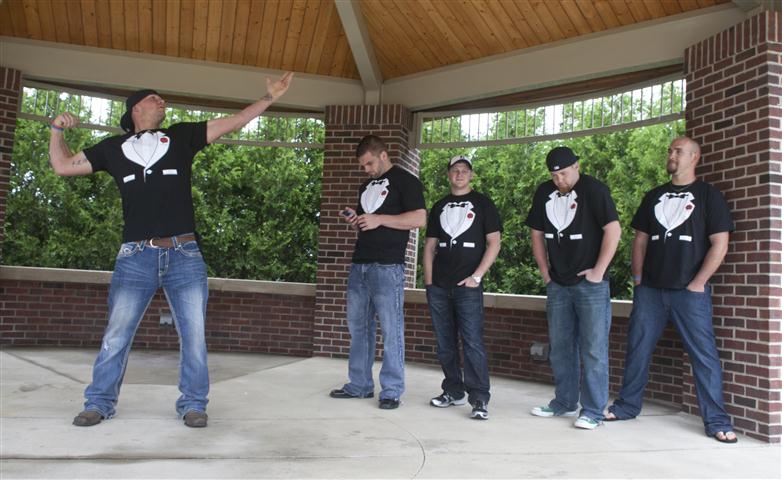 We went through the routine of who walks who down the isle and rehearsed where everyone is going to be standing and which parent is going to be giving which child away.
Once all that was sorted out, we moved out of the frigid cold weather and into the warmth of a local restaurant where everyone filled up on Pizza and Beer.
When the parents and young kids left to go home and get last minute things ready, the rest of the bridal party decided to head out and go bowling. They asked me if I wanted to tag along to take some photos and it's amazing no one got arrested.
We found a bowling alley (All Star Lanes) that was open, but didn't have a single customer in the place. We asked the owner if he was going to stay open and when he found out there was 20 people in our party, he said "I'll happily stay open if you bring in a 20 person party!"
I don't think he had any idea what he was getting himself into.
If you're a bowler or someone who believes you should always follow the rules, stop reading right here.
You have to remember that Nicks group of friends are guys that have grown up together since childhood. They were all on the football team and all look like they spend lots of time in the gym. They all like to drink large amounts of beer and usually don't follow too many rules.
Bowling wasn't so much bowling as it was a contest to see who could hurl the bowling ball down the lane the fastest, the farthest in the air or bounce it out of the gutter the highest.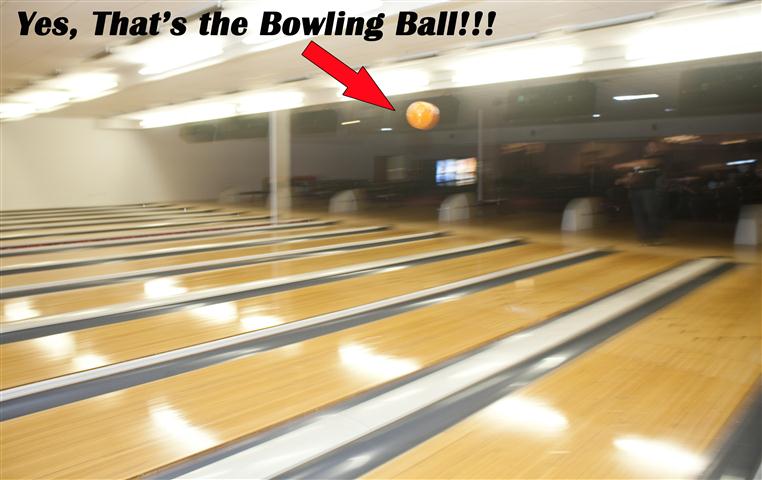 I'm not sure if Jim is Bowling or throwing Round Horse Shoes!?!
Pitchers of beer were spilled on the lanes where food and drinks aren't even supposed to be allowed and when a bowling ball bounced off the pinsetter while it was down setting pins, the owner finally told them they needed to calm down a bit.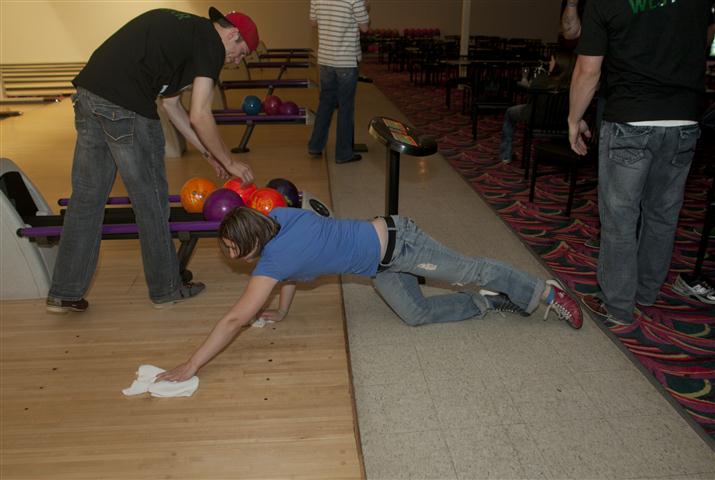 Cleaning up the pitcher of Beer that was spilled on the lane
Jim, the largest guy in the group and the one with the shirt on that said 'Lumberjack' on the back because he resembles a Paul Bunyan style woodsman whizzed one ball so fast it was clocked at 29mph. Did you know the score board in bowling alleys these days now tells you the speed of your ball?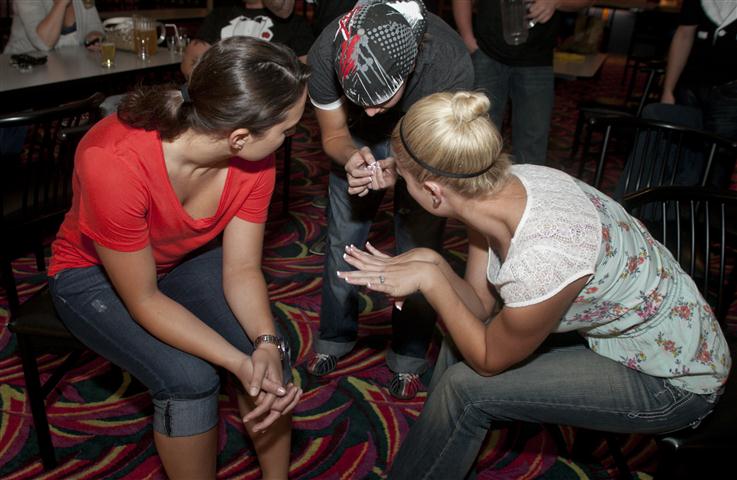 The girls making sure they hadn't broken any nails
after having them manicured earlier today before the bowling games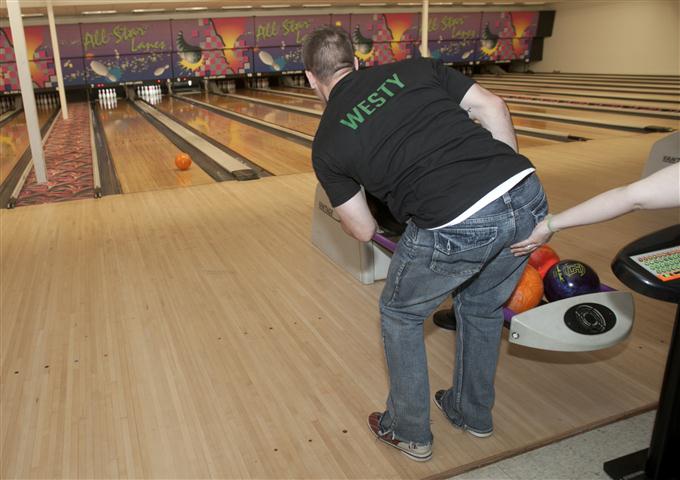 Notice where Mark is and where the bowling ball is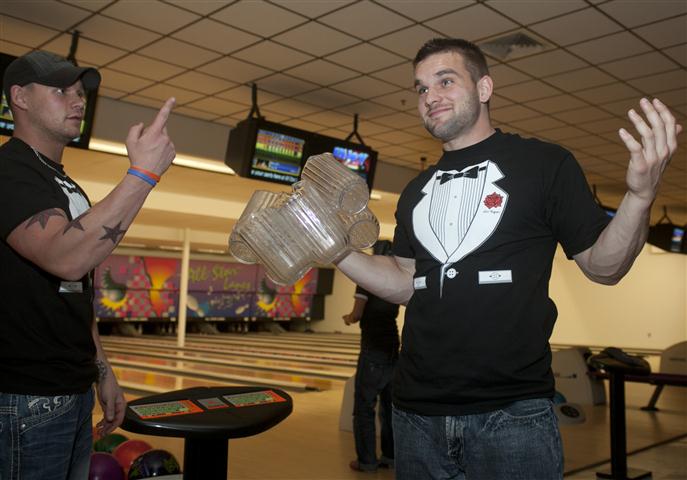 Mark asks if 6 pitchers was enough, but Nick wants one more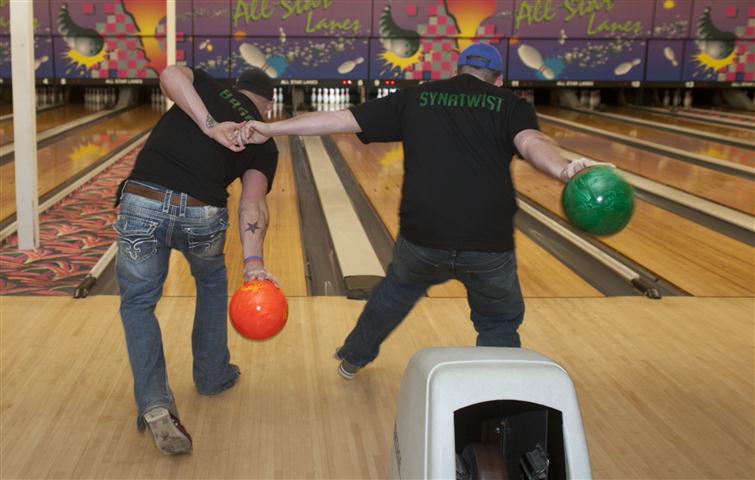 I have no idea what is going on in this shot???
When we finally left, my sides hurt from laughing so hard and luckily I was working behind the camera and hadn't touched a drop of alcohol so I could drive a truck load of this party crowd back to the hotel safely.
I can only imagine what tomorrows wedding is going to be like! Oh, and just so everyone knows, Kailey won every game of Bowling and whipped all the boys. Her first throw was a solid strike with many more to follow!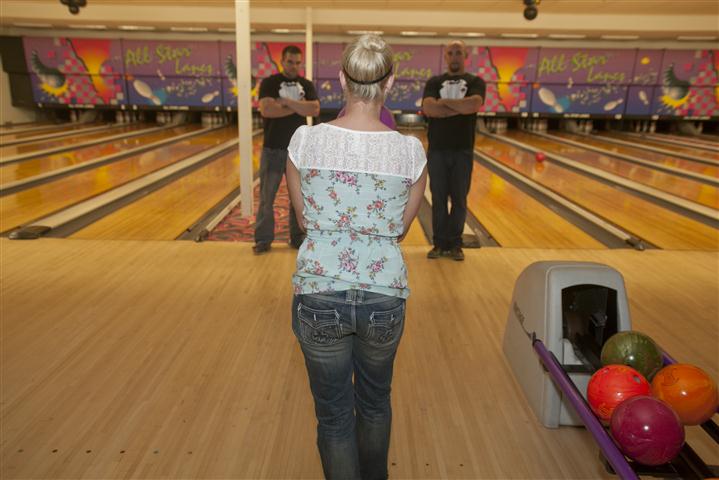 Towards the end of the night, Kailey was beating all the boys so bad,
they decided that they'd stand at the edges of the lane to try and distract her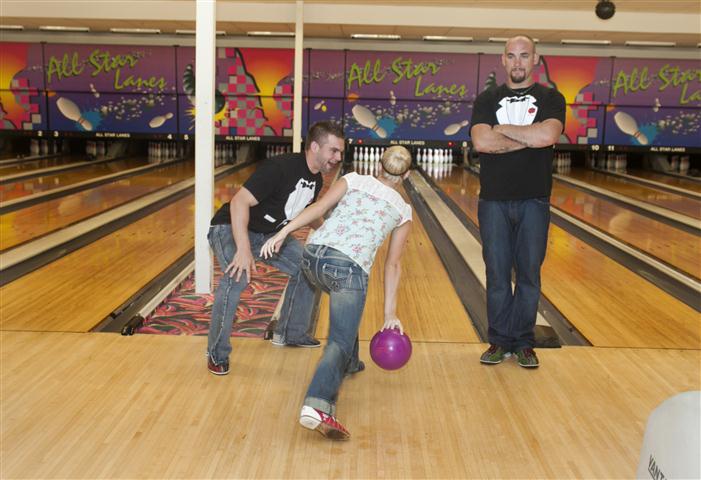 Did she care? Nope she threw another strike!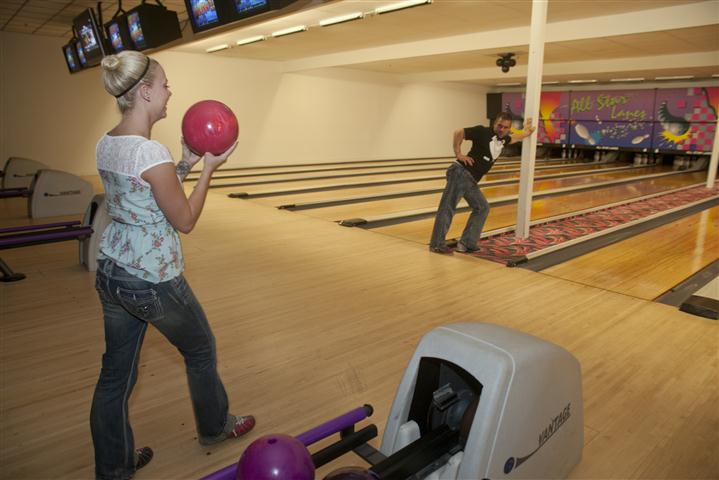 Pay no attention to the guy standing so GQ like beside the lane
Thursday May 26th - Flying to Michigan for the Holiday and Work
After a long week of entertaining out back at the tiki bar and working in a sweltering heat wave, I packed up my camera gear this morning and flew up to Michigan.
I said goodbye to Barry and Pat, Robin and Jeremy and told them they'd be in good hands with Cindy, Fonda and Juergen. They assured me they wouldn't have any issues with whom ever it was cracking open the beers out back at the tiki bar and we all said we'd look forward to next season when they return to Cedar Key.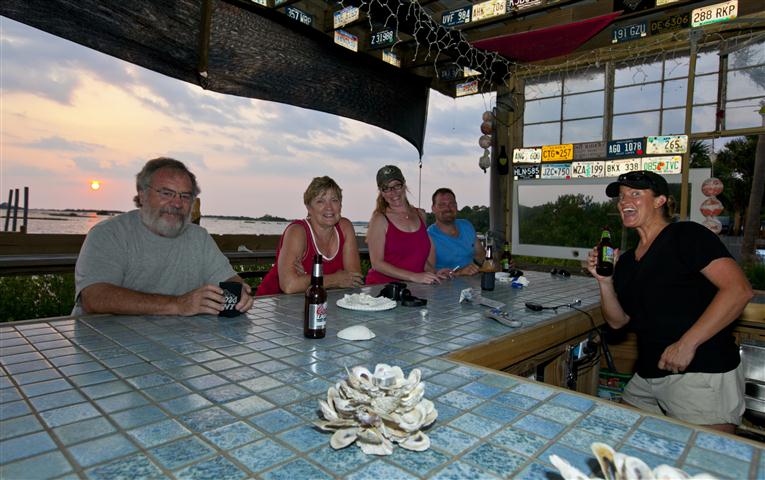 It was hard to dress in order to leave Florida to go to Michigan. I had checked the weather early this morning and it was only supposed to be in the 50's which meant I needed to dress warm. Leaving Cedar Key, it was pushing the mid-90's and the humidity level was up in the 90 percentile which meant I should have been naked and I'd still be sweating...sorry for that visual!
Cindy drove me to the airport, booted me out of the truck and left me in a cloud of dust. I don't think she was happy that I was going away on a busy holiday weekend! But I'm going to work, its not like I'm going to party.
My flights sucked big time! US Air has seats so small its like I'm sitting on a 2x4 and I'm a small person to begin with. If I think they're cramped, I cant imagine some 6' guy trying to fit into one comfortably.
I'll share some of my awful day spent in the air between Florida and Detroit.
You know how you always see lesbians in the movies and they're both drop dead gorgeous....well I'm here to tell you that's only in the movies. I had two sitting right in front of me who sat there petting one another and kissing the entire flight, problem was they both looked more manly than I do.
I landed in Charlotte and sent Cindy a text message that said "Just got off a 40 minute flight that had two lesbians making out in front of me the entire time."
She replied back with a message that said "Lucky You!"
My reply was "Yeah, but they looked more like Barry and Jeremy than the image you're imagining!" (Those are the two guys in the photo up above) Put it this way, it wasn't a pretty sight. Not that it mattered that they were lesbians....I mean if it was a heterosexual couple, it still would have been bad because these two people were not the type you want to see making out in front of you. I'm not that big on public displays of affection unless I'm on my 3rd round of Tequila.
My next flight from Charlotte to Detroit had a screaming baby behind me that cried the entire flight, some guy sitting in the row beside me that coughed some horrendous lung gurgling cough the entire time and someone in the vicinity of me that stunk of foul body odor. Needless to say, I was holding my breath, plugging my ears and counting the seconds till we landed.
I about screamed in agony and jumped out the Emergency Exit when the pilot came over the intercom saying that due to the nasty weather in Detroit, we were going to have to circle for 25 minutes to wait for the planes that were backed up in the landing pattern.
As we were finally starting to approach the runway in our descent, you could hear the landing gear open up and drop down below us when the plane went near vertical and began to climb straight back up.
A few women screamed and you heard things crash to the floor in the back of the plane.
As we leveled off, everything hovered weightless for a few seconds till we caught back up to the fluids in our bodies.
As the passengers all sat looking around wondering why we had just climbed a few thousand feet in a few short seconds, the Captain came back over the intercom saying "Sorry about that folks, but the tower had us landing on a runway that still had a plane on it, we're going to have to circle back around and try that again."
All of this would have been tolerable if I would have had a window seat. The clouds and their amazing patterns from 10,000' were a pure marvel to stare at. I would have taken hundreds of photos out the plane window for how beautiful they looked.
But the dufas sitting beside me sat sleeping with his head blocking half the window the entire flight. I almost woke him up at one point when the clouds were just too beautiful to ignore, but between the baby screaming and the germinator coughing, I thought if this guy can sleep through all of this, I'd better let him keep his sanity.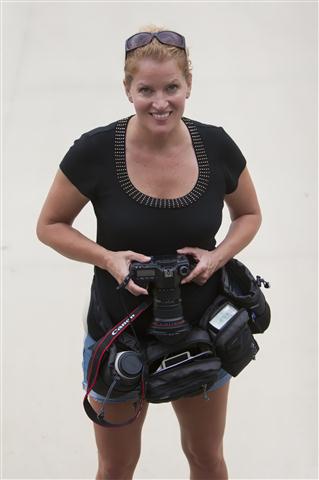 Landing in Detroit Metro, I walked out into a chilly 40 something degree evening.
WTF is up with this weather? My parents were waiting at the curb to pick me up and had the heat blaring in the car to warm me back up.
They have to be the best parents a child could ask for. When I told them I was flying into Michigan to shoot a wedding, they said "When do you land? We'll be there to pick you up!"
True to the typical Michigan weather saying, "If you don't like the weather, just wait a day and it'll change 180°", the forecast calls for 80° this weekend. When we arrived back in Milford, it was a balmy 42°!!!!!!
Coming home to my childhood home is always a reunion of sorts. The smells it offers brings back memories I can only conjure up when I'm in this house.
I see photos I've forgotten about that bring me right back to that day in time. The house and property is somewhat timeless, no matter how long I'm away from it, it never seems to change.
Sure a photo or piece of furniture might be different here and there, but the old house is just something that will always be the same. Solid, safe and where I know no matter what I do in life, I'll be loved more than you ever thought possible. It felt good to be home.
I remember as a kid coming home, the first thing I wanted to do was go out and see all my friends and catch up. As I've aged and matured, all I want to do now is spend time with my parents while I still have them here. I like it when my mom will get out a box of childhood memories and show me things I've seen a million times, but to her, its a way of showing how much she cares for me.
I love that my dad will show me his little treasures he keeps hidden in his desk like a child on Christmas morning with a new gift. These two people made me who I am and to sit back and watch them makes me thankful for that. I love still having them around even if I don't get to see them or talk to them all that much anymore.
When our daughter Donielle had her baby last month, my mom and dad arrived the day Cindy left to make sure Donielle and Allan wouldn't be alone with a new baby in the house for those first few weeks. They spent 10 days with her which is amazing to me that they'd go so far out of their way to keep the family together as a tight knit unit.
After a few hours of talking and going through old memories, we all said our goodnights and went off to bed. I crawled into my childhood bed and slept like a kid again.
I have a rehearsal dinner to photograph tomorrow night, the wedding to photograph on Saturday night which is the reason I'm up here and on Sunday we have a big party planned with my family. Next week I have multiple photo shoots planned and hopefully some time to visit with family and see a couple of old friends.
I'll be sure to update the blog with photos from all these shoots, as they're usually pretty fun. It'll be interesting to see how I manage this week since I had to fly with a skeleton selection of camera equipment. Going back to the days of simply 2 camera bodies, 2 lenses, one flash and some creative ideas to make it all work.
Hopefully I can pull it off without my trusty assistant who helps me and fixes all my things I miss? I cant remember shooting anything without Cindy by my side, so this is going to be different.
Monday May 23rd - Barry & Pat Return with Family
By this point, Barry and Pat have visited so many times, they seem like family.
They had left a month ago to go home for their daughters wedding. They left the coach down here in storage and just drove their tow vehicle home rather than make two trips with the big RV.
I guess their daughter Robin doesn't like to fly, so she had convinced them that it would be better for them to carpool and ride back down to Cedar Key together.
It was weird because Barry and Pat talk so much about Robin and her new husband Jeremy that I felt like I knew them as soon as I met them.
It must be what its like when people who read our blogs meet us for the first time. Even though it might be the first time you ever get to meet face to face, you feel like old friends right off.
Being as it was Monday and everyone had checked out yesterday, we were caught up on our chores and asked if they wanted to go out on the boat for a Cedar Key sunset.
We figured we could close the tiki bar one night and enjoy some time on the water with friends. At least its an excuse I like to use to close the tiki bar.
The night was sticky humid, so being out on the water felt great. It actually almost felt cool even though it was still in the high 80's.
As we idled out to North Key, we had a big pod of dolphins come swimming past us. I don't care how many times I see this, it will never get old for me.
For Robin and Jeremy, they both said it was the first time they had ever seen dolphins in the wild. They had gone to John Penecamp Park in the Florida Keys and swam with the dolphins, but those are trained dolphins that are in an enclosed area.
To see a pod of dolphins jumping around fishing, playing and just acting natural is a sight that puts a smile on ANY persons face.
From the dolphins we circled North Key where we saw a big shark go splashing off a sandbar with both fins sticking up out of the water.
When the sun started to get close to the horizon, we killed the motor and just sat watching the big ball drop.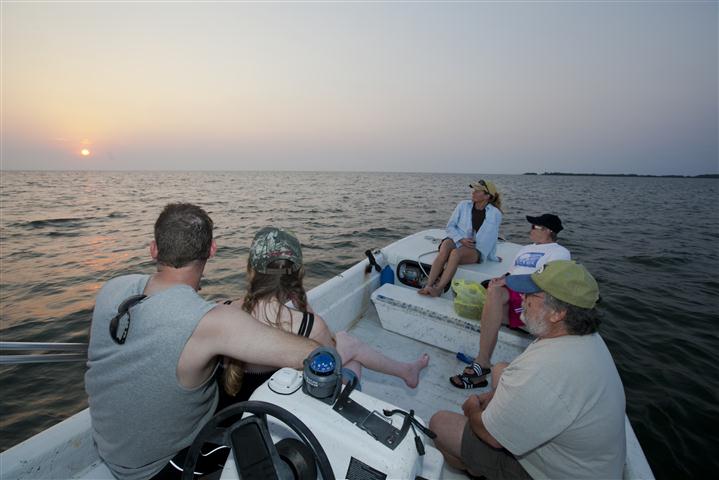 Kicking Back enjoying a sunset over the Gulf of Mexico
Problem was there was a dark line of clouds right on the horizon so once it got close, it disappeared behind the clouds. Oh well, they'll be here for 10 days, so I'm sure they'll see plenty more memorable Cedar Key sunsets.
Friday May 20th - Finishing up the Captain's Course
Our test started at 8am this morning. We were allotted 5 hours to take it, but we had been cramming for it all week, so the Q&A sections I buzzed right through and scored very well.
The charting was where I had my biggest problems, which was an area I knew I was going to struggle. My entire life I've had issues with math, and the charting was all math problems. I'm not talking just not being good at algebra or geometry, I'm talking full blown dyslexia when it comes to any equations.
Its so bad I have trouble adding and subtracting, so forget a problem where you might need to figure X + Y √ G... the only answer I'll come up with is a blank look on my face. Now ask me story problems that have to do with History and I'll dive in head first, ask me how to properly expose a speeding car that you want froze in the frame but you want the background to be blurry and I can tell you how to set your camera up within a few seconds, but when it comes to math, I know I'm a complete idiot.
I struggled through my questions and was able to fumble through them only because Heath and I had gone over the same few problems I knew I was going to have issues with, only we went over them over and over till they were engrained in my head.
So when she told me "Congratulations, you passed!" I felt a wave of relief come over me and I knew that was finally behind me.
I feel confident that in my life, I'm never going to have to figure out the set and drift to guide my boat in the dark of the night, especially when all we plan on doing is running Birding Tours with our Captain's licenses.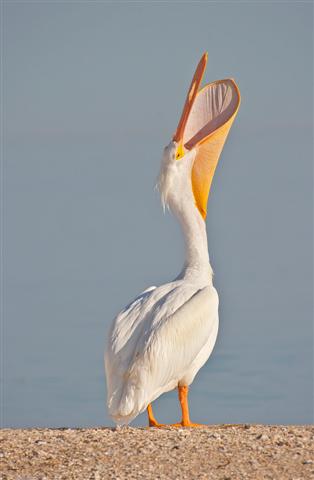 Now that we passed, we're simply waiting on the Coast Guard to review our applications, which they say can take anywhere from 4-6 weeks, and we'll be good to go.
Once we get these licenses, we're planning on running some guided photography tours around the Cedar Keys that will allow you to get up-close and personal with the bird population and we'll have me on board to help you out with your cameras functions.
We're hoping to have our licenses back by July 1st for the opening of the bird rookery on Seahorse Key. If anyone is interested in going on any of these Guided Photography Tours, shoot me an email and I can give you the lowdown on what will be included.
We're talking small, 4 person tours with a boat Captain operating the boat, me on the boat to act as a guide and instructor for proper camera operation, and we've been outfitting the boat to operate in very shallow water with little to no noise so you will be able to get really close to some spectacular scenes.
We're talking an electric trolling motor that is whisper quiet, run off a deep cell battery that is charged from a solar panel so we can keep things as Green as possible. I'm also going to be talking with some camera shops to see what we can put together so there might be a chance for lens rentals if you're interested in trying out longer lenses to get better close-up images of the birds.
I'm sure this whole ordeal will evolve as we go along, but those are some of the plans right now. If you're interested, give me a shout and I'll give you prices and dates we're available.
You can email me by clicking here - Cedar Key Birding Tours
Wednesday May 18th - Almost Done with Classes
The past few days have been mind numbing. Our test is on Friday morning, so I haven't been doing much of anything other than studying and did I mention Studying?
Rather than bore you with details of Tides, Ropes and the Rules of the Road according to the Coast Guard, I'll just post some random photos as eye candy.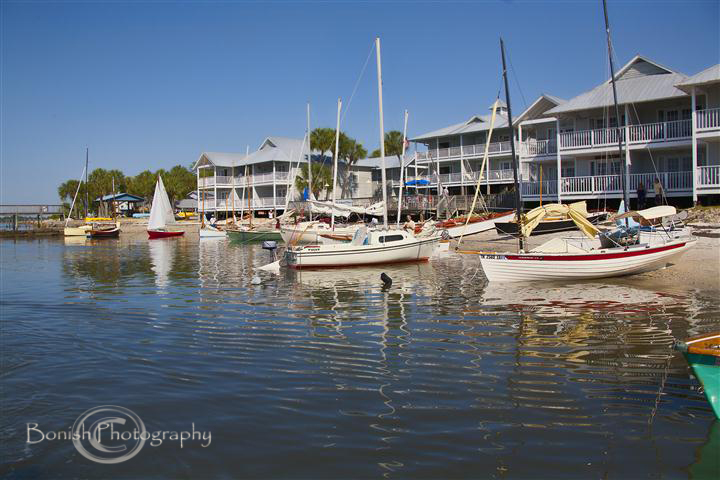 Sailboats lined up on the beach behind the Island Place in Downtown Cedar Key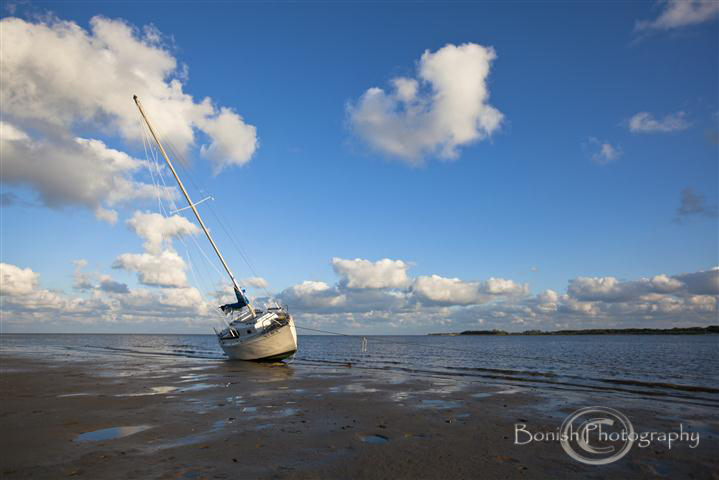 Typical Sight in Cedar Key, someone didn't beat the the tides back into the Marina
Cindy had me hang a bird feeder in the backyard and she filled it with Sunflower seeds so she could watch the song birds play right out our back window. Guess what we now have right where the feeder was hung? A big sunflower patch.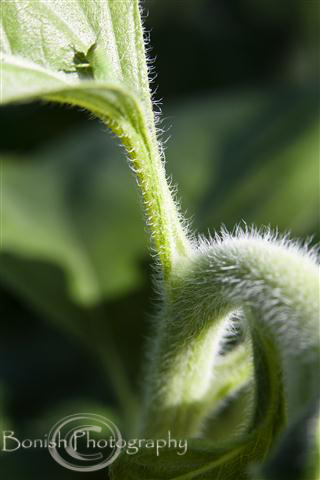 Mother Natures way of saying "Don't Touch!"

Looking into a big Sunflower getting ready to open
On Sunday we were in the Captain's Class all day long. Cindy knows I'm not supposed to answer my phone while in class, but she kept calling over and over. I excused myself and went outside to see if it was an emergency.
She was practically yelling into the phone that a adult Diamondback Terrapin turtle had walked across the street, into our parking lot and was in the process of laying her eggs right up against one of the parking curbs.
I told her there was no way I could come home for this, but make sure to grab a camera and snap as many photos as possible.
Why this turtle chose our parking lot...we have no idea, but it must be an instinctual area because we find babies crawling around all the time.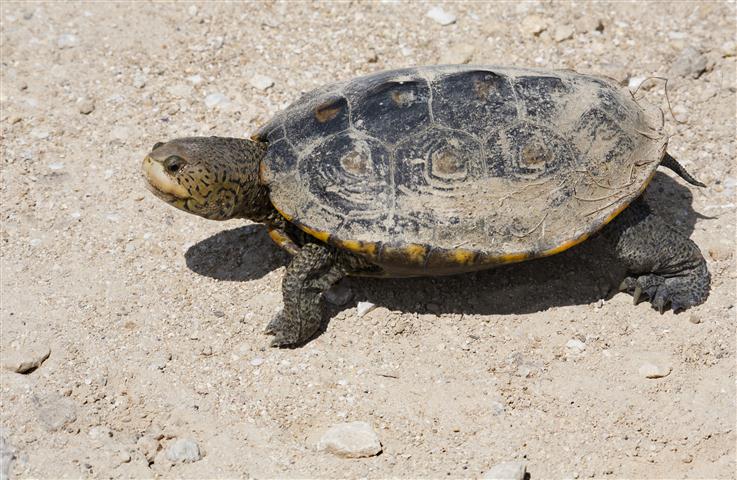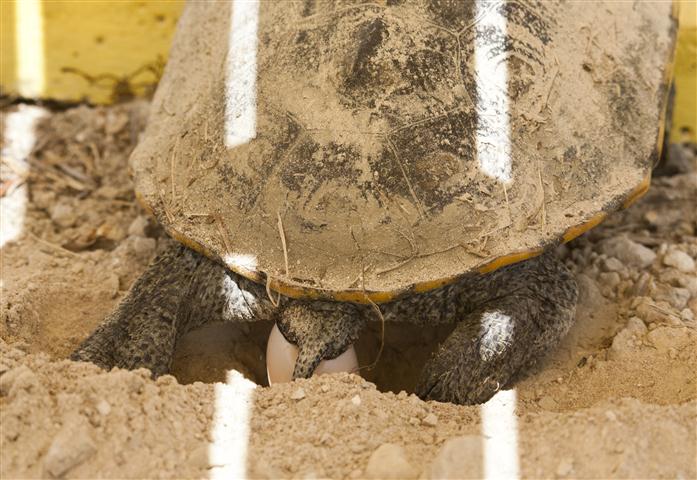 See the egg being laid in the hole!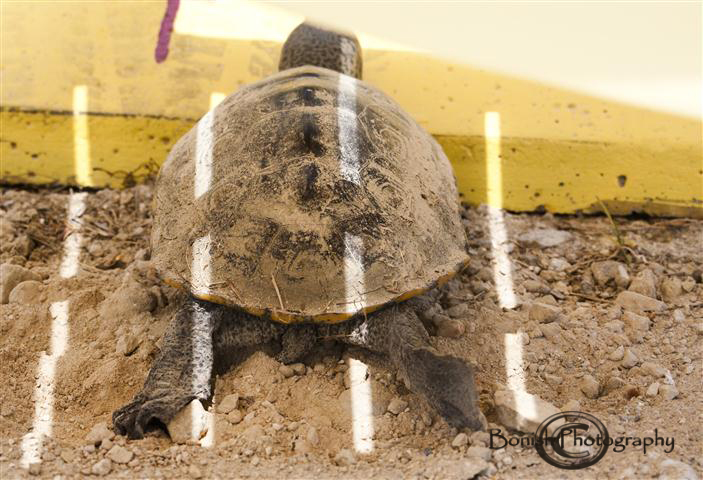 This was after the turtle had laid the eggs and was covering the hole back up.
Cindy said there was 7 eggs total in the hole and it was just amazing to watch. We've put a basket over the area and marked it so people wont disturb. A little internet searching told us in 70-120 days, we should be seeing baby turtles crawling from our parking lot.
This week with the full moon and with the cold front moving in, we've had some crazy tides. One day Cindy called saying "You should see the water behind the Low-Key Hideaway! It's coming over the back of the boat!"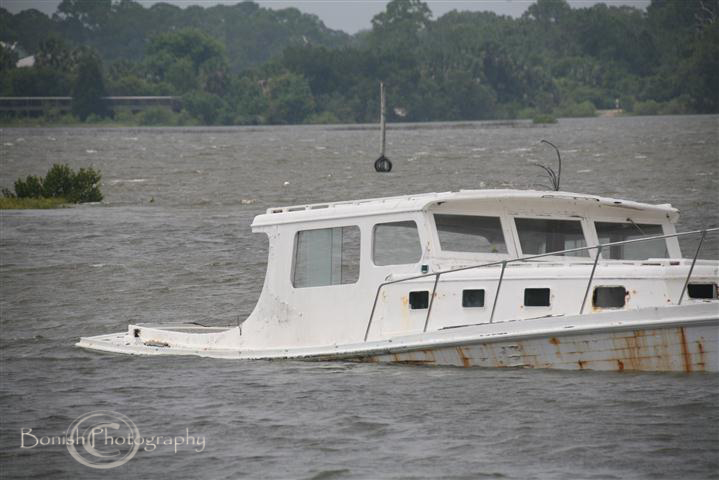 I'll leave you with a image I captured a few weeks ago at Sunrise, but I just found the time to sit down in front of the computer and start organizing a bunch of my images. So this was like finding a little present.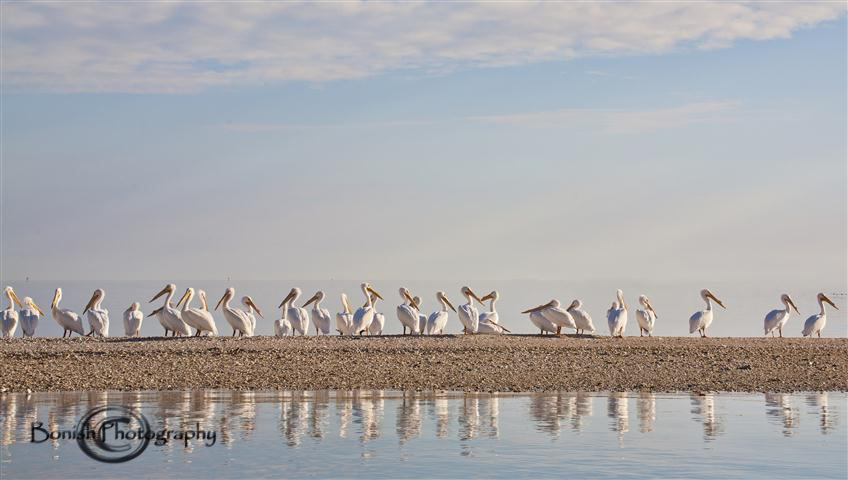 Friday May 13th - Feeling Really Stupid
This past week has been a rude awakening on what it's like to go back to school as an adult. There is a group of us who have been taking night classes this entire week in order to take the test to get our OUPV (6 Pack) Captain's License with the Coast Guard.
I thought I was proficient on a boat. I learned within the first few minutes of this class that a boat is anything below 65' in length, a vessel is anything over 65'...We aren't learning anything about boats or boat handling, we're strictly being taught about vessels....HUGE VESSELS!
The Captain who is teaching us is a retired Submarine Boat Captain. 30 years in the Navy and almost all of those years on a Submarine. You should have seen the look on his face the first night of class as he's trying to teach a bunch of Cedar Key Locals about lighting a +200m vessel.
I had to look up what 200 meters equaled out to in feet, since I'm not that proficient in my meters calculations and was dumbfounded to learn that 200 meters = 656.2 feet!!!
At the end of the night, he asked if anyone had any questions as the room sat silent. I think you could smell the smoke coming from all our brains as we were basically fried from our first nights course.
I raised my hand and felt I should let the Captain know a little bit about Cedar Key. I said "Captain Joe, do you realize that one of your first statements of the class was the difference between boats and vessels. And except for going on a vacation style cruise, no one in this room has ever seen a boat that big. We've NEVER seen anything like that in the waters of Cedar Key."
I went on to let him know that I was simply telling him this because he kept looking confused when he would ask questions about 50m vessels, 100m vessels and barges of that size and no one could answer him.
He scratched his head and asked "How far out do you have to go to hit 200' of water here in Cedar Key?"
The whole class laughed and I said "You can go 10 miles off the shore and still only be in 10' of water."
One of the local fisherman who is taking the class and has a big 85' shrimp boat that's the closest thing any of us are going to see to a vessel said "Captain, I've been 200 miles off the coast of Cedar Key fishing and still never saw 200' deep."
I think at that time the teacher realized he needed to teach this class a little bit different than he normally does.
It's silly that in order for us to take a hired passenger on a little skiff, a pontoon boat or any boat for that matter, we need to take a class that teaches us rules we're probably never going to use here in Cedar Key.
Are they rules that'll make all of us better boaters? YES! But most of us know we're never going to go to work for a barge company or a boat moving company that moves +200m vessels up and down the Gulf Stream.
For me, I like to learn new things, so this is sort of fun, but man does it show me how hard it is to teach an old dog new tricks. There are lots of signs, lights and diagrams that I've seen ever day while out on the water, yet never knew what the meaning was or what the reasoning for them was. That'll all change in the next 10 days.
Drug test, physical, chart plotting and Coast Guard rules are all I'm thinking about this week.
I'll be sure to let you know how it goes by next Friday when we take the final test. Hopefully it wont be a waste of money, because the class is expensive.
Friday May 6th - Lazy Day Around The Low-Key Hideaway
Everyone was moving slow today. I think we were all sore from just being on the boat for that length of time. You don't realize it but your body is moving the entire time trying to keep you balanced and level while the boat is moving, so after a long day spent on the water, you're actually sore from just standing still.
We had a full turn over today, so Cindy and I were busy cleaning rooms and welcoming guests to our little hideaway.
Derrick and Tish did what most people do on vacation and just kicked back and took it easy. They walked into town for lunch, took a long nap and sat out back in the Leinenkugel Adirondack chairs soaking in the warm, salty breezes.
Around 5 o'clock, the tiki bar opened and people started showing up for the sunset celebration. You know your spoiled when people come from all over to see the sunset in your back yard. I have to remind myself this on numerous occasions when I start to think about moving on to another location.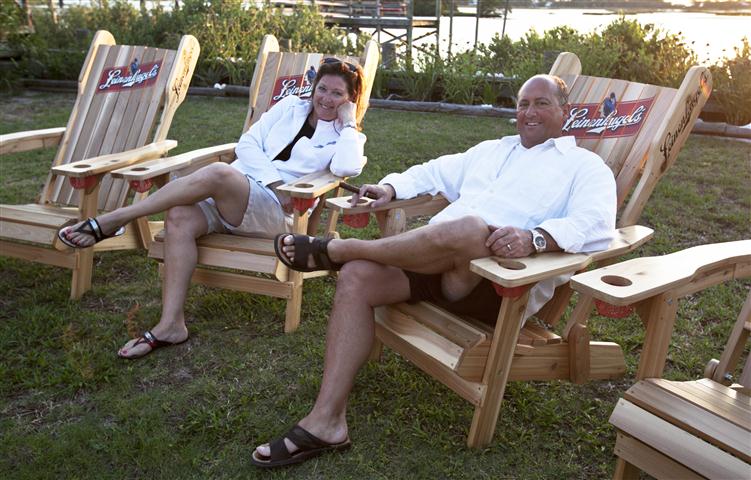 Derrick and Tish cooked us dinner tonight which was thick, juicy steaks grilled on the BBQ Grill out back. Sweet, corn on the cob grown locally and bought from the market and washed down with some ice cold Coors Lights and a beautiful sunset.
Tonight was a early night for all of us, but fun was had by everyone as we had some really cool guests who were staying with us that kept the stories coming one right after the next and the laughs following with each tale.
Some guests who had stayed here awhile back sent us some photos of their kayak fishing trip. Now I know the kayak fishing here is good, but can you imagine catching any of these suckers from a small kayak?!?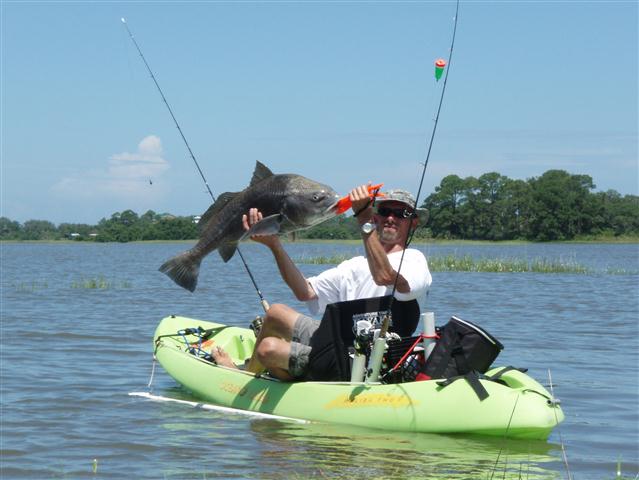 "Billabong909" aka Aaron from the Jacksonville Kayak Forum with a monster Black Drum
and the photo was taken by JohnYaksJax aka John Stewart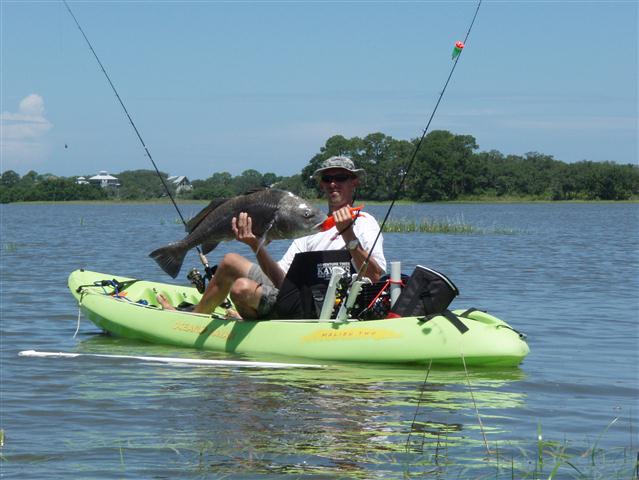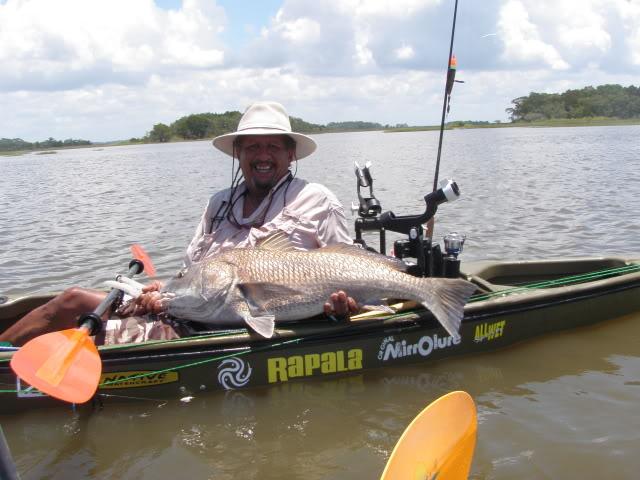 "BigUgly1" is "Dreads" from the Jacksonville Kayak Forum,
aka Keith Howard and the photo was taken by JohnYaksJax aka John Stewart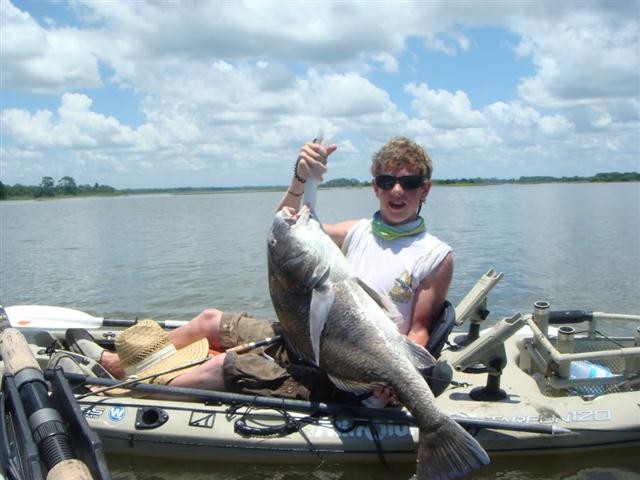 Josh Terell with a Monster Red Fish caught out behind the Low-Key Hideaway - Story on this was this young guy was out fishing for his first time ever in a kayak. This was his 1st big catch! We joked that he is ruined for life now...either that or hooked because he'll always be going after his first time out
Thursday May 5th - Another Awesome Day on the Water
We had one of those days where we only had one room checking in and one room checking out. Luckily the guests who left did so very early so they could be on the road to their next destination before it got too late to enjoy the day.
Cindy and I busted out the cleaning and flipping of the room and we were ready to take the rest of the day off before noon.
We left a note taped to the door for the new guests checking in and packed up a cooler. Our plans were to spend the entire day out on the water. The weather was about as perfect as one could hope for, and the water was nice and calm with a warm breeze blowing off the Gulf.
Derrick and Tish love being out on the water as much as I do, and Cindy, the only one who will ever say she doesn't love the water probably had the most fun. I always find it funny that she'll argue and fight about going out on the boat every time I ask her, but every time she goes out, she has a blast.
Today would be no different. We left with a high tide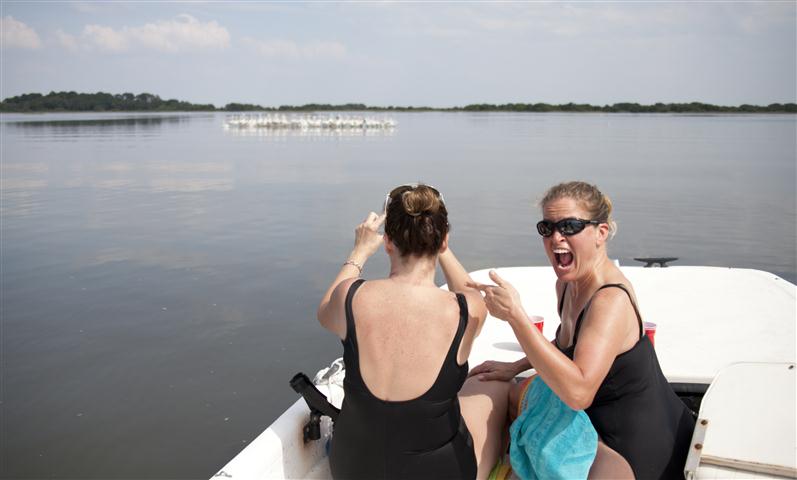 around us, so we motored out to some of the surrounding islands to show our island neighborhood to Derrick and Tish.
We found a nice deserted beach on North Key where we plunged our feet into the glowing white sand. We waded out into the cool Gulf waters to cool ourselves off and combed the beach just talking and enjoying this beautiful day we had around us.
We slowly floated up the channels behind the motel where we watched dolphin fishing, wading birds picking through the oyster beds all the while laughing and sharing more stories from our time apart from one another.
Good friends like Derrick and Tish are people who you can tell your most intimate stories to. You know the ones about family, our kids, our friends and stories that you'd never bring up around anyone other than a spouse or your closest loved one.
Tish and Cindy are two peas in a pod and can sit and laugh at who knows what for hours on end. Their stories make Derrick and I laugh just listening to them laugh at one another. We don't even know what they're talking about half the time yet we end up laughing just because they're laughing so hard.
We were surprised to find a big flock of White Pelicans that were right across from the Low-Key Hideaway. They've been gone now for a few weeks it seems, but every now and then a flock will land while I'm assuming they're on their migratory path up from somewhere South of us.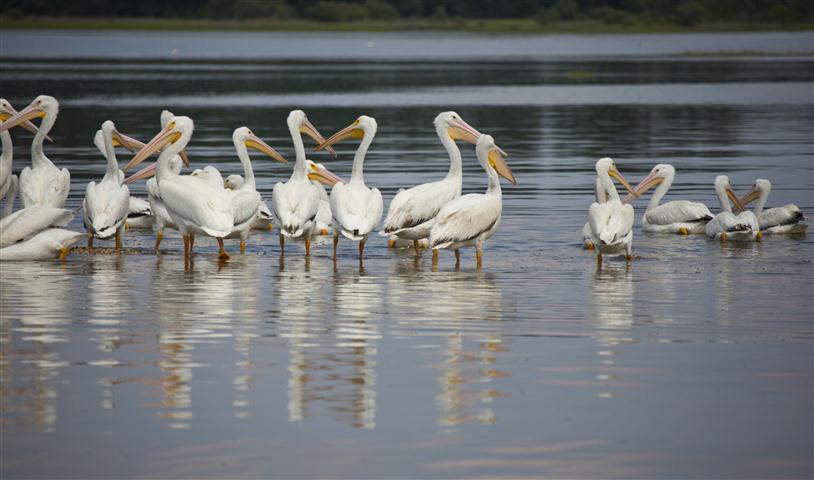 They probably use our area to rest and refuel on their way North. They look totally different now with their bright orange bills gone which are now a dull yellow. Those big nubs that they normally have on the top of their bills while they're breeding are gone and their bright white feathers aren't even as pretty as they normally are. They're still a beautiful bird, they just don't have the bright colors they do when they're here in the winter and they're trying to find a breeding mate.
Funny how that same thing happens in the Human World. The men and women go out of their way to dress up and impress their mates with flashy colors, bulging nubs on certain parts of their body....only to hook up with a mate and let it all fall off or go away to dingy colors and dull looks.
We floated the boat out towards Cedar Pointe, a little shell mound of an island and killed the motor. From here, we let the afternoon Westerly wind drift us South towards the open Gulf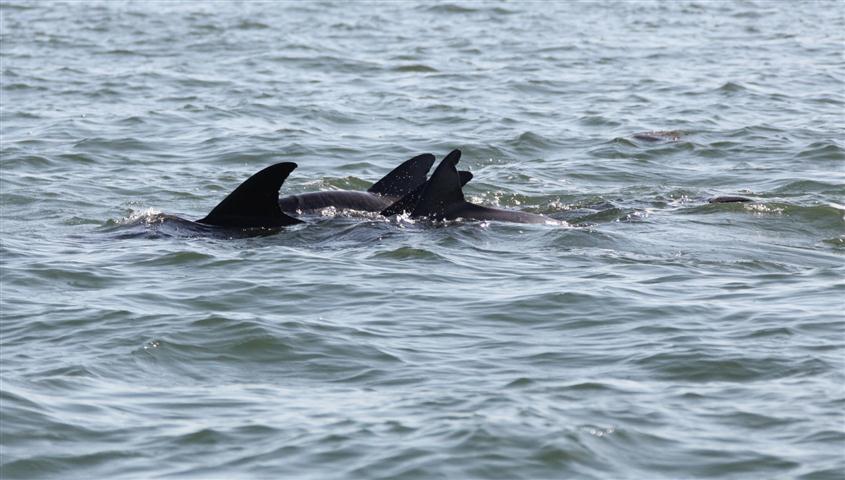 of Mexico. Every now and then, a pod of dolphins would swim past with just the sound of their loud exhale breeching the surface of the water.
By this point the sun was starting to set and we had been on the water for almost 8 hours. Our drinks had long been exhausted, the bag full of snacks was gone and we were all talking about dinner and a cozy bed.
Motoring towards the Cedar Key Marina, Cindy kept talking about Karaoke tonight at Coconuts. If you remember, Derrick and Cindy are Karaoke Addicts and had been talking about this for days now. I doubted either of them would be able to stay awake during dinner to make it to Coconuts, but we'd have to see how they'd do after some food was put in their system.
Dinner was had on the deck at the Pickled Pelican with awesome plates being scarfed down by all of us. Everyone was starving and this was just what was needed. Dustin, the owner of the restaurant came out talking with us and sharing some stories from his time living in Michigan. Funny how we all come from the same home state of Michigan, and all find our way to this little seaside town in West, Central Florida.
I thought the big meals were going to be the final nail in the day, but it energized Cindy who made sure all of us knew we were going from the Pickled Pelican to Coconuts so they could sing their Karaoke.
Walking down Dock Street, we could hear the lure of the music coming out the open doors of this little bar and I could see Cindy getting more and more excited with each step.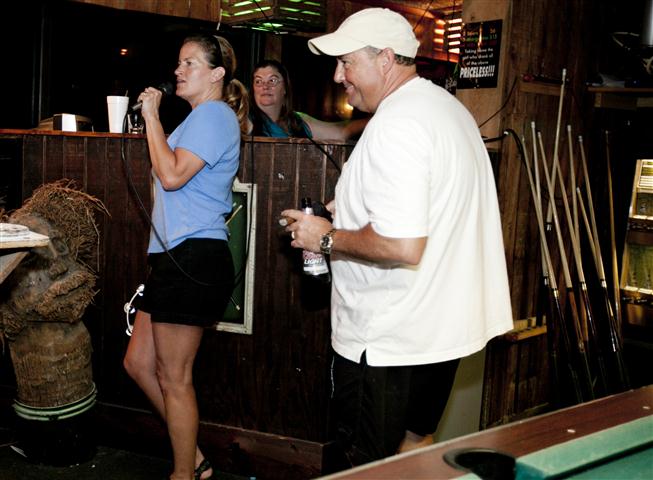 Before long, it was like old times. Tish and I were sitting at the bar laughing at our spouses who were both holding microphones serenading the crowd with their voices. They tried their hardest to find every duet the Karaoke Lady had in her book and they picked so many songs, numerous times they'd just stay standing up there for multiple songs in a row.
Tish and I just spent the rest of the night people watching and being sung to by our best friends in the world.
When the bar was closing and we were some of the only people left there, I finally pulled the microphones out of their hands and told them we had to go home.
It was after midnight and we had been out since 12noon. I was ready for bed and Cindy was beyond the point of no-return. Her logic was "Let me walk home so I don't feel like crap tomorrow!"
I laughed and said "You've got to be kidding me! Just get in the truck and you'll be fine."
She said "Well let me walk over the bridge and you pick me up when you drive to the other side of Dock Street."
I tried to explain that we had been out drinking since noon, it was now after midnight. Walking one block will not sober you up or make you feel any better tomorrow....But this is drunken logic and makes perfect sense at the time it is spewing out of the persons mouth who thinks its the best thing to do. Believe me, I've been in this same spot numerous times, so I knew what was going on, but luckily I wasn't buying into it.
We talked Cindy into getting in the truck with us and luckily for all of us, I had been drinking waters and Gatorade's since we had gotten off the boat hours ago.
I made sure everyone made it home safely, I showered off the salt residue that was covering my body and I think I was snoring before my head hit the pillow.
What an awesome day with good friends and more fun times added to the memory bank.
Wednesday May 4th - Having Fun on the Water
Derrick and Tish came into town yesterday and we spent the night having fun out at the tiki bar with dinner at the Neptune's Lounge in the Island Hotel.
I thought it was funny that Cindy had said "Clean up the house, I don't think Derrick and Tish will enjoy sitting out at the Tiki Bar because of how humid it is today."
I looked at her and laughed saying "Are you kidding me? They're flying in from Minnesota! It was snowing there a few days ago."
When they got here I asked where they wanted to go and they both blurted out, "The Tiki Bar! This weather is PERFECT!"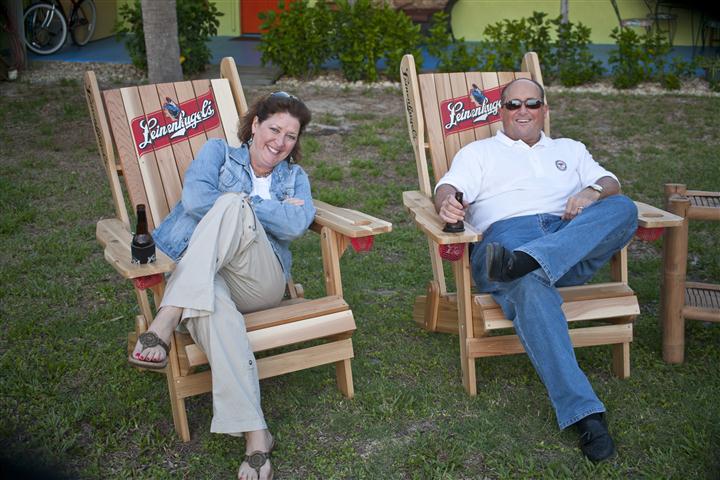 Tish & Derrick kicking Back on the Leinenkugel Chairs
We watched the sunset sitting out back on our new Leinenkugel's Adirondack chairs, caught up on our families, the kids and what's gone on since we last visited. That's when you know you're around good friends when you pick up right where you left off...and it was months since we've last seen one another.
Dinner consisted of big juicy burgers at the Neptune's Lounge which always fill you up. From there we had a night cap before crawling into bed.
Today was picture perfect weather wise. A cold front blew through last night, so the humidity is gone, but the temps are still in the high 70's. Derrick and Tish kicked back in the backyard lounging in the sun and just soaking up some beautiful weather.
Once Cindy and I were finished with that nasty 4 letter word...WORK, we all met Heath at his house and loaded up a cooler full of drinks on the boat.
Heath had said he'd love to take us out and since the last time Derrick and Tish had visited Cedar Key, it was so cold we never got on the water, I couldn't wait to take them out and show them what we live with every day.
It turned out to be a great afternoon. We were able to get the boat stuck on a sandbar while trying to bring them to one of the islands, so during their first boat ride, we made the notch of getting stuck, which happens very frequently in Cedar key.
We floated for awhile just talking and relaxing and we came up on a huge pod of dolphins that turned out to be an experience I'll never forget.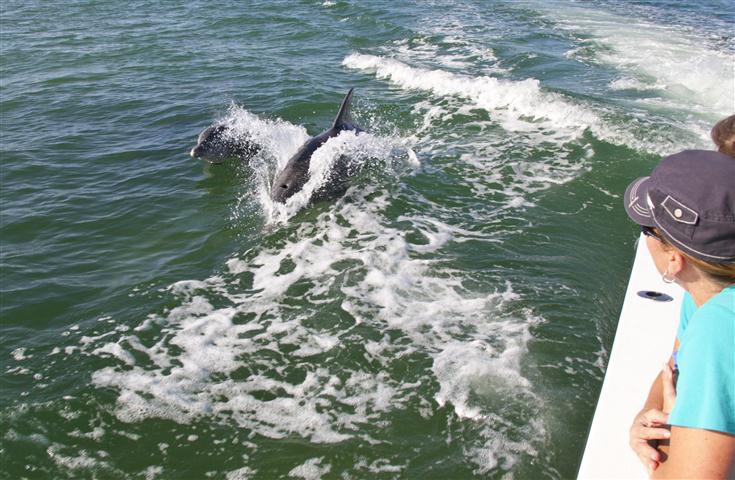 Cindy & Tish watching as the Dolphins Play Beside Us
This particular pod had a bunch of baby dolphins with them that they must have been teaching how to swim. The little dolphins would swim with their bodies literally touching the adults the entire time. The adults were pushing the little ones towards us like they were showing them how to swim in the wake of the boat.
We were just circling around creating this huge wake with the boat and the dolphins wouldn't leave us alone. This entire experience lasted for about a half hour and was just amazing. The 10-15 dolphins seemed like they had just as much fun as we did. They would swim right beside the boat looking up at us and jumping in the wake like they were enjoying it more than us.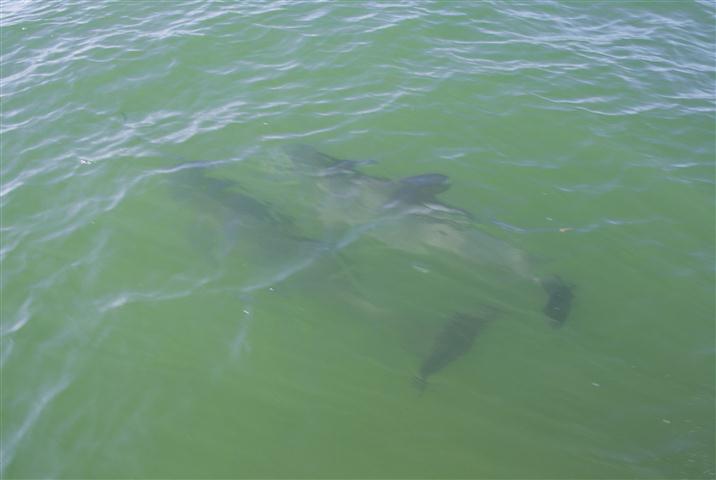 Pair of Dolphin swimming beside the Boat
After awhile we motored away as the pod split up and went in different directions. Some of them followed us for some time but they soon grew bored with us and went in another direction.
Heath and I bought a Small Trolling Motor a few weeks ago and have been testing it to see how long it will push his various boats around.
As we sat just off Seahorse Key, we wanted to see what the trolling motor would do pushing the big boat into a stiff wind. Result = Nothing. It would keep us sitting still rather than allowing the wind to blow us backwards, but it wouldn't push the boat forward. What we're trying to find is a electric motor that wont cause any vibrations to shake the boat like the big 2 stroke outboard motors do.
Where hoping that when we do our photo tours we're planning for the future, the electric motors will be able to keep camera shake to a minimum and allow us to recharge the batteries off of some solar panels we'll be purchasing. The testing is the best part because it gets us out on the water and gives us an excuse to do it often.
Being as it was getting late in the afternoon, we headed over to the Island Room so we could go to the Chamber of Commerce Mixer that Peter was hosting tonight. Something about Drinks and Top notch food can bring anyone in off the water.
We tied the boat up to the outside dock and walked over to the Island Room. Plates full of stuffed peppers, bruschetta and fresh clams were gobbled up while business owners from all over Cedar Key were mingling around chatting and swapping new ideas.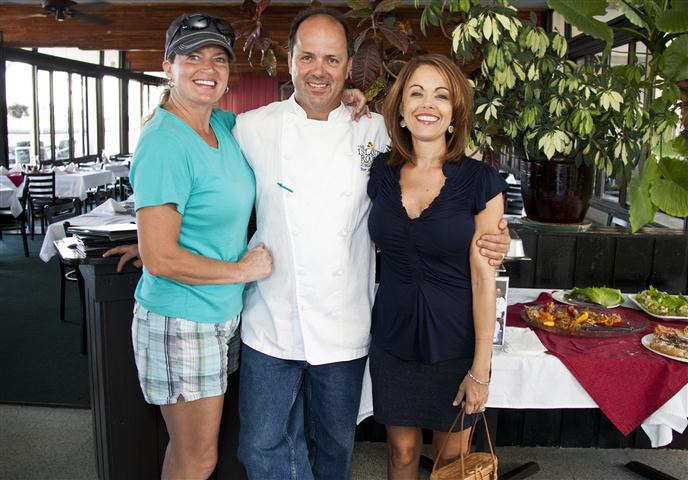 Cindy, Peter & Jolie at the Island Room in Cedar Key
We spent an hour mingling before the lure of a sunset over the water called us back to the boat. We loaded up and headed back out on the water.
With the sun setting over the Gulf of Mexico, we all kicked back smoking big Cuban cigars, sipping on tasty beverages and loving life.
Derrick said with a touch of sarcasm in his voice, "So this is what you have to put up with every night?"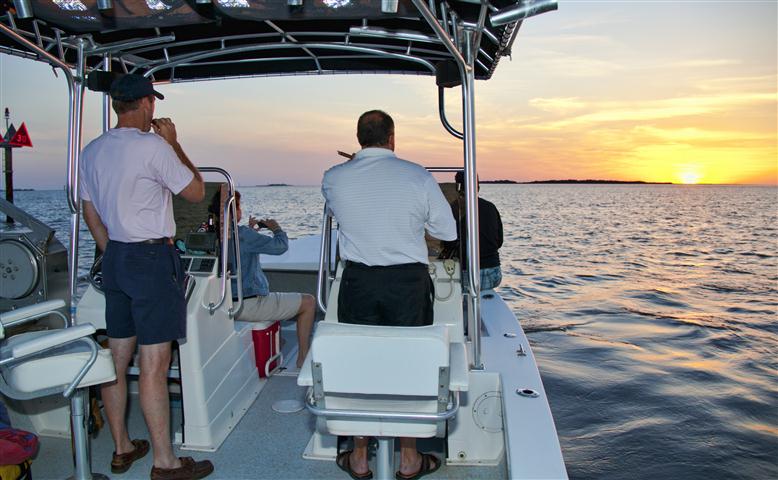 Life's Rough Sometimes!
We all just sat back taking in the sunset, letting that warm, salty breeze keep the bugs at bay and enjoying our evening on the water. Sometimes life can be tough, other times you have moments like this.
Monday May 2nd - Back to Reality in Cedar Key
We drove back home after staying one more night in St. Augustine. What a cool little city. Cindy and I had visited this historic little town a few times in the past, but not while on our RV Road Trip.
It'll have to be one of our next destinations we go to and really saturate everything it has to offer. This time was more of a little party vacation because of the girls birthdays.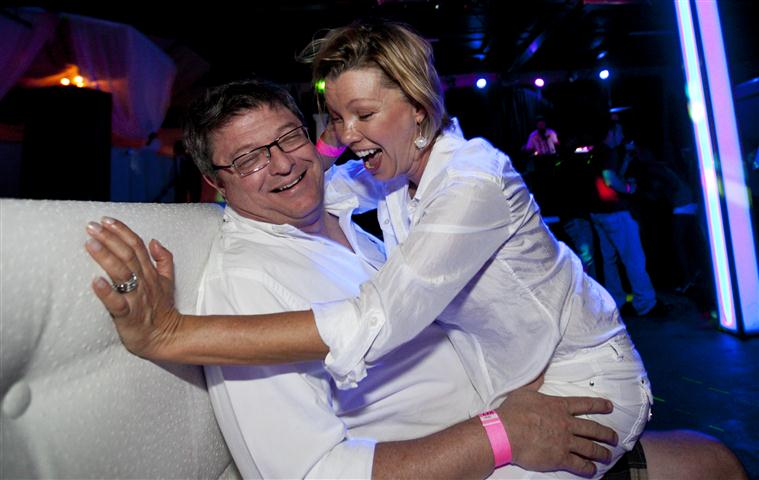 Who know what was so funny, but it was a fun night!
Saturday night we had went out partying, dancing and just having some fun. The girls got wild, Walter and I sat back laughing our butts off and the night ended with a bang.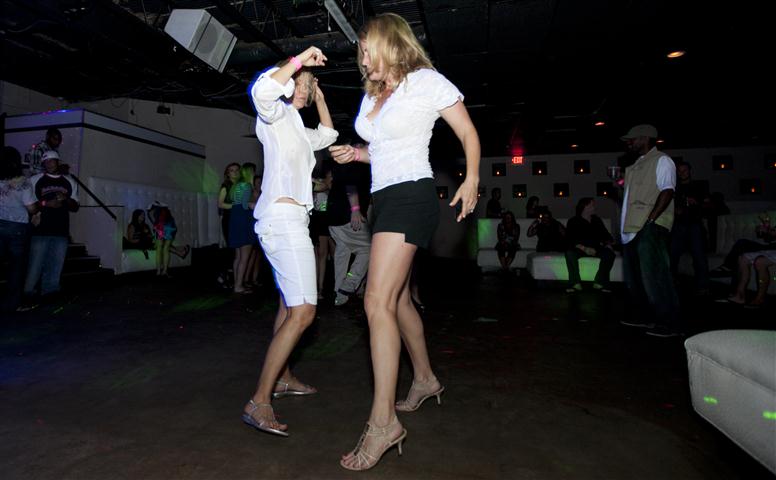 We arrived back at home and went straight back to work. Sunday was spent cleaning rooms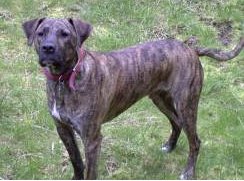 and getting back in the grove of motel/tiki bar life.
This week we have our best friends Derrick and Tish coming in for a visit, so the party isn't over yet. I'm sure we'll have lots of fun stuff to talk about at the end of this week.
Yesterday a nice young couple checked in and Cindy saw their dog in their truck. She asked about it saying "I like the looks of your Pit bull."
The guy replied back "It's actually not a Pit bull, it's a Plott Hound." I Googled Plott Hound and was shocked when the 1st photo I found looks almost identical to Luca. This is the photo of the Plott Hound I found when Googling this Breed.
I read about the demeanor of the breed and I think we've found what our rescue dog is.
All this time we've said things like 'He looks like he's got a mix of something else in him...maybe hound or lab?" But those were always just guesses. To see him beside a full blood Plott Hound, he looks like a fat twin. The guest staying here has a young female that is only 2 years old. Our boy Luca is pushing his 8th year and the last two have been spent sitting idle kicking back here in Cedar Key. In other words he's put on a few pounds of excess weight.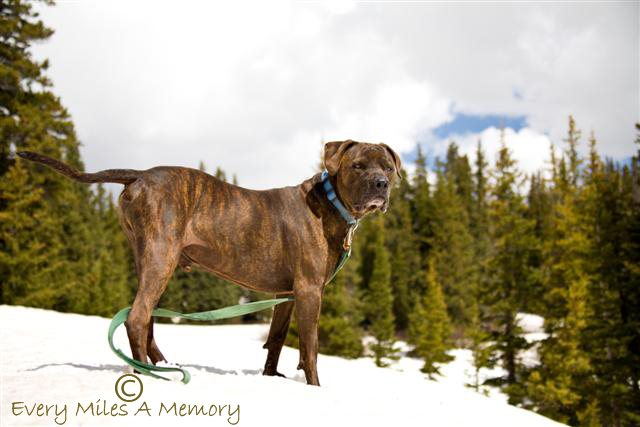 They look like siblings don't they! Obviously ours has a little more weight to him, but coming from a family that likes to eat, it makes sense.
This week we start our Captain's Class where I'll be getting my Captain's License. I've talked a bit about Heath and I scouting some areas for Bird Tours, and we've both decided to go ahead with it.
This means we'll be needing to get certified with the Coast Guard to become Boat Captains. This class will take 10 days of study before we get certified. Once that is done, when guests come into Cedar Key and are interested in seeing birds up-close for photography purposes, we'll be able to accommodate them.
We're planning on putting together some specialized tours where photographers will be able to come out with us, and we'll be able to not only get them close to birds, but with me on the boat, I'll be able to act as a photography guide to help them come home with shots they'll be proud to show their friends. I'll make sure they have their camera settings set to capture birds in flight, something that is especially difficult when shooting from a boat.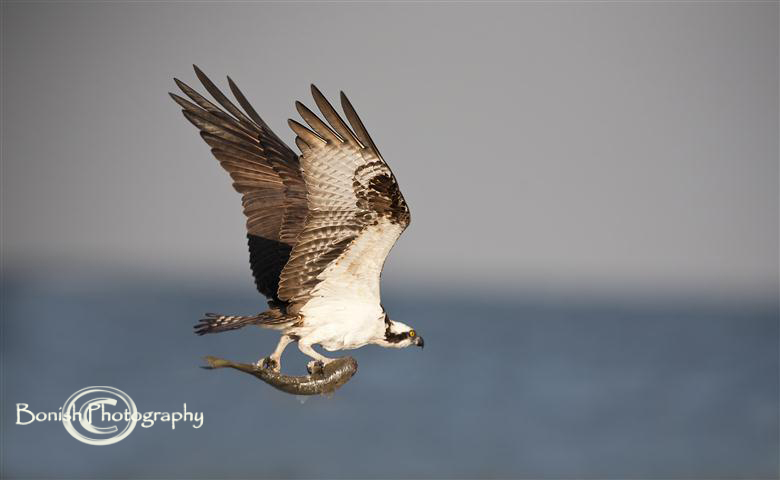 A flying Osprey shot from a Moving Boat, not as easy as it looks
So not only will you be getting a guided boat tour, but you'll be getting one on one guidance on your camera and how to come home with great shots.
If you don't have big lenses, our collection of lenses will be available for rent with the tours. There are boat tours already in Cedar Key, but none are catering strictly to photographers. Our other idea was to be able to drop of kayakers who want to go paddling on the Suwannee River or the islands that surround Cedar Key, but are worried they wont be able to paddle there and back.
We've had numerous guests ask us about shuttles to get them out to some of the islands, but calling any of the local boat captains none have been interested in this sort of service. So we thought we'd fill that void.
It might not make us rich by any means, but at least when guests come to town and ask if it's available, we can say "Yes" rather than "No, I'm sorry no one can shuttle you and your kayak to the surrounding islands."
This class should be fun, because I haven't been in any sort of classroom setting in quite some time. Hopefully I haven't burned too many brain cells. Stay Tuned.
If you're interested in any Photography Boat Tours, we're planning on our first one being available the first week of July when they open the circumference of Seahorse Key and the Bird Rookery will be bustling with activity. Contact me and I'll let you know what the tours will cost and what will be included.
___________________________________________________________________
Photo Gear We Use - Solar Tips, Fact's and Trick's we've learned while on the road
Camper Check List - A list of things we do before leaving camp. Again, this isn't gospel, but its a good start for those who might not already have a list made up.
Return to Top of Page
Need Unlimited photo storage- FREE Trial of Smugmug