When we realize our insignificance in this world,
it some how relieves the pressures from society to succeed -
Cindy Bonish 04/07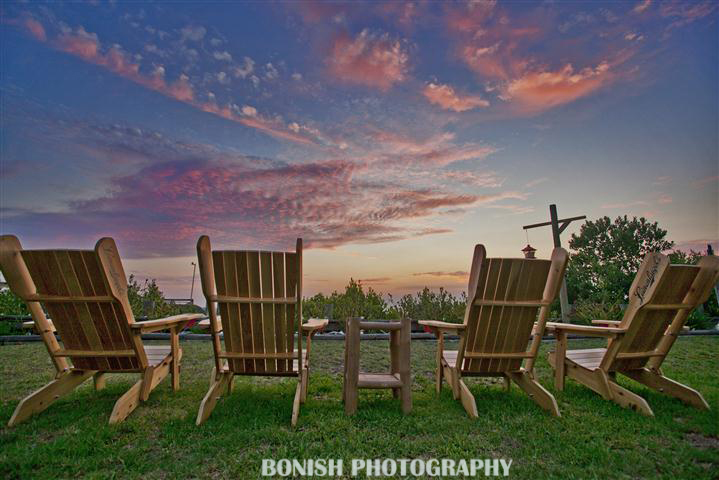 Pat's June 2011 Blog
If this is your first time here, you might want to start from the beginning of our fulltime Journey with our Past Blogs
If You Don't Know Me Yet, Click Here to Read Pat's Bio
****
June 26th - Gearing Up for Our Bird Tours
The past week has been spent building websites, organizing photos and putting brochures together for the Photography Tours Heath and I are planning. That and trying to figure out what we're going to do with the next stage of our lives.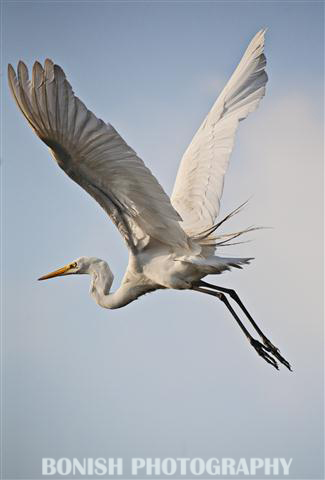 We're hoping the boating/photography tours will take off, and keep us out on the water. Personally I think it'll be one of those gigs that starts very slow, and builds up as time goes on.
Then we have the decision to make about what to do with the motel. Our contract with the owners was up in June. They asked us to renew it but Cindy and I aren't too sure if we want to at this point.
The motel and tiki bar are a ton of work and we've both got the itch to get back out on the road. We'd rather sell the motel to a couple that would like to step in and take over what we've built up.
At this point, its a turn key operation that already has the entire next season booked solid. The tiki bar is consistently making people happy with the sunsets, the fun atmosphere and the inexpensive prices we offer for our drinks. Its a really sweet gig when you think about it, it's just our issues with not wanting to be tied down which is scaring us.
We don't think any of this will happen right away. We still have a bunch of things to finish before we could go back out on the road. I'm going to take some Web Development classes to be able to maintain our websites in a more proficient manner, and who knows where the photography tours will bring us?
We both love Cedar Key and everything about it but remember when we worked in Yellowstone and complained that we couldn't enjoy any of the surrounding beauty, well that's the way we feel right now.
We want to be out on the boat shooting birds through the camera lens. We want to be out paddling the surrounding islands and enjoying Cedar Key in all its glory. Hopefully well be able to figure something out. I know it usually always works itself out if we think about it long enough.
So if anyone is interested in buying a turn-key Motel, Tiki Bar and RV Campground give us a hollar.
These past few days we've had some really cool summer storms blow through the area which has made the clouds look out of this world. From morning till night, it was a non-stop show from Mother Nature.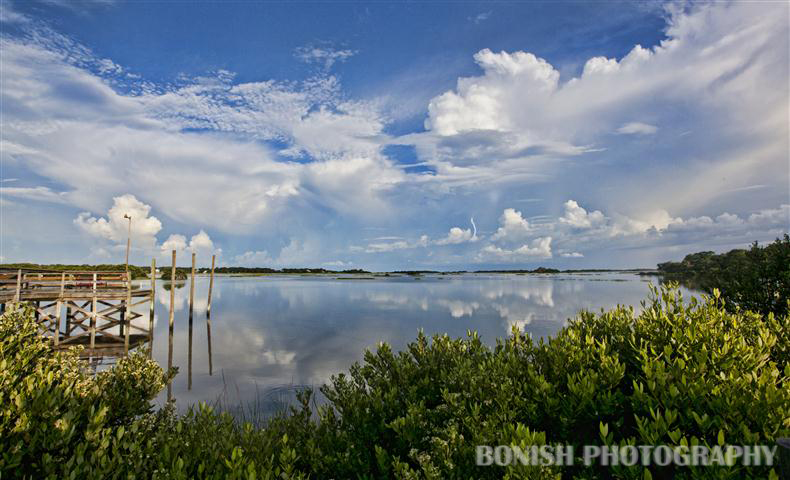 This was Sunrise from the Tiki Bar with the sun at our backs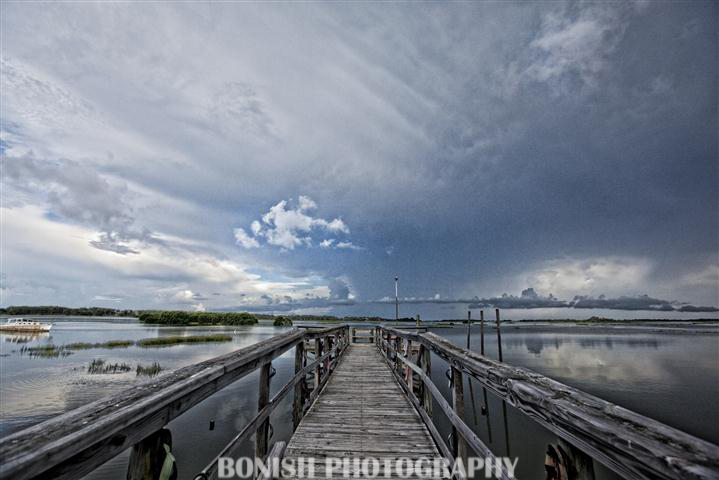 This was a few hours later as the storms started to roll in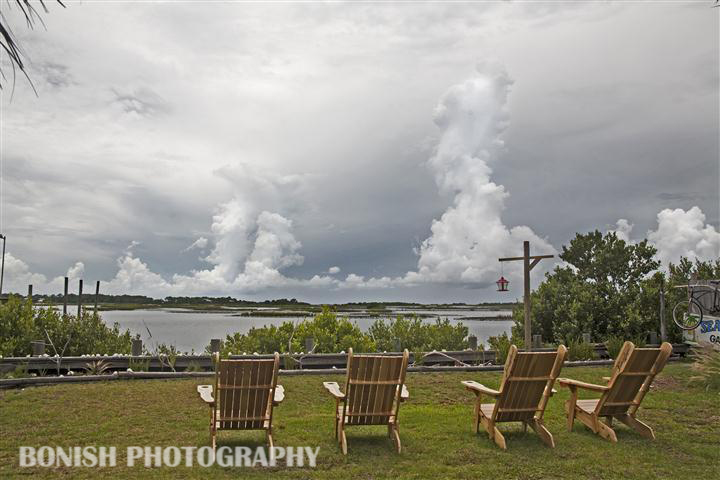 Same view as the storm clouds still rolled through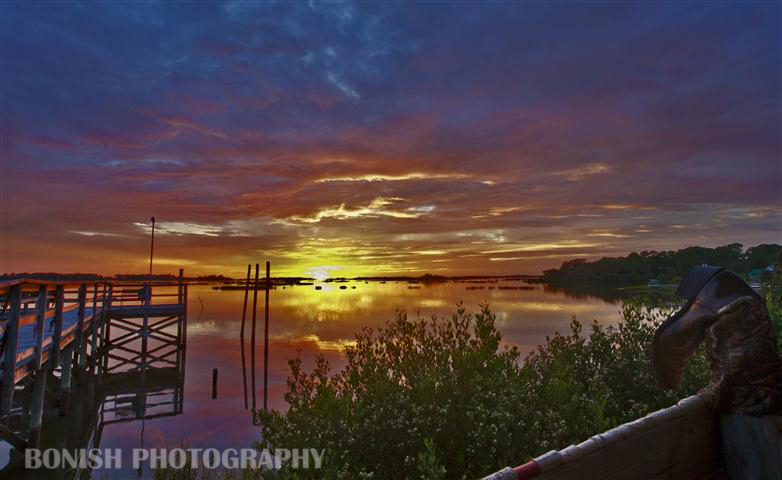 The day ended with this view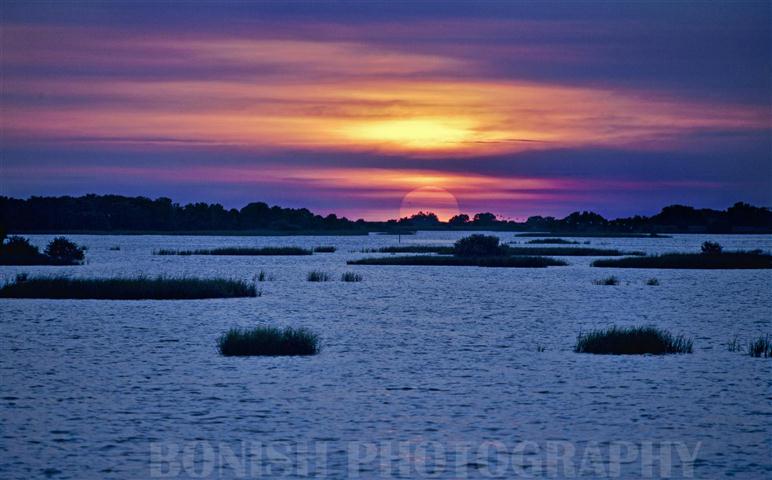 This was our sunset view the night of the Summer Solstice
June 15th - Exploring the Sandbars at Low Tide
Heath had called today asking if we wanted to go out tonight for a sunset boat ride. I told him that we had already planned on going out again and I had asked a few of the folks staying with us in the RV Campground if they wanted to go along.
He said "Heck, that's fine, bring them with us on my boat."
So we made plans to go back out and explore some of the sandbars during the low tide.
During the daytime I had to drive down to Tampa Bay so I could pick up my TWIC Card from the Dept. of Homeland Security. This is stuff we need for the Captain's License and once I have this last piece of the package, I'll be able to send off my packet to get the final license. They don't make this an easy process that's for sure.
While I was driving down there, I got a text message from Luz who forwards me a photo of her standing in front of the Red Dog Saloon in Milford!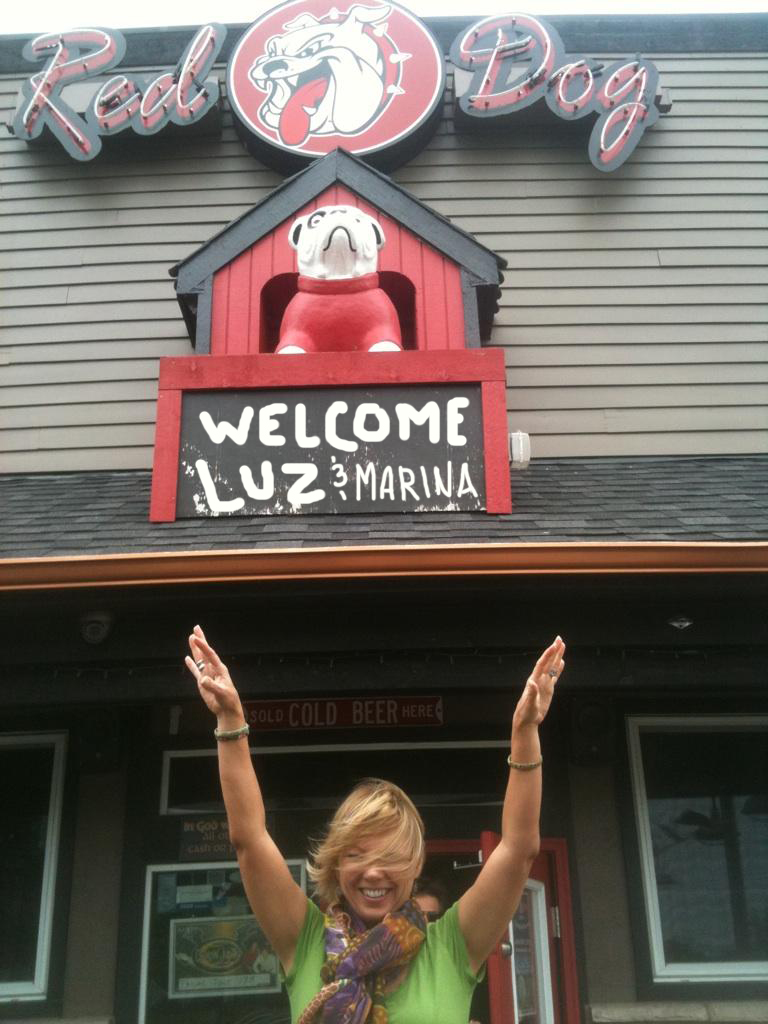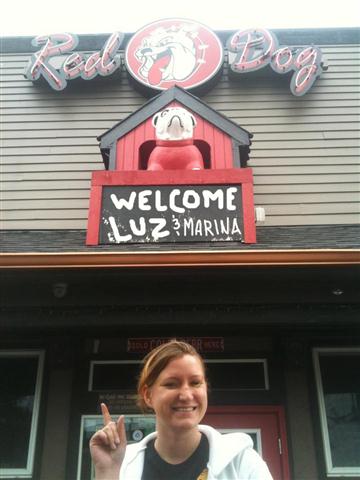 Luz & Marina standing in front of the Red Dog Saloon in Milford Michigan
Luz is in the process of driving to Vermont from California with her daughter Marina. We had talked to them yesterday while they were in Chicago and I had said "You know you're going to have to pass through Michigan, you should stop and visit our home town just to see it."
She was messing with me telling me they didn't have the time, but when I saw her standing in front of the famous bulldog, I knew she had been pulling my leg. What a shame that it wasn't one week earlier when I was still up there. Although that could have been dangerous if we both would have been there at the same time.
I sat talking on the phone with her while she walked around the inside looking at all the photos of our younger days. I called my brother and my parents who all went and met her and Marina.
Since Luz helped so much with Donielle's wedding and spent time with the entire family during that event, I never talk to any member of my family when they don't ask about her. She's basically part of the family at this point.
I'm glad her and Marina got to see a part of our past life. The Red Dog was so much of our life, that it's hard for me to even go in there without getting all sentimental. While I was home last, I spent a day in there just walking around remembering the stories and antics that went with all the stuff hung on the walls.
Many of the items are from my childhood and have great stories behind them. Jersey's hung on the walls with signatures from the entire Red Wing Hockey Team after they won the Stanley Cup while we were at the game. Photos of friends and family who were partying at the bar on so many crazy occasions. The place is legendary for people around the Milford area, so its fun to let others see a portion of it.
On my way back from Tampa, I was driving up HWY 19 when I noticed the car in front of me swerve at an alarming rate. I noticed something big in the road that was moving. I moved into the other lane as I noticed it was a 4' long alligator hissing at the cars passing by.
I laughed and thought "Only in Florida do you have alligators sunning themselves in the middle of the road."
When I got home, we loaded up the cooler and met Heath down at the docks for our evening boat ride. The heat was so thick this afternoon you could slice it with a knife. It was actually hard to breathe and the weather channel was saying we were up around 108° with about 90% humidity.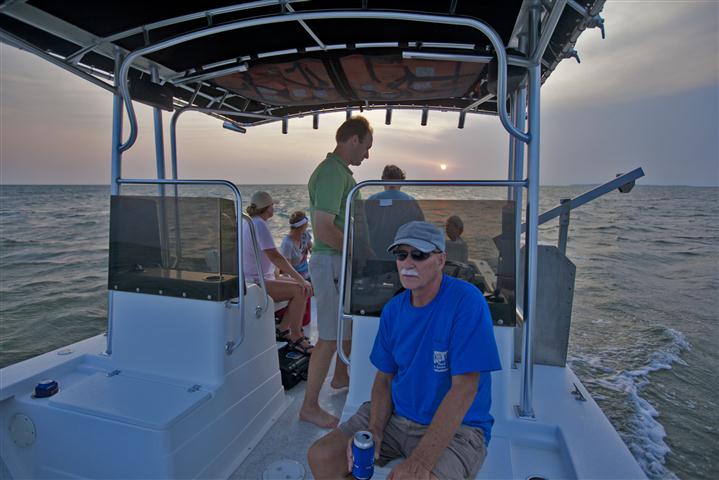 We all piled on the boat and headed West past Snake Key. On the way we had the usual group of Dolphins come play in the wake. Everyone got some cool photos and we all had big smiles watching the animals interact with us goofy humans.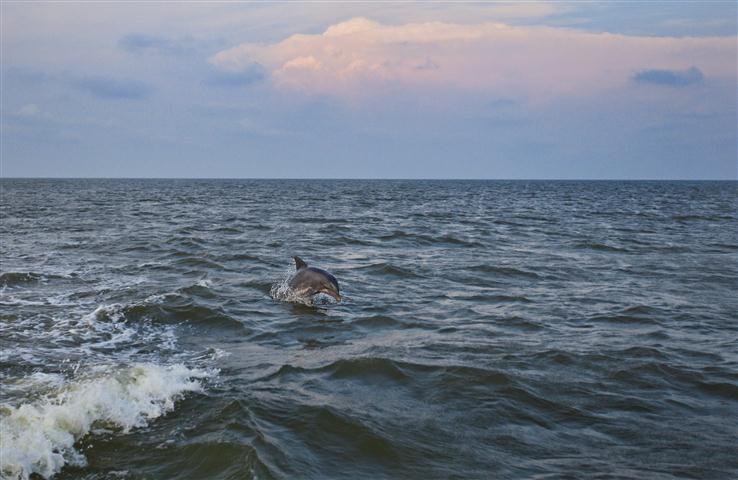 At around 4.2 miles, we came up to a huge sand bar that was about the size of Cedar Key. Heath pulled the boat right up to the edge of the small island and everyone got off exploring the rarely seen flats.

Even though this looks like water, it's really only ankle deep all the way to the horizon where you see the boat parked. The little black objects are the rest of our party combing the sandbar
The sand was loaded with Sand Dollars, various shells and star fish. We walked around till the sun had set and it was completely dark. At this point, the tide had started coming back in and we didn't have to worry as much about the sand bars.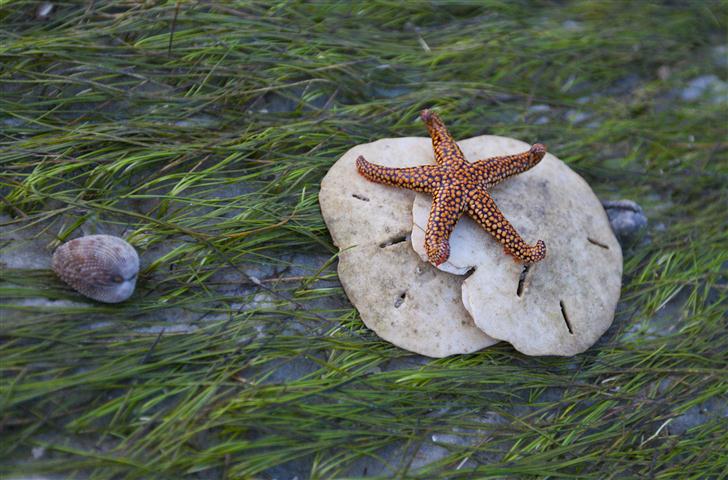 Sand Dollars & Star Fish on the Grass Flats
On the Eastern horizon was a big storm that was throwing lightening bolts all across the sky. It was pretty far off in the distance, but it was beautiful to watch. We had the full moon coming up with a giant lightening storm below it.
There is something magical about floating back into the island and seeing a dolphin jump out of the water in just the moon light.
Rather than go back in, Heath suggested we pull up to Coconuts Bar on the boat. That is something that is rarely done, so you know we all had to do it.
When our group all came walking in the back door off the dock, the bartender looked shocked and asked "Where did you all come in from?"
Heath just smiled and said "We came via boat!"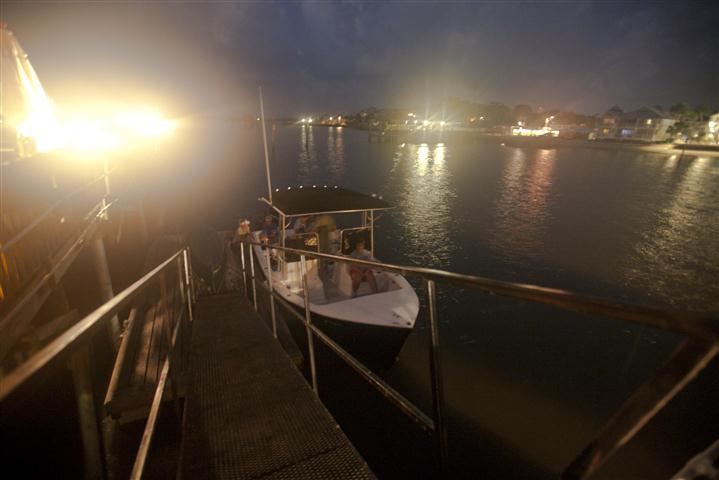 Pulled up to the boat dock behind Coconuts in Cedar Key
A few rounds later and it was time to call it a night. We loaded back up on the boat and headed back over to the dock where he had picked us up from. By this point the storm that was off in the distance had come ashore and we would make it back to the dock just in time.
By the time we pulled back up to the Low-Key Hideaway, the wind was blowing something fierce. It never ended up raining, but the storm was throwing lightening all around us and some strong gusts would have made being out on the water really scary.
June 14th 2011 - Taking the Night Off and Going Boating
I would consider living in Florida in the summer about as close as one can get to living inside a furnace. It's so dang hot and humid right now, that after working around the motel most of the day trying our hardest to stay indoors and stay in the A/C, we both decided a night out on the water would be perfect.
We packed up a cooler with food and drinks and headed down to the marina. Luckily we made it out just as the marina was drying up. With the full moon tides right now, there are lots of sandbars and grass flats that are exposed.
The scenery looks completely different and it almost looks like there's new islands all around us. We went out behind Atsena Otie Key and were amazed that with the exception of a 100' wide trough of deep water, you could have walked from Atsena Otie to Snake Key in ankle deep water most of the way.
We had a pod of dolphins come swimming past us as we watched them fish for a few hours. Cindy said she didn't want to seem like we were harassing them and we should move further away, but when we started the boat to move, they followed us.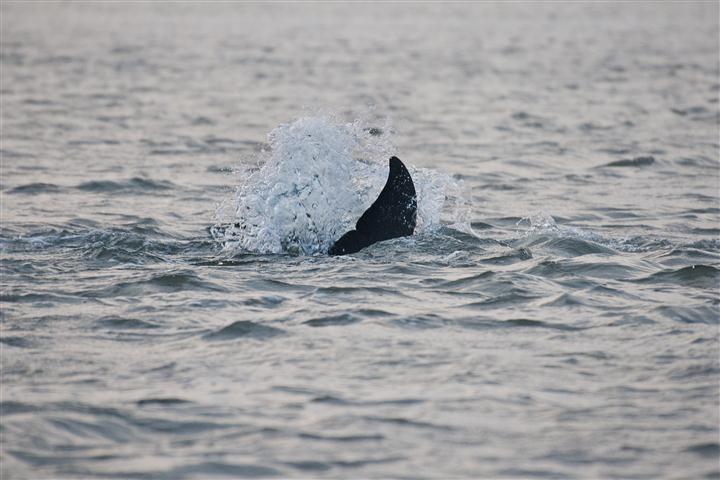 If we were out for 4 hours, the pod of dolphins was around us for 3 of those hours.
The good thing about being out on the water is there is always a breeze. Even though it's a hot breeze, it feels good to have it blowing over your naked skin.
Since we were the only boat you could see for miles, there was no need in having excess clothing on with such warm weather engulfing us.
When the sun had finally set and it was completely black out, we slowly headed back to the marina under the light of the full moon. Cindy had piloted the boat most of the night which was a nice surprise. This allowed me to stay behind the camera while the dolphins were jumping all around us.
When we were loading up the car, I had Cindy turn on the headlights because we had both noticed how dim they seemed. Oh, Luz and Walter are out of town for a few months, and Luz had asked us to use her car to make sure the battery didn't die.
With the lights turned on and me standing in front of the vehicle, we found out why they were so dim, one of the headlights was burned out.
We made a mental note to get that fixed tomorrow and went on home.
On the way back to the Low-Key Hideaway, we got pulled over by the local police. When he walked up to the window, I asked why I was getting pulled over since the speed limit is 30mph and I was only doing 25mph.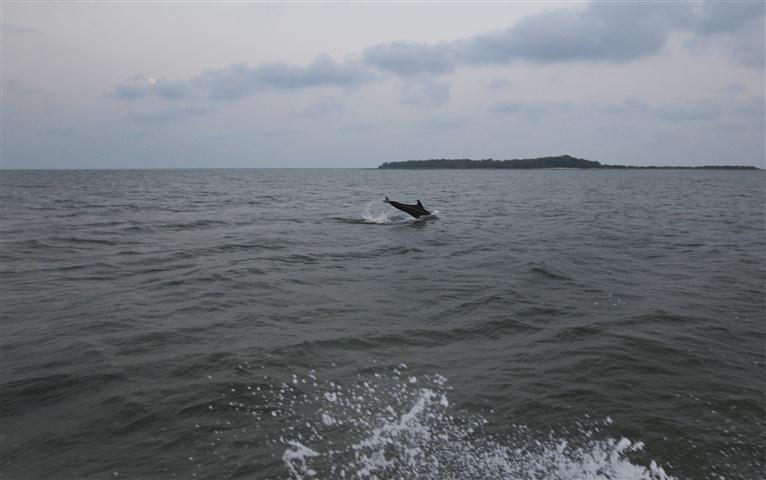 He said "Do you know you're missing a headlight?"
Cindy and I both laughed and said "Yes sir, we both just figured that out 10 minutes ago as we left the marina."
He said "Well do you know that the lights that light up your license plate are also burned out and you have a broken tail light."
Now I knew the tail light was broken, because a woman had rear-ended Luz a few months ago, but she has the tail light covered with the red tape so I thought that was legal. I mean the vehicle rarely leaves Cedar Key, so I didn't think it was that big of a deal.
The officer said "I see this car around town and know that the tail light has been broken for some time. I think it's time to get it fixed."
I'm not sure if I should be happy or mad about that? Was the officer telling me to fix the car because he was sick of seeing it drive around town with a broken tail light? Since I wasn't speeding and I told him I'd promise to have everything fixed this week, he said he'd let me off with just a warning. So our night ended with a little excitement.
June 11th 2011 - Back to Reality in Cedar Key
Since being back home, I've got back into the Groove of cleaning rooms, working the tiki bar and if I can find a few spare seconds, I try and work on some of the images I took while in Michigan.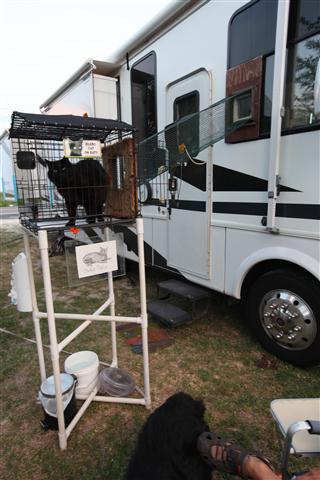 We're waiting for our licenses to come back from the Coast Guard before we can start our Photography Tours, but Heath and I went out in the boat for sunrise a few mornings ago and Seahorse Key is buzzing with activity.
The magnificent frigate birds are soaring high in the air and the primordial sounds coming from all the nests is enough to make one think they've stepped back in time.
I'm hoping the photography will be as good as it was last year for our first week of July when we plan on starting the tours.
We've also found out the 4th of July fireworks display will be right behind our motel this year, so the Hideaway Tiki Bar will be the best spot on the island to kick back and watch the show.
We have some great people staying with us right now in the RV Park. We've been hanging out at the tiki bar each night talking about our various adventures and they're great to sit back and share stories with. RVer's are always so much fun.
One of the guys has a cat cage that he's built so his cat can come outside and sit in the cage via a wire tunnel from a window that has a dog door style flap on it. Its funny to see the cat sitting outside just watching the sunset and kicking back almost like a dog would.
While working out in the yard the other day, I heard some Osprey screeching at one another and was able to capture this shot of one flying past with a fresh catch.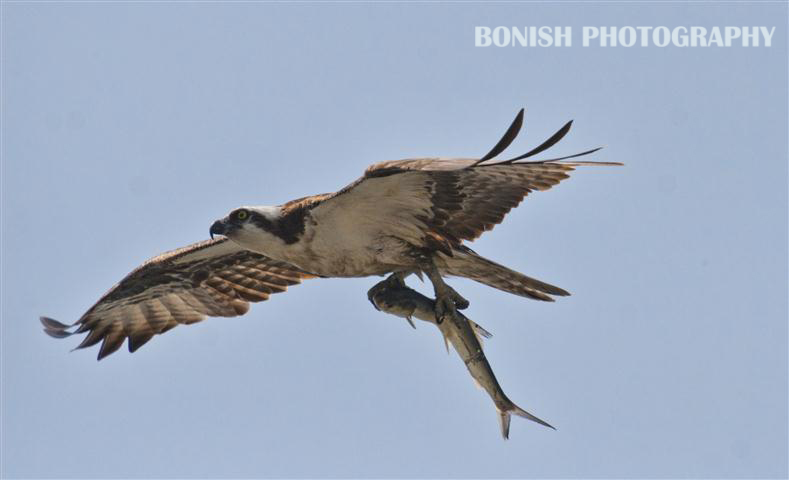 June 7th 2011 - US AIRWAYS IS HORRENDOUS!
I'm currently sitting in Charlotte Airport due to the lack of professionalism and customer service of US Airways.
I flew out of Detroit Metro this morning excited as one could expect when they've been away from their spouse for over 10 days. I couldn't wait to see Cindy and we had a big date night planned this evening with dinner and a movie in the big city of Gainesville.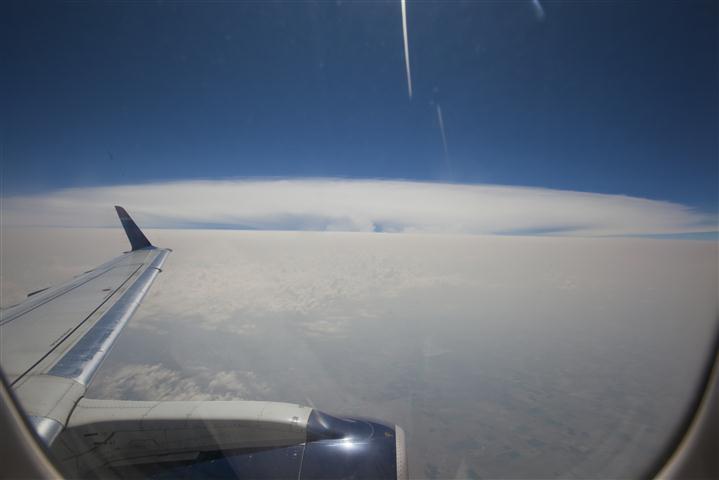 I'm sure you can understand my frustration when US Airways decided to keep us waiting on the runway in Detroit for over a half hour due to a storm in Ohio. Something tells me in this day in age, it was more than a storm since I've flown in many a planes that have passed through storms with no issues.
What ever the reason was to hold us up, it resulted in almost every passenger missing their connecting flight with me included in that list of pissed off travelers.
After I ran from one end of the air port to the next trying to make my connector, I about screamed when I ran up to the gate completely out of breath as the woman was shutting the door.
I said "Miss, I need to be on that flight!"
She just looked at me saying "Sorry sir, once the door is closed, you can not get on it."
I said in a really loud voice, "Come on, they're still putting luggage on the plane and you just shut the door!"
She replied "Not to worry, I can get you on the next flight to Gainesville...let me look that up on the computer...here you are, it leaves at 6pm" as she hands me a new ticket stub.
My reply while I'm still gasping for air after that long run was "You've got to be able to do something, I just ran all the way across the airport to make that flight."
"Sorry sir there is NOTHING I can do" she snaps back.
"You can do something, I'm sitting here looking at the plane and it hasn't even started moving yet!!!" I practically scream at her.
"I can call security if you'd like me to?" was her reply.
Not wanting to get put on a No-Fly List, I stormed away to calm down and go find the customer service desk.
This woman at the customer service desk had obviously went to the same backwoods school of Customer Service as the other lady had. She basically said "Sorry, you missed your flight, next one leaves at 6pm...take it or leave it."
I let her know that "I didn't miss my flight, US AIR made me miss my flight", but with some stupid smile on her face, she simply told me she could refund my money and I could find another flight out of Charlotte. Delta Airlines flies from Charlotte to Gainesville, but their flight didn't land till after 8pm, so that was useless or I would have happily flew with a different carrier.
That has to be the worst display of Customer Service I have ever had in my life. Except for saying "Sorry you missed your flight", they never offered a refund, an upgrade, a voucher for food while I wait for 5 hours or anything other than "I can refund your money and you can find another flight"
That right there is some Crappy Service!!
I basically waited in the airport sitting in a bar for 5 hours. BIG MISTAKE! Working on my computer, I ate an order of chicken strips and had 3 beers which came to $43!!
When I finally landed in Gainesville, Cindy was there looking as beautiful as ever and as we waited in the airport for my luggage to come around on the carousel, we both about died when everyone had their luggage and the carousel stopped and my luggage had never come out.
We both just looked at one another and said "You've got to be kidding me!"
We waited around to find someone from the airlines who could help us and finally they went and found my luggage.
Apparently even thought I had missed the plane and pointed out that they were still loading luggage as I sat there arguing, the luggage that was being loaded was mine.
So we got the duffel bag and put that ordeal behind us.
I was pretty hungry so we went and found a place to sit down and eat and catch up on our time apart. After dinner, we went and saw 'Hangover 2', which was downright hysterical. If you've ever seen the first one, Part 2 is just as comical.
By the time we got home, it was after midnight and I was beyond tired. It was good to be back home and I was looking forward to sleeping in my own bed.
Cindy surprised me with a freshly painted bedroom and one that had a new closet built in it. She had been working hard while I had been gone and it was nice to finally have a closet for her to have her clothes behind some doors.
Monday June 6th 2011 - Packing My Gear & One Last Family Get-Together
I was up early this morning despite going to bed last night at 4:30am. I couldn't wait to download yesterdays photos and see what a difference proper studio lighting makes.
The morning was spent downloading images to the hard drives while I caught up on phone calls and emails.
I helped my parents around the yard trimming some branches and cleaning up some debris that was too much for them to do while I waited for the images to download.
Once I started looking through yesterdays work, I think it's official, I took some of my best modeling photography to date. It probably helps that I had a model that is hard to make look bad, and with Steve along helping me with the lighting, it was the equivalent of having a expert assistant along for the shoot.
Once I got them downloaded and was able to work on a few, I met Becky up at the Red Dog so we could browse through them together and she could pick out a dozen or so images that I'd work on to make perfect.
Best part is, when using lighting like we were, there is very little that needs to be done to the images afterwards. Simply open them up, maybe run a few actions to get a specific look I'm going for and save the RAW file as a Jpeg. That simple.
Just as Becky and I were finishing up, Courtney came by so we could go into town and re-shoot some of her Senior photos. Neither of us were all that happy with her last images. She was wearing the popular style of shirts that is poofy from the chest down. I think they call it a Empire Cut, but in the photos it made her look pregnant.
We're going for beautiful senior photos here, not or MTV's Teen Mom next drama queen.
This time Courtney brought a bunch of colorful shirts with a tank top on underneath. This way she could carry around a bag with all the shirts in it and swap them depending on which shirt would make her face pop with the background colors we were setting her against.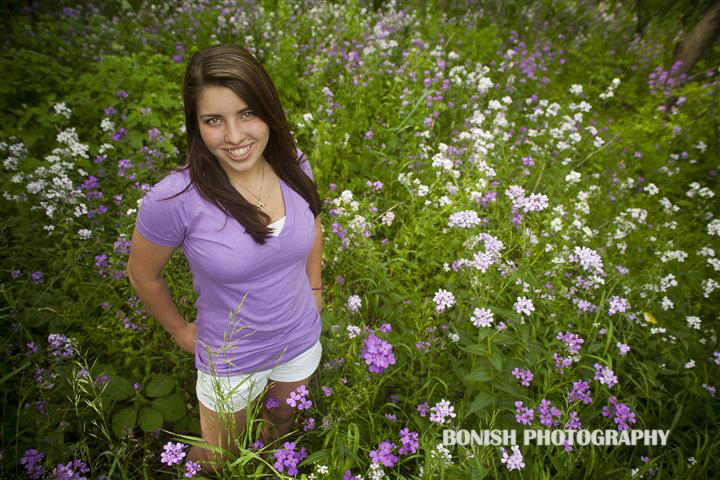 This was quick and painless and within an hour, we were finished and had some beautiful images.
Tonight was a family dinner night at my sisters house where we could all gather and hang out. They had asked if I wanted to go out to eat somewhere, but trying to put a big group at a dinner table in a restaurant usually means you only end up talking with the person sitting beside you or across from you.
If we all met at someone's house, the kids could be there (I love my sisters kids to death), everyone could hang out casually and it would cost a 1/4 of the price of all of us going out to eat.
My parents made some food, my sister made some food and my brother brought over some food. It turned out to be a very relaxing night and fun was had by all.
When the sun had set and it was bedtime for all the kids, I left and headed over to my friends house so he could fix my laptop before I leave to go home tomorrow. I seem to have issues with Lap Top Batteries and their DVD Burners. We have 3 lap tops in our household and none of them have a battery that works without being plugged in. Cindy's will burn a CD, but for some reason the DVD burner never works.
So I had him install a new DVD Burner so I could burn some copies of all these images for the people I've been photographing.
Once that was done, I headed home to pack up and go to bed. Tomorrow will be a big day.
Sunday June 5th - Gym Shoot With Becky
I had the morning to work on the computer and get some things done around my parents house. This is the same house us 5 kids grew up in and it's become way too big for just my parents.
Problem is they're too set in their ways to move out but the house is way to much to handle for the two of them. Last summer when Cindy and I visited, it took us a few days of solid work to bring the yard up to what it normally is kept at.
This time it wasn't all that bad, but there are lots of little day to day things that need to be kept up with that my parents aren't able to do any more.
I'd love to be able to come home and act as their gardener/grounds keeper, but until I can find a trust fund to support that, I guess it'll have to wait.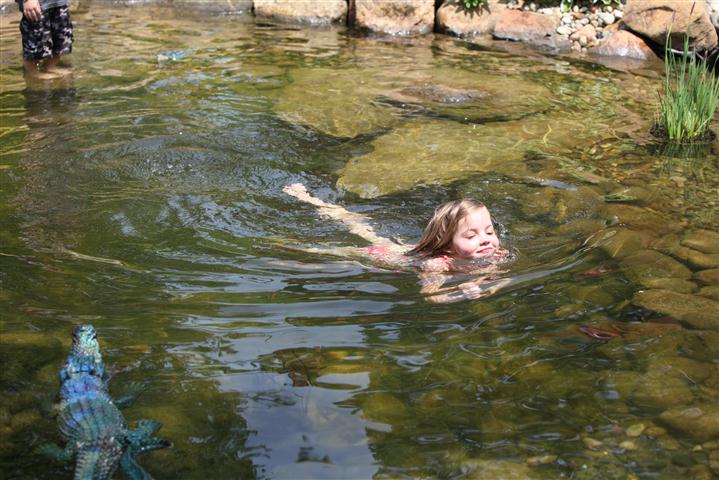 After working around the yard all day, I showered up and packed up the camera gear. I think its funny that the Grandkids will come over to my parents house and swim all day in the pond. It becomes a game for them to chase the fish with nets, try their hardest to move all the rocks we placed in there and just have fun. Kids being kids at its best.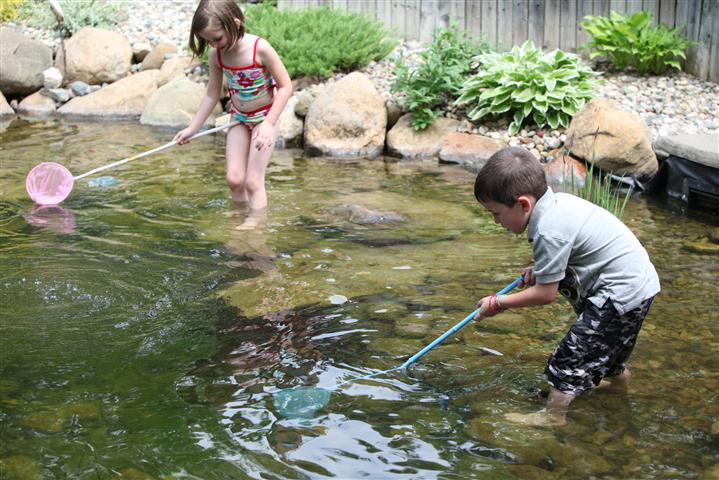 For the photo shoot tonight, I was super excited. I've been contemplating buying strobes for some time now but Cindy thinks its ridiculous because neither of us know them all that well. I've worked with them in the past when I used to work as a Photo Assistant for a Photographer in South Florida who specialized in Ballet Photography.
Since then I always said I'd rather just deal with natural light, but I'm at a point that I want to start playing with them and use their abilities to my advantage. It's what I love about photography is that you can never master it. If you think you've become a master at what you're shooting, just try and throw some more variables into the image and it will change the outcome 180%.
Tonight another local photographer, Steve Philipson would be bringing his lights to the shoot for me to try out. I've been wanting to get a set of Elinchrom Strobes, but again, Cindy didn't want me spending the money till I know they were exactly what I wanted. If you haven't figured it out by now, Cindy knows I'm an impulse spender, so she makes me research EVERYTHING to the utmost extent before I can buy it.
The photo shoot went great and I think the images speak for themselves. It wont be long before I'll be the proud owner of some new strobes for myself. I cant thank Steve enough. It just goes to show you how nice people can be.
Here are some images from our shoot at the gym. Let me know what you think.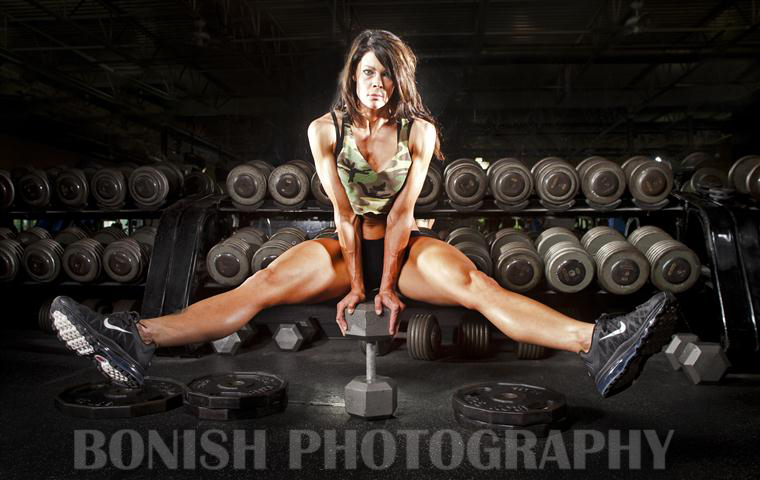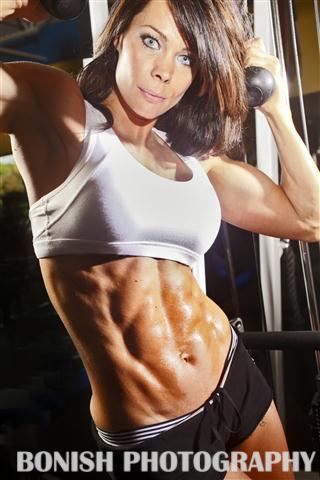 After the shoot was ended, I met up with some of my good friends at the Red Dog Saloon. We all sat around reminiscing about past fun we've had and wild times we've shared. There could be multiple book written about our past that unless you were around, most would think it's too wild to be true.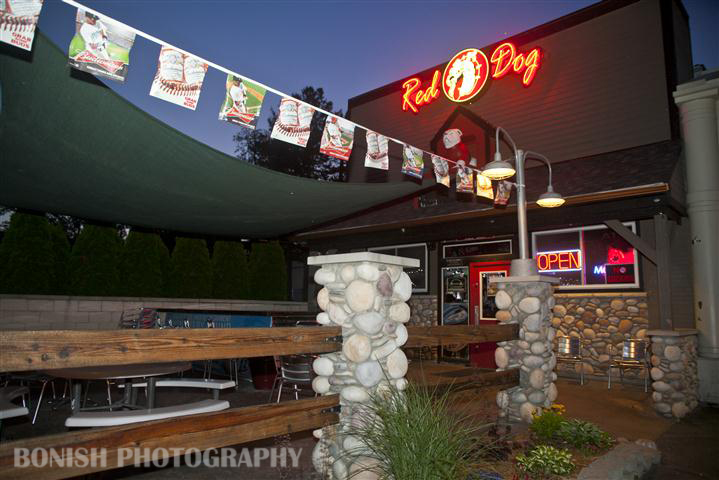 When I think back to all the crazy things Cindy and I have done in our lives, I realize how lucky we are. We have an amazing life. There are lots of ups and downs, but we seem to remember the ups way more than we do the downs. Plus, there are lots more ups than downs!
When the bar closed, I stuck around to help my brother and his fiancé clean up and close the place down. By the time we were done, it was 4am and I was ready for bed.
Saturday June 4th 2011 - Yard Work and Working on Images
Today was my first day that I didn't have a photo shoot scheduled. I spent the morning working on images from that last few days worth of shooting.
The afternoon was spent working around the yard trimming trees and mowing the grass for the 3rd time since I've been here. Funny that Florida is in a major drought and Michigan has had record rainfall over the last few months.
I took a nap in the late afternoon which is rare for me, but after a hot day working in the yard and a cold shower, a nap felt good.
I hung out around the house talking with my mom and dad till they went off to bed. Then I went into town to meet up with a few friends who were at the Milford House.
It was fun to catch up with some old friends and hear all the latest gossip. Before long the bar was closing and they were giving last call. Time sure does fly if you're around good company.
Friday June 3rd 2011 - Senior Portraits With Allie
The day would be spent working on images till I had to go off on another Senior photo shoot.
Early in the morning, Shane and Jeff stopped by my parents house to take down a dead tree that was too close to the house. I was worried with all the storms terrorizing the Mid-West right now, a little preventative maintenance would save thousands of dollars worth of damage if that tree was to come crashing down into the house.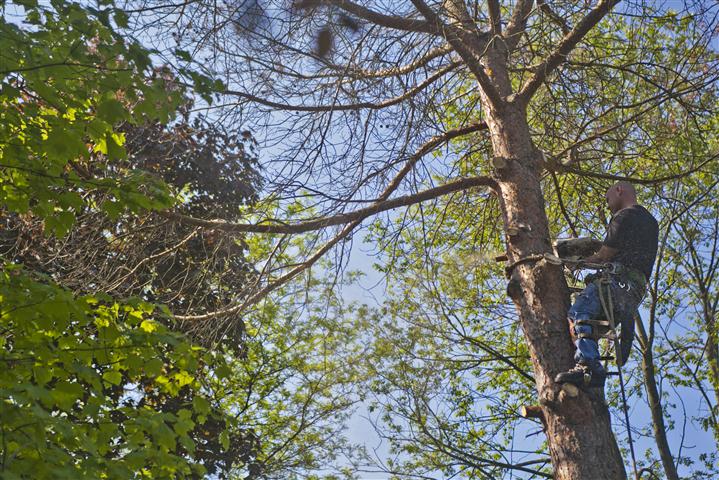 Shane topping the tree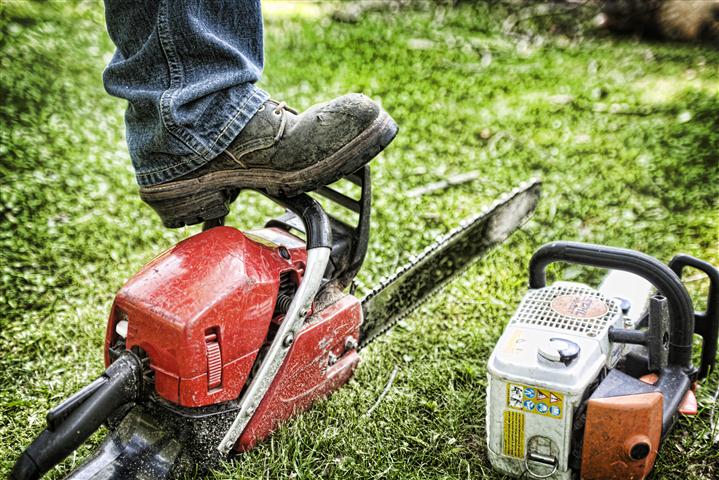 Tools of the Trade
This afternoon I'd be shooting a beautiful young lady named Allie. I was excited because another photographer I met at the Studio Workshop last week was going to let me try out some of his strobes. Steve Philipson is a local photographer out of Brighton who I got to talking with at the Workshop.
I told Steve I was thinking about getting a set of Elinchrom Strobes when he told me he had a set at his home studio. He said if I wanted to come by and try them out, he'd be happy to show them to me. I said I had a quick Senior Secession that I was doing later in the week and he told me to bring her by and see what I thought.
Funny part is when I talked with Steve at the Workshop, I never mentioned the Every Miles A Memory website. I simply gave him my Bonish Photography business card and introduced myself as a fellow photographer.
The next day I had gotten this email forwarded to me from Cindy.
___________________________________________________________
Hi, I met Pat today at a photo shoot.
Please could you get this note to him.

I had no Idea that I have checked your site before as I followed your blog travels.
You see I intend to Live full Time in our RV as soon as the kid graduates college and did not realize this was the same Pat Bonish that I met today.
Please have him get a hold of me whilst he is still in Michigan.
I offered for him to shoot in my studio and I am off work Monday and can also be free every evening this coming week to shoot and or just get together for a chat.

Cheers Steve

Regards Steve Philipson
Excel Sports Photography
http://stevephilipson.com/
___________________________________________________________
You know that Cindy and I always say that the more we travel, the smaller the world becomes. So not only did Steve and I have the photography in common, but we also seem to have the same interests when it comes to travel and RV's.
I was going to try out Steve's strobes this afternoon for the Senior Photo Shoot and couldn't wait to see the results.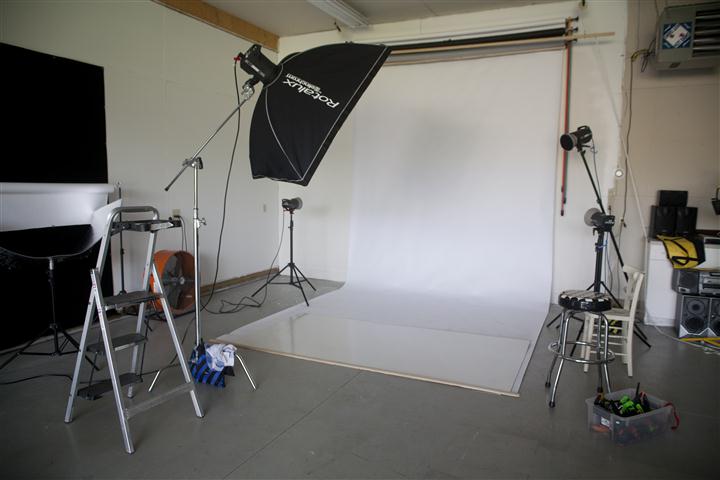 That right there is as sweet as they come when it comes to Studios!!
Without a doubt, they're the bomb. It's amazing how well you can control the light where you want it and get the final effect you're going after. When shooting with natural light, you usually have a bunch of test shoots and you need to keep watching your settings at a constant rate to make sure the light hasn't changed.
With the strobes, you have a few test shots to get your light right, and once you've got it where you want it, you're good to go for the rest of the shoot.
Once we were finished at Steve's Studio, Allie and her mother and I went into downtown Milford where we spent the rest of the afternoon walking around taking photos with various backgrounds. It was a fun afternoon and I think the results turned out great.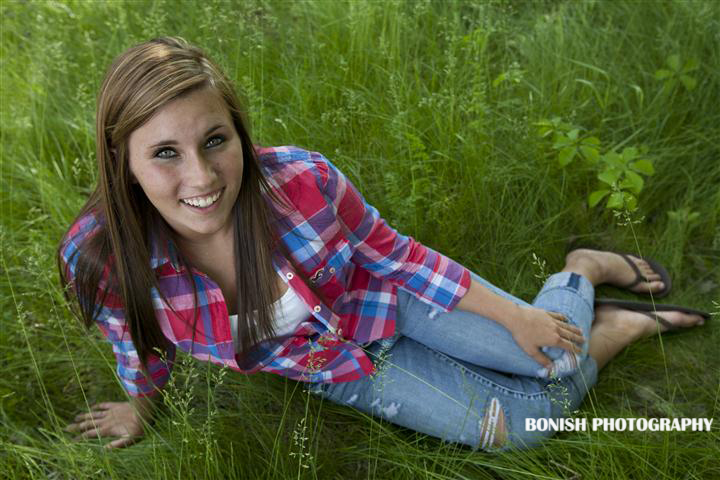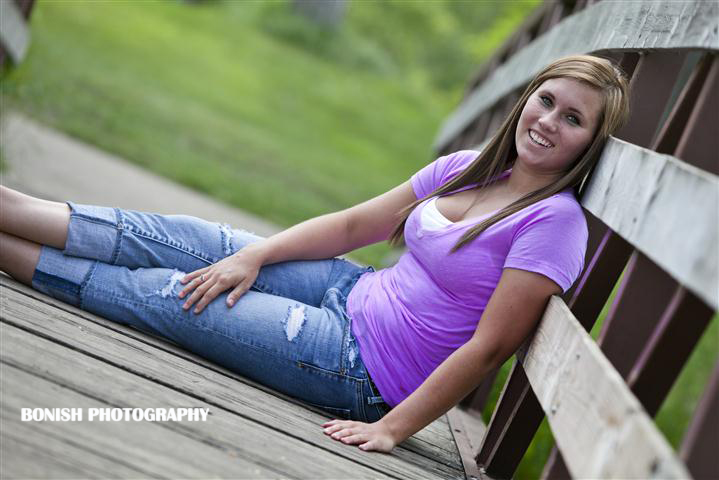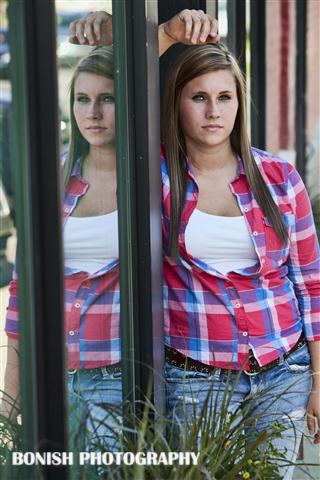 Once we were done, I went home, downloaded the images and went to bed. I think its funny how much of a nerd I am when Cindy's not around. I really don't have all that much drive to go out partying or doing anything other than my photography when its just me. Throw Cindy, Miss Life of the Party, into the scene, and it seems we're going out every night of the week.
I guess that's what makes us such a perfect couple. I'm the introvert, nerd and she's the crazy, go, go, go type that keeps us both active.
Thursday June 2nd 2011 - Photo Shoot with Becky
If you've been following along with the blogs for some time, you'll remember Becky from last year while Cindy and I were home in Michigan. We spent an afternoon with her and came away with some knock out images.
We have kept in touch over the past year and when she found out I would be back in Michigan, she asked if we could do another shoot.
We've been emailing images and ideas back and forth to one another so we both know what the other is trying to come away with. I think it's good to find other images that you like, start from there, but in the end you come away with something that you've made unique and your own.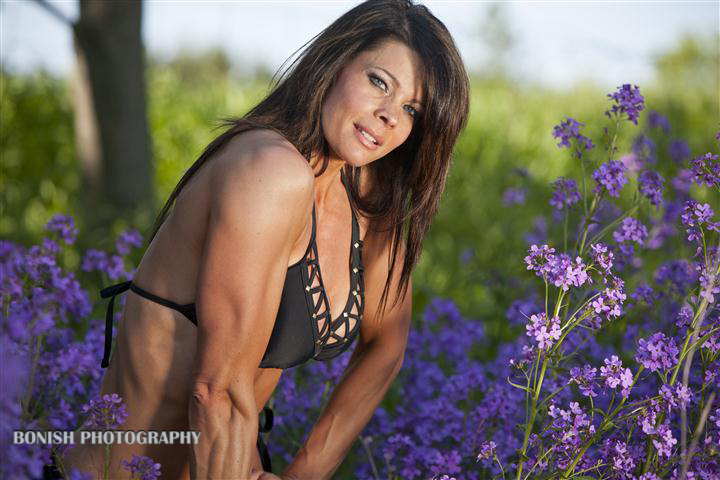 Usually the best images are the ones that you didn't plan. Cindy and I have always done this while we were traveling. When we get to an area for the first time, we go to a local store and look at the post cards.
This will give you an idea of what images are available in the area and what people like to see. You can get a feel for what to expect, but you take that image and use it as a start. Once at the area you're planning to shoot, you get a feel for the mood and make a image that is your own.
This is what Becky and I did today. She had a bunch of tear sheets from various magazines that we'd both look at and say "Ok, we like this image, so lets try and incorporate it into what we have to work with."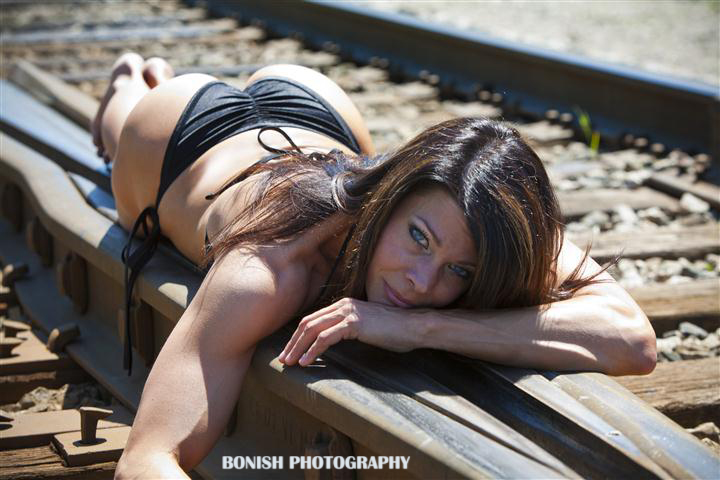 Her husband was there along with another friend who both helped out. Normally Cindy is the one watching for a fly-away hairs, a strap that might be out of place or a shadow that might not be flattering. Cindy's also the one working the reflector to get light into the shadowed spots that I need lit up. This was Becky's husbands job today and he did good work.
By the time the shoot was over, we had spent the better part of the afternoon shooting out in the hot sun. Most people don't realize how exhausting this can be for both the model and the photographer, but believe me it is.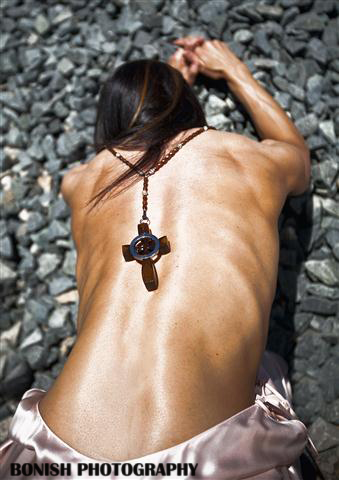 My work was done for the day and I headed over to my cousins house in Brighton who had invited me over for dinner.
Tommy and Darlene are pretty much the same age as I am. We've gone two separate routes and they've recently had two kids, and Cindy and I are working on our Grandkids...LOL
A couple of our life long friends stopped over to visit and eat dinner with us and it was a great night of catching up and talking about life in general. Remember when I went to Arizona for the Overland EXPO and I stopped in Texas at my friend Shane Quinlan's house? Well Shane lives up in Michigan, he had just happened to be in Austin that time of year.
Shane and Jeff own Sequoia Tree Service and work their butts off during the summer months when everyone is making their yards pretty. During the winter, unless a ice storm blows through bringing down lots of trees, they can usually take some time off and enjoy themselves.
Shane, Jeff, Tommy and I have all grown up together since childhood. Since Tommy is family, I've known him my entire life and we were the type of cousins that spent our summers together riding bikes and swimming at the local watering hole.
I went to Junior High School with both Shane and Jeff and we've all been the best of friends since. We could sit for days and relive our wild times and antics we've done. Between Spring Breaks, Road Trips around the country and way too much wild stuff to talk about on this blog, we've lived a few lifetimes between our group.
It was great to see them and catch up on old times. They're the type of friends that you might not see one another for a few years, but when you do meet up, you pick up right where you left off like it was yesterday.
___________________________________________________________________
Photo Gear We Use - Solar Tips, Fact's and Trick's we've learned while on the road
Camper Check List - A list of things we do before leaving camp. Again, this isn't gospel, but its a good start for those who might not already have a list made up.
Return to Top of Page
Need Unlimited photo storage- FREE Trial of Smugmug