When we realize our insignificance in this world,
it some how relieves the pressures from society to succeed -
Cindy Bonish 04/07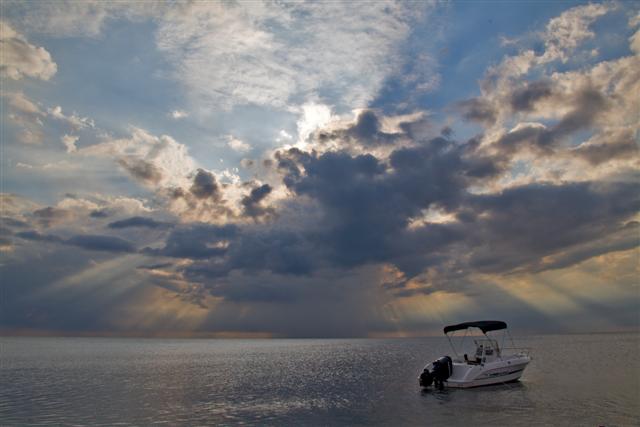 Pat's June 2010 Blog
If this is your first time here, you might want to start from the beginning of our fulltime Journey with our Past Blogs
If You Don't Know Me Yet, Click Here to Read Pat's Bio
****
Wednesday June 30th - Weathering the Storm
Sitting here at 12am listening to the rain dance off the tin roof, I'm starting to question my decision to move this close to the coast.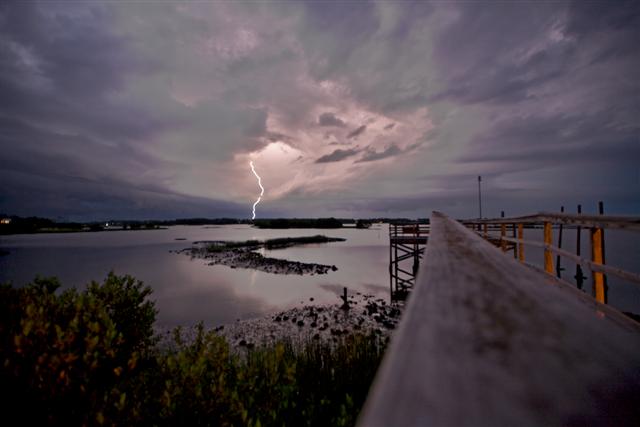 Hurricane Alex is on the opposite side of the Gulf of Mexico, but the rain it's dumping on us is creating some serious flooding.
Our 3 rain barrels are over flowing so fast, that a 3/4 inch hose draining them looks like a firehouse spraying everywhere.
We had a guest who was staying in the campground in a tent, and I finally went out and knocked on his car window, because he was sitting in the car due to the tent floating on a few inches of water, and told him he could stay in one of the rooms for free.
He kept trying to say that he didn't want to, and the tent would be fine, but there was no way I would be able to fall asleep knowing it was raining this hard and he was in a tent. Especially when we had a vacant room.
So in talking to Phillip, who was visiting from Australia, we were talking about the Australian Outback and traveling and License Plates. Phillip noticed that I collect license plates because of all the plates I have hung on the tiki bar and he gave me one he had with him from the Australian Outback.
How cool is that!! Gotta love having visiting guests who come with presents.
John Lamb who visited last week made it out just in time to miss the storm. John also left us a little present that he and I have been talking about back and forth for some time now.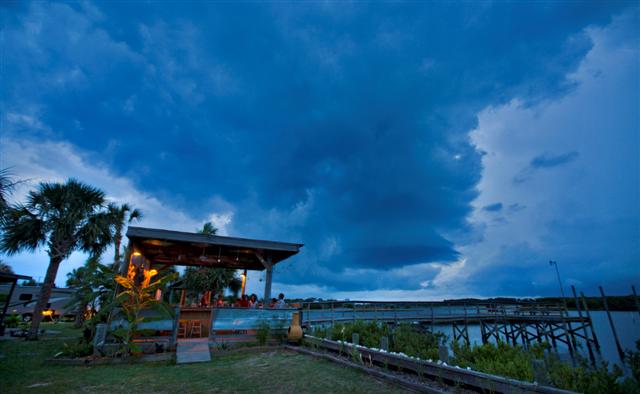 We had been talking about his bicycle that has a little motor on it and how I could probably teach Cindy to ride a motorcycle if she could ride something like that.

Well when he came down, he said that he brought it for us to try out since he doesn't really use it any longer.

Thanks John, you're the best!

We had a crazy storm blow through here that brought in some awesome lightening for us all to watch. We were having a little party out at the Tiki Bar with some ladies that are doing a documentary here in Cedar Key when a bolt cracked only a few hundred yards off the water.

When it hit the water, it spider webbed across the sky all around us. This sent screams, cheers and excitement from all of us and had us running inside for cover.

Sunday June 27th 2010 - Chugging Along

Yesterday Cindy and I were busy talking with some ladies who are doing a documentary on Life in Cedar Key when we had a surprise visitor.

In the middle of the filming, our long lost friend John Lamb came walking into the Tiki Bar. I guess John has recently bought a little camper and in his wanderings decided to drop by and pay us a visit.

We spent the afternoon catching up on lost time before we sat out back to watch the sunset.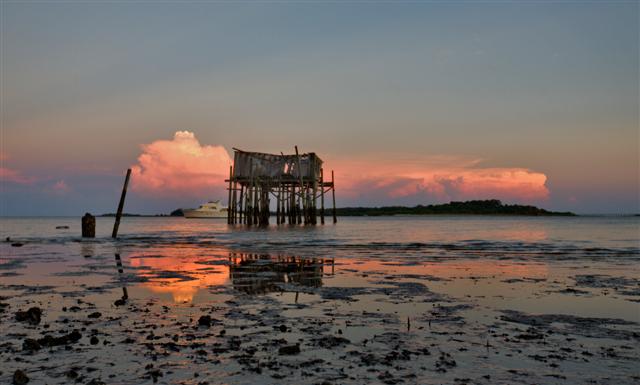 Today the heat of summer was almost too much for me. Walking out of the house, which we have cooled down to a frosty 80° almost takes your breath away.
The weight of the humidity feels like it crushes your chest and your first breath usually gets stuck about half way up while it struggles to escape your lungs.
The sweat starts rolling out of every pour on your body within seconds of stepping foot outdoors, and within a minute or two, I've usually taken on a look of a marathon runner.
With the A/C set at 80°, I dont think it shuts off more than once or twice during the daylight hours. I'm starting to worry about what our electric bill is going to be at the end of this month?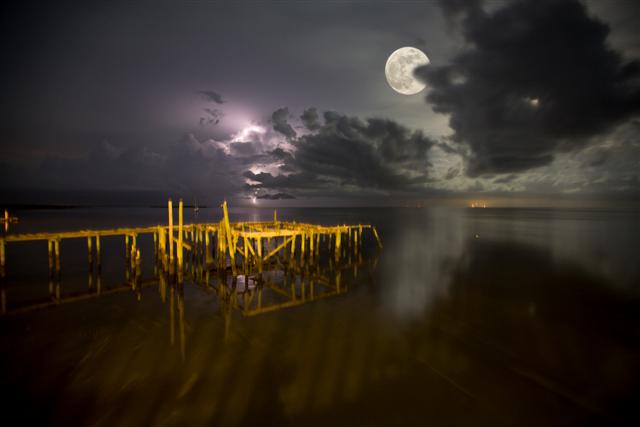 One thing the high humidity brings in that is so beautiful are the big afternoon storms out over the gulf. Big, billowy clouds form each afternoon that act as a beautiful backdrop all around Cedar Key.
Each night, the clouds dance with heat lightning, yet we rarely see any rain that actually falls on us out here on the island. We see it all around us, but almost never get an actual storm to hit us.
I've had fun trying to capture the beauty, the storms and the sunsets with these colors and beauty we find each day.
Wednesday June 23rd - Back Home Safe & Sound
8 hours of driving some 551 miles to New Orleans, sleep for a few hours and wake up to hurricane like pouring rain.
Load up a 6x12 trailer with a bedroom set, a few random pieces of furniture and a closet worth of clothes and turn around to head back home.
I had hoped to unhook the trailer and take the day to head to the Louisiana Coastline to try and get some photos of the devastation, but a nasty storm system sitting right on top of the city that showed no signs of letting up left me no options other than high tailing it out of there.
Donielle and I spent the rest of the day driving home talking back and forth to one another via walkie-talkies before we finally pulled into Cedar Key in the dark and ready for bed.
We introduced her young doggie to Luca and Lucy, and we've now got a household full of dogs that begin with the letter L. Luca, Lucy and Lily! This should be fun.
This morning I went to move the truck so we could start unloading the trailer and my batteries are dead?
Now if you remember back in December I had brought the truck into White Ford in Chiefland because if we let the truck sit for more than a day or two, it wouldn't start.
They said they tested the charging system and replaced one of the batteries because they told me it wouldn't hold a charge. There is nothing worse than having a vehicle that is not reliable.
I've made an appointment for tomorrow to have the truck looked at again, but damn, I hate having to dive a half hour just to drop the truck off and have it worked on again when they've already had it for a few days.
Monday June 21st - The First Day of Summer
Isn't it funny how quickly things can change. I've always liked the saying "If you want to make God laugh, just tell him your plans" which is something that I've always read deeper into meaning that life can change in the blink of an eye.
I got a phone call the other night at about 4am. Phone calls at this time of the day are never ones you're looking forward too, but this one was different.
Our daughter called saying she was frustrated with her life in New Orleans, she was frustrated with her relationship and frustrated with her bills due to lack of work. Typical frustrations for a 23 year old these days.
After a long father-daughter talk, and me sitting up thinking about it for the rest of the morning, I woke Cindy up and told her I thought it would be best for Donielle to move back home and get her feet on the ground.
She's lived on her own since she was 18 and has shown she can do it no problem. But with the current state of affairs in Louisiana, the future doesn't look too bright.
Cindy and I have been looking for help here at the motel, and the work pool in Cedar Key is pretty slim. Plus, Cindy and her daughter love being around one another, and I think it will be good for them to spend some time together.
Why I said our life is going to change is we've been on our own for quite some time now. It will be a big change to have Donielle here, but I'm looking forward to it.
I'm leaving this morning to drive to New Orleans with our cargo trailer to pick her and her furniture up. Then we'll turn around and come home to Cedar Key to see how this goes.
As for Cedar Key, life is good. Summer's been here for awhile even though today is the official First Day of Summer. We've been having some awesome storms blow through that have been throwing lightening all around the sky, dumping buckets of rain on our new palm trees and keeping the humid weather even more steamy than it already is.
We went into town last night for the Black Dog's Ugly Hawaiian Shirt Party. My outfit was so ugly and loud I had trouble looking in the mirror.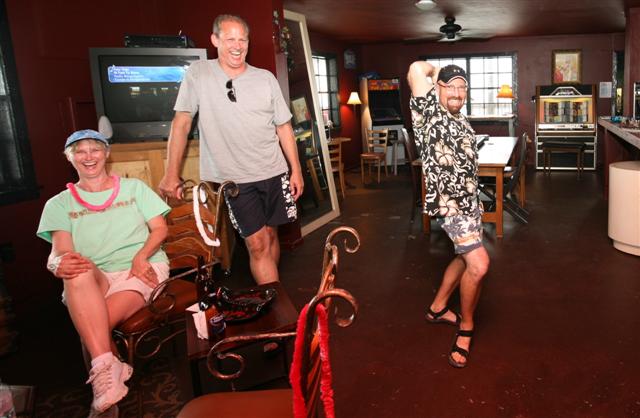 Modeling my Ugly Hawaiian Outfit at the Black Dog
While we were at the bar, the typical afternoon thunder storm came blowing in and we got a great show as dolphins were jumping completely out of the water while the storms were blowing over.
Right before we had left, we had helped rescue two guests who had come out to Cedar Key to fish for the weekend. Al and Dennis had spent the weekend fishing from their Kayaks and were on their way back to the Low-Key Hideaway when an unexpected, really low tide left them stranded a few hundred yards from the dock.
They were standing on an oyster bed in knee deep mud with this wild storm approaching. We were able to pull their boats through some tall sea grass and lift them up and over a neighbors seawall to get them on firm ground just as the rains started.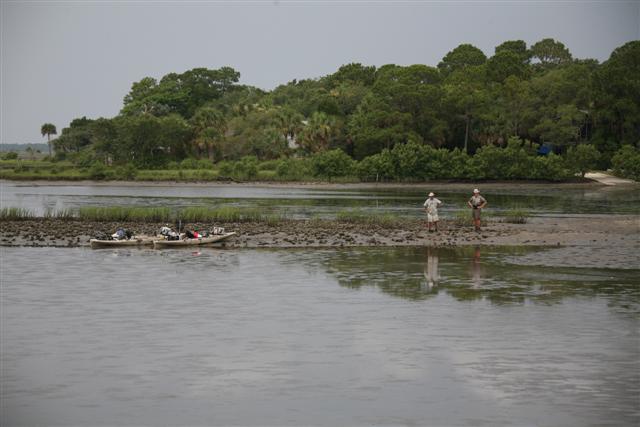 Stuck on the Oyster Bed at Lowtide
It was Sunday night and the motel wasn't full, so we told them to shower off in their room they had checked out of before they loaded up in their cars to drive home. I wouldn't have felt comfortable leaving for the Ugly Shirt Party knowing they were out on the water.
Knowing they were safe, we could drink beers and be merry and laugh with the other motel guests who all joined us at the Black Dog.
It was a fun night as usual and Jay and Connie were great hosts.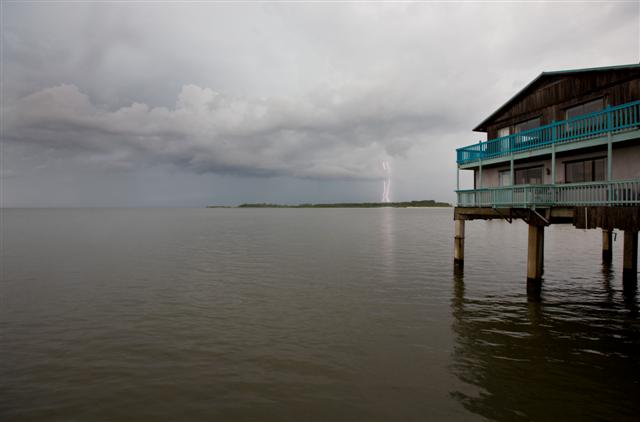 Storm off the back deck at the Black Dog
Friday June 11th 2010 - Shark Fishing in the Cedar Keys
After last nights boat ride, we were up bright and early with the sunrise this morning to head back out and go shark fishing.
Neither Cindy nor I were going to be doing any fishing, but we both love being on the water, so if someone invites us out for any reason, we're always going to say yes.
Danny was telling us that he can get good money from the sharks if he has the right buyer. Right now he wasn't fishing to keep any, but just to show us what it was about and how many are in the area.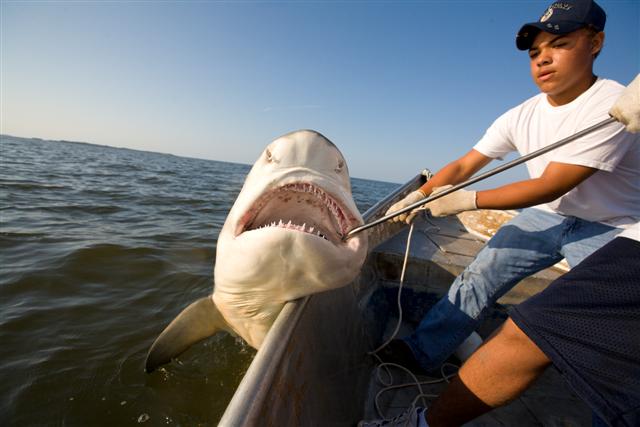 Danny's Grandson TJ, Pulling in the Lemon Shark
In a few hours time, he caught a 6' Lemon Shark, a 4' Black Tip, and a big 300lb Bull Shark.
Getting them in the boat was the crazy part. Remember we were in a 16', very narrow river boat. I thought Cindy was going to jump out when they pulled that 1st shark in and the mouth was revealing a few hundred teeth.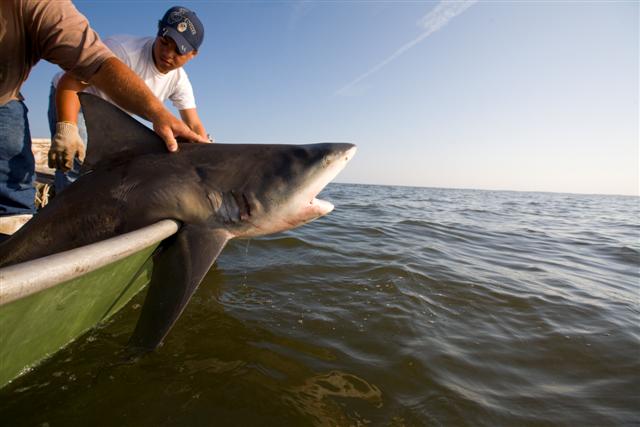 Putting the Bull Shark back in the Water, worn out, but unharmed
After a morning on the water, I learned one thing. I'm now thinking twice about swimming anywhere around Cedar Key...LOL
Even though he hadn't planned on keeping any of the sharks, he ended up keeping the little black tip and filleting it for Cindy.
Tonight for dinner she cut the steaks into strips, battered them ever so lightly and pan fried them up. Dinner was amazing as always, but even better so when we knew this fresh catch was literally only hours old.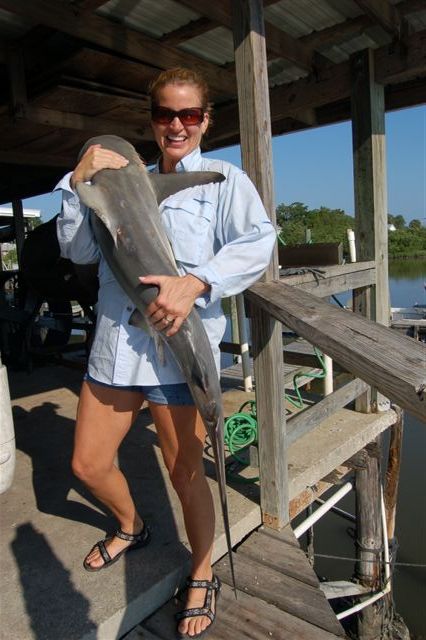 Cindy carrying the Black Tip off the Boat - Photo by Luz Kraujalis
Thursday June 10th 2010 - Salt Life is a Good Life
I'm one of those people who likes to see things first hand. If I dont know how to do something, I might read up on it a bit, but I tend to learn faster from seeing it with with my own eyes.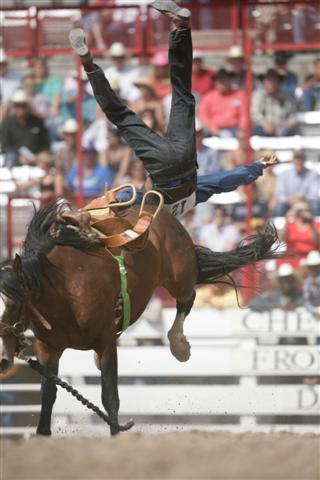 I've always been a hands on kind of person and so is Cindy. Probably one of the reasons we get along so good. We both really like to live the experience rather than read about it.
Growing up in the Mid-West, I've learned that I was pretty sheltered when it came to really experiencing certain types of things and I found that specific feelings I might have had towards something I thought I knew about were totally changed when I saw it first hand.
I remember watching something on television about Rodeos and the horrible treatment of the animals. At the time I thought to myself, "This has got to be the worst thing ever!" Then we went to our first rodeo and experienced it first hand.
We were allowed to talk with the riders. Talk with the people in charge of the livestock, had full access to the chutes where the animals are brought in from the pens where they're kept before the event. What we witnessed was nothing but first class behavior from all involved with the sport and feel in love.
That 8 seconds you see the bull going ballistic is the only time in the bulls life that it has to do anything other than eat, breed and be treated like royalty. The only thing you need to worry about or feel sorry for when it comes to rodeo are the riders!
Experiencing it with my own eyes rather than hearing about it or reading about it really changed my mind from what I was lead to believe.
This has happened time and time again throughout our travels. Like when we were talking on the blogs about venturing down into Baja Mexico. We were flooded with emails from people telling us how dangerous it was and we were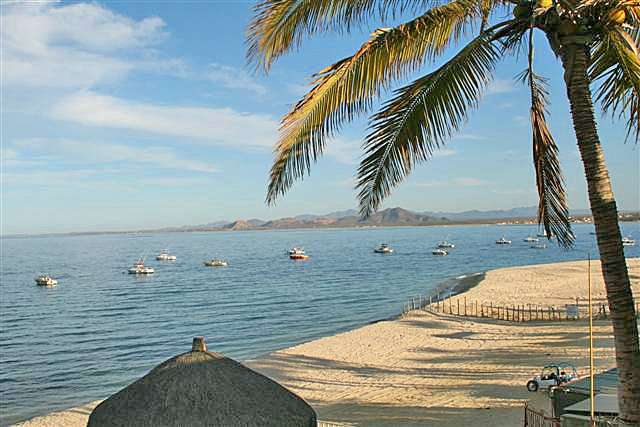 stupid for even wanting to go there.
I replied to each email with a simple question - "When was the last time you were there, and what was your specific experience that gave you this feeling that it's dangerous and we're stupid for wanting to go there?"
EVERY SINGLE REPLY was answered with "Well I've never been there myself, I've simply watched the news and heard about it from friends who had a bad experience."
We planned on spending a few weeks in Baja, which turned into more than two months and we fell in love with the place, the views and especially the people that make it so warm and inviting. If we had the money to go back, I wouldn't hesitate to hook up to the camper and leave tomorrow morning.
For the past few months, Cindy and I have been schooled on the local fishing scene here in Cedar Key. What many see as a bunch of decrepit old fishing shacks when they pass through this little town are actually operating fish houses. Some have been handed down from generation to generation and haven't changed much, which is one of the things that gives Cedar Key so much Character.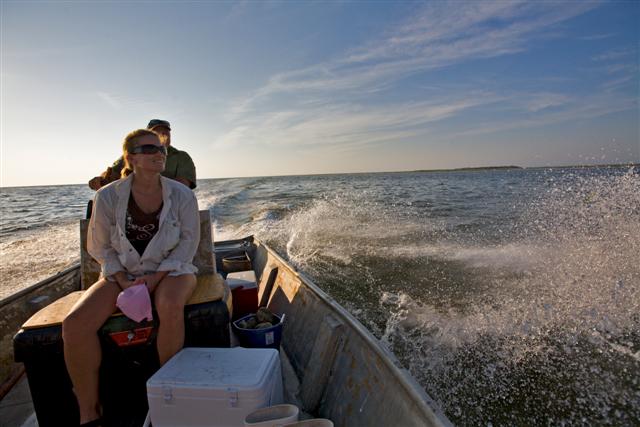 We've sat and talked with the fisherman who have been born and raised on this coastline. They were taught to fish these rich waters by their fathers who were taught by their fathers.
Some might use newer tools to achieve the same results, while others rely on the same simple devices their Great Grand Daddy's did decades ago. If there is one thing I've learned in all our travels, if you want to hear the best stories, it's best to sit back and just listen. Ask a few simple questions and just let the locals talk. You can learn some amazing things when you simply listen.
The quickest way to get shunned or pushed away as just another stupid tourist is to tell a local, no matter where you are in the world, how YOU THINK it should be done. This simply wont work and you can ask my daughter the one thing I used to tell her over and over when going to parties or meeting new people "Interesting People are the Ones Who are Interested."
A few nights ago, Luz asked if I wanted to go out with Danny and a few of his workers to see how they throw the cast nets when fishing for Mullet. In this area, mullet is in abundance and its served in a variety of ways in every restaurant in town.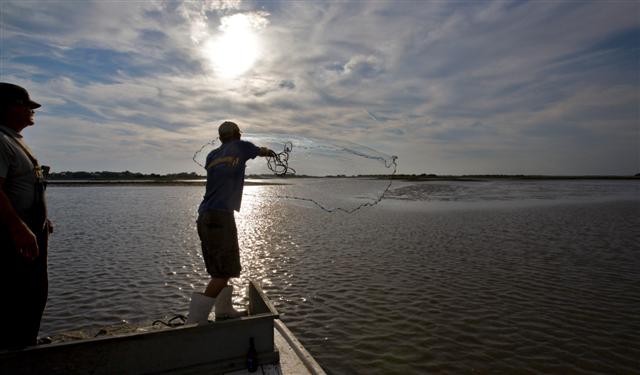 Cindy and I can sit out back of the Low-Key Motel and watch them jump out of the water all day long, but I've been told you'll almost never catch one on the end of your fishing line. So I couldn't wait to see how these boys threw their cast nets and filled up the coolers.
That night was a riot because we were on the air boat. I learned that low tide is one of the best times to go out mullet fishing because the schools build up in the shallow tide pools and you can catch them by the hundreds, which Danny and his guys did.
I also watched, as we were sitting in about 8 inches of water, when one of the guys ran after a big Red Fish and caught him with his bare hands.
Now I'm sure this is something you dont see every day. People come from all over the country to try and catch these red fish with high priced gear and expensive fishing guides. So when I asked "What's that big fish right there making those waves in the really shallow water?"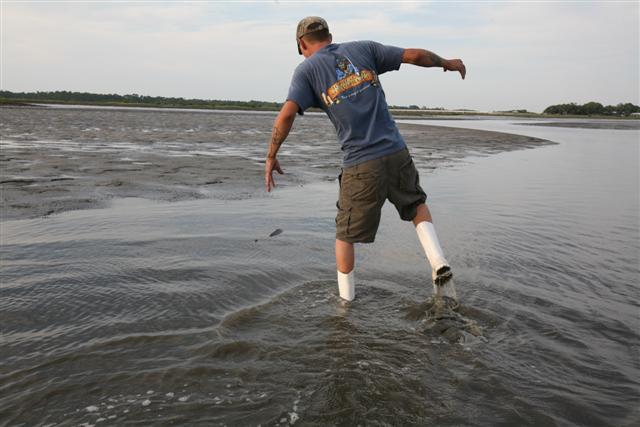 They all started screaming as one of them threw down his cast net and went running after the fish. He chased it right up onto shore and picked it up hooting and hollering saying "We're gonna eat good tonight boys!"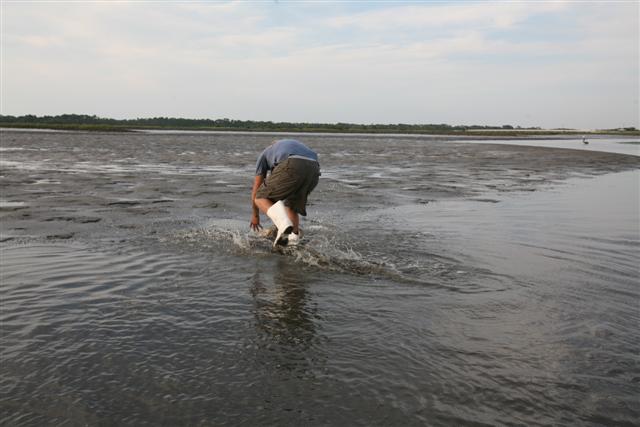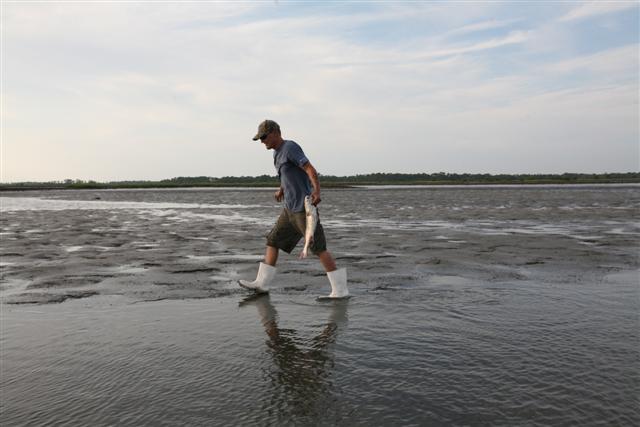 Tonight Danny asked us if we wanted to go out fishing with him again. He told me he'd show us how prevalent this area is in sharks. Sharks of all varieties.
Now from what I've been told by the guests who come and stay with us, it's pretty hard to throw a fishing line in the water around here without fighting a shark for the next 45minutes.
So we went out and scoped out some areas as Danny told us story after story about his life on the water. Many of these stories are things movies are made of. Pulling in 10' sharks when you're only in a 16' boat. Fighting with sea turtles, the ones that are supposed to be next to extinct, but any local fisherman will tell you otherwise because of how many they fight with when trying to set their crab traps.
Apparently crabs are one of the sea turtles favorite meals and when a turtle comes upon a crab trap, the powerful jaws of a few hundred pound sea turtle can snap right through the trap destroying it and eating up all your income.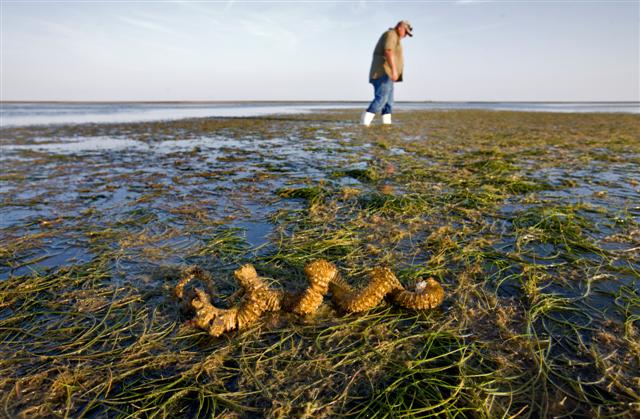 As we trolled around the waters, we never did any fishing, we rather just talked and listened to great stories being told...One right after the next.
Tonight was a very powerful low tide, something else I'm really learning about while living here on the water. I was amazed when Danny told us that we were 7 miles out into the Gulf of Mexico off of the Cedar Keys, and we were standing on a sand bar that stretched for hundreds of yards in every direction.

This is 7 miles out into the Gulf of Mexico
The bright green grass that normally keeps so many crabs, fish and aquatic life happy and healthy was exposed and crawling with birds that were feasting on the shellfish.
It was hard to walk around due to the ground moving from little crabs running in every direction. There were no sounds other than the occasional bird squawking at us for disturbing their hunting grounds, or the clicking sounds from the shells smacking shut as we'd come walking by. We counted dozens of big sea turtles that would stick their heads up out of the water as if they were keeping an eye on us to make sure we werent coming after them.
We found Quahog Clams that were the size of small pizzas, and Danny would scoop them up and shuck them right there talking about how tasty they were.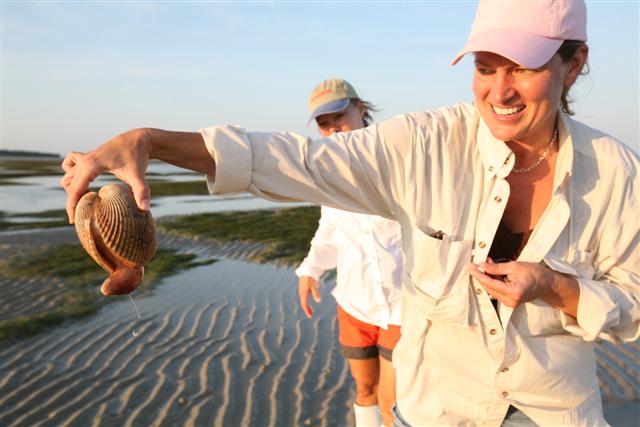 This Clam is Spitting at Cindy as she picks it up
We found Queen Conch's that looked like carved pottery. Giant shells that you would think were just lying in the sand till you picked it up and the clam inside would spit water at you hoping it would scare you enough that you'd drop it back in the shallow water, something Cindy and I did almost every single time.
Along the sand bar, the clams would leave intricate little trails as they wandered around the surface filtering nutrients from the rich soil. I walked up on one that stopped me dead in my tracks.
All night long our conversations revolved around how amazing and alive this whole area is. That fact that most people would never get to experience this low of a tide and get to spend hours just wandering around with a knowledgeable tour guide that could answer our hundreds of questions we all had. The fact that most people sit at home and watch the news of the oil spill and talk about how awful this is as an environmental disaster, which it is, dont get me wrong.
But to see it first hand, its the equivalent of staring down the barrel of a loaded gun knowing the trigger is about to be pulled any second.
So when I walked up to this one clam that had slithered itself around in a very interesting design, it stopped me dead in my tracks. The design was a perfect Question Mark. Almost as if it was asking me what was going to happen.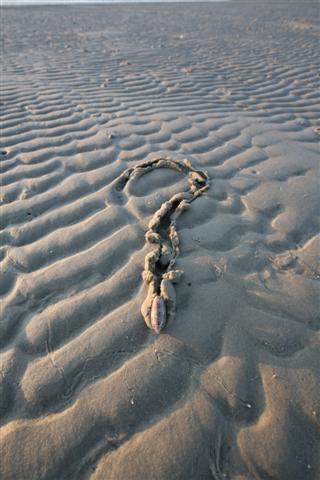 I wish I knew. We've fallen in love with our surroundings more and more with each adventure out on the water. I'm simply at a loss for words to think what will happen if this oil is to reach these rich waters we're surrounded by.
The loss of habitat, the loss of a way of life for the generations of fisherman who have worked, fished and raised their families on these shores. Sure us business owners will suffer tremendously and many will probably go out of business. Dont get me wrong, I'd be lying if I didn't say its on the top of my list of worries, but when you get to experience these beauties through the eyes of someone who has lived here for generations, it really ups the impact this is going to have on an entire way of life.
Us business owners can claim bankruptcy and go find another job, or another business to work at in another area of the country. But if all you know is fishing in these shallow waters of the Gulf of Mexico, where do you go from here?
This was what we talked about as we climbed back into the boat when the tide started to swallow the sandbar.
Soon we were drifting on calm water with the big orange sun dropping below the western horizon. We sat and talked for a few hours till those last few rays of twilight turned into night. As we drifted, Luz pulled out last nights Red Fish that Danny had smoked earlier this morning and I learned why people come from all over the world to fish for these tasty fillets.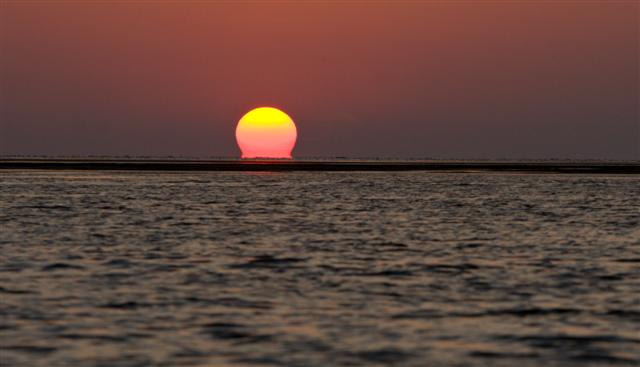 As we came motoring into the channels of Cedar Key, we had a few dolphins playing in the waters in front of us which lead us back to the dock. We were soon unloading the boat and saying good night to one another.
I went to bed tonight praying for these fisherman and their livelihoods.
Monday June 7th - UPDATE
I was on one of my favorite forums and saw this posted. Thought it would be interesting to share with as many people as possible
ABC reports that BP has an amazingly poor safety record compared with other oil companies operating in the US. In the past three years BP accumulated 760 violations termed "egregious, willful" by OSHA.
In the same period, the next highest totals were by Sunoco and Conoco-Phillips with eight, Citgo with two, and Exxon with one.
BP managed to accumulate 95 times as many citations for "egregious, willful" violations as either Sunoco or Conoco-Phillips. In the aftermath of a 2005 refinery fire in Texas that resulted in 15 deaths and 180 injuries, BP paid $50 million in criminal penalties and admitted to violating the Clean Air Act.

Boycott the slimeballs! They own Arco, AM/PM and Castrol Oil also!

Why is this company allowed to still be operating in the United States???

Please look at the way you drive, the way you use energy and what you can do to cut our ties to this mess! I'm not sure if people realize how Globally BIG this spill is going to get! Especially for those of us who live and depend on the Gulf Coast and it's waters.
Monday June 7th 2010 - Catching up during a Rainy Day
What is it about the rain on a tin roof that is so soothing to listen to? It makes it seem OK to sit in bed and do nothing all day long.
The past few weeks have been different around here. Cindy and I thought we knew which direction we were headed. I mean we had both come to the realization that we were going to give the Low-Key Hideaway 100% of our attention for the next few years to try and really make it turn into a money maker for us.
Dont get me wrong, I know we're never going to be rolling in the money off of this little place, but we thought at least we'd be able to live a comfortable life and still get to travel here and there during the slow months.
Then the news of the oil getting closer and closer took over our thought patterns. Now we have no idea what to plan for or what to do. This is totally out of our control, and the worst part, it will dictate the rest of our lives....and it's not even stopped leaking yet! That boils my blood every time I think about it.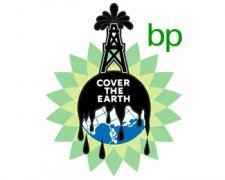 I've laid awake for countless hours trying to figure out what to do. Do we call it a loss, walk away from this right now, or hang out and live in a ghost town? Heck, we dont even know if its going to hit us, but since the oil hasn't stopped leaking yet, I dont see how it cant?
We've now spent any and every last cent that we had in our savings accounts and we've racked up a pretty hefty credit card bill with the repairs and improvements we've been doing to the motel.
I wasn't worried about racking up the debt, because we were thinking this first season is when we'd spend so much of the money to get the place where it needs to be, and the next few years we'd slowly climb out of the hole.
I spent a few days searching for a floating dock so we could launch kayaks off the back of our dock. I found one, and the guy has called me a half dozen times to see if I still want it, but do I spend another $1600 on something that might be covered in oil in a few months?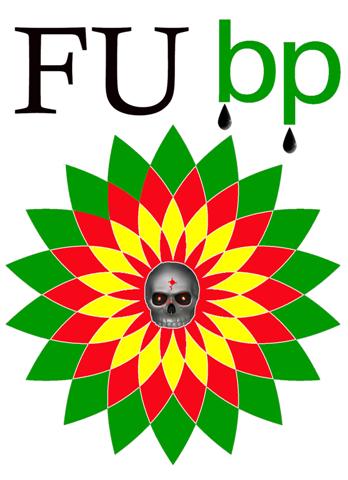 I hate not knowing what to do. Normally we would never worry about the future, we just wait till we're right there and take which ever road looks the best. But this is a totally different route than we've ever been on before.
I look through all the photos we took this past winter. The beautiful birds, the hundreds of different varieties we watched migrate through our back bayou and I couldn't wait for next winter and spring when they'd return.
If the Gulf Coast is going to be covered in oil, I hope they dont return!
It's one thing to sit and watch this on the news each night when it doesn't affect you personally, but to sit and watch it on the news every day and know it dictates what the next year will mean for you really hits home. I'm talking like a punch right between the eyes sort of home.
Yesterday we had some rain in the morning and as I was walking past one of my cameras, it reached out and bit at me. I guess I've been neglecting to lately, so I decided to put on the Kenko Macro Tubes and go see if I could snap some photos of Cindy's flowers.
She's been working her little tail off around the motel planting flowers and bushes here and there. The place looks awesome, so I thought I'd try and get some photos to show it off.
All of these photos were taken with the Canon 5D and the Canon 70-200 f/2.8 lens. I had all 3 of the macro tubes on the lens, which allows you to focus extremely close to your subject. I dont have a true Macro Lens, but with these tubes, it allows any lens we own to become a Macro Lens.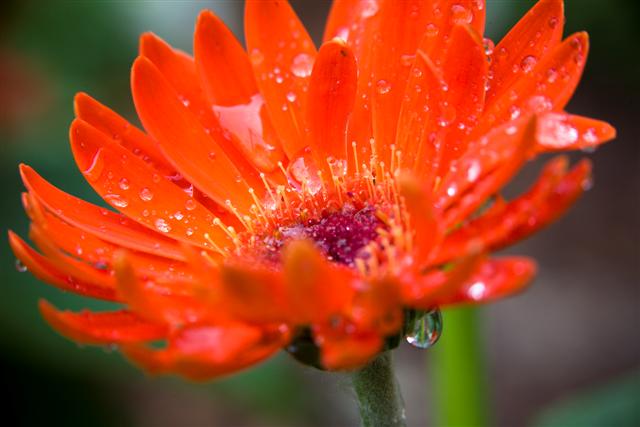 Gerber Daisy with Raindrops on the Petals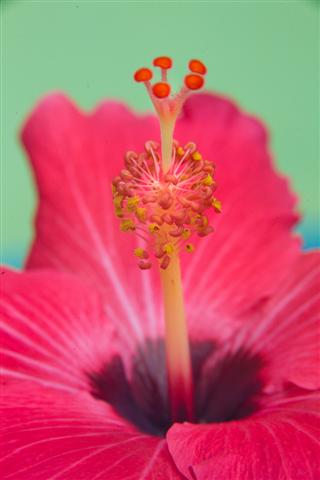 Hibiscus Bloom from the Front of the Motel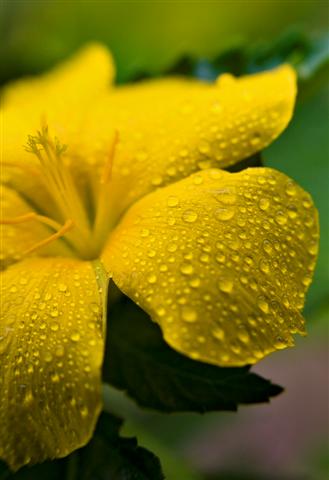 We're not sure what flower this is. Someone gave it to Cindy as a present, but the petals sure do look pretty with the raindrops on them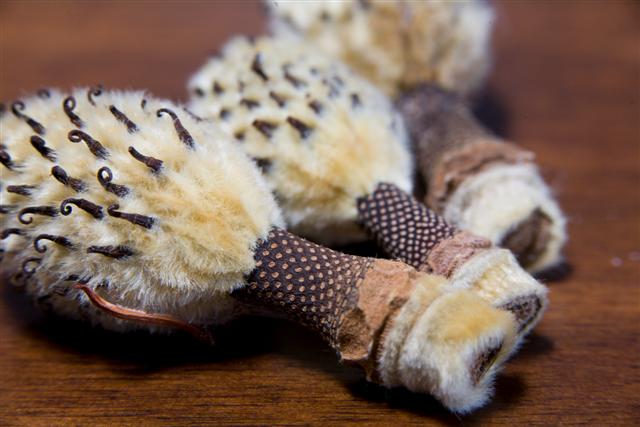 We were at Luz's house the other day and I found a bunch of these on the ground. They are seed pods from her Magnolia Tree. I thought they were the coolest looking things I've seen in a long time. Mother Nature sure can come up with some beautiful designs, cant she!
We also had a visit from Mike and Laura Vance. I guess Laura has been following along with our blogs since Day 1 and her and Mike were going to be passing near Cedar Key.
She sent me an email asking if we had any open rooms, but we were booked up this past weekend. So they got a room at another motel in Cedar Key and came by for a visit anyway.
What started as a simple introduction turned into an all night laugh fest while we sat around the kitchen table talking and sharing stories.
Mike and Laura have recently retired and work for themselves moving campers around the United States for various Transport Companies. They have a big 5th wheel of their own, but this is a way for them to see a bunch of places and get paid to do it.
They told us about some cool places we need to check out the next time we hook up to the camper, and we shared a few of our favorite places. They also introduced us to Tuaca, a Italian liqueur that tastes like Whiskey that has honey in it. It's super smooth and dangerously good when chilled in the freezer.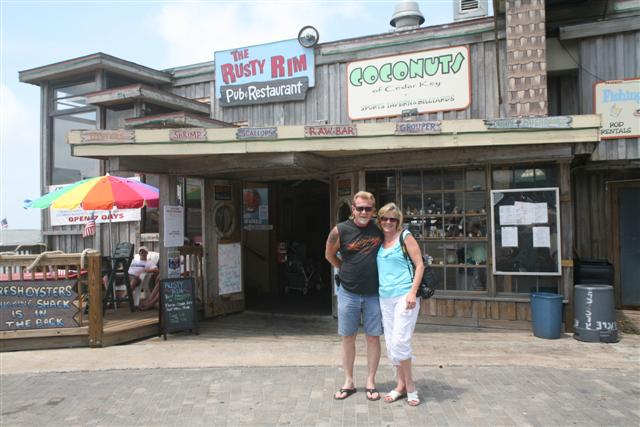 The next morning we all met and had lunch down on Dock Street. While we sat waiting for our food, a big pod of dolphins put on a show out in the Gulf. It was great to sit and watch them play in the waves, and something about seeing the dolphins always makes the day better.
Once finished with lunch, Mike and Laura had to get going to meet some friends in Orlando. We wished them well in their travels and said our goodbyes. We always love when people stop by and it results in new friendship.
Back to the oil spill. Cindy and I have been trying to rack our brains on what we can do to help. We've contacted a few agencies, but they just brush you off saying until it's stopped leaking, they're is really nothing we can do.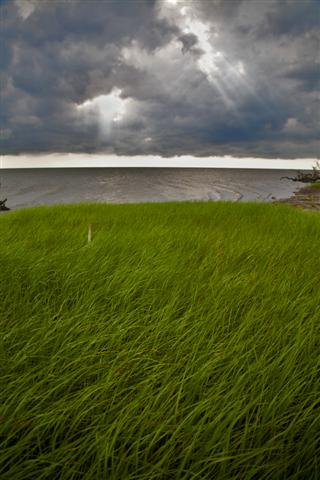 So I suggested we do what we do best. We go out on the water and take as many photos as possible. We take photos of what it looks like now, how pristine and beautiful it all is, and we continue to do this to show people what is at risk.
I'm going to go out with some of the local fisherman and try and document what they do and how important it is for this coastline to stay clean and stay working. With almost 40% of the Gulf closed to fishing due to the oil, if our local fisherman lose their jobs, it will cripple this coastline.
Then there are the 11 men who died working on the oil rig to begin with. Isn't this a criminal act? I know if I owned a company and 11 of my employee's died while at work, I'd have to be answering to someone and doing it fast.
People keep trying to compare this to Katrina, But I have a hard time comparing the two. Everyone saw Hurricane Katrina coming. They had a chance to get out of New Orleans, and there were efforts made to help them out. The Hurricane wasn't anyone's fault, it wasn't avoidable, even though many tried to blame President Bush for all of it?
This is someone's fault. This was avoidable. There are people who need to answer to the questions being asked. There are things that need to be done right now to stop the oil from flowing.
The only reason it hasn't stopped spewing into the gulf is because BP doesn't want to cap the well. They're trying to stop it with something that they can then continue to use the oil. Enough already, just cap it! How big does this catastrophe need to get?
I need to stop before I get too worked up over this. But please, can we just stop it from flowing. If there was ever a time to be looking at our energy consumption, this is it!
___________________________________________________________________
Photo Gear We Use - Solar Tips, Fact's and Trick's we've learned while on the road
Camper Check List - A list of things we do before leaving camp. Again, this isn't gospel, but its a good start for those who might not already have a list made up.
Return to Top of Page
Need Unlimited photo storage- FREE Trial of Smugmug