When we realize our insignificance in this world,
it some how relieves the pressures from society to succeed -
Cindy Bonish 04/07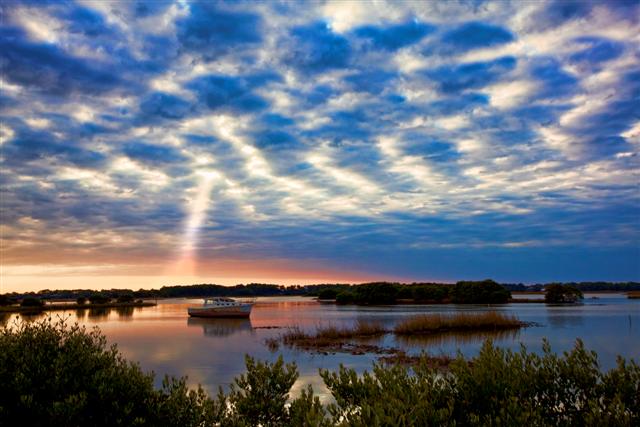 Pat's January 2011 Blog
If this is your first time here, you might want to start from the beginning of our fulltime Journey with our Past Blogs
If You Don't Know Me Yet, Click Here to Read Pat's Bio
****
Monday January 31st - Wrapping Up the Month
First and Foremost, I need to say a huge "Thank You" to all the people who've called, stopped by or simply sent emails in the past week saying Cindy is in their prayers.
As soon as I made that post saying that Cindy had injured her eye, folks stopped by to see if we needed anything, called non-stop asking how she was or simply just let us know if we needed "ANYTHING", they'd lend a hand. It's amazing how many people showed they cared and really made Cindy and I feel loved.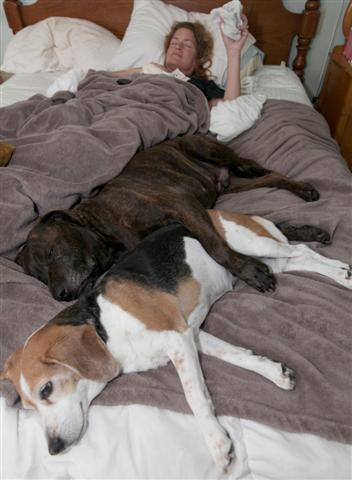 As for Cindy, those first few days were interesting to go through. I've never had an eye injury, but a few people who had called and have experienced one first hand would warn me the pain she was going to be going through. Luckily for us, I had a bottle of Pain Killers left over from some injury I'd had awhile back that I had kept just incase I ever needed them while we were on the road.
The doctor hadn't given her anything for the pain, so I was amazed when we'd have to administer the drops and she'd be kicking and squirming like I was trying to gorge her eyeball out with a rusty screwdriver.
That was the first few days. Then on the 3rd day, just like the doctor had said, she woke up saying "Wow, my eye doesn't hurt all that bad today."
At first she thought it was all better, so she got up and tried to go back to work like she was 100%, but that only lasted an hour or so. Then the pain kicked back in and put her back on the couch for the rest of the day with an eye patch on. But the 3rd day she was able to tough it out and not take anything for the pain.
By Day 4, she was back to 100% and the eye has healed fully with no vision loss or any permanent damage. We're going next week to get an acrylic mask molded to her face that hopefully will be able to protect her teeth, eyes and anything else this clumsy broad thinks she can do to her beautiful head...LOL Just Kidding, but I dont think it would be a bad idea.
A few weeks back, we were needing some plumbing repairs around the motel, and it was beyond my abilities to tighten a screw or change out a faucet. One of the shut-off valves for a toilet had a very slow leak and due to the valve being installed when the motel was built back in the 50's, it had taken on a patina that resembled an oyster bed of rust and corrosion.
As typically happens when I go to work on anything that has to do with water, I thought I could simply shut the valve off by turning the screw that had become rounded off where the knob used to be.
The second my pliers touched the screw, it started dripping water at a faster rate and told me that if I touched it again, it would probably burst and we'd have to shut the water down to the entire motel.
Normally if we need a plumber, we have to call someone from the Gainesville area which means we have hours if not days before they show up to Cedar Key. One of the benefits to living out on a small island I guess?
A few days before, a big guy that we see driving around town all the time in a little work truck had stopped by and gave us his business card.
John introduced himself and said he's a local 'Handyman' that can do all sorts of fixes around the motel. He told us he lived right here so if we needed anything in a hurry, he could be right over.
We both decided that since I know nothing about sweating copper pipes, we'd need to call someone in to fix this valve.
John came right over and made the repair. While we were all talking, he was telling us about his wife who has started a new business here in Cedar Key.
It's called Cedar Key Concierge and she'll do all sorts of things for busy locals or visitors who just want to kick back and relax. She can book reservations on some of the local guide services for you, run errands if you need something picked up, she can set up an itinerary of things to do while visiting, or the thing we think is the coolest, is she comes out with a weekly menu that serves amazing food and they deliver it to your door.
For $8 a plate, John and Gay Lynne will bring a mouth watering dinner to your door. To make sure it was something we'd recommend to guests, we had them deliver food to the tiki bar one night while Fonda and Juergen came over for a visit.
The four of us agreed that this was something we'd use on a regular basis and something we'd recommend to the guests at our motels.
This was before Cindy's eye injury. The day word got out around town that Cindy was laid up and auditioning for the next Pirates movie, Gay Lynne called saying not to worry that she was dropping dinner off that night so I wouldn't have to cook anything.
The next day she did the same thing. So during the time frame that Cindy was laying in bed resting her pupils, we both ate like royalty and Gay Lynne refused to take any money from us. She simply told us she wanted to make sure we'd be taken care of.
If having our dinner dropped off for us each night wasn't enough, Fonda would drop by each day with deserts and food from one of the other restaurants in town that we've all fell in love with, Baby Cakes.
I'm thinking that Cindy getting injured isn't good for the waistline around here.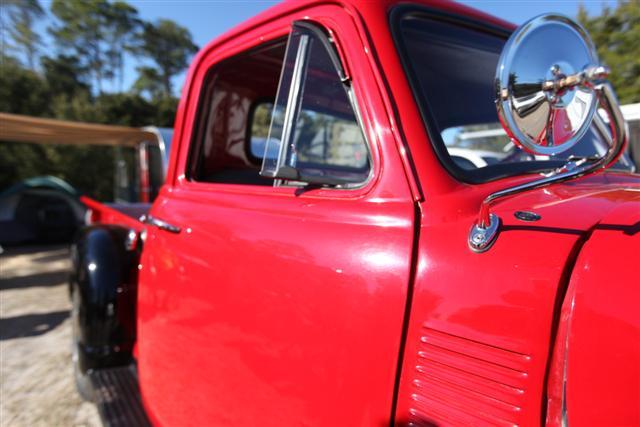 The weekend came and town was packed because of the Tin Can Tourists coming to Cedar Key. Cindy and I took some time on Saturday and went next door to Sunset Isle RV Park to tour the retro campers and talk with their owners. If you ever get a chance to see one of their tours, it's worth it and you'll get a kick out of the awesome campers and cool folks who tow them around.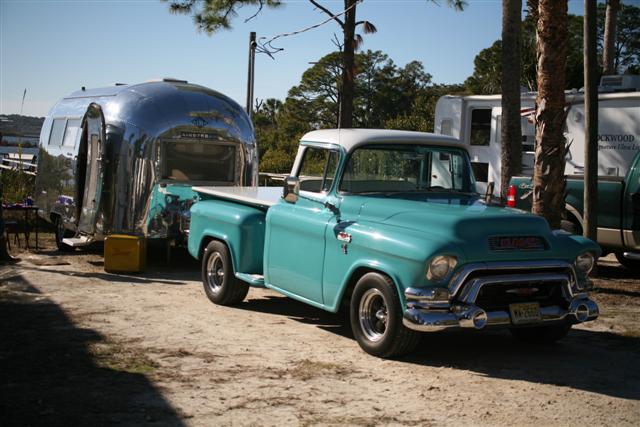 Luz's daughter Marina was leaving on Sunday to move back to California. She had moved home to Cedar Key so Walter could teach her to fly and she's officially a pilot now, so she's headed back to the West Coast and already has some job interviews lined up in the aviation field.
This meant that Saturday night would be her going away party and we went out to dinner followed by a pub crawl around Cedar Key which ended with a night of dancing in Luz's living room till the sun came up.
Sunday was a beautiful day and since we had been full all weekend long, we had 4 rooms to clean. As soon as we busted out the rooms, I headed out to the property where Heath and Freddy were cooking some thick steaks over a fire.
When I mean thick steaks, I mean slabs of meat you'd normally see in the butchers counter that would serve a family. Freddy asked me how I liked my steak cooked and when I said "Medium Rare", he said "Well grab a plate and come here."
The size of this steak almost broke the plastic plate he dropped it on and I was holding on with both hands.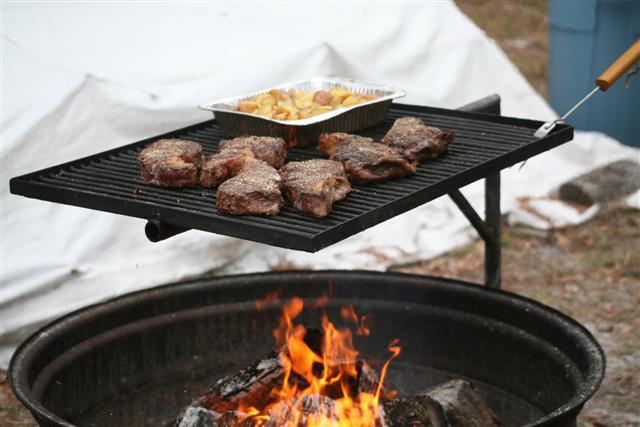 Chowing on a steak grilled over an open fire that was cooked over a bed of cedar logs is just short of heaven. This is living my friends. These boys know how to cook and know how to wind down the weekend.
With a belly full of fine food, I came home feeling like I had just taken a sleeping pill and went straight to bed.
Monday was shopping day as Cindy and I were out of groceries. The cupboards were bare and we were out of just about everything. We woke up at 6am and limped the truck into Gainesville to stock up at Sam's Club.
We were home by noon and since all our rooms were clean and the temps were in the low 70's, we grabbed Kevin and Sheryl and headed out on Luz's boat.
The day was about as perfect as they come and the water was calm and glassy. I love those days where you have a hard time distinguishing the horizon from the water.
We motored around the islands and were able to float through the inner section of Atsena Otie Key only bouncing off a few oyster bars as we found our way.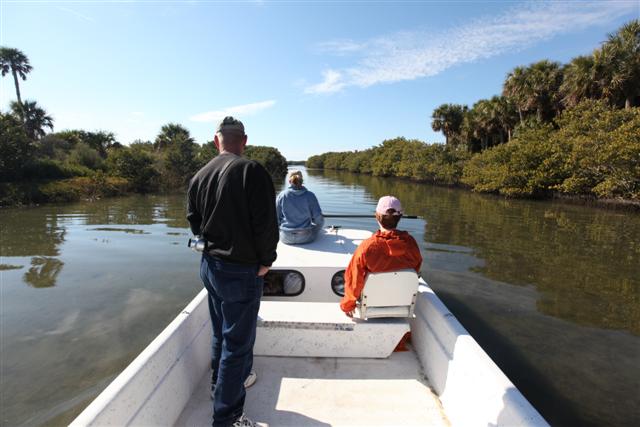 We went around the back side of Snake Key and cut through the small channel on that island before we motored over to Seahorse Key to check out the lighthouse.
On our way, we spotted a huge Conch shell on a sand bar and Kevin reached in to grab it for a photo-op.
We pulled up to the dock on Seahorse so we could snap a photo of the building that used to be a lighthouse....I dont like calling it a lighthouse since there's no light in it anymore. It's simply just a old building with a tall glass tower in the top. I cant figure out in this day in age why there isn't a Solar Panel powering a high powered L.E.D. light so at least it could still be considered a lighthouse, but when I ask around, I'm always told it's complicated.
From Seahorse Key we were on our way back to Cedar Key when we spotted a flock of white pelicans on a sand bar.
We slowly motored up to them and watched as they kept their backs to us. It was funny as we'd idle around the sand bar they were standing on, they'd walk to the opposite side always staying as far away from us as they could and always keeping their backs to us.
After a few dozen photos, we headed back into the Marina before we lost our water due to a falling tide.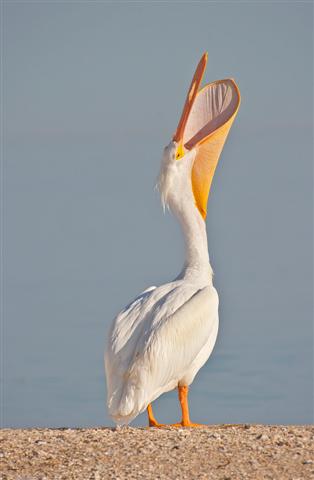 White Pelican Head Throw in Cedar Key - Photo by Pat Bonish
We ended the night sitting out at the tiki bar gobbling up thick submarine sandwiches we had delivered from Island Pizza. Sometimes Life is Good, and other times it's just Amazing like the past few days have been.
Tuesday January 25th - Finally Recovered
The past few days have been a living hell on me. It all started on Saturday when we were partying at Luz and Walter's house and Luz decided it would be fun to order a late night Pizza. Not just any pizza, but a Oyster Rockefeller Pizza which is her favorite.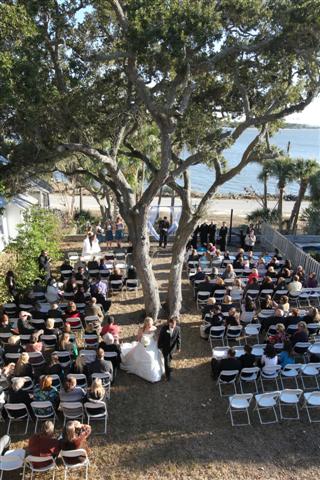 The night had been a blast up to this point. We had started off at the Wedding of Josh and Whitney, and nice young couple we're friends with here in Cedar Key. The wedding was at a beautiful location at a really old house here on the Island.
From the Wedding, we stopped by Luz and Walters house to have some drinks and warm up before we headed over to the Reception. All of this was within a few blocks of each other, so we were just walking from location to location.
The reception was great and the food was awesome. Rather than have a big catered dinner, they did the food Cedar Key Style. They had an old wooden canoe that had the center covered in white cloth.
In that center section they dumped a steaming pile of clams, shrimp, red potatoes, corn on the cob and all sorts of other steamed goodies. It had all been cooked together in what they call a 'Low Country Boil' and it was delicious.
After the reception was over, we went back to Luz's house where we were sitting around having drinks and just talking the night away. Marina and her boyfriend Riley were there so it was some great conversation and all was going great.
Then Luz decided to order the pizza. Not that anything was wrong with the pizza, it's just that I'm allergic to Shellfish. I had found this out the hard way years ago when I had been working at a Raw Bar and on a super busy night, we were too busy to break for dinner, so I just kept eating clams as I was shucking them.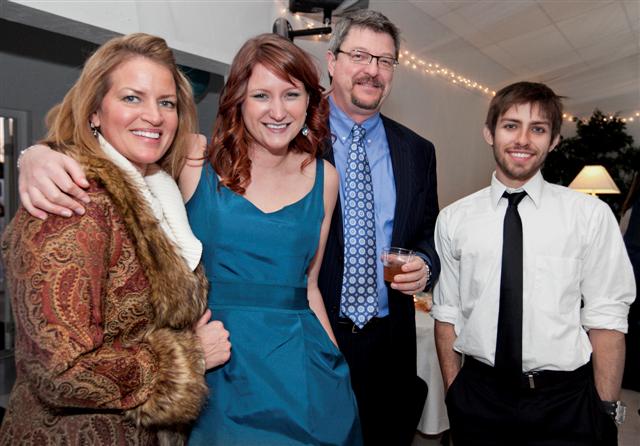 Cindy, Marina, Walter & Riley at the Wedding
I didn't think it was a big deal and I was actually liking the taste of the little creatures till all of a sudden, the bar manager asked me why I was turning green?
I said I didn't feel too good and he asked what I had ate? When I told him that I had ate clams for the first time, he said "Oh man, you just found out the hard way you're allergic to shellfish."
The next few hours was spent on the bathroom floor curled up in a ball wishing I could get run over by a truck or something soothing of that nature to take away the pain in my stomach.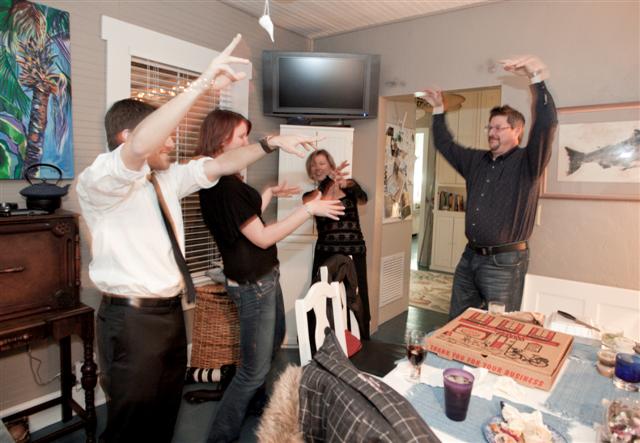 Well when I dove into the Oyster Rockefeller Pizza, I wasn't thinking about my allergy because it had been so long since I had eaten anything that had made me sick, I had totally forgotten about this whole allergic reaction.
Fast forward an hour later, the music is turned up, everyone is dancing and having a grand time when I'm sitting there wondering why I'm really short of breath. My stomach feels like there is an alien growing inside of it and it's trying to claw it's way out.
My first thought was I was having heartburn. I normally never have indigestion, but when Cindy asked why I was holding my stomach, I said "I'm not sure, I'm thinking I might be having some heartburn."
Walter said not to worry as he gets it all the time and he'd give me one of his prescription heartburn pills to clear it up.
I swallowed it down with a big glass of water thinking it would help calm the demon growing in my belly and it would all be better soon. Then I noticed I kept getting shorter and shorter on my breathing abilities, which I later found out is the main thing the allergy causes, paralysis to the respiratory system.
I went outside thinking some cold, fresh air would wake me up and clear my head a bit. As I sat out in the back yard, I guess I felt what people who are having a heart attack must go through right before they die.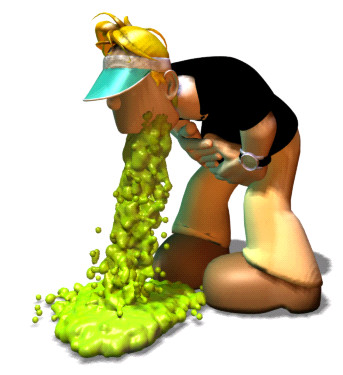 My body continued to shut down as my stomach kept aching like nothing I've ever felt in my life.
I couldn't hold it any longer and the first of many, many upheavals started. After throwing up everything in my system and much more than I thought I had ate, I went inside and glared at Cindy saying "Let's Go Now!"
She was still dancing with everyone and had no clue as to what was going on out in the driveway.
I walked outside without saying another word because it was all I could do to not throw up again right there. By the time Cindy came out to ask what was going on and why was I acting so rude, she saw me holding on to the side of the truck still feeding the neighborhood supply of cats with fresh oysters.
We made the short drive home with barely a minute to spare as I ran inside the house and straight into the bathroom. The rest of the night was spent with me either hugging the toilet, or curled up on the floor in the fetal position moaning and crying like a little baby.
When I finally crawled into bed hours later, Cindy had given me some Benedryl which was really the only thing to calm the heaving. Which by this point, there was nothing coming out, but my body didn't care, it wasn't taking any chances and was trying to make sure the stomach itself was going to come out my throat at some point.
I was sweating bullets but was freezing all at the same time. Somehow over the past few hours, Cindy had dressed me in a thick fleece sweatshirt because of my complaining of how cold I was. I had my winter hat on and a thick pair of fleece pants on. My lips were shivering like I had frost bite and I couldn't pile enough blankets on, but I was still sweating bullets even though I was freezing cold.
Cindy had called Luz to tell her what was going on and why we had left so abruptly and rudely and Luz kept saying "We need to bring him to the hospital!" But I dont think she realized that there was no way other than in the bed of an open pick-up truck could they have brought me anywhere for how many times I had thrown up.
I slept in till noonish and woke up feeling like someone had went to town on my stomach with a baseball bat.
Cindy asked if I wanted any breakfast and surprisingly I was hungry despite how bad my stomach felt. I guess since I had never had time to digest anything that I had ate for dinner yesterday, I was lacking in nutrition.
She made me some oatmeal thinking it would be calm enough to not stir up anything in my gut.
Here is the bad part. All week long, Heath and I had been making plans to go out on one of our Sunday, All Day Boat Rides.
He called me and asked if I was still going and I said "I'm not too sure I'm up to this."
I could hear the disappointment in his voice, and Cindy and I had been at each others throats all week long because of how much we've been working around here.
She heard me saying that I didn't think I was going to go and she said "Oh no, you can puke off the side of that boat the same you can do in that bathroom! Tell him to come get you!"
Thanks honey, love you too!
She packed us a big cooler full of food and when Heath rang the door bell, I heard him say "Miss Cindy, I dont think Pat's up to going out on the boat today!"
She just handed him the cooler and said "Ya'll have a good time!"
I should apologize to Heath, because when I'm on multiple Benedryl tablets, I'm not all that fun and not all that talkative. So I was somewhat of a bump on a log all day, even though we did end up having an awesome day on the water.
We left Cedar Key to bright sunny skies and headed South down the Nature Coastline. We were on Heath's flats boat today that can run in merely inches of water.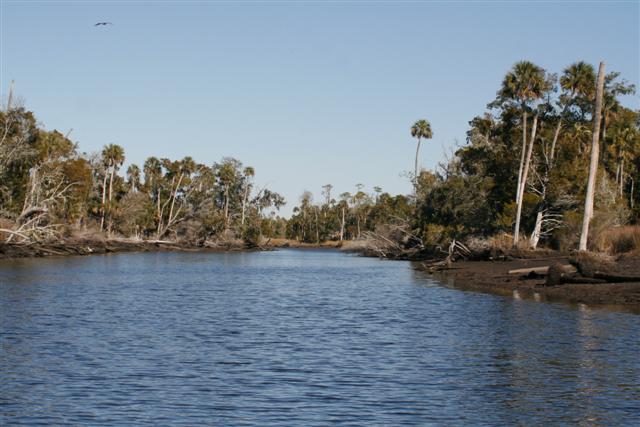 Prehistoric Looking Scenery up the Waccasassa River
I've talked about this boat before, but it's a custom boat that Heath has put together from the hull of an old aluminum Airboat, but he had tunnels welded on the bottom and runs an outboard motor on the back.
This allows the boat to ride on the tunnels and the prop from the motor to sit between those tunnels. There are times I'm thinking "OK, this is going to be a really big thud" as we're headed right towards a oyster bed or a log in the river and we just glide over it like it was a stiff wave.
The boat is about as perfect as they come for these areas because you have the shallow draft of an airboat, but you dont have the obnoxious noise those big motors and fans make.
Even though it was bright and sunny out today, there was a cool crispness in the air which had us both bundled up like we were on a Rocky Mountain hunt. Heath gave me a thick pair of rubber overalls which helped block the cold wind and kept me nice and warm throughout the entire day.
Our goal for today was to go see an old cabin that Heath's Grandfather had lived in as a young man. But the tide was currently too low to allow us to get up that narrow river, so we were first heading further south to the Waccasassa River.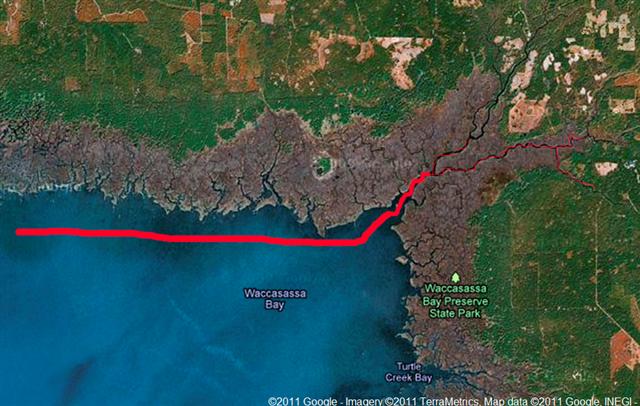 The Red Line is our path we took from Cedar Key and Up the Waccasassa River and its tributaries
We motored up this river at a slow rate of speed just BS'ing and watching all the flocks of birds that were lining the shoreline.
As we motored up the river, we kept noticing schools of mullet that were larger than anything I've ever seen.
Now in the past few weeks, I've noticed that the mullet that are normally jumping non-stop behind the Low-Key Hideaway haven't been around. I had asked a few of the locals about this wondering if something was wrong with the waters in the Gulf of Mexico.
They simply said "Nope, they go out and spawn this time of year so you dont really see them much."
This also explains why we haven't seen the dolphin behind the motel like we normally do. If the fish they feed on aren't here, then they aren't around either.
Well this explains where they all have come to. For about a mile up the river, we floated over hundreds of thousands of fish. It was like nothing I've ever seen before.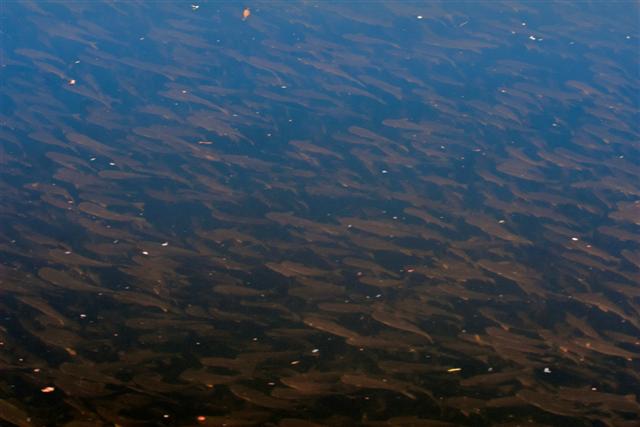 It was hard to take a picture of the schools, but this is what we saw for about a mile up the river!
I joked with Heath and said "I cant believe you forgot your cast net." Not that we'd be throwing it out and bringing them home, but can you imagine the photo op's of a full grown man struggling to pull in a net so full with fish it would be busting at the seams!!
Then as we rounded a tight curve in the river, we both noticed a giant log sitting on the sandy shoreline. I picked up the camera right as Heath said "Look at the size of that Gator!"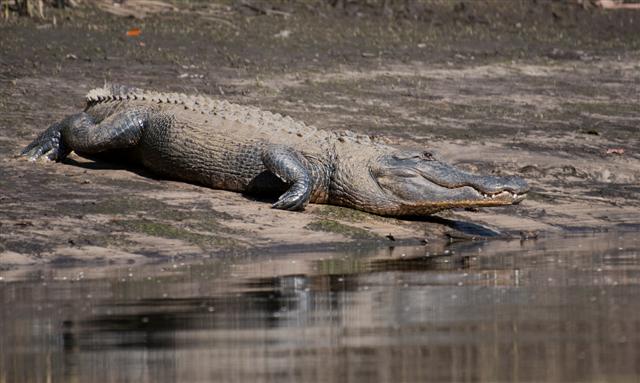 Now if anyone else would have come back from a boat trip on a cold day like today and told me they had seen a gator, without photos for evidence, I wouldn't have believed them.
But I'm not lying when I say this thing was easily 9' long! We got pretty close to it before it slithered back into the murky water and went and hid in a hole.
I guess one of the tributaries that feeds the Waccasassa River is spring fed and bubbles up at 70°, which probably explains why this big gator was still out during this time of year.
Plus, he was just sitting on a sandy bank sunning himself when we came by, so he was probably pretty pissed that we made him wake up from his nap and crawl back into the water.
As we floated further upstream, we found the spring fed river and were able to motor quite a ways up that section. It was beautiful and pristine and we talked about what Florida must have looked like before it was logged for its giant cypress.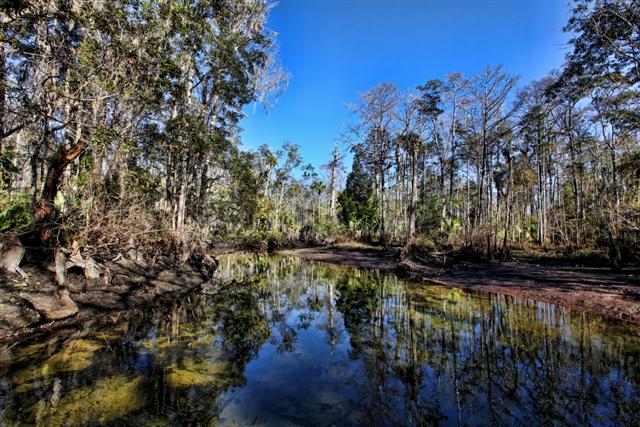 Water So Calm and Clear you Felt like you were Floating on Air
We'd pass by towering cypress trees that would take 5 grown men hand in hand to circle the trunk of the tree. And to think that these are the trees that survived the clear cutting.
If we were to kill the motor, there wasn't a sound to be heard except for the rustling of the leaves from Armadillos, the non-stop chatter from the birds flying around us and the sounds of the water trickling downstream over the fallen trees that lined the banks.
When we got to a section where a tree had fallen over the river and we couldn't go no further, we turned around and headed back down the creek. When we rounded the bank where we had seen the big gator, he was back up on the shoreline basking in the warm afternoon sun, but before I could even pick up the camera, he was in the water and out of sight.
We stopped along this section of shoreline to have some lunch and wait to see if he'd pop his head back up, but after about a half hours time, Heath said "This aint his first rodeo, I'm guessing he's got more patience than us" and we headed back down the river.
We explored a few more tributaries and spotted a few more gators, but none as big as that first one we saw.
Once out of the Waccasassa River and back into the Gulf of Mexico, we headed back Northwest to a little cut of a river that only a small skiff or a real shallow running boat like Heath's could run up.
Rocks are something you dont really see around Cedar Key. But down in this section of the Waccasassa Bay, the shorelines and rivers are loaded with big lime rock that's just waiting to tear a nice hole in the bottom of your boat.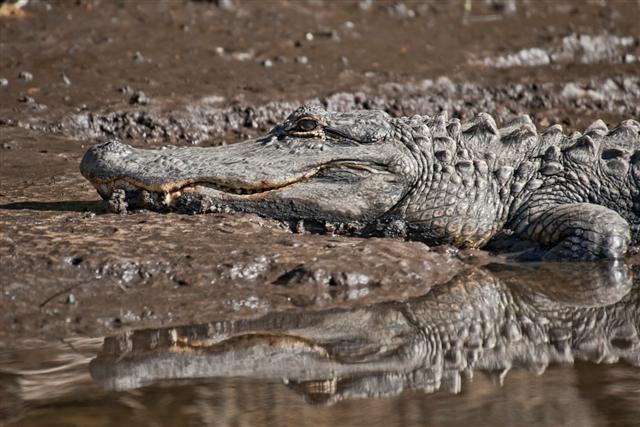 Luckily we werent in no hurry, because on a few occasions we'd run into something immovable under the surface and have to pole our way off to get around it.
Then we got to our afternoons destination. Without knowing exactly where you were going, I dont think too many people could find this spot.
Heath had been telling me family history all day long about his Grandfather and how he had lived out here before he moved up to Cedar Key where he ended up living the rest of his life out of.
We tied off to an old crumbling dock that looked like it was going to fall apart at any second. Rather than try and risk walking up the shaking planks, we chose to trudge through the waist high marsh grass along the sides of the dock.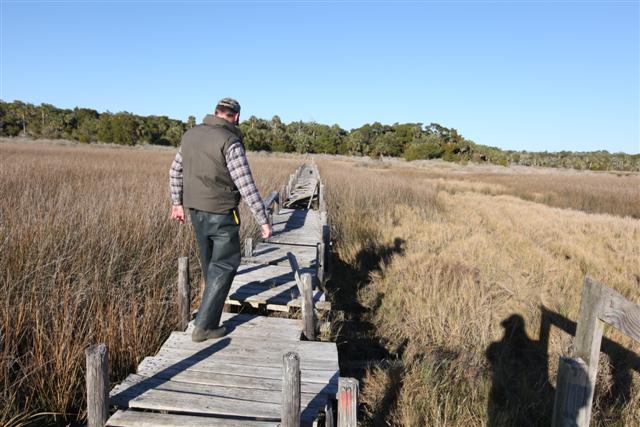 Once on solid ground, if you can really call any of this section of the Florida coastline Solid Ground, we headed in a narrow trail to where some old Cracker Shacks were left barely standing.
You know the homes are old when trees are growing up through the front porch steps. But some of the buildings still were used as camps, so we made sure not to disturb anything.
We were just simply looking and taking a few pictures. We both walked around trying to figure out what life must have been like to live out here back before electricity, before the modern day conveniences we take for granted and how hard it was.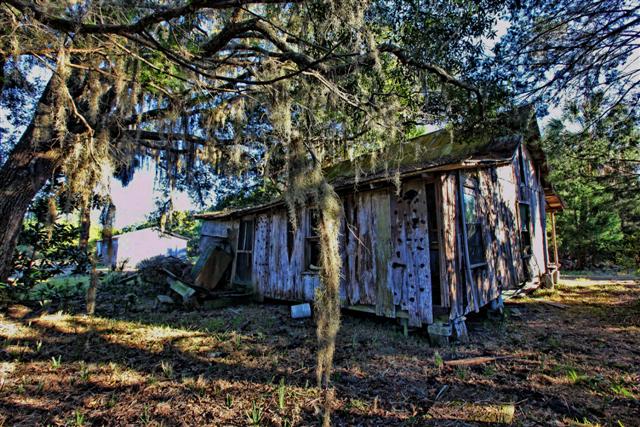 There was a well close to the house where you'd get your fresh water, but Heath said he remembers his Grandfather telling him stories about "Only being able to drink the water during certain times of the tides due to the salt content"
There was an old Willy's Jeep that had been sitting long enough that the tires were starting to sink into the ground.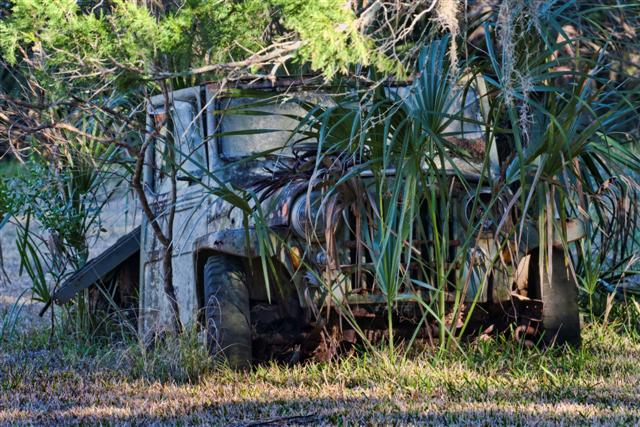 There were multiple buildings all in different stages of disrepair. Some of the woodwork was very intricate and would be beautiful to try and restore, and some was just crumbling and to touch it would probably make it fall apart.
After about an hour of just walking around looking at all the buildings, we walked back to the dock and crawled back on the boat.
Heath asked if I wanted to keep going up the rivers exploring or if I was ready to head home.
Like I said earlier, I was probably nothing more than a anchor for most of the day, and my Benedryl was starting to wear off, so my stomach was starting to make me double over in pain again, so I suggested we head for home.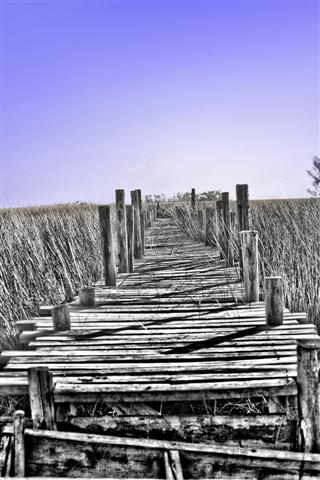 Once back out in the open Gulf, Heath dropped the throttle and we skimmed the surface at a fast rate of speed to get back to the Cedar Key Marina just as the sun dropped below the horizon.
It had been another great day on the water as usual. Even with the alien in my stomach, I still had an awesome day.
Once home, I flopped down on the couch trying my best to imitate that alligator we had seen while Cindy fed me some warm Chicken soup. I dont know if I even finished the last spoonful before I was sawing logs.
It was another night of sleeping with a full fleece outfit on and not even noticing. This is rare since I normally sleep without a single piece of clothing on and even kick most of the covers off throughout the night.
Monday I woke thinking I felt 100% better. I got up and ate breakfast with Cindy and was about half way through my first cup of coffee when I realized I wasn't as good as I thought I was.
With a few more Benedryl in my system, I was back to being a zombie on the couch.
Then as the day grew on, the weather warmed up and it turned out to be a beautiful day. We had the doorbell ring and one of the guests asked when the Tiki Bar was going to open.
I hadn't even thought about it since it was a Monday night and the last week had been so cold. But then another guest came knocking asking about the tiki bar and Cindy and I realized we needed to be out there.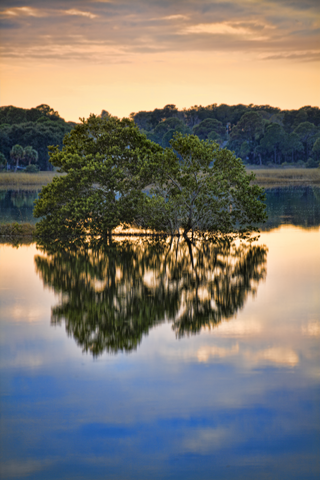 Within a few minutes of us turning on the radio, the place was full and we were having a little Sunset Celebration. The evening was warm and the bay behind the motel was as smooth as a pane of glass.
Our RV Campground is full right now and we had all the guests sitting out talking about where they've visited and what they like best about RVing. A few bird watchers who we had talked with earlier in the week stopped by and a few more locals came out and it ended up being a great night. Our busiest one yet, and we never even planned on opening! Isn't that how the best parties usually end up, completely unplanned.
Then talk about 180° of a turn around today. We woke to pouring rain and chilly temperatures.
Cindy and I were headed down to help Fonda and Juergen with their new kitchen cabinets and as we waited for the cabinets to be delivered, we got to work trimming the bushes outside.
As Cindy was bending down to cut a branch, a twig stuck her in the eye and sent her reeling back.
At first we all just sort of laughed it off saying "Watch your eyes!" Then we noticed she wasn't laughing and was holding her eye pretty tightly.
We checked it out, but couldn't see anything in it, so she went and sat down just hoping a few minutes with it closed would heal it up. Fonda ended up driving her home, but it kept feeling worse. An hour later Luz was taking her to Gainesville to the hospital to have it checked out.
I guess she has a small tare in her eye that they gave her antibiotics for and told her to keep it closed for the next few days. I'm thinking we're going to get her a pirate outfit and she can work the tiki bar with a black patch over her eye so she looks the part.
All in a days work here in Cedar Key. Oh, and that beautiful weather we were talking about yesterday....well today it poured rain all day and we lost power for a few hours due to the heavy storms passing through.
At least its not snowing...Right!
Monday January 17th - Taking a Break to Update and Download
Who would ever think that running a motel would be this time consuming?
It seems that Cindy and I are entertaining almost every single night. We have people dropping by to visit while they're out in their travels on a non-stop basis.
Do we mind? Not in the least, but it makes it hell on trying to keep up with day-to-day chores. Not that I care about my chores at all, its more the not being able to keep up with the photos and downloading of images that gets me so far behind.
Cindy yelled at me this morning because neither of us have any clean clothes. It's my job to do our laundry and I've yet to find time to throw a load of laundry in this past week.
We got a call last week from Tom and Myra, our friends from U.P. Overland who said they were in Pensacola for work and if we had any spare time, they wanted to stop by for a drink at the tiki bar. This is a 4 hour drive, but when you're 3000 miles from home, 4 hours isn't much.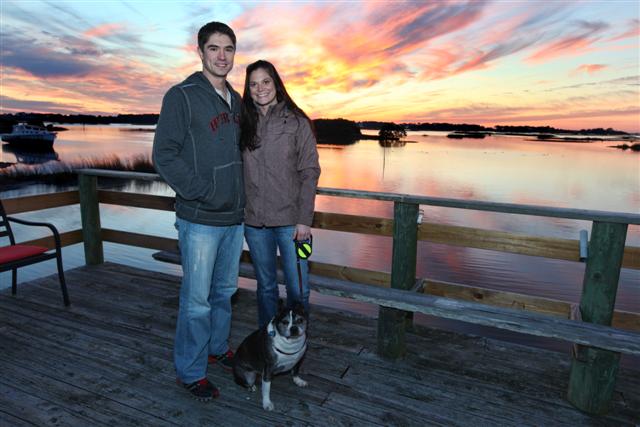 Tom, Myra and Flex enjoying a Low-Key Sunset in Cedar Key
This turned into an all night party and it was awesome seeing them again. We started with drinks and an amazing sunset at the tiki bar, then we all went into town and had dinner at the Island Hotel.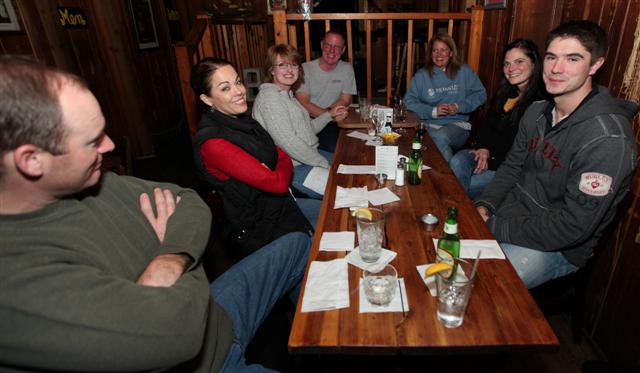 L-R - Heath, Jolie, Sheryl, Kevin, Cindy, Myra and Tom @ the Island Hotel
Following dinner, we came back to our place and sat up till late in the night talking and laughing about everything from our adventures to our kids to our childhood. The stories got better the later it got into the night.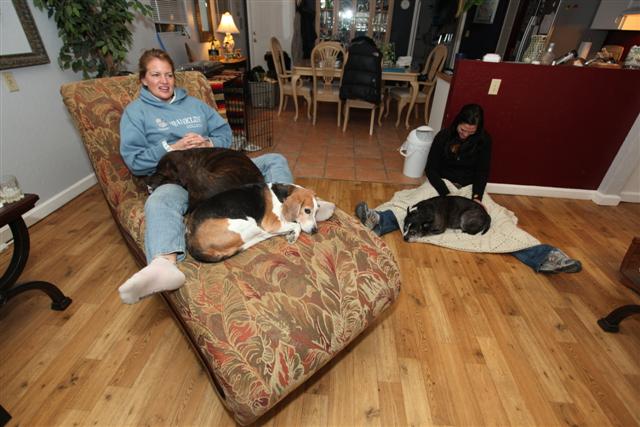 Are these dogs spoiled or what? Cindy and our 2 sucker fish & Myra and her dog Flex
The next night, we had a fellow traveler stop by who I had been talking back and forth with via emails. Clark White is a member on the Expedition Portal forum and had contacted me saying that he was flying into Pennsylvania to buy a motorcycle.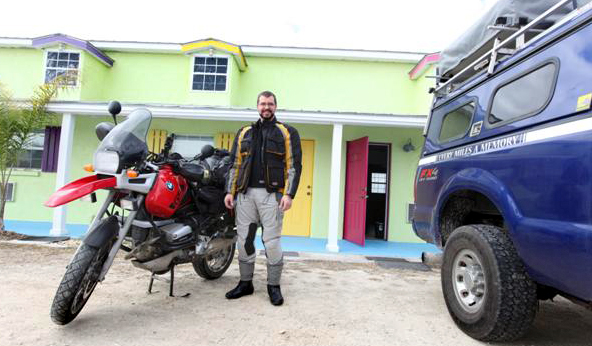 Clark and his BMW GS while stopping on his way West
He was then taking the next few weeks to drive down the East Coast to get out of the snow and cold weather and was going to be passing by our area on his way back to Arizona.
I had told him that when he was passing through, he'd have a couch to crash on and a shower to clean off the road grime.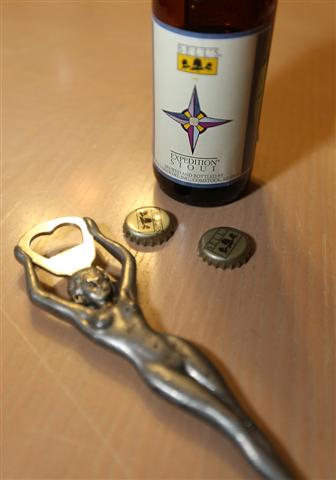 He was going to be stopping by to meet with Jim, who is another Portal Member and lives down in Tampa. Jim is in the process of building a custom travel trailer to tow behind his amazing Dodge truck. You might remember his awesome Jeep and custom built Teardrop trailer when he and his wife had come up to visit Cindy and I last spring.
When Clark showed up, we were busy having a sunset celebration at the tiki bar and he jumped right in. He had also brought a six pack of Expedition Stout from the Bells Brewery that Jim had given to him to bring up for me. This stuff is serious beer with a huge taste and a 10.5 alcohol content....not for the faint of heart.
Kevin and Sheryl, another couple who host their own blogs and have been traveling fulltime we also met off of the Portal forum have been staying with us for the past few weeks. They've had the fun of getting to visit with Steve and Allison, Tom and Myra, Clark and all the other travelers who pass through this little stopping grounds for fellow Gypsies.
Like the saying goes, like minded people tend to gather together. This is probably the only thing that has kept my Wanderlust at bay all this time. I get to talk with so many travelers and hear all their great stories that it keeps me energized and living life through their adventures.
In between all these visitors, Fonda and Juergen arrived in town a few days late due to the snow and terrible weather that was keeping them captive in Georgia.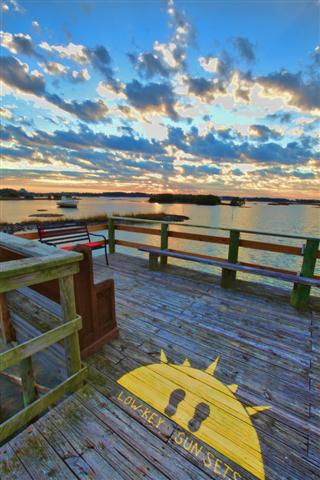 We helped them unload a few things while they're trying to get settled in their new place. It wont be long before we'll have some stiff competition from down the road when they get the Gulfside Motel up and running.
I always look forward to some competition, so I cant wait to help them out.
Our sunsets this past week have been amazing. It's been a bit cold, but they're so beautiful, we'll brave the cold and wind to stand out in the tiki bar and drink some beers while we watch the sunset celebration take place before our eyes.
Each night, we all sit around laughing saying things like "Damn, this really sucks doesn't it!" as we talk about the North East under a thick blanket of snow and ice. So big deal, we have to wear a jacket and maybe a hat. It's still alot better than 12" of snow on the ground any day.
Then tonight a rain storm blew in and I was surprised to look outside and barely be able to see the old boat sunk just off our back yard. By the way, her name is Karmen. I found a set of keys on her the other day while I was looking for something that had the name written on it. So she finally has a name.
With this new storm, the blanket of fog was rolling in thick and hiding any sort of visibility off the back dock. Amazing what a few nights can make to what we see.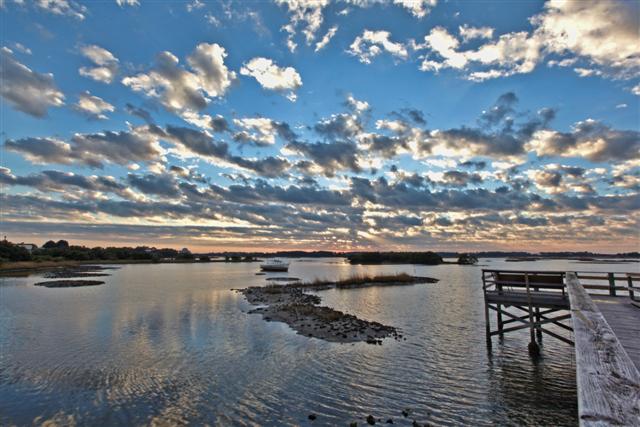 Low-Key Hideaway Sunset Last Night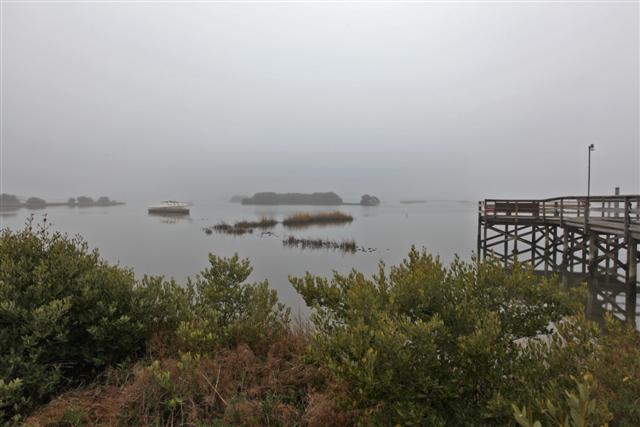 Low-Key Hideaway Fogset Tonight :(
Monday January 10th - Recovering
I spoke too soon. I laughed in the face of my immune system! All season, it seems everyone around me has been battling this nasty flu virus that has been going around.
Cindy came down with it and had to go on antibiotics when it got worse and developed into strep throat and an inner ear infection. Heath has had it and is on his second round of antibiotics because he cant seem to shake it.
Luz, Jolie, Marina, Walter and almost everyone else I come into contact with has all talked about how debilitating it is when it strikes as they've all dealt with it over the past few months. Each time I would joke and say something stupid like "If you wash it down with enough Scotch or Tequila, you can kill any virus!"
Well on Friday night, I was out at the tiki bar shivering in the cold 50° weather and I started to feel achy and my throat was really itchy. I came in once the bar closed and took some ibuprofen and went to bed.
I woke up in the morning and felt like I had been run over by a truck. Rather than lie around and feel like crap, I bundled up like I was going out for a hike in the Artic and went and worked on the tiki bar all day long.
The temperatures were in the mid-60's, so I was sweating something awful, but I felt like it was good for my body to sweat the toxins out. I also tried to drink tons of water and flush my system of what ever it had in it that wasn't doing me any good.
That night, I sat out at the tiki bar with some guests and talked till well after the sun went to bed. When I came inside, I felt like I had a fever, so more ibuprofen and some NyQuil and I went back to bed.
Yesterday I felt like total crap all day. I've been stressing out on myself for not completing the 2010 Year in Review on our website and when I went to see what we had put for our 2009 Year in Review, I realized we had typed it out along time ago, but never posted it. Gosh am I slacking on keeping this website up to date. Something that I've vowed to do better with during 2011.
So with cool weather and nothing really to do all day, Cindy and I sat around for the entire day yesterday and talked about our thoughts of 2010 and what our plans are for 2011. I basically laid on the couch working on the website and Cindy acted like my nurse and caregiver and took good care of me. Of course she called me a wimp the entire time, but I wouldn't expect anything less from her.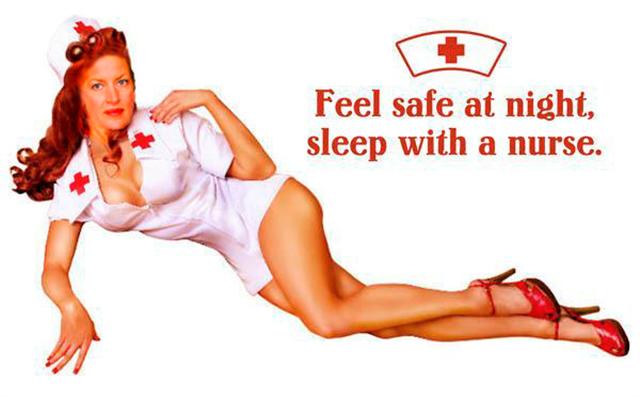 Cindy my Sexy Little Nurse
We posted the 2010 Year in Review and Cindy has promised me that 2011, something will happen big in our travel plans.
This all started when Cindy spent the entire day on Saturday working in the camper and organizing the cabinets and drawers and cleaning everything out.
When she came inside on Saturday night, she let me know that the travel itch had bitten her bad during that cleaning secession and "We need to sit down to talk about our plans for the next leg of the adventure."
We talked all day yesterday and said that we've yet to see the North East section of North America. She said something like "What if we save up enough money this year that we can take 6 months off in 2011 and go explore the North East, Maine, Labrador and every where else that section of North America has to offer." It would easy to leave from Florida and just drive up the Eastern Seaboard anyways.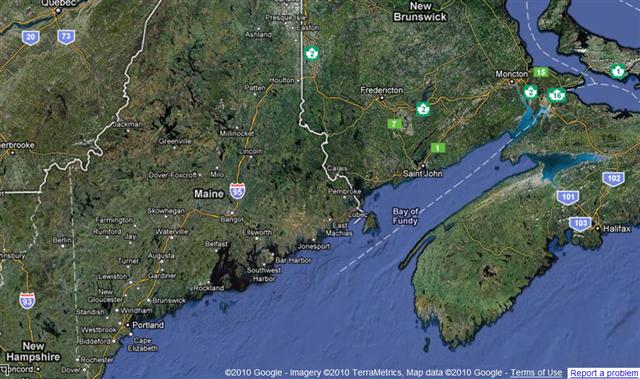 Lots of Land with Few Roads - Just our kind of place to Explore
I was ready to start packing up at any second, but at least this will give us something to strive for.
I posted the question of "What are some places to make sure not to miss in the North East areas of North America?" on a few different travel and RV forums, so hopefully over the next year, we'll be able to map out a fun route.
As we build it up from suggestions from fellow travelers and readers, I'll be sure to post up a route so people can add to it or fine tune it some.
Saturday January 8th - Off To A Great Year So Far
It seems that the New Years Celebrating never seems to end. I dont know if there has been a day of rest this entire first week of 2011.
Between numerous visits from friends and fellow travelers, every night seems to be a party here in Cedar Key.
Our friends Fonda and Juergen came into town to drop off a load of stuff they're bringing down with them for when they make the big move next week. It'll be interesting and fun to see them move to town and get the Gulf Side Motel up and running. With one year under our belt, we can bring them up to speed much faster with fewer mistakes than we stumbled upon this past year.
We've had some friends in from South Carolina that we met while attending the U.P. Overland Adventure this past summer who have been staying at the Low-Key Hideaway this entire week.
Steve and Alison have been fun to party with and we've been have lots of fun times this week. Steve owns Southeast Overland and has a pretty awesome Toyota FJ that has been turning heads all week long.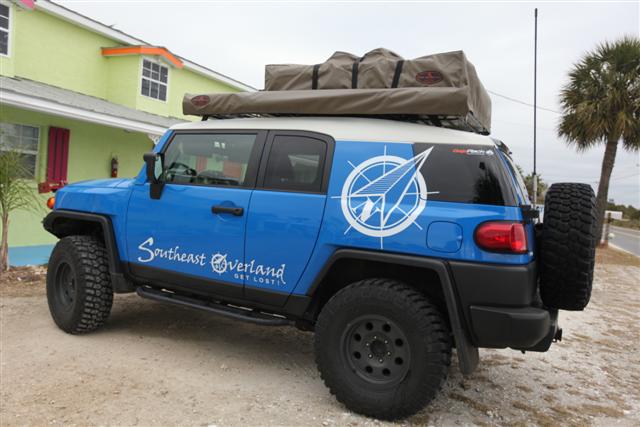 Heath had a birthday party that turned out to be one wild night in Cedar Key with Cindy, Freddy and a few friends bringing down the house on the Karaoke Machine.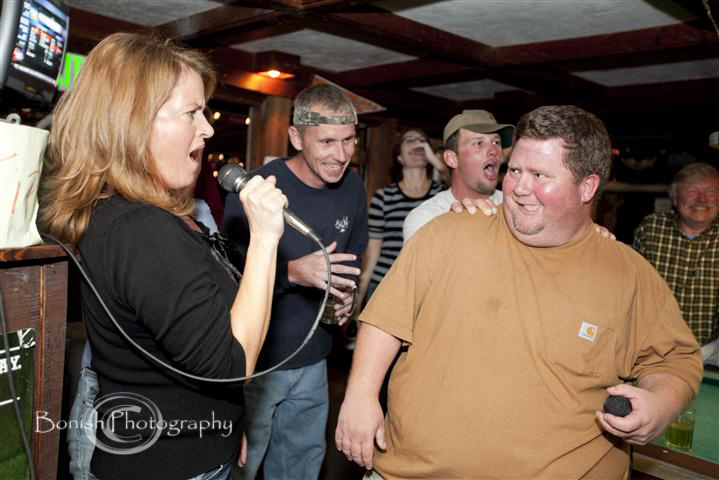 I Have No Idea What Cindy just said to Freddy, but the look on Freddy's Face and the laughter on everyone else's face is priceless
The tiki bar has been going non-stop this past week with improvements and additions. With the weather being so cool this time of year, we've been trying to figure out ways to block the wind coming off the bay and make it so we can sit out comfortably at the bar.
Our friend Freddy had a set of glass French doors that were pulled off a job he said we could use to help block the wind, and they make all the difference in the world. Only thing is between the old windows I salvaged off another house in town, the tiki bar is starting to look like a pile of debris that has washed up on the shore.
Its all a work in progress, but hopefully within a month or so, it will come together nicely. I'm trying to find some nice roll-up sides so the wind can be blocked when it's cold out, but come summer when that wind will be welcomed with open arms, the sides can simply be rolled up and tucked away.
While talking to my beer rep, I was telling him how I was saving up for a beer cooler, but till I could save the $2500 it costs, I'd simply be putting the beer on ice in a Igloo Cooler.
He mentioned that he had an account that had just went out of business and he said he'd call the guy to see if he was getting rid of any of his coolers.
He handed me the phone and the guy said he had a stainless steel, double glass door bottle cooler, exactly what I had been looking for, that he'd sell me for $400. I told him I'd be there the next day to pick it up.

Notice the Glass Doors mounted to the Side of the Tiki Bar
Juergen helped me take one of the walls down on the tiki bar so we could slide the cooler in the narrow opening. We had to move a section of the bar itself to make room for the cooler and I'll have to cut through the tile on the bar surface when I get caught up. For now, it's just going to have to be a tight fit, but I have my cooler and was able to order more of a variety of beer this week now that I have more room to present it.
I also had my inspection from the State of Florida who had to come by and compare the drawings we submitted to the actual structure to make sure we had everything we said we did.
That passed with flying colors and hopefully we'll get our final approval within the next few weeks. As of this time, we're simply running off a temporary permit, but I'm keeping my fingers crossed.
It'll be interesting to see how this unfolds and whether it was worth the hassle to get the license or not. With the cool weather, it's just sort of a pain in the butt to keep adding things to make it more comfortable out there.
While Juergen and I were working on the Tiki Bar, Cindy was working in the yard weeding some gardens when the phone rang. She got off the phone and said "Channel 20 News just called and said they want to do an interview with us about Cedar Key being in 3rd place for the Coolest Town in America."
We were both dressed in grubby work clothes and the wind was blowing something fierce, so Cindy's hair looked like a birds nest. She laughed and said "I look like a mess, you do the interview."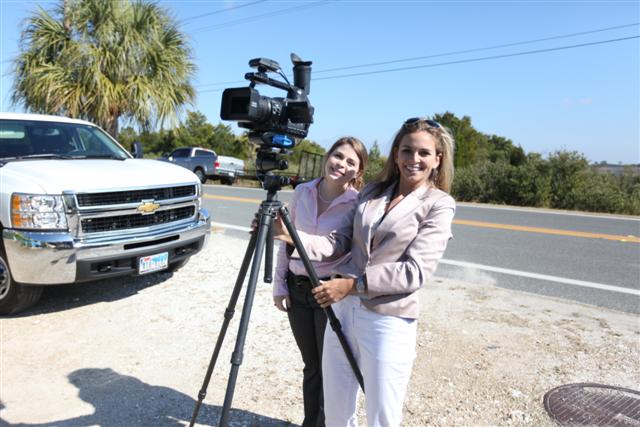 Two beautiful women pull up a few minutes later and start talking with me about Cedar Key and what makes it so unique. They ask if I can go get my wife because it would look better for the interview if we both were in it.
I go and grab Cindy who is wearing her new Cedar Key Nikes that Luz bought her for Christmas, a nice shiny purple pair of work boots, and a big oversized hoodie. You know, the usual attire you're found working in the yard in.
I told her they wanted her to be in the interview and she should go change real quick. She just says "Oh what ever, this is what I'm wearing so they'll have to like me for who I am." Of course she regrets that now that she's seen the video on the nightly news, but I get a good laugh every time I watch it.
She made me go change because I had my hooded sweatshirt on from our friend who owns Dirtbag Designs, and she says "No, you're not going to wear a shirt that says Dirtbag across it in big letters."
Something tells me she should have gone and looked in the mirror before she goes pointing fingers...LMAO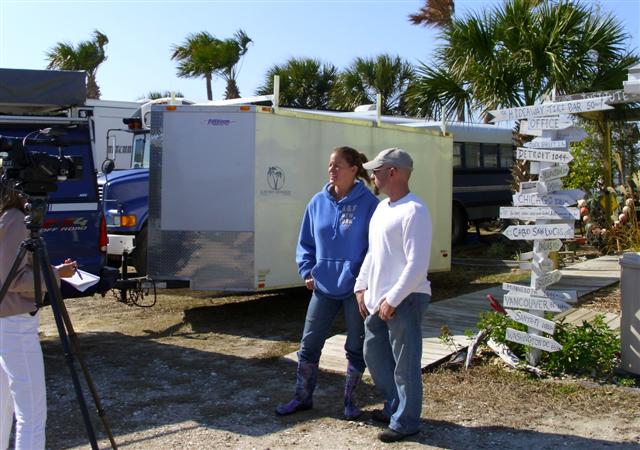 Cindy & I Doing the Interview - Photo by Karen Norton
The news clip can be SEEN HERE, but take notice that you have to watch a 20 second commercial before the actual news clip comes on. A few friends have hit me back saying "That's only a commercial" when I sent the link out. But it's because they were too impatient to sit through the commercial to wait for the segment to come on.
If you haven't already voted, can you click on Budget Travel's website and cast your vote for Cedar Key. I think it's impossible to catch up to 1st place, but if we can stay in the top 3, it would be a huge boost for our little town in this struggling economy.
Directions are easy. All you have to do is click on Cedar Key's star on the map, click "add to ballot" then "cast your ballot". You can vote every 5 hours, so remember to vote every day. We have to February to tally votes.

Sunday January 2nd - Having a Man Day on the Water
The past month has been crazy with the holidays, the motel being full, the tiki bar getting licensed and us trying to upgrade a room and fix-up the tiki bar all at the same time.
My good friend Heath who owns the Kingfisher Motel here on the island has also been upgrading a few of his rooms, and in our spare time, Cindy and I have been down there helping him paint and re-decorate. Heath has been helping us along at the same time, so it's sort of a team effort.
Every few weeks, I'll get a phone call from Heath and he'll simply say "I need a boat fix! Do you think we can sneak away tomorrow and go out on the water?"
It's alot harder for Heath to sneak away as he's on so many community boards or a member on multiple committees here in town that he has very little free time. Add to that a marriage and two teenage girls and you can see he's a very busy man.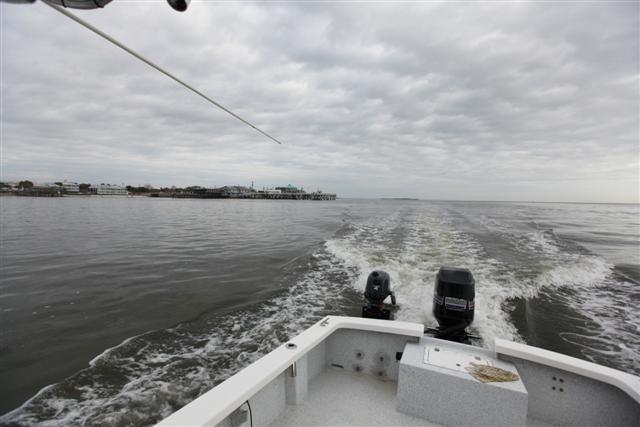 Pulling away from Cedar Key
Yesterday he had called asking if I could sneak away with him for one of his boat fixes and told me he wanted to put his big boat in the water and head up the Suwannee River. Living in Cedar Key his entire life, Heath's driveway can resemble a boat yard with the collection of boats he owns.
Most people around these parts own the flat bottom Skiff's because of their ability to get you into such shallow waters. Heath has a flat's boat but he also has a big, offshore boat.
He's always telling me about it but I've never been out on it because we're usually in the Flats Boat buzzing around the inside channels. Today we'd spend the entire day on the big boat, and it would later turn out to be a good thing.
We put the boat in the water around 10:30am with some dark clouds all around us. We both knew we'd probably get rained on, but we both had rain gear with us and I had all the camera gear in the Pelican boxes to keep it dry and safe.
Our plans were to motor up the Suwannee River and check out a few different areas we had both been talking about.
We started out on Deer Island which is a big, 80 acre island a friend of ours owns. Heath's cousin and some friends had been camping on the island for the New Years weekend and we wanted to stop by for a visit.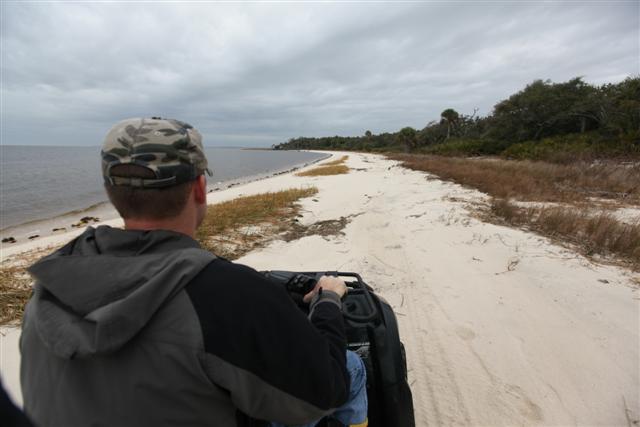 Riding the 4 Wheeler along the Empty beaches of Deer Island
Rather than walk all the way around the island, we jumped on a four wheeler our buddy leaves on the island and rode that down the beach to meet Melinda and Waylon.
They were in the process of packing up their camp and loading it onto the boat, so while we all sat around talking we helped them load the boat.
Before long, we were back on the Black Pearl heading up the Inside Pass to the Suwannee River. We motored up the Dan May Creek and pulled up to the Dan May Lodge.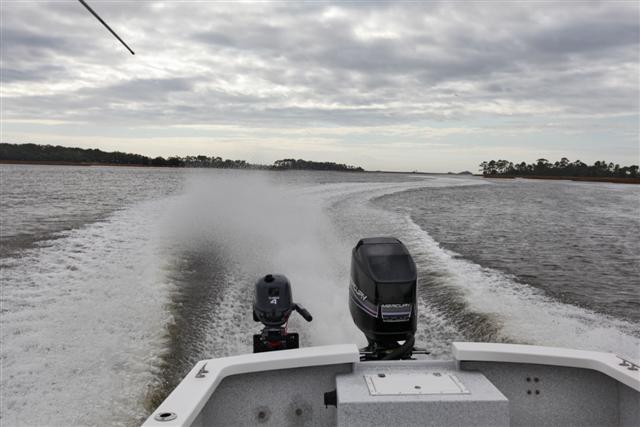 There was a tiny boat tied to the pontoon at the dock and the motor was idling on the little boat even though no one was there. We sat looking around and noticed a older guy running down towards the dock.
Neither of us really felt like having words with this guy and for some reason he looked like he was upset we were looking onto his island. We both commented that the new 'No Trespassing' signs seemed like they were trying to give people a message.
We just motored back towards the Suwannee as he sat glaring at us as his arms waved in the air.
We both sort of chuckled while we talked about the old island and its history. I'd like to paddle out to it some time and spend the night in the big house that sits just off the water.
As we neared the Suwannee, we were amazed at the flocks of birds sitting on the sand bars. Hundreds of Cormorants huddled together. A giant flock of White Pelicans swam past us not paying too much attention.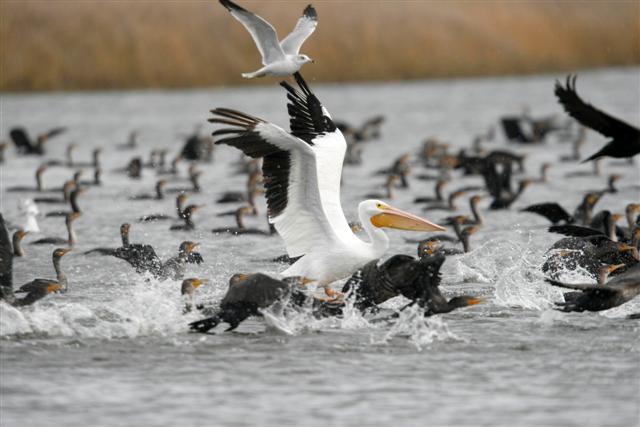 Osprey dove for fish and we spotted one of the biggest Bald Eagles I've ever seen standing watch in a dead pine tree. This section of marsh is a bird watchers paradise.
Motoring up the Suwannee River is like stepping back in time. There is no such thing as development and the only thing to tell you humans have been here is the occasional Mile Marker placed along the shoreline.
Where else in Florida can you spend a few hours in a boat and not see another human? The Suwannee River is one of the only spots I can think of.
Motoring up the calm, dark river, it felt good to be away from the motel and all the stresses that go along with it.
Heath and I talked guy talk with topics ranging from guns, to women, to boats and dont forget RV's. We shared secrets and just sat watching the water flow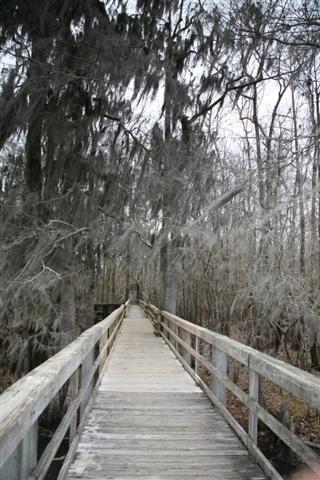 past without talking about anything. I compare boating to watching a good bonfire, you can sit for hours and just watch the water roll past the hull much like sitting in front of a fire for hours just watching the flames dance.
It was good to be out on the water and away from the daily life I've been stuck in for the past month. Its rare when I can get time to myself and not have 100 other things running through my head of what I'm not doing or what needs to be done.
Being out on the water usually calms those feelings and is actually a good drug to take every so often. I can see why Heath calls it "His Fix" and says he needs to get it at least once a week or he doesn't feel right.
We pulled up to dock at Manatee Springs State Park and walked along the boardwalk looking at the crystal clear water flowing out of the spring.
The cut or little river that feeds the Suwannee is lined with giant cypress trees that are dripping with Spanish Moss. If you saw a dinosaur run through the forest, it wouldn't look out of place at all.
The last time Cindy and I had visited these springs, we saw numerous Manatee and had deer that almost seemed tame walk right up to us. Today was cold, windy and cloudy and I'm thinking the deer were hunkered down some place warm and the Manatee were anywhere but here.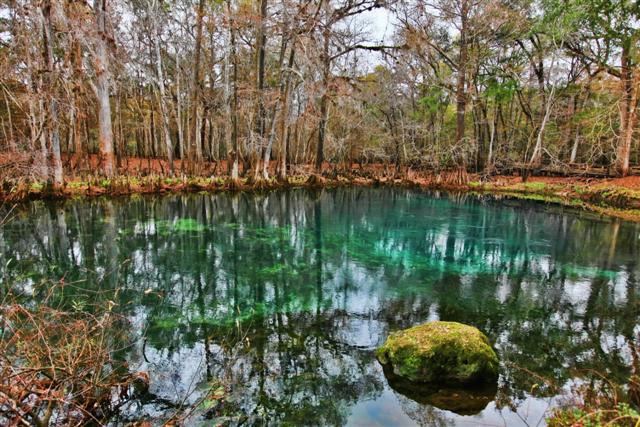 The Spring at Manatee Springs State Park
Its fun to go places with Heath because he's lived here for so long, he can tell you stories about his childhood or about a specific year the floods were high or the waters were real low. Its like having a tour guide along.
It was getting late in the afternoon by this point and if we were going to make it back to Cedar Key by dark, we needed to get a move on.
Coming back down the Suwannee, we both hunkered down behind the windshields and just sat watching the cypress pass by. The temperature seemed like it had dropped 20° and the windbreaker I had on wasn't doing much to keep me warm.
As we neared the town of Suwannee, Heath asked if I wanted to stop at a restaurant to warm up and I excitedly said "Yes" through chattering teeth.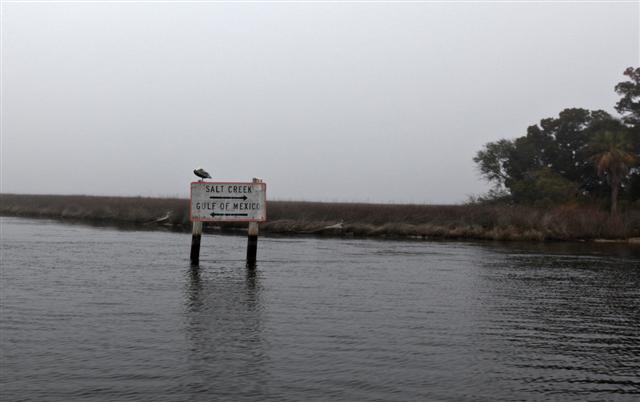 The only landmark telling you you're headed towards Salt Creek
We motored up Salt Creek, which is a town that has existed long before the town of Suwannee was developed. Old timers still call it Salt Creek, where us newbie's call it Suwannee.
The town if really small and has a whipping population of 300 year round residents.
We pulled the boat up to the restaurant, which has pillars to tie off to, but they dont make it very friendly to get off the boat. Luckily Heath has lived much of his life on the water, so he knows how to navigate situations like this.
If it would have been me, I'd have either had to swim to shore, or would have given up and just floated on by without stopping.
Once in the warmth of the restaurant, we bellied up to the bar and ordered some burgers. While we were sitting there, a older guy stood up and held his hand up to Heath.
He announced in a very loud voice "Do I know you from somewhere!?"
Heath just sort of shrugged and said "I dont believe we know one another."
I knew right away who it was and recognized the guy from the dock back on Dan May Island. I piped up and said "Didn't we just see you on the dock back at Dan May?"....This was a mistake on my part.
The guy gets a big smile and says "Oh yeah, you're the two pirates that was trying to steal the motor off my little boat."
Heath and I sort of laughed and turned away from him thinking "Ok, this is going to get interesting."
The next hour was spent with this guy, who happens to be the caretaker of Dan May Island telling us about how people keep coming onto the island and trying to steal stuff from him. This also explains the newly posted 'No Trespassing' signs we saw.
When the guy said "I hope I didn't scare you too bad when I shot my gun a few times in the air to scare you off." Heath and I realized how wacky that situation could have gone real quick.
Luckily we were too far from him to see that incident and with the strong winds, the sound was probably carried away from us preventing us from hearing it.
If the old timer only knew Heath had just said to me as we were pulling away from the dock back on Dan May Creek "That guy doesn't look all that normal, I dont want to get us shot or have this turn into some shoot out."
After some time of listening to some crazy stories that should be sure to keep anyone from trying to steal this guys little boat, he finally excused himself and wished us well. He did offer a free tour of the old home and invited us back anytime we wanted to come for a visit. I'm thinking it wont be anytime soon.
With warm food in our stomachs and our bodies rejuvenated from the heat of the restaurant, we headed back out to finish the trip home.
As we exited the restaurant, we couldn't see the horizon due to a thick layer of fog rolling in. We both looked at one another as Heath smiled saying in that smooth Southern Drawl of his "Its gonna be a fun boat ride home!"
Now if this was just me out on the water or I would have talked Cindy into coming with us, I'd have been worried. But there isn't too many people I think are better suited to navigate these waters in zero visibility than Heath.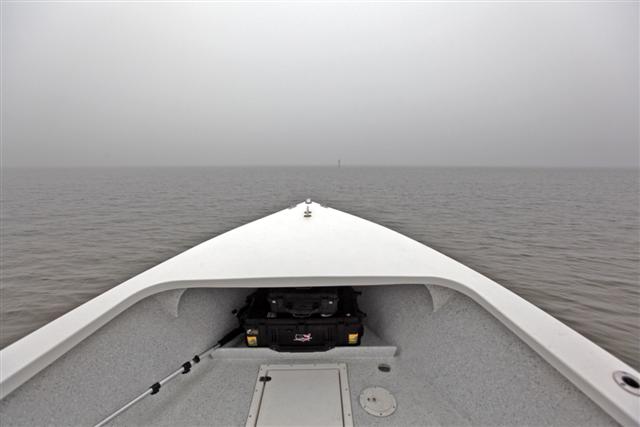 Isn't That a Beautiful View over the Gulf of Mexico
Once out of the creek and into open waters of the Gulf of Mexico, Heath turned on his Chart Plotter and found the first channel marker. Once we found the first one, he dropped the throttle and we were up on plane flying along at about 30 knots.
This was totally wild for me because we had about 100' of visibility but we were going even faster than we were when we could see the horizon over the Gulf.
Heath was cruising along without ever looking up from his GPS and just when I think we'd lose track of the channel markers, another would appear out of the fog and we'd be right on target.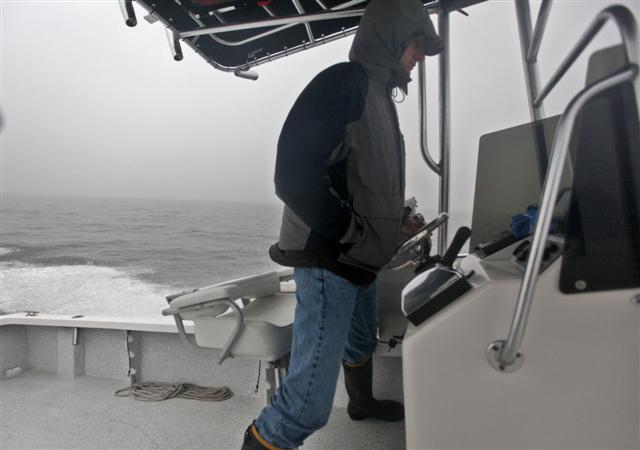 Heath Driving Via GPS Only
I'm thinking this is what it must be like to fly a plane when only using the instruments to guide you.
For awhile we were motoring without any channel markers and simply running off the depth markings of the GPS. But like a skilled River Boat Captain, Heath never let up off the throttles and we kept bouncing along without ever running aground.
I could see sand bars and exposed oyster beds only yards away from the boat at times, but Heath knew right where the channel was and kept us on course.
With big rollers coming in due to the winds and the approaching storm, we were almost catching air off the waves. I was thanking myself that I had all the camera gear in the Pelican boxes because the damp air was leaving everything dripping wet as we flew through it.
When I saw a large land mass come out of the fog, I pointed to it and asked which Key it was. Heath looked up from his Chart Plotter and yelled "North Key"
I knew we were almost home and knew the channel markers would guide us right back into the Cedar Key Marina now. Not that I ever doubted Heath's ability to find our way home, but knowing we were within a mile made me feel a little safer.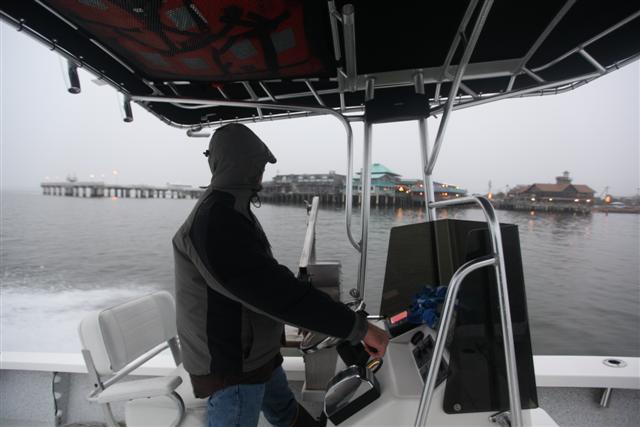 Cedar Key under a layer of Fog - Notice the Throttles still Pinned!
Once back at the docks, we loaded up the boat and cranked up the heat in the truck. That cold, damp air had worked its way into my body and I felt like I was an old man all of a sudden.
My arms and hands were arthritic and didn't want to move when I told them to. I called Cindy and let her know we were safe and on dry land and on our way home and asked her to put on a pot of coffee so it would be ready when I got home.
Once home, I took out the trash, took off the wet clothes, took a hot shower, ate dinner and I think I feel asleep on the couch the second I swallowed my last bite of food.
The next day when I talked to Heath, he asked if I had gone out that night.
I laughed and said "I took out the garbage, ate dinner and was asleep within seconds of finishing my dinner."
He laughed back and said "Well you beat me, I never even took out the garbage."
Saturday January 1st 2011 - 1/1/11 Happy New Year
WOW, 2011!! Happy New Year Everyone. What an amazing year 2010 was. Talk about a change of lifestyle for us. To go from non-stop movement to sitting still and working full time, it was like we became new people in one short year.
A few days before Christmas, we got the license for the Tiki Bar, but just as we got it, the weather took a nose dive and got really cold to be sitting outside sipping on cold beers.
Our first night we got beer delivered and sat outside, one of the couples staying in the campground came over and became our first tiki bar customers. It was funny to be a bartender again rather than just having people bring their own beers like we've been doing out at the tiki bar for the past year.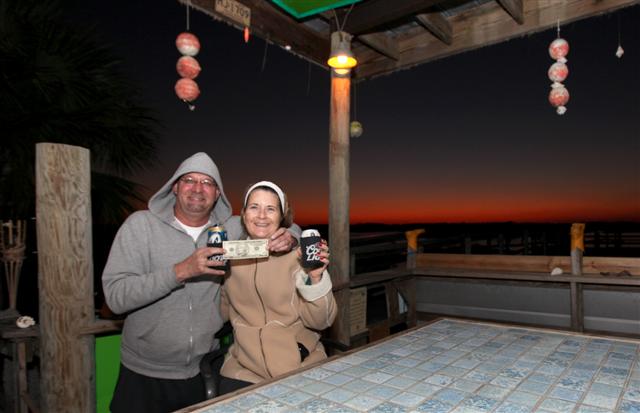 The 1st Beers Sold at the Hideaway Tiki Bar
Then our daughter and son-in-law showed up for the Christmas holiday and the motel was crazy busy, so it wasn't like we could really put in any time to get it up and running.
Just before New Years, we had a day that I was able to build a wall and hang some windows I salvaged from one of the oldest houses in Cedar Key that will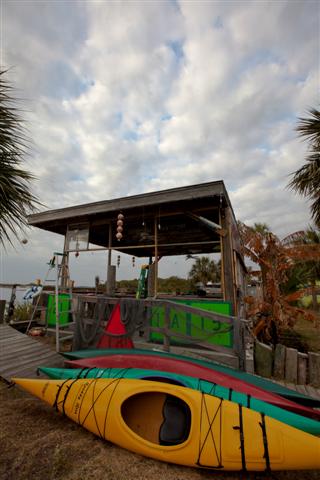 help block the winds we get. I'm hoping this will make the bar a bit warmer and allow us to use it more during the winter months.
Remember Marc and Cathy from Virginia? They were the nice couple that let us camp in their driveway and entertained us for a few days around their town. Well they came in for New Years and brought along some friends from Canada.
Despite the frigid temperatures, we still sat outside around a bonfire talking and passing around a bottle of Moonshine Marc had brought down with him. This made for some great stories and fun times were had by all. A few of the motel guest joined us out by the fire and as always, it carried over into our house once we all got too cold.
Marc was kind enough to help me hang the windows even though he was on vacation for the holiday.
Last night we had one last private party at the tiki bar and had a bunch of friends come over to ring in the new year. We thought that rather than try and open up to the public when all the other bars in town have had parties planned for the past few months, it would seem silly to compete with them. So I'll just wait and open up officially in 2011.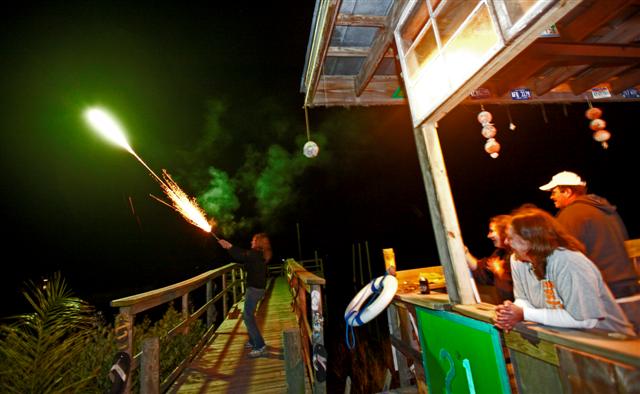 Cindy Shooting Roman Candles off the dock to Ring in the New Year
We had a great time last night and brought our big screen TV out to the bar so we could watch the ball drop. We lit off fireworks, popped a bunch of bottles of champagne and watched a great fireworks display one of the local Cedar Key residents put on at the stroke of midnight.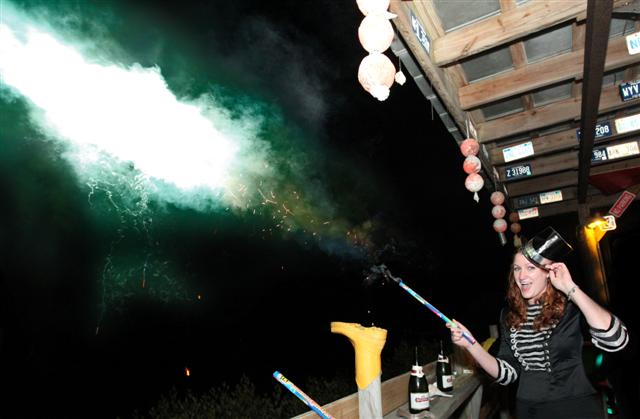 Marina tipping her Hat to the New Year as Rockets Light up the Sky
Everyone checked out this morning and we spent the early part of the day cleaning all the rooms. Around 2pm, Cindy asked why I wasn't out at the tiki bar since it was now the 1st and we both agreed we'd open up officially after the holidays were over.
So I finished up my maid duties and went out to the Hideaway Tiki Bar to clock in as a bartender. For most of the afternoon I was talking to one of the young couples who is staying with us in the RV Campground that has a cool school bus powered by Veggie Oil. They have a website called The Adventures of Rocket which is the name of their big blue school bus.
They just finished working for Amazon as seasonal employees and it was interesting to hear their stories about working for this giant company. After hearing their side of the story, I dont think it would be one of the seasonal jobs we'll ever be applying for.
We had a few guest who are visiting from Canada come out to the tiki bar so I had to cut our conversation short and go serve some beers.
As I was sitting at the tiki bar, a woman who looked familiar walked up and said "Hello, are you Pat?"
I replied saying "Yes I am."
She said "My name is Linda and I've been told by a bunch of our friends that we needed to stop by and see you and Cindy."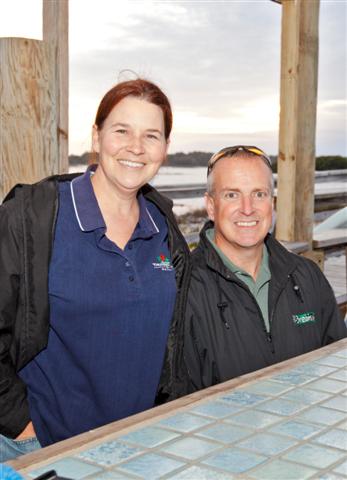 This isn't all that uncommon as we have lots of people who have stayed here and tell their friends to stop by and say hello as they're passing through the area.
Then she said "My husband Howard is with me and we host the RV-Dreams travel blog."
I think my jaw dropped because Linda and Howard are Rock Stars in the Fulltime RV World and have one of the most visited RV websites on the internet.
They've been fulltiming for over 5 years now and when Cindy and I were doing our initial planning, we soaked up every word of their journals seeing what they were doing so we could learn from people that were actually living what we were working our way towards.
The rest of the evening was spent sitting at the tiki bar sharing and comparing stories. For once, I was on the other side of the coin and felt weird knowing so much about two people I had never met before in person.
We run into this all the time when we meet people that have followed our blogs for a length of time and know so much about Cindy and I, yet we've never actually met.
As the sun set, we moved from the tiki bar into the warmth of the house and sat talking for a few more hours. The words they were saying was so refreshing because almost everything they kept bringing up was the exact same things Cindy and I have been talking about recently.
We all know that Cindy stopped updating her blogs once we landed here in Cedar Key. I've been having serious issues with keeping mine current simply because it's hard to sit down and find new things to talk about when much of what we're doing is simple day to day chores.
When sitting still, I hate talking about the same things and feel very un-poetic when it comes to blogging. When on the road, I cant wait to stop for the night and sit down to put my days thoughts into words on my blog.
Working fulltime right now just seems like a normal human who goes about life doing the same things everyone around them are doing. Not our normal adventurous selves that I feel like when moving and roaming non-stop.
Howard was saying he goes through much of the same issues with his blogs when they sit still for any length of time while work camping.
They talked about their issues with needing to stop the fulltime travel to work and earn travel money, but having readers complain that the blogs dry up.
Its sort of a Catch 22 because neither of us have money to simply travel fulltime without the bank account drying up at an alarming rate. Remember that we're both just normal Americans and dont come from trust fund families who have bottomless bank accounts. Yet when you're blogging and hearing so much positive feedback from the readers, its a very rewarding feeling to have.
When the readers start complaining about you not keeping up with the blogs, you tend to take it very personal and it only makes that feeling of wanderlust worse than it is.
The expenses of fulltime travel add up very quickly especially when you factor in campground fees, fuel expenses, food, maintenance on the truck and camper and the other things that seem to empty a bank account at an alarming rate.
To hear people who I consider heroes of mine talk about having the same issues we're dealing with was almost a relief.
This past year has been super hard for Cindy and I because its been the first time we've sat still for any serious length of time. Sure we've stopped for a few months here and there, but we still were usually shooting our photography non-stop or keeping busy preparing for the next leg of the trip.
The motel and campground take up more time than either of us can dish out each month and we're just now starting to see the rewards from all our hard work we put in during 2010.
2011 looks like it's going to be a great year as we've been turning down a lot of phone calls from people calling trying to make reservations. We're simply filled up for much of the upcoming year already and hopefully it'll put some travel money back into the account for 2012.
Howard and Linda told us about their upcoming RV-Dreams Rally they're putting together and told us some great stories from the last few they've done. It sounds like a great event for anyone wanting to go Fulltime and would want to hear from two people who have done it and what they went through to stay on the road.
I think we could have talked all night long, but Howard and Linda are both recovering from a cold they've had and needed to get back to their camper to get some rest.
I wish we would have known they were coming because I would have put aside a few days to just sit and talk with them. After they left Cindy looked at me and just said "Wow, that did wonders for my feelings of what we're doing right now. It shows me that we're not the only ones who have to settle down to restock the kitty and it gives me reassurance to know there is still plenty more travel ahead of us."
The best part was I had received a email that had made me laugh for the past few days. The day I got it, I screamed from one room to the next "Hey Cindy, listen to this latest email" and I read it aloud to her. This is what the email from Mike said:
Update the damn blog!
Been following you and Cyn for years and your one of my damn bookmarks!
So ya clean a few rooms and serve a few beers....Big hairy deal
We the fans need our weekly dose so get off your dead center and scribe...
Jackwagon - Sheesh
I am writing this from the PCH and no not in a VW Bus:)
Hope you guys are doing Fab!
Mike
_______________________________________
We both had a great chuckle and I was thinking about it much of the time I was talking with Howard and Linda.
What a great way to start off the New Year and I'm hoping this was a much needed sign to show me even people I really look up to have the same problems and mental feelings when they stop traveling.
Thanks for stopping by Linda and Howard and it was truly a pleasure meeting you in person!
There was a guest staying with us over the New Years holiday that left a great note in his room. We get little notes and poems left all the time from people just wanting to say Thanks for their stay, but this one had Cindy and I laughing pretty hard. Bob, or Peter as I introduced him to fellow guests last night at the tiki bar has a great sense of humor and I think I should put this note in a frame just to bring a smile to my face every time I see it.
1/1/11*
Pat - Thanks for the conversation and the assistance with the fishing line.
Cindy - Dont lost that pretty smile or friendly manner - You wear it well
A poem I recently had published:
Scenes From Atop A Windmill
Down The Road From Me
Live A Man Who Has
A Bird He Calls A
Hen, But It Is A
Cock So He Has No
Eggs
Just Lots Of Crow
* = Beware of Palindrome days - The Devil walks around with his feet just above the ground
All the Best, Robert, (AKA Peter)
Each time I see that poem, I crack up! Bob lives in New Hampshire and was telling me he recently installed a Southwest Windpower Turbine. We sat talking turbines and renewable energy and it was good to hear some hard data from someone who has gone through all the issues I'm researching while trying to figure out if one would be beneficial for the Motel.
Cindy also got her Christmas Present delivered a few days ago.
We had both agreed that we werent going to get each other gifts for Christmas because of how broke we are. But I've been saving up all year long for this present and after multiple photo shoots and selling a bunch of my photos, I was able to save up enough to get her something special.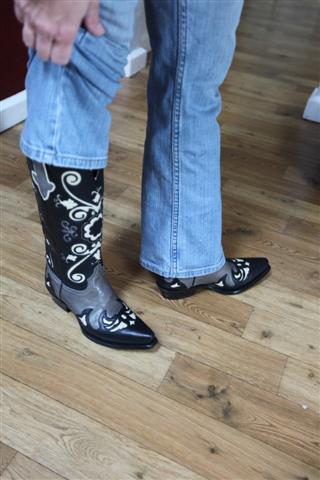 We had gotten a catalog months ago that had multiple pairs of custom cowboy boots shown throughout the pages. Cindy is a total boot-whore and if we had money, she'd own every pair in the book.
She put a post-it note on a specific pair and said "This is all I want for Christmas."
We both knew there was no way we could afford them, but it gave me all the more incentive to work harder.
I gave Luz the cash and had her order them using her credit card so Cindy wouldn't be able to see the charge.
When they came, and I handed her the package saying "Here's your Christmas present" she got all mad and said "If these are those boots, I'm sending them back."
That was till she opened them, put them on her feet and said "Oh My God, they're so cool!!!"
Even though it was stupid for me to spend that much money on a pair of boots, I know that its something she really wanted and she so deserves something nice for once.
This is a girl who works her butt off, yet is too cheap to spend a dime on herself.
Plus, it's been years since we've bought each other gifts. When we lived on the road full time, it was too hard to waste money on simple gifts. So it was nice to finally go back to a normal tradition.
___________________________________________________________________
Photo Gear We Use - Solar Tips, Fact's and Trick's we've learned while on the road
Camper Check List - A list of things we do before leaving camp. Again, this isn't gospel, but its a good start for those who might not already have a list made up.
Return to Top of Page
Need Unlimited photo storage- FREE Trial of Smugmug