When we realize our insignificance in this world,
it some how relieves the pressures from society to succeed -
Cindy Bonish 04/07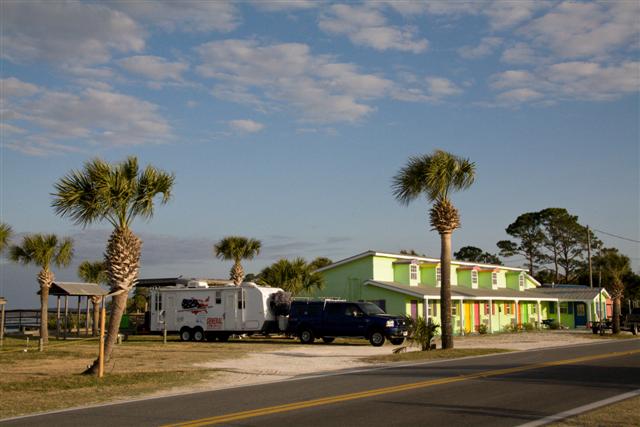 Pat's January 2010 Blog
If this is your first time here, you might want to start from the beginning of our fulltime RV Journey with our Past Blogs
If You Don't Know Me Yet, Click Here to Read Pat's Bio
Photo Gear We Use - Solar Tips, Fact's and Trick's we've learned while on the road
Camper Check List - A list of things we do before leaving camp. Again, this isn't gospel, but its a good start for those who might not already have a list made up.
****
January 7th 2010 - First post of the New Year
It's my first post of our 4th year on this blog. Who would have ever thought that 4 short years ago we'd still be typing away and having fun doing it? I surely never thought it would snowball into something this rewarding and enjoyable.
Unless you live in Australia or in South America, you're probably reading this while the heater is working overtime to keep the pipes from freezing.
I know Cindy and I are talking about moving to Florida because of how cold it is...Oh Wait, we're in Florida?? WTF is up with this?
The hundreds of dollars of money we've spent on tropical plants has probably all been thrown away because of the frigid temperatures we've been experiencing here in Cedar Key.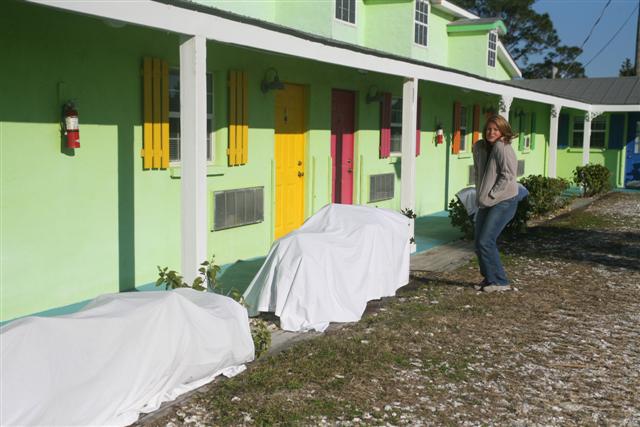 Cindy Shivering While We Cover the Shrubs Outside from the Frost
As luck would have it, we got to be part of the record breaking low temperatures of the last 20 years! Always good to experience record breaking moments, but record low temperatures wouldn't be at the top of my list if I got to pick which event I'd want to experience first hand. Maybe a record collection of the most beautiful women, a record breaking event of free beer and tequila, or the combining of the two would be monumental in my mind, but I guess I'll just have to keep dreaming.
In the first week of the new year, I've learned quite a bit about Plumbing. This started when Cindy said to me "Will you go check room # so and so because there is water under the cabinet every morning when I clean it."
Well the P-Trap looked to be older than I am and as I touched it to feel for a leak, the thin metal crumbled in my hand. Easy fix, just go buy a new P-Trap and upgrade it to current PVC standards.
This made me want to go check all the sinks to see if this faulty metal would be similar in each one. Luckily the rest were all plumbed with modern PVC, but none of them were plumbed correctly and none were in proper working order.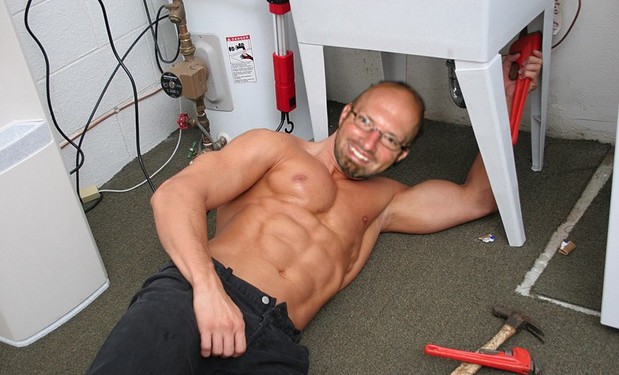 Cindy said she had to take a picture of me pretending I was a Plumber
This started a trickle down effect of replacing or repairing different components on almost every sink or drain in each of the 5 rooms. Then last night as I felt I had earned my Union Pipe Fitters Card, Cindy noticed that the sink in the Apartment was also leaking. I guess we might as well make sure we start the new year off right by replacing every plumbing fixture in the entire place.
Since it's too cold to work outside right now, I guess I should be glad I have all this work inside. So I'm not complaining by any means, especially since our friends in South Dakota just posted something on Facebook that they're experiencing -40 degree temperatures with the wind-chill.
I thought just one year that I'd be able to get out of working in the frigid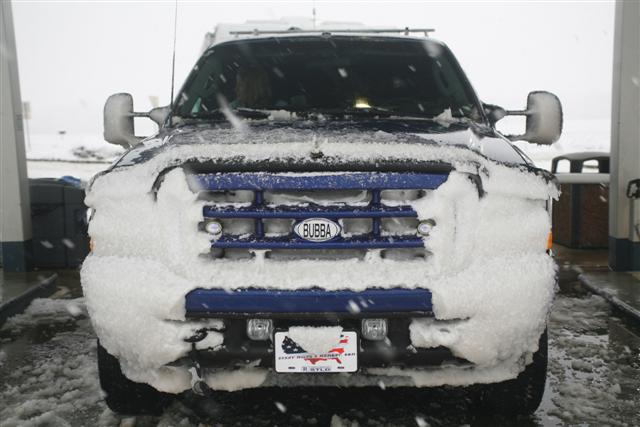 temperatures of Michigan, but again, as luck would have it, the coldest days forecasted for the new year will be the same days I'll be in Michigan.
I'll be leaving tomorrow to drive north so I can haul our THINGS...you know those things we said we'd never really need again....yeah those things, back down to Florida.
It's very hard to be here at the Motel and not have the basics when it comes to tools. I mean we carried a small tool kit in the camper with us, but I'm talking things like a miter saw, some ladders, lawn equipment and supplies and the collection home repair items we had amassed when we had our home and bar in Michigan.
Cindy has probably asked me ten times to go fix the molding in one of the rooms. We have all the moldings sitting here, but they need to be mitered and we need a nail gun to mount them properly, something the last manager, a carpenter by profession hadn't had the time to hang I guess? Each time she asks me if I've put them up, I pick up the moldings and start to gnaw on them with my teeth. She'll then start laughing and say "Oh I forgot, you dont have a saw."
So I'll be driving up to Michigan through a nasty snow storm, with the weather channel reporting blizzard like conditions only to spend a few days outside in those same blizzard like conditions packing a trailer. Hopefully I wont lose any appendages.
My mother called to tell me to postpone the trip due to the weather, but we've scheduled a bunch of work to be done as soon as I get back, and I'm the one who has to get the carpets tore up, the floors scraped and prepped for the tile to go down. So these days of January were the only ones I had to make the mad dash north.
So much for the laze-fare attitude of going places and doing things as to when the weather and the mood dictates. We're now back in the real world of timelines and schedules. UGGHH!! Do we have time to rethink this?? Just Kidding.
Our last few days have been tearing at the heart strings as we've slowly been moving out of the camper and into the apartment that is attached to the motel.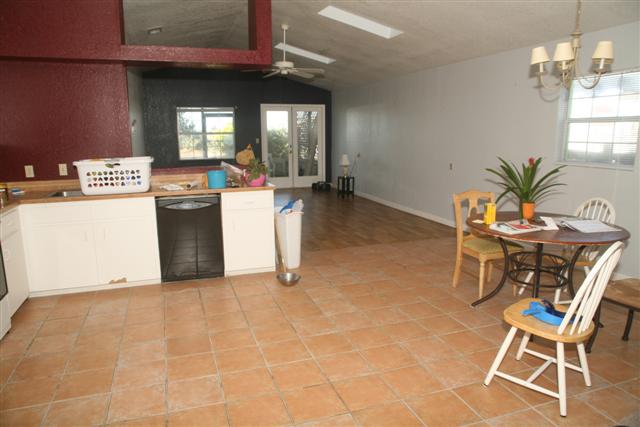 Our Big Empty Apartment! We could Back the Camper in here
We had originally thought that we'd stay living in the camper and try to rent out the apartment to earn some extra income. But living down in the camper, which is at the very end of the property has taught us that it's much harder than we first thought.
When someone pulls up and rings the doorbell, (we bought a wireless model that would ring all the way down in our coach) it a big hassle to run down to greet them rather than just be right here at the door when they knock. A few times they were starting to get back in their vehicle because it took us a few seconds to get shoes on and throw on a jacket.
The apartment needs a ton of work much like the rest of the motel did, so we thought why tie up a camping spot with our camper and be taking money out of our pockets when we could store the camper, rent out that camp slot and move into the empty apartment.
Once its all fixed up, which is on the bottom of the long list of things to do, we can always move back into the camper and try to rent the apartment out. But that might be 6 months down the road.
So for now we're living in this HUGE, empty apartment with not an ounce of furniture in it. We've talked over an over about our next house and amazingly enough, this apartment is almost exactly the way we described what we'd build.
Cindy and I love to entertain, so we always said our next house would simply be one big kitchen with a wrap-around bar for guests to hang out at, since the parties always are best when everyone's hanging out in the kitchen. We said that if we could build our perfect house, the kitchen would open up into a large living room and except for those two things, what more does one couple need?
Well that's basically what this apartment is. One HUGE kitchen that opens up onto a big living room with vaulted ceilings with skylights. There is one big bedroom and a big bathroom and that's about it. But perfect for just the two of us and about 10 times the size of what we're used to. I mean our camper could fit in the living room alone.
Cindy brought in one of the outdoor tables that was on the back patio and we have some lawn chairs to sit on for now till we save up to get some furniture. She also had to go into the neighboring town of Chiefland to buy some dishes and silverware for us to eat off of.
In our camper, we had two plates, two bowls, two rocks glasses, two tall glasses, two coffee cups and a four serving set of silverware.
On New Years Eve when we had Bob, Doug and Paullina all in the Apartment for boiled Crawfish, we had to tell them to go get glasses and dishes from their campers as we had none to serve food on.
We've also decided that we want to keep the camper as packed and ready to roll as we possible can. The one summer that we spent a few months up in Michigan, we had moved all our stuff out of the camper so I could build a few new things in there.
One weekend when we wanted to take a trip up north, it took us a few hours to get the coach ready to go. This made it a serious chore and something I didn't really want to do too often.
We figured if the camper is ready to move at a moments notice, if we get a spur up the behind and want to pull out to go for a little vacation, all we have to do is grab a bag full of clothes, stock the fridge and hook up to the truck and we're ready to roll.
Another thing I noticed when emptying the truck was the amount of camera gear we have collected over the years. When it was all stored in the camera box where the backseat of the truck used to be, I never thought it was that large of a collection.
But take it all out and put it on the floor of a large closet, and you start to realize the sickness you've created.
That box that took me a few days of non-stop building to get just perfect, well it came apart in under an hour. While back in Michigan, I'm going to put our back seat back in the truck.
You dont realize how limited you are to specialized travel till someone asks you for a ride into town in the pouring rain, and Cindy has to get into the back to lay atop the box so you can put them in the front seat with you.
My sister and brother-in-law are flying in for a vacation in the end of January, and we have no way to pick them up from the airport unless they want to sit on each others laps in the front seat with me. So like I said, we're slowly returning back to a somewhat normal life, if there is such a thing.
Another thing we've both noticed is our camping mentality that we're still so used to. I was taking a shower the other morning and turned the water off once I was lathered up so I could shave. Cindy asked if I was done already and I simply said "No, I just cant stand to sit there letting all that hot water just go down the drain."
She laughed and said "I did the same thing when I took a shower last night."
We both cant stand to flush the toilets due to the fact that they're still the old models that dump about 4 gallons of water with each flush. Another thing we plan to upgrade as time goes on and we start to earn some income. Cindy's mom was visiting and said "OH, someone forgot to flush the toilet in your bathroom!"
Cindy simple said "No, we still live by the motto of 'If its Yellow, let it mellow, if its brown, flush it down'"
Her mother just looked at her like she was really weird, but we're fine with that. We're now paying for this water, so I'd rather be more strict with our water usage than we were when we got by with a simple 40 gallons per week.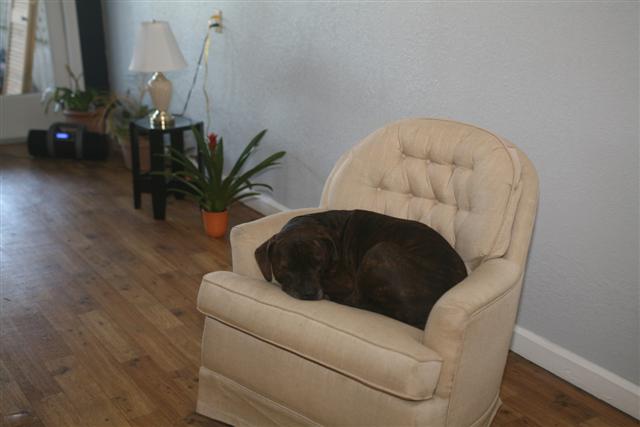 Luca on His New Rocking Chair
The dogs have no idea what to do. They have no comfy couch to nuzzle into and since the floors of the apartment are tiled, neither of them like to lay on the cold tile. They're begging to be let back into their comfy little nest where they have their little beds they've slept on for the past 4 years straight.
Cindy brought one of the rocking chairs out of one of the rooms because they're just too filled with furniture and we're both of the design philosophy that 'Less is More', and so much for ever doing anything with this chair. It's now become Luca's and he only gets out of it to go for a walk or to eat his daily meals...Ahhh, the life of a dog.
We also had a nice visit the other day from some fellow travelers.
One morning I was checking emails when someone had sent me a link to a nice couples blog. They were visiting Cedar Key and staying at the neighboring campground.
I thought they described Cedar Key almost to the 'T'. To quote directly from their Trip Journal they described Cedar Key almost exactly the way Cindy and I did on our first visit...."Pulling in, Fred grumbled "shabby" and "run-down". I think I even heard him mumble "dump." I, on the other hand, had words like "charming" and "funky" in mind. Guess that's the difference between the "glass half empty" (Fred) and "glass half full" (me) way of looking at things."
They go on to say..."The campground is on the edge of town and there's only one road in which takes you right down to the harbor at the end of the island, just a little over a mile. That's it. Once you get down there it's incredibly small, mostly very small hotels, bed and breakfasts, shops and restaurants and a park. Yes, it's touristy, but in a good way. I call it the poor man's Key West, smaller and less expensive. Laid back, comfortable, friendly. With a population of 977, according to 2008 figures."
I replied to the reader who had forwarded me the link that I thought they described Cedar Key perfectly. They go on to say that the longer they stayed here, the more they liked it which is what exactly the same way Cindy and I felt.
That same day, I'm sitting in the office when I see Cindy talking to a couple outside. This is not unusual because almost daily we have people stop to take pictures of the crazy, neon colors the Low-Key Hideaway is painted.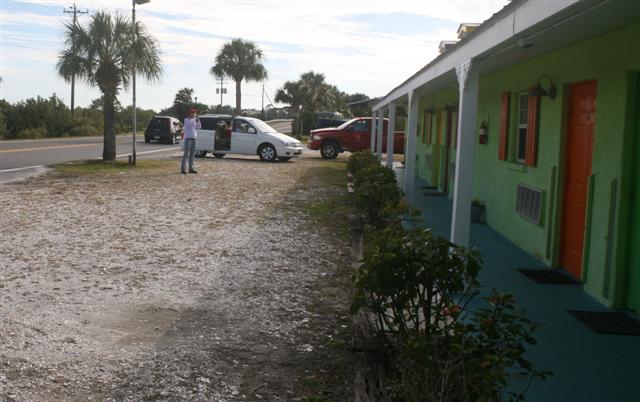 Cindy noticed these people walking around taking pictures of the motel, so she took a picture of them...LOL
You know how I like to talk and meet new people, so I went out to see what the conversation was about. Who was she talking to but the couple who had posted the review of Cedar Key on their Trip Journal, Fred and Jo.
We all sat around talking for awhile about the usual things. Traveling fulltime in an RV, places we've all visited and liked and the all important topic, photography. Fred and Jo have some great photos on their galleries so of course the topic revolved around our favorite places to photograph.
We talked for awhile before they excused themselves so they could go enjoy more of our little town. They promised to stop by next time their route brought them near Cedar Key, and hopefully it'll be 20-30° warmer so we can actually enjoy the surrounding beauty.
In the past few weeks, we've gotten so many emails from long time readers giving us encouragement on our new endeavor. It really warms the heart to know people understand our predicament and that stopping to earn an income was needed at this point in our lives and something we had to do.
Here are a few of the emails we've received and I thank each and every one of your for taking the time to contact us.
_______________________________________________
Hi Pat, I met you at the Moab rider down ride, and am amazed to see you settled in Florida…It must be a truly great spot for you to chose Cedar Keys. Best of luck to you, and if I ever get that far from home I'll stop in for a few days….Keep taking great photos and writing: you have skills….

WAG MORE...BARK LESS - Gary
_______________________________________________
Merry Christmas, Happy New Year and Congrats. Another year gone so fast. Hope the holidays were great for you. How could they not be while you are in such a beautiful location. Looks just like the kind of place I would expect you guys to take over and make it your own. Sounds like there is more than enough to take photos of in that area. Not being touristy make it perfect.
Sandy - Highland, MI
_______________________________________________
LOL! Was just catching up on your blog and I can't believe you guys bought Dan's place in Cedar Key! That's awesome. I've camped there twice after reading of your first visit and got to know Dan. I wonder where he ended up? Anyway, I'm definitely going to have to make the trip again and toss back some coldies at the Tiki Bar. I'll be towing my camper down to Hilton Head the second week of January to see my brother for a couple of days but my girlfriend wants to do a road trip to the forgotten coast and I'm sure she'd be psyched to head back to Cedar Key for a couple days. Good luck with the place! Oh, and Merry Christmas and Happy New Year!

Ron
_______________________________________________
Pat & Cindy, You are doing what everyone wishes they could do. Congrats!

You will have an unbelievable amount of customers coming, which will lead to a bestselling book. This I know.

Keep sharing true love of life……..Trevor, LA
_______________________________________________
Pat, Hello from once again rainy Santee Kalifornia. Just read your Monday post concerning pictures for the rooms.

Not certain of the logistics but you and Cindy have taken some of the most beautiful pictures of these United States in your travels. Might you blow some of them up and frame them for in the rooms and make them for sale? Then when guest stay if they like any of the pictures you have they could purchase them when they check out.

Just a little thought since I believe your pictures are for sale on your web site.

Anyway sure glad you are keeping the website going. It's great reading and nice to be able to keep up on what you are doing. Ed, Kalifornia
_______________________________________________
And probably one of the nicest emails we've received in a long time. Britt has emailed us from time to time, but this one brought tears to our eyes and made us believe in what we were doing! Thanks Britt and to everyone else who offered their support and kind words. It really means a lot to Cindy and I.
Hi you two!

Glad to see that you are getting the finishing touches on the new place!! Hope ya'll had a great Christmas and New Year!
We have been checking out the place thru your eyes and have greatly appreciated what you have done to the place. I hope you the best of luck with it and may you have so many customers that you have to add on to it!

As I was reading Pat's last entry the other day and noticed what he said. That in the last decade you had got to do and see so much that it brings a tear to your eye. It truly has been a joy to get to witness your travels and now to see you settling into a new phase of life. I hope you continue to share with us the joys and bumps in the road as you continue on in this venture.

Just wanted to Thank You once again for sharing with those of us who are not able to do this. I have got to witness some of the most beautiful places and sites that I have ever seen thru your eyes and thru your blogs. The descriptions that both of you give are so vivid that I can close my eyes and be there if only for a short span of time. So keep up the good work and I look forward to maybe getting to come to Florida some day to visit with you. Take care and God Bless...Britt Chastain
_______________________________________________
Till next time, when hopefully I'll be back in Florida and thawed out from my Michigan Trip keep warm and be safe!!
Tuesday January 19th 2010 - When Can We Slow Down?
The past few weeks have been a test for my body to see how much work it can do with as little sleep as possible.
Two Fridays ago I left Cedar Key and drove up to Georgia where I picked up our new Cargo Trailer. I found a killer deal on-line that was only a few hundred more than it would have cost to rent a U-Haul one way back from Michigan.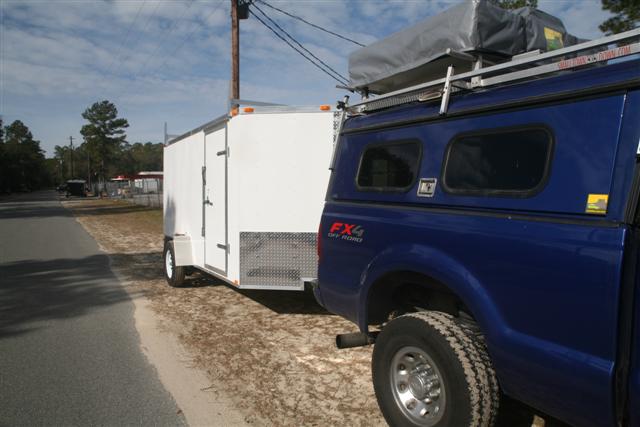 Once I had the trailer, I spent the next 15 hours driving straight through with only a few hours sleep on the floor of the truck in a Flying-J. Remember I took out the box we had built to hold the camera gear so once back in Michigan I could put in our back seat. That empty space was where I slept.
With the temperatures dropping colder and colder with each state I drove North, I dont think I ever shut the truck off during the entire drive.
I realized the hard way that my windshield washer solvent wasn't rated for freezing temperatures, so this was another reason I had to pull over in the middle of the night.
With the semi's I was sharing the highway with kicking up some serious road spray, and my solvent frozen, I was a major hazard to myself and the other Asphalt Cowboys working throughout the night.
Pulling over and just letting the heat of the motor idling thaw out the solvent while I took a few hour powernap, I was able to run the warm weather solvent through the system while sitting in the parking lot. I went in the store and bought some solvent rated for freezing temps and was soon back on the road.
Pulling into my hometown just as the sun was rising felt weird this time. Its always a good feeling to come home, but this time I knew I was coming to cut those last few ties we still had here in Milford.
Moving our few remaining things we had left behind would mean we were now officially non-Milford residents. We will always have family here, although I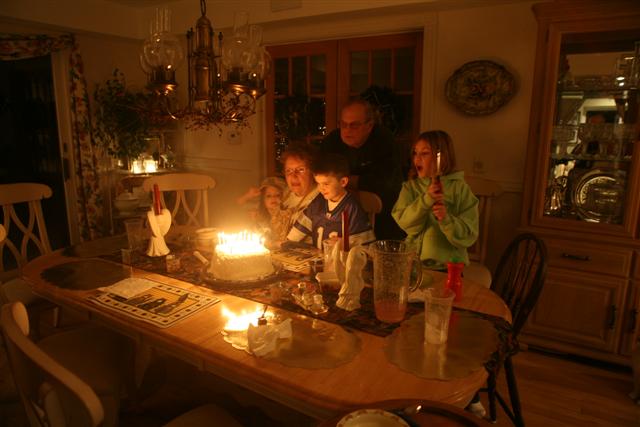 questioned them non-stop as to what was keeping them here, but for the time being, Cindy and I are now Cedar Key residents.
My few days spent in Michigan were a whirlwind of loading and unloading. It was my Mother's birthday that first day I had arrived. So I spent some time just sitting and talking with her and my Dad.
We caught up on the past few months since I had seen them in Yellowstone. For her birthday, Cindy and I had put together a book filled with photos from our time spent in Yellowstone and mixed in various photos of her and my Dad from their visit.
My Dad kept saying "I think you could make this a business. Just tell people to send in photos of themselves and you could Photoshop them in place of your Mother and I and they'd have their own Yellowstone Photo Book."
My sister came over with the 5 kids in tow and my first day was a riot getting caught up with the rest of the crazy family. Those kids are such a blast to be around and they really make me appreciate life when I watch them play and just be kids.
Going through our things we had left in storage was interesting. Many of the things had lost their value for my heart since I've been away from them for so long. Other items would bring back a rush of memories of a different lifetime I was about to start rebuilding.
Boxes of books that were loaded with travel novels, expedition stories and items we used to research our own journey. I wondered if re-reading those books would still hold the same feelings I had the first time I was so eager to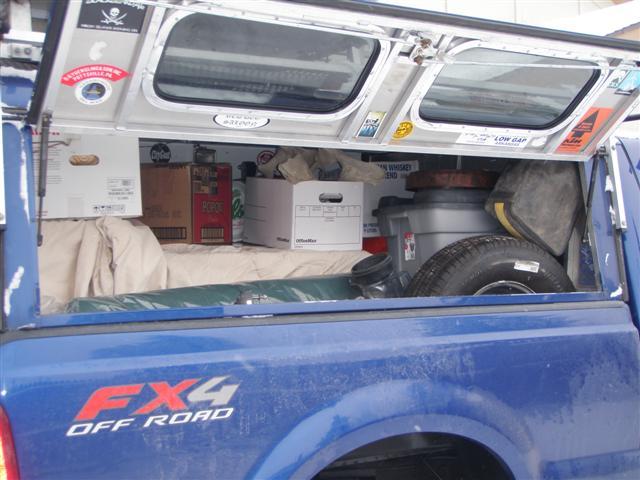 read through them. Maybe it will be fun to re-read them to see if the pages make more sense now that I've experienced or seen many of the places they talk about.
I know one thing is for certain, I hope I NEVER have to load or unload a trailer in the winter again. I worked from sun up till well after midnight one day sorting through boxes in a frozen barn and shin deep snow.
I reminded myself of the little brother in A Christmas Story because of how bundled up I was. Not that it kept me the least bit warm. The temps were hovering right around 0° and the wind was blowing something awful.
Not that it was much better back in Cedar Key. Cindy called one morning to tell me that it had gotten so cold the night before that our water filters that were hooked to the camper had froze over night and burst from the expanding ice.
Luckily we had a great couple who was camped beside our camper who heard the water hissing and ran out to unhook the water connections.
We hadn't even thought it would get cold enough to freeze here, so we had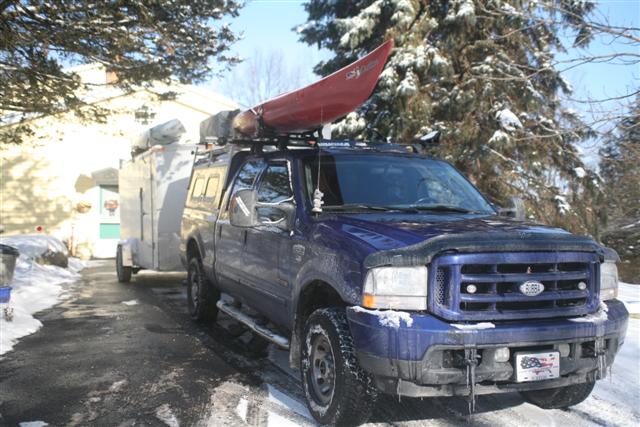 neglected to unhook everything that is normally done when we're used to camping in the freezing temperatures.
Without seeing anyone except for a few friends in Milford, and not even a visit to the Red Dog, I said goodbye to my family and pulled out after 3 freezing days.
For the ride home, the truck was so loaded down that the newly installed backseat was covered with hanging pictures. I told Cindy that it was a test of patience. You know that annoying sound when you have a Styrofoam cooler inside the car and the lid is scratching against the base? Sort of like nails on a chalkboard....well I heard that the ENTIRE ride home.
No I didn't have a Styrofoam cooler in the cab of the truck, it was just the amount of stuff I had in the backseat rattling against each other. Each time I'd pull over, I'd try to adjust it all to get rid of the noise, but moving anything meant packing and unpacking the whole backseat which would sometimes make the noise worse.
Sometimes I wouldn't even make it down the entrance ramp before I'd be pulling over to rearrange it because my readjusting would have only made it amplified.
Thank God for satellite radio and loud speakers. I honestly dont know how we traveled before Sirius Radio? With over 100 stations to choose from, I think in my 24 hour drive I listened to every single one of them.
Country, Opera, Classic Rock, Playboy Radio, Christian Radio, NPR, Right, Left and even Wrong News stations. They even have a Gay Radio Station that is called something like Out Radio that I tried to listen to, but I had no idea what they were talking about due to my love of women, but it did make me laugh a bit.
No offence to any of our Gay friends, but they used a ton of words that I think I would have to have a cheat sheet to know what they were talking about, so I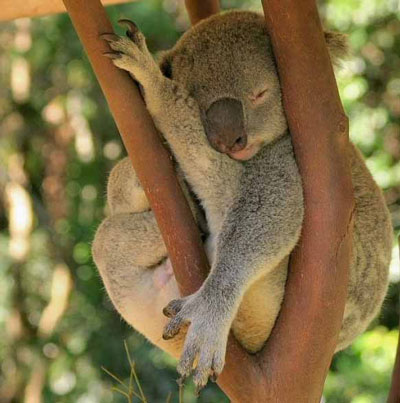 was a bit confused.
With the backseat so packed full, I had no place to sleep on the ride home and my drivers seat wouldn't even recline. This meant that trying to pull over and sleep was all but impossible.
I tried twice, but both times I was so utterly uncomfortable, that I think I might have slept for an hour all together in my 24 hour drive home.
Once home, Cindy made me a huge lunch and we got to unpacking the trailer.
Unpacking it seemed easy with the help of my wife and the fact that we were both in t-shirts. The weather had warmed up and it was about 60° out.
It seemed like that trailer that had taken me 3 days of numb fingers and toes to fill up took about an hour to unload.
That night we had dinner with Steve and Ester, a very nice couple from Canada who was staying with us in the campground. They've followed our site since we've started and were down in Tampa when they heard we had landed in Cedar Key.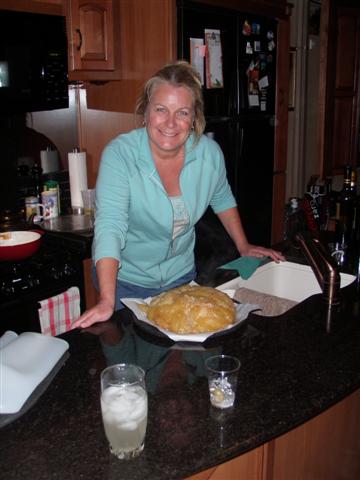 What a riot and just Good People. We shared a few bottles of wine while we compared travel stories and talked of places we've all enjoyed around this wonderful country of ours. Ester even cooked a huge Apple Pie in her camper that was mouth watering!
That first night home, after so long without any sleep, a belly filled with rich food and a few drinks in my system, something that I've been avoiding with all that traveling, I think I slept like a bag of concrete. My head hit the pillow and when I opened my eyes 8 hours later, I think I was in the same position. I guess I just needed my own bed, my warm beautiful wife cuddled up beside me and the comforts of home to sleep good.
The madness doesn't end here. You'd think after that whirlwind of a trip, I'd need a few days to get my bearings back....Well the next day my sister and brother-in-law flew in to help us put everything away.
My sister Monica spent the entire time with Cindy hanging the dozens of framed photos I brought back with me while Sean and I went to town on the Tiki Bar.
You might remember my brother-in-law from the very beginning of the adventure. Sean isn't a carpenter by trade, but he's one hell of a craftsman. Tell this guy your ideas and hand him some tools and he can fabricate just about anything.
I had told Sean about the goofy Tiki Bar out back and how useless it was the way it stood. We spent about an hour looking it over with me explaining what my ideas were before he grabbed a hammer and saw and went to work.
I had planned on tearing down the old bar and reusing as much as possible to
keep the cost down and to keep with the Reduce, Reuse, Recycle theme I try and live by. Not only was Sean was able to reuse everything we took down, but other than a few boxes of stainless steel screws and nails we had to go buy, the guy created a bar I'll be happy to show off that is 100% recycled.
It's now built sturdy as I hoped for and very user friendly. Sean and Monica were only here for a few days and we all worked from sun up to well after sun down the entire time. They're going to have to come down again when we can all relax and enjoy some good weather and warm Florida sunshine.
Thanks guys for all your help and you were an amazing help to the Low-Key Hideaway. Sean, once the Hideaway Tiki Bar is up and running, you'll have a permanent stool that will include a few years worth of free beers.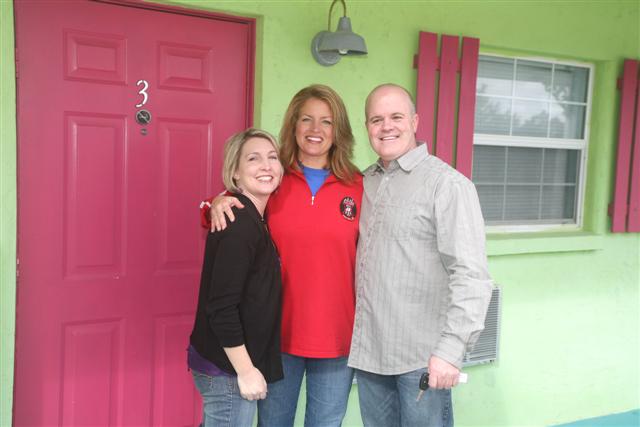 Monica, Cindy and Sean in front of the Low-Key Hideaway
Thinking that once Sean and Monica left our new, hectic life would settle down a bit, we had a couple pull out of the campground who tore out a water spigot.
This meant the water had to be shut off and I had to dig up the water lines. We had planned on moving a few lines to gain more space for the campground anyways, so I just took this opportunity to accomplish this task.
Here is where the last two day saga began. What looked like a simple job of digging a few feet of trench to move the water lines to where they should be, all while fixing the broken line has turned into a few hundred dollars in trips to the local island hardware store.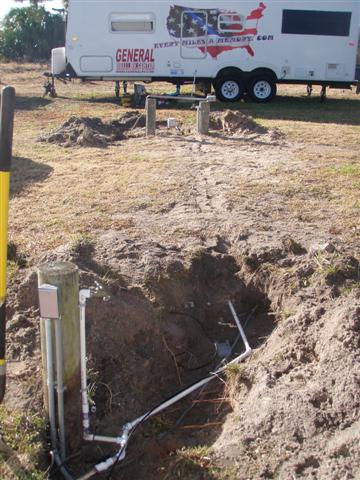 It seems that each time I repair the leak and turn the water back on, I notice another section leaking a few feet past the initial break. Now I know things were done half assed on almost everything we've worked on so far, but this one was just ridiculous. How long have these waterlines been leaking?
Just as I broke ground to start repairing the lines, a nice couple pulled in who had heard about the place from Ester and Steve. I told JoAnn and Doug that I'd be out of their hair in no time. That was my first mistake.
I worked from mid-afternoon to late in the night. Our local electrician had stopped by to help me move the 30amp electrical outlet that was also damaged.
Again, this turned into much more of a headache than we had expected. When it finally got too late in the night, we packed up the tools and apologized to JoAnn and Doug for making their first night at the Low-Key Hideaway make them feel like they were camped on a construction site.
First thing this morning, Billy and I were out in the campground finishing the waterlines and the electrical outlets. The new electrical boxes look awesome with the automatic lights mounted to the top of them.
Billy's job was pretty fast, and he was off to his normal job while I sat filling in the trenches. While I was moving one of the sewer taps, I ran into another debacle of PVC. Who ever had buried the original sewer line had placed it only a few inches below the grade.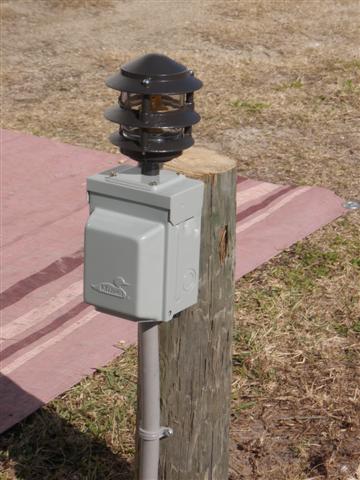 Much like the waterlines that were buried just below the grass, I re-dug the entire trench to put it further below harms way. This also meant I had to run the lines with new PVC. Who ever the master plumber was who ran the first line looked like they had used up their entire left over shed filled with parts. We had numerous sizes and diameters of PVC in the same line.
I went to the island hardware store for the 100th time and bought all new PVC to run it the proper way it was supposed to be run in the first place.
By the time I was putting away the PVC glue and primer, the sun was setting and I had put in a full day in the campground.
Just in time for Cindy and I to change and head into town for the monthly Town Meeting. We figured we should probably learn the inner workings of Cedar Key and get to know the 'What's' and 'Why's' as to the way things are done around here.
We picked a great meeting to attend as it was heated and very lively as the towns commissioners argued over the Trash Collection Contract that is going up for bid in the coming months. Who knew that trash could be such a heated argument.
So, after the past few weeks of non-stop running, driving, loading, unloading and digging in the dirt, I'm ready for a much needed break in front of the computer.
A few mornings ago as the sun was coming up and the light was perfect, Cindy was letting the dogs out for their morning pee break when she came running in to tell me there was some beautiful birds right off the back dock.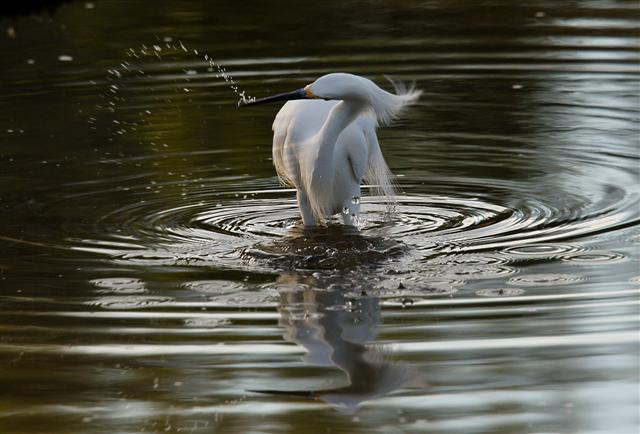 Snatching a fish right out of the water
I sat out there for almost an hour watching and taking pictures, but I've yet to even look at them.
Hopefully within the net few weeks, the Tiki Bar will be finished, the motel will be 100% and our lives will start to settle down and fall into some sort of a routine.
We're already so busy, we going to start looking for some workers to help with the cleaning of the rooms. That in and of itself is a fulltime job. Throw in answering the never ending phone calls and the hundreds of little chores that go with getting the place into tip top shape, and it makes for very long days.
I'm already looking forward to our next adventure. Hopefully I'll get some free time to start working on a few things I have lined up for the camper.
Wednesday January 27th 2010
So that last sentence I typed a week ago is a pipe dream at this point. Those two little words 'FREE TIME' are something that Cindy and I only dream of right about now.
Yesterday, while driving into Ocala to buy a new King Size bed for one of the rooms, Cindy and I were arguing with one another about why this or that wasn't finished yet, and I said "Look, I have a pad of paper every day that has a list of things for me to do that day. It seems at the end of each day, I cross off 4 or 5 things I've finished but I add at least 7-9 more items that need to be done." This place is a never ending chore, but it's fun, and it is keeping us very busy.
Just as the Hideaway Tiki Bar seemed like it was building up so much steam, the cordless charger died on my DeWalt tool set, which left me dead in the water with no tools to finish the project.
Its amazing in this day in age when all you have is cordless tools to work with, a simple charger can really throw a monkey wrench in the system.
I've ordered a new charger, but it's gonna take a few days to get here. Not that I dont have a few dozen more things to do, but when going through them, many have either a saw, a drill or some combination of the two, and without batteries, I'm just sitting here scratching my bald head.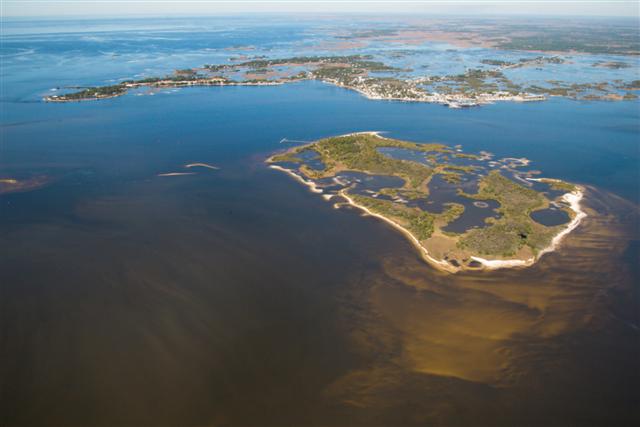 Looking Towards Cedar Key from behind Atsena Otie Key
So today, we decided to experience a few of the things the Cedar Key area has to offer. We have brochures in our office for a local pilot who fly's people around the Cedar Keys and gives them a birds eye view of what the islands look like from above.
You have to remember that this whole area is made up of dozens of islands, but driving in along the roads, you're only a few feet above the water. This means that with any vegetation growing up, which is growing wild along many of the roadways, you dont get to see too much.
From the air, these views look amazing. You realize how beautiful the area is and you get a whole new perspective. The best part is Marvin, our pilot, only charges $20 per person for this awesome view of the Cedar Keys.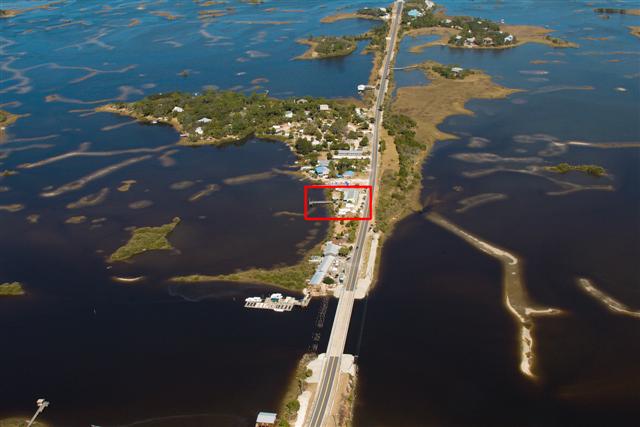 Looking North up SR24 out of Cedar Key, the Red Box is the low-Key Hideaway
I'm not sure if this was a good thing for me to do because once I saw all the surrounding deserted islands, miles of white sand beaches and beautiful shorelines, I'm jonesing to get in the kayak and go out exploring on the water.
This will have to wait a few weeks till I get my Camera back from Canon, but as soon as we get it back and Cindy and I both have cameras, Kayaking the surrounding islands will move to the top of the list of things to do.
So back to flying around the islands. The plane is a small 4 seater and I was sitting in the back seat by myself. This way I could take pictures out either of the side windows. It was an amazing ride and something I'd recommend for anyone who visits the Cedar Key area. Heck, I'd come for a visit just to go on one of these plane rides.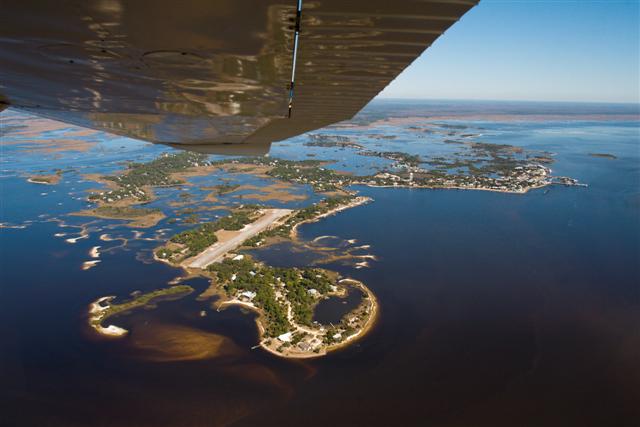 Circling Back Towards the Airport on Cedar Key
For only $20 per person, I'm planning on going back up right at sunrise, again at sunset and try various times of the year just to see how it looks at different times of the day, the month or throughout the year.
Once we were finished with our mid-day flight, Cindy and I headed over to Tony's Seafood Restaurant where we had a meeting with the owner.
Cindy is in the process of working out some package deals for guests that stay with us to get better rates with the various restaurants in Cedar Key, and Eric was kind enough to agree to meet with us about this topic.
We've eaten at Tony's Restaurant a dozen times already and have yet to come home with any negative reviews. There is a reason he's won the World Record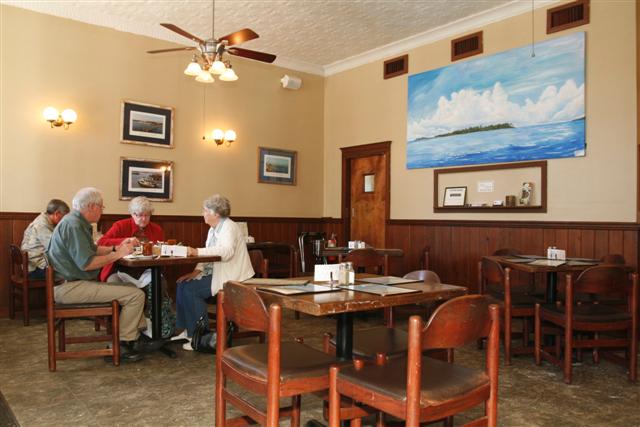 for his Clam Chowder and why he sells it around the world. It's shipped right from Cedar Key daily with orders going all over the country and many going Global...and Yes, it's that good!!
Just so you dont get confused, the restaurant is named Tony's, but the owners name is Eric. (He named it for his brother)
The 3 of us sat around talking, just getting to know one another and learning alot about Cedar Key and each others past. Eric is a very friendly guy and its easy to see why his restaurant is always busy. The staff is trained like they're 5 Star Rated and the food is second to none I've tried in all our travels.
One of Tony's Specialties is the Seafood Sampler Platter. This humongous plate of locally caught seafood has a few of everything the area is known for. Fresh Cedar Key Clams, a few Shrimp both steamed and battered, Locally caught Oysters that are deep fried in a light, fluffy batter, 2 Blue Crabs that the manager came out and give us a demonstration on the proper technique to get to the tender meat inside the bright red shell, some Breaded Conch, Breaded Fish and the only thing not caught right here in Cedar Key is the Scallops, but they were just as tasty as the rest of the smorgasbord.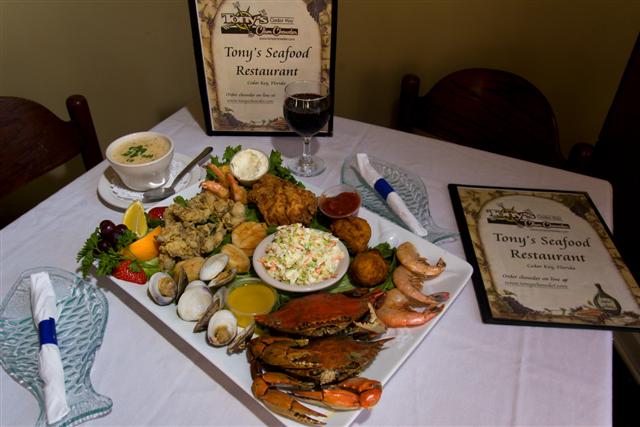 Tony's Seafood Sampler Platter...Em, Em, Good!!
While we talked, we ate and ate and I'm afraid to say that I'm going to gain a ton of weight living in this little town. The food is too good to not go out to eat a few nights each week.
Yes I know I always brag about Cindy's amazing cooking, but when you're working so hard during the day, I feel too guilty to ask her to cook a big meal and it's just so much easier to come into town and gorge ourselves on fresh, tasty seafood.
We had to leave early due to a phone call from someone wanting to rent a room for the night, so we thanks Eric and ran home to check in a new couple. Funny that the town is so small, you can just leave a note on the front door that we've ran into town with our phone number to call if they need anything. Anywhere in town we're only a few minutes from the front door to the motel.
Another thing I thought I'd talk about is Cindy's desire to furnish our new apartment.
Living in the camper was very easy. The day you buy the coach, you basically have a furnished house that all you need to do is decorate with a few accent pieces...i.e. towels, maybe some pictures and a throw pillow or two and you've maxed out your decorating abilities.
But this place is huge, and it's crazy looking with no furniture in it. We're living on some lawn furniture we took out of the back yard and a makeshift couch that is actually just a mattress we took out of one of the rooms.
The last time I lived like this was when I moved into my first apartment and hadn't saved up any money yet.
The other day she was looking through some mail we got which had a flyer for Rooms To Go and she broke down saying "I cant live like this anymore, I have to get some furniture in here so I dont hear my voice echo every time we talk!"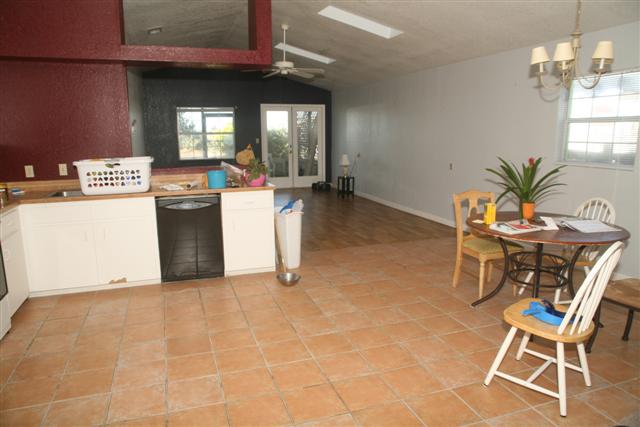 I'm the type that could care less what Cindy buys or feel the need to go out and purchase, so I said "Get what you want honey, I just want you to be happy!" It sounded something like that I swear...LOL
So we while in Ocala picking up the new mattresses, we also made a stop at Rooms To Go so Cindy could pick out a living room set. The whole she-bang...couches, chaise, coffee table, end tables and the package even included a 40" LCD TV.
I think I was mumbling something about spending this same amount on a new camera, but was given a look that told me I had better quit playing around.
Since we both know we're basically tied down to this motel for at least one year, while we save up as much money as possible, we've agreed to make it as comfortable as possible for one another.
We figured the living quarters needs to be like our home back in Michigan and set up for entertaining. It needs to feel comfortable and allow one to relax when sitting inside. Not just sit here and look at empty walls.
Little steps is what we need to learn. It only took us a few months to get rid of everything we owned, but we have to remember that we're not going to replace half that stuff in double that amount of time.
And being on the road for so long, showing us how little we actually need to be comfortable, it's really made us look at what we're purchasing. We know the Low-Key Hideaway could be our ticket at the best of both worlds.
A warm place to earn money and live during the winter months, and still allow us a few months each year to get away and travel when season slows down here in Florida, about the time the weather turns just about perfect in the Northern half of the country.
I'd be lying if I said I wasn't excited about this upcoming season. I cant wait to see who comes and visits, what characters we meet passing through and all the fun that goes with getting a new business up and running smoothly.
I dont mind sinking every last penny we have into this place, racking up credit cards we've sworn to never max out and work my fingers to the bone if it means we have a long term income keeping us traveling and adding miles to the journey of life.
The people here in Cedar Key all seem to be very genuine and so far we're getting along great with everyone we've met.
Our phone has been ringing off the hook and my only real worry is not having the place up to our standards by the time we fill up in a few weeks for the start of season. But I'll have to let you know how that works out when the time comes.
Tomorrow we head next door to the Open House at Sunset Isle RV Park where the Tin Can Tourists are having a little get together. Stay tuned for plenty of photos from that fun in the sun.
If you want to see more Aerial Photos from the Airplane Ride, the Cedar Key Aerial Gallery can be seen here
Thursday January 28th Visiting the Tin Can Tourists
After breakfast this morning, Cindy and I rode our bikes up the street to the Sunset Isle Campground to see the Vintage Campers gathered there.
Now I love classic cars, drool over retro bikes and have a liking for anything old for that matter. But since we've lived the Glamping Lifestyle for so long, I have a true fondness for the Vintage RV's.
They are just so cool to look at and imagine all the miles they've seen in their time on the road. In a day in age where everything is either white fiberglass or white aluminum siding when it comes to the RV Industry, (Can you say Cookie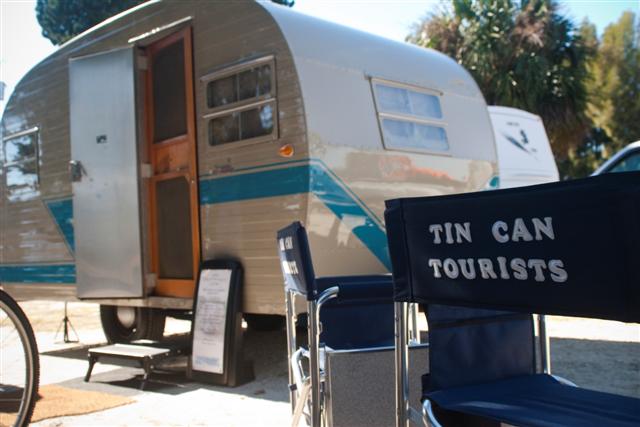 Cutter?) its so refreshing to see the older RV's with their polished aluminum, their painted shells that just oozed character and my favorite parts of them all is the interior and the way the people have them decorated.
You can see a random Tin Can that might not look like much from the outside, but step into this time machine and it's like you've just stepped back in time 50 years.
Some were decorated with themes, some were decorated with the original styles that would have came with them during which ever period they were manufactured, and some were just over the top with fancy decorations.
The Classic RV's were cool, but the people who own them are what makes them shine. You have to be a laidback person to fix up a camper, haul it around the country and allow complete strangers to rummage through your home on wheels asking millions of questions I'm sure you've answered a million times.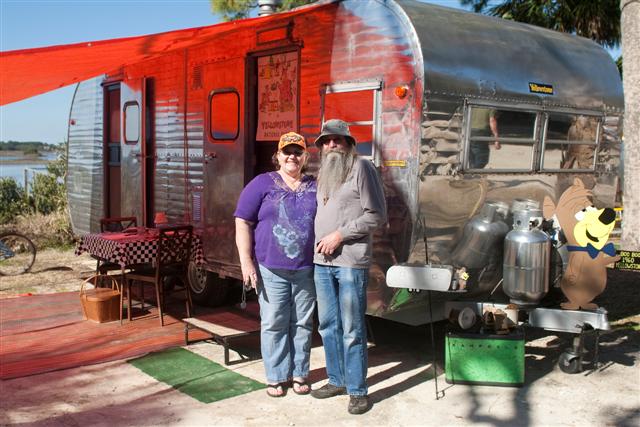 The Fredrick's Pose in front of their 1960 Yellowstone Coach
This was just a small gathering and the real reason they were here today is so tomorrow the entire group can caravan to Dade Battlefield to celebrate Florida State Park's 75th Year Anniversary.
If you dont know about the Tin Can Tourists, here is a little bit of information from their website.
____________________________________________
The Tin Can Tourists were organized at Desoto Park, Tampa, Florida, in 1919. They received the official state charter a year later. The groups stated objective was "to unite fraternally all autocampers". Their guiding principles were clean camps, friendliness among campers, decent behavior and to secure plenty of clean, wholesome entertainment for those in camp.
Because locals grew tired of their park being over run with northerners, the park was closed a month early in March. The canners took the hint and moved the Winter Convention to Arcadia, where the community had built a municipal park especially for the Tin Can Tourists.
By 1932, with membership estimates ranging from 30,000 to 100,000, city Chambers of Commerce were actively pursuing TCT to choose their community for either Homecoming, Winter Convention or Going Home meets. The Winter Convention was the best attended and was an economic boon to the host community. Sarasota had its eye on the prize and lured the Convention away from Arcadia in 1932.
The vote on the Winter Convention site was hotly contested. Many Canners were loyal to Arcadia, the town that wanted them after their ejection from Tampa. A 250 strong car caravan let by Sarasota's mayor and other public officials, helped swing the vote selecting Sarasota as the Winter Convention site for 1932. As a concession to those that favored Arcadia, it was designated as the official site for Homecoming festivities.
In 1938, the mayor of Sarasota indicated that the national perception that Sarasota was a tin can tourist's town was hurting the community and that he would not renew the Winter Convention contract. Tampa offered the canners a five-year deal to return to Tampa. It was accepted and the Winter Convention returned to specially built Municipal Park.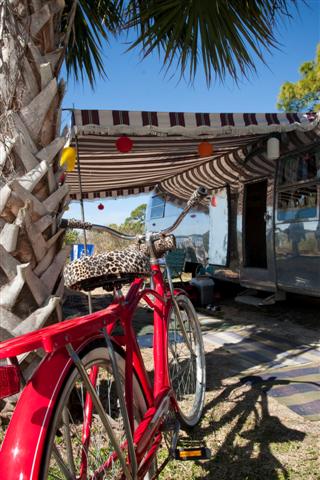 The group faced membership declines due to combination of factors, (1) a schism with in the ranks and the formation of ATA, the Automobile Tourists Association, (2) an economic recession in 1939 that greatly diminished the number of trailer manufactures, and (3) the onset of World War II.
The original groups "Swan Song" convention was held in Eustis, Florida in 1968. By the mid-70's the club was no longer in existence in any form.
In 1998, Forrest and Jeri Bone renewed the club as an all make and model vintage trailer and motor coach club. The renewal gathering was held at Camp Dearborn in Milford, Michigan, for those that know us, Camp Dearborn is right across the street from where I grew up and my parents property borders the parks fence.
Twenty-one rigs attended the May Renewal Gathering. By the end of the year, fifty members were accepted as charter members of the renewed version of the Tin Can Tourists.
The group has grown steadily, currently holding Annual Gatherings in Michigan, Florida, and regional rallies at various locations in the US. Recently Regional Representatives have been added to represent England, Japan and France.
The new version of Tin Can Tourists is open to all. Its goal is to abide by the original group's objectives and guiding principles as well as the promotion and preservation of vintage trailers and motor coaches through Gatherings and information exchange.
____________________________________________
This was copied from their websites History Page which has a ton of interesting info. I basically grabbed a brief outline to give those who might not know of this group a quick background on them.
If you're into History or Vintage automobiles, check out that page as its loaded with photographs and stories about the group.
I actually got to meet Forrest and Jeri Bone and their Coach is the little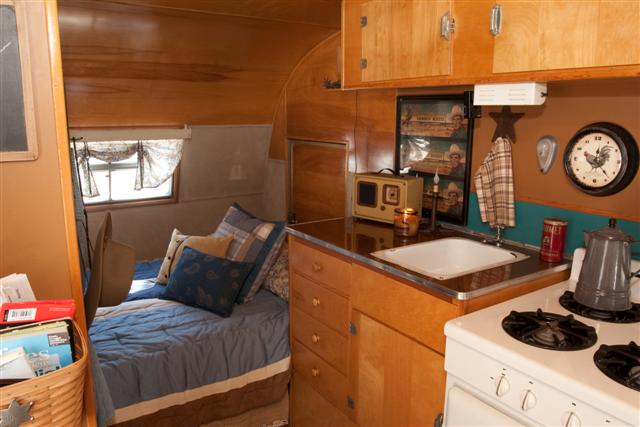 Trotwood Cub I have pictures of in the Tin Can Tourists Gallery I put together. It was in immaculate condition and they were both a very nice couple to sit and talk with.
I also got to meet some interesting guys who are really into restoring old cars and campers. I mean this is what the whole club is about.
One guy, Lawrence Perry has a homemade teardrop trailer that he tows around with an Original King Midget. I had never even heard of these vehicles before today.
Lawrence took the time to give me the history of the company, he showed me the details of the little car and opened up his handmade trailer to explain all the custom mod's he's done to it. He joked with me saying "The trailer took 4 months of spare time to build and cost a total of $2000 in parts."
But its a real head turner and he had a crowd of people asking questions about it. Most thought the King Midget was some sort of novelty until he'd show them that it was an actual vehicle that was licensed and street legal.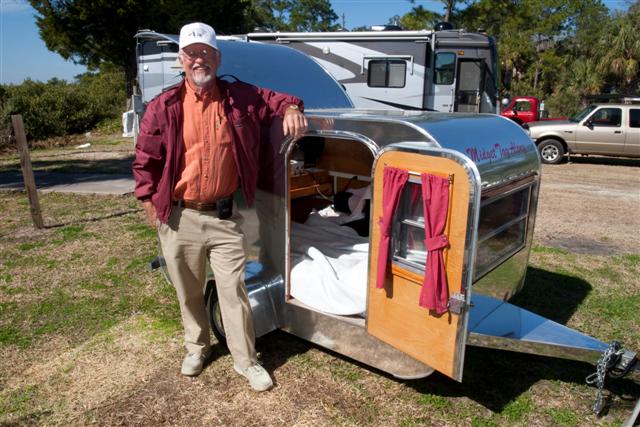 Lawrence Perry and His Homemade Teardrop Camper
We met another couple who lives one town over from my parents up in Michigan and who were familiar with the Red Dog Saloon. We both laughed saying the more we travel, the smaller the world becomes.
I met a young guy who has been living out of his 22' 1954 Airstream Cruiser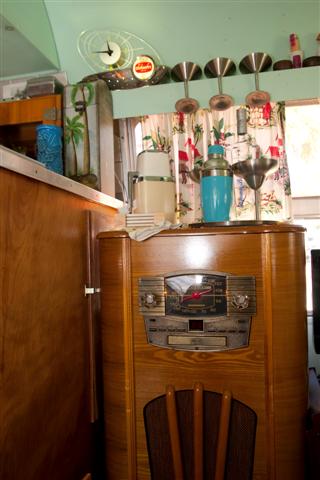 for the past year while he's been traveling the open road. Dan's Airstream was probably one of the nicest coaches in the campground and he had it decorated in Tiki statues.
It even had a vintage tube style radio and you felt like you were transported back into the 50's when you climbed in.
Ron and Jim are a couple of Florida boys who live a few towns over from Cedar Key. We exchanged numbers because Jim was telling me so much about the collection of unique vehicles he has at his house.
I'm sure there will be a much more in-depth story about that meeting because the photos they showed me got me all excited about going over for a visit and a photo shoot at a later date.
All in all, it was a great morning spent meeting new people, seeing some amazing vehicles that have been giving people wonderful memories year after year and keeping that American Dream of the Open Road alive and well.
It was a good day and one I hope to remember for a long time.
Forrest also told me about the 90th Annual Winter Convention that will be coming up February 25th thru the 28th at Lake Manatee State Park in Bradenton Florida.
He told me there will be 50 Trailers at that Rally and its usually a great gathering of vintage coaches. Hopefully I'll be able to get away from the Low-Key Hideaway for a few days and go see the RV's at that Rally.
Return to Top of Page
Need Unlimited photo storage- FREE Trial of Smugmug