When we realize our insignificance in this world,
it some how relieves the pressures from society to succeed -
Cindy Bonish 04/07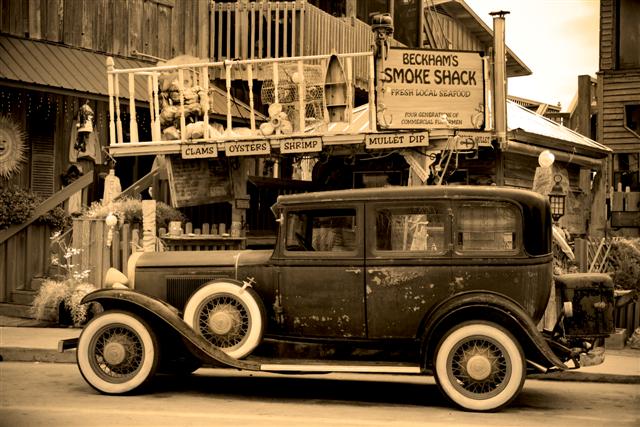 Pat's February 2011 Blog
If this is your first time here, you might want to start from the beginning of our fulltime Journey with our Past Blogs
If You Don't Know Me Yet, Click Here to Read Pat's Bio
****
Saturday February 19th - Fun Times in Cedar Key
The past few months have been a total hit or miss for the Hideaway Tiki Bar. We've had plenty of beautiful days, but the winds during January and the beginning of February are brutal and a stiff wind can drop the warm temperatures coming off the Back Bay drastically.
This past week has been picture perfect. With temps in the 70's during the day and dipping down into the 50's at night, it's that time of year when you wish it would never end.
With bike week coming to Daytona the first week of March, the Daytona 500 this weekend and Presidents Day Weekend, we're starting to see a non-stop line of tourists and visitors coming into town. I guess its official, the season has begun.
I told Cindy she needed to put out the 'Tiki Bar Open' sign and get out there to make some money. I had to finish up one of the dozen or so projects that is 98% done, but just shy of 100%. Our new rule is we cant start a new project till we finish one of the other ones that are almost there.
While I was working on the front of the motel, I heard a motorcycle drive by and the woman on the back yelled to the guy driving, "Hey, there was a sign for a tiki bar! Turn around!"
I yelled back to Cindy that she had better be in the bar and that was how our day started. A few minutes later, I saw two guys walk over from the edge of the shoreline where they had been fishing and said "We never knew there was a tiki bar back here, but I just heard a motorcycle drive by and a woman yell 'Tiki Bar', so we decided to take a break from our fishing poles."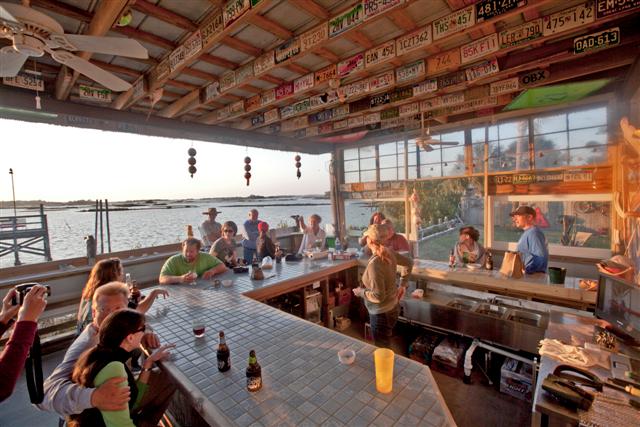 A Busy Night at the Hideaway Tiki Bar
Pretty soon more people were in the bar and before long, it was standing room only. The night turned into our best night yet and I think it's official, Spring is here and the Hideaway Tiki Bar is open!
Once the sun set, everyone packed it up and headed into town. This is sort of our goal is to simply have a place where people can gather, watch the sunset before they head into town to eat or finish their night off dancing and having fun on Dock Street.
Luz and Walter really wanted to get out on the boat, so we packed another cooler and went to pick them up.
This time, our luck of beating the low tide would be a few minutes too late.
We got to the boat to find it sitting on the pluff-mud, and even though Luz and I swore we could still push it out of the marina, Walter and Cindy were having no part of it.
Its funny because Luz and I are the total instigators and Walter and Cindy are the two who are always worried about the outcome of what might happen. Luz and I usually dont think about that part of the equation till it happens and we'll deal with it then. Walter and Cindy are always thinking a few steps ahead and looking at the consequences.
Since we had a cooler full of drinks, we couldn't let the night go to waste. We simply did the next best thing. We sat in the boat with it sitting in the mud and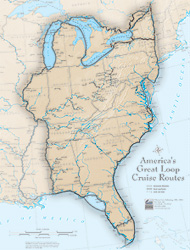 listened to the music coming out of the Big Deck Raw Bar and watched the full moon rise from the marina.
While we were sitting there, a older couple walked up and shined their flashlight onto their dinghy that was tied up in the slip beside us. The guy looked confused and said aloud "Is that what I think it is?"
We all sort of laughed and one of us said "What's wrong? Have you never seen a marina that doesn't have water in it?"
There was a big trawler anchored off of Dock Street for the last few nights that belonged to this couple. They had taken their dinghy into town to have some dinner and were now stranded to wait for the tide to come back in.
We got to talking and found out they were a few days short of completing the Great Loop. For those who dont know what this is, its when a boater leaves from one point, say Tarpon Springs like they did, float down around the tip of Florida, travels up the Eastern Seaboard of the Atlantic Coastline, motors in the St. Lawrence River to the Great Lakes, rounds the Great Lakes and comes down the Tom Bigby river system to the Mississippi River which will dump you back into the Gulf. From here you head back down the Gulf of Mexico to where you started and you've completed a Giant Loop.
They had started last June where they left Tarpon Springs. They were within a few weeks of being back at their starting point and this was their first experience in being stranded in a marina that loses its water when the tides go out. Welcome to Cedar Key...LMAO!!
We talked with the gentleman for awhile before they headed back up to Dock Street to find someplace to sit and wait for the tides to come back.

Sitting around on a boat that's not floating! - Photo by Luz Kraujalis
While the four of us were sitting in the boat looking like true idiots. I noticed two people ride up on their bikes. I've never seen anyone ride down the narrow dock on their bikes, so I was sort of laughing at them when I was able to make out in the moon light that it was Fonda and Juergen.
We all let out a round of cheers and they said "We never saw the boat come out of the marina, so we figured we'd come see if you ever left."
They proceeded to join in our non-floating boat party and soon became members in our Redneck Yacht Club.
By the time the water came back into the marina, none of us felt like heading out on the boat, so we decided to call it a night and headed for home.
When I dropped Walter and Luz off at home, I said "I think that was the most eco friendly boat ride any of us have ever been on!" Those are the types of boat rides that Cindy and I can afford the fuel for.
Friday February 18th - Full Moon Boat Ride in Cedar Key
This past week has been crazy. It seems there are not enough hours in the day to get everything done that we're trying to get completed before our season goes into full swing.
We were sitting around tonight when I remembered it was going to be a full moon.
Luz had asked if we wanted to head out for a midnight boat ride so we could be out floating on the water under the light of the full moon.
It was just after sunset when Cindy said "There is no way I'll make it to midnight, lets head out right now."
I agreed and we threw some drinks in a cooler and grabbed the boat keys. We had been trying to call Luz for an hour or two, but stupid AT&T has no service almost anywhere on the island.
We stopped by her house, but she wasn't anywhere to be found. We called Fonda and Juergen and asked if they were up to a boat ride?
Like us, they had finished with all their check-in's, so they said "Pick us up, we haven't even been on the water since we've been in Cedar Key."
So we stopped by their house and picked them up and we made it out of the marina just as the last bit of water was following us out. If you've never seen our glorious Cedar Key Marina at low tide, it's a shock to see a bunch of boats sitting in the pluff-mud with no water in the marina.
Once out of the marina and into the channels, you've got enough water to maneuver around. We put the boat into a deep slough that runs from the Suwannee River down to Crystal River and killed the motor.
With a cool breeze blowing us south, we all just sat and watched as the moon broke the surface on the Eastern Horizon. We're not just talking a little sliver of moon, we're talking a big red ball so big it looked like you could reach out and grab ahold of it.
It was one of those sights that stopped us all in our tracks and left us silent.
Luz had some underwater lights installed on the bow of the boat recently and with the tide being so low, the boat floated swiftly mere inches above the surface. With the current and the winds moving us along at a fast pace, we all stood on the bow of the boat and watched stingrays, fish and the grass beds float by below us.
While we watched the aquatic life watch us, we all sat talking as the moon continued to rise and light up the night almost like a sunrise. Before long, I could have read a book sitting in the boat just from the light of the moon.
As we sat drifting in the cool night air, we heard a dolphin break the surface a few yards off the boat. We all got real quiet as we listened to numerous dolphin breech the calm waters and exhale a loud breath of air.
It was like having a surround sound stereo playing because there was a pod on one side and a couple on the opposite side that were just swimming circles around us.
It was light enough to see the ripples they'd cause when they'd break the surface, but it was too dark to take a photo. It was almost like a dream where you can see everything around you, you just cant make it out in strong detail.
When the lights of Cedar Key were just twinkling on the horizon, we decided to start up the motor and idle ourselves back into the marina. By this point, the tides had turned and we had plenty of water to navigate in without worry of hitting any oyster beds or sand bars.
We tied up the boat in its slip and dropped Fonda and Juergen off at home. Luz had called us while we had been out on the water to say she had just gotten home and had missed all our calls. She said she was headed to bed so it was a good thing we had gone out earlier than we had planned.
Laying down in bed, it was one of those nights I think I was asleep before my head hit the pillow. I had dreams of boats, dolphins and full moons and I couldn't remember if I was awake or sleeping. You know you have it good when your real life is as good as your dreams are. That's when you know you're truly blessed.
Monday February 14th
We were all up early this morning and headed down to Annie's for some home cooked style breakfast.
We talked and laughed our way through breakfast and had them back at their plane early. Pam had a Doctors appointment in Lakeland where they were going to fly over to next.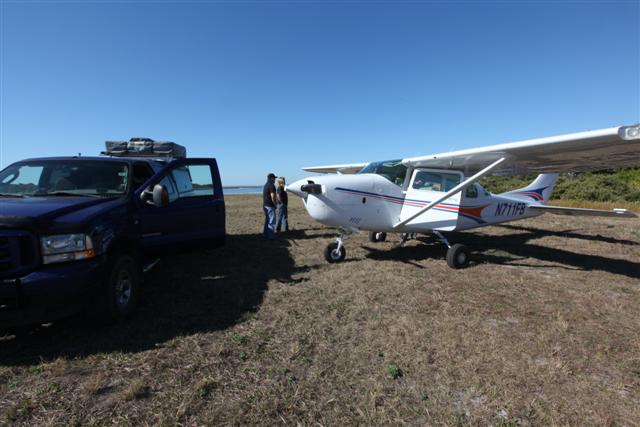 We wished them well and watched as they taxied down the runway. We waved goodbye as our first guests who flew in to see us left Cedar Key via Air propulsion.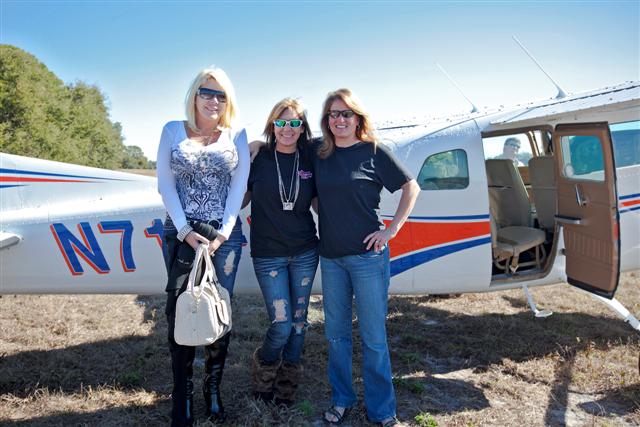 Pam, Shannon & Cindy at the Cedar Key Airport
The rest of the week has been a crazy blur of activity around the motel with the addition of new parking blocks out front to keep people from pulling too close to the bushes.
A new fence along the side of the building. Cindy and I moved the fence in the back yard to allow for more storage where guests wont see the clutter and a rack to hold the Kayaks where they wont be in anyone's way.
It's hard to store things when you dont have a garage to hide those items that are a necessity, but you dont want to be seen. Things like the lawn mower, the weed whip, shovels, rakes and everything else that goes along with maintaining a working business.
We also found some concrete parking curbs that another business in town wasn't using and said we could have them. We've now painted them the colors of the motel and it really cleans up the front of the motel.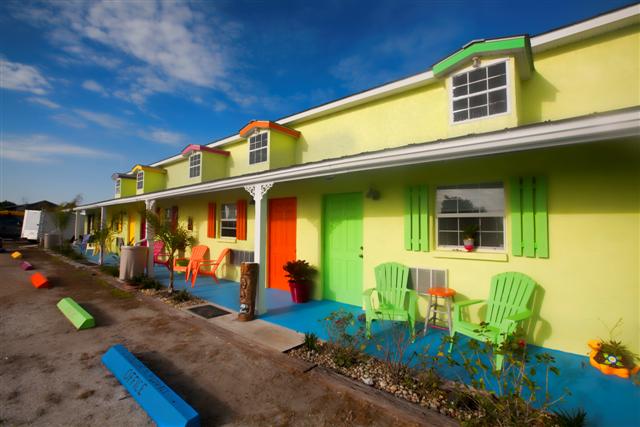 Curb Appeal at the Low-Key Hideaway
Another one of those things we've had on our To-Do List since we've landed in Cedar Key is to add small decks for each RV site. Our RV Sites are somewhat narrow, but they're very deep.
Guests dont really have room to sit beside their camper, but they have plenty of room to sit on the water behind their campers.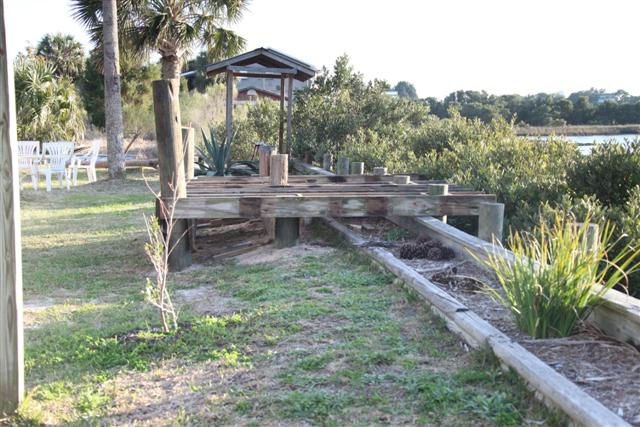 Along with almost everything else that has built around our Hideaway, Ron and I were able to build a 10' x 10' deck behind one of the RV Sites that was built with 100% recycled wood. Well at least the substructure was built with wood that would have otherwise gone to the landfill.
Being as we had such an abundance of these stout 2x8's, I made sure to over-build it and the few guests who are visiting, one of them being a experienced builder laughed when he came out to inspect our work.
His words were "After the next hurricane blows through Cedar Key, when the building and everything else is washed away, you'll know where this place was because the only thing standing will be that deck."
Sunday February 13th - A Visit From Florida Friends
With a super busy weekend booked, Cindy noticed a name on the reservations list that struck her funny. She thought she remembered our friend Shannon talking about her boyfriend Judd on Facebook. We've never met Judd so it's not like when he called, we would have been able to notice his voice.
A guy named Judd had made a reservation for two rooms and had called to see if we could pick his party up at the Cedar Key Airport where they were going to fly their small plane up from South Florida. There were too many things that told us this might be our South Florida friends so we made sure to be ready incase it was.
You might remember Shannon from back in 2009 when we stayed with them in Okeechobee and our short weekend visit turned into a week of non-stop fun.
We got the call saying they had landed and sure enough, it was Shannon and Judd along with her sister Pam and her husband Dave who were flying in to surprise us for Shannon's birthday.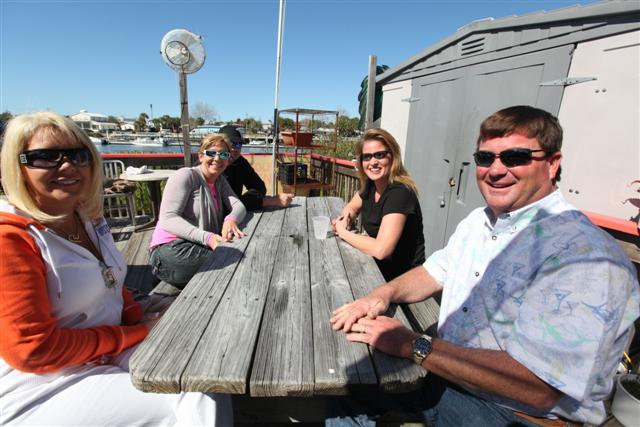 I had dropped Cindy off at the Big Deck Raw Bar down on Dock Street and drove out to the Airport to pick them up. Hugs and handshakes were shared and we loaded up their luggage into our truck.
We went downtown to meet Cindy and had some drinks and lunch. The weather was picture perfect and it was a great day to be sitting outside enjoying life. We found tables on the deck and ordered up some food and drinks.
Sitting around listening to Judd, Dave, Pam and Shannon retell their crazy stories, it was the equivalent of following along with the Hollywood party crowd. These four know how to have a good time and seem to be doing it some place different each weekend.
At one point, I noticed the tables all around us were just sitting and listening to our conversation and laughing along even though they werent part of the conversation. The stories were that funny and outrageous.
It doesn't hurt that Pam and Shannon, two sisters are both drop dead gorgeous, so when they're talking about being out dancing and having fun, you can just imagine the crowd they must draw to them.
Once we were finished with lunch, we came back to the Motel and spent the afternoon sitting out back at the tiki bar.
We watched the sun set before we got pushed inside once the cool evening temperatures had us Floridians scared from having to bundle up.
Everyone went to their rooms so we could shower up and get ready to head into town for the night.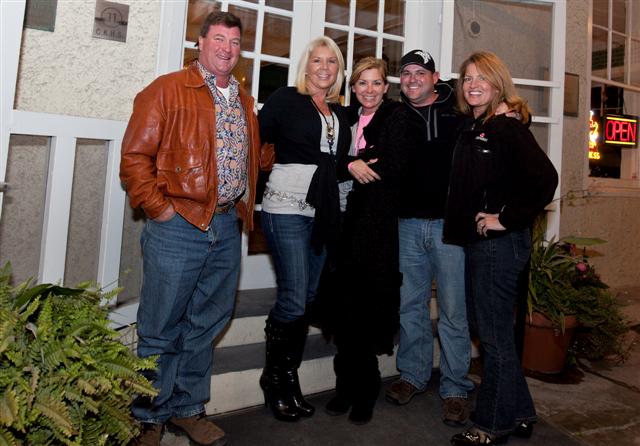 Dave, Pam, Shannon, Judd & Cindy
We had reservations to go out to eat at the Island Hotel. Cindy and I have taken a fond liking to the burgers they serve in the cozy little Neptune Lounge. A big, thick burger topped with crumbly blue cheese on a homemade doughy bun. We find ourselves going at least once a week to get our fix.
Our entire group ordered one except for Pam, and I think she was eyeing Dave's like she was going to snap it off his plate at any second. Although her Crab Bisque soup looked amazing.
The only problem with the burgers are they're so filling, once you're finished, you're in somewhat of a food coma. Since all of us had cleaned our plate, we were all sitting around loosening our belts and trying our best to stay awake.
This meant that going downtown to have a late night was out of the question. We ended up coming back to the motel, saying goodnight and everyone was passed out within a few minutes.
Friday February 11th - Getting Ready to Kick off the Season
Time's a flying already this year. I'm thinking it has to do with the frigid temperatures the North East and Mid-West in under, but our phone has been ringing off the hooks these past few weeks.
People are all saying the same thing, "We want to get the heck out of here and come kick back in some warmer weather!"
Problem is, we're only in the 50's and 60's and we're still getting down into the 40's at night, but I guess when you're comparing to the single digits or those minus 0° temperatures, then it's not all that bad.
Our Work Campers got here last week and it seems we've already accomplished a bunch of things I've been too busy to do. It's amazing what a extra pair of hands will do around the property.
For those who haven't been here in awhile, you probably wont even recognize the place when you return for a visit.
I was working out in the yard yesterday when a truck pulled into the parking lot. Out stepped a big guy who walked up and introduced himself.
He said "Hello Pat, I'm Tom, I've been lurking on your site for the past few years and I just wanted to stop by and say 'hello'"
Tom and I got to talking about traveling, trucks and this crappy cold weather we're having. Well it's crappy for us, but Tom and his wife had just left Minnesota a few days ago and he said they had snow on their 5th Wheel all the way to Georgia.
Cindy came out from checking someone in and we all went out back to the tiki bar. Tom and Cheryl sat out back for a few while we talked shop and just got to know one another. It was really cool to meet them and hear about their plans to go fulltime next year.
The cold weather and winds cut our visit short, but hopefully we'll get a chance to meet up on the road somewhere along our travels.
Thanks for stopping by Tom and Cheryl.
Sunday February 6th - Flying on Superbowl Sunday
Except for cleaning a few rooms today, we didn't have much to do. We were going to have Fonda and Juergen over tonight to watch the big game, but that didn't start till late in the afternoon.
Mid way through the day, Walter called me and asked if I wanted to go up with him on a plane ride. I had been trying to go flying with his daughter Marina after she got her pilots license, but our schedules never worked out with the crappy weather we've been having lately.
She's now gone back to California, but Walter still has the plane he rented to teach her with.
I rode my motorcycle out to the Cedar Key airport and met him on the runway. We got in the little plane and he walked me through the start-up procedures.
Walters a very experienced flight instructor, so having him show you what to do is different than just going for a plane ride.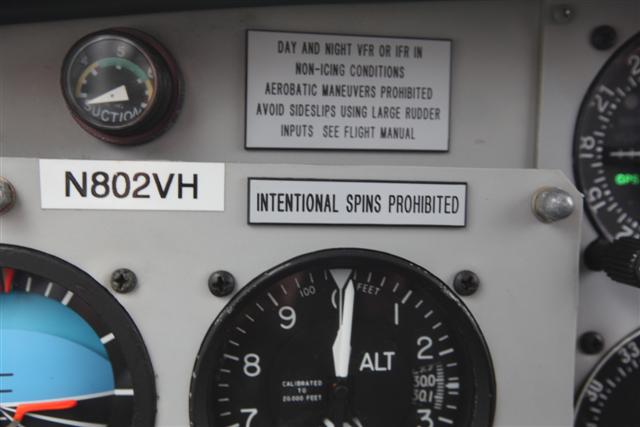 He has a way of explaining things in such laymen's terms that they seem very easy to understand. After walking me through what all the controls and foot pedals do, he asked if I wanted to take off and fly the plane?
He let me taxi down the runway and even let me take off, which was pretty scary considering it was my first time behind the controls.
Once in the air, he continued to go over the controls explaining what happens if you do a certain procedure and would show me first hand what the outcome would be. He'd explain that if the motor was to stall, he'd simply do this and it would be alright.
I was surprised how comfortable someone could make you feel even when they're showing you what happens in a normally bad situation.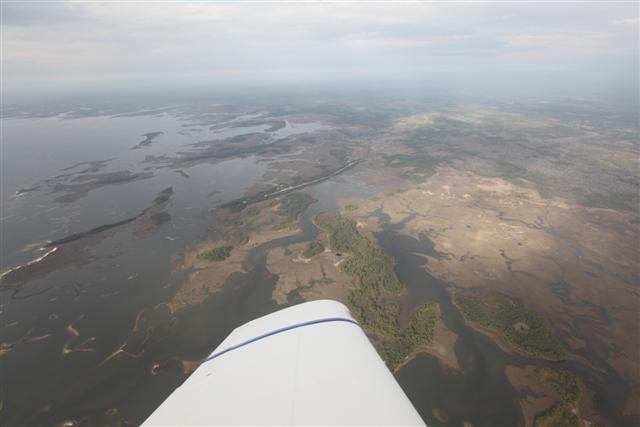 After a half hour of flying around the Cedar Keys, he asked if I got sick easily? I said that I didn't think I did, and he said "Good, I'll show you some hard turns and fun maneuvers."
Before I could say anything, I was floating in my seat with only the seatbelt holding me in. It was instantaneous and I couldn't believe how fast I felt like I was going to throw up.
Walter had the plane diving towards the ground one second only to pull back on the controls which planted me in my seat and made my head feel like a bowling ball was on my shoulders.
As soon as we got to the top of the climb, he turned sideways so I was up above him and looking straight down at the ground. Two seconds later, I was on the other side of him looking at nothing but sky.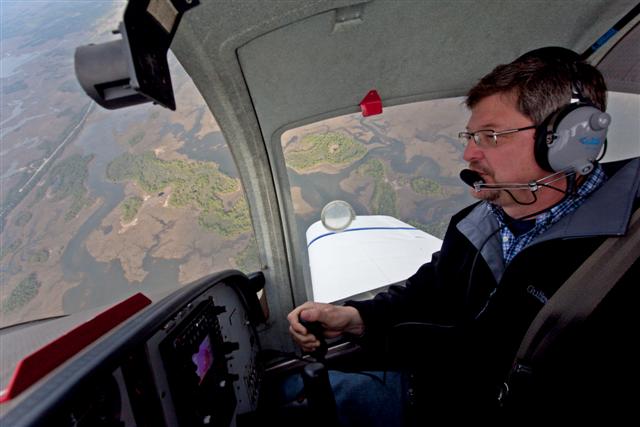 Notice We're Not Flying Level!!!!!
I could feel the sweat building up on my head and I thought "Oh man, I'm going to puke any second!"
Walter could probably tell I was about to get sick so he leveled the plane off and asked "Do you want to take the controls?"
This took my mind off of heaving up my lunch, so I grabbed ahold of the stick and tried to keep the little plane level.
We flew a couple of laps around Cedar Key with me at the controls, which felt really cool to be flying, before Walter killed the motor and said "Ok, I'll show you that we can land with no power."
He then proceeded to put the plane down on the runway in such a smooth landing you'd think we had landed on a big creampuff. We were at a stop and turning back around to taxi back to the tarmac in only half the distance of the runway, and you have to remember that Cedar Key Airport is one of the smallest runways along the Gulf Coast.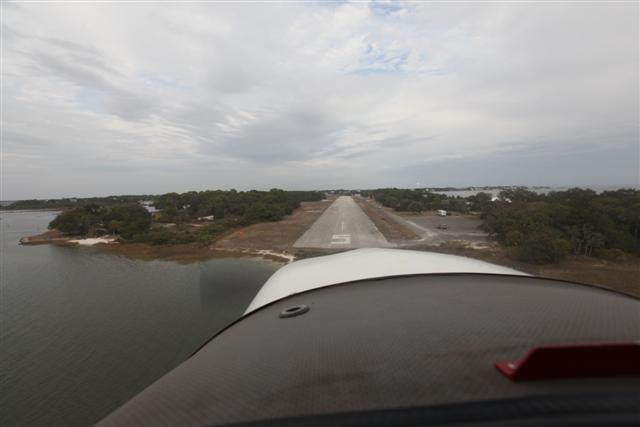 I guess there is something to be said for a pilot who has over 10,000 hours behind the wheel of a plane. That's the equivalent of over 1 full year spent behind the controls of a plane. If I ever want to get my pilots license, I'd ask Walter to be my instructor.
I thanked Walter for the ride and went home trying to calm my stomach down. I've ridden hundreds of Roller Coasters and never felt like I was going to get sick. I cant believe that a little plane ride could make me so nauseous.
I cant imagine what it would be like to be flying in a fighter jet when they make some of those crazy turns or extreme climbs. I'm thinking I'd pass out before I could even throw up.
By now everyone knows how good of a game the Superbowl turned out to be, so no need to go into detail there. It was fun to have people over for the game as it's something Cindy and I haven't been able to do in a long time.
Saturday February 5th - Saturday Boat Ride up the Suwannee
Today was another of Heath's Boat Ride days. He had called earlier in the week asking if I wanted to come along as he was going to have family in from out of town who wanted to go out on their boat.
I asked if he was joking because the weather forecast was supposed to be pretty nasty, but he said "Nope, I told them the same thing, but they said they wanted to go out no matter what the weather was."
He said they wanted to do some fishing, and at first I said "Nah, I'm not that interested because I'm not that big of a fisherman, especially in cold, crappy weather."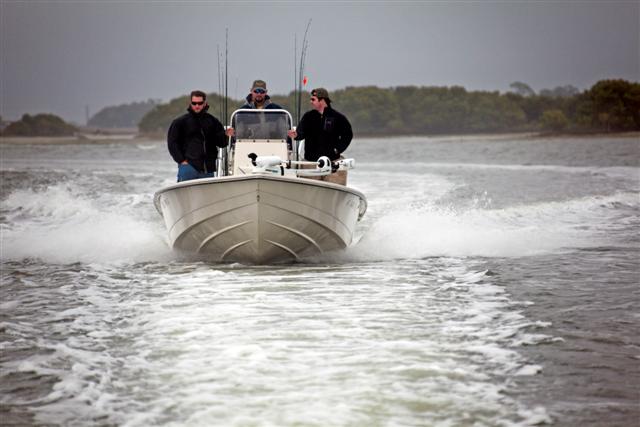 Heath assured me there would be no fishing poles on his boat, and his cousin and his buddies would have their own boat to be fishing off of, we'd simply be drinking and having fun motoring around the dark waters of the Suwannee River.
So early this morning, we all met at The Island Room Restaurant for a big breakfast. Cindy and Jolie came with us boys to breakfast, but neither of them would be coming on the boats with us.
We had asked Cindy and she had planned on coming up until yesterday when she realized she had double booked a room. This would be our first time to make a screw-up like this, and it was simply because we broke one of our own rules.
It probably says a dozen times on the various pages on our motels website that "We Only Make Reservations By Phone!" But this couple had been talking back and forth with Cindy via emails because they were traveling from Over-Seas. She thought she'd help them out since we were in such different time zones and would save them money from having to make international calls.
Problem is she forgot to make the reservation the day she got the email and that same day she booked the room via a phone reservation. So when we were getting everything squared away to spend the day with Heath on the boat, she realized we had two couples checking into the same room.
This sent us into a scramble because there are only a few other motels on the Island we'd recommend people too that compare with our rooms and cleanliness.
Luckily for us, The Faraway Inn had a larger room than the couple had planned on staying in and the great folks who run the Faraway Inn said they'd honor our same rate of $85 a night, so they actually got a upgraded room for the same price.
But this meant that Cindy would have to miss a day of fun on the boat in order to stick around and wait for them to arrive so she could explain the mix-up.
In reality, it was a long day of freezing cold weather with rain spitting at us off and on...but it doesn't mean we didn't have a blast.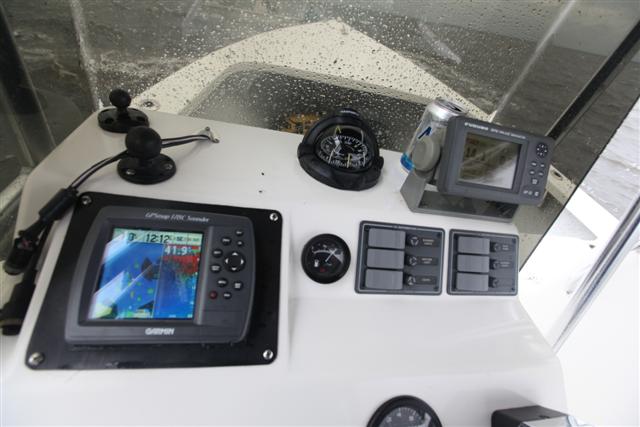 Great Weather to be on the Water!
Heath's cousin's boat is a smaller, flats style boat that can run in pretty shallow water. Heath had decided we'd be more comfortable if we had the big, black boat, so he had to show off by showing his cousin that he could take this huge boat anyplace his little boat could go.
We went throw the inside pass at low-tide getting strange looks from everyone we passed. Most people only see the smaller skiffs or traditional style flat's boats making this pass, but with the jack plate run at the highest setting, its surprising how shallow of water this boat will run.
We made a stop at Deer Island wanting to see if our buddy who owns the big piece of land was out there, but all we found was a beautiful dog left to guard the place. Quite the guard dog she was, because other than the initial bark she gave us, she was all love just wanting to be petted.
From Deer Island we went up to the Suwannee River finding a little spring fed stream to motor up so Billy, one of the guys on Jarrett's boat, could show us a secret spot he's in the process of building a place on.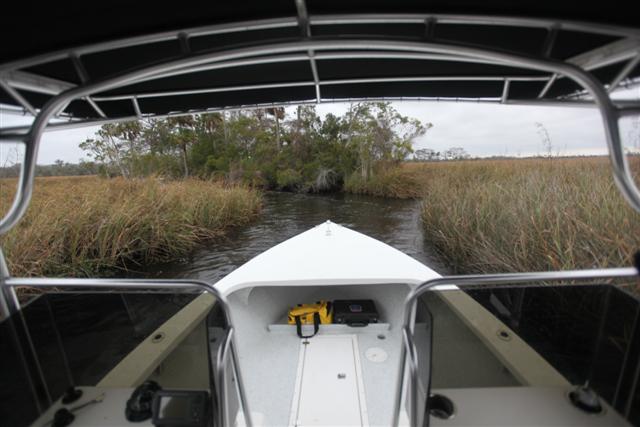 Motoring the Big Boat up a Little River
When we got to the narrowest spot on the river, we tied up the boats to the Cypress lined banks and trudged through the thick muck. Billy was showing us where they were going to build the platform that would allow them to sleep up above the marsh grass and Jarrett was unzipping his pants to take a leak off to the side.
Just then he screamed "HOLY SHIT! Look at the size of that Cotton Mouth!"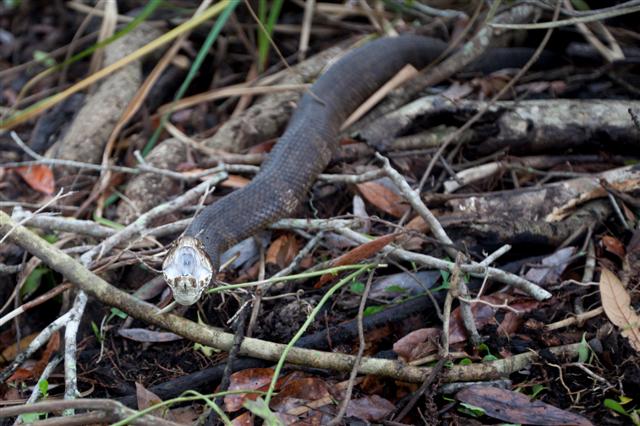 Pissed Off Cotton Mouth Snake
He jumped back which made the fat, female moccasin rear up and show us her fangs. This sent Heath and Ryan running like a couple of girls on a school yard. Jarrett wasn't far behind them and Billy and I were the only ones who stuck around to get a closer look at this huge snake.
I'm not that familiar with water moccasins and wasn't aware of how deadly and aggressive they can be. I had my widest angle lens on the camera, which meant I had to get pretty close to this pissed off snake in order to get a good shot.
Billy works for the FWC and is used to being out in the swamps. Luckily he told me to keep my distance because unlike other snakes that turn and slither away when approached, Cotton Mouth Snakes are aggressive and will come right at you when you approach them.
When we got back to the boats, I was showing the guys how big the snake was and they all let me know how stupid I was to be that close to it. They explained how deadly they are and as deep into the swamp as we were right now, I'd probably die before they'd be able to get me back out to a hospital if I'd been bitten.
I guess my first run in with a water moccasin was probably the closest I'll ever get to one.
Running back up the little spring fed river, we overheated the big motor on the boat and had to move to the little 4 horse motor Heath keeps as a back-up. Following Jarrett's boat back down the river, Heath said his motor was probably sucking up lots of silt and since it's water cooled, the intake was probably plugged.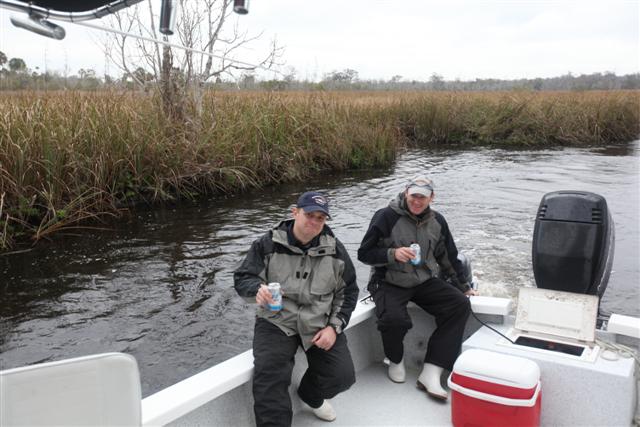 Ryan & Heath running the little Kicker
It just needed to be opened up which would blow out the silt, but this little river had so many twists and turns in it, that idle speed was the fastest we could go.
We radioed ahead and told Jarrett and the boys to go do some fishing and we'd catch up to them in the town of Salt Creek where we were going to meet for lunch.
Once out of the river, we opened up the big 225 motor and made our way up the wide flowing Suwannee River. Salt Creek is even smaller than Cedar Key and one of those fishing villages that makes you wonder what Florida must have looked like back in the 50's and 60's. This little town hasn't really changed much since then.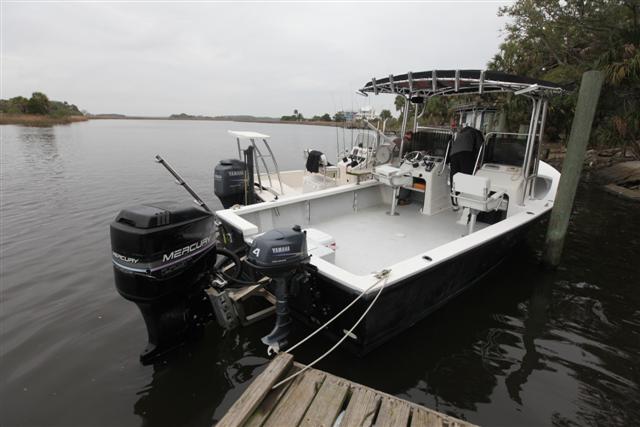 Once at the restaurant, we tied the boats up to the dock and went inside to warm up. The day had gotten colder as it got longer and a nice heated restaurant and some warm food was just what was needed.
Jarrett plays Pro Football for the NFL, so there were plenty of great stories to go around during lunch.
Once we were all fed up, we headed back for Cedar Key since it was getting late in the afternoon and none of us really wanted to be loading boats in the dark.
With a low ceiling of clouds, we had alright visibility, but it was raining off and on and it wasn't one of those days anyone really wanted to be out on a boat.
Once back in Cedar Key, we loaded the Persuasion back on the trailer and it wasn't long before I was zonked out on the couch in my living room. There is something about being on a boat in cold weather that just wipes me out.
Or maybe it's just being out all day on the cold water that puts a chill through your entire body. Then you come into a nice warm house and it's like taking a sleeping pill. It didn't take more than 10 minutes of being home and sitting down on the couch before I was passed out and sawing logs.
___________________________________________________________________
Photo Gear We Use - Solar Tips, Fact's and Trick's we've learned while on the road
Camper Check List - A list of things we do before leaving camp. Again, this isn't gospel, but its a good start for those who might not already have a list made up.
Return to Top of Page
Need Unlimited photo storage- FREE Trial of Smugmug