When we realize our insignificance in this world,
it some how relieves the pressures from society to succeed -
Cindy Bonish 04/07

Pat's December 2007 Blog
If this is your first time here, you might want to start from the beginning of our fulltime RV Journey with our Past Blogs
For Those That Don't Know Me, You can click here to read my Bio
Photo Gear We Use - Solar Tips, Fact's and Trick's we've learned while on the road
Camper Check List - A list of things we do before leaving camp. Again, this isn't gospel, but its a good start for those who might not already have a list made up.

****
Saturday December 1st 2007
Some times you wake up and never know what the day is going to bring. Today was one of those days. After the crazy rain storm we had last night, the sky was a mix of wild clouds with brief sections of sun warming us up.
We had stayed in the Gilbert Ray campground which was a nice quiet campground, but I'm starting to have trouble with paying $20 when we don't need to be in a campground. We've gone for 9 days now with no hook-ups, and haven't had a single problem or even noticed that we werent hooked to shore power.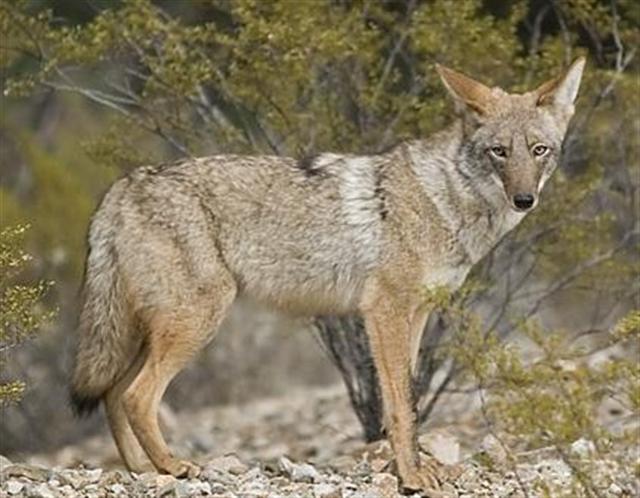 I was a little worried that those past few days of November with the cloud cover might drop the battery level, but 3 days with no sun, and our battery bank was still reading at full power. So paying $20, which is very cheap compared to what many campgrounds want to charge just seems like a waste to me.
Anyway, we needed to do some grocery shopping, so we drove into Tucson where we found a Wally World. Pulling out of the Gilbert Ray Campground, we stopped in the middle of the road as a Coyote ran in front of us. This time Cindy was handing me the camera before I could even reach for it and I was able to get a cool shot of this wild animal.
Finally we got a picture of one so you wont think I'm making all these sightings up. As we were pulling in to the Wal-Mart, we remembered it was a Saturday and we were bordering a Native American Reservation.
When we were near the Navajo Reservation, one of the locals said "Never go near a Wal-Mart on the weekend near a Reservation." They werent lying because I couldn't barely find a place to park our train in the parking lot. The place looked like the day after Thanksgiving or Christmas Eve. I just dropped Cindy off and said "Look for me in the parking lot, I don't even want to go in there."
While she was shopping, I sat comfortably on the computer while it the dry Arizona climate dropped some more rain on us. Cindy finally came out and I could tell by the look on her face, that inside must have been a mad-house.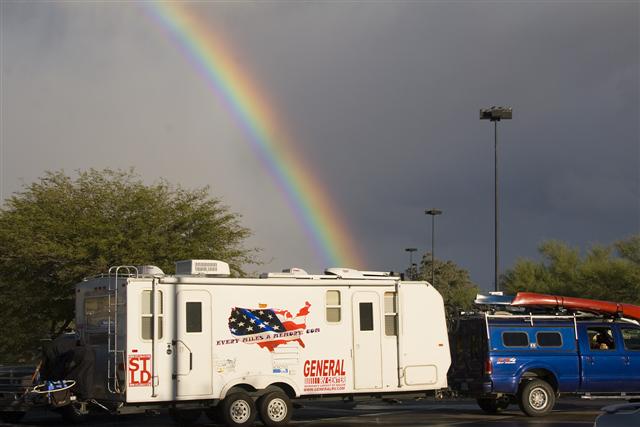 While she was putting away the groceries, I went to grab something out of the truck and not knowing that Cindy had pulled out the step, I literally fell out onto the parking lot.
Some guy was walking past and laughed at me while asking if I was alright. We started talking about the goofy things wives do and next thing you know, we were talking about different places we've been traveling to.
Joe McDonough is a aviation mechanic who is working in the area, and lives fulltime like we do on the road. After talking about various places we've visited, he was saying something about our GPS system when I said "I don't think I have that software?" He asked if I had a few minutes, and next thing you know, he pulled up and brought his computer stuff into the RV where we sat for the rest of the night.
Joe is somewhat of a map expert and has loads of software for converting maps into usable files to upload onto my GPS. Most of this was way over my head, but Joe was kind enough to walk me though enough of it to get me started.
By the end of the night, we had eaten dinner, shared a few Silver Bullets and swapped many stories on various travels. Joe has traveled extensively throughout Mexico, so I did my best to ask my typical 1000 questions on places that we wanted to visit. Joe did his best to show me how to map it out on the new software he had just installed on my computer, and give me 100's of tips on what to look for and what to watch out for.
When it was all said and done, it was late into the night, and we called it quits so we could get some shut eye. You just never know who your going to meet in a Wal-Mart parking lot.
Sunday December 2nd 2007
After last nights tutorial on mapping software, I thought it would be weeks of me playing with this new stuff before I'd figure any of it out. Joe was knocking on the door early explaining that a few of the pieces we couldn't get to work in last nights secession, he thought he had worked out the bugs.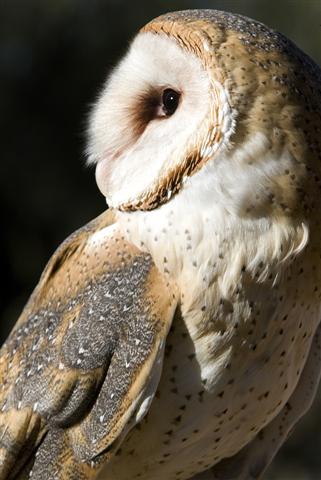 So the rest of the morning was spent with the second part of my mapping tutorial. I was starting to get worried that I was going to get a hefty bill for all this training, but I think Joe just likes to share his knowledge and was more than happy to answer any and all of my many questions.
When the lesson was over, I thanked Joe for all his knowledge, and we got back on the road. While we were at the San Xavier Del Bac Mission, we found out there was another historic mission a half hours drive south. So we jumped on Route 19 South and headed on our way.
Tumacácori National Historical Park is only a few miles North of Mexico's border, and set off the main road only a few miles. Mission San José de Tumacácori was established in January of 1691 by a Jesuit Father, Eusebio Francisco Kino. The mission is located on 310 acres in the town of Tumacácori, which just happened to be hosting a little art fair when we pulled up.
I love how we always just seem to find these events almost like we planned it that way. If only we were that organized...LOL
While we were walking through the fair, we were being entertained by fantastic local Native American music, got to see some cool craft work being worked on, and even spotted a beautiful Barn Owl.
When I saw this gorgeous bird, I practically sprinted over to see if I could take a picture of it. I had just said to Cindy a few days before that in all my years of photography, I've never had a chance to get any good shots of any owls.
We introduced ourselves to Darlene Braastad, who is the Director of Forever Wild Animal Rehabilitation Center. She was also the one who had the big owl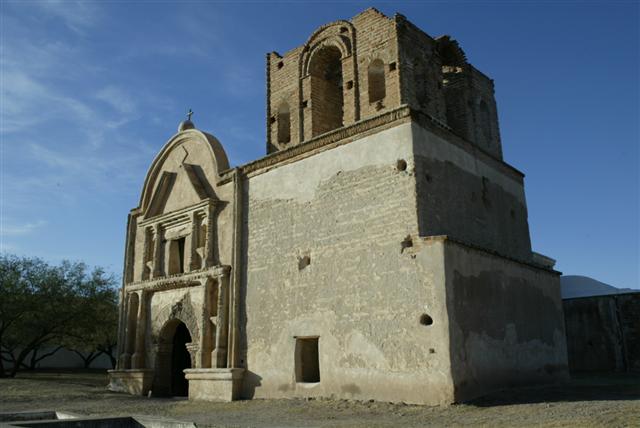 standing on her gloved hand. Darlene told us we could snap some pictures and was even kind enough to move the bird into the afternoon sunlight so the lighting would be better.
We sat talking with Darlene about her organization for a few and made some arrangements to meet up later in the week so we could get some photos of the many animals she has at the center. She told us she has so many exotics that right now would be the perfect time to come by. That got me pretty excited to think we could get the chance to see so many of these beautiful animals and it made it all the better knowing Darlene was helping them get rehabilitated and back into the wild.
Tumacácori National Historical Park is completely different than San Xavier Del Bac Mission. San Xavier has been beautifully restored to its original beauty, where Tumacácori is left in its various stages of disrepair. In a weird way, I almost liked Tumacácori better for the simple fact that there is more left to the imagination of how beautiful this must have been at one time. Now the crumbling mission is just a shell with little bits of history left to let the imagination run wild.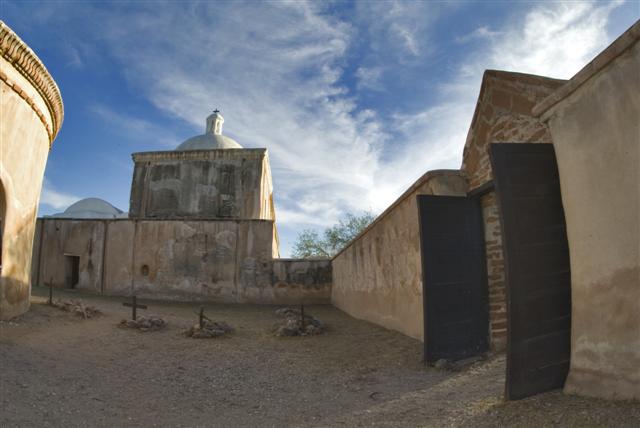 Cindy and I did our typical separation as I went one way snapping pictures and she went another doing the same. For once we were in a spot with the afternoon light hitting the structure perfectly. I know saying that "I was in Heaven" is way too much of a pun, but with the light streaming through the mission windows, bouncing off the ancient adobe walls, I was having trouble holding the camera up to my face due to the gigantic smile.
A few hundred images later, I heard Cindy whistle for me and for once when I said "Are you ready to go?", she snapped back with "Are you crazy? This light is perfect right now!" We wandered around for a few more shots before I reminded her of the celebration back up at the San Xavier Mission tonight.
Make sure to check out the Gallery for Mission San José de Tumacácori.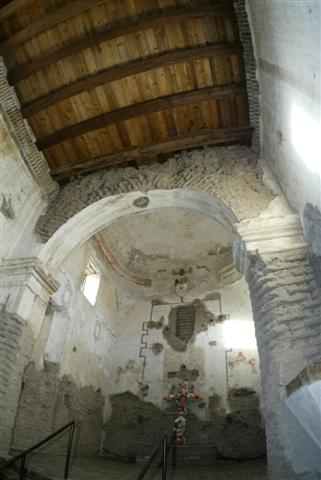 Reluctantly we left one historic church, to drive a ways north to visit another. Wouldn't my Mother be proud of me now knowing that I not only went to one church this Sunday, but was on my way to the second one of the day. I've always tried to explain to her that just because I don't attend church regularly, it doesn't mean I don't have the faith! So don't go thinking that I'm some kind of Heathen.
We got to San Xavier just in time to grab some dinner in the RV in the parking lot before the celebration started. I laughed my tail off as Lucy the beagle was begging to go outside with us when the first of many fireworks went off. Lucy is terrified of loud noises, and went from this happy dog, begging to go for a walk to a shivering coward hiding under the bed.
We left her under Luca's guard while Cindy and I spent the next hour being fully entertained by the festivities. From the procession of the Statue of St Francis Xavier around the courtyard of the mission, to the fantastic fireworks display, to the rhythmic dancing of the Native Tohono O'odam Indians.
Then when the ceremony was all said and done, we climbed back into the RV for the night and the strangest thing happened. I went to look at the camera to see if any of the images had turned out of the procession of the Statue of St Francis Xavier around the courtyard, and none of the pictures were on the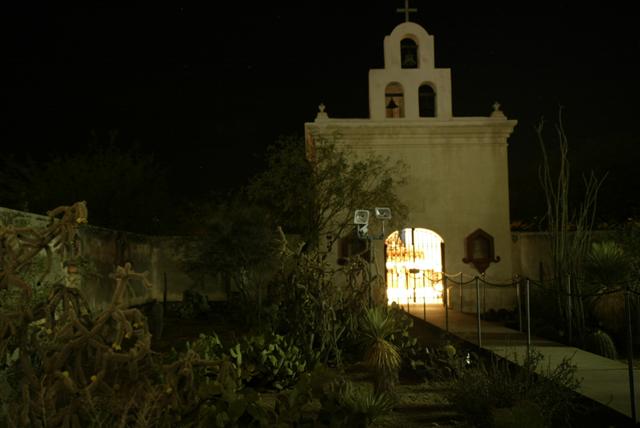 camera? I knew the camera was on, and Cindy even said she saw the flash go off 3 times, yet none of the images were on the compact flash card? Oh well, I guess we were just supposed to remember it from the experience.
All in all I enjoyed our evening very much and as we were going to bed, we could still hear the music being played in the town hall where a party was still going on strong for the celebration.
Make sure to check out the Gallery for the Mission San Xavier for plenty of photos. Or Check out the Gallery for Mission San José de Tumacácori to Compare the two beautiful Missions.
Monday December 3rd 2007 Road Trip!
The best part about not having any plans is being able to go where we want. We woke up this morning and were debating about what we wanted to do. Tucson is loaded with hikes and assorted things to keep us busy, but to be totally honest, we were getting bored with doing the same old thing.
While checking our morning emails, we had received one from a good friend back in Michigan. He said he had been following along with the blogs and noticed we were in Southern Arizona.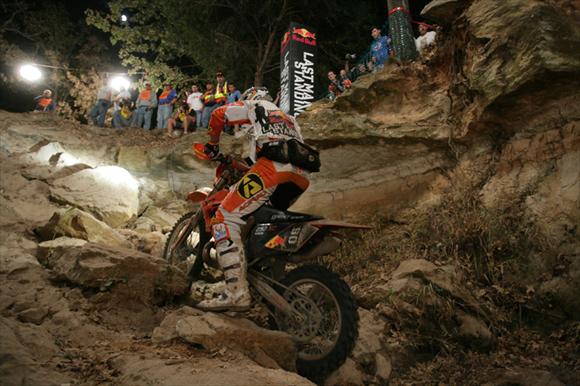 His email said He was going to be flying into Central Texas this weekend for the Red Bull - Last Man Standing Race. Brett is the owner of Dirtbag Designs and the one who got us our motorcycle cover for our Bike. I guess this race in Texas is a huge event where riders come from all over the world to compete.
Photo By Rich Van Every
He said he was going to be filming with Dirt Bike Television and it would just be a fun weekend for all of us. So Cindy and I threw caution to the wind and said "Let's take a road trip from our road trip!"
It's only 800 miles from where we are, and we don't have to be there till Thursday night to meet up with Brett. This should be an interesting little adventure.
I will say that driving out of Arizona was enough to make me cry. With my new Scanguage hooked up giving me my Miles Per Gallon reading the whole time, I was about to cry the whole day. With a 20 mph hour headwind and all uphill climbs, Cindy was yelling for me to turn off the gauge when it was telling us we were getting 3 - 4 Miles Per Gallon on some climbs!! Oh how awful is it to see that!
We made good time though, and pulled over in a Flying J to do some laundry, empty the tanks and get a good nights sleep. Cindy said to me when she was going to bed, "Remember when we first started this trip and I used to have trouble falling asleep if we were in a parking lot?" I just nodding thinking I was in for a scolding. But she just laughed and said "With the sounds of diesels and trains going by, I can now sleep right through it all!"
Tuesday December 4th 2007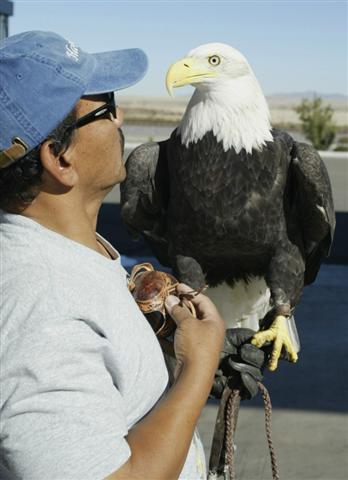 With empty tanks, fresh water full and all our laundry caught up to date, thanks to services of the Flying J truck stop, we hit the road early. While we were sitting in the Flying J parking lot, I looked over and saw this guy standing there with a giant Bald Eagle on his arm! He said they were on their way to Tucson for a show and let me snap a picture of him.
I was able to make up for yesterdays awful fuel mileage with long stretches of flat road where we werent battling that strong headwind. What we were battling was the constant stench of cattle farms and signs that just said EAT BEEF! Being in the advertising business, I would have loved to have been sitting in that marketing meeting when some hot shot yelled out "EAT BEEF!" and the money people sat back in their chairs thinking, "It says it all!"
I was able to average 14 miles per gallon for most of the day which I thought was pretty good. We were making good time and the sights included crossing back over the Continental Divide in New Mexico with completely flat fields from horizon to horizon, towering peaks all around us at different sections and wide open vistas in other parts. That was until our blow out!
Remember a few days back when I had mentioned that my one rear tire on the RV was real low? I had put air back in it and for the next few days it was doing fine. While we were in the Flying J, I mentioned to Cindy that I didn't like the looks of the tire. Even though it was holding air fine, the top of the tire was becoming rounded?
She told me to change it, but smarty pants ol' me just said "We'll see what it looks like when we stop tonight." Big mistake on my part, I know, you can all tell me just like Cindy has a hundred times, "Next time, listen to your wife!"
We were just cruising along taking in the long expanses of nothingness when we heard that dreaded POP! Followed by a continuous thumping sound that couldn't be doing the camper any good at 60 miles per hour.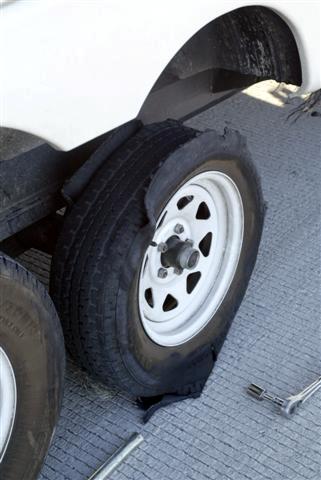 I looked in the rearview mirror to see bits of tire flying all over the roadway. Luckily for us, we were on a section of road that wasn't too populated and the only other vehicles around were a few big rigs hauling smelly cattle. I was able to bring the train to a fast halt on the side of the road in a very short distance.
I jumped out of the truck to see a big section of the fabric that holds the insulation to the underbelly hanging down with some tire hanging from it, and one of my decking support arms was nicely bent up. But other than that, there was little damage done. I said a quick "Thank You" prayer to the gods who had been watching over us and got to the task of changing out this defective tire for our spare.
While I was doing that, Cindy set up a few warning triangles a few hundred feet behind us as we both had visions of some underslept truck driver slamming into the back of our camper. We've all seen way too many police videos where this happens on the side of the roadway. I was really amazed at how many vehicles wouldn't move over into the clear lane and would come flying past me with only a few feet between my body and their bumper.
One truck was so close, my hat went flying off bouncing down the road in his wake. I was way off the edge and far down on the shoulder, and it wasn't like I was sitting in the road or anything.
I had the tire changed in no time and we were back on the road. For now, some trusty duct tape covers the hole in the underbelly lining till we can figure out how to get it repaired the correct way. But you can never underestimate the power of Duct Tape!!
We pulled off in Van Horn Texas for the night at some road side turn around that had about ten other campers parked there before we pulled in. Just as we were going to bed, a train came flying past so close everything in the Sunline was shaking on the shelves. Cindy and I just laughed at each other and said "Some how, that train keeps following us!"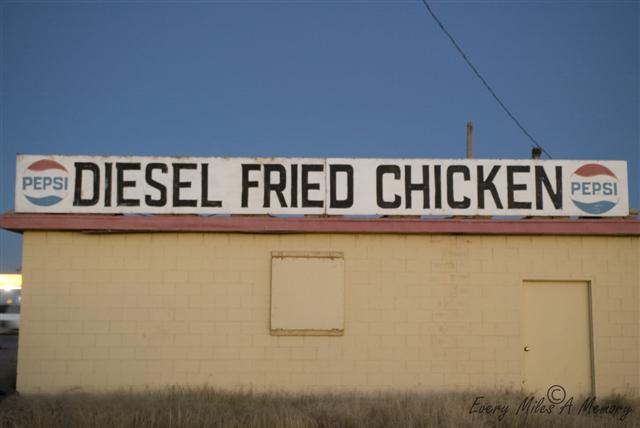 Here is another fantastic marketing sign we spotted in Texas!!
Thursday December 6th 2007 Red Bull Last Man Standing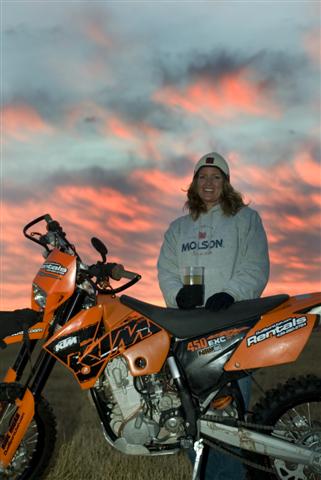 After a few days of non-stop driving, we pulled into the ranch in Bulcher Texas, meeting up with Brett and his buddy Jim. Jim is from Moab Utah, and runs a tour company for motorcycles called Dual Sport Utah. We spent the afternoon hanging out, shooting the breeze getting to know one another and sharing some stories.
This will also come in handy for when we head towards Moab this spring and now have a good connection in that area. Jim is into outdoors like Cindy and I and sat telling us of the endless outdoor activities we have waiting for our travels when we get up to his neck of the woods. Since I don't have a set of knobbies for our motorcycle, and Jim's business is renting street legal trail bikes, this will work out perfect to get me onto the world famous trails of Moab.
The qualifying for the Last Man Standing Race didn't start till tomorrow, so today was just a kick back day. Red Bull had a nice set up with a hospitality tent for us media personnel which had plasma screens, couches and all the Red Bull you could drink. The more we learned about this race, the more excited I got.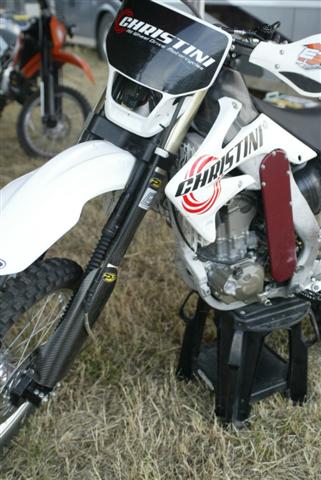 We wandered around the grounds checking out some of the different setups and talked with Steve Christini in the pits about his two wheel drive motorcycles. Many of the pro riders were having their bikes set up with Christini's brand new invention and I couldn't wait to see how much of an advantage it gave them on the trail. On steep climbs, it just seems like both wheels moving would be that little advantage you just might need to win a grueling race like this.
In the world of off-road racing, it doesn't get much harder than this event. It's the only event in the world that is run during the daytime and at night. The riders have to run two laps during the daytime spanning over 80 miles and the course covers some of the most grueling terrain I've ever seen. Then, whomever finishes the best during the daytime race, moves up to the night race where the course is run in reverse. Last year of the hundreds that entered, only 11 made it to the night time race and only two crossed the finish line. It's just that tuff.
It looked like it was going to be a weekend to remember.
Friday December 7th Qualifying of The Last Man Standing
The qualifying was starting early this morning, so we were suited up and ready for some action. There were 175 riders that had passed the guidelines to be able to enter, sort of the crem-da-le-crem of the enduro motocross circuit.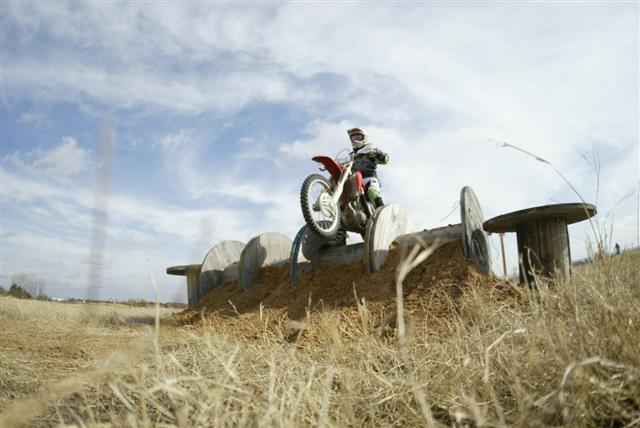 Riders were here from all over the world and last years winner and the crowd favorite David Knight would also be making a return visit.
Apparently there is one other race that is billed as the hardest race in the world which is held in Austria and a new hot shot from Poland, Taddy Blazusiak had beat Knight last year at this race. Both riders were in Bulcher Texas this weekend, so there would be some serious racing going on to see who is the best rider in the world. Oh, and both riders also rode for Team KTM, so not only were they battling for the Best in the World Title, but being team mates made the competition all that much better.
With a beautiful day weather wise, Texas broke record highs today with the temperatures reaching into the high 80's, we couldn't ask for a nicer day to be sitting out in the tall grass watching some great motocross. The property the race is held on is right on the Red River, the same one where John Wayne filmed the famous 1948 movie which is known as one of his best films. So needless to say, the rolling vistas are just beautiful.
Red Bull lived up to their title of putting together a fantastic course that would not only challenge the riders, but allow the spectators to get right up close to the action.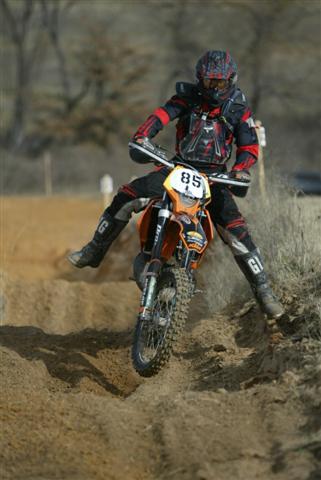 I had to keep reminding myself that this was only the qualifying portion of the race. I couldn't imagine when the riders would be going at it with all 100 of them fighting it out on the course together.
During qualifying, they were running a rider through the course every 30 seconds, so it gave us a second to catch our breath and focus through the lens with some thinking behind the images. I can only imagine tomorrow when all 100 of them will be flying at us at the same time!
We spent the day riding our motorcycle around the 3000 acre ranch scouting out the different sections of the track. I was surprised at how excited Cindy was and could tell her excitement was building each time she would see a new section of the course. This was going to be one amazing race tomorrow.
After a great day of photographing the racers, we all headed down to the Red Bull tent for some libations. They had a DJ spinning tunes and a bunch of the racers were mingling with the photographers and other press people who were just hanging out. We filled our bellies with some fantastic Texas BBQ from Rudy's while talking about what we felt would be the hardest section for the racers tomorrow.
Would it be the 3 story drop off, the hill climbs that were challenging for us to walk up, or the boulder sections that looked like they could eat a rider up and ask for more?
Of course by the end of the night, Cindy was grabbing David Knight's butt who had now become quite acquainted with us. We were all swapping stories and I wish I could remember some of them, but to be honest, I think my Red Bull and Vodka drinks were mixed too strong, as I cant seem to remember most of the night.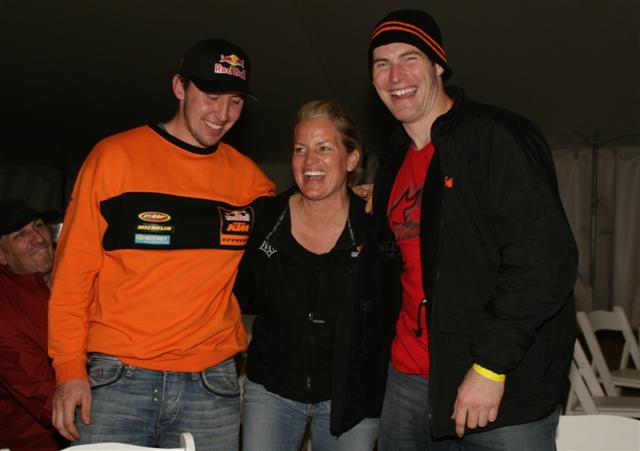 I do remember Cindy telling me to come feel how tight his buttocks were which I snapped back with something along the lines of "Cindy, I'm not going to come over and feel this guys butt, I don't care who he is!"
At one point, Cindy had her arms around Taddy and David at the same time and just as I went to snap a picture, she grabbed both their butts at the moment I snapped the picture sending them jumping into the air. Something tells me she had drank too many cans of liquid energy and the buzz was going to her head.
Either that, or the amount of testosterone from all the amazing riders was just getting her too excited.
Saturday December 8th Red Bull Last Man Standing
We woke to hearing our lock on the door being unlocked, which was a strange sound. Jim opened up the door and said, "Hey, you guys left your keys in the lock on the door!?! Get Up - Coffee's ready!"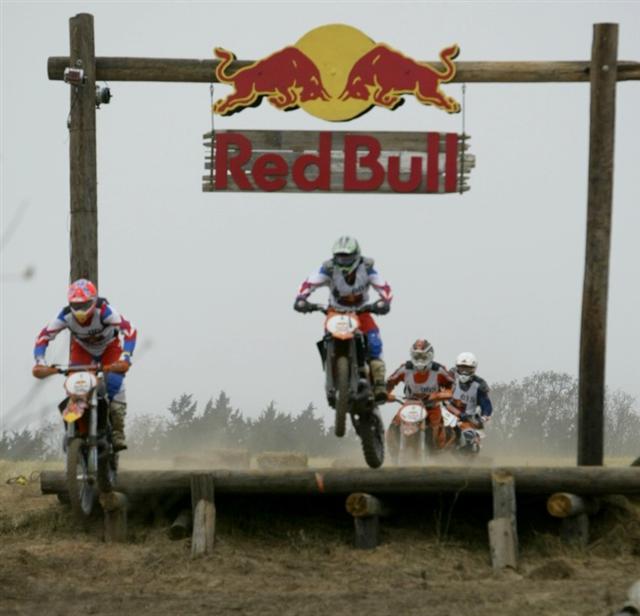 Now I don't even think the door was locked in the first place, so I have no idea why I would have used the keys to come inside, but since neither of us remembered leaving the hospitality tent, we had no idea why the keys had been used, or why they were left in the door.
Either way, the riders meeting was starting, and we needed to get our groogy heads out of bed to figure out how the race was going to be run today. Those record highs and beautiful blue Texas skies were long gone, and a blanket of fog was covering the Red River countryside. Some nasty weather had blown in and looked like it was going to make the course that much harder for the big race.
The cool morning air was waking me up fast, and that first Red Bull was already starting to surge through my veins. The race was being pushed back to 11am to see if the fog would lift, so we had enough time to clean the images off the cards from yesterday and get everything charged up for today's events. That and try to lay back down for a few to see if the Ibuprofen would take care of my pounding headache.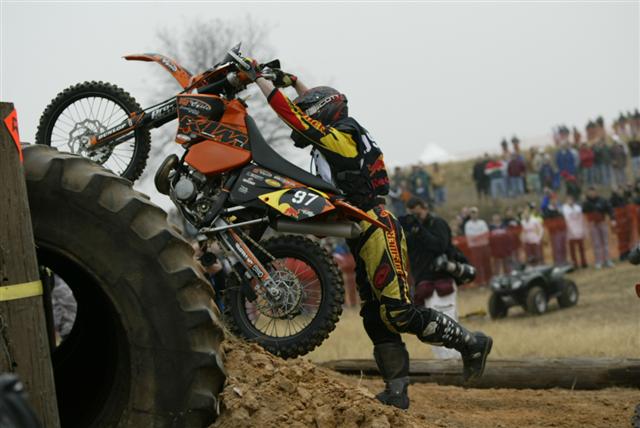 The start of the race was enough to tell me that this was going to be a wild day. The rodeo section was like something out of a horror movie, and I was just amazed that anyone was able to make it over some of the obstacles the had in front of them.
In the first 1/4 mile, I saw numerous riders get thrown from their bikes, get trampled by other riders who were flying past all while showing some of the best skill I've ever seen displayed on a motorcycle. When we were moving to the next area on the track, Cindy said it was hard for her to take pictures, she was just too caught up in all the action going on.
The first spot we got to was a section called Joshua Tree. This obstacle was a giant hill that was very steep with a big vertical section right at the top. If the riders could make it up and over the vertical section, they had two different narrow rock sections they had to overcome before they could get down the backside.
The first few riders made it look like a piece of cake. These were also the top riders in the world. When the rest of the pack caught up, this is when you realized how hard of a climb this section was. Now remember that this is an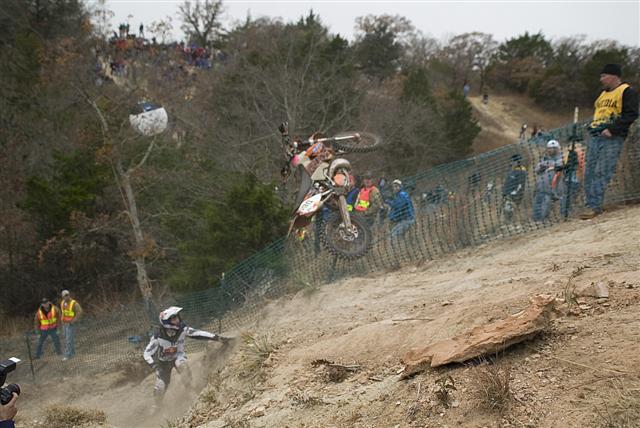 invitational race only, so anyone riding in the event is highly talented, but some made it look like it was their first time riding a motorcycle.
One of the rules of the race is the riders can have no outside help, riders can help riders, but none of the course officials can help them get their bikes up the hill. Numerous times would a rider make it right to the top, fall, and have to go all the way back down to try it one more time. Some riders would come flying up the hill with the throttle pinned, hit the vertical section and get thrown from their bikes.
This happened one time and the out of control motorcycle flew over the fence almost landing on a group of photographers lining the hill. This is also when Jim and Cindy had another bike come flying out of control straight at them. Both went running down the hill with the bike hot on their heels. Luckily for me, I was able to get out of the way without falling, but other photographers werent so lucky.
From Joshua Tree, the course only got harder. Ever time you thought you had seen the worst of it, we'd ride up to a new section and just drop our jaw when someone would point out the route they were going to ride. Each section only got harder and I can imagine how hard it must have been for the riders getting more and more tired as the miles racked up.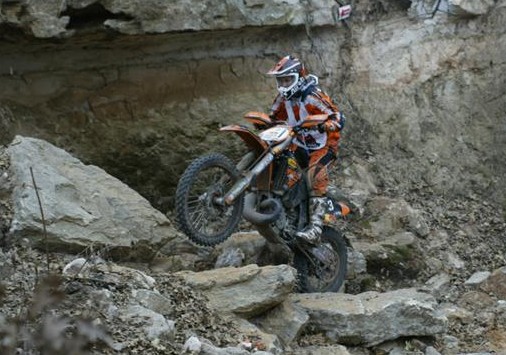 Another thing that really impressed me was, there was one female riding in the race, and she road better than many of the men!
The one rule was, once the first place rider crossed the finish line during the day time race, the rest of the riders had 1 hour to make it across the finish line to move up to the night time race. Just to put in perspective how utterly grueling of a course this Last Man Standing race is, only 3 riders were going to be in the night time event. Taddy had finished first in the daytime race, while David Knight was only a few minutes behind him after getting lost in the woods.
Ten-time national trials champion Geoff Aaron, from Bailey, Colorado, was the only other rider to finish both 40-mile laps at the Red River Motorcycle Trails course on the Texas/Oklahoma border. Talk about separating the men from the boys.
While we had a break between races, we grabbed a bite to eat and charged up the batteries in the cameras and washed it all down with a few more Red Bulls. Then at 5pm, we heard the civil war cannon fire to signal the start of the race. The top 3 riders in the world were at it again.
Riding into the Night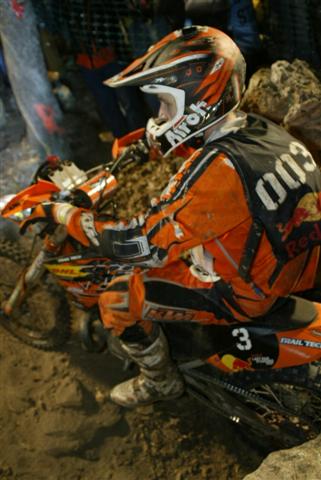 Of the 100 starters, only Knight and Aaron joined Blazusiak in blasting off the starting line for the night race, meaning 97 riders failed to finish the first lap within one hour of the young Polish rider.
It was wild to see more than 2,500 spectators, making it the highest-attended sporting event in the history of Bulcher screaming for their favorite riders when they would come into the technical sections. This race would surely be one to go down in the history books.
We kept hearing over the radios that Taddy and Knight were battling it out for first place and had swapped the lead a few different times. Aaron was hot on their heals and his trials background would help to close that gap in the really rough sections.
Then word came across the radio that Knight had pulled off the course saying he couldn't finish. Apparently he had been battling a nasty cold for the last few days, and the dehydration from the days event had caught up to him. He was vomiting and the course officials were trying to put fluids into him which didn't seem to be staying down.
At the finish line, we sat waiting for Blazusiak to come riding in with the crowd swelling and getting worked up on the sponsors energy drink. When someone yelled, "I can see his head light!" You could hear the roar from the crowd echo over the fields.
With a twist of the throttle, Taddy pulled up to the last obstacle that stood between him and that finish line, a wall of boulders 25 feet tall. In true motocross fashion, he launched right up throwing a roster-tail of Texas dirt into the roaring crowd. And with that finish, David Knight had been dethroned and a new Last Man Standing King had been crowned.
After Knight dropped out, Geoff Aaron persevered and crossed the finish line with a time of 4:09:02 - 31 minutes behind Blazusiak and the only other rider to finish the race.
The rest of the night was spent in the Red Bull tent where all the riders were trying to ease those sore muscles from the weekend of punishment. I'm sure you can use your imagination as to the debauchery that followed.
Make sure to check out the Gallery for some great pictures of our weekend
Sunday December 9th 2007 The Long Drive To Somewhere Warm
The drizzling fog had turned into a light rain by morning. The temperature was also dropping steadily which doesn't make for good driving conditions. We hurriedly packed up and said our goodbyes to Jim. We made plans to meet up come spring in Moab when the temperatures would be a bit warmer and the spring runoff would be kicking the rivers up.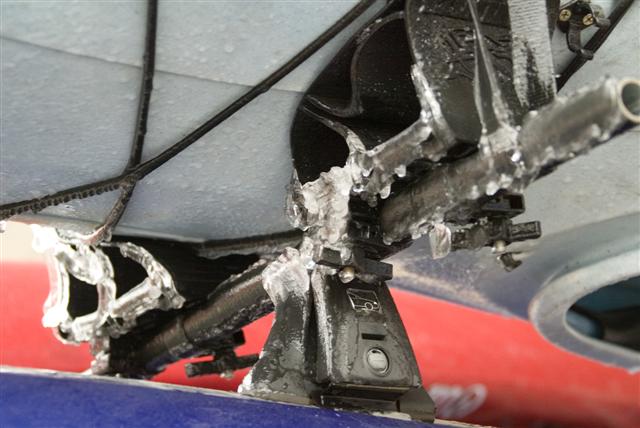 For the rest of the day, we drove Route 180 West across the giant state of Texas. I never knew cotton was such a big crop for this state, but after seeing more cotton gins and fields as far as the eye could see, I've come to the conclusion, that everything they do in Texas, they do it BIG.
At times, the hood of the truck would get a thick layer of ice built up when the rain would start falling hard. Cindy kept saying we should pull over, but as long as the roads were clear, the last thing I wanted to do was get stuck in an ice storm. Luckily for us, the nastiest weather was just above Texas as we kept hearing awful news reports on road closures and states of emergency in some of the Mid-Western states.
Just as it was starting to get dark, we pulled over at the New Mexico/Texas state line at a campground where we would be able to plug into shore power. We would have to run the tank heaters all night since the forecast was for freezing rain and cold temperatures.
When we crawled into the camper, the thermometer was reading 37°! Not my idea of a fun night. We cranked up the heater and sat in the truck till it warmed up to a tolerable temperature inside the camper.
Monday December 10th 2007
Waking up to pouring rain, and news reports of it not letting up for the next few days, we got on the road figuring the farther west we headed, the warmer it would get.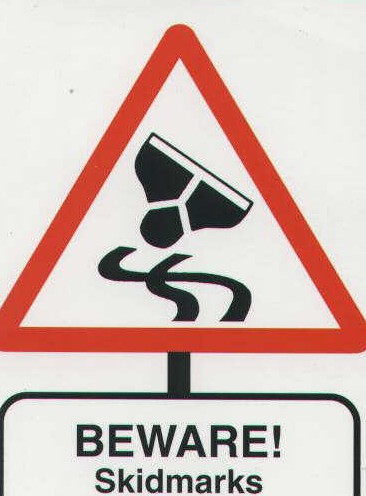 We got a call from Utah Jim, the one who owns Dual Sport Utah. Jim had left the same time we did yesterday but headed North towards his home town of Moab. He was making sure we were safe after all the news reports of how bad the roads were. He told us that while driving home, only 100 miles from Bulcher, he was crossing a bridge and hit some black ice.
Jim went on to say that when he saw the Toy Hauler come up beside him, he thought "Oh boy, this is going to be fun!" He went from swerving across both lanes on his side to crossing the median into oncoming traffic. All the time he said he was trying to keep the Toy Hauler from toppling over.
He crossed back across the median before getting it under control. After pulling safely to the side of the road, he told us the only damage to the camper was a bent section of frame on the front corner where it had made contact with the ground in one of the median crossings. That was until he opened the door to see how the inside had survived the crazy last few minutes.
Jim was laughing when he told us how in the scary few minutes of uncontrolled sliding, all the cupboards had come opened with the contents shattered and broken everywhere on the floor. Both motorcycles he had brought along for the weekend were upside down leaving the place looking like a bomb had gone off.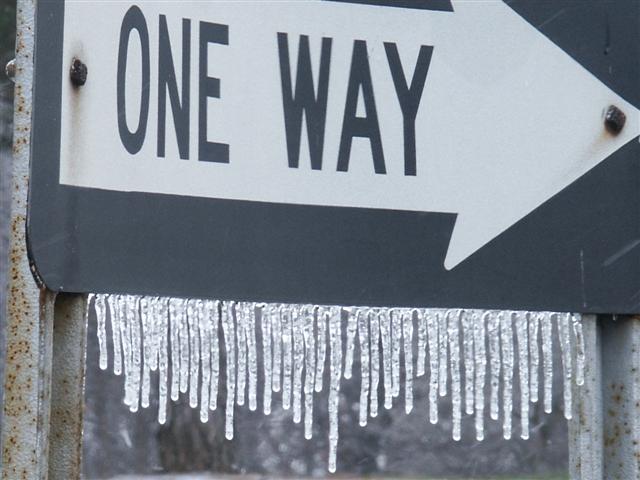 I asked if he had to change his pants after filling them? But Jim just laughed saying that it all happened so quick, he hadn't realized how bad it was till he was on the side of the road. Jim was telling me at one point, the awning had come open and was flapping out in the wind while he was careening towards oncoming traffic. I can only imagine how funny, scary and just out of control this must have looked to passing motorists.
Jim said that he spent the next hour on the side of the road cleaning the debris. He basically had to empty out everything, roll the awning back up and re-pack the whole ordeal. Luckily no one was injured and except for the bent frame and some broken plates, Jim walked away just a bit shaken.
He told me the next exit had a casino where he parked the rig, went inside and got a massage in the spa to calm down a bit. All I could do was laugh and say "Glad to hear you're alright." Thankfully we had gone south, and never ran into too much of any frozen stuff but some ice on the hood.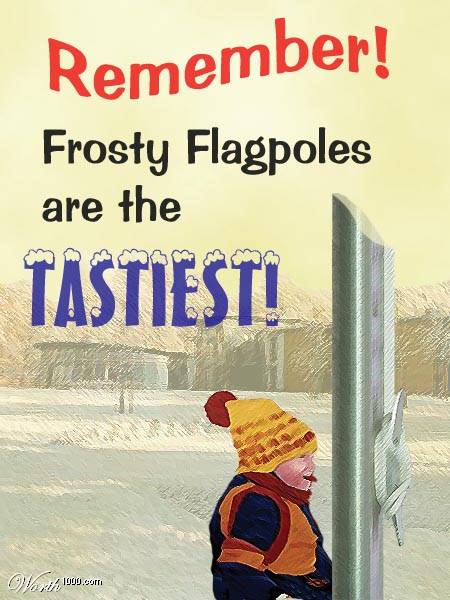 We were pulling into Carlsbad in no time and the rain was letting up, but not for long. We found a full service RV park, Carlsbad Family Campground, where we planned on waiting out the next few days of rain. We needed to update the website and had thousands of pictures from the past weekend to sort through.
We are getting way far behind when it comes to our galleries. In the past few months, we've been going non-stop and haven't really had time to sort through the pictures to pick out our best of the best to upload to our gallery section.
Then something went wrong with the Verizon card and I spent much of the night on the phone with Tech Support trying to resolve the problem. If you're wondering why we haven't returned any emails in the past week, Verizon is having some trouble with my broadband card, and hopefully we'll get this resolved soon.
Tuesday December 11th 2007
I was up early waiting for a call back from Verizon tech support. What I got was a punch to the gut. Apparently while I was on the phone last night for an hour with them, the multiple attempts on our account froze the account. The service tech explained that they are so backed up right now, it would be 10 days before they could get it back up and running.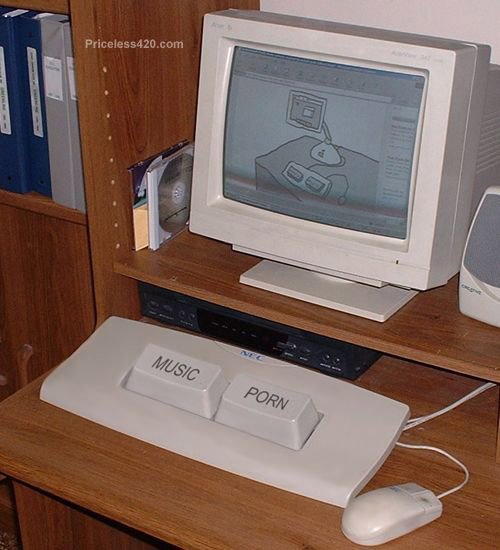 I sat stewing for a bit, and called back to talk with another service tech. This guy was much more knowledgeable and went on to explain that the only thing frozen was my account if I wanted to pay my bill online.
That really eased my worries, but over the course of the next 2 hours, while we sat on the phone troubleshooting our broadband card, we learned that we just couldn't get it to work.
What we decided was the area we are in right now, Southeast New Mexico, has no Verizon coverage and when they reset my account, the card itself cant connect to the system to reset itself. This Tech rep went over and above his job and asked "What direction are you heading next?" When I told him the route we were going to be traveling, he said that he would call us in 3 days when we were in an area that had a tower close by.
If you've never had to use Verizon Customer Service, I can't say enough about how nice they are. When in the last few years have you heard anyone say this? Coming from multiple years with Nextel, who in my mind has the worst service coverage and customer service of any phone provider out there, I am never mad when I get off the phone with Verizon.
Thursday December 13th 2007
The past few days was spent driving from the Carlsbad area, where we decided not to go to the caverns, but instead made the few hour journey towards White Sands National Monument area.
Carlsbad is in flat country, and leaving out of that southern most section of New Mexico, you start to climb up drastically. Route 82 West is a fun little road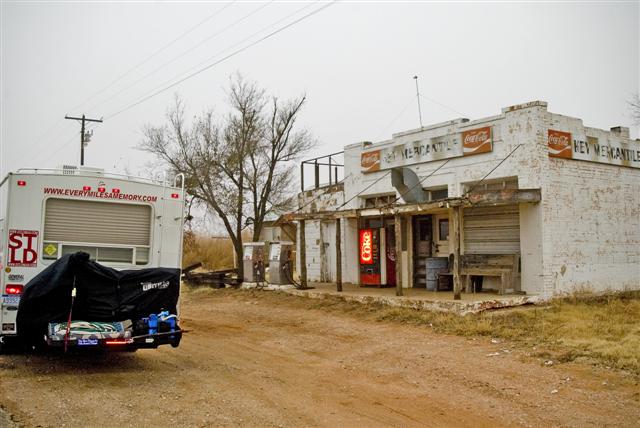 that passes through a few towns forgotten by the rest of the world. Giant farms with barns and houses sagging under the weight of old age, and leaning ever so ready to topple with the next stiff wind.
Luckily we had topped off the diesel tanks when leaving Carlsbad, because between the town of Artesia and Cloudcroft, which was close to 100 miles, we never passed another vehicle and nothing that resembled a fuel station.
Cloudcroft was our destination, but it was sitting on the Eastern side of a mountain and covered in a blanket of fresh snow. I decided to see if the western side was any warmer, and as soon as we crossed the peak, the snow disappeared.
We found a little RV Campground just on the outskirts of Alamogordo with full hook-ups, and pulled in for the night. We've come to the conclusion that anytime the temperature is going to be hovering around the freezing mark, we need to be hooked up to shore power.
If we tried to run our tank heaters, the forced air furnace and everything else needed to keep us from freezing to death, it would cost us more in the long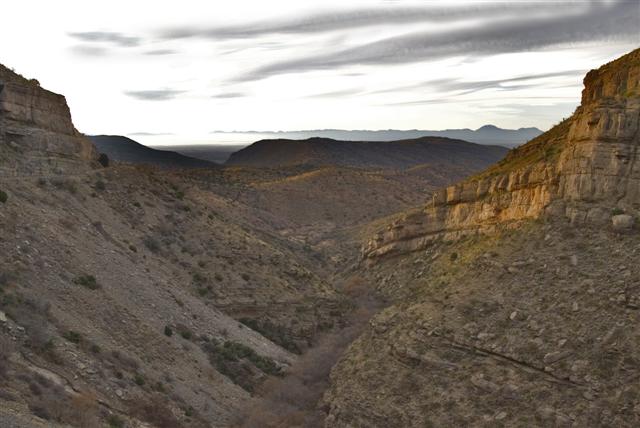 run than the minimal cost of a full service campground. By hooking up to shore power, we can run a small electric heater and not have to waste our propane.
White Sands National Monument is located right beside the White Sands Missile Range, and both can be seen across the valley from our campground. Just before we were going to bed, we heard a rumble in the distance. I looked at Cindy and jokingly said "That sounds like a bomb just went off!"
A few seconds later the entire camper shook, I'm assuming when the actual sonic boom from the exploded missile reached us. We both started laughing as the dogs ran under the table for cover. It was the only one we heard that night.
Friday December 14th 2007 White Sands National Monument
White Sands is an oddity when it comes to sand dunes. We have a few different sand dune areas in our home state of Michigan, and both are just beautiful to go explore.
Silver Lake Sand Dunes was where I spent many teenage summers with close friends playing on our motorcycles and four wheel drive trucks. Sleeping Bear Sand Dunes are different because they don't allow off-road vehicles in the area,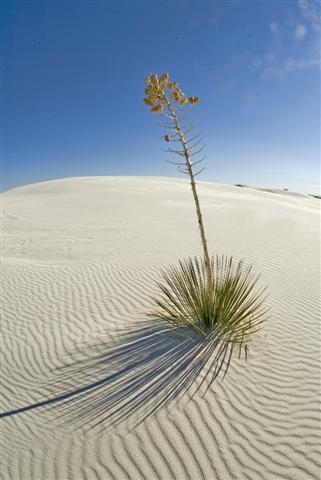 so you just have long open expanses of shifting sand with only the sounds of Lake Michigan and it's constant waves to break up the quietness.
I was very excited to see the white gypsum sand to compare it to the quartz sand I'm used to. We were up early and drove across the Tularosa Basin from one side of the valley to the other.
While crossing the Missile Range, which is on the valley floor, Cindy pointed out a herd of what we thought to be Prong Horn Antelope. I thought those cant be prong horns because of the size of the antlers which had to be 3 feet above their heads! There are signs posted everywhere stating it is illegal to stop on the sides of the road, since you are in an active Missile Range, so we couldn't stop to snap some pictures.
When we got to the visitor center for White Sands National Monument, we found out that what we had seen was African Oryx which had been introduced to the area in the 60's to see if they could survive in this desert climate and bring in Big Game hunters. That makes sense considering I had never seen a Prong Horn with 3-4 foot horns!! Now I was pissed we hadn't stopped to snap some images.
White sands is also home to one of the Trinity sights where they tested the Atomic Bomb. I was talking with the Park Ranger at the desk in the visitor center and asked about visiting the bomb sight. I guess two times per year, they open up the missile range to the public to allow them to see the crater. But it wasn't this time of year, so we'll have to return during one of those special times if we want to see that.
When we were in Jerome Arizona and talking with the Owner of the Outfitter who had recommended so many good spots to visit, he had told me about the Trinity sight and how the atomic explosion had turned the sand into small pieces of green glass. I asked the Park Ranger about this and she said "I have a piece if you want to see it."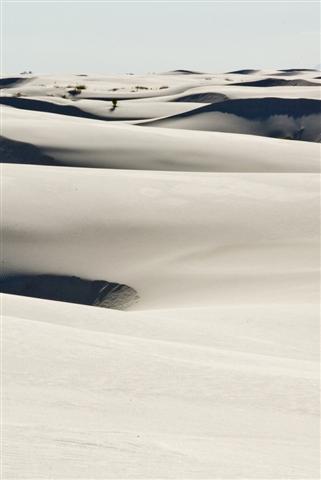 She had to go get it out of a locked case, and brought out a small piece of stone that looked more like a little piece of green gravel. It was in a Ziploc baggy, and had the date from when it was collected dating back to 1945. I asked if it was still radioactive and she smiled saying "Yep!"
She also told us that there is very little Trinitite left at the sight due to so many people collecting it. She went on to say that she has heard of people making jewelry out of it and one woman even said she had a tea set made from the radioactive stone! Can you imagine how hot that tea must have been!!!
We watched the short informative movie in the visitors center which explains why the sand is white. Here is what the White Sands Web Site says "The pure gypsum that forms these unusual dunes originates in the western portion of the monument from an ephemeral lake or playa with a very high mineral content. As the water evaporates (theoretically as much as 80" per year!), the minerals are left behind to form gypsum deposits that eventually are wind-transported to form these white sand dunes."
What ever the technical mumbo jumbo says relates to beautiful scenery framed by towering mountain ridges in every direction. The wildest part is it basically looks like snow. Driving on it I expected to be sliding around and instinctively took my foot of the gas pedal when we hit the white sand roadway.
To bend down and touch the sand, it doesn't feel like normal quartz sand. It reminded me of the soft white sand we had fell in love with while strolling the beaches in St. George Island in the Florida Panhandle.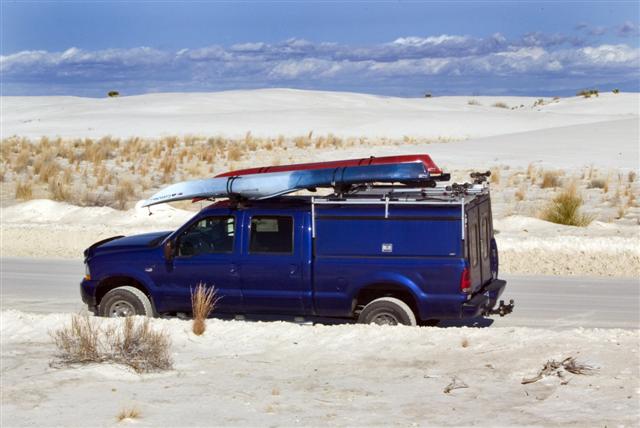 Cindy and I spent the rest of the day, just wandering around the dunes. There are numerous hikes and an endless supply of photo opportunities to choose from. The front desk will rent you sleds if you want to try your hand at sledding down one of the dunes. We could see the trails left by the many people who had already done this, but we chose not to give it a go.
The one thing that amazed me was how far the dunes stretched into the distance. With White Sands National Monument covering more than 275 square miles of area, once you drive into the middle, it's really all you can see.
We would climb up a dune face only to reach the top and see ten more dunes I wanted to go climb. Cindy kept getting scared that we were going to get lost in the wide open white space. It really did all look the same if you didn't really pay attention to certain landmarks, but I assured her we werent going to get lost. I pointed to a towering mountain off in the distance with snow capped peaks. "Just remember the truck is sitting below that mountain" I told her, "And we wont get lost."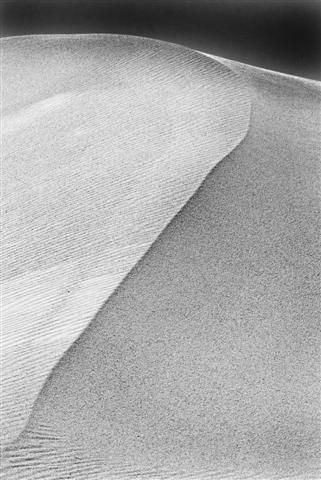 While hiking we spotted an old ravaged tent blowing in the wind half covered in white sand, and wondered how people could loose their tent? This didn't do anything for Cindy's worries of getting lost.
I also picked up numerous beer cans that idiots had left in the pristine area. It always amazes me that people will go out of their way to see beautiful areas, but leave their garbage behind!?! The visitor center even had recycle bins where we were able to empty our recycle bags we keep in the bed of the truck.
I love the fact that New Mexico is so into recycling. If only ever state was this conscious of their garbage.
The winds started to pick up, and Cindy recalled reading that the gypsum sand is so heavy, the winds need to be above 17mph to move the sand. Well we were getting pelted by this unique white sand, so the winds must have been blowing around 30mph!
The sun was starting to set, and we needed to be back at the RV by 5pm to get the call from Todd at Verizon. On our way back, we spotted another heard of Oryx, and this time I pulled over real quick so Cindy could snap a few pictures of these beautiful looking animals.
Cindy had bought a pedometer to see how much we are walking daily, and pointed out that we had wandered around the dunes for over 6 miles today!
The next few hours was spent on the phone with Todd while he walked me through the set-up of our Broadband card. By the time I was done and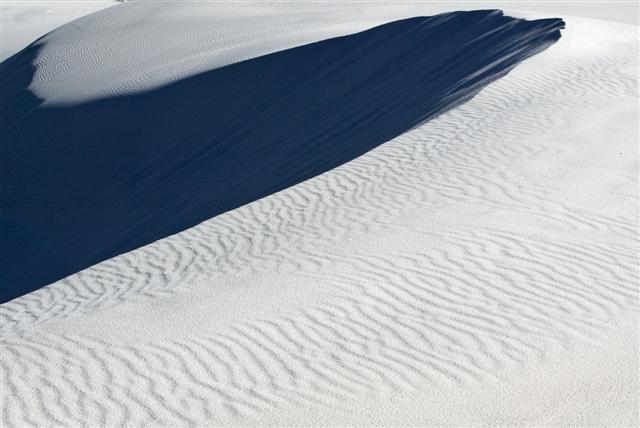 everything was working flawlessly, I joked with him saying I needed his address to send him a Christmas card.
We had spent so much time on the phone together, talking about our website, our travels and the nasty storms across the United States right now, that I felt like we were good friends.
The Broadband Card is back up and running, and again, I'd like to say a huge "Thank You" to the technical department at Verizon for spending so much time making sure everything worked to its full potential.
Saturday December 15th 2007
Now that the computer is up and running and we have a strong signal, we decided to sit stagnant today and update a bunch of pictures that we had been holding off on.
Working all day long, we took a break just before the sunset and drove back over to White Sands National Monument to get some images in better light.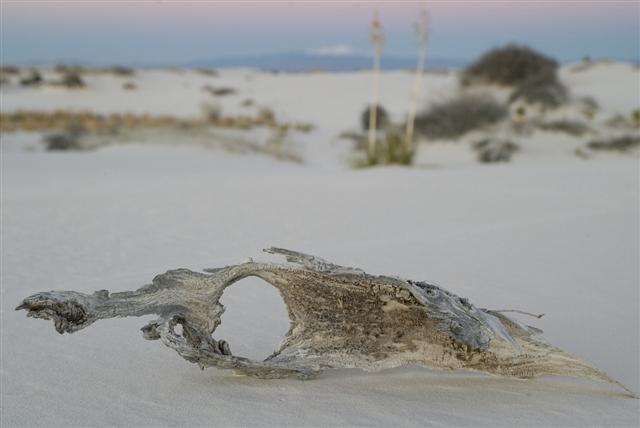 This time we brought the dogs which was hilarious. They had been cooped up for a few days except for their usual daily walks.
Since the park was empty, we left their leashes on them, but let them run free. They both went bizerk running wild doing big loops around Cindy and I as we walked along the bright white gypsum.
Their foot steps sounded like they were running across a stage. For some reason if you run on the gypsum, it produces a thumping sound like it was hollow underneath. You would hear Luca running along the sand sounding like he had a drum section following him. For some reason he likes to run full speed at you and usually doesn't stop when he gets to you, he'll just run right into you like he has lost his sense of Depth Perception?
Many times this happens and you don't hear him coming at you. Unless he does it to me, I'm usually laughing when I see the Beagle Lucy or Cindy go flying when Luca runs into them. But this time, we could hear him coming long before he could sneak up on us.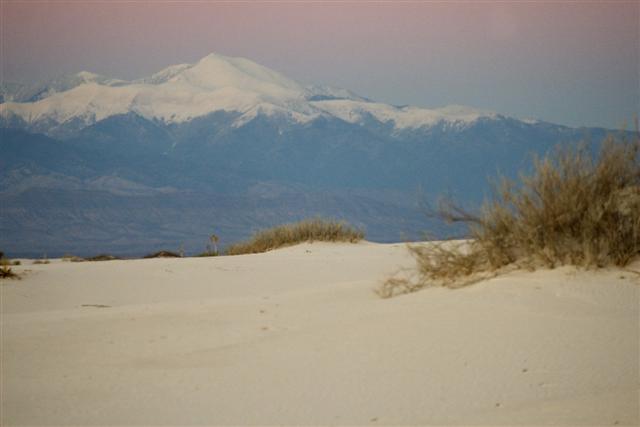 The sunset was amazing and the lighting for the next half hour after a sunset is the best time to take pictures. There is this beautiful glow that comes out and was especially colorful on the white sands.
Once it was fully dark, we headed back to the RV and downloaded the pictures. I was really surprised that Cindy's pictures were almost all better than mine. Not that I'm that good, it's just that she is improving so fast, that every time we go out taking pictures, she impresses me more.
I uploaded a gallery of our images from White Sands National Monument, and you'll have to check them out and decide for yourself. But most of the images are hers.
Sunday December 16th 2007
Some days I wonder if we should have even gotten on the road?
After updating the site and getting everything packed up, we headed out on the road towards Bisbee Arizona. We wanted to check out this little town that so many have recommended.
Only a few miles down the road, we stopped at a fuel station to fill up before the days drive. While the tank was filling up, I was doing my usual routine of checking the tires and noticed a bulge in one of the camper tires. Oh come on, not again!!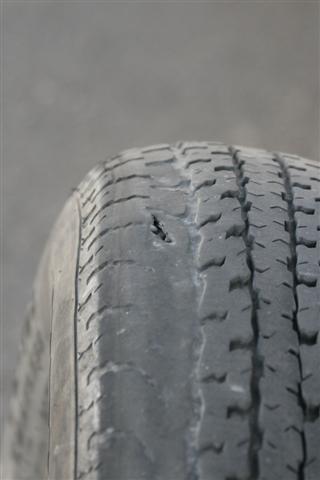 I guess I should look at it as a positive thing and be glad I noticed this one while I wasn't doing 60mph and watching bits of rubber flying across the road. Cindy wanted to grab a few things at the grocery store while we were still in a big town, so I drove down the street slowly to the store and while she went in shopping, I swapped out the bad tire for our brand new spare.
This tire looked just like our old one, with a big bulge in the center of the tread and a weird worn spot along a small section. I'm not sure if it is something we're doing, or if maybe the tires have a defect in them?
You can see in the two different images that it's just worn in a little section, almost like the tire was skidding down the road, but I know this never happened? Not sure what could be causing it?
By the time we got back on the road and made it west a few hours, the sun was starting to set just as we were getting into Las Cruses. Rather than drive into the night, we pulled over and found a campground.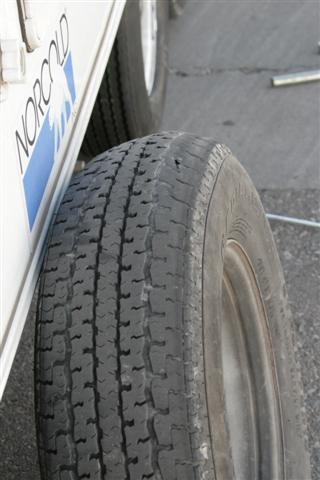 Since it's been so cold the last few weeks, I've really noticed how bad our windows are. Our RV only has single pane windows and every morning we wake up with condensation dripping down the windows. I had posted a question on the Sunline Owners Forum asking what they thought I should do to solve this?
I had contacted a company that makes custom double pane windows but cant see spending that amount for only a few months out of the year of cold temperatures. The price was quoted back to me over a few thousand dollars. We're way too cheap to spend that kind of money.
One suggestion was to cover the windows with a shrink wrap film. Another member mentioned to leave one of the roof vents open a crack to allow the condensation to escape and maybe trying a dehumidifier to absorb some of the condensation.
Cindy grabbed a package of Shrink Wrap Film for the windows to see if that might help. For only $7, it's worth a try.
While I sat directing, and getting death looks every time I made a suggestion, she installed the film on our two biggest windows in under an hour. The longest time installing the film was the removing of the window treatments. If you didn't have to work around the blinds, or removing them, then it would have only taken a few minutes.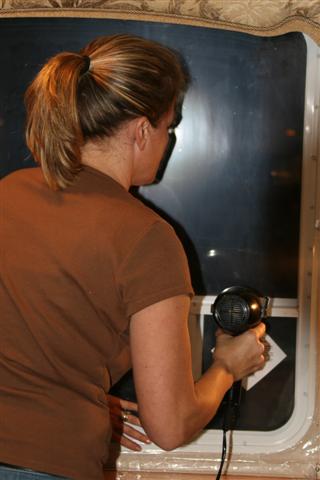 Once Cindy was finished installing the film, it was amazing how much more warmer it was around the windows. No drafts, no air flow and our little space heater felt like it was keeping the camper toasty warm. We also cracked the roof vent an inch to see if that would help with the moisture problem.
Winter camping is still a learning process for us, but hopefully we'll keep learning new tricks with each month on the road fulltime. We'll keep posting our updates as we learn and let you know any secrets we find. That's Cindy blow drying film onto the window.
Another thing we learned from some nice campers we met along the road was the membership of Passport America. This membership costs just $45 per year, but gives you half off at certain campgrounds.
Since we've been having to stay at full service campgrounds the last few nights because of the freezing temperatures, we decided to join. We figured that in the last 4 nights alone, rather then pay full price, we paid for the membership and can only imagine how much we'll save during the entire year.
Monday December 17th 2007
After a long day of driving across the bottom of New Mexico with the Mexican border only a hundred yards south of us, we have finally reached Arizona. Route 9 isn't anything I would recommend for a day of driving.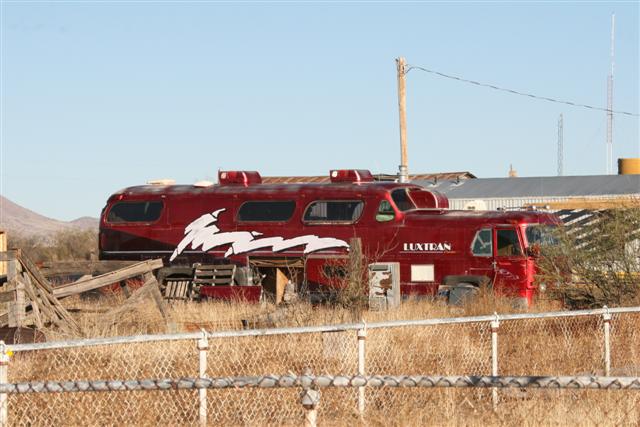 Not sure what this is, but we spotted it in one of the Ghost Towns along the Mexican Border. At first I thought it was a locomotive, but on closer inspection, it's a Double Decker RV!
When we were leaving Las Cruces this morning, I decided rather than take I-10 west which is what we had already driven East, why not drop down to Route 9 and see some new scenery.
If you were to look at a map, Route 9 is basically the border, and for hundreds of miles, the only vehicles that passed us were Border Patrol vehicles driving from watch tower to watch tower. The landscape is barren with sparse valleys stretching for hundreds of miles in both directions and the road is a narrow two lane bumpy thing with no shoulder at all. No service stations, no pull offs, and nothing much to see except long, empty valleys.
I can only imagine how hard it must be for the Mexican people who make this long trek to sneak across the border to try their hand at freedom.
The few towns we did pass through were ghost towns decades ago. Now they're just shacks propped up and deteriorating in the sun. Luckily I had filled up the fuel tank when we left, or we would have been sleeping on the border. We crossed the Continental Divide for the third time in a months time, and each time we've crossed it, there hasn't been a mountain for miles?!?
We pulled into Douglas Arizona just as it was getting dark, and the temperatures seemed warm enough to just find a parking lot to boondock in for the night. No need in wasting money when all we're going to do is sleep. Cindy punched in Wal-Mart in the GPS and we found one just a few miles down the road, but right on the border.
Now when I say "Right on the border", I mean the edge of the parking lot is also the wall that divides the United States from Mexico. We got out to walk the dogs along the dirt edge and Cindy stopped in her tracks saying "Do you hear something in the bushes?" Luca, our Pit Bull was at attention and had noticed the rustling way before us.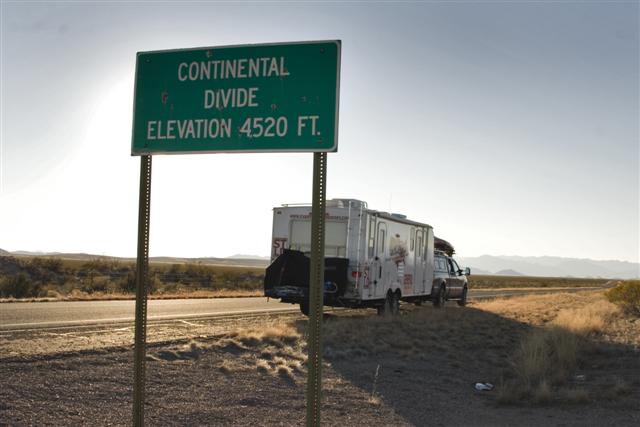 Just then, a Border Patrol officer came walking out of the bushes and gave us a nod.
Ok, that was just a little freaky!
I asked if we were going to be alright for the night in the parking lot and he laughed saying "If anyone comes running through, the last thing they want to do is stop here!" He went on to say that if they do cross, "They usually have a car waiting in the parking lot to get them out of this area fast."
Cindy and I thought we couldn't think of anywhere safer then here to sleep; there was Border Patrol vehicles everywhere, so Wal-Mart it was. Just so you get an idea of how close we are, I've watched dozens of people push their shopping carts to the edge of the parking lot, grab their groceries and walk up to the border check point to go home.
Everyday is something new for us. Tonight is as close as we're going to be to Mexico this year. It's a shame Cindy made such good spaghetti for dinner, I bet the Mexican food is top notch right here.
As we are getting ready to go to bed, we've heard a few gunshots go off, and now sirens like you would hear if someone was escaping a prison. At this point it's just sort of comical, we're in our pajamas and ready for bed, so packing up and driving North is out of the question. Hopefully we'll wake up with everything still attached to the outside of the camper, and if not, Oh Well, it's insured.
Tuesday December 18th 2007 Bisbee Arizona
With all the border activity, we were up and out of Douglas at first light. It was only a short drive to Bisbee, but I'm glad we didn't do it in the dark, because it is very scenic.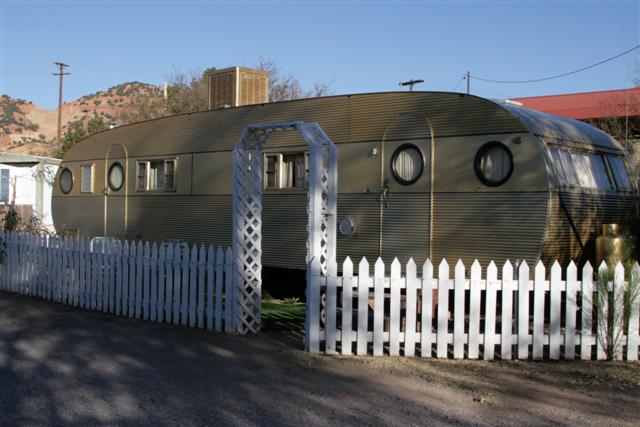 Pulling into Bisbee, the first thing we saw was a campground with an old diner attached and a bunch of antique RV's.
Shady Dell RV Park is quite unique with its collection of RV's and history to back it up. The park has been there since 1927 providing accommodations to weary travelers along the U.S. & Mexican border.
The antique RV's that you can stay in range anywhere from a 1947 Airporter bus that is all tiki'd out, to a Chris Craft Yacht set up to look like it's sitting at a tropical dock. There is a 1950's Airfloat "Flagship" model travel trailer with a quaint white picket fence set up like a small yard. A cozy little 1954 12' Crown travel trailer or a 1957 17' El Rey that looks like an Airstream.
If those are too small, you can move up to a 1950 Spratanette "Park Model" that even has a vintage black & white television that plays classic movies or a phonograph with a nice selection of 45 rpm records to kick back and relive camping in the 50's.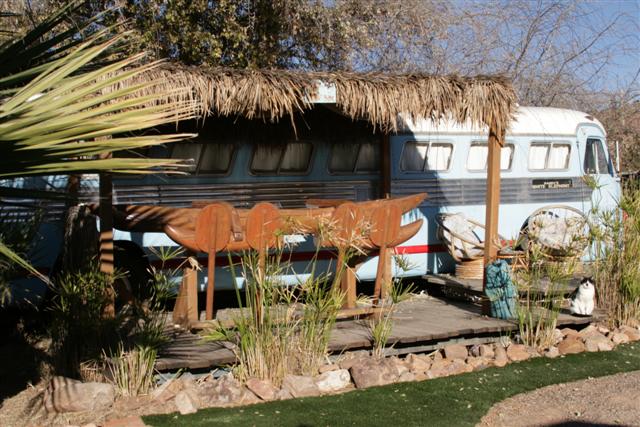 I talked with the owner of Shady Dell for a few minutes who gave me the tour of the park describing each model and explaining some of the parks history. When he asked why we were in town, I said we just wanted to tour the town and spend the day walking around. He said there was another campground closer to downtown and if we wanted to walk to town, then that would be the place to camp. I thought that was cool that the owner of one campground would recommend another campground. That goes to show you they're not out to kill the competition, they just want to make the tourists happy.
We drove the mile up the road passing the giant Copper Mine with it's tiered walls dropping deep into the earth. Once known as "the Queen of the Copper Camps", this Old West mining camp proved to be one of the richest mineral sites in the world, producing nearly three million ounces of gold and more than eight billion pounds of copper, not to mention the silver, lead and zinc that came from these rich Mule Mountains. By the early 1900s, the Bisbee community was the largest city between St. Louis and San Francisco.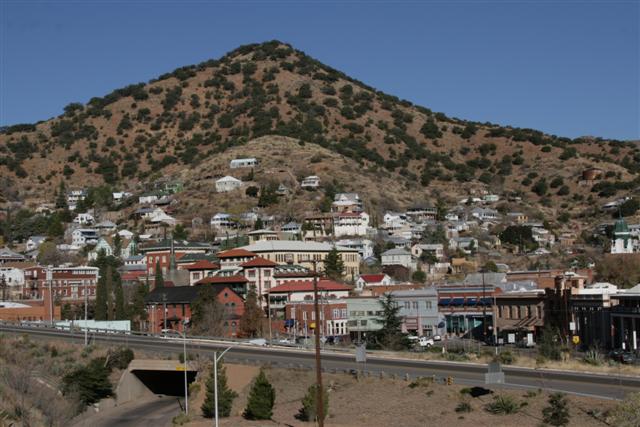 Now the historic town is home to a collection of hippies, artists and escapees who find the narrow, off-camber streets a great place to live. The chamber of commerce claims that Bisbee Arizona has the best year-round climate in the United States. For us, it's the warmest spot in Arizona right now, so we're not complaining about the 60° daytime temperatures and the crisp, cool 40° nights.
We pulled into the Queen Mine RV Park which does overlook the town, and set up the camper. It was still only 9am, so we grabbed the cameras and wandered into town. The streets reminded us of Eureka Springs with their crazy steep angles and 140° turns. Bisbee is in the Guinness Book of World Records for the only high school that is four stories, yet you can exit every floor onto the street!
Walking is the best way to experience Bisbee. There is no parking and you'll be stopping every few seconds to take a picture of some odd building or historic house. After wandering through so many cool galleries, the historic museum and the wild looking courthouse, we had worked up a thirst. We found a really cool bar in the Bisbee Grand Hotel and bellied up to the bar.
Within minutes, Cindy was chatting with a blonde Southern Bell sitting beside her at the historic saloon. Suzanne and her boyfriend Todd had recently moved to Bisbee from Oahu, Hawaii and within a few minutes of talking we were all chatting like old friends. Todd works as a Medi-Vac Nurse in a helicopter unit for the Border Patrol and when we told him that we had stayed down in Douglas last night, he laughed saying we were pretty stupid for making that decision!
After a few rounds, we mentioned that we were hungry and our new friends suggested we all move the party down the street to the Bisbee Grill for some local grub.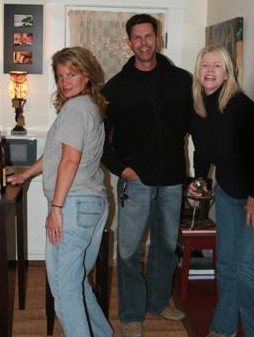 We sat laughing our way through a fantastic dinner keeping the wait staff entertained with our rowdy behavior. After dinner, Todd and Suzanne invited us back to there house for a night cap . Their house was nestled up above Bisbee with a great view of the small mining town.
By this point, the drinks were flowing freely and Cindy was asking Todd for tango lessons. The only problem is, Cindy is a brute and while Todd was trying to teach her, Cindy wanted nothing to do with the lessons and was leading Todd to some new dance none of us had ever seen before.
The dancing must have wore her out, and it was time for bed. Luckily Todd had quit drinking at the Bisbee Grill so he was able to drive Cindy and I home rather then having us stumble our way through a town we werent familiar with. We said our "Good Night's" and thanked them for such a wonderful evening.
How cool to come into a new town and find such warm welcome people who are willing to show us the town.
Wednesday December 19th 2007
Waking up was a little hard this morning, but the cool air was biting at my head and the dogs were whining to go for a walk.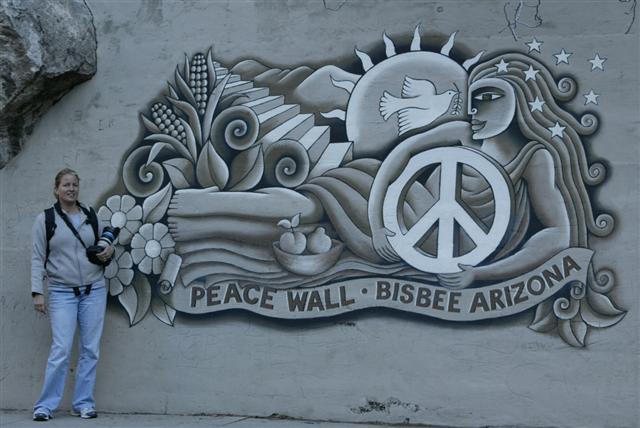 I spent the morning answering emails and downloading pictures from yesterdays adventure. We had made plans to meet Suzanne and Todd for lunch at another local restaurant in downtown.
Santiagos is a local Mexican restaurant with amazing cuisine. The food was fantastic along with the service. I'm beginning to really like this town with it's great selection of dining establishments and the people are really cool.
Todd and Suzanne walked around downtown with us showing us a few different shops and getting some of our questions answered at the Visitors Center.
They both had to go to a dance class which is where the Tango lessons had come from last night at their house. We swapped email addresses and made plans to meet up next time we pass through town. Thanks guys for showing so much hospitality and making some great memories with us.
For us, tonight was a movie night. We went and found a rental place and grabbed a few new releases we were wanting to see. The Bourne Ultimatum had just come out on DVD and since we loved the first two, I couldn't wait to watch this newest release.
Of course we werent let down and the movie keeps you glued to the screen from the very first scene. Spy Thrillers are my favorite movies and this series is at the top of my list. Then Cindy rented the comedy SuperBad. This movie isn't for everyone, but with its vulgar humor and non-stop antics, we were both laughing so hard I thought the neighbors in the RV next door were going to knock on our door asking us to quiet down.
Friday December 21st 2007 Playing the Waiting Game
Have you ever had to wait for something and it just kills you to sit still? That's what we've been doing for two days now.
We're waiting on multiple packages that we had shipped to our friends house in Phoenix and all but two have yet to arrive? So today was spent sitting around reading and catching up on laundry.
While we were in Bisbee, Todd had told me about a book he was reading and how good it was. Since Todd worked on the border for the Border Patrol, and this book was about the drug wars going on down there, and we happen to be so close, I thought it might be an interesting read.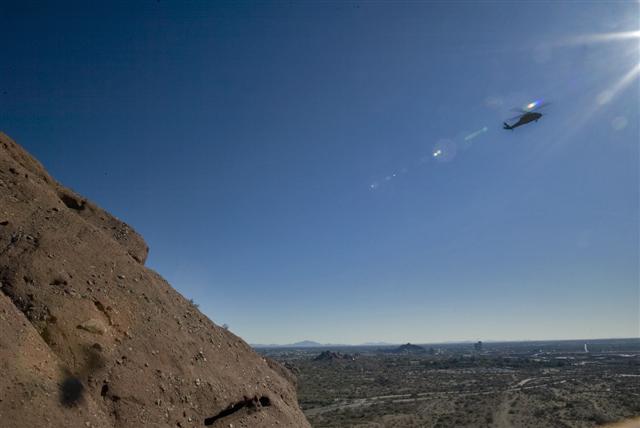 Ever pick up one of those books and from the first chapter, you don't want to put it down? Well this is one of those books. It's called The Reaper's Line by Lee Morgan and it is quite the read.
Remember when I said that we stayed one night right on the border in Douglas Arizona, and we thought we heard gunshots just as we were going to bed? Well listen to what this book says about the little town of Douglas that we stayed in just a few nights ago.
Lee Morgan II - I began my law enforcement career in a little town called Douglas on the border in Cochise County, Arizona. While nearby Wild West-renowned Tombstone was recognized as "the town too tough to die," Douglas had the dubious reputation of being known as the roughest border town the Arizona Rangers had to tame at the beginning of the twentieth century. And by the end of the same century, the dirty little border pueblo had gotten so rank that out-of-town assassins were literally being buried in the backyards of their intended victims.
Something tells me we were lucky to not have anything stolen off the camper, or worse yet, be woken up to bullets flying through the thin walls of the Sunline. I made the mistake of reading a chapter of this book to Cindy so she could hear how wild it is, and now we're fighting over who gets to read it in our spare time.
Saturday December 22nd 2007 Killing Time in Phoenix
The last few days have been spent killing time in the Phoenix area waiting for a few packages to get delivered. I'm sure because of the holidays, everything is running late. So the one day we thought we would drop in and grab everything has now turned into a few.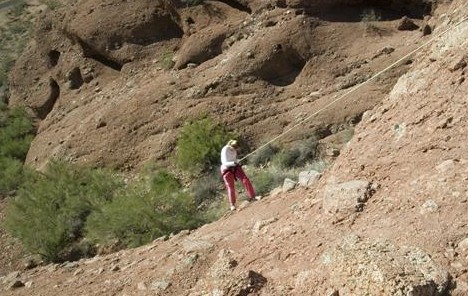 Rather than just sit and do nothing, we decided to go hiking in Papago Park which is a great little park nestled right in the downtown area. The sandstone is very unique here and has anything from easy hikes, to sheer vertical cliffs. Of course Cindy had to freak out on one vertical section while she was half way down, deciding it would be easier to climb back up and go around, rather than make it the last few feet to the bottom. Sometimes I get so frustrated with her, it drives me insane.
We both joke that if anyone was to follow us on our hikes, they would probably be laughing hysterically. You'd think we are going to rip each others heads off the way we get to screaming at one another, but it's just the way we release steam. Those couples that you never see argue, those are the ones that hold it in, and one day snap and go mid-evil on each other.
Not us, we'll do it right on the trail, and two minutes later, be laughing at each other for how stupid they sounded. Like I said, someone needs to follow us with a video camera.
After our long hike, which felt good to be back outside hiking even though we were right in the downtown area, we took the advice of a loyal reader of our site who had recommended the Papago Brewery. This was the email I had received from Mike a few days earlier.
__________________________________________________
Pat, I just read on Cindy's blog that you guys are in Scottsdale... You HAVE to go here; www.papagobrewing.com
It is in one of those nasty strip malls, so try to not judge the book by the cover, but once inside, I know it is right up your alley. You can be just as much at home whether you are a hippy who drove up in your VW bug to the yuppie who rode in on your $1500 bike and your still wearing your bike shorts inside, to the intellectual in the corner playing Trivial Pursuit... but all who enter have one thing in common; they like good beer.
Enjoy... Mike - Avondale, Arizona
_____________________________________________________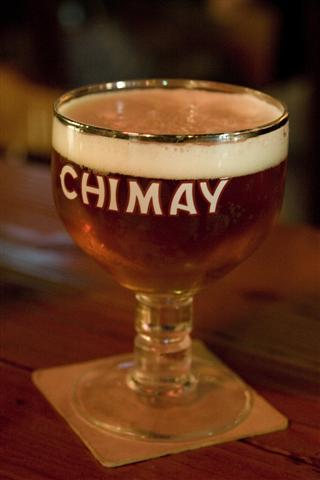 Well Mike wasn't lying. Papago Brewery is only a few minutes from Papago Park and like Mike said, "Don't judge a book by its cover!" It is nothing to look at from the outside, but inside, it's a beer lovers dream.
With over 30 beers on tap, and nothing domestic, I was drooling just looking over the menu. One of my favorite beers is a Belgium brew named Chimay. We used to carry this high end, 9% beer at the Red Dog and with a case costing around $100, it wasn't anything to take lightly. I've never seen it on tap and understand that when a keg costs close to $1000, not too many bars would risk tying up a tap handle. Papago Brewery has it on Tap!
One cool thing about the brewery, is not only do they carry a huge selection of eclectic hops, but they also brew some of their own beers which were quite tasty. After washing down a dark, creamy Chimay, Cindy and I were drooling over the menu offerings.
I ordered a personal pizza that was like nothing I've ever seen before. Who doesn't like Hot Wings with their beer? Now it's a toss up over which one is better; Hot Wings or Pizza. So who ever the chef is that came up with the idea to make a pizza with spicy chicken, red onions, crumbled blue cheese, onions, green peppers and rather than use pizza sauce, spread hot wing sauce on the pizza crust is a friggin genius!!! I was in heaven!!
Cindy got some Mediterranean pizza that was almost better than mine, but hers came with garlic and I'm not that into the dragon breath it leaves me with. I could have sat in here all night long, and if we werent on such a tight budget, we probably would have.
Thanks Mike for contacting us and recommending such a great place! We thoroughly enjoyed it!!
After the Papago Brewery, we headed back to our usual location at the local Wal-Mart since it was getting dark, and we hate to miss any cool sights after the sun goes down. I figure since we've spent the last few nights here, what's one more?
On the way, I spotted Phoenix Power Sports and pulled over to see if we could find a riding jacket for Cindy. Up till the past few months, every mile we've logged on the bike has been in warm weather. Now with the cool winter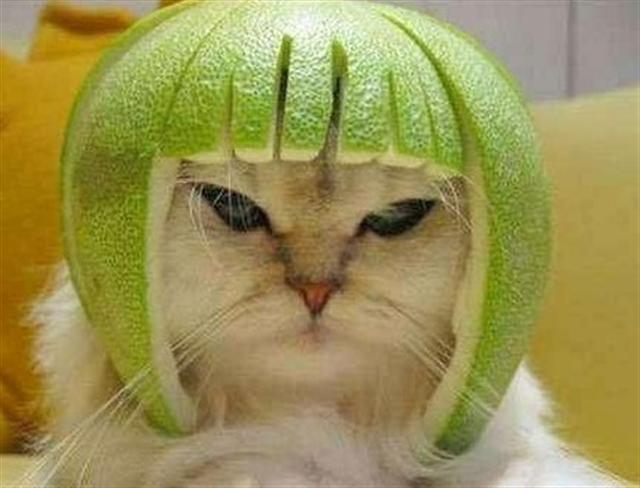 months upon us, I don't blame her for not wanting to go for a ride. Arizona has some beautiful weather during the day, but get in a canyon where the sun is hidden by the steep walls, and the temperature drops a good 20°.
We sat talking with Aaron Foss who was really helpful with fitting Cindy for a jacket. They only had one ladies jacket and it had pink on it. For anyone who knows Cindy, she aint the kind of girly girl who wears pink! She finally found one that she liked, and Aaron gave us a phenomenal deal on the jacket. Hopefully this will get us back on the bike more now that Cindy wont be so cold.
I wanted to get her a new helmet also, but she says she likes hers just fine. Now how often do you want to buy a woman something and they say "No?" I just cant figure her out?
Sunday December 23rd 2007
We made our way up to Cottonwood and checked into Dead Horse Ranch State Park. We've been moving so much lately that we figured before our friend Christine showed up for the Christmas Holiday, we needed a few days of just sitting around and cleaning some stuff up.
Cindy got to work on the inside of the RV, and I emptied everything out of the back of the truck bed to try and reorganize this mess. This was like opening a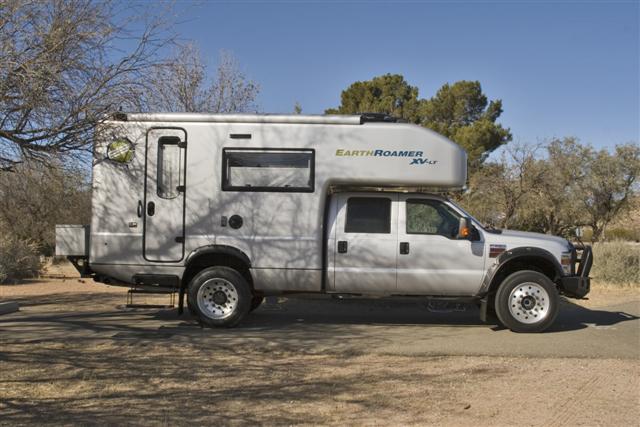 can of worms. Each time I pulled something out, it would get me going on a different chore.
This isn't good for someone who had A.D.D. as bad as I do and would probably look very comical to someone watching me try to work.
On our drive up to the Sedona area, we were pulling onto Route 89 when I spotted a Earthroamer sitting in a gas station! I've followed this company since they began, but have never seen one of their amazing vehicles in person.
I locked up the brakes, crossed over a few lanes of traffic and pulled our rig into the gas station. I jumped out with camera in hand and asked the couple if I could snap a few shots of the beauty. We sat talking for a few minutes and I'm sure they thought I was crazy. Not that I care, I was just really excited to see one up-close and in person.
When we pulled into Dead Horse Ranch, we spotted Dennis and his funky little CorvairStream RV. Remember the guy I had ran into last time we were in Cottonwood who had that awesome little Corvair van that he had converted into his own little Fulltime RV?
We talked with Dennis and caught up on some travel stories before the sun went down and one of the biggest full moons came up over the horizon.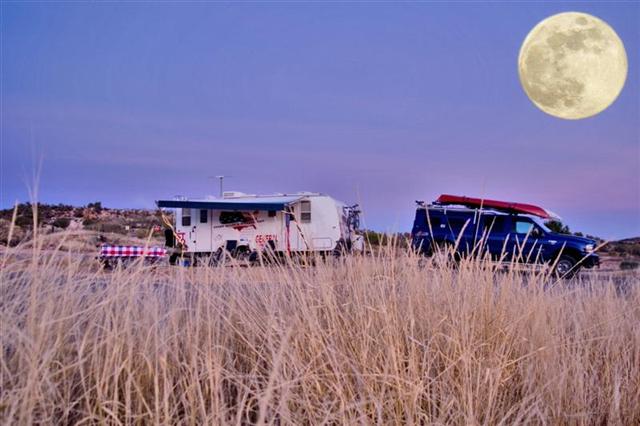 Christmas Eve December 24th
It's amazing how the weather changes so drastically here in the desert. Last night the temps were in the 30's only for it to climb back up into the high 60's this afternoon.
We spent the entire day getting stuff cleaned up and ready for our guest. Once we were done, I jumped on the motorcycle and went for a little ride up to Jerome just to relax a bit. Cindy wasn't interested in going, so it was just a short solo ride.
Only thing I forgot was that Jerome and the road leading to Prescott are much higher than Cottonwood are. Once I got to Jerome, I had noticed a 20° drop in the temperature.
Once you get above Jerome, the road climbs 1000' in just a few miles. Once you get up near the 8000' mark, there was quite a bit of snow on the ground! Any curve that was in the shade was a bit slick due to ice, and not what I wanted to be riding on with a motorcycle.
I decided this was stupid and I was just asking for a accident. Just what I needed before the Christmas holiday. So I slowly turned the bike around and scooted down the mountain ever so cautiously. With my butt cheeks clenched ever so tightly while I slid through a few slippery turns, I made it back safely to the campground.
Being as my older brother was tragically killed a few years ago in a motorcycle accident, I'm usually very cautious when it comes to riding my bike and that was pretty stupid for me to put myself in that situation.
I promised myself I wouldn't let that happen again!
Christine called a few different times for exact directions and pretty soon, she was pulling into the campsite. Yeaaah, we have a great friend for Christmas and we wont have to spend the holiday alone.
The rest of the night was spent catching up on stories followed by good laughs. The next few days should be interesting as she brought her dog with her. 3 people and 3 dogs all in 200 square feet of camper space is tight quarters, but we'll make do.
Christmas 2007
Being as none of us really slept that good last night, we were up very early. We had left the awning open after a cleaning we had given it earlier in the afternoon.
At 2:30am, when the winds picked up and started flapping the thing like a sail, Cindy and I jumped up, dressed and rolled it up. Then around 5am the phone calls started. Being as all of our family is on the East Coast, either they forgot, or just didn't care what time it was here on the West Coast. It was nice to talk with our daughter who is doing so good right now with her new job. Even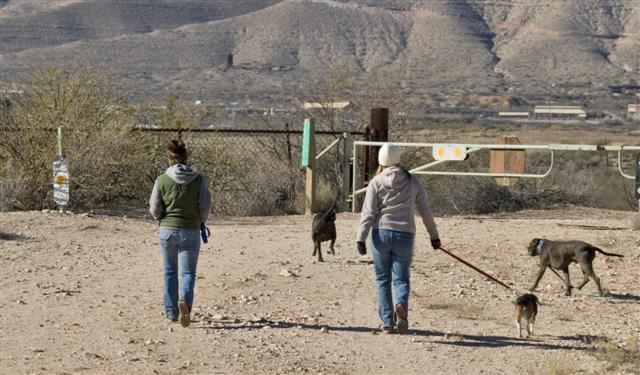 though we couldn't spend this holiday together, I'm really proud of her and her accomplishments.
By this point we were up and Cindy was making breakfast. We got the dogs all collared up and took them for a long walk. Christine's dog Zen, is well behaved and once we got away from the campground, she let him off his leash. He would just run up and down the trail, but stay right by us the entire time.
Our bigger dog Luca wanted to play with his new friend, so I decided to let him run with Zen (Big Mistake)!! While we were walking along the Marsh Trail, Luca spotted something in the brush and bolted through the woods after it. I tried to go after him, but it was all picker bushes, and I couldn't go but a few feet off the trail.
Of course I had Cindy right behind me screaming at me for my stupidity of letting him off his leash, but I wasn't too worried until I smelled the skunk. No I'm not lying.
Once the smell hit me, I knew I was in trouble. Luca is a known skunk killer and made regular visits to our local dog groomer when we lived in Michigan. One time, they told us they couldn't do anything for him when I tried to bring him in twice in one week. Apparently the chemicals they use to neutralize the smell are too caustic for the skin and cant be used multiple times in one week.
It was at this time that I went charging through the thorn bushes just in time to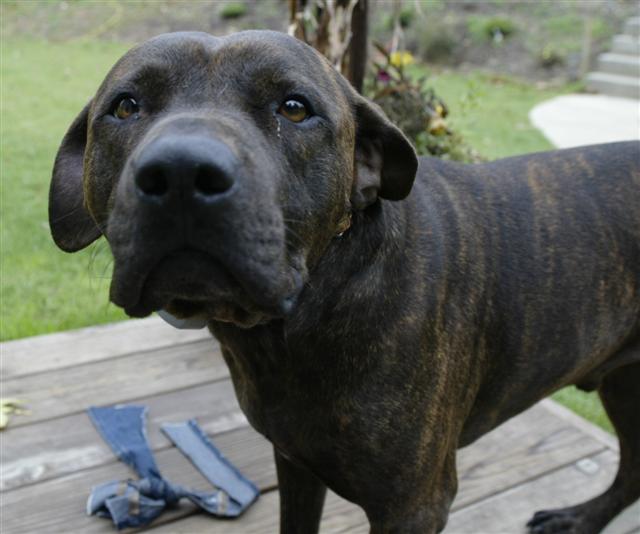 see him come prancing back up to me sneezing and foaming at the mouth. You could see the oily film all over his face, and when the smell hit me, I about lost my breakfast.
What in the hell was I going to do now? It's Christmas and nothing is going to be open! We walked back to the camper and while I sat outside with Sir Smells-A-Lot, Cindy and Christine drove up to find a store that was open where they could buy a gallon of whole milk.
This was a trick we had learned awhile back from our groomer. It has to be whole milk and you just pour it right on the area that was sprayed. For some reason, the milk neutralizes the skunks odor, and makes it tolerable. Tomato juice works OK, but leaves the dog a nasty color red and he'll end up staining everything he touches. Surprisingly the whole milk actually makes his coat nice and soft, and he doesn't seem to mind it at all. While I was pouring it on him, he just sits trying to drink as much of it as he can making the whole ordeal look very comical.
Once we were done with the dogs, we climbed into the truck and drove into Sedona. Walking around the downtown area was very pretty and festive with all the Christmas lights decorating the red rock backdrop. We found a little restaurant and had a great Christmas dinner. It sure wasn't home, but at least we had each others company.
Being as this was our first Christmas away from our family, it was a rough one, and Cindy said she'll never miss Christmas Dinner at my sisters again. It's funny how when you're around family, with screaming kids and dozens of aunts and uncles coming and going, it can seem a bit stressful; but be away from it and you realize how important that all is.
I would like to say Merry Christmas to everyone who contacted us and sent us emails, and thank you for letting us know we were in your thoughts and prayers. It really made us feel good knowing we have so many people following along.
Thursday December 27th 2007
Yesterday, Christine, Cindy and I spent the day wandering around the little mountain town of Jerome. I really dig this town. The stores are all very eclectic and the views outside the stores are phenomenal.
Today we headed over to Page Springs for a visit at the Page Springs Winery. For only $8, you get to sample 5 different wines all produced from grapes grown right in the Sedona area.
Most wouldn't think that the desert is a good area to grow grapes, but high up in the mountains of Sedona, the climate is actually very similar to the wine regions of Napa and the Australian regions.
The more places we visit in Arizona, the more I think it would be better to visit in the spring time. I'm really loving these comfortable temperatures and moderate climate of the winter, but every where we visit, we see pictures of the many varieties of cactus blooming in the spring and it just looks so beautiful. I guess it just gives us all the more reason for a return visit.
Once we got back to the camper, I spent the night getting everything packed up and ready for our early morning drive to get the kids from the Phoenix airport. I'd rather get it all done and go to bed late, rather than get up early and still have to pack everything up. Besides, I'd feel guilty making all sorts of noise before the sun comes up with fellow campers on each side of me in the campground.
Friday December 28th 2007
Even though I packed everything up last night, we still were up very early this morning. The kids were scheduled to arrive at 9:15am, and it was a two hour drive for us from Sedona to Phoenix.
We said our "Good Byes" to Christine who was going to grab a cup of coffee and wait for the sunrise up in Jerome. Once on the road, we were making good time when we got the call from my sister that the kids hadn't even got off the runway yet?!?
Apparently their plane had mechanical difficulties and they were still sitting on the tarmac in Detroit. Well that meant we could slow down and take our time. We found a campground to dump the Sunline off at so we wouldn't need to be lugging it behind us while navigating through the airport traffic. Without going into detail, the morning was quite stressful with us getting lost a few times which almost always results in me acting like an idiot and losing my temper.
Apparently the directions to the campground we were going to stay at were different than the directions the GPS was giving us. Cindy decided to follow the directions in the Passport America directory thinking that we had just got it in the mail, and it couldn't be wrong. Way out of our way, with much yelling on my part, she decided to call the campground, which gave us the same directions the GPS was trying to give us in the first place.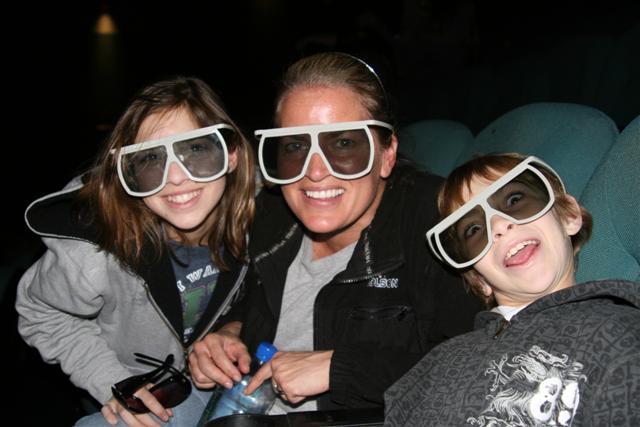 We dumped off the camper and broke a few land-speed records making it to the airport on time. Right across from the airport, is the Arizona Mills mall which is Arizona's largest mall in the state. Since the kids had been up since 3am to make their flight, we decided that today should be a laid back day and thought we'd go see a movie.
Arizona Mills Mall has an IMAX theater along with a regular cinema-plex. We thought it would be cool to check out an IMAX film and bought 4 tickets to the film Beowulf. I hadn't seen an IMAX show in years and have only seen one 3D movie in all my life.
Beowulf is a great movie and to see it in 3D only made it that much better. I was cracking up at how many times Cindy would cover her face or raise her feet to try and block an object that she thought was going to hit her while watching the movie. I don't know who enjoyed it more, the kids or Cindy and I, but I know we were all loving it and I was really glad we had decided to check this out.
Saturday December 29th 2007
We figured with the kids endless amount of energy, we might as well try and burn as much of it as we could. The steep climbs of Camelback Mountain should do the trick.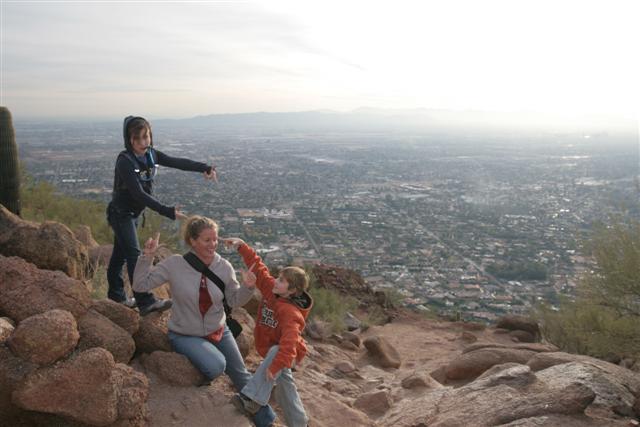 With loaded backpacks, we started the climb, and I'll say right now if I had 1/16 the amount of energy that Courtney or Austin have, I'd be bouncing off the walls at all times. This same climb that is a real good work out for Cindy and I, was a cake walk for these two young whipper snappers.
Austin decided that it was fun to sprint up the rocks, and Courtney was right on his tail the entire time. Cindy and I just crawled up at the consistent turtle pace we're used to climbing at. This time we climbed the strenuous hill was much easier than the last time we climbed it with Nancy.
It was great to see the kids having a blast while running up and down the mountain side. It reminded me of the many climbs and hikes with our daughter Donielle and the great times we had while being together outdoors.
The climb up took much longer than the quick climb back down. The girls went ahead of us to get to the bottom and a much needed bathroom break, and us boys sat on a great little overlook watching the sunset over the valley. At one point, I was looking for something in my backpack and joked with Austin that maybe I left it on top of the hill. He didn't hesitate a second and was very serious when he said "Want to run back up to the top to see if we left it up there?"
By the time we got home, we were all ready for bed and I knew we would all sleep good tonight.
Sunday December 30th 2007
Getting an early start this morning, we were headed up towards Sedona to a wildlife amusement park called Out of Africa. This 114 acre exotic wildlife habitat would be our source of fun for the day.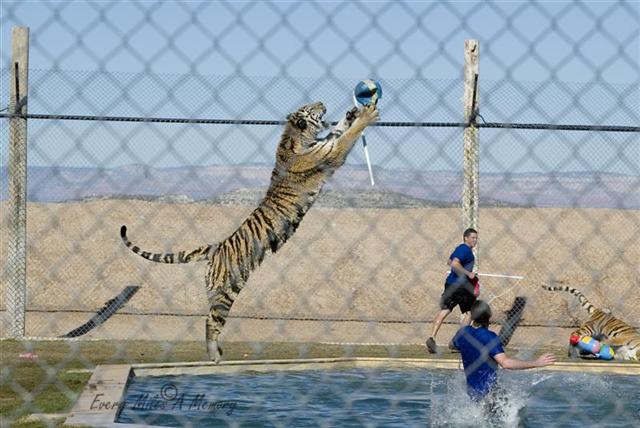 It was a bit steep in price, but we thought we would get some great pictures and the kids would see some big predator cats up-close.
When we were at the Cincinnati Zoo, the enclosures seemed like they were made for photographers. You could get a clean shot from almost any angle you viewed the animal. Out of Africa isn't like that at all.
Granted the shows were very cool and the kids enjoyed themselves, but the fences are so high that it is almost impossible to get a shot of any animal without having a fence in the image. They had a great tiger show and if the fences werent in the way, Cindy and I would have gotten some world class shots. But don't plan on going there to get any quality images of the animals, just go for the cool shows and animals themselves.
We all had a good laugh at the different animals and the way they all wanted to eat Austin. For some reason, any enclosure he would walk in front of, the animals would either growl, hiss or charge the fence trying to attack him. None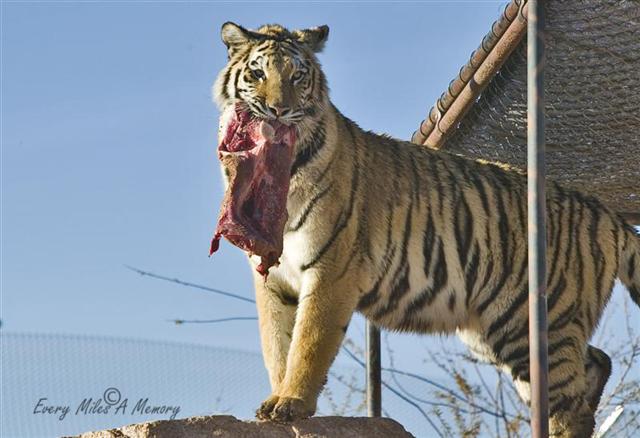 of them seemed to even notice Courtney, Cindy or I, but no matter where Austin was, they all wanted to eat him.
By the end of the day, we were all whipped and ready for a nap. We had enjoyed ourselves and the kids got to feed a giraffe up close and personal. We also got to see the caretakers feed the big cats and various predators which was a wild experience.
The drive home was a long one, but Austin and I keep each other company with some great tunes while the girls both were asleep within minutes of hitting the road.
Fell free to check out our Out of Africa Gallery from the days events.
Monday December 31st 2007 Happy New Year!
After our last visit to Tonto Natural Bridge, we thought the kids would love the great hiking trails mixed with the out of this world views. Driving up the Bush Hwy from Mesa, the scenery was amazing. You drive right through the Superstition Mountains with towering peaks in every direction.
From the Bush Hwy, you jump onto Route 87 North and the views only get better. Of course Cindy and Courtney were asleep most of the time, but Austin and I kept each other company while Austin impressed me with his vast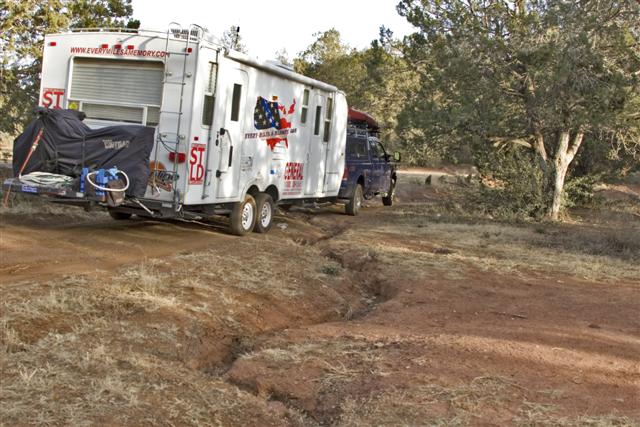 knowledge of Rock-N-Roll music that was way before his time.
No matter what song came on the satellite radio, he knew the artist and most of the words. Pretty good for a 10 year old. Maybe video games aren't all that bad, because when I asked where he learned all this information, he said from "Guitar Hero."
An hour into the drive, Austin said he had to use the bathroom, and I pulled over on the peak of a mountain pass. In typical 10 year old boy fashion, he walked over to the nearest cactus on the side of the HWY and proceeded to water it.
Cindy, Courtney and I were dying laughing at this sight and the fact that he didn't go use the bathroom in the camper. When he got back in the truck, Cindy said "Austin, you know we have the camper right behind us, you could have just used that bathroom." But with his quick whit, he just replied "Yeah, but why waste water, I don't mind just going outside." Apparently the passing motorists didn't bother him one bit!
Back on the road, we made good time to the Tonto Natural Bridge area, and found our campground for the night. Flowing Springs Campground is just a little camp site on the side of a forest road with a beautiful little stream that flows right beside it. Cindy and I had stayed here the last time we visited this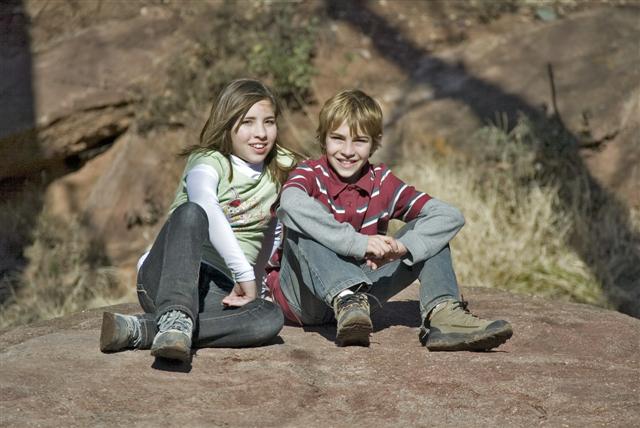 area and knew the kids would love the stream and it's boulders.
I don't think we were even stopped and they were falling out of the truck barreling towards the giant boulders. For the next few hours, we climbed all over the banks of the stream in the warm Arizona sun. As long as you stayed in the warm sunshine, the temperatures were very comfortable, but get into the shade for only a few minutes, and the sweat would freeze on your back.
The rest of the afternoon was spent whittling sticks and lounging in the sun. The kids even went so far as to be laying out in the sun with their shirts off saying that they just had to since back home in Michigan, their parents were locked under a nasty ice storm.
Our last day of the year was spent with huge Gin Rummy tournaments till that bewitching hour struck. Since we didn't have a TV signal or any phone connections, we just all did a little dance at midnight and gave each other hugs and kisses. Hopefully our families were all safe and celebrating on this holiday and all our friends were doing the same.
What a Great Year 2007 was, and we only hope 2008 will be just as good!
Return to Top of Page
Need Unlimited photo storage- FREE Trial of Smugmug