When we realize our insignificance in this world,
it some how relieves the pressures from society to succeed -
Cindy Bonish 04/07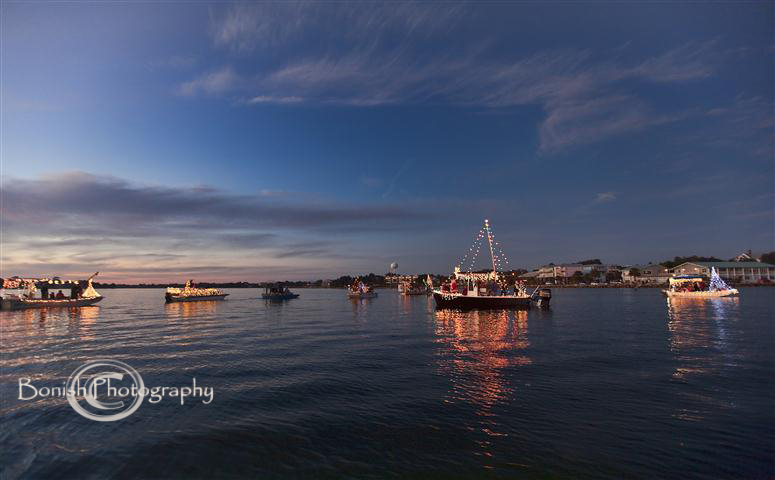 Pat's December 2011 Blog
If this is your first time here, you might want to start from the beginning of our fulltime Journey with our Past Blogs
If You Don't Know Me Yet, Click Here to Read My Bio
****
Saturday December 31st - Last Post of 2011
Yesterday's sunrise was just a test run. Today was the last one of the year, so Cindy and I both knew we had to be back down on the beach to get some photos. We had talked about a few ideas we had for photos we wanted to capture.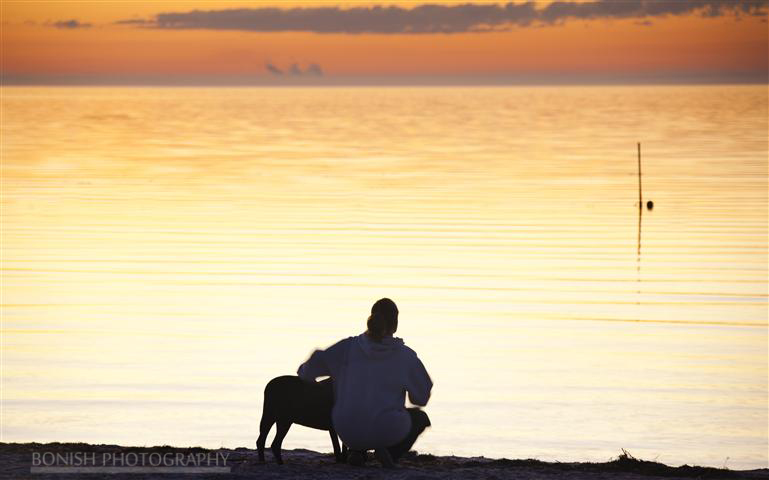 Cindy & Luca waiting for the sun to rise on the Cedar Key beach
There weren't really any clouds on the horizon which didn't make for the best photos, but we got the shots we wanted and were back at the motel by 8am.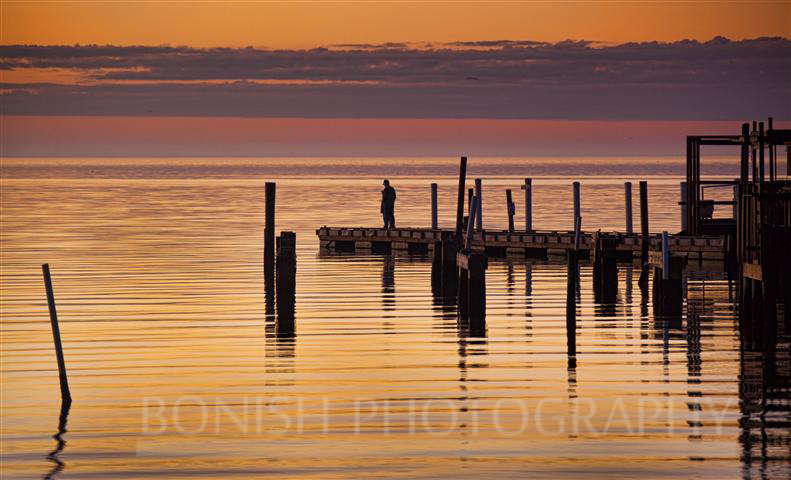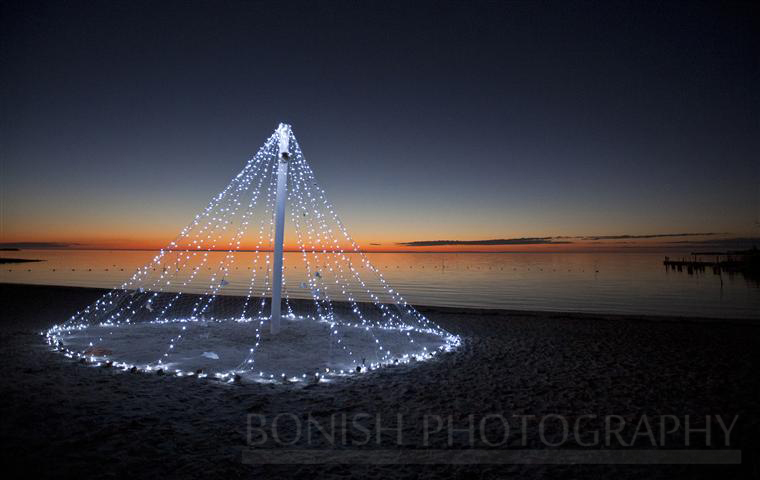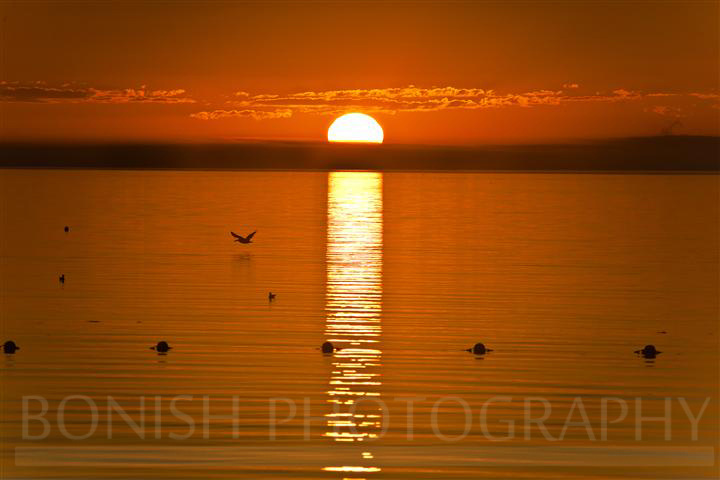 The Last Sunrise of 2011
We had 2 rooms that were checking out and 2 checking back in, and our girl had the day off, so we both busted them out pretty fast. Cindy and I make a good team when it comes to getting things done, especially if we know we have something to do afterwards.
Hazie and Amanda were having a birthday party for their daughter Kinley today, so we needed to hurry up with the rooms so we could go to the party, then be back by the time guests were to start checking in.
Made it to the party and back in time to check in a few couples, then take a 20 minute nap before we opened the Tiki Bar for the last time this year.
You couldn't ask for better weather this evening and a wonderful end to a great year. We had a fun crowd of locals at the tiki bar tonight along with some people from out of town.
While everyone was hanging out talking, I handed Heath a little firecracker that Hazie had given me during the 4th of July party and told me save it for a special occasion. These little bombs look like just a normal firecracker, but give a blast that's about the size of a 1/4 stick of dynamite.
No one was paying attention to Heath when he threw it out of the tiki bar into the water. But when it went off, I laughed so hard while everyone screamed and almost fell out of their stools.
Everyone hung out till about 8pm when people started heading downtown where most of the bars were having New Year's Celebrations. Heath had come to the Tiki bar via boat, so a bunch of us piled onto his boat so we could motor around and arrive in town without having to drive cars.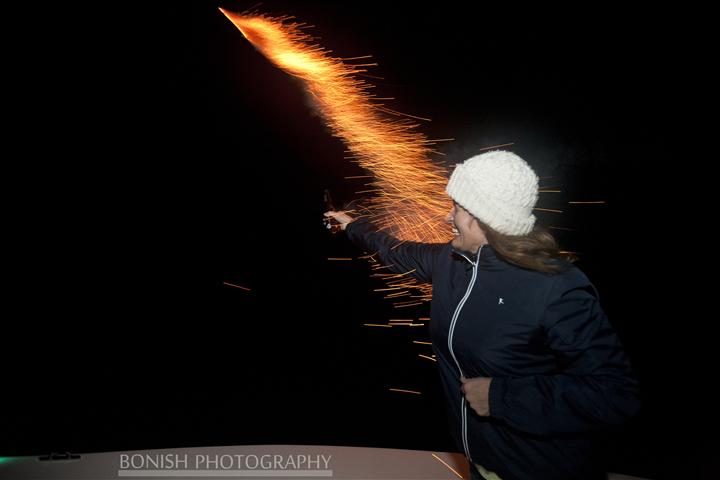 Driving around the Island at night, there was numerous homes having parties that were lighting off fireworks. The water looked like a pane of glass, so the reflections were beautiful. The water was so calm, you could literally see the stars reflecting on the surface.
I had brought a pocketful of bottle rockets, and we all took turns shooting them into the heavens from the boat.
As we pulled into the Marina, we were shooting bottle rockets up into the air when the wind caught one and brought it right over Dock Street. You could hear people screaming, but we all just laughed and kept sending them flying.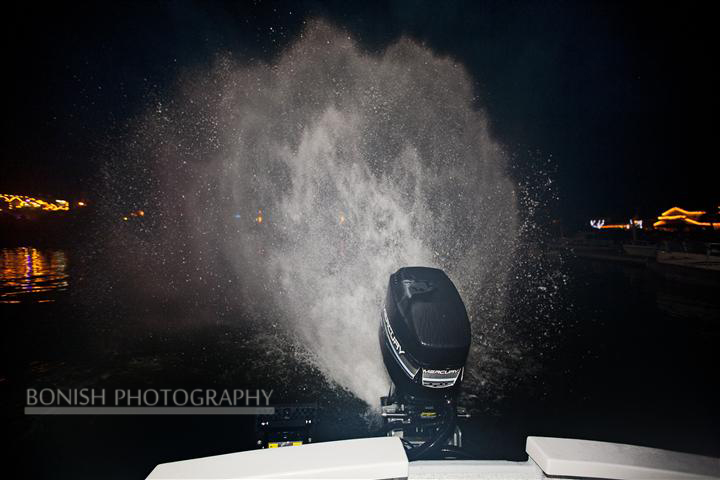 Heath pulled the big Mercury up the Jack Plate and aimed it back so it would throw up a rooster tail about 20' into the air.
We pulled up to the docks and headed onto Dock Street. The rest of the year was spent dancing in various bars, toasting to memories we've made this past year and talking about our big plans for the end of the Earth this December 21st.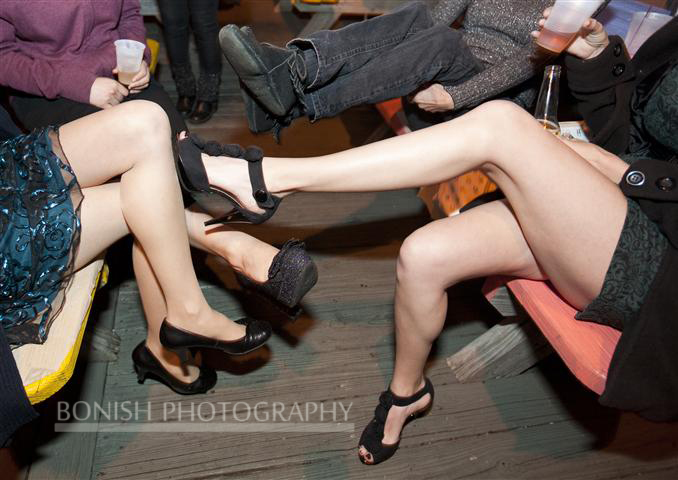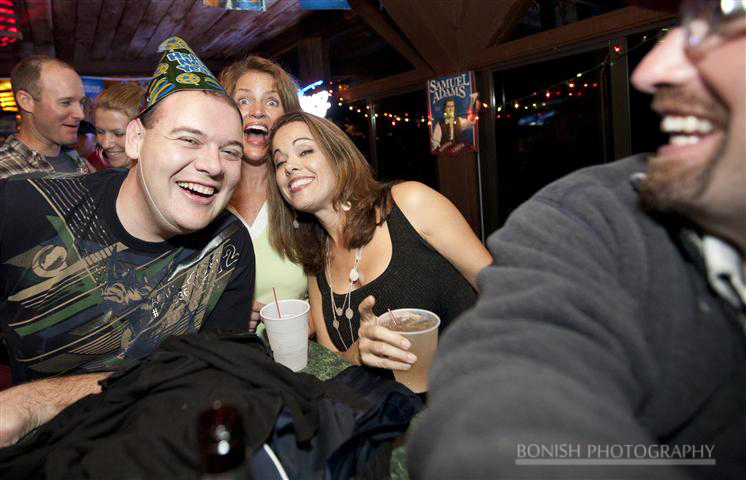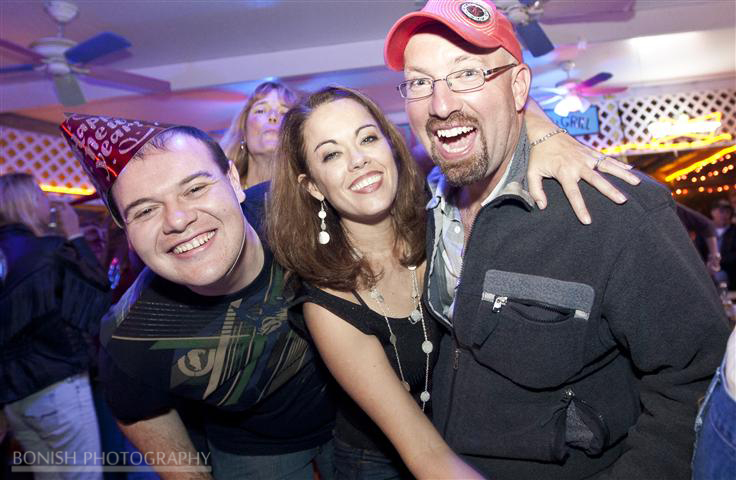 Hope you all had a wonderful and safe New Years Eve!! Happy New Year!
Friday December 30th - Long Day with Cindy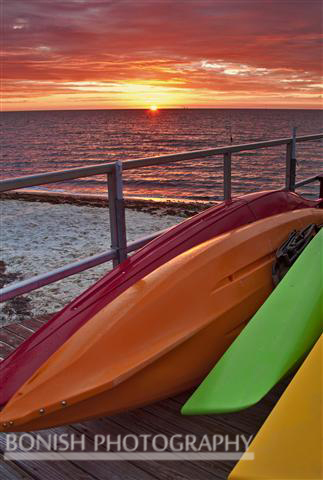 Is it normal for wives to wake you up at 4am saying "Hey, are you awake? I cant sleep"
Once my wife shakes me and nudges me enough that I finally say "Yes, I'm up, what's going on?"
We lay in bed for a few hours laughing and talking about random things. When she finally says "Ok, I'm tired now, I'm going back to sleep", she rolls over and is snoring right away.
There is no way that I can just go back to sleep, so I wake her back up to say "Now that we're up, lets go down to the beach and take some photos of Sunrise."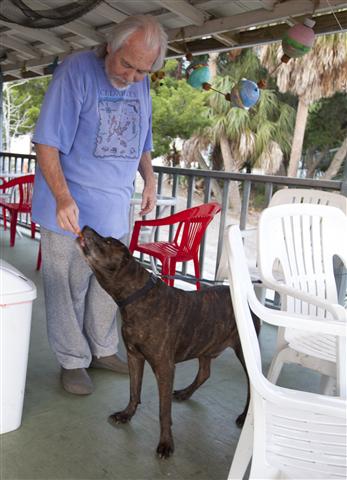 The city of Cedar Key has a big Christmas tree set up right on the beach, and I thought it would be really cool to get some photos of it at sunrise.
After much coaxing, I get her and Luca out of bed and we walk downtown in the dark.
We wait around for the sun to rise as we talk to so many others who are out enjoying the cool morning air and getting their daily exercise.
After the sun rises, we walk home stopping at Kona Joe's for breakfast. Luca is beyond spoiled now that he's all alone. Not only did he get a treat from Joe, but Eiddy, Joe's wife cooked him up 3 strips of bacon. So spoiled!
Rest of day was spent doing things around here before we opened the Tiki Bar. The evening was somewhat cloudy, which made for some awesome sunset shots. I hate when the sun sets on a cloudless night, it's just very boring.
Lots of fun people in town for this weekend. We were talking about last year on New Years Eve and how cold it was compared to this year and this comfortable spring weather.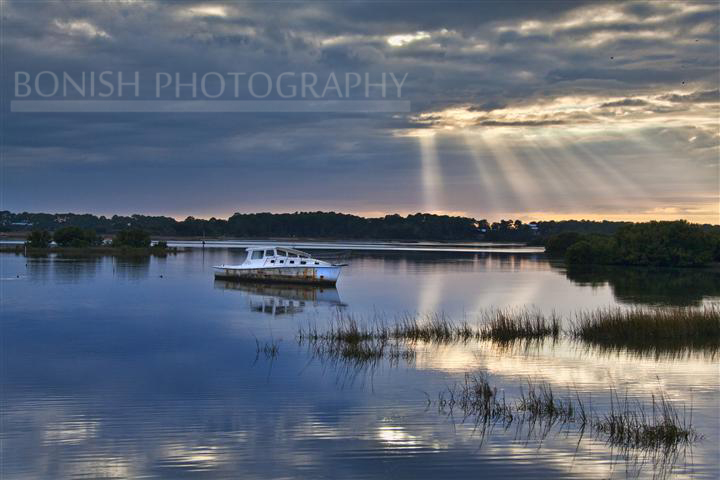 Mother Natures Fingers reaching down from the Heavens
Sunday December 25th - Merry Christmas
While Cindy and I were on the road, we never really celebrated Christmas, Birthdays, Anniversaries or any other special day because we treated every single day as a special day. Last Christmas, we were still both so broke, we chose not to get anything for each other, but this year, Cindy suggested we get each other presents.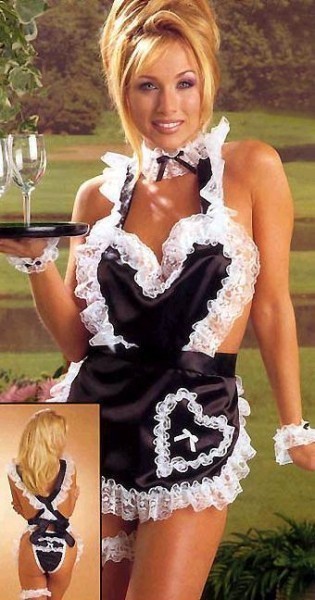 I thought that was fine, so I thought about things Cindy always comments on and got her some of those things. All she said she wanted was clothes, since we're both usually dressed in Thrift Store or Salvation Army clothes since ANYTHING we wear, usually becomes Work Clothes. Problem is I cannot buy Cindy clothes which I think is true about all men buying their wives clothing.
We see them in stuff that they would never really wear? I see nothing wrong with this outfit, but I highly doubt I'd get Cindy making breakfast and working the Tiki Bar in it! See what I mean.
So instead of clothes, I got her a nice 8 piece set of Calphalon non-stick cookware since she's always complaining about food sticking to her pots and pans. You have to remember that Cindy LOVES to cook, I mean she talks about her meals she's going to cook all day long. So I figured I'd do good with getting her something for the kitchen.
That was something that she needed, but I also got her something that she wanted...which was a really nice Karaoke Machine. Ever since Hazie brought over his big karaoke machine, she's talked about getting one for herself.
I himmed and hawwed about this for sometime trying to decide if I really wanted to subject myself to this type of torture. But in the end, I figured its something that she truly wanted, and it's one of those things she has talked about for years now.
While we were on the road, she would always say things like "What if I had a mobile karaoke machine and where ever we camped, I could print out some flyers and we could have a little party at our campsite."
I thought about this and made sure that I'd get her a model that was professional enough to sound really good, but small enough to be portable. I went with the Voco-Pro brand like Hazie has,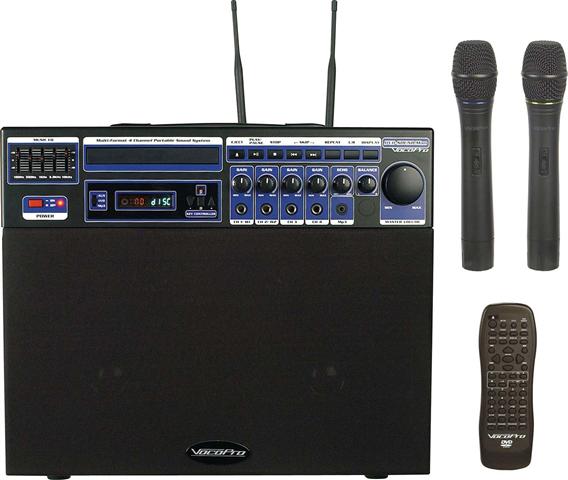 but a little smaller model hoping she wont be able to blast me out like she would when we borrowed his. And hopefully when she brings it out to the tiki bar, it wont blast out the motel guests.
It has 2 wireless microphones and we can add 2 more if we feel the need to upgrade. Plus you can use this as the base and add two more speakers as long as they're powered.
When Cindy opened this present, I thought she was going to go ballistic. She didn't even care that there was more presents to open. She just immediately told me to set it up so she could start singing over the microphone. It didn't take but a few seconds before I was second guessing this idea of a present.
I talked her into putting down the microphone long enough to open the 2nd part to this present. It was 20 karaoke CD's that range from Country to Rock to Duets. The icing on the cake was a Tambourine. Again, Cindy was like a little girl in a candy store screaming and dancing around the living room! The only difference was she was screaming and narrating the entire present opening ordeal over the wireless microphone.
About an hour later, I knew I had made a mistake. I had left the room where Cindy was still singing and was now hiding in the bedroom when Luca came in and found me. I swear to God he looked at me with his ears tucked back like he had did something wrong and tucked his head in-between my legs trying to hide his ears.
It wasn't long before Luca and I were outside going for a long walk to let Cindy really try and blow out her voice in the first day, which we hoped would give us some rest.
There were other little stocking stuffers like her favorite movie "Best in Show"
and the new Pistol Annie's Hell On Heels
CD that she's been asking for along with a few other goodies to go along with the Pots and Pans and the Karaoke Machine.
She got me a really cool jacket from Columbia that I had been asking for since my other jackets are so worn out, they're basically see through and aren't waterproof anymore.
We were invited over to Heath and Jolie's since they know we don't have any family here in Cedar Key to spend Christmas with. The food was outstanding and most of the people there are like family to us at this point.
We came home and hung out until Waylan came over to look at the motor on Luz's boat. Waylan had been at Heath's house and is currently going to school to become a Outboard Mechanic. While at dinner, we were talking and he said he'd come by and give it a look to see what the problem was.
He started with the fuel. Remember this was all brand new fuel I had put in the tank. He filled up a two liter bottle drawn from the tank and right away we noticed a separation between gas and water. Yep, someone had put water in our fuel.
He then went into the motor and showed me that one of the carbs wasn't working properly and two of the other carbs were seriously gummed up due to Ethanol in the fuel.
He got it running enough that we could motor it over to the boat ramp and we took it out so he could bring it back to his place and overhaul the carbs.
Thank goodness that hassle will soon be over with.
Hazie and Amanda had called and asked what we were doing this evening. We didn't have any plans and they said they were hanging out at their little backyard oasis they call the Sundowner. It's basically an outdoor kitchen where they have the karaoke machine hooked up with full surround sound.
We loaded up and headed over to their place. This is what we're used to on Christmas. In Michigan, we usually show up at my sisters house on Christmas Eve with duffle bags and spend the next 3 days celebrating. Here in Cedar Key, is seems really Low-Key, but that's sort of expected with the laid back island lifestyle.
The night got off with some poker games before the Karaoke machine came on and the real fun began. I'll have to let the pictures speak for themselves because the end of the night got a little fuzzy on my part. I guess it takes a bit of the sauce to get me on the microphone and I was on it for awhile.

Lane schooling everyone in Poker
It was some serious fun with all of us playing various instruments from Cast Iron Pans, Harmonicas, Cindy's Tambourine and their daughters toy guitar. The night was amazing fun and the house band was one you had to be present to enjoy. What a way to celebrate the Christmas.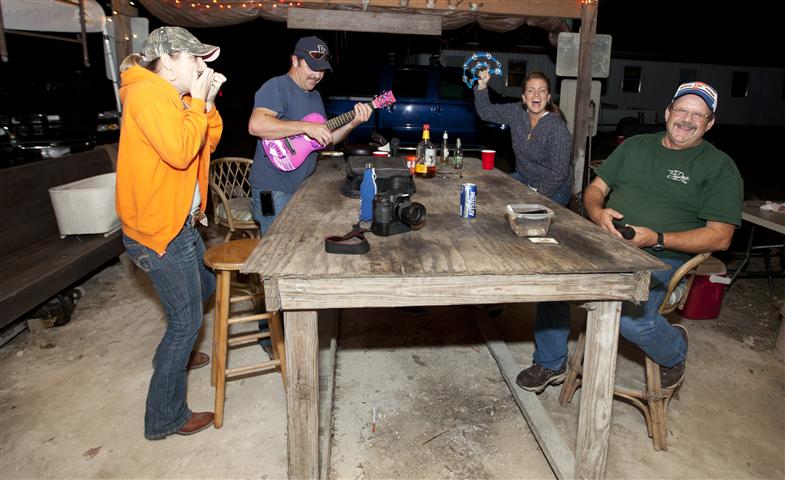 Amanda on the Harmonica, Hazie on the Guitar, Cindy on the Tambourine
and Harold just laughing at all us Goofballs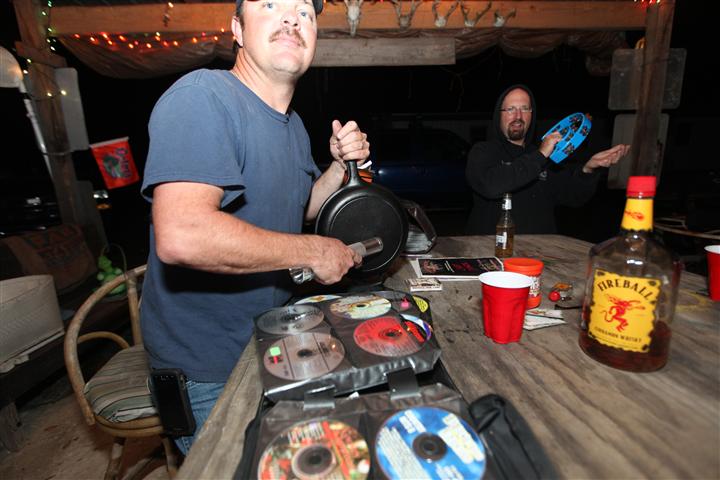 Hazie playing some Cast Iron Skillets he got as a Christmas Present and using a Flashlight as a drum stick.
I'm on the Tambourine - Photo by Amanda Cannon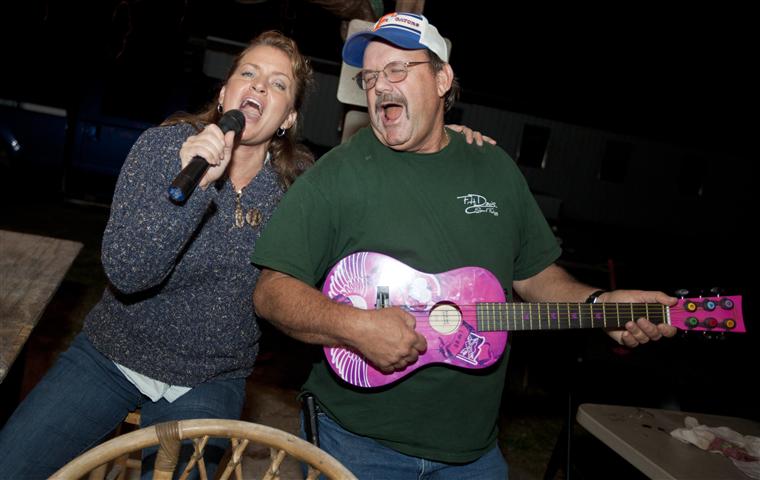 Cindy and Harold - This doesn't need any explanation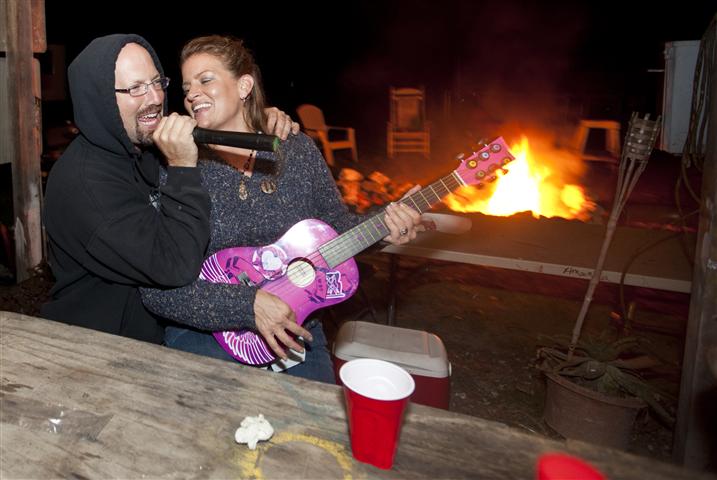 This was the part that I don't really remember??
Thursday December 22nd - Can Cindy Get Anymore Clumsy?
We were both up early this morning because we had a big day ahead of us. Don and Mary Ann were leaving, and I was driving them to the airport in Gainesville.
Cindy and I had planned on going together and we'd go shopping in Gainesville to get a few last minute things for Christmas and some groceries.
I was cleaning up the house while Cindy said "I'm taking Luca for a run into town"
A little while later she comes back in the house holding her face and moaning something awful. She walks over to the couch and lays down mumbling something about how bad her head hurts.
I'm not sure whether she's joking or not, because this is the sort of jokes she likes to play on me, yet she's clumsy enough that something serious could have happened.
I walk over to ask her what she's trying to mumble when she pulls her hands off her face and I see that her chin is all scraped up with road-rash, her eye is red and swollen and the palms of her hands also are covered in road-rash.
First words out of my mouth were "Smile, do you still have your teeth?"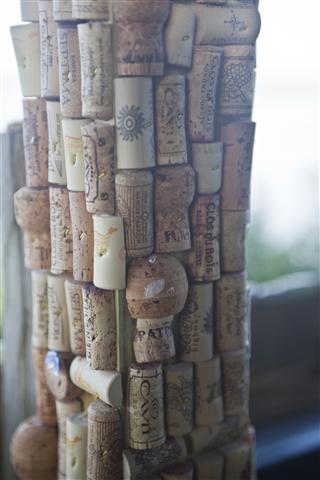 She shows me her teeth which are still intact, but asks me to pull up her pants and look at her knees.
As I pull them up, there is blood all over her knees and running down her shins.
Ok, this is serious! "What happened to you while you were walking the dog?" I yell out.
She explains that they were walking down the sidewalk past one of the clameries when a big truck started up with the exhaust right beside Luca. This startled him which made him jump sideways and right in front of Cindy.
She tripped and fell face first right into the asphalt. She keeps moaning saying "My head hurts so bad, I think I have a concussion!"
I question why she didn't put her hands down to break her fall and she reminds me that her hands are covered in road-rash, so she obviously tried to.
I get some first aid stuff to tend to her knees and some aspirin for her head and prop her up on the couch.
How on earth does she do these things to herself? Remember back in Baja while we were walking the dogs and she falls, almost breaks her ankle and cuts her knee open so bad she almost needed stitches? That was also on a flat road!
No I don't beat my wife, which is what I always remind her that people are going to think when she does things like this. Besides, everyone who knows us, knows that if Cindy and I were to get into a fistfight, I'd be the one with the concussion lying on the couch with bloodied knees.
So the Gainesville shopping trip was put off and she remained on the couch for the remainder of the day.
I took Don and Mary Ann to the airport by myself and was home soon enough.
To follow along with our Documentary kick, we watched a truly eye-opening movie tonight called 'Blue Gold'. THE FIGHT TO STOP THE CORPORATE THEFT OF THE WORLD'S WATER by Maude Barlow and Tony Clark. The film examines the problems created by the privatization and commoditization of water around the globe. If you think this doesn't concern you, watch it and then tell me what you think.
Cindy and I couldn't believe that many of the areas we've visited, many of the lakes and streams that we've paddled are actually owned by a few select companies. This should be mandatory viewing for High School students, every College student and especially for those who live in the Mid-West.
It seems people who live near water usually pay more attention to it. Folks who live out West already know the extremes they have to live with when it comes to water shortages. Folks who live in the Mid-West seem to think that water will always be available. When I question people we've stayed with on their wasteful practices of water...i.e. Sprinklers that run all the time, sprinklers that run in the rain, golf courses that have dark green grass despite long periods of drought....etc.
I'm sure they'd be amazed to learn that many of their lakes, streams and river systems are actually owned by companies who are bottling the water or using it for things that will dry up those same waters with their wasteful practices.
Eye opening is putting it lightly.
Wednesday December 21st - Dinner with Don & Mary Ann
We have return guests staying in the RV Campground right now who stayed with us last year. They returned this year for another month in Cedar Key and we've been enjoying some time with them around the tiki bar.
Don and Mary Ann both work fulltime out of their big 5th wheel camper, so they're not the typical fulltimers (100% retired), but they're great fun to talk with when they shut the phones and computers down at the end of the day.
We had invited them to come over for a dinner before they left to go to Norfolk Virginia for Christmas. Cindy spent the day cooking a meal fit for a 5 star restaurant and I finished up some odds and ends around the motel and tiki bar.
Cindy made fresh pesto with basil and herbs from the garden to go atop our linguini. Homemade stuffed pasta and homemade salad dressing to liven up the spinach salad. It was mouth watering and she lived up to my nomination for 'Best Cook Evar' award!
Don and Mary Ann had showed up with a few bottles of red wine which would accompany our few bottles that Cindy had brought out. We all joked that there was no shortage of wine in the house tonight.
That was till dinner was done, conversation had moved into the living room for multiple hours of past adventures and stories of our favorite places we've all visited, and all 5 bottles of wine were empty! You know it's a great night when you drink everything in the house and the party's still going.
Tuesday December 20th - Taking Down the Lights
I was frustrated that we couldn't get the motor running on the boat, so I decided I'd start taking down the lights and decorations we had spent 2 days putting up.
I went down to the marina and spoke with the mechanic who told me that everything Heath had done was exactly what he would have done. He suggested I try some Starting Fluid which would make the motor fire itself up no matter what.
If that wouldn't work, then he said it was something more serious than water in the fuel.
I tried the starting fluid, and it indeed kicked the motor right to life, but it will only idle for a minute or so before it bogs itself down and stalls.
I went back and told him what was happening and he thinks one of the needles in one or carbs is sticking which is what's not allowing it to idle. He's supposed to come by later in the week and try to adjust it right here at the dock rather than me having it towed over to the marina.
When I wasn't tearing down the boat, which took most of the day, I was editing Cindy's images from her visit with Donielle and Jazper. He's such a cutie and she got some awesome photos of him.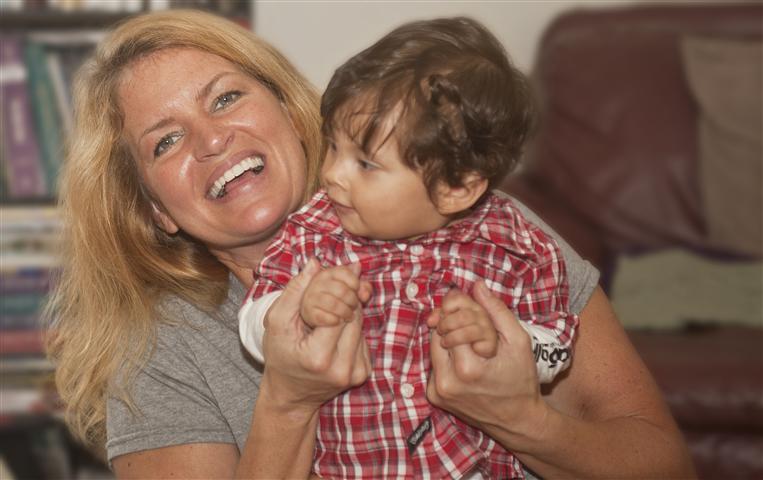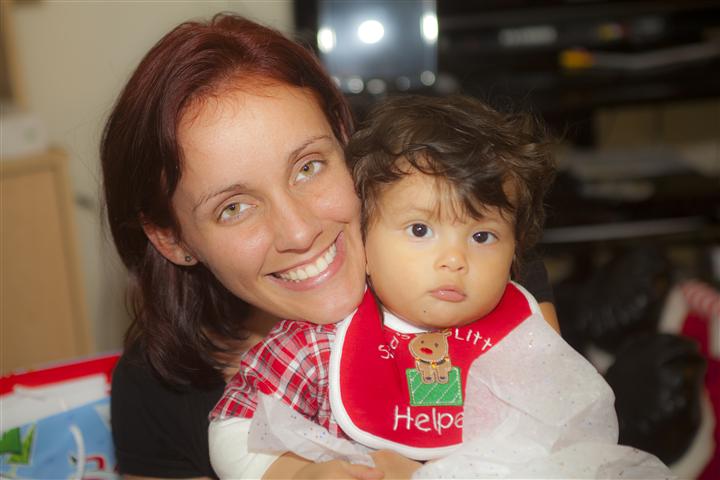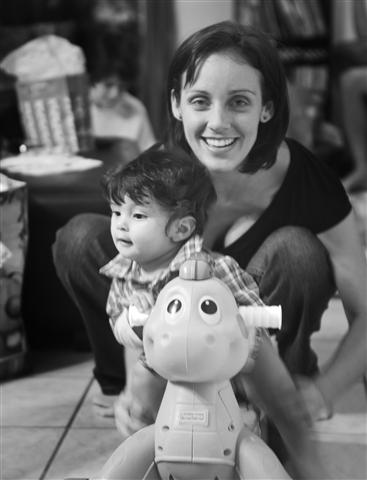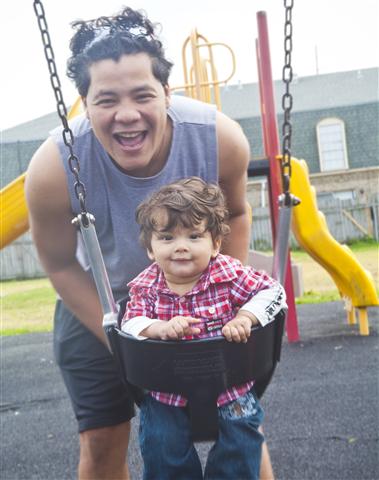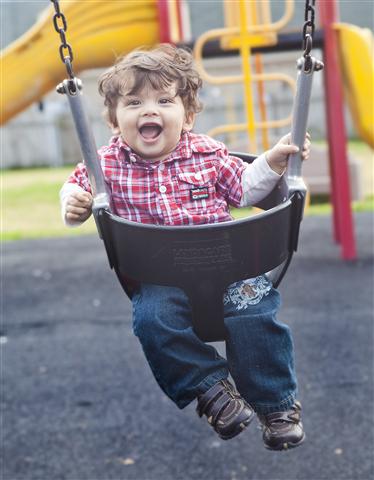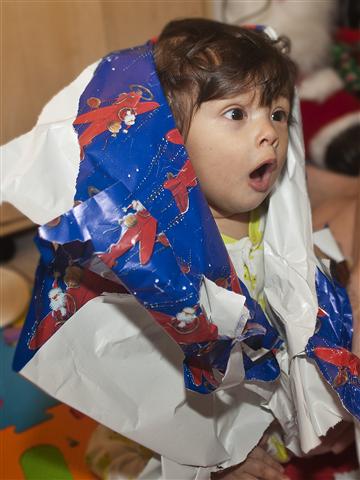 Cindy's Christmas Present!
Monday December 19th - The Return of Cindy
I was so excited for Cindy to return today. Her flight landed at 2pm so I got my stuff done around the motel before I headed into Gainesville to pick her up.
Luca could tell something was going on because he wasn't sleeping in the back seat like he normally does, he was paying attention to where we were going and seemed interested in our destination.
When we pulled into the airport, his tail was wagging and I was worried he was going to jump out the window when he finally saw Cindy.
She jumped in the truck and Luca gave her a full bath with the amount of kisses he slathered all over her. His shadow had returned and he was as happy as I was if not happier!
We drove into downtown Gainesville so I could drop off some wedding photo albums I had made for one of the weddings we shot awhile back, then Cindy and I grabbed a bite to eat. We did our once a month grocery shopping before we headed back to Cedar Key.
Cindy snoozed most of the way home since she told me she'd been sleeping on a blow-up mattress and hadn't got much sleep in the past few days.
We had gotten a call from Hazie and Amanda asking if the tiki bar was open because they had some friends in town from Ft. Lauderdale who wanted to come out. We told them to make themselves at home and we'd be there in a few minutes.
We missed sunset by a few minutes, but enjoyed the evening sitting out back laughing at funny stories and enjoying the perfect temperatures.
Sunday December 18th - Are You Kidding Me With This?
After yesterdays wonderful day, I woke up early knowing we had a few check outs with both rooms checking right back in.
With Cindy gone, it's next to impossible to do anything else except for tending right to the motel. With both of us here and our worker Amber helping out, the chores can all be done, the phones can be answered and the guests can be attended to with great attention.
Take one, or both out of that equation and its a full time job and then some.
So when I woke up and learned that Amber was calling in today due to a sick child, it meant I was all alone to tend to the rooms, the phones and the guests. Icing on the cake at this point.
Luckily we only had two rooms to turn over, so it wasn't all that bad. Once they were finished, which took me a few hours each, I was done for the day. Now all I had to do was stick around to answer the phones and be the face of Low-Key Hideaway. Scary thought if you've seen my face.
This time of year, we're pretty slow, actually our slowest few weeks of the year are right before Christmas, but our phones are ringing off the hooks with people starting to plan their vacations for next year. I can tell the weather is getting crappy up north because as soon as it does, we start getting lots of reservations and everyone is asking what the weather is like.
I love telling them "Today is a bit cool, it's only 70 degrees!" I usually get cussed out and hear them tell me something about snow and ice, but it's a fun way to break the ice and let them know we're having some enjoyable weather this time of year so they have something to look forward to while visiting.
The boat was still sitting at someone's dock across the channel from our place, and luckily no one was home at their place. Heath and I had made a plan for him to bring his trolling motor over which would bring the boat back to our dock where we could trouble shoot the engine problems.
Problem was high tide wasn't till after sunset. I was sitting out back waiting for him to come motoring up when a few guests came out from the motel to enjoy the last rays of the evening. We were all sitting out at the tiki bar when Heath came up. We fired up the generator just to show off the lights for a minute or two, then called it a night.
I was glad the boat was back at my place just so I wouldn't have to worry about it sitting somewhere else with the generator, the lights and all our stuff in it.
Saturday December 17th - My Life Is A Country Song
Even though I love country music, I'll admit that many of the songs are very sappy and predictable. Well today would prove that I'm living one of those sappy country songs out in real life.
The Saturday started out nice enough. Great weather, clear sky, warm temps, I took Luca for a walk before Luz and Susan showed up to finish up the boat decorations.
We tightened everything up and added the Toole fabric. We attached the bow to the top of the wooden frame and added some extra supports to be sure it would withstand the ride over to Dock Street.
Luz had to go pick up her daughter Marina and her husband Walter at the airport in Gainesville, so she had to leave around 2pm. Susan and I made plans to meet back here at 4pm where we'd load everything into the boat and I'd motor it around to Dock Street where Luz, Marina, Susan and a few other girls would be in charge of piloting the boat in the parade.
In the meantime, I rode the scooter into town to get some back-up fuel for the boat and the generator.
One of the tricks of making the lights work is to have a small generator on the boat to power all the lights. Too many people think their boat batteries are powerful enough to keep the lights going only to find themselves dead in the water with a drained battery and no lights.

Final Preparations of Decorating the Boat
Last year we had lots of lights and our little Honda EU2000i generator powered them without even kicking into the high idle where you know its drawing lots of power. This year we had fired everything up just to make sure it worked and the generator went straight into the high mode and sounded like we were going to pop a fuse at any second. That's how many more lights we have this year! We left the generator running for quite sometime with everything glowing just to make sure we weren't going to pop any fuses, and we never did, so we hoped it would be fine for the entire night.
While I was in town, I stopped by Heath's dock to see how they were coming along. Last year they were in their final decorating stages when the giant star that was supposed to be affixed atop their mast fell in the water and shorted out many of their lights.
I spent a few minutes helping them string lights and helped them get the star up there without dropping it in the water this year. Their boat looked great and was going to provide some stiff competition for ours, but I was sure our design girls had done a fabulous job so we'd be able to hold our title of first place.
I came home, ate some lunch/dinner and got everything loaded into the boat. Susan showed up and we both took a few final pictures laughing to one another that this might be the last time anyone sees us. The winds had picked up and we kept joking around that we might not even make it to Dock Street with this giant sail of a present in the boat.
I joked and said "From all the trash talking I've heard, someone has probably sabotaged our boat and we wont make it there anyway." We both laughed and climbed in the boat.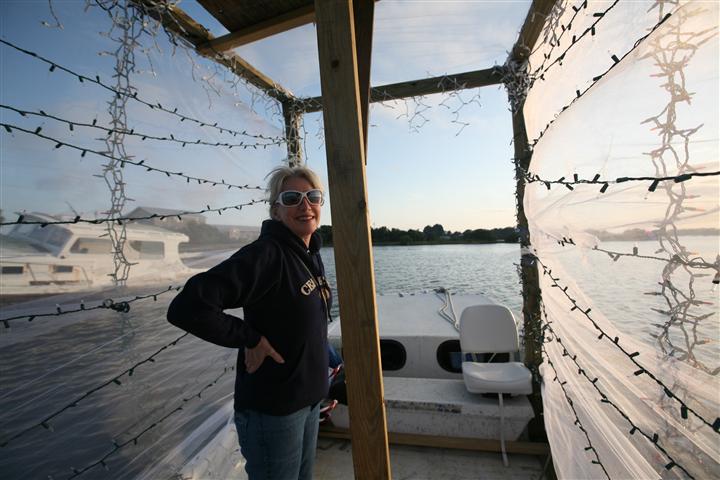 Heading Out from the Low-Key Hideaway
We pulled away from the dock behind the Low-Key Hideaway and motored out into the #3 Channel. Mid way up the channel, we were idling along fine when the motor sputtered and just died. That's weird?
The wind was blowing at about 10mph, so it started us drifting right away and I was trying to get the motor started as Susan was moving the steering wheel to have the motor act as a rudder and direct us away from any oyster beds or docks.
A few times I was able to get the motor started back up, and it would idle fine, but as soon as I'd push the throttle up, it would stall back out.
This had happened to Walter and I one time while we were out and after a few phone calls and numerous things we'd tried, we were able to get it started back up with by-passing the Water Separator. While Susan was steering the boat, I cut the fuel lines to by-pass the Water Separator and had everything hooked back up pretty quickly. The motor would kick over just fine, it just wouldn't fire back up??
We finally landed up against someone's dock and I gave Heath a call. I explained our situation and he said he'd be there in a few minutes with some tools to see if he could get it fixed.
Heath and Norm showed up and spent about 20 minutes draining the carbs and pumping some fresh fuel through them. Still nothing?
By this point it was getting dark and we were supposed to be lining up down at the start of the parade. I told them it was a no-go and we unloaded a few things off the boat and Heath gave Susan and I a ride back to the Motel.
Susan jumped in her car and went over to Heath's dock so she could at least be part of the boat parade since she's spent two full days decorating a boat that no one will see.
I was fuming mad at this point. But I knew that just sitting here steaming mad wouldn't get me anywhere, so I threw the cameras in the truck and headed down to Dock Street.
Once parked in town, my shitty night turned into an even worse night when I went to sling my camera backpack around my shoulder and realized that in my frustration of loading everything into the backseat of the truck, I had forgot to zip up the main zipper.
As I slung the backpack around my shoulder, I heard that all to familiar sound of a camera bouncing off the ground. Remember we just had this happen a few weeks ago when one of my camera straps broke and the camera went crashing to the ground.
I looked behind me to see my Canon 30D with the Canon 70-200 f/2.8 lens attached sitting on the asphalt. YOU'VE GOT TO BE KIDDING ME!!!???
I almost put my fist through the window of my truck I was so furious at this point.
I picked the camera up and what would you guess, it failed to turn on. There was a nice gouge taken out of the grip attached to the bottom and when I opened the battery tray compartment, both batteries came falling out along with a few other plastic pieces that were no longer attached.
I sat on the ground with my Swiss Army Knife bending back a few metal pieces that had bent themselves out of whack and I was able to jerry-rig it so it would hold a battery and I could turn the camera back on. This was after I had removed the grip which is now useless.
Another few hundred dollars down the drain.
I spent the next few hours trying to explain to everyone who saw me on the dock taking pictures and not out in the boat what had happened and why we weren't defending our title. Everyone I talked with would say the same thing...."You know, there were a few people who said they'd make sure you're boat wouldn't win this year?"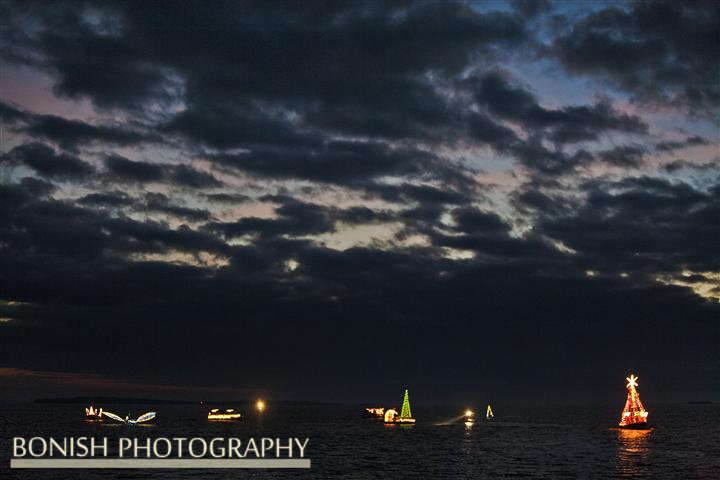 Cedar Key Christmas Boat Parade 2011
I put it to the back of my mind because who would worry about the title of a Christmas Boat Parade so bad that they'd sabotage someone else's boat?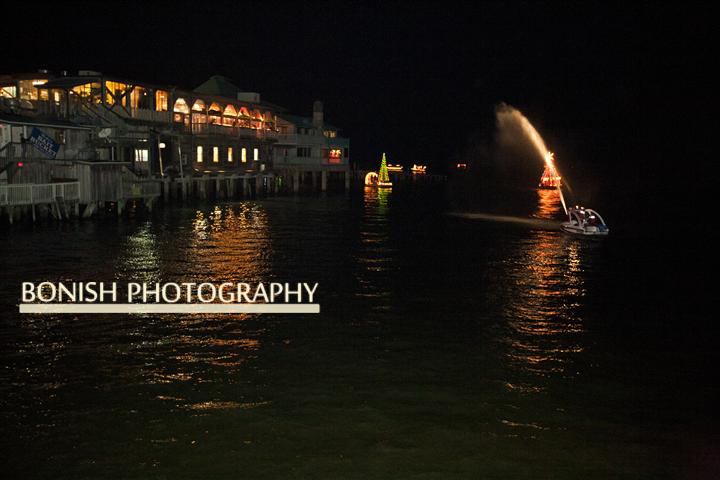 Fire Boat behind Dock Street during the Cedar Key Boat Parade 2011
After the Parade was over, I went over to Heath and Jolie's where Jolie had a big pot of warm soup to feed us. It was delicious and exactly what I needed to take my mind off a fully decorated boat sitting at someone else's dock. THANKS Jolie!!
With a full belly, I came home and snuggled up with Luca and passed out.
So to return to the Country Song theme, "My wife's done left me, my dog just died, my boats broken along with my camera and I'm sitting here drunk by myself on the couch with my old hound dog snoring away." Has a nice ring to it doesn't it.
Oh wait I almost forgot the most important part. Who do you think took first place in the Christmas Boat Parade? Same person who told me numerous times our boat wouldn't make it to Dock Street and the same person who took the judges out to dinner earlier in the week. Yep, you guessed it. Just wait till next year!
Friday December 16th - Decorating the Boat
Luz and Susan were over first thing this morning. We went over our game plan as to how we were going to tackle the decorating of the Skiff for the boat parade and got started.
I went to the local hardware store and picked up 10 2x4's and Luz and Susan went and got items to attach the lights to the wood frame we were going to build. Special Thanks to Chris and Kim and Bobby who donated so many lights to the cause. Cindy had posted on Facebook that we were in need of Christmas Lights and a few locals dropped off boxes of lights they had as extras! Don and Mary Ann, some fellow RVer's who are staying with us went into town today and picked up a few more boxes for the cause too!
Our plan for today was to build a box type structure in the boat, wrap it with lights and wrap the wood with a Toole type fabric to make it look like a giant glowing present.
Luz was in charge of the Bow that was to go atop the present, and I'll just wait till we have everything put together to see how it turns out.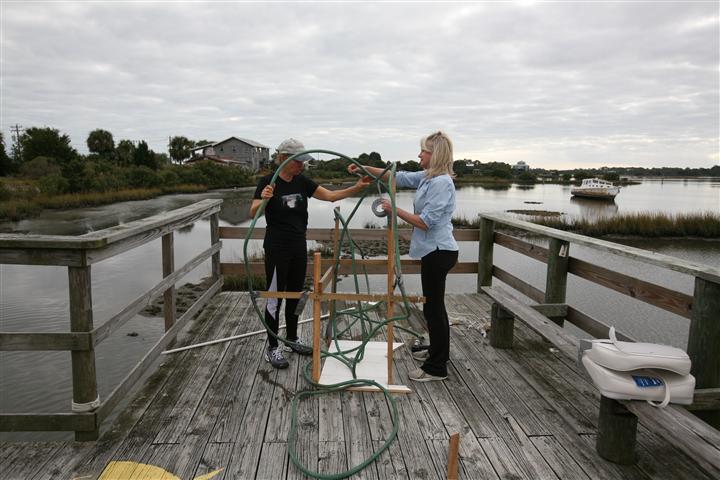 Luz & Susan Trying to Make a Bow
She screwed together a bunch of scrap pieces of wood in a configuration that only makes sense to Luz. She then took a garden hose and strung it with lights around the wooden frame and to look at it on the dock, it looks like some abstract piece of art. She kept reminding us that it's a bow, we just couldn't see it.
I wonder what she see's compared to what everyone else sees?
Throughout the day, we would have numerous people stop by to see what we were doing and just inquire about how things are going. Everyone would look at Luz's bow and ask "Luz, what in the hell are you building over there?"
By the end of the day, it was comical to hear what peoples thoughts were when we'd all ask "What do you think it is?"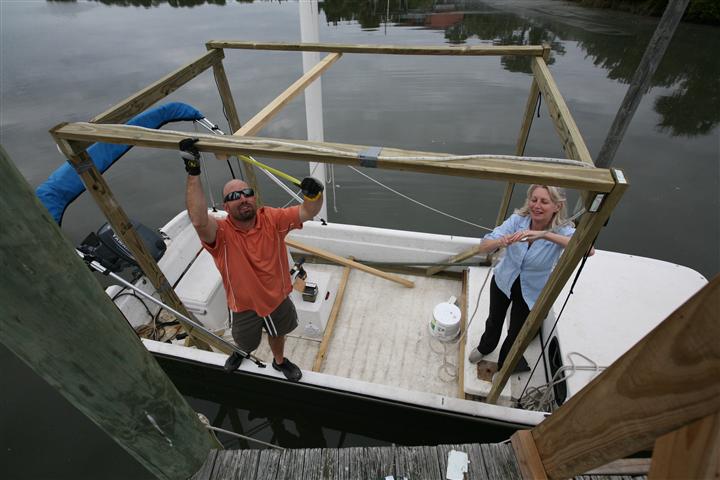 Susan and I getting the frame together
When Heath came over to do some spying and get ideas on how to decorate his boat, he said "I didn't know there was a theme this year? At least you stayed with aquatic life and made a sea anemone." That one had us all in stitches laughing so hard it hurt.
The day turned into late afternoon and soon the Tiki Bar was open. We filled up with Motel Guests and a few locals who were enjoying the beautiful weather. Last year as we decorated the boat, we were all bundled up in winter garb because it was so dang cold. This year we were in shorts and t-shirts and were sweating in the 75į temps.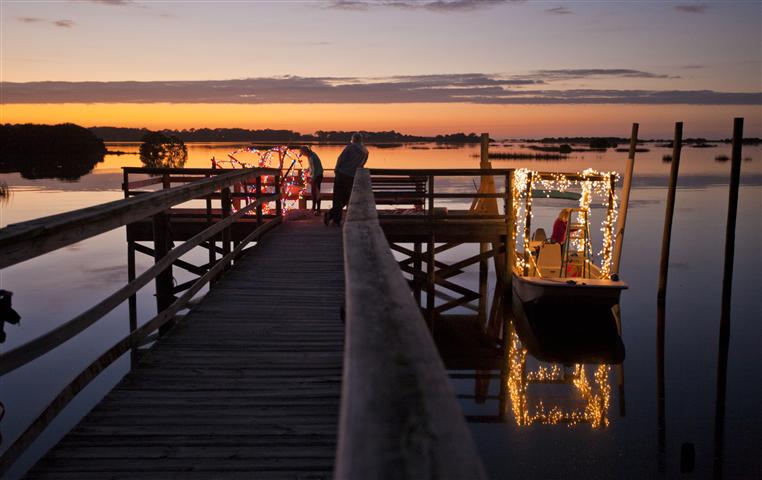 The end of the day, seeing if everything lights up!
Dave and his wife Cherie showed up with Christmas Presents for the tiki bar. They always bring their empty wine bottles and corks and this time, they said a friend had sent their contribution of a full shoe box filled with wine corks. You have to see the tiki bar to know that it's a mis-mash of recycled materials.
The lower wall around the rim of the tiki bar is all empty wine and beer bottles cemented together. The wood used in the tiki bar itself has been collected after washing up along the shoreline or scavenged from dumpsters when homes are being rebuilt in Cedar Key. I like to call it an Adult Tree Fort!
I save all our wine corks and staple them to the wood to create a mosaic of funkiness. That and the beer caps which add a touch of quirkiness. None of it makes much sense, but when you see it all mixed together, it seems to work.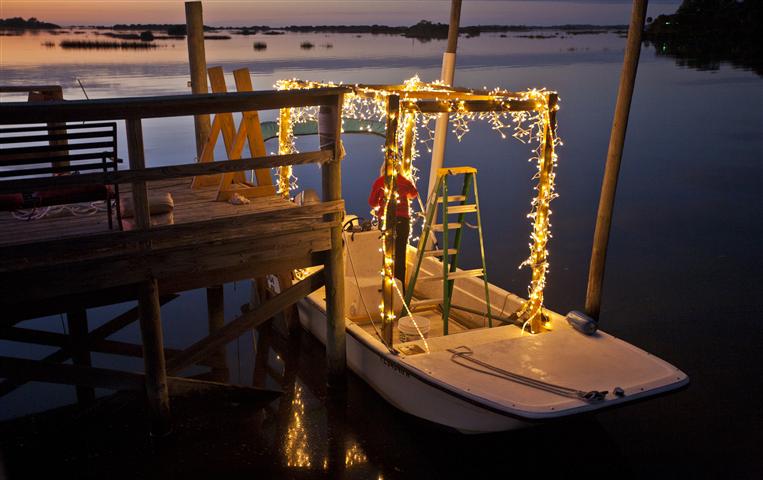 The best part is, if you were to add it all up, I might have a few thousand dollars put into the place. And that big expense is in the coolers and the 3 compartment sink that were bought new. Other than that, everything has been recycled, donated or found. Cindy always has to remind me of the time put into putting all of this art together, but to me, that's just out of love.
I always remind her that I don't think she knows how good she has it.
I'm not into sports, I'm not into any hobbies other than my photography, which actually provides us an income, and other than the lust for adventure and travel, tinkering with screwball ideas like the tiki bar and building weird things around the motel, I don't have any expensive things to waste our money on.
I could be like many other men I know that have thousands upon thousands of dollars put into their trucks. Thousands upon thousands of dollars put into their motorcycles, boats, muscle cars, sports collections and so on. So the fact that I spend a few hours a week goofing off in the tiki bar is really just therapy for me.
Hazie and Amanda showed up and the rest of the night was spent sharing stories and laughing till our stomachs hurt. Hazie and Amanda were telling stories about their kin-folk and of being raised in the South.
Stories of hunting coon, opossum, hogs and gator. Fishing and trapping and things that are so common to them, but when told with their accents and humorous Southern words they use, they're so fun to listen to for folks like us.
It was a great night had by all and many good memories were made!
Thursday December 15th 2011 - Long Day of Emotions
Cindy came in the bedroom this morning to wake me up by saying "I need you to get up and take Lucy to the vet!"
Of course this snapped me up asking "Why, what's going on?"
She explained that she had been up since 4am and Lucy is just sitting in the crate where she always lays. It's basically her little den. She's shivering, she still wont eat anything, we're going on 5 days now without eating, and she's too weak to really get up and move.
Cindy was crying and said "I cant take it any longer, and at this point it's just miserable for her....you can see it in her eyes."
So I called the vet and found out the doctors weren't there till 9am. I had my morning coffee and ate some breakfast. At one point, Lucy got up and walked around, came over and sniffed me while I was sitting on the couch watching the morning news and wagged her tail. Cindy looks at me and says "Wait, maybe she's snapping out of it, look she's wagging her tail!"
That took about 30 seconds before she was back in her bed shivering and sleeping. I loaded Lucy into the truck, rolled the window down where she normally likes to put her nose out the window. She tried to get up, but fell back to to the seat and slept the rest of the way to the vets office.
That right there told me we were doing the right thing.
When I got home, I let Cindy know that we did the right thing and that there was no reason to be crying. Lucy had led a life most humans dream of. She has spent the last 4 years in the back seat of our truck roaming North America and sniffing smells from all around the country, played on beaches in the Upper Peninsula of Michigan to the Southern most Beaches of Baja California and has hiked trails all throughout the West.
She was 14 years old and had lived a great life. There is no reason to be sad, only happy that she's not sick and hurting anymore.
Cindy had her bags loaded up and we were soon back on the road heading to Gainesville so she could fly to New Orleans to see our Grandson. It was a long, quiet ride with neither of us saying more than a few words. Luca slept by himself in the backseat the entire way, getting up every now and then when we'd slow down so he could stick his nose out the window. At this point, nothing had sunk in that his partner in crime for the past 8 years was gone.
I dropped Cindy off, turned the truck around and drove back to Cedar Key. Luca and I went for a long walk just to clear our heads and give him some fresh air. The rest of the day was spent cleaning up around here, doing some laundry and checking folks into the motel.
One gentleman who stays with us quite frequently is named Bill. He owns a bar right along the Florida/Georgia border and uses the Low-Key Hideaway and Cedar Key as his little get-away spot.
Bill comes down every month for a few days and will stay in the RV Campground, sometimes he just drives his truck down and rents a room like he was this time. He's known around town as Santa Claus because he has bright white hair and big white beard. For all I know, he could be Santa because he's always laughing, he's jolly as one could imagine a real life Santa and he's such a good hearted person.
Where ever he goes, he usually buys a round for the entire bar, tips at the upper levels of the tipping scale and always levels you with a smile on your face. Check out Cindy's Facebook Profile Picture if you want to see the kind of fun we have with Bill when he's visiting.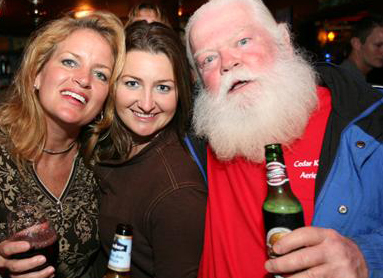 Cindy, Danielle and Bill (aka...Santa Claus) in Cedar Key
I was sitting out back on the dock talking with some of our guests when Bill came out back. He asked if the tiki bar was open and I said "Sure, it can be for you." So Bill and I sat by ourselves talking and catching up since his last visit in Cedar Key.
He asked where Cindy was and when I told him she was out of town for the weekend, he said "Oh great, so its just me and you. Let's go to dinner!"
We headed into the Island Hotel and grabbed some juicy burgers. The entire island is really slow this time of year so we had the Neptune Lounge to ourselves. Except for Bill, Me and Angie the bartender, there was just one other person who was from Key West who said he was trying to get out of the rat race it has become and wanted to come check out Cedar Key and see what all the talk was about.
The four of us talked till late in the night, laughing, sharing various stories from our careers behind the bar (Bill owns a bar, I've worked in one most of my life, and this other guy has worked as a bartender most of his life too), so we all had some really funny stories to compare.
When the hotel finally kicked us out, Bill and I came home, said our goodnights and I crawled into a big, cold, lonely bed. Luca was right beside me snugged up as close as he could get. By this point he's confused as hell because not only is Lucy missing, but his shadow who is Cindy has been gone all day long too.
Wednesday December 14th - Finishing Up Loose Ends
Yesterday was spent finishing up all the loose ends with the final room we had to redecorate. Little things that most people wouldn't notice, but since we've spent so much time in the room over the last few weeks, they jump right out at us.
We had originally planned on this room only taking 4 days. That was 2 weeks ago. Amber, our employee who helps us with everything around the motel was working with us yesterday and said "I think you guys should have your own show. You could show people that a remod-job actually takes a few weeks with all the things that pop-up in real life."
We joked and said "Yeah, that would be great because we all know there is no way a house can be built in 7 days."
There is a thread on Expedition Portal Forum where members recommend Documentary's that make you think. One of them was named 'Gasland', a documentary by Josh Fox. Numerous members had posted comments about it saying how eye opening it was.
Well we ordered it from Netflix and watched it last night. Before it even started Cindy said something along the lines of "I know this is going to be one of those movies that will end in me being so pissed off by the time its over!"
We didn't even make it half way through the movie before she said "OH MY GOD! I'm so friggin' upset with our Government right now!" I posted something about the movie on Facebook today and it was interesting to see the feedback that came in.
Of course there are people who think it's all propaganda and has an agenda to make you think it's all lies. But after sitting around for an hour on Google reading so many reviews and other sites that have tried to debunk everything that is quoted in the movie, it's clear to see that Big Business Owns the Media and is not letting them do their job.
It's very scary to realize what it happening all around us and Dick Cheney, our Government and the EPA are allowing it to happen. Watch it and speak out about it.
We also got the news back from the vet that Lucy has Chronic Liver Failure. The doctor said we can put her on a series of antibiotics and other medications, but when Cindy asked what that will do, he said it might give her another year at the very most and that's only if her body accepts it.
So we have to make the decision of what to do. Of course Cindy has now gone the other way from when she said "I'm not spending any more money on this to just prolong it" but we'll have to sleep on it for a few days before we make a final decision.
Cindy leaves from New Orleans tomorrow, so it'll be a few days of bachelor hood for me.
Monday December 12th - Marathon Building Day
I was woken up this morning by Cindy yelling from the kitchen "Pat, that Room has got to be finished today! Get yer' butt out of bed!" It was 8am.
I crawled out of bed, showered, dressed and went right back to painting and building. 10 hours later, the room was pretty close to being 100% done. Problem is my A.D.D. issues don't help me complete tasks in a timely manner.
I'll have the trim brush and paint can in my hand that we use to paint all the trim in our rooms. I remember that there is a spot in another room that needs to be touched up. Rather than finish the room I'm in, I go down to the other room to hit that spot before I forget about it. An hour later, Cindy comes and finds me to ask "What the hell are you doing in this room?"
I explain that I remembered this molding needed to be touched up and once you hit a little spot, you might as well do the entire thing.
She scolds me and gets me back on task.
I set up a pair of saw horses to paint the newly installed bathroom door. While it's drying, I remember another door in one of the other rooms needs to be re-coated. This means I go take that door off the hinges and slather on a coat of fresh paint. Again I'm scolded when Cindy realizes I'm not staying on task.
This is the way 99% of the day went.
We also have had an issue arise that is a touchy subject between Cindy and I. Lucy, the Beagle that everyone knows I'm so fond of has been acting very sick the past few days. This dog lives and breathes to eat. When Cindy is cooking, she's always right at her feet begging for any piece of scrap that might fall off the counter.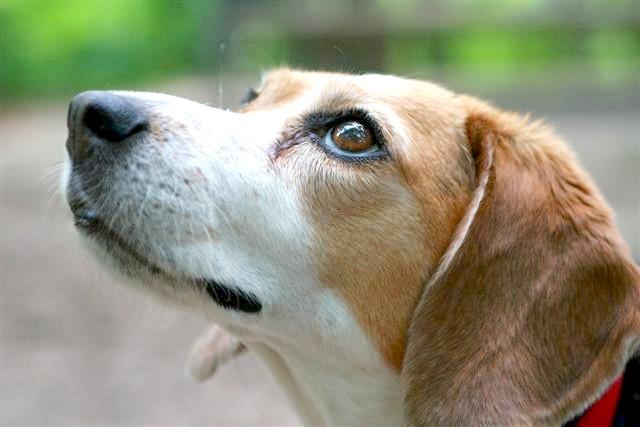 If you even so much as open the refrigerator door, she'll get up from her comfy sleeping spot in her crate to go see what she might get for the extra effort she just showed you. She gets fed twice a day at 8am and 7:30pm. If you're more than 10 minutes late of either feeding time, she'll nudge her stainless steel bowl on the tile floor so it makes a loud clanging sound till you come feed her. The Pitbull by the way will stay lying in our bed till he hears the food hit the bowl. Then he'll come into the kitchen so he can eat before Lucy eats hers and makes her way to his.
Well for the past two days, she hasn't eaten anything. At first we thought maybe her teeth were bothering her because she has some issues with her age and her teeth. We usually put water in her food to soften it up and she wolf's it down like she's never seen food before, even with the bad teeth.
Two days straight and she hasn't eaten a piece of food. We tried feeding her some fresh strawberries (one of her absolute favorites), tried wet food which she wouldn't touch and Cindy even went as far as grilling up some chicken breasts to feed her and she sniffed it for maybe a second before she walked back to her cage and laid back down uninterested.
Cindy took her to the vet this morning to see what is wrong with her. I told her that if it means spending buckets of money to get her back to her ornery self, its not worth it considering she's around 14 years old, has a giant benign tumor on her side, a mouth filled with bad teeth and is on Thyroid medication that is pretty expensive already.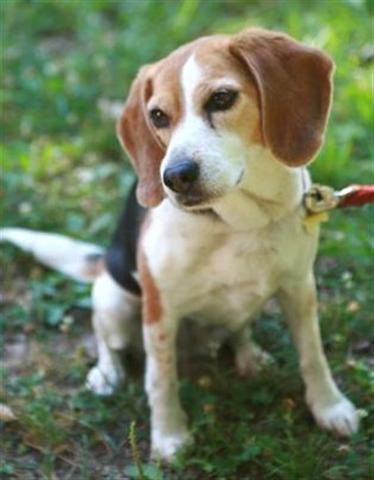 The vet ran some tests for $150 plus the $35 vet visit and will let us know on Wednesday whether its serious or she just needs her Thyroid medication re-adjusted.
Cindy did let the vet know that she doesn't believe in keeping an animal alive if the comforts of living aren't there. Meaning if her favorite thing to do in life is eat, and she's not even interested in eating at this point, then we're not going to drug her up on a bunch of medications to keep her alive for a few more months.
We had a friend who had a 18 year old Lab that was on about $1000 worth of monthly medication. It could barely walk, was totally blind, deaf and would just lay there all day long, usually peeing on itself because it was too sore, tired and old to get up and go outside to go to the bathroom, yet he refused to put her down. To me, that's just animal abuse.
Other than getting up to go to the bathroom once or twice a day in the past few days, the Beagle hasn't moved. Oh, and twice it didn't make it outside and just went pee on the floor. Which is something she NEVER does, so we both know something is seriously wrong.
The vet said it's probably Kidney Failure which is why she cant control her bladder. Cindy is leaving on Thursday to go visit Donielle and our grandbaby, and has already told me if the results come back and it's a bad sign, then I have to put the dog down while she's gone.
Why do I always have to be the bad guy? I was given that task the last time we had to put down our family dog of 14 years. It was one of the hardest things I had to do. But that dog was also in lots of pain and the vet had given us pain killers and told us when these no longer worked, there is nothing more we can do other than a $3500 surgery to remove the tumor and at 14 years old, she might not have even made it.
One day I watched her try and get down off her little chair she'd sleep in and as she jumped down, she yelped and fell to the floor because she was too weak to hold herself up. I knew that was the last bit I could stand to watch. That's no way to live and there is no reason to prolong it. Cindy was at work and Donielle was still in school, so I just took her to the vet and had her put down.
We first went and bought a 6-pack and drove around the backroads of our small town (Her favorite thing to do). I put a little cup in her cup holder and would fill it with beer. She'd take a few sips and put her head out the window to let her ears flap in the breeze. She'd look at me every now and then with a big smile on her face like she knew it was her last ride. She had been too sick and sore to hang out the window over the last few months when we'd go for our weekly drives. But this ride she stayed on the window ledge the entire time all buzzed up on her beers.
We all knew this day was coming and at the time we were having custom Oak bookcases built in our house. The carpenter who was doing the work had talked to me about the dog and how bad she was doing. I had told him she probably wouldn't last a week or more.
The next day he showed up and said "I took some of the extra pieces of oak wood and last night in my workshop I made a little coffin for you guys to burry her in."
It was about twice the size of a shoe box but built with the utmost care and love. There was even a cross routered into the top with the dogs name "Baby" set in the lid. When Cindy and Donielle got home that night, I had the grave dug in our back yard with the coffin beside it. We all went out back, said our favorite stories we'd shared with the dog and toasted a drink to her. We buried her under our hammock in the back yard because she used to love to lie out there with us in the warm summer afternoons.
Sorry for sharing such a horribly saddening story, but it reminded me of why we had gotten Lucy to begin with. When Baby had first gotten sick, Cindy thought a new puppy would give her a few more years of enjoyable life.
What it did was give Baby a partner to annoy the heck out of. Lucy was full of spunk and always needed to be tied up because she loved to run away and get into the pond out back. Which meant she'd come back covered in muck, stinking like a horrible mess. Baby would sit herself down just out of reach of Lucy's cable so Lucy could stand a mere foot away but couldn't actually get her.
She'd go crazy barking and trying her hardest to get to Baby who would just lie there in the sun looking at us like "Why on Earth did you get me this annoying toy?"
After Baby we got another dog to keep Lucy company, but that big Mastiff got hit by a car after being let out one night while Cindy and I were out to dinner. Luca was the result of that dog getting hit when a good friend knew Cindy had just gone through the loss of two dogs in a short time.
He brought Luca over and asked Cindy to watch him. Right away they took to one another like best friends. He came potty trained and instantly took to Cindy's heels where he still is today. He was great fun with Lucy because he was still a puppy, and suddenly the tables had been turned. Now this old cuss had a young whipper-snapper that was annoying the hell out of her much like she'd done to Baby for the past few years.
Originally our friend Tory had just asked Cindy to watch Luca for the weekend because his male Pitbull wasn't getting along with the new male puppy being brought into his household. When he called back and asked Cindy if she wanted to keep him, She said "Tory, there is no way I can get another dog, it's way too soon after losing my Mastiff, Hooch."
He said "Ok, I'll come pick him up and bring him to the vet to have him put down. I cant keep him and none of the shelters will take Pitbulls."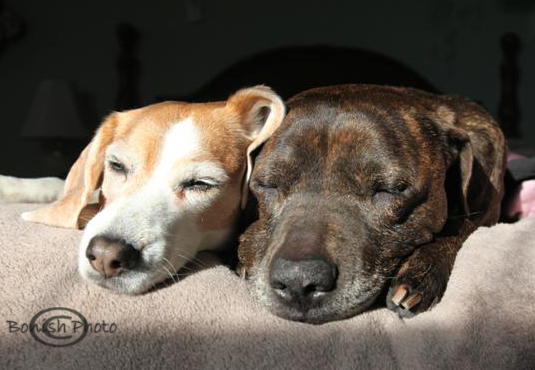 Best Friends Sleeping in the Sun
She said she'd keep him till she could find him a home for him and the rest is history. He now is her shadow and the two are inseparable. I cant imagine if anything was to happen to this dog. I truly dread that day!
So we don't know what we're doing with Lucy. The vet will let us know in a few days when the test results come back in but I'm not really looking forward to what ever those results are.
The rest of the day and night was spent finishing the room.
Sunday December 11th - Back to the Grind
This morning was spent packing things up and getting ready to go back home. I asked Cindy one last time "Are you sure you want to go back? We have our camera gear with us, we have the dogs and we have a pile of clothes...we can always just get on the road and keep going!"
She just looked at me and said "You don't know how hard it is to just say 'Ok, lets go'"
But since you're reading this and already know we're back in Cedar Key, you know what the decision was.
We first made a stop at Home Depot to buy some Quarter Round molding to finish off our room we're redecorating and some wood so I can build a bed frame and a custom headboard.
We got home and Cindy got to unloading the camper while I went straight into the room to start putting down molding and get to painting. This kept me busy till say 11pm. At that point, I was exhausted and we both headed into bed.
After this long weekend and marathon day of work today, we both crashed out and were sawing logs pretty quick.
Saturday December 10th 2011 - Full Day of Fun & Partying
I don't know what it is about the bed in the camper, but Cindy and I both woke up this morning saying "Wow did we sleep really good!" When Fonda and Juergen slept in the camper for a few months while staying with us here in Cedar Key, they both said "I don't know what it is, because the bed isn't even all that big, but we've both agreed its some of the best sleep we get when sleeping in there."
So we woke up feeling good and refreshed and were ready for a fun filled day.
Cindy made some breakfast while I downloaded the images from the concert last night to the hard drives. We could hear Hazie, Amanda, Phillip and the rest of the gang all outside laughing and talking about the wild times they had the night before, and I said to Cindy "I wouldn't be surprised if they're drinking already." I think it was 8am.
Sure enough, after our breakfast, we walked outside and they were all sitting around with beers in their hands and big smiles on their faces. I must be getting old or just maybe soft, but I cant do that anymore. I could, but I'd be sleeping by noon and would have a headache for the rest of the day.
Luckily the peer-pressure didn't have time to kick in because it started raining and everyone scattered to head inside and under-cover.
Cindy and I decided to go for a drive since the rest of the group was going to go out for lunch at a local Chili's Restaurant.
There is a road just down the street from where we were that is called the Ozello Trail that leads back to the metropolis of Ozello. It's a winding, curving road that snakes itself out into the marsh with nothing more than a few houses scattered along the edges and a General Store/Restaurant that visitors like to stop at. It was once in the "Ripley's Believe It or Not" because the local kids rode to school on a boat.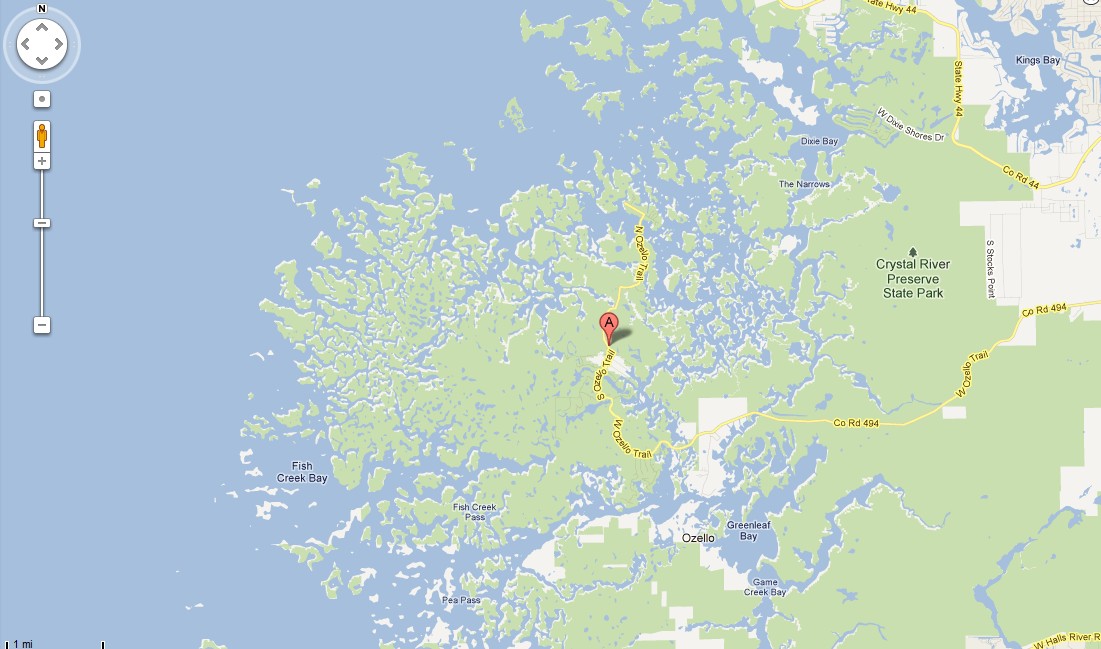 A Google Maps image of the Yellow Line snaking through the marsh that makes up the Ozello Trail
We've had a bunch of bikers who visit that usually make the Ozello Trail a day trip from Cedar Key. They all talk about how fun it is to ride on their bikes. If the water is at the High Tide mark, apparently it's right at the edge of the road and the road is a hot spaghetti noodle of turns and hair-pins.
It sort of stunk for us because it was pouring rain the entire time, but I can already see me coming back down here to photograph the birds. The marshes and ponds along the edge of the roads were lined with Wood Storks, Great Blue Herons, Egrets and everywhere you looked you spotted a Belted Kingfisher.
You'll have to take my word for this, because it was raining way too hard to get any photos...believe me I tried, but they're useless and I just got yelled at for stopping in the middle of the winding road and rolling the window down in the rain.
We got to the end of the road where it stops at a boat launch and a little city park. There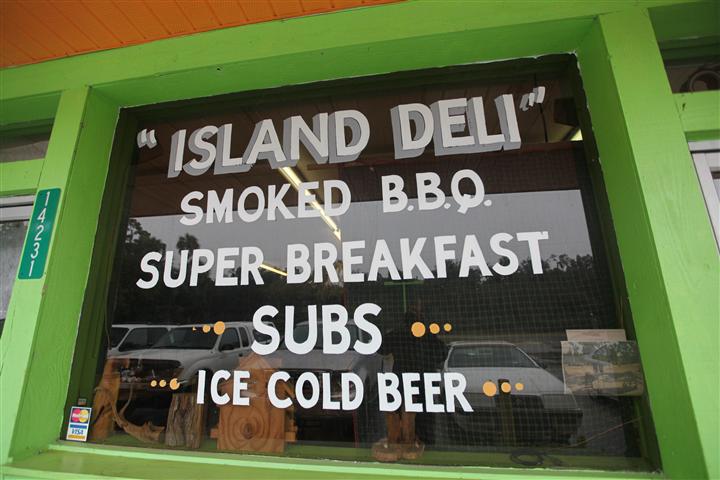 are a few homes built on stilts and we both commented on how scary it would be to live here during a storm. I told Cindy that if we were to tell our family that Cedar Key is just too busy for us, we could always move to Ozello and really get away from it all. About the only thing we could find smaller than Ozello to downsize would be one of those ghost towns Out West.
On our way back towards Crystal River, we stopped at the Island Store for some lunch. This is basically a Jiffy Mart with a Tiki Bar built in the middle. One side of the place has been converted into a diner and they have a small menu to pick from. It looks like all the locals hang out in there because everyone was talking to one another and we seemed to be the only tourists on this rainy Saturday afternoon. The owner was proud to show us the fishing photos hanging around the tiki bar and explain what each fish was.
We both ordered burgers and sat quietly listening to the locals talk about fishing, about other locals who weren't in the store and about the day to day life in Ozello.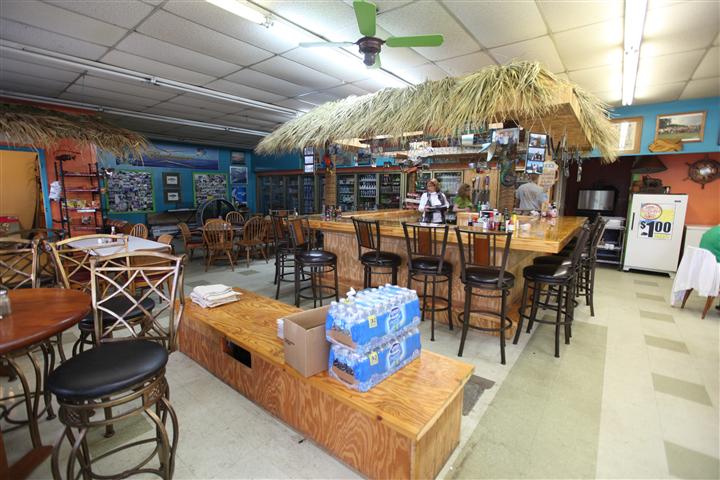 The Tiki Bar inside the Ozello Island Deli
As we were leaving, Cindy spotted one of those games where you drop a quarter in the slot, and it falls down on a shelf and tries to push a bunch of other quarters off the shelf. She asked if I had any change and I gave her a few quarters. This kept her occupied for about ten minutes.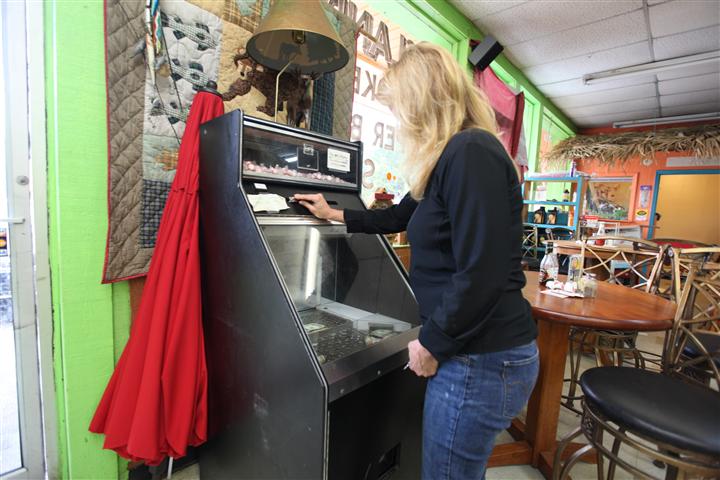 Cindy Gambling in the Island Deli
When she finally lost her money and anything/everything she had won, we walked out to the truck. She got in and saw that I had a cup holder full of loose change. She grabs all the change and runs back into the store. An hour later when she had lost all of that money, I finally dragged her out of there kicking and screaming.
We stopped at a local thrift store to see if we could find any rain jackets and I picked up a cool frame that had some ugly painting in it. Cindy and I always look for unique frames so we can put our own images in them and thrift stores are the best place to find them. Cindy looked up the artist online and found that the painting is probably worth a few hundred bucks!
Then it was back to the campground. By this point, the rain had stopped and everyone was back in their camp chairs sitting around a bonfire. Rock Crusher Canyon requires you to have fires in a pit that is raised off the ground.
While Hazie and Amanda and the rest of the gang had gone out to lunch, they stopped and bought a fire pit. The goal was to have a fire so hot in it we'd burn the metal up and they'd be able to return it tomorrow...LOL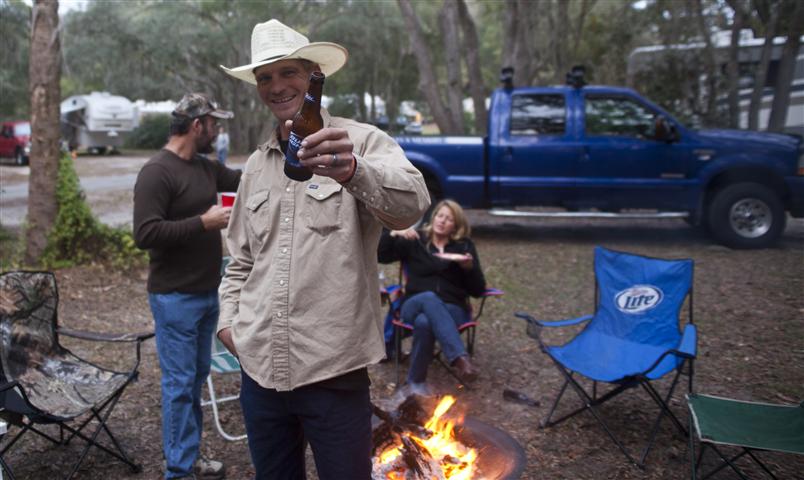 Kevin toasting to what will be one wild night - Photo by Hazie Cannon
The concert series didn't start for a few more hours, so it was finally time to get to partying. There were some local people singing up on the stage, but we were waiting till the headliners came out before we left the comforts of our camp.
Cindy baked up some Baked Potatoes with shredded cheese, crispy bacon and sour cream topping them and Hazie grilled up some thick, juicy burgers. This would create a good base on our stomachs to help absorb the mass quantities of alcohol we were about to ingest.
Before long, it was dark and we were headed towards the concert venue. Rock Crusher Canyon is an old rock quarry, so the amphitheater is situated in a deep hole and the stage is lined with giant limestone boulders. The sound is really good because you're basically sitting down in a bowl.
Colt Ford started the show and whipped the crowd up into a frenzy. He's from Georgia, so I think a lot of the people were here just to see him. Many times during a concert, the seats don't get filled till the last performer takes the stage. Tonight was different. The seats were filled for Colt Ford and the crowd stayed right up till Eric Church brought the lights down.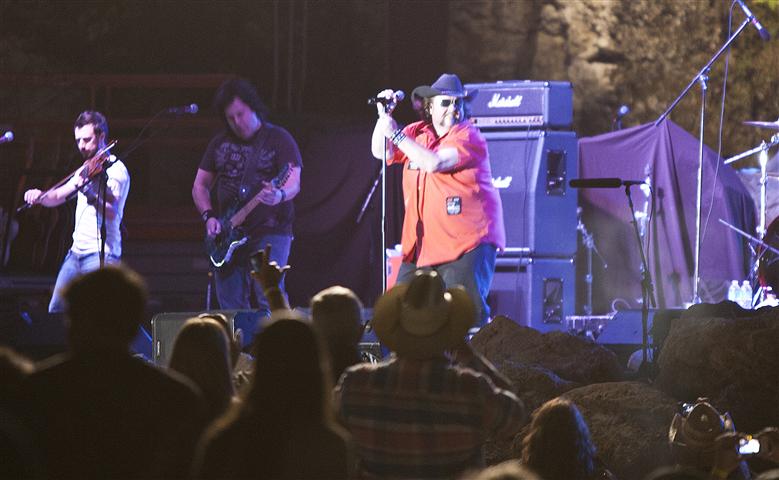 Colt Ford rocking the crowd in Crystal River
Between performers, were were able to walk back up the stairs to the VIP area where the drinks were stronger, less expensive and the bathrooms were real bathrooms and you weren't standing in line to use a porta-potty. This is when the extra expense of VIP tickets really pays off. Thanks Amanda!!
Justin Moore was up next and the crowd was singing along to everyone of his hits. He's just a little guy and probably shorter than I am. But his music is all about hunting, fishing and things us Southern Folks love the most. Each song whipped the crowd up into a bigger frenzy.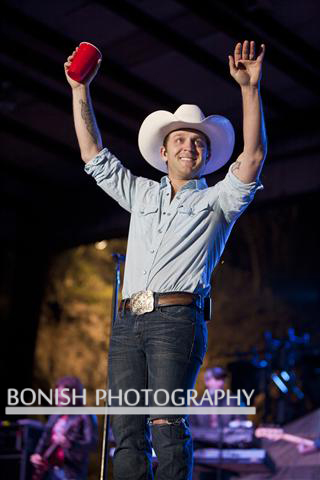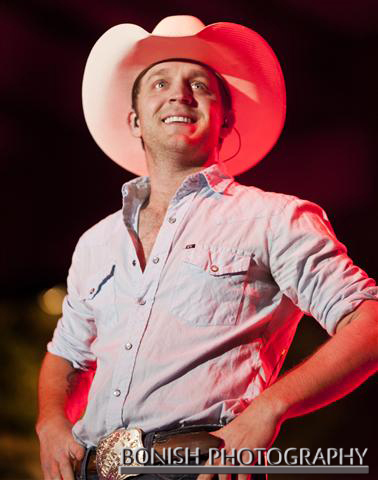 Justin Moore in Crystal River - Photos by Pat Bonish
Then the man of the year took the stage. This has been a monumental year for Eric Church. His 3rd album Chief has broken all sorts of records and drew him the prize of Breakout Artist of the Year and got him a Grammy Nomination.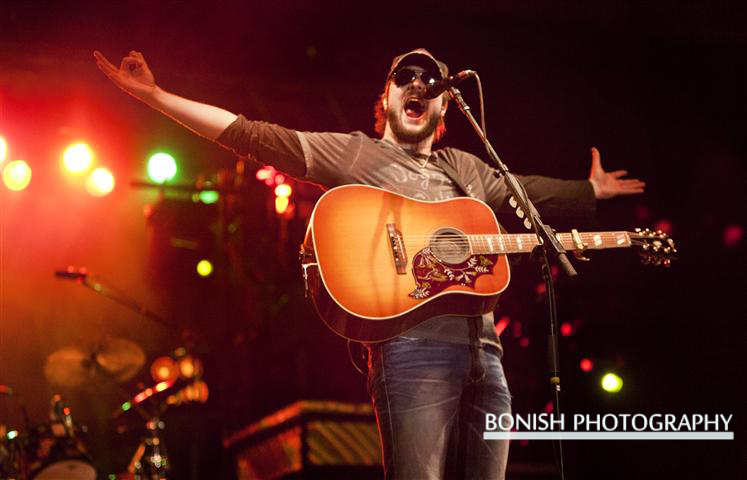 He puts on a show like no other and his excitement gets the crowd energized. There are some performers who stand in front of the microphone and strum their guitar. Their music might be great to listen to, but to see them live isn't all that exciting. Then there are performers like Kid Rock, Kenny Chesney, Garth Brooks and Eric Church...these performers put on a show and their music is just icing on the cake.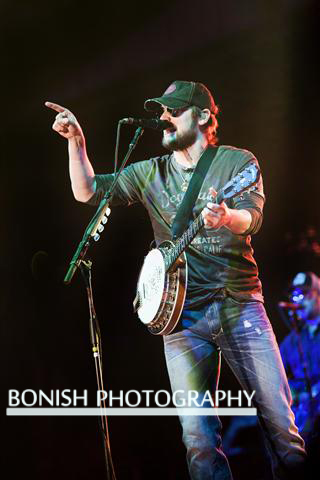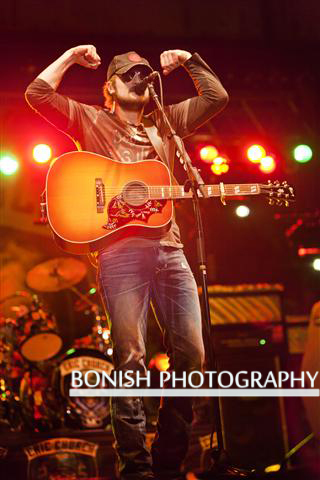 I was right up against the stage for this performance and actually on the stage for some of the songs. It was amazing to see the energy from the crowd from the angle that Church sees it from.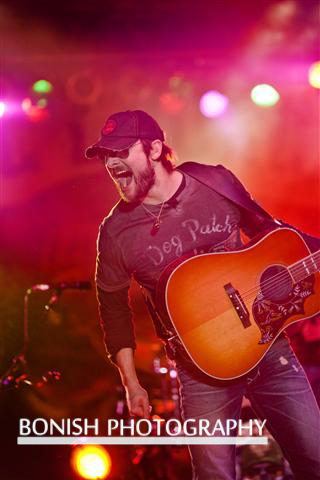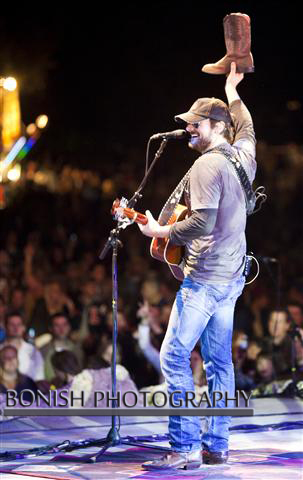 During the song 'These Boots' someone threw their boots up on stage and Eric walked over, picked one of them up and held it up during the entire song. When he was finished with the song, he walked back to the edge of the stage and made sure the person got their boots back.
The final encore was 'Smoke a Little Smoke'. A song that when it comes on the radio, Cindy will hit re-play over and over and sing it louder and louder each time. I think I could hear her singing from the 4th row, even though I was standing beside stacks of speakers that were 20' tall. They filled the edges of the stage with smoke and the crowd went wild during the entire song. Being as it's a song about drinking, partying and having fun, it was the perfect ending to Church's concert season for 2011. This was his last show of the year before heading home for the holidays.
With the final encore, the concert came to an end and we headed back to the VIP area. Cindy and I decided that rather than pay money and wait in line for drinks, we could go back to the camp ground and sit around a bonfire and enjoy ourselves without having 100's of people around us.
Everyone trickled back into the campground throughout the rest of the night and the stories kept getting better and better the later people came back from the concert.
I think when I finally crawled back into the camper, it was around 2am....but I could still hear people laughing and partying till 5ish! I'm way too old for that.
What an awesome day and it sure was fun to not have to answer any phones, work around the motel and be back behind the camera.
Friday December 9th 2011 - The Start of 3 Full Years in Cedar Key
Two years ago today, Cindy and I pulled into Cedar Key and parked the camper in the RV Campground. We had just driven straight across the country from San Diego and were wondering what in the heck we were going to do over the course of the next year.
Neither of us had ever run a motel and we really were just thinking "Ok, we have no idea what is in front of us, so lets just 'Wing It' and see how it goes." Who would have tought we'd now be on the start of our 3rd year.
I remember sitting in Yellowstone working with this guy in the Yellowstone Association book store and he was asking me if I was coming back for the following season. I told him that I didn't think we were going to because there was a chance we might be heading East and taking over the management of a small motel.
He asked "Have you ever done that sort of work before?"
I replied "No, but we've ran a bar in the past and we're both good with people, so I think we'll be able to figure it out."
He then asked "So if the people running it now cant make it work, what makes you think you're going to be able to do it, especially if you've never done that sort of thing before."
I just laughed and said "I don't know how well do it, but ANYTHING my wife and I do, we jump in 100% and we just figure out a way to make it work. We watch what everyone else is doing and pay attention to what is working and what isn't working. We then take those things that work, and make them work better. It's that simple."
He laughed at me and said with a smart-assed, know it all type of tone "Good luck with that! You're still young, so once you fail, you'll probably be back here in Yellowstone working again the following year."
Once someone tells me I CANT do something, it gets in my head and I usually think about it psychotically. I do this with a lot of things and it drives Cindy insane. She'll literally yell at me and say "Stop thinking about that! We're not going to live in a house boat. We're not going to circumnavigate the globe in some exotic vehicle. We're not going to buy a bunch of property and start our own town"...That's one of my life long goals! There are all sorts of ideas I come up with, and I'm glad to say that 2 full years later, if I knew who that guy was or where he was today, I'd like to call him up and say "Hey Jackass, remember when you told me I was young and naive! Well guess what. The business is going great! We've just been voted Business of the Year. We're booked solid for our upcoming season and yep we did it all without knowing one thing about running a motel."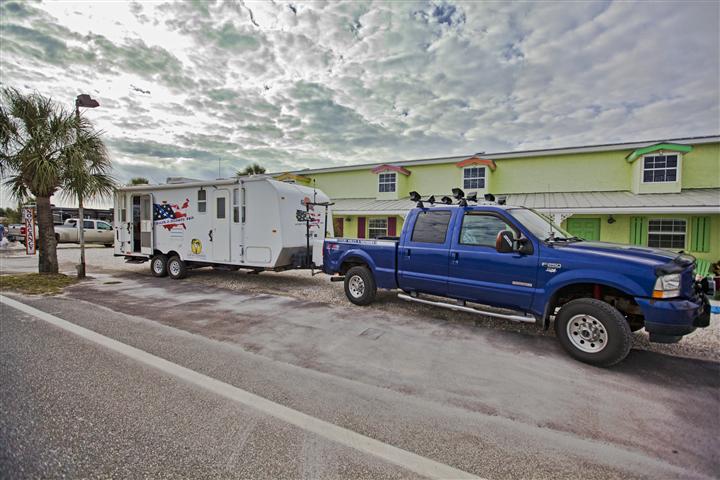 In the past 2 years, other than the time I drove solo out to Arizona for the Overland EXPO, the camper has sat idle in Cedar Key. This weekend we were closing the motel down and heading south to Crystal River with the trailer in tow to the Rock Crusher Canyon Campground where the Country Rocks the Canyon Concert was being held.
Cindy and I had camped in Rock Crusher Canyon back in 2007 when we had just started our adventure. The place is monstrous with 300 full hook-up RV sites, a heated pool, laundry facilities and an amphitheater that can hold a few thousand people. They only do this concert series once a year and this will be it's 7th year running.
Our friend Amanda and Hazie had gotten a bunch of friends together for this weekend and we all had VIP tickets through the Circle of Friends Charity that was helping put together the event.
We were really looking forward to this weekend for many reasons. For one, we don't get away for multiple days in a row all that often, we haven't camped in the camper in a few years and the music line-up was some of our favorite artists. Colt Ford, Justin Moore and our favorite Eric Church.
We spent the morning just tying up loose ends around the motel making sure that the place would be fine without us being here. If anything did happen, it's only a one hour drive home, so it's not like it would be all that big of a deal. We didn't have any rooms booked, but had a few RV'ers camped in the campground.
RV'ers can take care of themselves and the folks we have here now are both full timers, so they know what they're doing if anything was to arise while were gone.
With the camper hooked up and everything packed, we loaded the dogs into the back seat of the truck just like ol' times. They were both very excited to be going along but we weren't more than a mile down the road before they were both sleeping in the back seat. I guess some things never change.
It was weird to pull the camper and be able to see it in my rear view mirror. This would be the first time I've ever pulled the trailer without the cap on the bed of the truck which made my rear view mirror useless.
We had all new tires put on the truck last week, so it was a completely different ride. I decided that since we almost never go off-road since we've been in Florida, rather than keep the same tires we've had on there, I'd go to a less aggressive tread pattern and a skinnier/taller tire.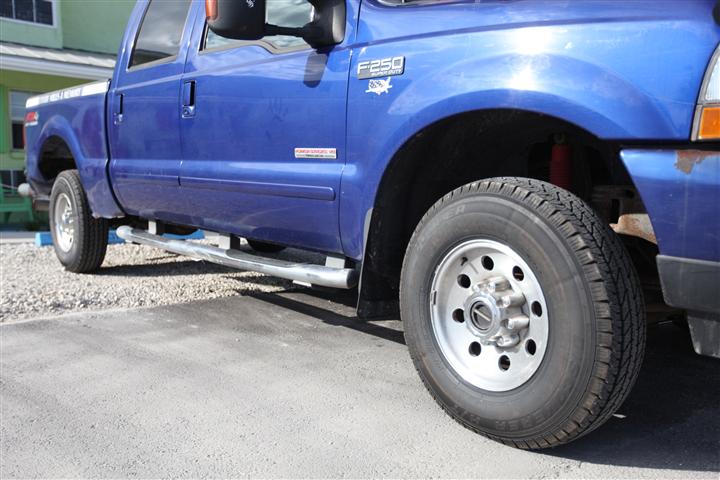 We've been running a 265/75/R16 'E' Rated tire since we've first started. That's a great tire to mix up on-road and still have the ability to go off-road if we need to.
Our new tires were a skinnier, but taller 235/85/R16 that still had the 'E' rating. This is the standard tire for most work trucks that log a lot of highway mileage. The tread pattern is strictly for the street and I wouldn't think about going off-roading with a tire like this. The brand name is a Cooper HT, the HT stands for Highway Tread.
But we don't see any off-road events in the future, and I figure if and when we go back on the road, we'll either switch back to our other tire (Goodyear SilentArmor) or keep this same size, but find a more dual purpose style tread pattern.
Once in Crystal River, we stopped at the grocery store to stock up on some food and drinks before we headed into the campground.
Once the shopping was finished, we pulled in and found our camp spot. Hazie, Amanda, Harold, Phillip and his wife Shirlene were already set up in their campsite which was right beside us.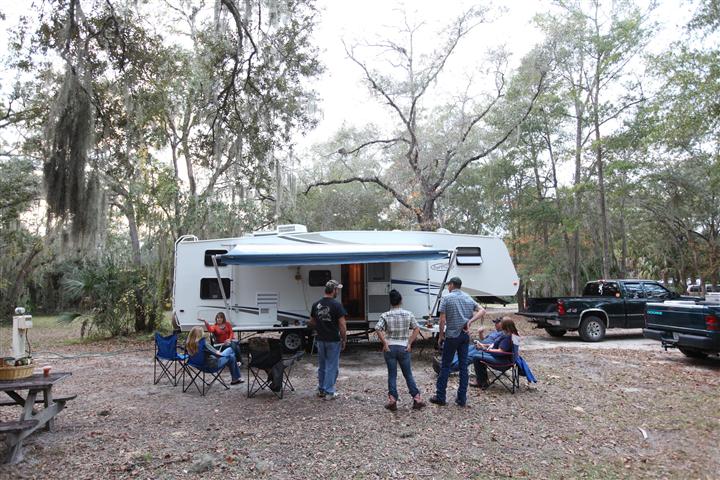 Harold's 5er set up beside ours
The campsites in Rock Crusher Canyon are huge and there is plenty of space for multiple vehicles and lots of room to hang out and party. It didn't take long before we were all sitting outside toasting to the start of what would be a fantastic weekend.
Tonight there was a VIP only show featuring a local singer Tom Jackson and Justin Moore. I had never heard of Tom Jackson before, but Amanda and everyone else assured us he has some great tunes.
After awhile of sitting around talking, we had killed a couple of hours of a fun afternoon. Cindy had taken the dogs for a few walks around the campground and they were in heaven with all the new smells and things to sniff out. As the afternoon grew later, I walked in the camper to get the cameras ready and could tell the dogs were as happy as could be.
They were both up in the bed in their usual positions where they always were when we were on the road and both were snoring away. Lucy had a giant smile on her face that was so big, she was showing all her teeth...LOL
I got the cameras ready and we all headed up to the Pavilion where the crowds were starting to gather. True to their word, Mr. Jackson put on a great show and I'll have to pick up some of his CD's to add to the collection.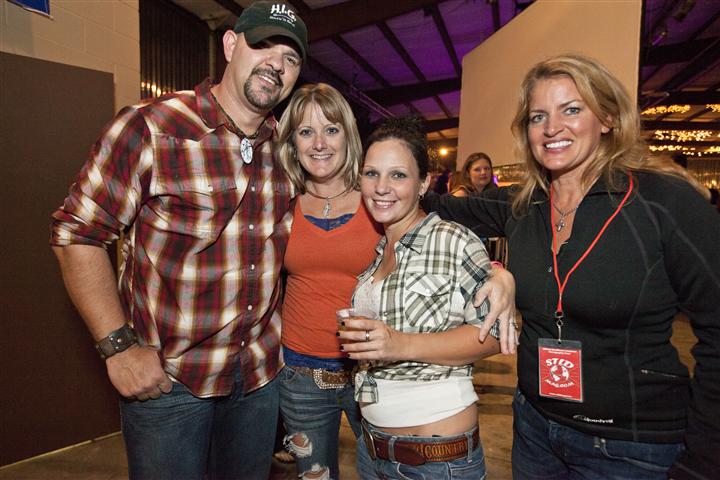 Tom Jackson after his show with Amanda, Melissa and Cindy
In between shows, there was about an hours break where the DJ was playing music and the dance floor was packed with country girls shaking their boots. One of my favorite things in life! The drinks the place were mixing were beyond strong, not that I'm complaining. We ordered a Cuervo and Sprite and I could barely drink it. It was basically Cuervo on the rocks with a splash of Sprite. This meant I wouldn't be drinking too much because it took me forever to sip on that drink.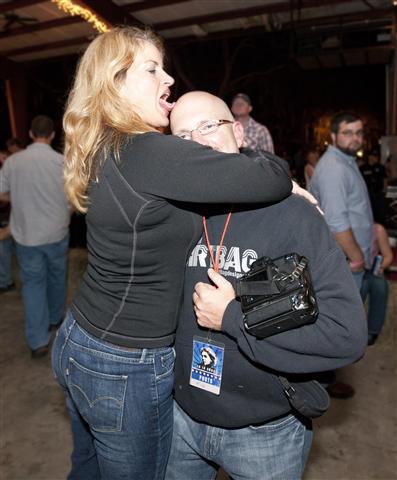 Cindy needing some more salt for the rim of her Margarita....
She'll do ANYTHING for more salt! - Photo by Amanda Cannon
By the time Justin Moore came out on stage, the place was packed. He put on a great show and the crowd was getting all riled up. We spotted more people who had made the drive from Cedar Key and it was like a giant private party. Right before the encore, Cindy and I snuck out and made our way back to the campground.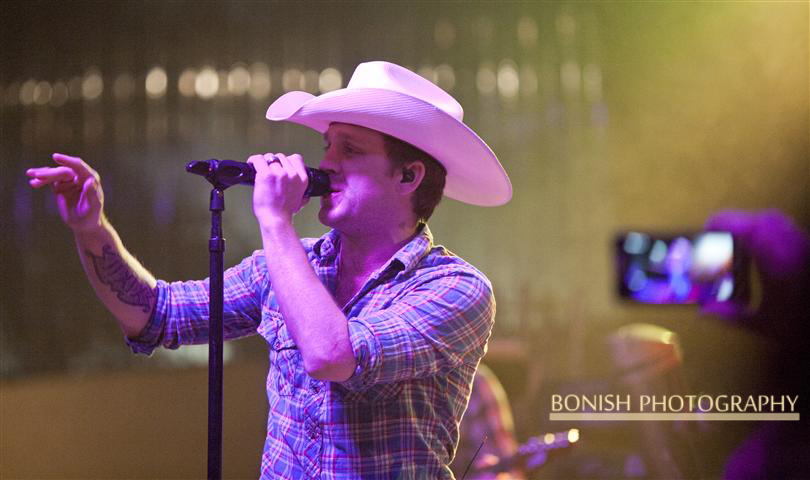 Justin Moore on Stage in Crystal River - Photo by Cindy Bonish
We took the dogs for one last walk before we hit the sack. The DJ was still spinning records and you could hear the crowd still screaming and hollering, but we were pooped out and knew tomorrow would be another big day.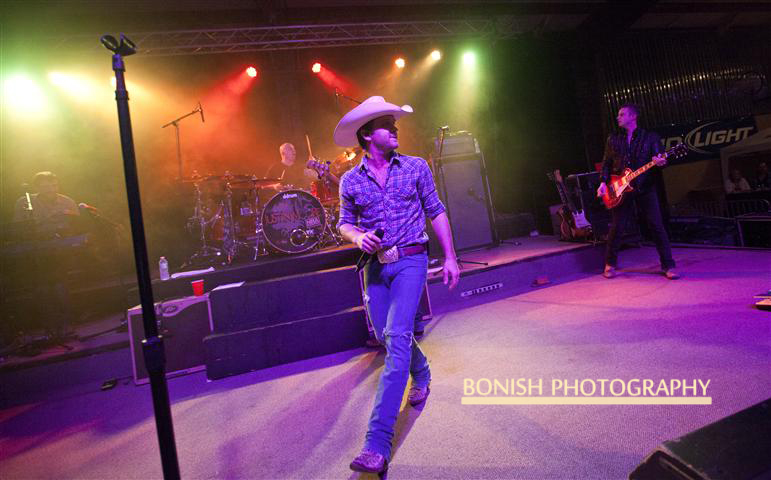 On Stage with Justin Moore - Photo by Pat Bonish
We headed to bed with talk of how much we missed days like today being our normal routine. Cindy confessed that she's never wanted to go do anything in the camper while we've been in Cedar Key because she knew it would happen just like it did today...she'd realize how much she misses traveling fulltime and worries that she'd say "Ok, lets pack it up and get back on the road." I'm glad she's never told me that because there were plenty of times I'd have starting packing the camper when the motel was more than I really wanted to handle.
We were sound asleep before they all came back into the camp. Although they tried their hardest to wake us up, I'm thinking we're so used to sleeping in truck stops that a bunch of people standing around the camper screaming doesn't face us...not even the dogs.
Wednesday December 7th - Best of 2011
I spend a lot of time on the Expedition Portal Forum...That should read "I WASTE A Lot of time"...but it's sort of a way to wind down at the end of a long day.
They have a Photography Section which is where I spend most of my time. There are some top notch photographers who share their images and it gives me lots of inspiration and encouragement to try different things.
There is a thread that is titled "Best of 2011" where everyone has picked their best images and put them together in a slideshow. I finally got around to putting together what I thought were some of my best images of this past year.
These might not be my most favorite images, but these are images that might have been printed in magazines, newspapers or drew a lot of attention from those who viewed them on our website and on Facebook.
Here is a link to the Best of 2011 that I put together. It makes me want to go back through our years of traveling and put together 'Best Of's' from each of those years. It would be fun to see what images draw our attention after the fact.
I'd also like to thank all the readers who have emailed me their comments on what they like better...Facebook or the Blog. Here are some comments we've received.
________________________________________________________
I would rather see your updates by your blog. Your pictures and story lines are entertaining and make me want to some day get to the Cedar Key area.

Keep up the good work. - Don Albaugh
________________________________________________________
Pat, I really like your blog and have been following it for years.. (wish Cindy still kept up with hers). Facebook is fine but they keep messing with it, and I'm just not as interested in it as I used to be, but I guess with keeping up with the Low-Key, Facebook is probably easier for posting . Keep the posts and pics coming !! Dave
________________________________________________________
Okay, I am probably the last person on earth who doesnít have Facebook. So I always check the blog.

I donít have a blog so donít feel I can legitimately make comments about blogs. Although, an idea might be to put a comment button on the bottom of each post. That would make it very easy for people to click and leave a note.

I check for a blog posting every day. Your blogs are always entertaining, even if it is a normal day when you just write about working and cleaning rooms.

Remember we are all living vicariously through you.

Thanks - Lori
________________________________________________________
I really enjoy your website. I have kept up with you since I first found your site while you were in Yellowstone. I was concerned last month something had happened where there were no updates. I donít do Facebook so your page is the only way to follow your adventures but I completely understand there is only so much time in a day.

My wife and I bought a 1979 Silver Streak travel trailer in excellent condition last year and are using it as we can preparing for the day when we can take off full time.

Best wishes and a Merry Christmas to you both,
Doug Edwards
________________________________________________________
Hello Pat, I enjoy your site immensely and look forward to your updates. If I have a vote in what you do keep updating the website. I donít use face book.

Thanks - Ken
________________________________________________________
I just got through reading your newest blog post. I usually check every day or so.......get worried if there isn't a new one.....

As far as Facebook, Twitter or any of those others......I/We don't do them.

So we would really prefer to see a new post on your site or get an email about your adventures and escapades.

Just our opinion.... Sure wishing some day we could be down there with you.

Evelyn and Pat Allen
________________________________________________________
I think I like both! The blog gives us more in depth information for those who know you and allows us to know you better. We all want to know about our friends and be involved with their lives. Facebook gives us a momentary glimpse into your daily life. We can laugh and smile and remember when and it also deepens our familiarity.

Facebook also allows you to share photos with all who love you! The blog may have some but not all pictures.

Keep on keepin' on! - Linda
So after reading everyone's responses, it looks like my New Years resolution will be to update the blog a lot more. In reality, I actually love updating the blog. Since I was a young kid, I've always kept a journal, and the blog is sort of my personal journal whether we're traveling or not.
There are numerous times I go back to look something specific up or figure out what I was doing at this day in time a few years ago.
Facebook makes it easy to make short, quick comments when we're doing something fun, but I like to get more into detail with the blog posts. I'll try my hardest to keep up with both from here on out.
2012 will be one wild year with the stuff we have planned. I have no idea how we plan to pull it all off, but it will be fun for readers to see if we can do it and not strangle one another.
Sometimes I think Cindy and I are totally insane. Well actually I know I am, but just when we have everything running smoothly, we usually throw something in the well oiled machine just to stir it up. The stuff we have in the works is the equivalent of throwing a bomb into a well oiled machine. It's just going to get nuts around here. So stay tuned.
Monday December 5th - Paddling the Suwannee River
Heath and I have been talking about paddling some sections of the Suwannee River right now because of the record lows the river level is at. He called up some friends from the Suwannee River Water Management where he sits on the Board of Directors panel.
They mapped out a section that is really low right now, but still has enough water that we wouldn't be talking the boats for a walk the entire day.
Cindy was scheduled to go along, but like she always seems to do, at the last minute, yesterday afternoon, she let me know that she had too many loose ends she needed to tie up today and wouldn't be joining us? Man she pisses me off some times!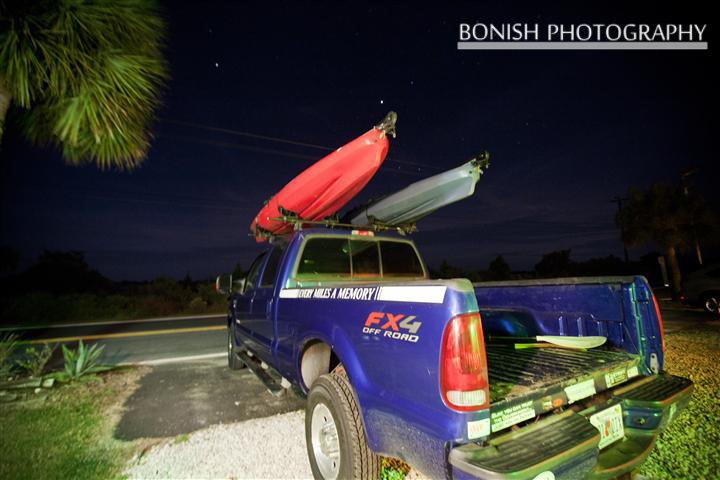 I loaded up the boats and packed up the camera gear on Sunday afternoon dragging the entire way because I'm battling a nasty head cold these past few days. I've been helping out the Cedar Key School with their yearbook layout and while I was at the school last week, I asked the teacher where all the students were. She let me know that a flu bug is going around the school and I guess I've caught it :(
I was hoping that spending the day paddling and working out while pumping clean air through my lungs would work the bug out of my system. I know it would be better than sitting on the couch whining about how bad my stomach and head hurts, which is what I did all day on Sunday. (Probably the real reason Cindy said she wasn't going with us on Monday)
We were scheduled to meet the SRWM folks in White Springs at 9am, and that's over a 2 hour drive from Cedar Key. This means Heath and I were on the road at 6:30am. Our only stops were for fuel and to grab some supplies to snack on while on the water.
As we got closer to White Springs, a thick layer of fog had settled in; probably coming off the cool waters of the Suwannee River mixing with the unseasonably warm weather we've been experiencing. Our last week we've been enjoying temps in the high 70's with zero % humidity, which has been heavenly!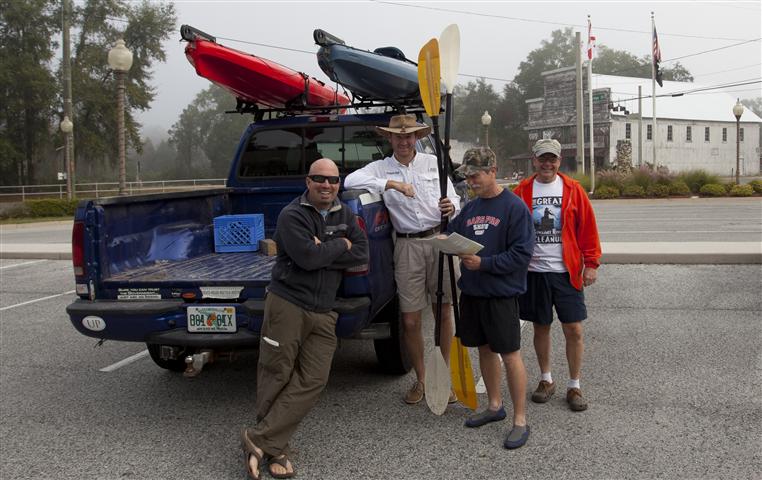 Me, Heath, Joe studying the Map and Terry
We met Joe and Terry, our guides from the SRWM and planned out our route. We spoke to the Park Ranger who was working at the White Springs Visitor Center who let us know we'd probably be walking the boats a lot due to how low the water was.
I trusted Joe and Terry knew what they were talking about, but we all know that Heath and I are notorious for getting stuck or having days on the water that don't always go as planned.
We mapped out our day and figured out how we were going to spot the trucks so once done paddling, we'd be able to get back to them. Luckily Joe and Terry had all of this figured out already and just explained it to Heath and I.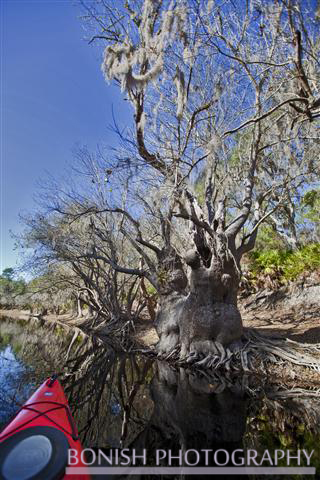 Once at the put in location, the fog was just starting to lift and you could see the sun starting to burn off the thick haze.
This area of the river is pretty remote and being a Monday, we hopped we'd have it all to ourselves. Within a few minutes of arriving at the launch point, we were all in our boats and peacefully floating down the river. This section of the river is normally flowing at a very rapid rate and is normally one of the wildest sections.
Today, it was as stagnant as a pond and the only real reason there is even water right here is because of the Bull Shoals area that is blocking the water from flowing down stream and creating a dam.
If you look downstream below the Bull Shoals area, there are sections you could probably jump across the river. It's that narrow and dry.
The banks of this area are about 10-20' below where they should be. You can clearly see the waterline along the banks, and it's shocking to see it this low.
One of the reasons we were here was to see the extreme levels and see what it's doing to the surrounding streams, creeks and springs that all feed the river. Many streams that we would pass that are normally flowing rapidly are down to a mere trickle if they're still flowing at all...Many were bone dry with vegetation growing out of the creek bed.
Today wouldn't be a easy paddle. There was zero flow to the river, and if you stopped paddling, with the wind blowing upstream, there was plenty of times we were actually paddling against the current.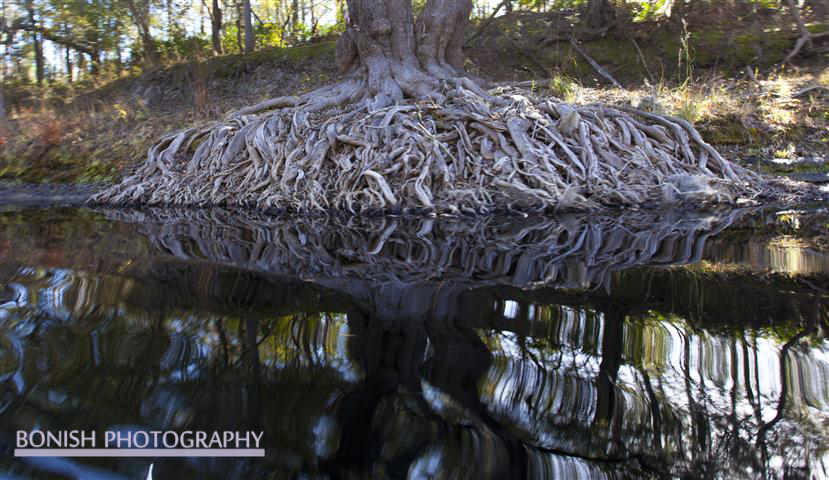 Massive Root System of a Tupelo Tree -
These would normally be submerged if the river was at it's proper levels
The banks of the Suwannee River in this area are lined with massive Tupelo Trees that resemble something out of a spooky movie. They're dripping with Spanish Moss and the ground is covered with a thick blanket of bright green Palmetto scrub.
The river itself is jet black. If your paddle dips more than a foot below the surface, it disappears into the tannic, rich water. It reminds me of looking across a polished slate of black granite with the reflection of the tupelo trees mirrored in surface perfectly. Being as I was drugged up on DayQuil, the entire scene was somewhat like a fuzzy dream. You could have knocked me out, laid me on the banks and when I woke up, I would have no question that I'd woke up in Middle Earth in some 'Lord of the Rings' movie set.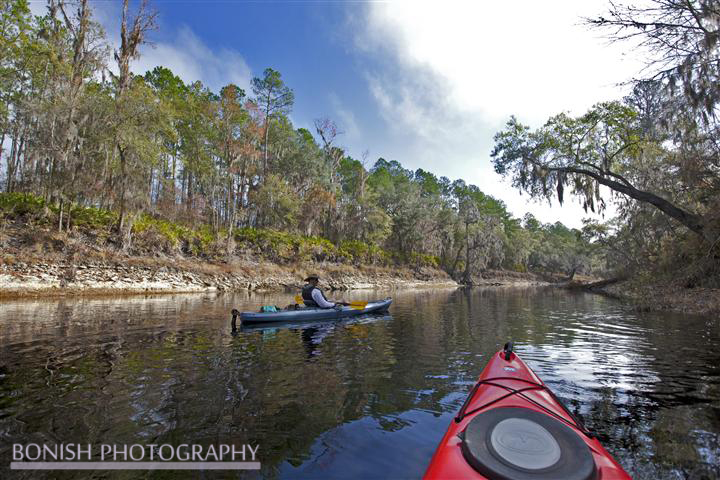 Notice how high the banks are along the edges!
The day was spent listening to Joe and Terry educate us on the local fauna, the surrounding ecosystems and things the SRWD do and are doing to make sure our water is safe and not contaminated from misuse.
One thing that struck me was the lack of birds and wildlife along the banks of the river. I'm guessing that since the river is pretty stagnant right now, it's probably not all that healthy. When Cindy and I had paddled the Santa Fe River earlier this year, we saw Ospry, Hawks, Eagles, Alligators, large schools of fish, hundreds of turtles and could hear turkeys and deer rummaging around in the woods.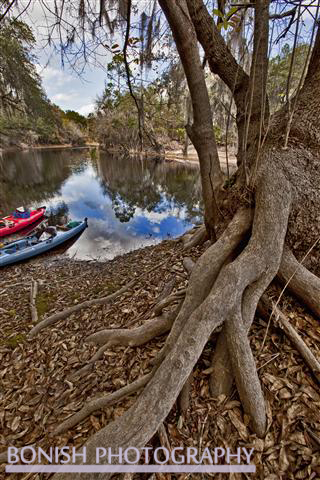 Today we spotted 4 alligators, a bunch of turtles and a bunch of jumping gar in the waters, but the only birds we could see were buzzards circling high above and cypress trees. We could hear a few wood peckers digging into the trees and I spotted a few squirrels playing in the warm weather. But I expected to see a lot more wildlife along the banks. One thing I was very happy we didn't see was any other people, no development and not one single piece of trash to pick up or littered along the banks!
One thing that might be confusing all the animals is this unexpected warm weather. Even with my head cold, I could tell my allergies were kicking in full blown. My eyes felt like they were going to pop out of my head at any point and my nose ever stopped running.
In the spring time, when everything is blooming, there is always a layer of pollen that lies atop the water. A few weeks back, we had our typical cold weather snap that sent everything into its winter hibernation. Now for the last two weeks, we've had temps in the mid-70's to low 80's. That spring time layer of pollen is back on the water.
Maybe many of the birds and animals had already left to head further south, which is why we didn't see any? What ever the reason was, the layer of pollen made for some really artistic designs floating on the black mirror like surface of the Suwannee.
Joe and Terry were telling us as we approached the Big Shoals area that when the river is at its normal levels, this is a raging rapid and you can hear the roar a great distance away. There are plenty of signs warning that you're nearing the take-out point and that eminent danger is ahead if you fail to take out.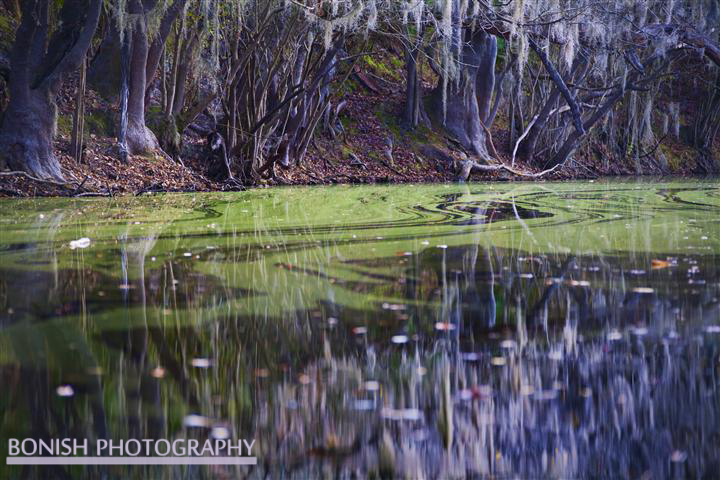 Layer of Pollen floating atop the Suwannee River
Today, it's nothing more than a dam of logs and debris that has floated down the river and is being held up by the natural rock outcropping. I can only imagine the raging torrent that is going to happen when the waters rise back up and all these logs start flowing back down the river.
Terry had pulled to the side of the river where the signs say to pull out and had walked back into the woods. Joe, Heath and I all sitting in our boats just talking and looking into the maze of rocks and debris creating the dam.
Awhile later Heath said "Hey, there's Terry walking up the rocks back towards us!"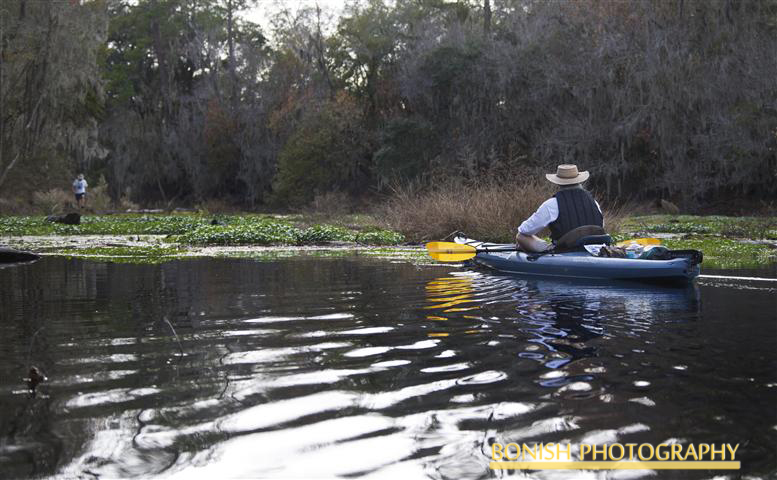 The log-jam at Big Shoals. You can see Terry walking up the rocks in the left of the photo
It's a rare sight to be able to walk up this section of the river, so Terry wanted to take advantage of it and see what he could see.
Joe was soon out of his boat as they both hopped from rock to rock talking about different areas that are normally submerged.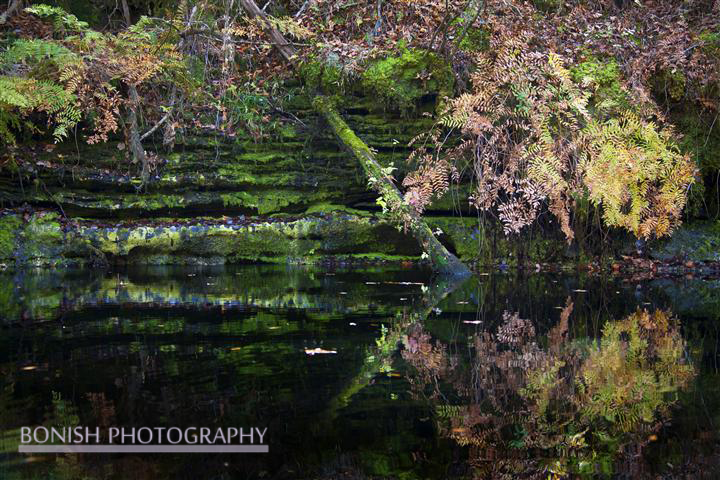 Once we had our fill of Big Shoals, we paddled back up the river the 1 mile to the take out where we had left Terry's car. We hiked the boats up the ramp and piled into the car so we could drive back to retrieve the trucks.
I probably could have fallen asleep instantly once inside the car, but it would be at least 3 hours before we'd be pulling back up to Cedar Key.
Once back at the boats, we loaded everything up and thanks Joe and Terry for a most excellent day on the water. Heath and I piled our worn out bodies into the truck and headed back towards the Gulf of Mexico.
Pretty soon, I was taking another shot of NyQuil and dreaming of Middle Earth and Black water reflections. It was a great day on the water and another few miles logged on the the kayak.
Today was my first day paddling our new Wilderness Systems Tarpon 140. Cindy has paddled it before, but I've yet to get it in the water.
I like the boat and its stability. I wanted to paddle it as-is before doing anything to it with after-market accessories. Couple of things I learned.
1. When paddling a calm river, scupper plugs are a must. I can see where having the ability to pull them out and allow water that might have splashed in due to waves or exiting or entering the boat while in the water would be a good thing, but having your feet sit in water all day long isn't all that fun. - Those will be 1st on my list of accessories to purchase.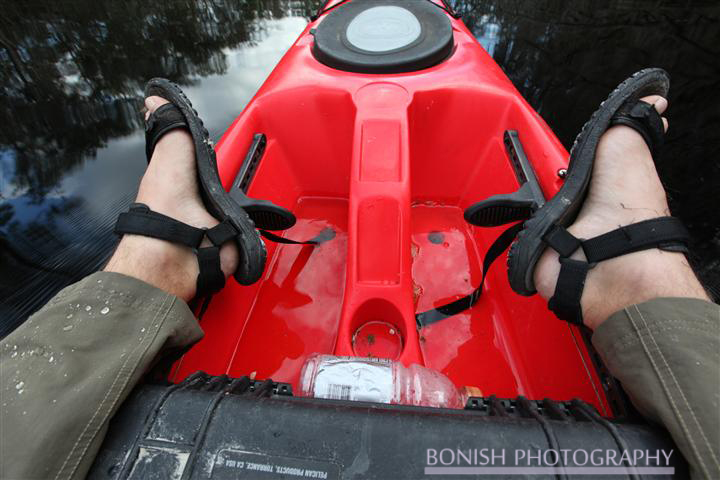 2. The dry hatches are anything but dry. There is always a tid-bit of water that is sloshing around in the hull of the boat. So storing anything down there that cant get wet isn't an option. Luckily we have a bunch of Dry-Bags and always pack out gear in them while paddling, but it's good to figure this out before finding it out when a camera or something that isn't supposed to get wet is pulled out soaked.
3. I like to carry my Pelican box with me, right in front of me while paddling. I need to either fabricate something or find something that will allow it to be mounted in front of me, yet up in the air so my feet can go below it. This will be fun to design and put together over the next few months.
4. A comfortable seat. The Tarpon comes standard with just a molded in plastic seat. There are dozens of options to upgrade to depending on how much you want to spend. This will be another must-have upgrade. My tailbone was numb by the end of the day.
Gallery from our day on the water can be seen here - Suwannee River Gallery
Friday December 2nd - Moving Into Our Last Month of our 2nd Full Year
The Thanksgiving Holiday is behind us. The family has all gone home and Cindy and I are back to work.
We've noticed a trend over the last two years that the month of December is our slowest month of the year. I think everyone is buckling down right before the Christmas and New Years celebrations and one other thing....It's friggin' cold in Florida this time of year. This means everyone is staying home and it gives us some time to get some things done around here we've been putting off the rest of the year.
It's been one full year that we've had the tile for our last room that has yet to be tiled. I've been embarrassed every time we rent that room. To finally have that old nasty carpet out of there and new, fresh tile put down will make all the rooms complete. Plus the room will get a fresh coat of paint and we'll go through and touch up any dents in the walls, dings in the moldings and update the fixtures while we're at it.
We'll always be updating the rooms as time goes on, but having the tile complete is such a thorn out of our side.
Last night we went to the annual Cedar Key Chamber of Commerce meeting where Cindy and I and the Low-Key Hideaway were presented with the 2011 Business of the Year! How is that for an award! Its great when the community recognizes how hard we work and how much we love Cedar Key.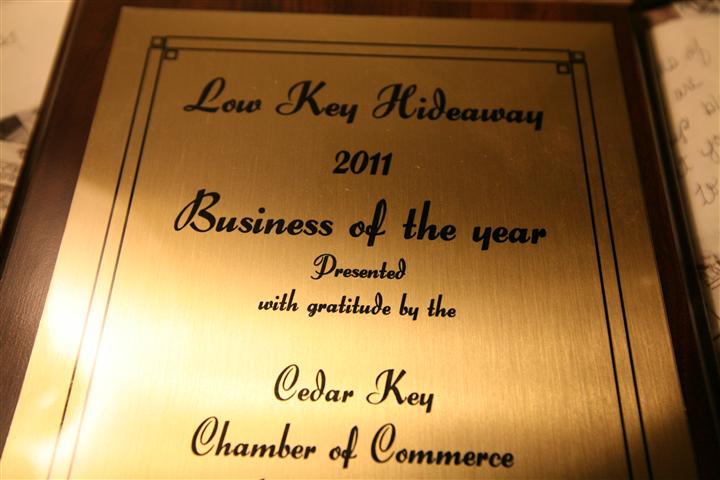 Hopefully this will give us a goal to strive towards for the upcoming 2012 season to either be able to match it or make it even better, which is what we'll really strive for.
Thanks for noticing all our hard work Chamber of Commerce!
While talking about our blog and the website the other night at the tiki bar, I was telling Cindy that I've noticed that I can update the blog and only get a few responses about it via email. But then I can make a post on my Facebook page, and I might get triple the responses. This is another reason I'm usually making daily updates on Facebook, but only weekly or bi-weekly updates here on the blog.
I'd love to hear from some of our readers to know which one you like more. Longer, more in-depth posts here on this site, or multiple, short posts on Facebook, or a mix of both?
December 9th will be somewhat of an Anniversary for Cindy and I. In the winter of 2009 is when we landed here in Cedar Key and stopped traveling fulltime.
Looking back, its amazing to see what we've accomplished in 2 long years.
The motel isn't really recognizable as the same place except for the wild colors and funky vibe its always given off. To see the improvements in landscaping, the updating of the rooms and how much cooler it feels is a really great feeling for us. There is a major sense of accomplishment we feel when looking at the Low-Key Hideaway.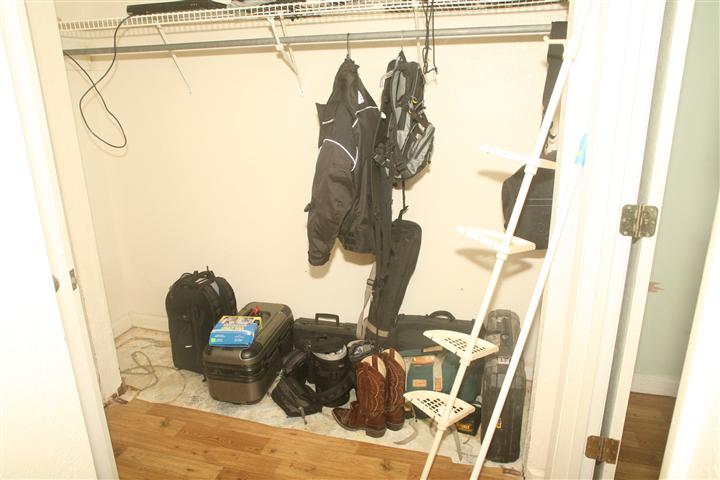 Found this photo and thought it was funny. We had just moved out of the camper and into our apartment. The closet didn't have doors yet, not that it mattered. This was the extent of what we brought out of the camper. A butt load of camera gear, a motorcycle jacket and Cindy's cowboy boots.
Don't get me wrong...I still miss the free living of the open road and that lifestyle we cherished while we had it available to us. I guess like the ol' saying goes, "All good things must come too an end." There isn't a day that goes by that one of us isn't reminding the other of a fun time we had while we were on the road, but it's hard to think about leaving Cedar Key when we're having so much fun here.

Low-Key Hideaway Backyard, the day we pulled in December 2009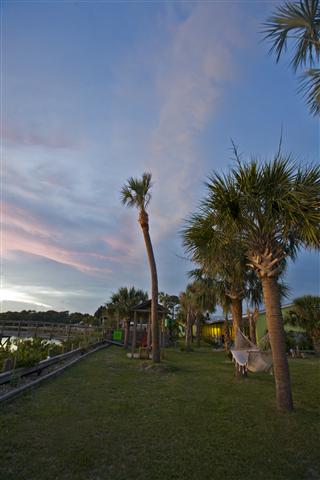 Low-Key Hideaway Backyard 2010
Cindy and I have always had a rule with one another. If we don't like what we're doing, whether it be working, our relationship or the people around us, we (Meaning Cindy & I) are the only ones who can change it.
If we didn't love it here, we'd probably have left within the first year. We're not really the type of people who will go back on our word, but we broke our contract while we were working in Yellowstone and it ended up being the best thing we did.
We keep wondering if allowing this place to be sold without us stepping up and trying to buy it is the best idea, but we both say "Let what ever happens happen, and whatever the outcome is, we'll both be happy with it." I mean who knows what the next adventure might have in store for us.
I think if the motel is to sell, then we'll probably stay in Cedar Key for at least this upcoming season just to work and sock away some extra travel money. If it doesn't sell, which secretly I'm hoping it doesn't, then we'll stay through the rest of our next contract and see what happens when we get to that point in time.
I was sitting out at the tiki bar the other night talking with a high school friend who was visiting about all these up in the air decisions we have in our lives and said "Sometimes I just wish my next few years was planned out for me. I wish I knew what I was going to do, where I was going to be and what the outcome of it all would be."
He looked at me and said very matter-of-factly "Why don't you join the military if you want it all figured out for you!"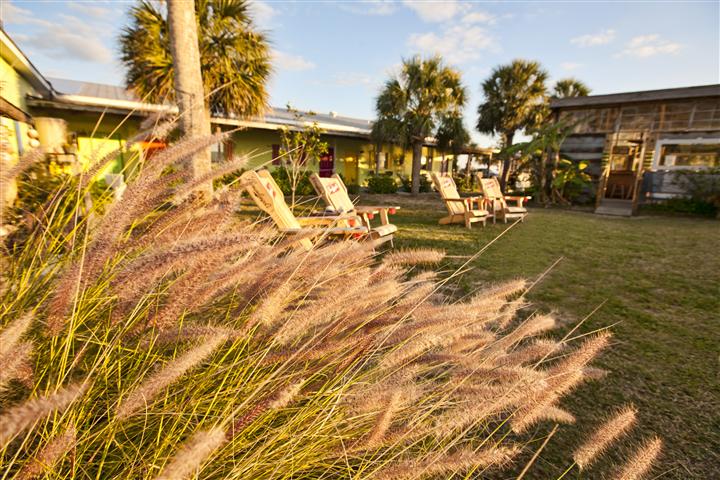 It took me a second to realize what he had just said, and it really made me take a step back and think about my dilemma. If the worst thing in my life is wondering and worrying about what I'm going to do when I grow up, I guess I need to stop worrying!
Cindy is leaving to go visit Donielle and Jazper in New Orleans in a few weeks but leaving me at home. There was no way for the two of us to leave at the same time, but there is also the fact that Cindy wants as much time with them as possible, so rather than wait till we can both go, she just said she'd go by herself this time.
It sucks watching your grandbaby grow up via pictures on Facebook, but I guess its part of life that I'll have to get used to. I cant wait till he's older and able to talk and we can go for boat rides and we can carry on conversations. Those are the times I'm really looking forward to.
You don't know how hard it is being a photographer who lives his life striving for the best photos possible to see dark, blurry photos being posted online of my grandkid. I ask Donielle to take better photos, but she says its easier to take photos with her cell phone so she can upload them instantly to Facebook rather than use her real camera to take them. Man it drives me insane! But I guess at least I'm getting able to see him.
Since this is just the first post of the month, I thought I'd just post some photos for your enjoyment till the month gets longer and I have more to talk about.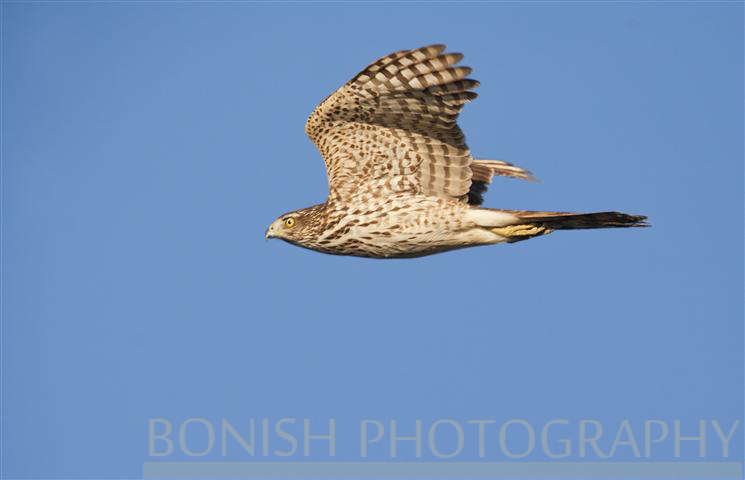 Red Shouldered Hawk flying over the Low-Key Hideaway


Modeling in Cedar Key with Bonish Photo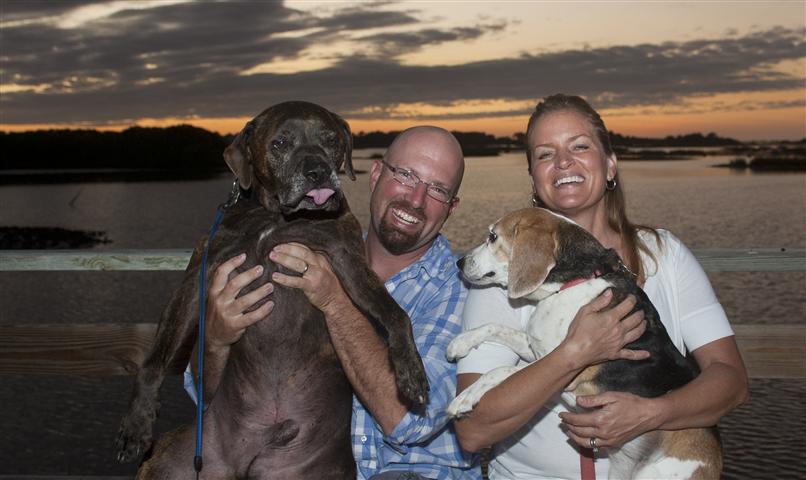 Merry Christmas from the Bonishes

___________________________________________________________________
Photo Gear We Use - Solar Tips, Fact's and Trick's we've learned while on the road
Camper Check List - A list of things we do before leaving camp. Again, this isn't gospel, but its a good start for those who might not already have a list made up.
Return to Top of Page
Need Unlimited photo storage- FREE Trial of Smugmug