When we realize our insignificance in this world,
it some how relieves the pressures from society to succeed -
Cindy Bonish 04/07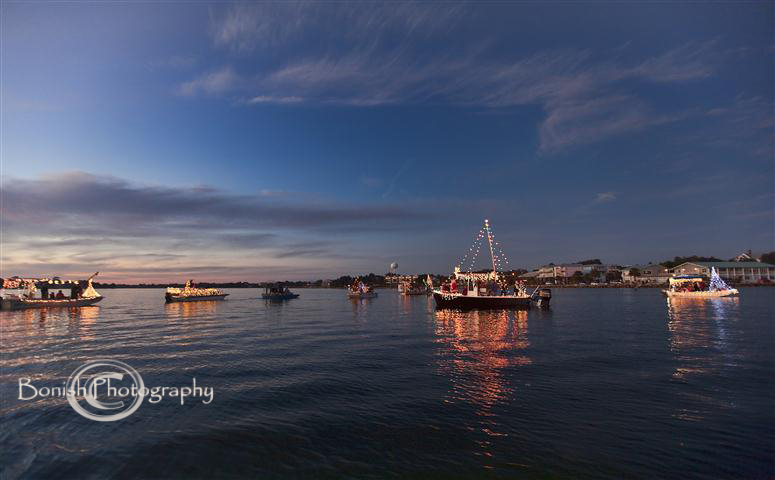 Pat's December 2010 Blog
If this is your first time here, you might want to start from the beginning of our fulltime Journey with our Past Blogs
If You Don't Know Me Yet, Click Here to Read Pat's Bio
****
Sunday December 12th 2010 - One Full Year in Cedar Key
Christmas is almost upon us and we've now passed our 1 year mark here in Cedar Key at the Low-Key Hideaway. This is the longest we've stayed still in our past 4 years of adventure.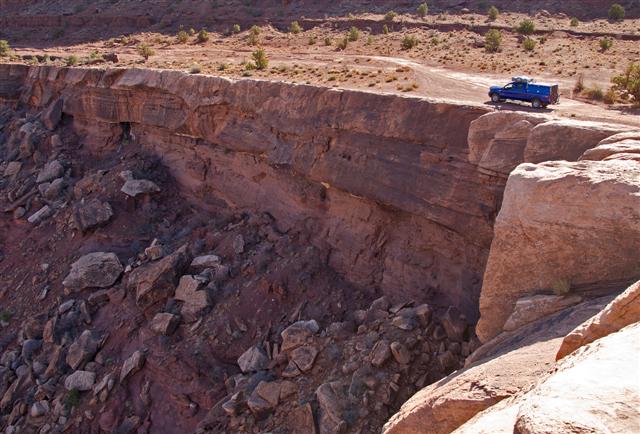 Exploring the White Rim Trail in Utah
To think that this time last year, we were just arriving in Cedar Key after driving non-stop from the Pacific Ocean and our long stay in the West. We had just finished up our Work Stint in Yellowstone National Park, which lead us to Moab and the exploring of Utah. From Utah we had went further West to California and knocked off another item on the Life List with the completion of the Pacific Coast HWY Adventure in the VW-Safari Bus. It's no wonder we were eager to plant our feet and get the motel up and running after so much travel and excitement.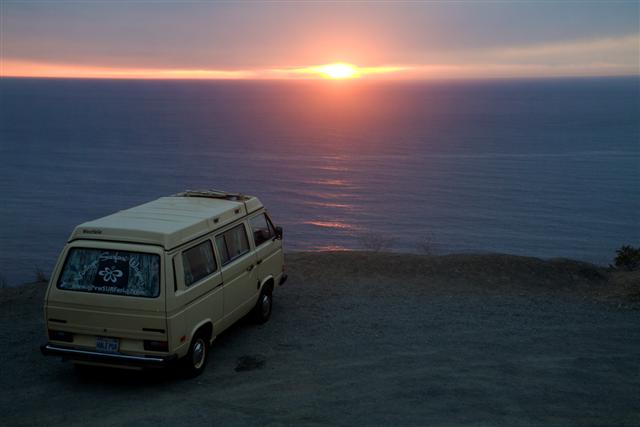 This was our View last year. Now our sun sets over a different ocean
In the past year, Cindy and I have worked non-stop, in-between a whole lot of partying to get this place to where it is today. Something we consider the coolest little place in Cedar Key.
We're both loving every minute of all the hard work and we are both looking forward to this upcoming season. We're going this week to get the Hideaway Tiki Bar Beer & Wine license now that we've had all our lease agreements re-written and gone over with a lawyer involved.
The hassle the State of Florida was putting us through was just too much for either of us to do with out limited knowledge of the legal system. We had to have the lawyer start a new corporation that the bar could run under that is totally separate than the motel and campground. This way there is no relationship between the two other than Cindy and I are managers of both and they both happen to be on the same piece of property.
Our past month has been crazy busy which is totally out of the norm for this time of year. We're already booked solid for multiple months next year and we're starting to fill up other motels around us with our overflow. So this is looking to be a stellar year for the two of us despite our lack of travel and miles logged, but great for our sleepy little town and this struggling economy.
I think my last post was talking about the truck running like a dead mule and I had ordered the Hot Shot Secret to see if it would solve my injector problems.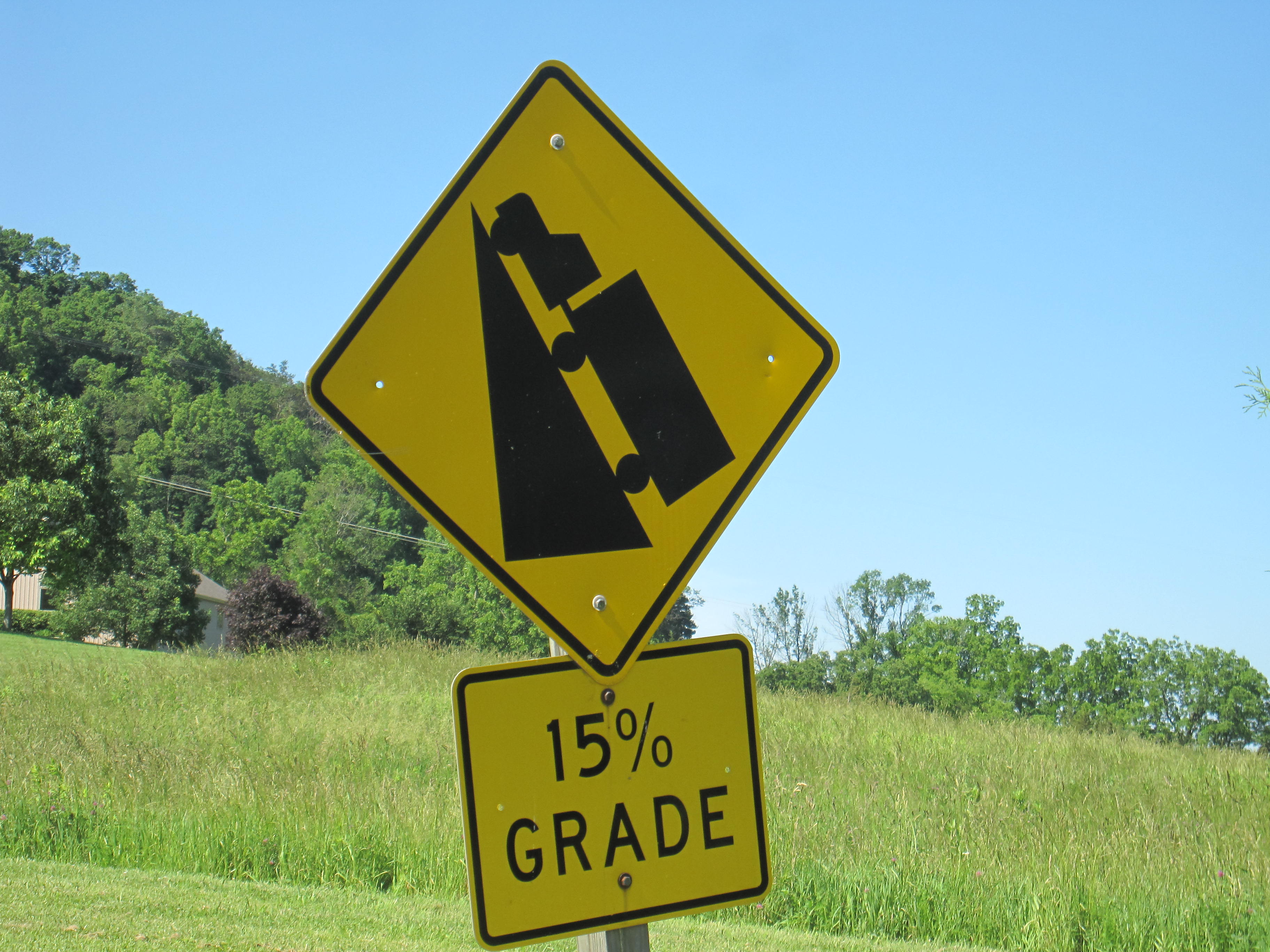 I ordered the Oil Additive and a bottle of the fuel additive and put them in like I was directed to. The truck is running a bit better, but it's still not fixed 100%. It's weird because it loves to run with a load behind it and if I'm towing the cargo trailer loaded down or towing the camper, you wouldn't know anything is wrong with it, but try and run it into town to grab some drinks, and you might as well push it.
I'm not convinced the Hot Shot Secret solved anything, but it did make it run at least 50% better than it was running before I added it. I'll be sure to let you know if any of this changes as I want to run a few more tanks of fuel through it to see if it cleans itself up any.
Over the summer, Cindy and I had stored the camper down in Crystal River in a storage lot that was secured, lit and on high ground in case we were to be hit by a hurricane. This way all we'd have to do is run down to Crystal River (A 45min. drive) and we'd have a fully equipped place to live out of till we were allowed back on the island.
Luckily for us, this past years Hurricane Season decided to pound the east Coast and left us residents on the west coast alone.
Last week we went to grab the camper from the storage yard so we could bring it back out to the island where we plan to store it at a friends house who has some extra space on their property.
We've never stored a camper before because since we've owned ours, we've been living out of it fulltime.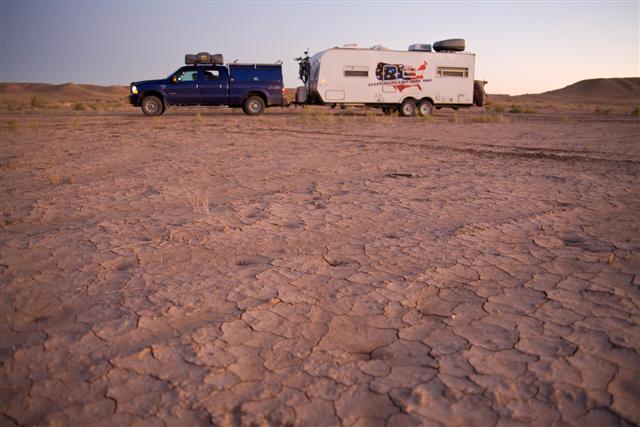 You can only imagine the shock on my face as I stepped inside our camper that we had left spotlessly clean to find it covered in dust and a nice layer of dirt and mold covering everything.
I guess storing a camper during the summer months with the roof hatches open and the fans on non-stop dont do anything to calm the humidity we have here in Florida. Especially since this last summer was the hottest summer on record for night time temperatures. I heard a few weeks ago that they reported this past summer that our night time temperatures failed to drop more than they normally do since they've been recording our daily temps.
So the last few days have been spent cleaning the inside from top to bottom. It's not that hard since we had completely emptied it of anything except for a stack of travel books that I just left in one of the cabinets.
When I opened up that cabinet, they had molded so badly that I simply had to throw away all the nice books we used as reference guides when on the road fulltime.
I talked to a friend of mine who owns a travel trailer and asked what he does to keep the mold from growing in his camper while in storage.
He told me he leaves it plugged in with the A/C thermostat set to 80° to suck the moisture out of the air and keep the air moving constantly. I guess next summer I'm going to have to find a storage lot that has power available or figure out a way to run a dehumidifier while it's in storage.
Maybe I can get a small dehumidifier and have it run off the solar panels and wind turbine? That would be a true test of our equipment to leave it running 24/7 for multiple months and see how it holds up. I'm researching what boat owners do that store their boats because I'm pretty sure they've already thought this through and have the answers I'm looking for. The Marine world is usually 10-15 years ahead of us RV'ers.
Again, this is something new to us and who knew that storing a camper would require so much thought? I figured that keeping the vents open and the fans in the exhaust position would suck out some of the humidity. But I never realized how much dust would accumulate in so few months.
No biggie. The deep cleaning is a nice change as I know I'm doing it for myself and not cleaning a room to simply have a guest come in for the night.
Sitting in the camper sure did bring back some memories we've created over the past few years. The night we were towing up from Crystal River, we stopped at a restaurant to get something to eat.
Walking back out to the parking lot seeing the camper sitting there hooked to the back of the truck felt like old times. Cindy and I both stopped and just sat there looking at it.
I heard my life long travel partner sigh and say "Gosh, wouldn't it be nice to get in and just go where ever we feel like again!"
For a second I thought about talking her into it (She's easy that way), but I just chose to sit staring at our little cabin on wheels and think back to all our amazing adventures.
I still think about hundreds of places we'll visit some day. Dont get me wrong. There's not a day that goes by that I dont long for the open road, but we're having alot of fun right now even with all the work involved. We both love Cedar Key, the small town feel and the people we get to meet coming to visit the Low-Key Hideaway.
I'm really looking forward to opening the Tiki Bar because it will allow me to talk with more people and share more travel stories. Get new ideas on places to go see right here in our back yard and learn about places to plan for when the time comes for us to pack up and move on....when ever that might be.
Saturday night was the 3rd Annual Cedar Key Christmas Boat Parade. Luz and Cindy decided they wanted to enter this years contest to see who could decorate their boats the best.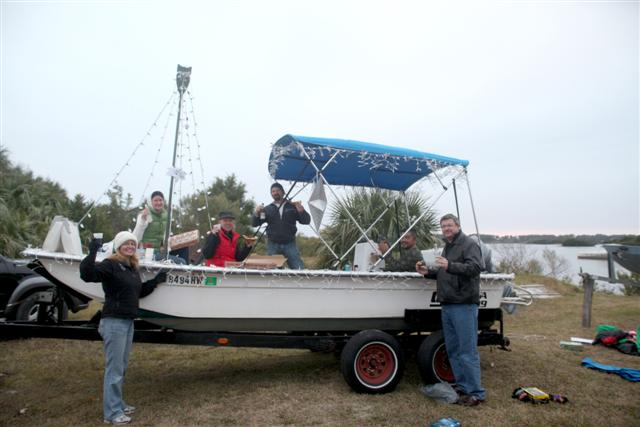 Our Little Boat Decorating Party at the Low-Key Hideaway
Knowing how competitive Cindy is, this turned into a very big deal. We started work on Friday afternoon after we got all of our guests checked in. Decorating turned into a big party with Luz, Walter, their daughter Marina and Cindy and I all working till after dark wrapping Christmas Lights around every square inch of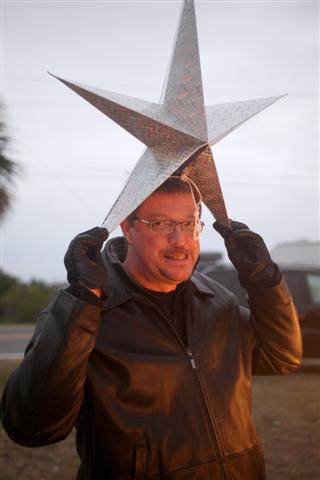 their skiff.
We came up with a plan to make a giant Christmas Tree out of a push-pole and we had so many lights on the boat, we routed all the cords to one end of the deck where we put one of our little Honda generators to power everything. It worked perfectly and with the generator being so small and quiet, it was the perfect solution to keeping everything lit for the whole night.
Saturday was a rough day since we stayed up till 2am on Friday night after the party had moved into our house.
We finished decorating the boat with minutes to spare in order to make it to the registration deadline. There were boats of all sizes and designs entered and some had gone all out with flapping wings or blinking signs. It was neat to see various boats with entire families aboard or just a group of locals getting together to celebrate the Christmas Season.
Some boats had Santa Claus aboard while some were caroling the entire time. Some were playing music and some had people dancing around in their elf hats. As the sun set over Cedar Key, the boats lined up on the Western Edge of the shoreline and continued to parade up and down the waters edge in front of the bars and restaurants lining Dock Street.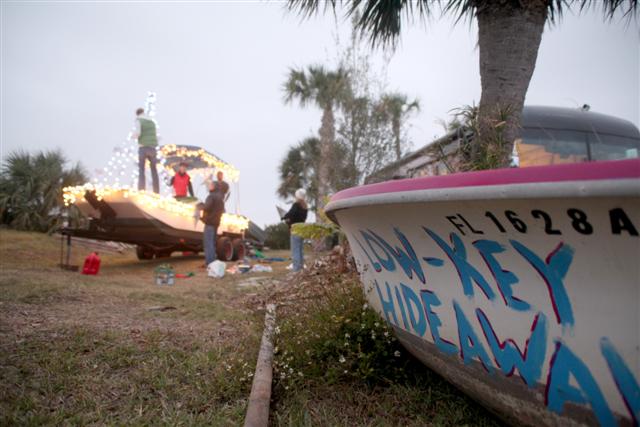 Walter and I let the girls go in their boat by themselves and we borrowed another friends Skiff so we could buzz around the boats getting good positions to photograph the parade.
When our boat passed the docks where the judges were sitting at, the girls were screaming out Christmas Carols to the music jamming from the boats radio. Cindy was shining everyone blind with the huge spotlight she had in her hands and they were all dancing around so much that Walter and I thought one of them was going to fall overboard.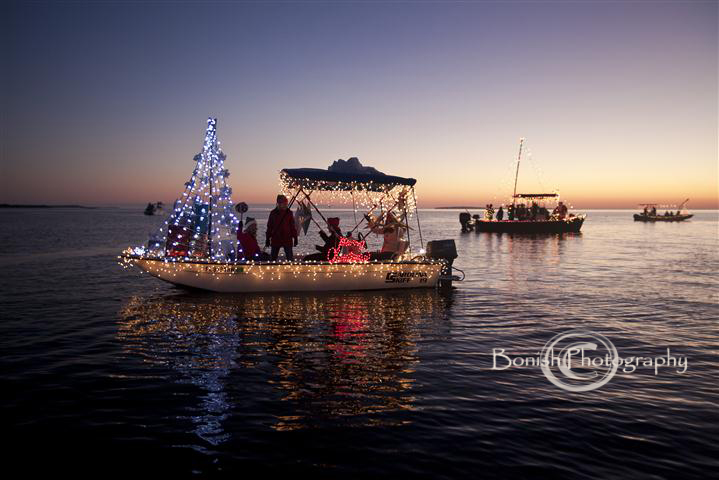 The people on the balconies were all screaming back to the boats which only made the entire event seem like some sort of Mardi Gras style event.
After multiple passes up and down the shoreline and a few hours later, the water was pitch black and the night air was cold and damp.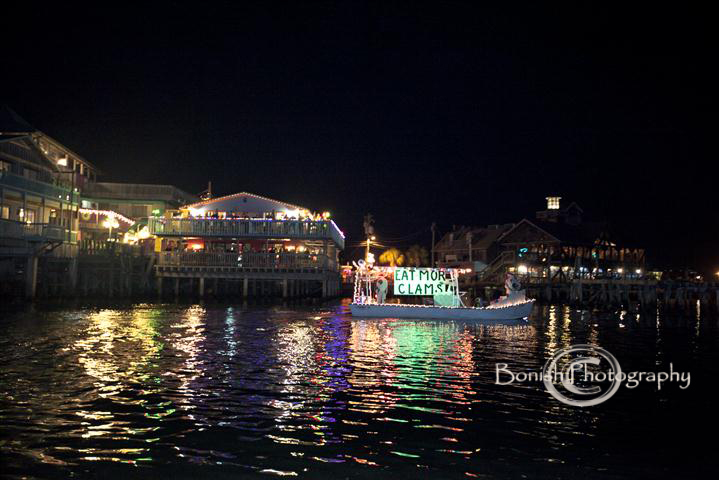 We headed into the marina to head into one of the local bars for some hot food and rich wine to warm us up.
As we were walking up the docks from tying up the boats in the marina we heard the judges announcing the winners and to our amazement, we heard our names called for the 1st place prize.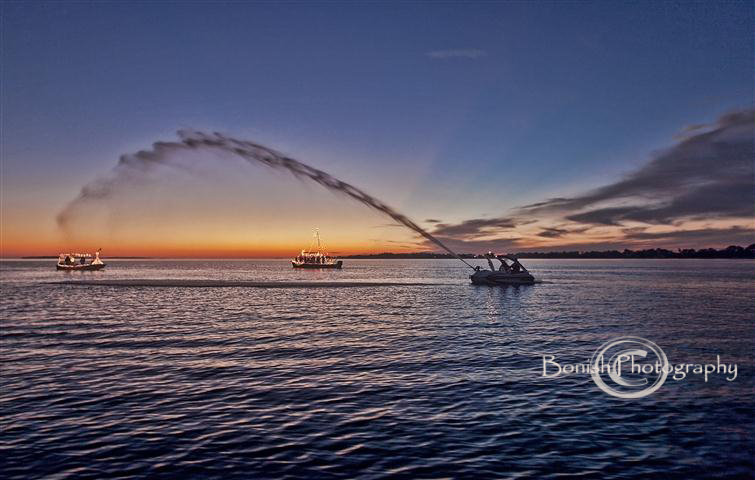 Now remember that building up to this parade, we had been told by the locals that we werent to expect much because it would be our first time, but we'd learn alot about what to do next year. So you can imagine the ribbing we'll be able to give them that even though it was our first event, we had enough lights and a cool enough design to take how the bragging rights for the rest of the year.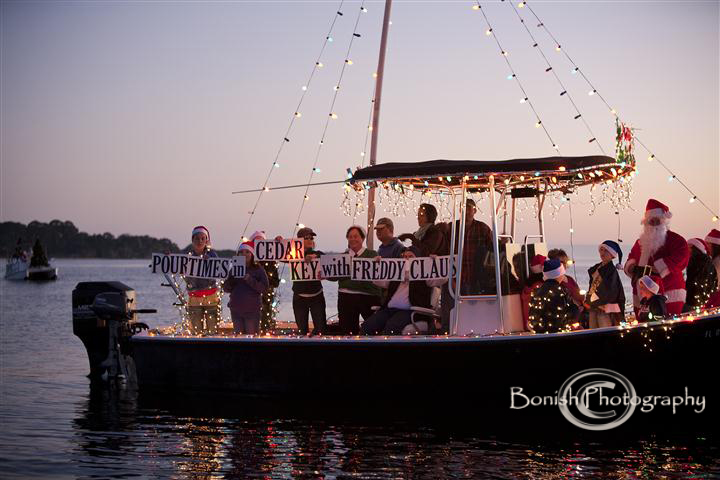 Either way it was a great night and we had a blast.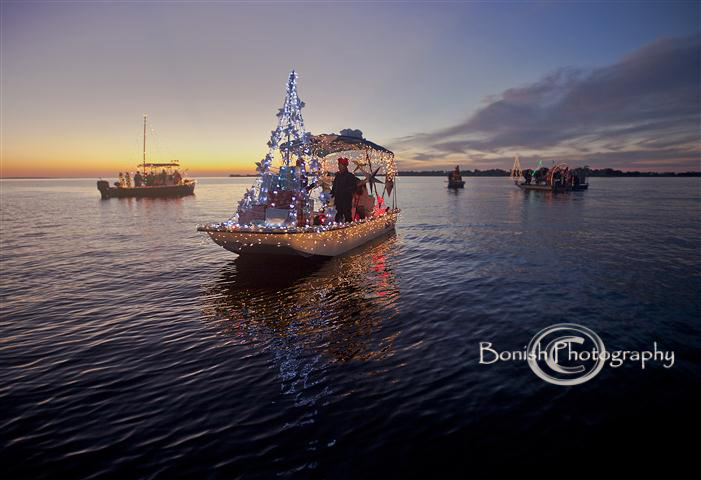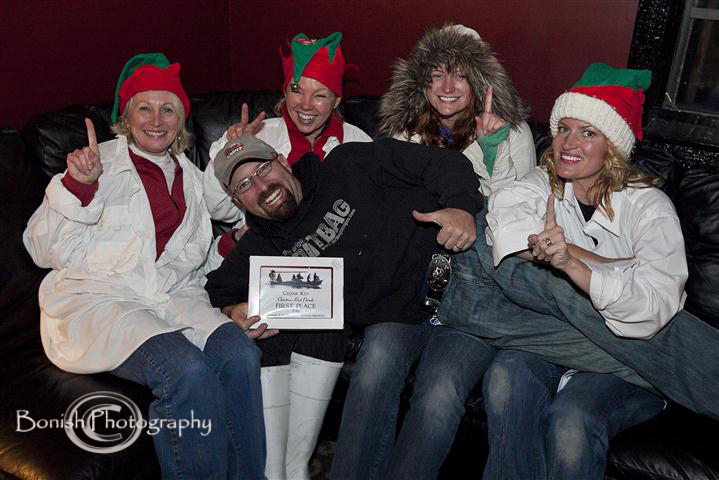 The Winning Team and their Photographer!
___________________________________________________________________
Photo Gear We Use - Solar Tips, Fact's and Trick's we've learned while on the road
Camper Check List - A list of things we do before leaving camp. Again, this isn't gospel, but its a good start for those who might not already have a list made up.
Return to Top of Page
Need Unlimited photo storage- FREE Trial of Smugmug