When we realize our insignificance in this world,
it some how relieves the pressures from society to succeed -
Cindy Bonish 04/07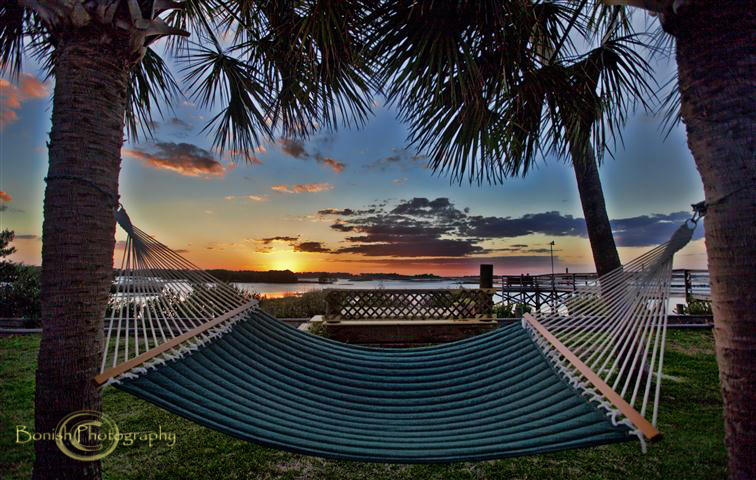 Pat's March 2011 Blog
If this is your first time here, you might want to start from the beginning of our fulltime Journey with our Past Blogs
If You Don't Know Me Yet, Click Here to Read Pat's Bio
****
Tuesday March 29th - Pelican Practice
Sometimes you find the strangest places to take photos. Luz and I had been talking about different shots that would be fun to try when she told me she thought it would be cool to keep a bucket of bait fish in the boat with us.
Her idea was when the Brown Pelicans follow the boat begging like they always do, we could toss out some bait fish to keep them around while taking photos of them up close.
Before she even finished telling me that idea, her A.D.D. brain kicked in and she said "OMG! Why haven't we thought of this yet? Danny cleans fish down at Fishbonz on a daily basis. When he's cleaning his days catch, the pelicans gather around begging for the scraps he throws back in the water!"
As soon as she was done telling me this idea, she called Danny and told him that the next time he was coming back into the docks with a boat load of fish, she wanted him to call her so we could come down to take photos.
This morning she called me and I grabbed the cameras and headed out to see what we could come up with.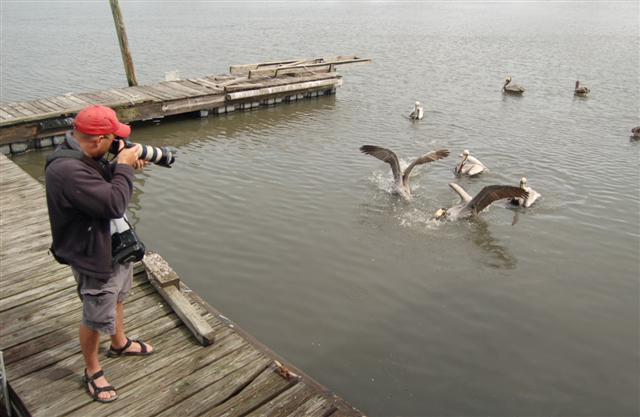 Me standing on the Dock while the Pelicans go crazy at the fish scraps being thrown over my shoulders - Photo by Luz Kraujalis
I figured if nothing else it would be a fun way to practice on moving birds and practice my technique of focusing and framing the birds while they're moving fast. It turned out to be much harder than I thought it would be.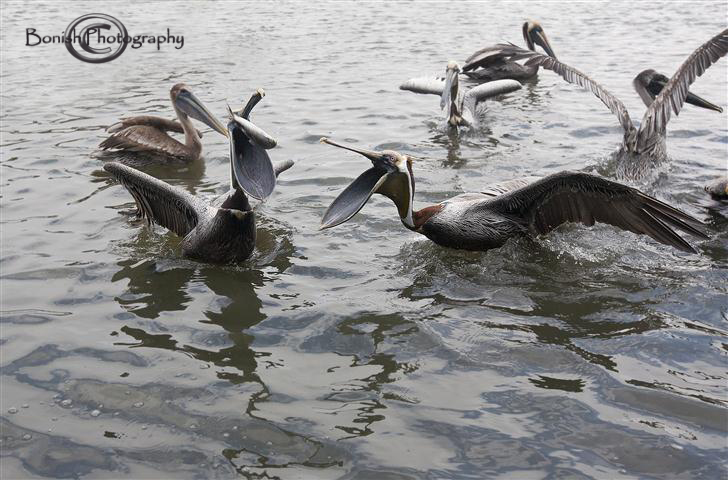 Brown Pelicans going after a mullet being tossed in -
Shot with a Canon 5D with a Canon 16-35 f/2.8 Lens
It was basically a free for all and the Immature Brown Pelicans are way more aggressive than the adults. They come right up stealing the scraps away from the adults. They literally reach into the adults pouch and steal the food out.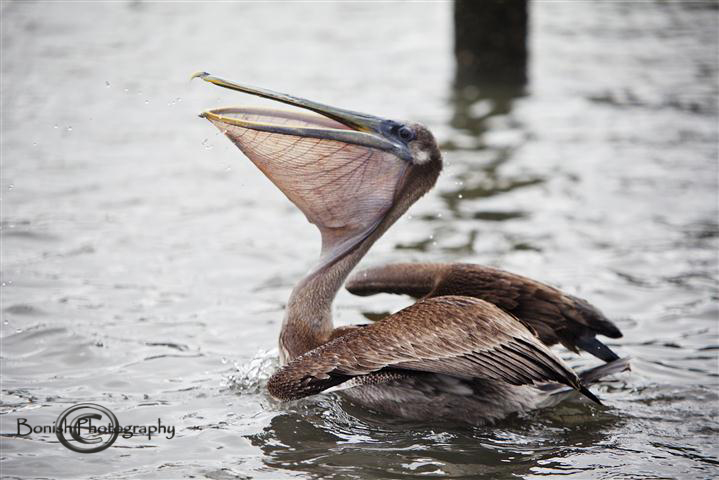 Immature Brown Pelican with some fresh fish in the pouch -
shot with a Canon 5D Mark II with a Canon 70-200 f/2.8 IS with a 1.4x extender
Here's a collection of what I came up with after about 45 minutes of standing on the dock while Danny threw fish scraps over my head....LOL Just another day in Cedar Key.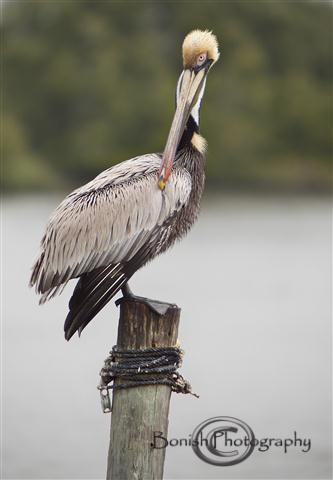 Brown Pelican Standing Guard on the Docks of Cedar Key
Shot with a Canon 5D Mark II with a Canon 70-200 f/2.8 IS with a 1.4x extender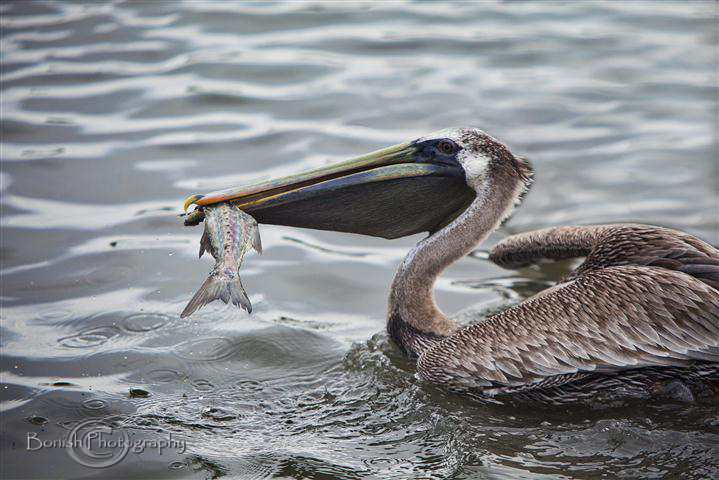 Immature Brown Pelican with fresh Breakfast
Shot with a Canon 5D Mark II with a Canon 70-200 f/2.8 IS with a 1.4x extender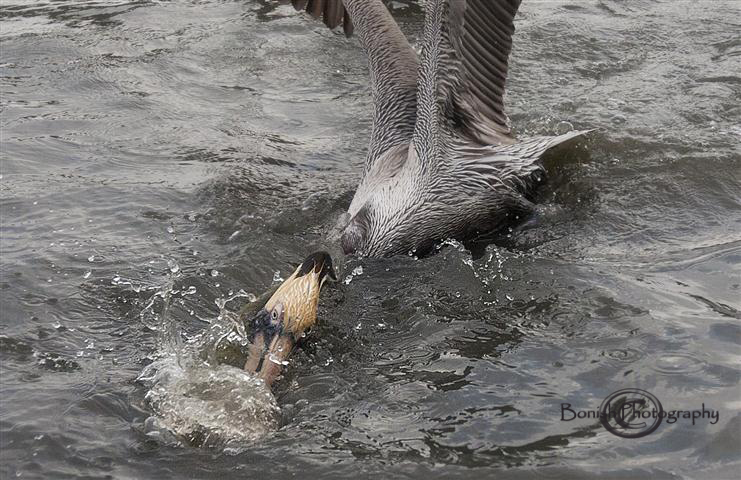 Brown Pelican diving after a thrown fish
Shot with a Canon 5D Mark II with a Canon 70-200 f/2.8 IS with a 1.4x extender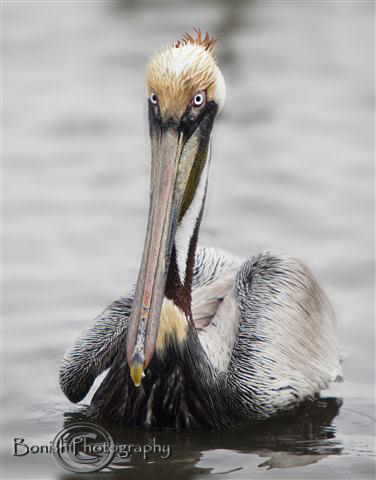 Eyes on the Target - Brown Pelican staring at the Fish Cleaning Station
Shot with a Canon 5D Mark II with a Canon 70-200 f/2.8 IS with a 1.4x extender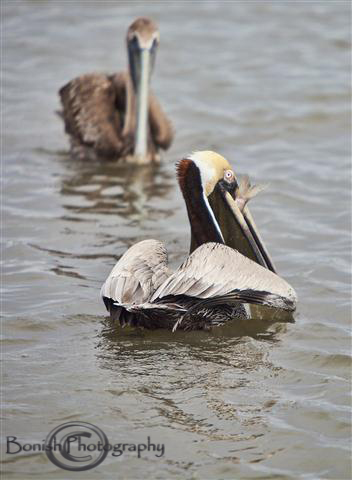 Brown Pelican with fish tail hanging out of its bill
Shot with a Canon 5D Mark II with a Canon 70-200 f/2.8 IS with a 1.4x extender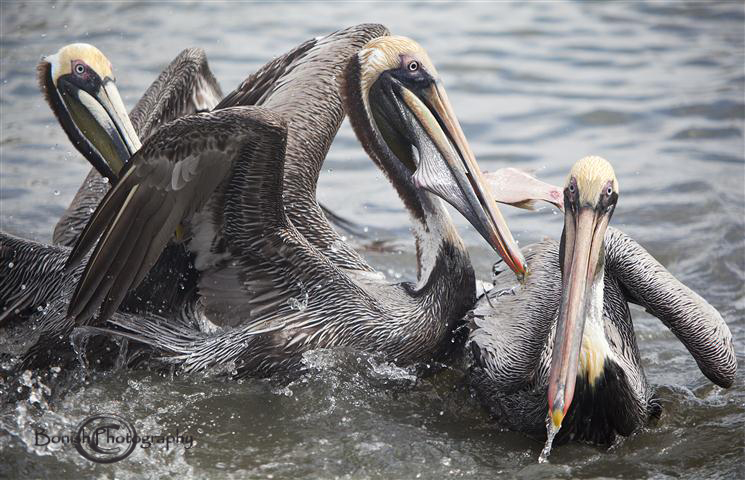 At Times it would become a feeding frenzy with the pelicans all fighting over the scraps. Water would be getting splashed all over the cameras and it was quite the commotion
Shot with a Canon 5D Mark II with a Canon 70-200 f/2.8 IS with a 1.4x extender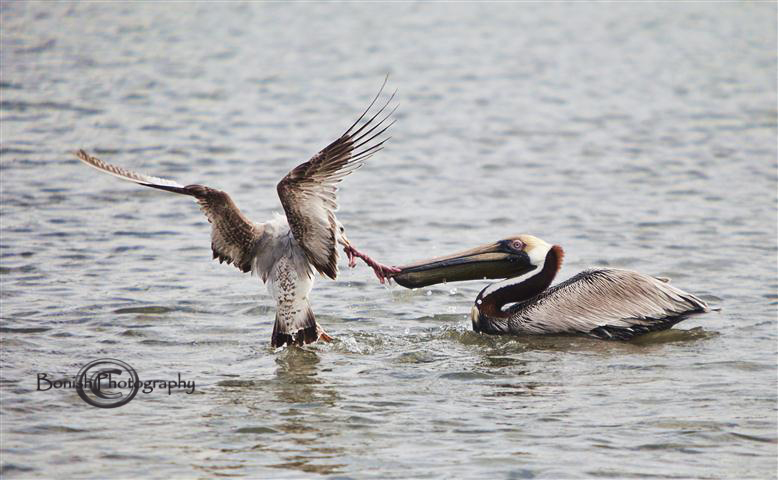 Probably my favorite shot of the morning. The gulls would sit and hover over the pelicans as they would flip the fish parts around in their bills. When the gulls would see the opportunity, they'd swoop down and grab ahold of the food. Numerous times the gulls would be fast enough to snag the fish right out of the pelicans bill. This time the pelican snapped down and the two birds played a tug-o-war for some time as neither wanted to let go of breakfast
Shot with a Canon 5D Mark II with a Canon 70-200 f/2.8 IS with a 1.4x extender
When all the fish were cleaned up, I was covered in scales, a fine mist of salt water and stunk like raw fish. I thanked Danny and Luz and was back home at work before 9:30am. Not a bad way to start the day.

Sunday March 27th - Birding in Cedar Key
Up until we moved to Cedar Key, I would have never considered myself a bird Photographer. At this point, only a little over a year later, it's really the only thing I take photos of.
I find myself looking at birds in a whole new light. I'm attacked to their sounds, their habits and especially trying to capture them in flight. Sports Photography and Wildlife Photography was always my passion up to this point simply because it was so hard to capture good photos of action.
Birds in Flight only ups the stakes and keeps me challenged with each passing day. Add to that trying to shoot from a floating boat, an offshore breeze and a never ending supply of migrating birds and you can see why I enjoy Cedar Key so much.
With the good weather upon us, I've been trying my best to wake up before sunrise each morning and get out on the water. That first few hours of the day is when the light is perfect, the birds are very active and the winds are usually calm.
I dont care who I go out with. I dont really even care if I go out on the boat, but the boat usually gives us a better advantage than trying to capture the birds from the land.
Being on the water, you usually have a good, dark background since the birds are feeding or flying along the shoreline.
Since I've been spending every day shooting, rather than list each day separately and go over each boat trip individually I'll just post a bunch of the shots I've snagged in one post.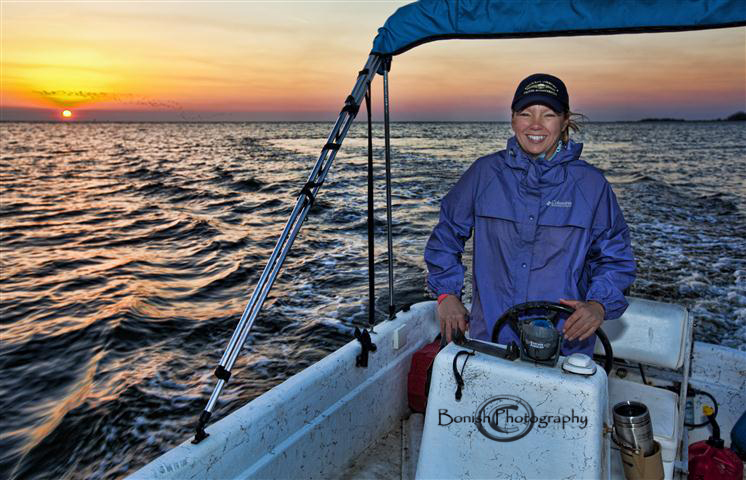 Sunrise with Luz at the Helm
Special thanks to Luz & Walter for the use of their boat and taking up Luz's mornings as she poles the skiff around for me to shoot from. On the mornings that Luz doesn't feel like crawling out of bed before sunrise, I know I can count of Heath to act as Cedar Key Photo Guide. I think it's times like this when the ol' saying "The only thing better than owning a boat is to have friends with boats!" is icing on the cake. Thanks guys, you're the best!!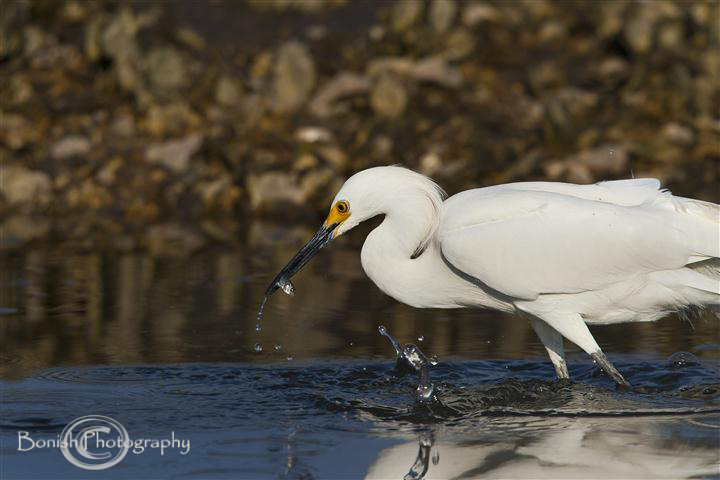 Egret Fishing in the Back Bayou of Cedar Key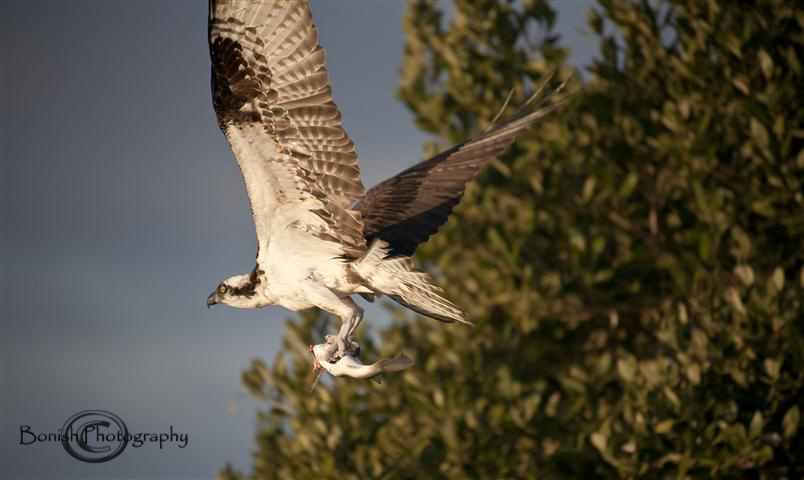 I was totally bummed the day I shot this because I missed it's wing tip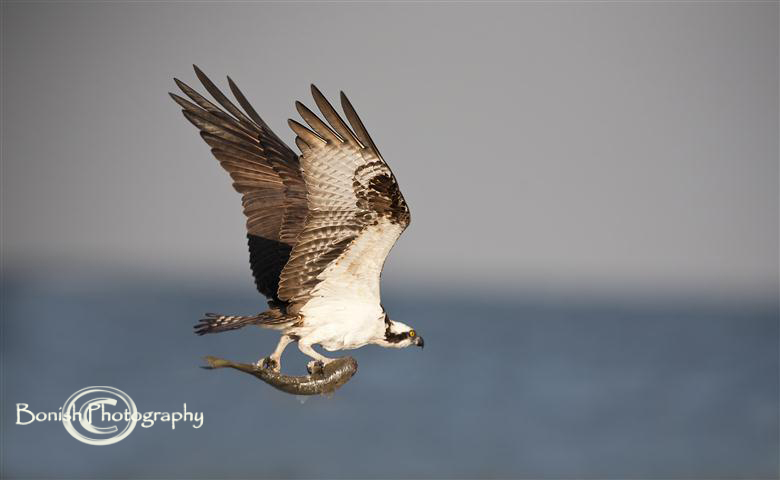 I was able to redeem myself when Luz and I were out a few mornings later and saw this. We were floating along when Luz pointed out a big Osprey sitting on an Oyster Bed with a freshly caught mullet. As she was backing the boat up trying to fight the stiff wind and waves bouncing us along, the Osprey leapt into the air and I was able to snag this. Shot with a Canon 5D Mark II with a Canon 400mm f/2.8 with a 1.4x extender all mounted on a Wimberley WH-200 Gimbal Head.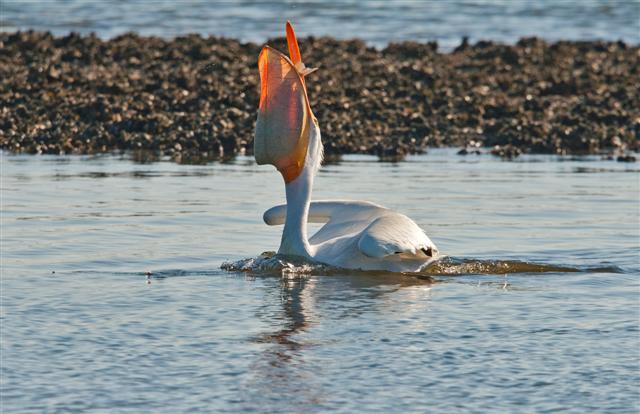 Hungry White Pelican - It took this pelican a good 5 minutes to position this fish so it could go down the throat. It was fighting and flopping the entire time

Great Blue Heron coming in for a landing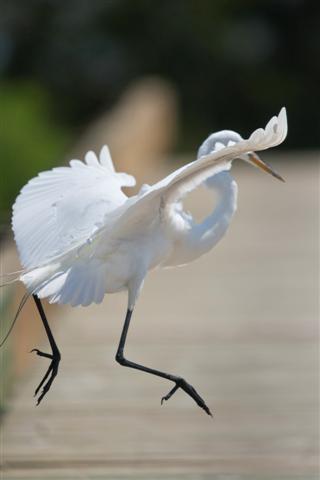 Ninja Egret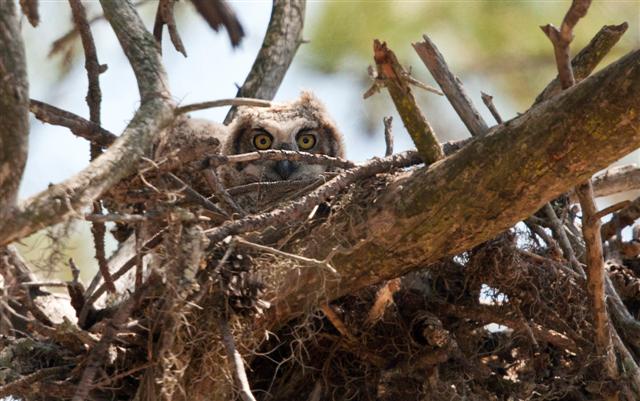 Glaring Eyes from a Baby Great Horned Owl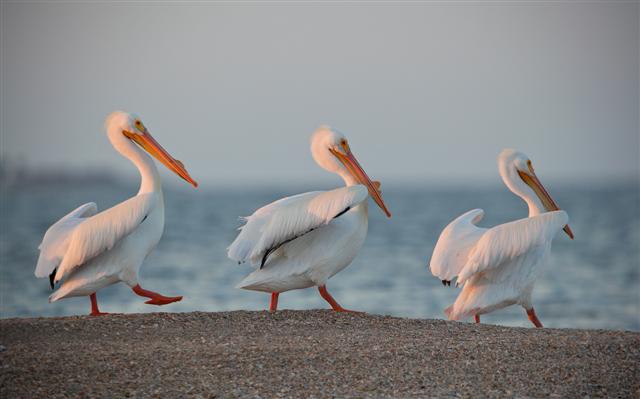 Walk Like an Egyptian - Trio of White Pelicans walking on a Sand Bar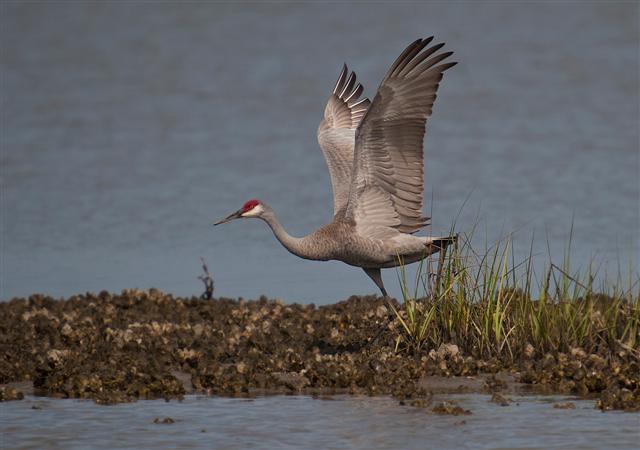 A Sandhill Crane behind the Low-Key Hideaway - I've never seen one in Cedar Key before and to think it landed right behind our motel!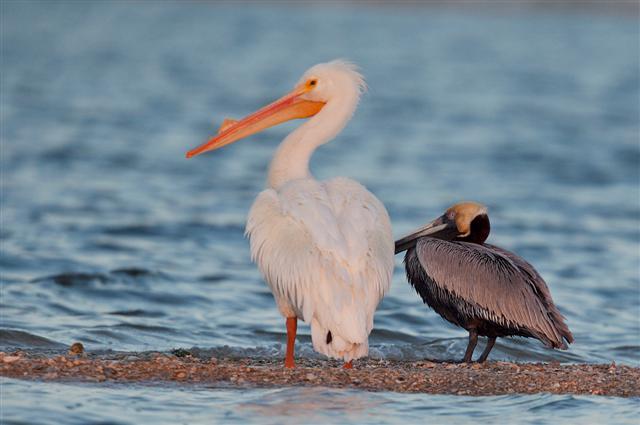 Many people dont realize how big the White Pelicans really are. Most folks dont get to see them up close from a boat tour....I thought I'd post a photo of a White Pelican standing beside a Brown Pelican for Comparison. Remember, a Brown Pelican is a big bird to begin with. The White Pelicans can have up to an 8' wing span!
That's just a small selection of recent work. Click on the Birds of Cedar Key link and check out more of our shots from this Wildlife Refuge we call home
The Photography isn't only Birds and Wildlife while we're out on the boats. I sometimes point the camera at stationary object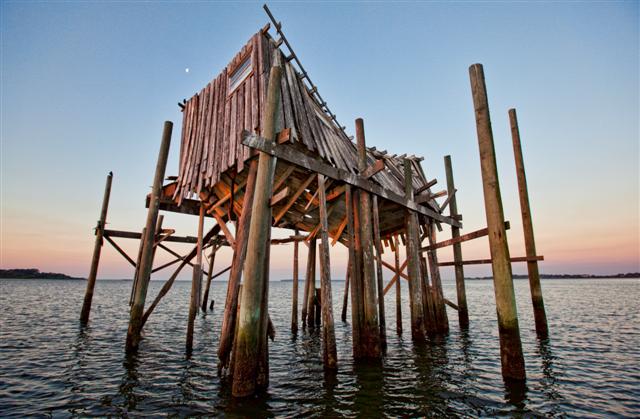 I titled this one 'Ocean Front Fixer Upper'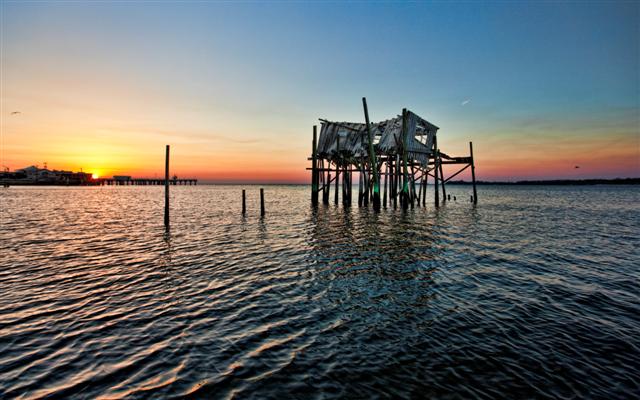 Sunrise over Cedar Key
Wednesday March 23rd - Boat Ride with Good Friends
For the past few weeks, Heath and I have been kicking around some ideas for guided boat trips. We've been trying to figure out different routes to take people out on the water where they'll be able to see things the typical tours aren't showing them.
We made plans to scout some of the local river systems to see if we could find some loops so we could drop people off with Kayaks and pick them up at another section later in the day.
We had planned to go on one of our scouting missions today and asked Howard and Linda if they wanted to go with us. Howard thinks alot like I do and said "Any day on the water is a good day, so we'd love to go out."

Howard & Linda on Heath's Boat
We were going to try and get up the Waccasassa River, but this means we have to run out in open water for a few miles to get to the mouth of the river. Leaving Cedar Key, we realized the wind was blowing way too hard to get us there in any sort of comfort.
If it was just Heath and I, we'd just hold on for dear life and get a good knee workout from all the rolling waves. But when you have 6 people on a boat, going fast over the waves isn't really an option.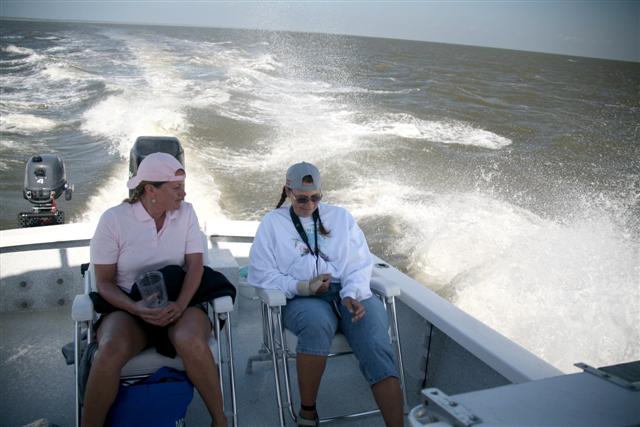 A mile into the open water with lots of splashing and a good salt mist on everything, we called it quits and headed back for the protected waters of the bayous.
That was fine by me since on our way back in, we were pulling up to one of the biggest flocks of White Pelicans I've seen since we've been in Cedar Key. This one flock had to have hundreds of birds in it.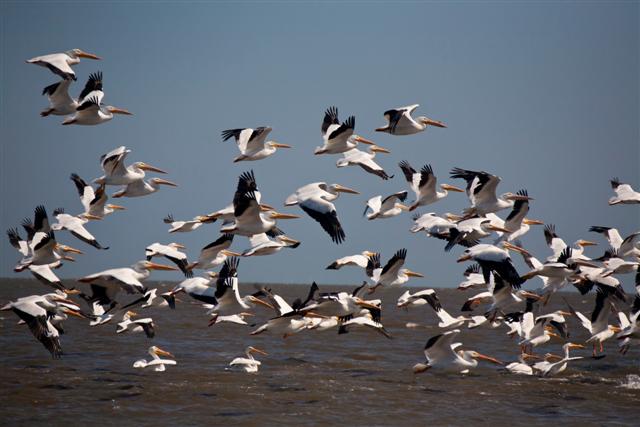 To see the giant flocks from a distance you almost think you're looking at a bright white sandbar rising out of the water. Then you get closer and realize it's moving as the birds shuffle along to get ready to take to flight.
Unlike Brown Pelicans, the White Pelicans dont allow you to get too close to them. This is when a long, image stabilized lens comes in handy.
We floated around them for awhile till they grew bored with us and flew away.
Once we were finished with the Pelicans, we idled around the protected bays where the wind was still blowing, but the water was calm due to the protection of the mangroves and the trees that line many of the small islands.
This was when Linda introduced Cindy and Jolie to one of her favorite games. The Humming Song Game. Someone has to hum the beat to a song and the rest of the people have to try and guess the song.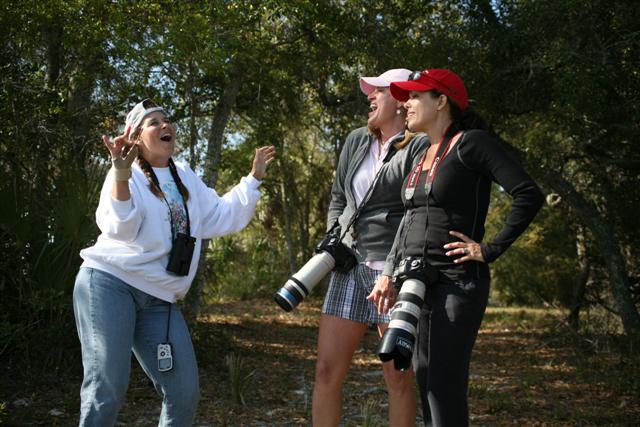 Linda belting out a Song - Of course when the girls would guess the song, this meant they'd all have to sing it in harmony
This went on for the rest of the afternoon while Howard, Heath and I just watched and laughed really hard. There were times us boys would guess the song before the girls, but for the most part, we'd just sit back and laugh at their antics.
The 3 girls actually sounded great signing together, so it was a great way to spend the afternoon. Floating on the water and being harmonized to by 3 beautiful women. Life is Good.
The birding this time of year is spectacular around the Cedar Keys and it seems each day I'm adding shots to the portfolio. The Birds of Cedar Key Gallery has grown to 11 pages and it keeps getting added to each day.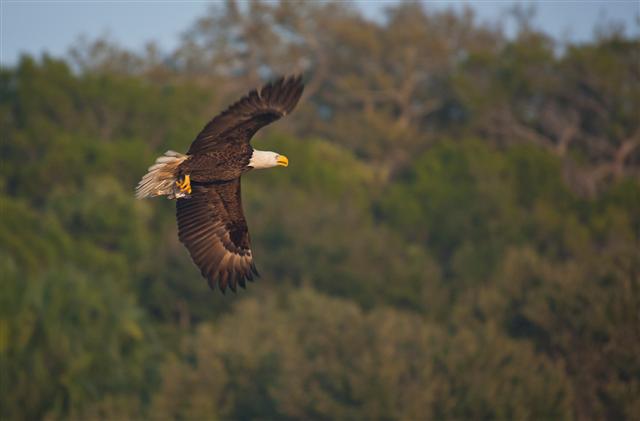 Bald Eagle with a Fish in its Talons
Today we watched an adult bald eagle snatch a fish out of the water right beside the boat. Then it flew around us for awhile with the two immature eaglets chasing it. It would drop the fish so they could dive down and practice grabbing it out of the water and it was a total National Geographic moment.
From there we landed on one of the abandoned islands and combed the shell laden beaches. This time of year is Horseshoe Crab matting season, so the spectacle was very interesting to watch.
We all had so many questions about what was going on and each person had their own theory. I can only imagine what the Corps. of Discovery that made up the Lewis & Clark Expedition must have thought when each day would be completely new things they had never seen before.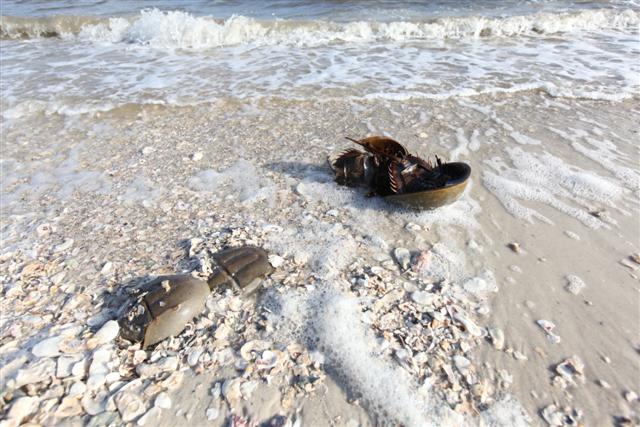 Two different pairs going about it in totally different ways. I think the ones on the right are a little more adventurous
They didn't have the internet to go home and find out what they were seeing. Heck, if any of us had really wanted to, we could have looked it up on our Smart Phones and know everything there was to know about Horseshoe Crab matting right there, but it was more fun to make up theory's and compare one another's as we watched.
While leaving that beach, we floated past the sail boat that got the whole Low-Key Floataway idea started last year. This sailboat has been sitting on this island for almost two years now which is just amazing to me.
Heath and I always threaten to pull it off the small islands and drag it up behind the motel.
When Heath asked "You want to try it today Pat? We have a big tide to work with!"
You know what my answer was. Linda is Mr. Safety and didn't want to have any part of it, but she was out-voted by the rest of us. Jolie and Cindy just shook their heads because by this point, they know that telling Heath and I not to do something will only make us want to do it even more.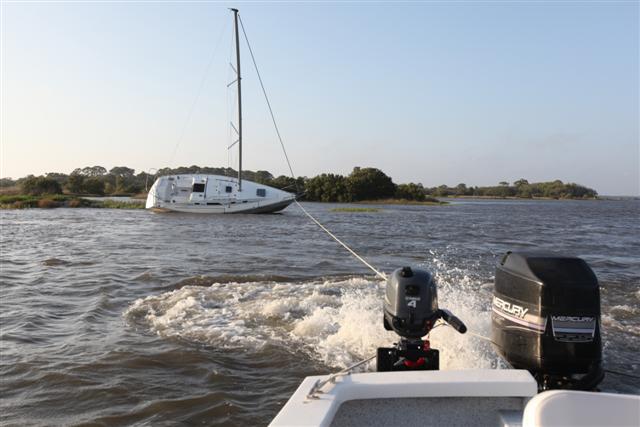 Our idea was to pull it off the island and have everyone get aboard it while we tow it past Dock street. It would look hysterical to have all of us sitting up on the deck like it was just a normal boat with Heath pulling it in tow as we waved and toasted drinks to everyone in town.
We hooked a big rope to it and gave it a couple of good tugs, but the tide was on it's way out and the boat wasn't sitting all the way in the water by this point. Linda was finally relieved when I climbed back aboard the sailboat to untie the ropes.
Stay tuned on that ordeal. This only means we want to do it even more on the next high tide since we were defeated on this attempt.
We circled Atsena Otie Key watching the Osprey, Eagles and Herons fish in the rich Gulf waters and just had a perfect day on the water.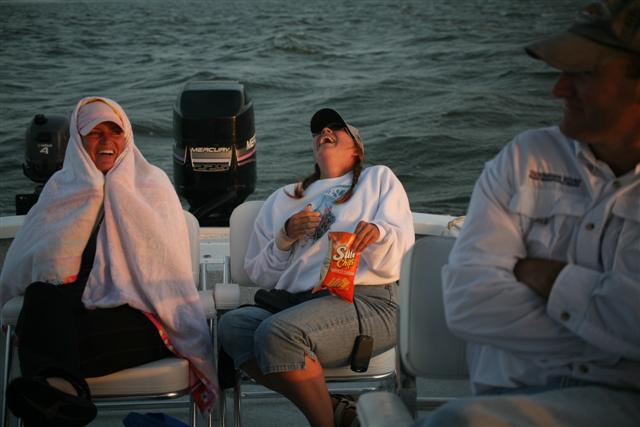 I dont know if these two should hang out together all that much, the laughter never stopped!
When the sun was finally setting and the humidity was making everything sticky and dewy, we headed back to the docks so we could start working on our land legs and shake out the sea legs.
Cindy and Linda were downright hysterical together and at one point we asked Howard, "Is Linda always this crazy?"
He just laughed and said "Yes she is, but I've noticed when she's around Cindy, it's amplified about 10x's."
On our way into the Marina, Heath pointed out that the Cedar Key Yacht Club had water in the marina. This is somewhat of a running joke since the Cedar Key Yacht Club usually consists of a few boats sitting on the muddy bottom.
It's illegal to dredge anything here in Cedar Key since its a Wildlife Refuge, so unless marinas are designed properly in the first place, they tend to fill up with silt in a hurry.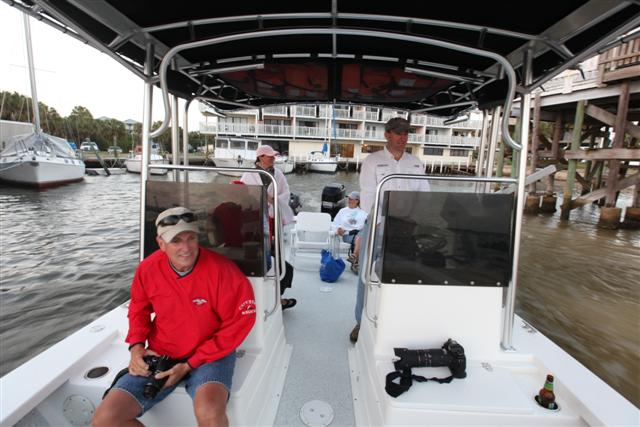 A rarely seen site! Boats floating and leaving the Cedar Key Yacht Club
As we approached the Yacht Club, people were coming out on the docks and balconies to see a spectacle most have never seen, a boat pull in and pull out of this marina.
From the Cedar Key Yacht Club we headed back to Heath's dock to end our fun filled day on the water. We thanked Heath for the boat ride and unpacked all our gear. By this point we had worked up a serious hunger, so we all went to the Island Room for another scrumptious dinner.
While we had been on the boat, Linda had shown us all her Fivel the Mouse impersonation. She can imitate the high pitched voice from the little mouse in the children's movie 'American Tale'.
When she does it, the voice coming out of this woman's mouth is downright hysterical. It would be impossible to hear it and not laugh. If you could control your laughter, it would be impossible to not at least smile at the sound.
So when we all sat down in the Island Room restaurant, I said "Linda, order your drink in the mouse voice and the rest of us will act like it's no big deal."
When the waiter came up, she proceeded to order her drink in that voice and the guy busted out laughing. When he noticed that the rest of us just kept our faces in the menus without ever cracking a smile, he gained control and tried to keep his composure.
As he scurried away towards the bar to make our drinks, we could hear him giggling the entire way.
A different waitress came to take our food order probably because the man thought he wouldn't be able to do it without laughing too hard in her face.
When she started asking questions in that voice, it was all I could do to keep a straight face but we all did. The waitress busted out laughing at first, then noticed that all of us were serious.
She turned around with her back towards Linda and gained her composure before trying to retake the order. Multiple times would she giggle or laugh under her breath and you could tell it was all she could do to not just bust out laughing.
When Linda finally finished ordering, the waitress left and we all proceeded to laugh out butts off.
The rest of the meal, she talked in a normal voice which had to leave the waitress confused as hell.
The meal was awesome and the only thing that topped it was the company. Howard and Linda are so cool to sit and talk with and their stories are awesome. Plus it's always great to talk with people who share in the same passion that Cindy and I do.
It'll be sad to see them leave, but it was great to get to spend some time with them while they explore America. Make sure you check out their Travel Site at Rv-Dreams.com.
On a side note, since Howard and Linda arrived, the only thing we've seen Howard eat has been marsh mellows. We all said it might have some sort of bad effects on his figure, but he doesn't seem to think so???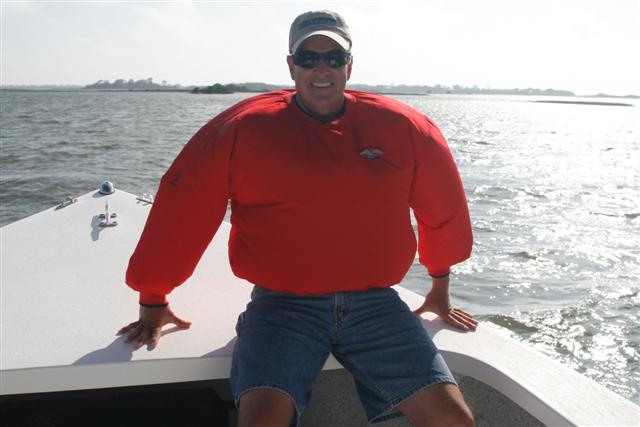 Howard the Marsh Mellow Man
Saturday March 20th - Super Full Moon Party
Yesterday and all day today was spent getting ready for tonight's Hideaway Tiki Bar Full Moon Party. Heath and Freddy brought over a giant cooler filled with burgers that they'd be grilling out and the grounds around the motel had been transformed from ordinary to extraordinary making it look even more inviting and entertaining.
I had ordered t-shirts and hats last week having our logo embroidered on them and went into Chiefland to pick them up yesterday.
The only thing we were waiting on was people, and they showed up by the car load.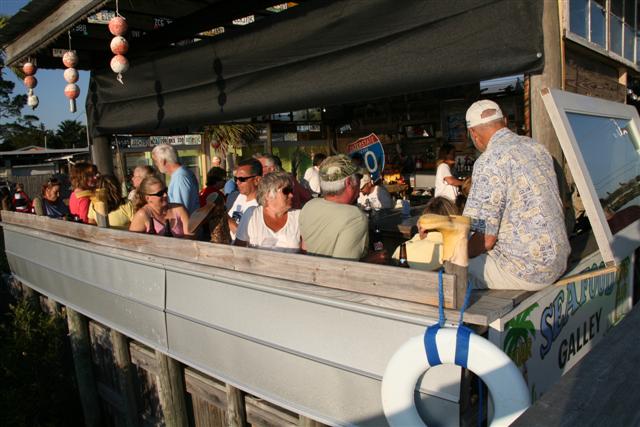 Hideaway Tiki Bar Filled to Capacity during the Sunset Celebration
The night started off with a full bar and quickly turned into standing room only under the tiki roof. Soon the entire backyard was full including the dock.
Since we have a package license, we're allowed to sell beer and wine to go which is what we were doing so people could walk out of the tiki bar and drink on the dock or in the yard.
On Friday Cindy had answered an interesting phone call from a State Employee who had called saying they had received a phone call saying that we were planning on serving food at the tiki bar and we would also be serving alcohol. We have a Beer & Wine license, but they said they had been informed that we'd be serving Whiskey.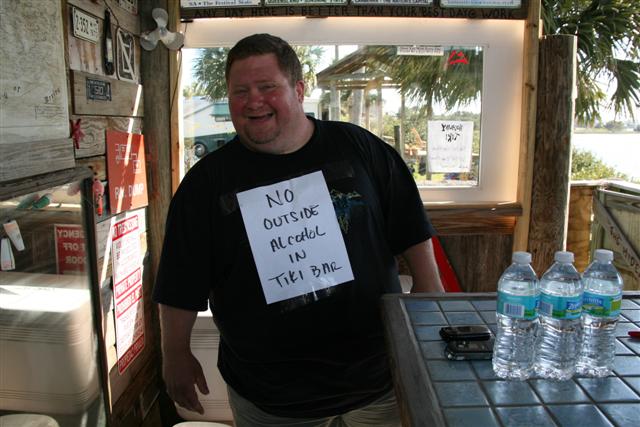 Freddy Acted as Bouncer...No One Brought ANYTHING in they werent supposed to
Cindy just laughed and let them know that we wouldn't be breaking any rules. We know enough not to be serving any Alcohol that we haven't bought from a licensed distributor, and we wouldn't be serving any food inside the tiki bar.
Heath and Freddy would be cooking food at their own fire pit outside the tiki bar, and that was being given away. If guests felt like donating for the thick, juicy burgers they were eating, then all proceeds would go to the local Cedar Key FFA. There is nothing illegal about that and we ended up raising over $500 for the kids in the FFA.
We know who called the authorities, which never ended up showing up by the way...and if they did, they just ended up enjoying a burger and having a good time.
The folks who called trying to get us in trouble are another couple who owns a bar on Dock Street that is too worried about any competition since I guess they dont know how to market themselves. We've heard they call the beer distributors complaining if other bars carry the same beer they do and ask the beer distributors to not allow them to sell that same beer...HAHA!! Complete and total morons!
Oh well, I guess some people dont believe that good competition only makes us all better, but I'm always open for some serious competition, lets just try and keep it above the table and not play dirty.
Back to the good times and Full Moon Party.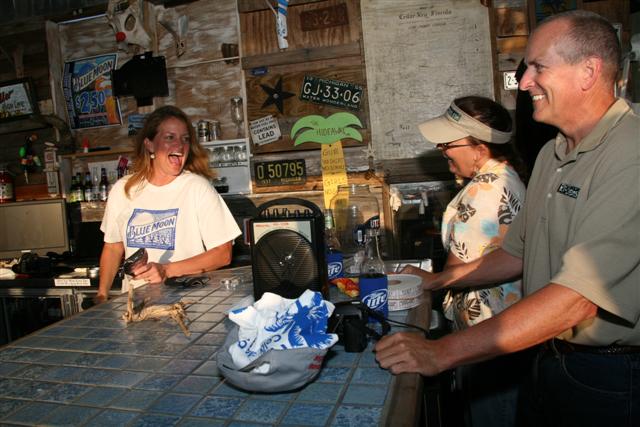 Cindy & Linda having way too much fun with Linda's P.A. System
It was a total success and everyone who was here had a good time.
We gave away a ton of shirts, hats, Beer Coolers and Beer Koozies and Linda and Howard helped pull off a fun 50/50 raffle for the FFA that raised over $200.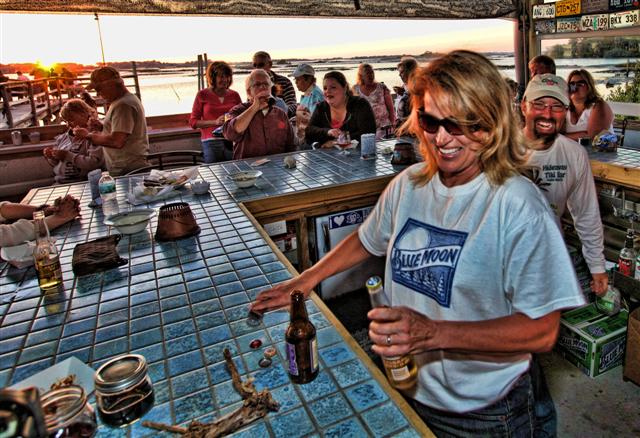 Having Too Much Fun behind the Bar - Photo by Luz Kraujalis
When they pulled the winning ticket, Walter was the winner and he was gracious enough to donate the money back to the organization. Luz helped out with taking photos with one of my cameras since Cindy and I were way too busy behind the bar to be out actually recording the fun everyone else was having.
When the sun set, the historic full moon rose on the opposite side of the horizon and the tiki bar emptied so everyone could witness this giant, glowing ball rise out of the Gulf of Mexico.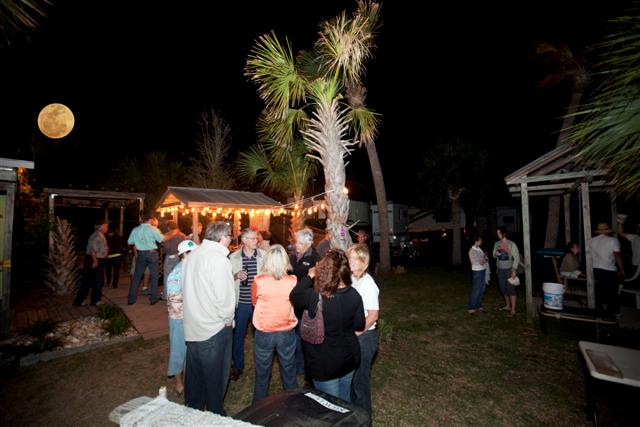 That Big Moon Rising over the Low-Key Hideaway
It must have been humorous for folks driving by to see such a big line of people standing along the roadway in front of the Motel and RV Campground all just 'Ohhhing' and 'Ahhhing' at the beautiful sight.

Heath Telling Me that It's All Downhill From Here
Once the sun set and the moon came up, the party only got better. The God's must have been watching over us because they blessed us with perfect weather and kept a slight breeze blowing the entire time. The breeze keeps everyone comfortable and helps keeps the bugs at bay.
While the party slowly trickled down as the night grew later, Cindy and I took turns breaking everything down and soon enough, we had the motel looking like the sleepy resort it's become known as.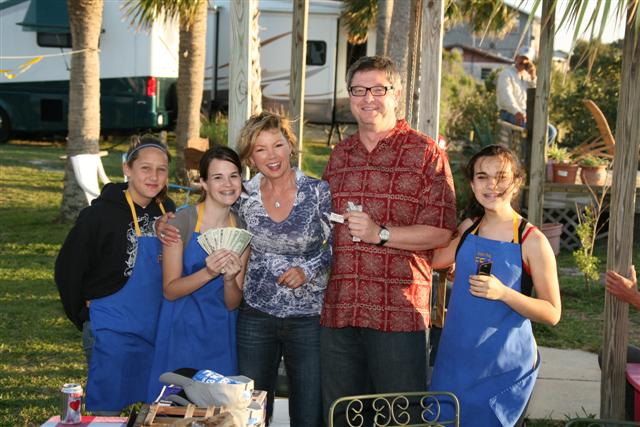 Luz & Walter with the Girls from the FFA and the Winning 50/50 Ticket
When it was just Cindy and I sitting behind the bar laughing about the night's antics, one of us noticed this giant white cloud of birds floating right behind the dock.
We looked out over the back bay to notice that a flock of White Pelicans was swimming in the light of the full moon and gorging themselves on a school of fish that must have been swimming in the shallow waters of the estuary.
With the bright light of the full moon, the pelicans were glowing. Cindy and I walked out to the end of the dock and both just sat watching in awe.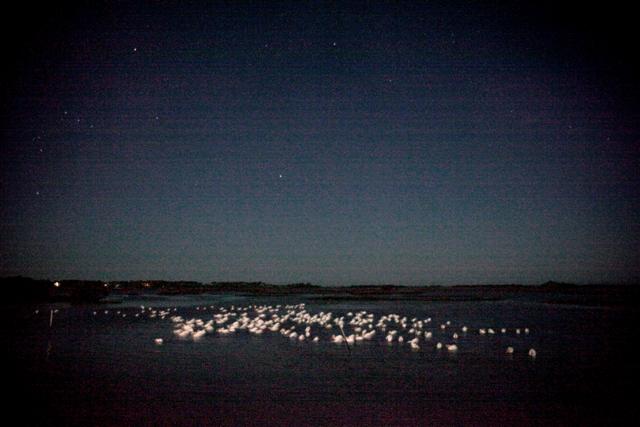 I know this is a crappy photo, but I wanted to show you what it looked like. For those photo geeks like me, this was taken with a 5D Mark II at the 12,500 ISO setting with the only light being the full moon
It brought a tear to my eye and was the perfect ending to our first big party at the Tiki Bar. Someone must have been sending us a sign and what ever it meant, it put a big smile on my face and made me feel warm all over.
We were both sound asleep a few minutes later and dreaming of big moons and juicy burgers.
Thanks to Freddy and Heath for feeding everyone with their awesome burgers. Thanks to Jolie and her girls who helped with the FFA fundraiser and thanks to Howard and Linda who helped out with all their supplies they brought.
A special thanks to Walter and Luz for donating the money back to the FFA and to Luz who helped us so much with the set-up and with the photos. It's friends like them who make friendship such an important thing in our lives.
A Gallery from the Hideaway Tiki Bar Full Moon Party can be seen Here
Thursday March 17th - Happy St. Patty's Day
Work, Work all day long, punching the clock from dusk till dawn...Words of Alan Jackson...but words I seem to live by.
Spent the day getting things ready for the Full Moon Party till we opened the Tiki Bar.
Linda was so excited to turn her beer green that she was one of the first ones out at the bar. Of course she has her own green dye with her...LOL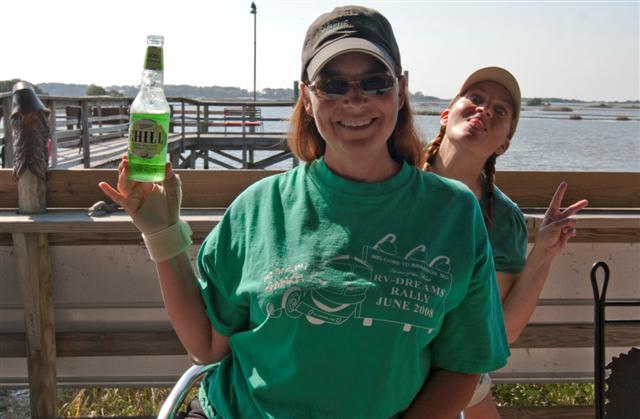 Linda and her Green Beer with a Crazy Leprechaun behind her
While sitting at their camper last night, I said "Cindy remind me to run into the market so I can get some green food coloring for tomorrow."
Linda pipes up with the usual, "No worries, I carry some with me!"
I'm standing behind the bar trying to figure out the remotes for the televisions. Linda's teasing me and I say "I need a label maker to label these remotes so I know which one is which."
She jumps up and comes running back with a Label Maker. Soon enough, both of my remotes have labels on them. Have I mentioned how much I like this woman yet??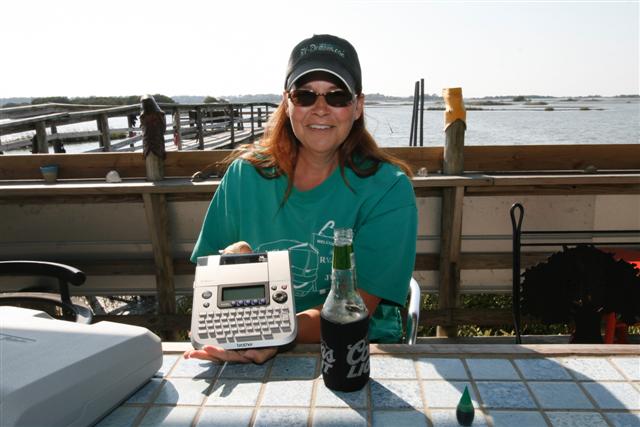 Linda with her Label Maker
The night was fun with guests bringing by some pizzas, drinks and stories shared and lots of laughter. Laughter is always good for the facial muscles and stomach, so it's my favorite workout.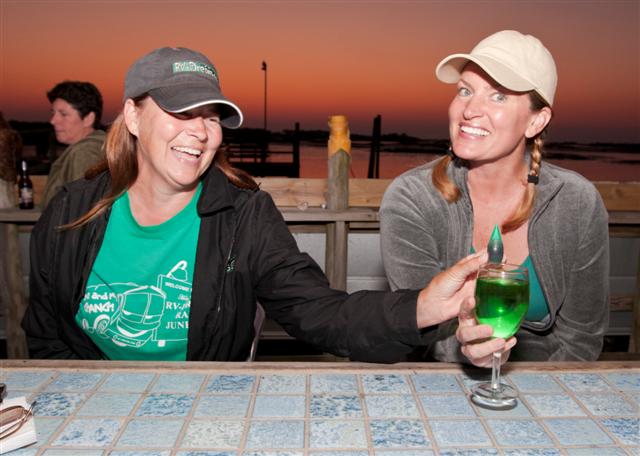 The Little Green Gnome and Cindy's Green Wine
By the end of the night, Cindy was drinking Green Wine, and Howard was just shaking his head all wrapped up in a blanket so he could stay out in the cool night air with us goofballs.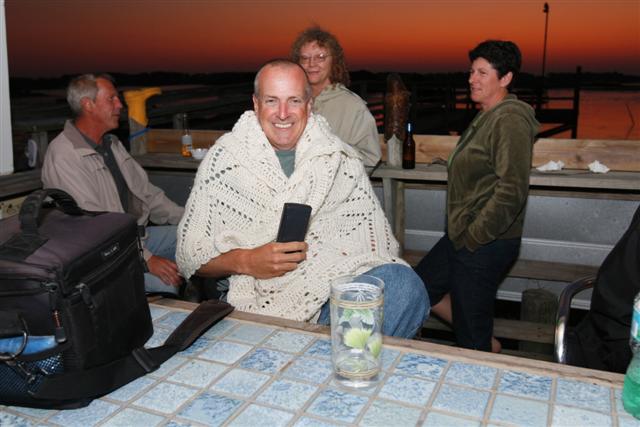 Wednesday March 16th - Starting Off Early
We wanted to show Howard and Linda some of the things Cindy and I like to do around Cedar Key. We've kept up on their blogs for so long, we've noticed that we both like alot of the same things...Photography, Birds/Wildlife, Paddling or just being on the water and its obvious we all enjoy traveling.
This morning started early so we could be out on the boat before sunrise.
At least those were our plans. Cindy's last words as we left the Island Room was "We need to be on the dock at 7am so we can be out on the water and in position for sunrise at 7:30ish"
Of course this meant out alarm never went off so when I happened to roll over and look at the clock and it was 6:56am, I sprang from the bed with a flurry of cuss words to start getting ready.
Cindy said "Go see if they're even up yet!"
I walked out the front door to find both of them standing there with their coffee and camera bags saying "Are we ready to go?"
I laughed and thought "Oh Man, some hosts we are!"
Cindy was ready within a few minutes and we were in the truck heading into the Marina.
Heath saw us drive by and called to say "Good luck with going out on the boat. This big full moon has the tides all screwed up and the water isn't where it's supposed to be right now."
If you haven't heard already, this weekends full moon is going to be a big deal. Not only for our Full Moon Party at the Hideaway Tiki Bar, but Saturday's moon is called a "perigee" full moon. That means that the time of the full moon coincides with the moon's closest approach to Earth. That can make the moon around 14% bigger and 30% brighter than one of the more distant full moons.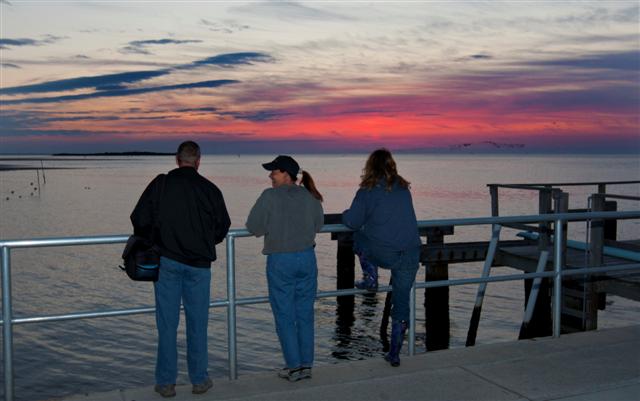 Howard, Linda and Cindy enjoying the Sunrise from the Docks
We got to the marina to find there wasn't enough water to get the boat out, so we had to sit on shore and watch the sunrise from the Marina parking lot. Not that this is a bad thing, it was still beautiful, but it's not like sitting out in the water with the islands all around you and watching it come to life.
Soon enough the boat was floating and had enough water to allow us to slip under the bridge and out of the marina.
On our ride out to Seahorse, we had a small pod of dolphins playing in front of us for a few minutes. We couldn't get them to come closer to the boat no matter how hard Linda and Cindy made dolphin noises or did what they call Dolphin Whispering, but it was fun while it lasted.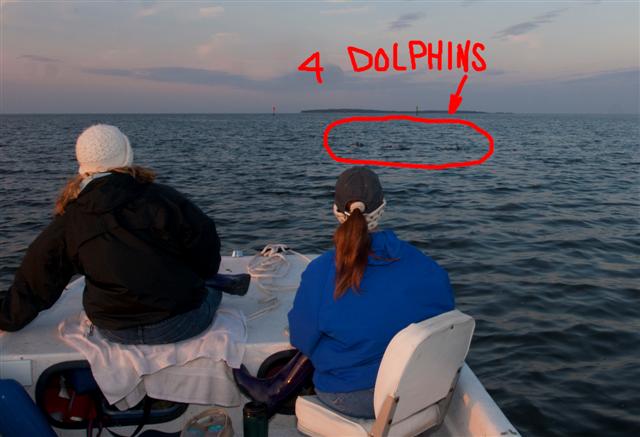 I circled the dolphins so you could see where they were
I think Howard and I got more of a kick out of the girls acting goofy and it reminded me of the scene from Finding Nemo when Dori thinks she can speak Whale.
This time of year Seahorse Key is closed off because of it being a Bird Rookery, but it's still one of the best places to float around to watch the hundreds of birds and listen to the prehistoric sounds they make as they go through their mating rituals.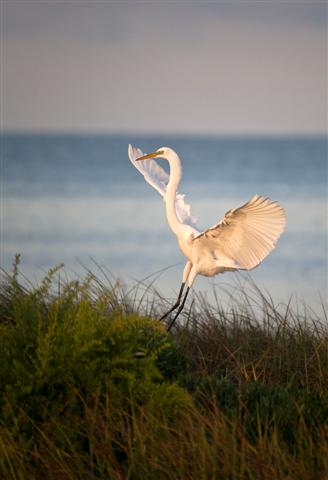 Pelicans, Great Blue Herons, Ibis, Night Herons and Egrets are just a few of the species of birds that flew overhead and around us with sticks and branches in their beaks going from one side of the island to the other.
We even spotted a Spoonbill which we didn't see in these parts until May of last year. Just goes to show how much warmer the weather is this spring than it was last year.
After floating around and watching the action for awhile, we headed back in so Cindy and I could go back to work.
It's good to be up and enjoying the day and still be back inshore before 9:30am.
The rest of the day was spent listening to the machinery work on the front of the building. Makes me cringe each time I see a guest walking around the construction zone when we bill the place as being so relaxing. Oh Well.
Soon enough it was time to open up the tiki bar.
We sat out back with Howard and Linda and a few of the other guests. Barry and Pat came out and the laughter was good medicine. Linda is a total riot when it comes to keeping a crowd entertained and I can see her and Cindy becoming good friends.
We were all sitting around trying to think of fun things to do during the Full Moon Party and Linda and Howard were explaining some of the games they play at their RV-Dreams Rally's.
We were also teasing Linda about the amount of stuff she carries with her while traveling full time. This is a long story, but if you see them in their travels, ask Linda for just about anything and she'll have it. Cindy and I were making a list of items we'd need to drive into Chiefland to get and I would say something like "Raffle Tickets". Linda would stand up and say "Hold On, I think I have some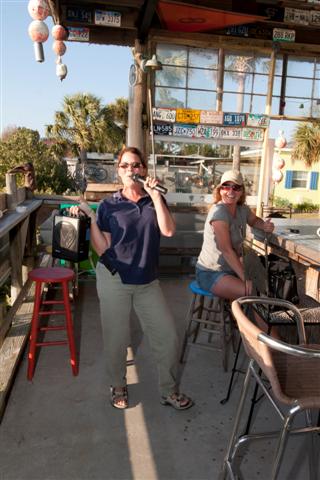 in the coach."
A minute later she walks out with a giant roll of Raffle Tickets.
In conversation I say "Man, we need a portable P.A. System to be able to talk over the party."
Linda jumps up and says "Hold On, wait till you see mine!"
A few minutes later she's standing at the tiki bar with a wireless, portable P.A. System that's booming her voice over the water. She sets the speaker up and proceeds to walk around the property talking to us so she can show us how far the wireless mic's will work.
This has all of us laughing hysterically and Cindy is drooling with envy. You know how Cindy is with a microphone so she can sing karaoke.
Once the tiki bar was closed down, Howard and Linda invited us over to their coach for dinner. Linda had made a dish in her crock-pot that was spicy and delicious. Cindy made the salad and Howard and I just sat quietly filling our faces with amazing food.
Linda shared her version of a corn bread that was so sweet it could have been served for dessert. I helped myself to two pieces of that and would have asked for a 3rd if she wouldn't have brought out the real dessert.
When she opened up their refrigerator and showed us a cake pan filled with strawberries, blueberries, whipped cream that was sitting atop a layer of Vanilla Wafers, I thought my mouth was going to start watering.
OH MY Gosh was it good. I'm not a big dessert eater, but this was something Cindy will have to make again and again.
Once the plates were cleared, it was all I could do to keep my eyes open. With a belly full of outstanding food, I was slowly slipping into a food coma.
The conversation easily kept me awake. Howard and Linda have traveled for so long, that we've stayed at many of the same places, paddled many of the same rivers and know lots of fellow travelers that we run into along our adventures....it was lots of fun just to sit and compare stories.
After another hour of stories, we said goodnight and headed in to bed. It was a great night and good time spent with our new friends.
Tuesday March 15th - It's that Crazy Time of Year
This time of year is just downright nutty. Between a non-stop turn-over at the motel from guests and visitors coming by, to the multiple boat rides and work going on at the Low-Key Hideaway, it's just about impossible for me to find any time to sit down and update this blog.
Awhile back we had issues when it would rain and the water running off the road in front of the motel would be draining into our parking lot. I made a call into the City of Cedar Key, but they informed me that because we fronted HWY 24, we were under the jurisdiction of the Department of Transportation.
My next phone call was to their office in Chiefland. They said they would send someone out to look at it and I was surprised when we walked outside an hour later to see two men in orange vests walking up and down our property.
Over the course of the next few weeks, they came back out on numerous occasions to see what would happen during a rain storm and after it rained paying attention to where the run-off water was going.
They finally came to the conclusion that if they were to build a swail at the front of our parking lot to catch the run-off water, it would solve the issue of flooding out the motel and the campground.
Then we started talking about how they were going to accomplish this. They've done it a few times in the past years, but over time, like anything else, dust, dirt and road debris fills the swail and it clogs up.
A suggestion was made that it be built out of asphalt so it would only need to be done one more time and it would last many, many years.
They called last week to let us know they'd be out here this week to start work and today they had the entire roadway blocked with work crews and construction equipment. It's a bitter sweet ordeal because we're getting our parking lot fixed, which is awesome, but it's getting done while we're completely full and at our busiest time of the year.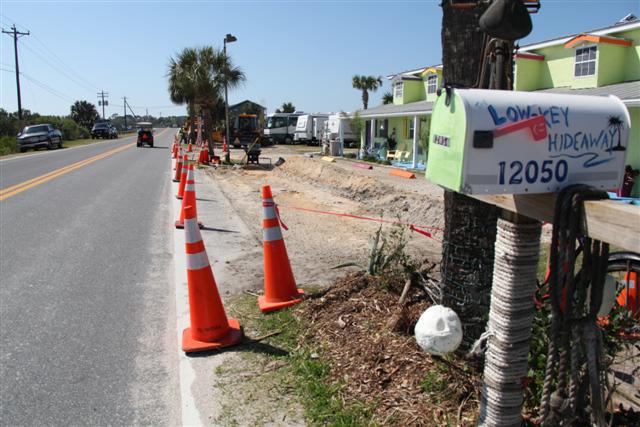 I'm not complaining, because we've been racking our brains trying to figure out how we were going to solve this flooding issue and having them take care of it for us was more than we could ask for.
The work crews are so nice and go out of their way to make sure we're happy with everything they're doing. They use Prison Workers to do all the labor, and I'm amazed at how hard everyone is working.
I send Cindy out every now and then in some shorts, a tank top and her rubber boots to keep them from getting frustrated with the work and it seems to be working like a charm.
One of the reasons I felt bad was while they had the front of the parking lot all blocked off, Howard and Linda of RV-Dreams pulled up trying to check in. At the time, they had equipment right where their camping slot was going to be, so Howard had to go into town with their big 5th wheel in tow to turn around so they could park off the road on the opposite side where we have room for overflow parking.
Howard and Linda are on their way up north for their Rally in the Smokey Mountains this April and stopped by for a visit and the Full moon Party this Saturday.
Our last visit when they were in Cedar Key on their way down south was just too short.
We're looking forward to spending some time with them to be able to show them a little bit of Cedar Key in our eyes.
The work crews finish up around 4pm, so we were able to get them backed in with no issues and get them squared away. Then it was time to kick back at the Tiki Bar.
Some friends came over from in town and most of the guests were out enjoying the beautiful evening. Our weather is about as perfect as one could ask for and this time of year is when you have to Thank God you live in Florida. Dont ask me how I like the weather come July or August...it'll be a different story.
Once the sun set, everyone usually heads into town for some dinner, so we locked everything up and went downtown to the Island Room.
Peter is an award winning chef and his restaurant has become one of mine and Cindy's favorite places to eat. We've yet to have a bad meal and the service is always top notch, which is hard to find here in Cedar Key...Too much of that Island mentality where they think everything should be slowed down a few notches.
Tonight was no disappointment. The food was outstanding and mixed with the great company, I was very happy to have Howard and Linda back for a visit.
Friday March 4th - More Fun on the Water
It seems like every time I make a blog post, I've just come home from an excursion on the water. Maybe we're going to have to change the name of the website to Every Nautical Miles A Memory.
Sometimes I feel sorry for Heath. He's always the tour guide when it comes to our wives getting sick and tired of us.
Last week there was a group of us sitting around the Tiki Bar when one of the wives, and I'm sure it was mine said "Heath, you need to get these boys out of our hair and take them out on a fishing trip."
Juergen is a fishing fool, so he was foaming at the mouth already packing his tackle box. Our friend Scott is one of those guys who just loves to be out doing things and has been born and raised on the water. He was also excited and those two sat around planning it within minutes of the women suggesting it.
The past few weeks have been crazy busy for all of us, so I'm always up for a relaxing day on the water away from a building project or cleaning some motel rooms.
Wednesday would be the day that would work out for all of us, and Heath had said he'd pick us up at Juergen's dock behind the Gulfside Motel at sunrise.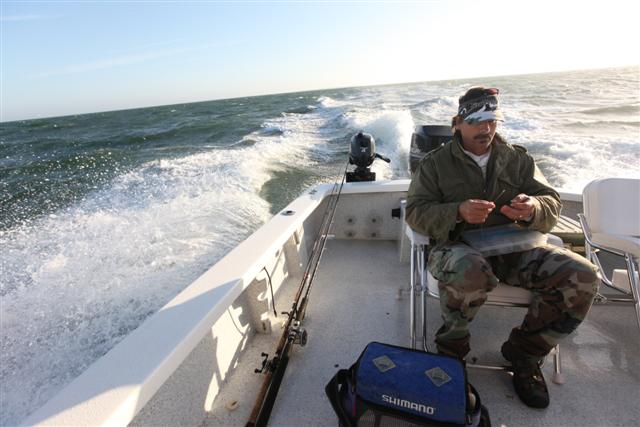 You Know You're Good when you can Rig your Line in Rough Seas While the Boat is Moving
We loaded up the gear and as we said "Goodbye" to Fonda, we pushed away from the dock. The forecast was for some heavy seas, and Heath asked one more time "Are you boys sure you want to go out in this? I'm telling you right now it's gonna be a rough ride out in the Gulf!"
Scott and Juergen were so excited to be going out, they both said something about not caring what the seas were going to be like. That would all change in an hour or so.
Cedar Key sits on a big shelf on the edge of the Gulf of Mexico. This means you can be 8-10 miles off shore and still only be in 10' of water. This also means we have very calm seas 99% of the time. People are always surprised when they come visit and see so many pontoon boats, skiffs and flats style boats. I think they just imagine that because this is the Gulf of Mexico, it's going to be big boats and deep water.
We headed West to get out into deeper water, and the further we floated out, the rougher the seas got.
Heath's big, black boat has really high sides and is normally really dry. Today, we'd be getting splashed on a constant basis.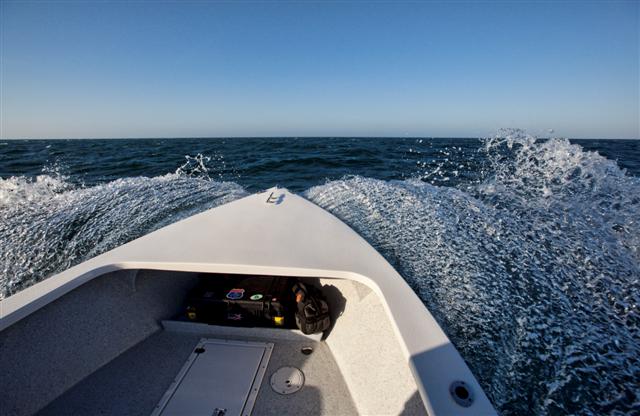 Rough Seas and Lots of Foamy Water
We'd ride up one of the 5-6' swells and come crashing into the next big roller that would be right behind it. White, foamy water would go splashing everywhere and a fine mist of spray would cover all of us. I second guessed having my camera in my hand, but I was glad I had brought the Pelican Box to store them in incase I needed to put them away and keep them dry.
When we used to live on the East Coast of Florida, it seemed every time we'd go out offshore fishing, I'd get sick due to the big waves of the Atlantic Ocean. Since we've been in Cedar Key, I've yet to ever feel a tad bit of seasickness. But most of the time, it's like being out on a calm lake.
It only took about an hour before I could feel my stomach getting nasty.
About 10 miles offshore, Heath dropped the anchor and told us we were sitting atop a big rock where we'd catch some fish. I'm not that into fishing, so Juergen and Scott rigged up their poles and went to reeling in the fish.
They were catching Black Bass, Grunts and a couple other fish that I wasn't sure of the name.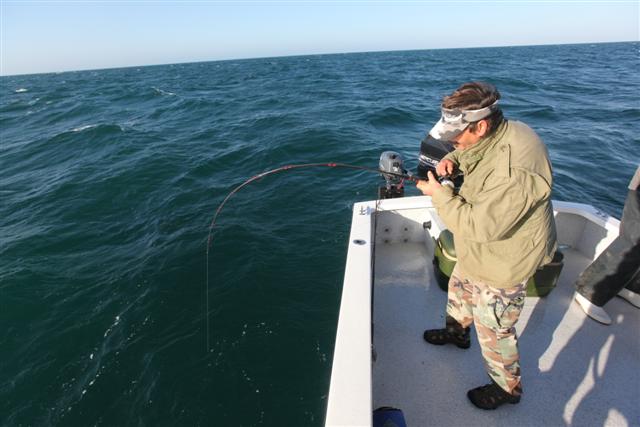 Juergen Catching Dinner
We'd sit in an area catching fish till they'd stop biting. Heath would then pull the anchor up and move us to another spot he'd have coordinates of and we'd drop the anchor and proceed to go back to fishing. Well, the other guys would go back to fishing, I was just along for the ride.
This went on for the next few hours while all of us sat around looking like drunken sailors. The boat was pitching and rolling so much, it was hard to just stand up, let alone rig a line with bait, unhook the fish and re-cast.
We finally threw in the towel and said "Let's go back in closer to shore where the seas wont be so rough."
Knowing that the ride out was so rough with the winds at our backs, we knew the ride back would be even worse. While Heath was pulling up the anchor, I crawled under the front bow cap to put away my cameras.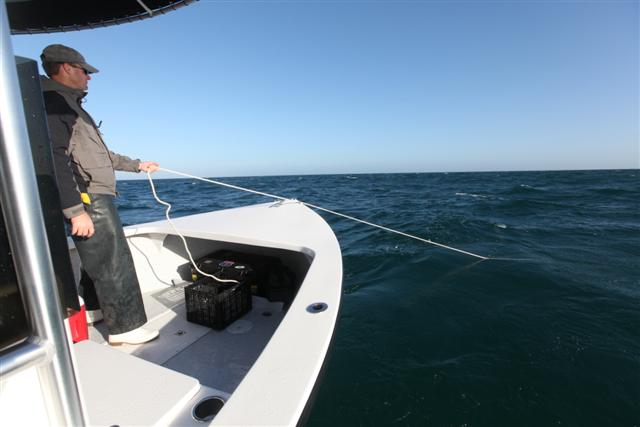 Notice where the camera case is under that Bow Cap
This was when the nausea hit its peak. Having my head tucked up and under that little ledge and not being able to see anything, but still having the boat rolling so much, it was all I could do to not throw up in my camera bag.
I stood up and said "Move, I'm gonna get sick!"
They pointed me to the back of the boat and told me to go feed the fish.
Holding onto the transom, I breathed deep and felt the cool salt mist on my face. It instantly rejuvenated my stomach and I ended up never throwing up. It was just those few seconds under the bow cap that did me in. Another reason why it cracks me up when people think they're seasick, they should go down into the cabin of the boat.
The ride back in was rough. We all just held on tight and got bounced around alot. When we came up to the backside of North Key, it was like you rode through a wall and everything went calm.
Sitting behind the big island, we were blocked from the strong wind and the waves were non-existent. We pulled up close to shore, killed the motor and sat back relaxing.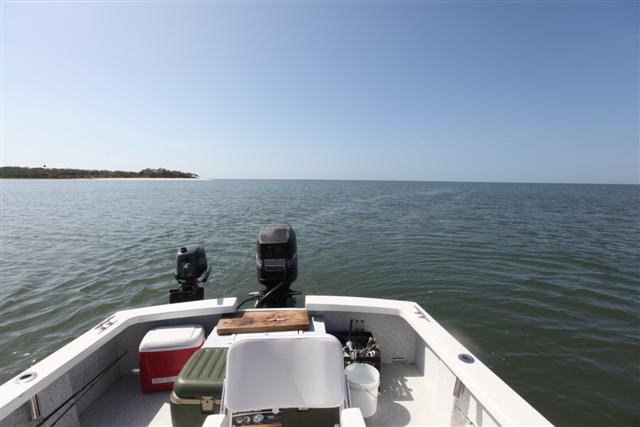 Now this was the way I liked to spend the afternoon. Calm waters, a cool breeze blowing to keep the bugs away, but only a slight breeze, not the 25mph wind gusts we were getting while out in the open sea.
The guys re-rigged their lines and went about trying to catch some different fish. We just let the winds blow the boat where ever it wanted and we all kicked back and relaxed.
After another hour of getting calmed down and into the groove of just kicking back, we headed over to one of the other islands. I had been told about a good hole behind another island by a fisherman who comes to stay at the Low-Key Hideaway on a regular basis, and we thought we'd go see if he was telling the truth.
Cutting through a small channel on Snake Island, we got to see how shallow of water Heath's boat will run in.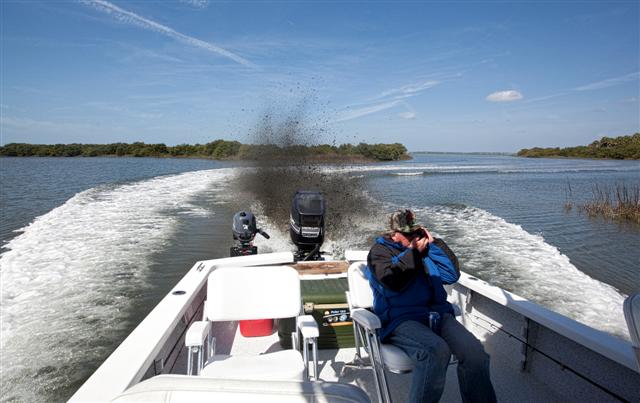 I Told Heath I'm Going to Title this Shot -
Heath Davis, Keeping Prop Manufacturers in Business with Every Boat Ride
It's amazing what a Jack Plate will do to allow you to run in the shallowest of water. It lifts the motor up and out of the water without tilting it back, which normally makes you lose power and just throws water into the air.
We found the hole we were looking for and the rest of the afternoon was spent sitting with the boat on the shoreline, a cool breeze blowing on us and cold drinks washing down any of the stresses of the past few weeks of non-stop work.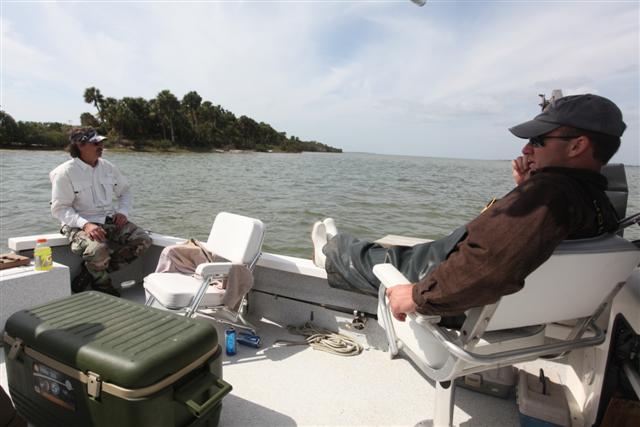 This is when you realize how nice it is to live in Cedar Key. We spent a few hours out on the water, never saw another boat and had a great time.
With a cooler full of fish, we headed back into the Marina and unloaded the boat.
Scott dropped me off at home with plans of everyone showing up at the Tiki Bar later to grill up the days catch.
I came in the house, talked to Cindy for a few minutes and looked outside to see people sitting at the Tiki Bar.
So much for taking a break between the boat trip and work. Pretty soon, the tiki bar was jam-packed with people and we were having a sunset party.
Heath and Jolie showed up with all the fish, and before long, it looked like a full service restaurant. Guests were coming out of their rooms with food, Barry and Pat came out of their Coach with grilled Rueben Sandwiches, Cindy brought out some Cheesy Potatoes, Scott and Karen showed up with food, Fonda and Juergen brought over fresh baked brownies that were still warm....It was an awesome night.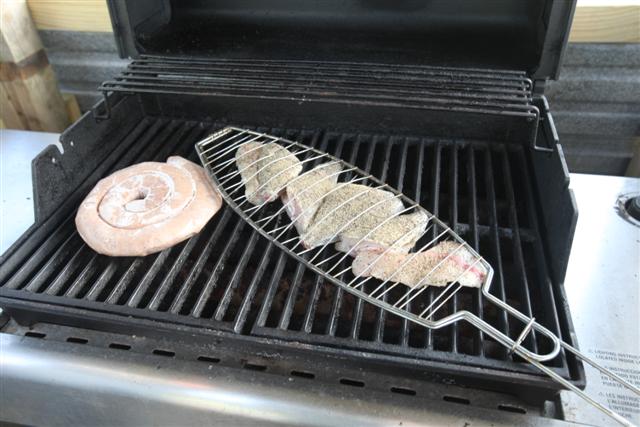 Fresh Fish on the Grill with a side of Deer Sausage!
I was so stuffed with fresh fish I thought I was going into a food coma.
The black bass was my favorite and for someone who normally doesn't eat all that much fish, I was loving every bite.
Heath had brought over some Deer Sausage from his last hunting trip and grilled it up. One of the guests was eating it like it was the last piece of food she'd ever get and asked "What is this meat, it's so tasty!"
We told her it was deer sausage and she almost spit it out. She said "I dont eat venison!"
Cindy laughed and said "Dont worry, it's not venison, it's deer!"
Despite saying she doesn't eat venison, it didn't stop her from eating about four big pieces.
It was an awesome day on the water even with the rough seas. The ending only made it better. A beautiful sunset, good friends sitting around a open air bar laughing and sharing stories and plenty of good memories made.
Life is Good!
___________________________________________________________________
Photo Gear We Use - Solar Tips, Fact's and Trick's we've learned while on the road
Camper Check List - A list of things we do before leaving camp. Again, this isn't gospel, but its a good start for those who might not already have a list made up.
Return to Top of Page
Need Unlimited photo storage- FREE Trial of Smugmug